Agra's incredible Taj Mahal
Being once connected to Africa, there is no doubt as to why India has such a wide variety of megafauna. With a wide variety of habitats, there is an amazingly high degree of biodiversity on the subcontinent. In 1995, I spent about two weeks in India designing the below programs for La Selva Expeditions. I was impressed with the amazing biodiversity that was viewable in the Indian parks and reserves. My greatest disappointment was that I failed to document much of my experiences in India. I saw much more wildlife than this page would indicate. (Check out my Life Lists pages to see more detail here)
Aside from the amazing wildlife that can still be seen in India, I fell in love with the cuisine. My hosts were complete vegetarians and were concerned that I needed meat (being American, a species famous for its carnivory!), but I insisted eating whatever they ate, and it was fabulous! Although I am not a vegetarian, India would perhaps be the easiest place for me to convert if I ever wanted to.
The poverty of India also struck me. While I had seen poverty before in many locations, one particular incident that I witnessed out of the window of my 5-star room in Delhi puts it in perspective: One morning while I was getting ready for breakfast, I was looking out the window to an abandoned, squatter-filled field next door. I noticed two dogs fighting over something but I could not make it out. I grabbed my binocs and zoomed in to see what all the fuss was about. These dogs were fighting over a dead human baby. I skipped breakfast that day. This is one of those things that sadly you cannot un-see...
Most of my experiences in India were far more positive than this. The people I encountered were genuinely friendly, with the clear exception of the police and the immigration officials. I have paid my fair share of bribes in my day, but I have never been so blatantly hit up by on-duty officials for bribes as I had in India. Basically every official I encountered in India requested some sort of "gift". I hope the situation gets better there as the wildlife really cannot survive too many more years of such overt corruption.
Be sure to visit our Photo Galleries for more spectacular images of our travels! (Pbase Galleries)
My two trips to India were very rewarding and the below itineraries represent the programs I was able to participate in through La Selva Expeditions: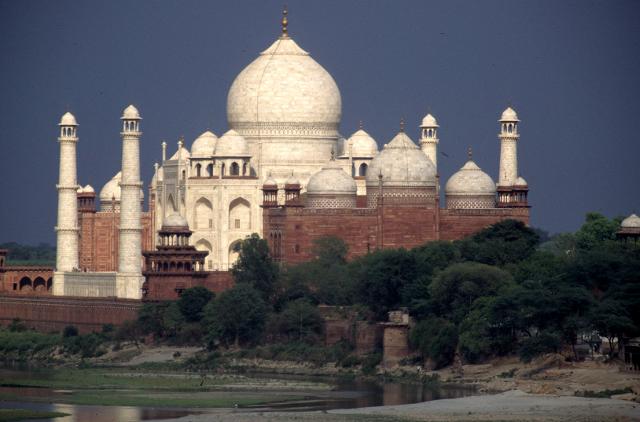 Another view of the spectacular Taj Mahal
INDIA'S NATIONAL PARKS IN DEPTH
DAY 1: DELHI: Evening arrival in Delhi where we are met and transferred to hotel for overnight.
DAY 2: DELHI/NAGPUR: We participate in a morning half-day city tour of New Delhi, India's modern capital which has housed eight civilizations. We visit the 13th century Dulub Minar, gracefully fluted and hand carved over its entire height of 234 feet; the elegant mausoleum of the Mughai Emperor Humayun; the Lami Nasan Temple also commonly called Birla Temple which exposes us to traditional temple form. We also drive past the impressive complex of Government buildings and the House of Parliament and President's House. We also visit India Gate, a Memorial for Indian soldiers who died in First World War. Departure flight to Nagpur in the afternoon.
DAY 3: NAGPUR TO KANHA: We begin with a morning drive to Kanha National Park (300 km, 6-7 Hr). Overnight at the Kanha Jungle Lodge.
DAY 4: KANHA NATIONAL PARK: We embark on morning and evening excursions at Kanha National Park. Kanha National Park is among the best known Tiger Reserves in the country and is one of the best areas to see tigers free in the wild. It has also recently been the site of extensive research on the ecology of the tiger, deer, langur, barasingha, guar and wild dogs. The reserve supports over 200 species of birds including colorful peacocks, jungle fowl, the Indian roller, bee-eaters, green pigeons and others like minivels, orioles, mynas, drongos, eagles, hawks, coocoos, and water birds. Further, the moist lush green sal forest, mixed with bamboo and other deciduous, multicolor species interspersed with meadows make an ideal habitat for the rich wildlife. Overnight the Jungle Lodge.
DAY 5: KANHA NATIONAL PARK: Morning and evening excursion at the National Park. Overnight at the Jungle Lodge.
DAY 6: KANHA TO NAGPUR TO CALCUTTA: Morning drive to Nagpur for flight to Calcutta.
DAY 7: CALCUTTA TO SIMLIPAL: We embark on a morning drive to Simlipal National Park. Simlipal is Orise's principal wildlife sanctuary extending over 2,750 sq. km. At the heart of this region is the country's earliest Tiger reserve covering about 300 sq. km. Here nature has epitomized the beauties of a pulsating tropical forest. Its hypnotic rhythm of rolling hills and rich valleys is truly beautiful. Its perennial rivers with crystal pools, cascading rapids and gorgeous falls, and its azure skies are unendingly picturesque and reviving. Simlipal affords high potential for elephants, for which it is famous. Besides tiger, leopard and wild dogs, other notable animals are sambal, chital, python, hyena, jackal and vultures. Overnight at the Forest Lodge.
DAY 8: SIMLIPAL NATIONAL PARK: Excursions to the park for game viewing. Overnight at the forest Lodge.
DAY 9: SIMLIPAL NATIONAL PARK: Excursion at the Sanctuary. Overnight at the Forest Lodge.
DAY 10: SIMLIPAL TO CALCUTTA: Today we drive back to Calcutta for an afternoon city tour visiting the Victoria Memorial, the museum, and many other interesting sites. Overnight at the hotel.
DAY 11: CALCUTTA TO GUWAHATI - KAZIRANGA: We have a morning transfer to the airport for flight to Guwahati. On arrival we drive to Kaziranga National Park. Overnight at Wild Grass Nature Resort.
DAY 12: KAZIRANGA NATIONAL PARK: Kaziranga was declared a game reserve in 1926, to save the Indian one-horned-rhino which had become threatened with extinction the turn of the century. The present population of the rhino is 1,100 and you can see them easily in the marshes and grasslands. The park also harbors wild buffalo, samar, swamp deer, hog deer, wild pig, hoolock gibbon, elephants, pythons, and tiger. The park occupies 430 sq. km. Morning and evening excursions to the national park. Overnight at the resort.
DAY 13: KAZIRANGA NATIONAL PARK: Morning and evening excursions to the national park. Overnight at the Resort.
DAY 14: KAZIRANGA TO GAUHATI TO DELHI: Today we have a morning drive back to Gauhati for our flight back to Delhi.
DAY 15: END OF TOUR: Today we are transferred to the airport for our international flight.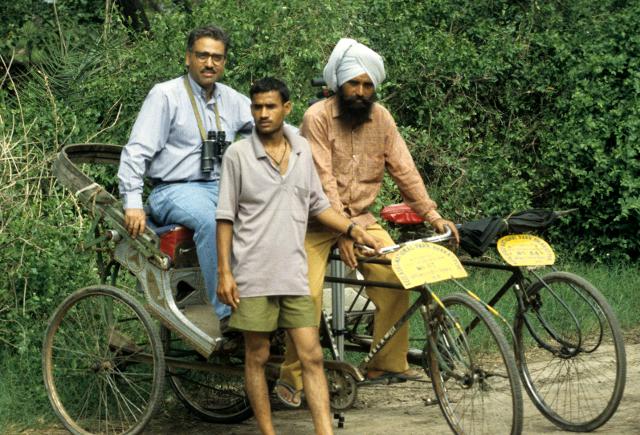 My host, Mohan, and my guides for an amazing birding safari in Kaleodeo National Park near Agra
SAFARI IN INDIA
DAY 1: DELHI: Arrive in Delhi, transfer to hotel for overnight stay.
DAY 2: DELHI-AGRA (203 KM): We drive by deluxe coach to Agra where we visit the majestic Taj Mahal, Akbar's Fort and museum and Agra town. Overnight stay in hotel.
DAY 3: AGRA-BHARATPUR (55 KM):From Agra, we drive to Bharatpur, en route visiting the fascinating Fatehpur Sikiri, which was the place of study for Akbar himself. These impressive ruins are especially beautiful during the sunset hours. This is one of the most perfectly preserved "ghost towns" in the region. Overnight stay in Forest Lodge.
DAY 4: BHARATPUR (Keoladeo Bird Sanctuary): Today we visit the sanctuary on bikes and by foot for the entire day. This region is a birdwatcher's dream. Keoladeo boasts over 800 species of birds, making it arguably one of the best bird sanctuaries on earth! With luck we should see such fascinating species as little egrets, grey herons, night herons, white, white necked, adjutant, openbill, and painted storks, spoonbills, several species of ibis, many geese and ducks, shags and cormorants, and the spectacular Sarus crane. The list of sightings will no doubt be impressive! During certain times of year, the Siberian crane is present in large numbers during its winter migration. Scientists there are attempting to start a permanent population in the region. Overnight stay in Forest Lodge.
DAY 5: BHARATPUR-RANTHAMBORE (210 KM): Our next destination is Ranthambore National Park. Overnight stay in Hotel.
DAY 6: RANTHAMBORE: We embark on our jeep safari into the national park for morning and evening game drives. Ranthambore is famous for its populations of royal Bengal tigers as well as dozens of other animal species. Birds are also very prolific in the region. Back to Hotel for overnight stay.
DAY 7: RANTHANBORE-JAIPUR (182 KM): Today we drive to Jaipur, a rich cultural center. In the afternoon, we participate in sightseeing activities around Jaipur City visiting Hawa Mahal, the Amber Fort, the City Palace and many other sites. Return to Hotel for overnight stay.
DAY 8: JAIPUR-AHMEDABAD: Departure transfer to city airport for our flight to Ahmedabad where we are met and transferred to our hotel. We start our afternoon sightseeing of Ahmedabad City and noting its blend of Hindu and Islamic architectural styles. Back to Hotel for overnight stay.
DAY 09: AHEMDABAD-NAL SAROVER-AHEMDABAD (140 KM): Today we have a full day trip to the spectacular Nal Sarover Bird Sanctuary with packed lunch. Here we can expect to see many of the hundreds of bird species that make their home in the region. With luck we can see the vast flocks of migratory birds that winter in the region. Such species as flamingoes, pelicans and various species of ducks and geese frequent the area's waters. In the evening we return to Ahmedabad for overnight stay in Hotel.
DAY 10: AHEMDABAD-ZAINABAD (110 KM): Today we drive to Zainabad, check-in at the Desert Camp, and after lunch we leave for an exciting jeep safari to little Rann of Kutch to observe hundreds of flamingos (seasonal) and the desert wild ass (khur). We then return to the camp at Zainabad for overnight stay.
DAY 11: ZAINABAD: Today we again have a full day jeep safari to visit the little Rann of Kutch. Back to Zainabad for overnight stay in camp.
DAY 12: ZAINABAD-SASAN GIR (325 KM): We embark on a six to seven hour drive to Sasan Gir. Our afternoon will be free. Overnight stay in Forest Lodge.
DAY 13: SASAN GIR: Today we have a full day jeep safari in Gir Forests, the last home of the Asiatic lion (Panthera Leo Lersica). There are over 30 species of other mammals that call the region home. We will spend time searching for the lions and the many other forms of wildlife in the area. The region is also particularly good for bird as well. Hotel for overnight stay.
DAY 14: SASAN GIR: Today we again have a full day jeep safari into sanctuary for wildlife viewing. Evening return to hotel for overnight stay.
DAY 15: SASAN GIR-AHMEDABAD (375 KM): We leave early morning for Ahmedabad via Rajkot, which is a seven-hour smooth drive. Overnight stay in hotel.
DAY 16: AHEMDABAD-DELHI-END OF TOUR: Departure transfer to Airport to catch early morning flight for Delhi where we will have a full day of sightseeing. Evening departure transfer to catch our international flight.
Be sure to visit our Photo Galleries for more spectacular images of our travels! (Pbase Galleries)
Here are some images from my exploratory trips to India in '95 & '96: