October Break in Thailand 2012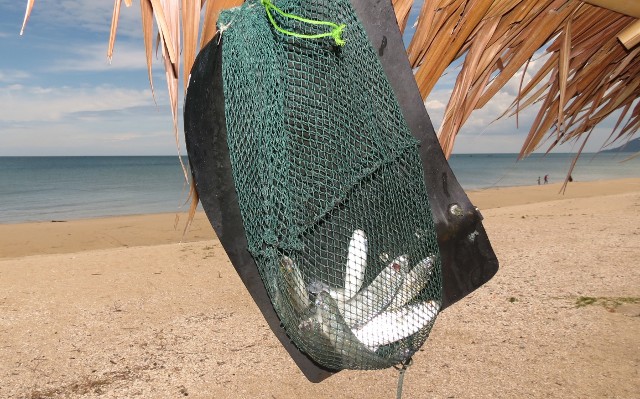 Fish caught at Khanom Beach in Nakhonsithammarat!
Our first day in Bangkok at Holiday Inn Silom.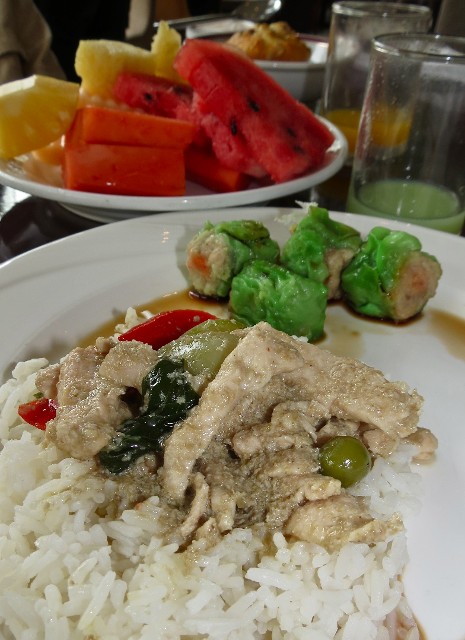 This October break was kind of a short break. I felt like I had to fill every minute to feel like I'm home again. We had not been back to visit my family for over a year, even though we live so close to them. The flight from Shanghai to Bangkok takes about three and a half hours.
We were not alone this time. We had a good friend of ours, Tina Bui, who wanted to visit my home town and do want I do around my family in Nakhon Si Thammarat. I booked the hotel in Bangkok called Holiday Inn Silom. When I mad the reservations I thought to myself that we will have to catch a flight on the next day afternoon. We should enjoy a great buffet of the Holiday Inn Silom. I don't think we were disappionted at all. Tina (our friend) seemed to be happy.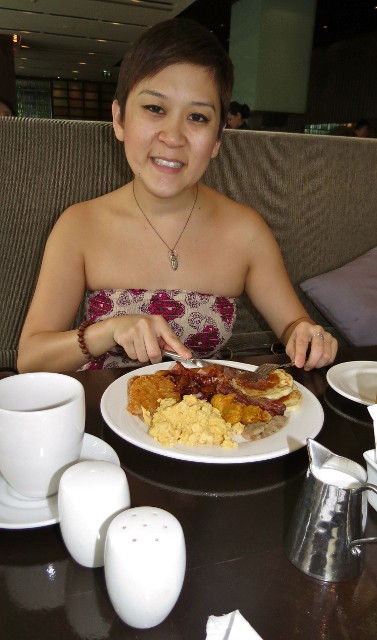 Tina enjoyed her breakfast at The Holiday Inn Silom.
It was a real bacon! Where do they get that?

I was just in China but was going for these. They taste better than China....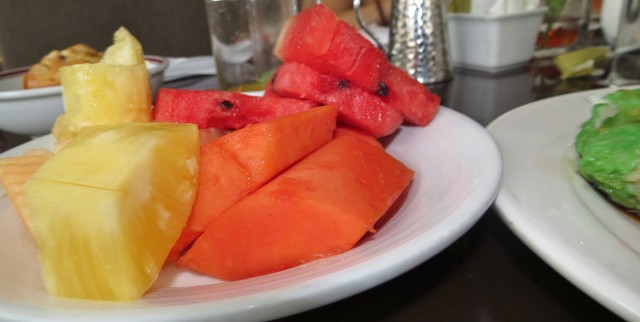 And of course if you are in Thailand, you got to eat tropical fruits. And these were very sweet and filled me up for sure.
After the breakfast we were trying to get our sim card. We went to the Family Mart. They had it but they were so busy we had to go back and do at the hotel. That would take us some time! And It took me al most and hour to figure this out. We finally got our 3G working too.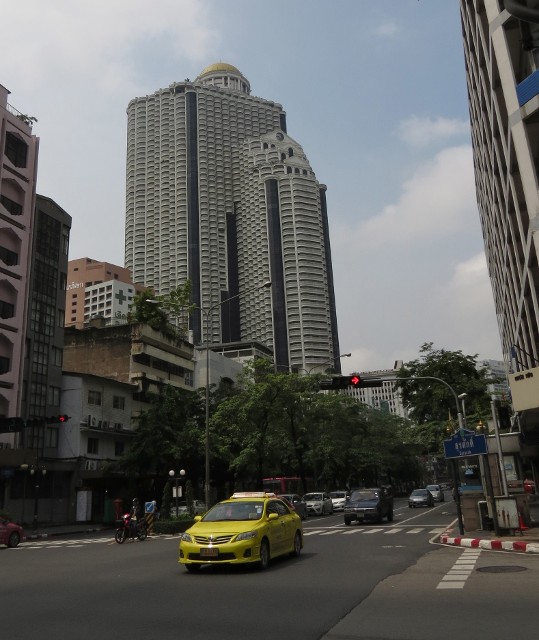 Hangover 2 - Lebua Dome!
On to Nakhon!
And we were finally home at Nakhon Si Thamarat. So good to be home and do nothing that was my original plan.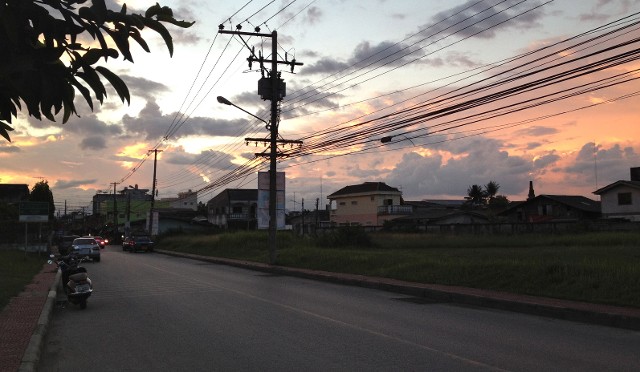 Soi Panead is my old home.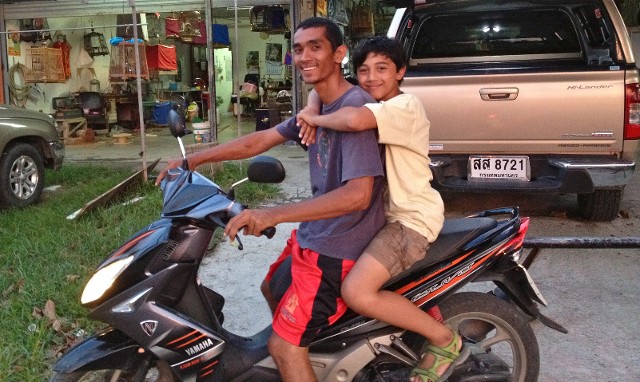 Cokie with Bpan on the way to 7-Eleven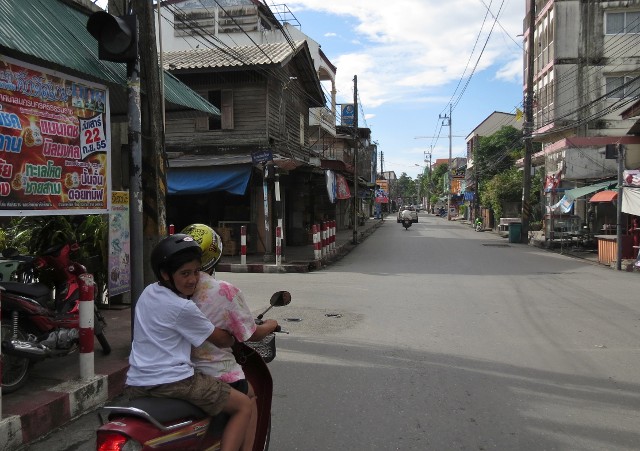 My mom was taking Cokie around her motorcycle.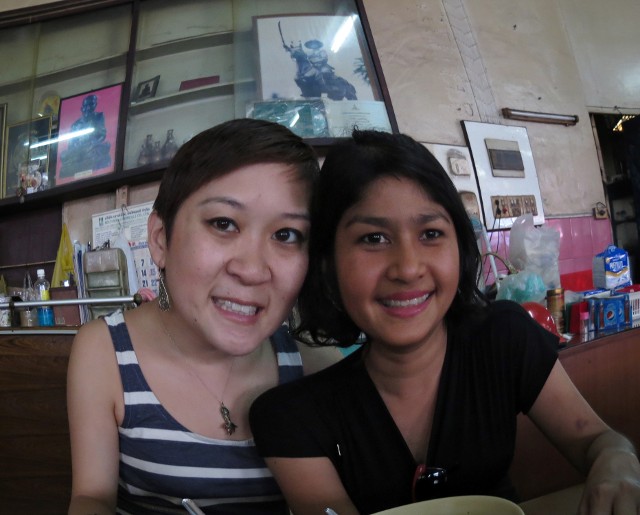 We have to take Tina to our first breakfast that we always do at our favorite Chinese egg noodle place. (Cokie's Fish Eye shot)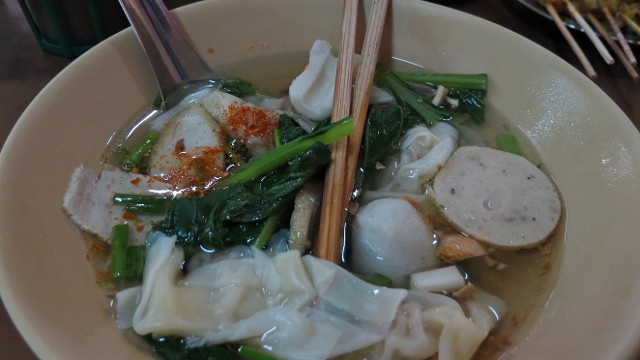 This is always been my favorite dish at this place. I can eat this everyday. Her soup is so good that you don't have to add anything only a couple teaspoons of chili powder though.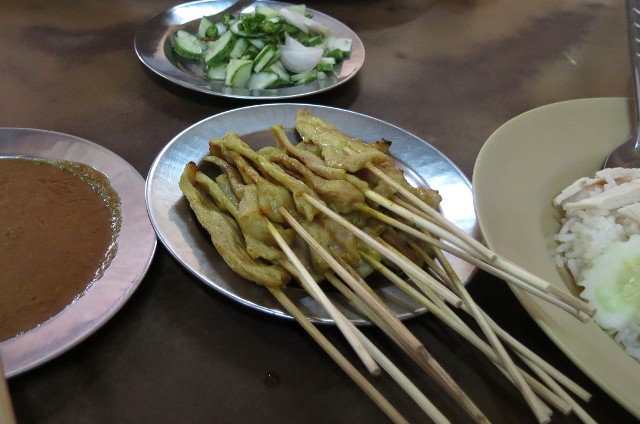 Pork Satay with the Peanut Sauce.
After we were done with our breakfast I got a plan to take Tina to our local Sunday market. I was planing to get Cokie some clothes. This market has a lot of vegetables, fruits, kitchen supplies, second-hand or new clothes. But I prefer the second- hand though. Everything here is so cheap and fresh if you compare it to shops in Shanghai.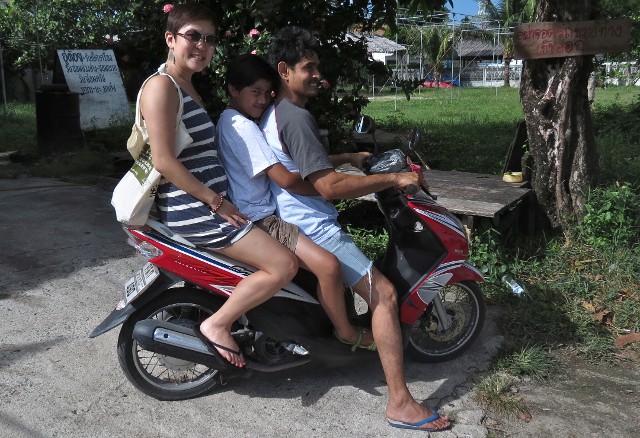 Kak was taking us to the market. We didn't want to park our motorcycle at the market, because it's very risky if you stay too long at the market -when you come out you might never see your motorcycle again.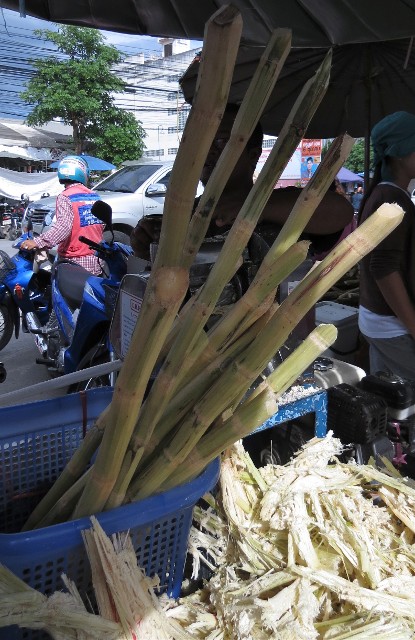 Pile it up!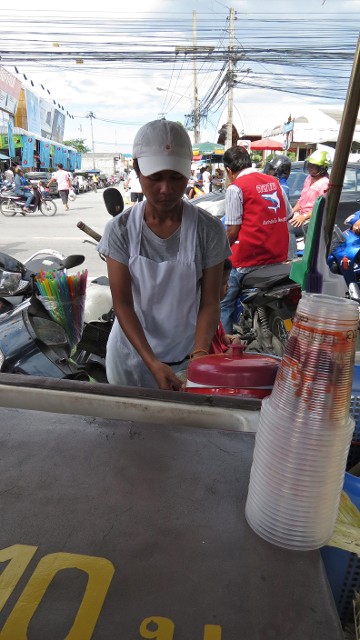 This lady is doing pretty good with her business. Only 10 Baht per bag or 33 Cents per bag this could be refreshing your day.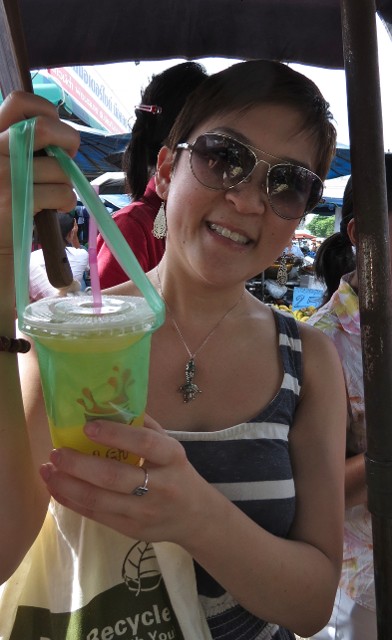 Here we go an ice cold bag of natural sugar - you can't get any better than this.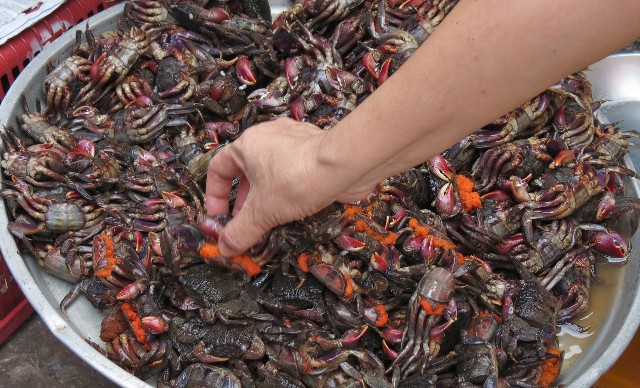 Sour Crabs, Thai people usually add these crabs in Thai Papaya Salad dish. I had to have this so many times on this trip.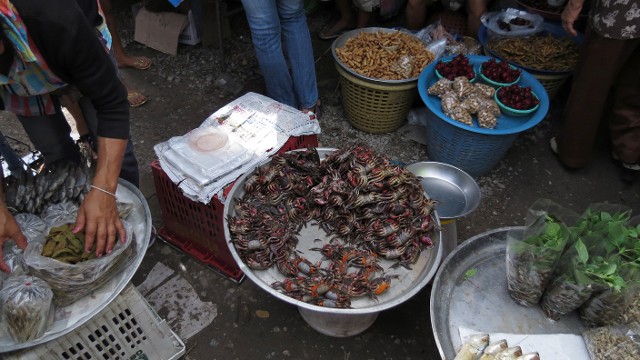 Crabs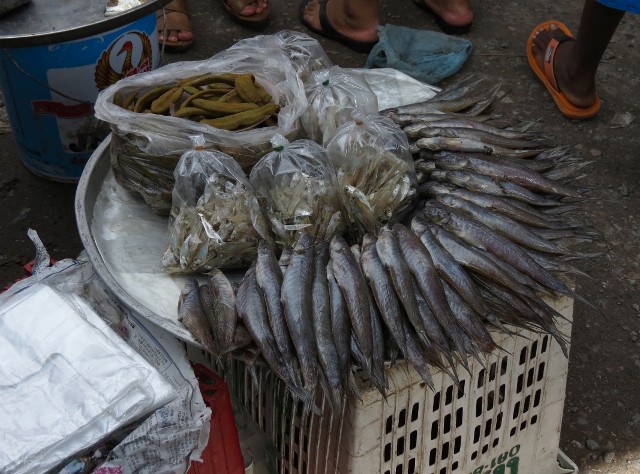 Dried Fishes, we usually deep fry them. You could eat with warm rice or rice porridge. My mom always makes like a spicy dried fish salad. She would add lime juice, sliced shallots and Thai chilies. I tell you it's so good.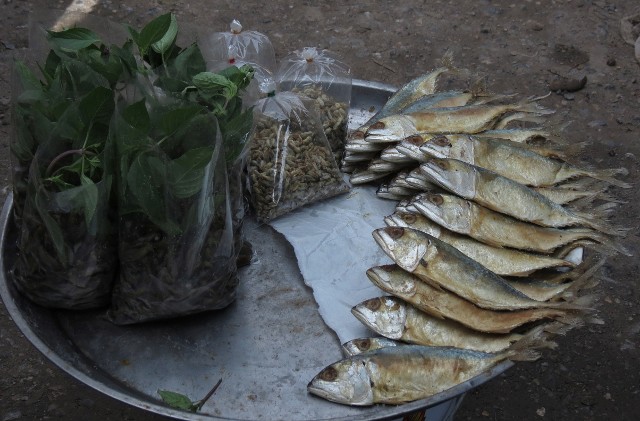 Their taste could be as close to a Salmon.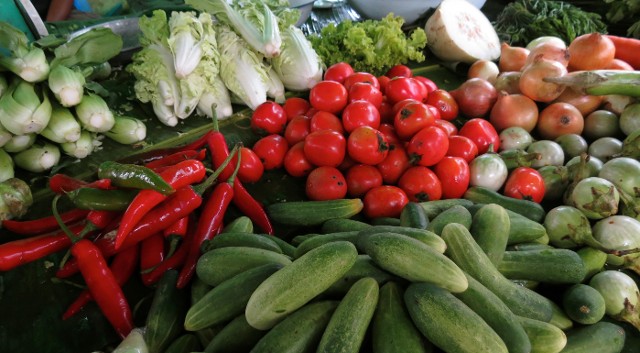 Variety of vegetables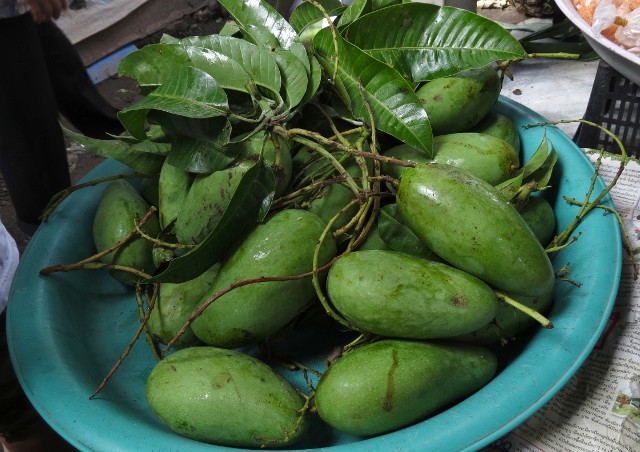 Green mango, I loved this kind of mango. They are not the sour tasting mango but it's actually can have a sweet and buttery taste. Everytime when I go back to Thailand I got to have this.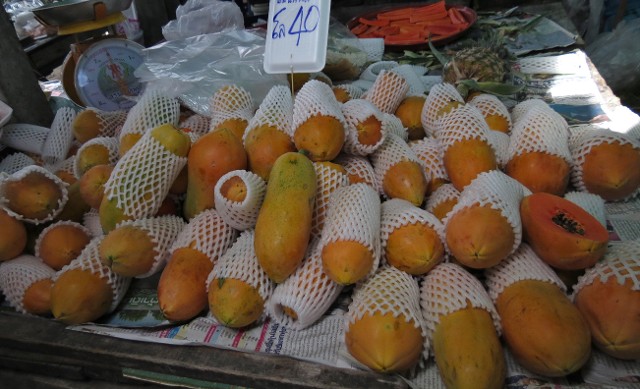 Papaya only 40 Baht or $1.33 per kilogram. It's so sweet I can tell you right now I have lived in Shanghai for two and a half years, I still haven't found any good papaya yet. My mom always has it ready in our refrigerator when we go back home.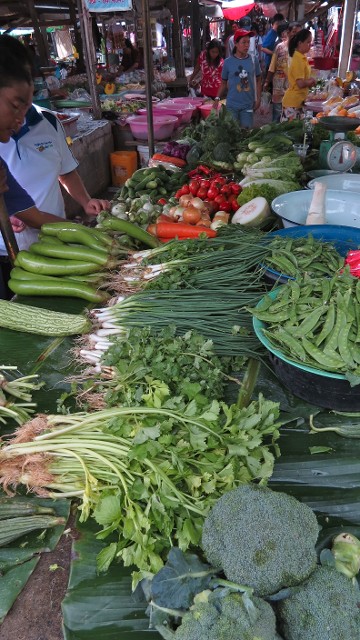 More good stuff, so tell me if you don't want to live here.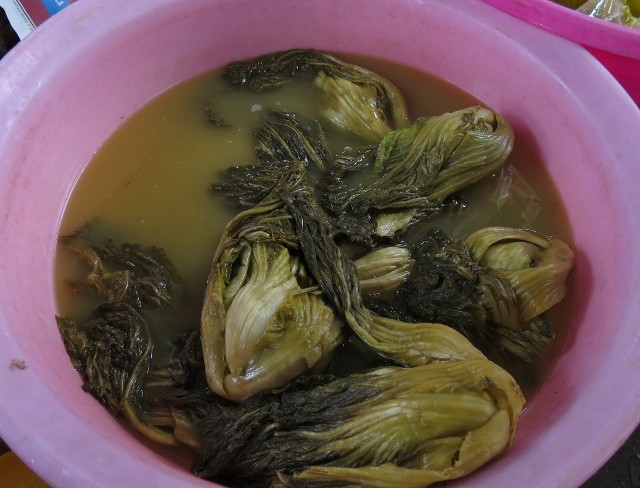 Pickled cabbages - we use this for make a soup with the pork ribs.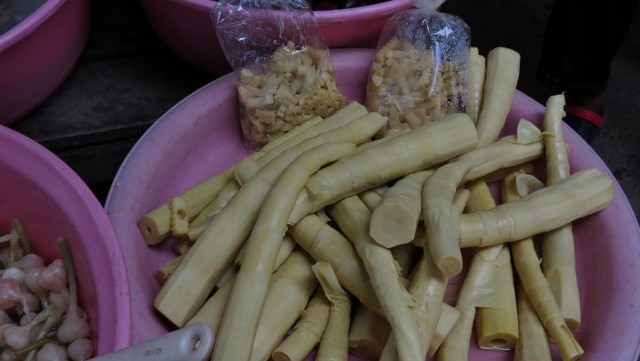 Bamboo Shoots and Pickled Garlic.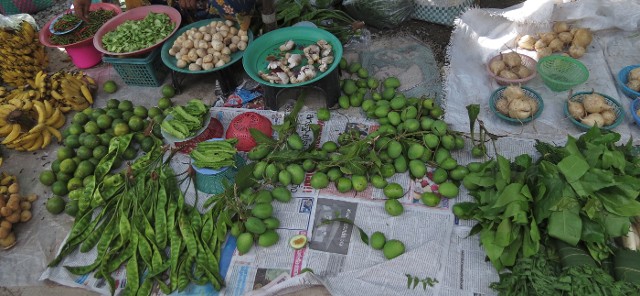 As you can see this kind of small mango is very sour. I used to make mango salad for my dad when I was in the middle school. I don't know that he still remembers or not.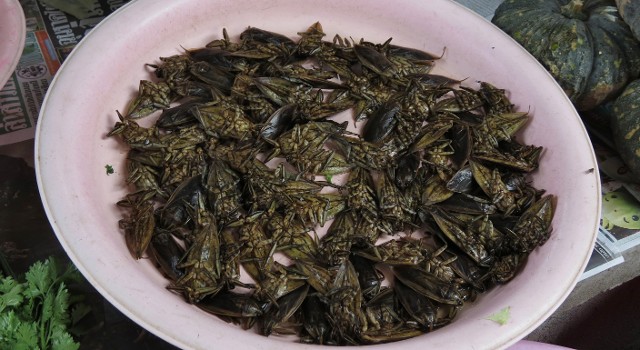 Sticky Beetles! That's what I called them. My life can't live without touch or feel the beetle since I married with Coke. This kind of beetles is ne of my mom and my dad favorite dish. They will add them with the shrimp paste and fresh chilis. I tell you the truth I don't know how to make them and I never eat them. I can only put this dish on my dining table and smell them.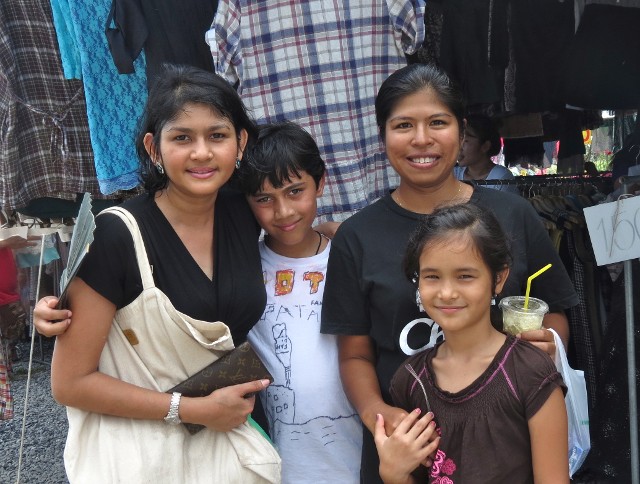 We found some of our old friends at the market while we were shoping for second-hand clothes. (Jasmin and Khung) Jasmin used to play with Cokie when they were younger. Good to see them both.
Khanom Beach, Nakhon Si Thammarat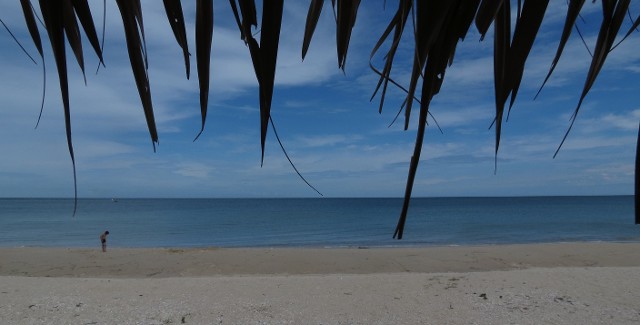 This trip was too short for us - we didn't have enough time to go to Koh Lanta. It was raining pretty good on the Krabi side. So we decided to take our friend and family to a closer beach. At lease Cokie could get to enjoy the beach and get to swim. That was my plan to make sure Cokie will be able to enjoy the beach after our Africa trip over the Summer. I told my mom and dad why don't we go someplace nice and clean so we didn't have to stay overnight. Coke and I kind of have a lot of stuff to take care off. My mom said If we go to Khanom beach we could visit my uncle before we go to the beach. I said let's do it and I know that we will own the beach for sure!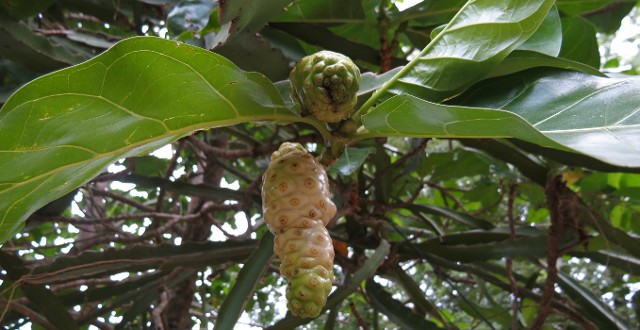 Strange fruits at Khanom...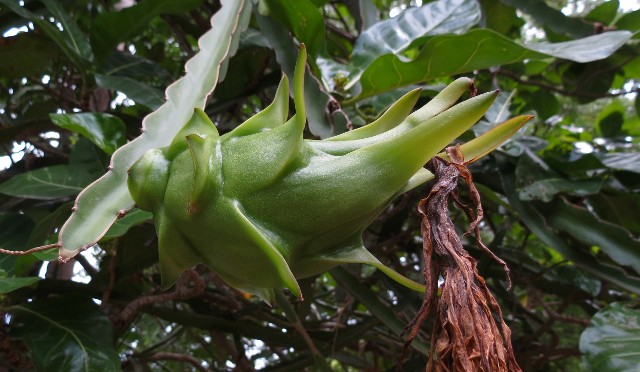 Dragon fruit...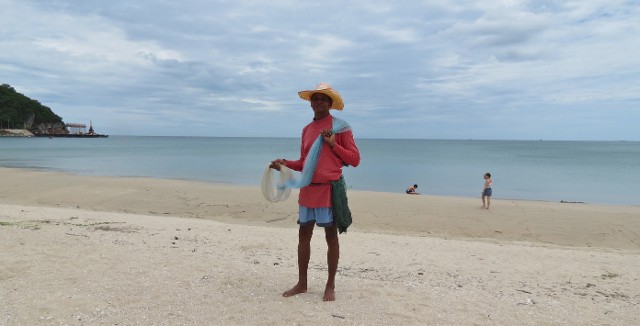 My uncle decided to come along with us and he said only one condition was he has to bring his net for fishing. I said "That's fine with me as long as you eat them". I just want him to hang out with my dad.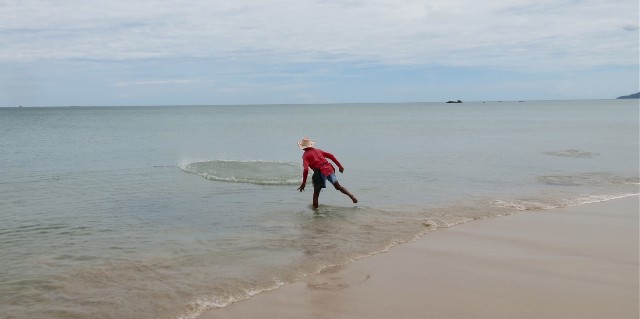 He was really going for it!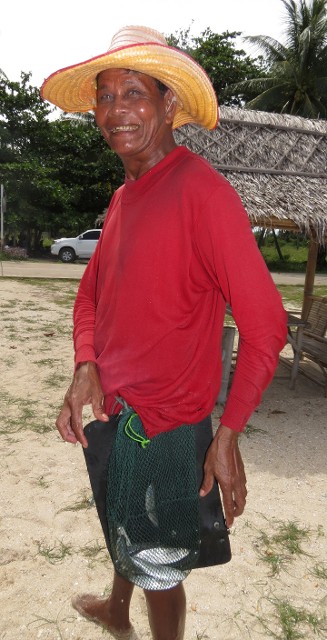 And hour later and here was the result.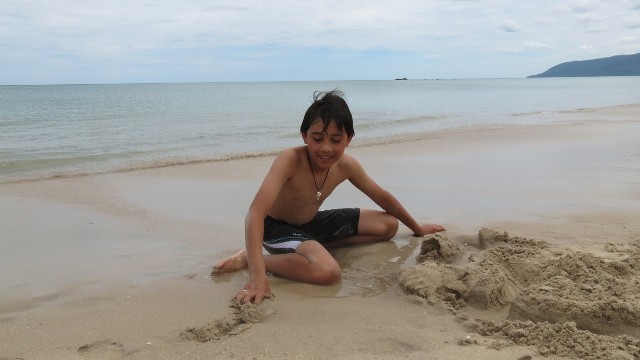 Cokie was enjoying on the beach and he didn't event want to come and join us for lunch! If I didn't say that we are going to go home if he doesn't eat!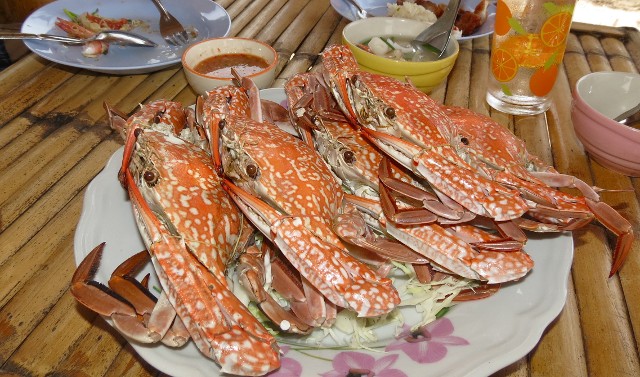 Streamed Crabs are fresh and cheap.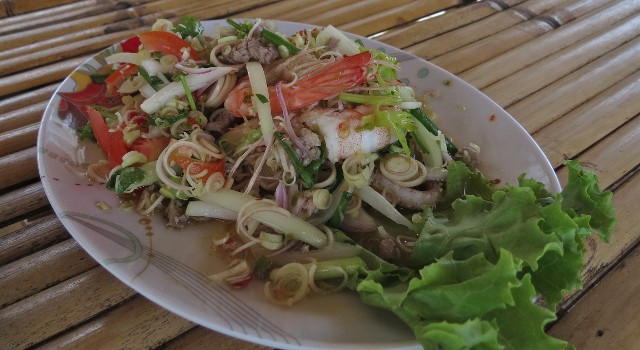 Lemon Grass Salad with Seafood.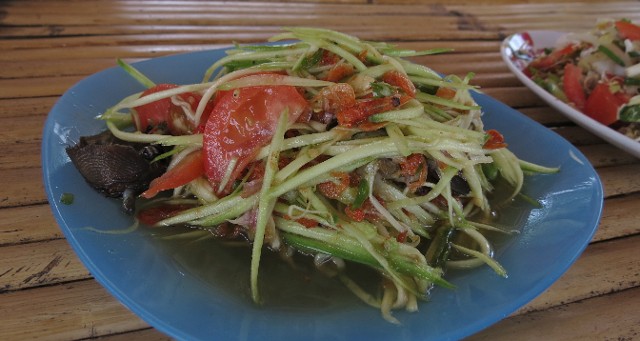 Papaya Salad with sour crabs. I can eat the papaya salad everyday!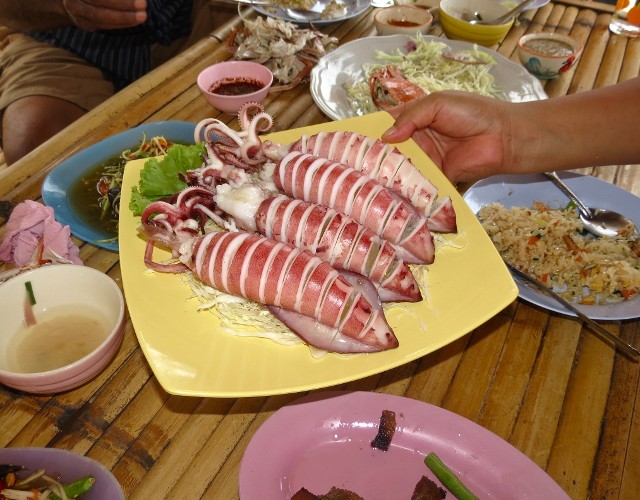 Steamed Squids! This was our last dish buy that time we were so full! Everything were fresh from the sea. And I felt good after support the local Thai family.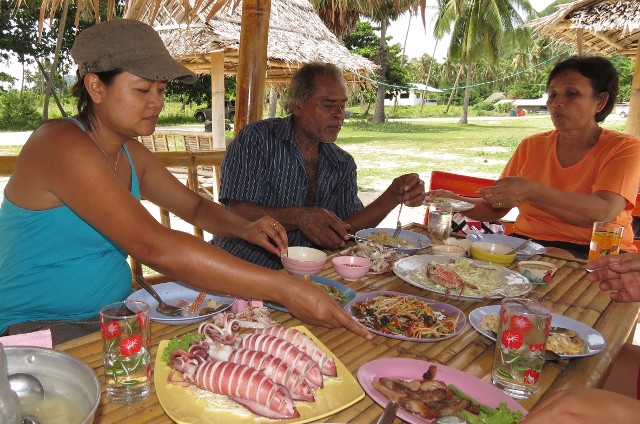 Dig-in guys!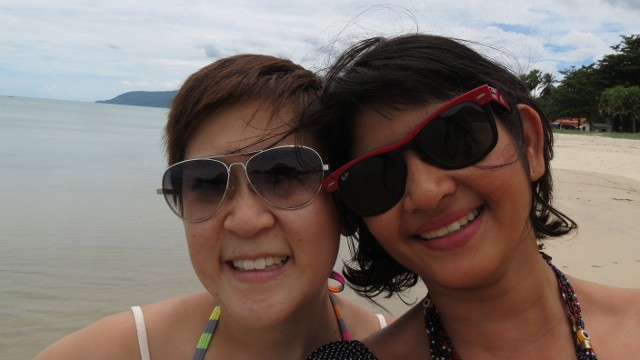 We owned this place - nobody was on the beach - just us. The local tourists came in at evening and that was it. I will make sure that will bring our sea kayak for my next visit to Khanom beach.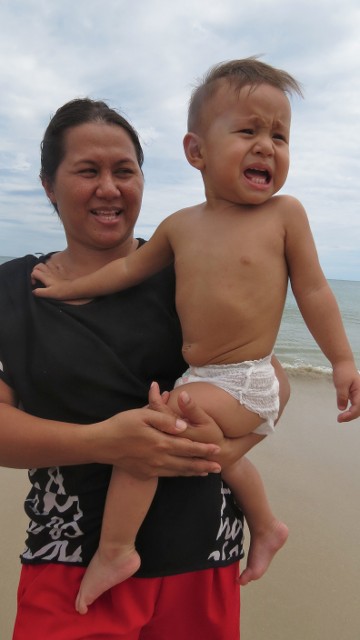 Nam King was crying so much and he didn't like the sound of those waves at all. He didn't get to taste the salt water this time.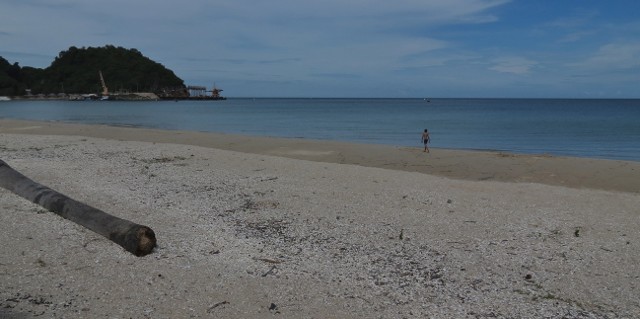 Only Cokie will never want to go home!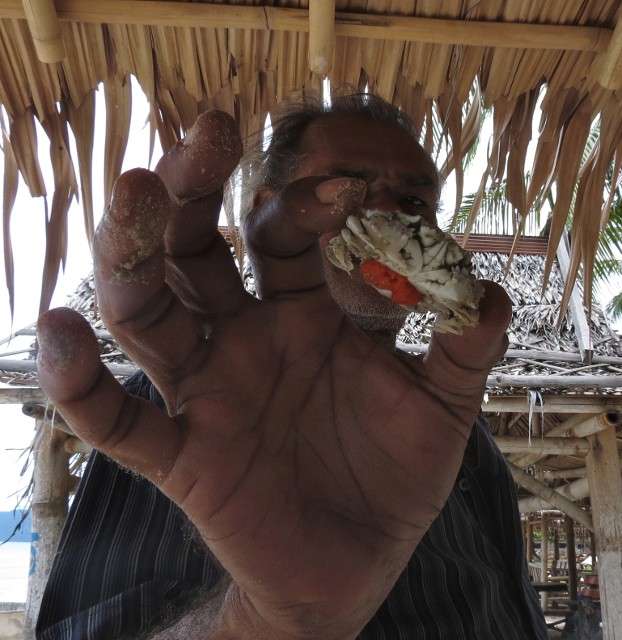 My dad got to play with a little crab! I had not been back here for over 10 years. He always took us to the beach when we have a holiday in Thailand when I was a kid. Now it's time for me to take him around.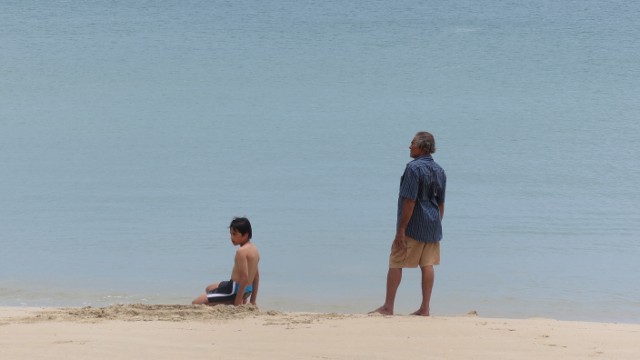 Nothing better than see my dad hanging out with his grandson.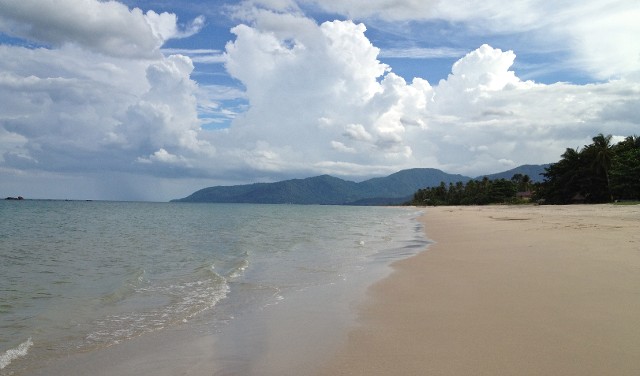 Fresh air blue skies I don't see much in China.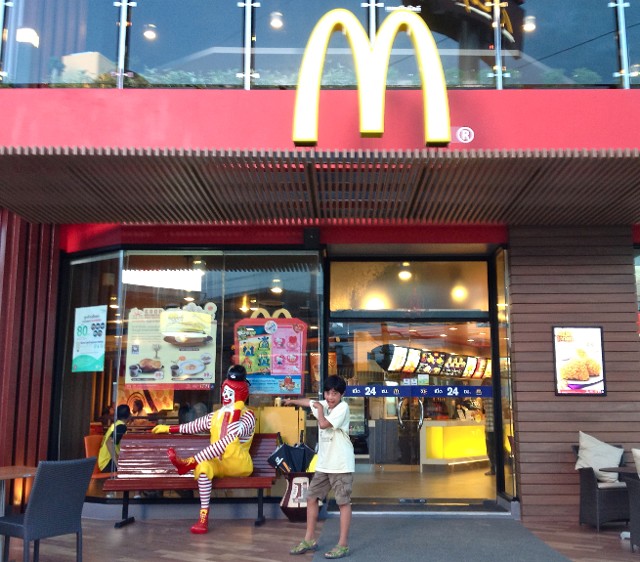 Mc Donald's is already here in Nakhon Si Thamarat town. Wow they even have a second floor and a drive thru. I live in Shanghai I haven't seen one yet.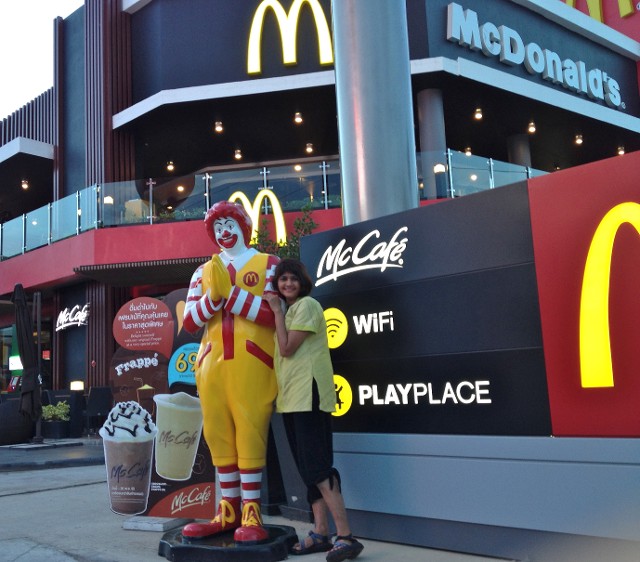 Nope I didn't go in there!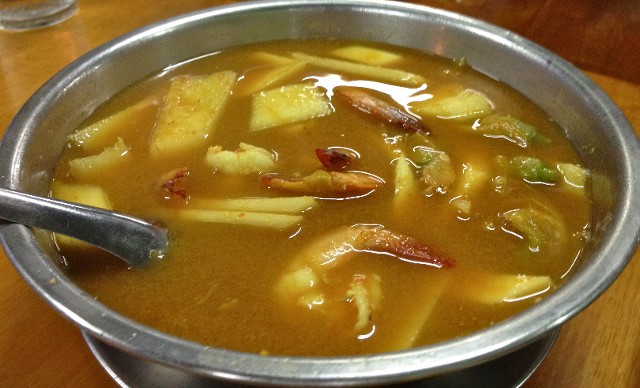 But I was going for this southen curry called Kang Som.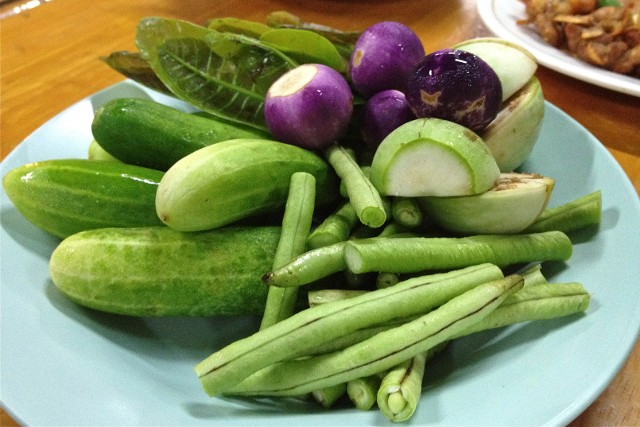 Fresh Vegetables!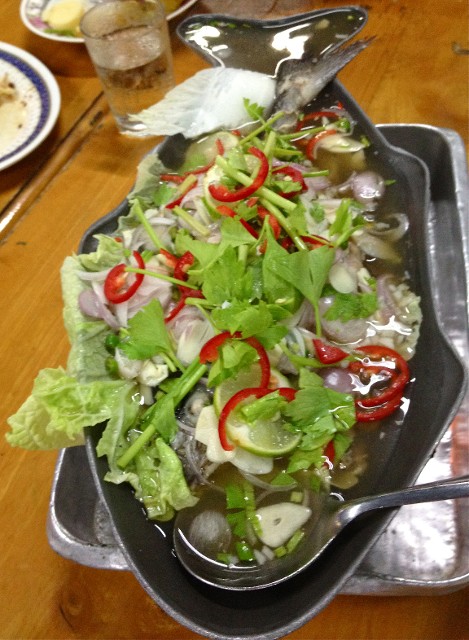 Sea Bass with lime juice and chilis.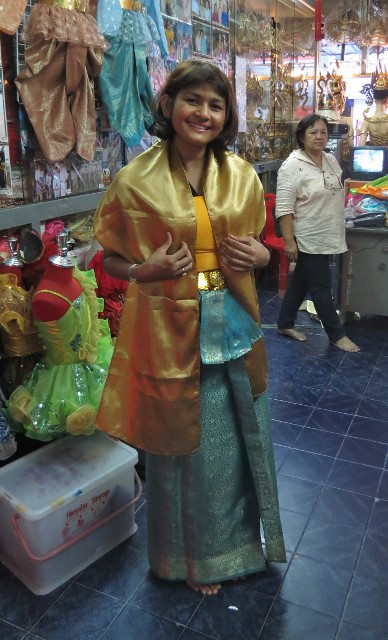 Got to shop for a Thai dress!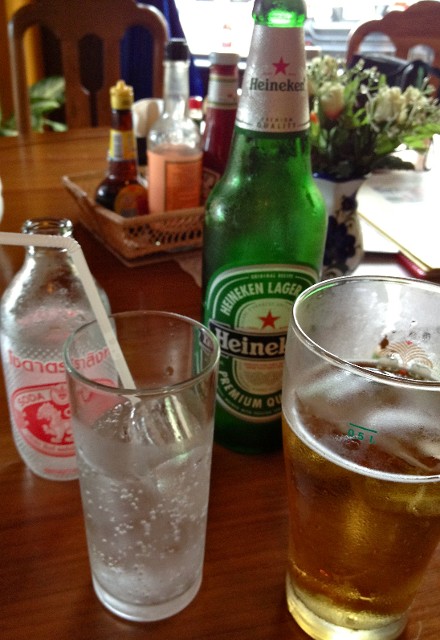 It was way too hot this time and I had to get some thing to cool me down.
When you are in Thailand sometimes the weather is way too hot. You should find a place to cool you down for a little while and hang out inside the mall. I love to walk inside the 7-Elevent and get the Singha Soda water. It made me feel so good after all.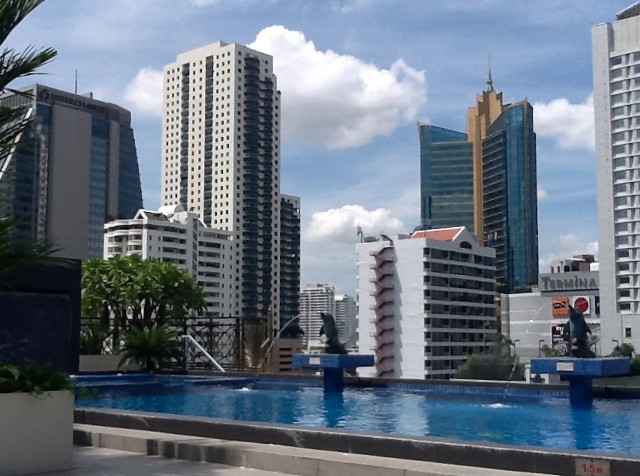 We are back to BBK at Admiral Premier Soi Sukhumvit 23 again.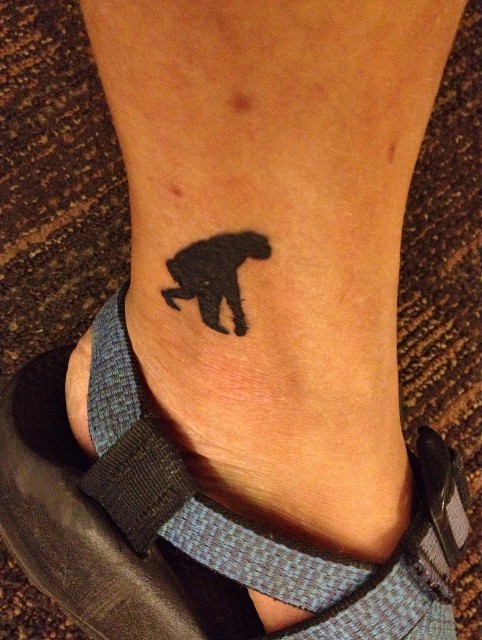 I did not plan to get this tattoo at all. Tina my friend wanted to have her tattoo made by the famous artist in Thailand. So she did a a lot of research on where she should get a professional tattoo in Bangkok. I was happy to help her find her guy for sure.
We found him and contacted him on our first day back form my home town. We gave him a call and I took Tina to Khao San Road and we got a lot of rain for sure on the way to see him with the Tuk Tuk. The driver had to asked us would we want to stop? I said just keep it going and don't worried about us get wet! we finally got to his shop but I had to give him a couple called and with asked along the way. Found him! That was about 11:00 pm. We walked in to his little tiny shop with another client who was doing a tattoo on his back. So we decided to go have a couple drinks and come back later. When we got back Tina started to tell him what did she wanted. The design took us almost and hour before Eak was starting to put his needle on Tina's skin. That's why I had a lot of time to think about to get other tattoo on my body. I was changing my mind back and forth too. First I wanted to do a Hippo's then a Flamingo and my last desicion was the Ape! This idea came from myself and part of it was Coke and I have been trekked to see the primates too long and so many species. Why don't I get one on my body that what I thought at that time. Coke is the one who taught me about evolution too. And we both loved it.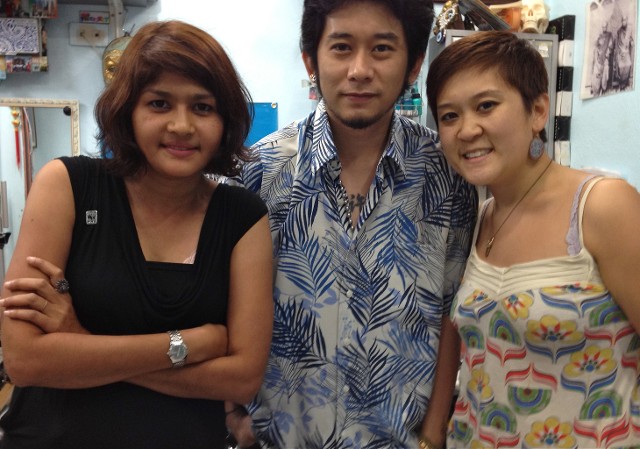 We got to our hotel that night around 1:30 am. Eak really did a great job. He went to many countries to show his art around the world. All I cared was that I wanted Tina to get to her best tattoo art on her body. And she and I loved them.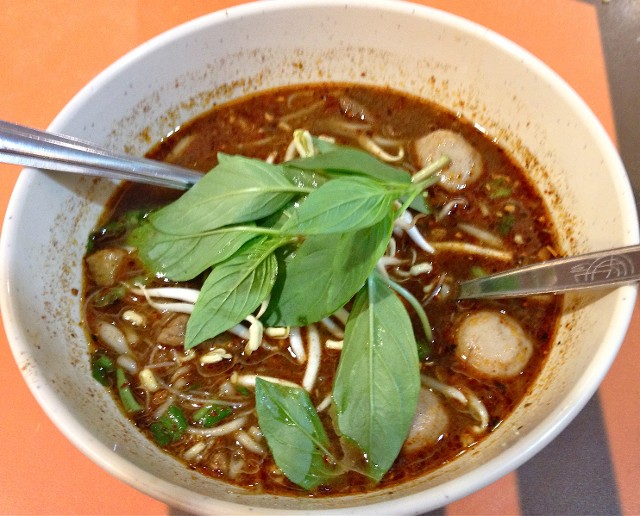 Sorry I got to add some more of my favorite noodle, this dish Coke likes to called Bloody Noodle. So good I tell you. They add cow blood in the noodle too. You pretty much can find this dish anywhere in Thailand.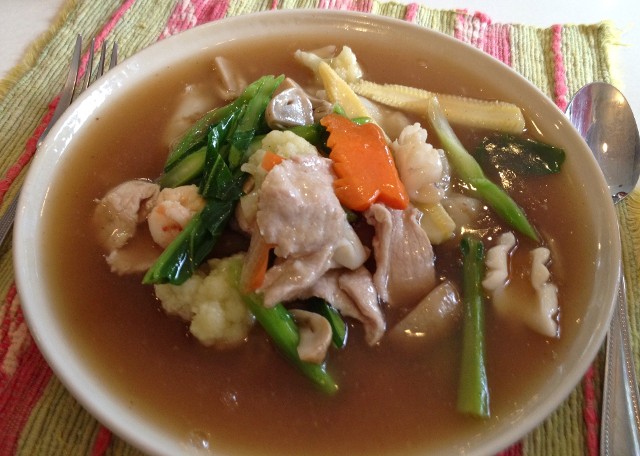 Rad Nah (Thai Flat Noodle with mixed seafood and meat). I loved this dish because the Thai restaurants always add some fresh baby corns and many variety of veggies.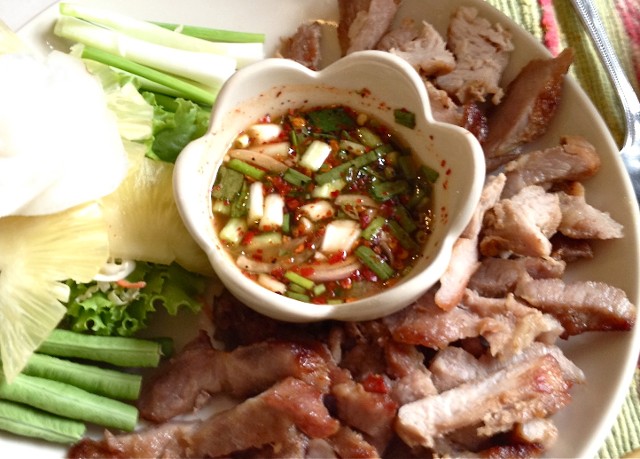 Cokie most favorite meal! BBQ pork with sticky rice.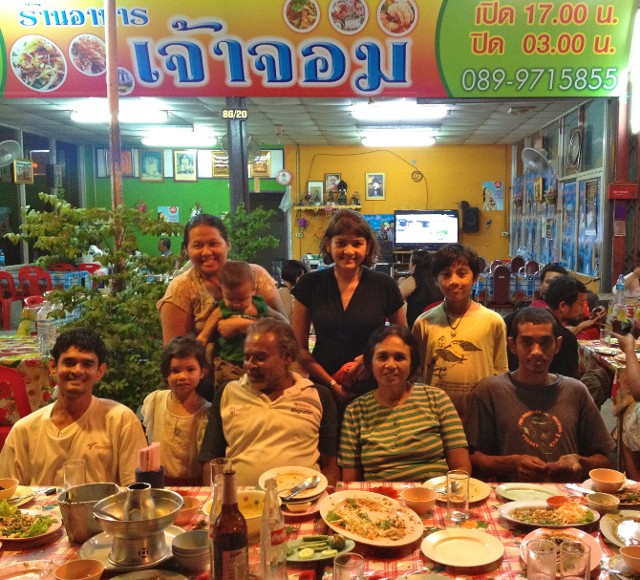 My family at our final meal in Nakhon. I love my family so much.
My pop as a young boy. I love this image.