I have lived here in Shanghai for almost one and a half years. Life here is generally pretty good. Shanghai life is pretty exciting but there is a point of course when you think you've done just about everything there is to do here...But if we talk about in China in general, I would say they is a lot more for us to see and explore. Not too long ago in the spring of 2010, I got hooked up with one of my Thai friends in Shanghai, Taya, who just happened to be the wife of the famous chef - Chef Kevin Cape! Finally I had a great opportunity to work with both of them AND in the dream kitchen of Shook! restaurant. Shook! has a very big kitchen that could easily fit more than 20 cooks. One day Chef and Taya invited me to come and train their Chinese chefs at Shook!. Chef Kevin said, "Shook! restaurant would like to add some more Thai food to the menu." My duty was to teach the very experienced Chinese nationals chefs how to cook some basic Thai food using my recipes. These included, Phad Thai noodles, Phad Khee Maow, Rice Crackers with Minced Shrimp and Mince Chicken, Red Pork Curry, Tamarind Prawns and many more. And the people behind this achievement include my husband (Coke) and my son (Cokie). Coke has always supported me since we have been together. I never thought that I'm going to be an accomplished cook like my grandma use to be. She had been cooking non stop up to the day she passed a way. So I guess I'm continuing her dream.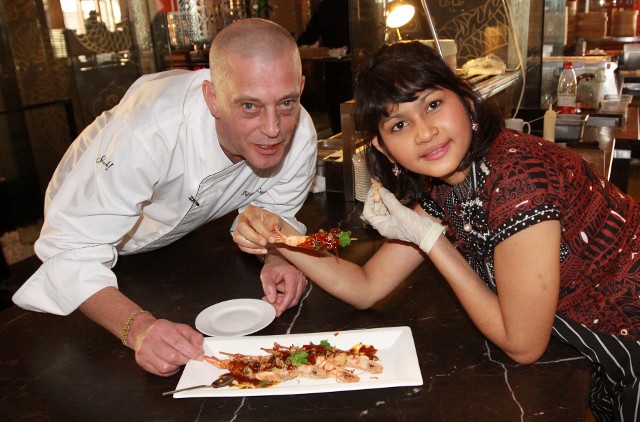 We are sampling the Tamarind Prawns dish. Chef Kevin loved them!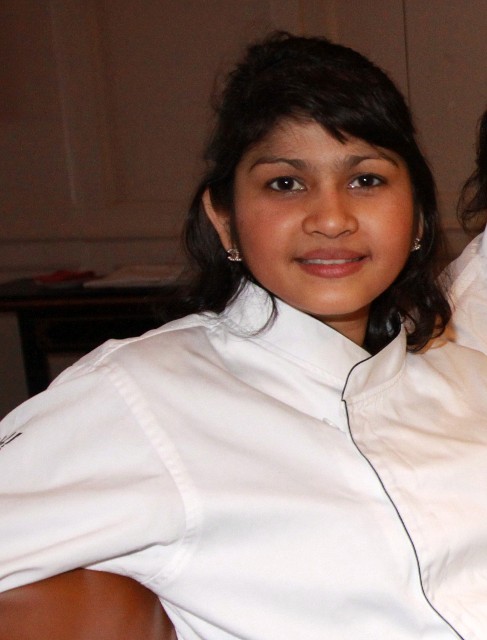 I'm resting for session two.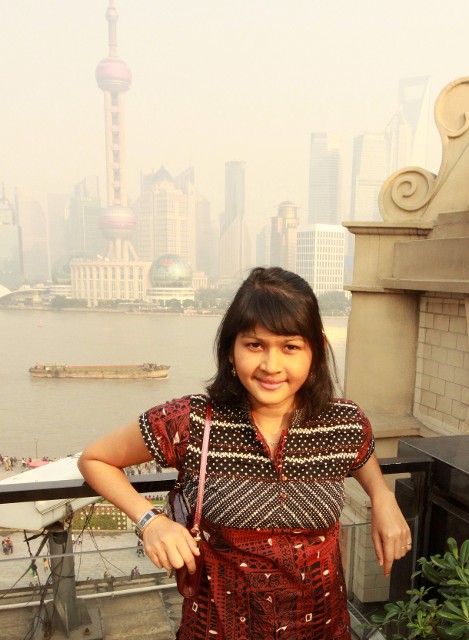 We went up stairs in the outside dining area of Shook! on the rooftop of the Swatch Art - Peace hotel after we finished cooking.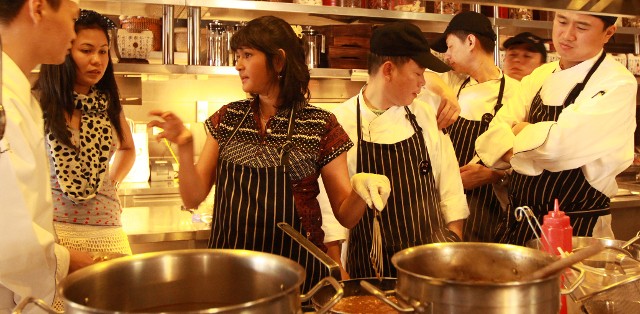 I'm explaning to my students how to make the Tamarind Prawn sauce.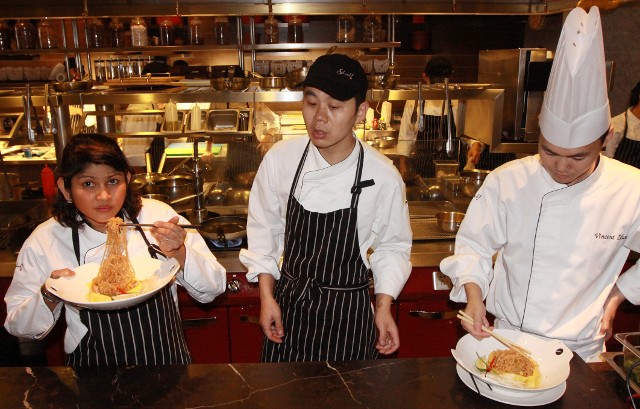 I'm tasting the Phad Thai noodle that my student made. Not bad! Just a little too soft yet...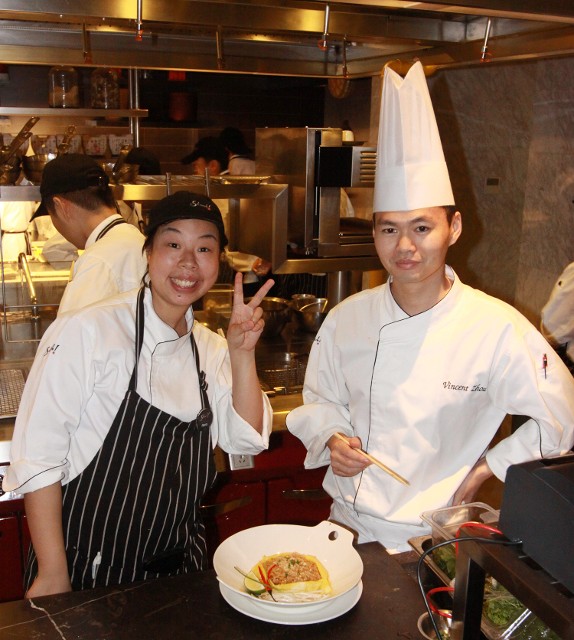 Keep it up!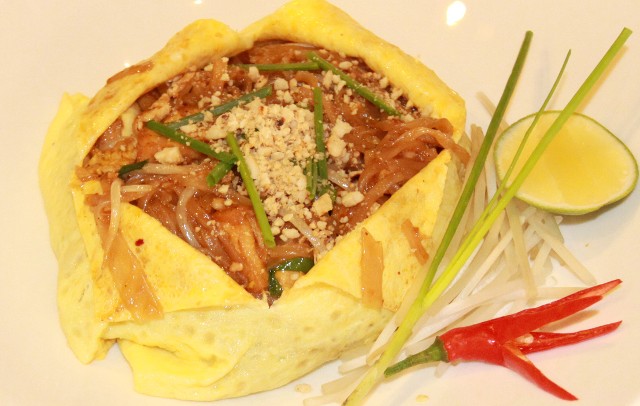 This is our Phad Thai product!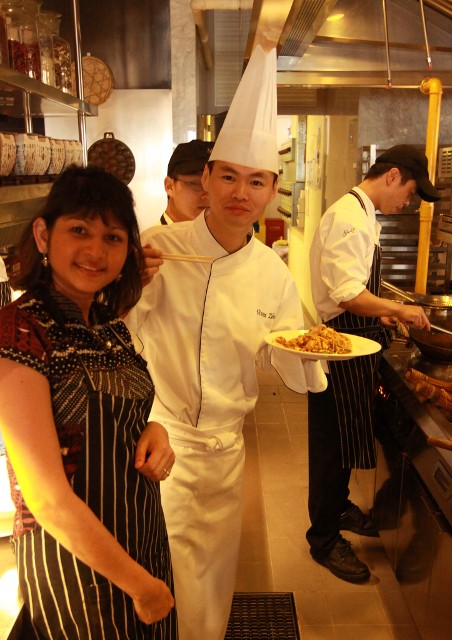 Vincent, Shooks! second in charge got endless Phad Thai to try this day!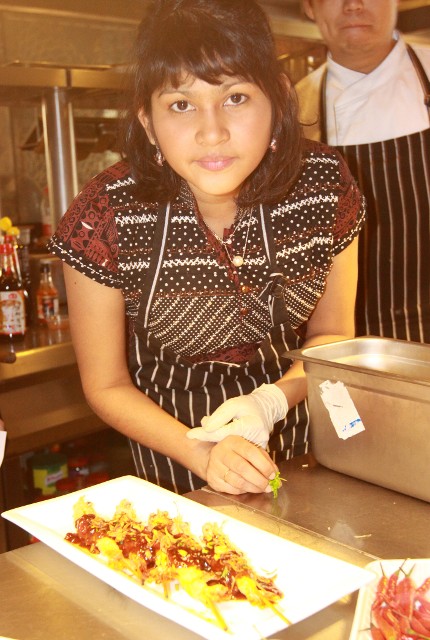 Decorating the Tamarind Prawns.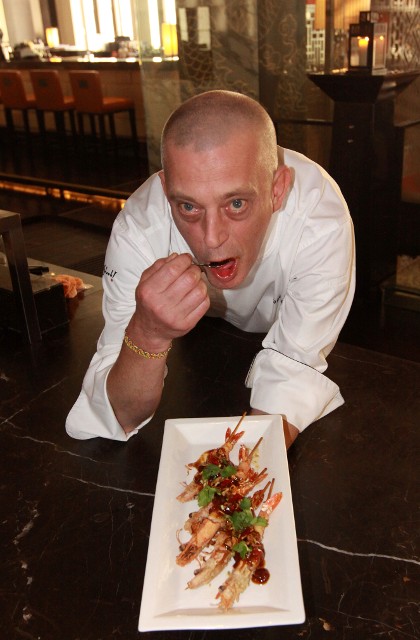 Chef Kevin is trying the Tamarind Prawns.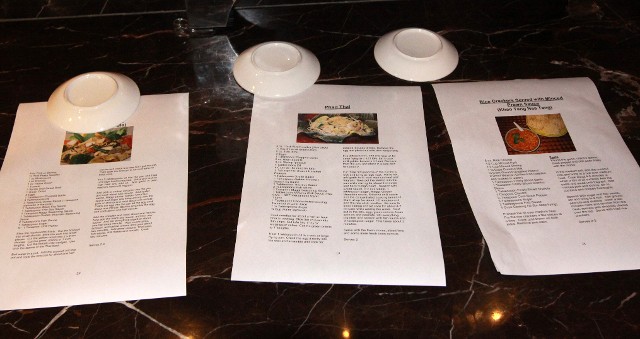 My cookbook! Now my own recipes are international baby!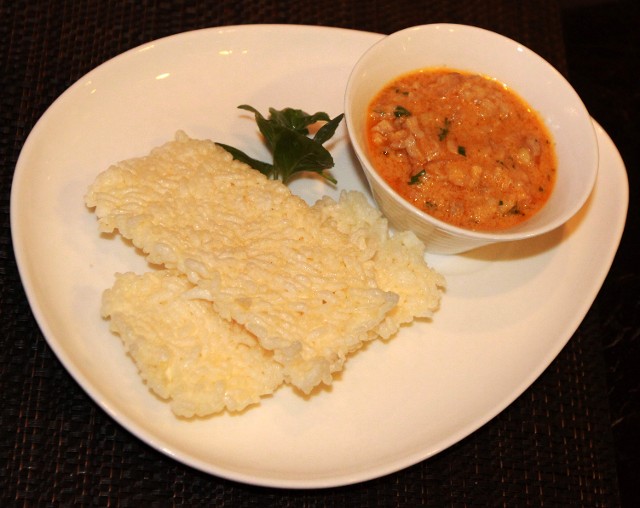 Rice Crackers with Mince Prawns and Chicken.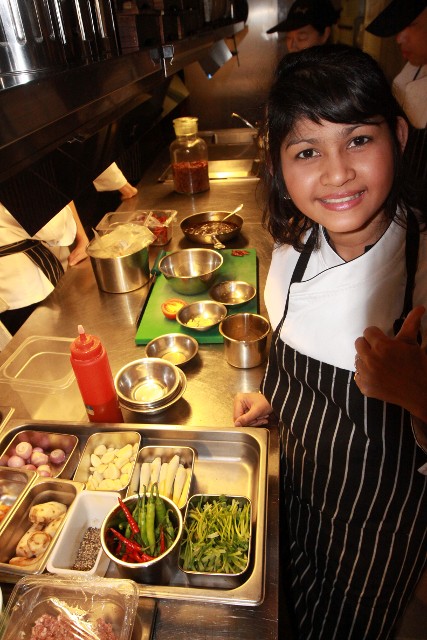 I'm prepping for my fresh curry paste.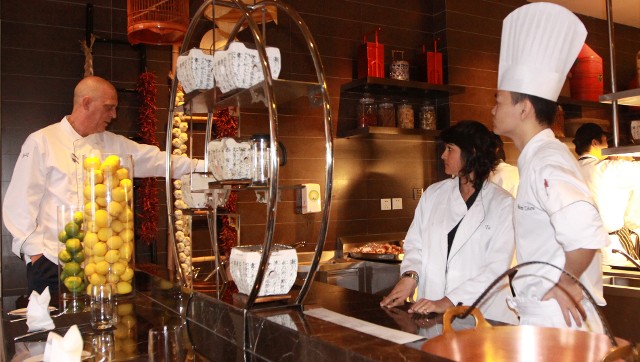 This is our second session.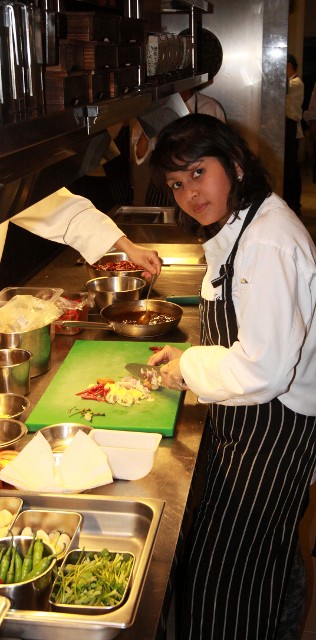 Chop Chop Chop!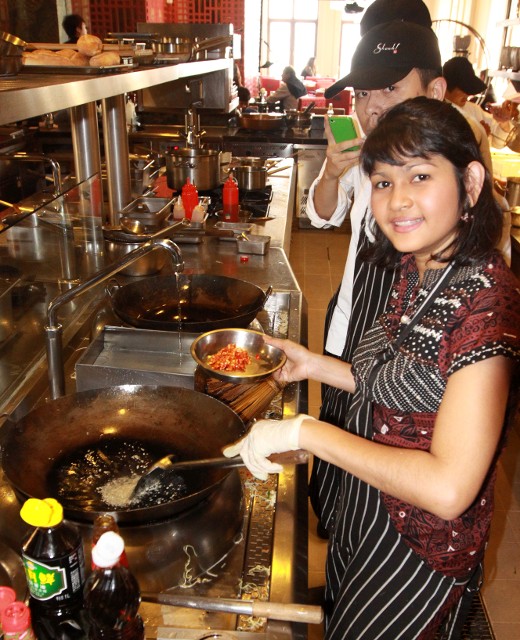 I'm making the Kra Praow.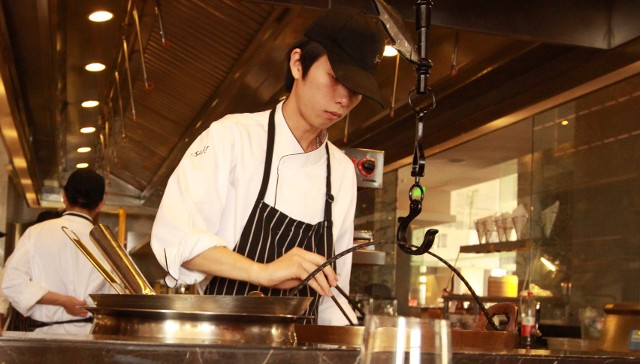 Terry is making a prawn tempura for Cokie.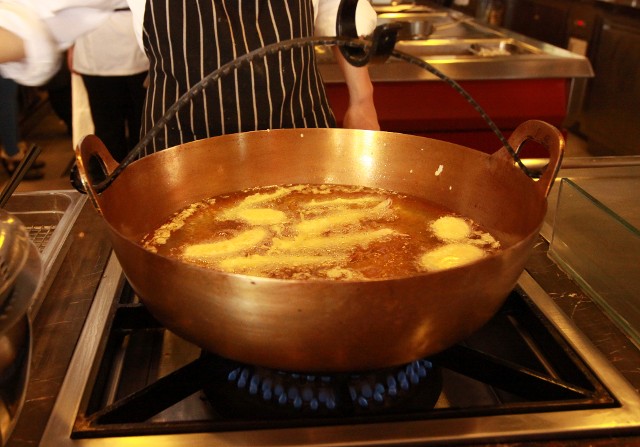 Prawn Tampura.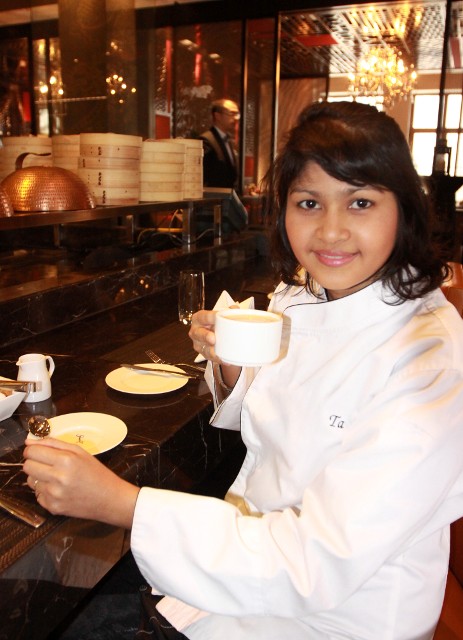 Got to have some great coffee before we start!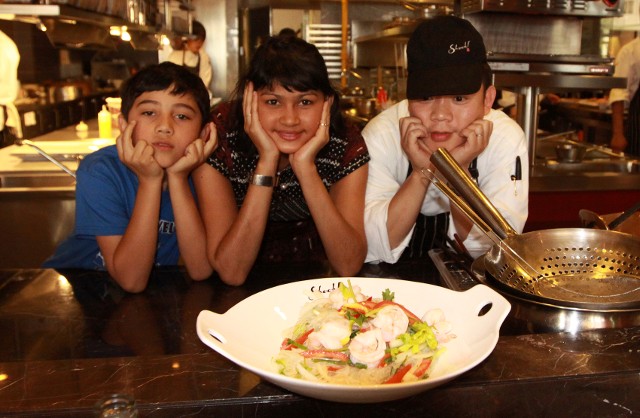 Taya was cooking our lunch after we finished teaching.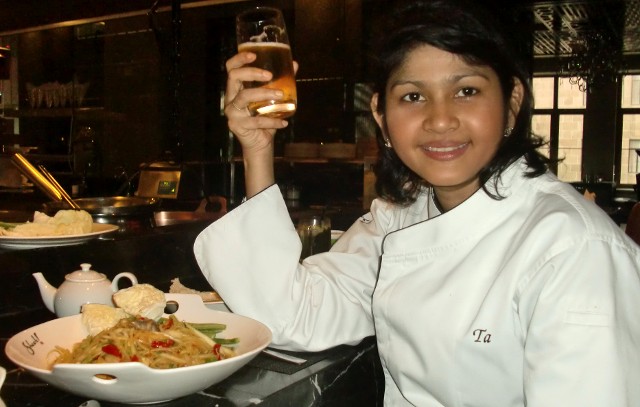 Taya's Papaya Salad with the Thai anchovies. Stinky but AROI!!!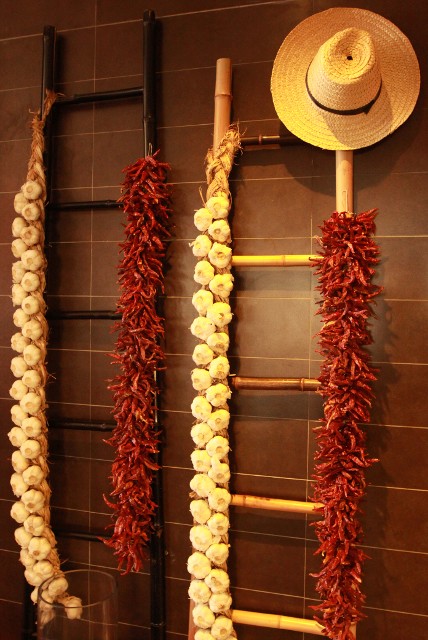 Is that enough garlic!?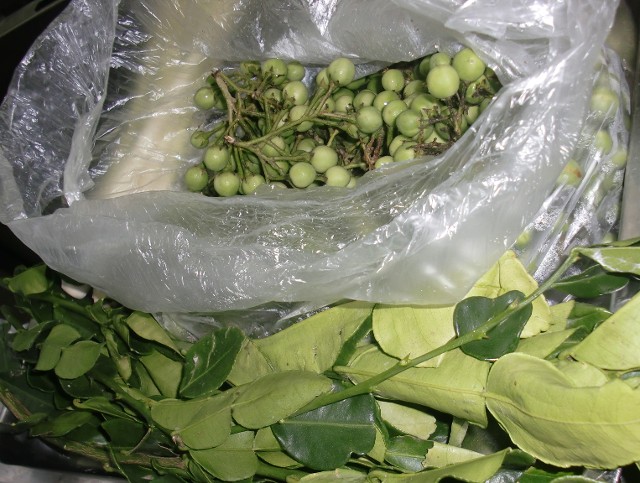 Thai small egg plants and kaffir lime leaves.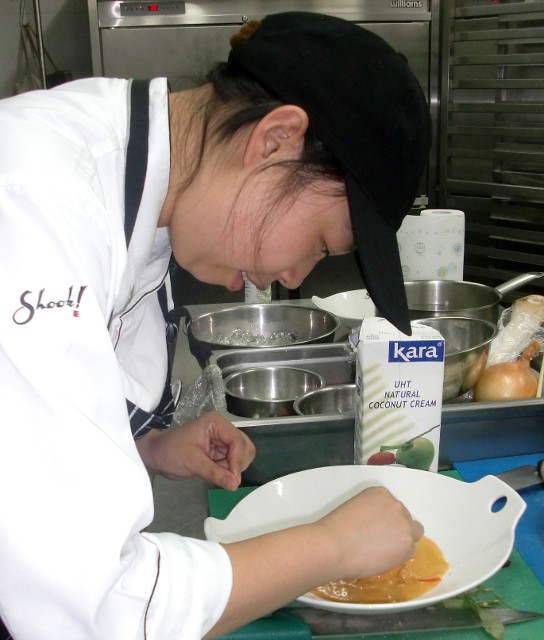 We are learning how to make Thai Pork Red Curry.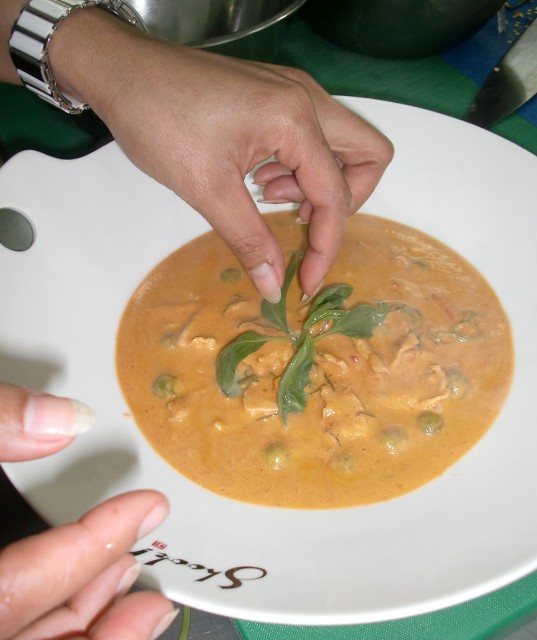 This was our third session.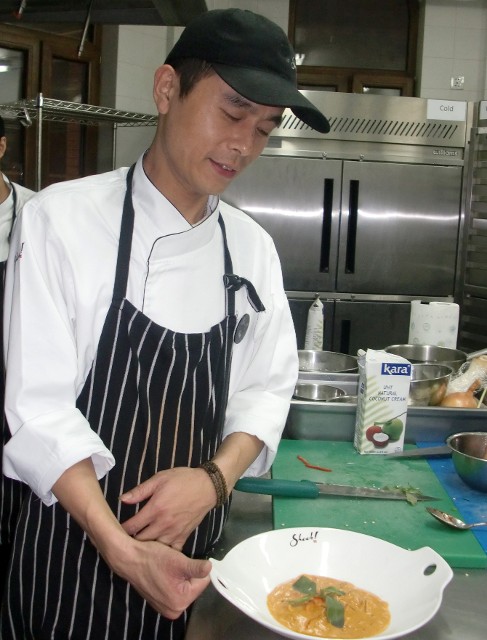 This is Tom, one of my best students!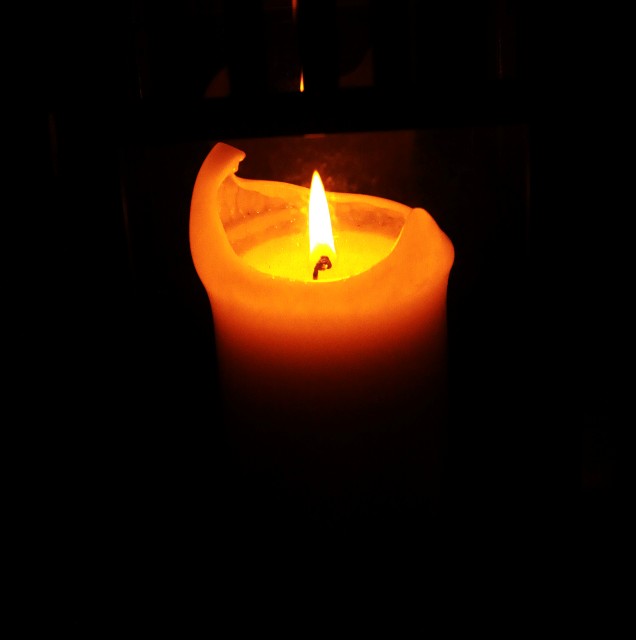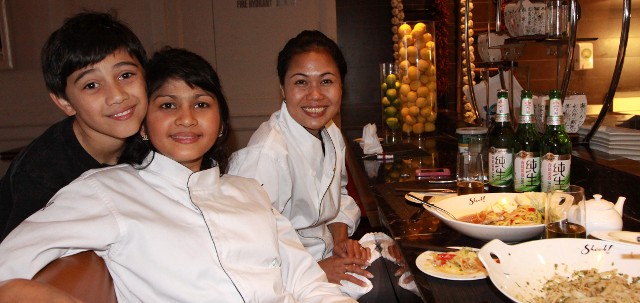 Me, Taya and Cokie - taking a rest!
Thai Consulate & Thai Airways Benefit Dinner December 2011 at Shook.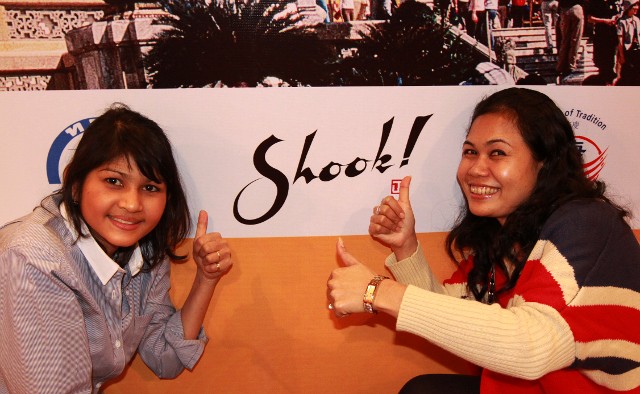 Taya and I were hired to put together a massive banquet for bigwigs from the Thai Consulate, including the Ambassador, as well as the CEO of Thai Airways. Talk about pressure!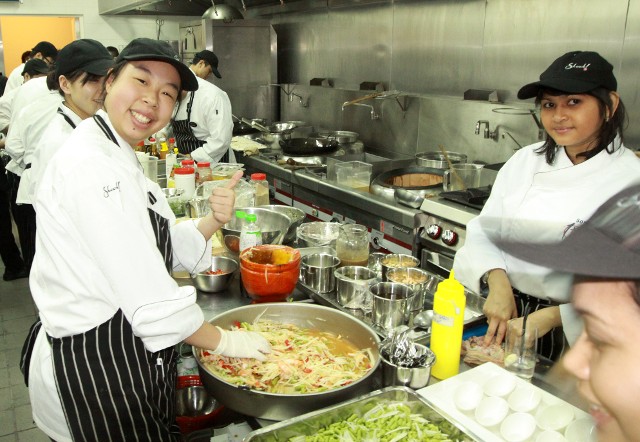 Preparing the banquet...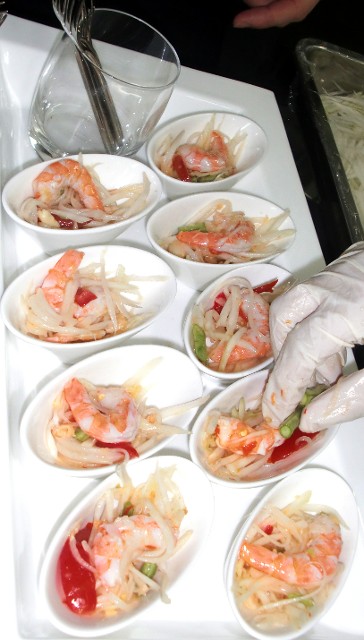 Somtam!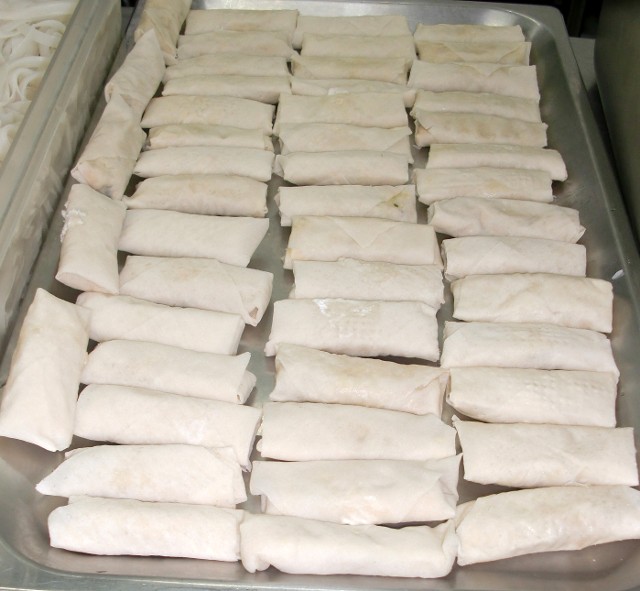 Spring Rolls for 250 people...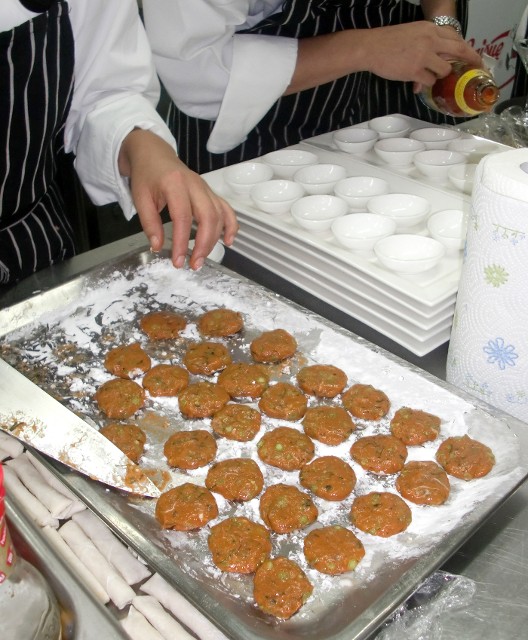 So much work...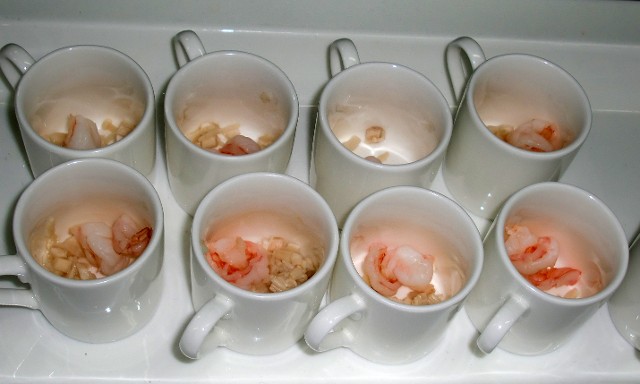 The base for the Tomyam Koong Soup...
(Before)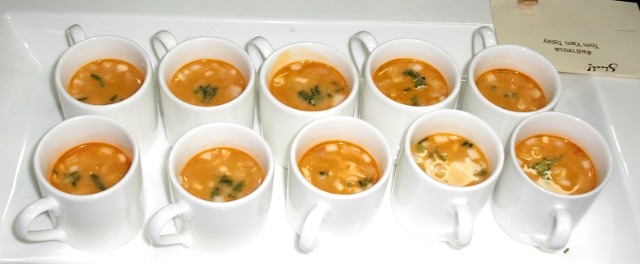 (After)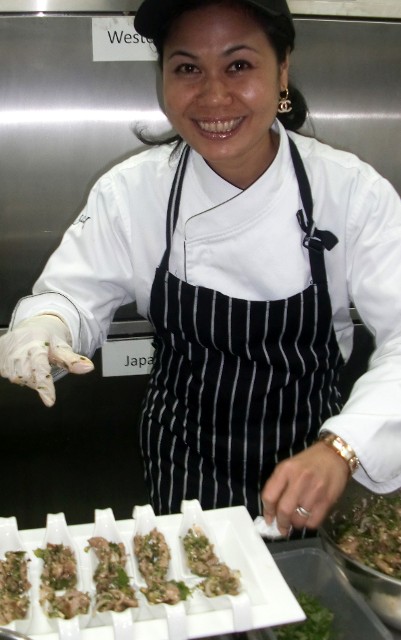 So busy...
Yummy!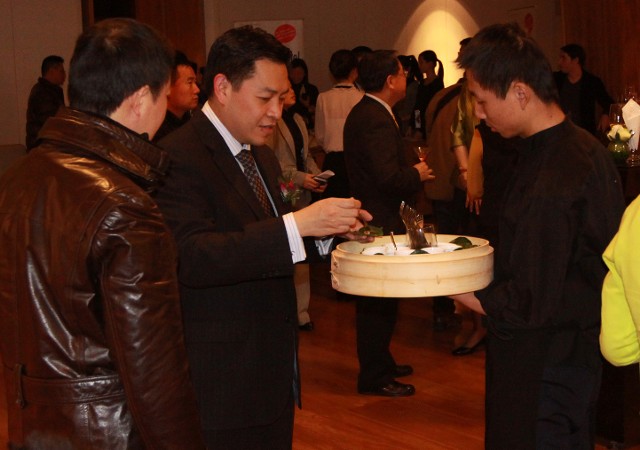 The CEO of Thai Airways China showing some of the guests how to eat the ahan properly...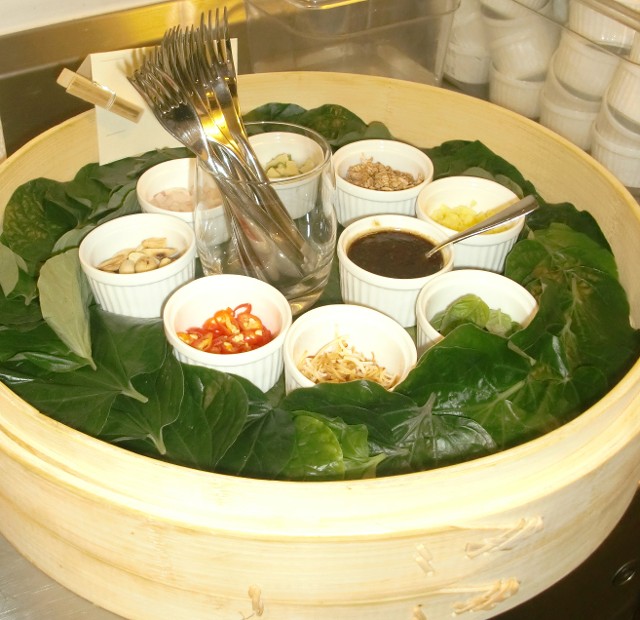 Myang Kham is a very Thai dish...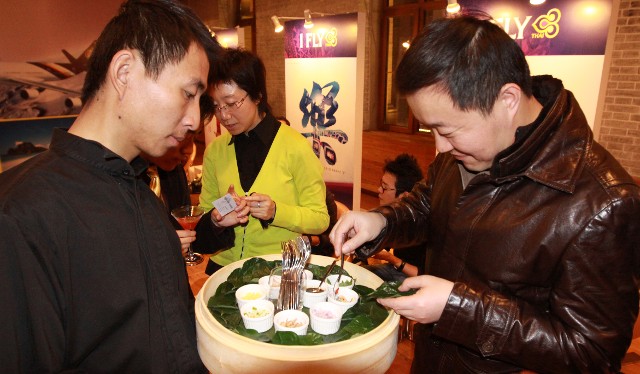 The Chinese guests loved it!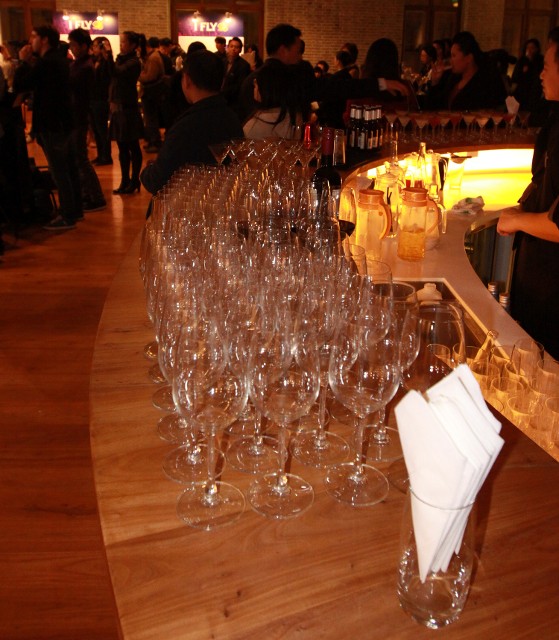 Singha anyone?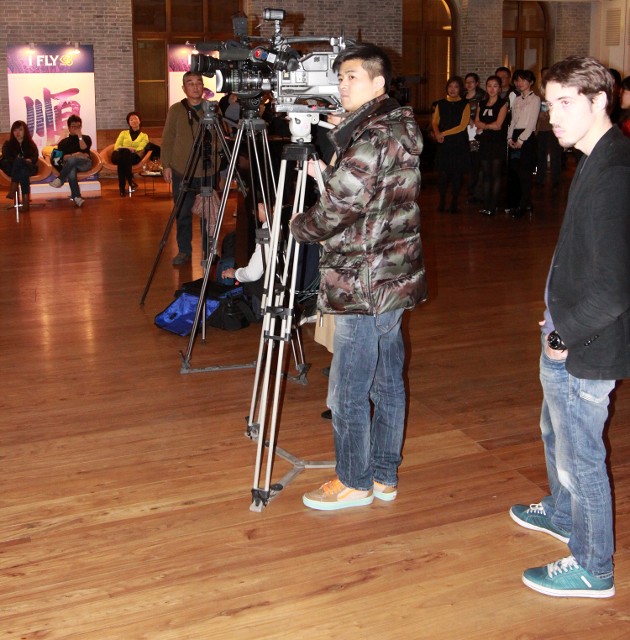 It was quite a media event...We were on at least a dozen Chinese news stations and countless magazines and newspapers...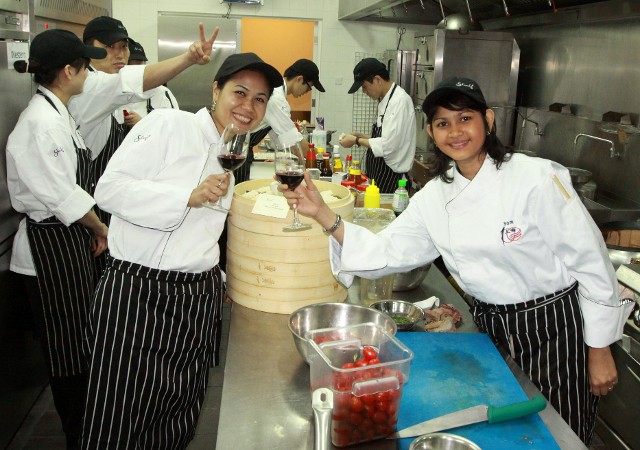 The crew!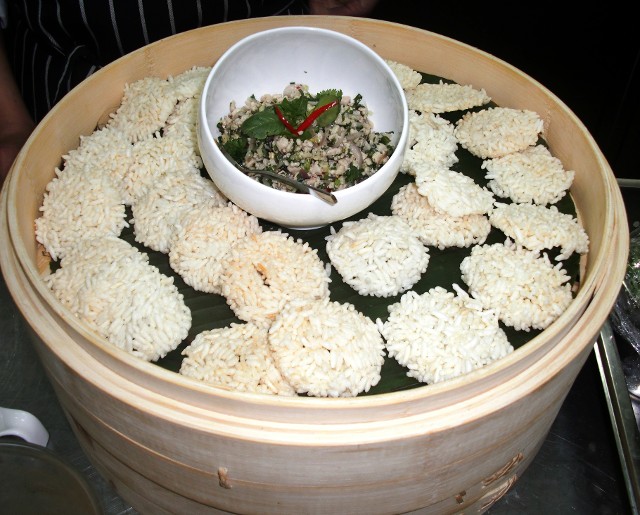 Rice crackers!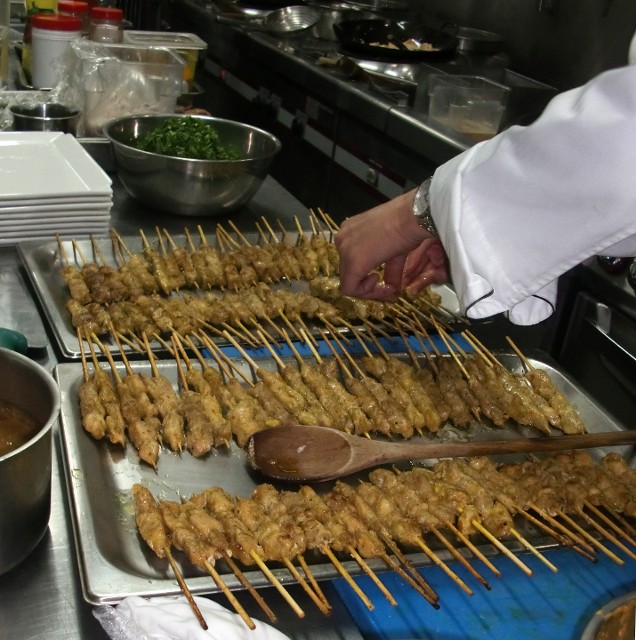 Satay baby!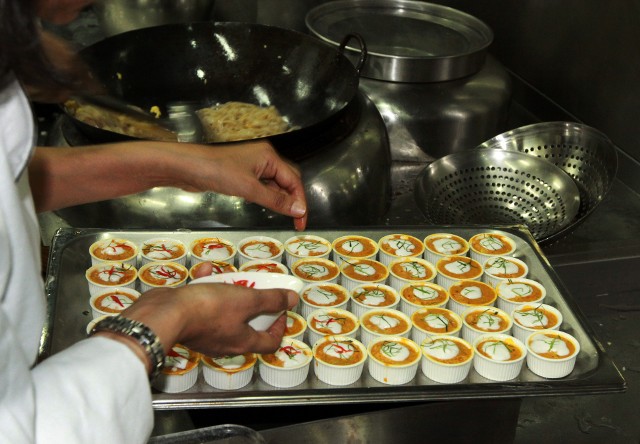 Salmon curry...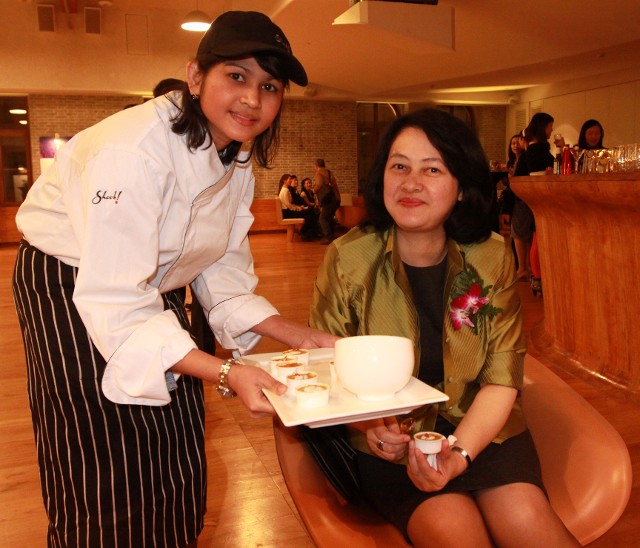 The Thai Tourism Burreau chief for China...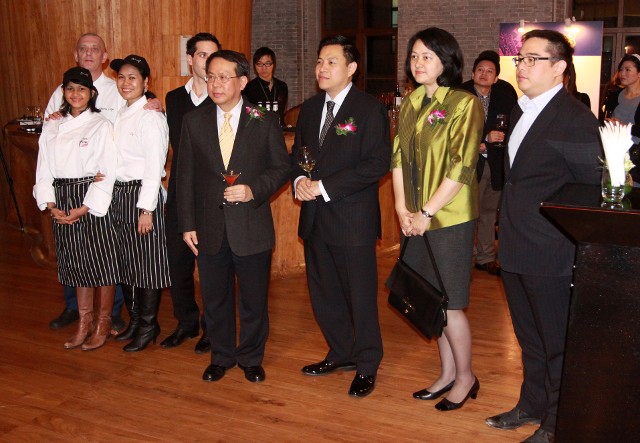 The Consul General of Thailand and some other bigwigs!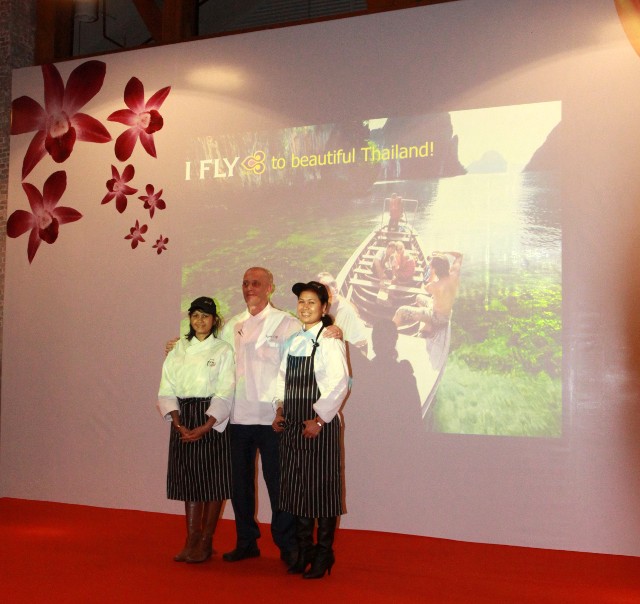 Chef Kevin, Taya and me....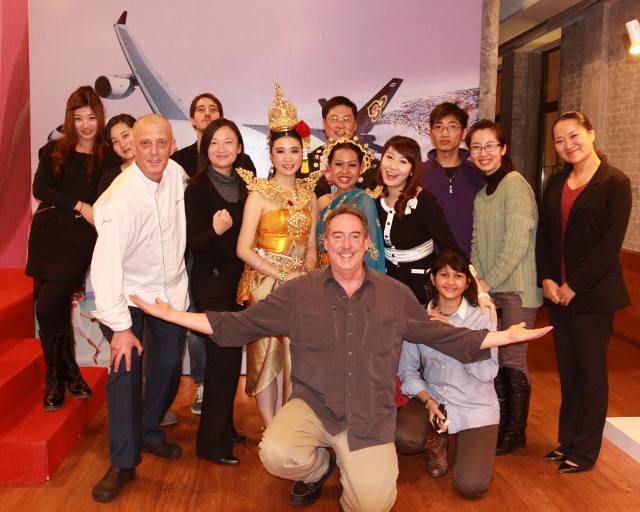 The party!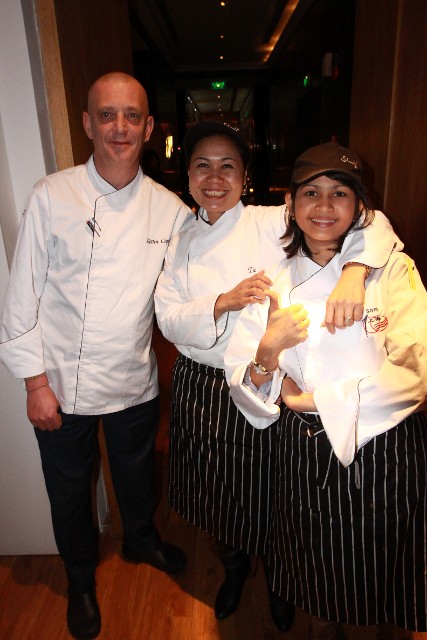 Smashing success...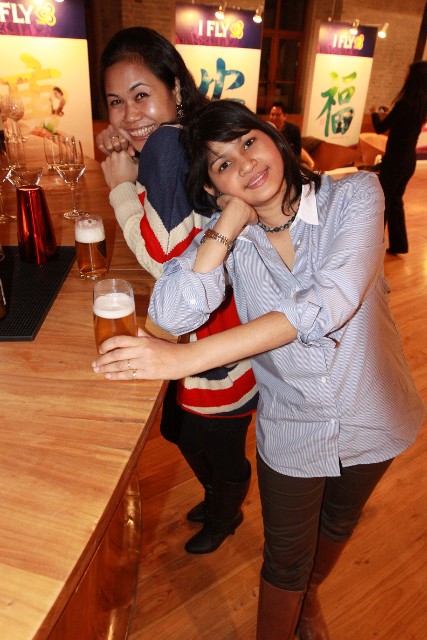 Time for a drink or two to celebrate a job well-done....