A large female Southern Cassowary encountered during a trek in the Daintree Rainforest.
Australia's amazing Cape York is not what most people think of when they think of the Land Down Under. Home to the world's most ancient rainforest, the Daintree, Cape York is a mosaic of plant habitats ranging from the rainforest to the desert scrublands of the western regions of the peninsula. I had the privilege of traveling there to design and experience the below programs in 1997. I have decided to simply paste my itinerary and highlight some of the nature through images that follow. This was still the era when I rarely focused on capturing quality images of my experiences. Consequently I have very few scanned slides of the various species I saw. But, as I have said before, this is a great reason to simply get back there again!
Be sure to visit our Photo Galleries for more spectacular images of our travels! (Pbase Galleries)
MAGIC OF CAPE YORK
DAY 1 - ARRIVE CAIRNS: Evening welcome dinner at Cairns Pacific International Hotel.
DAY 2- KURANDA: Day touring from Cairns to visit Tjapukai Aboriginal Cultural Center and Kuranda Village. The group will participate in an evening wildlife tour of Currowong Sanctuary where we will experience the fascinating animals of the Australian rainforest at night. Accommodation: Kuranda Rainforest Resort.
DAY 3 - CAIRNS - DAINTREE: An early morning departure from Cairns sees us travel north to the picturesque township of Port Douglas for an interesting yet delightful tropical breakfast with the birds at the "Rainforest Habitat". We'll visit the town and its attractions and then head for the township of Mossman, where we'll spend time with the local Kuku Yulanji people who will give you an aboriginal perspective of local culture, foods and medicines. Tonight we stay at the Daintree Eco Lodge. (LD)
DAY 4 - DAINTREE - COOKTOWN: After a early morning cruise on the Daintree River (with the world renowned Chris Dahlberg) that takes in birdwatching with the possibility of sighting of a salt water crocodile, we set off by road and travel to the Daintree Environment Center for a scientific or European approach to the local environment, bush foods and medicines. We'll stop in and visit the Bat House - Cape Tribulation Research Station to learn more about the ecological issues facing the region as well as much natural history of the fascinating flying foxes. Our journey then continues north via the Bloomfield coast road to where the Wet Tropics Rainforest meets the Great Barrier Reef. We will see the majestic World Heritage Daintree Rainforest and scenic Cape Tribulation and cross the Bloomfield River. We continue along this road as it becomes steep in places and undulating crossing the numerous rivers and streams to Cooktown. Along the way we'll visit Bloomfield falls, Lion's Den Hotel and Black Mountain. Our overnight stay in Cooktown. (BLD)
DAY 5 - COOKTOWN - VIOLET VALE STATION: Cooktown provides a visit of excitement and interest. We visit Grassy Hill Lookout where Captain Cook climbed everyday to charter a course through this treacherous reef which had already claimed his Bark Endeavor. Our departure from Cooktown sees us travel north on the rugged Battlecamp road toward the Old Laura Station and Lakefield National Park. This area once was three large cattle stations and is now a National Park It is renowned for its numerous lagoons/billabongs and wide-river lake systems making the area home to many birds, waterfowl and other endemic animals. Tonight we stay at the beautiful Lotus Bird Lodge at Violet Vale. (BLD)
DAY 6 - VIOLET VALE - FULL DAY WITH LOCAL NATURALIST GUIDE: Lotus Bird Lodge provides the ideal habitat for over 200 varieties of wading, migratory and resident forest and grassland birds. We take a self-guided nature walk along marked trails to the myriad of rare local plants and flowers. Additionally you may see dingos, wallabies, goannas, frilled lizards, crocodiles and wild pigs. This is the real Cape York wilderness. (BLD)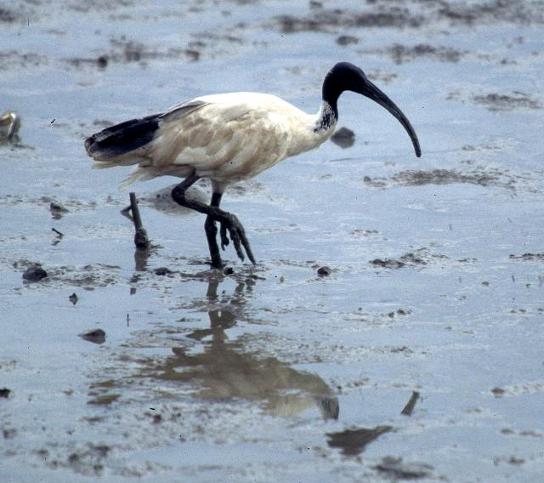 Australian White Ibis seen looking for invertebrates in one of the many wetlands of Cape York.
DAY 7 - VIOLET VALE - MORETON TELEGRAPH STATION: Departing Lotus Bird Lodge we travel the short distance to Coen and Archer River then through Aboriginal tribal lands, huge cattle runs, bush tracks, open plains and heathlands as we continue further north towards Batavia Downs Station located in the heart of the Peninsula cattle country. We also cross the broad Piccaninny plains to arrive at the swift flowing Wenlock River and set up our camp for some silver service dining and an evening under the beautiful starlit skies on the sandy white river's edge near the old historic Moreton Telegraph Station. (BLD)
DAY 8 - MORETON - FULL DAY WITH LOCAL NATURALIST GUIDE: Today we participate in more birdwatching and canoeing on the Wenlock river (5km) or just relaxing in the sunshine(BLD)
DAY 9 - MORETON TELEGRAPH STATION - TWIN FALLS: Civilization far behind, an exciting day traversing rushing streams and rocky creeks, through forests of ancient zamia palms and eucalypts across heathlands and vast isolated cattle stations. Camp tonight is at Twin Falls, a paradise of waterfalls, rapids and exotic flora. (BLD)
DAY 10 - TWIN FALLS - PUNSAND BAY: Today we travel across the amazing "wet" desert and sandy forests to the mighty Jardine River. Crossing this river on a vehicular barge, we continue on to the township of Bamaga and overnight accommodation at the private Punsand Bay resort. (BLD)
DAY 11 - CAPE YORK - PUNSAND BAY: A day of interest and excitement as we take a scenic drive through monsoon rainforest to Frangipani Beach with just a short walk to the northernmost tip of mainland Australia - Cape York itself. After a photo stop and celebration of the momentous occasion, we tour historic Somerset, once called the "Singapore of the Pacific". We're then back to Punsand Bay this afternoon for our overnight stay. (BLD)
DAY 12 - PUNSAND BAY - THURSDAY ISLAND: We venture across to Thursday Island today via inter island launch through the azure waters of the Torres Straits to visit and explore this legendary island outpost. Visit a colonial fortress, a pearl driver's cemetery, an islander community or shop for pearls or if you like just sit back and take in the unique atmosphere of this timeless land. Your overnight accommodation is at the Jardine Hotel. (BLD)
DAY 13 - RETURN TO CAIRNS-END OF TOUR: Today we return to Cairns by either 2.5-3.0 hr scenic flight in air-conditioned, twin engine turbo prop aircraft or cruise back on the M.V Kangaroo Explorer (see section titled "Cape York Cruise".) (B)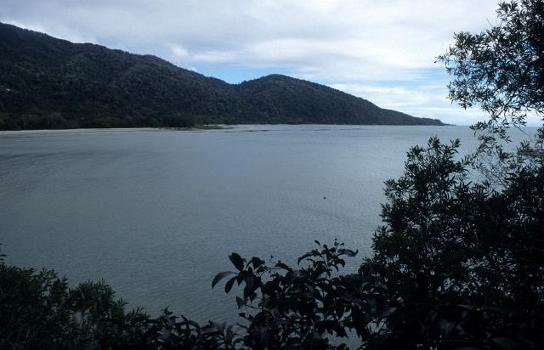 Cape Tribulation
CAPE YORK CRUISE
7 DAY Cruise with MV Kangaroo Explorer
DAY 1 (SAT) - THURSDAY ISLAND/CAPE YORK: Board the MV Kangaroo Explorer at 1.30pm for a 2.30pm departure for the northernmost tip of Australia. We go ashore and toast this special occasion.
DAY 2 (SUN) - TROPICAL ISLAND: A beautiful deserted tropical-island for relaxing under the coconut trees, swimming and snorkeling in the crystal clear waters or soaking up the sun on the beach.
DAY 3 (MON) - OUTER BARRIER REEF: We visit a sand cay on the outer reef for coral viewing and fishing to catch the 'big one'. In summer months, giant turtles are often present on and around the cay. Relax and enjoy the beauty of the reefs surrounding us.
DAY 4 (TUE) - LIZARD ISLAND: View the magnificent outer reefs from the vantagepoint of Cook's Lookout. Enjoy a beach barbecue for dinner followed by night coral viewing.
DAY 5 (WED) - COD HOLE/PIXIE PINNACLE: At the world renowned Cod Hole say g'day to giant potato cod and moray eels as they compete for a free feed. Snorkel with them or watch the action from our glass bottom boat. Pixie Pinnacle has magnificent coral outcrops in vertical displays for viewing by diving, snorkeling or from the glass bottom boat.
DAY 6 (THUR) - COOKTOWN: Cooktown provides a morning of absorbing interest. Explore the century old buildings, gardens and the James Cook Museum. Tonight is our farewell party on board where we enjoy a special seafood feast.
DAY 7 (FRI) - CAIRNS: Arrive back in Cairns at approximately 9:00am
Here are some images from my exploratory trip to Cape York in 1997!