Coke hanging out with some Galapagos Tortoises at the Darwin Research Station.
I love the Galapagos! Not just because they are famous due to my idol, Charles Darwin's famous visit to the island in the 1830's, but because they are home to such an amazing assemblage of some of the world's strangest and rarest critters!
During my three trips to the islands, I have had great times trekking and exploring the nooks and crannies of the islands searching for the phenomenal endemic species found there.
The below itinerary represents one of the typical cruises I have been lucky enough to participate in. On top of the two expeditions with La Selva Expeditions, I traveled there again in 2001 just to "get away from it all", when Maria and I split.
Click the links below to see more images from the Galapagos and South & Central America
Animals of South & Central America
Birds of South & Central America
South & Central American People & Places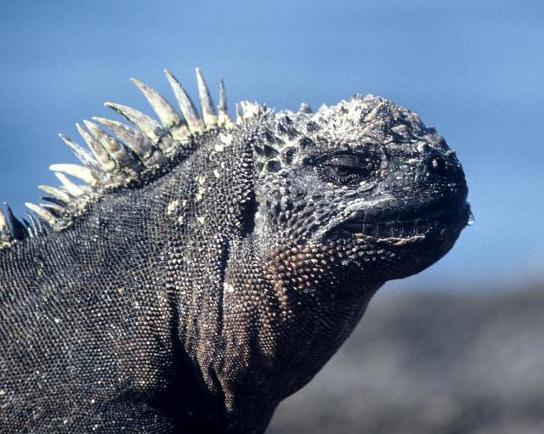 A regal Marine Iguana sunning himself on the Galapagos Islands.
GALAPGOS CRUISE
DAY 1 (Fri): GALAPAGOS ISLANDS / BALTRA / TURTLE COVE: Departure transfer to airport for flight to the Galapagos. We board our beautiful boat to begin our Galapagos expedition. We visit Baltra, which has unique Opuntia and Cereus cacti as well as Palo Santo trees and numerous annuals. We will also visit turtle cove to see the massive Galapagos tortoises.(BLD)
NOTE:
The visits are taken to the islands in a smaller boat launched from the mother ship to the beach or dock. All excursions are assisted by a professional naturalist guide for an in-depth experience, with detailed lectures in the evenings. Seasonal changes in the itinerary may occur due to weather patterns or national park regulations at the moment of the cruise.
DAY 2 (Sat): SOUTH PLAZA / SANTA FE (BARRINGTON): South Plaza was formed by uplifted lava-fault blocks and contains land iguanas, Audubon's shearwaters, red-billed tropic birds, brown pelicans, sea lions swallow-tailed gulls, just to name a few. Here we see the large Opuntia cacti and a striking, red succulent, Sesuvium. On Santa Fe Island, we experience land iguanas, the Galapagos mockingbird, the brown noddy, the brown pelican, magnificent frigate birds, and several species of Darwin's ground finches. In the cove we may spot manta rays, parrotfish and the occasional sea turtle.
DAY 3 (Sun): ESPANOLA (HOOD): Punta Suarez is simply packed with wildlife! Here we will see marine iguanas, sea lions, swallow-tailed gulls, lava lizards, finches, the endemic long-billed mockingbirds, both blue-footed and masked boobies, oystercatchers, and breeding waved albatrosses (April to December). We may have a chance to swim with the playful sea lions and relax at the spectacular white-sand beach at Gardner Bay.
DAY 4 (Mon): FLOREANA (CHARLES): Here we can leave our letters as the whalers did over 100 years ago at the wooden barrel mailbox on Post Office Bay. We will visit a flamingo lagoon behind Point Cormorant's olivine beach and snorkel at the mysterious Devil's Crown, an eroded, submerged volcanic cone.
DAY 5 (Tues): PUERTO AYORA / DARWIN STATION/HIGHLANDS: We will visit the world-famous Darwin Research Station at Puerto Ayora. In the nearby highlands, we will see the lush humid zone with its characteristic Miconia bushes, Scalesia trees (of the sunflower family) and extinct volcanic cones covered with lush growth. Santa Cruz Island has more endemic flora that any other island in the Galapagos.
DAY 6 (Wed): SANTIAGO (JAMES) / BARTOLOME: Santiago Island demonstrates the volcanic forces that formed the islands very clearly. It is a twisted world of lava cones and craters. At Puerto Egas, we can swim with the Galapagos fur seals in their native habitat. Bartolome has an incredible 350-foot cinder cone surrounded by spectacular lava formations providing a moon-like landscape.
DAY 7 (Thur): GENOVESA (TOWER): Here we will see colonies of red-footed and masked boobies, lava gulls and frigate birds all nestled in the area surrounding Darwin's Bay. To the east, we can see red-tailed tropic-birds and storm petrels as well as more boobie nesting sites. We will also have a chance to do some snorkeling in the majestic waters here.
DAY 8 (Fri): NORTH SEYMOUR / BALTRA/RETURN FLIGHT: This submarine lava formation contains the largest gathering of magnificent frigate birds in the region. We can also visit nesting colonies of blue-footed boobies and swallow-tailed gulls. Arrival transfer from Galapagos. Overnight at Hotel Sebastian (BL)
Here are some more images of my Galapagos experiences!