Coke kissing his first Grey Whale in Laguna San Ignacio!
***
Trip Wildlife Report: Spring Break in Baja
Cordon cactus communit of Santa Catalina Island.
***
March 25 through April 5, 2009
Wildlife Locations Visited: San Ignacio Lagoon, Bahia Concepcion, Bahia de Loreto National Park, Santa Catalina Island, Montserrat Island, Carmen Island, Ojo de Liebre Lagoons, Vizcaino Desert Biosphere Reserve, Catavina Desert Sierra San Pedro Martir, Norte Ensenada
Check out some more images below! Also, click on the below links to see gallaries with more phenomenal images of the flora and fauna of Baja California, Mexico!
The Expedition
Twelve days in Baja may not seem like a lot, but when you have the dedicated Smith family at the helm, an amazing amount of fun and wildlife viewing can be had. Quick in the planning, the trip came off with an astounding degree of success. Not only was the trip fairly quickly slapped together, it was almost cancelled due to six-year-old Cokie Smith's emergency surgery less than two weeks prior to the trip. Resulting from a complication from the prior year's appendectomy, Cokie found himself in yet another life-threatening situation with a primary blockage of his small bowel caused by adhesions. After a life-flight helicopter ride to Seattle's Children's Hospital, Cokie underwent emergency surgery and several days of hospitalization. But after several days of recovery, and a doctor's okay, we decided to follow through with the trip after all. And we were very glad we did!
After a quick flight down to San Diego, California, we rented our piece-of-shit Dodge from Dollar (although it did make it through the entire trip with only minor, non-trip-stopping problems…), we crossed the militarized US-Mexico border and drove through the cesspool known as Tijuana, and the exploding metropolis of Ensenada (wow how that place has grown since my spring break days in the 80's!), we made it to the sleepy and dusty town of San Vicente, where we had an outstanding seafood dinner and a noisy, dusty night's sleep.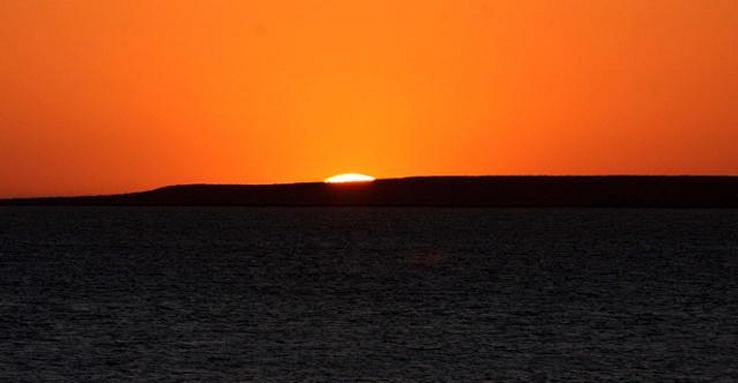 Sunset over Laguna San Ignacio.
Laguna San Ignacio

Camp Pachico! This was our home for about a week during our stay at Laguna San Ignacio. Simple but more than enough!
With an early start, we started our very long (about 500 km) drive to Baja California Sur, ultimately to Laguna San Ignacio. With many stops through the amazing boojum deserts of the Sierra San Pedro Martir, we made respectable time. While in the boojum forests we ticked off several bird species and even our first mammal. California Ground Squirrels were scurrying around the inselbergs warming in the morning sun. We spotted many new reptiles as well. I was hoping to see my first lifer, the White-tailed Antelope Squirrel, but that would have to wait for another day….
The transpeninsular highway is surprisingly fast and you can make really good time. There were times we were flying at speeds in excess of 80mph!!! Although I would not recommend that in most sections as the road has virtually NO shoulder and the trucks in the opposing lanes often get within inches! And there are tons of Feral Cattle or Chinampo and Feral Burros throughout the peninsula that would love to be crashing through your windshield.
We made it to San Ignacio town with plenty of sun left and had time to shop for provisions such as tequila, beer, candy and Cokie's Mexican caballero hat that he still wears today with pride. After inspecting the spectacular 300-year-old Mission San Ignacio, we got started on the 60km gravel road out to Pachico's Ecotours Camp situated right on Laguna San Ignacio.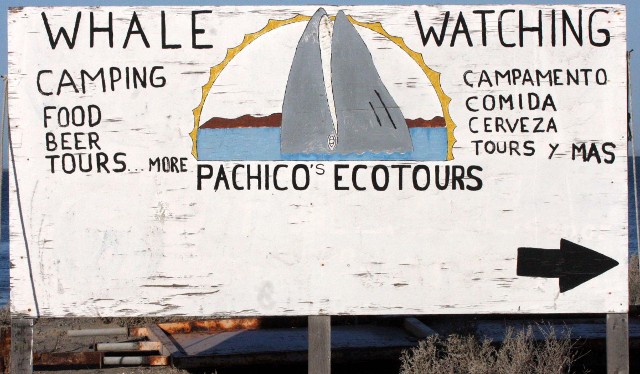 Pachico Ecotours! Our first sign that we were headed in the right direction.
After hearing so many horror stories about the gravel road out to the lagoon, we were relieved to experience a very well-maintained, fairly fast road with minimal wash boarding (although I think it probably does get worse depending on how recent the grading has been…). We arrived to Pachico's camp just in time for a spectacular sunset. After meeting our hosts, Jesus Mayoral and his partner, Sabrina, who were kind enough to allow us to use one of their cabins gratis to make Cokie's stay more comfortable, we were able to relax and unwind after our long trip.

Camp Pachico. We were supposed to camp there but when Pachico found out that Cokie had just had surgery, he insisted we stay in one of the bungalows.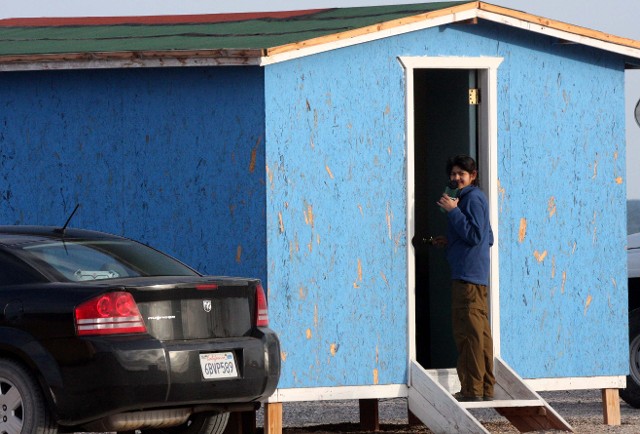 Som at our new home!
While Som was getting settled, Cokie and I decided to go on a desert night hike with spotlights to see what we could see. Great first night! In less than one km of walking in the immediate vicinity of the camp, we got good sightings of Peninsular Coyote and Desert Kit Fox! And we even got a quick look at a Merriam's Kangaroo Rat. No one back at camp believed we saw the fox as no one had ever seen one there before. Jesus knew there were foxes around but thought they were much further out. But the other guests thought we were crazy no doubt…. Most people probably assume they are looking at a coyote as they are so common there. Som was disappointed that she didn't join us on the night's hike, but I was confident we would have another shot in the following four days at the camp.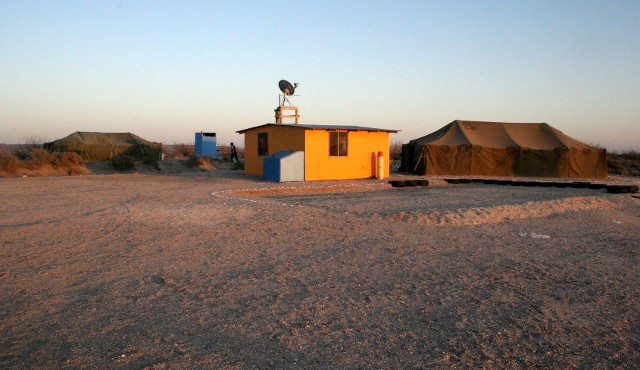 The cantina and communications bungalow at Pachico Camp.

Our primary focus for visiting Laguna San Ignacio was the Gray Whales. The lagoon is famous for the large concentrations of the grays during the winter months. Courtship, mating, birthing and rearing all happen in the lagoon for about 300+/- whales. Scammon's lagoon (Laguna Ojo de Liebre) further north and Laguna Magdalena further south all combine to provide habitat for over 2000 gray whales during the mating season (a bit less than 10% of the total population). We selected San Ignacio over the others due to the fame it has for the so-called "friendly" whales. Although there is never any guarantee of being visited by the whales close enough to pet them, the literature showed San Ignacio as the place to be. And we were NOT disappointed!
Three full days in Laguna San Ignacio allowed us the opportunities to see over fifteen mother-baby pairs of whales, with "friendly" encounters with at least eight pairs! In fact, every single trip out to the mouth of the lagoon to see the whales, we had at least 45 minutes to over 1.5 hours of petting, kissing and playing with the whales! We could not have imagined better luck! Being so close to such magnificent mammals is beyond comprehension and mere words cannot describe the experience. I will never forget the smile on Som's face while she was petting, and in many cases actually kissing, the whales - the pure joy of the experience was evidenced in her massive smile!
Gray Whale (Eschrictius robustus)
Gray whale staring at me. This is one of the many "photographer's dreams" that came true for us this week!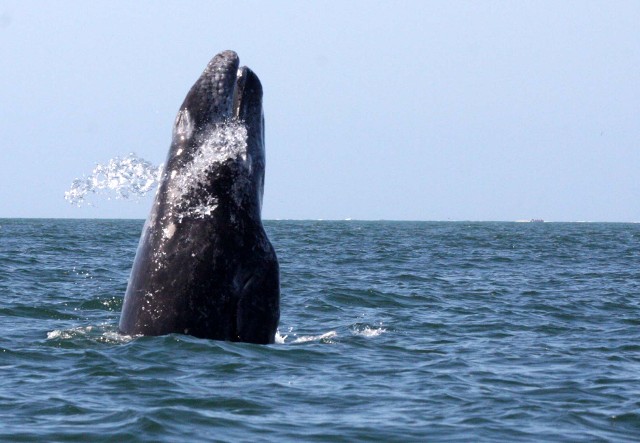 A spy-hopping Gray Whale in Laguna San Ignacio!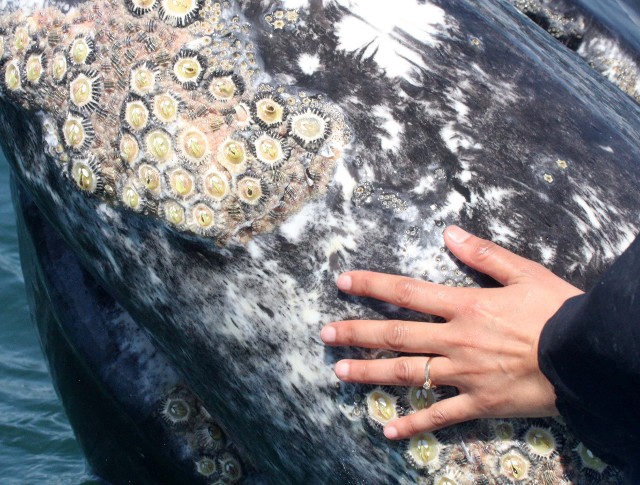 Cryptolepas rhachianecti are the commensal barnacles found on Gray Whales.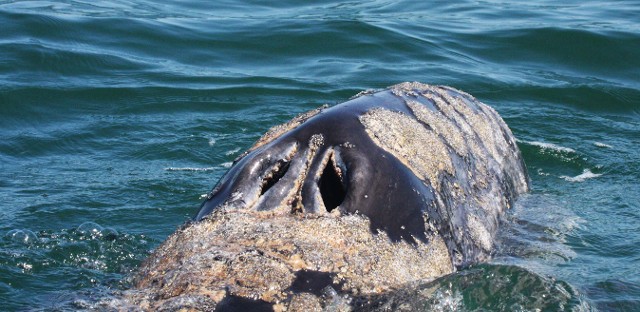 The blow-hole nares of a young Gray Whale in San Ignacio Lagoon.

Cokie on the other hand took a couple days to get used to the size of these massive mammals. On day one, he quickly petted the first whale to approach the boat but after a few moments, I guess it finally clicked just how massive these creatures were, and he spent the entire rest of day-one and two running to opposite sides of the panga (boat) from the massive approaching and playful whales. It was like watching a scared ping-pong ball…He wasn't really that scared, he just wanted to stay far away from the whales, their spray and their smell…. But on day-three, he dealt with his fears and spent the entire trip petting both the mothers and the babies – he loved it! I really enjoyed watching him overcoming his fears completely on his own. He told me the night before, "dad, I really am going to try to pet the whales tomorrow – even the mommies."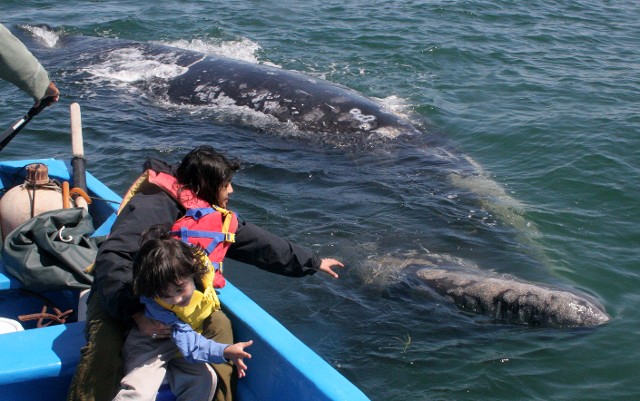 Cokie heading quickly to the other side of the boat - away from that massive animal approaching our panga! Smart kid! He was initially terrified of the massive Gray Whales. But after a couple days of playing with them, he finally came to his senses...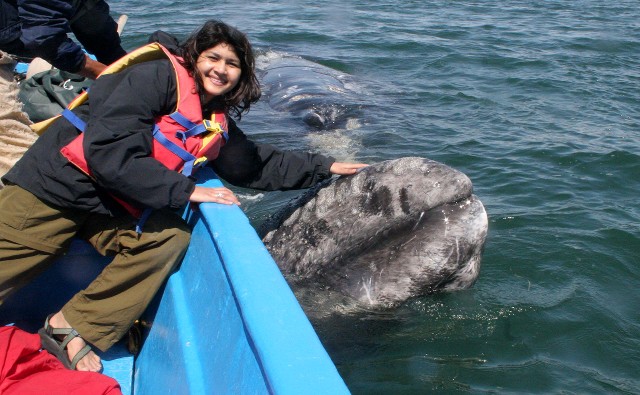 Som, on the other hand, was very comfortable touching these gentle giants.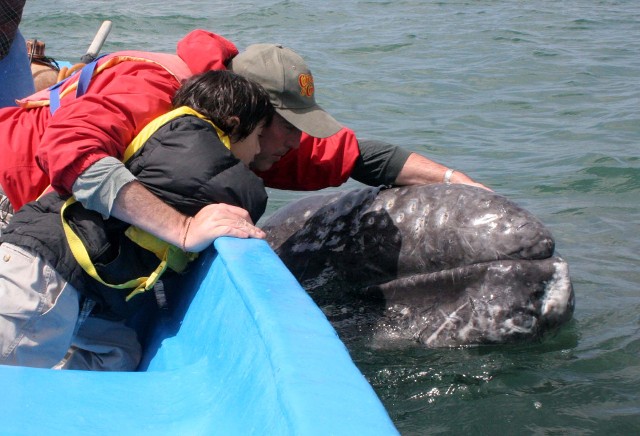 With a little encouragement from me, Cokie finally came to enjoy the contact with these amazing mammals!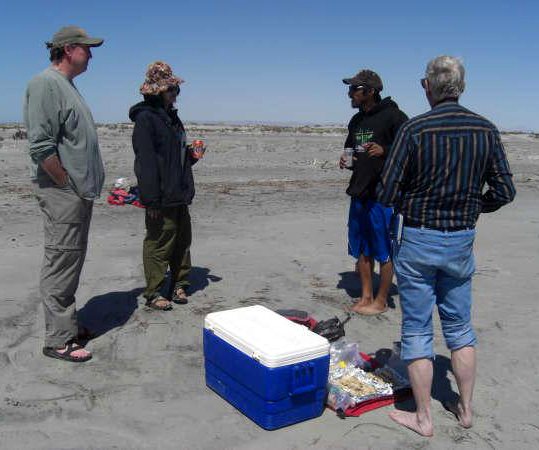 Johnny's pictures of us having a picnic in the far end of the lagoon.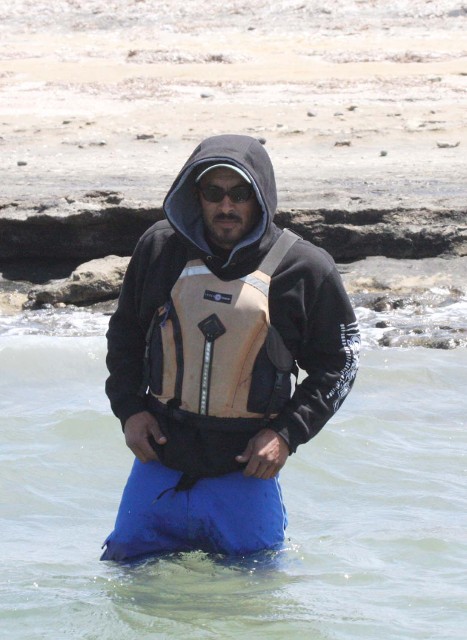 Jesus de Mayor, Pachico's son, was our main guide during our stay in the lagoon.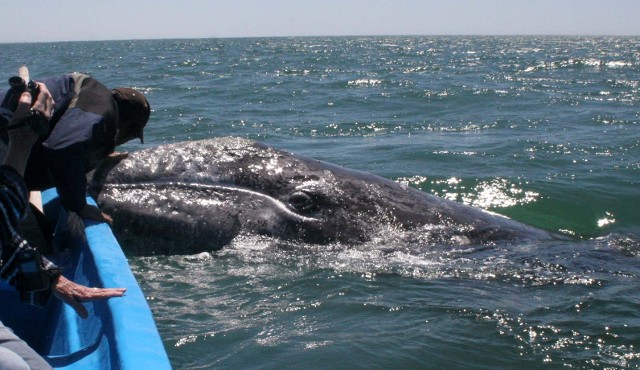 A young Gray Whale coming up for a kiss!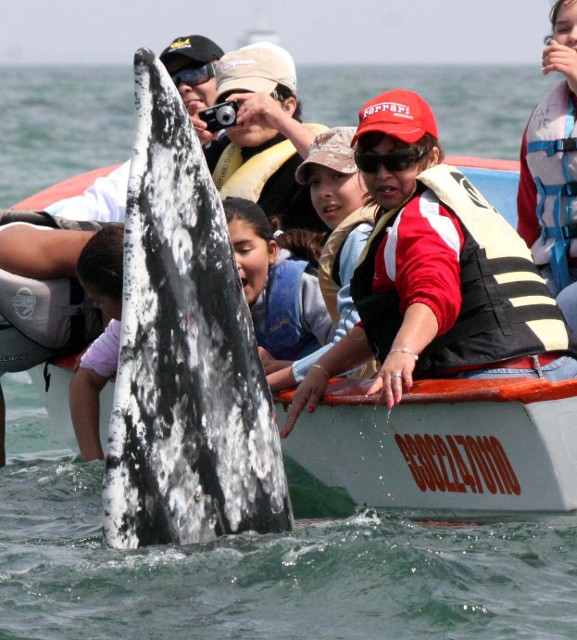 One of the boats next to us getting a wave 'hello' from a passing Gray Whale!
The stay at Laguna San Ignacio was utterly fantastic. Days whale-watching and birding were phenomenal. Visiting the osprey rookeries on the nearby bird island would have been worth the trip to the lagoon in itself. The bird life was prolific there – thousands of brown pelicans, double-crested, Brandt's and pelagic cormorants, peregrine falcons, Heerman's gulls, royal terns, snowy plovers, reddish egrets, hundreds of marbled godwits and willets were some of the avian highlights. We even had good sightings of pomarine jaegers and a south polar or Antarctic skua, the species with the longest migration of any species of bird on the planet!
The mammals in San Ignacio were great as well! We had good sightings of at least 8 peninsular coyotes and three separate Peninsular Desert Kit Foxes! We also saw several Black-tailed Jackrabbits in the desert during night drives. We had a fleeting glimpse of an American Badger as well. At first I was a bit surprised by the sighting but after seeing large badger holes in the desert during day walks, I new they were there. On two separate nights, we got good looks at the same gray fox near the base camp. I was only able to bring one of my traps but it was well used. We were able to trap a Long-tailed Pocket Mouse and a White-tailed Antelope Squirrel! Both were new lifers for me. And on the way out, we saw dozens of the antelope squirrels – even got some great shots of them.
Peninsular Desert Kit Fox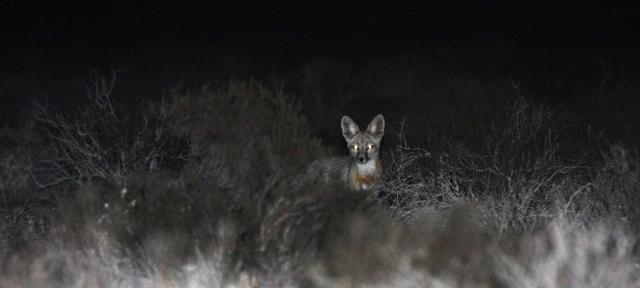 Contrary to popular belief, Desert Kit Foxes are common in and around the Laguna San Ignacio area. This one was spotted one evening during our night safari.
Black-tailed Jackrabbit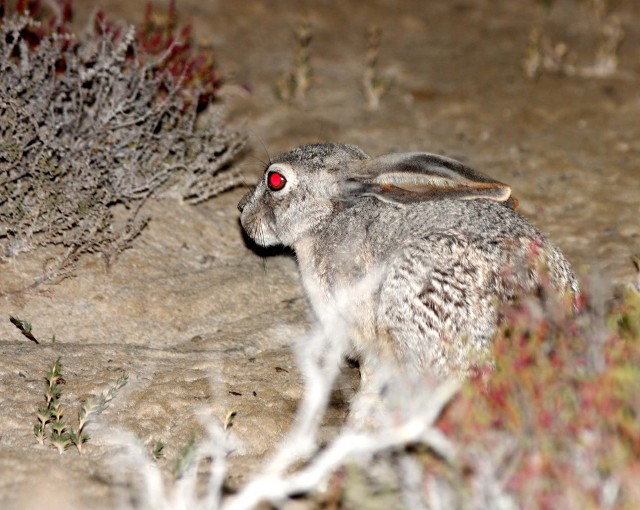 Black-tailed Jackrabbits were very common throughout the trip. This one was photographed at Ojo de Liebre Lagoon further north but we did see many in and around Laguna San Ignacio as well.
Mister and Mrs. Pachico! Pachico has been featured on many television shows ranging from Nat Geo to Discovery to BBC. A very famous man indeed!
Laguna San Ignacio Mission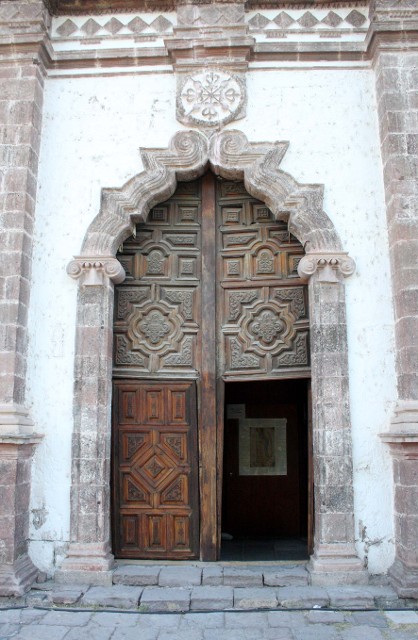 Laguna San Ignacio is one of the many very old missions along the Baja California coast heading north to California del Norte.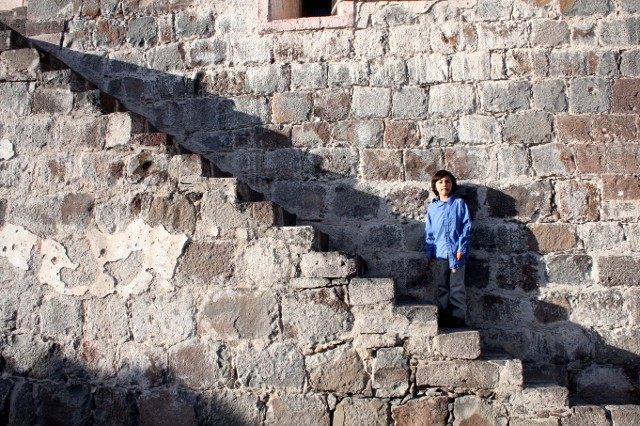 Cokie enjoyed exploring around the old mission...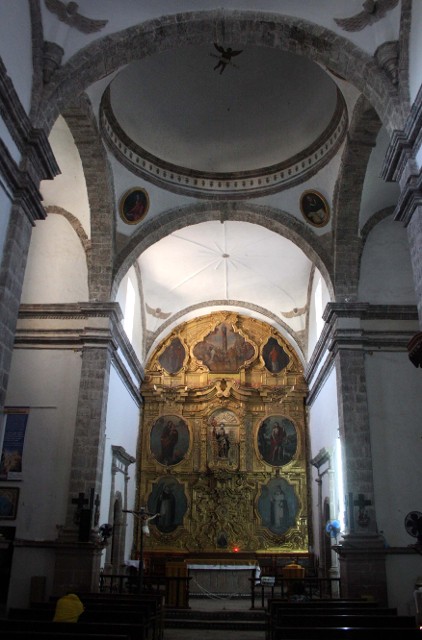 The old mission was in excellent condition.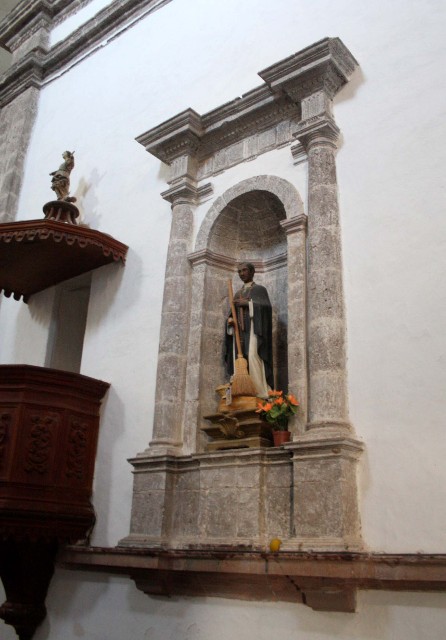 Mission San Ignacio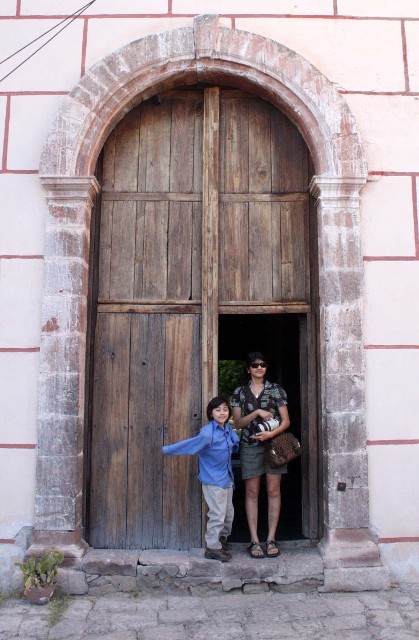 Mission San Ignacio
Parque Nacional Bahia de Loreto & Isla Santa Catalina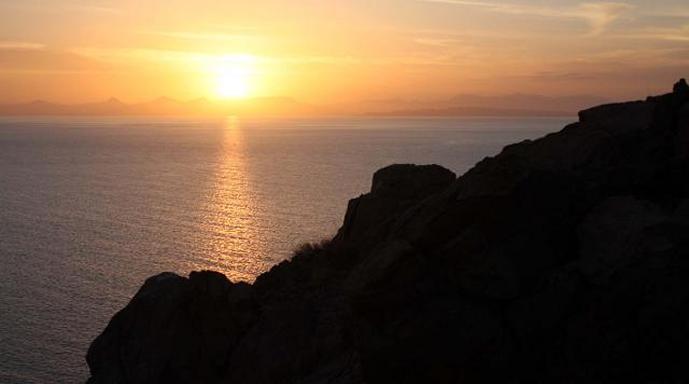 An amazing sunset over Bahia Loreto...

Loreto, Mexico is a great place to hang for a few days!
Our next destination was Loreto and Parque Nacional Bahia de Loreto over on the Sea of Cortez. The drive was easy and spectacular. There we vistas forever and miles and miles of prime desert. We had time to take several walks in the desert which was fairly parched but still very spectacular. Once in Loreto, we made contact with our operator – Leon from Baja Outpost, who was surprised that I actually showed up! After Cokie's surprise illness, I had not communicated much with him, basically assuming that we were going to cancel the trip…. I caught him by surprise but we were able to get the plans for the panga ride the following day out to Isla Santa Catalina and to search for the blue whales.
We had time to stroll the lovely town of Loreto that evening, get some souvenir shopping in and even time for one of the best sea-food meals I have ever had - at Tio Lupe's! Wow – prawns, crab, lobsters, margaritas, and tons more for less than $50! The ancient Mission Loreto was gorgeous as well and even once served as the capital of "all the Californias". Cokie picked up a cute "Tiburcio" puppet that both he and his mother love (they even picked up a few more in Ensenada are play with them daily still!). We stayed at the Oasis hotel right on the beach.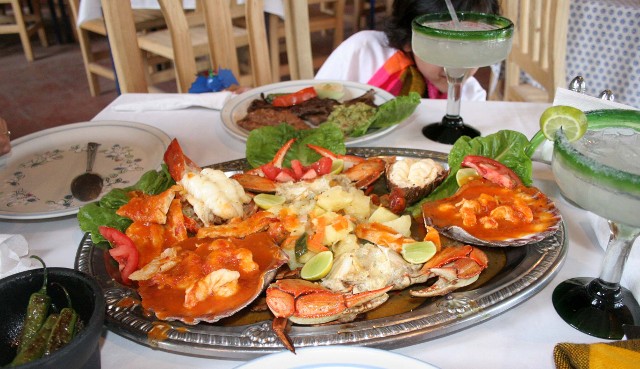 Tio Lupe's is hands down the best grub in Loreto!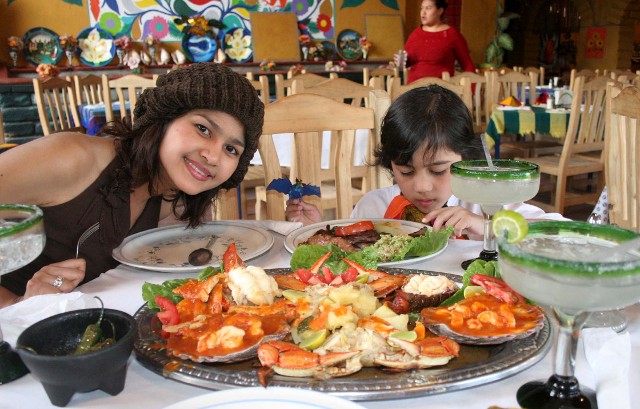 Seafood platter at Tio Lupe's! All of what you see here for less than $40!
The next day we awoke bright an early for breakfast at Baja Outpost. After some wonderful cappuccinos, we boarded our panga in Leon's (the Brazilian owner-operator) driveway and literally drove in the boat down the street to launch. In minutes we were on our way in the spectacular Bahia de Loreto National Park, which basically consists of the bay itself and several islands, the most prominent of which are Isla Carmen, Montserrat and the amazingly spectacular and desolate, Isla Santa Catalina.
Isla Santa Catalina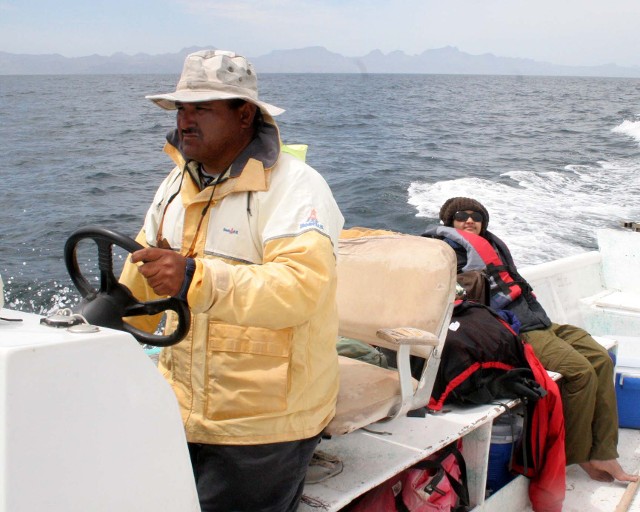 Our panga ride out to Isla Santa Catalina. We spent a couple days tooling around the Bahia Loreto National Marine Park searching for marine mammals and amazing desert experiences on this little boat.....and we found them!
We spent hours looking for the elusive blue whale, which I figured out pretty quickly, after speaking with our captian, "Kiki", had not been seen in the Bahia for weeks, contrary to Leon's, "we-have-been-seeing-the-whales-daily-since-January-22…" bullshit….but somehow, I did not care that much. The scenery was spectacular, and we were getting some great birding in. Seeing my first pair of Craveri's murrulets speeding by the boat was great and they even caught Kiki's attention as he had never seen them in the bay before. The manta rays were flipping and jumping all over the bahia and one surfaced directly next to the panga. I think Cokie thought they were cooler than any whale. And after our second megapod of dolphins (consisting of three species – bottlenose, spinner and long-beaked common dolphins), I was already feeling we getting our money's worth. And our second megapod was populated by several thousand (at least!) dolphins!!! We boated in this pod for over an hour – sublime. They were hopping right next to Cokie's face which was positioned just off the bow. He was close enough to get wet repeatedly. And I loved how he never got bored even though the spectacle went on so long.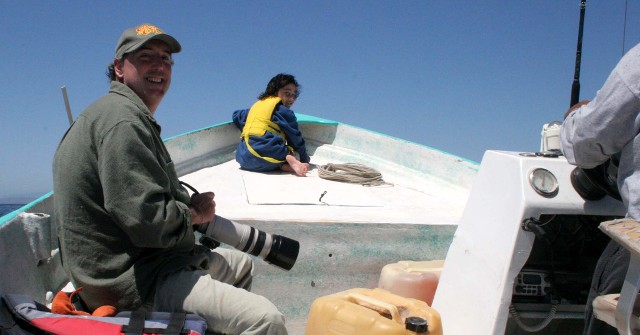 Our panga ride circumnavigating the island searching for whatever...

Long-beaked Common Dolphin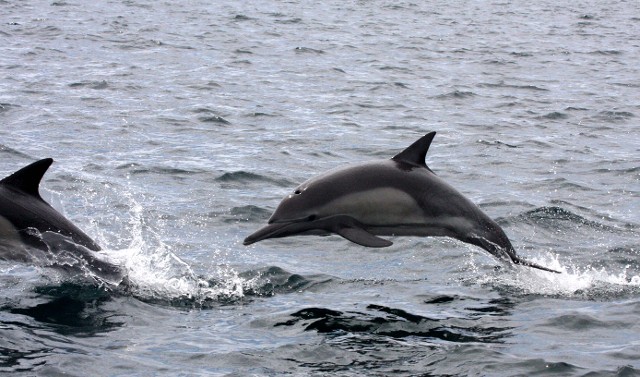 Long-beaked Common Dolphins (Delphinus capensis) were amazingly common in Bahia de Loreto. We came across at least two megapods with numbers in the several thousands this morning!


None of us will forget the amazing spectacle of the megapods of dolphins we encountered in Bahia de Loreto.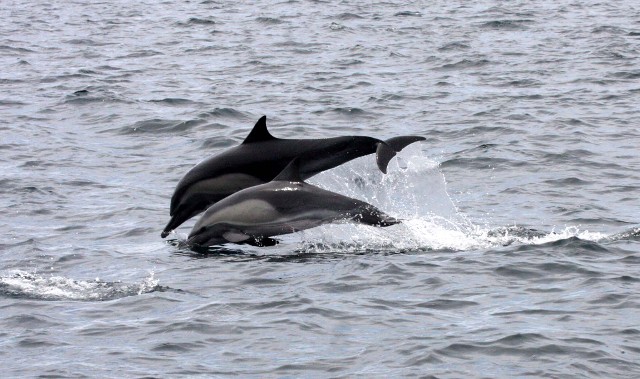 Long-beaked Common Dolphins coming in close!
Bottlenose Dolphin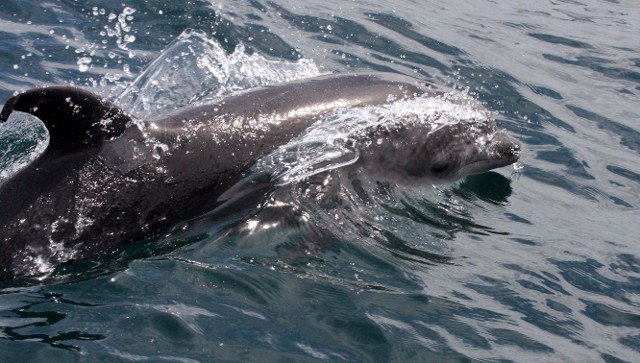 Bottlenose Dolphin at Bahia De Loreto were nearly as common as the Long-beaked Common Dolphin.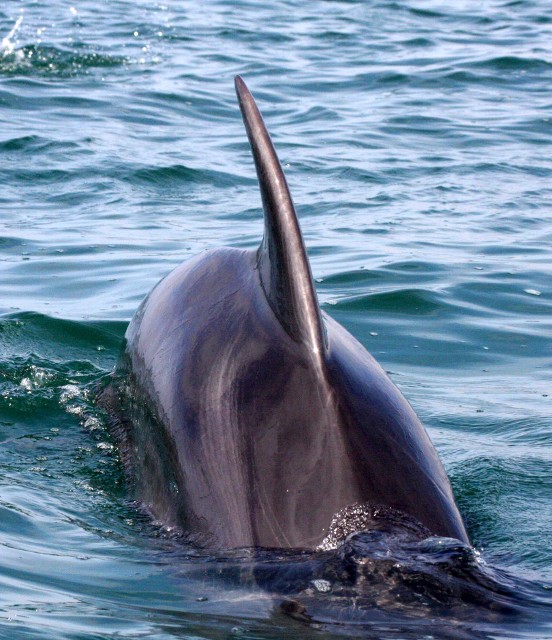 Bottlenose Dolpin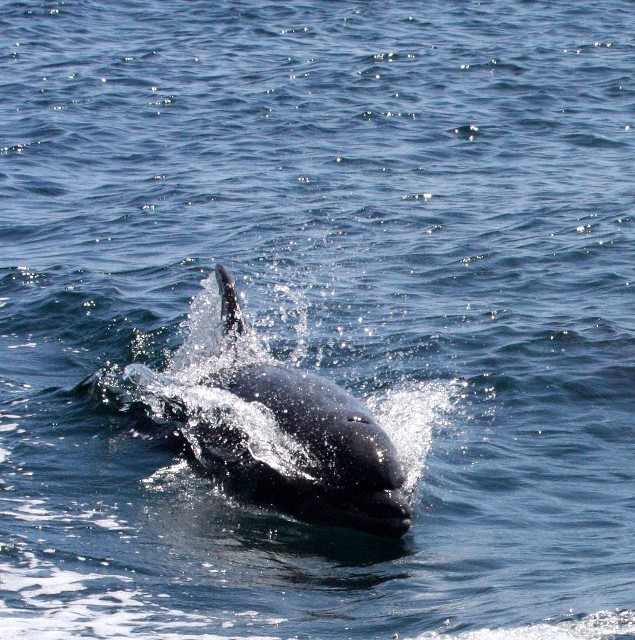 Bottlenose Dolphin coming in for a bow surf....
Camping on Isla Santa Catalina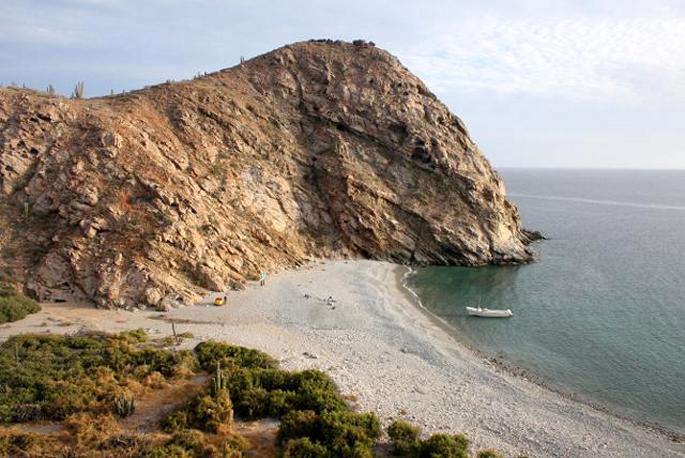 Base Camp Isla Santa Catalina.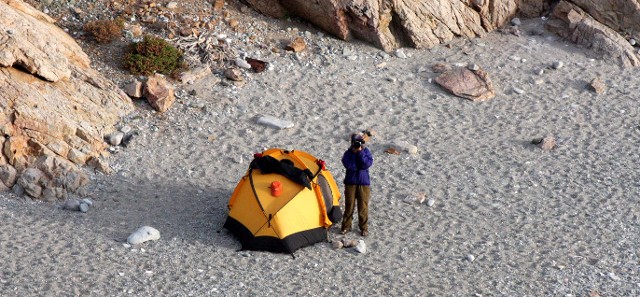 Our very private campsite at Isla Santa Catalina! Amazing desert camping experience.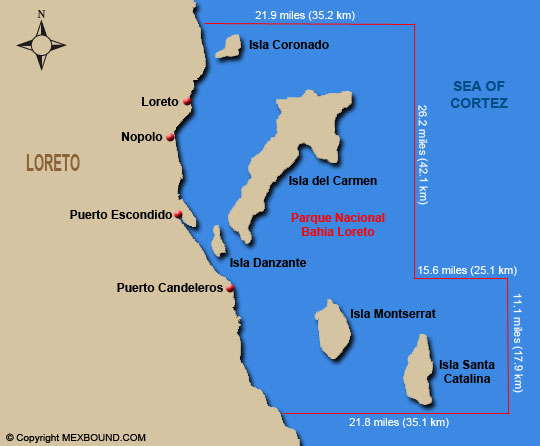 Map of Bahia Loreto National Marine Park and
Isla Santa Catalina. (reprinted from: http://www.mexbound.com/loreto-marine-park.php)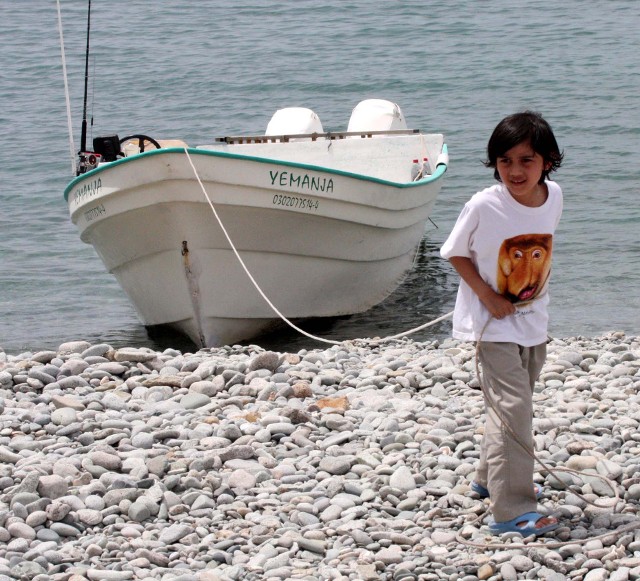 Cokie hanging on the cobble beach of Santa Catalina Island...
After a few hours of searching for the non-existent blue whales, we headed to the Isla Santa Catalina. After finding a suitable campsite on the island, we beached the panga, set up camp, and we immediately set off to explore the amazing desert of the island. We were repeatedly warned of all the dangerous reptiles of the island to the point where it scared Som and Cokie a bit too much. After convincing them that I was no babe-in-the-woods in the desert (I am a bit disappointed that they didn't already know this…) we had a very productive walk through the cardon desert forest of the island.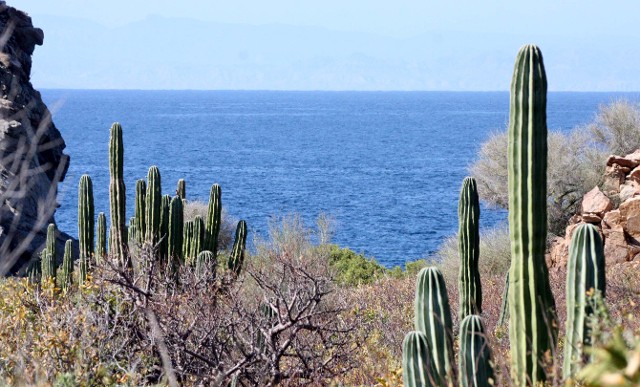 The Cordon cactus community looking toward Bahia de Loreto. This is one of the most spectacular places on earth where the desert meets the sea.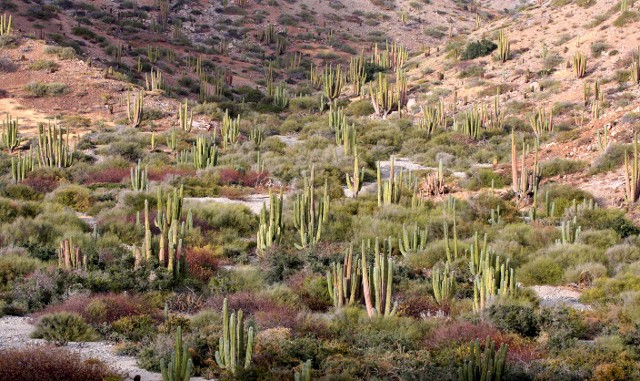 Cardon cactus forest on Santa Catalina Island! I enjoyed trekking these hills for hours and hours.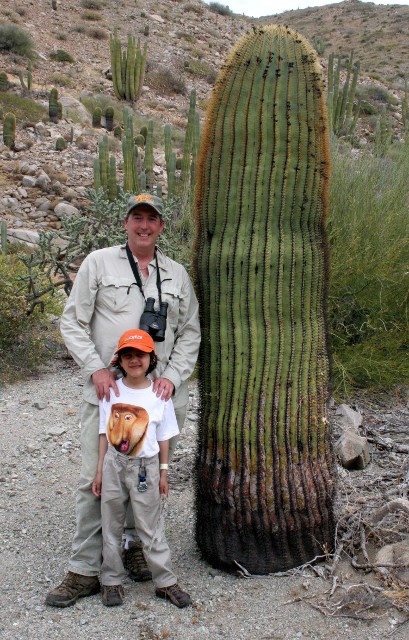 An amazing and endemic Santa Catalina Island barrel cactus!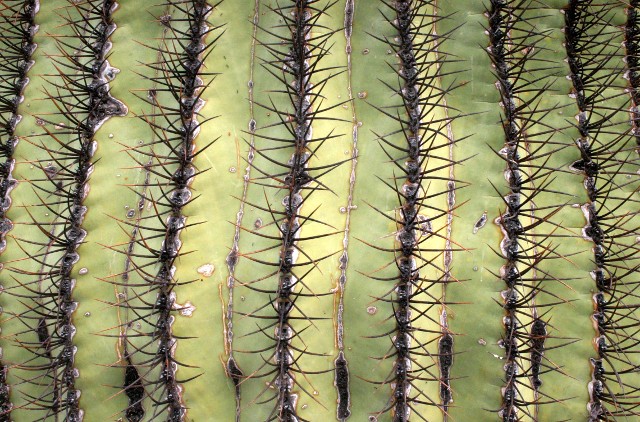 Ferocactus diguesii - Isla Santa Catalina barrel cactus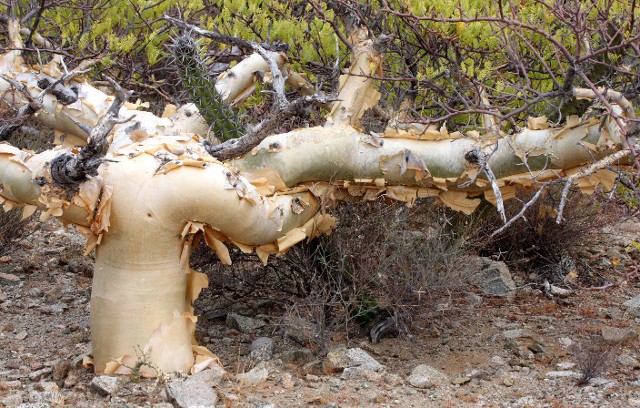 Baja is home to perhaps my most favorite flora on earth. Here we have a Torote Colorado Tree (F. Burseraceae) (Bursera microphylla).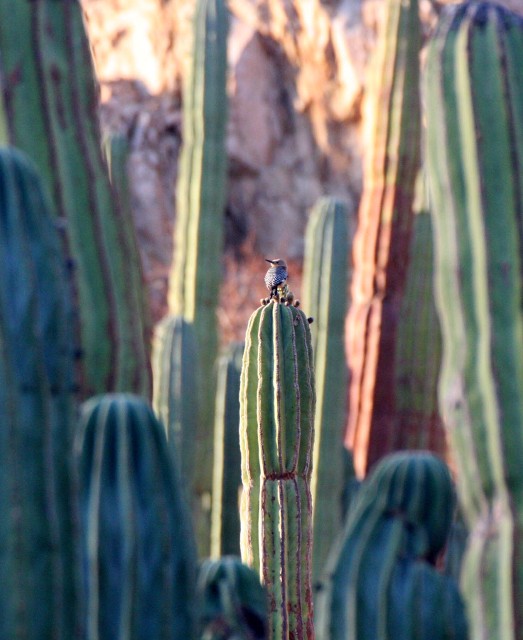 The ubiquitous Cardon Cactus (Pachycereus pringlei) with a nice Gila Woodpecker perched...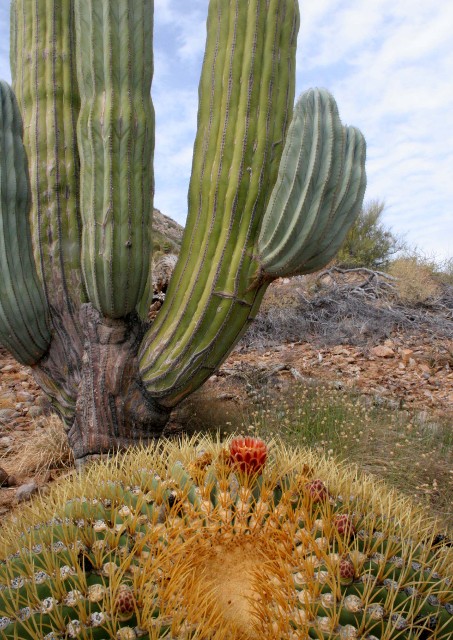 Ferocactus diguetii - catalina island barrel cactus - with a Cardon as a neighbor...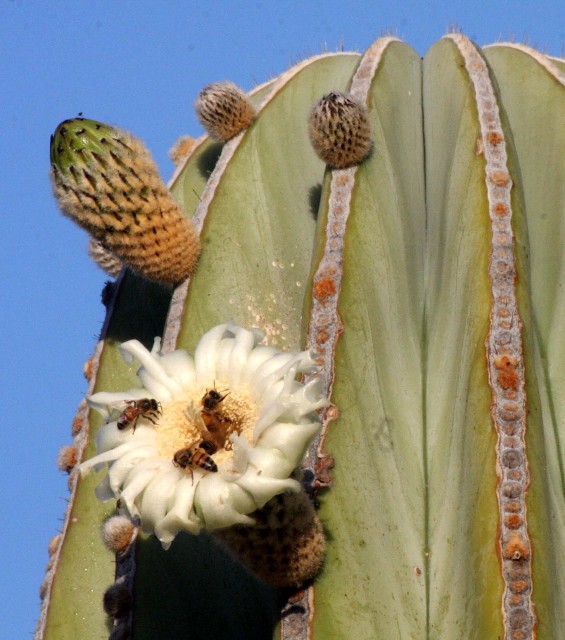 We were very fortunate to see the Cardon Cactus (Pachycereus pringlei) in bloom during our brief stay on Isla Santa Catalina.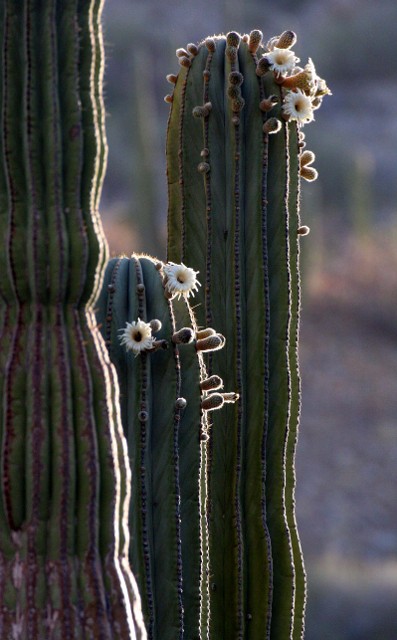 Cardon Cactus (Pachycereus pringlei)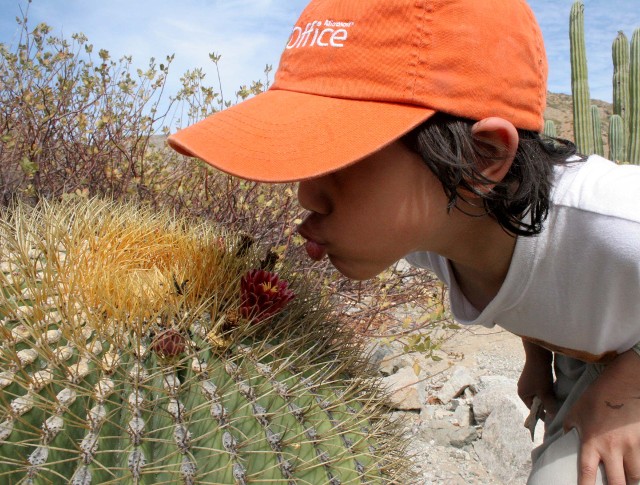 Cokie kissing a Catalina Island barrel cactus.
We spent the later afternoon snorkeling in the bay by the campsite. It was Cokie's and Som's first time and I can tell they are completely hooked! While Cokie didn't get much further out than a few meters, he saw some fish, a sea star and a crab, and was extremely excited about the experience. Som and I went out quite a bit further and saw hundreds of reef fish and huge schools of spectacular yellow fish. We even got a chance to see the small native barracuda hunt in the school – quite a sight. Puffer fish were everywhere – one even startled me appearing suddenly right in front of my mask about 4 inches away.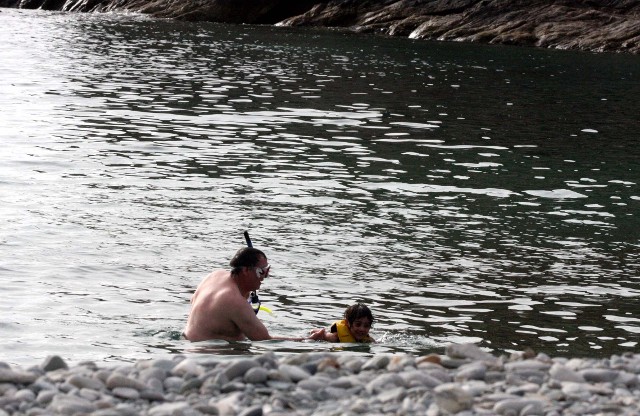 Cokie and me snorkeling in the cold waters of the Sea of Cortez!
While the family was warming up on the beach (the water was a bit cold…), I hiked up the nearby mountain to get some great sunset and panorama shots. I spied several rodent caches while on the stroll through the Catalina Barrel Cactus forest (one of many endemic species). The strolls in general were great for herp watching. We had great sightings of the endemics like the Santa Catalina Island Whiptail, Desert Iguana, Side-blotched Lizards, but my biggest hope was seeing the famous Santa Catalina Island Rattleless Rattlesnake. But we were told that the chances were poor as it was a bit cool for them.
Some herps of Isla Santa Catalina!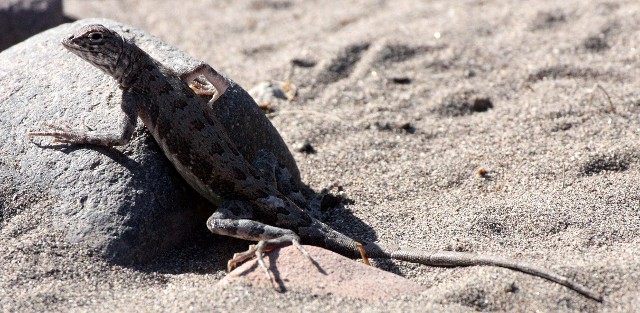 Isla Santa Catalina Brush Lizard (Urosaurus species)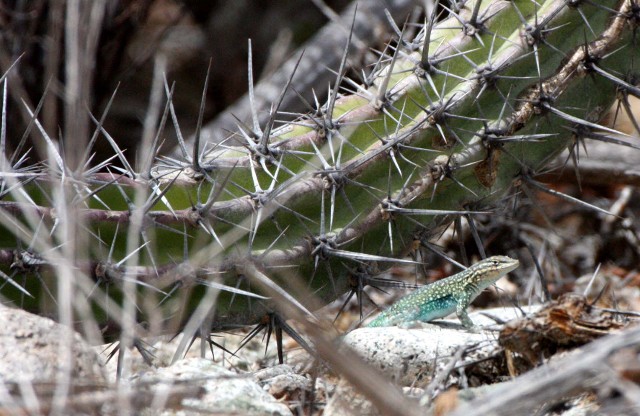 Santa Catalina Island Side-blotched (Uta squamata catalinensis) - one of the many endemic reptiles for the island. Virtually every reptile we encountered was unique to the island!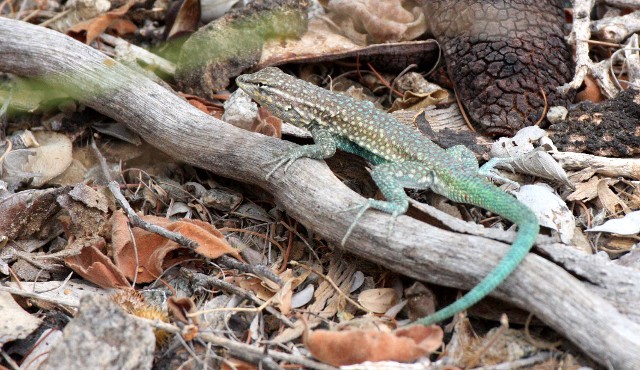 Santa Catalina Island Side-blotched (Uta squamata catalinensis)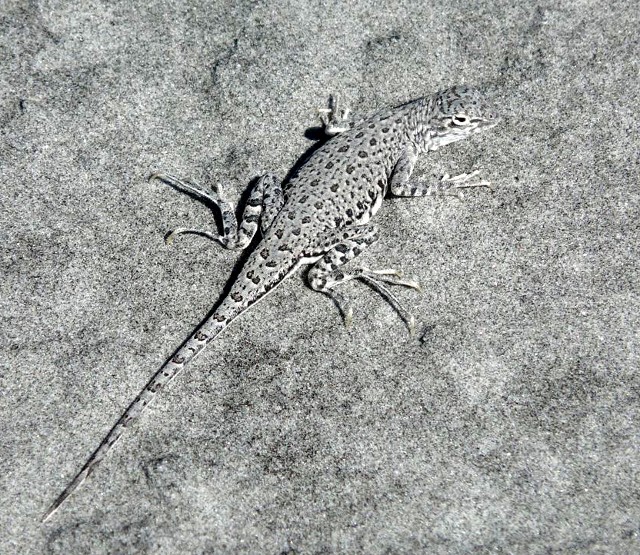 Fringe-toed Lizard from Baja!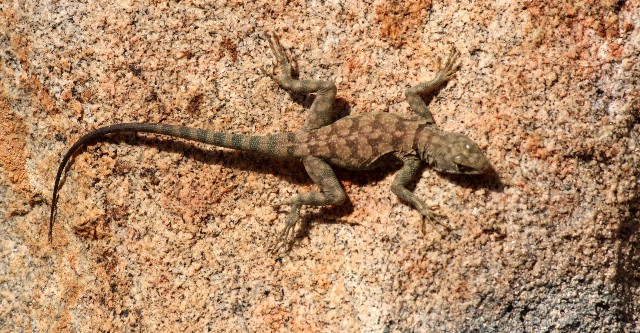 Mearn's Rock Lizard (Petrosaurus mearnsi) were very common on our expedition to Baja!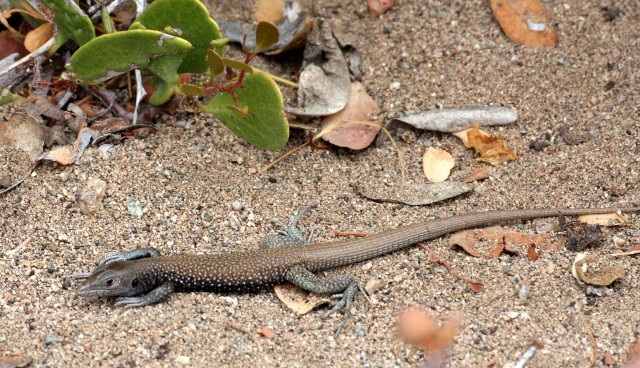 Santa Catalina Island Whiptail Lizard (Cnemidophorus catalinensis).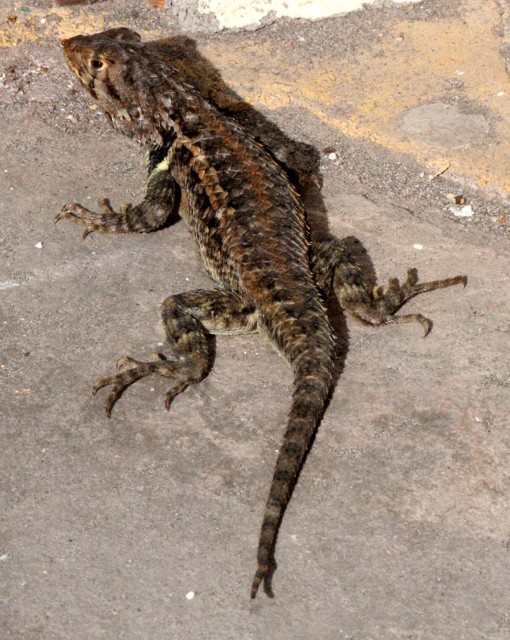 A common Desert Spiny Lizard (Sceloperus magister).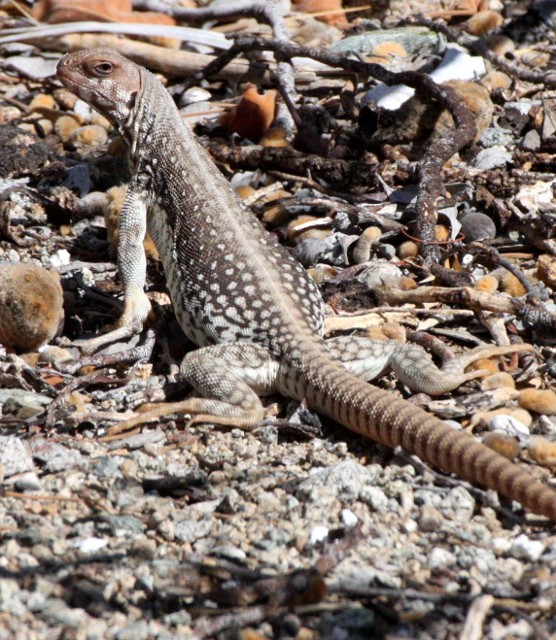 The Santa Catalina Island Desert Iguana (Dipsosaurus catalinensis)!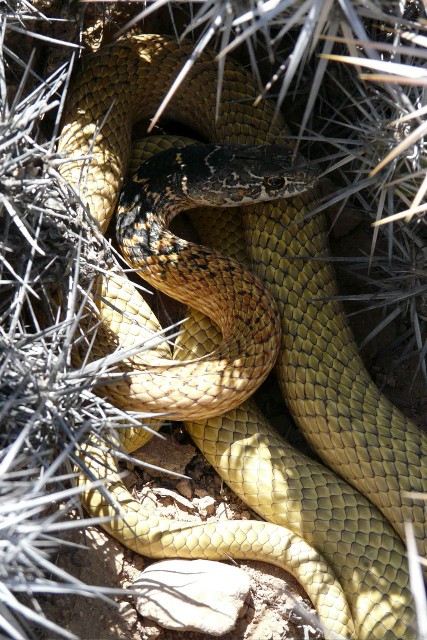 A Baja Gopher Snake (Pituophis species).
After sunset, we had a wonderful grilled yellowtail dinner with margaritas and salad! Great food for a desert campout! The next morning was steak and eggs! After dinner we set out on a night walk. No sooner than we had put on our headlamps and turned on our spotlights, we came across a beautiful Santa Catalina Island Rattlesnake only ten meters from the campsite! He was moving slowly due to the temperature, but that allowed us very close views and some wonderful images. I even got to hold his rattleless tail for a bit – amazing. Som was mortified but she saw that I was taking no chances…. The rest of the walk was spent looking for cardon-pollinators like bats (about five species are in the area and we saw at least two but I could not ID them….). We narrowed one down to the Big Brown Bat based on wing and ear size and of course the distribution maps.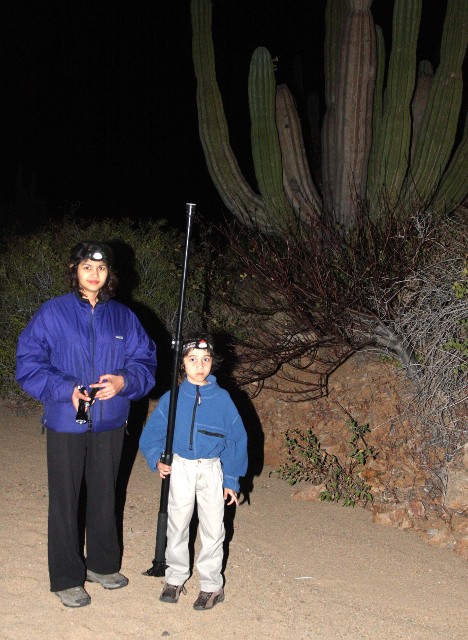 Of course we had to go on desert night hikes! And our hike on Isla Santa Catalina was one of the most memorable of our expeditons thus far...
Isla Santa Catalina Rattleless Rattlesnake (Crotalus catalinensis)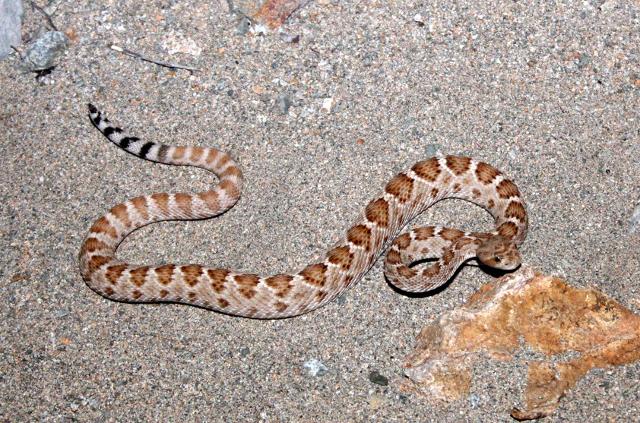 An evolutionary enigma, the "rattleless" Santa Catalina Island Rattlesnake is a rare reptile that can only be found on Catalina Island in the Sea of Cortez. This snake was definitely one of our target species for our trip to the island although we really did not expect to find any. This one appeared no less than ten feet from our tent on our first night walk! Isla Santa Catalina is home to numerous endemic plants and animals.
Cokie and Som slept in the tent while I slept under the desert sky. There was a wind all night so when I felt my clothes being tossed about, I really thought nothing of it. But in the middle of the night when I noticed a sizeable rodent crawl right over my face, I knew I had to turn on the lights….and I did - there were little cotton rats all over me! At least I think they were Sigmodon species. Hard to tell actually as the literature is very poor for this region and I could only ID them based on a process of elimination – too large for Peromyscus and Reithrodontomys species and too small for Neotoma…and the tails were too short of any of the above. A morning walk the next day picked up two Desert Woodrats under some dead Pachycereus pringlei skeletons we turned over.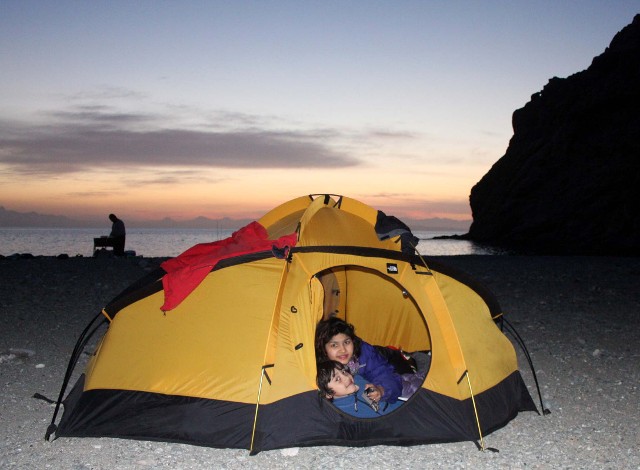 This campsite will go down in Smith family lore as one of the best ever!
We got underway after some great desert bird-watching on the island. We spotted gila and ladderback woodpeckers, hooded orioles, verdins, northern cardinals, wrens, house finches, great looks at two separate Pyrrhuloxias and many more. While I knew that we were not going to see any blue whales, I insisted on spending some more hours searching the feeding areas just the same. And I was glad we did or I would have not known that Pilot Whales also congregated in megapods numbering in excess of two-three hundred individuals. Combined with the Spinner and Long-beaked Common Dolphins, there were literally hundreds of cetaceans around us!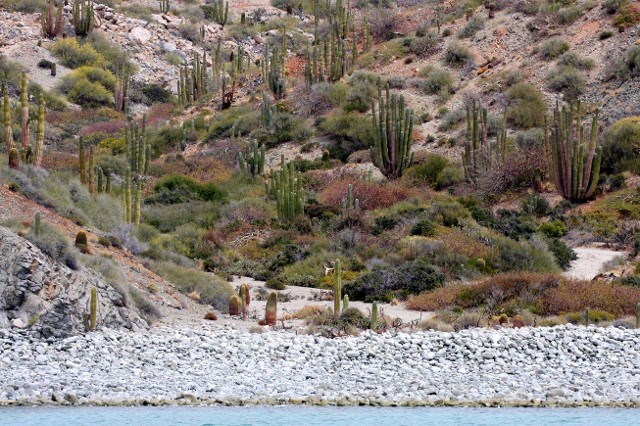 The Cardon and Barrel Cactus community of Santa Catalina Island - where the desert meets the sea...
Short-finned Pilot Whale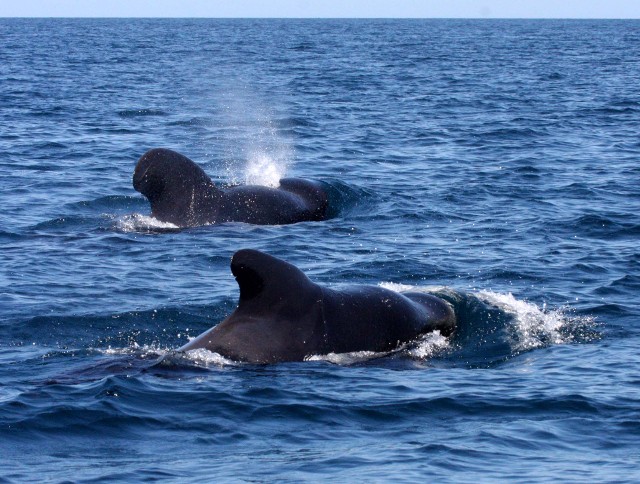 While returning to Loreto town, we came across a spectacular pod of Short-finned Pilot Whales and Spinner Dolphins in Bahia de Loreto.

Short-finned Pilot Whale in Bahia de Loreto...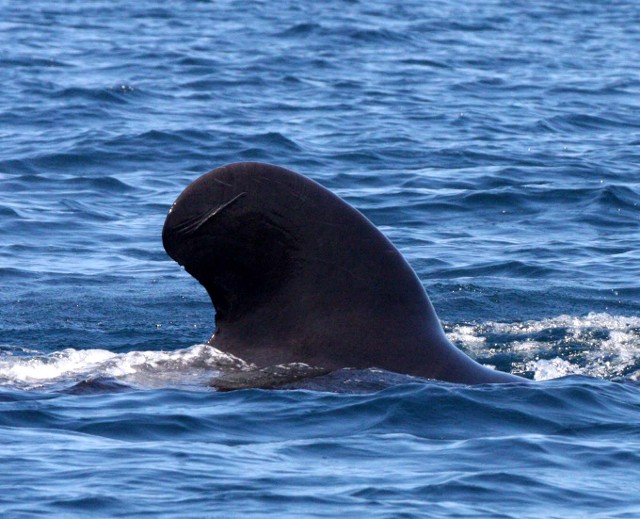 Short-finned Pilot Whale in Bahia de Loreto...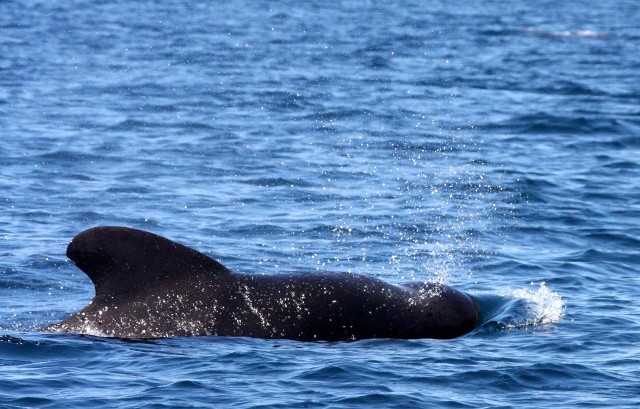 Short-finned Pilot Whale in Bahia de Loreto...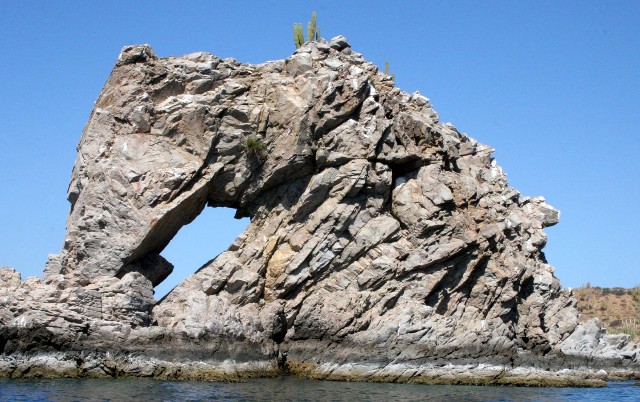 There were stunning landscapes and geological formations throughout the islands in Bahia de Loreto National Marine Park.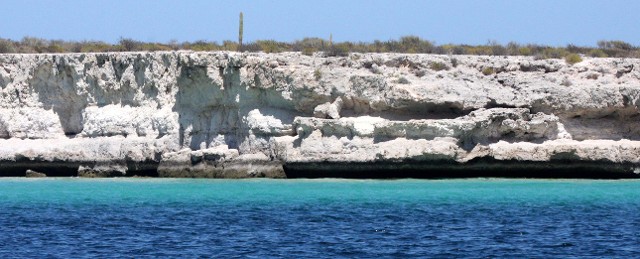 Isla Carmen is the largest of the islands in Bahia de Loreto.
California Sea Lion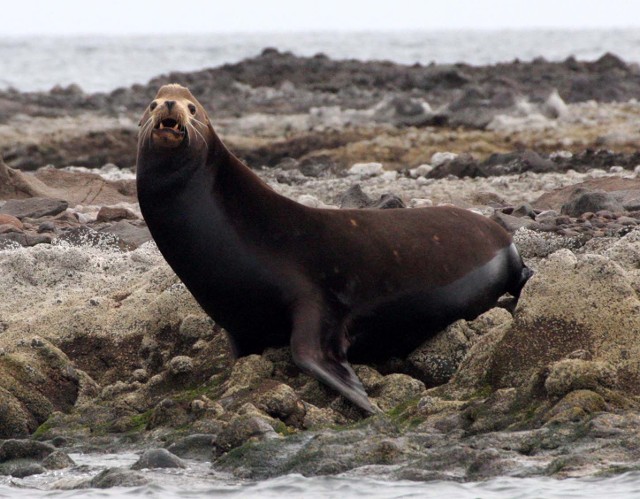 California Sea Lions were common in the Bahia. These were seen on Isla Montserrat.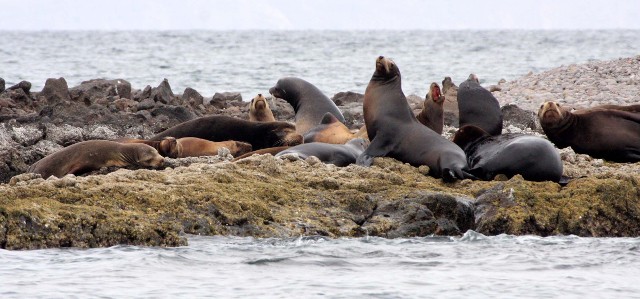 California Sea Lions on Isla Montserrat.
Back in Loreto Town!
We made it back to Loreto right on time. Som and Cokie wanted to hang out in a hotel with a pool for a bit longer so we spent the evening again at the Oasis and had some of Tio Lupe's killer sea food again! At the hotel, Cokie was very proud of his very first "jumps" in to a pool! We got in some more shopping and local birding in, and had a great sleep.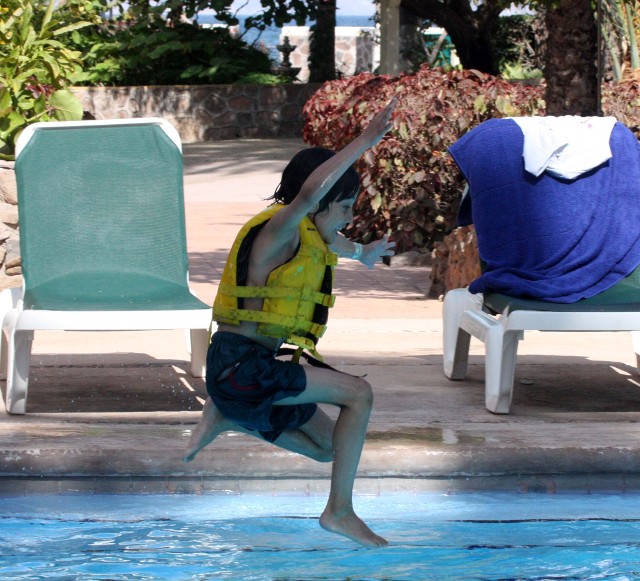 Cokie's first jump in to a pool - in his life!
Mission Loreto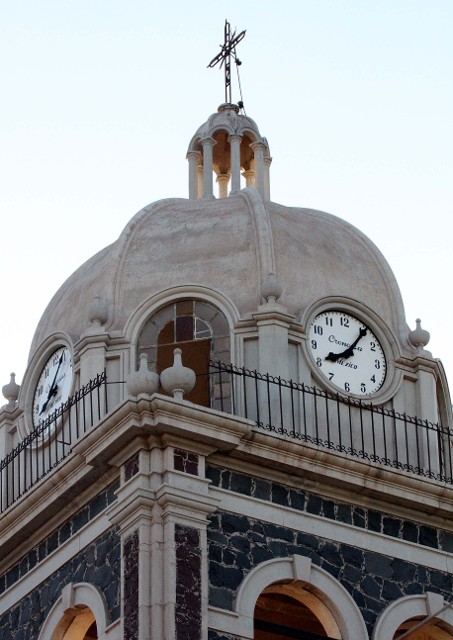 Loreto was of course home to another spectacular mission.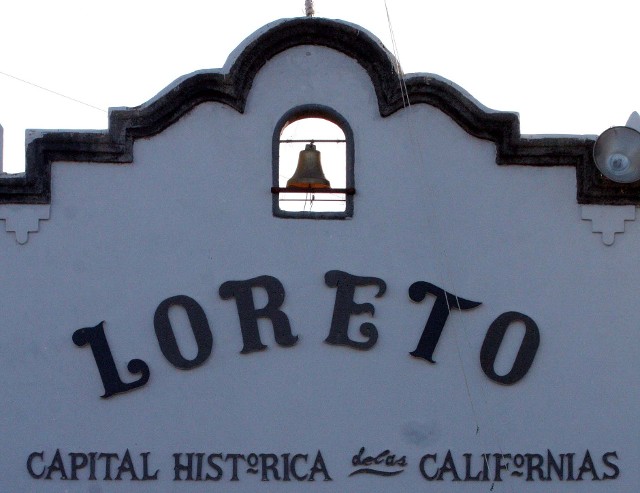 Back in Loreto Town - capital of las Californias!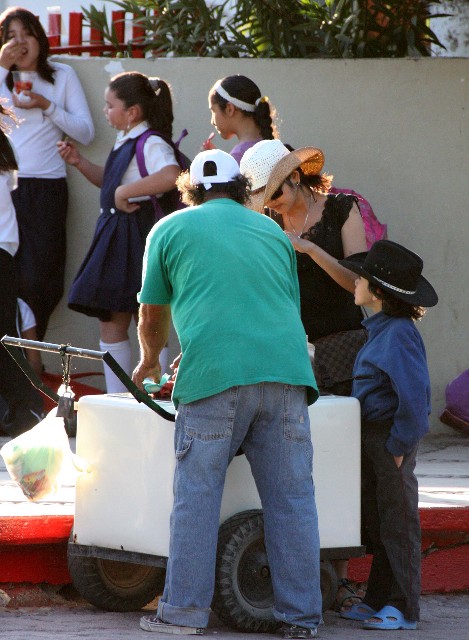 Ice cream anyone?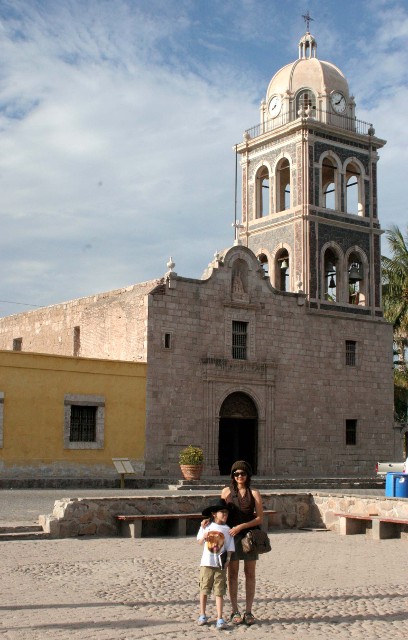 Loreto was of course home to another spectacular mission!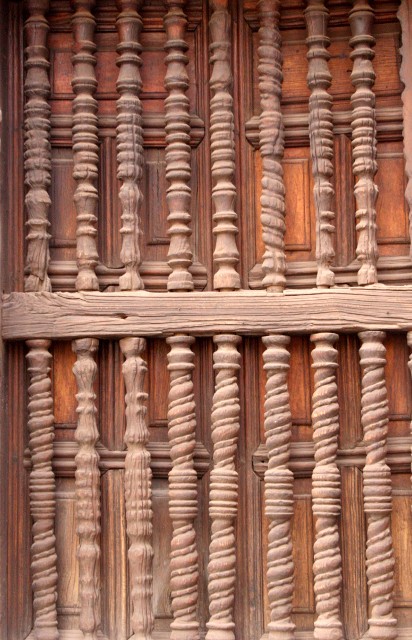 The original woodwork was outstanding.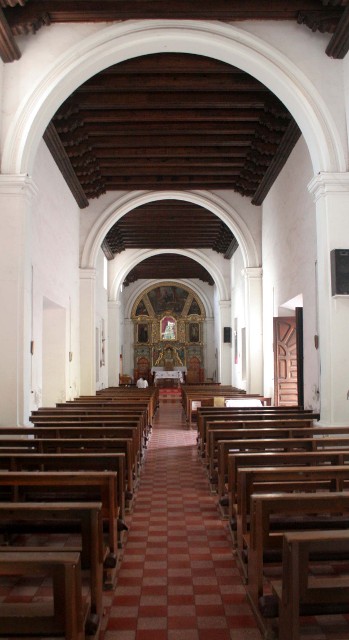 Mission Loreto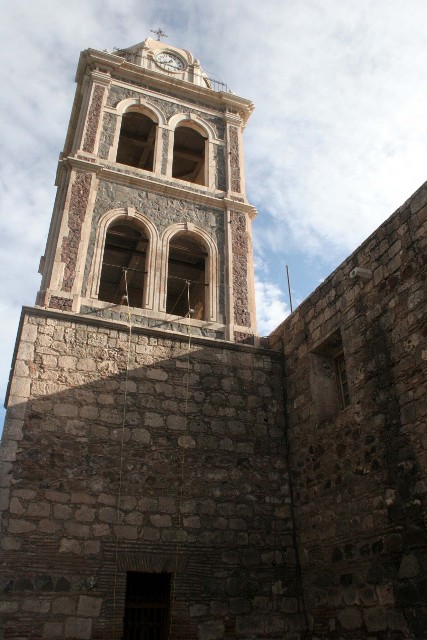 Mission Loreto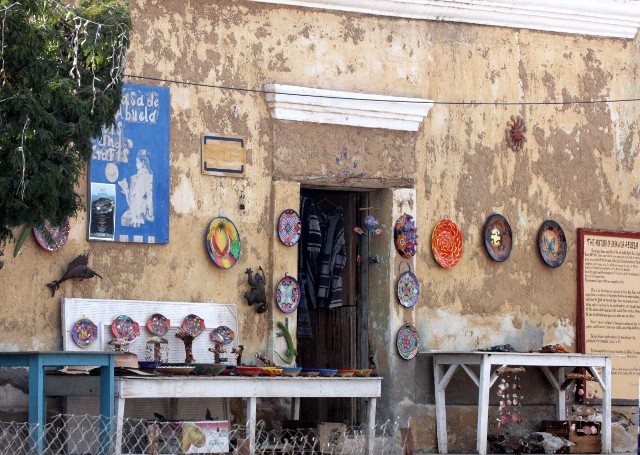 Loreto old town...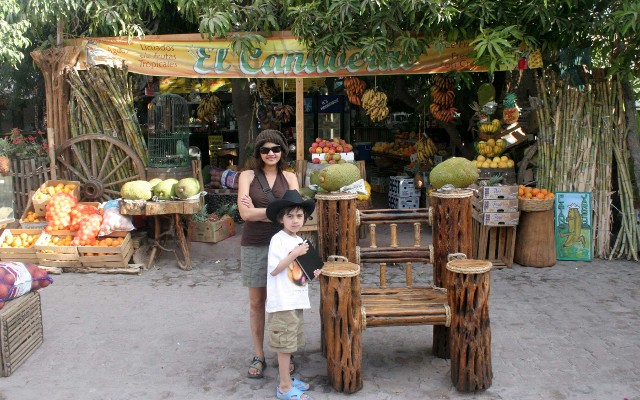 Loreto town!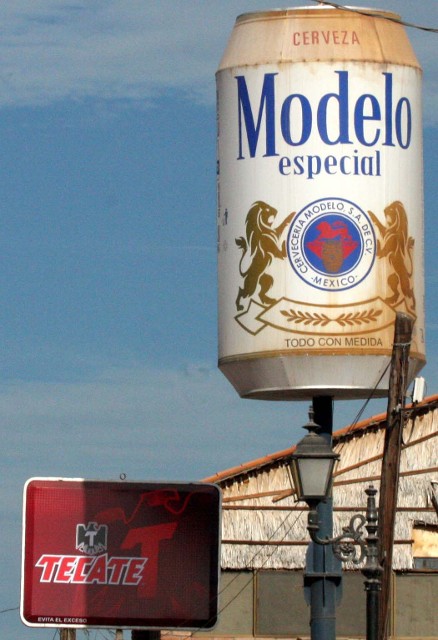 Cerveza por favor!
Peninsular Coyote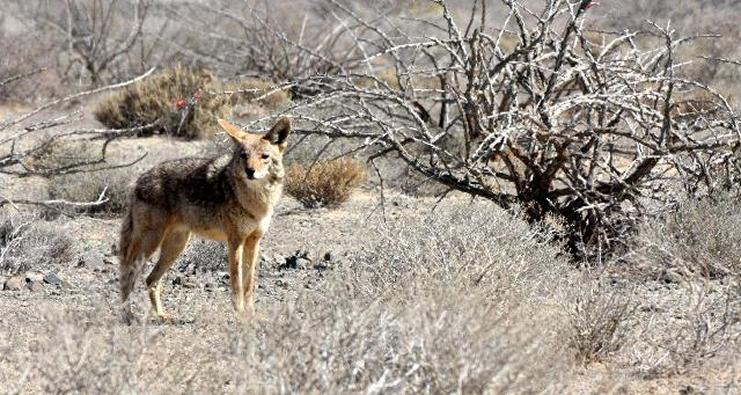 Peninsular Coyote at Vizcaino National Park. We can across many coyotes while in Baja in all locations
Vizcaino Biosphere Reserve & Oje de Liebre Lagoon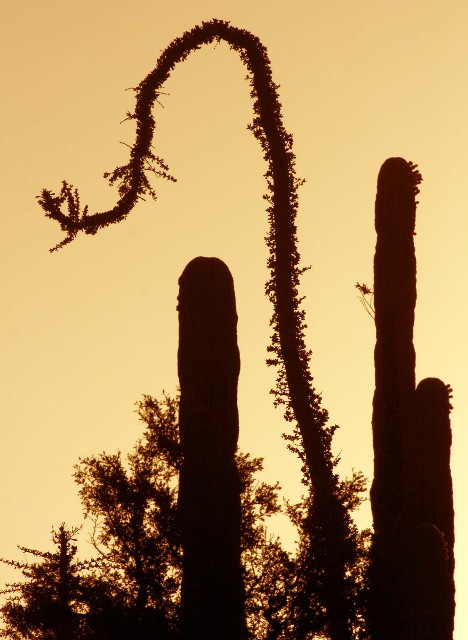 One of the most fascinating trees found in Baja were the Boojum Trees (F. Fouquieriaceae, Idria columnaris) These were seen in both Vizcaino and the Catavina.
The next day was our day to start the "boojum desert" portion of the trip. The next few days were planned to be spent in the Vizcaino Biosphere Reserve as well as the Catavina (Vizcaino) and Bahia de los Angeles (San Felipe) desert systems. The drive to Vizcaino was uneventful and gorgeous. We made time for some more desert strolls and birding, herping, etc. - tons of white-tailed antelope squirrels, but no other mammals to speak of. Once in the Vizcaino, the goal was to see the "berrendos" or Peninsular Pronghorn Antelope. While seeing them completely in the wild would have been ideal, I was realistic to know that that may be next to impossible as most wild sightings are actually from planes that search for hours over the desert for the images they get. So we headed deep in the Vizcaino desert to the berrendo reserve. Next to impossible to get any information about, the reserve was surprisingly easy to fine. About 60 miles in to the desert from the town of Vizcaino on the road to Bahia Ascencion and Bahia Tortuga, we were able to see the small signs pointing us to the reserve. The reserve is several thousand acres of fenced Vizcaino desert set aside for the reproduction of the pronghorn, which number about 200-300 in the wild and about the same number in the reserve. The animals in the reserve are healthy, well cared for and reproducing fine, as we noticed several dozen kids in the female area. It was well worth the drive and the setting was very natural, and if I didn't know better, the images I got there could easily be construed as "in nature".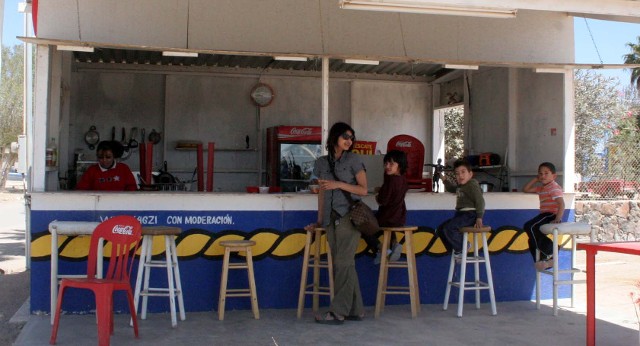 But before we were to head too deep in to the Vizcaino Desert, we had to stock up on some of Mike's amazing tacos! Seriously, I would love to have this little stand next to where ever I live for the rest of my life!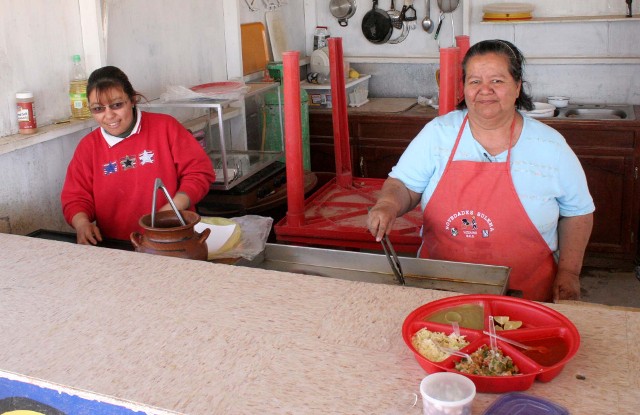 Mike's Tacos!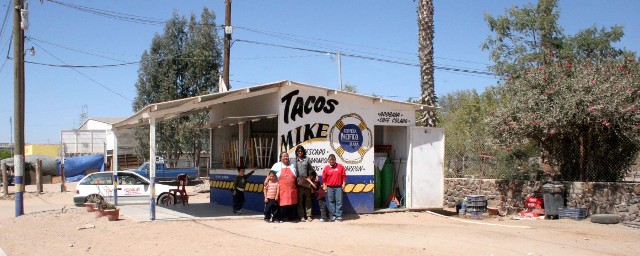 !Te Amo Much Tacos Mike!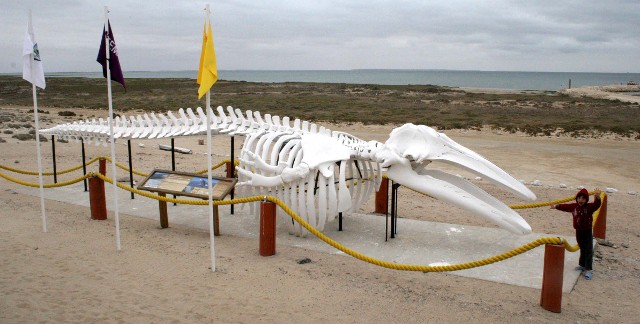 Oje de Liebre visitors center at Vizcaino Biosphere Reserve.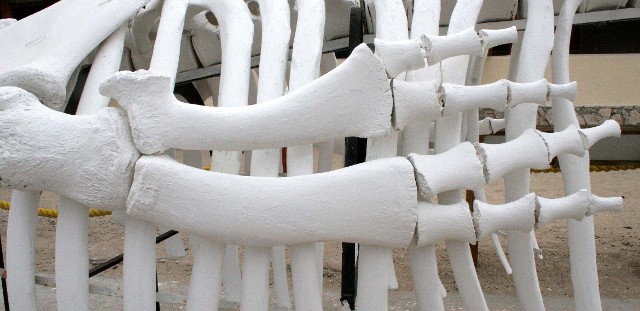 Gray Whale skeleton at Vizcaino!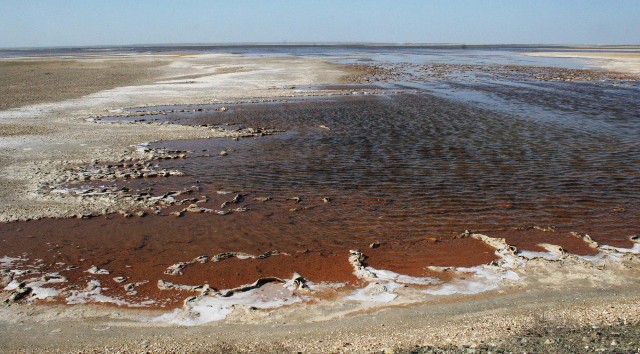 The salt pools along the way to Oje de Liebre Lagoon.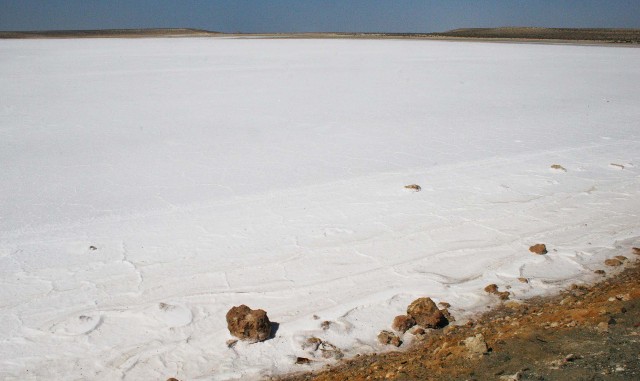 Oje de Liebre salt pools..
We didn't leave the Vizcaino reserve until late afternoon, so we decided to spend the night at Ojo de Liebre lagoon on the north end of the park and just south of the dump known as Guerrero Negro. What a great choice! We literally owned the entire lagoon as no one was there except us! And our evening spot lighting was fun – tons of black-tailed jack rabbits to entertain us. But the high point of the evening was watching the Merriam's Kangaroo Rats poke around the campsite. We even caught one and were able view it up close. Som and Cokie loved how it hopped just like a kangaroo! Got some great shots. The birding was a bit past its prime there but we did pick up several new species while exploring the salt pools and lagoons – mostly ducks.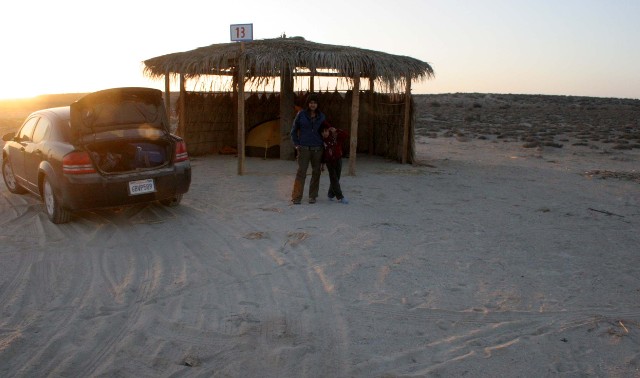 Oje de Liebre Lagoon campsite!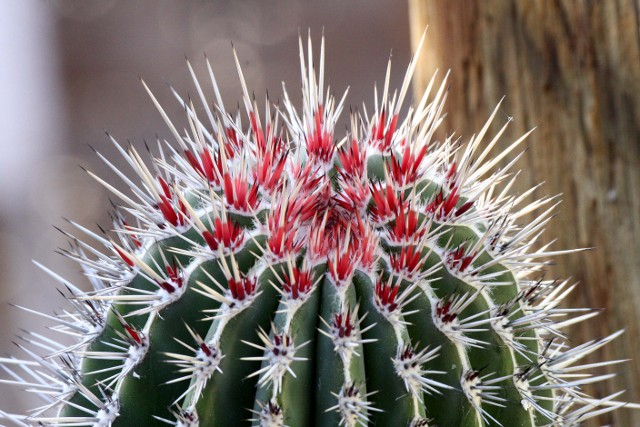 A spectacular Ferocactus species at Vizcaino Biosphere Reserve.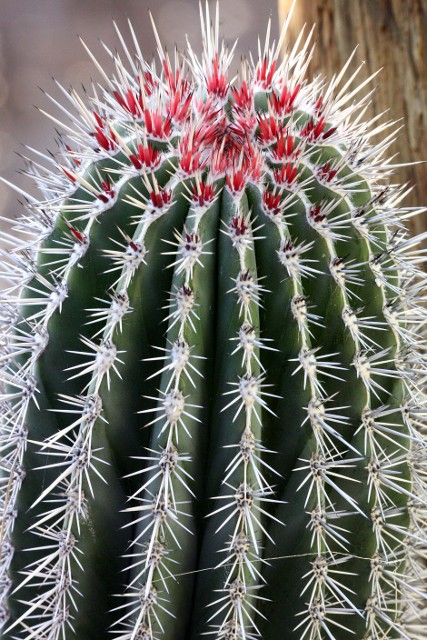 Ferocactus species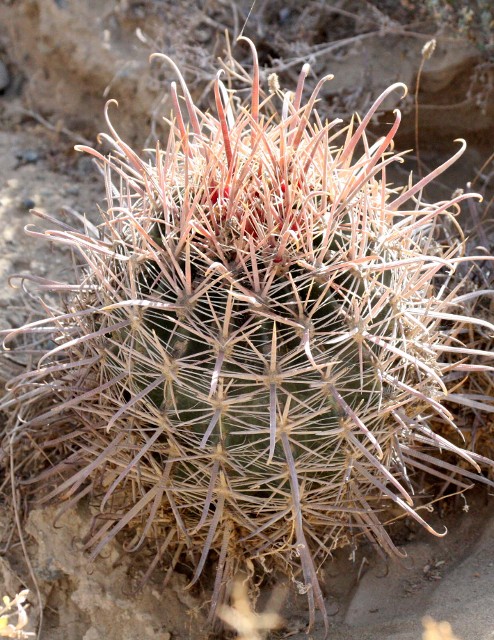 Ferocactus townsendianus, Townsend's barrel cactus or Biznaga at Vizcaino Biosphere Reserve baja.
Merriam's Kangaroo Rat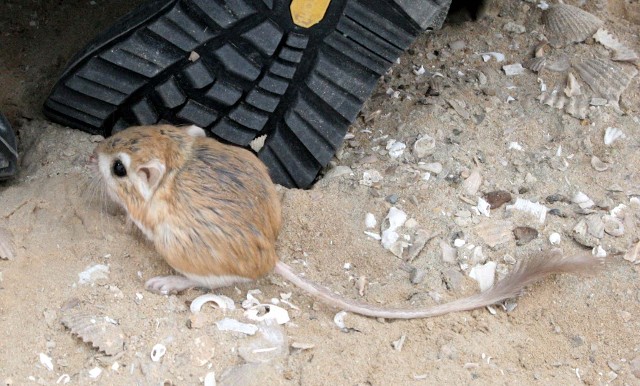 Merriam's Kangaroo Rat at Ojo de Liebre Lagoon. These little critters were everywhere there!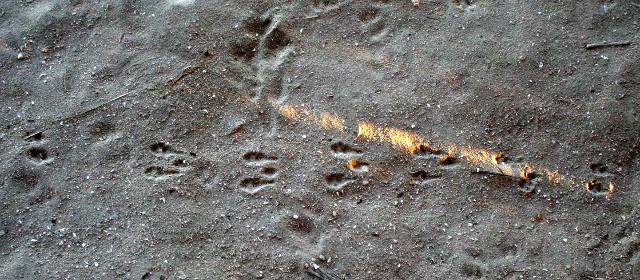 Merriam's Kangaroo Rat sign at Ojo de Liebre Lagoon.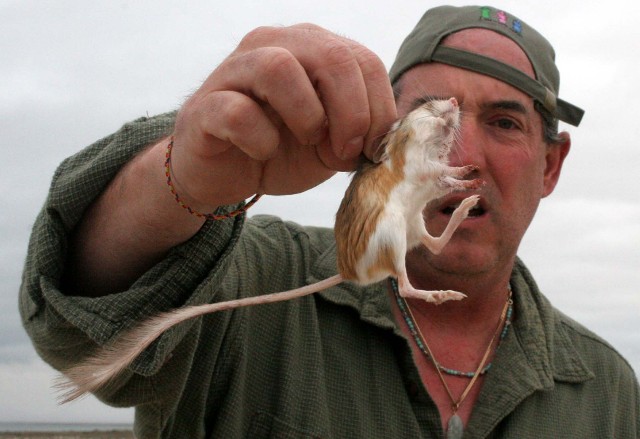 Merriam's Kangaroo Rat at Ojo de Liebre Lagoon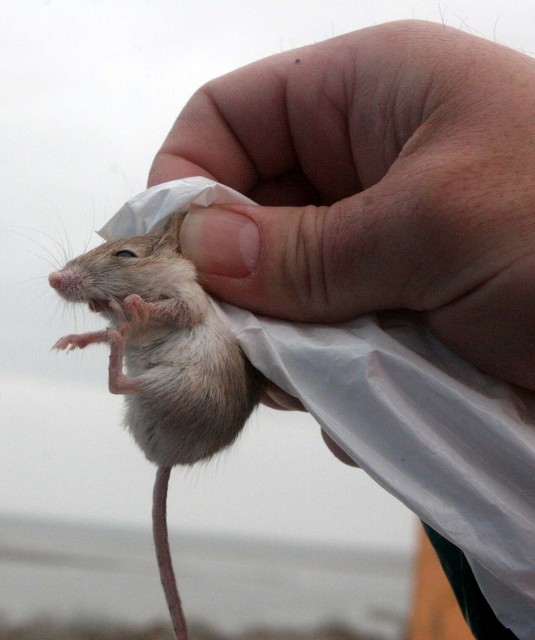 Long-tailed Pocket Mouse (Chaetodipus formosus) found in the Vizcaino Desert near Pachico's Camp in Laguna San Ignacio.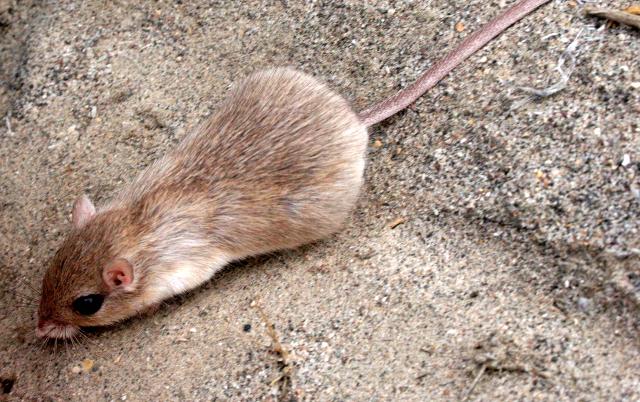 Long-tailed Pocket Mouse.
Peninsular Pronghorn Antelope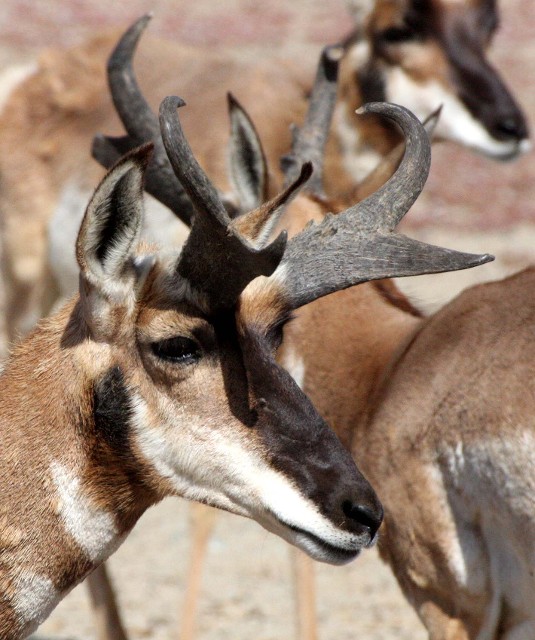 The Peninsular Pronghorn Antelope are now exceedingly rare on the peninsula. Currently there are only a few hundred. A unique subspecies that are definitively genetically isolated, the "berrendos" are spectacular in there native desert habitat.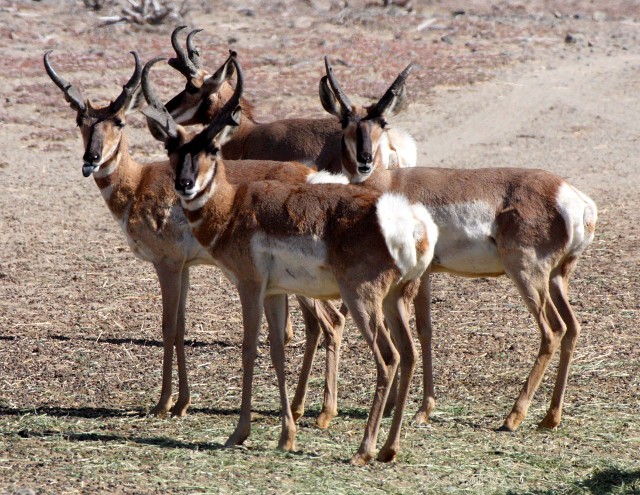 Peninsular Pronghorn Antelope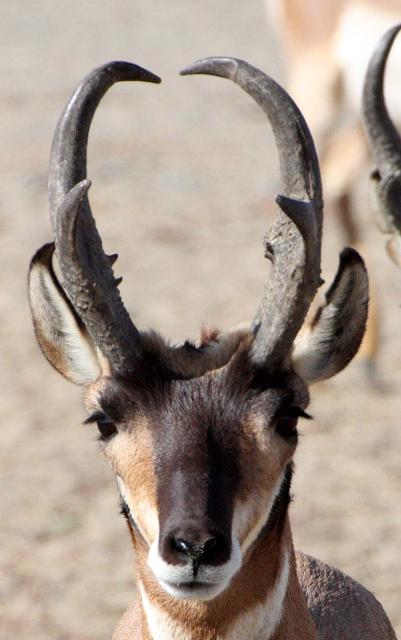 Peninsular Pronghorn Antelope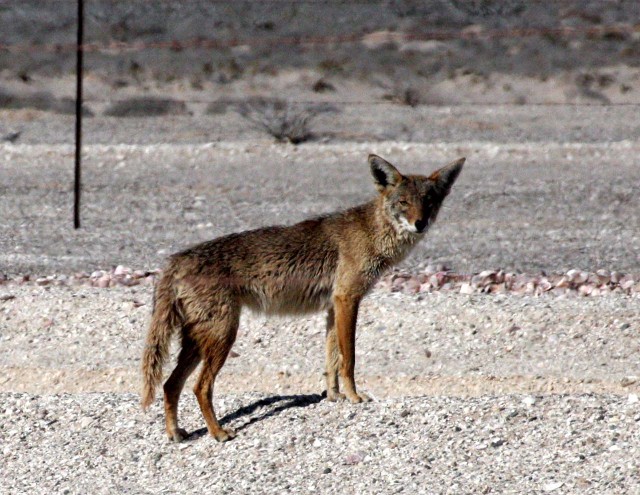 Another Peninsular Coyote in Laguna San Ignacio!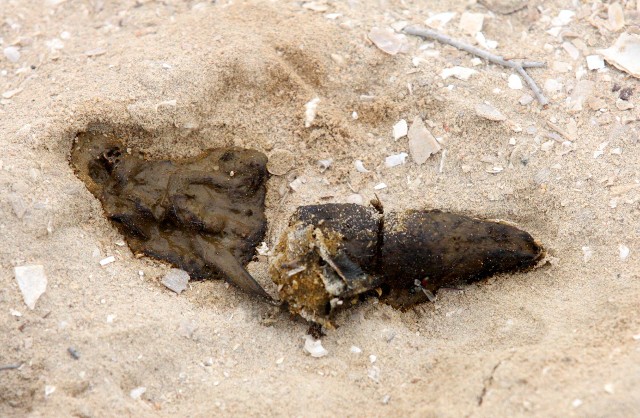 Peninsula Coyote Scat in Ojo De Liebre Lagoon Baja Mexico.

The Catavina Desert & Bahia de los Angeles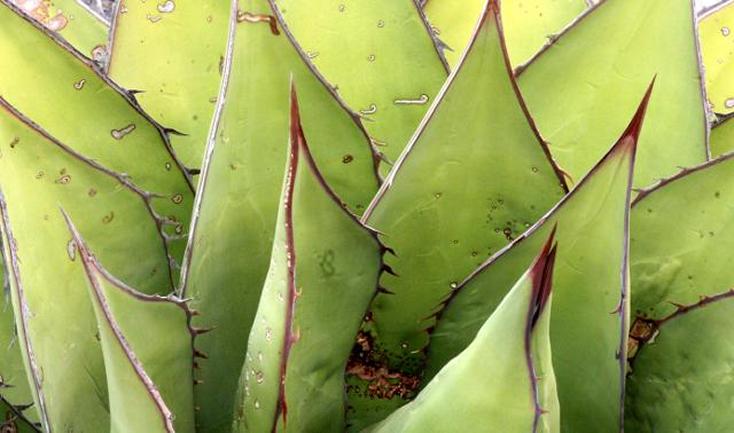 Desert Agave (Agave deserti) in Baja's Catavina Desert.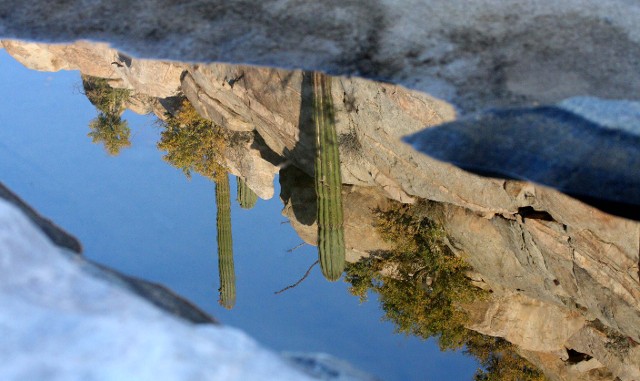 Reflections in an ephemeral pond in the Catavina!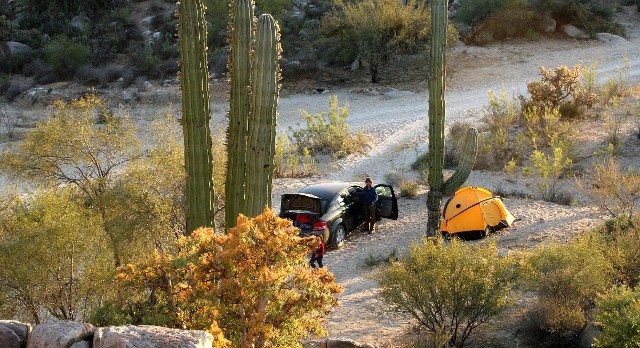 Campsite in the wilderness of the Catavina Desert! Sublime...
The drive today was heading further north near Catavina, were we noticed some prime desert on the way down earlier in the trip. We made it in good time and checked in to staying at the Desert Oasis hotel right on the highway – the only hotel for over a hundred miles in either direction. But after hearing the $110 price tag for a room, we decided to camp in the desert up the road. We pulled off a couple miles of the road and set up camp in a dry gulch (no signs of rain for weeks so no worries…). Not soon after we started exploring the rock formations nearby, we came across some fascinating rock art pictographs! What a spectacular way to spend our last night in the desert – in a sacred site surrounded by surreal wilderness. We spotlighted but nothing new was added to the list. The next morning's sunrise walk was perhaps the best birding of the trip adding many new species such as lesser goldfinches, Costa's hummingbird, Scott's orioles, Bewick's wrens (surprised to see them so far south!) and many others. And we caught Wild Horses and dozens of Pacific Tree Frogs in the ephemeral ponds up and down the wash. They no doubt had a great wet season. I even heard a coyote growling just outside our tent during the night. I couldn't help but wonder if he was growling at us for invading his space. What a great spot.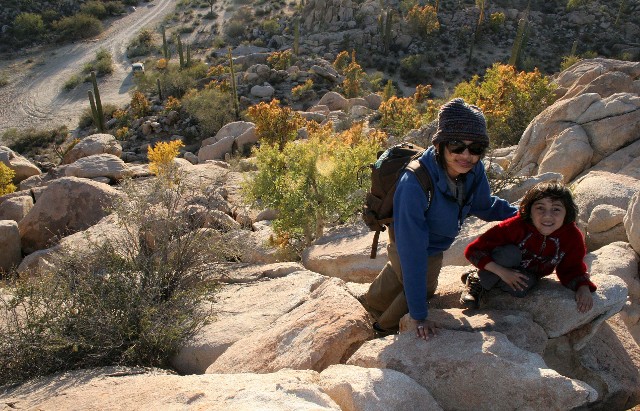 The Catavina is filled with Inselberg formations. We enjoyed climbing them all afternoon!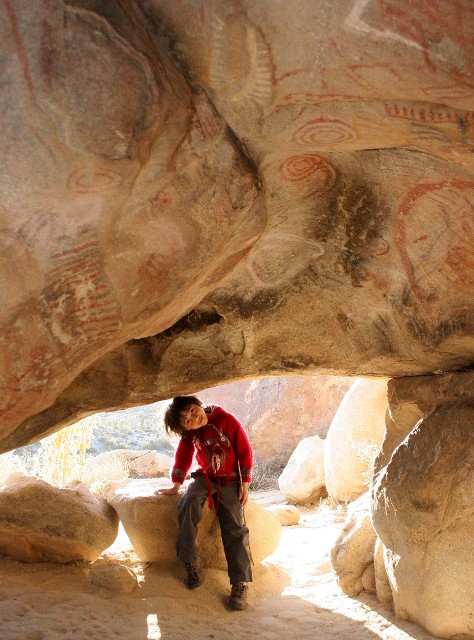 Cokie "discovered" some pictorgraphs while exploreing the Inselbergs of the Catavina Desert. We were all very excited to see what he found!
Some of the Catavina's many hidden pictographs...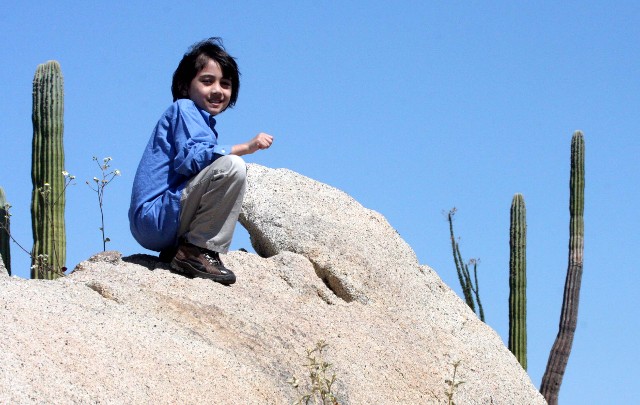 Cokie hanging out in the Catavina!
Some More Plants and Cool Cacti of the Catavina!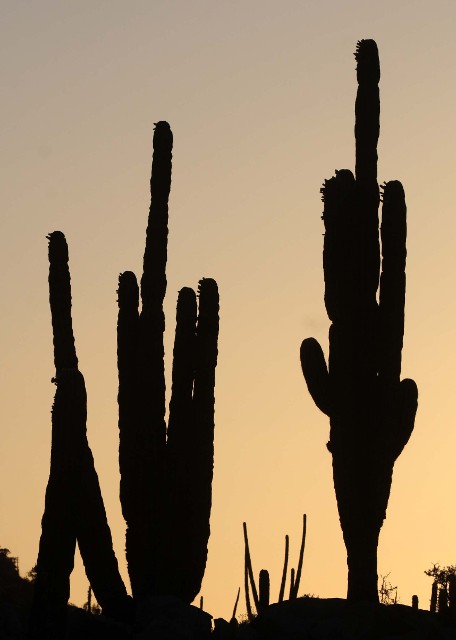 Boojum trees (F. Fouquieriaceae, Idria columnaris) at sunset.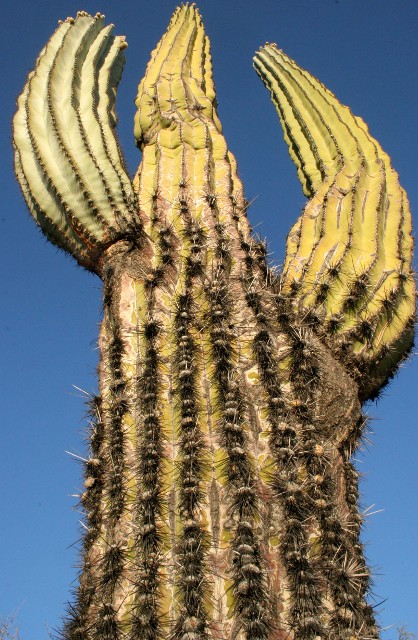 Cardon cactus in the Catavina...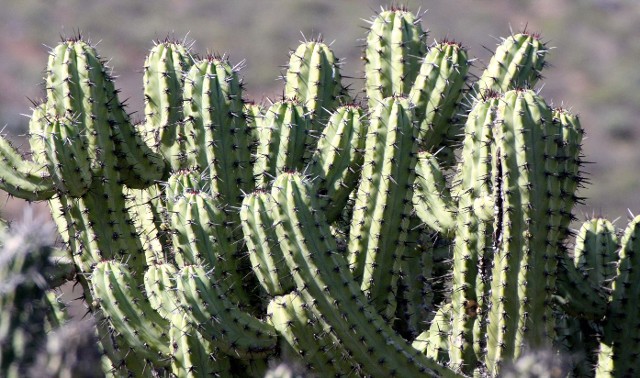 Candelabra cactus or Cochal (Myrtillocactus cochal)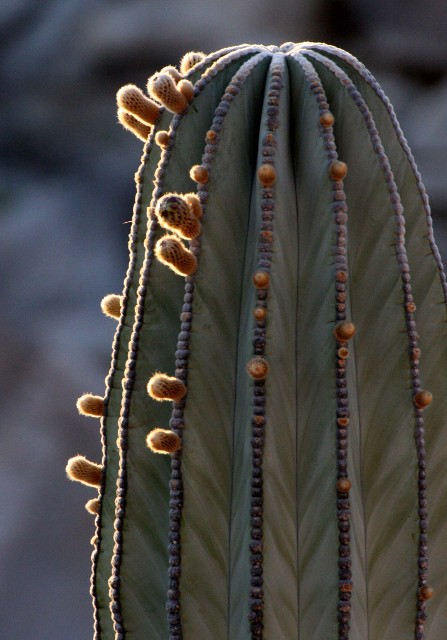 Cardon in the Catavina...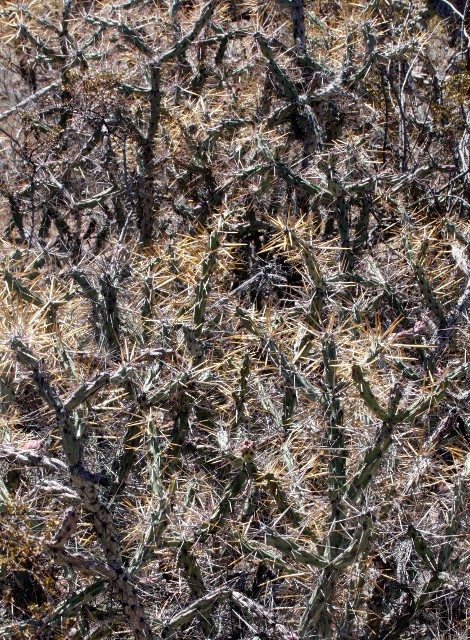 Diamond Cholla (Opuntia ramosissima)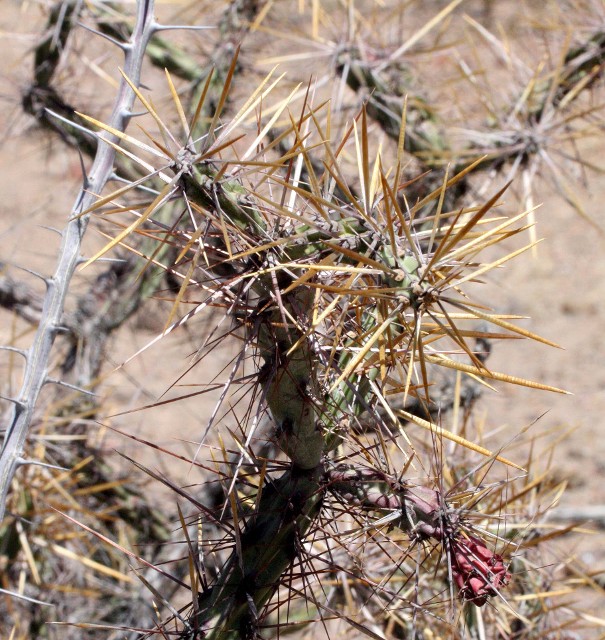 Diamond Cholla (Opuntia ramosissima)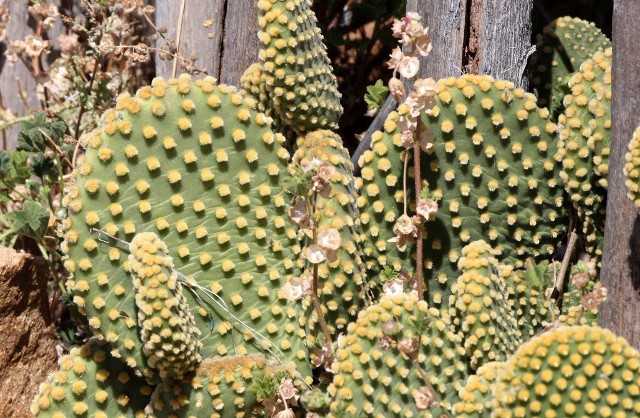 Opuntia basilaris subspecies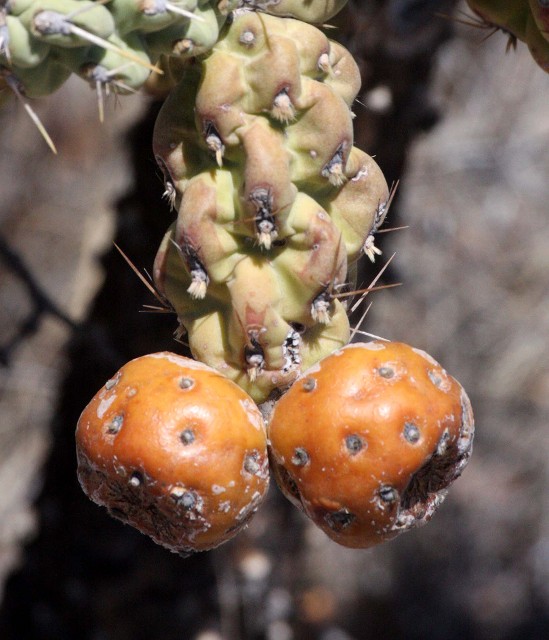 Chainlink Cholla (Opuntia cholla) Catavina desert!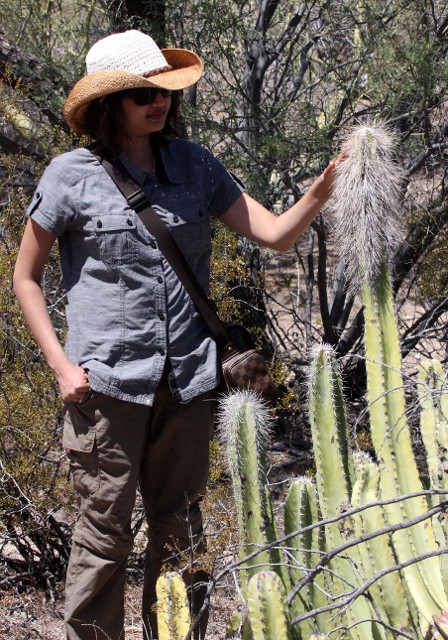 Old Man Cactus (Lophocereus schotti)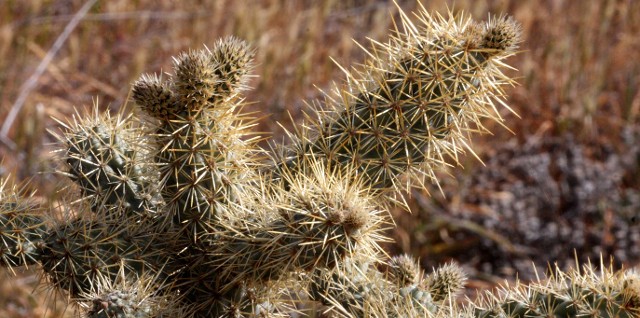 Buckthorn Cholla (Opuntia acanthocarpa)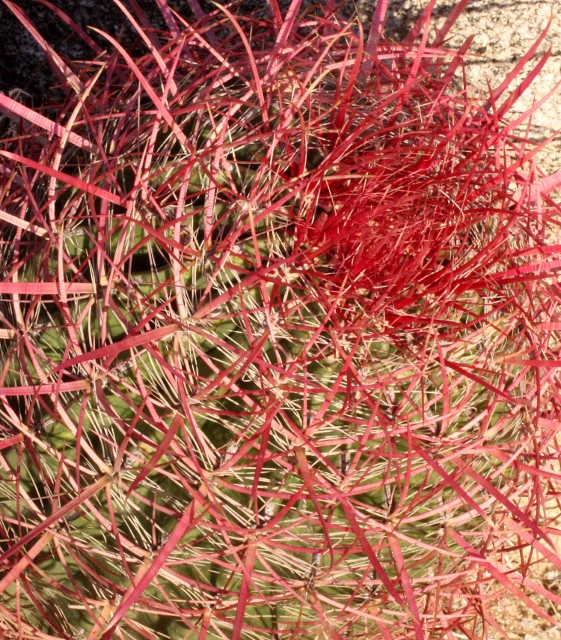 Townsend's Barrell Cactus (Ferocactus townsendianus)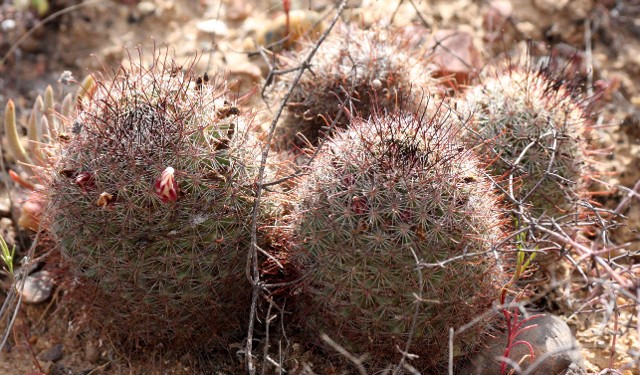 Mammillaria Cactus or Viejita (Mammillaria brandegeei)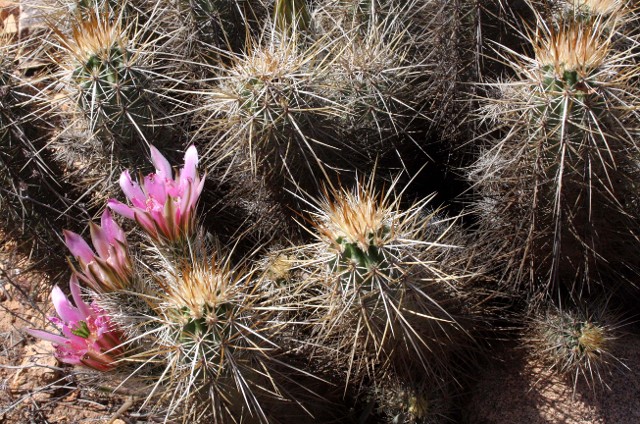 Strawberry Cactus or Pitayita (Echinocereus brandegeei)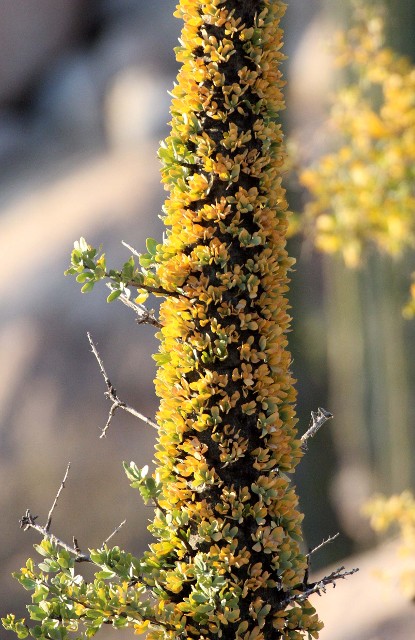 Boojum Tree (Idria columnaris)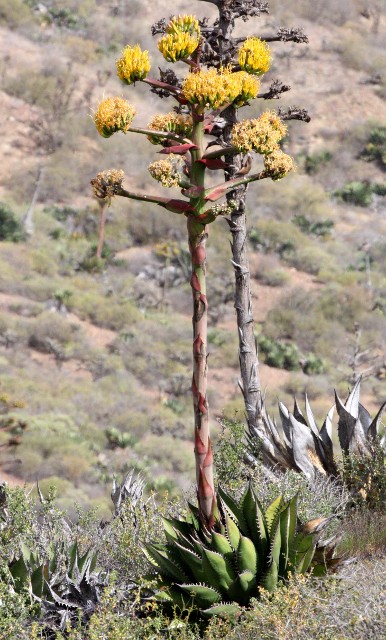 Coastal Agave (Agave shawii)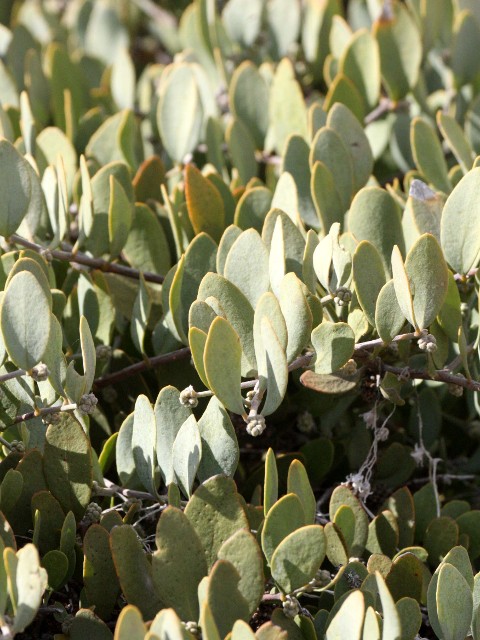 Jojoba (F. Buxaceae, Simmondsia chinensis)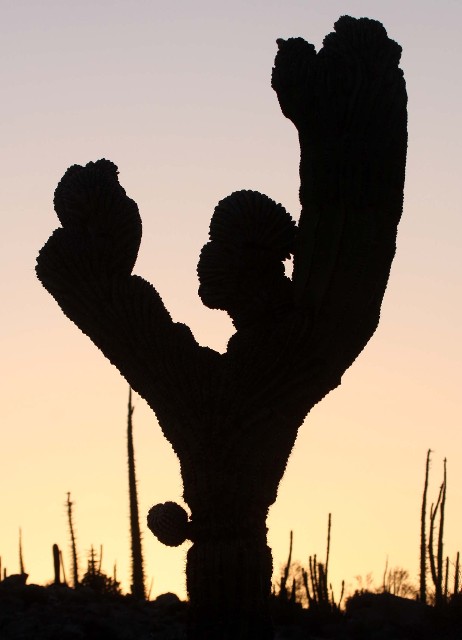 Crested Cardon Cactus (Pachycereus pringlei)
Ferral Horses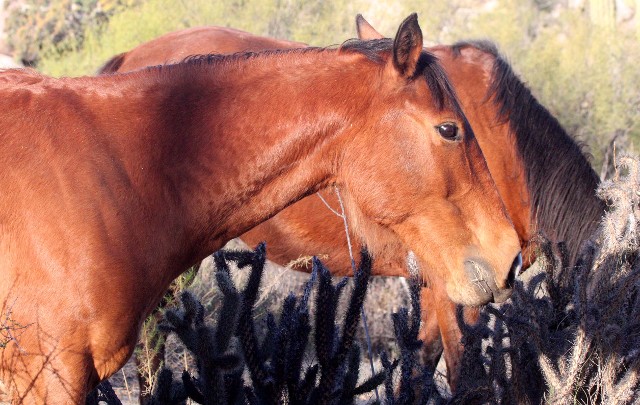 These ferral horses snuck up on us in the Catavina desert while we were sleeping in our wilderness campsite!
Wild Burros!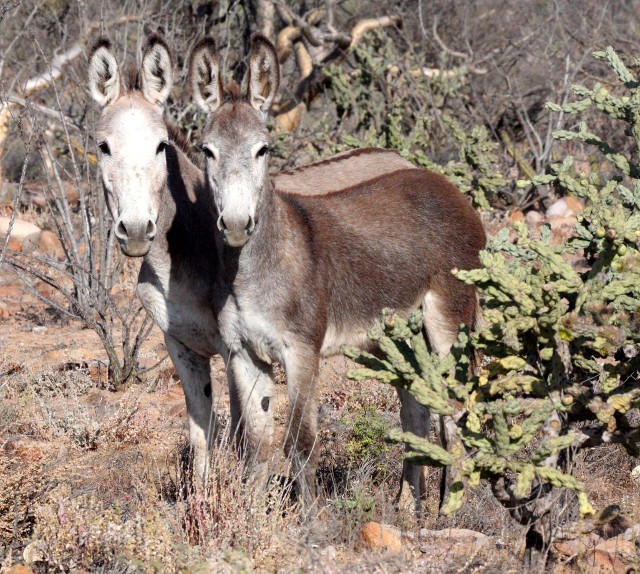 Wild and ferral burros were everywhere in Baja. These were spotted along the side of the road in the Vizcaino Biosphere Reserve.
The next day was mainly for driving. I wanted to get some last minute images of the California Ground Squirrels in the area – no problem – tons of them. But strangely we had the best sightings at a rest area just north of Ensenada where they were basically habituated.
California Ground Squirrels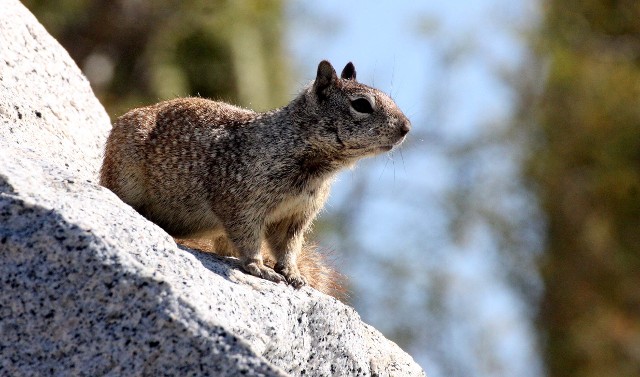 California Ground Squirrels were common in the northern half of Baja California in and around the rock outcroppings in the coastal and interior regions.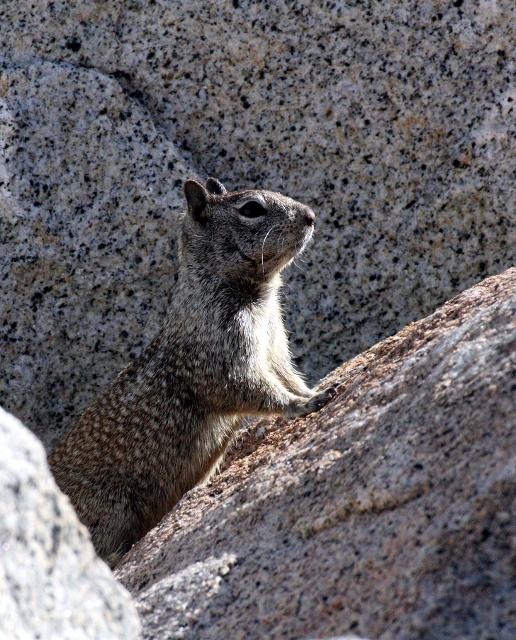 California Ground Squirrels were common in the rock formations in the Catavina and Baja Norte.
White-tailed Antelope Squirrels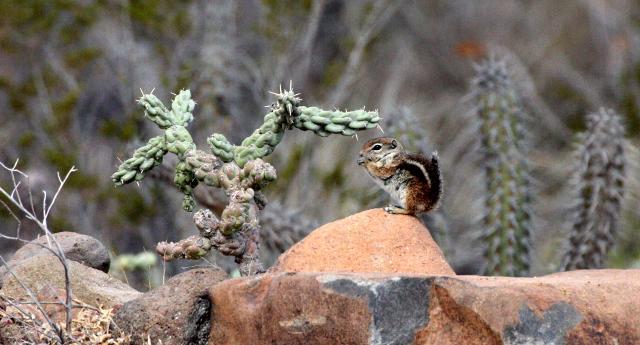 White-tailed Antelope Squirrels were also commonly seen along the southern stretches of Baja.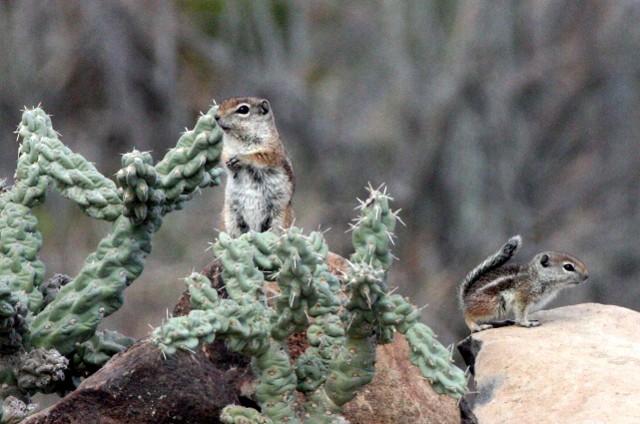 White-tailed Antelope Squirrels on the road the Laguna San Ignacio!
Bahia de los Angeles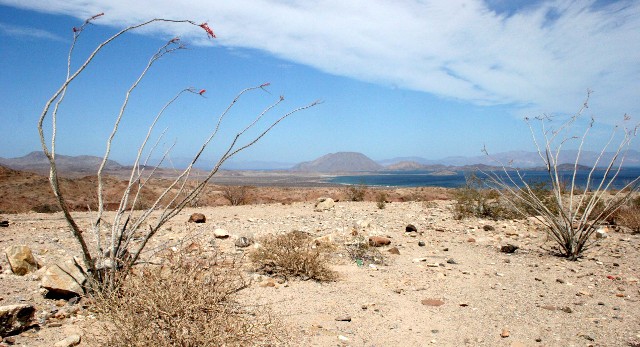 Ocotilla woodlands located near Bahia de Los Angeles...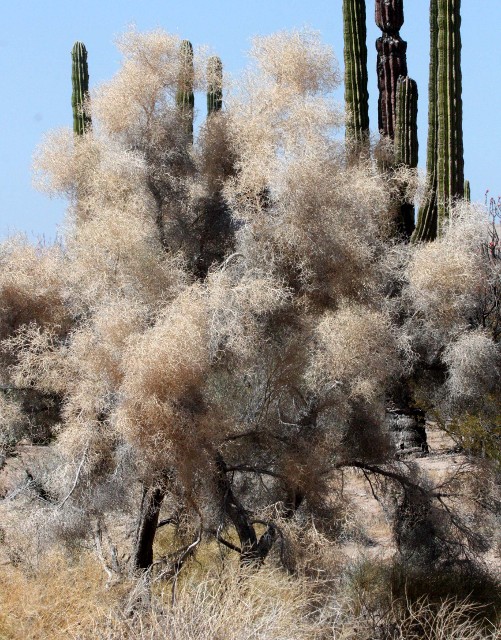 Smoke Tree (Psorothamnus spinosa) in Bahia de los Angeles Desert.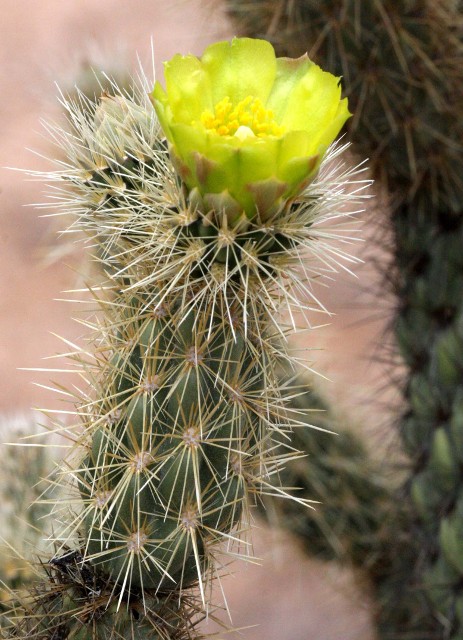 Cholla or Casta Rata (Opuntia invicta)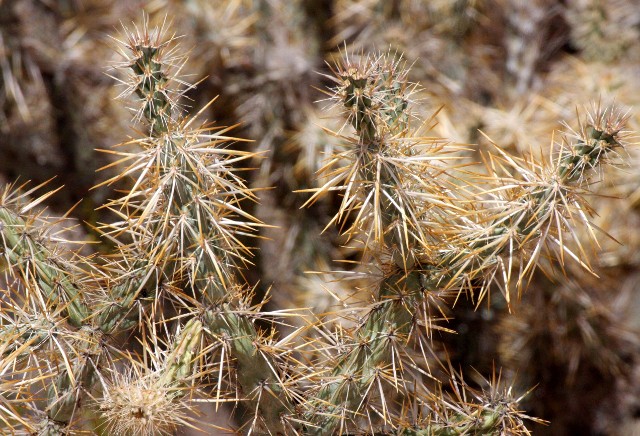 Opuntia species - cholla species - seen in Bahia de los Angeles!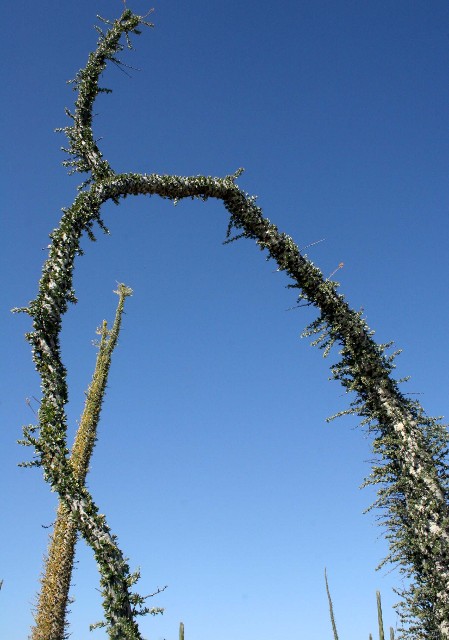 Boojum Tree (Idria columnaris)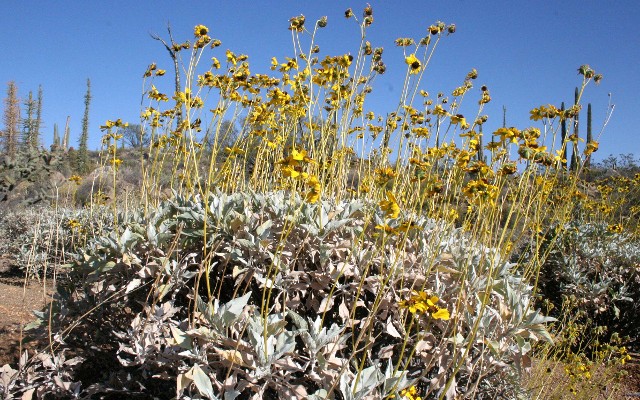 Bittlebrush (Encelia farinosa) in bloom in the Bahia de los Angeles desert.
Our amazing Baja adventure was finished with us getting nearly hopelessly lost in Tijuana – just trying to find our way to the damn lanes that got us in to the border post (the world's busiest!!!). After three hours of that adventure, we finally made it to San Diego and a hotel for the evening and then back to Seattle the next day.
What a phenomenal adventure we had.
Here are some more images of our amazing expedition to Baja!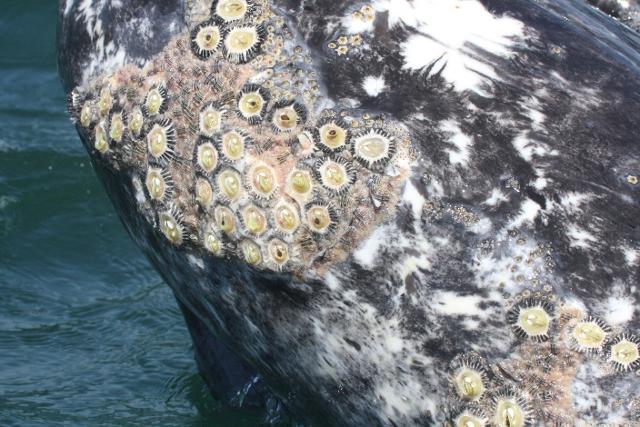 Our numerous close encouter with these hhenomenal animals allowed us indepth visuals of their commensals, the barnacles, as well ass many other features of their anatomy.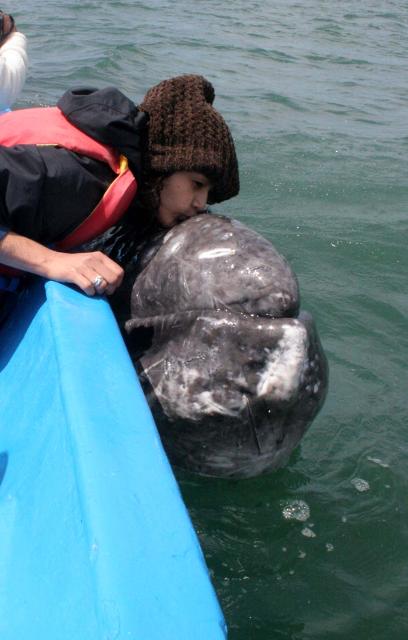 Som could have never imagined that one day she would be kissing a Gray Whale in baja Mexico! During our numerous sojourns to see the whales, we spent many quality hours with the whales. Their fearless approaches to our panga were amazing. The ways the mothers "presented" their calves is simply unexplainable. We will cherish our time with the whale always.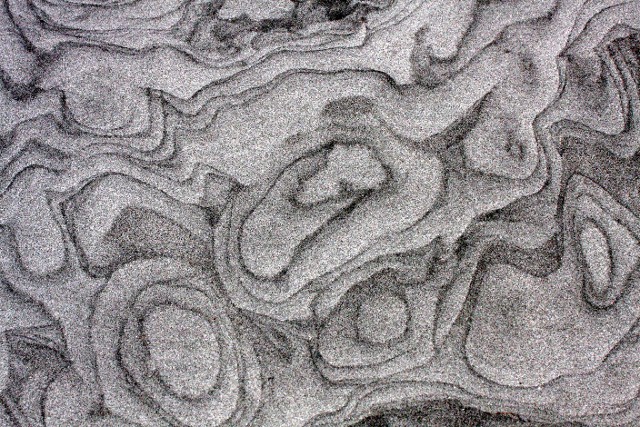 Sand designs in the San Ignacio Lagoon of Baja Mexico!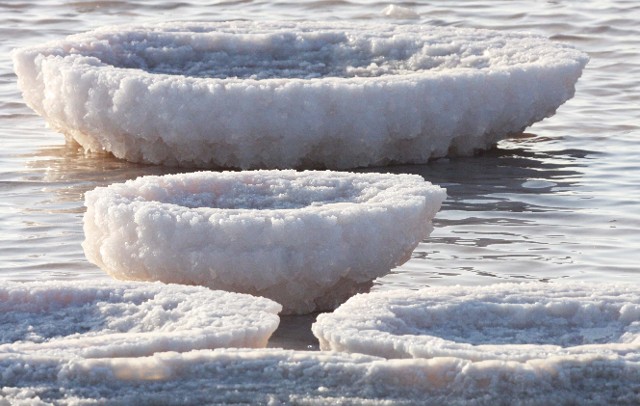 Ojo De Liebre Lagoon Baja Mexico - salt formations.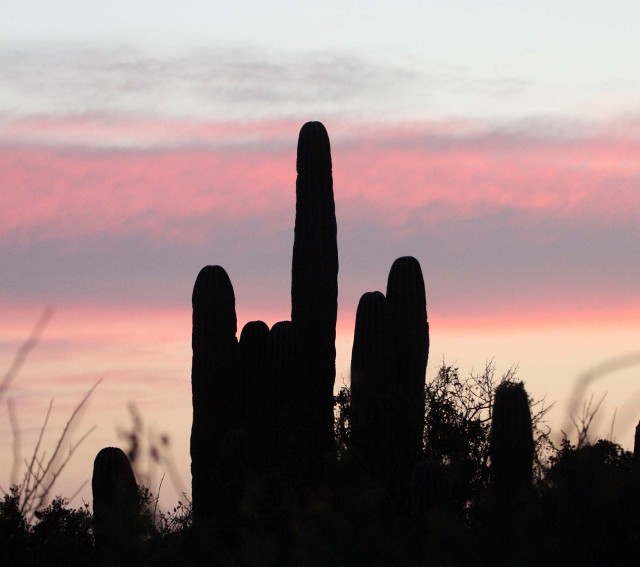 Sunset on Isla Santa Catalina.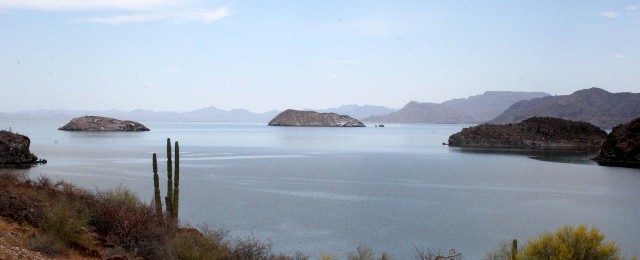 Bahia Concepcion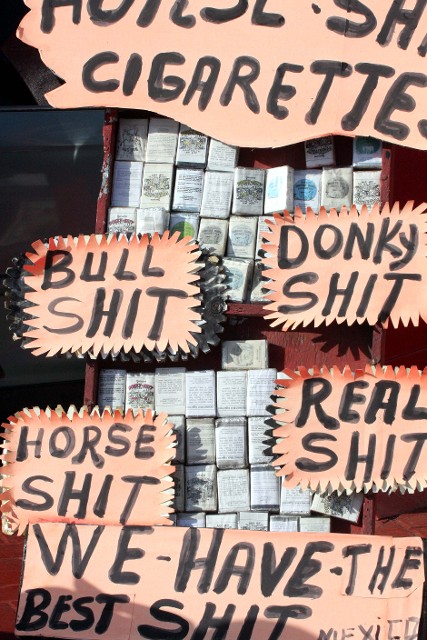 Well, what can I say...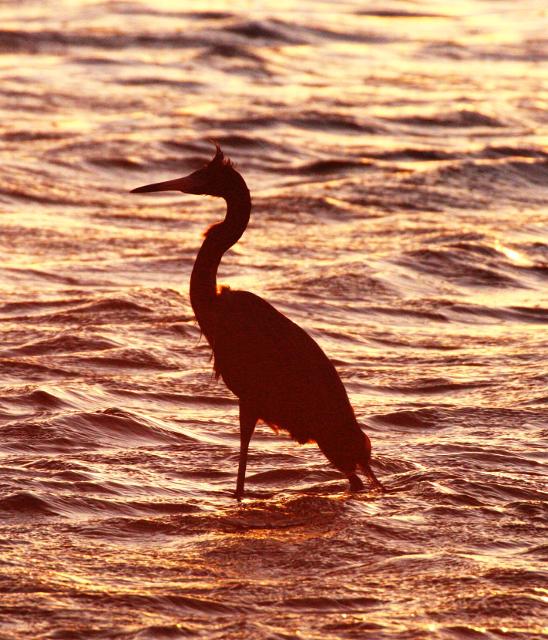 We spent many wonderful evenings watching this Reddish Egret prancing in the shallows of Languna San Ignacio fishing his heart out.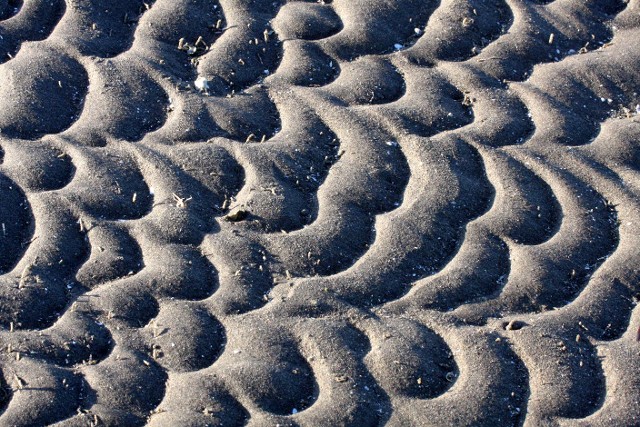 Beach designs in Laguna San Ignacio...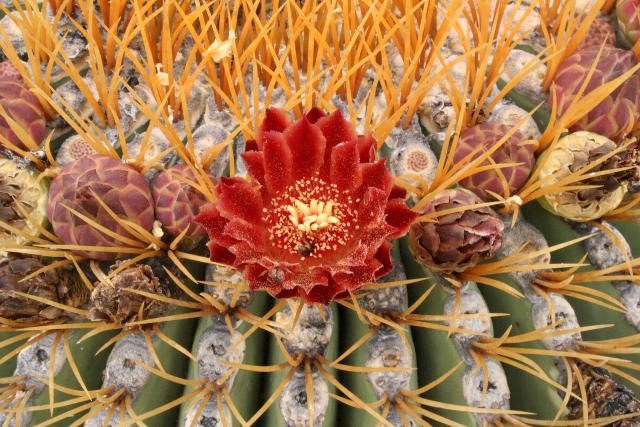 One of the largest barrel cactus species on the planet,Ferocactus diguesii is a unique species to Santa Catalina Island.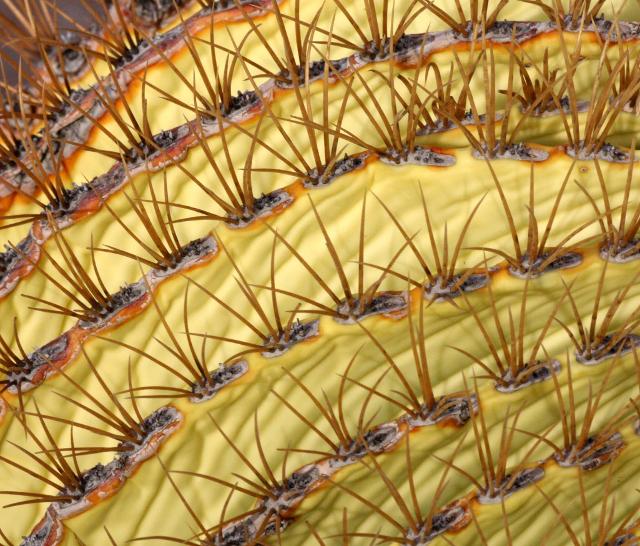 Ferocactus diguessii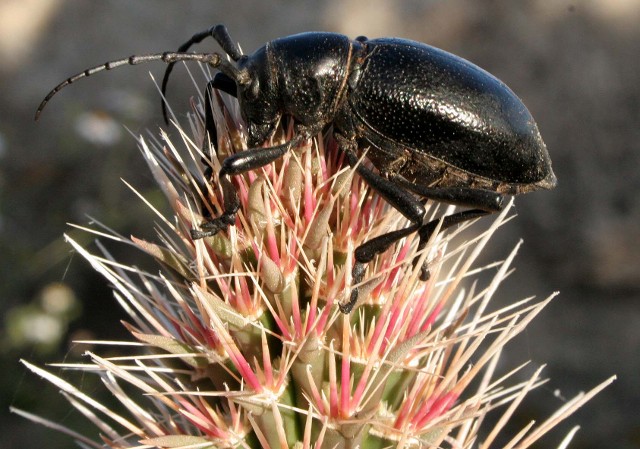 Cokie spotted this spectacular cerambycid beetle, the famous Monoliema giga in the Catavina Desert. Good eyes little dude!
Birds of Baja California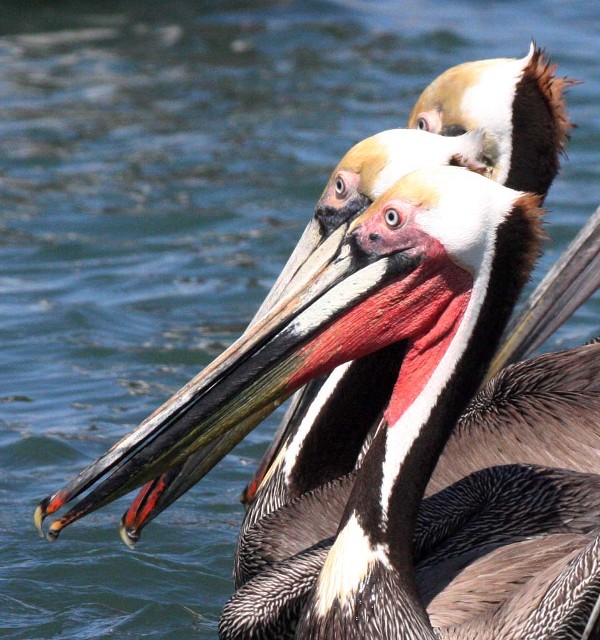 Brown Pelicans in the Bahia de Loreto.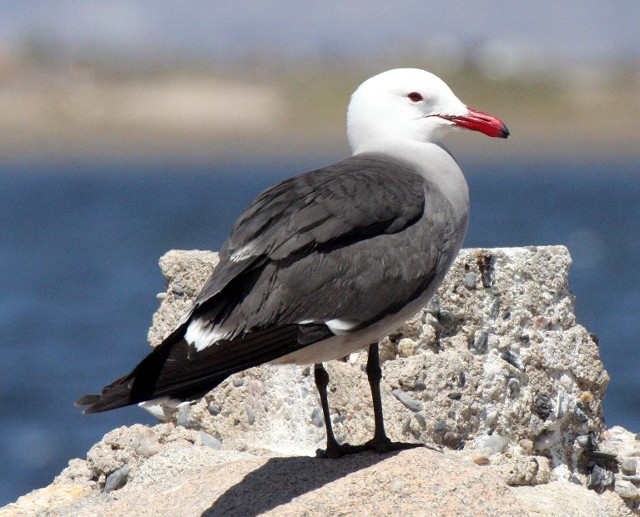 Heerman's Gull in Bahia de los Angeles.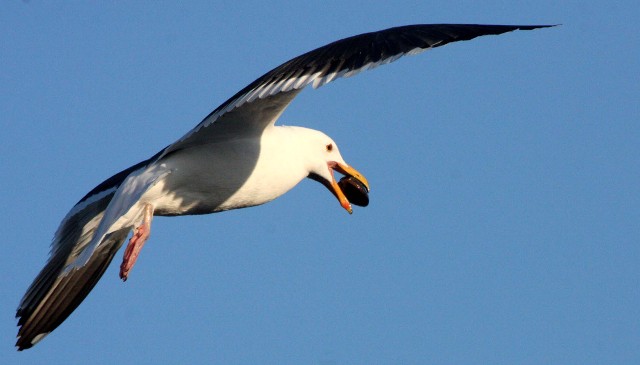 Western Gull about ready to open a clam by dropping it in San Ignacio Lagoon.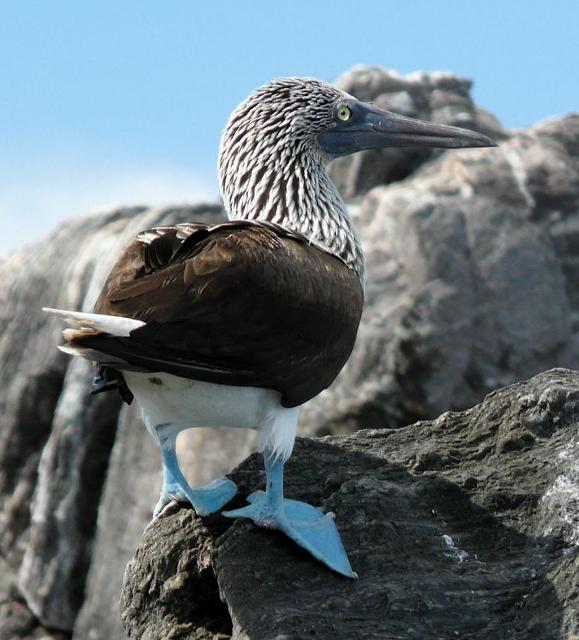 Although we were in the Sea of Cortez in the wrong season to see breeding boobies, we did sea many Brown and Blue-footed Boobies on the rocky shores of many of the island in the Bahia de Loreto.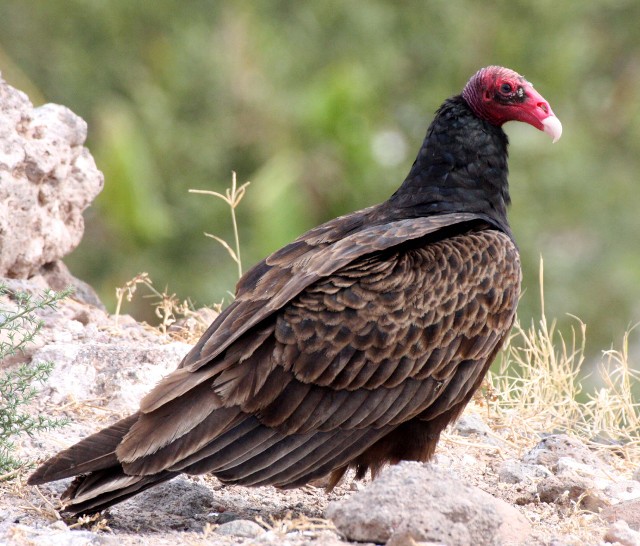 Turkey Vulture in the San Ignacio desert.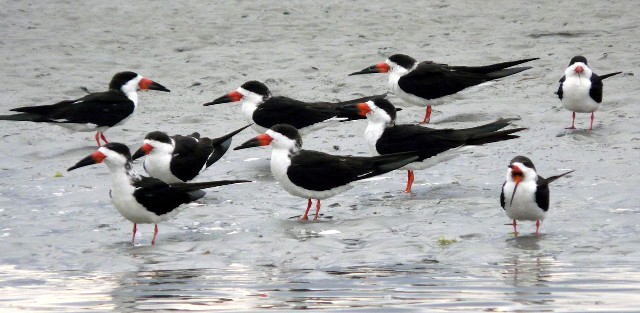 Black Skimmers in Laguna San Ignacio.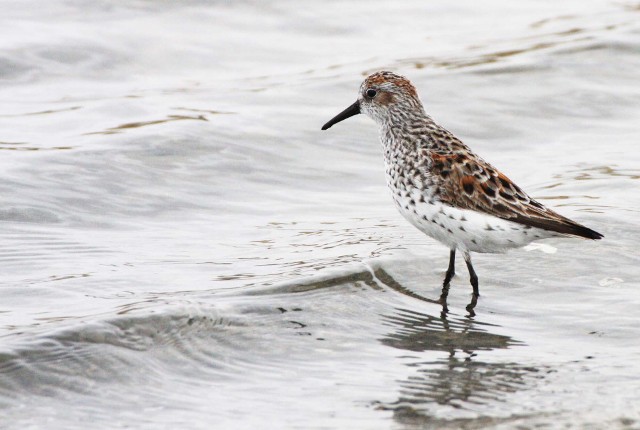 Western Sandpiper (Calidris mauri) Ojo de Liebre Lagoon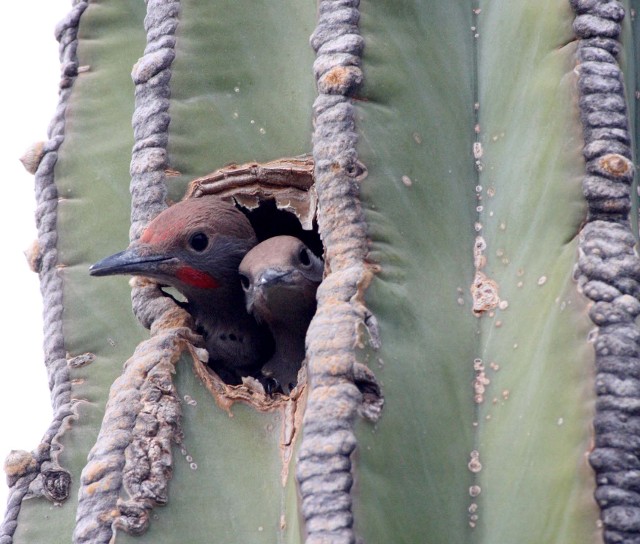 Gilded flicker (Colaptes chrysoide) in San Ignacio Desert.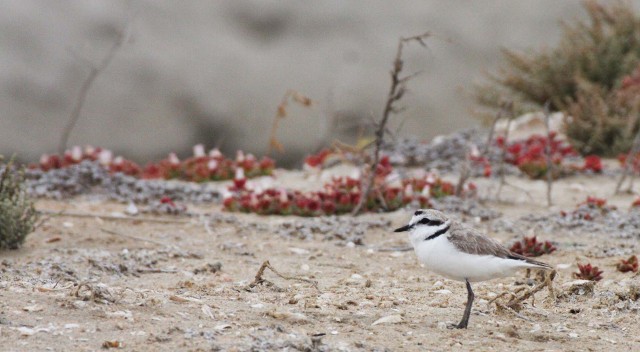 Snowy Plover (Charadrius alexandrinus) Ojo de Liebre Lagoons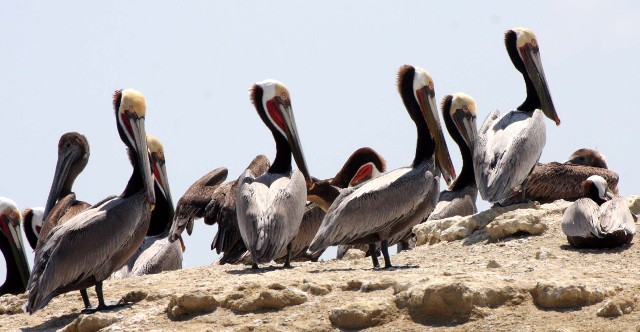 Brown Pelicans in San Ignacio Lagoon.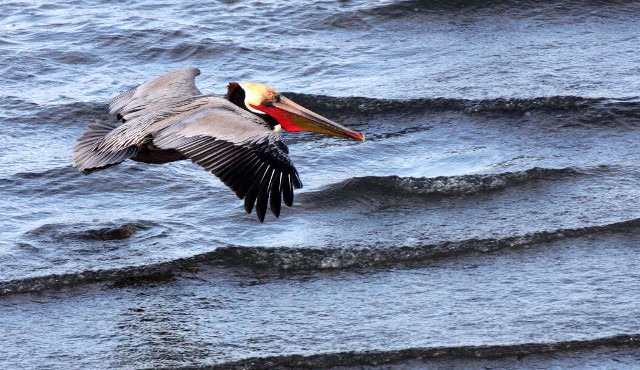 Brown Pelican passing by in San Ignacio.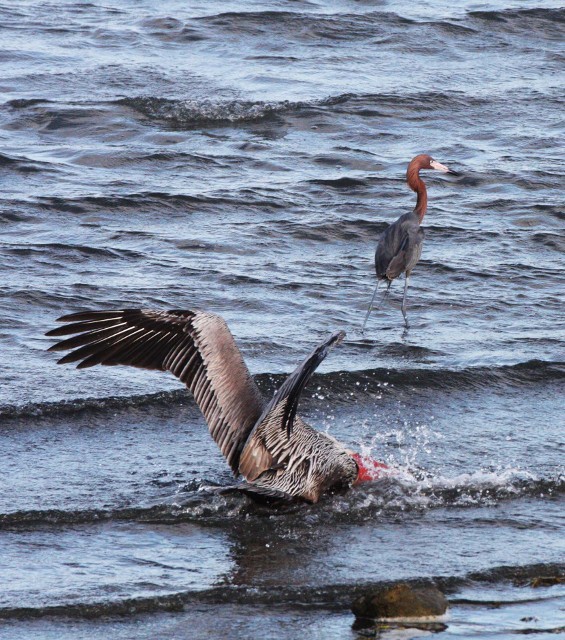 A Brown Pelican in San Ignacio fishing.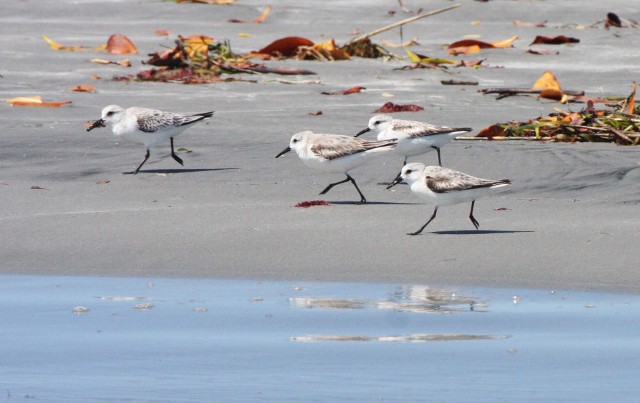 Sanderlings in San Ignacio.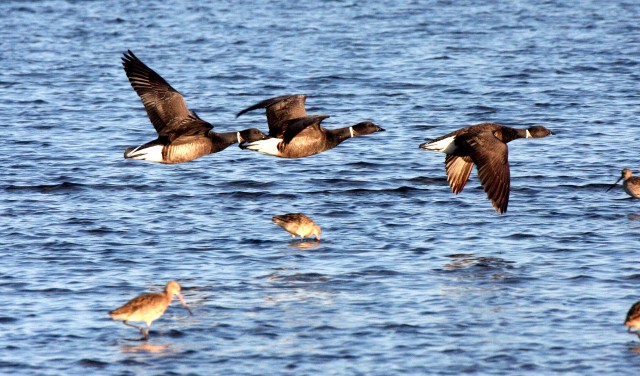 Brant Geese were very common in San Ignacio.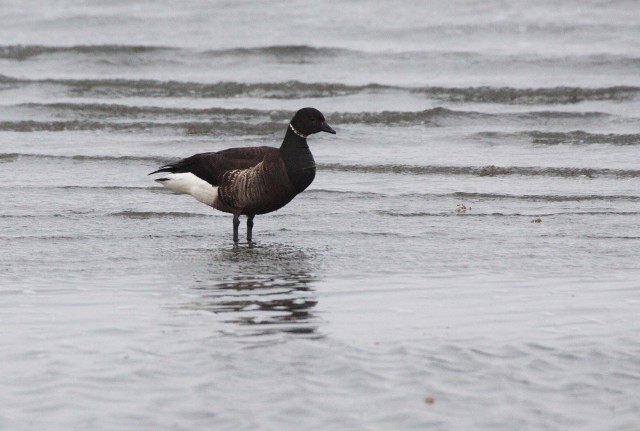 Brandt Geese in San Ignacio.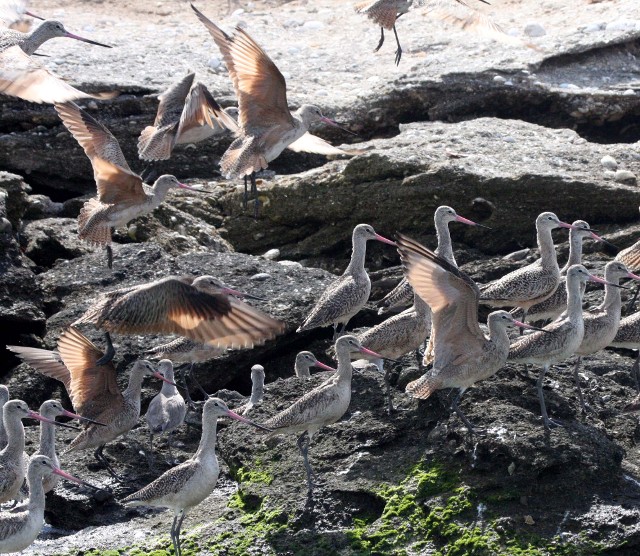 Marbled Godwit near Campo Cortez in San Ignacio
Marbled Godwit near Campo Cortez in San Ignacio.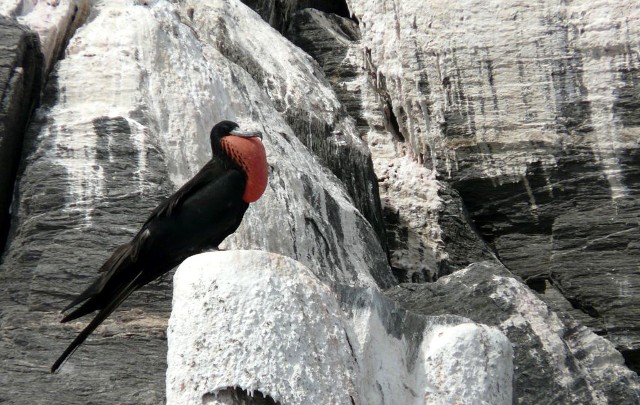 Greater Frigate Bird in Bahia Loreto, Sea of Cortez.

Hunting Osprey in San Ignacio!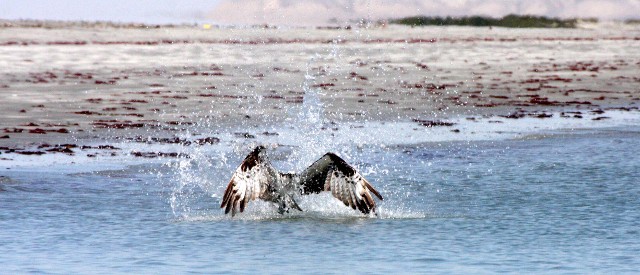 Nailed it!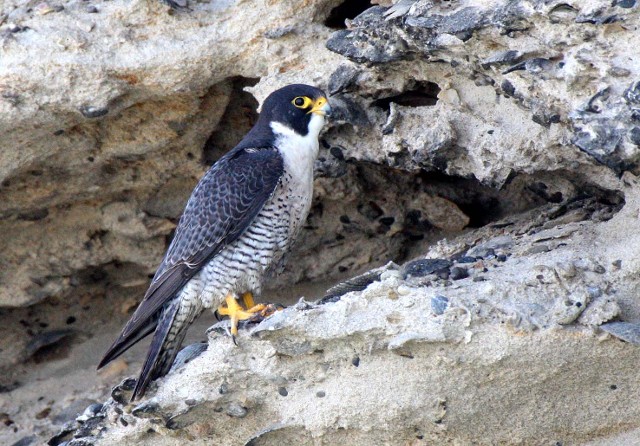 Perigrine Falcon in San Ignacio.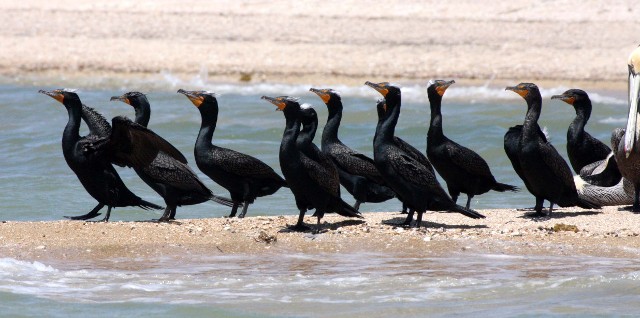 Double-crested Cormorants in San Ignacio. Nice to see them in their breeding plumage for once!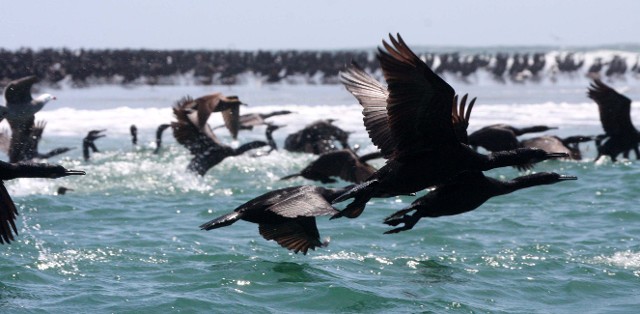 Double-crested Cormorants in San Ignacio.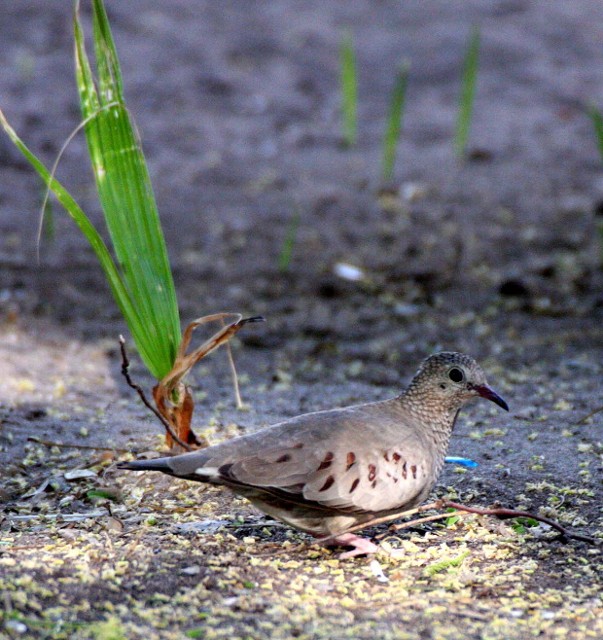 Common Ground Dove in Loreto.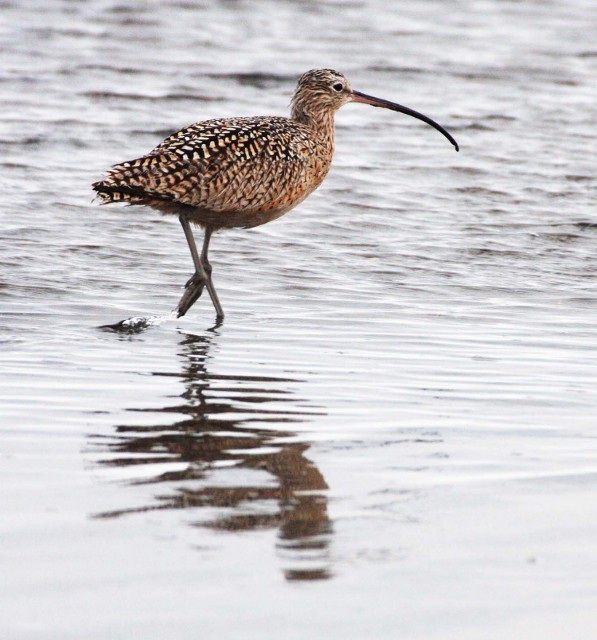 Long-billed Curlew in San Ignacio.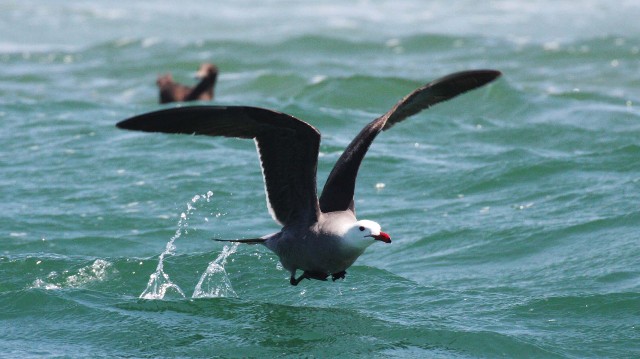 Heerman's Gull in San Ignacio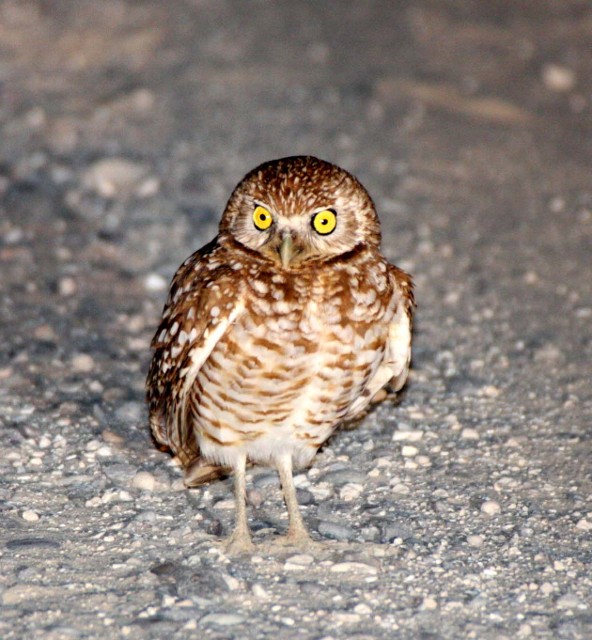 Burrowing Owl in San Ignacio Desert.
On the way out of Baja...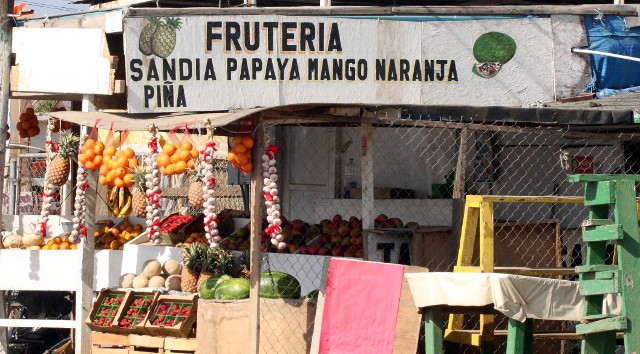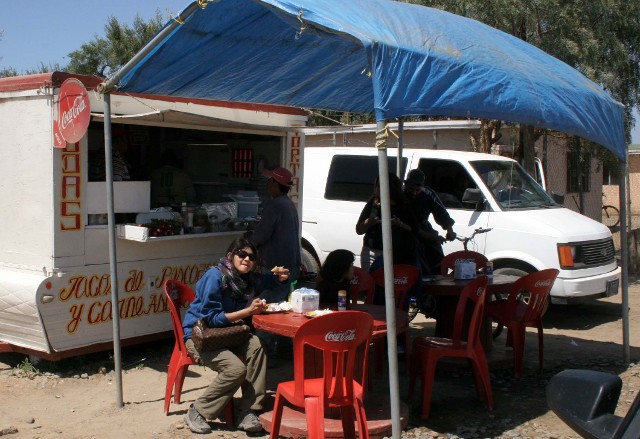 San Quintin - more tacos!!!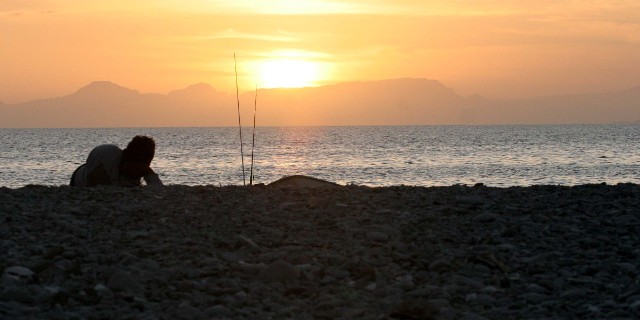 An amazing sunset at our unbelievable basecamp at Isla Santa Catalina. We all vowed to return here again someday.
***
Check out some more images below! Also, click on the below links to see gallaries with more phenomenal images of the flora and fauna of Baja California, Mexico!