Masked Boobies off the coast of the Galapagos.
Ecuador truly is the jewel of South America. With the tropics of its Amazona region to the gorgeous Andes and volcanos, Ecuador has always been one of my favorite travel destinations. In 2001, I visited Ecuador for the third time and once again followed the below itinerary, which I personally designed in 1996 for La Selva. I also had the unique pleasure of spending an additional week with the Kapawi tribe in Amazona. Living with and experiencing the culture of these fascinating people is an experience I will cherish always.
Click the links below to see more images from the Galapagos and South & Central America
Animals of South & Central America
Birds of South & Central America
South & Central American People & Places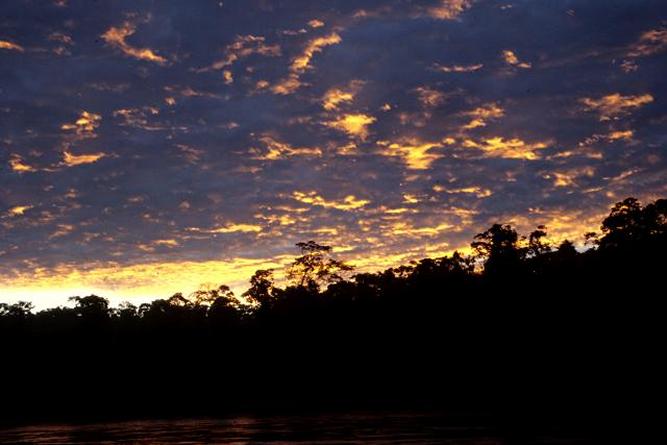 A spectacular Amazon sunset deep in the Ecuadoran Amazon.
ECUADOR: JEWEL OF SOUTH AMERICA
DAY 1 (Thu): QUITO: Arrival transfer from the States. Accommodations Hotel Sebastian including buffet breakfast.
DAY 2 (Fri): GALAPAGOS ISLANDS / BALTRA / TURTLE COVE: Departure transfer to airport for flight to the Galapagos. We board our beautiful boat to begin our Galapagos expedition. We visit Baltra, which has unique Opuntia and Cereus cacti as well as Palo Santo trees and numerous annuals. We will also visit turtle cove to see the massive Galapagos tortoises.S (BLD)
NOTE:
The visits are taken to the islands in a smaller boat launched from the mother ship to the beach or dock. All excursions are assisted by a professional naturalist guide for an in-depth experience, with detailed lectures in the evenings. Seasonal changes in the itinerary may occur due to weather patterns or national park regulations at the moment of the cruise.
DAY 3 (Sat): SOUTH PLAZA / SANTA FE (BARRINGTON): South Plaza was formed by uplifted lava-fault blocks and contains land iguanas, Audubon's shearwaters, red-billed tropic birds, brown pelicans, sea lions swallow-tailed gulls, just to name a few. Here we see the large Opuntia cacti and a striking, red succulent, Sesuvium. On Santa Fe Island, we experience land iguanas, the Galapagos mockingbird, the brown noddy, the brown pelican, magnificent frigate birds, and several species of Darwin's ground finches. In the cove we may spot manta rays, parrotfish and the occasional sea turtle.
DAY 4 (Sun): ESPANOLA (HOOD): Punta Suarez is simply packed with wildlife! Here we will see marine iguanas, sea lions, swallow-tailed gulls, lava lizards, finches, the endemic long-billed mockingbirds, both blue-footed and masked boobies, oystercatchers, and breeding waved albatrosses (April to December). We may have a chance to swim with the playful sea lions and relax at the spectacular white-sand beach at Gardner Bay.
DAY 5 (Mon): FLOREANA (CHARLES): Here we can leave our letters as the whalers did over 100 years ago at the wooden barrel mailbox on Post Office Bay. We will visit a flamingo lagoon behind Point Cormorant's olivine beach and snorkel at the mysterious Devil's Crown, an eroded, submerged volcanic cone.
DAY 6 (Tues): PUERTO AYORA / DARWIN STATION/HIGHLANDS: We will visit the world-famous Darwin Research Station at Puerto Ayora. In the nearby highlands, we will see the lush humid zone with its characteristic Miconia bushes, Scalesia trees (of the sunflower family) and extinct volcanic cones covered with lush growth. Santa Cruz Island has more endemic flora that any other island in the Galapagos.
DAY 7 (Wed): SANTIAGO (JAMES) / BARTOLOME: Santiago Island demonstrates the volcanic forces that formed the islands very clearly. It is a twisted world of lava cones and craters. At Puerto Egas, we can swim with the Galapagos fur seals in their native habitat. Bartolome has an incredible 350-foot cinder cone surrounded by spectacular lava formations providing a moon-like landscape.
DAY 8 (Thur): GENOVESA (TOWER): Here we will see colonies of red-footed and masked boobies, lava gulls and frigate birds all nestled in the area surrounding Darwin's Bay. To the east, we can see red-tailed tropic-birds and storm petrels as well as more boobie nesting sites. We will also have a chance to do some snorkeling in the majestic waters here.
DAY 9 (Fri): NORTH SEYMOUR / BALTRA/RETURN FLIGHT: This submarine lava formation contains the largest gathering of magnificent frigate birds in the region. We can also visit nesting colonies of blue-footed boobies and swallow-tailed gulls. Arrival transfer from Galapagos. Overnight at Hotel Sebastian (BL).
DAY 10 (Sat): QUITO: Full-day excursion in Quito. Accommodations in Quito (BL).
DAY 11 (Sun): PAPALLACTA THERMAL SPRINGS / SAN RAFAEL CLOUD FOREST: The group departs Quito for the Papallacta thermal springs for paramo life zone exploration, and eventually down to San Rafael Cloud Forest Reserve. On the eastern side of the Cordillera Real, the cool, moist atmosphere of the cloud forest, combined with the ample light filtered through the trees creates a luxuriance of flora that is hard to imagine. By special arrangement, we visit this private reserve which is packed with orchids and hundreds of bird species. Surrounded by towering mountains, the lodge serves hearty meals and very comfortable lodging. Accommodations by special arrangement at lodge adapted for guests (BLD).
DAY 12 (Mon): SAN RAFAEL CLOUD FOREST: Full-day field trips on various nature trails to explore this unique habitat, with great opportunities for bird watching and botany. Some of the possible activities include swimming in invigorating thermal springs, treks to the Vista Real Birding Trail down to the Rio Coca basin where it may be possible to see the elusive "cock of the rock". Trekking through he primary Polilepis forests to the falls is simply spectacular. Accommodations at lodge (BLD).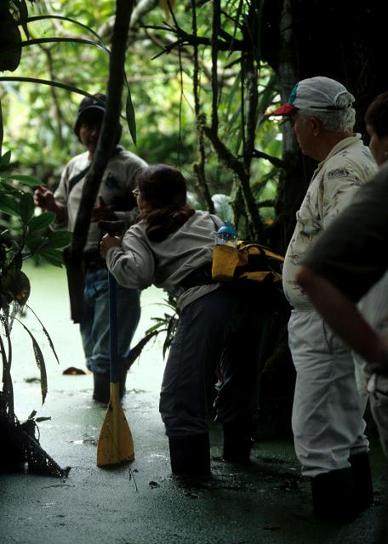 Trekking the flooded forests of the Cuyabeno can be a challenge but it is rewarding!
DAY 13 (Tue): SAN RAFAEL - CUYABENO RESERVE: The group leaves San Rafael for the Cuyabeno River Lodge region, with important stops along the way to study the changing habitats and ecosystems in relation to human and wildlife adaptation. Accommodations at Cuyabeno River Lodge (BLD).
DAY 14 (Wed): CUYABENO RESERVE: Perhaps the greatest diversity of life on earth exists at Cuyabeno, which is tucked away in the remote Upper Amazon basin. Activities will include canoeing the narrow rivers and inlets and expansive lakes, easy walks through thick rainforest, discussions and in-the-field demonstrations of sustainable utilization of natural resources, including herbal medicines, Indian construction methods, as well as birdwatching.
DAY 15 (Thu): CUYABENO RESERVE: Activities continue at this wonderful virgin wilderness. Animals in this region that we may be able to see include fresh-water dolphins, manatees, piranha, arapaima, many species of primates, and hundreds of species of birds. The forest is rich with orchids, ferns and bromeliads. At night we will search for caymans, agouti, paca and other night-roaming animals. Accommodations at Cuyabeno River Lodge (BLD)
DAY 16 (Fri): CUYABENO RESERVE - QUITO: The group departs Cuyabeno for Quito at mid-day by air with afternoon free for relaxing. Accommodations in Quito. (B)
DAY 17 (Sat): OTAVALO: The group heads to the Otavalo market and region, with important sites along the way. The Otavalo market is where we may sample the artistry of the Otavalo Indians. Their talents include weavings, walnut and cedar carvings, leather wear and "bread-dolls". Accommodations at indigenous-run complex (BLD)
DAY 18 (Sun): OTAVALO: We will spend time in the Otavalo region exploring such sites as the pre-Inca ruins of Cochasqui and travel through many forgotten Indian villages surrounding the haciendas of La Esperanza and Zuleta, where the women wear intricately embroidered color on their blouses and pleated skirts (BLD)
DAY 19 (Mon): OTAVALO - TANICUCHI: The group departs the Otavalo region for the Tanicuchi region. Accommodations at La Cienega (BLD)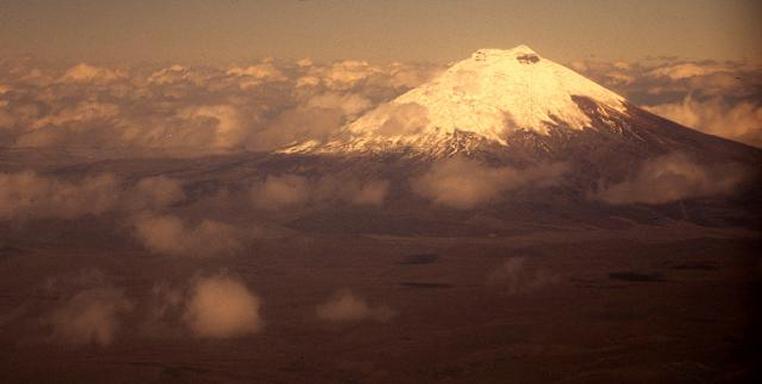 An aerial view of Cotopaxi, one of Ecuador's many shield volcanoes.
DAY 20 (Tue): COTOPAXI NATIONAL PARK: Today the group explores Cotopaxi National Park and Riobamba, with important sites along the way. Cotopaxi National Park offers massive mountains, aromatic vegetation and wild creatures ranging from colorful, tiny frogs and hummingbirds to elusive llamas and condors. The rocky basaltic summits of Ruminahui and Sincholagua reward the visitor with expansive views of the world below. Accommodations at hostel in outskirts of the city (BLD)
DAY 21 (Wed): RIOBAMBA: Today the group visits colonial Riobamba, Ingapirca (Ecuador's most important Incan site) and colonial Cuenca. Accommodations at hotel in colonial section of town (BLD)
DAY 22 (Thu): CUENCA: Today we have a Full-day exploration of Cuenca, with its various museums, ruins, and other fascinating sites. (BLD)
DAY 23 (Fri): GUALACEO: Today we have a full-day field trip to the fantastic Indian villages of the Gualaceo countryside and other sites and return in PM in time for our return flight to Quito. Accommodations in Quito (BL). By special arrangement, there will be a farewell dinner at Ecuadorian private home (BLD).
DAY 24 (Sat): QUITO: Departure transfer to airport in time for return flight to States (B)
Here are some more images of my trips to Ecuador: