Som's awesome Tiger Eye shot snapped while this beautiful tigress was sleeping in the bush of Kanha National Park, Madhya Pradesh.
Expedition to India: Gujarat, Madhya Pradesh & Assam!
Here are some more amazing images of our expedition to India!
Tiger, Tigers and More Tigers!
People and Places of India Gallery
Reptiles and Other Critters of India Gallery
Our Travelogue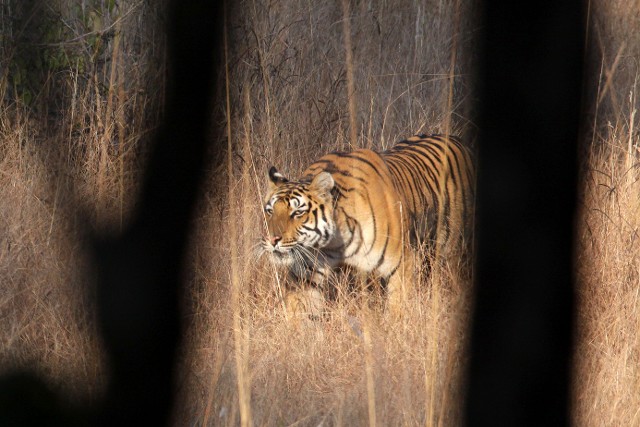 A fleeting glimpse of our very first wild tiger for the expedition seen through the gaps of the sal forest of Kanha.
Places Visited:
Little Rann of Kutch (Riders Camp)
Gir Forest National Park
Blackbuck National Park (Velavadar)
Kanha National Park
Bandhavgar National Park
Chambal River Sanctuary
Kaziranga National Park
Gibbon Wildlife Sanctuary
Guwahati Dump!
Ever since my first trips to India in 1996 and '97, I have been itching to get back there and do it right! And after seeing all of the depressing news about wild tigers and their imminent extinction there has been a sense of urgency to get back to India and see them once again in their natural habitat. After accepting the job in Shanghai, Som and I started spying the academic calendar and could not help but notice a gaping break in December and we could think of no better way to plug that break than to fill it with 24 days in India on one hell of a wildlife safari! So that's what we did.
We hooked up with a superb inbound operator, Wild World India, who very expertly handled all of our arrangements. Seriously, this is a very professional and efficient operation. Run by Gaurav and Vikram, Wild World India is without a doubt the top wildlife safari company in India. The entire 24 days was literally flawless in execution. Every request we had, both before and DURING the tour was addressed and handled perfectly. One of the best things about WWI is that wildlife is their emphasis and they know the best places and people to get you to see the species you want to see. In most locations, the guides that worked exclusively for WWI were by far the best around. In some parks, due to strange rules and regs, you are not allowed to arrange specific guides, but where possible (Kanha and Bandhavgar in particular), the guides that WWI arranged for us were state of the art. Without their knowhow and creativity, we would have seen far fewer species and had much less satisfying sightings than we actually had. Hats off to WWI! Another fantastic aspect of WWI was that the owners, Gaurav and Vikram were accessible daily. They were constantly checking in on us and making sure all was well and the sightings were good. We felt well cared for and truly thank WWI for their very well done expedition. They can handle any sort of wildlife-based tour and we would without a doubt recommend them to anyone wishing to visit India.
Way back in January of 2010, I was designing an expedition that would take us to some of the more wildlife rich regions of the Indian Subcontinent. This is no easy task. Although there are many places in India that are still rife with critters, India is a damn big country! And it is a country with very limited infrastructure. So it was a matter of choosing places that allowed for decent species' viewing during the winter months (which was another challenge in itself). But after considerable research and consultation with the very knowledgeable folks at WWI, we came up with a truly phenomenal trip that basically covered four states and about eight national parks or reserves. And we netted over 50 species of mammals and well over 250 species of birds! (If I were a good birder, we would have a list of 350 at least but….) To say this trip was successful would be an understatement. Of course a lot of this was due to luck, but there was an equal amount of simple good spotting and very good guides that allowed the success.
One of the most discouraging things about our expedition was the congestion in the national parks and reserves due to the Christmas holidays in India. For some stupid reason, I didn't think that the Christmas season would be a big deal there…. I mean, a mainly Hindu culture celebrating a Christian holiday! Well, they do! And wow do the crowds swell in the parks and reserves during this time. In fact, had we not made our reservations months ahead of time, we never would have been able to even enter the parks, as was the case for literally hundreds of unlucky travelers we saw hovering around the entrances to the reserves every morning begging for tickets to get in for a chance to see a tiger. Wow where they crowded! At first, we were very discouraged and Som at the outset said, "well, I guess this was a wasted of $10,000…." But, again due to the professionalism of our guides mainly (as well as some dumb luck), we were able to have dozens upon dozens of quality sightings and some very sublime and "alone" wilderness moments in the spectacular Indian bush. Although we hit over 50 species, there were still several species we missed that I thought we would see easily, such as Indian Wolves and Wild Dogs. The crowded nature of the parks had a lot to do with this.
Little Rann of Kutch, Gujarat
Our first destination was the state of Gujarat. Situated on the far western reaches of the subcontinent, Gujarat is known to be one of India's richest and most developed states. While this may be tough to believe when you compare it to more developed countries, but for India, the differences between Gujarat and some of the other states is dramatic. Here we visited the Little Rann of Kutch, the Gir Forest and Velavadar or Blackbuck National Park.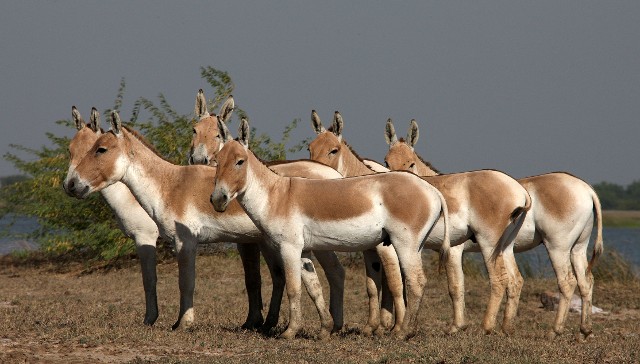 A herd of Wild Ass in the Kutch Desert
The Little Rann of Kutch is a spectacular expanse of saltpan desert situated not too far from the Pakistan border, comprised of wide-open desert and Acacia scrub thicket. Although we were not able to afford the time to get up to the Great Rann or Desert National Park, the Little Rann was no disappointment. We nailed our first ten or so species of mammals there and had some great luck with some very rare species of birds as well. Of course, the main species of mammal one sees in the Little Rann is the Indian Wild Ass, also known as the Onager. We saw literally hundreds of these spectacular wild horses running around the desert and Acacia forests. Many were also seen poaching crops from nearby agriculture land.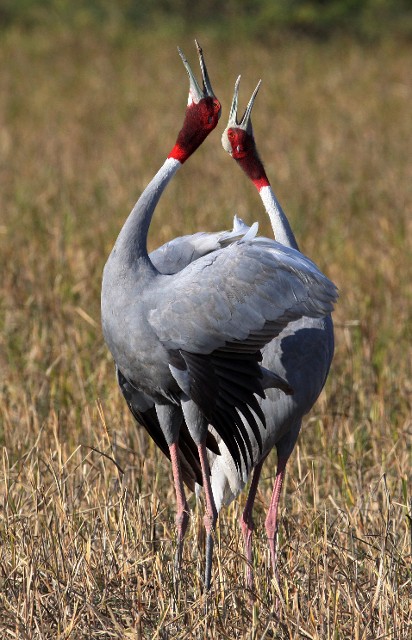 A mating pair Sarus Cranes singing their hearts out in response to our guide's cell-phone recording of Sarus Cranes in the wild. I had no idea this would work like this!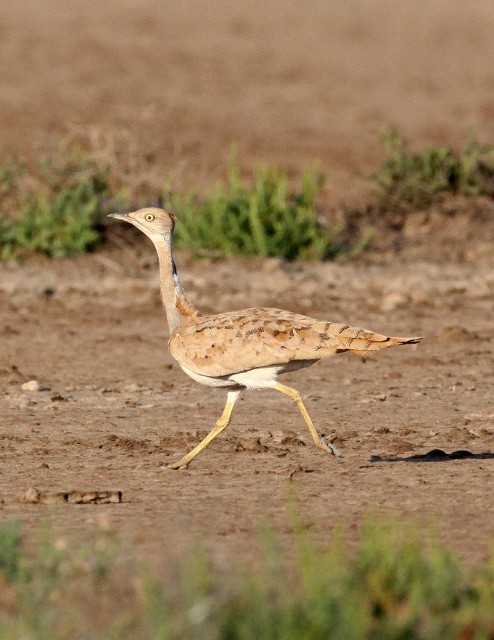 Another avian rarity seen in the Little Rann was MacQueen's Bustard. We came across dozens of these increasingly rare birds while driving the northern expanses of the Rann of Kutch.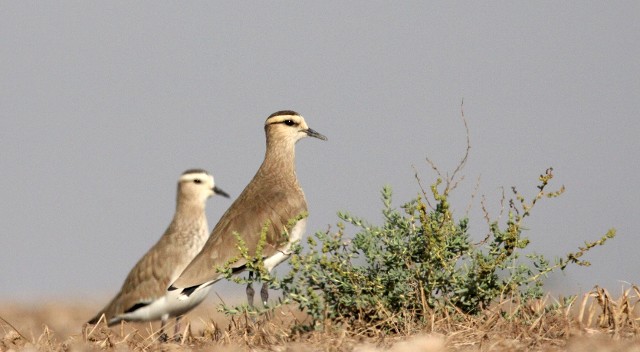 Sociable Lapwings were another extremely rare species seen in the deserts there. Only a few groups are known to frequent the pans of the region. We were lucky enough to come across one such grouping one early morning before they took flight.
Other Kutch highpoints were the cute, and very fast, desert foxes. We were fortunate enough to see two of these rare Red Fox subspecies, but were unlucky to not be able to photograph them. Next time! We were unlucky not to see the wolves that are fairly common there – again, next time! The other dominant mammal of the Kutch were the omnipresent Nilgai. At the end of our three days in Kutch, we nailed at least a couple hundred individuals of the beautiful "blue antelope". I was struck at how unafraid all of the animals were there (as well as other spots in India). Compared to the mortified animals you see here in China, the Indian fauna seem nearly habituated to human presence. I guess the mainly vegetarian diet of the Indians helps this situation. Indians rarely kill animals. Habitat destruction seems to be the main issue there. Although for some species poaching is surely a big deal, it is not the dominant issue impacting the biodiversity of India.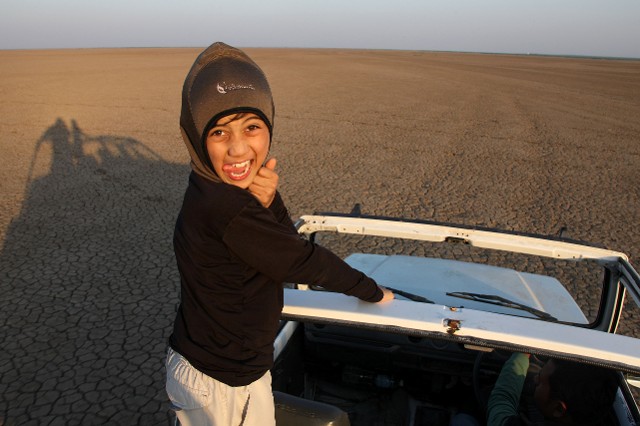 Cokie enjoying his daily open-roof jeep romp on the Kutch!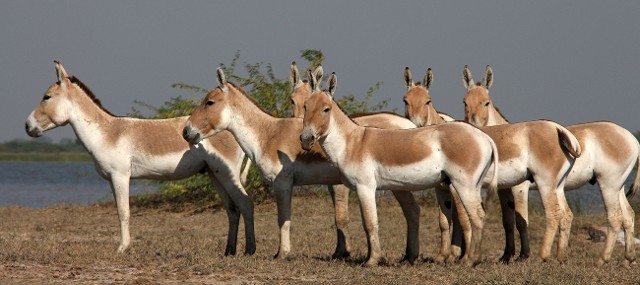 There are over 6000 of these spectacular equids in the reserve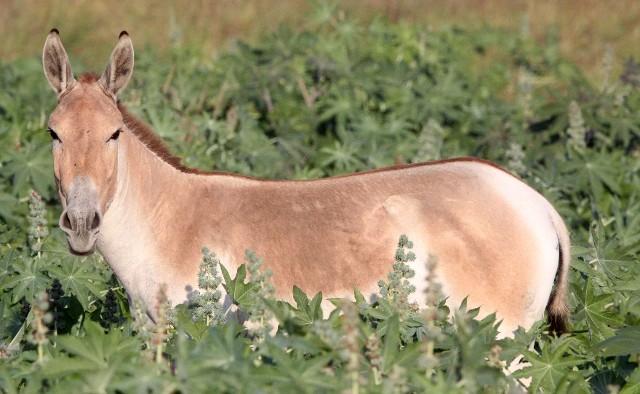 The Wild Ass are often seen out in the agricultural fields feeding on crops rather than the scrub of the park.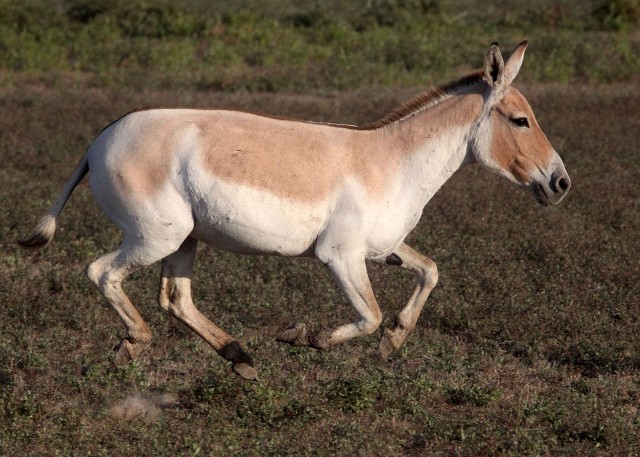 Jogging Ass!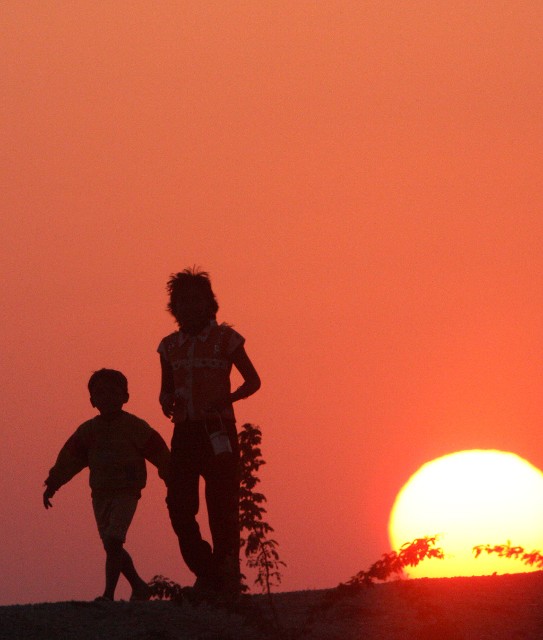 The sunsets in the Gujarati desert were sublime.
Gir Forest
After enjoying three wonderful days filled with desert adventure at Kutch, we ventured deeper to the southwestern reaches of Gujarat to the Gir Forest. At Gir, we spent time exploring the spectacular teak forests and savannah grasslands of the last remaining natural areas of the region. Gir is home to the last population of the Asiatic Lion, which is the region's claim to fame. One of the very few success stories of Indian fauna, the Asiatic Lion is actually experiencing a population increase due intense conservation efforts. Numbers nearing the high four hundreds are hardly enough to ensure a bright future, but compared to the fewer than fifty that were remaining just a few decades ago, the future does seem to be encouraging. We were fortunate to come across eight wild lions during our three days at Gir. Our first sighting was a bit of a joke however. What happens during the peak tourist season when there are literally hundreds of tourists racing through the dirt tracks of the parks, rangers will come to the lion or tiger sightings and regulate the tourist vehicles and make sure that the traffic keeps flowing. Consequently this means that no one gets more than a minute or two to see the animals! Our first lion sighting was exactly like this. After watching two adult male lions sleeping (with their backs to us!), we were told to "move on". At first I was a bit put off by this but after seeing the numbers of jeeps and tourists the parks are faced with in the peak seasons, I could see the logic in this policy. Without the ranger there, the situation would even be more chaotic and even more disruptive to the cats.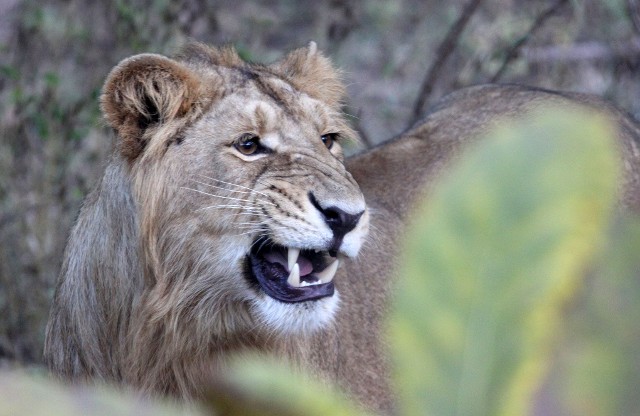 This young male was actually yawning. But it is a bit strange to see those fangs literally ONE meter from your 8-year old son, who the lion was glaring at in the back of our OPEN-top jeep...
While at Gir, we had quality sightings of many species including Grey Mongooses, Chital or Spotted Deer, Nilgai, Ruddy Mongooses, Wild Boar, Indian Flying Foxes, Asian Golden Jackals and others. But perhaps our most satisfying sighting was the Asian Leopard we spent several minutes viewing just outside the park boundaries while on a night drive with our guide, Laxman (an outstanding driver/guide by the way!). Just a few km out of Sasan Gir village, we came across a spectacular Asiatic Leopard lying down right on the road. Although I was not able to get good images, the sighting was a quality one for sure!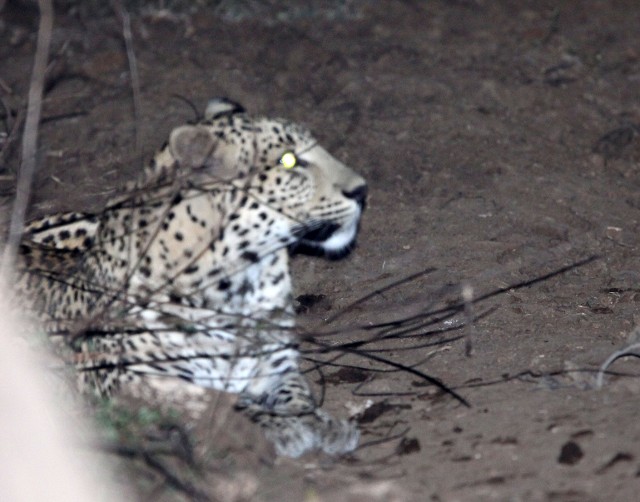 We came across this lazy Asiatic Leopard while on a night drive. I could not get the focus to work properly in the dark so I apologize for the crappy image...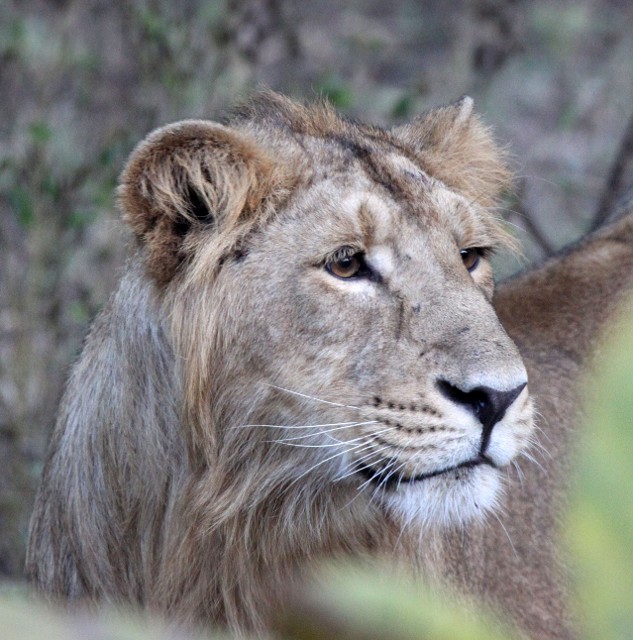 A spectacular young male Asiatic Lion staring at Cokie for unknown reasons....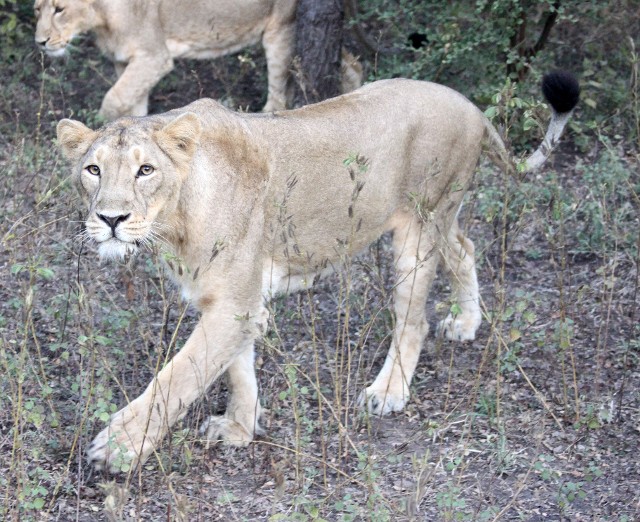 Although there are only a few records of the Asiatic lions attacking humans, seeing this lioness stare directly in to my eyes just one meter away in an open jeep was a tad unnerving...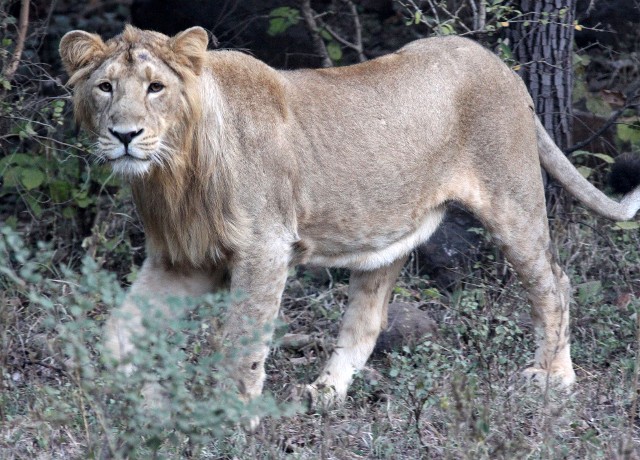 What are you looking at!?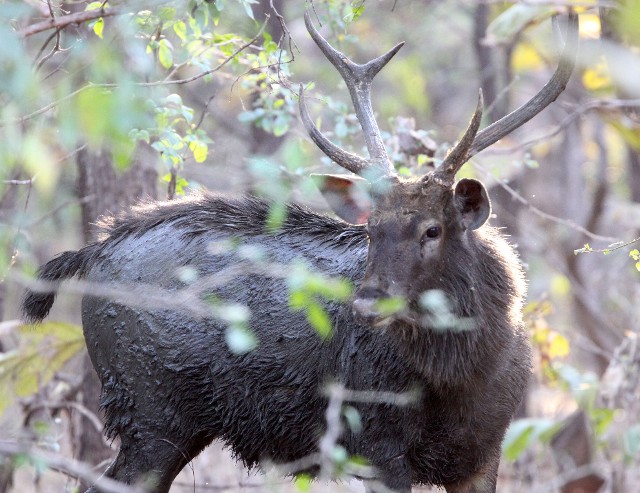 Lion Bait! Sambar were an omnipresent species throughout our expedition.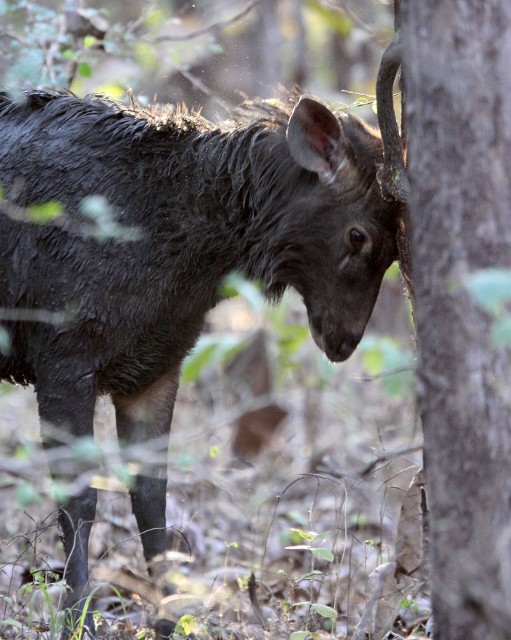 This Sambar bull was senting his tree...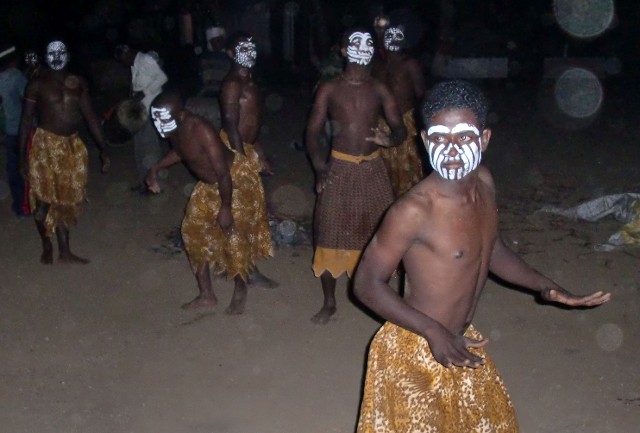 The Siddi Tribe were African in origin. We came across a celebration happening in Sasan Gir one late night.
Blackbuck National Park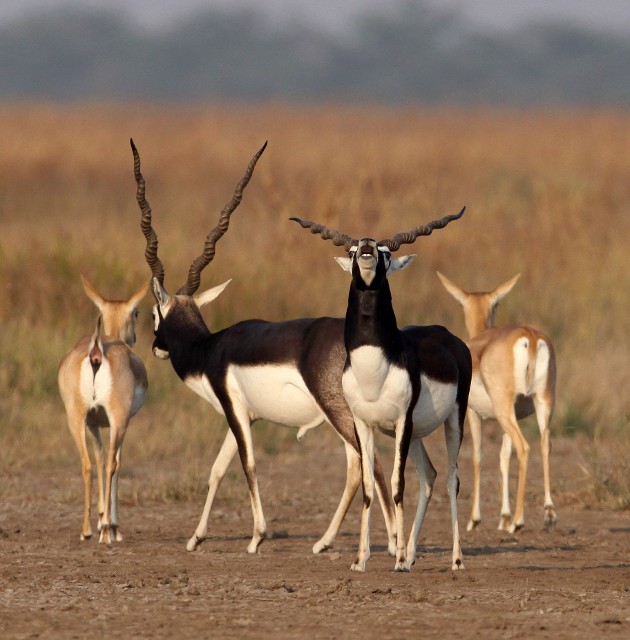 A ready-to-go Blackbuck bull scent testing the air hoping for some action at Blackbuck National Park.
Our final stop in Gujarat was Blackbuck National Park in Velavadar. The park itself is a great example of what this part of Gujarat used to be – expansive grasslands with Acacia scrub savanna. While the reserve is surrounded by heavily degraded lands and agriculture plots, it is home to a very impressive species list. While there we enjoyed watching hundreds (perhaps thousands) of beautiful Blackbucks grazing and jumping.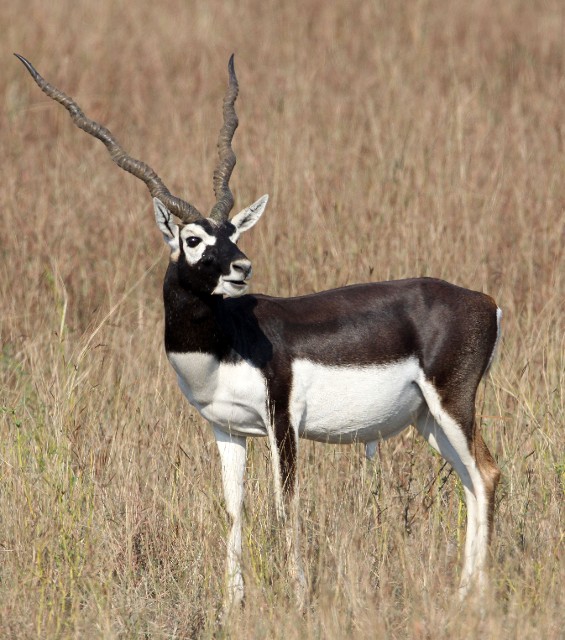 Blackbuck bull.
Blackbuck are well known for the incredible Springbok-like jumping abilities. We spent many moments watching this impressive activity while in the reserve.
We also were very fortunate to see Striped Hyenas on our first night. Our guide knew of an active den, which proved to be fortuitous. We decided early in our safari to camp out near the den to see if we could see the Hyenas, which ended being a good decision. After about an hour or so, Som (of course it was Som…) noticed some activity around the den. Sure enough, it was two pups! We watched the two young ones play with each other for the better part of an hour. We were hoping that an adult would come out but no luck. But after we decided it was getting too dark we decided to get back in the jeep and head back to camp, and sure enough, an adult hyena came loping out of the grasslands toward the den. Of course Som was the first to notice the beast! But when she called out "hyena", no one believed her, except of course me....And of course she was right.... I learned long ago NOT to question Som. I was so determined to get a good picture of such a rare and enigmatic species, that I grabbed the camera of Som's hands and lunged out of the jeep and ran toward the large carnivore and started out snapping pictures. I was within about four meters of the animal who barely gave me a glance. Luckily I was not on its menu this night…. I am still not sure how stupid this impulsive move was but I am sure it was not the safest thing for me to do at the moment…. All's well that ends well I suppose.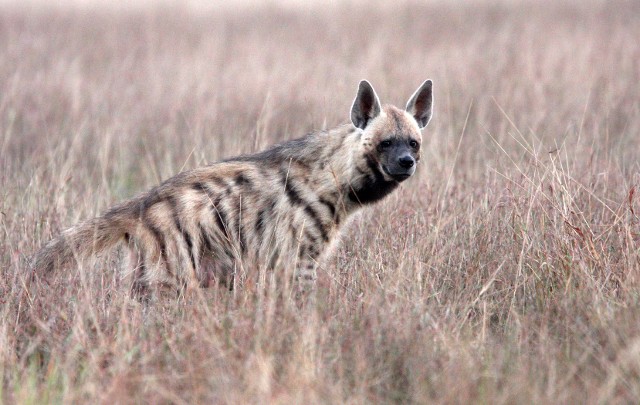 Striped Hyena loping its way through the grasslands on our only night at Blackbuck.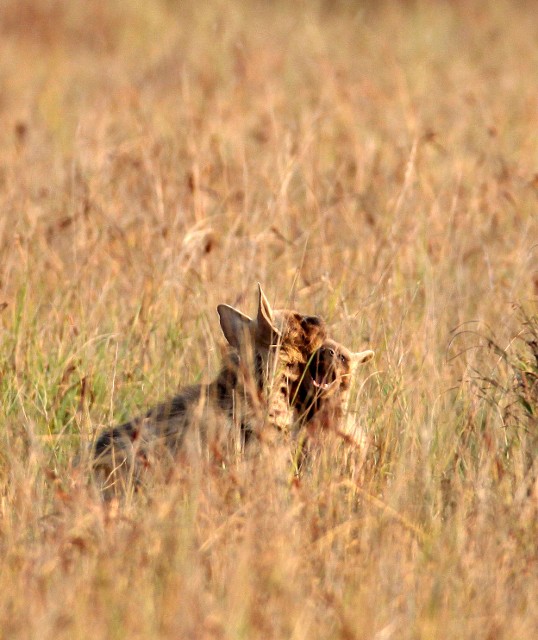 Striped Hyena pups playing their hearts out in the late afternoon.
The hyena den was a little zone of death...
Although we just missed seeing two Indian wolves by about thirty seconds and 100 meters, Blackbuck reserve was one of our better stops. Aside from the Hyena, perhaps the most impressive natural phenomena we observed was the epic Harrier roosting event that happens here. Everyone was talking about getting out the grasslands to see the "roosting", but I was not exactly clear what they meant. I mean, I know what roosting means and I know what a harrier is, but, how the two combine to create an "event" escaped me. But thank goodness we did not miss the "event"! The Harrier Roosting is very much a Nat Geo event if there ever was one. Literally thousands of these raptors come back to Velavadar every night after hunting the grasslands and ag-lands of the state to roost on the dirt tracks and exposed areas of the park. The sky was filled with thousands of these harriers for miles in every direction. Many of the birds were landing very close to us, but what was most impressive was the shear number of raptors one could see using binocs off in to the distance. Truly a phenomenon! Unfortunately it was getting way to dark to document it on camera. It was a bit of a struggle to get Cokie to see the event as he was more interested in playing Star Wars in the dirt, but once I was able to "force" some binocs on his eyeballs he was mesmerized! "Wow, there are millions and millions of mosquitoes out there!" When I explained they were birds, he took the binocs off and tried to make sense of it. I love seeing his look of discovery and amazement. This was a very special evening.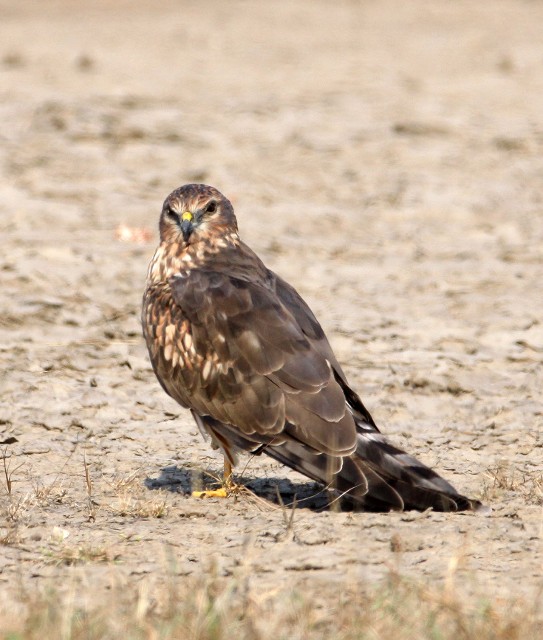 One of the roosting Pallid Harriers seen during the daily Harrier roost at Velavadar. At least three species of harriers roosted by the thousands in and around the reserve.
Although our 1+ week in Gujarat was filled with great sightings and adventure, we all agreed that it was not enough! We parted with Laxman and vowed to return someday soon. We enjoyed the scenery, the diverse tribal cultures and the food of the region immensely. Laxman even talked us in to viewing some of the ancient culture of the region with an unplanned trip to Somchat temple. Interesting, the name Somnath translates as "husband of Som"…. When we told Laxman that Som's name was "Som", laughed and looked at me and told me that I was going to "my" temple!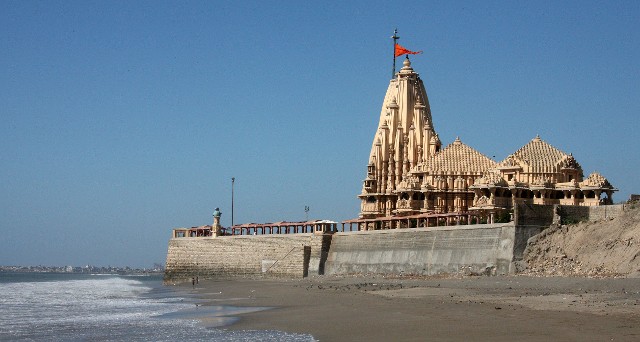 Somnath temple is spectacularly situated right on the Indian Ocean coastline of Gujarat state and is one of the regions most sacred Hindu sites.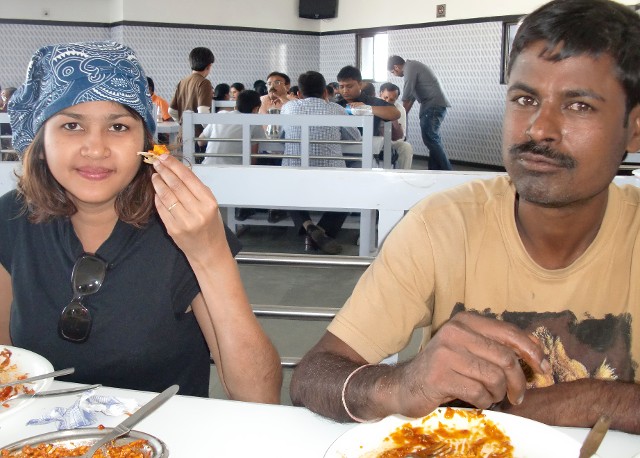 Som and Laxman, our driver/guide/friend, enjoying some grub at a lunch stop on the way to Ahmedabad, Gujarat.
Kanha National Park, Madhya Pradesh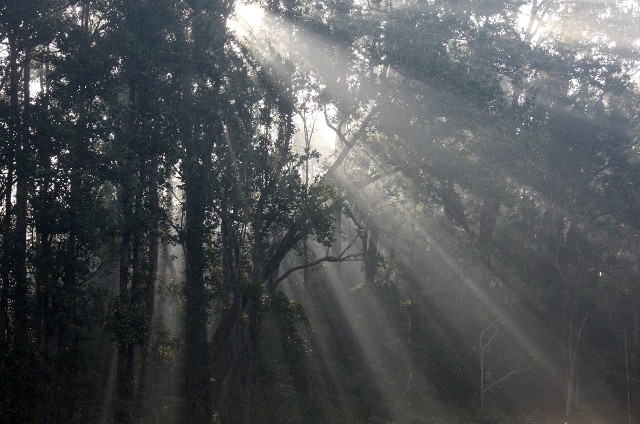 Every morning at Kanha, we were treated with spectacular lighting and foggy scenes around the old-growth Sal forests of the reserve.
After a return trip to Ahmedabad and Mumbai (one of the world's great dumps), we made our way to Nagpur by plane and ventured deep in to the forested regions of Madhya Pradesh, one of the last strongholds for the Bengal Tiger. We thought the crowds were bad at Gir…. hmmm… That was nothing. The tiger reserves were insanely crowded. But somehow we were able to nail most of the target species and even TEN wild tigers! At least of the sightings were quality ones too. A couple sightings were on the famous (or infamous) "elephant safaris" that are at times the only way to actually to see a tiger.
On the elephant rides, basically the forest department has tracked a tiger early in the morning and pretty much cornered it in to submission. Then the park sells tickets to ride an elephant deeper in to the bush to see the "wild" tiger, who is mainly sleeping or lounging in the grass until after the elephants finally leave. Again, this was a bit canned but after seeing the pressure the national parks are under to show people tigers, I could see the logic in the activity as well. Otherwise the vast majority of visitors (about 99.9% Indian nationals) to the national parks would leave frustrated having not seen a wild tiger. I could envision the parks losing their popularity and therefore their support if the public thought there was little value in having them and this could be catastrophic for the species who find their homes there. And after watching the faces of the people who saw tigers on the elephant rides and listening to their comments, I could see that many of them had just had an experience of a lifetime and were thrilled with seeing their one and only "wild" tiger.
Ironically however, one of our best tiger sightings of the entire trip was on one of the elephant safaris. Rajan, our guide, was truly one of the best and most knowledgeable guides I have had almost anywhere. We could tell immediately after our safari started that WWI had given us one of the best guides there. And he seemed to possess a fair amount of clout. Other guides seemed to bow down to his commands everywhere. When he thought that a better position could be had for our photos, he simply (but in a friendly manner) told the other jeep to move, and they did without argument. He seemed to be very well connected in Kanha and is definitely the one to have on your side there! Anyway, on a tigerless afternoon, he told us that the elephants had "found" another tigress in the woods and asked if we wanted to go on a ride to see her. We were really not in the mood to see another sleeping tiger for thirty seconds and $40, so we were a bit hesitant. He recommended though that we try hard to be the absolute last people to see the tiger (i.e., get the last number for the rides from the kiosk) to see if we could get a better viewing. "OK, let's go for it…who knows", was my response. And it was a good decision!
The elephant mahout was a personal friend of Rajan, who unbeknownst to us, slipped him 100R to give us a bit more time. I knew something was up but was not sure exactly what to expect. We were the absolute last people to get to the elephants, and after all the other jeeps left and it was only us and the mahouts, we got on our elephant and proceeded to see the sleeping tigress. I was shooting a few soon-to-be deleted crappy pictures of the lazy tiger, but I was wondering why the mahout kept telling me "wait, wait…no take pictures now…wait". After a few minutes with the sleeping tiger, he said, "Ok, now we go". I thought it was the end of a less-than-satisfying" tiger viewing, but he did not head back to the jeeps – he took us directly in to the tall elephant grasslands surrounding the area. Within a few hundred meters, he said, "OK, now you take pictures!" At first I was not sure what he was talking about, but then we all noticed the THREE spectacular tiger cubs sitting in the shade of a small shrub! We spent several minutes watching and shooting images of these awesome year-old cubs! What a thrill and a privileged experience. Cokie was floored by how cute and "cuddly" these little ones were. While they were clearly not as habituated as the mom was, they were not terrified of us either. What a great sighting.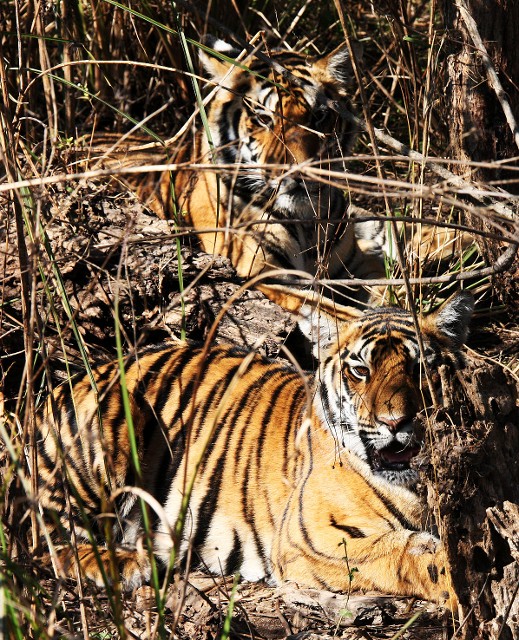 Two of the three year-old tiger cubs seen on our one fortuitous elephant safari!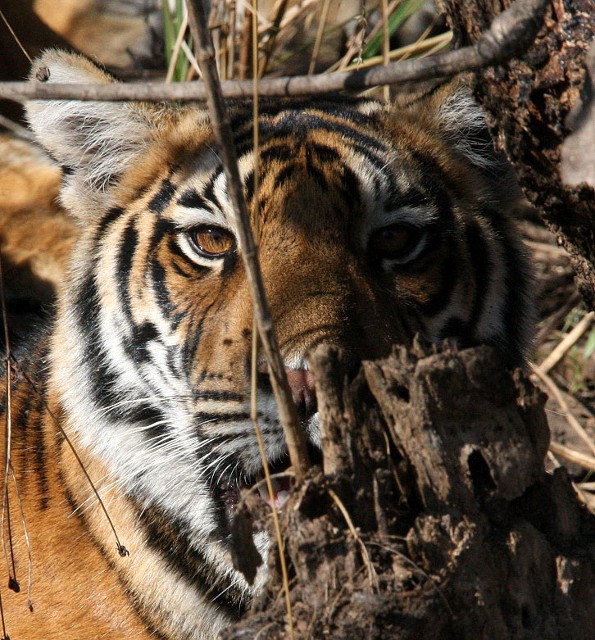 A curious young tiger at Kanha.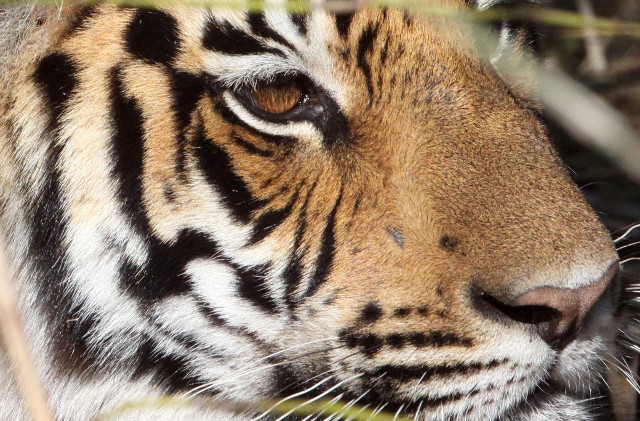 Lazy tiger cub...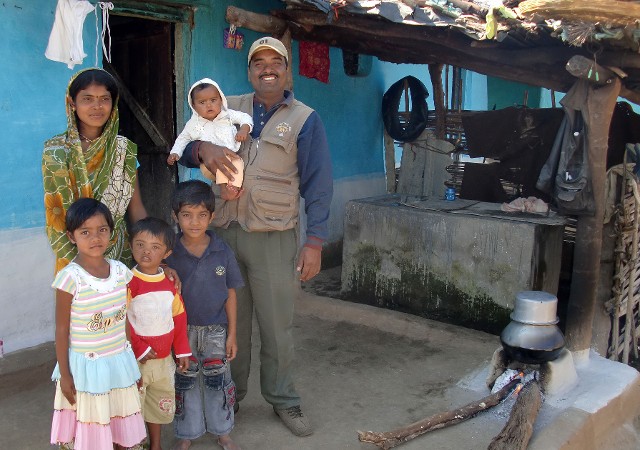 Rajan and his family at his home just outside of Kanha National Park.
Luckily for us however, during our time in tiger country we were blessed with fantastic guides and a pretty heavy dose of good luck that allowed us many truly quality wild tiger sightings. In Kanha, our first wild tiger, and perhaps one of our better sightings, happened less than THIRTY minutes in to our first game drive! Even our very experienced guide was more than a bit surprised by this good fortune. I was actually the first to see the tiger, but after hearing talk of Chital off in the distance, I actually dismissed it as a spotted deer. But then our guide, Rajan, saw it and said, "get your camera ready! That is a tiger coming out in to the grasslands!" And for about ten minutes, we had an outstanding view of a spectacular tigress revisiting her kill. We had several photo opportunities of her approaching cautiously through the grasses in varying light toward her kill. Although there were (of course) lots of trees and sticks in the way, we were still able to get a few good shots of her approach.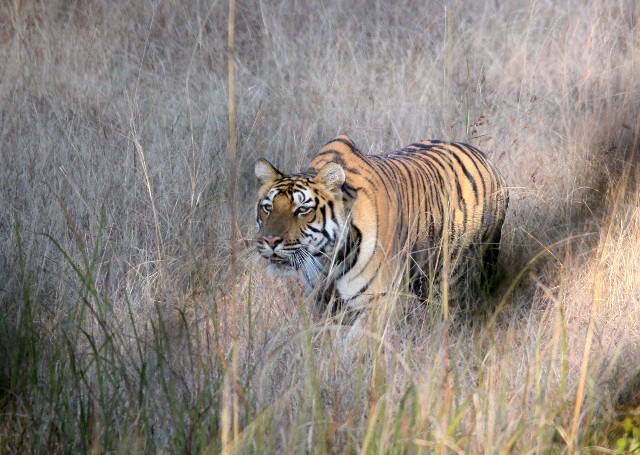 Our very first wild tiger sighting. This cautious tigress was coming through the Kanha grasslands revisiting her Sambar kill for an afternoon snack.
While at Kanha, we were lucky enough to get FIVE tiger sightings. Very fortunate indeed. We also nailed a few more target species like the hard-ground Barasingha (Swamp Deer), found only in Kanha National Park, as well as Gaur! I was thrilled to finally see my first wild Gaur! Rajan, our guide, who sees tons of Gaur virtually ever day, was probably a bit surprised why we were so excited to see Indian Bison, but when we told him that we had been searching for them in the wild now for years, and for me, in at least four countries with no luck, he finally understood our excitement. By the end of our stay in Kanha, we saw well over fifty spectacular Gaur grazing the bamboo and grasses of the Sal forests. Due to the extreme crowds of the season, we missed several species like Wild Dog and Wolves that are sometimes easily seen during other times of year there.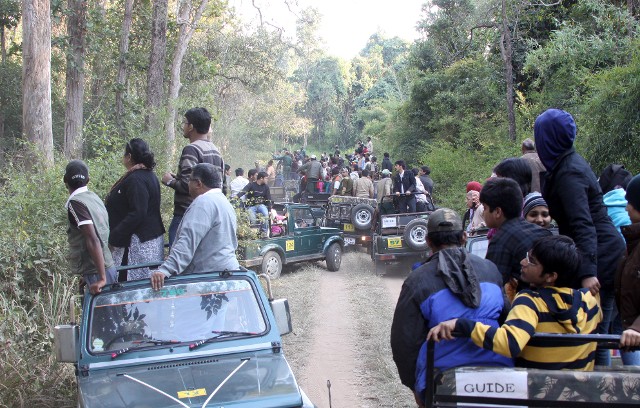 Luckily during our very first tiger sighting, we had several moments nearly alone with the tigress, but after the word got out, a massive traffic jam ensued. Tiger viewing, India style!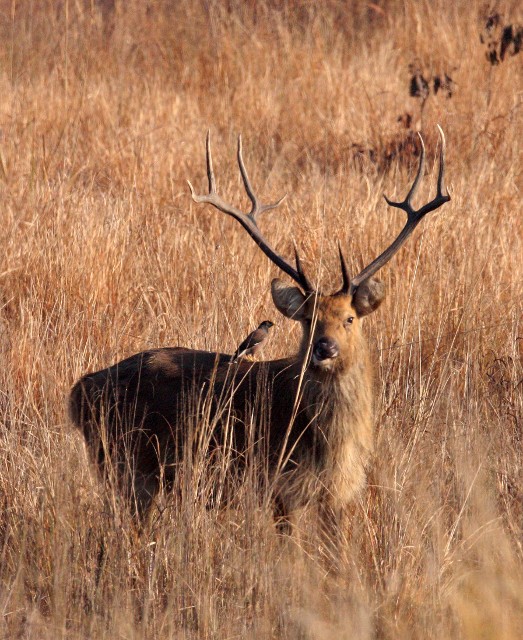 A glorious Hard-ground Barasingha (Swamp Deer) in Kanha.
Bandhavgar National Park
Our second major tiger park visited in Madhya Pradesh was Bandhavgar, about five hours further north of Kanha. The drive to Bandhavgar was actually very scenic. We passed through many kilometers of what seemed to be pretty good forests heading north. I am not sure if these areas were protected or in fact very biodiverse (were there tigers in those woods!?), but the forest sure seemed good enough to protect and repopulate. There was some interesting tribal communities passed on that journey as well.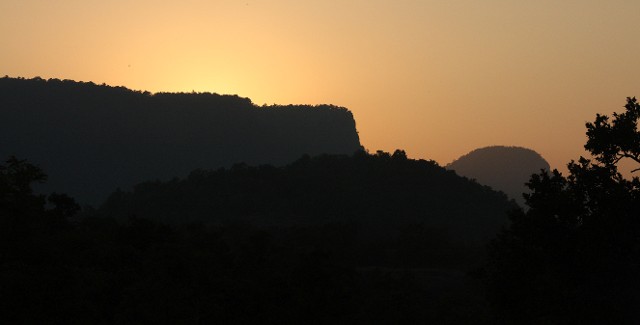 A sunset view of the escarpments of Bandhavgar National Park in Madhya Pradesh.
I originally planned Bandhavgar as our primary "tiger park" as it is well known to be the best place in India to see wild tigers. I included Kanha originally, not for tigers, but for high chances of seeing the Barasingha and the Gaur. While we were very lucky to have seen five tigers in Kanha, we (especially Som and Cokie) were still hoping for more tiger sightings in Bandhavgar. And we got them! Five more individual tigers with multiple sightings of some of them! The photo-opps were improved in Bandhavgar as well. We are also lucky to have been placed with two outstanding guides there. One of the main reasons I was familiar with Bandhavgar was due to one of Art Wolfe's nature specials I saw back in Washington some time back. I was possessed with getting the same images he got on his trip there for the show! While I knew this was highly unlikely, I was happy to be in the park at least for a chance at some Wolfe-like images! On our first drive in Bandhavgar with Papu and Brem I asked if either of our guides had ever heard of Art Wolfe, and both responded, "yes, I am his guide when he comes here!" Both of our guides had worked with Wolfe on a number of occasions and knew him well. Som and Cokie were amazed that our guides were in fact the same guides who gave Wolfe his experiences. And they delivered for us as well!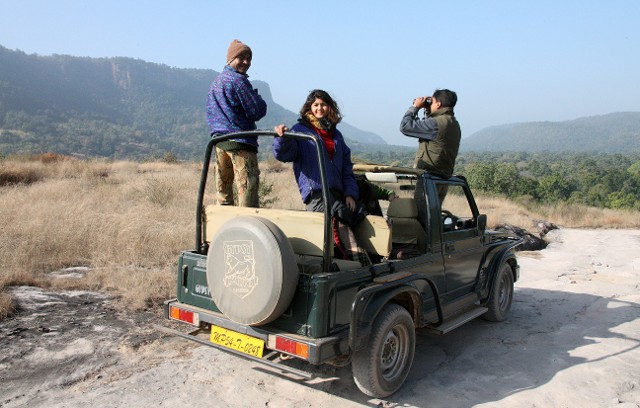 Our troop looking for Malabar Pied Hornbills in the distant forest of Bandhavgar's wilderness. Of course we found them!
We had a delightful three days in Bandhavgar. Tigers were seen everyday except the last day's drive. I met Papu that morning and said to him, "Morning Papu! Ok, we've seen enough tigers. Now we want a Sloth Bear!" He laughed, knowing full well that the likelihood of this was basically zero. We spent the morning bouncing back between Chital and Langur alarm calls trying to spot one of the three tigers we knew (because the mahouts had seen them) were hiding in the bush. We spent close to a couple of hours trying to see the elusive tigers, and by this time all of the other jeeps had left and we basically owned this portion of Bandhavgar. Just about when we were thinking of leaving the area ourselves, the alarm calls a few hundred meters away starting to become very loud and urgent, and Papu slammed the jeep in to 1st and away we sped. Just as we approached the spot where the alarm calls were the strongest, I noticed what I initially that was a wild boar (an animal that often illicit alarm calls from especially Chital), but just as I finished the words, "wild boar", I realized it was no wild boar at all. It was a large Sloth Bear! For several minutes we watched this beautiful shaggy bear lope through the forest and then cross the road directly in front of us! What a spectacular sighting. Had we not been so excited to see this extremely elusive and rarely seen species, we may have had our cameras correctly set up so we could capture some decent images. Alas… Both of our guides were a little surprised with our prophetic request earlier that morning.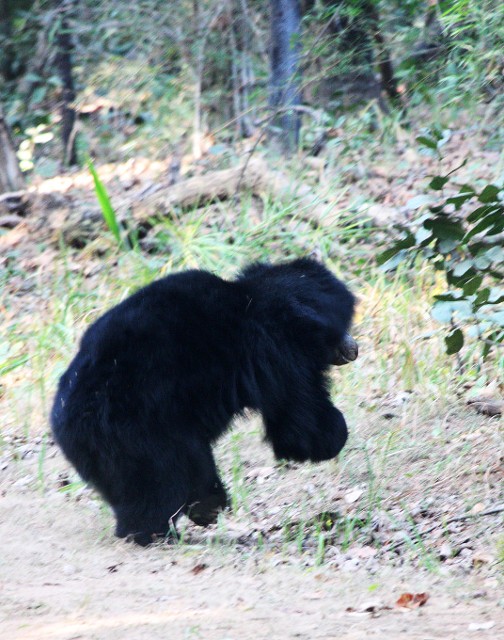 Too bad my camera wasn't ready for this spectacular Sloth Bear's appearance on the road during our last drive in Bandhavgar.
Our time in Bandhavgar was wonderful and easily our most spectacular destination as far as scenery and topography was concerned. We even had an interesting dose of ancient cultures with all of the ruins and forts of the national park. And in those ancient human establishments, we were able to nail several species of bats to add to our list – Lesser Vampire Bat, Large-eared Horseshoe Bad and Theobald's Tomb Bat.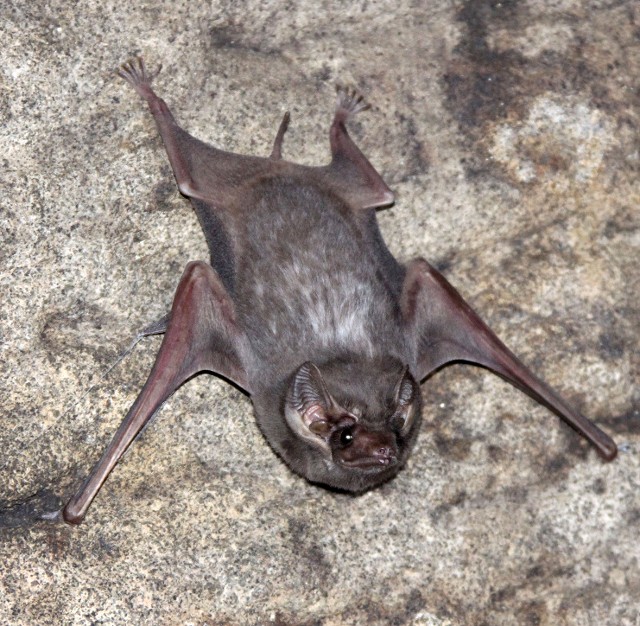 Theobald's Tomb Bat.
Lesser Vampire Bat. Our guides had never seen this species in the caves before and were excited themselves to add a new lifer to their lists.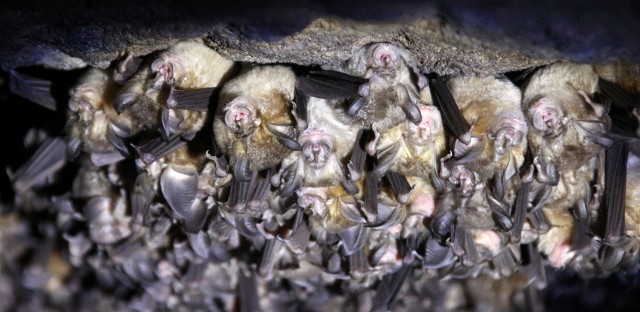 Big-Eared Horseshoe Bat (Rhinolophus luctus) huddling for warmth in an ancient cave in Bandhavgar.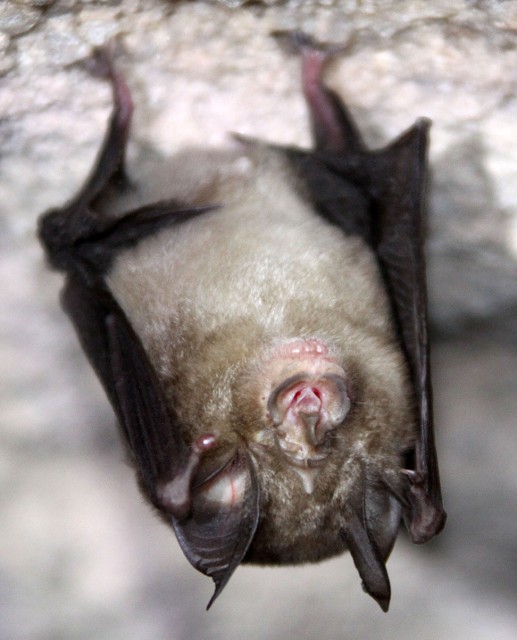 Big-Eared Horseshoe Bat (Rhinolophus luctus)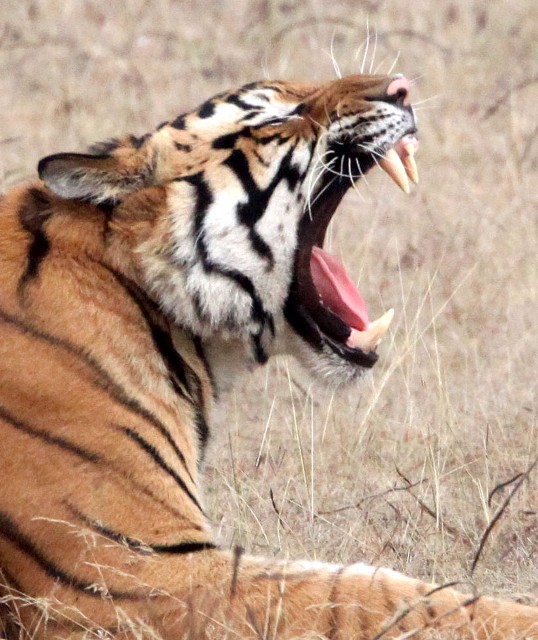 Check out those teeth!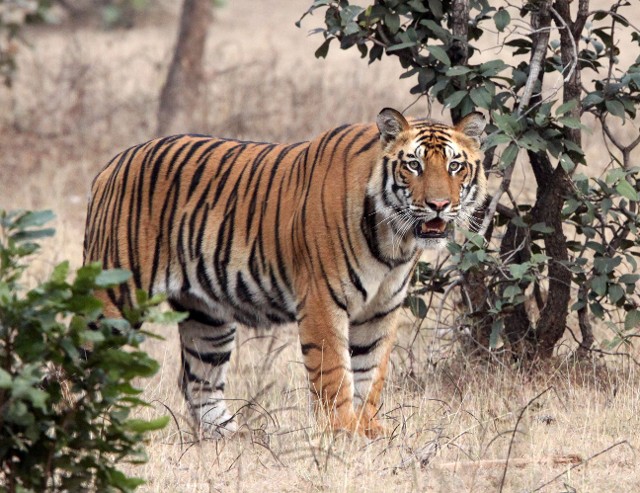 "You lookin' at me!?" (Som Smith)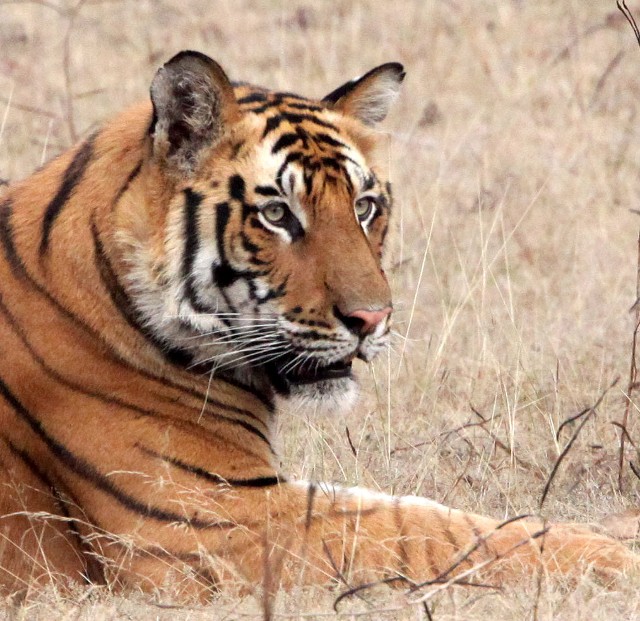 Lazy morning in Bandhavgar...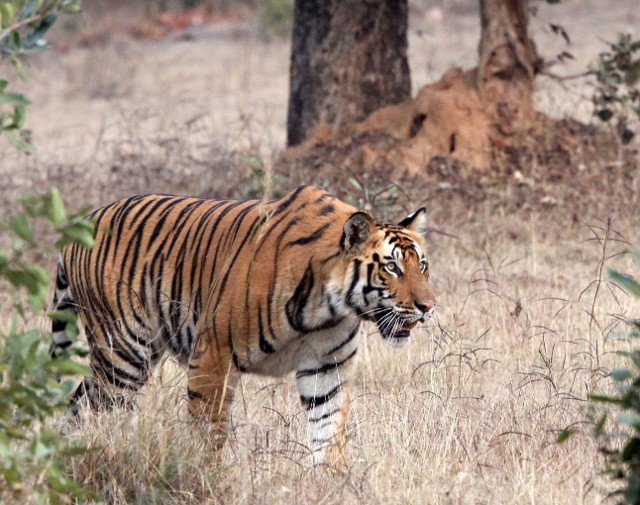 On the prowl... (Som Smith)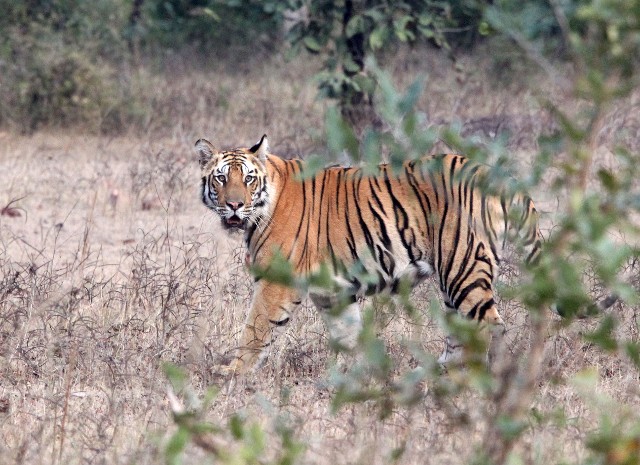 Spectacular. (Som Smith)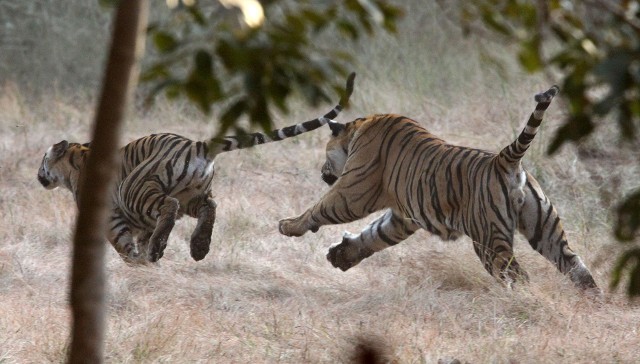 On our first safari in Bandhavgar, we came across three playful sub-adults playing in the grasslands.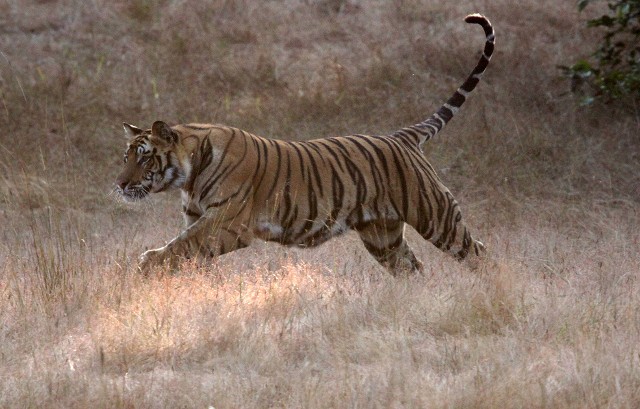 Action!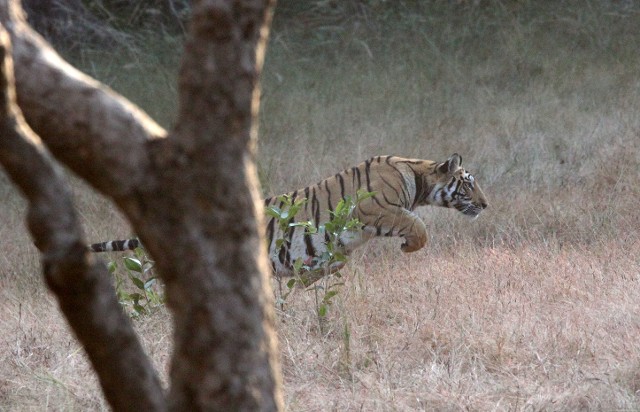 We were never able to see a hunt, but the play did give hints as to the actions one may see during such an event.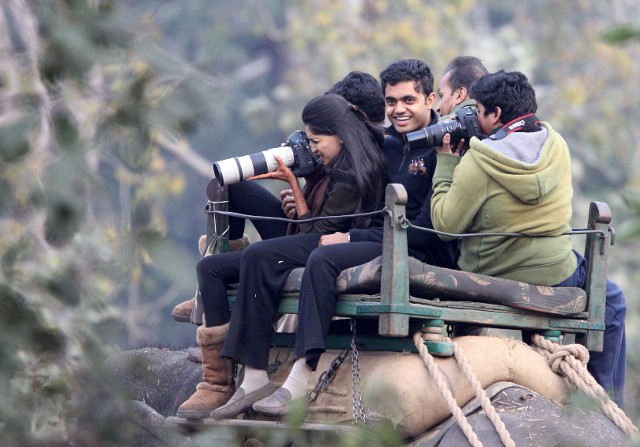 While in Bandhavgar, we shared time and space with Makesh Ambani, India's richest man. Here he was getting his own private (and illegal) elephant safari in Tala Zone, the area where such activities are banned. I guess money talks in India!
Agra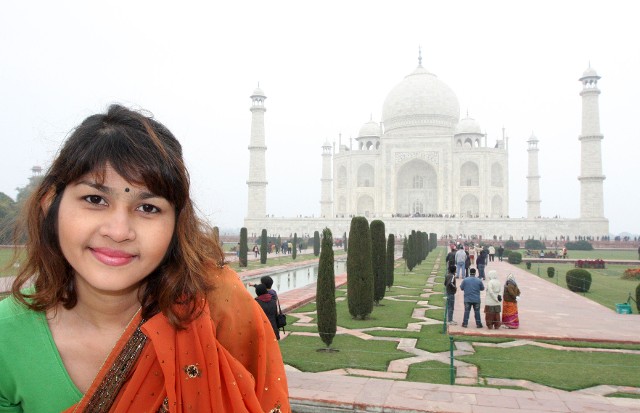 The Taj Mahal was just a little more beautiful this day with Som and her sari gracing its marble pathways...
After a week+ in tiger country, we were very happy with the luck we had experienced in the search for these and other very rare and exciting species. Now it was off for our adventure on the Indian Railway. I have often heard that a ride on the Indian Rail system is an essential experience to have in India….Well, maybe that is true. When we were meeting our train, "The Gondwana Express" in Katni for our overnight trip to Agra, I could not believe the many thousands of people standing on the tracks. I asked our driver, are all of these people going on our train!? He responded with an affirmative nod. Wow! After entering our cabin, and seeing a family of TEN sitting on the lower bunk, I was thinking, "there had to be some sort of mistake". There was not.
Evidently the Indian Rail system has a very interesting take on reservations: they will take your money for them, tell you that you have them, but when you arrive, they most likely will not exist. We thought we had paid for a private cabin, as did the surgeon, Naim Mansoor, whose family was seated on the lower bunk of the cabin. He had purchased actually all four bunks – prepaid! I thought we had done the same. Well, the Indian Rail system didn't think so and put the Smith family in multiple cars/cabins and had his family relegated to one bunk! What a sight that was seeing Naim's entire family scrunched up on that tiny little bunk. After I threw my initial temper tantrum, and after the Naim basically telling me that nothing could be done about the situation at this stage, I calmed down and decided to try to make the best of it.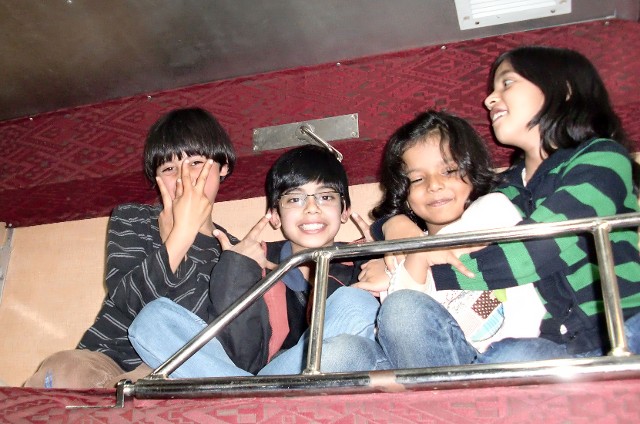 Cokie and some new friends on the Gondwana Express!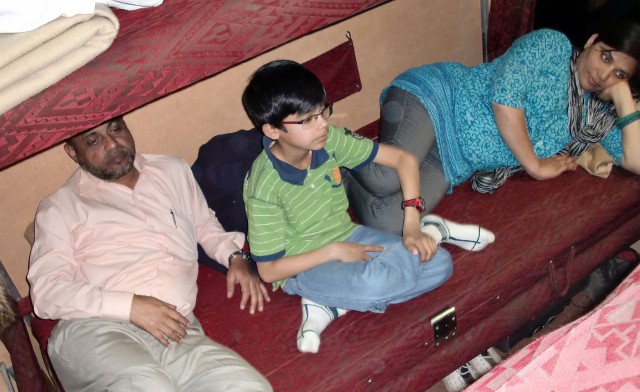 Naim Mansoor and his wife and son on our India Railway trip from Katni to Agra.
Naim, father of the family we were now going to share the cabin with, was s surgeon from Delhi who had just finished a vacation in Bandhavgar as well. As it worked out only seven of the initial ten people on the bed were with him. He helped us consolidate all of our separate reservations to one cabin so we at least had three bunks in one cabin, although it was not a private cabin as I had expected. Of course, I told him that his family needed more space and they needed to take the upper bunk too. He and his lovely wife initially refused but eventually took the offer very graciously, and what started off as a fairly negative experience, due to my initial tantrum, ended up being one of the most enriching cultural experiences of the entire trip. We spent many hours together chitchatting about cultures, politics, India, America, tigers and many other topics. I and my family are now very happy that the train ride went exactly as it did that day. And we made some nice friends out of the adventure. But my tantrums were not quite over. Our trip on the train was to conclude at 4:00AM in Agra, and the attendants were directed to wake us when we needed to get off the train. Well they didn't and we missed our stop! I as pissed! I wanted to kill those drunk and asleep attendants. But thanks again to the wonderful Naim Mansoor, we were able to contact Vikram from WWI and get a message to our lift to meet us at the next station at Manthura. Again, this mess up only added to rich experiences of our India adventure.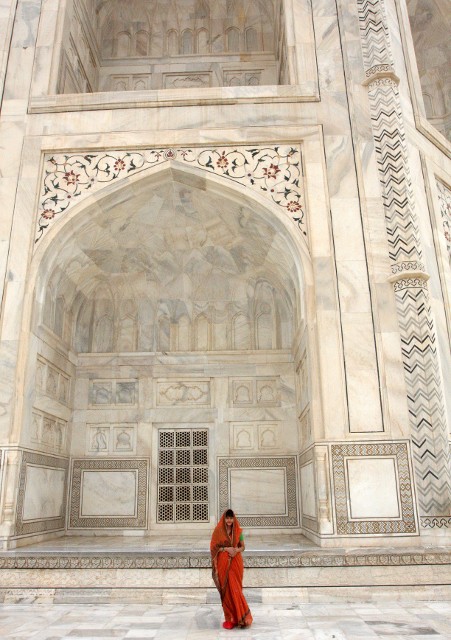 Som and her sari at the Taj! What a nice day.
Our next morning was spent strolling the grounds and gardens of the Taj Mahal. Som kept asking me, why were we interrupting our wildlife experiences for the Taj? Believe it or not, Som can be pretty focused on getting deep in to the wilderness adventure and will often want to skip the cultural highpoints of our destinations. Even after going up the Eiffel Tower, she asks me, "why did we go there again?" I kept telling Som that if you go to India, you really should see the Taj Mahal. And she got in to it. While in Ahmedabad in Gujarat, she picked up a lovely sari that she planned on proudly wearing to the Taj. And she did and she was lovely. She did turn quite a few heads that morning (and actually everywhere in India), but I am not sure if they were admiring her or if they were angered by how she was wearing the sari incorrectly. Although we could not understand a word of what people were saying about her, she was definitely a conversation point that morning with the local Indian folks.
Chambal River Sanctuary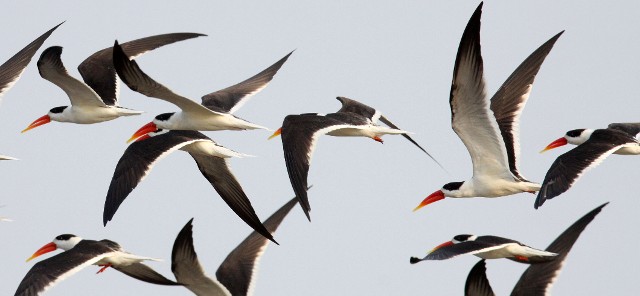 Indian Skimmers are one of the main attractions to Chambal. We were fortunate to see a nice flock in good light our first afternoon.
I was in a bit of a hurry however to get to our next destination that afternoon. This part of India this time of year is famous for intense fogs and very poor light. The light at the Taj that morning was flat but not horribly foggy so I was hoping that it would clear for the afternoon when we finally made it to the Chambal River Sanctuary. And it did clear up! Lucky for us that it did as for several days earlier, and for several days after, it did not. We were not scheduled to actually get on the river that afternoon but after the Chambal Safari Lodge manager saw all of our camera gear, and after a little pleading from me, they rearranged our activities and got us a boat to get on the river! Good thing we did as the wildlife and lighting were sublime. My main target species was the Gangetic Dolphin and nailed at least six within the first thirty minutes of the cruise! We also had some great sightings of Gharial and Marsh Crocodiles. There were dozens of bird species added to our lists as well, but none were more impressive than the Indian Skimmers we saw down river. Although we had only one afternoon and one morning at Chambal, we were successful in getting all of our targets and even getting some outstanding desert and river scenery under our belts. This will absolutely be a destination for a future trip and we will plan on spending at least three days there. The Chambal Safari Lodge is outstanding. And they have a resident family of Common Palm Civets who entertain the guests nightly!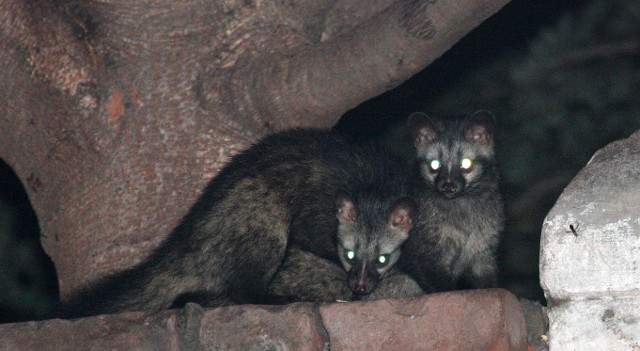 A mating pair of Common Palm Civets giving us a show at the Chambal Safari Lodge.
After another great river cruise on the Chambal the next morning, we started our six-hour drive to Delhi. It wasn't that far actually, but the traffic was truly apocalyptic. Seriously, when our driver asked us if there was traffic like this in China, my only response was, "I have never seen traffic like this anywhere in my entire life". And that was a true statement. The only thing I could equate this to was perhaps a pre-nuclear holocaust mass exodus from a major city…. It was chaotic beyond belief. But we eventually made it to our lovely guesthouse in one of the upscale neighborhoods of Delhi. It was here that I finally tasted REAL coffee! Something sorely lacking in much of India….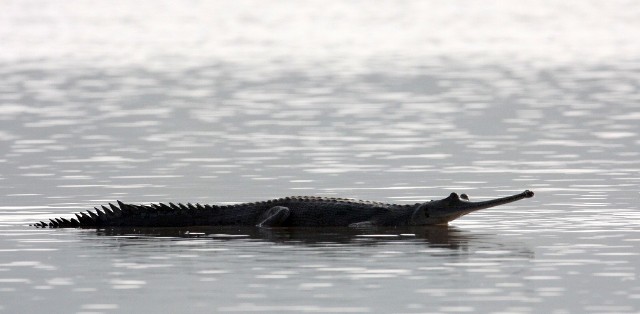 A young Gharial Crocodile sunning itself in the warm afternoon light on the banks of the Chambal River.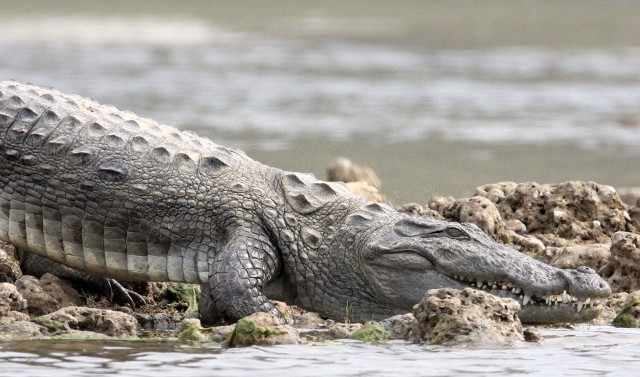 A Marsh Crocodile entering the Chambal.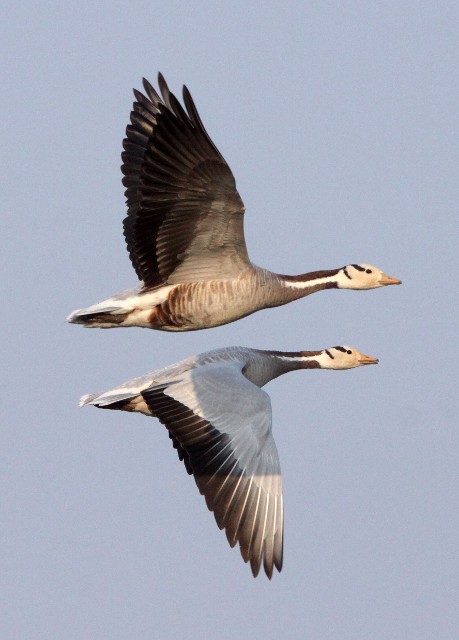 We saw literally thousands of Bar-headed Geese in Chambal and Kaziranga.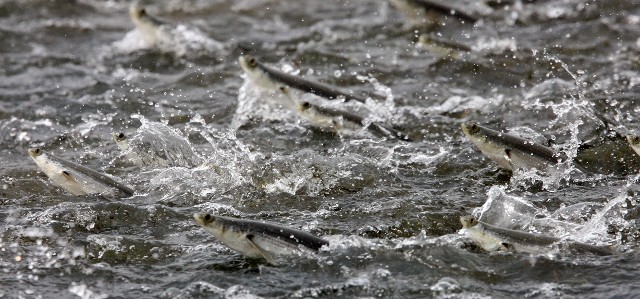 Although our guide called these Talapia, I am still not sure what these amazing leaping fish that surrounded our boat for several minutes are actually called. Cokie was the only one to successfully capture their image - nice job Cokie!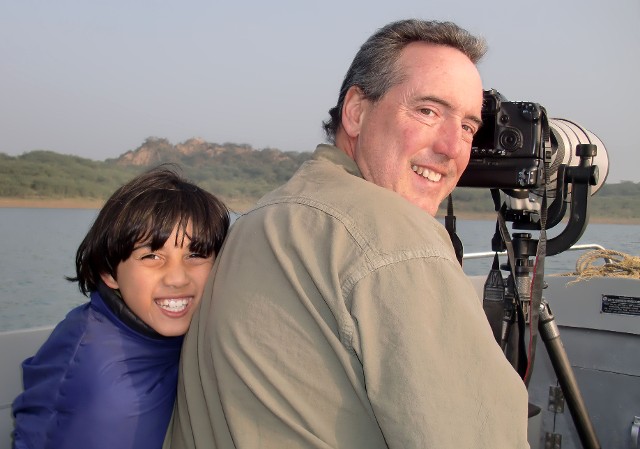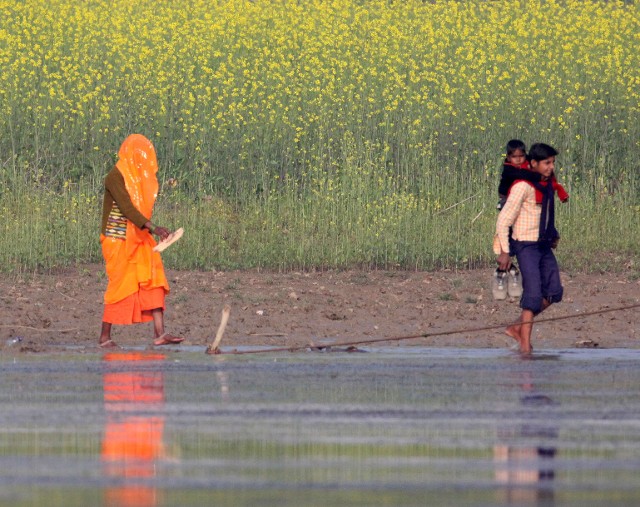 The banks of the Chambal are filled with fields of mustard plants. Here a conservative young woman is reaching her ferry to cross the river.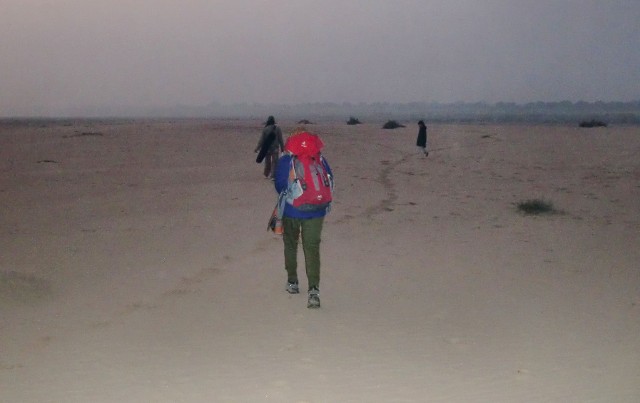 Due to the shallow waters of the Chambal, and the late return that made a night navigation risky, we had to walk a few km back to our vehicles. But the evening walk through the desert night was truly spectacular.
Mount Everest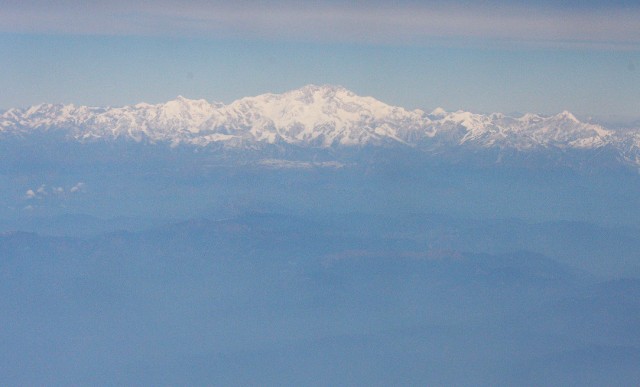 Our flight to Assam was spectacular. One of the great bonus experiences of this trip was the 30-minute view of Mount Everest we had from the plane window that morning as we flew eastward over Nepal and Bhutan. I had never seen it to crystal clear like that morning. Cokie was happy to add yet another "…est" to his list – tallest buildings, largest lake…..now the tallest mountain.
Assam and Kaziranga National Park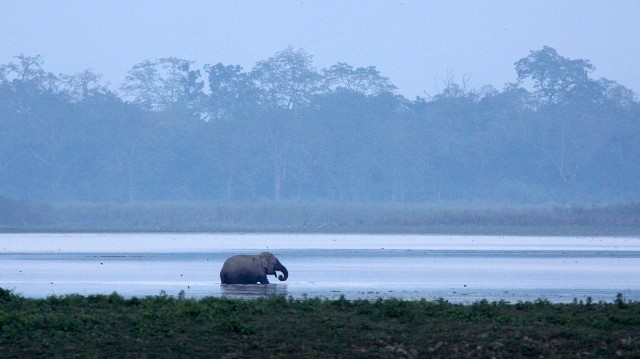 A lone Asian Elephant feeding in the wetlands of Kaziranga National Park in Assam.
The first thing that came both Som and my mind when we starting driving through the back roads of Assam was how similar to Thailand it all seemed. The region was subtropical so the vegetation was close, but the people there were definitely more Southeast Asian in appearance. The buildings and the smells were much more like Thailand as well. Som said that she felt like she was driving home. Well, if we continued on our course for about 300 kms or so, we would actually be in northern Thailand. That is how close we actually were to her home!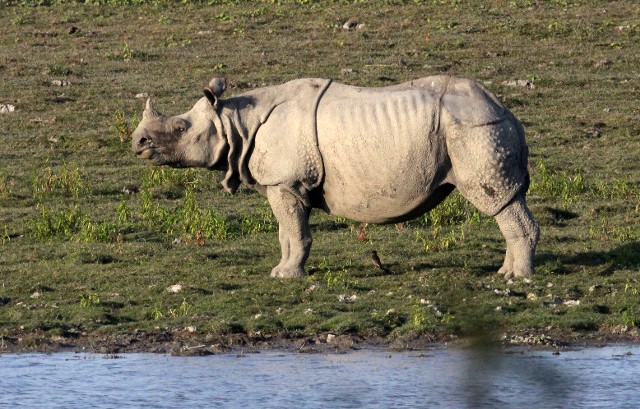 The Asian One-Horned Rhinoceros is one of the mammal highlights of Kaziranga.
Our Assam leg of our expedition was designed to give us an entirely different set of species to experience. Our targets were Asian One-horned Rhinos, Asian Elephants, Wild Water Buffalo, Hog Deer and the aquatic subspecies of Barasingha, all of which were easily seen on our very first safari on our first morning. Actually most were seen the night we arrived simply driving in to the park region from the main road! Kaziranga is home to great numbers of these species and they are very easy to see. While in the region we hopped to get glimpses of Hoolock Gibbons and Capped Langurs. We paid extra to get out to the Gibbon Wildlife Sanctuary to guarantee seeing the species, but our guide did not seem to thrilled with the prospect of driving all the way to the reserve and was trying hard to talk us out of it. He was successful in finding helping us find both species in the national park but we decided to go to the sanctuary anyway to try for more sightings and for better images. This was a good decision.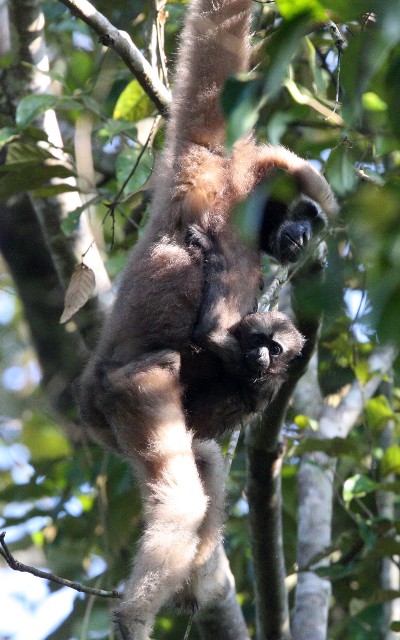 Hoolock Gibbon female and her infant in Gibbon Wildlife Sanctuary Assam.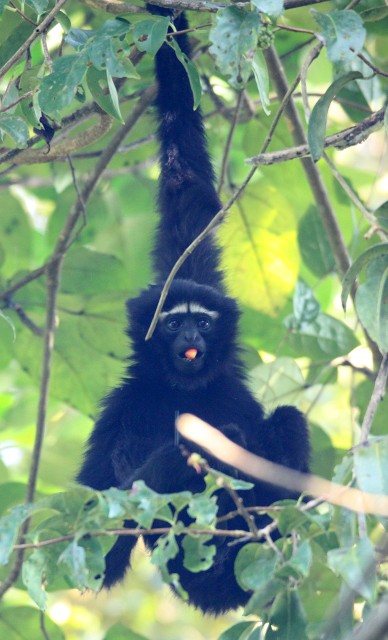 Hoolock Gibbon male feeding on his fig.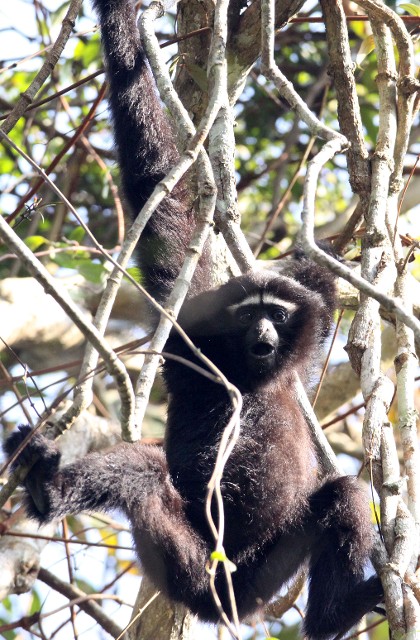 Our first Hoolock Gibbon in the National Park was actually a pretty funny sighting. After spotting several beautiful capped langurs deep in the interior of the Kaziranga forests a few km trek in to the interior, our guides decided we should just stop and listen for their calls in order to get a look at one or two. So after about 30 minutes of silently waiting in the forest, Som calls me over and asks, if I wanted "to see a langur feeding on a tree across the ravine". As I had just seen about three dozen langurs doing various activities all morning, I was not exactly excited with the possibility but what the heck, maybe it would be yet another good image opportunity. As soon as I zeroed in on the distant primate, I let out a good laugh. "Som, that is not a langur you silly, that is a Hoolock Gibbon!" She had been watching our main target species munching leaves the entire time we were waiting for it to call! It had been watching us all that time. The guides were floored.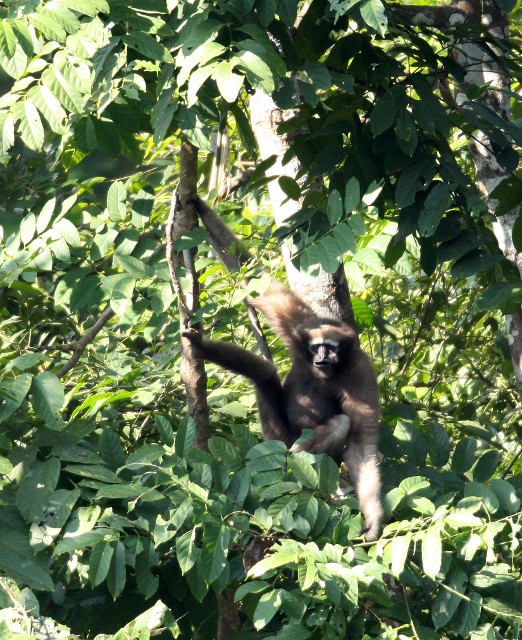 "Hey Coke, wanna see a langur feeding?"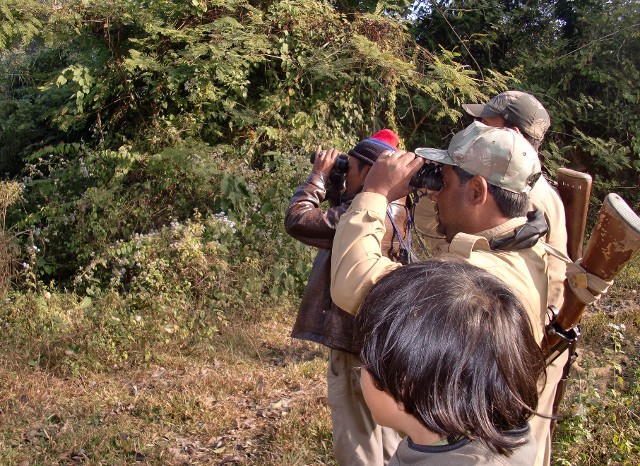 Everying taking a look at Som's feeding langur. Our guide could not believe how lucky we were - finding a wild gibbon in Kaziranga is like finding a needle in a haystack.
This little booger and his mates were bit of a puzzle for me and our guide. Not quite showing the attributes of an Assamese or Rhesus Macaque, there is a possibility that this is an example of an Arunachal Macaque, a species only discovered in 2004 and only recently known to occur in Kaziranga. If anyone reading this can confirm or refute, I am all ears! UPDATE: THIS IS CONFIRMED TO BE THE FIRST ARUNACHAL MACAQUE EVER PHOTOGRAPHED IN KAZIRANGA NP!!!!
The wildlife at Kaziranga are truly a spectacle, and the views of the wildlife there are some of the best anywhere in India. There are sweeping views of the wetlands and grasslands in the region, all filled with the various megafauna. On our last afternoon at the "Western Range", we stopped at the viewing tower which provides a 180-degree view of the surrounding river and grasslands. That afternoon I counted 51 individual Asian One-horned Rhinos at that one spot alone! I was heartened to see such healthy and unafraid populations of animals there but was equally disheartened to see on satellite maps that this tiny little part of Assam is basically all that is left for many of the species found there. And the national highway that borders the southern portion of the entire park is simply a death road for both people and animals.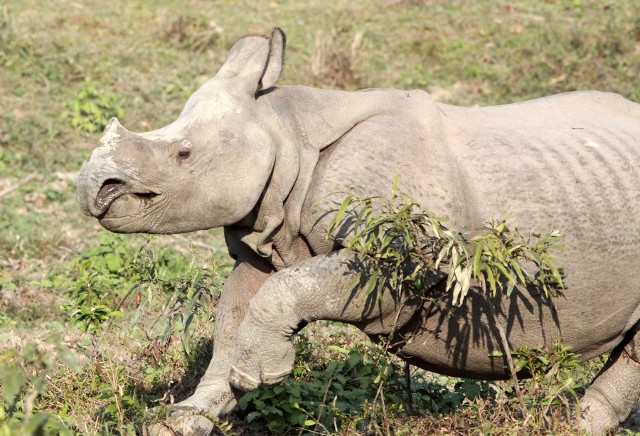 On one of our safaris at Kaziranga, we were charged by this angry rhino and chased all the way down the road. The thunderous grunts and snorts were a bit unnerving for sure. He actually got within a few feet by the time we finally got speed to get away from him.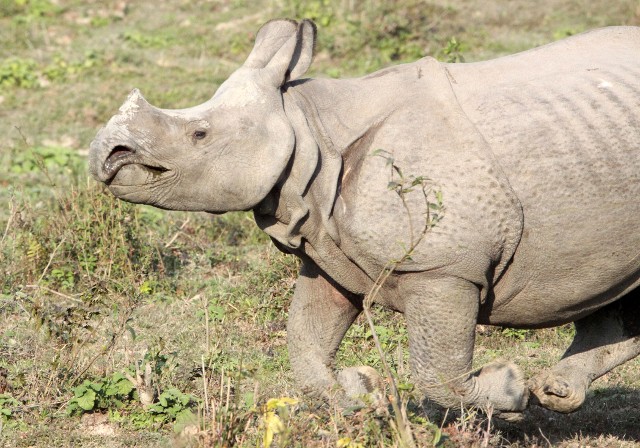 Rhino charge!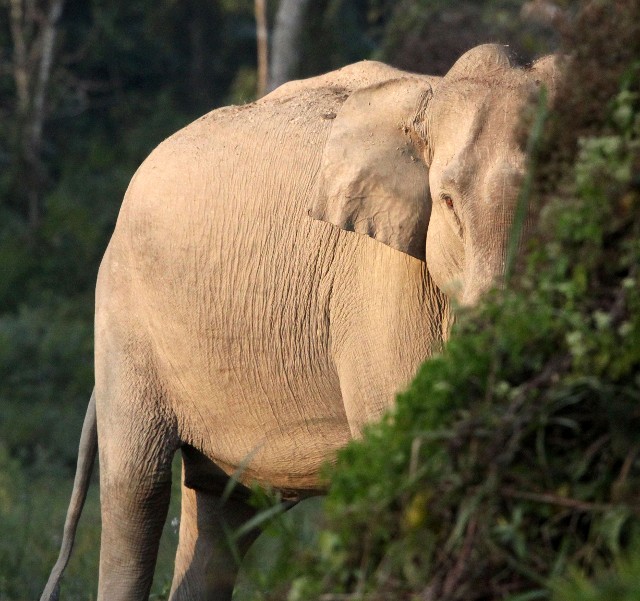 Asian Elephant taking a peak at our approach.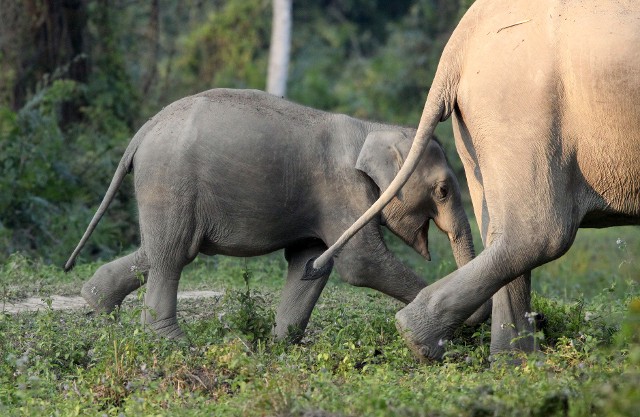 Cutie Pie!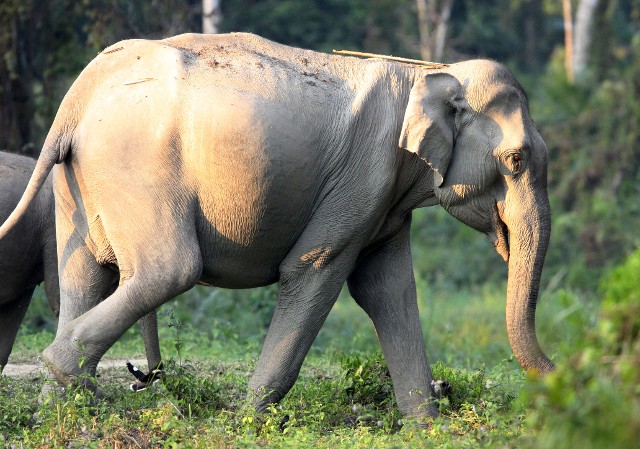 Asian Elephant!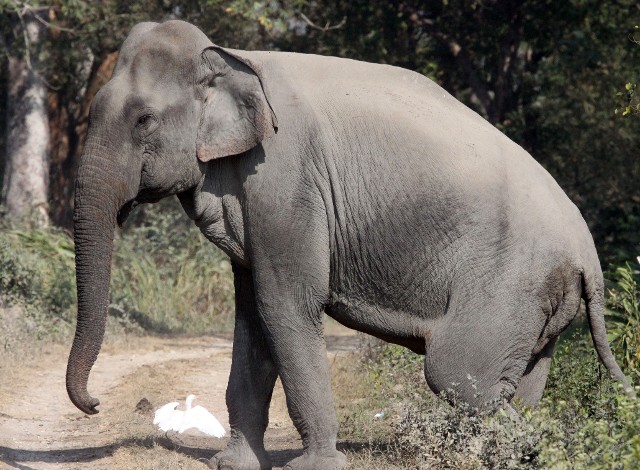 A tuskless bull Asian Elephant.
After our 24 wonderful days in India, I could not help but feel so fortunate to have shared with my family the amazing flora and fauna of such an amazing country. After seeing ten wild tigers, eight wild Asiatic Lions, Sloth Bear, Leopard, Rhinos, Elephants and so many other species, we all felt that India was without a doubt one of our more successful adventures. But we all also realized that the need for even more conservation efforts on the part of the Indian government are essential to allow for the survival for these species. And unless these efforts are immediate and substantial, there really is little hope for them.
Other Mammals From Our Expedition to India!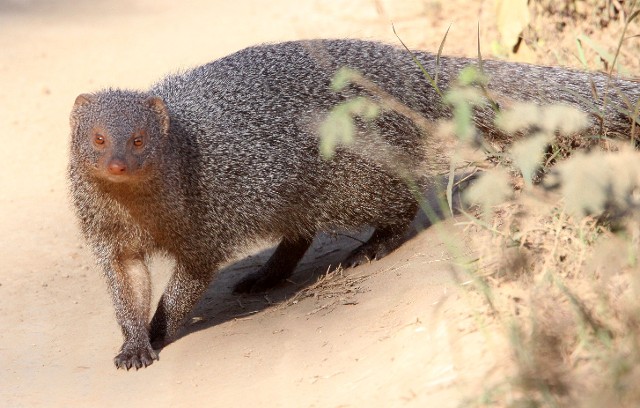 Grey Mongoose at Gir Forest.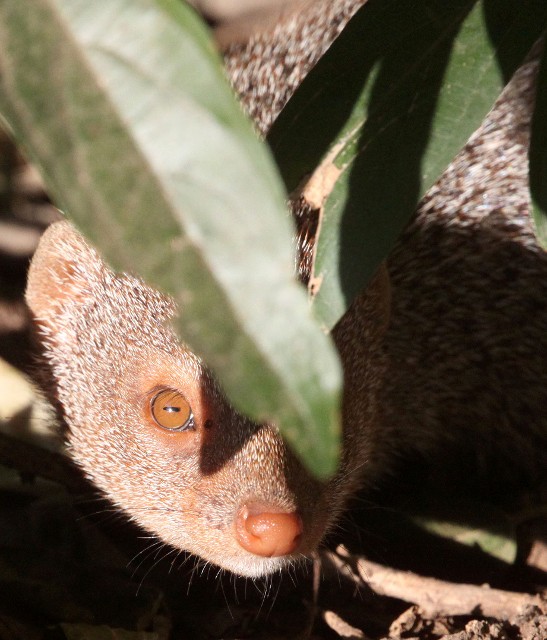 A shy Grey Mongoose at Gir.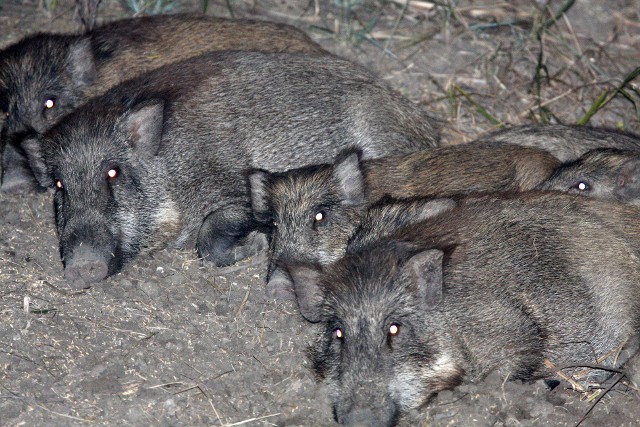 Sleeping Wild Boar at Blackbuck National Park.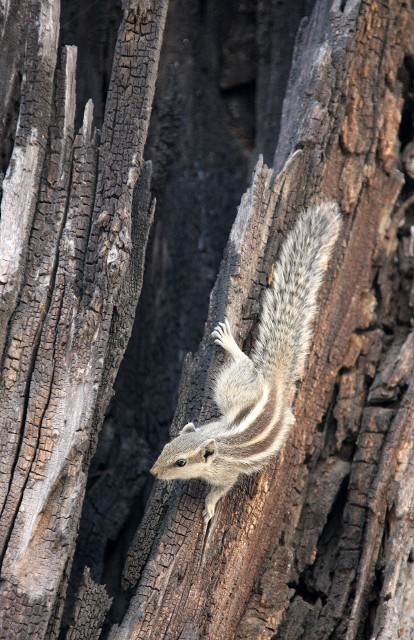 Three-stripped Palm Squirrels were common uban inhabitants. This one was seen in a temple in Ahmedabad.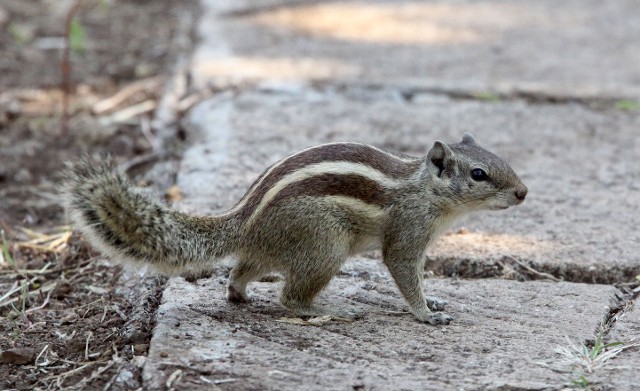 This Five-striped Palm Squirrel was seen in our lodge at Gir.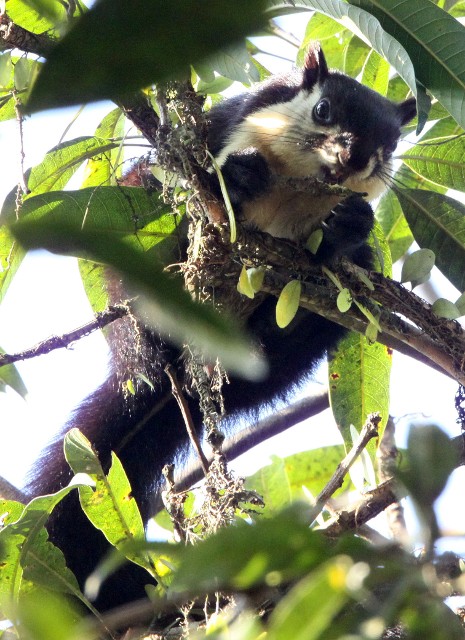 The Malayan Giant Squirrel is an old friend that we have seen so many times before in Thailand.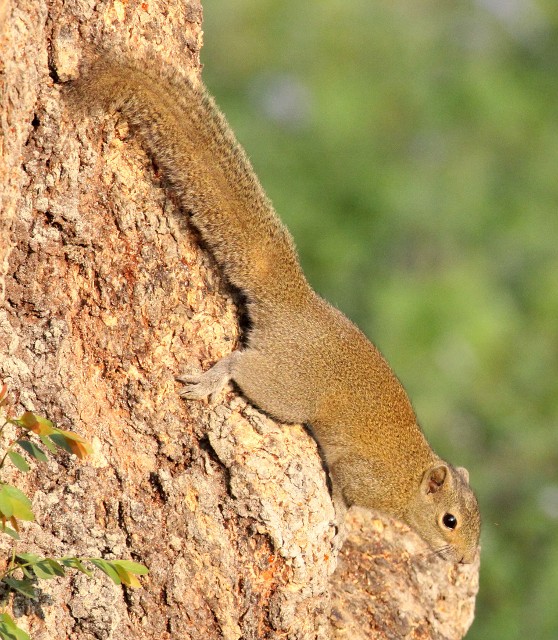 Kaziranga is a great place to see the Hoary-bellied Squirrel.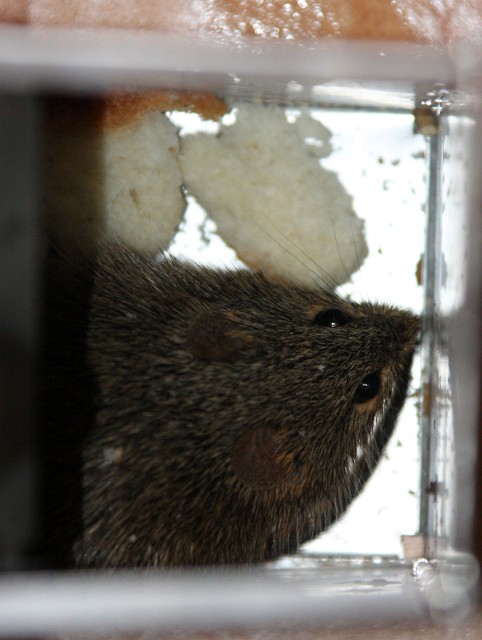 We trapped and released this and other Indian Field Rats in the Little Rann of Kutch.
The Asian One-horned Rhino is such a strange looking critter.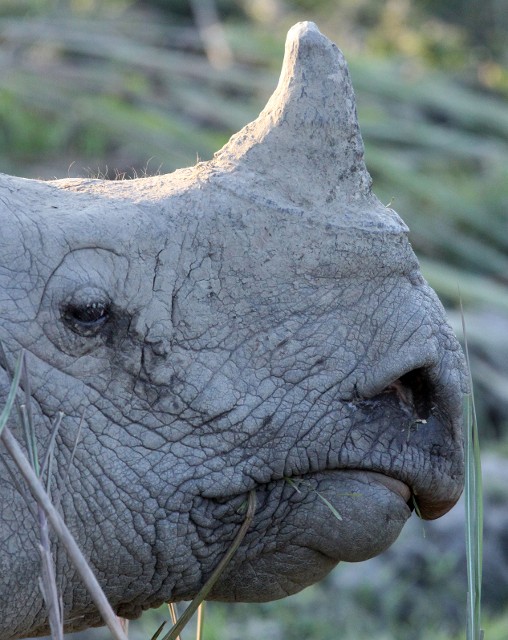 Asian One-horned Rhinoceros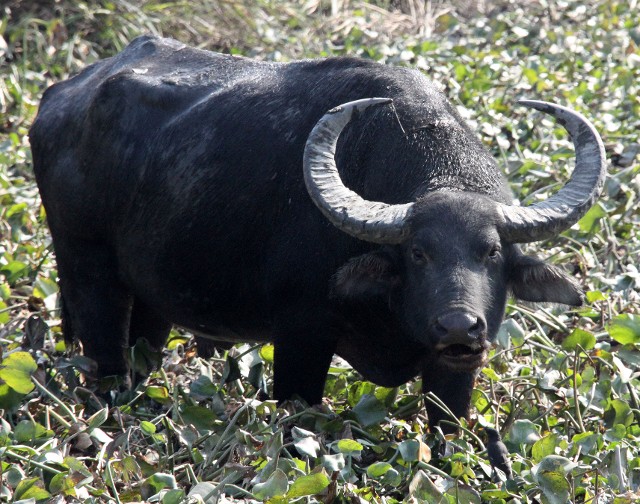 Kaziranga, and perhaps a couple spots in Myanmar and Thailand, are the few places left on earth to see wild Asian Buffalo.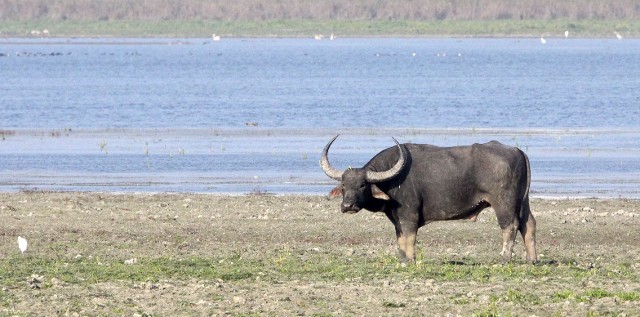 Wild Asian Buffalo, Kaziranga.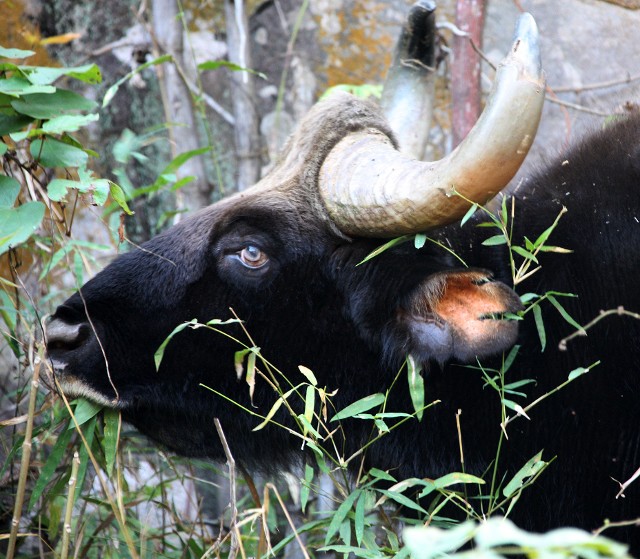 I was thrilled to see my first wild Gaur after so many years of searching for these shy wild bison!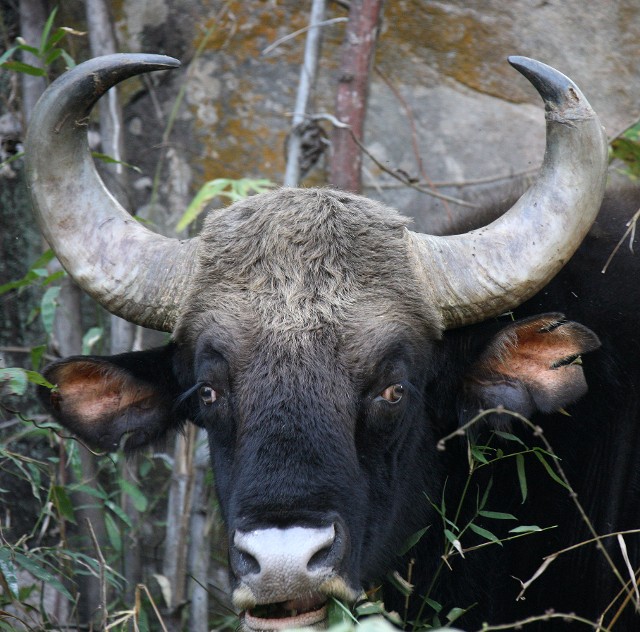 A spectacular bull Gaur checking me out in Kanha National Park.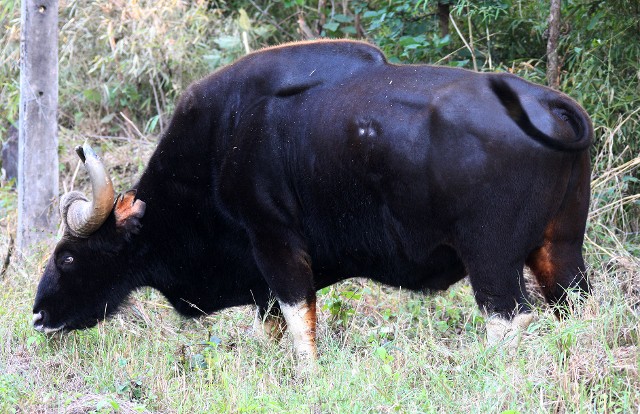 The muscular morphology of the Gaur or Indian Bison is impresseive indeed.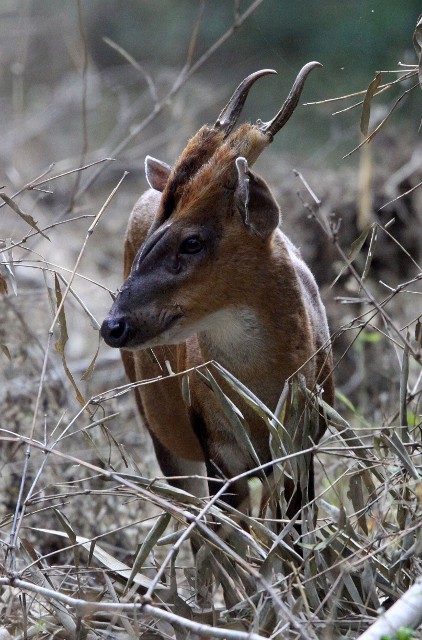 I was surprised how long it took us to finally see our first Indian Muntjac. They are so common and habituated even in Thailand, but in India they are relatively shy and sometimes difficult to see. (Som Smith)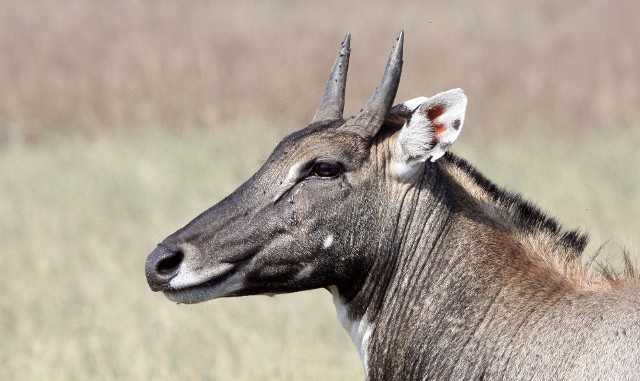 The Blue Bull or Nilgai were common sights at many of our destinations.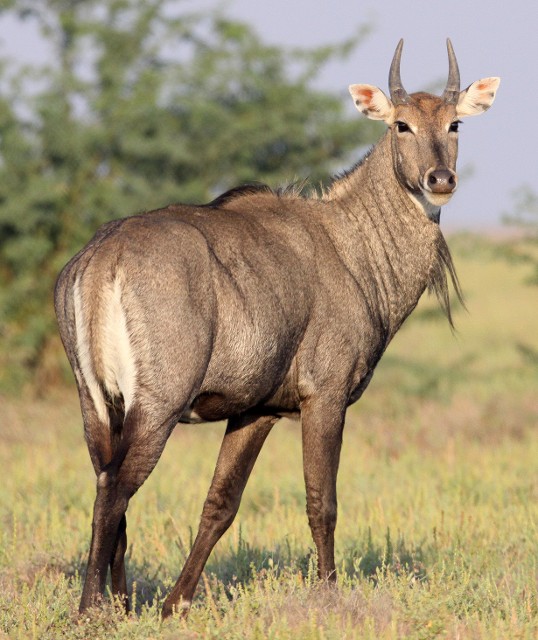 Nilgai Bull.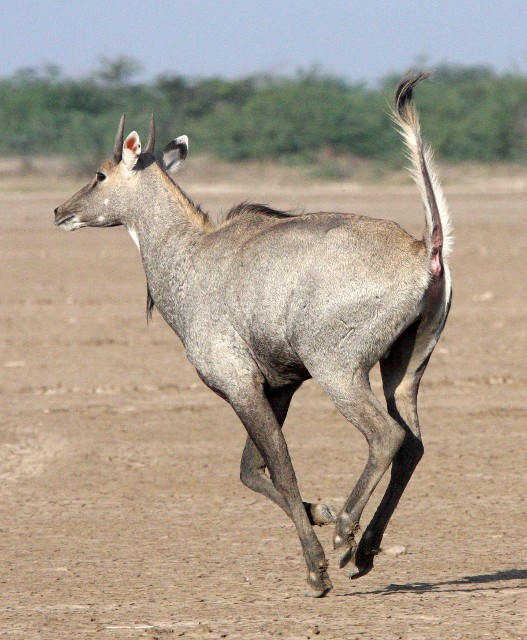 Nilgai bull showing the well known "cobra" tail usually indicating he is horny...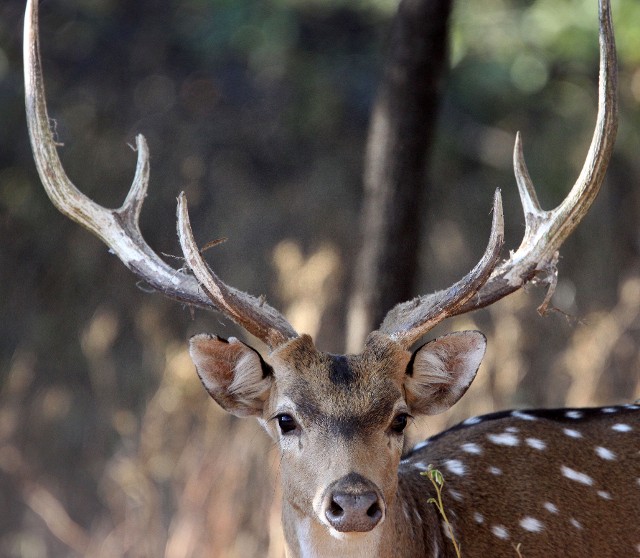 A spectacular stag Chital or Spotted Deer at Gir.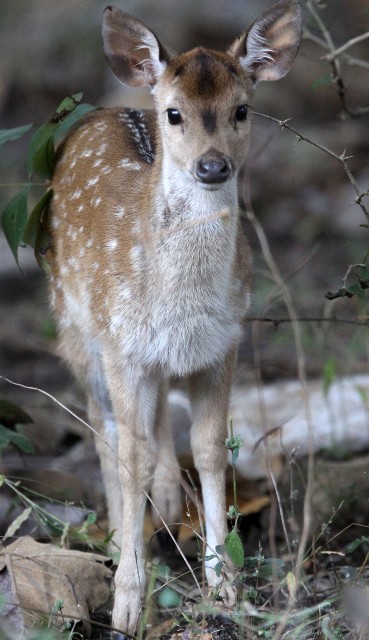 A cute Chital fawn seen at Gir.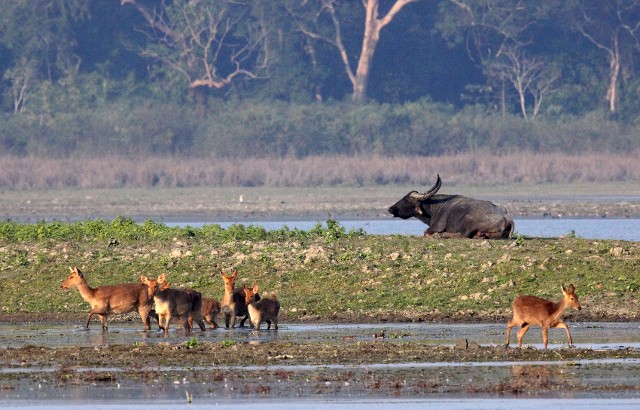 The aquatic subspecies of Barasingha seen only at Kaziranga.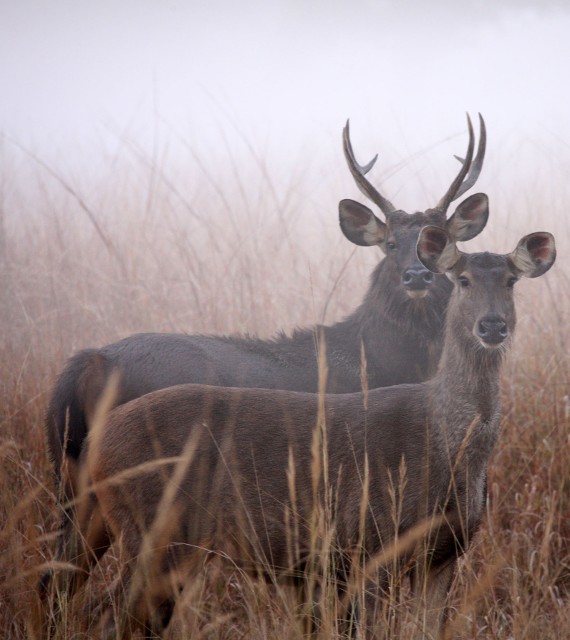 A spectacular pair of Sambar seen at Kanha in the early morning fog.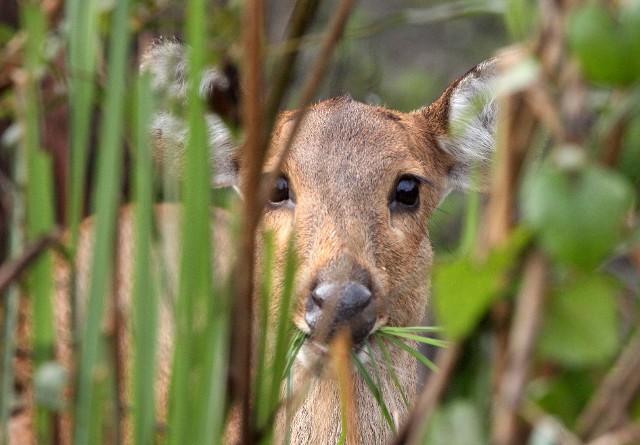 Hog Deer were extremely common in Kaziranga and were easily seen in the elephant grasslands there.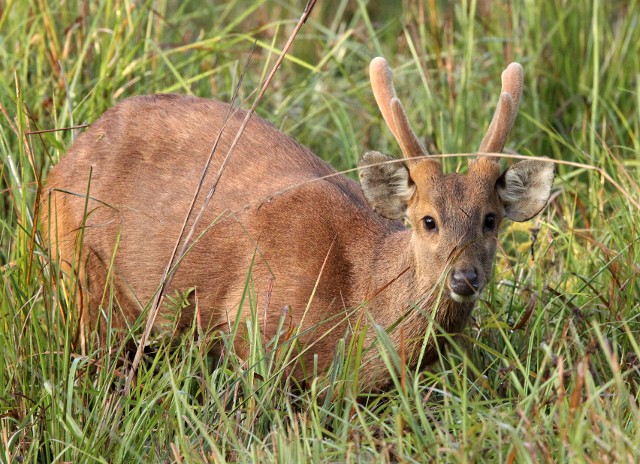 A velvet-antlered Hog Deer stag at Kaziranga.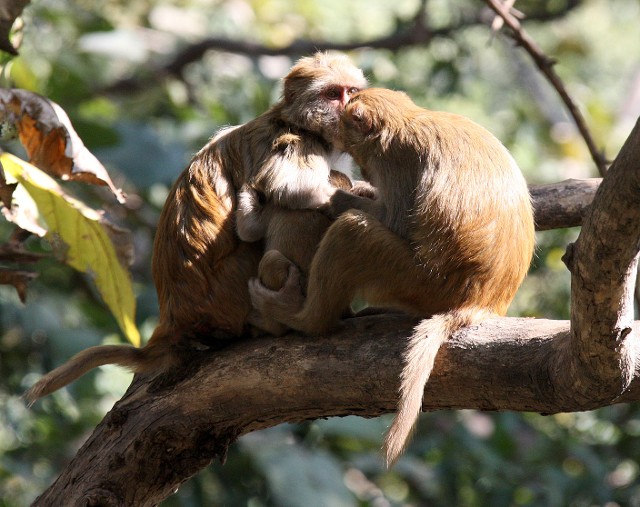 A Rhesus Macaque family seen grooming each other just outside Pench National Park.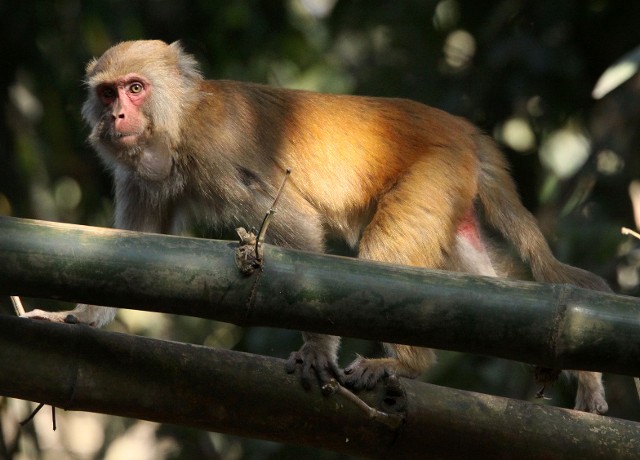 Rhesus Macaque.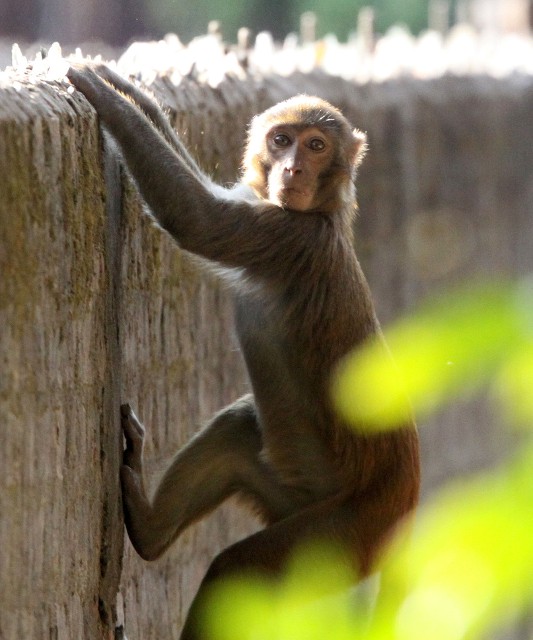 An Assamese Macaque seen near Kaziranga National Park, Assam.
An angry Southern Plains Grey Langur at Gir Forest, Gujarat.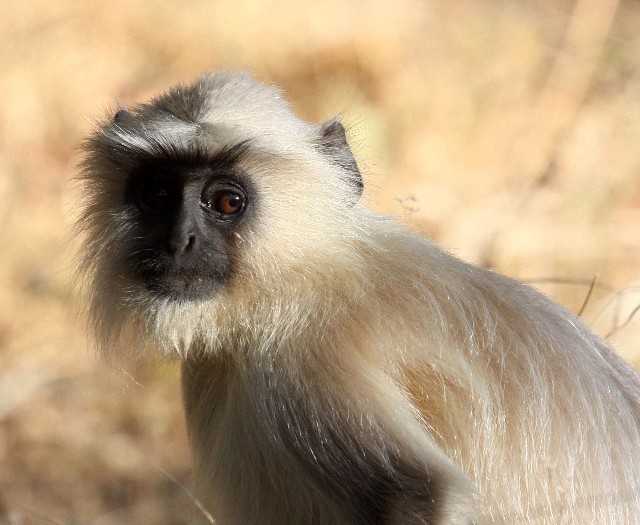 Southern Plains Grey Langur, Gir Forest.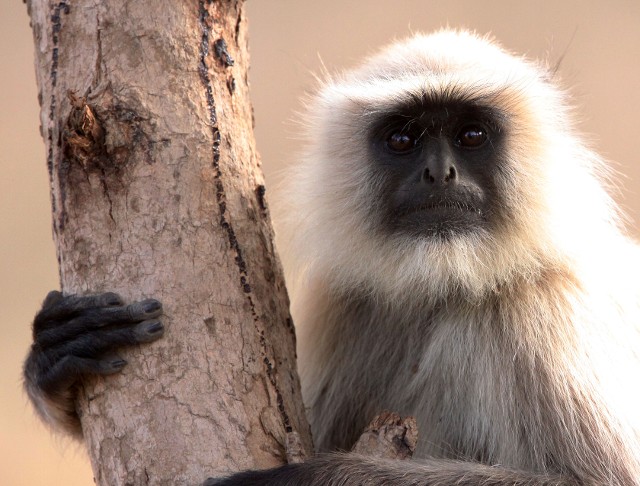 Northern Plains Grey Langur captured by Som at Bandhavgar.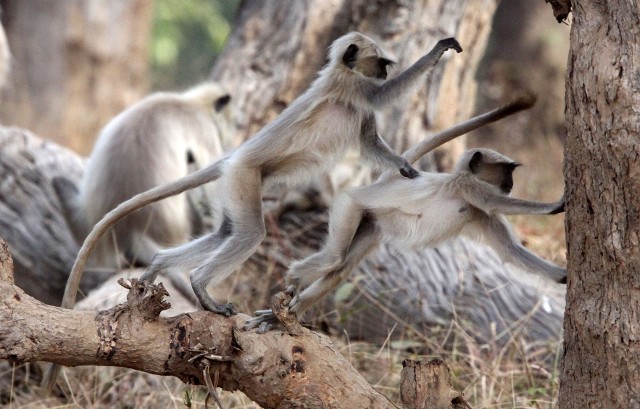 Some playful Northern Plains Grey Langur at Bandhavgar. (Som Smith)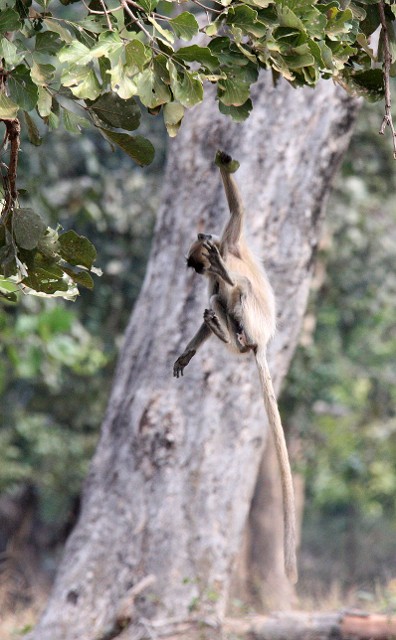 Woops!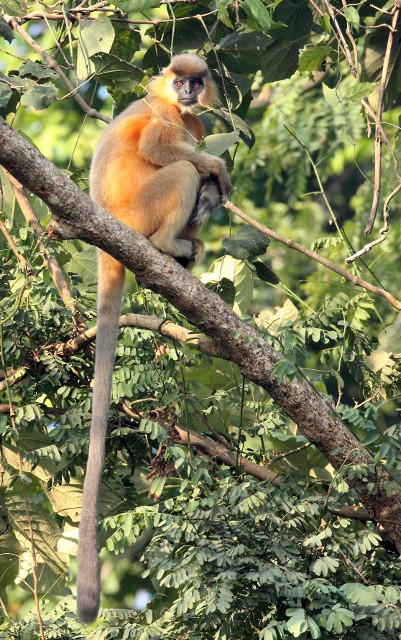 This Capped Langur was seen deep inside the forests of Kaziranga National Park.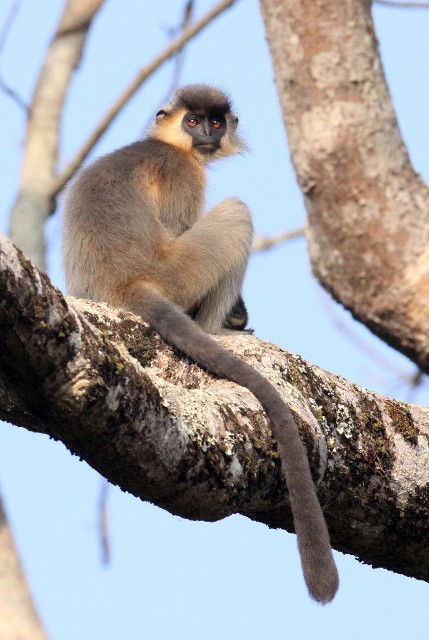 Capped Langur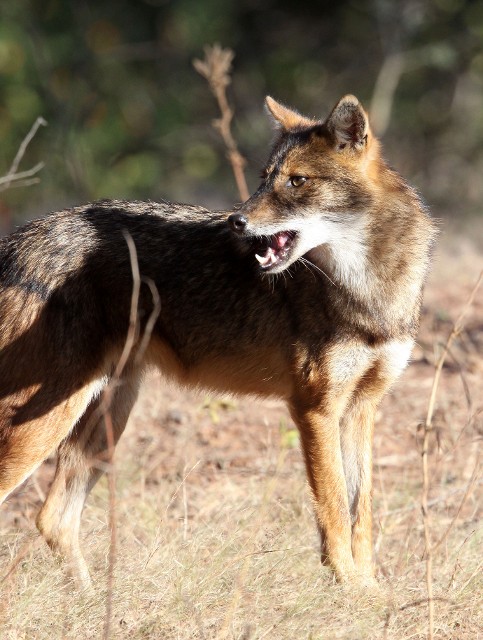 An Asiatic Golden Jackal at Gir Forest.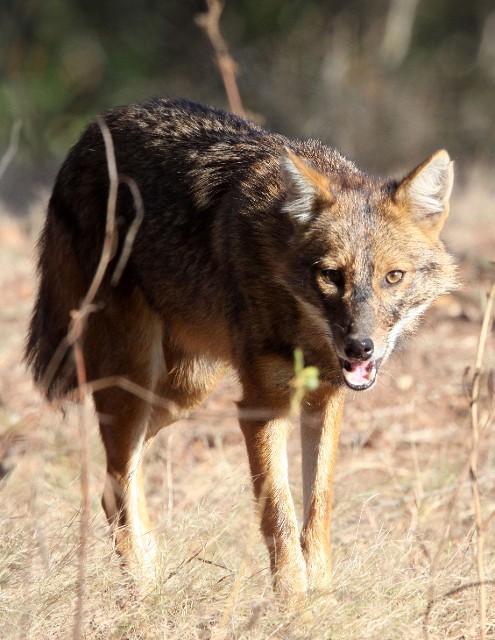 What a gorgeous canid!
Mammal List for India Expedition 2011
(KZ=Kaziranga, WGS=Wild Gibbon Sanctuary, KH=Kanha, BG=Bandhavgar, CH=Chambal, GIR=Gir, RK=Rann of Kutch, BB=Blackbuck)
Order Primates
1. Hoolock Gibbon (Bunopithecus hoolock) KZ, WGS 7
2. Rhesus Macaque (Macaca mulatta) KH, BG, KZ 200
3. Assames Macaque (Macaca assamensis) KZ 35
4. Capped Langur (Trachypithecus pileatus) KZ, WGS 50+
5. Northern Plains Grey Langur (Semnopithecus entellus) KH, BG 100+
6. Southern Plains Grey Langur (Semnopithecus dussumieri) GIR 50+
Family Cervidae
7. Sambar (Cervus unicolor) KH, BG, KZ, GIR 100+
8. Hard Ground Swamp Deer (Cervus duvaucelii branderi) KH 45
9. Wetland Barasingha (Cervus duvaucelii duvaucelii) KZ 50+
10. Indian Muntjac (Muntiacus muntjak) BG 4
11. Hog Deer (Axis porcinus) KZ 100+
12. Indian Spotted Deer (Axis axis axis) KH, BG, KZ 300++
Family Bovidae
13. Nilgai (Boselaphus tragocamelus) RK, GIR, CH, BB 100++
14. Blackbuck (Antilope cervicapra) BB 500++
15. Asiatic Wild Buffalo (Bubalus arnee) KZ 100+
16. Gaur (Bos gaurus) KH 52
Family Suidae
17. Wild Pig/Boar (Sus scrofa) All parks! 200++
Family Elephantidae
18. Asian Elephant (Elephas maximus indicus) KZ 30
Family Equidae
19. Asiatic Wild Ass (Equus onager) RK 500++
Family Rhinocerotidae
20. Greater One-horned Rhinoceros (Rhinoceros unicornis) KZ 250+
Family Ursidae
21. Sloth Bear (Melursus ursinus) BH 1
Family Canidae
22. Asiatic Golden Jackal (Canis aureus) GIR, KH, BG, CH, BB 25+
23. Indian Fox (Vulpes bengalensis) Calcutta Airport 1
24. Desert (Red) Fox (Vulpes vulpes pusilla) RK 2
Family Hyenidae
25. Striped Hyena BB 3
Family Felidae
26. Bengal Tiger (Panthera tigris) KH, BG 10 (14 sightings)
27. Asiatic Lion (Panthera leo persica) GIR 8
28. Asiatic Common Leopard (Panthera pardus fusca) GIR 1
29. Jungle Cat (Felis chaus) BB 1(+?)
Family Viverridae
30. Common Palm Civet (Paradoxurus hermaphroditus) CH 5-6
31. Grey Mongoose (Herpestes edwardsii) RK, CH, GIR, BB, KH 25-30
32. Ruddy Mongoose (Herpestes smithii) GIR 5
Family Mustelidae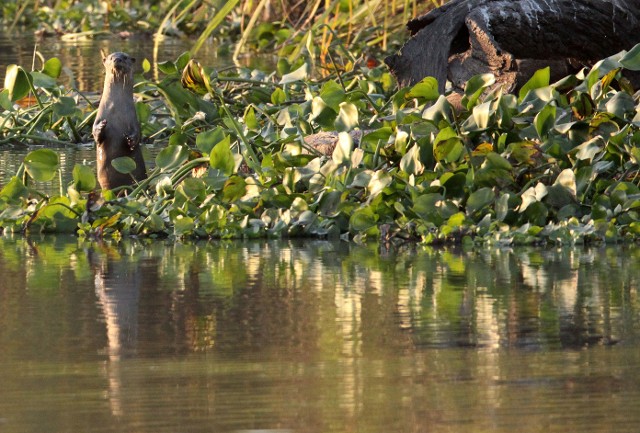 33. Smooth-coated Otter (Lutrogale perspicullata) KZ 3-5
Order Lagomorpha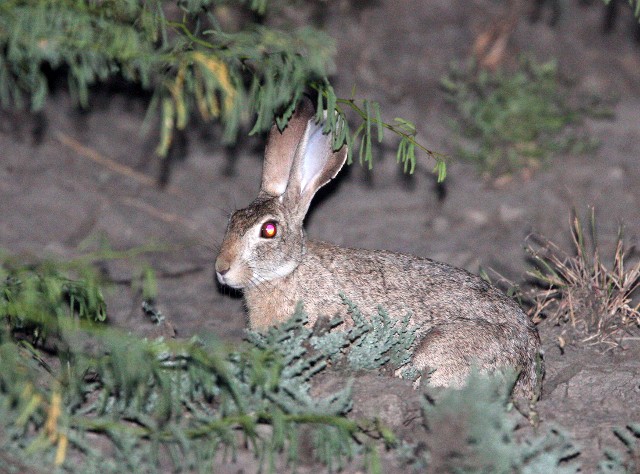 34. Indian Hare (Lepus nigricollis) BB, GIR 10
Order Insectivora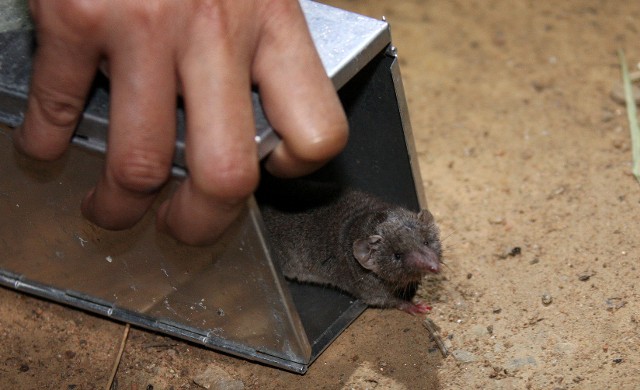 35. Grey Woodland Shrew (Crocidura attenuata) BG 2
Order Rodentia
36. Malayan Giant Squirrel (Ratufa bicolor) WGS 3
37. Three-striped Palm Squirrel (Funambulus palmarum) 25++
38. Five-striped Palm Squirrel (Funambulus pennantii) 50+
39. Hoary-bellied Himalayan Squirrel (Callosciurus pygerythrus) KZ 10
40. Lesser Bandicoot Rat (Bandicota bengalensis) KH 1
41. Brown Rat (Rattus norvegicus) Katni Train Stn 25+
42. House Mouse (Mus musculus) KZ 1
43. Spiny Field Mouse (Mus platythrix) RK 3
Order Chiroptera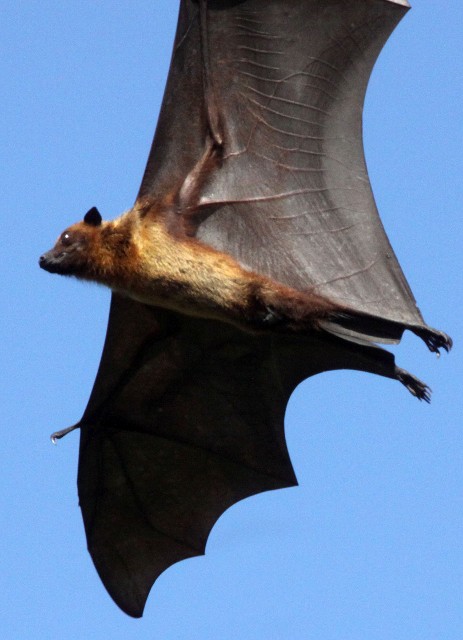 44. Indian Flying Fox (Pteropus giganteus) GIR, KZ 1000++
45. Lesser Mouse-tailed Bat (Rhinopoma hardwickii) CH 2-3
46. Theobald's Tomb Bat (Taphozous theobaldi) BG 5-6
47. Long-winged Tomb Bat (Taphozous longimanus) KZ 3
48. Woolly Horseshoe Bat (Rhinolophus luctus) BG 200++
49. Lesser False Vampire Bat (Megaderma spasma) BG 1
50. Indian Pipestrelle (Pipistrellus coromandra) RK 20+
Order Cetacea
51. Ganges River Dolphin (Platanista gangetica) CH 6-10
BONUS Species!
52. Arunachal Macaque (Macaca munzalan) KZ 5-6
(KZ=Kaziranga, WGS=Wild Gibbon Sanctuary, KH=Kanha, BG=Bandhavgar, CH=Chambal, GIR=Gir, RK=Rann of Kutch, BB=Blackbuck)
Bird List for India Expedition 2011!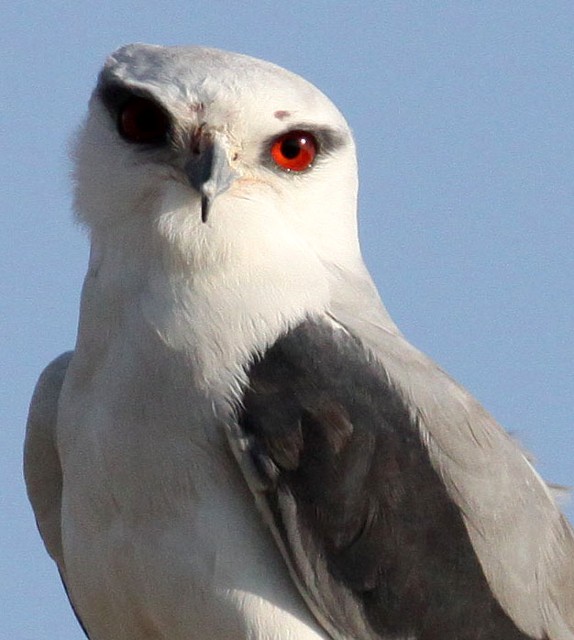 The ubiquitous Black-shouldered Kite seen throughout our expedition to India!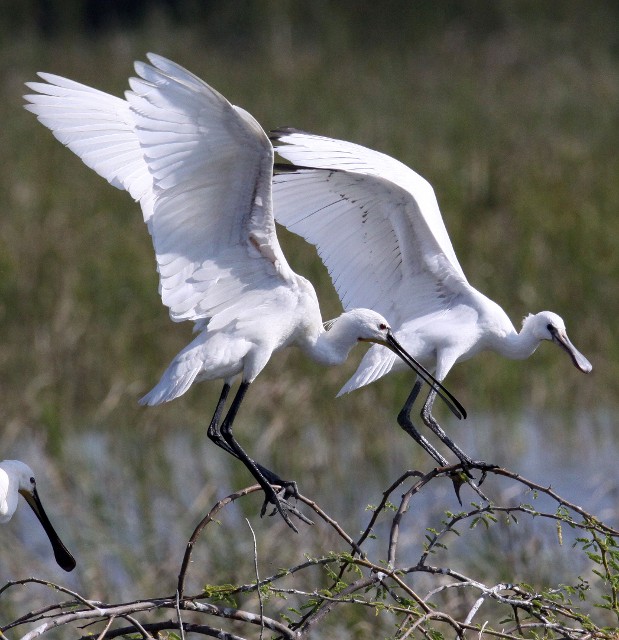 Eurasian Spoonbills in the Little Rann!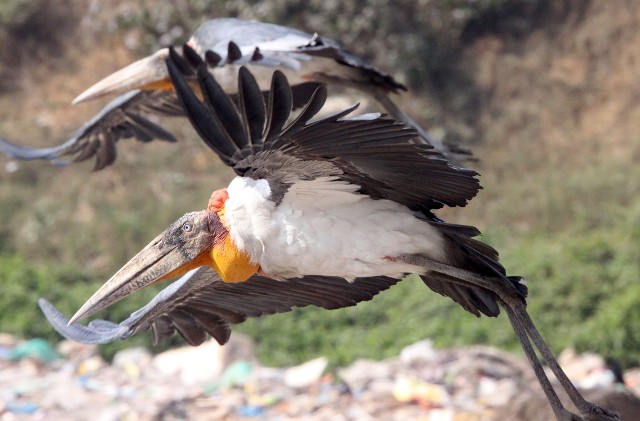 Aside from the glorious Indian Fox that said goodbye to us on the runway of the Colcatta International Airport, these Greater Adjutant Storks were our final species seen on our India trip. We viewed them at the Guwahati Dump in Assam, the only known breeding site for these magnificent storks!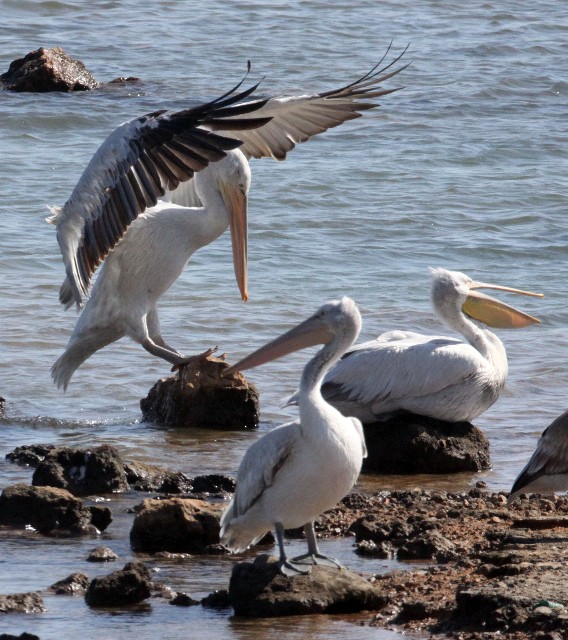 Dalmatian Pelicans in Somnath harbor, Gujarat.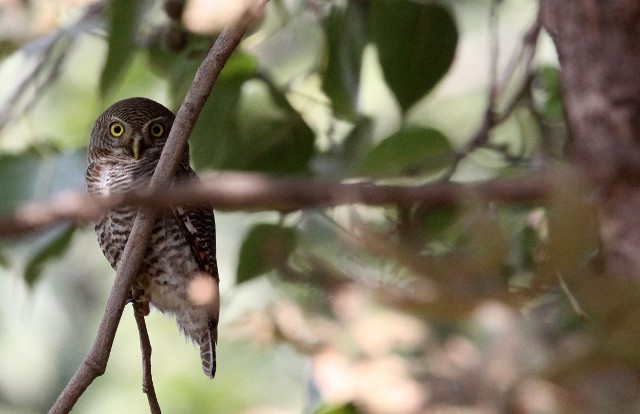 A shy Jungle Owlet in Bandhavgar.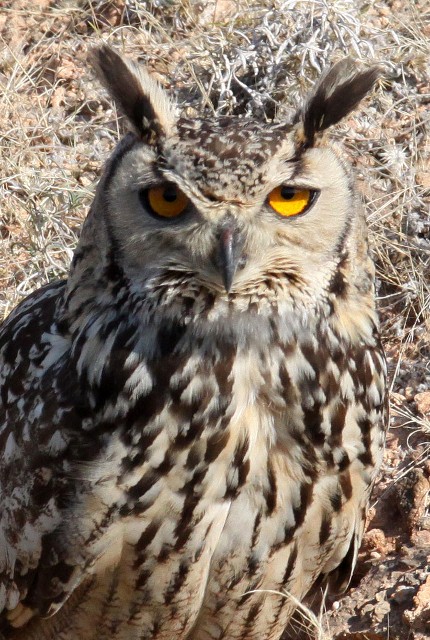 The rare Eurasian Eagle Owl, now known as the Indian Eagle Owl seen in Gujarat state.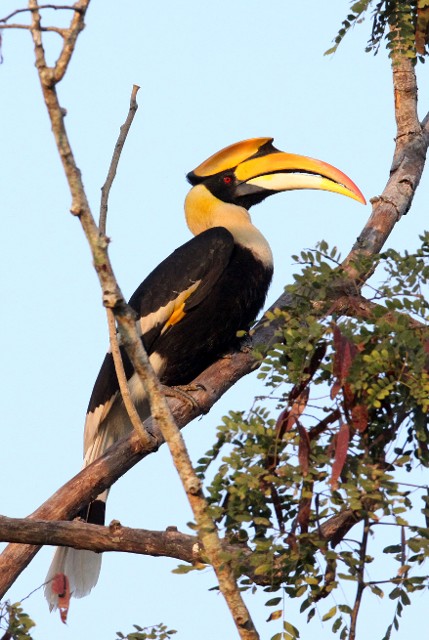 A spectacular Great Hornbill seen at Kaziranga!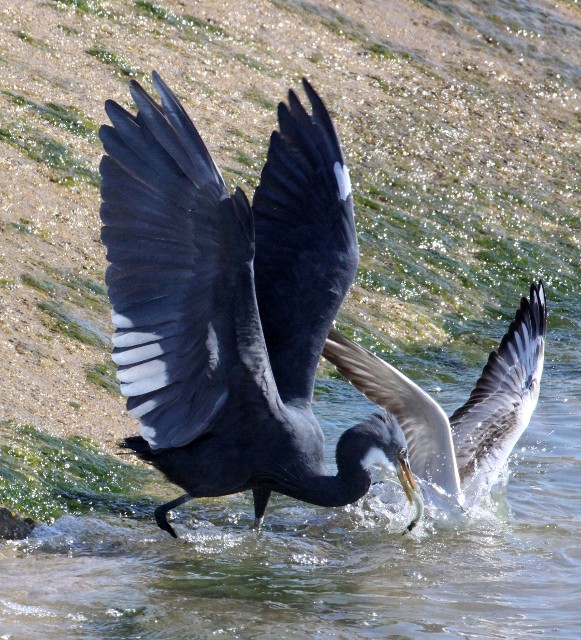 A Pacific Reef Heron fighting for a fish with a Black-headed Gull in Somnath Harbor, Gujarat. The gull won...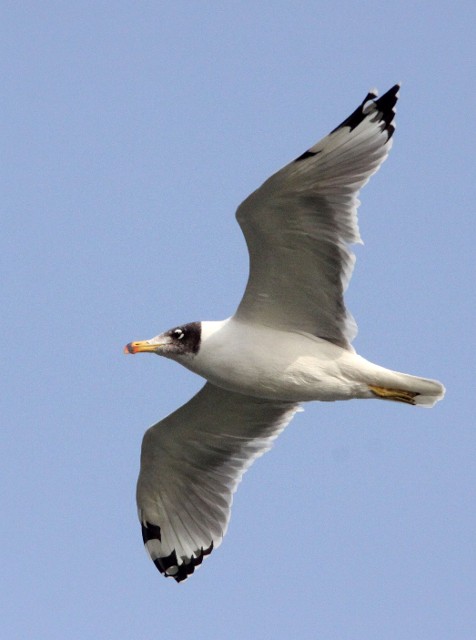 Pallas's Gull in Chambal River Sanctuary.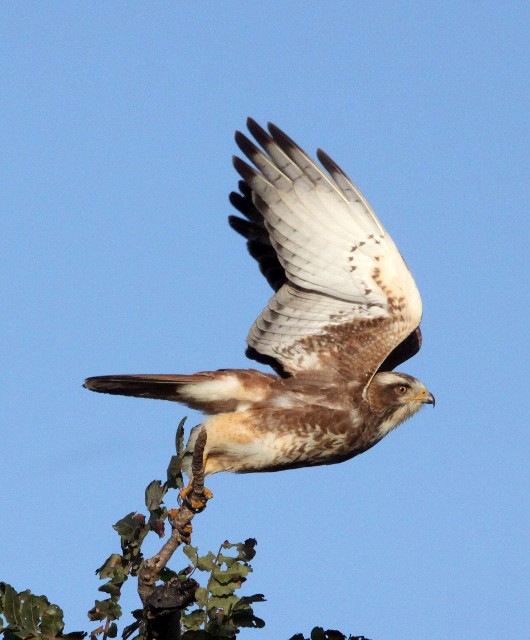 A Short-toed Snake Eagle seen in Gujarat.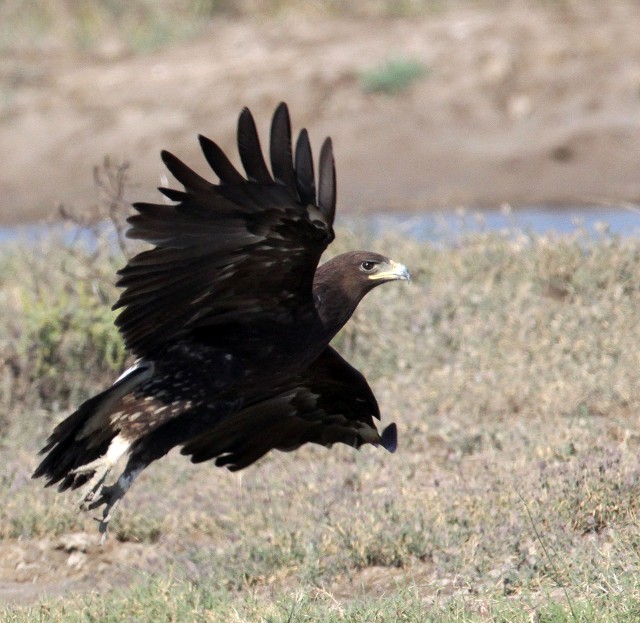 A spectacular Greater Spotted Eagle taking flight in the Little Rann.
A Changeable Hawk Eagle in Bandhavgar.
Grey Francolin (Francolinus pondicerianus)
Red Junblefowl (Gallus gallus)
Kalij Pheasant (Lophura leucomelanos)
Indian Peafowl (Pavo cristatus)
Greylag Goose (Anser anser)
Bar-headed Goose (Anser indicus)
Lesser Whistling Duck (Dendrocygna javanica)
Ruddy Shelduck (Tadorna ferruginea)
Comb Duck (Sarkidornis melanotos)
10. Gadwall (Anas strepera)
11. Eurasian Wigeon (Anas penelope)
12. Mallard (Anas platyrhynchos)
13. Spot-billed Duck (Anas poeciorhyncha)
14. Common Teal (Anas crecca)
15. Garganey (Anas querquedula)
16. Northern Pintail (Anas acuta)
17. Northern Shoveler (Anas clypeata)
18. Red-crested Pochard (Rhodonessa rufina)
19. Common Pochard (Aythya ferina)
20. Common Flameback (Dinopium javanense)
21. Greater Flameback (Chrysocolaptes lucidus)
22. White-naped Woodpecker (Chrysocolaptes festivus)
23. Brown-headed Barbet (Megalaima zeylanica)
24. Coppersmith Barbet (Megalaima haemacephala)
25. Indian Grey Hornbill (Ocyceros birostris)
26. Malabar Pied Hornbill (Anthracoceros coronatus)
27. Oriental Pied Hornbill (Anthracoceros albirostris)
28. Great Hornbill (Buceros bicornis)
29. Wreathed Hornbill (Aceros undulatus)
30. Common Hoopoe (Upupa epops)
31. Indian Roller (Coracias benghalensis)
32. Dollarbird (Eurystomus orientalis)
33. Common Kingfisher (Alcedo atthis)
34. Stork-billed Kingfisher (Halcyon capensis)
35. White-throated Kingfisher (Halcyon smyrnensis)
36. Pied Kingfisher (Ceryle rudis)
37. Green Bee-eater (Merops orientalis)
38. Asian Koel (Eudynamys scolopacea)
39. Sirkeer Malkoha (Phaenicophaeus leschenaultii)
40. Greater Coucal (Centropus sinensis)
41. Alexandrine Parakeet (Psittacula eupatria)
42. Rose-ringed Parakeet (Psittacula krameri)
43. Plum-headed Parakeet (Psittacula cyanocephala)
44. Asian Palm Swift (Cypsiurus balasiensis)
45. House Swift (Apus affinis)
46. Crested Tree Swift (Hemiprocne coronata)
47. Collared Scops Owl (Otus bakkamoena)
48. Eurasian Eagle Owl (Bubo bubo) Now is the Indian Eagle Owl
49. Brown Fish Owl (Ketupa zeylonensis)
50. Mottled Wood Owl (Strix ocellata)
51. Brown Wood Owl (Strix leptogrammica)
52. Jungle Owlet (Glaucidium radiatum)
53. Spotted Owlet (Athene brama)
54. Brown Hawk Owl (Ninox scutulata)
55. Grey Nightjar (Caprimulgus indicus)
56. Indian Nightjar (Caprimulgus asiaticus)
57. Savanna Nightjar (Caprimulgus affinis)
58. Rock Pigeon (Columba livia)
59. European Turtle Dove (Streptopelia turtur)
60. Oriental Turtle Dove (Streptopelia orientalis)
61. Spotted Dove (Streptopelia chinensis)
62. Eurasian Collared Dove (Streptopelia decaocto)
63. Emerald Dove (Chalcophaps indica)
64. Yellow-footed Green Pigeon (Treron phoenicoptera)
65. Macqueen's Bustard (Chlamydotis macqueeni)
66. Lesser Florican (Sypheotides indica)
67. Sarus Crane (Grus antigone)
68. Common Crane (Grus grus)
69. White-breasted Waterhen (Amaurornis phoenicurus)
70. Purple Swamphen (Porphyrio porphyrio)
71. Common Moorhen (Gallinula chloropus)
72. Common Coot (Fulica atra)
73. Chestnut-bellied Sandgrouse (Pterocles exustus)
74. Common Snipe (Gallinago gallinago)
75. Black-tailed Godwit (Limosa limosa)
76. Eurasian Curlew (Numenius arquata)
77. Common Redshank (Tringa tetanus)
78. Marsh Sandpiper (Tringa stagnatilis)
79. Common Greenshank (Tringa nebularia)
80. Green Sandpiper (Tringa ochropus)
81. Wood Sandpiper (Tringa glareola)
82. Common Sandpiper (Actitis hypoeucos)
83. Little Stint (Caldris minuta)
84. Ruff (Philomachus pugnax)
85. Black-winged Stilt (Himantopus himantopus)
86. Pied Avocet (Recurvirostra avosetta)
87. Pheasant-tailed Jacana (Hydrophasianus chirurgus)
88. Bronze-winged Jacana (Metopidius indicus)
89. Great Think-knee (Esacus recurvirostris)
90. Little Ringed Plover (Charadrius dubius)mi7
91. Grey Plover (Pluvialis squatarola)
92. Kentish Plover (Charadrius alexandrinus)
93. Northern Lapwing (Vanellus vanellus)
94. River Lapwing (Vanellus duvaucelii)
95. Grey-headed Lapwing (Vanellus cinereus)
96. Red-wattled Lapwing (Vanellus indicus)
97. Sociable Lapwing (Vanellus gregarius)
98. Heuglin's Gull (Larus heuglini)
99. Pallas's Gull (Larus ichthyaetus)
100. Brown-headed Gull (Larus brunnicephalus)
101. Black-headed Gull (Larus ridibundus)
102. Gull-billed Tern (Gelochelidon nilotica)
103. Caspian Tern (Sterna caspia)
104. River Tern (Sterna aurantia)
105. Lesser Crested Tern (Sterna bengalensis)
106. Black-bellied Tern (Sterna acuticauda)
107. Whiskered Tern (Chlidonias hybridus)
108. Indian Skimmer (Rynchops albicollis)
109. Osprey (Pandion haliaetus)
110. Black-shouldered Kite (Elanus caeruleus)
111. Black Kite (Milvus migrans)
112. Pallas's Fish Eagle (Haliaeetus leucoryphus)
113. Grey-headed Fish Eagle (Ichtheyophaga ichthyeatus)
114. Egyptian Vulture (Neophron percnopterus)
115. Long-billed Vulture (Gyps indicus)
116. Red-headed Vulture (Sarcogyps calvus)
117. Eurasian Griffon (Gyps fulvus)
118. Short-toed Snake Eagle (Circaetus gallicus)
119. Crested Serpent Eagle (Spilornis cheela)
120. Eurasian Marsh Harrier (Circus aeruginosus)
121. Pallid Harrier (Circus macrourus)
122. Montagu's Harrier (Circus pygargus)
123. Shikra (Accipiter badius)
124. Oriental Honey Buzzard (Pernis ptilorhyncus)
125. Long-legged Buzzard (Buteo rufinus)
126. Greater Spotted Eagle (Aquila clanga)
127. Lesser Spotted Eagle (Aquila pomarina)
128. Imperial Eagle (Aquila heliaca)
129. Bonelli's Eagle (Hieraaetus fasciatus)
130. Changeable Hawk Eagle (Spizaetus cirrhatus)
131. Common Kestrel (Falco tinnunculus)
132. Red-necked Falcon (Falco chicquera)
133. Peregrine Falcon (Falco peregrinus)
134. Little Grebe (Trachybaptus ruficollis)
135. Great-crested Grebe (Podiceps cristatus)
136. Darter (Anhinga melanogaster)
137. Little Cormorant (Phalacrocorax niger)
138. Indian Cormorant (Phalacrocorax fuscicollis)
139. Great Cormorant (Phalacrocorax carbo)
140. Little Egret (Egretta garzetta)
141. Pacific Reef Egret (Egretta sacra)
142. Great Egret (Casmerodius albus)
143. Intermediate Egret (Mesophoyx intermedia)
144. Cattle Egret (Bubulcus ibis)
145. Indian Pond Heron (Ardeola grayii)
146. Grey Heron (Ardea cinerea)
147. Purple Heron (Ardea purpurea)
148. Little Heron (Buturoides striatus)
149. Black-crowned Night Heron (Nyctocorax nycticorax)
150. Greater Flamingo (Phoenicopterus ruber)
151. Glossy Ibis (Plegadis flacinellus)
152. Black-headed Ibis (Threskiornis melanocephalus)
153. Black Ibis (Pseudibis papillosa)
154. Eurasian Spoonbill (Platalea leucorodia)
155. Great White Pelican (Pelecanus onocrotalus)
156. Dalmatian Pelican (Pelecanus crispis)
157. Spot-billed Pelican (Pelecanus philippensis)
158. Painted Stork (Mycteria leucocephala)
159. sian Openbill (Anastomus oscitans)
160. Woolly-necked Stork (Ciconia episcopus)
161. Black Stork (Ciconia nigra)
162. Black-necked Stork (Ephippiorhynchos asiaticus)
163. Lesser Adjutant (Leptopilos javanicus)
164. Greater Adjutant (Leptopilos dubius)
165. Brown Shrike (Lanius cristatus)
166. Long-tailed Shrike (Lanius schach)
167. Grey-backed Shrike (Lanius tephronotus)
168. Rufous Treepie (Dendrocitta formosae)
169. House Crow (Corvus splendens)
170. Large-billed Crow (Corvus macrorhynchos)
171. Black-hooded Oriole (Oriolus xanthornus)
172. Eurasian Golden Oriole (Oriolus oriolus)
173. Large Cuckoo Shrike (Coracina macei)
174. Scarlet Minivet (Pericrocotus flammeus)
175. White-browed Fantail (Rhipidura aureola)
176. Black Drongo (Dicrurus macrocercus)
177. Bronzed Drongo (Dicrurus aeneus)
178. Greater Racket-tailed Drongo (Dicrurus paradiseus)
179. Common Iora (Aegithina tiphia)
180. Common Woodshrike (Tephrodornis pondicerianus)
181. Orange-headed Thrush (Zoothera citrina)
182. Scaly Thrush (Zoothera dauma)
183. Eyebrowed Thrush (Turdus obscurus)
184. Red-throated Flycatcher (Ficedula parva)
185. Large Niltava (Niltava grandis)
186. Small Niltava (Niltava macgrigoriae)
187. Oriental Magpie Robin (Copsychus saularis)
188. White-rumped Shama (Copsychus malabaricus)
189. Indian Robin (Saxicoloides fulicata)
190. Black Redstart (Phoenicurus ochruros)
191. Common Stonechat (Saxicola torquata)
192. Pied Bushchat (Saxicola caprata)
193. Brown Rock-chat (Cercomela fusca)
194. Variable Wheatear (Oenanthe picata)
195. Rufous-tailed Wheatear (Oenanthe xanthopyrmna)
196. Desert Wheatear (Oenanthe deserti)
197. Isabelline Wheatear (Oenanthe isabellina)
198. Chestnut-tailed Starling (Sturnus malabaricus)
199. Brahminy Starling (Sturnus pagodarum)
200. Rosy Starling (Sturnus roseus)
201. Asian Pied Starling (Sturnus contra)
202. Common Myna (Acridotheres tristis)
203. Bank Myna (Acridotheres ginginianus)
204. Jungle Myna (Acridotheres fuscus)
205. Plain Martin (Riparia paludicola)
206. Dusky Craig Martin (Hirundo concolor)
207. Barn Swallow (Hirundo rustica)
208. Wire-tailed Swallow (Hirundo smithii)
209. Red-rumped Swallow (Hirundo daurica)
210. White-eared Bulbul (Pycnonotus leucotis)
211. Red-vented Bulbul (Pycnonotus cafer)
212. Rufous-fronted Prinia (Prinia buchanani)
213. Grey-breasted Prinia (Prinia hodgonii)
214. Jungle Prinia (Prinia sylvatica)
215. Plain Prinia (Prinia inornata)
216. Ashy Prinia (Prinia socialis)
217. Zitting Cisticola (Cisticola juncidis)
218. Oriental White-eye (Zosterops palpebrosus)
219. Paddyfield Warbler (Acrocephalus agricola)
220. Blyth's Reed Warbler (Acrocephalus dumetorum)
221. Clamorous Reed Warbler (Acrocephalus stentoreus)
222. Common Tailorbird (Orthotomus sutorius)
223. Rufous-capped Babbler (Stachyris ruficeps)
224. Golden Babbler (Stachyris chrysaea)
225. Large Grey Babbler (Turdoides malcolmi)
226. Jungle Babbler (Turdoides striatus)
227. Ashy-crowned Sparrow Lark (Eremopterix grisea)
228. Rufous-tailed Lark (Ammomanes phoenicus)
229. Crested Lark (Galerida cristata)
230. Oriental Skylark (Alauda gulgula)
231. Purple Sunbird (Nectarinia asiatica)
232. Crimson Sunbird (Aethopyga siparaja)
233. White Wagtail (Motacilla alba)
234. White-browed Wagtail (Motacilla maderaspatensis)
235. Citrine Wagtail (Motacilla citreola)
236. Yellow Wagtail (Motacilla flava)
237. Grey Wagtail (Motacilla cinerea)
238. Richard's Pipit (Anthus richardi)
239. Paddyfield Pipit (Anthus rufulus)
240. Tawny Pipit (Anthus campestris)
241. Tree Pipit (Anthus trivialis)
242. Olive-backed Pipit (Anthus hodgsoni)
243. Indian Silverbill (Lonchura malabarica)
244. Scaly-breasted Munia (Lonchura punctulata)
245. Black-headed Munia (Lonchura malacca)
246. House Sparrow (Passer domesticus)
247. Chestnut-shouldered Petronia (Petronia xanthocollis)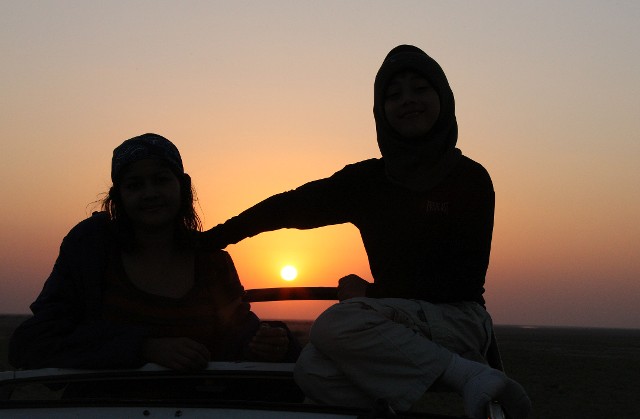 Cokie and Som enjoying our first sunset in the Little Rann of Kutch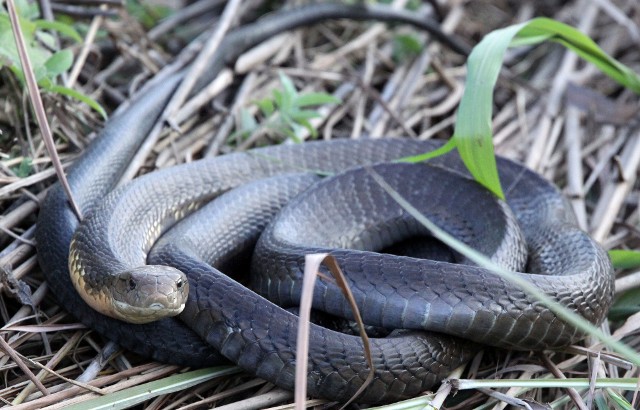 "Hello, I am a King Cobra!"
Here are some more amazing images of our expedition to India!
Tiger, Tigers and More Tigers!
People and Places of India Gallery
Reptiles and Other Critters of India Gallery