One of the pagodas in Durbar Square in Kathmandu.
Exploring Nepal is a phenomenal experience. Most people come for the ancient culture and the high Himalaya experience, but there is a lot more in the way of wildlife and nature to experience as well. This was my primary focus during my visits to Nepal. While I did spend some time trekking the typical tourist routes, I was focused on finding critters in the wild in such places as Royal Bardia and Royal Chitwan National Parks, as well as many other locations. The below itineraries were the programs I was fortunate to design and participate in several years back.
Be sure to visit our Photo Galleries for more spectacular images of our travels! (Pbase Galleries)
NATURALLY NEPAL
DAY 1: KATHMANDU: Arrive Kathmandu. Upon arrival you will be transferred to Hotel Himalaya. Overnight at Hotel Himalaya.
DAY 2: KATHMANDU: Today the group will participate in an AM sightseeing tour of Kathmandu City. We will visit the Durbar Square, Hanuman Dhoka, House Of the Living Godde Kasthamandap-believed to be build from a single tree, and other fascinating temples in the area. The group then moves on to Swayambhunath, the oldest Buddhist stupa established more than 2500 years ago and also known as the "Monkey Temple". Perched high on a hilltop, it commands a superb view of the entire Kathmandu Valley. In the afternoon we continue our sightseeing tour of Pashupatinath and Bodnath. Pashupatinath, the most sacred of all Hindu temples in Nepal situated on the banks of the holy Bagmati River. Non Hindus are not allowed to enter the temple precincts but may look into premises from the opposite bank It draws tens of thousands of pilgrims and devotees from Nepal and India during the festival of Mahashivaratri (the night of Lord Shiva ). We then travel to Bodnath, possibly the world's largest Buddhist stupa and a site of great veneration for Buddhists. Around the stupa have sprung up number of monasteries of the different sects of Tibetan Buddhism including one ( on the west side of the stupa ) that houses an enormous seated statue of Maitreya Buddha splendidly adorned. Overnight at Hotel Himalaya.
DAY 3: KOSHI TAPPU: The group transfers to the airport for our flight to Biratnager. We then drive to Koshi Tappu. In the afternoon, we can participate in safaris-activities at Koshi Tappu. Koshi Tappu lies on the beautiful flood plain of the Sapt Kosi, one of the tributaries to the Ganges. It is the home to the last surviving group of wild buffalo and many species of deer. Its fauna is a mixture of grassland and riverine forest. It boasts almost 300 species of birds.Overnight at Koshi Tappu Wildlife Camp.
DAY 4: KOSHI TAPPU: Safari activities and overnight at Koshi Tappu Wildlife Camp.
DAY 5: CHITWAN NATIONAL PARK: Today we drive to Meghauly. Upon arrival we will be met and taken by landrover to Tiger Tops Jungle Lodge in the heart of Chitwan National Park. Upon arrival at the Lodge, you will be met and briefed by the resident Guest Relations officer regarding the Park and the programs available. Tiger Tops Jungle Lodge, situated 75 air miles southwest of Kathmandu, is at an elevation of about 150 meters above sea level. It is in the heart of Royal Chitwan National Park, a 932 square kilometer (360 square miles) area of tall grassland and magnificent forest-one of Asia's richest and most spectacular wildlife sanctuaries. All the double rooms at the Jungle Lodge are attractively furnished and each room has solar-heated showers and modern toilet amenities. Nepalese and Western cuisine is served in the central dining hall with its huge domed roof and central open fireplace. A fully stocked bar is open until the last guest retires. Activities at the Jungle Lodge include wildlife viewing from elephant back, nature walks, jungle treks, birdwatching, landrover drives, boat trips, wildlife viewing and photographing from machans (blind). Every evening a slide show explains more fully about the fauna of the National Park. All excursions are escorted by experienced naturalists. Overnight at Tiger Top Jungle Lodge.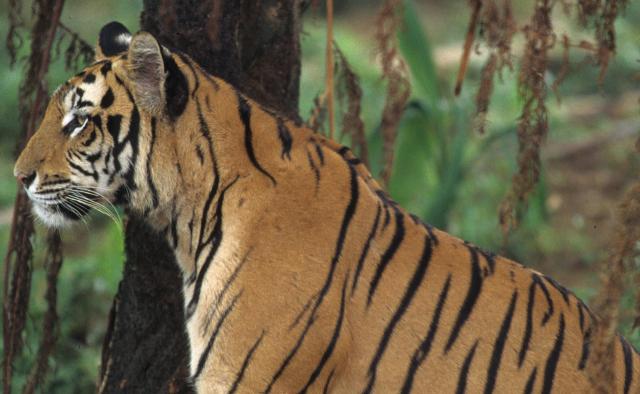 My first wild Bengal Tiger, seen in Chitwan National Park, Nepal.
DAY 6: CHITWAN NATIONAL PARK: Jungle activities and overnight at Tiger Tops Lodge.
DAY 7: CHITWAN NATIONAL PARK: After breakfast the group is transferred to Tiger Tops Tented Camp. Tiger Tops Tented Camp is located in the Surung Valley five kilometers (three miles) east of Tiger Tops Jungle Lodge in high ground overlooking tall grasslands with the river, middle hills and the snow capped Himalayas beyond. The 8,000-meter peaks, including Amapurna, Dhaulagiri and Manaslu, can be seen from the Tented Camp on clear days. The central dining area will be your special place for relaxation. Built in traditional Nepali style, it has a well stocked bar and an attractive open fireplace. Accommodation is in 12 large safari tents with comfortable twin beds separate hot and cold shower amenities and jungle toilets. Western and Nepali cuisine is served. Activities at the Camp include day hikes, natural walks, birdwatching, and jungle safaris on elephants, boat trips and landrover drivers. All jungle excursions are accompanied by an expert naturalist. Wildlife in Chitwan includes the greater one-horned rhinoceros, spotted deer, hog deer, sambar deer and barking deer as well as a wide variety of birdlife. With a bit of luck, there are always the chance of glimpsing the leopard, sloth bear and royal Bengal tiger. Overnight at Tiger Tops Tented Camp.
DAY 8: CHITWAN NATIONAL PARK: After breakfast and early morning activities you are escorted to the Tiger Mountain Tharu Village through the National Park by landrover, a boat ride and a short walk. Situated on high ground overlooking the lush forests of the park, the Tiger Mountain Tharu Village is styled after the traditional " longhouse" of the Tharu in a tranquil garden setting with all modern amenities including a swimming pool, a tennis court and saddle club. Activities at the Tharu Village include walks to explore the surrounding Tharu villages and countryside, boat rides, horse and pony riding, horse drawn buggy rides, bullock cart trips, tennis, nature walks or relaxing by our beautiful full-size swimming pool. In the evening we feature local tribal dancing before dinner. Living mainly along the southern strips of Nepal, the Tharu are the most ancient and colorful people inhabiting the Terai Lowlands. Overnight at the Tiger Mountain Tharu Village.
DAY 9: ROYAL BARDIA NATIONAL PARK: Drive to Karnali and Transfer to Tiger Tops Karnali Lodge. The Tiger Tops Karnali Lodge is built in the materials of the local Tharu people and is situated on the edge of the Royal Bardia National Park. On arrival , you will be briefed on the area and explained the activities available by the Lodge Manager. A personal itinerary will be arranged to suit your interests. A hot and relaxing shower is followed by drinks and dinner. The rich wildlife of Bardia includes swamp deer, chital, sambar, barking deer, wild boar, nilgai or blue bull, monkey, elephant, tiger, leopard, crocodile and over 300 species of birds. A jungle tour on elephant back- a superb way of viewing and photographing wildlife. Later in the morning you may like to go on a nature walk with an experienced naturalist, take a landrover drive in search of more wildlife, or you may prefer just to relax. One of the highlights of a visit to Bardia is a visit to the nearby Tharu villages. This provides an excellent and colorful introduction to the culture, farming and crafts of the Tharu people. Overnight at Tiger Tops Karnali Lodge.
DAY 10: ROYAL BARDIA NATIONAL PARK: Jungle activities and overnight at Tiger Tops Karnali Lodge.
DAY 11: ROYAL BARDIA NATIONAL PARK: The group is transferred to Tiger Tops Karnali Tented Camp. The Tented Camp is situated on the banks of the great Karnali River and has spacious safari tents with comfortable twin beds, separate hot showers and modern jungle toilet amenities. The Camp overlooks the Karnali River with its wide sandy beaches and low riverine grasslands.
Activities at the Tented Camp include walks with experienced naturalists a river trip down to the southern boundary of the national park - a tranquil way of viewing birdlife and water-oriented animals such as river otters, Gangetic dolphins, marsh muggers and gharial crocodiles. We can stop on one of the many picturesque islands for a hot picnic lunch.
Overnight at the Karnali Tented Camp.
DAY 12: ROYAL BARDIA NATIONAL PARK: Jungle activities and overnight at Karnali Tented Camp.
DAY 13: ROYAL SUKILAPHANTA RESERVE
Today we drive to Shukla Phanta. Overnight at Silent Safari. Silent Safari is situated in one of the richest Wildlife Reserves in the Asian subcontinent-the Royal Sukilaphanta Reserve. Silent Safari exclusively operates a Tented Camp deep inside the Terai jungle of the extreme southwest of Nepal. The camp is fully furnished with modern toilets and hot and cold showers. A Jungle Lodge is proposed to be built at the edge of the Reserve.
The Sukilaphanta Wildlife Reserve covers 355 sq. km ( about 87,000 acres ) and was, until recently a Royal Hunting Reserve. As such it has been well protected and undisturbed. Silent Safari has established an exclusive operation on the boundary of the reserve similar to that of Karnali Lodge and Tented Camp.
DAY 14: ROYAL SUKILAPHANTA RESERVE: Jungle activities and overnight at Silent Safari.
DAY 15: ROYAL BARDIA NATIONAL PARK: Drive to Tiger Tops Karnali Lodge. Overnight at Tiger Tops Karnali Lodge.
DAY 16: KATHMANDU: Transfer to the Nepalgunj airport for flight to Kathmandu. Upon arrival you will be met and transferred to Hotel Himalaya. Overnight at Hotel Himalaya.
DAY 17: KATHMANDU: Today we depart on an AM sightseeing tour of Bhaktapur, home of medieval art and architecture, also known as the " City of Devotees". We will tread the 17th century along cobbled pavements and marvel at the ancient architectures. Visit the Lion Gate, the Picture Gallery, the Golden Gate, and the Palace of Fifty five Windows. Move on to Dhulikhel, the small quiet town, known for its traditional crafts, lies 30 km east of Kathmandu at an altitude of 1470 m. Climb a little to see the mountains, from Cho Oyn in the east to Himalchuli in the west. In the afternoon, we will continue our sightseeing tour of Patan City, the city of art and architecture founded in 250AD and also known as Lalipur. It is renowned for its fine works in bronze, silver and copper. Visit the Durbar Square, Royal Baths, Mahaboudha, Krishna Mandir and Hiranya Verna Mahabihar (the Golden Temple). Also visit the Tibetan Refugee Camp at Jawalakhel to watch to carpet weaving operation. While in Patan, it is worth visiting the Cottage Crafts Exposition in the Patan Industrial Estate to see craftsmen doing exquisite woodcarvings, weavers knotting silk carpets and minerals being cut into perfect gemstones for jewelry. The exposition also markets Nepal's finest garments and bags. Overnight at Hotel Himalaya.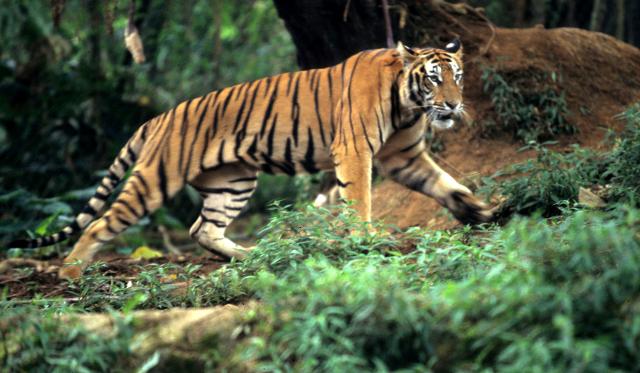 Our Bengal Tiger pacing myself and my elephant in a position higher than us! The elephant did not like this!
ADVENTURE IN WILD NEPAL
DAY 1: KATHMANDU - 1336M: Upon arrival at Tribhuvan International Airport, the group is met and transferred to our Hotel. Overnight at Hotel.
DAY 2: KATHMANDU: The group participates in a sightseeing tour of Pashupatinath, the holiest Hindu temple in Nepal Other sights include Baudhanath, the world's biggest Stupa and Bhaktapur, the medieval city of devotees. The group then proceeds on an afternoon sightseeing tour of Patan city visiting the Golden temple and Tibetan Refugee Camp.
DAY 3: KATHMANDU - NEPALGUNJ - ROYAL BARDIA NATIONAL PARK: Today we fly to Nepalgunj, drive to Royal Bardia National Park and check into the lodge. Time permitting the group will be taken for a nature walk in the late afternoon. Royal Bardia is world famous for its populations of royal Bengal tigers, Asian elephants as well as hundreds of species of birds and other animals.
DAY 4: ROYAL BARDIA NATIONAL PARK: Jungle activities start in the early morning. The group will embark on an early morning elephant safari into the remote regions of the park. Lunch and more jungle activities in the National Park.
DAY 5: ROYAL BARDIA NATIONAL PARK: Today the group embarks on a full day raft trip from the camp to the southern boarder of the national park. This is a great opportunity to view the river wildlife and the huge variety of birds. We return by landrover in the early evening.
DAY 6: ROYAL BARDIA NATIONAL PARK - TANSEN. 1343M: The group drives (5-6 hrs.) to Tansen after breakfast arriving in time for lunch. Situated at an altitude of 1,371 m. above sea level, Tansen is one of the most spectacular resorts in western Nepal. It has perhaps Nepal's most far stretching views of the Himalayas, from Dhaulagiri in the west to Gaurishanker in the northeast. Overnight in hotel in Tansen.
DAY 7: TANSEN - POKHARA. 833M: The group embarks on a scenic drive to Pokhara after breakfast. The group then enjoys an afternoon boating excursion on Phewa lake, Nepal's biggest lake.
DAY 8: POKHARA KALIKATHAN- 1370M. (ROYAL TREK): After breakfast our Sherpa guide will meet us and take us on the first 3 to 4 hours of the Royal Trek. In 1980, H. R. H. Prince Charles ( before he married! ) embarked upon a 3 day Royal Trek especially designed for him. We shall now trace his footsteps. On the first day we journey through the hills and villages of Chettris and Bahuns. The mountain views of Dhaulagiri to our east and Manaslu to the west are truly spectacular. We stay overnight at camp in Kalikathan and are completely taken care of by our attentive trekking staff.
DAY 9: KALIKATHAN SHYAGLUNG - 1730M: Today the group travels through Thulokot towards Shyaglung visiting the scattered villages and farming country of the Gurungs, which provided the bulk of the recruits of the British and Indian Gorkha Regiments. The group treks to Shyaglung for overnight camp.
DAY 10: SHYAGLUNG -CHISOPANI. 2194 M: Descending steeply, the trail provides spectacular and ever-changing views of Annapurna 2, Lamjung Himal, Manaslu and Himalchuli mountains before climbing once more to Chisopani village. We camp on the ridge above the village for the best mountain views.
DAY 11: CHISOPANI - POKHARA: Today is mostly a downhill walk as we descend towards Pokhara valley and see the lakes of Rupa and Begnas beneath us. After a lake side lunch we are driven to Pokhara where we finally get to sleep on a real bed in a hotel - a perfect way to conclude our Nepal trekking adventure!
DAY 12: POKHARA: The group participates in morning sightseeing in and around the Pokhara Valley. Afternoon free.
DAY 13: POKHARA -DAMULI - SUKURA KHOLA (SETI RIVER RAFTING): After breakfast we leave Pokhara for the 3-hour drive to the village of Damauli for our rafting trip on the Seti River. This is a 3 day wilderness experience ideal for those seeking an introduction to rafting in truly spectacular settings. The Seti is one of Nepal's most beautiful and warmest rivers. This trip is memorable for its spectacular scenery, abundant wildlife and rapids increasing in excitement as your confidence grows. Today's rafting will end for camp at Sakura Khola. /P>
DAY 14: SUKARA KHOLA - GAIGHAT - KATHMANDU: After breakfast we continue our float amidst spectacular scenery and real chances of wildlife sightings to Gaighat where we end our rafting trip. After lunch we drive for about 4-hrs back to Kathmandu. Overnight at hotel.
DAY 15: KATHMANDU: Early morning drive to the Airport for 1 hour long enchanting flight over the northern Himalayas including Mt. Everest. The last day in Nepal is kept free for shopping.
DAY 16: END OF TOUR: After breakfast we are transferred to the Airport for your onward flight.
Here are some images of my time in Nepal: