Trip Report: Southern Africa
Click Here for Complete Species List
Countries Visited: South Africa, Swaziland, Mozambique, Botswana, Namibia
Dates of Travel: 13 July through 30 August, 2009
Southern Africa Image Galleries
More images below in the report!
Parks Visited

Imfolozi Game Reserve
Saint Lucia Wetlands Park
Kruger National Park
Hiane Royal National Park (Swaziland)
Makgadikgadi Pans National Park
Moremi Wildlife Reserve
Khwai Community Camp
Chobe National Park
Mudumu Game Reserve
Caprivi Game Park
Popa Falls Nature Reserve
Etosha National Park
Damaraland
Skeleton Coast National Park
Cape Cross Seal Sanctuary
Namib-Naukluft National Park
Sesreim Canyon
Kgalagadi National Park
Augrabies Falls National Park
Goegap Nature Reserve
Namaqua National Park
Eland's Bay Nature Reserve
Rocher Pan Nature Reserve
West Coast National Park
Table Mountain National Park
Kirstenbock Botanical Gardens
De Hoop Nature Reserve
Bontebok National Park
Garden Route Nature Reserve
Plettenberg Bay
Tsitsikamma National Park
Swartberg Nature Reserve
Karoo National Park
Cambeboo National Park
Mountain Zebra National Park
Marrick Camp, Kimberly Desert
Pilanesberg National Park
Logistics: Transportation and Travel Outfits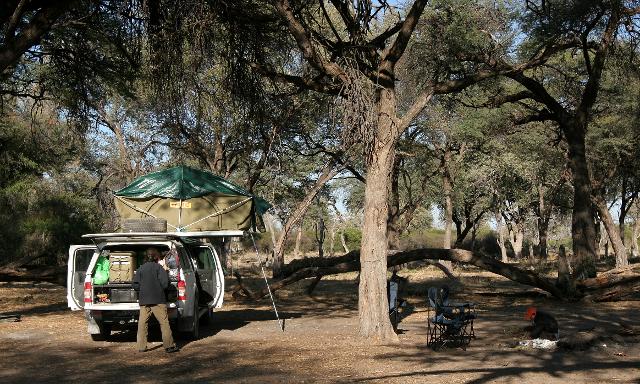 Base camp at Khwai Campsite!
Ivory 4X4 Hire (http://www.ivory4x4hire.co.za/) – This is absolutely the best 4X4 hire outfit on the market. We spent a large amount of time searching for suitable transportation options for our 50-day expedition to Southern Africa. After receiving countless quotes and compared included-equipment lists, we decided on Ivory. On top of providing the best vehicles for the money, they included airport transfers, allowed us to stay in their home and even fed us a scrumptious breakfast and dinner! Their hospitality was beyond compare and we finished our travels to southern Africa with new friends, not just a car rental receipt. They offer a wealth of in-country knowledge of where to see the animals and sites. Their vehicles have the best equipment anywhere. We had several situations while traveling the rough roads of the region that required certain tools and equipment, and everything we needed was right there in the back to the truck! The layout of their camping design is both ergonomic and well-assembled to handle the rugged torture the outback roads of southern Africa. Thanks again Ivory!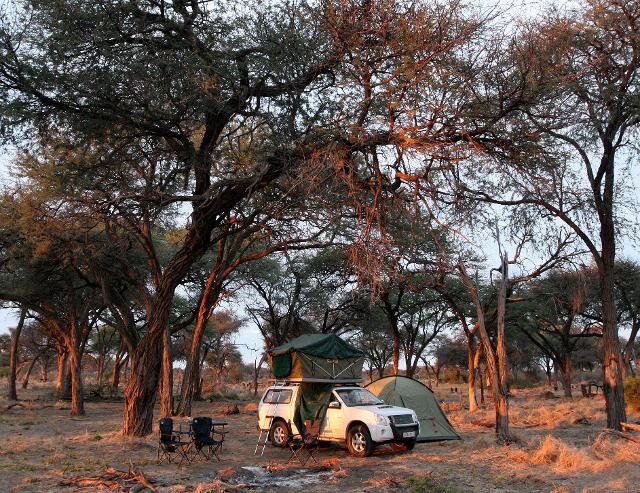 Our expedition vehicle in Okavango's Khwai Camp! We often set up the ground tent for easy morning game drives.
SAN Parks (www.sanparks.org): The South African national parks are without a doubt some of the most professionally run parks anywhere on the planet. Their infrastructure in most cases far surpasses much that the US has to offer. Extremely reasonably priced, travelers of all budgets can find accommodations at a fair price. Their internet reservations system is the best in the business. But the parks do book up well in advance during some seasons, and the words, "fully booked", soon became the slogan of the season we were there. We were fortunate however to have our basic itinerary pretty much completely booked ahead-of-time.
De Hoop Collection (www.dehoopcollection.co.za ): Very useful in making reservations at De Hoop Reserve.
KZN Wildlife (bookings@kznwildlife.com): Very helpful making bookings for the Greater Saint Lucia Wetlands.
Khwai Community Camp (khwai@botsnet.bw): Very useful in making reservations for the Khwai Community Camp in the Okavango region of Botswana. Trying to make bookings in this part of Botswana is problematic at best. The Botswana national parks system is a mess and making reservations is nightmarish. Khwai Camp became our option after receiving the following message from someone in the Botswana national parks office: "Botswana national park campsites are fully-booked forever." For some reason, the official line in Botswana is that everything is fully booked, but when you arrive onsite, you find that there are plenty of campsites. The problem we faced there was that even though it was clear that there were plenty of campsites available, the official line that everything was fully-booked still applied. Our experiences with Botswana were frustrating for sure and can be read further on in the trip report. However, the Khwai Camp was sublime and made everything worthwhile.
Namibia Wildlife Resorts (www.nwr.com.na): Very useful in making reservations at the various resorts and parks in Namibia.
Base camp at Marrick Safaris in the Kimberly.
Marrick Camp (www.marricksafari.com): A family run safari lodge in the middle of the splendid Kimberly Desert. Our three days and two nights at Marrick Camp were sublime and a fantastic way to end our stay in southern Africa. We camped in the Kimberly bush and basically had the run of their entre massive estate. Trevor and the staff were fantastic. They were extremely friendly and helpful in providing us with a very safe experience. They even had a cold room filled with ice-cold beer and supplies which made our stay there even that much easier! I would highly recommend the Marrick Camp experience!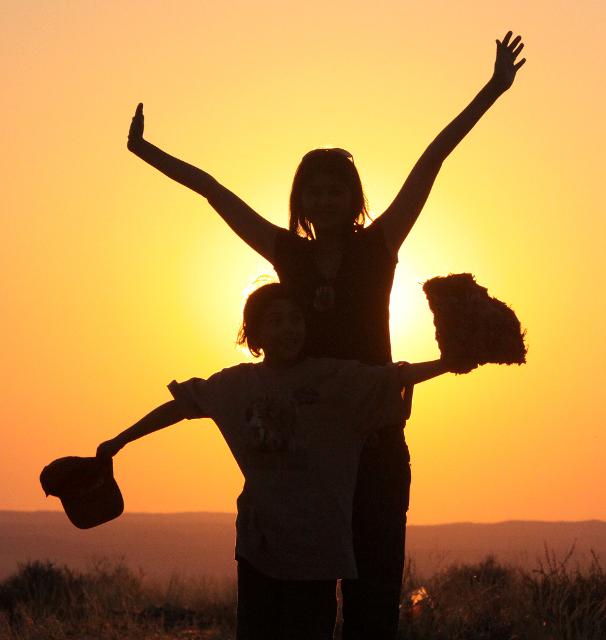 Cokie and Som enjoying a Sesreim sunset in Namibia!
The Expedition
When making our plans to travel to Madagascar for the summer of 2009, I recalled a conversation I had with Som a couple years early prior to our very successful trip to Russia when she asked, "why are we going to Russia? I would rather go to Africa or someplace like that!" Although our trip to Russia was phenomenal, I couldn't help but think that a trip to Africa for Som and Cokie really was a necessity. And what better excuse could I have – heck, since we were going to Madagascar, we were in the neighborhood anyway! Why not add another 50 days to our Madagascar trip? Pretty much using up every single day (plus a couple) of our summer break, our trip to Southern Africa was another tightly planned expedition designed to maximize our wildlife-viewing opportunities.
Our expedition absolutely lived up to our expectations. In fact, it exceeded many of them. My original goal of seeing 60 species of mammals and 200 species of birds, was fairly soon surpassed. We had a great time readjusting our goals. What was originally 60 species soon became 70. After 70 was reached, 80 was our next goal. And even after we had 110 confirmed species of mammals, we joked about 120! Our final total was sadly only 118 species of mammals, and 356 species of birds…..better luck next time.
***Jo'burg***
Most southern African journeys need to include Johannesburg as it is the normal entry point to the country. We were met by Hendie, the owner of Ivory 4X4 Hire mentioned above. Hendie helped us select some last minute necessities from the airport, such as good maps, and then we were transferred to his lovely home located about an hour east of the airport in the suburbs of Pretoria. That evening we had our first introduction to what it is like to life in modern-day South Africa.
Immediately upon our arrival at Hendie's plot, I noticed a massive electric fence surrounding the entire compound. I asked if there was game in the area that required such a barrier. After a subtle chuckle, Hendie explained to me that such a fence was required just to be safe anymore. He explained how his immediate neighbors had experience violent home invasions in the past couple weeks and that an elderly couple a few blocks away had actually been murdered in their own homes during a robbery!
While South Africa still ranks as one of the most dangerous nations on the planet, we were fortunate to experience the two-month stay we had there without incident. But evidence of a crime-ridden society was everywhere, including on our GPS. Certain sections of the country are known as "high-carjacking" centers and even the GPS will warn you of this fact as you pass through. We absolutely avoided certain areas of the country, such as Johannesburg proper, parts of Cape Town and all of the shockingly impoverished townships that are commonplace throughout the country. We took great care while in towns for shopping trips and petrol, but other than the omnipresent beggars that were surprisingly aggressive, we had no problems whatsoever at any point during our stay in South Africa.
The game parks were a different world. We never felt threatened by anything except the wildlife, and street crime did not seem to be an issue (which is not the case in many US parks these days!). Namibia was definitely safer than South Africa. The biggest worry we had there was the strange tendency the kids had of trying to shove their friends in to passing vehicles as they passed by. Consequently we had to drive considerably slower in Namibia when passing populated areas. Namibia is dominated by gravel roads, but their condition was basically good and one can make good time. Botswana roads ranged from good to very primitive. I remember chuckling when I heard a ranger tell a pair of German tourist that it would only take a couple hours to drive from Kasane to Savuti, a drive that we had just completed after 6 hours of grueling four-wheel-drive travel.
***Imfolozi Game Reserve***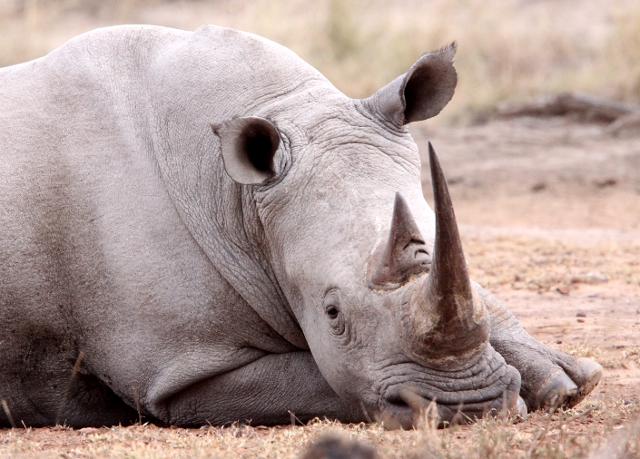 A snoozing White Rhino in Imfolozi, one of 16 seen in three days!
After a full morning packing and preparing for our expedition, we hit the road leaving Pretoria just before lunchtime. What normally would have been an easy 4-5 hour drive ended up being over 8 hours due to 60 miles of stop-and-go road construction South African style. Seemingly endless road blocks for one-lane travel created hours of delays that necessitated us calling the reserve to hold the gate, which they did gladly. We were relieved that they did open the gate for us after hours as all of the guide books emphasize how strict and inflexible the gates closing times are generally.
Our late arrival to Imfolozi was actually a good thing in that it allowed us over 60km of night drive our first night in Africa! The gate guard informed me that we should see a lot of animals during our drive to Mpila Camp on the far western side of the reserve. So on our first game drive we were on our way to building our species lists. We had quality sightings of over seven Large-spotted Genets, a large White Rhinoceros, loads of Common Impala and several species that were basically glowing eyes in the distance. We did see several Water Dikkops (Thick-knees) strolling the road.
Hendie gave us lots of advice for our expedition in southern Africa, but nothing was more unnerving than the warning he gave regarding hyenas. While I had months of field time in various parts of Africa already under my belt, and had my fair share of run-ins with hyenas, there was a chill sent down my spine when Hendie described how hyenas routinely snagged little children from campsites in southern Africa – even while parents were sitting right there! The poignancy of this advice became evident during our first night in Imfolozi when we entered our chalet with our first of many loads of gear. I heard a spotted hyena barking nearby so I warned Som and Cokie to watch out and stay alert. Instead of having Cokie follow us back to the truck for another load of gear, we had him stay in the chalet where we felt he would be safest. Our biggest mistake was failing to close the front door. Upon our return to the cabin, I noticed a good-sized male Spotted Hyena standing directly in front of the front door staring directly at my six-year-old son! I immediately shouted at the beast which startled it in to dashing away, thankfully. We had just experienced a gentle warning of exactly what sort of environment we were in. We weren't in Kansas anymore!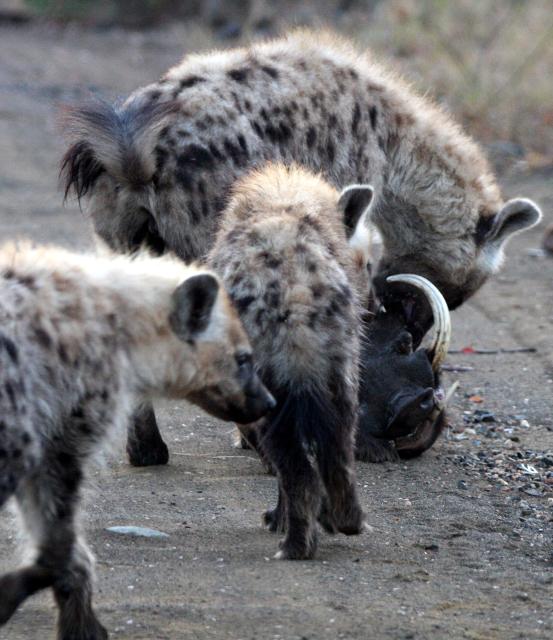 A pack of Spotted Hyenas finishing off a warthog in Imfolozi.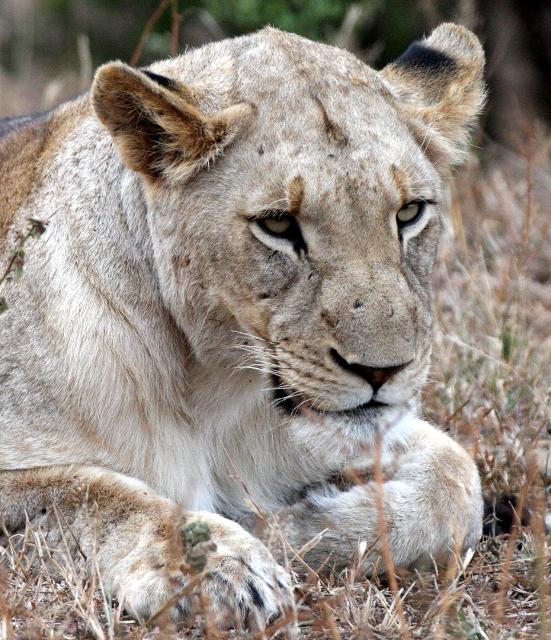 A lazy Lionness in Imfolozi.
After some dinner and a snip of gin to calm our nerves we bedded down to get a good night's sleep before our full day of game driving. After a leisurely morning we headed out on what was to be a stellar game drive. Our very first game drive in Africa was to provide us with more species than virtually any other day for the rest of the expedition!
We had quality sightings of Cape Buffalo, Warthogs, over 16 White Rhinos, Vervet Monkeys and Chacma Baboons, Steenbok, Red Duiker, Common Duiker, Nyala, Waterbuck, Southern Giraffe, Blue Wildebeest, Greater Kudu, Spotted Hyena, Burchell's Zebra and Elephant. We saw over 14 Lions on our first day's drive as well!
The night drive was to be one of the best during the entire expedition as well. I was somewhat of a neonate when it came to game drives in the South African reserves, and was a bit hazy on the rules for returning to camps. I had an inkling that sunset was our limit but we decided to go for it our first night since there was no signage or anyone to ask at all in Imfolozi regarding self-drives at night. And the ranger on our entry night in to the reserve told us to "enjoy your night drive, you will see a lot of animals for sure..." as we arrived after dark.
We decided to stay to the far west end of the reserve and wait until sunset. We opted to wait for darkness at Mpafa Hide in one of the wilder parts of the reserve. I thought it a bit strange to read the legal disclaimer at the hide which stated something to the effect: "…if you get killed at this hide…..you cannot hold us responsible…" While disclaimers were present at ever spot you were allowed to leave your vehicle, this particular one seemed a bit abrupt and lacking of legalese. I didn't think much of the disclaimer or the tattered condition of the hide initially. Once inside the blind, we spied an approaching White Rhino in the setting sun - truly a spectacular site that I was anxious to capture on camera. But all of the sudden, the rhino stopped dead in his tracks, and Cokie shouted, "Look! A female lion!"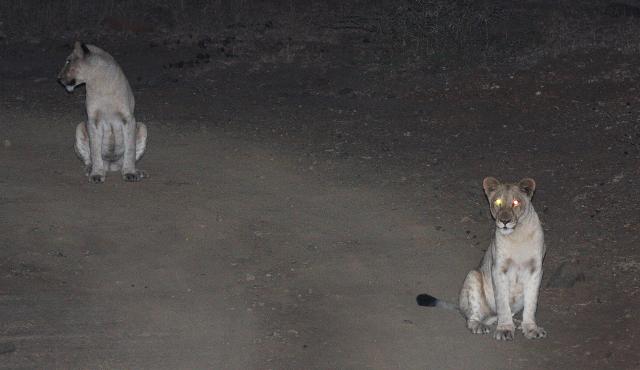 The two lions who almost had us for dinner!
Sure enough, a lioness was on the opposite side of the waterhole, roughly 20-30 meters from our location. She was staring directly at us, not the rhino. As soon as we saw her, she started trotting around the waterhole while never once taking her gaze from us. I immediately told Som and Cokie to run back to the car. I knew running was a definite no-no from any wild animal, but I could see no option here. She was already heading directly for us and speed was of the essence in order to reach the truck before she made the bend. As Som and Cokie sprinted back to the truck, I then saw another lioness joining her sister in our direction. The two lions were closing the distance between us at a seriously unnerving pace!
I had the keys to truck in my hand and I was nervously trying to trigger the lock from a distance while I stayed back from Som and Cokie to act as the bait for the quickly approaching lions. When Som finally reached the truck and shouted at me to "unlock the fucking truck", I realized that I had been locking the truck rather than unlocking it! Finally correcting my stupidity and seeing them safely enter the truck, and then I made the mad dash to safety. Once I literally dove through the door that Som had opened for me, the lions took on a disappointed look and immediately sat roughly 20 meters from our position.
Shaking in the safety of our vehicle I attempted a few images of the lions that had nearly made us their dinner. At this point the sun had set and darkness was rolling in. We collected ourselves for a couple more minutes and decided to start our long night drive through the reserve back to camp. But as soon as I put the truck in to reverse, we found that there were two more lions directly behind us, waiting in anticipation. How long had they been there!? Were they there the entire time? Did Som and Cokie fly in to the truck as they were sitting just a few feet away? We'll never know for sure but the mind does race with imagery of horrific outcomes. We were once again let of the hook and given yet another, albeit less subtle, reminder that we were in a different world. The safety of Madagascar, a land of no large predators and no poisonous snakes whatsoever, may have softened our alertness level. But after today's close call with the lions and yesterday's with the hyena, we were committed to a higher degree of common sense.
Our night drive started with this heightened sense of alertness, no doubt due to our recent experiences with the lionesses of Imfolozi. We spotted dozens of animals during one of the best night drives ever. We spotted several more Large-spotted Genets, and many of the diurnal species we had seen during the day. The highpoints were three White-tailed Mongooses, two Bush Pigs that dashed in front of our truck. We even had a spectacular view of an elusive Aardvark! Rarely spotted anywhere in Africa, I was shocked to hear Som shout, "Stop! Go back! It's something new – I think it's a huge rabbit!" We watched the spectacular animal forage in the substrate for termites and other invertebrates, but were interrupted by a very angry ranger who admonished us for being out after dark in direct defiance to park regs!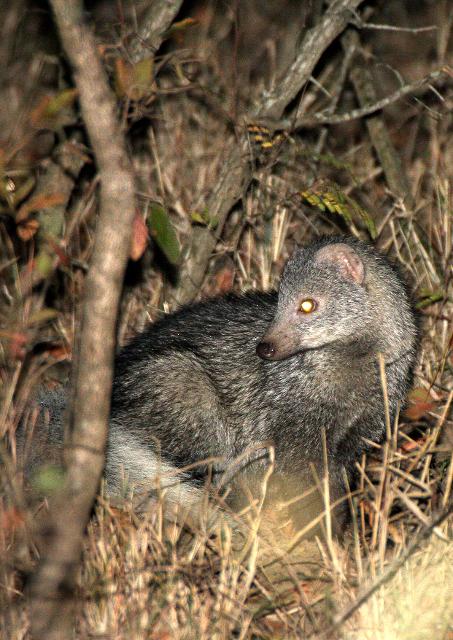 One of the rarities of the trip, a White-tailed Mongoose (Ichneumia albicauda) seen on our first night safari, just after we spotted an Aardvark!
We racked up 23 mammal species in our first day game viewing in Africa. Not a bad start at all. I pretty much figured that if we can rack up such numbers with little effort, my goal of 60 species may be a bit low. We were well on our way with the birds as well. Our list by this point included such species as Hadeda Ibis, Southern Banded Snake Eagle, Saddle-billed Stork, Great White Pelican, Goliath Heron, Woolly-necked Stork, and many more.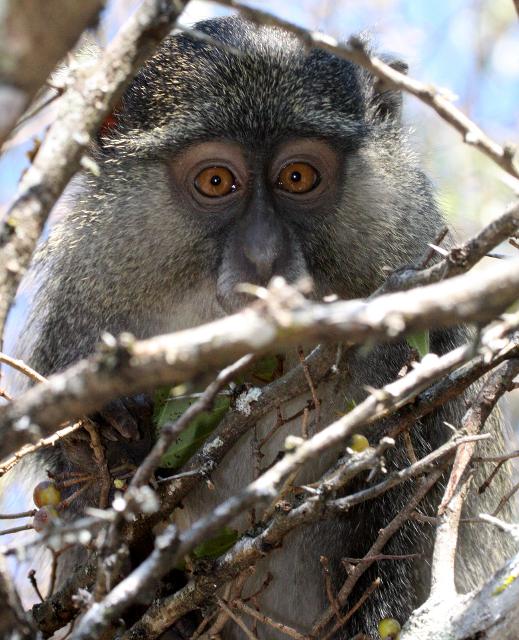 A curious Syke's Monkey in Imfolozi.
*** Saint Lucia Wetlands Reserve***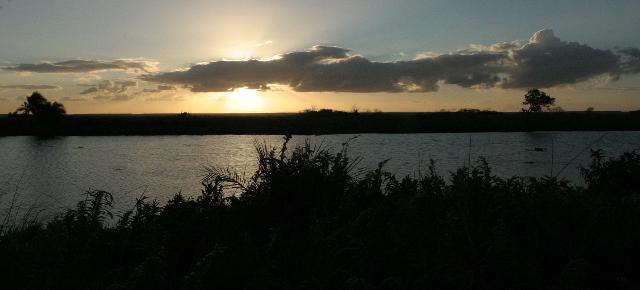 Saint Lucia Wetlands reserve was someplace I had wanted to see for decades. All of my previous trips to southern Africa somehow skipped this wonderful wildlife destination. After three short days there on this trip, I felt a bit annoyed that my detailed planning had not included visiting other spots of this wilderness complex of the Zululand and Maputaland reserve system.
My main target species were the Syke's Monkey and Red Bush Squirrel, which we saw with relative ease at the campgrounds at Cape Vidal. We were also treated to the sights and sounds of countless Thick-tailed or Greater Bushbabies, who clogged the gallery forest near Saint Lucia village. Hearing the human-like cries all night long permeated my dreams and were loud enough to wake us several times throughout the night when a few of them decided to raid our campsite. After hearing them cry, their common name seemed oddly very appropriate.
Red Duikers were simply omnipresent throughout the Saint Lucia reserve region. We missed the Blue Duikers but were hoping for a second chance later in the trip. We added such species as Common Reedbuck, Hippo and Wahlberg's Epauletted Bat, Banded Mongoose to our ever-growing mammal list. Bushbuck were a constant in the camps as well. We even caught a fleeting glimpse of a Highveld Gerbil on the roads between Imfolozi and Saint Lucia.
Other images of Saint Lucia: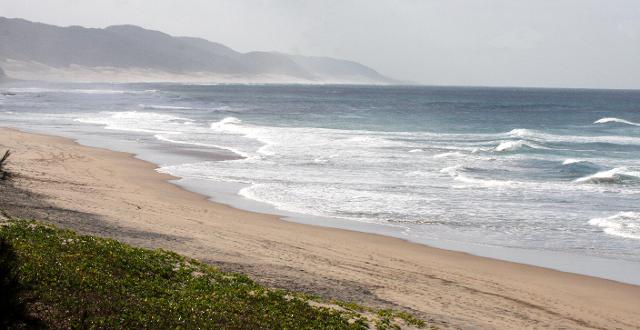 The Saint Lucia Beach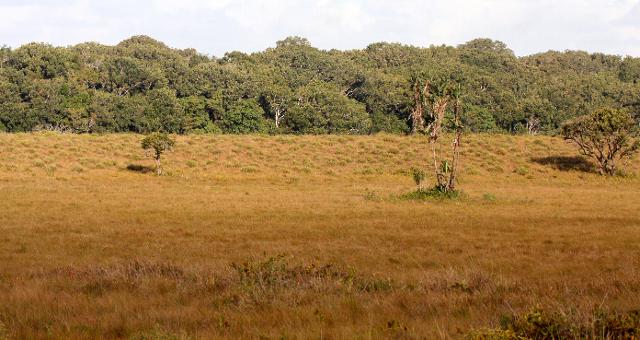 The subtropical forest gallery and savanna at Saint Lucia.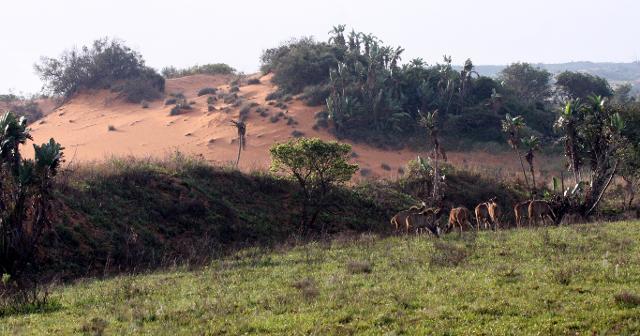 Saint Lucia is a mosaic of habitats. Here are some Greater Kudu grazing the grasslands near the dunes on the north end of the park complex.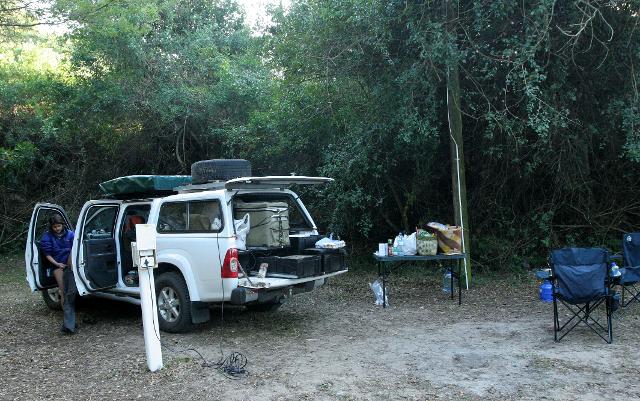 Base Camp Saint Lucia!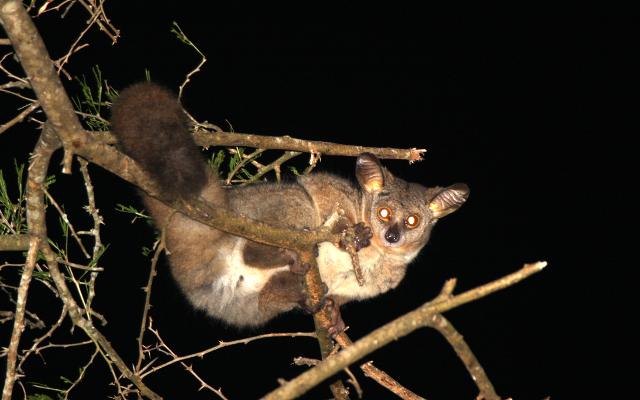 Greater Bushbabies or Galagos were very common in the camp and town of Saint Lucia.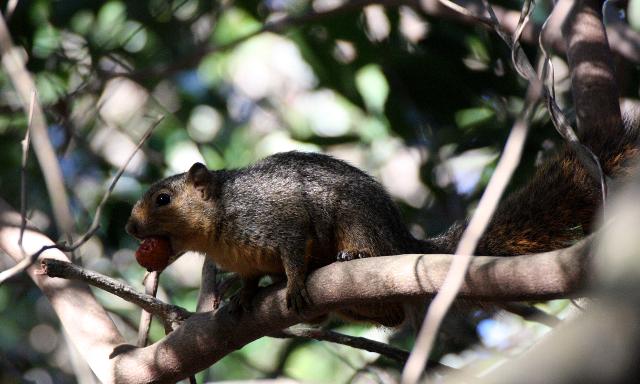 The rare Red Bush Squirrel (Paraxerus palliatus) seen during our final hours at Saint Lucia! Thanks to Som's eagle eyes!
***Kruger National Park***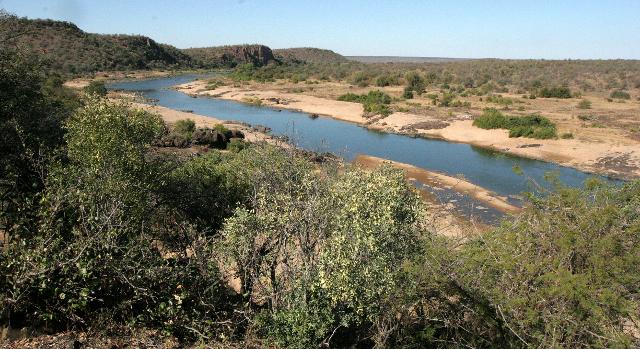 The Olifants River transecting the heart of the Kruger.
The shining star of the South African National Parks system is without a doubt the great Kruger. Spanning hundreds of miles and dozens of various ecosystem types and plant communities, the Kruger is home to stunning concentrations of African wildlife. Adjoining Limpopo National Park in Mozambique, the transfrontier park system ranks as one of the largest protected wildlife regions anywhere in Africa currently. Having traveled many times to Kruger myself over the past couple decades I nearly deleted it from our expedition when designing the trip in an effort to search for the rare and harder to see species that I selfishly wanted to add to my own list. But then I recalled that this trip was not just about me, and Som and Cokie really should see the massive herds of mega-fauna that the Kruger was surely to provide. The Kruger did not disappoint.
All tolled we spent six days and five splendid nights transecting the vast Kruger. We entered the great park at Crocodile Bridge after a leisurely drive through the rural regions of Swaziland and a brief game drive through Hlane Royal National Park where we spotted Burchell's Zebra, Giraffe and a few other plains animals.
While Kruger is absolutely jam-packed with visitors and the quintessential "African-wilderness-experience" is all but impossible, one should not discount the amazing wealth of species Kruger boasts. Sadly (or fortunately…), the wildlife enthusiast is required to stay in the vehicle at all times with the exception of designated picnic spots. And night drives are not possible unless you are fortunate enough to join the night safaris run by the park service. Generally these are fantastic and should be considered a must-do while there, but be sure to book these well in advance as they are nearly always fully-booked. The good thing about the South African parks is that they allow the passengers to spot using their own torches as well as the torches provided on the vehicle itself, which allows a good chance of spotting whatever is out there during the drive.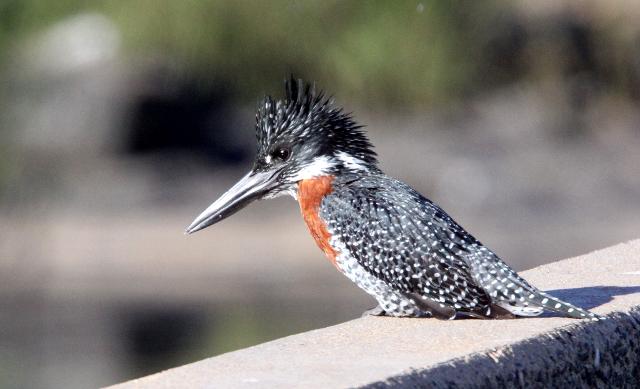 A Giant Kingfisher (Megaceryle maximus) fishing along Crocodile Bridge.
We arrived in Crocodile Bridge in time for a spectacular sunset drive near the camp. While we added no new species to speak of, we enjoyed sipping our wine to the quiet glory of our first sunset in the great Kruger. The campsite here was like many in the South African park system. Basically very well outfitted but basically nothing more than an over-crowded caged parking lot filled with white trucks (lovingly termed, "the white truck conventions") and rental vehicles. You could always tell the locals by the amount of barbequing they did. The "brai" is the quintessential South African pastime. I had never seen anyone barbeque their morning eggs until our stay in the Kruger!
We got an early start the next morning, tearing down camp and hitting the road as close to gate-opening-time as possible. We spent the entire day winding our way through the gravel tracks that penetrate in to all conceivable corners of the Kruger. We spotted large bull-herds of Elephants grazing the mopane forests. Common Impala, Southern Giraffe, Cape Buffalo, White Rhinos, Blue Wildebeest, Steenbok, Bushbuck, Hippos, Slender and Dwarf Mongoose were all common sites while on our way to Satara Camp, which was to be home-base for the next two nights.
Satara is very conveniently located for several excellent game-viewing tracks. We spent a large amount of time and petrol driving slowly back and forth down S100, a track known for constant sightings of the "big-5". While we did have the "big-5" nearly nailed by this point, we were hoping to catch a glimpse of our first leopard here. After two full days of seeing many of the same species we had covered thus far, we still had no leopard. Som was fixated on seeing the great cat and was even becoming pessimistic on the overall success of the expedition. We did catch a fleeting glimpse of a Cheetah, but she was longing for a good look at a leopard.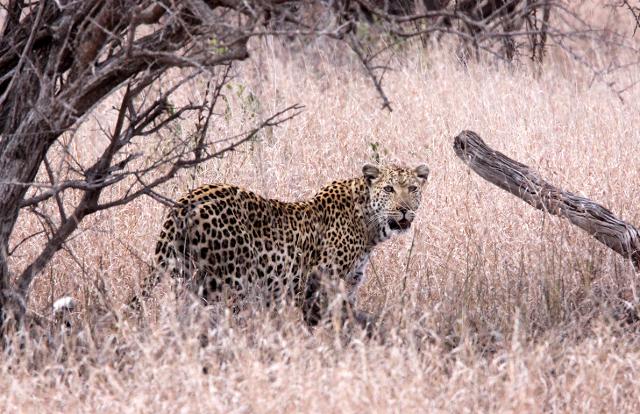 Our first African Leopard finally!
And then our forth or fifth game drive, during a mid-day departure, we spotted three leopards simply strolling the side of the road! They were a family trio with mom being a very large, stocky matriarch with her cubs nearly as large as she. We paced the three leopards with an ever-crowing traffic jam of rubber-neckers for over five kilometers. We led the pack and caught the best looks by far of these amazing felines for over an hour. After Som was sated with leopard-viewing, we proceeded to game drive with a sense of satisfaction one only has when they have just seen one of the most spectacular animals on earth.
The day drives around Satara Camp are only surpassed by the night drives. We read the posted species list of the previous-night's drive and immediately began to drool with envy. But our giddy anticipation was dashed when we heard those dreaded words, "fully-booked" once again. I attempted to bribe our way in to a vehicle and eventually succeeded with more legitimate means when the drivers allowed us to sit in the front of the cab. With Som manning one of the spotlights in the rear of the vehicle and me manning the one in the front, we saw an astounding array of species including, Lions (large pride with five cubs!), Black-backed Jackals, African Wild Cats, Small-spotted Genets, African Civets, South African Large-spotted Genets and many more.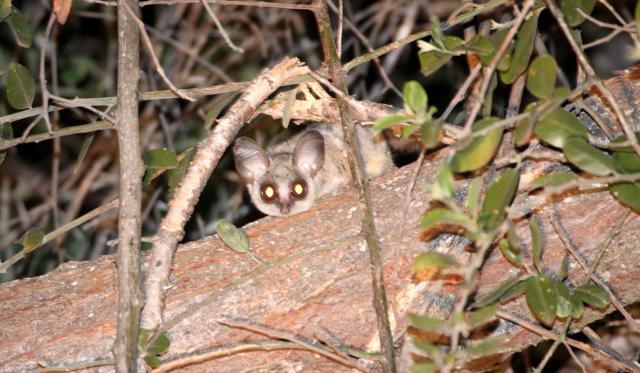 A Southern Lesser Bushbaby or Galago (Galago moholi) getting a good look at us during one of our amazing night safaris in the Kruger.
Our time at Satara was definitely well spent. Our next camp was Letaba further north. The game-viewing was fair. In all honesty, as time progressed, the game viewing was probably fairly similar from day to day, but our need to see increasingly new species and our amazing luck up to this point did jade our perception. So days that were in fact good days, were considered to be "fair" as we had already seen those species and were no longer impressed (as awful as this sounds). I continually reminded us that if the day we had just considered to be fair was experienced at the beginning of the expedition, we would have thought it to be a great game-viewing day.
We included a stop at Olifants Camp on the way north. The scenery at Olifants is perhaps some of the most spectacular anywhere in the Kruger. From the camp itself it is possible to experience sweeping views of the Olifants River and the vast, endless bushveld that stretches in all directions. By this point of the expedition, we had seen literally hundreds of elephants, but in one afternoon at Olifants, we doubled the number. We saw multiple herds crossing the Olifants River, stopping to graze on the elephant grass along the way.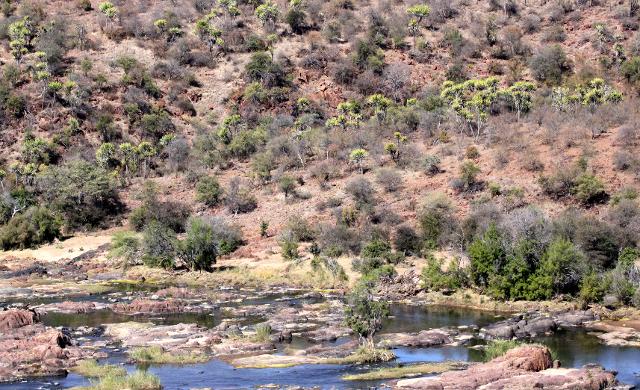 The Olifants River
We did have an outstanding night drive at our next camp Letaba which included our first Lesser Bushbaby as well as a large pack of Spotted Hyenas living in a culvert under the main road. We enjoyed seeing the mother tend to the young – such a gentle sight from such a ferocious predator that we had just seen a few days earlier in Imfolozi fighting over a freshly killed warthog. That evening we also had quality sightings of Sharpe's Grysbok, Angoni Vlei Rat and Black-backed Jackals.
The next day we continued deeper in to the northern extremes of the park to Shingwedzi. The change in vegetation was interesting and the number of game animals viewed was not as high as further south. Som was still itching to see another Cheetah, but had to leave the Kruger with simply a glimpse of the great predator a couple days earlier. I assured her that we had many more opportunities to see Cheetah elsewhere on the expedition. While I was consoling Som, in the back of my head I was always aware that expeditions of this nature are a fickle thing. Seeing certain species is never a sure thing and seeing the large predators should always be considered a stroke of luck. Moreover, expeditions like this are always an accident away from ending. A cracked engine block can be a trip stopper. A misjudged river crossing can put an end to all the fun. There are so many ways that trips can come to an abrupt, premature end, that I always felt a bit uneasy promising Som that we had more chances for anything at all, let alone a spectacular great cat like a Cheetah.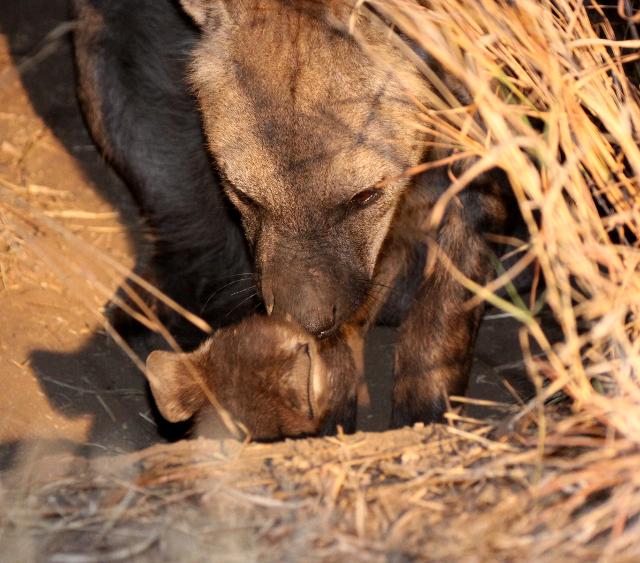 A mother Spotted Hyena gently reassuring her cub.
Although I scheduled Kruger in the expedition as somewhat of a filler, we thoroughly enjoyed our time there and added at least a dozen species to our list which was now numbering in the neighborhood of 48 species – well on my way to the initial goal of 60 species!
We left the Kruger in the early morning. We had time for one more quick drive down a road that looked appealing the night before. It paralleled the Shingwedzi River and had ample habitat for various species. We had seen Lesser Bushbabies and many other species the night before. The morning produced nothing notable with one near-fatal exception. Near the end of the S55 circuit, we came across what initially seemed like a small breeding herd of elephants. We saw about 20 or so cows and their young grazing near the road edge. I was initially a bit timid to approach the herd. We were near the end of the 19km circuit and I was not about to turn around. We were only able to see a few dozen meters down the road before it veered somewhat sharply to the right. The herd appeared to be about 20 or so individuals, so I was convinced that I could drive through it fairly quickly. So I accelerated smoothly to proceed forward. At that very moment, a cow reacted violently and charged the truck. This caught be completely by surprise. All I could see was a giant female African elephant charging my vehicle and closing the distance between us and her at warp speed. I had no choice but to floor it! We sped past her and what I thought was the rest of the herd.
Then came the sharp right turn. The second we made the turn, I knew I had made the wrong move. Instead of passing the herd and entering a safe zone, we were heading at about 20-30 km/hr directly in to the middle of a much larger breeding herd consisting of well over 100 elephant cows and their young. The noise of my truck were no doubt disturbing to the elephants. The next obstacles were two cows and two calves that immediately took a defensive posture with ears flared and trunks raised! These are two things you really don't want to see a large elephant doing in your direction. At this point, I was too commited to stop and slam it in reverse. This would have been a suicidal move in any event as there were now dozens of very pissed off cows behind our truck. I felt our only possible move was to continue forward with even greater haste and hope for the best. So I floored it more and zoomed around two or three angry pachyderms. At least one came charging after us, but by that point, we had enough distance and momentum to zoom past the massive herd. I felt a bit like Luke Skywalker escaping the Death Star. We barely made it with yet another lesson learned.
Our nerves shaken a bit, we proceeded toward the Punda Maria gate of the park. The drive would have been stunning and uneventful if it weren't for a small male Steenbok that deemed it necessary to run directly under our truck. It all happened so quickly that I didn't even have a chance to swerve out of the way. This ended up being our only tragedy on the entire trip thankfully, but we all felt a high degree of sadness and these memories never left us for the remainder of the trip.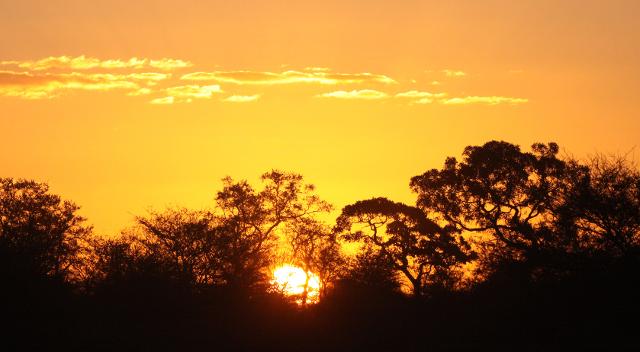 One of our nightly spectacular Kruger sunsets!
***Botswana***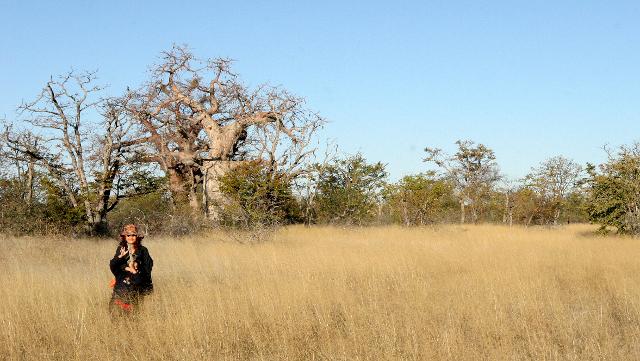 Som and Cokie trekking the Baobab bushvelt of Botswana's northern Kalahari.
The drive across the Limpopo Province of South Africa was truly spectacular. The wide open spaces were reminiscent of many of the stretches across the west and Midwest of North America. We made it to the Zanzibar border crossing in good time and were able to cross without difficulty as the river levels were low. The crossing is problematic during certain times of the year when the river levels are higher. We then proceeded further north to Francistown, Botswana.
While Francistown was never meant to be anything more than an overnight stop, our first flat tire made it possible to experience more of the second largest city in Botswana than we had planned on. Luckily we were able to find a repair shop with little difficulty and our flat was fixed in no time at all. But it was Francistown that introduced us to certain aspects of Botswanan life that we never really came to love. Doing anything at a bank or a store of any size required basically half of your day. I had never seen so many human beings crammed in to a bank in my life. There were at least three hundred people in every single bank in town - each waiting for "the manager" to personally OK every transaction! We were informed that it may take three to four hours to change $100. As no ATM in Botswana accepts American debit cards (not the case in South Africa or Namibia where getting and therefore spending money is MUCH easier), we had no choice but to use the currency exchanges that charged insane commissions. So be it, we really did not want to spend half of our day in a sweaty bank lobby waiting for some bureaucrat to come by and OK our transaction. Grocery stores were no better. We routinely spent over an hour standing in line to purchase necessities in Botswana. I really felt for the people there.
***Makgadikadi Pan***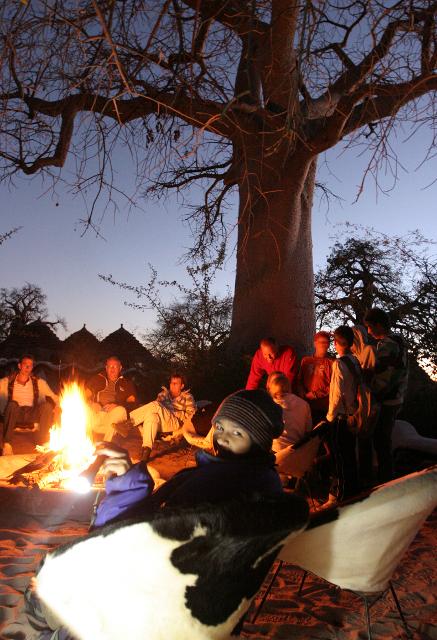 Som enjoying a warming fire at Planet Baobab.
Once our repairs were made and our supplies purchased, we were finally on the way to the wilderness of the Kalahari down the long, flat superhighway toward the immense Makgadikgadi Pan. Not really knowing what to expect, we were pleased to find the road in good condition and were able to make great time. We arrived at the funky, Planet Baobab camp in plenty of time to enjoy the surround Kalahari Desert scrub and Baobab community. We took a good trek around the surrounding veld and racked up a few new bird species such as Meyer's Parrot, Red-billed Francolin, Lesser Kestrel, Purple Roller and Barn Owl. We enjoyed watching a nesting pair of barn owls come and go from their cavity in the side of a giant, ancient baobab. We also enjoyed watching the stars appear and brighten the desert night sky while sipping martinis and South African wine.
***Muan, The Okavango & Khwai Camp***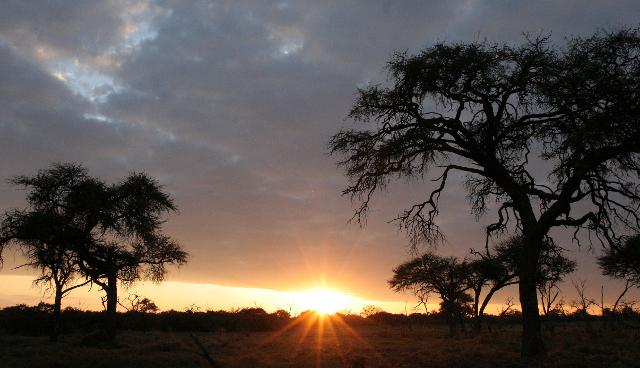 Our first spectacular sunrise from our Khwai Camp.
The Okavango was our next destination! While I had been to the delta a couple times before, I had never been in charge of the driving! I was confident in my driving abilities but I had no idea just how tested these abilities were to be. Driving the Okavango region takes one in to some of the wildest and most remote of regions wild Africa with some of the most rugged driving conditions anywhere on the planet.
As with most journeys in to the Okavango, our expedition started with a stop in Maun. I could hardly believe my eyes how much the town had changed since I was last there in the early and mid 1990's. The once dusty wilderness outpost had become a city in its own right. The old dirt roads were paved and lined with cafes, grocery stores, strip malls and banks. It was almost a bit anticlimactic thinking of starting such a wilderness adventure in such a yuppified, suburban setting. But we needed to stock up on provisions for our days in the remote Botswana outback. And that meant another three hour stop at a supermarket in Maun. When we saw the line of people waiting to enter the supermarket, we knew we were in trouble.
Botswana is one of the few places I have ever been to where the clerks in a western-standard supermarket will actually ALL take a lunch break in the middle of the mid-day lunch rush. We were literally waiting in line with our cart full of supplies when every single clerk took a 20 minute break for lunch! Botswana absolutely ranks as one of the most inefficient countries I have ever visited. While it is a spectacular country and its wilderness experiences are hard to surpass, we found that Botswana was extremely overpriced and its national parks are very poorly run, especially when compared to the state-of-the-art parks of South Africa. On my previous trips to Botswana, I had never experienced this side of things. Other people took care of everything for me.
Once out of the store, we had one more stop to make at the Khwai Community offices to pick up our papers for the wilderness campsite we reserved months prior. Initially we thought that the community representative was generally helpful, but once we actually got in to the bush, we soon realized just how vague his advice and recommendations were. He informed us that there were some "flooded" parts of the road but that our truck would make it fine. He also told us that we needed to be careful of the wildlife but that there would be nothing too serious to worry about. Both of these admonitions would prove to be understatements. The most irritating part of the information provided us by this gentleman was the information pertaining to permits. He instructed us to pay for the admission to Moremi reserve at the entry gate at South Gate and that there was no need at all to procure permits in Maun. Of course we took him at his word and proceeded on our merry way out of Maun and in to the bush.
The three hour drive from Maun took us through some semi-wild but far from pristine mopane forest on our way to the infamous veterinary fence that was constructed many decades earlier to separate "wild" Africa, which they say belongs to the animals, from "human" Africa, belonging to people and their cattle. The fence stretches for hundreds of miles and was directly responsible for the deaths of millions of animals when it disrupted their normal migration routes.
Soon after passing the fence, the wilderness began. We immediately started to see signs of life with small herds of Common Impala and our first Angolan Giraffes that were commonly seen en route. A few Kudus here and a few Buffalo there were added for flair. We finally made it to the famed South Gate where we would officially enter Moremi Game Reserve. While our destination, Khwai Camp, was well outside the reserve, we still had to pass a very slender strip of Moremi, which meant we had to actually pass through South Gate. Thank goodness we would be able to simply pay at the gate and go on our way…Wrong!
When the ranger informed me that I was not going to be able to enter the reserve because we had failed to purchase the correct permits in Maun, I initially thought he was of course joking! I could not believe that he was serious – we had just driven three plus hours through sandy, slow tracks deep in to the bush. It was also nearing late afternoon and it was Saturday – no way to pick up the permit until Monday morning. I knew that the expedition had been going way to flawlessly up to this point. I expected some sort of screw up and here it was….At least so it seemed. But then a miracle happened. After about a half-hour of negotiating and attempting to bribe the guard, he allowed us to pass with the promise of us having the Khwai Community procure our permits on Monday. I was not quite sure exactly how they would accomplish this Herculean task, but I really didn't care. We were now in the reserve and heading toward Khwai Camp!
The road through the Moremi was very sandy and jam-packed with wildlife. Giraffes, elephants, kudus, common impala and buffalo were literally everywhere. We had picked up a hitchhiker at South Gate from Zimbabwe who helped keep us company during the game drive. He was a very articulate remote-site mechanic who had been contracted to fix an expedition vehicle which had broken down a couple weeks earlier near Khwai Camp. Our two hour stay together was both entertaining and educational. Hearing his perspectives on the destruction of Zimbabwe under Mugabe and his take on the game-viewing industry in Botswana was very enlightening. We thoroughly enjoyed his company and he was very grateful for our lift.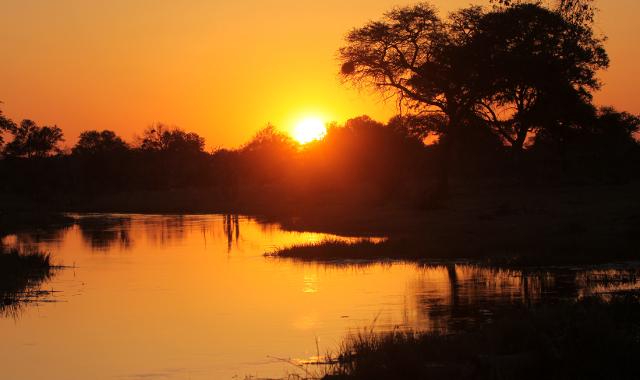 Our first Khwai Camp sunset. We literally owned this wilderness!
We finally made it to Khwai village in the late afternoon. It was here that we needed to pick up a local guide who would show us to the campsite, some 20 miles deeper in to the bush. After a bit of back and forth, our new hitchhiker friend helped us with his broken Khwai language abilities locate someone who was going to take us to our campsite. The only problem was that the only person available to go also needed a lift back afterwards. At first, that didn't seem to be too much trouble, but I was completely ignorant at this point as to what was awaiting us.
Our new guide was a young handsome "bushman" (his word not ours). His youth eventually translated to dangerous inexperience when we finally made it to the flooded zones of Khwai that we were previously warned about. The first river to be crossed was about 20 meters wide. I was initially nervous to cross but our guide and our hitchhiker assured us that our truck was more than able to handle such a crossing. They were correct, but I was taken aback at just how deep the water was. Our rental car contract was very specific in limiting river crosses to water levels less than our wheel height. This river was almost over the hood! And with the momentum of the truck moving through the water, the water was well over the hood and gushing over the windshield! But I was able to detect terra-firma under my wheels the entire time, so I did not feel we were in any jeopardy.
We made it and the entire event was nothing much more than exciting. The drive continued through some spectacular wilderness with more wildlife around every corner. I asked about other river crossings and was assured that we had made it past the worst section. I was relieved. I was relieved until we reached a river that was about 30 meters wide and looking much deeper than the first one! I asked if this was the only route and if I could really make it through this massive waterway in a truck with no snorkel, my young, handsome and woefully inexperienced guide assured me that it would be no problem at all. Even with my serious reservations, I took him at his word and started in to the river directly down the middle as instructed.
When the truck took a drastic and sharp dive downward in to what was a bottomless abyss of river, I knew I had been mislead. But I had other things to worry about at that point. The truck was literally floating across the river. Turning the steering wheel did nothing more than spin the front wheels aimlessly. Water was gushing all the way over the windshield and we were looking at fish swimming by our windows. While this is a slight exaggeration, we were very much under water. Luckily I had given the truck enough gas to float across the river powered by our own momentum.
I can barely describe the feeling of relief that I felt when we finally made it across the river and my front tires actually grabbed the bank and lifted our truck safely out of the river. For that fleeting split second, I felt a powerful feeling of relief that was soon to be dashed. When water started streaming out of every vent in the cab of the truck, I envisioned our expedition coming to and end right there on that river bank. Water gushed from every orifice and the engine began making sputtering sounds that convinced me that the truck was dying. Not only was our trip finished, we were going to be stranded in one of the wildest areas of Africa with little hope of help for possibly days. Having to now buy the truck was not an appealing thought either.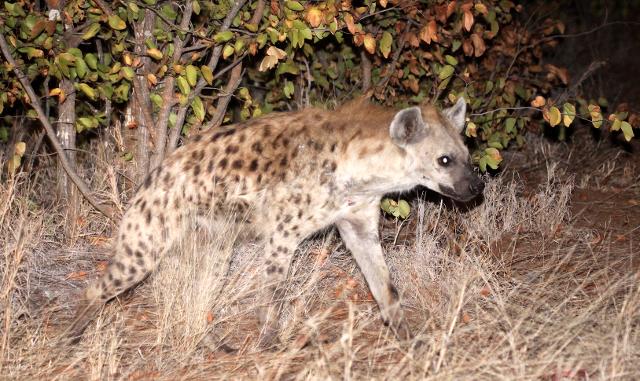 This little terrorist was a constant in our Khwai campsite. We had to be very careful that he did not snag Cokie when we weren't looking.
After letting the truck run for the better part of ten minutes and watching it spew water all over the floor of the cab, the engine started to quiet and the water fountain ended. I turned off the truck and let it sit for a bit. When it started right back up, I knew that we were again on the road. But what to do about the river crossing that we had to make once more on the way to drop our guide off back in Khwai village? In fact, what about the countless other times we were going to have to cross that same river again and again in the next six days? There was no fucking way I was going cross that river again!
I told our guide this fact and I could see his face cringe with the thought of either waiting for another passerby to pick him up or having to walk the entire distance back. At this point, I was more than a little irritated with his directions to cross the river through the middle, so I wasn't inclined to care how he got back to camp. Of course we would never abandon him, but we had to find another way back to Khwai village. We had to get him back so I made the executive decision to cancel our six day stay at Khwai Camp.
I asked for an alternative route but he assured me that this was the only way. He then suggested that he try to find a shallower part of the river. After a simple adjustment of one meter to the left of our original, near-fatal crossing spot, he found a portion of the river that was no deeper than his ankle! I could not believe that only one meter off from our crossing spot was one that was only four inches deep! That discovery did not do anything to endear him to me at all.
We eventually made it through the gauntlet of water ways back to Khwai camp where we were going to have to camp as it was now too late to try to pass through the Moremi to Maun. Camping in Khwai village was not an appealing option. But as we were contemplating our options, another, older Khwai ranger came up with his truck and informed us that the best option would actually be to follow him back to the campsite, enjoy our stay and then proceed further north out of the region through Chobe with no need to even return through the flooded zones at all! Considering our options, we decided to take his advice.
While I was not relishing crossing the flooded rivers yet again, we all feel that our successful stay at Khwai Camp was our most rewarding experience during our entire expedition in Africa. The wilderness of the Khwai was sublime. Our first night was terrifying. The sounds of the African night were overwhelming. As we set up our camp in the dead of night, we felt an intense feeling of vulnerability. Every sound coming from the bush was surely a lion coming in for the kill. Or at the very least a pack of hyenas that had us on the menu. At one point a small herd of Plains Zebras sprinted right through our camp. No doubt they were scared by something, but whatever it was will remain eternally a mystery. Our nights at Khwai Camp were filled with fear and trepidation but the experience of spending several days ALONE in the African wilderness will be a highpoint for all of our lives.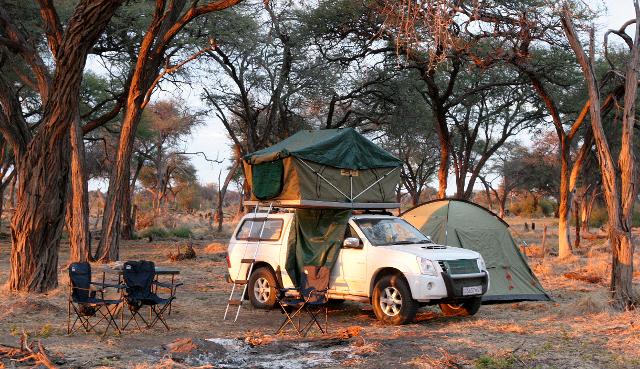 Base Camp Khwai. This sublime wilderness experience cannot be surpassed.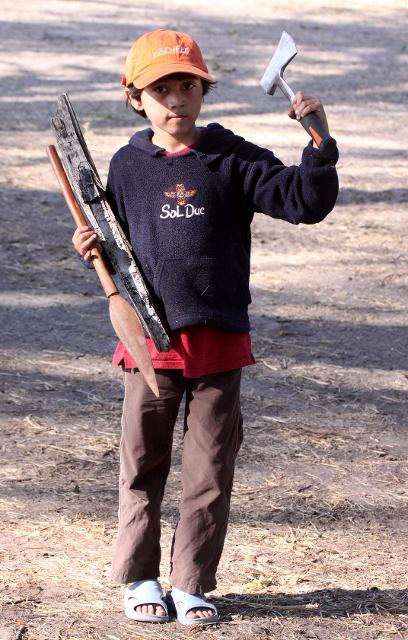 My little bushman, Cokie, helping gather fire wood for our cold nights in the Okavango.
The mammal list did not grow substantially while in Khwai Camp. We mainly added more of the same species we had seen already. The flooded nature of the region kept many species elusive, but we had some very quality sightings of such species as Elephants, Plains Zebra, Hippos, and Large Spotted Genets, Lesser Bushbabies, Spotted Hyenas, Scrub Hares, Black-backed Jackals, Bushveld Gerbils and many more. Wattled Cranes were one of the avian highlights of the region.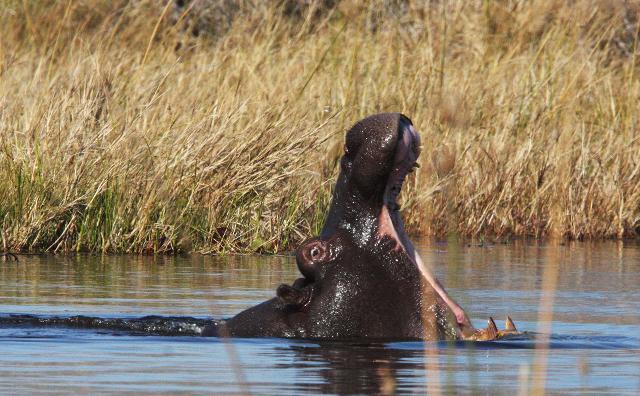 One of the many hippos we shared space with. One would always enter our camp at night and wake me up!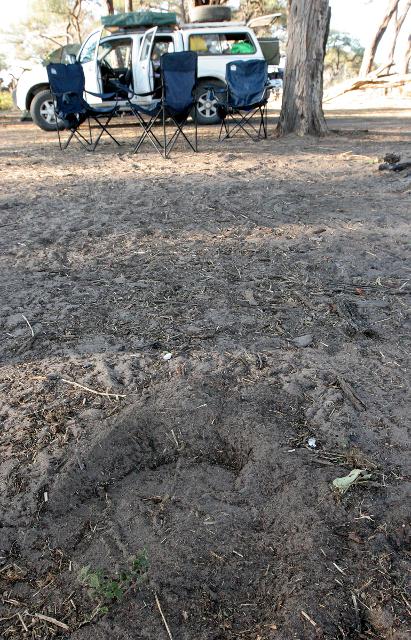 Another nightly visitor was a mystery Elephant whose footprint you can see here. I cringe at the thought of what he would have done if he had found something he wanted.
The birding was fantastic at Khwai Camp. We had many quality sightings of beautiful birds like this African Fish Eagle.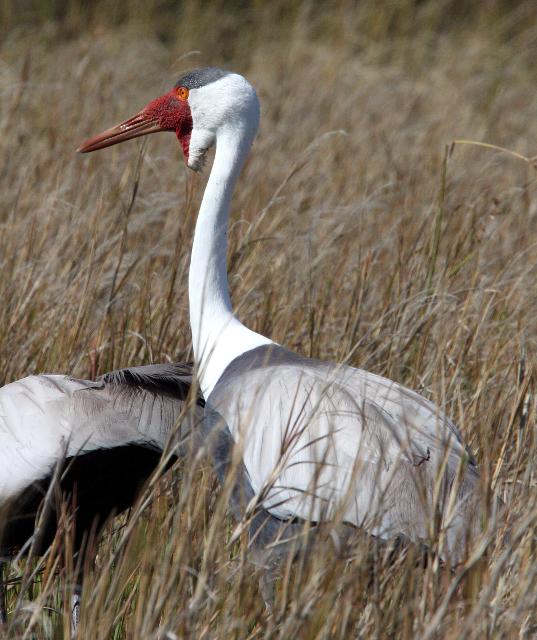 Wattled Cranes were a new lifer species added to our lists at Khwai.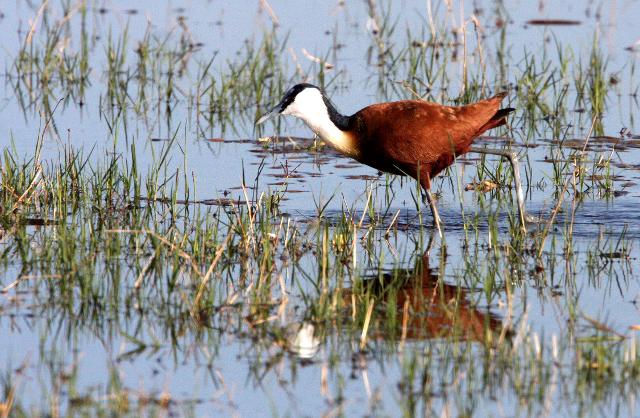 African Jacana were extremely common at Khwai.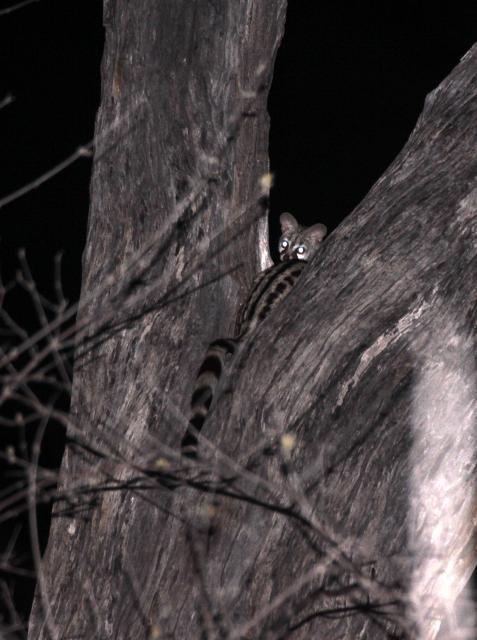 While the mammal list did not grow by much at Khwai, we did have many quality sightings of several species, including this Common Large-spotted Genet (Genetta maculata).
***Chobe***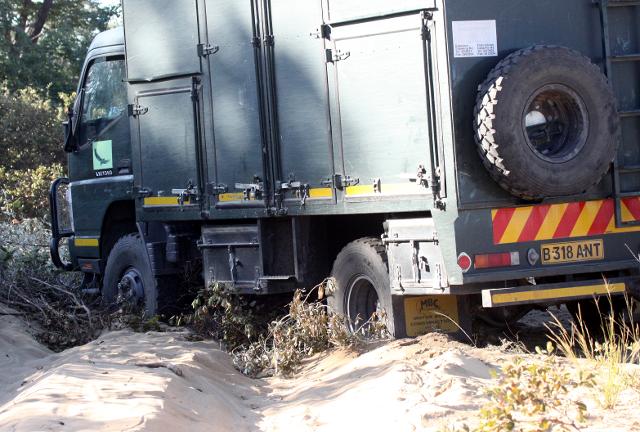 The roads in the southern Chobe were really tough. This expedition truck had been stuck for days in the sand with its rear axle blown out due to the endless sandy tracks.
Our time at Khwai Camp ended too soon. The Chobe was our next destination. We headed north on some of the sandiest roads I had ever driven on. The tracks were so sandy in fact that our transmission had overheated several times, and I was often forced to stop the truck and cool it down which added greatly to the time required to travel the bush. One of the advantages of bush traveling in Botswana is that there is much more freedom to exit your vehicle and walk around and explore. Although we took the greatest care not to become a meal for a predator, we did experience more of the bush in Botswana than anywhere else on our journey and that was nice.
We initially tried to stay at Savuti. While the bush is phenomenal in Savuti, and there are many kopjes in the region to climb up and capture fantastic views of the mopane country, the game was very sparse due to the wet year. We inquired about camping, and once again, those awful words, "fully booked" echoed… Strangely, the camp was basically empty and the clock said . I suppose there must have been a mongo convoy of expeditioners on the way to fill all of those empty campsites. And even when I asked if the lady ranger was seriously going to deny a lowly camping space to a family with a young child, the lady ranger replied (in a way that appeared as if she enjoyed it!), "No sir, we have no space for you. We are fully booked." I knew she was lying but I also knew she was not going to allow us to camp, so we continued on our journey north to Kasane.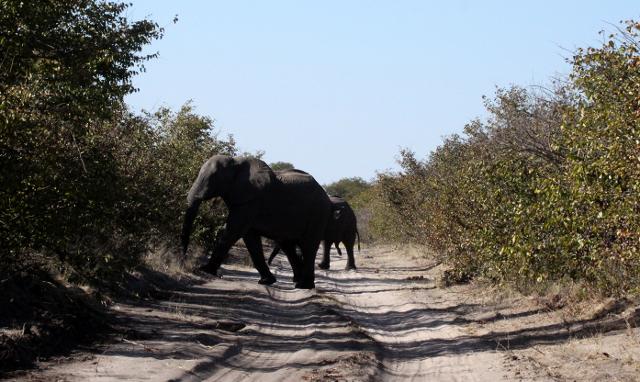 We had to keep our speed under control here as we never knew what would be popping out of the dense bush on either side of the road!
As it worked out, we had a great late afternoon game drive. Once out of Savuti, we came across hundreds of elephants in the waterholes. So many in fact that we began to feel very vulnerable. The bush was particularly thick in this part of Chobe and it was very difficult to see elephants sprinting out of the bush. On several occasions, we came within meters of slamming in to a crossing bull elephant. Luckily we were never moving too fast due to the sandy roads. We did come across a spectacular Roan Antelope, a lifer for me.
We made it to Kasane by late evening. Being too tired to camp, we opted on a lodge. Botswana is by far the most expensive country in southern Africa and one rarely feels like they get their money's worth. And this lodge was particularly bad – no towels, one measly light for the entire room, broken appliances and very poor service. It would have been better if we had just camped! At least it was situated poetically on the banks of the Chobe River and we could bring in the sunrise with the flocks of Reed Cormorants and Egyptian Geese flying to their feeding grounds. The Papyrus was in bloom and the scenery was surreal.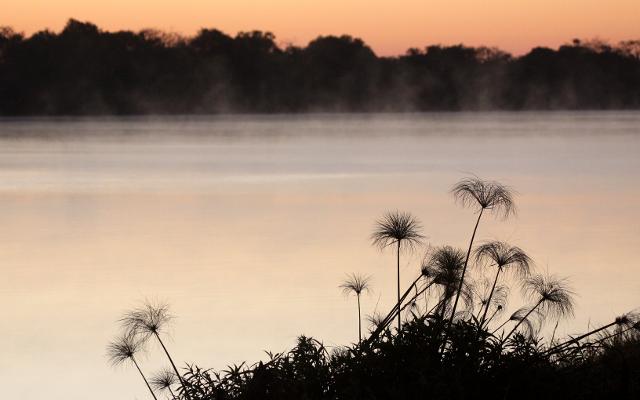 A spectacular Chobe River sunrise.
Our next several days were primarily spent in Chobe's northern unit. We decided not to go to Victoria Falls as it was going to cost nearly $1000 for all of to go for one day. We opted instead to do multiple game drives in the Chobe. We also did the famous Chobe sunset cruise which was spectacular. Som was not convinced yet again that this was going to be anything other than another touristy thing to do, but her mind was absolutely changed when our cruise was done. We were the last ones off the river that evening, and our wildlife viewing could not have been better. We spent quality time with hundreds upon hundreds of elephants, many of whom were swimming directly in front of our boat. After the dozens of hours spent on this expedition observing elephant behavior, I no longer believe it wrong to anthropomorphize this species. They are very human-like in how they go about in their daily lives. The way they care for their young and watch out for other members of their herd is very human like. What a fascinating animal.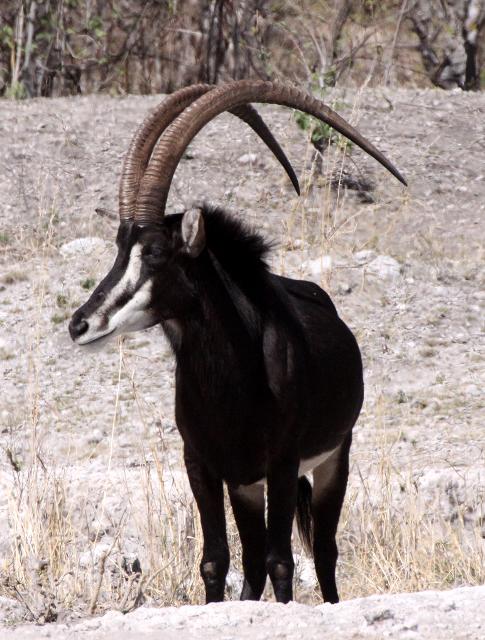 Our first Black Sable (the first of hundreds!)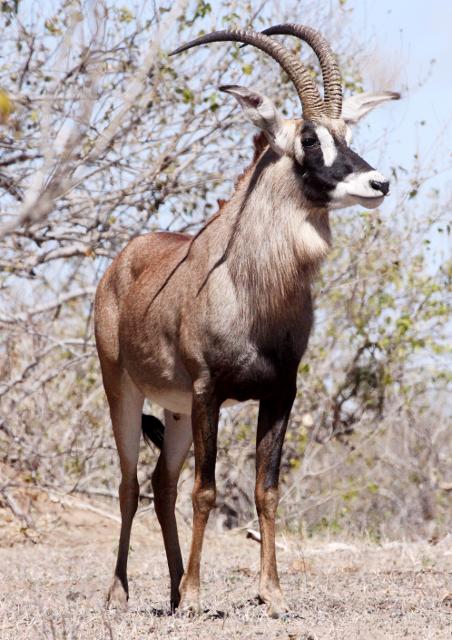 We saw our first Roan Antelope ever in the Chobe!
Chobe was filled with many species, some of which were new. Although I had seen Black Sable on previous trips to Africa, Chobe this time presented us with many examples of this splendid animal. We even got good looks at breeding herds. We saw more Roan Antelopes as well. Puku and Red Lechwe were added to our lists. There were many Slender and Banded Mongooses along the roads and river banks of the park.
The highpoint of our stay in Chobe was on our last afternoon when we spotted a lioness trotting with intent across the grasslands along the Chobe River. She was headed toward a dead elephant that was taken down by her pride no doubt a couple days prior. She did seem particularly alert and looking for a fight, but we were puzzled as to why. That is, until we glanced in to the bushes right next to the dead elephant and saw two glorious leopards lying across two horizontal branches next to the ground. They were obviously poaching her kill. Their slumber did not last long. The lioness sprung from the adjacent bush and lunged in their direction. The leopards wasted no time at all getting the hell out of dodge. The entire incident was almost fast enough to be missed if you blinked, but the energy and tension of the fight was phenomenal. We spent the rest of the late afternoon watching the victorious lioness relax and yawn her way in to the evening. It was about this time when we noticed we had less than 25 minutes to drive 30 kilometers down sandy tracks to the soon-to-be-locked main gate.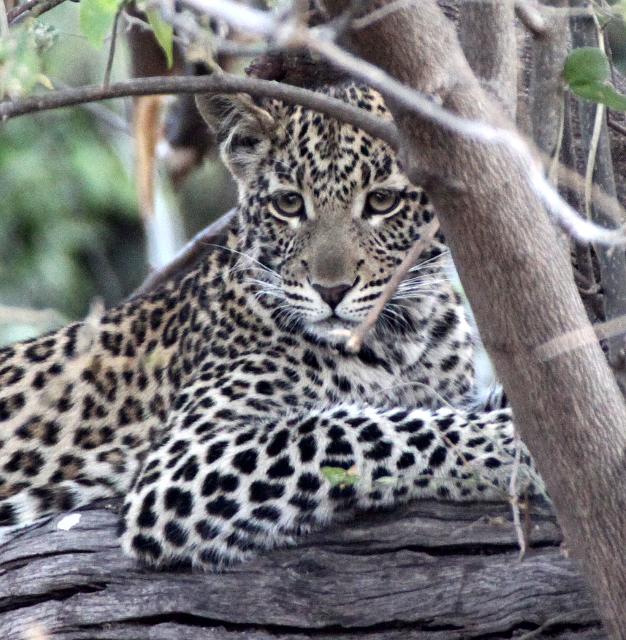 A young African Leopard who had just finished filling his tummy on a dead elephant.
Little did we know but the elephant belonged to this lionness! Boy was she pissed. A lion-leopard fight then ensued.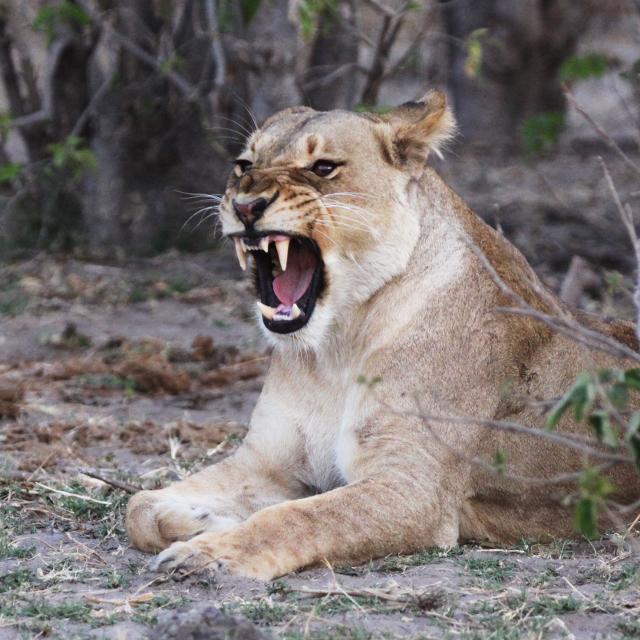 Boy was she pissed!
Although we were late for the gate, the ranger was very understanding when he saw the spectacular images of our leopard-lion incident. He let us go with a kind warning and a high-five. We celebrated by feasting at the famous Chobe Safari Lodge, where Cokie had his first Kudu steak.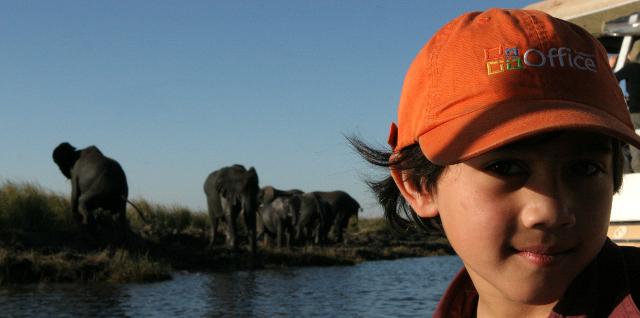 One of the highpoints of our Chobe stay was the amazing sundowner cruise. Here is Cokie posing in front of some of the thousands of elephants we saw that evening.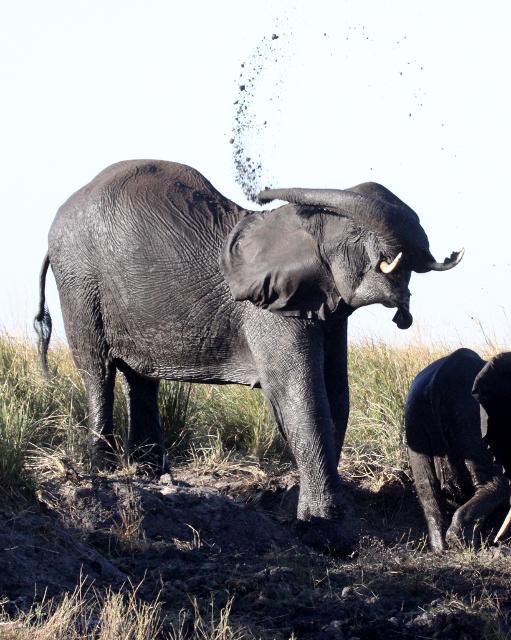 This one seems to be enjoying herself with the mud!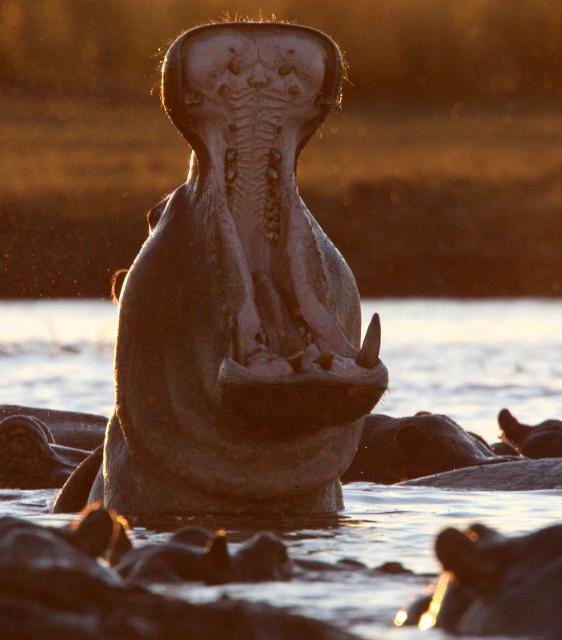 A sleepy yawning hippo in the Chobe River.
***Caprivi Strip***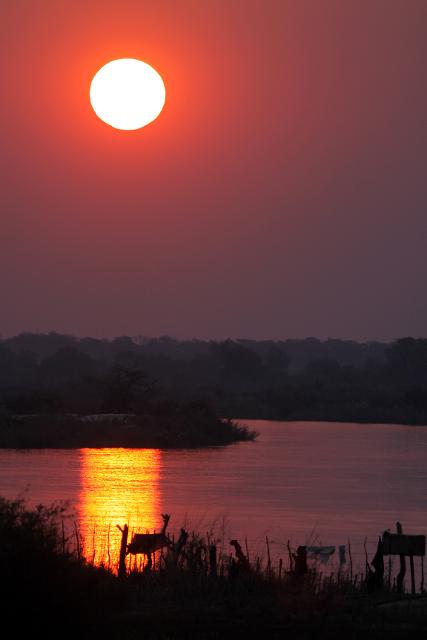 A Caprivi sunset view of the Okavango River.
Botswana was in our rear-view mirror as we crossed the border in to the Caprivi Strip of Namibia. All in all, our border crossings were uneventful and easy the entire trip, although Namibia did want serial numbers from nearly every part of the car. I was unaware that there were so many serial numbers on any car!
We did see some game along the Caprivi Strip, but the most common species was Homo sapiens. People were walking in even the remotest portions of the strip. Although the road was excellent, we weren't able to speed too fast as the kids in this part of Namibia had the bad habit of pushing their friends in front of on-coming traffic. After about the 20th time of slamming on our breaks for these children, we decided to just drive more slowly. It did become obvious that this was their way of getting travelers to stop so they could beg. Sadly we noticed an extreme amount of begging in Africa. While this is commonplace in much of Africa, I don't remember begging being such an issue during previous trips to southern Africa. In South Africa, in particular, we got to the point where we would not stop unless absolutely necessary as the beggars were so aggressive and scripted. Every time we stopped for any reason, we would be surrounded by beggars who would not leave or stop chanting their script until you gave them something. It was awful. The situation was so bad that we seriously limited the stops we made and consequently the money we would have added to the local economies.
***Popa Falls & Mahango Game Park***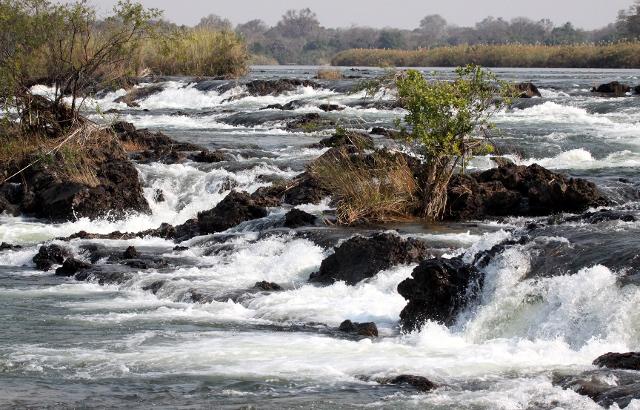 Our destination along the strip was Popa Falls. More like rapids than falls, Popa Falls is a great spot that most travelers never make it to. "Fully booked" was definitely a non-issue here. Where there was not much more than Tree Squirrels at the falls campground, we did squeeze in a surprisingly productive game drive in Mahango Game Park, where we had quality sightings of several species, the most memorable of which were the two large herds of Black Sable and Roan Antelopes. We also saw the most striking ancient bull elephant we had seen during the entire expedition. The savannah and the riverine habitat were spectacular. Large groups of Red Lechwe were seen wandering the shallows of the Okavango River headwaters. The sunset over the river was stunning this evening. Camping next to the sounds of the falls was restful.
***Etosha National Park***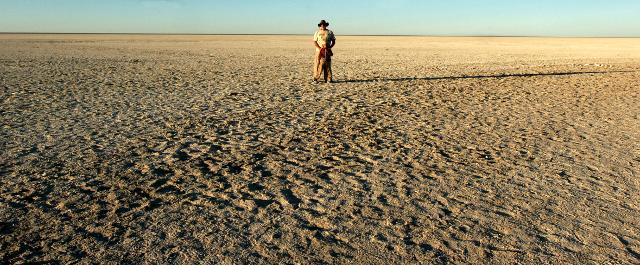 The great Etosha Pan.
The next day was to be one of our several long drives for the trip. We had over 600 km to drive to arrive in Etosha National Park. However our second flat happened just after we left Popa. The second of only four flats during our expedition, we made it to the backwater town of Rundu were we picked up a new tire. We also noticed there that we desperately needed a brake job! The "sandy" noise that we heard on the trip up to this point was actually the metal of the brake pads dissolving the disks! The only mechanic we could find was sitting below a baobab tree in the middle of town. He told me he could easily fix us up and get us on our way. We first needed to get the parts, and believe it or not, there was in fact a parts store in town. It looked just like one of our own Napa Auto Parts stores here in the states. In fact, it was very well stocked. The only problem was that every single person in all of Rundu was there on that afternoon to buy parts, and none of them had the correct change. Seriously, there were at least 100 people waiting for parts and to purchase their parts, but there was only one person getting the parts and one person checking folks out. I thought for sure we were destined to be in that store for the next ten hours. But the mechanic sent his boy with me to get the parts and he must have had some clout, as we made it out with the correct pads in less than 30 minutes, even though I too did not have the correct change.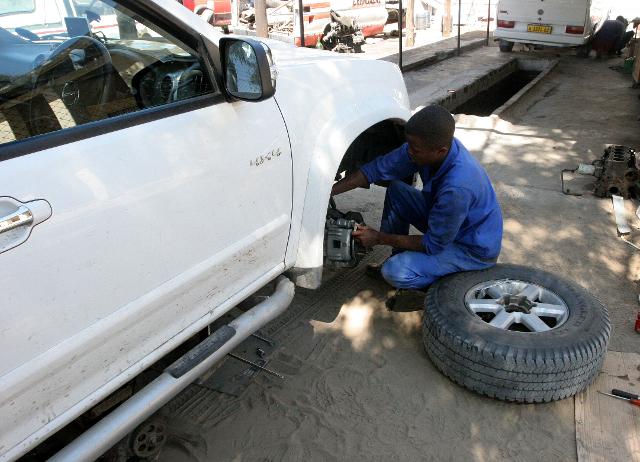 A bush repair job on our truck.
I tried not to watch as the mechanics broke all the rules of car repair attempting to get our brakes back in working order. This was definitely a "bush repair job". As it worked out, the repair job was more than enough as we made it all the way through our expedition safely! I have always been impressed how the Africans can always get a car back on the road with the bare minimum of tools and parts.
Although we killed a good portion of our day getting the truck worked on, we made it to Etosha with enough daylight to even put in a quick game drive. Just after entering the park we caught a quick glimpse of our first Black Rhino who was trotting in front of our truck for a few short moments before heading back in to the bush. The next five days and nights were spent in Etosha experiencing some of the finest game viewing anywhere on the African continent.
We added several species to our list in Etosha. Black-faced Impala, Damara Dik Diks, Black Rhinos, Yellow Mongoose, Springbok, Angolan Giraffe, Red Hartebeest, Common Eland, Gemsbok and many more were new additions to our now massive species list. At this point we had long since passed the 60 species mark.
Driving the pans of Etosha presented us with opportunities to see great assemblages of mega fauna that were surely reminiscent of the old days in Africa when such sights were once commonplace. The variety of habitats in Etosha was impressive and allowed for an impressive level of biodiversity. Common bushveld communities were punctuated with ghost tree forests and alkaline sink belts. Too bad we could not trap there.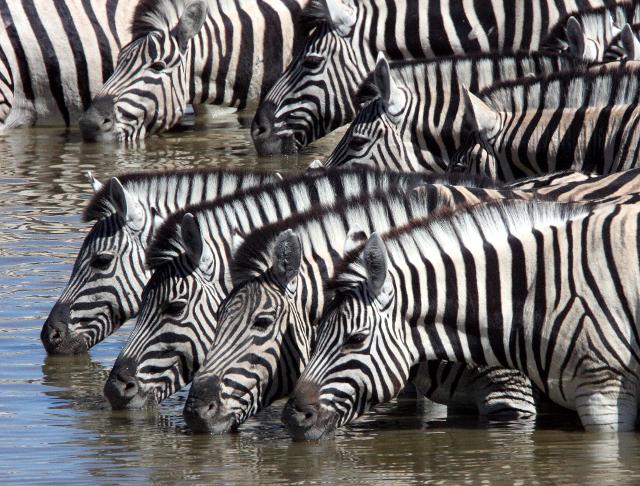 Some Chapman's Zebra (Equus burchelli antiquorum) getting a drink at one of Etosha's waterholes.
The waterholes in the Etosha were outstanding. While we had seen so many waterholes by this point of our expedition, none compared to the profusion of animals we would see at mid day in Etosha. Literally thousands of animals could be seen in one sitting around one waterhole, all waiting their turn to drink up some of the precious water. As there was such a limited amount of water available, tensions ran high at the holes. The slightest irregularity in sound or movement would send hundreds of animals bolting away from the waterhole in to the surrounding bush. The biggest commotion always came when a large bull elephant would come in to the scene. Elephants are some of the rudest animals in the bush. Watching the great bulls bully their way in to the waterhole was very entertaining. But what was even better was when two or three bulls would confront each other. Usually more noise than actual physicality, the dynamics of bull elephant life was a fascinating lesson in pachyderm sociobiology. But on some occasions, instead of witnessing a fight, we would see a reunion of old and good friends when the elephants would greet each other gently and with great respect.
One of only disappointments in Etosha was their night drives. While the potential for awesome night drives is there in Etosha, for some reason, the Namibian park service only allows infrared lights that really illuminate nothing. I have never spent a more frustrating three ours trying to see wildlife (very unsuccessfully). Even when we had a lion in the beam of the light, you could barely see that it was a lion. Unless it was directly next to the vehicle, nothing on the safari could be identified. I will never waste my time or money again with a Namibia parks night safari.
Without question, one of the highlights of Etosha was our afternoon spent with the "three brothers". Whether or not the three gorgeous male lions were in fact brothers is actually irrelevant, but the majesty of their presence was an unforgettable experience. Watching the dominant male chomping on a leg of some mystery ungulate while the others respectfully waited their turn was fascinating.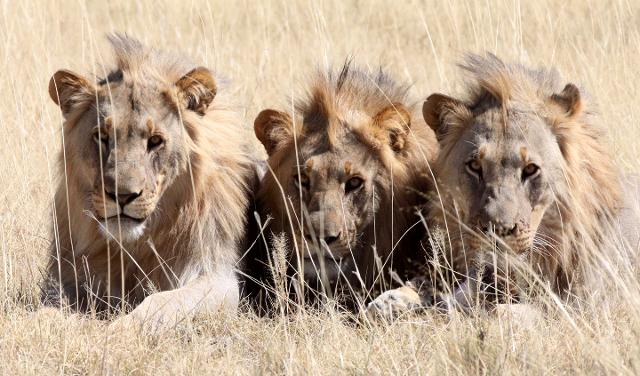 The three brothers!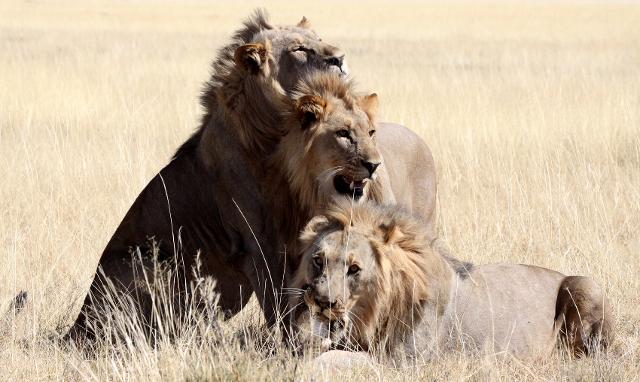 So close!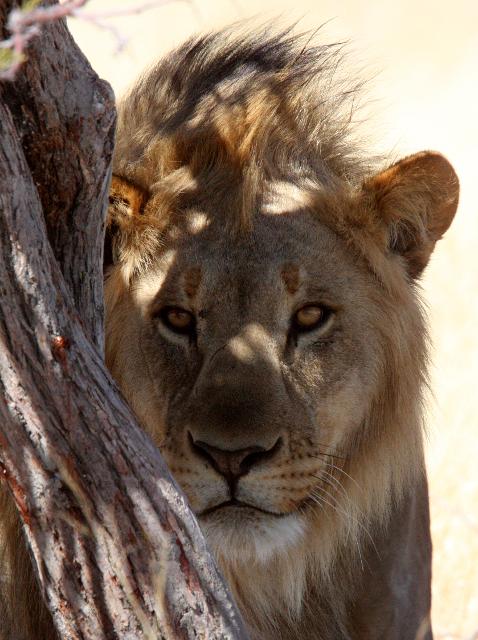 The cover page!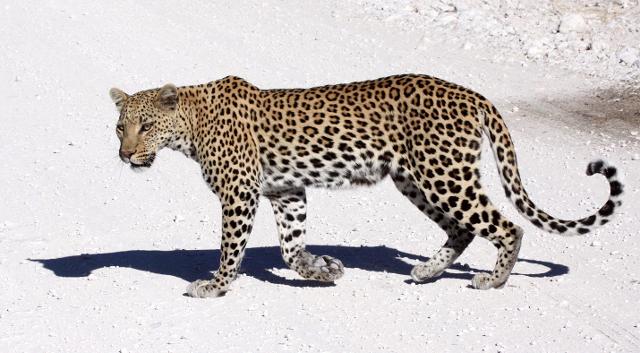 Our sixth Leopard for the expedition!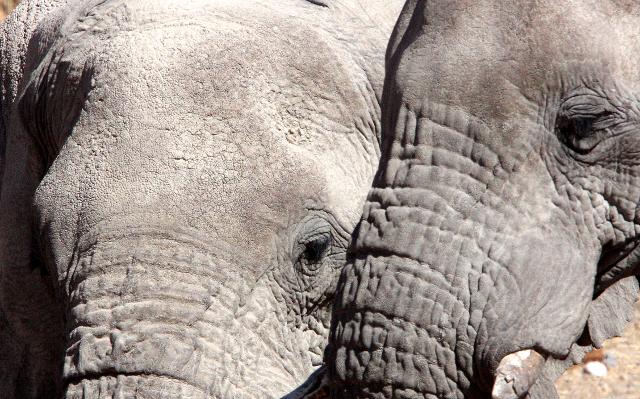 Old friends in Etosha.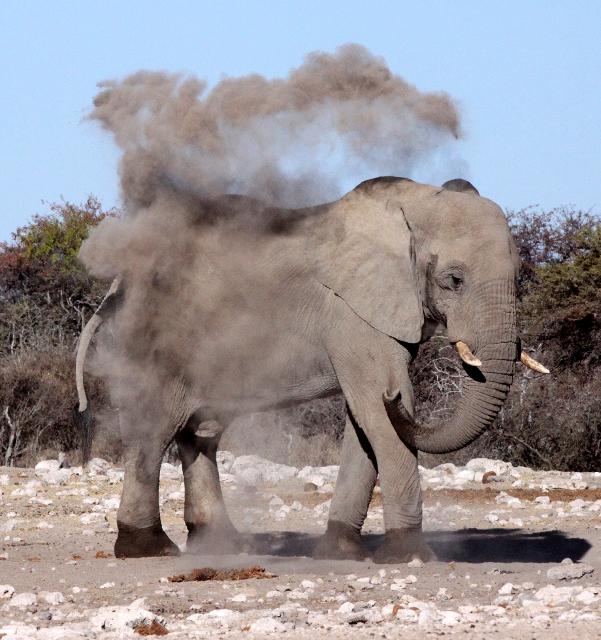 This is how the white elephants of Etosha become white!

A large of herd of Springbok at the western-most waterhole in Etosha.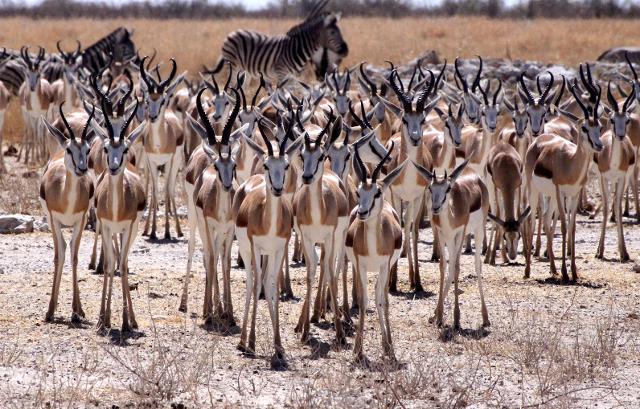 What are you looking at?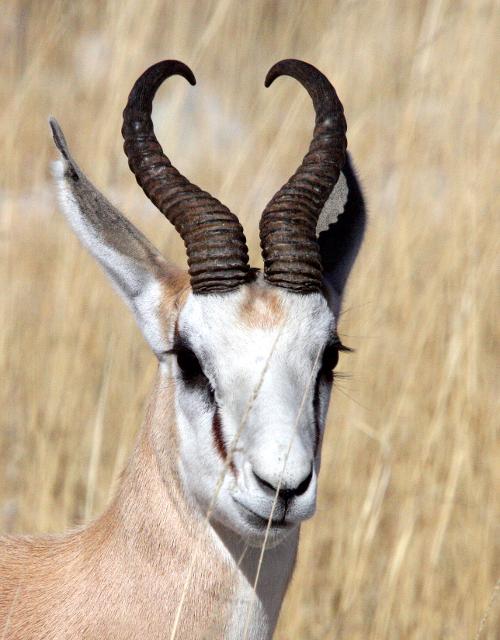 What a face!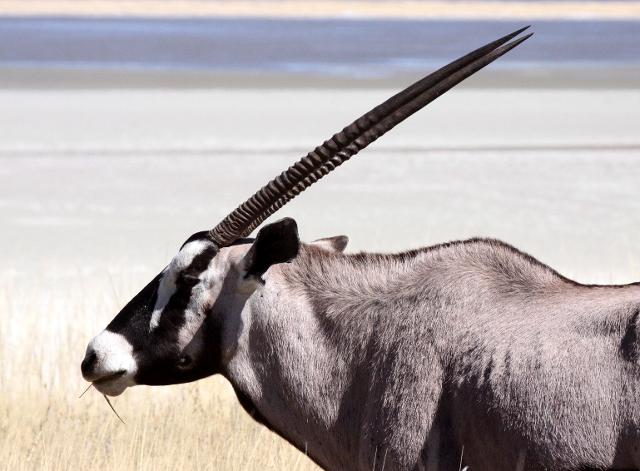 One of the hundreds of Gemsbok Oryx seen in Etosha.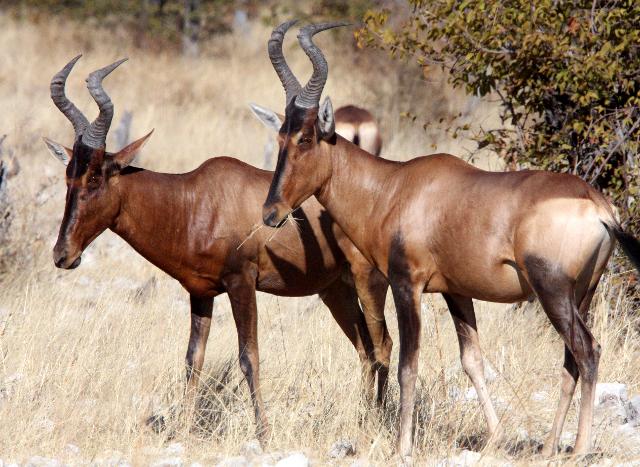 Our first Red Hartebeest were seen in Etosha.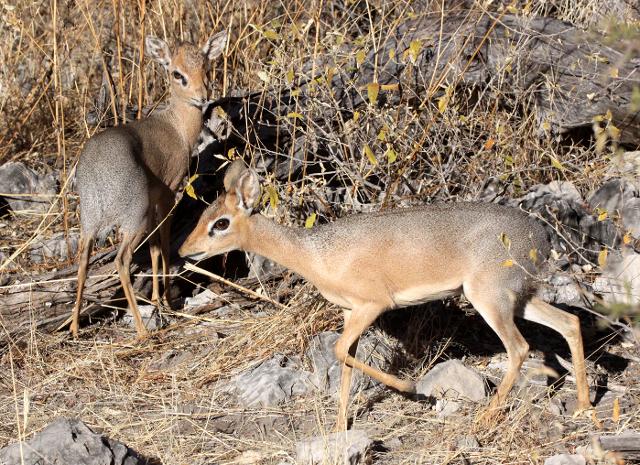 We saw dozens of Damara Dik Dik on "Dik Dik" Drive.
***Damaraland***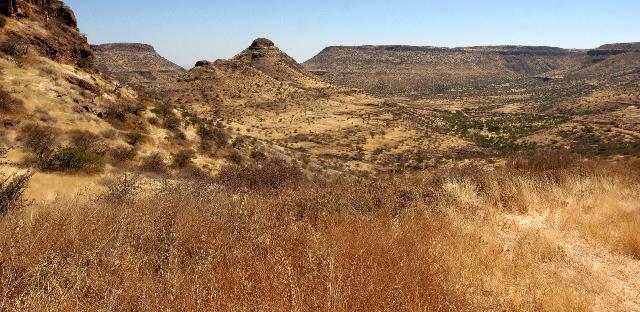 Our time in Etosha being very well spent, it was now time to head deep in to the wilderness of Namibia's Damaraland. Home to the Himba people, Damaraland is also a fantastically scenic and wild area of Namibia. Also home to the desert elephants (which we missed sadly), Damaraland is where a large number of endemics are found. We were fortunate to see wild herds of Hartmann's Mountain Zebra and large colonies of Damara Ground Squirrels. We also spotted several of the endemic Koakoveld Rock Dassies hanging out in the kopjes that abound in the region. I was excited to see several Bradfield's and Monteiro's Hornbills in the veld. Ruppell's Korhaans were also a great site in the middle of the desert.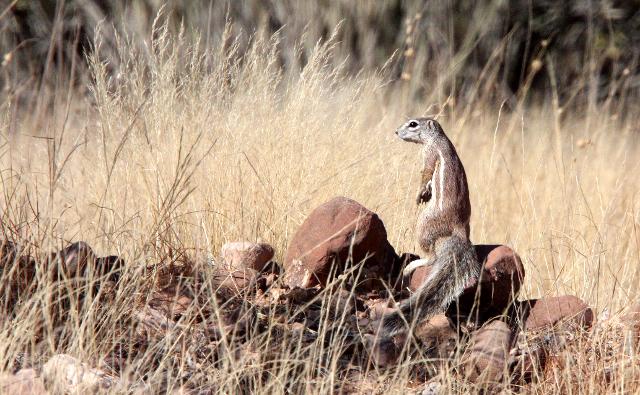 An endemic Damaraland Ground Squirrel.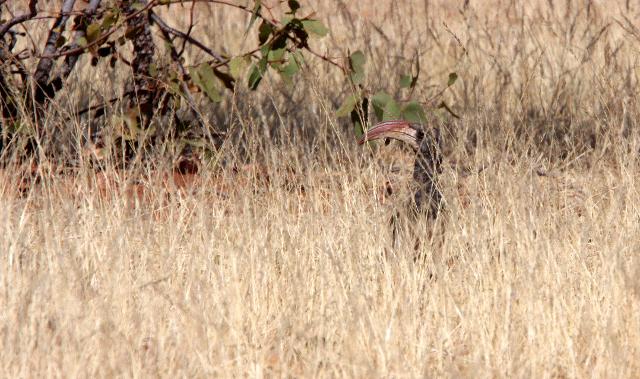 Another rare endemic, Monteiro's Hornbill (Tockus monteiri).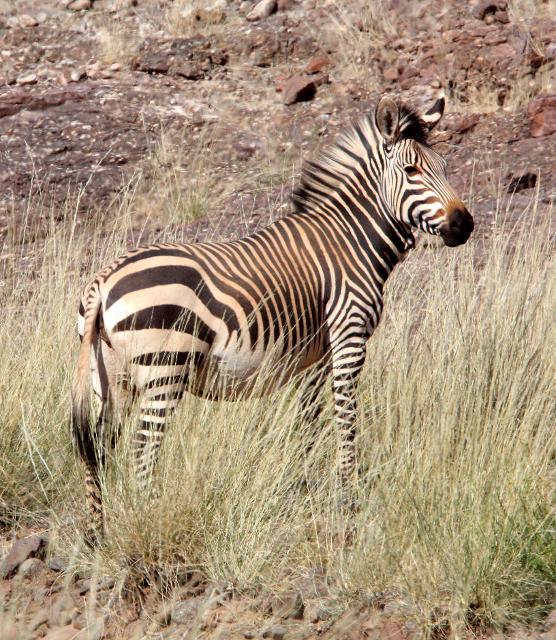 We came across several herds of Hartmann's Mountain Zebras while in Damaraland and the Namib Naukluft regions.
***Skeleton Coast***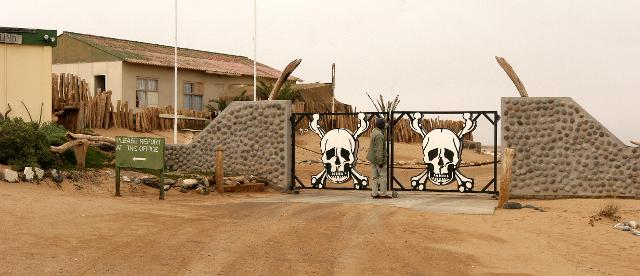 Skeleton Coast's south gate.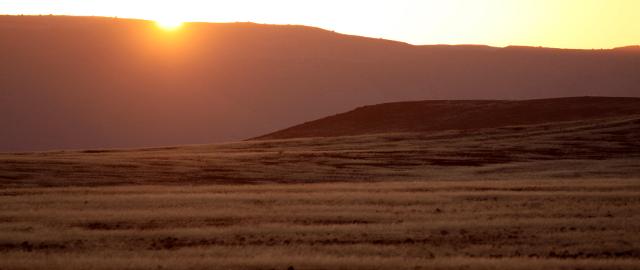 Our sunset view from our campsite in the middle of nowhere along the fringes of the Skeleton Coast.
From the amazing Damaraland geologic wonderland, the gravel tracks take you deeper in to the Namibian abyss toward the west where the roads finally dead-end in the Skeleton Coast. We were not able to enter the gates in time to go through the park this evening, so we camped just outside the entry station. This proved to be one of our most impressive campsites for the entire trip. Totally alone in the vast empty Namib desert with only the stars, the moon and the endless grassveld terrain stretching unbroken for hundreds of miles in every direction. Although we did set up our traps, we were unable to spot any of the numerous rodent species in the region. We did spot spectacularly lonely herds of gemsbok, springbok and flocks of hundreds of ostriches in the vast empty desert.
Getting an early start in to the heart of the Skeleton Coast, we were able to see the desert slowly disappear in to the dense coastal fog for which the coast is famous. The famous Welwitschia plant is completely dependent on the moisture provided by these fogs, so it was little surprise to see the Welwitschia woodlands begin about the same time we entered the fog belt. While the wildlife was sparse in the park, the scenery was great and the coastal birds were superb. We got our first glimpses of Greater and Lesser Flamingos as well as the two coastal species of Cormorants and many others. We took a couple hours to view the impressive Cape Fur Seal colony at Cape Cross. This is when the sand finally destroyed my primary lens. Luckily we had backups that the shutters busy for the remainder of the trip.
The Skeleton Coast is famous for the tremendously rough seas found there. The coast is littered with ship wrecks spanning the centuries. We did stop to photograph a few of these wrecks, as they were generally located right next to the road which was basically built directly on the beach just beyond the high tide mark. Being very confident in the 4X4 capabilities of our mighty truck, I didn't think much of driving right out on the beach sand to see the wrecks and having to very inconveniently exit our truck and trek the extra 20 meters to get the shot I wanted. I mean, I would not want to break a nail or something…

Thank goodness for good Sumaritans!

All's well that ends well...(Note the shipwreck in the background...almost an irony)
Well, on this lovely foggy morning, I was able to get our monster truck so incredibly mired in the "mussel" sand of the Skeleton Coast that I was sure the tide was going to claim it as it claimed the ship stuck just 100 meters away. After about two hours of waiting for a passerby in this extremely remote region of the Namib, we were finally able to get some assistance by a traveling German family. I was sure that we were saved when I saw their similarly equipped expedition 4X4, but when it failed to budge our very stuck truck one millimeter, I knew we were doomed. The tide was rapidly approaching. Eventually, after several more hours, we assembled a crew of eleven good Samaritans, and we were able to finally dig the truck out by hand and pull it out safely away from the rapidly approaching waves. We thanked our crew by donating ALL of our beer provisions to their cause.
Now that it was too late to camp or make any serious progress deeper down to the Namib Naukluft National Park, we decided to find lodging in a coastal town like Swakopmund or Walvis Bay. Since Swakopmund was "fully booked", we were fortunate to find one of the last rooms available in Walvis. Situated directly on the lagoon populated by hundreds of greater flamingos, the Lagoon Lodge was a sweet end to a pretty rough day.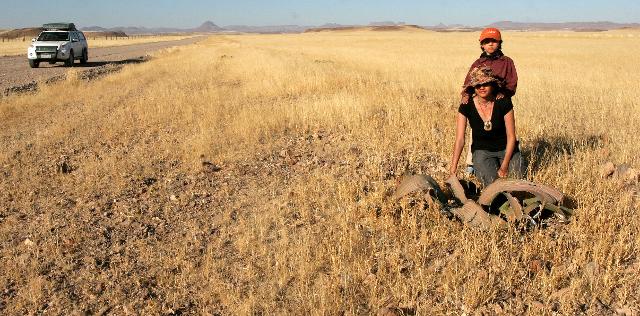 Cokie and Som with our first Welwitshcia mirabilis of the expedition!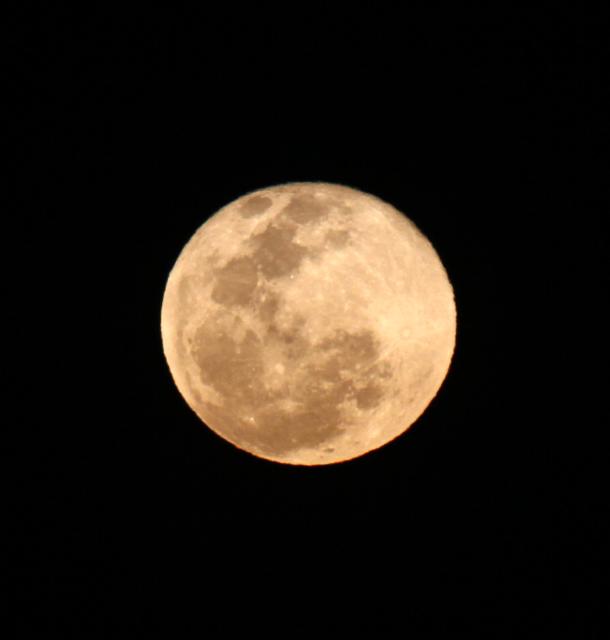 A spectacular Skeleton Coast moonrise.
***Namib Naukluft***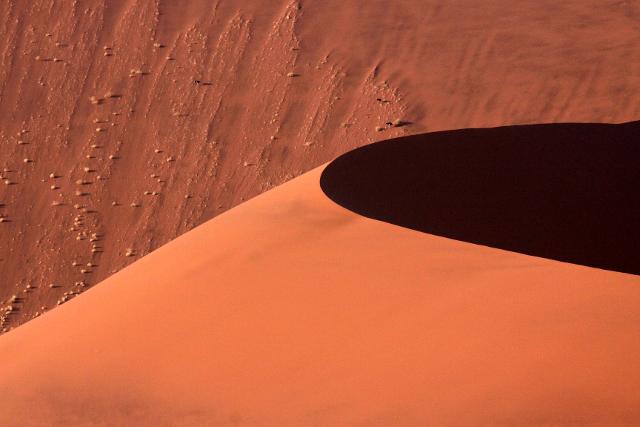 The spectacular red dunes of Sossusvlei!
Now it was time to head deep in to the heart of the Namib in to the vast wilderness of the Namib Naukluft. This region is a geologic spectacle rivaling and even surpassing what we have in the western US. Passing numerous batholiths, we finally decided to spend some time climbing and playing on the massive boulders. Spotting numerous reptiles sunning themselves on the rocks and kokerboom aloes made for some impressive wildlife viewing. After several hours driving slowly through the Naukluft, we finally made it to our destination, Sesriem, which was to be our base camp for visiting the famous Sossusvlei Dunes. We arrived in time to enjoy a splendid sunset over Sesriem Canyon. We trekked the length of the canyon in the twilight spotting various bats and speckled rock pigeons coursing their way through the narrow chasm.
We made camp early this evening as we needed to get a very early start the next day in order to drive the 45+ kilometers in to the heart of the dunes. Camping underneath the giant and ancient Acacia tree was awesome. I did sneak some traps thinking it was prime habitat for many rodent species but woke to find nearly all of them destroyed by Black-backed Jackals. At 20$ a pop, this was not a welcome sight.
The next morning reminded me of the 1950's movie, "The Great Race". Being similarly comedic, the gate was already jammed with trekkers revving the engines of their great white 4X4 beasts. As the gate opened, all land speed laws were tossed aside and the entire "white truck convention" sped recklessly through the Namib toward dune #45. The drive was exciting albeit very dangerous for human and wild life. After our third Cape Fox dashed right in front of us, I decided to slow down and enjoy the early morning game drive which was surprisingly productive. Not expecting to see much in the way of wildlife at all in the dunes area, we were impressed with the numbers of species seen. On top of the Cape Foxes, we saw Desert Pygmy Mice and Gerbils dashing across the early morning tarmac.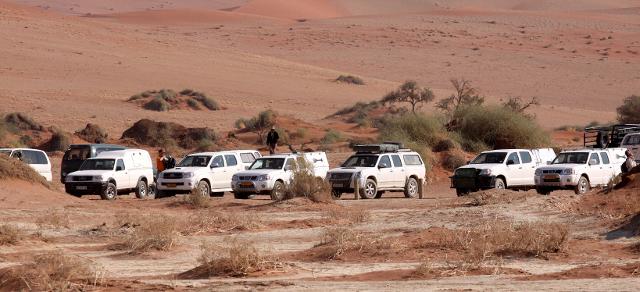 The "white truck convention" was omnipresent!
After our two kilometer trek to the top of dune 45, we caught a perfect sunrise. The only pitfall was that we had to share it with hundreds of other tourists. If I had to do the entire morning again, we would blow past dune 45 and head directly to any other dune in the park and walk to the top to experience a much richer sunrise. Lesson learned. Som was experience great difficulty in hiking up the dunes, so we left her behind (on her request…) and Cokie and I made it all the way to a suitable view spot. Cokie and I were alone for about 30 minutes waiting for the sun to make its appearance, and just as the sun was peaking about the distant mountains, Som finally made it up the hill. I just assumed she gave up and headed back to the truck, but she kept on grinding her way of the daunting mountain of sand. Good for her.
We spent the remainder of the day trekking the desert. We finally found "Dead Vlei" with its dozens of ancient acacia trees silhouetting the desert pan. What a spectacular sight. In the surrounding sands, we spent time with sand lizards and beetles. Even in such a desolate moonscape, species were able to prosper. I am ever impressed with what forms life can take and what conditions it can thrive in.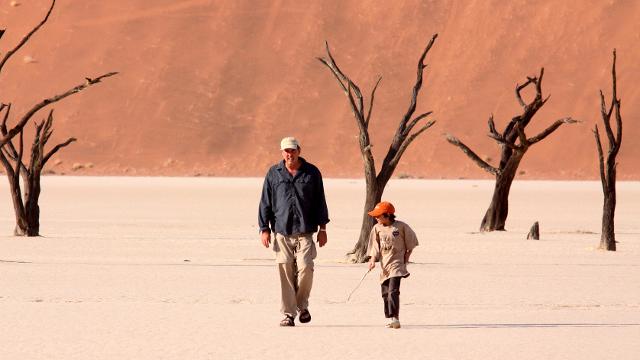 Cokie and Coke trekking to Dead Vlei.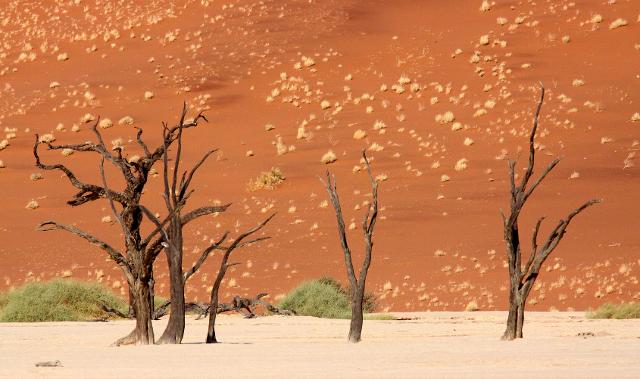 Dead Vlei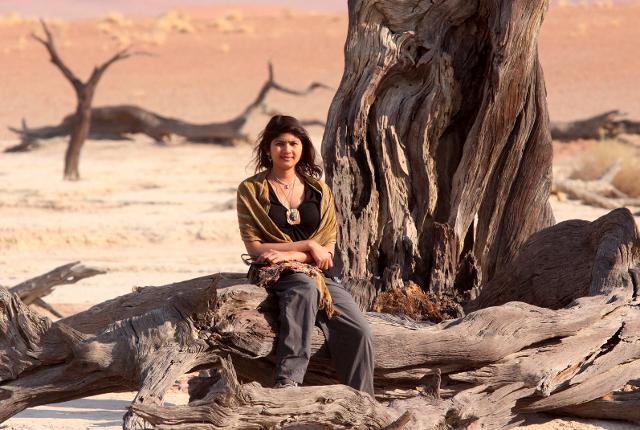 Som is so picturesque!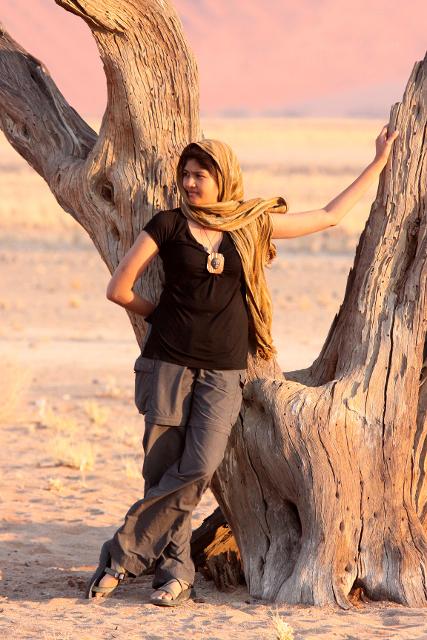 We spent several hours beating the desert heat in the shade of Acacias. Watching the Cape Sparrows and Southern Masked Weavers compete with us for our brunch was very entertaining. The rest of our day was spent scouring the desert looking for photo-ops and good light. I wanted to badly to repeat one of the more poetic photo-ops in my travel career: a gemsbok superimposed on the great red dunes. I had photographed such a situation many years prior on a previous trip to the region, but I had only snapped one mediocre image. While I was not quite able to duplicate the previous image, we did come close on many occasions. Gemsbok are excellent posers!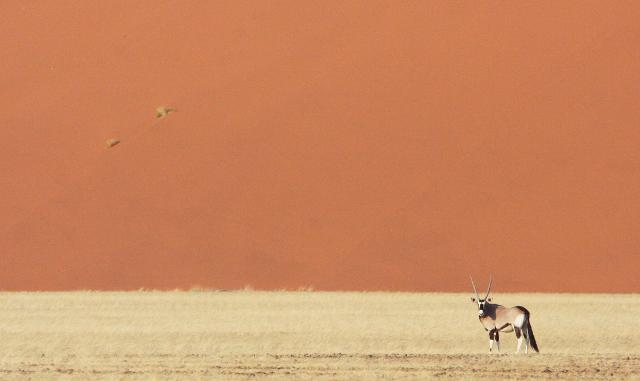 The omnipresent Gemsbok put in to perspective by the massive red dunes of Sossuslvei.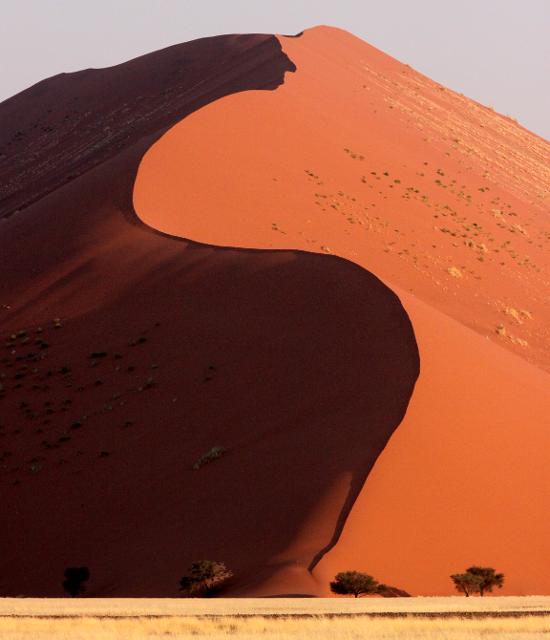 Sunset on the red dunes of Sossuslvei.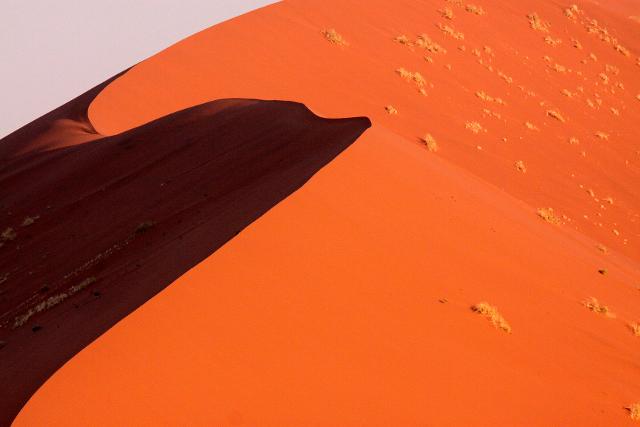 Sunset on the red dunes of Sossusvlei.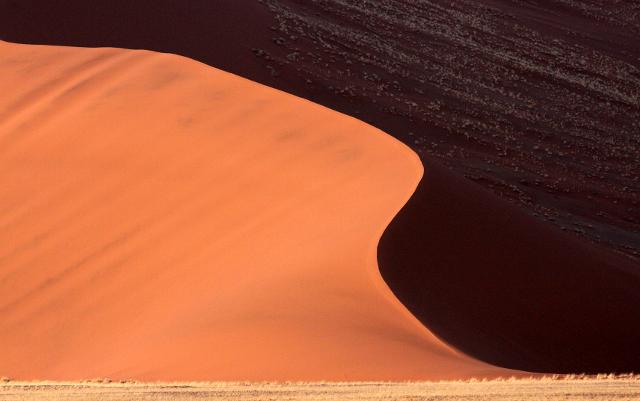 Sunset on the red dunes of Sossusvlei.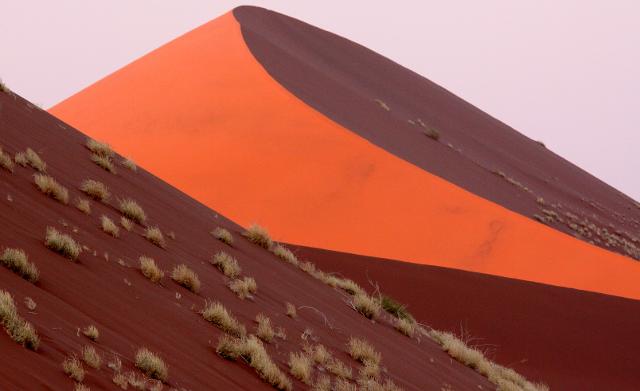 Sunset on the red dunes of Sossusvlei.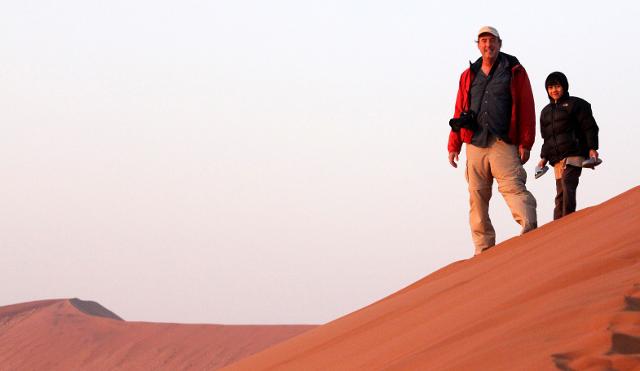 A morning sunrise trek up Dune 45!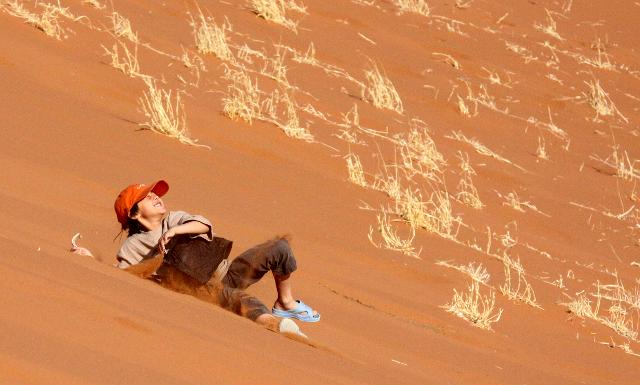 Cokie is just having way too much fun!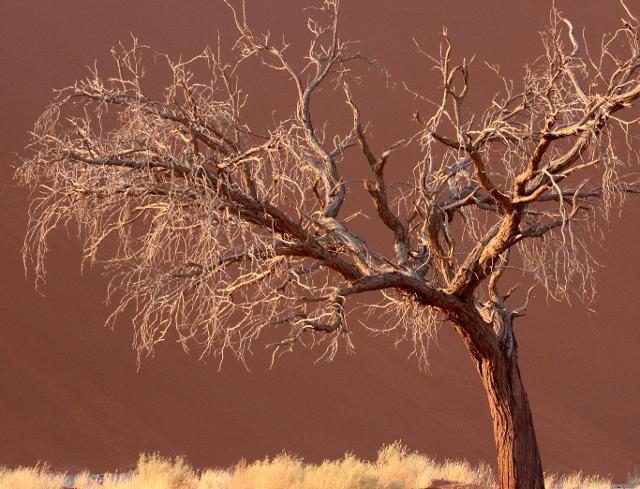 An Acacia in front of Dune 45.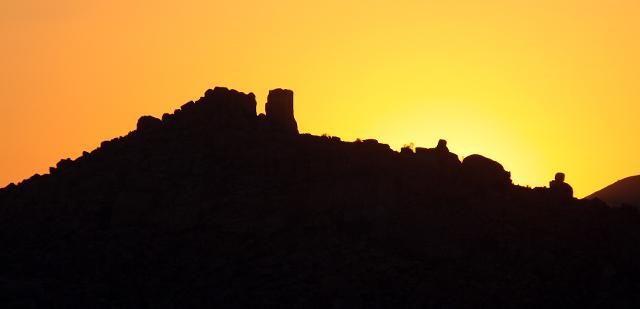 Another phenomenal Namib Naukluft sunrise.
***Kgalagadi***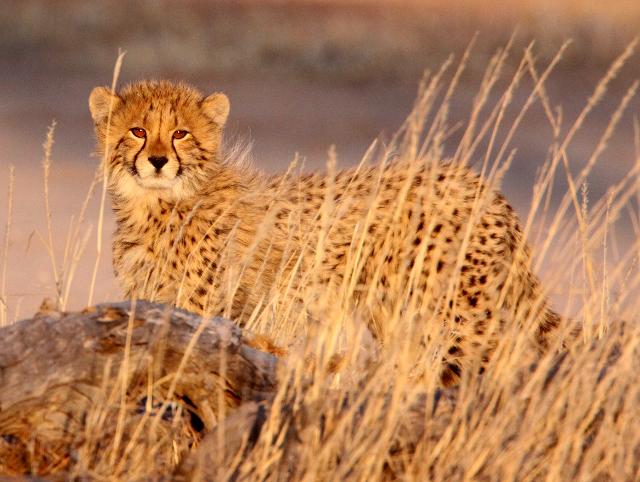 Som finally got her Cheetah! In fact, by the end of the Kgalagadi, she had seven of them under her belt! This was one of four cubs of a mother who had just attempted a hunt.
Our next day was once again to be one of the longer hauls of the expedition. Over 700km of gravel highway is initially a very intimidating venture, but the Namibian tacks are surprisingly well maintained. In fact one can generally approach speeds equaling what can be reached on tarmac, just not as safely. So long as the road is straight, you can generally do alright, but if there are any curves or mushy spots, deadly accidents can be the result.
We made across the entirety of Namibia in time to cross the border back in to South Africa with plenty of time to game drive our way through the great Kgalagadi National Park. This destination was always planned to be a potential dropper from the itinerary as it was several hundred kilometers out of the way. But after spending three amazingly wildlife-filled days in the Kalahari, we were very happy that we kept to our original plans!
In the Kgalagadi, we witnessed amazing Cheetah hunts, stampeding herds of Blue Wildebeest and many of the famed Kgalagadi Black-maned Lions. We followed a very impressive male lion for several kilometers down the main track on the east end of the park. We finally had to leave his presence reluctantly, but this meant we had to pass the beast on this narrow track. When it quickly turned to look directly at Som, I thought she was going to piss her pants. I mean, so what if this 500 pound predator was only 2 feet away from her open window!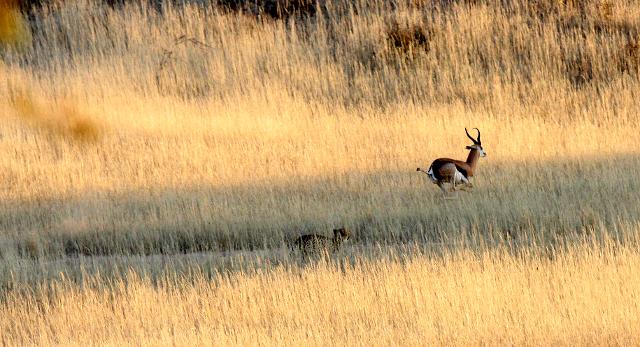 Mom Cheetah in full pursuit of a Springbok! Now you know why they call them Sprinbok!
The wilderness of the Kgalagadi is hard to beat. But its remoteness was made very clear when we experienced our only physical injury of the entire trip. Somehow Cokie was able to slam his hand in the truck door and nearly break all of his fingers. He was screaming so loud that the entire campground assumed he was near death. Since he refused to let me look at his injuries, I had not idea how bad it was. So I felt I had no choice but to rush him to the visitors, where we found that there were absolutely no medical services available whatsoever. When the ranger basically laughed at the question of whether there was anyone with medical training, I suddenly felt very isolated, and the remoteness of our location was made extremely clear.
By this time Cokie was starting to calm down a bit. After a few drunken Afrikaners with military experience assured me that his fingers were not broken, we decided to head back to camp to console our little guy. But as we were chatting with our new Afrikaner friends, I heard a loud crack of something sizable hitting the desert pavement. I turned to see my beautiful boy completely splayed out on the gravel pan, completely passed out! I immediately rushed over to get him up and try to revive him, but he was very out. It took several extremely traumatic minutes getting him out of his stupor. Som and I will never forget his dead eyes and the awful expression he had on his face. The fall gave him a heck of a strawberry on his head and two giant black eyes and a nice bushman-shaped scab on his nose! We from this point jokingly called him "raccoon boy". Although the entire episode had a happy and perhaps even comical ending, the trauma of the event aged Som and me.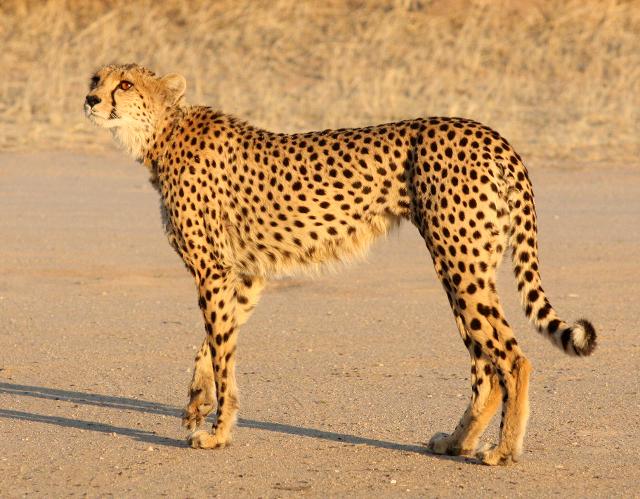 One of the many Cheetah seen in the Kgalagadi.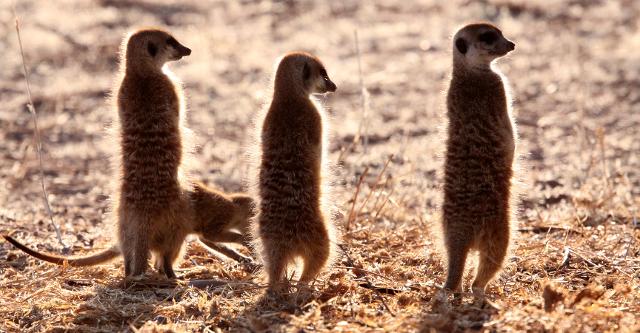 The Kgalagadi was our best spot for Meerkats by far. Here are a few catching the morning's rays.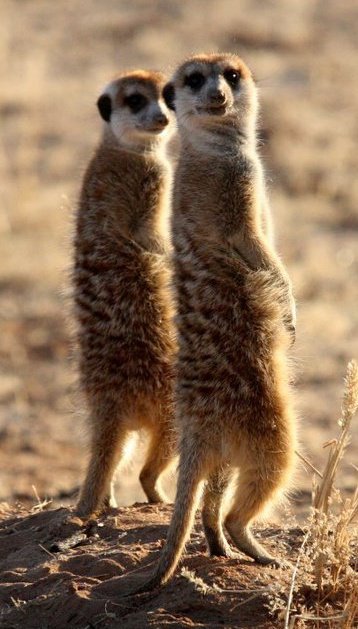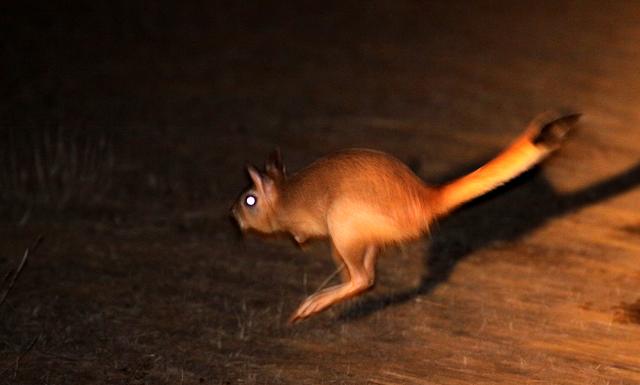 Springhare are very difficult to capture on camera!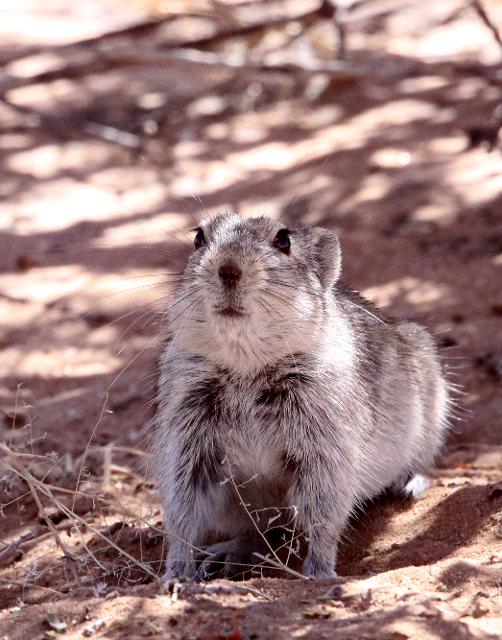 Brant's Whistling Rats were some of the many rodent species encountered in the Kgalagadi.
This Black-maned Lion was our first massive lion seen during the expedition. This old beast was literally less than one meter from Som's side of the car when he passed us.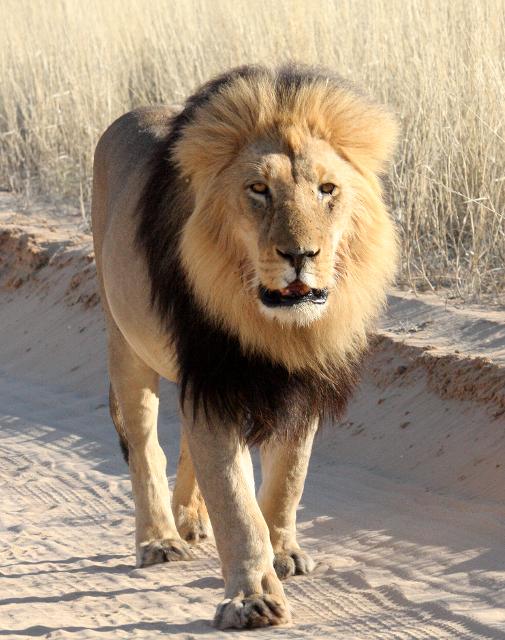 This guy was spectacular!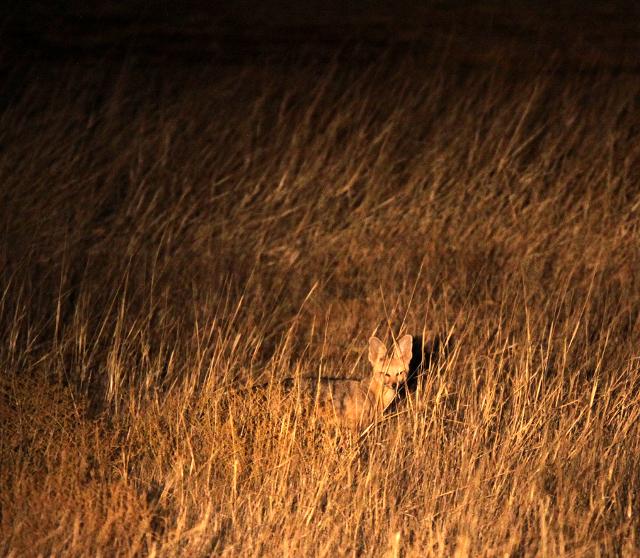 We saw many Cape Foxes on our trip but this was the only one that stuck around long enough for an image!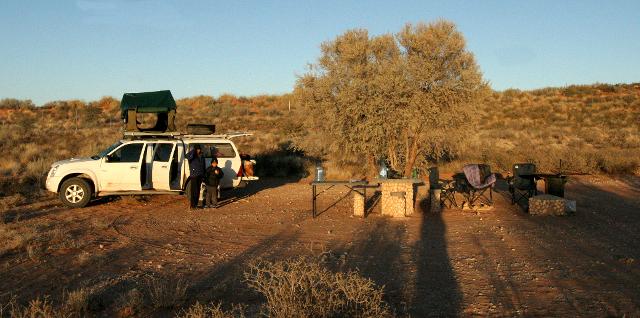 Base camp Kgalagadi!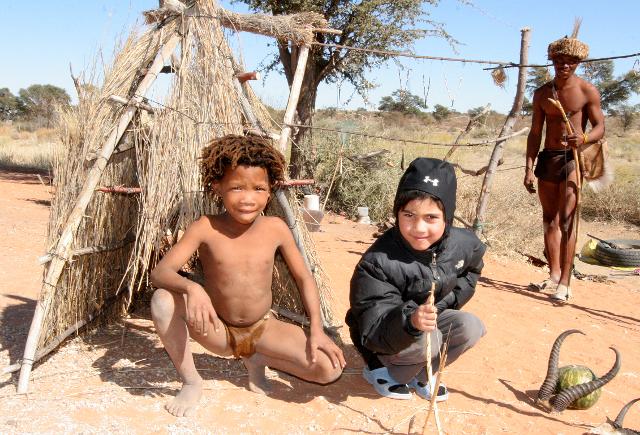 Cokie with his young Bushman buddy!
***Augrabies Falls***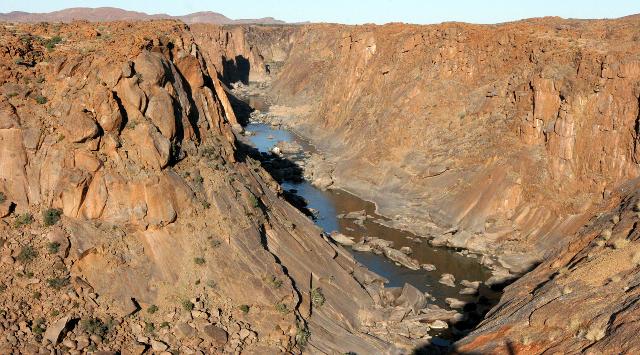 Our original destination from the Kgalagadi was back in to Namibia and then to the Fish River Canyon region. But the border guard warned me that my passport was dangerously too full and I may be denied entry to either country, so I should stay within South Africa. A bit disappointed as this was now the third time plan-changes prevented me from visiting the canyon. Instead of the Fish River, we traveled to the Augrabies Falls National Park. While this was not originally on our expedition plan, we were very happy that we included it. The canyon was spectacular as were the falls. There was a wealth of wildlife and birds in the park as well. A spectacular vegetative zone, kokerbooms and many other succulents populated the desert landscape. This was our first in-depth introduction to the amazingly diverse vegetative zones of the north and west cape regions of South Africa. Augrabies Falls added good sightings of Cape Rock Dassies (Hyrax) and Dassie Rats.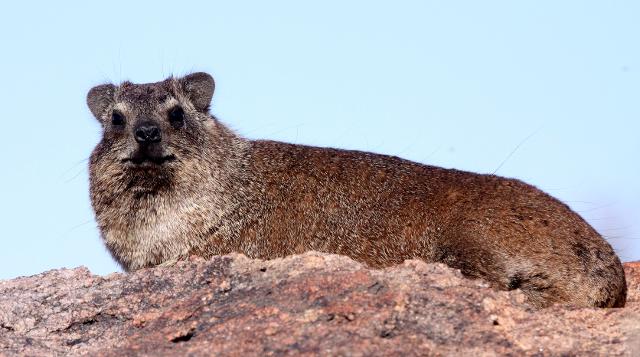 We saw literally hundreds of these Cape Rock Dassies while at Augrabies Falls.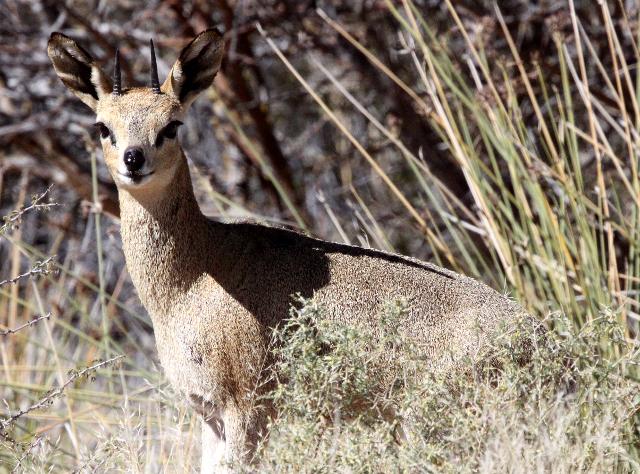 Klipspringer were also extremely common at Augrabies.
***Namaqualand***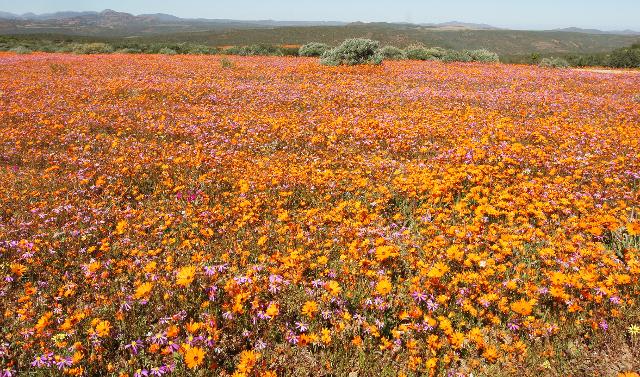 An amazing floral display in Namaqualand National Park.
We were only able to spend one night in the park which was no where near enough. But our main purpose of traveling to this part of South Africa was to venture to Namaqualand and attempt to view one of the world's great floral explosions. In fact, the design of our entire expedition was such to guarantee our arriving in Namaqualand in mid August which is generally the peak of the flower season. As with any natural phenomenon, there are so many variables that make hitting things just right a matter of luck. While the flowers along the roads heading to Springbok were impressive and very diverse, we were not seeing the profusion of wildflowers I had expected. Evidently the Springbok region was past its prime for the season, we were lucky to see some pretty amazing blooms in Goegap Reserve. Along with the flowers, we spied more Dassie Rats and Gemsbok strolling the flower beds. Geogap is herpetological paradise.
We very much enjoyed our short stay in Springbok at the luxurious Annie's Cottage, and our massive traditional Afrikaner seafood dinner. Great grub and cheap wine! What more can one ask!
The manager of Annie's Cottage advised us to travel through Namaqualand National Park as she had heard that the flowers were much better down that way. We followed her advice but somehow turned down the "wrong" road thanks to our GPS. After about 100 kilometers of intense gravel track and stunning scenery we finally realized that we had added about three hours to our travels. Initially we were a bit bummed by the decision, but after the scenery became so damn spectacular and the region became much more wild, we started to enjoy the choice of roads. The GPS is never wrong.
After receiving multiple warnings of the flower explosion were about to experience from passing expeditioners we stopped and chatted with, we were chomping at the bit to see some real wildflower displays. We were not disappointed. The thousands of acres of Namaqua daisies were a floristic display rivaling anything I have ever seen or even anything the world produces anywhere. We hit it just right! And the day had been a very sunny one which actually made the difference between seeing all of the flowers completely open and spectacular versus the closed flowers we saw for the next several days along other portions of the West Cape.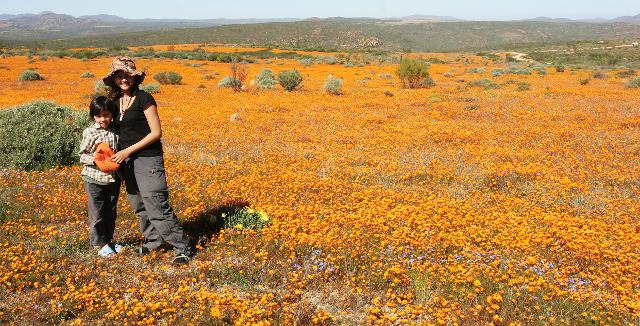 Cokie and Som in front of an endless field of Namaqua daisies.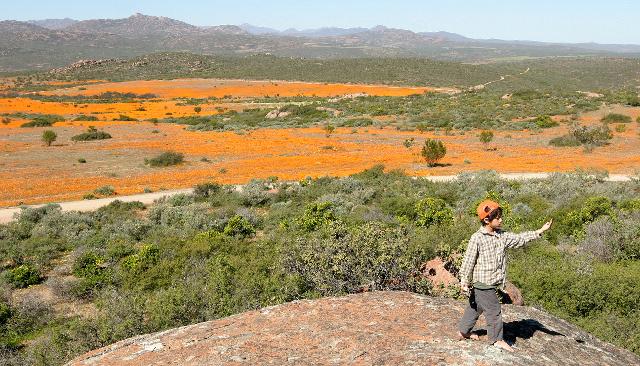 Cokie being silly in Namaqualand!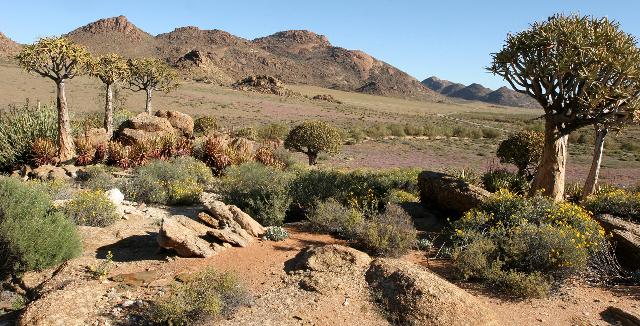 The Kokerboom forest at Goegap Nature Reserve.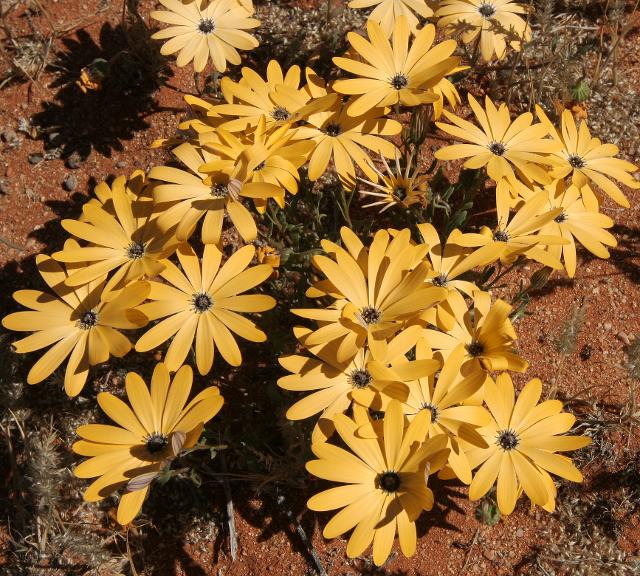 One of the countless varieties of Namaqua Daisies found in Namaqualand.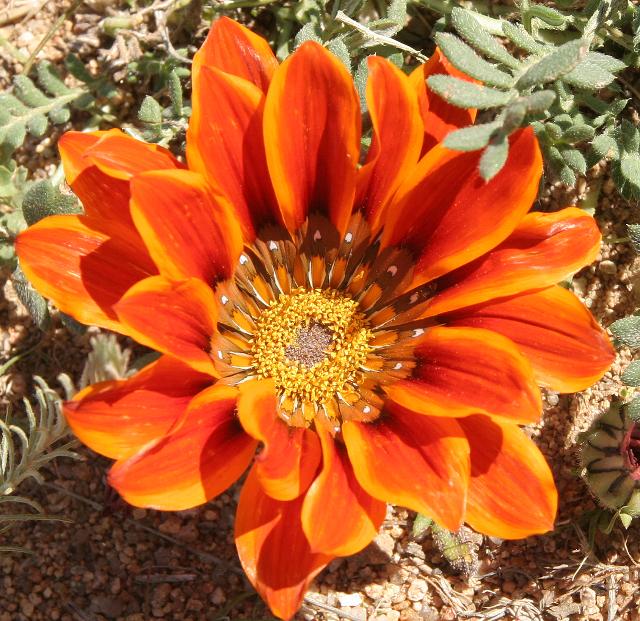 A glorious Namaqua Gazania (Gazania leiopoda).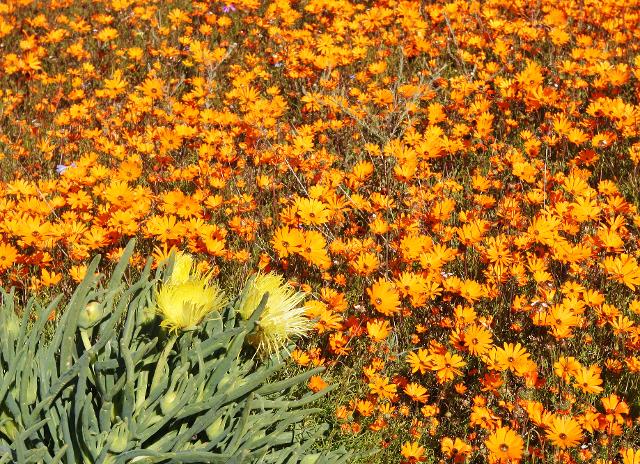 A field with Cheiridopsis species.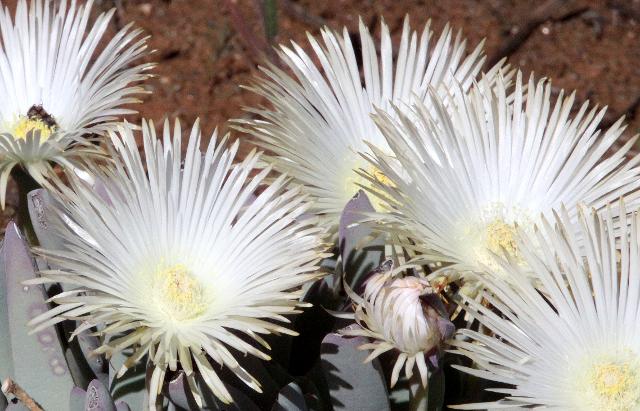 Cheiridopsis denticulata is one of the more spectacular ice plant species in Namaqualand.
***Lambert's Bay***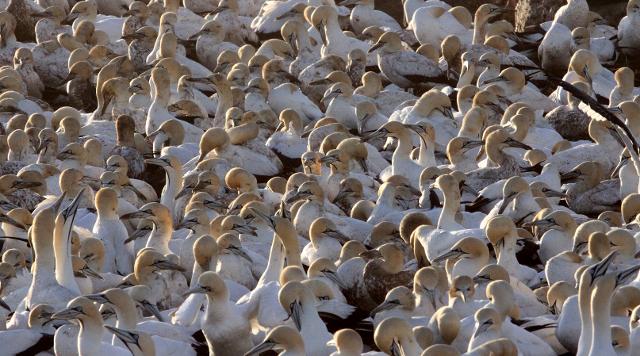 The massive Cape Gannett rookery at Bird Island, Lambert's Bay.
Our next destination was Lambert's Bay where we hoped to see Heaviside Dolphins and Cape Gannets. We arrived just in time to get out to Bird Island 45 minutes before closing time. Although I was sure I was going to be able to get out the next morning to see them in "better light", it ended up being fortuitous that we were able to get out to the island that afternoon. The seas were so rough the next morning that the simple stroll to the island across the breaker would have been deadly dangerous! The seas were so rough in fact that seeing the dolphins will have to wait for a future trip.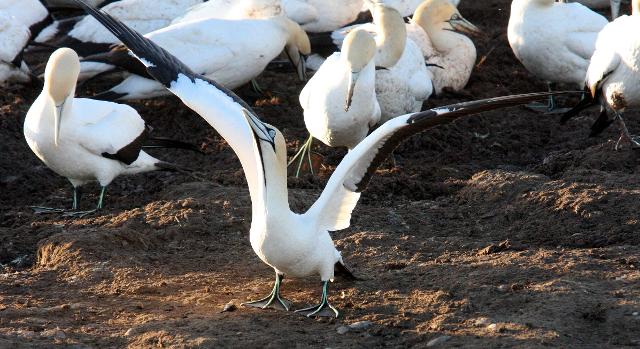 Just landed!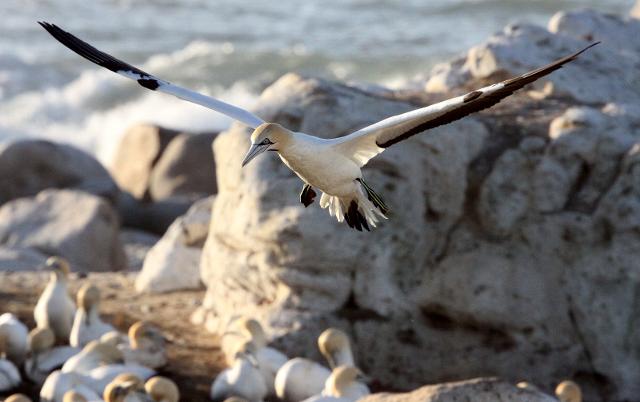 Where the hell do I land!?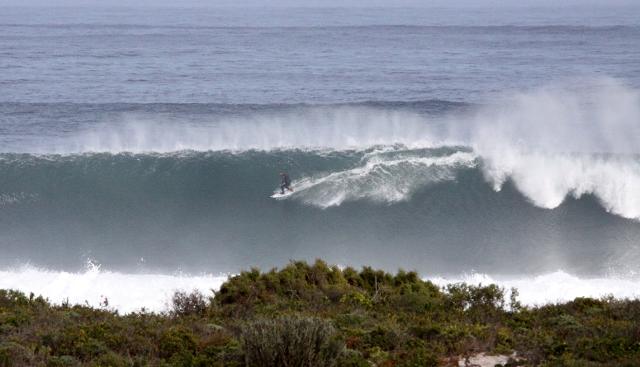 The same storm that made it impossible to see the Heavyside Dolphins produced some epic waves! Check out this dude rippin' it up!
***West Coast National Park***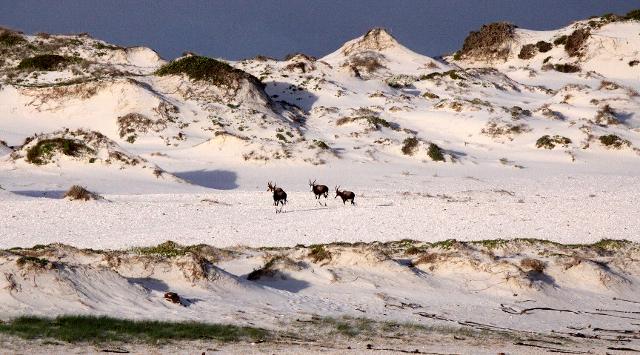 Blesbok crossing the white sands of West Coast National Park.
We celebrated Cokie's seventh birthday in Lambert's Bay but the cake and candles had to wait until we reached our remote chalet (Abrahamskraal) in West Coast National Park. On the way to West Coast, we hugged the coastline of South Africa. We visited some outstanding birding spots and constantly watched the surf for Heaviside dolphins to no avail. The most impressive wildlife sighting for the day was watching the skilled South African surfers tackle the 40-50 foot waves the storms had brought in! The storm was evidently a truly epic event and the waves were totally tubular.
Our main goal for West Coast was Caracal, which Jon Hall reported was fairly easy to see in the late afternoon or the early mornings. After reveling in the amazing digs we booked at Abrahamskraal (an old homestead surrounded by thousands of acres of fynbo brush lands and solitude), we ventured out to the peninsula to spot some wildlife. Here we caught our first glimpses of Blesbok, Cape Mountain Zebra and Gray Mongooses. The plains were filled with hundreds of other ungulates. We saw massive herds of Common Eland.
Since there were no regulations about driving after dark once you were inside the park, we enjoyed hanging out at the beach until well after sunset. One evening, we watched four Blesbok trot along the pearl white sand dunes in stunning late afternoon light to reach their grazing grounds. Watching the Gray Mongoose scavenge the tide pools was fascinating.
After dusk we started our hopeful night drive. As we were driving through the fynbos, I commented to Som that "this was perfect Caracal country". No sooner did I say this that a Caracal appeared on the side of the road. As I was speeding a bit, I had to slam the truck in reverse and hope the cat would stick around. Doubting we would have any more than a fleeting glimpse of this elusive species, we were pleasantly surprised that he allowed us to hang out with him for over 20 minutes! He even took a more relaxed posture and seemed to enjoy viewing us as much as we enjoyed viewing him.
After seeing the impressive Caracal, everything else at West Coast was icing on the cake – including or first Karoo Rat. Although we were fairly close to large population centers, the coast preserved an impressive tract of coastal fynbo community and was replete with wildlife. The birding was outstanding as well.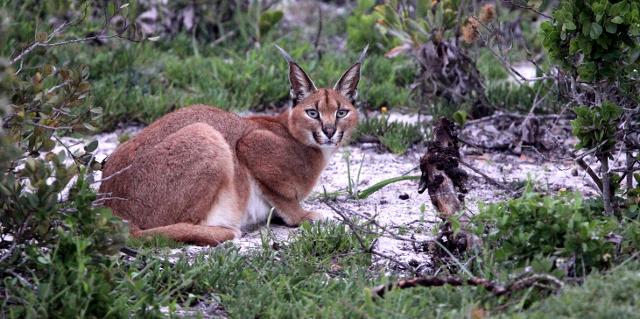 Our amazing twenty minutes with a wild Caracal!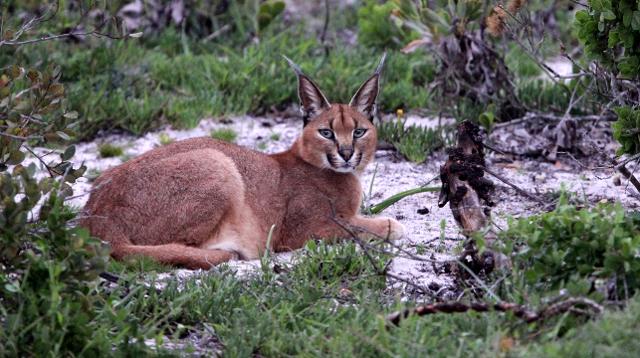 After about ten minutes he decided to lie down and relax with us. Truly an amazing experience.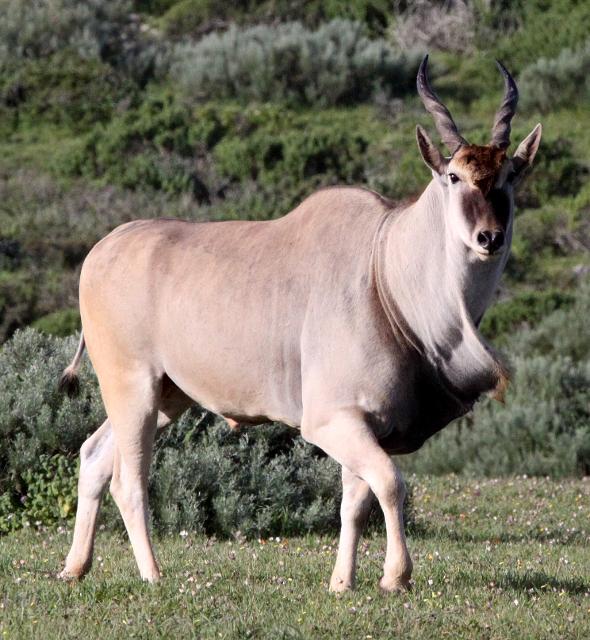 West Coast was home to impressive herds of Eland and many other species.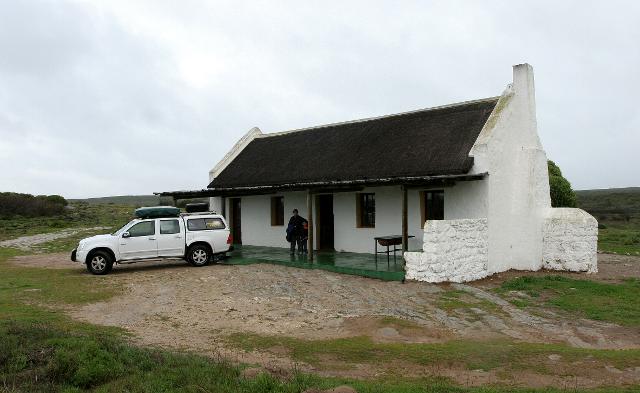 Our amazing pad at Abrahamskraal! We literally owned the national park for three days!
***Cape Town***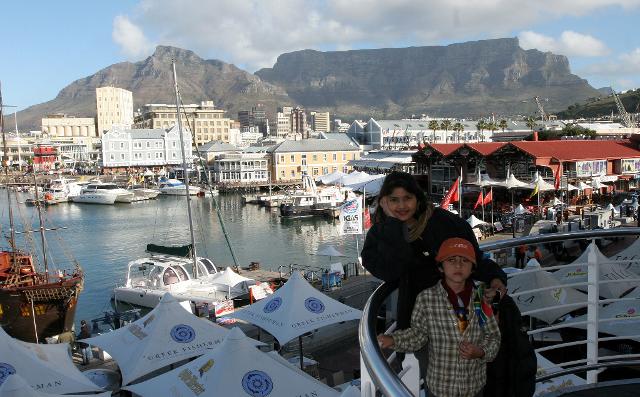 Cokie and Som outside our favorite Thai restaurant in Cape Town!
Cape Town was to be our only intentional urban center for our entire expedition to southern Africa. One of the world's most beautiful cities, Cape Town is also near some striking nature. Table Mountain National Park is a series of park units stretching from Table Mountain itself all the way to the Cape of Good Hope in the far south of the African continent. We spent three full days exploring Cape Town and various areas of the national park system. We enjoyed visiting the Jackass Penguin colonies in Simon's Town where we spent three nights in a white-trash trailer park. Although the digs were a bit grungy, we loved hearing the local penguin bray all day and night. I guess it was nesting underneath one of the bungalows. Simon's Town was also a great spot to see numerous Southern Right Whales frolicking in the surf.
The Table Mountain National Park system protects some of the last remaining coastal fynbo woodlands in South Africa. Along with the countless species of Protea we viewed in the region, we had good views of Red Hartebeest, Common Eland, Blesbok, Springbok, Dassies and Four-striped Grass Mice. I would have to say though that the vegetation was the most impressive aspect of our stay in this area.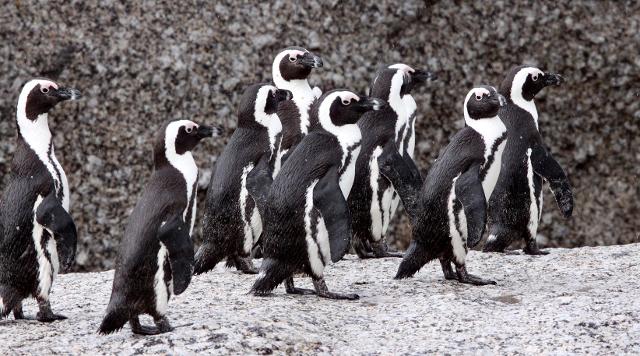 The Jackass Penguins were perhaps the highpoint of our three-day stay in Simons Town and Cape Town.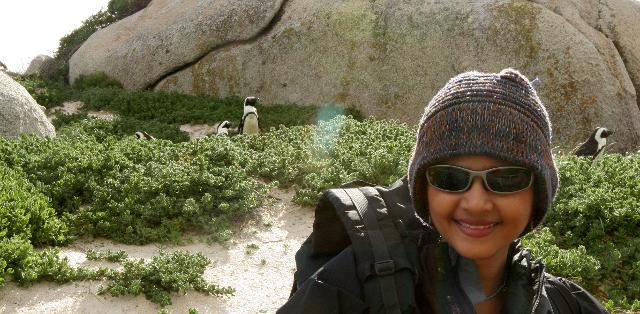 Som with her new-found friends.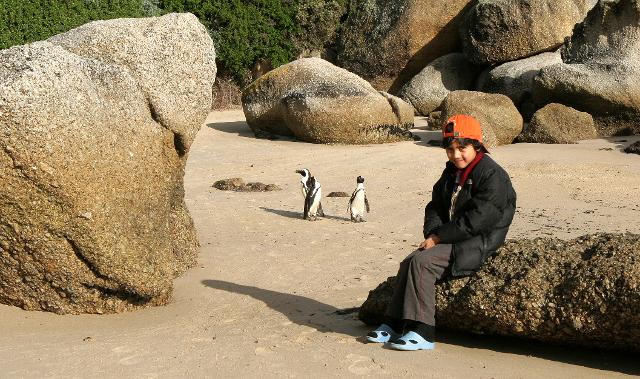 Seriously, Cokie, the won't attack!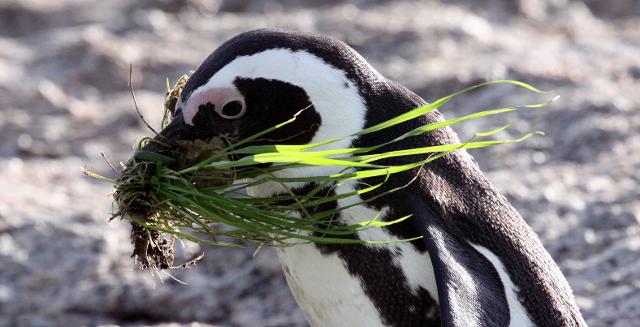 Building a nest!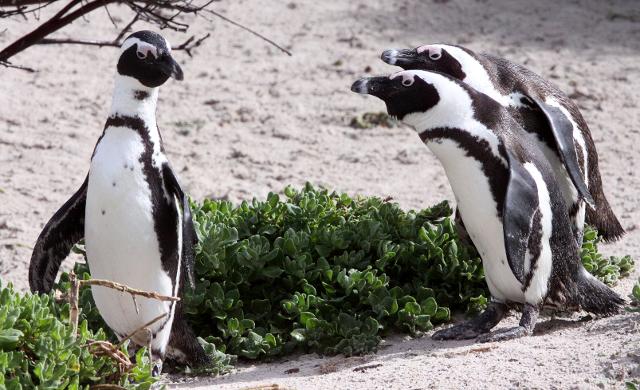 "Hey! Get off our turf!"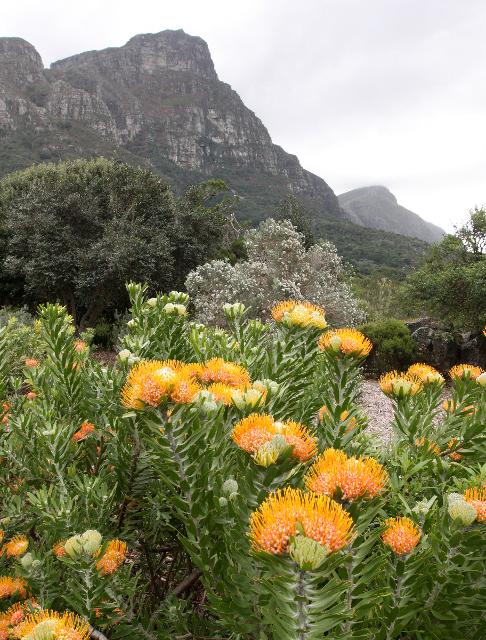 We were fortunate to catch the Protea bloom in full force. These Pincushions (Leucospermum cordifolium) were seen at the Kirstenbosch Botanical Gardens.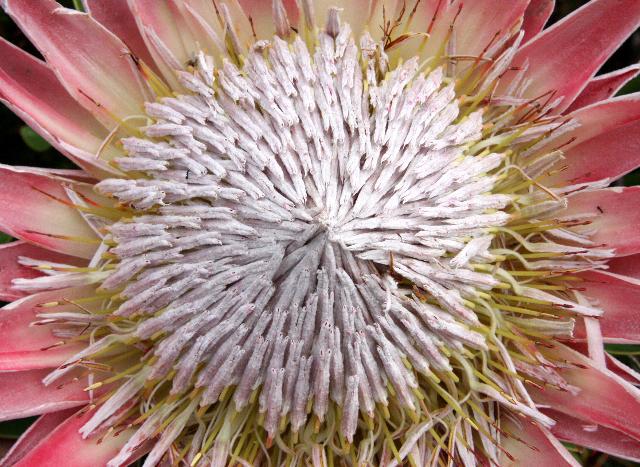 A King Protea (Protea cynaroides) at Table Mountain National Park.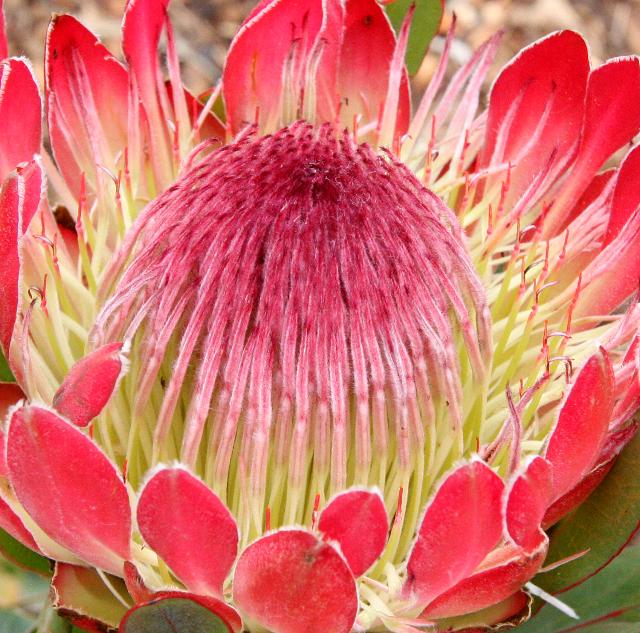 Susan's Sugarbush (Protea susannae)
***De Hoop Reserve***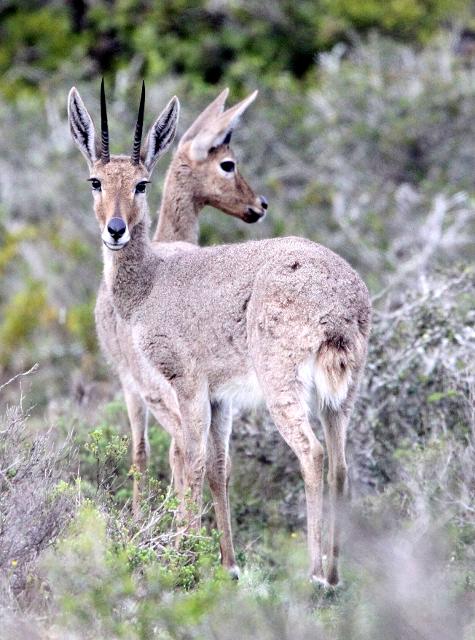 A pair of Grey Rhebok seen in the veld of De Hoop Reserve.
Our expedition was gradually winding down, and we were now officially turning back toward Jo'burg. The good news was that the official end was still well over a week away. Our next stop was De Hoop Reserve with a quick game drive at Bontebok National Park. Bontebok is an impressive tiny reserve in the interior of the Southern Cape. Here we had great views of Bontebok, Grey Rhebok and other species. We spent a few hours cruising the park before we drove due south to De Hoop.
Situated in more glorious coastal fynbo woodland, De Hoop is where we had hoped to see Cape Clawless Otters. While we did see ample sign, we dipped on seeing the actual critter. De Hoop did provide one of the more impressive natural spectacles however. Literally dozens of Southern Right Whales were spotted lounging and playing in the surf zone of the reserve. Evidently August is prime time to see this event. De Hoop is also home to some impressive species assemblages. Great herds of Common Eland were seen along the main road. Here we also got close up views of the Cape Mountain Zebras. Grey Rhebok were also common on the reserve.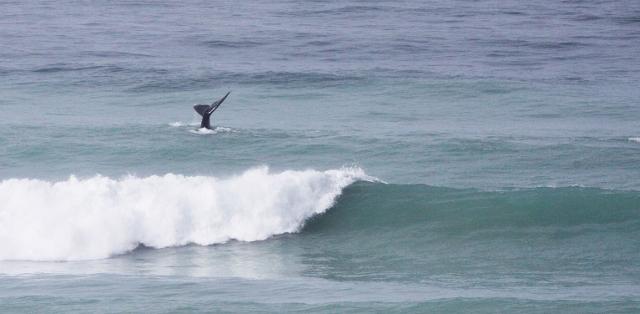 De Hoop is home to a major assemblage of Southern Right Whales and we were lucky enough to see dozens this morning!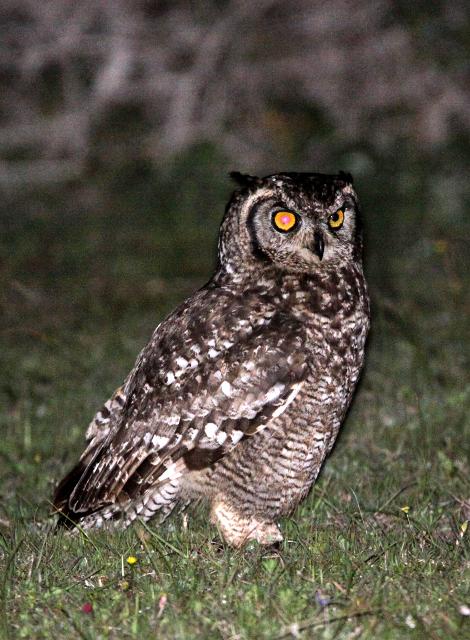 A hunting Cape Eagle Owl seen during our night drives at De Hoop.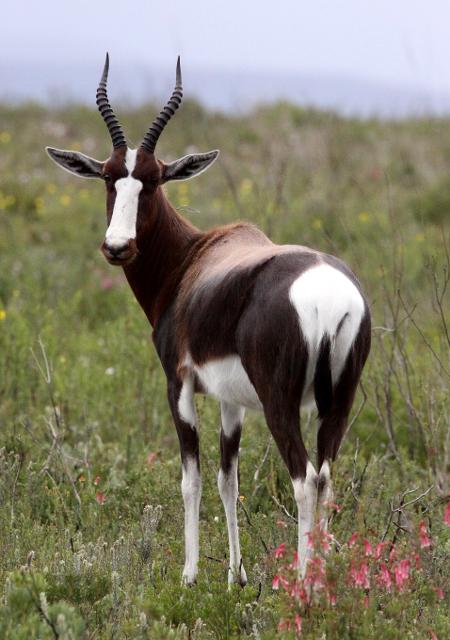 Our first Bontebok!
***Plettenberg Bay***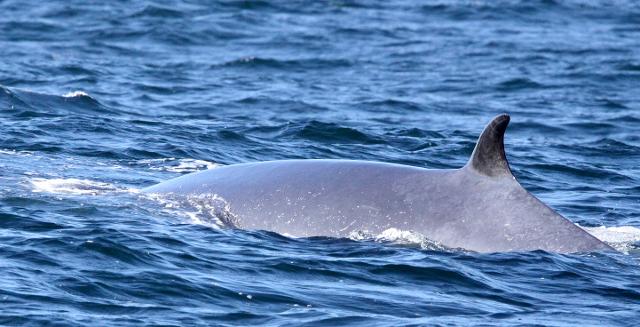 An elusive Bryde's Whale that we shadowed for over an hour until our boat ran out of fuel!
On our progression back to Jo'burg, we stopped for a couple nights in Plettenberg Bay for some whale watching. Although it is not the best place for the whales, we did have a truly close encounter with the elusive Bryde's Whale for over an hour until we nearly ran out of fuel. The cruise also introduced us to dozens of Shy Albatross, Gannets and South Polar Skuas. We also visited the Cape Fur Seal colony near Plett. Here it was possible to see thousands of the animals from the comfort of our vessel. What impressed us the most was the sheer steepness of the cliffs the seals would climb and lounge on. Some the seals would climb over 100 feet to find a suitable sleeping spot. But what was perhaps the most impressive part of the day was how they launched and landed the large boats. Basically they would push the boat out to sea at full speed using a truck basically launching the boat like a sling-shot. And when the cruise was done, the boatl would land simply by gunning the gas to a max speed and just ramming the vessel on to the beach. We were surprised how gentle the landing actually was. Cokie thought this was awesome.
***Tsitsikamma National Park***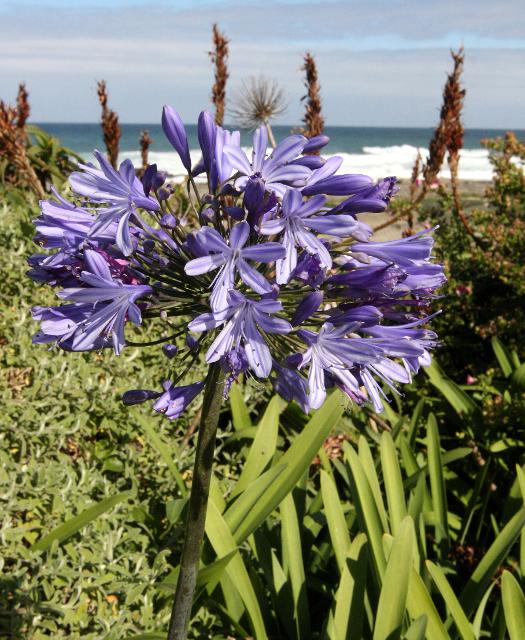 This spectacular Blue Agapanthus (Agapanthus africanus) was growing wild along the Otter Trail at Tsitsikamma.
While at Plett, we opted for a day trip over to Tsitsikamma National Park. While this is far from a pristine national park, the park did offer a surprisingly beautiful example of primary coastal wet forest. The narrow band of forest that still remains is home to elusive Blue Duiker which still remains on my "gotta return-to-see" list. I did track one for several kilometers but was never fortunate to actually see one. Known for a good location for otters, we will were not able to nail that species down either. I wouldn't mind at all to return to Tsitsikamma some day.
***Karoo National Park***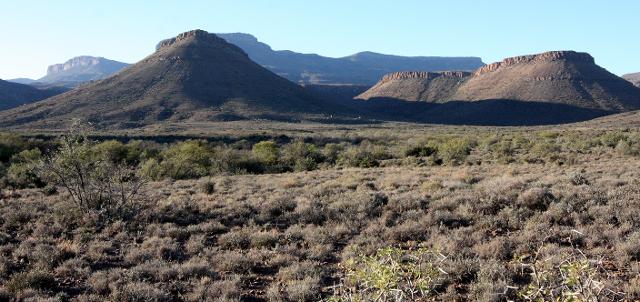 Now it was time to head north in to the great Karoo. The vast mesa-mountain desert Karoo is a fossil hunter's paradise. Also Karoo National Park is known for the Quagga project. Using Burchell's Zebra, a closely related subspecies, the Quagga is slowly being bred back in to existence. Although there is still a ways to go until they capture the brown-backed Quagga genetically, there is clearly a distinct different between the Quagga of the Karoo and the Burchell's zebra found elsewhere in southern Africa.
Our three days in the Karoo were very relaxing and well spent viewing many species. We were finally able to get our first Aardwolf and were even able to confirm our first Cape Hare, although I am confident we had seen many already but were unable to confirm the differences with the scrub hare species. I had a very close encounter with a Black Rhino when for some very stupid reason I decided to walk closer to in order to capture a "better" image. I was unable to capture this image and the rhino came very close to killing me. It was a rather spiritual moment to say the least.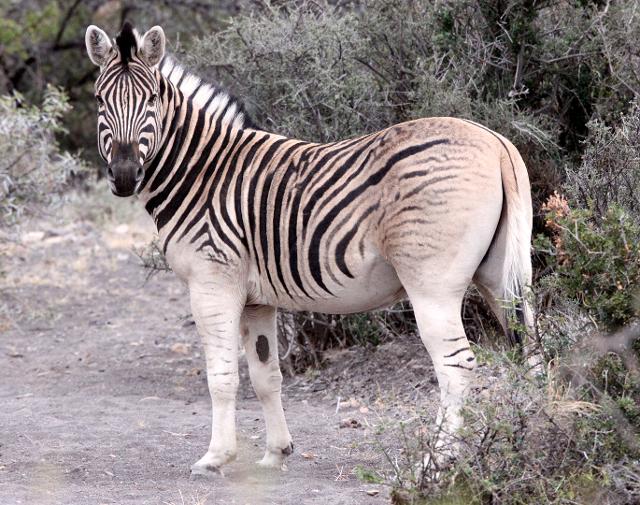 Our main reason for visiting the Karoo was to get a glimpse of the "previously extinct" Quagga. This one is about as close as the genetics are currently. They need a bit more brown in the saddle area.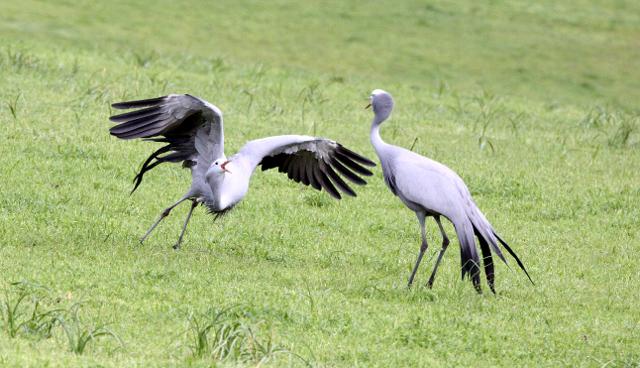 Blue Cranes were a common sight along the Garden Route on the way to the Karoo.
***Mountain Zebra National Park***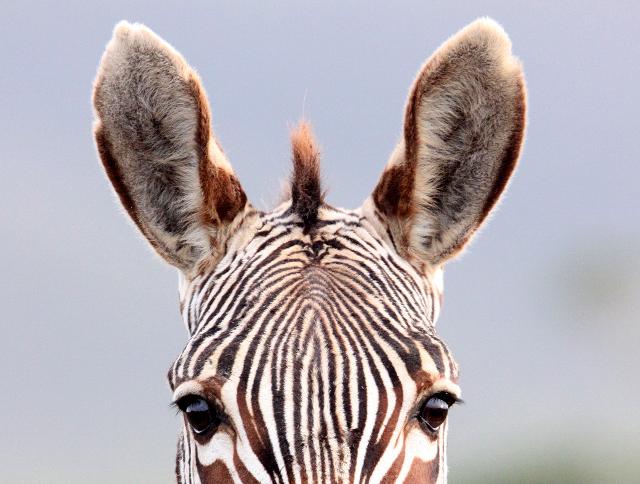 Cape Mountain Zebra
Mountain Zebra National Park was our next destination. We only gave it two days but were very pleased with our stay there. A very impressive mosaic of habitats, Mountain Zebra offers a wealth of wildlife viewing opportunities. Here it is possible to see large herds of the now rare Black Wildebeest. We also got our first glimpses of Mountain Reedbuck. Blesbok and of course Cape Mountain Zebra were numerous as well.
We were hoping for some productive night game viewing, but the temperatures were getting to be so low that very few animals dared to venture out. This included us.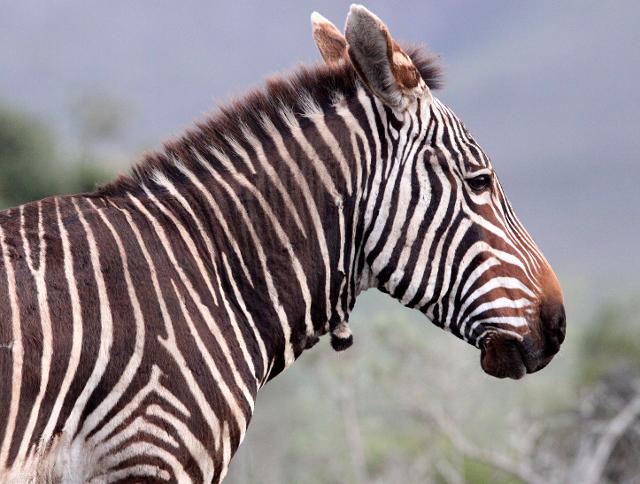 Look at the dewlap on this Cape Mountain Zebra!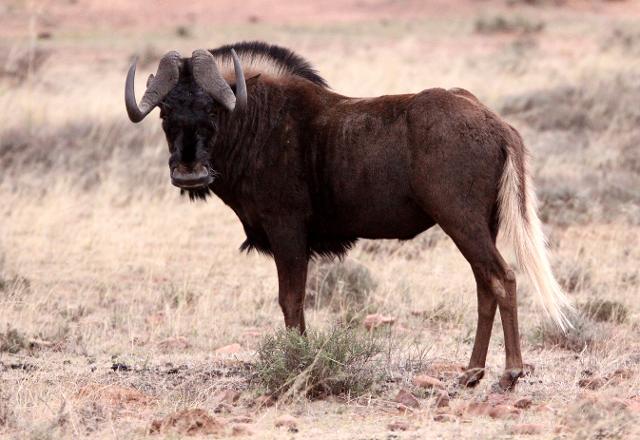 My first Black Wildebeest! Mountain Zebra NP is the best place to see this species.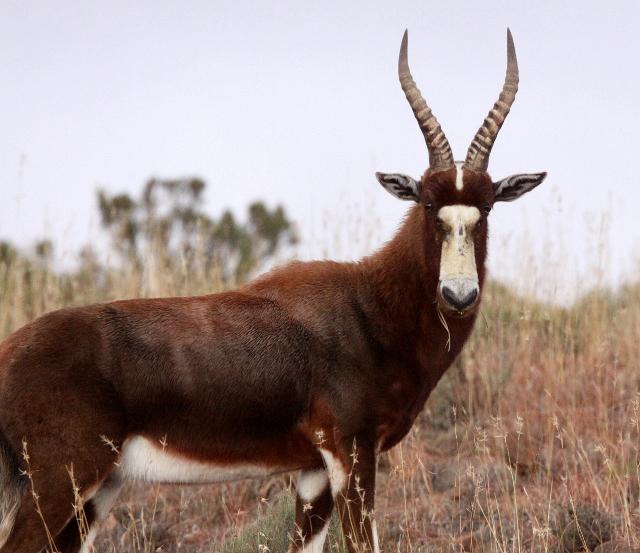 Many of our best views of Blesbok were at Mountain Zebra.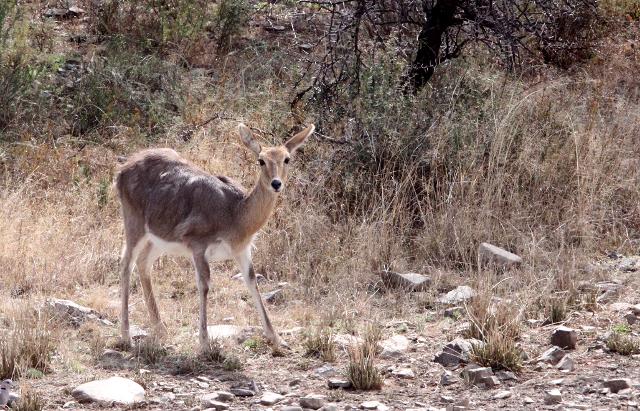 Another rarity seen near Mountain Zebra was this elusive Mountain Reedbuck. Thank goodness Som had to take a leak or we may have missed this one!
***Marrick Camp & The Kimberly Desert***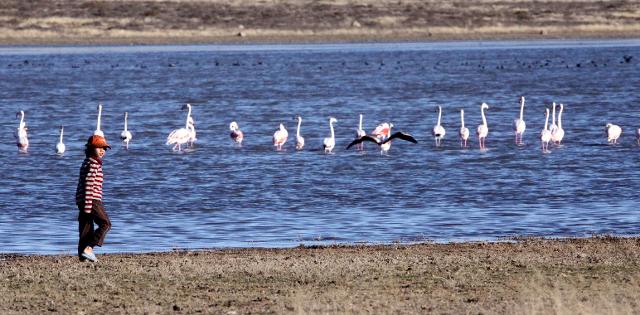 Cokie taking a walk to get a closer look at some Lesser Flamingos at Marrick Camp.
Our next destination was a long day's drive further north to the great Kimberly Desert region. Here we would spend the next three days at the marvelous Marrick Camp safariing in the private reserve searching for Aardvarks and Aardwolves. We saw many examples of both species and had many close encounters with Smith's Red Rock Rabbits and dozens of Springhares. We very much enjoyed our stay in the bush of the Marrick Camp. The private reserve consists of thousands of acres of desert scrub with salt pans and seasonal lakes. There are many kopje outcroppings that provide habitat for the rabbit species as well as the Rock Elephant Shrews, which were able to trap and get a close up view. We also spotted sign in our campsite of the elusive Black-footed Cat which was very exciting!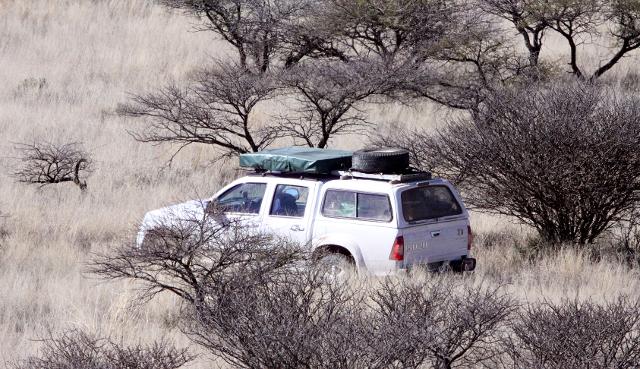 Safaring in Marrick Camp!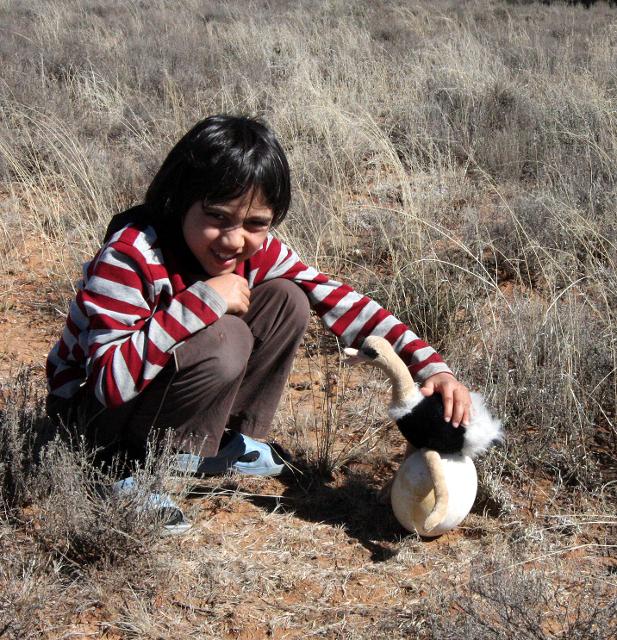 Hmmm....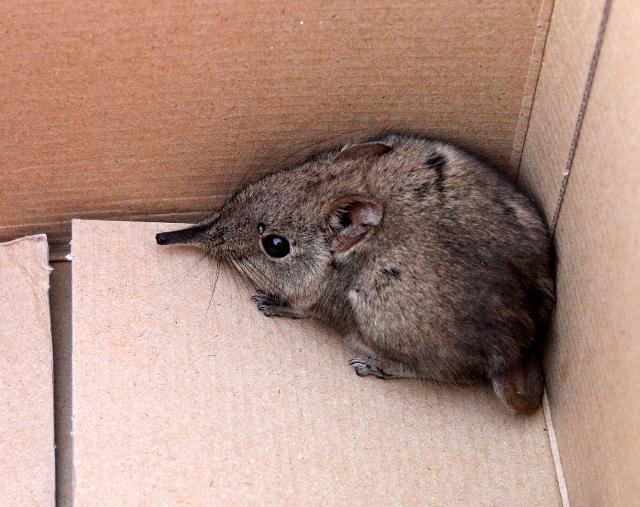 We trapped this cute Rock Elephant Shrew in the Kopjes of Marrick Camp.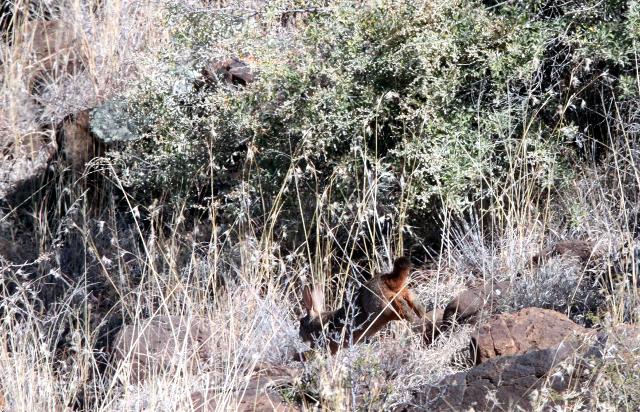 Som nearly stepped on this sleeping Smith's Red Rock Rabbit while trekking the kopjes.
***Pilanesberg National Park***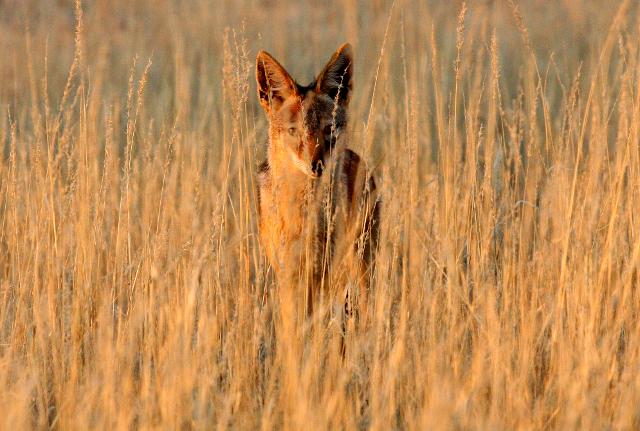 An omnipresent Black-backed Jackal seen in good light in Pilanesberg.
On our way out of the Kimberly region, we were fortunate to see the largest assemblage of Lesser Flamingos I had seen since I had visited the great rift valley of Kenya. We were now on our final full day of our expedition. We opted for our last night to be near Jo'burg to try once again to see some of the species we had missed. While our goals for the expedition had been more than satisfied now with over 115 species and subspecies of mammals and over 350 species of birds, we were greedy. We wanted to nail down African Wild Dogs and Brown Hyena, for which Pilanesberg National Park is famous.
While I would not consider Pilanesberg a great wildlife destination, as it does seem more like a wildlife amusement park, this is one of the more reliable places to see brown hyenas. But not for us – skunked again on this one! We did get some great sightings of many of the species we had seen throughout the trip. In fact, although we did not see any new species at all in Pilanesberg, it was very nice to see what was basically a recap of our entire expedition. Many of the mega fauna species we had said goodbye to much earlier in our trip were to be seen once again in Pilanesberg. Although we had seen literally hundreds of giraffes on our trip, spending our last evening in Africa watching a large bull browse the trees next to our truck was a very nice way to say goodbye for now to these majestic animals. And, as our trip started with quality time spent with lazy lionesses, our trip ended with two lovely lionesses in Pilanesberg. We spent our final 30 minutes of our expedition with these two and they were the last animals we were to see in the wild in Africa in 2009.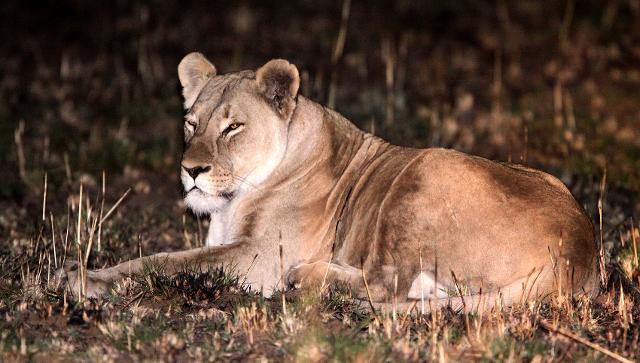 We thought it only appropriate to see this beautiful lionness on our final night drive of our final day in Africa since we started our safari two months earlier with lions in Imfolozi!
***Jo'burg***
Our final day in Africa was spent speeding to Jo'burg to drop our truck back at Hendie's and then off for our flight. None of us were homesick at all, even though we had been traveling for nearly three months! If all of the sudden we were to come in to a sudden pot of money, and a ton of additional time off work, I am sure Cokie and Som would have gladly traveled indefinitely. Perhaps this day would come someday but for now we had to get back to reality.
By this time in Cokie's short life, he had visited over 29 countries! He had seen more of the planet and its wildlife than many seasoned ecotravelers. There is little doubt that his life-perspective has been influenced by these travels. His frame of reference can never be comparable to his peer group. Watching him react to the multitude of experiences on this and our previous expeditions gives me a sense of intense pleasure and satisfaction. As my parents and grandparents had done for me, I am trying my best to instill a respect for the planet and its nature and cultures. I only hope this is just the beginning of this adventure for my son.
Image Galleries:
African Mammals
African Birds
African Reptiles
African Landscapes and People
Here are some more mammal images (of those not pictured above) from our expedition: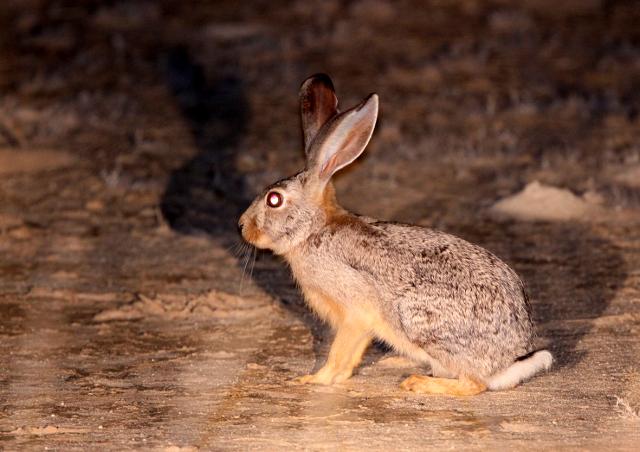 Scrub Hare in Kgalagadi National Park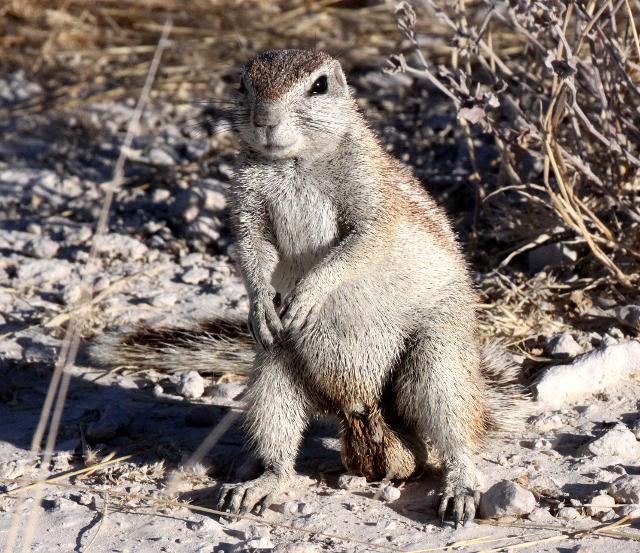 Southern Ground Squirrel in Etosha. These critters are very well hung!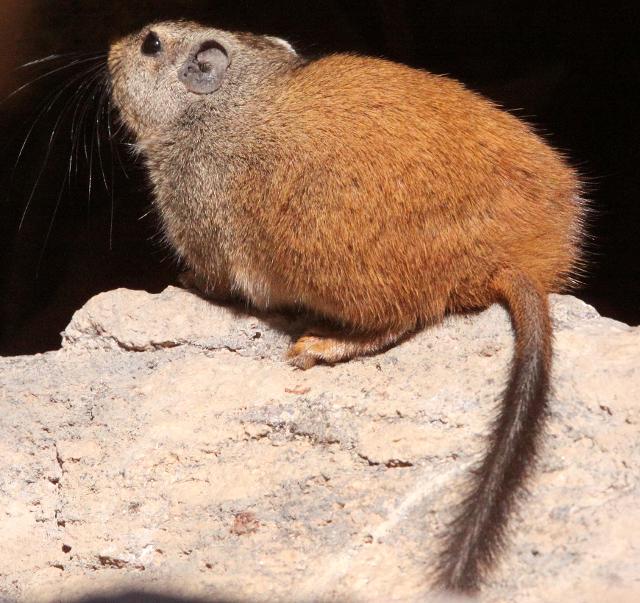 A Dassie Rat in Goegap Nature Preserve in Namaqualand.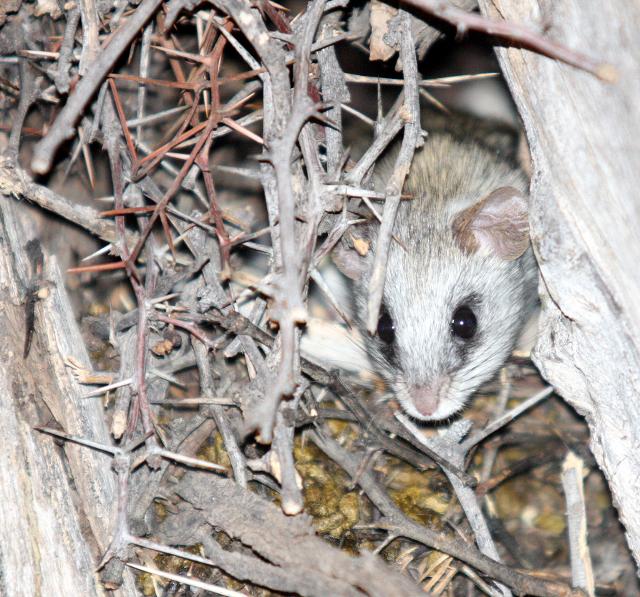 Acacia Rat (Thallomys nigricaudatus) in Kgalagadi National Park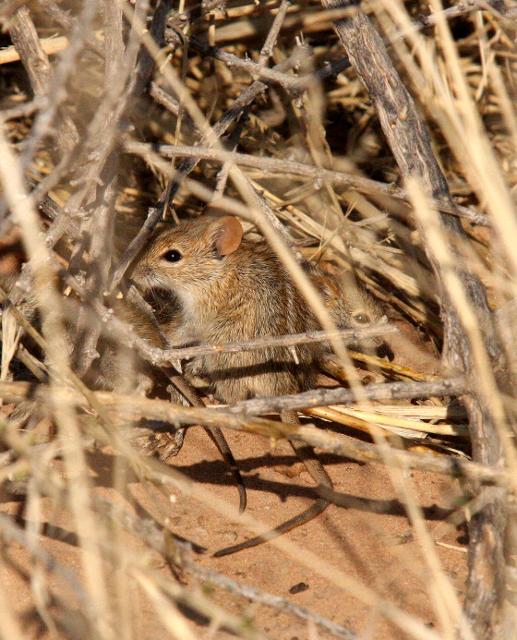 Four-striped Grass Mouse in the Kgalagadi.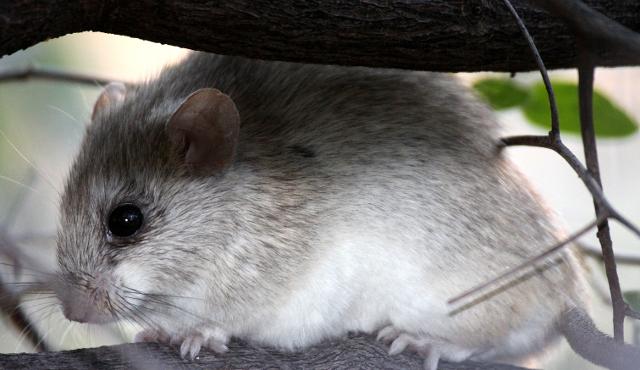 A Bushveld Gerbil (Tatera leucogaster) in Khwai Camp (our little visitor).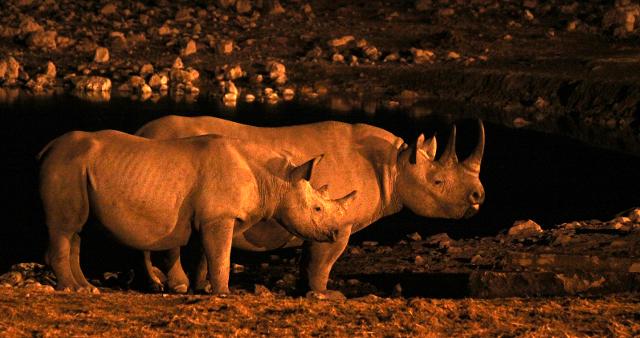 A mother and calf Black Rhino in Etosha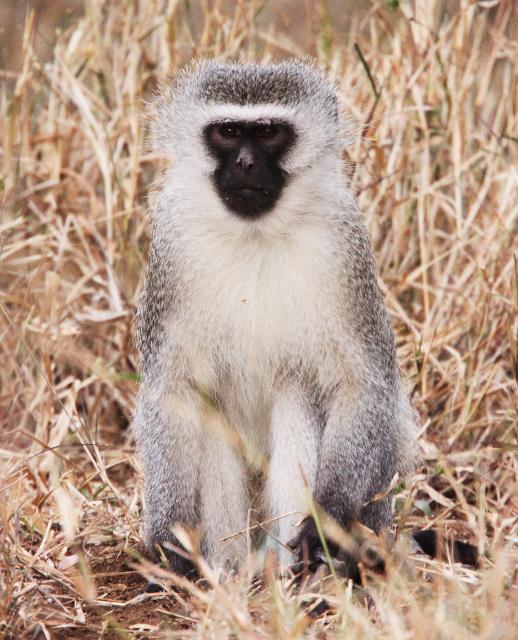 Southern Vervet Monkey in Imfolozi Reserve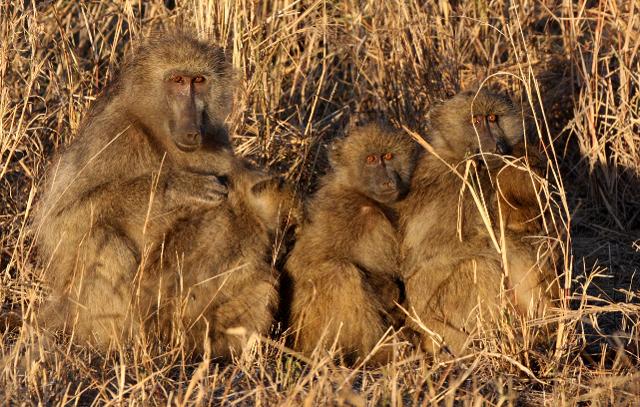 A family of Chacma Baboons warming up in the Kruger morning.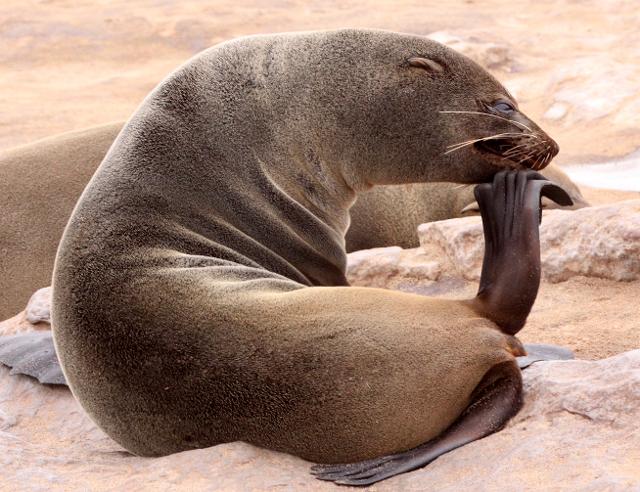 A Cape Fur Seal contemplating reality.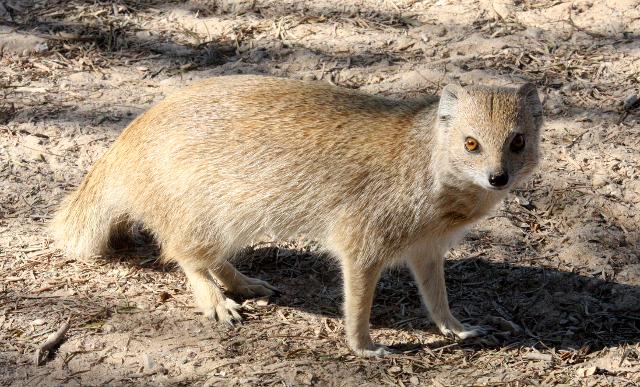 A curious Yellow Mongoose coming for a visit at our camp in the Kgalagadi.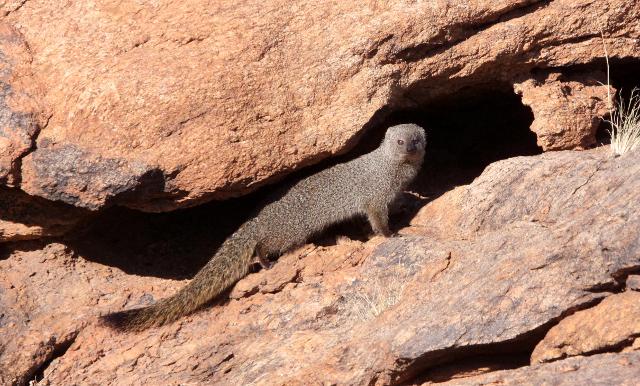 A Small Grey Mongoose in Augrabies Falls.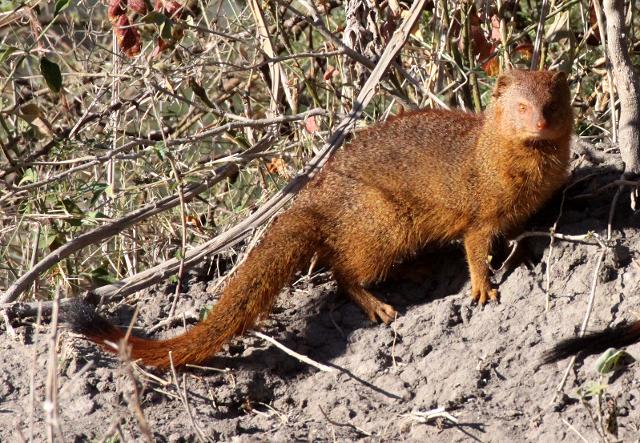 A Slender Mongoose outside our lodge in Chobe! (Cokie spotted this one for us first!)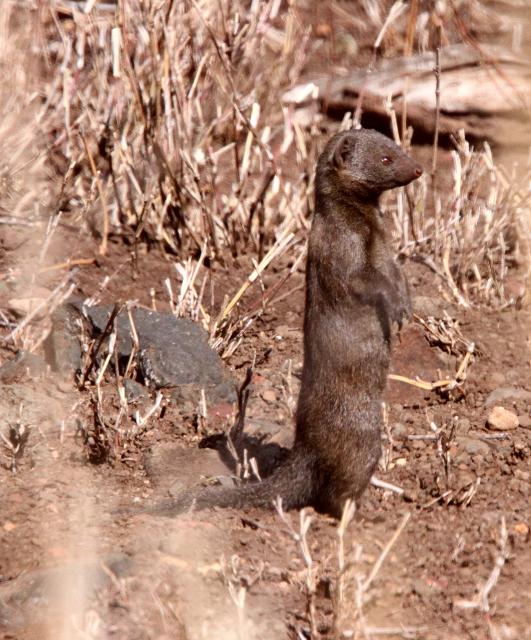 A Dwarf Mongoose in the Kruger.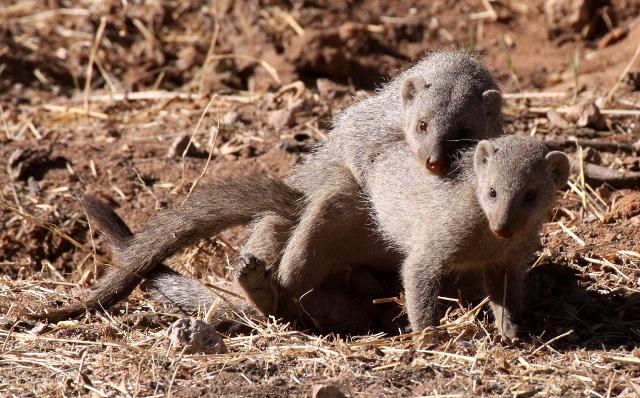 A couple Banded Mongoose "enjoying" the morning in Etosha!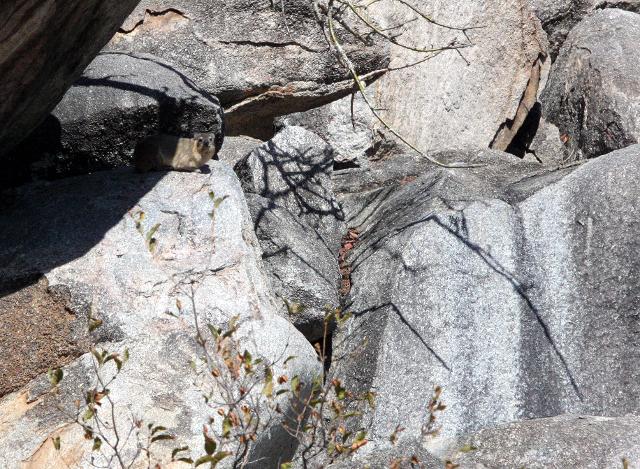 A Yellow Spotted Dassie (Heterohyrax brucei) seen on the edge of its range in Botswana.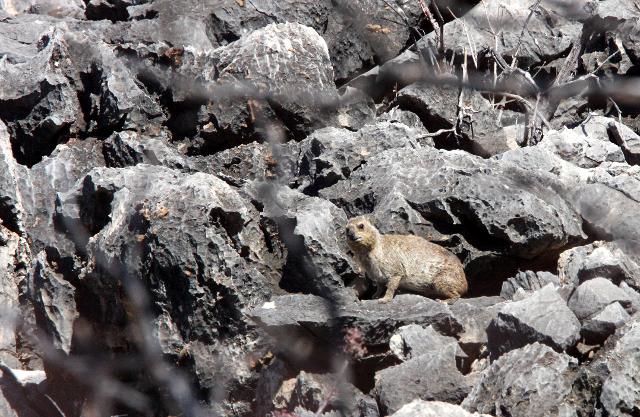 A Koakoveld Rock Dassie (Heterohyrax capensis welwitshi) in Damaraland, Namibia.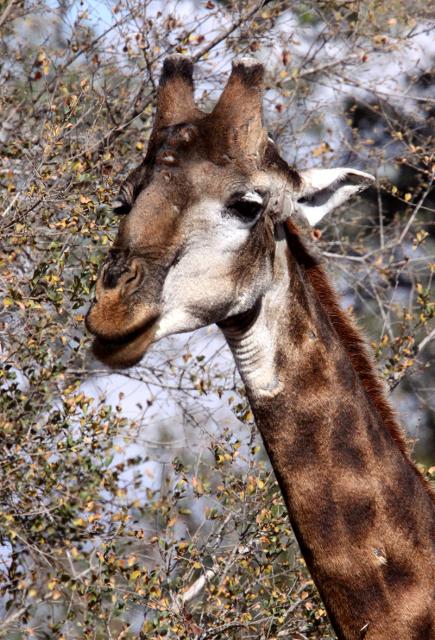 A Southern Giraffe in the Kruger.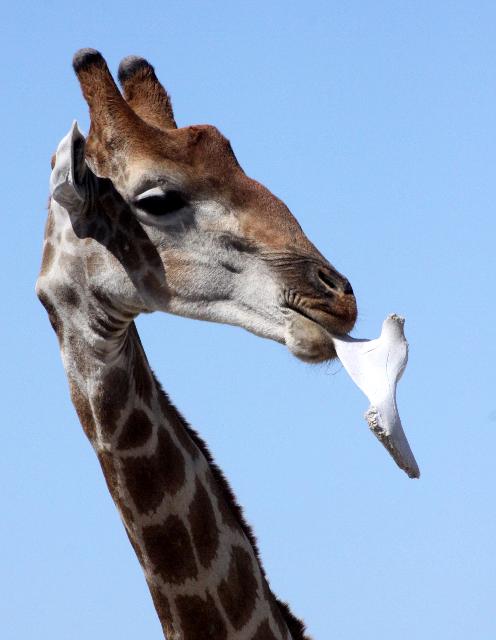 An Angolan Giraffe sucking a bone in Botswana!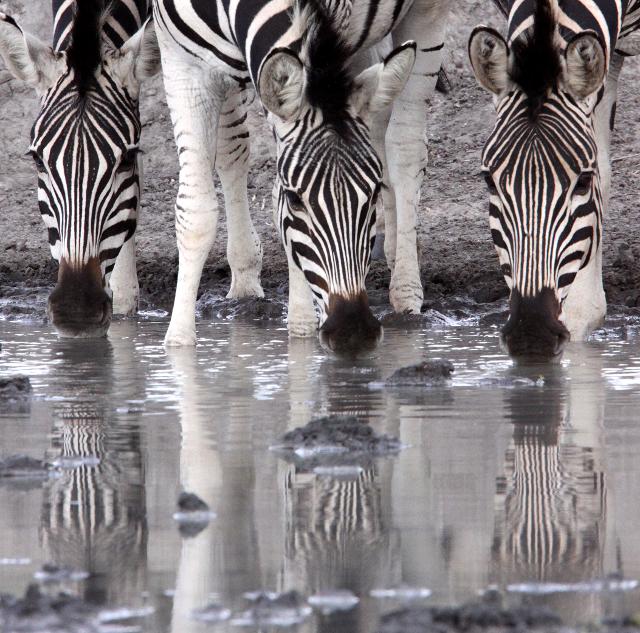 Burchell's Zebra coming in for a drink at a waterhole in Imfolozi.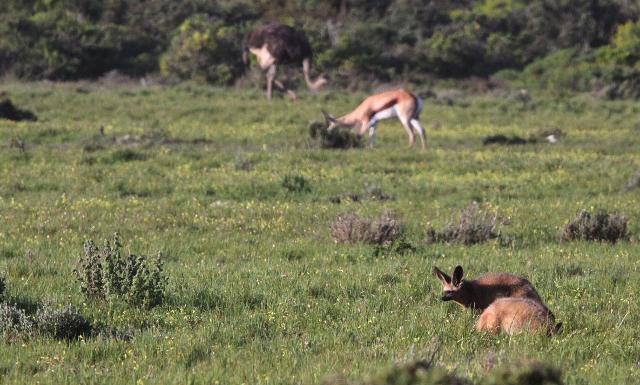 A Bat-eared Fox hunting for grubs in West Coast National Park.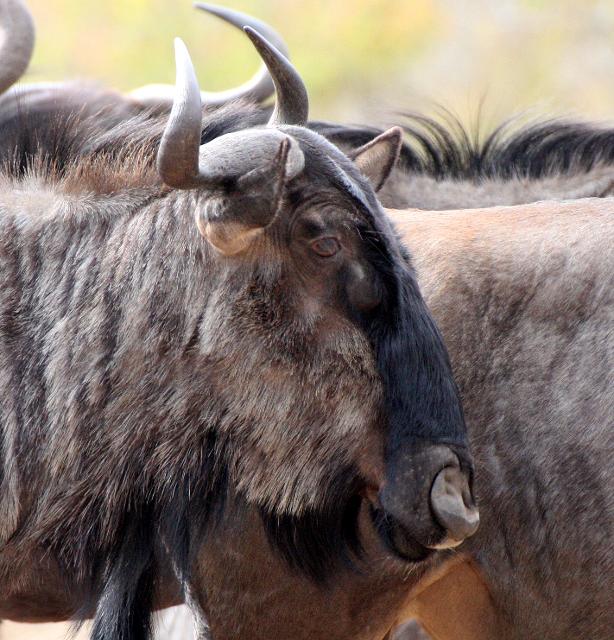 Blue Wildebeest in Imfolozi.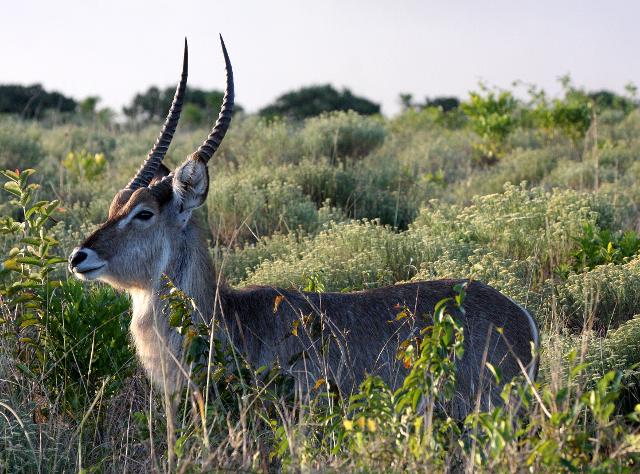 Common Waterbuck in Saint Lucia Wetlands Reserve.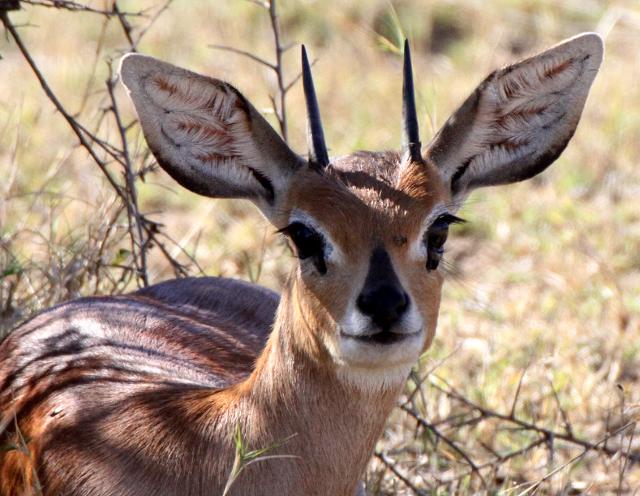 A resting Steenbok in the Kruger.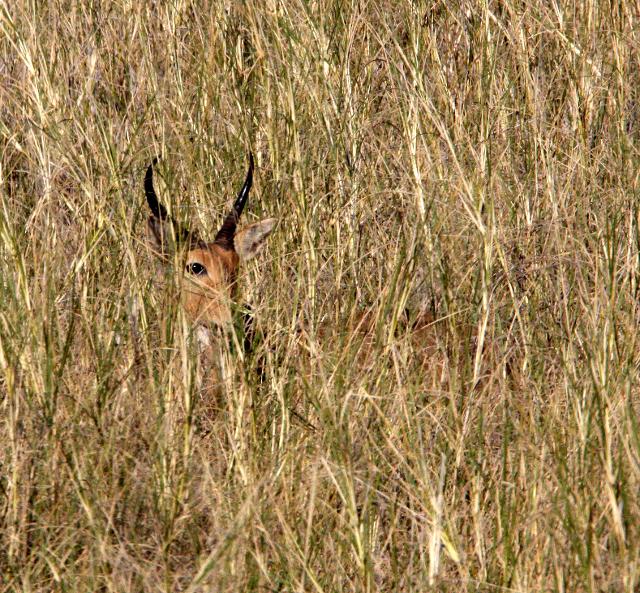 A Common Reedbuck in .....the reeds....go figure.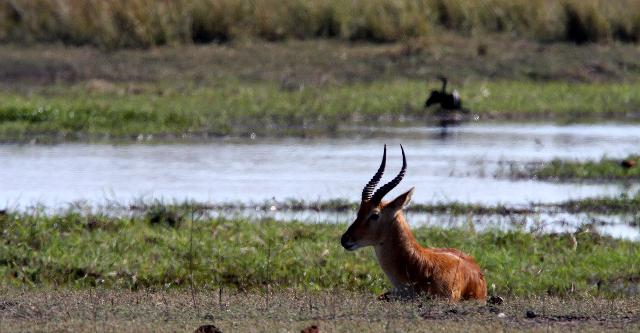 A Puku resting along the banks of the Chobe River.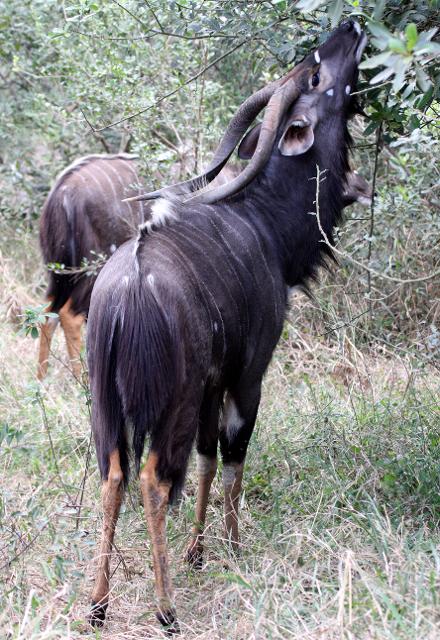 A grazing Nyala at Imfolozi.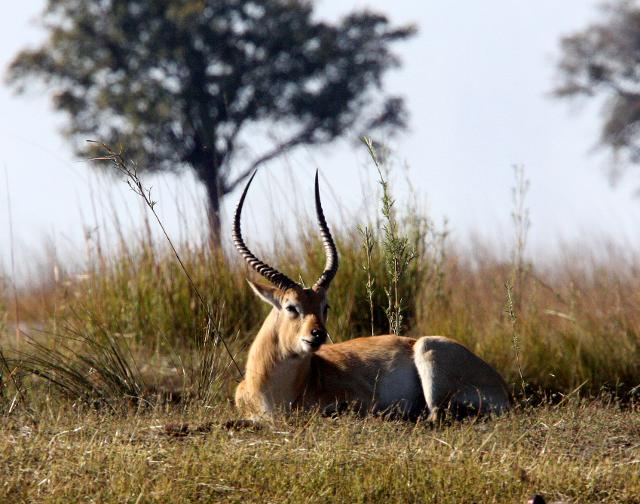 A Red Lechwe in Chobe.
A Greater Kudu in the Chobe.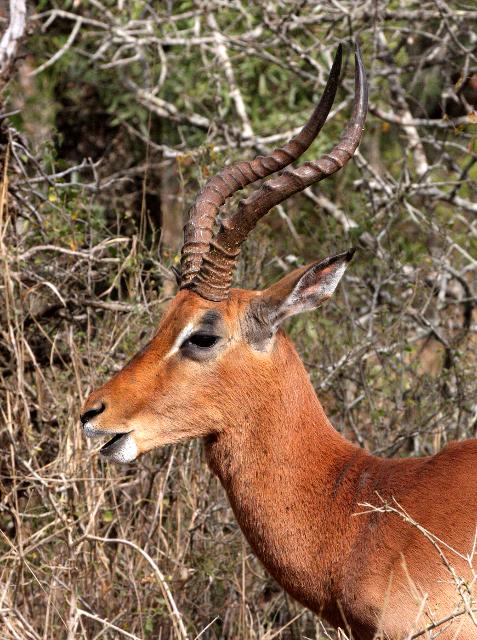 Common Impala (Bush lice!) in the Kruger.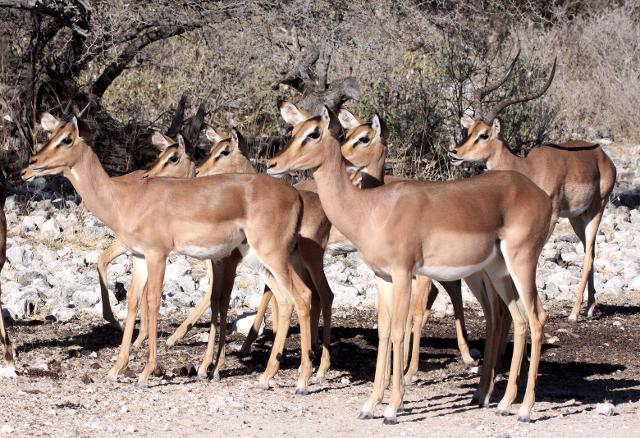 Black-faced Impala are now found mainly in Etosha.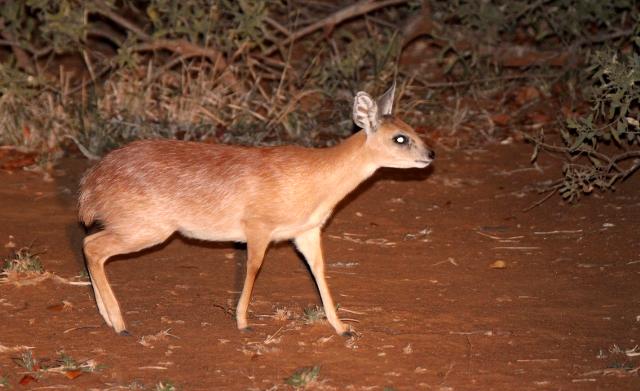 Sharpe's Grysbok seen on night safari in the Kruger.
A Red Duiker seen in Saint Lucia Wetlands Reserve.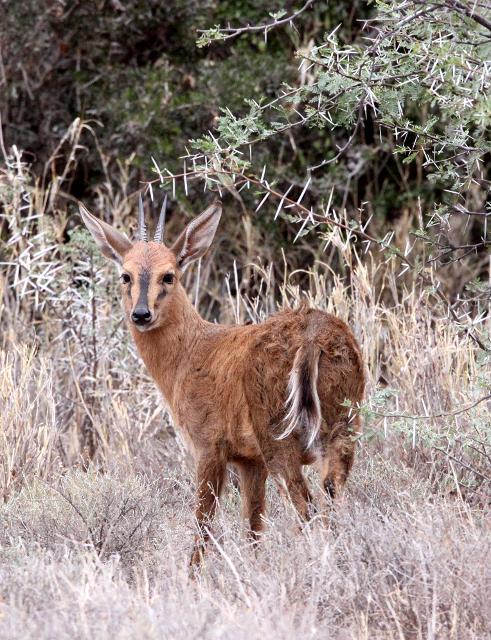 A Common or Grey Duiker seen in Imfolozi.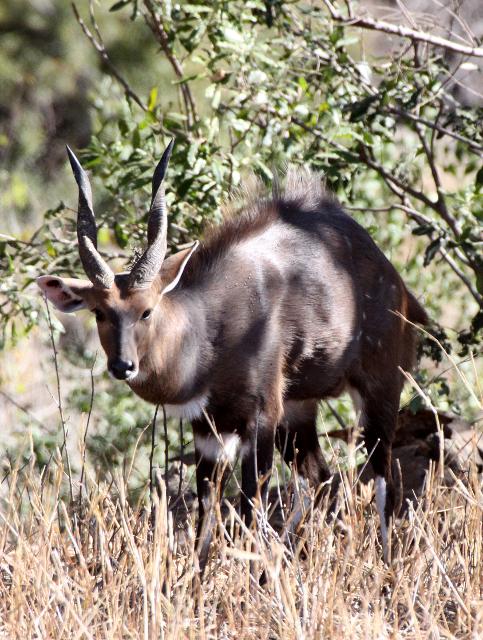 A bull Bushbuck in the Kruger.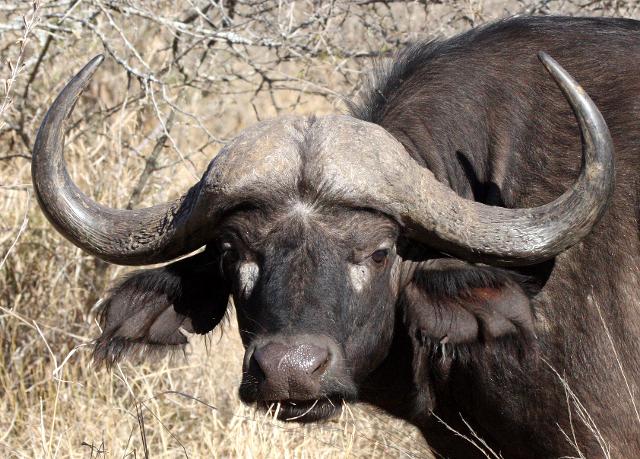 A massive Cape Buffalo in the Kruger!
Southern Africa Image Galleries
(Click Here to see our giraffe comparison page!)
(Click Here to see our Zebra Comparison Page)