Kaeng Krachan's vast primary forest. This forest is one of Southeast Asia's last remaining intact tropical rainforest tracts. Kaeng Krachan, along with several national parks and nature preserves, both in Thailand and Myanmar, protect a vast expanse of what little remains of this region's biodiversity and habitat.
In addition to the images that follow, log on to our Thailand Images Galleries:
Temples and Ancient Sites of Thailand
Reptiles and Amphibians of Thailand
Expedition to Thailand's Tenasserim Bio-region!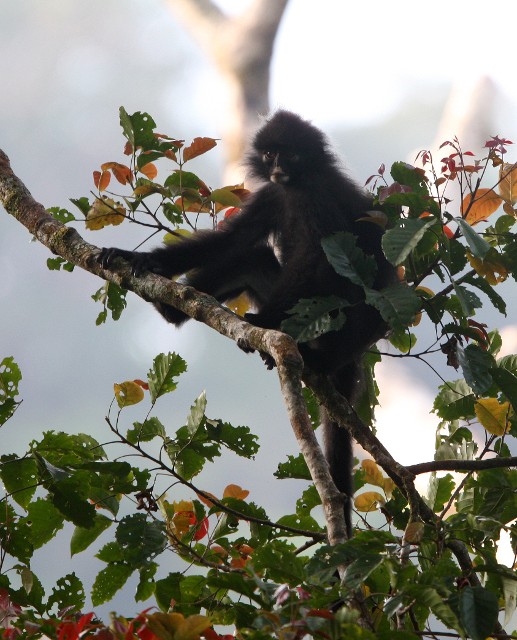 One of the rarest primates in Southeast Asia - the Tenasserim Langur or Lutung (Trachypethicus barbei). Although it was never a target, per se, I was thrilled to learn that we had just seen a sizable troop of one of the hardest-to-see langurs anywhere.
Here is a link to a blog that was initiated due to this extremely rare and sighting and series of images (Link Here)

Thailand is so much like home now, it almost seems a bit silly to keep writing blog entries for our exploits here. But what the hell, our 17-day expedition during our Christmas break we visited Kaeng Krachan & Kuri Buri National Parks as well as the salt flats of Pak Thale and netted some incredible wildlife sightings with at least 31 mammals and over 140 species of birds! And some very impressive reptiles and scenery added in for good measure.
Petchaburi Province is a very geographically and biologically diverse province. For naturalists, it is often overlooked for the riches of Khao Yai to the north and other parks and islands down south. Most people, including myself until recent years, basically drive or fly by without giving the region much exploration time. The Tenasserim Mountain Range, which forms the spine of this region, is home to some of Southeast Asia's most impressive and endangered fauna and still a basically intact bio-region – something virtually gone forever in most of Asia.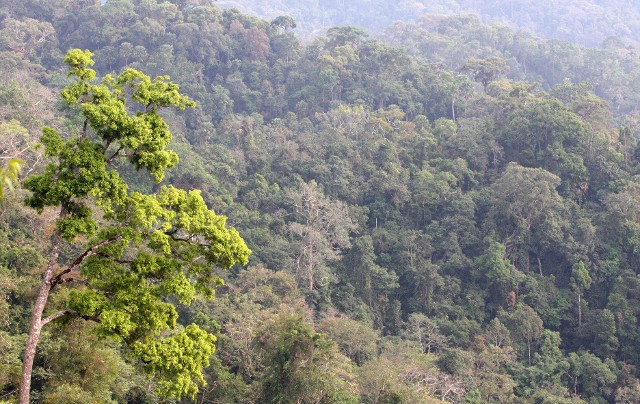 A dryer forest than other parts of Thailand, the Tenassarim is home to a spectacular mixed deciduous and diceduous dipterocarp-dominant dry rainforest with an astounding level of biodiversity! I was impressed with the appearance of the forest during the winter months.
The days of simply flying through 'Pet" (short for Petchaburi) Province are over for me. Not only do we now stop along the way, we now make "Petburi" province our primary destination! Petburi and Prechuap Kiri Khan that is. In these two provinces, you can find Kaeng Krachan, Kui Buri, Khao Sam Roi Yod (of Sumatran Serow fame!!!) and Leam Pak Bia/Pak Thale, two of the best shore bird-viewing spots anywhere. One can spend months exploring the nooks and crannies of these astoundingly diverse regions. Over the years, we've spent at least weeks but every trip to the area, we come home with dozens of new species added to our life lists. And the wilderness experiences are all so precious.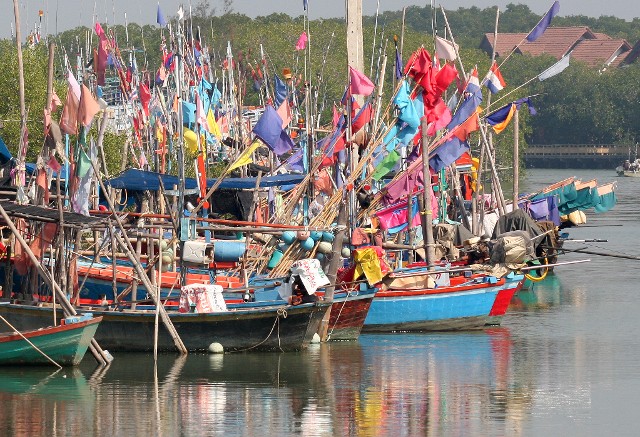 The fishing fleet at Leam Pak Bia, just south of Pak Thale, which is one of the best shore-bird birding destinations in all of Southeast Asia.
I sit writing this blog post in The Narima Resort veranda in Koh Lanta, sipping a drink with my beautiful wife, gazing at Cokie swimming his brains out as if it will be his last chance. The sun is blazing and the Andaman is actually very rough with white-caps - rare for this time of year. A late typhoon has beaten the crap out of the region over the past week or so and has made for some rather tumultuous weather to be sure.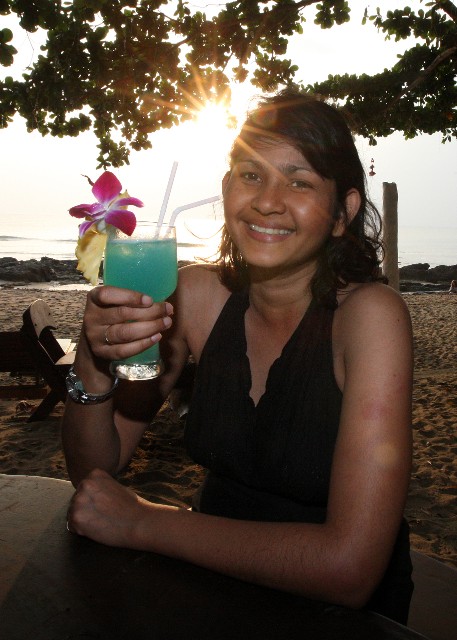 Som enjoying time on the beach on our TENTH wedding anniversary at Narima Resort on our Lanta Island! Sunset on the Andamman!
***
The Expedition
***
Kaeng Krachan National Park
While we started this expedition with our commensurate stay in BKK followed by a couple quick days in Nakhon, we kept our promises to each other to hit the road for a solid road trip right away. This is no small feat as we often start with a couple days in Nakhon, with all intentions of boogying after a couple short days, but a couple days ends up being a week which has more than once become a month….and then…. But not this time! Our time was limited and we were absolutely itching for some wilderness and some nature-time. Living in China will do that to you…
We left early out of Nakhon and drove due north to our favorite wilderness area in Thailand – Kaeng Krachan National Park in Petchaburi Province ('Pet' for short). Normally this is supposed to be a 6-7 hour drive but this day we opted on trusting our new GPS program for Thailand we bought for our Garmin….Mistake! 6-7 hours became 12-14 hours and we had to traverse some of the worst roads in the province for sure. A few times I was convinced we actually drove in to Burma! At least on this journey, we did see some spectacular countryside, very remote villages, some pretty virginal rainforest and even a troop of Stump-tailed Macaques that entertained us on the road outside of Pa La U Waterfalls.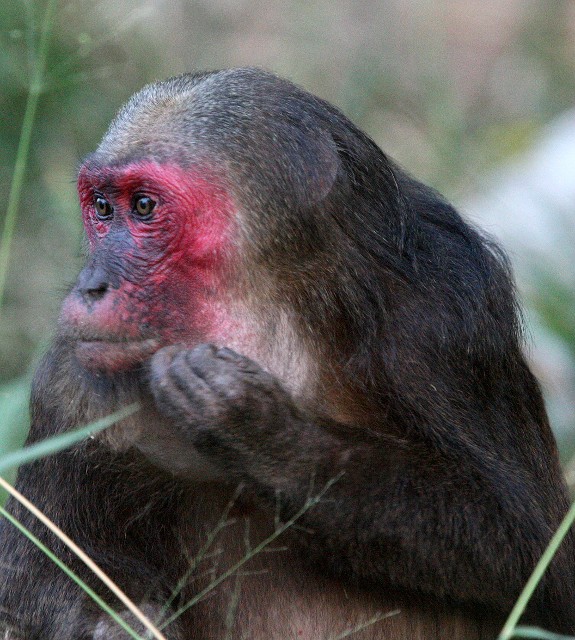 It was great to finally get some quality looks at this rarely seen macaque. While Stump-tailed Macaques are quite common, we have only seen them once very briefly several years back in Khao Luang National Park.
Hence the name, "Stump-tailed". I think "barrel-bellied" would be fine too...
We arrived too late to enter the park to reach Bang Krang Camp so we stayed at a massive and very empty 'hi-so' resort a few km outside of the Kaeng Krachan park headquarters just before you reach the dam. Nice place – did some spot-lighting but it would appear that the place was basically mammal-less as they said it would be at the front desk. I always get a kick out of the reaction by most resort staff when I ask if there is any mammal wildlife: "Oh no sir, we have nothing like that – you don't need to worry…" And when I tell them that I am actually looking for critters, they often come up with a few they forgot to tell me about originally. Not this time.
Next morning up and out to get to our biodiversity hotspot! The road in to the core area of Kaeng Krachan is always a great drive with good potential for wildlife. We've seen Asian Elephants, Spectacled Langurs, Barking Deer, and Civets of various species on many occasions. Gaur are regularly seen as well, just not by us…Today's drive was beautiful but without wildlife.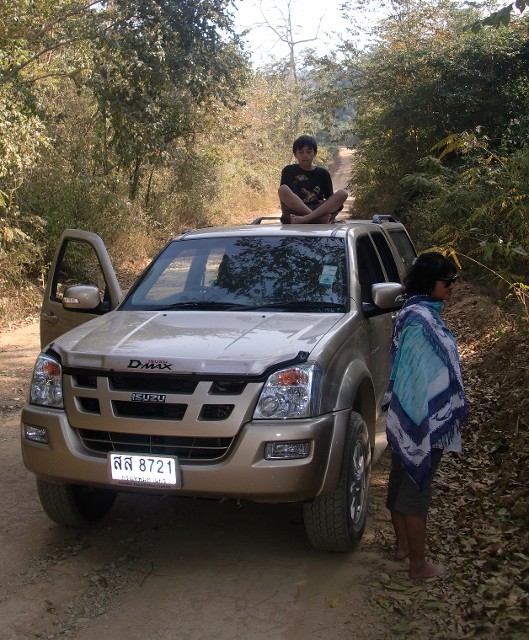 Som did get a quick sighting of an Indian Muntjac while on the road this morning. We tried for a bit to get a better look for a few minutes....While I never saw this one, I know from experience that when Som says she saw a Muntjac, she saw a Muntjac...
Base Camp Bang Krang
We decided to set up camp in the Bang Krang campground before heading up to the top of the mountain Range. The camp was completely empty, which gave us some hope. As with all national parks in Thailand, the camps can be living hells that should be avoided at ALL costs, especially on the weekends. But on the weekdays, you can every once in a while get lucky. This time we were – the entire place was ours! With one laughable exception: on our last night there, a couple from BKK decided to set up a tent in the camp. Of course I knew exactly where they would set up the tent – about 6 mm away from ours! Of course it did not matter that there was about 20 acres of flat earth to set up a tent, but there is something in the Thai genome that mandates that all tents must be 6mm away from any other, or closer! And of course it is necessary to stay up late talking at high volumes and then, of course, you must snore loud enough to scare away all life forms in the province!!!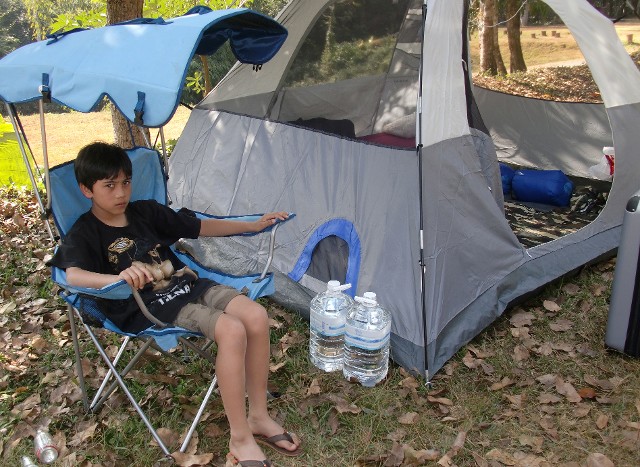 Cokie guarding "base camp"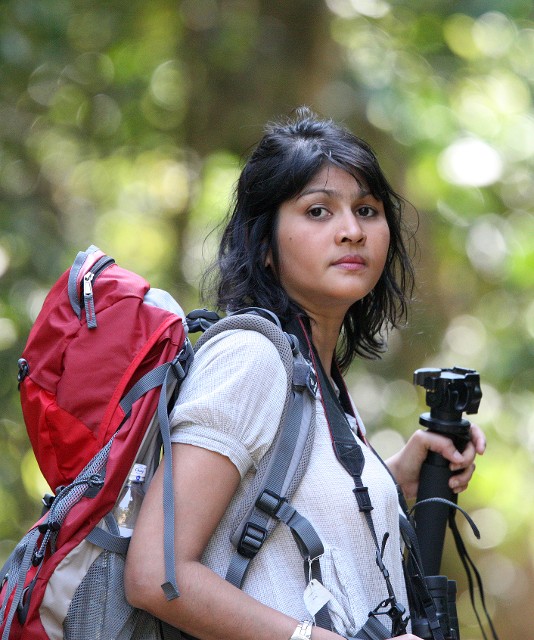 We made time for some quality trekking through the forest. We lucked out and the weather was cool this year, and this allowed for some very comfortable trekking through the secondary forest of Kaeng Krachan! Great fun.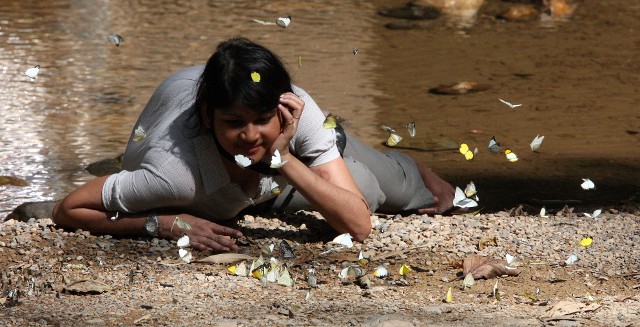 Since it was the dry season, the butterfly clouds were very small compared to earlier trips to Kaeng Krachan. But they were beautiful just the same!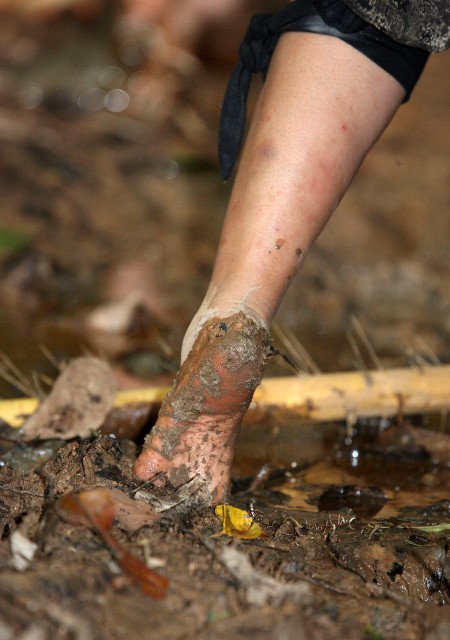 When it's too muddy for shoes, take 'em off! But just watch the THREE inch spines on that downed palm branch!!!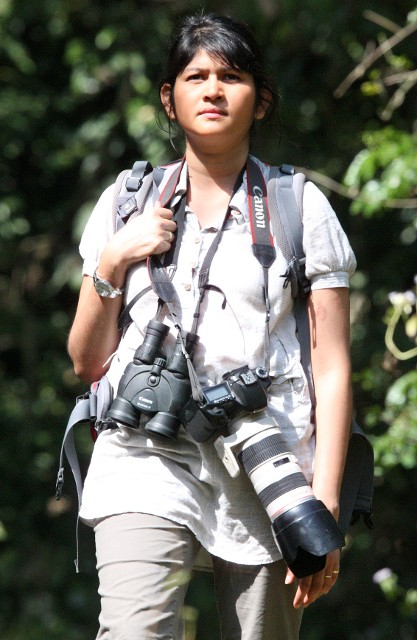 Somie coming up from behind just seconds after Cokie and I saw our first amazing Asian Golden Cat in the wild! (For about six nanoseconds...)
To The Top of the Tenasserim!
The drive up and down the road to the summit of the mountains in Kaeng Krachan is regulated seriously to avoid cars driving in opposing directions on the steep, treacherous road. Perhaps a bit overly cautious in my opinion but at least there was logic in this regulation. So we had to kill some time and we decided to trek in to the secondary forest around the base camp. And what a lucky trek this was to become. While the trail passes through some fairly degraded forest, wildlife sign was everywhere! We came across a ton of fresh (like last night's!) elephant sign as well as turds from various deer and several civet species! We were startled by some Long-tailed Macaques screaming in the forest just next to us. I will never get used to the shrieks from those damn monkeys! But the best sighting of the trip was to come along this trek – while Cokie and I were walking up a slight incline, we came to the crest of the trail to look down on a very startled Asian Golden Cat! While I did not have more than 2-3 seconds with this beautiful animal, the ID was unmistakable and this now ranks as one of my wildlife-spotting highpoints! The last time I saw this critter was in a poacher's hut in DaLat Viet Nam in 1994!
Before heading up the hill to the Thale Mog (Thai for "sea fog") view point, we had encouraging news that a leopard had been regularly sighted on the road. In fact, one was sighted about 10 minutes before we were starting up! This sighting, of course, along with the 3-4 other sightings while we were there, pretty much guaranteed however, that we were NOT going to see it, but oh well… I was pretty proud of myself at this late stage of my wildlife viewing career, I was not jealous at all. In fact, all I felt was a bit of joy that so many people had the honor of seeing one of the rarest carnivores in the world – the Asiatic Leopard. Of course, the fact that I had already seen one in both India and Nepal helped a bit too I suppose…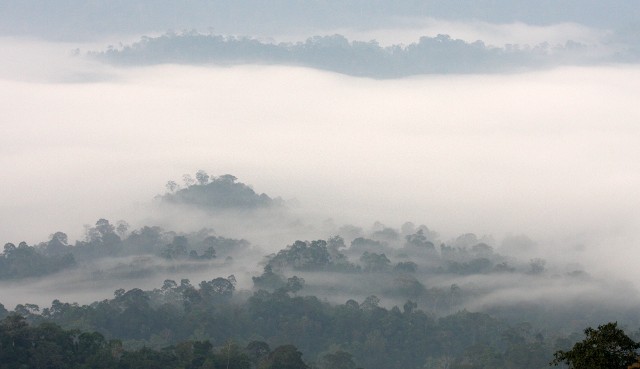 Thale Mog baby!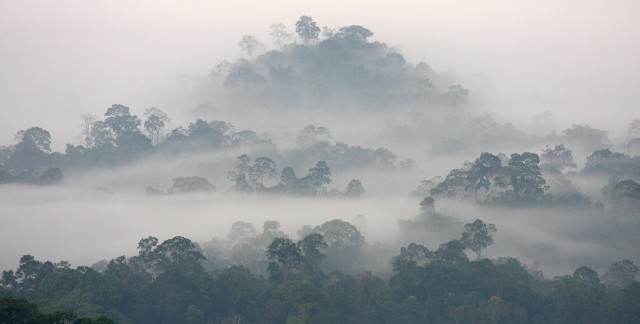 The vast majority of the people who come here are here for one reason only - Thale Mog! The morning mist ("sea fog") over the immense forest of Kaeng Krachan.
Our drive and trek to the top was very good - two new mammal species! We came across a grazing and unimpressed Fea's Muntjac that gave us prolonged views. Finally I am able to confirm this species! I thought I had one at Huai Kha Kheng a few years ago, but it ended up being an orange-morph common Red (Indian) Muntjac, which we also saw on this trip as well. We also came across a nice Malayan Porcupine as well as an aggressive Masked Palm Civet in good light - a first for me! We caught a quick glimpse of our first Banded Langur ever but were denied photo-ops.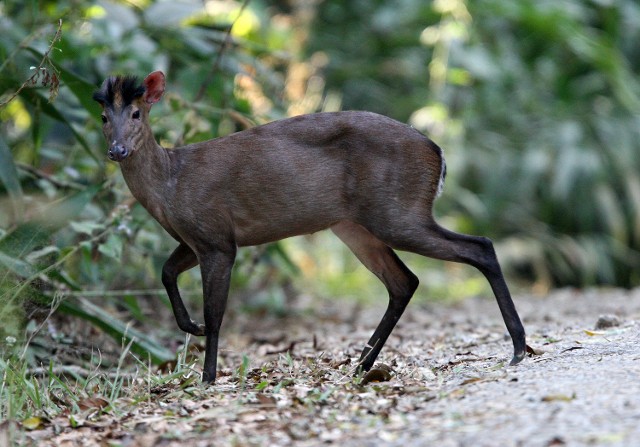 Fea's Muntjac! Finally!
NEWS FLASH! After sending this blog post link to my friend, Bruce Kekule (check out Bruce's website here!), he informed me that my image of this Fea's Muntjac was in fact a rather rare wild-caught image of this species. He then published it in his latest Bangkok Post "Environment" column. Click Here to read this article!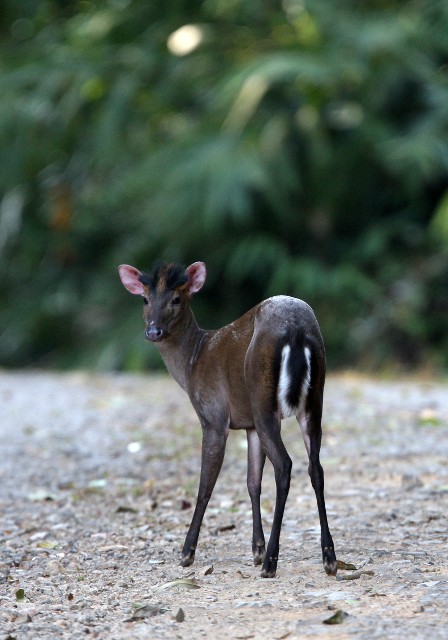 The defining black tail of the Fea's Muntjac. For years I have hoped to see this species in good light.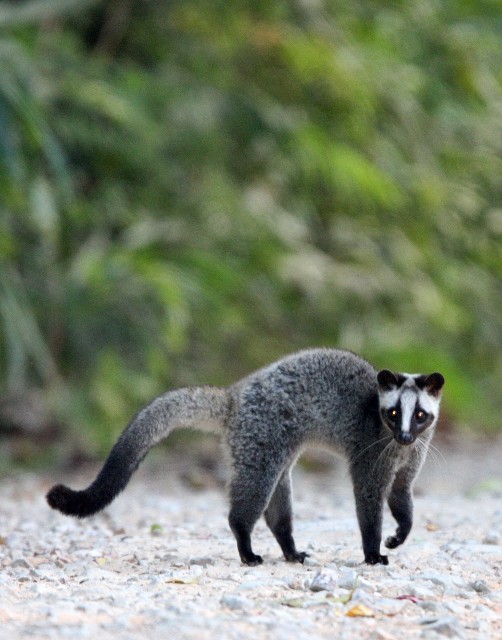 Rarely seen in the daylight, Masked Palm Civets are spectacular member of family Viverridae. This one felt a bit frisky with his agression display as we approached. (Som Smith took this picture!)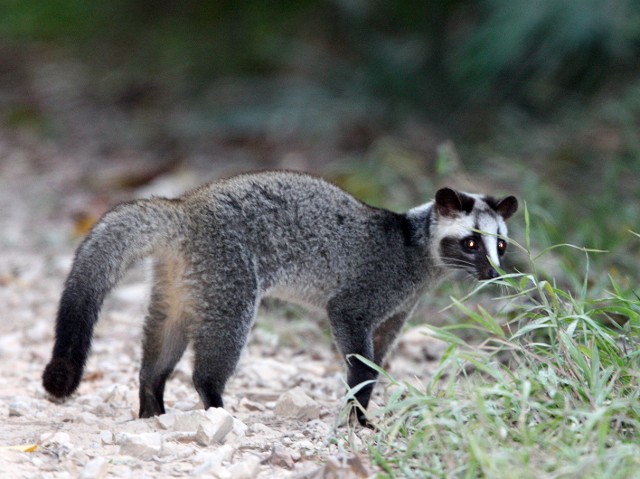 Much more spectacular in the daylight than under a spotlight...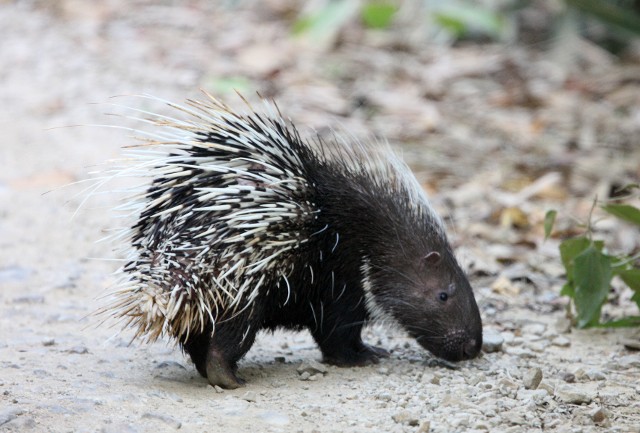 Malayan Porcupines are another species rarely seen in the daylight. This one gave long views!
The top of the range is a birding hotspot for sure and we racked up several dozen species in two short days of not-so-serious birding. Imagine if we were serious! And the sightings tend to be fabulous! Several Great Hornbills were seen soaring through the valleys from tree to tree. About 99% of the visitors to this area are here for one purpose and one purpose only – "Thale Mog"- the morning fog over the forests in the valleys of the Tenasserim Range. Anything else is boring to many of these folks – including two amazing Great Hornbills soaring in spitting distance for several hundred meters from tree to tree….I guess I will never understand.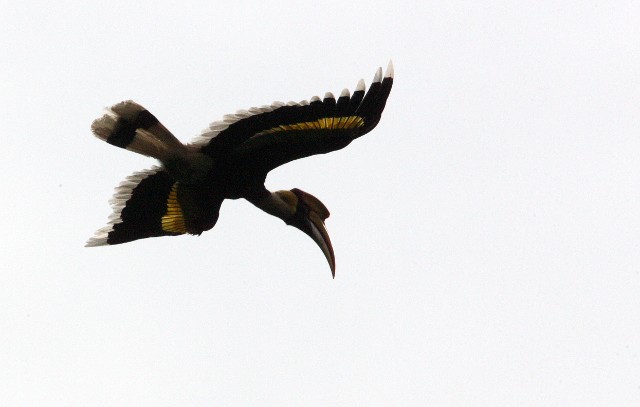 Although this is an awful image, it is the best I could capture on this trip of this glorious bird flying overhead. The forest was simply exploding with life the days we were there. The chorus of hundreds of gibbons singing the morning in and the flight of hornbills in virtually all directions made for a sublime breakfast seen this spectacular morning.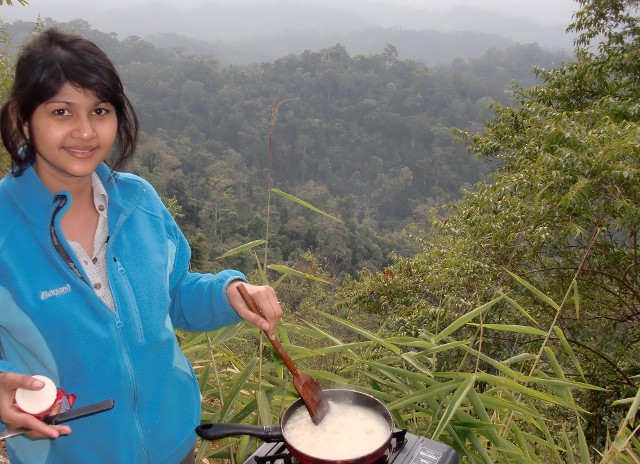 We made the drive up the mountain (about 25 km on rough dirt/rock track) in the dark of morning in hopes of spotting some wildlife, with good success. So we made breakfast up on the peak of the mountain with the sounds of the gibbons in the forests below - absolutely amazing. Words cannot do justice to this amazing symphony.
Tenasserim Langur (Trachypithecus barbei)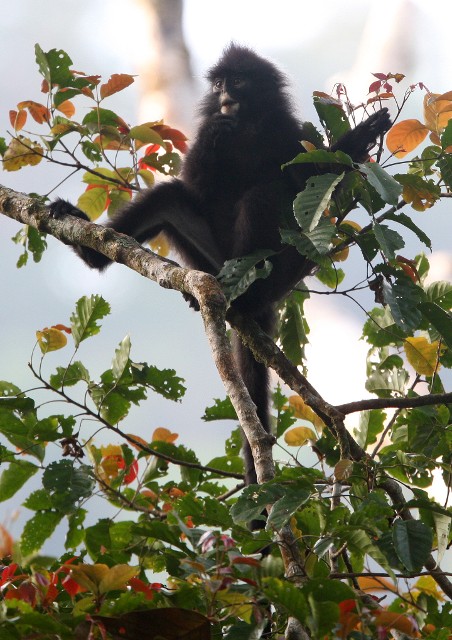 Tenasserim Langur baby!

Here is a link to a blog that was initiated due to this extremely rare and sighting and series of images (Link Here)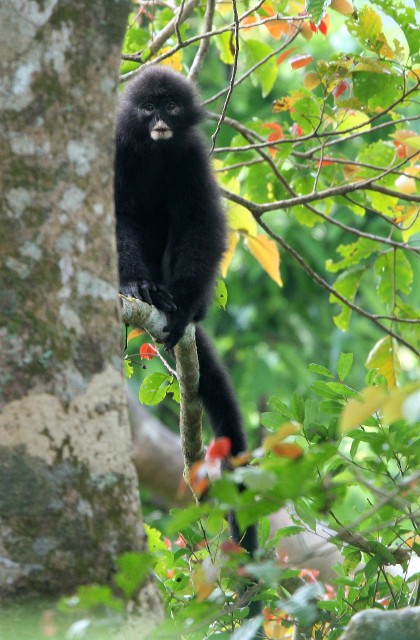 Very nice private view of a beautiful Tenasserim Langur.
While at the higher elevations of Kaeng Krachan, we saw loads of primates, mostly the common Spectacled Langurs. But there were several sightings of what the local naturalists were calling "Banded Langurs". While we did see one individual very briefly that fit the description of the Banded Langur, the ones that stuck around long enough to photograph were notably different. The white lips and hair crest were not typical of Banded Langurs but those of the extremely rare and endangered Tenasserim Langur. Virtually nothing is known of these elusive primates and the literature is poor indeed. But evidently, according to the amazing cook at the cantina, they are common up on top and make nearly daily appearances!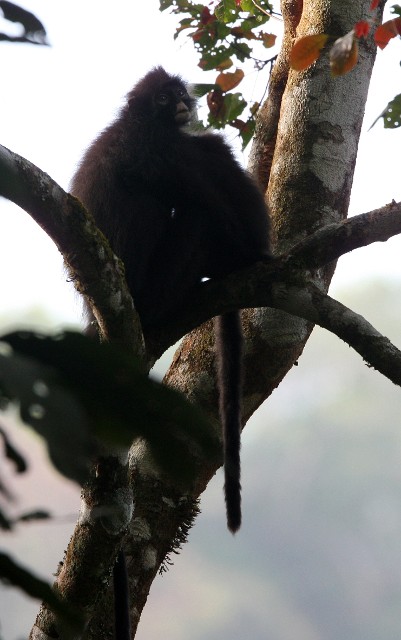 A mother and young Tenasserim Langur seen in Kaeng Krachan National Park.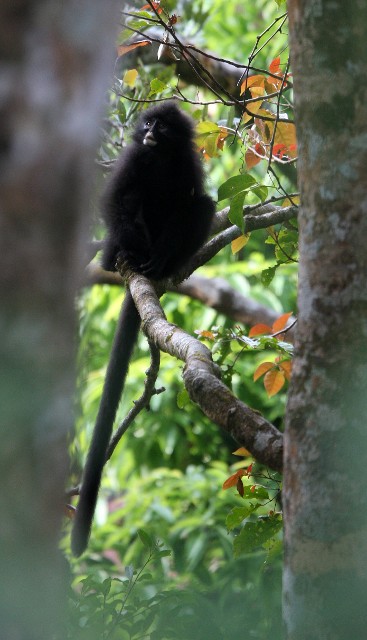 We came across a troop of about 20-25 of these elusive primates on this trip.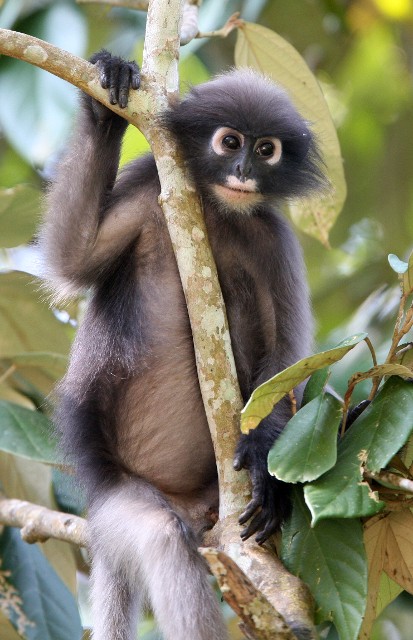 Kaeng Krachan remains one of the best places I know to see the common Spectacled or Dusky Langur at close quarters.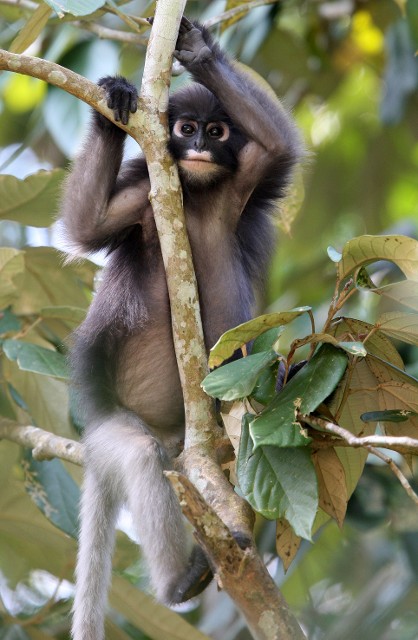 Dusky Langurs are seen in high numbers throughout many natural areas of Thailand.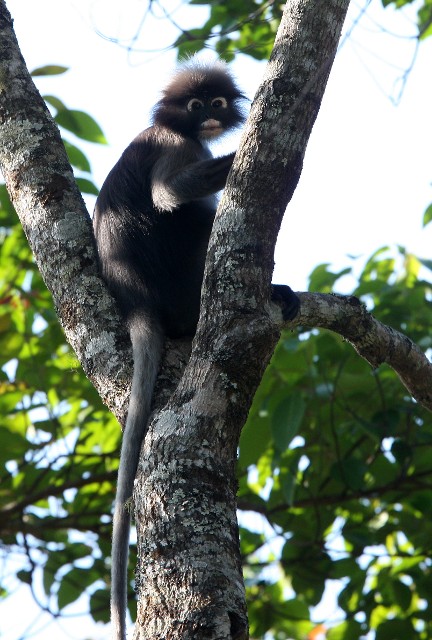 Langurs in general are very attractive primates, but the Dusky Langur stands out as one of the more specacular of all.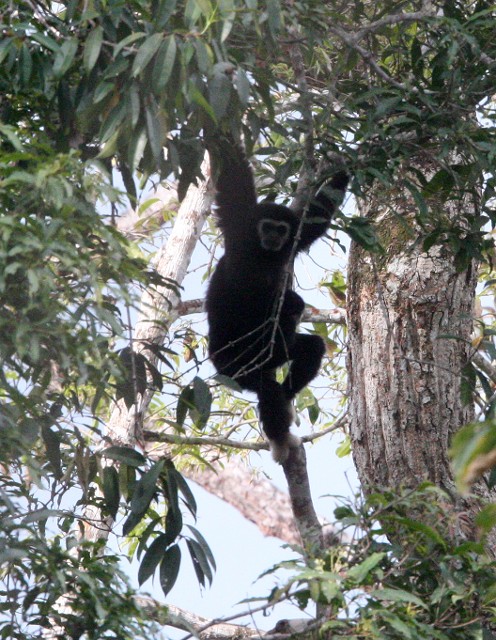 Since I had seen White-handed Gibbons on many trips in to Kaeng Krachan and other locations throughout Thailand, I didn't work too hard to get good images this trip. But I was thrilled to see this black morph, albeit very briefly. We found this one due to its amazing song but saw it only for a few seconds as it stopped to peek at us through an opening in the forest canopy.
On the drive down, we searched diligently but fruitlessly for the "seen-by-everyone-but-us" leopard, but no luck. Oh well, as they say in India, "Don't worry that you did not see the cat – IT surely saw you!" I am sure that was true. And we just missed the giant bull Guar that had been seen by "everyone but us!" I did have a pretty good night stroll around the camp however. I dared not travel too far off the beaten path with SO much fresh elephant sign around, but I came across Masked and Common Palm Civets as well what looked like a frickin' albino Binturong!!! I'm sure it wasn't really albino but it was the palest Binturong I had ever seen. Lots of frogs, nightjars and Red Muntjacs were seen as well.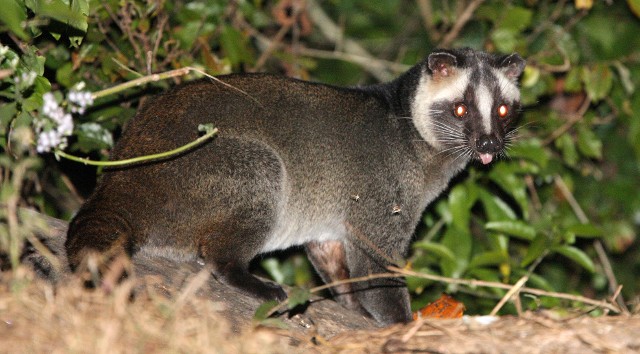 Our night spoltlighting activities were very fruitful. This little Masked Palm Civet was taken at "Base Camp"...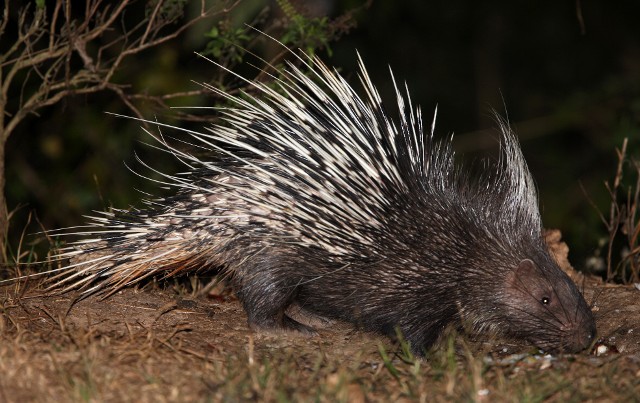 Malayan Porcupines were everywhere around camp. Som was kept up half the night by their munching sounds around the tent. They're actually quite large and make the strangest sound by vibrating their qwills.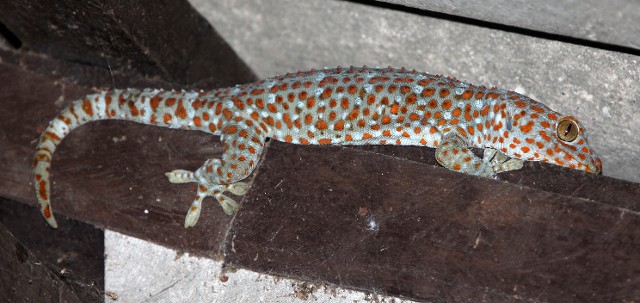 This Tokay Gecko was massive at 18 inches! But we were told he was a toddler compared to some of the other monsters at Kaeng Krachan.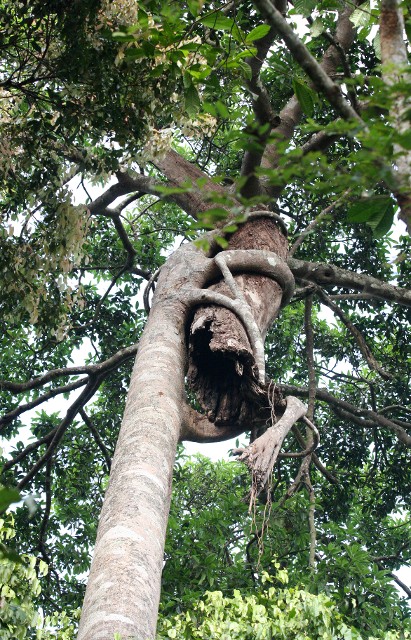 One of the best parts of traveling to such places with my son is that we have an opportunity to learn about real forest ecology in the field. I love more than anything to teach him about such basic things as "strangler figs" and so many other aspects of ecology. Who knows how much sticks but he is sure my favorite student of all time! And could there be a more perfect example of "strangler figs" than this one?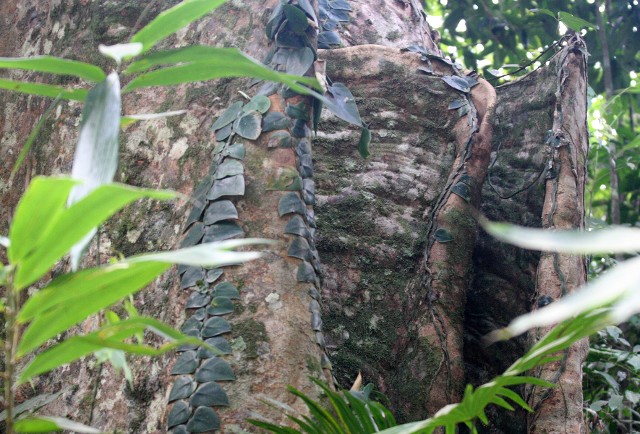 Some of the strangest butress roots I have ever seen...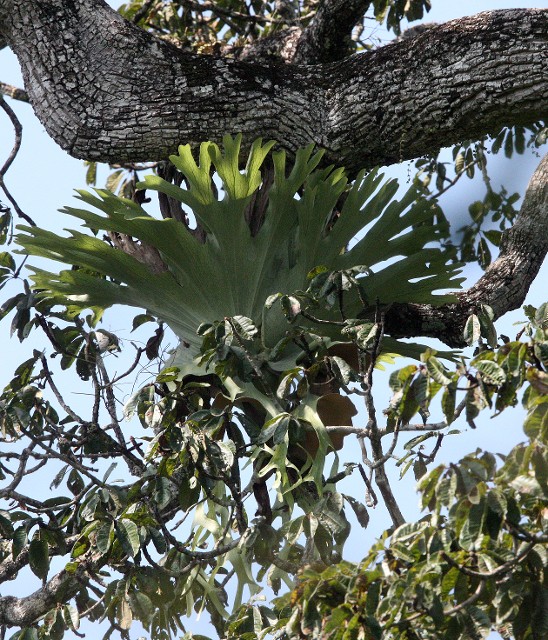 The Tenasserim and Kaeng Krachan are home to an amazingly diverse flora, so much of which is way beyond me. I could spend a lifetime trying to learn a fraction of the species there. But I do have a thing for the more blatant species like these glorious staghorn ferns seen on virtually every tree in the forest! Some were the size of a small house!
***
Further South in the Tenasserim
***
Kuri Buri National Park

Kuri Buri National Park at the southern extreme of the Tenasserim Range is home to an impressive assemblage of fauna. All the big players are there in good numbers and the habitat is more open allowing for better, easier views. For years we had simply blown by this park on the way to somewhere else...
Within a few short days, we did well with our efforts and nailed at least 20 species of mammals and over 90 species of birds including some real rarities in Kaeng Krachan. Before leaving the Tenasserim bio-region we put in a good few hours exploring the relatively new national park known as Kui Buri, which should be high on mammal watching hit-lists in the near future. Established about 15 years ago by royal decree, the park's main emphasis is protection of wild Asian Elephant, of which we saw about 7 or so in less than one hour! But the park is rife with other wildlife and the billboards show pictures of many cat species, primates and loads of Gaur, of which we saw THREE! Thus ending my slump of Guar sightings in Thailand! Even though they were about one km away, we finally saw a frickin' Gaur in Thailand! But Kui Buri is a very damaged habitat, once a pineapple region, but is slowly recovering. I predict that in a decade or so, it can be ranked with some of Thailand's best wildlife regions for sure!
Wild Asian Elephants are Kuri Buri's claim to fame. Within 30 minutes, we came across this herd of a dozen or so grazing in the open savannah of the park.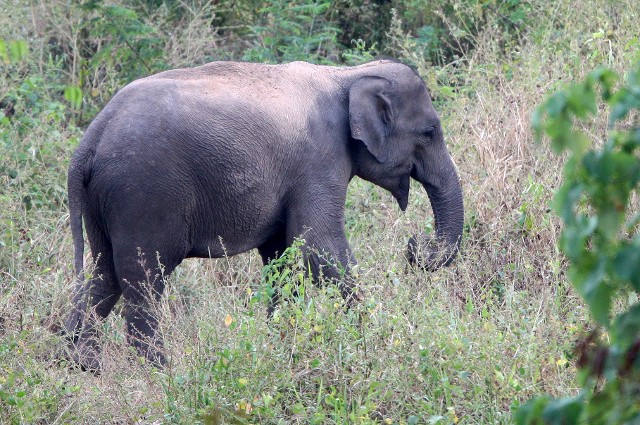 Kuri Buri Elephant!
Pak Thale Salt Basins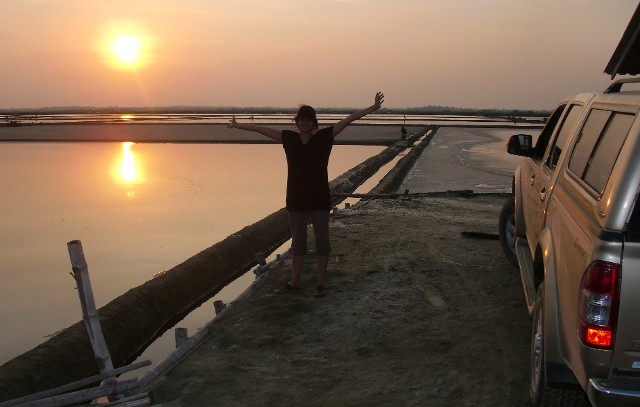 Our first afternoon in Pak Thale netted THREE Spoon-bill Sandpipers and dozens of other species. Great photo-ops were a bit of a different story...
After a sublime adventure in the Tenasserim bio-region, we spent two days exploring the remote salt flats of Leam Pak Bia and Pak Thale, also in Pet Province, searching for shorebirds, especially our old friends, the Spoon-billed Sandpipers. Initially we were a bit discouraged with the seemingly impossible task of spotting these little boogers ourselves, when they are basically the size of my 9-year-old son's fist and look virtually identical to the thousands of stints they flock with! But after about 15 minutes of searching I actually spotted one! That was followed by another and then another until we actually saw 5-6 of the SIX total seen in Thailand this year! It's hard to overstate the success of such sightings. Although none gave me great photo-ops, they were a joy to watch and see again. The last time we saw these little birds was in Jiangxu province in China last fall. I can't help but wonder if these we truly "old friends"…

Just about an hour due east of the Tenasserim, the once immense mangrove forests and shores of Petchaburi Province have been converted to salt basins for the commercial production of table salt. While the destruction of mangroves can never be a good thing, these areas are now home to one of the most impressive shorebird displays anywhere on the planet. Thousands upon thousands of shorebirds and waders spend their winters probing the salt basins for invertebrates!
Spooners!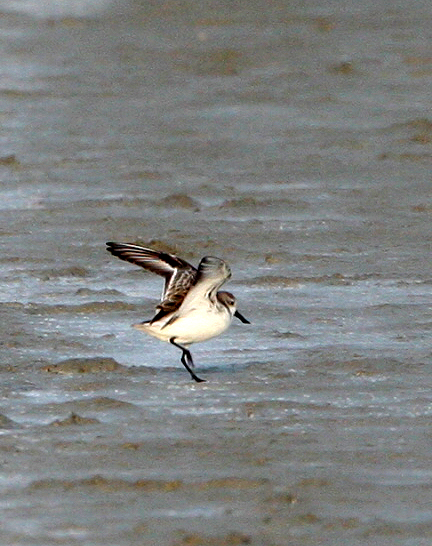 Although we spent hours over two days trying to capture amazing images of these little boogers, we were left with mediocre pics but great memories of the great sightings of at least FIVE of the six Spooners seen in Thailand this year!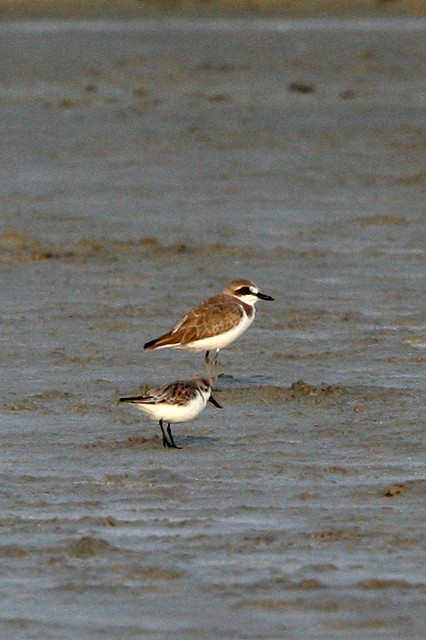 Spooner with Lesser Sand Plover at Pak Thale!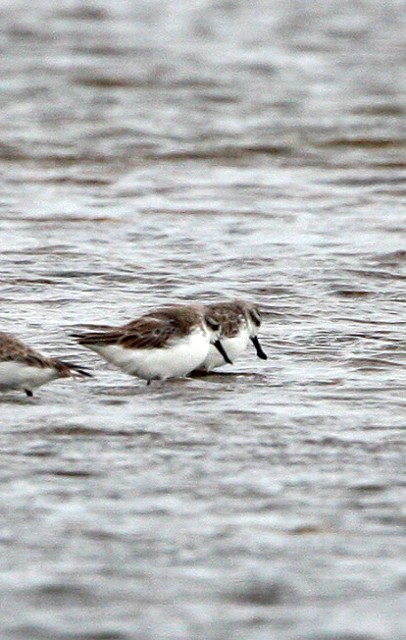 Images with TWO Spooners are rare...

Images with THREE are even rarer. (Too bad it's not a good image...) Can you see them?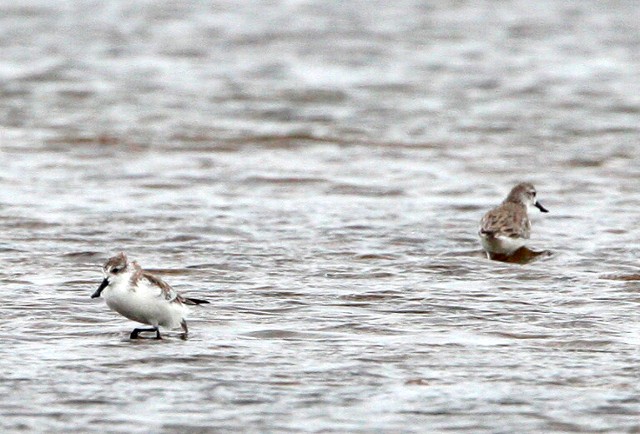 Spooners baby!

The main problem with finding Spooners is that they flock with the tens of thousands of other Stints and Plovers that come to the region. But I was still very impressed with how quickly we zeroed in on these little boogers! Guess hours and hours of practice pays off...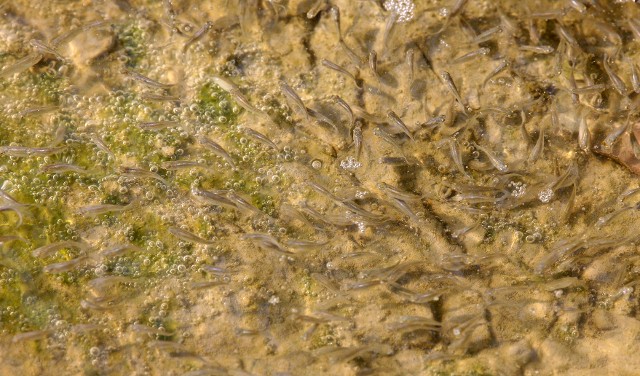 No one can claim that Thailand has not obliterated much of the mangrove forest habitat that once existed there, however, there are several areas where I have seen them actively implemented restoration efforts. In Leam Pak Bia and to a lesser extent, Pak Thale, you do see some efforts, albeit far from enough. But this did lend itself for a teachable moment for Cokie and myself. We were watching these tiny fingerlings swimming in the brackish waters of Pak Thale and we had an opportunity to talk about the importance of mangrove forests for water filtration, storm buffers, nutrient sinks and habitat for so many critters like these little fish which form the base of such a vital food pyramid. So cool. And note the oxygen bubbles from the photosynthesizing algae...
We did search for the single Black-faced Spoonbill and single Pied Avocet seen there this year but not too hard. We were hungry and Petburi is home to some of the best seafood on the planet, so off to our favorite sea-food hotspot – Cha Am! Damn that was great grub!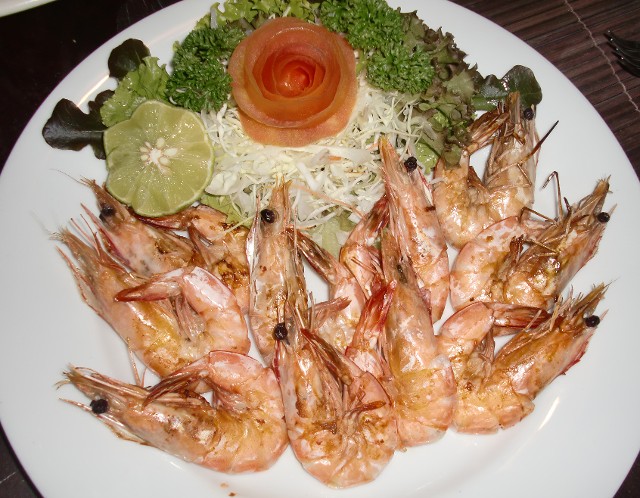 Yum! Cha Am rocks!
In case you need more information on the Tenasserim, here is a great link to the WWF site describing the bio-region: Click Here
Koh Lanta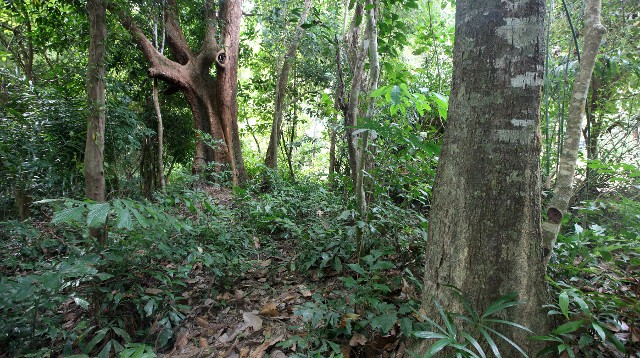 I will always love this forest in Lanta.
After our wonderful expedition to "Pet" we bee-lined it straight down to Krabi Province and our second home, Koh Lanta. This is the first time we've been to Lanta in the peak of the tourist season, but it was nice anyway to see the beach and forest being in such good shape. We even got in some treks to Mai Kaeo Cave where we nailed a nice Great Roundleaf Bat colony and another Sunda Colugo, sleeping on a tree in the jungle. This officially makes Koh Lanta the best Colugo location I know of!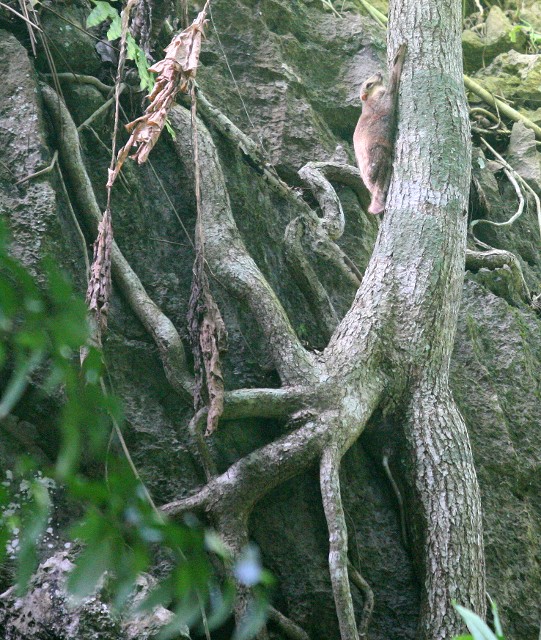 Som is still the best wildlife spotter I've ever been with. On virtually every trek we take, I hear, "Coke! There's a ......Colugo!" Koh Lanta is without a doubt the best place I've been to to see Sunda Colugos.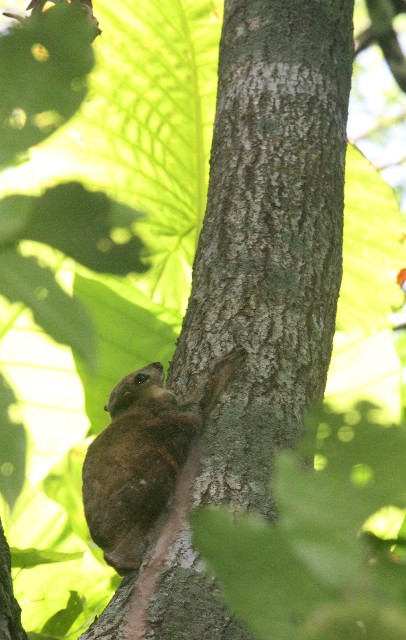 Sunda Colugo kickin' back on a trunk in the Lanta rainforest...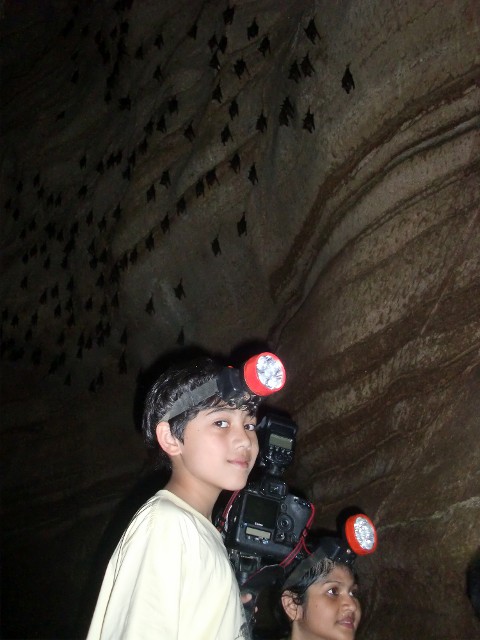 Bat cave! Mai Keaw Cave in Lanta is home to Greater Roundleaf Bats by the hundreds! Mai Kaew is a great example of the numerous caves in the karst limestone geology that is so common in this region of Thailand.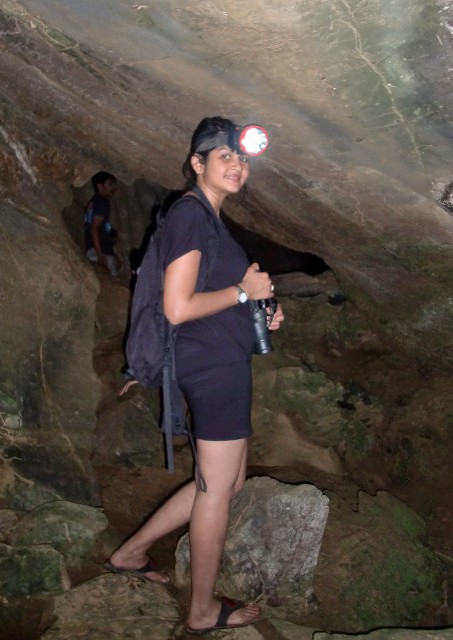 Some of the holes were a bit challenging for me....But not Som and definitely not Cokie!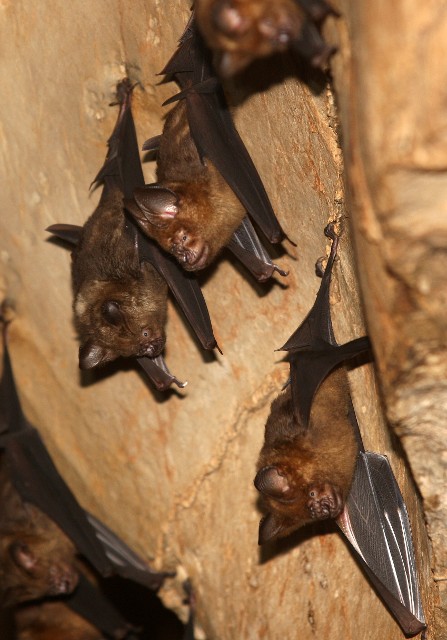 Greater Roundleaf Bats!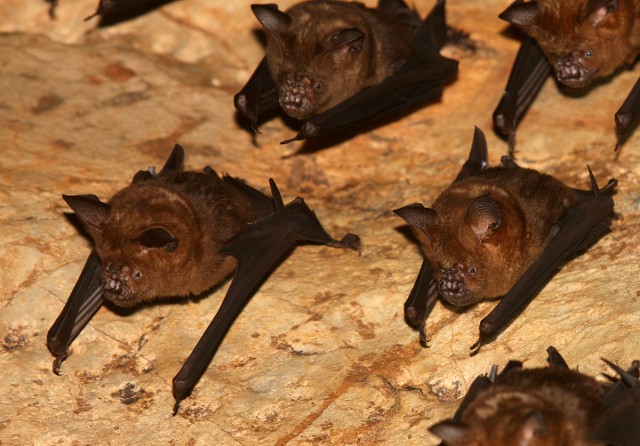 What cutie pies!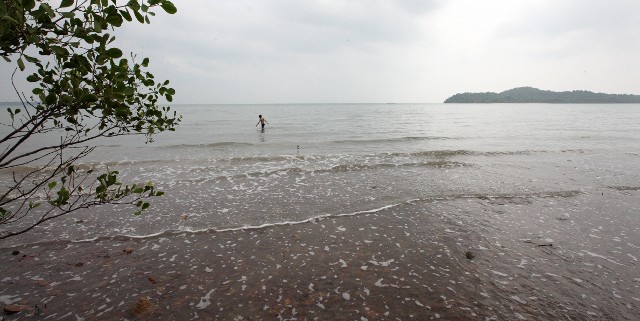 Cokie has grown up swimming on this beach. He knows this reef and the mangroves probably better than anyone with the exception of the Sea Gypsies that are our neighbors.
Thai Food!
It's funny, when thinking of what to name this blog post, I really wanted something exotic, like "Tenasserim Expedition" or something equally intriguing, but Som and I agree that the following title is probably a bit more realistic: "Expedition to Restaurants and Eating Hotspots of Thailand and EATING LIKE PIGS Punctuated by some Wildlife Viewing in the Tenasserim and Pet Province."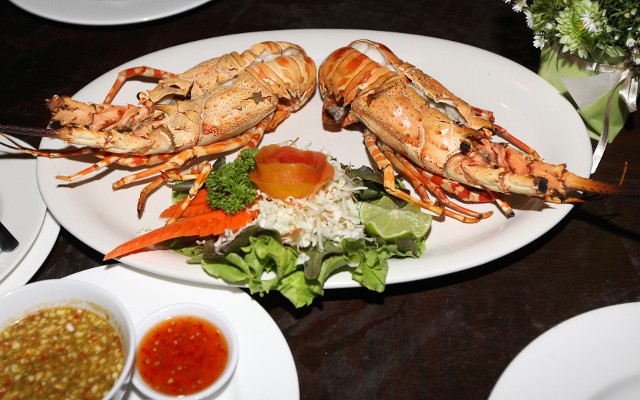 Of all the amazing meals we had this break in Thailand, this one was perhaps the best...Yum!
Other Stuff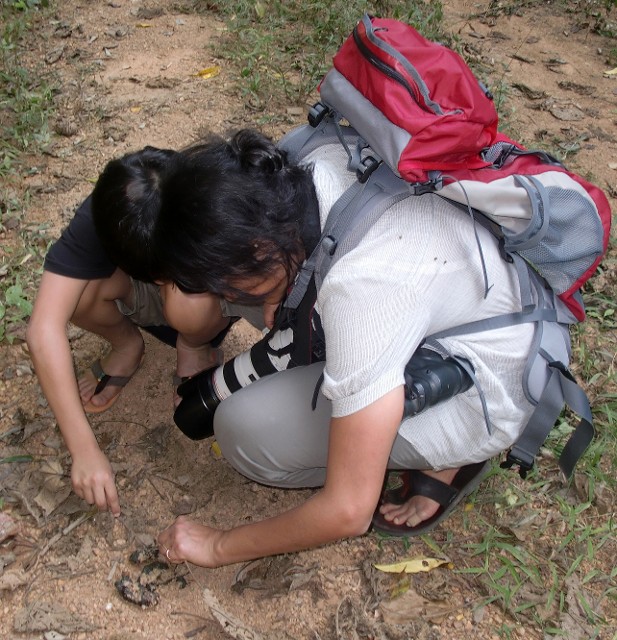 Sometimes I think I am the luckiest naturalist alive. How many guys like me can have such a cool family. I mean, all I said was, "this looks like carnivore poo", and without hesitation, both Cokie and Som dove right in and ripped right in to the turd pile to see what the meal was! Seriously! Who could ask for more???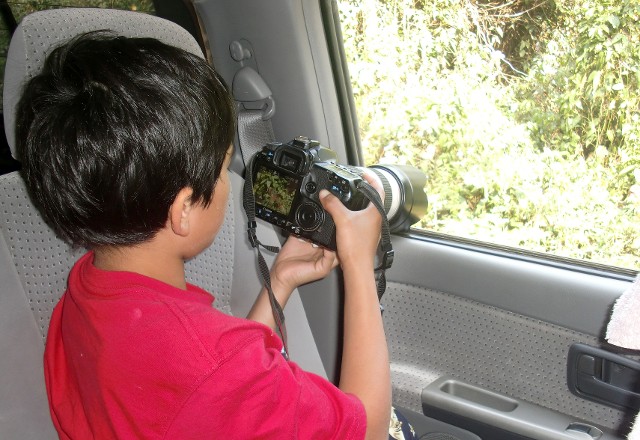 And Cokie is becoming quite the nature photographer! Here he is snapping some images of a passing troop of Stump-tailed Macaques seen along the road out of the Kaeng Krachan. He seems to really enjoy using the big cameras and seeing what he can capture.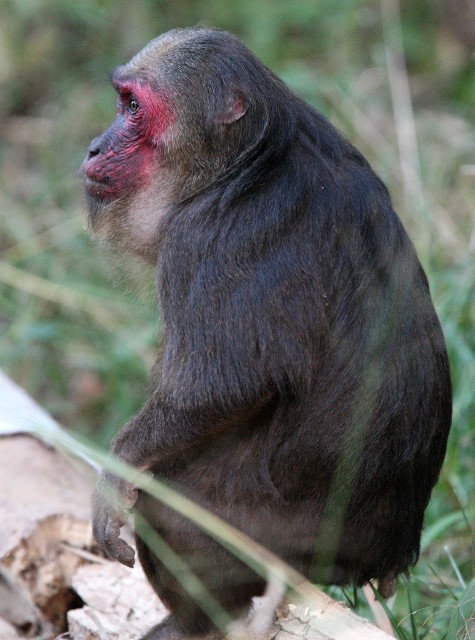 Nice shot Cokie!
Cokie's discovery – Bioluminescent Tidepools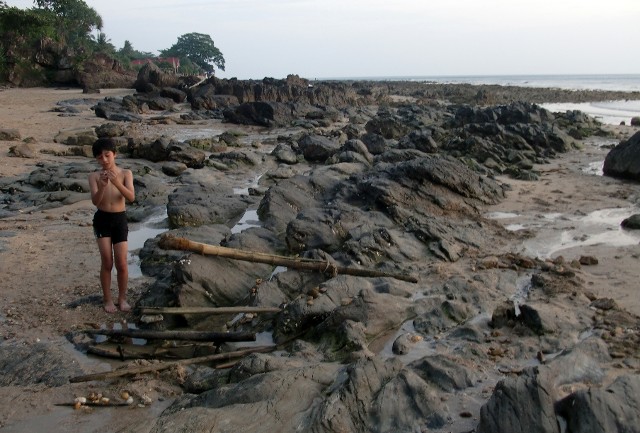 Cokie played for hours here in these tidepools at Narima, Lanta. Sometimes I think he really is part fish. But he did make a fascinating discovery here during his first night of play. He came running over to our table screaming, "Dad! Dad! The tide pool is glowing! There are blue lights coming from the water!" Of course I had to see this for myself and sure enough, he had discovered a large mass of bioluminescent dinoflagellates! At least I think that is what it was...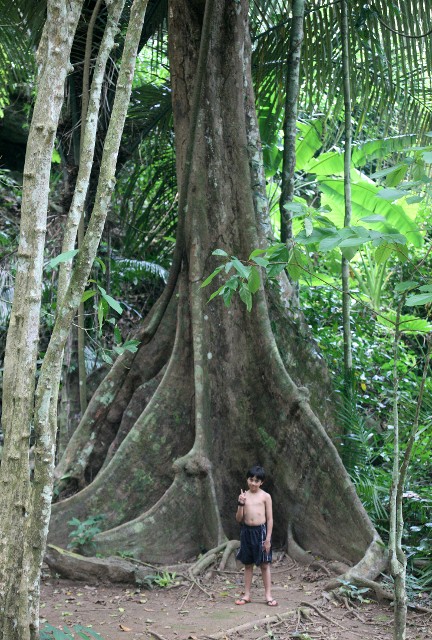 Koh Lanta is home to a very impressive old growth tropical rainforest. We have enjoyed trekking this forest for years now.
Other Critters of the Tenasserim & Pak Thale!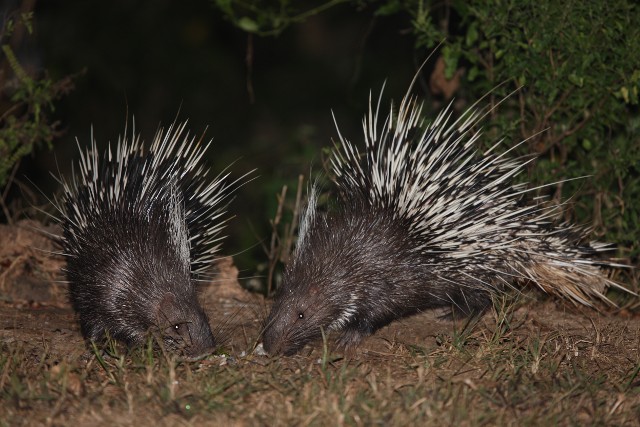 Malayan Porcupines snooping around Base Camp keeping Som awake....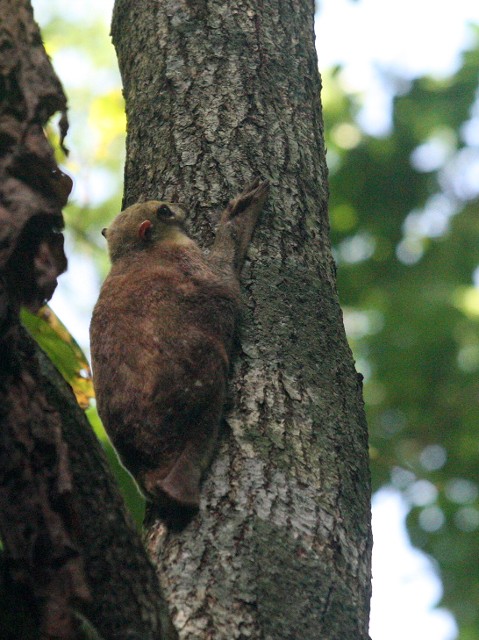 One of these days, I promise to see a Sunda Colugo glide!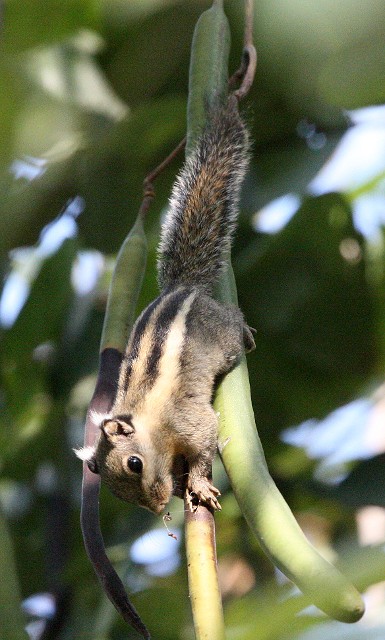 Western Striped (Burmese) Squirrels were a common sight throughout the region.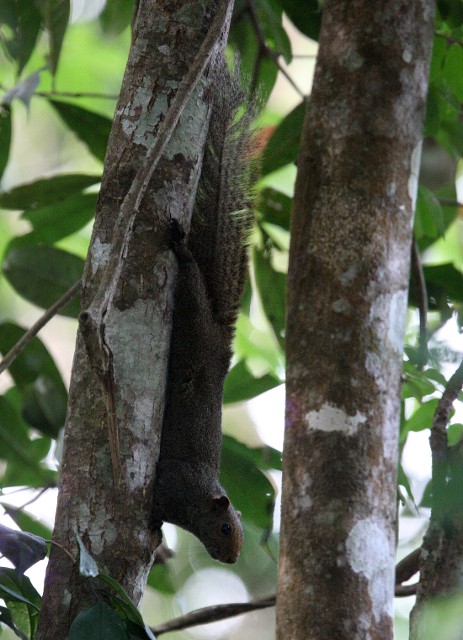 Grey-bellied Squirrels are another "regular" at the Ficus trees of Kaeng Krachan.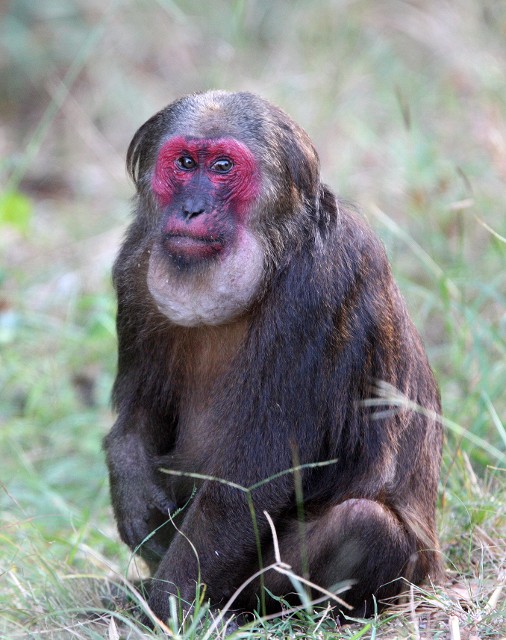 Gotta love that red face!
This vicious little Long-tailed (Crab-eating) Macaque seemed very peaceful here...until he opened his eyes and stole the food from inside the truck!
Some Herps!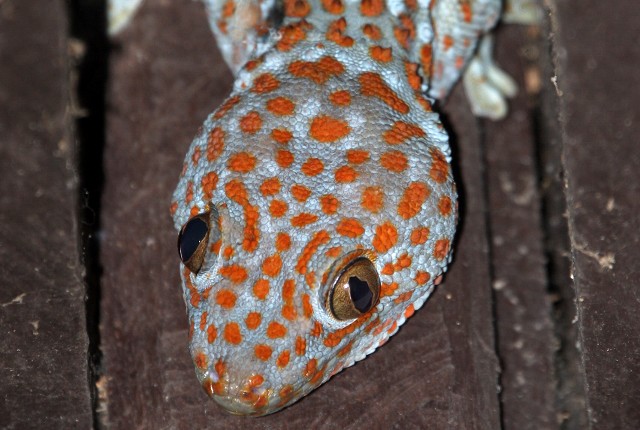 This Tokay Gecko was over 18 inches long! And we were told this was a tiny one....We shared dinner space with this monster in the Bang Krang cantina.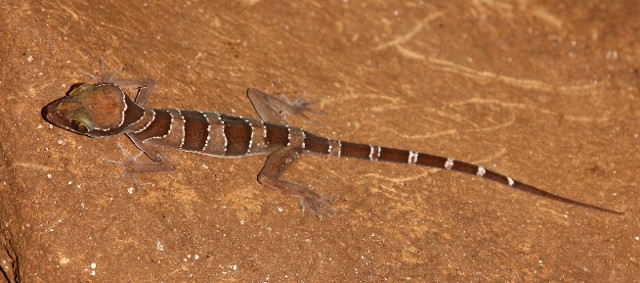 We came across this splended Cave Gecko while traversing Mai Kaew Caves on Koh Lanta.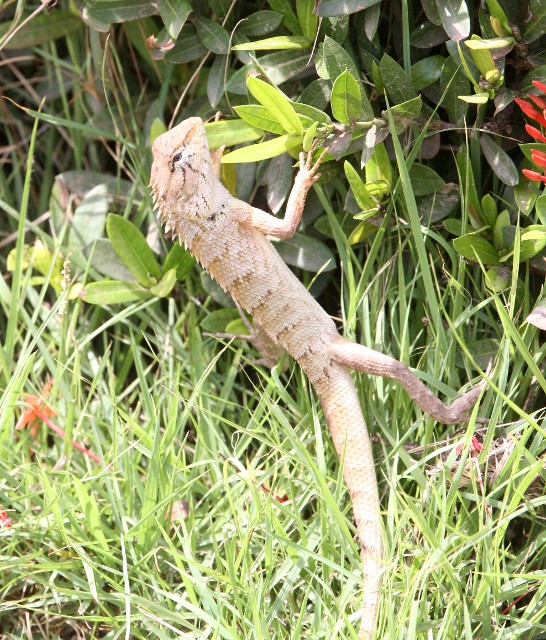 Always good to see the omnipresent Agamid taking a peek...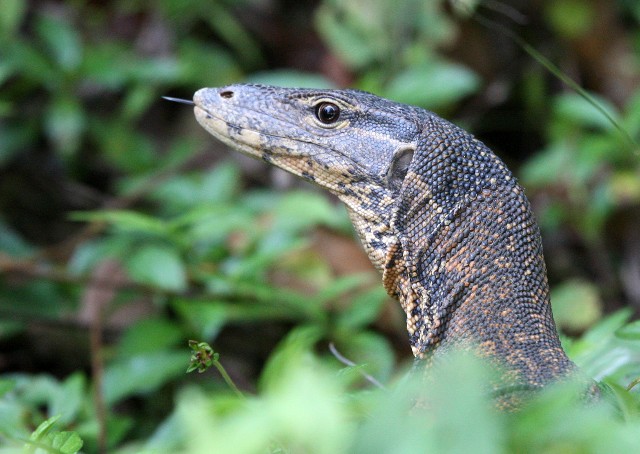 The ubiquitous Water Monitor Lizard. This one was a bit small at a hair over a meter but monsters do lurk in these forests for sure. And they are tasty!
Our Avian Friends!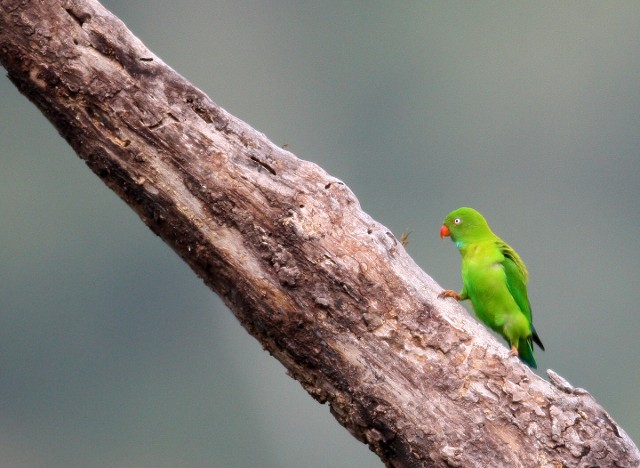 Vernal Hanging Parrots! We watched this one and his mate daily while at the summit. What a display - very entertaining!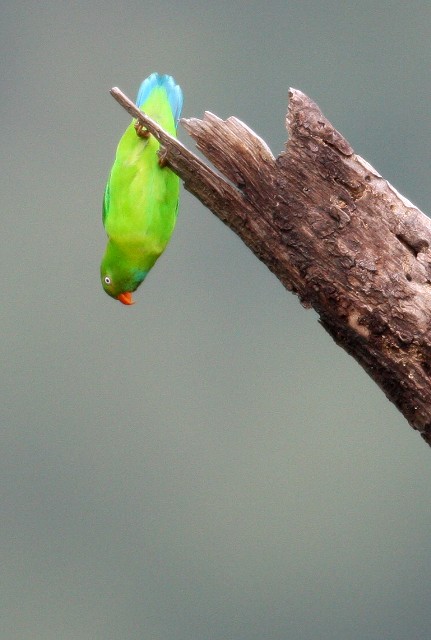 Hence the name, "Hanging" parrot...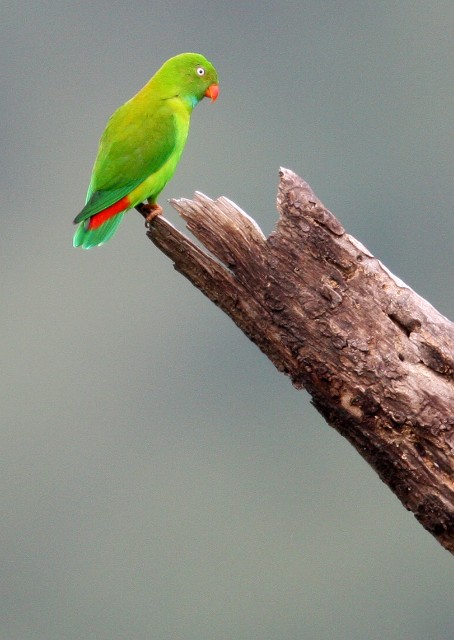 Wow...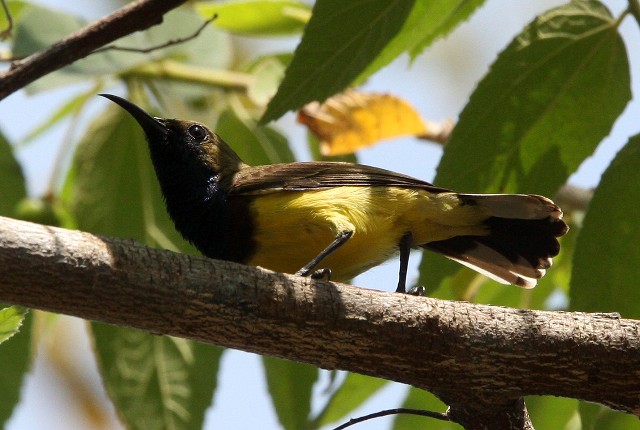 Although the Olive-backed Sunbird is common, I'm never bored with seeing this little, curious bird come by to say "hello"...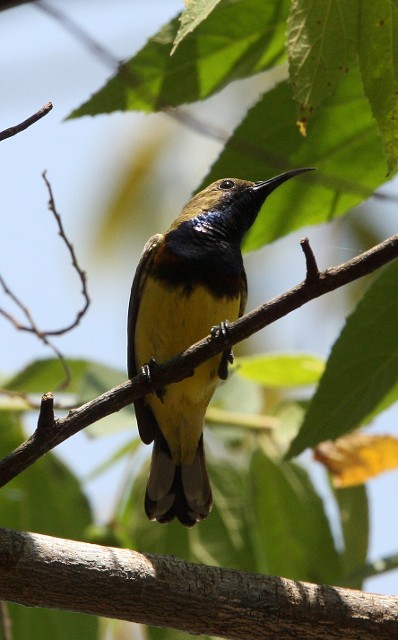 Olive-backed Sunbird!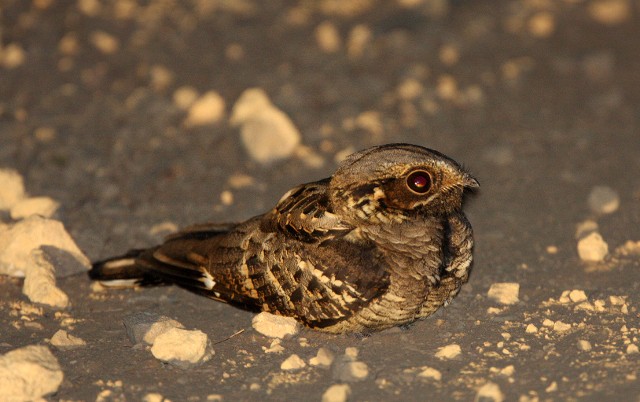 For lack of any better ID, I will go with Great-eared Nightjar"...(feel free to correct!)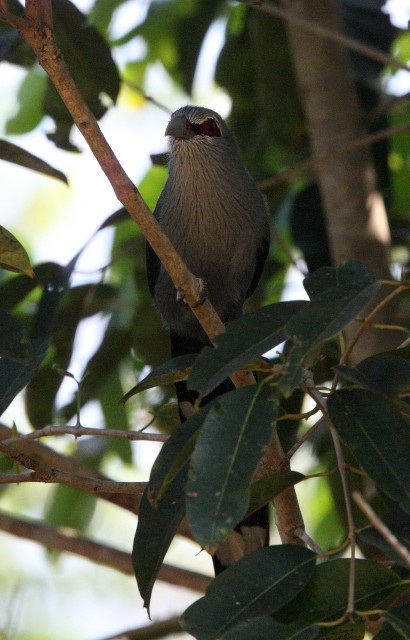 One of these days, I will get a good shot of a Green-billed Malkoha!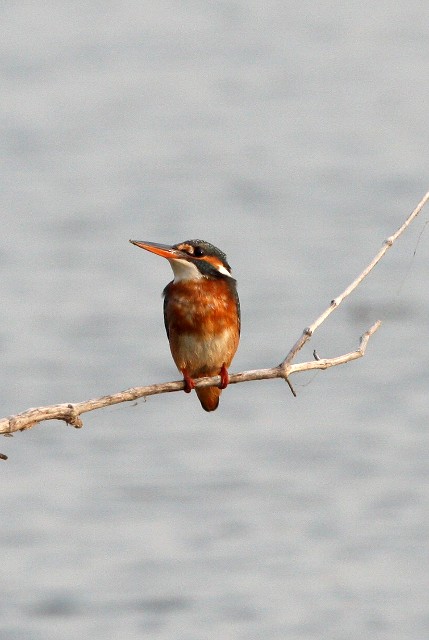 Common Kingfisher!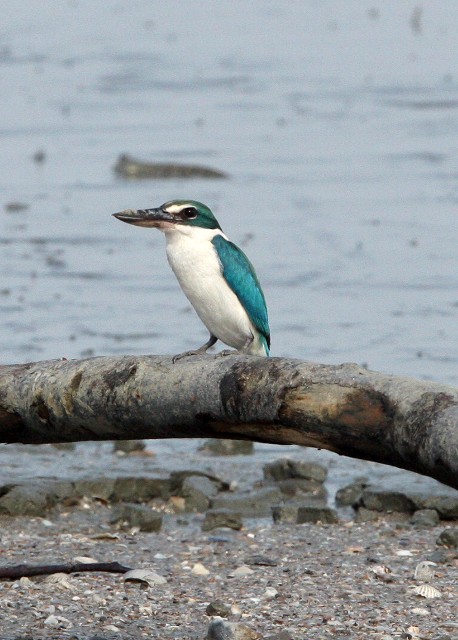 Collared Kingfishers were by far the most common in Pak Thale...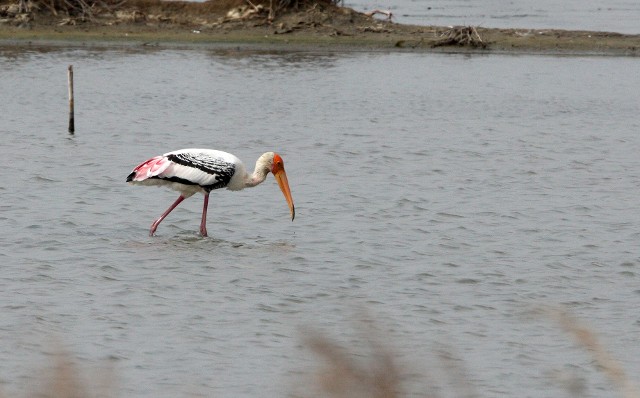 My first Painted Stork in Thailand! Only ONE was seen here this year....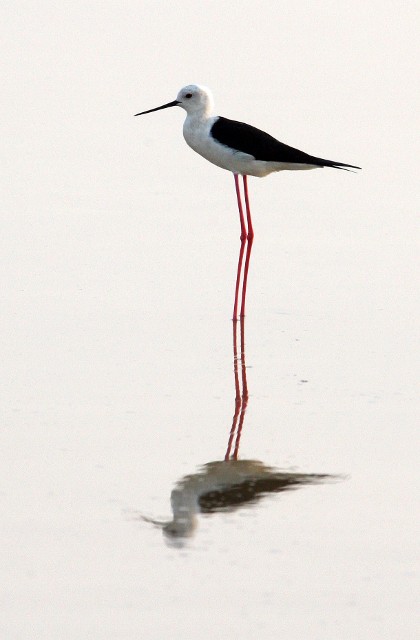 There can't be anything much more picturesque than a graceful Black-winged Stilt posing in good light....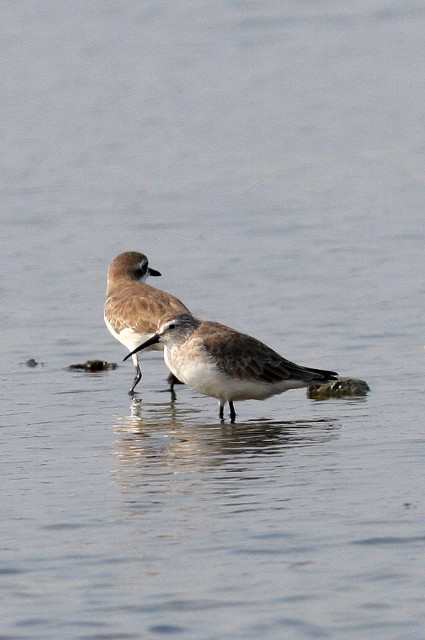 Curlew Sandpipers were a nice addition to the life list!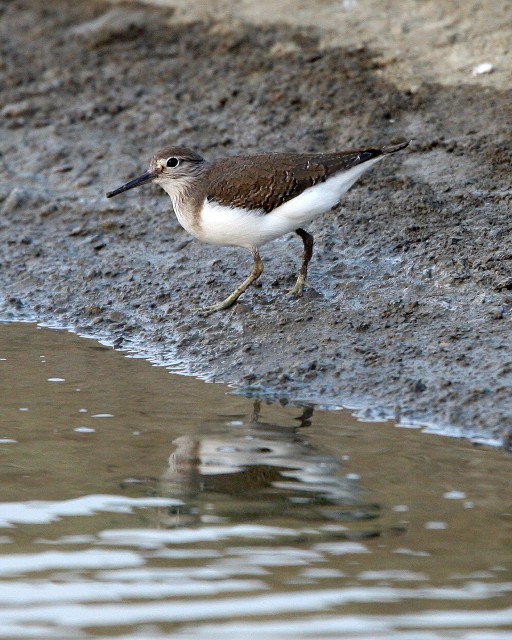 Common Sandpipers were actually not all that common...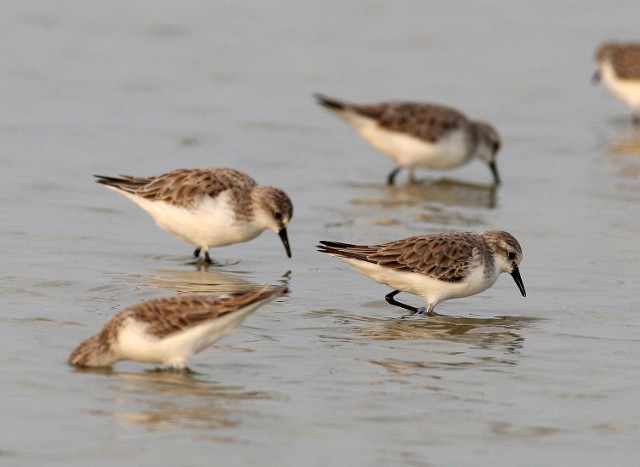 It was very nice to see such large numbers of my old friends the Red-necked Stints....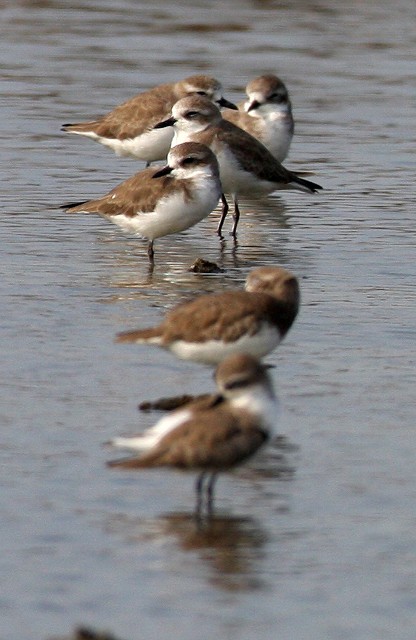 I think I have seen more Kentish Plovers in my life than any other species.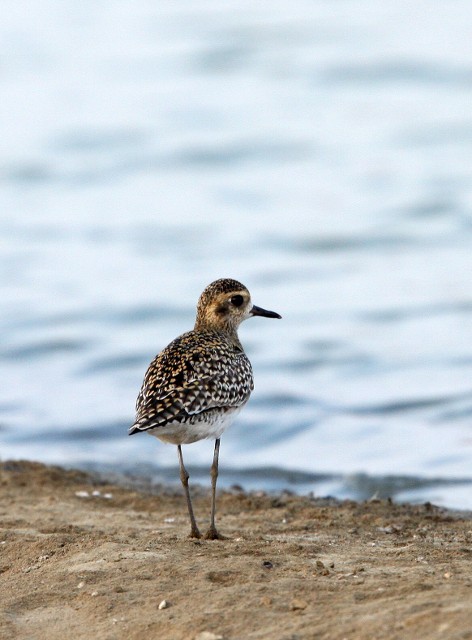 Pacific Golden Plover baby!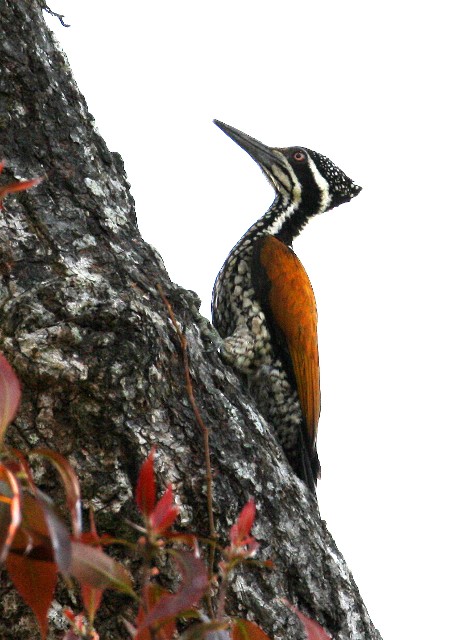 The Greater Flameback! Our old friend stopping by to say "hello" while in Kaeng Krachan...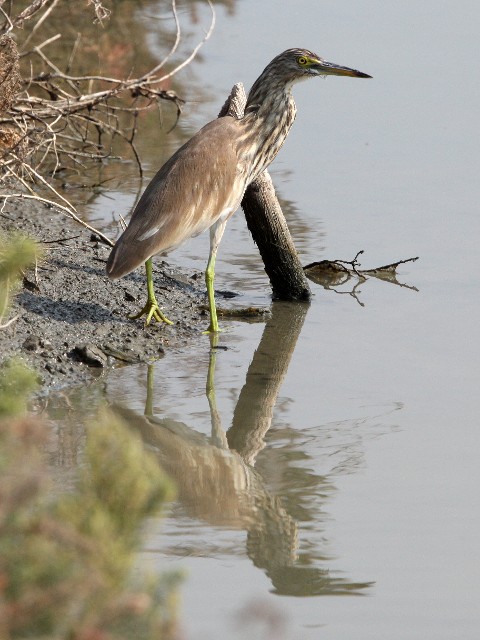 Chinese Pond Herons were everywhere!
Chinese Pond Heron hunting lungfish at Pak Thale...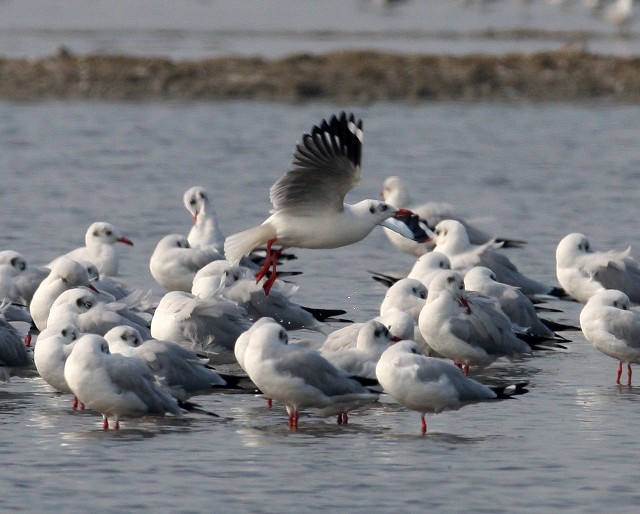 Brown-headed Gulls!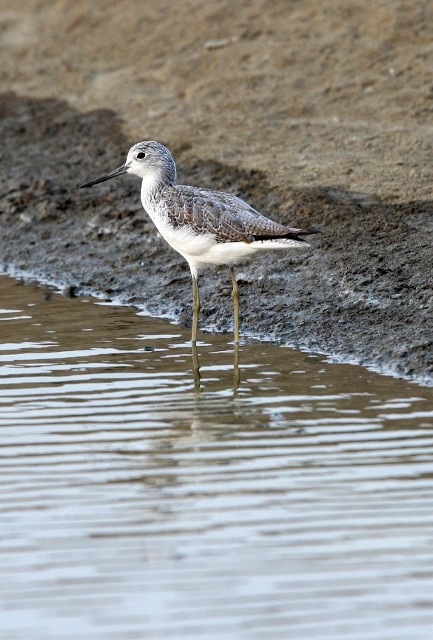 Common Greenshank were indeed common...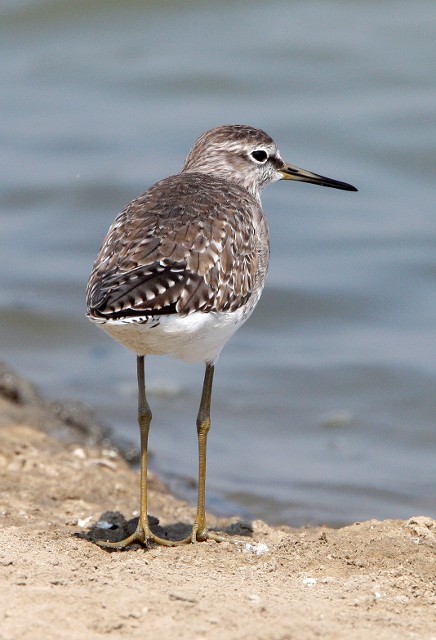 Common Greenshank - I did see at least one Nordmann's Greenshanks but no images...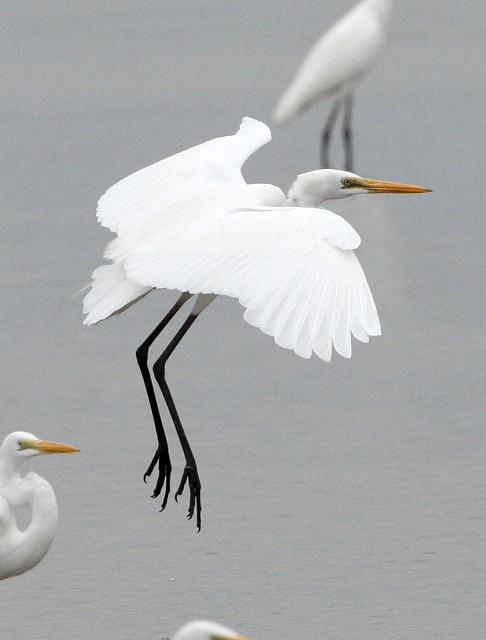 Great Egrets! So common but so beautiful...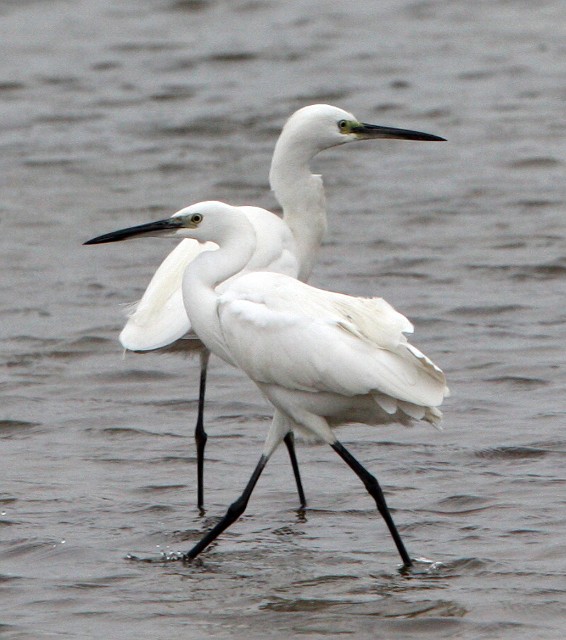 I spent some time studying this pair of Little Egrets hoping they were Chinese Egrets....but...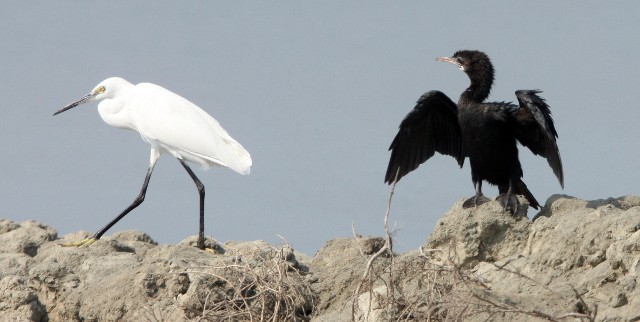 Little Egret hanging with a Little Cormorant!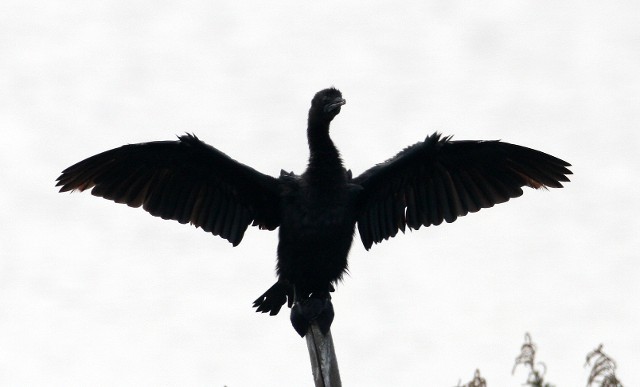 Little Cormorant warming up in the early winter morning in Pak Thale...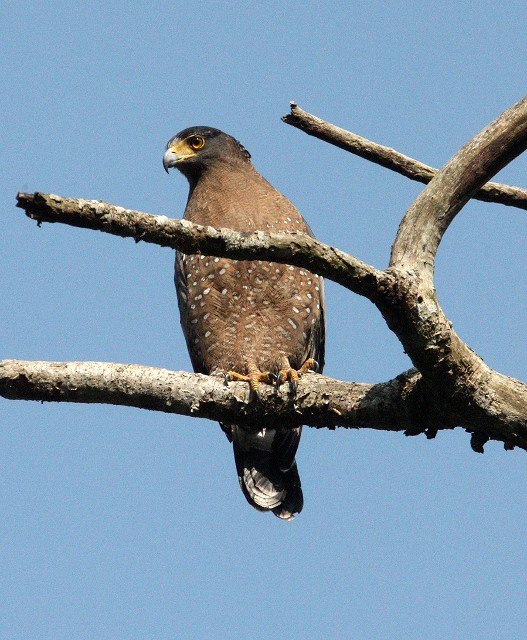 Although we did see Eastern Marsh Harriers often, the main bird of prey was the Crested Serpent Eagle! What a glorious raptor!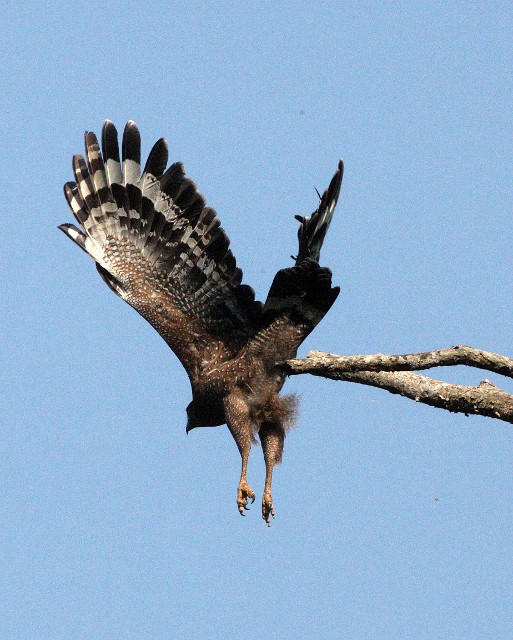 "OK, I'm outta here!"...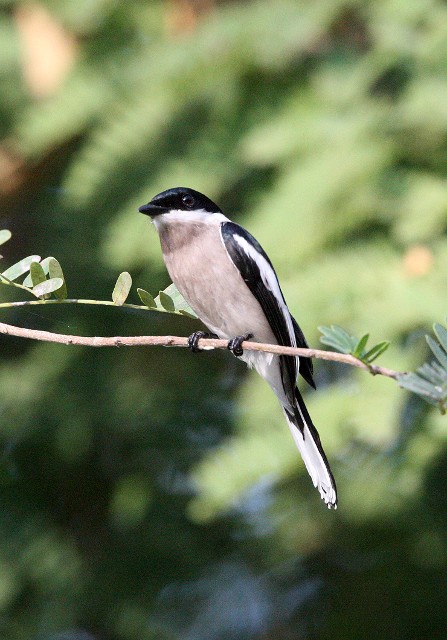 A spectacular rarity! My first Bar-winged Flycatcher Shrike!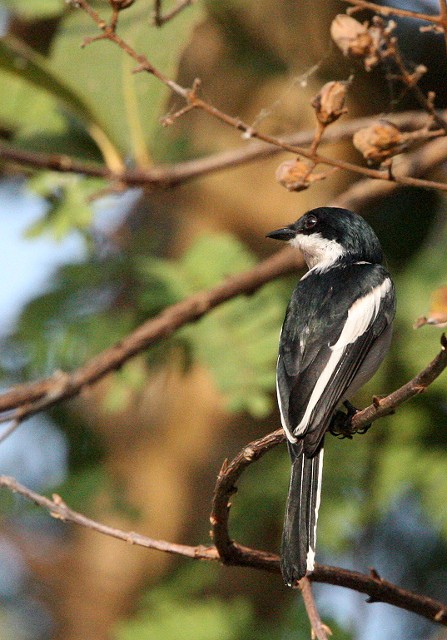 Bar-winged Flycatcher Shrike!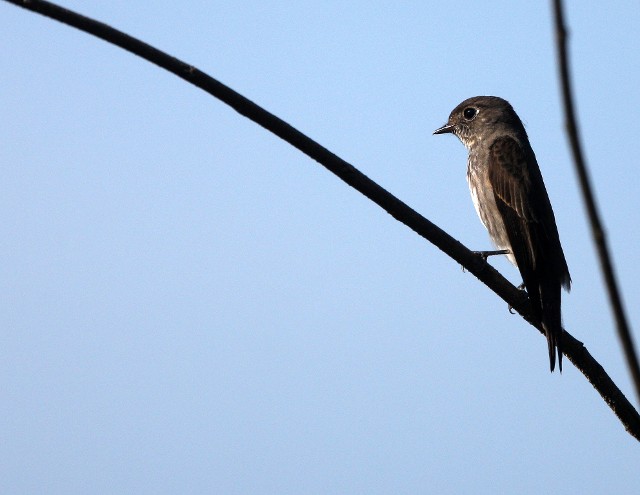 This little Dark-sided Flycatcher spent days on the same perch hunting very effectively the insects flying by!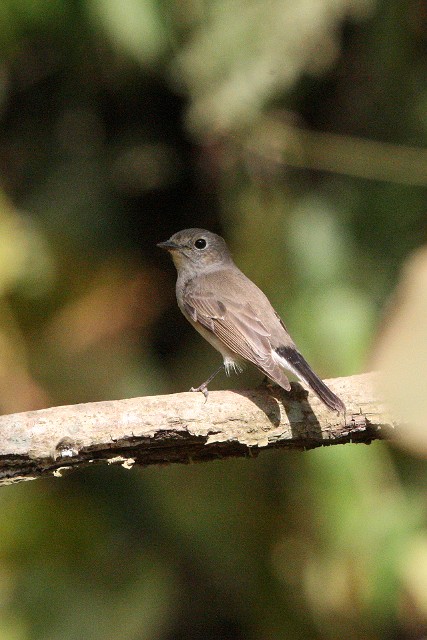 Red-throated Flycatchers were also a common species this winter.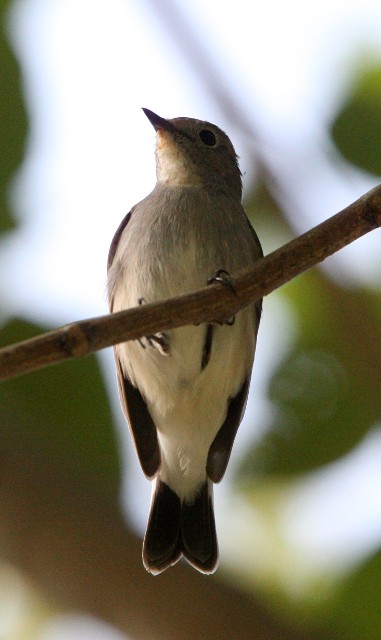 Female Red-throated Flycatcher
We just about missed these mating Barn Owls (Could possibly be Grass Owls by the distribution maps but most likely they are Barn Owls)! But they were having fun!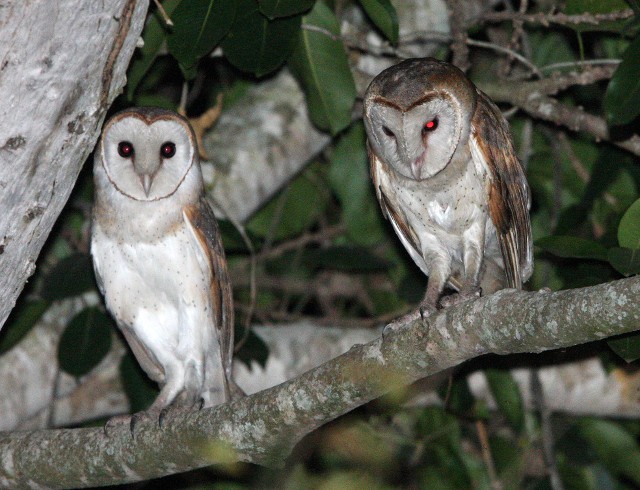 Barn (or Grass?) Owls!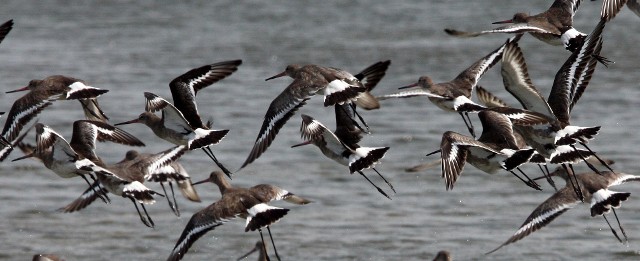 Black-tailed Godwits taking off as we approach!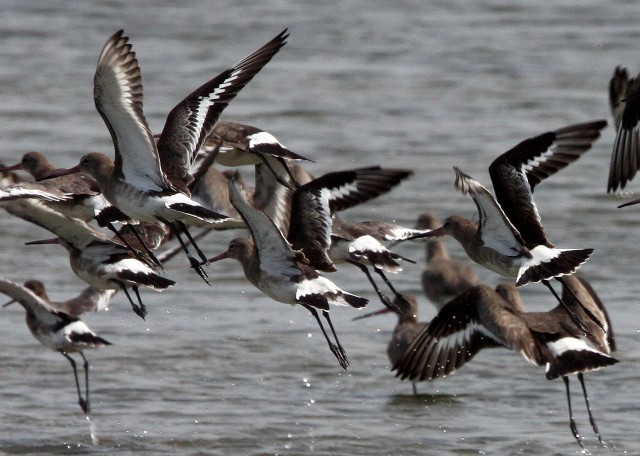 Sweet!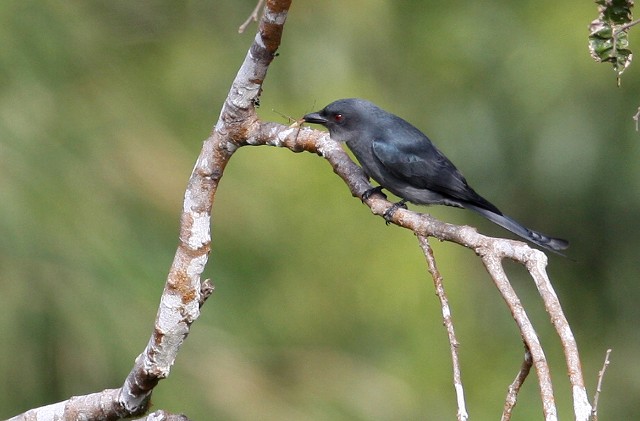 An Ashy Drongo with lunch in his beak...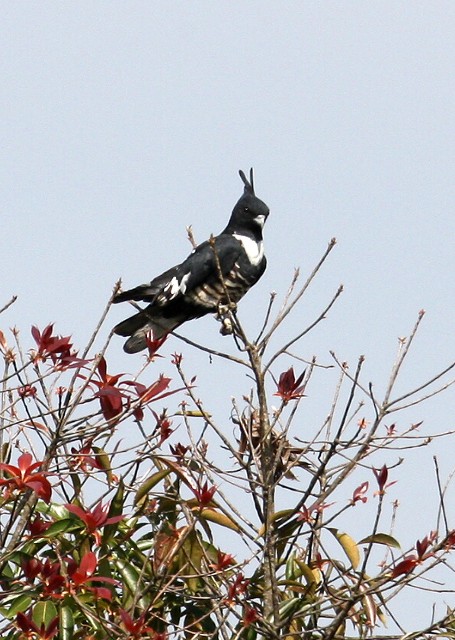 Without a doubt, one of the avian highpoints of this trip was watching a pair of Black Baza hunt in the valleys of Kaeng Krachan from our summit viewpoint! What an amazing raptor!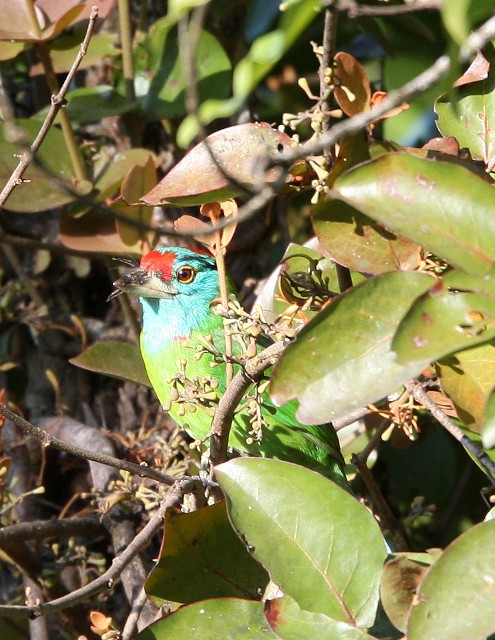 The Blue-throated Barbet is arguably one of the more spectacular of this spectacular group of birds!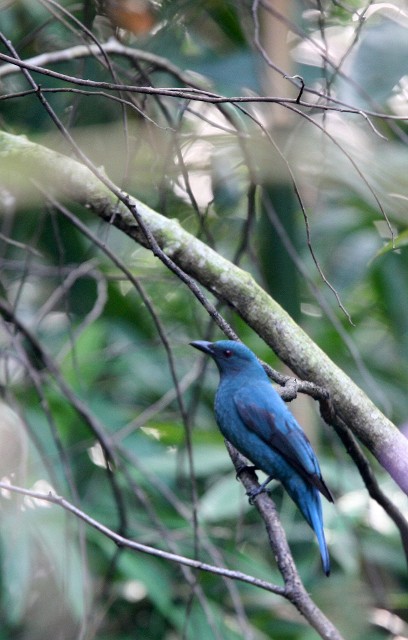 I'm still waiting for a good shot of the Asian Fairy Bluebird....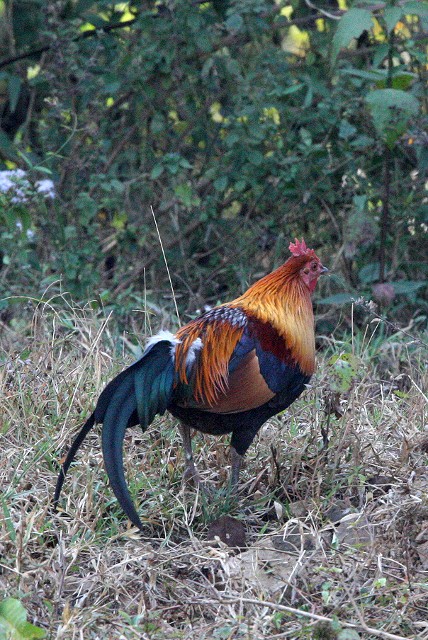 Wild Cocks are common in the region.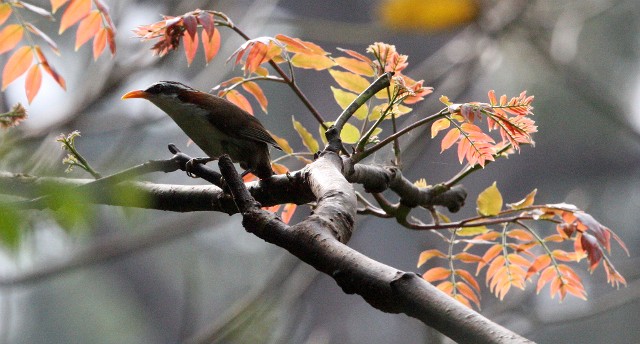 The last time I saw a White-browed Scimitar Babbler was in China's Qinling Mountains!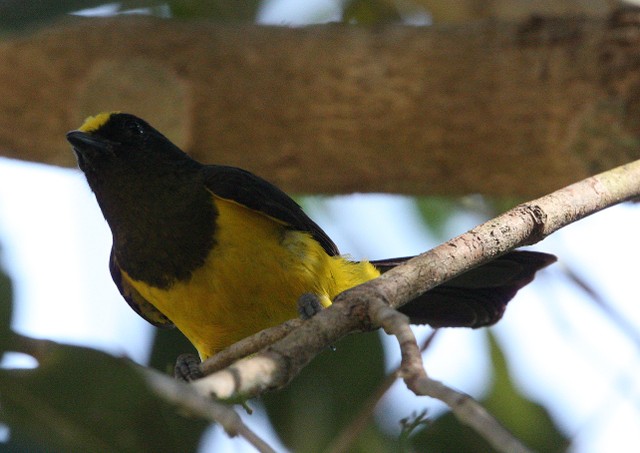 This Sultan Tit was one of the 35+ lifers for me on this expedition!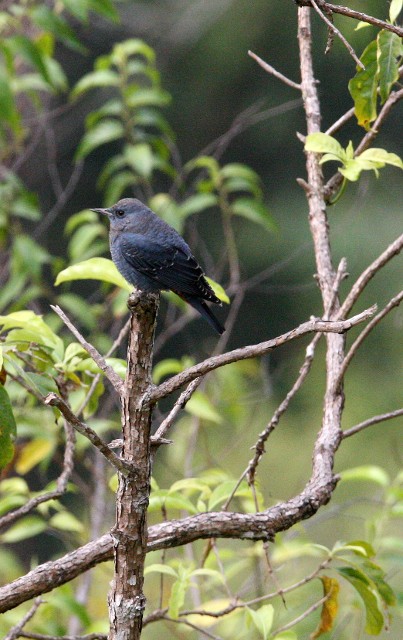 Blue Rock Thrush baby!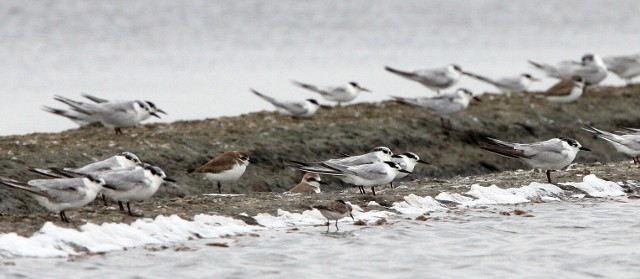 Terns were a dime-a-dozen this trip. These Black-napped and Common terns were two of the at least three species seen while there. We even saw a nice pair of Caspian Terns!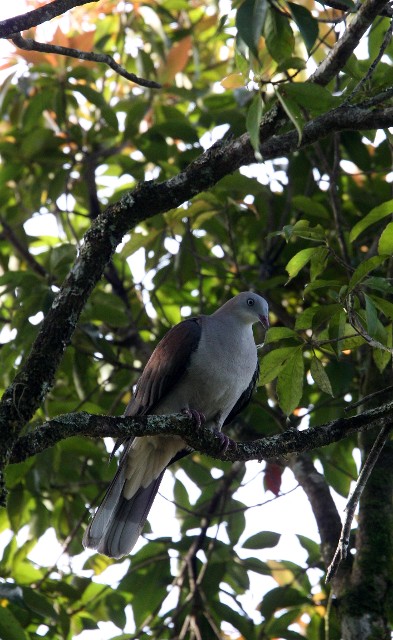 This Mountain Imperial Pigeons is massive!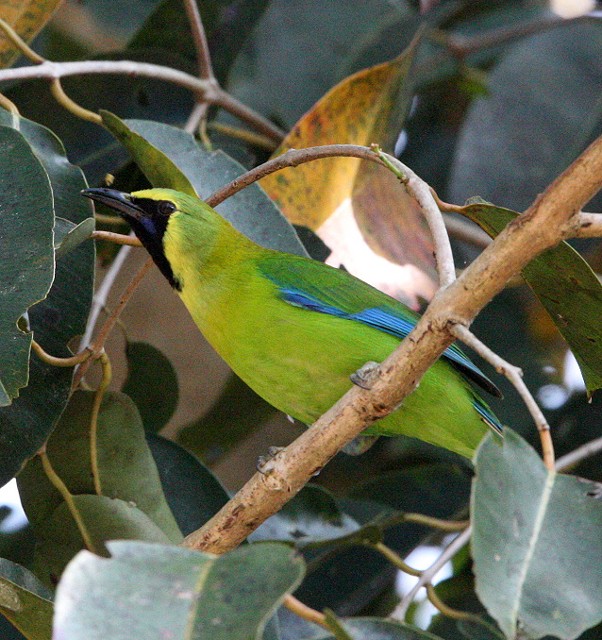 The Blue-winged Leafbird is always a welcome sight!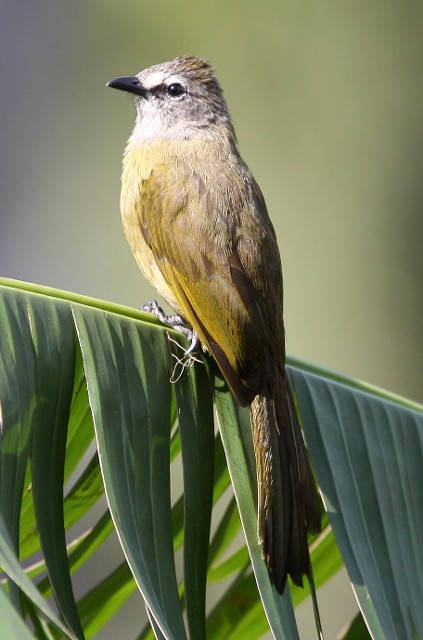 Flavescent Bulbul!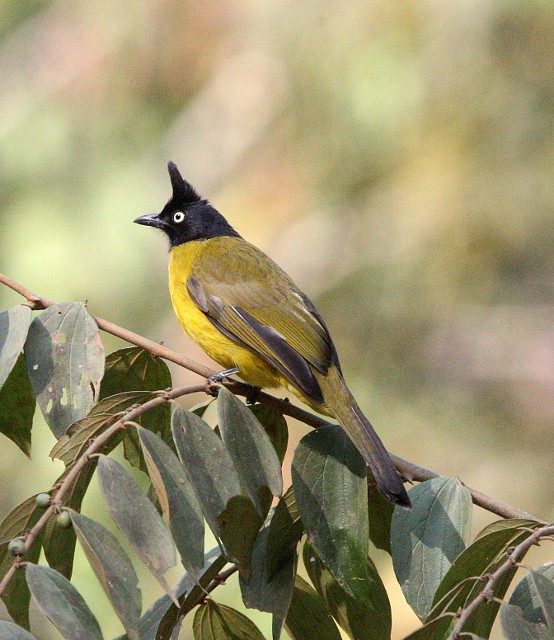 Finally a decent image of the omnipresent, Black-crested Bulbul!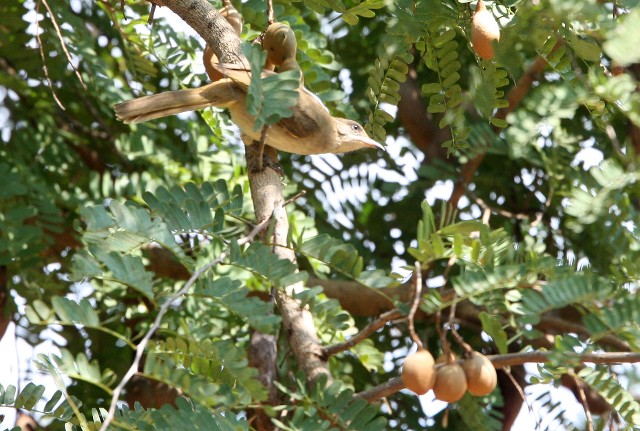 Streak-eared Bulbul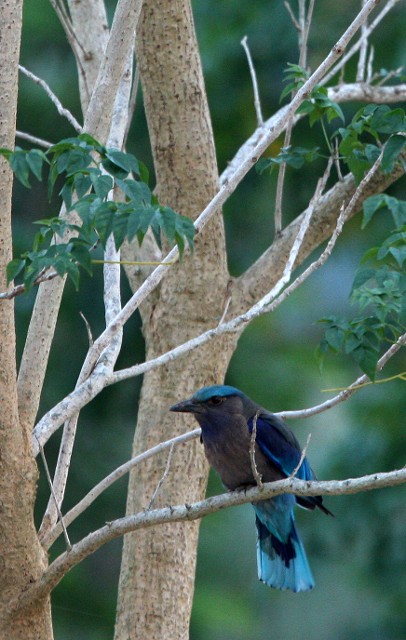 Indian Roller!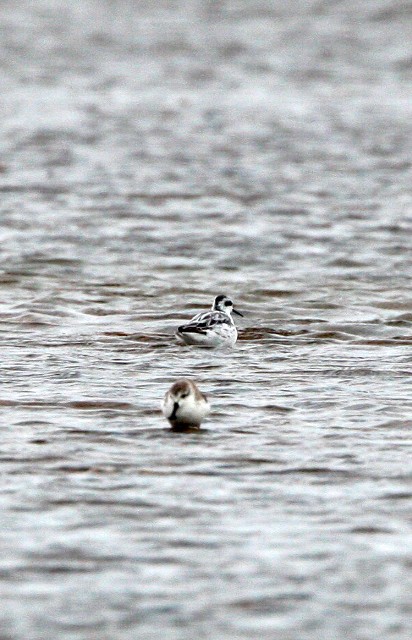 After seeing flocks of tens of thousands of Red-necked Phaleropes in Russia years ago, it's hard to get excited about only one in winter plumage but since this species is a NEW arrival to Thailand, I guess I need to be excited!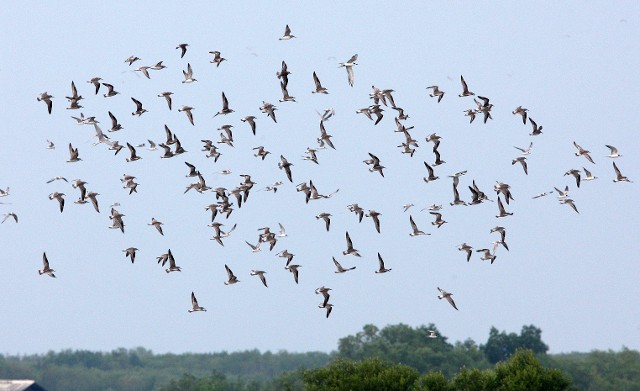 Great Knots in flight over Pak Thale...

"Maybe, if I am quiet, I can get a nice, close-up image of these Eurasian Curlews..."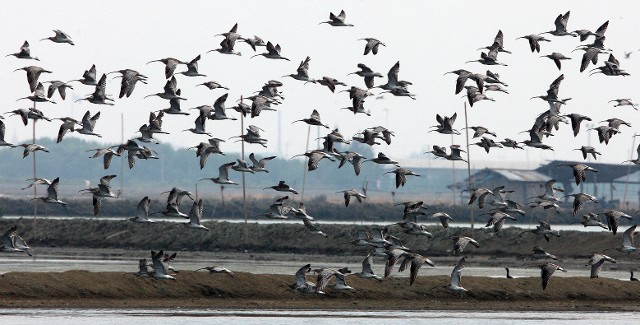 Nope...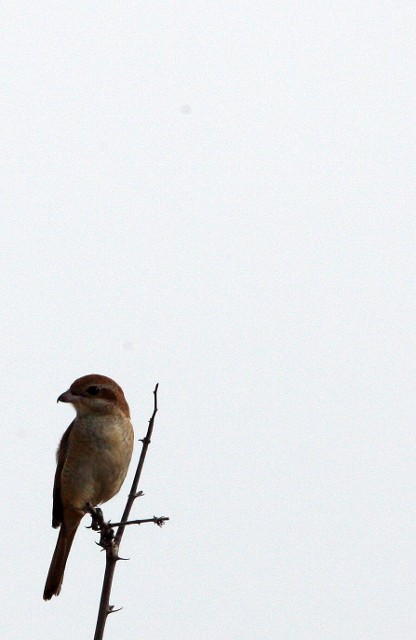 Brown Shrike!
EXPEDITION SPECIES LISTS
MAMMAL LIST
Northern Treeshrew (Tupaia belangeri)
Common Treeshrew (Tupaia glis)
Banded Langur (Presbytis femoralis)*
Tenasserim Langur (Presbytis barbei)
Spectacled Langur (Trachypithecus obscurus)
Long-tailed Macaque (Macaca fasicularis)
Stump-tailed Macaque (Macaca arctoides)
White-handed Gibbon (Hylopbates lar)
Dhole (Cuon alpinus)
Yellow-throated Marten (Martes flavigula)
Large-toothed Ferret Badger (Melogale personata)* Heard and smelled only
Small Indian Civet (Viverricula indica)
Large Indian Civet (Viverra zibetha)
Masked Palm Civet (Paguma larvata)
Common Palm Civet (Paradoxurus hermaphroditus)
Binturong (Arctictis binturong)
Small Asian Mongoose (Herpestes javanicus)*
Asian Golden Cat (Catopuma temminckii)*
Asian Elephant (Elephas maximus)
Fea's Muntjac (Muntiacus feae)*
Red or Indian Muntjac (Muntiacus muntjak)
Gaur (Bos frontalis)
Greater Bandicoot Rat (Bandicota indica)*
Black Giant Squirrel (Ratufa bicolor)
Grey-bellied Squirrel (Callosciurus caniceps)
Pallas's Squirrel (Callosciurus erthraeus)
Western Stripped Squirrel (Tamiops mcclellandii)
Malayan Porcupine (Hystrix brachyura)
Sunda Colugo (Galeopterus variegatus)
Great Roundleaf Bat (Hipposideros armiger)*
Indo-Pacific Bottlenose Dolphin (Tursiops aduncus)
Bird Species List
Yellow-legged Buttonquail (Turnix tanki)*
Crested Fireback (Lophura ignita)*
Red Junglefowl
Lesser Whistling Duck
Greater Flameback
Blue-throated Barbet
Oriental Pied Hornbill
Great Hornbill
Blue-tailed Bee-eater
Chestnut-headed Bee-eater
Blue-throated Bee-eater
Common Kingfisher
Collared Kingfisher
Chestnut-winged Cuckoo (Clamator coromandus)*
Green-billed Malkoha
Greater Coucal
Lesser Coucal
Indian Roller
Vernal Hanging Parrot (Loriculus vernalis)*
Edible Nest Swiftlet (Collocalia fuciphaga)*
Fork-tailed Swift (Apus pacificus)*
Asian Barred Owlet (Glaucidium cuculoides)*
Oriental Scops Owl (Otus sunia)*
Grass Owl (Tyto capensis)*
Great Eared Nightjar (Eurostopodus macrotis)*
Indian Nightjar (Caprimulgus asiaticus)*
Emerald Dove
Mountain Imperial Pigeon (Ducula badia)*
Rock Pigeon
Pheasant-tailed Jacana
White-breasted Waterhen
Eurasian Curlew
Eastern Curlew
Great Knot (Calidris tenuirostris)*
Spotted Redshank
Common Redshank
Common Sandpiper
Common Greenshank
Nordmann's Greenshank
Green Sandpiper
Wood Sandpiper
Common Sandpiper
Sanderling
Spoon-billed Sandpiper (3-6)
Little Stint
Red-necked Stint
Red-necked Phalarope (Phalaropus lobatus)*
Great Knot (Calidris teniurostris)*
Dunlin
Curlew Sandpiper (Calidris ferruginosa)*
Black-winged Stilt
Common Ringed Plover
Lesser Sand Plover (Charadrius mongolus)*
Kentish Plover
Little Ringed Plover (Charidrius dubius)*
Malaysian Plover (Charidrius peronii)*
Pacific Golden Plover
Red Wattled Lapwing
Brown-headed Gull
Caspian Tern
Black-naped Tern
Common Tern
Little Tern (Sterna albifrons)*
Crested Serpent Eagle
Black Kite
Brahminy Kite
Eastern Marsh Harrier
Pied Harrier (Circus melanoleucus)*
Eurasian Sparrowhawk (Accipiter nisus)*
Black Baza (Aviceda leuphotes)*
Long-legged Buzzard
Oriental Honey Buzzard
Pied Falconet (Microbierax melanoleucus)*
Little Egret
Chinese Egret
Pacific Reef Egret
Grey Heron
Purple Heron
Great Egret
Intermediate Egret
Cattle Egret
Chinese Pond Heron
Black-crowned Night Heron
Little Cormorant
Painted Stork
Asian Openbill
Banded Broadbill (Eurylaimus javanicus)*
Blue-winged Leafbird (Chloropsis cochinchinensis)*
Greater Green Leafbird
Asian Fairy Bluebird
Brown Shrike
Bar-winged Flycatcher Shrike (Hemipus picatus)*
Verditer Flycatcher (Eumyias thalassina)*
Black Drongo
Ashy Drongo (Dicrurus leucophaeus)*
Greater Racket-tailed Drongo
Crested Jay (Platylophus galericulatus)*
Racket-tailed Treepie (Crypsirina lemia)* Voice only
Slender-billed Crow
Black-hooded Oriole
Large Cuckoo-shrike (Coracina macei)*
Bar-winged Flycatcher Shrike (Hemipus picatus)*
Asian Paradise Flycatcher
Blue Whistling Thrush (Myophonus caeruleus)*
Grandala (Grandala coelicolor)*
Dark-sided Flycatcher (Musicapa sibirica)*
Red-throated Flycatcher (Ficedula parva)*
Verditer Flycatcher (Eumyias thalassina) * check maps
Yellow-rumped Flycatcher (Ficedula zanthopygia) * check maps
Blue Flycatcher (Cyornis banyumas)*
Oriental Magpie Robin
White-rumped Shama
Rosy Starling
Common Starling
Common Myna
Crested Myna
Barn Swallow
Northern House Martin
Asian House Martin
Sand Martin
Black-crested Bulbul
Yellow-vented Bulbul
Red-whiskered Bulbul
Stripe-throated Bulbul
Flavescent Bulbul
Mountain Bulbul
Ashy Tailorbird
Plain Prinia
Two-barred Warbler (Phylloscopus plumbeitarsus)*
Dusky Warbler (Phylloscopus fuscatus)*
Greater Necklaced Laughingthrush (Garrulax pectoralis)*
Sultan Tit (Melanochlora sultanea)*
White-browed Scimitar Babbler
Dark-backed Sibia (Heterophasia melanoleuca)*
Olive-backed Sunbird
Purple-naped Sunbird
Streaked Spiderhunter (Arachnothera magna)*
Paddyfield Pipit
White Wagtail
House Sparrow
Eurasian Tree Sparrow
Bunting – who the hell knows what species…
Some Other Stuff From the Winter Expedition 2011-12!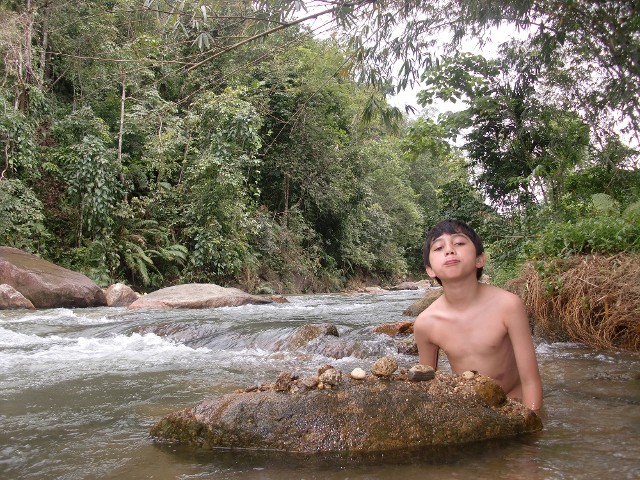 Cokie has been playing in this creek since he was a baby. Whenever we approach "the garden", he starts stripping down getting ready to jump right in! I can't remember how many times he has dammed up this creek to create swimming holes...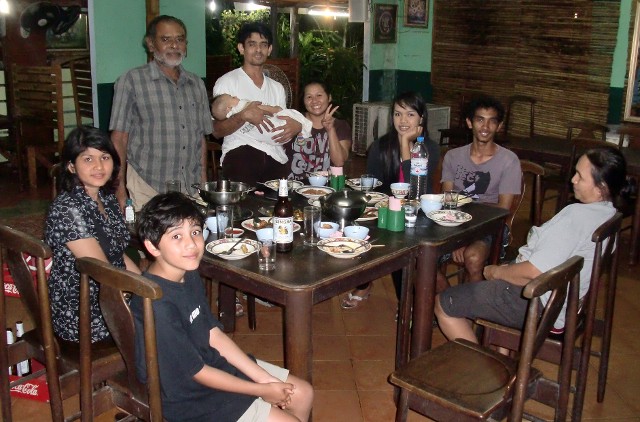 The big family dinner on our last night in town. Som has such a great family.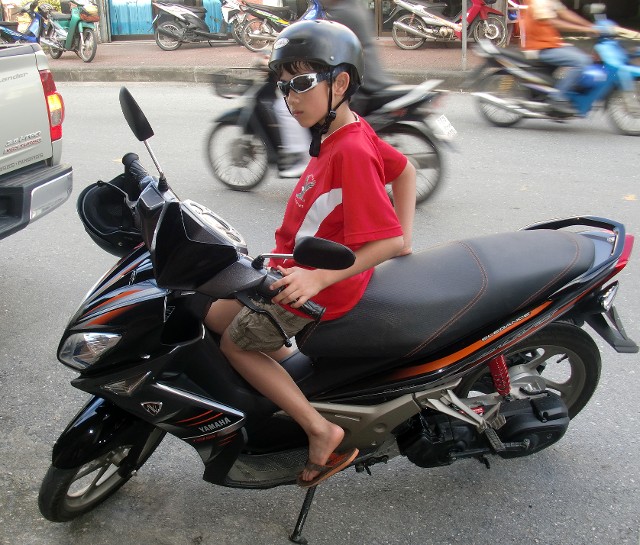 Cokie and the Yamaha! This little bike sure beats trying to navigate the monster truck through Nakhon's narrow streets and traffic jams...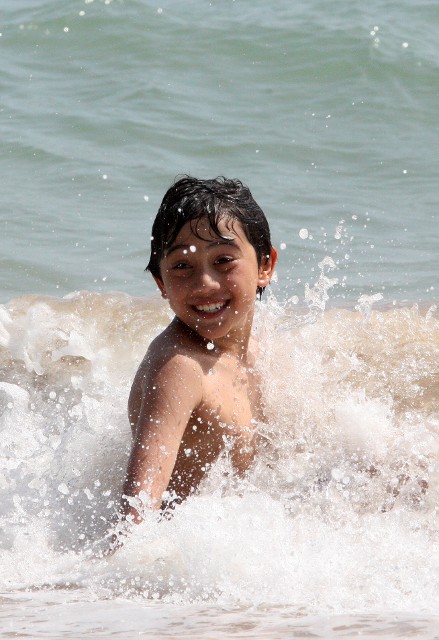 Where there is water, there is my little fish, Cokie...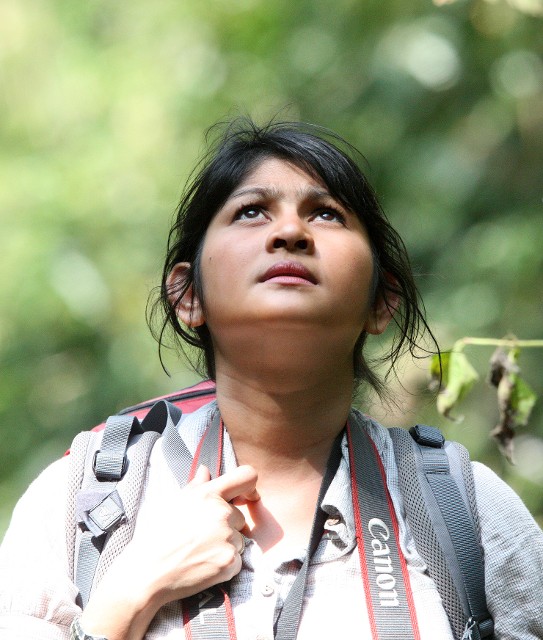 Som is constantly on the look out for some new critter. Without her, I would miss at least half of our species list! She is seriously the best wildlife spotter I have EVER traveled with!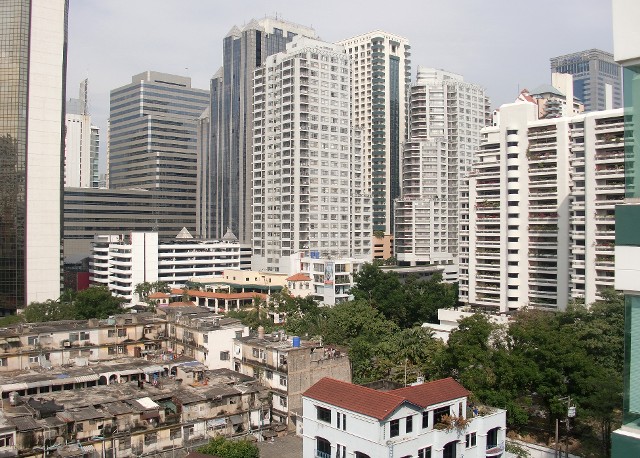 Pretty much all trips to Thailand start and end in Bangkok. Here is the view from the pool of our favorite hotel - the Admiral Premier on Soi 23, Sukumvit!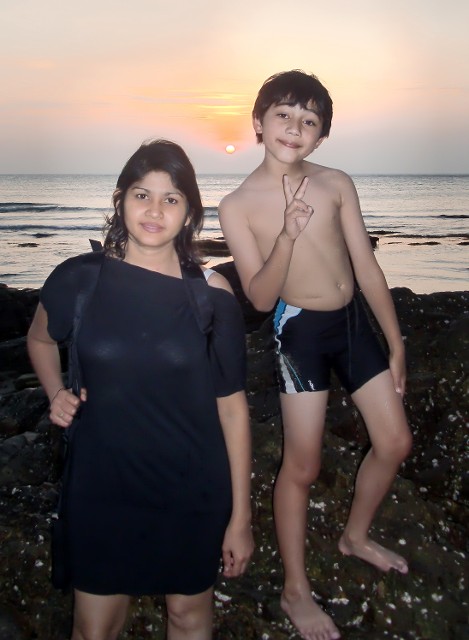 Wow! What can I say....I am so lucky...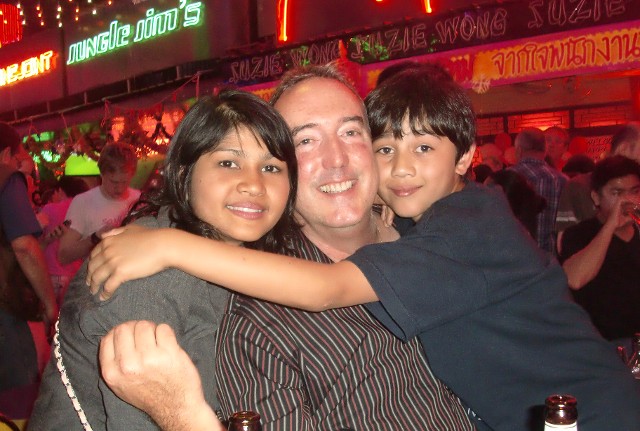 The Smith Family, New Year's Eve 2011-12! Soi Cowboy Bangkok.
In addition to the images that follow, log on to our Thailand Images Galleries:
Temples and Ancient Sites of Thailand
Reptiles and Amphibians of Thailand