A spectacular Addax in Tunisia's Jebil National Park
Expedition to Tunisia
June 12-25, 2013
***
Be sure to check out our Pbase website for more images of Tunisia!
I love mornings in the desert. The smell of the aromatic terpenes in the flora and sounds of the swallows flying here and there is therapeutic. But the desert I am in today is special and unique. I am sitting on the deck of my hotel at around 6AM watching the sun ascend over the amazing Roman ruins of Sbeitla, Tunisia. Before yesterday, I never knew there was a town called Sbeitla, let alone that it contained a World Heritage level set of ruins. Now we've been in Tunisia for two full days and we are well on our way to enjoying our expedition for the summer of 2013.
This trip is special. This trip is to be a bridge between two chapters on our lives. We've finished a three year gig in Shanghai and are now a few short weeks away from our new lives in Bangkok, our hopeful home for many years to come. I couldn't think of a better way to bridge the gap than to fill it with a wildlife/culture-adventure through several of the Mediterranean countries of North Africa and southern Europe. If all goes well, our trip is to take us to Tunisia, Greece, Italy, France and Spain, with perhaps a few more border crossings here and there just to get Cokie's country count up! (He is at 43 as we speak)
So we're closing the China chapter of our lives. Well, at least the formal residence chapter as I hope to travel to some of the regions of China again someday to try to nail some of the species I missed while living there. But for now, we are leaving China behind. It's hard to reconcile the feelings we all have for this. For the past several days, we've had an emotional roller coaster of sorts. There were many tears and sad moments saying goodbye to our great new friends and SAS family and students. Part of me could not believe that I would actually be quitting the best job I've ever had in my life! Not just the salary and benefits but my colleagues and the support I had for the programs that I was in charge of! And we're leaving it for a lesser package in hopes of a better quality of life. Bon chance!
Spending our final nights and days driving through the bowels of Shanghai, Som, Cokie and I would often comment how we've come to love, or at least respect, Shanghai as a world class city. The character of the French Concession and the glamour of the Bund and Pudong skyline, would be things we will miss. But there were also things that would remind us why it was not all bad that we were leaving. On our final full day in Shanghai, the AQI was over 300 and we could taste the air. In fact we could chew it! A final trip to our next door Carrefour, and the droves of busy, rude shoppers reminded us that we are moving to Thailand, home of a much less abrasive culture. We are glad to be moving on, but there is little doubt that our time in Shanghai will be marked in all of our lives as a highpoint. While we had some tough times in China, we have all come to love and respect it for what it is. And we all grew as people, students and professionals while there. We will all leave part of our hearts in the Middle Kingdom.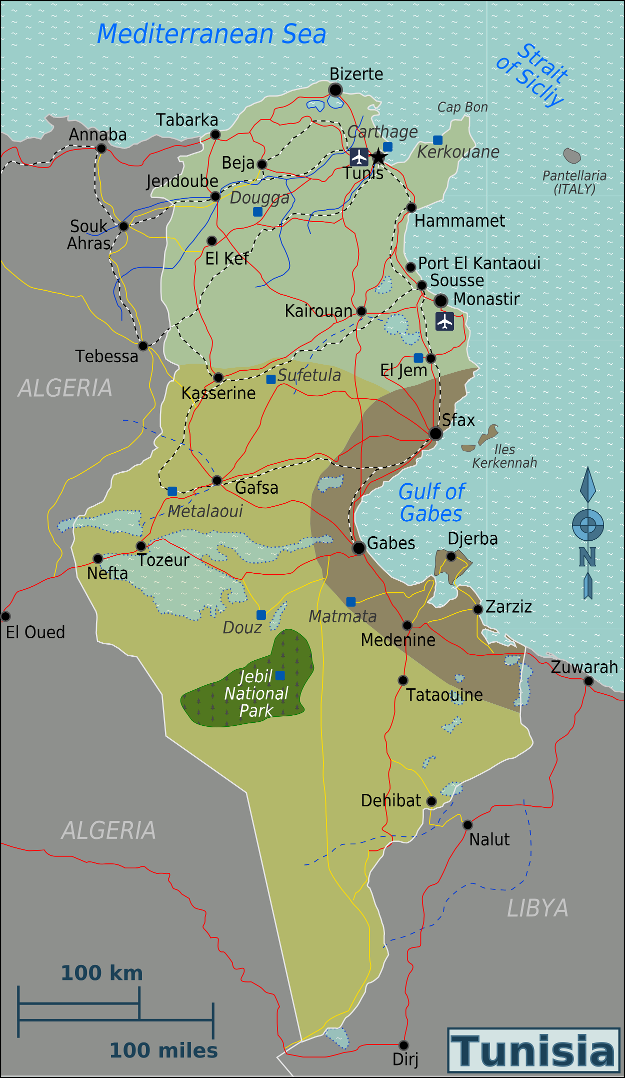 Map of Tunisia. Basically our trip took us from Tunis to the far northwest past Beja to Feija NP. We then proceeded south to Atlas Mountains east of Gafsa (Bouhedma and Hadj) and then south to Jebil and Douz. Our journey allowed us to see pretty much all of Tunisia's biotic communities. (http://commons.wikimedia.org/wiki/File:Tunisia_Regions_map.png)
So now we are in our second full day in Tunisia. We've nailed two mammal species thus far, but honestly I have slim hopes of ever reaching the 17 species that Jon Hall got back in 2008 (See report here). We are now in post-revolution Tunisia and things have changed - for the worse. For example, one of our main destinations, Chaambi National Park, is still closed due to the heavy presence of Al Qaeda sponsored jihadists who would most likely love to kidnap a nice American family to hold for ransom. Needless to say, we will not be visiting Chaambi and will most likely be missing one of the main targets, the Barbary Sheep.
Our amazing host and guide, Tarek Nefzi, owner and operator of Becasse Ecotours (website here) has attempted to locate another population and location and has some contacts whom will meet later today, so we will see if we can somehow put it back on the list of hopefuls. I am not optimistic though. Things just don't look good on the ground.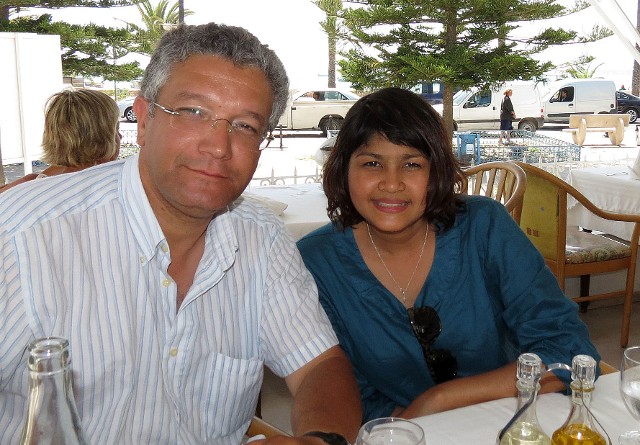 Tarek Nefzi and Som enjoying some wonderful seafood at Hammamet.

Our original flight to Tunis was cancelled due to a an air traffic controllers' strike in Paris (for once it was NOT Air France's fault!), so we arrived Tunis a day late. Since we were originally supposed to arrive on the evening of 12 June, and our new flight got us in mid morning of the 13th, we were very fortunate to not need to completely arrange a new program! But we did miss our first night's sleep in Tunis, which was not ideal as we headed straight out in to the field immediately after arrival and we paid a toll for our jetlag....
Feija National Park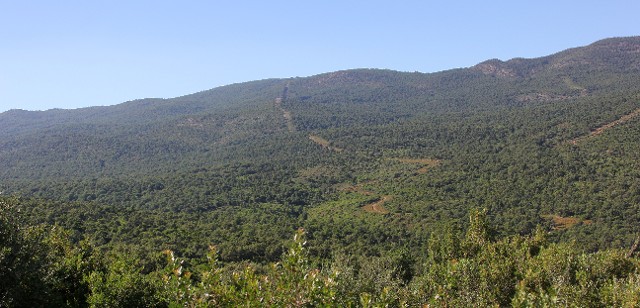 The spectacular oak woodlands of Feija National Park in northwestern Tunisia. These are some of the last remaining tracks of the once vaste oak forests of northern Africa.
Our first destination was Feija National Park in the northwestern section of Tunisia. This was about a four-five hour drive through the spectacular Tunisian countryside. Tunisia is a strikingly similar landscape to southern and central California. The brown grasses and olive tree-studded hillsides reminded me of my younger years in Fresno. I think the site of our first Roman ruin kinda' made Tunisia stand out, though.... We did pass and explore a few small but still amazing ruins. Cokie got a chance to explore an amphitheater. We all recalled the movie Gladiator and related what we'd seen in the movie to the architecture of the structure we were exploring. Cokie described how the lions (The now extinct north African species no doubt! ...) would lunge out of the smaller angled entry portals to the pit, where slaves would be waiting to die. The energy of the place was palpable. The area surrounding the ruins was interestingly forested by the original and still productive olive orchards! The trees in the still functioning orchard were in excess of 2000 years old!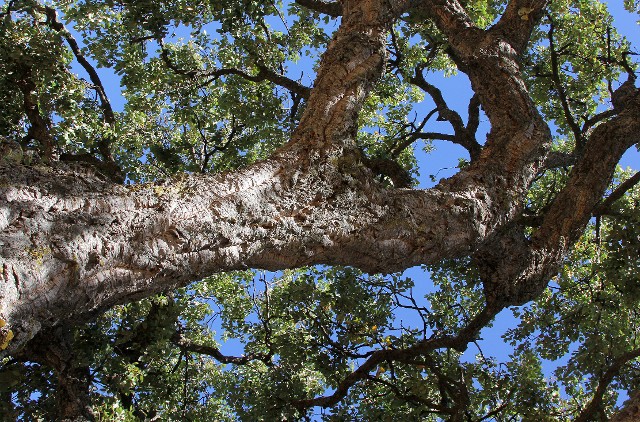 A giant old Cork Oak (Quercus suber) in the forests of Feija. These trees were ancient as were the cultivated olive forests nearby.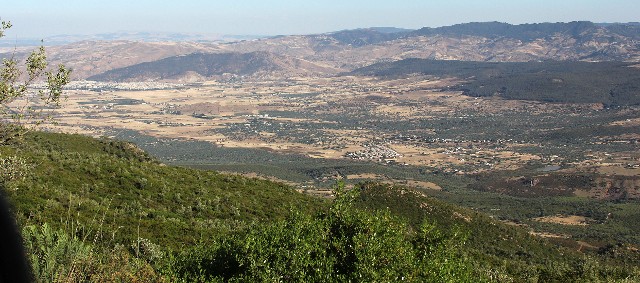 The view of the lowlands from Feija National Park. There were once Barbary Lions roaming these areas!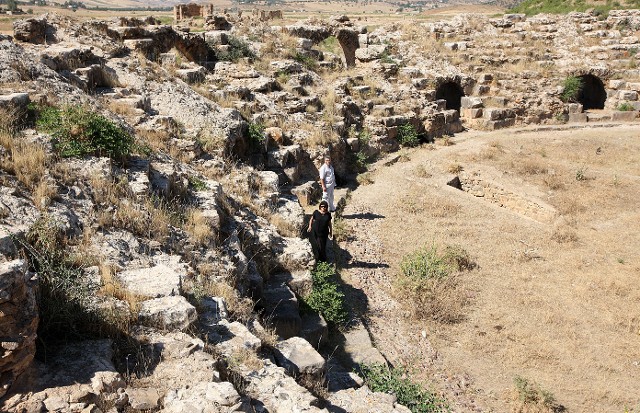 Very near Fejia is the Bulla Regia ruins which were basically abandoned in the desert of northwestern Tunisia. These were awesome to explore.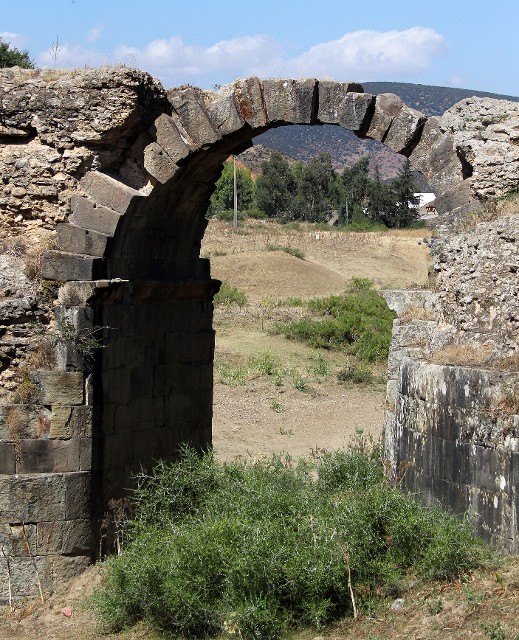 The famous Roman arch...

But for the Smith family, just being in such a forest, breathing the fresh air and seeing the vistas that went on for miles and miles, there was an uplifting that only those who are nature lovers and trapped for years in a massive, polluted Chinese city can appreciate. We were in heaven! Even with the jet lag draining our bodies , we were ready to get out and explore the forests of Feija!
The main track that transects Feija is actually quite filled with humanity. Maybe more depressing than the human aspect of it was the canid population. I don't think I had ever seen or heard more dogs in a national park anywhere on earth! It was at this point that I realized that seeing wildlife simply out and about was not going to happen. After a day and half exploring Feija, I was proven correct. The non-stop cacophony of barking dogs made wildlife viewing very difficult, but we did give it a good shot and even had moderate success.
We based ourselves at the youth sports center lodging in the village just outside the park's northern entrance. It was definitely nice enough and our Tunisian hosts made special efforts to make sure we were very comfortable and well fed. Very nice place for sure. After checking in and gorging ourselves on traditional Tunisian food, we made our way back in to the core area of Feija to search for Barbary Deer and other species. We decided to go on a night trek to search some clearing deep on the core area of the reserve, but after a few km of virtually blind walking (the rangers insisted on lights being off!), we came up empty. With all of the yelping dogs I was not surprised at all that we saw nothing. We spent about an hour or more searching the clearings and eventually made our way to our truck for a night drive. We finally did spot several deer in a clearing near the top of the track, and we were very excited that we were successful in spotting the wild ones! But I will have to remain satisfied that the only good images I have of the individuals from the captive breeding herd that were near the reserve's headquarters. We were very fortunate, however, to actually spot the strangest Africa Wild Cat I'd ever seen! We spotted several individuals of this species in southern Africa a few years back, so I was caught a little of guard with the more rustic coloration of this one. But after closer inspection, it became clear that it was in fact an actual Wild Cat. I only wish someone would have held a spot light on it so I could have taken a frickin' picture! Jet lag makes for very poor reflexes.....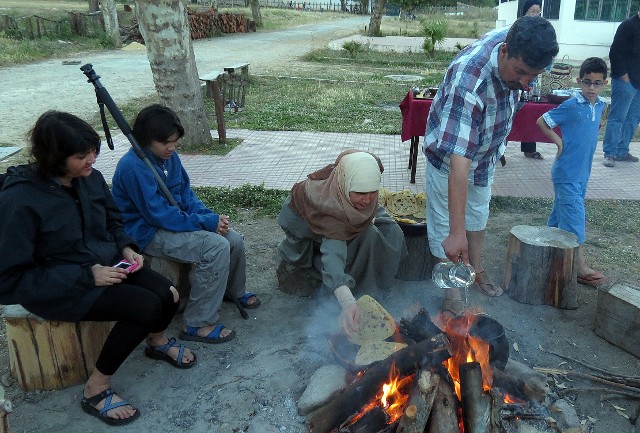 Some home cooked northern Tunisian cuisine - fresh over an open fire.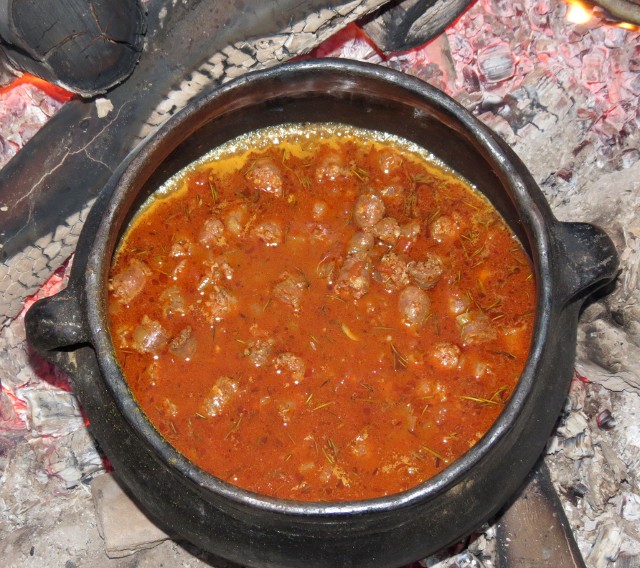 Some outstanding goat stew!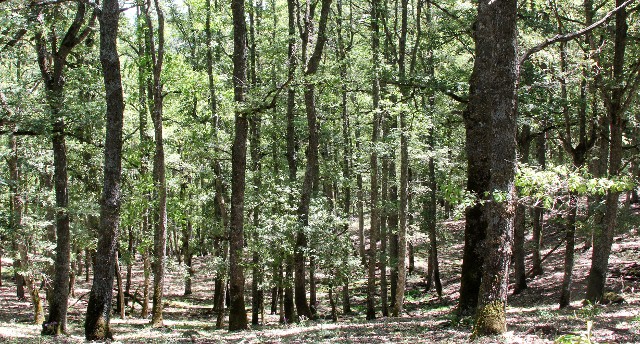 Feija is home to a spectacular oak woodland. Several species of oak and juniper and even some pine populate the mountains of the region.
Barbary Deer (Cervus elaphus barbarus)
Barbary Deer seen in the breeding zone of Feija National Park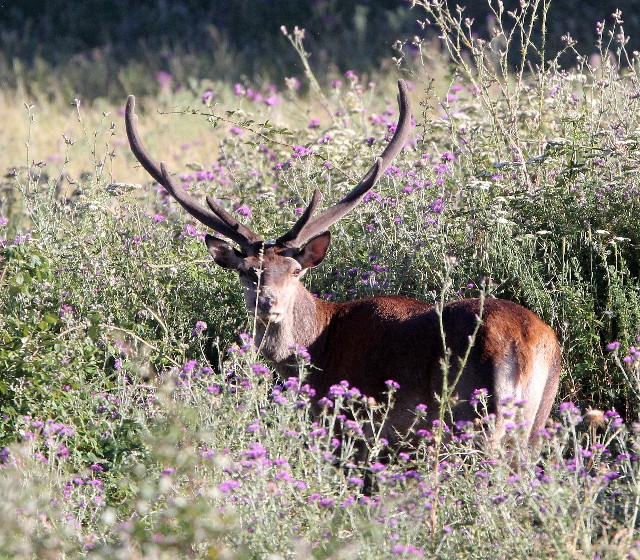 Several large stags were seen in the breeding zone of Feija this afternoon.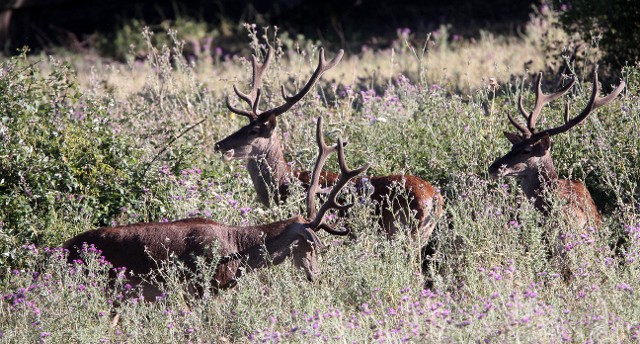 Barbary Deer...Soon to be its own species?

The next day we explored the back roads of the western section of the park. The track was in horrible condition - very rutted and washed out. Thankfully Tarek's 4X4 truck made traversing the terrain quite easy. Evidently, after the revolution, the park has virtually lost all of its funding and is basically suffering from extreme neglect and the dirt tracks had not been maintained for over two years. Sheep are also grazing the park in to oblivion sadly. The invasive thistle species are literally taking over every open meadow and space available. I cannot imagine there being enough forage for the deer population now, let alone with many more years of governmental neglect. It was depressing to see entire hillsides covered with the impenetrable thistles.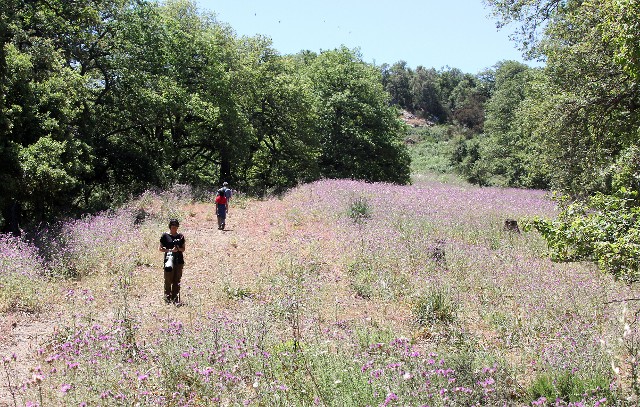 Sadly virtually all of the open grassy meadows of Feija are filled with Tunisian Purple Thistle which is quickly displacing the native grasses so necessary to the region's fauna.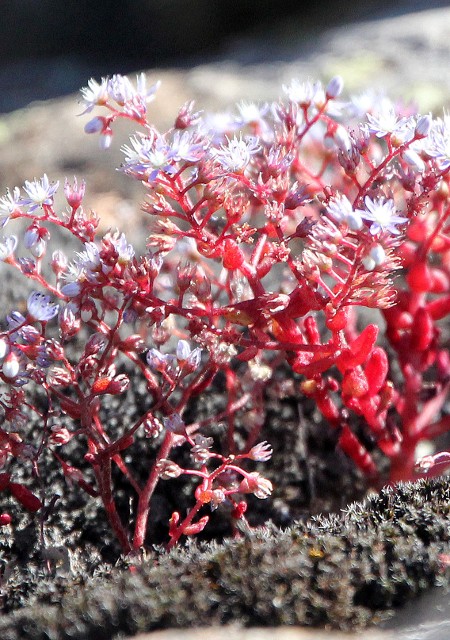 Sadly the thistle is outcompeting most of the native flora species in Feija. Species like this Saxifraga species are finding it increasingly difficult to exist...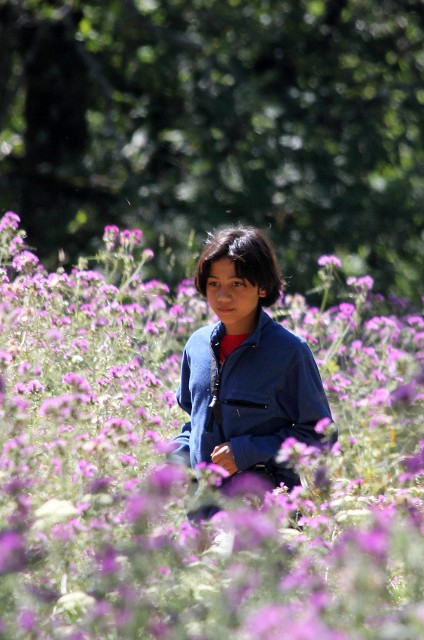 As beautiful as it is, the thistle is an ecological disaster. Cokie might be too but in this picture we're talking about the thistle...;-)

During our explorations of the western sector, we trekked for a few kms further west and actually entered Algeria for a bit. Cokie was excited to add country #43 to his list! I was a bit surprised that we were actually this far west. Aside from a few bird species, the only mammal sign was the diggings of the local subspecies of wild boar. Strangely, even with the amazing food supply from the oaks, there are no squirrel specie sin Tunisia! I really need to do some research to find out why this is. There are squirrels all over the rest of Africa, and why they skipped this great habitat just doesn't make evolutionary sense to this old biologist.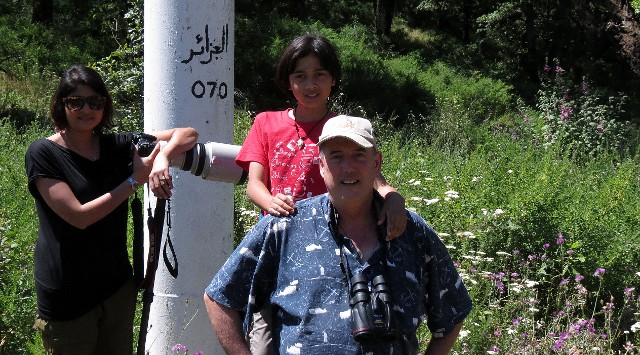 A quick trek in to Algeria just to say we've been there!
After our nice trek to Algeria, we opted to call our stay at Feija short by a night. Our decision was in no way a statement to what we thought of the place (we loved it!, but I knew that we were going to need all of the time and luck in the world to attempt a sighting of the Barbary Sheep in the regions that had never been visited before by mammal watchers, so we decided to make it most of the way to our next destination which was closer to sheep country. Luckily we did or we would have missed the spectacular Sbeitla ruins that I am currently watching from my chair on the patio of our lodge!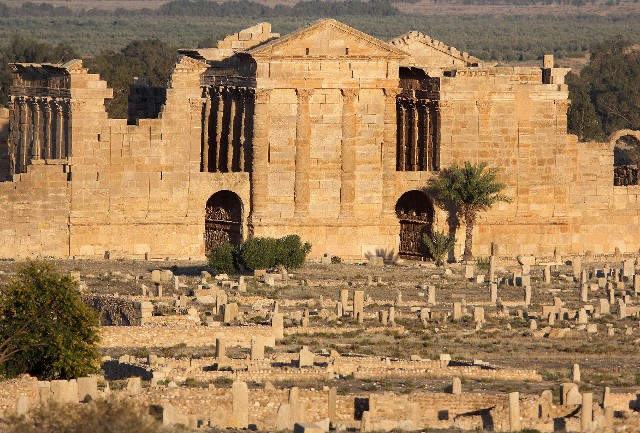 The Subaytilah Ruins were are next stop after Feija. Spectacular!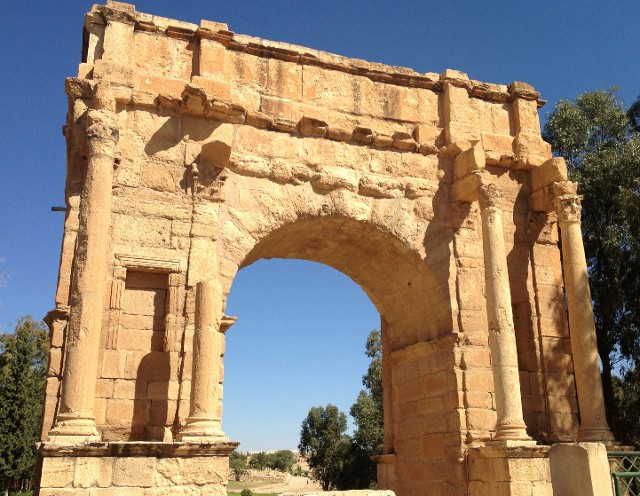 I felt like we were in Rome. Actually we enjoyed the Roman ruins in Tunisia much more than we did the ones in Italy. We literally owned these - no other tourists!

Sahara Atlas Mountains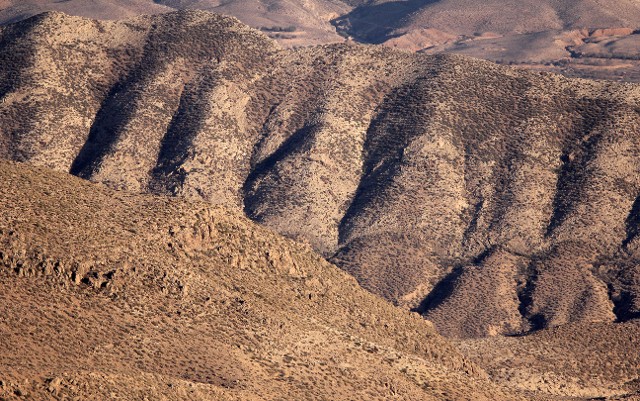 We spent several days exploring the various ends of these spectacular high desert mountains searching for several species of mammals.
Now two days later and we are deep in to the "savannah" habitat of Bouhedma National Park in central Tunisia. We've spent the last couple days scouring the Sahara Atlas Mountains in search of the terminally elusive Barbary Sheep. Our first base camp was in the amazing Berber Village of Sened, where we stayed in a Berber Cave way up on a hillside studded with ancient Berber ruins and caves. Using their home and our own private cave as a launching spot, we spent a couple days trekking and driving the insanely 4X4 roads of the mountains searching each exposed cliff in hopes of the sheep.
Our local Berber guide had seen three as recently as December but no sign since then. Initially we were thinking of trekking aimlessly in the mountains but the terrain and futility of it all came clear. And with the temps as high as they were, common sense ruled the day....We had sweeping views of nearly the entire range in our various locations, so we opted for more sensible treks and some roadside spotting. But our luck was zero - no sheep. I would not be surprised at all to know that they'd all been hunted to extinction. Although they are officially protected, it is clear that nothing in Tunisia is protected at all with the current political situation. (More later)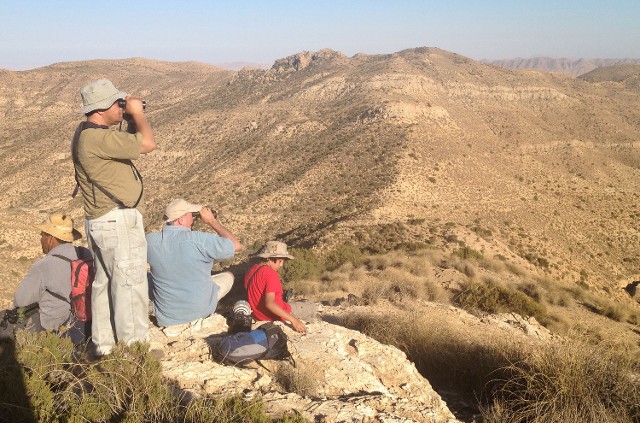 Scanning the Atlas Mountains for Barbary Sheep. No luck on the sheep but spending time in these spectacular and remote mountains was worth every ounce of effort getting there.

Our time with the Berber family was precious. We shared space and meals together and their children adopted us as new friends. It was a great experience to get to know a bit of local Berber life. Theirs is a culture that has traditionally lived in caves which offer a respite from the desert sun and high temperatures. They've lived in this region for thousands of years and are found all the way from Morocco through to Lybia.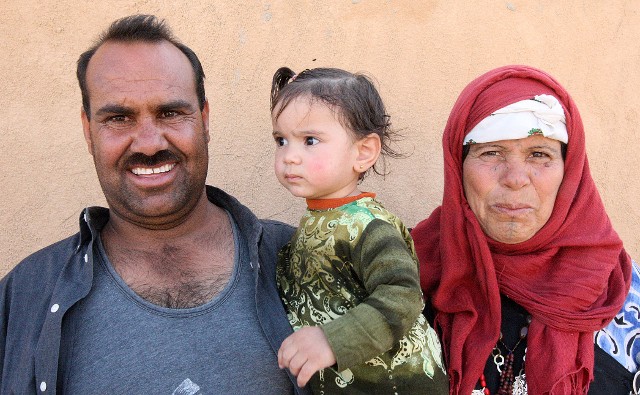 Our Berber hosts in Senec Village. Great people!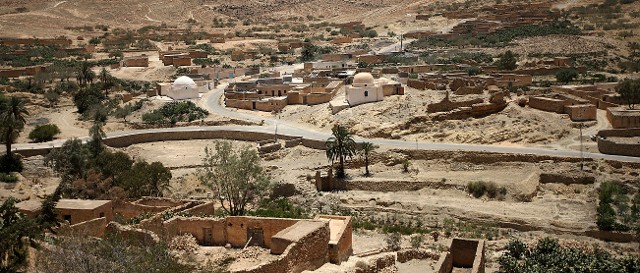 Senec Village is modern to an extent but there are still those who live in the caves.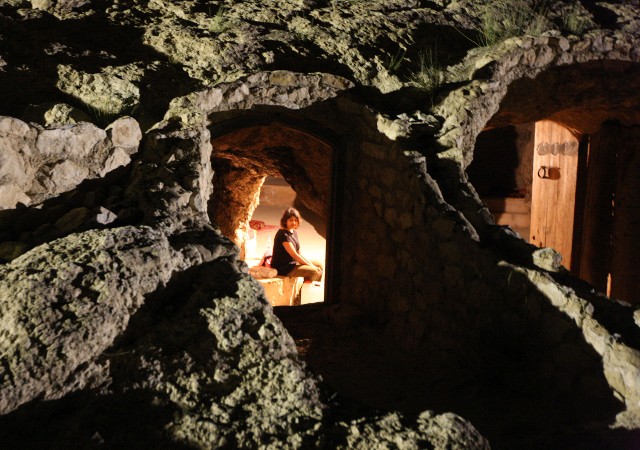 Our own private Berber cave! Home in Senec Village!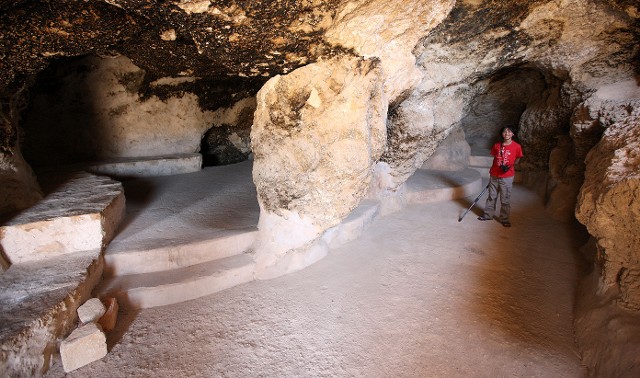 If it weren't for the dust and bedbugs (something I seem to encounter on every trip nowadays!), this would be the perfect place to make our bed.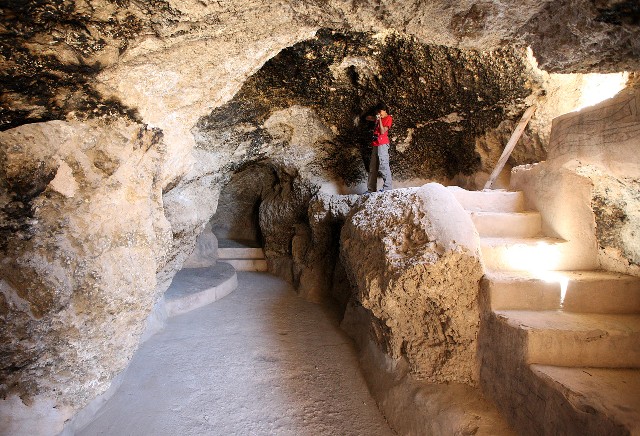 Coke loved this place!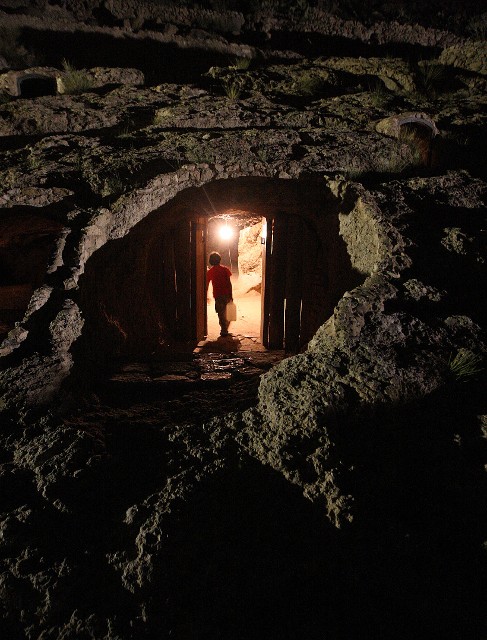 Cokie coming home late one evening...
Take a look at our Youtube video of the Berber Caves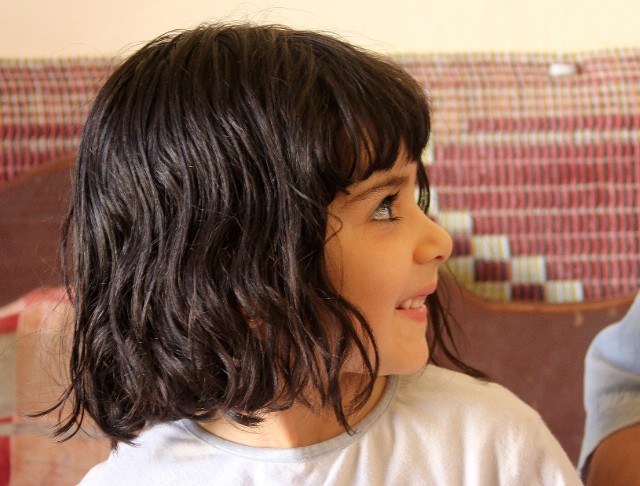 Our host's daughter...

On our final day in the area, we decided to cross the entire mountain range on what could accurately be called a goat path that we opted to use as a 4X4 track! Although we actually did make it the 20 or so kilometers through the gorges and mountains of the range, it was a challenge. The rangers at the next destination called us liars for saying we drove the track - "Unbelievable! That path is for sheep herders and goats!" It took three sets of eyes and muscles to make the road passable and to navigate our 4X4 Mazda through the narrow and incredibly rocky road. We were all very relieved that we made it! Of course now that it is finished safely, it is just another adventure had by the Smith clan. I would not repeat this however.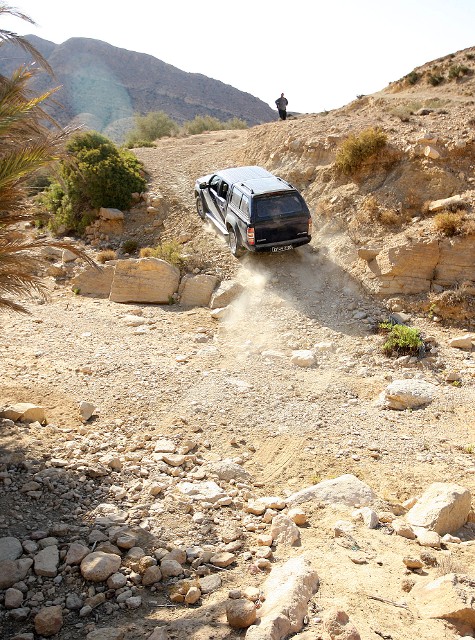 We spent the better part of one of our days exploring the Atlas Mountains basically 4x4-ing our way through a goat path...but at least we made it! Not sure Tarek's truck will ever be the same though...

Common Goundi (Ctenodactylus goundi)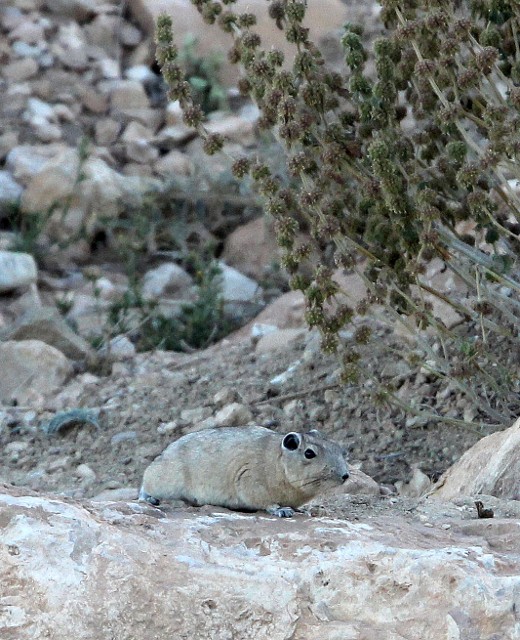 Although we dipped on our main target, Barbary Sheep, we did see many Common Gundi in and around the Berber Village and Atlas Mountains. Very interesting rodent!
Mystery Gundi Species (Perhaps Val's)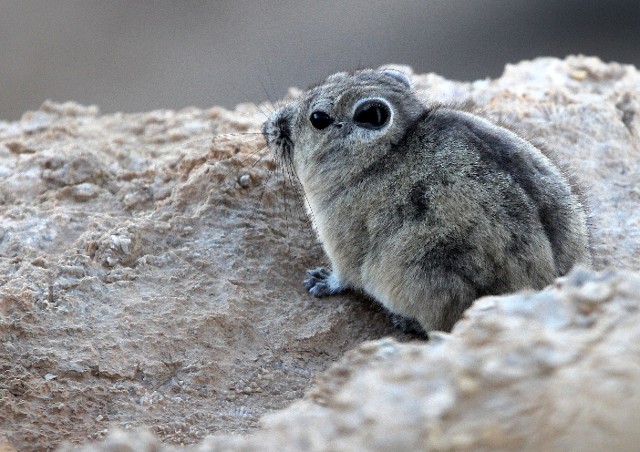 When exploring the higher elevations of the Atlas Range, we came across this very strange Gundi. Clearly different than the Common Gundi, and a speciman that not even the locals had ever seen, we are tentatively calling it Val's Gundi. Please feel free to debate this ID.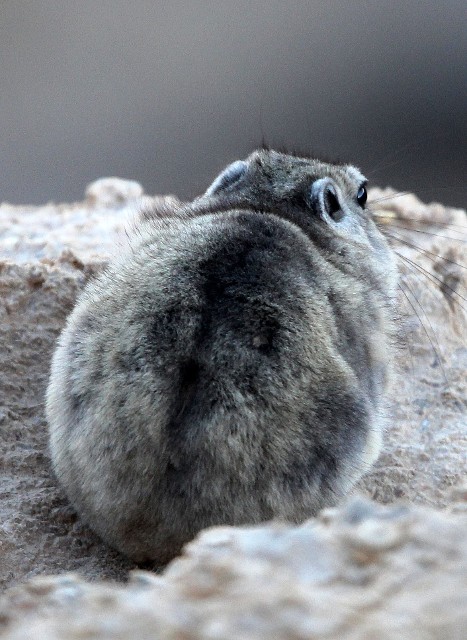 Very unique fur and overall appearance.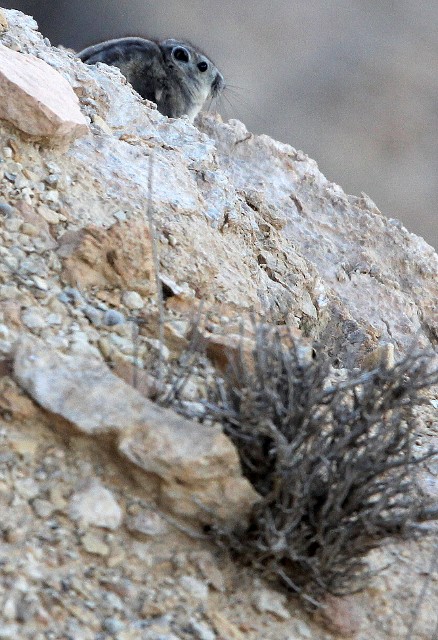 Mystery Gundi!

Hadj National Wildlife Refuge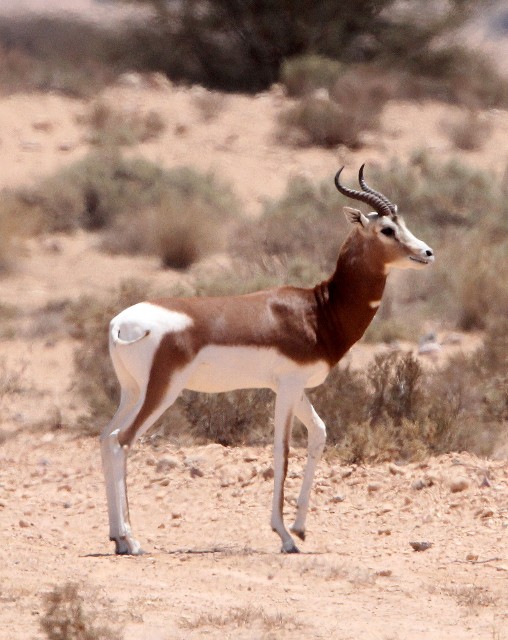 Dama Gazelle were the main target at Hadj National Nature Reserve
Upon exiting the Sahara Mountains and on to the vast plains to the south, our objective was to visit Hadj (pronounced "Hadej") National Nature Reserve. Hadj is home to a reintroduced herd of Addax as well as some of the Scimitar Horned Oryx. But the main draw are the THREE remaining Dama Gazelles that can still be found there.
It is at Hadj that we got a firsthand introduction to the idiocy of Tunisian bureaucracy. Our guide, Tarek, is an extremely well connected and knowledgeable person and is a well known nature-show television personality in Tunisia. It would be very difficult indeed to even contemplate a trip such as this here without someone like Tarek at the helm to smooth the way for the seemingly endless amount of red tape to get the permission to enter the parks and reserves.
For the most part, our adventure was basically seamless but at Hadj, even though we had the proper permits, signed and stamped by the officials in Tunis, we were being denied entry to the park. There were various reasons being tossed about, such as that Tunis never faxed the permit down to the head of the Hadj.... to the fact that there were some hunters in the reserve attempting to reduce the Golden Jackal population in the park. We're not sure exactly which story was true but we have a feeling that we were denied entry to the park because there were some pleasure hunters in poaching wildlife with impunity.
Eventually we were giving permission to enter the park, only after the hunters finished their hunt. So we waited in the heat for almost 2.5 hours before the hunters finally came out with their prize - two golden jackals and one nice-sized wild boar. Clearly this was a pleasure hunt - NOT a conservation hunt, in all of our opinions.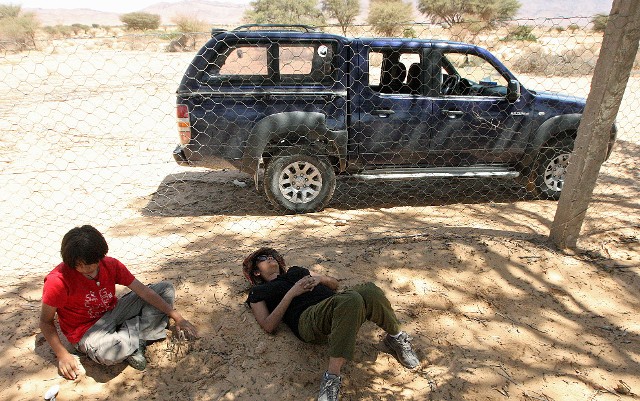 Killing time outside of Hadj National Nature Reserve... We were not allowed entry while the poaching was happening. I guess the reserve's director thought it would be too dangerous for us while the poachers were inside killing animals...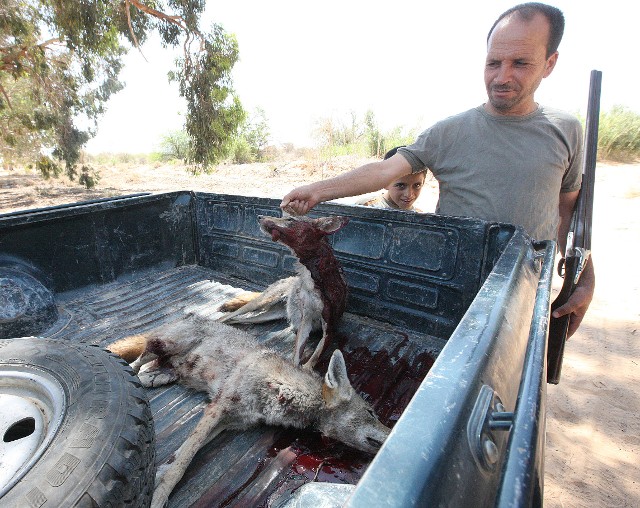 Some unfortunate Algerian Jackals nailed during the "hunt"....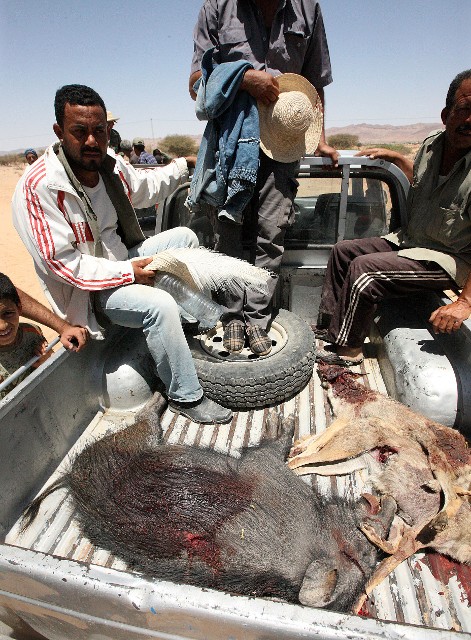 I hear that wild boar is very expensive bush meat in the markets of Gafsa, Tunisia. It's therefore a good thing that all you need to do is poach some in broad daylight at the local nature reserve...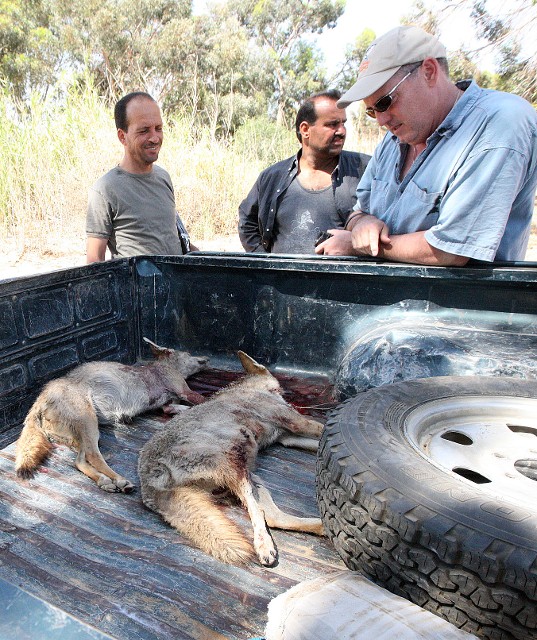 I wasn't quite sure what to make of it all.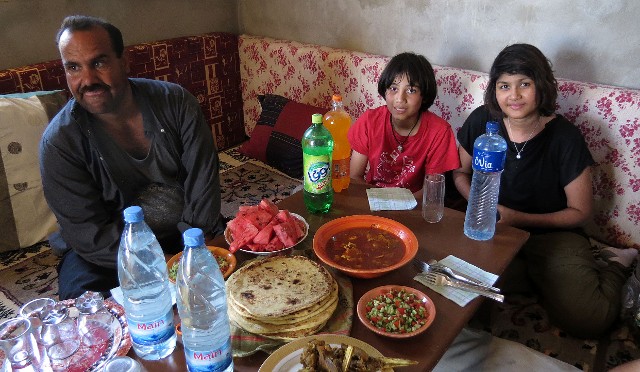 After all of the ruckuss, the park director thought it best to offer us some hospitality with an amazing feast at his home.
Corruption in Tunisia is at epidemic levels. Post revolution Tunisia is in far worse shape than before the revolution. Nepotism and official corruption is literally destroying the national parks of the nation. Our goal at Hadj, was to see Dama Gazelles, which we did, but the story for this species is tragic, and is 100% due to human corruption, neglect and incompetence. Hadj was home once to nearly 70 individuals. Bouhedma National Park to the east was also home to a once healthy herd of the species but now the herd has been completely exterminated and the Hadj herd is down to three lonely males!
Dama Gazelle (Gazella dama)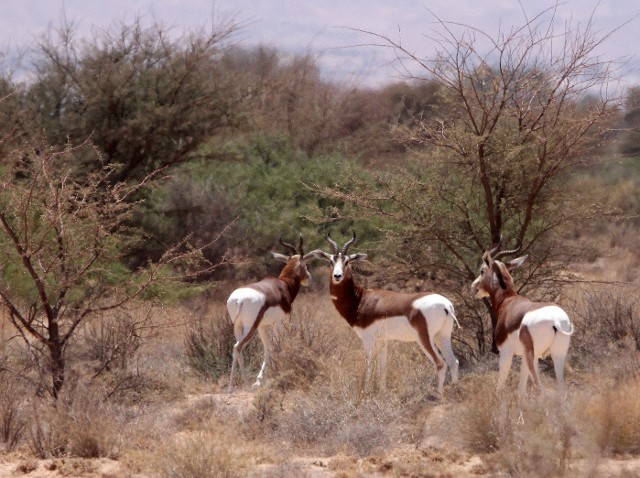 The three remaining Dama Gazelle in Tunsia. Suffering from inept and corrupt management, and constant persecution by jackals, the herd has been reduced to these last three males. The species is sadly completely doomed to extinction in Tunisia.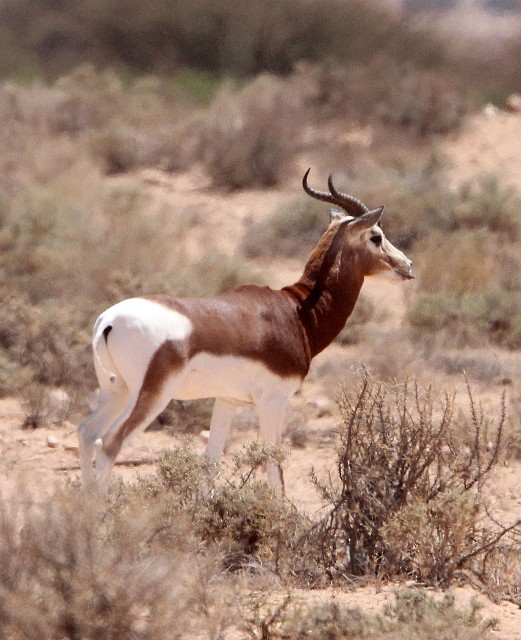 Bouhedma National Park used to have a sizable herd only a few years prior, but the jackals and corruption in the form of paid hunts have wiped them out.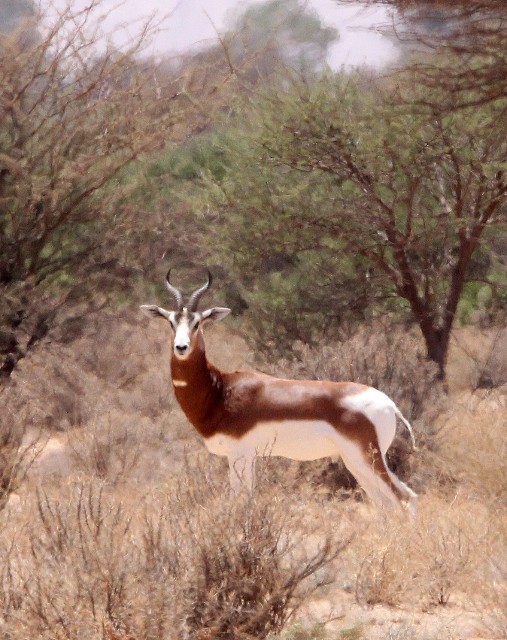 A more spectacular gazelle species would be difficult to find. Seeing these were Som's highpoint of the trip.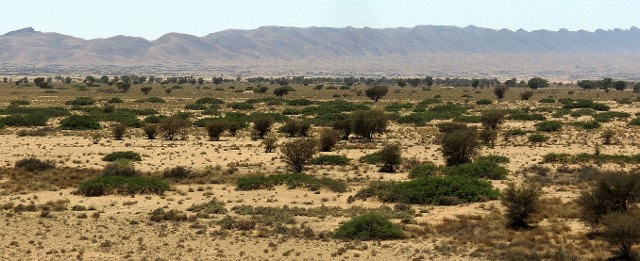 Acacia (A. radiana) scrub is the main community in Hadj NR.
Talking to the local rangers and national park employees, we learned how deep the corruption is here. All of the reserves in Tunisia had international backing at their beginnings. Money from such entities as the World Bank and other NGO's was spent to attempt to re-establish reserves and species' populations in northern Africa. Millions of dollars were spent with this intent but now the situation in Tunisia could hardly be worse. Virtually all of the money given for these projects has been skimmed by corrupt politicians and national parks are basically left to fend for themselves. Rangers have to use their own funds to patrol the parks, fix their equipment and simply attempt to do their jobs, for which they receive meager pay.
Rangers informed us of rich Tunisians being granted permission to enter the parks to hunt the rarest of all species, such as Addax and Dama Gazelles. Supplies are denied the national parks and rangers are expected to stand idly by, all while rich politicians in Tunis get fatter and richer! When the NGO's come to town to inspect their investments, all sorts of equipment appears out of nowhere - things bought with NGO funds that the rangers had never seen before, all to impress the international investors, who are being made to be fools, there is no two ways about it.
And while all of this is happening, nearly all of north Africa's rarest species are becoming rapidly extinct. There may be less than 100 Oryx remaining, a few dozen Addax, around 100 or so Dorcas Gazelles and only three Dama. Jackals are taking care of slaughtering all of the smaller ungulates and the habitat is being sold off to the highest bidder. I hate to say that things could not be worse in Tunisia, but it would be worse I suppose. The mentality of the average Tunisian is that nature and wildlife is to be exploited to suit the whim of people, and I predict in very short order there will be nothing but jackals and small rodents left in Tunisia's national parks unless things change very rapidly and dramatically.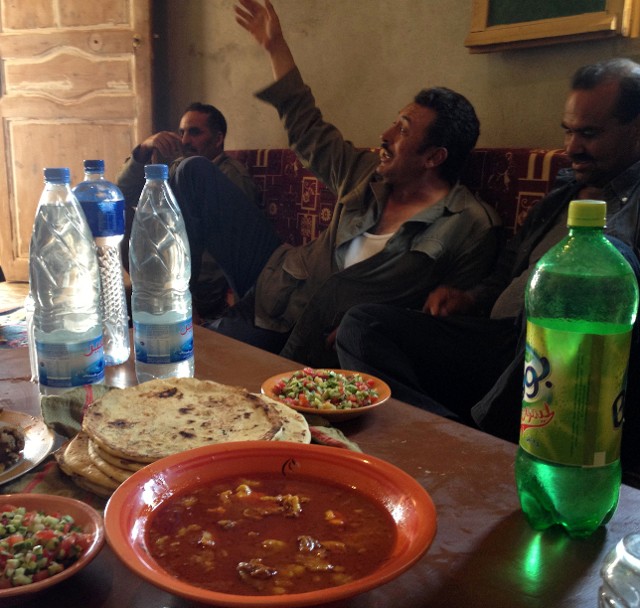 During our feast, we got to hear the rangers talk about all of the issues facing Tunisia's nature reserves - how the central government is literally raping them since the revolution and how NONE of the World Bank funds or supplies are making it to the parks. Rangers are paying for supplies out of their own pockets and things bought for the parks are being stolen by the Brotherhood cronies up north and in Gafsa. Illegal hunts of some of North Africa's rarest animals are commonplace. I was very discouraged hearing all of the woes facing Tunisia's wildlife.
Dorcas Gazelle (Gazella dorcas)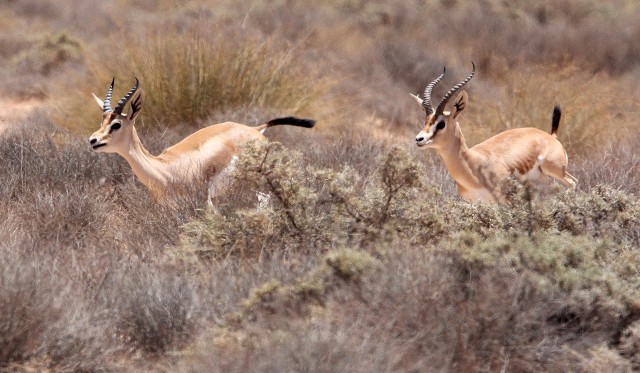 We did see a few more Dorcas Gazelles at Hadj. Very shy indeed they were...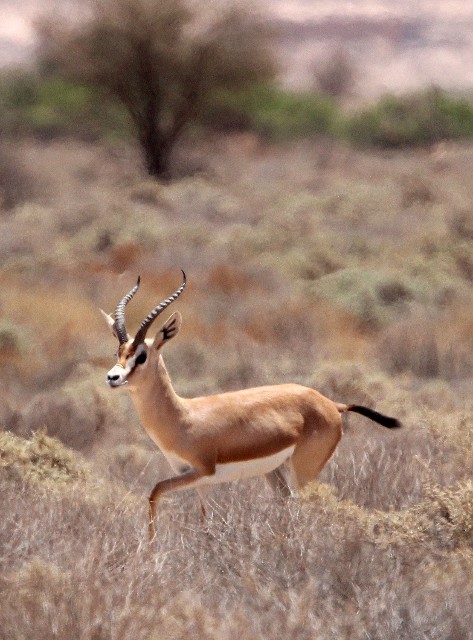 After all of the illegal hunting we had just witnessed in the reserve, we were not surprised to see all of the animals exhibiting such fear of humans.

Bouhedma National Park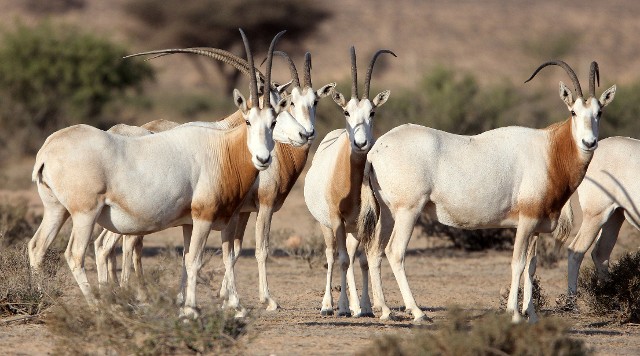 Scimitar-horned Oryx are Bouhedma's claim to wildlife fame...
Bouhedma National Park was our third main stop on the trip. Similar to Hadj in that it is primarily Acacia woodland or what the locals call "savannah". While Hadj is known for the last stand for the Dama Gazelle, Bouhedma is the last stand for the Scimitar-horned Oryx. Home to around 20-30 of the oryxes, the park is also home to a few dozen Dorcas Gazelle and loads of Golden Jackals. We were able to spot all of the highlights in the first hour or so on our first game drives, and all subsequent drives were mainly to improve our photography. We had a moderately successful night drive with another African Wild Cat, loads of Jackals and some other sort of canid that may have been a Rueppell's Fox. Both Rueppell's and Red Fox are known to reside in the park.
Scimitar-horned Oryx (Oryx dammah)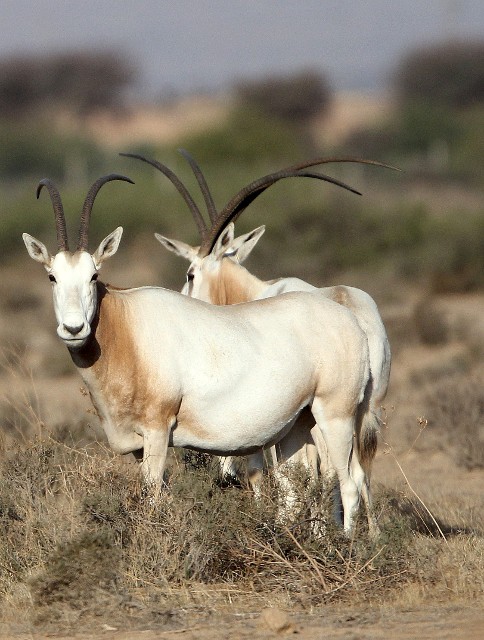 Definitely one of the more spectacular Oryx species.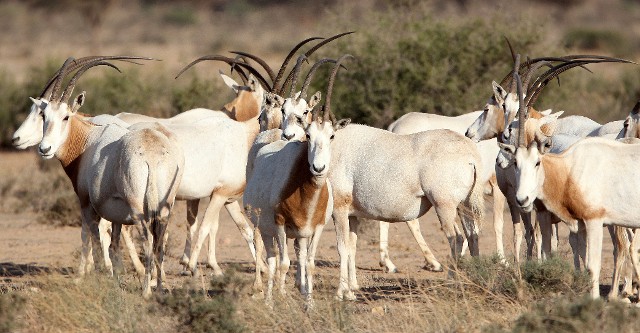 Less than 40 still remain in Bouhedma sadly. Their future is far from secure.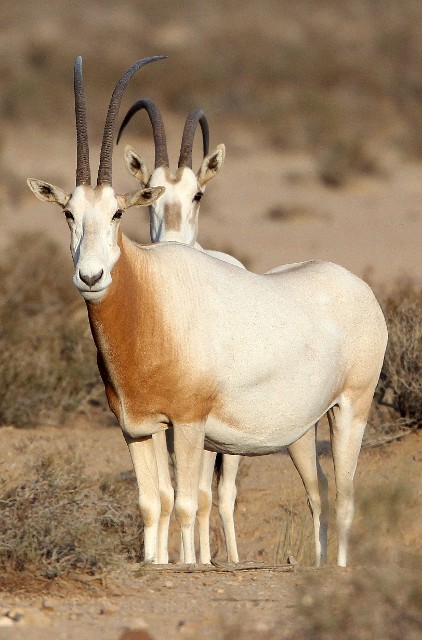 Scimitar-horned Oryx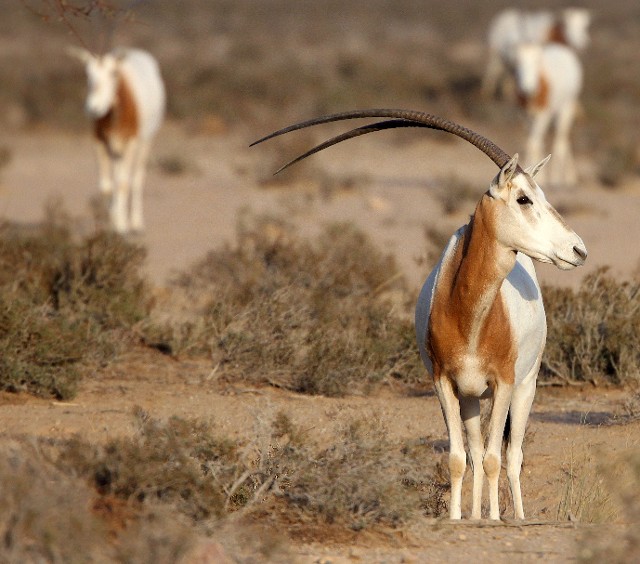 Bouhedma is this species' last stronghold in Tunisia. It used to be a much larger reserve with migration corridors leading to Hadj National Nature Reserve to the west, but all of this has been eliminated since the revolution and the lands have been given or sold to friends of the government.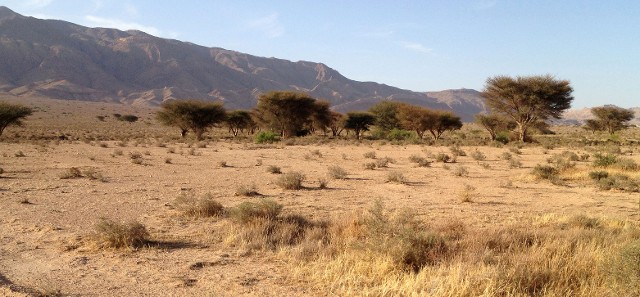 Bouhedma also protects one of Tunisia's last patches of Acacia (Acacia radiana) woodland. There is precious little of this community left in northern Africa sadly.
Dorcas Gazelle (Gazella dorcas)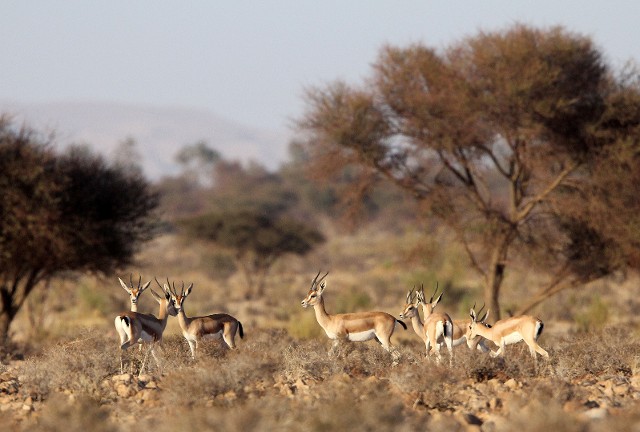 Bouhedma is home to a seemingly healthy number of Dorcas Gazelles. These are either young examples or they are strangely similar to the Rhim (Slender-horned) Gazelles of the Sahara further south. Any thoughts?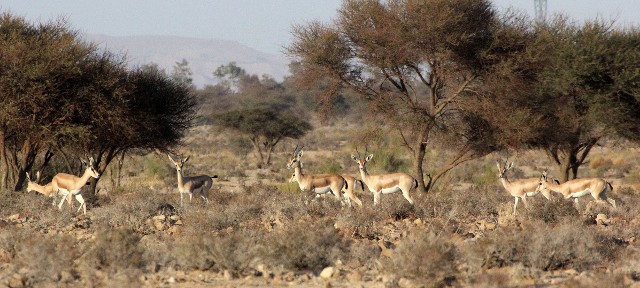 The gazelles of Bouhedma are absolutely terrified of people and would bolt as soon as anyone would appear. Something tells me they are regularly hunted there.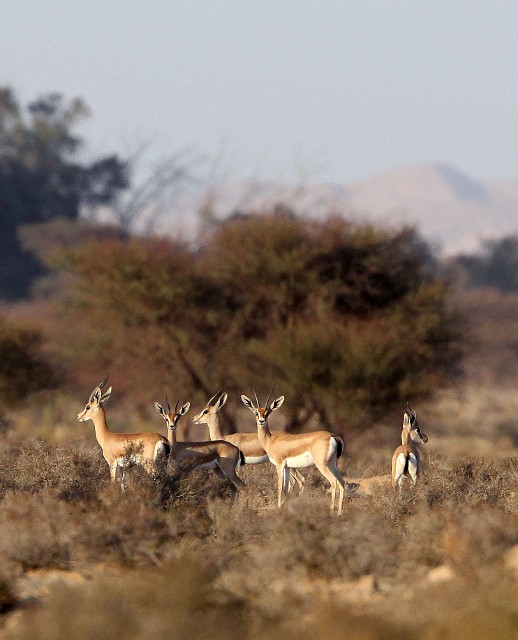 Dorcas Gazelle

Bouhedma was also to serve as our last possibility for a Barbary Sheep. They are definitely in the park but their numbers are so reduced that even the rangers who are out in the field on a daily basis have not seen one for over a year. We trekked to the only active spring on the eastern edge of the park, deep in to one of the canyons, basically to take a look at the spring itself and perhaps take a dip on one oppressively hot afternoon. We did just that and it was spectacular! But what was even more impressive was the amount of sheep sign we noted near the base of the falls. Clearly they are there and they are coming to the spring for a morning drink, perhaps daily. So, the next morning we all woke at 4AM and trekked to the tops of the surrounding hills to hopefully get a look at this elusive species, but no luck. Aside from a sublime morning in an ancient, truly ancient, habitat, we were skunked for Barbary Sheep! We did enjoy looking for 15,000-year-old arrowheads, though...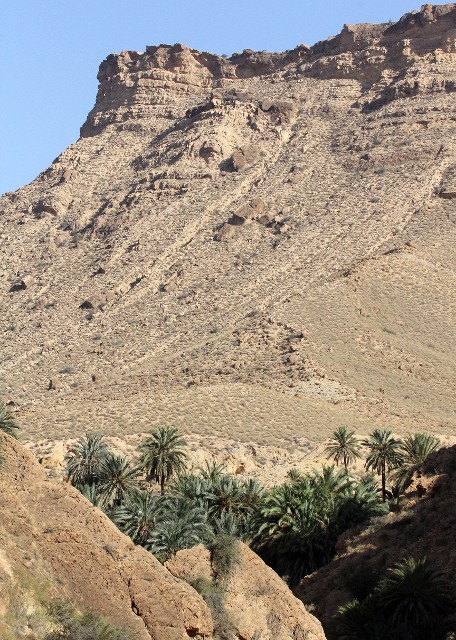 Near the east end of Bouhedma there were several Oases.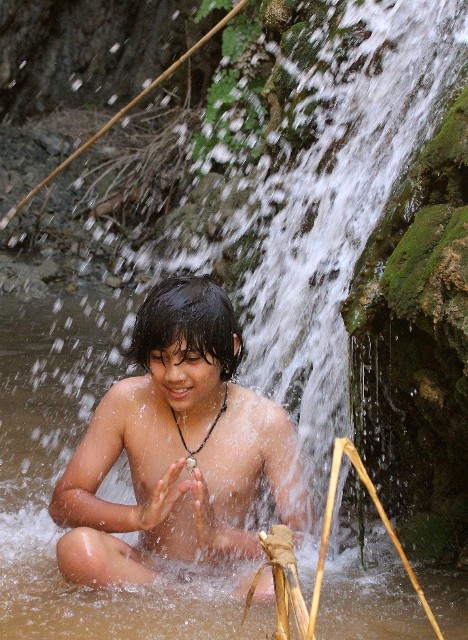 Cokie enjoying the cool water on a hot summer afternoon!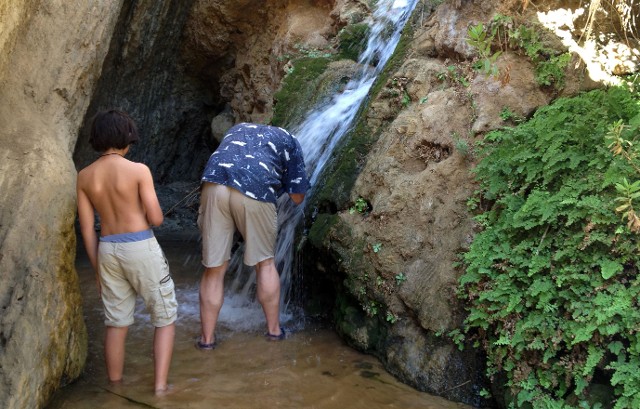 I had to cool off a bit too....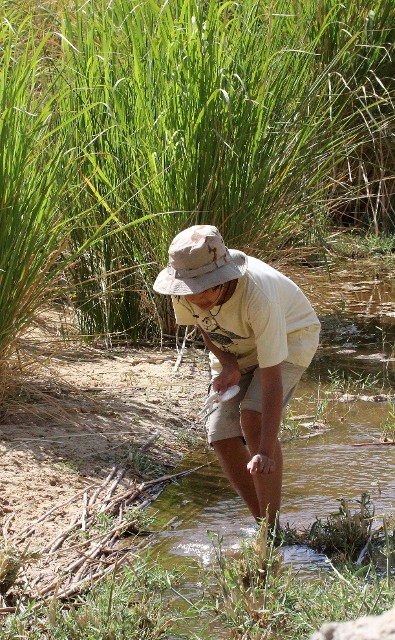 Cokie searching for the dozens of Marsh frogs which were pretty easy to find actually...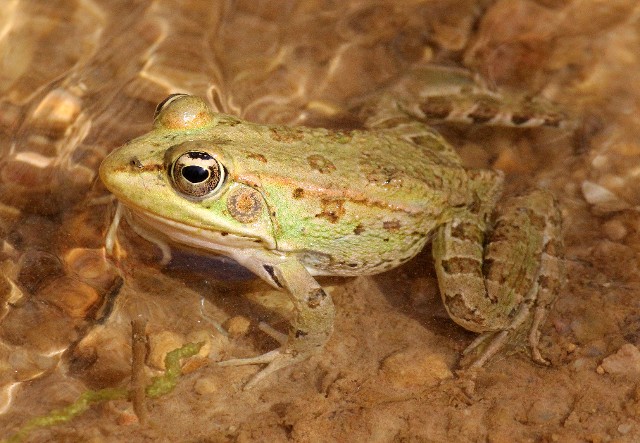 Marsh Frogs (Rana rubibunda) were common in and around the oases of Bouhedma.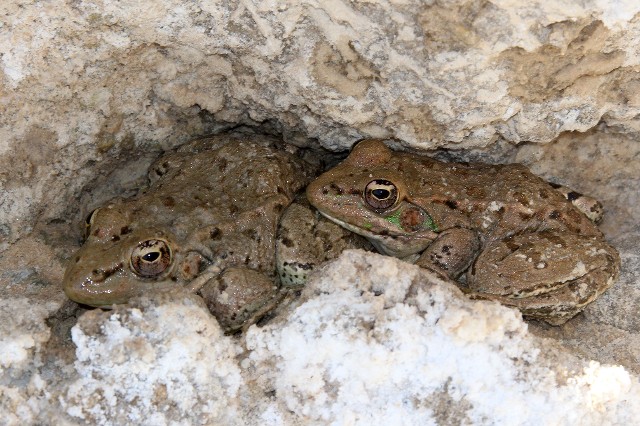 Some mystery frogs spotted in one of the remote springs of the Atlas Mountains. Please feel free to help in their correct identification.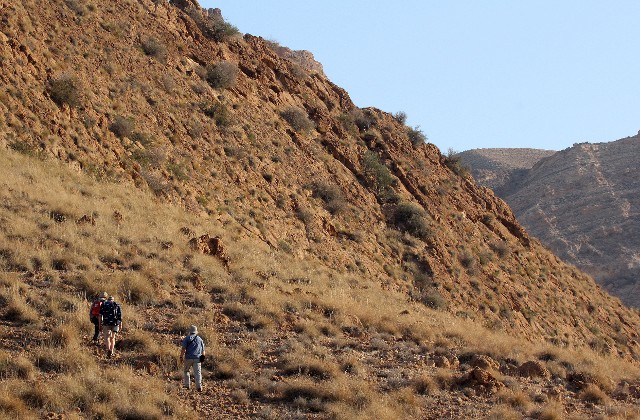 Trekking the eastern edge of the Atlas Mountains of Bouhedma searching for the elusive Barbary Sheep...
Barbary Sheep (Ammotragus lervia)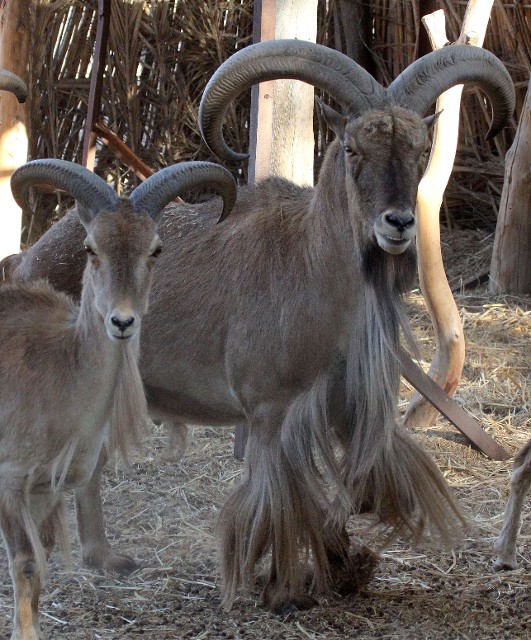 Perhaps my #1 target for the entire trip, Barbary Sheep, eluded us. We spent a bit of time though with the captive herd seen near the visitor's center at Bouhedma.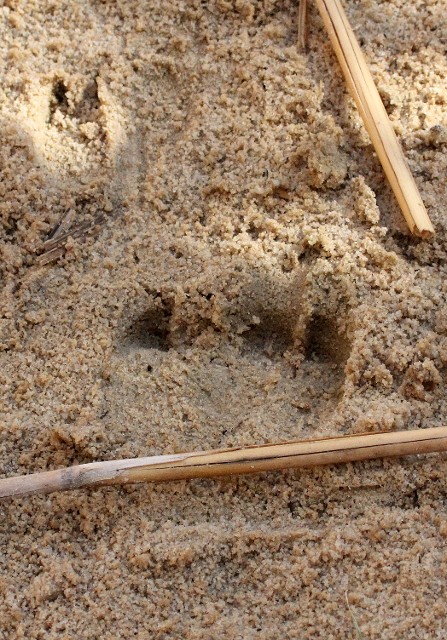 I was very encouraged to see ample Barbary Sheep sign near the oasis on the west end of the Atlas Mountains in Bouhedma. We did spend a fair amount of time scanning the nearby slopes but it really is like looking for a Barbary Sheep in a haystack...But they are definitely there!
Algerian (Golden) Jackal (Canis aureus algirensis)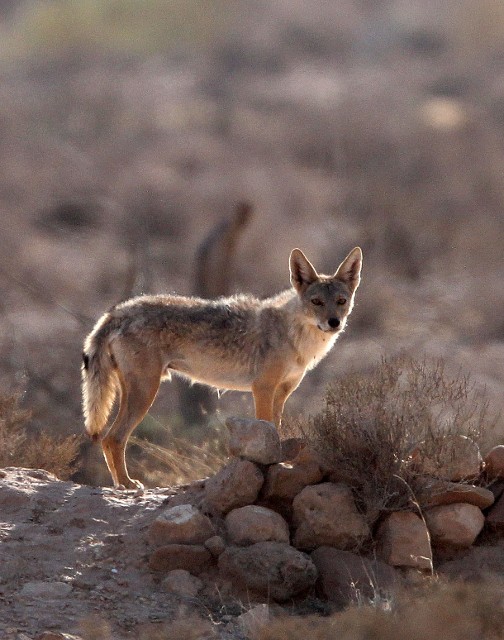 Bouhedma is loaded with Algerian Golden Jackals. During our brief stay there, we spotted nearly a dozen I suspect. They are definitely one of the reasons there are no more Dama Gazelles...
Barbary Wild Boar (Sus scrofa algira)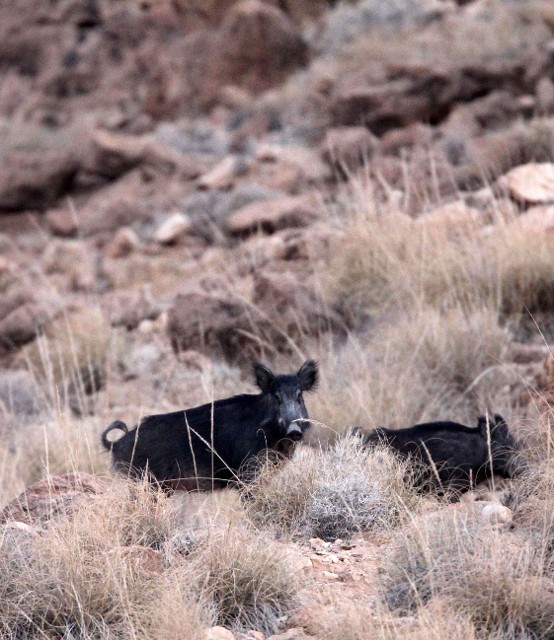 Barbary Pigs were spotted very early one morning heading to the springs.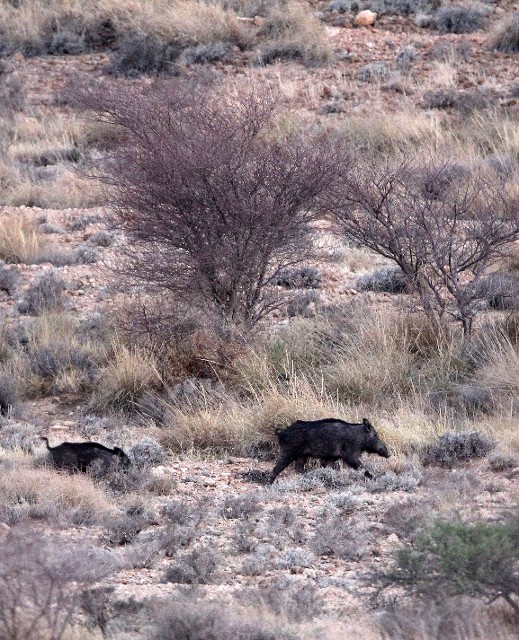 The Barbary Pigs didn't stick around long....
Common Goundi (Ctenodactylus goundi)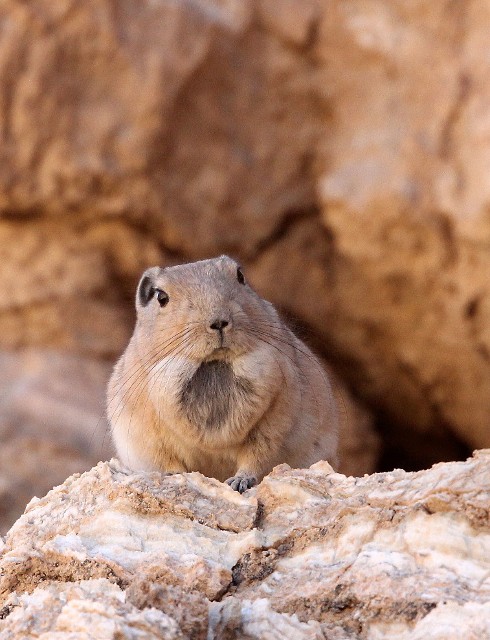 The Common Gundi was once again spotted in some of the outcroppings near the springs in an area Tarek knew about.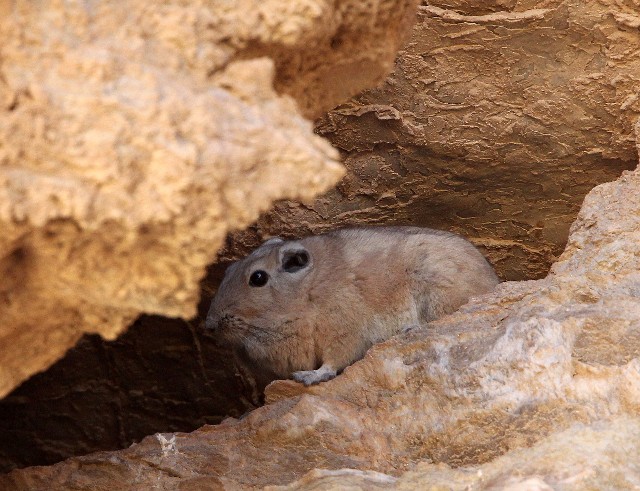 Such a strange rodent...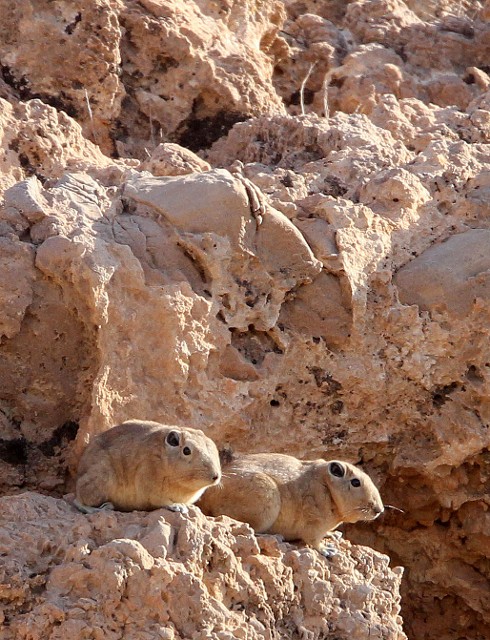 Common Gundi in early morning light...
Cape Hare (Lepus capensis)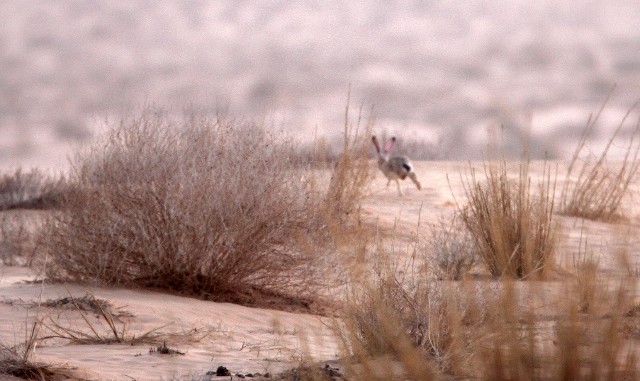 We only spotted a couple Cape Hare, and they didn't stick around long...
The Atlas Mountains of Tunisia are simply spectacular. I hope to return here soon and spend more time searching for more treasures!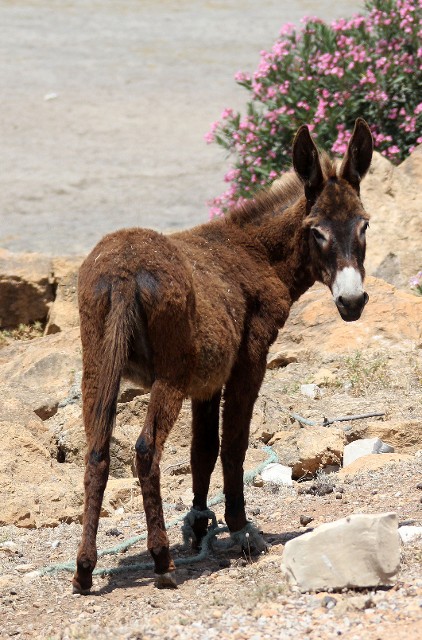 Domestic Ass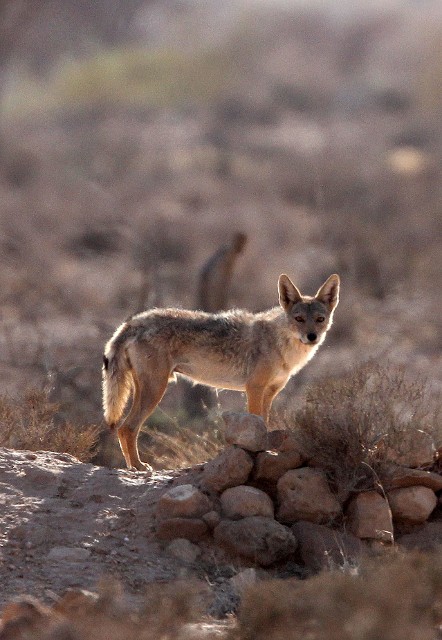 Algerian Golden Jackal

Jebil National Park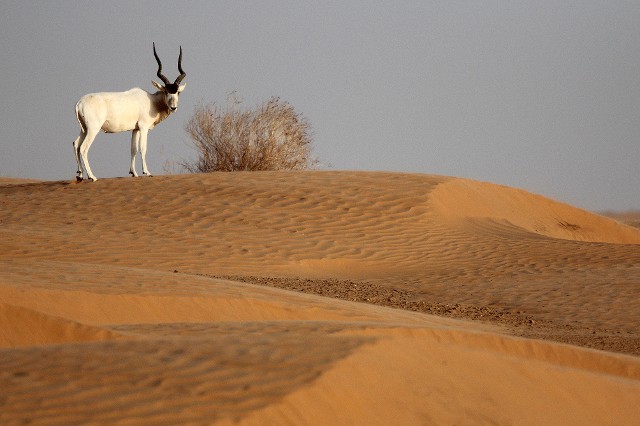 The famed Addax of Jebil
Once we realized our search for sheep was going to be fruitless, we opted to get on the road for the long drive to Jebil (Jbil) National Park, deep inside Tunisia's section of the great Sahara Desert. We actually made good time, and the road to Jebil was relatively open. We did meet a few patches of sand dunes that made the tract disappear temporarily, but we eventually navigated our way to the park no worries!
Now we are sitting in our digs at Jebil - the park museum. Interestingly, Tunisia's park museums also have beds and showers! They are basic for sure but there are no other lodging options at all for the parks. Interestingly, Tunisia's national parks are definitely not made for visitors. The permitting process is daunting and can take weeks, so drop -visitation is impossible. There are very few facilities for tourists or scientists for that matter, so the function of the parks remains somewhat a mystery. I supposed they could be showcases for the international donations that have flooded in to Tunisia over the years. Goodness knows the locals hold little interest in the reserves. I would wager that most don't even know they exist! Sadly now, it is clear, based on what we observed in both Hadj and Bouhedma, they are now more than likely hunting reserves for Tunisia's idle rich. Such a sad situation.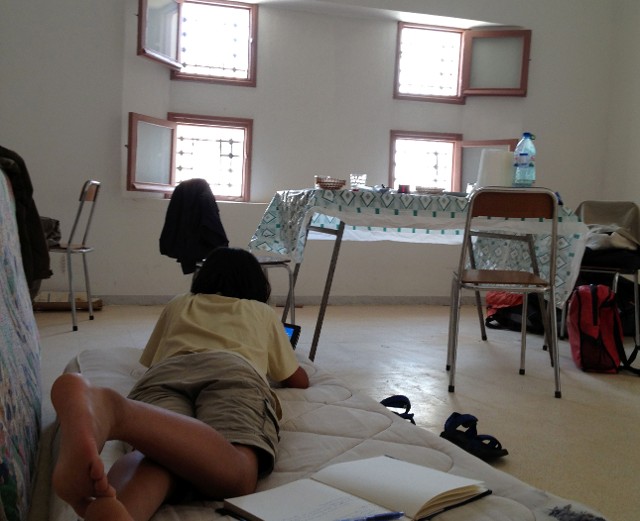 Our home in Jebil! Basically a room off to the side of the main museum, we spent a lot of our time indoors due to the horrendous sandstorm we endured.
Jebil surely ranks as one of the more remote and desolate places we've traveled to. While it may be a mere 70 kilometers away from Douz, the last city before reaching the vast Sahara, Jebil feels like we are in the middle of an alien planet. The road to Jebil was a challenge - dunes obscuring the road at several locations. Getting stuck in this endless dune field, with these oppressive temperatures, was not an appealing thought... When I expressed nervousness to Tarek, he simply responded, "It's not my first time to Jebil..." With all of the experiences I've had being stuck in really remote places, I am a bit shell-shocked these days....
And my fears of being stuck in the middle of the Sahara were vindicated later this evening during our night drive. Jebil is a great place to spot such rare species as Fennec Fox, Rueppell's Fox and several other nocturnal species (so far none of these have been seen by us!!!). So of course we were keen to get out at night and spot some of these rarely seen critters. Tarek recruited one of the local rangers to join us who evidently knew of a den for a Fennec Fox. So after a night drive of the interior of the park, and even spotting a few Rhim Gazelles, we traveled outside the park gates to a spot the ranger knew about.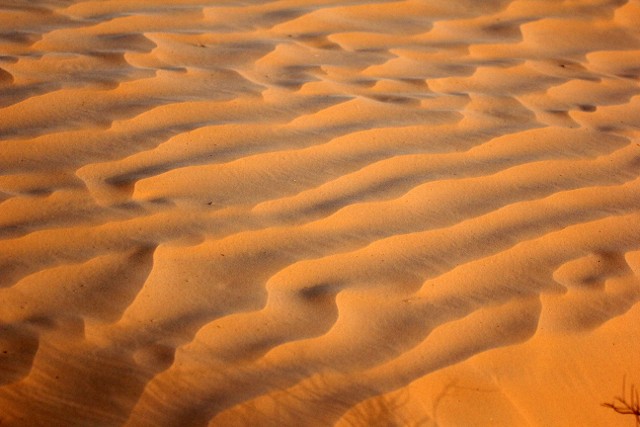 Jebil was amazing, when we could actually see it through the sandstorm....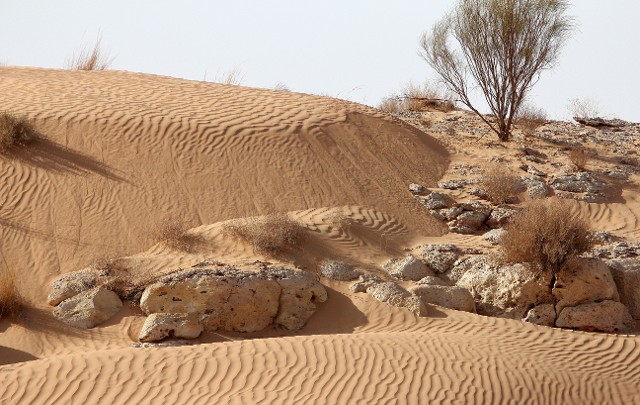 The Sahara of Jebil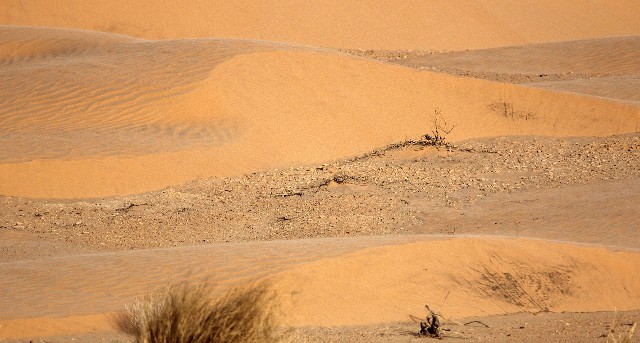 Luckily we were able to get several clear hours over our three days in Jebil...
It became clear pretty quickly that the ranger, Mohammed, had absolutely no idea where he was taking us. When he told us to turn down this blind alley of a dirt road, directly in to the largest dunes in the region, I immediately had a very bad feeling indeed. After about 100 meters of dune surfing, I knew we were fucked. Sure enough we were mired in about 5 meters of fine Sahara sand! After about a half an hour of digging and cursing, we realized we were not getting out of this dune field. We moved the truck a few meters only to be stuck in another location. With about 500 meters left to go and being stuck as one gets, we made the decision to leave Tarek in the field with the truck while Cokie, Som and I walked the road back to the park HQ, about a ten km walk along the main track.
We could see the lights of the park HQ in the distance so we knew we were not in dire straits. But we had to walk back - no two ways about it. Thinking we'd save time, Mohammed decided to trek diagonally across the desert back to the HQ to see if he could get to the HQ quicker and we opted to take the main road back. In any event, we had a great midnight stroll through the Sahara, spotting wildlife (mostly hares and Jerboas). We got in some good chats and family time. We all agreed that even though this was a potentially very dangerous situation, it will be remembered as one of the highpoints, at least as far as adventures go, for the entire trip.
Check out our Youtube video of the event there!

About 45 minutes after we began walking back to the HQ, we saw a slow moving light heading in our direction. Cokie and Som immediately started calling the vehicle over to us, but I recalled a very recent terrorist incident that happened a couple months earlier just across the Algerian border when a bunch of Al Qaeda, jihadist thugs kidnapped and murdered a significant number of foreigners. And this all happened just across the border on the other side of the park! Yikes! So I immediately told Cokie and Som to get off the main track and in to the desert so we could determine if these were friends or foe.
The main reason I was even worried at all was that they were coming way too quickly for Mohammed to have been the one to tell them we needed help. How could they be our help? But as soon as I could see what sort of vehicle they were driving, it became clear they were the park crew in a park tractor. I asked them how on earth they knew to come so quickly, and they told me that they'd been watching our plight from the park watchtower for over an hour and our lights had not moved at all! Of course we had to be stuck. We were all so glad they were on top of things.
We all continued our midnight stroll through the Sahara, all the while hoping the tractor could save Tarek and his truck.... Eventually we spotted a moving light off in the distance and Tarek came up behind us in his newly freed Mazda 4X4. What a relief! We had all sorts of contingency plans in case his truck was to become a fossil. But all was good again! And we had three new species to add to our list!
Today is our last serious field day in Tunisia. We have a couple more wildlife stops planned but as far as searching for serious game is concerned, today is it. Jebil is home to the last wild herd of Addax, and we spent the better part of the morning photographing these spectacular bovids. They are definitely not a challenge to spot at Jebil, with their massive all-white bodies announcing to the world that they are there.... The mid-morning light really accentuated their stature. What a gorgeous animal. And to think, the Sahara was once populated with millions of them!
Addax (Addax nasomaculatus)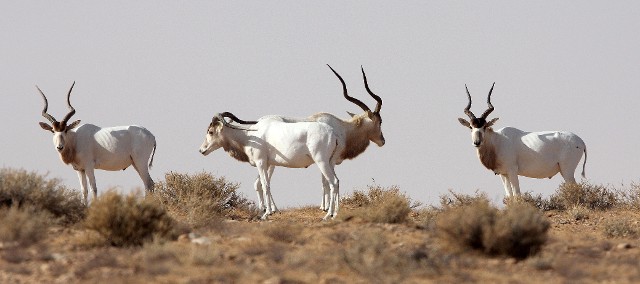 An amazing animal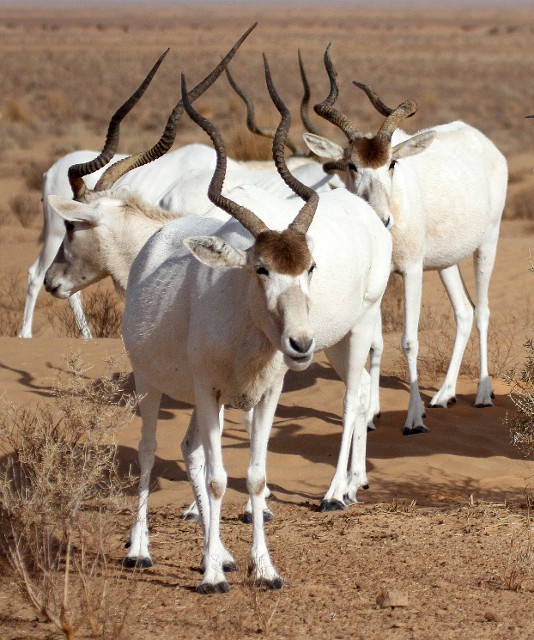 Addax were very easy to find in Jebil - they hang out near the museum and visitor's center...but can also be found far deeper in the Sahara.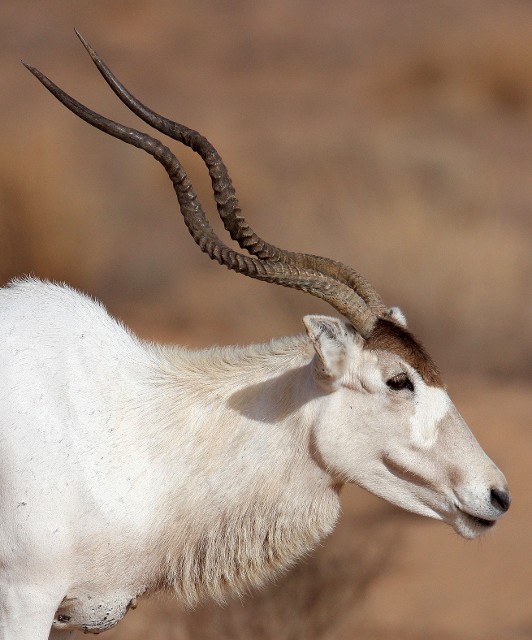 One of the young male Addax seen deeper in the Sahara.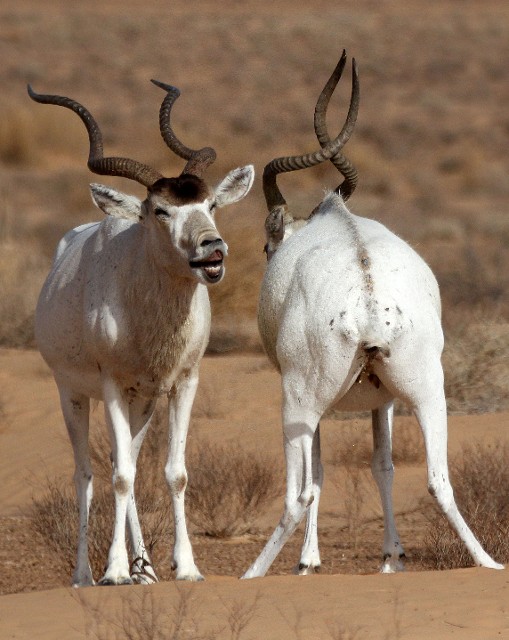 Looking for a little romance in the Sahara...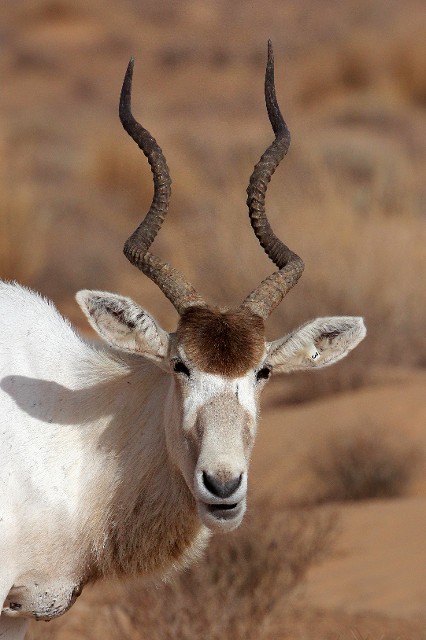 Hello!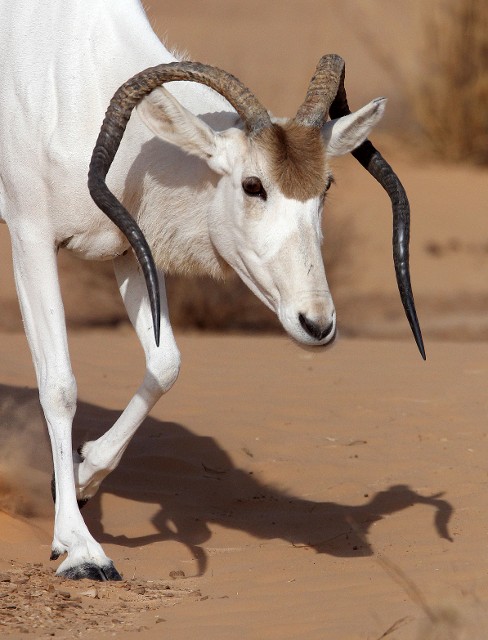 Seems like an abnormally large population of misshapen horns in the Jebil Addax....Interesting...
Dorcas Gazelle (Gazella dorcas)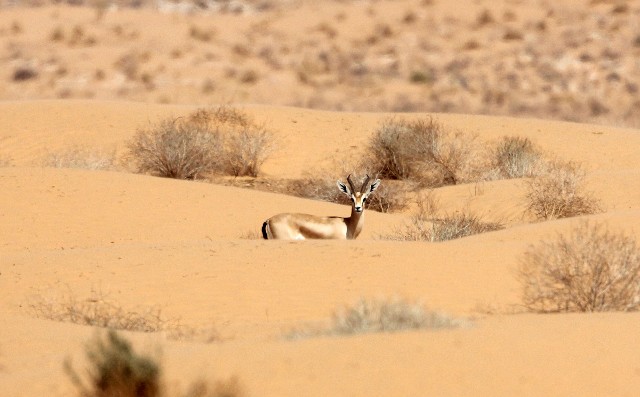 Dorcas Gazelle were also spotted in the Sahara. We stopped at every gazelle to try for pictures of the Rhim Gazelle, but had to be happy with our night sighting the first evening in Jebil.
Dromedaries (Camelus dromedarius)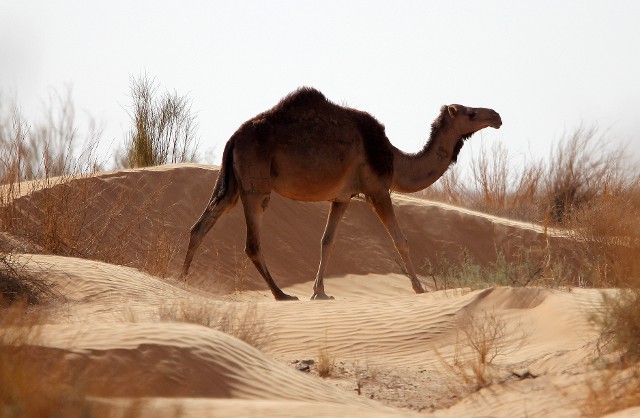 Although they were clearly domestic, the free-ranging Dromedary was a spectacular site so far out in to the Sahara.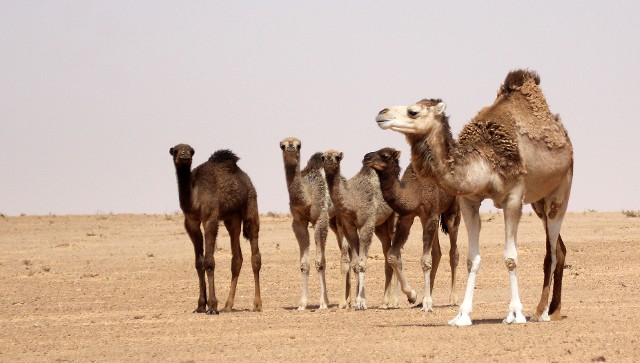 As far as they are concerned, they are wild. Left in the desert to fend for themselves for years, eventually they are rounded up for sale by their "rightful" owners. I could never quite figure out how on earth anyone could determine which camel belonged to whom...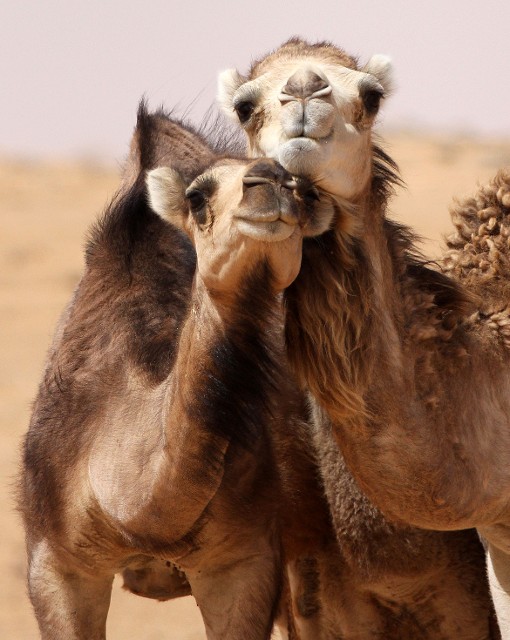 Camel love!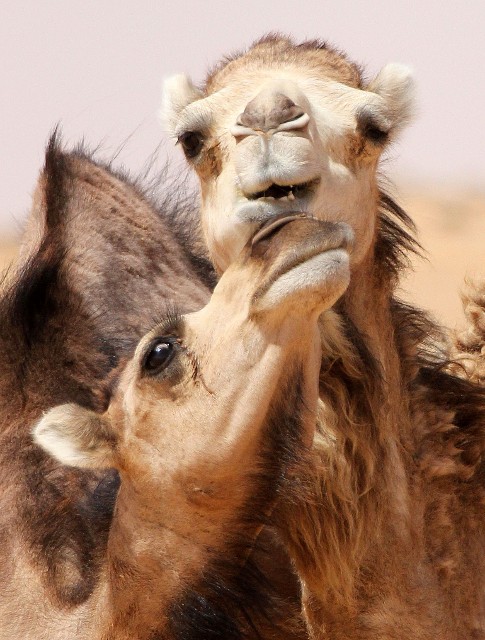 I got the distinct impression we were looking at mom and child...

So now we sit waiting out the heat of the day once again in the museum lodging. Only four more hours of oppressive heat (still NOTHING compared to Thailand or China) before we can attempt our last night drive activities! Ok, here is my wish list: A Fennec Fox pacing the rock outcroppings looking for rodents; a Rueppell's Fox doing basically the same thing; several gerbils and jerboas cooperating long enough so I can attempt a photo as good as Jon Hall got back in 2008 (see it here); and just about anything else new! Bon chance!
Time went slowly this afternoon. The winds were fierce and the sand was a constant inside our room - a constant battle to keep it out and protect the camera and computer gear. If our stuff can survive this place it will be a miracle! After a full day of major wind, we could hardly recognize Jebil once we finally decided to go out and brave the reserve. Nothing looked familiar. This was pretty hard for me to swallow as I generally pride myself on my sense of direction and recognition. But the dunes had relocated themselves so thoroughly that we may have well been in Chad as this place looked nothing like the Jebil we had just spent several hours traversing the day before and the morning of this very same day!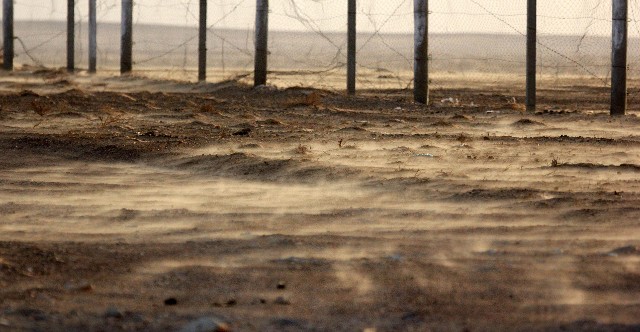 Strong winds were a constant for our days at Jebil. By late afternoon we were usually in a full blown sandstorm. Mornings tended to quiet a bit but we were denied any quality nightdrives in perhaps Northern Africa's best nocturnal habitats!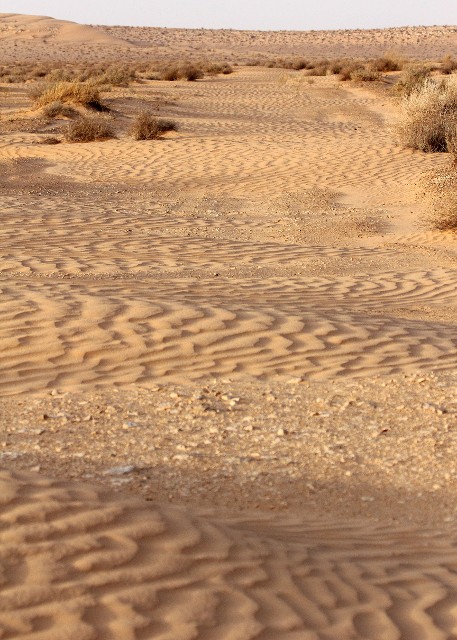 This used to be the road to the core area of Jebil. After a night of horrendous winds, it was swallowed by the Sahara.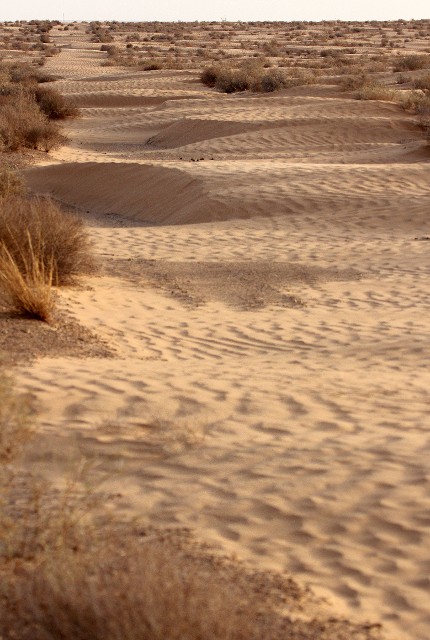 The complete lack of any roads now made traversing the Sahara a slow go...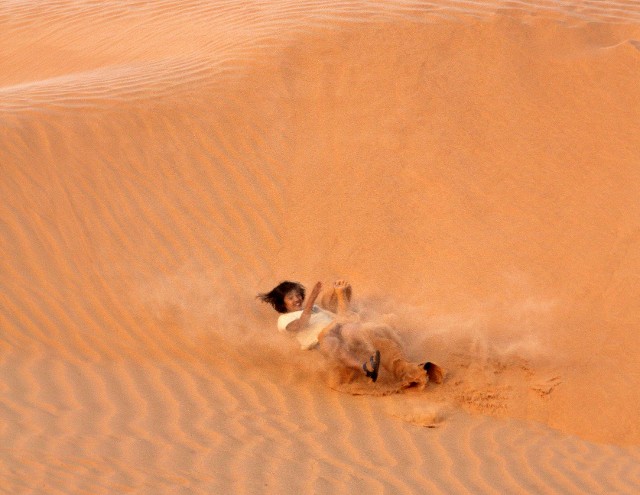 Cokie made the best of it all ....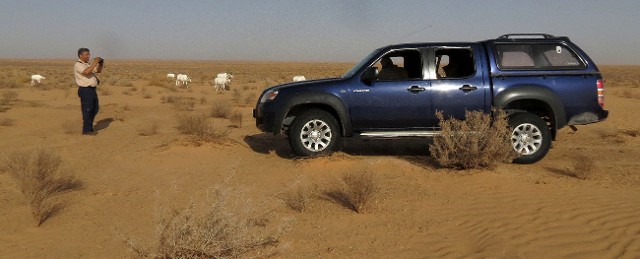 Luckily Tarek's rig was able to handle the terrain well...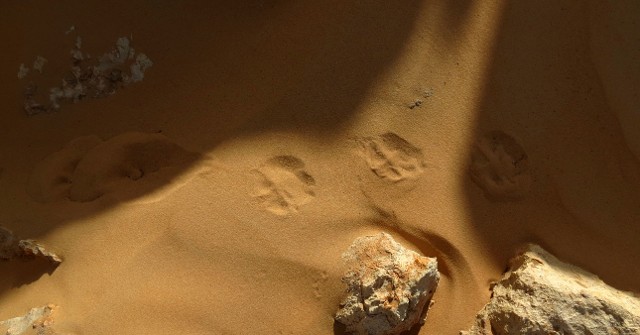 Most likely Rueppell's fox sign along the dunes and rock outcroppings of Jebil.
These tiny tracks were not doubt our main target - the Fennec Fox. The sandstorms made it impossible to spot them live at night...but there was definitely lots of sign in the mornings...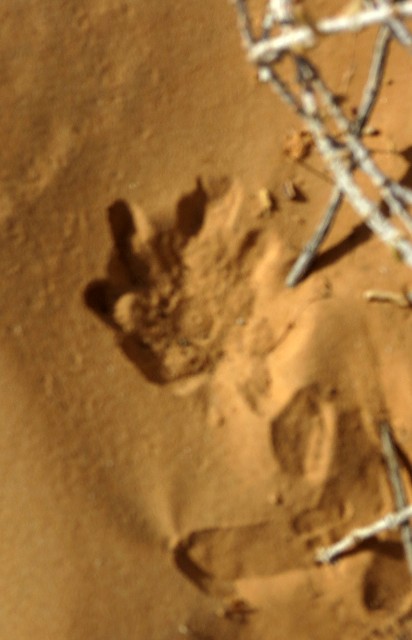 A strange track in the outcroppings near the visitor's center was most likely from a Lybian Polecat.
As perplexing as it was, it was very impressive to see just how powerful a few hours of solid wind could be. The main tracks of the road were completely covered by dunes and attempting to use them would have surely resulted in us getting stuck yet again. Luckily we were able to zig zag our way through the off-road desert and were able to make it to some points of interest, albeit in double to triple the time we spent before. We were still trying to find some Rhim Gazelles in good light but were unsuccessful and had to remain satisfied with the hopes of night spotting to pad our species list.
The wind died for a few moments and then we decided to play on the dunes a bit and enjoy our last few hours in the Sahara. But no sooner did Cokie and Som get in a few tumbles down some spectacular dunes that the wind came in with extreme force. There was so much sand in the air that visibility was seriously impaired and simply opening you eyes was a painful experience! And the camera gear! Crap!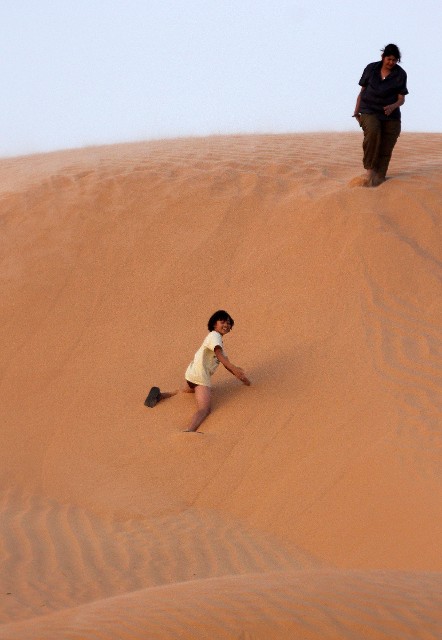 Just as we were enjoying some quality dune time, the winds from hell came...

We limped our way back to camp and hunkered down for the rest of the afternoon and night, basically stressing over the fact that the roads back to Dous were more than likely impassible by this point. Shit! There was no hope for spotlighting this evening! Damn! With the very strong winds and the creaky old museum making noise all night and the stress of not knowing if we were actually going to get out of the Sahara, none of us got any serious sleep this evening. Cokie and I attempted to sleep outside under the stars again, but after inhaling about a liter of Sahara dust, I called us back in ....Wow!
The next morning arrived on time and luckily the wind had died down a bit. We were able to get some breakfast in our bodies and get on the road by around 7:30. This time we were lead by our cook who was a local and owned a small cafe in the desert just north of Jebil. He knew the roads very well and was able to get us back to Dous in no time at all. And the roads were very fortunately clear for the most part. Thankfully he knew a better route than the one we entered with and we avoided most of the treacherous sand dunes. While Jebil was a truly spectacular location, I can honestly say that I was never more glad to get out of a place than I was this morning!
We killed the rest of the morning walking the vibrant Dous Souk (market). It was fun to get back to civilization and check out a bit of the local flavor. I really enjoy the cafe scene - sipping our double espressos and cappuccinos while watching all of the other MEN do the same. Evidently women in the cafes is a practice that is frowned upon... Good times. After Dous, Cokie successfully talked Tarek in to taking us to one of the sets of the original Star Wars, located a billion light years in the desert near the Algerian border. Getting there was half the adventure and what a trip it was being there during this crazy hot afternoon with about 30 white Landcruisers full of Russian tourists....This was our only touristy thing done during our entire trip....Cokie loved it though.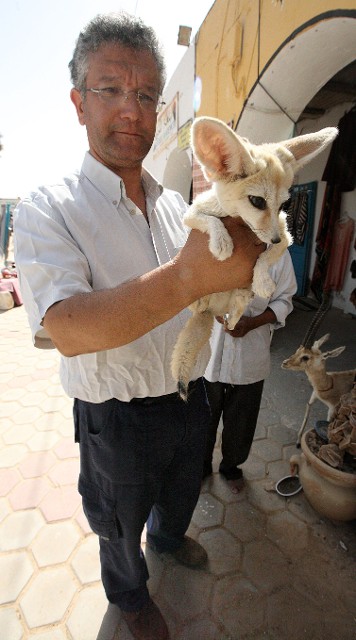 Sadly the only Fennic Fox we saw on this trip was at the Douz Market. Such a spectacular animal in such a sad place.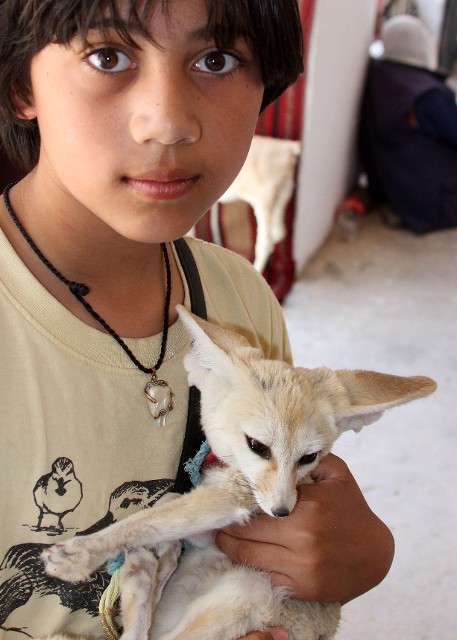 While strolling the market we came across this poor Fennec Fox. This allowed us to have a good discussion about captive animals and the ills of the animal trade. Cokie was very quick to see the wrongs in this behavior. This fox was horribly mistreated and we felt it necessary to give it some physical contact.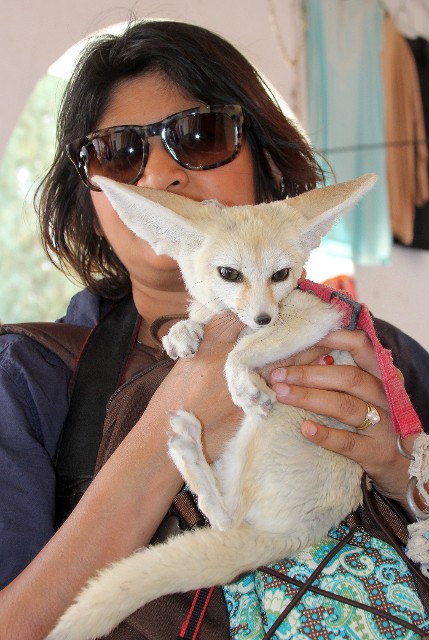 We all wanted so badly to buy him and take him out to the desert and release him....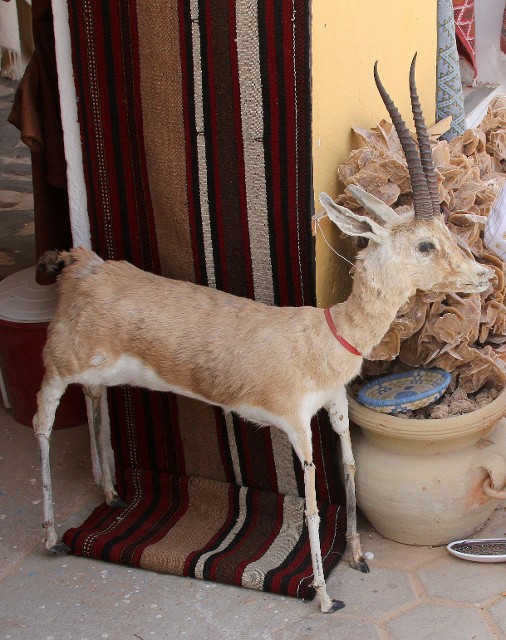 Finally a good shot of a Rhim Gazelle!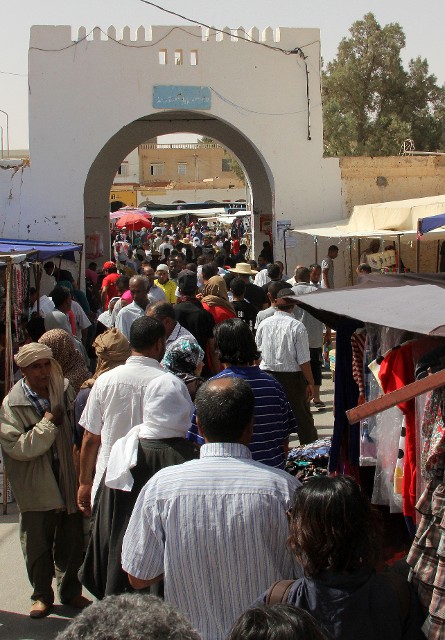 The famous Douz Market on a Sunday morning...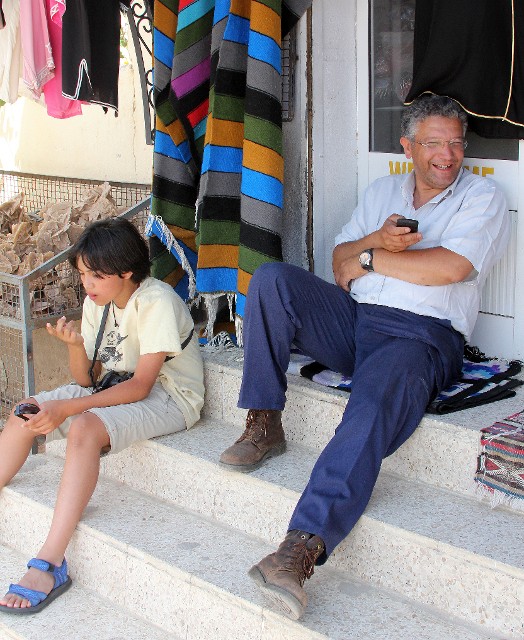 The Douz Market is a great place to relax and people-watch.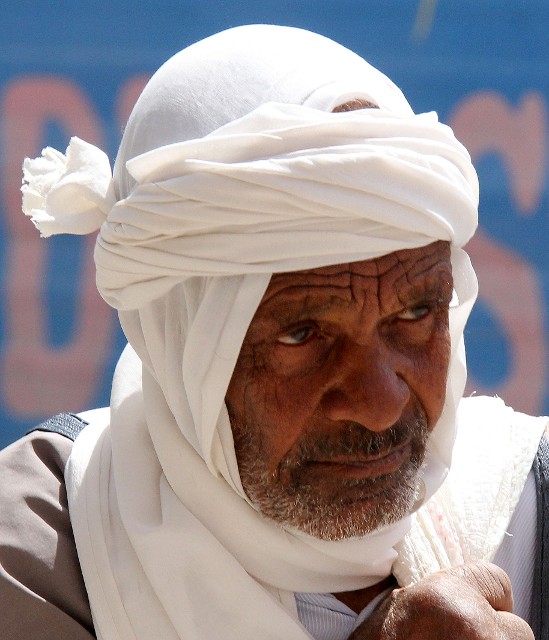 Great people of Douz...

El Haouaria Bat Cave
After a pleasant night in Gafsa, we made it all the way back to Tunis by way of some spectacular historical cities and sites. No major tourism to speak of, just some drive-bys.... Our main target today was the famous El Haouaria Bat Cave, located on the spectacular Cap Bon on Tunisia's northeastern coast. We got a couple species of bats and some great views to conclude our time here in Tunisia.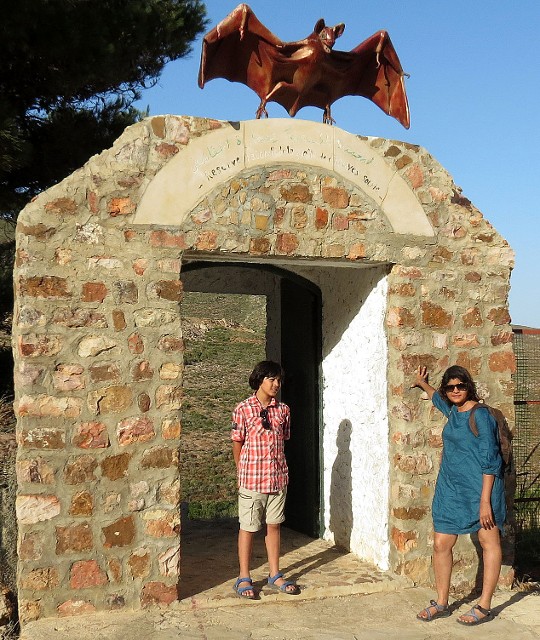 Although the Al Haouaria Bat Caves are closed to the public, Tarek has the contacts to get you in! The cave is home to at least three (but as many as 5-6) species of bats.

Mehley's Horseshoe Bat (Rhinolophus mehelyi)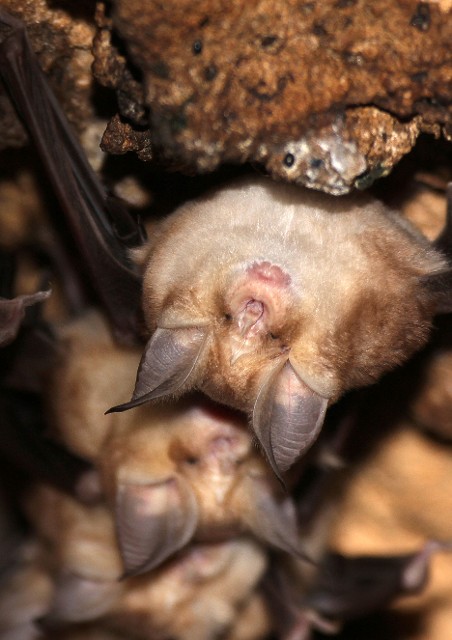 Hundreds of Mehely's Horseshoe Bats were seen in El Haouaria Bat Cave.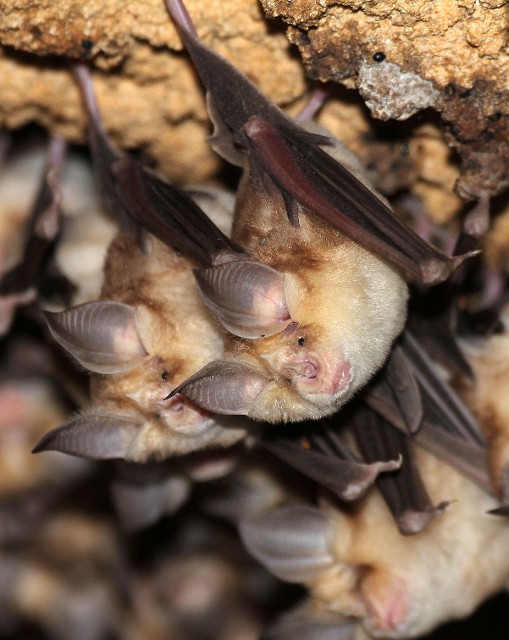 Mehely's Horseshoe Bats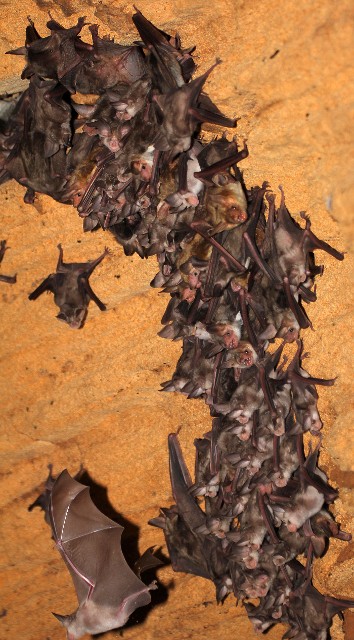 Mehely's and Mediterranean Horseshoe Bats together in a mixed huddle.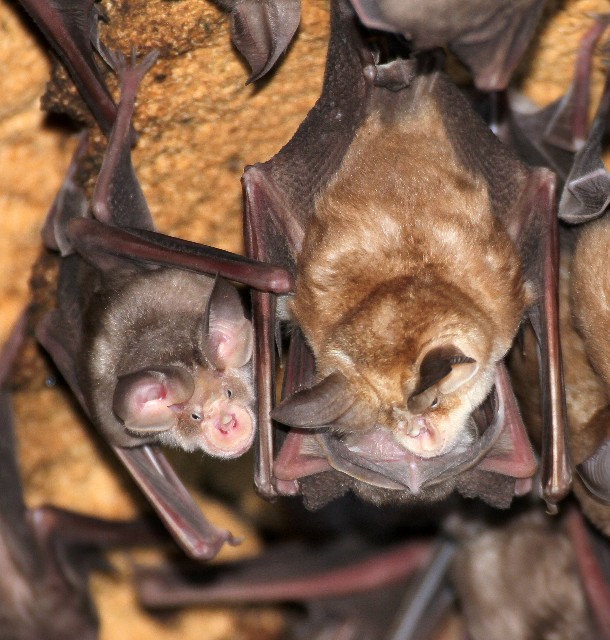 I believe the left individual to be a Mediterranean Horseshoe Bat (??) and the right one to be Mehely's. Please feel free to correct!
Mehely's Horseshoe Bat...
Maghrebian Mouse-eared Bat (Myotis punicus)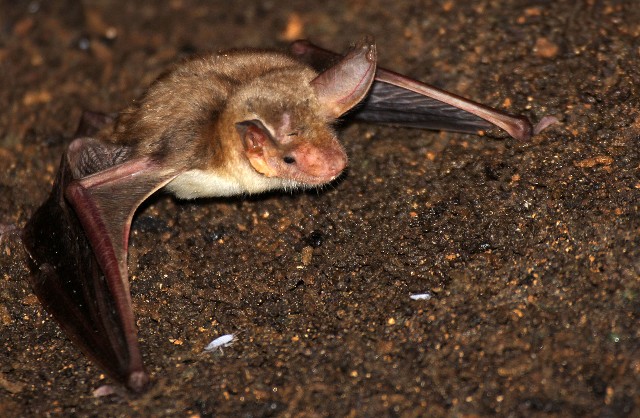 Maghrebian Mouse-eared Bats were another common species...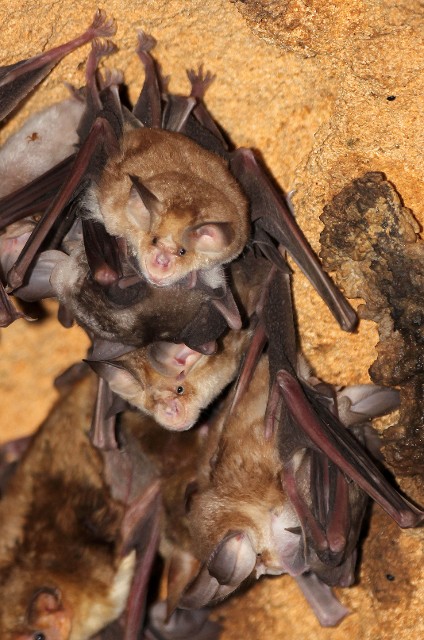 Greater Horseshoe Bats? Hell I really don't know...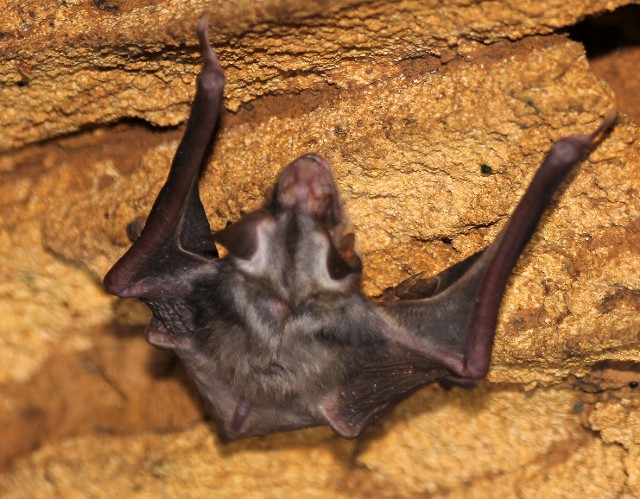 Mystery Bat...Feel free...

Tunisia was a great trip. Tarek made it so! His expertise and energy made traveling this country a true pleasure. His hospitality and professional attitude would be impossible to beat. And his expertise in the flora and fauna of Tunisia can surely not be surpassed. I enjoyed very much the hours of time and conversation we spent together on this voyage. I highly recommend him for those considering a similar expedition to Tunisia. While we were of course disappointed in missing some of our main targets, the species we did see, combined with the absolute adventure of these two weeks in Tunisia, made this a truly unforgettable experience! And we do plan on coming back!
Tunisia Mammal List
F = Feija, H = Hadj, B = Bouhedma, J = Jebil, SA - Sahara Atlas Mountains, Haouaria Bat Cave - HBC
Barbary Deer (Cervus elaphus barbarus ) F 3-5
African Wild Cat (Felis sylves tris) F, B 2
Barbary Wild Boar (Sus scrofa algira) H, B 4
Addax (Addax nasomaculatus) H, J 40-60
Scimitar-horned Oryx (Oryx dammah) H, B 15-20
Algerian (Golden) Jackal (Canis aureus algirensis) H, B 11
Ruppell's Fox (Vulpes ruepellii) B 1
Dorcas Gazelle (Gazella dorcas) H, B, J 50-75
Dama Gazelle (Gazella dama) H 3
Rhim Gazelle (Gazella leptoceros) J 3
Val's (?) Goundi (Ctenodactylus vali) SA 1
Common Goundi (Ctenodactylus goundi) SA, B 20++
Cape Hare (Lepus capensis) H, B, J 3
Dromedaries (Camelus dromedarius) J 14
Lesser Egyptian Gerbil (Gerbillus gerbillus) J 1
Lesser Egyptian Jerboa (Jaculus jaculus) J 1
Mehley's Horseshoe Bat (Rhinolophus mehelyi) HBC 200++
Maghrebian Mouse-eared Bat (Myotis punicus) HBC 100++
Mediterranean Horseshoe Bat (Rhinolophus euryale) HBC 10-20+
Greater Horseshoe Bat (?) (Rhinolophus hipposideros) HBC 10+
Road Kill, Sign, Possibilities
Barbary Sheep

- sign seen at the base of the waterfalls in the Bouhedma Spring area.

Gird

- Sign near holes where we unsuccessfully set traps!

Rueppell's or Red Fox

- mystery canid seen on our night drive at Bouhedma as well as clear sign of one of these or both in Jebil. Also most likely one of the canids seen on our Bouhedma night drive was a Rueppell's (85% sure).
Most likely tracks of a

Libyan Striped Weasel

(Polecat) near a large rock outcropping in Jebil.

Algerian Hedgehog

- roadkill north of Gafsa
Porcupine (Hystrix cristata) - diggings in and around the Berber Cave region of the Altas Mtns.
Birds of Tunisia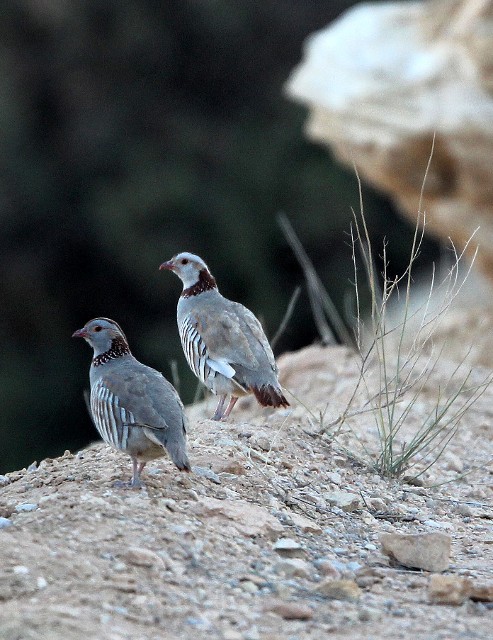 Barbary Partridge, a north African endemic, were very common in the Atlas Mountains.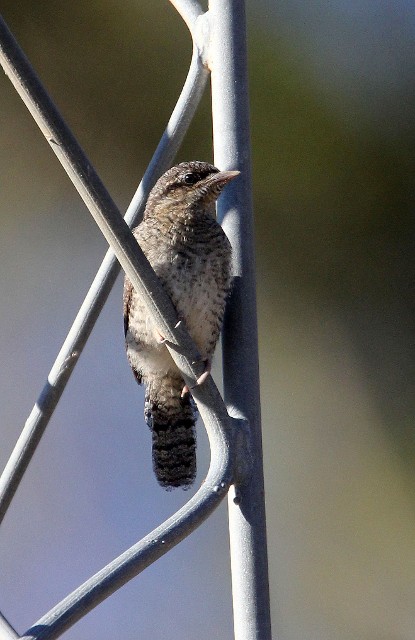 Wrynecks were fairly common in Feija.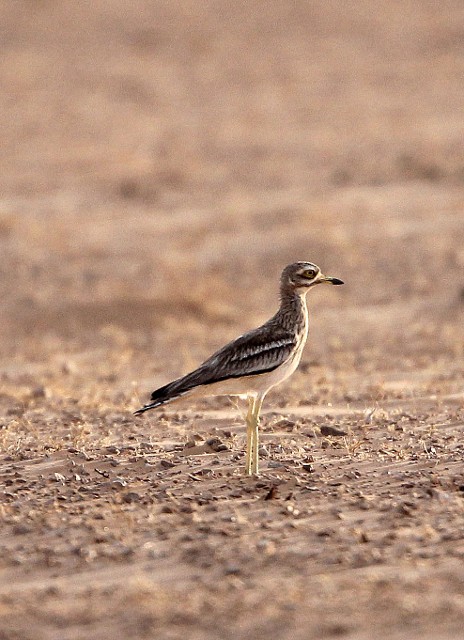 I was excited to see my first Stone Curlew. This one was spotted in Jebil.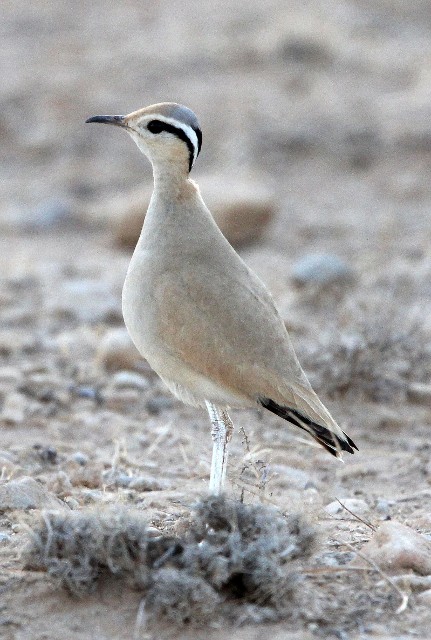 Cream-colored Coursers were arguable one of the more spectacular desert species seen on this trip. This one was spotted in Bouhedma.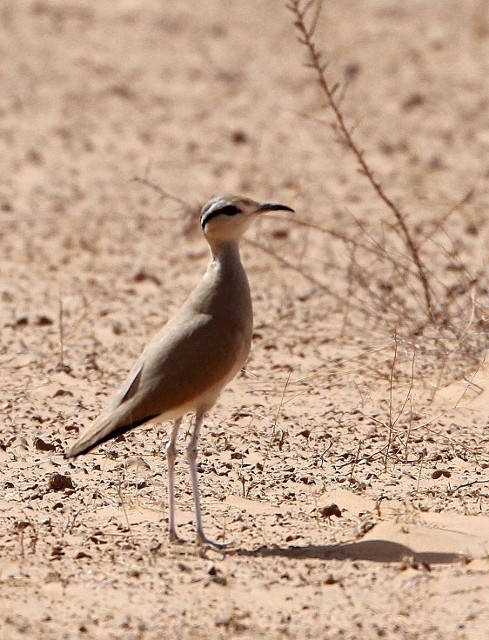 Cream-colored Courser in Jebil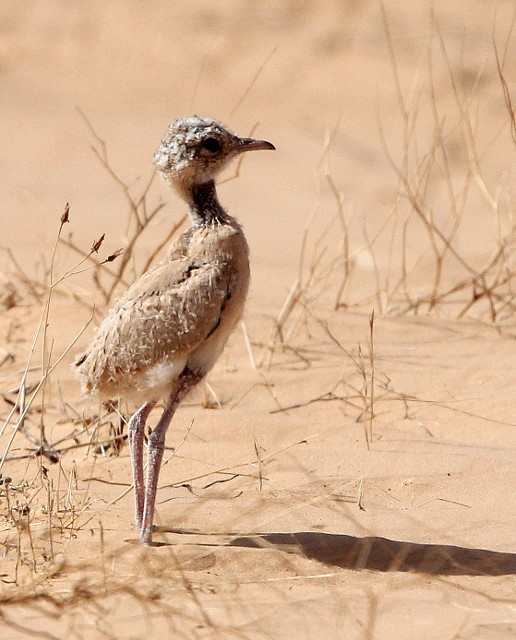 Cream-colored Courser chick in Jebil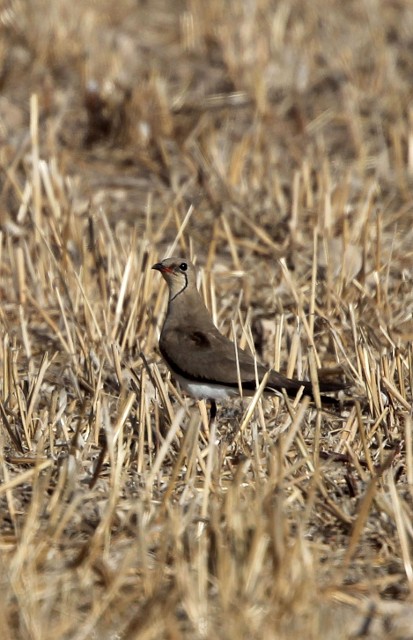 Our only Collared Pratincole spotted near Korba on the northeastern coast of Tunisia.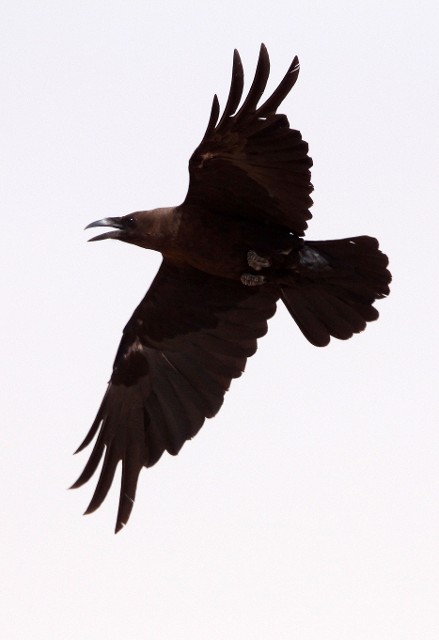 Brown-necked Ravens were the corvid-of-the-day in Jebil.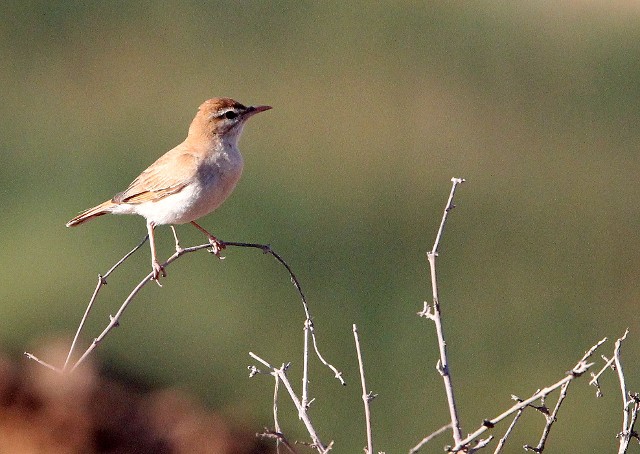 Rufous-bush Robins were common in Bouhedma and other scrubland habitats.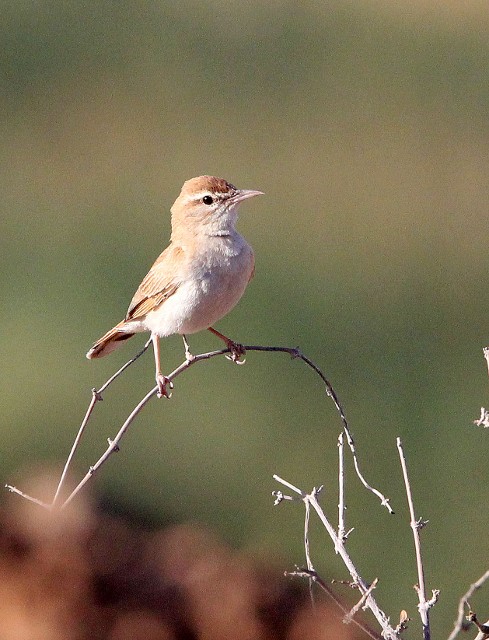 Rufous Bush Robin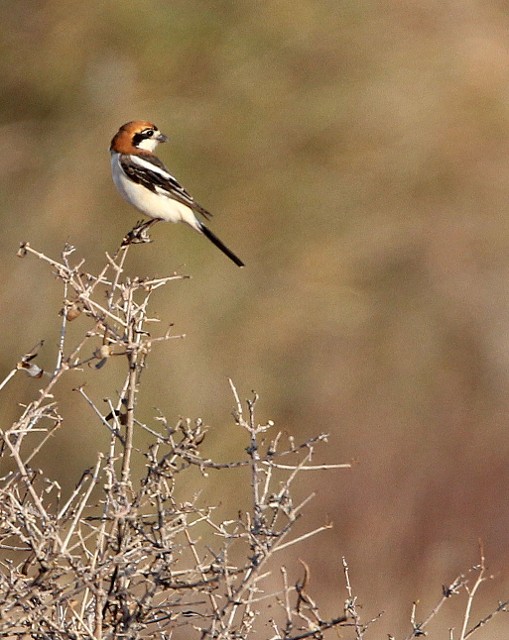 Red-backed Shrike spotted in the scrub of Bouhedma.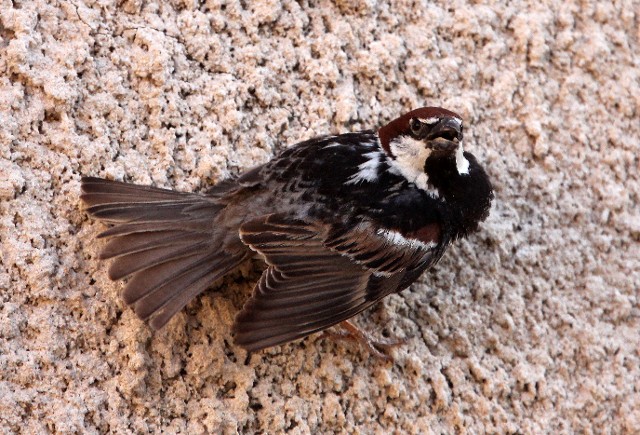 Although we saw no Spanish Sparrows in Spain a few weeks later, we saw loads of them in Tunisia!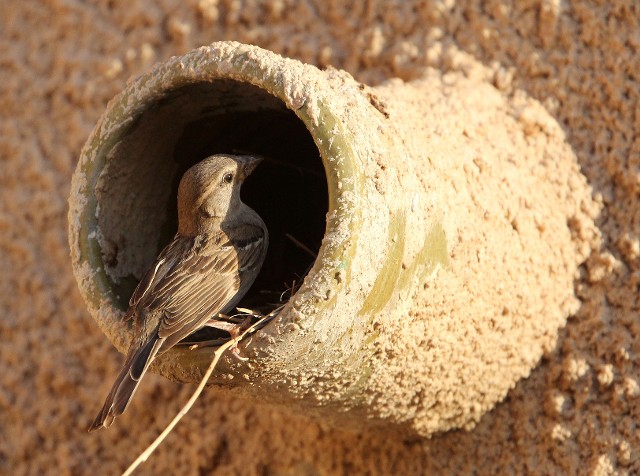 Female Spanish Sparrow in the visitor's center of Bouhedma...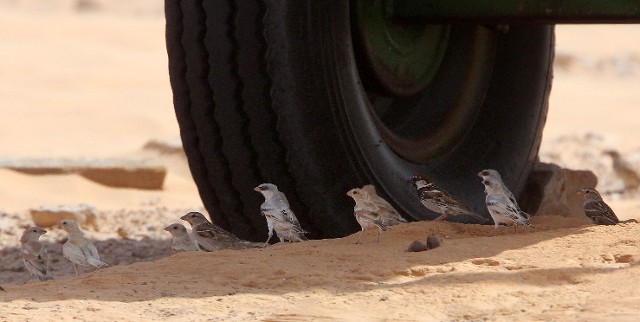 A mixed flock of Desert & Spanish Sparrows with a Desert Finch or two taking refuge from the intense Sahara heat in Jebil...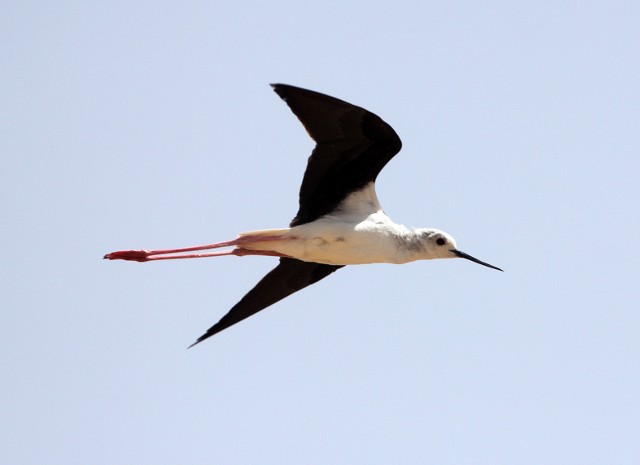 Black-necked Stilt in the wetlands near Douz...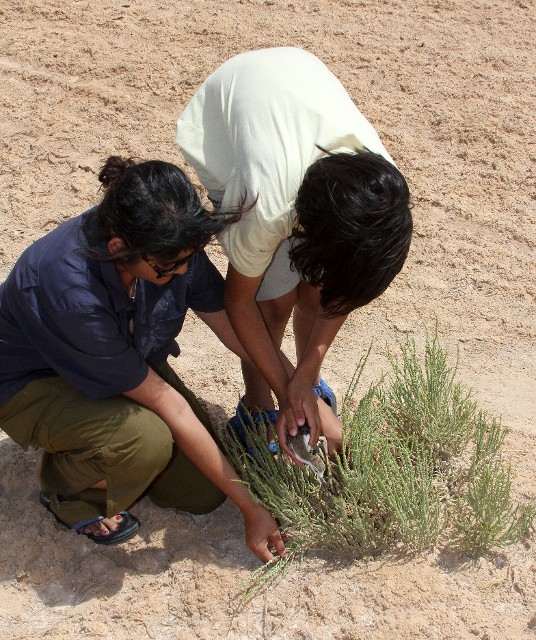 While off-roading a bit near the wetlands at Douz, I noticed some small critters in a saltbush....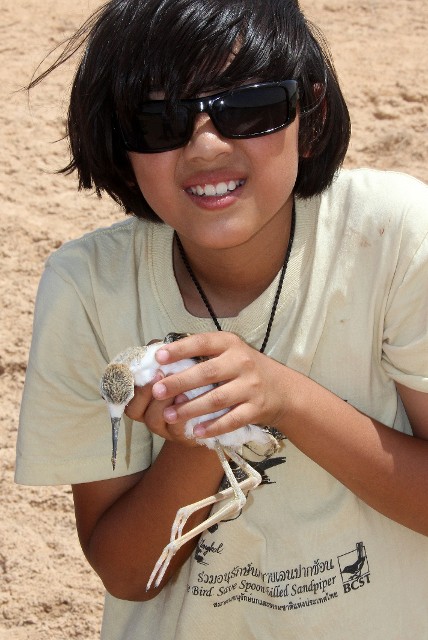 Ended up being some Black-necked Stilt fledglings....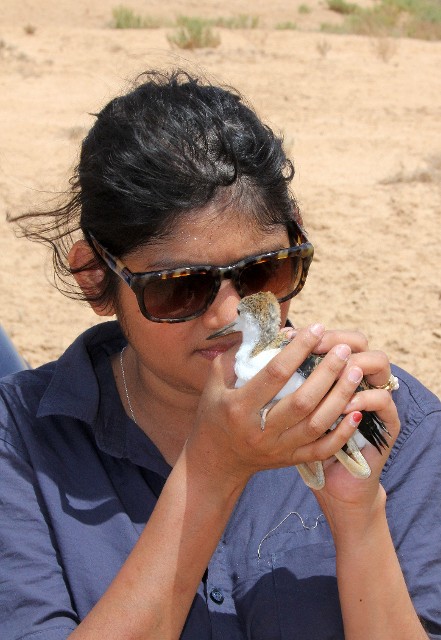 They actually seemed curious about us too...Normally I would not have picked them up, but they were right in the middle of a pretty dangerous zone. We simply encouranged them to move on...They did.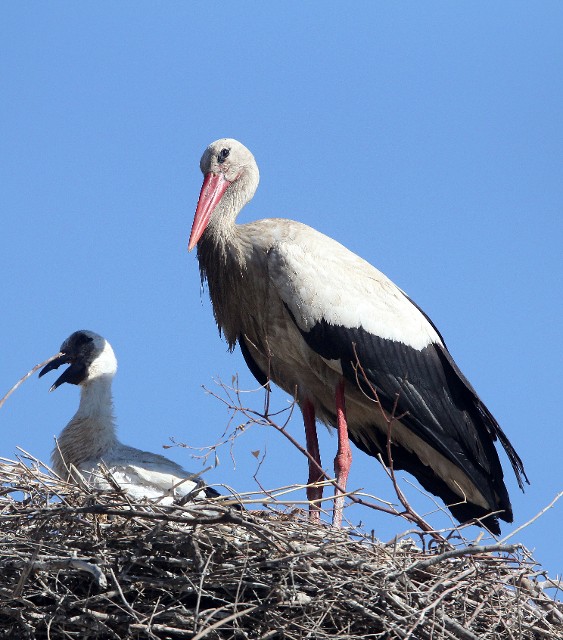 Northern Tunisia was filled with White Storks.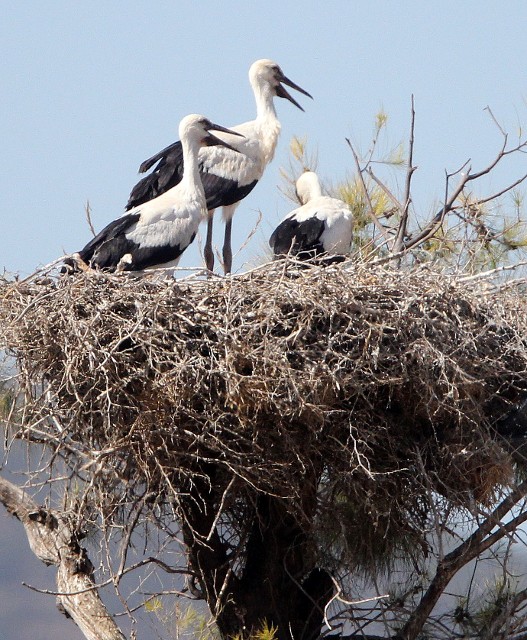 White Storks in a slightly more "natural" setting. Mostly we saw them on powerlines and mosques...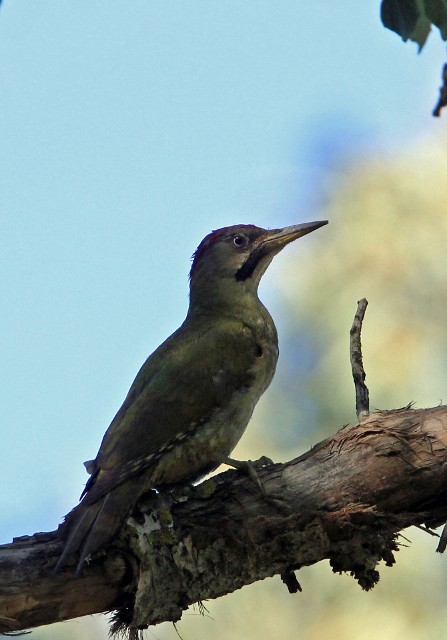 Levaillant's Green Woodpecker spotted in Feija! Nice bird...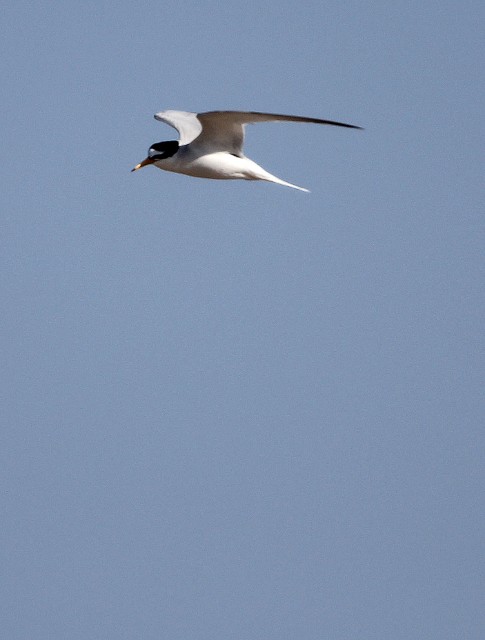 Little Tern in Korba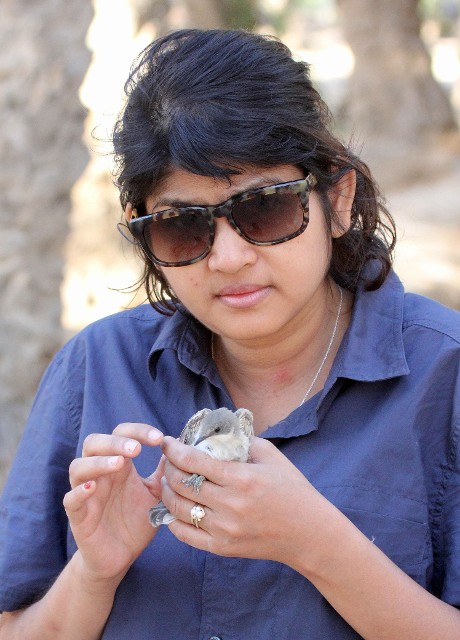 I believe this to be a Sardinian Warbler. This one was being nursed back to health by the rangers at Bouhedma.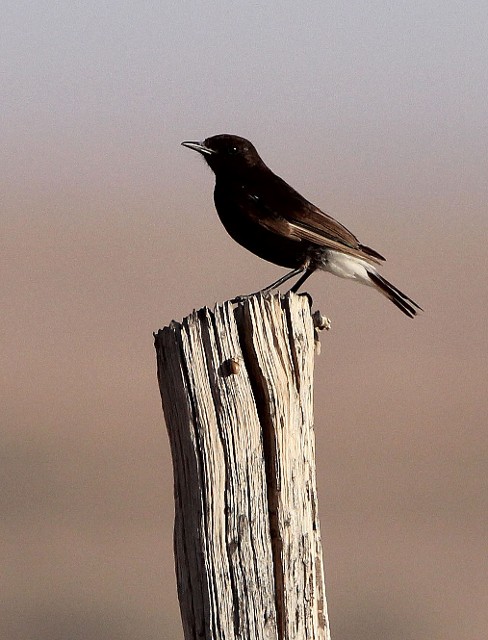 Black Wheatear in Bouhedma. Northern Africa is simply Wheatear central!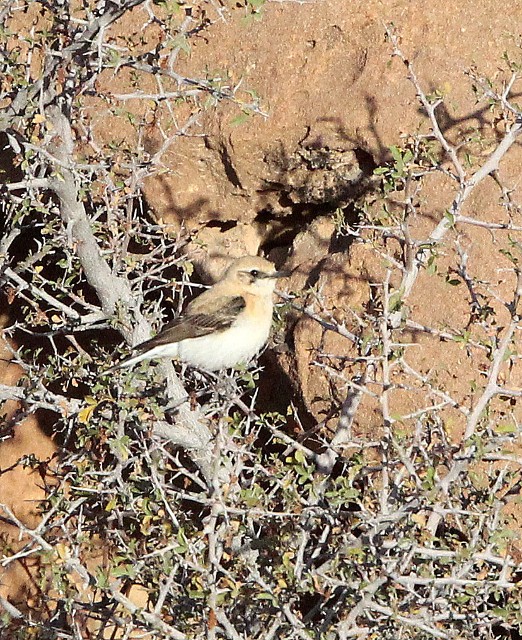 Desert Wheatear in Bouhedma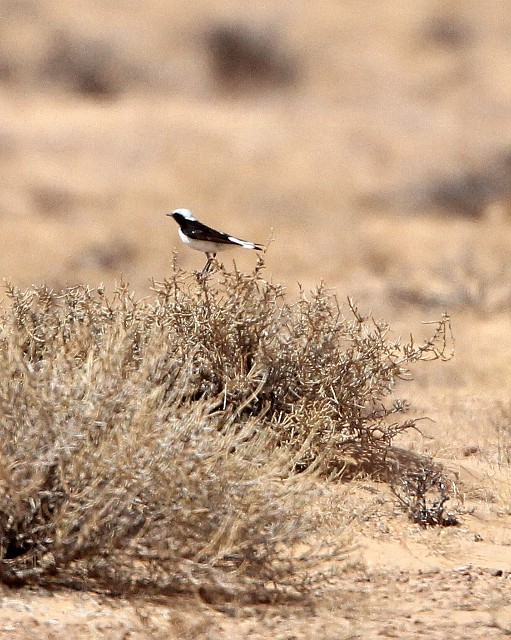 Mourning Wheatear in Jebil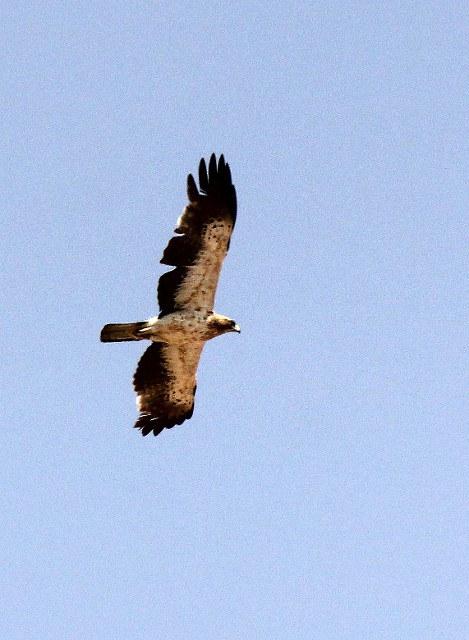 Booted Eagles were perhaps the most common raptor seen during our trip.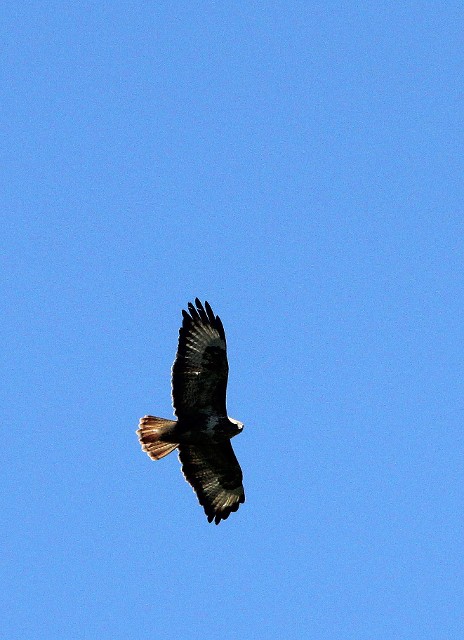 Dark morph of the Booted Eagle seen near Feija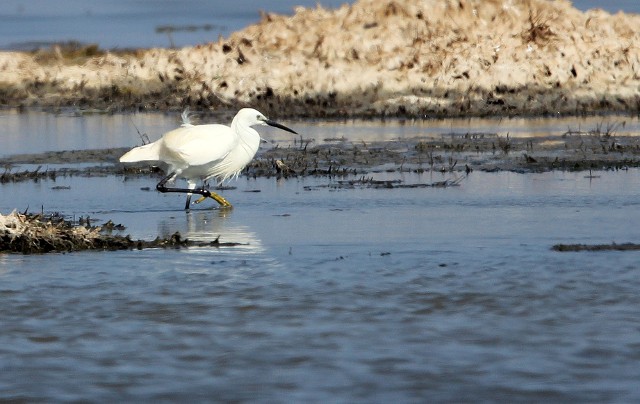 Korba Wetlands near Cape Bon were great for species like Little Egrets and Greater Flamingos. Sadly, the notion of wetland in Tunisia is synonymous with garbage dump. All of the wetlands we came across were filled with trash....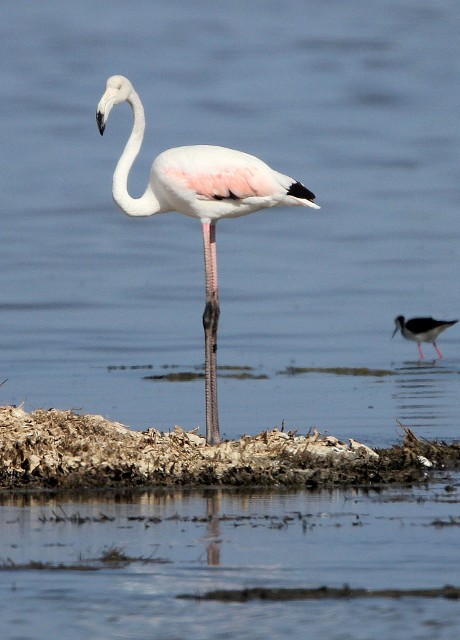 We were lucky to spot hundreds of Greater Flamingos in the wetlands at Korba.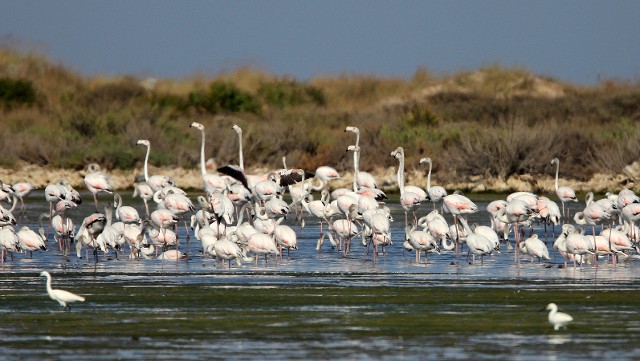 Greater Flamingos taking note of my presence in the Korba wetlands.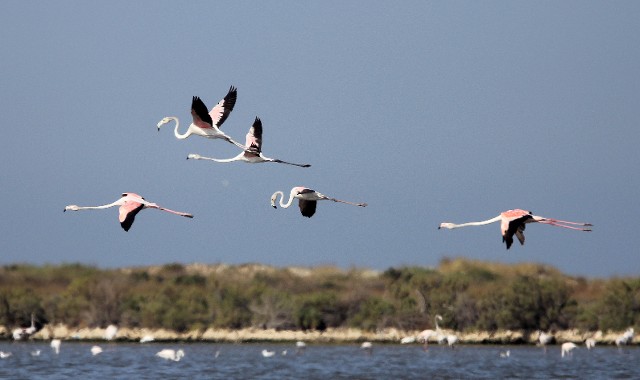 Greater Flamingos taking flight in Korba.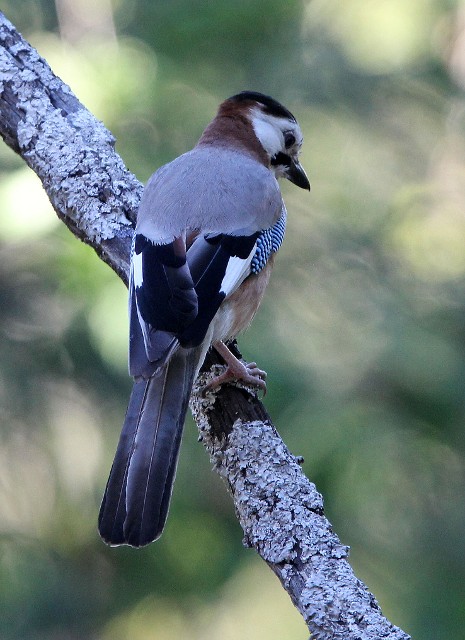 The Tunsian subspecies of the Eurasian Jay were common in Feija National Park.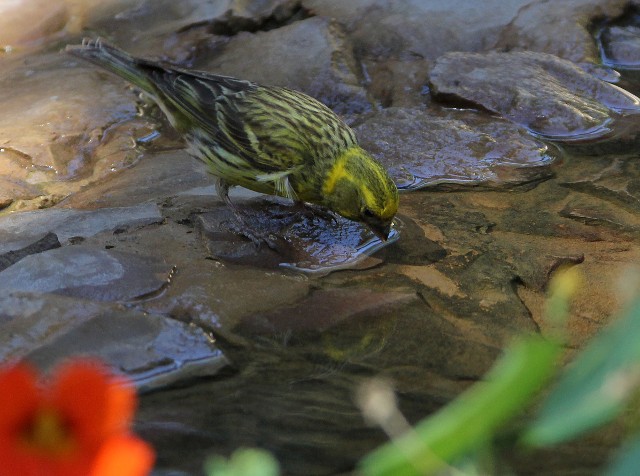 Greenfinch taking a drink in a stream in Feija...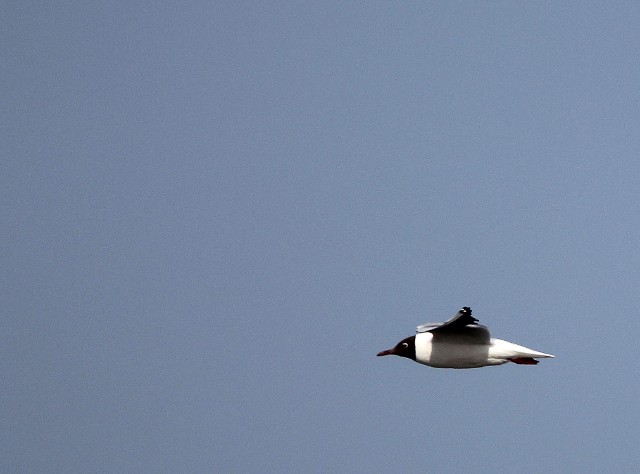 Mediterranean Gull in Korba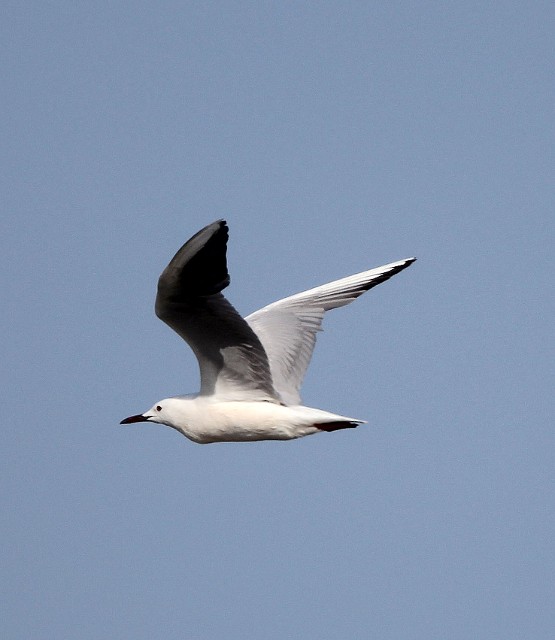 Slender-billed Gulls were very common in Korba.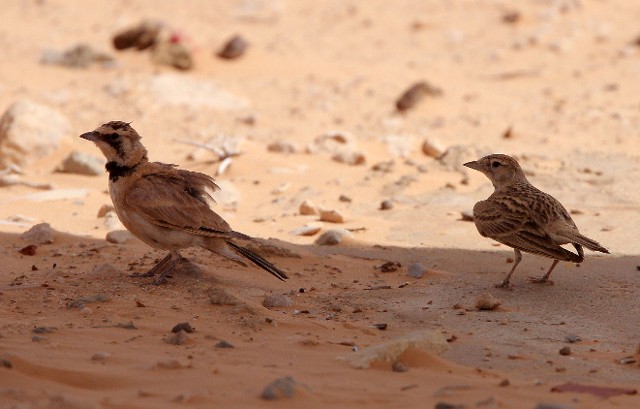 Calandra (R) and Shore (L) Larks taking a break from the Sahara heat in Jebil.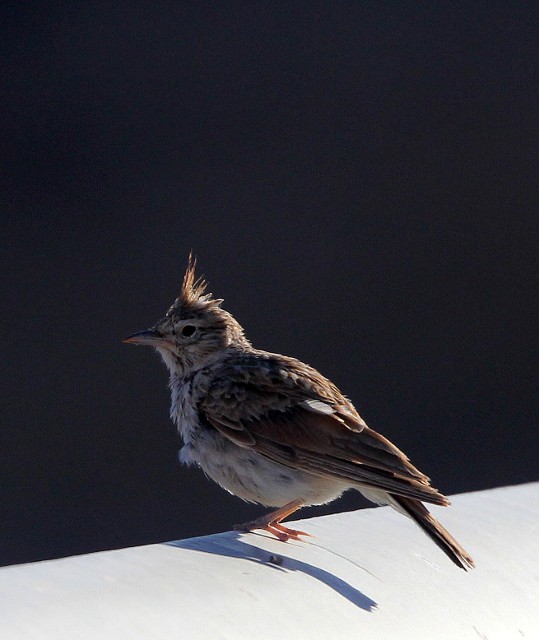 Crested Larks were spotted pretty much every 100 meters or so!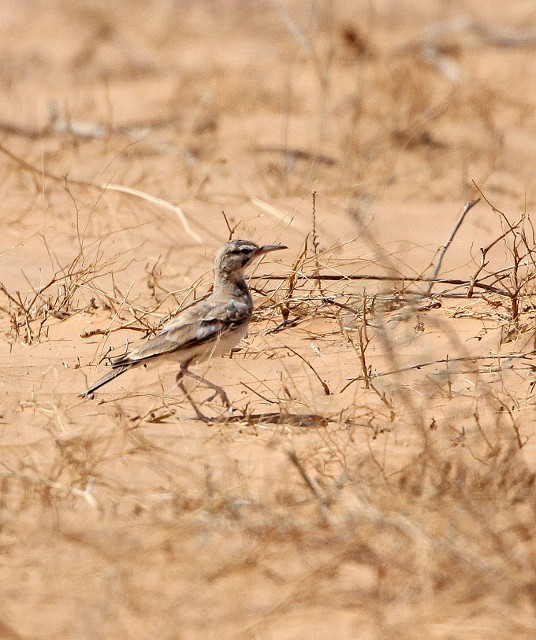 Hoopoe Lark spotted in Jebil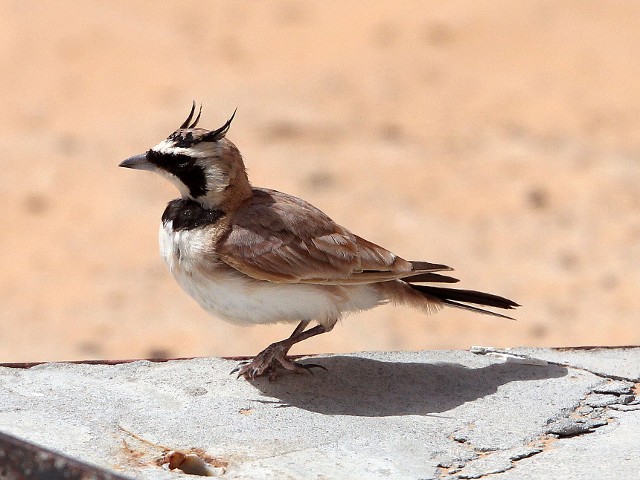 Shore Larks were very common in Jebil.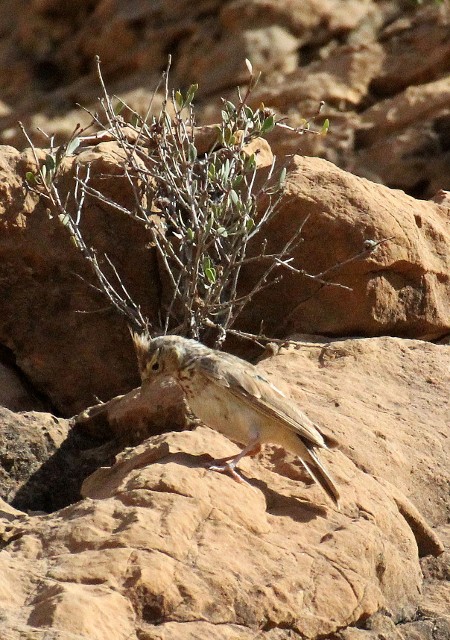 I believe this to be a Thekla Lark, which were also fairly common throughout.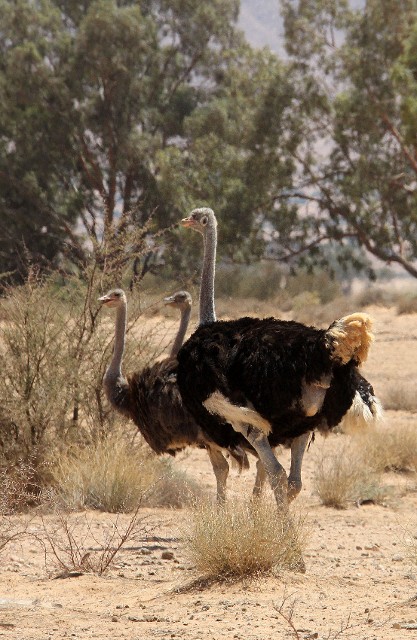 We spotted the reintroduced flock of ostriches at Hadj NR. Although the Red-necked subspecies is the native variety, for some reason they opted on reintroducing the Blue-necked Ostrich above.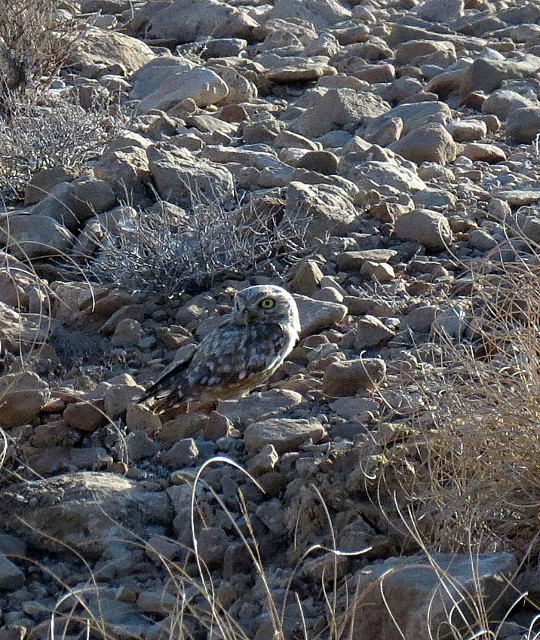 Cokie spotted and photographed this Little Owl in Bouhedma! He was very proud of his contribution to the day's species list, and we were all pretty impressed with is spotting skills! This little booger is pretty camouflaged...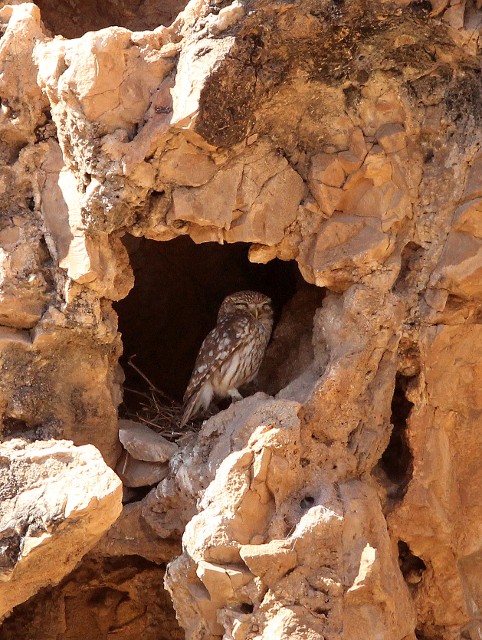 Another Little Owl taking a snooze in his cave in the lowlands east of Feija.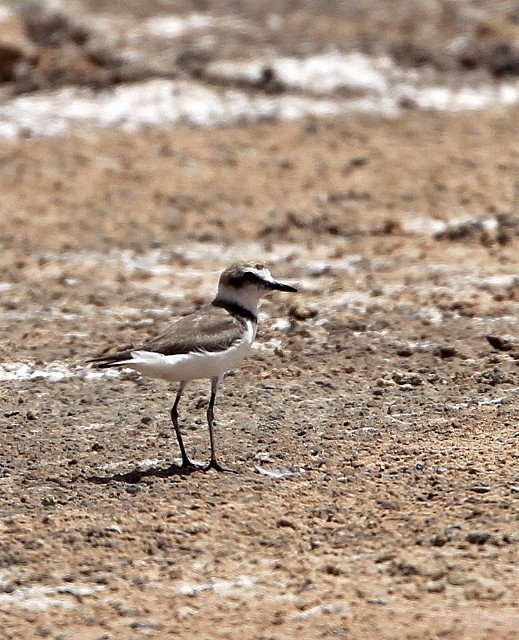 Kentish Plovers were the most common shorebirds for the trip.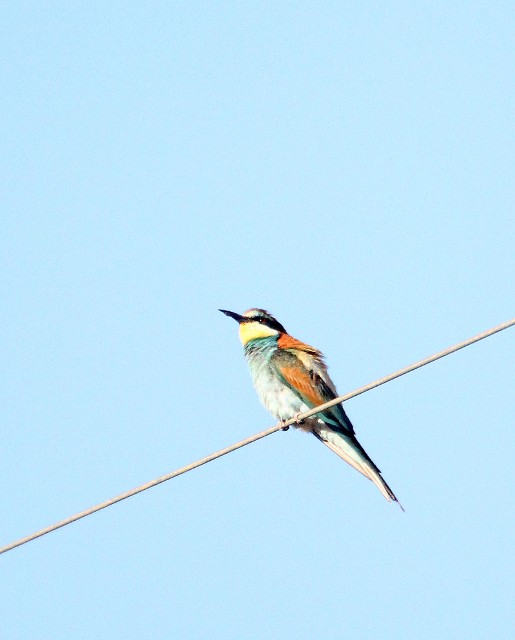 European Bee-eater in the Atlas Mountains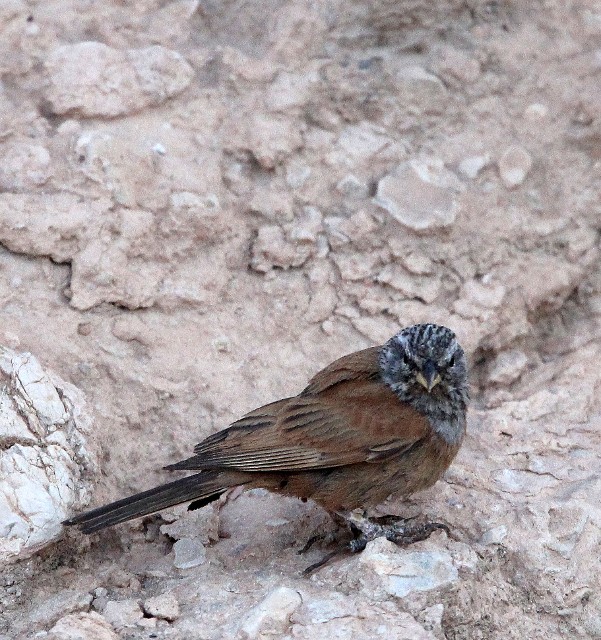 A male House Bunting seen in Senec Village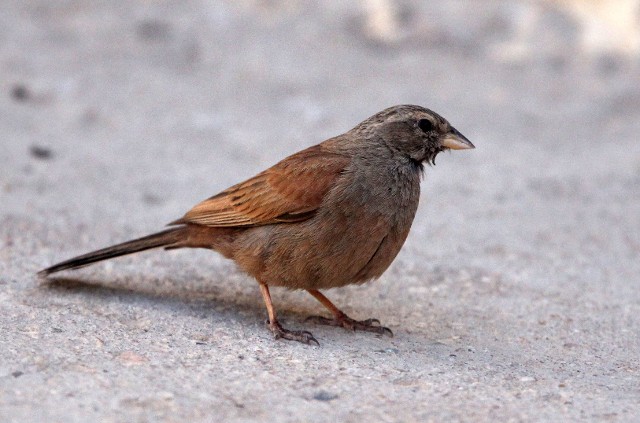 House Bunting in Senec Village, Atlas Mountains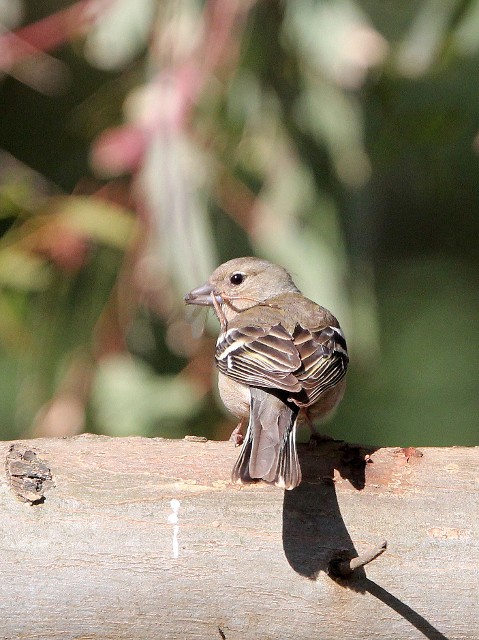 Chaffinch in Feija which is home to many forest bird species.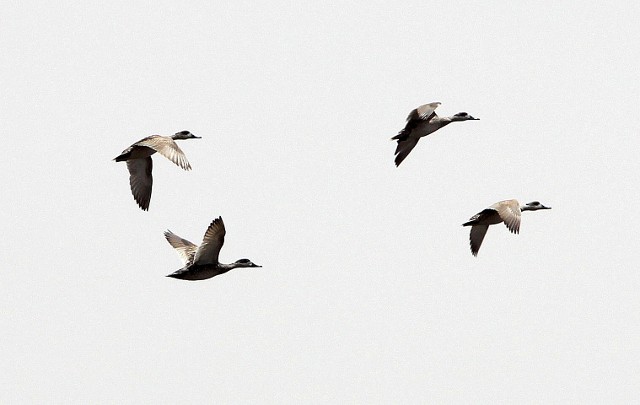 Marbled Ducks taking flight in a wetland near Douz.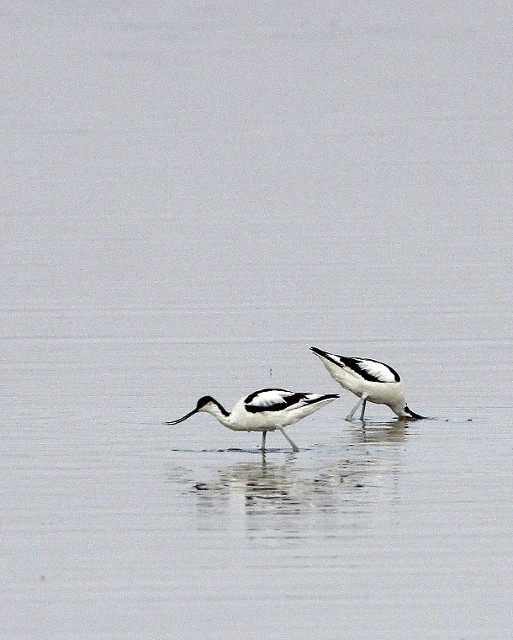 Pied Avocets in Tunis
Bird List Tunisia
Blue-necked Ostrich
Little Egret
Little Grebe
White Stork
Greater Flamingo
Common Shelduck
Marbled Duck
Egyptian Vulture
Booted Eagle (Hieraaetus pennatus)*
Long-legged Buzzard (Buteo rufinus)*
Black Kite
Montague's Harrier
Marsh Harrier
Buzzard
Golden Eagle
Kestrel
Barbary Partridge (Alectoris barbara)*
Quail (Coturnix coturnix)*
Coot
Stone Curlew (Burhinus oedicnemus)*
Black-winged Stilt
Avocet
Collared Pratincole (Glareola pratincola)*
Cream-colored Courser (Cursorius cursor)*
Little Ringed Plover
Kentish Plover
Dotterel (Charadrius morinellus)*
Common Sandpiper
Mediterranean Gull (Larus melanocephalus)*
Slender-billed Gull (Larus genei)*
Little Tern (Sterna albifrons)*
Black-bellied Sandgrouse (Pterocles orientalis)*
Turtle Dove
Rock Dove
Little Owl (Athen noctua)
Nightjar (Caprimulgus europaeus)
Swift
European Bee-eater
Hoopoe
Wryneck (Jynx torquilla)*
Levaillant's Green Woodpecker (Picus vaillantii)*
Great Spotted Woodpecker
Skylark
Crested Lark
Thekla Lark (maybe)
Temminck's Horned Lark (Eremophila bilopha)*
Calandra Lark (Melanocorypha calandra)*
Hoopoe Lark (Alaemon alaudipes)*
Barn Swallow
House Martin
Pied Wagtail
Moussier's Redstart (Phoenicurus moussieri)*
Rufous Bush Robin (Cercotrichas galactotes)*
Desert Wheatear (Oenanthe deserti)*
Black-eared Wheatear (Oenanthe hispanica)*
Black Wheatear (Oenanthe leucura)*
Mourning Wheatear (Oenanthe lugens)*
Olivaceous Warbler (Hippolais pallida)*
Pied Flycatcher (Ficedula hypoleuca)*
Spotted Flycatcher (Muscicapa striata)*
Blackbird
Common Bulbul (Pycnonotus barbatus)*
Great Grey Shrike (Lanius excubitor)*
Woodchat Shrike (Lanius senator)*
Starling
Eurasian Jay
Raven
Brown-necked (Corvus ruficollis)*
House Sparrow
Spanish Sparrow (Passer hispaniolensis)*
Rock Sparrow (Petronia petronia)*
Desert Sparrow (Passer simplex)*
Chaffinch
Serin (Serinus serinus)*
Greenfinch (Carduelis chloris)*
House Bunting (Emberiza striolata)*
Desert Finch (Rhodospiza obsoleta)*
More Stuff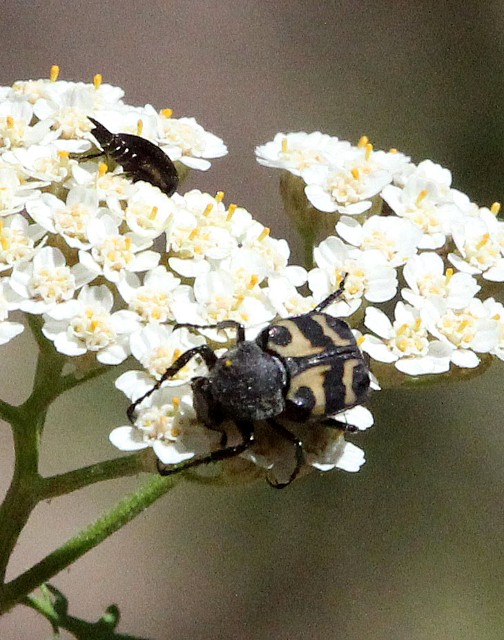 A spectacular Trichia species seen on one of the Umbelliferae of Fejia.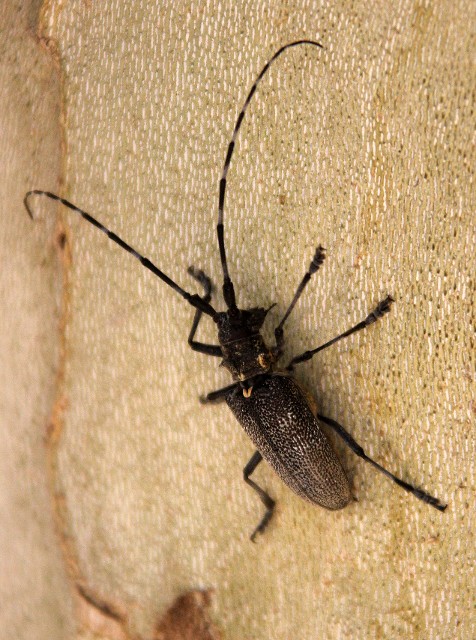 Monochamus galloprovincialis species seen in the oak forests of Feija.
Oxycetonia (?) species spotted in Algeria!
Watch where you sit in Feija!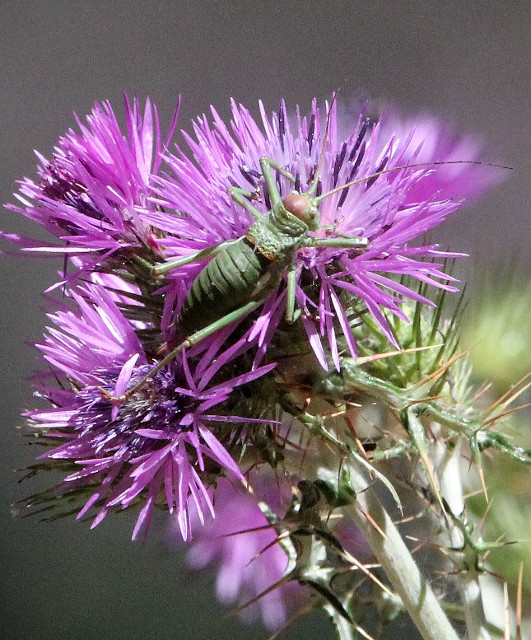 Som is really getting in to macro work. Here is here little Gryllid in Feija.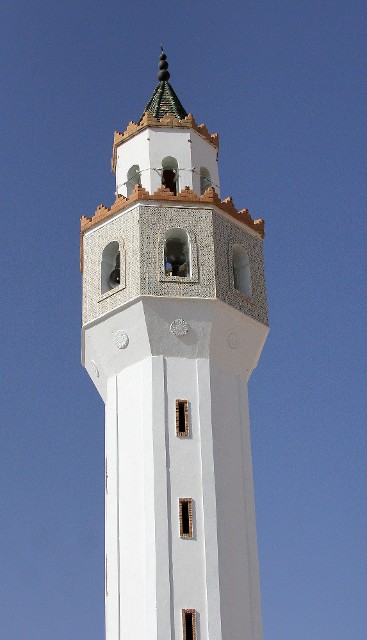 The minarets of the Tunisian mosques are all very unique and beautiful.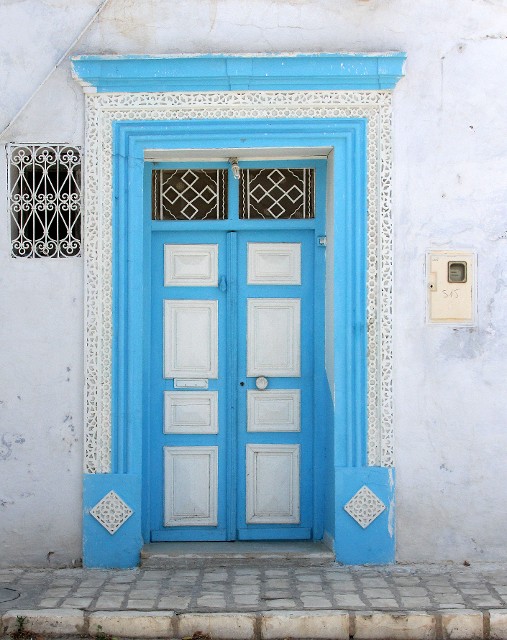 Tunisian Doors! Everywhere you look in the towns and villages in Tunisia are these spectacular doors. This one was seen in Al Qayrawan.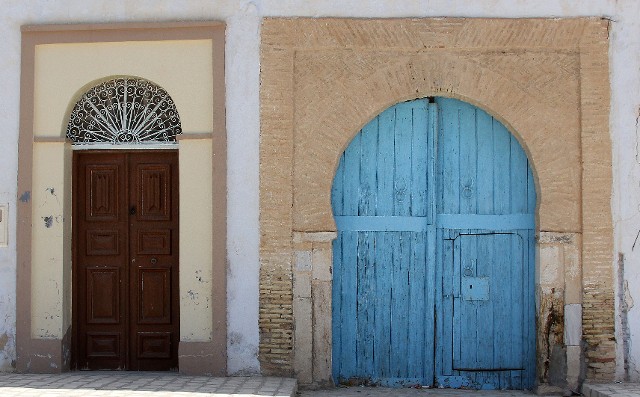 Tunisian doors of Al Qayrawan...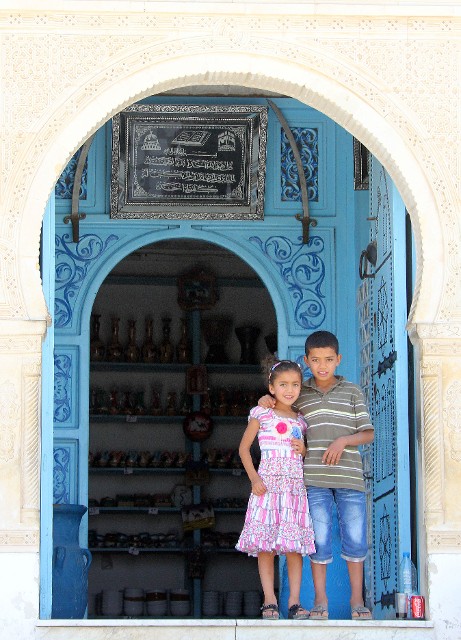 Tunisian doors and kids!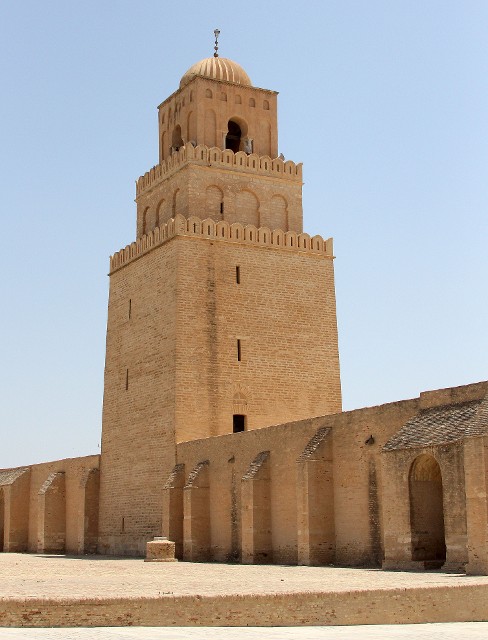 The old fortress at Al Qayrawan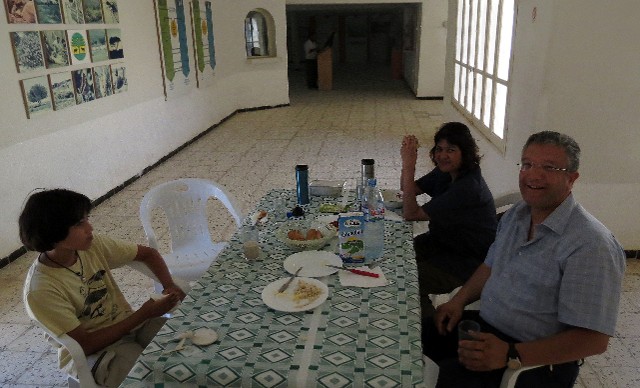 Breakfast in the museum. Bouhedma NP museum was our lodging and restaurant. Actually it was more than adequate.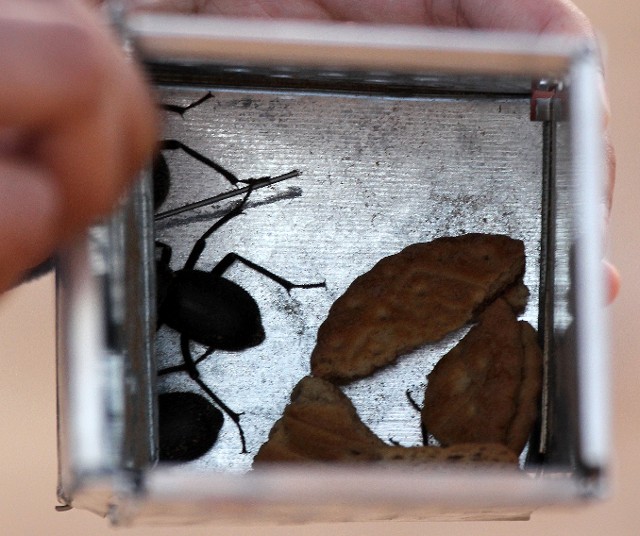 This was the first trip in my experience that we were completely skunked for small mammals. We spotted several running across the desert at night but not were convinced to come in to our traps.... The only thing I could manage to trap were these damn Tenebrionid beetles, over and over and over again....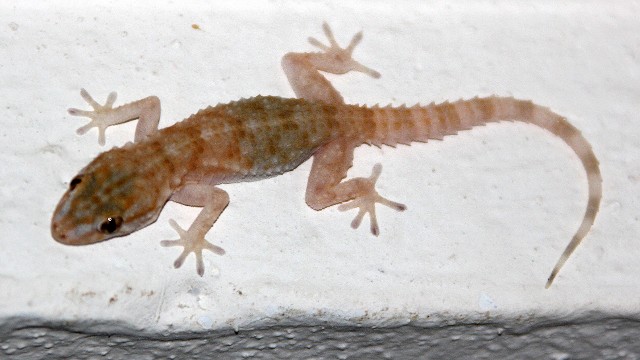 The Moorish Wall Gecko (Tarentola mauritanica) in Bouhedma.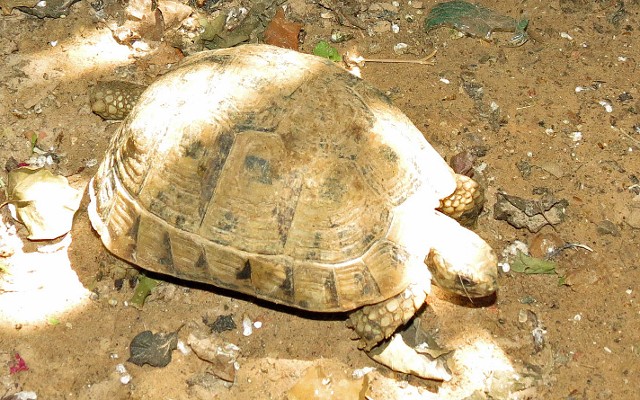 Tunisian Tortoise (Furchulachelys naebulensis)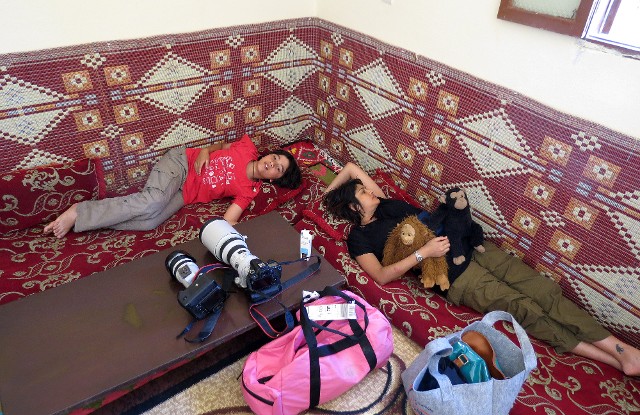 Cokie and Som taking a nap in our Berber host's home in Senec Village.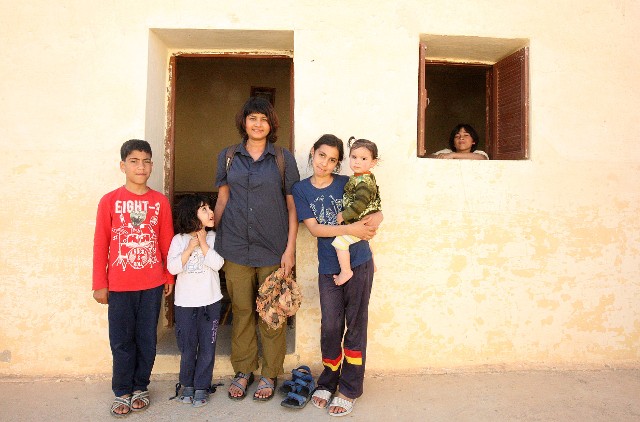 Our Berber hosts!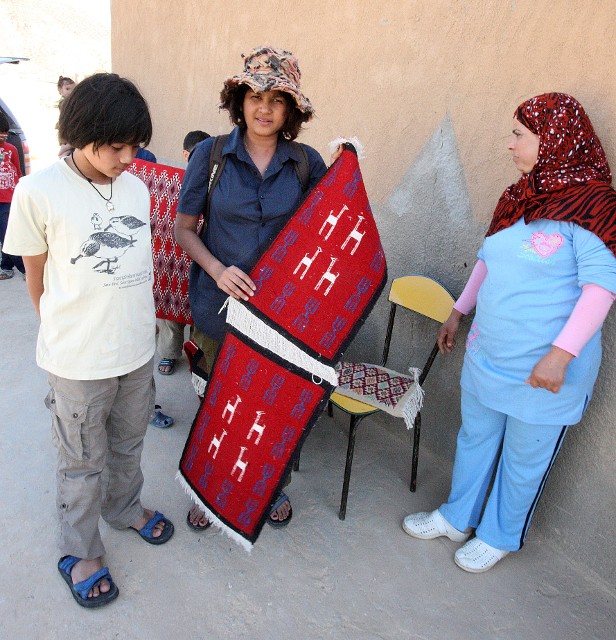 We picked up a couple Berber carpets from our host's wife...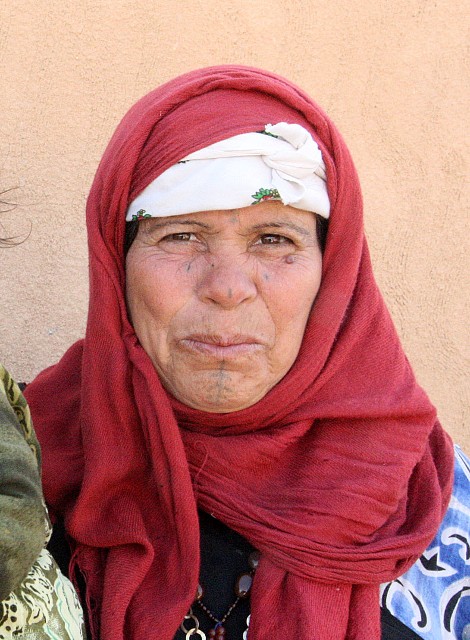 Awesome Berber woman. She could not speak French or Arabic...only her local Berber language.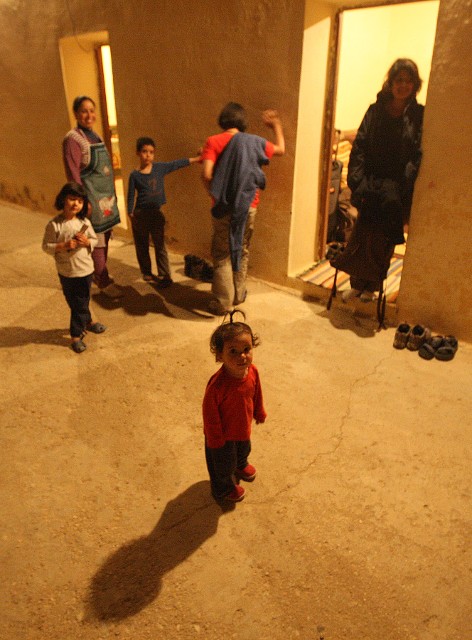 Hanging out in Senec Village, Berber town!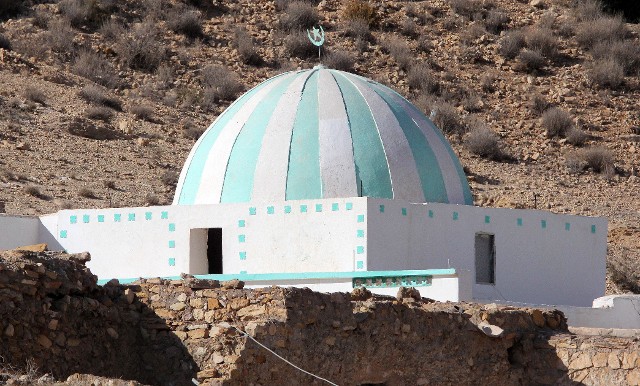 One of the more remote mosques in the middle of the Atlas Mountains.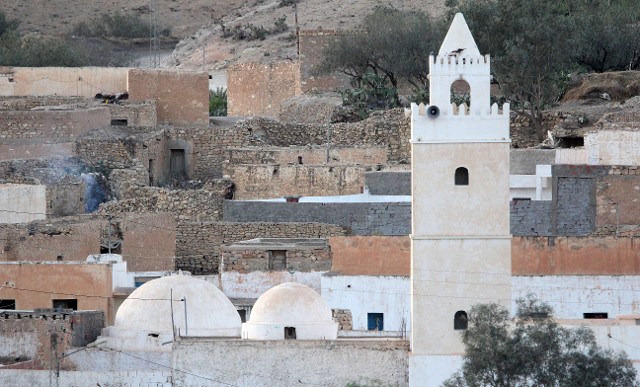 Senec Village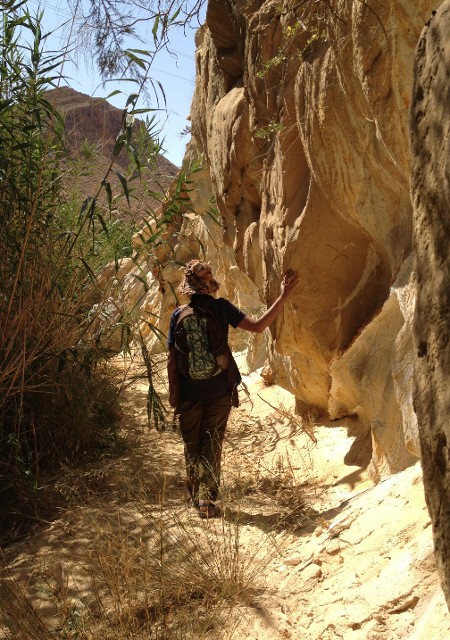 The trek to the oasis at Bouhedma...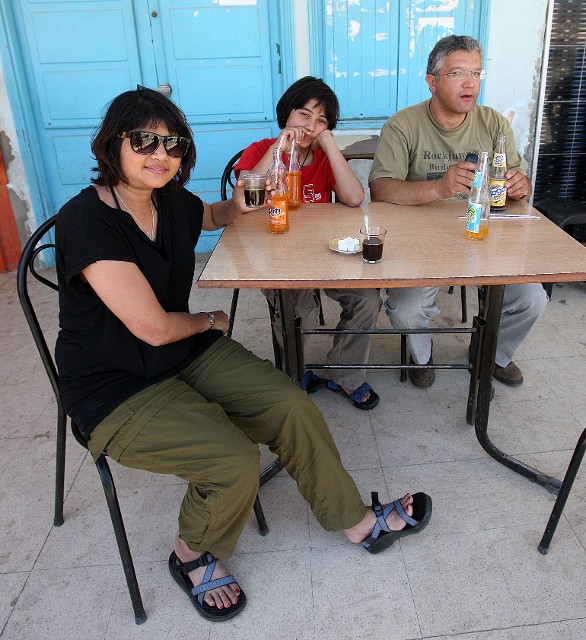 At least once a day we made it a point to stop for Tunisian espresso...cheap and delicious!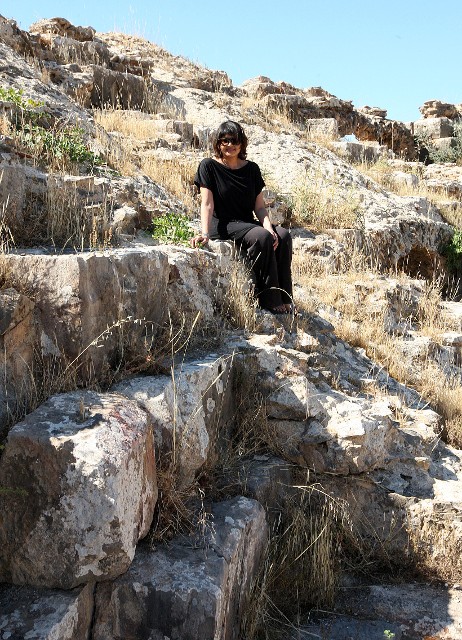 Bulla Regia Roman ruins...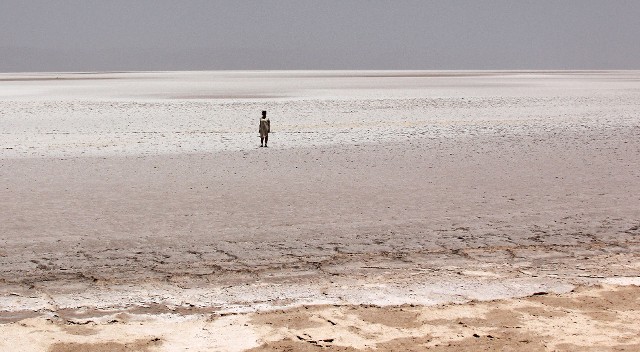 Chot el Fejaj dry lake, once the largest lake in Tunisia. In fact it used to occupy an area nearly 1/4 the entire size of the country!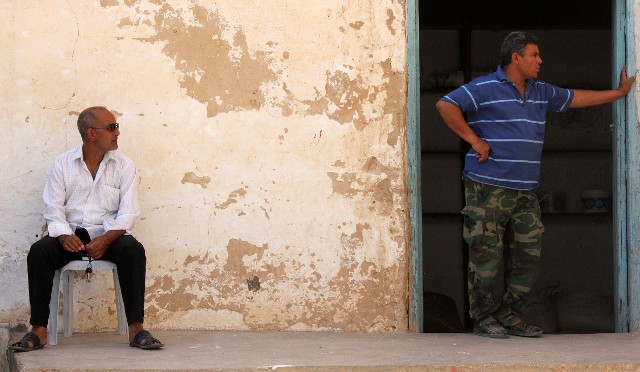 Douz Market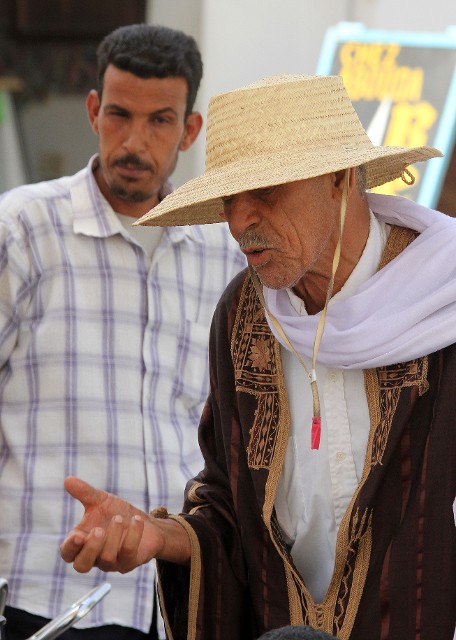 People watching at Douz Market...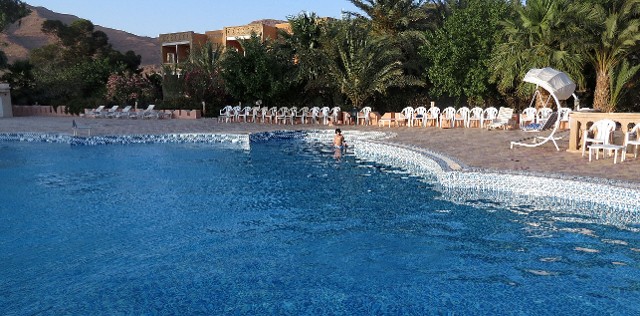 It was nice to relax in Gafsa after a challenging trip in the Sahara.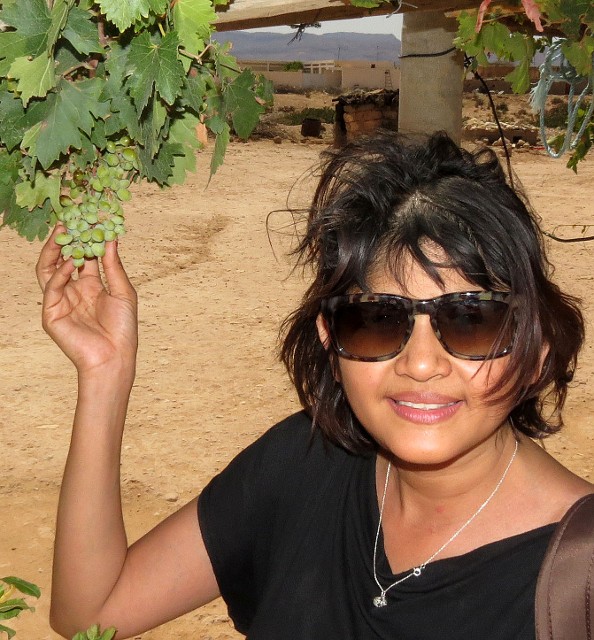 Some Tunisian grapes in Hadj...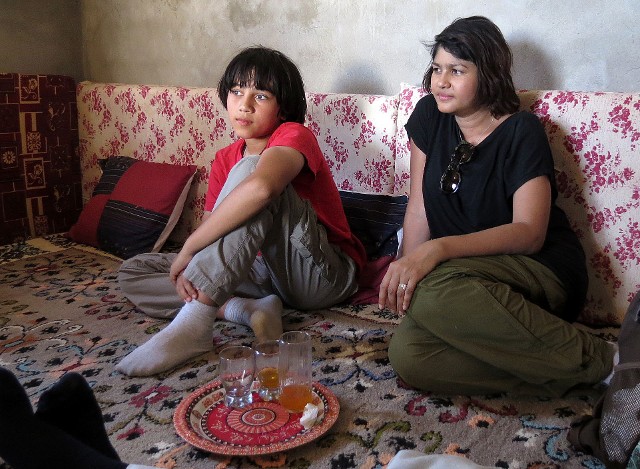 Cokie and Som listening to the rangers' stories of the hardships of conservation in modern day Tunisia.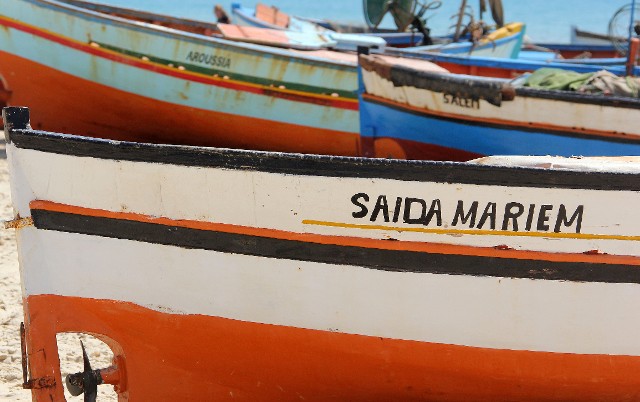 Hammamet fishing fleet...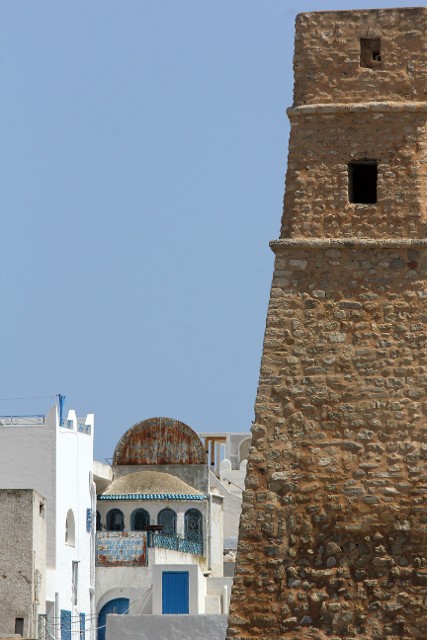 Hammamet Fortress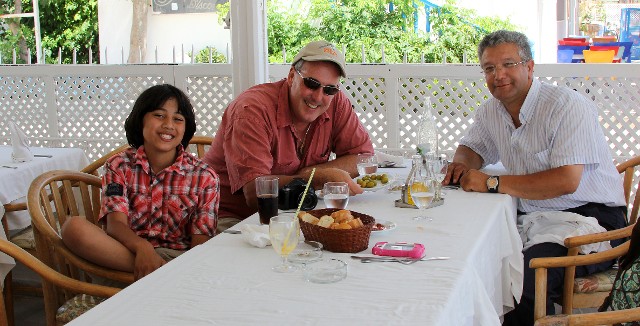 Seafood lunch in Hammamet!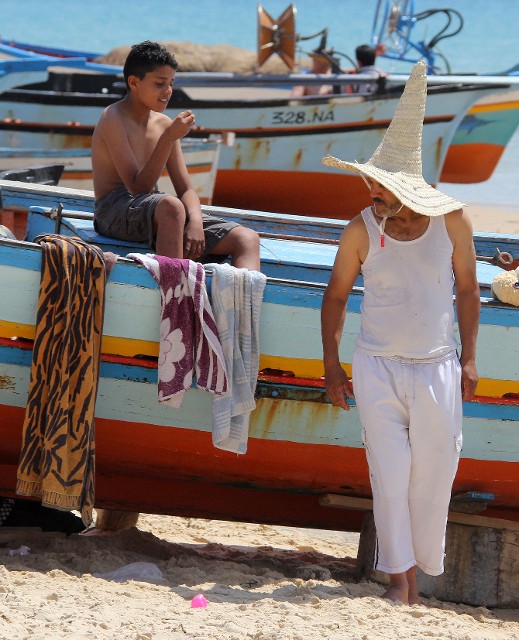 Hammamet fishermen...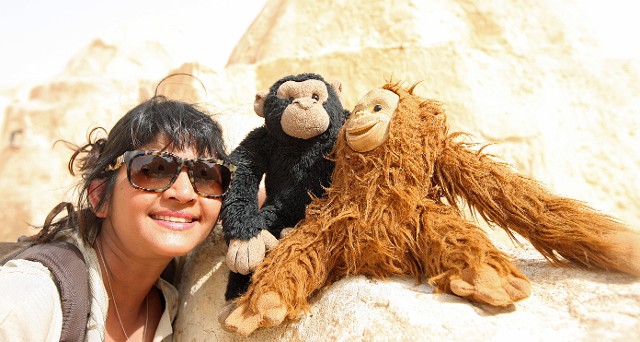 My favorite primates!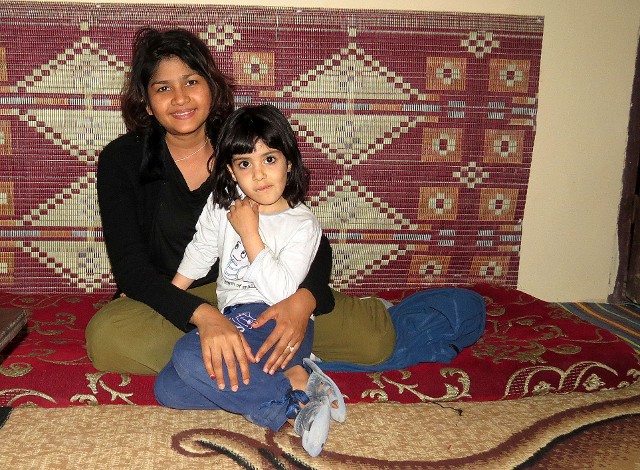 Som's new best friend in Senec Village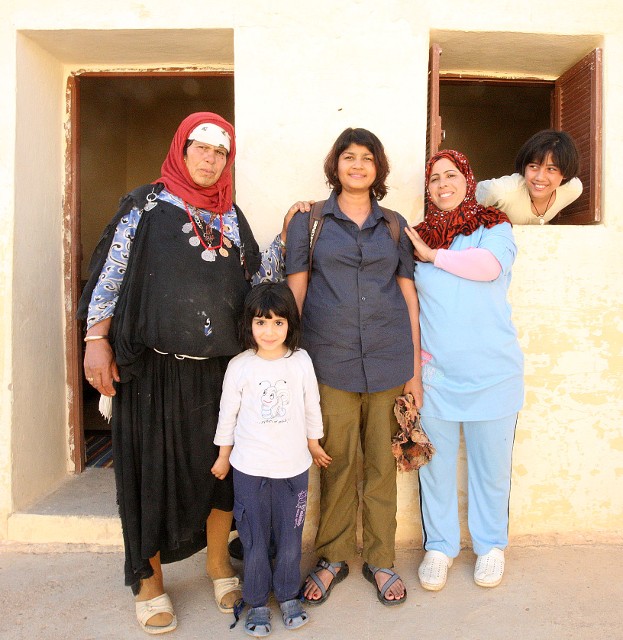 Awesome family!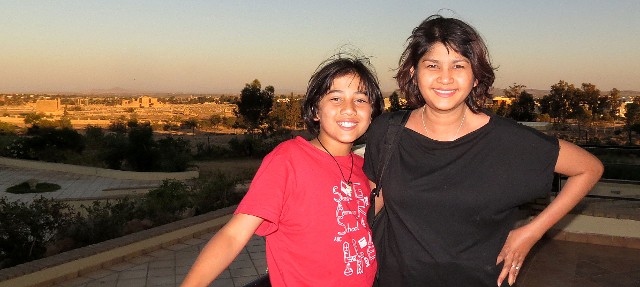 Cokie and Som in Subaytilah...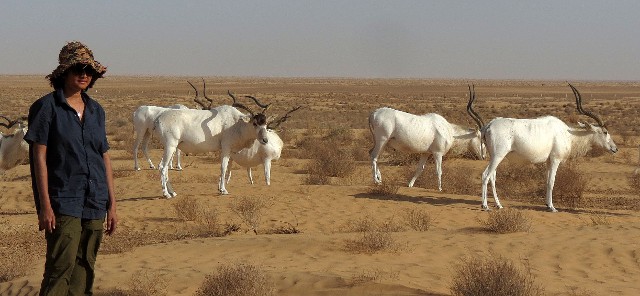 Som and her Addax!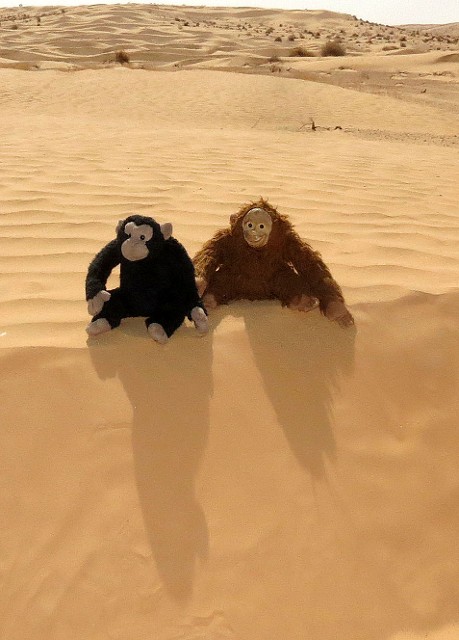 Toby & Nyungwe in the Sahara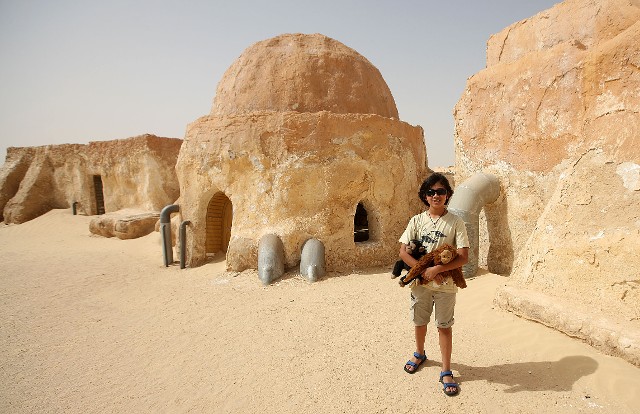 A bonus stop! Cokie loved our trip to Onk Jemal near Tozeur. This was the exact site where they filmed the first Star Wars back in the mid '70's!
Onk Jemal! And Som with her Princess Leia hairdo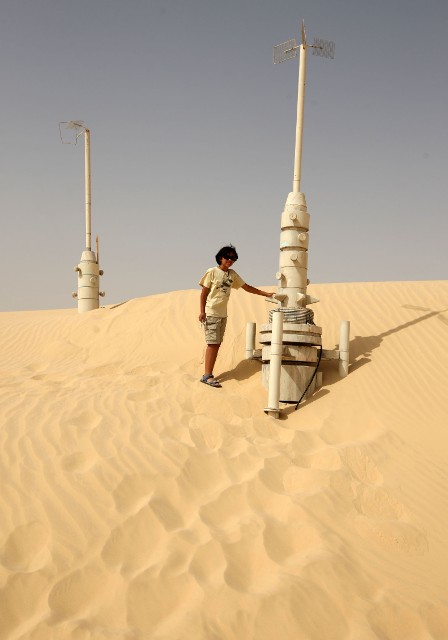 It was hot but that didn't stop Cokie from living a dream!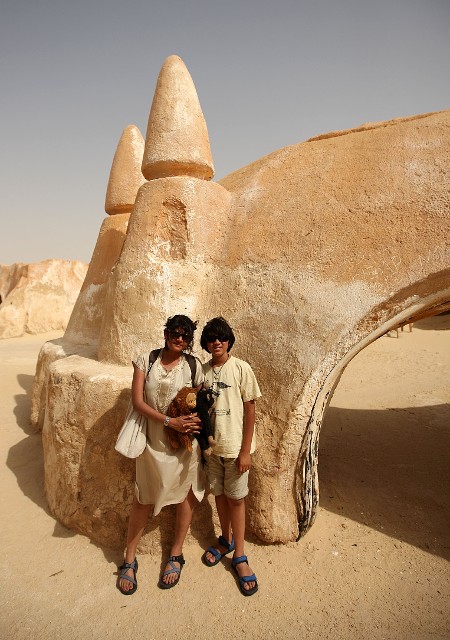 Onk Jemal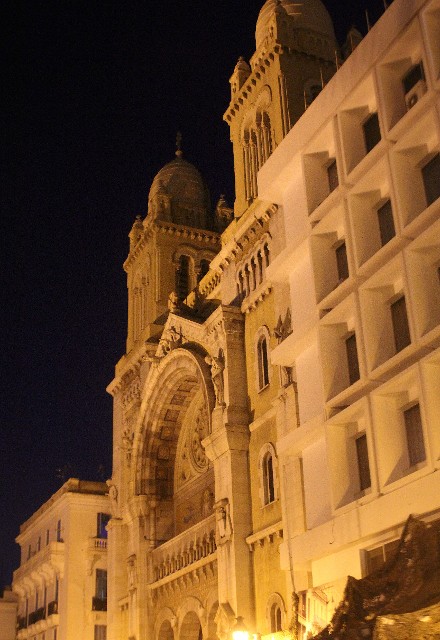 Old Town Tunis. We only had enough time to explore Tunis for about an hour late in the evening on our last night in-country. It seemed nice!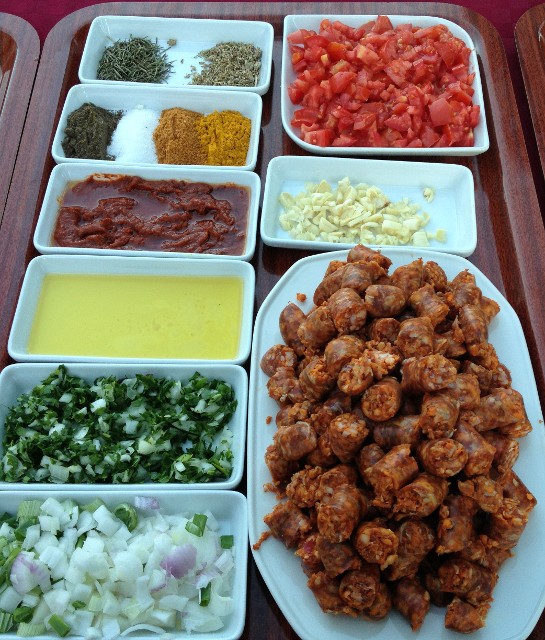 Tunisian spices and sausage!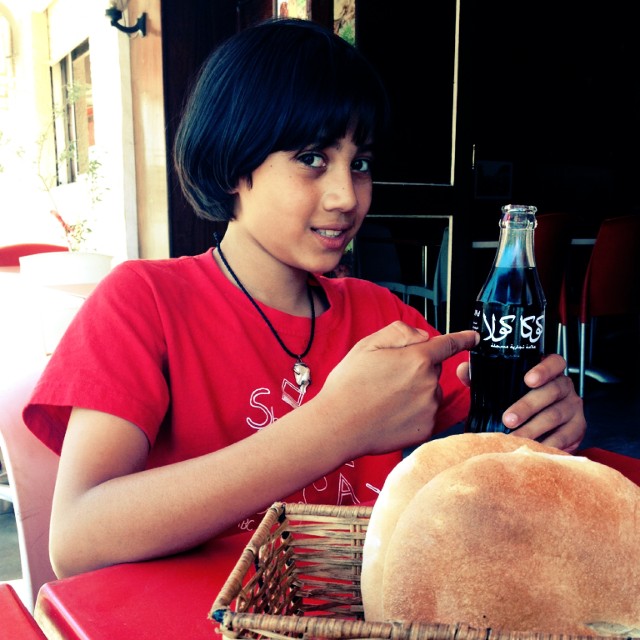 Cokie and Coke!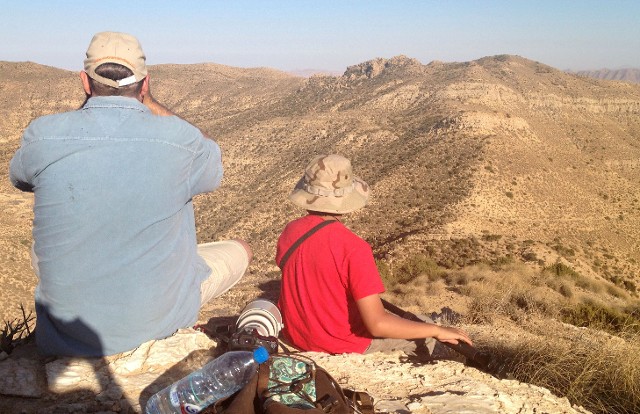 Two best buds looking for wildlife in the Atlas Mountains....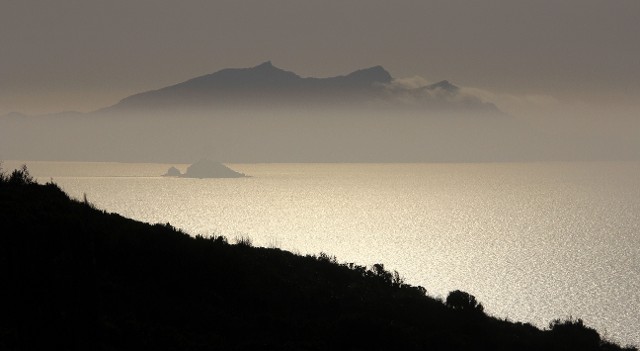 Cape Bon Peninsula sunset....our final hours in Tunisia
Som thinking about our next adventure!
Be sure to check out our Pbase website for more images of Tunisia!