One of our main targets for this journey, the endangered Ethiopian Wolf. Nailed 'em!
To visit our Pbase Image Galleries, Click Here!
Expedition to Ethiopia (in the Rainy Season)!
July 20 - August 10, 2012

For years I have wanted to see the fauna and scenery of Ethiopia. There always seemed to be some reasons the many trips I actually planned here never came to fruition (with one exception when I entered from the south) – money, time, politics, etc., etc. So this year I was bound and determined to make it happen! And with the conference in Kampala, we were in the neighborhood! So with the aid of Yared, from Tony Hickey's Ethiopian Quadrants (See their website here) expertise, I was able to design and implement a world-class expedition highlighting some of the most impressive wildlife destinations anywhere in Africa. Quadrants puts together an extremely excellent safari for a very reasonable price, and I highly recommend them. Our guide with Quadrants was Abiy Dagne (here is Abiy's email contact), who I cannot speak highly enough about! Abiy is without a doubt one of the best guides I have ever had the pleasure to travel with. He is one of Ethiopia's premier birding guides but he would also classify as one of the best mammal guides as well. There is nothing he cannot show you!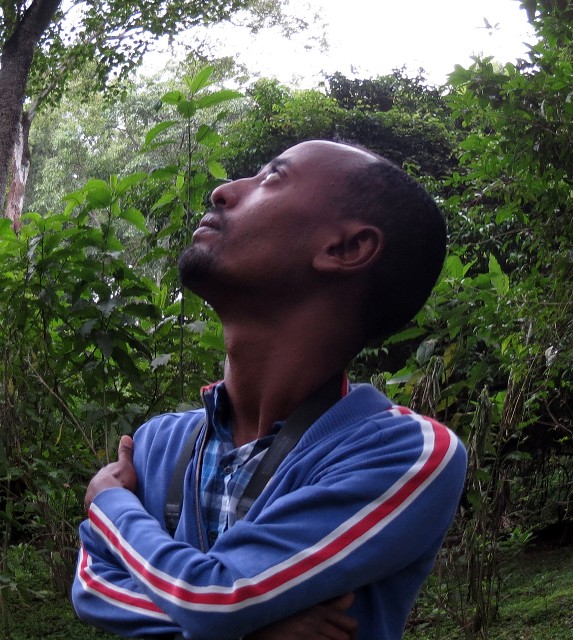 One of the best guides of all times, Abiy Dagne! Cokie's image of Abiy using the newly discovered and completely overused, "fish-eye" function...
Our trip to Ethiopia started with a quick flight from Nairobi and a quick exit from Addis Ababa, which was a much more developed and modern town than I expected. After a quick stop at a supermarket to pick up our spices, sardines and instant ramen, we started our journey to Lake Ziway for a quick view of a relatively famous Yellow-spotted Bush Hyrax, which still lives in a tourist building near the lake. And then we continued a bit further to Shalla-Abiata National Park for Bright's Gazelles and Bohor Reedbuck, which were very easy to spot during a simple walking safari in the park.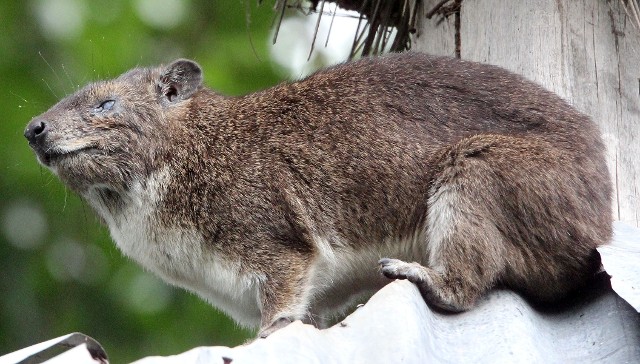 The Yellow-spotted Bush Hyrax still make their homes in an old dwelling at Lake Ziway a few hours outside of Addis Ababa.
Lake Langano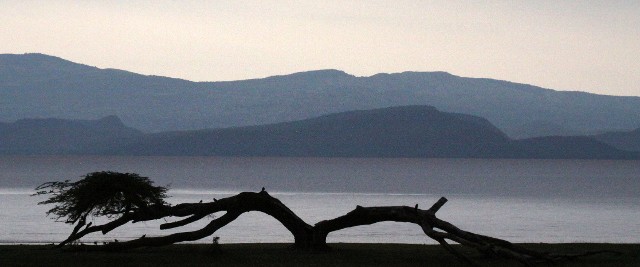 Spectacular Lake Langano from the shores of Bishangari Lodge.
We then traveled some more to Lake Langano for a couple nights at Bishangari Lodge (check out their website here), where it is possible to see the Ethiopian subspecies of the Guereza Colobus Monkey as well as the Grivet Monkeys. While it was very easy to spot these two primates, what struck us the most was how spectacular Bishangari Lodge and its surrounding forests were. Studded with massive and amazing ancient Ficus trees, the forest has often been compared to "Lord of the Rings". And Lake Langano itself is not to be scoffed at either.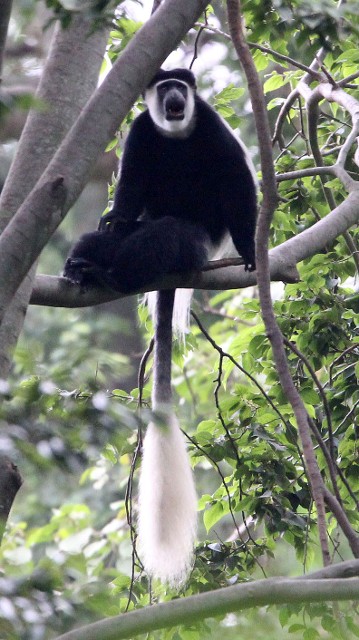 Ethiopian Guereza Colobus Monkeys were very common in and around the forests of Lake Langano. We either heard or saw at least four groups during our morning stroll through the fairy-tale forest.
The remnant forest around this ancient crater-lake is spectacular. Far from being wilderness, the villagers that live both in and around the forest (and the lake for that matter) tend to treat it well, from all outward appearances, and the primates that are pervasive in the forests seem to be at ease with their human neighbors. We were told by Abiy that there is no hunting in the forest and the villagers basically live and let live. The ease at which we were able to approach the primates in the forest testified to this fact.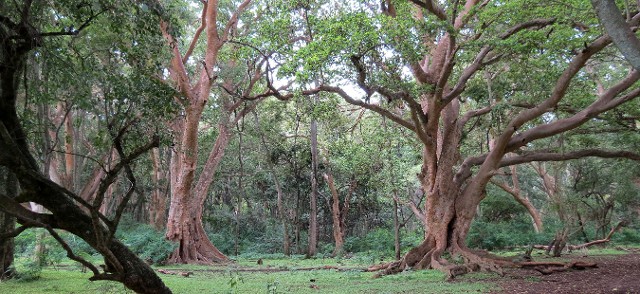 The spectacular Ficus forest of Lake Langano. This image does not do justice to the massive sizes of these amazing trees.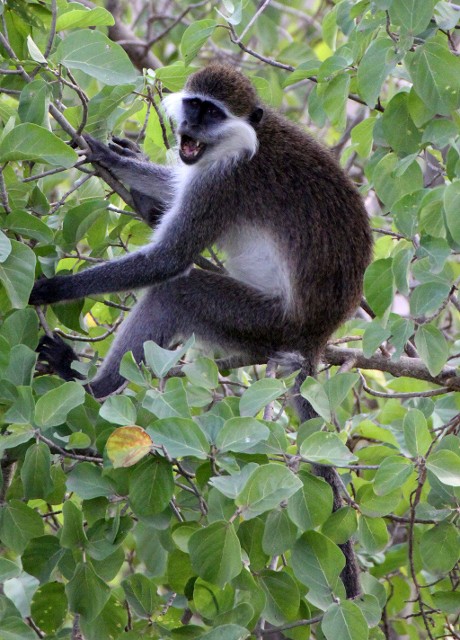 Grivet Monkeys were almost as common as the Colobus monkeys at Langano.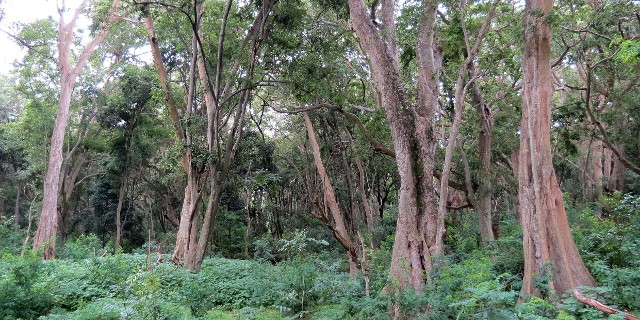 The Ficus forests of Lake Langano.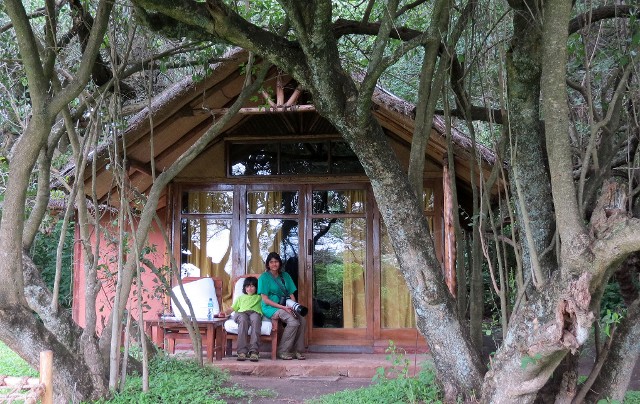 Our secluded bungalow at Bishangari Lodge, nestled deep in the brush of the "Lord of the Rings" forest...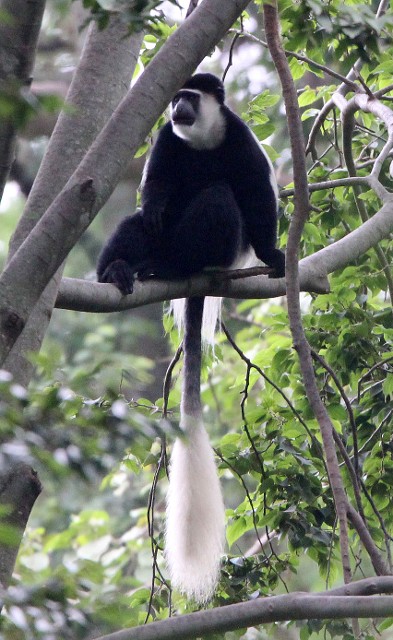 Ethiopian subspecies of the Guereza (Black & White) Colobus Monkey. We came across Colobus Monkeys at every single location we visited in Ethiopia!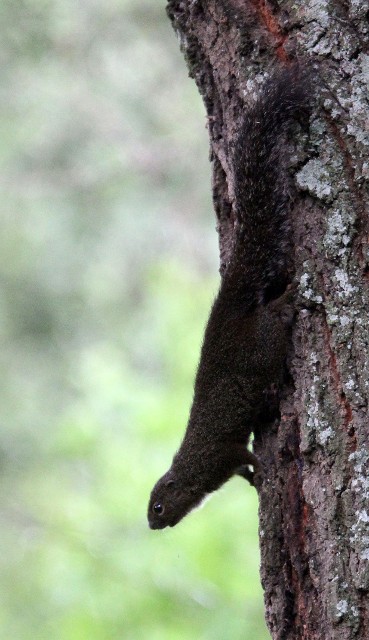 This Gambian Sun Squirrel decided to come down and join us for breakfast at Bishangari Lodge.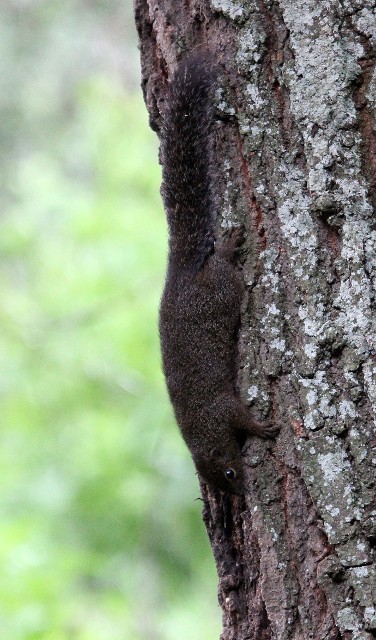 Gambian Sun Squirrel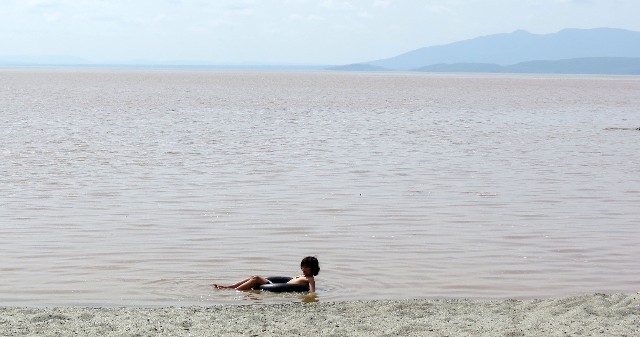 Who says we don't get 'beach-time' on our trips! I kept Cokie close to shore because of the sounds of Hippos off in the distance...He gladly cooperated.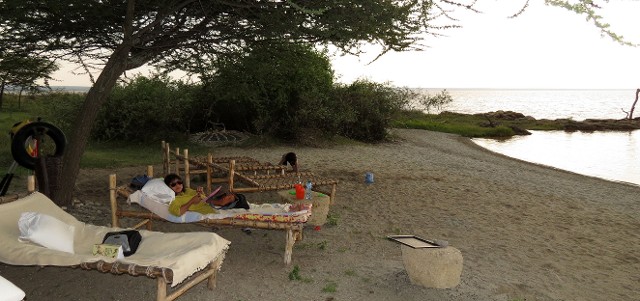 Relaxing on the shores of Lake Langano...Who says our holidays are "all work"?
The lodge is very eco-friendly and is situated very respectfully in the forest and each bungalow is quiet and isolated with loads of privacy. We spent only spent two nights at the lodge but we all agreed that a WEEK-long return visit is in the cards for the very near future! Cokie enjoyed his swims in the lake and Som and I very much appreciated our well-earned three hour afternoon naps on the shore, with the great sun and breezes. Seriously a great spot!
The forest is home to another rare primate species – the Senegal Galago. Evidently it had not been seen for years, but after one very fruitful night walk, Som (of course), spotted it in the trees just next to the kitchen of the lodge! The staff were amazed that we'd seen it (well I only saw the rump and the tail…but Som got a solid look)! We also nailed a few species of bats as well as a Side-striped Jackal and our first Spotted Hyena, not counting of course of the massive dead one we'd seen earlier that day on the road from Addis.
Early morning on the third day of our Ethiopian expedition, we started to hear the pitter-patter of rain on our roof sometime around or so. What started as a sprinkle became a deluge that nearly washed out the roads to the (and from!) the lodge. With thanks to Abiy's expert driving, and knowledge of the dirt (or mud!) tracks that traversed the bush for some 20 km's, we were able to make it out to the main road without incident, unlike a couple other vehicles that were hopelessly mired in the muck…
Senkele Wildlife Sanctuary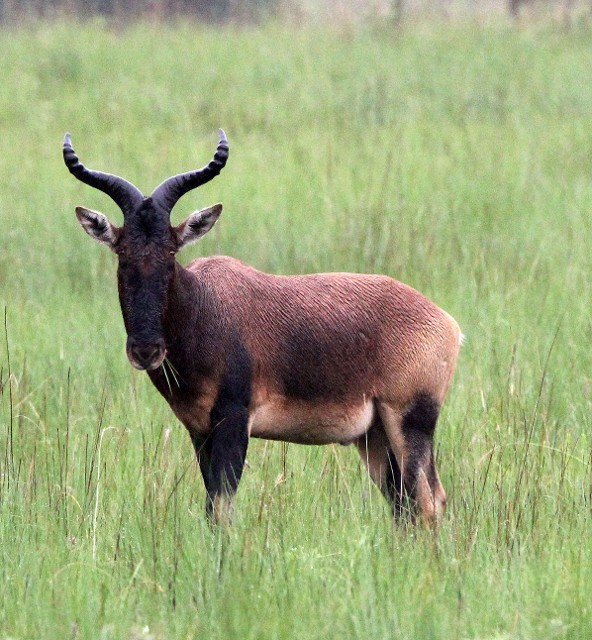 Swayne's Hartebeest are the primary reason for Senkele Wildlife Sanctuary to exist. We were able to see several dozen of them in the grasslands of the sanctuary, amongst the several hundred goats and cattle...
On the way to our next destination, Arbaminch, we made a brief but productive stop at Senkele and the Swayne's Hartebeest Sanctuary, to catch some great glimpses at this very endangered and beautiful antelope. There are some 600 or so of this species left on earth, and we got a good look at nearly 25% of them this morning. They were accompanied by a few dozen little Sudan Oribi as well. And as with pretty much every other national park in Ethiopia, the wildlife was sharing space with several hundred head of cattle and several thousand goats. This is a very serious issue that seems to be completely ignored in Ethiopia currently.
Sadly there seems to be absolutely no enforcement of livestock grazing in Ethiopian parks and the vegetation is showing signs (in all parks) of extreme stress and grazing pressure. This situation is simply unsustainable. I cannot imagine what the state of this amazing nation's national parks will be in a generation unless this situation is rectified very soon!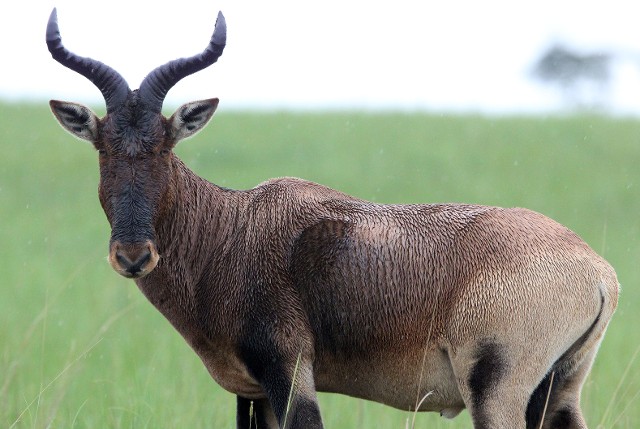 Swayne's Hartebeest are arguably the most spectacular of all the hartebeest species and subspecies.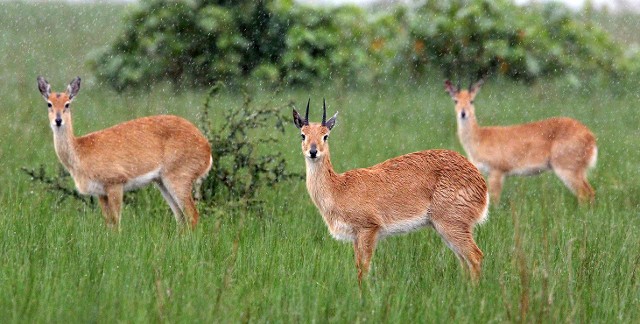 Sudan Oribi were also very common and easy to spot at Senkele, even in the rain!

Nech Sar National Park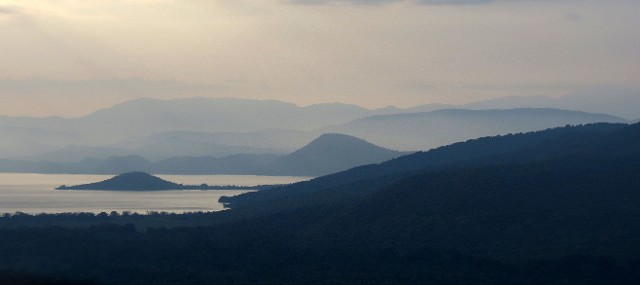 The view of Nech Sar National Park as seen from Paradise Lodge in Arbaminch.
Arbaminch is both the name of the main town that serves as the launching off point for Nech Sar National Park. We stayed at Paradise Lodge, which has an outstanding view of the lake and the remnant forests, and is basically a nice lodge. The main problem it has is that it is situated basically in town and the noises of the city were pervasive. But we did alright there and it is the best digs in town for now.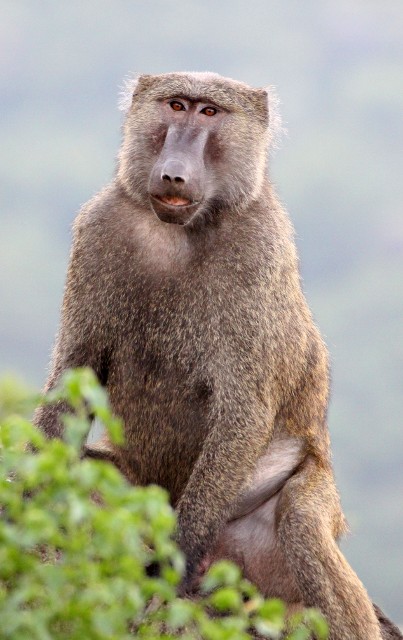 This young Olive Baboon was our breakfast companion at the Paradise Lodge. I watched him as he paced the joint, never taking his eyes off of me....And the second I glanced away from him, he sprinted toward our table, jumped on top and started stuffing his mouth with everything he could possible fit in! And all the while, Som, Cokie and I were screaming at him to go...he didn't...
Nech Sar National Park is a very interesting expanse of Acacia woodland savannah. Before heading to the core area of the park, we hopped in a small boat for a quick tour of some of the shore wildlife a few kilometers out. Great views Hippos, & Pink and Great-White Pelicans and other birds were fantastic, but the highpoint was what the locals call "The Crocodile Market". Basically a stretch of creek of a few hundred meters long, the shores of the "Croc Market" are strewn with dinosaur-sized Nile Crocs, many of whom are in excess of FIVE meters! Floating literally less than one meter from these monsters was breathtaking, and probably just a tad dangerous! Pictures could not do justice to the size of these creatures. I contemplated dropping off Cokie for perspective but the rangers would not allow it….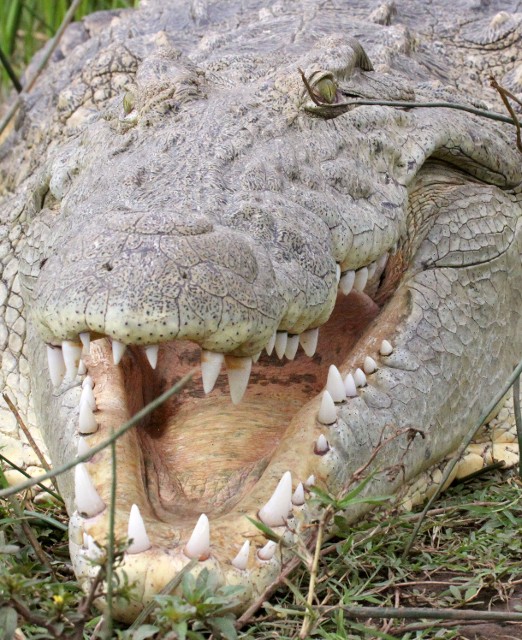 The "Crocodile Market" at Lake Chamo was quite a sight. Many of these monsters were well in excess of 5 meters!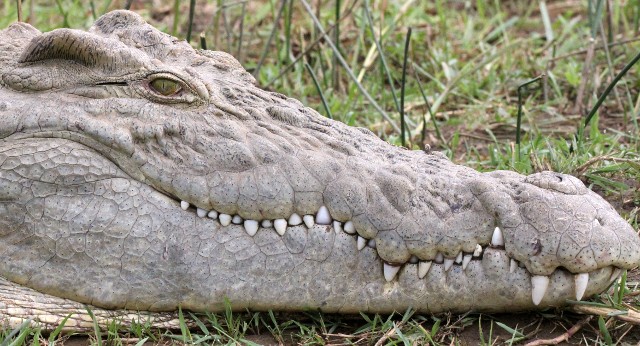 One of the not-so-big boys...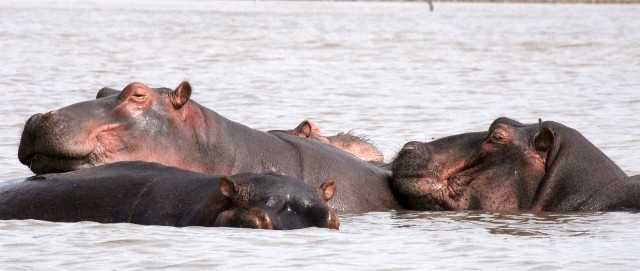 Lake Chamo was spectacular and filled with wildlife. These Hippos were in a large pod snoozing their afternoon away when we passed by...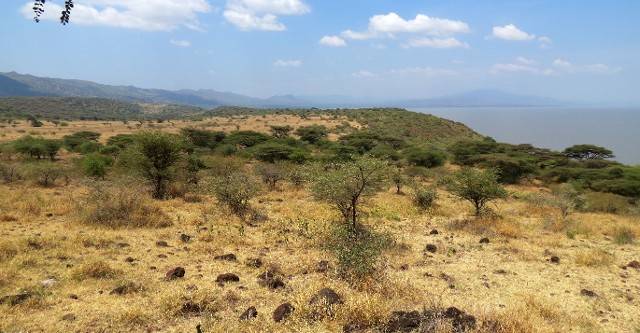 Nech Sar National Park and Lake Chamo. The core area of the park is dominated by an Acacia woodland with good wildlife populations.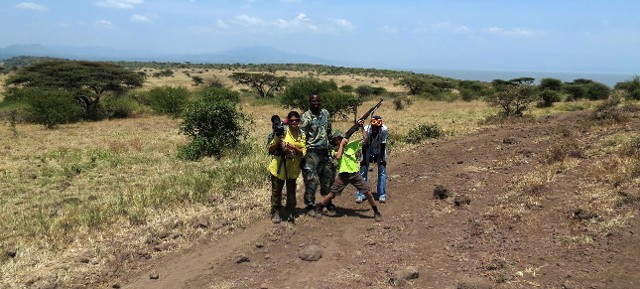 I sure wish our trackers would stop letting Cokie hold their AK47's! Cokie loved it though...
The visit to the core area of the national park involved a trek through the woodland searching for Bright's Gazelle's, Guenther's Dik Diks, Greater Kudus and Boehm's Zebras. Finding all of these were pretty easy, which was good thing considering how bloody hot it was this afternoon. Luckily there was basically no humidity so we could seek refuge in the shade of the Acacia to beat the heat while the wildlife walked by. That was until we discovered micro-ticks crawling all over our bodies! After several minutes doing "tick checks", we headed back to the boat for our trip back to base, but only after some mid-sea repairs on our outboard motor that kept breaking down every couple hundred meters or so. We didn't mind, the time on the mirror-smooth lake was actually very nice and restful…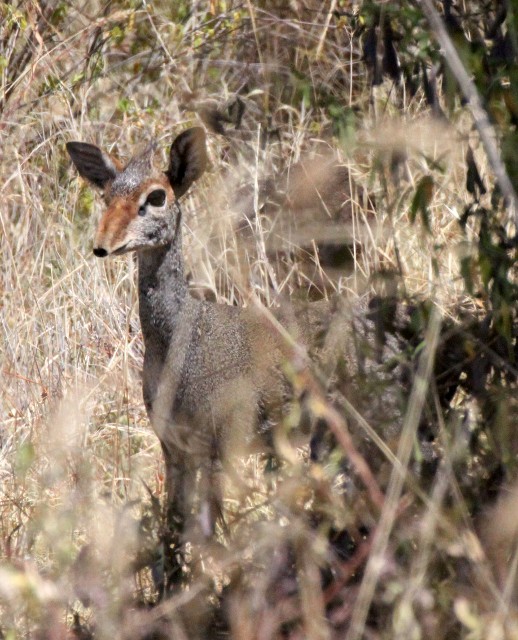 A lone Guenther's Dikdik taking a peek at us as we trekked Nech Sar National Park near Arbaminch.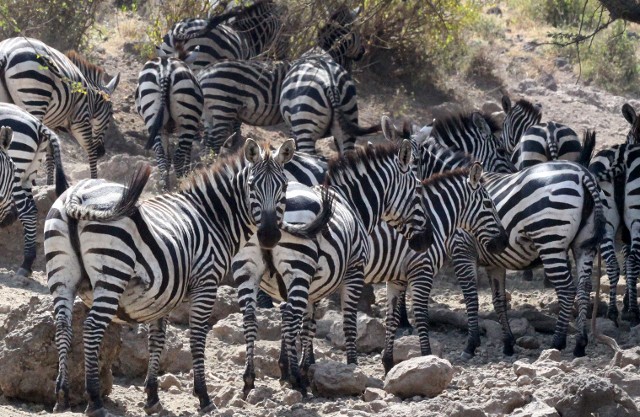 Plains Zebra were seen in large numbers and at close-quarters at Nech Sar. Abiy referred to these as Burchell's Zebra but the distribution maps I have been able to locate indicate that Equus quagga boehmi is the species found here.


They could not care less... Our walking safari took us by several dozen of these zebras...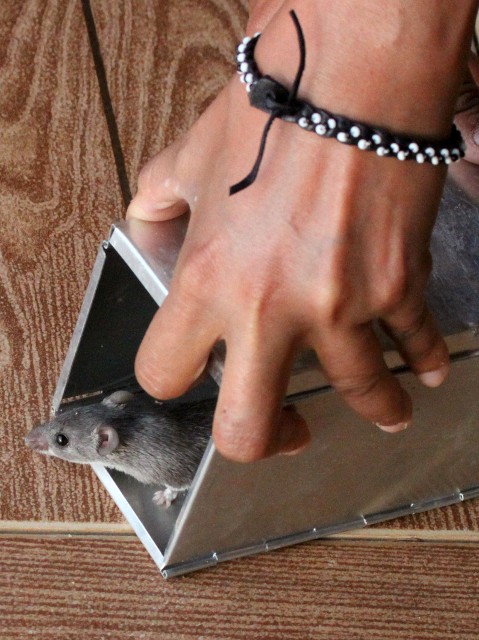 We did manage to trap a few endemic Ethiopian White-footed Mice (Myomys albipes) at the Paradise Lodge.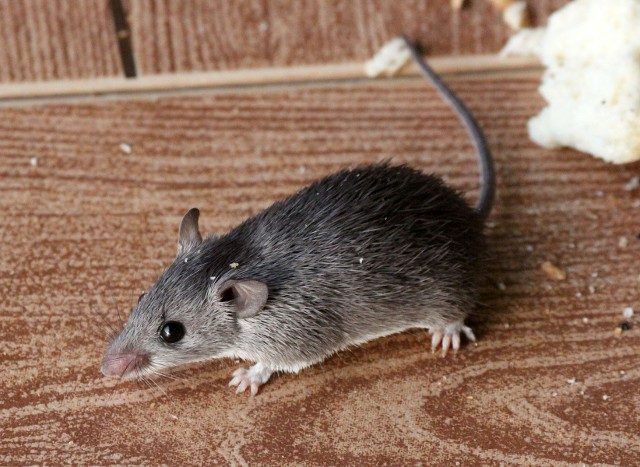 Ethiopian White-footed Mouse
Chencha Village & the Dorze People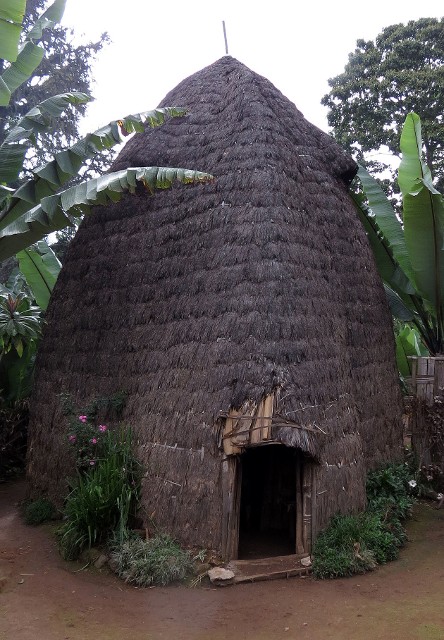 The typical Dorze home, the bee-hive or elephant-head hut, whose height continually falls due to termite action. The door you see here was once tall enough for a person to simply walk through...not now however. The older homes are less than two meters tall and can be 50-80 years old.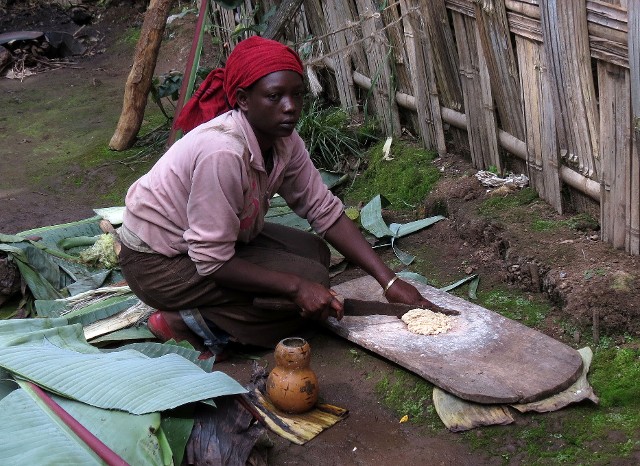 The Dorze exemplify the quitessential "banana culture". Virtually every aspect of their lives from food to homes to clothing to booze comes from the local variety of banana.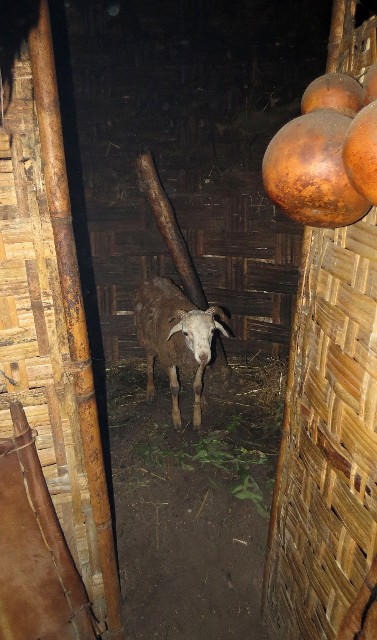 As with many cultures in Africa, the livestock live in the house with the family.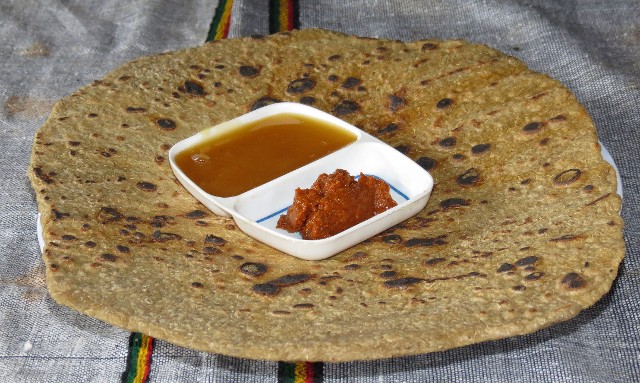 Banana Firfir and banana-based Pili Pili! Spicy doesn't even begin to describe how hot this stuff was!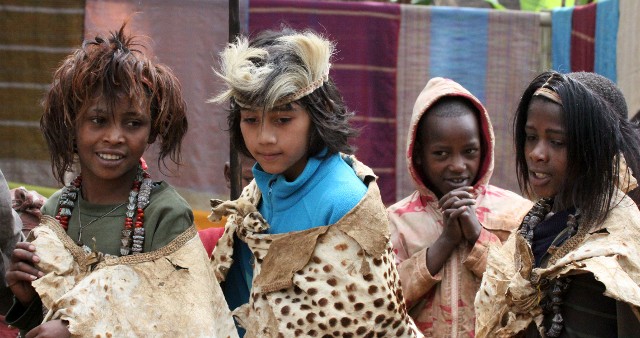 The local kids included Cokie in a classic Dorze dance and sing-along. Cokie genuinely loved it!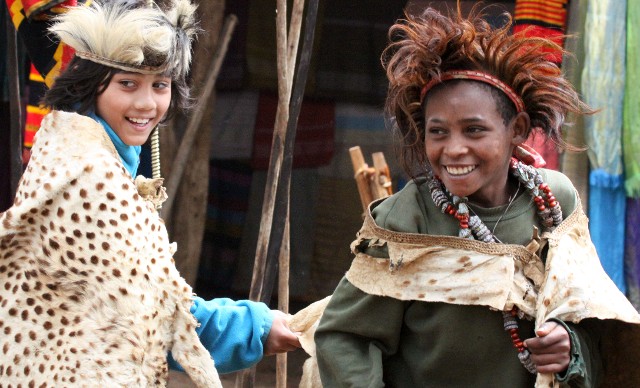 Cokie was having a great day.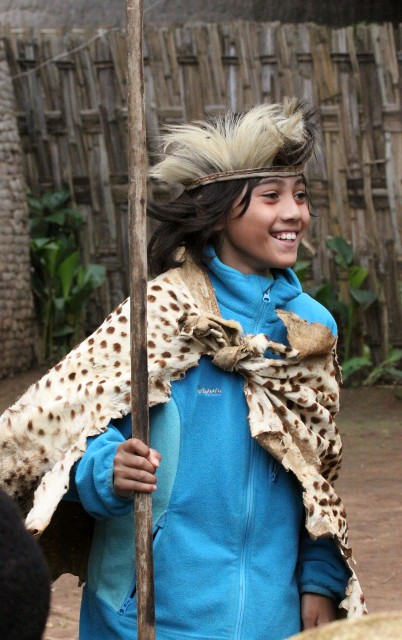 My little Dorze tribesman...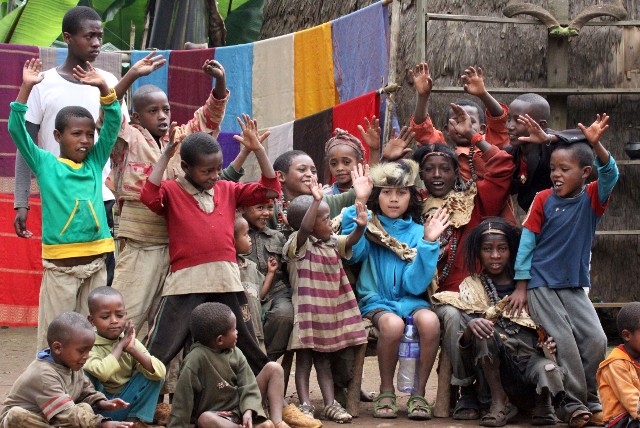 I love how Cokie can simply get in to virtually anything that is thrown at him. He is so confident and able to fit in anywhere...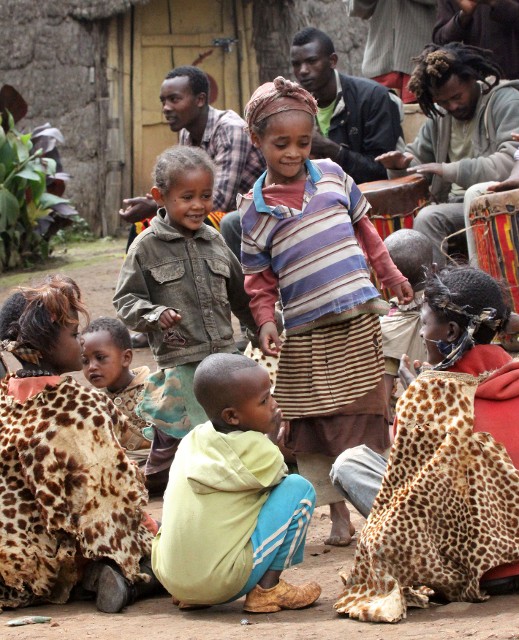 This two little girls were dancing their hearts out!
Check Out Our YouTube for Cokie's Dorze Dance

Lake Awassa

Lake Awassa seen from the fish market.
After a couple nice nights in Arbaminch, we headed to Lake Awassa, which for mammal watchers is pretty much skipable, unless you have failed to see the Colobus or Grivet Monkeys by this stage of your trip. The lake is mainly for birders, but the Italian Restaurant is worth the visit! Ethiopia has an interesting affection for Italian cuisine it appears… We spent our wildlife-viewing time at the two fish markets in Awassa. There were nearly as many Marabou Storks as there were people! But they were interesting places to visit and we enjoyed the place. We stayed at the African United Lodge, which is also skipable. Not sure why we stayed here actually as it was pretty much a dump and should not be on any itinerary, but it was only one night and we were so tired we went directly to sleep so no complaints.
Grivet Monkeys were all over the fish markets at Lake Awassa. In fact, Grivet Monkeys were found in most low-altittude locations on the trip.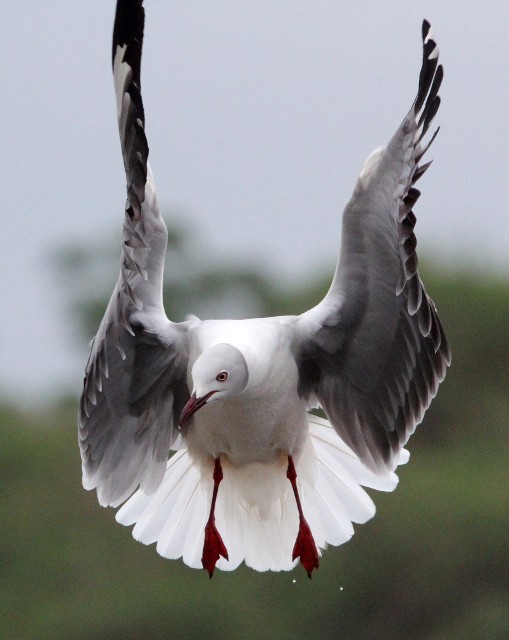 Lake Awassa was mostly a birder's haunt with not much in the way of new mammal species, but it was still nice to see Grey-headed Gulls with their grey heads for a change!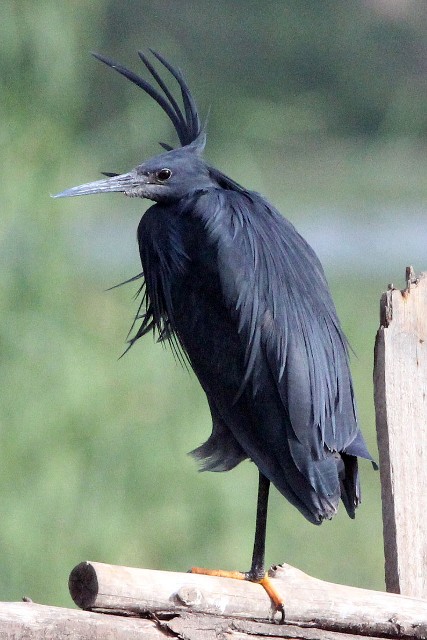 Seeing my first Black Heron at Lake Awassa was superb!
Bale Mountains National Park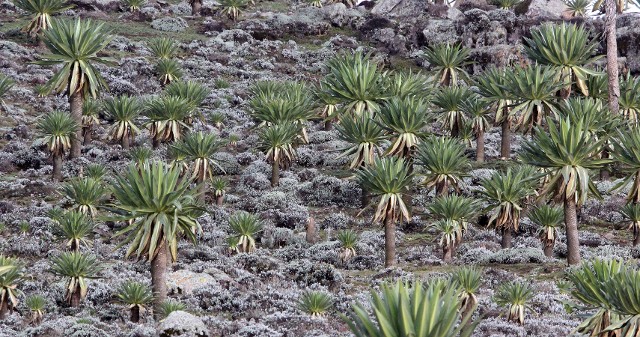 The Sanetti Plateau of the Bale Mountains is populated by the unique endemic Giant Lobelia (Lobelia rhyncopetalum) which can form large stands on the high plateau.
From Awassa to my main destination, the Bale Mountains, was a quick 4-5 hour drive through some spectacular countryside. Initially rolling mountains with villages, the topography took a quick turn toward the mountainous. While we were still seeing ominous clouds, we were lucky enough to have a great-weather-drive through the foothills of the Bales! By slightly after we arrived in the Gaysay plains or grasslands of Bale Mountains National Park. We were greeted by several herds of the endemic Mountain Nyala and I think more Warthogs than exist anywhere else in Africa! There were a few Menelik's Bushbucks on the fringes as well. We were afforded views of all of the peaks and valleys of the Bale Mountains as well. What struck me immediately is how my people were strolling through the meadows. Literally hundreds of people in every direction!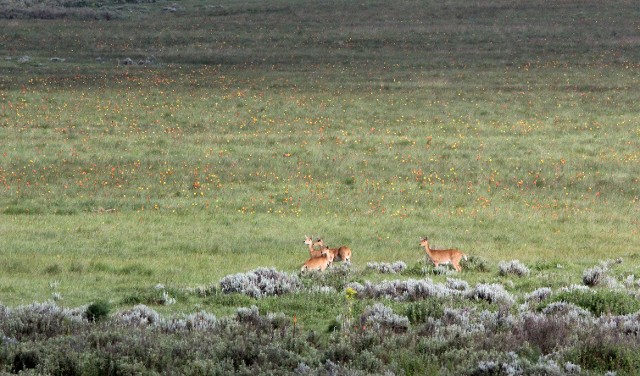 Bale Mountain's spectacular Gaysay Grasslands were repleat with shooting-star flowers and Bohor Reedbuck.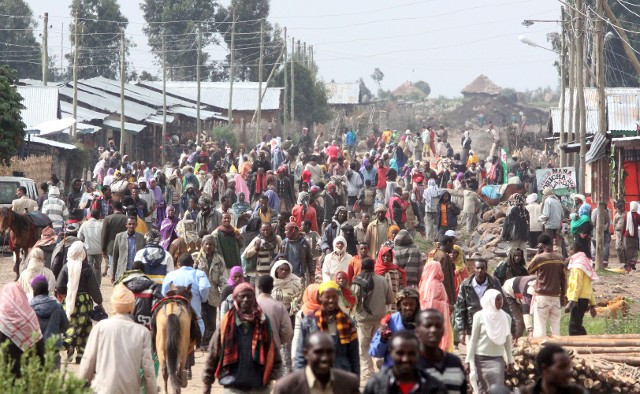 Market Day at Dinsho...How do you drive through this? And we had critters to see!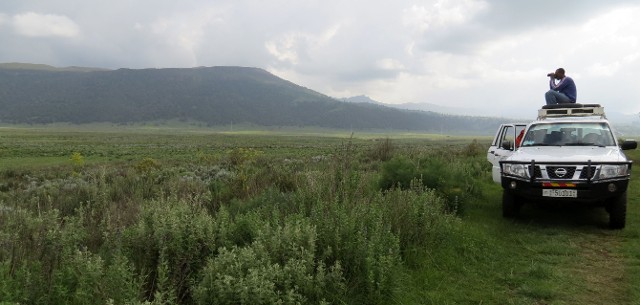 Abiy scanning the Gaysay Plains for Serval and other wildlife. We got 'em!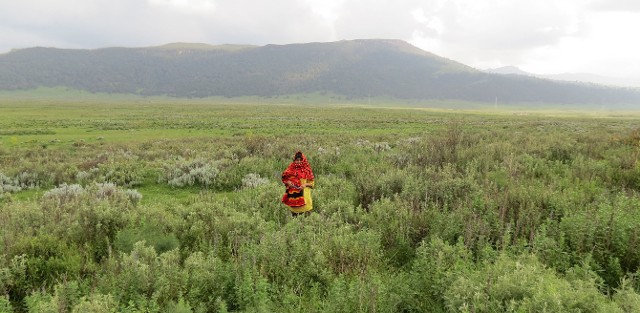 Som in her Ethiopian scarf searching for Serval... It ends up that she was standing most likely ten meters away from one in the grass!

Once we checked in to the national park we proceeded on an afternoon trek around the Dinsho Headquarters in search of close-up views of the main attractions – Menelik's Bushbuck, Mountain Nyala and the Bohor Reedbuck. We were successful in all categories and even got a couple good looks at the local Red (Bush) Duikers as well. Near the headquarters there seem to be local, and obediently waiting, herds of all of the above, which allowed for some great shots of these exceedingly rare critters.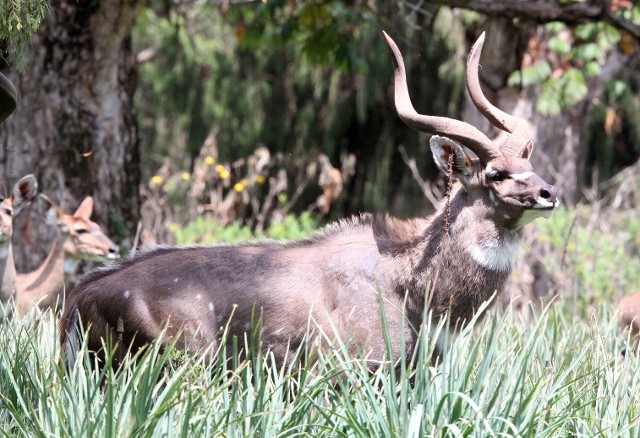 We came across two very large herds of Mountain Nyala while trekking the forests of Dinsho. This full-adult buck paused long enough to check us out as well.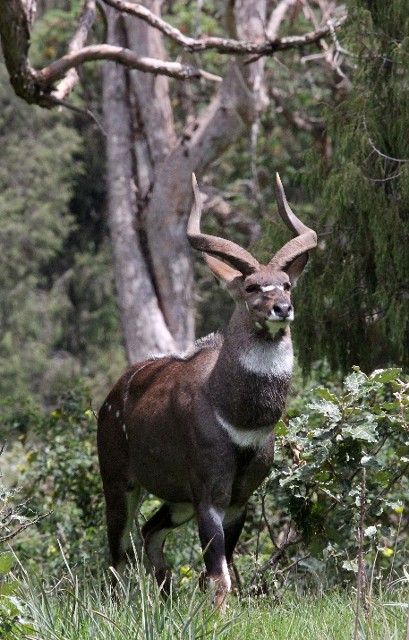 The mountain Nyala appear to be considerably larger than their southern relatives.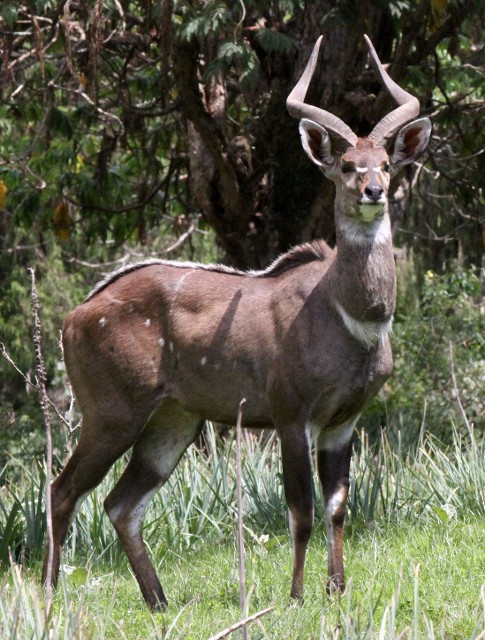 A sub-adult male Mountain Nyala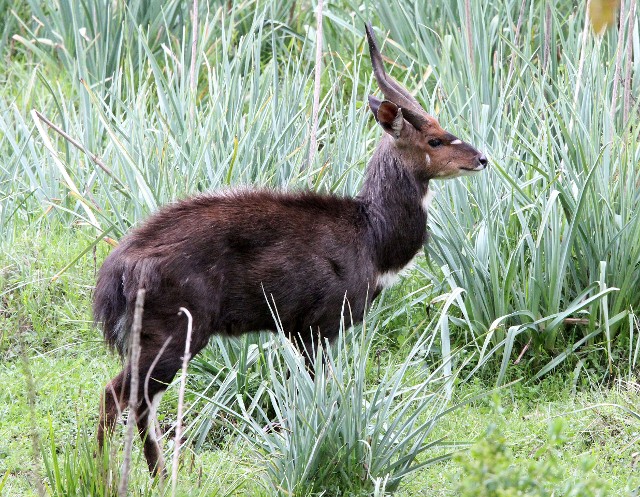 Menelik's Bushbuck were no where near as common as the Mountain Nyala, but with a little searching, we did come across a nice male and several females.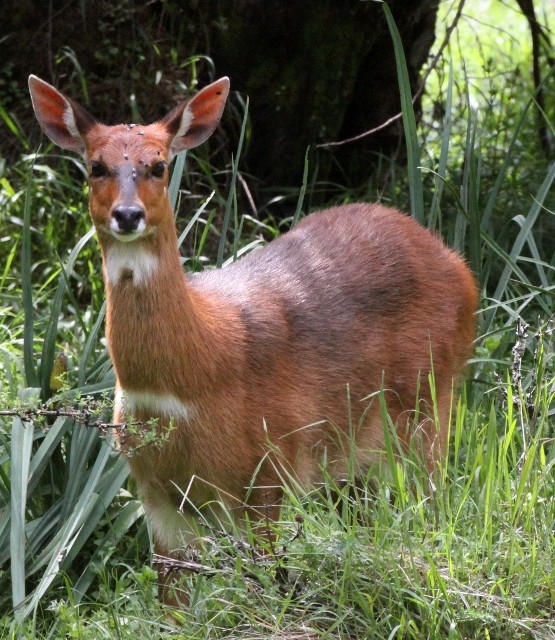 Female Menelik's Bushbuck at Dinsho.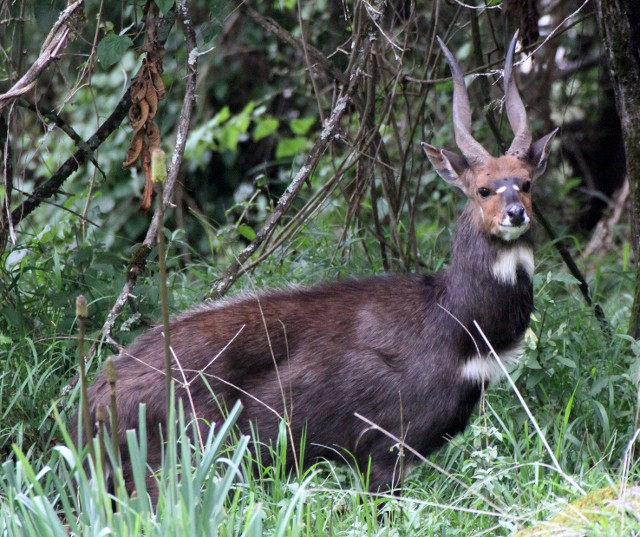 Menelik's Bushbuck - Dinsho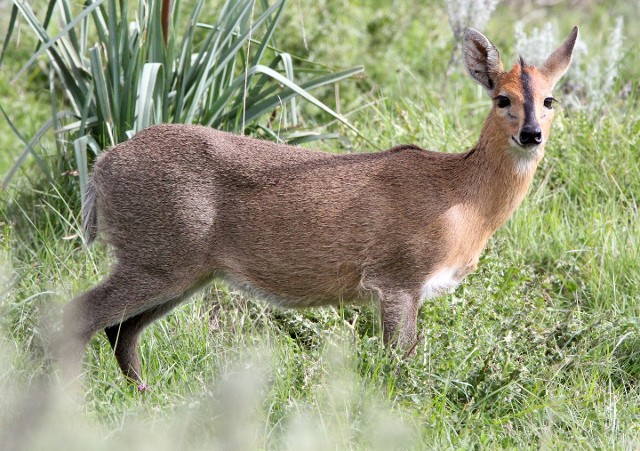 We came across many Red (=Common or Grey) Duikers while at Dinsho and the Gaysay Grasslands. This one was calmly observing us on the plains during our first afternoon in the region.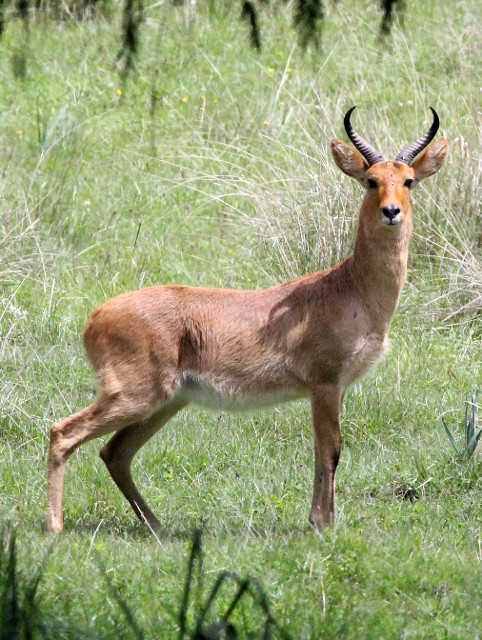 Bohor Reedbuck were commonly seen with the large herds of Mountain Nyala at Dinsho.

Our afternoon was spent back on the Gaysay plains basically game-driving the area in search or the elusive Serval. After about a couple hours of scanning the plains, our national park guide, "Tom", got one! He called us over to the site (via cell phone of course…) to search for him. We scoured the scrublands for this hard-to-see kitten, and only I got a very brief (and admittedly frustrating) view of the Serval galloping off in to the sunset. We continued our search for a bit longer, but the clouds were becoming VERY forbidding… And sure enough they unleashed on us and turned the dirt roads in to mud-based ice sheets! And our course our four-wheel drive function on our Nissan Patrol decided to break at this moment… We spent the next hour or more attempting to "Unstuck" our vehicle, with little luck… And the Abiy asked if Som could drive a manual transmission. Knowing that Som could barely drive an automatic, I blurted out "no!"…but she decided to give it a try! And luckily she did as she was able to get us out (with the assistance of the third man behind the rear pushing) before dark set in and the real downpours started! Looking back at it, the whole experience was quite exciting…And watching Som tear up that muddy road was pretty awesome…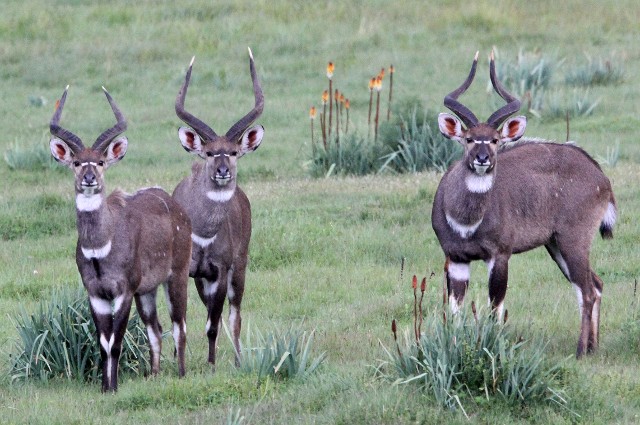 Three glorious male Mountain Nyala on Gaysay Plains. Note the beige tips of their horns indicating full adult status.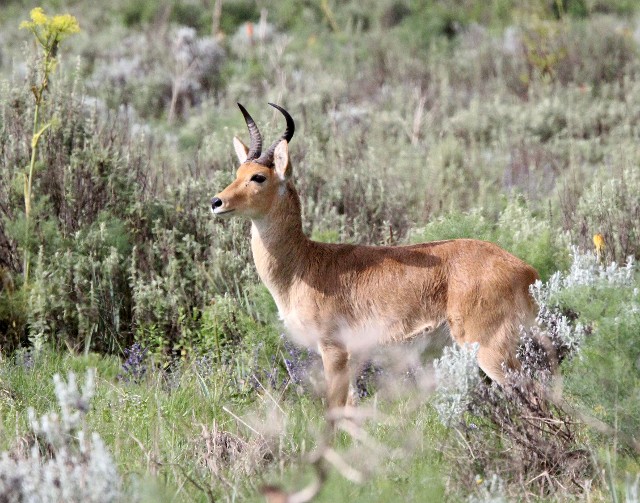 Bohor Reedbuck were very common out on the Gaysay Grasslands this afternoon.
Olive Baboons were very common in the Gaysay Plains. Cokie called this one the "poofy subspecies" as its fur was very... hmmm....poofy!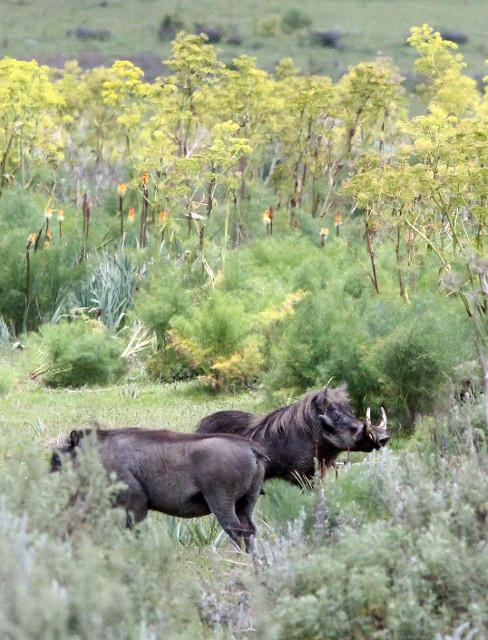 Many of the mammal species at the Bale Mountains looked distinctively different than their relatives elsewhere, and these Warthogs were no different!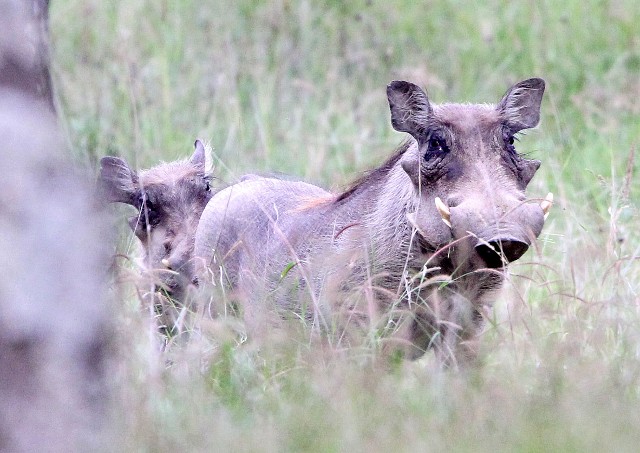 Bale Mountains Warthogs in the Gaysay Plains.

It poured ferociously all night long and I was pretty much resigned to the fact that the warnings from more than one colleague about going to Ethiopia in the rainy season, were correct. We spent the night at the Dinsho Headquarters "Lodge", which was basically an electricity-less, water-less dwelling, but it was dry and relatively warm…It would have been perfectly fine if it weren't for the bedbugs….loads of them! And we all enjoyed the candle-lit dinner of Injera Firfir with several rounds of vodka to keep us warm. At the end of the trip, we all agreed that this evening was one of the more memorable and special of the entire expedition. And it was this evening that Abiy basically became part of the family.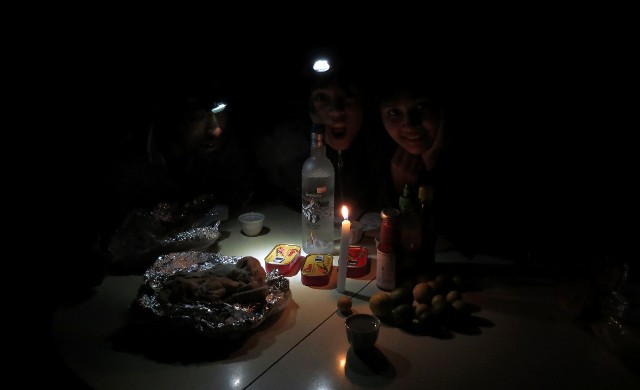 Our lovely Injera Firfir, sardine and boiled egg-dinner at the Dinsho Headquarters with no power and a deafening rainstorm outside. This was a truly great evening! Travel experiences like these are precious.
We woke to the sound of rain, yet again. Both Abiy and I were looking at each other with the, "well, who knows, maybe we will see something afterall"-look… But we both knew the chances with this sort of deluge were slim. The clouds were low and nothing but impenetrable fog is what awaited us for sure. We drove the 72 km or so from Dinsho to the town of Goba, checked in to the Wabashelle Hotel, and then onward to the mountains, where we were in the middle of a sizable storm with a very low cloud layer…not looking good. After penetrating the onslaught of humanity heading through the storm on the main highway to the Goba market, we started our ascent to the heights of the moorlands of the Bale Mountains. The fog did nothing but become thicker and thicker….
The day did not seem to be one that would end well. Our climb up the Bale Mountains only seemed to become gloomier and gloomier. We could see a whopping 3-10 meters in any direction and spotting wolves off in the distance would be completely out of the question. Well, at least we had three full days…, I thought silently. But after a few more kilometers up the hill, things started to change. The visibility started to increase to a few dozen meters, and eventually to a couple hundred! I kept asking Abiy if this was "wolf country?", hoping that this most-likely short window of opportunity would allow us a glimpse of just one….And his reply was, "not yet"…. I was like a kid asking if Santa had arrived yet!
Once we were squarely in the heath scrublands of the Bale, we were blessed with superb visibility – high clouds with great light! I could not believe that we had actually ascended above the squall below and were in some of the best light a photographer could hope for! After passing several kilometers of some of the best rodent action I have ever seen, with at least four species of endemic rodents, we finally found our main target: At exactly , Abiy (and Som) said in unison, "there's a wolf!" I got it in my sights and started to click! No Nat Geo images were to come of this distant beast, but the emotions I felt finally seeing my first Ethiopian Wolf were intense. After nearly twenty years of dreaming of seeing this species in its native habitat, I finally had one! And that one was actually two! Som and I tracked these two for some few hundred meters. We could both feel our chest beat as we were struggling to breathe at this altitude of nearly 4300 meters.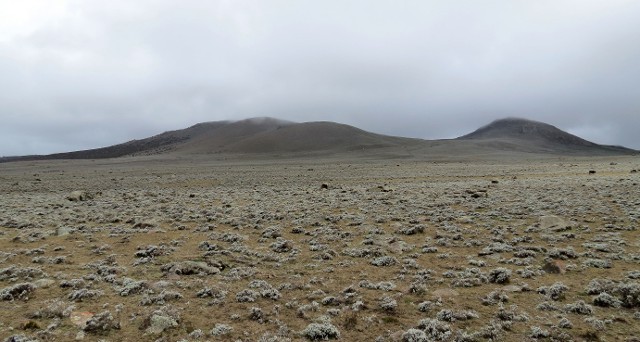 The vast and expansive Sanetti Plateau of Bale Mountains NP.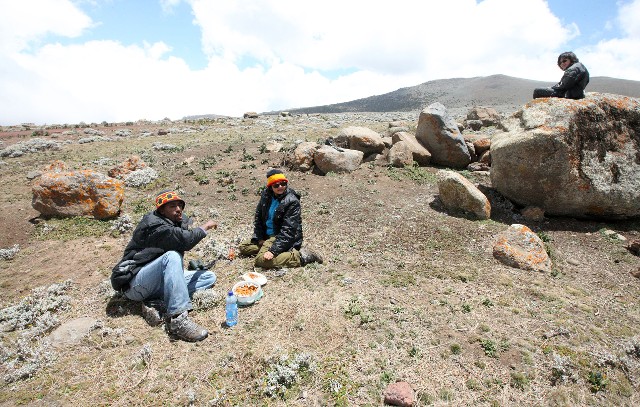 Our favorite Ethiopian picnic! Injera Firfir for lunch! Nothing quite like local food in a wilderness like this. Seriously great experience - great grub, great company and great scenery...And Ethiopian Wolves for dessert!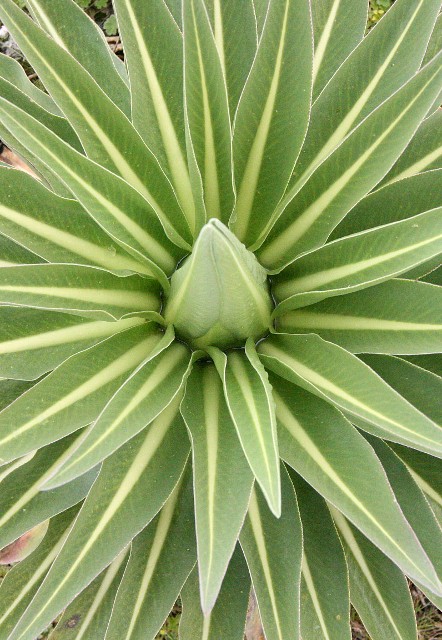 The Bale Mountains Giant Lobelia (Lobelia rhyncopetalum) was common and spetacular on the high Sanetti Plateau.
Here is a good website with information on the flora of the Bale Mountains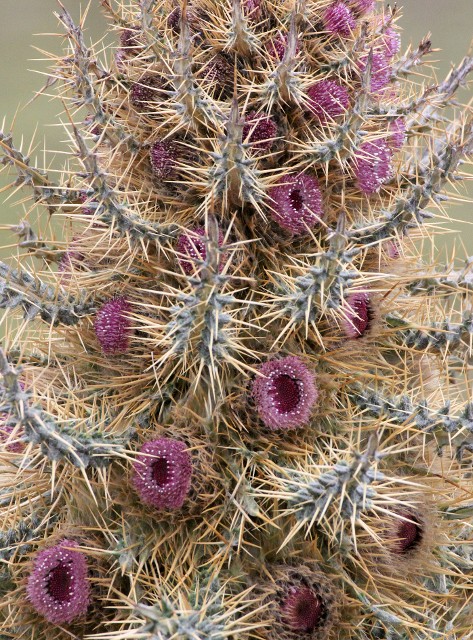 I would love to know what this strange spiny, anemone-looking plant is that we found in only one location in the Bale Mountains, Ouch!
Ethiopian Wolf (Canis simensis)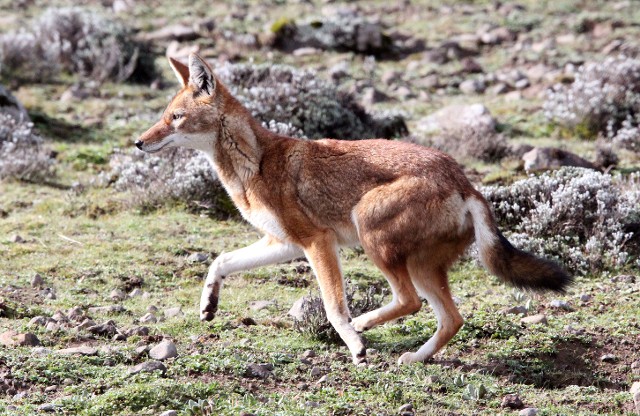 I was thrilled beyond words to finally see my very first Ethiopian Wolf strolling the vast Senetti Plateau of Ethiopia's Bale Mountains.
Check out our Pbase Galleries for more images of Ethiopian Wolves!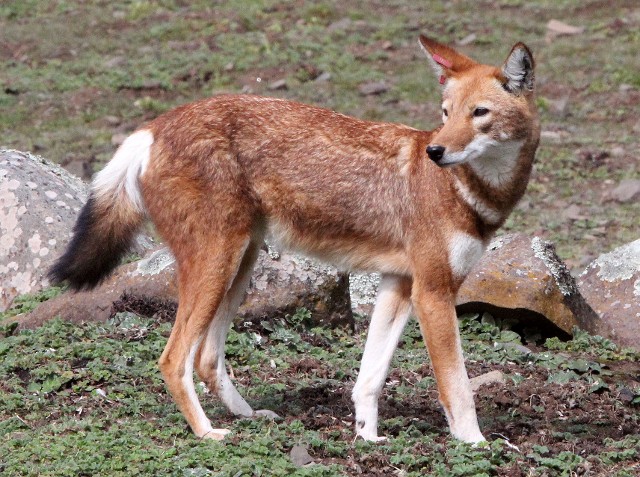 On our first day we saw 13 wolves! Day two, 19! And day three, 15!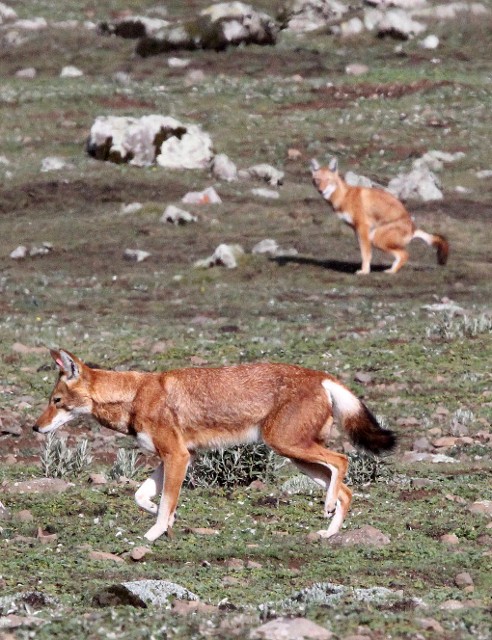 We had many hours of wolf-observation time in during the three days we spent with them, so we had time to see some quality behavior. One thing I noticed was that the first thing they like to do after waking up and starting their patrol was to take a nice dump....How human of them!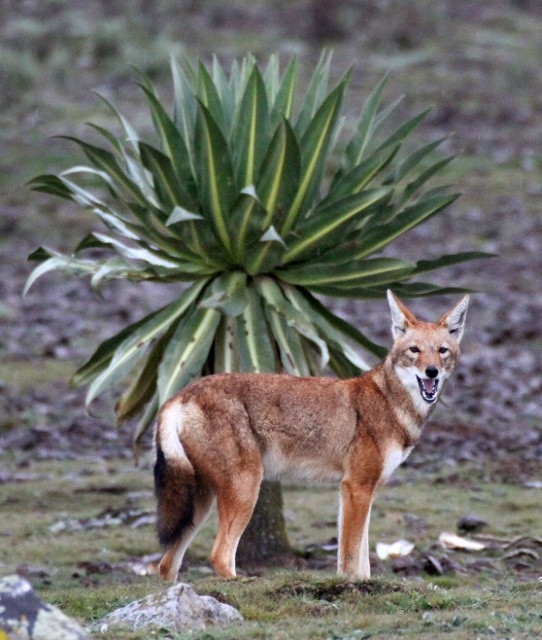 Wolf country is right up there in the giant Lobelia (Lobelia rhyncopetalum) zone of the Bale Mountains. This wolf was speaking to us for about 15 minutes!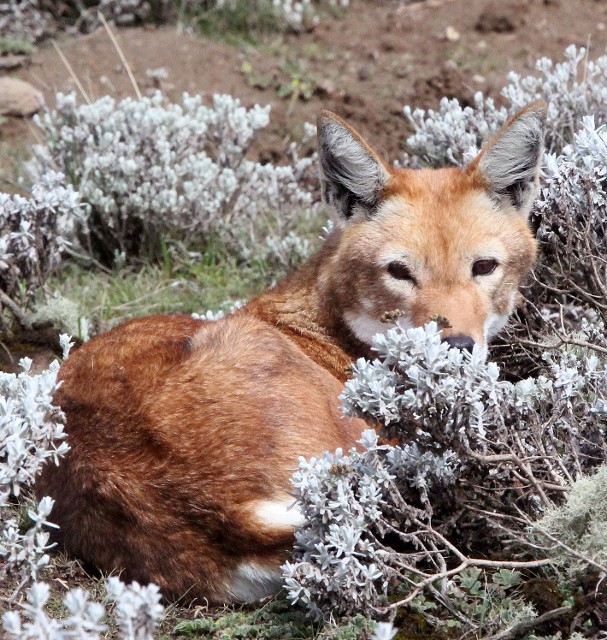 We caught many of our wolves napping in the Artemesia sp. scrub...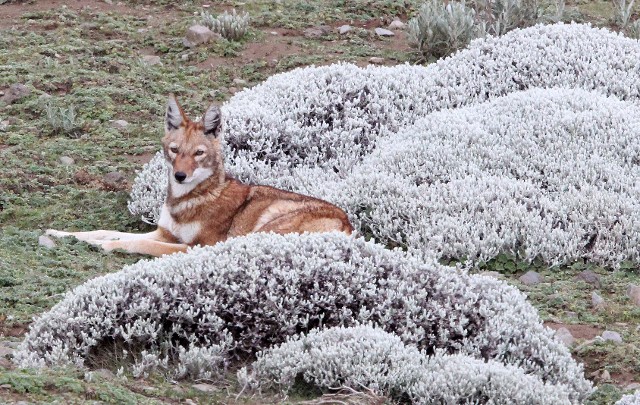 Hey! Wake up!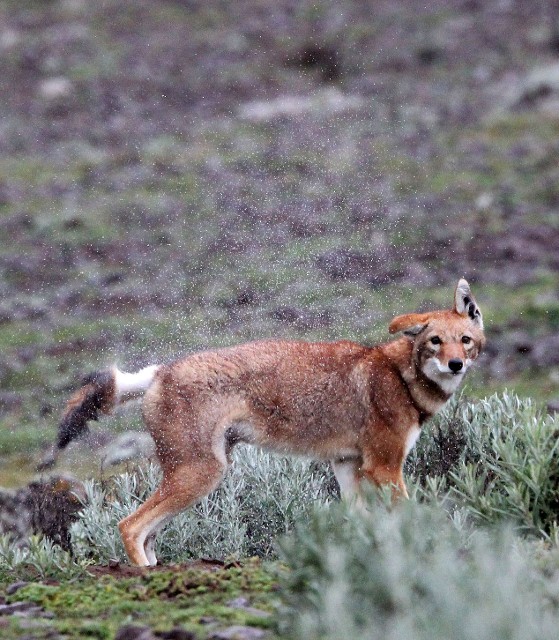 The weather in the mountains was pretty variable. The rain did not slow the wolves at all however. They just shook it off and went back to work hunting rodents!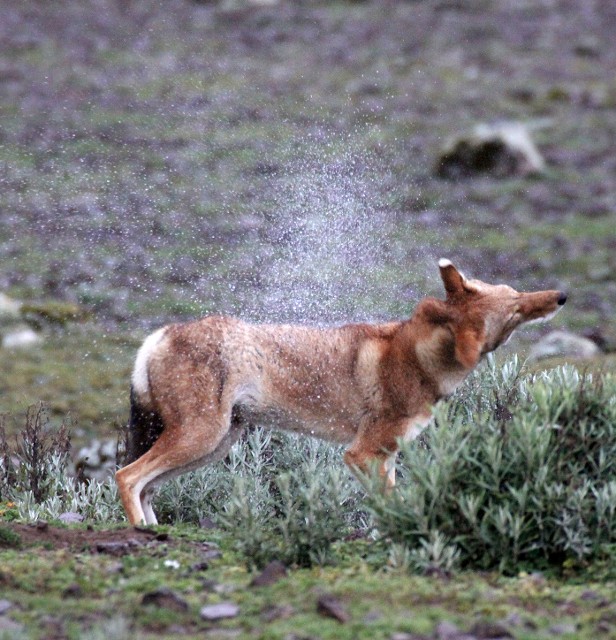 Shake it off!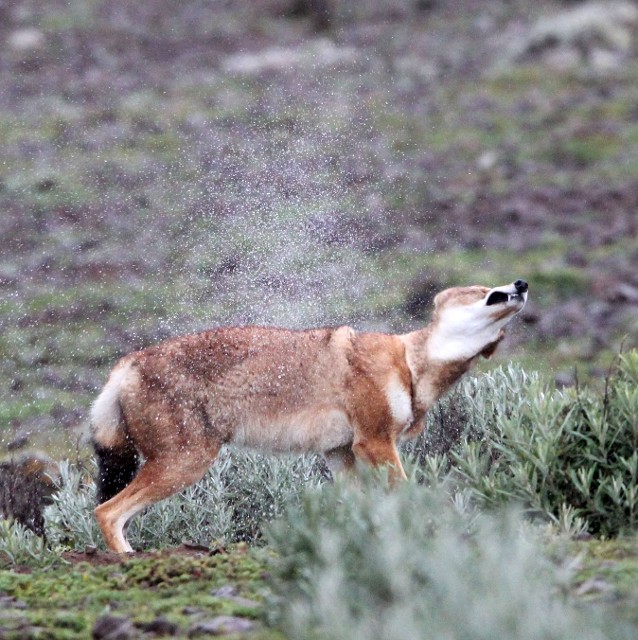 Now I am ready to hunt!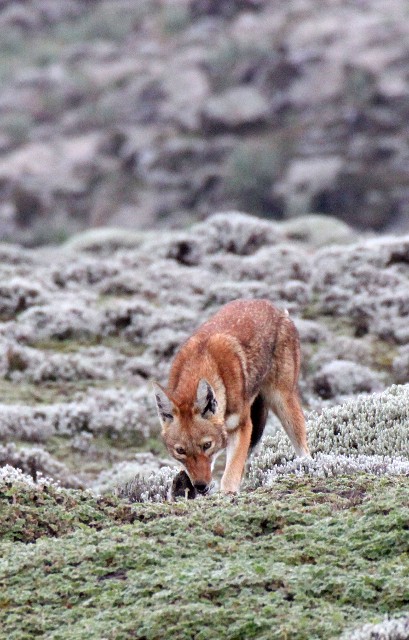 We watched many hunts. This wolf is killing what I believe to be a Brush-furred Rat, one of the favorite delicacies for the wolves in the Bale Mountains.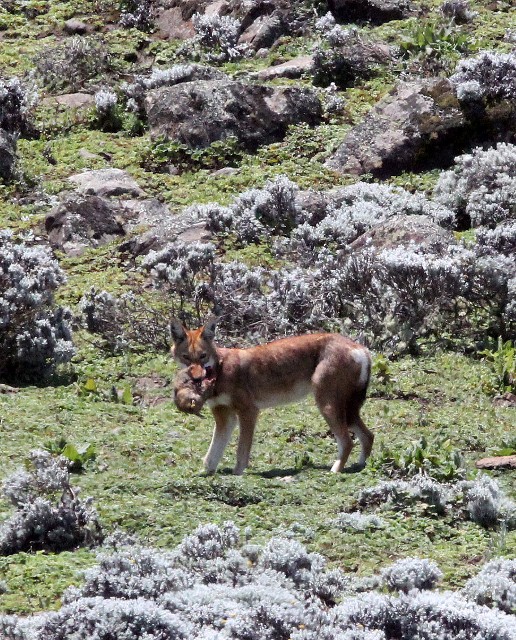 There is not doubt however that the favorite meal is the omnipresent Giant Mole Rat, which this wolf killed right before our eyes!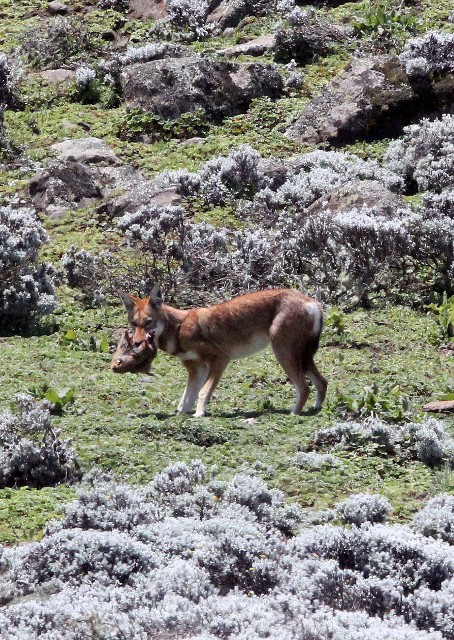 Yummy!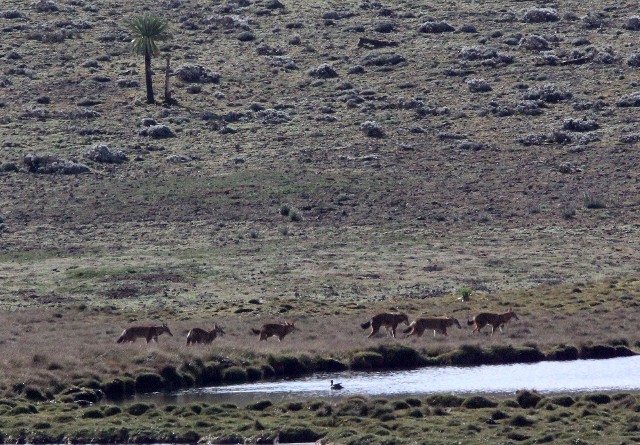 We saw many "family gatherings" while in the Bale Mountains. This group of SIX wolves soon became seven after joining with what was most likely another family member.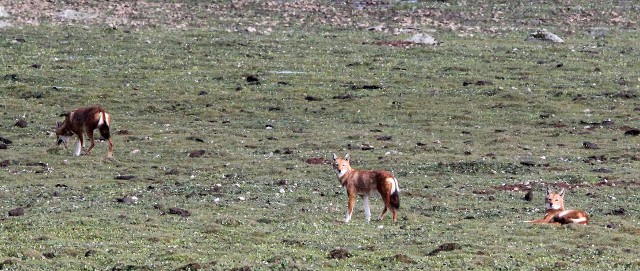 Three buddies starting their day on the Sanetti Plateau.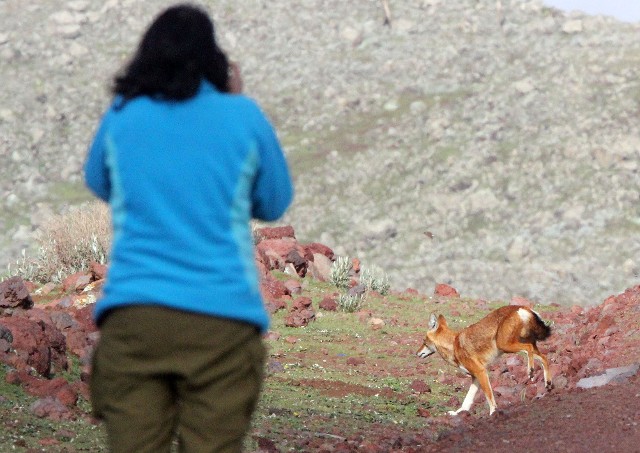 Som no doubt getting some killer images of this one!
Check out our other images of Ethiopian Wolves in our gallery!
Check Out Our YouTube for Our Amazing Conversation with an Ethiopian Wolf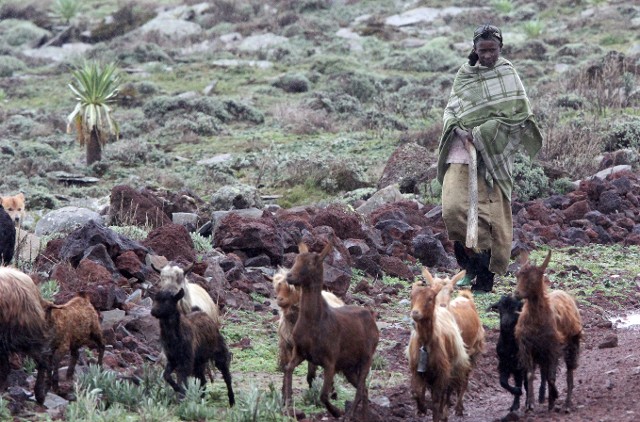 It was very depressing observing the amount of grazing that was allowed on the Sanetti Plateau. There appears to be absolutely no regulation whatsoever of the goat and cattle herds that are completely devastating the habitat in the national park. The situation in the Bale Mountains, and basically ALL Ethiopian parks, is simply unsustainable.
We spent the next five or more hours coursing the highlands of the Bale Range searching for ever better photo-ops of the wolf, rats and other species that populate the Bale Mountains. When we finally decided to call it a day, we had a grand total of 13 wolves! One of Abiy's best days for sure! And of course this ranked as the best day for me for the entire Africa 2012 expedition! After starting the day with great pessimism, we nailed ALL of our highland targets, and even got some outstanding views and images to boot! What a day! Now all that was left for the next two FULL days was the Bale Monkey and some hopes of better images of the species we'd seen so far.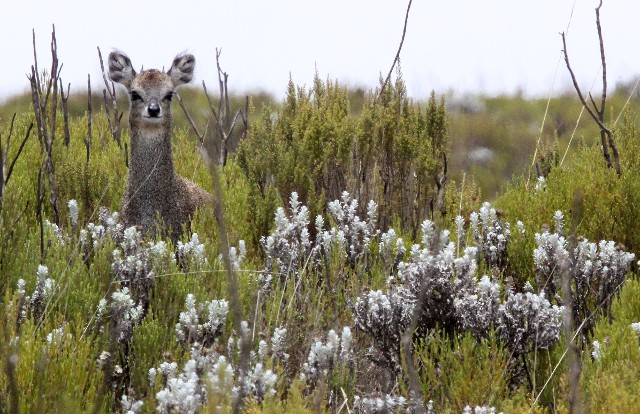 Ethiopian Highland Klipspringer (Oreotragus saltatrixoides) were very common both at the Bale Mountains and the Simiens. This one was seen spying on us at the Sanetti Plateau, Bale Mountains.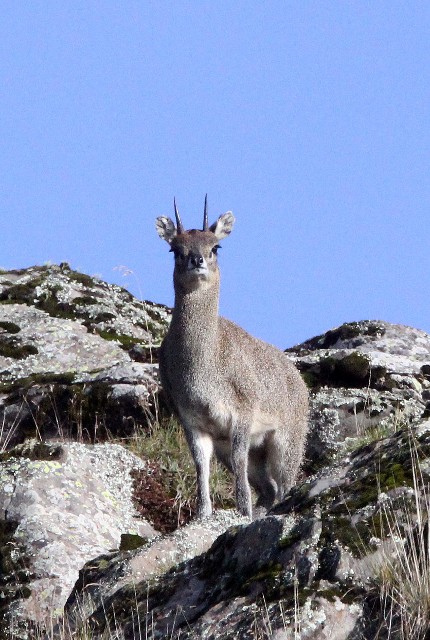 Ethiopian Highland Kilpspringer at Bale Mountains.
Starck's Hare were very common on the Sanetti Plateau.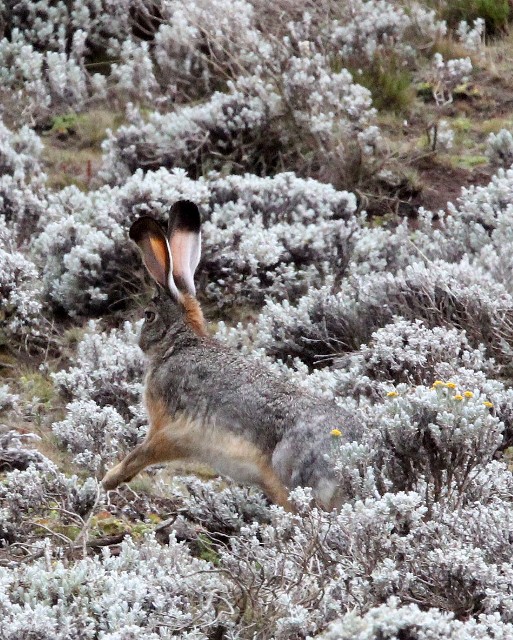 Off he goes!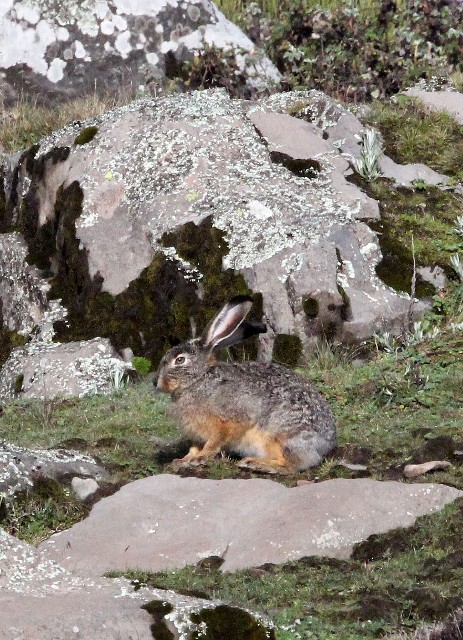 Starck's Hare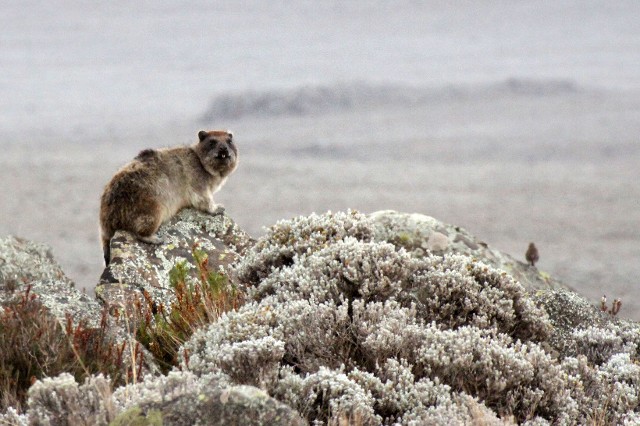 Abyssinian Rock Hyraxes were common in the rock outcroppings on Sanetti Plateau.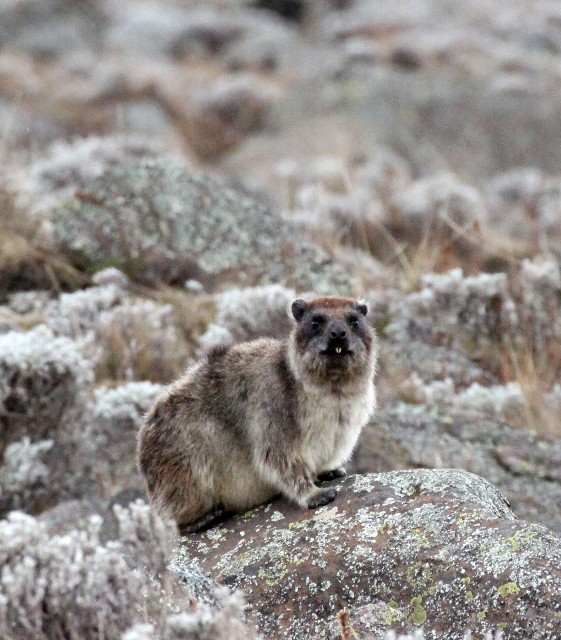 Abyssinian Rock Hyrax. There is debate about whether or not this is a uniques species or subspecies. For now I will stick with Kingdon's account.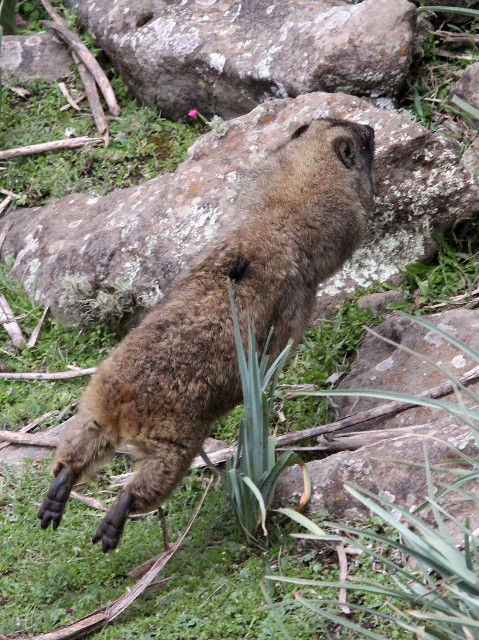 It was very impressive watching all of the Rock Hyraxes sprint for safety when an African Harrier Hawk flew overhead, obviously looking for a Hyrax-burger...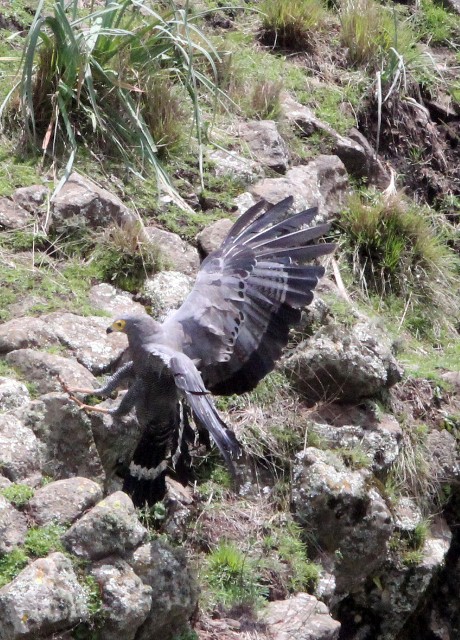 Here is the African Harrier Hawk that caused all of the commotion among the Rock Hyraxes.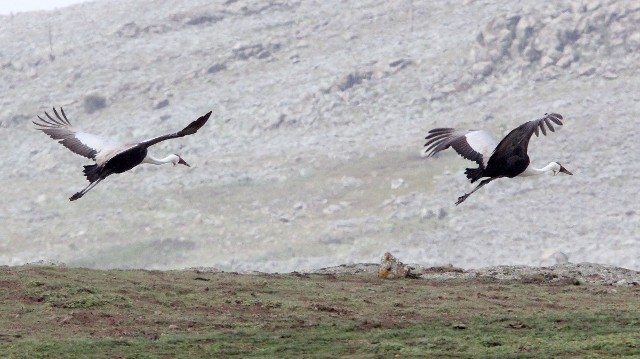 Wattled Cranes are a rarity but we did come a cross a nice pair during our three days on the Sanetti Plateau.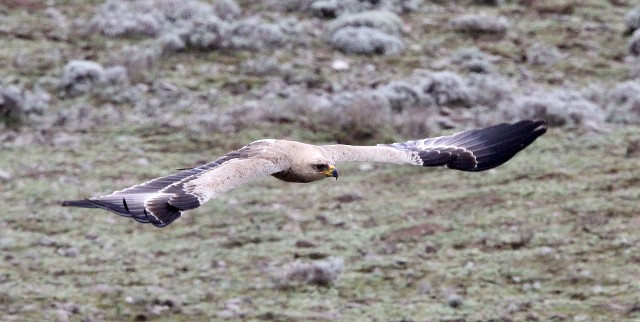 No doubt one of the bird highpoints for us was this very low-cruising Steppe Eagle seen hunting its way across the Sanetti Plateau.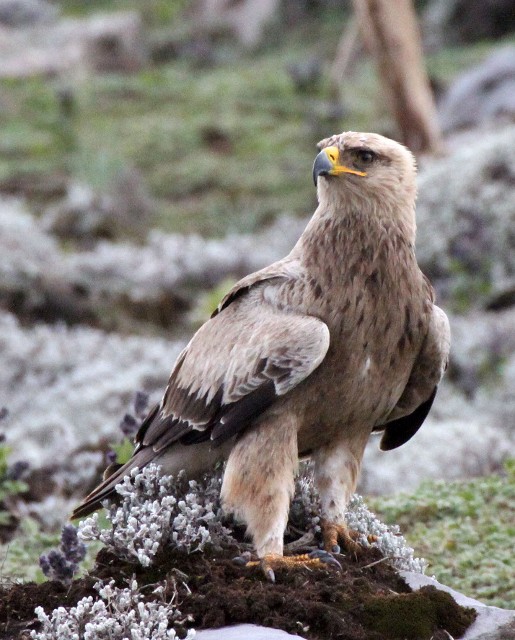 The last time I've seen a Steppe Eagle was in the steppes of Buryatia, Russia! Good to see you old friend! How is Lake Baikal? He stopped right next to Som to simply check her out.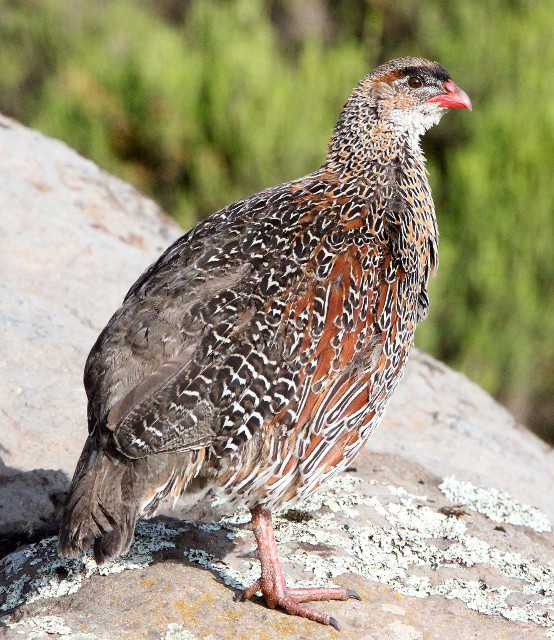 Moorland Francolins were just one of the many Ethiopia-endemics spotted in the Bale Mountains. This one found some good light!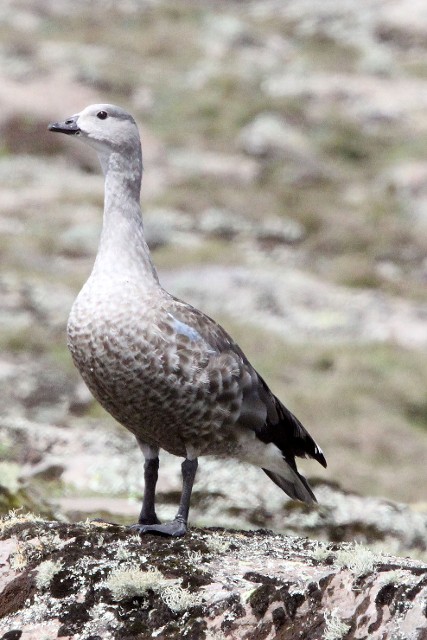 The Blue-winged Goose was another great Ethiopia-endemic seen during our stay at the Bale Mountains and the Sanetti Plateau.

Well, the next two days proved to be as good if not far better than the first. In fact the foul weather mostly left us behind, and we captured two of the most spectacular days one could dream of in the Bale Mountains. And what was even more amazing is that we bettered our first day's wolf score! On day two of our trip, Abiy was on a mission. His previous best was 17 wolves, but today we scored 19! Who knows, there may have been a couple double counts due to our returning on the same road, but there were 19 quality sightings of one of the rarest canids on earth. And for that we were all thrilled!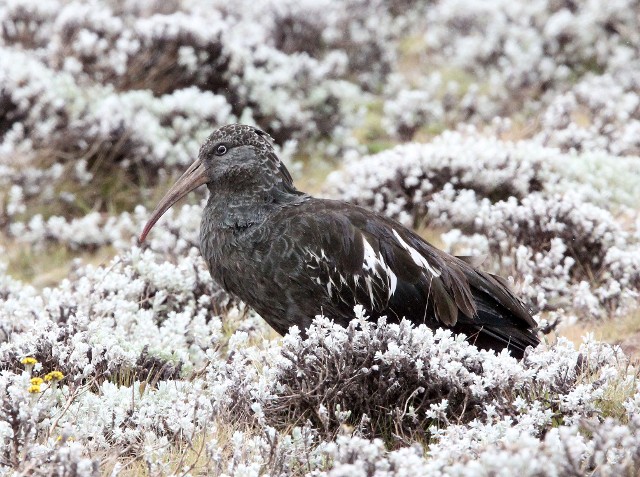 We saw literally hundreds of the endemic Ethiopian Wattled Ibis throughout the expedition, but the ones spotted in the moorlands of the Sanetti Plateau were poetic.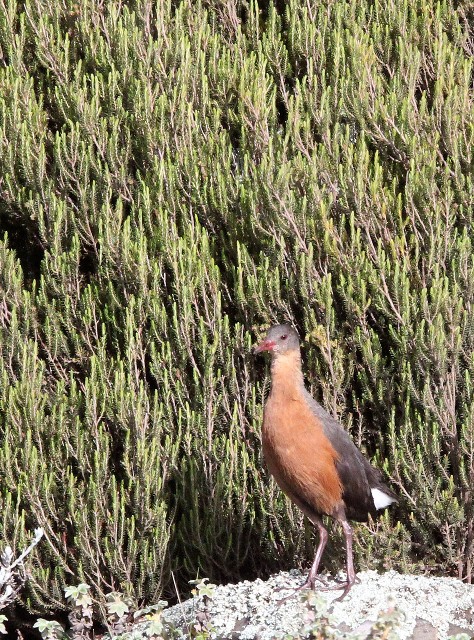 We spotted many Rouget's Rails while at the Bale Mountains. The locals call them the "Devil Bird" based on how easily they disappear from sight...It's true, they do...
Rodents of the Bale Mountains
(There is no doubt that rodents are the most important link in the Bale Mountains food web. I cannot recall ever seeing a place with higher densities of various species of rodents anywhere on earth. Identifying them was problematic in that the literature is poor and I am going purely on images, so please don't hesitate to correct my ID's if you know better! Seriously! Help!)
Check out this site for some pretty impressive information on the rodents of Bale Mountains National Park
Rhizomyid Giant Molerat (Tachyoryctes macrocephalus)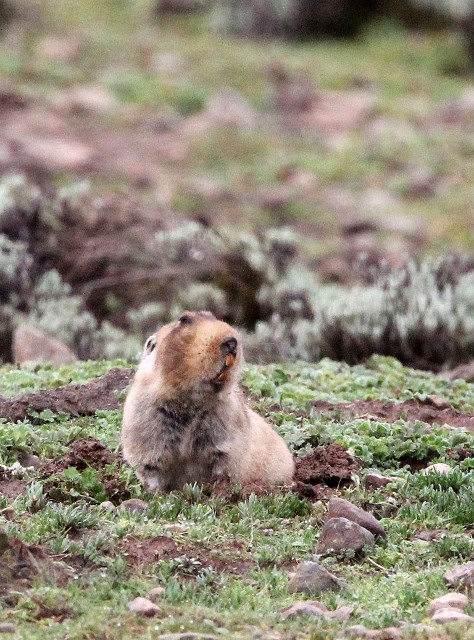 No question about it, the Giant Mole Rat is one of the coolest critters anywhere!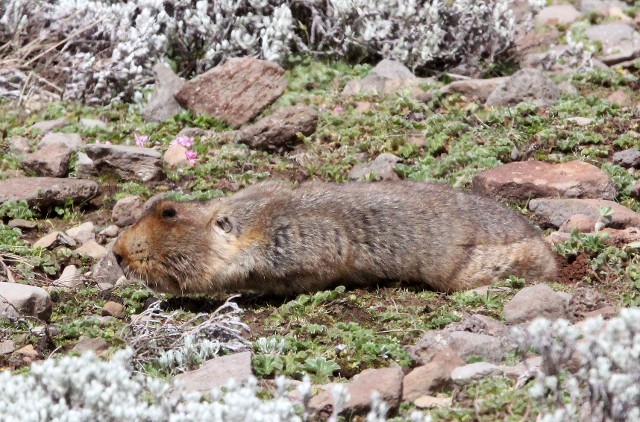 With their teeny, tiny little front legs...They look like a furry tube with a giant head. They are very nervous about coming too far out of their holes as they are the favorite lunch for the wolves and eagles on the Plateau.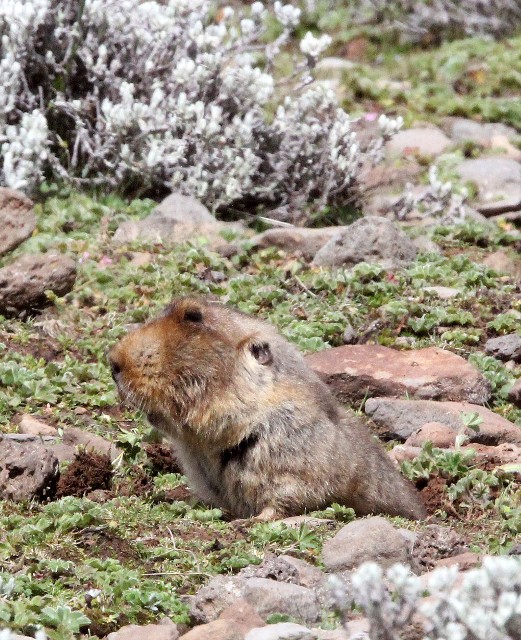 The Giant Mole Rat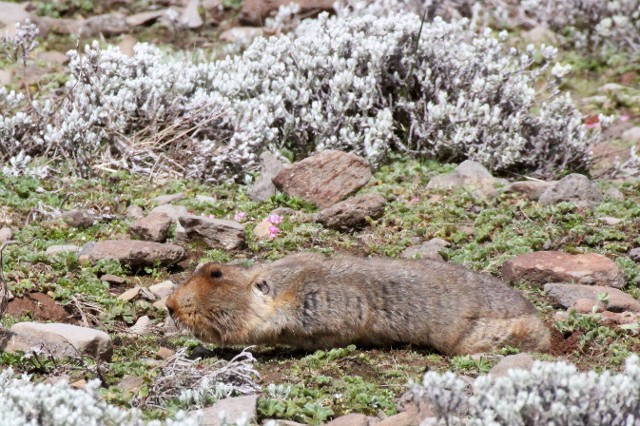 Look at those puny front legs...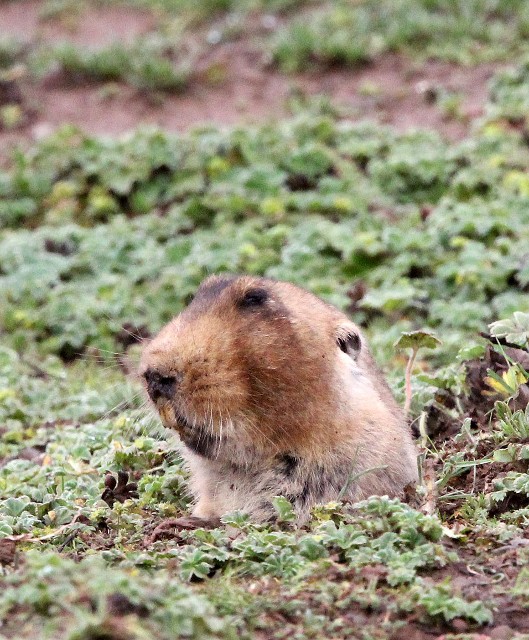 And their giant buck-teeth!

Other Rodents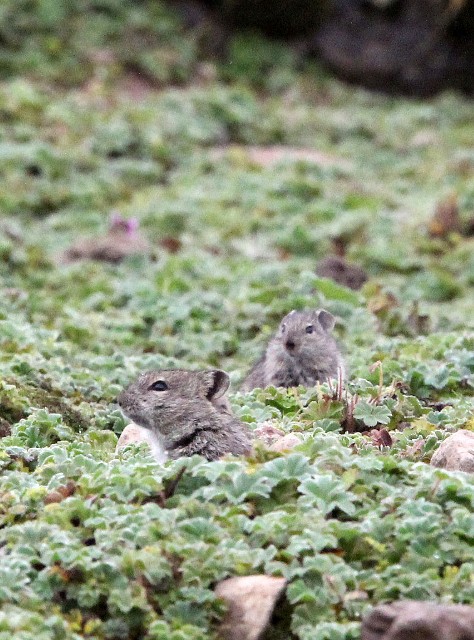 Blick's Grass Rats (?) were extremely common on the Sanetti Plateau.
Blick's Grass Rat taking a peek at us as we wait on the plateau.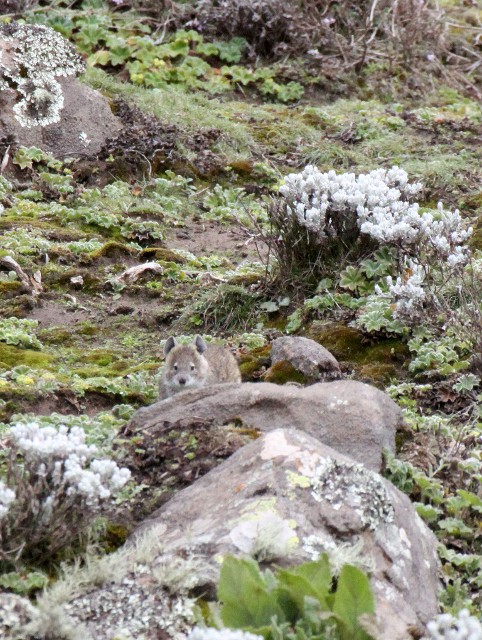 I believe this one to be either Stenocephalemys griseicaudata or S. albocaudata.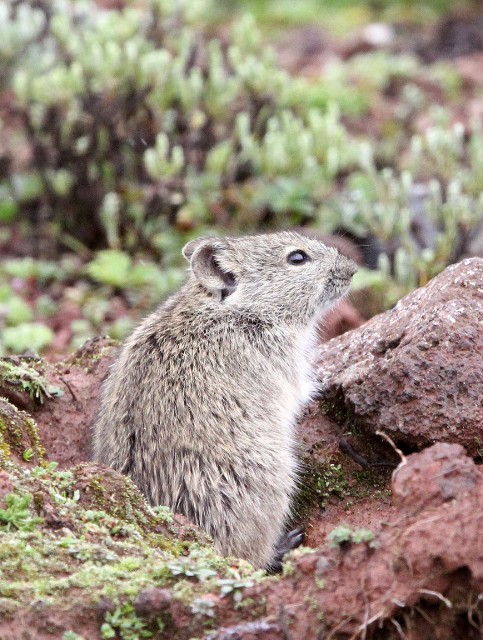 Ethiopian Grass Rats (Arvicanthus abyssinicus) were very commmon as well on the Plateau.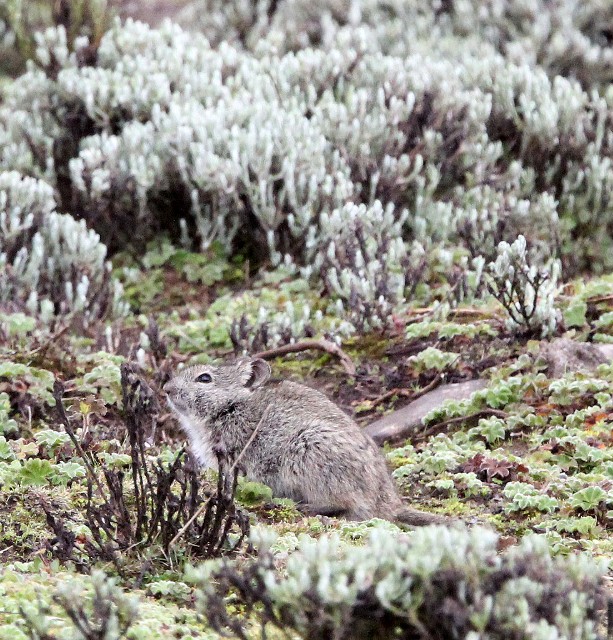 Arvicanthus abyssinicus (?) (Let me know if you have any better ideas!)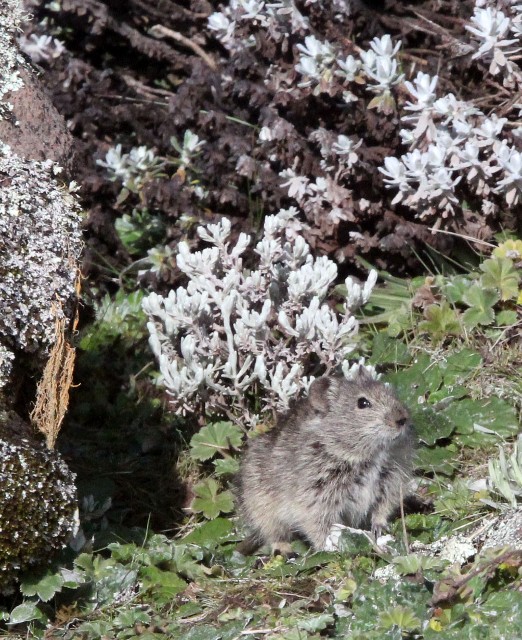 Arvicanthus abyssinicus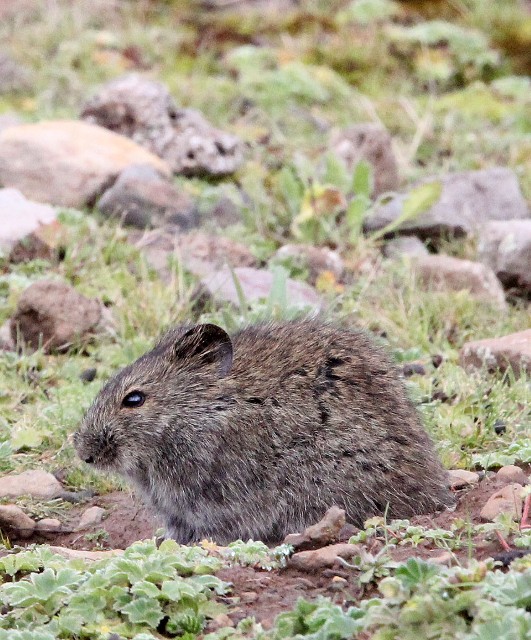 I believe this to be Otomys typus, the Typical Vlei Rat, which were very common on the plateau as well. This ID I am fairly confident...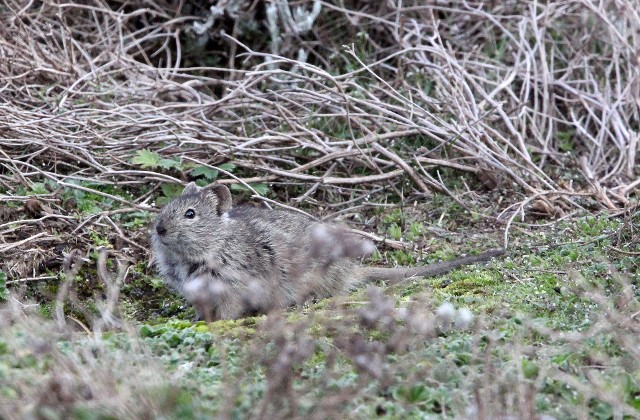 One of the Brush-furred Rat species on the Plateau.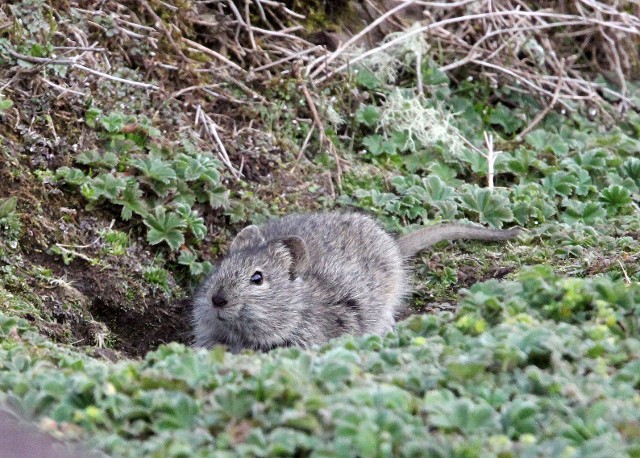 Taking refuge!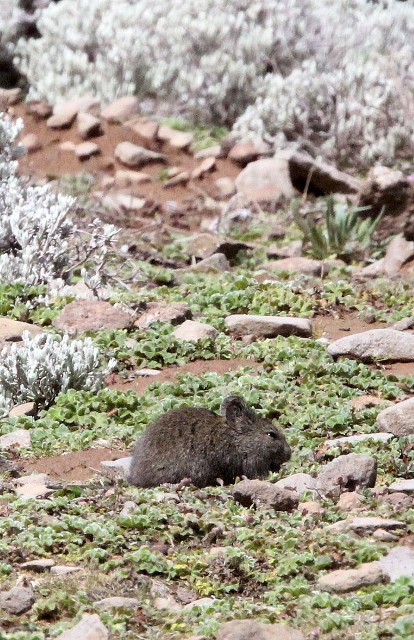 Otomys typus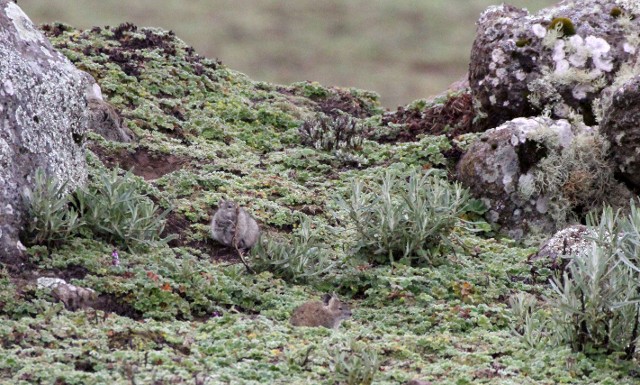 I want to say, Yellow-spotted Brush-furred Rat, but then again, maybe I should not say anything at all. Let's just say there were loads of rodents on the Sanetti Plateau of at least FIVE different species!
Harenna Forest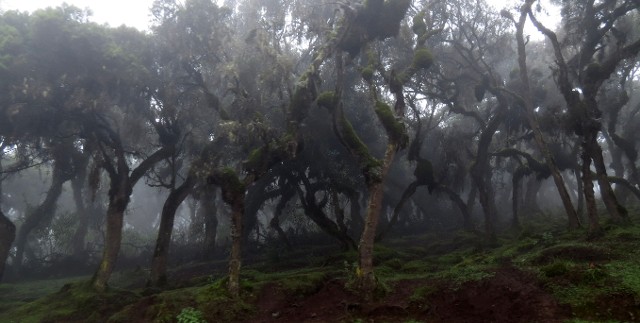 The fog gave the heather & juniper-dominated Harenna forest a fairytale feel.
On top of the record wolf sightings, we ventured down to the Harenna Forest for an attempt for the elusive Bale Monkey. Abiy knew the exact location to look and we headed toward the south and down the escarpment in to the surreal, Lord-of-the-Ring-looking Harrena Forest. As we descended the steep, muddy, and at points treacherous, road, the sunny day changed radically to a foggy, muddy, wet and drizzly day. The lichen and moss-draped heather trees were spectacularly enshrouded by fog. I was convinced that we would leave the fog belt behind as we descended low enough, but this was not to be. The fog persisted all the way to the Bale Monkey bamboo forests.
We parked the Nissan and I could tell that Abiy was a bit nervous that we may be skunked on the monkeys. He looked back and forth and said that the bamboo thickets here and there were always a good bet for the monkeys. We paced the muddy road up and down and saw nothing. Abiy even went deeper in to the forest for an attempt. Nothing. And then we decided to walk a bit further down the road, and sure enough, only ONE meter in front of the truck, Abiy's eagle eyes caught a Bale Monkey staring directly at us from the forest floor! This one stuck around for several noisy, fog-filled images, but we had seen the monkey! Clearly he had been watching us for some time, no doubt wondering what the hell we were looking for….
Mystery Bale Mountains Jackal
This canid has generated quite a bit of debate. It doesn't quite fit any known species perfectly. Check out this blog thread with the on-going debate by some of the world-experts in the canid field. I am leaning toward Side-striped Jackal or a very unique subspecies of the Side-striped Jackal. Definitely this is a critter worthy of more study!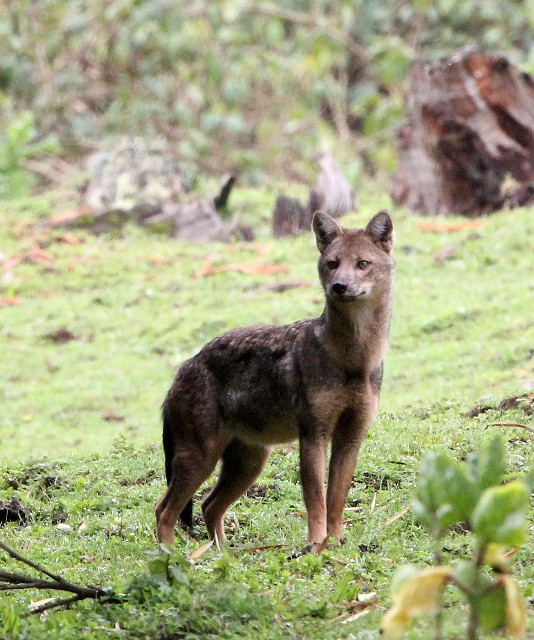 A surprise greeted us on the way back up the mountain from the Harenna Forest. This very strange Jackal crossed the road and allowed us to snap some images of him. Abiy called it a "Common Jackal" but it is very different indeed and I am wondering if it is a hybrid some something else? Anyone?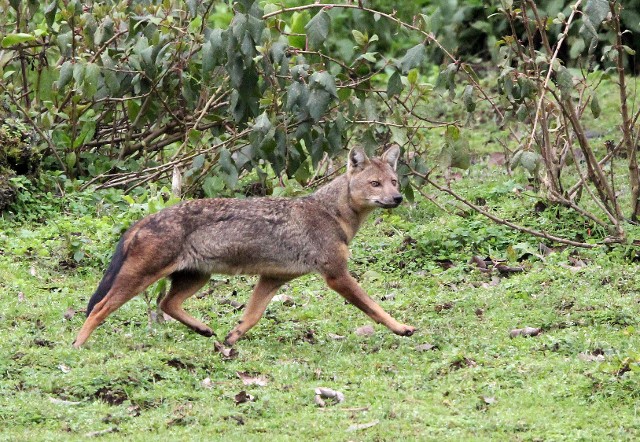 Very interesting animal. Clearly very different that the normal Common Jackal...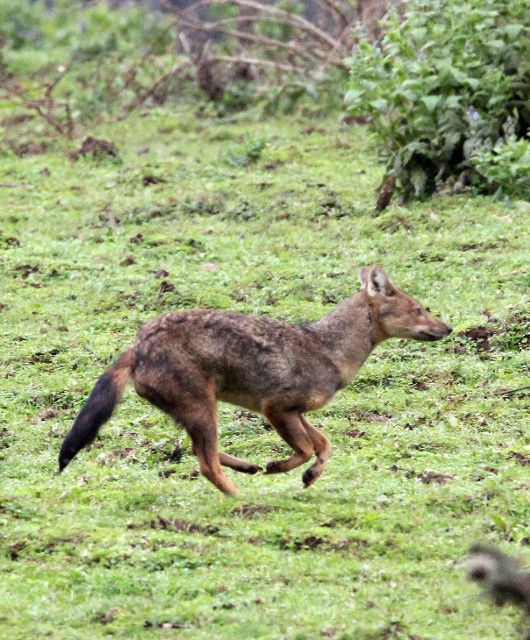 Not so fast! I need to study you more!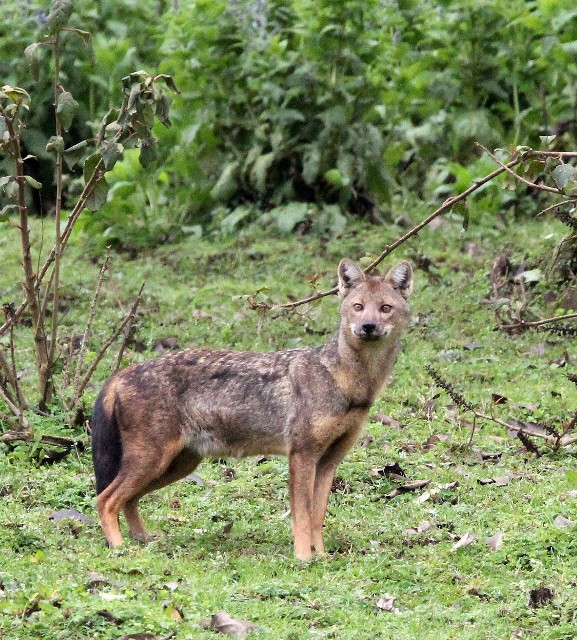 OK! Now that's more like it. Seriously unique canid.... A hybrid perhaps?

Check out the debate on the above jackal here!

After eventually finding and spending time with TWO Bale Monkey groups that morning, we climbed back up to the Sanetti Plateau for more wolf hunting. The sun was outstanding, providing some amazing photo-opportunities of the wolves, the various species of rodents, Starck's Hares and the spectacular Bale Mountain landscapes. We spent the rest of the day just trying to perfect our photos of the critters on the plateau. What a great day! And that evening we spotlighted up the fields along the main road to the park entry check point. We caught good glimpses of Menelik's Bushbucks, Bush (Red) Duikers and at least one Spotted Hyena. Nothing new for the trip but at least we had some night action!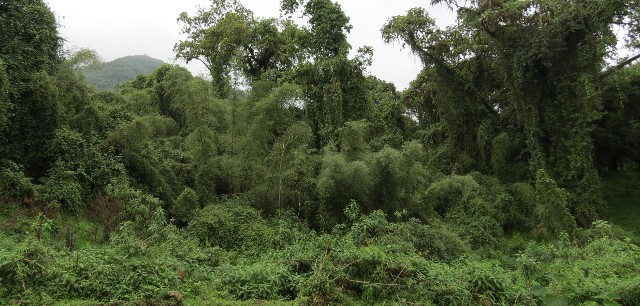 Bale Monkey habitat. Once you are in the Harenna Forest area and start to see the giant bamboo belt, it's time to start looking for the Bale Monkeys! We came across at least three sizable groups, all associated with the bamboo thickets.

Bale Monkey (Cercopithecus djamdjamensis)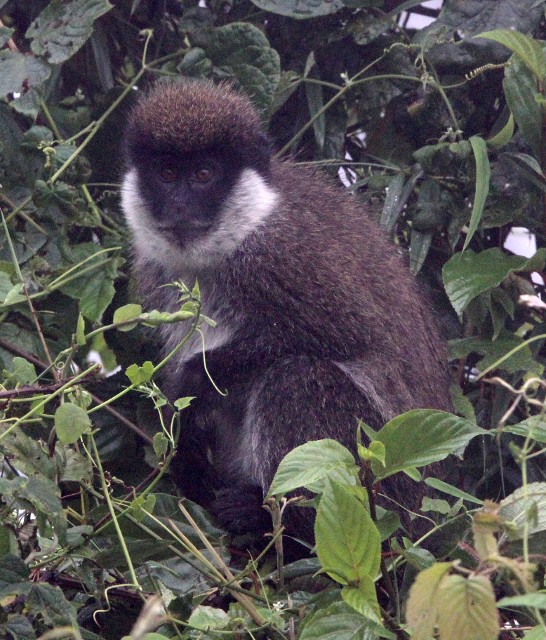 Bale Monkeys were actually not that tough to spot as Abiy knew exactly where to find them. The fog did not allow for high-res images sadly...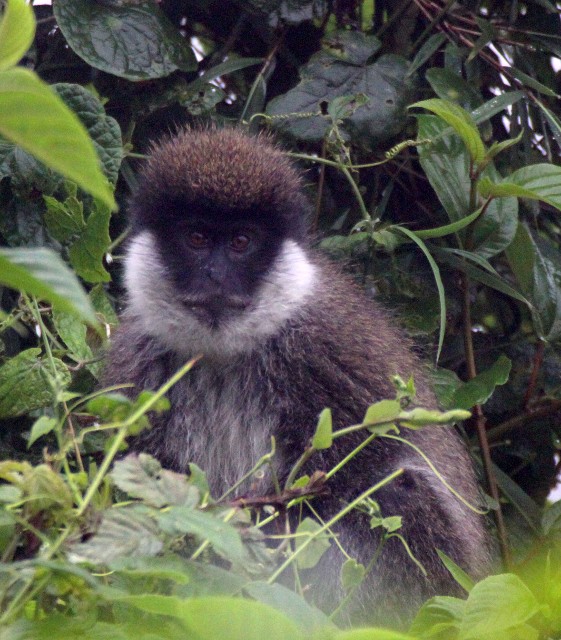 We came across at least three groups with several dozen individuals!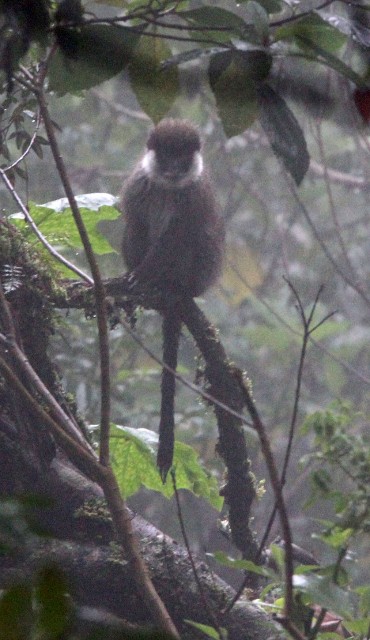 Our very first Bale Monkey watching us low in the foggy Harenna Forest.
Our third day in the Bale range was to prove nearly as good as day two, but with only a mere 15 wolves. Sad and pathetic, I know, but it was the rainy season, after all… We even made it back to the Bale Monkey haunt and this time caught THREE very good-sized groups in much better light! In all, I am confident we did better than 30 Bale Monkeys…another amazing day. We all agreed that we loved the Bale Mountains and a return trip will need to be planned in the near future! But I am quite sure that it will be nearly impossible to better our luck next time….One of the high points of our stay in the Bale Mountains was how we were able to see so many "faces" of the place. From glorious, sunny periods, to zero-visibility fog, to drenching rain, and even sleet and hail! I got the impression we had seen all the seasons in three amazing days.
Awash National Park & Ali Dege Plains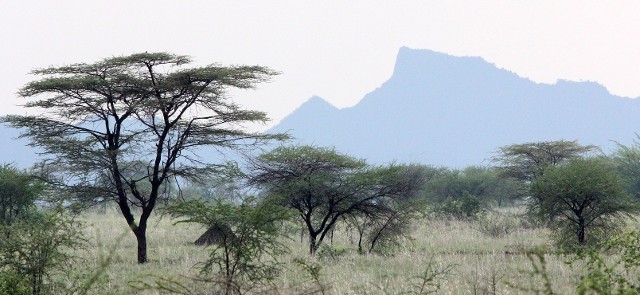 The Acacia woodlands of Awash National Park
With our time in the Bale Mountains at an end, we started the relatively long drive to Awash National Park, further to the northeast. Awash is about as different from the Bale Mountains as you can get. Populated with a vast Acacia forest, Awash is much more similar to the various parts of East Africa I have visited. We stayed at the Awash Falls Lodge (see their website here), which is very spectacularly situated on a cliff face with stunning views of Awash Falls and the river.
The falls were chocolate brown these days with what seemed like half of all of the soil in Ethiopia washing down the drain. In fact, I have never seen such destructive erosion as I have seen here in Ethiopia. The rivers and lakes were all dark brown. I cannot imagine the annual loss of top soil this country is experiencing. I am sure that if this keeps up, there will be many regions in the near future that will simply be unlivable, much like we witnessed in Madagascar a few years back.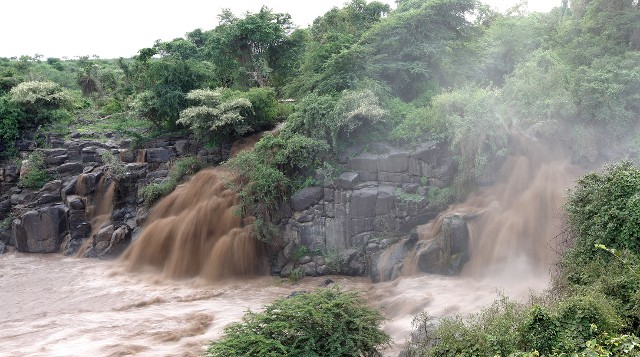 There goes Ethiopia, right down those falls...The amount of erosion seen during this rainy season was scary.
We were welcomed by much warmer weather in Awash, which was nice. The lower elevations helped. We arrived in time to basically just relax and enjoy the lodge, which was very nice indeed with good food, great staff and a really fantastic atmosphere. The beer was plentiful and cheep and we enjoyed the lodge immensely. The only down-points were the VERY aggressive Olive Baboons and Grivets, who accosted us on more than one occasion, and the mosquitoes were very persistent at night, but nothing that would be a deal-breaker for staying here again someday.
Similar to our experience in the Bale Mountains, we saw many faces of Awash. The weather was ever-changing, which made what I thought would be one of our easier destinations for the rainy season, very challenging indeed. We had only one easy game drive around the Illala Saha Plains in the core area of Awash. The rain during the ensuing days made driving there very difficult indeed, as the dirt tracks turned to muddy pools…. We even completely stopped wildlife-viewing activities one day as the rain was so intense and so long that it wasn't even worth going out at all! But it was nice to have some time to relax around the lodge.
Our first full day in Awash was spent in the Illala Saha Plain and over to the Ali Dege Wildlife Reserve, some 80 kilometers to the northeast. On the Illala Saha Plain, we picked up a couple Beisa Oryxes, several Salt's (or Harar's) Dikdiks and three sub-adult Soemmering's Gazelles. We spotted a few Abyssinian Hares as well. But this part of Awash was so overpopulated with grazing goats and cattle from the local Koreyo tribe, that I am surprised we could actually see any wildlife at all. Many of the guests we met there basically saw little to no wildlife. Unless the Ethiopians start to rid this park of the goats and cattle, there may come a time in the not-to-distant future that visiting Awash will be pointless. One of the most depressing parts of our stay in Awash, was our brief stop at the headquarters museum which had a list of what USED to be found in Awash….wow…..There is so little remaining in this once-world class national park.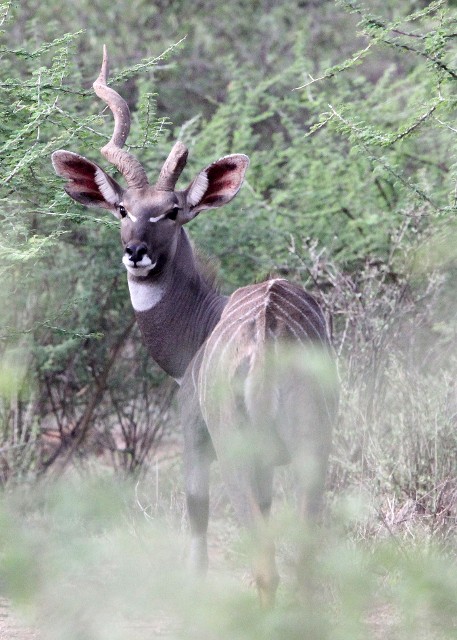 While we did see many Lesser Kudu in Awash, only one stuck around long enough for a picture - this one-horned bull.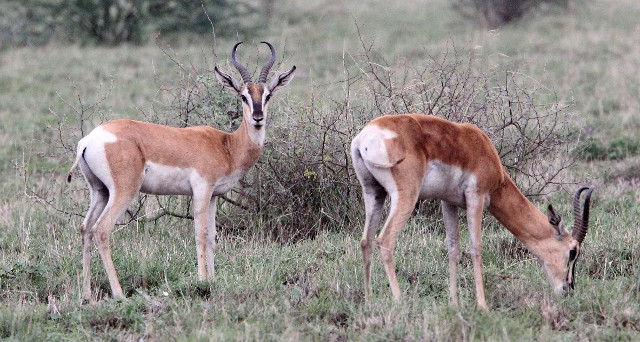 Soemmerring's Gazelles were seen in single-digit numbers in Awash but in large herds numbering several hundred in Ali Dege Reserve about 80kms to the northeast.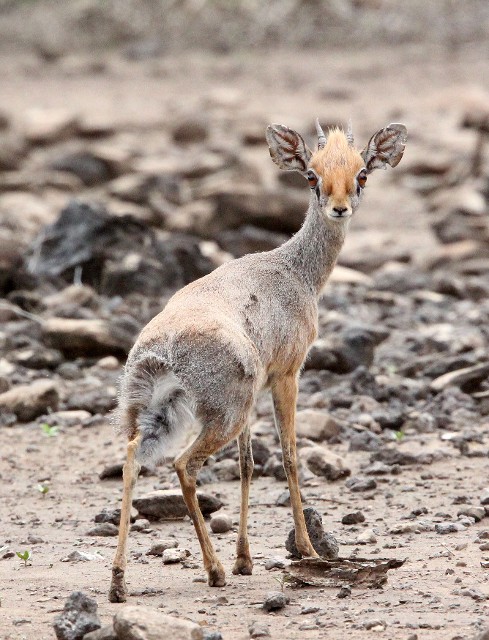 Harar Dikdiks were very common throughout Awash and Ali Dege Reserves.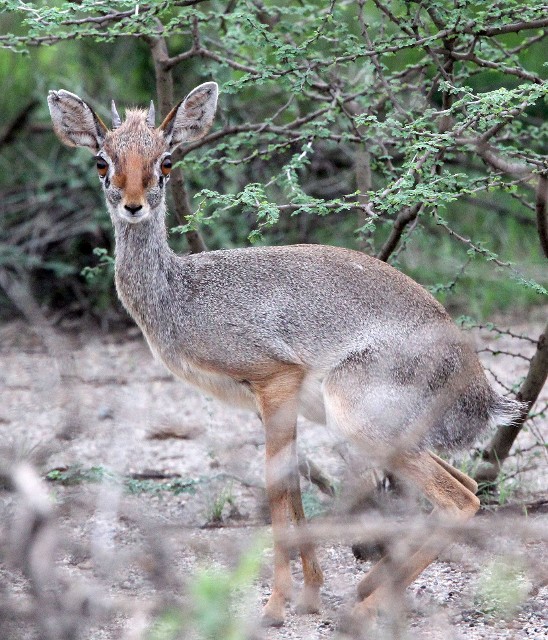 These are some seriously cute critters!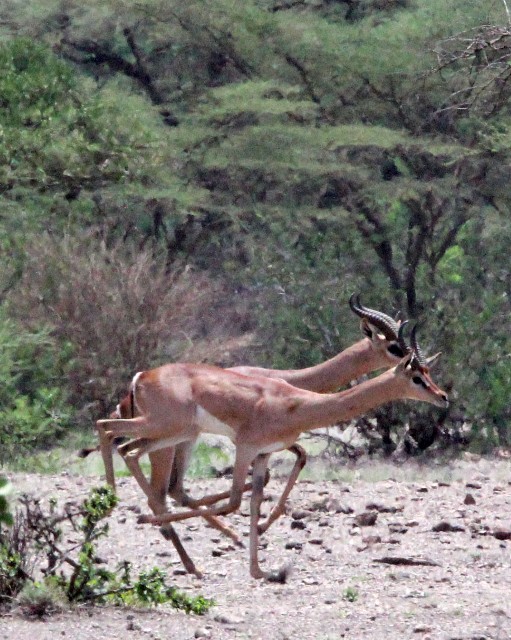 A few kilometers outside of Ali Dege Reserve, Abiy knew of an Acacia woodland where Northern Gerenuk could be found. And find them HE did! Even after he pointed them out, neither myself nor our tracker could see them until they sprinted for safety!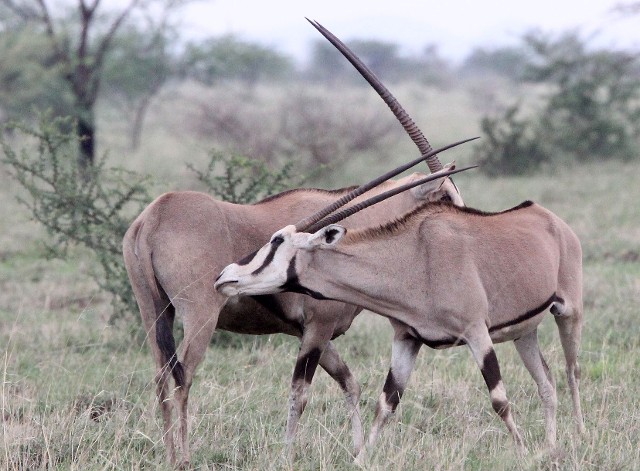 Beisa Oryx were very common in Ali Dege (several hundred seen) and fairly common in Awash (a few dozen seen). These two were becoming very romantic...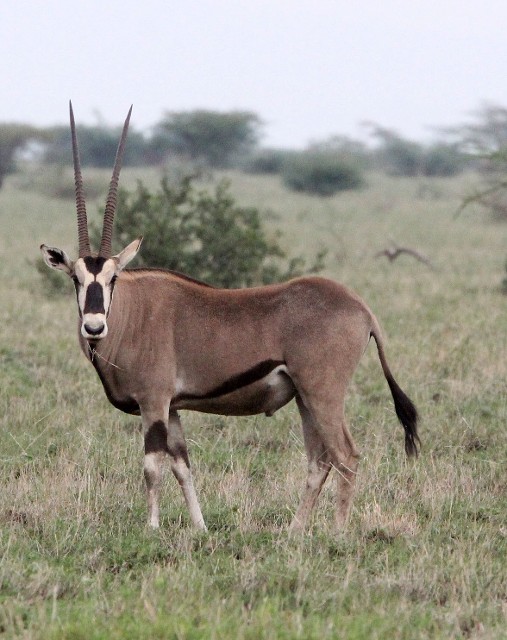 Beisa Oryx, Awash National Park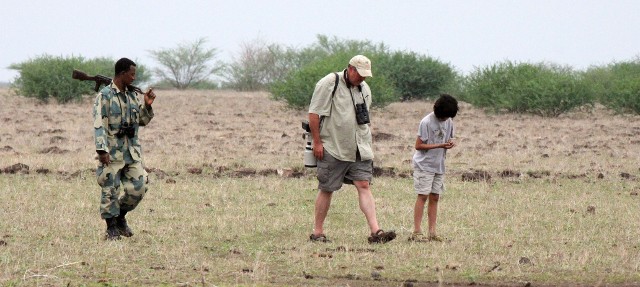 Although you may not be able to tell from this image, the ground in the Ali Dege Plains was so muddy our 4X4 could not navigate it....Trekking the vast plains was our only option and this was only moderately fruitful. But this is a gem of a wildlife hotspot and definitely a place we hope to return to in the dry season.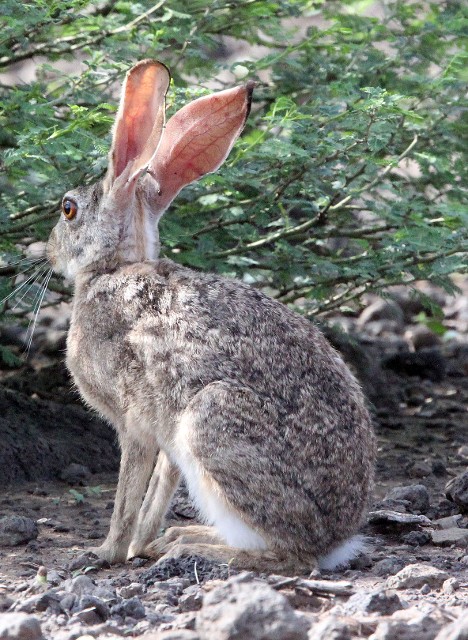 Abyssinian Scrub Hare were extremely common in Awash and Ali Dege Plains. One could almost think there was a population explosion!
But there is one saving grace to the region, and that is Ali Dege Nature Reserve, 80km to the northeast. Although we had a difficult time there due to the extremely muddy conditions, I did see during our two separate visits, several hundred Oryx and Soemmering's Gazelles. And combine these with the Grevy's Zebras (of which I only claim to have seen one, several thousand meters away…) and the potential for Somalian Wild Ass, I would call this place a gem. While I still saw evidence of domestic livestock and overgrazing, there was nowhere near the damage done compared to Awash. But at least we nailed some Hamadryas Baboons along the way.

Hamadryas Baboons (Papio hamadryas)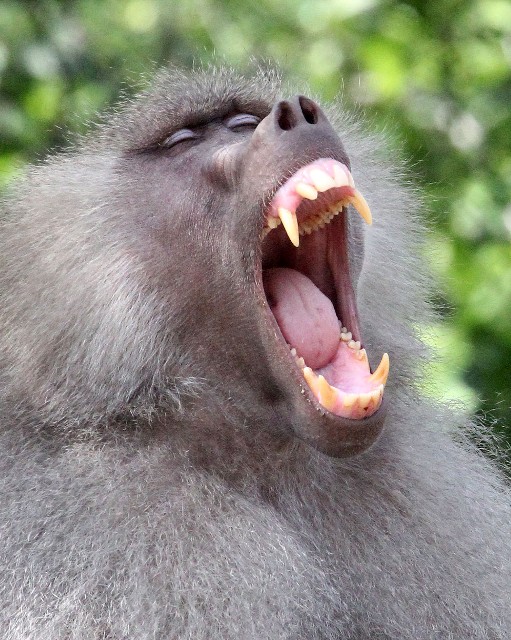 While visiting Ali Dege Plains, we came across a troop of spectacular Hamadryas Baboons. This one was giving us a heck of a yawn as we passed by!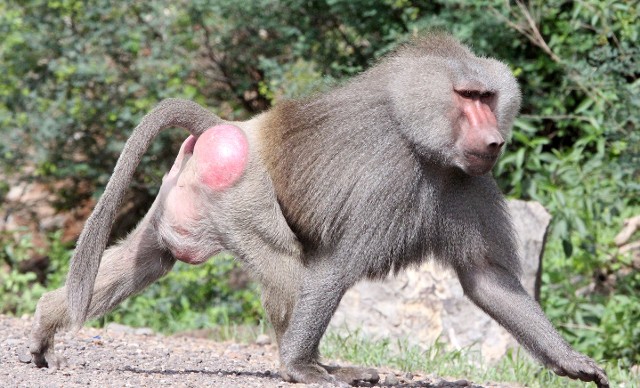 I love the side-glances primates give you when they are sizing you up...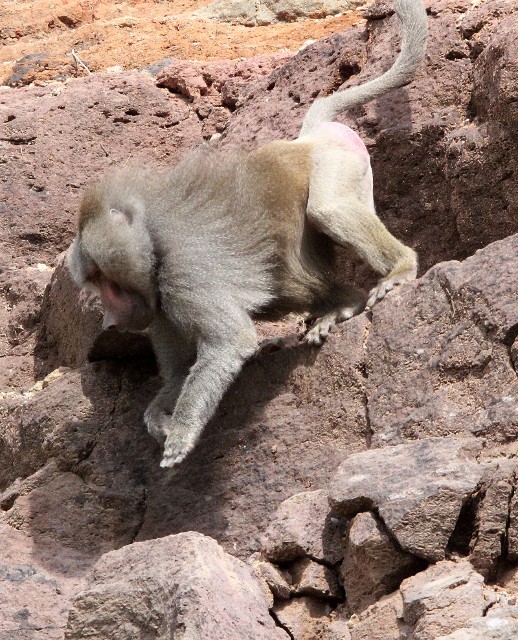 I guess he thought I had something to eat because the second he saw me, he came scurrying down the slopes to check me out...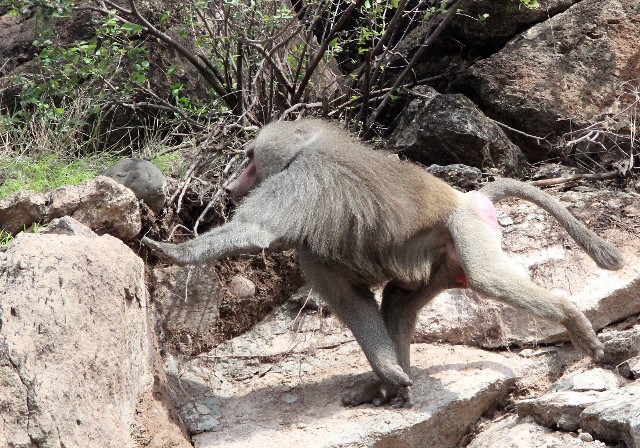 I guess he had second thoughts....What an amazing mane these baboons have...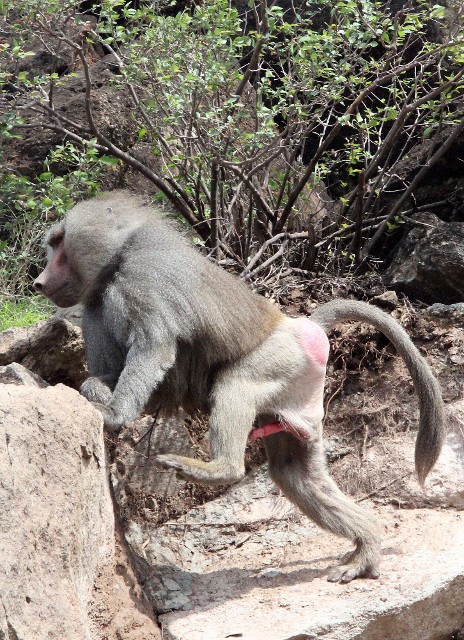 Back up again...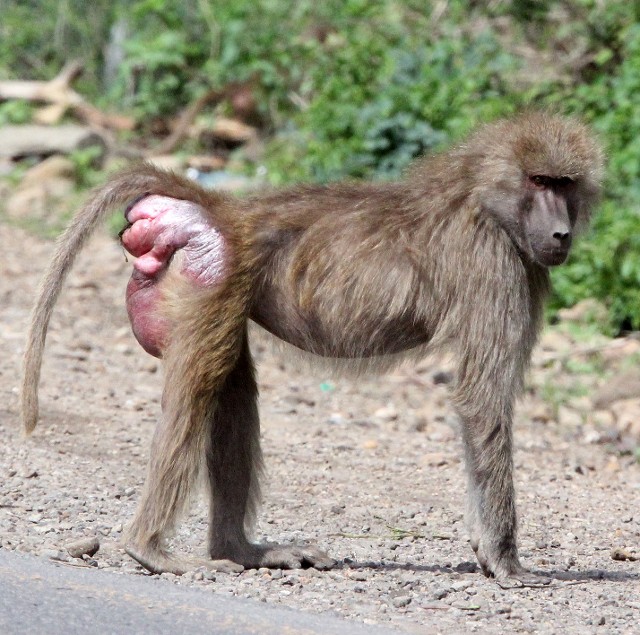 Nice tush!


The Awash region is home to two tribes, the Kereyou and the Afar. This is the home of an Afar family. The region still has a bit of unrest between the two tribes and tourists are advised to have an armed escort when in the region.
We had a hard time with quality wildlife photography however. The mud prevented the vehicle from entering more than a few hundred meters, even with a daring "mud glide" we did on our second visit about one km deeper, so we were left to walking for many kilometers across the muddy flats, and that was extremely unproductive as the wildlife never allowed us to get more than several hundred meters from them. And after collecting several kilograms of mud on our shoes, we were in no mood for long treks either.
Even though we did have a few obstacles, we were ultimately very successful in Awash. We nailed all of the targets, including Hamadryas Baboons, although the road conditions never allowed a trip to the hot springs, where they are usually seen. We had several bonus species such as Blotched and Common Genets, Northern Gerenuk, Unstriped Ground Squirrels, a great Aardwolf, Side-striped Jackal and the best was the Leopard posing on a termite mound during our final night drive of the trip! Spectacular!
Awash Night Drive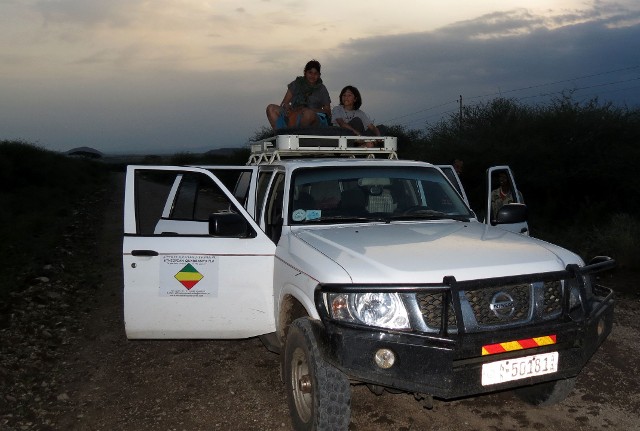 Som and Cokie were maning the rooftop for our night safari.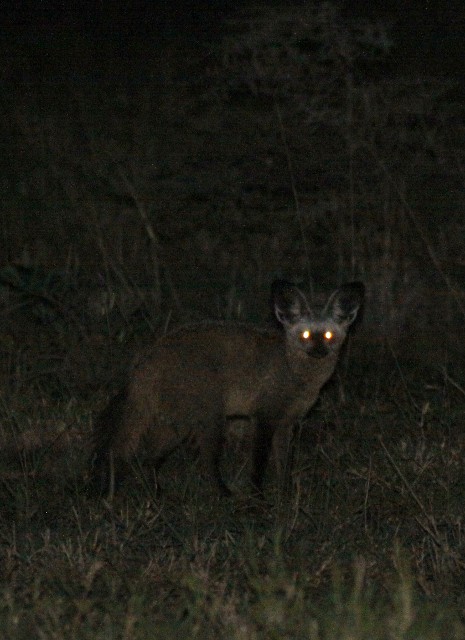 During our night drives at Awash, we spotted at least 26 Bat-eared Foxes prowling the woodlands and grasslands. No great photo-opps though...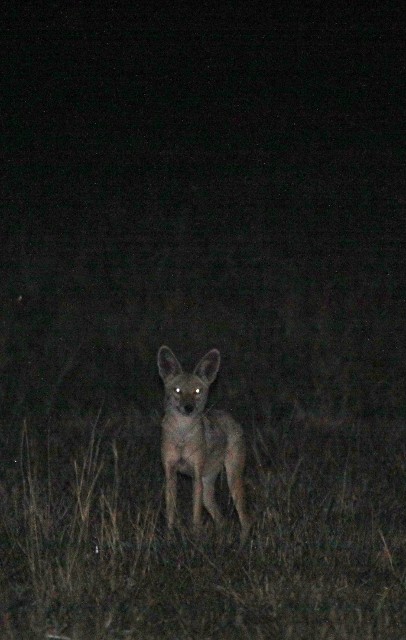 We saw many Jackals on the trip as well. I believe this to be a Black-backed Jackal seen in Awash during one of our night drives.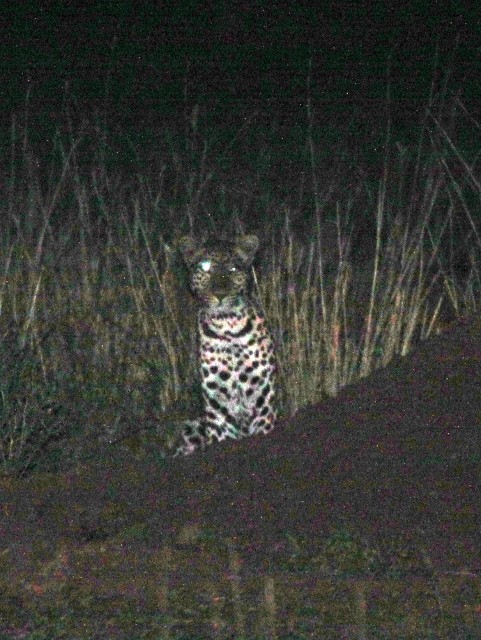 Along with the Aardwolf, our night safari highpoint was this gorgeous Leopard that was resting on the termite mound, until we put our spotlights on him...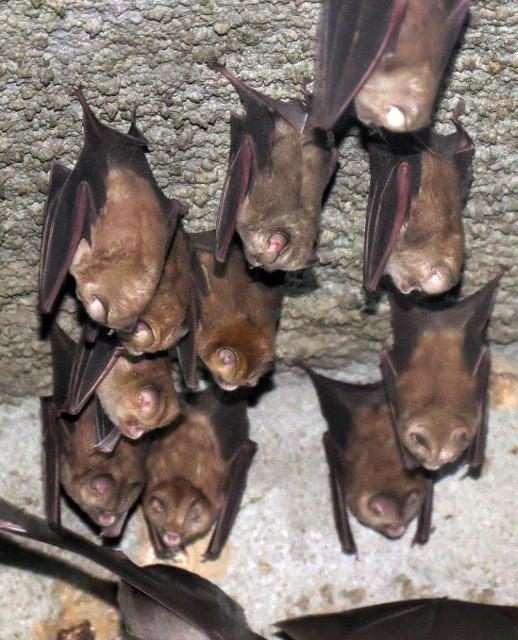 What I believe to be Sundevall's Roundleaf Bats (Hipposideros caffer). They were accompanyied by at least two other species of bats in an old maintenance garage near the Awash Falls Park Headquarters.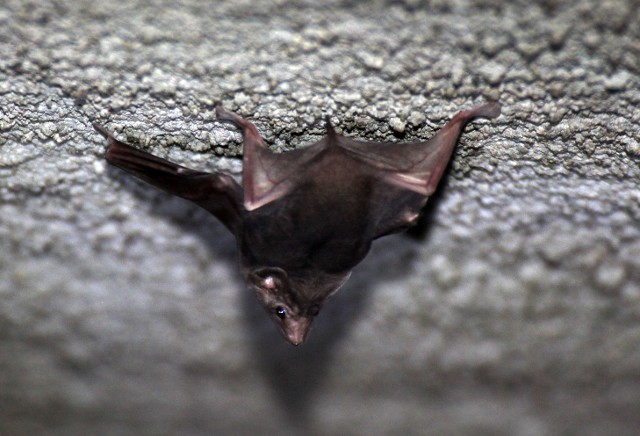 Several Egyptian Tomb Bats found thier homes in the garage as well.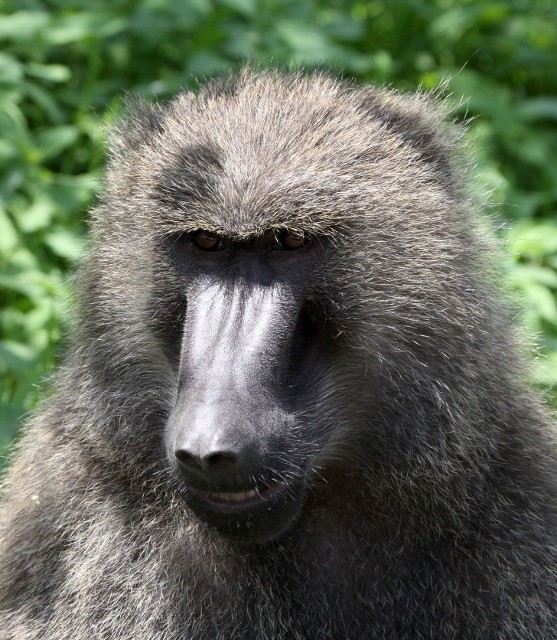 This was another naughty Olive Baboon at Awash Falls. He grabbed Som's hand bag and made for the bush! Luckily the bag and the passports dropped to the ground and all he got was some roasted barly...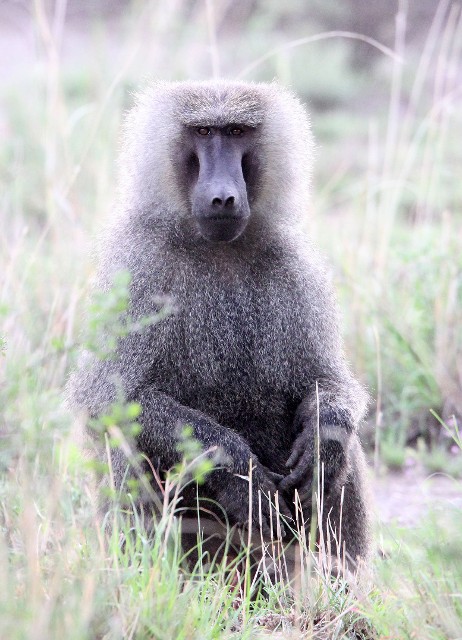 Awash is a zone of species-distribution-overlap. Here we have a very clear example of a hybrid between an Olive Baboon and a Hamadryas. Such individuals were pretty common in and around Awash.
Check out this very interesting article on the baboon hybrids of Awash.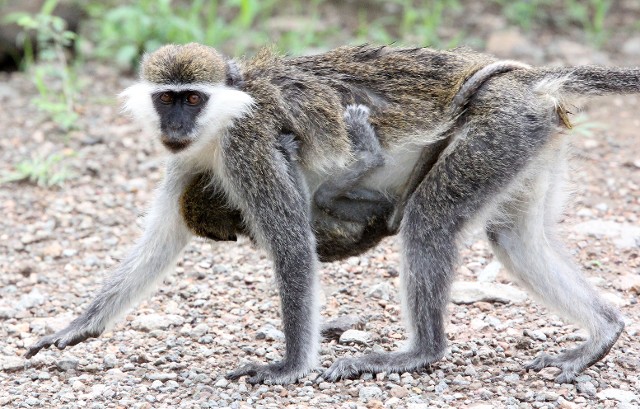 A mommy Grivet and her offspring in Awash.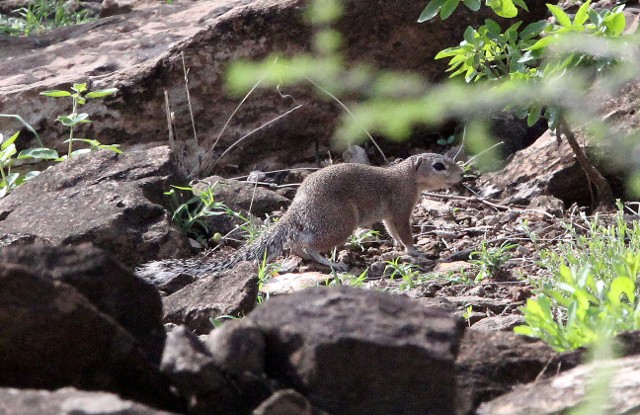 In the Acacia woodland near Ali Dege Plains, Abiy found us a nice (actually several nice...) Unstriped Ground Squirrel that stuck around long enough for a shot.
On our final night in Awash however, the expedition took a surprising and depressing turn for the worse. During the night, Som came down with extreme vertigo once again, and had a seriously bad night. After smacking her head pretty good against the wall of the bungalow, she basically spent the rest of the night puking her guts out…Poor girl. She made it through the night though and showed some signs of recovery by the time we made it back to Addis later that afternoon. And if the vertigo and puking weren't enough we were nearly killed by an out-of-control, jack-knifing semi with two trailers who failed to see another accident (Ethiopian roads are riddled with deadly accidents…), who missed us by about a meter! So with Som's illness, we decided to delay our trip to the Simien Mountains by a day to allow for more recovery time. Good plan and we were lucky that the airline had seats available!
Black Crowned Crane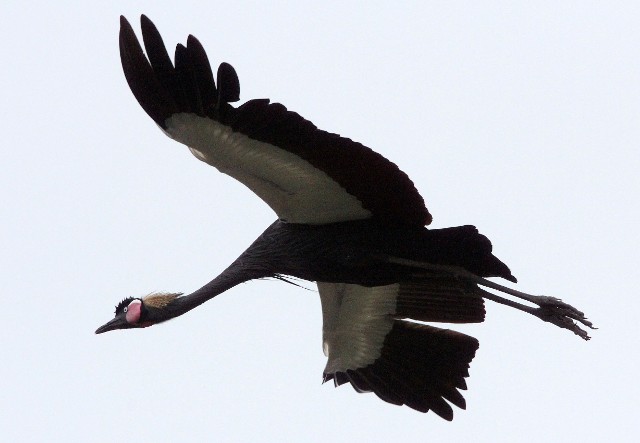 I was thrilled that Abiy knew a place where we could see one of the last species of cranes that I have yet to see in the wild (Damoiselle is all that remains for wild sightings). The Black Crowned Crane was easily spotted in the fields approaching Lake Ziway not far from Addis.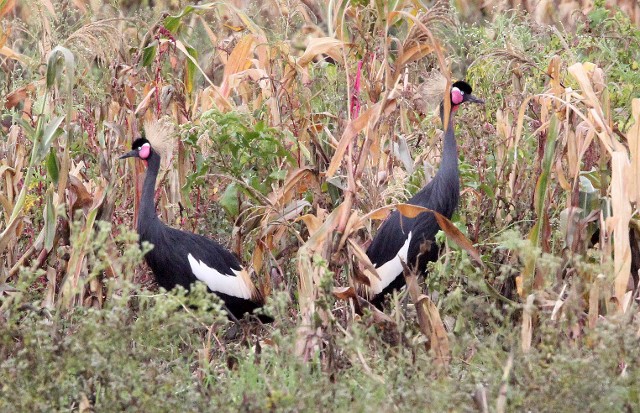 Black Crowned Cranes! Now all I have left are the Damoiselle Cranes to see in the wild...Maybe this year somewhere here in China?
Simien Mountains National Park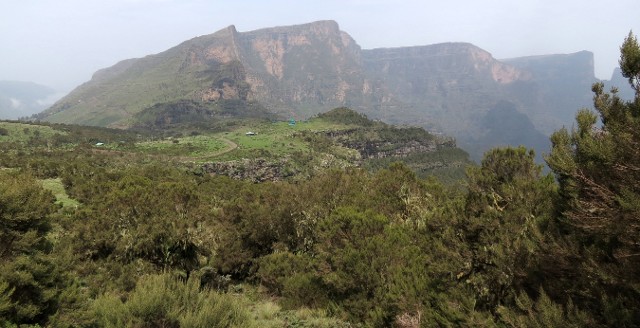 A view of Chenek Camp and the massif behind. We found Walia Ibex here!
After a delayed morning flight, we arrived in Gondar which is where we started our Simien-Mountains portion of the expedition. As it was basically a two-day drive from Addis to the mountains we opted to fly and switch travel outfits. We left the careful and professional hands of Quadrants and Abiy and were met byTravel Ethiopia, whom we CANNOT recommend at all. More later on this issue.
After a couple hour drive from Gondar, we have finally arrived at the Simien Lodge, situated inside the amazing Simien Mountains National Park. The lodge is nice enough, although we really can see much of it as it is so DAMN foggy that we cannot even see three meters! I am once again hearing my friends' and colleagues' warnings against traveling here in the rainy season echoing in my head right now…The drive up to the lodge was deadly at points with zero-visibility and psychotic "Al Qaeda" (the Ethiopian term for the idiotic, chat-drunk drivers that seem to wreck all over the countryside…) speeding as if they can see more than three meters! We did make it and here we are. Som is still recovering and the temps are frigid and the rain and fog shows no sign of letting up today….So this is a perfect time for a blog update!!!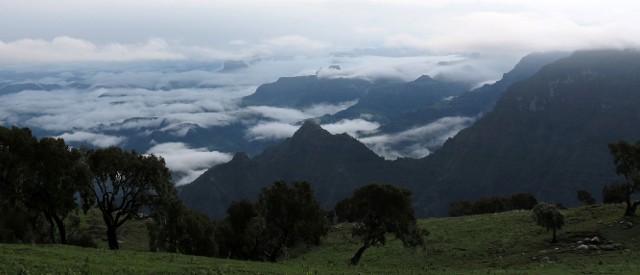 The views near our lodge were absolutely stunning. The scenery in the Simien Mountains is some of the most spectacular anywhere.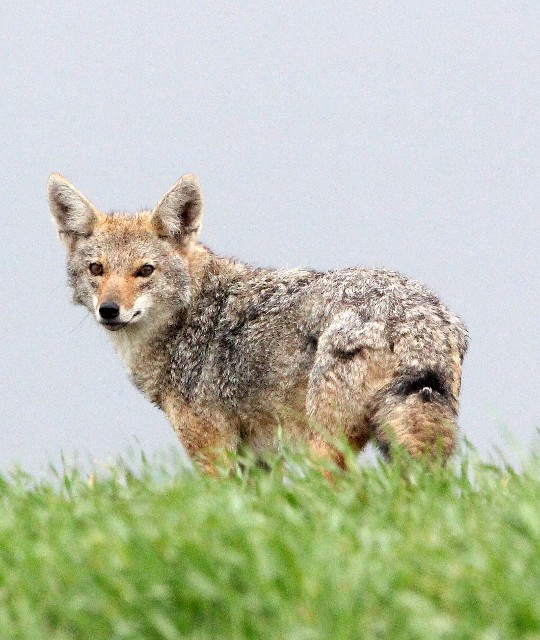 This spectacular Common Jackal and his partner were the first to greet us immediately upon entering the Simien Mountains National Park gate.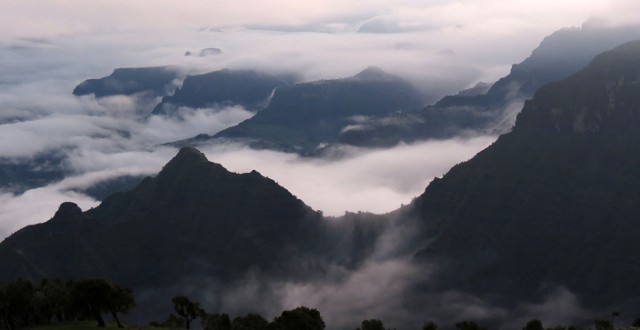 When the fog cleared and revealed the stunning canyons and mountains, the Simiens came alive. Breathtaking!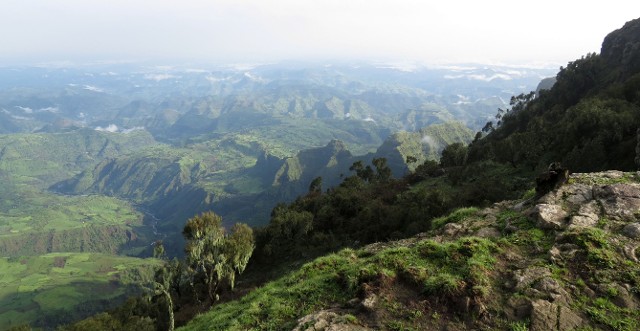 We even had dry-season-clear skies during some of our days in the Simiens! But when it rained or fogged up, that was it...we could see nothing but nothing! But when it cleared up, oh my god!
The Simien forests, like the Bale Mountains, appeared to be dominated by a heather-Juniper-dominant forest ecosystem. Very beautiful.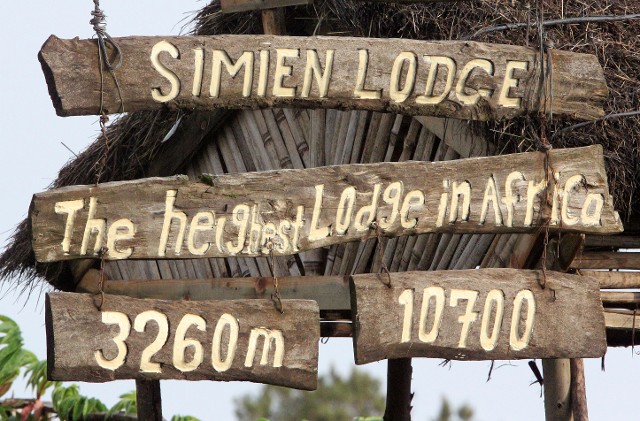 Simien Lodge, a nice place to hang out while in the Simien Mountains.
Day two Simien Mountains. I woke early this morning in anticipation of the day. Couldn't sleep past so I decided to go for a stroll, be it fog or whatever. When I opened the door, the fog was gone and the rain had subsided. In fact the visibility was phenomenal! I walked a couple kilometers to see absolutely stunning views of the Simiens and the surrounding valleys and bottomlands. The scenery was truly amazing, one of the most beautiful places I had ever been. I trekked to the escarpment's edge in hopes of seeing Geladas waking and climbing out of their cliff-side perches, but I guess I was a bit early. I could see for miles, including the higher escarpments where I knew Walia Ibexes and even more baboons awaited us!
After breakfast, we got in to our shitty Landcruiser, which I suspected as useless and even dangerous the moment I laid eyes on it in Gondar, and proceeded to hit the road. This car was an absolute disgrace. I felt bad after allowing my family even enter it. Initially we were greeted with fog but it lifted soon enough and we had fantastic morning golden-light to help us photograph our very first group of Gelada Baboons! Initially we saw a couple females and some young, but I knew there would be a male nearby so I trekked up the hill to see and sure enough, he was there with his harem. Our guide insisted that would see more but we in return insisted that wildlife photographers take advantage of good light and that was that!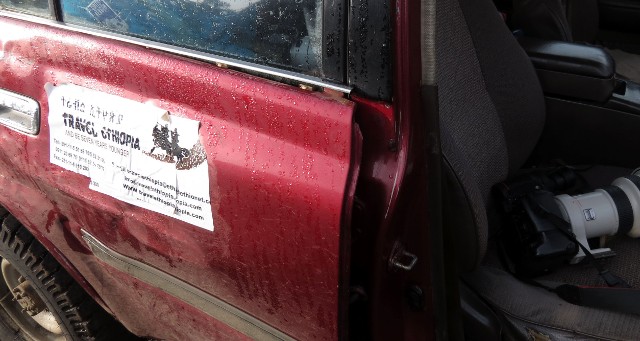 I am sorry to say that Travel Ethiopia is not really a company I can recommend. This vehicle was simply unsafe and barely road-worthy. The door, if you look by the window, you may be able to see that the door is basically falling off...
Gelada (Theropithecus gelada)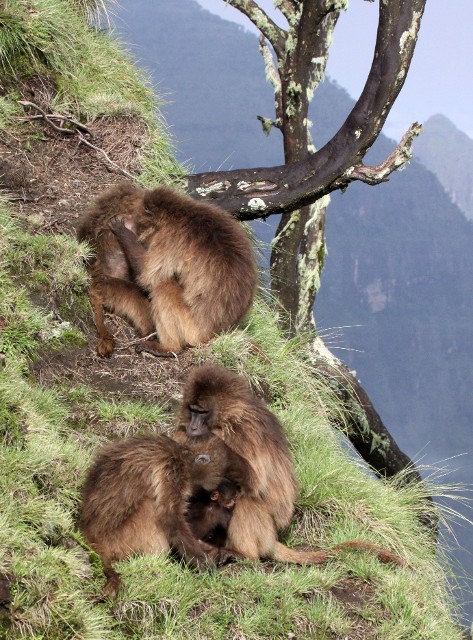 My very first sight of Gelada: good light on the cliff face in the early morning hours of our first day in the Simiens!

Check out our Pbase Image Galleries with more images of Gelada!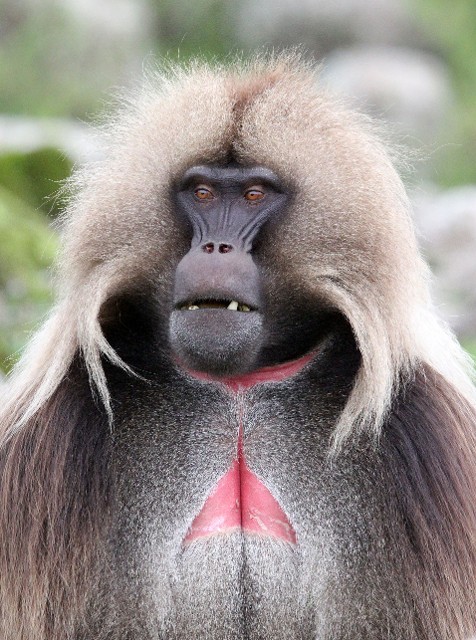 Seriously one of the coolest creatures on Earth! This dude was the champ!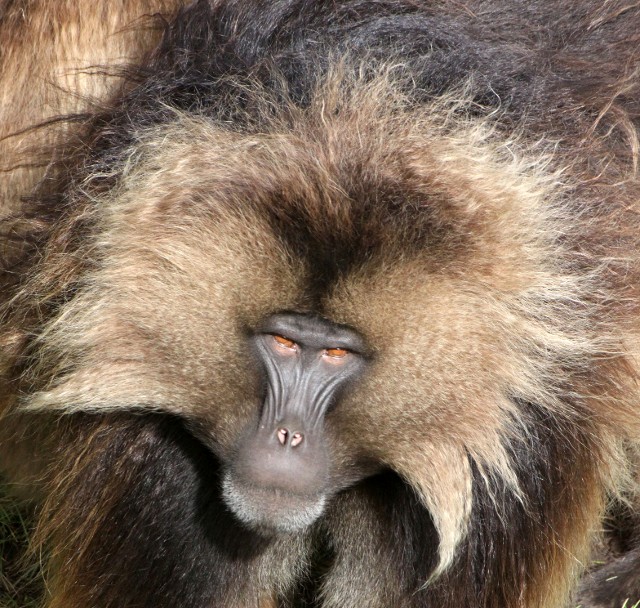 What a face! They did not often make eye contact, even though we were often within ONE meter from them. They were very indifferent to our presence.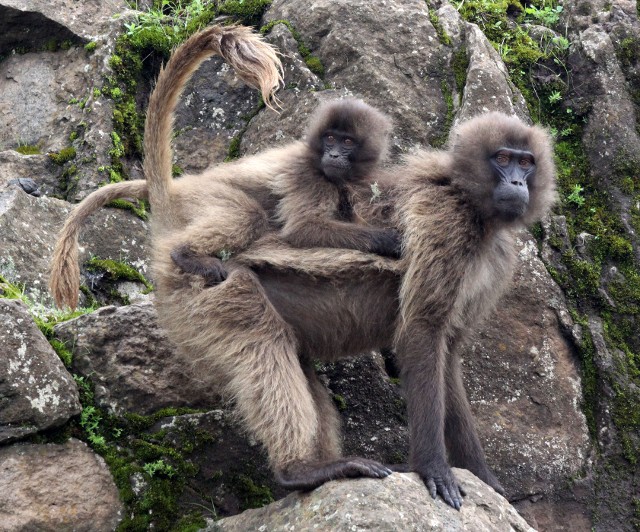 Once again, due to the liberal amount of time we were able to spend with them, we were able to see quite a bit of Gelada behavior. The mothers were extremely protective of their young.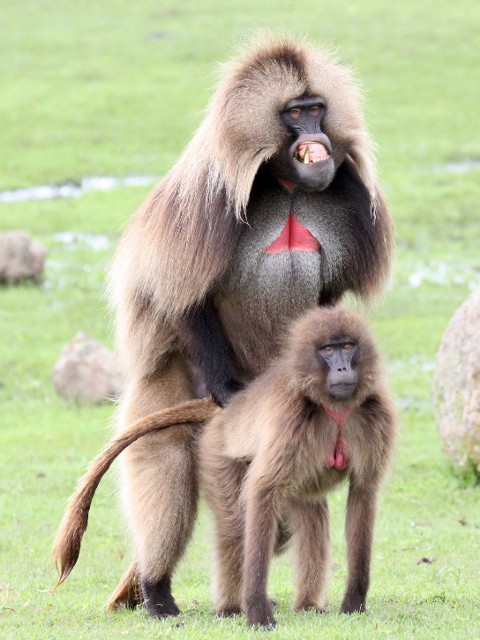 Mating was literally everywhere! We watched at least ten subgroups with dominant males mating often with the females in their harem. These subgroups combined to make a "super-group" of at least six hundred individuals! I love the look on this dude's face...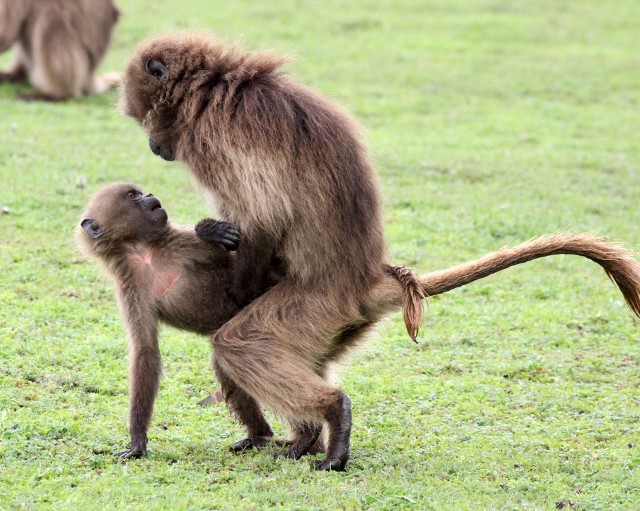 Clearly too young to be actually mating, these two were maybe...practicing?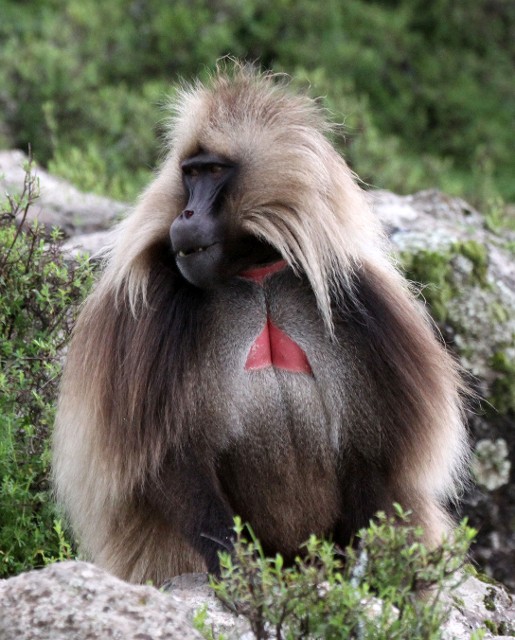 Very regal indeed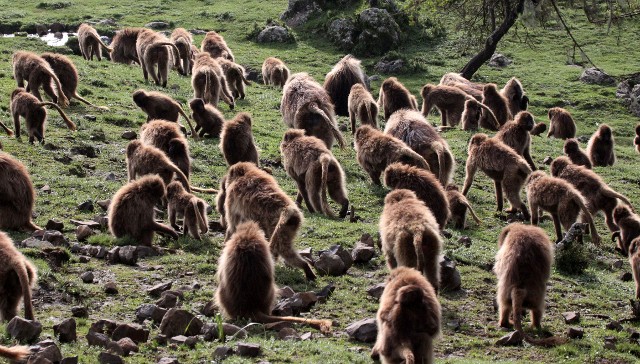 The "super-groups" numbered several hundred and we came across three super-groups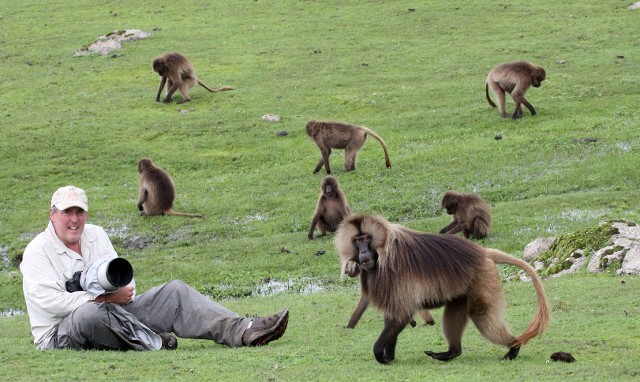 I enjoyed sitting with the Geladas and watching how they reacted (or didn't react...) to my presence.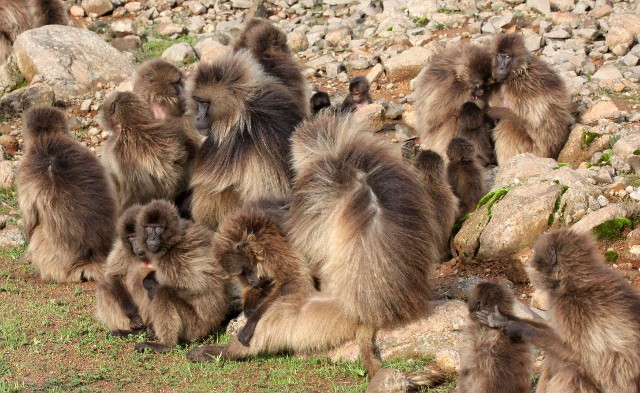 Keeping warm in the morning light...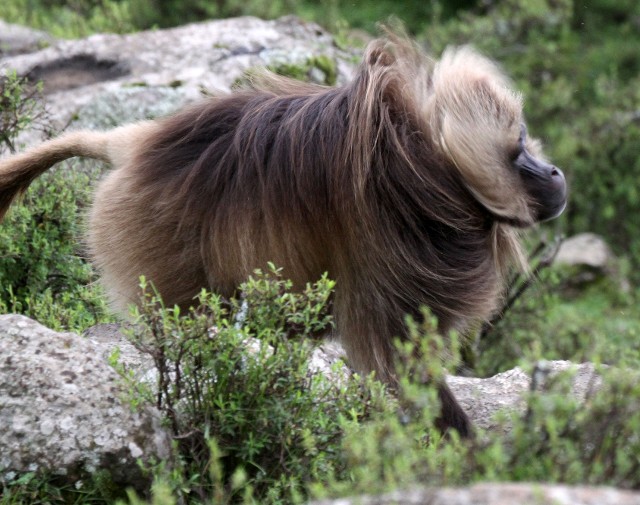 Just shake it off...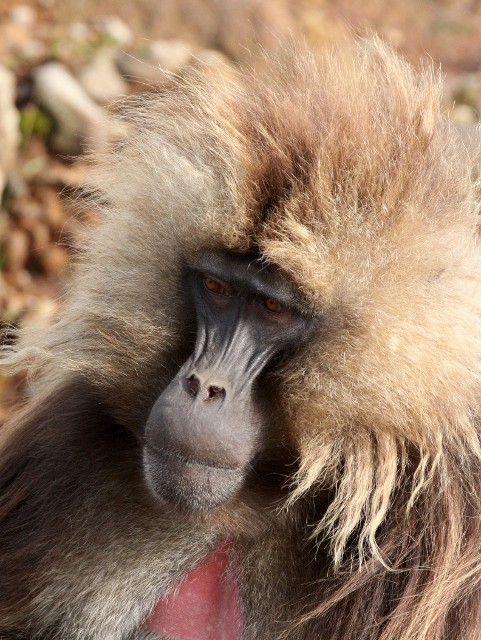 What a face!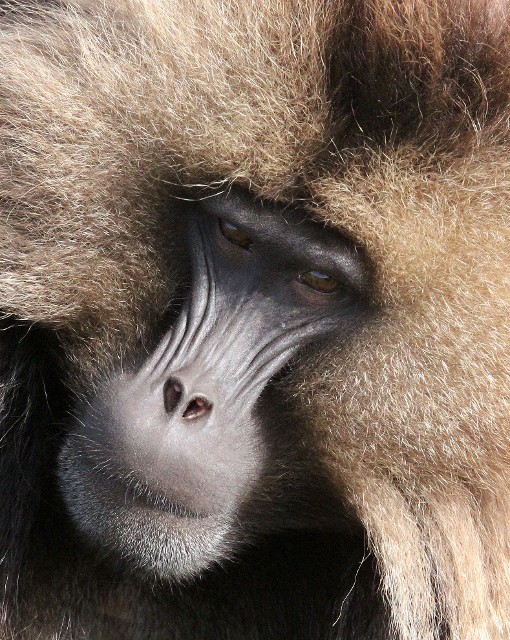 Let's see it again!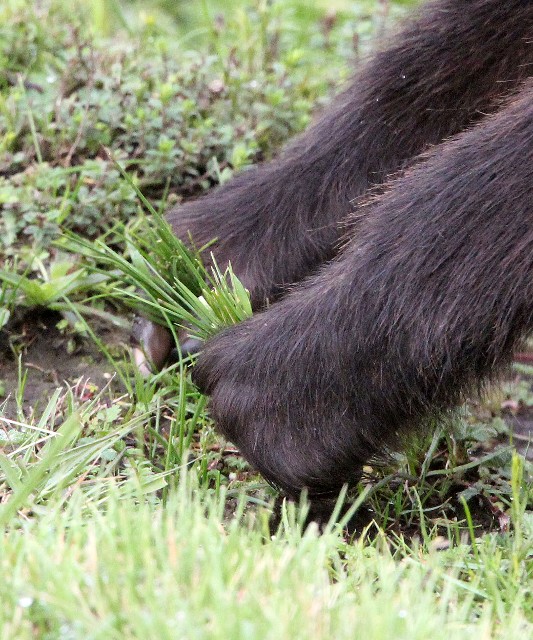 This is how the Gelada graze...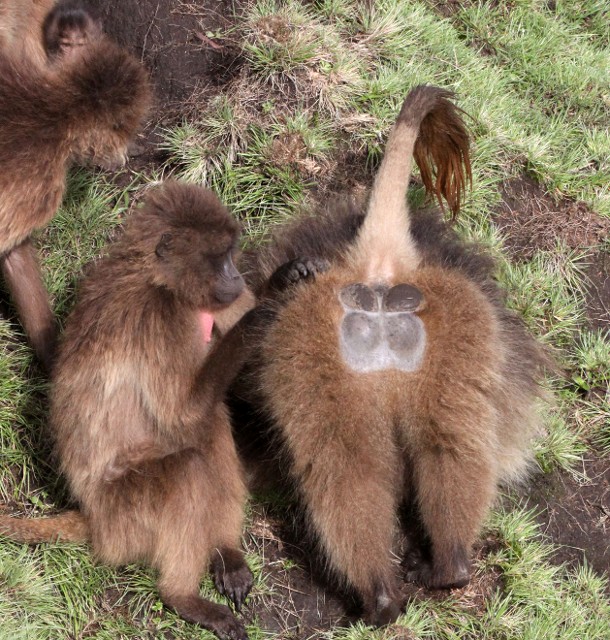 Can you imagine having FOUR butt-cheeks?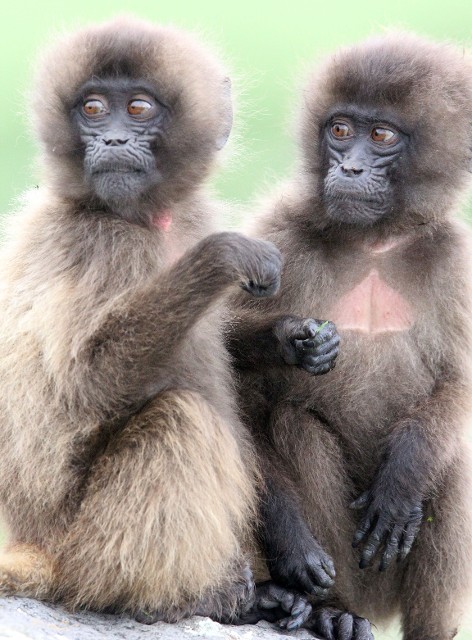 Twins?
Check out our Pbase Image Galleries with more images of Gelada!
Check Out Our YouTube for Som's Gelada Clip
We continued down the road to Chenek Camp, the spot where Walia Ibexes were most likely to be seen and was my target destination for our stay in the Simiens. Our driver was very reticent, and it was pretty clear from the beginning that there was going to be a problem with getting to our destination. But I continued to think positively and hope for the best. We crossed paths with a couple more groups, or herds, of Geladas in good light and we were pretty stoked! And when we caught a great look at a nearby Lammergeier Vulture, I felt that things were going our way and we were off to completing the summer with a perfect record for our targets!
But then we turned the corner and saw, "the spot". We were warned earlier that trucks could be stuck in some of the muddier places, and the road could be blocked. Well, there was a truck stuck in the mud there but it was not blocking the way. But our driver, knowing the piece of shit car he was driving, knew that he would not be able to make it back up the hill after going through "the spot". I knew better than to disagree with him, knowing how bald our tires where and potentially how stuck we would also become… I was pretty pissed actually because if we had a proper 4X4, we would be able to get through the ness no problem at all. Now we were looking at the next three days only being able to penetrate about 10 kilometers in to he Simiens and we were not happy! So this was it. No Walia Ibex this year! Damn!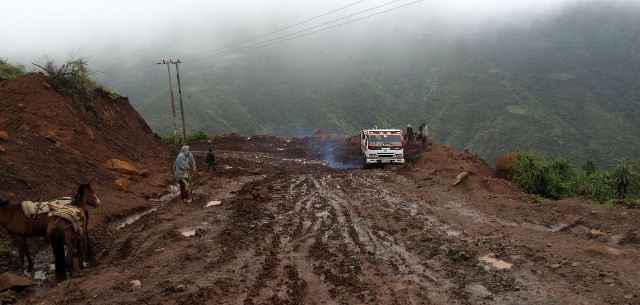 "The Spot". I knew that our little crap-Landcruiser could never make this spot and was more than a little upset that our journey to Chenek camp may never happen...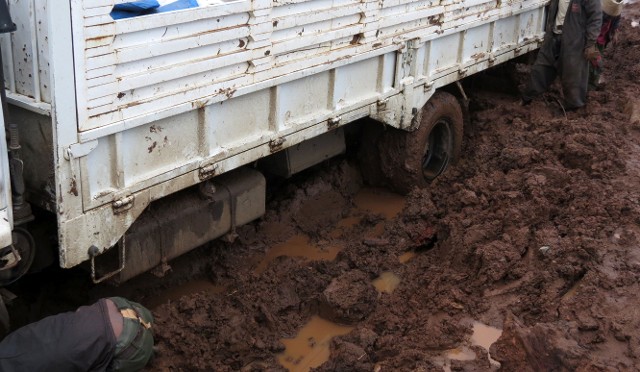 "The Spot" was basically swallowing this truck...But later that day it finally, somehow made it out and was on its way...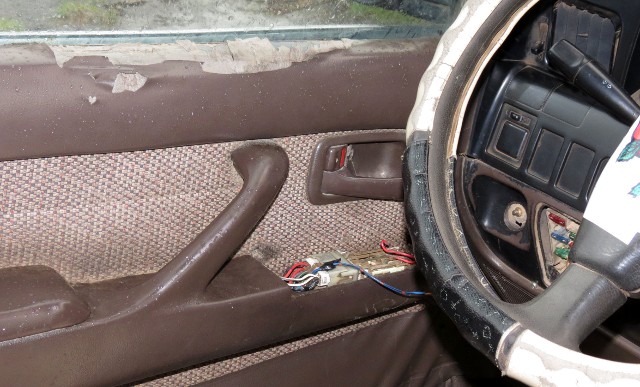 This car was seriously dangerous. The only way to open the windows was the hotwire the automatic window electronics...
I really have no problem getting skunked due to weather, nature, or due to the sheer absence of the critter from where we are looking, but when a piece of crap equipment, one that we paid top-dollar for, prevents us from getting to see a target, then I am pissed. And we were. And when we saw two other vehicles clearly drive the opposite direction (meaning they successfully navigated "the spot"), we were even more upset. Initially we weren't mad at the driver, because he knew what a crap-car he was driving, and we made sure that he knew our disgust was not with him….Hopefully he understood.
After calming down a bit, we decided to see some more baboons in good light. On the way back to the lodge we stopped at Sankaber Camp and tried for a bit to scan the cliff-faces in the slight chance there was an errant Walia Ibex strolling by….nothing. Everyone tried to tell me that Ibexes are never seen in this area of the Simiens, but I am the eternal optimist…. We proceeded down the road again, and we came across a group of University of Michigan grad students researching Gelada vocalizations, and one of them informed me that they had recently seen three Ibexes near Sankaber Camp! Excited with that morsel of hope, we headed straight back there to scour the hillsides again. This time Som gained enough energy to join me and we journeyed a few hundred meters down to a viewpoint and simply sat for a couple hours and scanned, scanned, scanned….Nothing! We did see some scat though…Maybe Ibex poo, who knows.
Still not finished with the day, we continued back down the road to the lodge and eventually met up with a mega-"herd" of several hundred Geladas. I mean, this herd covered about 100 acres and they looked like locusts as they grazed their way across the moors! It was spectacular and something right out of 'Planet Earth'. Despite the drizzle, we wandered in and amongst them for a couple hours and observed their lives close up. The experience rivaled any wildlife experience I've had. We got some amazing images of them playing, grazing, mating and even caught some good shots of some ferocious fights between several of the mega-fanged males! Wow!
Gelada Fight!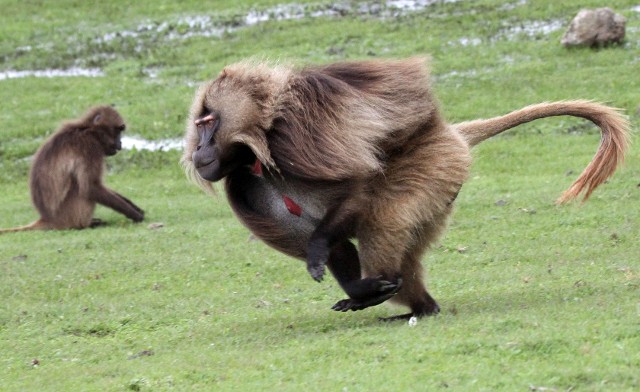 This one didn't like the way another male was looking at him evidently. So here he came!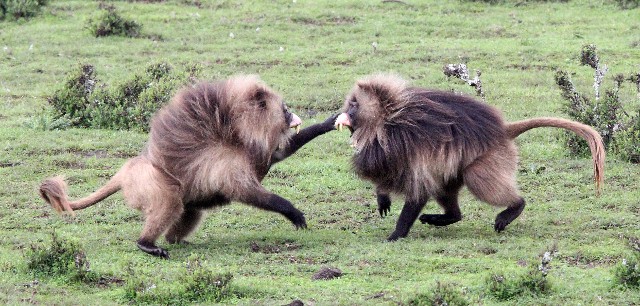 Initially a lot of fang-showing and screaming!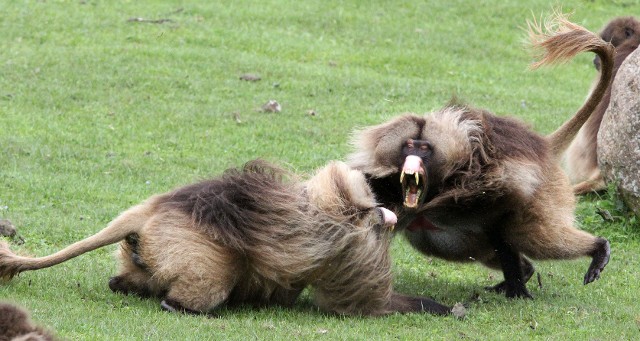 And then they went at it! Those are some serious fangs, buddy.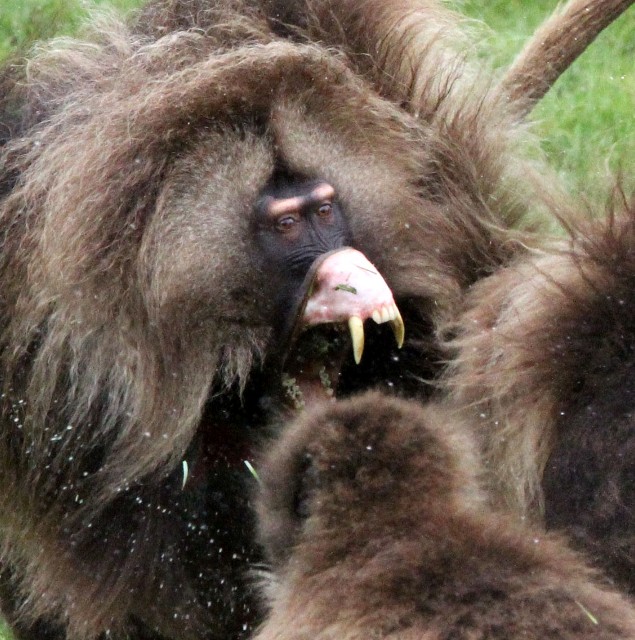 Simply ferocious!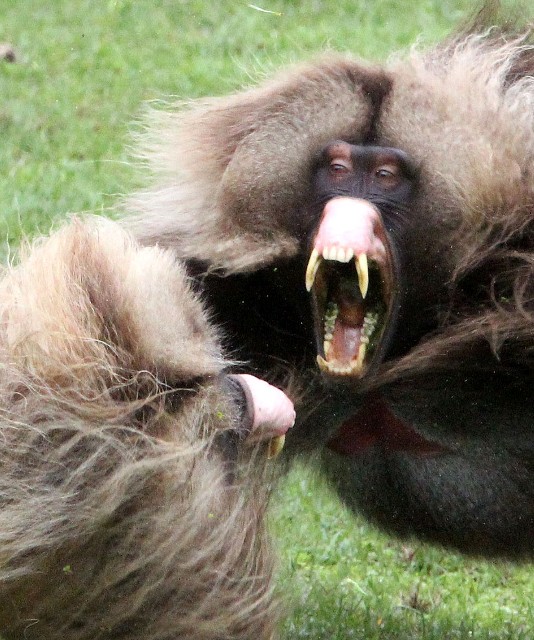 Fights like this errupted often and were usually over a female and a cheating sub-dominant male...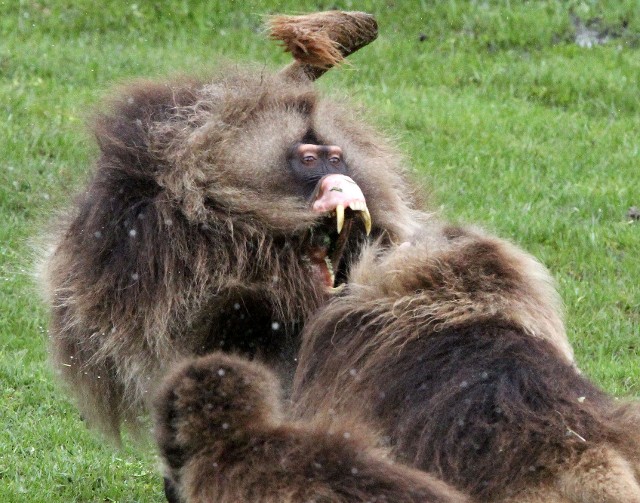 Although we witnessed many fights, we never saw any individuals get seriously injured. I guess all that thick fur served many purposes...
Day three Simiens: Woke early again today but this time with no expectations of anything other than a repeat of yesterday's success with the Geladas. And of course that was fine as we had come to terms with the disappointment that the road was for all intents and purposes, closed. Our experiences with those monkeys will be remembered as one of the highpoints of the summer for sure. But when I opened our bungalow door, I couldn't help but notice that I could see all the way to the other end of the Simiens and there was not a cloud in sight! I mean it was dry-season-clear all the way! I knew that would not matter in the slightest though, due to our vehicle and the one muddy section of road.
We stopped for the Geladas again, and enjoyed their space and vocalizations. What a great primate. Seriously! And spending time in their presence is a phenomenal experience. Then off to Sankaber Camp for another futile search for the non-existent Walia Ibex… And of course it was futile. It was at this moment that I looked at our guide, Sofata, and he looked at me. Sofata said, "Hey, we're wasting out time here. Let's go to Chenek Camp." I thought he was joking actually. He was definitely serious though. We both agreed that we'd get the driver to change his position and get us to the Ibex!
Well, it was a very hard fight, a few harsh words, threats to seek full refunds, etc., etc…..And then all of the sudden, Makindi, our driver turned around and started heading toward Chenek! But he was pissed! Part of the bargain I stuck with him was that if we got stuck, I would pay for the entire nearest village to push us out! There were loads of humanity in every direction here so finding willing soldiers to help get us out of the mess (which I was 100% sure was going to happen) would be no problem at all. I was very upset at this point because it became very clear that this company never intended to take us to Chenek Camp at all. We felt very misled and were upset that we even had to get angry to get our way for such a basic request. Anyway, we were on our way to Chenek Camp!
So off on the 22km course toward Chenek. Sofata promised us that this muddy spot was the only serious issue along the entire course. He was actually born in Chenek, so he knew the road well. And he was more than confident that we could make it the entire way. But then there was that piece-of-crap Landcruiser we were driving….But it became pretty clear right away that the road to Chenek after "the spot" was actually quite passable. There were a couple tricky areas but basically it was very doable. Just driving to Chenek was in itself worth the hassle and friction. The scenery was absolutely spectacular and we had clear vistas in every single direction. It was totally a dry-season-day. Although I was ecstatic to be arriving at Chenek, I was sill sore about having to fight so hard to do it!
Once arriving at Chenek, all eyes were scanning the nearby hills and forests for any signs of an Ibex. I knew our time was limited, and Sofata even said, "The driver is very angry…" I knew if we didn't find some Ibex any minute, we'd be out of luck as we were going to have to start back pretty quick. We all headed in the direction that Sofata knew was their normal spot, but nothing! I scanned every inch of the area and found nothing! Damn! No ibexes again! I didn't know how I was going to face our driver, forcing him to go where he didn't want to and still coming up empty….Damn!
Chenek Camp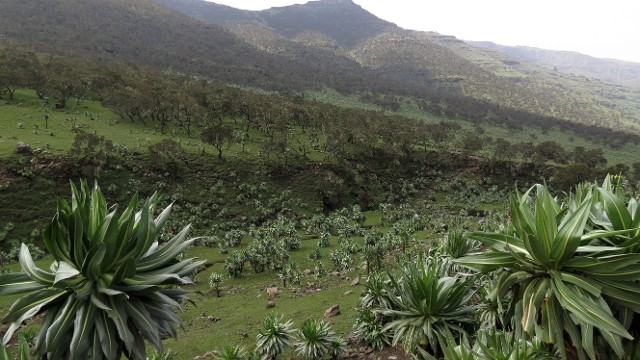 The scenery and botany of Chenek Camp alone was worth the effort to get to the camp. Here is a forest of Lobelia rhynchopetalum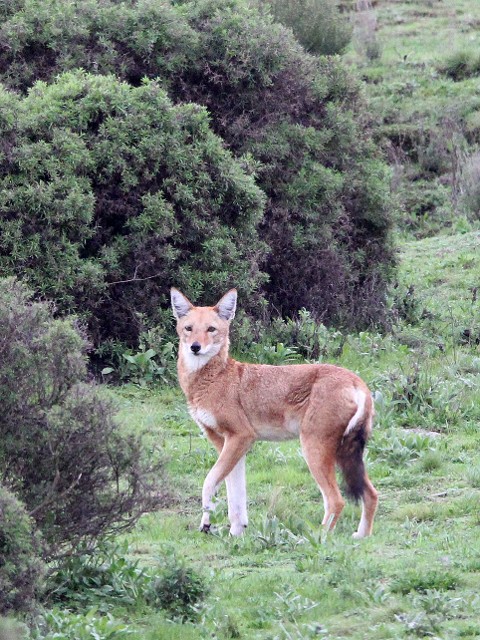 We were very lucky indeed to see one of the mere 40 remaining Ethiopian Wolves remaining in the Simien Mountains! Very few tourists ever get a chance to see this species here.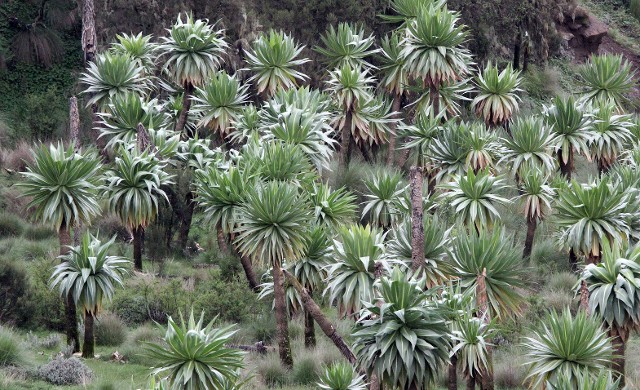 Giant Lobelia Forests (Lobelia rhynchopetalum) were amazing around Chenek Camp.
I knew I was obsessed with seeing the Walia Ibex when Som pointed out a lone Ethiopian Wolf (there are less than 40 in the Simiens!) in the camp and I snapped only a couple token images and walked away indifferently….We spent the better part of an hour searching fruitlessly every corner of Chenek Camp….Nothing. We did catch a couple species of rodents, Otymus typus and Arvanthicus abyssinicus, but no Ibexes. Then I met with our driver and he offered to drive us a few more kilometers deeper in to the Simiens. I guess he'd had a change of heart. And no more than a kilometer outside of Chenek Camp, Som yelled, "That's it! That's it!" Then she said, "no, it's nothing…" I went from excited to depressed in one nanosecond! And then one nanosecond latter, she yelled even louder, with even more conviction, "Yes! That's it! That's it!"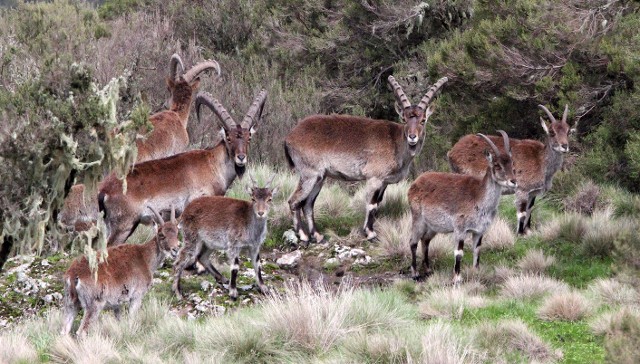 One of the harder-earned species of the entire trip. Our first Walia Ibex!
I looked up and immediately saw several horned heads peering down at us! We got them! I immediately ran up the 3600 meter-elevation hill, forgetting how much that would kick my ass…., but I got within two meters of a herd of at least ten Walia Ibexes! I snapped a few images of their nostrils (I forgot to bring the correct lens, and brought the mega-400mm instead…and at two meters it is virtually useless…. But thankfully I had the small snapshot camera….Oh yah, Cokie had once again put it in "fish eye" function, so we got some images of some bloated Ibexes that look pretty overweight….). Luckily Som was down the hill when they decided they'd had enough of me, and she got some amazing images!
Walia Ibex (Capra walie)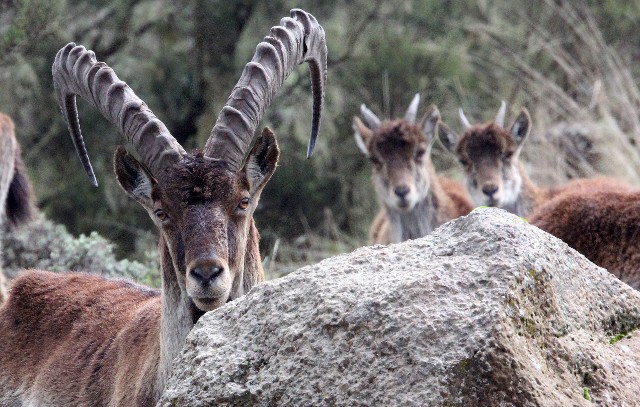 My first sighting of a wild Walia Ibex. I think they were as curious of me as I was of them. They let me approach as close as about three meters and showed no sense of fear or aggression. (Normally I would never get so close but the dense vegetation dictated otherwise...)
Check out our Pbase Image Gallery of the Walia Ibex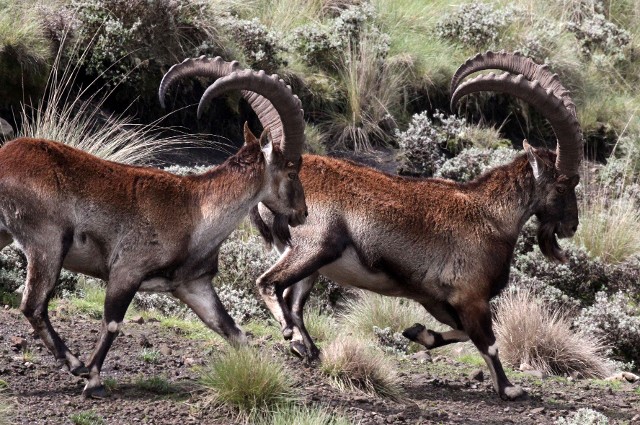 I was unable to get good images as they sprinted down the slope away from me, but luckily Som, vertigo and all, was there to capture the following images of these spectacular bovids.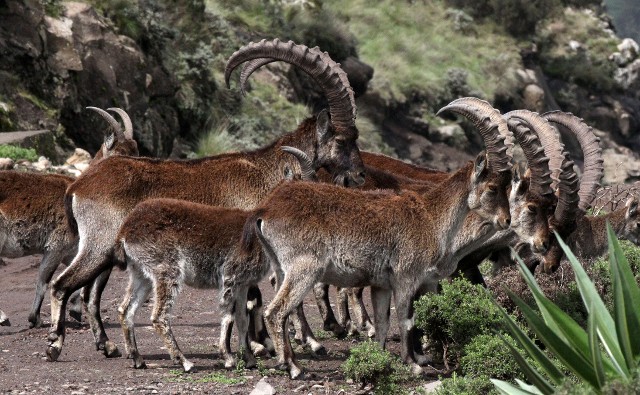 Our Walia Ibex deciding if the wanted to continue or not down the hill. They decided to go for it!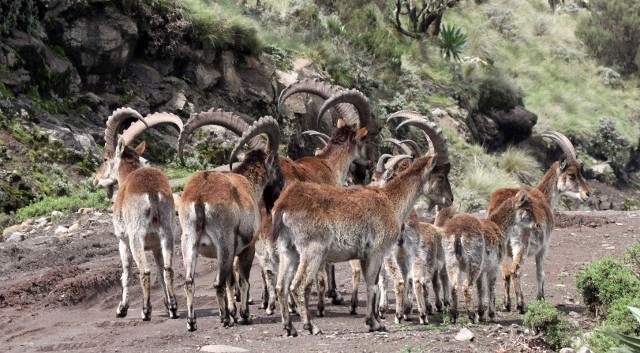 Could someone please make a decision!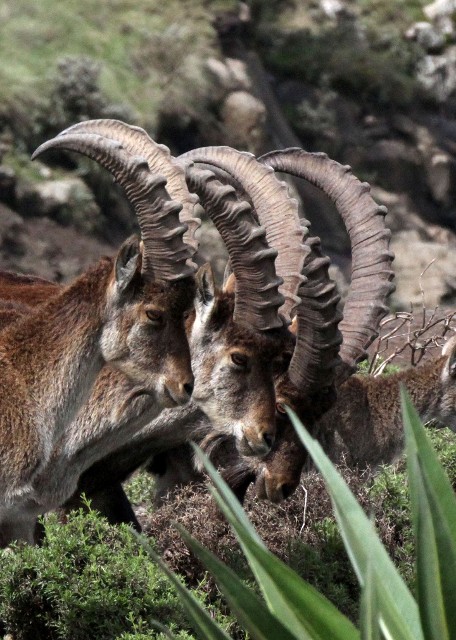 "OK, let's do it!" And off they went...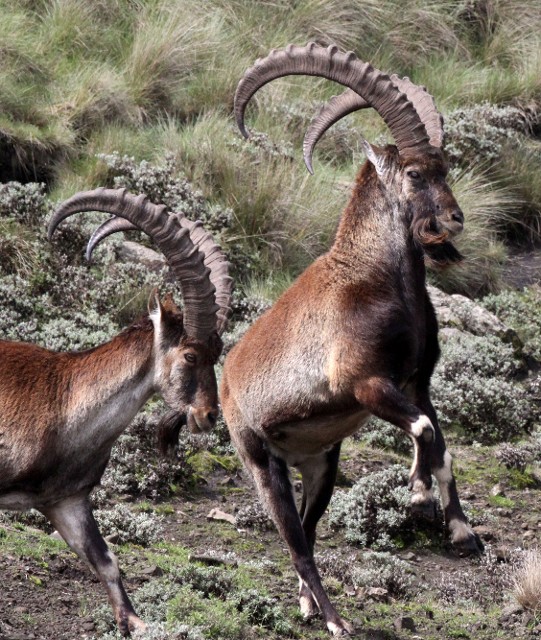 A couple of the higher-ranking males showing off for Som and Cokie. Very impressive.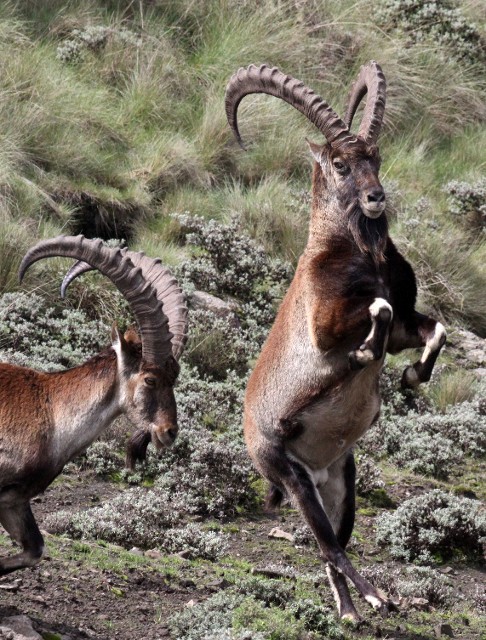 They put on quite a show for us!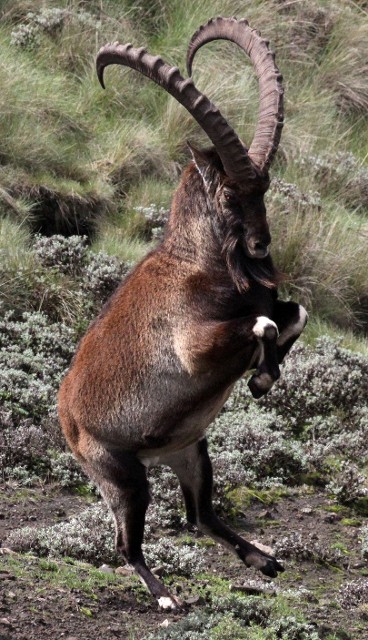 Walia Ibex
We were standing less than five meters away from them while they were performing for us...Absolutely spectacular!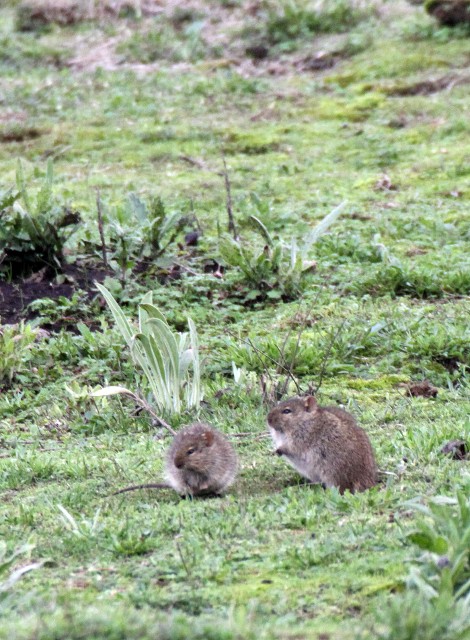 Either Otomys typus or Arvicanthus abyssinicus. Most likely O. typus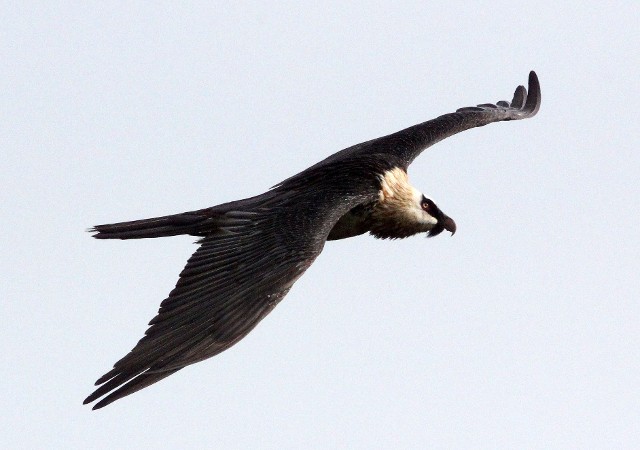 We had three main targets for the Simien Mountains: Walia Ibex, Gelada and an avian one - the Lammergeier! I was thrilled to see so many in good light! Due to our position on the ledges, we often saw them fly by at eye-level. Spectacular bird.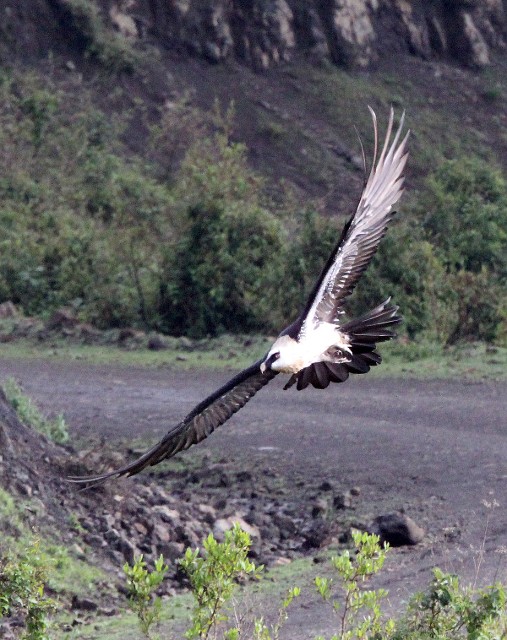 This one nearly hit us head-on!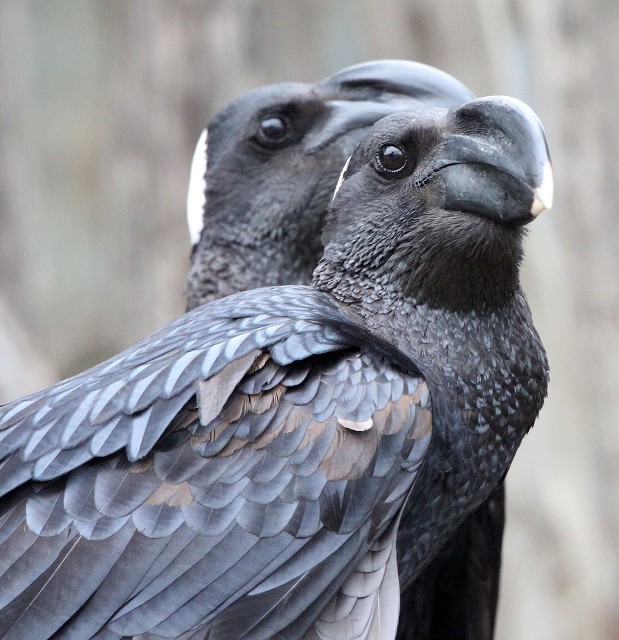 Thick-billed Ravens were another Ethiopia-endemic seen commonly in the Simiens as well as most other places. This pair was particularly romantic, however.
What a day! Three new species and we completed our entire summer expedition with nearly a perfect record of attaining almost all of our targets. The Walia Ibex was species #59 for Ethiopia and #153 for the summer trip!
Now all that was left was the very uncertain drive back to the lodge. The weather was still spectacular at Chenek so I was optimistic that we'd only be facing the one obstacle at "the spot". Sure enough, we traveled very easily through the Simiens and reached the spot with no difficulty whatsoever. The several hours of sun that had been shining by this point had dried the road very nicely and there were no real obstacles at all. And then we reached "the spot"! I made sure that Som and Cokie were not in the vehicle, in case it slid off the cliff edge, but there was no real issue at all. The piece-of-crap Landcruiser made it up the muddy section without even sliding !!! Everyone thanked their respective gods and we got on our way back home! What a day!
Gondar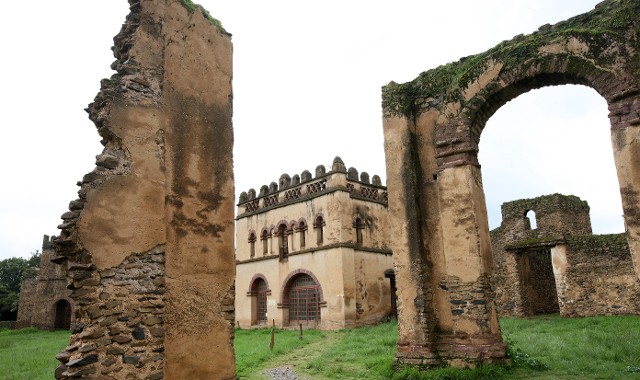 Gondar is a very nice city and is home to the famous Gondar Castle, which dates back some 350 years or so. We basically had the place to ourselves this day.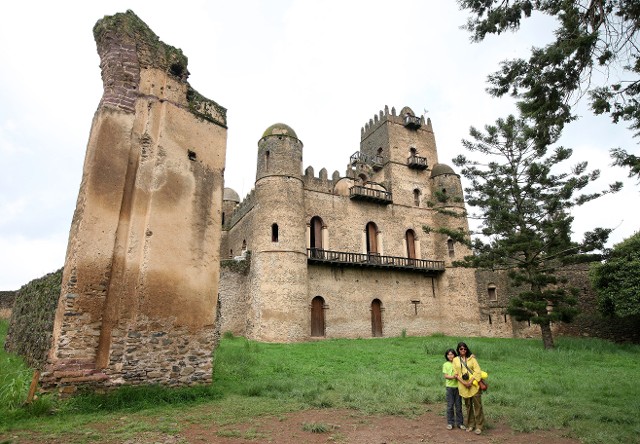 Gondar Castle!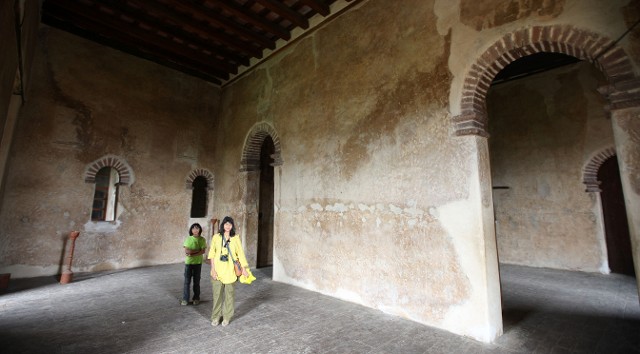 The whole place was kinda spooky...

Luckily we had enough time to spend a quality afternoon in Gondar, which is a very interesting city in its own right. Home to the famous Gondar Castle, the town has ancient personality and is definitely worth a visit. Our flight back to Addis was uneventful and we had a lovely day there as well. We explored some of the sights of the city and spent some time in the bowels of the "Mercado", the largest market in Africa. This was a seriously massive market – one could easily get lost in this expansive place. Our final night in Addis was spent partying in a traditional restaurant where we enjoyed classic Ethiopian cuisine and dance. Of course it was touristy but we had a great time eating the Firfir for one last time. And the honey wine was pretty good as well!

Back in Addis Ababa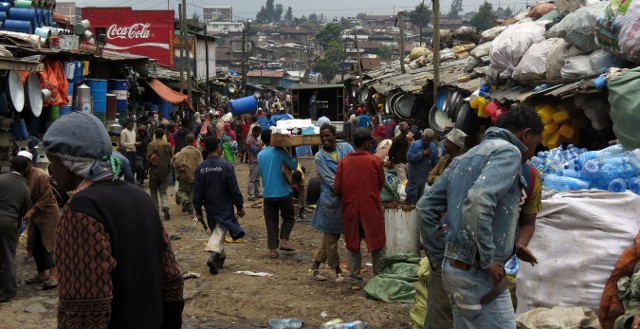 The Mercado, Africa's largest market.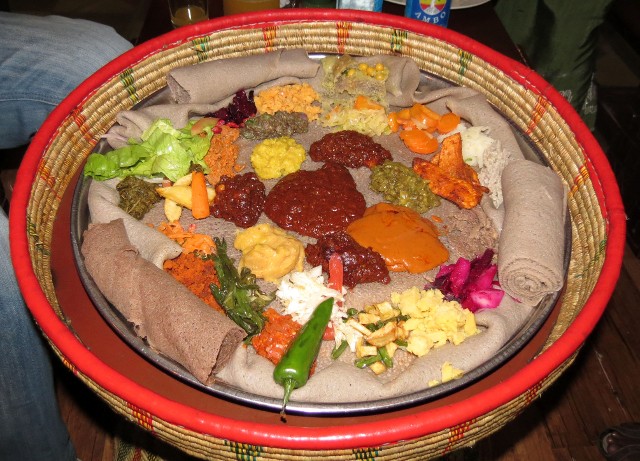 Our last meal in Ethiopia was the staple food of the nation, Injera Fir Fir. Absolutely delicious...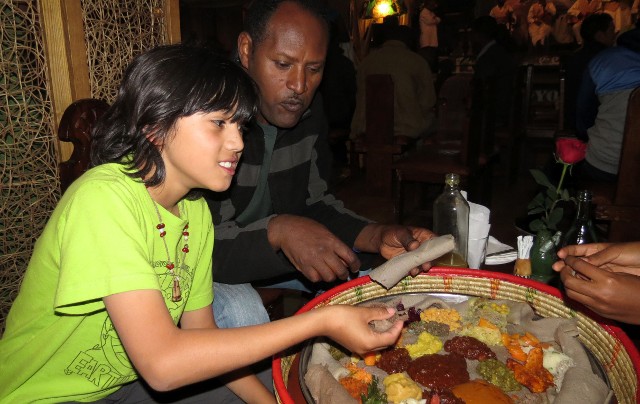 I love how Cokie is willing to try almosts anything nowadays. He actually liked it! But I think he liked the honey wine better...

***
More Critters of Ethiopia!
Menelik's Bushbuck at Dinsho, Bale Mountains National Park.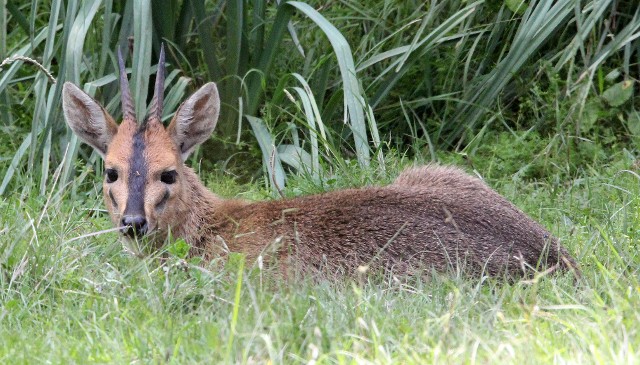 Red Duiker at Dinsho, Bale Mountains National Park.
Harar Dikdiks at Ali Dege Nature Reserve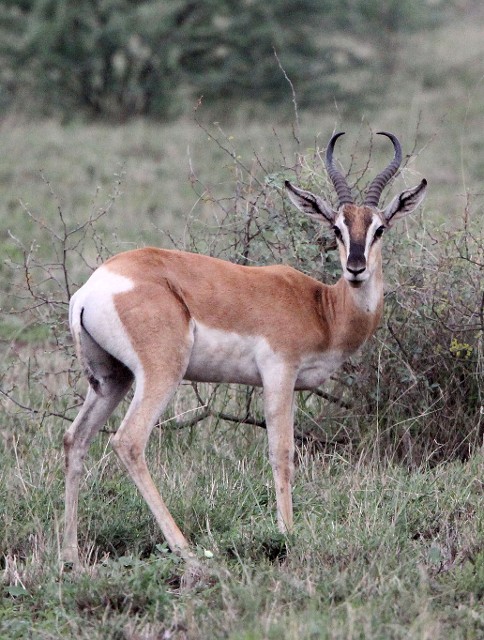 Soemmerring's Gazelle at Ali Dege Nature Reserve.
Northern Gerenuks sprinting for safety near Ali Dege Reserve.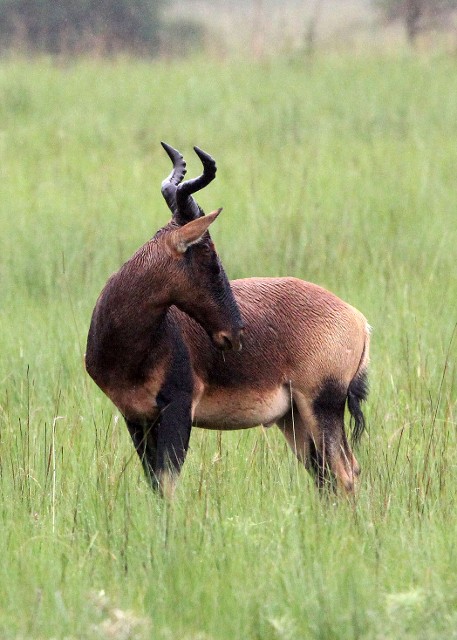 Swayne's Hartebeest at Senkele Wildlife Sanctuary.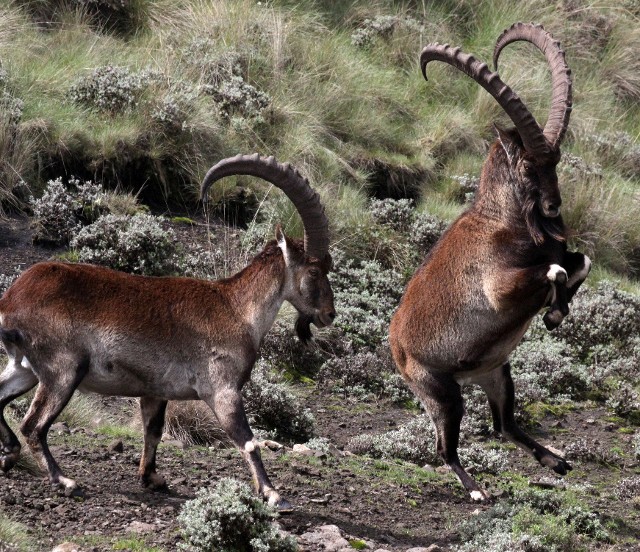 Dancing Walia Ibex...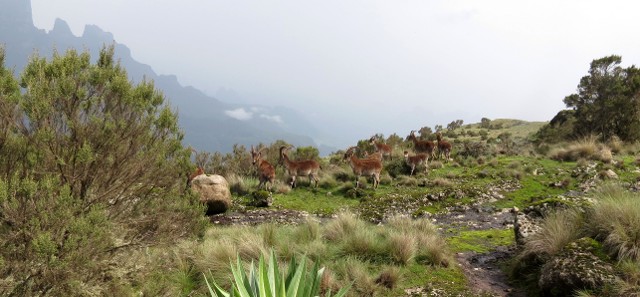 Walia Ibex on the slopes of Chenek Camp, Simien Mountains.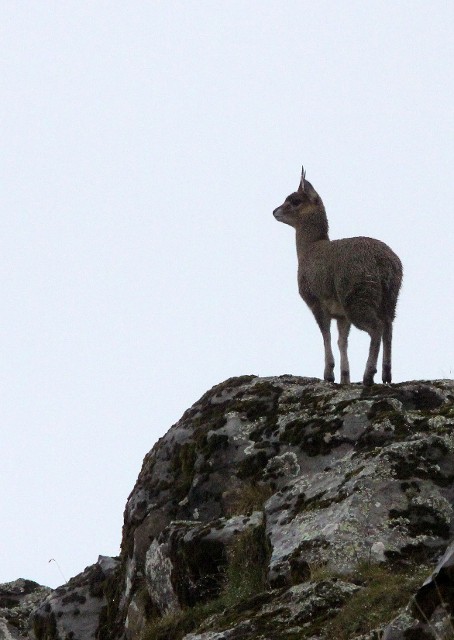 Ethiopian Highland Klipspringer (Oreotragus saltatrixoides), Bale Mountains National Park.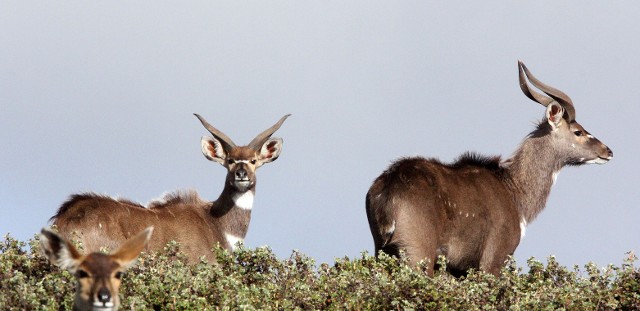 Mountain Nyala on the Sanetti Plateau, Bale Mountains.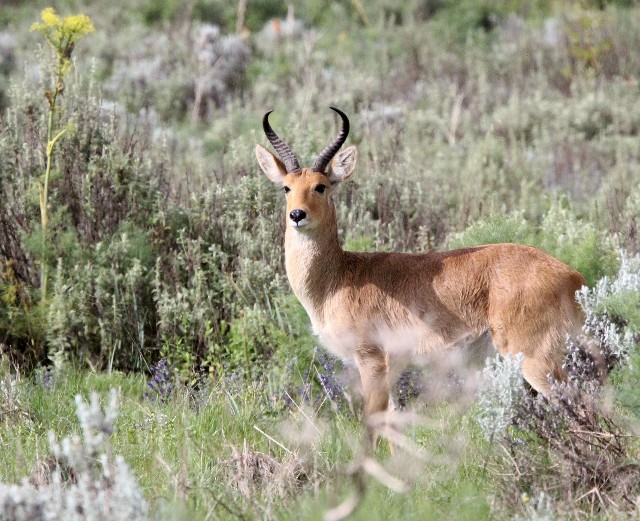 Bohor Reedbuck at the Gaysay Grasslands, Bale Mountain National Park.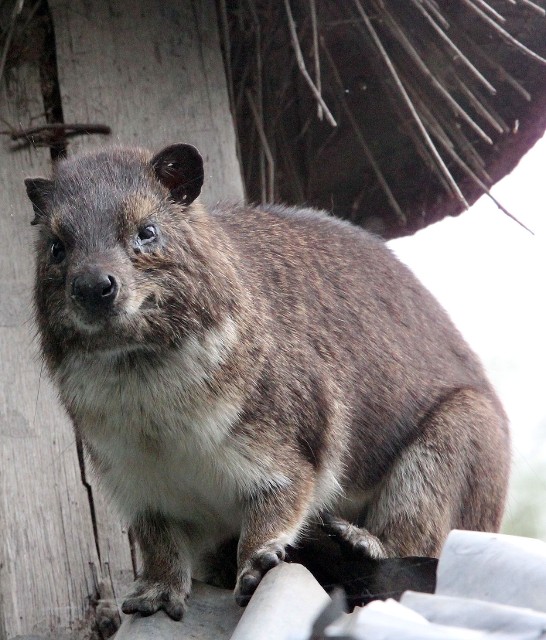 Yellow Spotted Bush Hyrax at Lake Ziway.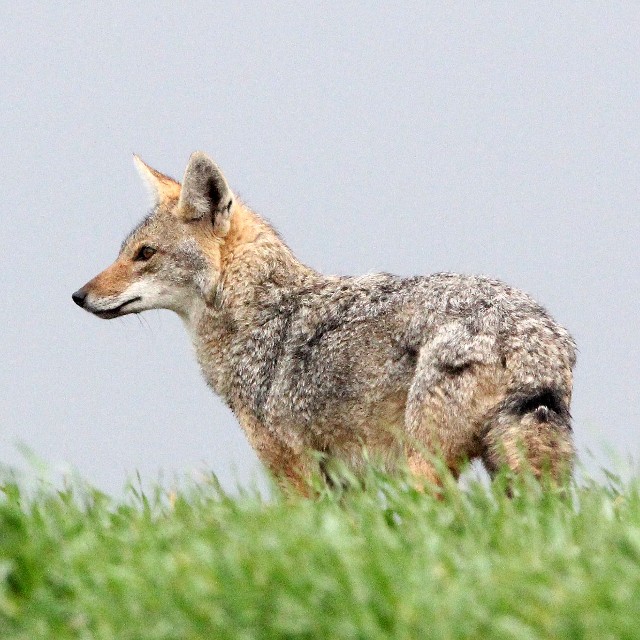 Common Jackal at Simien Mountains NP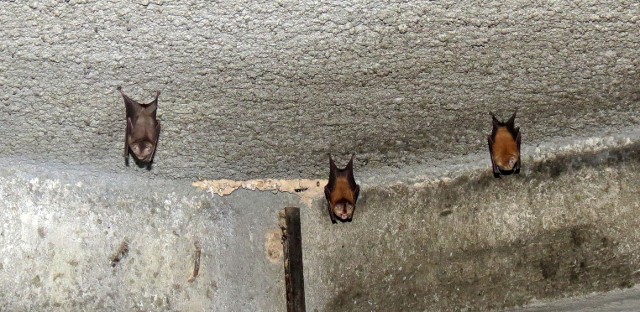 Perhaps the Bushveldt Horseshoe Bats and a Sundevall's Roundleaf Bat?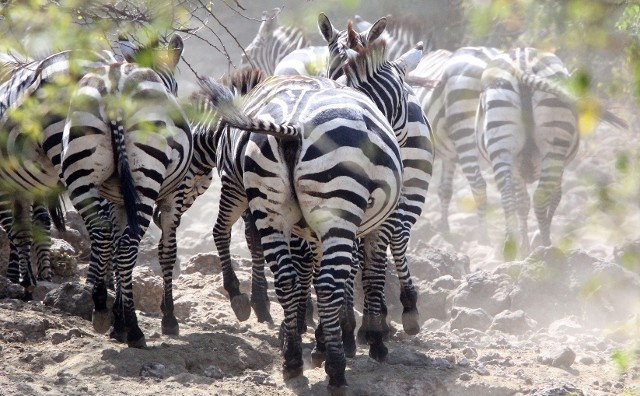 Grant's or Plains (Boehm's) Zebra at Nech Sar National Park...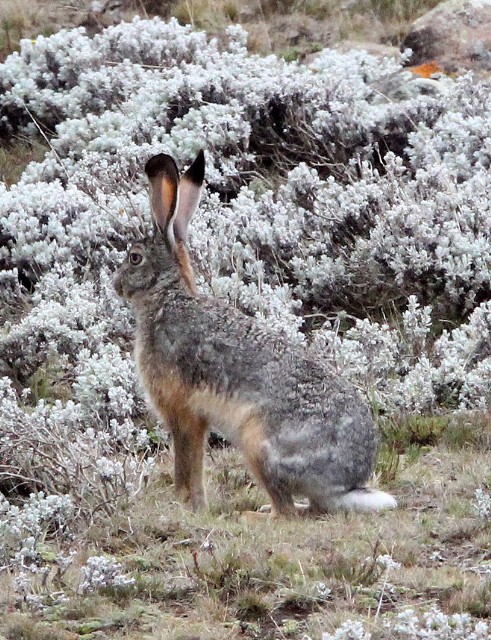 Starck's Hare on the Sanetti Plateau, Bale Mountains National Park.
Mammal List Ethiopia
Abiata-Shalla (AS), Nech Sar (NS), Bale Mountains (BM), Lake Awassa (LA), Simien Mountains (SM), Awash (AW), Lake Langano (LL), Ali Dege (AD)
Hippopotamus (Hippopotamus amphibious) LL, NS, AS, 12
Bright's (Grant's) Gazelle (Gazella notatus) AS, NS, 30+
Yellow-spotted Bush Hyrax (Heterohyrax brucei) Ziway 1
Bohor's Reedbuck (Redunca redunca bohor) AS, BM, 30+
Warthog (Phacochoerus africanus) AS, BM, AW, LL, 100++
Grivet Monkey (Cercopithecus aethiops) LA, NS, AW, LL, 100+
Ethiopian Guereza Colobus (Colobus guereza) All locations, 50+
Gambian Sun Squirrel (Heliosciurus gambianus) LL, 1
Ethiopian Side-striped Jackal (Canis adustus kaffensis) LL, 1
Ethiopian Bat-eared Fox (Otocyon megalotis canescens) AW, 26
Spotted Hyena (Crocuta crocuta) LL, BM, AW, 2
Aardwolf (Proteles cristata septentrionalis) AW, 1
Senegal Galago (Galago senegalensis dunni) LL, 1
Egyptian Fruit Bat (Rousettus aegyptiacus) LL, 5
Mauritian Tomb Bat (Taphozous mauritianus) LL, 1
Mouse-tailed Bat (Rhinotoma microphyllum) LL, 4
Egyptian Tomb Bat (Taphozous perforatus) AW, 3
Sundevall's Roundleaf Bat (Hipposideros caffer) AW, 40+
Bushveld Horseshoe Bat (Rhinolophus simulator) AW, 10+
Swayne's Hartebeest (Alcelaphus swaynei) Senkele, 50+
Sudan Oribi (Ourebia montana) Senkele, 25+
Ethiopian Greater Kudu (Tragelaphus strepsiceros chora) NS, 1
Guenther's Dik Dik (Madoqua guentheri) NS, 8
Boehm's Zebra (Equus quagga boehmi) NS, 100+
Ethiopian White-footed Mouse (Myomys albipes) NS, 3
Mountain Nyala (Tragelaphus buxtoni) BM, 200+
Menelik's Bushbuck (Tragelaphus meneliki) BM, 5
Serval (Leptialurus serval) BM, 1
Red (Bush)Duiker (Sylvicapra grimmia abyssinica) BM, 5
Abyssinian Rock Hyrax (Procavia abyssinica) BM, 16
Ethiopian Highland Klipspringer (Oreotragus saltatrixoides) BM, SM, 3
Blick's Grass Mouse (Arvicanthus blicki) BM, 100++
Black-clawed Brush-furred Rat (Lophuromys melanonyx) BM, 100++
Yellow-spotted Brush-furred Rat (Lophuromys flavopunctatus) BM, 25+
Typical Vlei Rat (Otomys typus) BM 100+
Ethiopian Wolf (Canis simensis) BM, 13, 19, 15, 1
Common Jackal (Canis aureus) BM, SM,1, 2
Black-backed Jackal (Canis mesomelas) AW, 2
Starck's Hare (Lepus starcki) BM, 20+
Cape Hare (Lepus capensis) AW, 2
Abyssinian or Scrub Hare (Lepus habessinicus) AW, AD, 20+
Giant Mole Rat (Tachyoryctes macrocephalus) BM, 25+
Bale Monkey (Cercopithecus djamdjamensis) BM, 20+
Hamadryas Baboon (Papio hamadryas) AW, 10+
Beisa Oryx (Oryx beisa) AW, AD, 150+
Soemering's Gazelle (Gazella soemmeringii) AW, AD, 150+
Salt's or Harar Dik Dik (Madoqua hararensis) AW, AD, 25+
Northern Lesser Kudu (Tragelaphus imberbis) AW, 7
Northern Gerenuk (Litocranius sclateri) AD, 2
Grevy's Zebra (Equus grevyi) AD, 1
Egyptian Mongoose (Herpestes ichneumon) AD, 1
Unstriped Ground Squirrel (Xerus rutilis) AD, 3
Leopard (Panthera pardus) AW, 1
Common Genet AW, 2
Blotched Genet AW, 1
Gelada Baboon (Thereopithecus gelada) SM, 500++
Simien Grass Rat (Otomys typus) SM, 10+
Ethiopian Highland Grass Rat (Arvicanthis abyssinicus) BM, SM, 50++
Walia Ibex (Capra walie) SM, 11
Norway Rat (Rattus norvigicus) Addis, 10+
Ethiopian Meadow Rat (Stenocephalemys albocaudata) BM, 2
Ethiopian Meadow Rat (Stenocephalemys griseicauda) BM, 10+
Mystery Jackal....
***
Near Misses, Sign or Road Kill
Giant African Genet – Road kill near Shashamene
Marsh Mongoose – Road kill near Shashamene
Porcupine – spines seen everywhere along with recent sign
Ethiopian Birds!
Ethiopia Endemics & Near-endemics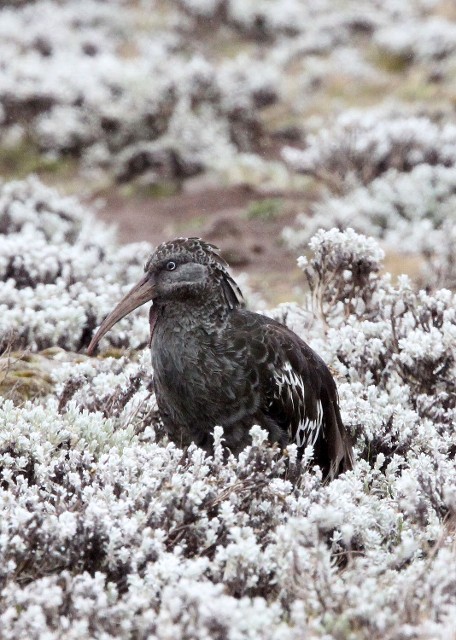 The endemic Wattled Ibis was a common species throughout our trip. This one was spotted with his compadres on the Sanetti Plateau, Bale Mountains.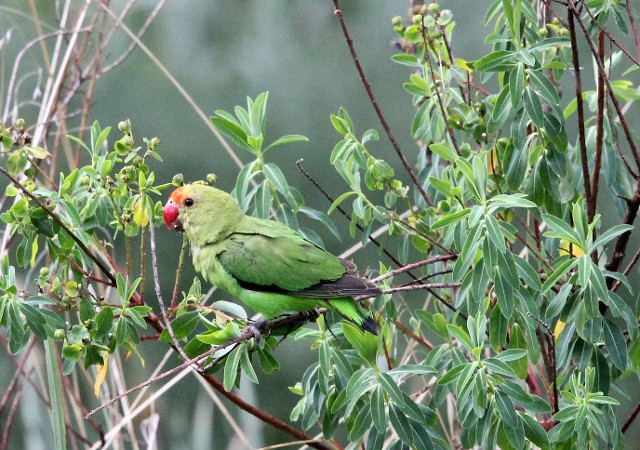 The Black-winged Lovebird was a locally common species in certain locations such as the woodlands near the Gaysay Grasslands.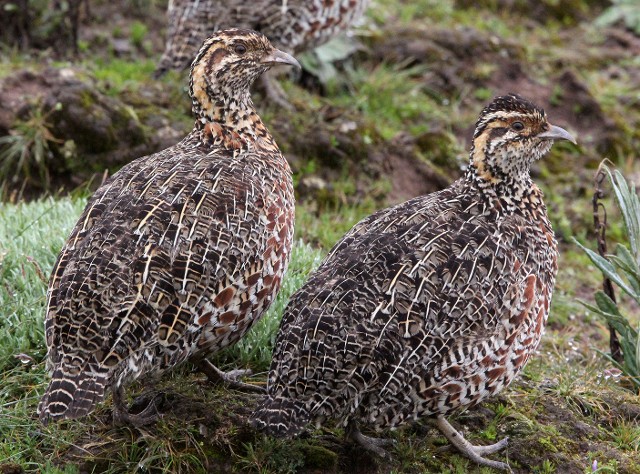 Moorland Francolins were very common on the Sanetti Plateau during our trip to Bale Mountains. But according to Abiy, this is not always the case as many trips might not spot them...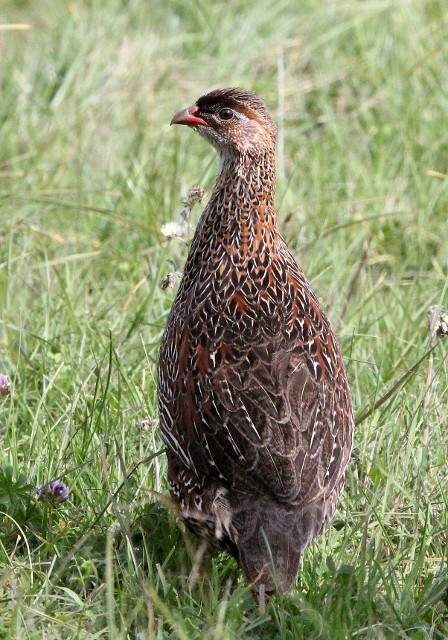 Chestnut-naped Francolin is either endemic or near-endemic. This was seen in the mid-elevations heading up the Bale Mountains.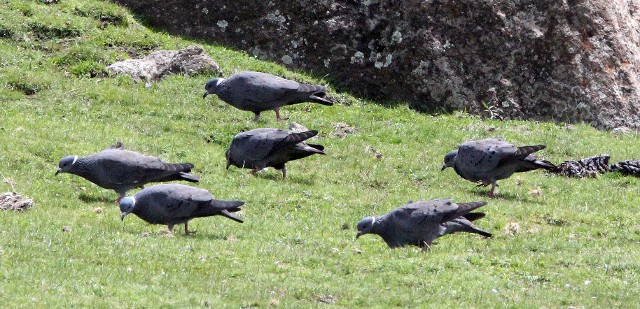 White-collared Pigeons were a fairly common endimic near Chenek Camp, Simien Mountains NP.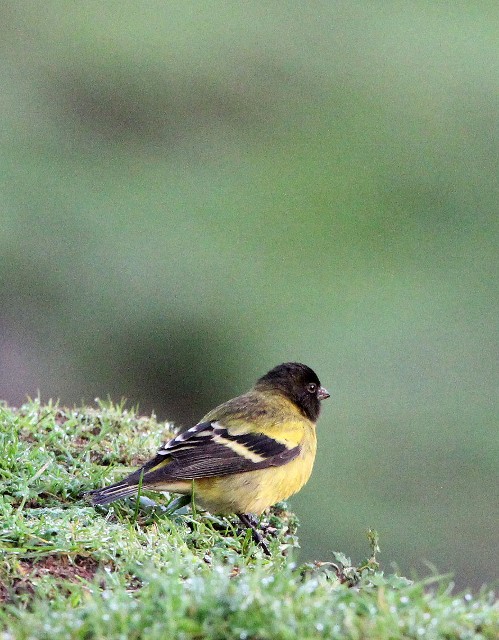 Ethiopian Siskin were seen commonly at the Simien and Bale Mountains.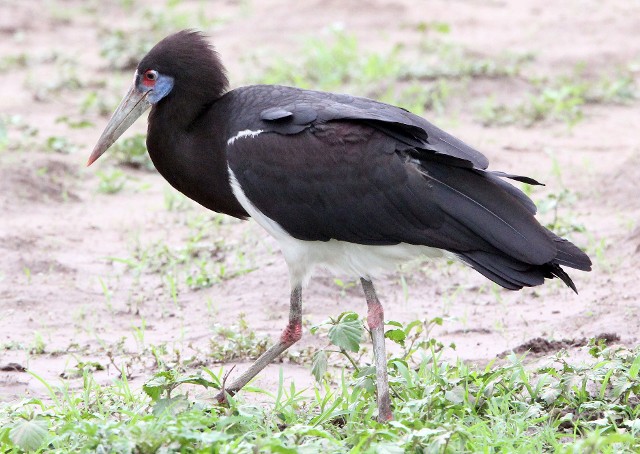 We came across several flocks of the endemic Abdim's Stork while in the region. This one was seen near Lake Ziway.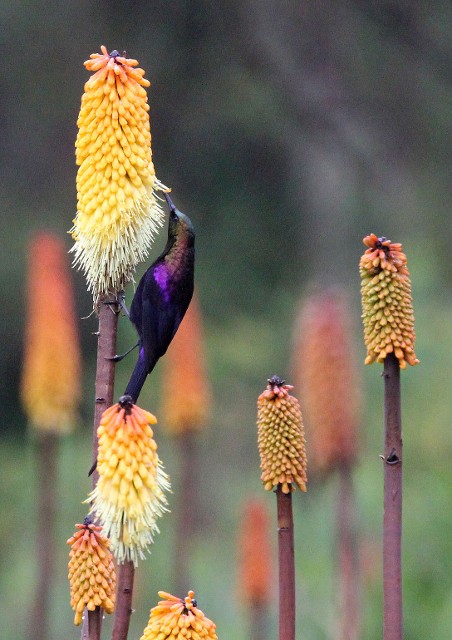 The spectacular endemic Tacazze Sunbird was seen in the Gaysay Grasslands in good numbers.
This endemic White-cheeked Turaco was seen in the forests of Lake Langano near Bishangari Lodge.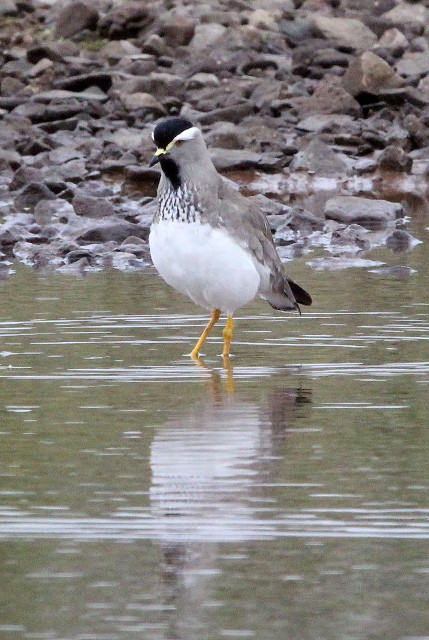 Spot-breasted Plovers were very common in the moorland ponds on the Sanetti Plateau.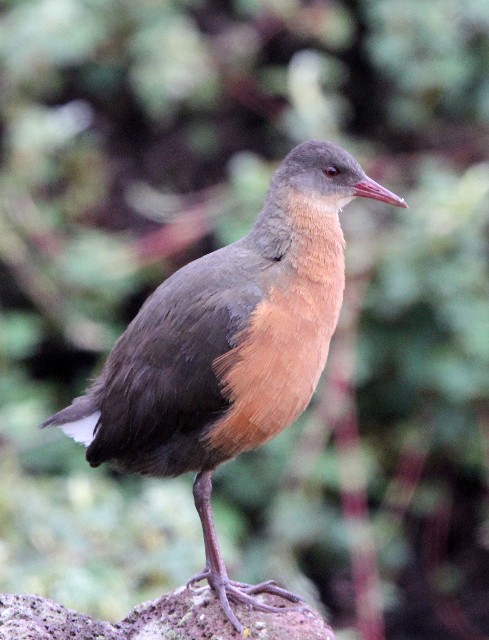 Rouget's Rain was a commonly spotted endemic in the Bale Mountains at all elevations.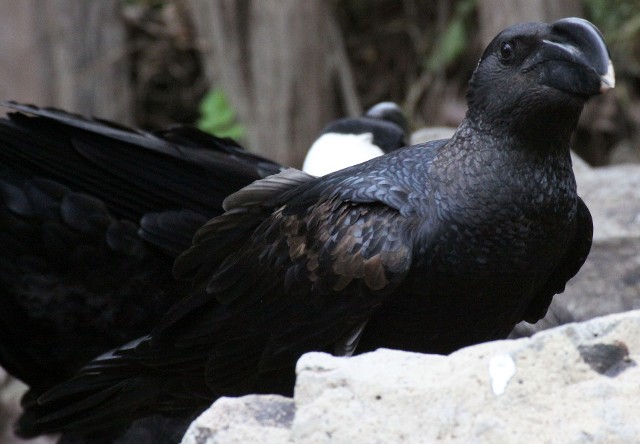 Thick-billed Ravens seen near Shashamene were another great endemic seen on the trip.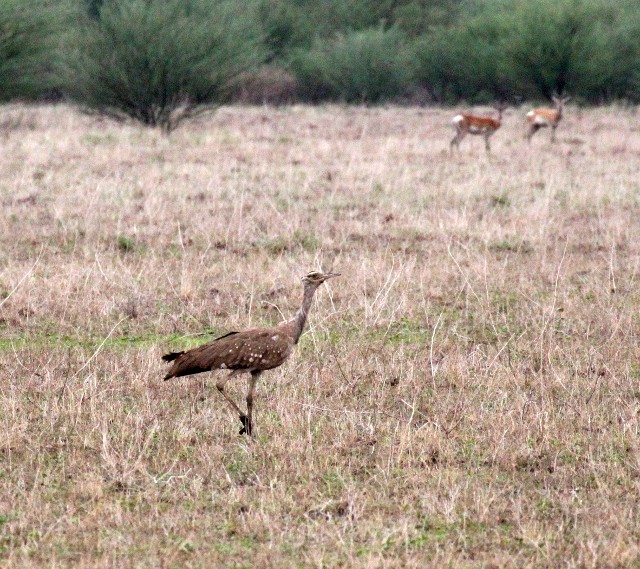 The Arabian Bustard is a near-endemic being found in Ethiopia and Eritrea.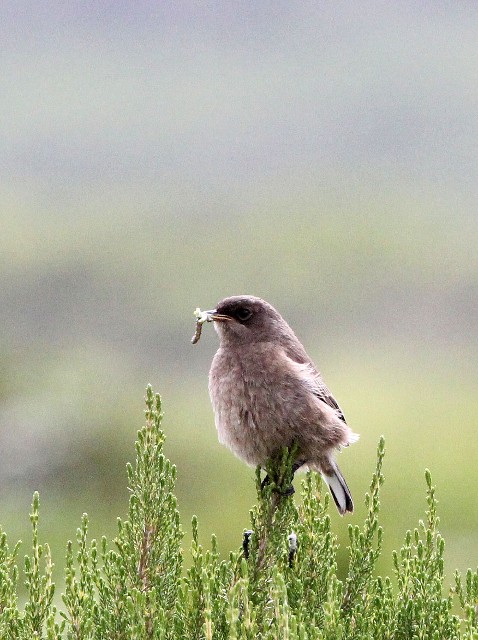 The Moorland Chat (Cercomela sordida) was either endemic or near-endemic to Ethiopia was common both at both the Simien and Bale Mountains.
Other Birds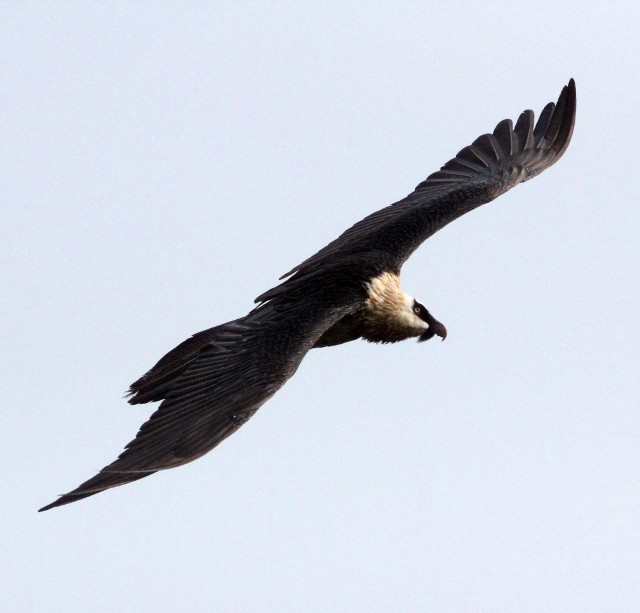 The Lammergeier was without a doubt one of the bird-highlights for our entire summer expedition. They are also known as "bearded vultures" for obvious reasons.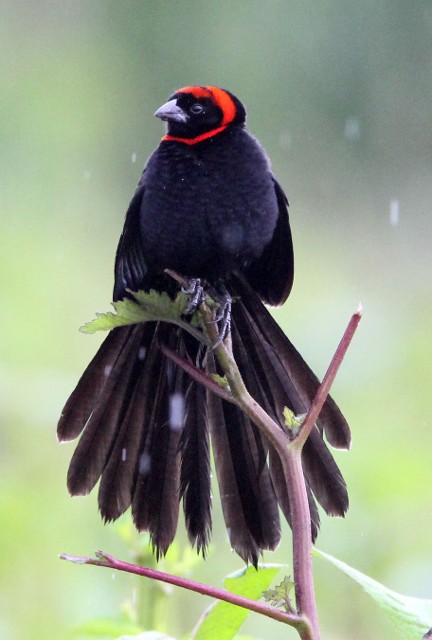 Red-collared Widowbirds were very common in the grasslands and fields throughout Ethiopia.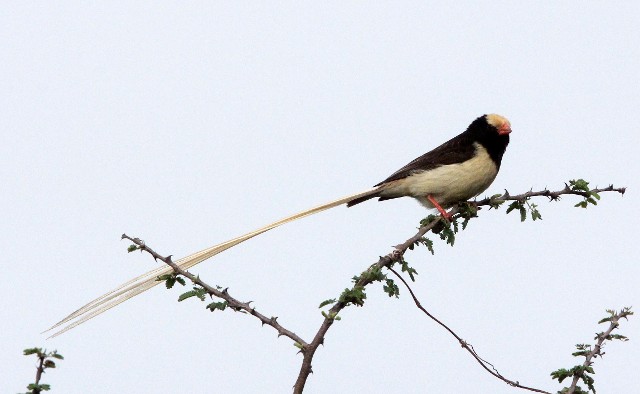 The Straw-tailed Whydah is a seriously cool bird!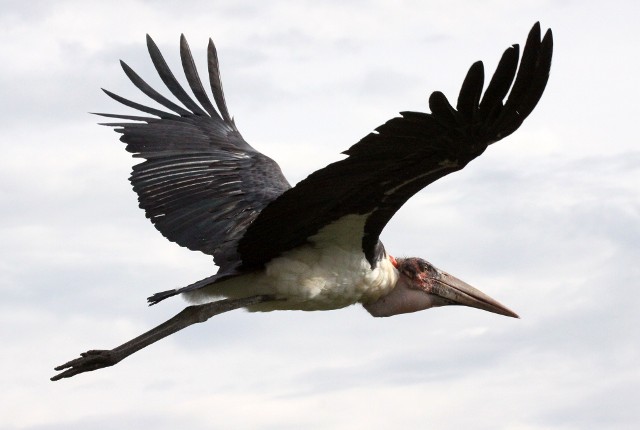 I know, I know...enough pics of Marabou Storks! (Lake Awassa)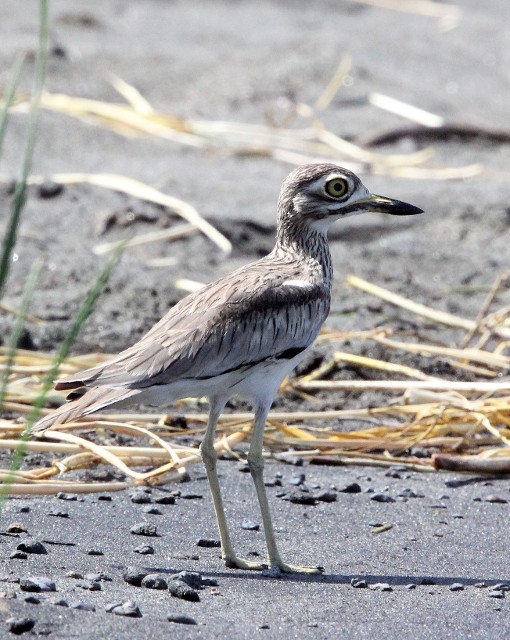 Senegal Thick-knees were the only species seen in Ethiopia, and they were fairly common in many of the lakes on our trip.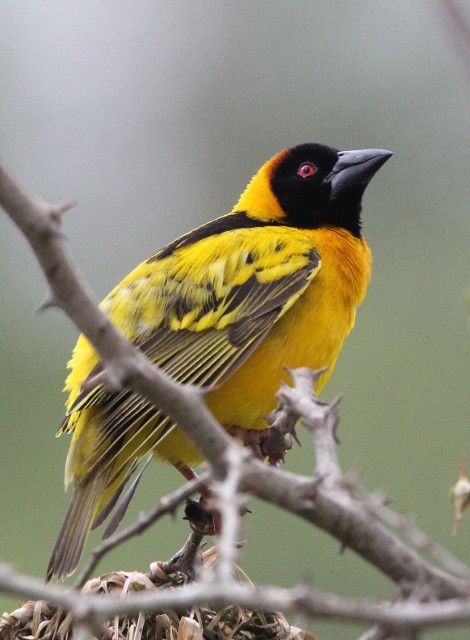 Village Weavers were the most common on the trip. At least I am assuming this is a Village Weaver - they all look so dang similar to me!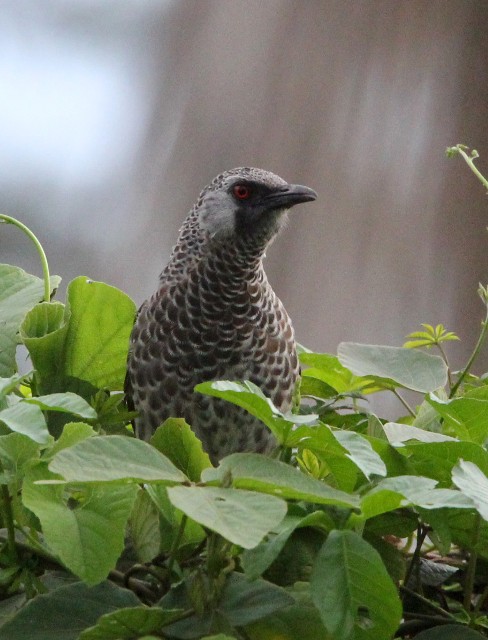 Scaly Babbler in Lake Awassa.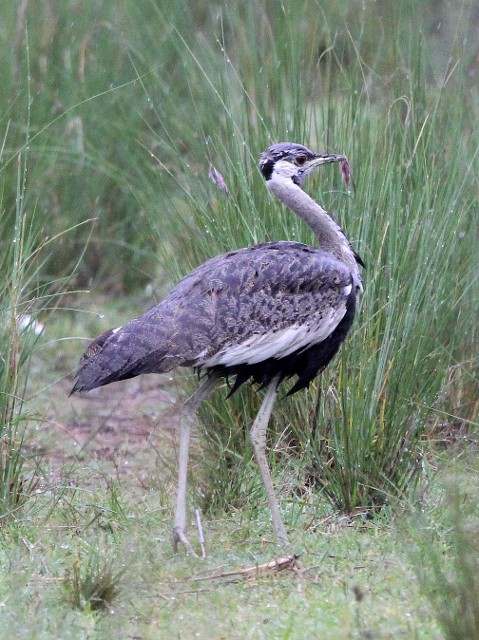 Black-bellied Bustards were seen both in Awash and Senkele Wildlife Sanctuary.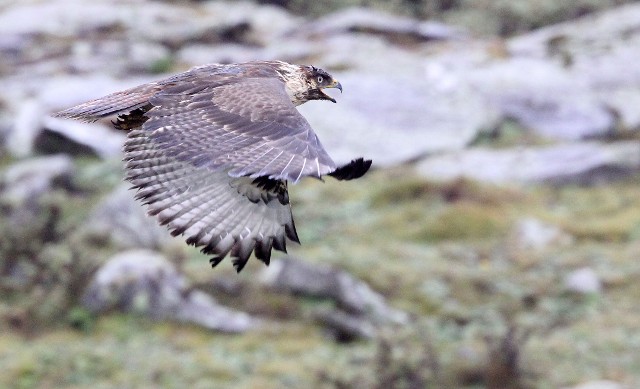 Augur Buzzards were definitely the most common raptor on the Sanetti Plateau. This young one was on the way to the hunt no doubt...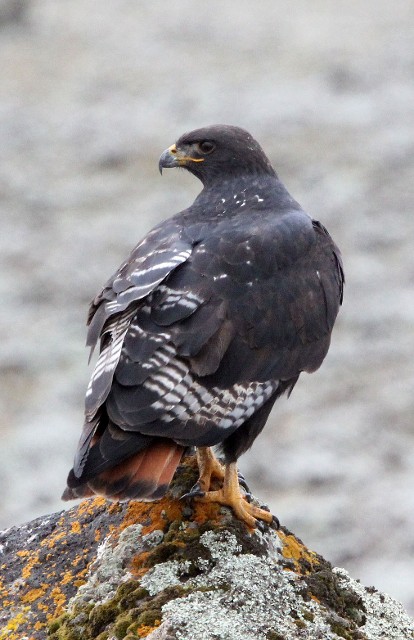 The dark-morph of the Augur Buzzard was common in the Bale Mountains.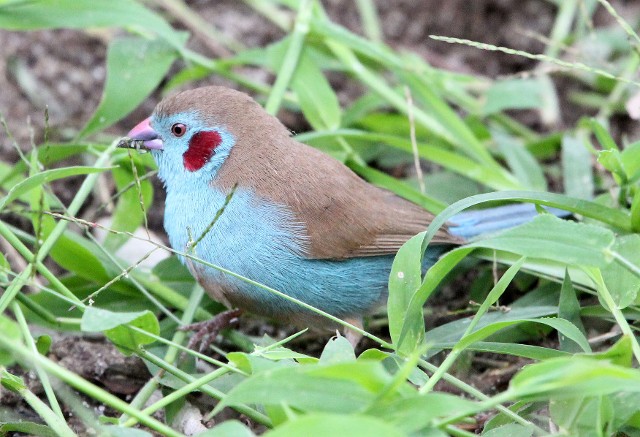 The Red-cheeked Cordon-Bleu were very common in all lowland locations on the trip.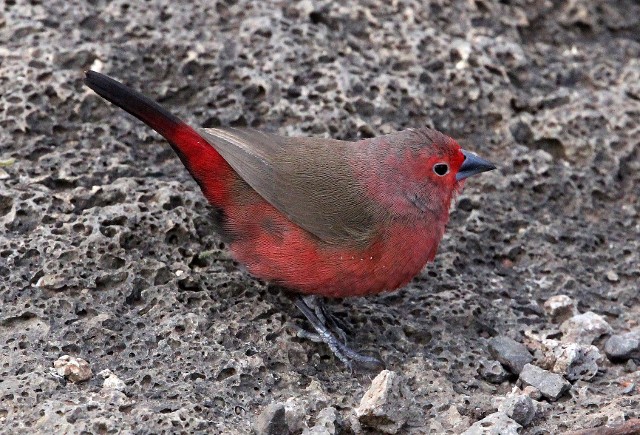 It was nice to finally see the African Firefinch. Mostly we came across Red-billed...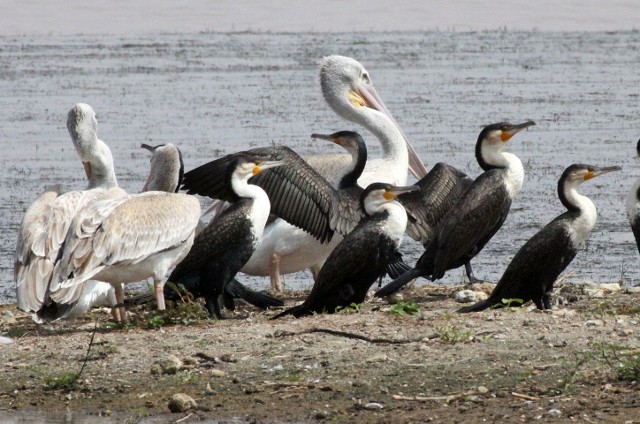 Great Cormorants and Pink-backed Pelicans were common sites at Lake Ziway, Langano and Awassa. These were sitting along the shores of Lake Langano near the Bishangari Lodge.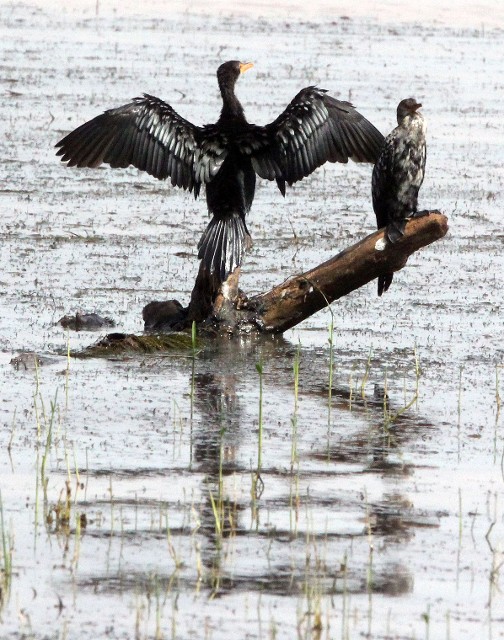 Long-tailed Cormorant at Lake Langano!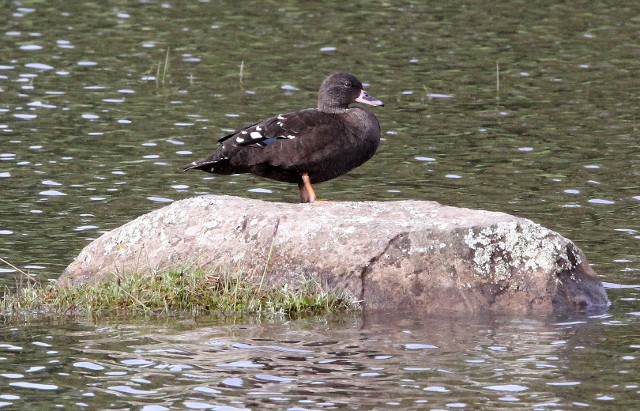 We caught a rare glimpse of a pair of African Black Ducks in a pond near the Gaysay Grasslands.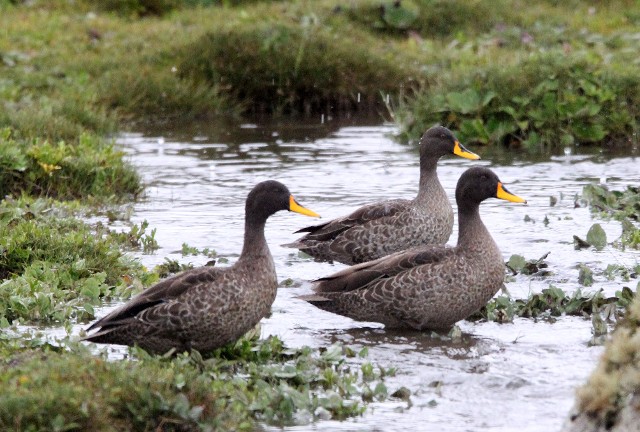 Yellow-billed Ducks were a common sight on the Sanetti Plateau in the moorland ponds.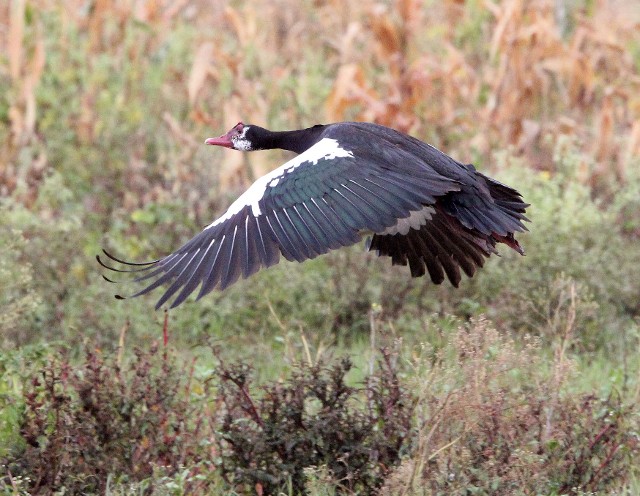 Spur-winged Goose near Lake Ziway.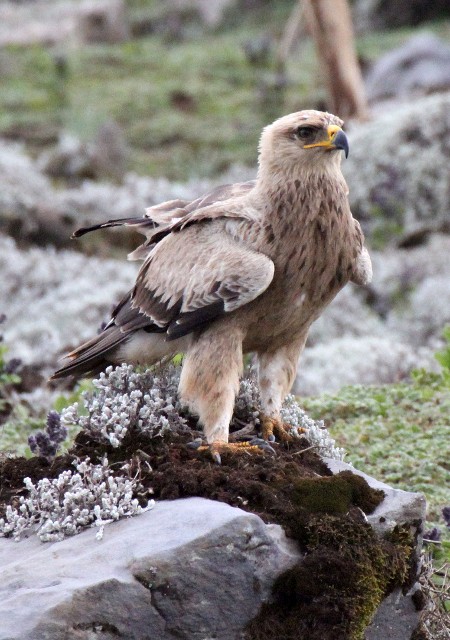 Steppe Eagle on the Sanetti Plateau, Bale Mountains.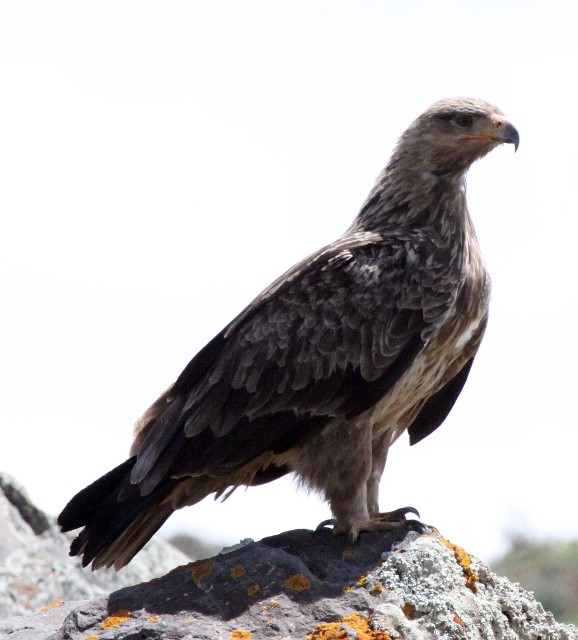 Tawny Eagle on the Sanetti Plateau, Bale Mountains.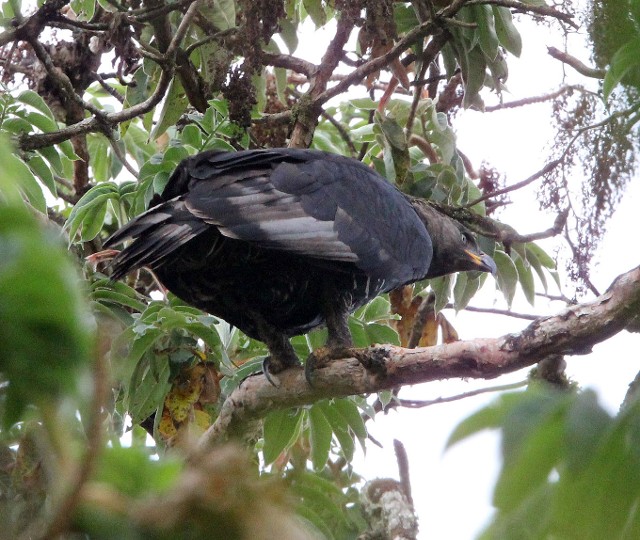 We were very happy to see our very first African Crowned Eagle in the Harenna Forest of Bale Mountains National Park.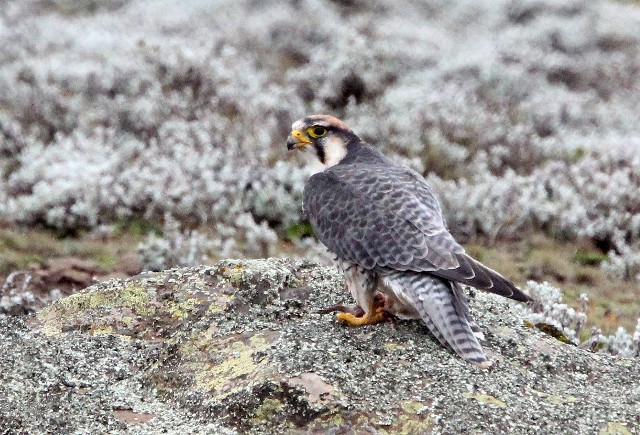 Lanner Falcons were very common the Sanetti Plateau. There was plenty of rodents to keep everyone fat and happy for sure!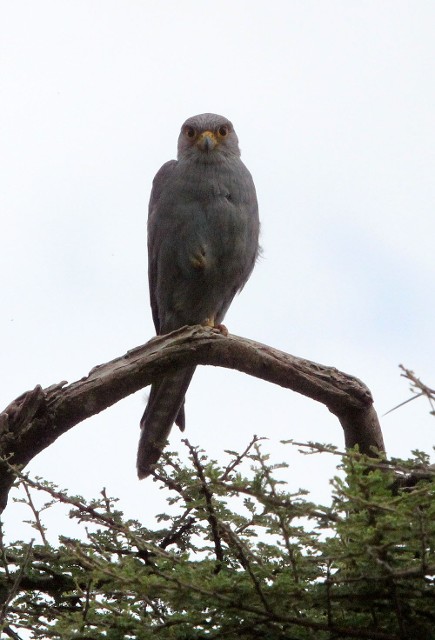 Perched African Goshawk at Bishangari Lodge, Lake Langano.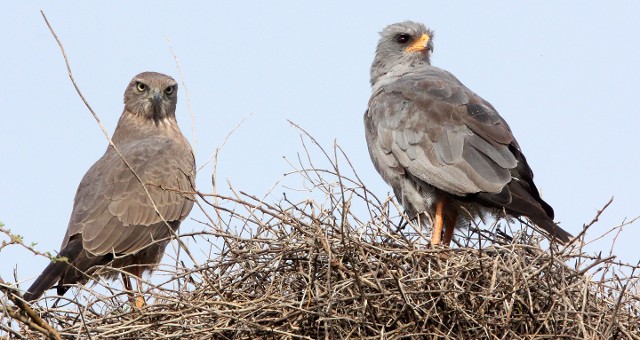 Dark Chanting-Goshawk in their nest. Which is the adult and which is the chick?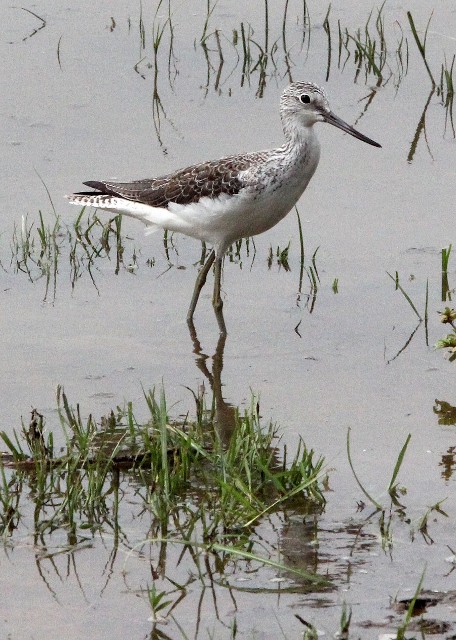 Common Greenshank wading in the shallows of Lake Langano.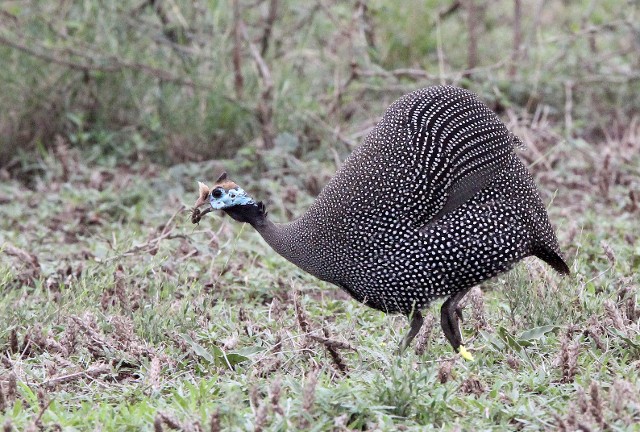 The ubiquitous Helmeted Guineafowl somewhere in Ethiopia...Hell, I can't remember where I saw this one - they were everywhere! Let's just say, Awash NP!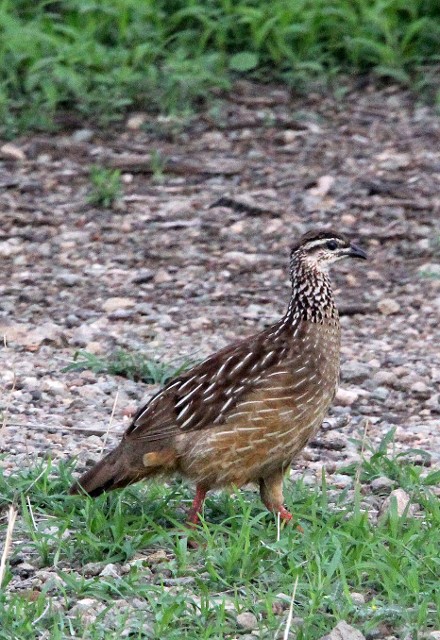 Crested Francolin in the Gaysay Grasslands of Bale Mountains NP.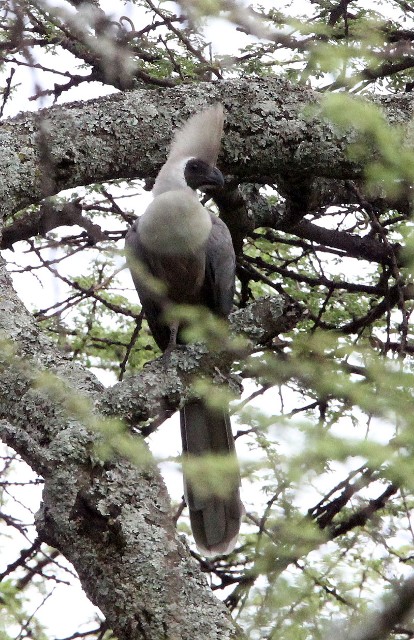 Grey Go-away Birds were very common at Lake Langano.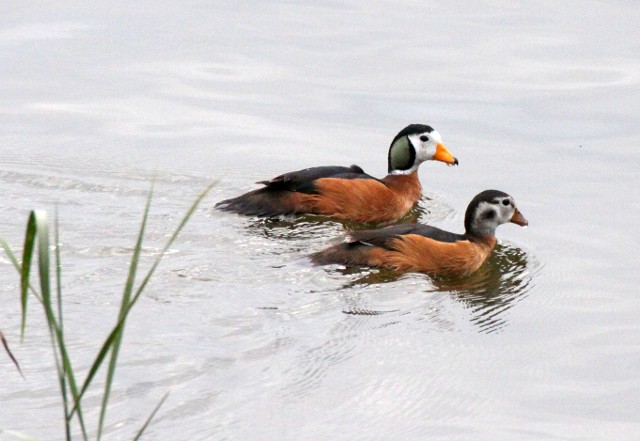 African Pygmy Geese in Lake Awassa. Nice to finally see them in their breeding plumage!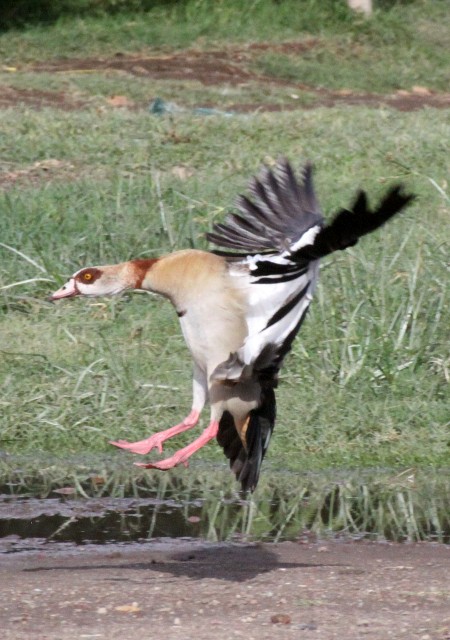 Egyptian Geese were pretty much a dime-a-billion everywhere we went in Africa, but they are still a very nice bird!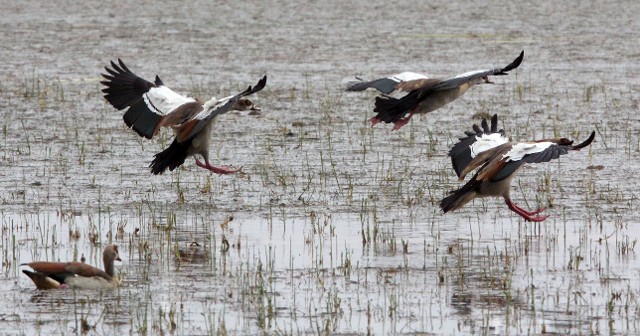 Egyptian Geese coming in for a landing at Lake Langano.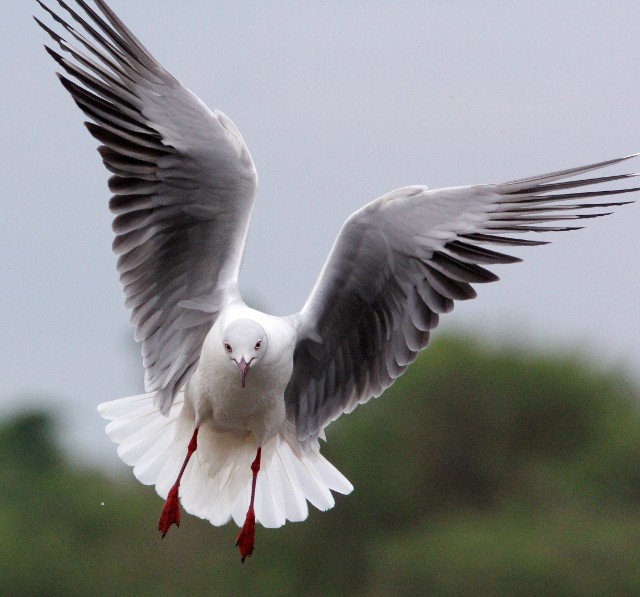 Grey-headed Gull at Lake Awassa.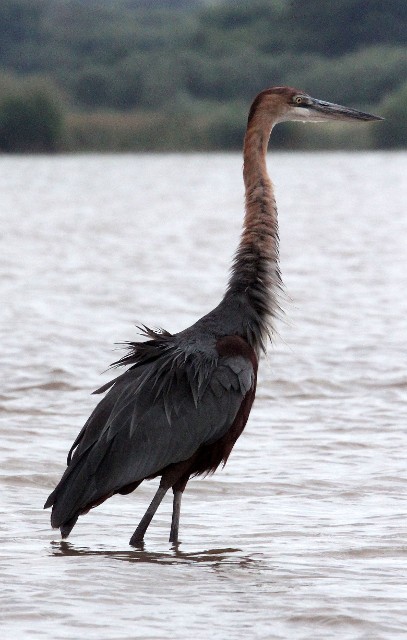 Goliath Herons were common in all lakes in Ethiopia. This one was spotted fishing in Lake Chamo, Nech Sar NP.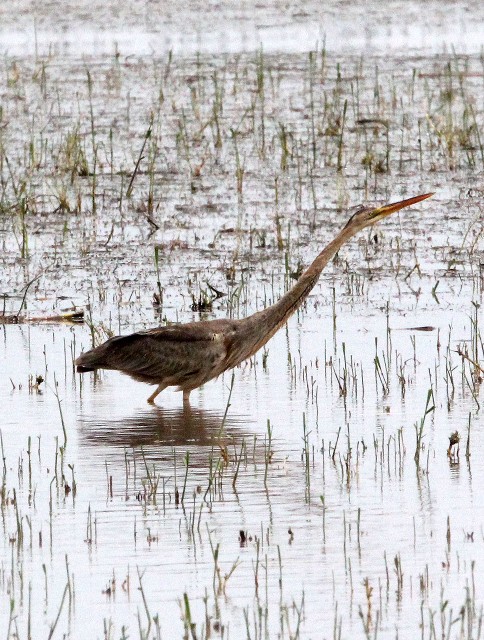 Purple Heron at Lake Langano.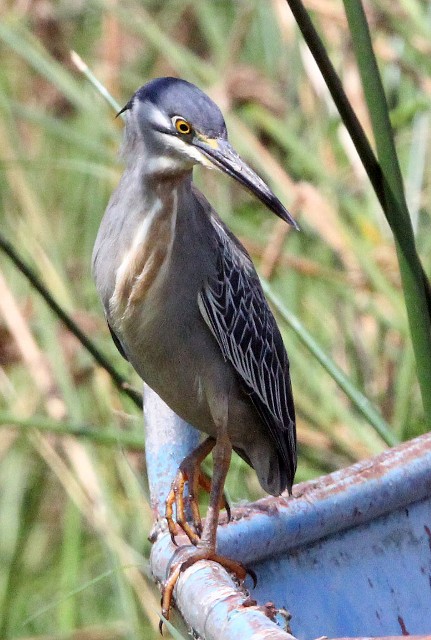 Striated Heron fishing on a dingy in Lake Chamo, Nech Sar NP.
It was nice to finally see an Abyssinian Hornbill in....welll...Abyssinia!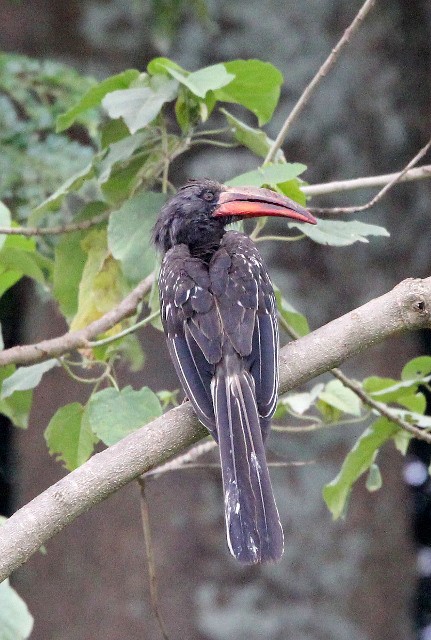 Hemprich's Hornbill was another great lifer for us! This one was seen in the surreal, "Lord of the Rings" forest near the Bishangari Lodge on Lake Langano.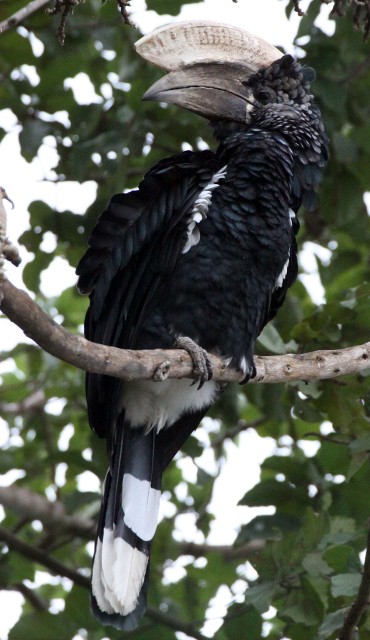 Silvery-cheeked Hornbills were very common throughout. This one was seen at Lake Awassa.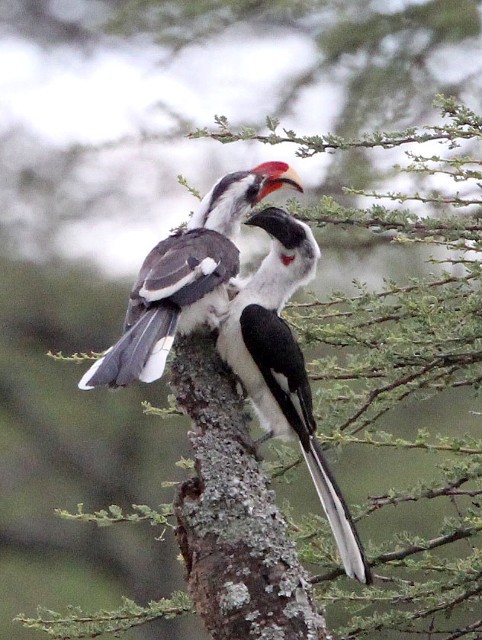 A breeding pair of Von der Decken's Hornbill spotted courting at Lake Langano, near the Bishangari Lodge.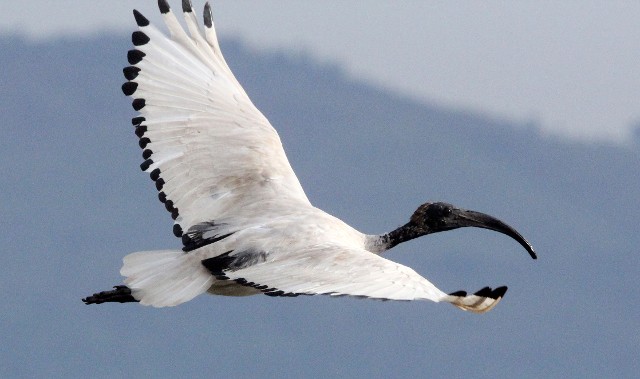 Sacred Ibis taking flight at Lake Awassa.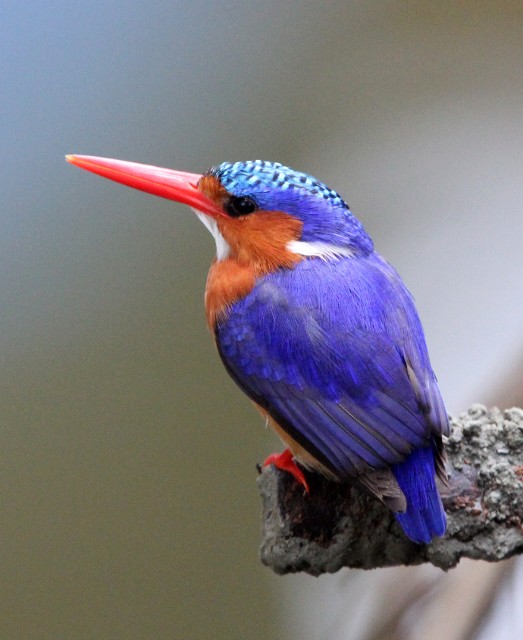 Malachite Kingfisher perched on a branch at Lake Langano.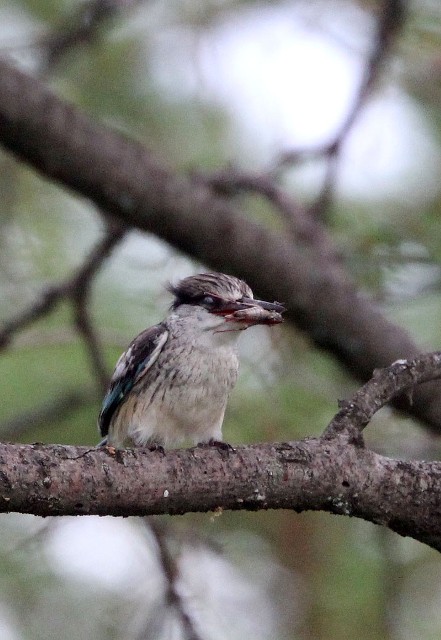 This was the only Striped Kingfisher seen during the entire expedition. We spotted this one at Abiata-Shalla National Park.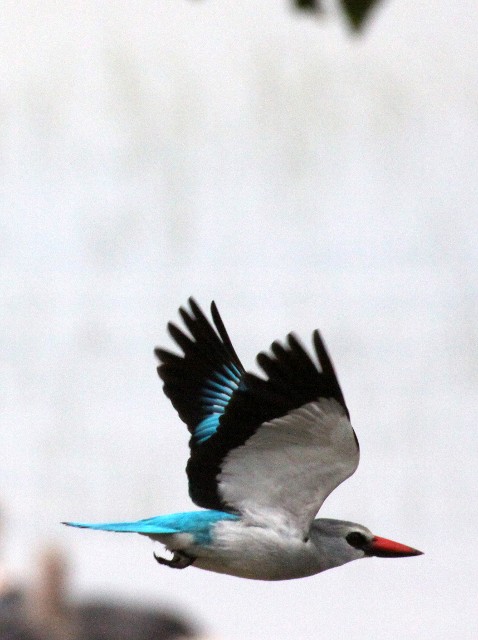 Woodland Kingfisher in flight at Lake Ziway.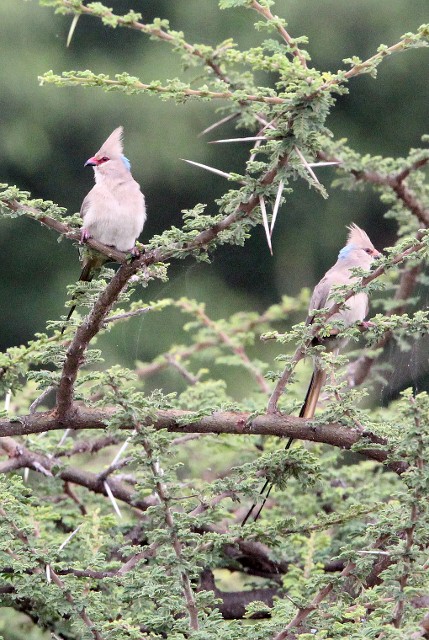 Blue-naped Mousebirds were a welcome addition to the sighting's list!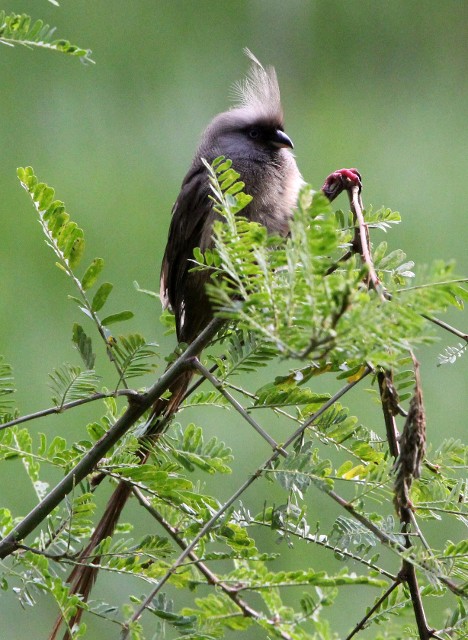 Speckled Mousebird - a very common species indeed!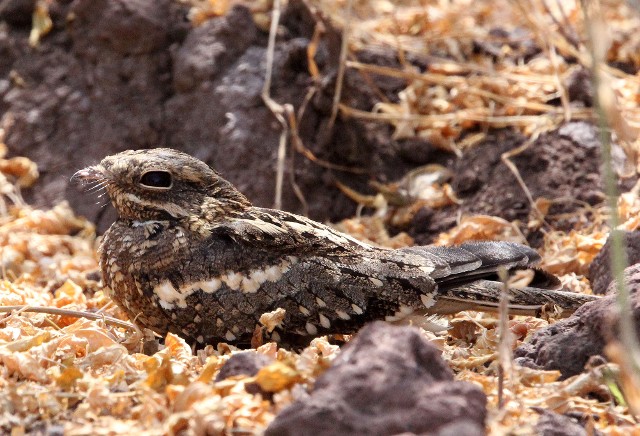 A Long-tailed Nightjar at Nech Sar National Park. Initially we thought it might have been a very rare endemic that might have made me a very famous photographer, but upon closer inspection....Story of my photographic life!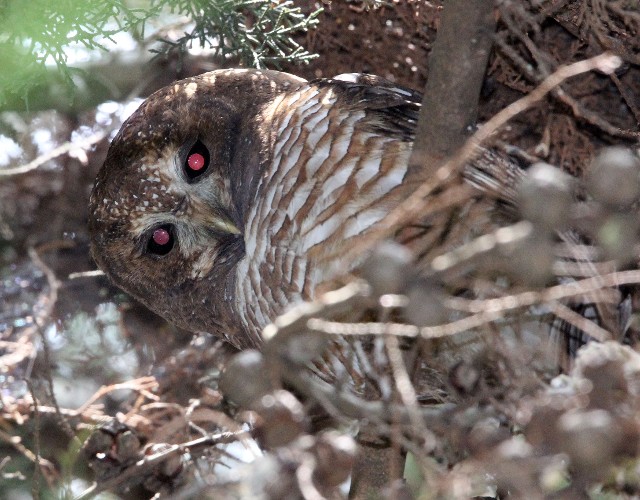 African Wood Owl at Dinsho headquarters.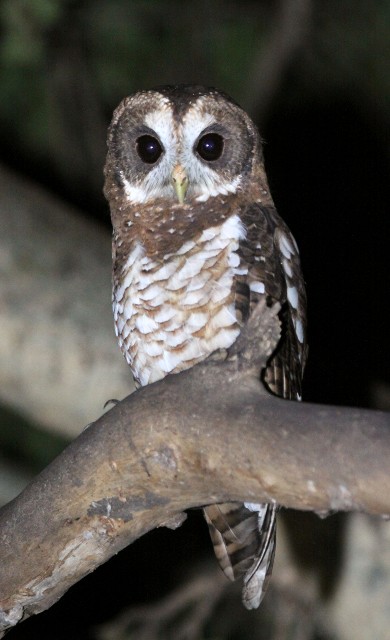 African Wood Owl along the trail at Bishangari Lodge.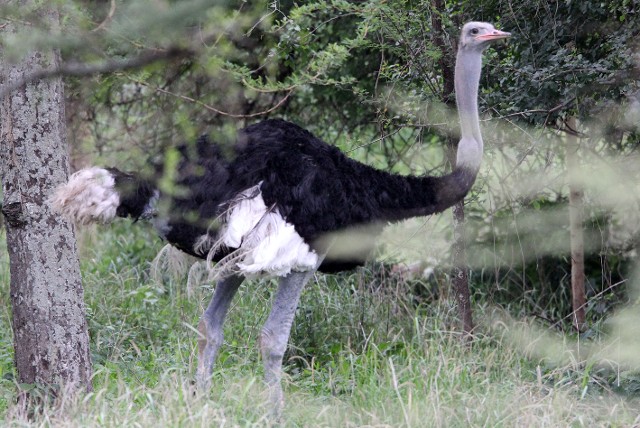 Somali Ostrich seen at Abiata-Shalla National Park.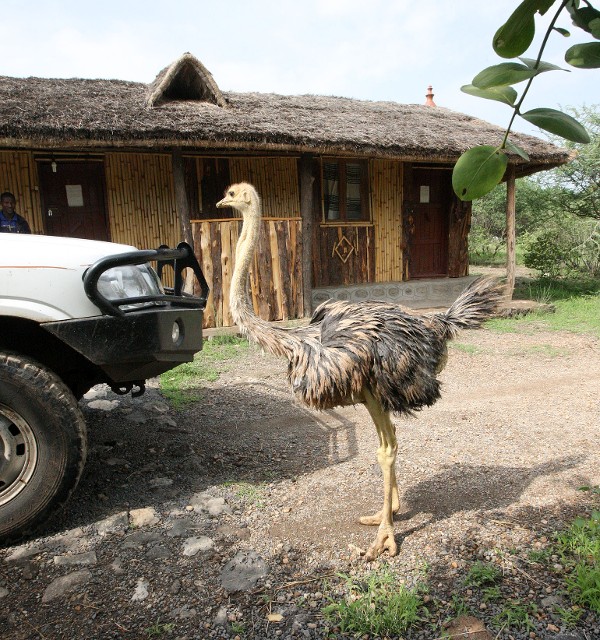 The Awash Falls Lodge is participating (or spear-heading) a breeding program for the extremely endangered Somali Ostrich. This was one of the several chicks that were freely walking the grounds of the lodge. They were very, very goofy!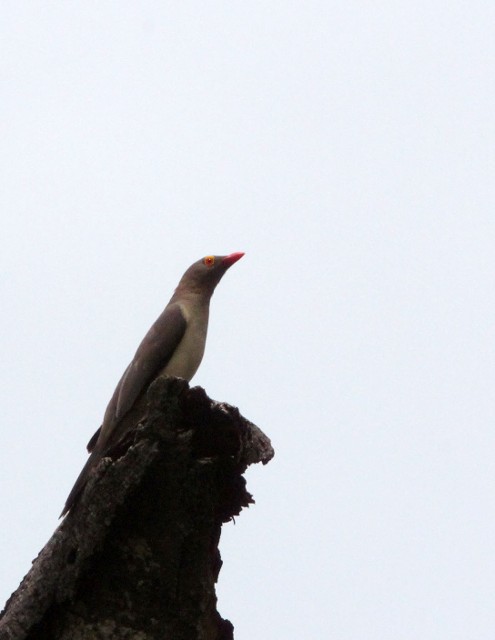 Red-billed Oxpecker at Awash Falls Lodge.

Great-white Pelicans on the shores of Lake Chamo, Nech Sar NP.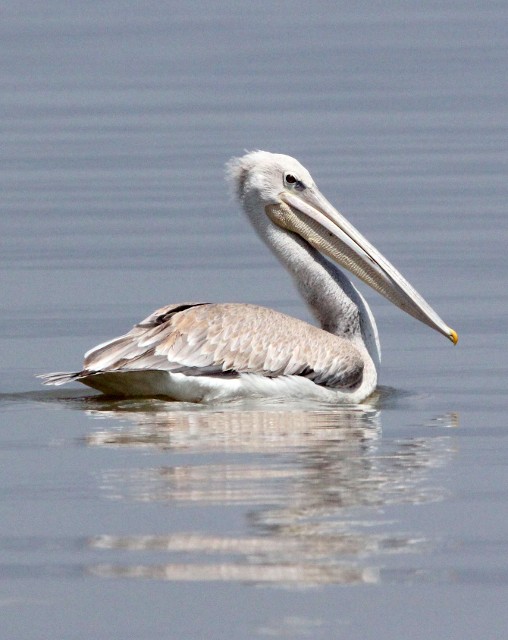 Pink-backed Pelican in the middle of Lake Chamo, Nech Sar NP.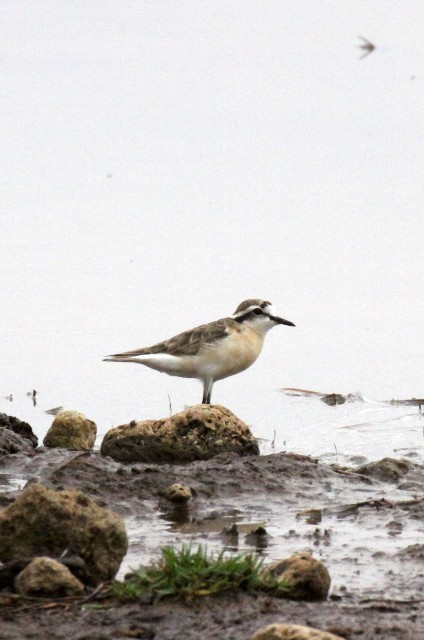 Kittlitz's Plover was another great lifer for us. This one was seen along the shores of Lake Langano.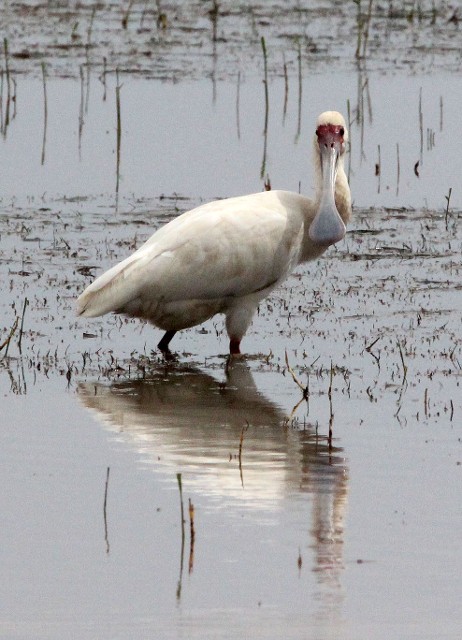 African Spoonbill at Lake Langano.
Rosy-patched Bush-shrike at Awash National Park.
Greater Blue-eared Starling at Lake Ziway.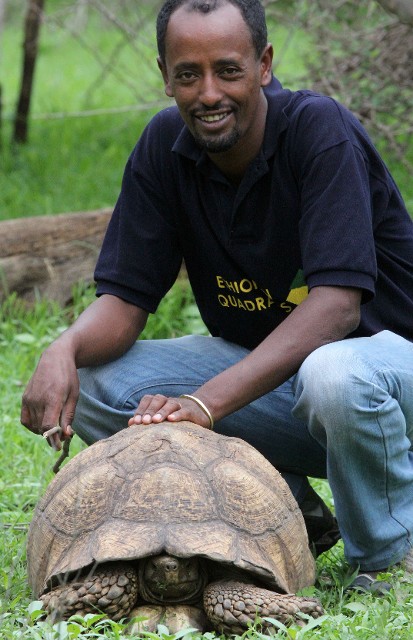 Abiy and our Ethiopian endemic subspecies, the giant Leopard Tortoise at Awash National Park.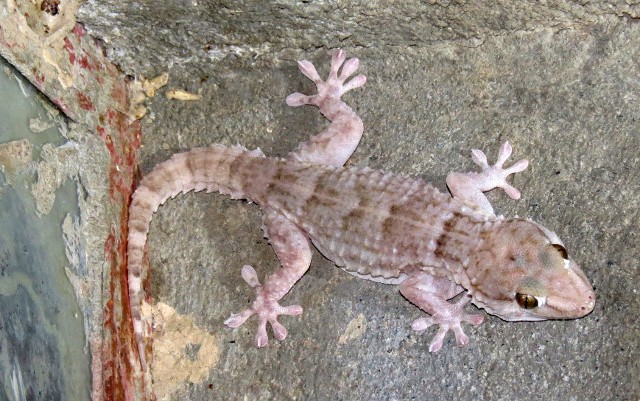 Hemidactylus jubensis was a common gecko species in Awash.

Bird List Ethiopia
Somali Ostrich
Great White Pelican
Pink-backed Pelican
Little Grebe
Long-tailed Cormorant
Great Cormorant
African Darter
Cattle Egret
Squacco Heron
Striated Heron
Little Egret
Black Egret
Great Egret
Yellow-billed (Intermediate) Egret
Goliath Heron
Purple Heron
Grey Heron
Black-headed Heron
Hamerkop
Yellow-billed Stork
Black Stork
Abdim's Stork
Woolly-necked Stork
African Openbill
Saddle-billed Stork
Marabou Stork
Sacred Ibis
Hadada Ibis
Wattled Ibis (Bostrychia carunculata)
African Spoonbill
Spur-winged Goose
Egyptian Goose
Blue-winged Goose (Cyanochen cyanoptera)
White-faced Whistling Duck
Knob-billed Duck
African Pygmy Goose
Ruddy Shelduck
White-backed Duck (Thalassornis leuconontus)
Yellow-billed Duck
African Black Duck
Yellow-billed Kite
Black-shouldered Kite
African Swallow-tailed Kite
Africa Fish Eagle
Bateleur
Lammergeier
Egyptian Vulture
Hooded Vulture
White-headed Vulture
White-backed Vulture
Ruppell's Vulture
Black-chested Snake Eagle (Circaetus pectoralis)
Montagu's Harrier
Eastern Chanting Goshawk
Dark Chanting Goshawk
Gabar Goshawk
Shikra
African Goshawk
Rufous-breasted Sparrowhawk
African Harrier Hawk
Augar Buzzard
Mountain Buzzard
Common Buzzard
Lesser Spotted Eagle
Tawny Eagle
Steppe Eagle
Long-crested Eagle
Verreaux's Eagle
African Crowned Eagle
Common Kestrel
Lanner Falcon (Falco biarmicus)
Pygmy Falcon
Peregrine Falcon
African Hobby
Helmeted Guineafowl
Crested Francolin
Chestnut-napped Francolin
Moorland Francolin (Scleroptila psilolaemus)
Yellow-necked Spurfowl
Harlequin Quail
Common Quail
Black Crate

Rouget's Rail

(Rougetius rougetii)

Red-knobbed Coot
Common Moorhen
Wattle Crane
Black Crowned Crane
Kori Bustard
Arabian Bustard
Buff-crested Bustard
Black-bellied bustard
African Jacana
Black-winged Stilt
Senegal Thicknee
Kentish Plover
Spur-winged Lapwing/Plover
Spot-breasted Plover (Vanellus melanocephalus)
Crowned Plover
Common Sandpiper
Green Sandpiper
Wood Sandpiper
Common Greenshank
Black-headed Gull
Grey-headed Gull
White-winged Tern (Chilodonias leucopterus)
Black Tern (Chlidonias niger)
Whiskered Tern (Chlidonias hybridus)
Chestnut-bellied Sandgrouse
Bruce's Green Pigeon
Speckled Pigeon
White-collared Pigeon (Columba albitorques)
Emerald Spotted Wood Dove
Namaqua Dove
Ring-necked Dove
Red-eyed Dove
African Mourning Dove
Laughing Dove
Dusky Turtle Dove
Black-winged Lovebird
White-cheeked Turaco
White-bellied Go-away Bird (Corythaixoides leucogaster)
Grey Go-away Bird (Corythaixoides personata)
Eastern Grey Plantain Eater (Crinifer zonurus)
Senegal Coucal
Barn Owl
African Wood Owl
Plain Nightjar
Long-tailed Nightjar
Nyanza Swift
African Palm Swift
Speckled Mousebird
Blue-naped Mousebird
Pied Kingfisher
Woodland Kingfisher
Striped Kingfisher (Halcyon chelicuti)
Malachite Kingfisher
African Pygmy Kingfisher
Little Bee-eater
Blue-breasted Bee-eater
White-throated Bee-eater
Madagascar Bee-eater
Northern Carmine Bee-eater
Broad-billed Roller
Abyssinian Roller
Black-billed Wood-hoopoe
Eurasian Hoopoe
Eastern Yellow-billed hornbill
Red-billed Hornbill
Von Der Decken's Hornbill
Hemprich's Hornbill (Tockus hemprichii)
African Grey Hornbill
Silvery-cheeked Hornbill
Abyssinian Ground Hornbill
Black-billed Barbet (Lybius guifsobalito)
Double-toothed Barbet
Scaly-throated Honeyguide (voice only)
Lesser Honeyguide (VO)
Nubian Woodpecker
Grey-headed Woodpecker
Bearded Woodpecker (Dendropicos namaquus)
Thekla Lark
Chestnut-backed Sparrow-Lark (Eremopterix leucotis)
Rock Martin
Plain Martin
Red-rumped Swallow
Barn Swallow
Yellow Wagtail
Abyssinian Longclaw (Macronyx flavicollis)
Red-throated Pipet
Common Bulbul
Northern Brownbul
Ruppell's Robin-Chat
White-browed Robin-Chat
White-browed Scrub Robin
African Stonechat
Moorland Chat (Cercomela sordida)
Groundscraper Thrush
Mountain Thrush
African Thrush
Grey-backed Camaroptera
Zitting Cisticola
Rattling Cisticola
Ethiopian Cisticola
Tawny-flanked Prinia
African Dusky Flycatcher
Paradise Flycatcher
Black-throated Wattle-eye (Platysteira peltata)
White-rumped Babbler
Scaly Babbler (Turdoides squamulatus)
White-winged Black Tit
White-backed Black Tit
Mountain White-eye
Tacazze Sunbird
Malachite Sunbird
Marico Sunbird
Common Fiscal
Grey-backed Fiscal
Somali Fiscal
Northern Puffback
Black-crowned Tchagra
Rosy-patched Bush-shrike
Sulphur-breasted Bush-shrike
Northern White-crowned Shrike
White-crested Helmetshrike
Fork-tailed Drongo
Red-billed Chough
Pied Crow
Cape Rook (Black Crow)
Fan-tailed Raven
Thick-billed Raven

Red-billed Oxpecker
Red-winged Starling
Greater Blue-eared Starling
Ruppell's Starling
Superb Starling
Sharpe's Starling
Swainson's Sparrow
White-browed Sparrow-Weaver
White-headed Buffalo Weaver
Red-billed Buffalo Weaver
Village Weaver
Lesser Masked Weaver
Ruppell's Weaver
Baglafecht Weaver
Chestnut Weaver
Red-billed Quelea
Red-headed Weaver
Yellow Bishop
Northern Red Bishop
Red-collared Widowbird
Fan-tailed Widowbird
Green-winged Pytilia
Red-cheeked Cordon-bleu
Red-billed Firefinch (Laganosticta senegala)
African Firefinch (Lagonosticta rubricata)
Yellow-billed Waxbill
Common Waxbill
Eastern Paradise Whydah
Straw-tailed Whydah (Vidua fischeri)
Village Indigobird
Yellow-crowned Canary
Black-headed (Ethiopian) siskin
Brown-rumped Seedeater
Streaky Seedeater
More Stuff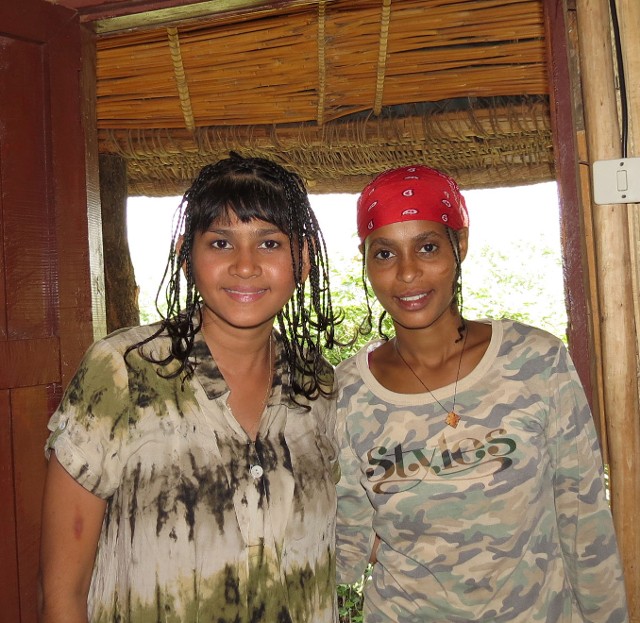 Som fell in love with the hair the ladies had in Ethiopia. One morning she even had her hair done the same way!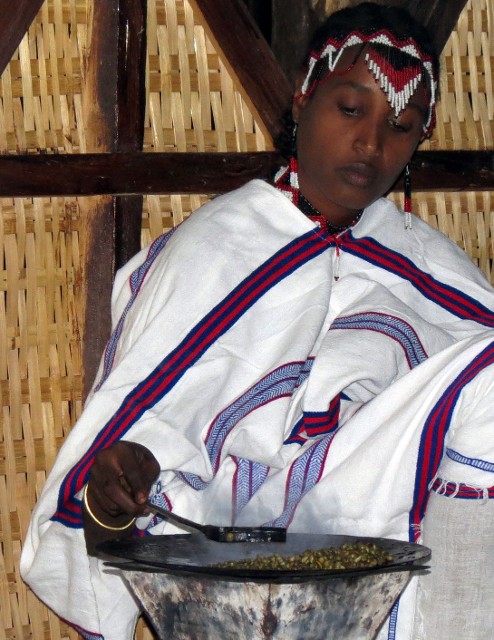 The Ethiopians take their coffee very seriously! Here we are experiencing the "Coffee Ceremony" and our host is roasting the beans right in front of us. Delicious!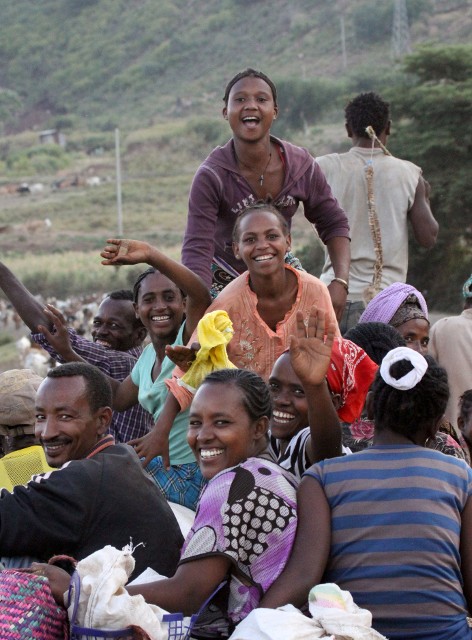 Compared to other countries in east Africa, Ethiopians were extremely friendly. In some of the other countries visited on this trip, taking this sort of picture would be unthinkable and perhaps even dangerous...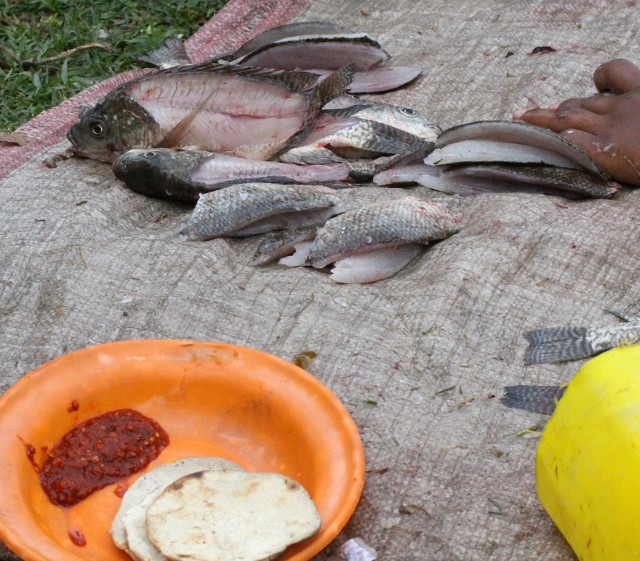 Sashimi! Ethiopia style! No way I would eat this.... But the pili pili and bread looked good...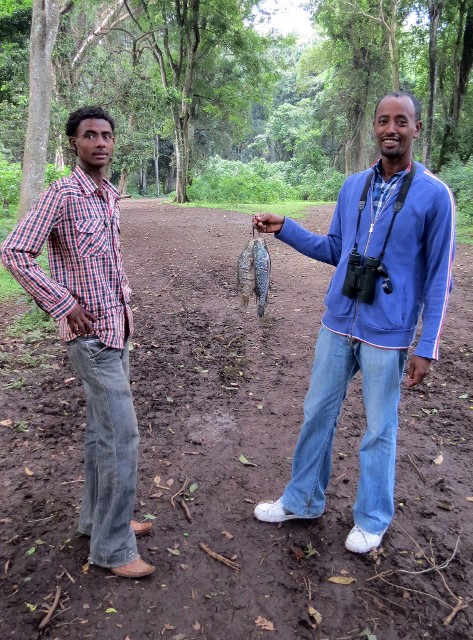 Here is our Talapia lunch - soon to be cooked!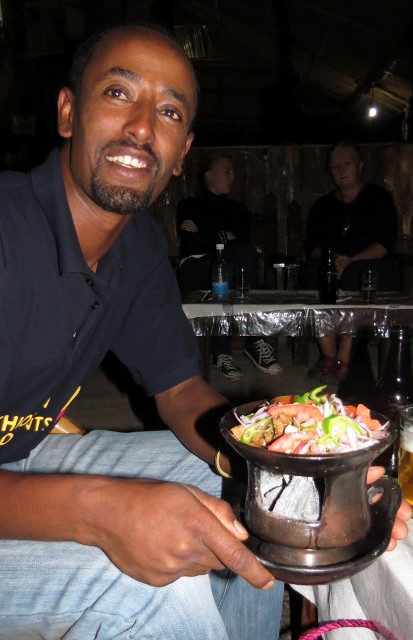 Abiy with another one of our Ethiopian favorites - "Tips"!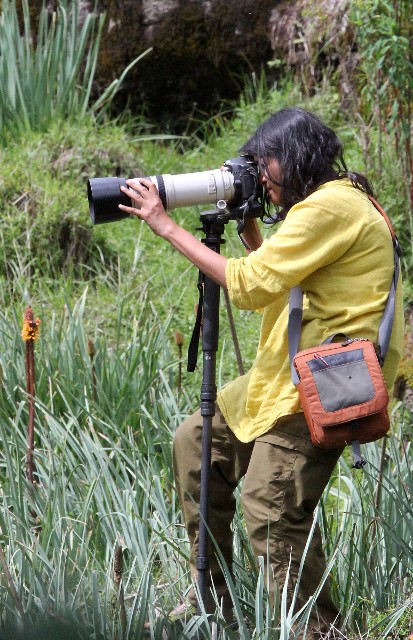 "Som, are you getting it?"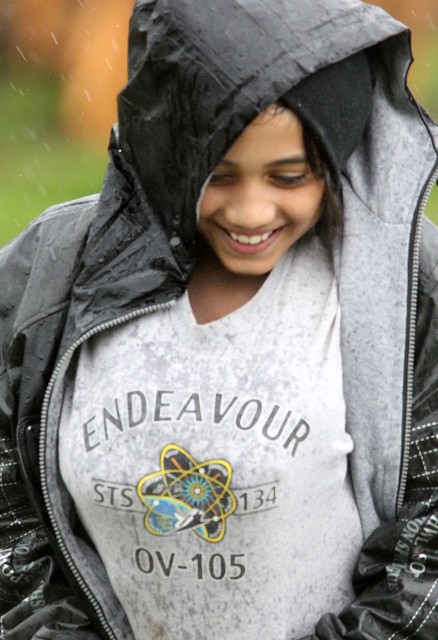 Don't ask me....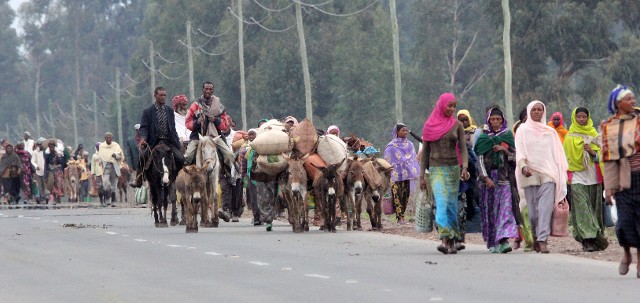 This was a typical road scene in mosts locations in Ethiopia. Granted it was market day, but everyday was market day somewhere it seemed. Navigating was very challenging and even a bit dangerous with this many pedestrians walking right in the middle of the road...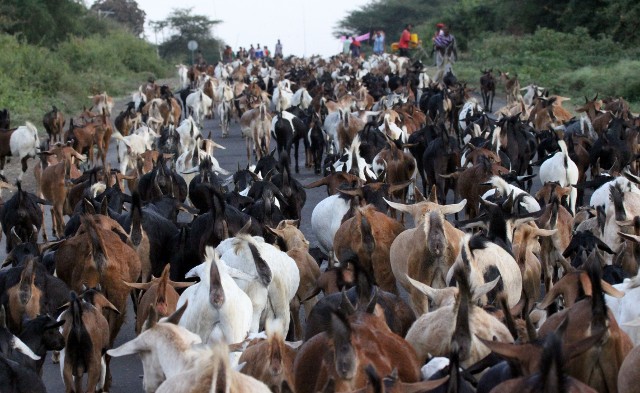 Traffic jam Ethiopia style!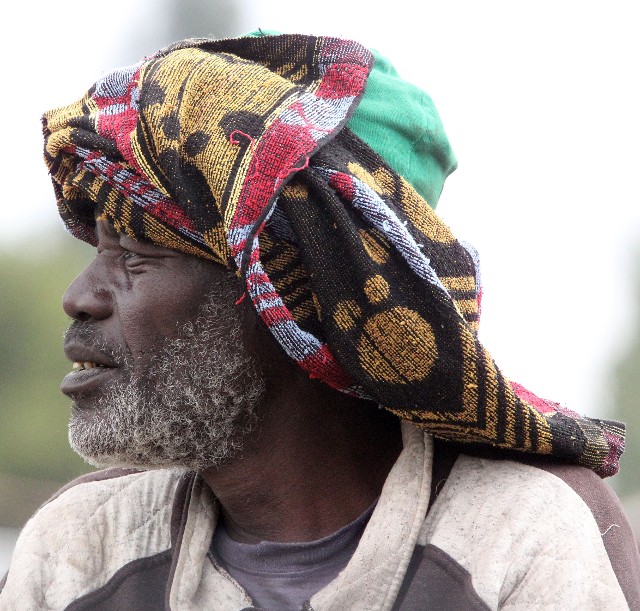 A spectacular man at the Dinsho Market, Bale Mountains.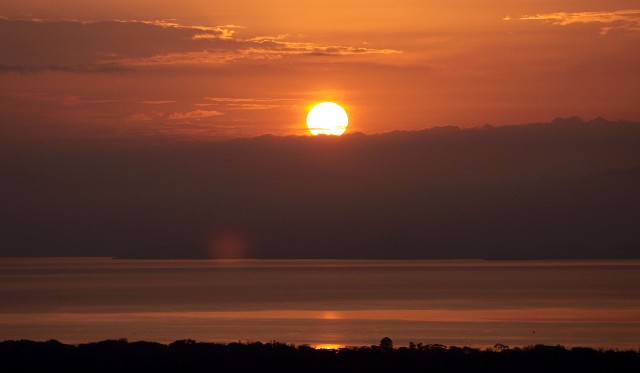 Arbaminch Sunset over Lake Abaya & Nech Sar National Park.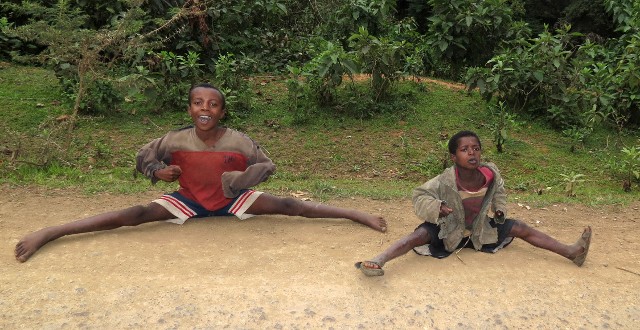 Two boys doing the "ostrich dance" trying to earn a bit of change along the road to Arbaminch from Chencha Village.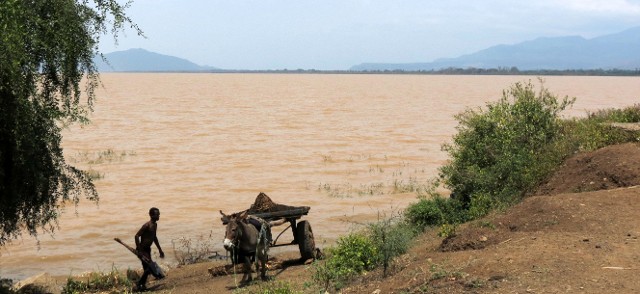 Lake Abaya. I can't remember ever seeing a browner lake anywhere.
Lake Abaya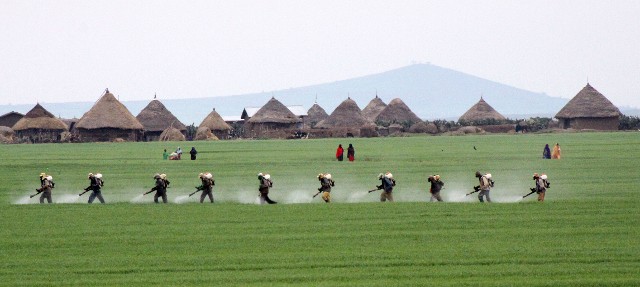 Not quite organic, is it...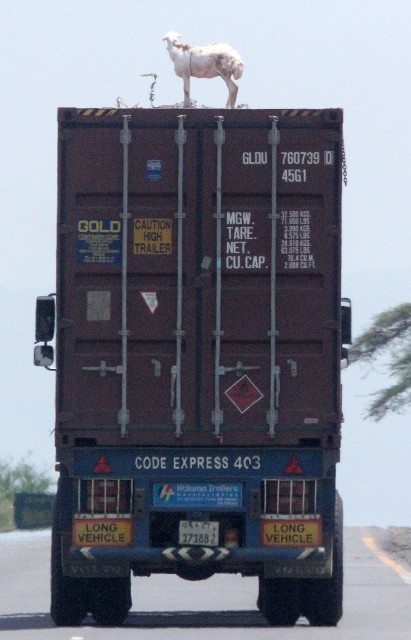 "How about some goat for dinner honey?"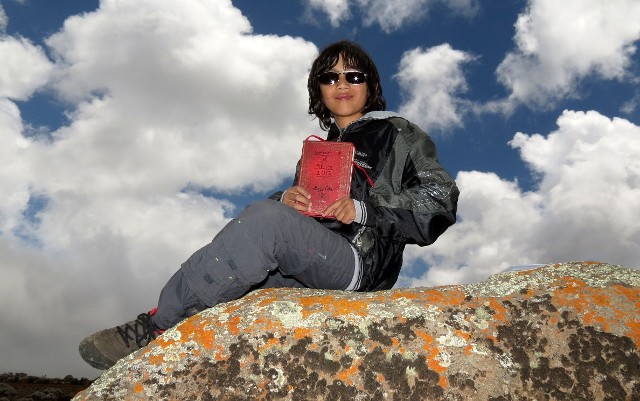 Cokie and his journal. Every trip we've taken since Cokie could draw has one of his amazing journals associated with it. We love looking through the pages and seeing the trip through his eyes.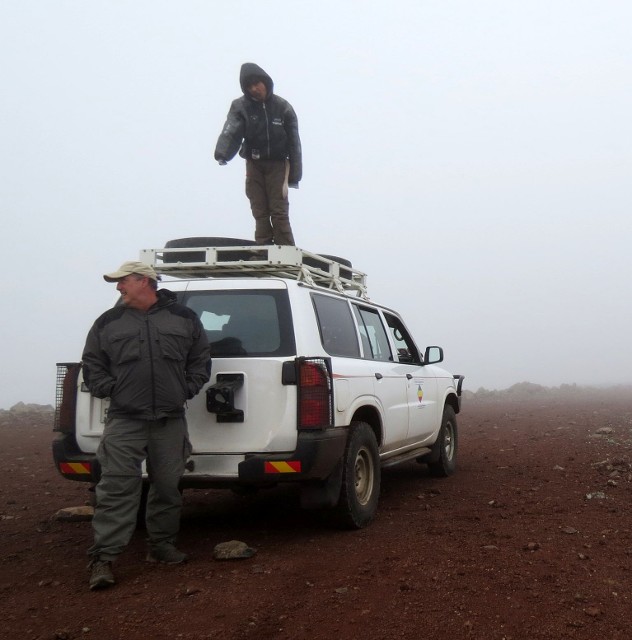 On the summit of Tullu Demtu (4377m) with Cokie, whose competive nature required he climb to the top of the car in order to be able to say he was "higher than dad!" What a goof-ball!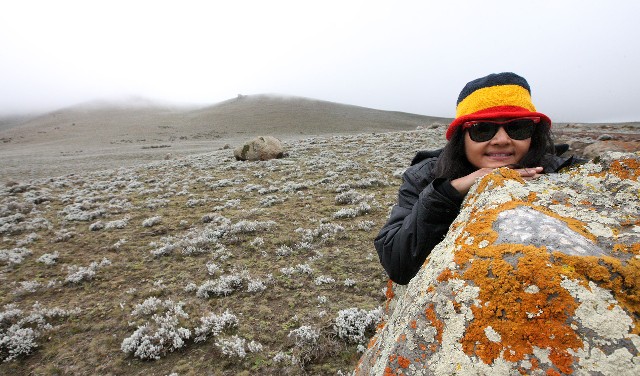 Som on the lovely and expansive Sanetti Plateau, Bale Mountains. The orange lichen on the rock in front of her would often trick us from a distance in to thinking we had seen an Ethiopian wolf!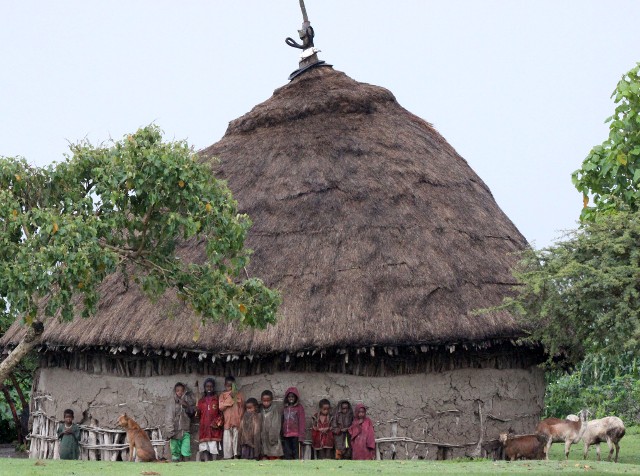 The homes of the people in the Senkele Region were quite interesting. Here we see some of the children taking refuge from a downpour....Very cute!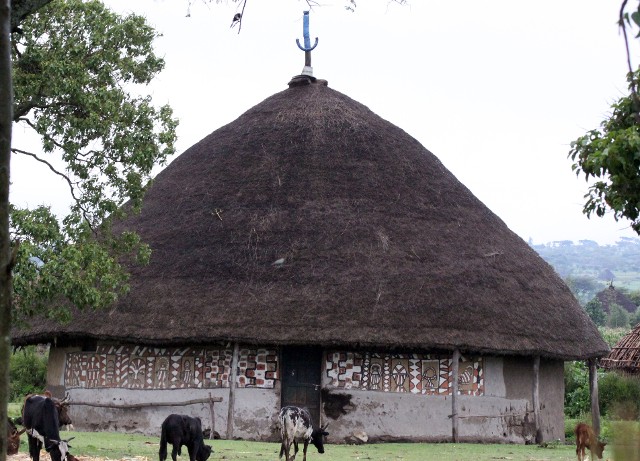 The designs on many of the homes were quite spectacular as well.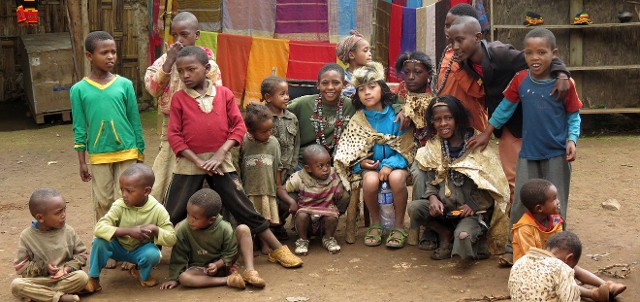 Cokie and his Dorze friends!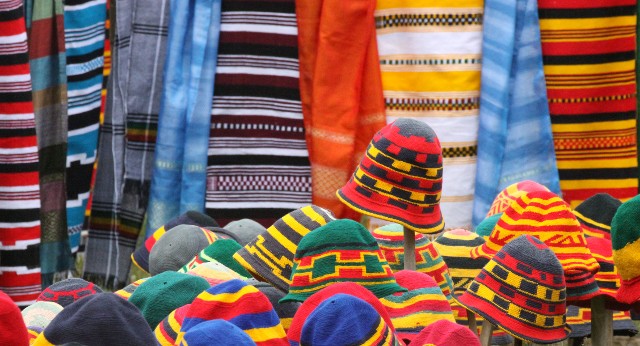 We loved the scarves and hads of the Dorze region.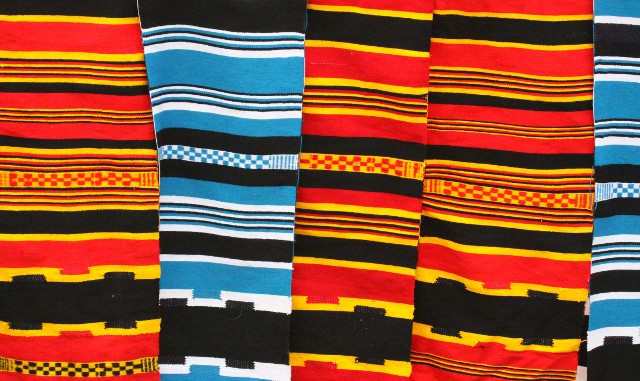 Dorze blankets near Chencha Village.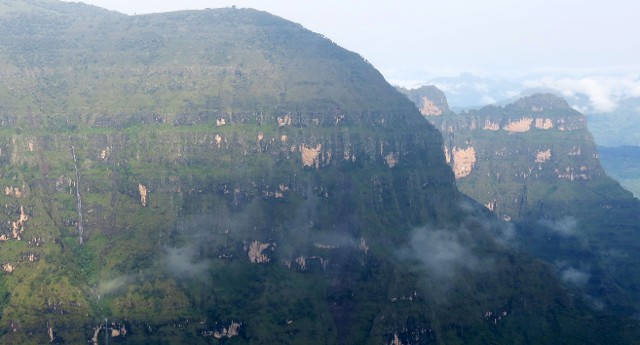 The massifs in the Simien Mountains were spectacular.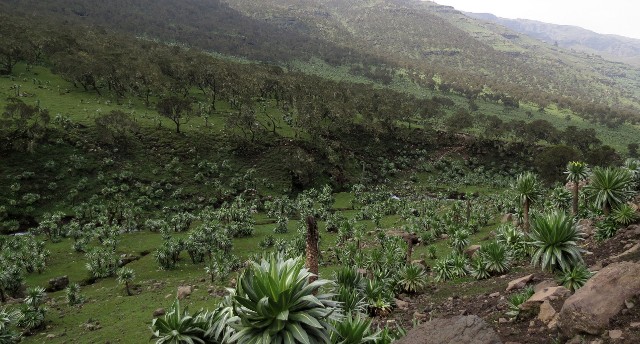 Giant Lobelia of the Simien Mountains.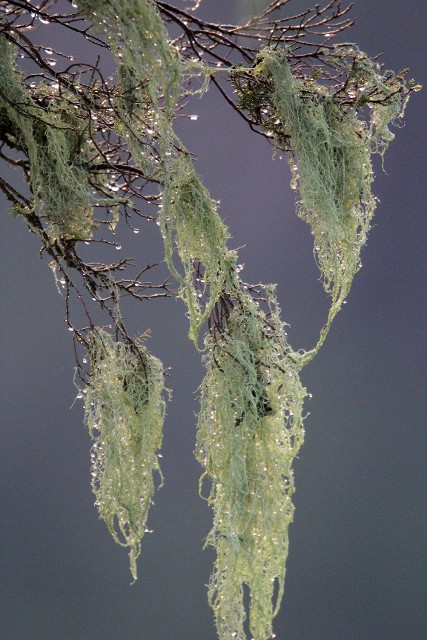 Soaked lichen on a foggy, wet morning in the Simien Mountains.


Glorious rainy season day in the Simiens....Of course it poured about three minutes after this image was taken!


A foggy sunrise in the Simien Mountains - just me, the scenery and a couple Gelada....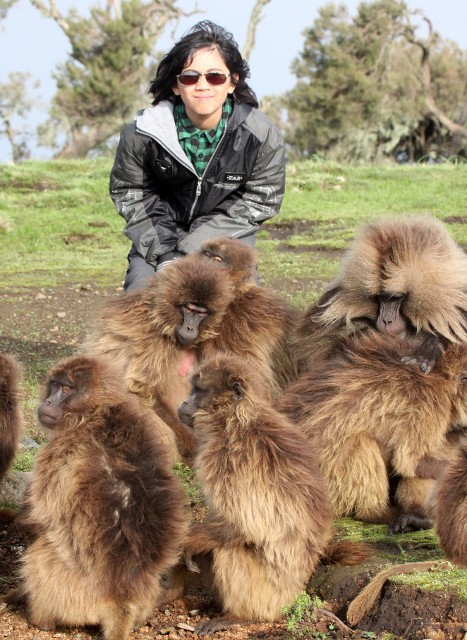 I sure hope my little man is enjoying his life so far!
To visit our Pbase Image Galleries, Click Here!

Here is another outstanding link with information on the Ethiopian Wolf
Jon Hall's Trip Reports for Ethiopia