Our amazing melanistic form Indochinese Leopard in Huai Kha Khaeng Nature Reserve section of Thailand's Western Forest Complex.
Four Days in Thailand's Western Forest Complex: A Trip Report
Check Our Our Pbase Galleries
It was at least ten years ago when I was in the old Don Muang International Airport waiting for my flight back to the states with Som and I was killing time rumaging through the racks of books at Asia Books and I noticed these two coffee-table books on the wildlife and nature of Thailand, "Thailand's Wild Heritage" and "Wildlife in the Kingdom of Thailand", both written by Bruce Kekule. (See Bruce's website here) Needless to say, I bought both of these books immediately and I've been using them for years now to plan out our road trips throughout Thailand.
While Cokie was a young tike, we spent a great deal of time working our way through many of the national parks of Thailand, focusing on the wildlife that was highlighted in these texts, with great success. Thanks to Mr. Bruce Kekule's books, we were able to visit these natural places and rack up a very impressive species list, including species like wild Asian Elephants, Clouded Leopard, wild Banteng, Gaur, Asiatic Leopard and many other mammal and bird species.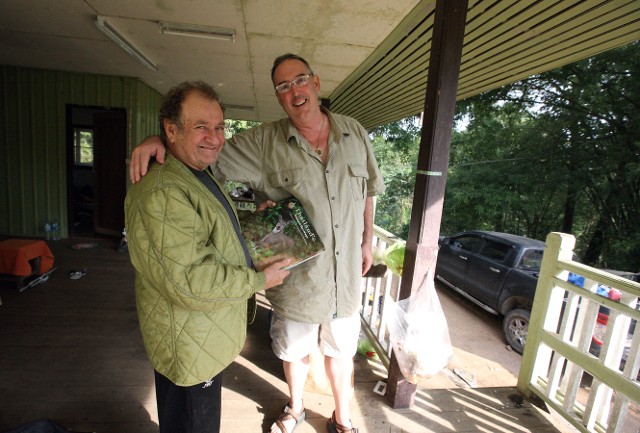 Bruce and one of his earlier books in the Western Forest Complex.
Although over the years, we were able to see so much of what Thailand has to offer, there was much in these books that I knew would be out of reach forever. In these works, there were images of wild Southeast Asian Tigers, Black Asiatic Leopards, herds of Gaur and Banteng that were photographed in areas and reserves that were simply out of reach to normal folks like us. Much of Bruce's photography was captured deep inside Huai Kha Khaeng Nature Reserve, Thailand's premier wildlife hotspot and is well known for being basically impossible to get in to.
As we learned early on, entering Huai Kha Khaeng is by special permit only and getting deep inside the reserve is limited to rangers, scientists and the super elite VIP's and the well-connected. Somehow, Bruce Kekule was allowed in to these special places and was able to capture on film countless images of so many of the rarest and charismatic species in SE Asia.
Eventually was able to contact Mr. Bruce Kekule a few years back and we communicated over the years and talked about eventually getting out to the field together. And finally in December of 2014, we finally made it happen!
Of course of destination was Huai Kha Khaeng, one of the 19 parks and reserves found in Thailand's Western Forest Complex, the largest tracks of SE Asian forests that remains. Covering some 5775 square kilometers, the Western Forest Complex is home to some of Thailand's most famous parks, including Tung Yai and Erawan and many others. The Western Forest Complex protects habitat for many of SE Asia's most rare and precious species, including SE Asia's the last remaining viable tiger and leopard populations and their prey base.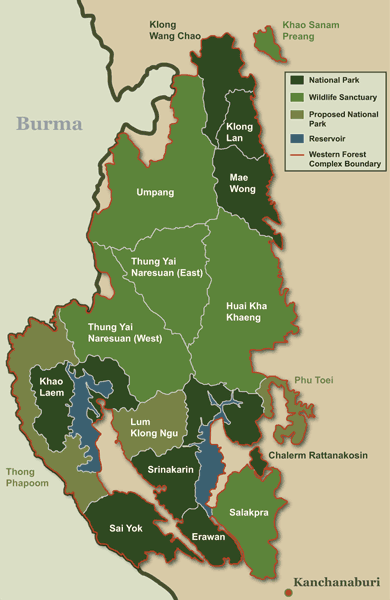 Thailand's Western Forest Complex. Nineteen outstanding national parks and reserves comprising the most important Southeast Asian wilderness. (Linked from: http://www.ecn-thailand.org/images/map_detail.gif)
Som and I managed to get permits to Huai Kha Khaeng reserve of the Western Forest Complex back in 2007 (See Trip Report Here) but we were limited to the headquarters area and some various treks in and around that zone and in the south at Huai Mae Dee. While we did pretty well on that trip, we were not able to get deeper in to the core area of the reserve. But this time, with Bruce Kekule, we had permission to go where ever he wanted, and that was pretty much anywhere in the reserve!
Bruce is a very colorful character whose life story flows from the stories he tells, all of which are fascinating and comprise a life worthy of a movie. Having lived in Thailand for over 50 years, Bruce is fluent in Thai and has more connections that I can imagine. I was very impressed with the level of deference the folks in the reserve showed Bruce. At every level, the station heads as well as the lower level rangers all knew "Mr. Boot" (the Thai pronunciation for "Bruce") and made sure everything was in perfect order for him. With this level of cooperation from the reserve personnel, it became very clear why he was able to get such magnificent and consistent images of Thailand's wildlife.
Bruce is without a doubt the world's most edept camera trap photographers. Bruce has many traps in operation throughout Thailand at any given time and has been able to produce countless stunning images of SE Asian Tigers, Asiatic Leopards, Clouded Leopards and numerous other species over the years. He has produced both still images and loads of video of most of the region's rarest species. (See Bruce's Site Here).
Seub Nakhasathien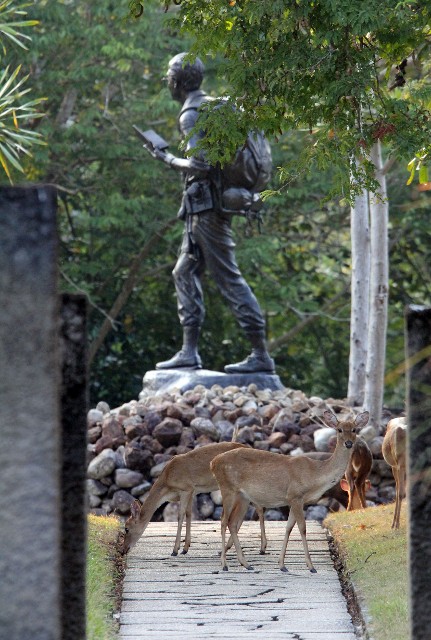 Seub Nakhasathien was the original commisioner of Huai Kha Khaeng. Seub martyred himself in 1990 after many frustrating years of trying to conserve Huai Kha Khaeng's natural heritage. Seub is widely regarded as one of the world's greatest conservationists. His image is everywhere in Huai Kha Khaeng. (More information about Seub here)
Our journey to the Western Forest Complex started from BKK, about 4 hours to the south east. The roads are all good and well marked. With a late start from BKK, we made it to the headquarters of Huai Kha Khaeng in time to set up camp and talk about what the plan was for the next several days. The next day we were to journey deeper in to the reserve to Kraprok Krapiyen Station, a location where Bruce has made some very impressive sightings over the years. Very few people indeed are allowed this deep in to the reserve.
On day two, we worked our way through an impressively bad road about 24 kilometers in to the reserve's core area. Luckily it was the dry season or our 2X4 Isuzu pick-up never would have made it. The road was definitely off-roady in many locations but our clearance was fine, and so long as it remained dry, we were OK. Luckily it did remain dry. The worst part of the road was the numerous bridges made out of 2 logs laid at axle width across a creek or a river, where if you were to miss judge your tire's position, you would be killing an entire day or more getting out of the mess! And of course there was the angry elephant that greeted us every so often, and charged us violently on three occasions during our drives along that track. And one of those instances was FAR too close for comfort! The danger of elephants in Huai Kha Khaeng cannot be overstated.
Asian Elephant (Elephas maximus indicus)
This is only picture of an Asian Elephant we dared to take. I think we spotted about three separate individuals but each incident was quite terrifying. These ele's had the urge to take us out!
Kraprok Krapiyen Station was outstanding. Without a doubt this was the nicest place I have every spent time in Thailand. Deep inside the mixed deciduous forest of HKK, the area was filled with wildlife, ranging from numerous squirrel and primate species and countless birds that were all easily viewed from the grounds of the station. This week was extremely cool, bordering on cold. The temperatures at night were dipping as low as nine degrees celsius - for Thailand this is cold. Luckily, Bruce was able to secure us a nice cabin to spend our time and stay warm.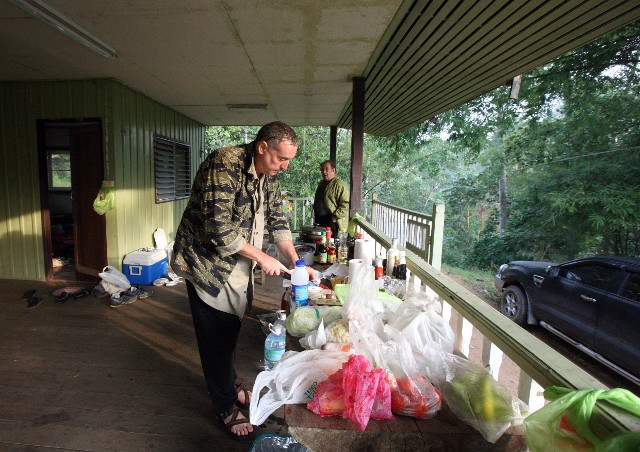 Yours truly cooking gourmet scrambled egges during our cold morning at Kraprok Krapiyen Station.

White-handed Gibbon (Hylobates lar)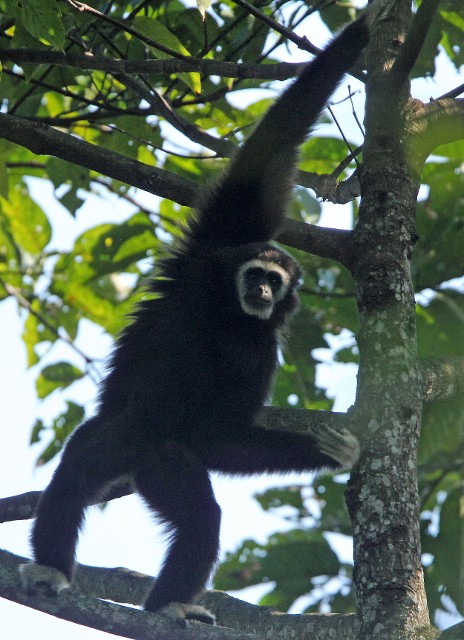 Our first morning in Kraprok Krapiyen, a troop of White-handed or Lar Gibbons came by to say "hello"...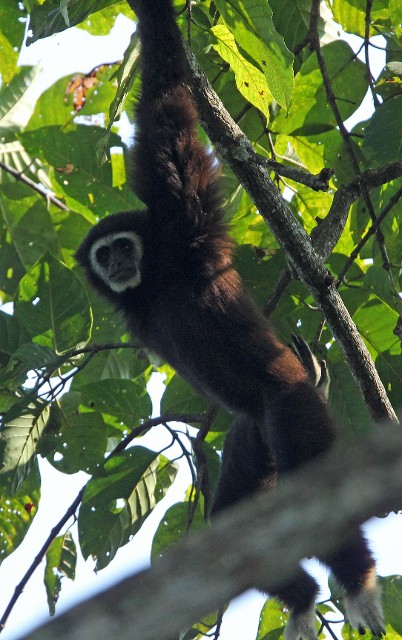 White-handed Gibbon - black form.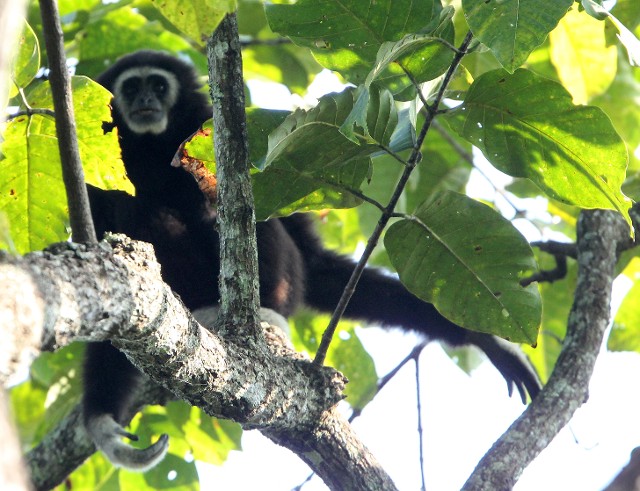 The dark morph of the White-handed Gibbon.
Phayre's Langur (Leaf Monkey)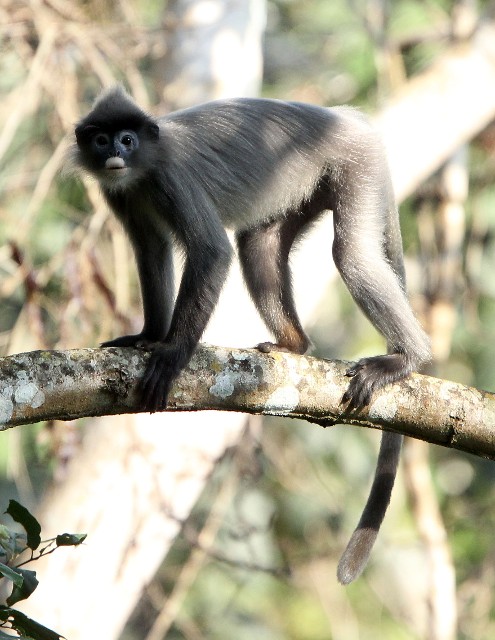 Following the White-handed Gibbons, the Phayre's Leaf Monkeys came through for quick "hello"...
Seriously challenging to photograph. If you are not quick you will not get 'em!!!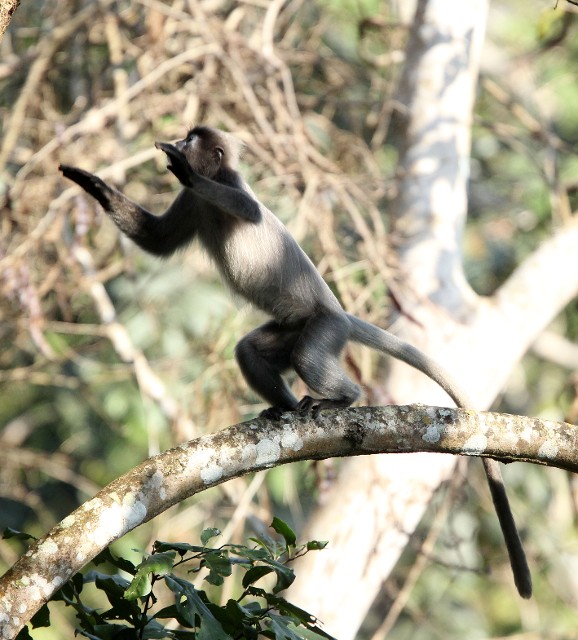 Taking a leap!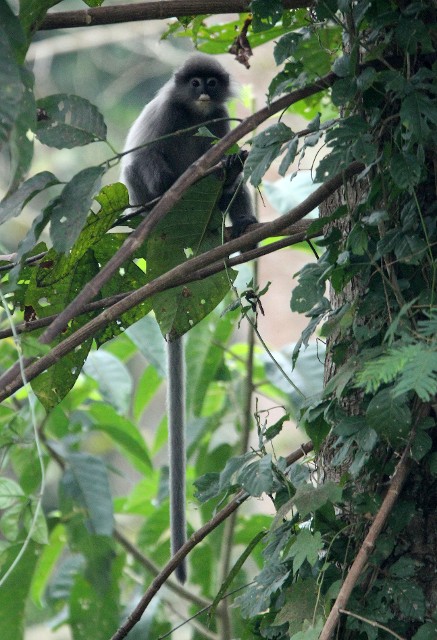 This troop was noticed in Khao Ban Dai on our last morning in the Western Forest Complex.
Northern Treeshrew (Tupaia belangeri)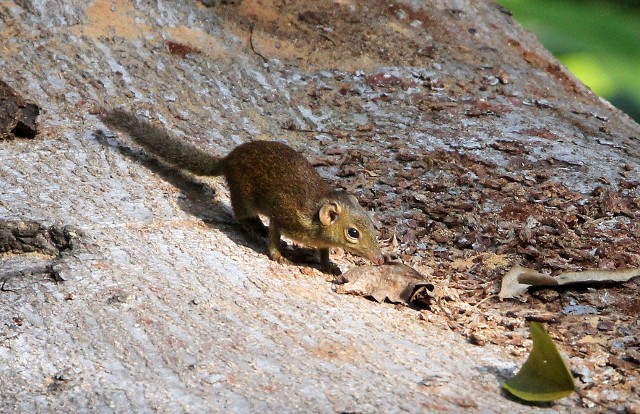 Northern Tree Shrews were a common sight throughout the reserve.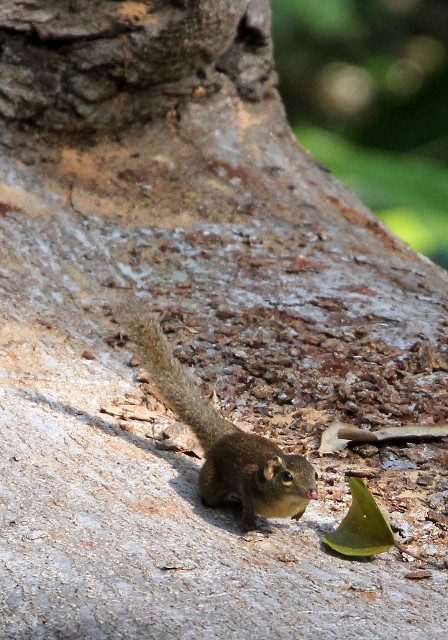 Northern Treeshrew coming in for a closer look.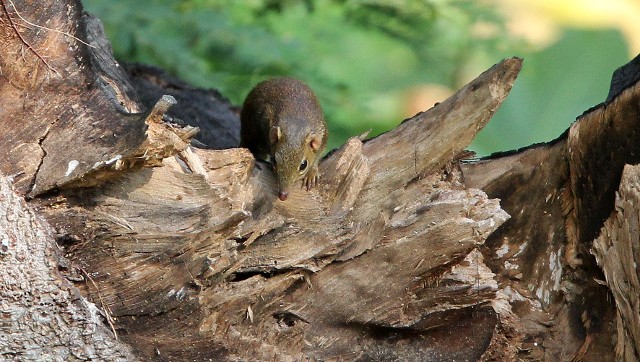 We saw several Northern Treeshrews in the reserve, and interestingly they were much smaller than the examples we spotted in Yunnan a few years earlier.

Grey-bellied Squirrel (Callosciurus caniceps)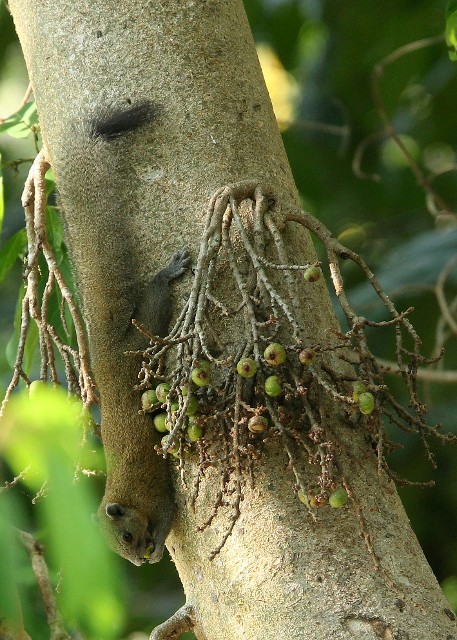 Grey-bellied Squirrels were common in all locations in the Western Forest Complex.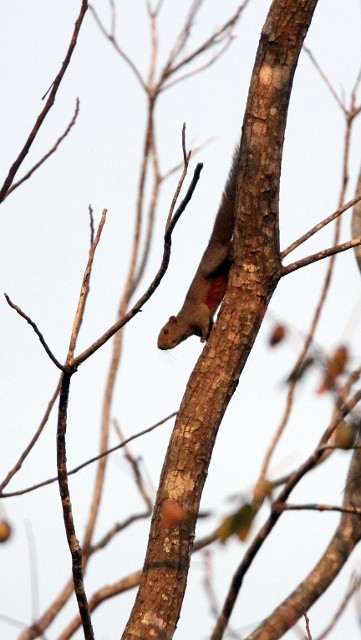 Grey-bellied Squirrel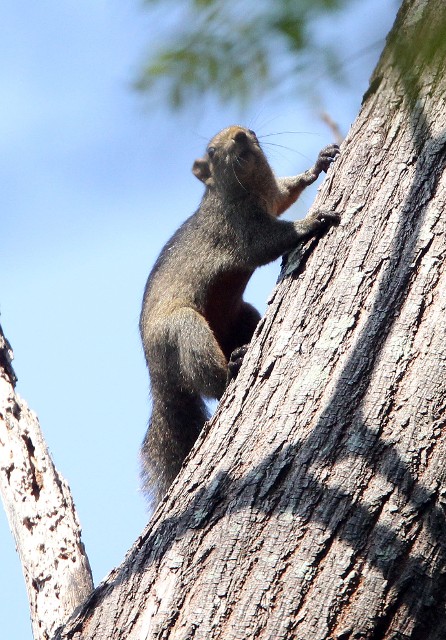 Perhaps the most common I've seen in Thailand except for the Variable Squirrels.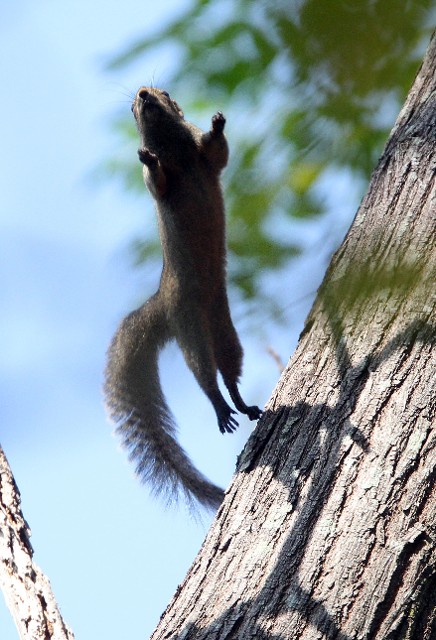 Taking off!
Burmese Striped Squirrel (Tamiops mcClellendii)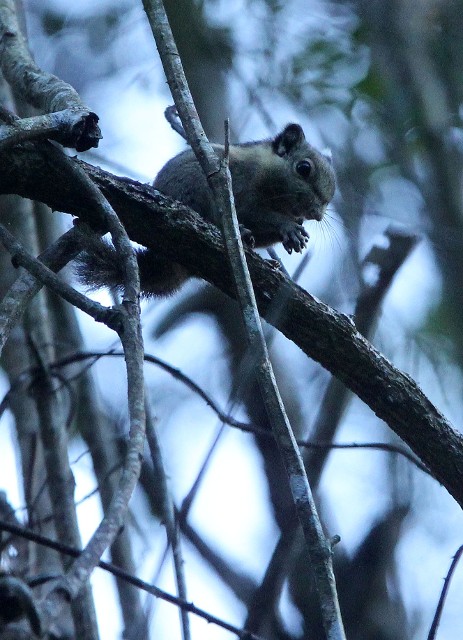 Many Burmese (or Himalayan) Striped Squirrels were spotted in HKK.

After we set up camp, we continued about ten kilometers deeper in to the core area to a mineral lick that Bruce had worked at for many years. My truck, being a 2X4 was not adequate for the road, so we all piled in to Bruce's Ford Ranger (a really nice rig) for the trip in. About 45 minutes or so, we found ourselves at a junction of many elephant trails that were well worn into the fabric of the forest. Bruce of course knew exactly where we were, but even if my life depended on it, I would never be able to find that spot again. Our first task was to assist Bruce in setting up a new camera trap location. There was much more to the job than I would have surmised. Laying and burying cables and mountain sensors, flashes and the camera itself. It was quite a job and it was clear that Bruce was a master at this. The proof really is in the pudding - the quality of images he has been able to get over the years is unrivaled.
After setting and testing the camera trap, we trekked a bit less than a kilometer in to the forest along wildlife trails that were unnervingly difficult to navigate (both Som and I got lost on two separate occasions!) to a blind that was set up by an earlier prime minister of Thailand who fancied wildlife photography. This blind was actually made of iron scaffolding trucked in long ago but, although pretty rusted, was still very functional. After a bit of a noisy set-up, we finally managed to settle in to our blind and establish some sort of an equilibrium, with Cokie in the second level, and Som and I and Mr. "Toh", one of Bruce's close photographer friends, on the ground level.
So for the next five or six hours, we waited patiently in the blind hoping for whatever. My expectations were low, very low. I had no particular target species or any high hopes of anything other than pigeons. I was not disappointed with the pigeons! Seems that every time I have spent time in blinds, pigeons have always been the one constant. So of course I was not surprised when numerous Thick-billed Pigeons flocked in the mineral lick.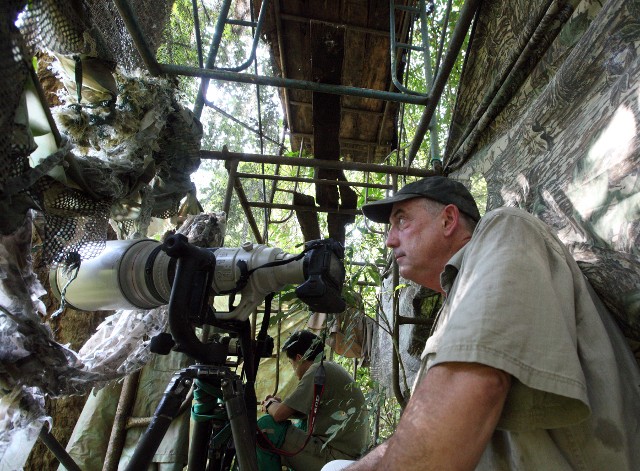 Our fruitful blind. Lots of waiting but it was absolutely worth it!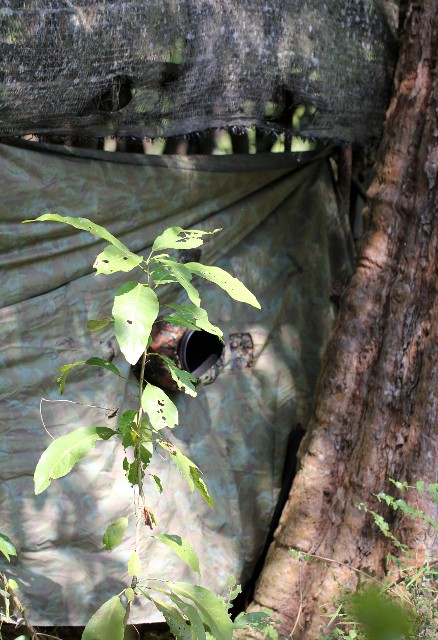 The leopard-view of our blind.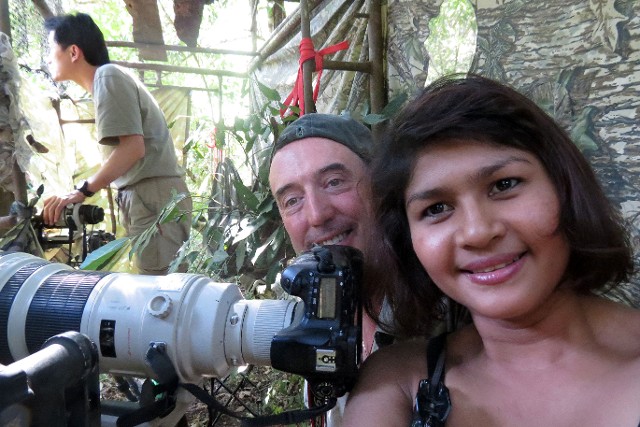 I am SO lucky to have a wife who can wait in blinds like Som!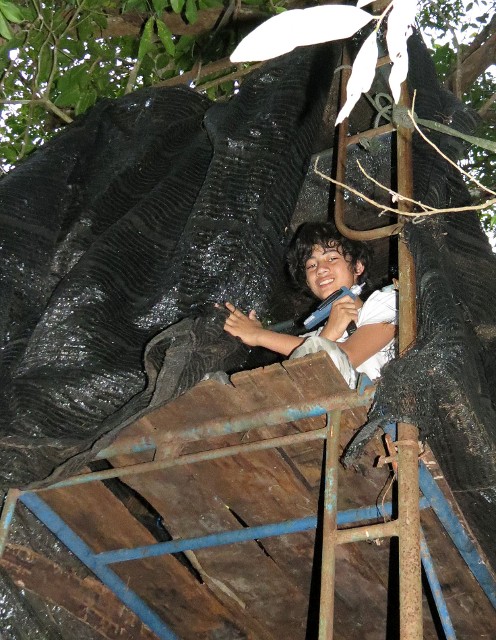 Cokie got the second floor to himself. He did pretty good keeping quiet. Considering how most 12-year old kids would handle the task of waiting patiently in a blind for 5-6 hours!
Thick-billed Pigeon (Treron curvirostra)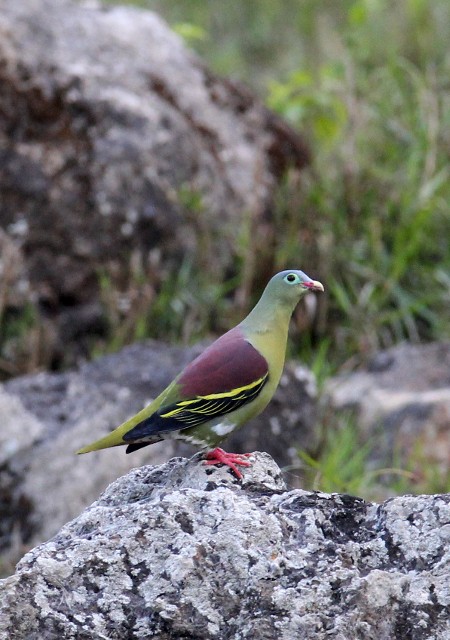 Initially all we saw in the lick was a heap of Thick-billed Pigeons!
The first couple hours were pretty quiet, with only one nice Sambar stag coming in for a bit of a drink from the waters of the hot spring. He was extremely nervous which basically told us that either there was lots of poaching in the area or that there were loads of predators. I was hoping for the latter. Not much after that male Sambar for some time, with the exception of a female Sambar, and some birds.... . Much of the time spent during blind shoots is simply waiting, waiting and more waiting. Over the years, however, Bruce had spotted many different species so we knew our chances were good for something.
But things were about to change. And astonishingly, about five hours or so in to our time in the blind, I heard Som say, "Leopard"! I was actually a bit sleepy so I was not sure I heard her correctly. But as soon as I scanned the distant edge of the lick, I knew she was dead serious. I spotted a glorious BLACK leopard skirting the edges of the lick, just in range of my camera! He slowly entered our field of view. And after a few seconds of assessing the area, he became confident enough to spend the next 35-45 minutes showing us every view and angle and lighting situation imaginable! I have seen a lot of wild cats over the years but this one will go down in our lore as one of the more photogenic and cooperative individuals of all times!
Melanistic IndoChinese Leopard (Panthera pardus delacouri)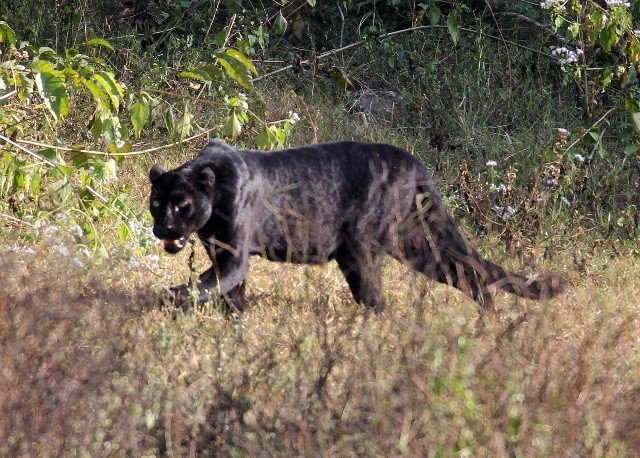 Our leopard on the prowl..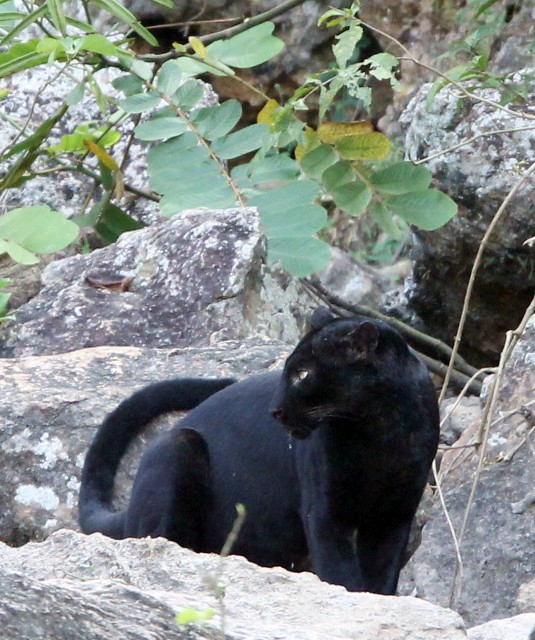 Indochinese Leopard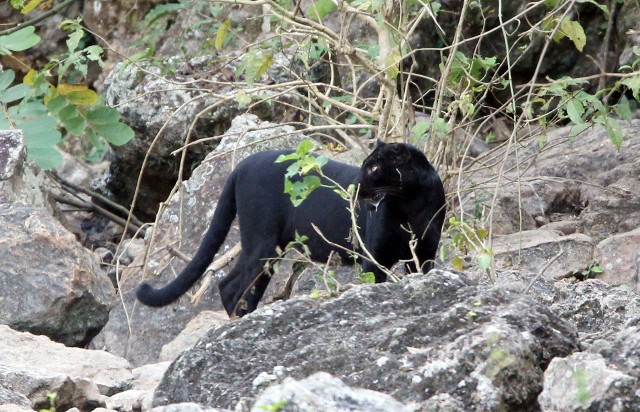 We were watching him drinking from the hotsprings for the better part of an hour.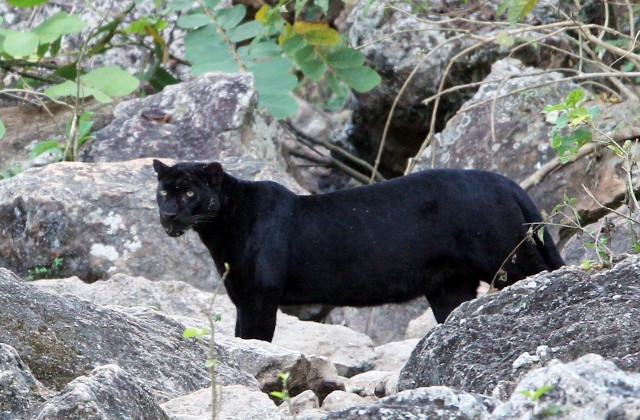 Spectacular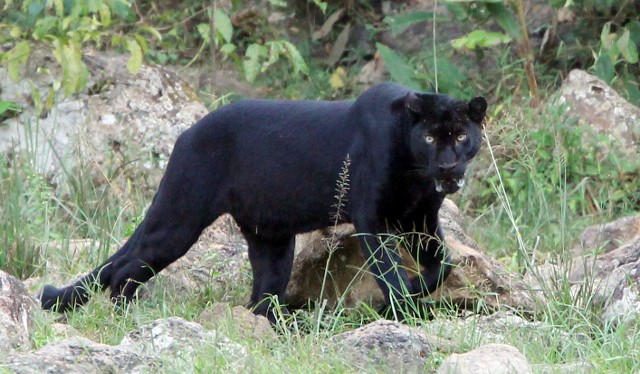 He knew exactly where we were.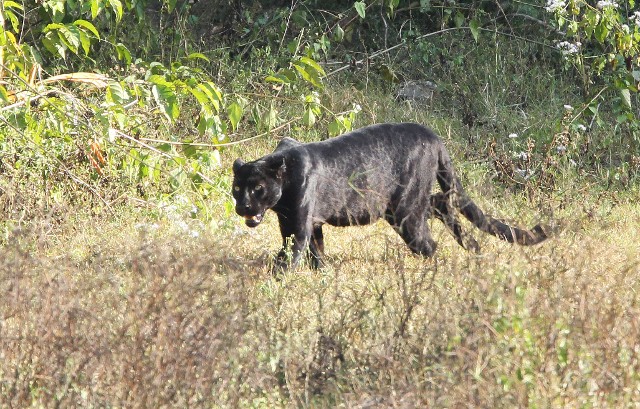 In the right light, you could see her spots very clearly.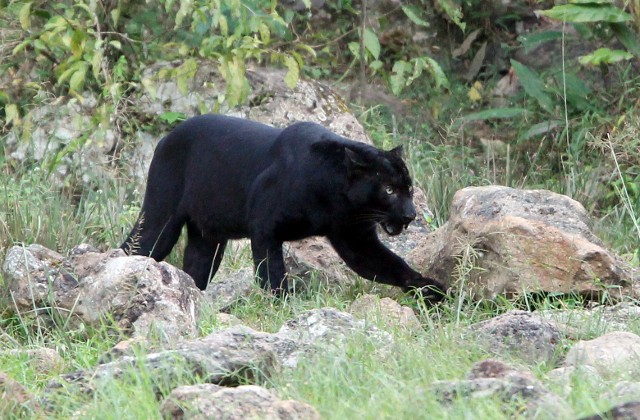 A spectacular felid.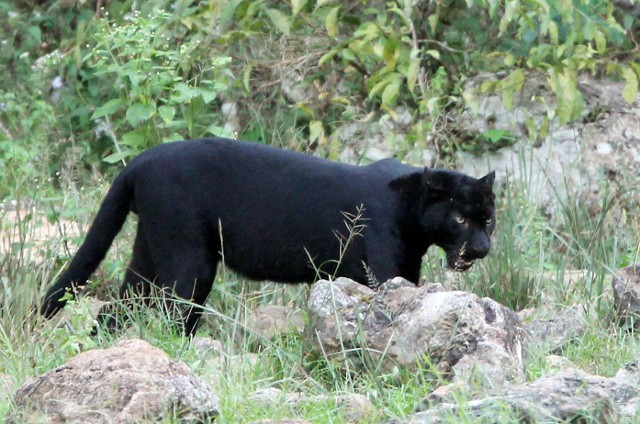 Words cannot do justice...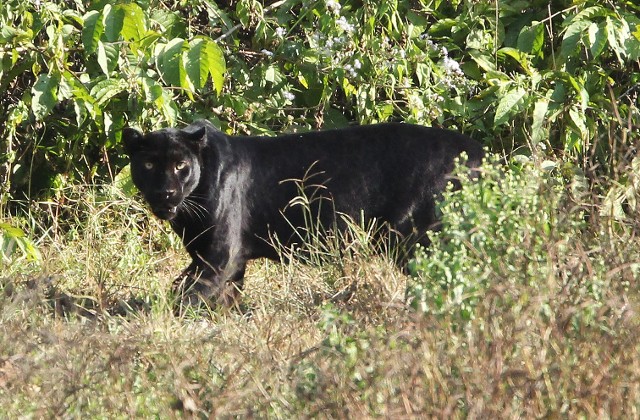 Staring directly at us...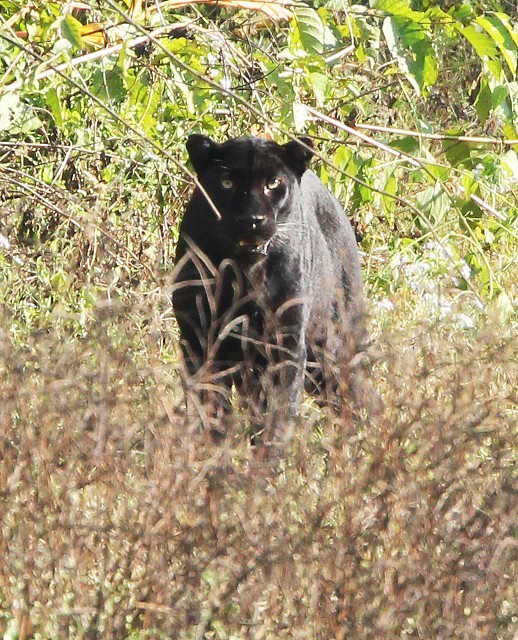 Making eye contact!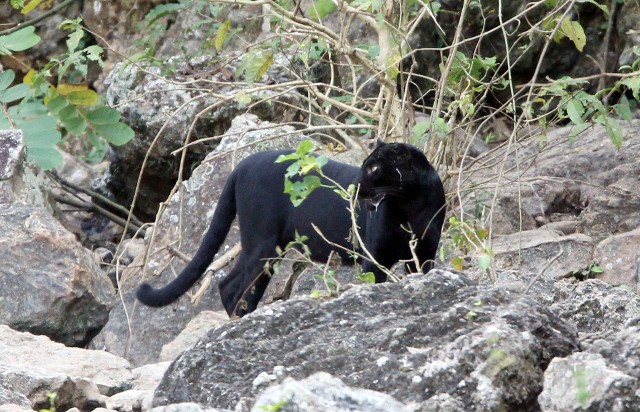 I will never forget our afternoon with this amazing animal.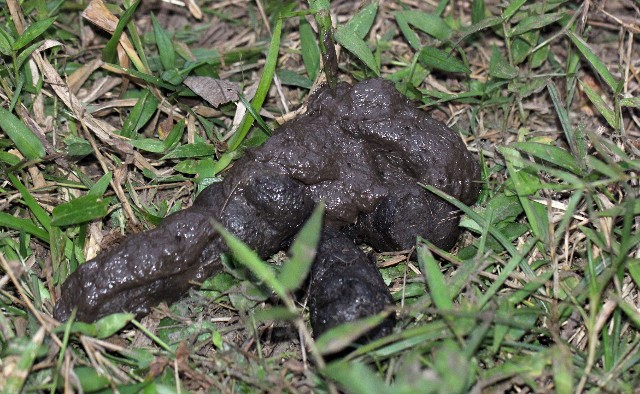 Sorry about this pic but....While we were quietly watching our show at the blind, barking deer were busy barking a couple hundred meters away...On our way back we spotted this rather large scat with pugmarks of a large adult and at least one cub. Based on the size of the scat, we are thinking it was a mother tiger and her cub!

Now I had seen Bruce's unbelievable images of black leopards in his books but I never thought I would be so lucky as to see one for myself in the wild. And as luck would have it, this leopard was in the exact same location as Bruce's first leopard that he spotted some 19 years earlier. We joked that this one must have been a grandchild of his leopard.
This sort sighting would be next to impossible to ever repeat. Bruce spends an inordinate amount of time in the Western Forest Complex, both setting up camera traps and sitting in the numerous blinds that dot the reserve, and he has seen Black Leopards only a few times in over twenty years. He's seen SE Asian Tigers even fewer times, although his camera traps capture them fairly regularly. In fact on this trip, we helped Bruce take down several traps for relocation, and on this run, he captured two separate individuals traveling the so-called "famous log" that has been the site for so many amazing images and videos over the last couple years. (See some of Bruce's camera trap images here)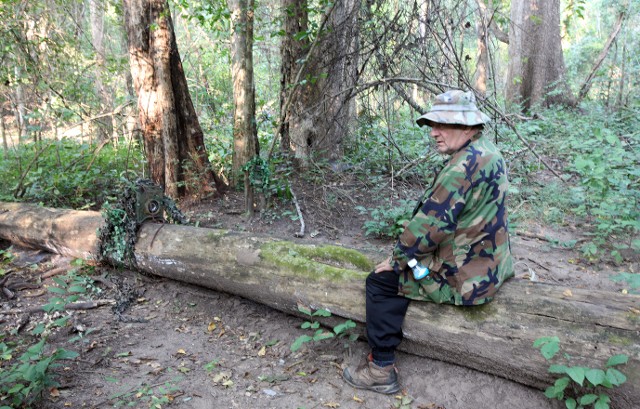 Bruce sitting on the "famous log". There probably has not been a more photographed log in the history of camera trapping. Oh the species captured crossing this dead tree...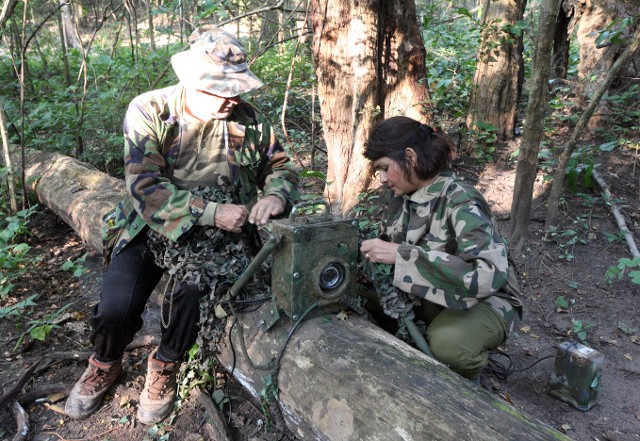 Dismantling the trap. Time to relocate!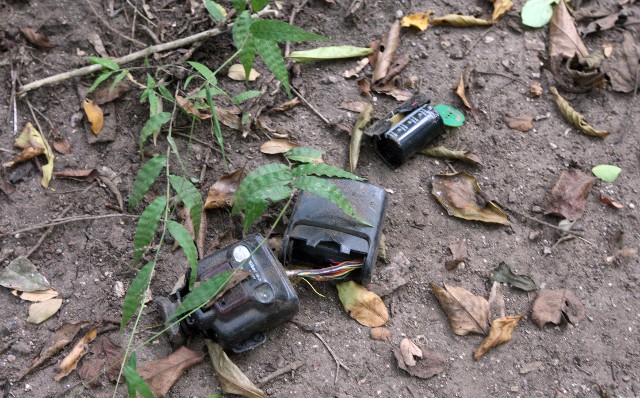 Evidently the elephants did not like the flash.... Bruce's traps are famously elephant-proof.
Along with the tigers, Bruce's traps caught glimpses of Asian Elephants, several Hog Badgers, some Common Civets and a nice pair of Bush Porcupines. While a couple cameras either malfunctioned or were disturbed (=mutilated) by pissed off elephants, it appeared to be a successful session of camera trapping. There is little doubt that Bruce is the world's best camera trapper with more success in getting extremely high quality images of such rare species than anyone else in the field.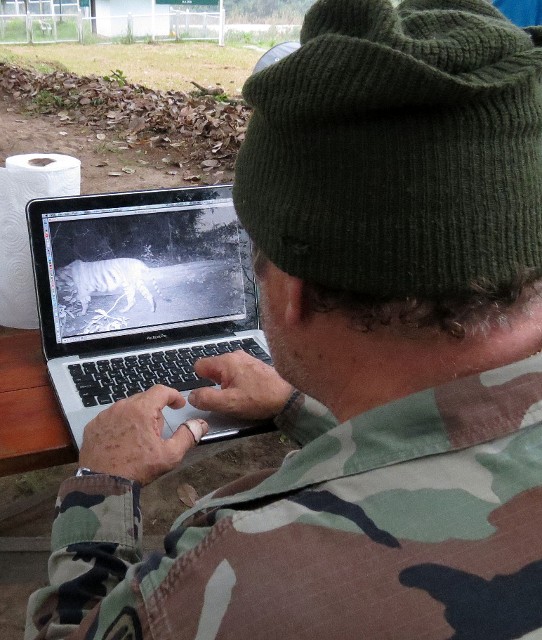 One of the amazing shots Bruce got during this trip! Two individual tigers were captured by the traps.
Our next day was spent returning to the Headquarters area of the reserve where we spent time photographing the numerous species of cervids now found in the Western Forest Complex. Sambar and Red Muntjac have always been common and easy to see in the reserve, but over the past couple years, there have been reintroductions of Eld's Deer, which used to be found in the region before their extirpation. But interestingly, there has been a move to introduce Hog Deer in to the park and evidently that is a true "introduction" as they were never native to this part of Thailand. Not sure what is going on here. In any event, it was nice see the herds along with the fully antlered males.
Burmese Eld's Deer (Panolia (Cervus) eldi thamin)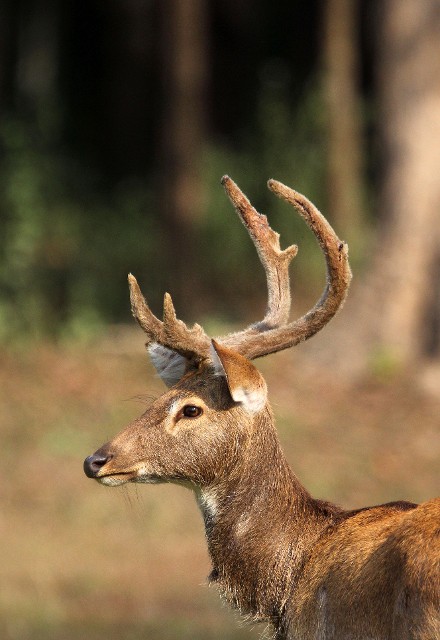 One of the numerous Burmese Eld's Deer roaming the grounds near the headquarters of the Huai Kha Khaeng section of the Western Forest Complex.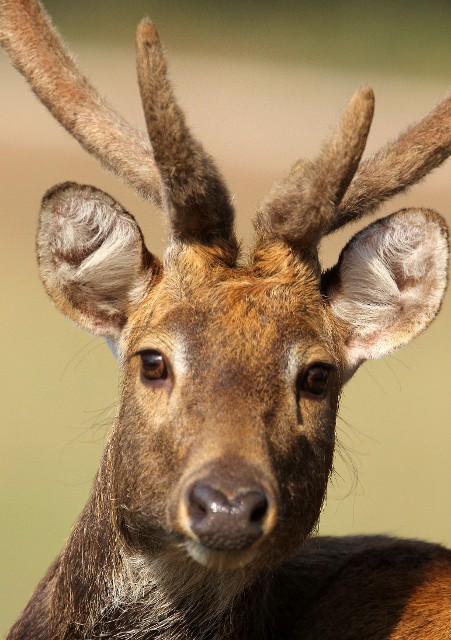 On the surface it seems that the introduction has been successful.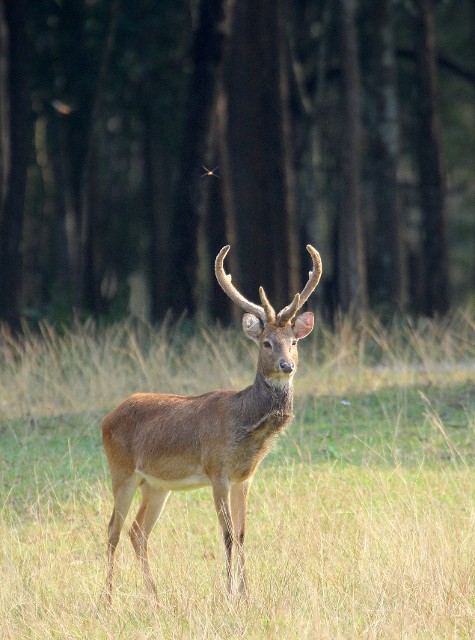 This species is easy to spot in the grassy areas near the headquarters. Evidently this is where they seem to always be since their reintroduction three or so years back.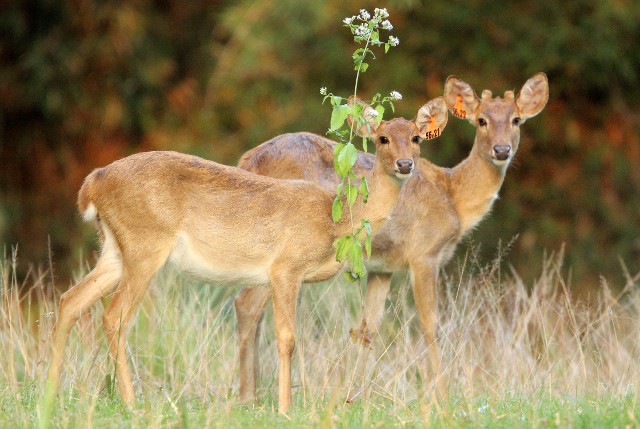 Most of the deer wear these tags.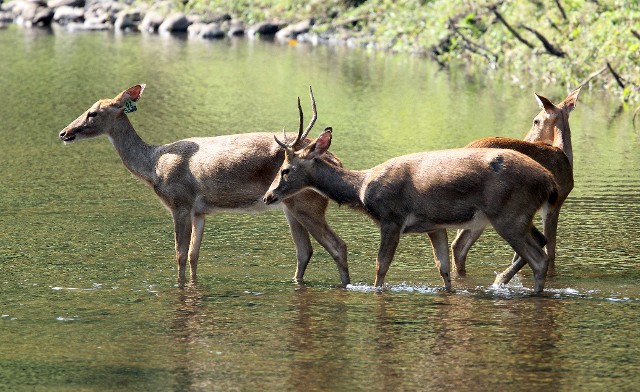 Burmese Eld's Deer crossing a stream near the campgrounds of the Huai Kha Khaeng section of the Western Forest Complex.
Indochinese Hog Deer (Hyelaphus porcinus annamiticus)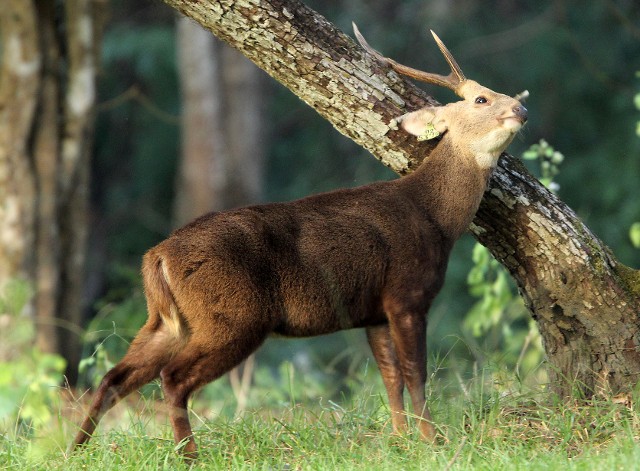 Interestingly this species is an actual "introduction". Evidently Indochinese Hog Deer were never actually found in the Huai Kha Khaeng section of the Western Forest Complex.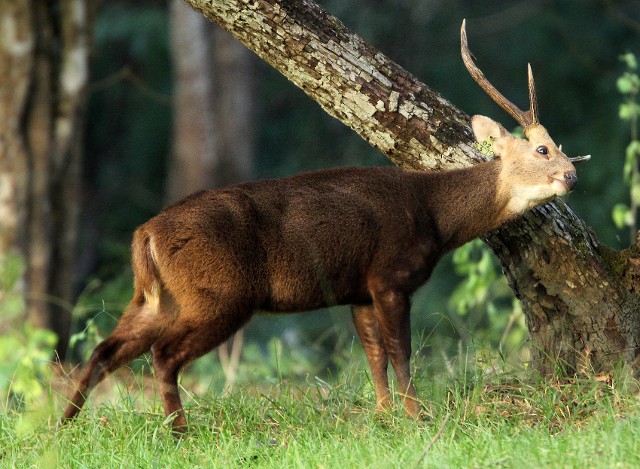 This subspecies did appear a bit different than the Indian Hog Deer (H. p. procinus) seen in Assam a couple years back.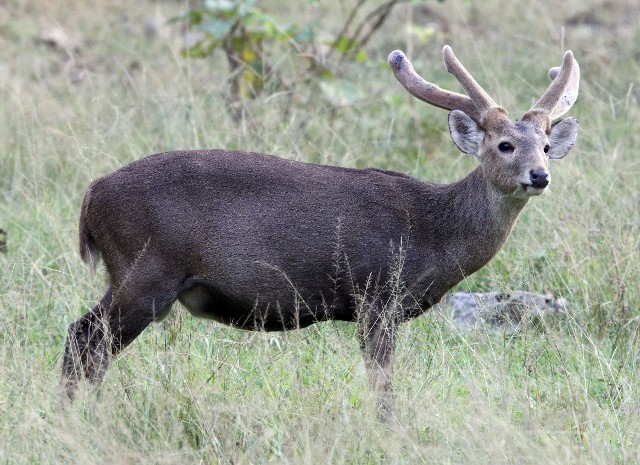 Some of the males were still sporting velvet.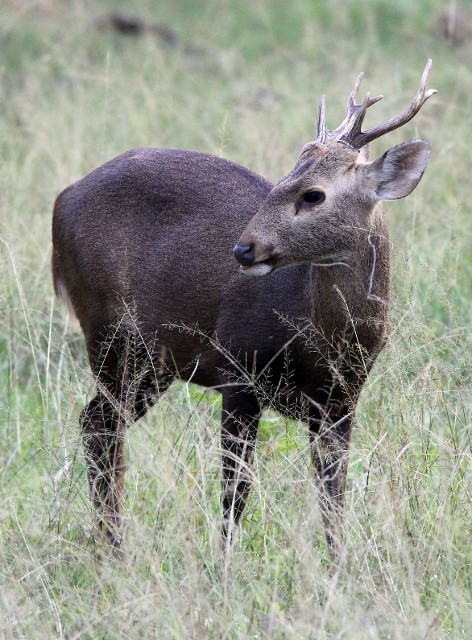 Indochinese Hog Deer
Indochinese Sambar (Rusa unicolor cambojensis)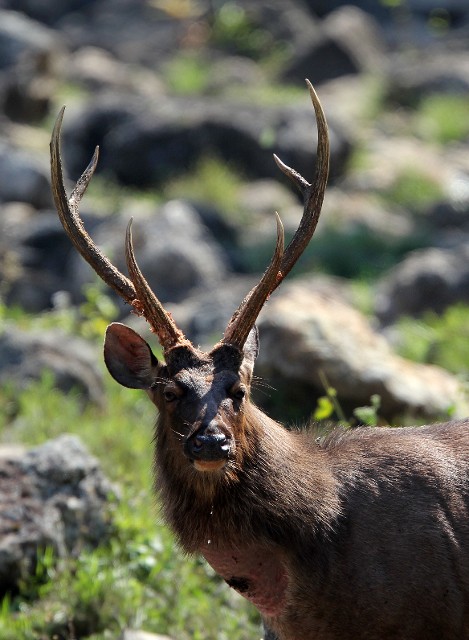 Sambar were farely common the Western Forest Complex, but this stag was quite spectacular in the mineral lick.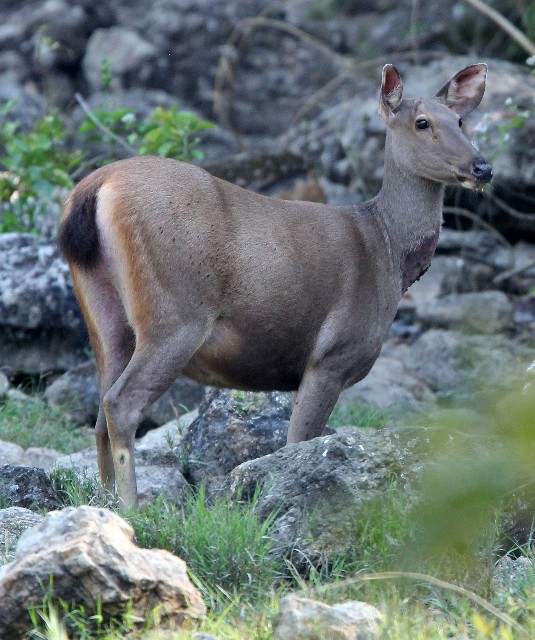 I have still not heard an acceptable explanation for the sores on the lower necks of the Sambar here in Thailand. This is not universal in this species.
Thailand Red Muntjac (Muntiacus muntjak curvostylis)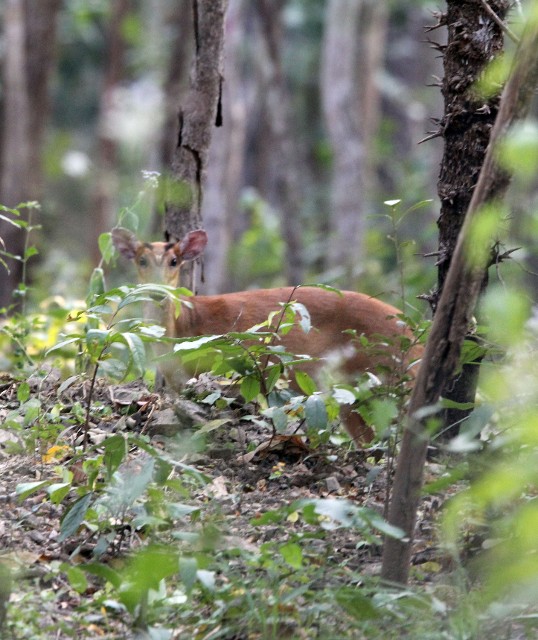 As usual, the Muntjak were timid and uncooperative for photography. But they were fairly common in the reserve and spotted several times in several locations.
Our day was productive but our night camping near the HQ produced a couple interesting species. While setting up camp, I noticed a pair of eyes that appeared to be a predator's peering in my direction from the forest edge. With a good look through the binocs, I noticed it was a Golden Cat! He spent a few moments with us before heading deeper in to the forest again. But hot on his tracks was a pack of Golden Jackals, similar to the ones we'd seen here a few years back. Normally it is easy to see Siamese Hares in the camping area but we did not this evening, although we were not looking too hard. Flying squirrels are generally easy to spot in the forests around the campgrounds too.
Our final day in the Headquarters region of the reserve was spent helping Bruce relocate some of his camera traps in a patch of lowland mixed deciduous forest that was nearby. The forest here appeared to be primary in stature and was riddled with wildlife trails with an astounding abundance of sign. The well-worn trails in the forests were veritable superhighways for the wildlife of the forest. It was no wonder that Bruce had achieved such high levels of success over the years with his images.
On approaching the final trap a few hundred meters deeper in to the forest, we noticed an orangish silhouette between a couple trees in the distance. Soon it became clear that there was a massive bull Banteng drinking at a water hole. We approached slowly and managed to capture a few images before he noticed our presence and wandered slowly back in to the forest. He was a massive old bull that had no doubt seen a lot of action in this old forest. What a treat it was to spend a few moments with him this afternoon.
Banteng (Bos javanicus lowii)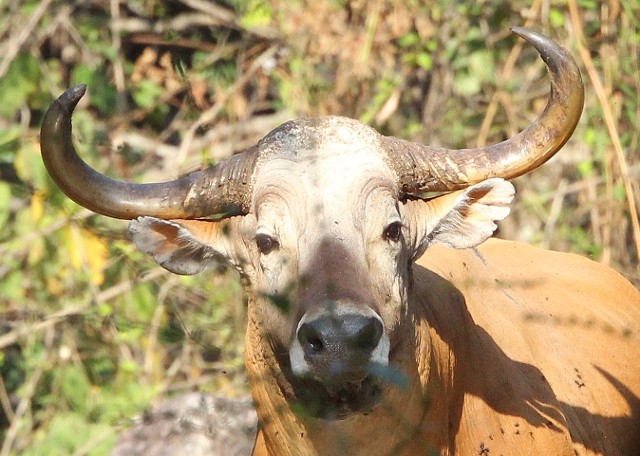 Our final glimpse of our Banteng bull. He had a straight on glimpse of us and simply strolled back in to the forest.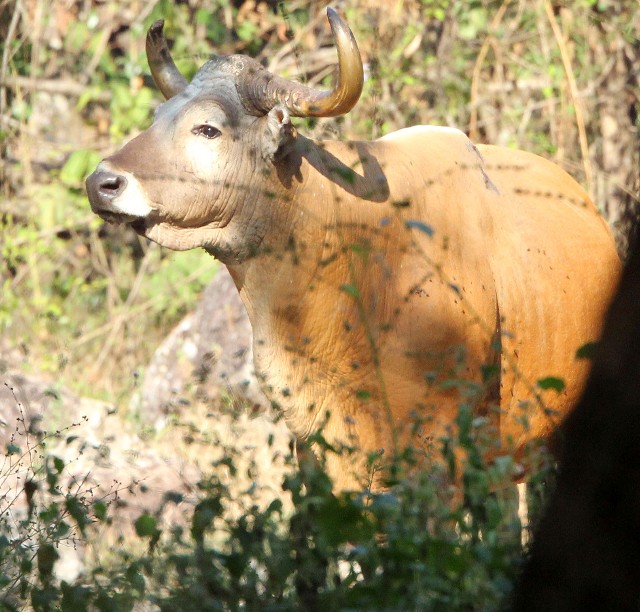 Our bull trying to catch our scent. He knew we were somewhere but simply could not peg our position.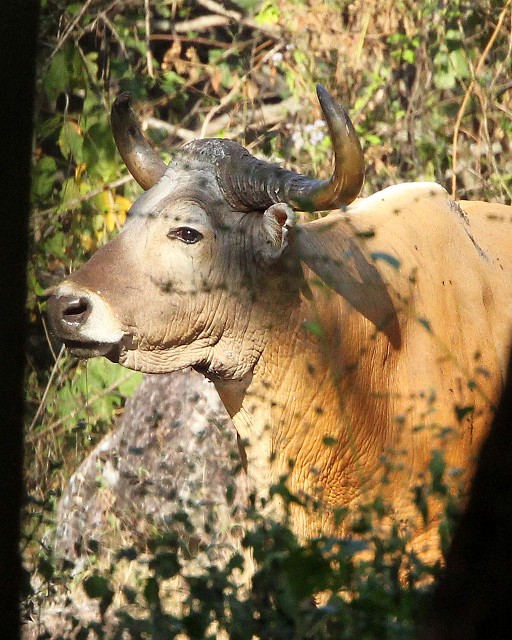 Indochinese Banteng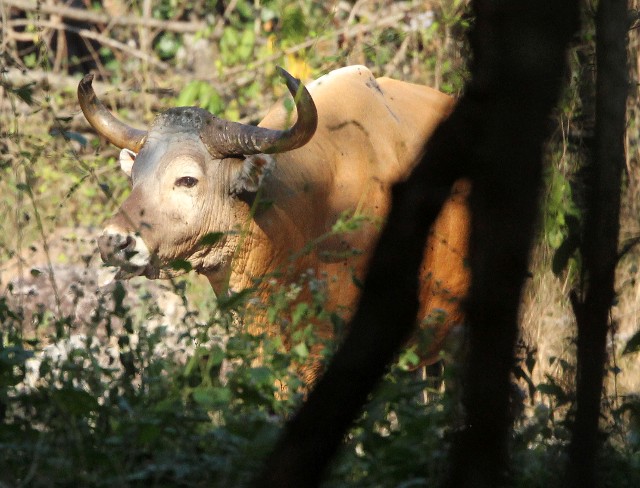 Banteng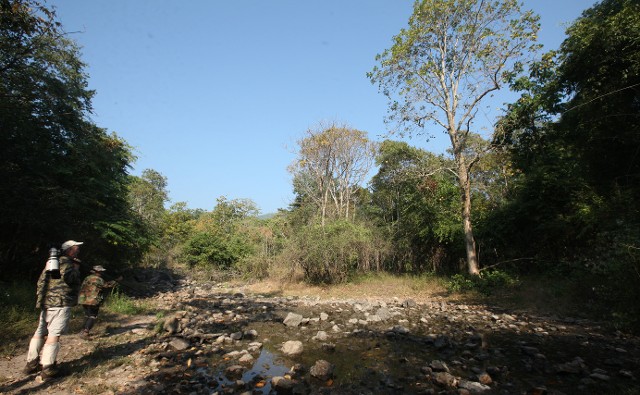 After our giant bull Banteng left, we had a chance to check out the mineral lick. Bruce plans on putting a few traps there in the future. I cannot imagine what sort of action he will document here in the near future!

Our next destination was Khao Ban Dai Station, over 100 kilometers to the south on the southern boundary of the the Western Forest Complex. Som and I had attempted to visit this station several years back but ended up getting hopelessly stuck in the mud and had to turn around. So it was nice this time to see that the road had been improved considerably and the approach was no problem at all. Of course this was the dry season and back then we were foolish enough to try it in the wet season, but we made it this time no problem. And about 21.5 (exactly!) kilometers deeper in to the core area of the reserve, we found ourselves in Khao Ban Dai, perhaps the most spectacular of all of the stations of the Huai Kha Khaeng of the Western Forest Complex.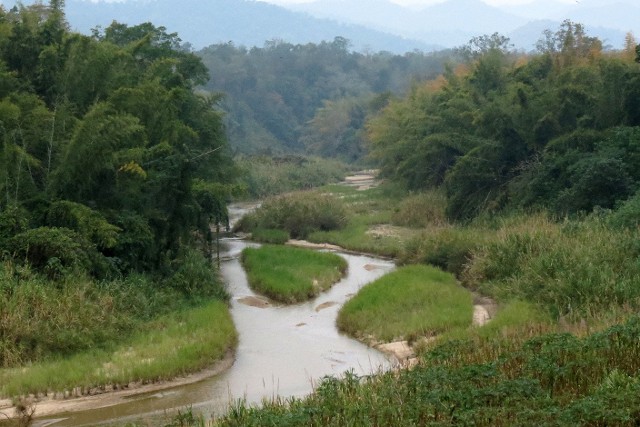 The river confluences at Khao Ban Dai. This was one of the nicest place I have ever visited in Thailand.
Situated on top of a sizable mountain (sizable for this part of Thailand, where in the Western Forest Complex, the tallest mountain is 1800 meters), offers sweeping views of the surrounding ranges and forests of the region, with views of not only Huai Kha Khaeng, but of portions of Tung Yai Naresuan East and West Perhaps what is most spectacular is the views of the confluence of the Huai Kha Khaeng River, where wildlife used to be plentiful and spotted constantly. Sadly things have changed and wildlife is much less commonly seen there, but the morning of our arrival a few visiting dignitaries spotted two very rare wild Water Buffalo on the banks of the river below. We spotted three species of civets during our stay - the Large and Small Indian Civet as well as the Common Palm Civets, which visit every evening.
Large Indian Civet (Viverra zibetha picta)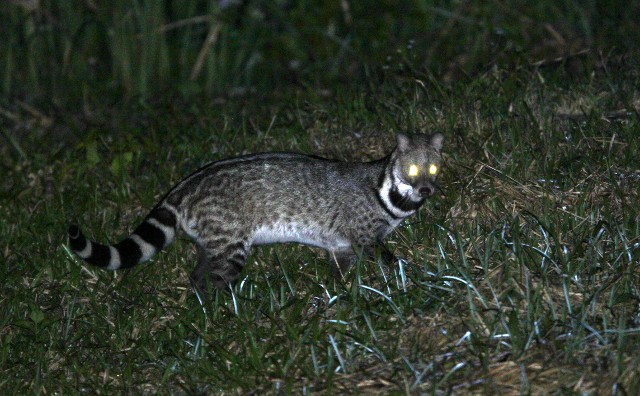 Finally an acceptable image of a Large Indian Civet from Khao Ban Dai Station. He and a couple of his buddies were patroling the station all night.
Common Palm Civet (Paraduxorus hermaphroditus)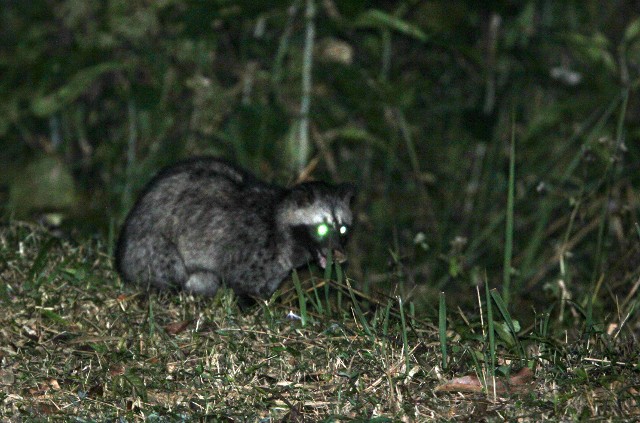 Common Palm Civet was another visitor at our camp this evening. We also spotted Small Indian Civet but was unable to capture an image.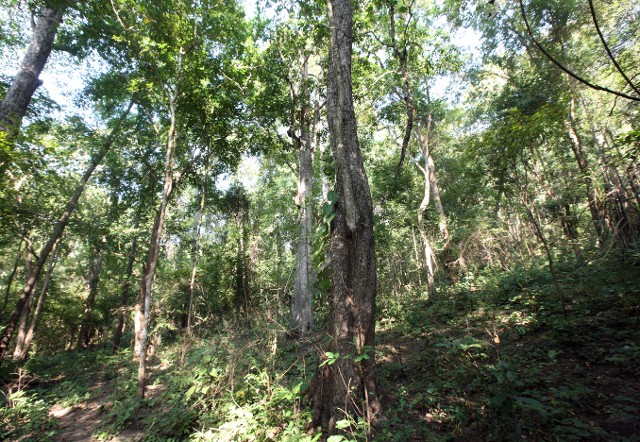 The mixed deciduous forest of Huai Kha Khaeng.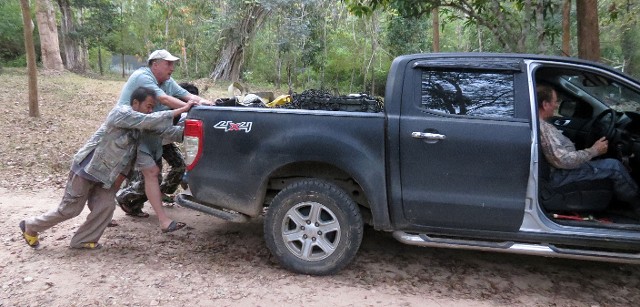 Just a reminder NOT to leave your computer charging overnight in your rig....50 kilometers deep inside the jungles of Thailand....

We spent the late afternoon and evening of one day and the morning of another in Khao Ban Dai. This is definitely a place to try to return to, although this would be quite impossible without Bruce. No one is allowed to come to this place without very special permits. But at least we got a taste of this amazing place, which I would arguably claim is one of the most special places in all of Thailand. Finding areas of true wilderness and solitude in Thailand now is virtually impossible. Most of the parks and reserves in Thailand have been reduced to amusement parks for drunken tourists who have no respect for nature and have no desire to experience it in any true sense. Unless you can visit during an off time, there really is no point to even go to a Thai national park anymore. The wildlife is heavily poached and sold to the highest bidder in most reserves, and the missions of the parks is to satisfy the typical Bangkok tourist whose only goal is to sing karaoke and drink cheap whiskey until all hours in the campgrounds of the parks. The Western Forest Complex offers a rare glimpse of what Thailand was not so long ago.
Mammal List (20 species)

Order Rodentia
House Mouse
Grey-bellied Squirrel
Burmese Striped Squirrel
Family Elephantidae
Asian Elephant
Family Cervidae
Eld's Deer
Sambar
Hog Deer
Red Muntjac
Family Bovidae
Banteng
Family Viverridae
Small Indian Civet
Large Indian Civet
Common Palm Civet
Family Felidae
Asiatic Leopard (Melanistic form)
Golden Cat
Family Canidae
Golden Jackal
Family Suidae
Wild Boar
Order Scandentia
Northern Treeshrew
Order Primates
White-handed Gibbon
Phayre's Langur
Long-tailed Macaque
More Leopard Shots!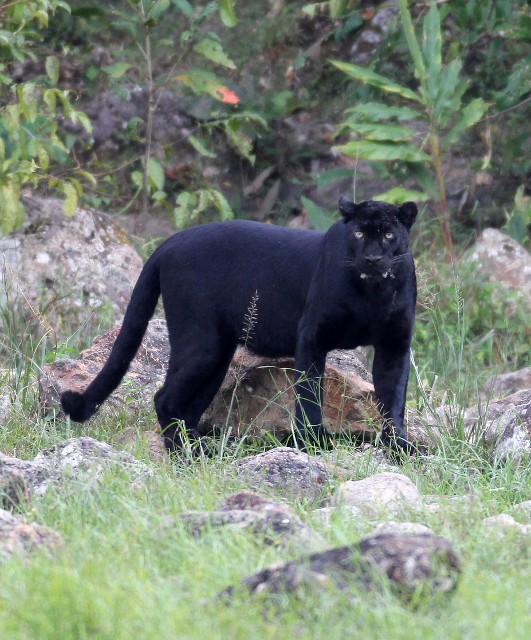 We were privileged to spend nearly an hour with this magnificent felid. Without a doubt, this was one our most amazing wildlife sightings ever.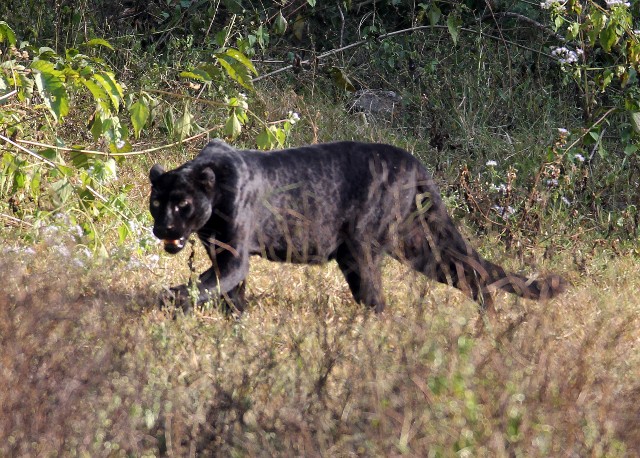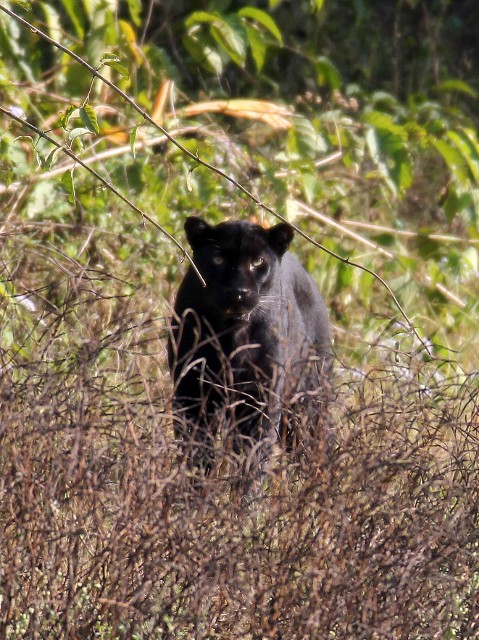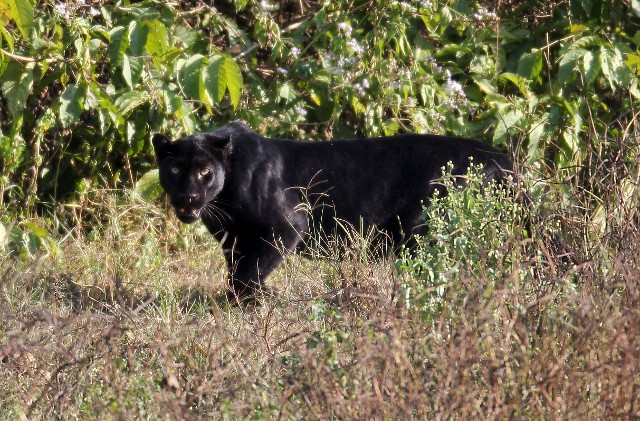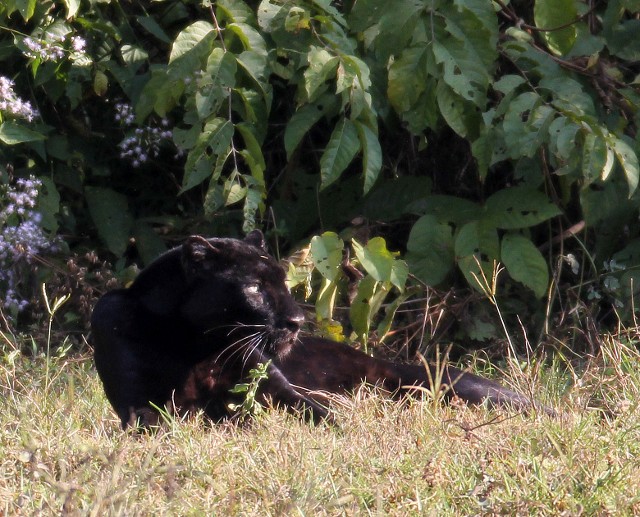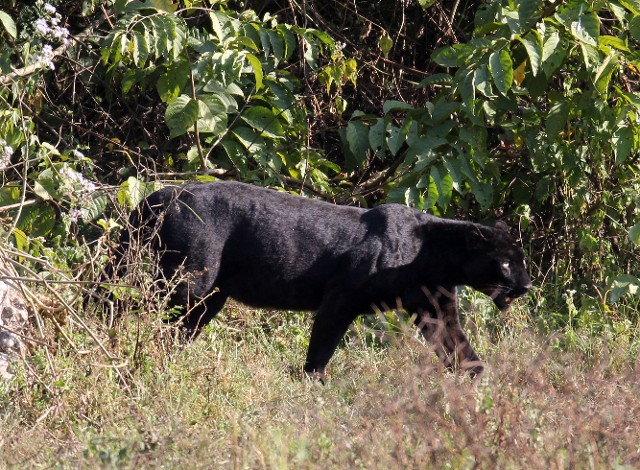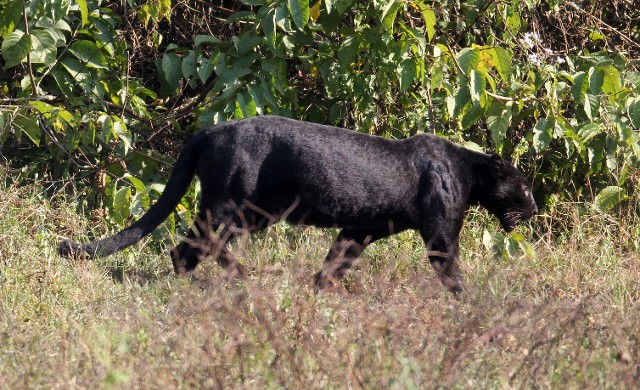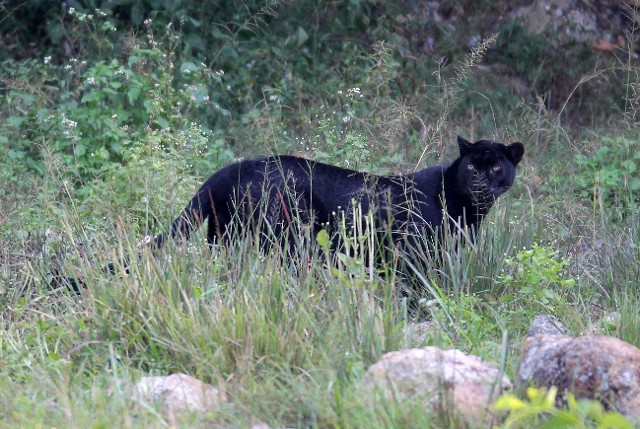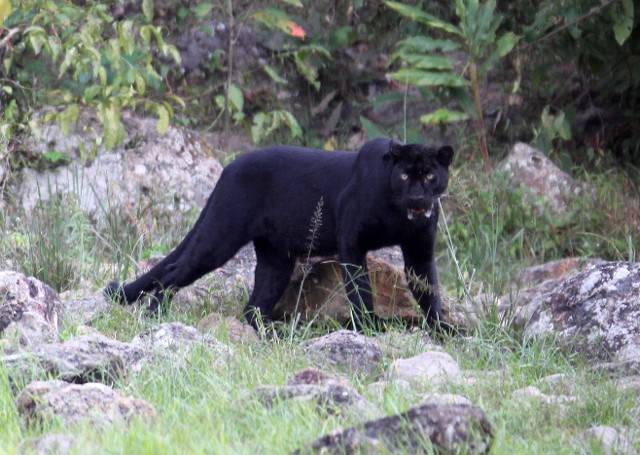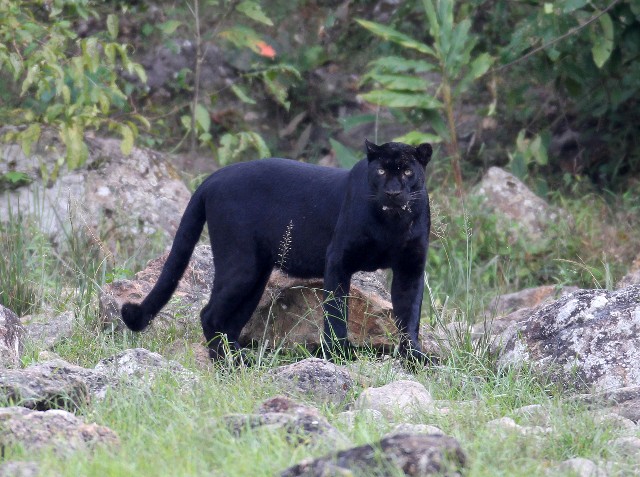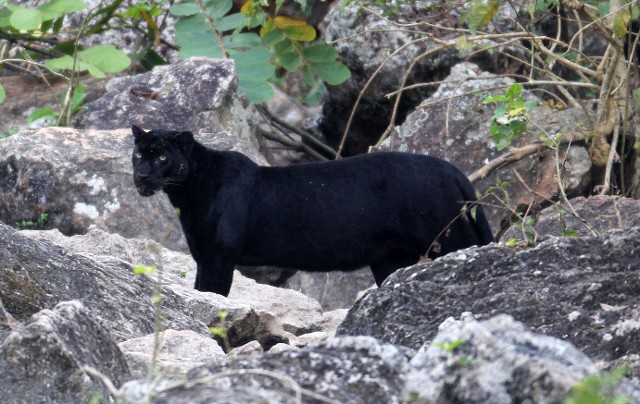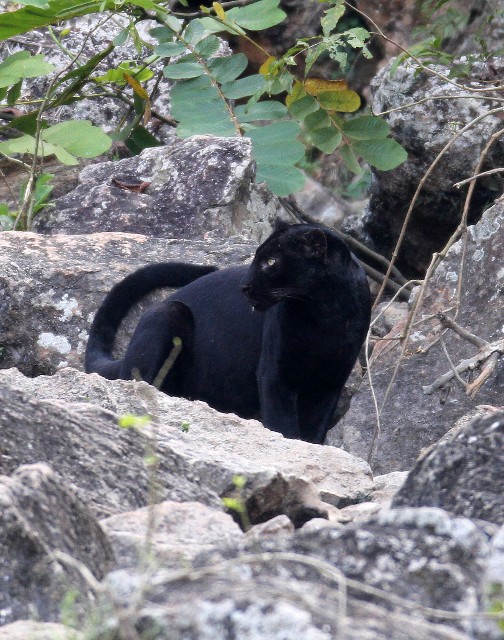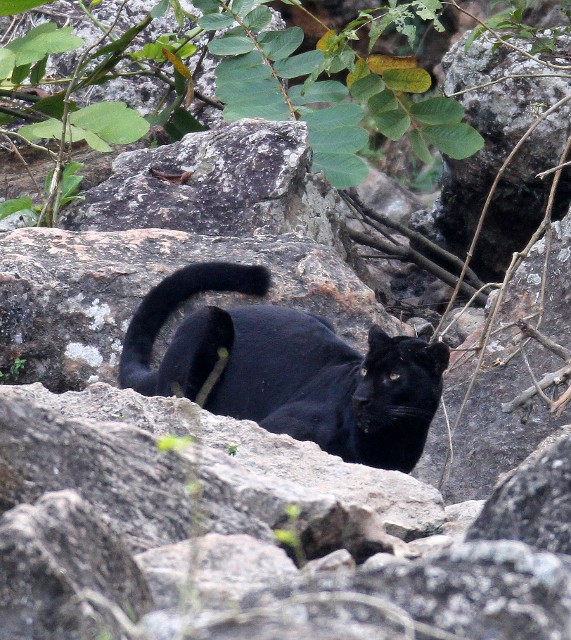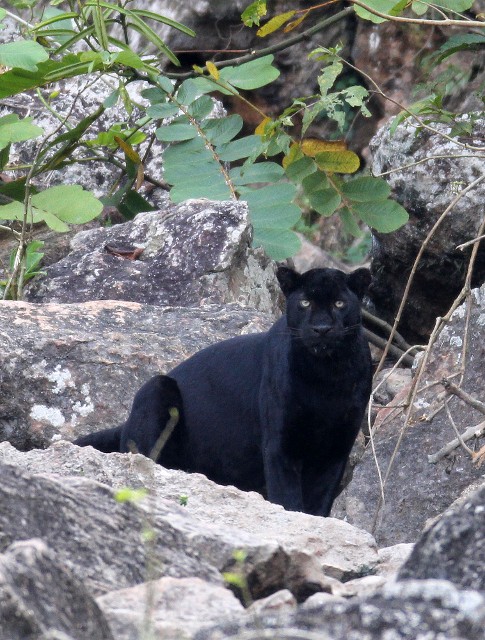 Amazing
Other Critters Spotted Recently
Lyle's Flying Fox (Pteropus lylei)
Just an hour or less out of Bangkok, there is a large roost of Lyle's Flying Fox at Wat Tha Sung Taksinaram Bang Sai Ayutthaya.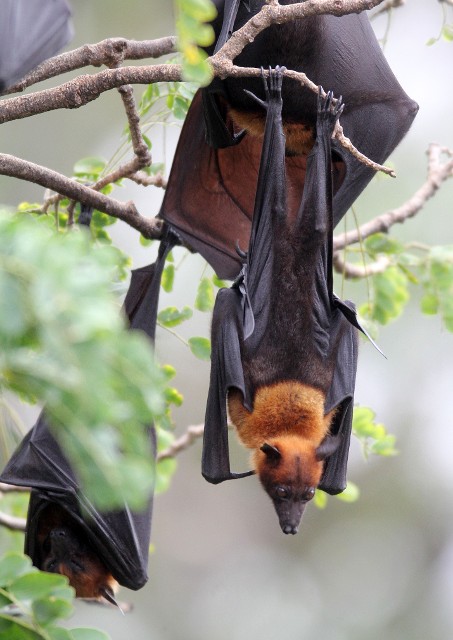 Situated near on the Chao Praya River the roost is more than likely one of the few remaining in the greater Bangkok area for sure.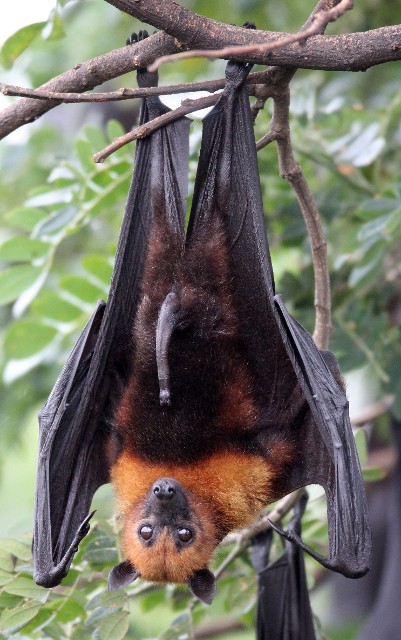 Impressive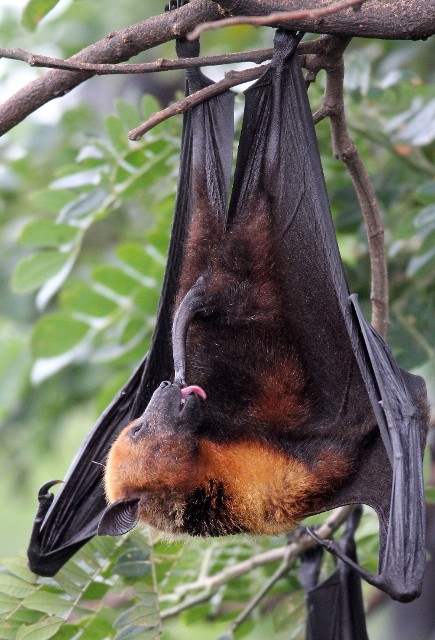 I know a good joke about this scene....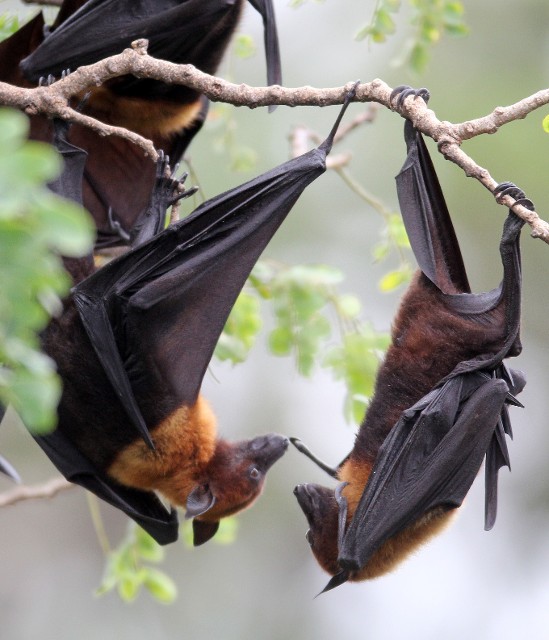 Very entertaining watching the non-stop squabbling in the roost.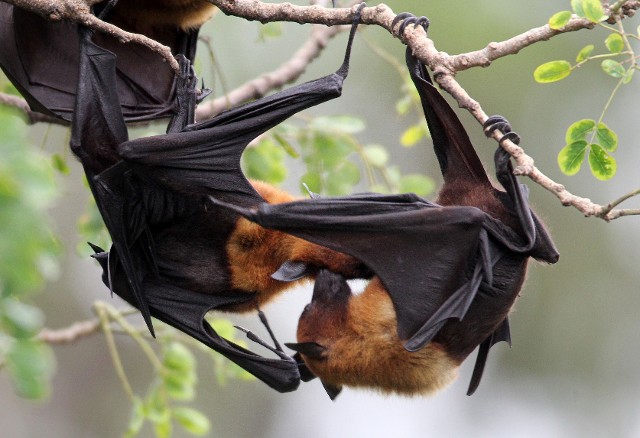 I cannot imagine how anyone gets any sleep in a bat roost...
Smooth-coated Otter (Lutrogale perspicillata perspicillata)
While wildlife-watching in Kok Kham Machachai we came across this small group of Smooth-coated Otters in one one of the fish ponds. Evidently they had not been spotted there in some time and this sighting created a bit of a stir in the local wildlife-watching community.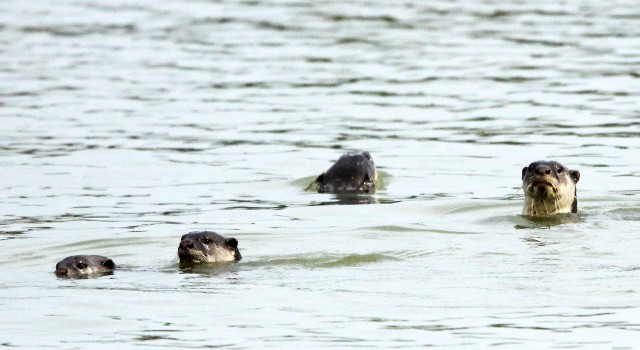 Smooth Coated Otters of Kok Kham Machachai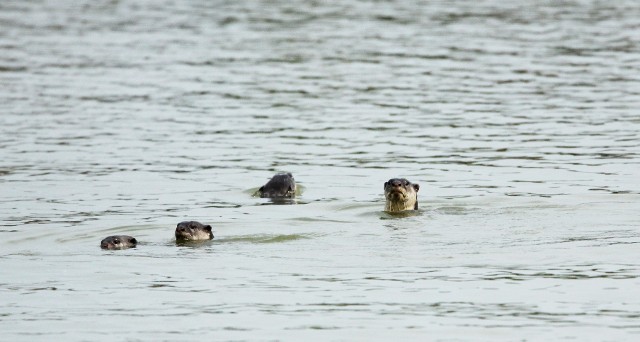 Smooth-coated Otters...

Birds of the Western Forest Complex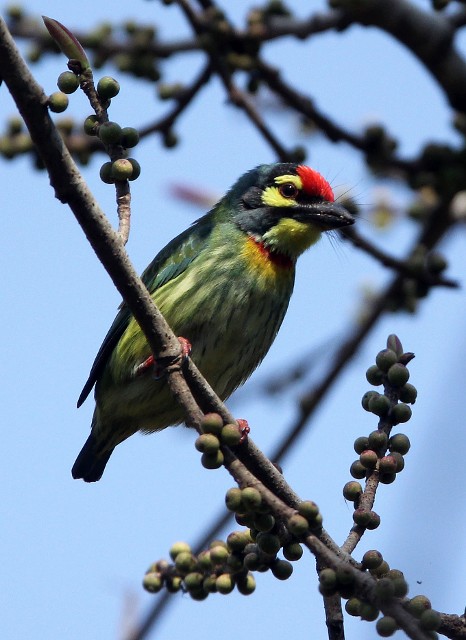 Coppersmith Barbet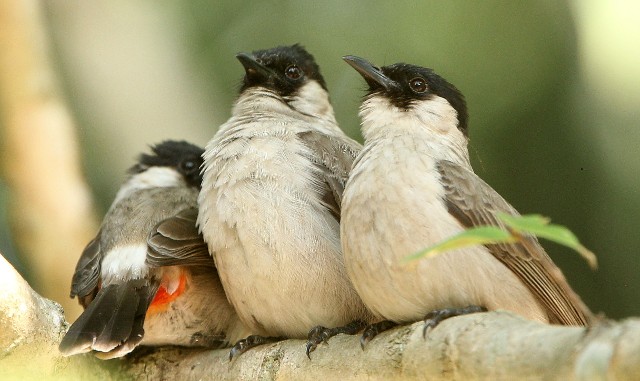 A mama Sooty-headed Bulbul and her fledglings.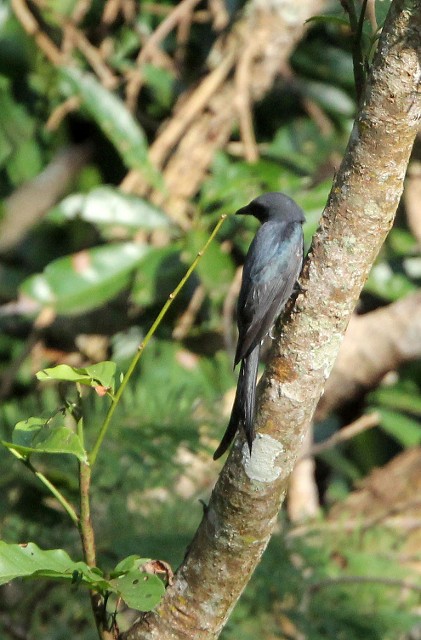 Ashy Drongo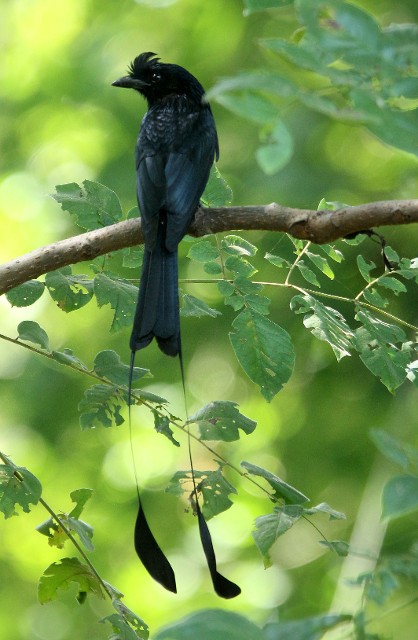 Greater Racket-tailed Drongo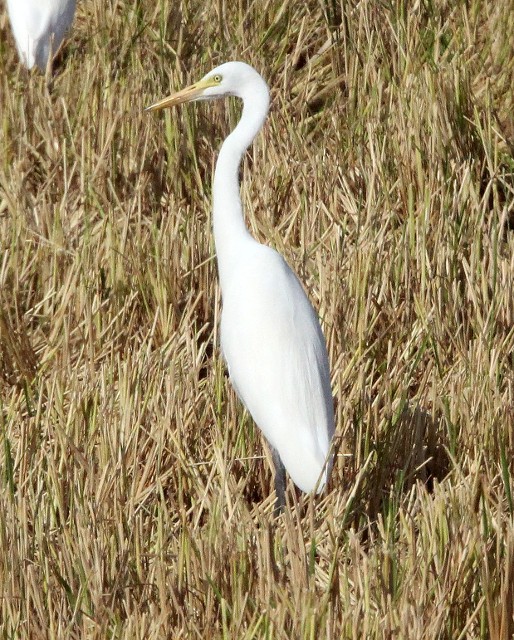 Intermediate Egret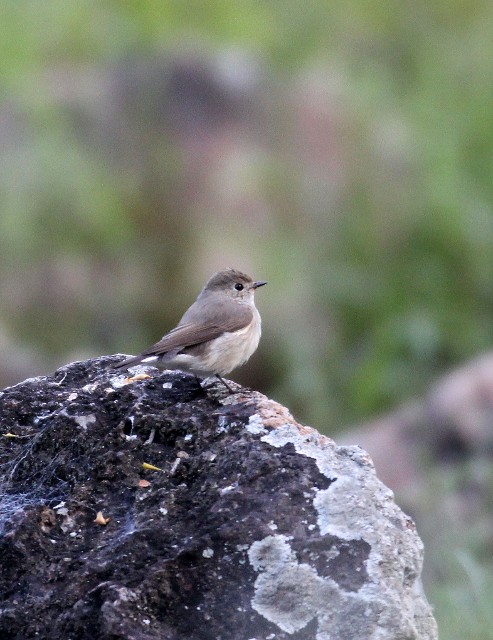 Asian Brown Flycatcher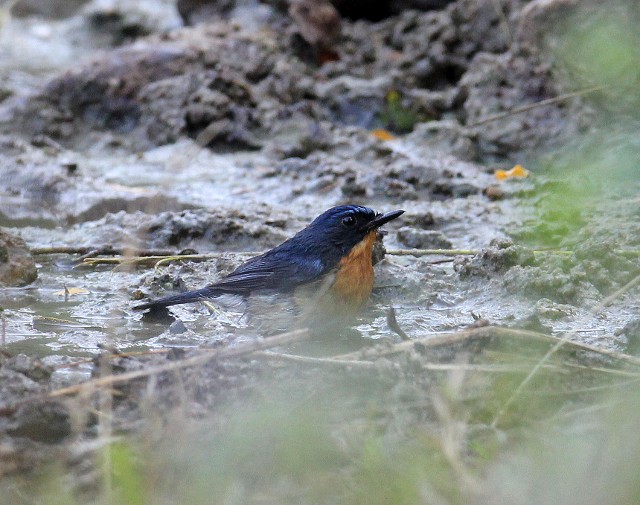 Blue-throated Flycatcher
Blue-throated Flycatcher taking a bath at the hotsprings.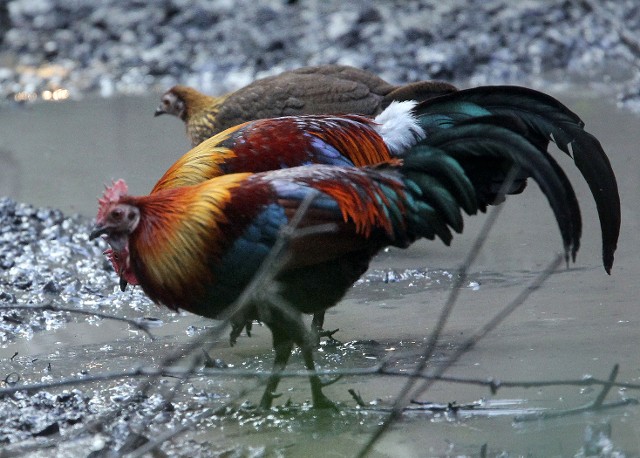 Wild Jungle Fowl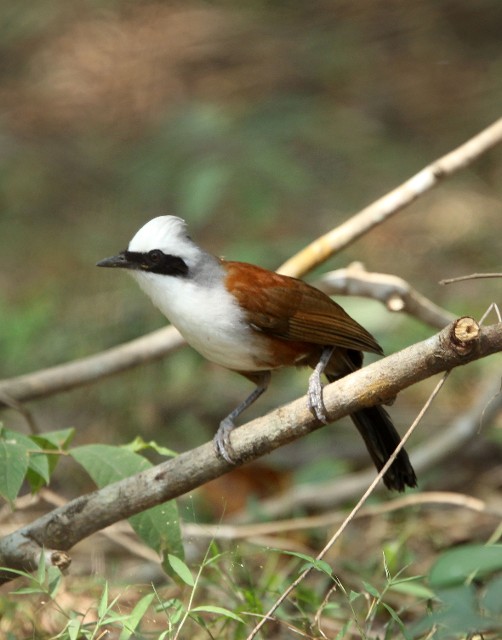 White-crested Laughingthrush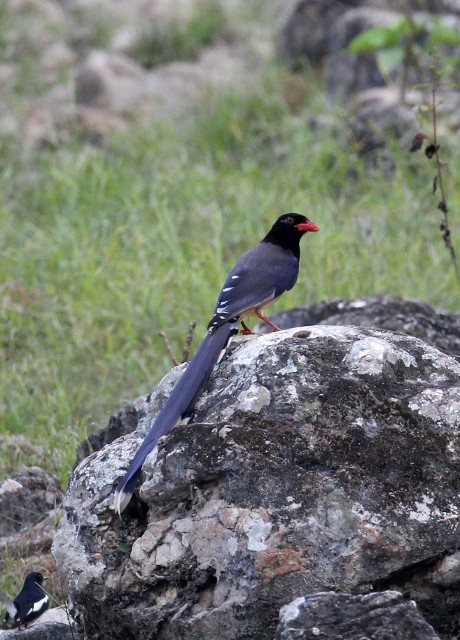 Blue Magpie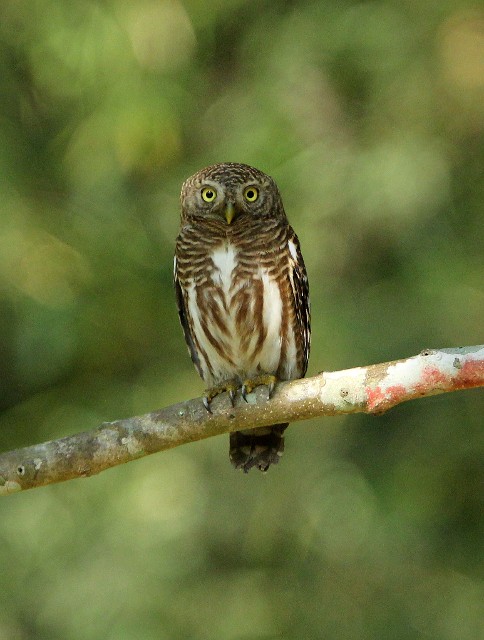 We caught daily views of this lovely Asian Barred Owlet at Kraprok Krapiyen. It was a lifer for me!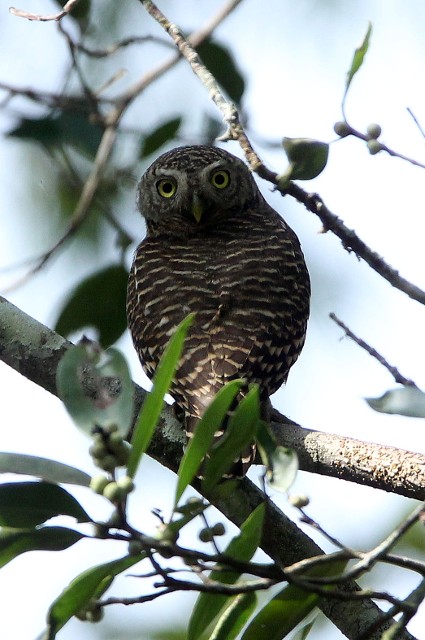 Asian Barred Owlet!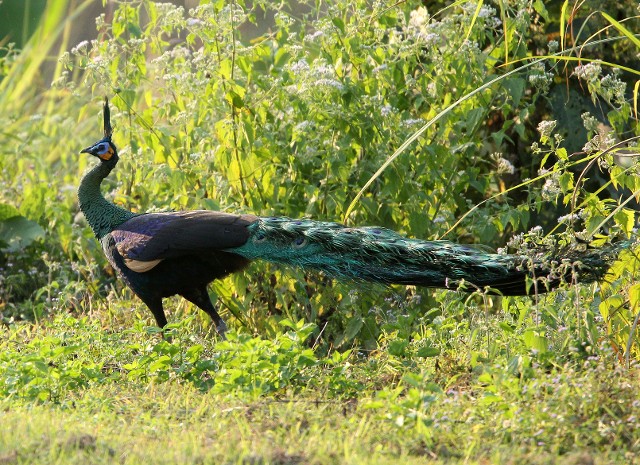 Wild Green Peafowl at Khao Ban Dai
Thick-billed Pigeon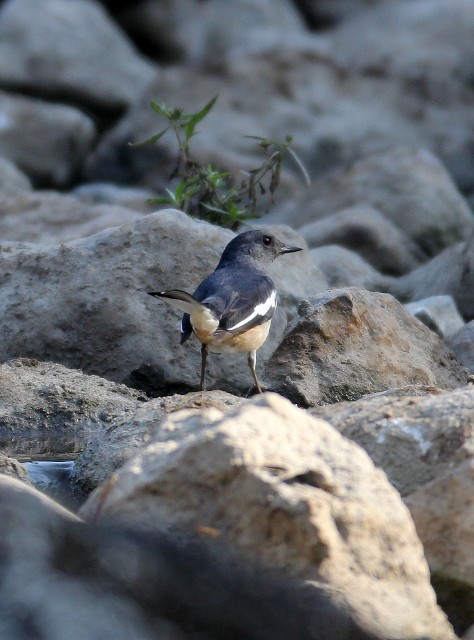 Oriental Magpie Robin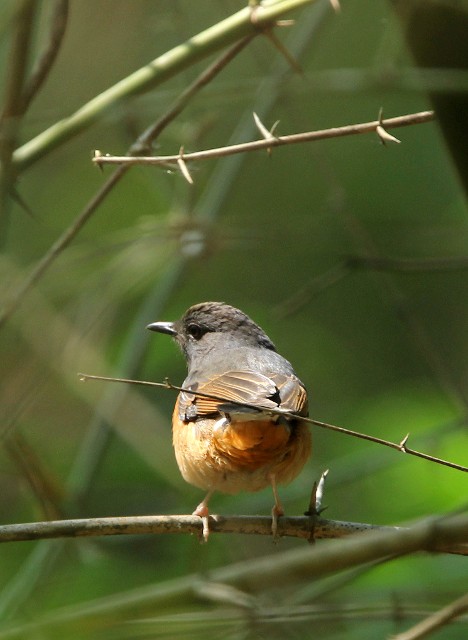 Another lifer for the trip - Siberian Blue Robin!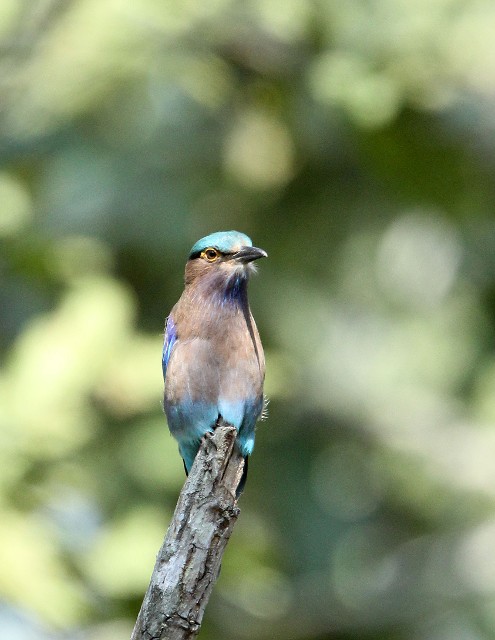 Indian Roller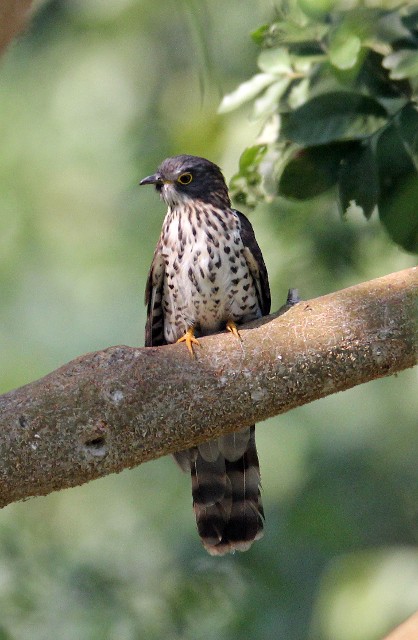 Common Hawk-cuckoo (Hierococcys varius)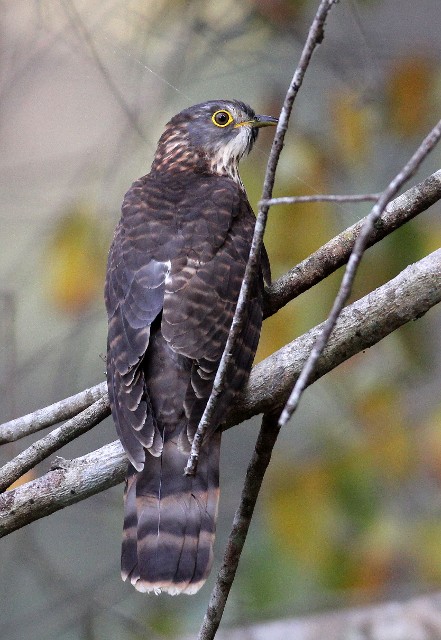 I love seeing the Common Hawk-cuckoos (Hierococcys varius) fly effortlessly through the understory of the forests.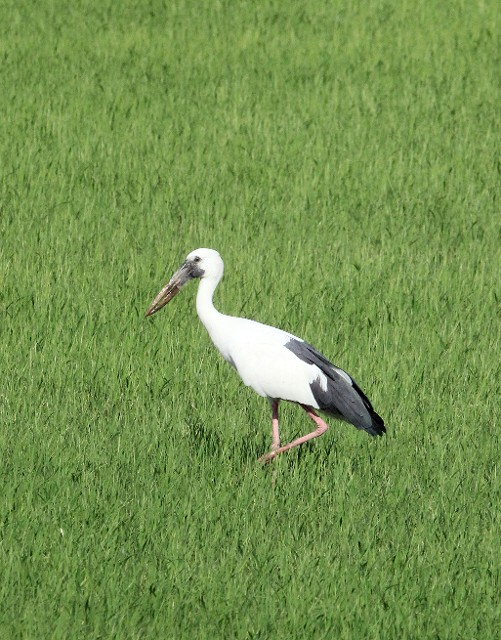 Spotted on the way to Huai Kha Khaeng - billions of Asian Openbills in the rice paddies of Uthai Thani Province.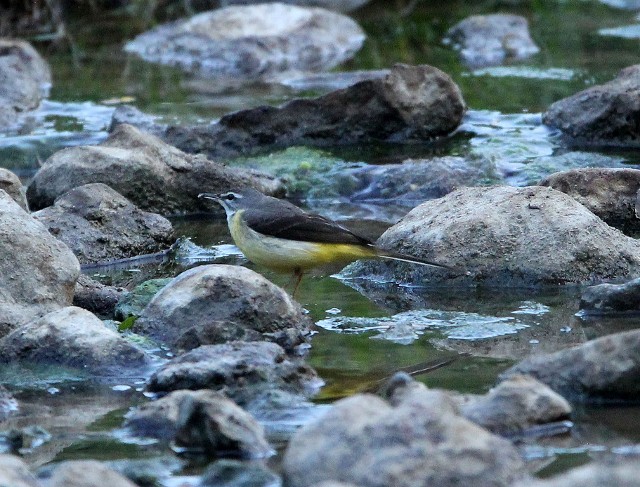 I have a difficult time with this group but I think this is a Yellow Wagtail.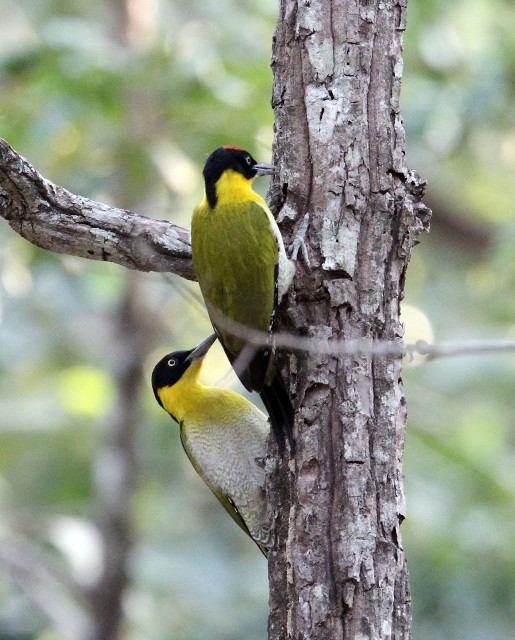 Dozens of Black-headed Woodpeckers were spotted in the mixed deciduous lowland forests of the Western Forest Complex. In some cases as many as five or more on one tree!
A Few Other Birds Seen A Few Days Before the Western Forest Complex (and no other blog to post them)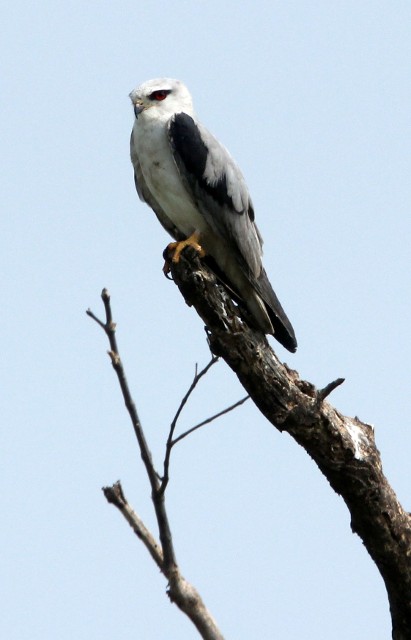 Black-shouldered Kite in Kok Kham Machachai.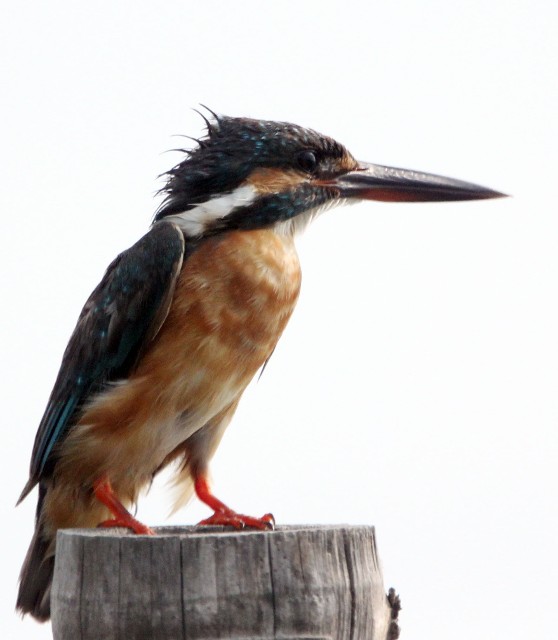 Common Kingfisher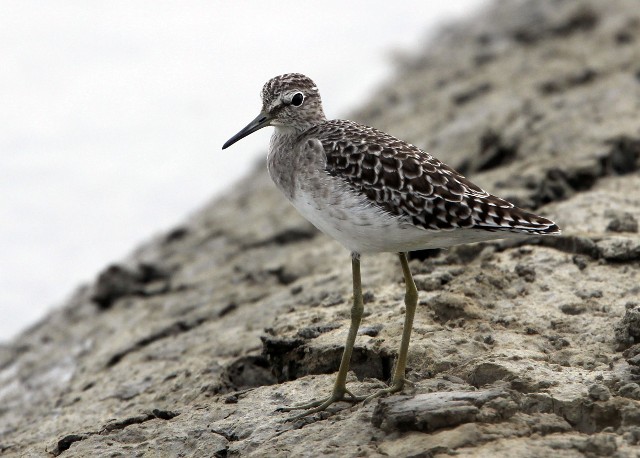 Wood Sandpiper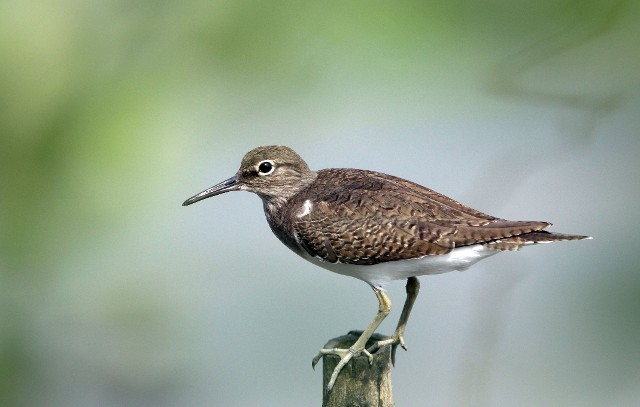 Common Sandpiper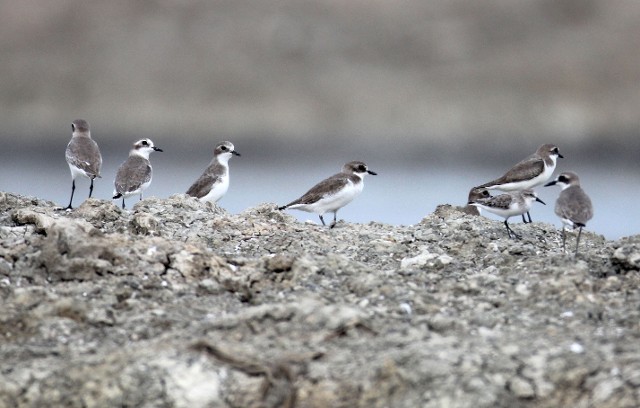 Lesser Plovers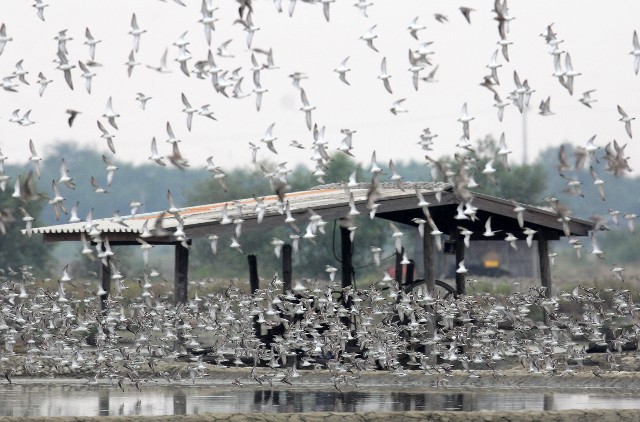 Mixed flocks in Kok Kham Machachai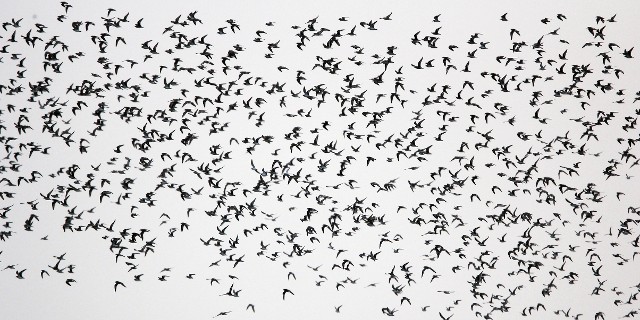 Lot's of Stints, Dunlins, Sandpipers and more....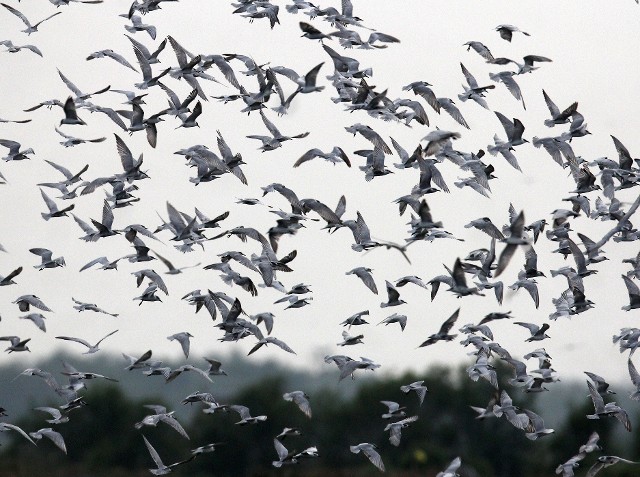 Somewhere in this mixed flock there is a lone Spoonbill Sandpiper!

Eurasian Curlew flock near Liam Pak Bia.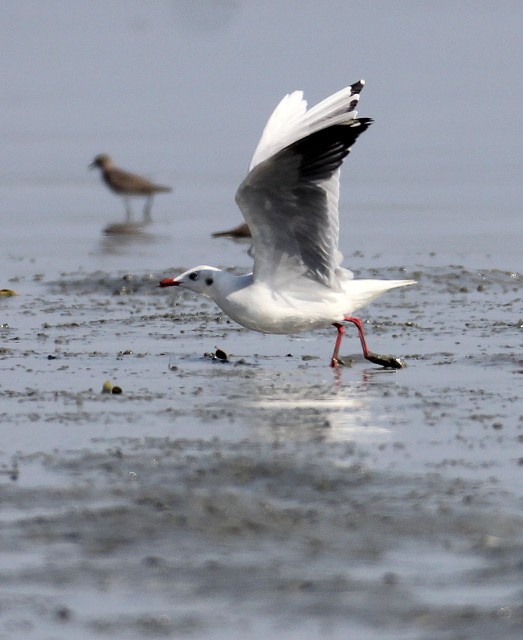 Brown-headed Gull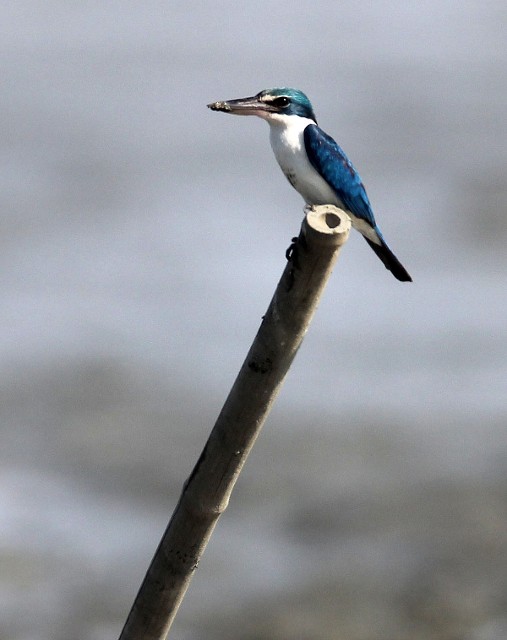 Collared Kingfisher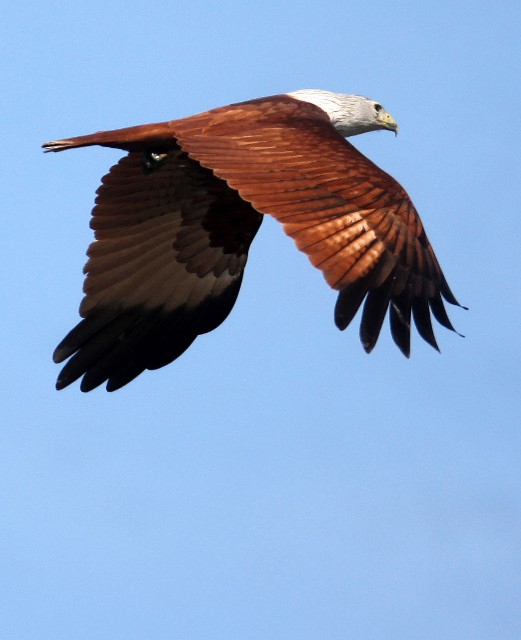 Brahminy Kite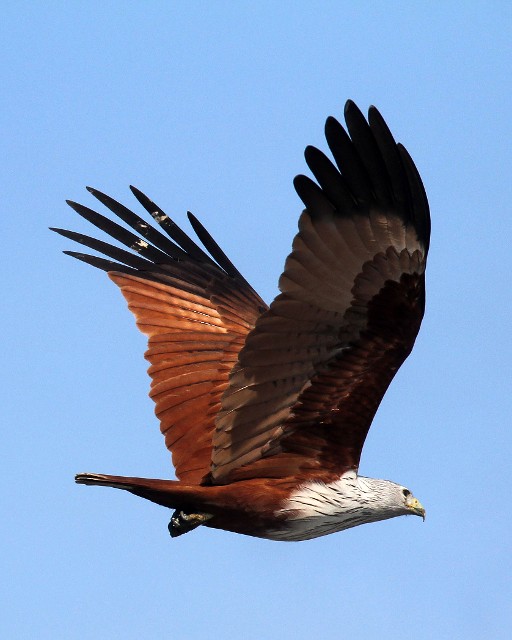 A spectacular little raptor...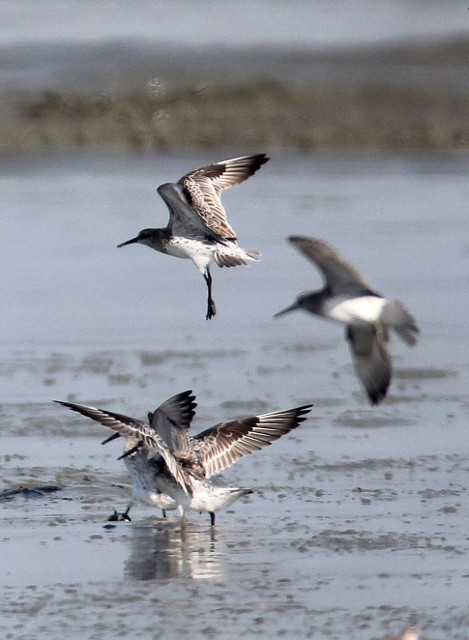 Dunlins...
Whimbrel
Some Other Critters of the Western Forest Complex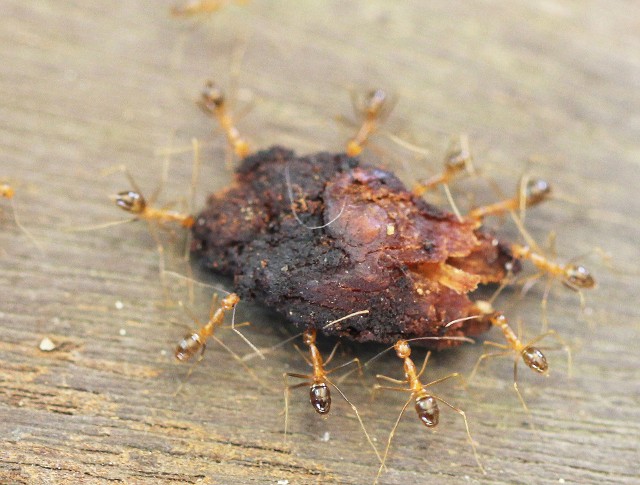 This is what I call teamwork!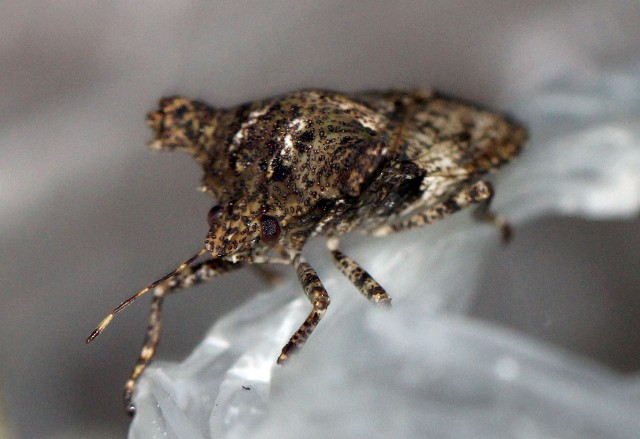 Very cryptic Pentatomid bug shot by Som.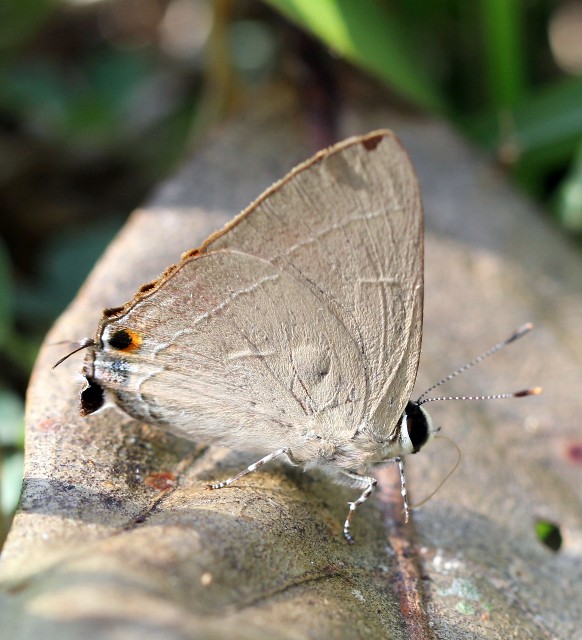 Som really worked the micro-lepidoptera species in HKK.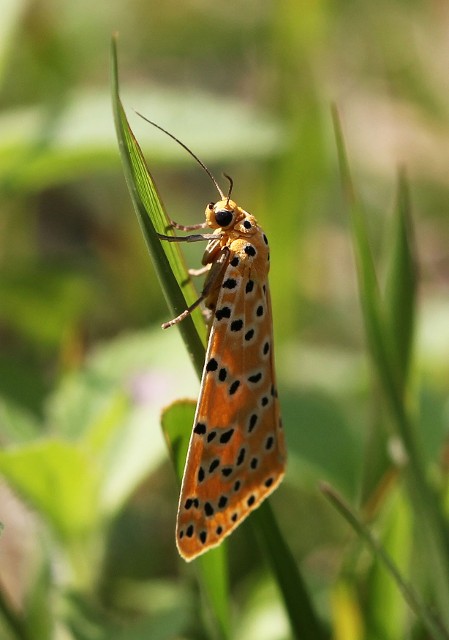 Lovely moth. Looks like an Arctiid but I am not sure.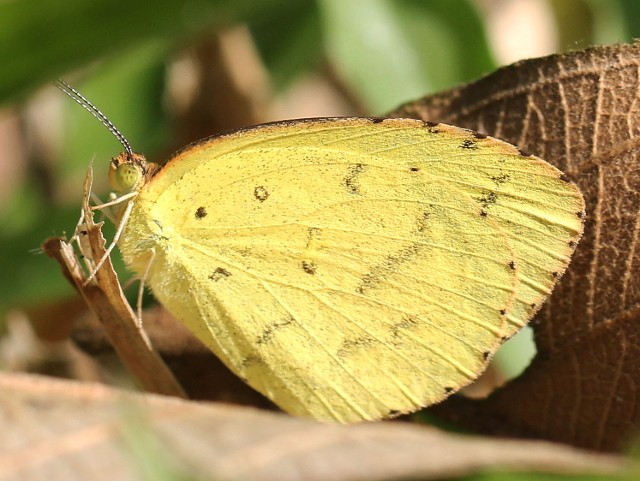 Pierid butterfly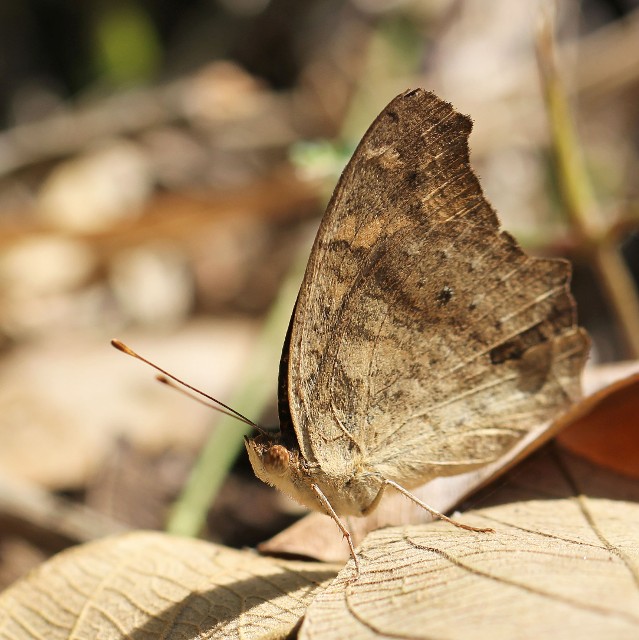 Lep!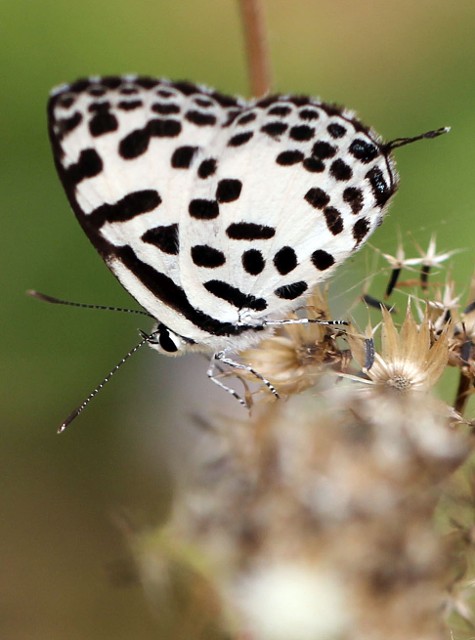 Amazing Lycaeniid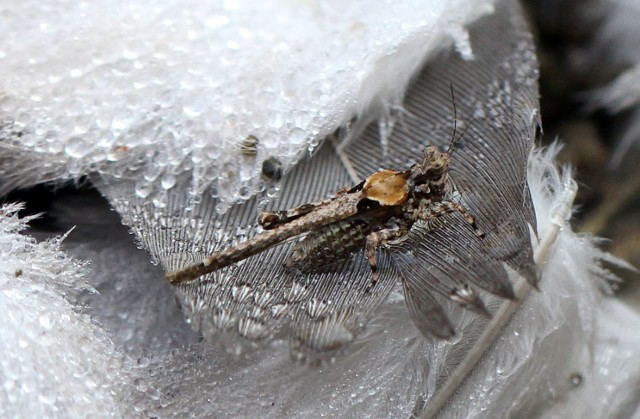 Wild looking Orthoptera species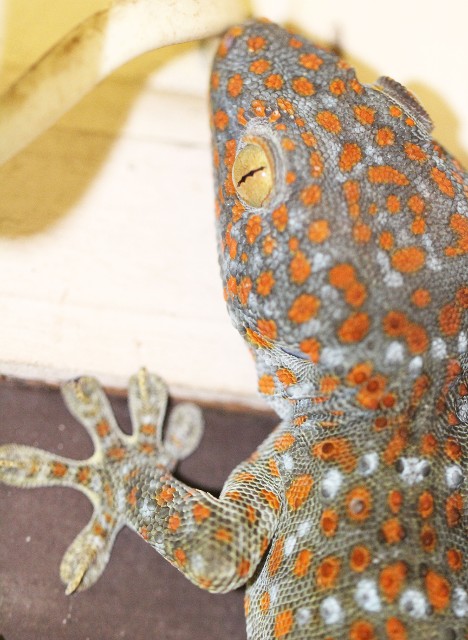 At about 12 inches, this was a medium-sized Tokay Gecko found in our cabin at Kraprok Krapiyen.
Other Stuff!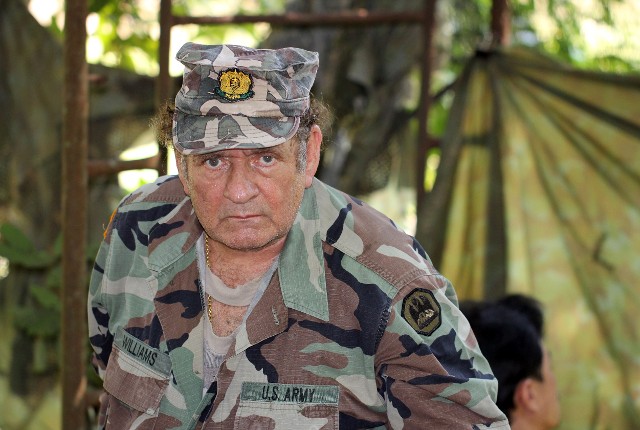 Our buddy Bruce Kekule in his "own private" tiger reserve, Huai Kha Khaeng!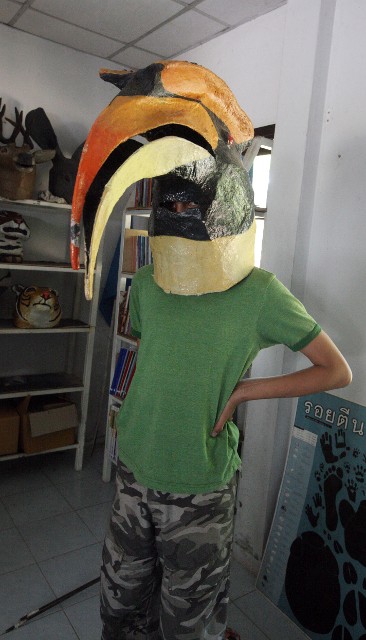 About seven years ago, Cokie dawned this same Great Hornbill mask! (See our trip report here)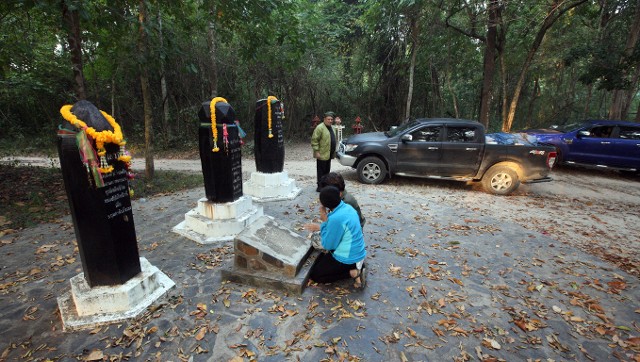 Shrines for the rangers who gave their lives for the protection of Huai Kha Khaeng's natural heritage.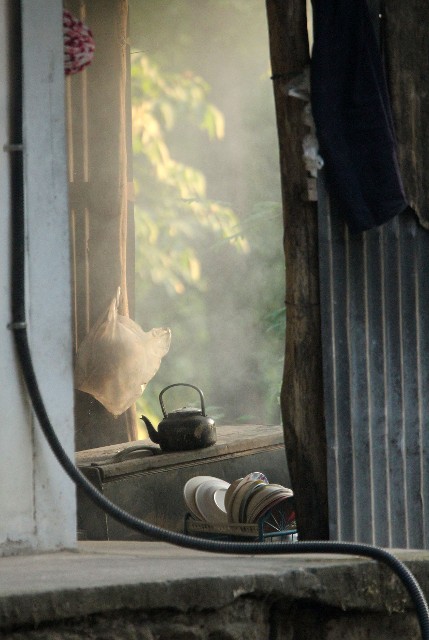 Kraprok Krapiyen Station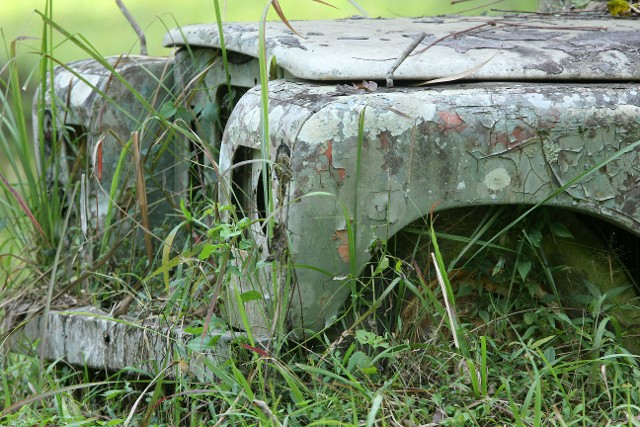 An old patrol vehicle at Kraprok Krapiyen. Wonder if it still starts....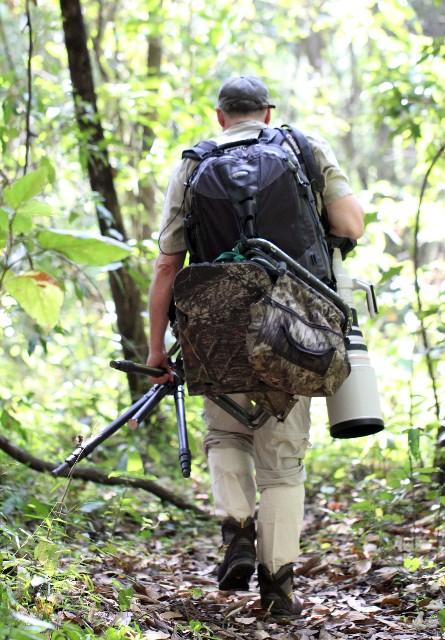 Our short trek to the blind.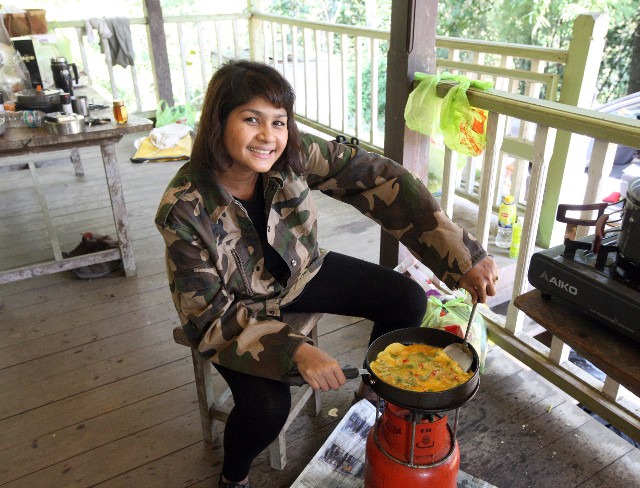 Som and her famous Khai Katiem (Thai omelette)! We eat well everywhere we go....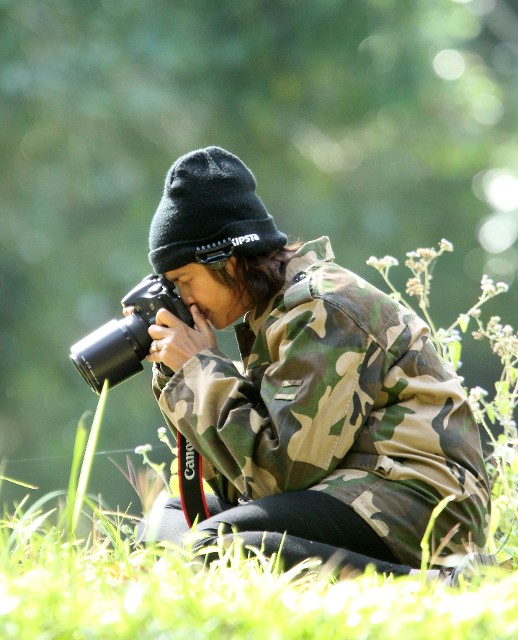 Som focusing on her leps...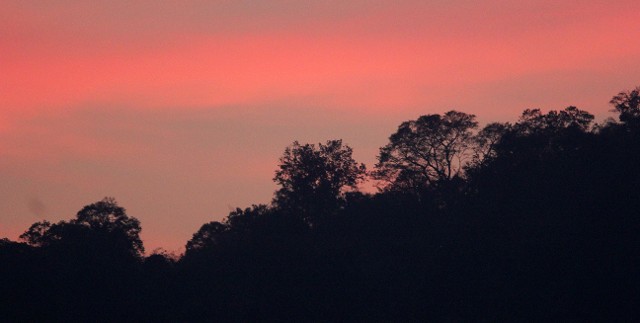 Our final sunset at Khao Ban Dai. What a very special place.

Check Our Our Pbase Galleries