Cokie's image of Chengqilou Hakka Village from the 4th level. Although Som and I were not allowed to venture up (all tourists are banned from climbing the stair cases now), one of the local vendors allowed Cokie to go up to the top and see the view for himself. He was proud of his unique experience and I am proud of his photography!
Visit our Pbase galleries for even more images of Fujian!
Meihuashan Nature Reserve Landscapes
While watching BBC's fabulous series titled, "Wild China", we came across an episode talking about a region of China we had not yet visited – Fujian. While this series has basically set in to motion our next five years worth of travel here in China, Som was particularly enamored with the Hakka villages in Fujian's southern counties. So off to the planning table I went!
Famous for tea and impressive circular mud villages, this region of Fujian is a truly impressive destination worth exploring. We spent four days trekking the Tolou or Hakka villages as well as the Meihuashan National Park in central Fujian.
Xiamen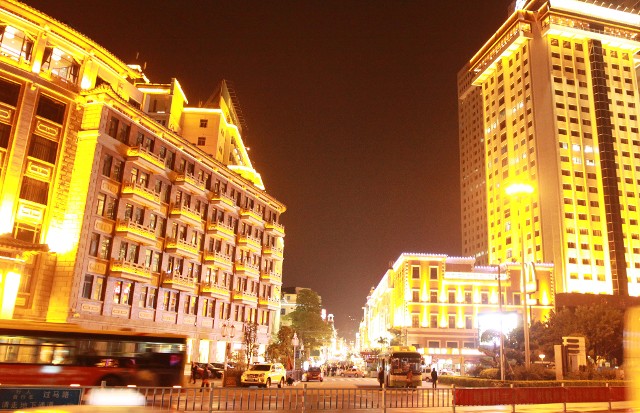 Xiamen is a major city of approximately 3 million souls located mainly on an island off of China's southeastern coast. While we didn't have too much time to explore all that Xiamen had to offer, we were impressed with the unpretentious big-city atmosphere that Xiamen exudes. Our hotel was located right in the heart of Xiamen's downtown shopping districts and we spent a nice evening strolling the pedestrian street that stretched for over a kilometer toward the harbor. We strolled the harbor and even had some drinks and local appetizers in a small dive off the main path. Our last evening was spent dining in a very tasty seafood restaurant located on the other side of town. The food was both tasty and reasonable!
Fujian Tolou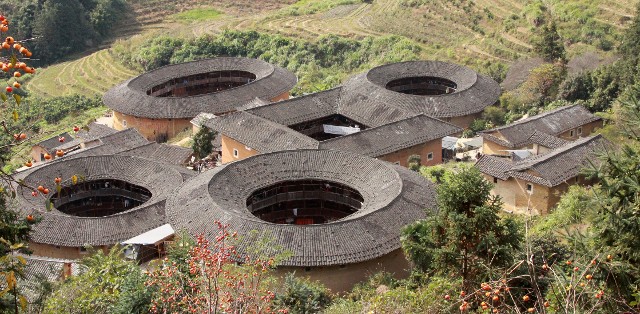 Tianloukeng Hakka Cluster is one of the most impressive of all the Tolou in Fujian
China's Hakka people have a rich heritage and one of China's more widespread ethnic groups. The Hakka are more than likely the progenitors of many of the world's overseas Chinese groups. Many famous ethnic Chinese are actually Hakka in ancestry. For example, Taksin, Thailand's ex-prime minister, and Corizon Aquino, are both Hakka. Many of the Chinese that migrated to the US, Malaysia, Thailand, Philippines, Indonesia and Europe are Hakka as well.
Our trip to the southern region of Fujian involved visiting many of the so-called Tolou Hakka villages. These are very impressive mud structures that range in age from about 400 to over 900 years. These spectacular villages are exceedingly common in the region, numbering in excess of 20,000, but have only recently become popular on the tourist circuit. Back in the 50's we learned that the CIA actually thought they were missile silos when they saw them from satellite images! We visited three main clusters while in the area. Luckily we were there in a not-so-touristy time so we actually were able to enjoy visiting the Tolou with very few (and in some cases absolutely none!) fellow tourists to delete from the experience. We even had some time to get to know some of the local folks living in the villages – all thanks to the translations of our great guide, Kevin.
The Hakka Villages
*
Chengqilou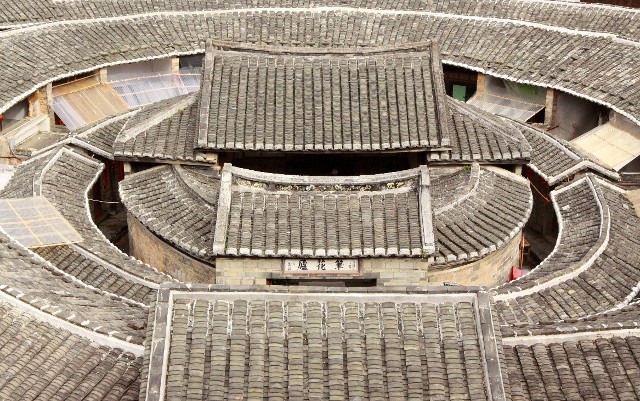 Chengqilou's main village interior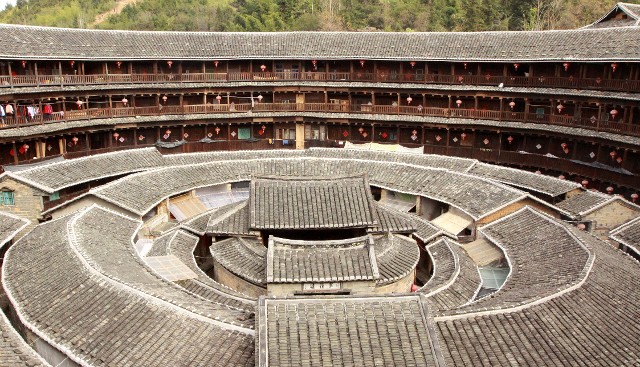 Another one of Cokie's captures of Chengqilou's village interior!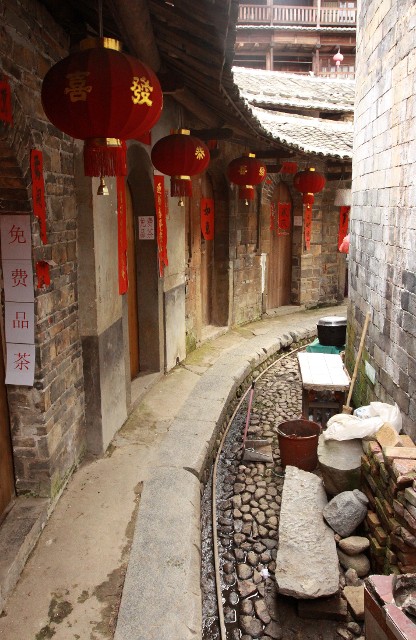 Strolling the "streets" of Chengqilou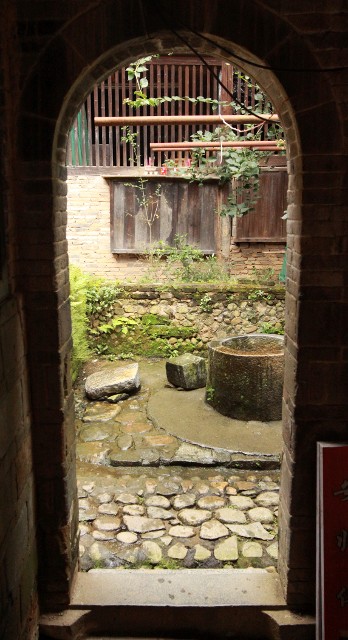 Chengqilou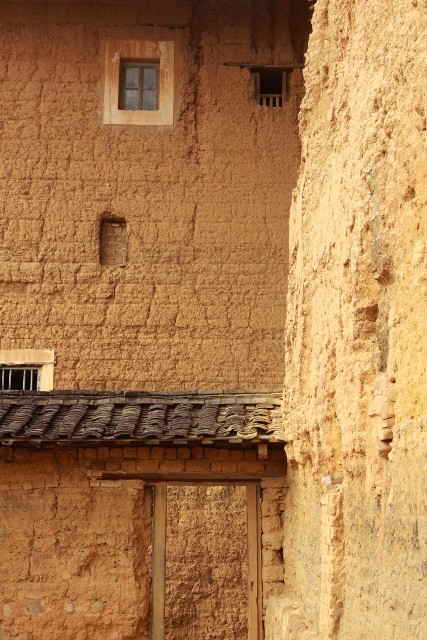 Chengqilou's exterior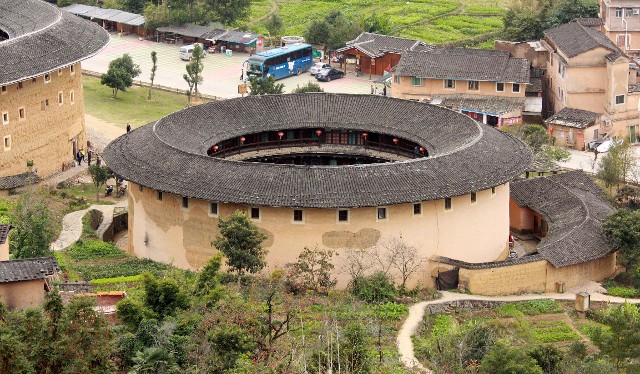 Chengqilou's smaller village structure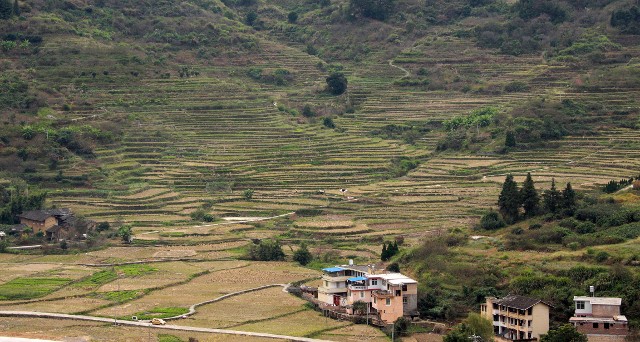 The surrounding rice & tea terraces in Chengqilou. We enjoyed our afternoon trekking the tea plantations in this area!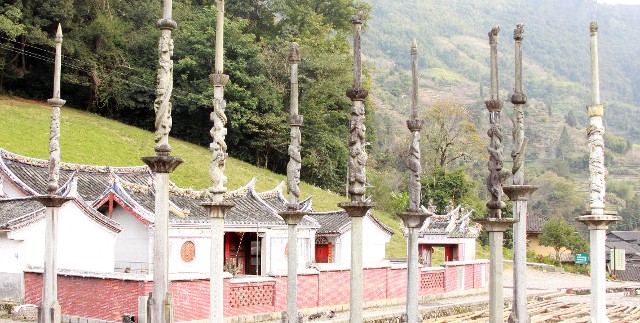 Tianloukeng Hakka Cluster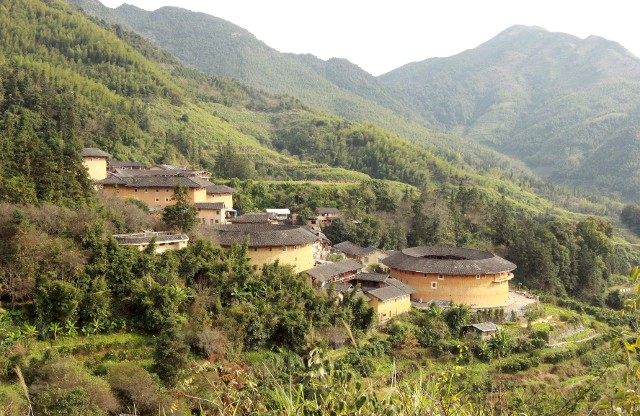 Tianloukeng Hakka Cluster
These fortress-like villages served defensive and protective functions with water wells and food reserves safely stored within and out of reach of invaders or wandering tigers...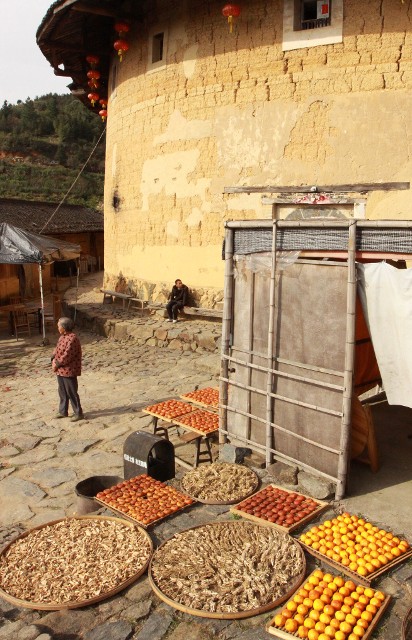 Persimmons are one of the main crops of the region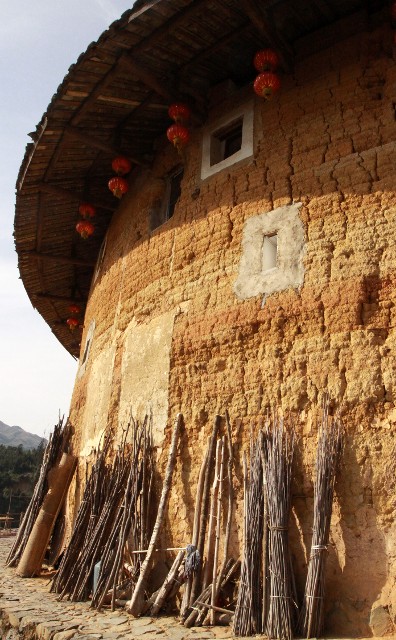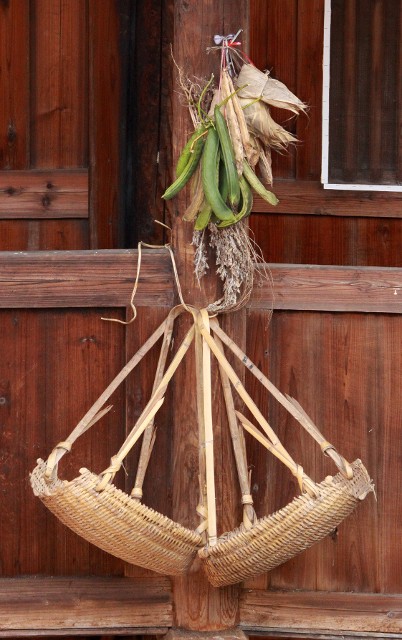 Yuchanglou Hakka Village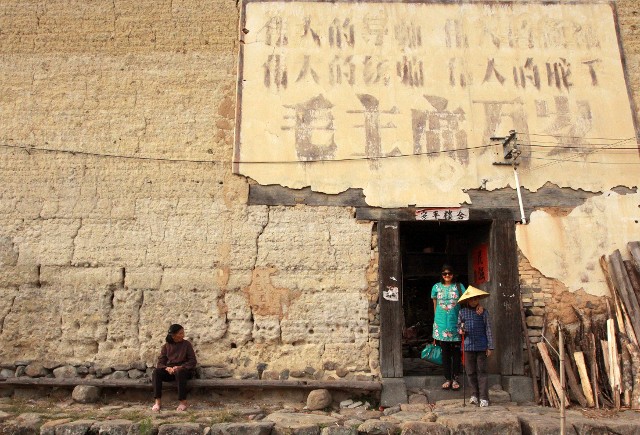 Yuchanglou Hakka Village was actually one of the more touristy villages but some of the smaller Tolou surrounding the main building were actually very interesting and authentic and we enjoyed strolling their interiors!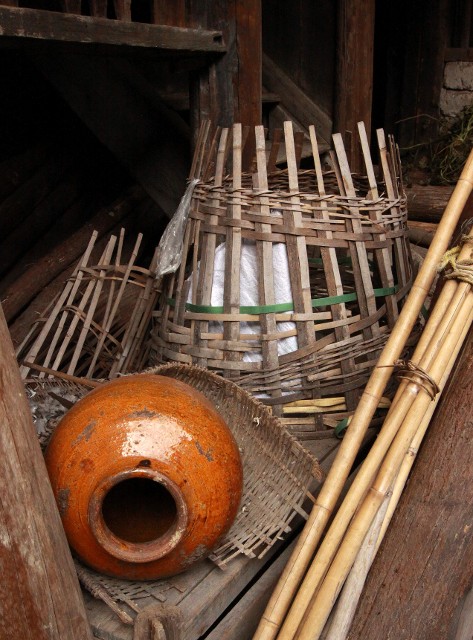 Yuchanglou Hakka Village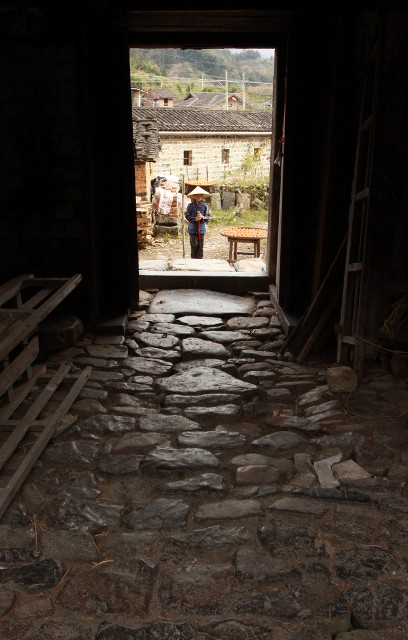 Trekking Tea Country!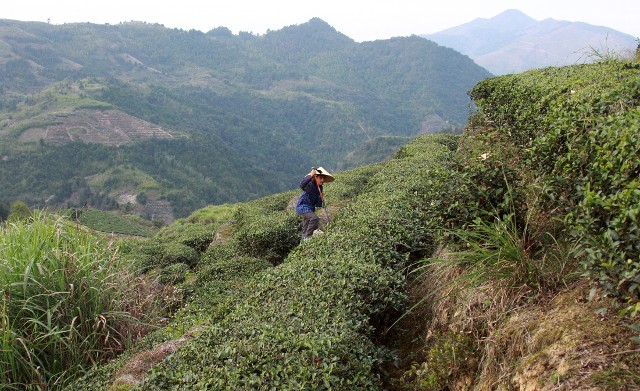 In an effort to find a good vantage point to take impressive shots of the villages, we ended up trekking quite a bit of the tea terraces of the region - very spectacular activity!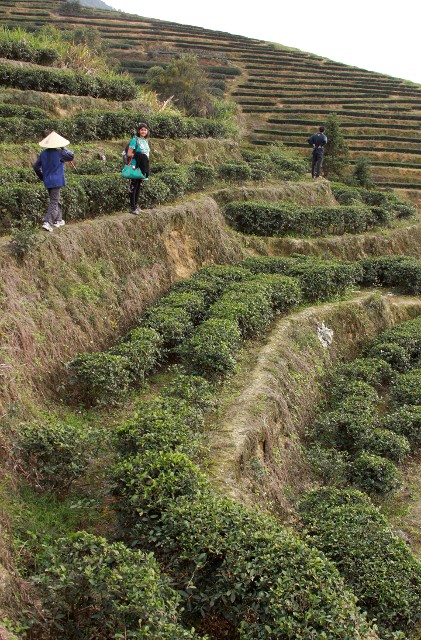 "Tea" trekking is what we'll call it...
Meihuashan Nature Reserve
Early morning mist covering one of the many peaks of Meihuashan Nature Reserve
Of course, I had to add something nature-based to our trip! When I did a quick Google search for "wildlife in Fujian", I kept coming up with a tiger park located in Meihuashan National Park. Of course, I am now more than familiar with the Chinese version of wildlife parks, and I generally try to avoid them at all costs, but I am very glad we made the effort to visit Meihuashan, as it offers far more than the canned (and sometimes cruel) touristic experience of the game park.
Meihuashan is a very impressive region located in the heart of Fujian's mountainous interior. With over 25,000 hectares of land protected, it is home to Fujian's subtropical floristic zone. With hundreds of species of plants (probably more like thousands…) protected, Meihuashan is great for those with interests in botany. I spent time trekking the Photinia, Taxus, Rhododendron and Liquidamber forests searching for whatever during out 1.5 days in the park. I was fortunate to come across numerous bird species in the forests of Meihuashan. The forest canopy is relatively low in profile with a very lush understory layer of vegetation. Ferns, liverworts, mosses and many of the primitive flora are very well represented and are indicative of a very wet climatic regime. Although I was never 100% sure of my precise orientation, there seems to be a curious east-west slope phenomenon in Fujian's mountain flora. I conjecture that the dominant rainfall comes from the east and the flora are therefore more lush and dense on these slopes.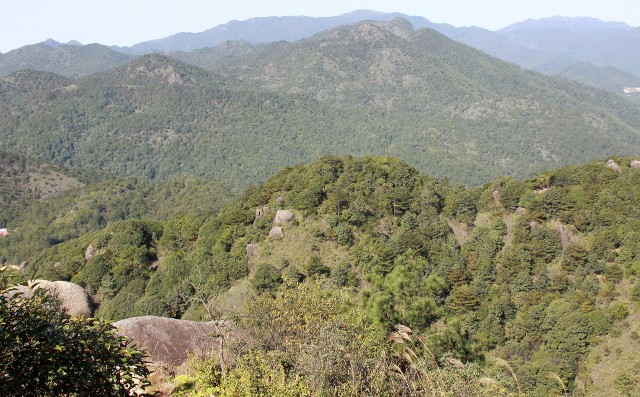 East-west slope floral variations were clear and pronounced at Meihuashan. The moist eastern slope is home to a subtropical community while the west slope was home to a much more dry-adapted, almost chapparal-like biome.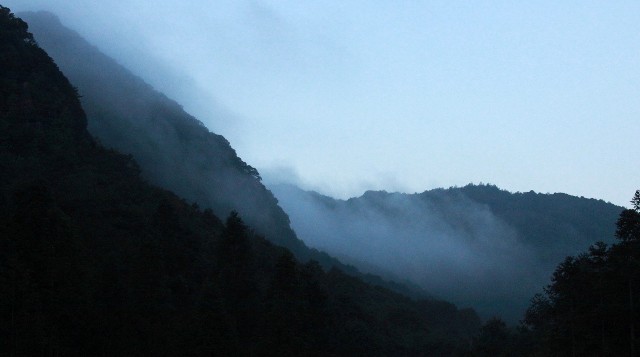 My morning trek was three hours of complete solitude in the Meihuashan wilderness. It was just me, the mountains, the fog-covered forests and the birds!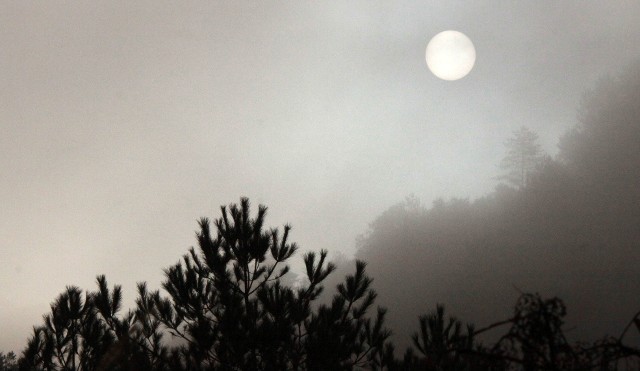 A foggy sunrise at Meihuashan!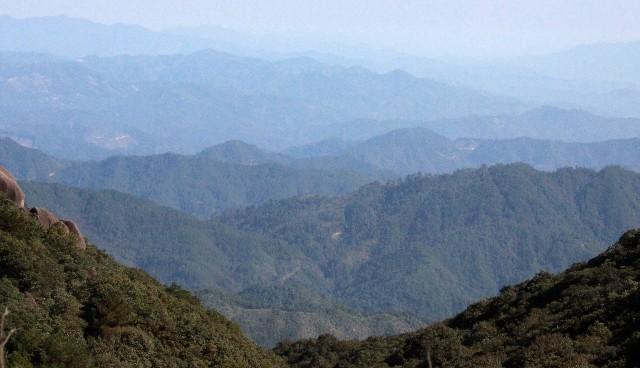 The vistas were sublime. Views of a significant chunk of Fujian province were common this day.
We were fortunate to have some great weather variety while in the park as well. We had a sublime night hike in the rain and mist that allowed us to experience the nighttime smells and sounds of the region. Som and Coke even came across a nice Ryukyu mouse species scurrying up one of the embankments. In the morning, I trekked the park in the morning light with the fog draping the mountains in a spectacular exhibition that images simply cannot do justice. We also scaled one of the higher peaks in the park to capture views of virtually the entire core area of Fujian province! Absolutely stunning!
Meihuashan Amoy Tiger Breeding Center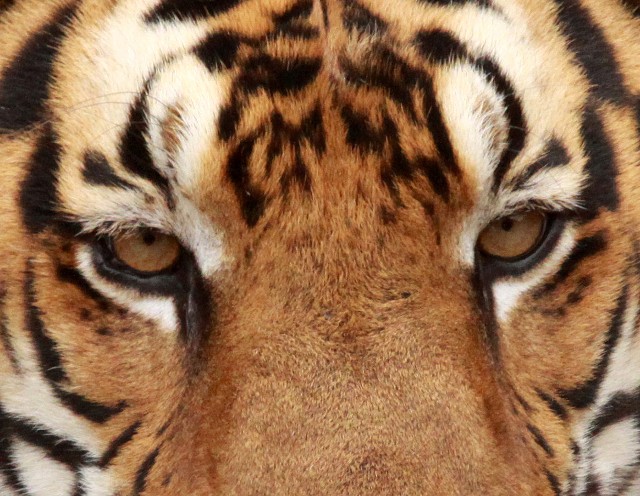 In general, the Chinese version of breeding centers involves caged animals that perform for the benefit of tourists, and I am not sure if this is any different, but we actually enjoyed seeing the world's most endangered tiger subspecies in its native habitat. The sounds of the hungry tigers will be one that sticks with us forever. While the pens were fairly spacious, nothing could be better than to see these amazing creatures eventually re-released in to their native habitat - something I sincerely hope happens here in China. Meihuashan is home to about 25 of the remaining 100 or so Amoy or South China Tigers and their population is being maintained for hopeful reintroduction someday if the habitat ever becomes available again.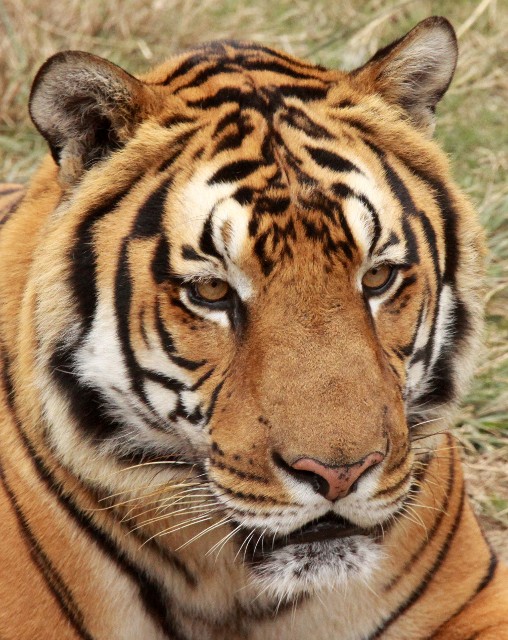 Amoy Tiger (Panthera tigris amoyensis)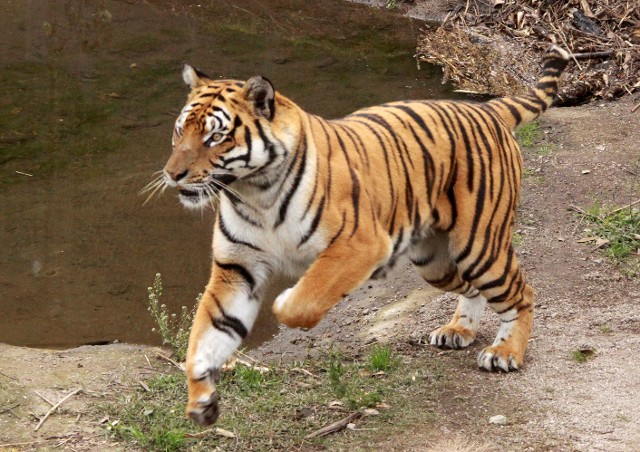 One of the ways the tigers are kept "wild" is to feed them live hogs that they actually hunt in their enclosures.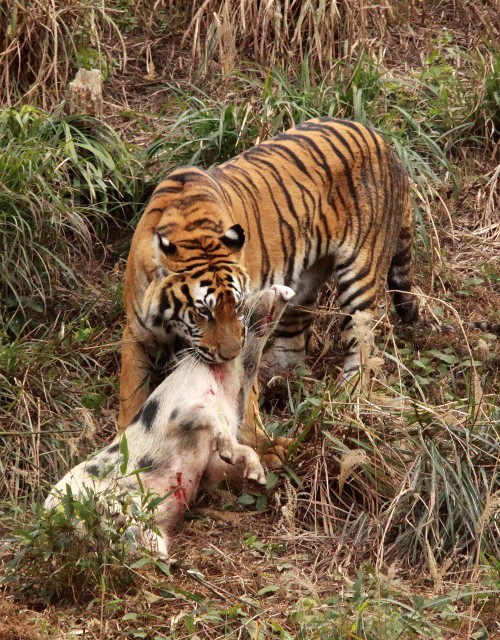 Amoy Tiger (Panthera tigris amoyensis) having some lunch!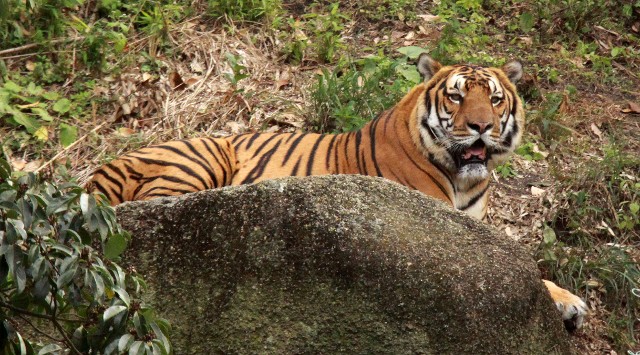 Amoy Tiger (Panthera tigris amoyensis)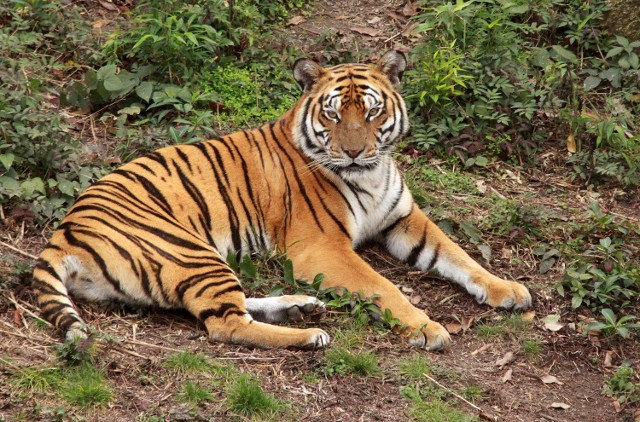 Amoy Tiger (Panthera tigris amoyensis)
Other Critters of Meihuashan Nature Reserve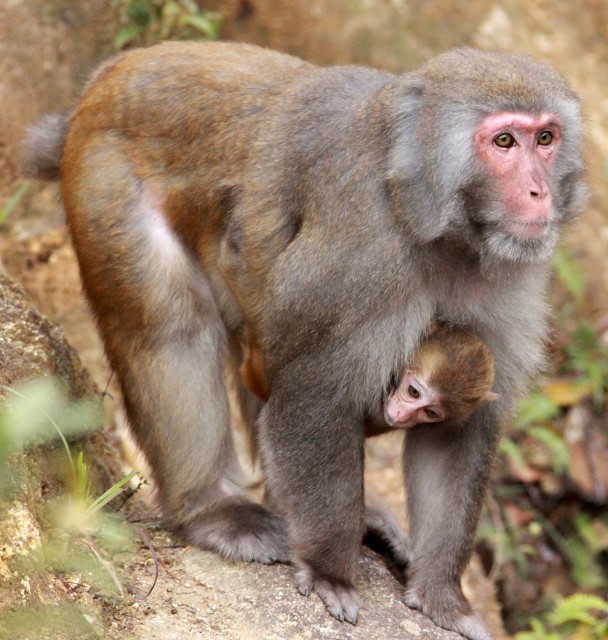 A small habituated troop of Rhesus Macaques were seen in the forest of Meihuashan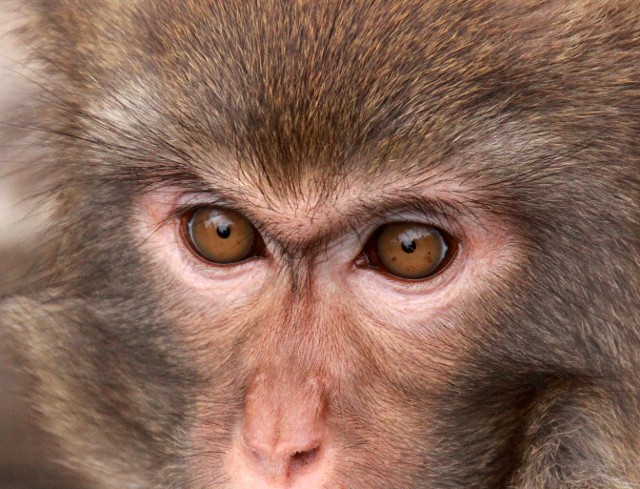 These macaques were dang aggressive!
I was pleasantly surprised to see a small group of Maritime Striped Squirrrels (Tamiops maritimus), a new lifer for me, while in Fujian.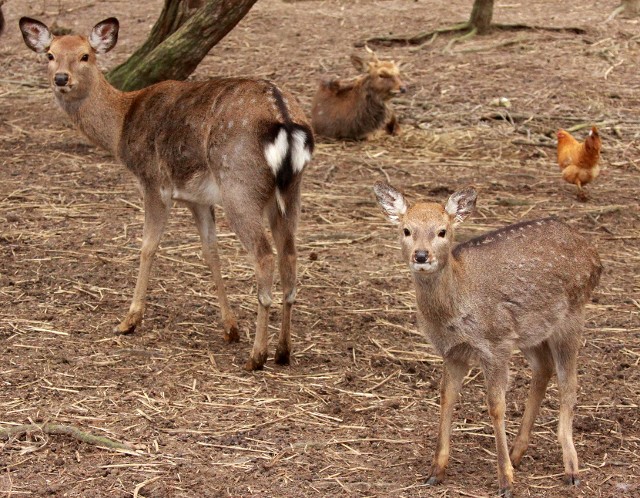 Chinese Sika Deer (Cervus nippon kopschi) were wild in Meihuashan but we were limited to sightings of the domesticated herd.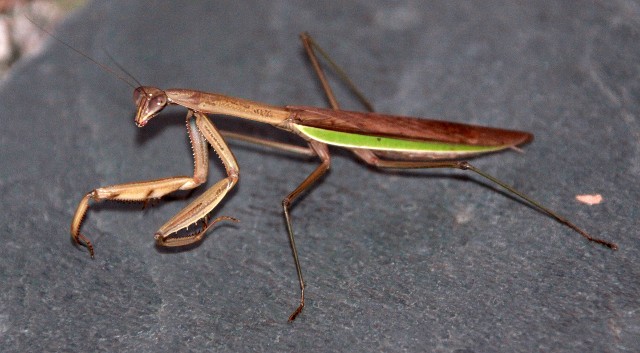 Although it was late fall, the weather was warm and there were lots of insect fauna to be seen in Fujian!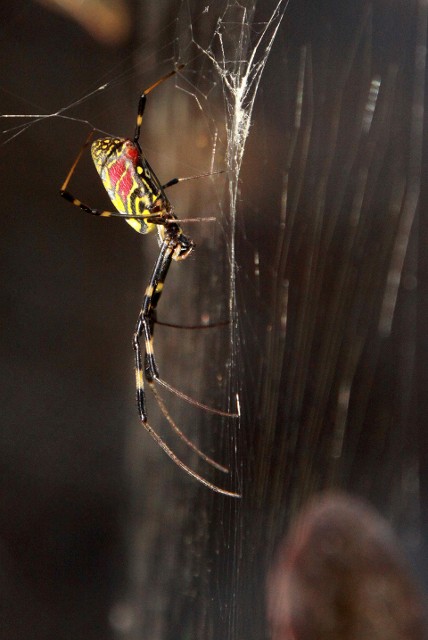 A colorful garden spider at Meihuashan Nature Reserve
Chinese Yew Nature Reserve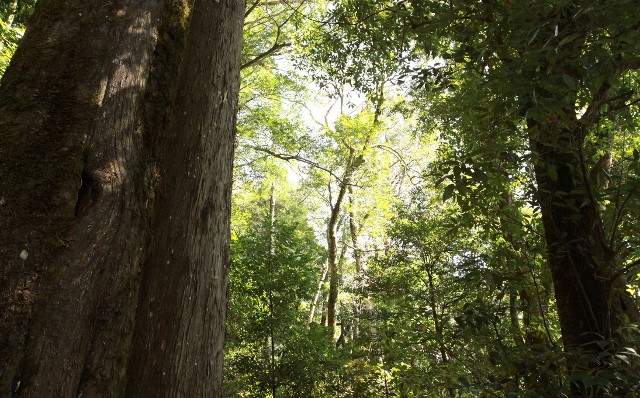 Seeing these Chinese Yew (Taxus chinensis var. mairei) was superb!
While driving to Meihuashan, I noticed signs to the Chinese Yew Nature Reserve, but had not planned on visiting originally. But after talking it over with Kevin and our local guide at Meihuashan, we decided to visit. What a great decision! While the reserve itself is only about 300 Chinese hectares, it is home to a phenomenal old growth Chinese Yew forest. We trekked the main trail of the reserve to gaze at the old growth yew giants still standing in this biological island. The trees were in full fruit so we grazed the trail too sampling the sweet, pitted yew berries along the way. Cokie and Som thought they were great! But it was good for my soul to see such old forest giants still standing in the ravaged landscape. I was heartened to see the active conservation efforts put in place by the government to protect these last remaining trees, but I was also sad to realize that this entire region was filled with this type of forest and this was pretty much all that was left – very similar to many pockets of eastern hardwood forests in the United States.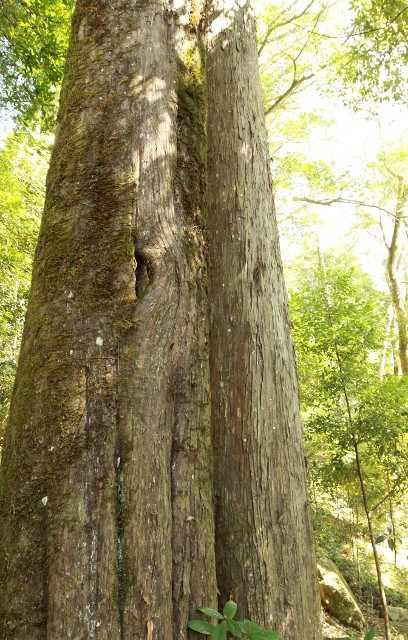 Chinese Yew (Taxus chinensis var. mairei)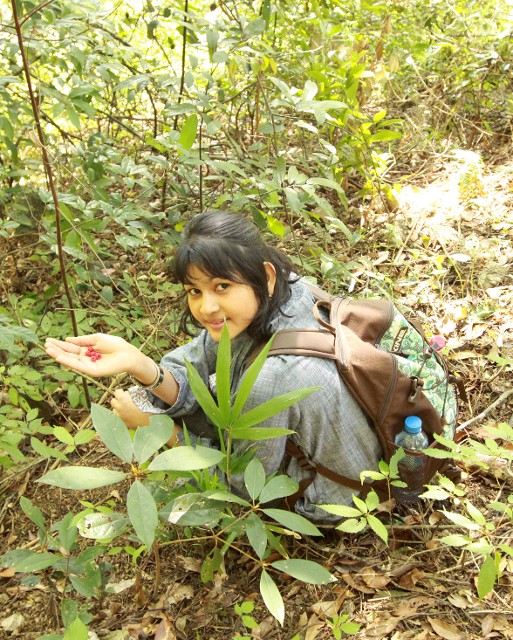 Som and Cokie picked the forest floor clean of the sweet Yew berries!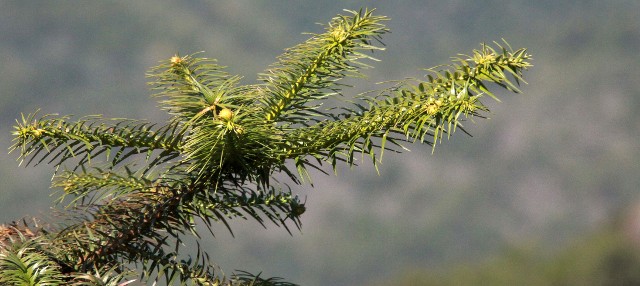 Cunninghamia lanceolata were actually more common than the Chinese Yew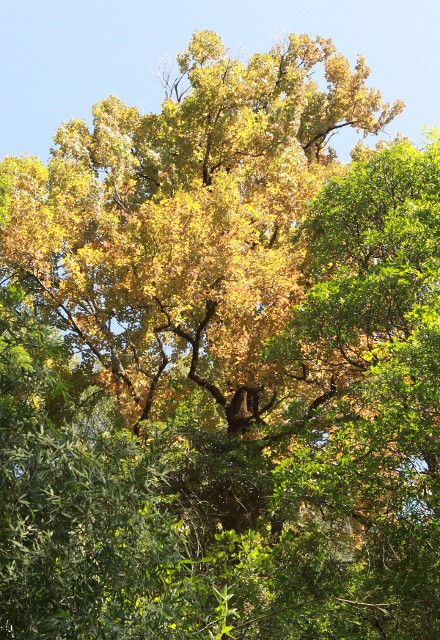 Liquidamber formosana were the main deciduous tree giving the Fujian forests fall color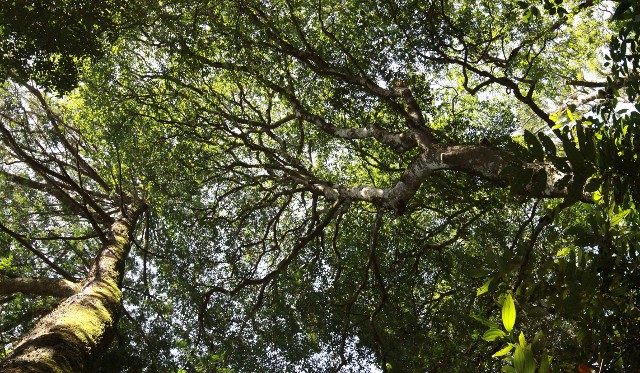 The oldgrowth primary forest of the reserve was great to see in China!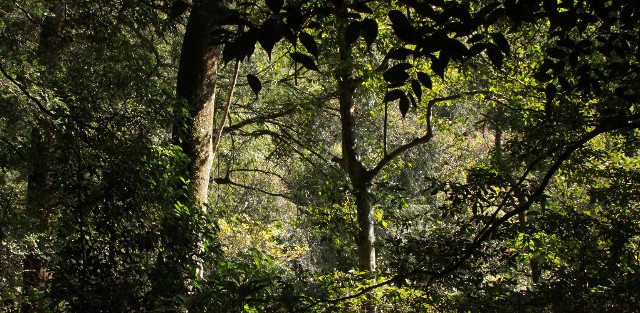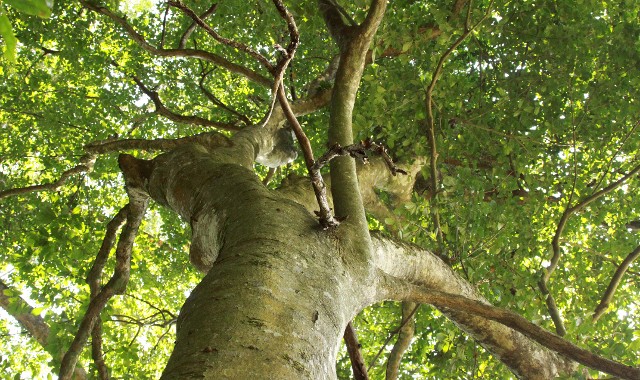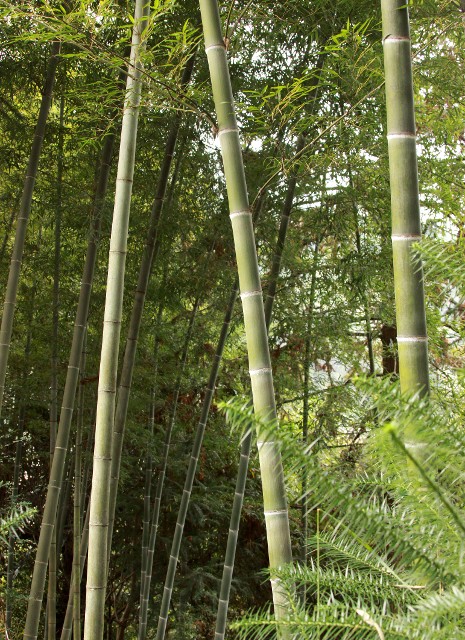 Phyllostrachys heterocycles pubescens was the dominant bamboo in the region.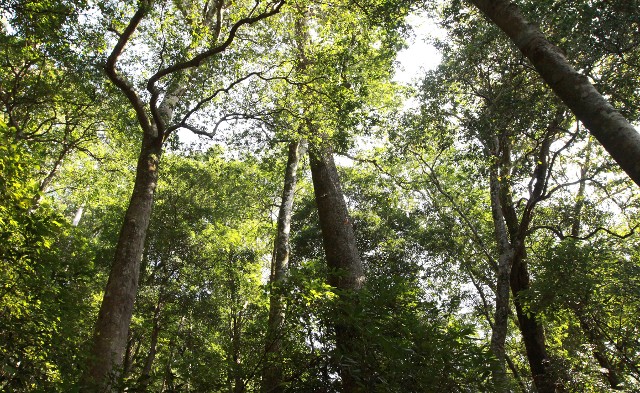 Colastrus species
Mammals of Fujian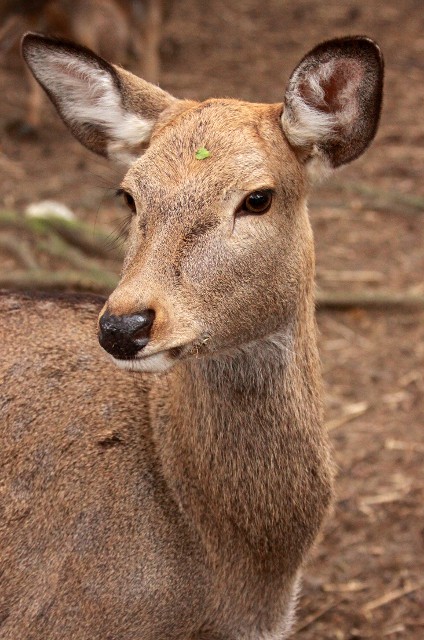 A domesticated Sika deer (Cervus nippon kopschi) herd was kept for viewing at Meihuashan
1. Losea Rat (Rattus losea) - Road kill near Meihuashan
2. Ryukyu Mouse (Mus caroli) – best guess sighting by Som & Cokie
3. Rhesus Macaque (Macaca mulatta) – semi wild group at Meihuashan
4. Pallas's Squirrel (Callosciurus erythraeus) – Meihuashan
5. Maritime Striped Squirrel (Tamiops maritimus) – Tolou region
6. Amoy Tiger (Panthera tigris amoyensis) – captive breeding population
7. Wild Boar (Sus scrofa) – sign common at Meihuashan
8. Sika Deer (Cervus nippon kopschi) – domestic herd in Meihuashan
Birds of Fujian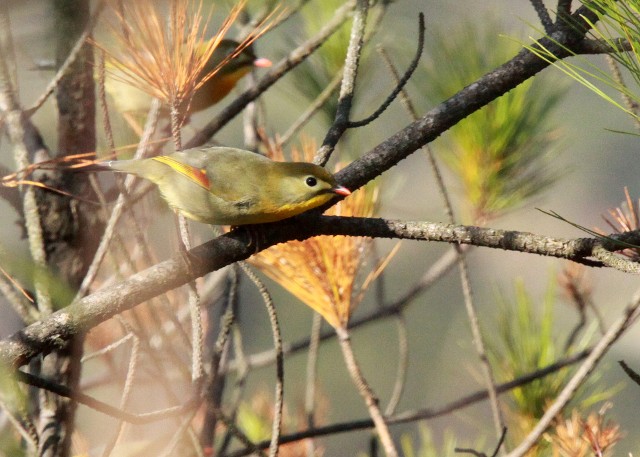 I did manage to catch several birding lifers on this trip, such as this Red-bellied Leiothrix (Leiothrix lutea) seen in the highlands of Meihuashan!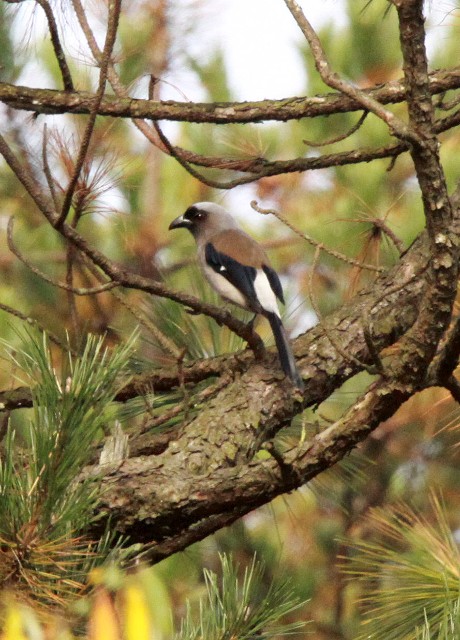 Although birding was not a huge emphasis for this trip, we did come across some good ones, such as the Grey Treepie (Dendrocitta formosae) seen here.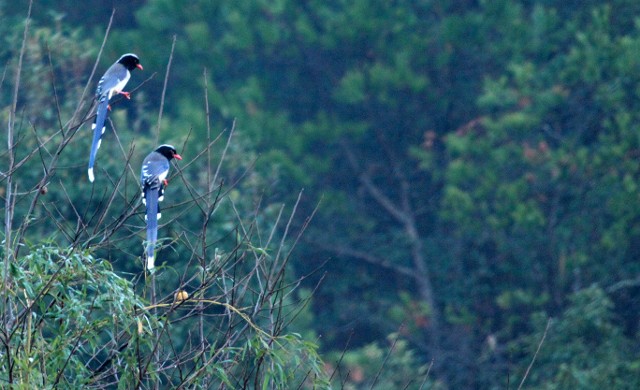 It was great to see my old friends here in China, the Red-billed Blue Magpies!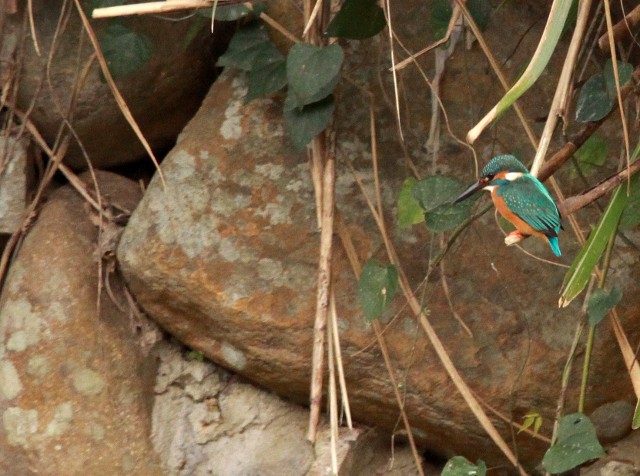 This Common Kingfisher was seen fishing near Chengqilou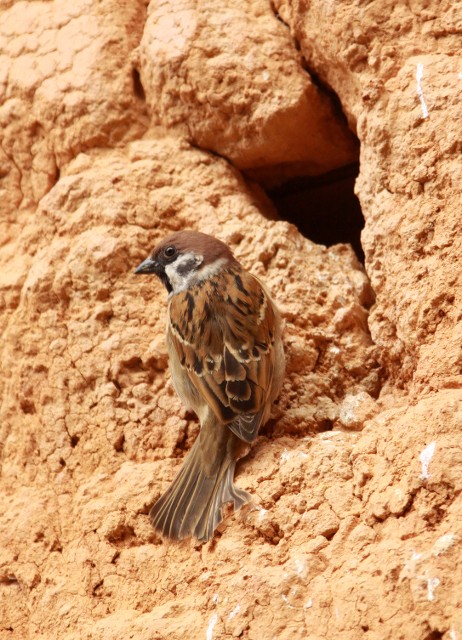 Although we did see many Red-rumped Swallows flying around the Tolou, we only saw the ubiquitous Eurasian Tree Sparrows entering their homes in the structures.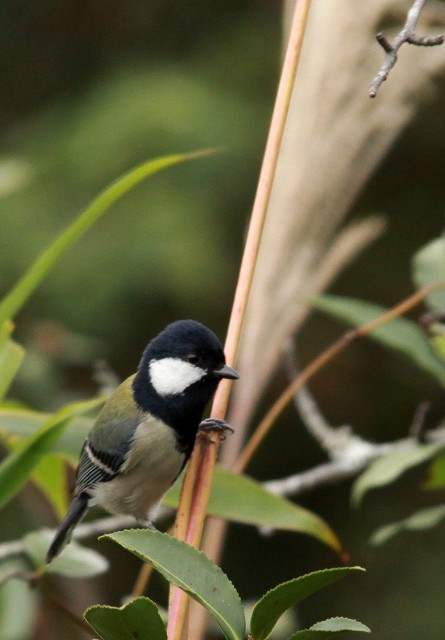 Great Tits were a common sight at Meihuashan
Silver Pheasant
Common Kingfisher
Asian Koel*
Mew Gull
Black Eagle
Common Kestrel
Great Cormorant
Little Egret
Intermediate Egret
10. Black-crowned Night Heron
11. Brown Shrike
12. Long-tailed Shrike
13. Black-billed Magpie
14. Red-billed Blue Magpie
15. Grey Treepie (Dendrocitta formosae)*
16. Daurian Redstart
17. Plumbeous Water Redstart
18. White-crowned Forktail (Enicurus leschenaulti)*
19. Black-collared Starling (Sturnus nigricollis)*
20. Crested Myna
21. Great Tit
22. Black-throated Tit (Aegithalos concinnus)*
23. Red-rumped Swallow (Hirundo daurica)*
24. Light-vented Bulbul
25. Plain Prinia
26. White-browed Laughingthrush (Garrulax sannio)*
27. Eurasian Tree Sparrow
28. White Wagtail
29. Black-backed Wagtail (Motacilla lugens)*
30. Back-faced Bunting
31. Red-bellied Leiothrix (Leiothrix lutea)*
*One of the 9 lifers for this trip!
Visit our Pbase galleries for even more images of Fujian!
Meihuashan Nature Reserve Landscapes