An outstanding example of one of Italy's most impressive beasts, the Alpine Ibex, seen in good numbers in Stelvio National Park.
Safari in Italy!
***
Be sure to check out our Pbase galleries of Italy for more images!
When I told my friends and family that we were heading to Italy. The response was pretty universal: "So you are finally going to go on a civilized holiday and have some fun rather than suffer in a jungle filled with leeches or grind yourselves in a desert....Finally a "real" holiday. And when they asked what sights we were looking to see, they were pretty much slapped back in to reality when I told them, "You know...the usual: Alpine Ibex, Chamois, Marmots...." What is wrong with us!
Well of course we had to see some of the conventional spots in Italy. We started our expedition in Rome and also visited Florence and Milan, as well as many small villages along our route. A couple stand out as pretty awesome - Barrea and Prato Allo near Stelvio National Park. I can honestly say that coming to Italy in the tourist season is not exactly my idea of a good time. The crowds are horrendous and seeing the sights in Rome and other locations is more of a chore than a joy. Of course we had a good time and all but there is something to be said for off-season travel in Europe. One good thing however, we owned the national parks we visited. It seems that most of the travelers during this time of year (early to mid July) are mainly North Americans, and they could care less about traveling to a national park evidently. Abruzzo and Stelvio National Parks were all ours!
Rome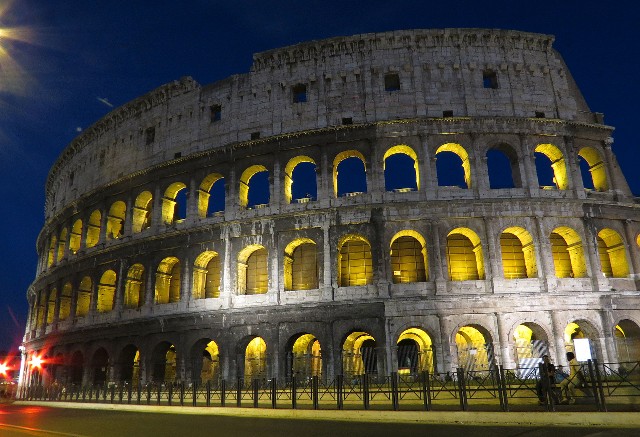 One of the best parts of our Italy expedition was that we were able to share it with my parents. We met them in Rome after our Greek Roadkill Safari (take a look on our Europe page for links to this report), and we spent a couple days exploring the amazing city of Rome. I think what stands out the most for me about Rome was how completely and utterly overwhelmed it was with tourists. I honestly cannot remember ever seeing anyplace more slammed with tourists in my life.
We did the normal stuff - the Vatican and its museum, along with its absolutely stupid lines and tours. I will never repeat this experience in my life. We tried to avoid the long lines by signing up for one of the "skip-the-lines" tours and ended up listening to a guide drone on about who the hell knows what ....I lost interest in what he was saying after about 5 minutes. So did most of the people in the group. A lot of us ended up giving him back the headsets and roaming the place on our own - a much more enjoyable experience. The Sistine Chapel was nice and all but I would NOT ever recommend to anyone to visit this place during the peak of the tourist season.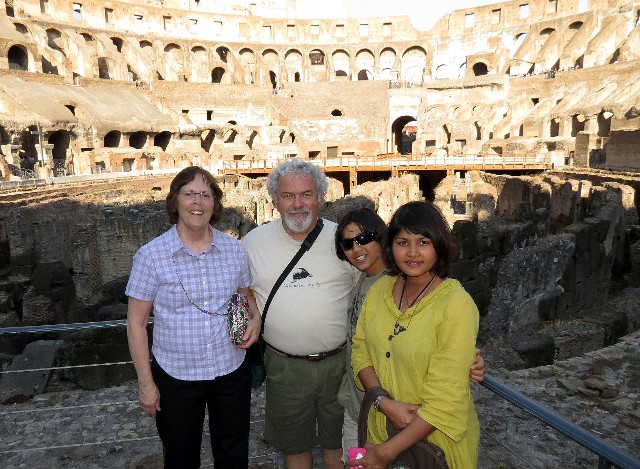 Team Italy! Loved traveling throughout Italy with my family.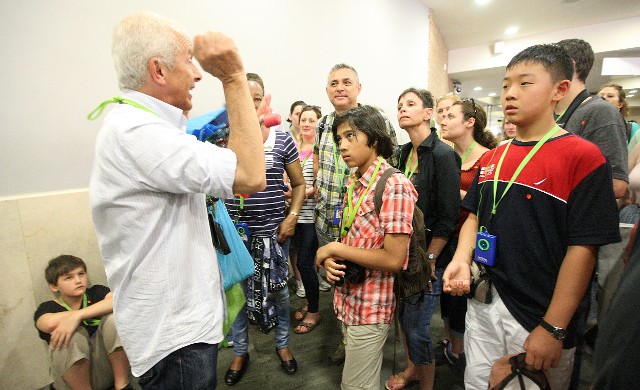 Our day in Rome was.....hmmm....interesting. In order to avoid the lines to the Vatican, we got roped in to this tour from hell.... Absolutely the worst guide ever! I love the look on Cokie's face...pretty much says it all...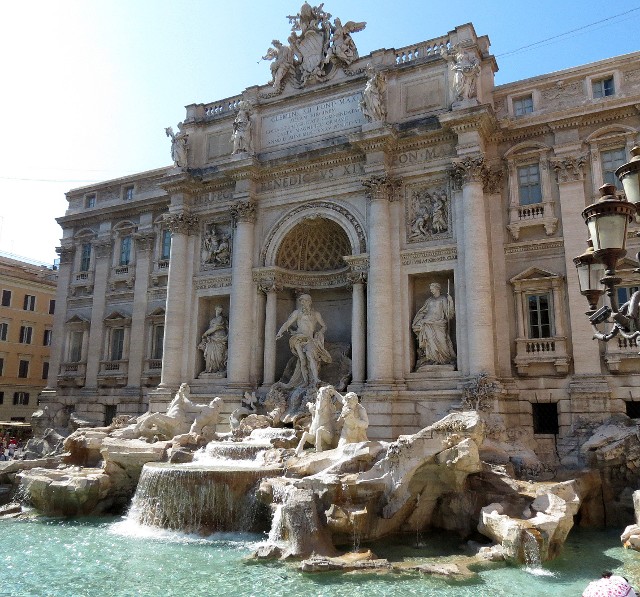 Trevi Fountain. Took me a few minutes to find a vantage point that didn't show the 80,000 tourists surrounding it...
After the trauma of the Vatican, we all voted unanimously to stay away from anyplace with lines. So that meant we spent most of our time wandering the amazing streets of Rome and taking in the sights, sounds and smells of one of the world's most impressive cities. We viewed the Palatine ancient city ruins, the Pantheon, the Spanish Steps, Trevi Fountain and pretty much all of the other easily viewable sights around the city center. All were completely overrun with tourists but at least we could view them at our own pace and there were no lines!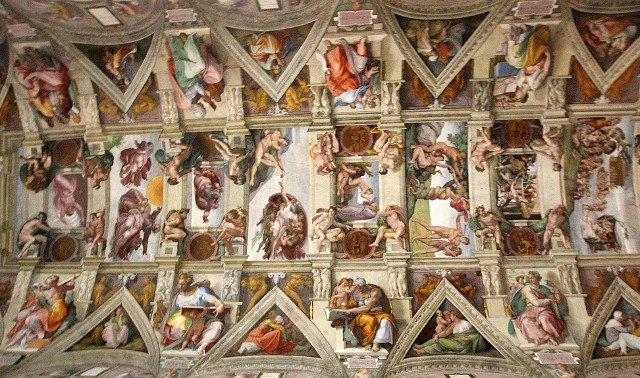 My poached picture of the Sistine Chapel ceiling. Nice but definitely NOT worth the lines...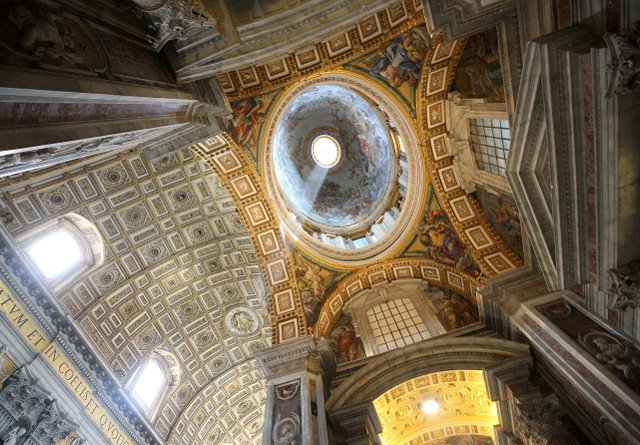 Saint Peter's Basilica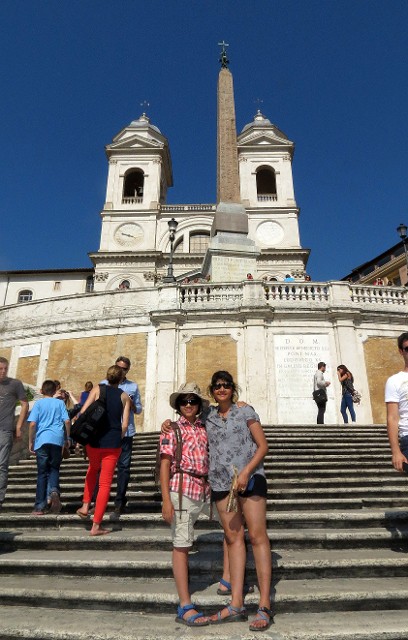 Spanish Steps....We definitely had fun in Rome but it's a once per lifetime sort of experience....Check!
Rome was great and all but we really wanted to get out and spot some of Italy's fauna in their natural habitat. But in order to do that we had to get out of the city and in to some of her more natural areas. And surprisingly Italy is still rich with fauna and flora and has many national parks filled with wildlife. Here is a map of Italy's national reserves and parks. We spent all of our time in Abruzzo, in the heart of Italy, and Stelvio, in the far northern Italian Alps. And thanks to Jon Hall's Mammalwatching.com website and the trip reports it contains, we were able to find ample information for our expedition. (See Jon's website here)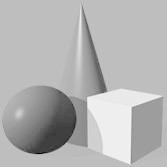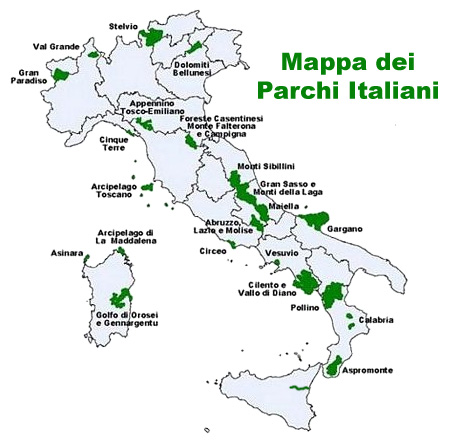 Italy National Parks Map
(http://www.bedandbreakfast-vacanza.it/en/holidays-natural-parks/)
Abruzzo National Park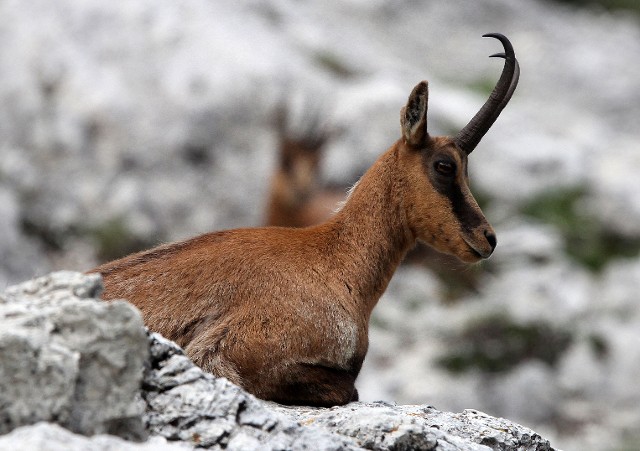 The Apennine Chamois, seen easily in Abruzzo National Park, is one of Europe's newest species.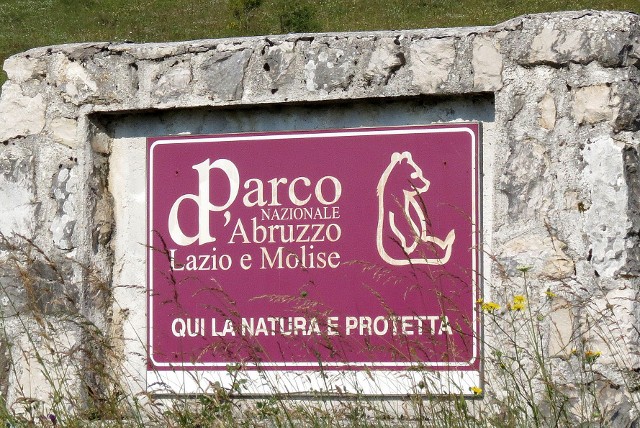 After a couple days in Rome we all had enough. We headed to Leonardo di Vinci airport to pick up our rental car that would shuttle us around Europe for the next month or so, and we got on the road to Abruzzo National Park. The second we started the relatively short drive to Abruzzo, I felt a sense of relief to be out of Rome's chaos. The roads to the center of Italy, where Abruzzo is, are wide open and with not too much traffic. We got to our base, Castel di Sangro and the Lavatoio Hotel (Website here) in less than three hours. Lavatoio Hotel is a family run operation and is a very nice place to stay while exploring the region. It is located just below an ancient church that would be quite spectacular if it weren't for the fact that it rings its bells, with a FULL hour count, every 15 minutes! I have never heard so many damn bells in my life! The place is extremely comfortable but I can honestly say that I did not sleep more than 15 minutes during our three days there! For those interested in fully exploring Abruzzo, I recommend staying in Barrea, an amazing hillside medieval town located in the park on the bank of the lake with the same name, or Pescassassoroli, a centrally located town located directly in the center of Abruzzo National Park and with loads of lodging options.
We wasted no time in getting out to Abruzzo to search for mammals. The park and setting is absolutely spectacular. As with most European national parks, it is studded with villages and hamlets, and multiple use lands for grazing and agriculture, so it is difficult for one to know when you are in park or in private lands, but the forest and mountains are excellent and filled with biodiversity.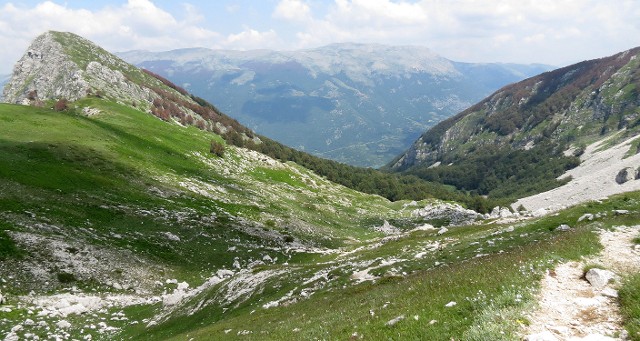 Abruzzo National Park protects a significant chunk of the spectacular Apennine Mountains in the heart of Italy's central mountain range.
We took the main track through the park with the goal of heading to the old Church in Gioia Vecchio, which is very famous for being an excellent lookout for Marsican Bears, which are commonly seen there. We spent our first three hours or so hoping to spot one while waiting for sunset, but no such luck. The season for bears I would suspect would be better in the fall when they are fattening up for hibernation. But we were able to spot plenty of Red Deer, both on the high mountain meadows above the tree lines and in the meadows of the low valleys near the road. And once we returned to our Lavatoio Hotel, we were enjoying some wine on our balcony and we were very happy to see three Stone Martens scurrying along the facade of the ancient church. This ended up being our nightly entertainment as they were residents of the old church.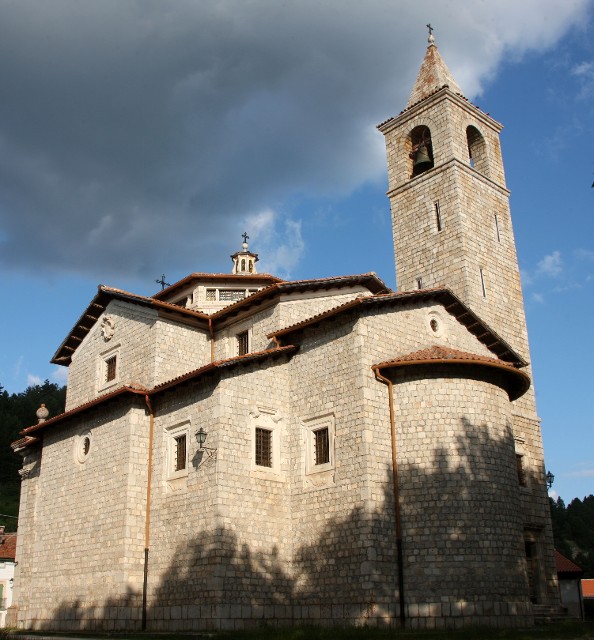 Gioia Vecchio Church in the northern section of Abruzzo. We came daily to search for Marsican Bears, but only spotted horses....lots of them...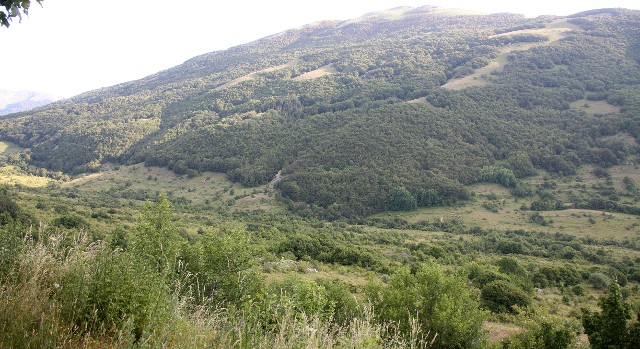 Gioia Vecchio viewpoint. There are Marsican Bears here....just not today...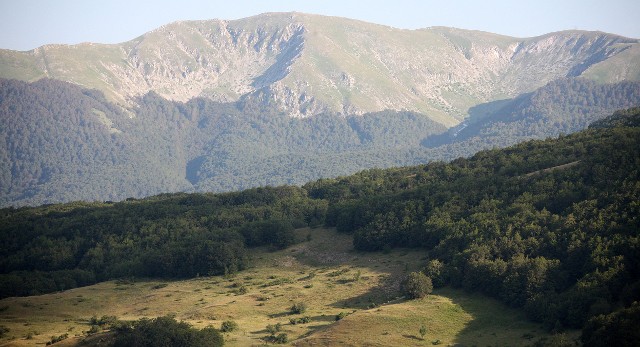 Abruzzo National Park as seen from the Gioia Vechhio viewpoint
Stone Marten (Martes foina)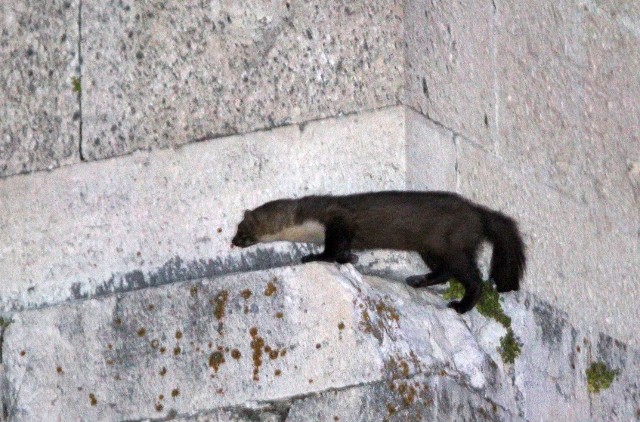 Stone Marten (Martes foina) were a nightly sight at our lodge in Castel de Sangro...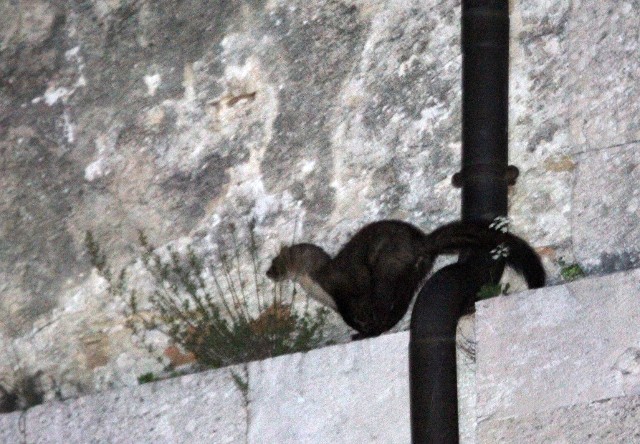 Stone Marten (Martes foina)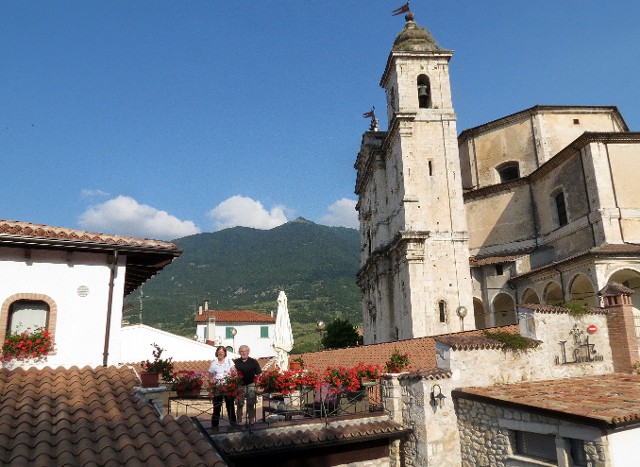 Al Lavatoio Inn in Castel di Sangro, our homebase while exploring Abruzzo. The cathedral to the right was home to a nice family of Stone Martens that made a nightly appearance.
Our main goal was to see the Apennine Chamois, which are evidently now considered to be a distinct species from the Pyrenean Chamois to which had been traditionally connected. All of the information I could glean pointed to Val di Rose Trail in the heart of Abruzzo to be the best access to provide possibilities to see the animal. During my RFI period for the trip, I was given advice to take other trails but once I was on the ground in Abruzzo, I found the park very confusing the complete lack of any information made navigating our way around the place rather hit and miss. We never could locate the visitor's center or any official place for information. There were trail head everywhere but the trails themselves were marked in a very confusing way. In fact on the Val de Rose trail, which is very well marked with red and white trail markers every couple hundred meters or more, there were many contradictory marks with different trail numbers and indications. More than once we thought we were heading in the wrong direction and if it weren't for passersby, we may never have found the spot for the Chamois!
The trek up to the spot to start looking for the Chamois is about a 2-3 hour trek (two for normal folks and three for Coke and Som!) up, up and up. The trail is very rocky, initially filled with loose cobble, making solid-soled boots a wise choice. We had casual walking shoes..... But the trail itself is easy enough. We were very fortunate to run in to the park's main Chamois researcher who had just spent the morning tracking collared Chamois, and he informed us that we were on the right track and should see at least 15 or more animals once we cleared the Beech forest and passed the tree line. This gave us the strength to continue!
Sure enough, it was not long at all after leaving the spectacular Beech forest that we spotted a couple distant Apennine Chamois grazing the grasses below one of the scree slopes. We continued up further and it wasn't long before we had good views of 15-20 spectacular Chamois. This was my first time seeing the animal and I was very impressed with how beautiful there were. They had lost their winter coats nearly completely and were in full cinnamon color! These Chamois are famous for not being all that shy, and we were able to approach close enough for some excellent photographs. What a great morning and it sure beat the hell out of fighting the crowds in Rome!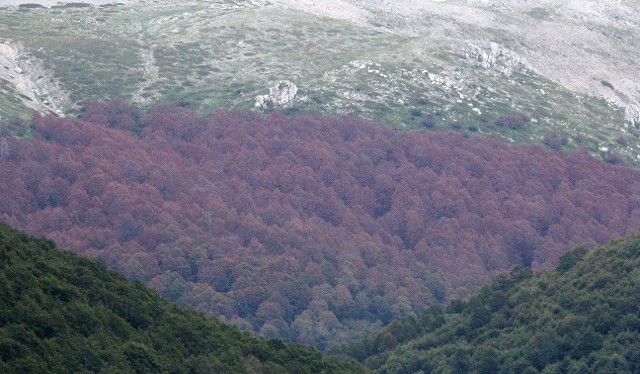 Once we made it through the Beech Forests above the treeline, we found our targets! Although it was only July, the trees thought it was fall...Note the colors.

Apennine Pyrenean Chamois (Rupicapra pyrenaica ornata)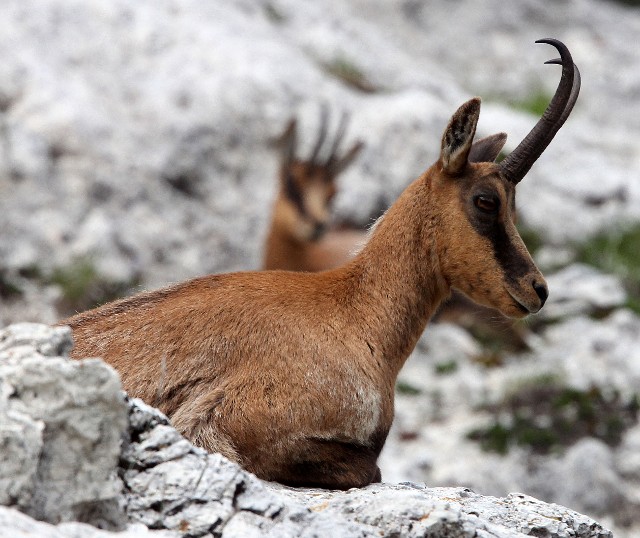 The famous Apennine Chamois of Abruzzo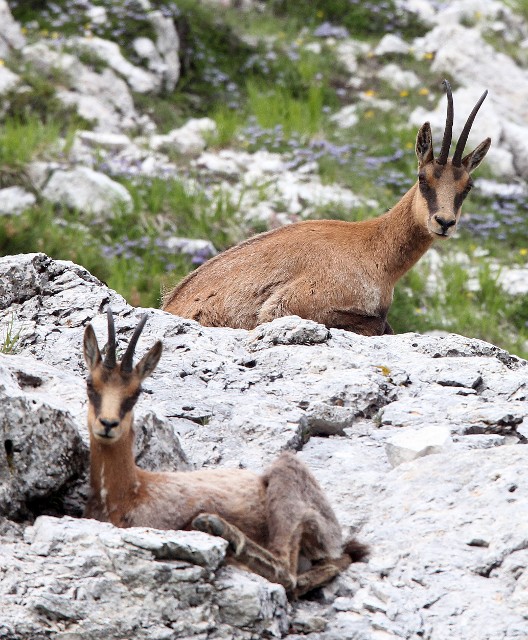 The Apennine Chamois are supposedly a new species and are now separate from the Pyrenean species to the west. I am still looking for the primary research that shows this however...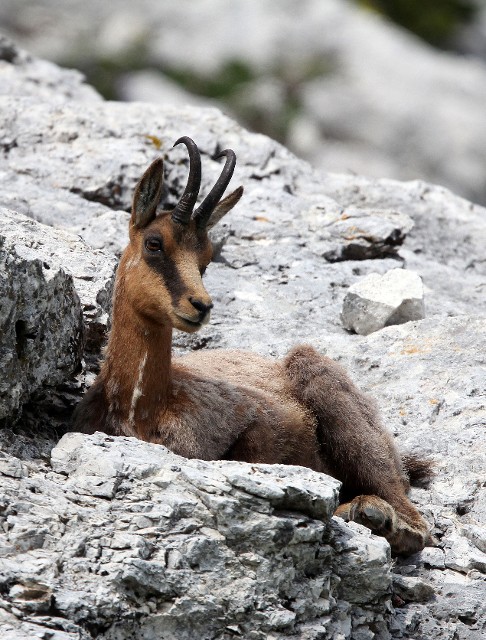 An Apennine Chamois resting in Abruzzo. We were lucky to come across some fairly friendly Chamois here.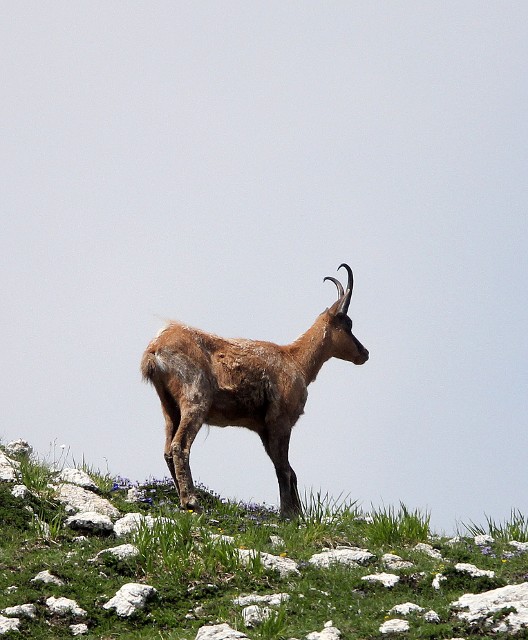 Apennine Chamois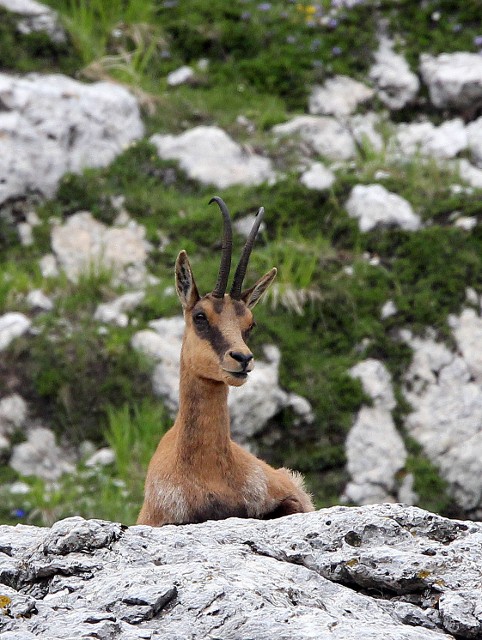 Apennine Chamois keeping a watchful eye on our ascent...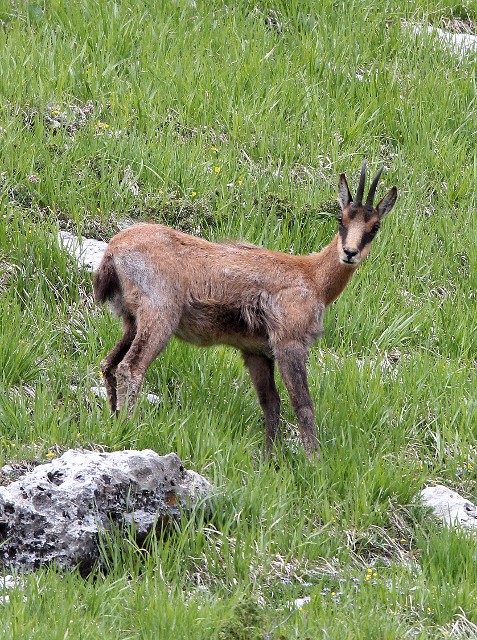 A curious young male Apennine Chamois...
Red Deer (Cervus elephas elephas)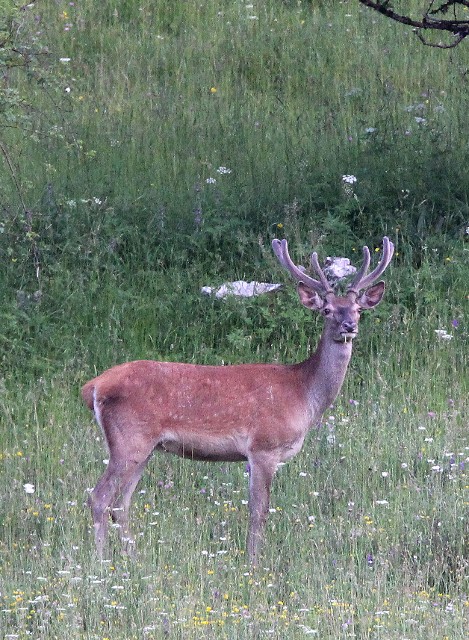 We spotted many European Red Deer while in Abruzzo, and several were seen along the main roads closely.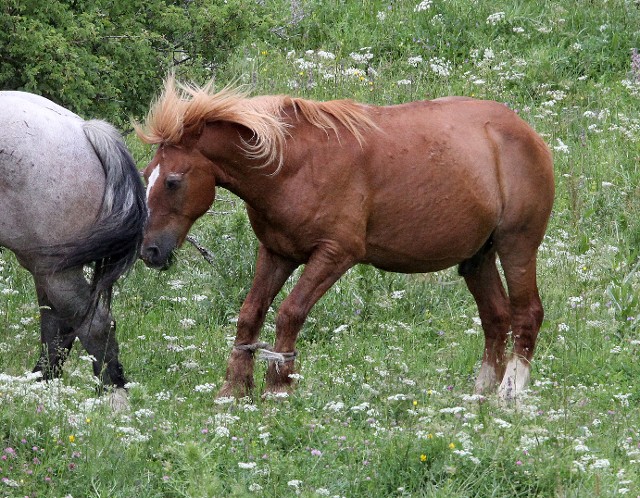 Domestic horses were literally everywhere in Abruzzo. Their color often made us think we were seeing a Marsican Bear stroll through the forest....Grrrr!
The trail through the forest and alpine zones was filled with wildlife sign and an outstanding floral display. There was plenty of Wild Boar and Badger sign as well as countless unidentifiable rodent holes. We came across a very freshly killed Blind Mole along the trail as well. And there was one very fresh Marsican Bear pugmarks along the trail that we noticed right on the trail that was NOT there when were climbing! Damn - sure would have loved to see the critter that made that!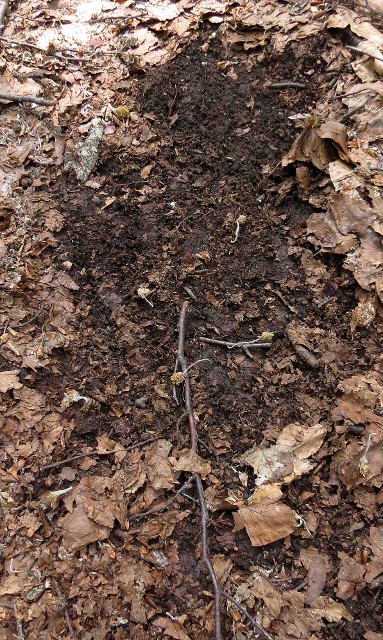 On the way down the mountain, we can across fresh Marsican Bear pugmarks along the trail....the same trail that we climbed only a couple hours earlier...
Blind Mole (Talpa caeca)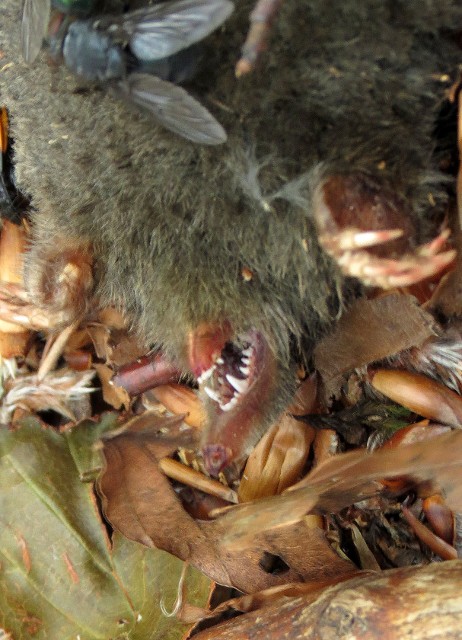 A Blind Mole seen freshly killed along the trail in Abruzzo.
Abruzzo NP is an outstanding remnant of an Italy that used to be. Far from pristine, it is still a great example of the floral communities that existed before so many thousands of years of human habitation. I think what impressed me the most is how much fauna still exists! After so many thousands of years of human pressure, I am surprised that anything is alive at all anymore. Definitely put Abruzzo high on your lists of places to visit for experiencing a wilder and more natural side of Europe.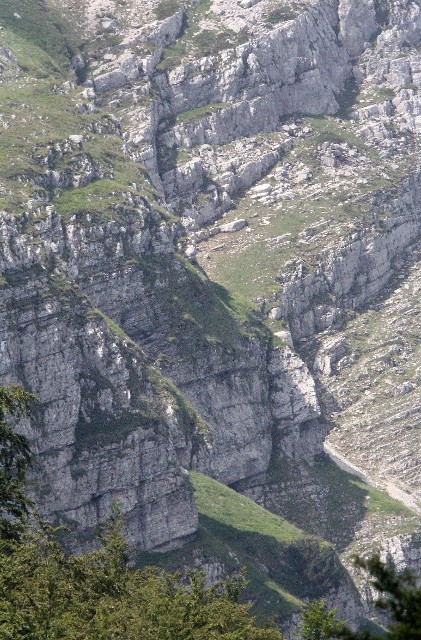 Abruzzo is simply spectacular. Here one finds the perfect Apennine Chamois habitat.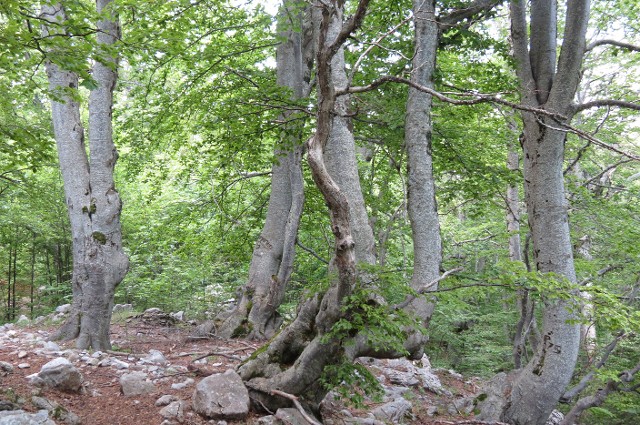 The European Beech (Fagus sylvatica) forests of Abruzzo are outstanding. We enjoyed our treks through them searching for Abruzzo's plentiful wildlife.
Abruzzo's forests were also populated by Turkey Oak (Quercus cerris).
Our view of Barrea Lake while descending from Chamois Central.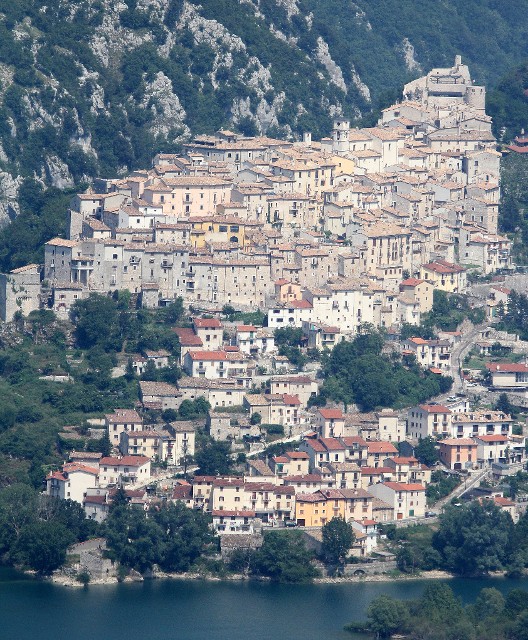 Barrea Village in Abruzzo. Simply spectacular...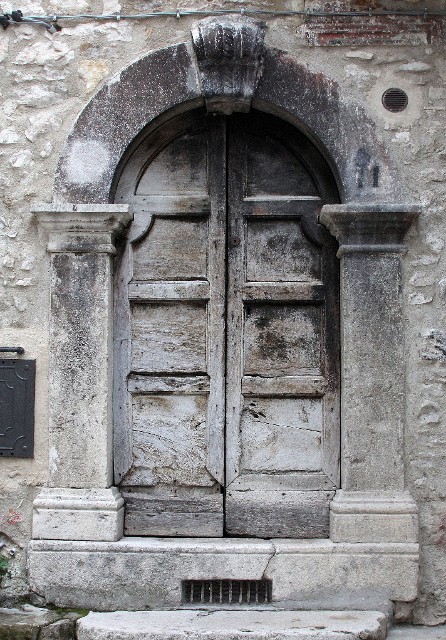 Strolling the alleyways of Barrea Village was a great way to spend a rainy morning...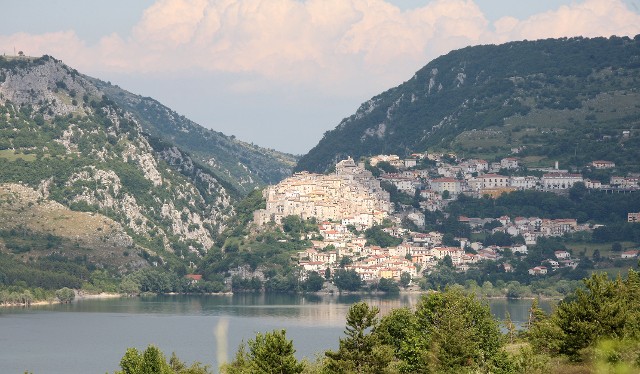 Barrea Village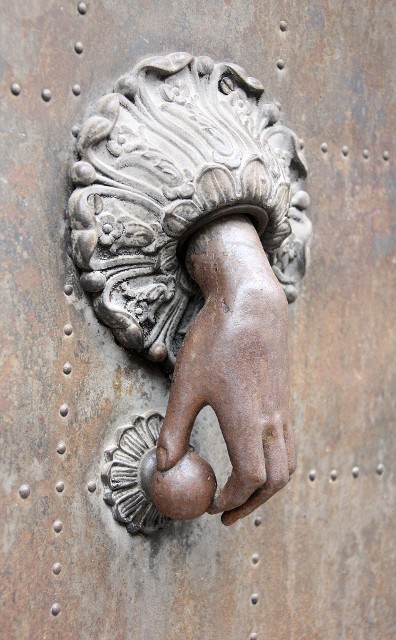 Barrea
San Marino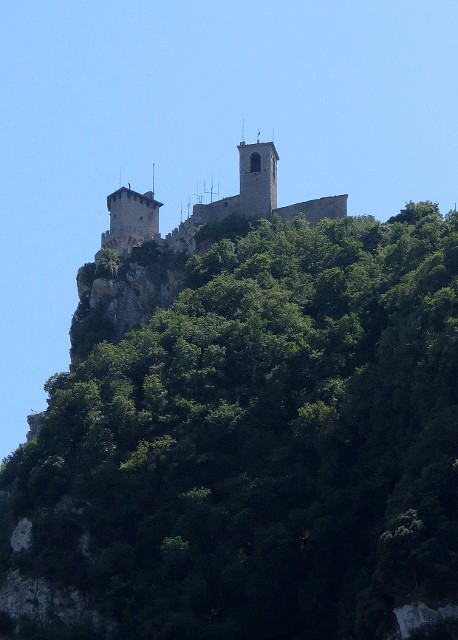 Mainly a "new-country-run"...San Marino was nice...
After three days in Abruzzo, it was time to head further north for a bit more culture. We took the scenic route along the Adriatic, passing through San Marino, mostly to give Cokie and Som another country to tick - no other reason really to go there in my opinion.... But the drive was very nice and much faster than I originally predicted. But it was on this drive that we found just how poorly marked Italian roads are and how poorly married they are to GPS's! Many frustrating moments trying to navigate our way through the back roads of the country for sure. But somehow we always got to where we needed to go....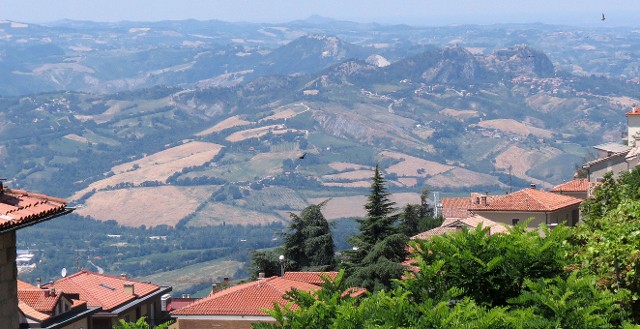 The view of Italy from San Marino.
Florence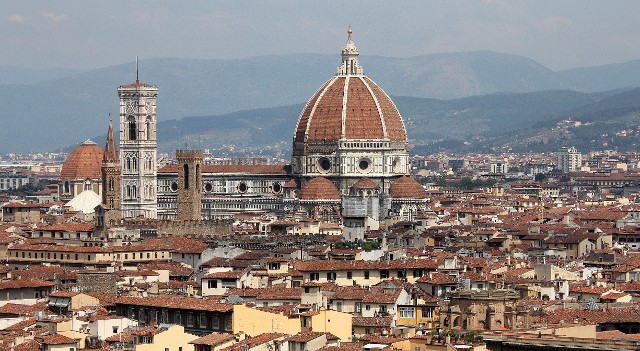 Our main destination after Abruzzo was Florence. But to be honest, after the hell of Rome, I was not looking forward to it AT ALL. Not one bit! But I was with my family and that is really what it was all about. We made it in pretty good time to Florence only to find that our hotel was located directly in the center of the city, literally in the main tourist zone just a block away from the Duomo! I was more than a bit nervous when we found ourselves traveling deeper and deeper in to the small, cobbled streets of the heart of Florence, especially after learning of the infamous Zona Traffico Limitado, which pretty much guarantees a hefty fine to be found on your credit card statement if you drive a private vehicle in....and we were definitely very much inside this "zona"....Too late now!
Finally we found our hotel and managed to procure parking nearby for about 26 Euros a night, actually a bargain compared to cities like New York. We stayed at yet another cramped midrange hotel with an elevator from hell... Ugh! If only we could afford nicer hotels when traveling in Europe. Even this hotel was 150 Euros a night! Every time I travel to the cities of Europe, and stay in these cramped, overpriced and noisy places, I ask myself why....I still have not come up with an answer to this yet. Luckily Cokie and Som seem to have had enough of European cities as well so I think we are good for awhile....
All that being said, we actually did enjoy our two days in Florence. It is much smaller than Rome and all of the sights are pretty close together. While the crowds were easily just as severe as Rome in every sense, none of us had any driving need to enter any of the spots requiring long waits in lines. So we blew off the stature of David and all of the museums and opted to simply stroll the city and view was open to the public and without lines of any sort. We people-watched and ate and drank....and walked some more. Very relaxing and much, much more enjoyable. And two days was more than enough to see what we wanted.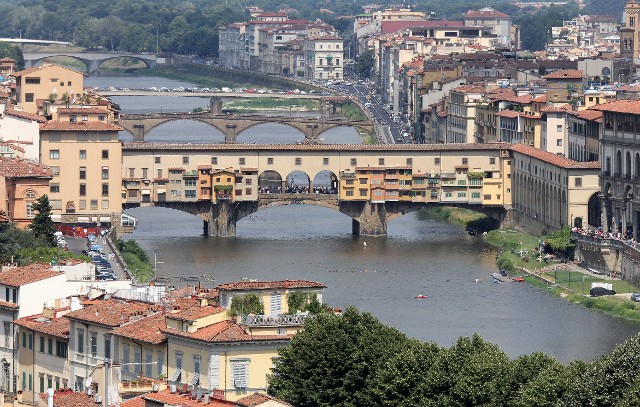 Our view of Ponte Vecchio, Florence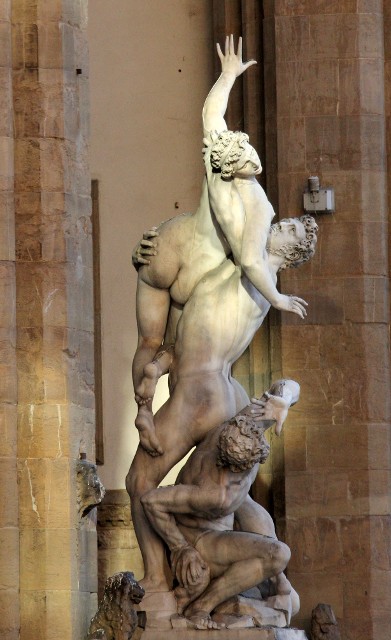 Florence if filled with amazing sculptures and statues...After seeing them here and in Rome it was becoming very clear to us why the church has so many issues today...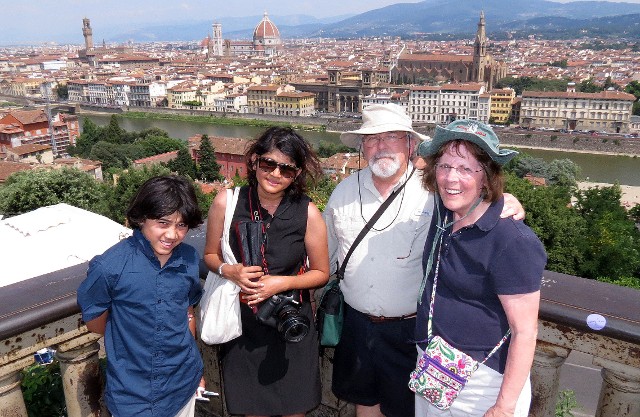 Team Florence!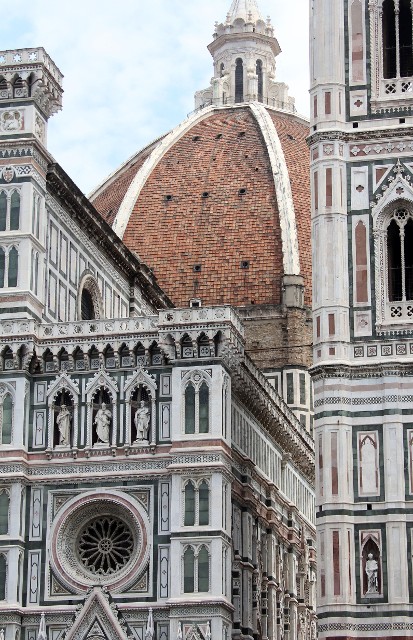 The Duomo
Stelvio National Park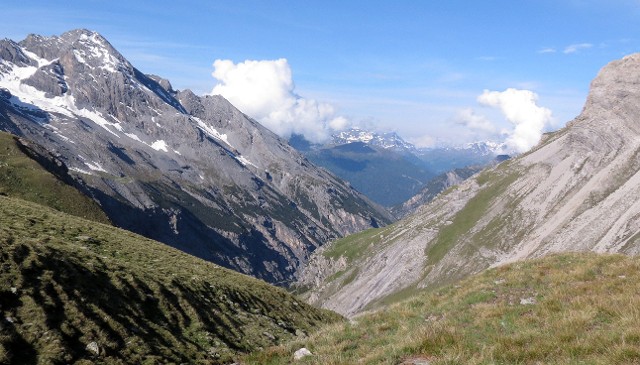 Then it was off to Stelvio National Park in the far northern corner of Italy. During my RFI phase of the trip planning, I received much welcome information on how and where to spot wildlife in Europe, but Mattia Altieri contacted me and informed me that Stelvio was a great spot to see our main Alps targets - Alpine Ibex, Alpine Chamois, and Alpine Marmots. He even offered to join us on our trip to make sure we got to see the critters in question! So I took him up on his very kind offer. After meeting and spending a lovely day with Mattia, we were very happy indeed that he took the time and made the effort to come from his home in Bolzano to show us the amazing fauna of Stelvio. (Here is Mattia's email)
With Mattia's help, seeing all of our targets was a piece of cake! Honestly though, I am not sure we could have done it at all without his assistance. He knew the exact location of the herds of Ibex and Chamois, and if he weren't around to show us where to look we never would have spotted them... But luckily for us Mattia was available and we had a great time together searching for wildlife. Mattia is an outstanding naturalist and is extremely knowledgeable about the flora and fauna of the Alps in particular. We learned an amazing amount from our discussions and his expertise made our experience in Stelvio very rich indeed! Thanks to Mattia, we nailed all three of our targets very easily and a couple others just for good measure.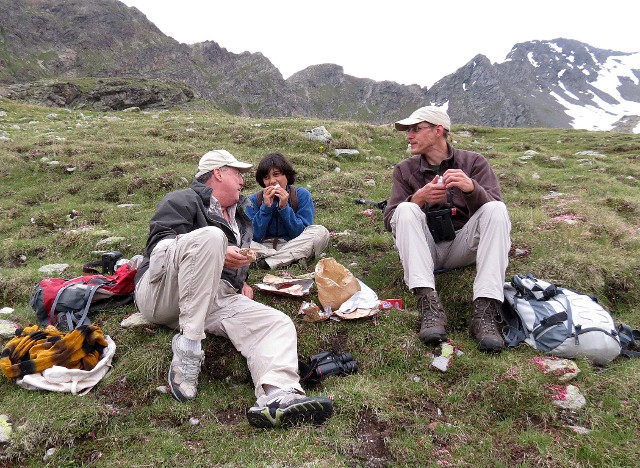 Lunch break in Stelvio. Mattia (on our right), an outstanding naturalist and spotter, is definitely the go-to person for information on Italy!
Our base of operations for Stelvio was in the lovely hamlet of Valentino alla Muta, a small German-Italian town located a few kilometers south of the Austrian border. We stayed at the lovely Alpenrose Lodge (website here) which was very comfortable, hospitable and provided excellent dinners and had great Melzano beer on tap! The town is situated at the top of a spectacular valley filled with medieval villages, all of which are in themselves well worth visiting.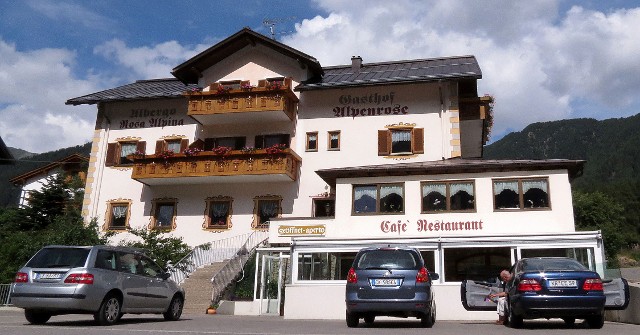 The Alpenrose Inn in San Valentino Alla Muta village is an excellent base of operations when exploring Stelvio. We opted for their full-board option and very much enjoyed the mix of Italian and German cuisine.
From Velintino alla Muta, to see the Alpine Ibex and Alpine Chamois, one needs to drive up and over Stelvio Pass on one of the most curvy roads on the planet. Who knows, maybe it is the most curvy road on earth....With at least 48 turns, the road zig-zags up and over the 3200 meter Stelvio Pass. It was at this point that Mattia started to scan the slopes for the Ibex and Chamois. Although this was not his target area, he was making sure we didn't miss any opportunity to see them.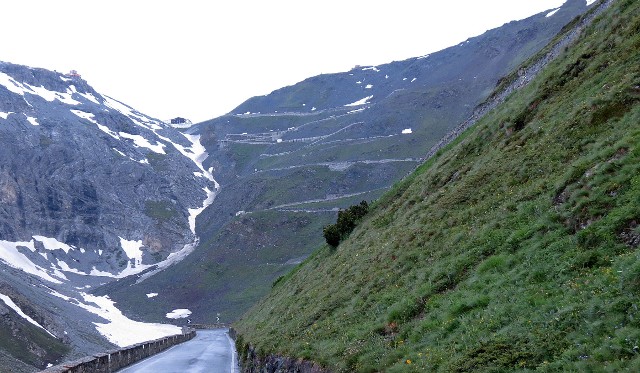 The switchbacks heading to Stelvio Pass, the crookedest road in Europe!
About five or so kilometers down the other side of the pass, we parked at a trail marker and started our trek up to about 2700 meters or so. We'd already spotted a few female Alpine Ibexes high on the slopes of a nearby mountain, but Mattia assured me that these were too far to worry about....After about only one or two kilometers of trekking, Mattia spotted a bachelor herd of Alpine Ibexes with at least six individuals. We followed these spectacular bovids over the alpine meadows for at least a kilometer or so before they allowed us to get close enough for some outstanding images. We spent the better part of an hour with this group of males who could not care less that we were less than 20 meters from them! It was amazing to watch them traverse the sheer cliffs and rock faces of the pass. And there were many instances where we watched their activities from a vantage point ABOVE their position - a pretty rare experience indeed to be above an Alpine Ibex!
Alpine Ibex (Capra ibex)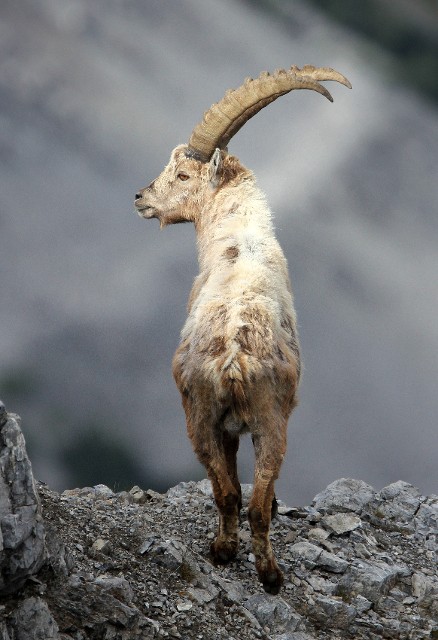 Alpine Ibex. Thanks to Mattia, we were able to spot several males and even some females while at Stelvio. I cannot imagine getting any better sightings than the ones we had this day...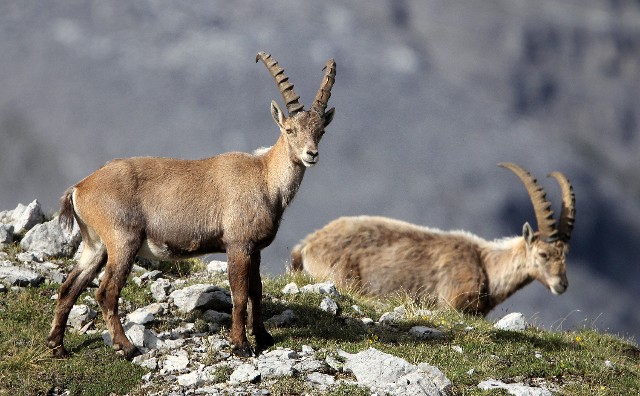 The bachelor herd we spent time with was very cooperative. They were not habituated but they allowed very close and long views.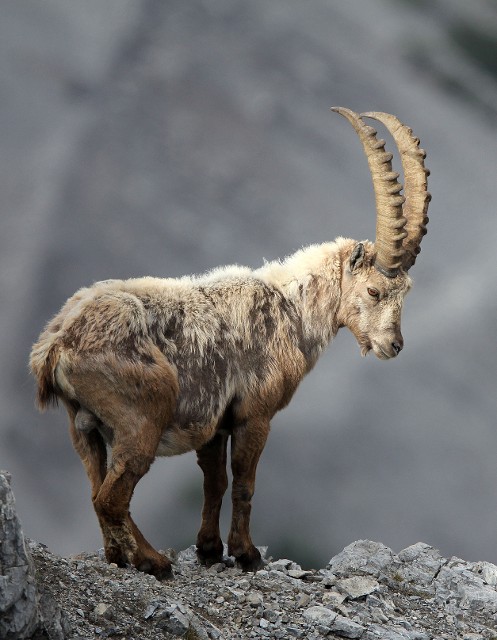 We had to trek a few kilometers to about 2700 meters to catch these views from some outstanding vantage points. There is no way we could have had such success had it not been for Mattia.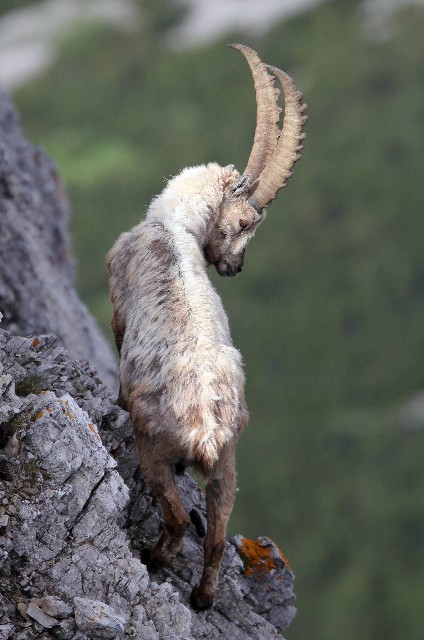 Outstanding views of the Alpine Ibex of Stelvio!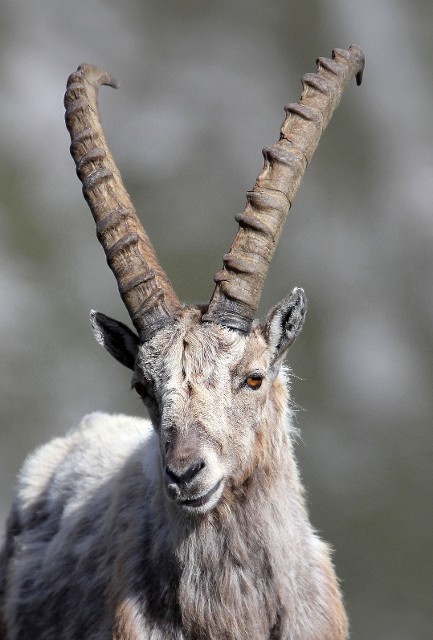 Capra ibex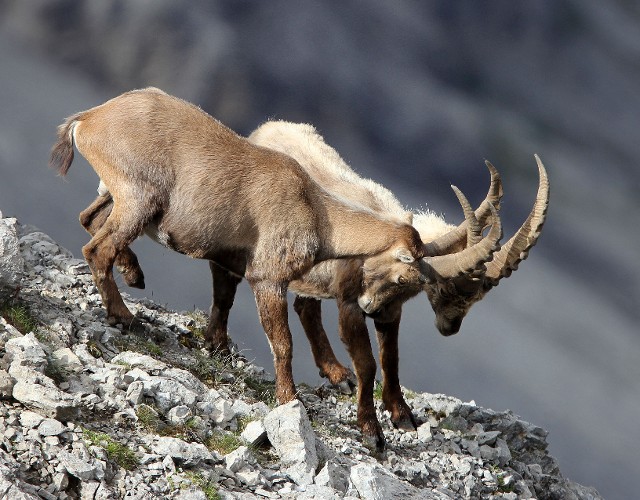 A couple of the males started to spar a bit...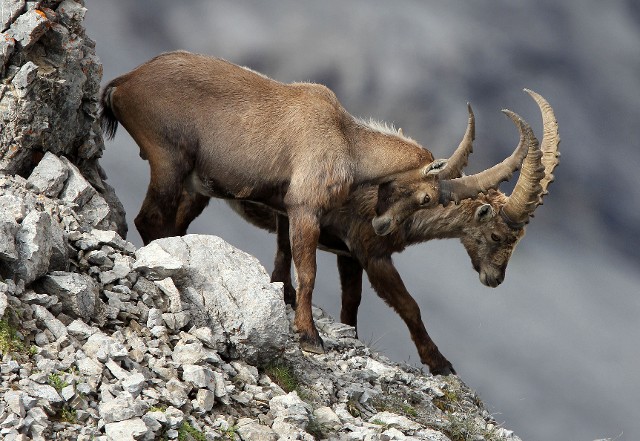 Having a great time!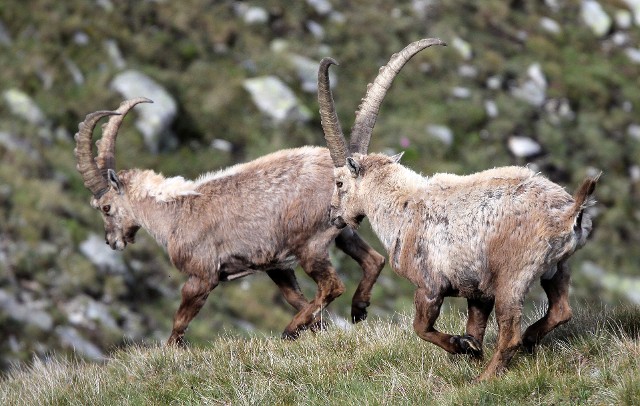 We spent considerable time with these outstanding bovids. It didn't take long for them to completely ignore our presence and go about their daily lives.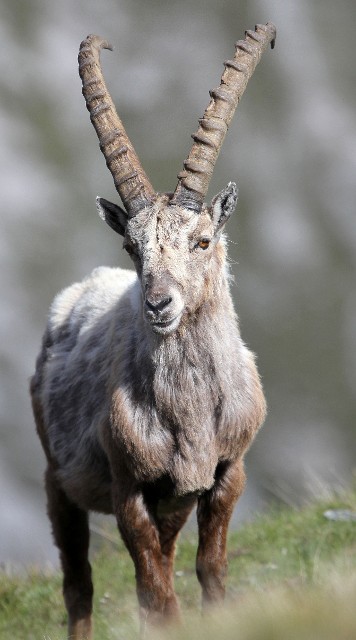 Alpine Ibex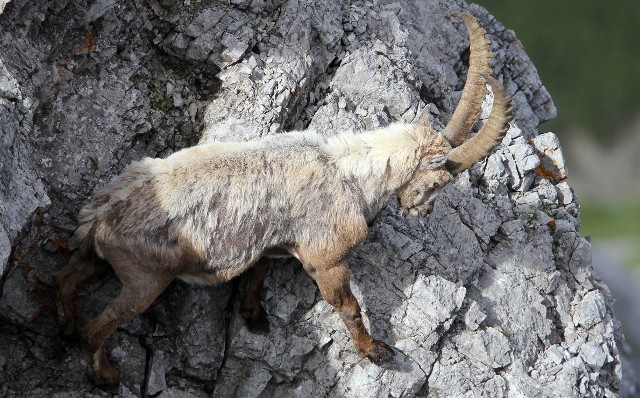 At 2700 meters, we often found ourselves above the Ibex. Amazing!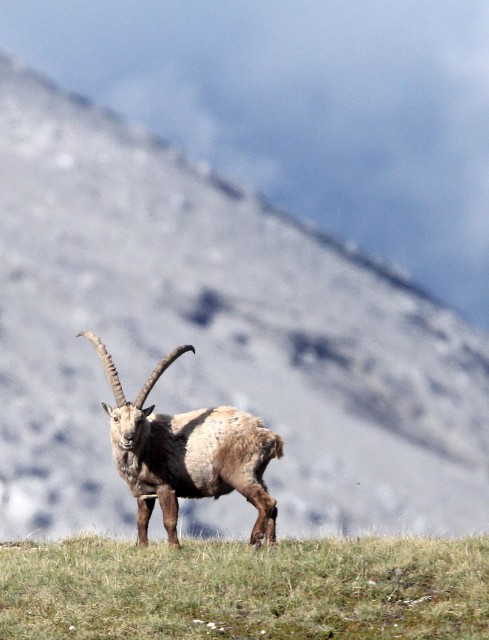 There is little doubt that Ibex are one of my favorite bovids. I hope to see every species someday. Our day in Stelvio will stay in our memories as one of our best experiences with them.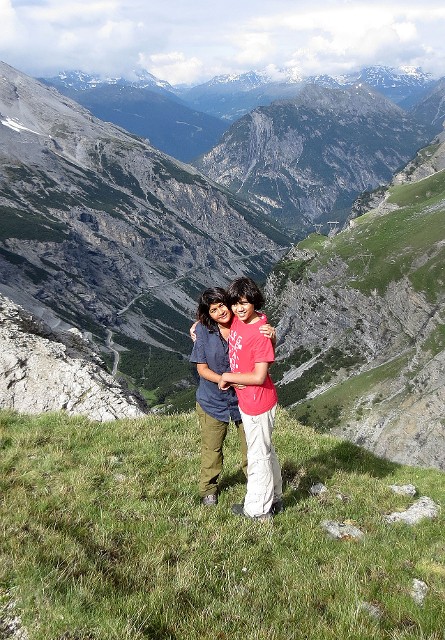 What a spectacular place! We didn't want to leave.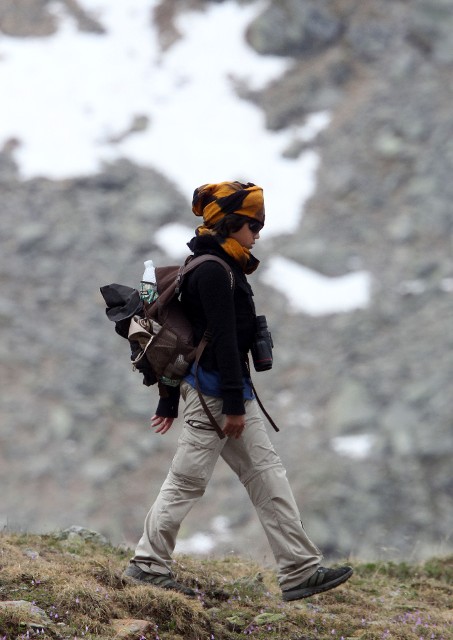 All of the wildlife viewing was to be had in a large high alpine valley, and we simply trekked from one species to the other all day...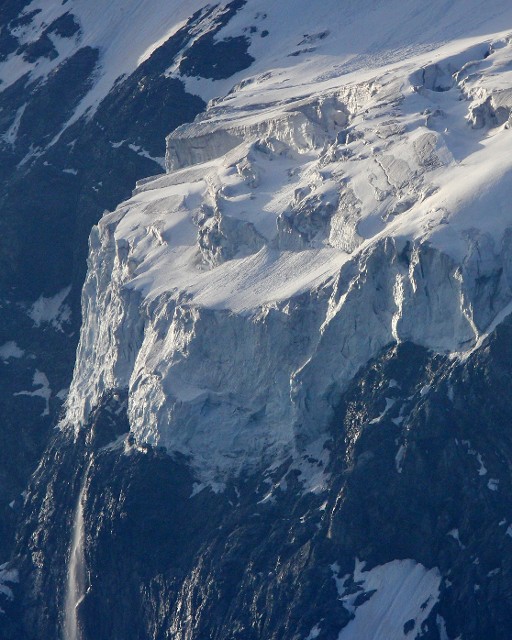 Stelvio is home to many receding glaciers...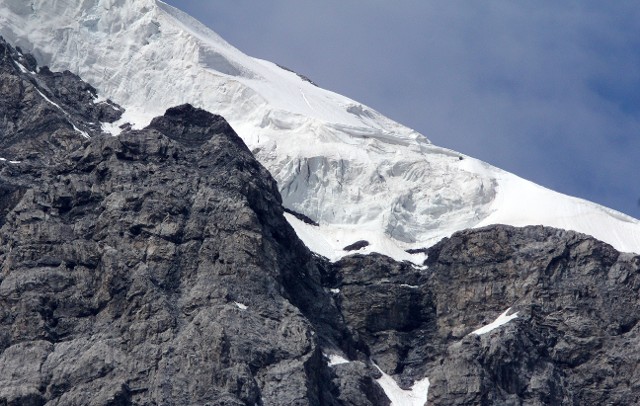 Stelvio National Park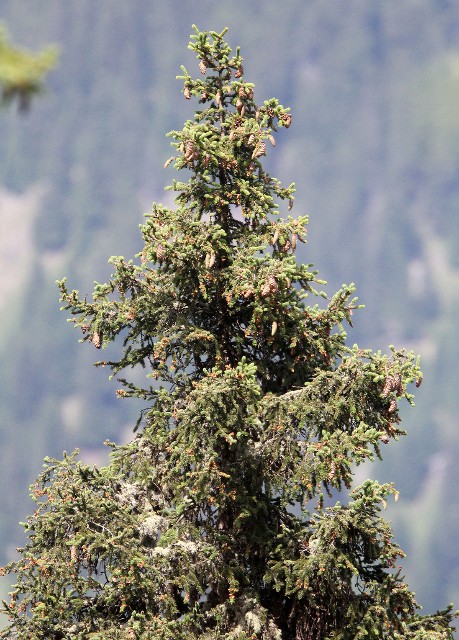 Stelvio is very biodiverse. The lower elevations are home to various hardwoods and eventually you find yourself in a mixed conifer woodland with such species as Swiss and Scott's Pine and Norway Spruce (Picea abies) like this one.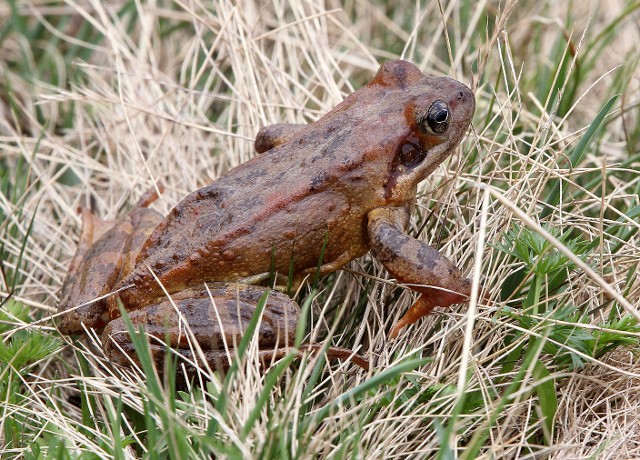 We spotted many Red Frogs above 2500 meters in Stelvio. Evidently it is one of the highest living frogs in Europe.
After the most amazing session of ibex-viewing, we decided to go after the Alpine Chamois. We crossed the alpine tundra and proceeded a bit further up and it wasn't too long before we spotted several Alpine Chamois jogging on the snow faces of some of the higher reaches of the same valley. Too far for any good images, Mattia and I opted to climb up quite a bit further to attempt some better photos. Cokie and Som opted for a high alpine nap in this amazing place! I am not sure who was more intelligent this afternoon....
The Alpine Chamois are much shyer than their Apennine cousins for sure. We were able to get a bit closer but nothing much more than 100-150 meters or so. Still though we were able to get some outstanding looks at this spectacular animal - both solo males and a female herd with kids. All in all I was very happy with the observations. And noting the remoteness of the location, there is absolutely no way we could have located these animals without the aid of Mattia! We spent our remaining time on the slopes enjoying a picnic lunch and just enjoying the overall perfect afternoon. And of course spotting more and more ibexes roaming the other slopes of the region. It was an absolutely glorious day in Stelvio.
Alpine Chamois (Rubicapra rubicapra)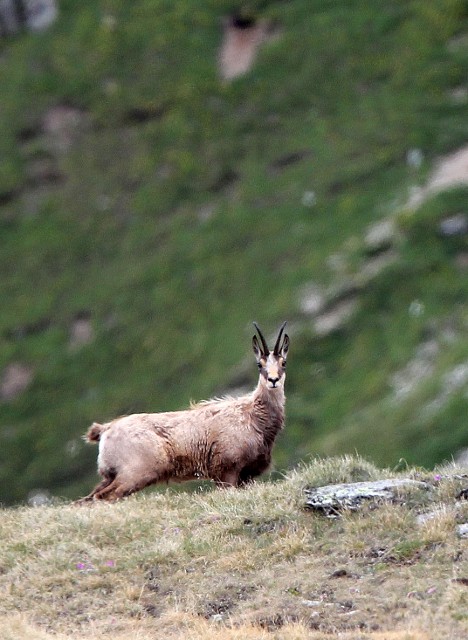 We had to work a bit harder to spot the Alpine Chamois, but after climbing above 2800 meters, we finally nailed 'em!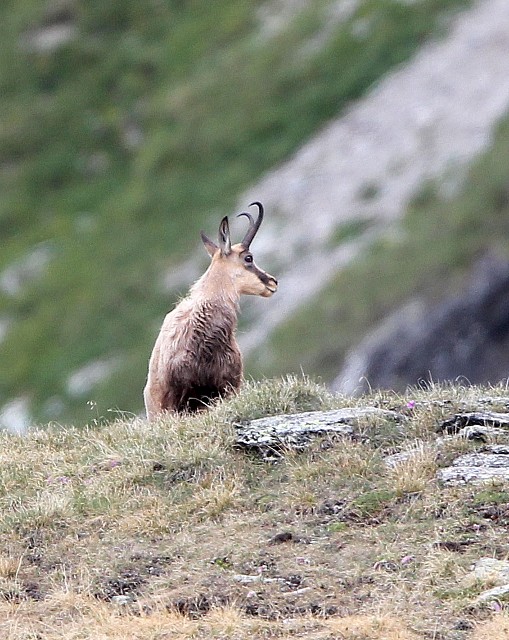 Alpine Chamois. We were fortunate to spot nearly 20 of them but they were definitely much shier than the Apennine Chamois seen earlier in Abruzzo.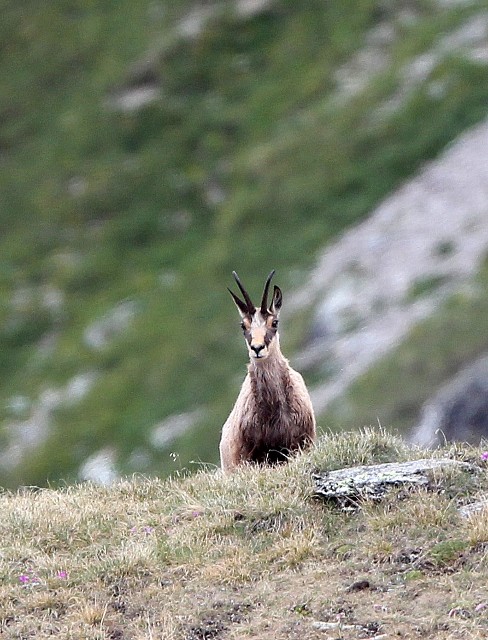 This one kept sprinting away but was still curious enough to come back and take a peek...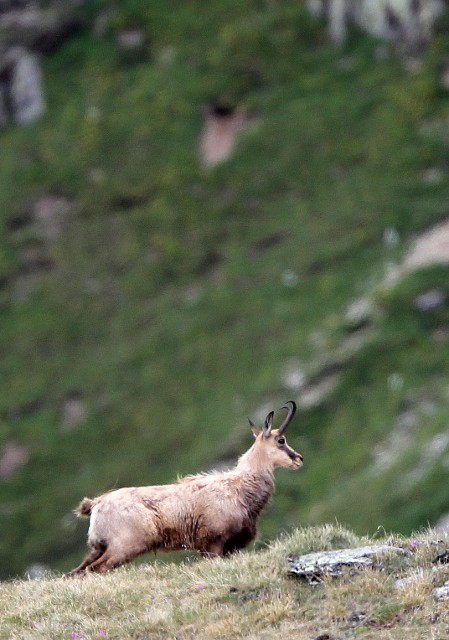 Alpine Chamois of Stelvio! Very spectacular and clearly different from their Apennine cousins down in Abruzzo.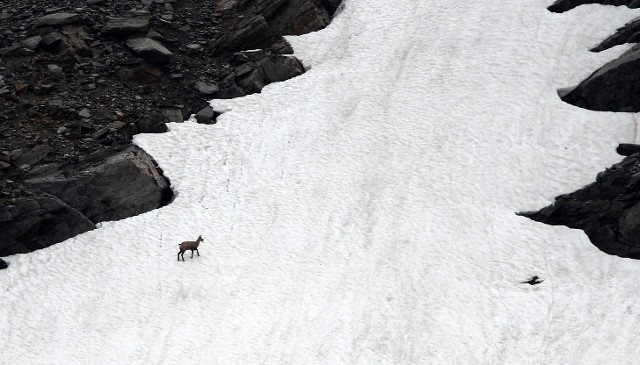 The surrounding mountains were populated with Alpine Chamois. They were difficult to spot until they did something like venturing out on an ice field....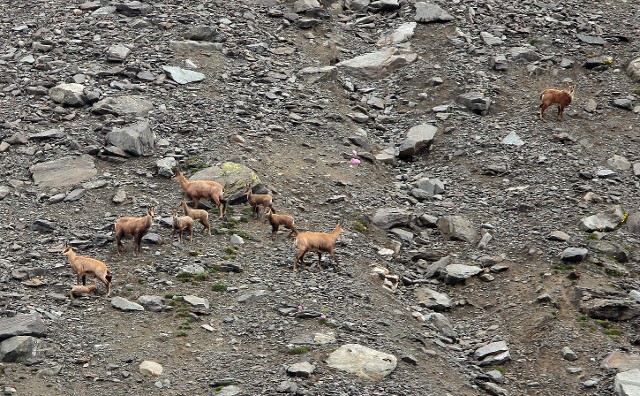 The females and young were found in separate herds on the mountainsides.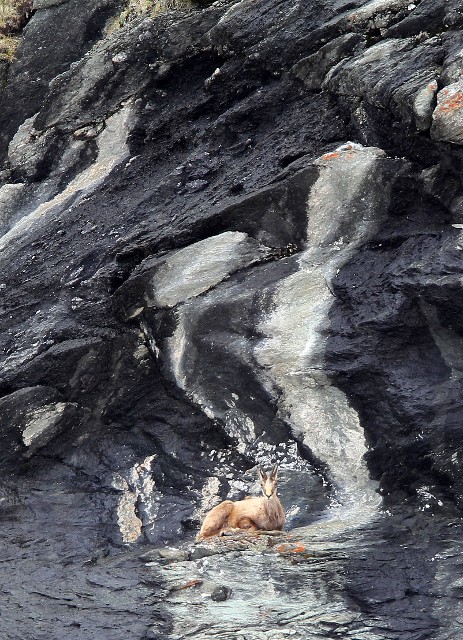 It was difficult to spot some of them amoung the rock outcroppings of Stelvio. But once I got used to their coloration against the rocks, they started to appear...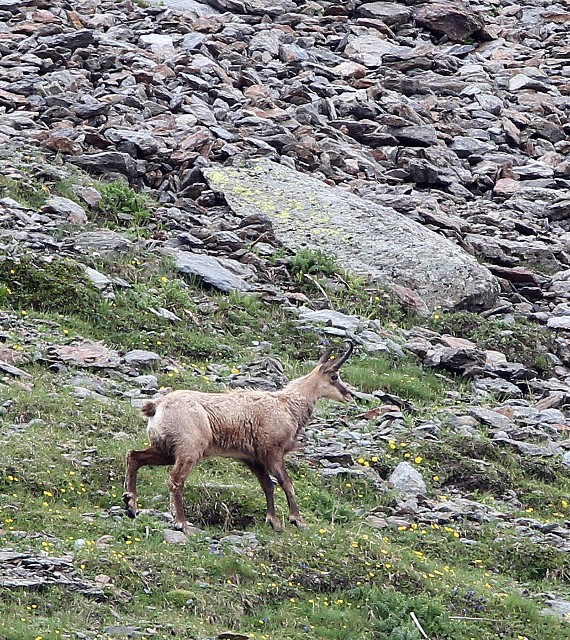 Alpine Chamois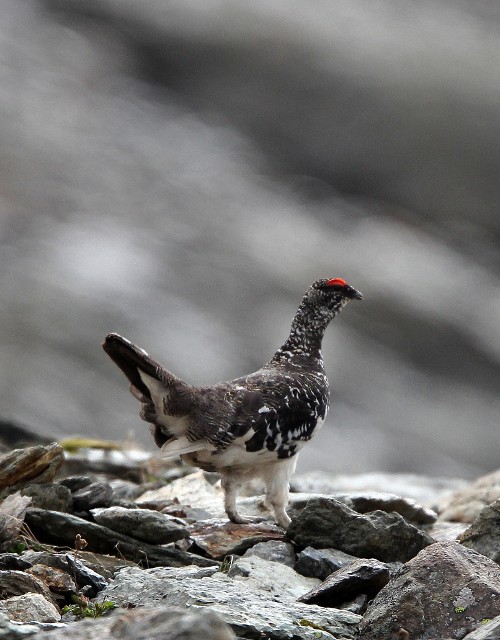 Mattia was thrilled (so was I of course) to see these Rock Ptarmigans during our trek at Stelvio...Evidently they are quite rare there.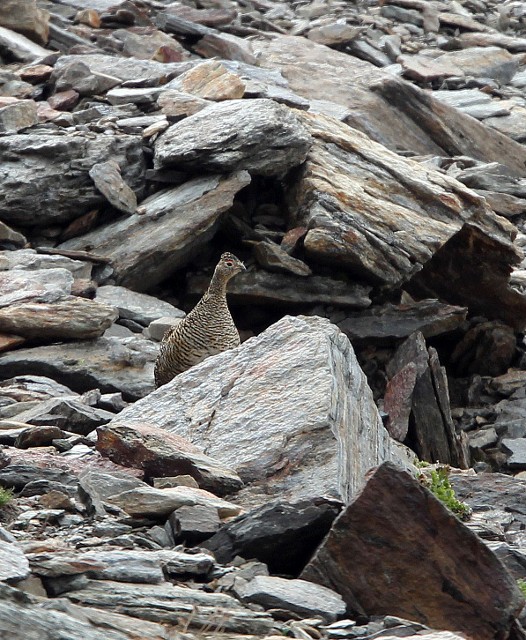 The female Rock Ptarmigan looking for her mate...
With our two bovids safely under out belts, thanks to Mattia, all we had now was to spot some Alpine Marmots. Of course, we probably could have spotted Alpine Marmots on our own as they are literally everywhere in the alpine meadows of Stelvio. Every bit as cute as their cousin species around the world, it was great fun watching them watch us, whistling their warning calls and scurrying about from den to den. Several were very friendly and allowed approaches of just a few meters before disappearing below. What a great rodent!
Alpine Marmot (Marmota marmota)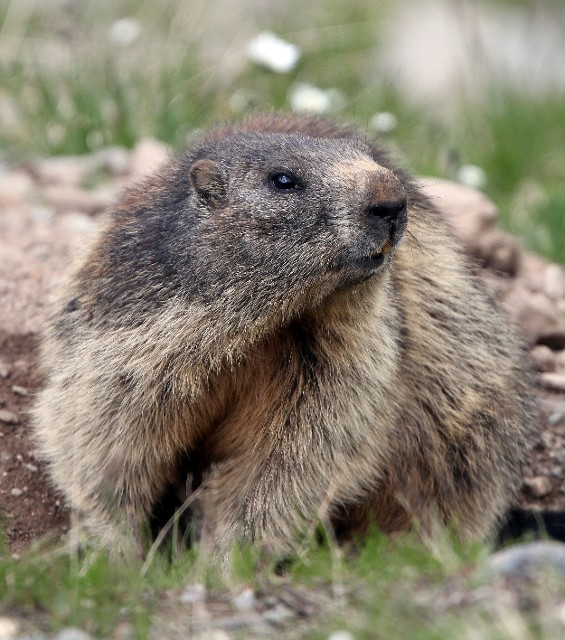 We spotted many Alpine Marmots in Stelvio.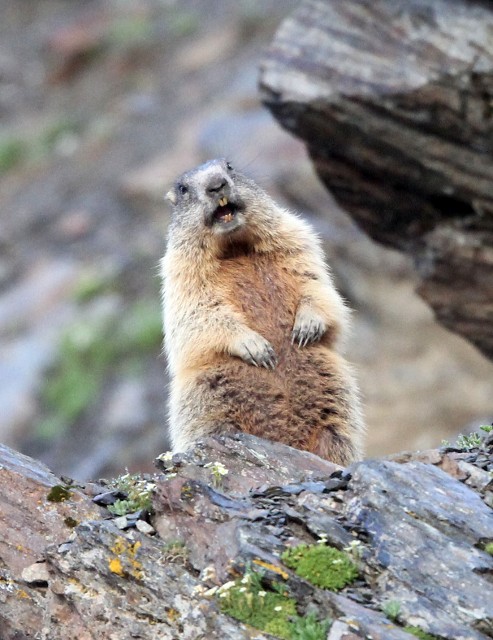 This one was singing to us!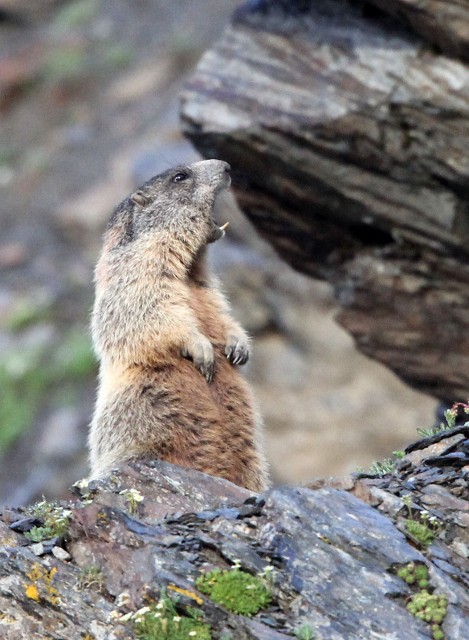 The marmots made distinct calls depending on the approach angle of a potential threat. Long shrill calls if coming from above, short peeps if from below....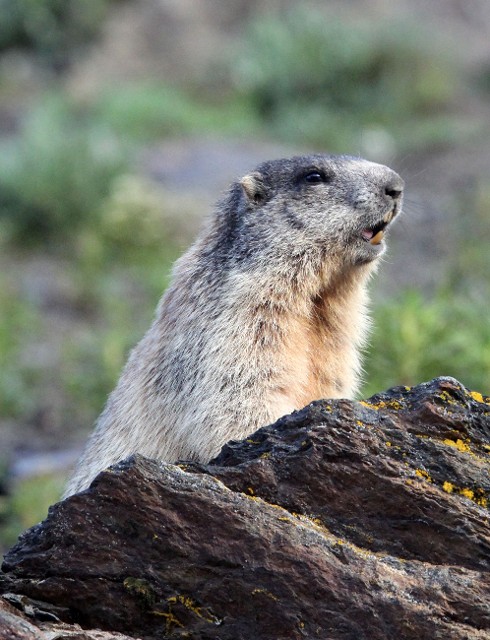 They were very curious.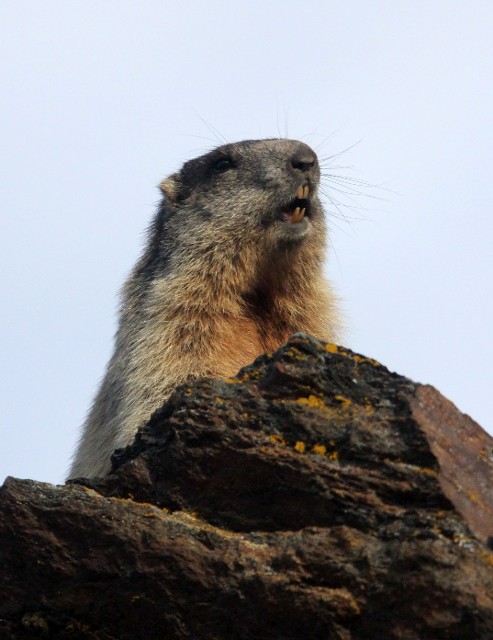 Alpine Marmot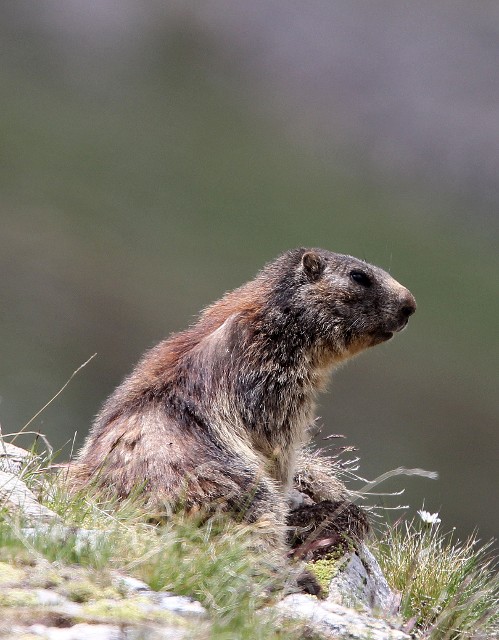 They reminded me of the North American species, Hoary Marmot.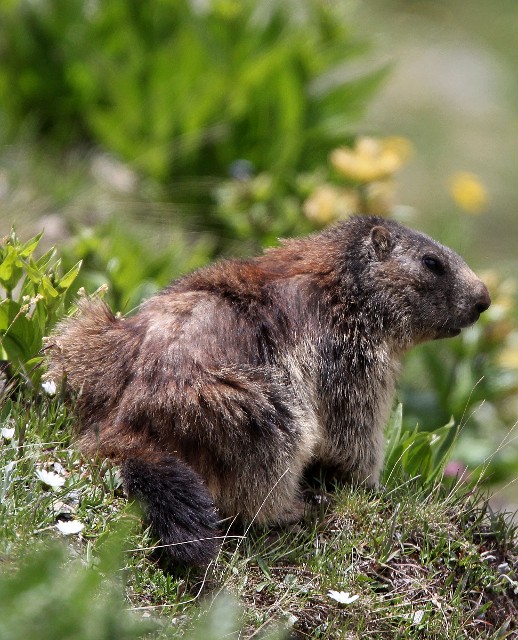 So many marmots!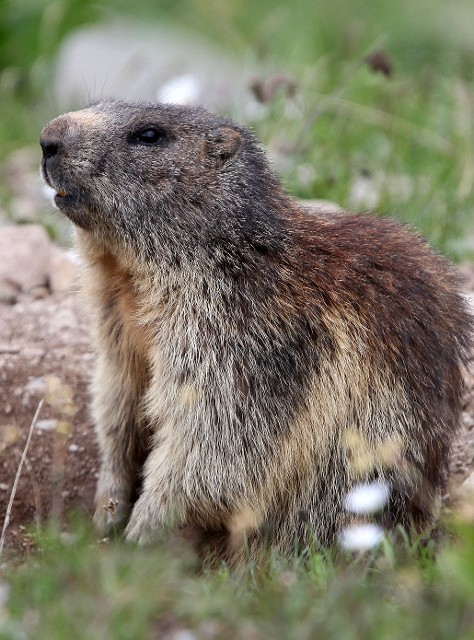 Alpine Marmot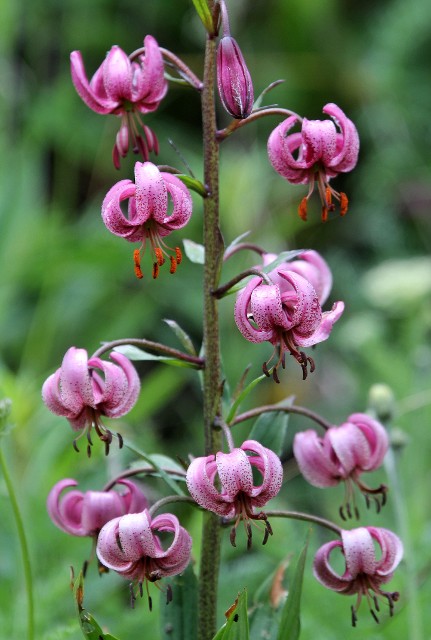 Martagon Lily (Lilium martagon). Stelvio was in full bloom this July. Usually the bloom was well over by this point but due to a long and wet winter we were able to see dozens of species of wildflowers in full bloom.
Check out our European Wildflower Gallery here:
Wildflowers of Europe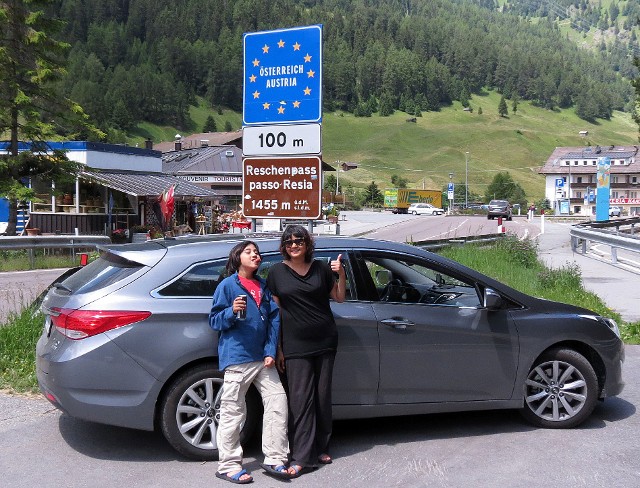 Stelvio is situated just next to the Switzerland-Italy-Austria border. We dipped in to Austria to make sure Cokie got country #50!!!!
During the day we also spotted a few Roe Deer and even a very dark form Red Squirrel, which I failed to get an image of. Although I tried fruitlessly to find and photograph another the next day, these Red Squirrels appeared to be a near melanistic form compared to the ones I saw in Scandinavia a few years earlier. And they seemed quite large in comparison as well. But Cokie was very fortunate to spot a nice Fat or Edible Doormouse while on the trail during our second day in Stelvio! I was too busy scolding him for some silly reason to see it myself, but at least we was able to ignore my scolding well enough to spot it! Good for Cokie!
European Roe Deer (Capreolus capreolus)
We were lucky to catch several glimpses of European Roe Deer. I was happy to see them since the Siberian Roe had recently split...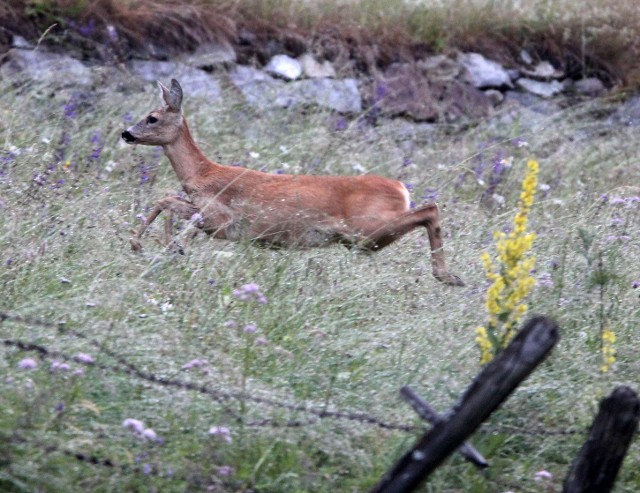 Female European Roe Deer were much more common.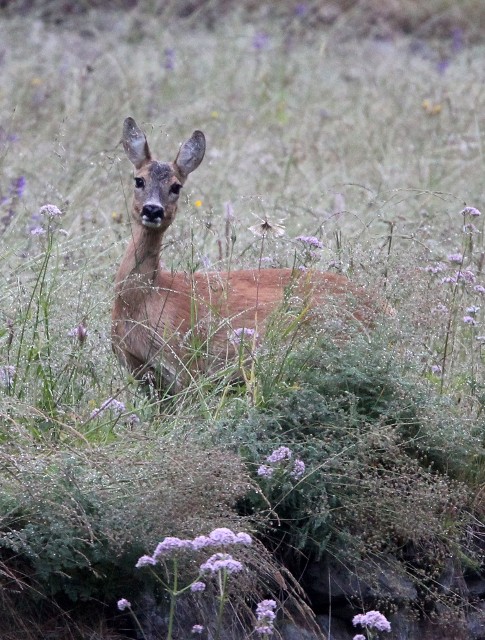 European Roe Deer of Stelvio
Red Squirrel (Sciurus vulgaris)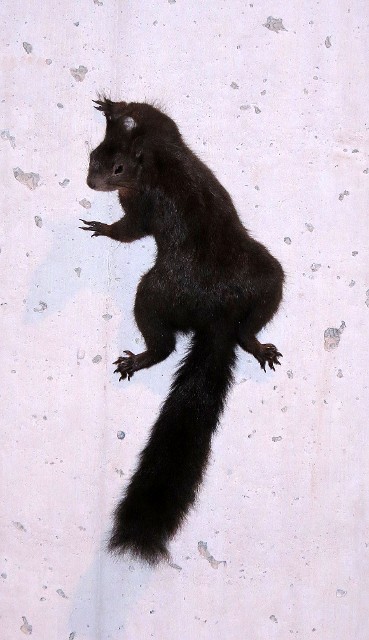 Although this was a stuffed specimen at the Swiss National Park Museum of Natural History, we did see many European "Red" Squirrels, all of which were black like this one...I just never got a decent picture of any...
Swiss National Park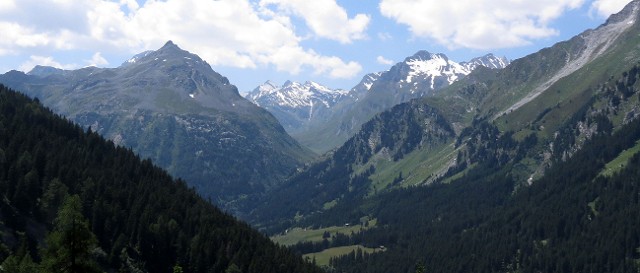 We spent a nice day exploring the Swiss National Park while traveling from Stelvio to Milan. We didn't see much in the way of wildlife, except for some Golden Eagles and other forest birds, but it was nice to visit such a spectacular region. Got some good birding in during a couple stops when we ventured in to the forests a bit.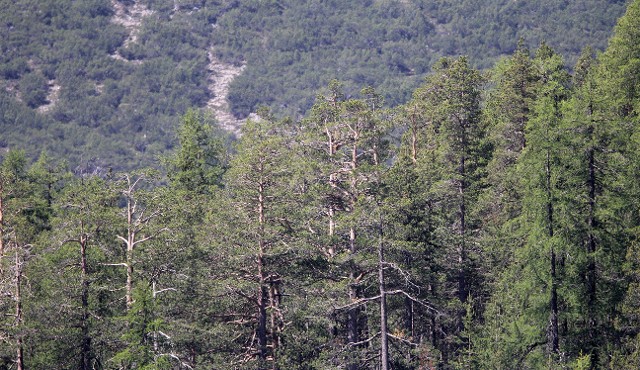 Mostly mixed conifer forests of Swiss Stone Pine (Pinus cembra) and Scot's Pine, the forests of the Swiss National Park are similar to those of Stelvio.

Soglio, Switzerland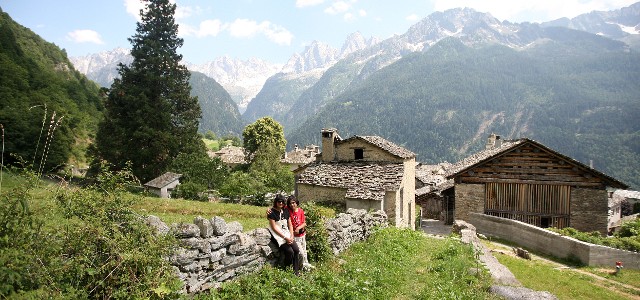 En route to Milan, I noticed a sign on the highway pointing to Soglio. Major flashback! Lien and I spent some quality time there so many years ago. I could not resist taking my family to the spectacular Swiss village so we could all now share a connection with this special place. (Here is the link to the travelogue of our trip there some 20 years ago...)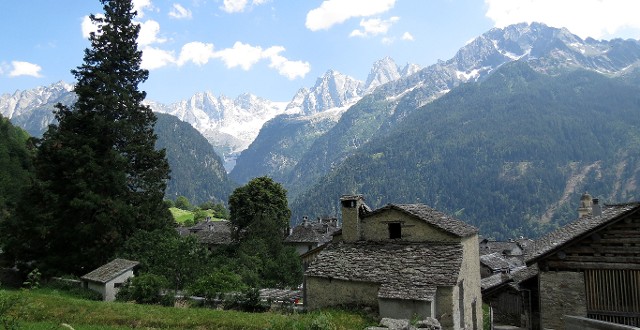 Soglio view of Swiss National Park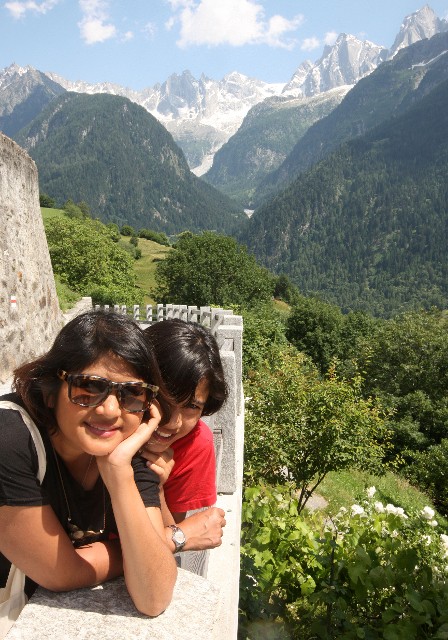 It was as if nothing had changed there in nearly 20 years! It was great to share this place with my family. I was still more than a bit shocked that we actually nearly drove right past it...hmmm...

Milan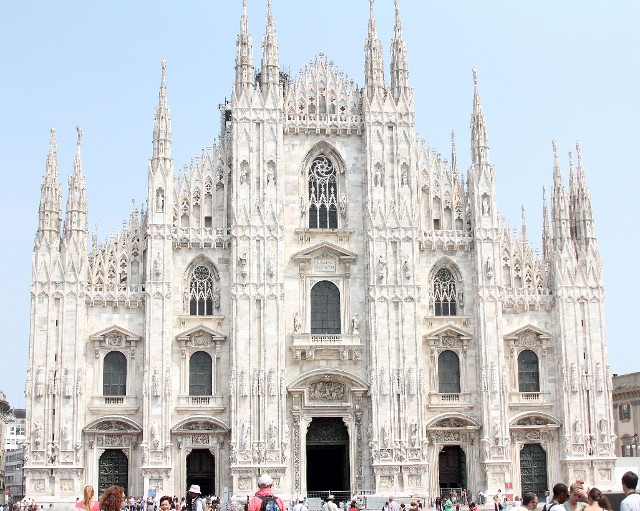 The Duomo of Milan
Today we are off for Milan. We are meeting up with my mom and dad and our friends Tu and Fabio, for a couple days in yet another city. While the wildlife portion of our stay in Italy is finished, we still have a bit of time to spend with friends and family. We were all very impressed with the spectacular wildlife that Italy has to offer. Can't wait to come back and find some more!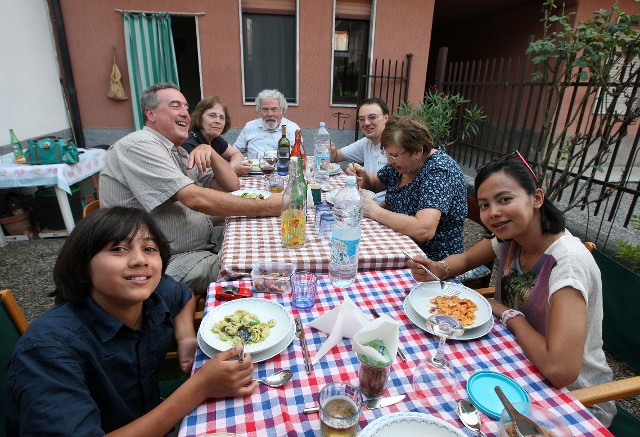 Great way to wrap up our Italy expedition - home cooked Italian food with friends and family! Here we are at the home of our good friends, Tu and Fabio, and his mother, enjoying great food and wine!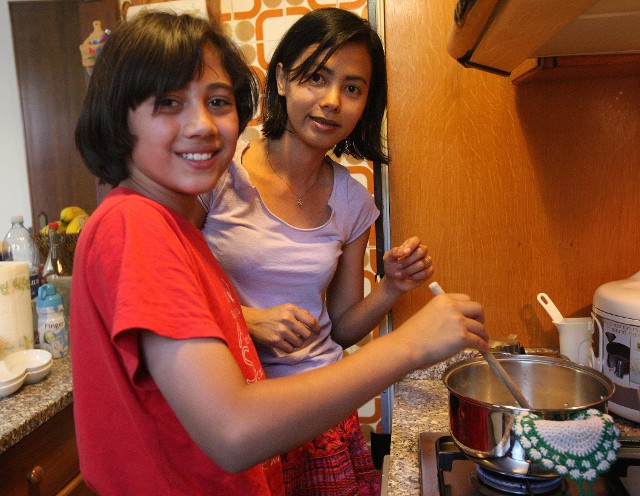 Cokie getting a lesson from Tu on cooking Italian cuisine!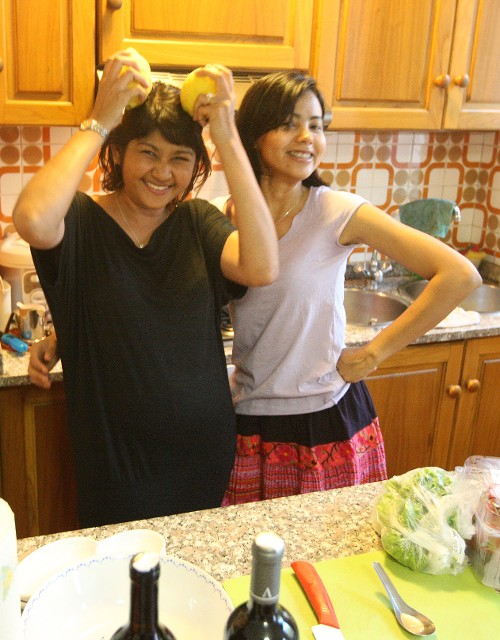 Two amazing chefs getting goofy in the kitchen!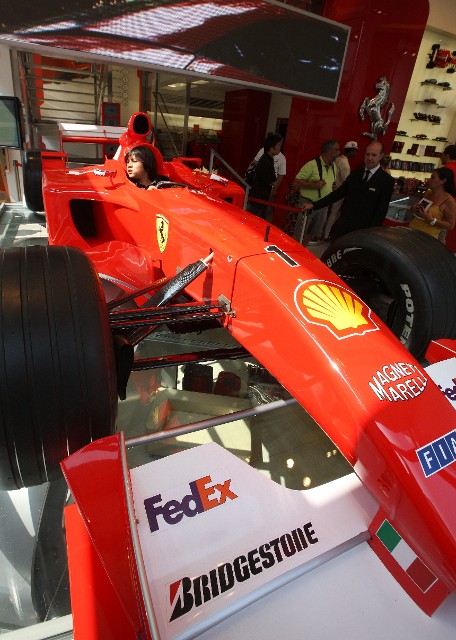 Every boy's dream! Well, that is until he reaches his teens and discovers girls....
Italy Mammal List
Blind Mole (Talpa caeca) (Dead on trail)

Italian Shrew (Sorex arunchi)
Apennine Shrew (Sorex samniticus) (Dead on trail)
Water Shrew (Neomys anomalus) (Another dead one...)

Mediterranean Horseshoe Bat (Rhinolophus euryale)
Stone Marten (Martes foina)
Wild Boar (Sus scrofa scrofa)
Red Deer (Cervus elephas elephas)
European Roe Deer (Capreolus capreolus)
Alpine Chamois (Rubicapra rubicapra)
Apennine Pyrenean Chamois (Rupicapra pyrenaica ornata)
Alpine Ibex (Capra ibex)
Red Squirrel (Sciurus vulgaris)
Alpine Marmot (Marmota marmota)
Hazel Dormouse (?) (Muscardinus avellanarius) Seen only by Cokie!!
Common Pipistrelle (Pipistrellus pipistrellus)
Serotine (Eptesicus serotinus) ID by silhouette only - best fit
Roadkill, Sign and Near Misses
Marsican Bear - very fresh sign seen on the return trip down the Val di Rose trail in Abruzzo. This sign was not there on the way up!
European Badger - very common sign in Abruzzo
Apennine Shrew - on the ridge
Water Shrew - seen dead on road near Red Squirrel Haunt in Valentino alla Muta
Birds of Italy!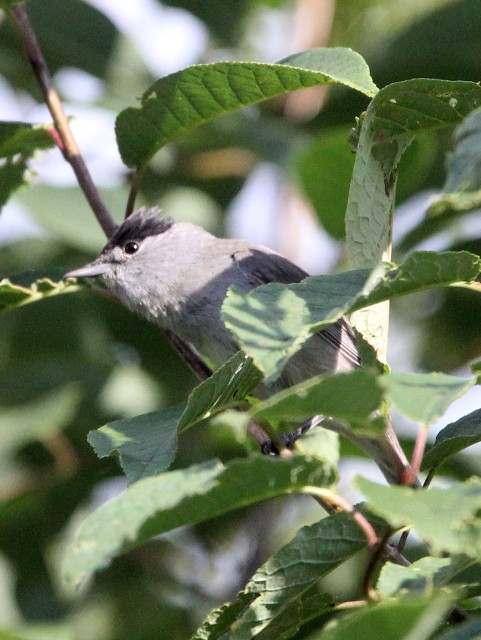 A Black Cap seen in the willow woodlands of Stelvio National Park
Alpine Chough were common at the high elevations of Stelvio.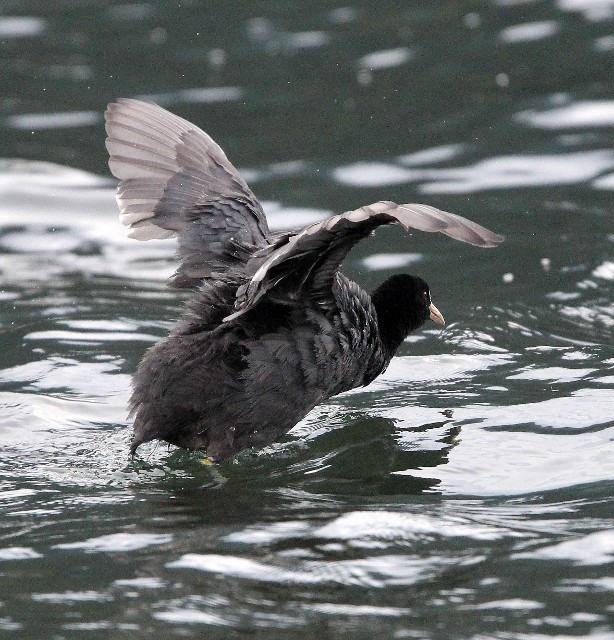 San Valentino Alla Muta lake was home to a healthy population of Eurasian Coots....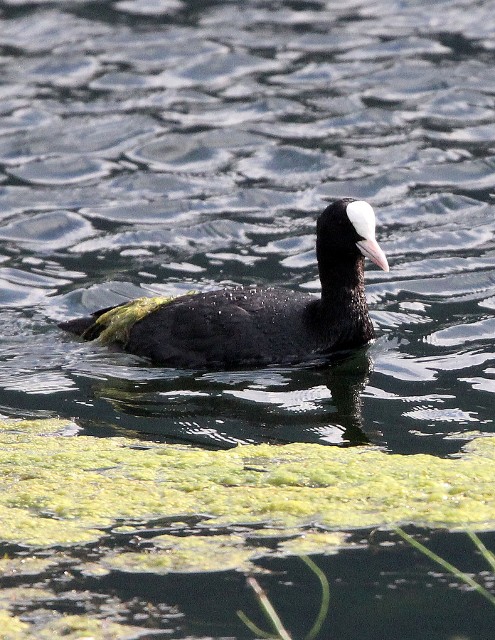 Eurasian Coot at Stelvio...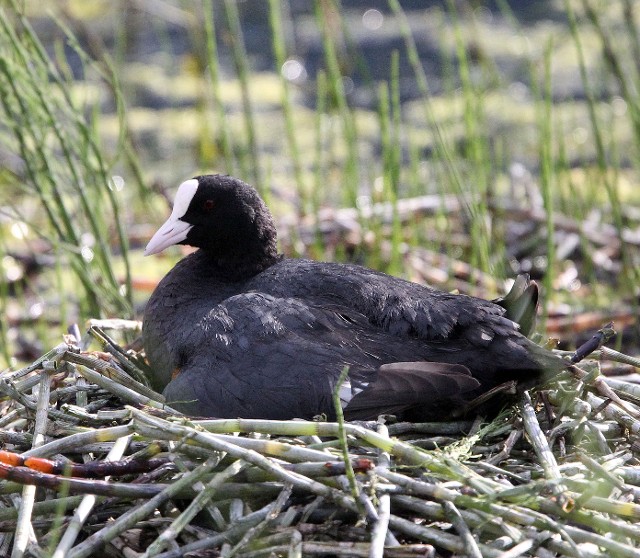 The coots were even breeding in Stelvio and San Valentino Alla Muta.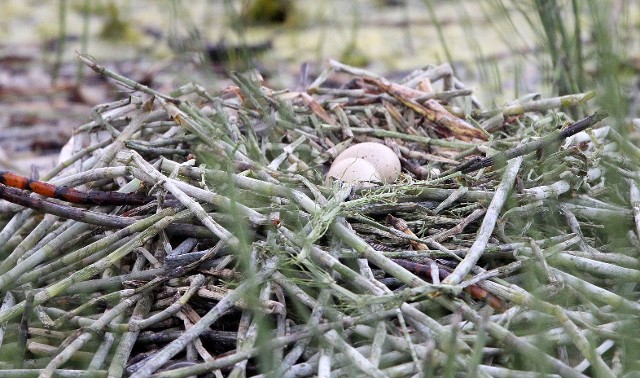 Eurasian Coot Eggs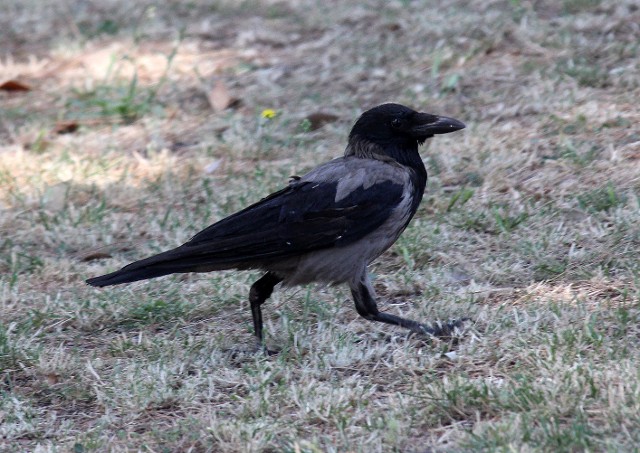 Hooded Crow in Rome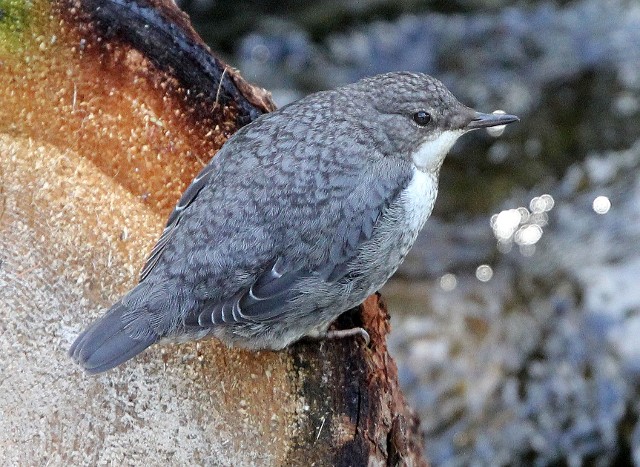 I spent an afternoon exploring one of the streams feeding San Valentino Alla Muta Lake searching fruitlessly for European Otters but spotted many birds, including this young Eurasian Dipper.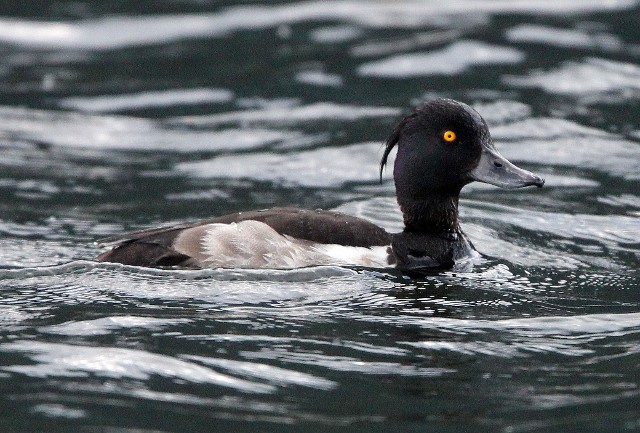 San Valentino Alla Muta Lake is one of the only breeding spots in Italy for the Tufted Duck.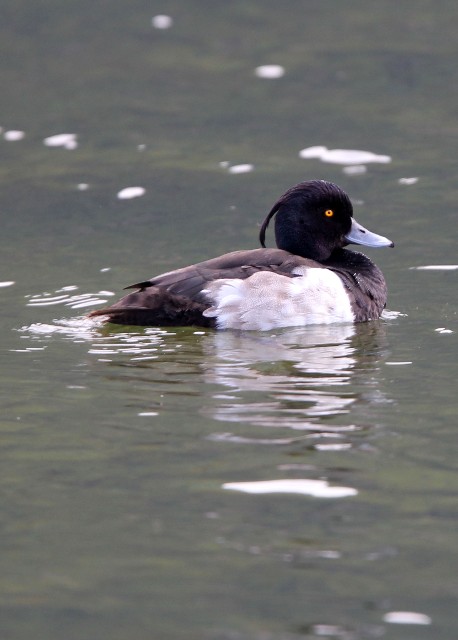 Tufted Duck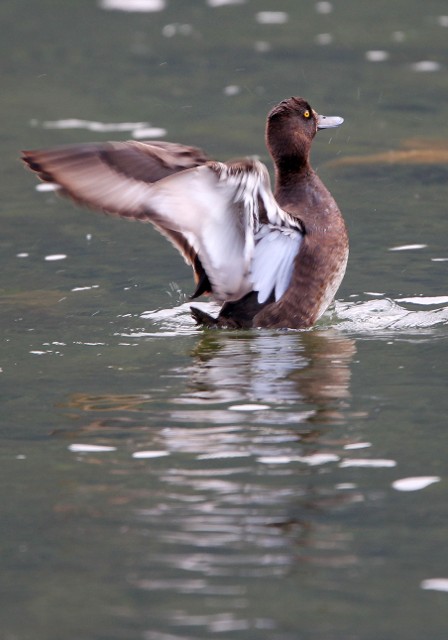 Female Tufted Duck
This Citril Finch is one of Europe's few endemic species. Mattia showed me a small patch of forest in Stelvio where they were common.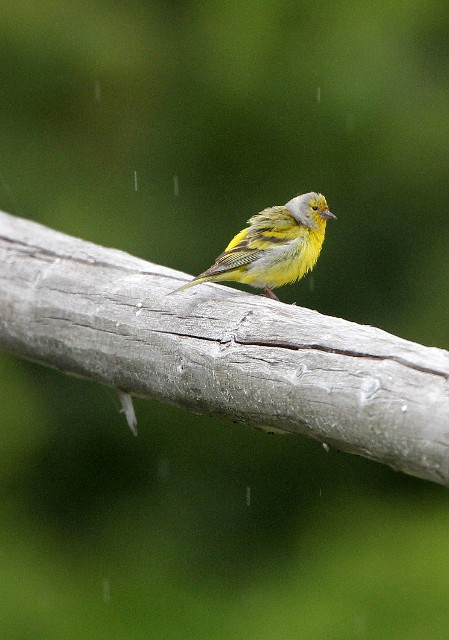 Citril Finch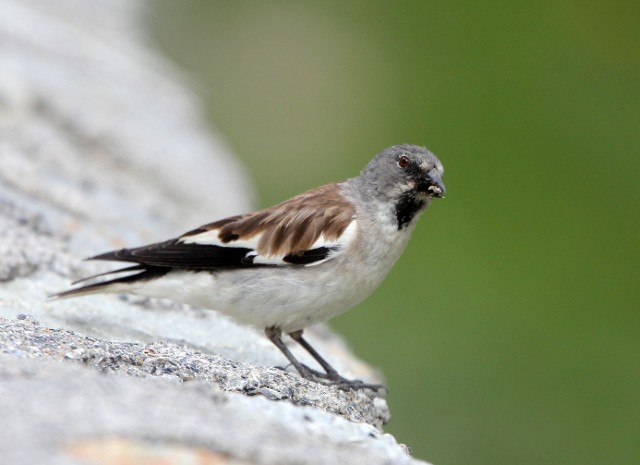 Snow Finch were very common on Stelvio Pass.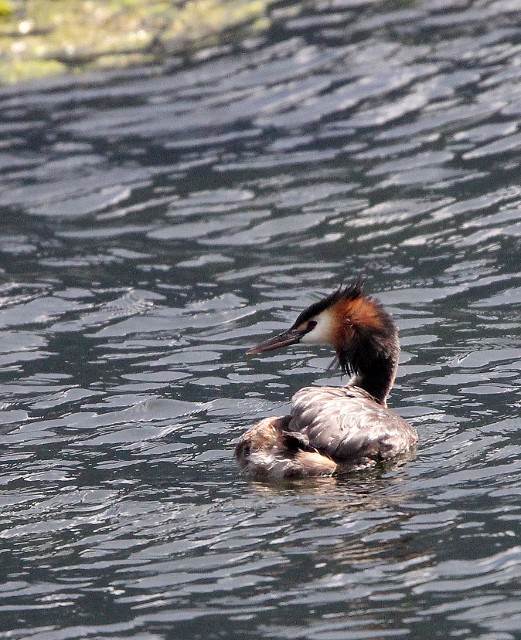 Great Crested Grebe in San Valentino Alla Muta Lake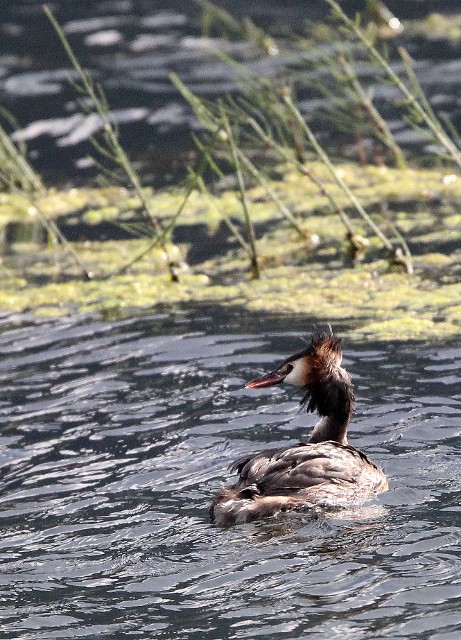 Great Crested Grebe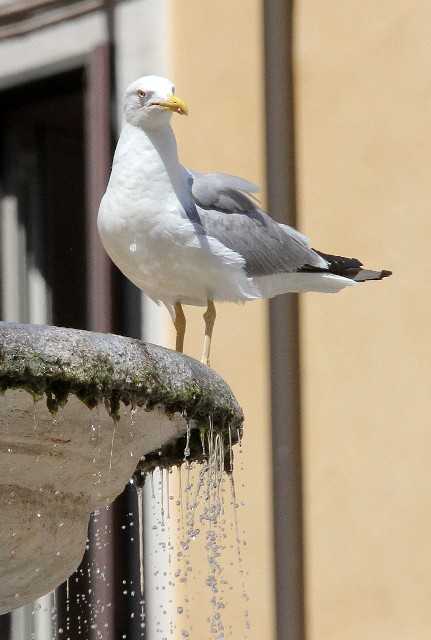 Yellow-legged Gulls were very common in Rome.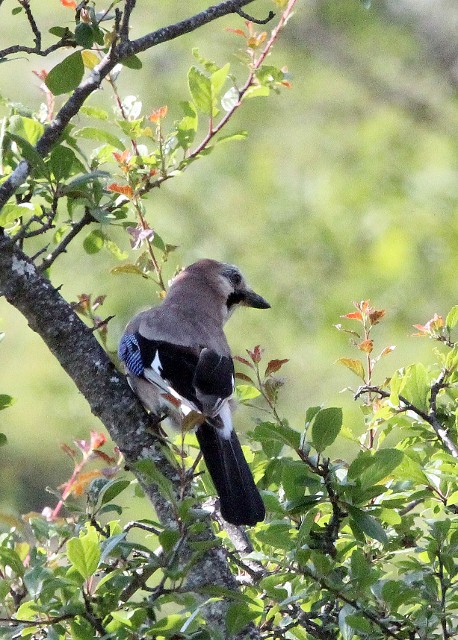 Eurasian Jay in Abruzzo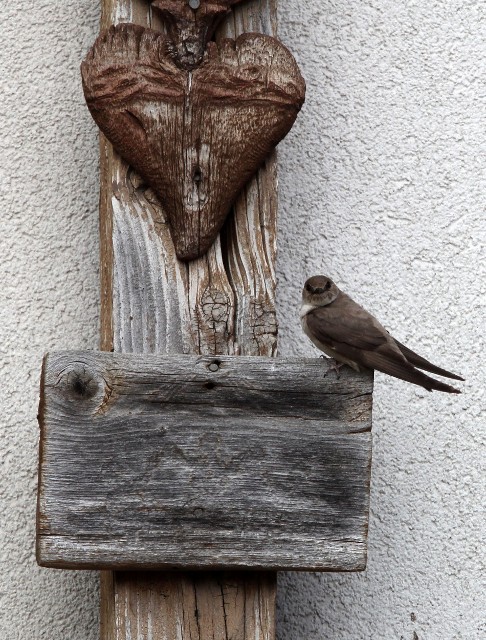 Crag Martin in San Valentino Alla Muta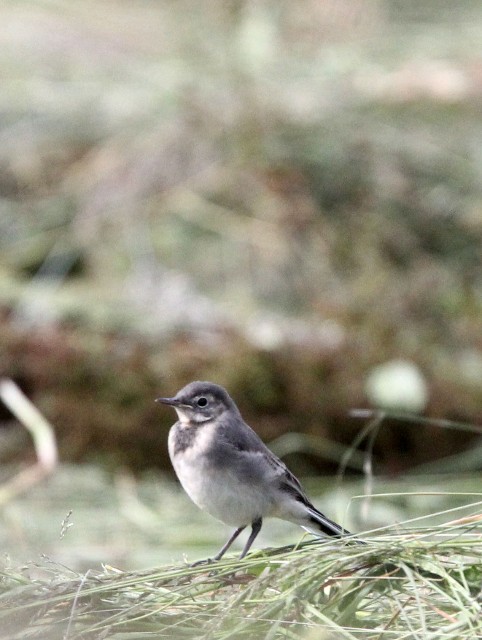 Water Pipits were very common throughout our Italy expedition.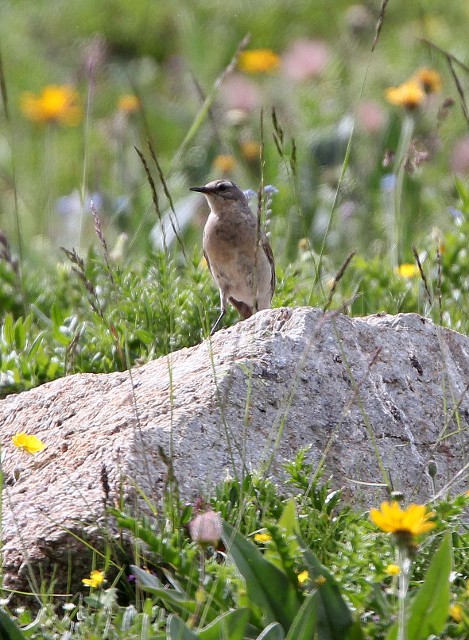 Tawny Pipit in Stelvio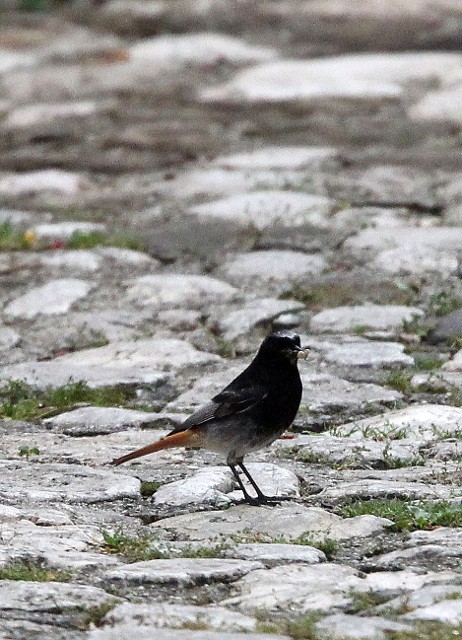 Black Redstart in Abruzzo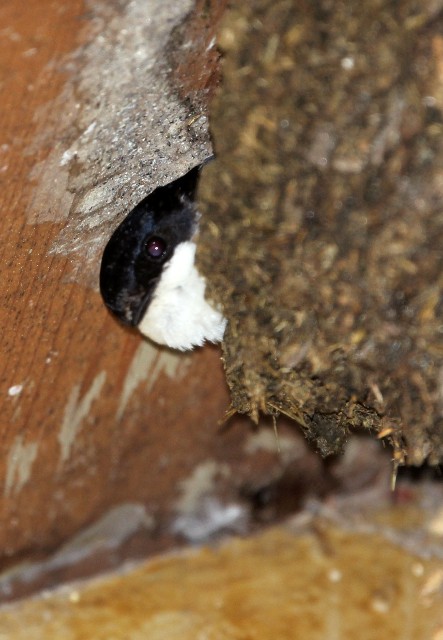 House Martin were living above our room in San Valentino Alla Muta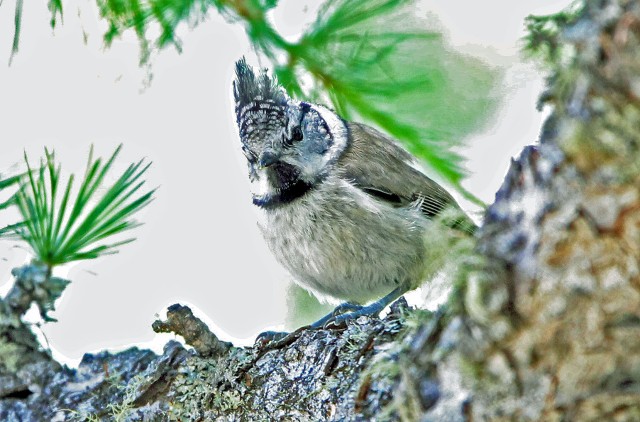 I was thrilled to finally add a European Crested Tit to my life list. This one was spotted in the Swiss National Park...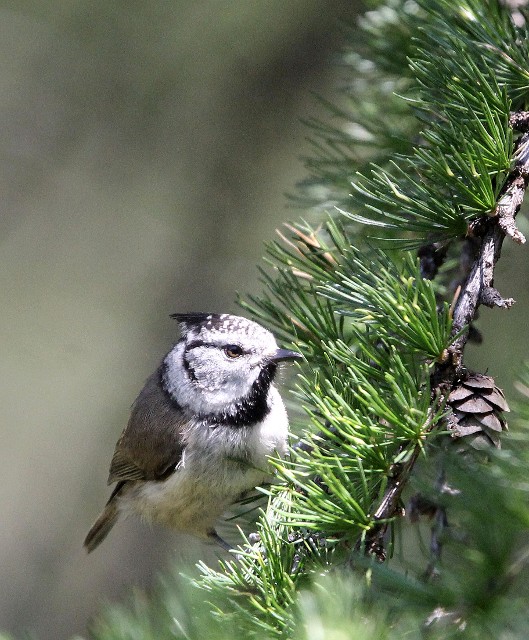 European Crested Tit in the Swiss National Park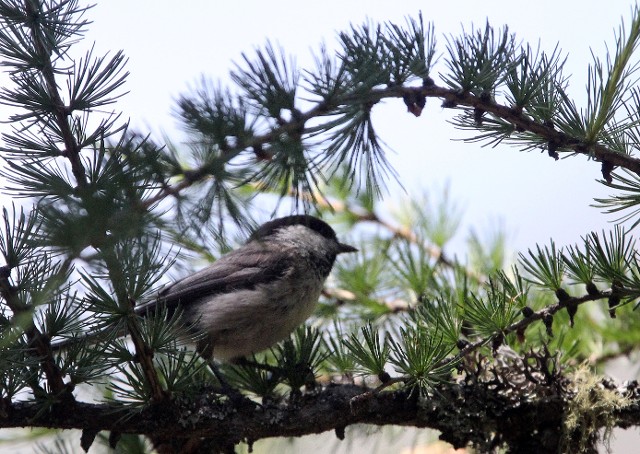 A Willow Tit in the Swiss National Park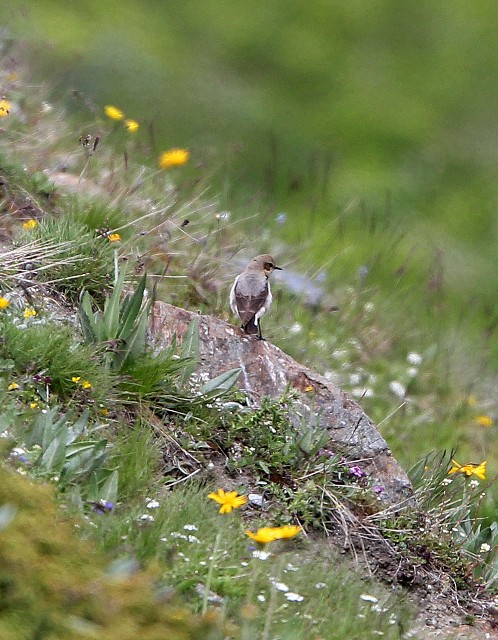 Northern Wheatears were very common in Stelvio near the pass.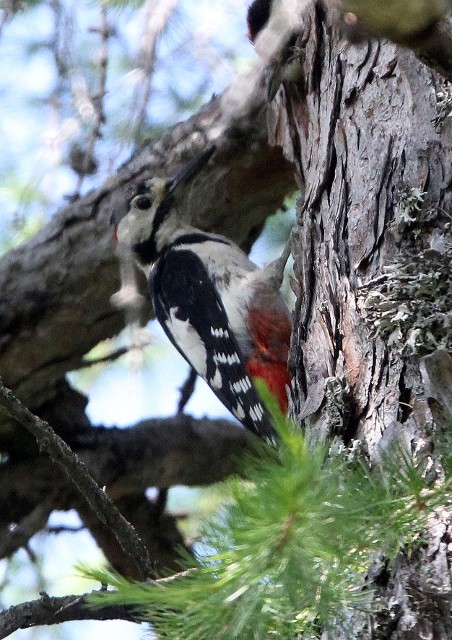 Great Spotted Woodpecker in Swiss National Park
Bird List Italy
Great Crested Grebe
Grey Heron
Mallard
Tufted Duck
Buzzard
Kestrel
Rock Tarmigan (Lagopus mutus)*
Hazel Grouse (Bonasa bonasia)*
Coot
Mediterranean Gull
Yellow-legged Gull (Larus cachinnans)*
Eurasian Turtle Dove
Nightjar
Swift
Alpine Swift
Great Spotted Woodpecker
Skylark
Crag Martin (Ptyonoprogne rupestri)*
Sand Martin
Swallow
House Martin
Water Pipit
Tawny Pipit (Anthus campestris)*
Pied Wagtail
Dipper (Cinclus cinclus)*
Alpine Accenter (Prunella collaris)*
Black Redstart (Phoenicurus ochruros)*
Stonechat
Northern Wheatear (Oenanthe oenanthe)*
Blackbird
Song Thrush (Turdus philomelos)*
Blackcap (Sylvia atricapilla)*
Marsh Tit
Great Tit
European Crested Tit (Lophophanes cristatus)*
Great Grey Shrike
Starling
Jay
Nutcracker
Magpie
Alpine Cough (Pyrrhorcorax graculus)*
Jackdaw
Raven
Hooded Crow *
Tree Sparrow
House Sparrow
Rock Sparrow (Petronia petronia)*
Snow Finch (Montifringila nivalis)*
Chaffinch
Brambling
Citril Finch (Serinus citrinella)*
Serin
More Stuff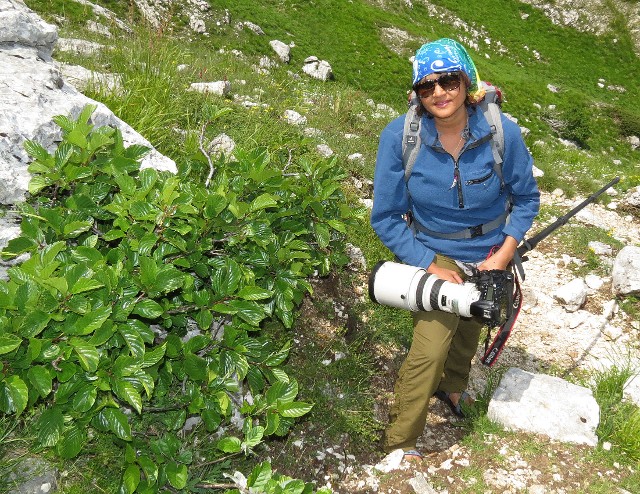 Working our way past the treeline at Abruzzo. Our first Dwarf Alder...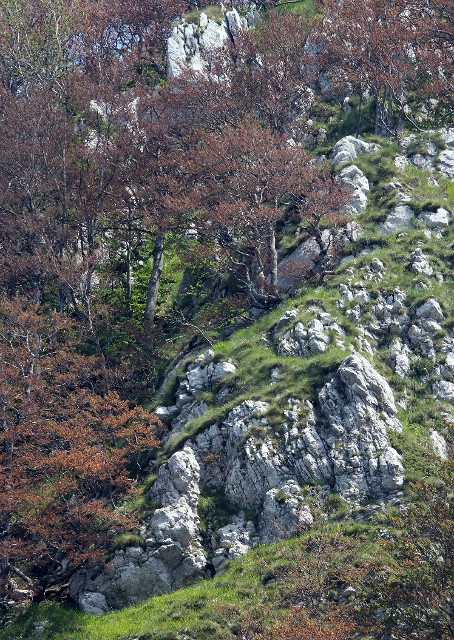 Although it was only July, the Beech forests of Abruzzo were turning colors already. Perhaps it was due to some sort of edaphic condition...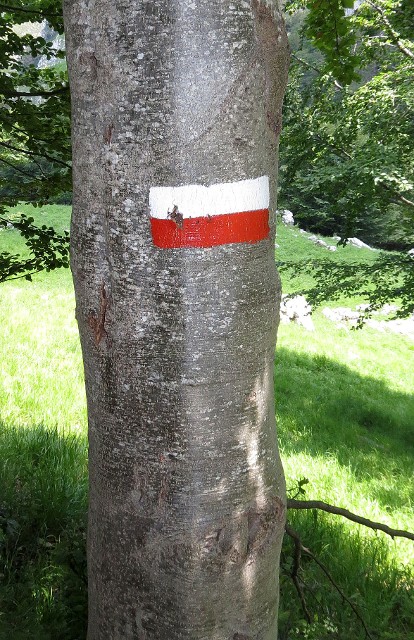 The trail maker system of Abruzzo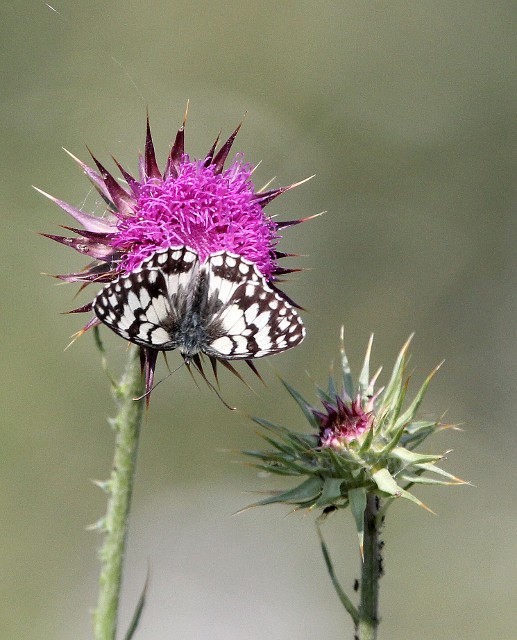 Pierid butterfly on a Cardus nutans thistle in Abruzzo.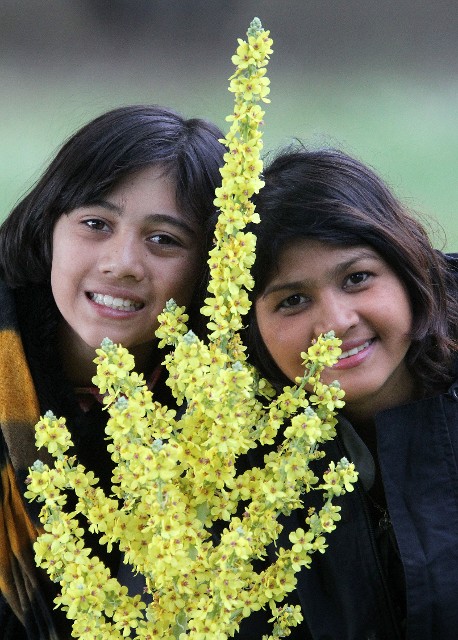 Three spectacular flowers in Abruzzo!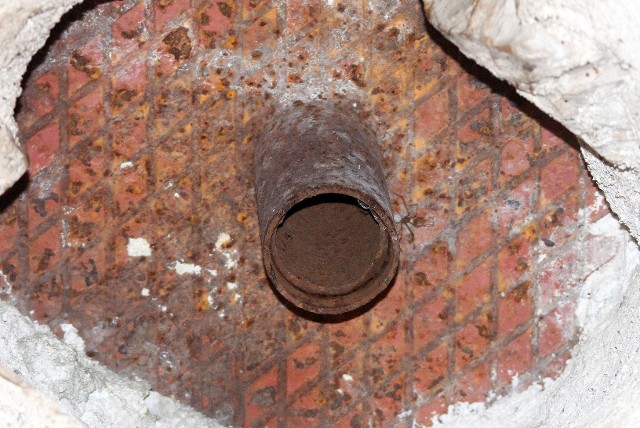 Believe it or not, Barrea Village's only bat lives in this pipe. We got a brief glimpse of it and basically felt it was a Mediterranean Horseshoe Bat....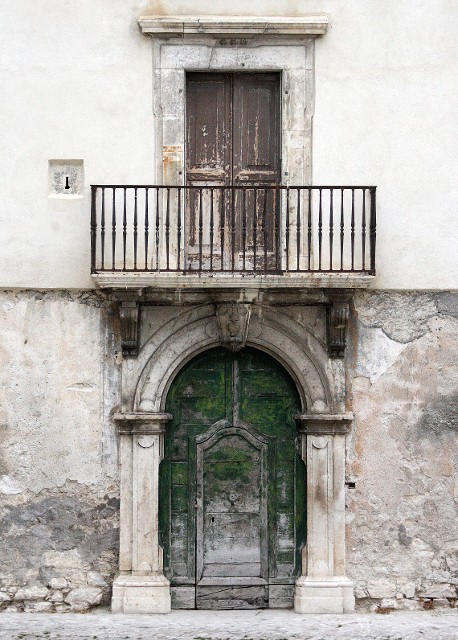 Barrea Village - spectacular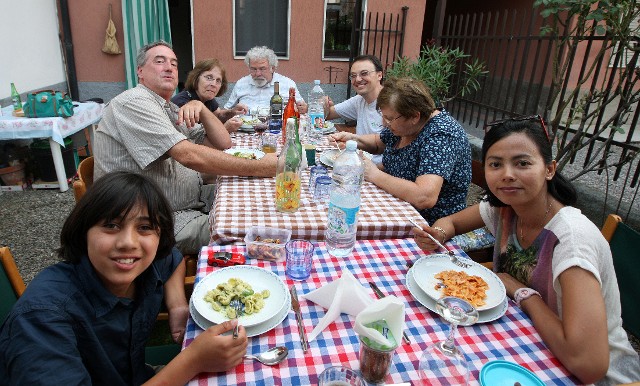 The "Three F's": Family, Friends & Food!!!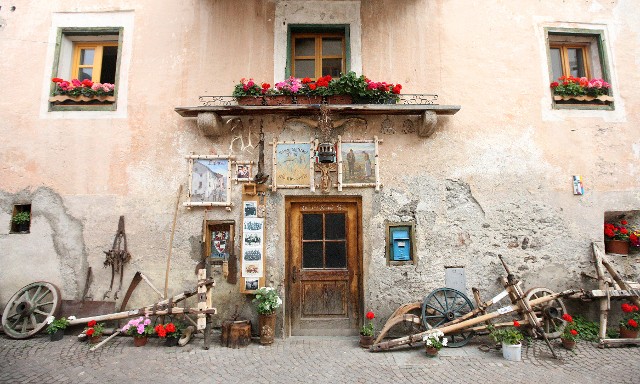 Near Stelvio there are many spectacular villages. This one was Prato Allo Stelvo (Stilfserjock)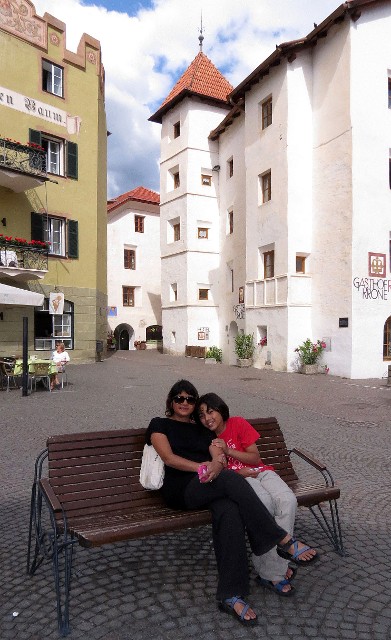 Prato Allo Stelvio Village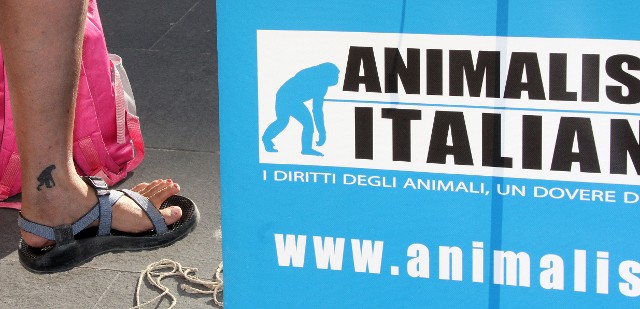 Hmmm...wonder where Som got the idea for her ankle tatoo?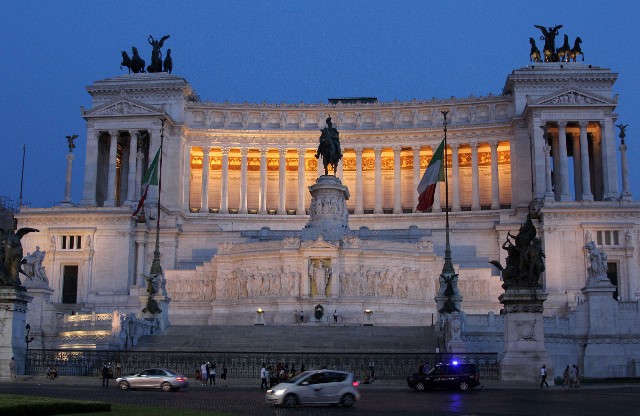 Vittorio Emanuele II Monument in Rome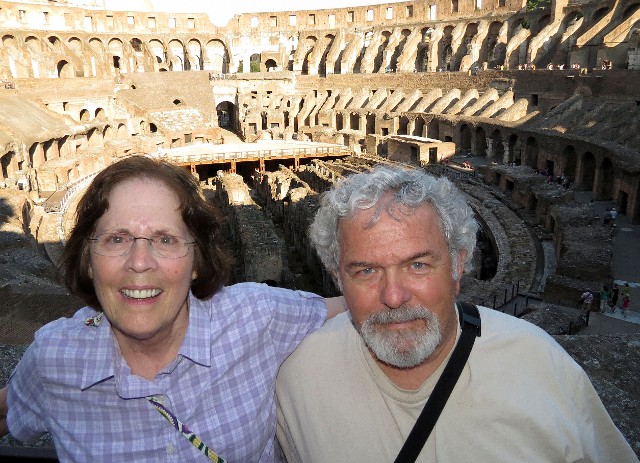 Two of my favorite people on earth! Mom and dad...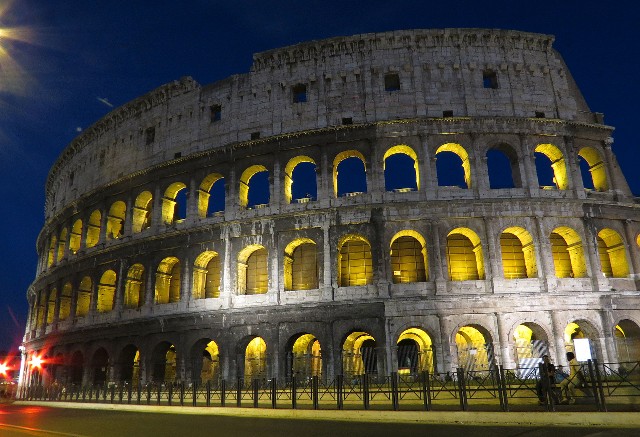 Colosseum at night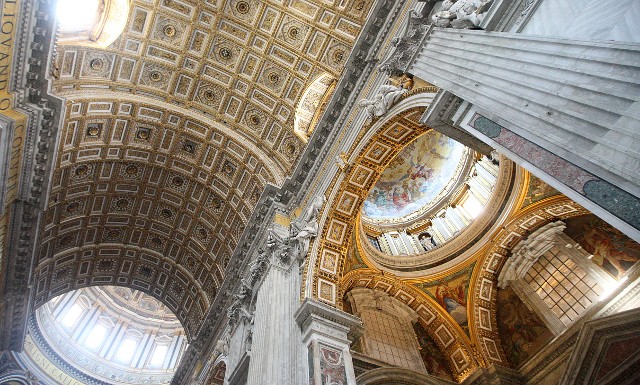 The view of the massive interior of Saint Peter's Basilica...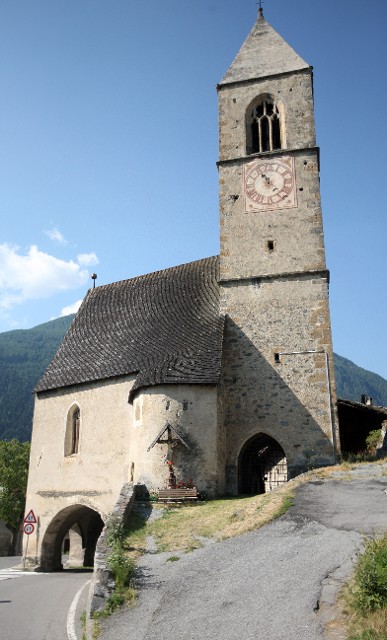 To get from Stelvio, Italy to Milan, Italy, we found it best to pass through Switzerland for a few hours. Very beautiful ride. We were able to spend time in the Swiss National Park as well as many spectacular Swiss villages like Santa Maria Val Mustair.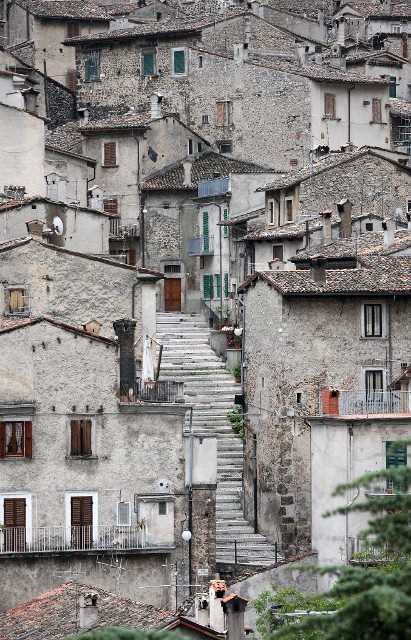 Scanno Italy, in the northern Apennine Mountains just outside of Abruzzo. Spectacular!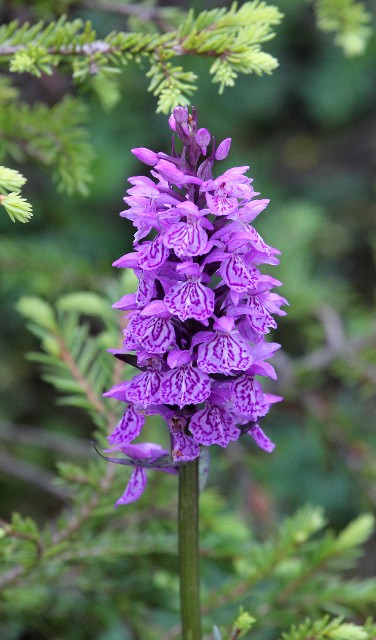 An Early Purple Orchid (Orchis mascula) spotted in Stelvio.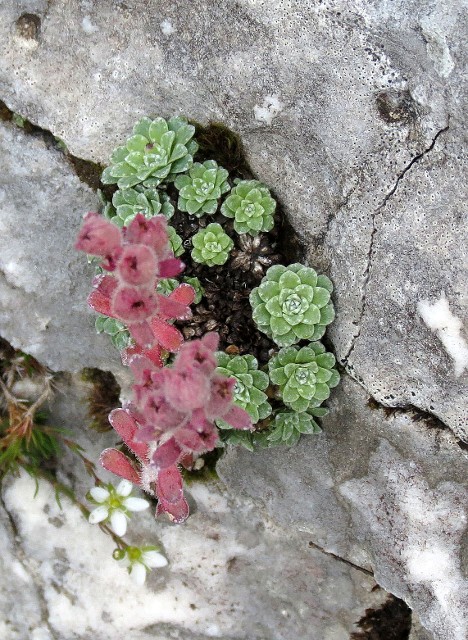 Another Sedum species spotted in Abruzzo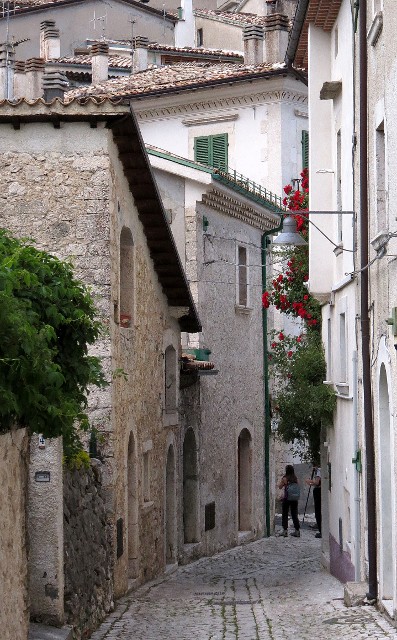 Barrea Village in Abruzzo - we owned it for two days!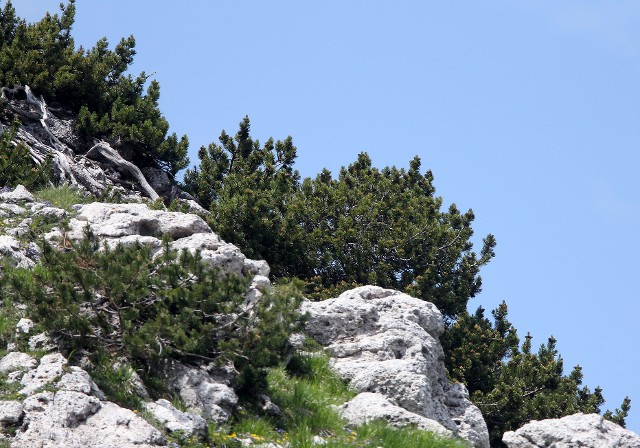 Mugo Pine (Pinus mugo) is the dominant pine in the higher elevations of both the Apennine Mountains and Alps.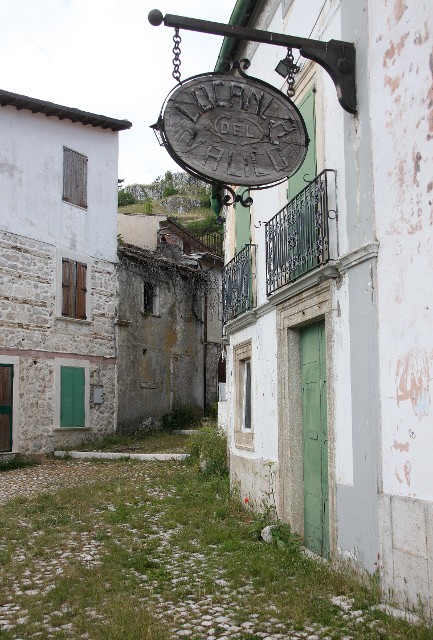 Like many old villages in Italy, Gioia Vecchio sits mostly abandoned. Younger residents are moving in droves in to the cities of Italy leaving mostly aging parents and grandparents to live in the villages...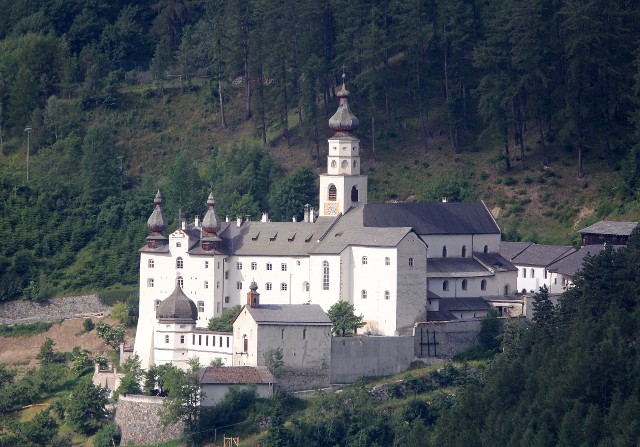 Burgosio Castle near Stelvio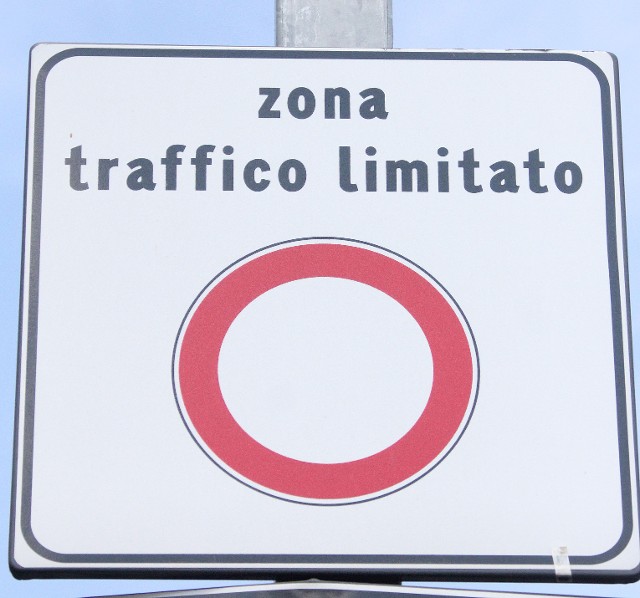 The infamous Zona Traffico Limitado....Do not enter city centers in Italy unless you want to pay!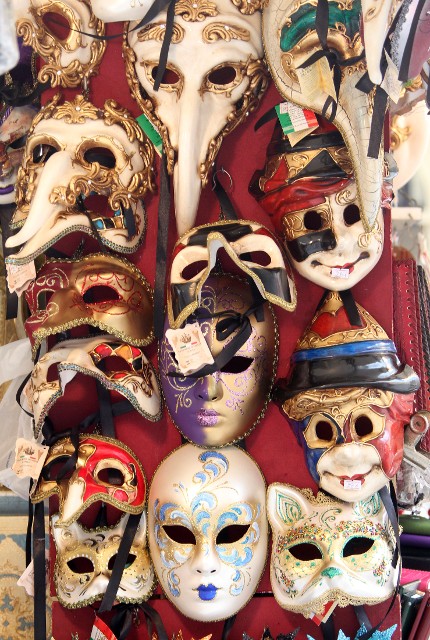 Florence Masks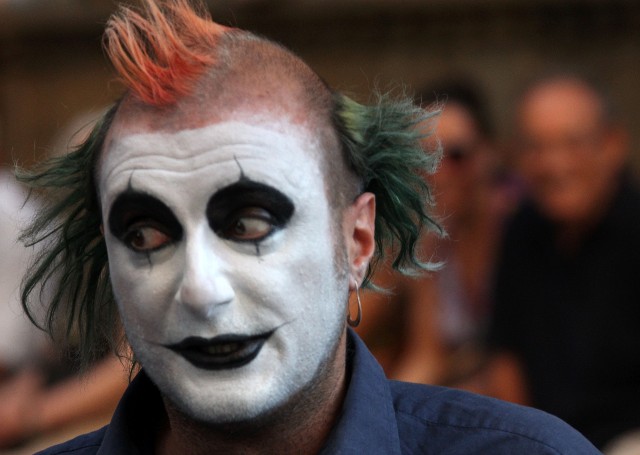 Usually I hate mimes, but this guy was pretty funny...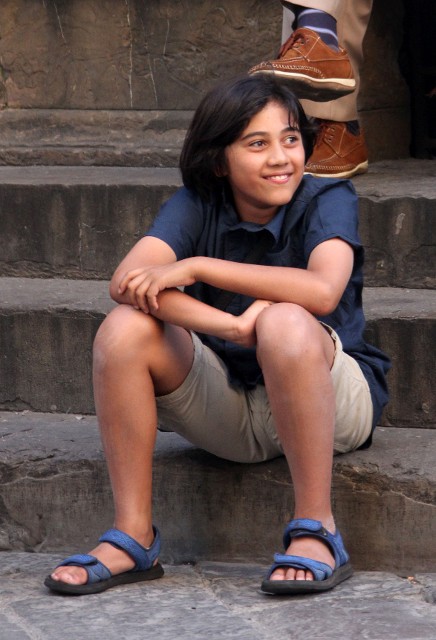 Cokie thought he was pretty funny too...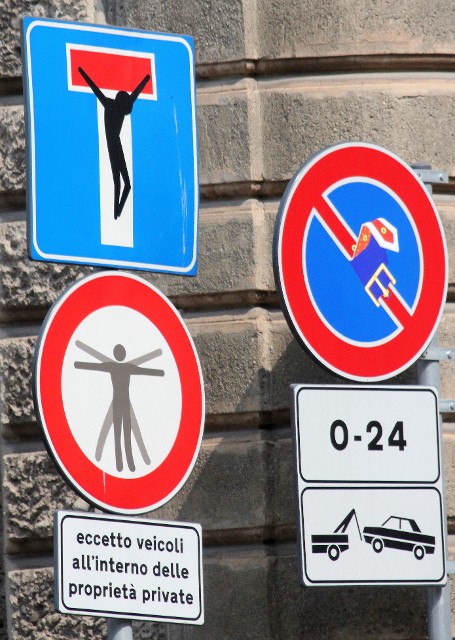 Fun watching the artistic improvements to the signs in Italy...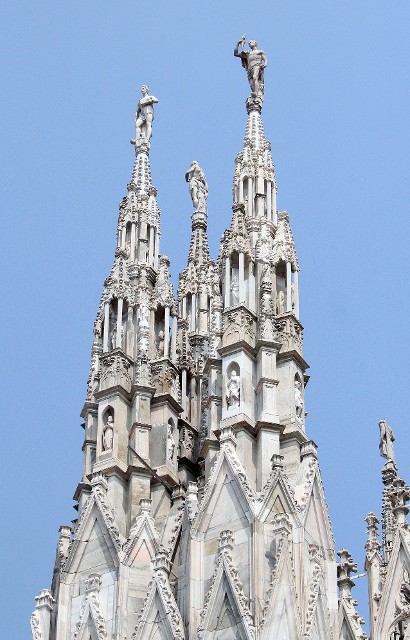 Minarets of the Milan Duomo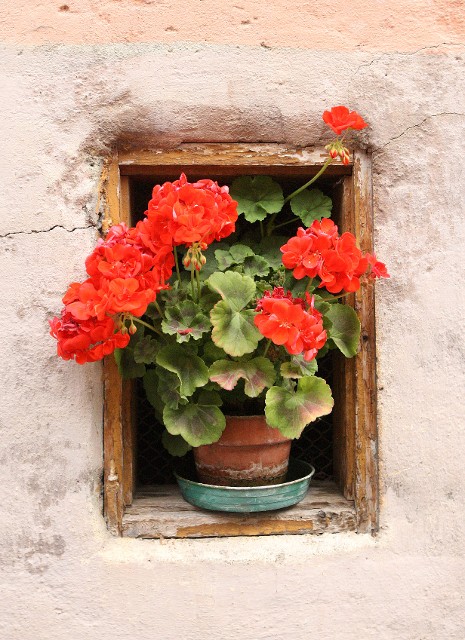 Prato Allo Stelvio - Stilfserjoch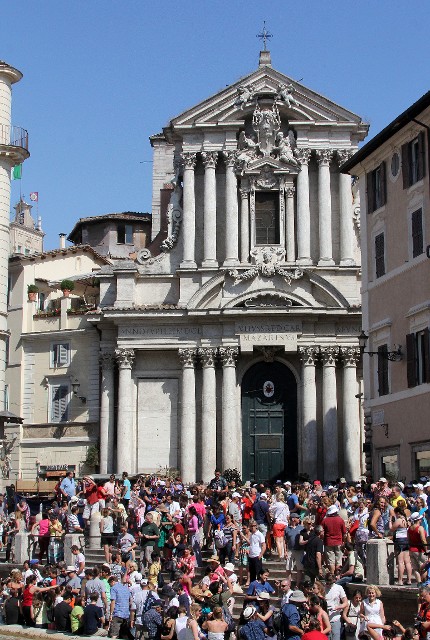 This was the normal crowd everywhere we went in Rome...Thank god it was not yet the tourist season!!!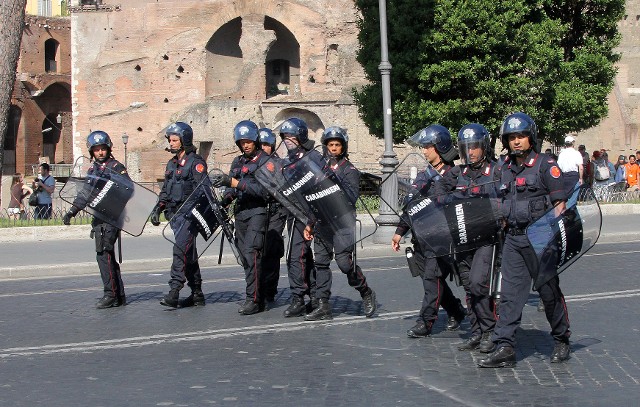 At least we got to see a riot while in Rome...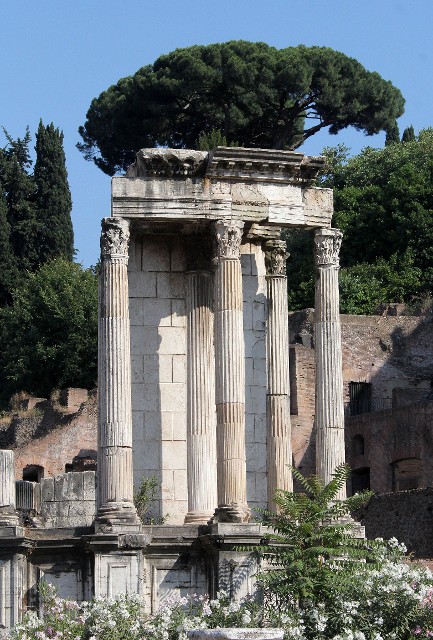 Rome's ancient city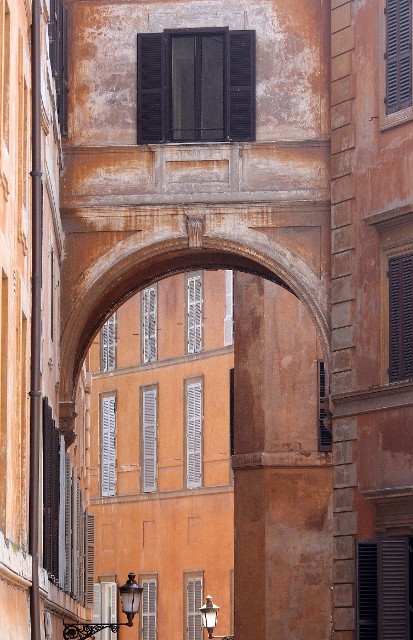 Rome Street Scene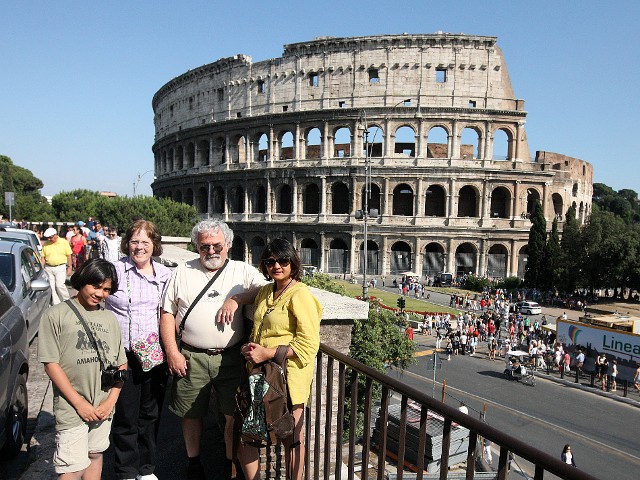 Our first day together in Rome!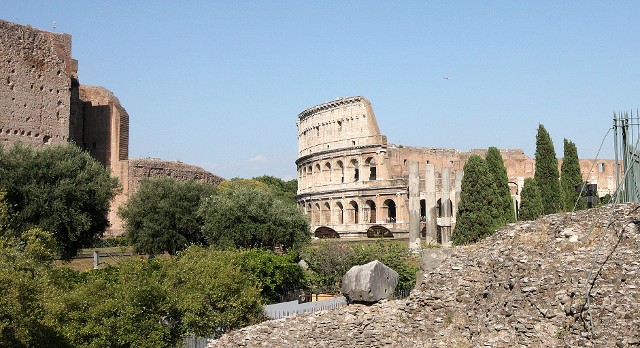 A sweet view of the Colosseum...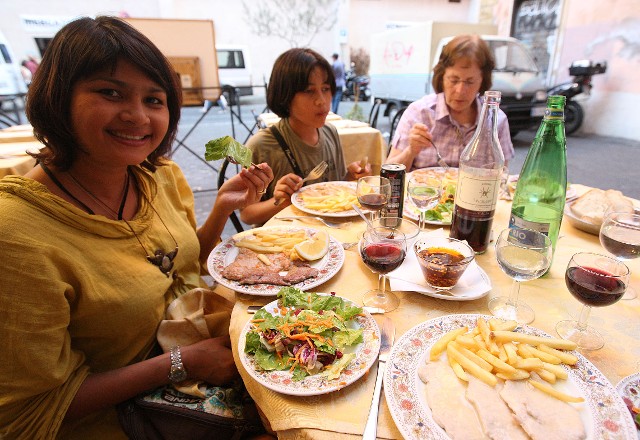 Yes, they serve fries with gourmet Italian food....we were shocked too... All things considered, I thought European food was better than what we had this summer. We did not scrimp at all but we definitely found really awesome food to be nearly impossible to find...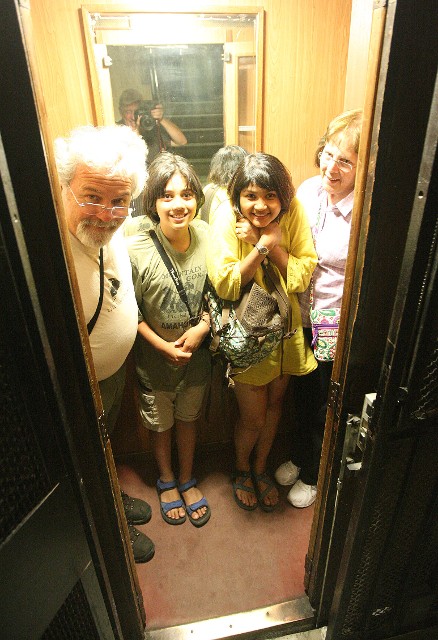 Ah yes, the infamous European elevator! And this was a spacious one....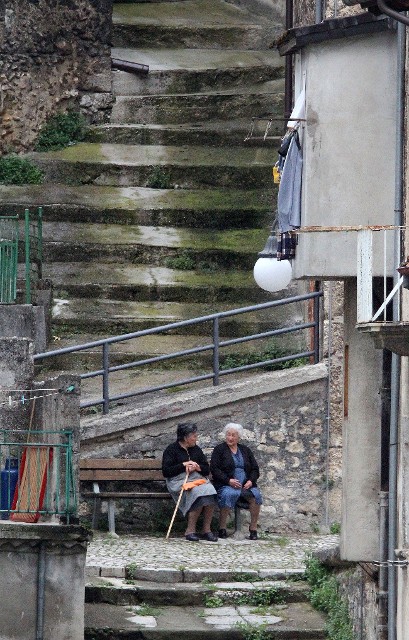 A couple ladies enjoying a chat in Scanno, Abruzzo.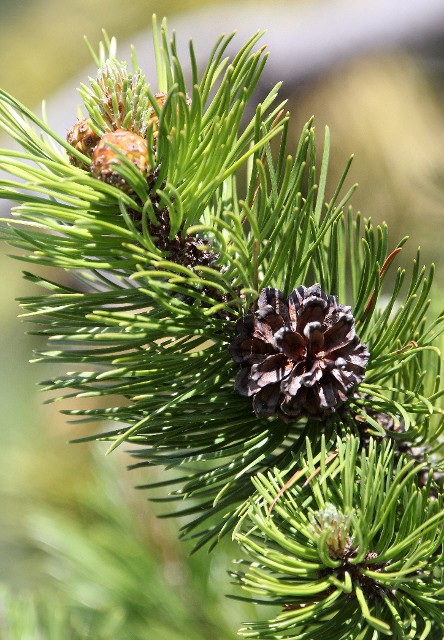 Swiss Stone Pine (Pinus cembra) were common in the Swiss National Park.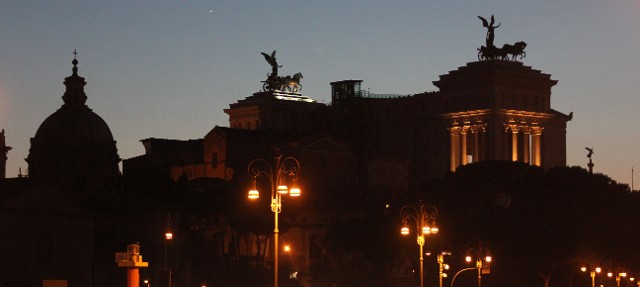 What a great two weeks in Italy - perfect mix of family, culture and of course wildlife! More expeditions like this would be good medicine!

Be sure to check out our Pbase galleries of Italy for more images!