Japanese Macaques huddling together for warmth in Jigokudani Onsen. Seriously! How much more cute can you get than this?
To see more of our Japan images, log on to to our Pbase
The Chubu!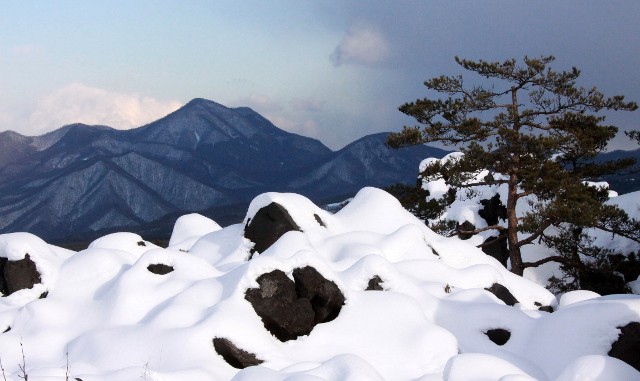 Our journey took us through the heart of Honshu Island, Japan's largest island. The central or "Chuo Alps" were a dominant feature throughout the trip. This image was taken of the spectacular range in Joshin'estsukogen National Park near Asama Yama in Nagano Prefecture.
Way back in September of 2011, Som and I were contemplating spending another hellish week in China during the New Year's Spring Festival. Som emailed me from her Flex station and basically gave it to me straight – "I don't care where we go, I just don't want to spend another Chinese New Year in China!" I could not have agreed more. I got on it right away and got started with my old pal, Expedia.com. Pretty much everyplace that didn't celebrate the New Year's week as well was ridiculously overpriced. Viet Nam was out (Tet celebrations); Malaysia and Indonesia were crazy overpriced and the wildlife guides never responded to my emails…Thailand again? Nah… And then after trying several airports in Japan, only to find them very expensive as well, I finally tried Nagoya completely out of the blue and found roundtrip tickets for less than $300 per person! SOLD! Ok, so now we had tickets…
Of course cheap tickets to Japan do not make a bargain vacation…. We quickly found out that any savings on the tickets would soon be lost to the absolutely ridiculous prices on lodging in Japan. Seriously, there cannot be a more overpriced country anywhere for hotels – and generally a mid-range to low standard for the price as well. (Actually Moscow is probably worse…) Of course this is not always the case, as we did find some real bargains and very nice hotels, but holy crap! Some of the hotels were insanely overpriced with rates ranging from $500 to $900 per night for rooms basically equivalent to a $65 room in the states and a $20 room in Thailand! No wonder the Japanese flock to other countries for vacation… Needless to say, we did NOT stay in too many of these sorts of places – with a little effort and language ability, we were able to find some good lodging with far lower prices…
I've always considered Japan my second country. Even now that Thailand has become my true second country, I still feel a special connection to the people and culture of Japan. Although I lived in Japan for that amazing year over 27 years ago, I am still at home in Nihon. Our trip brought back fond memories of my year in Japan way back in '84.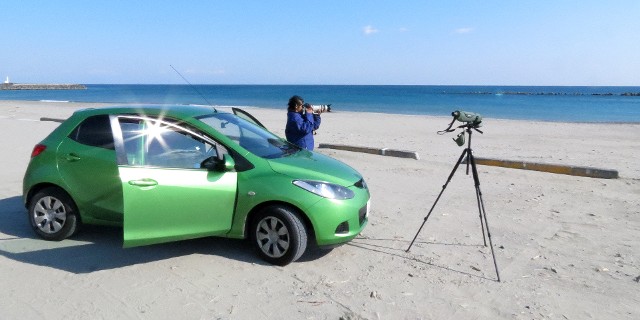 Our little Hyundai got us everywhere we needed (and didn't need) to go on our journey! What a great little ride. Excellent on the gas and the "Navi" made it easy to explore any nook and cranny we wanted!
Our trip was basically a self-drive expedition centering exclusively on the Chubu area of central Honshu Island, of course with wildlife and nature as emphases. Starting in Nagoya, we made our way up in to the foothills of the Central Alps, following the ancient trade route known as the Nakasendo, to the small town of Nakatsugawa, where we spent our first night. Thankfully the little Hyundai we rented had a "Navi" (GPS) that was very easy to use, albeit completely in Japanese, so we were able to find every one of our destinations with virtually no problems at all! And a special thanks to my dad, who helped me get an international driving permit (required for car rental in Japan) and priority Fedexing it to me so we could actually do this trip! Thanks dad!
Chubu Map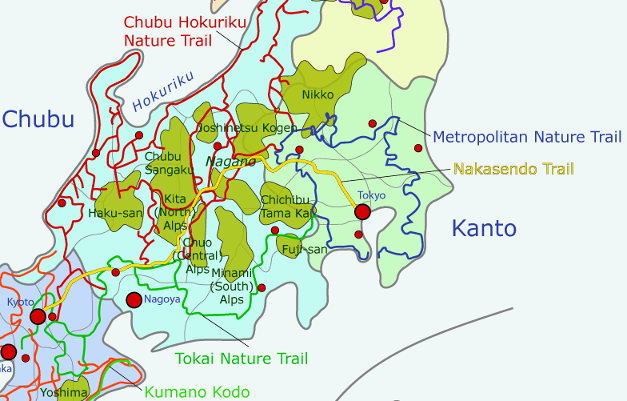 Our first official day of the trip was mainly spent trekking the old Edo-era "Post Towns" of Tsumago Juku and Magome Juku, along Nagano Prefecture's historic route 19, which follows the old Edo-era Nakasendo trade route that allowed travel from the alps and Kansai in to Tokyo (then Edo). I cannot explain why but I always have the need to plan stops of interest for our trips, even if it makes for slightly longer and less direct journeys. I try not to have major b-line zips through areas without attempting to see whatever there is interesting along the way. Generally we are always glad that we do these side trips as they really do add a lot to the experience list…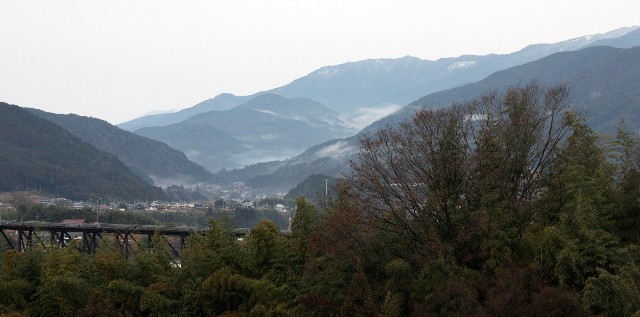 Old Road #19 takes the traveler through some of central Honshu's most spectacular landscape along the ancient Edo-era Nakasendo trade route. The route is filled with old post towns, forests and loads of culture and nature. This is definitely a region worthy of detailed exploration in the very near future!
Magome Juku Post Town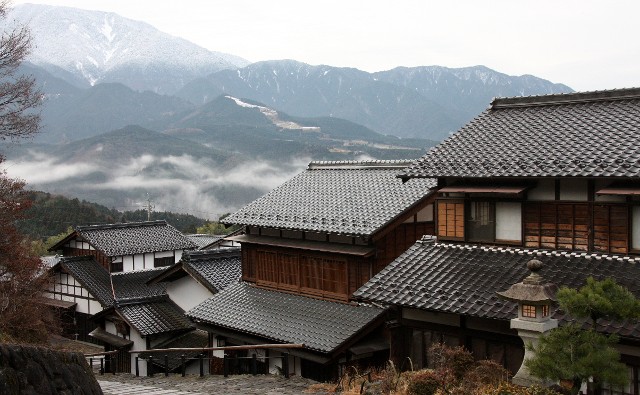 We owned the post towns we visited this morning. Excellent examples of "old Japan", both Magome Juku (this village) and Tsumago Juku were a blast to explore!
For some reason, these old post towns were missed during Japan's post war economic explosion and were never torn down for newer structures. They were evidently even decomposing until their historical value became more appreciated in the late '60's. Now they are absolutely stunning examples of Japan's ancient Edo-era village life and architecture. We spent hours strolling the streets and alleyways of these spectacular old post towns. One of the best parts of this day (and pretty much all the rest on this trip!) was that we were the ONLY travelers present! I was shocked to see the complete lack of other tourists in all areas accept for Jigokudani, where there were approximately…dozens…of other tourists.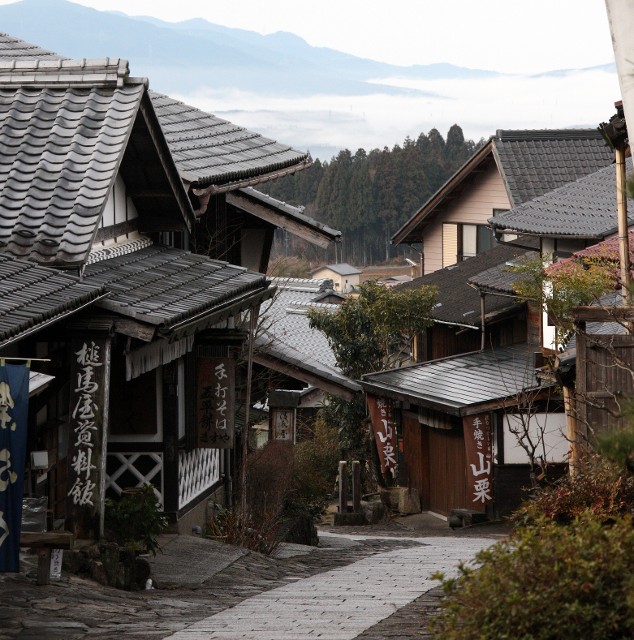 The empty streets of Magome Juku Post Town
Tsumago Juku Post Town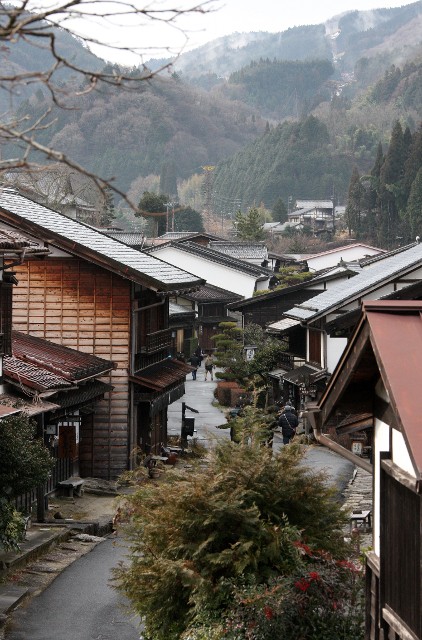 Tsumago Juku Post Town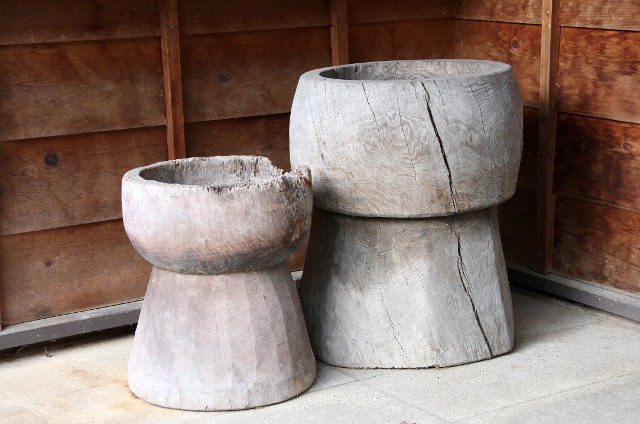 Old Tsumago Juku village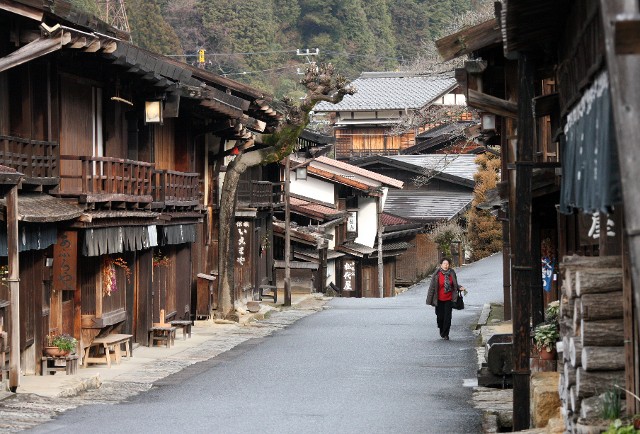 A shop-keeper showing up for work in Tsumago Juku Post Town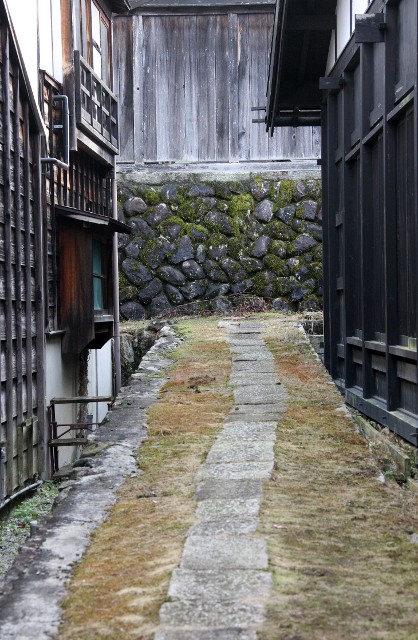 The authenticity of Tsumago Village made it really worth visiting.
Matsumoto Castle
On this same day, we actually had time for another historical site on our way to Jigokudani. Mutsumoto City is basically right on the road to Jigokudani so after a little Google searching, I found that this city is home to one of the only original castles left standing in Japan. Nearing 500 years old, Matsumotojo is a great example of a feudal Japan's war-lord's manor. The condition of the castle is immaculate and we all very much enjoyed climbing the guts of the structure. And Cokie got a chance to see a real samurai haunt! He was excited about this.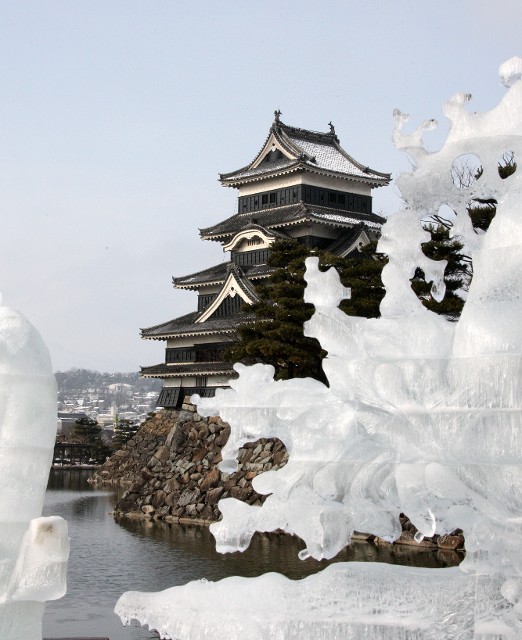 We lucked-out and were treated to a cool ice-sculpture display while visiting Matsumoto-Jo (Castle) in Nagano Prefecture.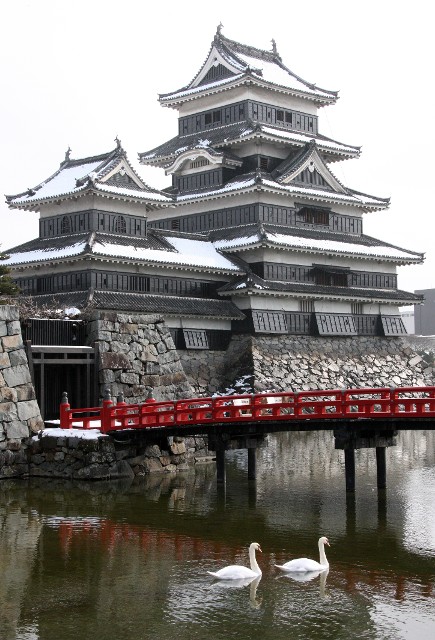 Matsumoto Castle is one of two original castles left in Japan currently with the other being the famous Himeji Castle in the south.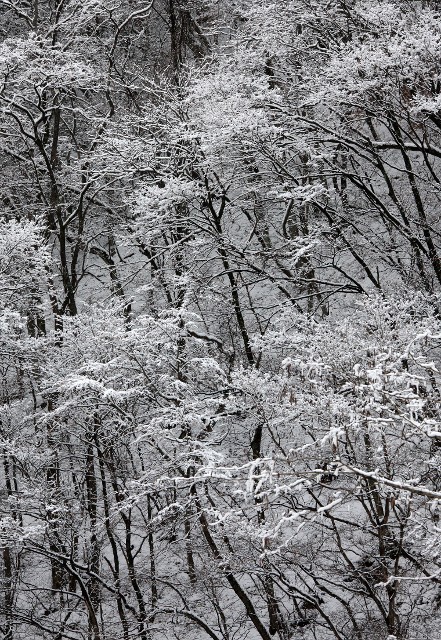 The fresh-snow-covered deciduous forests around Matsumoto City were spectacular.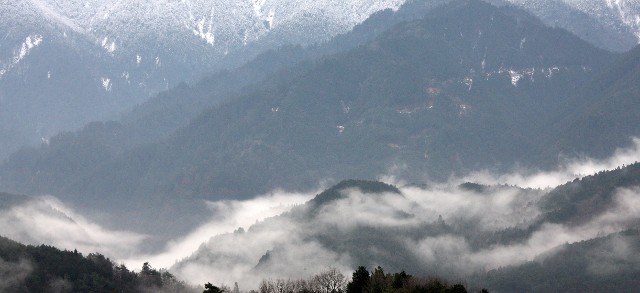 The Chuo Alps in this region are some of Japan's most stunning landscapes. We were very fortunate that, even during this stormy season, we were treated to great views everyday!
***
Jigokudani Onsen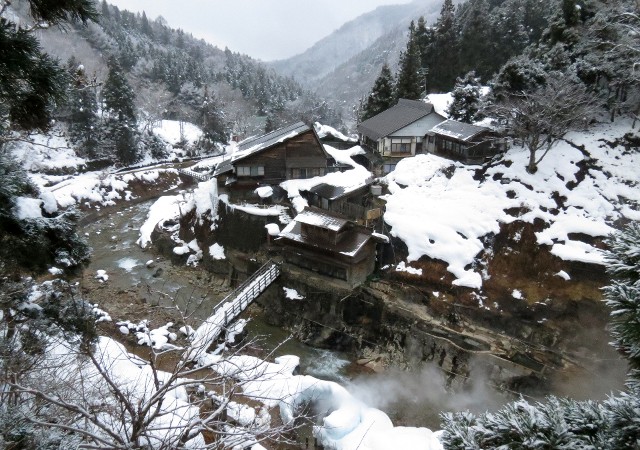 The famous Korakukan Ryokan was our base camp while we experienced the amazing Jikodani snow monkeys!
With a couple hours of daylight to spare, our "navi" got us to the Jigokudani trailhead where we took our bags and trekked the roughly 2 km to the Korakukan ryokan, where we spent the next two nights and days. The trek was luckily very easy as I was carrying about 30kg of awkward photo gear & luggage on my aging back. The trail was snowy and somewhat slippery but it did pass through a spectacular "hiba" forest, studded with signs and pictures of Japanese Serows, Squirrels, wild boars, and other fauna common to the area.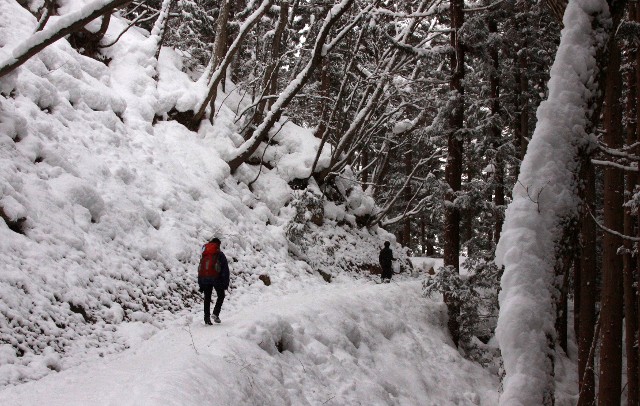 The heavy snow base did not impede our trek to our fancy traditional Japanese inn deep in the hiba-forest of Jigokudani!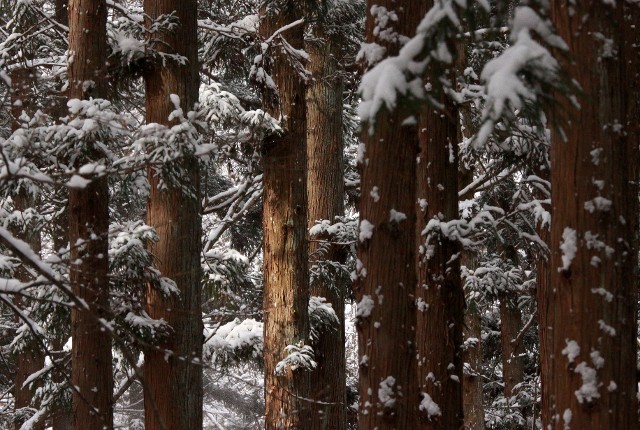 The trail to the heart of Jigokudani takes you through some very beautiful "Hiba" forest, a tree species native and endemic to Japan, which is a close relative of our North American cedar species.
Korakukan Ryokan
Arriving too late to spend any time with the Japanese macaques this evening, we opted to explore the impressive Korakukan Ryokan, a very historical and spectacular Japanese traditional inn, situated literally a few steps away from the famous "snow monkeys" of Japan. We took our first "ofuro" this evening in the family private bath room, a small but quaint onsen with a great view of the forest across the valley.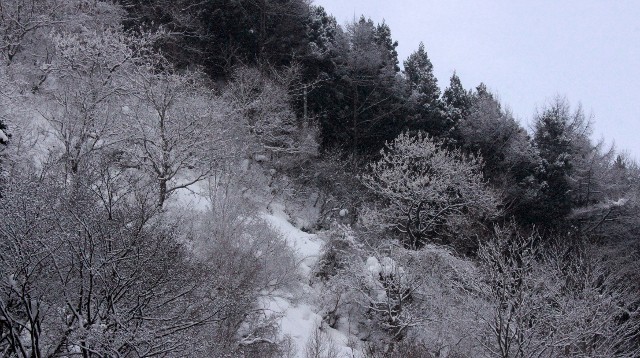 The spectacular view of the forest seen from our heya (room) windows...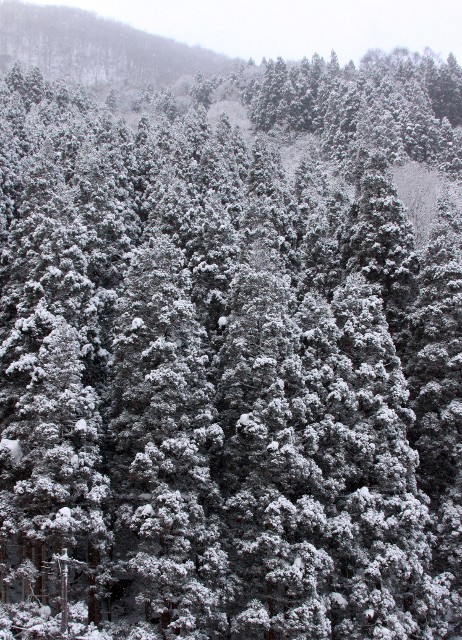 The view of the "Hiba" forest from our other window!
Som sitting in our windowsill absorbing the wintery scene outside. We had to keep the windows locked to keep the Japanese Macaques from invading our room!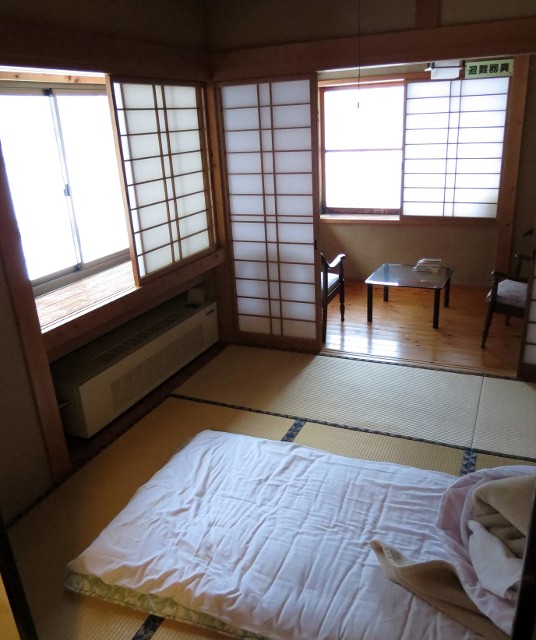 Korakukan is a traditional Japanese inn in every sense. We slept in futons on tatami and enjoyed two delicious Japanese washoku meals every day.
The creaky floors and rustic condition of Korakukan made it especially nice. The inn is a family-run operation and has a very "lived-in" feel to it. Some may call in cluttered but I actually liked the ambiance, the family and the overall "kanji" of the place – we were very comfortable there. Many of the reviews of the inn are less than flattering, and although they all pretty much mention accurate issues, we kept it all in perspective: the ryokan is located in the wilderness, less than 100 meters away from one of the most fascinating primate displays anywhere, and it offers spectacular views and food and hot baths! So what if the standard is not up to some of the other hi-so places nearby! Seeing how hard the family worked was humbling to say the least. Truly an experience not to be missed when in the region!
We did see macaques on our first evening strolling the grounds of the inn, and some were even camping out under the heating units on the roof of the ryokan, but the main monkey viewing was to be done on our next, truly unforgettable day inside the Jigokudani Onsen, where the monkeys congregate everyday to feed and soak in the onsen for hours on end.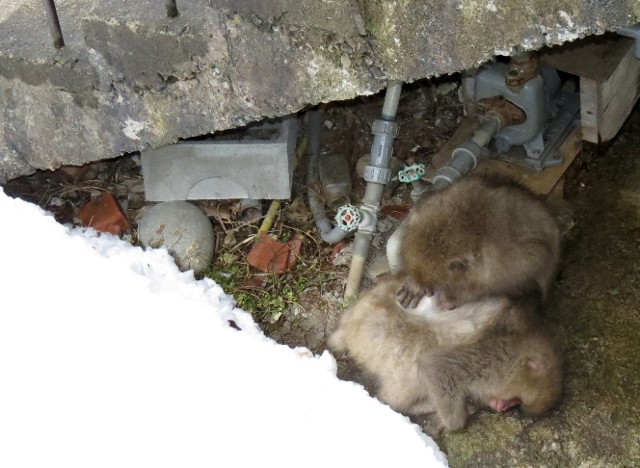 Cokie took this image of two Japanese Macaques grooming each other and taking advantage of the warmth of our inn. Nice behavioral shot Cokie!!!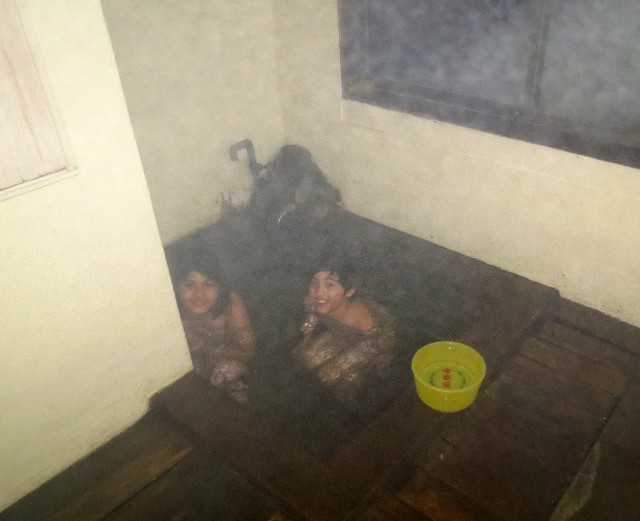 Although this is a foggy image, it gives you a sense of the traditional Japanese ofuro (hot bath) which we enjoyed several times a day every day! This was one of Korakukan's private "family" baths...
Japanese Serow Baby!
I've always loved Japanese (washoku) breakfasts. The lightness and freshness and variety of foods simply cannot be surpassed. But during our first breakfast at Korakukan, we were in for a special treat. I was not expecting it, but when I heard Som's voice call out the news, I was not surprised. "Coke! A serow!" That's all I need to hear – after grabbing a quick glimpse of the rare Japanese Serow Som spotted, I headed out to our room to grab the camera gear! Before we even had some quality time with the monkeys, we had our first Japanese Serow! Way to go Som!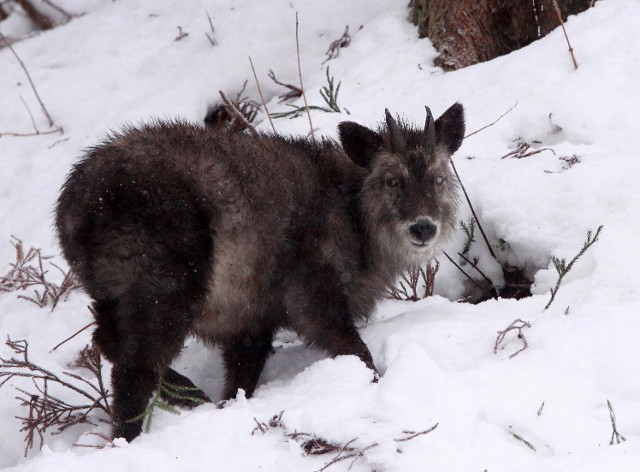 The elusive Japanese Serow (Capricornis (Neamorhedus) crispis) that SOM spotted across the valley while we enjoyed our morning breakfast! We were very fortunate indeed to see one of these rare endemic mountain goats!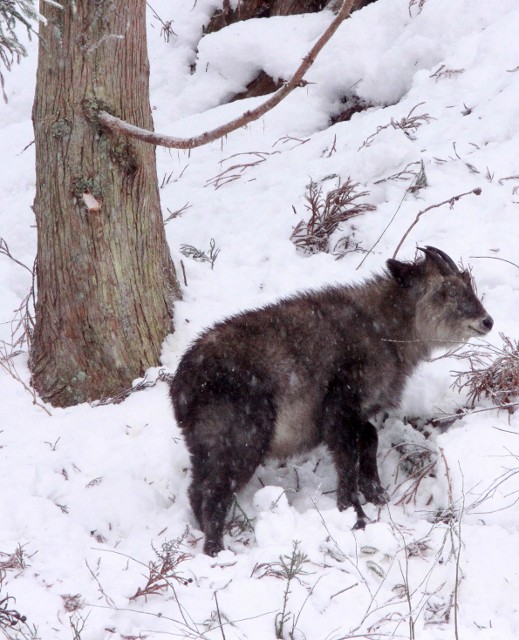 The Serow will eat basically anything they can find in the winter months...which isn't much!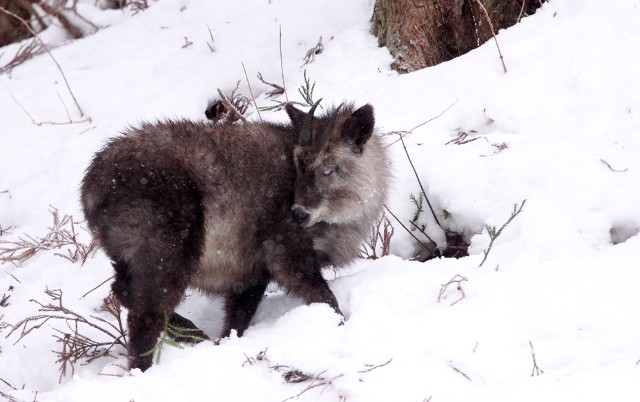 I love their white eyes!
The Snow Monkeys!
Although we were only there for a day and a half, the routine of the monkeys became very clear fairly quickly: First the monkeys come down from their mountain roosts to feed (usually on food provided by the national park, to no doubt maintain the spectacle), and then they proceed to mingle, squabble, wrestle, play and eventually, one or two enter the pools to enjoy the hot waters and get some relief from the frigid temperatures outside. This is no doubt one of the world's most up-close and personal primate displays one can experience.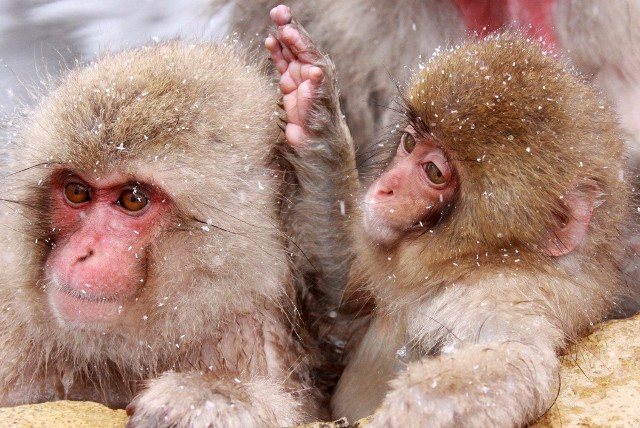 The intimate glimpses of primate life that Jigokudani provides is an experience I will never forget and hope to repeat many more times to come!
Seeing the first pair, a mother and her young one, enter the pools was strangely spectacular. I mean, of course, I knew what I was going to see this – everyone who goes there sees it! But actually seeing the spectacle with my own eyes, really threw me off guard a bit. I was fascinated with how they entered just like people entering an onsen, wading to the spot where they wanted to relax. The young one, who was probably less than a couple months old, was a little less sure of itself, but followed mom obediently while he learned the habits of his troop, the only group of monkeys on earth who regularly use onsen!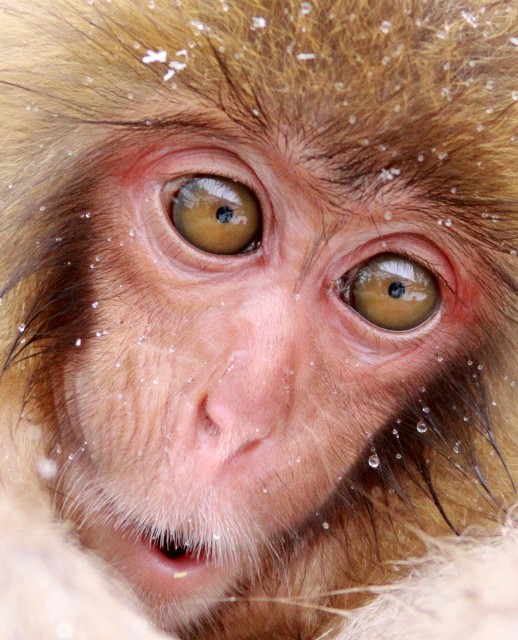 Oooooh!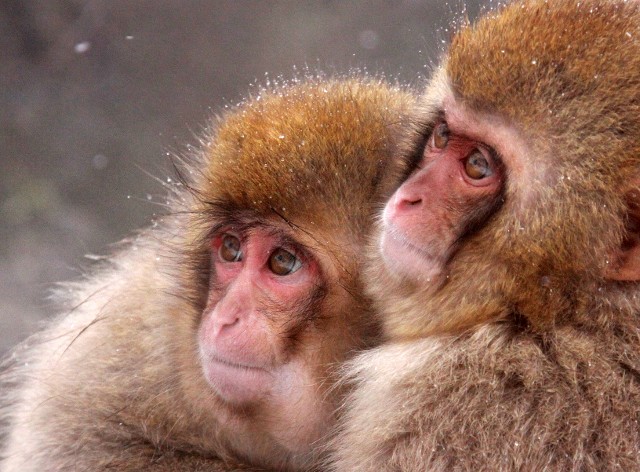 Keeping warm!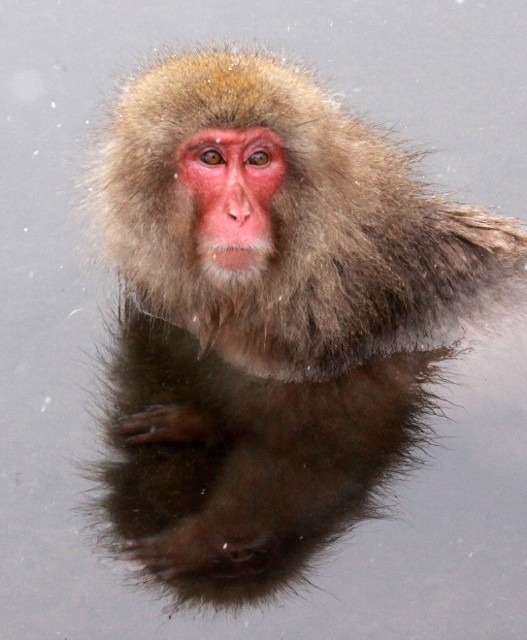 The quiet in the onsen before the "crowd" arrives...
Although the routine becomes fairly…uh…routine after awhile, we spent many hours during more-than-one visit, trying to document various behaviors and imagery such as, soaking, playing, feeding, snoozing, fighting, rock jumping, humping, etc. I wanted to capture images of them with snow on their heads, steam enveloping their sleepy faces, groups snoozing on or near each other, and…well basically you get the point – all of the incredible, albeit cliché, pictures that we've all seen of these amazing critters! We were not let down – all of the above and much, much more were accomplished during our short visit to Jigokudani.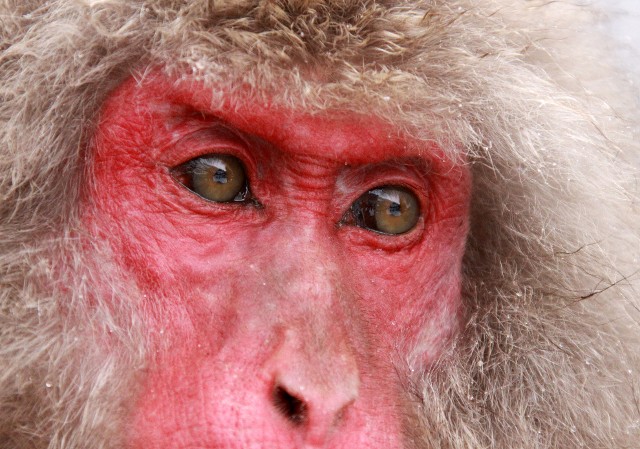 The typical red face of the Macaque...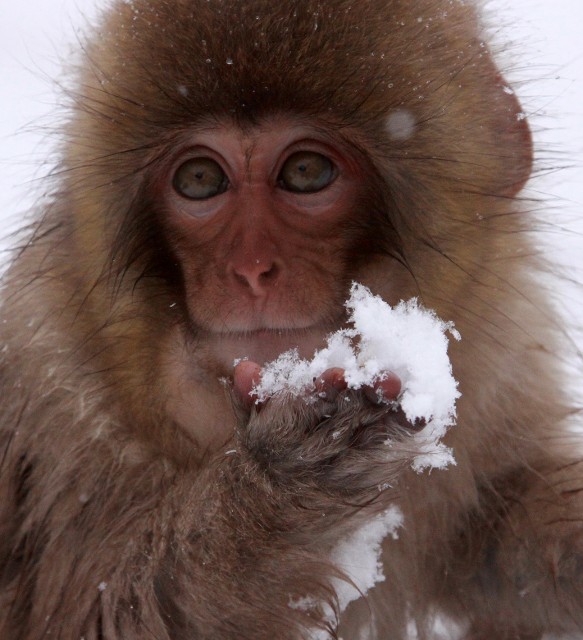 The young ones were the most fun to observe. They were amazed by everything. This one found joy in playing with a hand-ful of snow!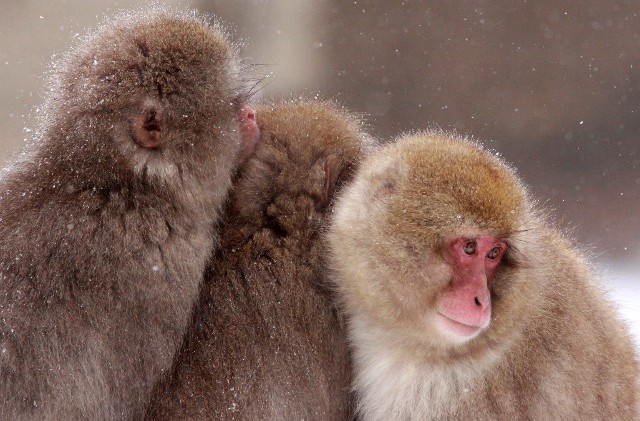 Loved this trio!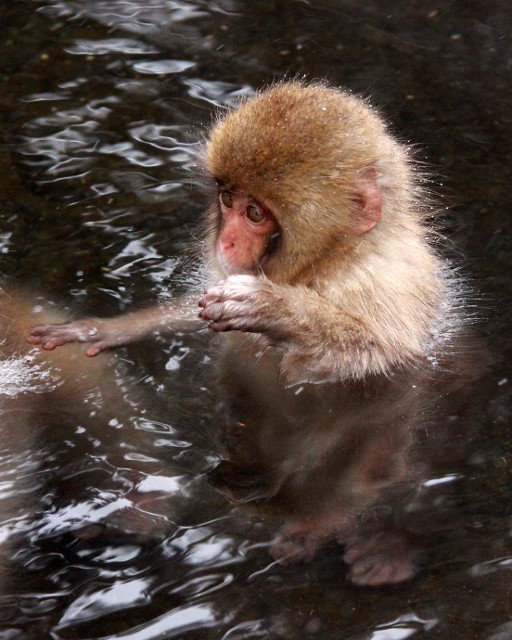 I got the sense that this little one was a relative newbie to the onsen scene...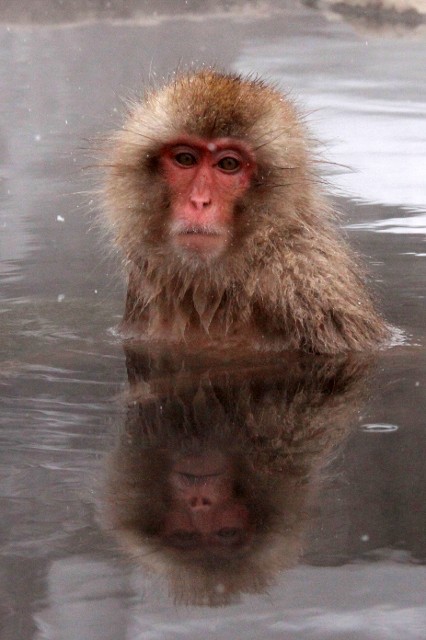 "Aren't I beautiful?"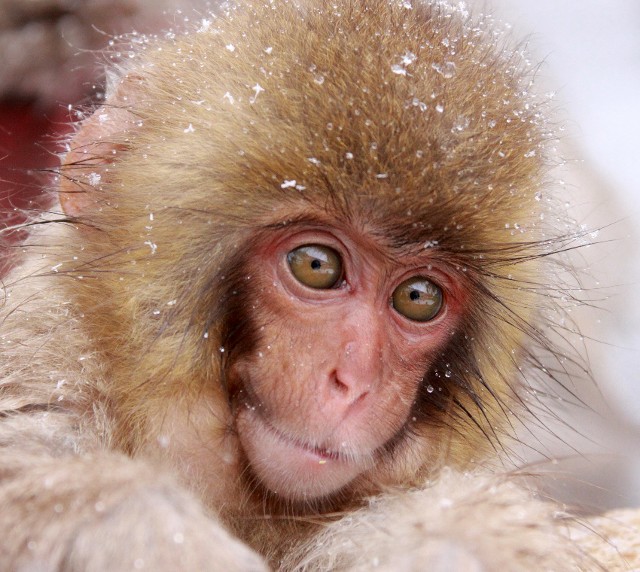 "I have snow on my head!"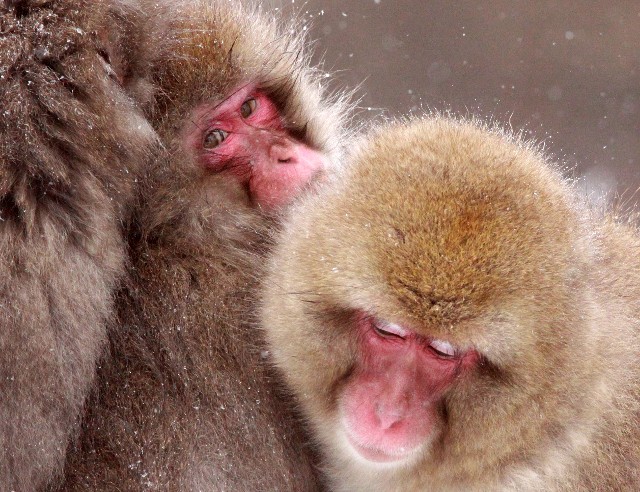 The temps got way down below freezing during the daytime while there...Huddling was the smartest thing to do for sure!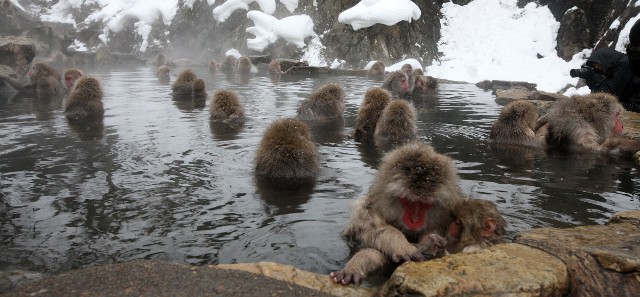 By the mid afternoon, the onsen becomes pretty crowded!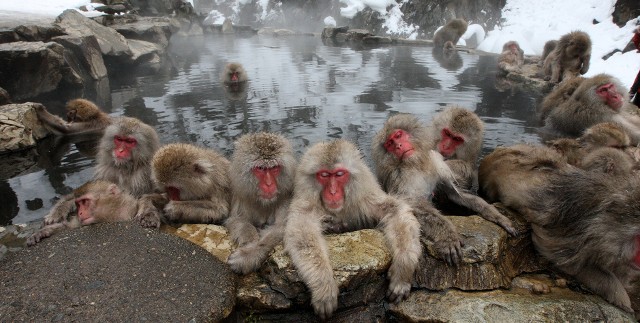 Relaxing with friends and family...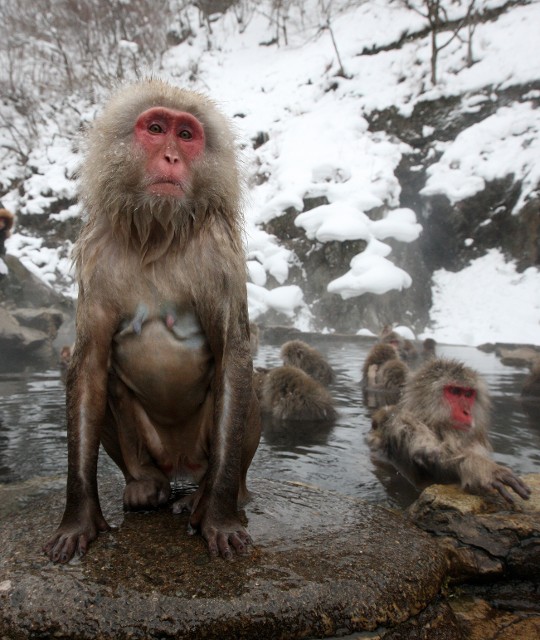 I cannot imagine how cold it must be to exit the onsen in these temps...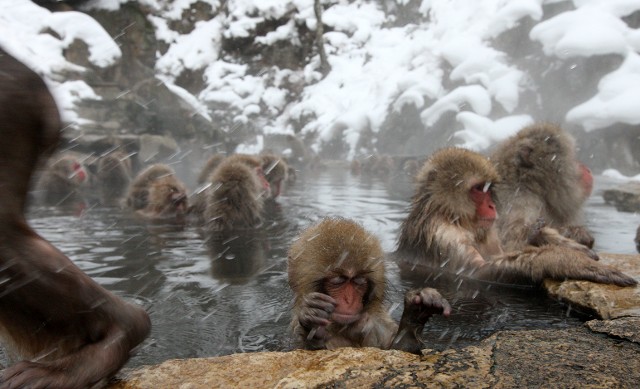 "Hey! Stop shaking off on me!"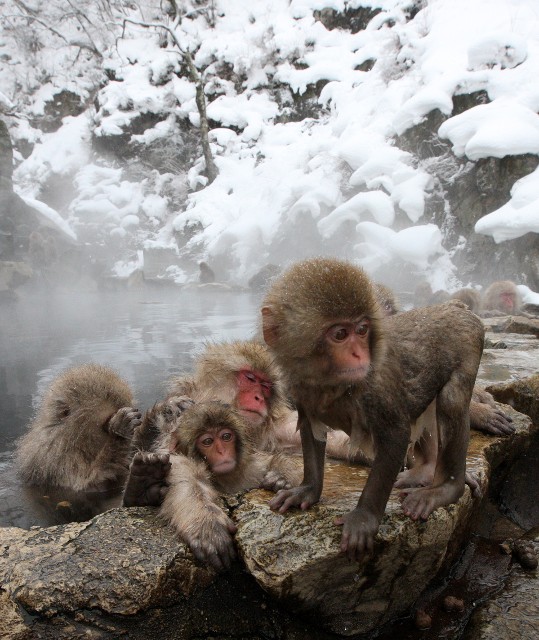 The little lion...
So cute!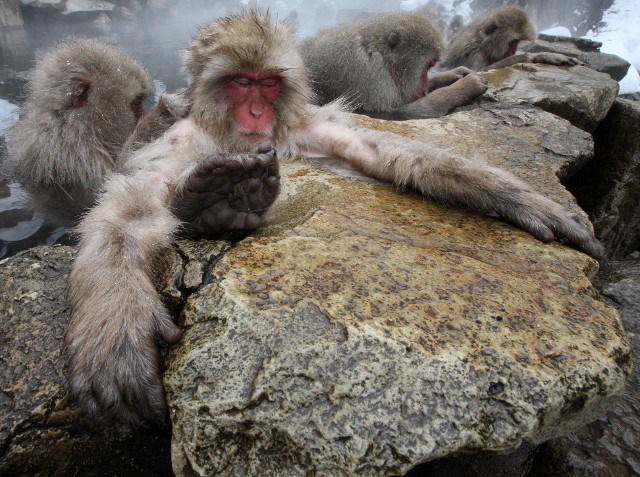 Relaxed!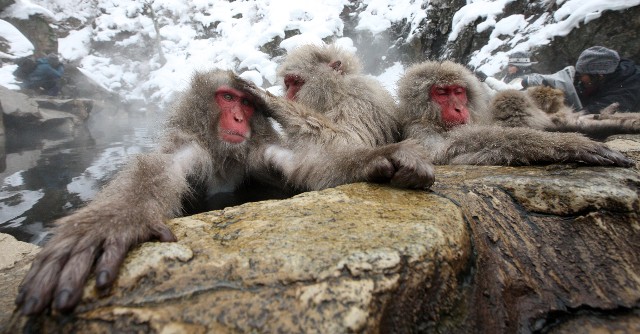 Grooming each other...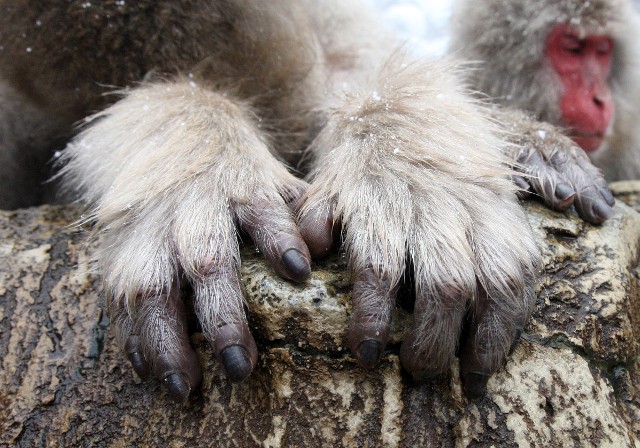 The Yeti!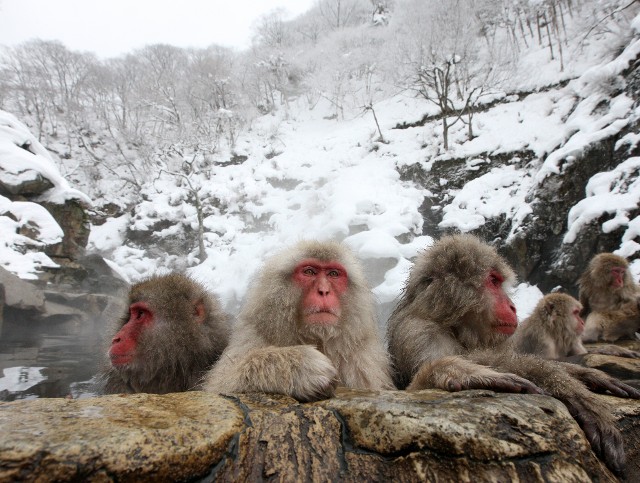 Three wise men!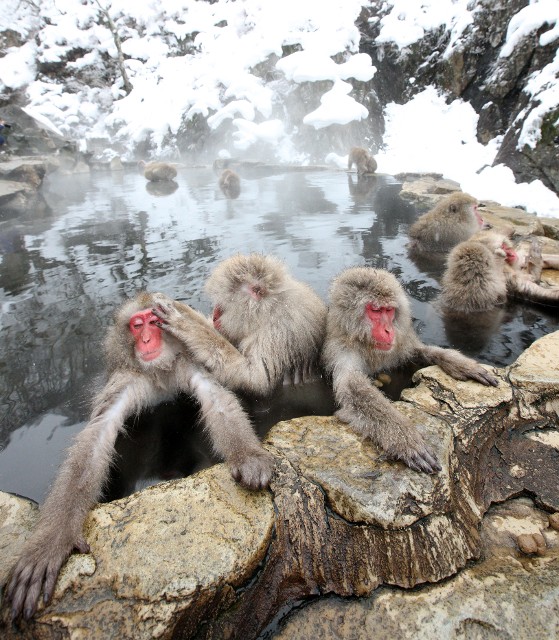 "Hey - you have fleas!"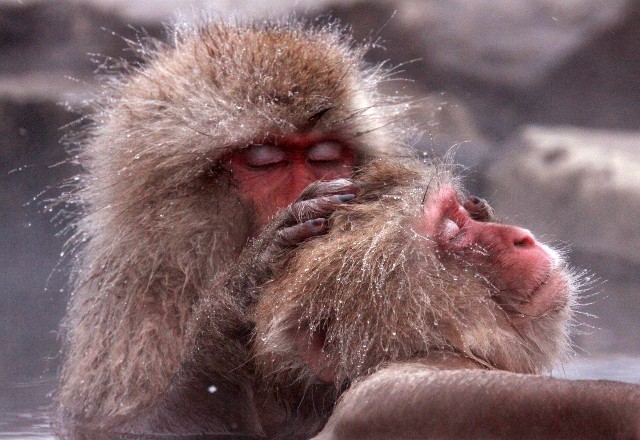 Sleeping on the job again....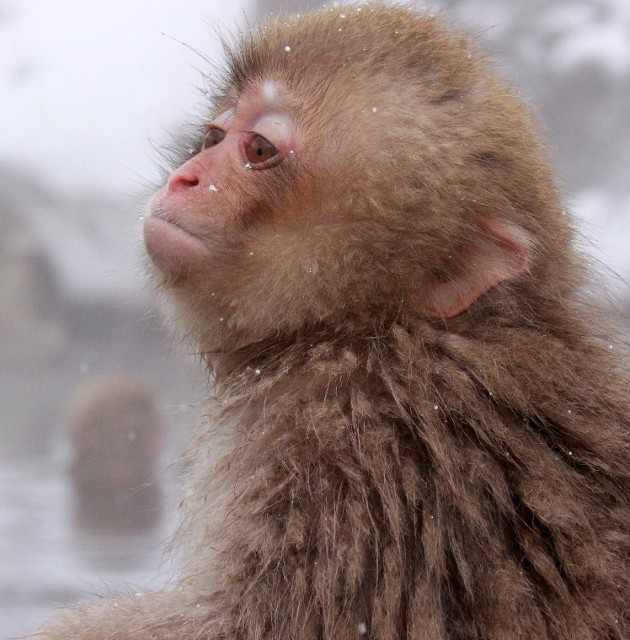 "What are you looking at!?"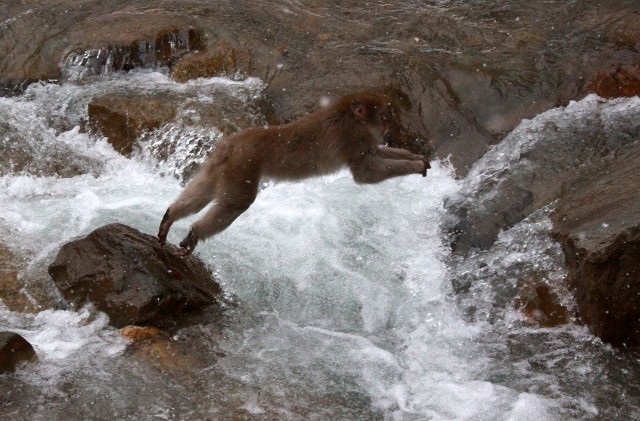 Crossing the raging river could no doubt be treacherous...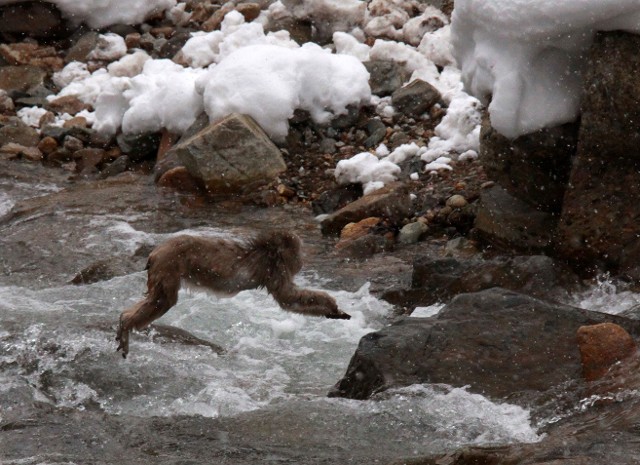 Very sure-footed...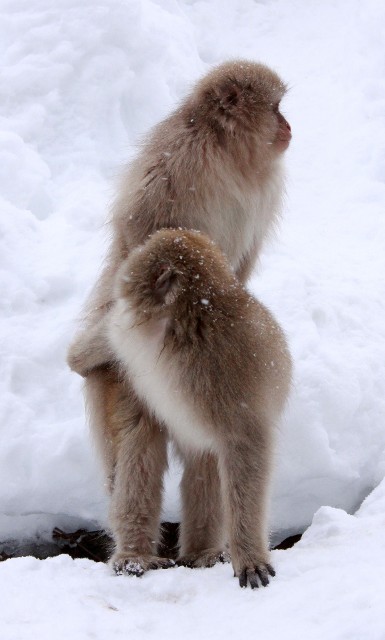 Get a room!
"Bubbles"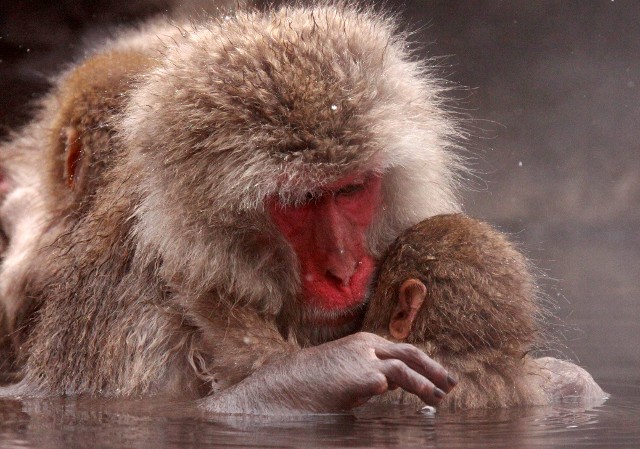 This young lady was known as "Bubbles" because she developed the behavior of making bubbles with her fingers in the pool for self entertainment. Her young one seemed intrigued and attempted to mimic the behavior. I wouldn't be surprised if this becomes a group behavior in a generation or two!
While at Korakukan, we happened upon some new friends - Joe and Nim Pontecorvo. At our first dinner at Korakukan, I overheard them speaking about specific macaques by name and was thinking they were primatologists, studying the monkeys. I soon found out that they were a team of film makers working for PBS Nature on assignment, spending 18 months documenting the natural history of the Japanese macaques at Jigokudani! Check out Joe's website here! After a nice conversation, we learned of their exploits with the grizzlies in Alaska and Siberian tigers in the Silkote Alin Mountains of eastern Russia. In fact, it was Joe's footage of a research team flying in an aging Russian military helicopter tracking and tagging Siberian tigers that finally got me off my ass and "caused" me to pursue my life of nature-based eco-travel. Seriously, this was the film that literally set me over the edge, and here was the film maker, right in front of me! I could not think that it was anything other than destiny that allowed me to meet the person who literally changed the course of my life. I explained this to them and we had a good laugh, but deep inside, I knew how true it was. Watching them work in the field trying to capture images of their topics gave me even more respect for their art. The days of extreme exertion, endless waiting in cold, wet conditions, just for that perfect shot or behavior – wow!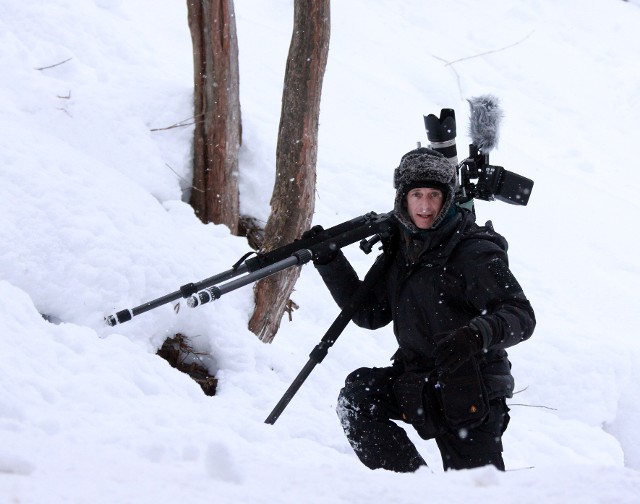 Joe Pontecorvo working his way up the snowy slope for better angles of his subjects, the Japanese Macaques of Jigokudani! Check out Joe's website here!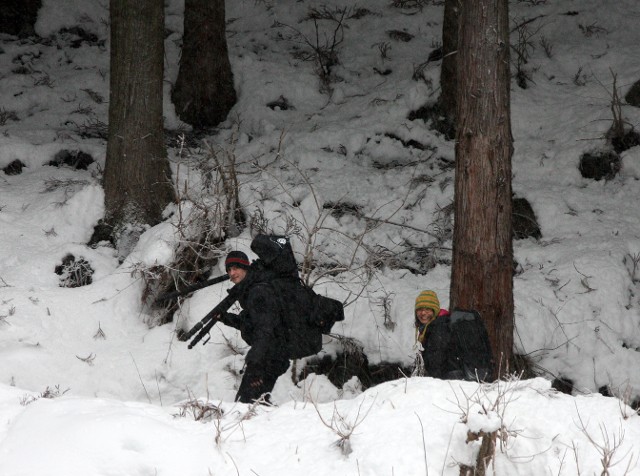 Joe and Nim were spending 18 months in Jigokudani documenting the natural history of the Japanese Macaques for PBS Nature! I look forward to seeing it sometime in 2014! Watching them work in the field made me gain new respect for the hard work nature film makers, like Joe and Nim, do to capture the wild images so many of us love.
***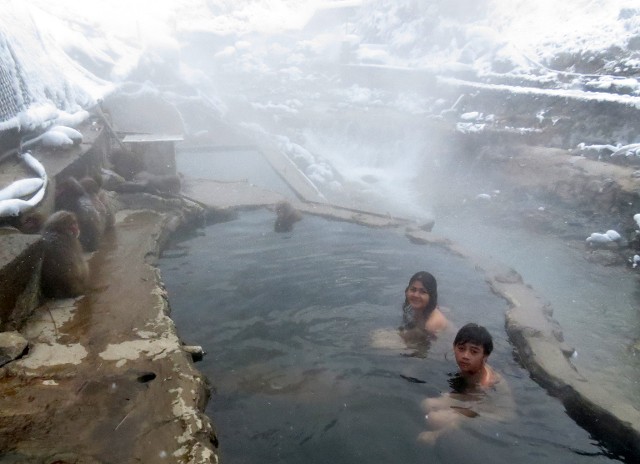 I truly love being able to share such amazing experiences as this with my family. Soaking with a wild Japanese Macaque is truly a once-in-a-lifetime experience!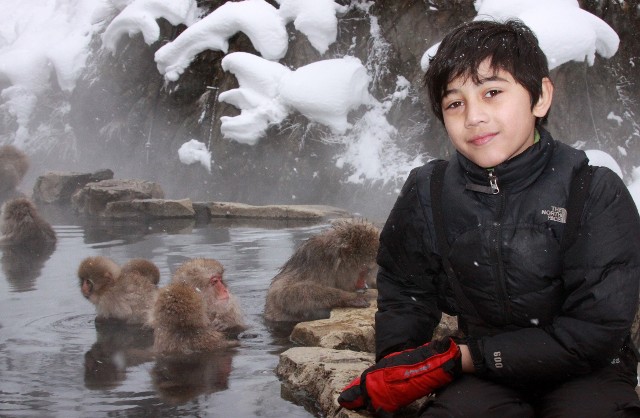 Cokie and his new friends...
***
Next Stop Karuizawa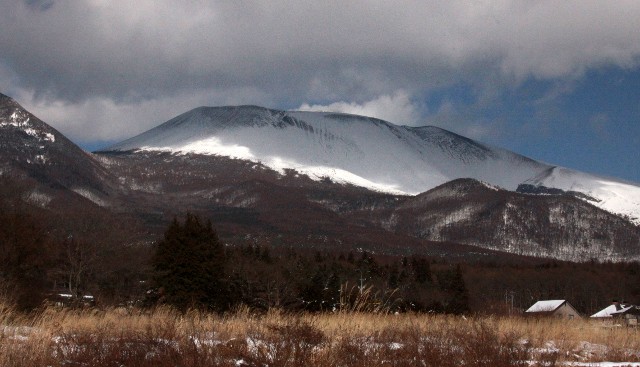 Mount Asama ("Asama Yama") and Joshin'etsukogen National Park is situated just outside of Karuizawa, which was our next destination with Japanese Giant Squirrel and the Japanese (Red) Squirrel as our main targets!
Snow was coming down pretty solid on our third day and I was a bit concerned about worsening road conditions. So I decided to opt for an earlier trek out of the inn toward the car, which would no doubt be covered in snow by this point. After another washoku breakfast and a quick ofuro (with monkeys this time!!!), we began our trek out of the Jigokudani wilderness. Our car was of course covered with snow but someone had taken it upon themselves to brush most of it off and even straighten out our wipers to prevent them from freezing and breaking (I think…). Only in Japan! Our drive to the next destination was quick, scenic and basically uneventful. We made it to Karuizawa in no time at all, and the snow actually never showed! In fact the inclement, although so beautiful, stormy weather of Jigokudani gave way to absolute clear skies and sunny weather all the way to Karuizawa allowing stunning views of Mt. Asama along the way.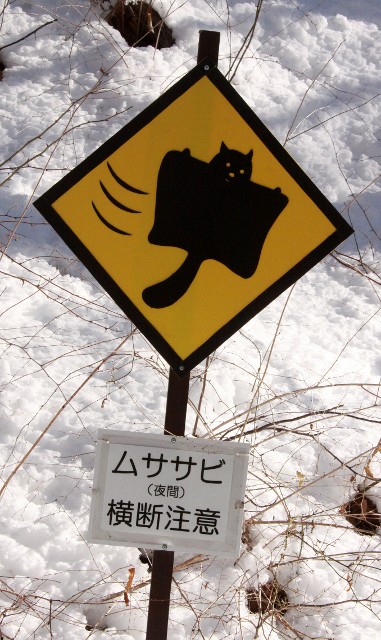 Careful! There be Japanese Flying Squirrels in these parts!
We had two main targets for Karuizawa – the Japanese Squirrel and the Japanese Giant Flying Squirrel, both of which were realized like clockwork! After exploring the town for a bit, we hooked up with a local conservation organization I learned about from Jon Hall's amazing website (Mammalwatching.com) called "Picchio" (pronounced Pikio), which specializes in bear monitoring as well as overall habitat and fauna conservation in the area. They maintain a very nice visitor's center just outside of town and run serow and Japanese giant flying squirrel-viewing tours. We wanted to see a Japanese Giant Flying Squirrel of course, and we knew that just happening by one on our own would be next to impossible, so we signed up! At first the extreme price tag for the tour, which consisted of a 25 meter trek to a box-den, located directly across from the visitor's center, seemed a bit much, but when our guide, Mr. Higashi, took out the high-tech monitoring equipment which allowed us camera views of the happenings inside the den, we started to feel a bit better… I "bit" better…
Japanese Giant Flying Squirrel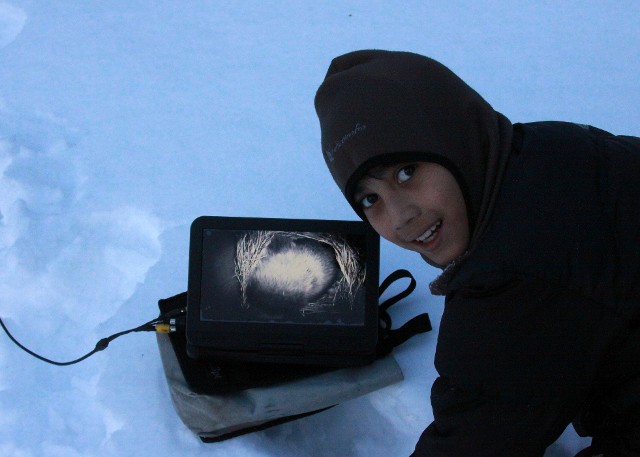 Some of the high-tech gadgetry used by Picchio to monitor the local population of flying squirrels. Note the white ball of fur in the screen! We watched this little snoozer rustle around, grooming himself (in the subzero temperatures!) for over an hour before he decided to come out for a glide...Brrr!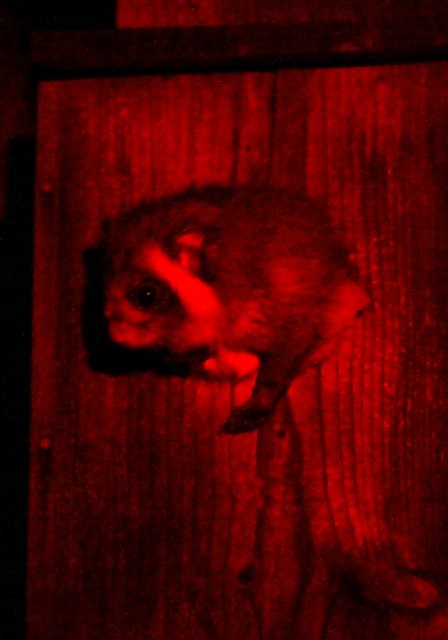 After an hour ++ waiting in sub-zero temps, he decided to peek his head out! Eventually he even went for a glide...And at that very moment, what was a completely dead-silent country road, turned in to a crowded Tokyo freeway with cars and busses that seemed to come from nowhere! Oh well, they added to the excitement of the moment I suppose...
Now that we were able to actually see a squirrel inside the den, we relaxed in the MINUS 5 degree cold late afternoon and proceeded to watch a basically motionless ball of fur for the next hour+, while the critter took its sweet time to finally decide to wake up and go for a bit to munch. The daylight gave way to incredible sunset hues giving me high hopes of the huge squirrel (the world's second largest species next to the Chinese species) emerging in golden light. This was not to be – the little thing waited for about 45 minutes after dark to eventually come out for several quick peeks and then back again. Higashi-san thought that he was actually too cold to come out and was actually testing the weather. Finally he came out and shot up to the top of the tree and then glided for about 30 meters or so to another, and then up again and off to another. We lost him after about three glides as we were simply unable to keep up in all that snow! But what a great experience for us to once again see flying squirrels in action! Cokie has seen them now in Borneo, China, Thailand and now Japan – at least six species!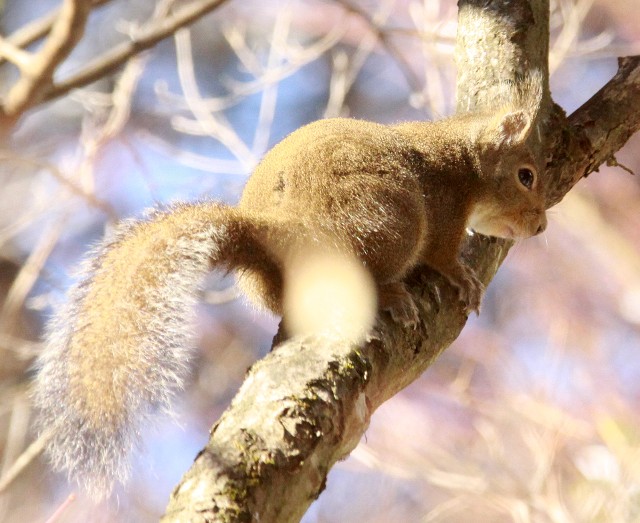 Another relatively common species that is seldom seen is the Japanese Squirrel (Sciurus lis). Finally after who knows how many trips to Japan, I can finally say that I've seen one!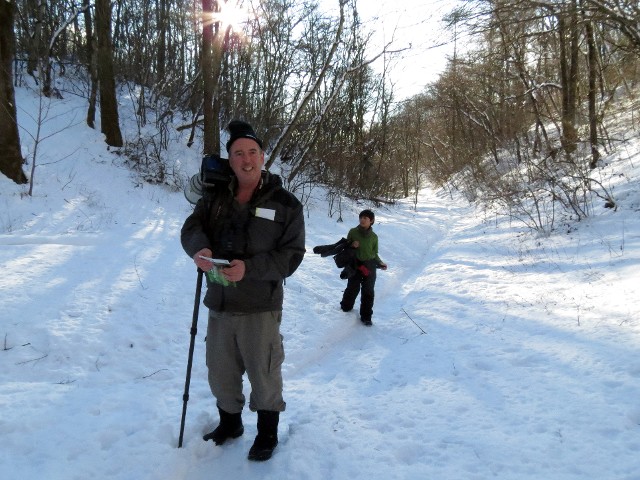 Getting lost on the Picchio Trail? Thankfully someone had walked the trail earlier that day to mark the way...
Other bit of information gleaned from Jon Hall's site was regarding Shiotsubo Onsen located outside of town up the hill on the way to Asama-yama. Well known by birders as a great spot to see the forest species, it is also known to be a good location for Japanese Squirrels. We stopped by on our first day in Karuizawa but the concierge informed me that the squirrels were pretty much an AM show and suggested I come back the next day. So I did! I showed up at sharp and immediately scared away a cute Japanese Squirrel who was grazing on the seeds put out on one of the three feeding tables for the birds. He clearly was not expecting a half-asleep white man crashing through the brush like a drunk elephant, and I was not expecting to see the elusive Japanese Squirrel during my first three seconds at Shiotsubo Onsen!
Well, he immediately bolted up the trees while I clumsily chased it trying to snap some crappy images (capturing only branches and sky…) while it hopped from one tree to the other eventually reaching deep in to the forest… I decided to wait in the lobby, which is blessed with massive windows all directed to the forest, a garden and those amazing bird-feeding stations. I sat in the opulent lobby of the onsen, sipping fresh coffee, listening to Bach, Bethoveen and Schubert, watching and photographing at least 20 species of birds, many of which were lifers for me, such as Japanese Grosbeaks, Varied Tits, Brown-eared Bulbuls and many more.
After about three hours or more of ridiculously comfortable wildlife watching, I was just about to get up and go home, and then, another Japanese Squirrel came bouncing toward me on the forest floor and then up to the feeding station for a quick breakfast! Of course it positioned itself in crappy light but he was at least there! I snapped some quick images of a Japanese Squirrel in horrible light and then someone exited the hotel's back entrance scaring the little critter off the table and up a tree, in to better light for about seven nanoseconds! Great fun.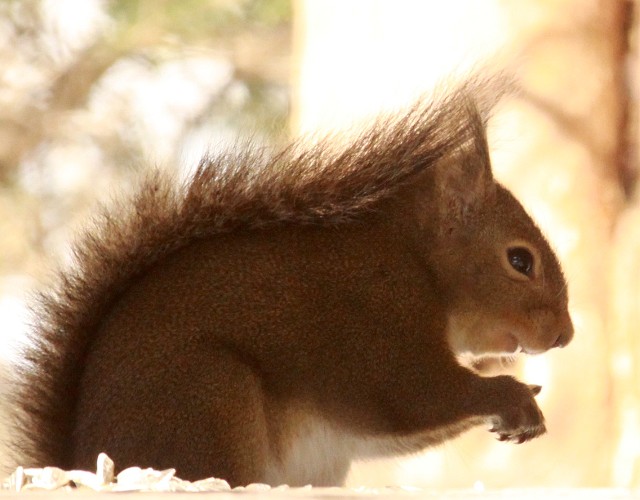 Finally! My very own Japanese Squirrel!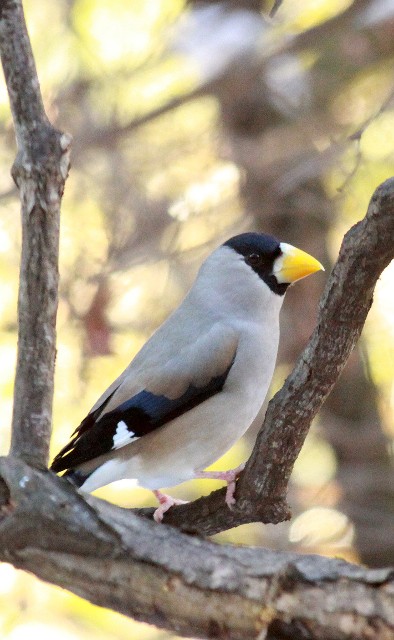 Shiotsubo Onsen is well known amongst birders for very good reason. I picked up well over 20 species this morning along with very little effort. The most impressive of which, I would have to say where the several flocks of Japanese Grosbeaks which visited the feeding stations.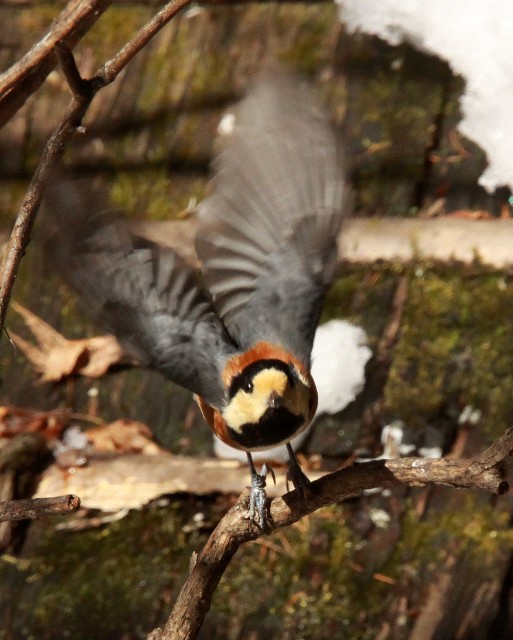 Tits were the name of the game this morning! This Varied Tit was taking off in good light but a bit too fast for sharp focus....oh well!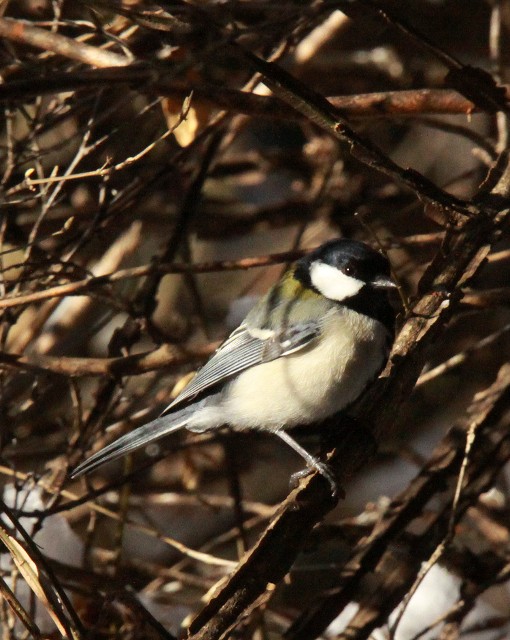 Great Tit!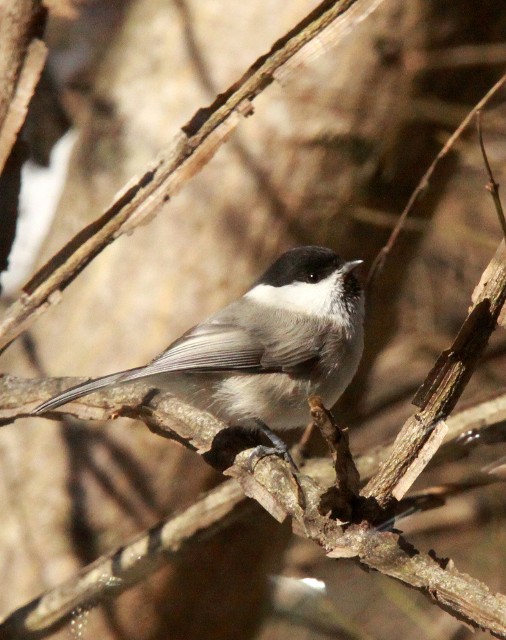 Willow Tit!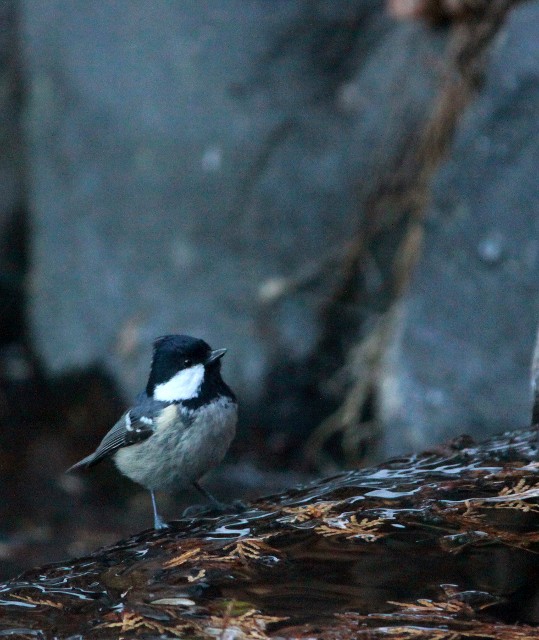 Coal Tit!
Having nailed four of my five target species, we decided to spend the rest of the day just messing around Karuizawa, which is really a very spectacular and enjoyable place. After doing a massive Japanese-food supply run at the local Tsuruya Supermarket (FOUR boxes of provisions! Som and Cokie love pretty much everything Japanese…), we cruised way up Asama-yama with no particular destination at all. We simply drove about 40km up and around the mountain and found great snowfields filled with empty space for Cokie to play in all afternoon. While Cokie was getting his snow-fix in, Som and I simply trekked the forest edge, snapping images of the active volcano and the sublime forest wilderness of Joshin'etsukogen National Park. Truly a spectacular afternoon!
Mount Asama & Joshin'etsukogen National Park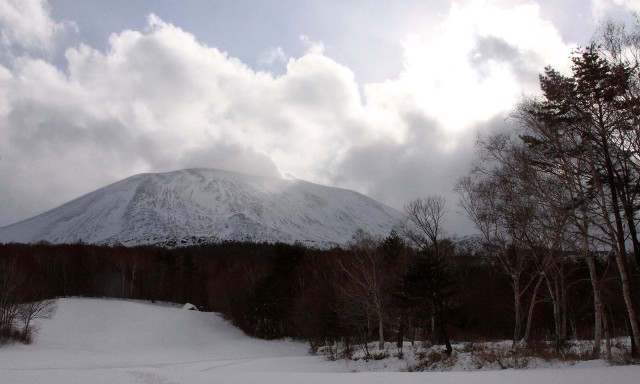 Mount Asama in Joshin'etsukogen National Park. The mountain was steaming pretty seriously and is a bit overdue for an eruption!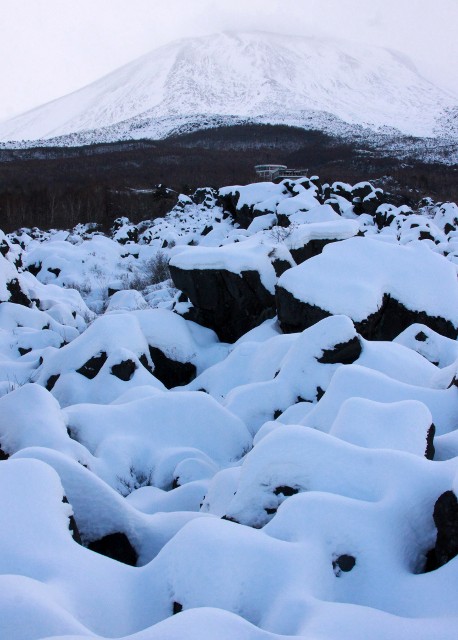 The snow-covered basalt fell-fields were spectacular to trek through on this freezing afternoon.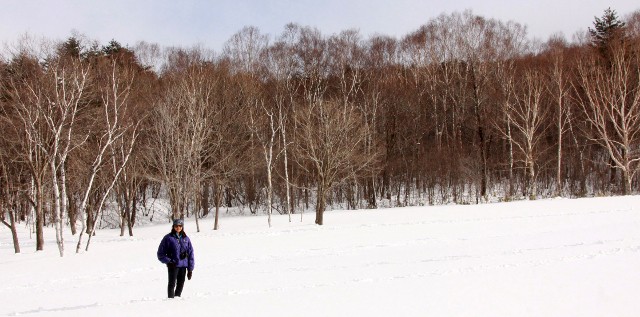 The pine, larch and birch forests surrounding Asama-yama are all very young in stature. The mountain erupts so regularly that old growth forests have rarely been able to grow on the slopes of the mountain.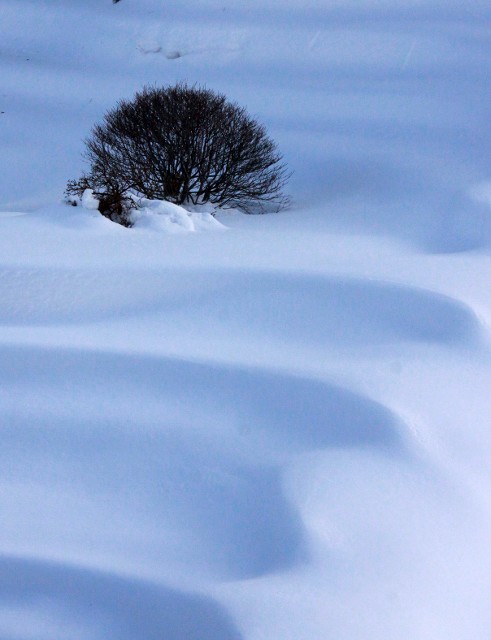 The wintery scene was truly sublime...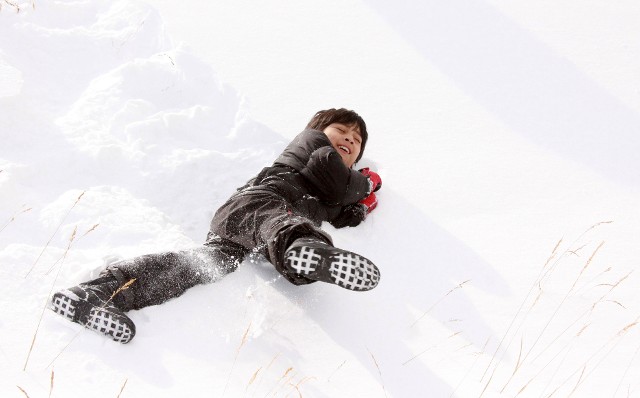 Cokie was snow-hog heaven! Give him snow or sand, and a few degrees of incline, and he will rolling, rolling, rolling!
A Day With Fuji-san!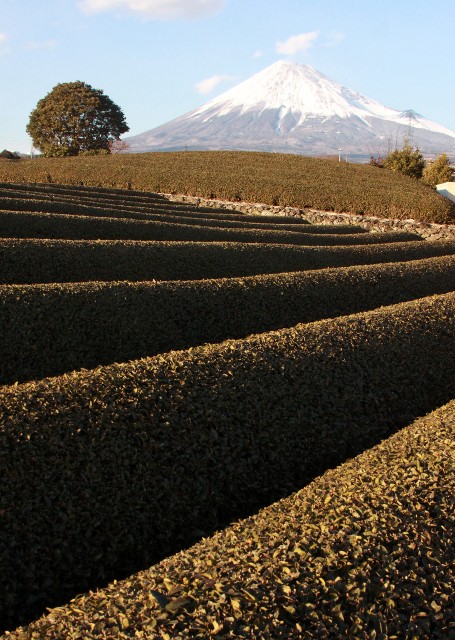 Mount Fuji seen from the tea farms of coastal Fuji City. I've always wanted to take this picture!
Our next day was basically the beginning of the destinationless portion of our trip. I had a general idea where I wanted to go but no reservations or benchmark locations to speak of. The weather looked clear, so I said, "wanna go take a look at Mt. Fuji?" It was unanimous – we were on the way to see Fuji-san! Well, we hoped so… The weather all of the sudden started clouding up and we even drove through a pretty severe blizzard before the skies simply opened up and there she was – Fuji-san in all her glory! Even having lived in Tokyo for all that time back in the 80's, I never saw Fuji look so spectacular. For the next several hours, we slowly circumnavigated the massive strato-volcano capturing basically every single imaginable angle, most of which were in really good light! What a day!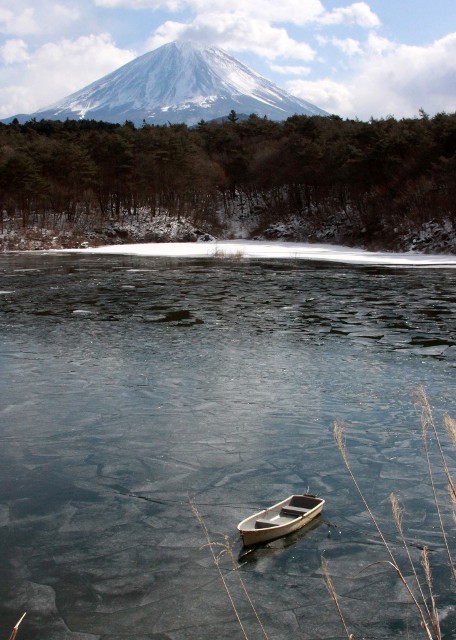 One of the first good views of the spectacular mountain was from Lake Shoji on the mountain's west side. We were still high in elevation and the winter scene was sublime.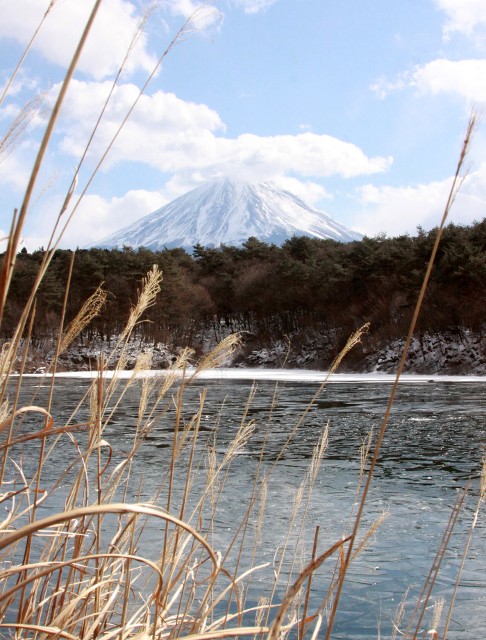 Fuji-san from Shoji-ko!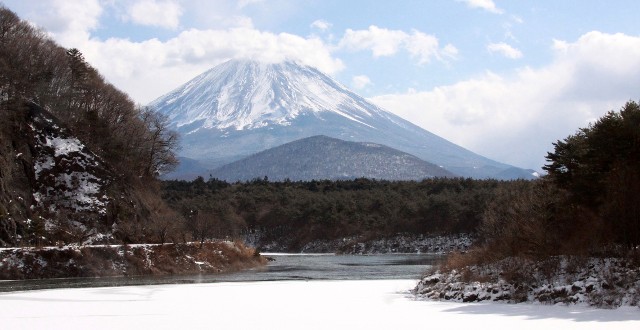 The frozen Shoji-ko provided us a spectacular introduction to the mountain.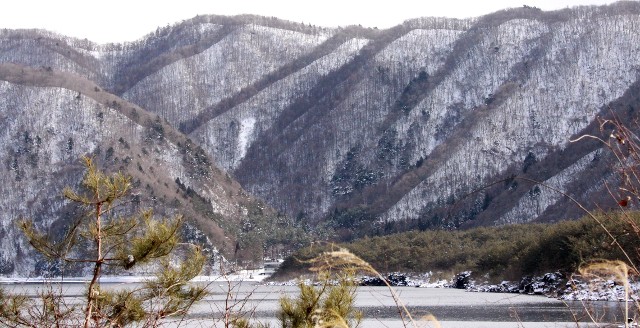 The forests around Fuji-san were similarly young looking, most likely due to a similar reason as was given for the forests around Asama-yama.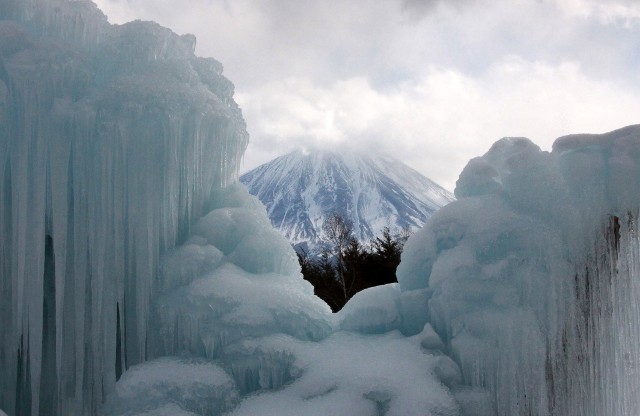 Mount Fuji seen through the ice-formations of Saikoyachonomori Park on the mountains northern sector. Geysers baby! (Well, actually they were formed by sprinklers....)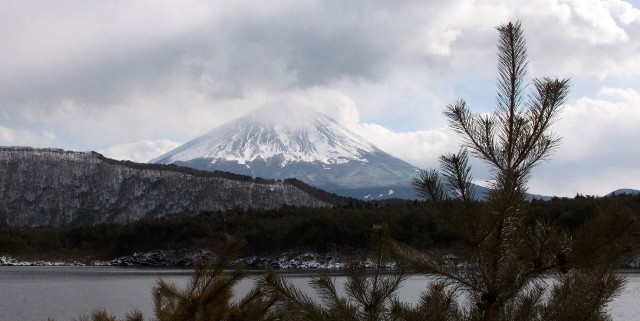 Fuji-san from Lake Saiko and Saikoyachonomori Park.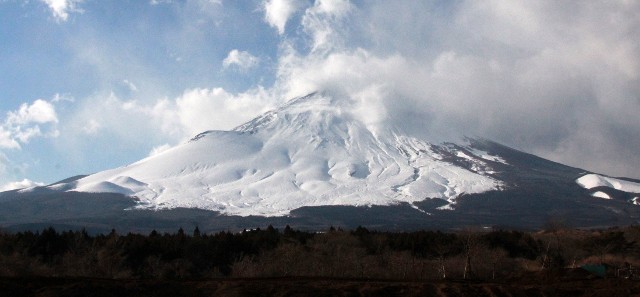 The Fujinomiya view of Fuji-san!
The violent winds of the summit of Fuji-san were revealed from time to time until the skies finally cleared completely.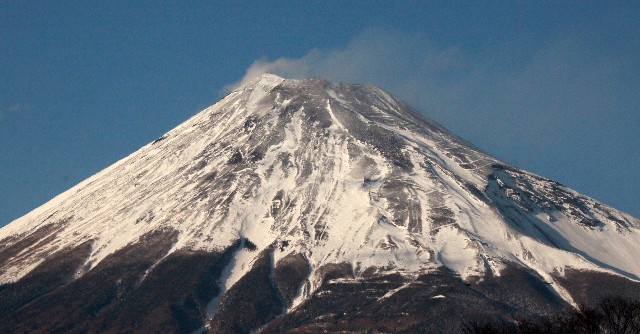 Further to the south, we continued having outstanding views in Fuji-shi city!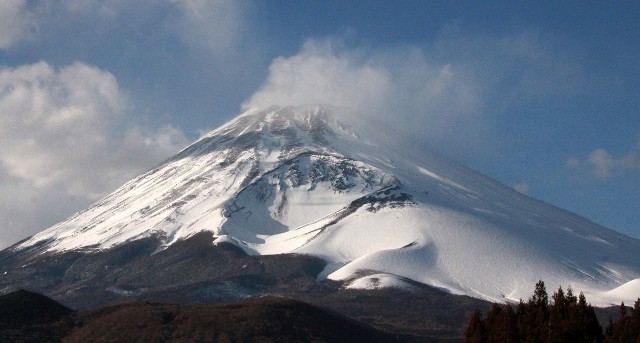 Wow! Fuji-shi views!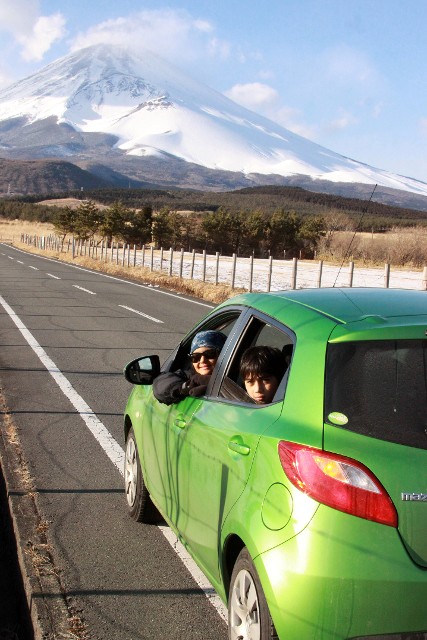 Having our own car for the trip was simply great. This day would have never been possible if we were relying on trains and public transport. The freedom to literally drive where ever and whenever we wanted could not be beat!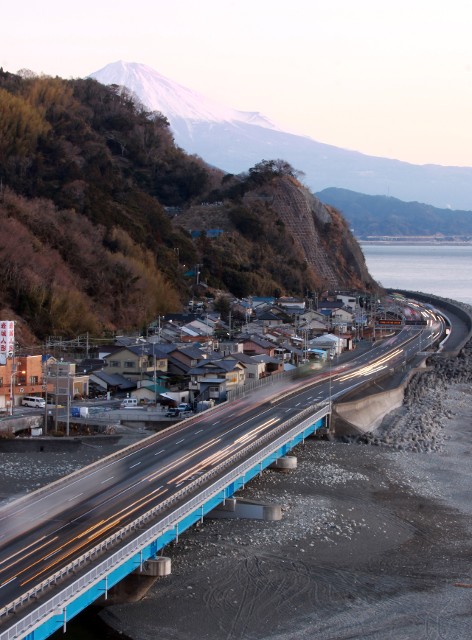 Our visit with Mount Fuji continued the next morning as well. This was our sunrise view from our room at Kua Ando Onsen and Resort in Okitsu City.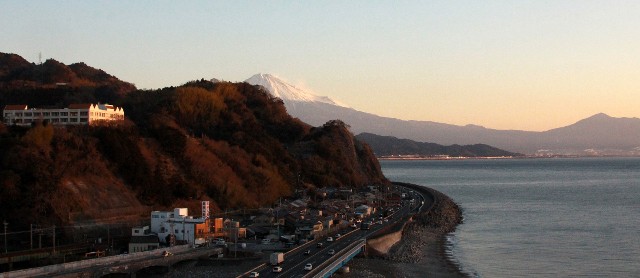 Sunrise over Fuji-san from Kua Ando!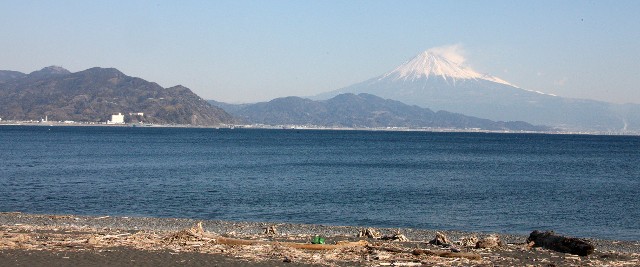 Our final views of Fuji-san were seen from Cape Suruga across Suruga Bay. Our Kua Ando Onsen can be seen on the far left.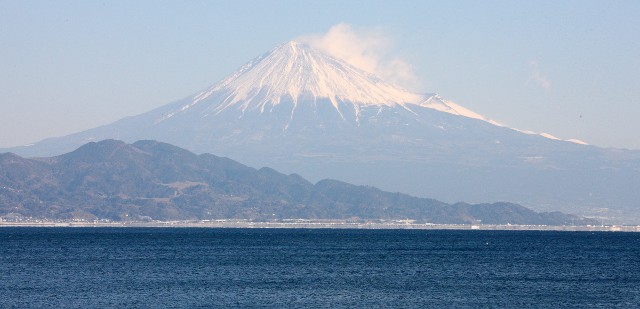 Sayoonara Mount Fuji!
We wrapped up our "Fuji-san day" with a stay in a very famous (I am assuming so by the shear number of guests) Onsen located on the coast of Shizuoka-ken - the Kua Ando Onsen. This was one of those surreal Japanese roadside resorts – all very automated and efficient. Rooms with no showers and a massive onsen on the ground floor with loads of entertainment and relaxation stations located all over the hotel. Cokie and I enjoyed a long relaxation soak in several different pools in the men's ofuro while Som attempted to enter the lady's side. But thanks to her tiny little water buffalo tattoo, she was DENIED entrance to the baths! Seriously! That Japanese are perhaps the most rule-oriented culture on earth and when they say "no tattoos" they mean every single one of them! Som was not too put off as she said she really was not too comfortable walking around buck-naked in front of all those naked ladies… I was more disappointed for her than she was I think. They were pretty impressive baths afterall.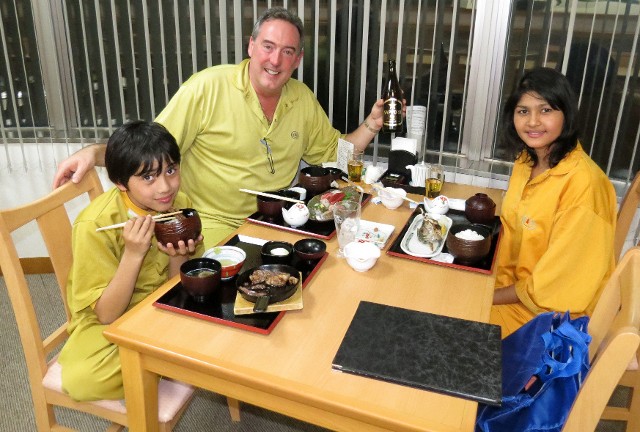 Kua Ando Onsen! It can't get much more surreal than this... Sitting in our jammies gorging on sashimi and beer with everyone else in their jammies.... Som was bounced from the hotbaths due to her tiny little tatoo on her shoulder! Yakuza girl!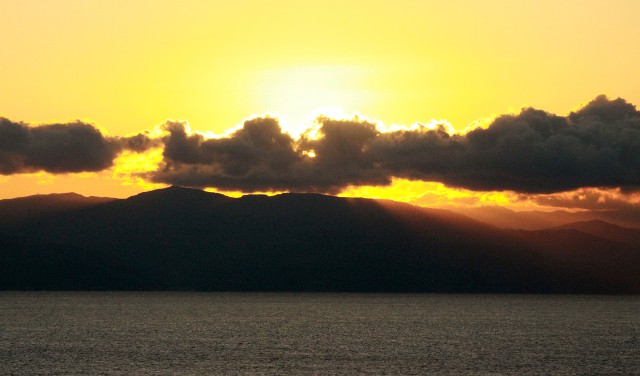 Sunrise over the Izu Peninsula!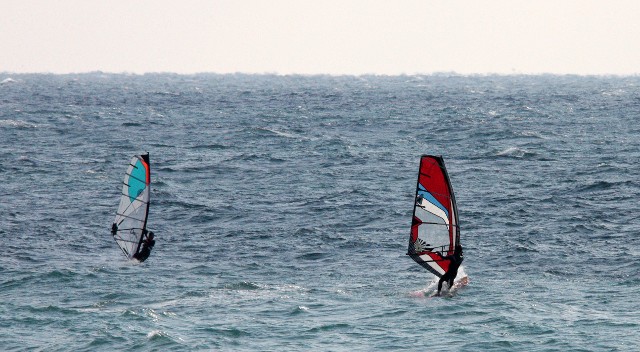 Wind was up this day!
On the Way to Cape Irago!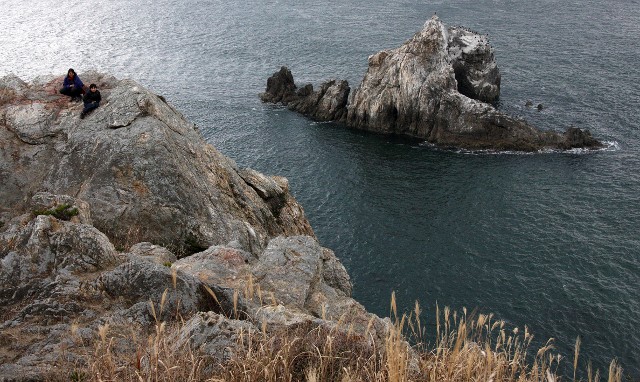 Cape Irago was an unexpected surprise. This part of Japan appears to be seldom visited by foreignors but it is a very spectacular stretch of coastline! We found so much to enjoy that we averaged only about 60km a day!
We continued our Fuji-viewing for the entire morning of our next day working our way along the Shizuoka coastline. I basically had plans to get all the way to Toba or Ise this day, but after noticing the clock said , and we had only made it about 60km or so, I realized my original plans were way off the mark. I had no idea this stretch of Japan was so interesting and beautiful. Thanks to the "navi", we were able to cruise some very off-track spots and really get to see the out-of-the-way spots on the route. We had some outstanding luck with birding, lighthouse-watching, beaches and general in-depth sightseeing. We ended up at Cape Irago (where I am currently writing this blog posting) where we spent the night as the sole guests of a ghost-town like village at the end of this stretch of earth, the Atsumi Peninsula. Our innkeeper, a lovely woman who evidently owned and ran the inn all by herself, recommended a sashimi joint down the road where we had the best dinner of the entire expedition – wow! And when I mentioned to her that Som wanted some yukatas, she made some calls and within an hour, she had a friend who owned a store in town bring some stock which Som quickly liberated! Great fun and good luck.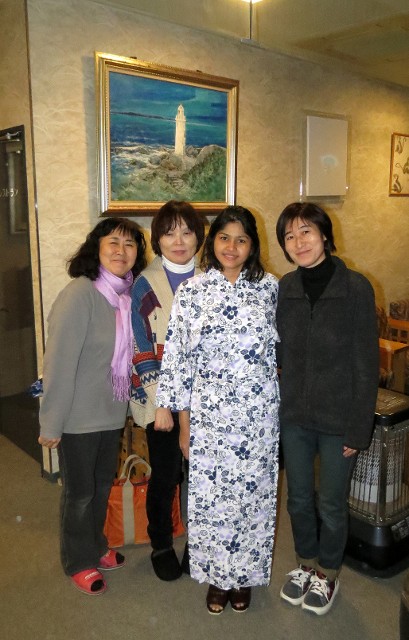 The Cape Irago innkeeper, arranged for Som to have a free yukata-viewing late that evening! Her own private yukata market brought onsite...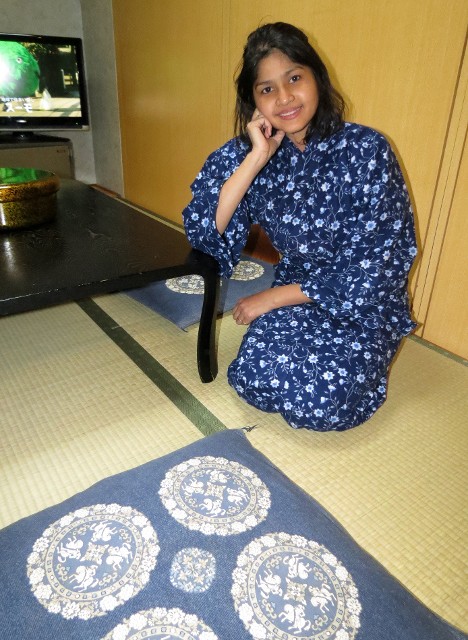 Som's new yukata back in our traditional room at the Cape Irago Inn...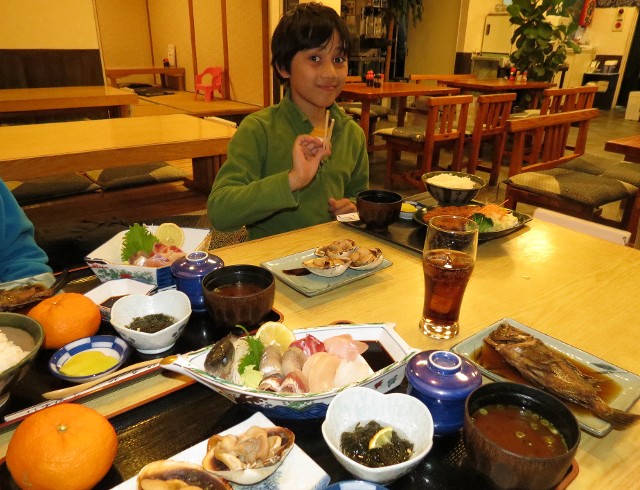 The absolute best sashimi dinner I've ever had! Cape Irago rocks!!!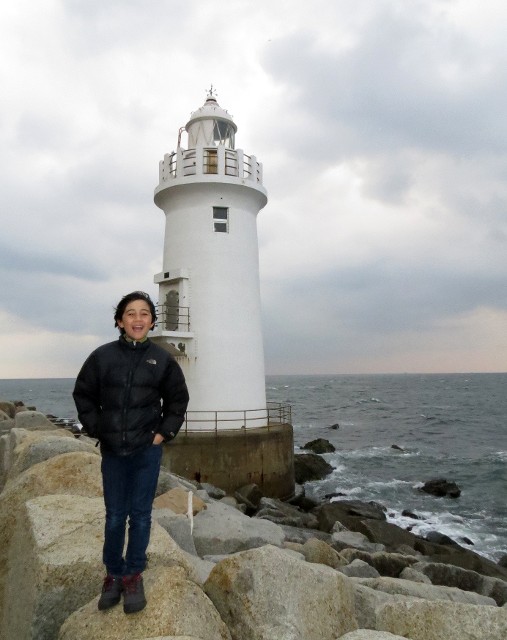 Cape Irago Lighthouse!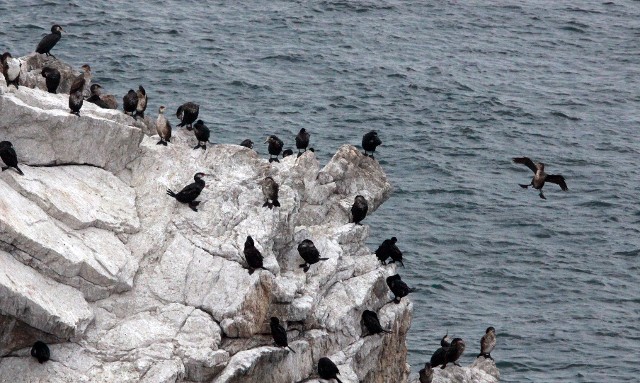 Cape Irago is home to many Great and Temminck's Cormorant roosts and is a wonderful spot for serious shorebird and pelagic birding.
Cape Irago-Toba Ferry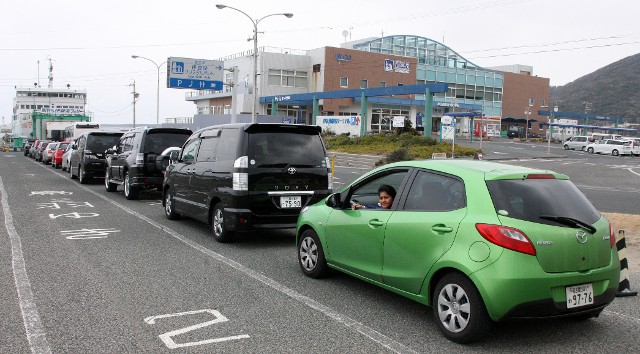 Waiting for the Toba-bound ferry! Some great pelagic birding to be had on this ride!
Today I am looking out the window at a stormy, white-capped Pacific Ocean wondering how rough our ferry ride to Toba is going to be…And now it is raining! Before our ferry ride to Toba, we managed some sight-seeing around the Irago Cape, focusing mainly on the light house and the rock outcroppings near the tip of the cape. Tons of Japanese White-eyes and Temminck's Cormorants were there for us to enjoy. During the crossing the weather didn't exactly clear but the rain ceased. While it was a bit frigid, there was some very good pelagic birding to be had. We came across good numbers of Ancient Murrelets and Black-legged Kittiwakes and pretty much all the species of gulls one would expect to see in Japan. I was searching long for Common Dolphins but none were bow-riding this morning. Entering the Toba harbor was great – lots of action to be seen amongst the pearl floats throughout the entire region.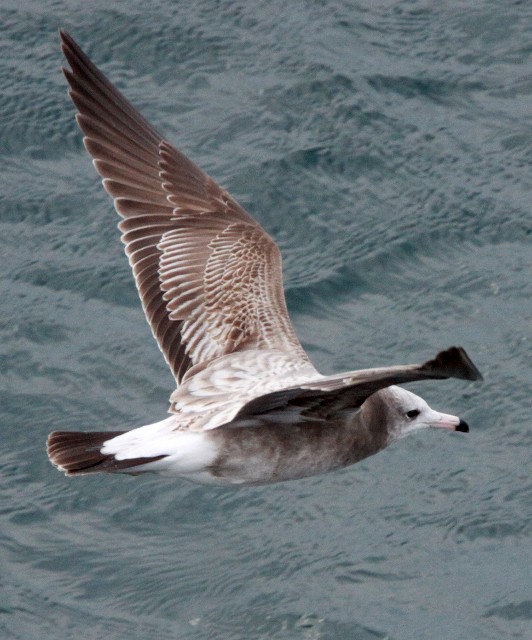 Black-tailed Gulls, like this first winter morph, were very common in the strait between Cape Irago and Toba.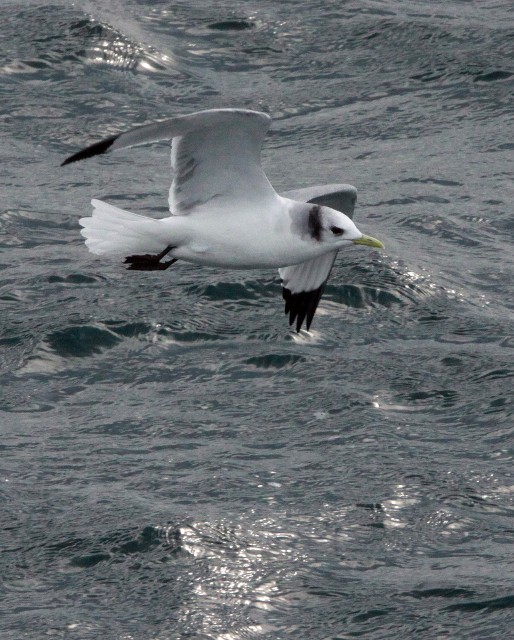 I haven't seen Black-legged Kittiwakes since we were in the Commander Islands off the Kamchatka Coast in Russia...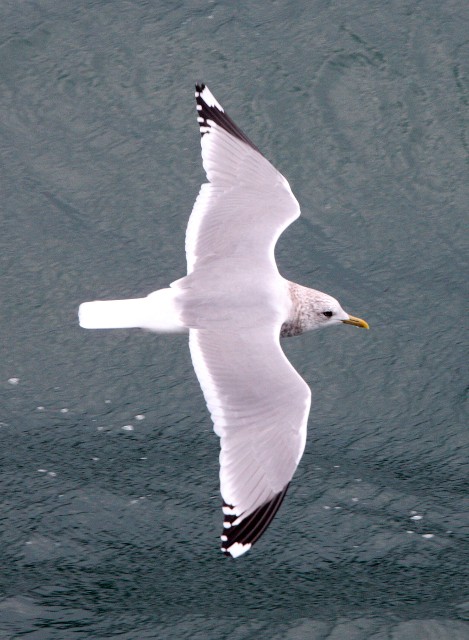 Vega Gull! (At least I think it is....feel free to correct...)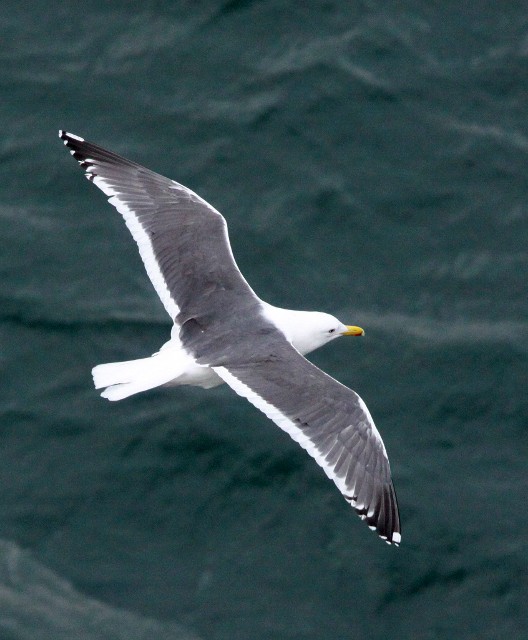 Slaty-backed Gull baby!!!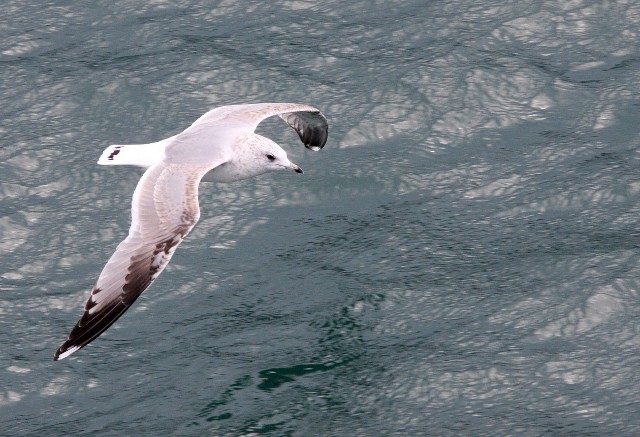 Adult Black-tailed Gulls were not all that common...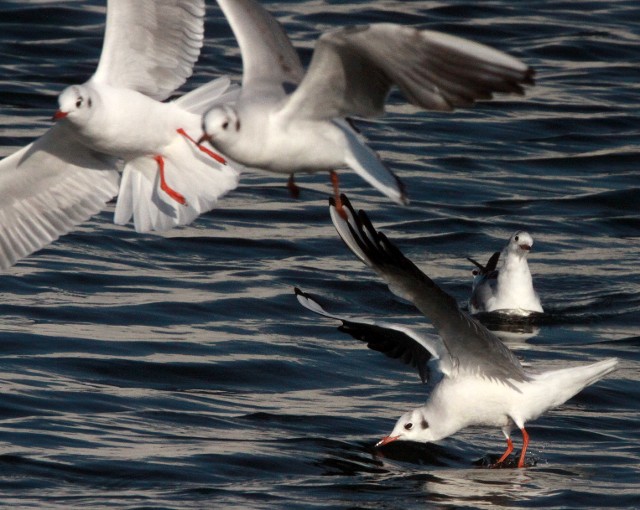 Black-headed Gulls....without the black heads!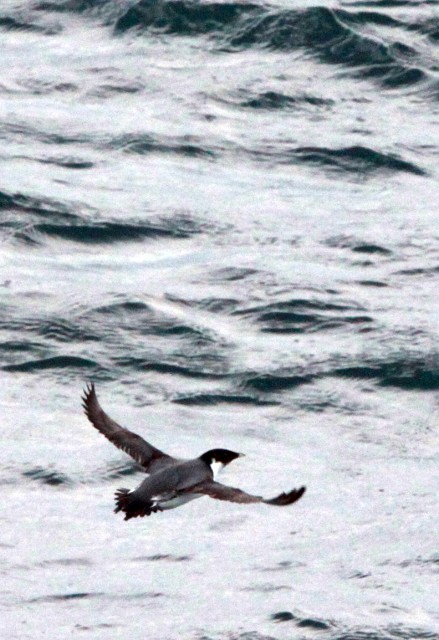 One of the avian highpoints of this crossing was seeing the hundreds of Ancient Murrelets zipping to-and-fro' in the strait.
Toba & the Surrounding Countryside...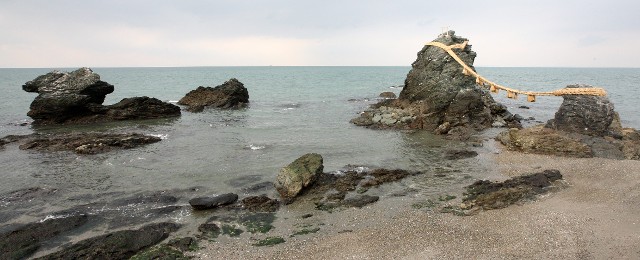 The Meoto Iwa "Married Rocks" & shrine were one of the many sites we targeted near Toba.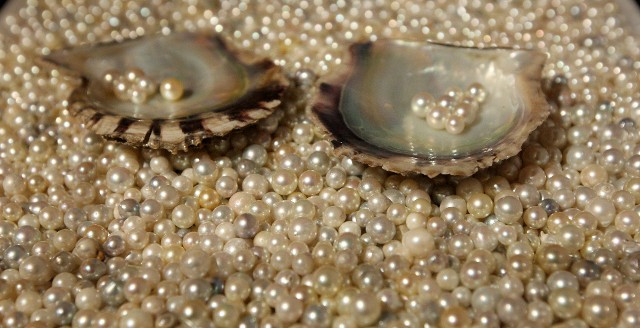 Hmm...Mikimoto Pearl Island....Heck of a lot o'pearls!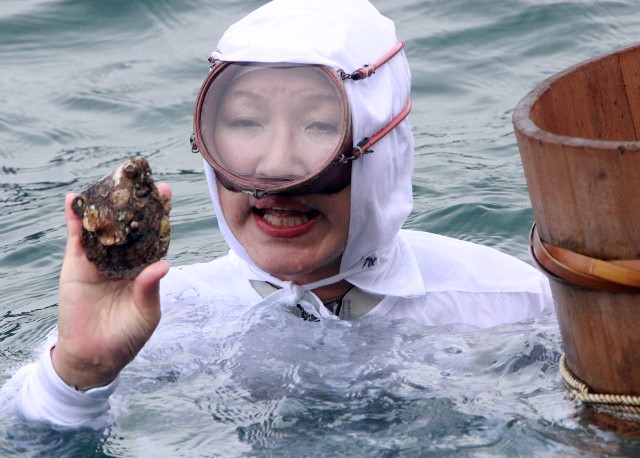 This woman has been diving in these frigid waters for over 30 years!!!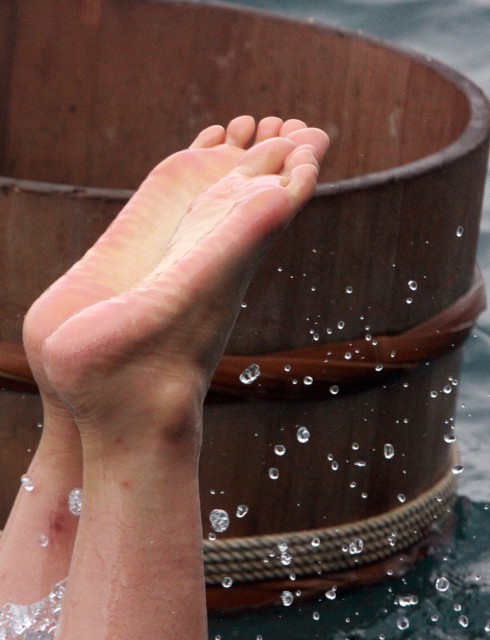 Down she goes!
After an interesting afternoon touring Mikimoto Pearl Island, we had a fun road trip around the countryside between Toba, Ise and Ise Shima, making basically a triangle to avoid some truly unbelievable traffic near Ise Jingu. The unplanned drive took us through some truly incredible primary forest with many species of evergreen broadleaf trees that were very diverse indeed. The forest was prime habitat for Tanuki and many other mammals but there was simply no time to explore this great habitat.
But we did catch a Nat Geo-break when we passed a small lake about 25 km in the back-country of Mie Prefecture, that had a flock of something. Initially I assumed they were common Eurasian Wigeons that tend to flock in such large numbers, but upon closer inspection, we found they were actually several thousand Mandarin Ducks! We watched for several minutes as they flocked to-and-fro', from one end of the lake to the other, seemingly unable to find a suitable location or perhaps unable to find a leader with enough guts to simply say, "OK, gang, this spot will do!"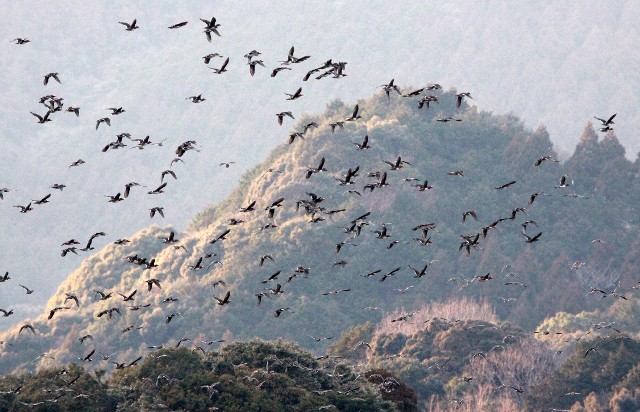 This image captured a very small edge of the largest flock of Mandarin Ducks I've ever seen!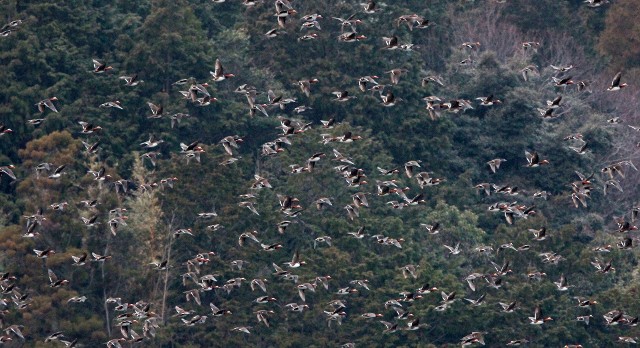 At least 2000 of these little ducks!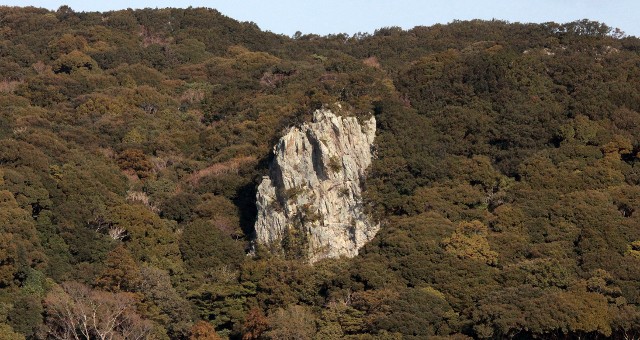 The hardwood evergreen forests surrounding Toba and the entire region were very impressive. In many areas, we spotted forest that actually seemed near primary in stature. I would love to come back and spend more time exploring these impressive Japanese forests.
I've very much enjoyed seeing how both Cokie and Som have been enjoying their second trip to Japan. They both came here with my PA High School group back in 2004 (click here for trip report), when we explored Tokyo, Kyoto, Hiroshima and Mutsu, but Japan and Som didn't seem to click that time like they did this. And Cokie was only 2, so he doesn't even remember the experience. But now both of my family love Japan even more than I do, I would say. We've committed to try to come to Japan during every Chinese New Year from this point forward if we can. Japan is so peaceful and quiet and is simply a great place for a "road trip"! Next time, Hokkaido for the deer, Steller's Sea Eagles and Japanese Cranes….and then after that, Kyushu for more Japan! I just wish the damn place would get a little cheaper…;-)
Japan 2012 Mammal List
Japanese Serow (Capricornis (Neamorhedus) crispis)
Japanese Macaque (Macaca fuscata)
Japanese Giant Flying Squirrel (Petaurista leucogenys)*
Japanese Squirrel (Sciuris lis)*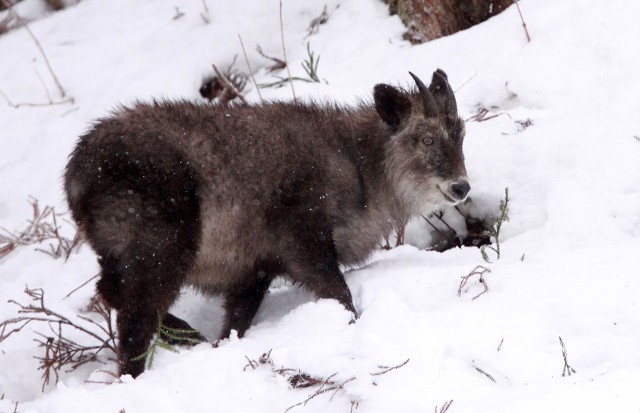 Japanese Serow (Capricornis (Neamorhedus) crispis) at Jigokudani!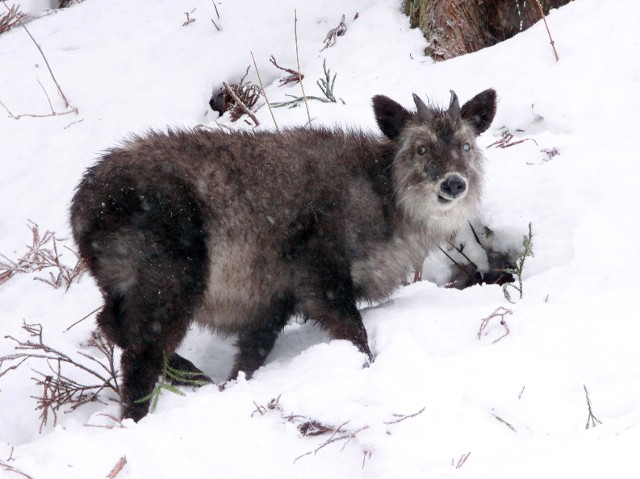 Sign or Near Misses
Raccoon Don (Very Fresh Road kill!)*
Japanese Mole (hills only)*
Japanese Hare
***
Birds!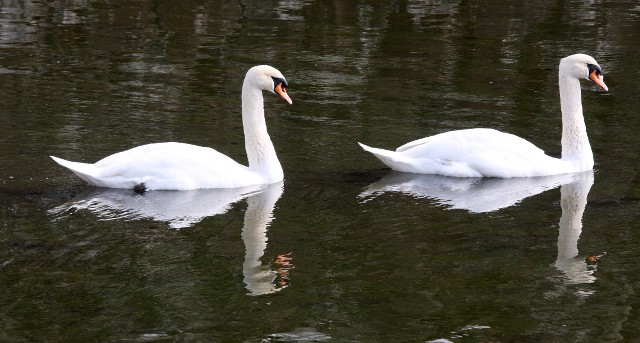 Mute Swans in Matsumoto City. These could have been domesticated although they are found wild in Japan.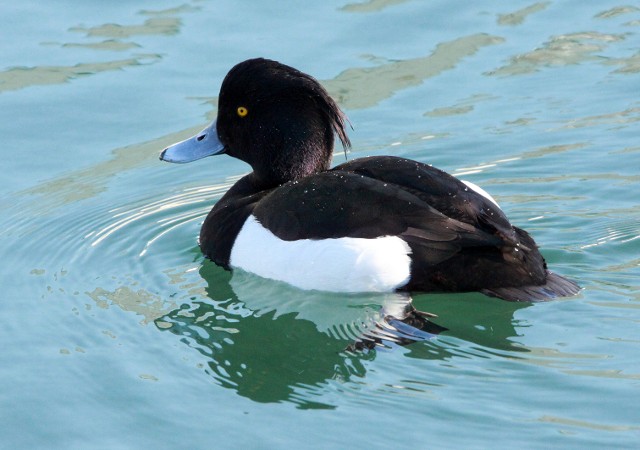 We came across loads of waterfowl on this trip. One of the more common species were these Tufted Ducks which we saw in the high hundreds!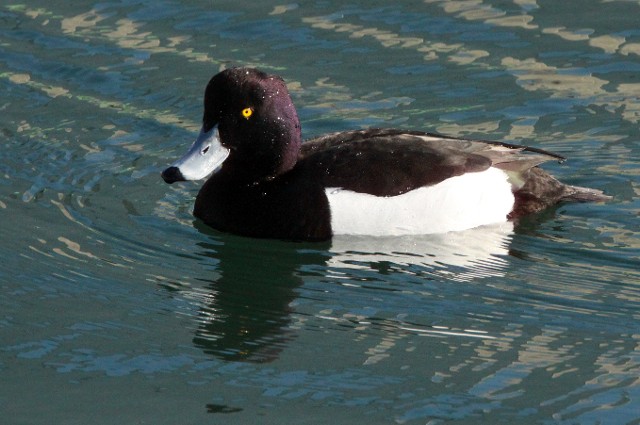 Tufted Duck!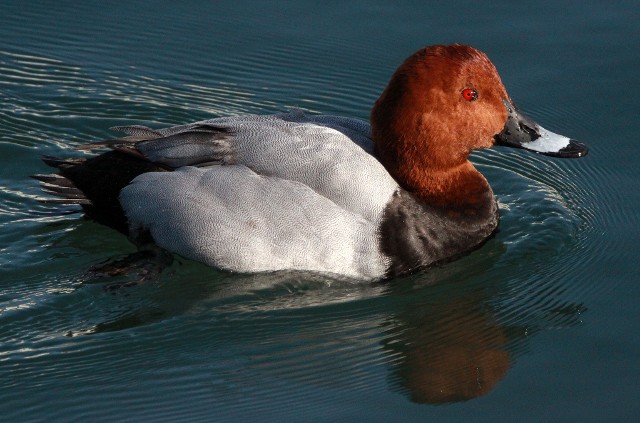 Pochards were another commonly seen duck on this trip.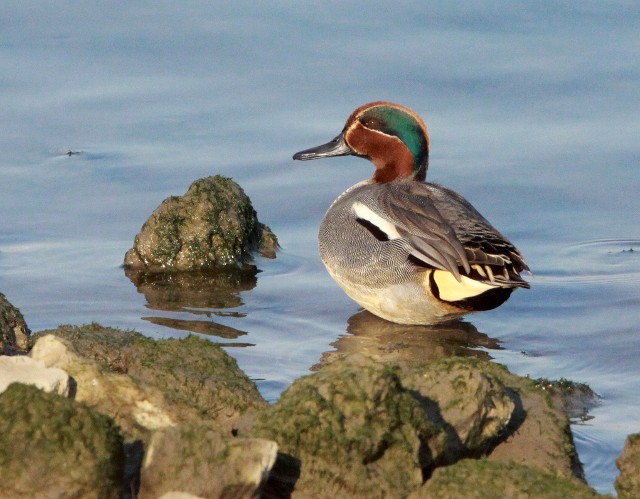 Eurasian Teals in good light are perhaps one of the most spectacular duck species anywhere.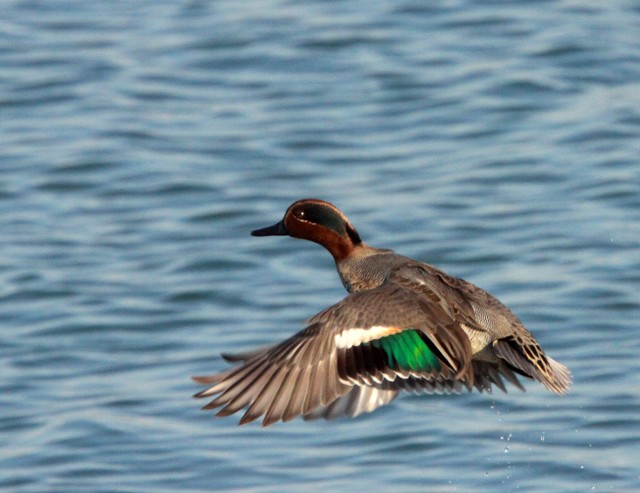 Eurasian Teal baby!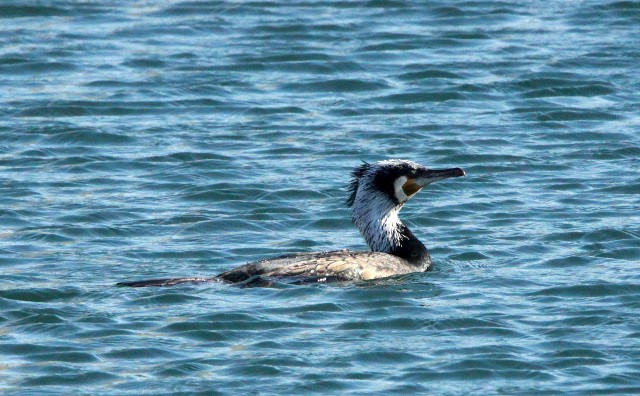 The bronze mantle feathers of Temminck's (Japanese) Cormorants are splendid in good morning light.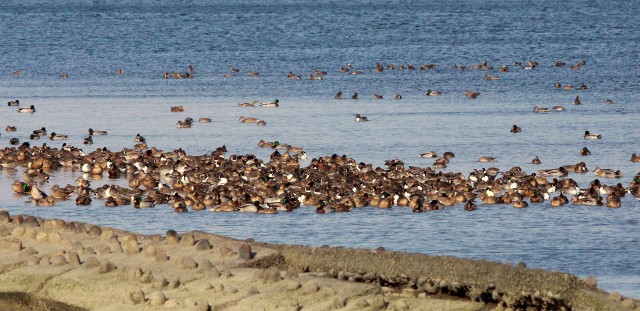 During our road trip in Chubu, we came across dozens of mixed flocks of waterfowl, mostly populated with Eurasian Wigeons, Northern Pintails, Mallards, Spot-billed Ducks, Eurasian Teals, Pochards and many other species.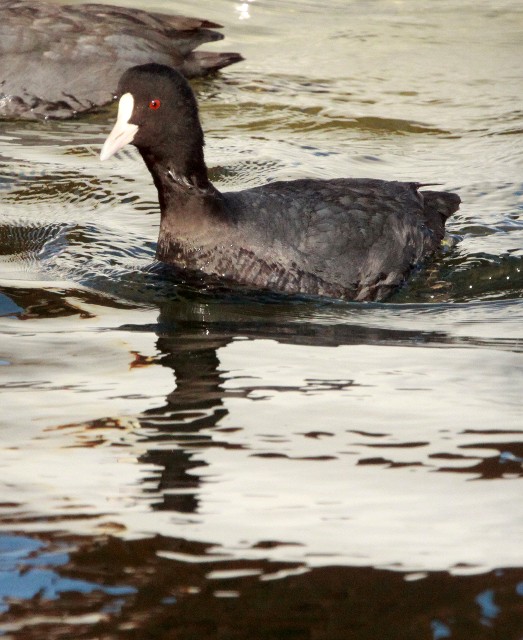 Eurasian Coot!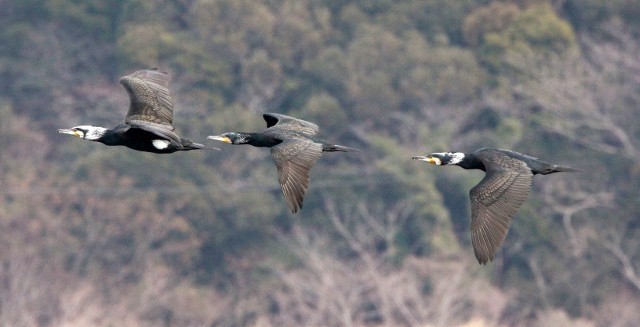 Great Cormorants off Toba Bay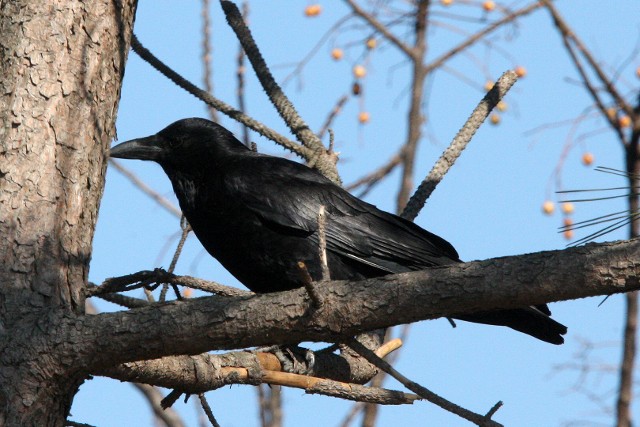 The ubiquotous Carrion Crow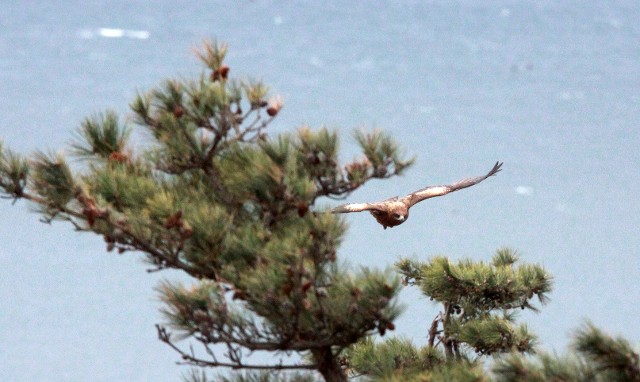 Black Kites must be the most common raptor in all of Asia!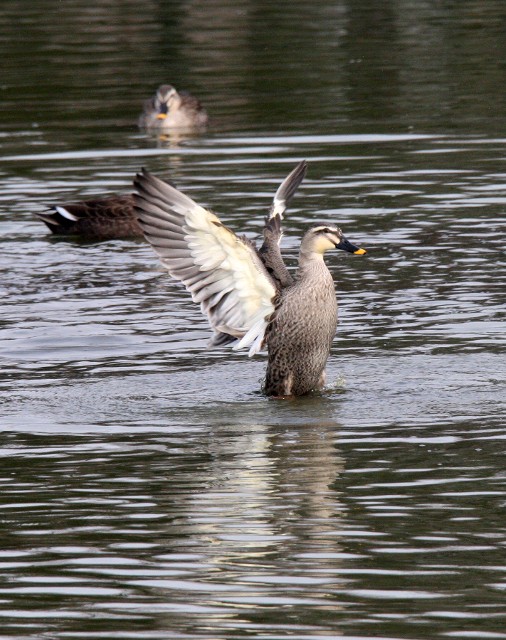 A trip to Asia without a Spot-billed duck would be a.....well....a Spot-billed Duckless trip!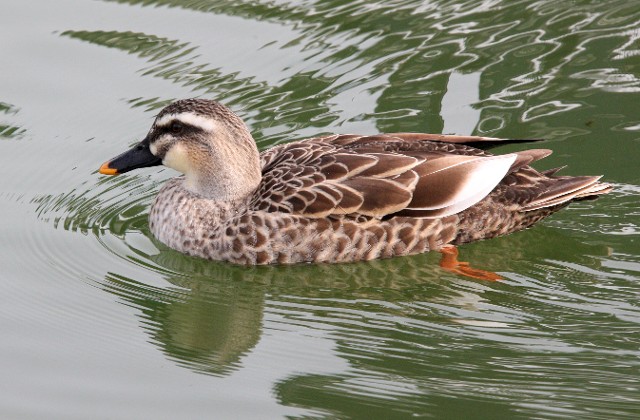 Spot-billed Duck!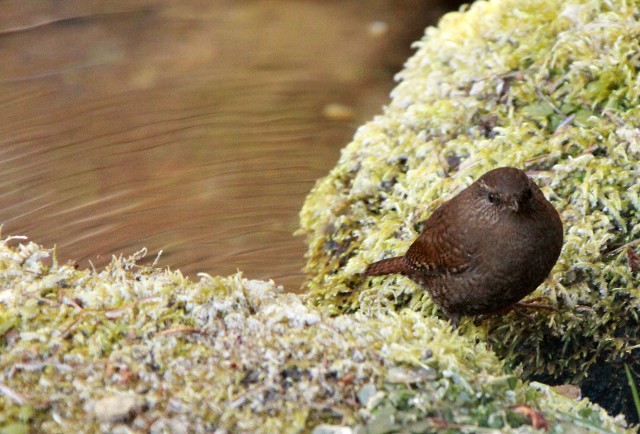 Japanese Winter Wren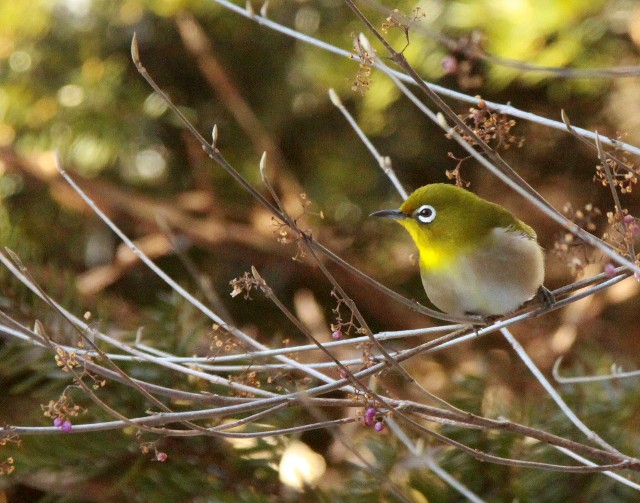 Japanese White-eye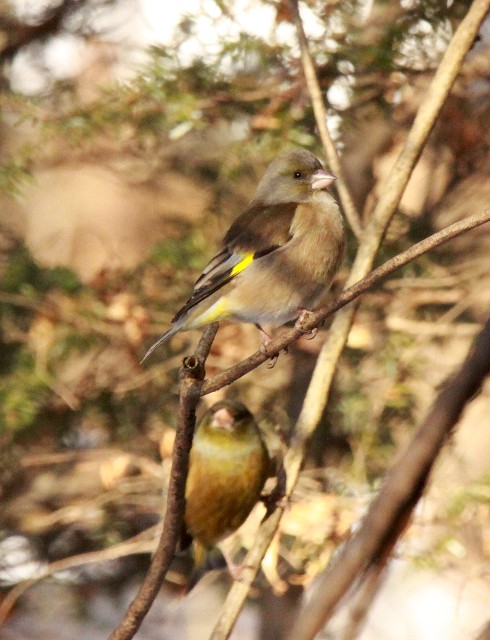 Oriental Greenfinch at Shiotsubo Onsen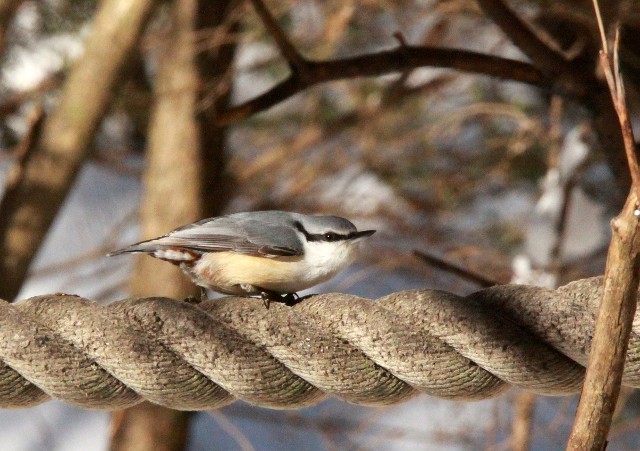 Eurasian Nuthatch scurrying along a large rope at Shiotsubo Onsen in Karuizawa!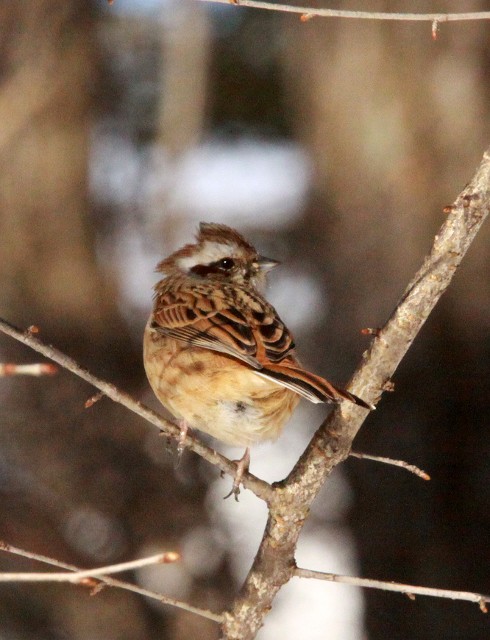 Siberian Meadow Bunting in Karuizawa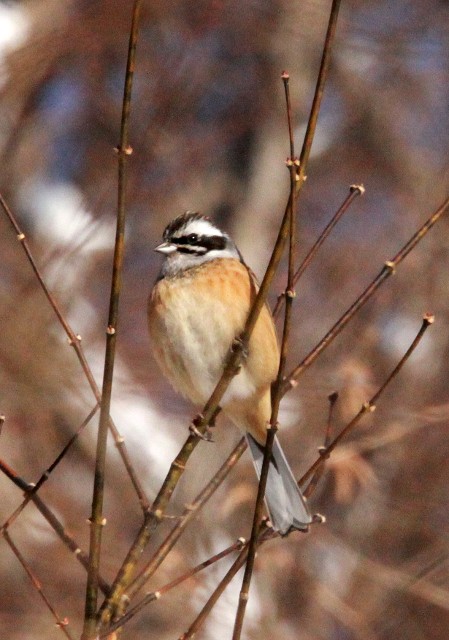 Rustic Bunting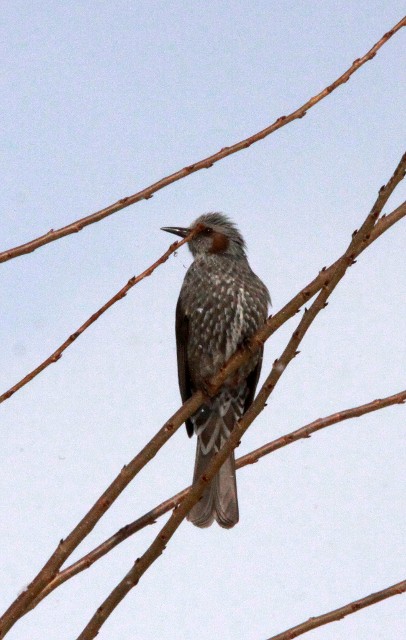 Brown-eared Bulbuls were loud and common in Japan.
Japan Bird List 2012
Great Cormorant
Temminck's (Japanese)

Cormo

rant
Pelagic Cormorant
Northern Pintail
Eurasian Wigeon
Pochard
Spot-billed Duck
Mallard
Green-winged Teal (1000's!)
Gadwall
Mandarin Duck
Tufted Duck
Red- breasted Merganser
Common Merganser
Mute Swan
Ancient Murrelet
Black-tailed Gull
Glaucous Gull
Slaty-backed Gull
Black-headed Gull
Vega Gull
Common Gull
Mew Gull
Black-legged Kittiwake
Little Egret
Intermediate Egret
Gray Heron
European Coot
Sanderling
Osprey
Honey Buzzard
Grey-faced Buzzard (Butaster indicus)*
Eastern Buzzard
Black Kite
Common Buzzard
Marsh Harrier
Rufous Turtle Dove
Domestic Pigeon
Japanese Green Woodpecker (Picus awokera)*
Japanese Wagtail
White Wagtail
Daurian Redstart
Brown-eared Bulbul (Hypsipetes amaurotis)*
Brown Dipper
Winter Wren
Marsh Tit (Parus palustris)*
Willow Tit
Great Tit
Varied Tit (Parus varius)*
Eurasian Nuthatch
Japanese White-eye (Zosterops japonica)*
Siberian Meadow Bunting (Emberiza cioides)*
Rustic Bunting (Emberiza rustica)*
Oriental Greenfinch (Carduelis sinica)*
Brambling
Japanese Grosbeak (Eophona personata)*
Gray Starling
Tree Sparrow
Eurasian Jay
Carrion Crow
*One of the TEN lifers for me on this expedition!
Hmmmm!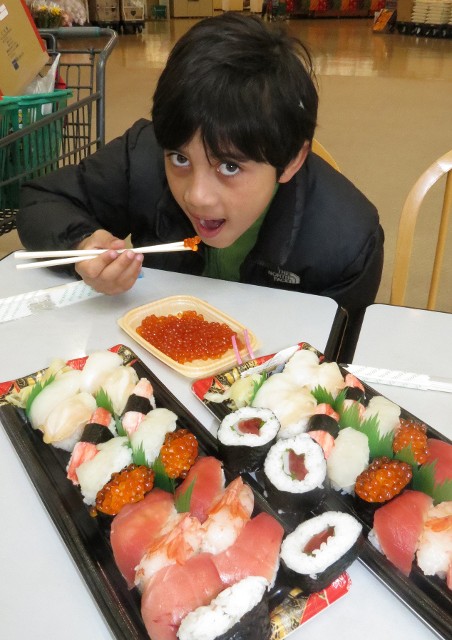 Although this was supermarket - sushi, it was better than almost any sushi you could find outside of Japan! And Cokie LOVES his sushi!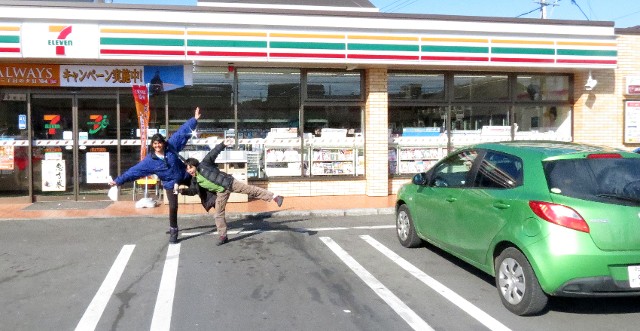 7-Elevens were Som and Cokie's favorite places in all of Japan! Heated toilet seats, Karashi Onigiri, crappy toys and cold canned cappucino! Who can ask for more!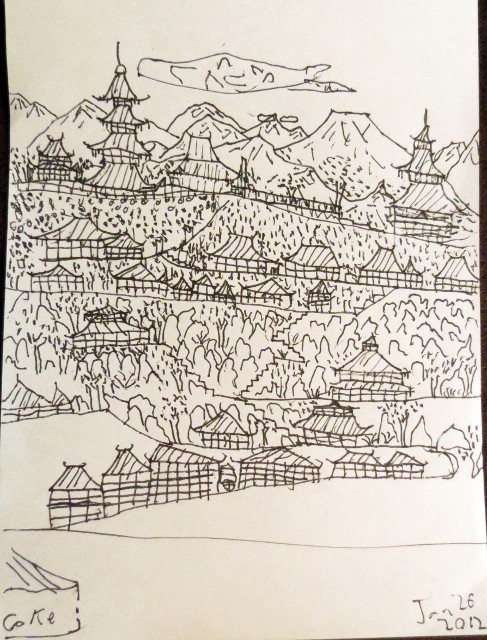 Cokie was so impressed with the spectacular Japanese Post towns along the Nakasendo trail that he drew various renditions of them during the trip. This is one of his works of art that I found particularly interesting and detailed. He loves this sort of art.
To see more of our Japan images, log on to to our Pbase