Morning boat ride!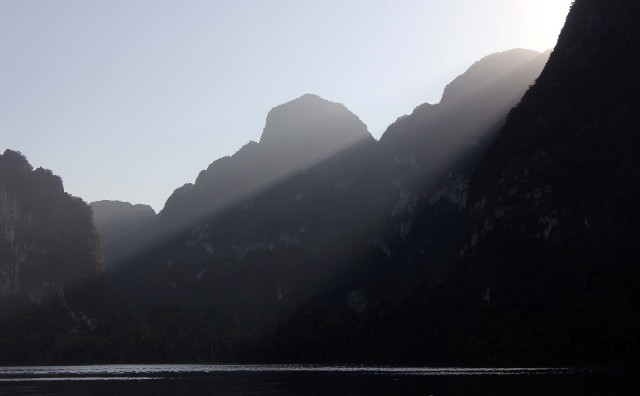 I'm so glad that I had a great opportunity to join this trip with Kevin Callahan and Trevin Ward. I read the itinerary and I though this trip is so perfect for me, and when I looked at the sign up sheet and it was available I immediately sent an email to Kevin and he said "I'm the one who can fit on this trip"! At the end of the trip the three of us worked together as a team and got along very well. And we had a great 24 students who were very easy going and willing to do everything. Of course we have to thank Mr. Thom Henley, Khun Pat, Khun A and Jakha who planned our trip and made everything work so smoothly. We came back with a ton of smiles and ton of great experiences, which we'll never forget.
On our first day we had to travel by overnight train from Hua Lamphong railway station to Suratthani. It's been over 13 years since I traveled by train in Thailand, mostly because it takes forever to get to anywhere. But anyway everybody got on this train on time. It wasn't as bad as I thought it would be. It was actually nice and I slept on the bunk bed. I slept like a baby. Our high school students were having a great time.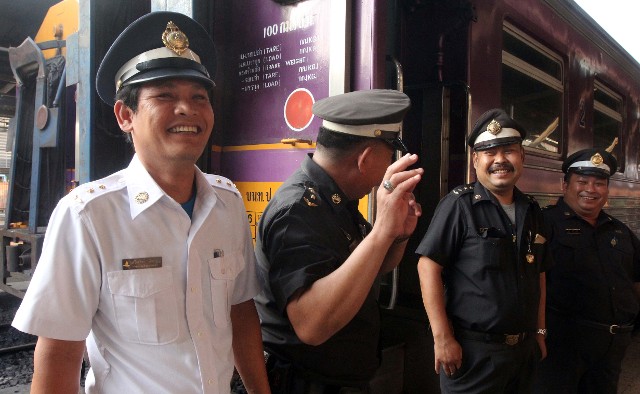 Friendly Train Attendants!
We were supposed to arrive at 5:45 am. But we got there around 6:30 am. That isn't surprising to me at all. Everyone got of the train safely then we met with our three new brothers. At first we they tried to greet us by handing roses to every one of us. But for some reason some of us didn't know who they were, and we even said "we don't want your roses." That was pretty funny! We had a great laugh about this at the end of our trip!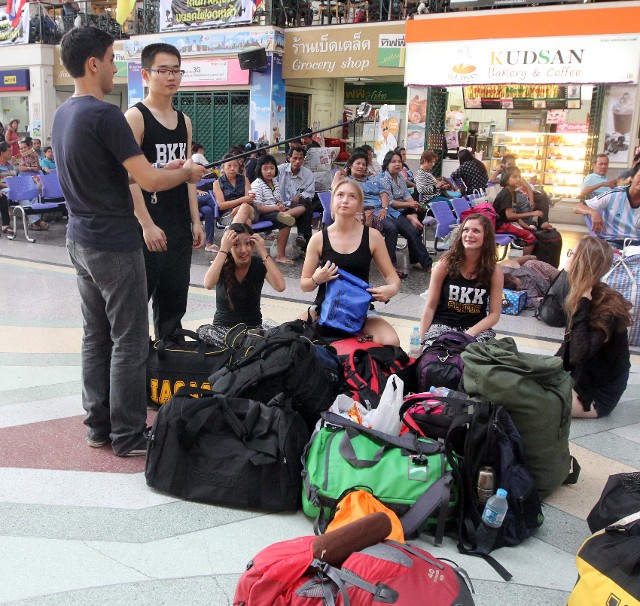 Waiating at the Hua Lamphong train staion.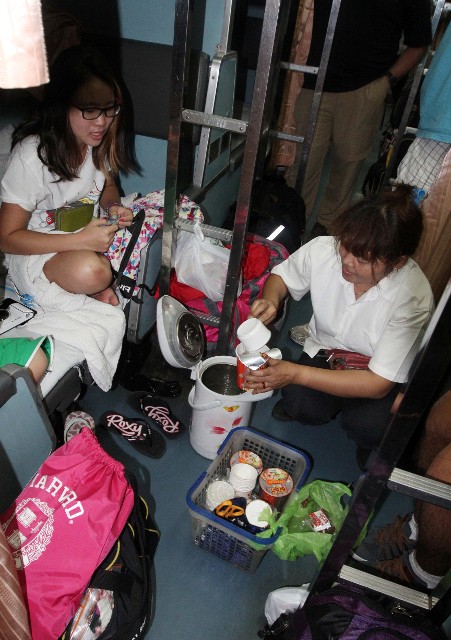 Endless food services on the Suatthani Express!
He had a breakfast neat Suratthani train station and hit the road to Ratchaprapha dam. We got to introduce ourselves to everyone and shared what we wanted to learn and what worried us about this trip. Our brothers (It's our three lovely guides: Khun A, Khun Petch and Ja Kha) were telling us how will they were going to operate on this trip.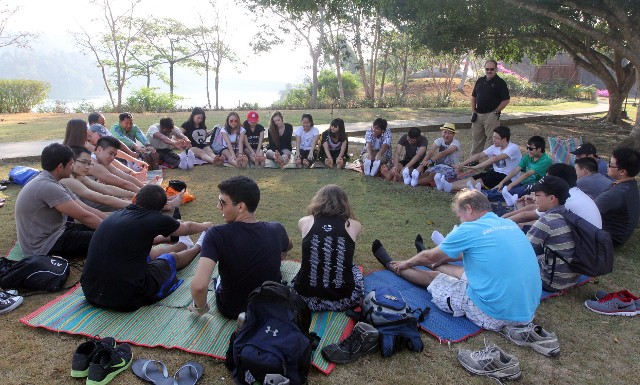 We're introducing or selves and getting to kow some background.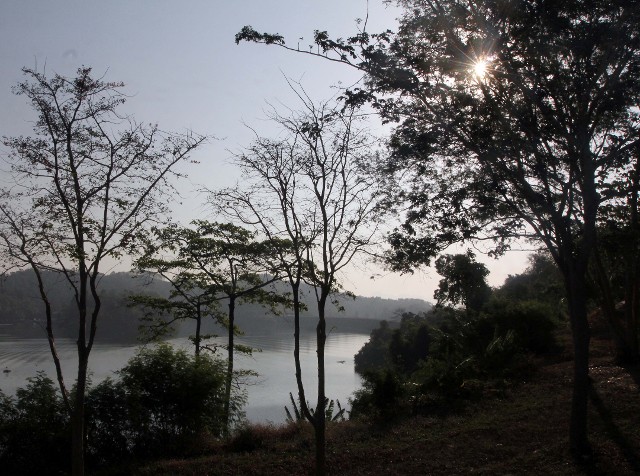 Breath in some fresh air in Ratchaprapa dam.
We got to Chiew Lan Lake which is the launching point to get deeper in to Khao Sok National Park by water. Or you can get to the park buy buses from Surat Thani to Takua Pa in Phang-nga province near Krabi. We took two of the pretty good-sized Long Tailed boats transporting 27 students from our school plus our three guides. It was a pretty big group so we had to take two boats which is a good idea in case one boat died or got stuck so we can have somebody to help us.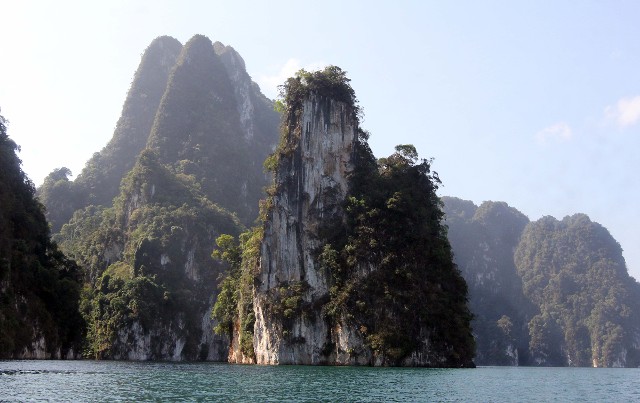 Unbelieavable landscape!
This ride is one of the most amazing boat rides that I have ever done. It took about 50 minutes to our raft-houses. But I was very impressed with all the limestone rock formations built up around the Chiew Lan Lak. And it went on and on but I never got tired of it. Khao Sok National Park is a very big national park. It's land area about 739 km2, have so many trails to explore. Khao Sok National Park has the biggest primary forest in Southern Thailand.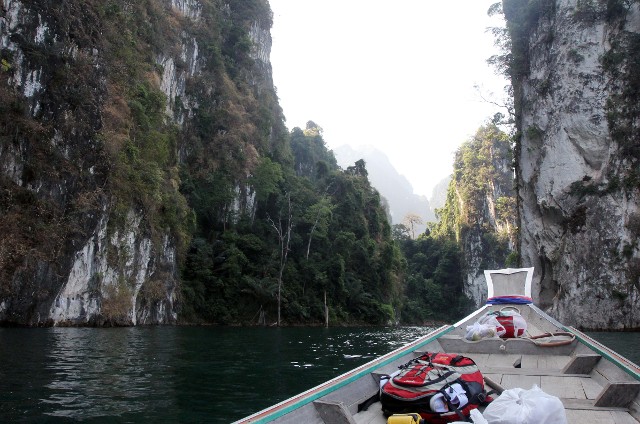 An amzing 50 mintues boat ride!
The park is very diverse with oldgrowth rainforest and has many wildlife species to offer. Many mammals to see - for example White-handed gibbons, Spectacled Langur, Long-tailed and Pig-tailed Macaque, Wild Boar, Slow Loris, Asian Elephant, Sambar Deer, Mouse Deer, Muntjac or Barking Deer, Banteng, Guar, Civet species, Tiger, Clouded Leopard and many more species of bats. A lot of birds, reptiles, moths, insects and plants too. It's a very great place for people
who want to do their field science projects in this area. The price here is still reasonable for most Thai people and foreigners. There were a couple things that were really hard for me here however - the trees were so high up and dense. It was really difficult to spot or photograph wildlife. But other than that it was a fantastic trip. We finally arrived at Klong Krat Raft House. It's a beautiful set up.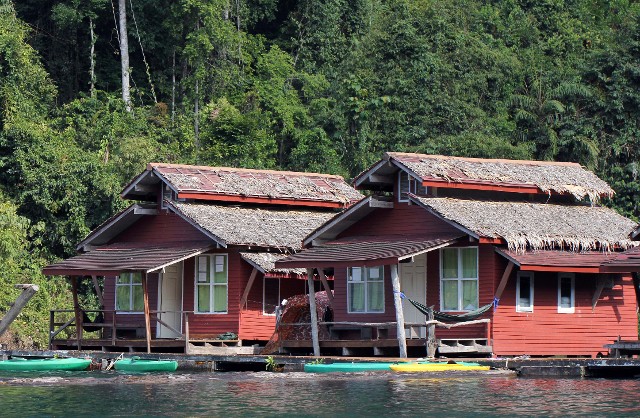 This is the raft-house that we were staying for two nights.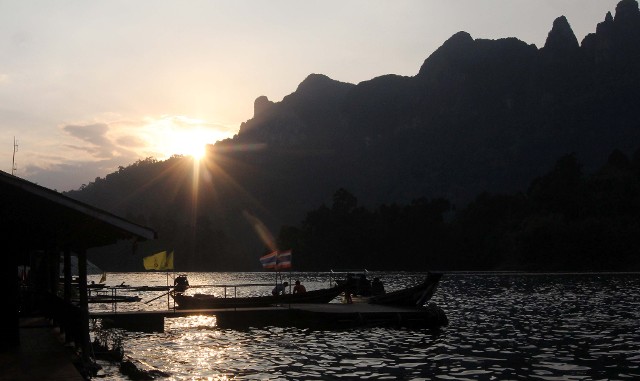 I woke up in the morning with gibbon calls!
I still don't believe that I ever made it here finally. It's so close to my hometown Nakhon Si Thammarat, but I never had chance or a perfect time to be here. It's just like a dream for people who love to be with nature. The lodge that we stayed is very nice. We owned the whole place and it just nice that we could enjoy eachother's company. I got to spend a lot of time with the crew workers for the lodge and got to speak my original language (Southern Thai) which made me feel like I was home with my family. They shared the hard core Southern food and fruits to me. There was some of the fruit that I hadn't seen for a decade.
We had some lunch and had fun for a couple hours, our high school kids and the adults got to go swimming, jumping into the lake, kayaking and Frisbee golf. While we were having such a fun activity we were able to enjoy a sounds of nature at the same time.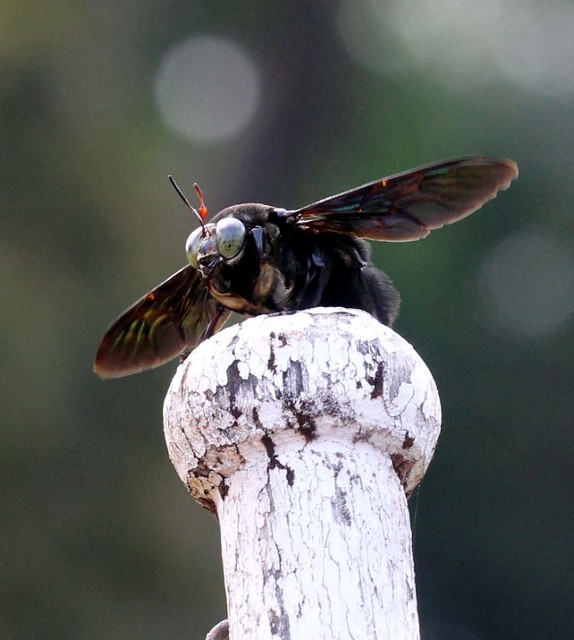 This guy was hanging around our lodge all day long!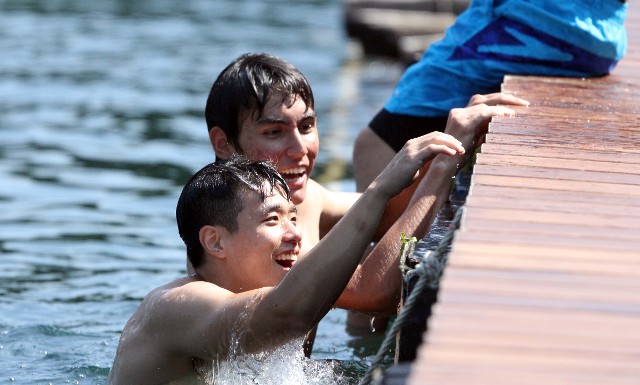 Our students were having a great time!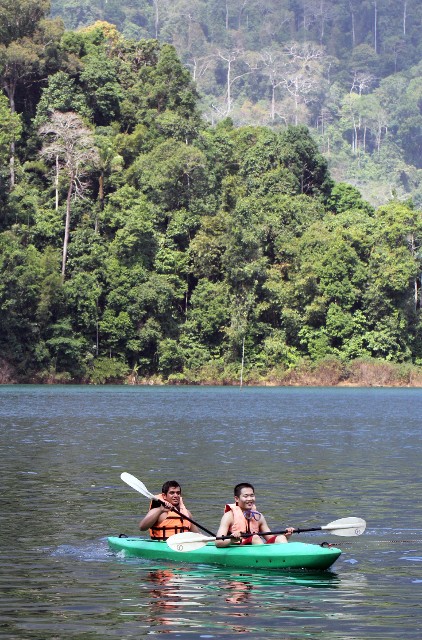 Kayaking around Chiew Lan Lake!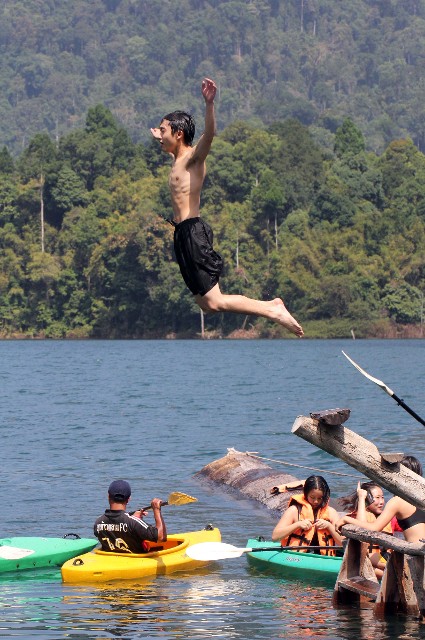 Jumping in to the lake!
Coral Cave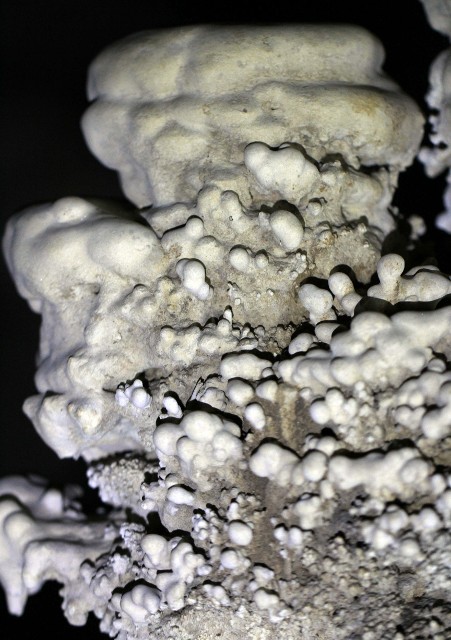 An amazing formation
This place is such a treat for us. We had to walk around 30 minutes to get to the raft pier. The trail is kind of up and down. But it's not too far. You can do some bird watching and mammal watching along the trail. This place can have a lot of tourists and is very popular for both Thai and foreigners. After a short hike we arrived to the bamboo raft pier. I wasn't sure how strong of the bamboo raft was. But I set on it anywhere. You got to cross somehow. I guess our adventure had just begun!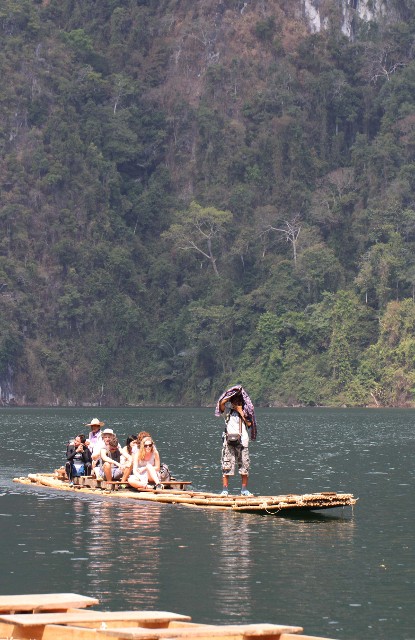 we were getting on the bamboo raft on the way to Coral Cape!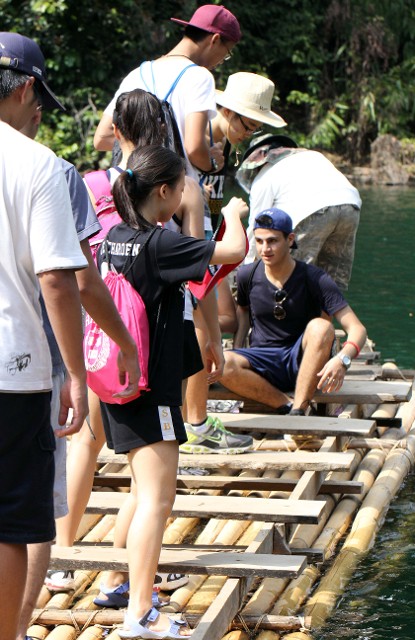 Are we going to make it?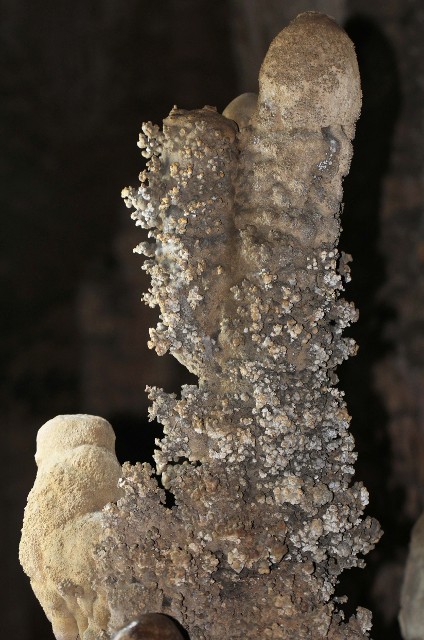 Rock Owl!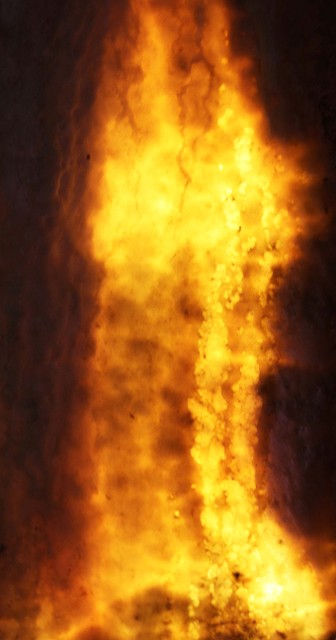 Amazing color!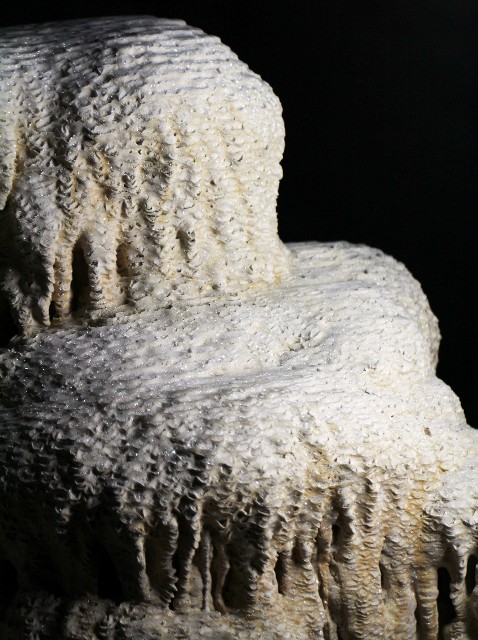 Beautiful!
This is one of the most beautiful caves I have ever been inside. The local guide took us. This lake was formed for over 20 years ago from a random flood which resulted in a big lake with 80 meters depth of fresh water. The reason that made the cave have so many colors and shape is from rain pour down on the leaves and crevaces for many years.
After we visited the Coral Cave Khun A was planing for our students to have a "Spirit Walk". Every student had to stop about every 70 meters for 10 minutes long. They can observe nature or do some meditation. They had to be very quiet and be without their friends.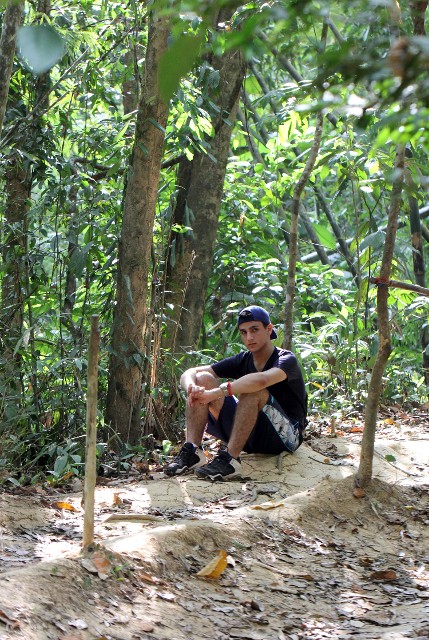 I walked past about 10 students on the trail. I would say 60% of them paid attention to the life around them and anoter 40% didn't know what to do.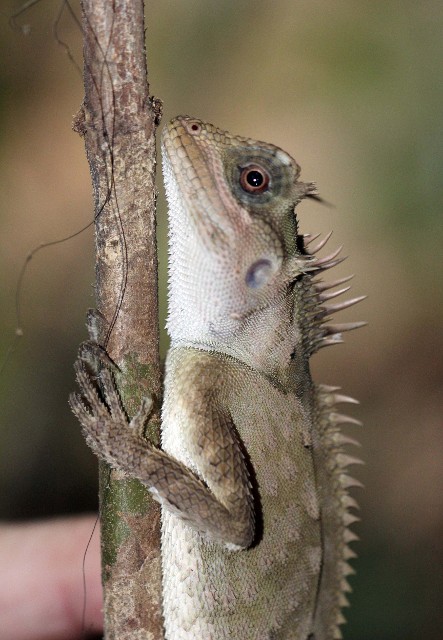 Hold on tight!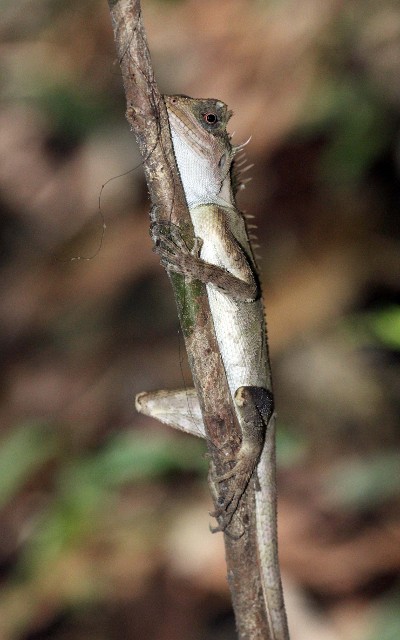 Such a beautiful lizard!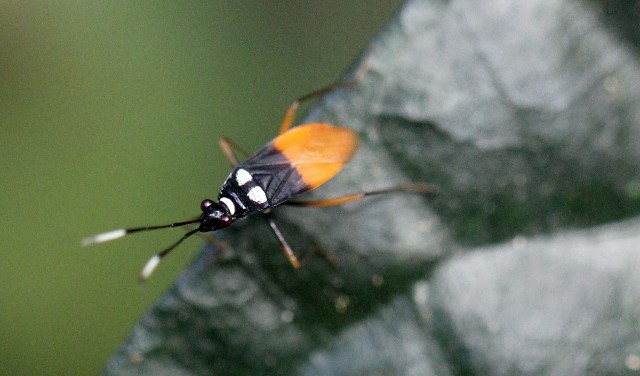 Found this guy along the trail!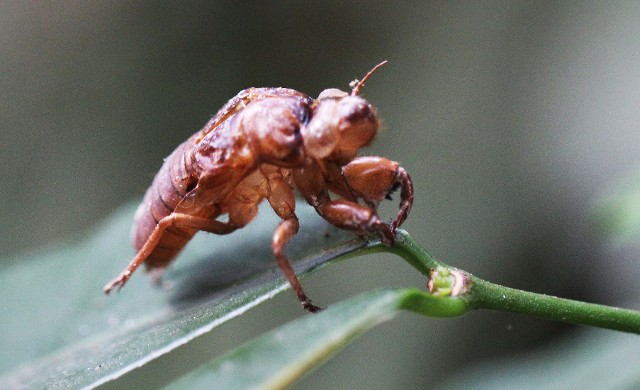 At least he left his shell for me to take a photo!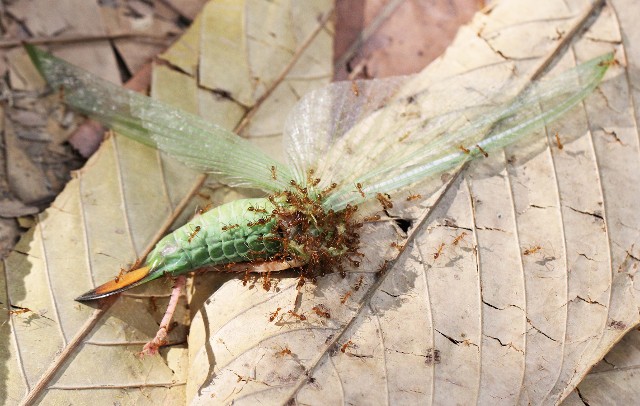 It would be nice if I get to see a live one!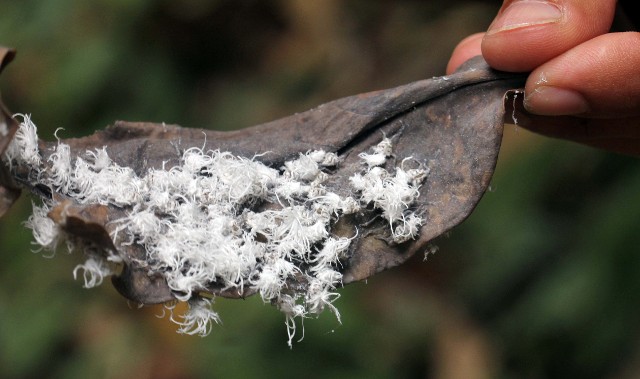 Night Cruise
Before I got here my main target species was a Slow Loris. I looked around where we were going to do our night safari, it was pretty hard! The trees here are pretty high up. I didn't think we would see them. Well I just gave it a try that was in my mind. We divided to two groups, two boat went to a difference direction.
It was a pretty quitet night! The sound of the long tailed boat was very loud. I still got some hope. Saw a couple nightjars, but no civets. And finally almost to the end of our safari, we saw a very bright eyes. I knew those eyes very well. I was trying to hard to have a great look but the tree was very hight up. Kevin got a flash light I got a heavy camera and we had to look up for about 10 minutes. This Slow Loris wasn't that slow that night. He was moving back and forth so fast. We weren't giving up. My boat driver wasn't giving up either! He really wanted me to get this picture. He had no idea what he was looking at. Our group was seeing the Slow Loris thatran back and forth. Our necks were killing us! Oh I wish the have a Thai Massage waiting for us back at our lodge.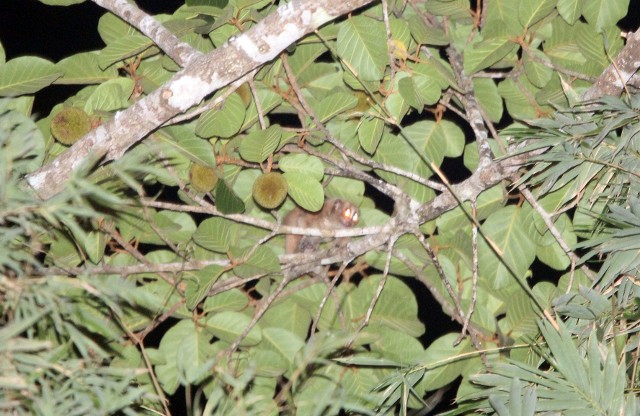 Got one! This is the best picture that I could get!
Well at least I got to show one of the world's most primitive primates to our students. We headed back to our lodge after our successful night in the jungle. We asked the other boat and they said they didn't see anything. That's a pity! It's part of your luck too. If you get lucky you can see a lot in the wild area. I talked to the local people at the lodge, and they all said the best time to see the wildlife you have to get up around 6:00 AM and at that time we could be more productive. But to me night time and early morning it the best time for a mammals to come out. Anyway I arranged for a second night safari anyway even if they were tring to talk me out of it.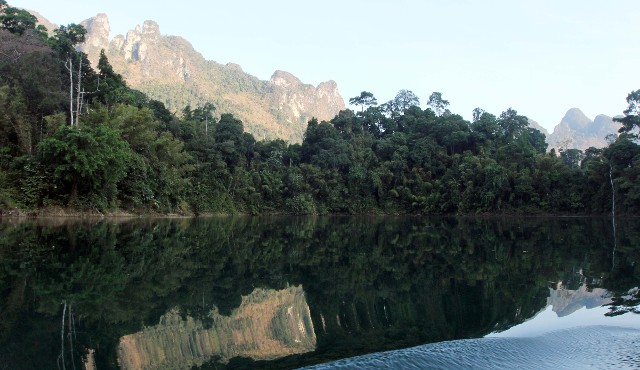 Such a beautiful moring. We were waking up with a gibbon calls and birds were singing. The water in the lake was so calm and the sun was rising...
I was waking up with a beautiful sunrise!
We were were getting ready for our moning safari. We hoped to show our students a White-handed Gibbons, Dusky Leaf Monkeys or Spectacled Langurs, Great Horbills, Oriental Pied Hornbill and many more…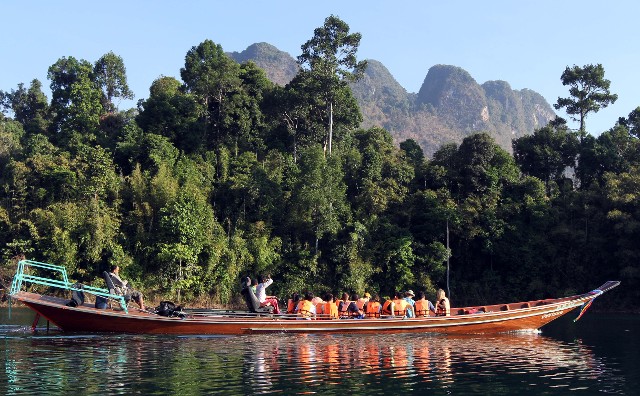 Our moring safari!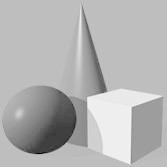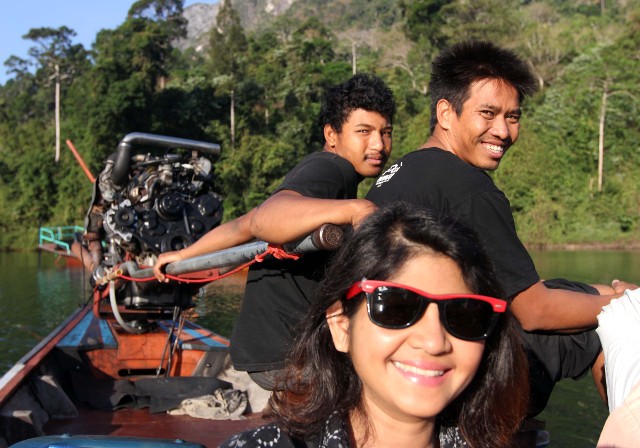 Hanging out with Khun A and my both drivier!
We had a very productive moring. We saw Spectacled Langurs hanging out very high up and far away. White-handed Gibbons wish were swinging very fast of cause and impassible to get a good picture or a even a good look at it. We saw about 10 – 15 of Great Hornbills were flying from very distance, Oriental – pied Hornbill and Eagles.
Spectacled Langurs!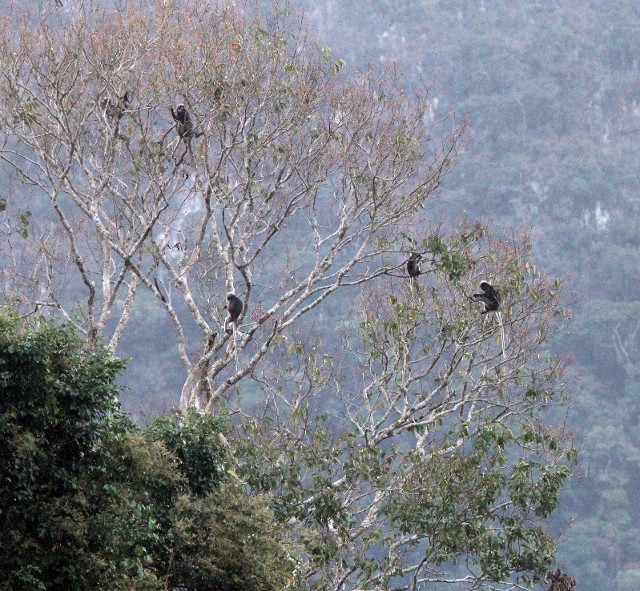 Khao Sok national park have a lot of tall trees, so hard to photograph the wildlife.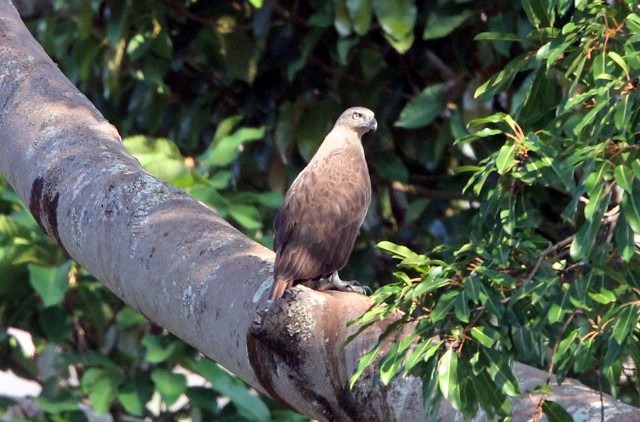 Grey-headed Fish Eagle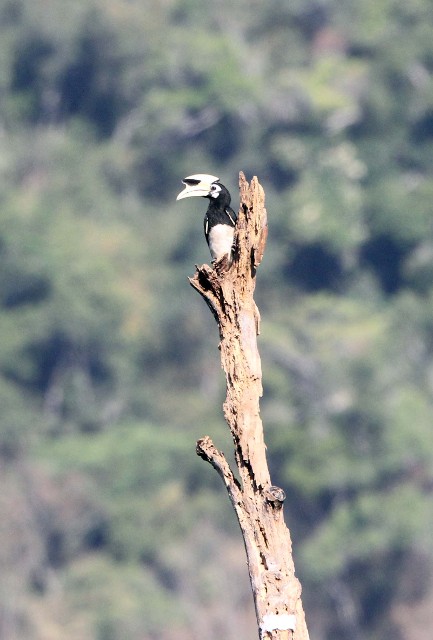 Oriental – pied Hornbill!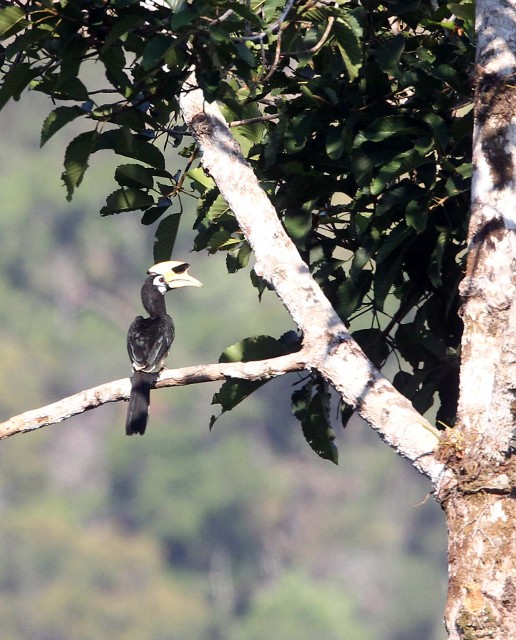 Looks like he was waitng for me!
Such a nice drive! I wish we can do this everyday! So we're back for our breakfast and getting ready for another adventure in the cave. We are supposedly use our imagination that we are in the Indiana Jone's movie. This trip is getting better and better. I felt young again.
Nam Thalu Cave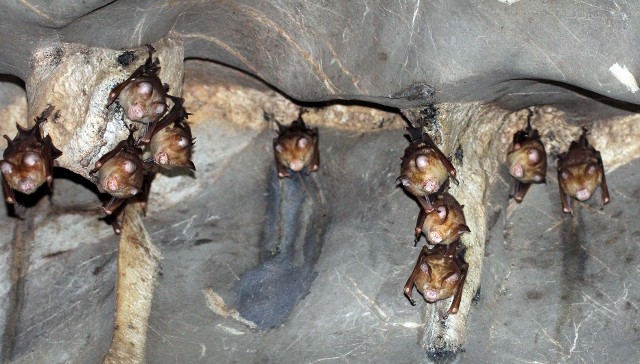 Ashy Roundleaf Bat - Hipposideros cineraceus
We had to take a boat ride for about 50 minutes before getting to the starting point. You could see the wildlfe along the way. We saw the Long – tailed Macaques jumping up and down on the bamboo bushes and some of the Eagles hunting the fish in the water. We didn't know what kind of eagle. I didn't get a good look at it.
We started the trail around 10:00 am. There wasn't too many people on the trail yet but on the way back around 2:00 pm. all the tourists started to coming in. Just make sure that you start your hike early when you inside this amazing cave you can own your great experience to yourself.
The trail to Nam Thalu Cave is very easy and level. The inside of the forest was pretty nice and cool. I had no sweat at all on that hike. I stayed behind the group with Khun Pat and JaKha. It was very nice to walk with both of them. So we were looking for anything interesting in this rainforest. I want to document what I saw and then share my discoveries with my group. I knew a lot of the students will not see what we saw.
Beautiful leaf!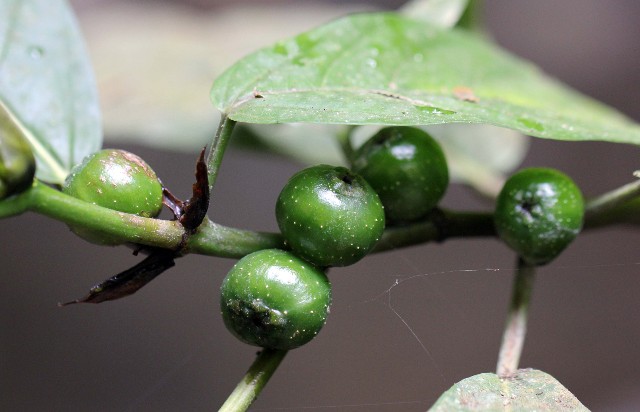 Some fruits!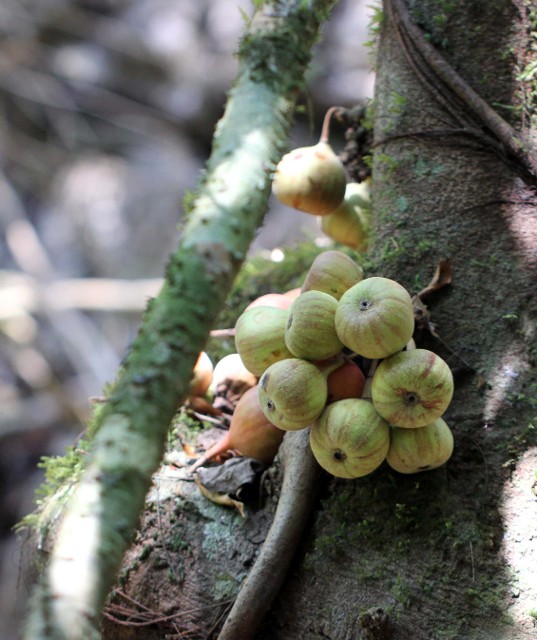 This one as big as my hand!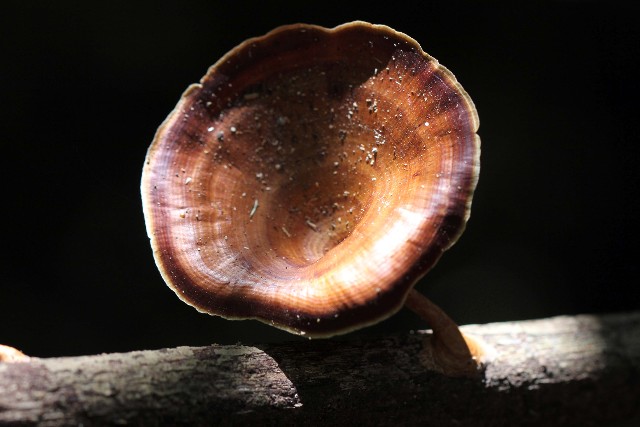 Nice fungus!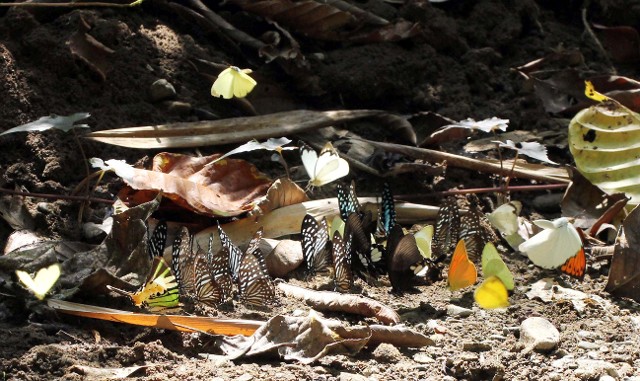 Thailand has so many butterfly species and I think in Febuary you still catch some of the big groups that hang out together.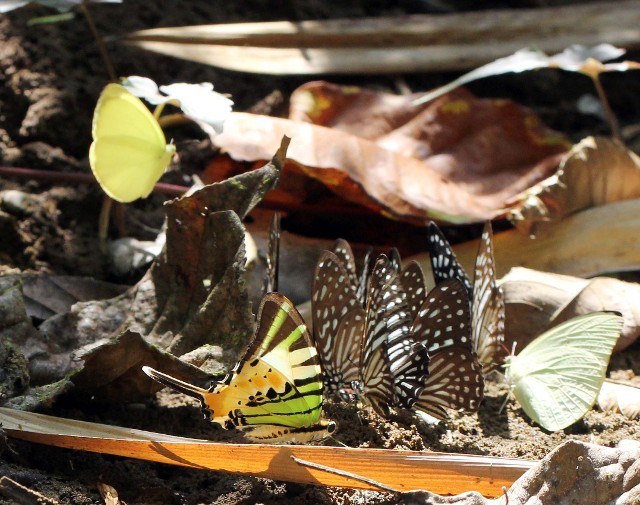 They're just hanging out!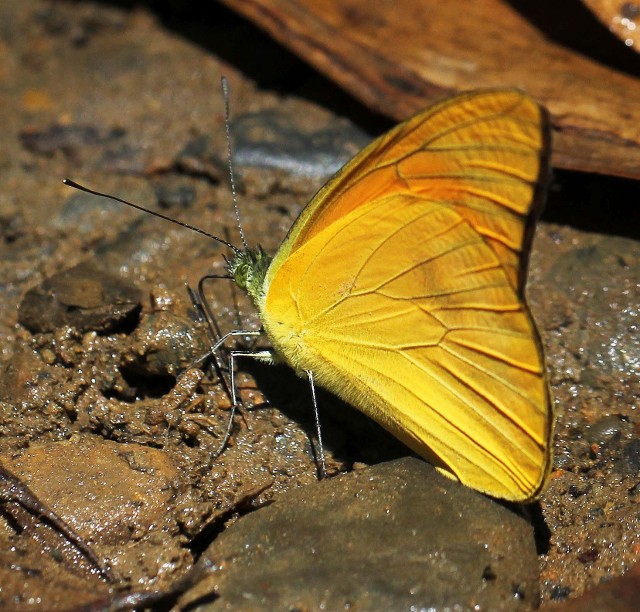 Good place for a drink!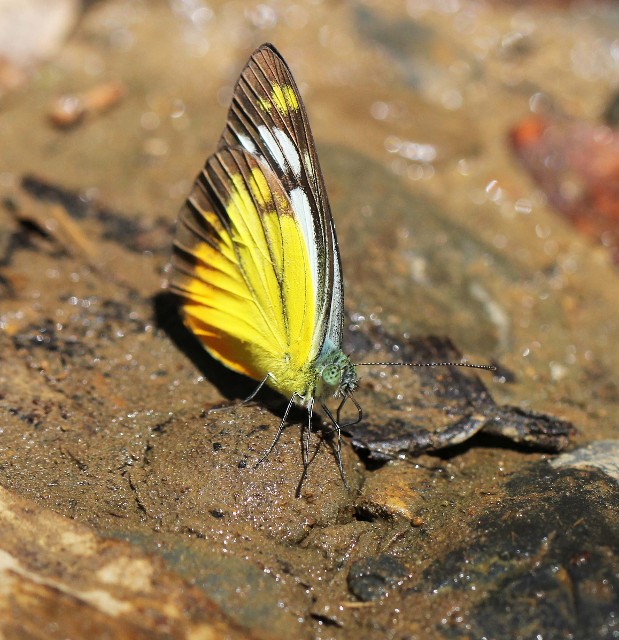 Beautiful!

What an amazing mix of leps just hanging out next to the stream. Khun Pat directed me to come this way. I'm glad they let me get close. In this rainforest there were a lot of amazing plants and insects.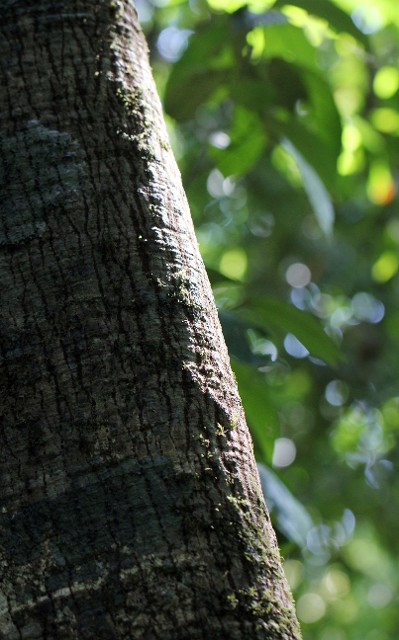 Beautiful Rainforest!

I fould rock fomation which look just like the Tsingy de Bemmaraha Nature Reserve… (See our pictures HERE) But luckily it wasn't hot as the one in Madagascar.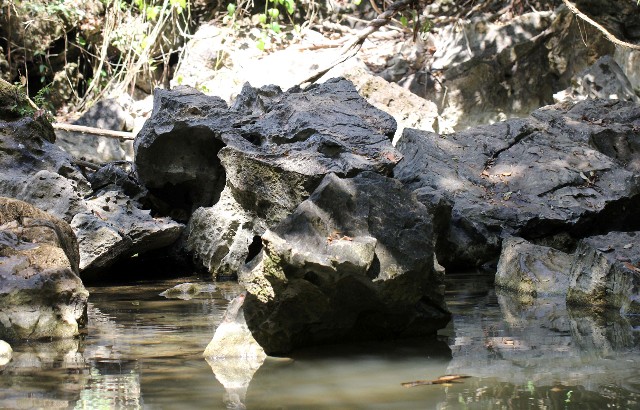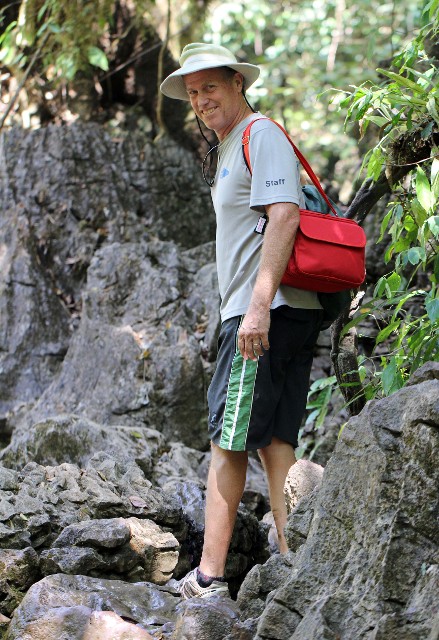 Kevin's climbing up the rocks!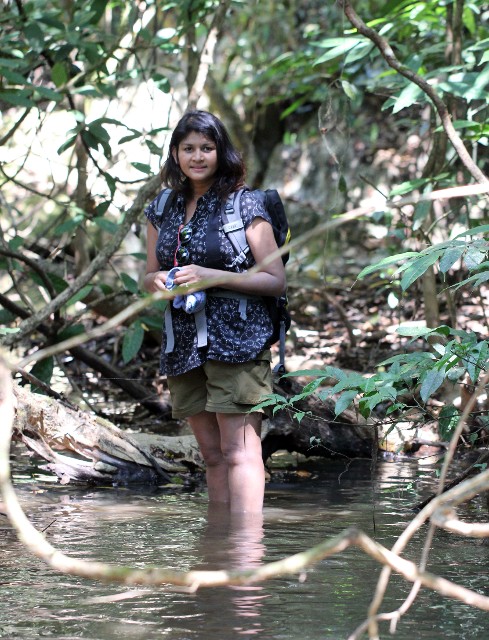 Such a treat to be in Khao Sok National Park!
We finally got to Nam Tha Lu Cave perfect for our lunch break where we found a nice spot for our lunch. Everybody had a pack lunch. We thanked Khun A, Khun Pat and JaKha for bringing lunch and fruits to us.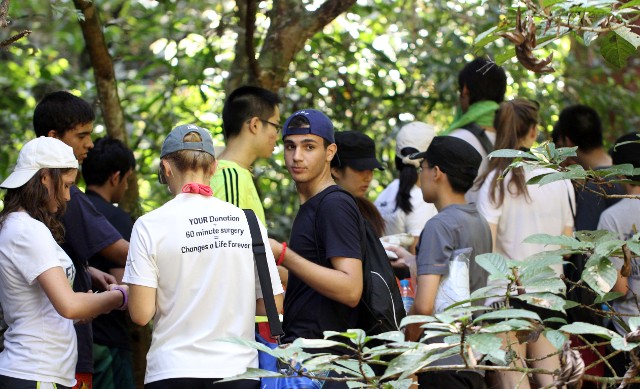 Distributing our pack lunch!
While we were having lunch we found this little frog he was maybe only less than 1" long. He was so beautiful and very cooperative. And we saw a river crab too.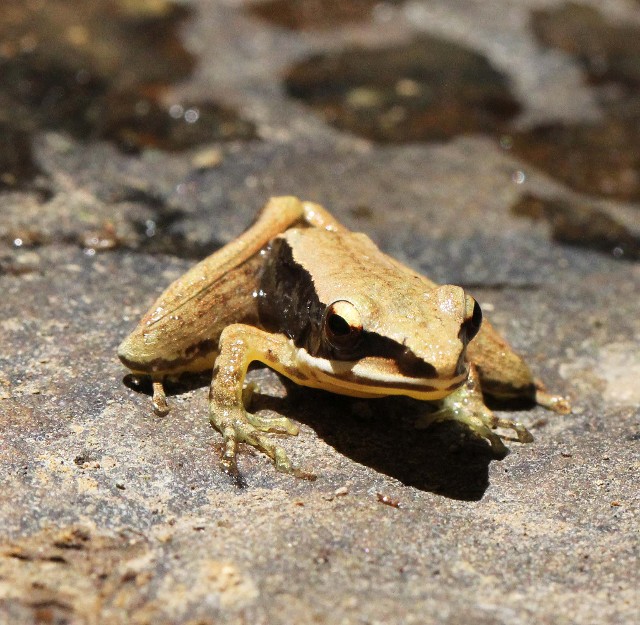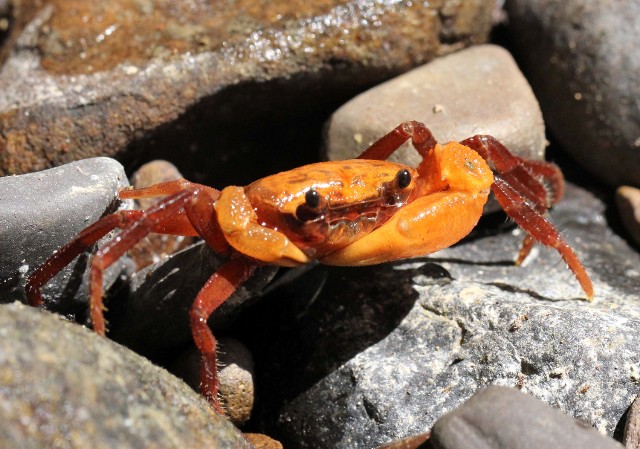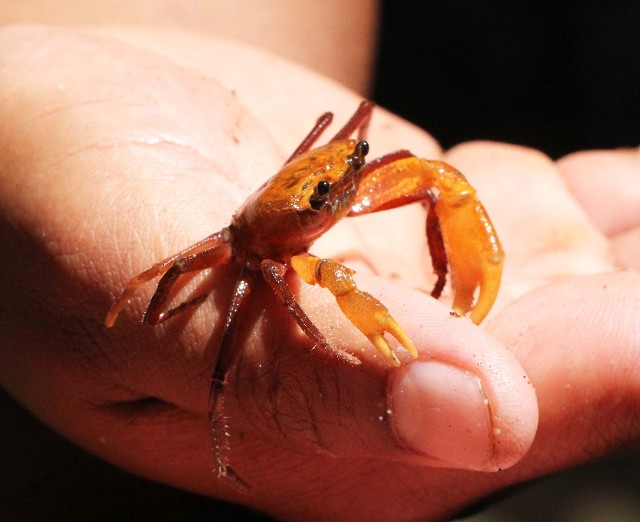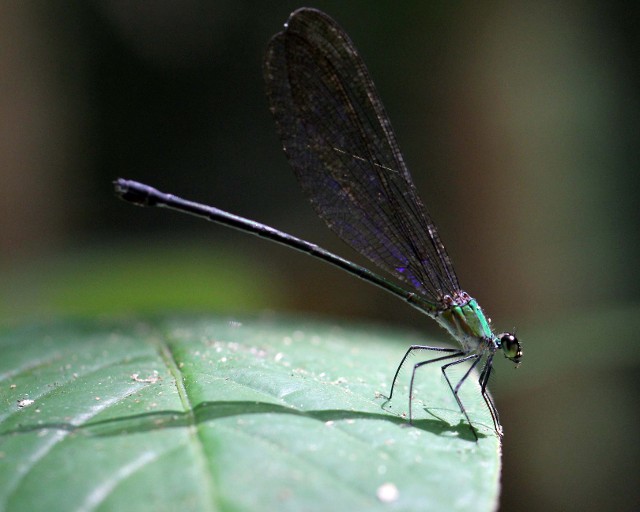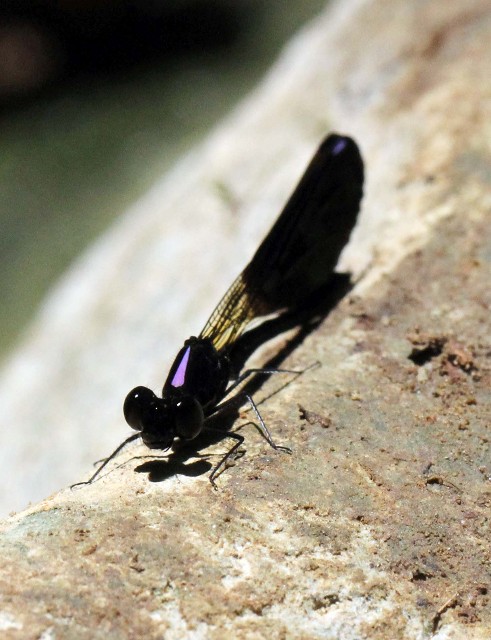 We started to walk in to the cave. The reason whe they called it "Nam Thalu" cave was because the cave has water going all the way thought the cave. In the raining season it's impossible to get through, as the water level way too high. There have been some incidents already with unlucky trekkers. A lot of them came from the tourists who didn't hire a guilde and didn't know that the water inside the cave could get higher for the short period of time in the raining season. You can get trapped in there. The best thing to survive is climb up to the higher rocks inside the cave. But many people have died in there.
For the first half of the cave we saw a lot of insects and at least three species of bats. And almost to the way out our students saw Striped cave racer snake swimming across the water.
Bats
This Nam Thalu is the most amzing cave that I have ever been! You really felt like you were in the Indiana Jones movie. After about half an hour of walking we tried to take as many bat pictures as many as I could. Khun A finally called me and JaKha to be ready for a wet part in the cave. I had to pack up my camera gear in the waterproof back. I was a little bit afraid because I had no idea how deep the water was going to be. Luckily Khun A volunteered to carry my backpack.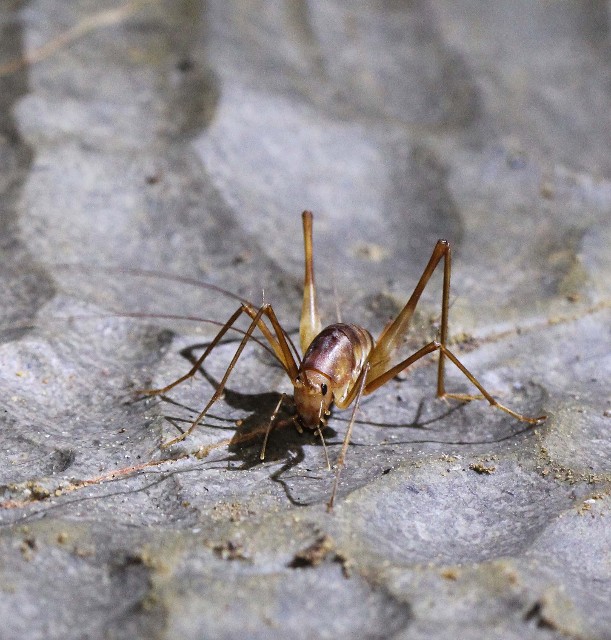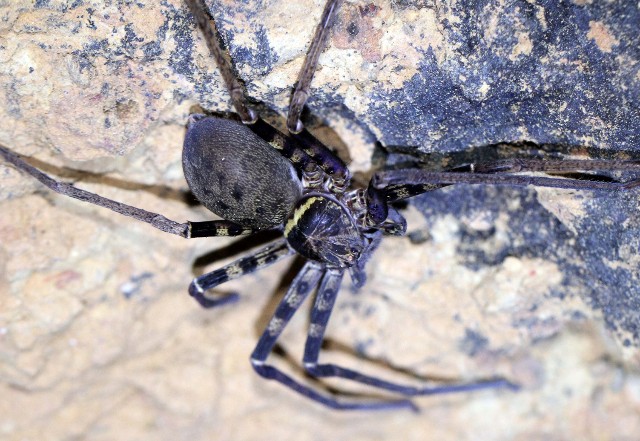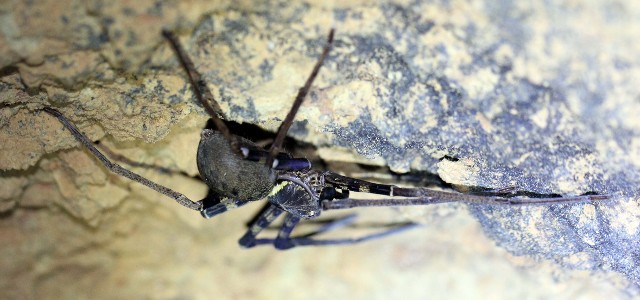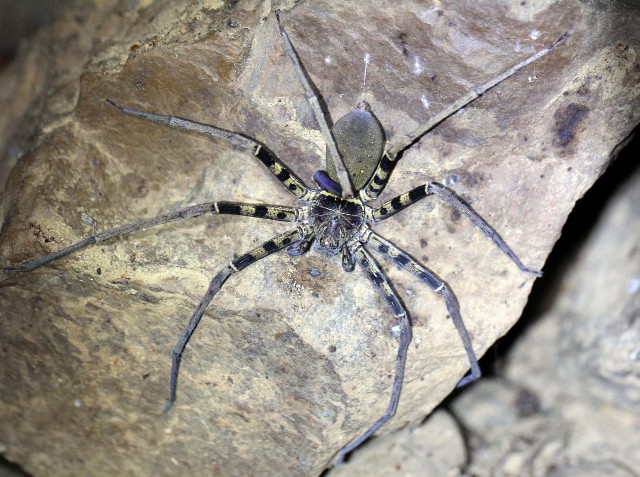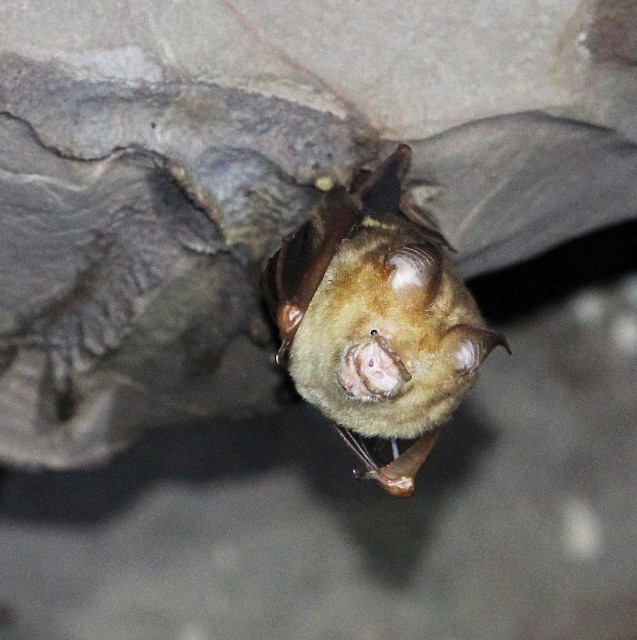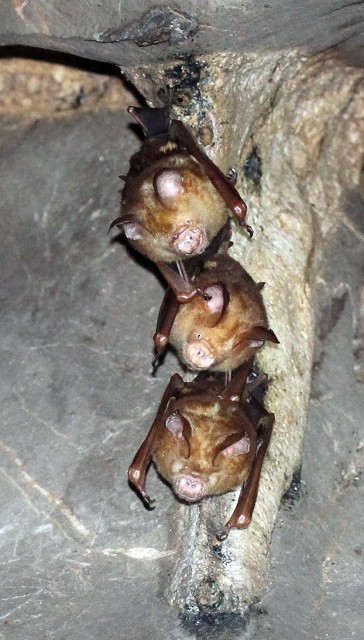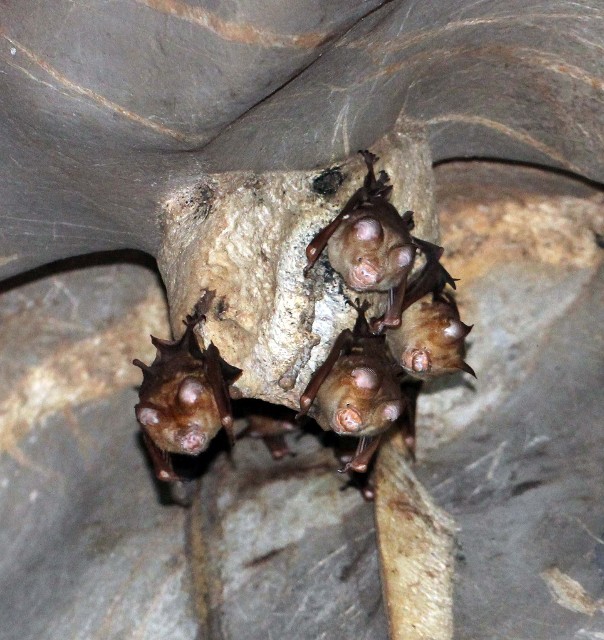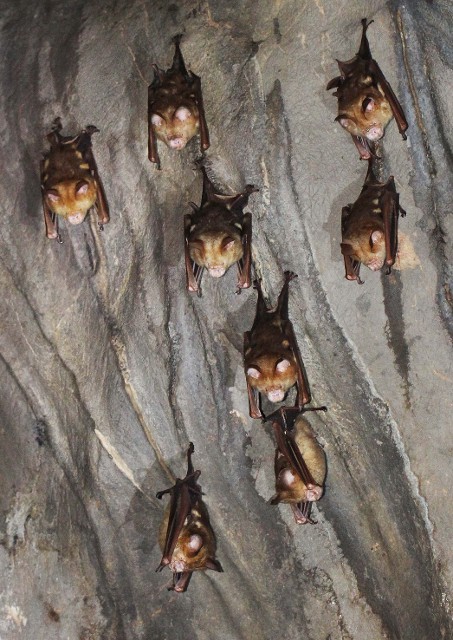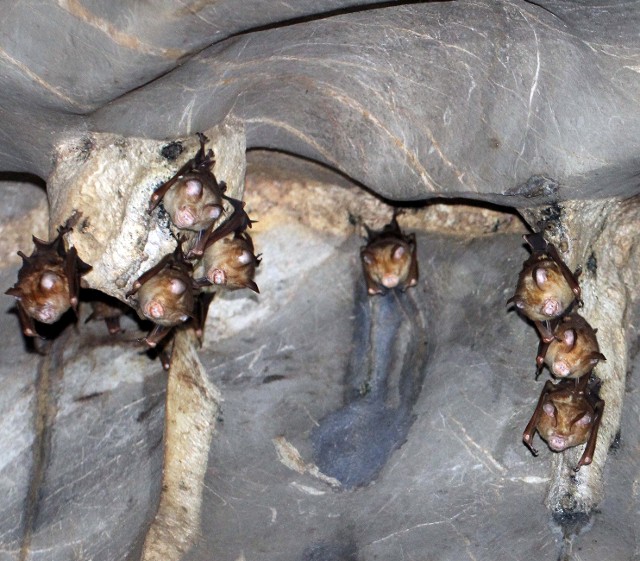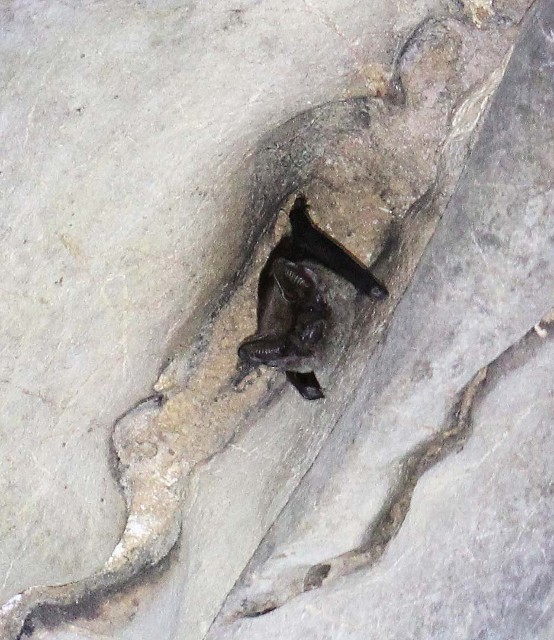 Black-beared Tomb Bat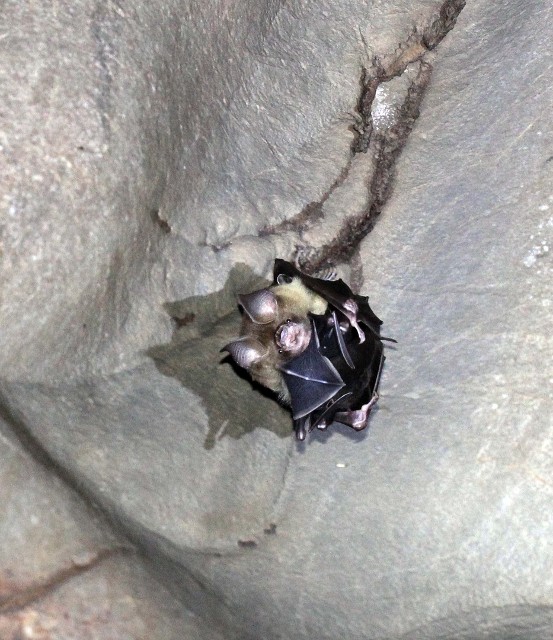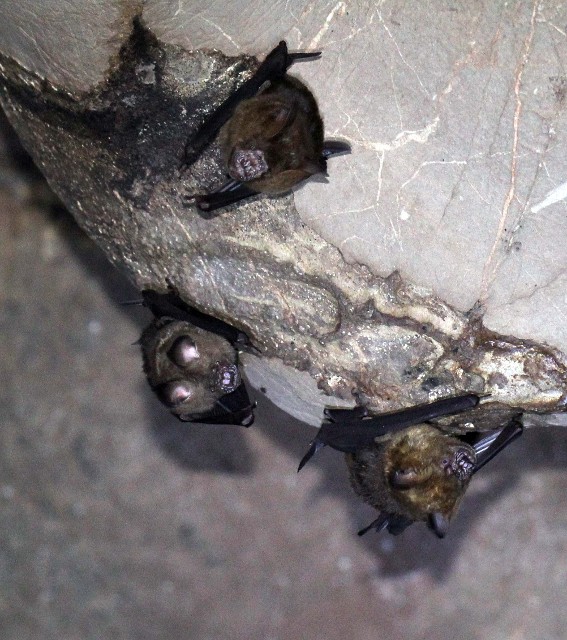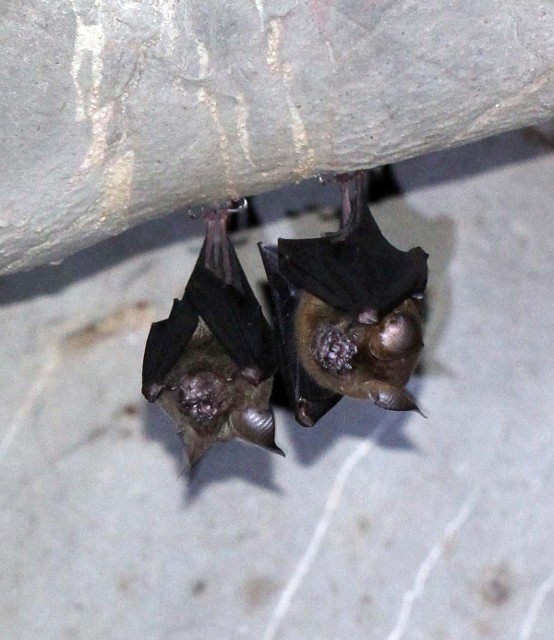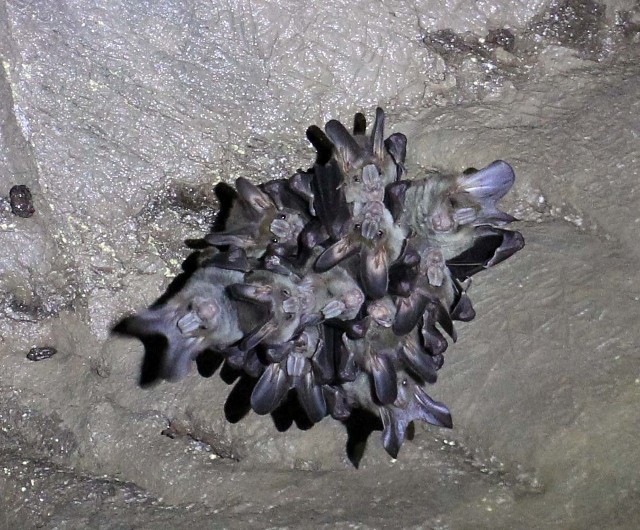 At the beginning of the trail the water wasn't too deep - maybe a little be above my knees. But later it was getting deeper and deeper. The highest water level on this hike was around my chest. It wasn't too bad after all. It felt nice actually…
Almost to the end of our jorney one group of students saw a Striped cave racer snake. Most of us missed it. We finally made it. We finally made it out safely and we had to continue our walked to the boats.
Back to the Klong Krat Raft House for a dinner and night safari. The safari this evening was only going to go in one boat. This will be students' choice to come on a night safari this time. We ended up had 6 students - the die-Hard.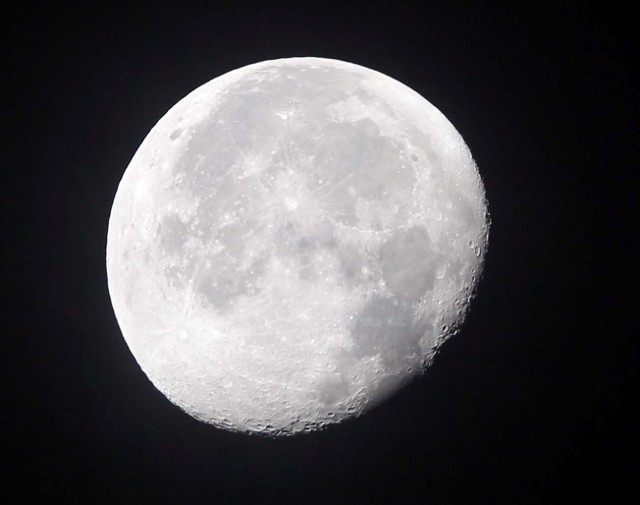 Our second night safari was really special night for all of us who were on the boat. Our boat driver turned off the boat engine and let the boat float. We could see the stars and could hear the wildlife sounds. The moon was trying to break away from the clounds! What a very peaceful ride it was. We didn't see any mammals but saw a couple birds. What a great memory to end up our trip in Khao Sok National Park.
Next day we were going to Karo Island is located in Ao Luek, Krabi. School planned to have our students to put in their community service hours. Our students will be planting a mangrove forest on the island. But first, on the way out from Khao Sok National Park to Ratchaprapa Dam all the sudden our boat propeller broke off. But we were alllmost to the dam! Luckily we got anouther boat behind us as so many boats were driving in and out. I don't know how that happened. Maybe it's the age of the props....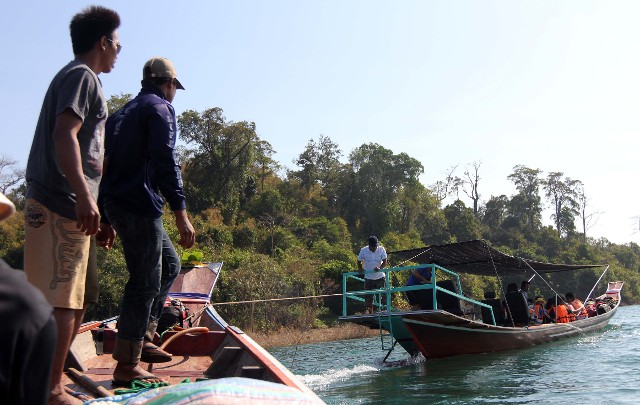 Here comes our help!
We made it to the dam but we still got about couple hours to Ao Luek, Krabi. The drive went pretty smooth. We got to our resort around lunch time. We were freshning up and we were ready to go visit another amazing place.
Karos Island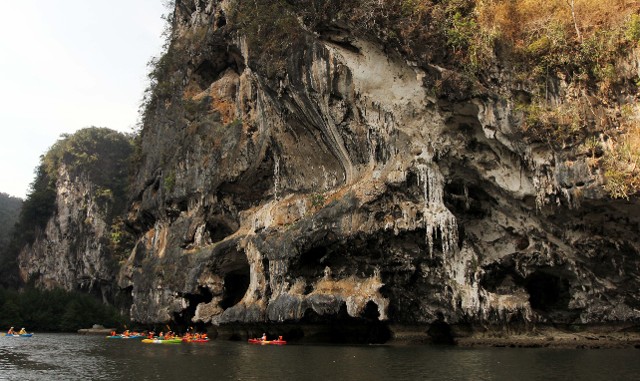 Karos Island! Never heard of this place before, and I've never been to Ao Luek. But here I am with my 24 students, my two great colleaques, the brothers and Thom Henley.
We were so lucky to have Thom joined us on this trip for four full days. Thom has known so many amazing places in Thailand. Thom's very easy going and is well known as an avid environmentalist, human-rights advocate, and educator. Thom has written many books about Southeast Asia and Thailand in particular. For more information please visit http://www.thomhenley.com/
Our original plan here was to plant mangrove trees first and go kayak later. But the plan changed to kayaking first. The tide would be low when we come back and then is when we would have time to plant the forest.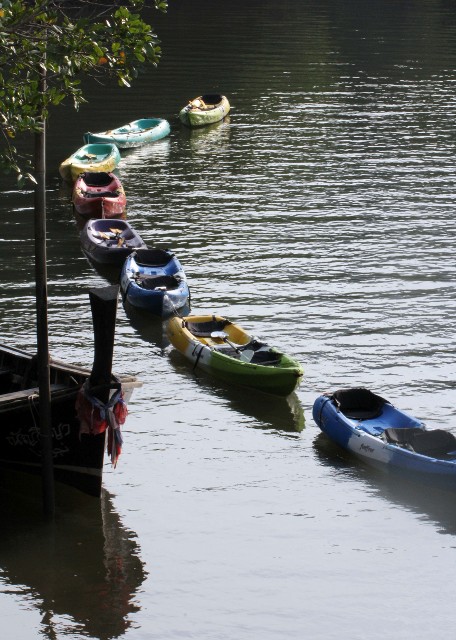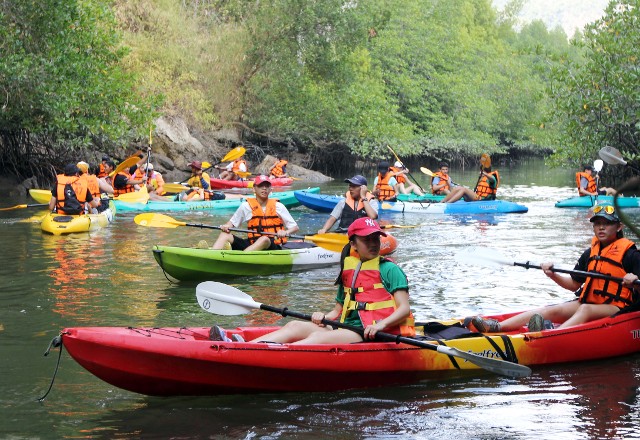 Army of kayakers!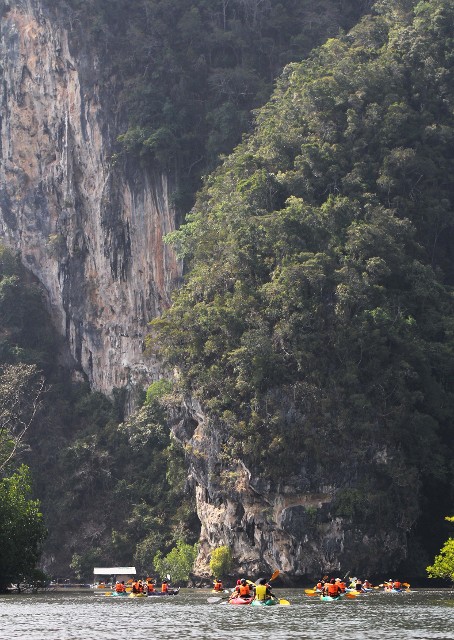 Kayaking around Karos Island!
Wow! Spectacular limestone formations. When we were kayaking along the Ghost cliffs, we could see so many petrography a long those rocks. Probably due to the tropical climate these are hard to find in Thailand. So many interesting shapes of limestone in the region. Our guide said the water when we were there was a little low. The best time to come has to be at high tide, so you could get out and walk inside the Skull Stone cliff. Overall it was just beautiful! You could get a workout and enjoy the nature at the same time. I highly recommend this areas.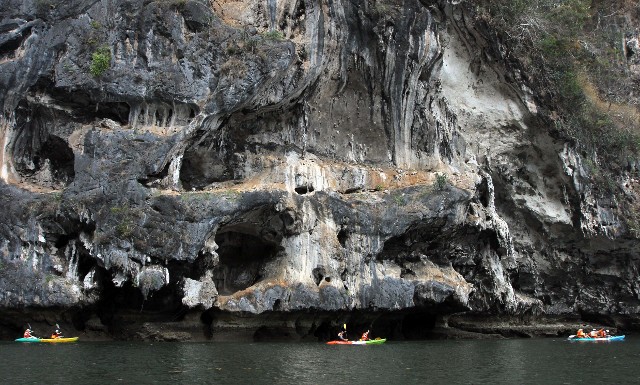 Skeleton Stone Cliff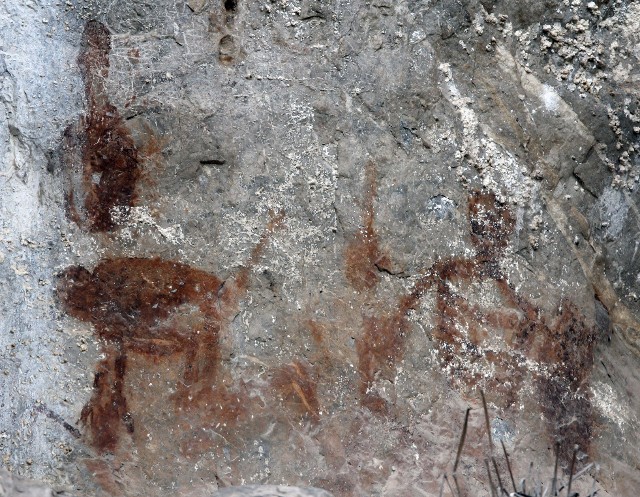 Monkey and Human!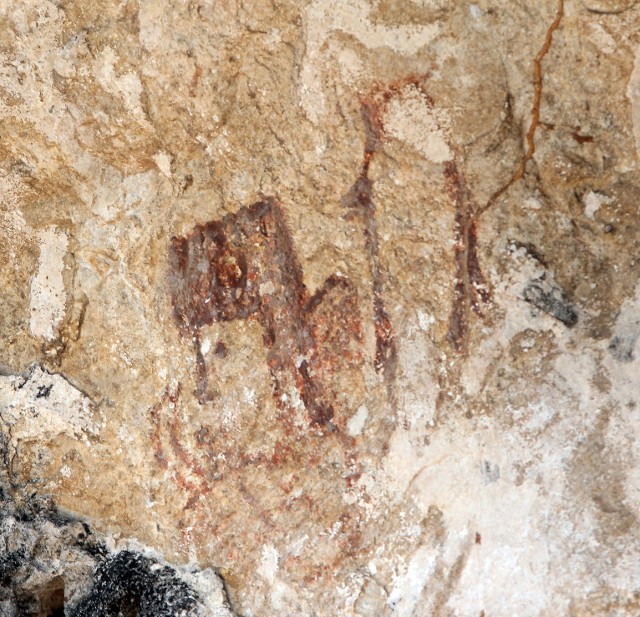 It does look like a human face but our local guide said it looks like a fish!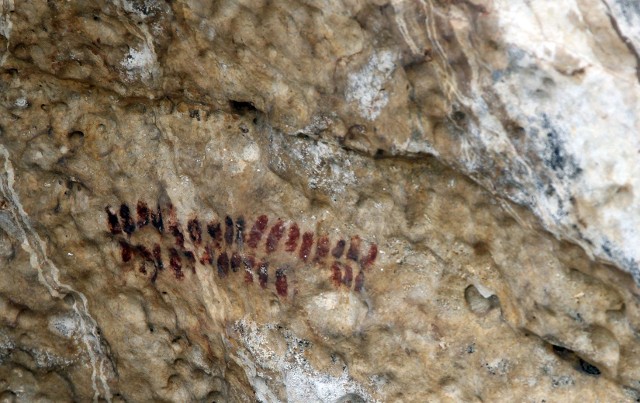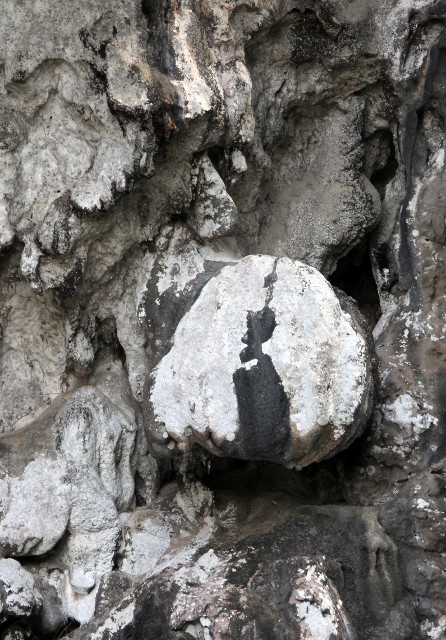 The Witch!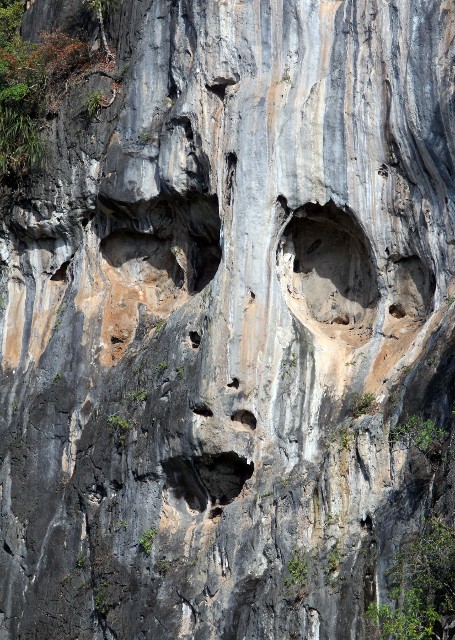 Two Face Ghost!
It's depends on the sun - if it's the morning sun the ghost will be sad and if's the afternoon sun the ghost will be smile and happy.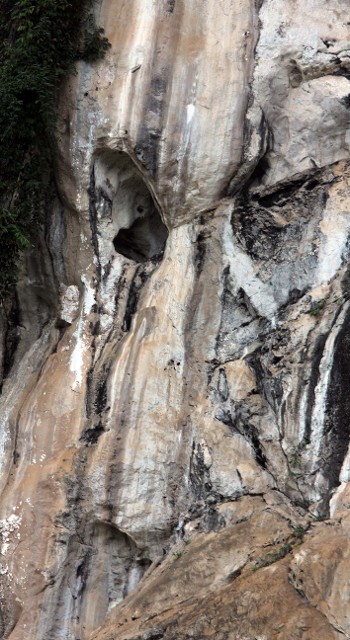 Ghost Mask!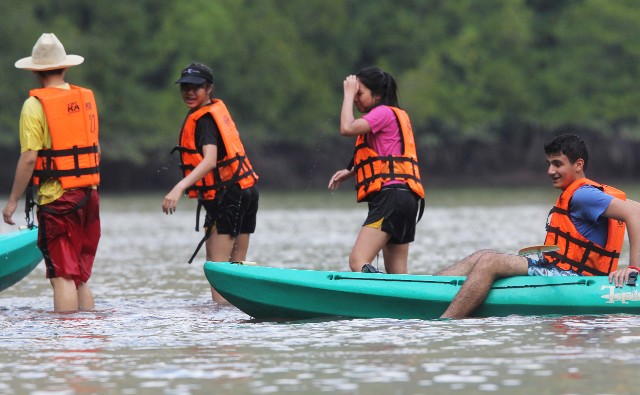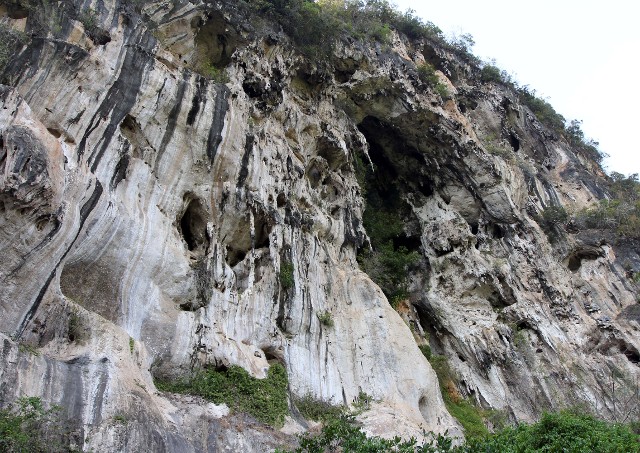 On the way back to the pier out students had to work very hard. They had to fight to the currents with very long distant. Some of them had to give up and tag along with us.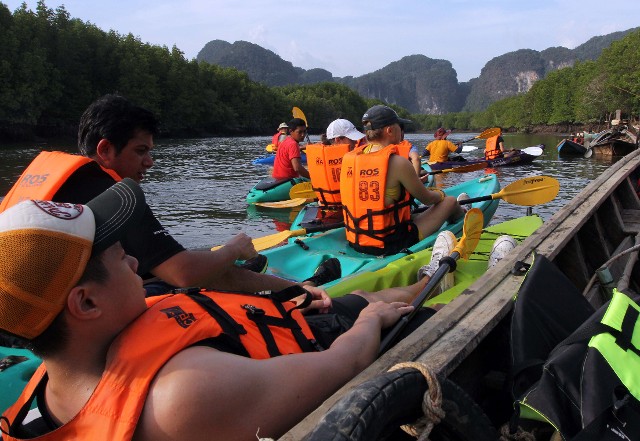 Tagging along!
We were back to the pier we took off earlier. The Crab-eating macaques were waiting for our arrival. Lcukily they were very peaceful and not too aggressive!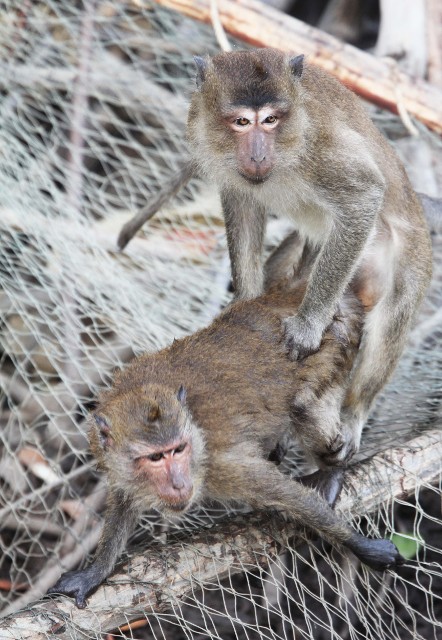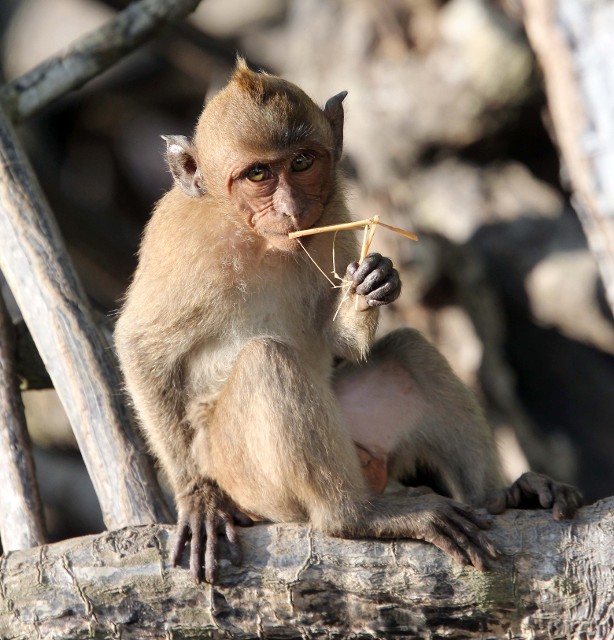 They wanted to know what we were doing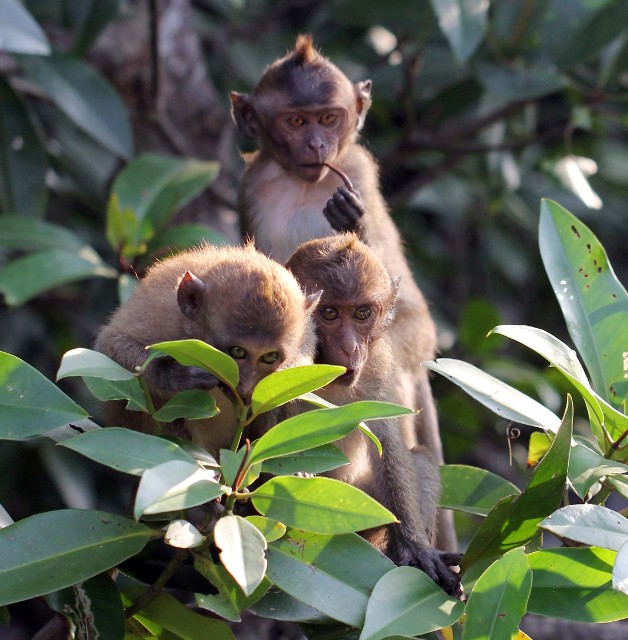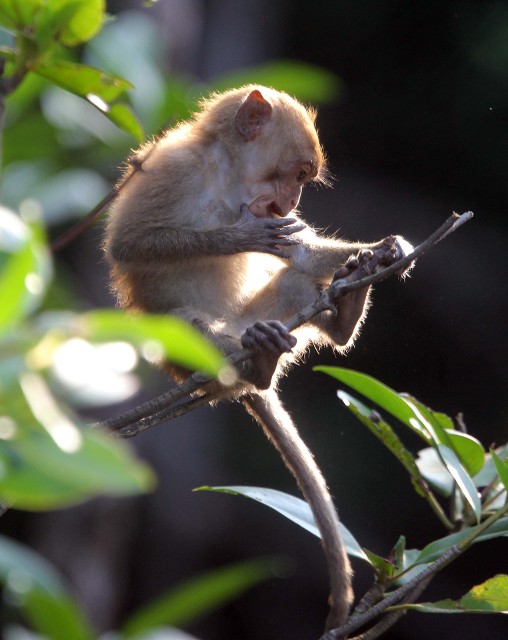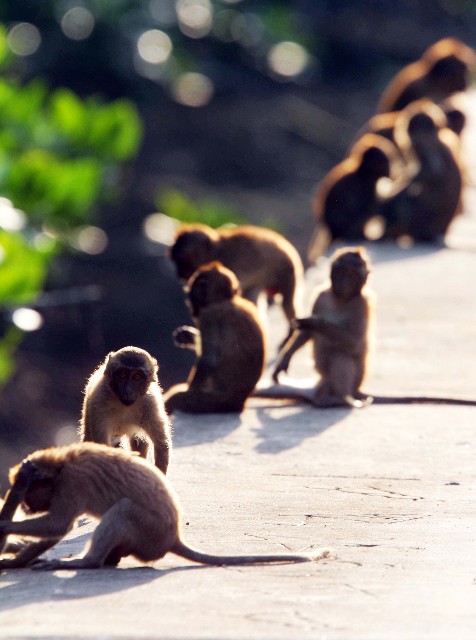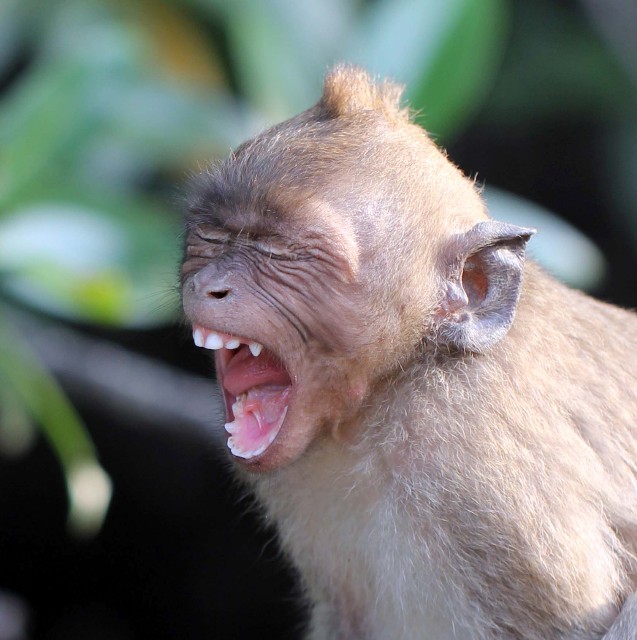 Now we were getting to our serious work here! Our goal was to plant 1000 mangrove trees. But we have arrived to Ao Luek late, so we could only plant 300 mangrove trees. Students were having a so much fun in the mud and helping eachother planting the mangrove forest. No one was too worried about dirtiness or too tired after kayaking against the currents. Thom told us that the goverment was trying to do the eco tourism. They stared to build the bridge for tourists to walk cross all the mud. While they were building this walkway they put the heavy equipment along the side way. So they really did some damage to the ecosystem.
Thom has arranged many schools to come here and help the village planting the mangrove forest. It's really important to have a mangrove tree on the seashore. When I was growing up back in 1985 I still remembered the whole seashore area having massive shrimp farms. It went on an on for miles. I didn't know at all how it effected our environment. Moreover I don't think the Tiger prowns have any good taste at all. Now the Thai govermnet seems to want to save the mangrove forest and provided budgets for the villagers to help restore the habitat.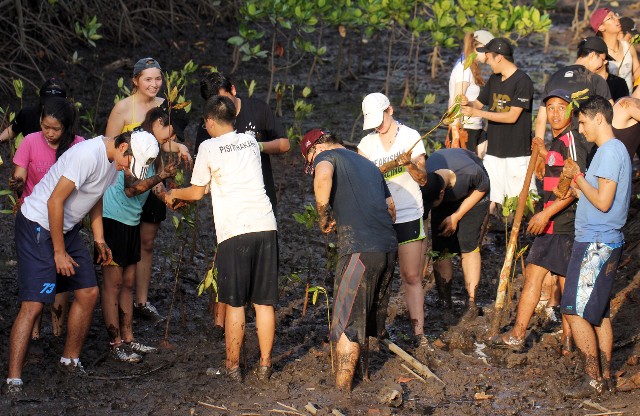 24 students helping plant the mangrove forest!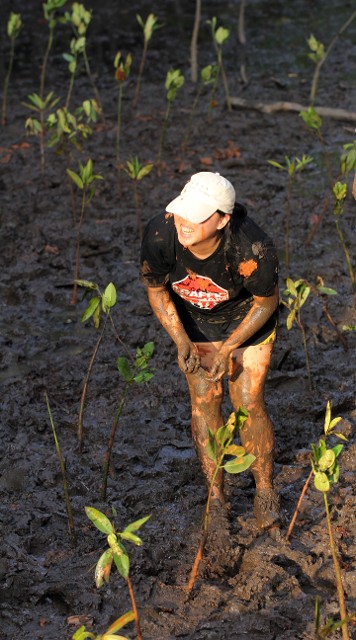 The mangrove forest around Alina!
The mangrove trees it will be around one meter high for this kind of mangrove trees will grow up to 80 feet in height with straight trunk and narrow top or head. After sprouting, we will not see much growth in the first year. Prop roots appear by the third or fourth year of growth, serving as anchoring and breathing organs.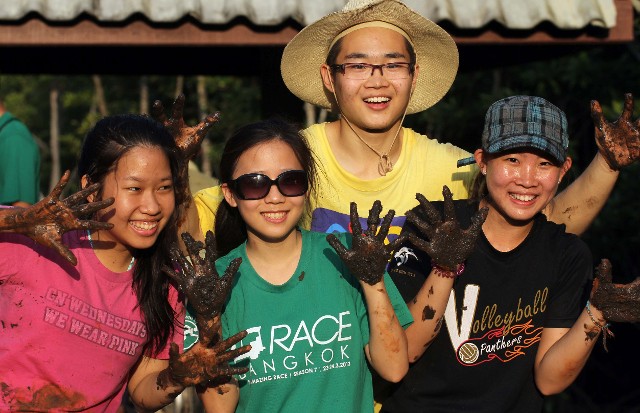 All we need is our hands and our mind to safe this planet!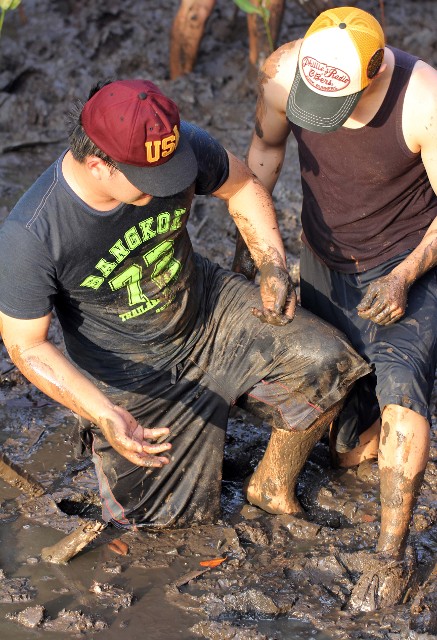 Can somebody help!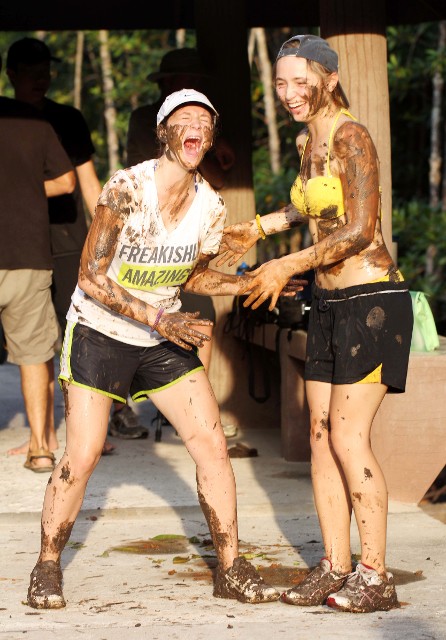 Great time!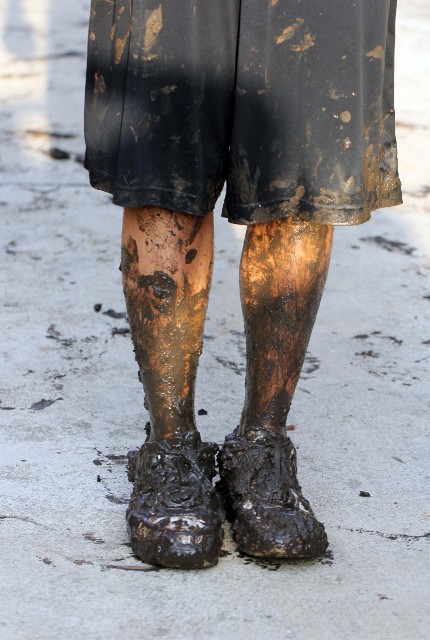 So Muddy!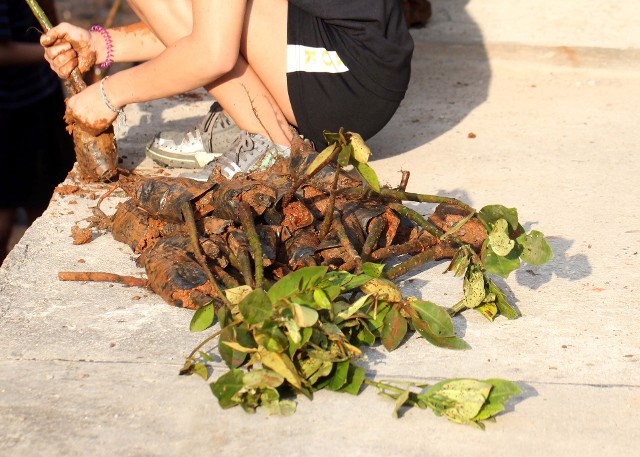 Our mission is finished! Too bad be didn't have enough time to succeed in our goal of planting 1,000 trees. We cleaned ourselves up and got ready for our big dinner!
Ton Te waterfall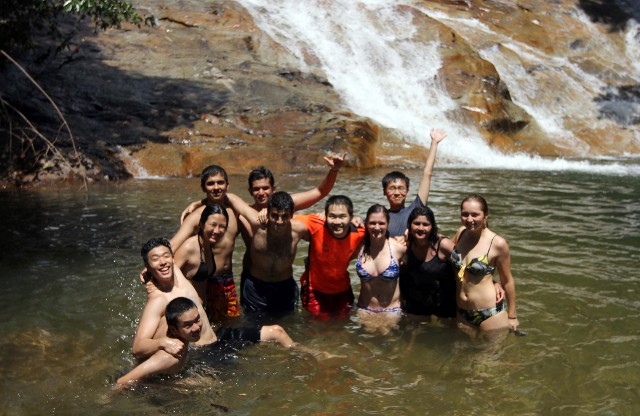 Our next destination is Phatthalung province. But on the way we were stopping at Ton Te waterfall in Trang. We didn't know what to expect at this place. When we arrived there. Thom gave us the lecture about this place and what are we were going to do next. We got to enjoy our little hike to waterfall. I found a cool beehive on the giant tree. That was pretty awesome. I spent for almost 20 minutes with them.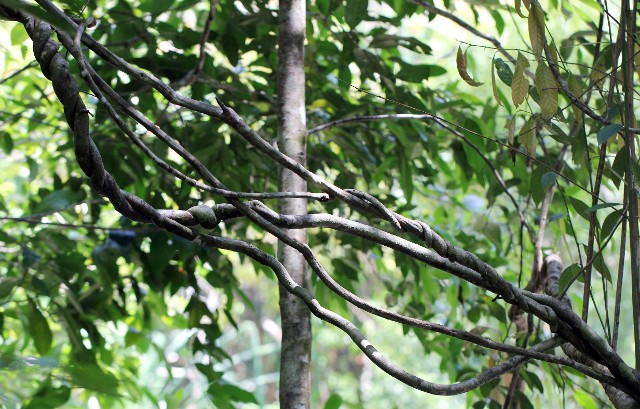 Beautiful Liana!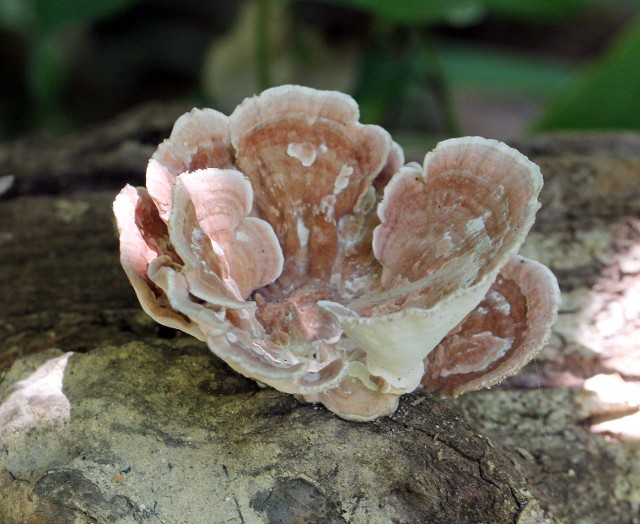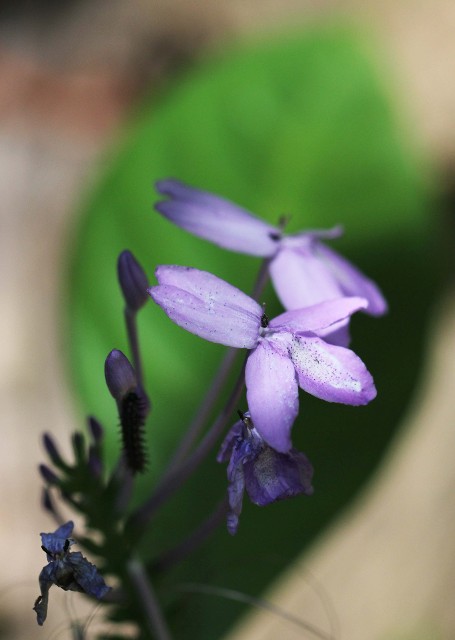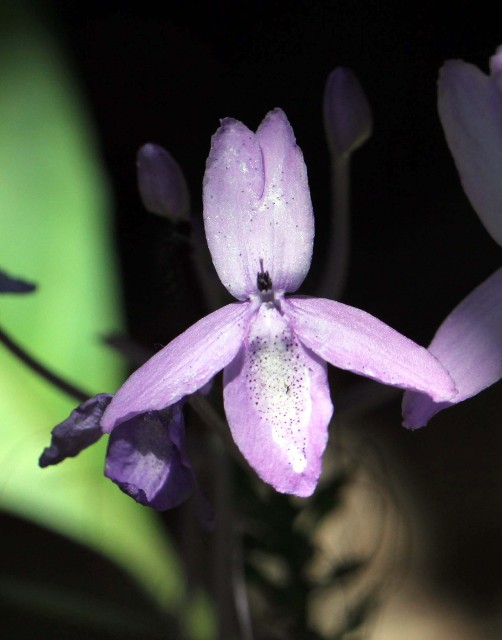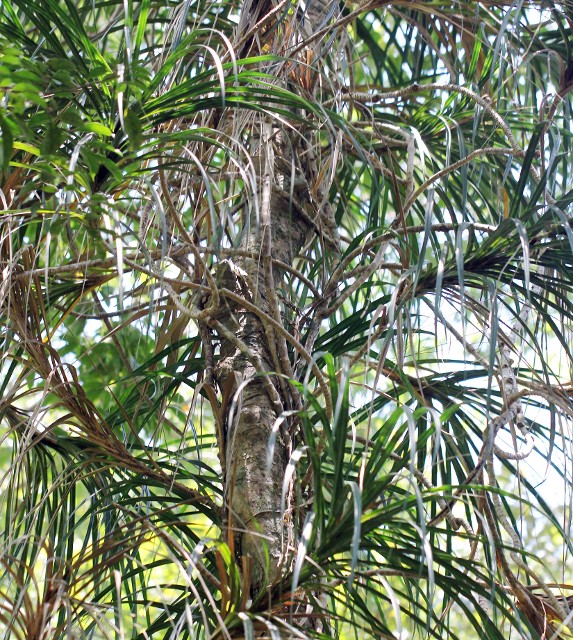 Pandanus!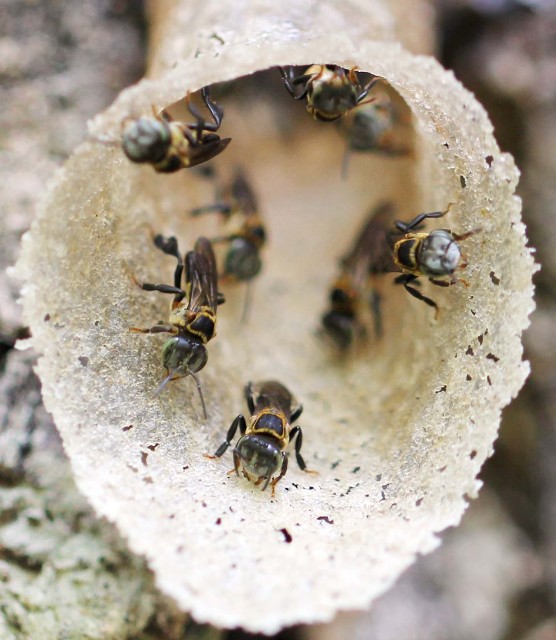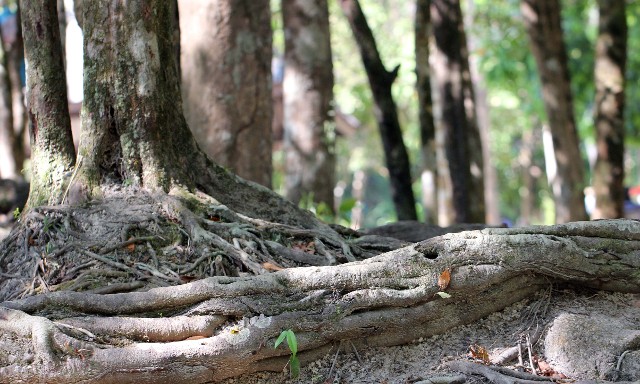 Beautiful Tree!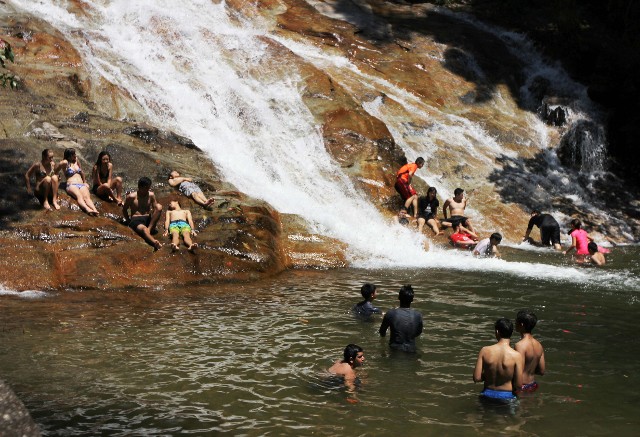 Ton Te waterfall!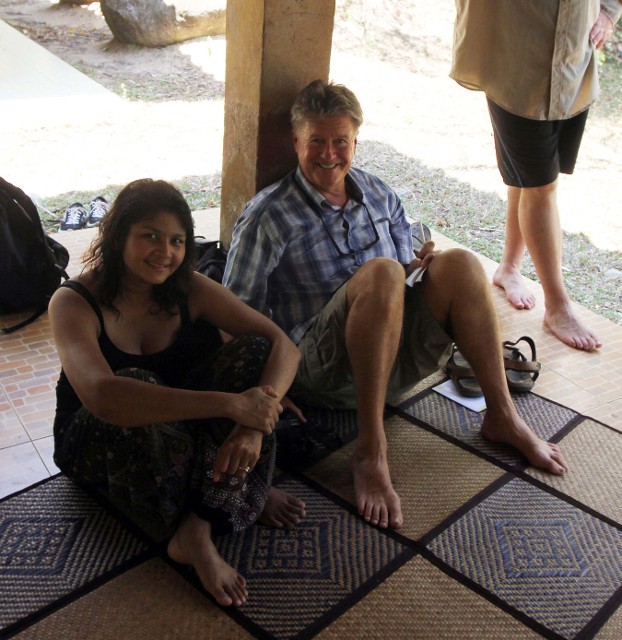 We're kicking back after having fun at the waterfall!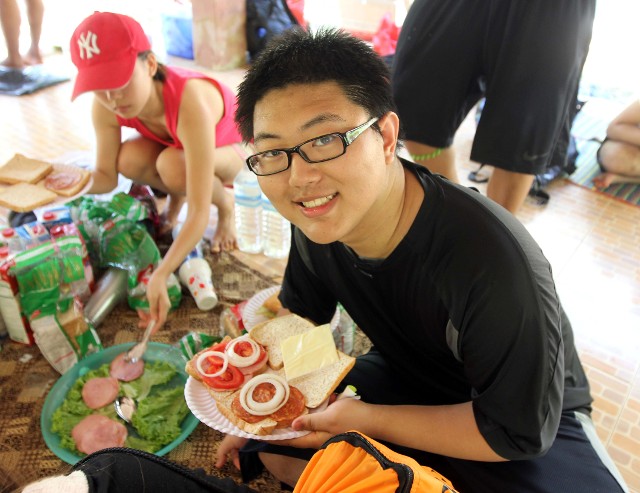 Lunch break at the waterfall. Thank you Khun Phat for provided our lunch.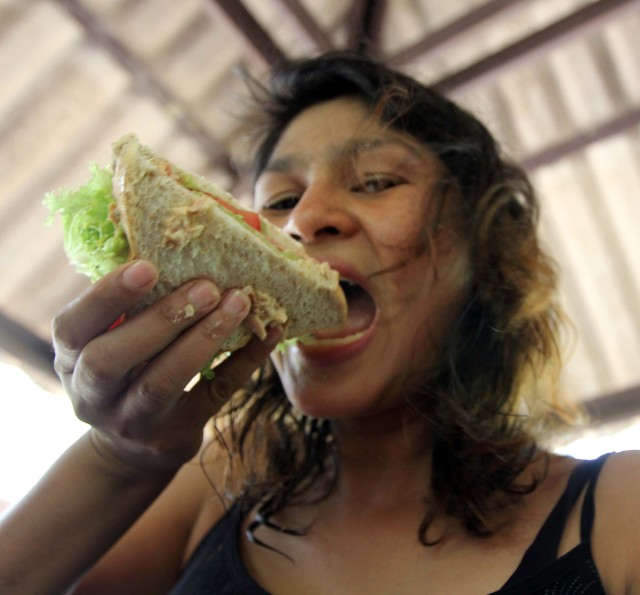 Yummy!
After we finished our lunch Thom have some plans for us. We got to learn about science, environment and invertebrates. We collected and Identified invertebrates, tested the quality of the water (chemical, pH), and competed which team could collect the most of the invertebrates. This was supper fun! We got to know how clean water was and we collected so many new species in this waterfall.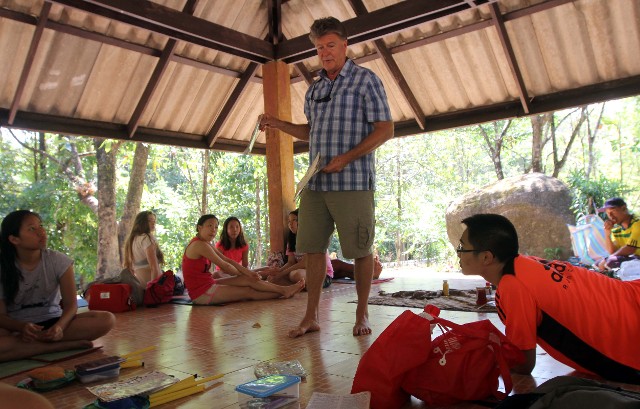 Thom was giving a lecture to our high school students.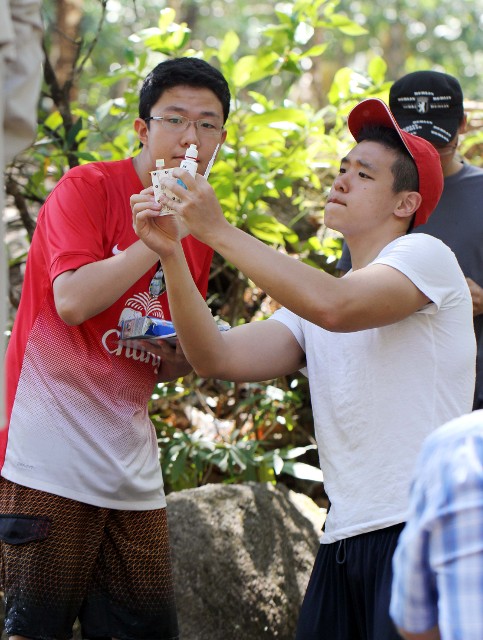 Collected the water in the stream by using Ammonia
Collecting invertebrates!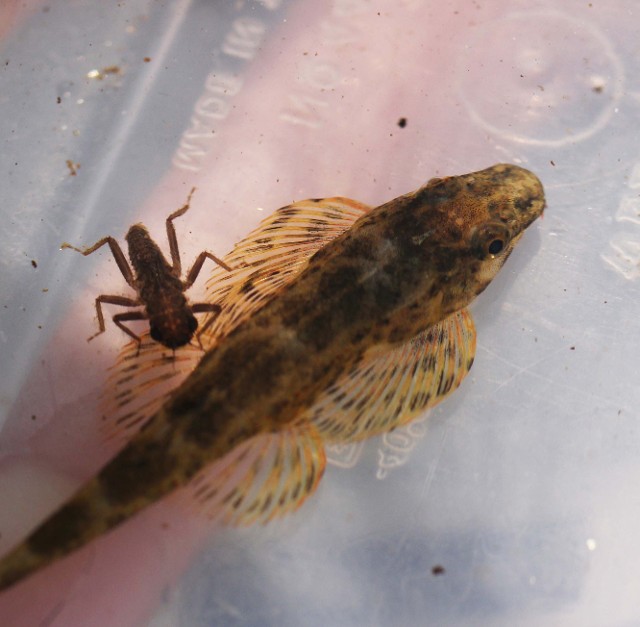 Fish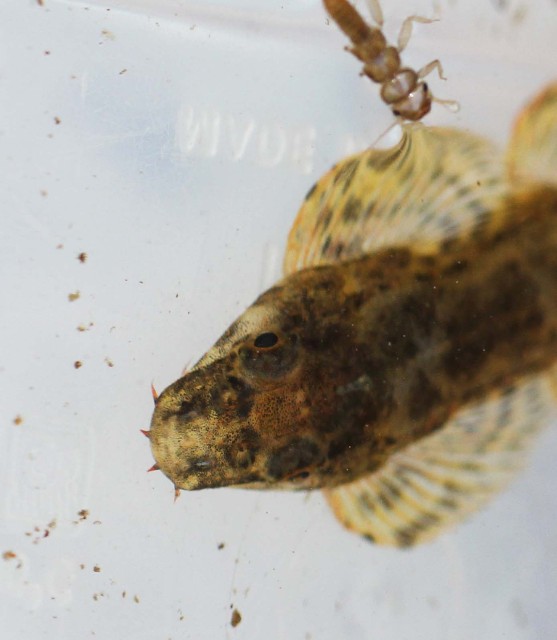 Look at this amazing mouth!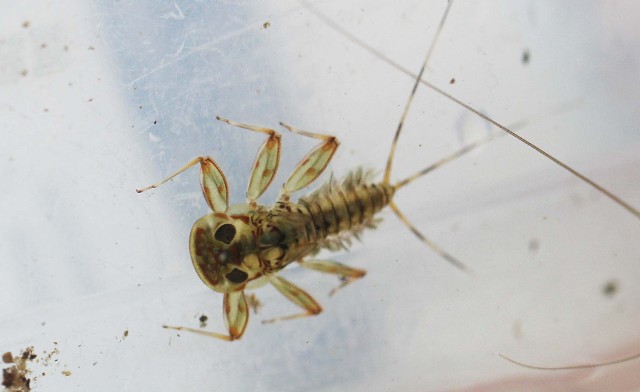 Little Waterfall Crab!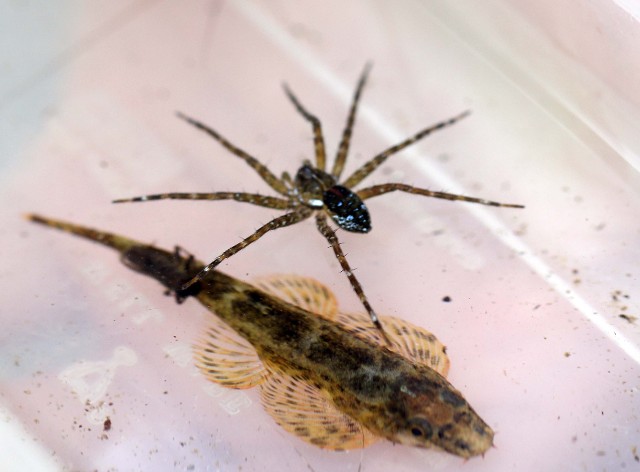 Water Spider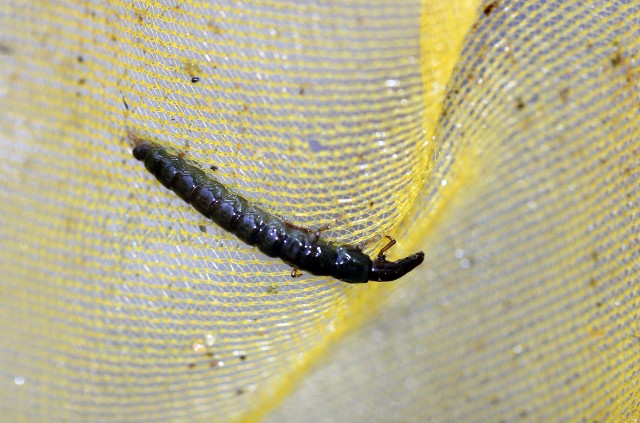 Midge Larvae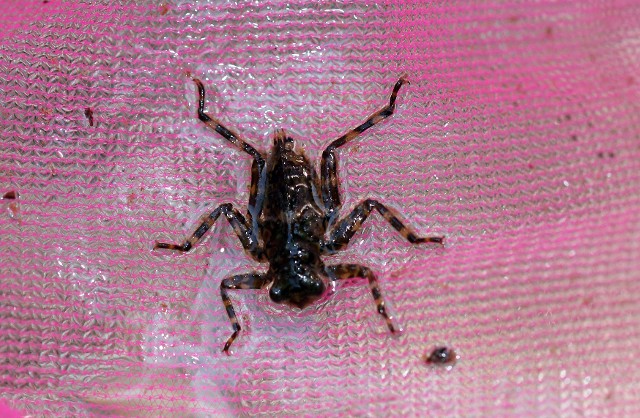 Dragonfly Nymphs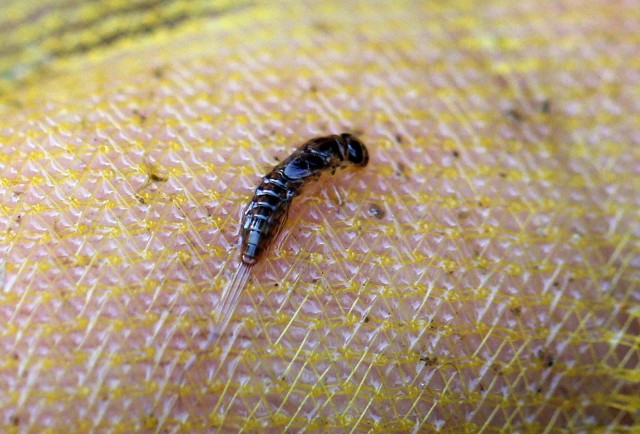 Common Net – spinner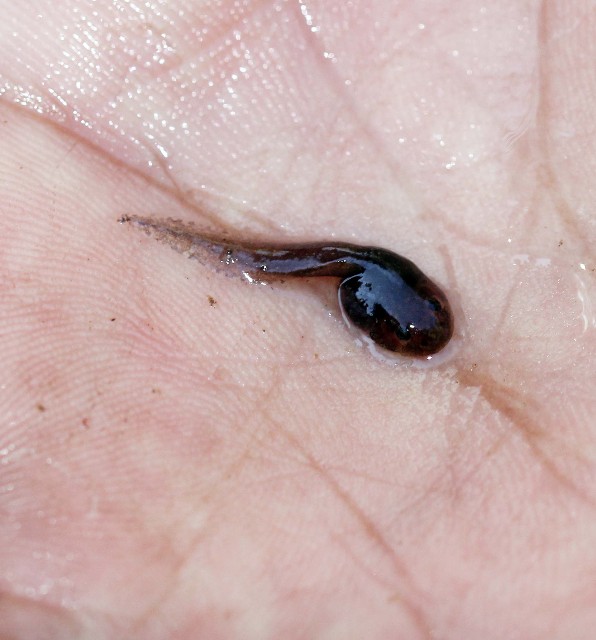 Tadpoles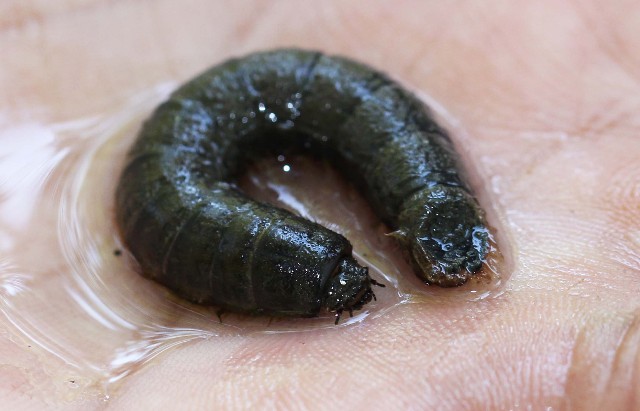 Dobson fly larva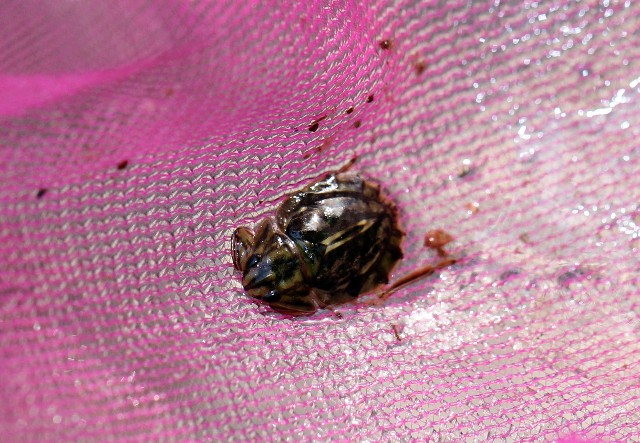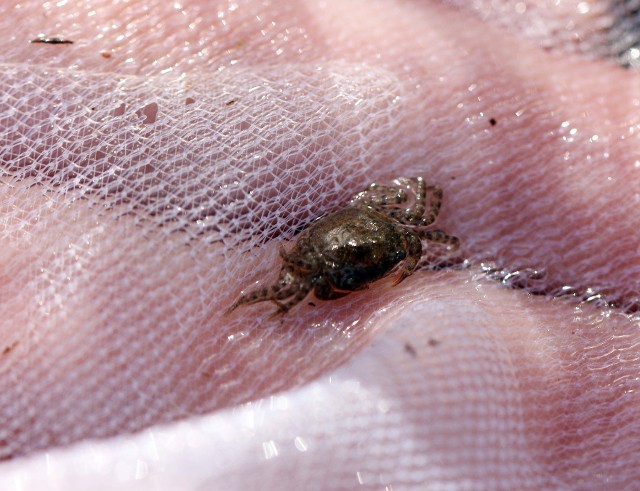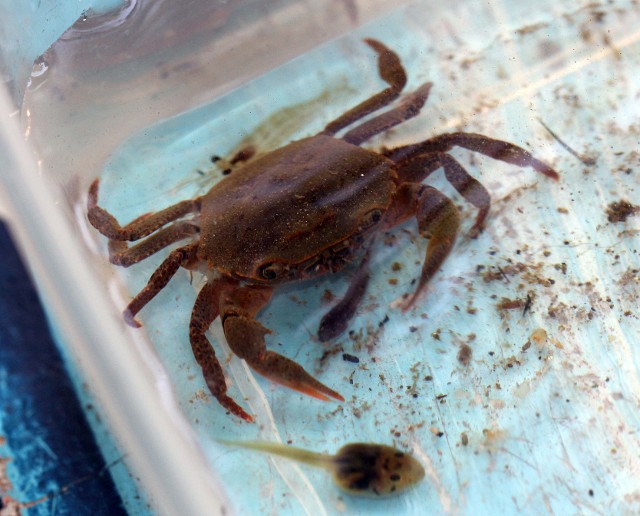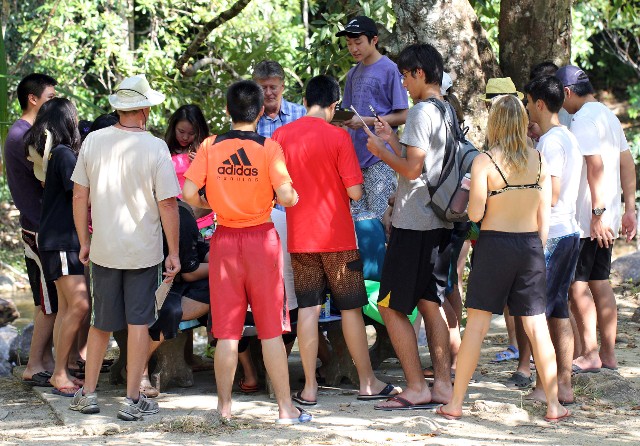 Three teams were sharing their result!
Wildlife Sanctuary Phatthalung
We stopped at this place to show our students some of the wildlife that Thailand has to offer! There most of our students had never seen any of these wildlife. They have so many Jungle fowls, Peacocks, Brahminy Kites, many Chevortains or Lessor Mouse-deer, Greater Mouse-deer, Indian Muntjacs or Barking Deer, Samba Deer, Binturongs and many more.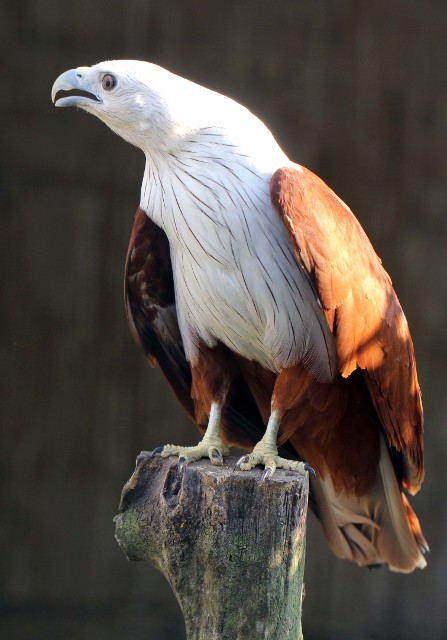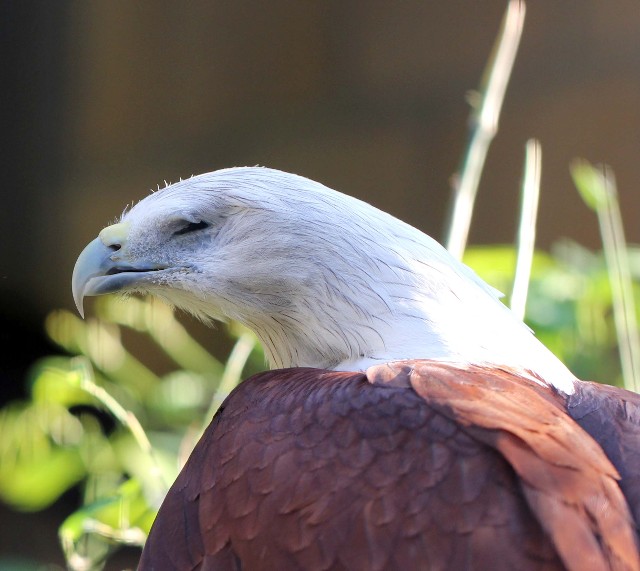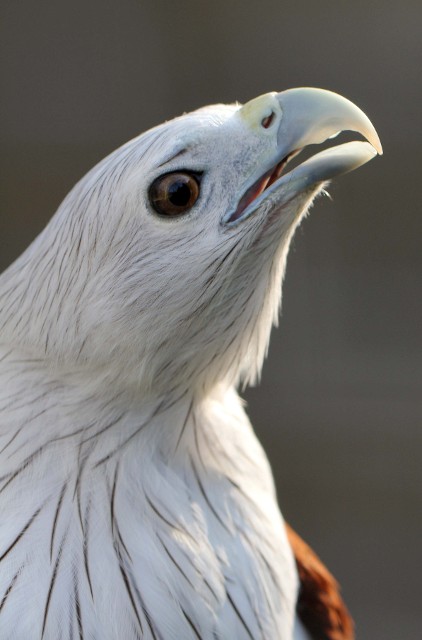 We stopped at the Peacock's cage. This on was pretty interesting! All the sudden one of the male Peacock was spreading his tail feathers. That was beautiful. I got a couple interesting pictures while he was doing that inside the cage.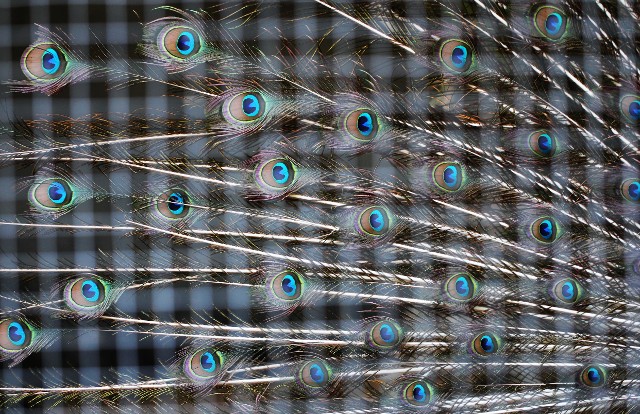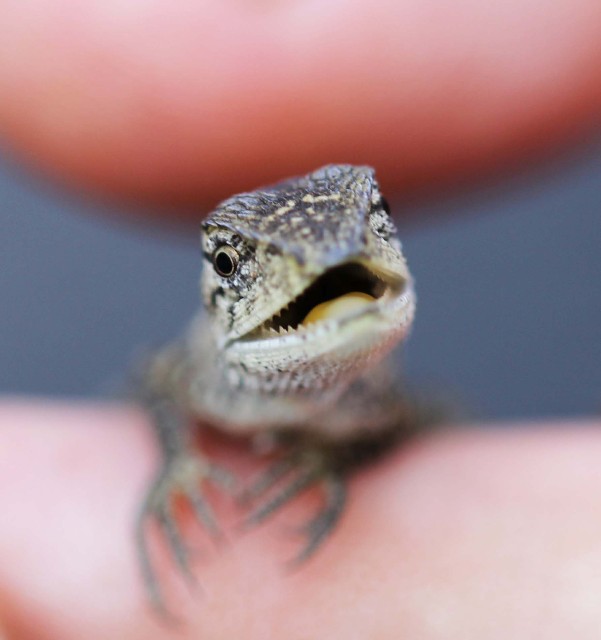 We found a little tiny lizard Calcite versicolor. I was playing with him for a little while.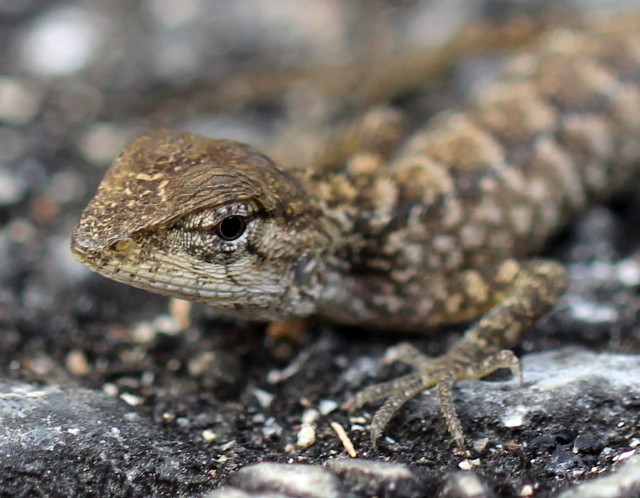 Mani People
We stopped at The Mani people village near Wildlife Sanctuary Phatthalung. Thom has known this family for many years. The Mani people felt very comfortable to be around foreigners like us. The Mani people are Homo sapiens like us. They were traveling from Africa and settling in Thailand for many years ago. You might have known them as "The Negrito of Thailand" or "forest People". The way they live is very simple. They live around the Banthad Mountains and around the Malaysia border in Trang, Phatthalung and Sutun. They would use the bamboo trunks and banana leaves to built their houses. They hunt the animals, wild potatoes and eat any fruits that they could find. They used and made their own medicines. Some of them could be used for cancer. What we saw that day was similar to the African life. But they seemed to find better materials to build their houses. But for the food supplies, the African will find them easier. The Mani people were wearing normal clothes just like us and they could speak Southern Thailand and Tonga language. There are not too many Mani people left. They are facing extinction. The population right now would be about 300 left.
Thale Noi Waterfowl Reserve
Our next place is the wetland. We learned another kind of eco system. Thale Noi is very protected by the villagers from Phatthalung province. This wetland got started by the fishermen from around the area. They known that if the birds got hunt or the environment was destroyed on this wetland, they will not be able to catch any fish. So they went up to the Phatthalung government and told them that they will be the one to protect this park. And they really did a good job protecting this Waterbird Park. They made this place be the first non-hunting area ever found in Thailand.
Now the people over this area have made a decent income by have a long tail boats to take tourists out into the wetland. And along side of the road you would find all kind of dried-fish and souvenirs for sale.
We were staying a very nice resort called Lampan Resort Hotel is located next to the Lam Pam River. We walked at night to Saen Suk Lampam beach wish you could have chance to see a River dolphins. I heard there are only five left in Thailand.
We started it of around 7:30 am in the morning to the original fishing village near Thale Noi. This fishing village has been using this fishing style for many generations. This fishing village was using the square dip net method. It's really common in Khuan-Khanun district.
Our students got to try!
This man will walking up and down the leader to control the net. And the net will dip in the water went you stand to the right hand side. When you're walking up to the left side our next to the edge, the net will lift up. It will take about three to five minutes depends on the level of water.
Two sweet ladies from a fishing village in Khuan – Khanun district.
After we spent about on hour in the fishing village. We learned the old fishing ways that came in with the Sri Lanka influence. It was quite of worked out after all. We got to the Thale Noi Waterfowl Reserve about 8:30 am. The light was already too bright for photography! I gave it a try. And this will be my first time to shoot the photos on the long tail boat with a pretty fast speed. I got set and enjoyed the ride. It was time to get to work this time!
Thale Noi was filled with Lilly flowers were beautiful pink along the ride!
Here was one of the Long-tailed boat that we got on. The seat was a little low and very hard to sit for a long hours.
Purple Swamphen was standing above the grass!
Little Cormorant!
Common Greenshank
Black-headed Ibis
I loved it when the Black-winged Stilts were standing one leg!
After the boat ride we had lunch at the local fish market. We got to look around the market. The most of the product came here locally. They had a lot of dried fish for sure.
I stop and chatted with on old lady who could be a little younger than my Grandma who already passed away years ago already. This lady was selling the betel nuts. She divided a perfect amount for people to buy her products. I was looking at her tool that she made the betel nuts ready to eat for the old people.
I felt like home again when I visited to this place. I got to use my southern Language. And it was really helpful on this trip. And people were very friendly when I spoke southern Thai.
In Phattalung province started the Shadow puppet art from many years ago. These Shadow Puppets have now spread to many provinces around Southern Thailand. I grew up with Shadow Puppets too. When I was a kid I used to have at lease 3 of the famous characters. Ai Thang, Ai Thong and one of the girl's character. My brother and I made our own screen and played. There were good days.
This man was making the shadow puppets with cowhide. He has been doing this since he was 20 years old. I ordered the tiger puppet without color. It came out very nice. If you're walking on this street you will find many local products along this side of the road. These prices here were very decent. I bought one handmade mat for 250 baht. That was very a good price!