A curious Southern Crowned Crane in the Kruger
During my travels to Africa to develop programs for La Selva Expeditions, I spent some quality time in South Africa designing the following program. I had a great time experiencing the national parks and reserves of the region and getting to know the country. Sadly I was never able to successfully market this tour. In fact it was the only Africa program that didn't sell at least once while La Selva Expeditions was in full swing. Nevertheless I had a great time putting it all together!
To see more amazing images of Eastern and Southern Africa, click the below links:
Eastern and Southern African Mammals
Eastern and SouthernAfrican Birds
Eastern and Southern African People & Landscapes
SOUTH AFRICA ALL THE WAY
DAY 1: JOHANNESBURG: The group is met and transferred from Johannesburg to the Mpumulanga.Overnight at Casa Do Sol, a beautifully situated deluxe ranch.
DAY 2: DRAKENSBERG PANORAMA TOUR: Today the group participates in the Drakensberg Panorama Tour, which will highlight such spectacular places as Blyde River and Blyde River Canyon, as well as many phenomenal waterfalls, Wonder View, and God's Window. There will also be many historical spots visited such as the sites that gave rise to many folk tales. Overnight at Casa Do Sol.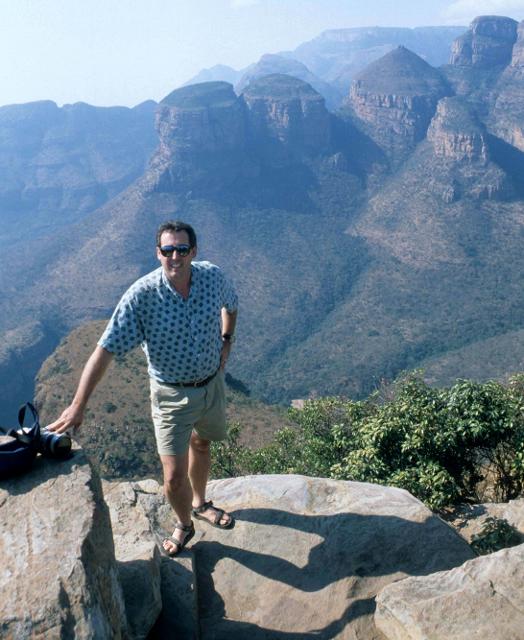 Spectacular Blyde River Canyon
DAY 3: MPUMULANGA CULTURAL TOUR: Today the group embarks on a Mpumulanga cultural tour where we experience the true day-to-day lives of the indigenous people of the region. This is a truly educational day in that it shows the trip participant the true culture of the people without being contrived or canned. Overnight at Casa Do Sol.
DAY 4-7: KRUGER NATIONAL PARK: Today we begin our four-day visit the world famous Kruger National Park, home to hundreds of varieties of animals and birds. This will be a wilderness experience of a lifetime. We spend time investigating the many different regions and habitats of this phenomenal park. Overnight Kruger Park.
DAY 8: SWAZILAND: Today we travel to the African Kingdom of Swaziland where we can experience first hand the wonderful Swazi culture of this rarely visited nation.
DAY 9: UMFOLOZI NATIONAL PARK: Today we travel further south to Kwa-Zulu Natal and visit the Umfolozi National Park, where we can view many forms of wildlife including some of the last healthy populations of the black and white rhino. Birdlife is also profuse in the region.
DAY 10: ST. LUCIA WETLANDS: Today we visit St. Lucia Wetlands, which is a RAMSAR wetland. Here we will see the vast variety of bird life that is in this rarely visited region. Many protection efforts are underway here and there are many who believe that this wetland should be a World Heritage natural site.
DAY 11: TSITISIKAMMA NATIONAL PARK/PLETTENBERG BAY/GARDEN ROUTE: Today we get an early start for Durban to catch our AM flight to Port Elizabeth. We then pay a visit to Tsitisikamma Coastal National Park with its beautiful evergreen forests of stinkwood and yellowwood as well as many species of orchids and proteas. Birdlife is particularly plentiful, but there are also baboons, many small antelope species and the elusive Cape clawless otter. From here we travel via the Bloukrans Pass to Plettenberg Bay. Overnight at Stanley Island Lodge. Optional scenic boat cruises and glider flights can be undertaken from here.
DAY 12: GARDEN ROUTE: Today we tour the rest of the Garden Route visiting towns such quaint towns as Knysna, Sedgefield and Wilderness Lakes. We pay a visit to the famous Indigenous Forests with its forest giants the yellowwood trees and many bird species. We then return to Plettenberg Bay via the Seven Passes route. Overnight at Stanley Island Lodge.
DAY 13: GARDEN ROUTE: Today we get an early start to travel over the Prince Alfred Pass to the Little Karoo. We then drive through the spectacular Meiringspoort to Prince Alfred and back via the Swartberg Pass. We then pay a visit to the world-renowned Cango Caves. Overnight at De Oude Meul Guesthouse.
DAY 14: DE HOOP NATURE RESERVE/CAPE TOWN: We travel via the spectacular Tredouws Pass and pay a visit to the De Hoop Nature Reserve en route to Cape Town. De Hoop is definitely one of the most beautiful places on the route. It is one of the best places to see lowland fynbos and proteas and a good cross-section of the various coastal habitats of the region. Fauna include the rare Cape mountain zebra, bontebok and a wealth of birdlife. Overnight at Mountain Manor.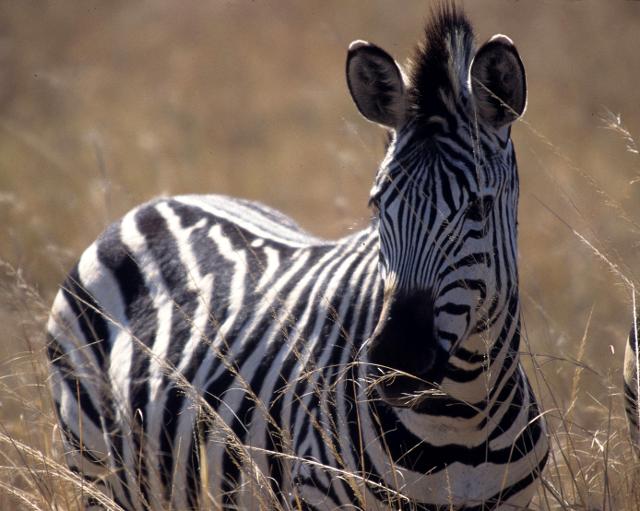 A young Burchell's Zebra seen in the Kruger
DAY 15: CAPE TOWN: Today we visit places of interest in and around Cape Town such as Cape Point Nature Reserve, Table Mountain, and the world class Kirstenbosch Botanical Gardens. Visitors to this area are always amazed at the incredible variety and diversity of the flora of this region. We will have time to investigate one of the most diverse floristic regions on earth and discover why it is described a biome in and of itself! Overnight at Mountain Manor.
DAY 16: CAPE TOWN: Today we visit more places around Cape Town such as Robin Island and the penguin colonies. The birdlife of the region will be impressive! Overnight at Mountain Manor.
DAY 17: WINE TOUR: Today we embark on a relaxing wine tour to sample some of South Africa's delicious wine varieties. Overnight at Mountain Manor.
DAY 18: WEST COAST NATIONAL PARK: Today we travel up the west coast to the West Coast National Park where we can see the many species of birds that make their homes in this region. Such species as Cape gannets, crowned cormorants, African black oystercatchers, and the jackass penguin can be seen here. Overnight at the Langebaan Lagoon.
DAY 19: NAMAQUALAND: Today we travel north along the coast via places such as Veldrift, Rochepan, and Lamberts Bay where we observe the thousands of Cape gannets in this bay. We travel further through the Namaqualand to Vanrhynsdorp and up the Gifberg ("Poison Mountain") where we will overnight at the Gifberg Resort. Enjoy an evening slide show and talk by a local conservator on the wonders of the area, which will also include the spring flower spectacle.
DAY 20: NAMAQUALAND: Today we tour the area and after lunch travel further north to visit places such as Garies and Kamieskroon, which are well known for their spring flowers. Overnight at Kamieskroon.
DAY 21: AUGRABIES NATIONAL PARK/KALAHARI: Visit more local sites and travel to Springbok where the group will be met for our Kalahari tour. Travel to Augrabies National Park to see one of Africa's most spectacular falls. Overnight in the Park.
DAY 22: AUGRABIES NATIONAL PARK: Visit the spectacular Augrabies Falls and tour the park. Here there are over 47 species of mammals and dozens of species of desert birds. This region will provide and excellent contrast to the southern regions we have just experienced. Overnight in the Park.
DAY 23-25: KALAHARI GEMSBOK NATIONAL PARK: Today we travel to Upington and north to visit remote settlements such as Mier and Riemvasmaak which are on the way to the Kalahari Gemsbok National Park where we will experience the raw wilderness of the Kalahari. The Kalahari Gemsbok National Park is the largest protected area in all oaf Africa. It is home to hundreds of species of birds and other animals. We are sure to see many of Africa's megafauna here! Overnight in the Park.
DAY 26: UPINGTON: Today Return to Upington and enjoy an early farewell dinner/function before flying to Johannesburg.
DAY 27: TOUR END: Depart for Home
Here are some images of this "planning trip"!