Som's Home Cooking
I love cooking! It's my passion! It's amazing what you can do with so many and varied ingredients. I was born in the south of Thailand (the land of spicy food) in Nakhon Si Thammarat. After I got married I moved to Washington state in the good old USA. That was a huge change! I lived there for about 10 years and I spent about 5 years teaching the art of Thai cooking in the US to hundreds of hungry students. Now I'm in Shanghai China. Shanghai is amazing city to live in. I guess you could say it is totally different from the states. I love to cook and I spend my time in my little tiny Jinqiao kitchen almost everyday. I really enjoy it.
These are all the dishes that my family and friends enjoy a lot here in Shanghai. I would like to share them with you too!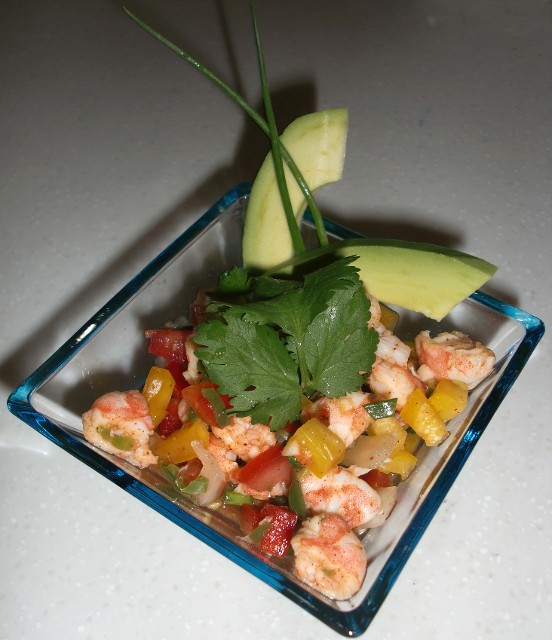 Shrimp Ceviche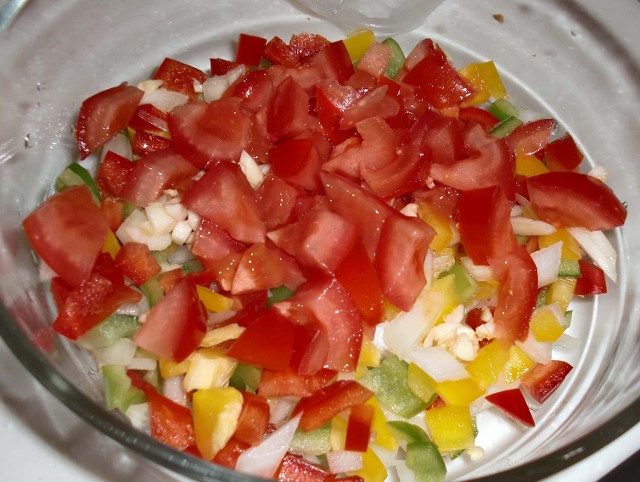 I brought a lot of my Mexican spices from Mexico and America with me here to China.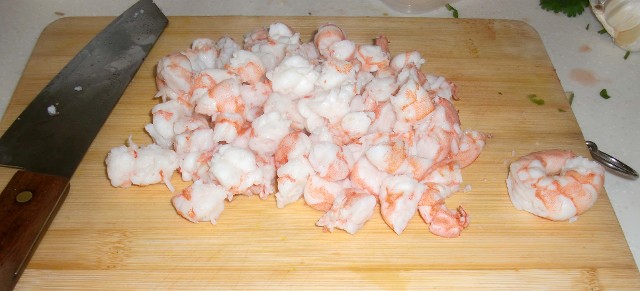 Cooked Shrimp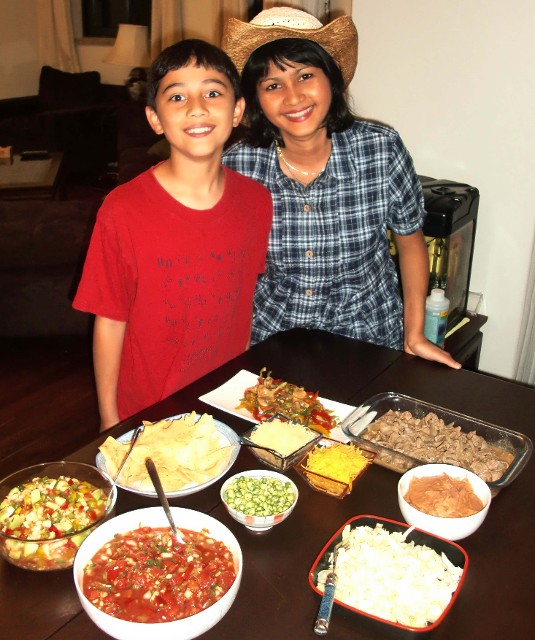 We cooked this for our friend who is from Mexico and she liked it a lot.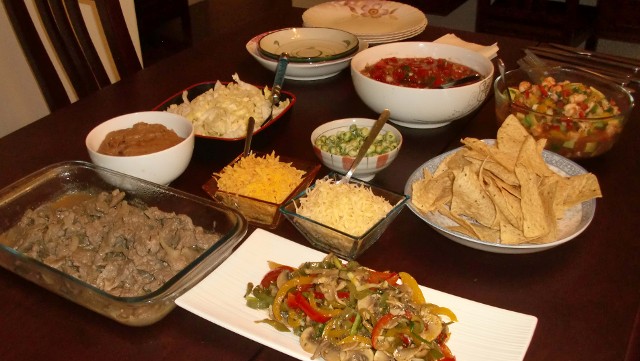 Full Mexican Meal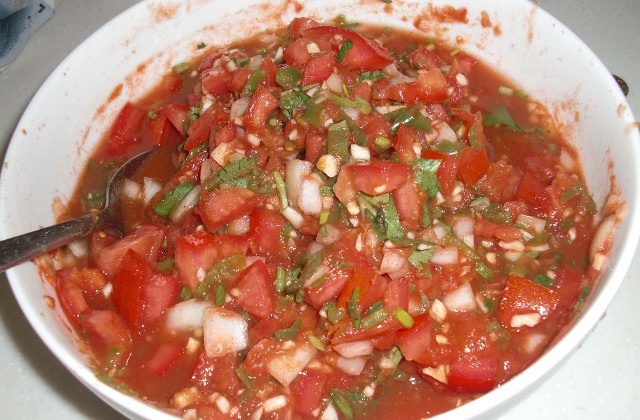 My homemade salsa.
Cooking for IB Environment Students at SAS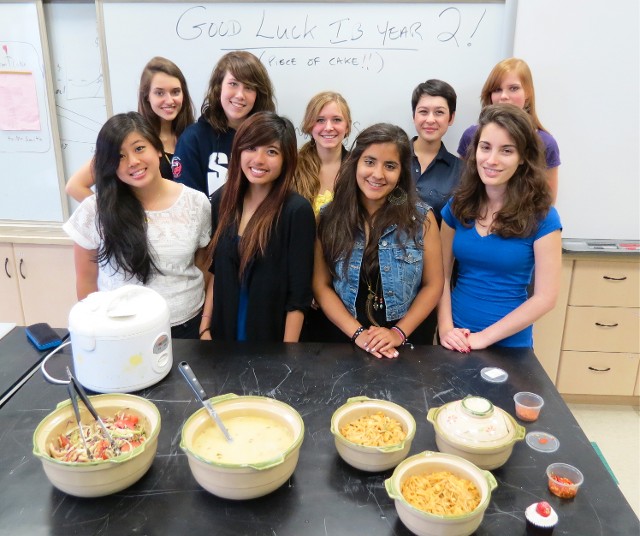 Coke's year 2 IB ESS students. They earned the feast!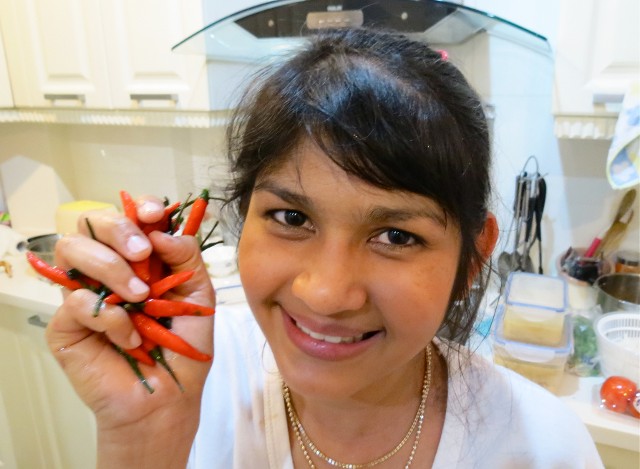 Got to add these!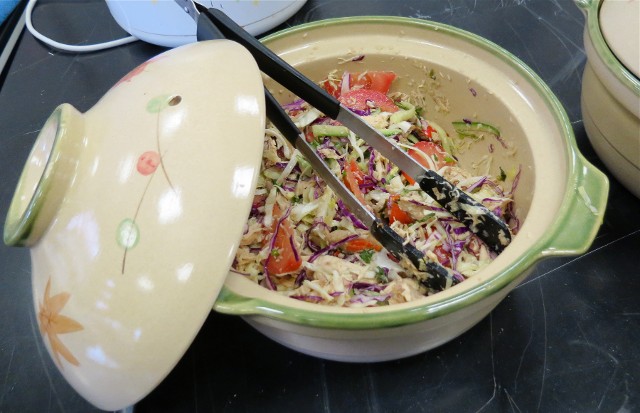 Thai Chicken Salad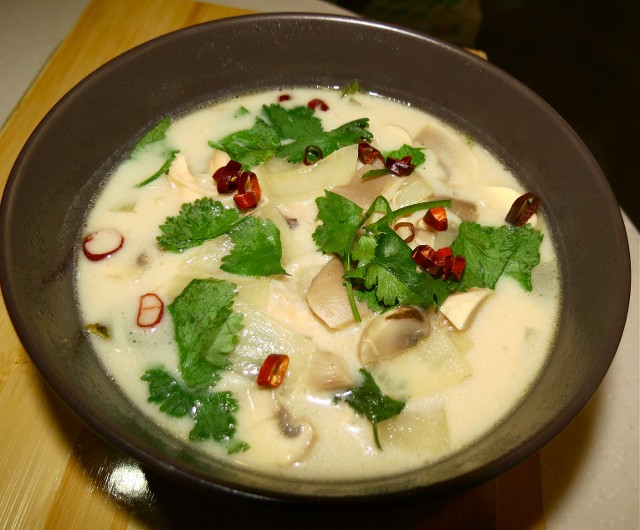 Thai Coconut Soup (Tom Kha Khai)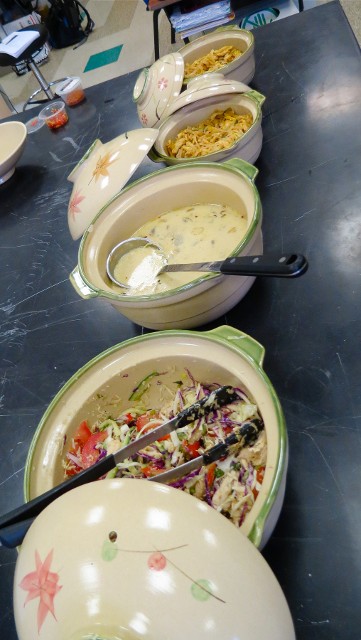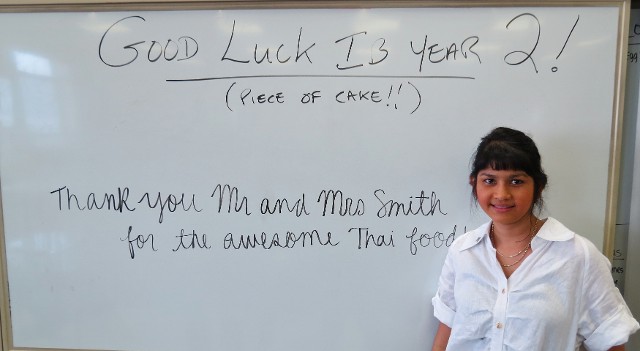 I miss them!
More Grub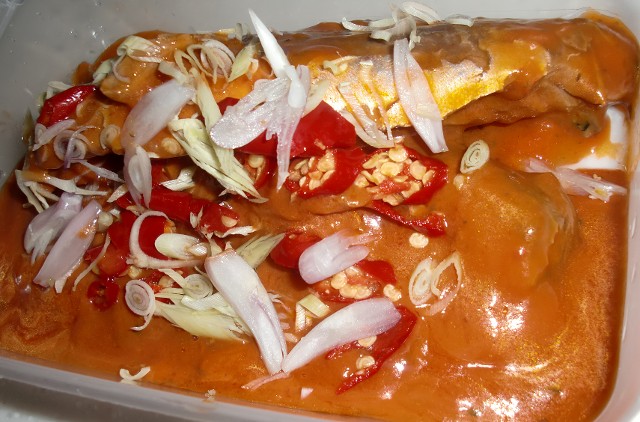 Yum! Sardines! (spicy sardine with lemongrass)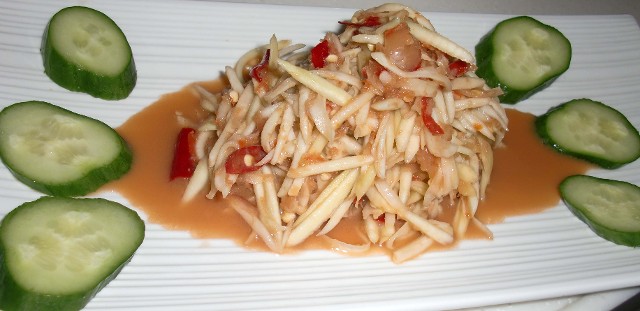 Srimp Paste with Spicy Green Mango Salad.
Seafood Basil with Homemade Chili Oil.
Homemade Chili Oli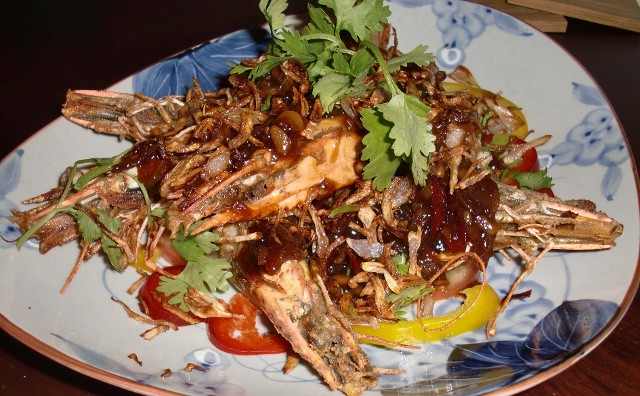 Tamarind Prawn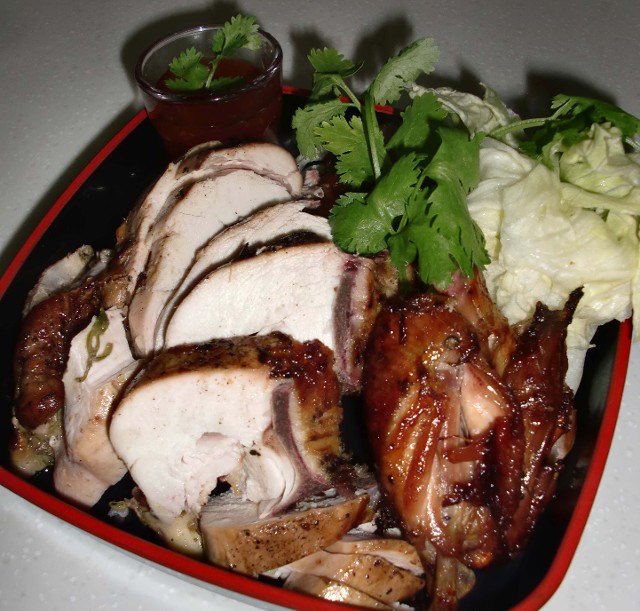 Thai Baked Chicken with Lemongrass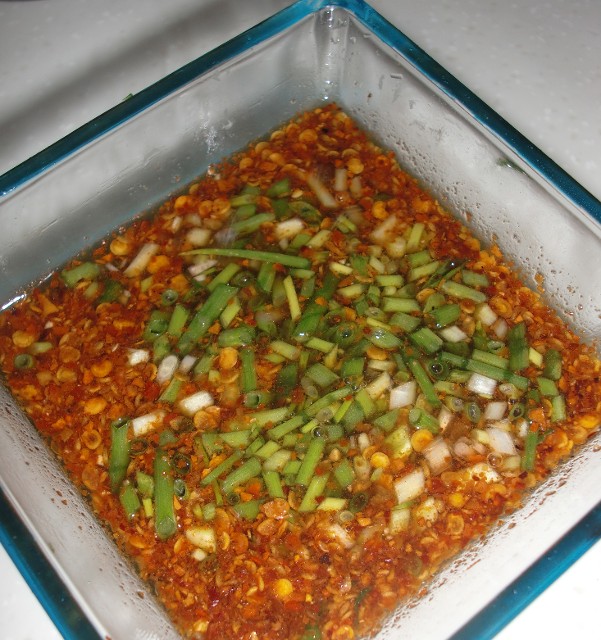 JIm Jaew
Thai always have this spicy sauce with their BBQ chiken.
Rad Nah Tala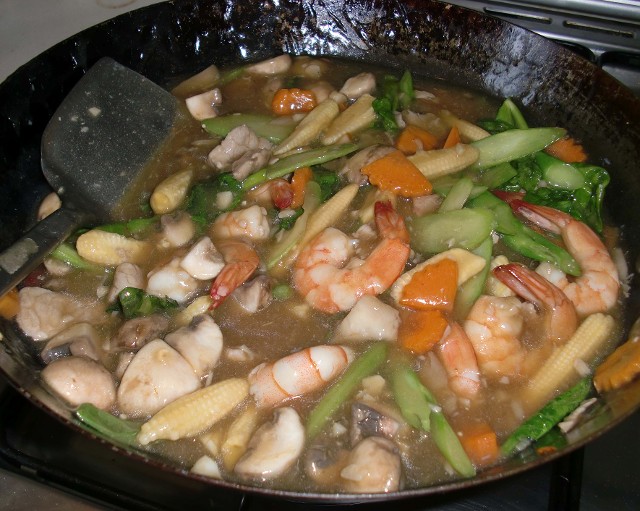 I got the baby corn from the Chinese local market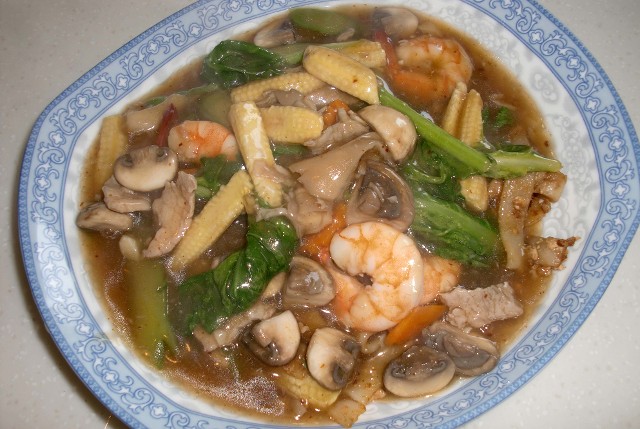 Rad Nah Talay (Seafood Thai Thick Noodle)
Vietnamese Sandwich (Banh Mi)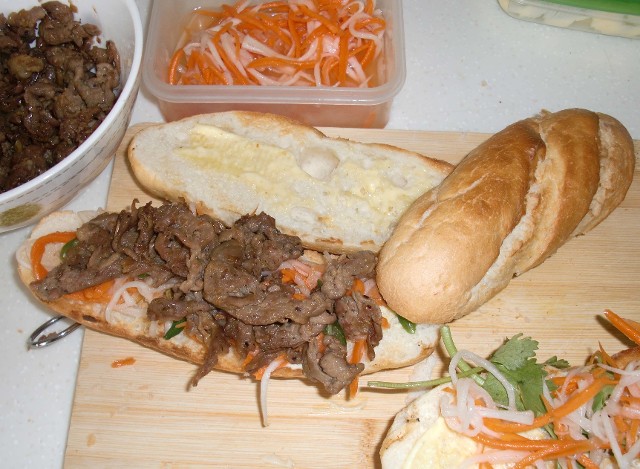 Vietnamese Sandwich with Grilled Marinade Pork. Banh Mi baby!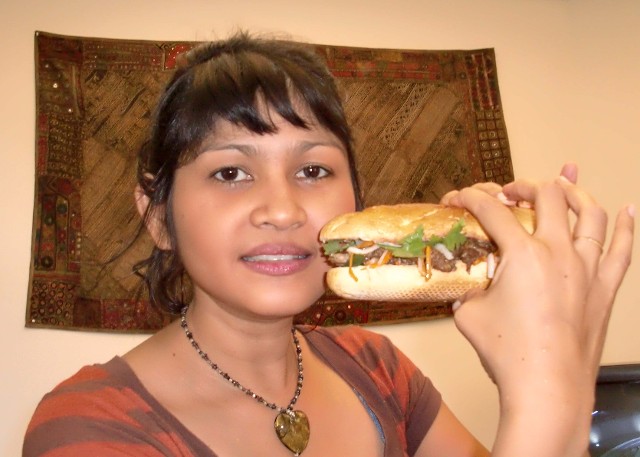 I'm going to have a bite of this sandwich
Neua Yang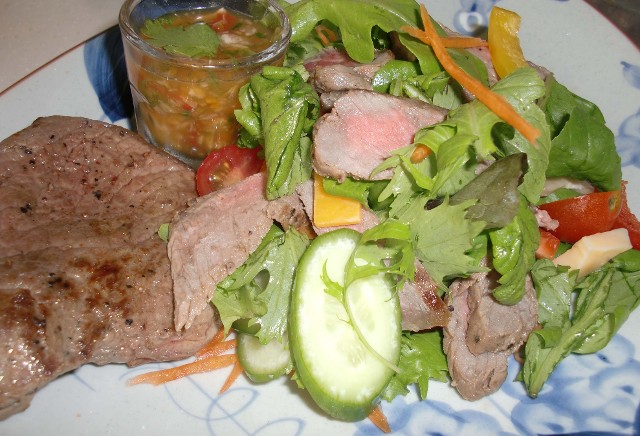 BBQ Beef with Thai Spicy Sauce
Khai Phad Nou Mai
Spicy Chicken Soup with the Bamboo Shoots. This was an incredible taste that you will never forget. You either love it or hate it. Coke goes insane for it!
Khanom Jean Kang Kheawwan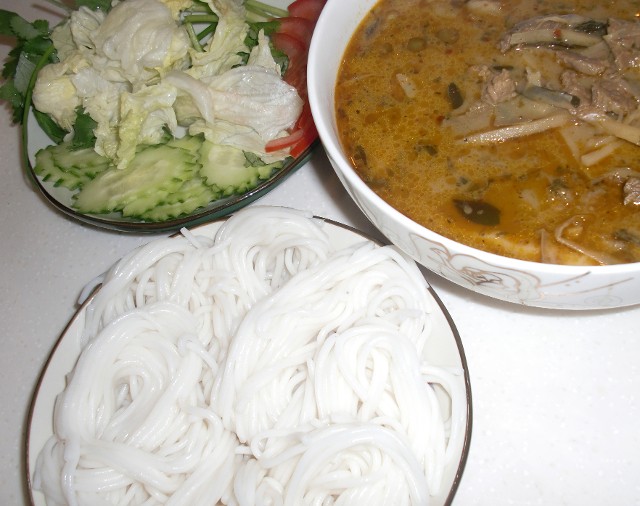 Bamboo Beef Curry and Thai basil. Serve with chinese rice noodles.
Making noodles!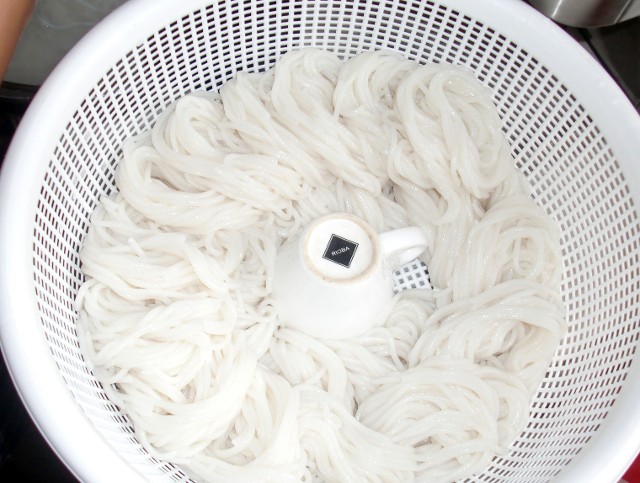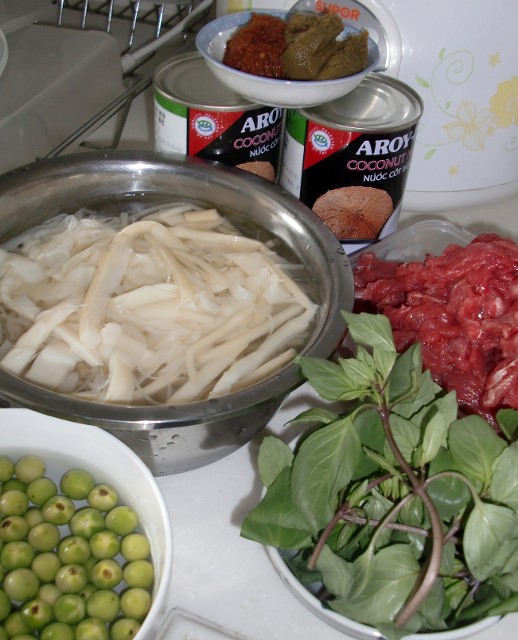 The ingredients of Bamboo Beef Curry.
Dinner with Reid and June

Som Tam, Lhab, Tom Yam and Spring Rolls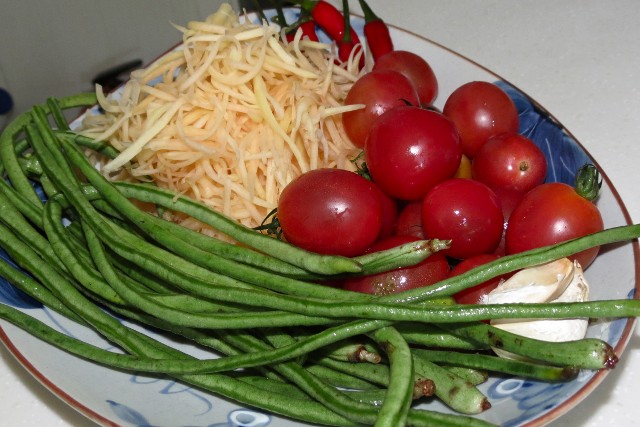 Som Tam!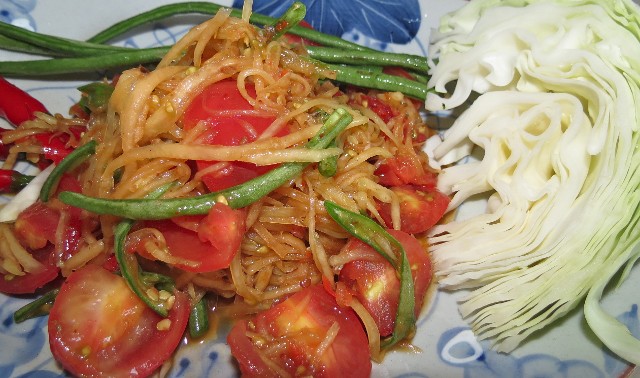 Papaya Salad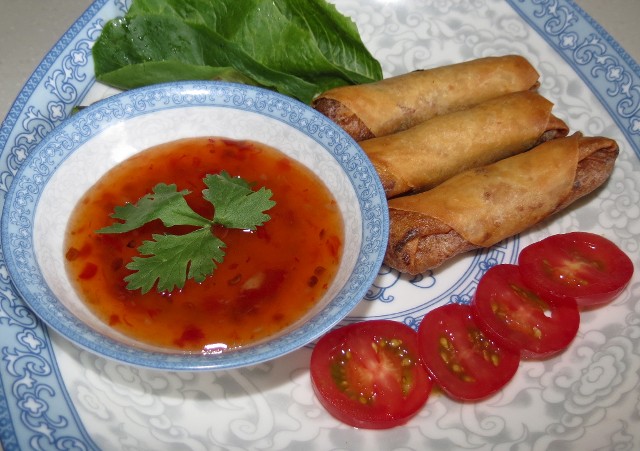 Thai Pork Spring Rolls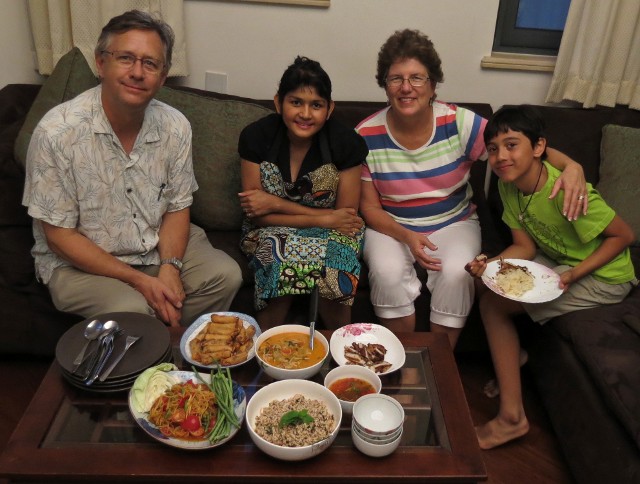 I don't want June to feel too far away from Thailand.
Hor Mok Pla Salmon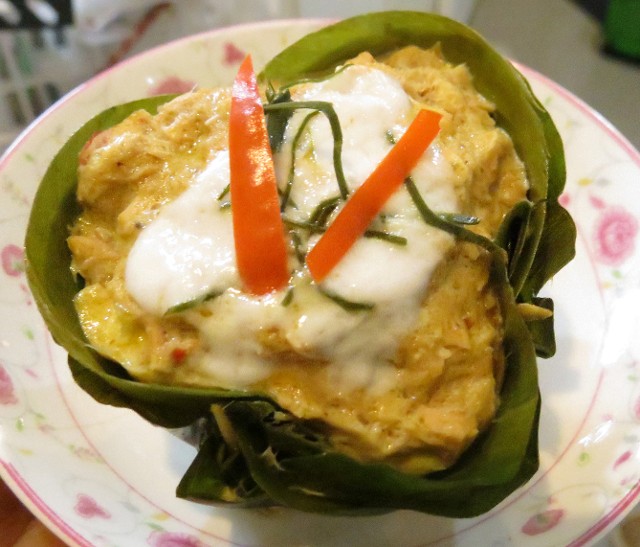 Salmon Curry with Banana Leaves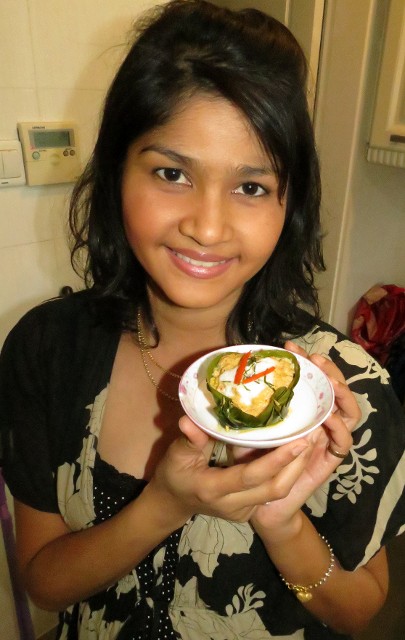 The finished product from Som.
Thai Sping Rolls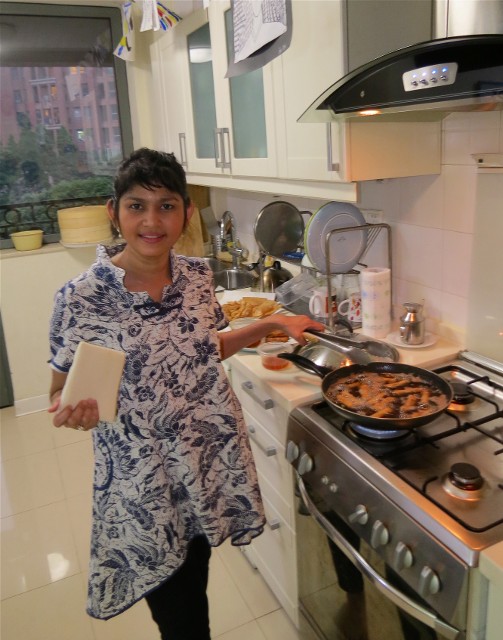 Thai Spring Rolls, I was cooking for our friends goodbye party.
Vietnamese Spring Rolls
Goi Cuon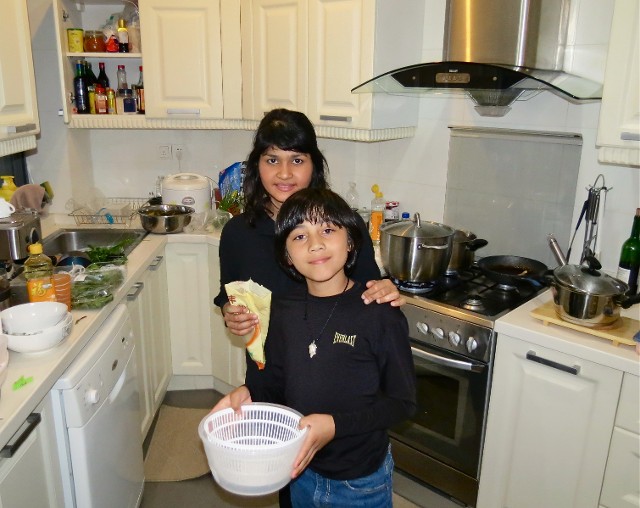 I got some help from Cokie this time.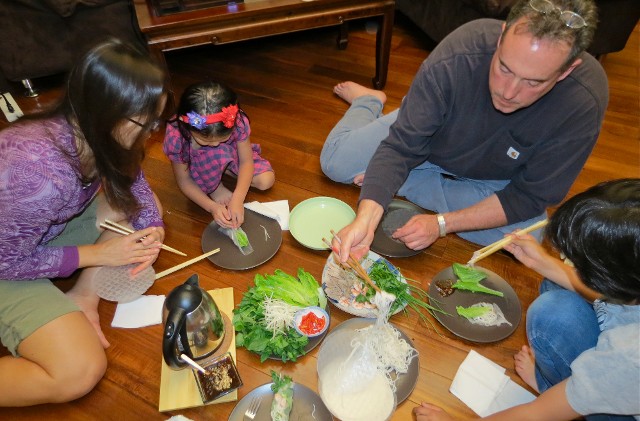 We eat like a Vietnamese!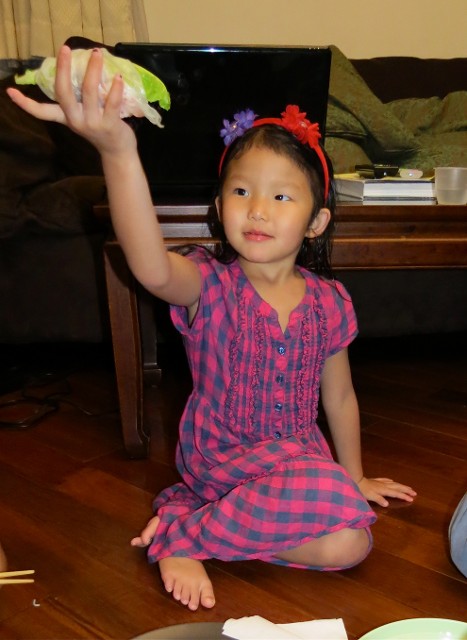 Good Job River!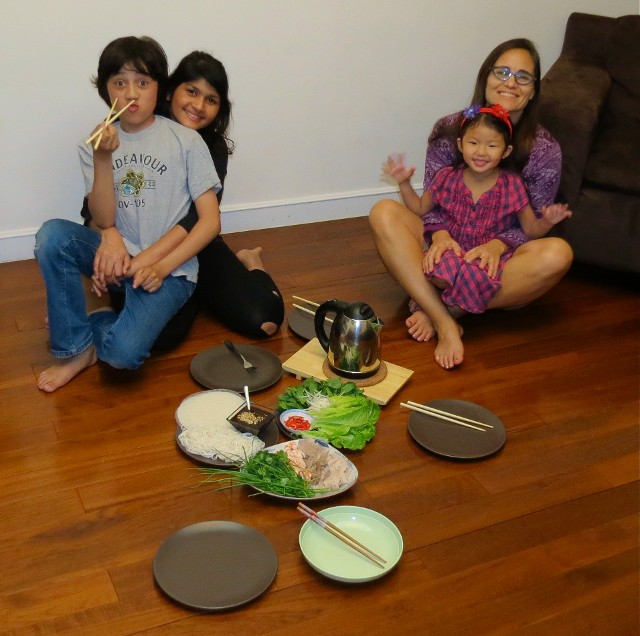 We invited Rachel and River to try my Vietnamese spring rolls and they loved it.
Chicken Noodle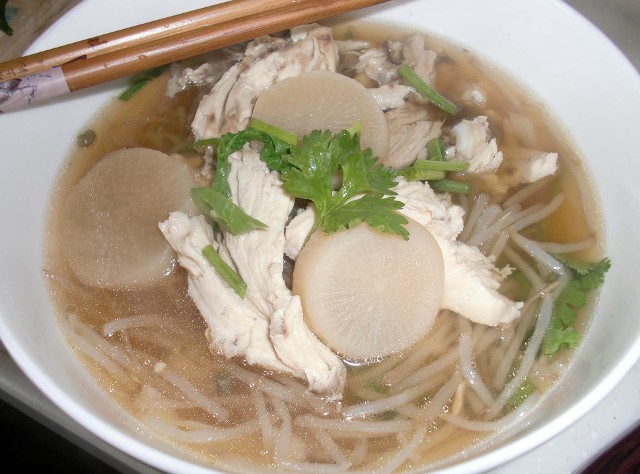 Chicken Noodle Soup
My delicious chicken noodle soup with homemade broth and tender chicken meat.
Krapraow Kai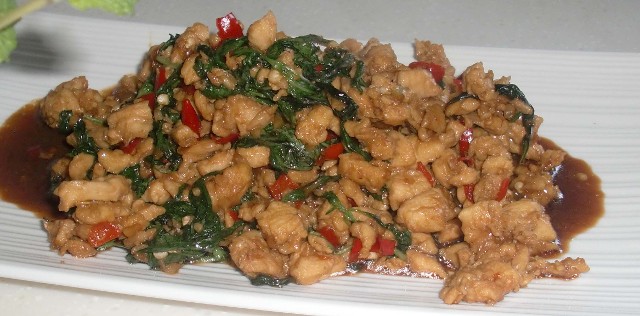 Krapraow Chicken - Basil Chicken
Onigiri Rice Balls with Salty Salmon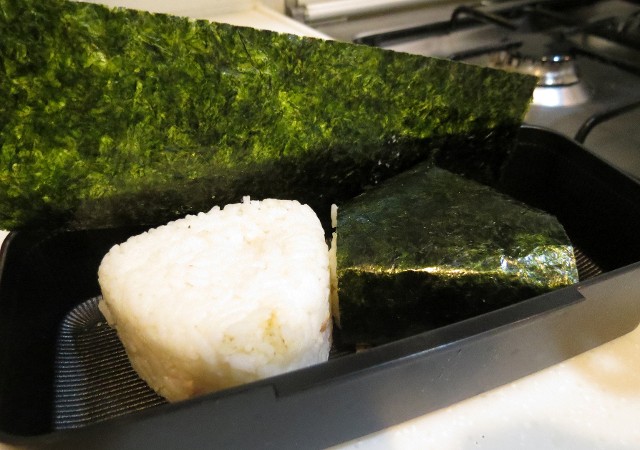 Japanese dinner with Jon and Cynthia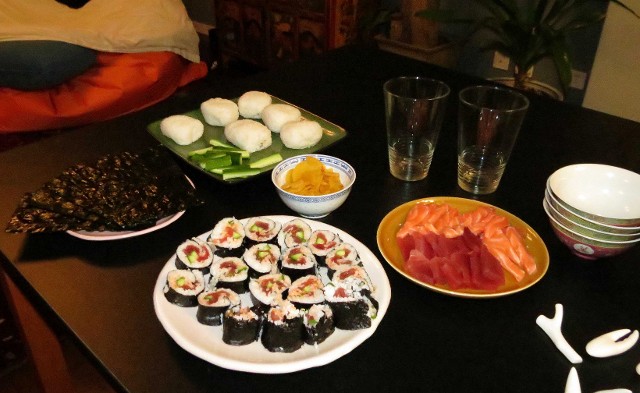 Sushi and Sashimi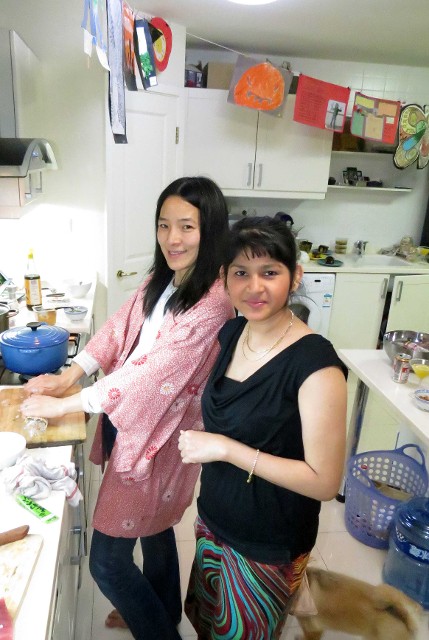 I was teaching Cynthia Nordmeyer how to make Sushi and Onigiri...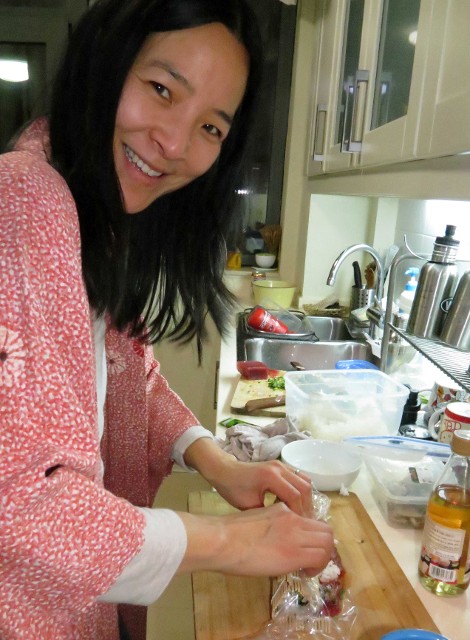 This was her first time to roll her Sushi. We had so much fun that night.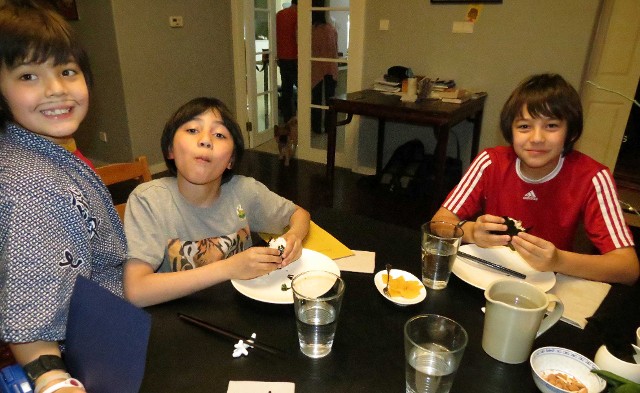 Not just only adult like us can have fun but our kids really enjoyed the food too.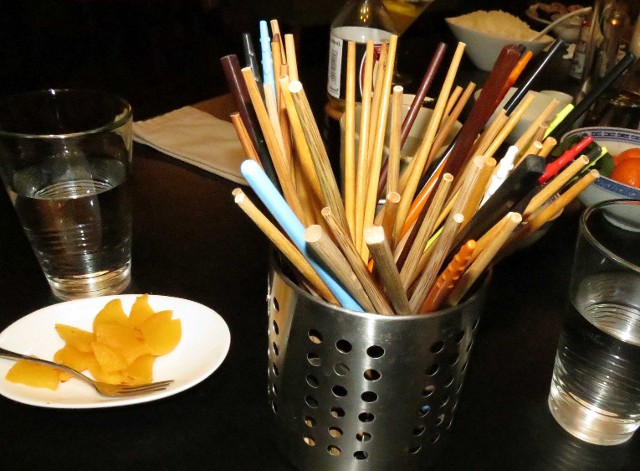 Cynthia and Jon got plenty of chopsticks. If you get the invitation from them, don't need to bring them from home.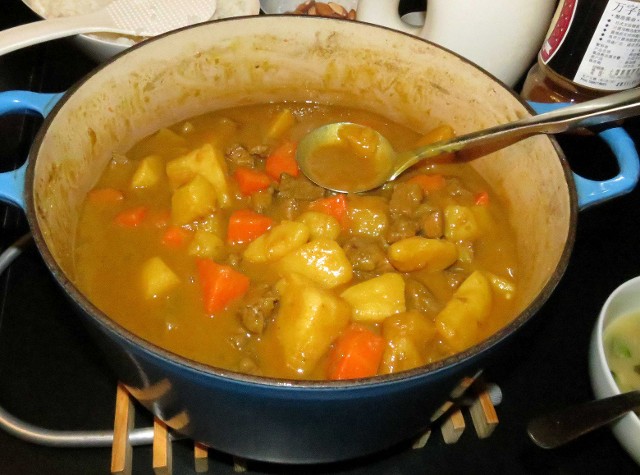 You're gonna have to try Cynthia's killer Japanese Beef Curry! This was so yummy and we got left overs to take home for our breakfast.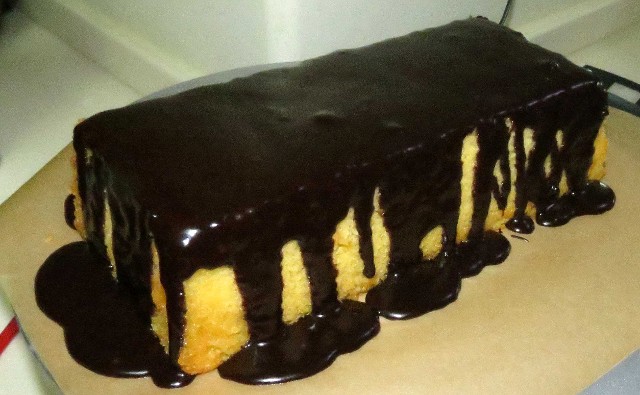 Cynthia Killer Desert!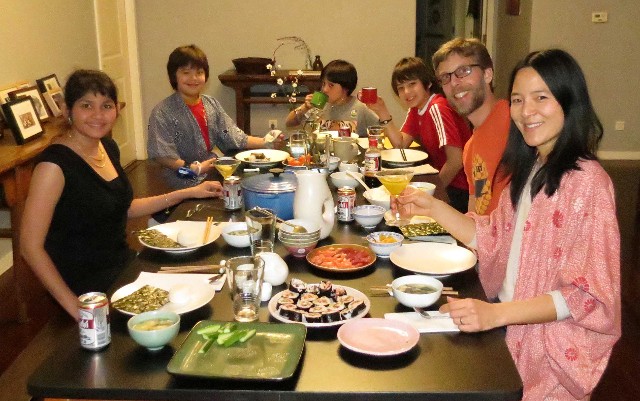 Our Japanese cuisine night to reminded us of our trip to Japan. We had such a great time with the food, and we exchanged our stories and experiences. Nothing better than this.
June's Birthday Party!
Catering for our friends in Shanghai.
I love to hang out in my kitchen.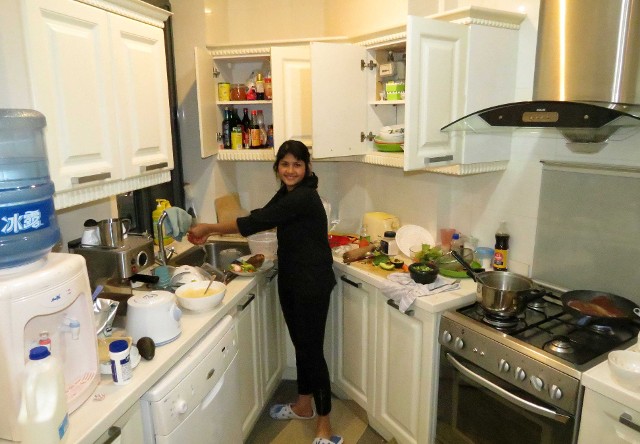 This is Som's teeny tiny triangular Kitchen in Shanghai.
White Food!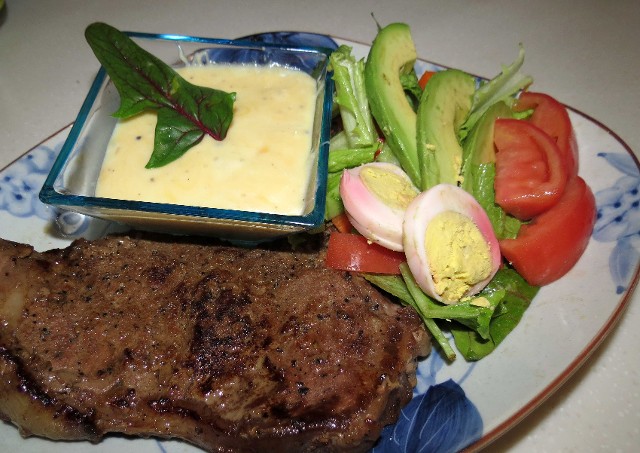 New York Steak with Potato Soup
(OK, that's enough White-people food...)
Kuey Teow Phad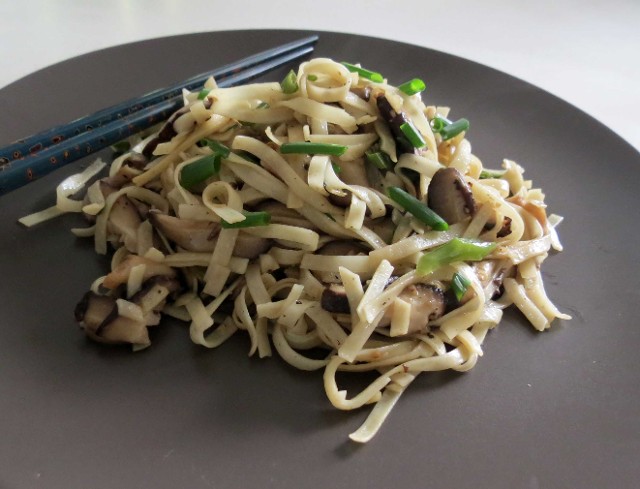 Shiitake Noodles with Chinese Chilis.
Chicken Parmesan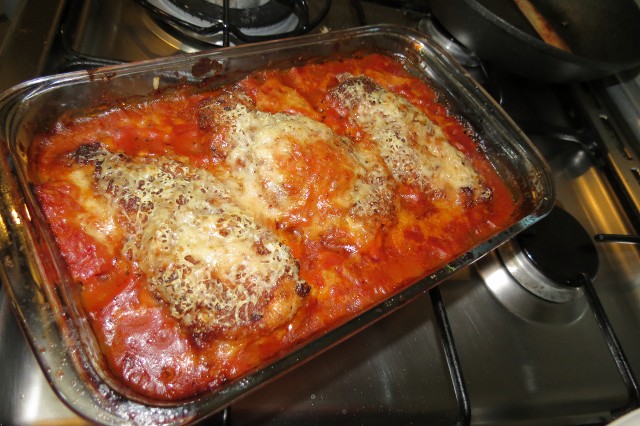 My home cooking Chicken Parmesan.
Thai healthy Meal!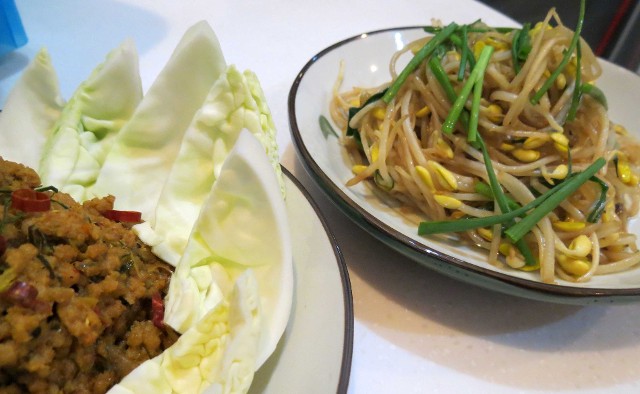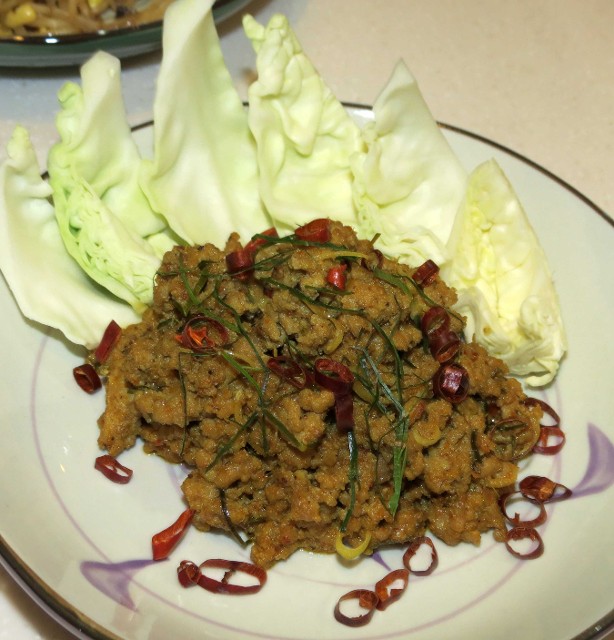 Ground Pork with Southern Thailand Curry Paste with Lemongrass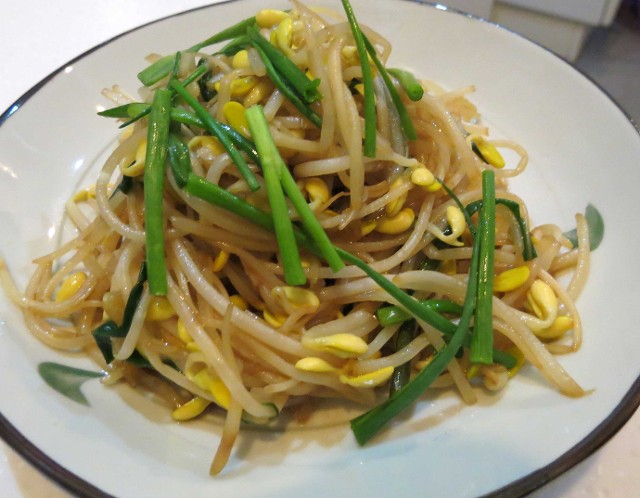 Korean Bean Sprouts Stir-Fry
Shopping Time!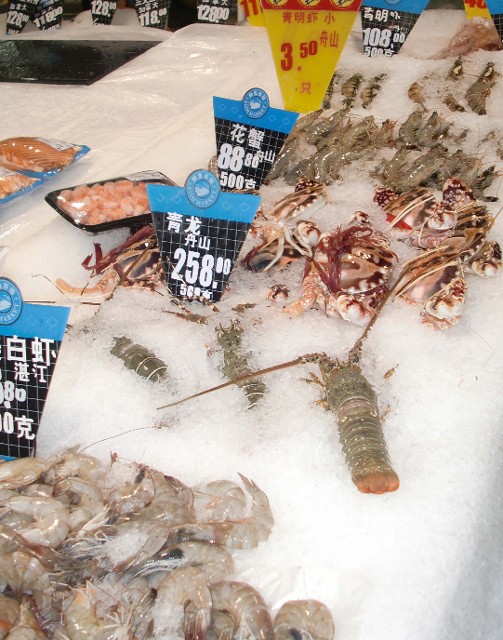 I love to take pictures of food and this is the seafood section at our Carrefour supermarket.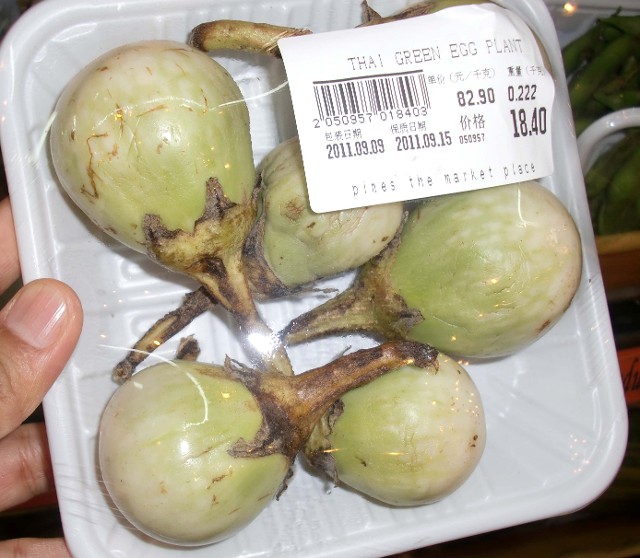 Pines Supermarket - I mostly find my fresh vegetables there. A little bit more expensive but is very convinent and they have all of the Thai ingredients I need.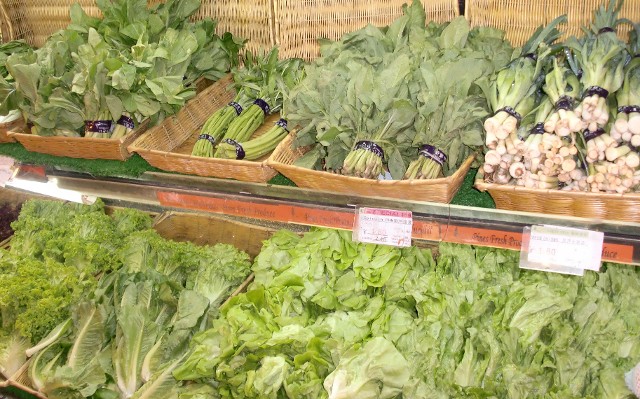 More fresh vegetables from Pine Supermarket.
More to Come!