An amazing major male Babirusa - our main target for Sulawesi. Although it was a brief view, it was spectacular!
Sulawesi
***
Check out our other image galleries for Sulawesi on Pbase.com
***

Sulawesi is on every nature-lover's wish list for places to see rare and fascinating endemics. For me, I dreamed of visiting Sulawesi for decades but never quite got to it. I came close in the mid 1990's but it was not meant to be until Christmas of 2012!
We are now in the Manado Airport, waiting for our delayed Sriwijaya Airlines flight back to Jakarta to continue on back home to Shanghai via Seoul. We just finished a remarkably successful expedition to Java Barat (see trip report here) and had less than two weeks to try for some of Sulawesi's most spectacular and charismatic mammal and bird species and we had some great luck!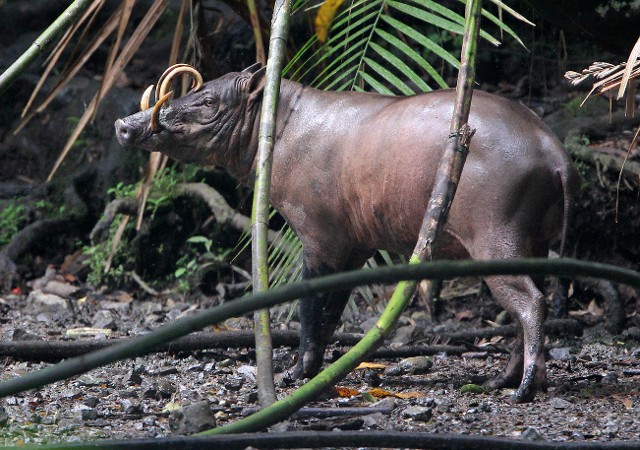 Babirusa baby!
Our trip was arranged with the help of "Bobby" Lambaihang (macaca_nigra@yahoo.co.id), who is the owner and operator, along with his lovely wife "Nelly", of Tangkoko Lodge. For years now, Bobby has been known as the man to contact for those interested in attempting a sighting of the elusive and rare Babirusa, Sulawesi's famous "Pig Deer". Bobby has the contacts and knowledge of the area to make the expedition more than likely a great success. I would highly recommend Bobby's services, both for arranging the Nantu portion of the trip as well as his lodge for a lovely, quiet and very peaceful place to stay while exploring Tangkoko.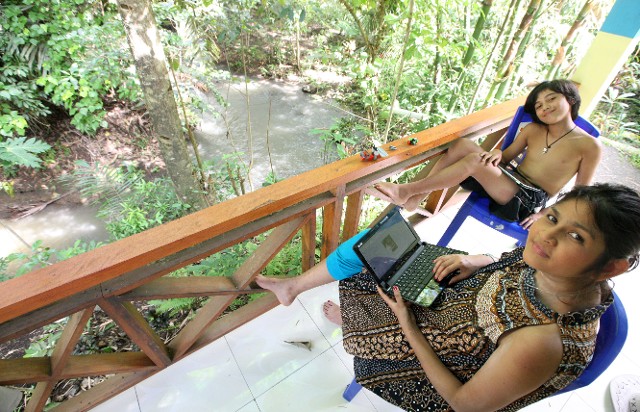 Relaxing on the veranda of Tangkoko Lodge! A great way to spend the hot part of the afternoon...

Nantu National Nature Preserve
Our trip started in Gorontalo, a large-ish Sulawesi backwater that now receives several flights a day with at least three airlines. We arrived via Jakartaand stayed one night before heading west to Nantu Nature Reserve. Gorontalo is pretty much a noisy dump but it is a necessity for starting and ending the Babirusa trips for sure. While the airport is nearer to Nantu than it is to Gorontalo, it does take about an hour to reach the nearest acceptable lodging in the opposite direction. Nicely planned….
The trip from Gorontalo to Nantu takes about 5-6 hours as the roads are slow going, both due to traffic and to conditions. The last half of the journey is on some rugged, very-soon-to-be 4X4-only roads. I guess in 2009, they laid some tarmac on the gravel tracks but it only took a couple years to beat it back to its original, primitive state. Actually, I've found that un-maintained tarmac roads are usually far worse than the original gravel tracks…. The road to Nantu winds through some lovely Sulawesiback-country punctuated with palm orchards, manioc plantations and even some nice rainforest on some of the higher foothills and is actually a nice drive regardless of the road conditions.
We left Gorontalo early (Bobby got our required permits the day before when he and our buddy Jon Hall had to deal with Indonesian bureaucracy for most of the previous day!) and made it to Nantu and our homestay by early afternoon. After a quick lunch, we trekked the 45 minute +/- stroll to the blind to meet up with Jon and try for some Babirusa on day-one for a couple hours. The trek is pretty easy, but in the rainy season, the mud can be oppressive.
The Trek to the Blind....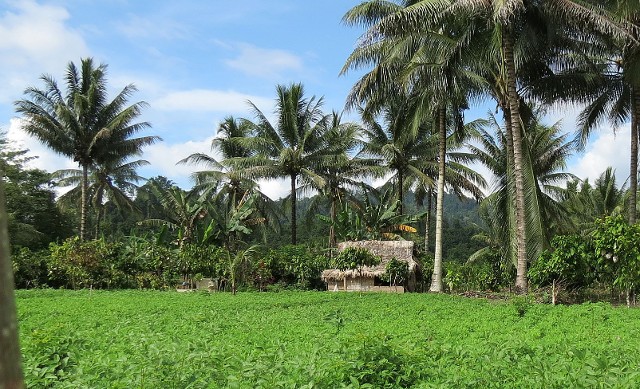 The countryside surrounding Nantu Nature Reserve is rural and quite nice, filled with small hamlets, maize fields and coconut plantations.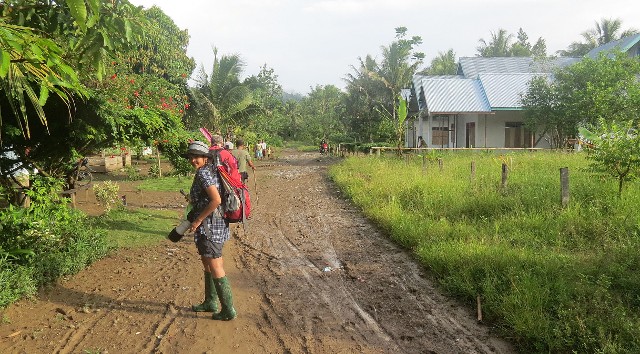 On the way to the Nantu blind - about a 45 minute trek that starts in the village and eventually takes you in to primary forest.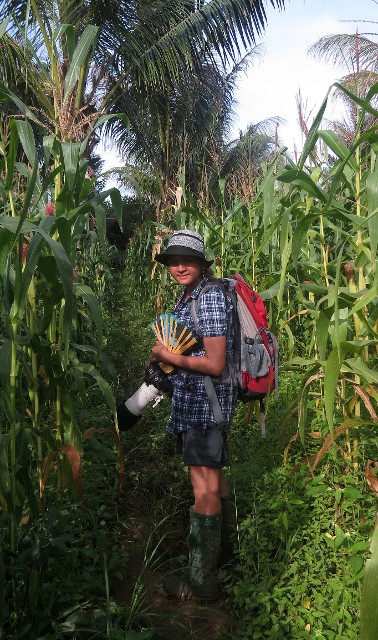 Next the muddy maize fields...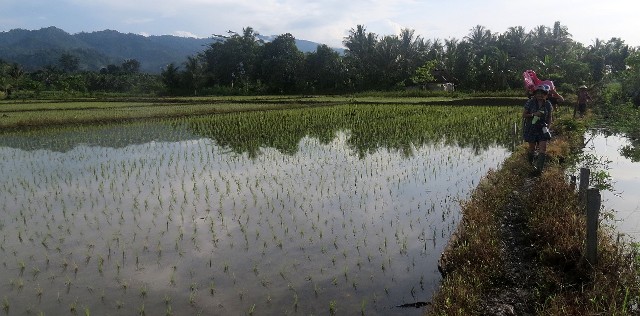 And the rice fields...
Not only is the mud slippery, it can be deep in a few locations so a good pair of Wellington's is a must. There is a river crossing that must be traversed when trekking to the blinds, but in the rainy season, and we had some serious and prolonged downpours, the river never surpassed mid-thigh level for me and waist level for Cokie and Som. The water is fast-moving so it is a bit easy to get dizzy and when you combine this fact with the very slippery cobble on the river bottom, taking a spill is a distinct possibility! Take care with your gear!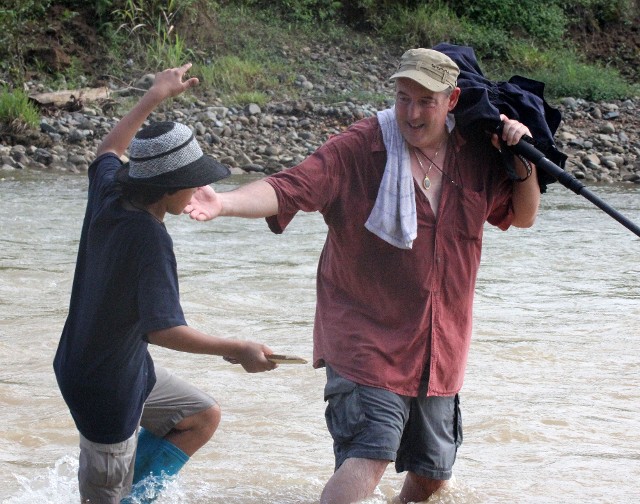 With the help of my son, I was able to make it across the river without incident.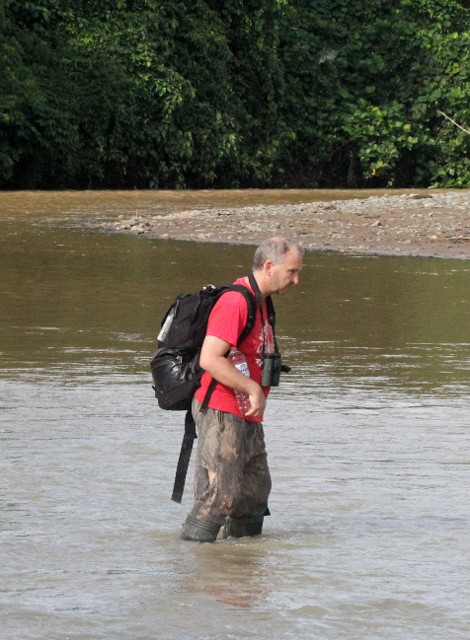 Our good friend, Jon Hall, making his way across the river, which was pretty low on this morning's crossing - quite a bit higher later on this day after several hours of tropical downpour!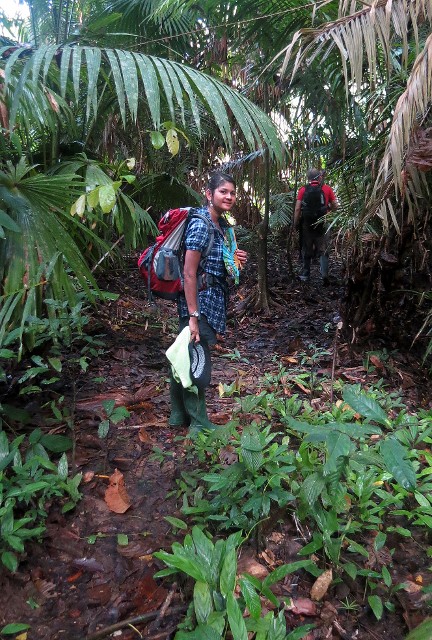 Once you cross the river and drain your boots, it's time to enter the Nantu Forest, which is actually quite spectacular!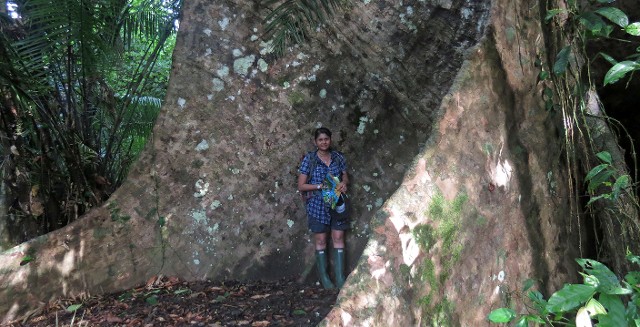 There are some seriously huge trees in this jungle!

Once you pass the river you still have the better part of a kilometer to walk through the forest before reaching the blind. Along the trek we spotted our first Babirusa! Well at least our guide, Risno, did. His pace was a bit faster than ours so he was able to see things before we were in the same time zone! But we heard it and saw a flash in the shadows….Not enough to tick, however…. We did hear several squirrels and even spotted our first Heck's Macaques scrambling in the forest canopy. Nothing worthy of good images though.
As soon as we arrived at the blind, we spotted our buddy, Jon Hall, up in the upper blind. Not wanting to disturb the scene, we approached silently and greeted him with a wave but didn't climb up to say a proper hello. Instead we went for the lower blind to see what was in the mineral lick...Nothing….
The blind….hmmmm…. Well, we could tell it was freshly refurbished but it was not designed for human use… The blind was constructed out of palm fronds overlain to be basically water-tight, which was a very good thing, considering how much rain we encountered while there. But the size was basically enough for 1.5 people, although at times we squeezed three in during major downpours.
The Blind...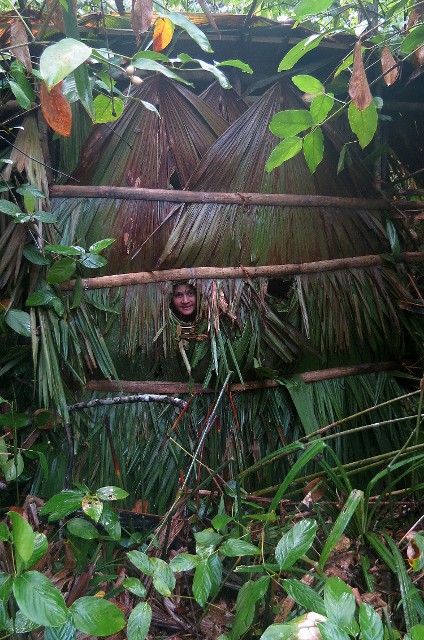 Som inside the blind...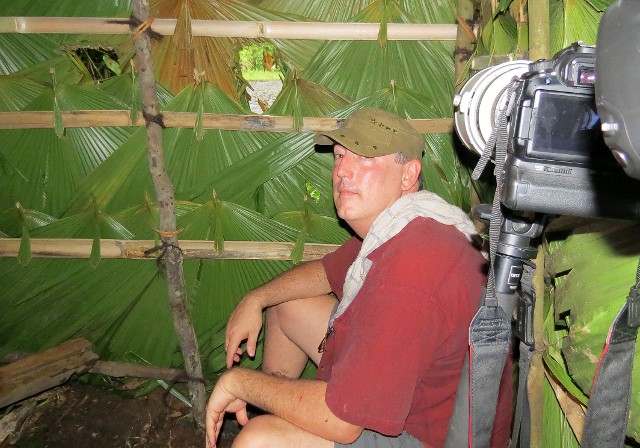 Our cozy blind where we spent the better part of two days waiting for and photographing the fauna of Nantu. This shot was taken a few moments before I broke the support posts with my "mass"...This was perhaps the most uncomfortable blind I have ever been in!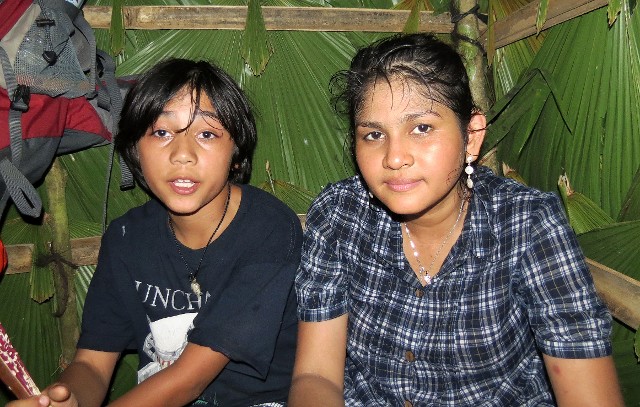 Such excited looks on their faces! (We all agree that it really was worth it...all of the heat, sweat, mud, leeches....)

There were a couple camera holes poked through the palm leaves, but they were in a position only someone shorter than Cokie could use. Of course there was no place to sit and the mud on the floor was pretty much as thick as the stuff out on the trail….The only way we could even look out of the blind was to stand at a 45 degree angle in spurts and look out….There was no way we could stand like this for any prolonged period of time. Thankfully the next day we suggested bringing out some chairs from our homestay and that worked out much better: 5-star blind action there!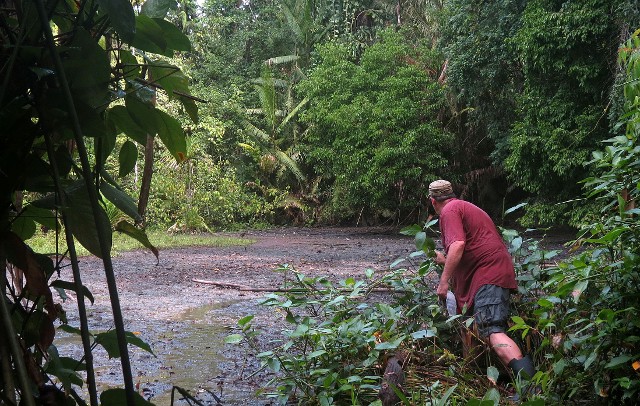 There were of course many sprigs and stems in the way of my lens so I finally had to go outside the blind and do some selective pruning...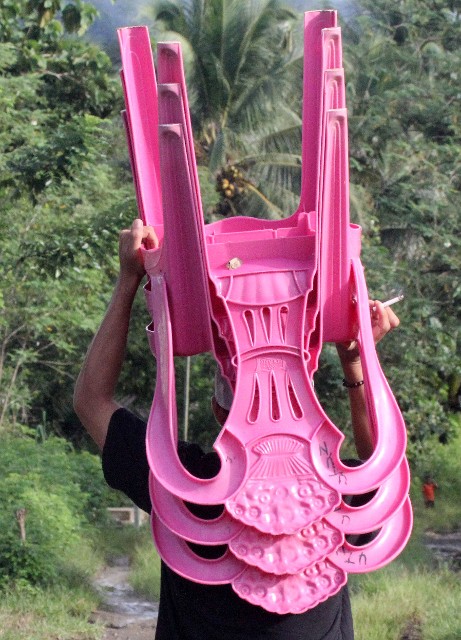 On our second visit to the blind, we had to bring something to sit on!
Aside from a few species of Sulawesi's spectacular endemic pigeons, we had yet to see any good mammals at the blind during our first hour or so. Cokie, who was killing time outside of the blind, trying so hard to be quite, and mostly succeeding..., screamed in a whisper, "Dad! Macaques!" Cokie called me in to the forest to see some the Heck's Macaques he was spotting up in the canopy. Again, nothing worthy of good images but definitely some good sightings of at least 5-6 individuals of a new species in the high canopy around the blinds.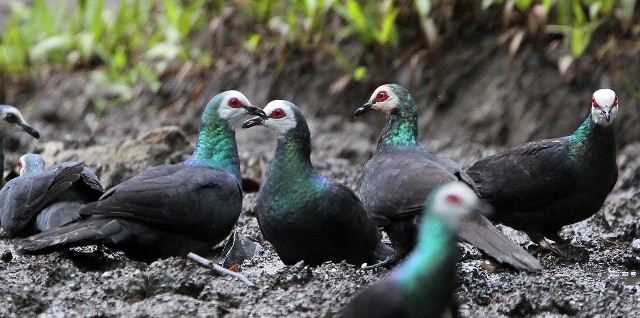 Sulawesi Black Pigeons were our first critters at the Nantu blind....Actually a rarely seen endemic....
Just as I was trying in vain to get some good images of the macaques, Som and Cokie called me back to the blind. "Dad! Come now! Pigs!" Sure enough as soon as I got back inside the blind, I got my first glimpse of a nice sub-adult, male Babirusa! He sipped the muddy, mineral-rich water for several minutes before heading off in to the forest….Soon to be replaced by several females and young ones. Before the tropical rains kicked us out of the forests, we had seen at least six Babirusa! What a great start. My only goals now was to see a major male, some Warty Pigs, better glimpses of Heck's Macaques and of course, the grand prize, an Anoa….While the Anoa was never to be this trip, we did realize all of our goals for Nantu in 1.5 days of observations…not bad!
Babirusa #1!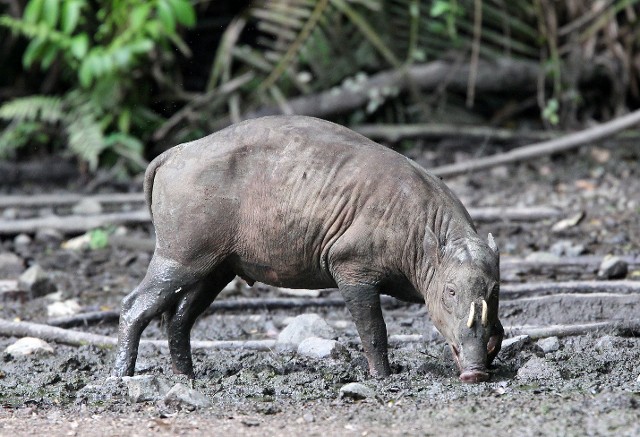 Our very first Babirusa! This young male was a very welcome sight indeed!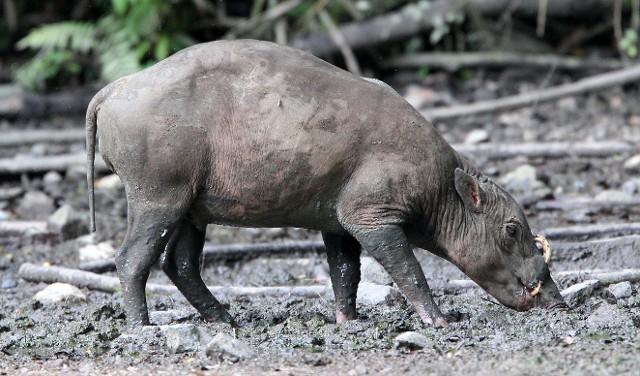 He stuck around for quite a while sipping and slurping the muddy mix...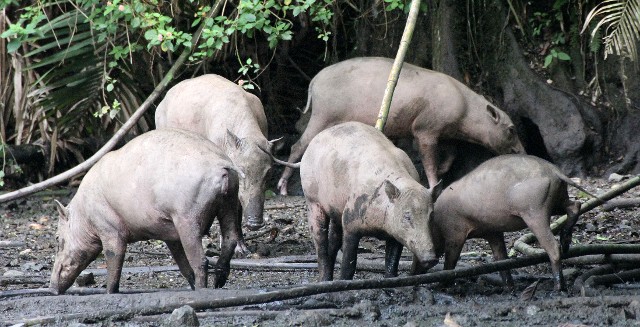 Females were definitely the most common suid visitors to the lick. These were the first ones we spotted on day one.
Check out this awesome article about the Babirusa, our expedition and featuring our images!

Lodging options in the Nantu area are very limited. Either you camp or you stay at one of the homestays in the nearest village. Camping in the rainy season is obviously not the best option so we stayed at the home of one of the village families. While the accommodations are very basic, they are dry, fairly comfortable, and the family is very welcoming and friendly. It was a good experience.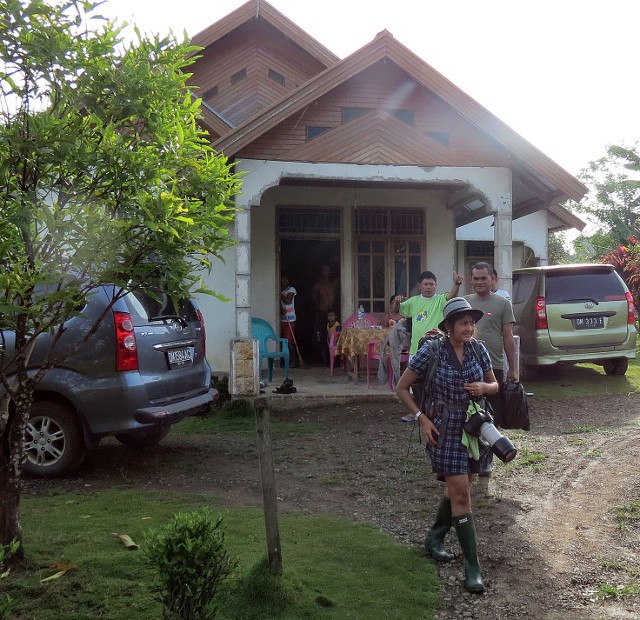 Our home in Nantu!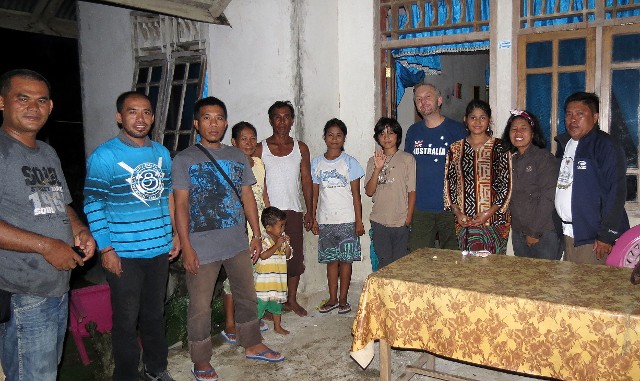 Team "Nantu"! Yes, every single one of these folks slept in that little homestay...(Actually I think there are a couple folks missing from this picture...)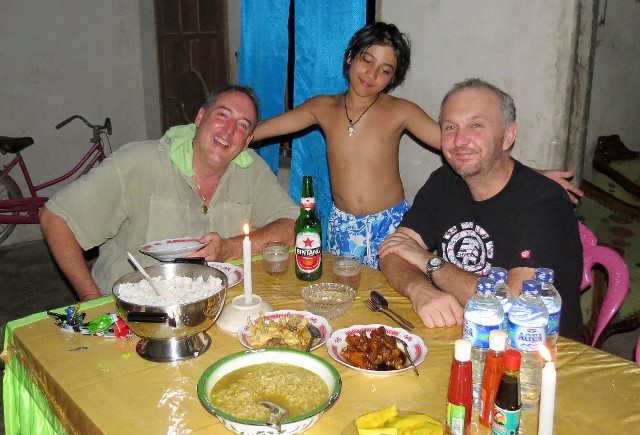 Three of the world's most enthusiastic mammal enthusiasts! Jon Hall, Cokie and me....(Som took the pic!)
Day two in the blind was to be slightly more productive than day one. We shared time and space with about 16-17 female and young Babirusa for much of the day. Much of the time at the blind was spent waiting and starring at endemic pigeons and hornbills, which in itself is actually quite spectacular, but the real show starts when the Babirusa come in and meander the lick, which seems to be around 10 or 10:30 AM. Our first suids of the day were actually a nice family of Sulawesi Warty Pigs that very quickly passed through the lick long enough for us to capture on film.
Sulawesi Warty Pigs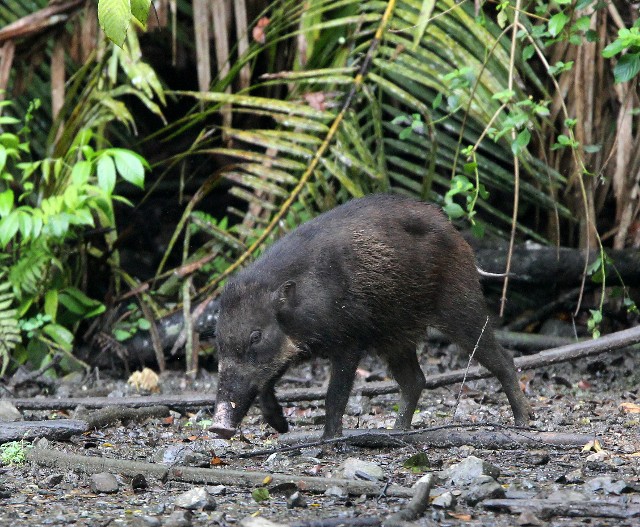 We were fortunate to have several Sulawesi Warty Pigs come through and spend time at the lick. We dipped on seeing any major males with their massive warts, but it was nice to see another lifer!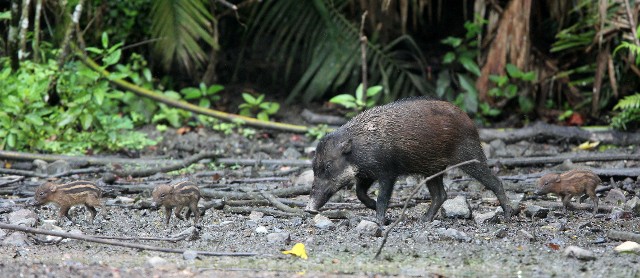 Mommy Sulawesi Warty Pig and her piglets...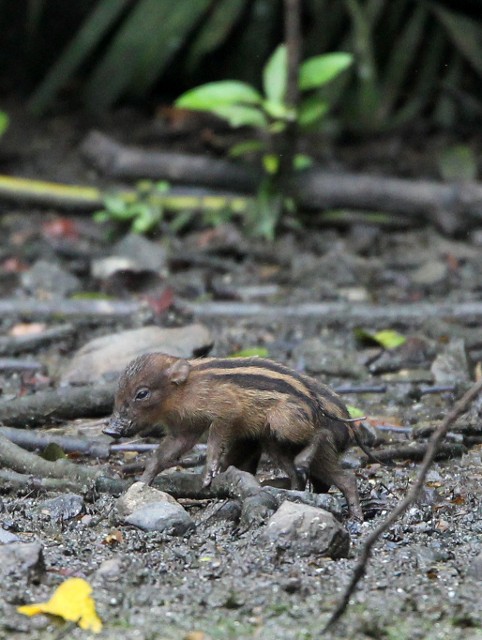 This little piggy went to....Nantu!
The female and young Babirusa came and went often throughout the day. No males at all for most of the day, however, until one lone major male came in for a very brief moment near the end of the day, just before the mother of all downpours started. I will never forget the moment the big male came in… "Big male!" I could hardly contain myself! But I knew I had to remain quiet! Immediately Som and Jon jostled a bit for position and the very small amount of noise was just enough to be noticed and, after a few great shots, he disappeared. We had a very brief but very satisfying glimpse of one of the rarest and most spectacular mammal species on earth! And for that, I was very, very happy!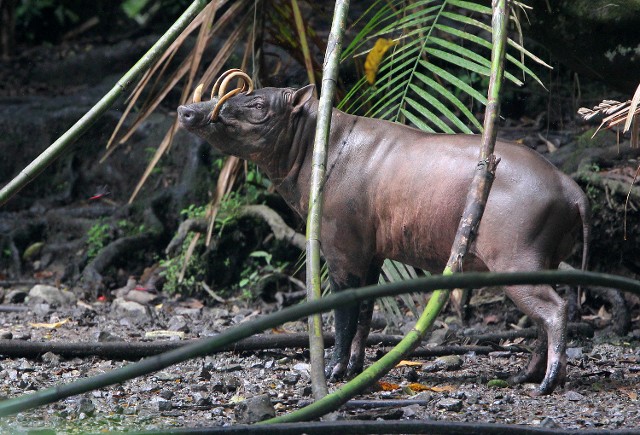 I was absolutely thrilled to see this massive male enter, albeit very briefly!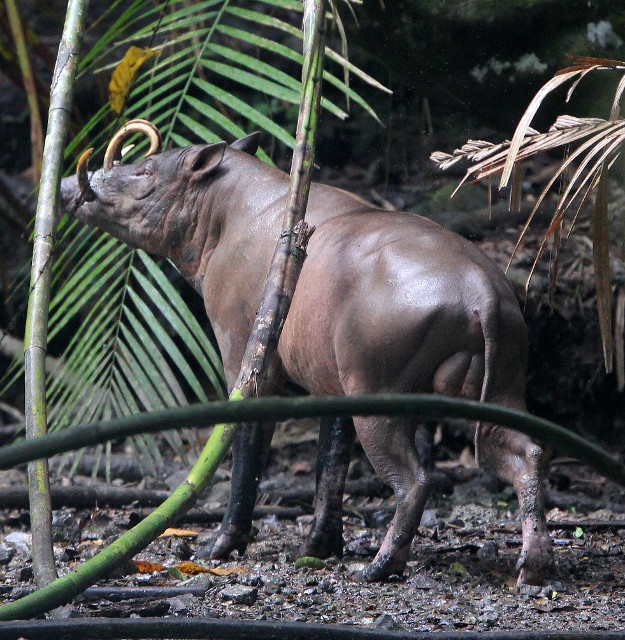 Babirusa at Nantu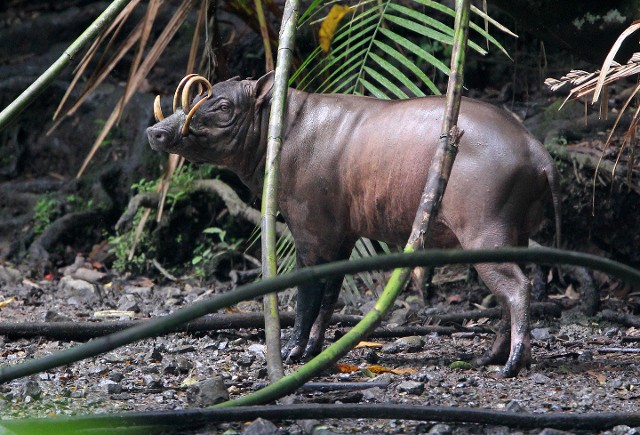 What a glorious animal...
The Babirusa are very sensitive to any noises in the forest. Often we would see the pigs react to approach of another of their species as if it were a leopard or another threatening predator. Often when entering the mineral lick, they would stick their Aardvark-like snouts high in to the air and sniff the forest for threatening scents. We were advised not to use mosquito spray or perfume of any sort, as it would most likely scare away the Babirusa. On at least a couple occasions, they would sniff the air in our direction, and scurry off back in to the forest.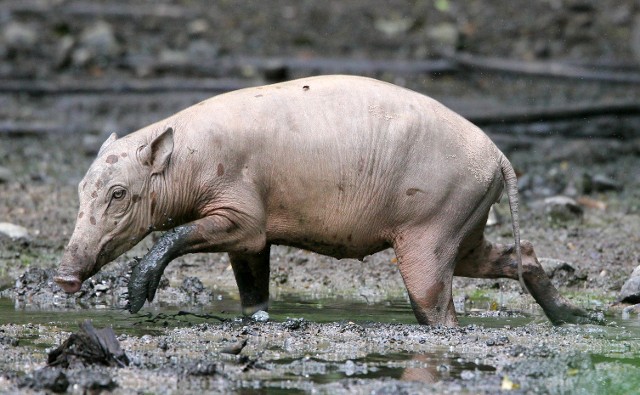 Female Babirusa

Although it is difficult to tell exact numbers, we did see upwards to about 20 individual females come to the lick by the time it starting raining around 3PM or so.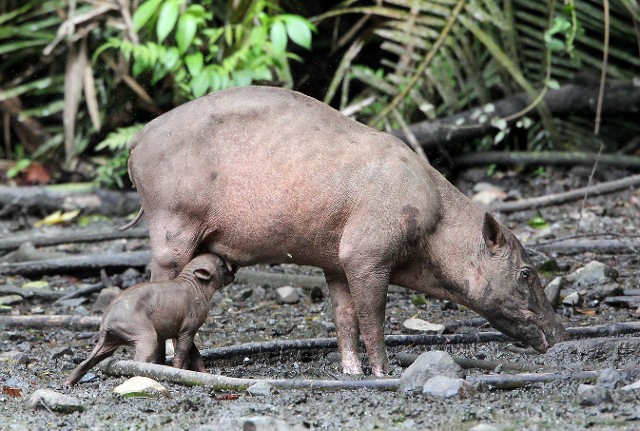 Mommy Babirusa and her piglet!

Check out this awesome article about the Babirusa, our expedition and featuring our images!
The lick was visited throughout the day by dozens of species of animals. While the most common group were the birds, such as the Knobbed Hornbill and the various doves and pigeons that call Nantu 'home', we did get some quality looks at several Heck's Macaques as well. We watched a black male and a very grey female come and visit a magical spot at the base of an old Ficus that seemed to have something of interest for every critter in the forest. I wish I knew what was in there so I can synthesize it to attract mammals everywhere I go!
Heck's Macaques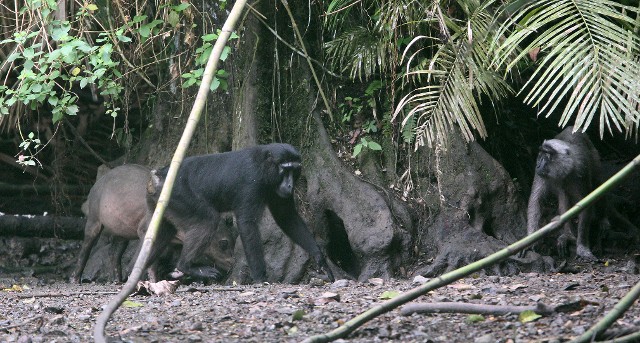 Two Heck's Macaques and visiting something at the base of this old tree....The silvery one is supposedly an elderly female and not another species.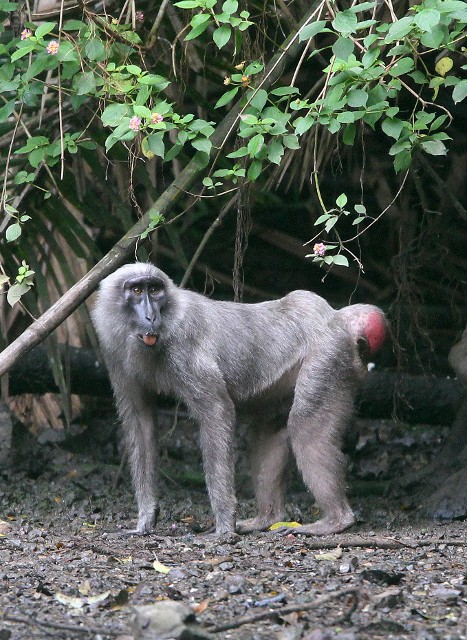 A spectacular old girl!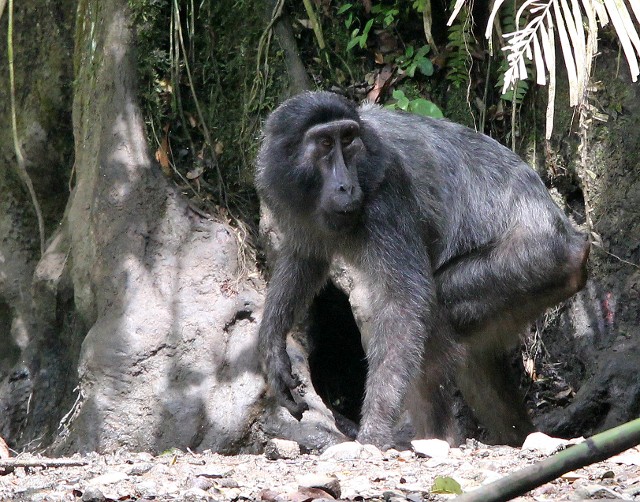 Male Heck's Macaque...
Our male Heck's Macaque investigating what the heck it is at the base of the old Ficus...
Knobbed Hornbill (Sulawesi Wrinkled Hornbill)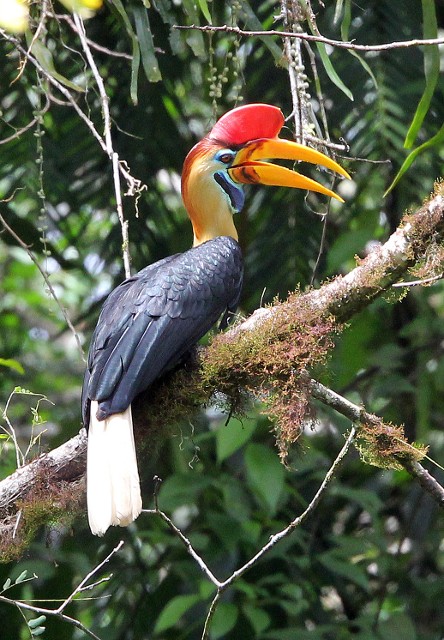 While waiting for our Babirusa, we were lucky to see many endemic Knobbed Hornbills.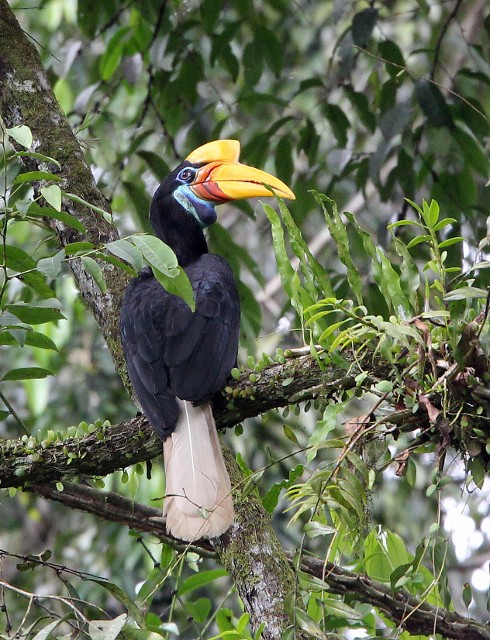 Female Knobbed Hornbill at Nantu...
After seeing the major male, the rain really started coming down. We sat in the blind basically expecting it to stop any second, but it only got stronger and stronger throughout the late afternoon. Sometime around , Risno came in to collect us from the blind, and we proceed on a very flooded trekthrough the forest. Even though it was already the rain season, the previously dry washes we trekked through that morning were now raging creeks in their own right. We crossed many near-dangerous creeks that simply did not exist a few hours earlier… And the river, although still crossable, was definitely much higher than before. But we made it back to the homestay safe and sound, and after a nice dinner, we proceeded back to Gorontalo for a relaxing stay during the New Year.

Well, the drive back to Gorontalo, both in the deluge and the dark, was quite an adventure. Firstly, Indonesian cars do not have any de-fogger device at all so there is a constant fog on the windshield that makes for very poor visibility even during a mild downpour. This combined with very poor roads, raging creeks overflowing on to the road, no lines, headlights about as strong as a penlight, and let's face it, some pretty incompetent driving abilities, you have the recipe for disaster!
Well, although we did eventually make it back to Gorontalo safely, we were nearly washed down a raging creek at one point when our driver decided drive directly in to the heart of a raging creek overflowing on to the main track. For some mysterious reason, he decided to ignore the pretty clear and obvious instructions of Risno (who was already outside trying to direct us in to the safest part of the road to cross the creek) to veer right, and drive directly in to the heart of the creek! I mean he literally drove around Risno and another person who were yelling at him to steer right and headed directly left, smack dab in to the middle of the creek, which by now was nearly half a meter deep or more!
I attempted to grab the steering wheel myself and steer in the right direction but he continued in his directly defying all logic and common sense. We were all more than a little dumbfounded….Who would do this!? Thankfully the car did not die in the water and we were barely able to reverse our way out of the potentially very dangerous situation and get back on dry land. But we were very lucky indeed. I was a bit pissed, and the driver was very apologetic….I suppose all's well that ends well…
We spent a couple nights back in Gorontalo and enjoyed the sounds of non-stop fireworks, unbelievably loud disco music blasting from every other house and the blissful sound of the 3AM call-to-prayers blasting every frickin' night from your nearest mosque, which in our case was about fifty meters outside our window! I remember actually finding the calls-to-prayer in Thailand and the Middle East being nice to hear and actually soothing, but here in Indonesia, we found it to be so annoying. Perhaps because of the really bad singers they have here…or maybe due to the fact that they blast the tunes every two hours or so, all night long! It got to the point that after some really awful sleeps near the mosques, we would try to stay at hotels that were nowhere near them….Good luck.
Manado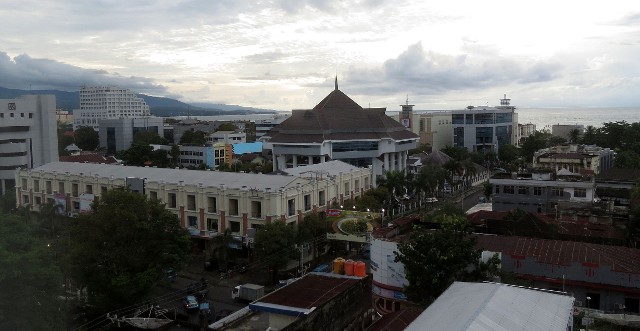 Our next stop was Manado, the starting point for trips to Tangkoko, a small patch of rainforest on the northern tip of Sulawesi that is still rich in wildlife. After a very early morning flight from Gorontalo, which flew over a remarkably extensive patch of rainforest (Bogani NP), we found our way to Manadoand then a brief drive to Tangkoko Lodge, where we were greeted with a multi-hour deluge of rain… No problem, we had over three days and we needed the rest. After a long nap for all of us, the rain subsided and we headed in to the forest of Tangkoko to see the remaining targets on our wish list.
Tangkoko is famous for three main mammal species: Sulawesi Black Crested Macaques, the Spectral Tarsier and Bear Cuscus. All of these species are, while never being completely guaranteed, are pretty easy to see in Tangkoko.
***
Tangkoko National Park
Tangkoko's forest is actually very nice, albeit clearly disturbed in many locations with pretty much unregulated tourism and exploitation by locals. Upon passing the entry gate to the park, we noticed lots of local kids sitting all over the place, smoking and revving their super loud motorcycles….And just outside the boundaries of the park was a seriously raging party consisting of some massive concert hall-sized speakers that would make Ted Nugent jealous, and about 1000 very drunk partiers….Traveling to Indonesia's wildlife-rich areas in the middle of the New Year's holiday is a challenge at best… I was very worried that the racket would make seeing wildlife next to impossible. And after a kilometer or more of walking the main track of Tangkoko and seeing nothing by dozens of feral pigs (Tangkoko has a very serious pig problem, at least in the buffer zone of the park), I was beginning to think that we'd be skunked on a Cuscus…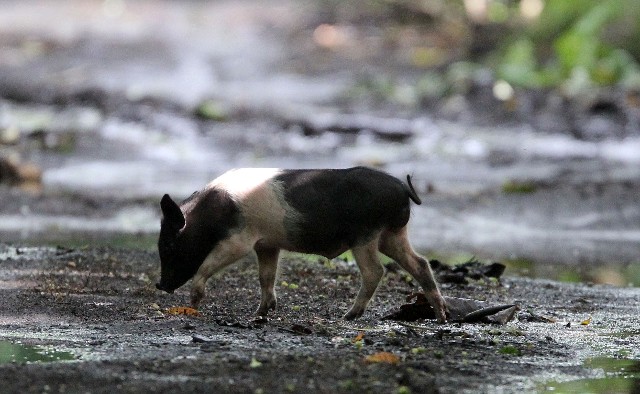 Tangkoko has a serious feral pig problem...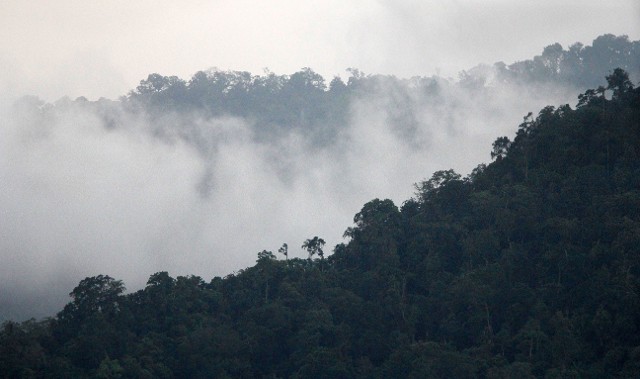 Tangkoko's forest
After a couple more km, we finally got rid of the noise of the village and the rave in the field…. We quickly came across the Rambo 2 group of Sulawesi Black-crested Macaques after a brief trek in to the forest's interior. The macaques are not at all afraid of human presence and are clearly habituated. They are a very spectacular species of primate and we very much enjoyed our encounters over the next few days with these wonderful primates. After spending a nice hour or so with the macaques, we continued our search for the Bear Cuscus.
Sulawesi Black-crested Macaque (Macaca nigra)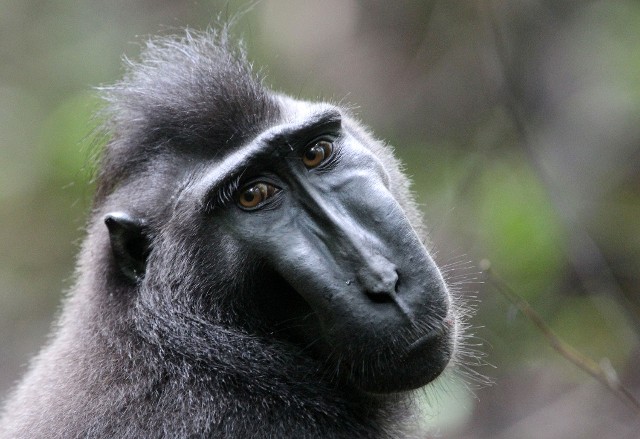 Our first Sulawesi Black-crested Macaque.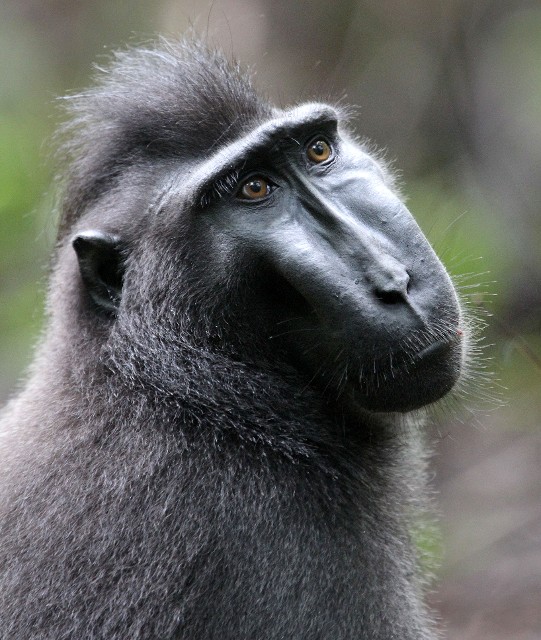 This amazing male was the alpha-male for the "Rambo 2" group of Tangkoko.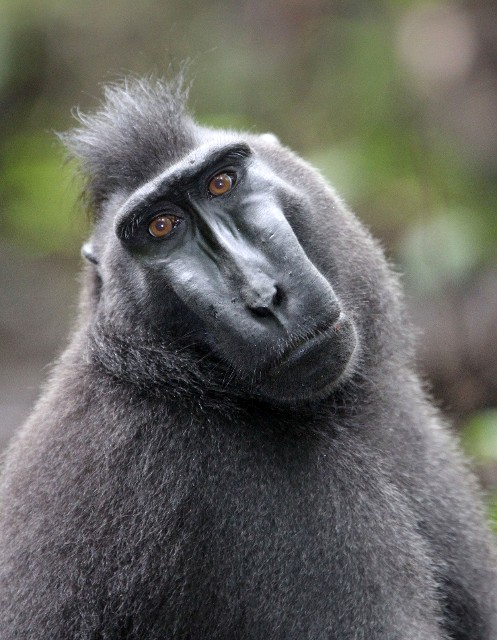 Amazing primate.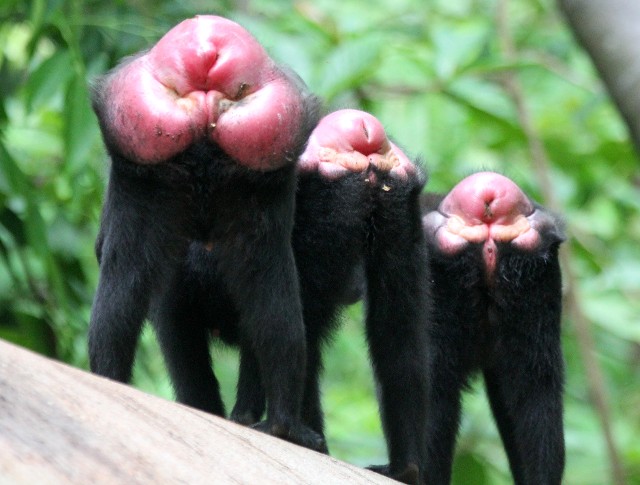 We spent quite a bit of time with the Rambo 2 group this afternoon. We enjoyed watching them go about their daily lives in the Tangkoko forest. These three females were showing us a bit of tush...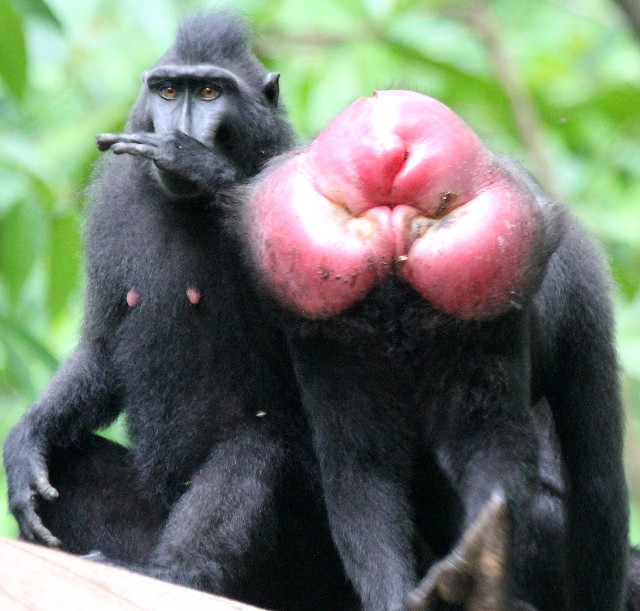 "Something stinks!"
We trekked for a few km fruitlessly looking for the Bear Cuscus. I was not too discouraged as I knew we had the better part of three full days in Tangkoko which surely meant we'd see them. So after a bit more trekking, I finally suggested to our guide, "Uri", that we should now focus on the Spectral Tarsier, the undisputable star of Tangkoko. He gladly obliged and quickly got us to the Tarsier observation area, which was basically a giant old strangler Ficus filled with loads of crevasses and nooks and crannies for them to hid in.
Initially we were the only people there so I thought it might actually be a pretty authentic experience, but before long, in the twilight hours of the day, tourists started to stream in. Initially it was a Korean tourist and her guide. Thankfully she asked if we had seen the nearby Bear Cuscus, and I of course said, "No! Where is it??" Her guide mentioned that it was only 20 meters away, and as I could clearly see well over 20 meters away, I thought I must have misheard her. But it was shortly after this that I realized that in Sulawesi, one needs to multiply any distance figure mentioned by a local by a factor of 20 to get the actual distance. So about 400 metersdown the track, we came across our first two Bear Cuscus grazing in the forest canopy. What an amazing mammal it is too. Strange claws and a somewhat bear-like appearance, make it a curious animal for sure.
Bear Cuscus (Ailurops ursinus)
An amazing Bear Cuscus sitting in the very high canopy of Tangkoko! Note the very strange claws.
After getting our fill of the cuscus, we make our way back to the Tarsier station to find several more tourists AND guides smoking, laughing and throwing things like cigarette butts at the Tarsiers' home Ficustree. We were very disgusted with how the people were treating the experience and the home habitat of this amazing primate. Tourists would blow smoke in to the crevasses of the tree to try to force the Tarsiers out. The guides, who were all continuously smoking and laughing and carrying on too, were doing pretty much the same thing. The guides carried plastic bottles filled with crickets they'd caught earlier to bait the Tarsiers in for close viewing. The whole experience was actually quite depressing. Although we did get some very OK images of the Tarsiers, I cannot accept the cost of the intrusion in to their world that we caused. We were glad to have seen such a spectacular animal, but we all agreed that we would not repeat the experience during the rest of our stay.
Check out an article about the Bear Cuscus that used our images HERE!

Spectral Tarsier (Tarsius tarsier)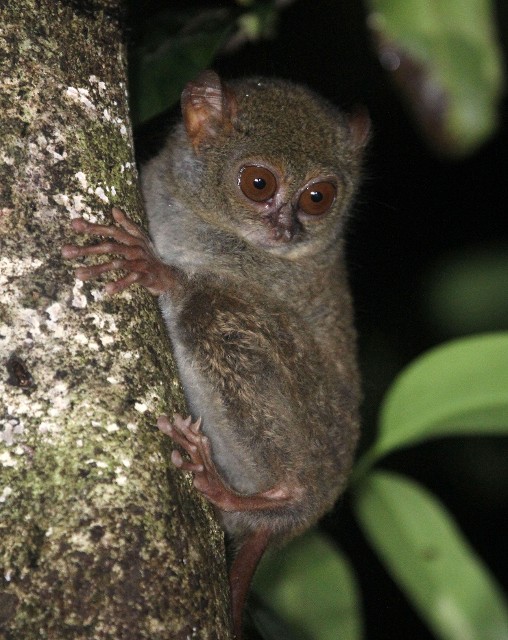 Just after dark several Spectral Tarsiers came out to play.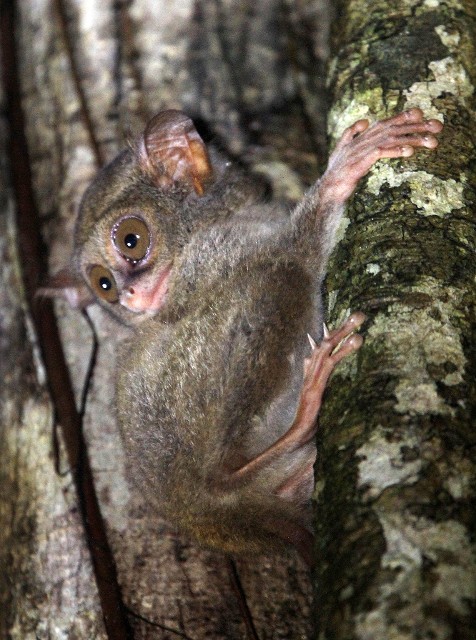 There were at least five or six of these little gremlins teleporting here and there in the roots of the giant Ficus.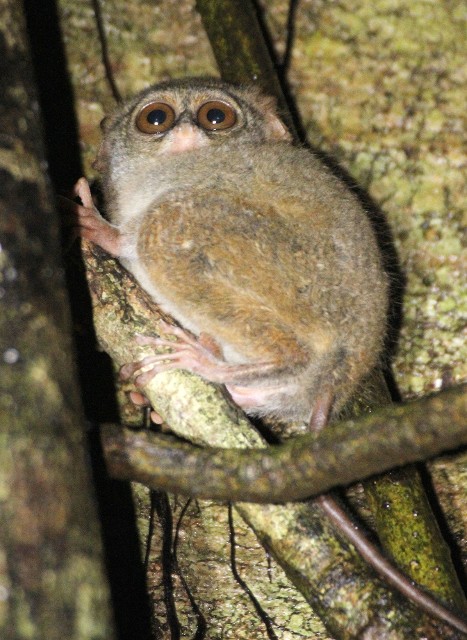 Although the setting and other tourists and guides made the event less than ideal, seeing these spectacular little primates in their natural habitat was a very cool experience.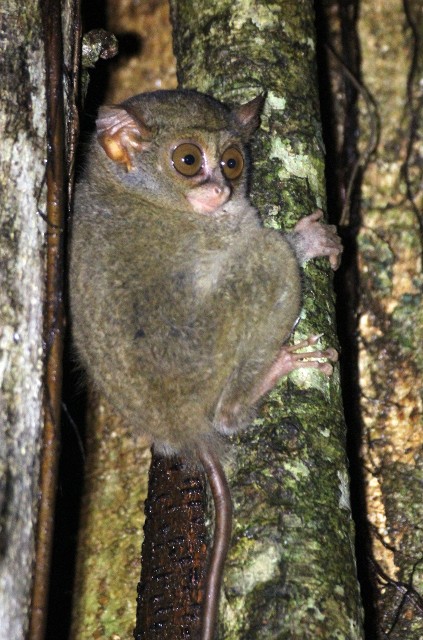 Tangkoko's iconic Spectral Tarsier!
Just as we snapped our last images of the Tarsiers, the rain really started to come down. So we proceeded on the 4km trek back to Tangkoko Lodge definitely giving our rain gear the ultimate test. Thankfully we didn't lose any photographic equipment to the elements on this trip.
Life at Bobby's Tangkoko Lodge was very relaxing. Our bungalow was situated directly on the stream that separated his place from Tangkoko National Park. So we had a very natural setting with lots of forest to peer in to for our stay. Since we had nailed our three main targets for Tangkoko, we decided to relax our next morning away. We slept in, napped continually and basically watched the adjacent forest for some potential squirrel activity. All we really got was some of the local bird fauna, which is actually quite spectacular, consisting of many species of Kingfishers and Malkohas and Hornbills. We did get a couple Whitish Dwarf Squirrels on our last afternoon as well.
Makassar Ebony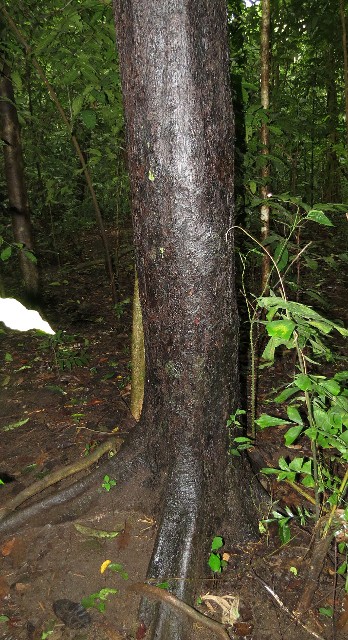 Diospyros celebica, or Makassar Ebony, was a common and amazing tree in the forests of Tangkoko. I cannot remember ever seeing a harder wood ever. When we knocked on the trunk, it sounded almost metalic!
After our restful morning, we wanted to trek deeper in to the forest to repeat the previous day's success with sightings but with emphasis of taking advantage of the amazing light of the afternoon to attempt to capture better images of Tangkoko's mammals. We were not let down! Within a few meters after entering the park, and in spite of the blasting music from the "rave-party-field", we came across a very large group of Sulawesi Black Crested Macaques, known as "Rambo One." This troop was even more cooperative and habituated than Rambo Two and entertained us for well over an hour. Initially we encountered them on the forest trail but I could tell by their trajectory that they were headed to the beach, and this is the precise location I wanted to photograph them.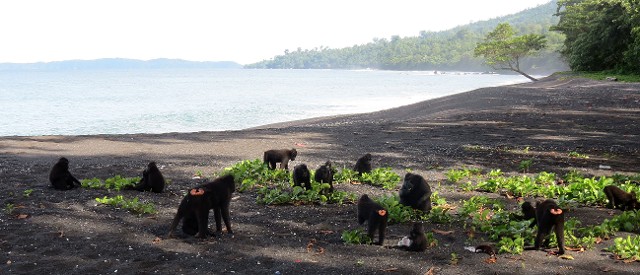 "Rambo 1" on the black-sand beaches of Tangkoko...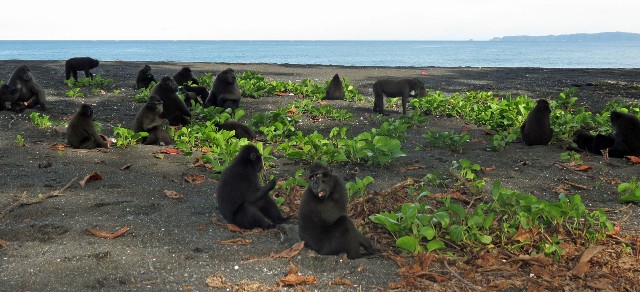 Awesome setting...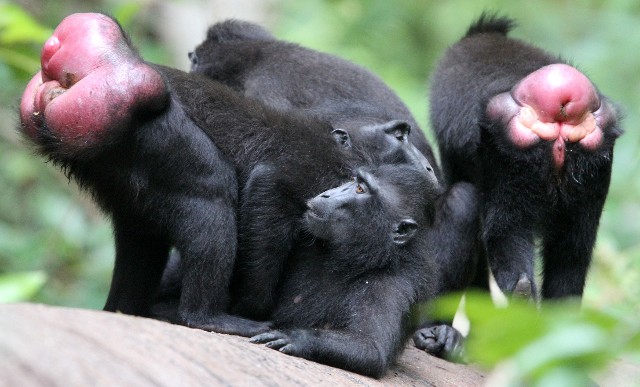 We watched them play on the beach and in the forest for most of the morning.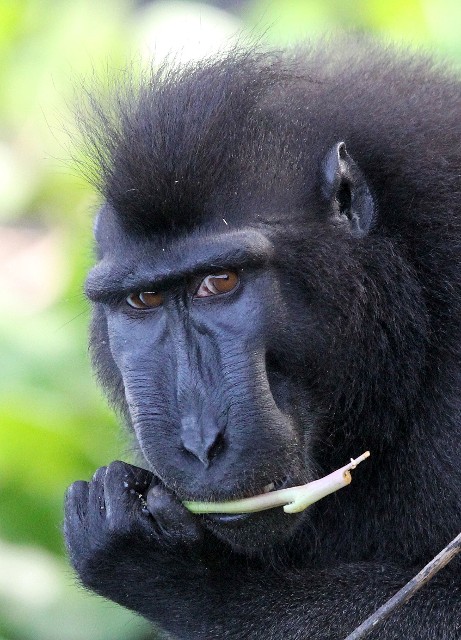 Hmmm...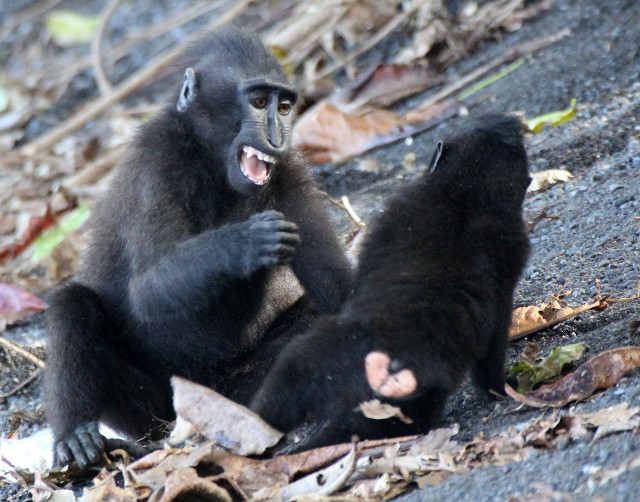 They could not care less that they had an audience....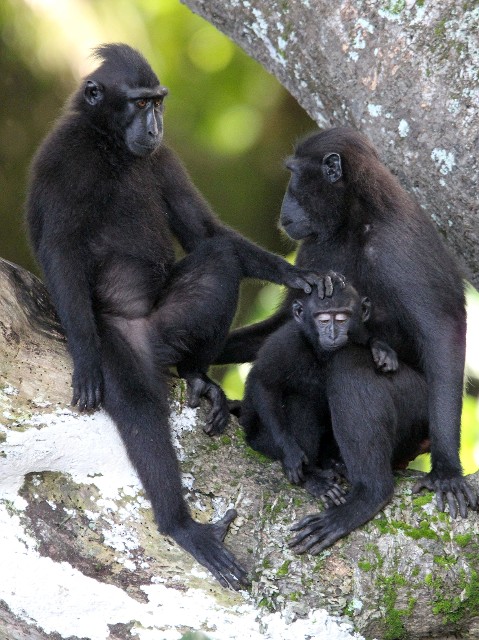 Family time!
They wasted little time getting to the beach, and we enjoyed watching them up close and in a very different setting. There was a BBC film crew filming the event as well. Interestingly the crew made little effort to film the primates without human presence so I am assuming they were trying to include us and the other bystanders in the event for some reason. It was very spectacular seeing these critically endangered monkeys frolicking on the black lava-sand beaches of Tangkoko!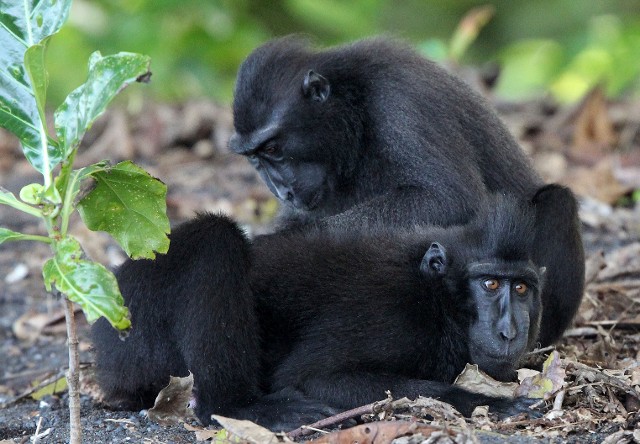 Grooming...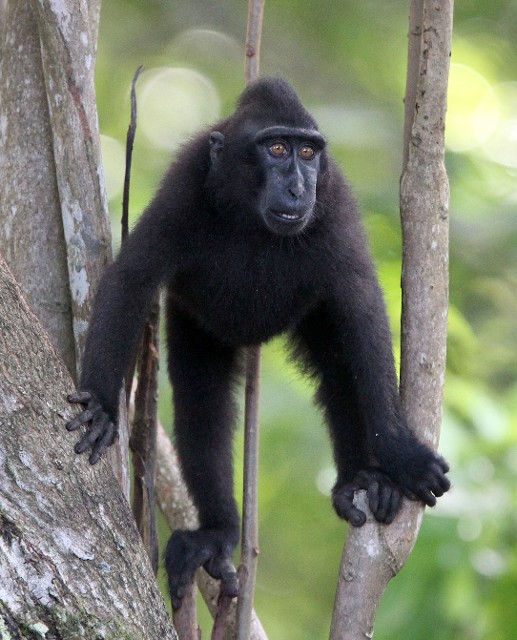 Sulawesi Black-crested Macaque...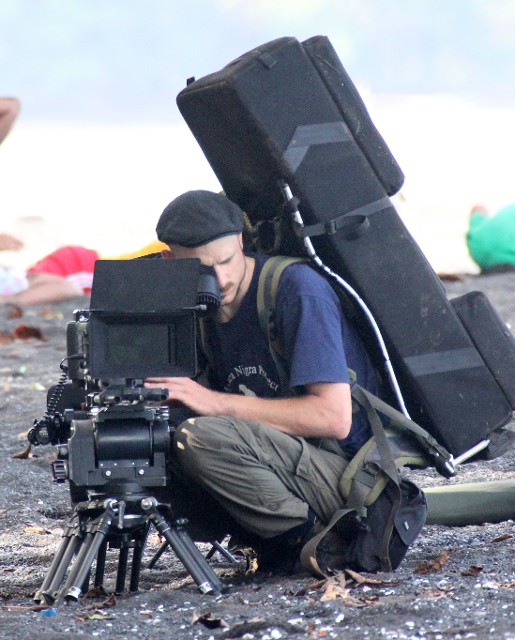 The BBC filming the Black-crested Macaques at Tangkoko...
Back in to the forest for some more Bear Cuscus. Tangkoko has a nice and wide network of trails that allow for relatively easy penetration in to the core area of the forest. While our main goal was to photograph more Bear Cuscus, I also wanted to see some of the squirrel species of Sulawesi, which strangely up to this point, we had missed completely. Uri was very attentive to the sounds of the forest and it was only a couple kilometers in to the forest when we started to hear the chirping of a distant squirrel.
Unbeknownst to me, Uri (our guide for Tangkoko - highly recommend!) was given directions by Bobby to find me some squirrels or else! He told him to zero in on any squirrel call and find us some damn squirrels! And he did not let us down. For the next couple hours, we heard, tracked, found and photographed several squirrels of at least two species! Well done, Uri! We caught good glimpses of the Whitish Dwarf Squirrel (Prosciurillus leucomus) and the Celebes Dwarf Squirrel (Prosciurillus murinus). Although the lighting was very difficult, there is a distinct possibility that we also saw the Sulawesi Giant Squirrel (Rhinosciurus rubriventer) but have no images to verify the sighting. All in all we had a great couple hours of "squirreling"!
Celebes Dwarf Squirrel
We came across many Celebes Dwarf Squirrels during our treks through Tangkoko. We located and tracked down most of them by calls...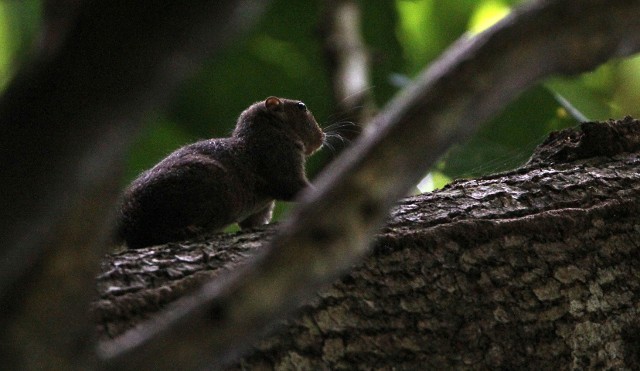 Celebes Dwarf Squirrel
Whitish Dwarf Squirrel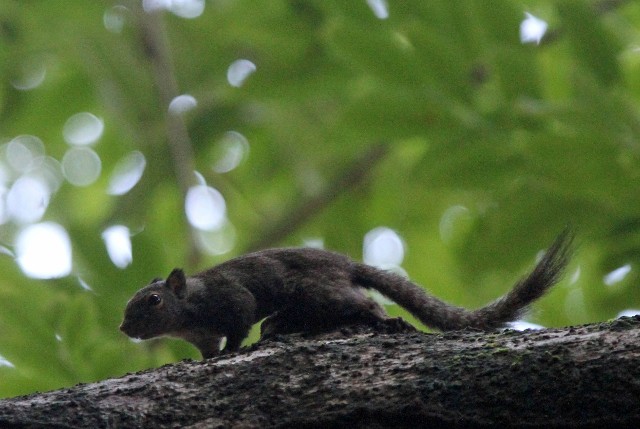 We came across many Sulawesi Whitish Dwarf Squirrels during our treks as well.
And while we were searching for the squirrels we were fortunate to come across no less than four more Bear Cuscus, including one female with a young one clinging to hear back and tail using its tail as a very tight clinging coil securing itself to its mom. The sightings made for some far better images for sure.
Bear Cuscus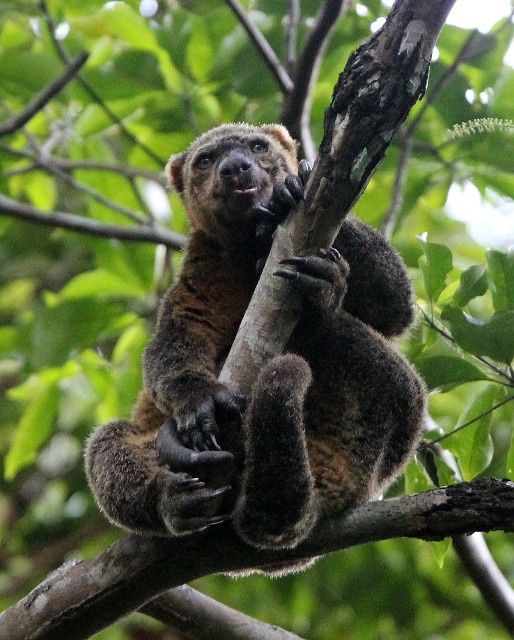 We came across at least four additional Bear Cuscus on our second day's trek in Tangkoko. Considering our short time there and the numbers we encountered, one might conclude their population is healthy?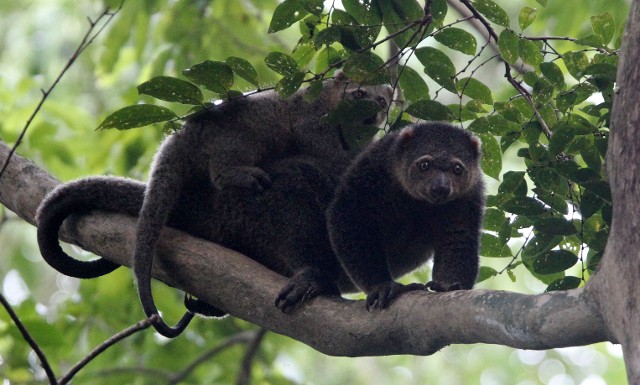 Amazing!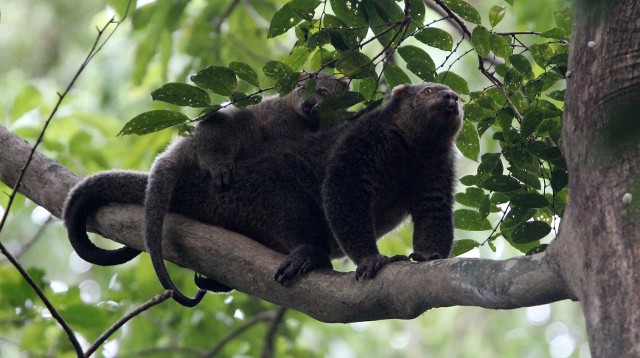 Mom and baby Bear Cuscus....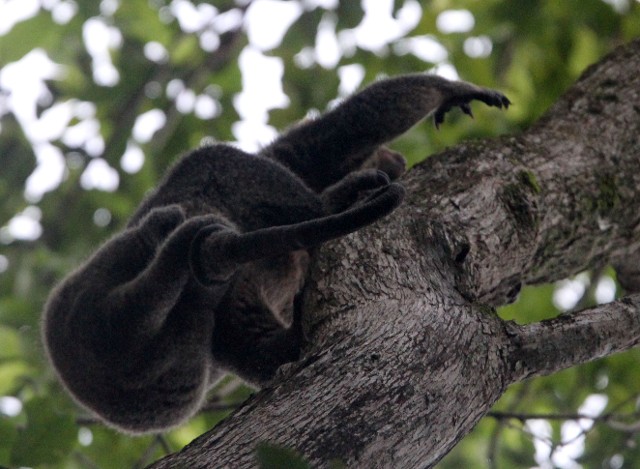 I love their prehensile tails...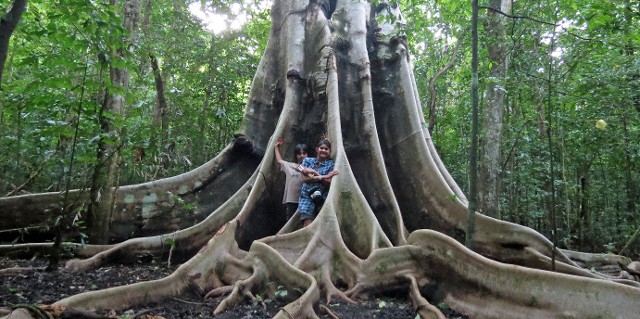 Tangkoko is home to an awesome forest with some outstanding old forest giants like this Ficus tree and its impressive buttress roots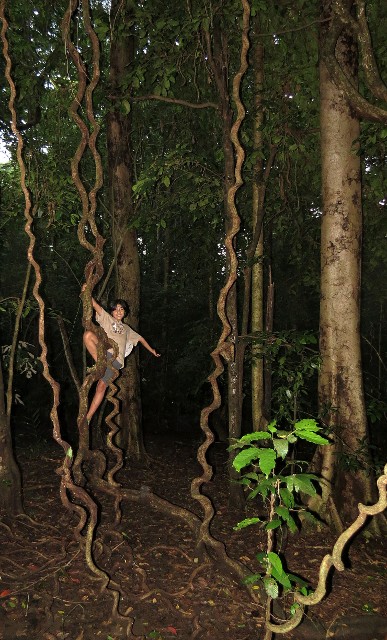 Cokie really enjoyed the "Liana groves"!
Having nailed all of our targets and even scoring some wonderful pictures, it was time to switch gears a bit and see some of the rest of Tangkoko's scenery and wildlife with the time we had remaining. So we opted for the "dolphin cruise" the next morning. Well, the cruise was never really meant to be I think….The entire experience is a bit dodgy at best. The boat they use to take you out to see the dolphins is a very top-heavy, catamaran with two support pontoons but nothing in the way of protection from wave action, which is definitely the heavy this time of year.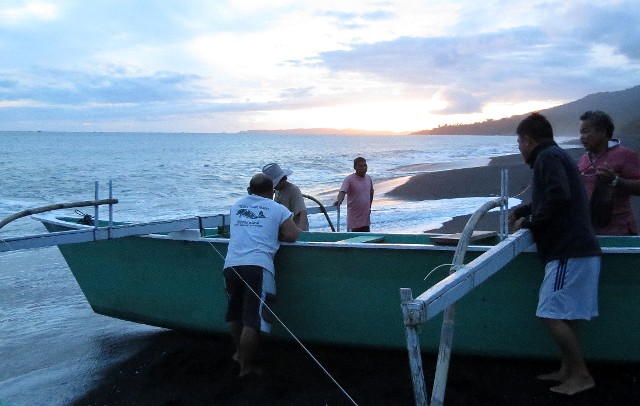 Hard to tell in this image, but the seas were a tad rough and the motor did NOT work....Fun!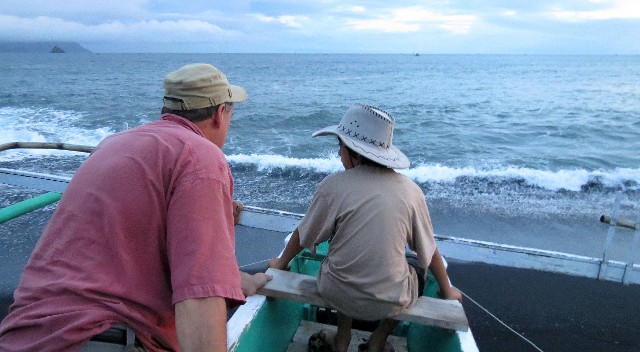 Time to push the boat out to sea!
There is no peer from which to board the vessel so you are basically launched with the aid of several villagers pushing us in to the pounding surf. Luckily we made it past this stage without ruining our camera gear, so we felt safe that we were now floating just off shore away from the large waves… And then our motor failed to start…Of course…. And as our boat was slowly drifting back to the surge zone, I pictured our camera gear getting tossed overboard to be drowned in a meter of salt water…Crap!
After about a half an hour of trying fruitlessly to start our motor, the captain had his son swim some fresh spark plugs out to us. He barely made it to us, but he did and after about ten more minutes of tugging and tugging at the starter cable, the damn engine finally started! Whew! And now we were off to see some dolphins….Well that was until the waves started crashing over our tiny, narrow bow so badly that I knew we, or at least our cameras, were never going to make it…So I made the executive decision to cancel the dolphins and focus on the mangrove forests in the areas north of Tangkoko. And I am very glad we did. Not only did we get several great sightings and images of one of Tangkoko's star birds, the Great-billed Kingfisher, we nailed many other species such as the Beach Thick-Knee, Whimbrels, Wood Swallows and Cuckoo Shrikes. The mangrove forests were a great birding destination to be sure.

Great-billed Kingfisher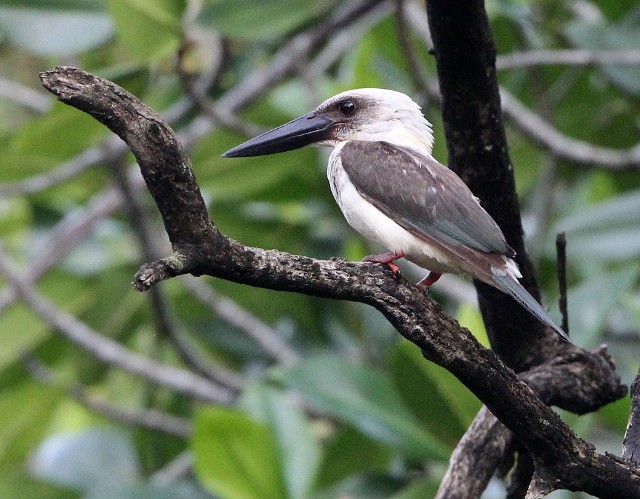 Great-billed Kingfishers were the avian highpoint of our cruise through the Tangkoko mangrove forests...
Beach Thick-knee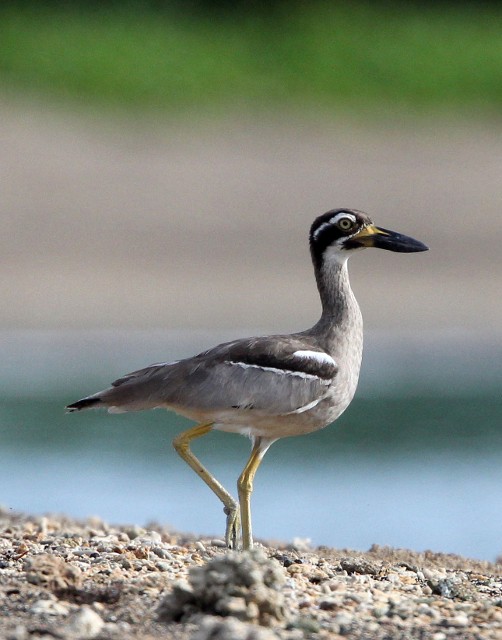 We had one Beach Thick-knee guarding the entrance to the mangrove forests. Spectacular bird!
Whimbrel

A nice flock of Whimbrels...
Grey-tailed Tattler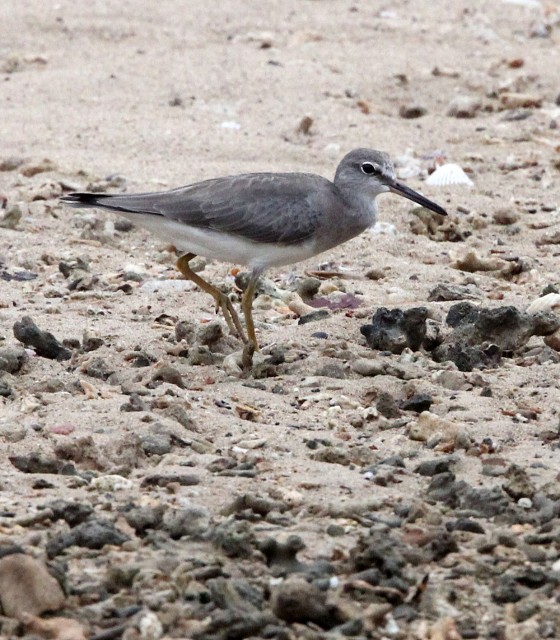 There were many little 'peeps' like these Grey-tailed Tattlers along the shores of the mangrove forests of Tangkoko.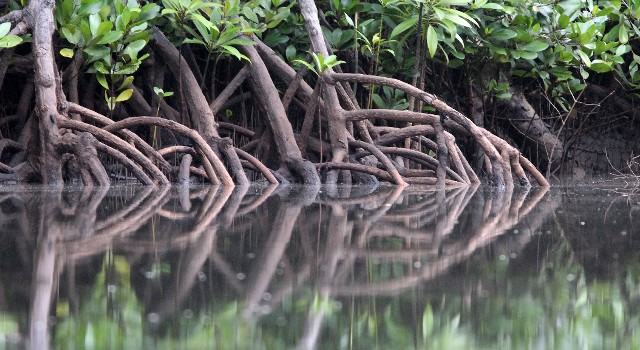 The mangrove forests of Tangkoko.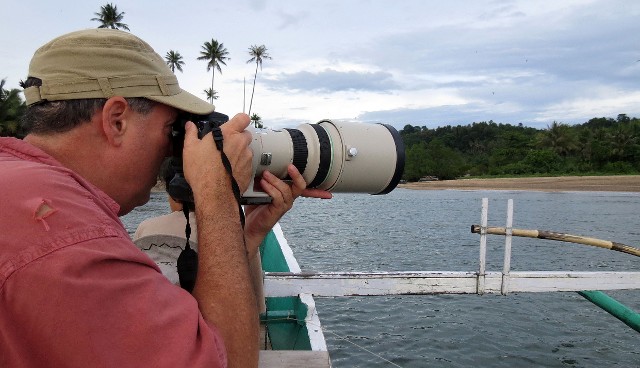 The little vessel actually made it through the morning and I was able to capture some fairly decent images!
Finishing our morning wildlifing very successfully, we opted for some more birding later in the afternoon with a stop at a road-side viewing platform up near the top of the main road that overlooks much of Tangkoko's primary forest. Aside from being a primo view of an amazing forest, the viewing platform allowed us to see no less than 30-40 Red-knobbed Hornbills in full mating season behavior course the forest gallery from one fruiting forest giant to another for well over two hours! While they were a bit far for high quality, hi-res images, the spectacle will no doubt go down in Smith family lore as one of our top Hornbill sightings of all times!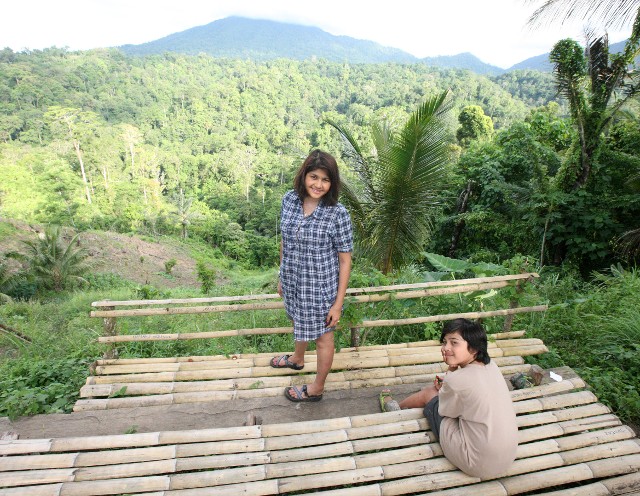 The viewing platform for the "Knobbed Hornbill Show" that started around 4PM....Quite a show!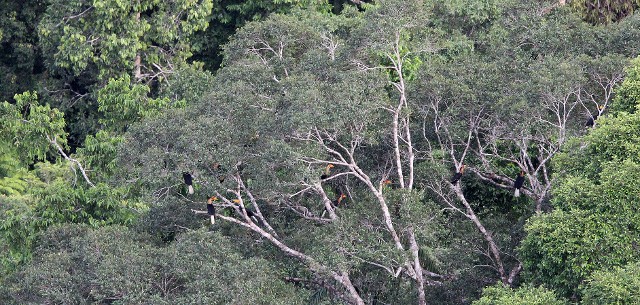 There were moments this morning with over 30-40 Knobbed Hornbills coursing their way through the Tangkoko forest canopy. Spectacular! Although the views were distant, they were impressive.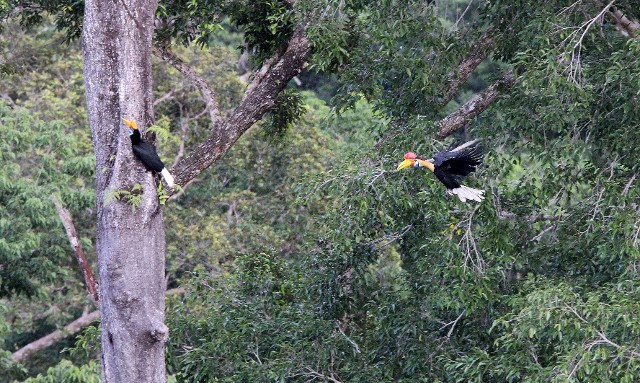 It was clear that this was a mating party for these birds. Male and females would pair off in to the forest for mating purposes.


Bunaken Island
On our last full day in Sulawesi, wanted to spend some time doing something different to round out our adventure. We'd heard from many sources about a prime snorkeling/diving destination north of Manado, known as Bunaken Island. So we asked Bobby to arrange an day trip to the island for some state-of-the-art snorkeling, or so we thought….
Granted snorkeling anywhere in the rainy season is not exactly the best way to gauge the true nature of a destination, but we were very disappointed with Bunaken and its reef. Much of the reef is basically a vast expanse of dead coral, and the litter filling the waters of the entire area is unparalleled. Sadly Indonesians have a very bad habit of littering at levels hard to rival anywhere. Seeing the Bunaken beach completely filled with plastic and human garbage was very disheartening. And snorkeling only to be constantly startled by diapers and feminine hygiene napkins and other garbage clinging to your mask was simply disgusting. While there were parts of the reef that were nice and filled with dozens of species of spectacular reef fish, I cannot recommend the Bunaken experience at all. On top of the overall devastated condition of the reef and the beach, the experience is very overpriced, not even close to being worth the price we paid. The stormy weather and rough seas did make for a nice adventure though…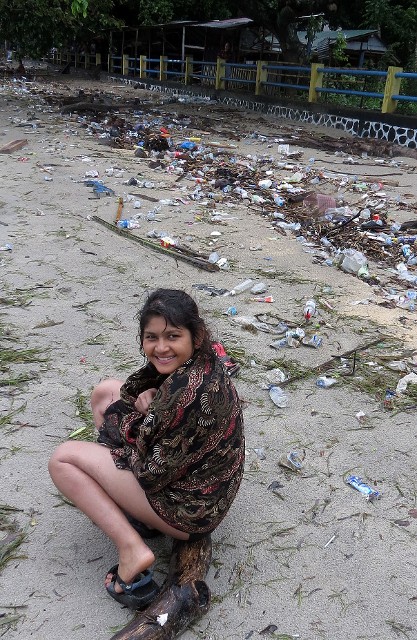 Hmmm...I still cannot believe that Bunaken Island offers some of Sulawesi's best snorkeling and beaches....Perhaps in the dry season. Do you think they have a "No Littering" season????
After a very nice evening in Manado's Aston Hotel, which we can highly recommend, now we are sitting in Jakarta International waiting for our Korean Air flight back to Shanghai. Having been in Indonesia now for over three weeks, we feel that we've been traveling for months. The truly impressive wealth of sightings and experiences we've had over the last few weeks were amazing and even somewhat surprising. I knew we'd have a good trip, but I never could have predicted how spectacular our expedition to Sulawesi and Java could have been. This trip will be remembered as one of our best without a doubt!
Some More Critter Pics From Sulawesi!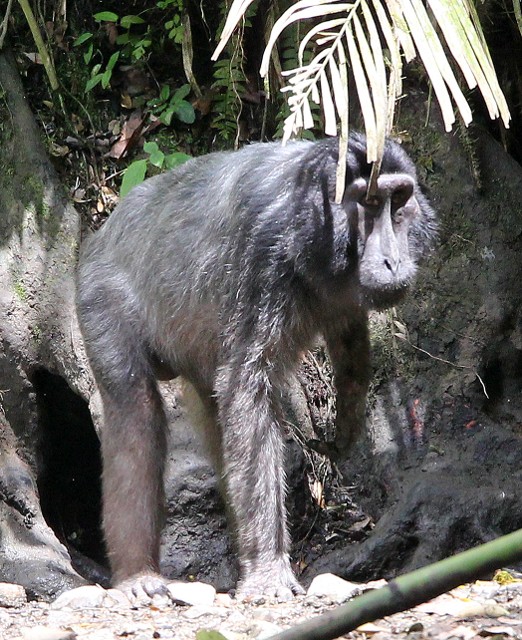 Heck's Macaque in Nantu.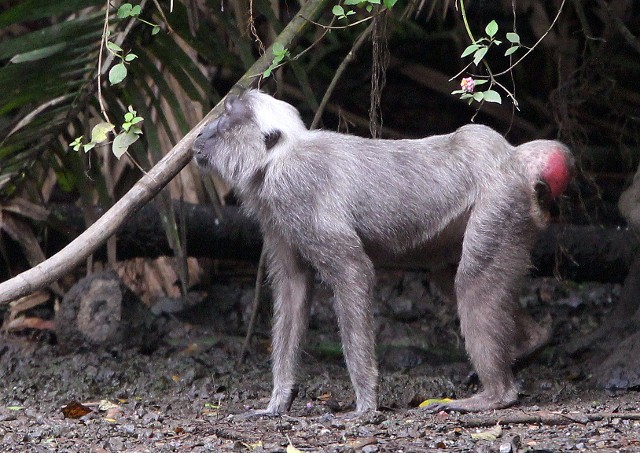 An old female Heck's Macaque coming in to the lick at Nantu...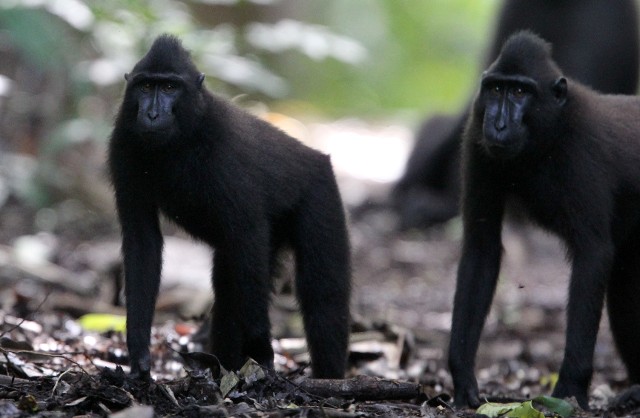 Celebe's Black-crested Macaques in Tangkoko coming in to check us out....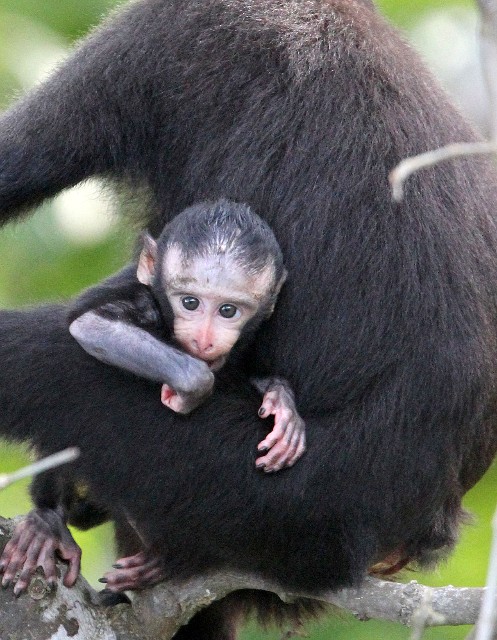 Little one....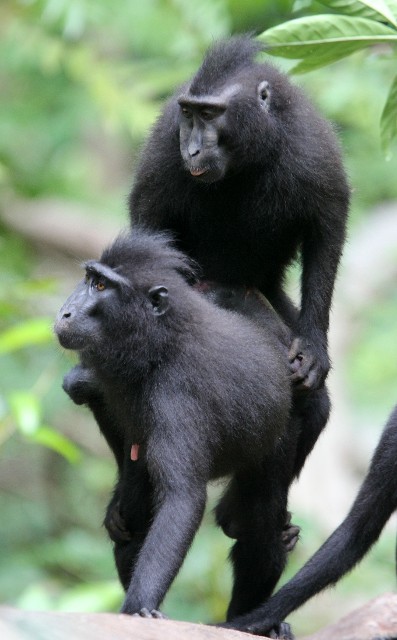 Get a room!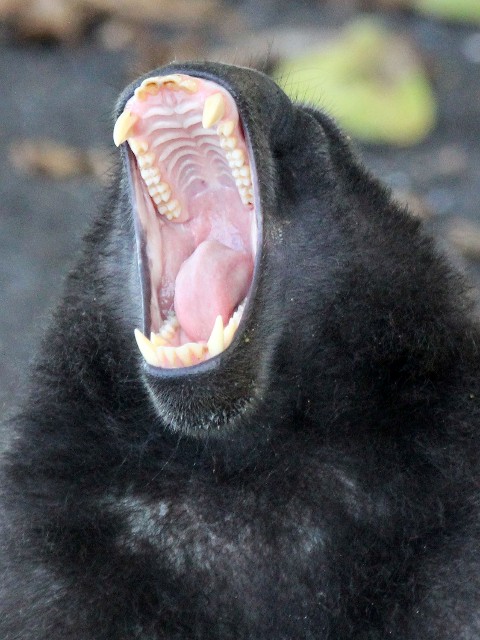 Yawn!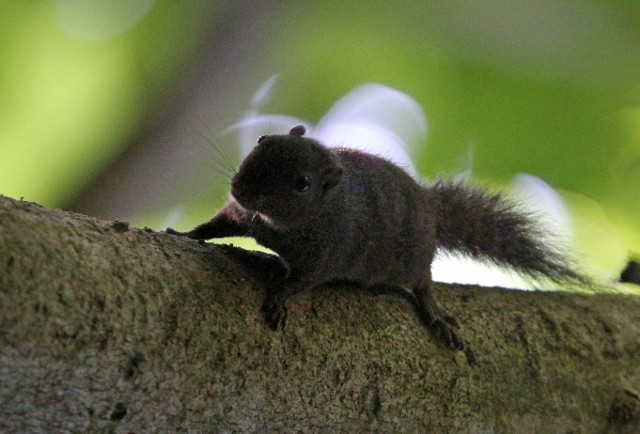 Celebes Dwarf Squirrel at Tangkoko.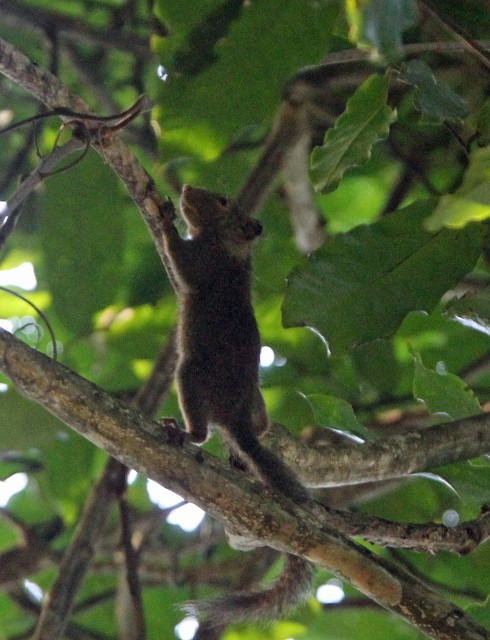 Sulawesi Whitish Dwarf Squirrel in Tangkoko...We saw lots but never got a great image unfortunately.
Babirusa Fight!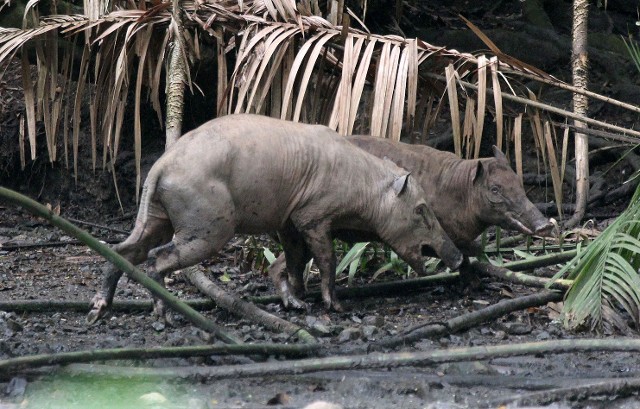 A couple females on day two decided they'd had enough of eachother and went at it!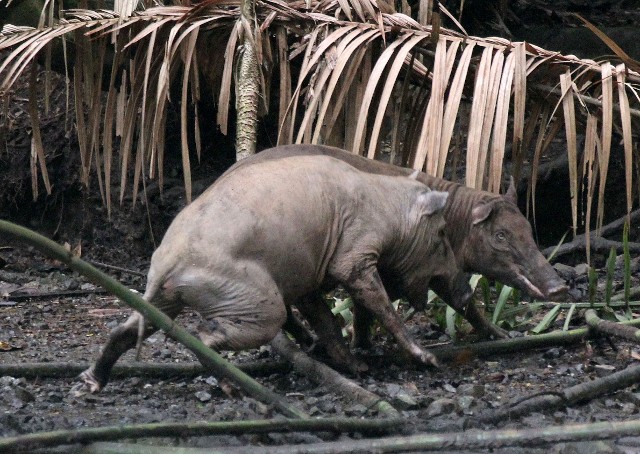 For some reason, none of the Babirusa liked this one...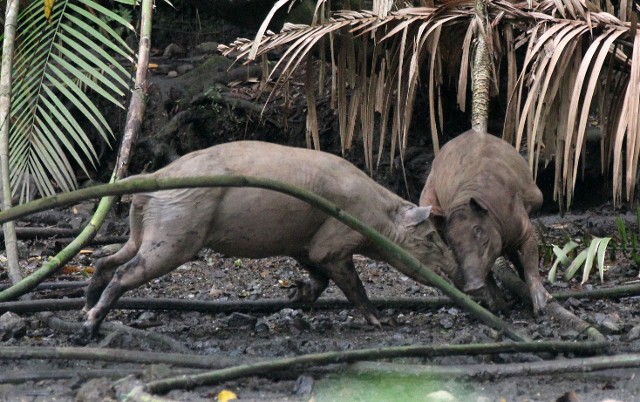 Great catch, Som!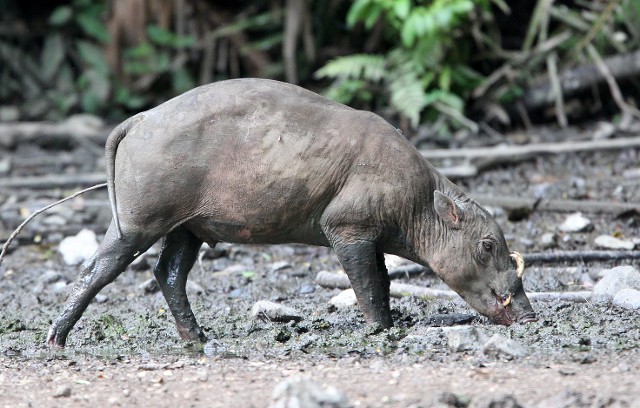 Our first and nearly only male Babirusa...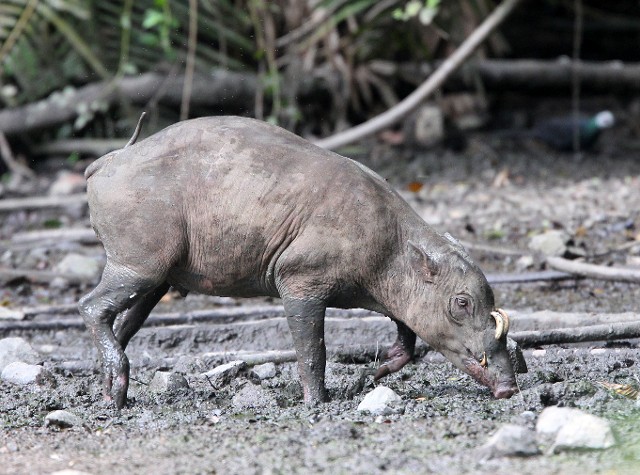 Young male Babirusa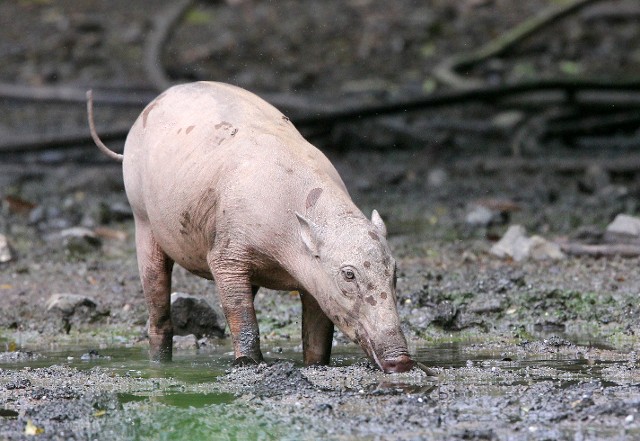 Female Babirusa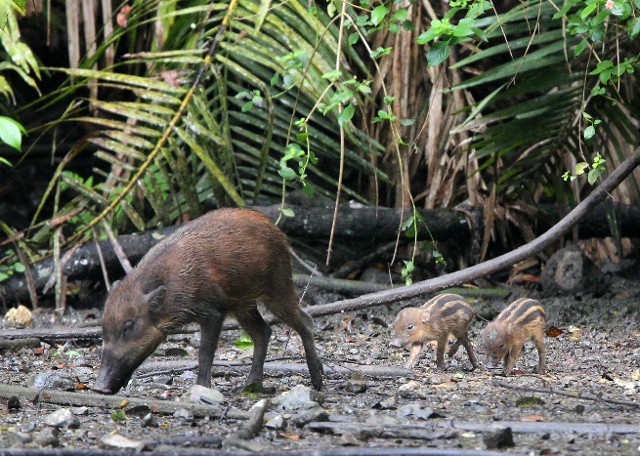 I almost missed these thinking they were simply more Babirusa! Our first Sulawesi Warty Pig family!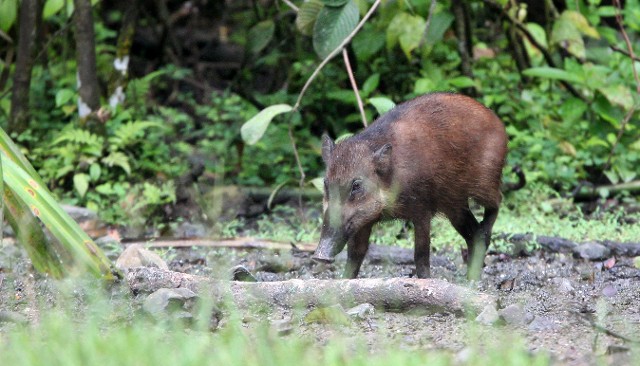 Sulawesi Warty Pig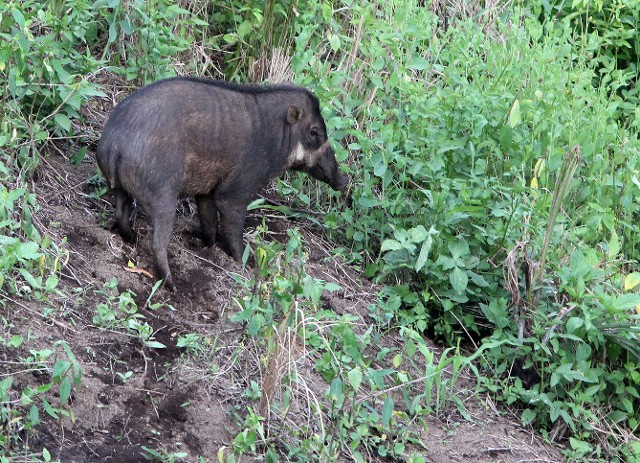 We were fortunate to come across even more Sulawesi Warty Pigs outside of Tangkoko. These were seen raiding a local farmer's field.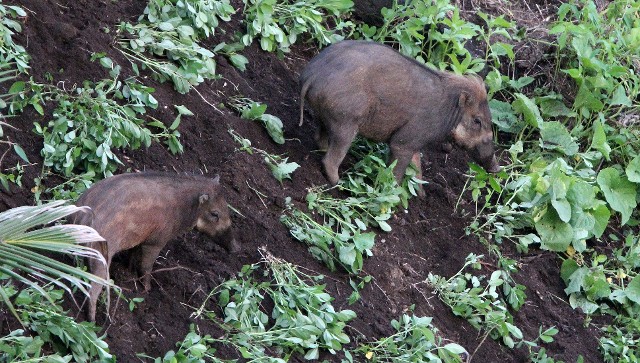 The larger and older one on the right is showing the so-called "warts"....

Sulawesi Mammal List
Babirusa (Babyrousa celebensis)
Sulawesi Warty Pig (Sus celebensis)
Celebes Black-crested Macaque (Macaca nigra)
Heck's Macaque (Macaca heckii)
Spectral Tarsier (Tarsius tarsier)
Sulawesi Bear Cuscus (Ailurops ursinus)
Whitish Dwarf Squirrel (Prosciurillus leucomus)
Celebes Dwarf Squirrel (Prosciurillus murinus)
Birds of Sulawesi!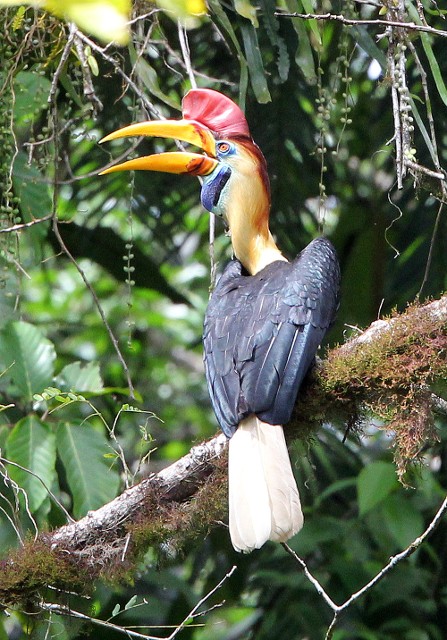 Knobbed Hornbill at Nantu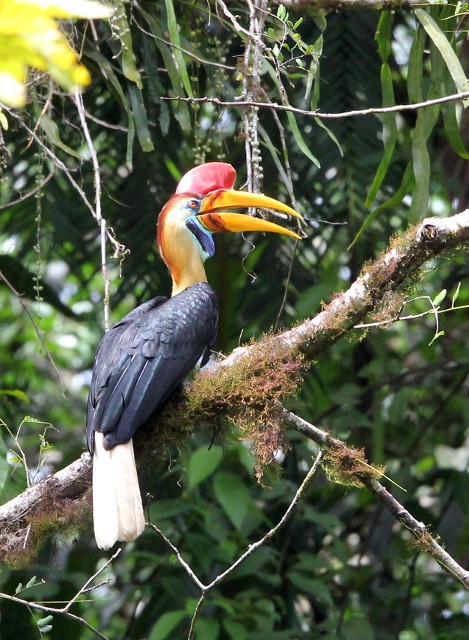 A seriously cool bird!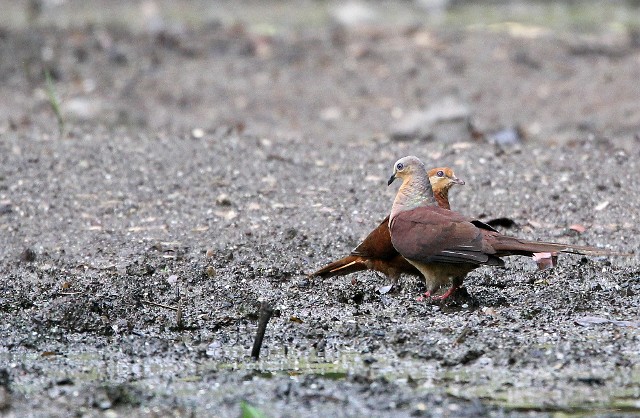 Brown Cuckoo Doves were common visitors to the lick at Nantu.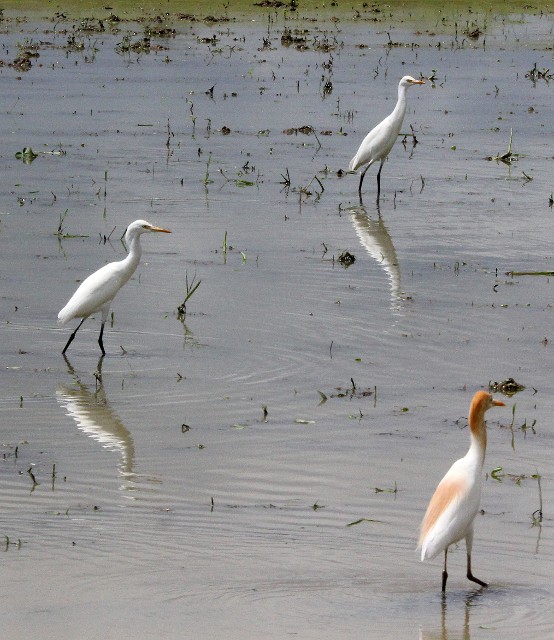 Cattle Egrets at Nantu.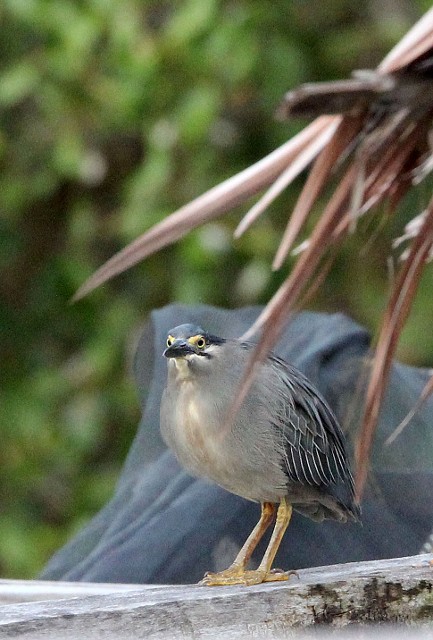 Little Heron at its nest in the mangrove forests of Tangkoko...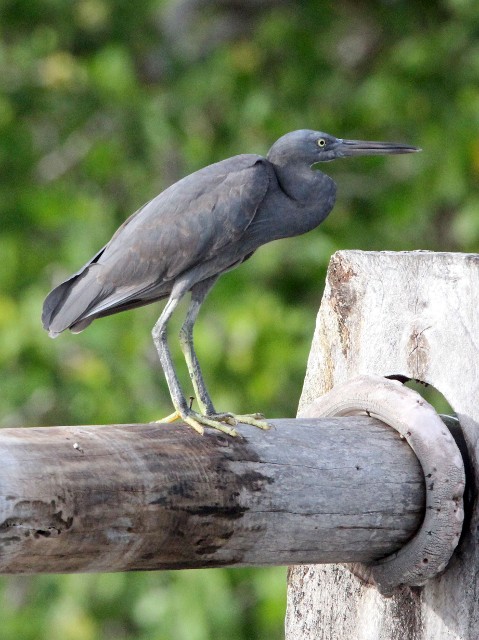 Pacific Reef Heron at Tangkoko.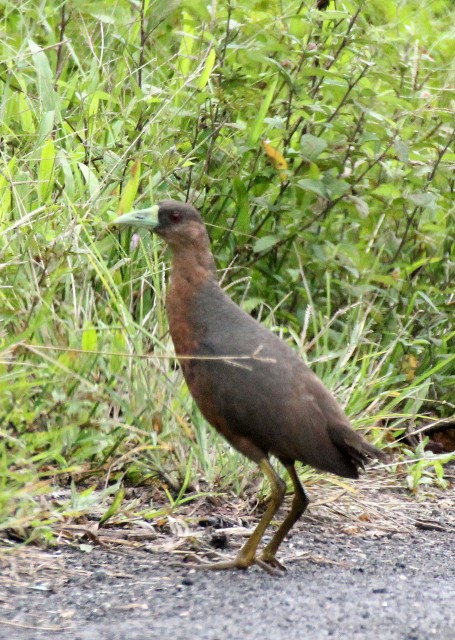 Isabelline Bush Hen seen along the main track of Tangkoko.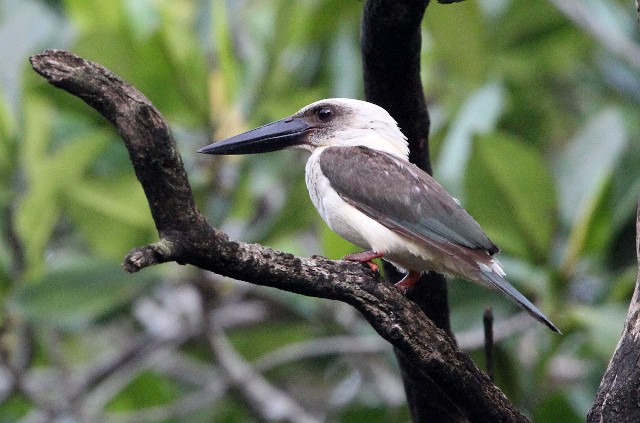 Great-billed Kingfishers were common this morning in the mangrove forests of Tangkoko.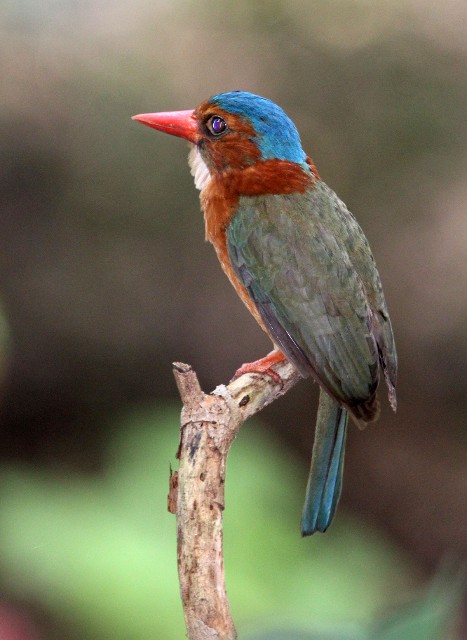 Green-backed Kingfishers were very common in Tangkoko!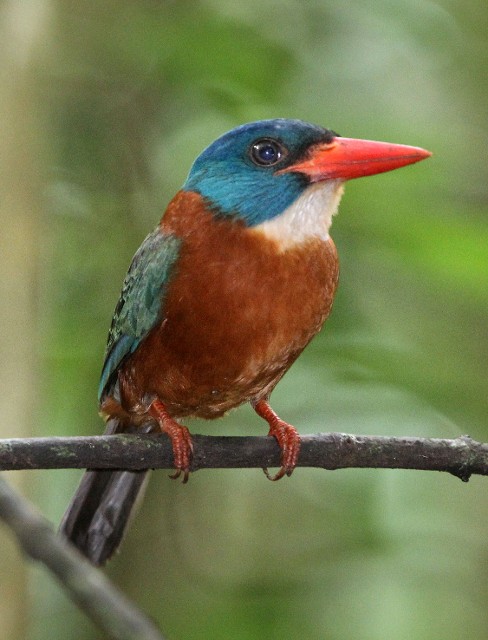 Green-backed Kingfisher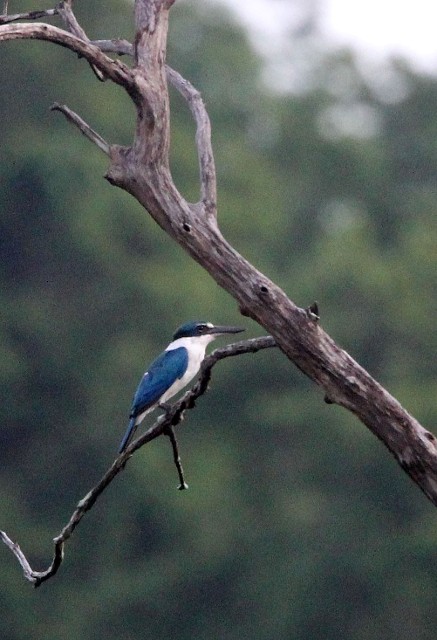 White Collared Kingfisher in the mangrove forests of Tangkoko.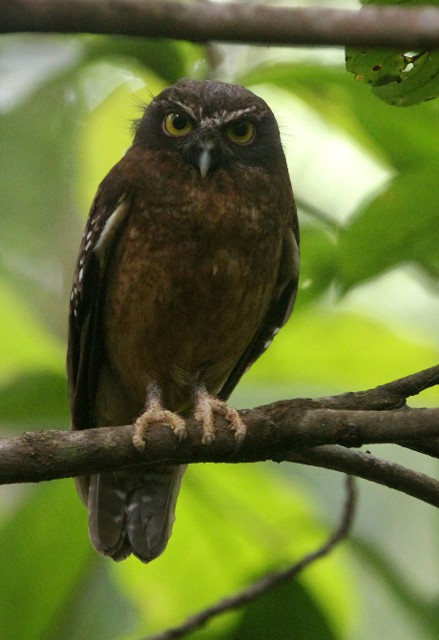 We were very fortunate to see this rare Ochre-bellied Boohook (Ninox ochracea) in the forests of Tangkoko.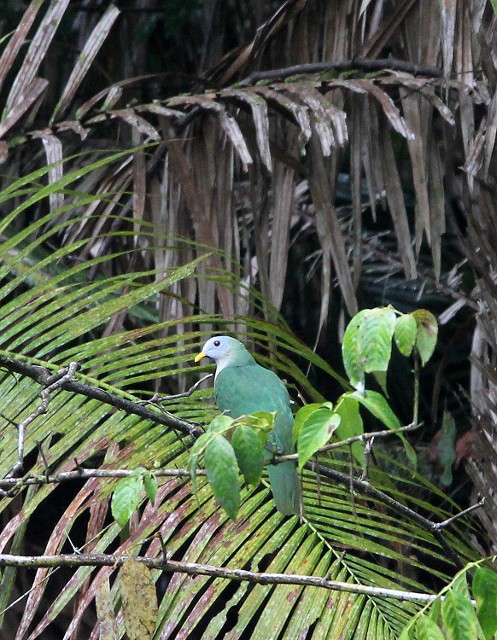 Crimson-bellied (?) Imperial Pigeon at Nantu.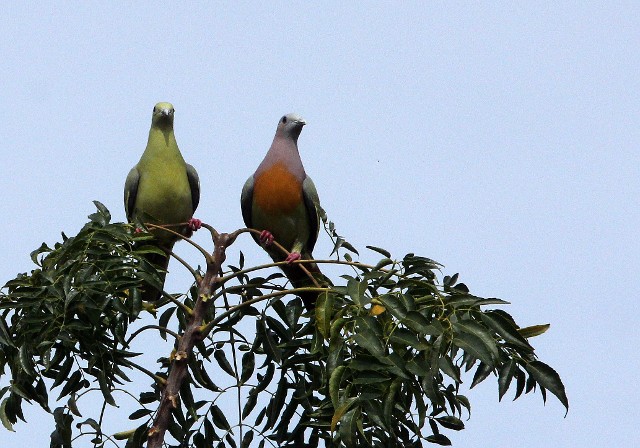 Pink-necked Green Pigeons at Tangkoko were very common and often seen in pairs.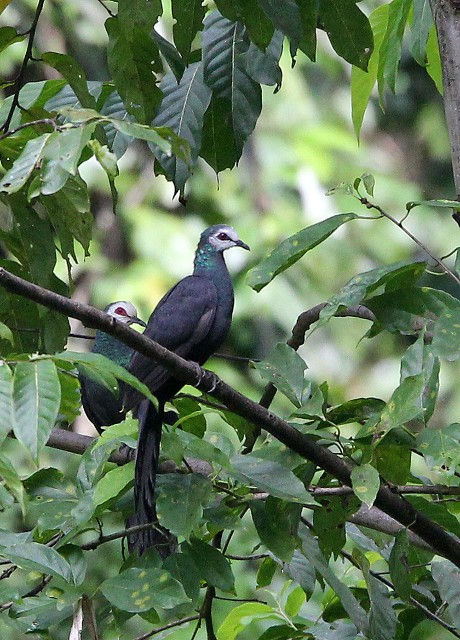 Sulawesi Black Pigeon in Nantu.
Nantu was pigeon-central! I really don't know what this species is but it was nice nonetheless!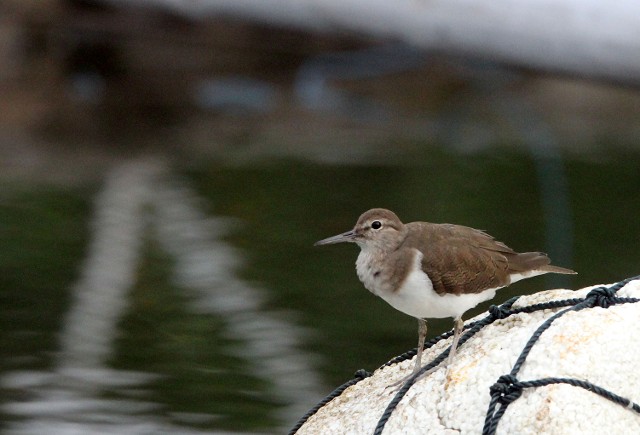 Common Sandpiper in the mangrove forests of Tangkoko...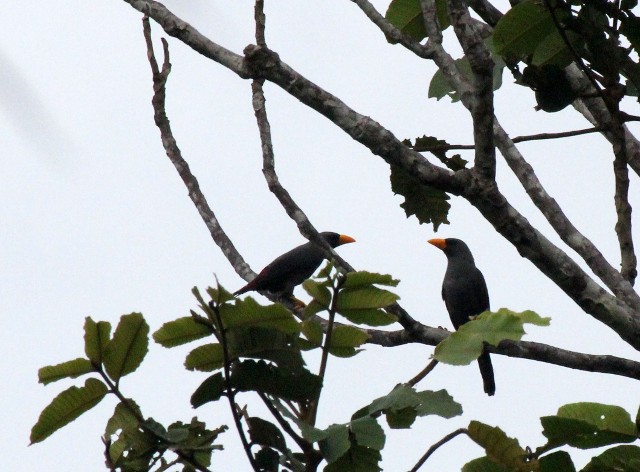 Starling Grosbeaks, another cool Sulawesi endemic seen at Tangkoko.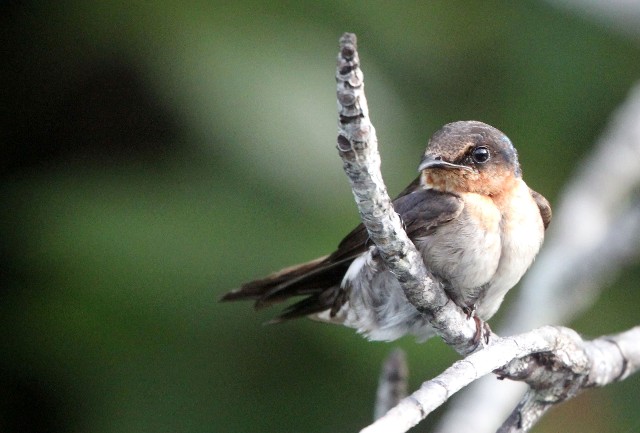 Pacific Swallow at Tangkoko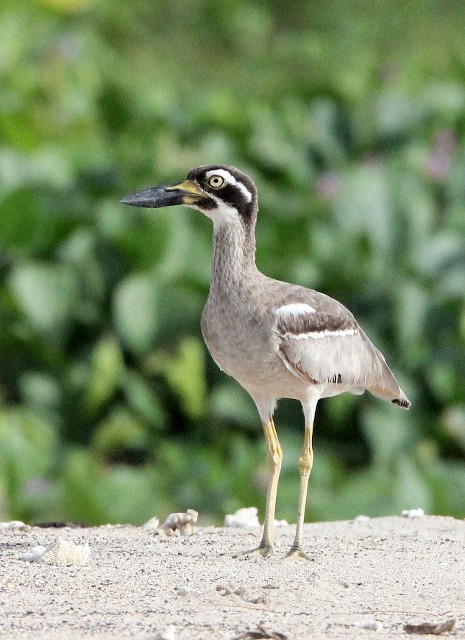 Beach Thick-knee at a Tangkoko tributary...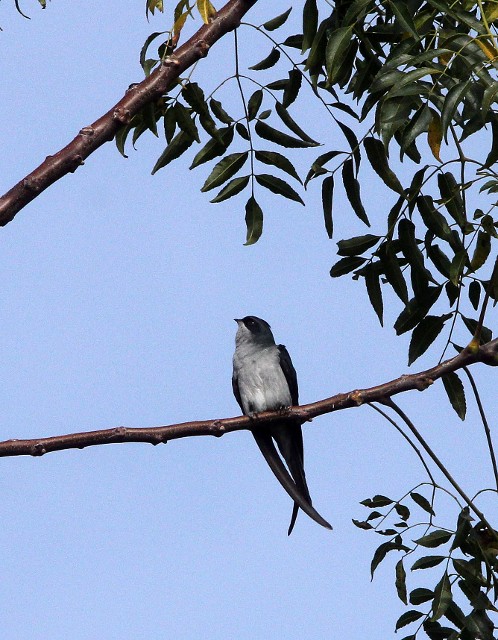 Grey-rumped Treeswift at Tangkoko.
We saw many Ashy Woodpeckers in the forests of Tangkoko.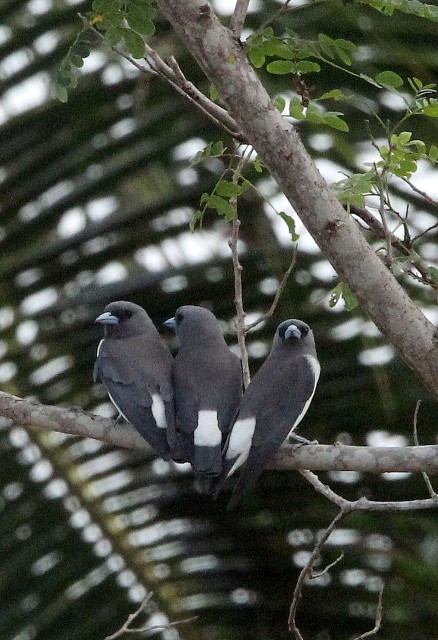 White-breasted Woodswallows in Tangkoko village...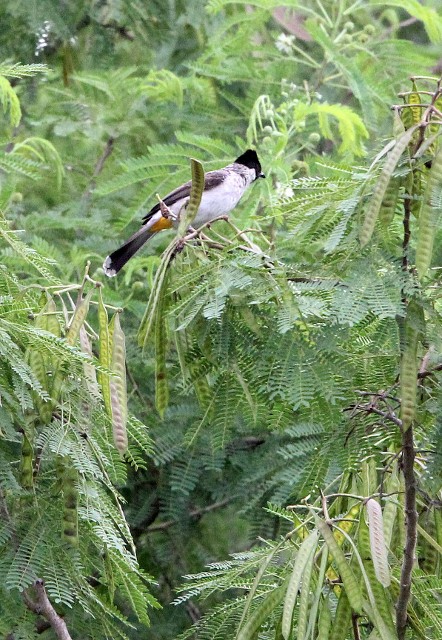 Sooty-headed Bulbul at Tangkoko...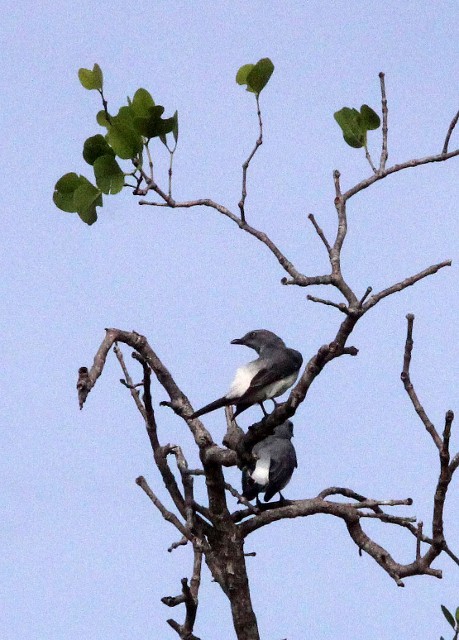 White-rumped Cuckoo Shrikes in Tangkoko...
Bird Trip List Sulawesi
Lesser Frigatebird
Cattle Egret
Pacific Reef-heron
Little Heron
Blue-faced Rail (Gymnocrex rosenbergii)
Common Sandpiper
Grey-tailed Tattler (Heteroscelus brevipes)
Beach Thick-knee (Esacus neglectus)
Whimbrel
Sulawesi Black Pigeon (Turocoena manadensis)
Great Cuckoo Dove (Reinwardtoena reinwardtii)
Red Collared Dove (Streptopelia traquebarica)
Brown Cuckoo Dove (Macropygia amboinensis)
Grey-headed Imperial Pigeon (Ducula radiata)
Silver-tipped Imperial Pigeon (Ducula luctuosa)
Pink-necked Green Pigeon (Treron vernans)
Ochre-bellied Boohook (Ninox ochracea)
Emerald Dove
Great-eared Nightjar (Eurostopodus macrotis)
Grey-rumped Tree-swift (Hemiprocne longipennis)
Great-billed Kingfisher (Halcyon melanorhyncha)
Green-backed Kingfisher (Actenoides monachus)
Collard Kingfisher
Knobbed Hornbill (Rhyticeros cassidix)
Sulawesi Dwarf Hornbill (Penelopides exarhatus) Voice Only
Ashy Woodpecker (Mullerpicus fulvus)
Pacific Swallow
White-rumped Cuckoo Shrike (Coracina leucopygia)
Hair-crested Drongo
Sooty-headed Bulbul
slender-billed Crow
White-breasted Wood-swallow (Artamus leucorhynchus)
Olive-backed Sunbird
Eurasian Tree Sparrow
Chestnut Munia
Grosbeak Starling
Barred Rail
Isabeline Bush Hen
Ornate Lorikeet
Yellow-breasted Racket-tail
Yellow-billed Malkoha
***
Other Cool Stuff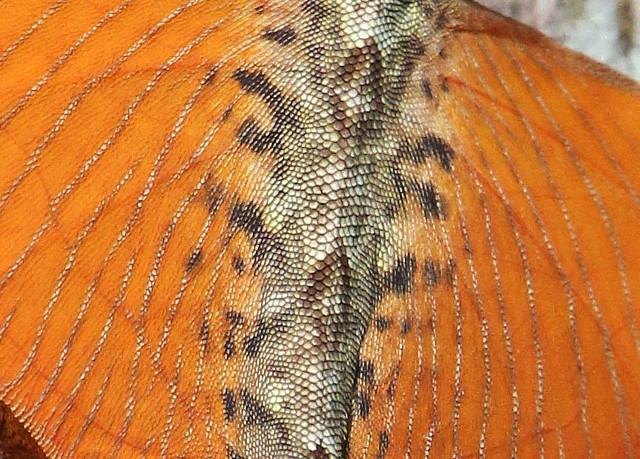 So what is this???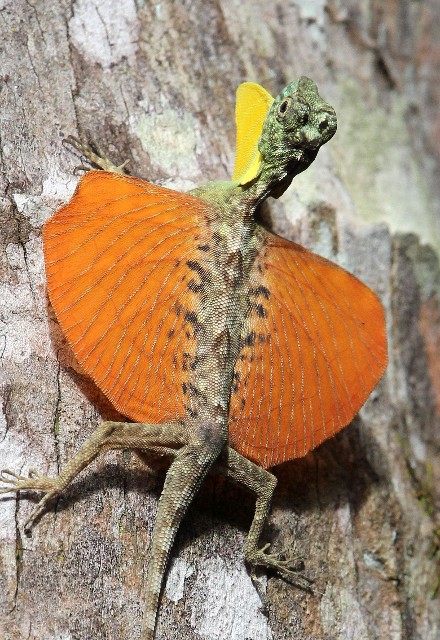 Draco Flying Lizard! Our constant companion at Tangkoko Lodge.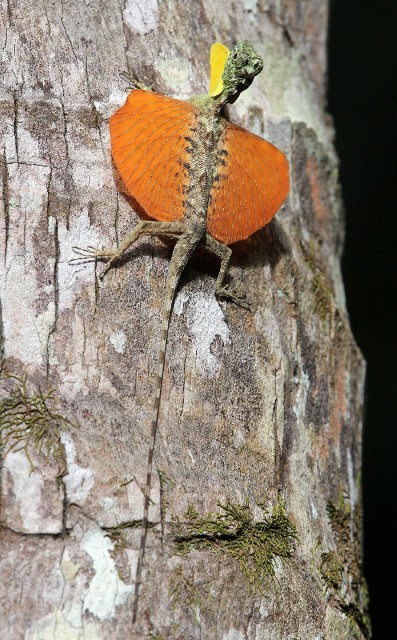 Very cool reptile...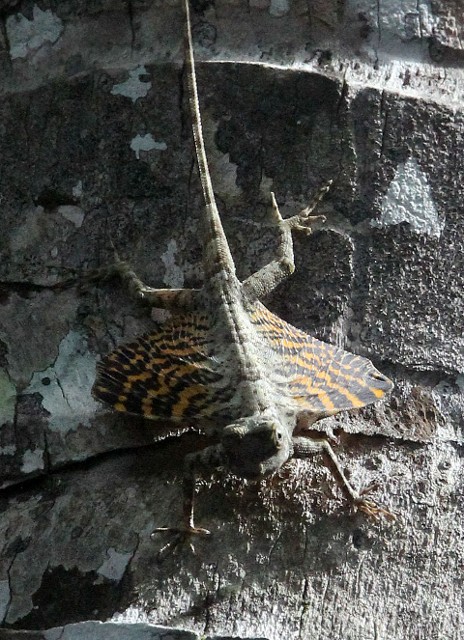 Lady Draco!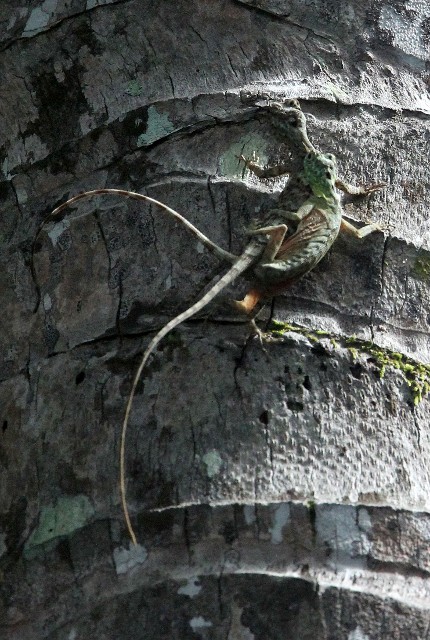 OK, I get it now!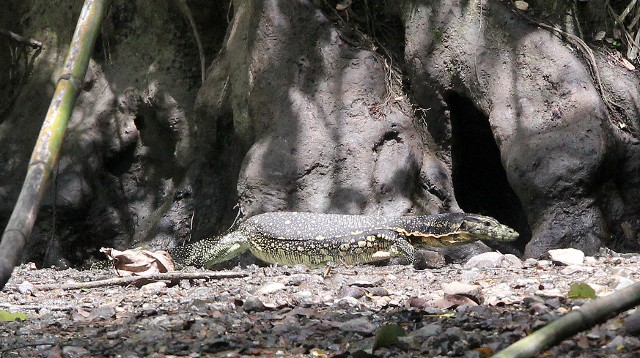 A sizeable Water Monitor Lizard was spotted in the Nantu lick on our first afternoon.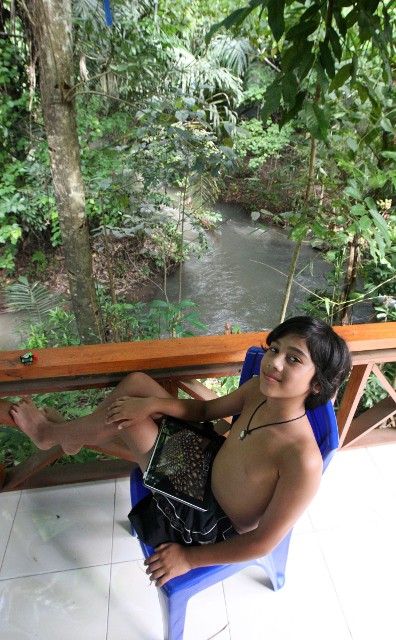 Cokie hangin' at the Tangkoko!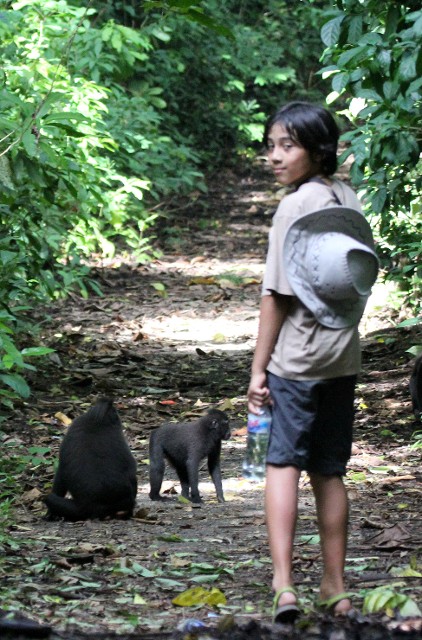 Cokie and his new pals...
Cokie hanging and trying to be quiet at the Nantu blind! Good job little dude!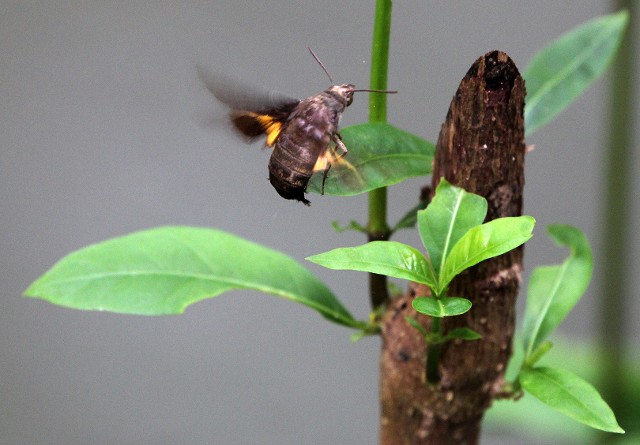 Diurnal sphinx moth looking for something to pollinate in Tangkoko...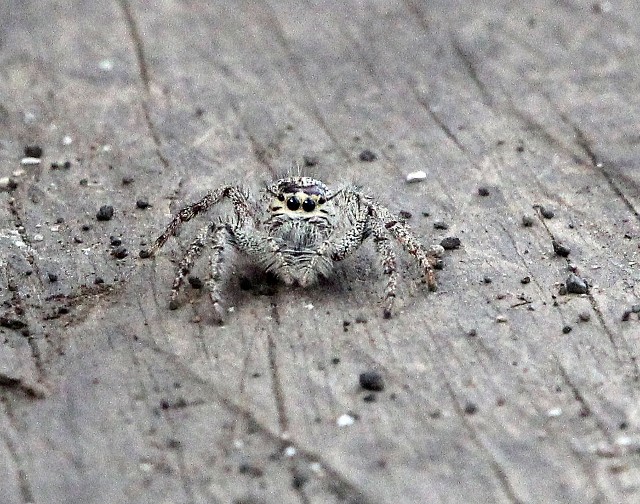 This little dude would not stop jumping on me! I guess this is why he is known as a "jumping" spider...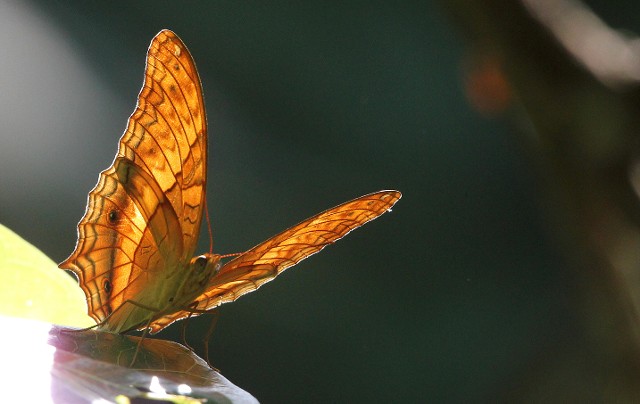 A lovely Nymphalid butterfly on a leaf at Nantu...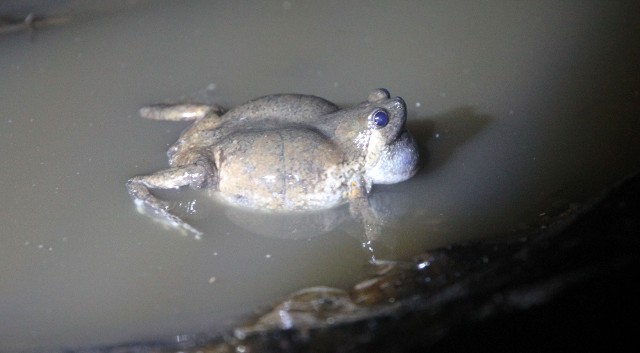 Mystery bloated frog in one of Tangkoko's many puddles...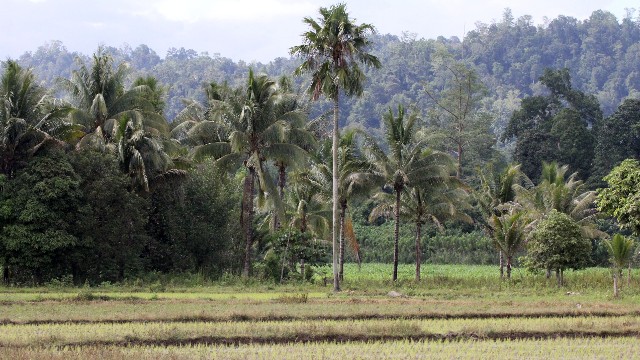 The Sulawesi countryside near Nantu.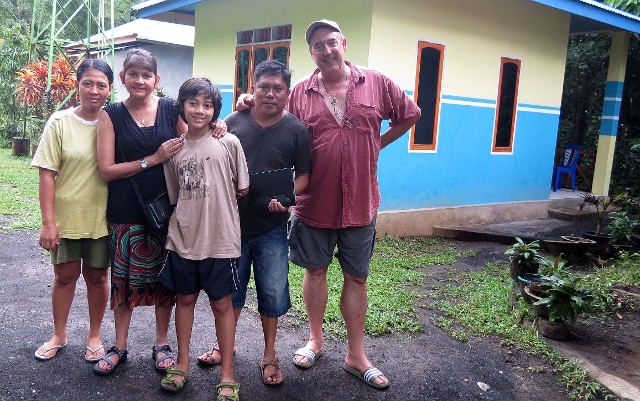 Nelly, Bobby and the fam at the Tangkoko Lodge!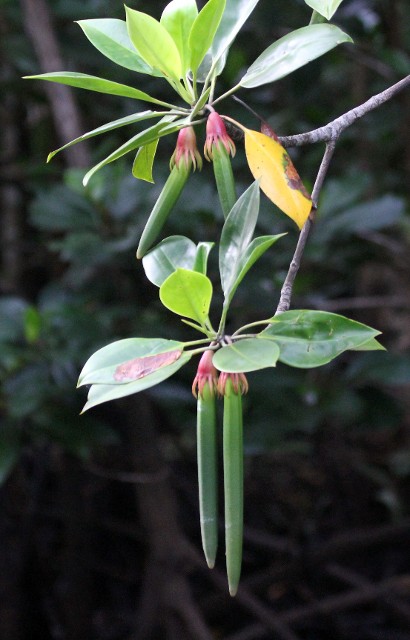 Mangrove seed pods!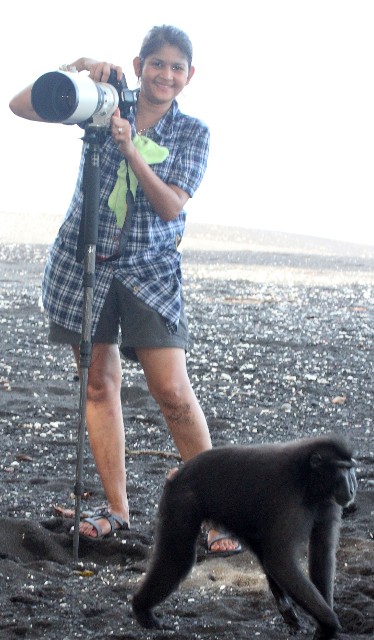 "Hey Som! Who is that in front of you?"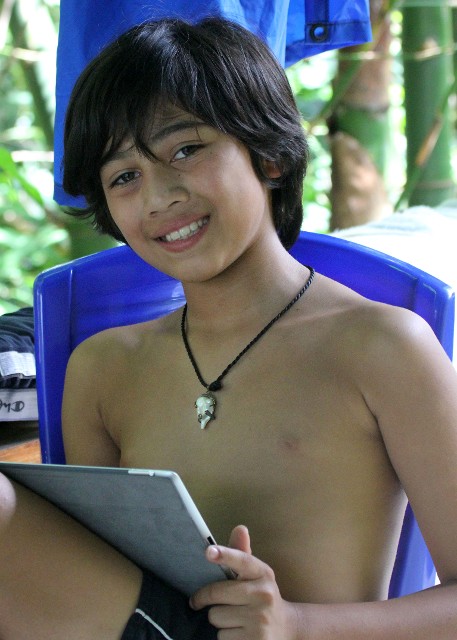 Little dude!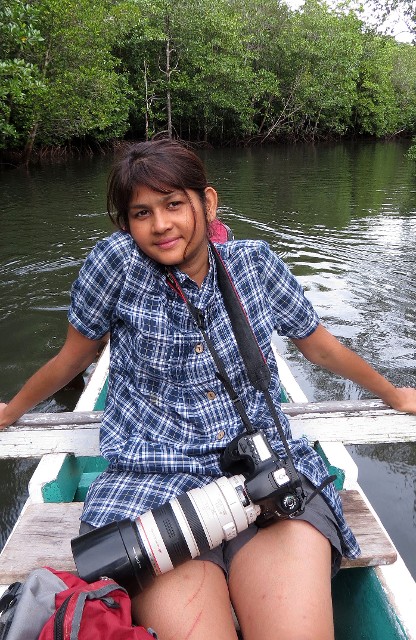 Somie crusing the mangroves of Tangkoko!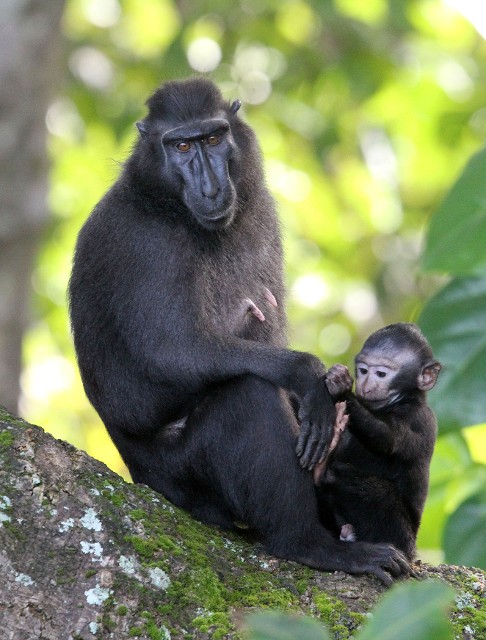 There seemed to be many young ones this season...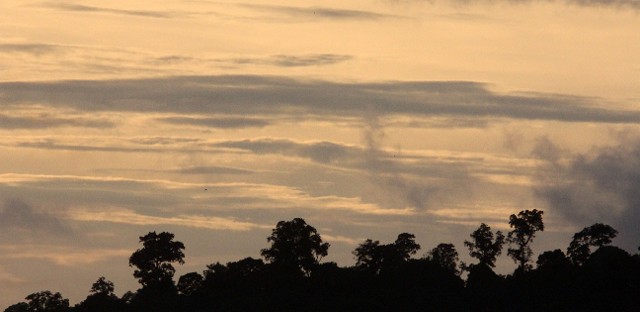 Tangkoko Sunrise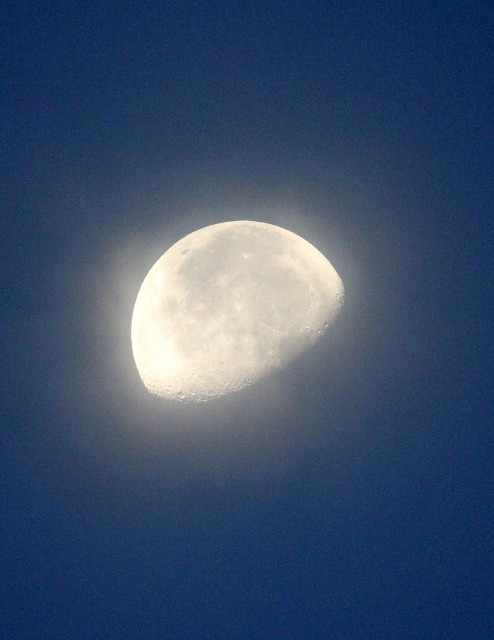 Tangkoko Moonrise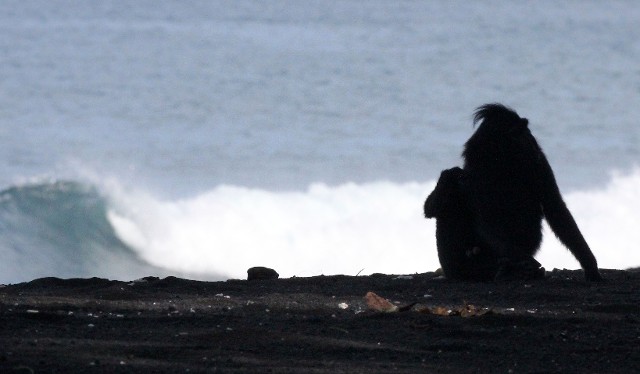 Farewell Tangkoko...
***
Check out our other image galleries for Sulawesi on Pbase.com

***