One of the rules of the trip was that everyone had to at least try Durian!
"Taste of Thailand" was a program that Som and I developed during the summer of 2005 and then implemented in subsequent years. Som was teaching her cooking classes in full force at this time and my natural history and evolution classes were going full force as well. So we basically packed these trips with our students/colleaques/friends.
All in all the expeditions were a smashing success and followed the below program:
"TASTE OF THAILAND"
A CULINARY AND NATURAL HISTORY TOUR OF SIAM
LENGTH OF TRIP – 12 Days
TRIP HIGH POINTS

Bangkok

's Wat Phra Kaew

Grand

Palace

The Floating Market

Ayuthaya World Heritage Site

Wildlife viewing in Khao Yai National Park

Night Safari in Khao Yai

Sukhothai World Heritage Site

Si Satchanalai World Heritage Site

Lampang

Elephant Rehabilitation Center

Cooking Lessons in Chiang Mai

Chiang Mai's Wat Doi Suthep

Hmong

Tribal Village

Chiang Mai's Night Bazaar

Shopping in Bangkok's Shopping Districts

Learning to Cook With Those Who Taught Som!
In addition to the images that follow, log on to our Thailand Images Galleries:
Temples and Ancient Sites of Thailand
Reptiles and Amphibians of Thailand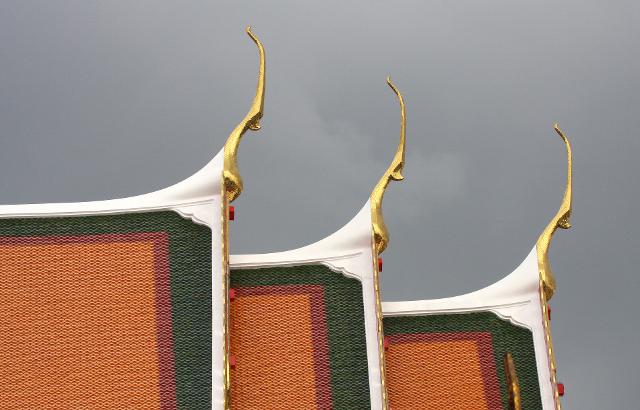 Thailand is a country of extreme beauty and contrasts and is rich in natural resources as well as a phenomenal cultural heritage. An integral part of Thailand's wonderful culture is its delicious cuisine. Thai food is unique worldwide for its uses of a wide array of spices and herbs. But until one actually travels to this culinary hotspot, the regional variations and the intricacies of the cuisine are perhaps not well understood. With this in mind, your hosts, Som and Coke Smith, have assembled a fabulous itinerary that will take you to some of the country's finest restaurants to sample the best of Thai cuisine. You will travel from Bangkok's central region to Khao Yai's entrance to the great northeast and will finish the expedition in Chiang Mai's northern zone.
While traveling throughout this spectacular country, you will be treated by a phenomenal array of cultural sites and nature hot spots as well. We will travel to see such world heritage sites as Ayuthaya, Sukhothai and Si Satchanalai, where we will learn about Thailand's history and view some of the world's most spectacular ancient ruins. We will see contemporary Thailand's Grand Palace where we will also have an opportunity to experience its rich Buddhist heritage as seen in Wat Po and Wat Pra Kaew. In Thailand's Issan (northeastern) region we will visit Khao Yai National Park which is famous for its immense forest systems and its vast array of wild creatures. It is here that we may have an opportunity to see wild elephants, hundreds of species of birds (including at least three species of hornbills) and much more. In the north we will visit Chiang Mai's Doi Suthep, the famous temple on the mountain. We will also visit the famed Night Bazaar as well as the Hill Tribe Museum, which will serve for our launching point for our hill tribe visit where we will enjoy a traditional Hmong meal prepared in a small hilltribe village to the north of the city.
Your hosts, Coke and Som, have worked very hard to put together a truly incredible travel experience of a lifetime!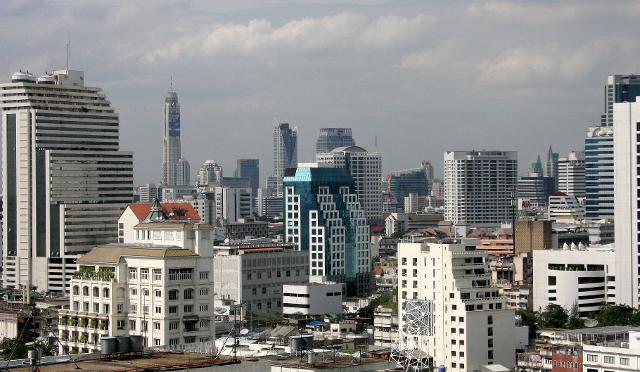 20 JUNE 2007 - DAY 01: ARRIVE BANGKOK
Upon arrival at Bangkok International Airport (BKK), you will be met and transferred to the Holiday Inn Silom located in one of Bangkok's most convenient and exciting districts. After some relaxation time, we will stroll to our first culinary experience at Bangkok's famous Ban Chiang Restaurant. Ban Chiang, which means "home of the elephant", serves traditional central Thai dishes in a quaint restored colonial style tropical home filled with antiques and curios. After dinner you will have ample free time to stroll the district looking for shopping deals at the infamous Pat Pong night market and surrounding areas. Or you can opt to relax at our lovely and conveniently located hotel.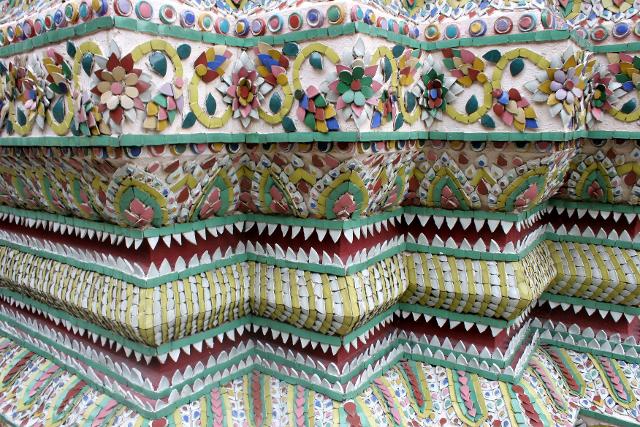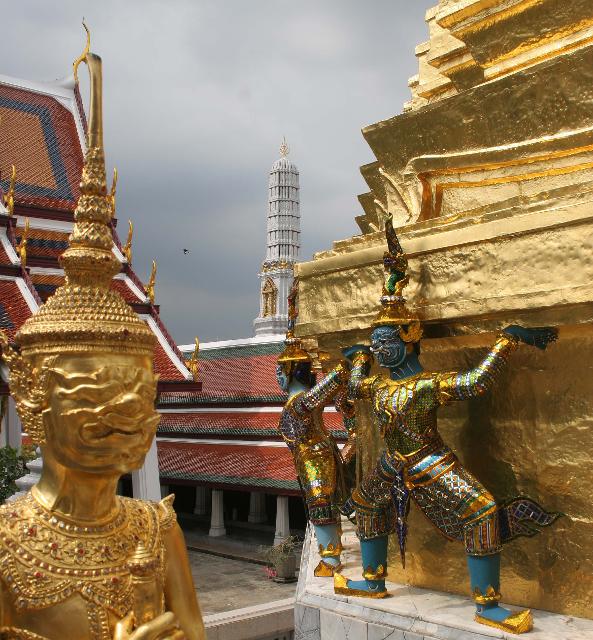 1 JUNE 2007 - DAY 02: BANGKOK'S GRAND PALACE, WAT PHRA KAEW, WAT PO, JIM THOMPSON'S HOME
After breakfast, the group will assemble and start our full day's worth of cultural activities and, of course, eating! We will start our day with the spectacular Grand Palace and Wat Phra Kaew. Consecrated in 1782, this nearly one million square meter site is home to over 200 years of Thai cultural and religious history. While we explore the buildings and architecture that represent the Ratanakosin (Old Bangkok) style, we will see such amazing sites as the Ramakian (Ramayana) Murals, the Royal Thai Coin Pavilion, and the famed Emerald Buddha, which found its current home in the beautiful Wat Phra Kaew after many centuries of fascinating travels. If time allows, we will venture to see the giant reclining Buddha image at Wat Po. As these sites are sacred to the Thai people, appropriate clothing such as long pants, closed shoes, and sleeved shirts must be worn upon entry.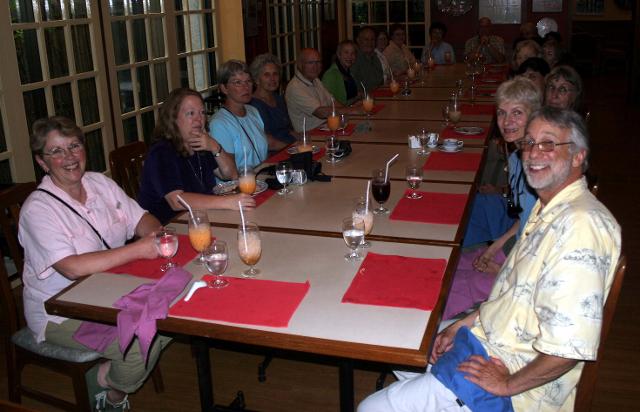 Lunch: Today will have an opportunity to enjoy a fantastic lunch at one of Thailand's most famous restaurants – Cabbages and Condoms. Founded in association with the Population & Community Development Association (PDA), Cabbages and Condoms uses its profits to increase sex-education and HIV awareness in Thailand. Its goodwill aside, Cabbages and Condoms provides an excellent introduction to central Thai dishes emphasizing fresh vegetables and herbs in a beautiful garden setting in one of the busiest sections of Bangkok. We will see how they even grow their own mushrooms on site!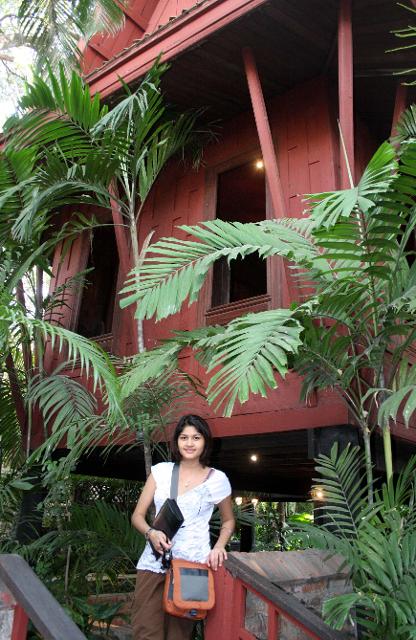 Som at Jim Thompson's Home in Central Bangkok.
After lunch will spend a leisurely afternoon viewing one of Bangkok's most beautiful homes, that of the late Jim Thompson. Mr. Thompson, an American, was given the credit for giving the world its first glimpse of Thailand's fine silk industry as well as Thai arts and culture in general. The home is a hodge-podge of various antique wooden homes collected all over central Thailand and reassembled in its current location in 1959. Jim Thompson's mysterious disappearance in Malaysia in 1967 has added to intrigue of this amazing entrepreneur.
Dinner: This afternoon and evening will be free to explore the area around our hotel and Bangkok in general. There are many delicious options for dinner in the local area of our hotel.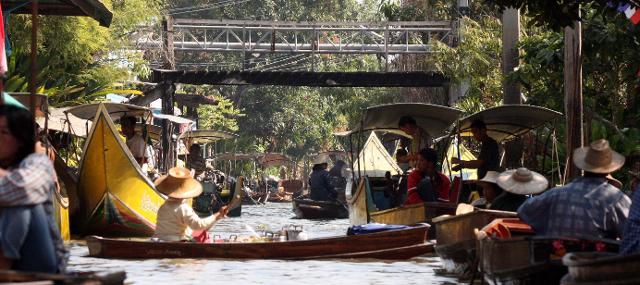 22 JUNE 2007 - DAY 03: THE FLOATING MARKET AND SIAM SQUARE
If you wake up hungry (not likely after the previous evening's dinner!), take breakfast and meet at the designated time in the hotel lobby for an early morning departure ( – sorry) to Ratchaburi's world famous floating market. Our goal is to arrive at the market before the throngs of tourists from Bangkok. Once there, photo-opportunities are the dominant theme. Seeing this uniquely Thai cultural phenomenon is well worth the journey out of Bangkok. There will be many opportunities to see many ladies in their teakwood boats traverse the canals of this ancient center selling everything from fresh fruits to cooked meals to souvenirs. Along the banks of the canals there will be countless stands of goods being sold by the local merchants. Many travelers consider the floating market of Ratchaburi a 'must see' when visiting Thailand.
Lunch: There are tons of high volume touristy buffet-style places to dine at while in Ratchaburi, but we have decided to take you to a small, local-only restaurant near the entrance to the town. Phean Khun, which literally translates as "your friend" in Thai, is a very small restaurant that offers a great selection of regional favorites. Well known by locals as being the best fare in town, we will see how a small restaurant can provide world-class Thai cuisine in the absence of the throngs of tourists!
After lunch we will take the long trip back to Bangkok where we will have a choice. Those who wish to relax can return to our centrally located hotel where they can lounge around the pool or stroll the Silom streets. Those who still have energy will be shuttled to Mabukon Center and Siam Square, two of Bangkok's greatest shopping districts! Here you will be able to find name brand items as well as discounted goods of all shapes and sizes. This will be an excellent site to buy your gifts for friends and family back home as well as those special things you are looking for at very reasonable prices. There are many locations for a welcome Thai foot massage as well – and believe it – you will want one by this point!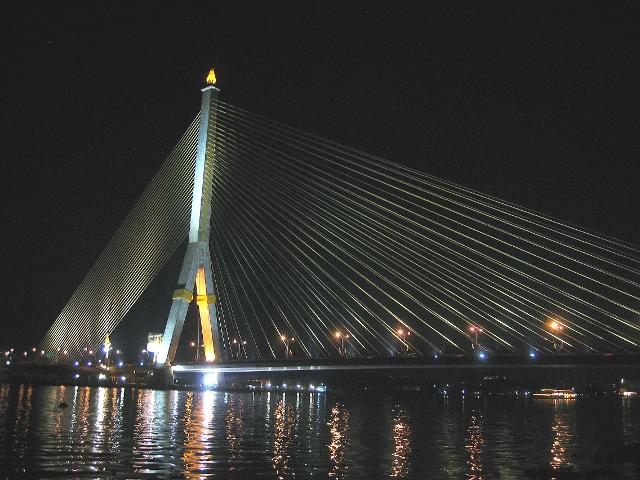 Dinner: This evening's dinner will definitely be one to remember! We will dine under one of Thailand's most famous structures – Rama VIII Bridge along the Chao Phraya River that flows right through the heart of Bangkok. Located in a very scenic location, weather permitting, we will eat outdoors enjoying a wonderful variety of seafood dishes made in the central way. We will have an opportunity to speak with the chef and ask questions about this spectacular food as well!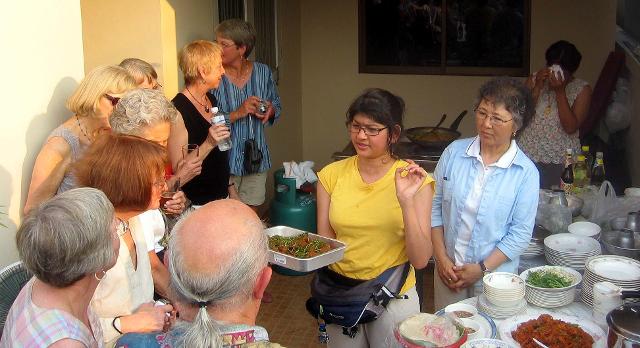 Som giving cooking instructions at her uncles pad in Bangkok
23 JUNE 2007 - DAY 04: TRADITIONAL THAI MARKET AND SOM'S FAMILY HOME COOKING!
This day will no doubt be one of the more memorable days of your Thailand adventure. After a leisurely breakfast, we will head to the Atha Kho Market where we will learn how local Thai shop for their daily produce and fresh food needs. While be brave the temperatures we will see a staggering array of fresh spices, herbs and produce!
Lunch: After our sojourn through a traditional market, we will welcome the air-conditioned comfort of our lunch stop – the Terrace Restaurant located in Bangkok's Central Plaza. This chain-style restaurant provides us with a glimpse of Thai style cuisine served in western style with western efficiency. This restaurant will provide us with a good selection of high standard central-style foods while at the same time showing us a Thai interpretation of western pragmatism.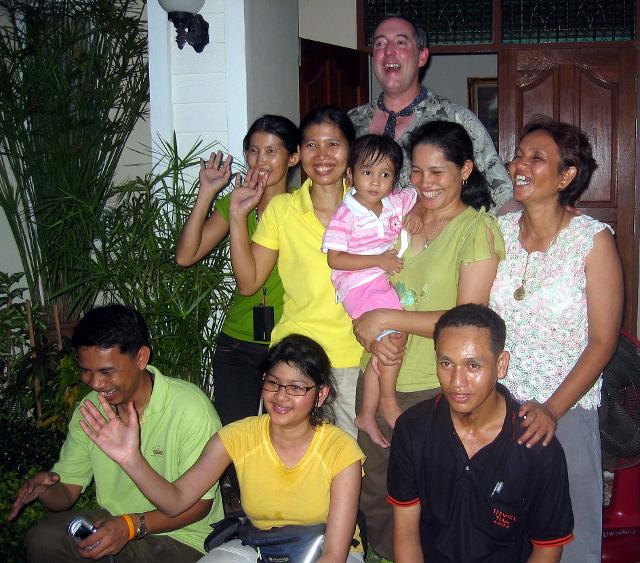 Som's family - mom and tons of aunts and uncles!
After lunch we should have some time to browse Central Plaza. We will then return to our hotel for a couple hours of well earned rest and relaxation. In the late afternoon, around four or so, we will load up the vans and cross town to Som's family's home to learn how home cooking is done Thai style! After introductions, we will have Som's family explain the menu, the ingredients and preparation techniques for our spectacular family meal. Those who wish to assist in the meal's preparation will be more than welcome. This evening we will eat Thai style on the floor. But don't worry, there will be tables and chairs for those who wish them! This will no doubt be a special evening where we can be more than tourists – we will be part of a Thai family! We will have a chance to chat to Som's family and learn more about their everyday culture and lives. Som is fortunate to have come from a family where just about everyone is a master Thai chef. Each of her uncles has a specialty that will be part of our meal. Her aunts and mother will be there for unparalleled cooking techniques as well! No doubt this will be an evening to remember.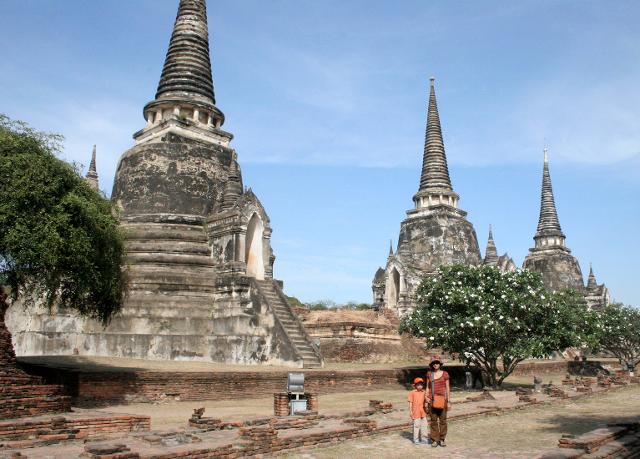 24 JUNE 2007 - DAY 05: AYUTHAYA WORLD HERITAGE SITE AND KHAO YAI NATIONAL PARK AND WORLD HERITAGE SITE
After an early breakfast (once again sorry), we will load up the vans and leave Bangkok for our Thailand travels. We will first head due north of Bangkok, basically paralleling the Chao Phraya River basin, where we will stop at the Bang Sai Royal Folk Arts & Crafts Center, where we will be able to see arts and crafts from throughout Thailand. Here is one of the few establishments in Thailand where the proceeds actually go to assist the artisans directly. The prices are generally very reasonable and the selection is unparalleled for many items. A favorite of ours is the Naratiwhat basketry which is some of the finest in all of Asia.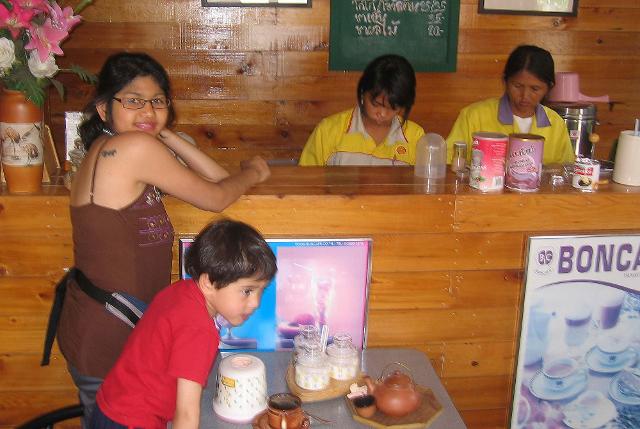 We never passed a fresh coffee stand!
A bit further up the road we will spend some time viewing and learning about one of the most historically significant sites in all of Southeast Asia, Ayuthaya. While the entire complex would take days of serious trekking and effort to see, we will be visiting two of the more significant sites in the area. Our first stop will be the impressive ruins of Wat Phra Si Sanphet which was built in the 14th century. Here you will see spectacular ruins of the ancient royal temple and palace as well as many huge chedis (stupas) that are built in the Ayuthaya style, which is now considered to be the definitive Thai artistic style. Our next stop will be Wat Phra Mahathat which is home to the famous Buddha image that has been overgrown by the once dominant jungle. Here we will see Khmer influences in the architecture.
Lunch: After some time trekking in the ruins, we will stroll around the corner from Wat Phra Mahathat for a lovely Ayuthaya style meal. While still in the central region, Ayuthaya is known for its own unique preparations and uses of spices. We will eat at the Moradok Restaurant which offers Ayuthaya style cooking in an eclectic rural Thai atmosphere. We will dine while watching the restoration projects for temples that are located right next door! Moradok also offers an impressive selection of imported wines that can be purchased at reasonable prices.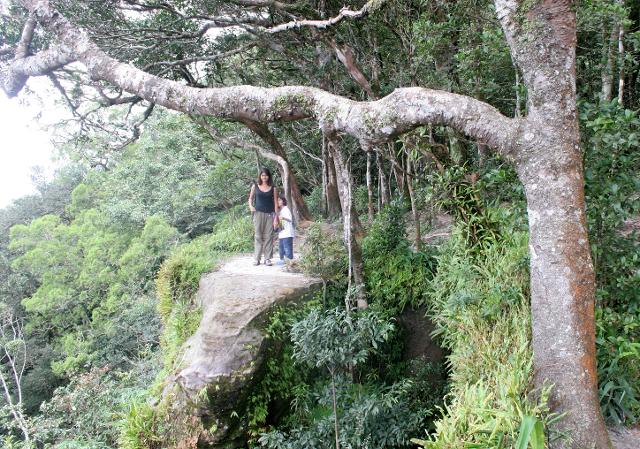 After lunch we will start our drive to Khao Yai National Park and World Heritage Site. The drive will be at least a couple hours, but through some scenic countryside once out of the Chao Phraya river valley basin. The lush green region known as Khao Yai is located in the entry point of one of Thailand's most spectacular and under-visited regions – the Issan or northeast. Our primary focus on this part of our expedition will be the wildlife and ecology of Southeast Asia, but of course we will be sampling some delicious food. We will enjoy dinner at the Uradit Resort and Spa's fantastic restaurant. The evening will be free for relaxation. Lodging: The Uradit Resort and Spa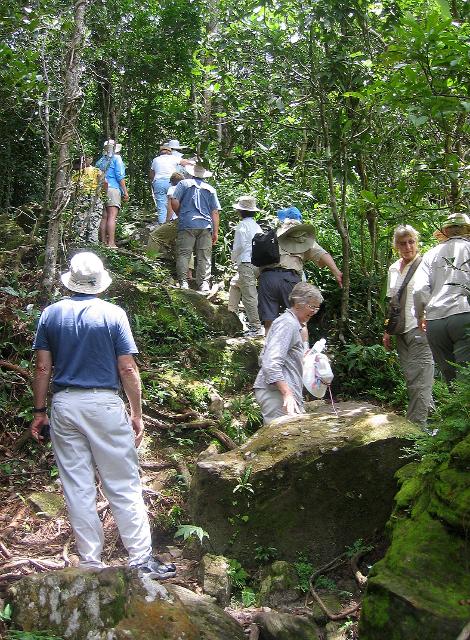 Trekking the jungles of Khai Yai National Park.
25 JUNE 2007 - DAY 06: KHAO YAI NATIONAL PARK AND WORLD HERITAGE SITE
After an early breakfast, the group will head in to the national park for some safari activities. In the early morning it may be possible to see such amazing animals as gibbons, macaques, sambar deer, wild pig, tiger, elephants and many other species. Birds are one of the major attractions to Khao Yai, and we may have opportunities to see such magnificent birds as the wreathed hornbill, the great hornbill, the Indian pied hornbill and dozens of other spectacular Southeast Asian species. We will make stops at birding blinds and have expert-lead walks in the tropical rainforests with interpretation by your expert naturalist host. Depending on weather we may be able to ascend one of the highest mountain tops in the region for some spectacular views of the surrounding area. We will then return to our base camp for lunch at the Kruam Yah Kha (Reed Grass) Restaurant. We will then return to the Uradit resort for an hour or two of relaxation. We will then return to the national park around or so. Our time will be spent viewing many of the amazing sites that this World Heritage Site has to offer. The good news is that Khao Yai is high in elevation compared to the Chao Phraya River basin and is therefore much cooler! In fact, it may be advisable to have a sweater for the late afternoon and evening periods.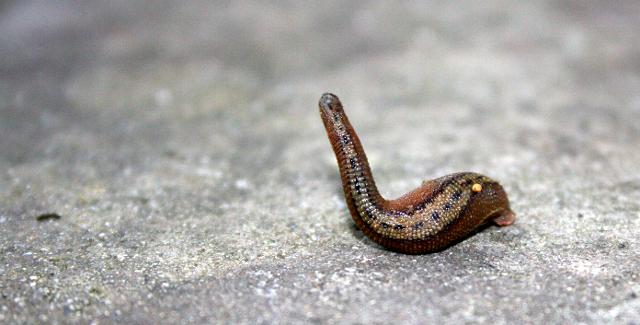 Leeches!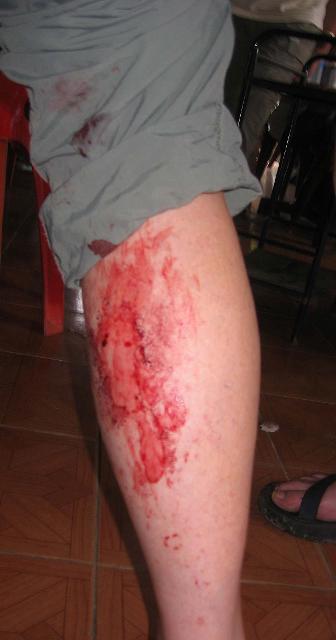 I was impressed by how tough our group was. There was never a complaint or even a negative comment about the leeches (or anything for this matter) during our expedition!
When darkness finally arrives, we will begin our phenomenal night safari. On the night safari we will traverse the national park looking for its nocturnal fauna which include sambar deer, mouse deer, barking deer, moo-ling (pig monkey) which are kin to badgers, huge porcupines, civets and perhaps even wild elephants!
Dinner: This evening we will have an opportunity to dine in an outdoor venue that specializes in Thai/Issan style steaks. The Country Kitchen is a well known restaurant that provides high quality local beef and New Zealand lamb with a nice wine selection. Situated a few minutes north of the national park, this will be a late dinner – so snack if necessary.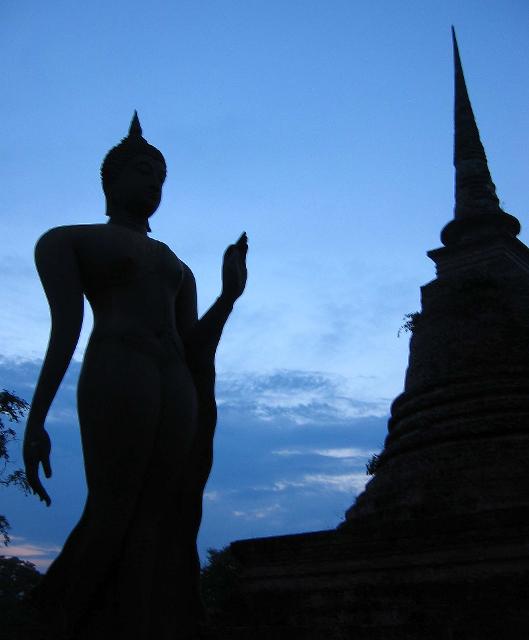 26 JUNE 2007 - DAY 07: SUKHOTHAI WORLD HERITAGE SITE
We will need to get a relatively early start this morning as well to make it to one of the most historical and spectacular sites in all of Thailand – Sukhothai. This morning after eating a hearty breakfast at the Uradit Resort, we will drive back in to the Chao Phraya River basin region and head north to Sukhothai. We will stop at some spots of interest, mainly to stretch our legs and enjoy many of the fresh fruit stands along the way. Along the way we will enjoy lunch at perhaps the most popular eating venue in Thailand – the roadside gas station! Although this may seem like a divergence from our normal fare of fine foods in fine restaurants, many of Thailand's roadside gas stations are amazingly graced with excellent fast-food restaurants that provide fantastic regional dishes. We will sample some of the foods that we find available. It will be difficult to predict what we will find as the selection changes daily, but there will be more than enough to satisfy our travel-induced hungers!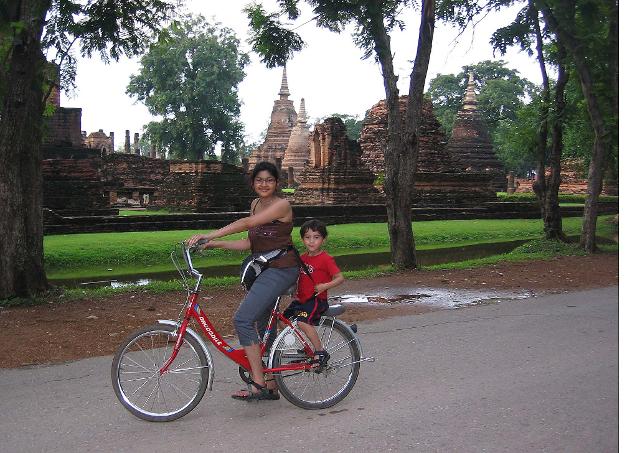 Bikes are the best way to see Sukhothai!
We should arrive in the mid-afternoon at our hotel in Sukhothai. After checking in and freshening up, we will begin our visit to the spectacular Sukhothai World Heritage Site. We will visit such famous sites as Wat Mahathat, the most famous pavilion in the park, and Wat Si Chum, perhaps the most photographed and spectacular Buddha image in Thailand. Depending on the time remaining, we will be able to see many other gorgeous and historical ruins in this massive temple city and stroll in their glory before we head back in to New Sukhothai for dinner.
Dinner: This evening we will be enjoying the unparalleled Sukhothai and central-style fare offered by the Cocoon Guest House and Dream Café. In this restored traditional Thai-style house, with its eclectic collection of art and artifacts and slightly funky western-style motif, we will be treated to an outstanding selection of regional dishes with some explanation by the chef!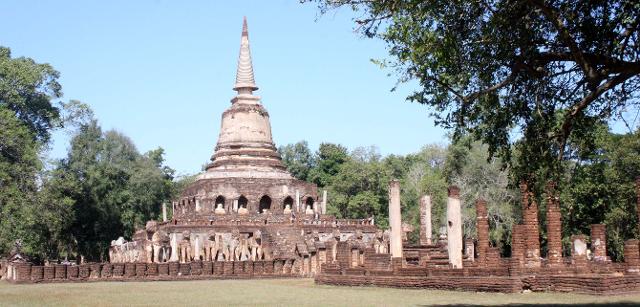 27 JUNE 2007 - DAY 08: SUKHOTHAI AND SRI SATCHANALAI WORLD HERITAGE SITES
After a leisurely morning's breakfast, we will make a short trip just north of Sukhothai to the rarely visited Si Satchanalai Historical Park and Sawankhalok Kilns. Dating from the 13th to 15th centuries, the ruins here are considered by many to be even more spectacular than the more popular Sukhothai ruins. The more unrestored atmosphere provides a peaceful setting to view these spectacular historical artifacts. After some time in the ruins complex, we will venture out a few kilometers in to the countryside to see the rarely visited Sawankhalok Kilns which are ancient kilns that were preserved by floods and are now fascinating archaeological sites in their own right. Some of the kilns are still in operation by descendents of the original kiln operators! You will be able to purchase some of the finest pottery in Thailand from these merchants.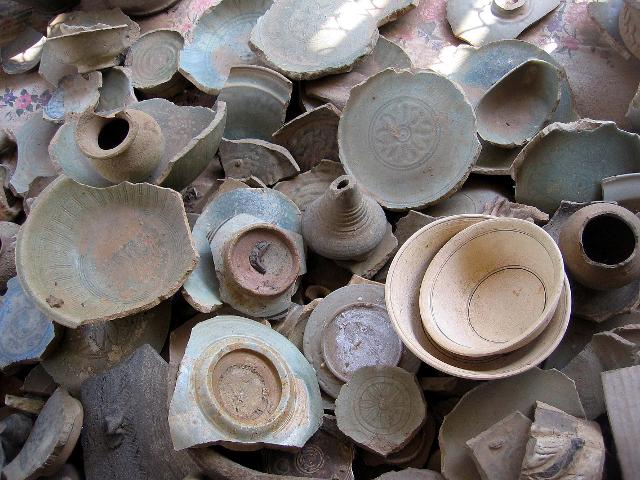 The ancient pottery shards still commonly found on the forest floor of Sawankolok Kilns.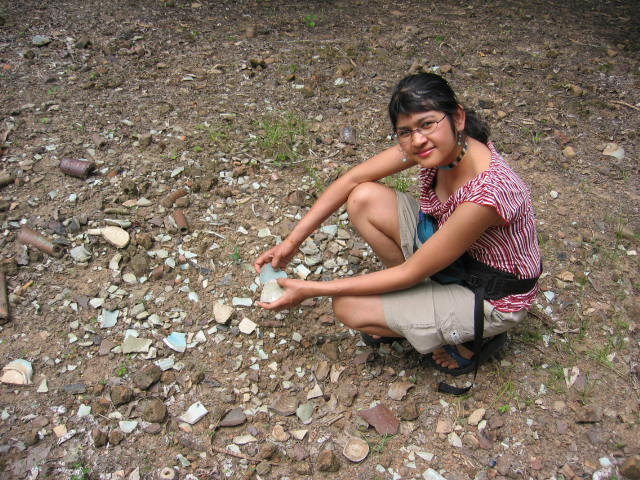 Lunch: This day's lunch will be at a local spot known for its Sukhothai Kway Teau (Rice Noodles). We will be able to sample one of the foods that is famous from this region of Thailand made by a popular local vendor.
Our afternoon will be open for rest and relaxation! But our vans will be available to take you in to town to walk the streets and markets of New Sukhothai or to the old Sukhothai ruins again for those who still need more. Or you can opt to hang back out our lovely hotel and lounge the afternoon away at the beautiful pool and spa.
Dinner: This evening we will dine at the phenomenal Pailyn restaurant located in our hotel. Generally we do not dine in hotel restaurants as their fare is often substandard, but the Pailyn offers tremendous cuisine that is representative of the region. We will have an opportunity to chat with the chef here as well.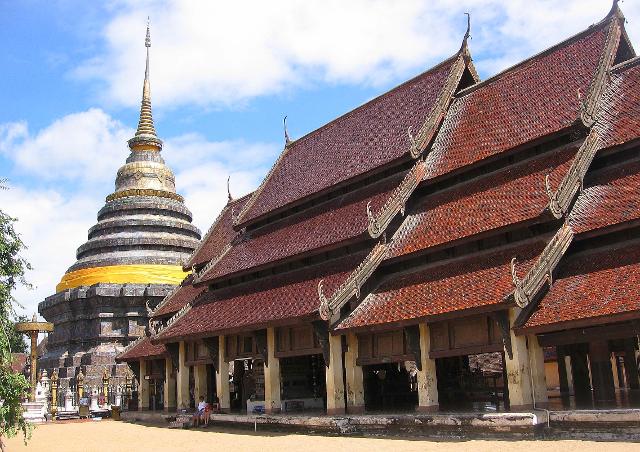 28 JUNE 2007 - DAY 09: LAMPANG ELEPHANT CONSERVATION CENTER, WAT PHRA THAT LAMPANG LUANG, CHIANG MAI
After breakfast, the group will continue our northward trajectory passing through some lovely countryside eventually arriving in Lampang Province. Our first stop of the day will be at the spectacular Wat Phra That Lampang Luang which is arguably the most beautiful wooden Lanna temple in Thailand. Built in the mid 1400's this temple features amazing teakwood architecture and artistic styles. We will have some time to stroll the impressive temple grounds and small museums.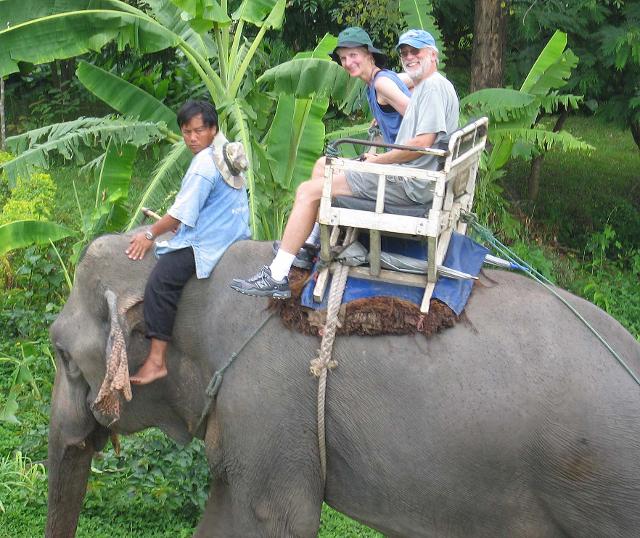 Joel and D enjoying an elephant ride in Lampang!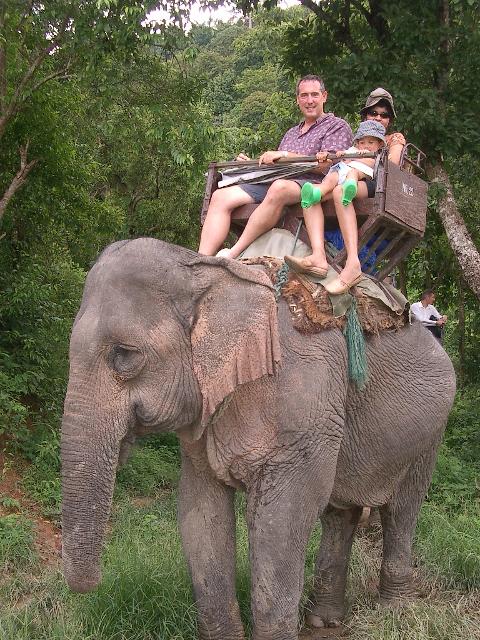 Coke, Som and Cokie on an elephant ride!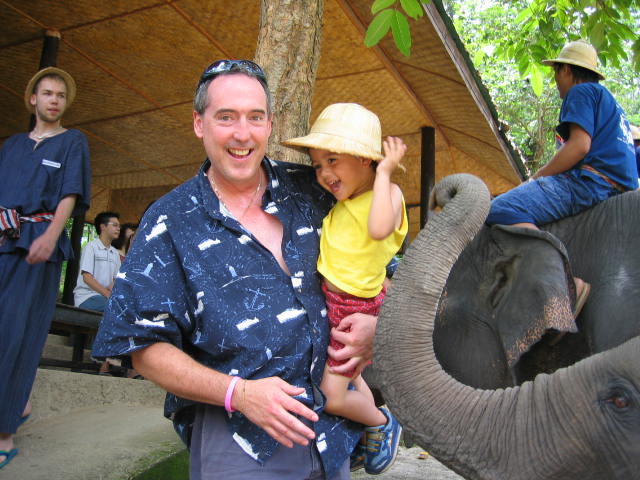 Cokie getting his hat stolen by a playful elephant in Lampang.
We will then continue north to the world famous Lampang Elephant Conservation Center located in the northwest part of the province. Here you will be able to learn about the heroic rehabilitation and conservation efforts started by the Queen and Princess of Siam as well as some of the basics of elephant and mahout (elephant caretaker) training. Here we will be able to enjoy an elephant skill demonstration show as well as a thirty minute elephant ride in to the forest! This will no doubt be a spectacular and often talked-about part of your Thailand expedition.
Lunch: Depending on the timing, lunch will be eating at the Lampang Elephant Center's café or a local eatery along the way.
After lunch there will time to explore the center and its museums and shops where you may be interested in purchasing some of the unique elephant art. Yes that's right – there will be art available where the artist is a real elephant! You will be impressed. We will then leave the center and head further north to Chiang Mai City, where we will arrive with the remaining afternoon free.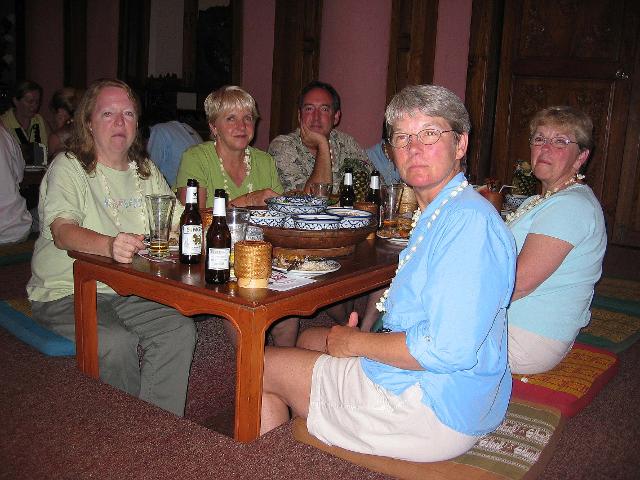 You will have to take my word that we were actually having fun this evening!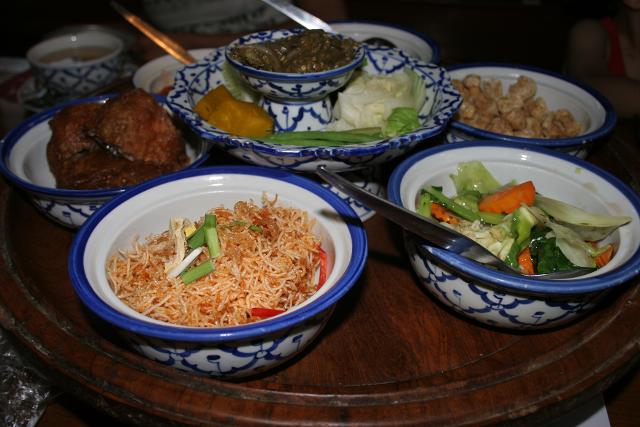 Khun Kantoke - the traditional Chiang Mai welcome meal and show!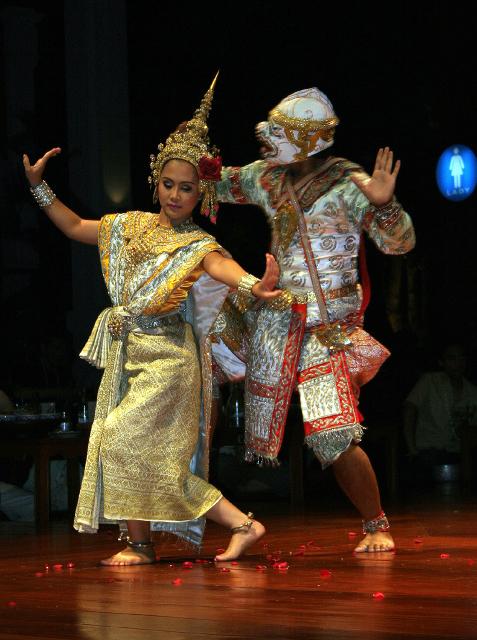 Dinner: This evening's dinner will be a special treat. Khum Khantoke (which loosely translated means, "sit and eat traditional Thai style") will provide us an awesome selection of very traditional northern Thailand foods served in a traditional Thai way. While we are feasting on the endless supply of the wonderful northern cuisine, we will be entertained by the wonderful cultural show that is provided. We will see and learn about many of the traditional Thai cultural characters that will be exhibited via traditional Thai dance and song. Khum Khantoke is considered to be an essential welcome to the north!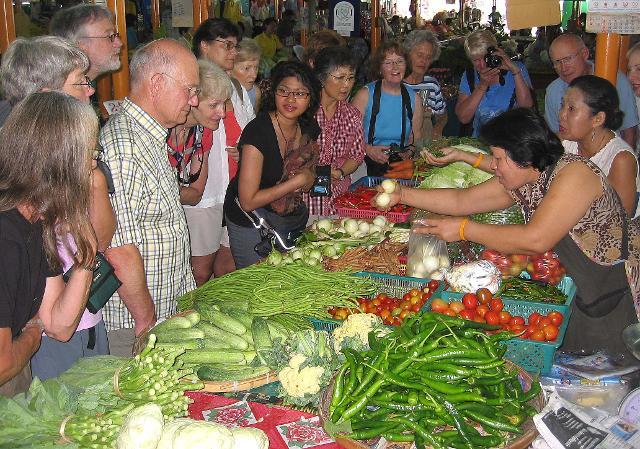 Som giving some cooking and traditional shopping lessons in Chiang Mai!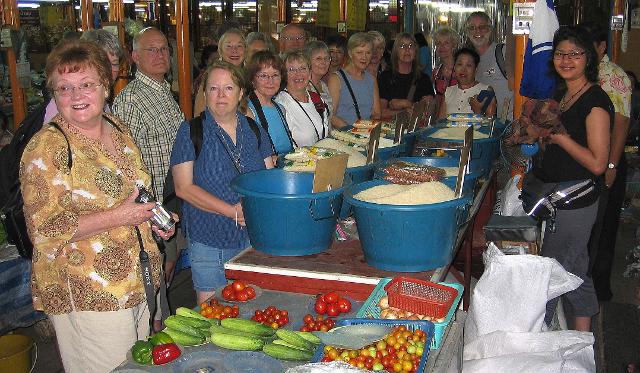 Prik anyone!?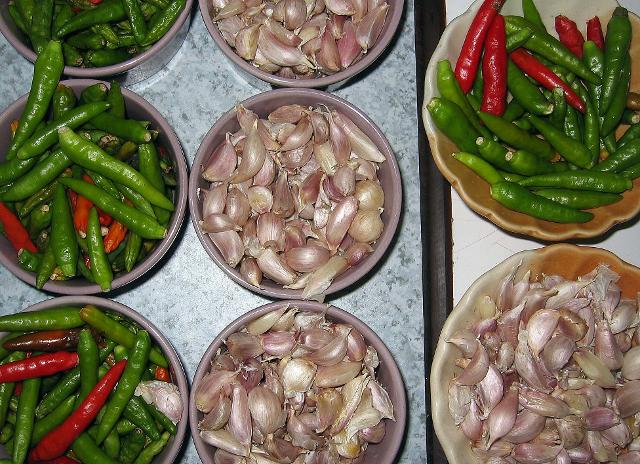 29 JUNE 2007 - DAY 10: THAI FOOD COOKING CLASS, DOI SUTHEP AND HMONG TRIBAL VILLAGE
After a leisurely breakfast at the spectacular Mae Ping Hotel, we will head in to the old section of Chiang Mai to start our official Thai Cooking Class! Our instructors, Vannee and Pornparnee, are locally famous for their knowledge and abilities in cooking northern Thai foods. These instructors are serious about their work and will be the first to denounce the touristy and canned cooking instruction that is the theme these days in Thailand. You will NOT find anything touristy or canned about these professionals. We will start our class with a visit to a local fresh food local market where will select the ingredients for our class. Our instructors will share their secrets for selecting the finest spices, herbs, veggies and meats famous in Thai food. We will then head back to their kitchen to cook up our goodies and eventually feast on the food that we helped prepare! This will be a unique experience that will allow us to appreciate the wonderful food we have been enjoying on our trip that much more.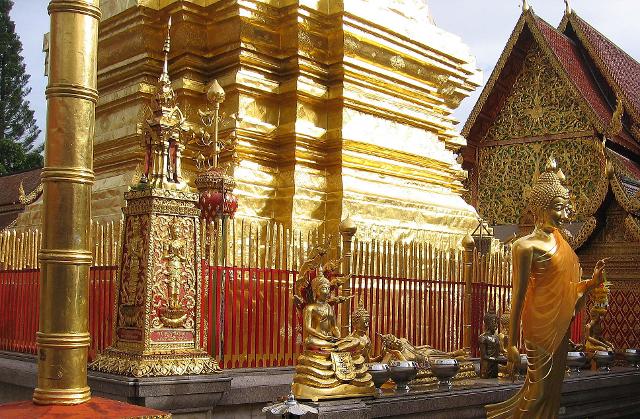 Wat Doi Suthep in Chiang Mai.
Our afternoon destination will be one of the most spectacular temples in all of Thailand – the mountain temple of Doi Suthep. Situated on one of the highest mountains to the west of the Chiang Mai valley, Wat Phra That Doi Suthep offers splendid views of the city and surrounding areas and is considered to be one of the most sacred temples in Thailand. For the brave and extremely fit travelers in our group there is a grand staircase of a mere 300 large steps that can take you to the temple OR you can join the rest of us for the tram that will take you to the top of the mountain! Either way it will be spectacular.
Doi Suthep is located in Doi Pui National Park which is home to an impressive array of wildlife including over 300 species of birds. While we head toward the west extremes of the park we will keep our eyes peeled for the various examples of flora and fauna. Eventually we will find ourselves in an example of a modern Hmong village that will allow us to have a small sample of village life. We will spend some time walking the streets of this village and visit their herbal garden which shows some of the plants that are important to this widespread tribal group.
Dinner: This evening we will have a late dinner as well will no doubt be stuffed from our lunch and in need of some relaxation after our busy day! We will dine at one of Chiang Mai's most popular and delicious restaurants – Ban Rai Yarm Yen, which translates as "evening in the country home." Ban Rai Yarm Yen is famous for its northern cuisine and its exquisite use of seasonal produce. If we're fortunate, some of the local mushroom delicacies will be available! We will dine in a fine outdoor garden atmosphere serenaded by local contemporary musicians. This will be a great dining experience for sure and if we're lucky the chefs will have a few free minutes to come share their secrets with us!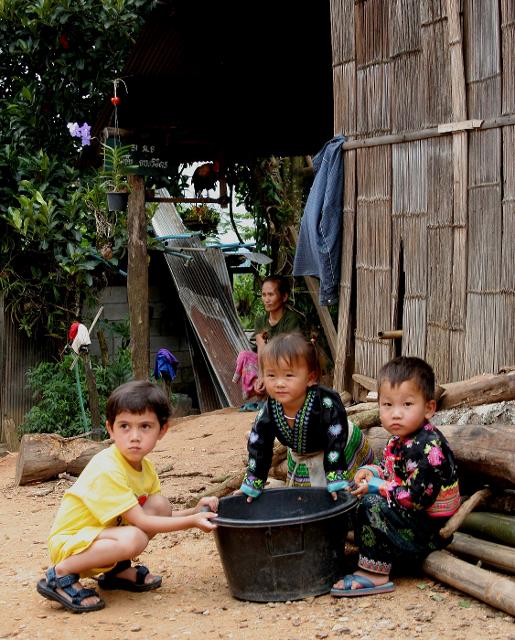 Cokie with some old friends in Ying Mi's village near Chiang Mai.
30 JUNE 2007 - DAY 11: HILLTRIBE MUSEUM AND HMONG VILLAGE
After a leisurely breakfast, we will drive to the northern section of Chiang Mai where we will stop and learn about Thailand's amazing populations of hill tribes at the Hilltribe Museum and Education Center. Here we will find and excellent collection of hilltribe artifacts and demonstrations that will provide us some poignant information regarding these amazing groups of people.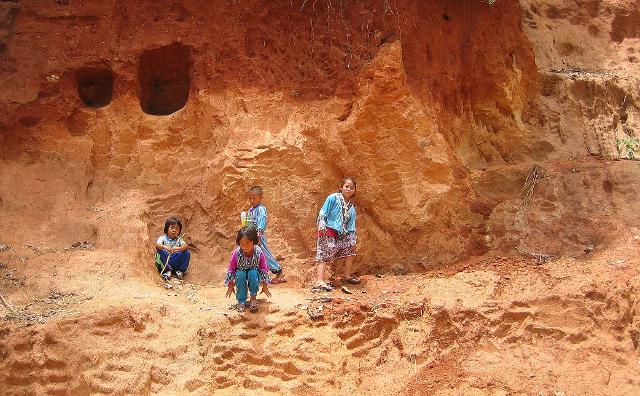 Some children from Ying Mi's village playing a mountainside that has been slowly carved away to provide material for bricks for the village.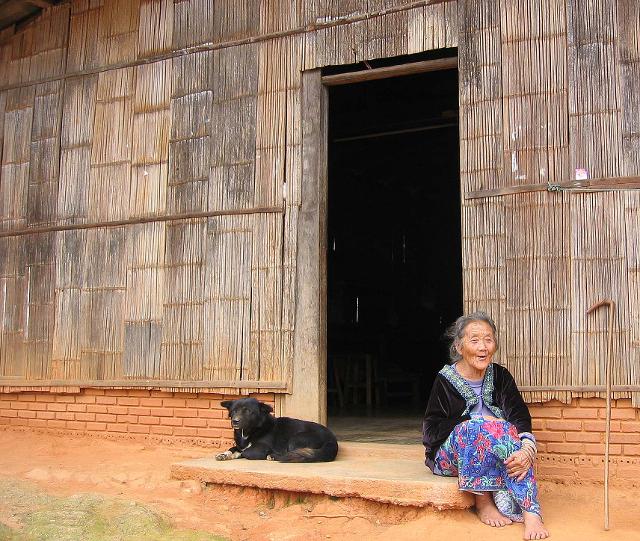 I have been photographing Ying Mi's grandmother now for years. I think she is one of the most beautiful women I have ever seen. Many years ago when I snapped my first image of her incredible face, she was very reluctant until I talked her in to it. After she got used to it, I could sense she enjoyed her new fashion-model career! I even published this image and presented a laminated copy of it to her a few years later. She was overwhelmed. Read more about this here.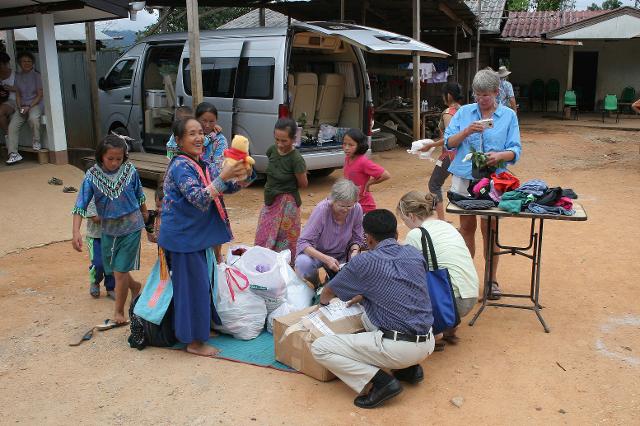 One of the cultural high points of the entire expedition was when we finished our meal with the Hmong villagers and started to show our appreciation by offering some gifts to the children and elders of the village. Before we left the states, we had a couple orientations at our pad in Washington during which we told our guests that it would be completely appropriate for them to bring gifts for our Hmong hosts. As you can see in these images, we all did! The ironic part of all this was how earlier in the day, one of my guests pointed out a sign in the Chiang Mai Hill Tribe Museum admonishing tourists to refrain from giving western style gifts to the Hmong or other hill tribes as it "deluted their culture" I was more than a little embarrassed by this until I saw the reaction of our Hmong friends. This was one of the warmest and most sincere cultural exchanges I had ever seen, let alone participated in. One of my good friends, who was also on the trip, Denise Brown, told me that this day was one of her best travel days ever. And coming from such a well-traveled person like Denise, that was something!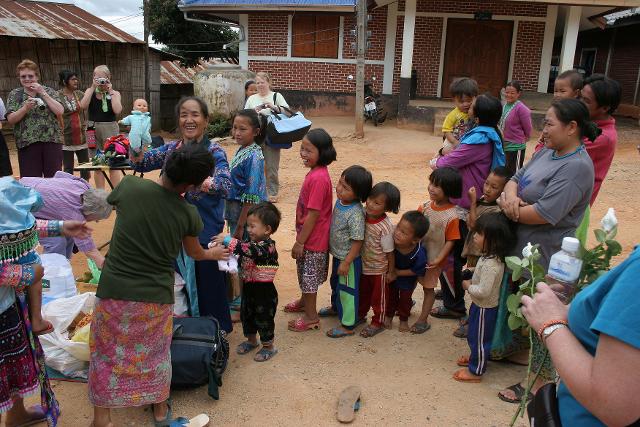 I got a kick out of watching the children line up so orderly!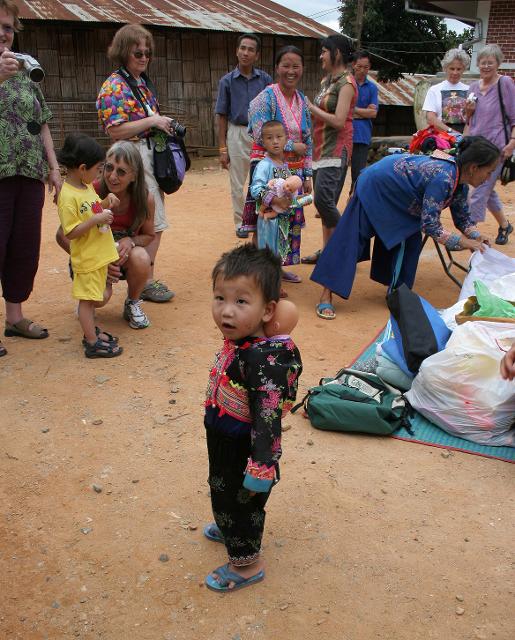 As soon as this little guy got his toy (a doll!), he immediately tucked it in his back like the mothers did with their babies in his village. The whole place erupted in laughter!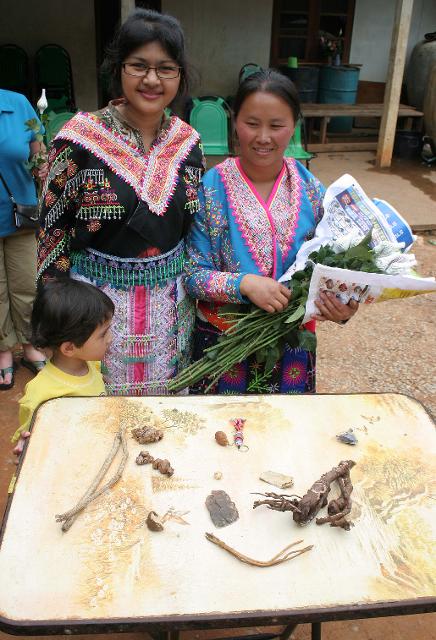 Som helping Ying Mi give her ethnobotany talk where she describe the various uses of several species of plants and animals in the area.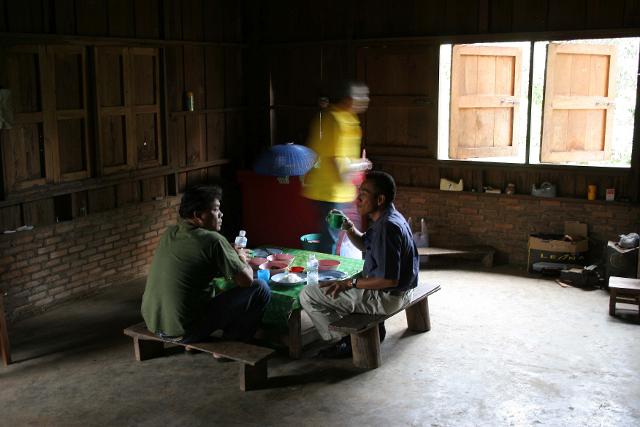 For some reason, this is my favorite image of the entire expedition. It's just a simple shot of our drivers (one of whom is Som's uncle Dam) eating their lunch in Ying Mi's home.
From the museum we will continue to the northwest of Chiang Mai to the Mae Sa region of the province. Here we will head drive through the tourist centers, elephant camps, orchid farms and monkey shows to eventually enter a region rarely visited by the Chiang Mai tourist crowd. We will be visiting a rarely visited Hmong village that will allow us to experience Hmong daily life. Here we will have a special yet very simple Hmong style lunch that may consist of noodles or other sorts of local foods. This will no doubt be one of the cultural high points of the entire trip. And the remoteness of this region will give the traveler a true sense of adventure!
Your afternoon will be free once we arrive back in Chiang Mai to relax and just be lazy. We will designate a time to meet back in the lobby in the early evening so we can stroll over to the famous Chiang Mai night bazaar, where we will enjoy some street food – cantina style. We will eat some of the fare available at the open-air food court situated in the heart of the market. The choice of what to eat will be yours – the selection is vast. After dinner you will be free to shop 'til you drop in the night bazaar!
One of my favorite haunts while killing time in Chiang Mai, the Chiang Mai Insect Museum. I have tried for years to remember the name of the owner, a regionally very well known mosquito specialist, but since he has never remembered my name, even after meeting me many many times, I suppose its only fair that I cannot remember his.
01 JULY 2007 - DAY 12: CHIANG MAI OPEN DAY!
This day will be left open for you to explore this amazing city on your own! Chiang Mai is a city rich in culture and history and one could easily spend weeks exploring its nooks and crannies. Although we still have some wonderful northern food scheduled, the morning and afternoons will be left wide open for you to explore the city.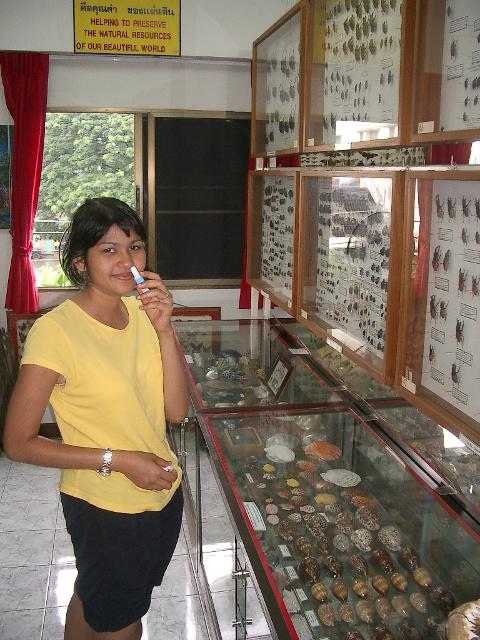 Som with the Thai national odor - mentholyptus!
Lunch: We will have an opportunity to travel to the city's most well known restaurant for the most famous food from Chiang Mai – Khao Soi. The famous college-hangout restaurant, Khao Soi Prince, will serve up this quintessential northern noodle dish and is considered by the Thai to be a necessary stop while in Chiang Mai city. This flavorful noodle soup dish is found all over Thailand but is best eaten here!
Dinner: This evening will be a very special meal served at one of Chiang Mai's most spectacular restaurants - Suan Paak. Boasting one of the city's most beautiful gardens, Suan Paak's spectacular teakwood adorned setting provides the atmosphere for a wonderful Thai meal. Our group will enjoy foods here from all regions of Thailand to top off our amazing tour of this amazing nation.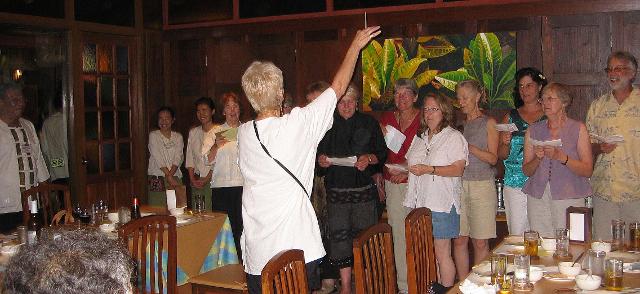 This was amazing! For nearly the entire trip, the group was practicing their farewell thank you speech for Som. They somehow learned and practiced and MEMORIZED the entire correct pronunciation of the complete name for Bangkok:
"Krung Thep Mahanakhon Amon Rattanakosin Mahinthara Ayuthaya Mahadilok Phop Noppharat Ratchathani Burirom Udomratchaniwet Mahasathan Amon Piman Awatan Sathit Sakkathattiya Witsanukam Prasit."
This translates to:
"The city of angels, the great city, the residence of the Emerald Buddha, the impregnable city (of Ayutthaya) of God Indra, the grand capital of the world endowed with nine precious gems, the happy city, abounding in an enormous Royal Palace that resembles the heavenly abode where reigns the reincarnated god, a city given by Indra and built by Vishnukarn."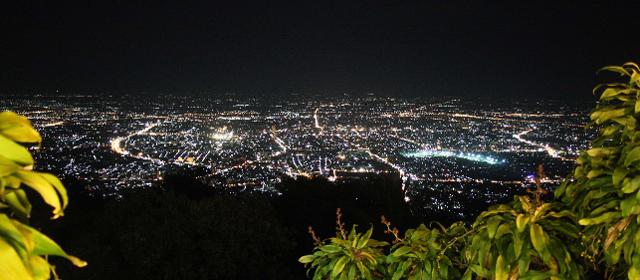 Chiang Mai by night as seen from Wat Doi Suthep.
02 JULY 2007 - DAY 13: BACK IN BANGKOK
After our breakfast, we will be shuttled off to Chiang Mai International Airport where we will hop on our plane bound for Bangkok (Thai Airways flight #922 departing Chiang Mai at 8:30AM and arriving BKK at 9:40AM )where we will spend our final night in the Silom Holiday Inn. This will sadly be the final part of our tour. Lunch and dinner will be on your own but we will be happy to give some suggestions as to where to head (and where not to go…), but we would be willing to bet that after this thorough introduction to Thai food, you will be an expert on where to get good Thai grub!
INCLUSIONS IN PRICE:
All meals specifically mentioned with one drink (soft drink or beer)/transfers according itinerary/transport/domestic air/lodging – based on double occupancy/entry permits-fees and conservation fees/activities per itinerary/English speaking naturalist & culinary guides/park fees, & taxes
NOT INCLUDED IN PRICE:
Personal items/tips/international flight/additional drinks/travel and health insurance/departure taxes/meals and activities not specifically mentioned in the itinerary/transportation not specifically mentioned in the itinerary/transfer to BKK on the trip start date (this can be arranged at the HI Silom)
NOTE ON INTERNATIONAL FLIGHTS:
Group travel is no longer a discounted way to do international travel as it once was. So instead of including the international air as part of the base price of the trip, we have decided to allow you the freedom to book your own flights. We are very experienced in this and will be absolutely happy to help you with this if you wish. Since some of our travelers will most likely wish to use miles-based discounts or perhaps lengthen their trip with stop-overs elsewhere in Thailand, we feel it is best that you design you own travel to and from Thailand. The fares that we have been seeing lately have ranged from the $850 to $1200 for flights with good connections. Booking early is HIGHLY recommended.
It is VERY important to note that the tour does officially start on the trip start date. When flying over the International Date Line, it is very important to note the arrival date and time. So please keep this in mind when booking your flights. Also, it may be wise to arrive one day earlier to make sure you don't arrive for example at 11:50PM on the trip start date and miss our first meal! Arrival time depends on the carrier – some arrive late in the evening and some in the mid-morning hours. Again, we will be happy to help with this if you need. Our vans will be available on the trip start date for transfers from the airport only. If you do arrive earlier than the trip start date, you will be responsible for your own transfer.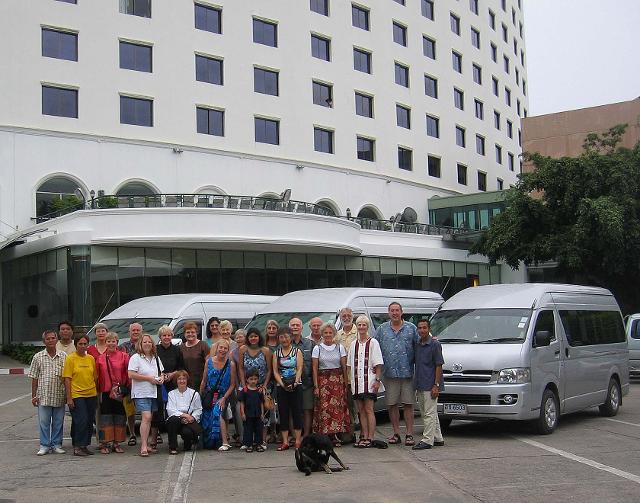 Our amazing group on our final day in Chiang Mai! I cannot think of another group of TWENTY FIVE people I would rather hang out in Thailand with!
Cheers!
In addition to the images that follow, log on to our Thailand Images Galleries:
Temples and Ancient Sites of Thailand
Reptiles and Amphibians of Thailand