Temples in and around Bangkok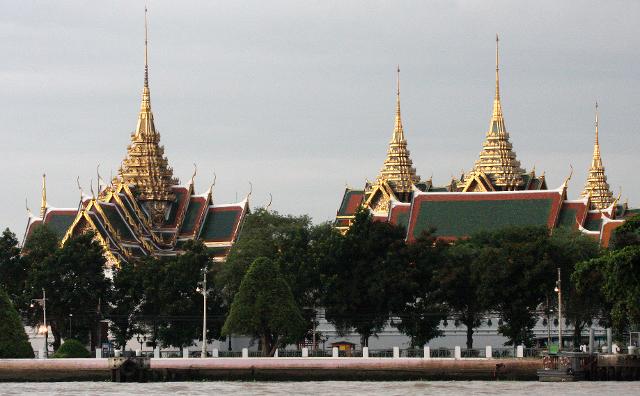 Bangkok's spectacular Wat Phra Kaew as seen from the shores of the Chao Praya River.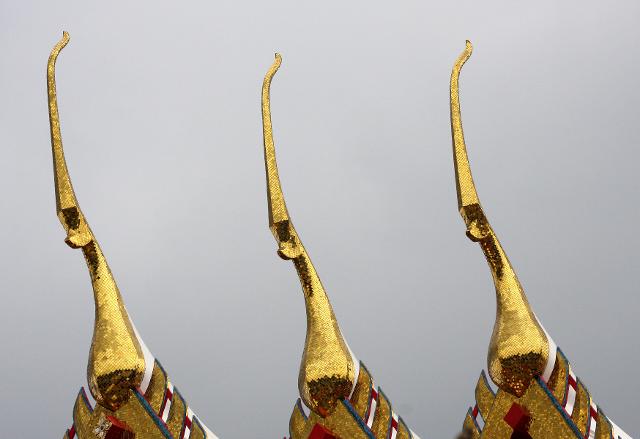 The spires atop one of the satelite temples of Wat Pho.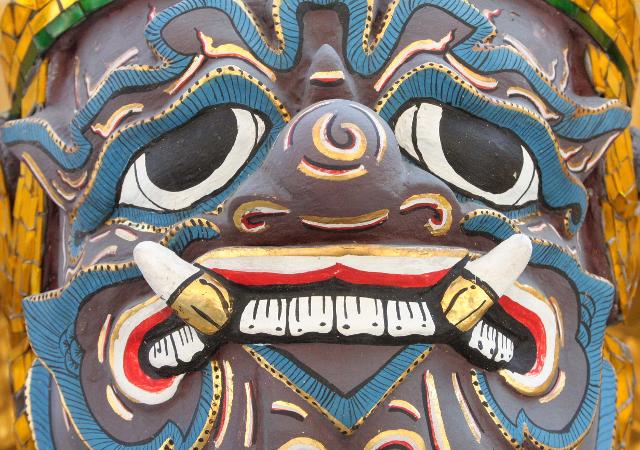 The infamous "Yak", a mythical Thai boogy-man, that guards against evil at many of the temples and sacred sites in and around Krungthep.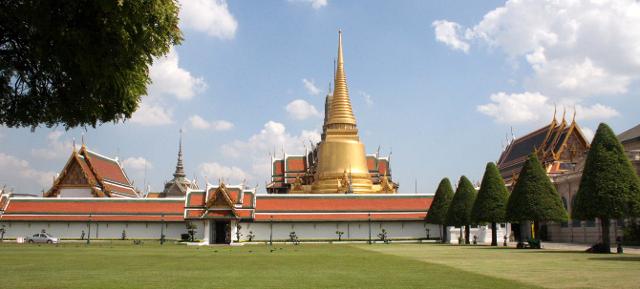 Wat Phra Kaew, Bangkok.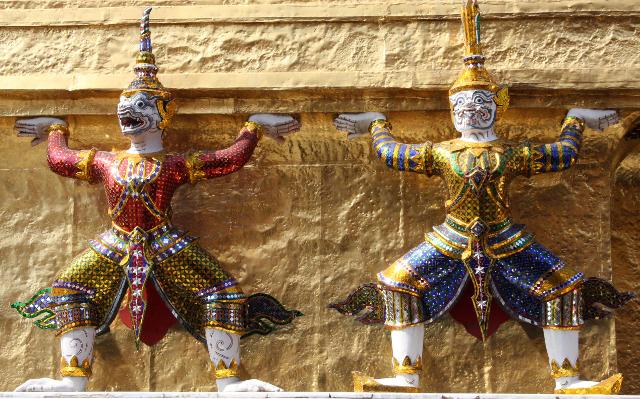 Some more "Yak" supporting a jedi at Wat Phra Kaew.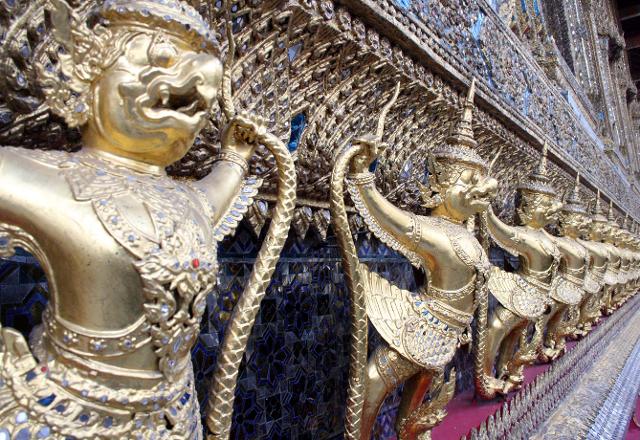 A series of Garuda lining the actual Wat Phra Kaew.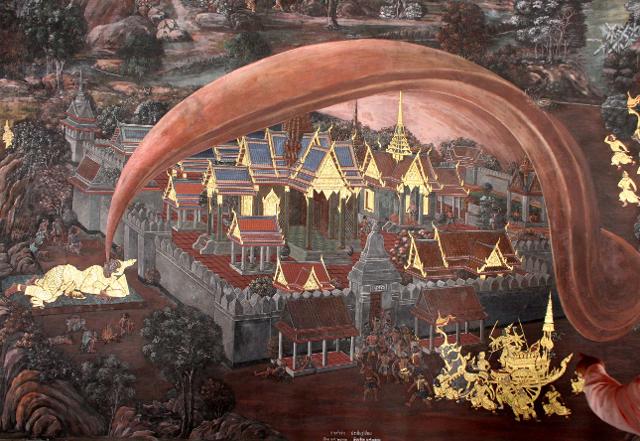 Wat Phra Kaew is an amazingly large and impressive complex of temples and artifiacts. Some of the most spectacular features in the complex are the beautiful and seemingly endless hallways of artistic renderings of Thai versions of Buddhist lengendry.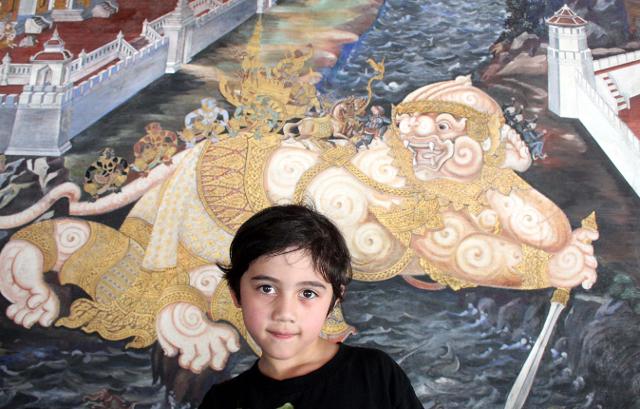 Cokie was amazed with the newly painted murals we saw on our most recent trip there. It is so cool that he is starting to appreciate things at a much higher level. Som has done a great job teaching bits and pieces of Thai lore, and I have actually acquired a pretty good bit of knowledge of Thai history. Together we have fun teaching the boy (and anyone else who will listen) about the places we see.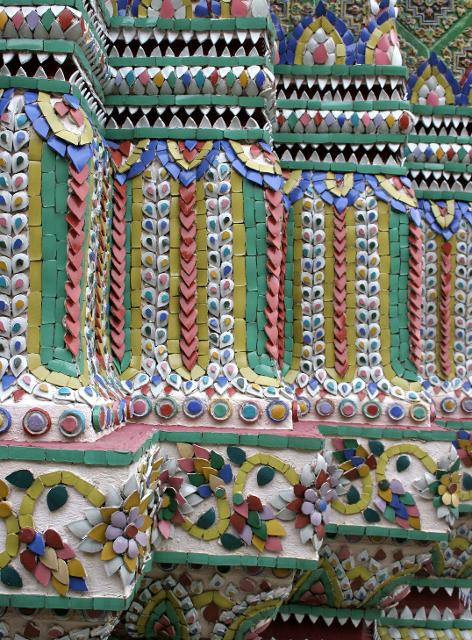 The spectacular tile mosaic facades of Wat Phra Kaew.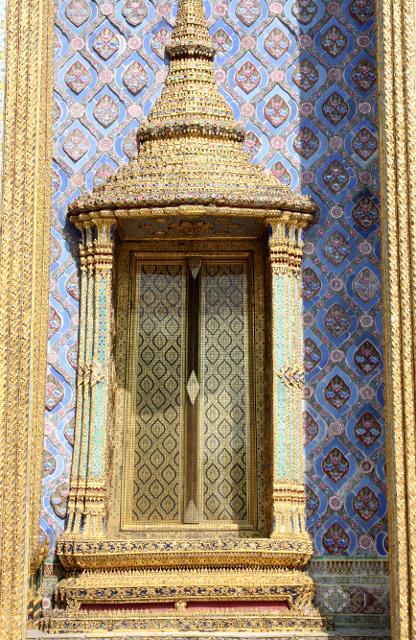 One of the ornate windows of Wat Phra Kaew.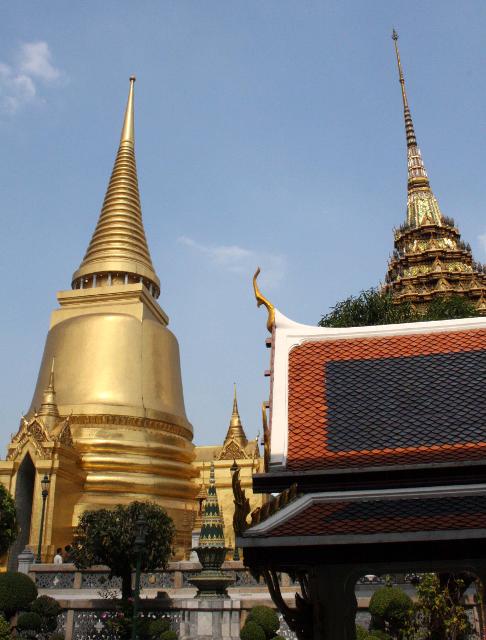 The giant Golden Jedi of Wat Phra Kaew.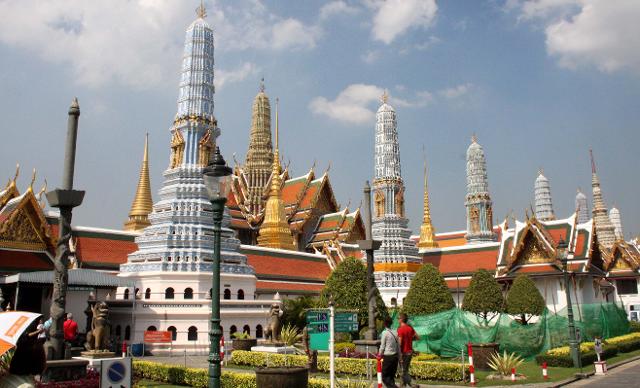 Jedis of the Wat Phra Kaew.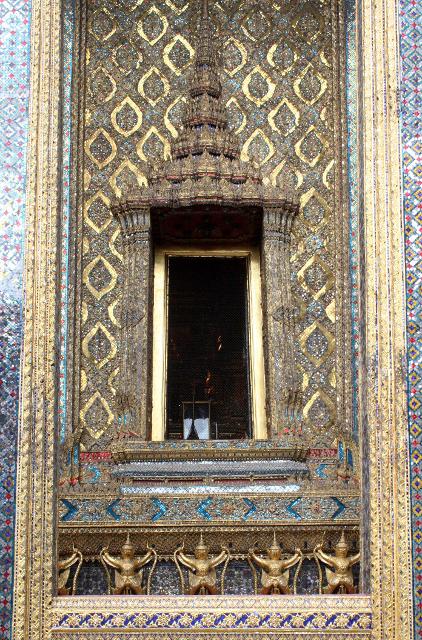 Another ornate window with Garuda.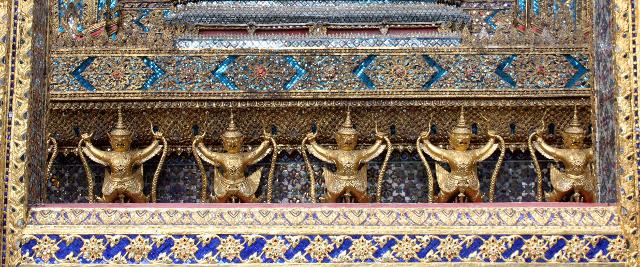 Garuda guardians.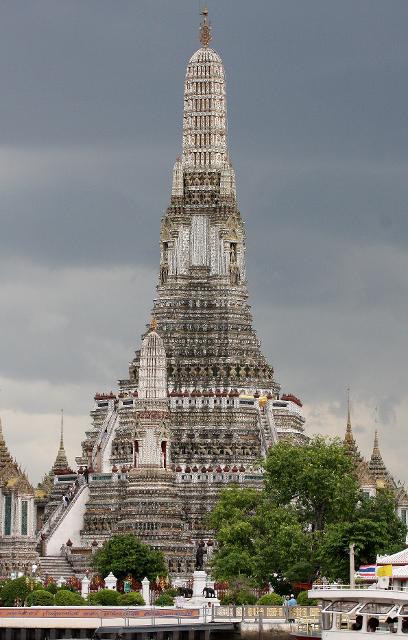 Across the Chao Praya River from Wat Phra Kaew is the spectacular Wat Arun, with its massive and stunning tile-studded jedis.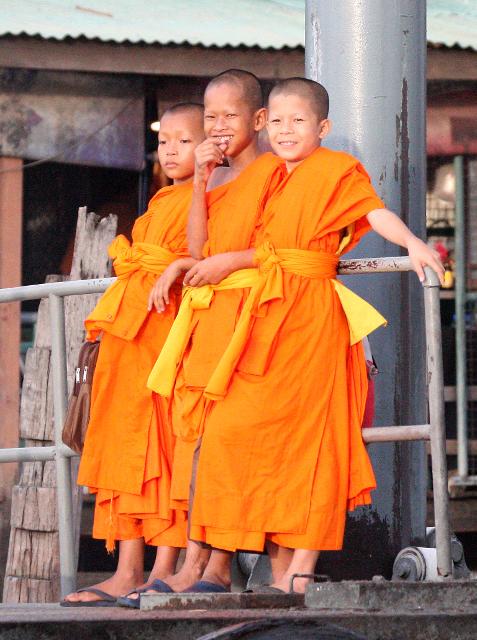 A trio of novice "monks in training" killing some time near Wat Arun.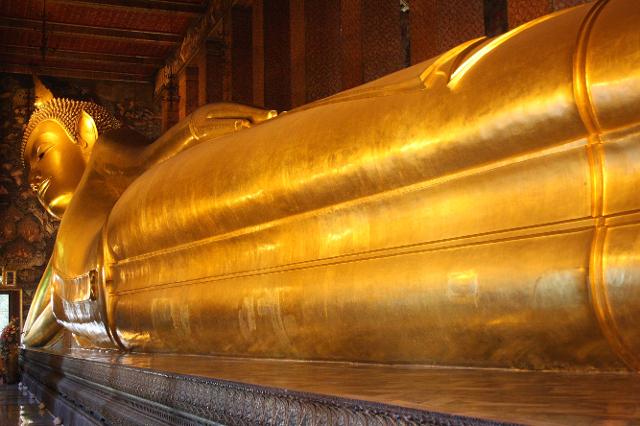 Thailand's largest reclining Buddha in Bangkok's Wat Pho.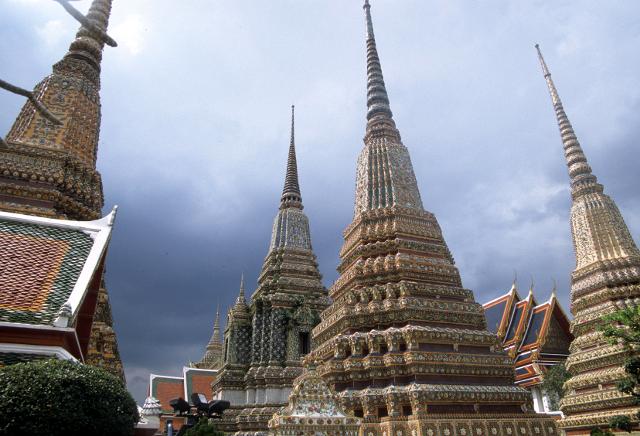 The giant jedis of Wat Pho.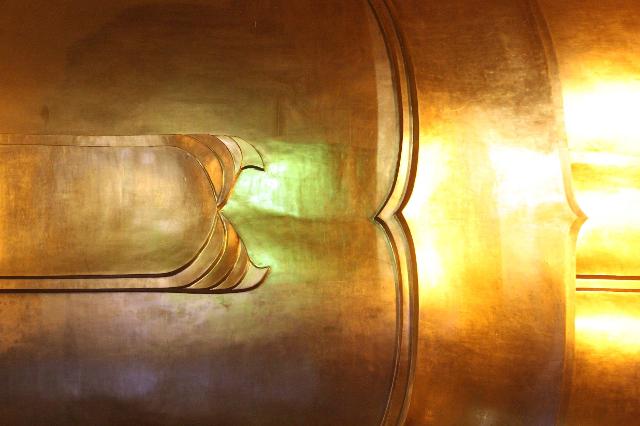 Wat Pho's reclining Buddha.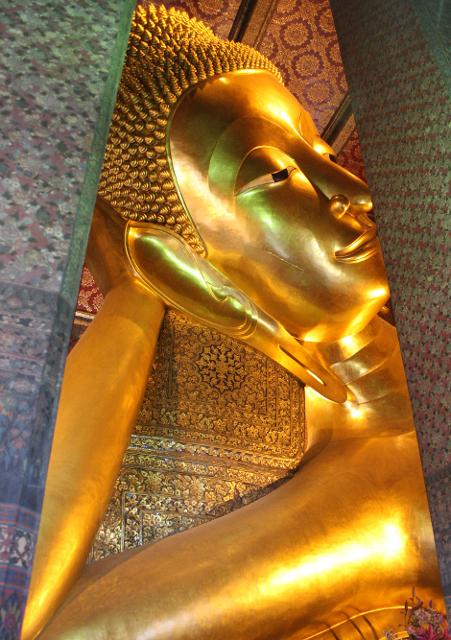 Wat Pho's reclining Buddha.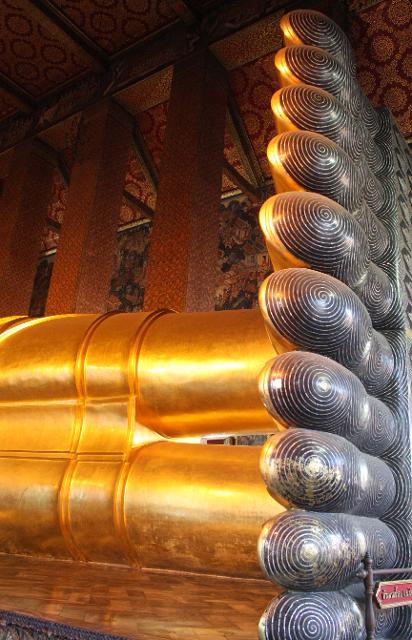 Wat Pho's reclining Buddha with his mother of pearl feet!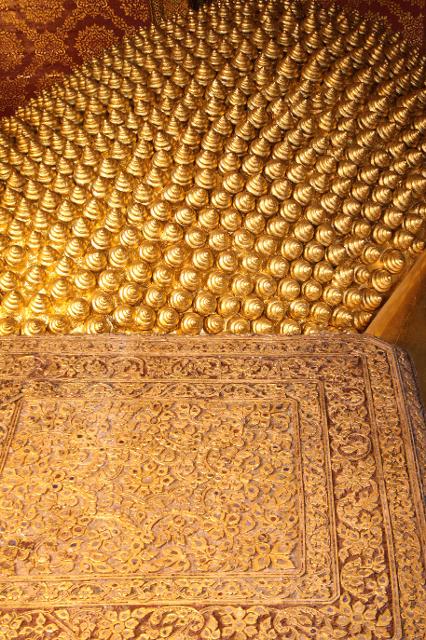 Wat Pho's reclining Buddha.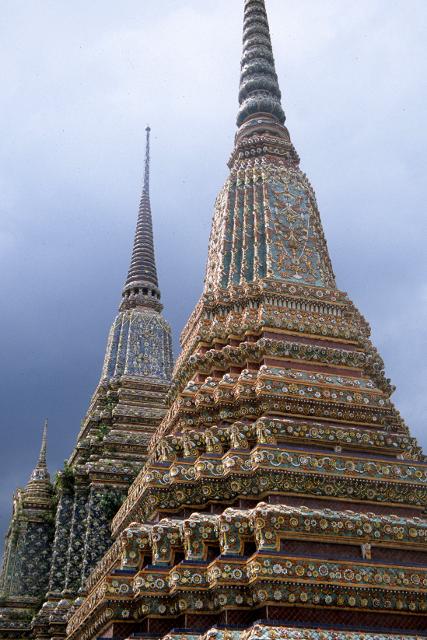 Wat Pho's spectacular jedis right before a downpour!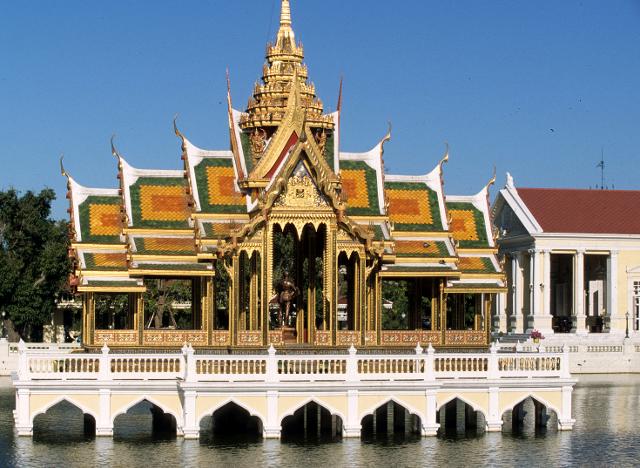 Bang Pa In Palace is about an hour north of Bangkok and is the winter retreat for the King.
Ayutthaya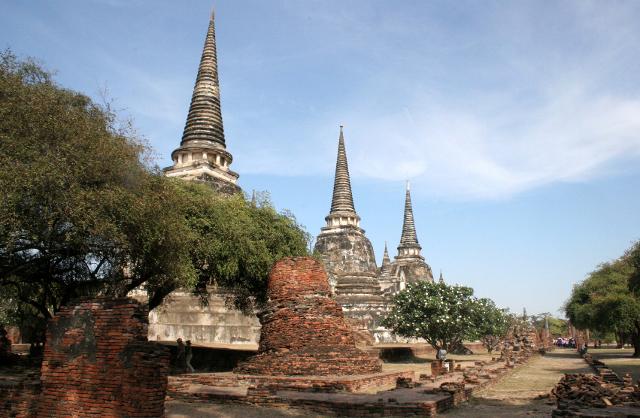 Ayutthaya is one of the more spectacular and important sites in Thailand. Just a couple hours north of Bangkok, Som and I have made it here often and truly enjoy strolling the ruins and temples of the vast city-complex. This is an image of the most impressive of all the sacred sites, Wat Phra Si Sanphet. We have traveled to this amazing temple at least a dozen times over the past few years and are always impressed and never bored!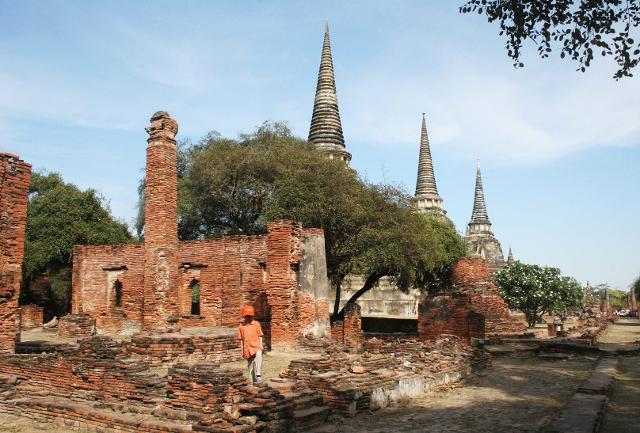 Cokie strolling Wat Phra Si Sanphet.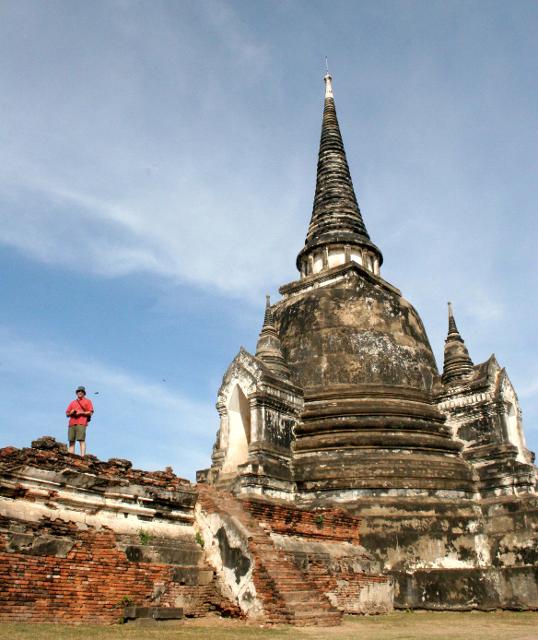 Jeff Clark exploring one of the jedis at Wat Phra Si Sanphet.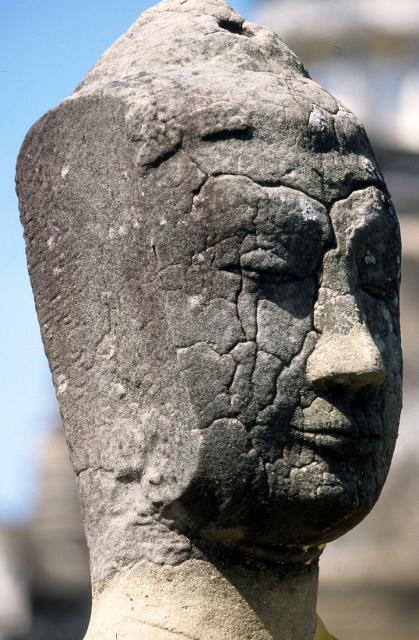 One of the many defaced Buddhas at Wat Phra Si Sanphet. Evidently the Burmese went out of their way to destroy as many Buddhas as possible to show the ultimate in disrespect when they sacked the city in 1767.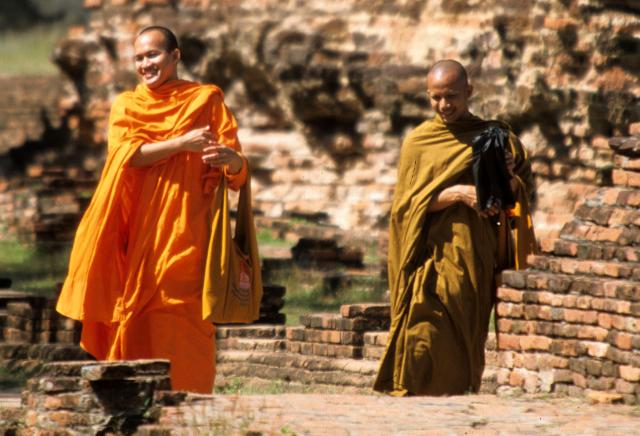 Two monks strolling the grounds of Wat Phra Si Sanphet.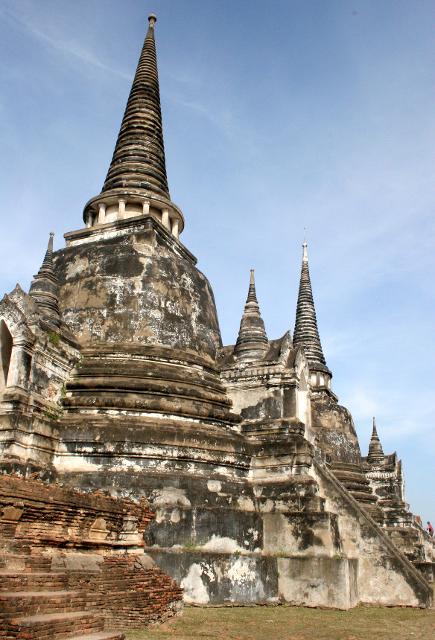 The massive jedis of Wat Phra Si Sanphet.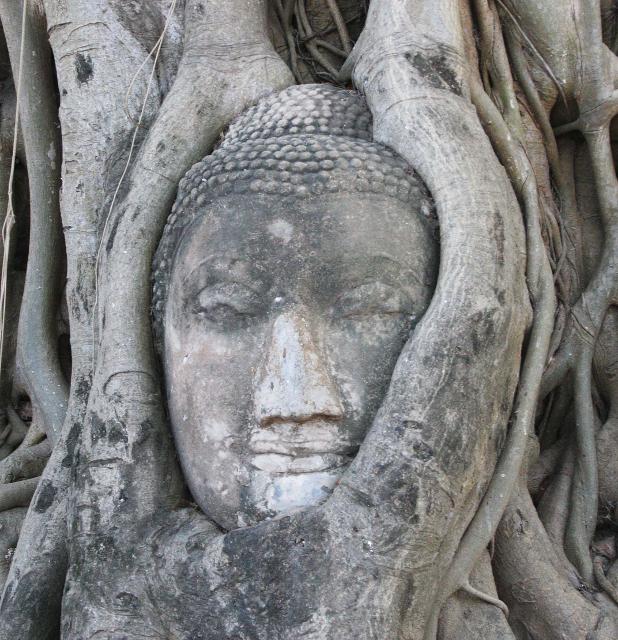 Of all of the sights and artifacts in Ayutthaya, the Ficus-covered Buddha image of Wat Mahathat is my all-time favorite. We always make it a point to stop and see this when we get to town. I will always remember when Som approached the image without lowering her stature in respect, and the guards yelled at her (quite rudely actually - I wonder what Buddha would have thought of this....) to get down! Somehow I think some Thai people completely miss the point of Buddhism.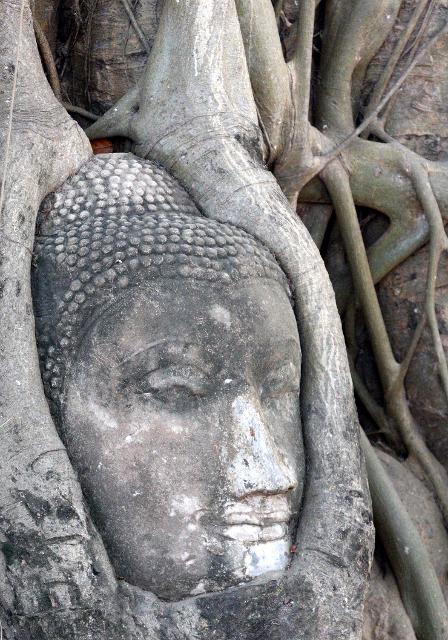 Ficus-covered Buddha image of Wat Mahathat.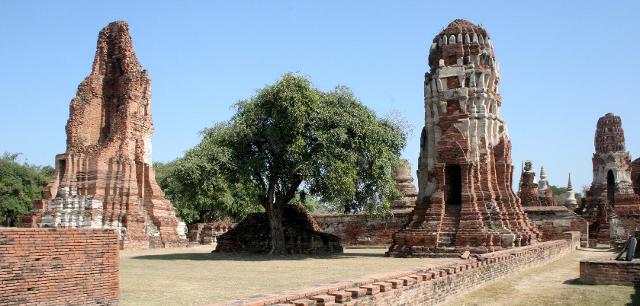 The grounds of Wat Mahathat.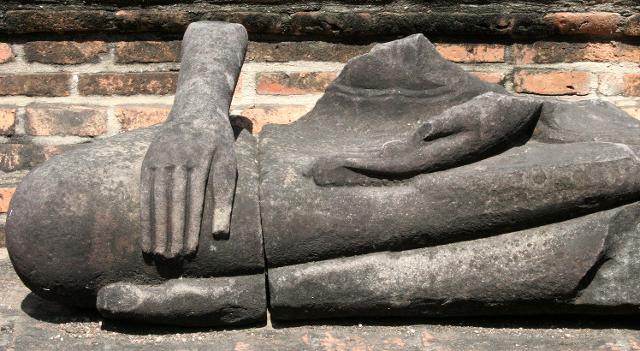 The grounds of Wat Mahathat were also sacked in 1767 by the Burmese.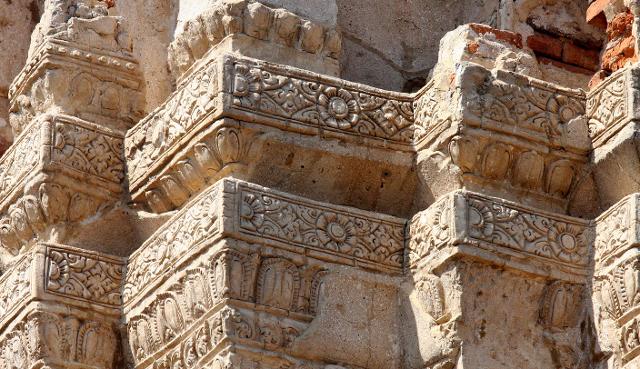 Wat Mahathat still exhibits some of the very fine stucco work that the Thai artisans were capable of hundreds of years ago.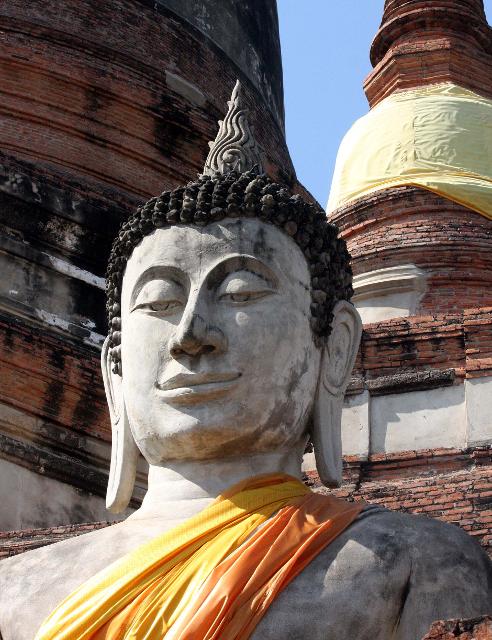 Just south of the main city-temple complex of Ayutthaya is the spectacular Wat Yai Chai Mongkol, where we found hundreds of spectacular Buddha images and nicely restored jedis and gardens. This is arguably one of the more stunning of all the temples in the region.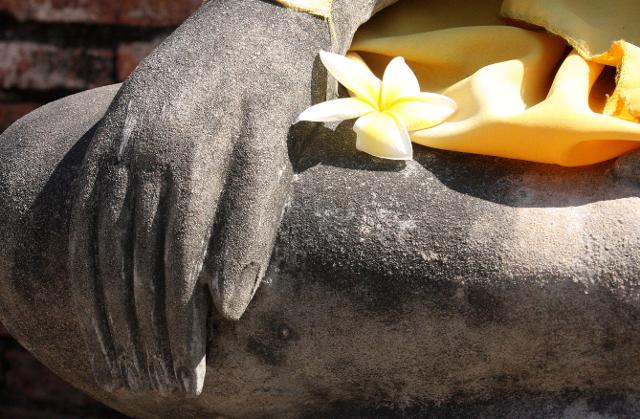 A Buddha image at Wat Yai Chai Mongkol.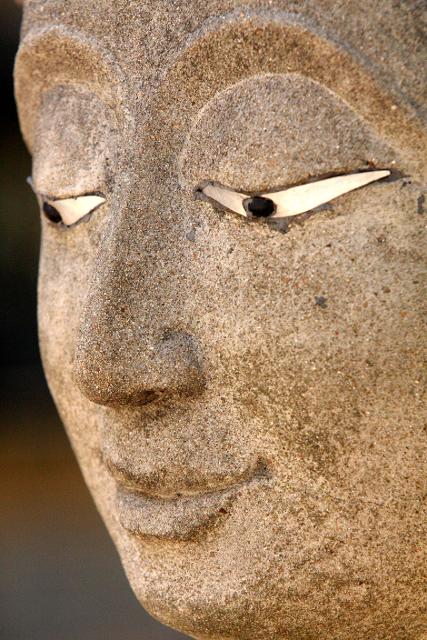 A Buddha image at Wat Yai Chai Mongkol.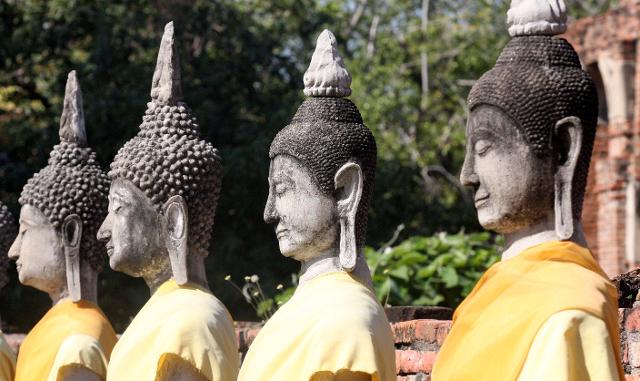 Buddha images at Wat Yai Chai Mongkol.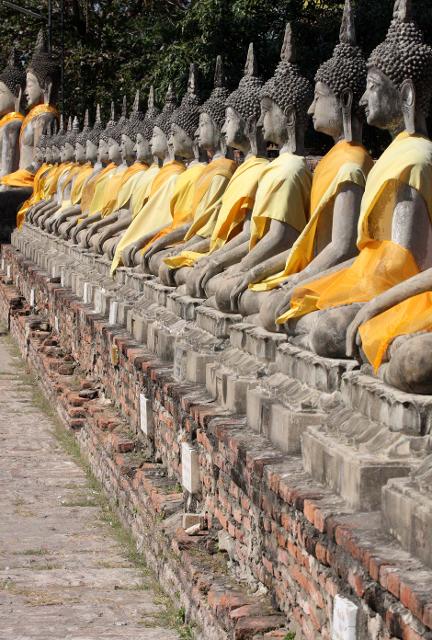 Buddha images at Wat Yai Chai Mongkol.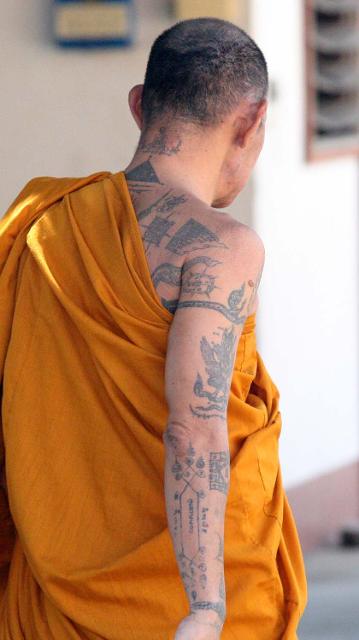 A tatooed monk strolling the grounds of Wat Yai Chai Mongkol.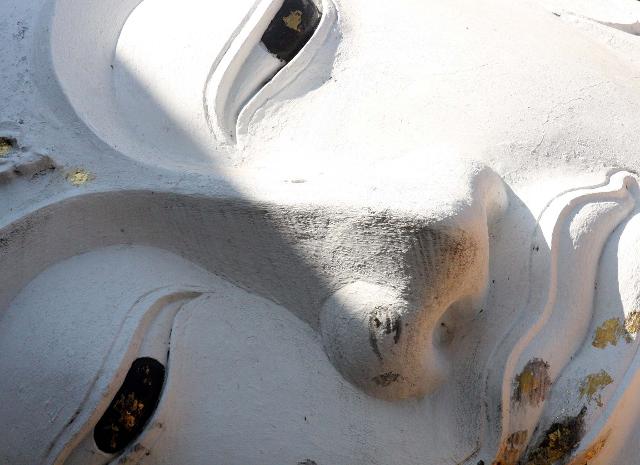 The reclining Buddha image at Wat Yai Chai Mongkol.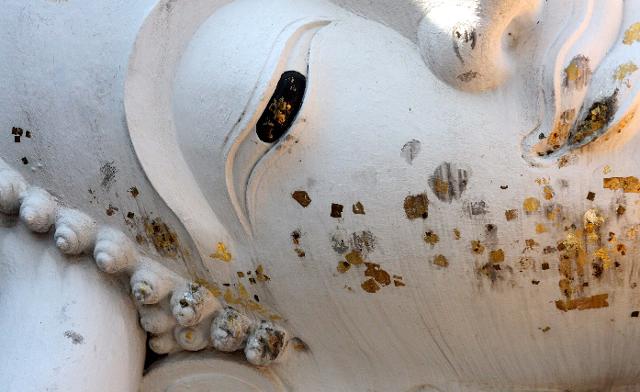 The reclining Buddha image at Wat Yai Chai Mongkol.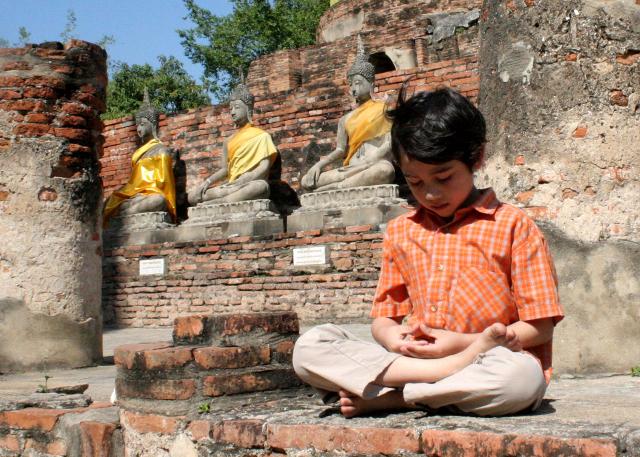 Cokie practicing his meditative prose at Wat Yai Chai Mongkol.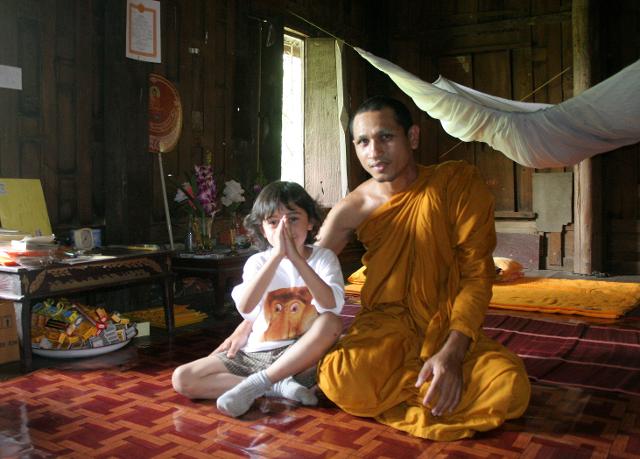 Just south of Ayutthaya, there is a beautiful little temple that no tourist would ever go to. We went there to visit Som's uncle who was a monk there. These images were of him in his room at the temple. We enjoyed our afternoon with him.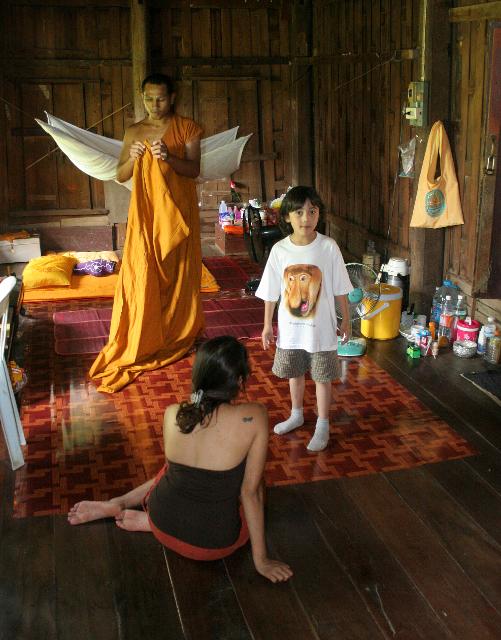 Cokie and Som with uncle Dang near Ayutthaya.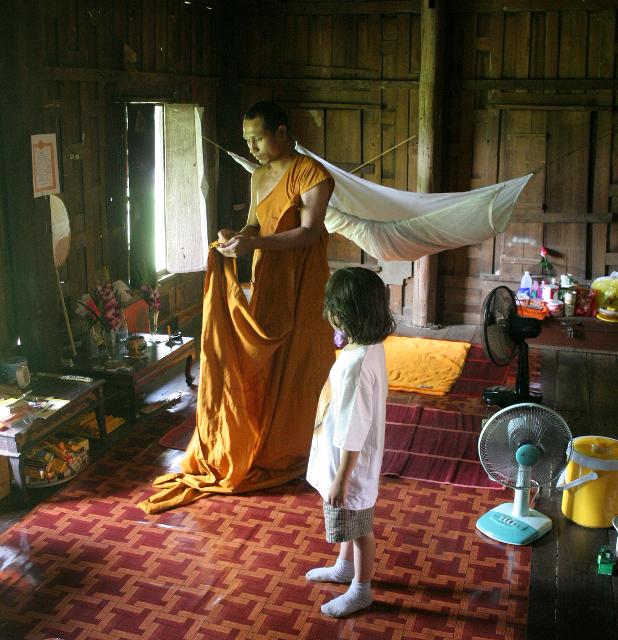 Cokie and Som with uncle Dang near Ayutthaya.
Pimai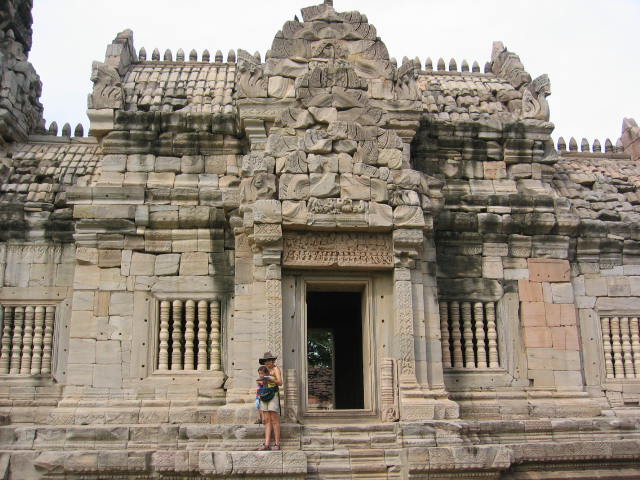 We had to drive pretty far out of the way to see these impressive ruins, but they were absolutely worth it. Pimai is an outstanding example of Angkor-style architecture.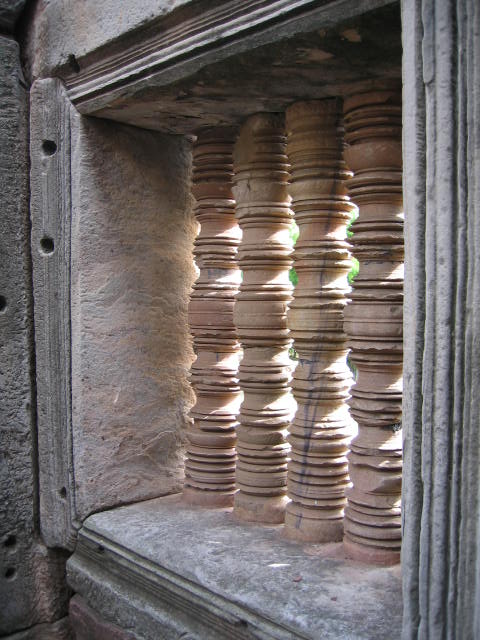 This same year, we all toured Angkor Wat and were very impressed with the similarities between both locations. But as a satellite city of the Angkor empire, it makes sense that Pimai would be so similar.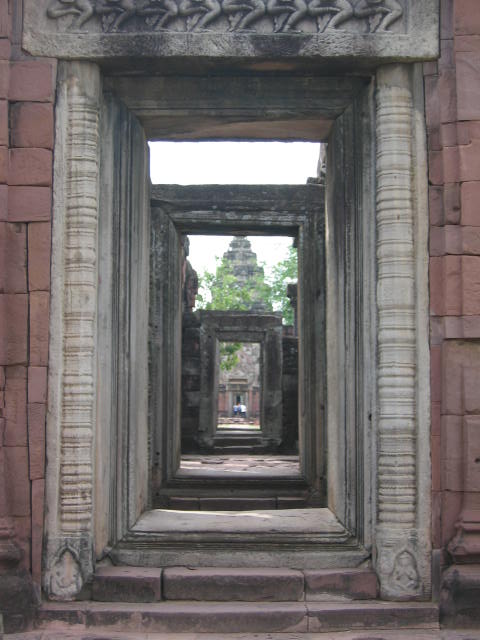 Pimai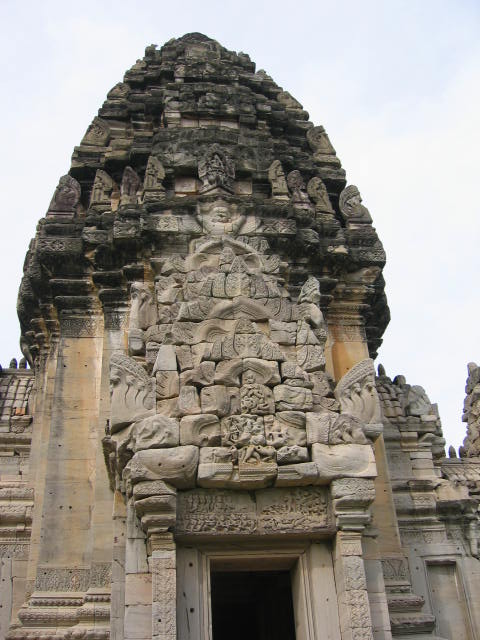 Pimai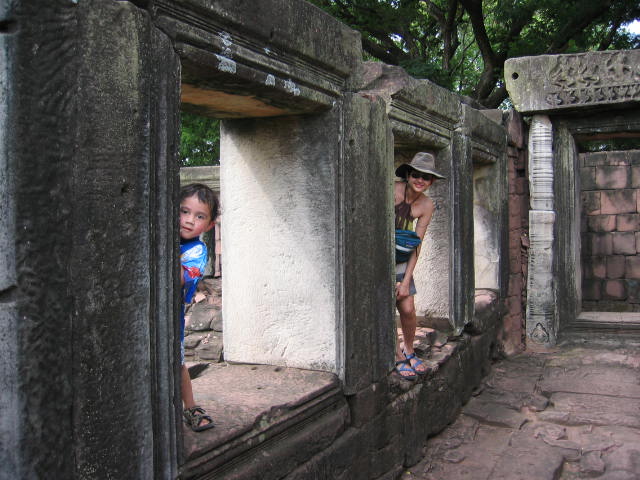 Cokie and Som being goofy at Pimai!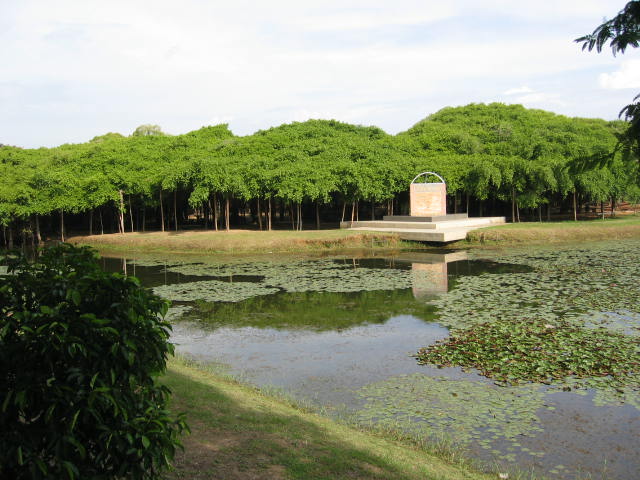 A side attraction in Pimai is the famous Banyan tree there. Initially I was a bit confused by this "forest" as I was finding it difficult to isolate just one big tree. Then I put it together: the entire damn multi-acre forest IS the tree!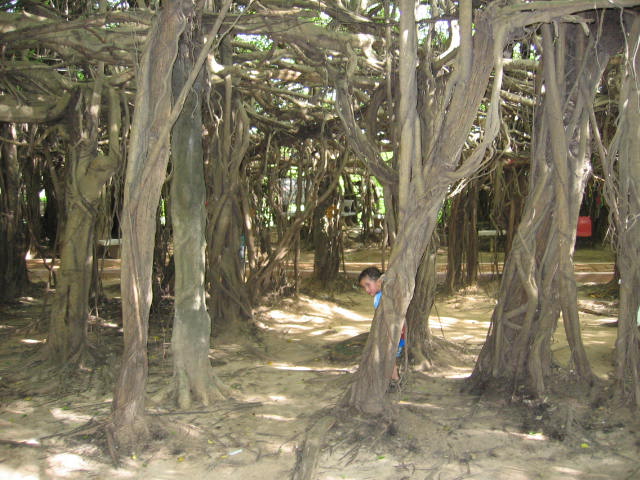 The interior of the Banyan "forest".
Lopburi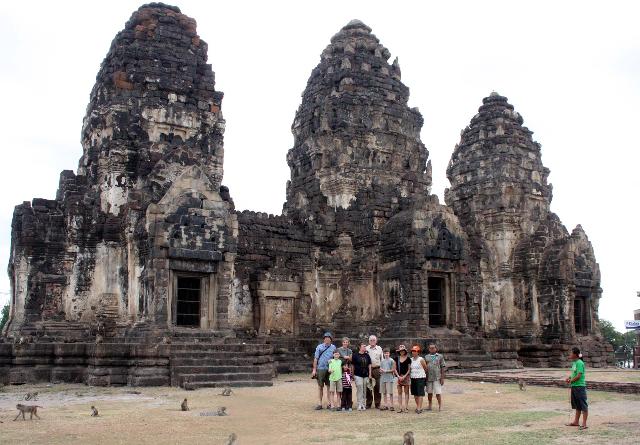 Further to the northeast from Pimai, we came across another Angkor-style temple, the famous Wat Ran Sam Yod in Lopburi. Filled with filthy and nasty long-tailed Macaques, Wat Ran Sam Yod is a great place to visit and we have now been here several times over the years.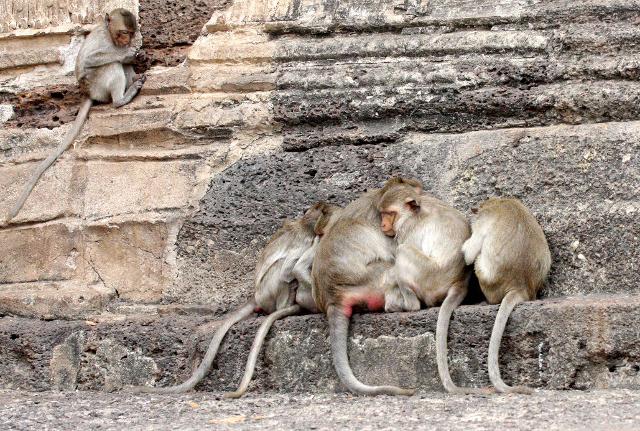 The famous Long-tailed Macaques of Wat Ran Sam Yod in Lopburi.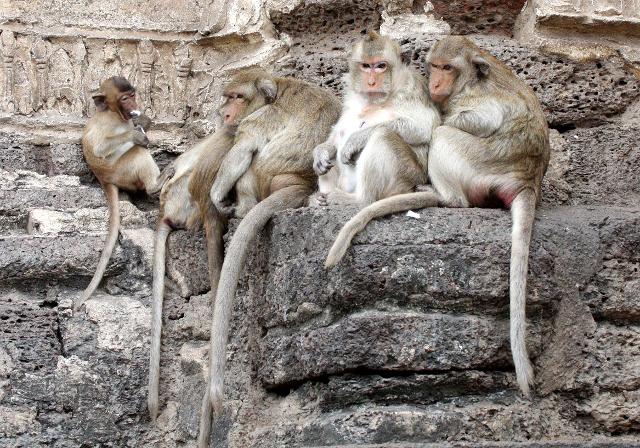 The famous Long-tailed Macaques of Wat Ran Sam Yod in Lopburi.
The famous Long-tailed Macaques of Wat Ran Sam Yod in Lopburi.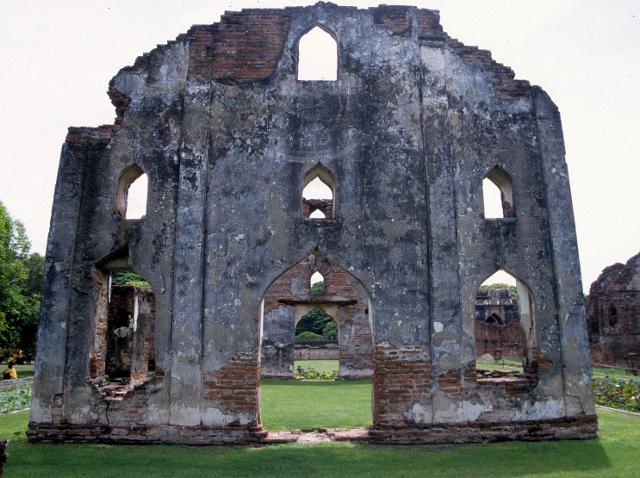 Lopburi is also home to one of the temporary capitals of Thailand. The King Narai Ruins are where this capital was.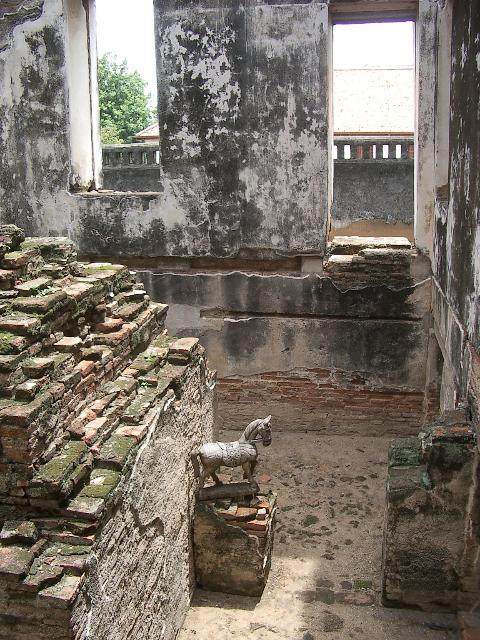 King Narai Ruins
Kampaeng Phet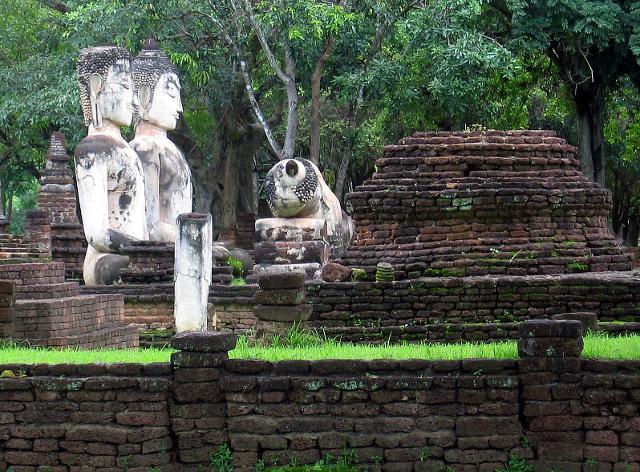 What I like best about the temples and ruins at Kampaeng Phet is that they are well off the beaten path and very few people come to visit or experience them. Consequently they are relatively unrestored compared to such places as Ayutthaya or Sukhothai. In fact, much of the massive complex is still in a forested state. Visiting Kampaeng Phet can be a very serene and relaxing way to spend a few days. And there is a great night market to hang out and get to know the locals!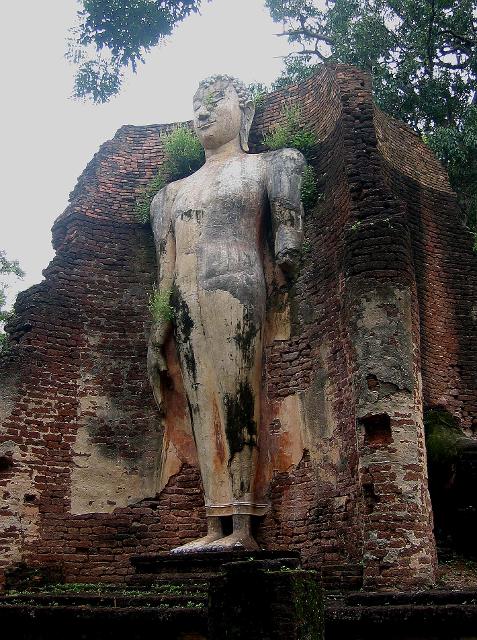 One of the massive Buddha images of Kampaeng Phet.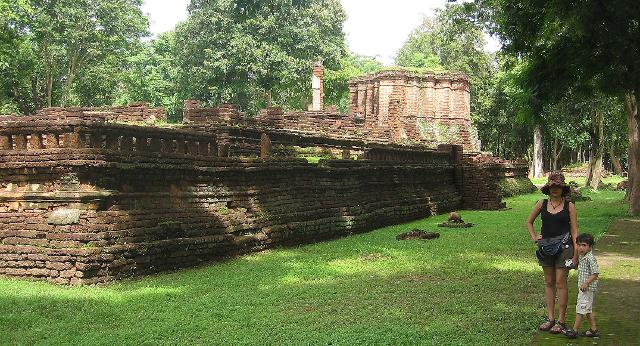 An ancient jedi platform at Kampaeng Phet.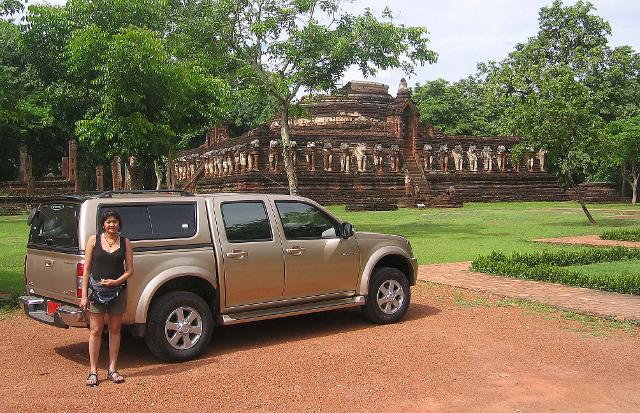 The Elephant Jedi at Kampaeng Phet.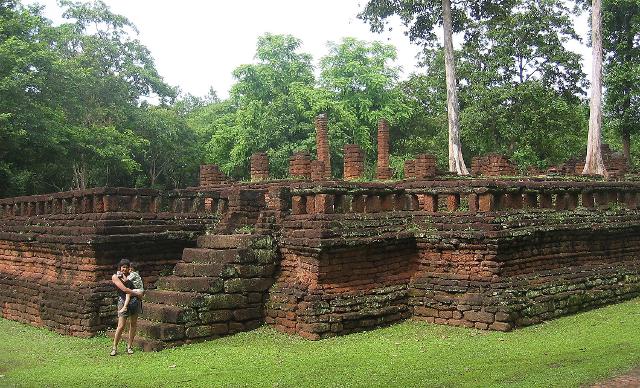 Kampaeng Phet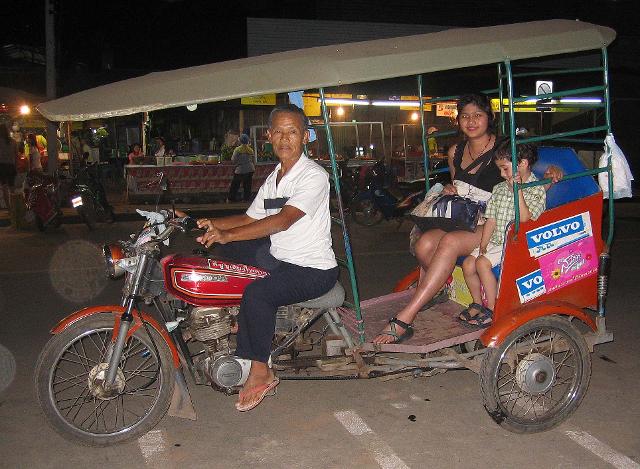 On the way to the night market in Kampaeng Phet. Virtually each town in Thailand has its own unique version of the tuk-tuk! This one is Kampaeng Phet's.
Wat Praputabat: Temple of Buddha's Feet
While I do consider myself a fairly devout Buddhist, I would not say I buy in to some of the silly dogma and superstitions that are part of many Buddhists' belief systems. Wat Praputabat is a classic example. The temple claims that the actual first Buddha walked the earth here and left permanent foot prints on some sacred stones in the interior of the temple on hill in this image. Som and I spent almost an hour staring at the same rocks everyone else was and I sware there are no footprints! While I don't actually deny that the Buddha may have actually walked there, but sacred foot prints?
Nakhon Sawan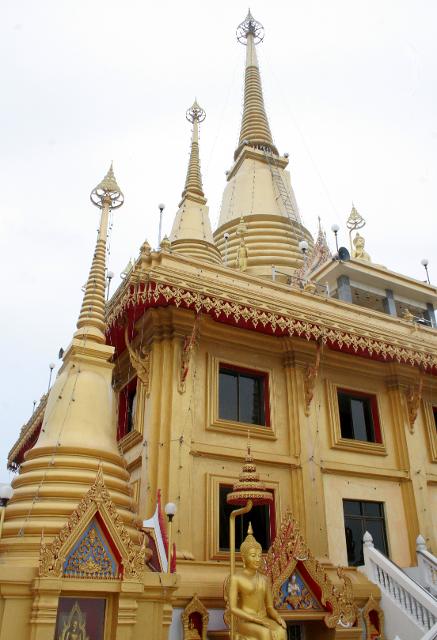 Nakhon Sawan Temple. While this may not be the most famous temple in all of Thailand, its setting on top of the largest mountain for miles gives it some amazing views and makes the temple itself an impressive sight (especially at night) from the surrounding lowlands. It also gives an amazing view of Bueng Boraphet Wetlands to the east.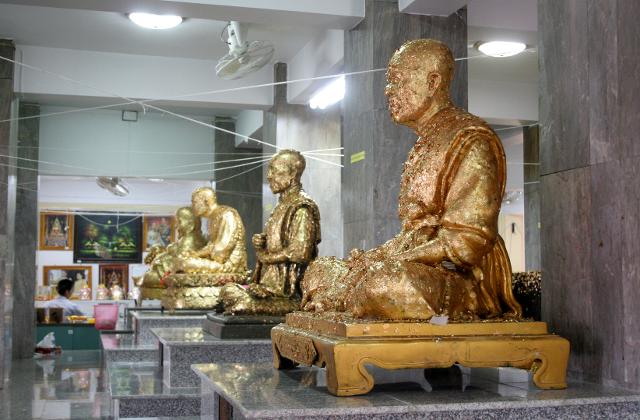 The sacred Buddhas of Nakhon Sawan Temple.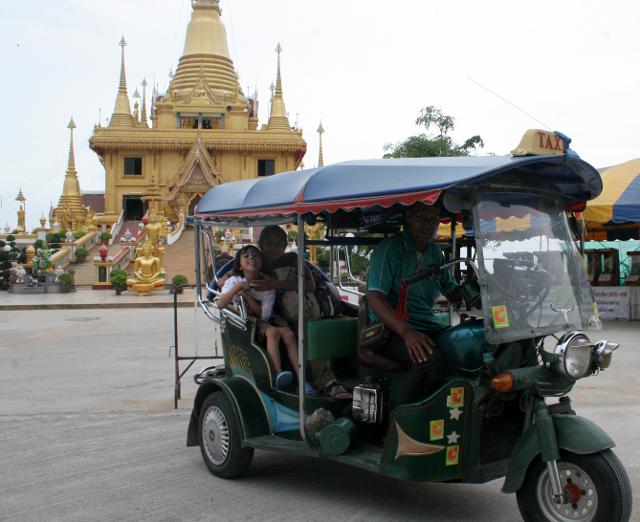 My weight just about burned up the engine of this Nakhon Sawan-style tuk-tuk as we drove the three+ kilometers straight up the temple's mountain.
Lampang Luang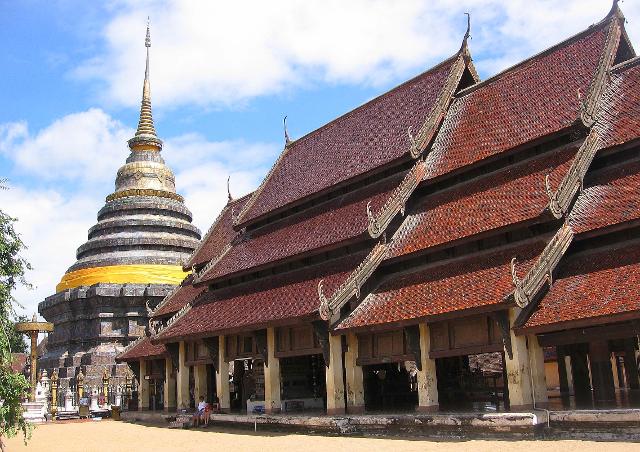 There is no doubt that my favorite temple in all of Thailand is Wat Phra That Lampang Luang. One of the oldest wooden structures left in Thailand (parts are over 1000+ years old), this spectacular temple is far off the tourist track, but that doesn't mean that it is without visitors. Lampang Luang is a favorite pilgrimage site for many dedicated Thai Buddhists. The crowds found here during the New Year are overwhelming but fascinating.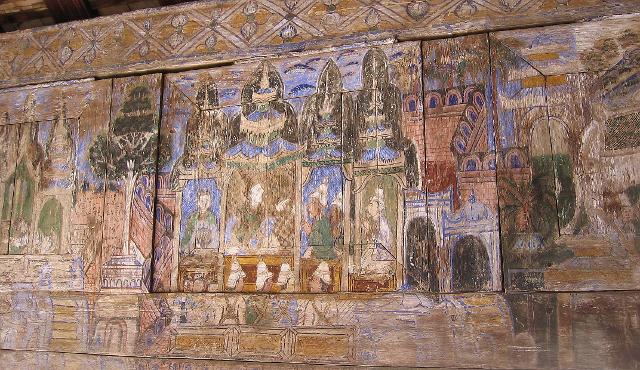 The murals here are original and hundreds of years old.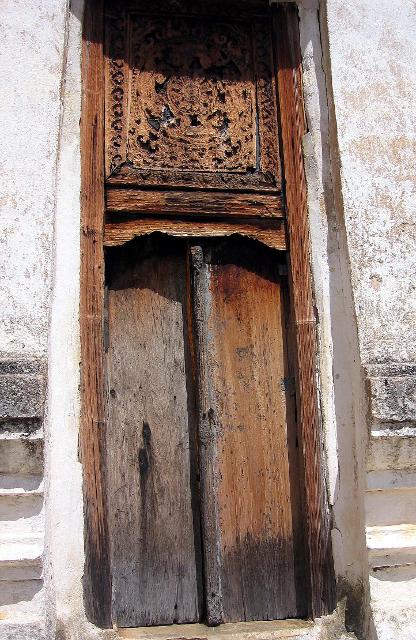 Only men are allowed in here. A small hole in the door creates a simple lens that acts like a real lens in that it takes actual images from outside and reverses them so they can be seen on a sheet strung across the interior of the building.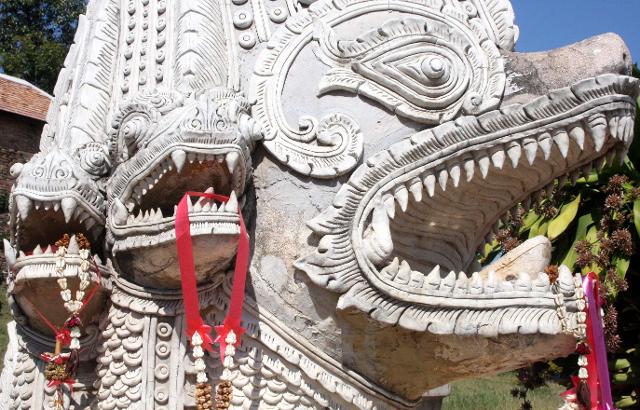 One of the guardian dragons of Wat Phra That Lampang Luang.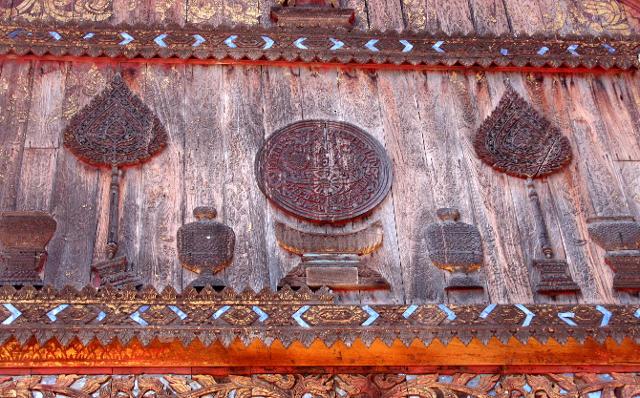 The spectacular woodwork of Wat Phra That Lampang Luang.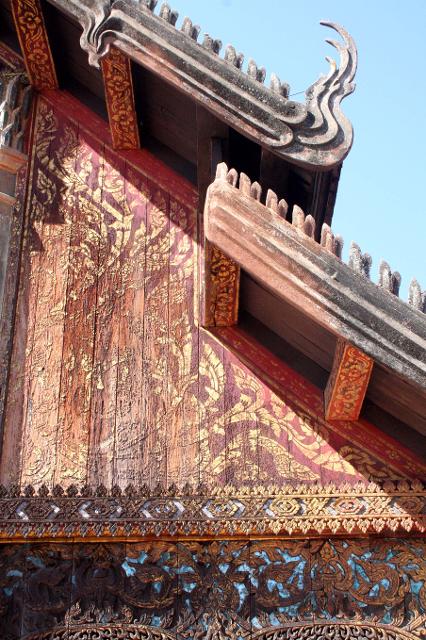 Wat Phra That Lampang Luang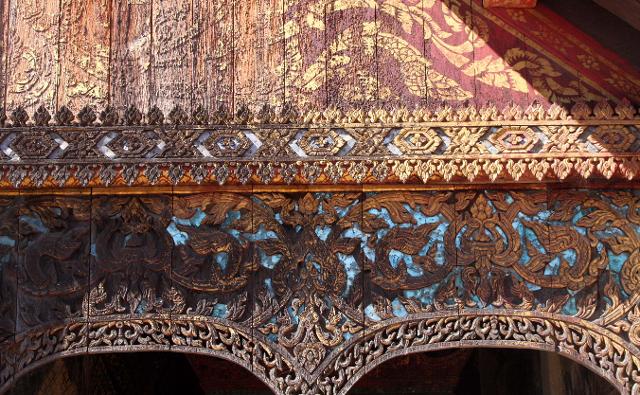 Wat Phra That Lampang Luang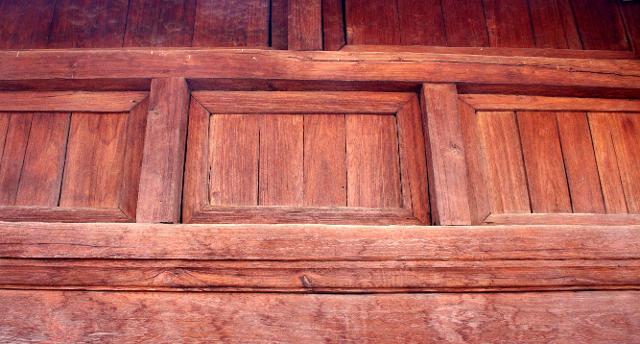 Wat Phra That Lampang Luang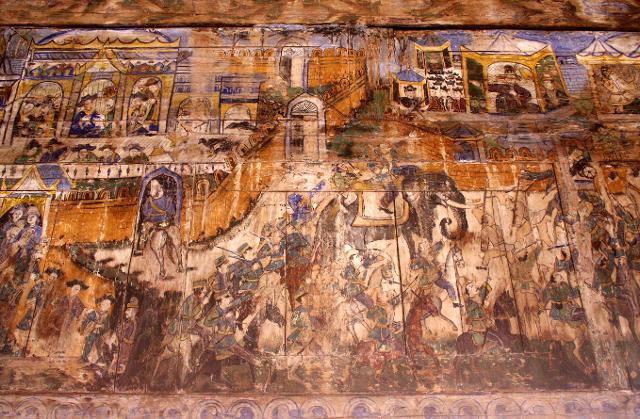 Wat Phra That Lampang Luang
Sukhothai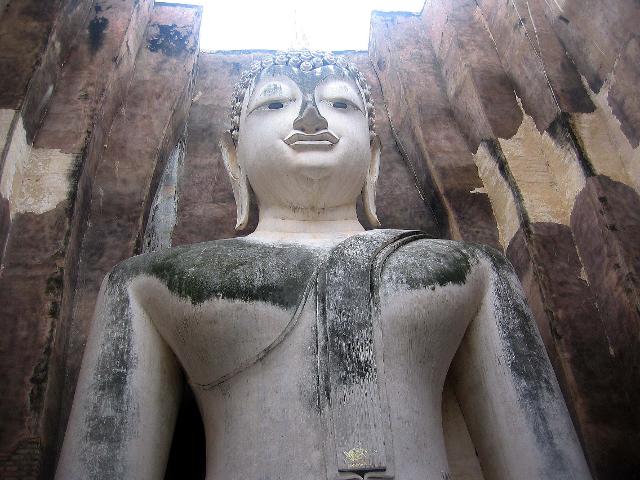 Sukhothai is the oldest and the original capital of Thailand. It is another example of a sprawling temple-city complex that stretches for miles in all directions. We have explored this amazing city almost yearly since 2003, and will continue visiting it as often as we are able. Although there are times of the year when we have come across some massive crowds, we have also had many instances when we have basically owned the entire city! We found long ago that the best time to go is in the late afternoon when the crowds are gone, the temperatures have cooled and the lighting on the ancient ruins, Buddhas and temples is sublime. This is the famous (and I think most spectacular) Wat Si Chum.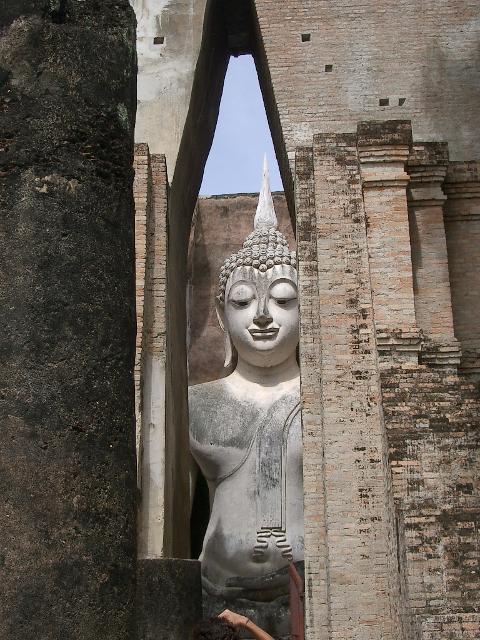 Wat Si Chum-so picturesque!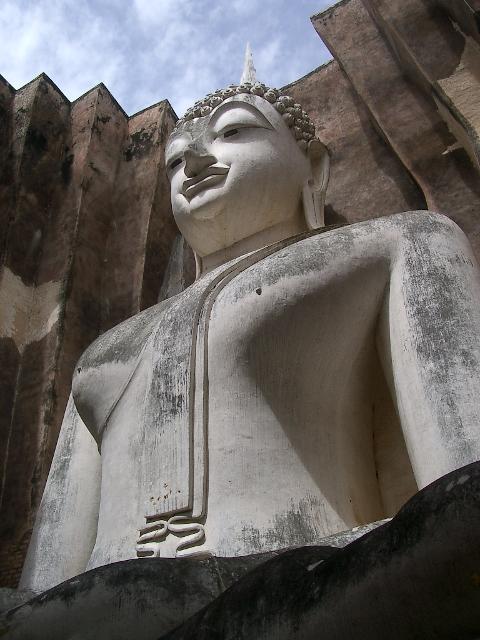 Wat Si Chum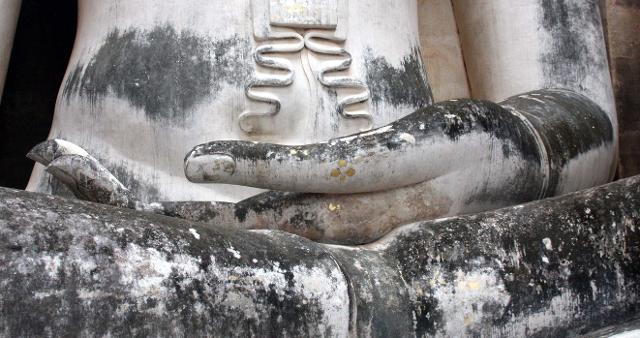 Wat Si Chum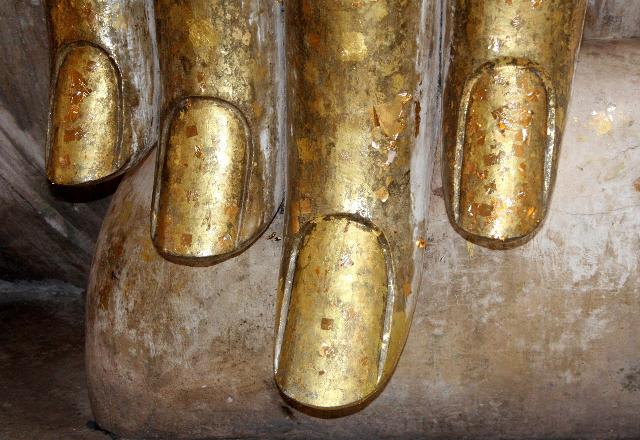 Wat Si Chum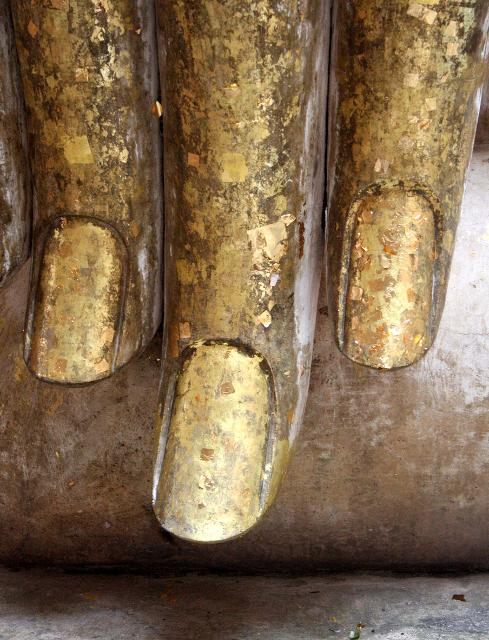 Wat Si Chum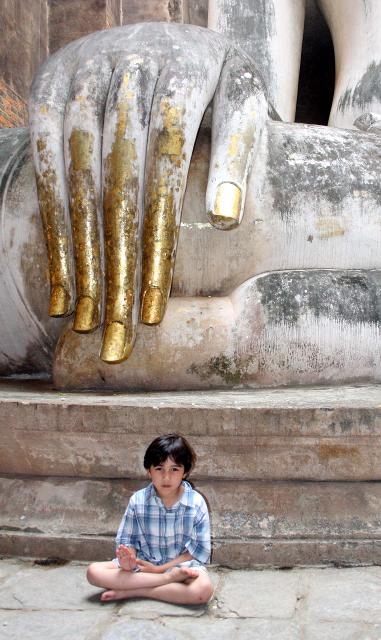 Even Cokie gets in to these places! He really loves to meditate (or at least pretend he is meditating) at the temples. I really believe he has an innate Buddha-ness about him.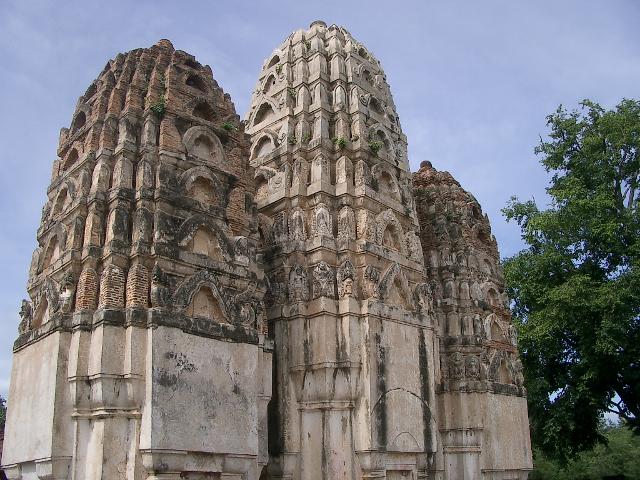 The famous "Corn Cob" temple. Wat Si Sawai has a definitively Hindu style.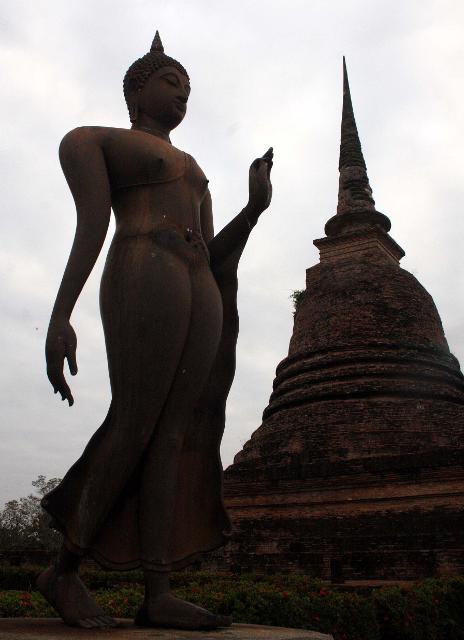 Wat Sa Si provides perhaps the best example of the quintessential Sukhothai style walking Buddha.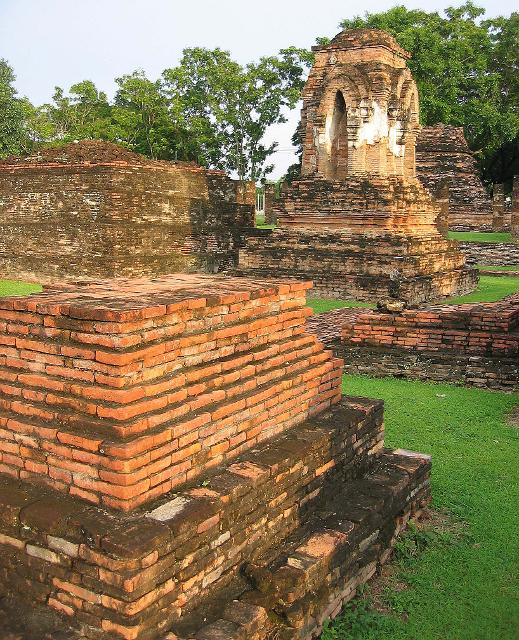 The main complex of Wat Mahathat is the most visited site in all of Sukhothai.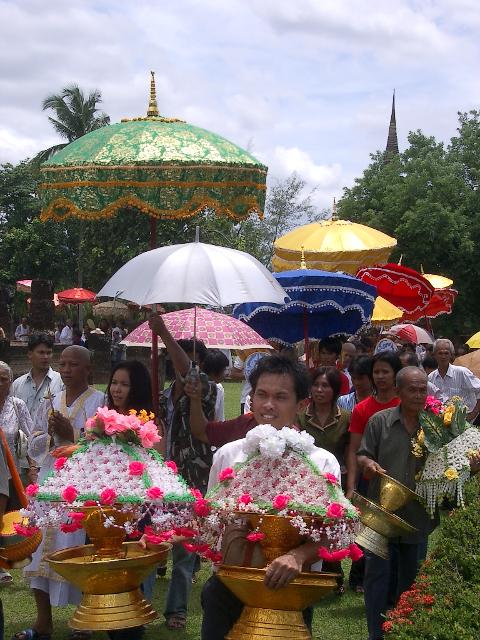 Wat Mahathat is a very busy place on holidays like the Queen's birthday. On this day, literally thousands of young men will become monks on the grounds of Wat Mahathat in Sukhothai. It really is a sight to see!
Sri Satchanalai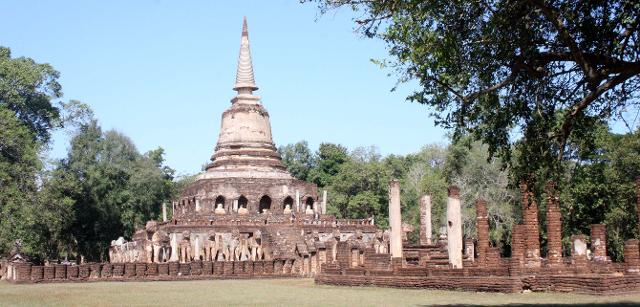 A couple hours north of Sukhothai is another phenomenal temple city. Sri Satchanalai is a spectacular complex which was a contemporary of Sukhothai. I believe that it was the city given to a prince of one of kings of Sukhothai.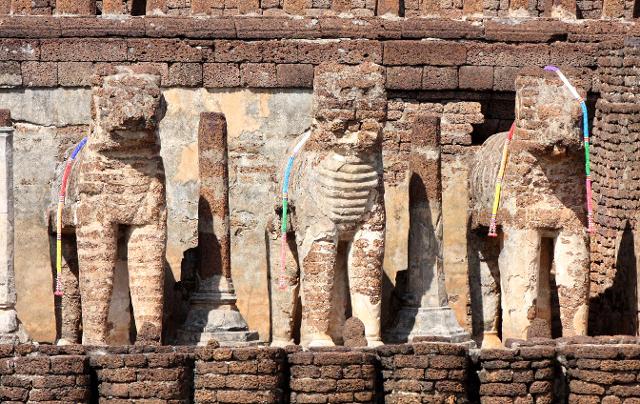 One of the things I like the most about Sri Satchanalai is the relatively unrestored nature of the grounds and the various temples.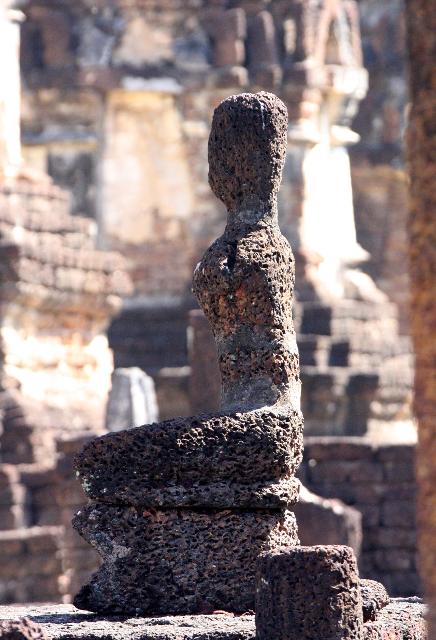 The original stucco facade of this Buddha image has long since worn away at Wat Chedi Chet Thaew in Sre Satchanalai.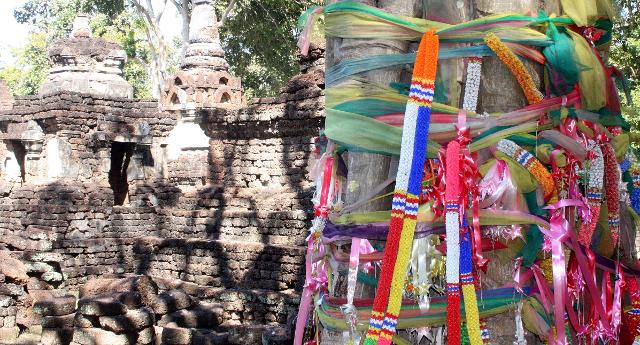 Ribbons covering a sacred Ficus at Wat Chedi Chet Thaew in Sre Satchanalai.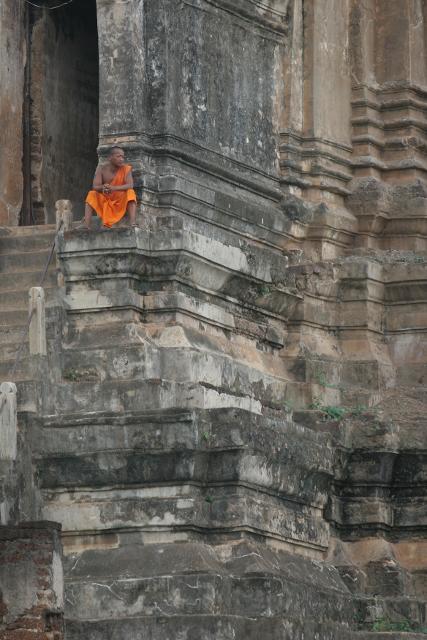 Wat Mahathat in southern Sri Satchanalai is still a functioning monastery. This monk is taking a break from his long trek up the stairs of the massive jedi there,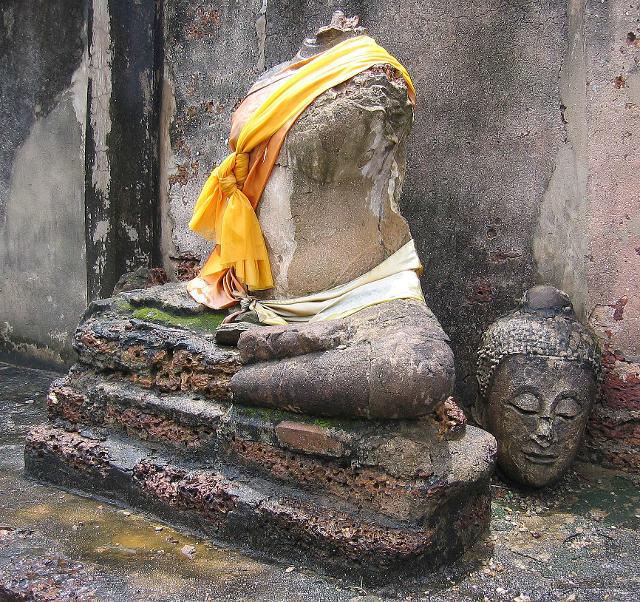 One of the more spectacular Buddha images of Wat Mahathat.
Temple South of Chiang Mai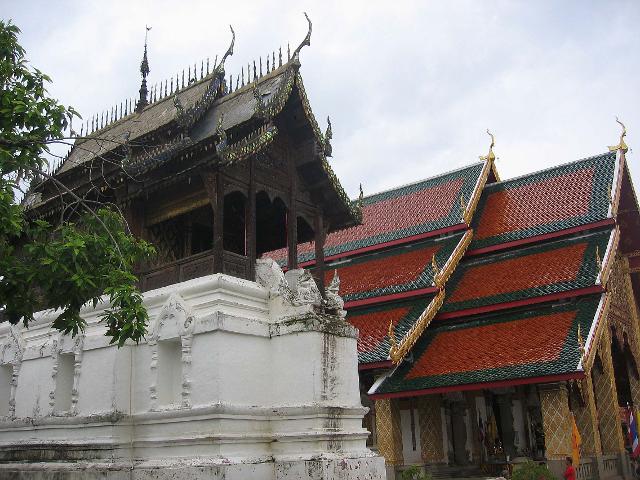 What I love about Chiang Mai is the diversity of activities we can participate in. In a week there you can visit remote hill tribes, explore world class museums, have and amazing nightlife, shop til' you drop, or visit some of the most impressive temples in Thailand. This one is Wat Phra That Sri Chom Thong which is found about an hour south of Chiang Mai and is one of the regions most spectacular.
Chiang Mai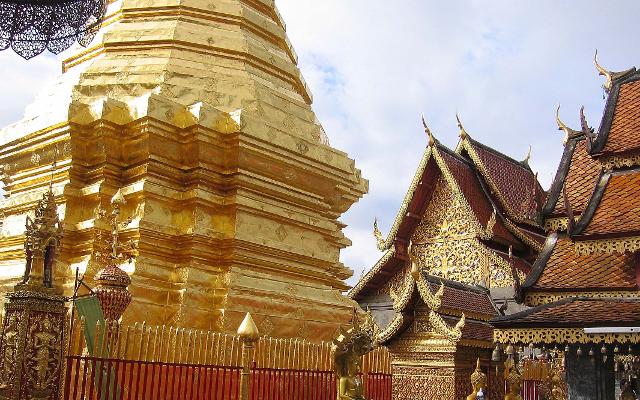 \
There is little doubt that Wat Doi Suthep is the most impressive and spectacular temple in Chiang Mai. The setting of this magnificent golden temple is atop the tallest mountain surrounding the Ping River Valley. Legend has it that the site was chosen by a white elephant that was followed by a monk many hundreds of years ago. Where the white elephant died, the monk built this temple.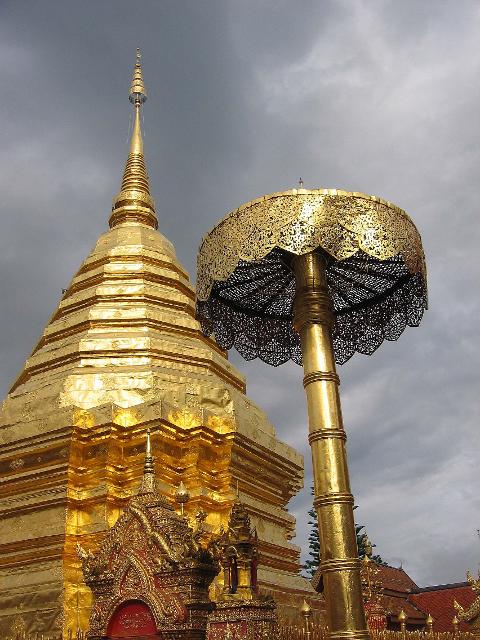 Wat Doi Suthep. Lots of gold!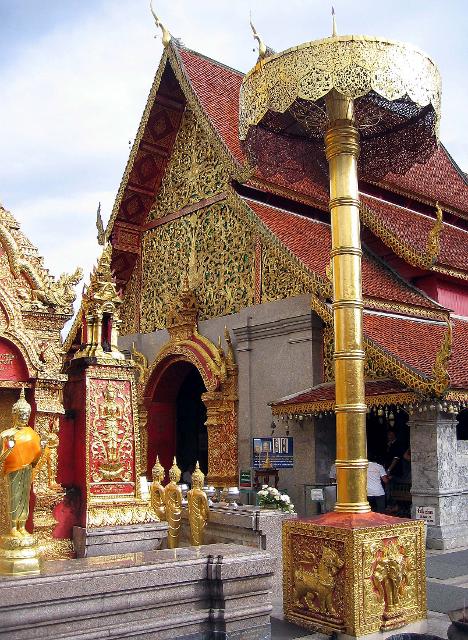 Wat Doi Suthep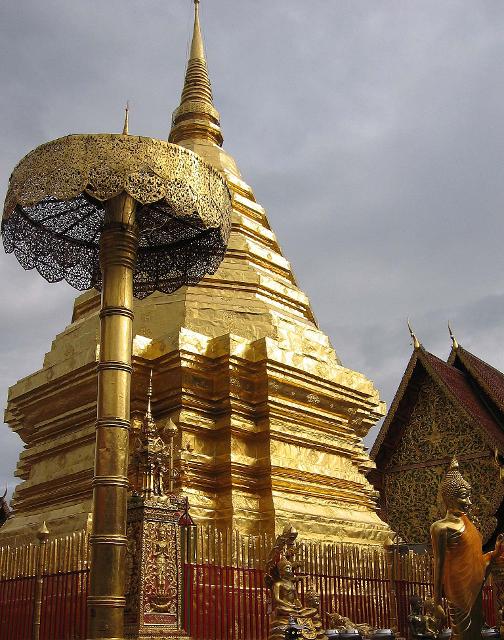 Wat Doi Suthep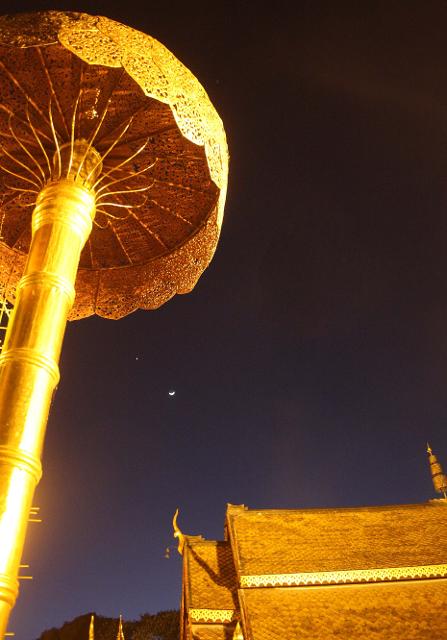 Wat Doi Suthep at night.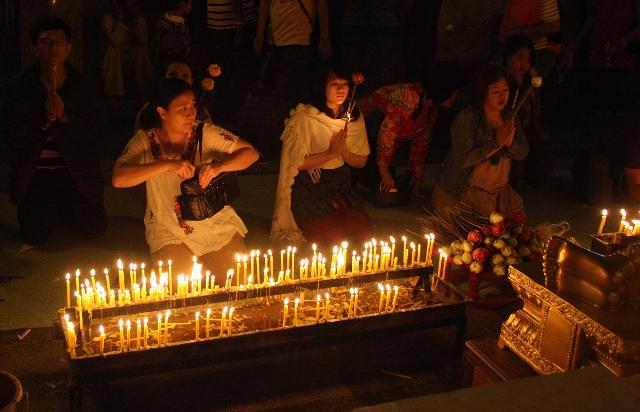 Wat Doi Suthep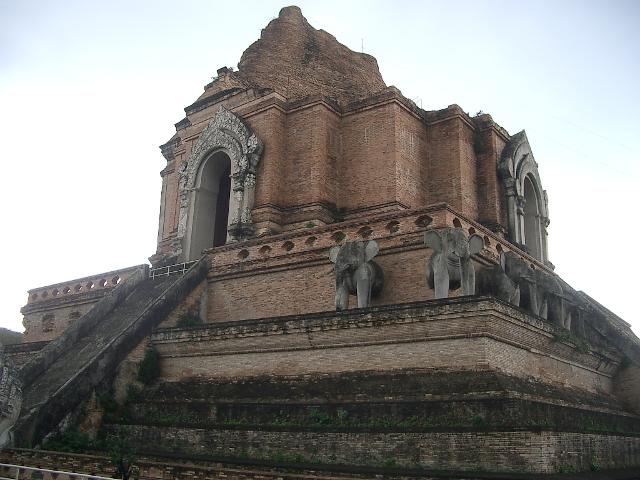 There are literally hundreds of smaller temples in Chiang Mai, and we have visited a fair number of them! One of my favorites in the city is Wat Jedi Luang located in the center of town. I love the ruins of the massive jedit that once adorned this impressive temple.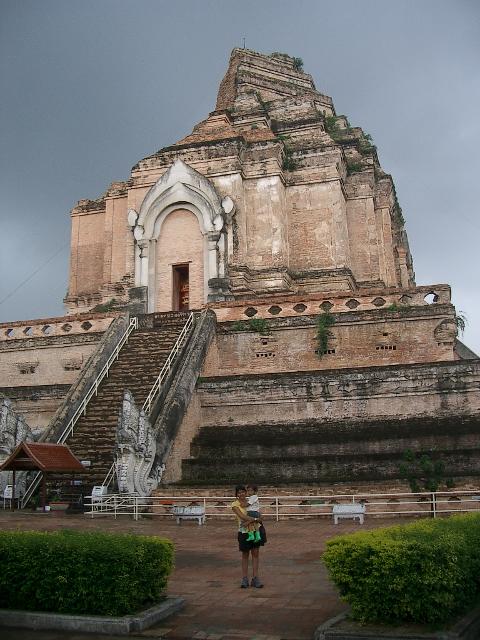 Cokie and Som at Wat Jedi Luang.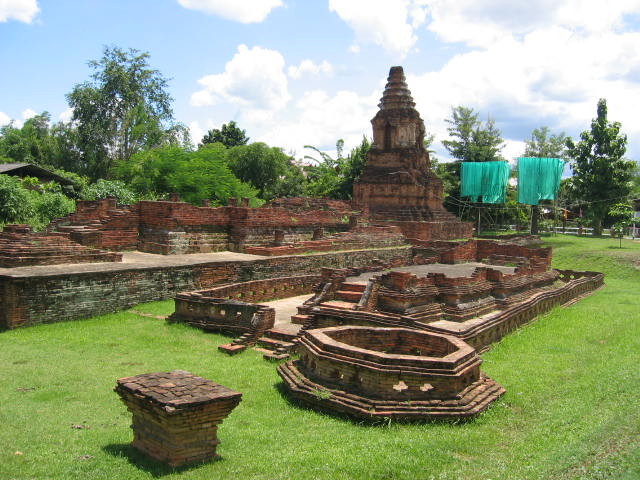 Chiang Mai actually had its start quite a bit south of its current location. Not many people know about this location as it is well off the typical tourist track. Wiang Kum Kam is a spectacular series of ancient ruins that runs through some nice upscale neighborhoods.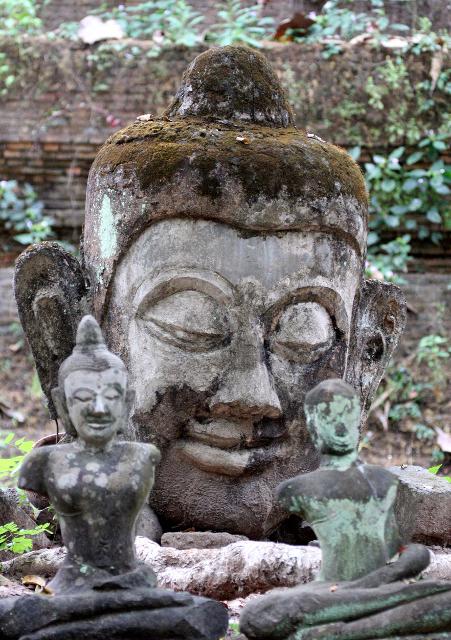 Wat Umon is another rarely visited temple. Situated in some of the last forested areas of the region, Wat Umon is splendidly situated among the trees and forest and is home to thousands of damaged Buddha images that people have been depositing on the forest floor there for years. The temple grounds are vast, covering tens of square miles, and are home to a wide variety of native fauna such as Hog Dear, Eld's Deer, Banteng and many more species.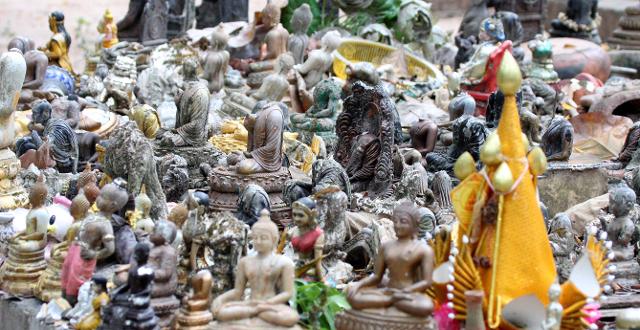 The damaged Buddha images on the forest floor of Wat Umon.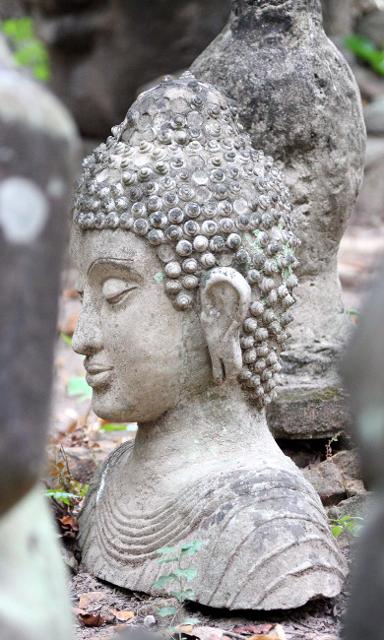 Another damaged Buddha image.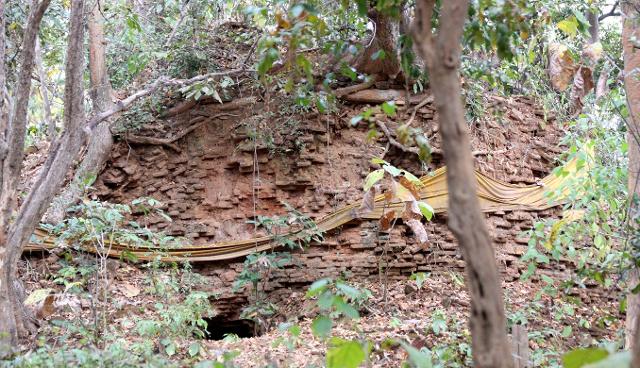 Throughout the forest are many unrestored jedis and ruins. This place seems like it would be an archaeologist's paradise!
Chiang Rai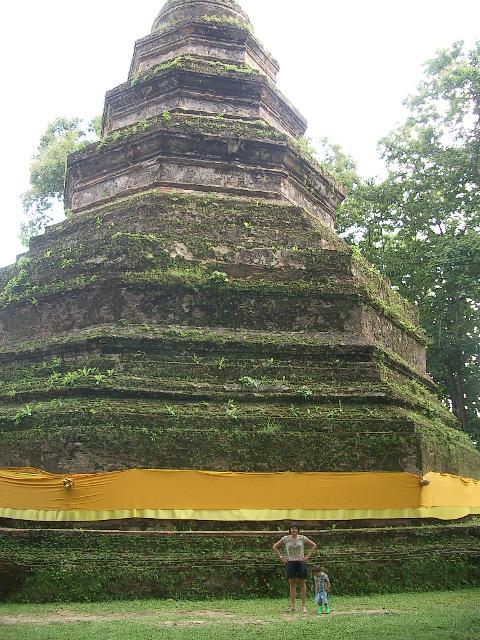 A jedi near the Golden Triangle about two hours from Chiang Rai. One day I will research the name of this impressive temple and the temple-city complex it was found in. All I know is that it was truly spectacular! Many of the ruins of this area were still covered with flood sediments from the hundreds of floods of the nearby Mekong River over the ages.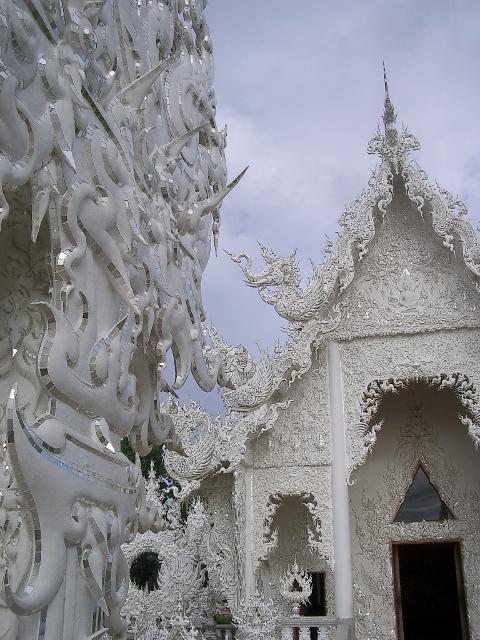 Wat Rong Khun north of Chiang Rai is a spectacular new temple. Although there is little that is historically or culturally noteworthy to this temple, the unbelievably beautiful architecture made our visit very worthwhile!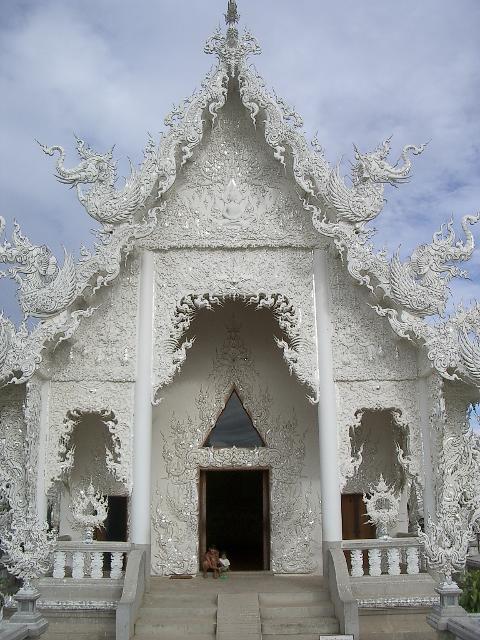 Wat Rong Khun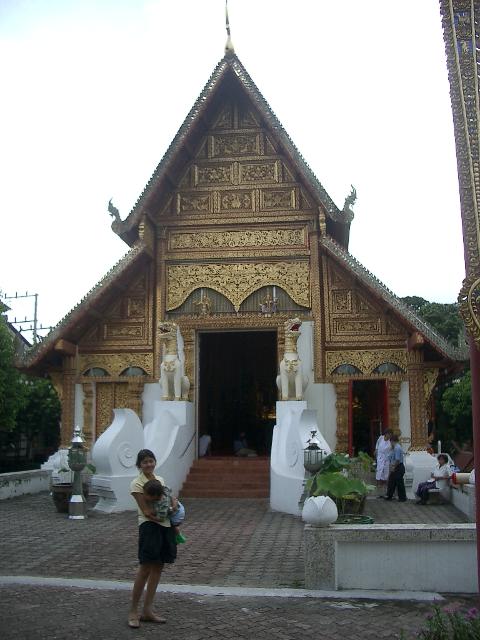 Wat Phra Singh is one of Chiang Mai's most important temples. Once the temporary home to the famous Jade Buddha image (now in its Bangkok Wat Phra Kaew home), the temple still houses a beautiful facsimile. One of our sub-themes of the temple-themed tour of 2003 was to follow and trace the steps of the Jade Buddha during its "tour of Thailand"!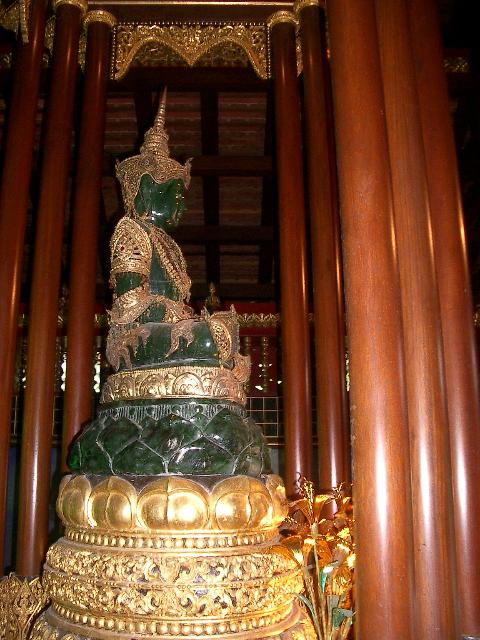 Wat Phra Kaew's Jade Buddha facsimile.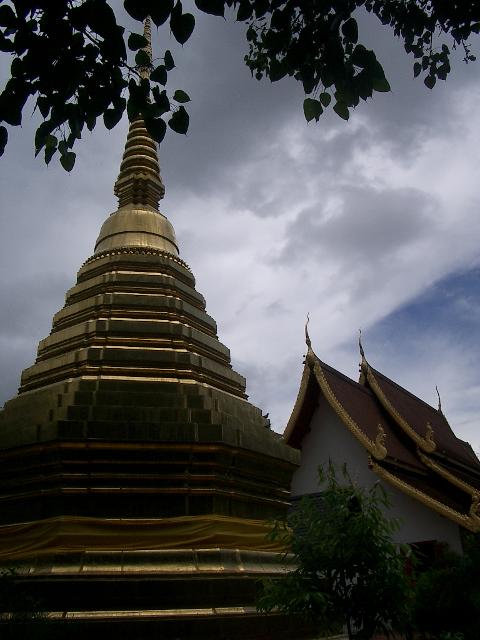 Wat Phra Kaew, Chiang Rai.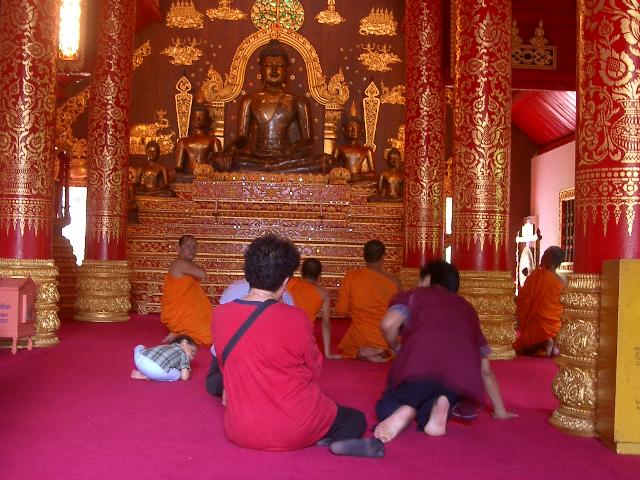 One of the most amazing things about our temple tour was how our young 2-year old son took to the temple scene. I mean, he came in to the temples the first time like he had been doing it his entire life! (And he actually had not!) He walked in quietly, and even shhhh'ed us if we spoke too loud. And this was not due to us scolding him before either. He picked up on this all by himself! And what was more amazing is how he began bowing to the Buddha images before he had even seen other people do it. I'm sure he picked it up somehow along the way in his short life, but it sure appeared to both Som and myself that he simply spontaneously started to prostrate himself in a very appropriate manner. Amazing.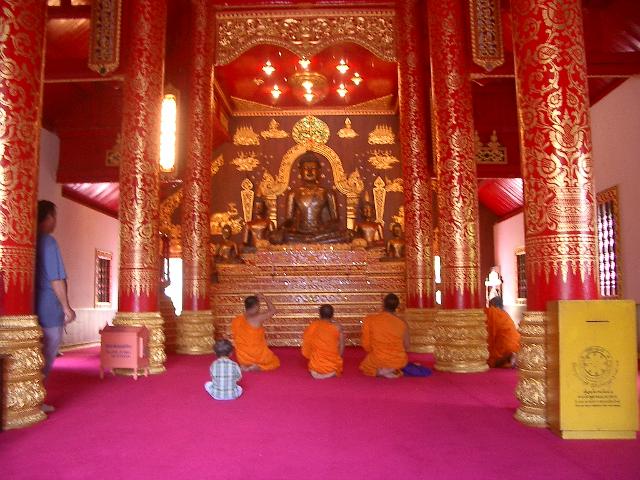 As soon as we would walk in to a temple, Cokie would warn us to be quiet, and then all by himself, leave us behind while he took up a position in front of the Buddha images and started placing his hands together and bowing. Kind of makes one think...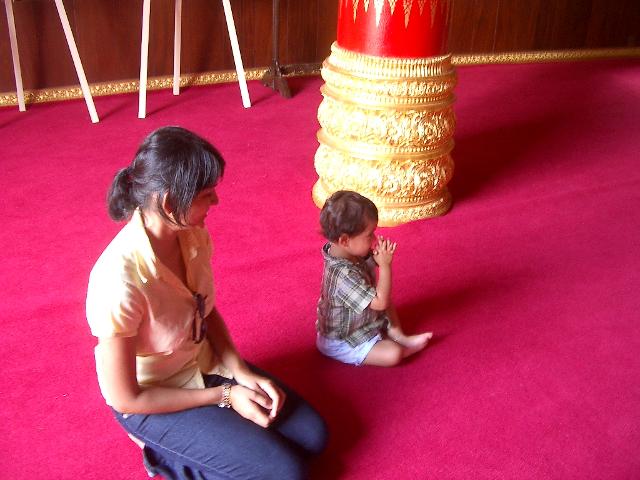 We were NOT instructing him to do this and there were NO other people there!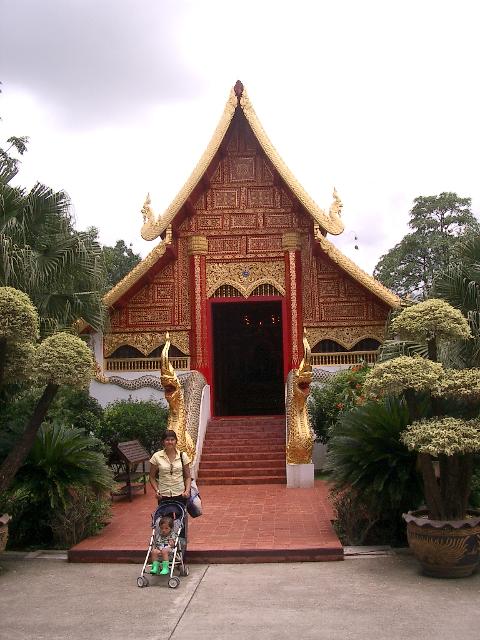 Another image of Chiang Mai's Wat Phra Kaew, a simple yet elegant temple.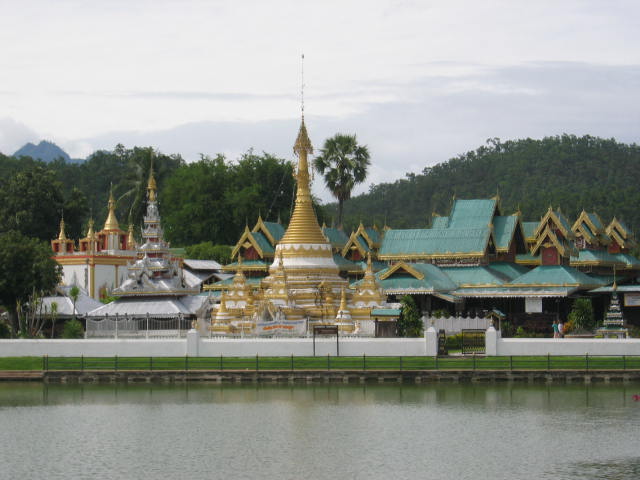 The giant temple complex in Mae Hong Son in the far northwest of Thailand.
Nakhon Si Thammarat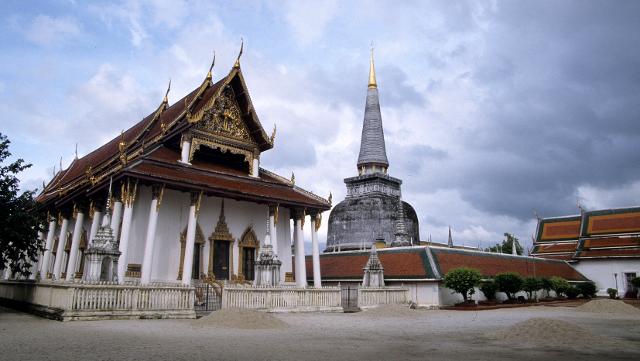 Nakhon Si Thammarat's Wat Mahathat is one of the oldest temples in Thailand, dating around 1600 to 2000 years old. Som and I have been coming to this temple since I met her before our son was born. This is a very special place for both of us.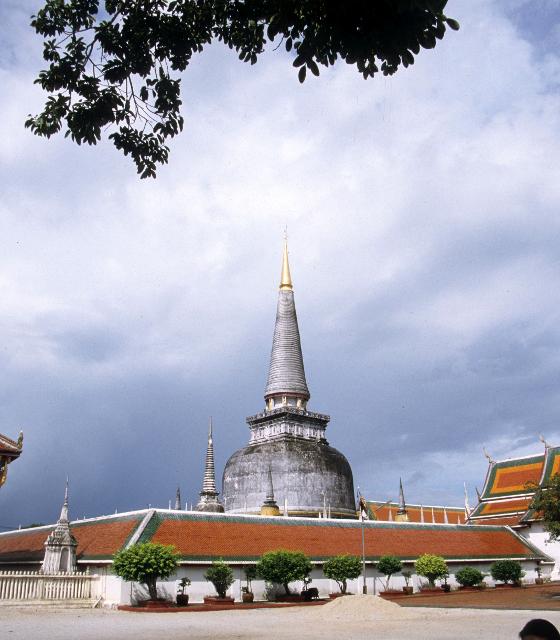 Wat Pra Mahathat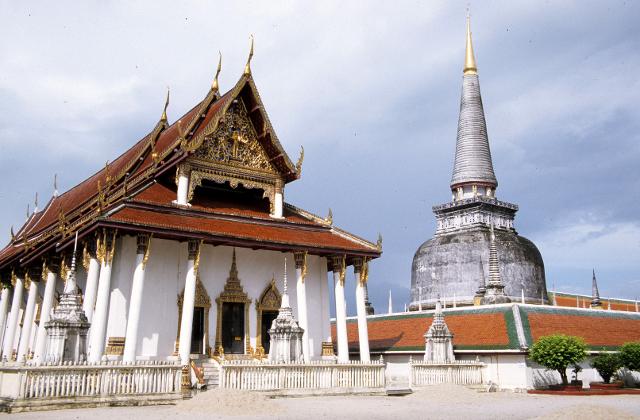 Wat Phra Mahathat. They say that the tip of the giant jedi is solid gold!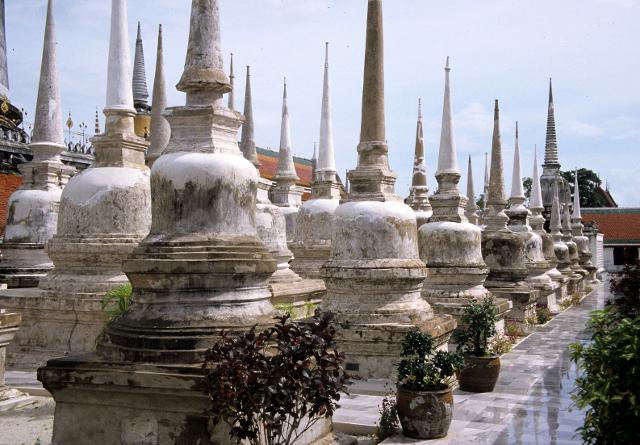 The countless jedis of Wat Phra Mahathat.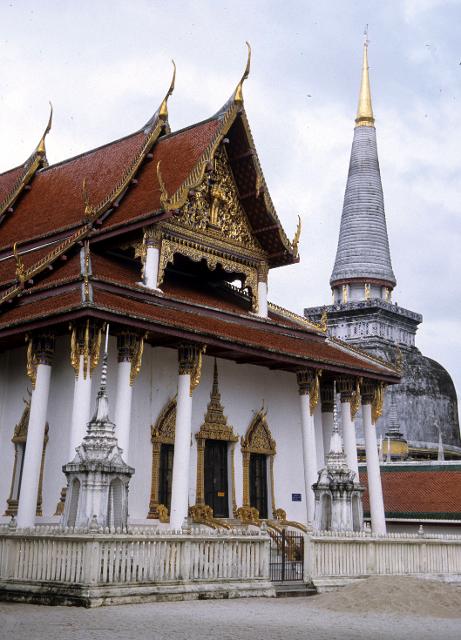 Wat Phra Mahathat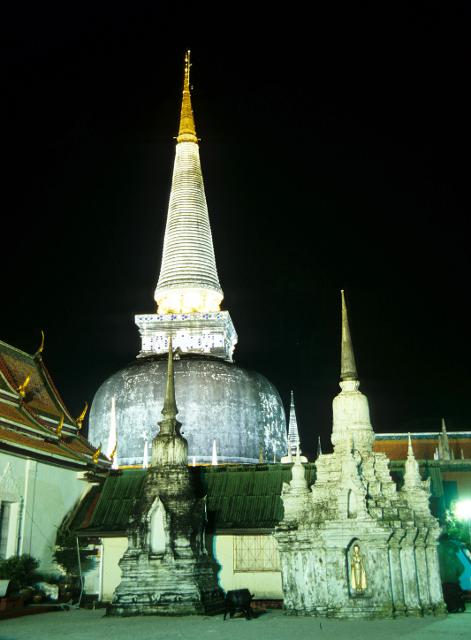 Wat Phra Mahathat at night.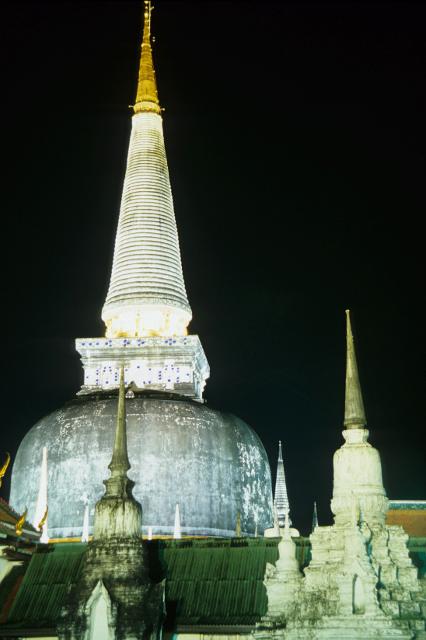 Wat Phra Mahathat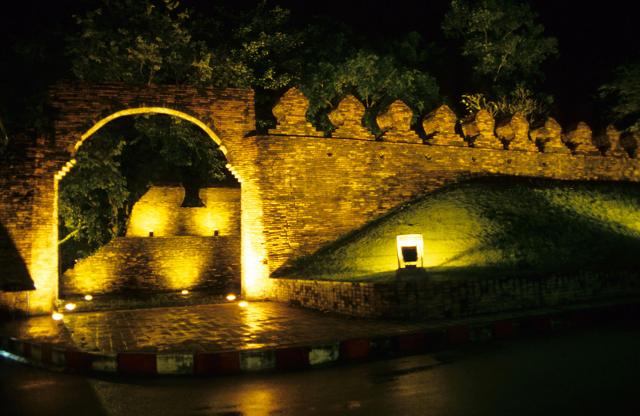 The ancient town wall surrounding the ancient part of Nakhon Si Thammarat, over 2000 years old!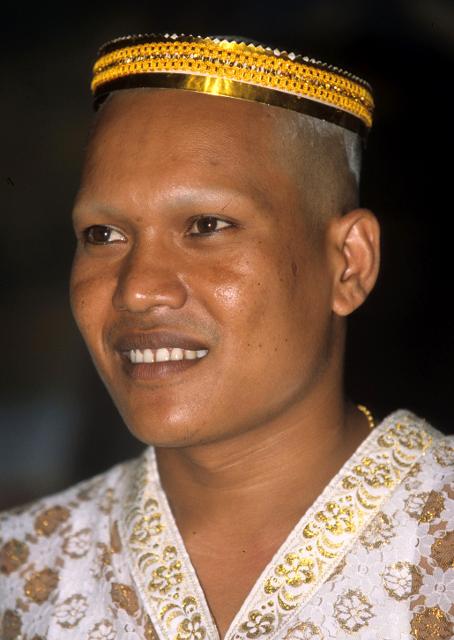 A young monk in training at a temple in Nakhon Si Thammarat.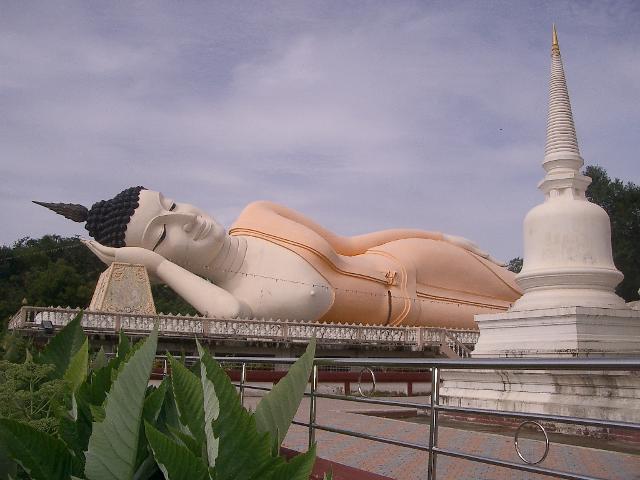 Wat Sexy Buddha! At least this is what we have been calling it. It is actually one of the more sacred wats in Nakhon Si Thammarat provinmce, but for some reason, the chose to make the reclining Buddha particularly feminine!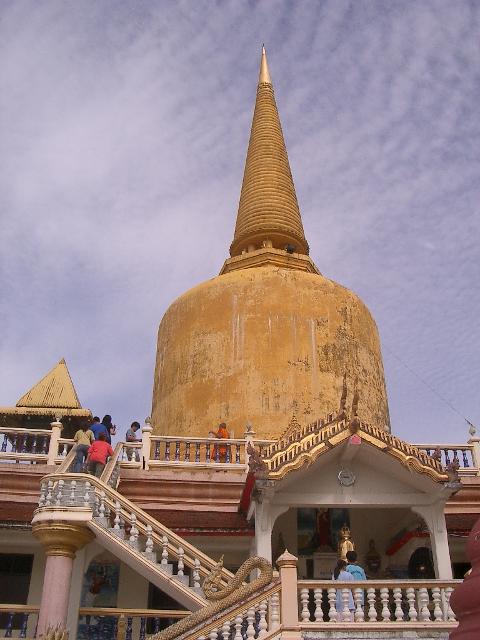 The beautiful jedi of Wat Sexy Buddha!
In addition to the images that follow, log on to our Thailand Galleries:
Temples and Ancient Sites of Thailand
Reptiles and Amphibians of Thailand