The Emei Fir forest of Wawu Shan Mountain in an afternoon Fog.
May is a great time to visit Sichuan! The snow has all but melted, the flowers are in full bloom and the climate is comfortable. During the month of May 2011, I had the distinct pleasure of leading a group of surprisingly well-behaved 9th graders from SAS to Sichuan Province for our school's annual "China Alive" experiences.
Our group was one of about 16 or 17 school groups scouring the hinterlands of China to introduce our city-bound students to some of the more remote and interesting parts of the Middle Kingdom. Our destinations included Chengdu, Wawu Shan Mountain Geopark and some of the surrounding countryside. We introduced our students to the wonderful wilderness of Wawu Shan Mountain, a basaltic tabletop mountain situated in Sichuan's western foothills.
Most of our time at Wawu Mountain was spent trekking, searching for Red Pandas and other fauna. We did have a fair amount of luck with about 25 species of birds but the Red Pandas remained elusive. Well, that is not that surprising with three large groups of students chatting their way through the forest. Most of the kids were great but the group size and noise level was not ideal for wildlife searching. The forests were outstanding however. The day started with amazingly good light and spectacular vistas of the surrounding mountains and valleys. By afternoon, the famous Wawu fog rolled in and gave us a completely different view of the forests.
The experience was nonetheless a rich one and we had a phenomenal day exploring one of China's most biodiverse and spectacular regions.
Here are our Pbase galleries for Sichuan!
Giant Pandas of Bifengxia & Chengdu!
Landscapes and Fauna of Wawu Mountain & Sichuan
Chinese Mammals (Shanghai Zoo Images)

Here are some images of our trip to Wawu Shan Mountain, Sichuan!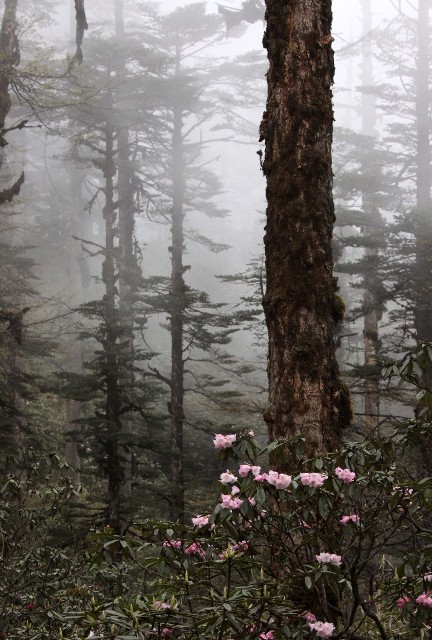 The Rhododendrons were in full bloom on the mountain this May day.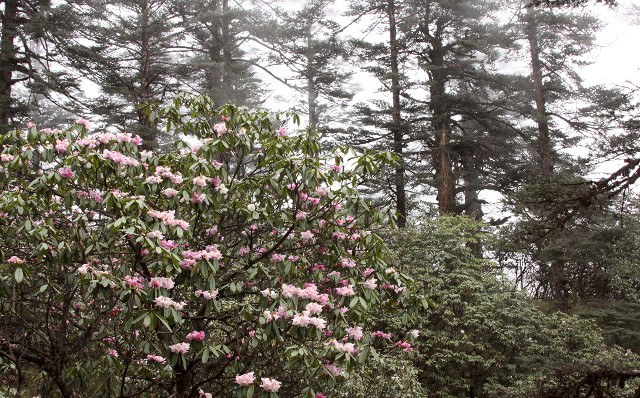 There are over 40 species of Rhododendrons at Wawu Shan!
Rhodies everywhere!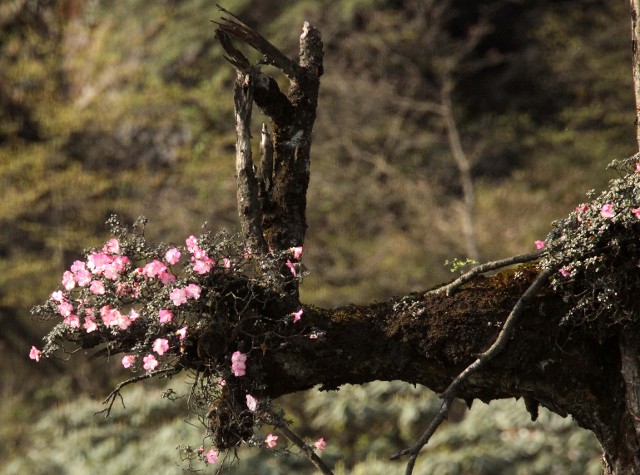 I found these epiphytic Rhododendrons to be particularly beautiful as they clung to life on the snags and Emei Fir of the Wawu forest.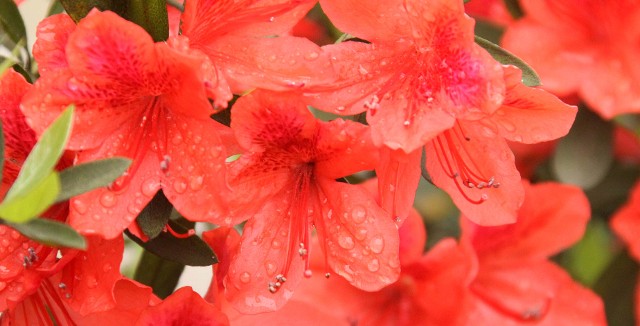 The colors of the Rhododendrons were diverse and added greatly to the beauty of the forests.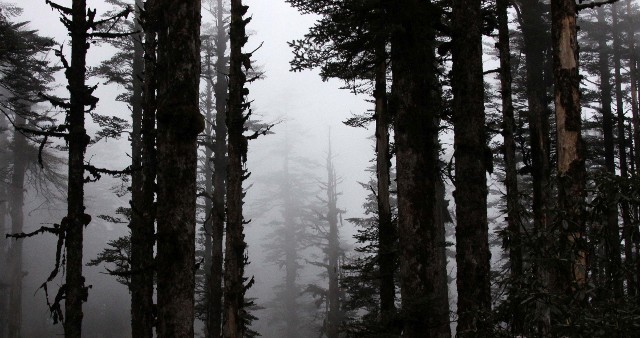 Wawu Mountain is dominated by an Emei Fir forest. The Emei Fir is an endemic found only in this region of China.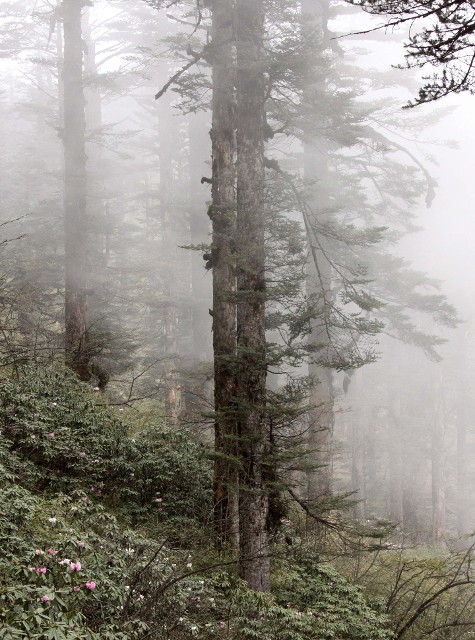 Wawu is a wet environment with daily fogs dominating the year round climate.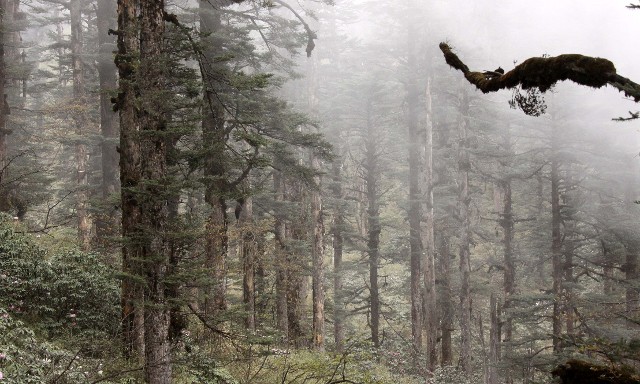 The Fog of Wawu!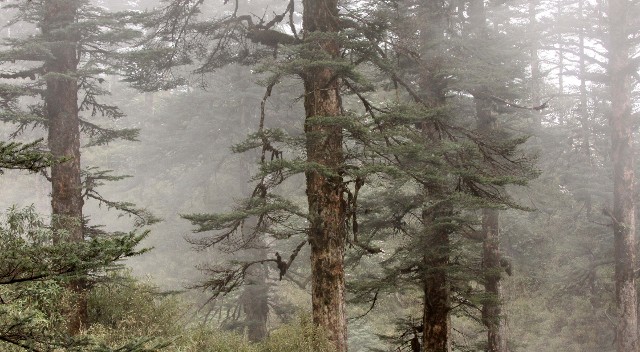 Fog drip no doubt is an important element to the Wawu Mountain ecosystem.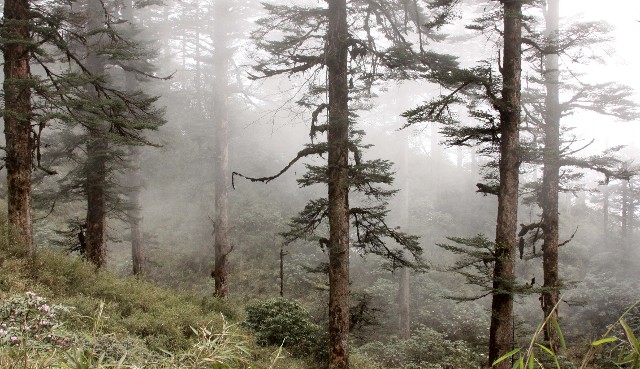 Emei Fir Forest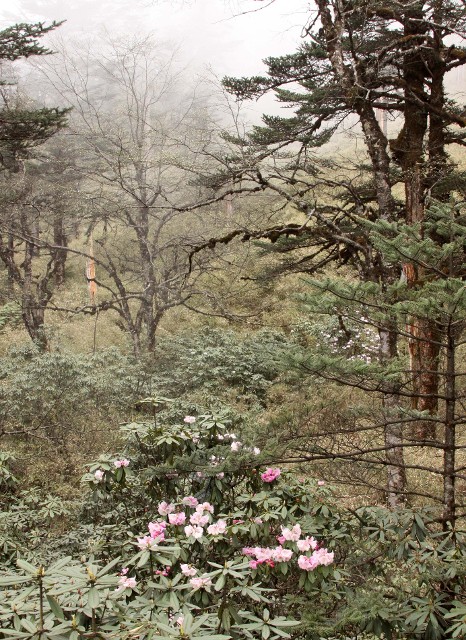 Forests of Wawu Shan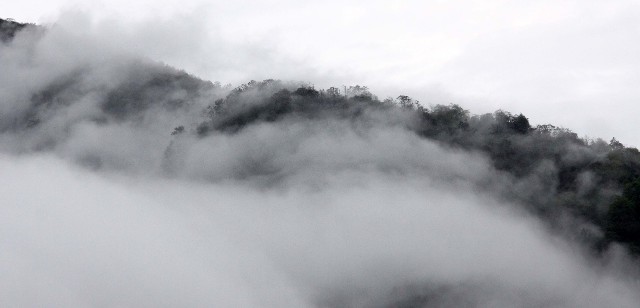 Fingers of fog rolling over the escarpments of Wawu Shan!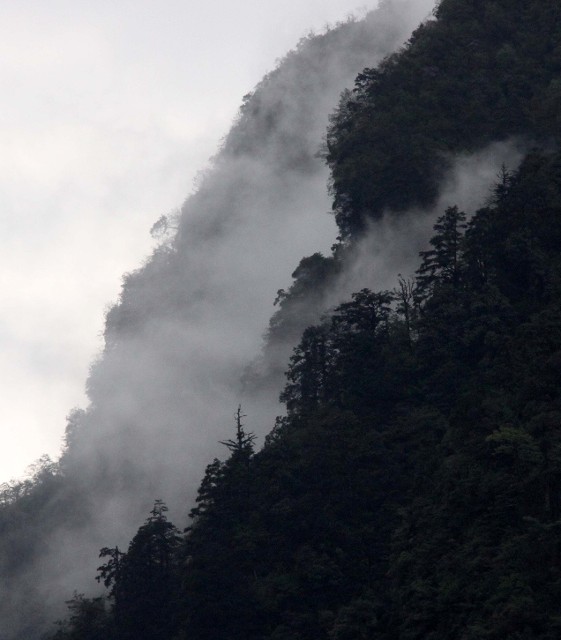 Although the last part of our stay in Wawu was fogged in, the day was dominated by clear, blue skies and amazing vistas of the surrounding area!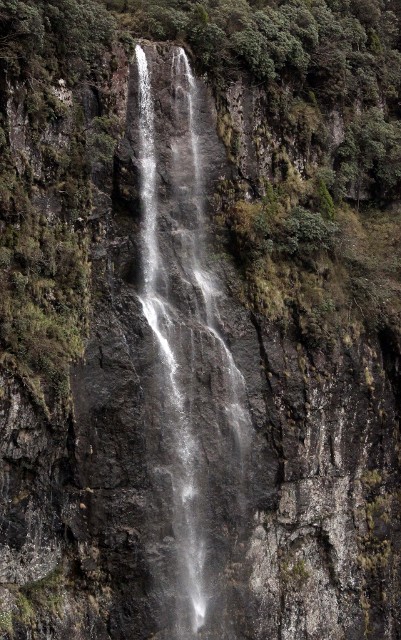 There are several waterfalls cascading down the escarpments of Wawu Shan.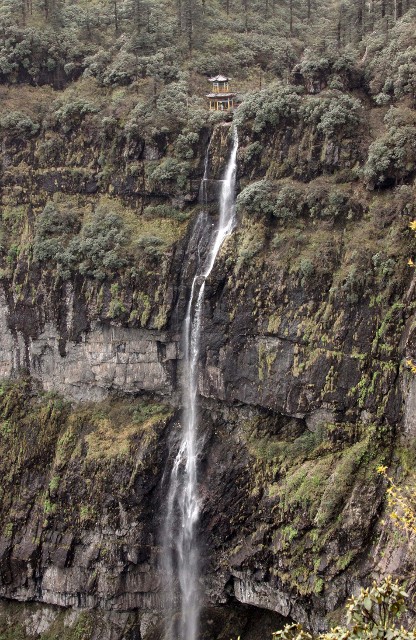 Yuang Xi Falls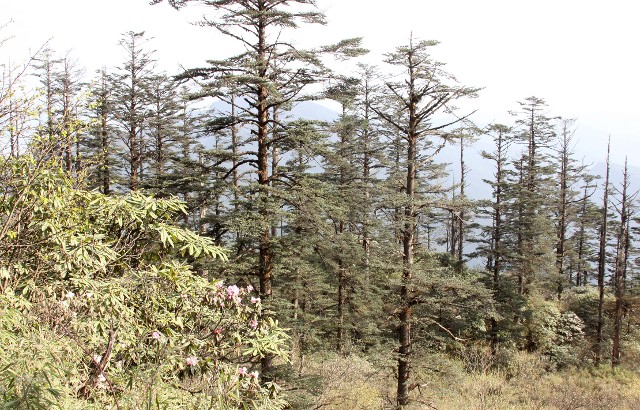 The Emei Fir in good light!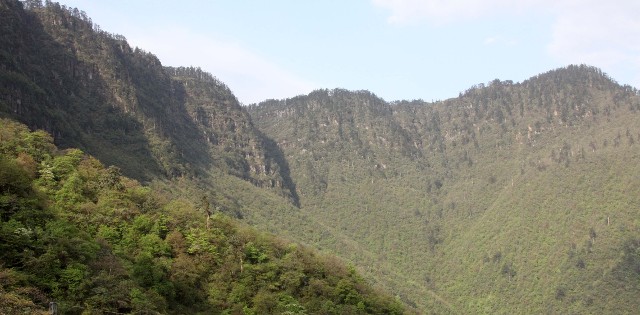 Good views were the name of the game on this May morning!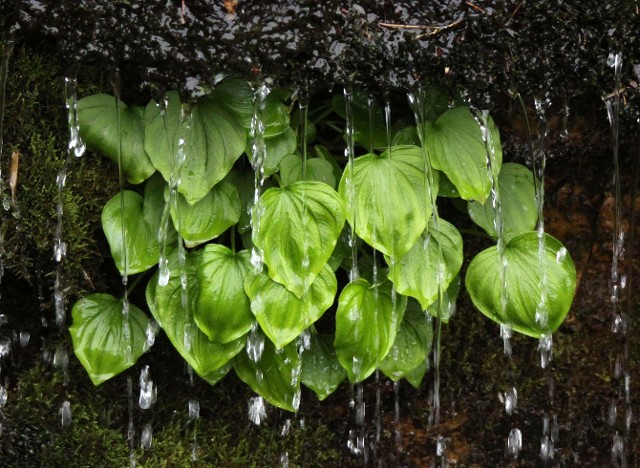 The moist, wet environment of Wawu Mountain gave good reason for a very verdent and diverse flora.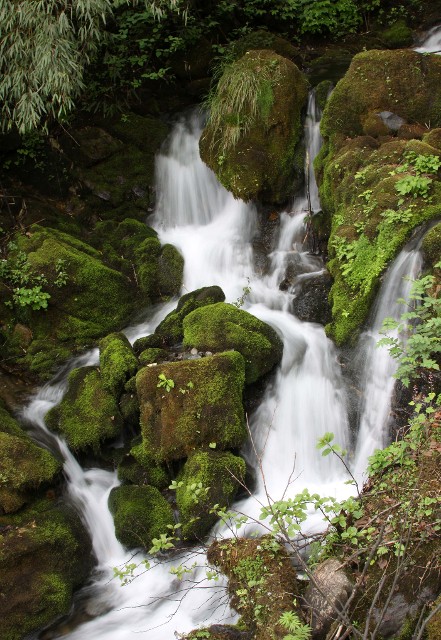 Moss and liverwort-lined streams were omnipresent on the mountain.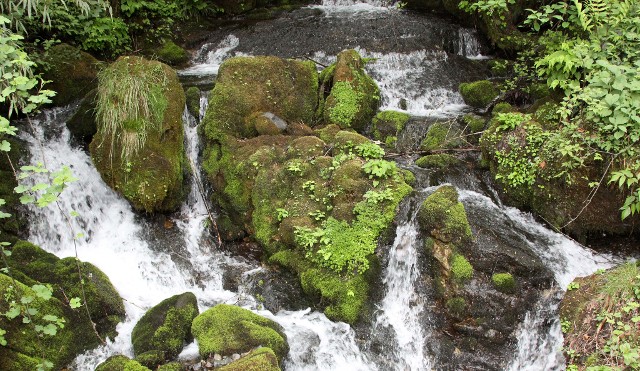 Another mountain stream!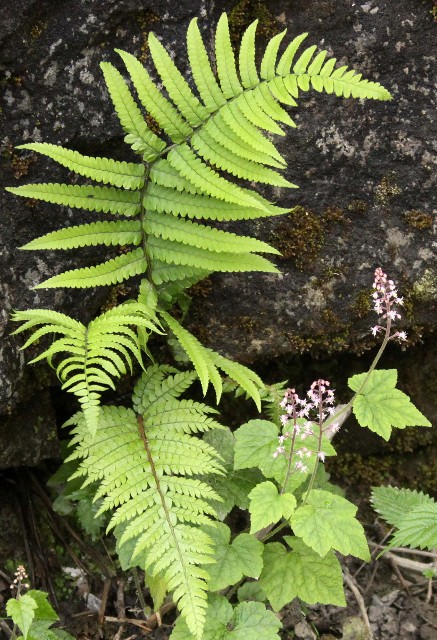 The flora were diverse with dozens of species of pteridophytes and flowers. Being from the American Northwest, I saw many familiar genera such at these Saxifragaceae species that closely resembled my old friend, Trefoil's Foam Flower.
Wawu Shan has multiple protective functions. In its forests, the rare and endangered (an previously-thought-to-be-extinct!) Dove Tree (Davidia involucrata) is common and was in spectacular bloom this week!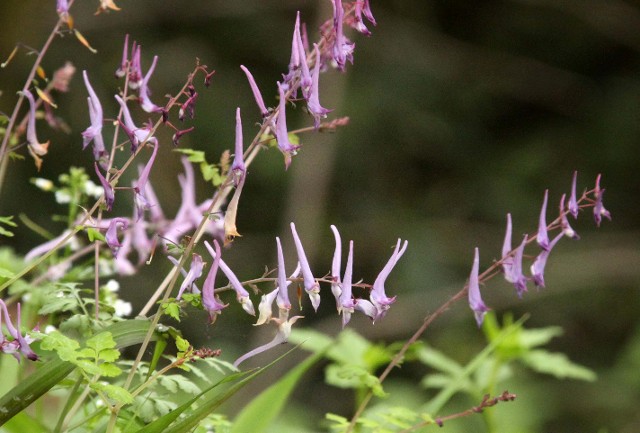 I have no idea what these flowers are! They kind of remind me of Monkshood and may be a close relative. Too bad there are no plant resources in China at all. The entire country has virtually no good field guides for its flora.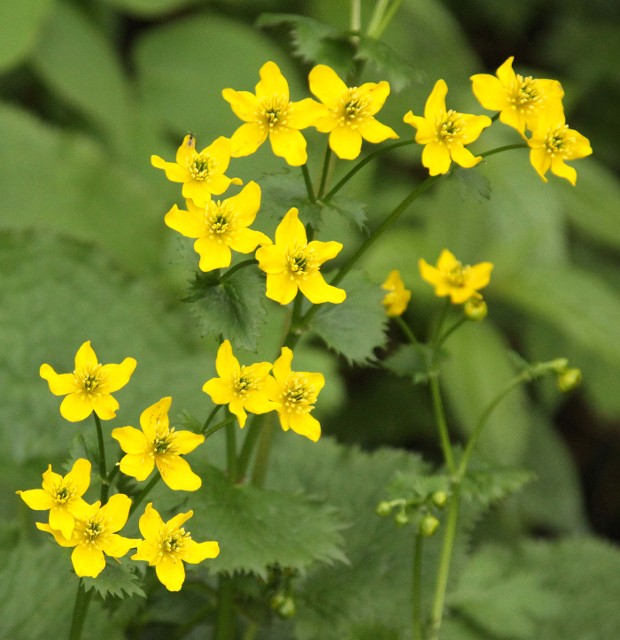 No doubt a member of the Ranunculaceae family perhaps?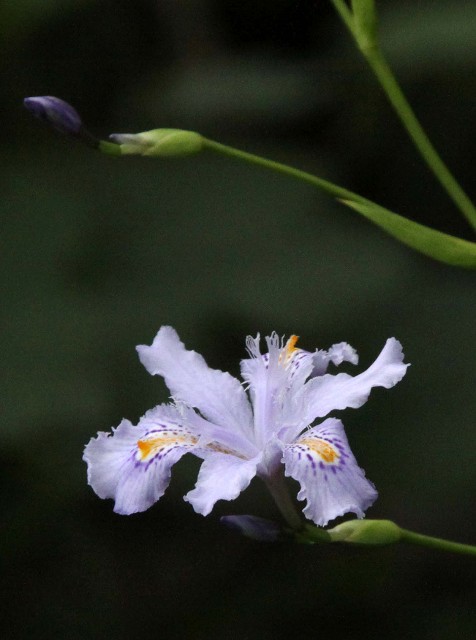 Not sure if this is native or not, but this Iris was everywhere in Sichuan this trip!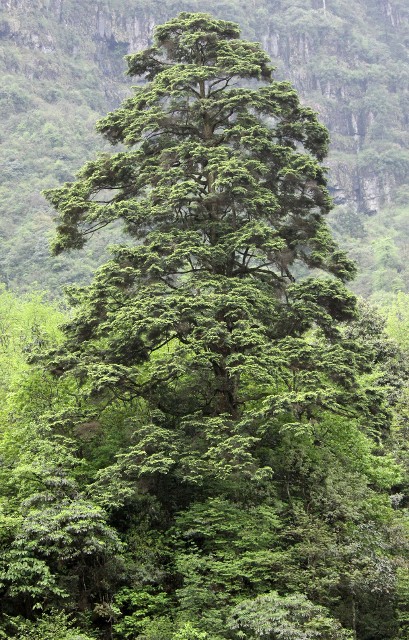 This granddaddy wolf-tree Emei Fir stood out from the surrounding forest during one of our treks on the mountain.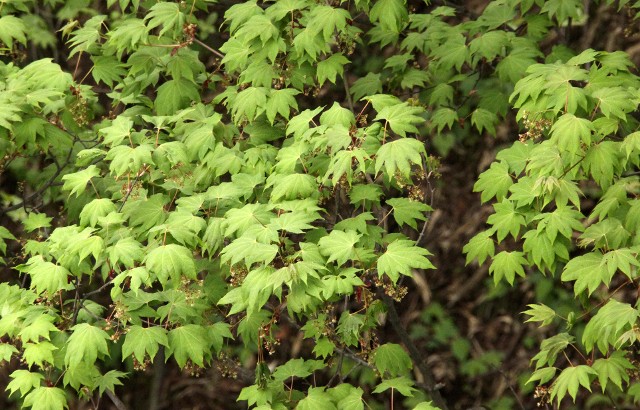 Maples were common and of several species at Wawu Shan.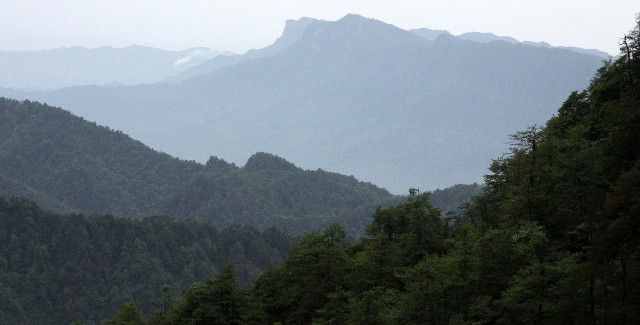 The amazing views this day allowed us to see the distant Mount Emei in the distance.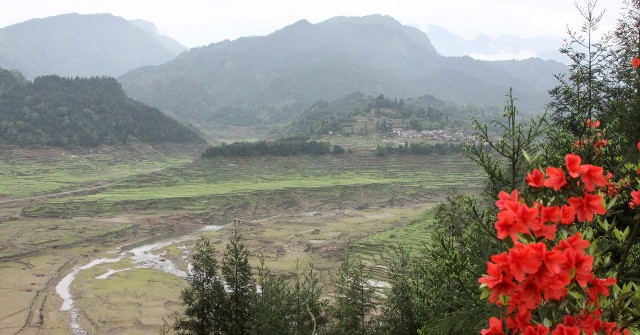 The road to Wawu took us through some spectacular Sichuan countryside.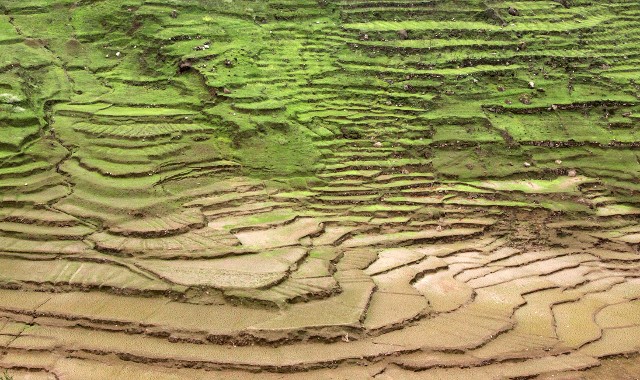 Rice terraces of Sichuan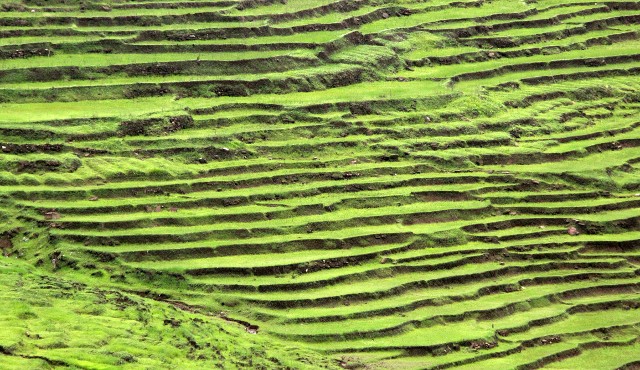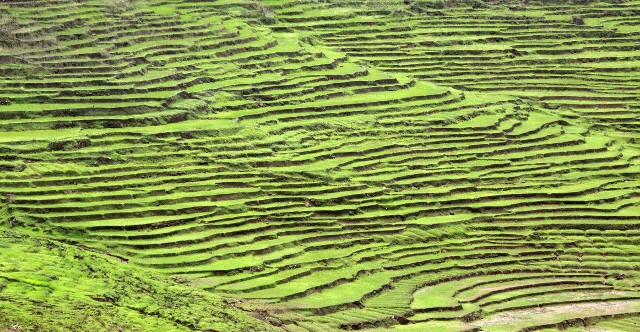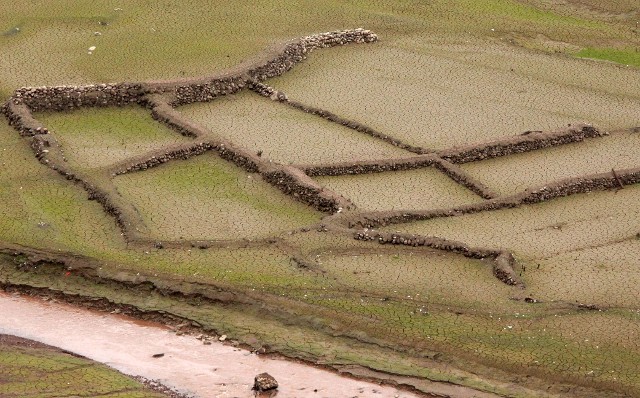 Foundations of an old village in a modern lake bed.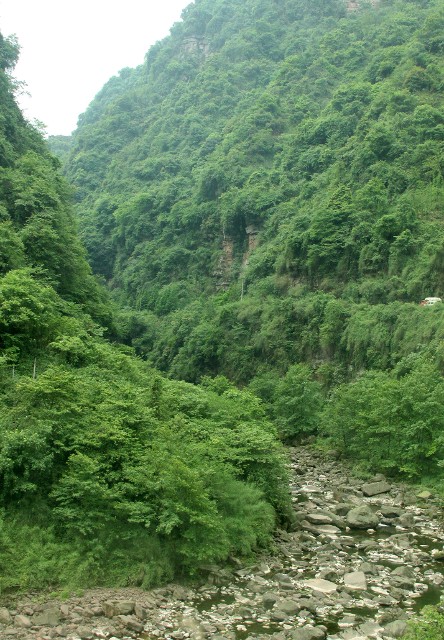 There were too many valleys and gorges to remember on this trip, but the Bifengxia Gorge was particularly spectacular!
Critters of Wawu Shan!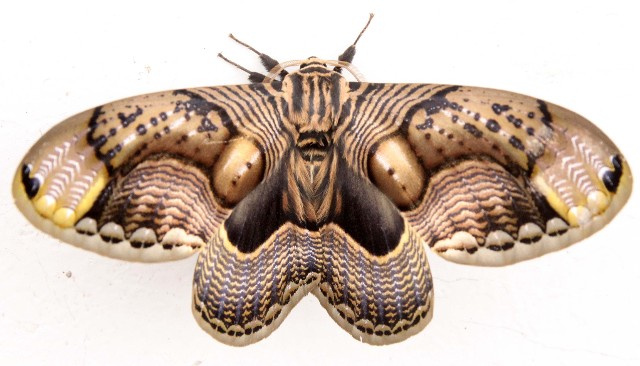 Moths were extremely common on the trip. Left over from the previous night's lights, the white walls of the hotel were covered with a very diverse array of leps. It made me seriously miss my old insect collection.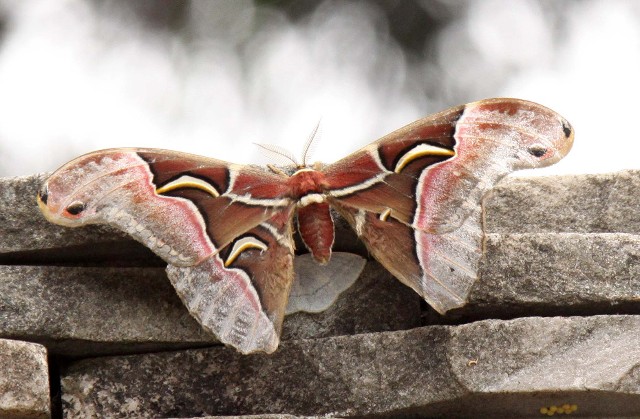 Spectacular Saturniids were very common and seen everywhere!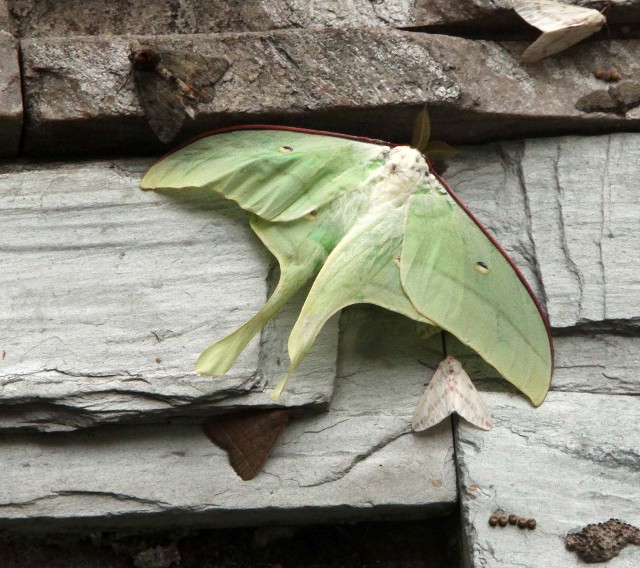 The Luna Moths were well represented on Wawu and Bifengxia this week!
Birds!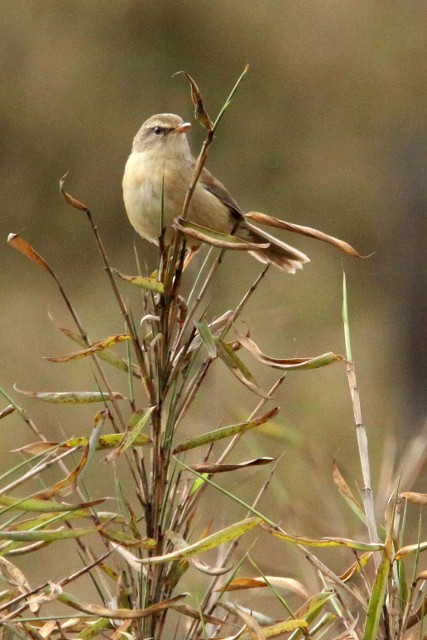 Although we did not see an astounding number of species, we did get a good look at some rarities like this Dusky Warbler (Phylloscopus fuscatus) in the reeds of the Mandarin Duck Pond.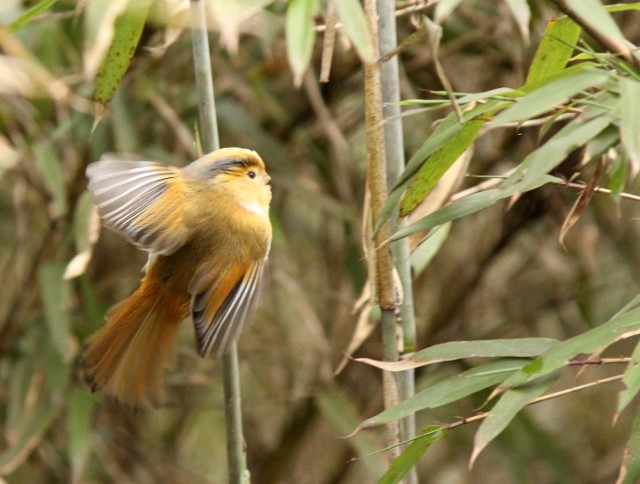 I was very happy to see this Fulvous Parrotbill at Wawu. We heard the Grey-headed Parrotbill as well but never got a good look at one...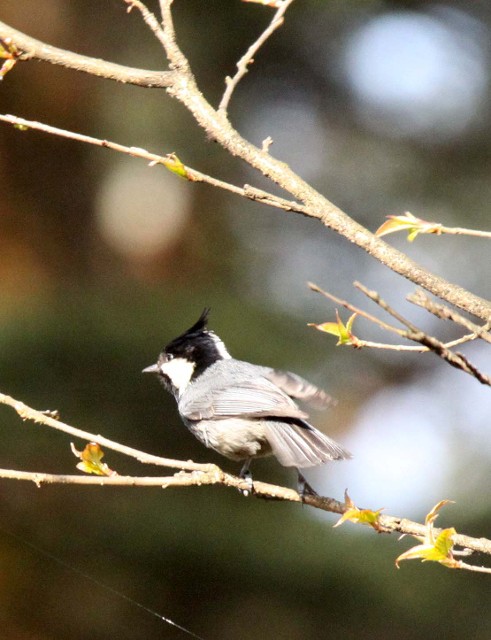 There was an abundance of Tits in the forests of Wawu Shan. We came across literally hundreds of individuals of at least 5 species. The most common by far were these Coal Tits.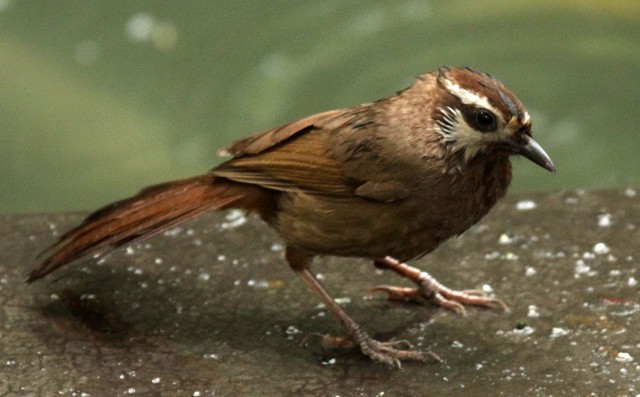 These White-browed Laughingthrushes were also very common in Chengdu.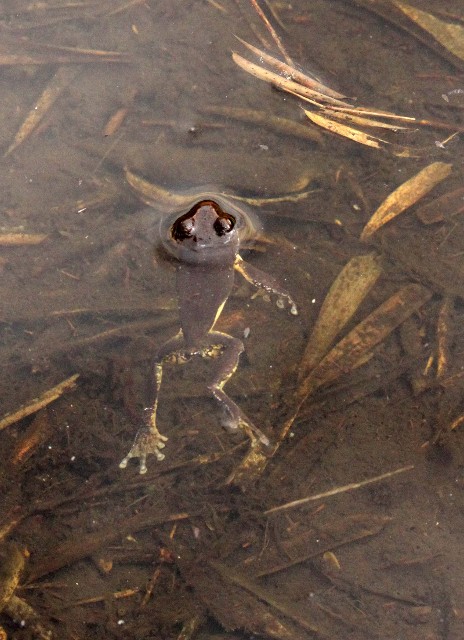 Although they were mostly heard at night, there were loads of frogs in Wawu Mountain.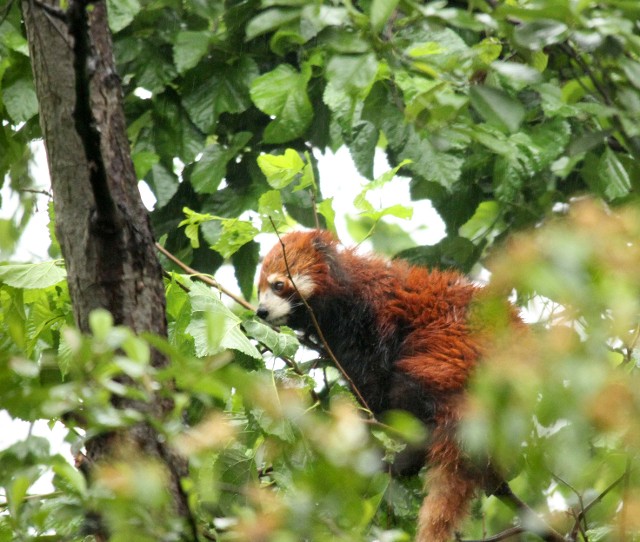 Although our target, Red Panda, was elusive yet again on Wawu Shan, we did git a glimpse of one in the rain in the Chengdu Panda Station. One day I WILL see one in the wild!
Giant Pandas at Bifengxia & Chengdu Panda Reserves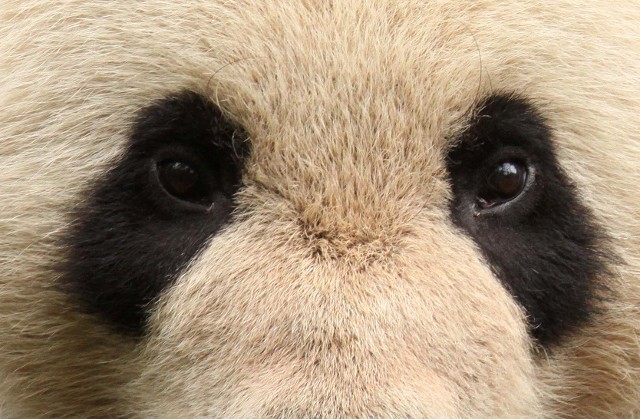 Of course the Giant Pandas were a guarantee at Bifengxia and Chengdu's Giant Panda Breeding Centers!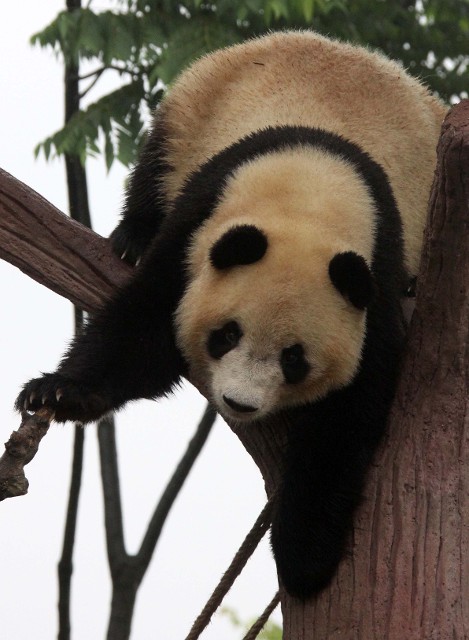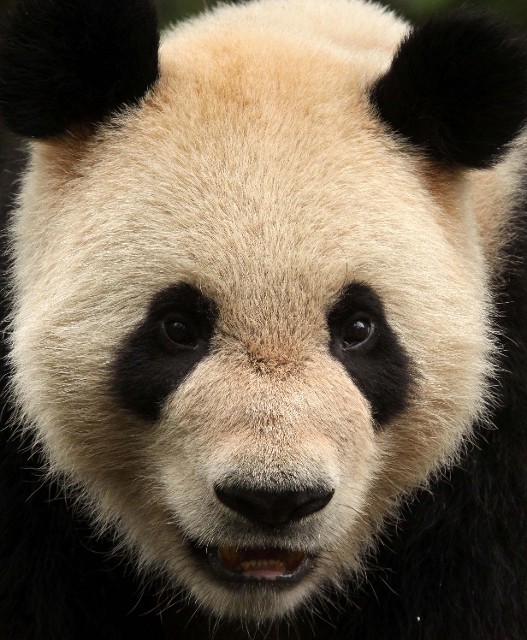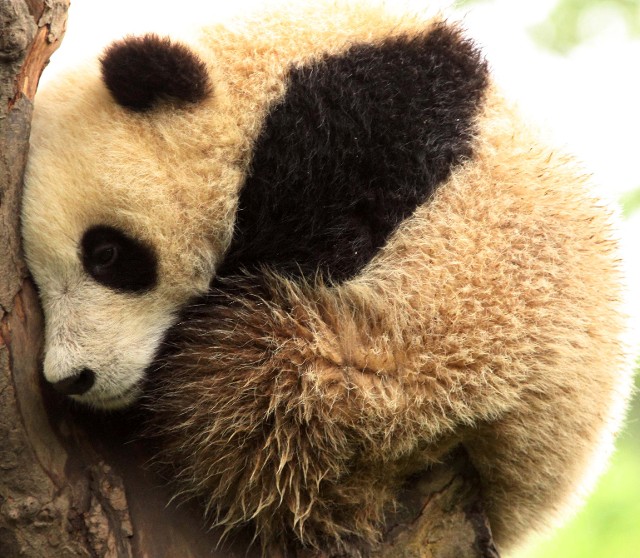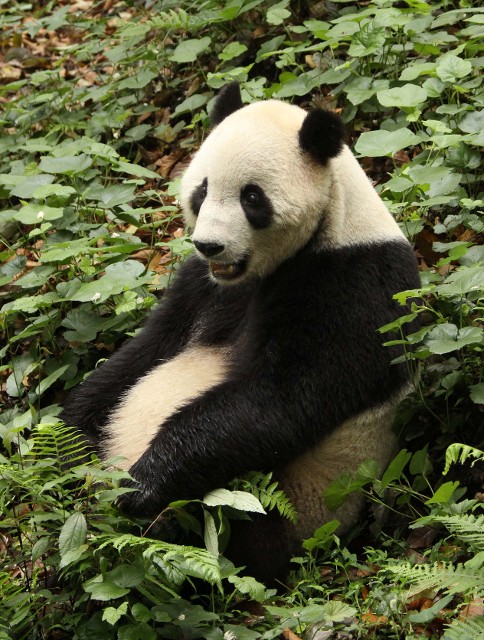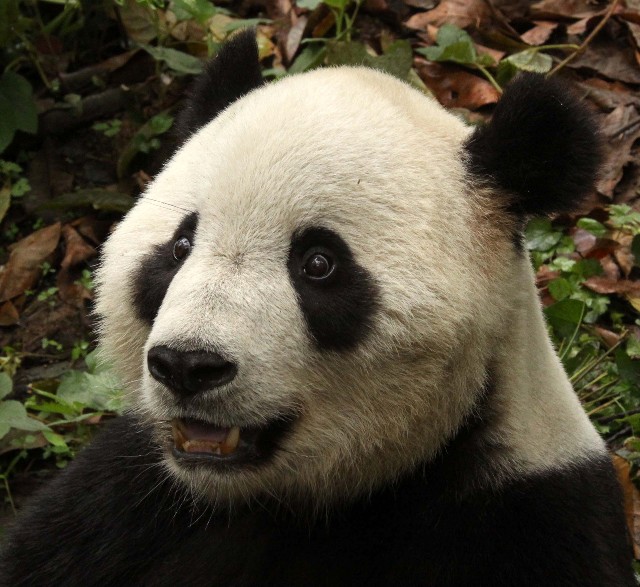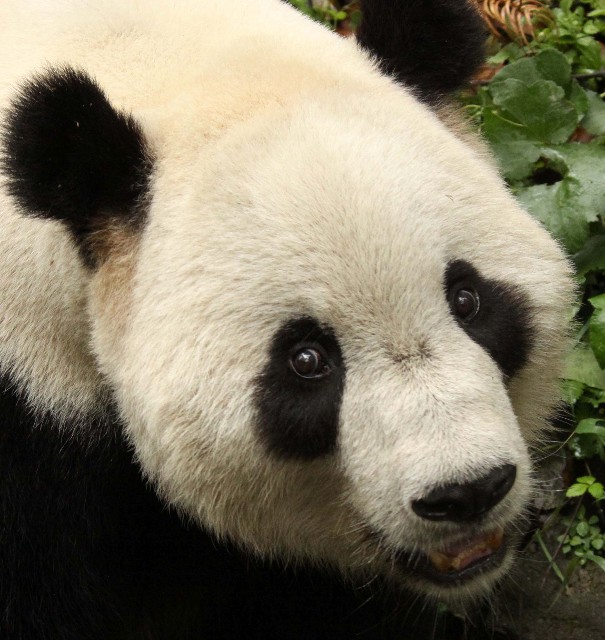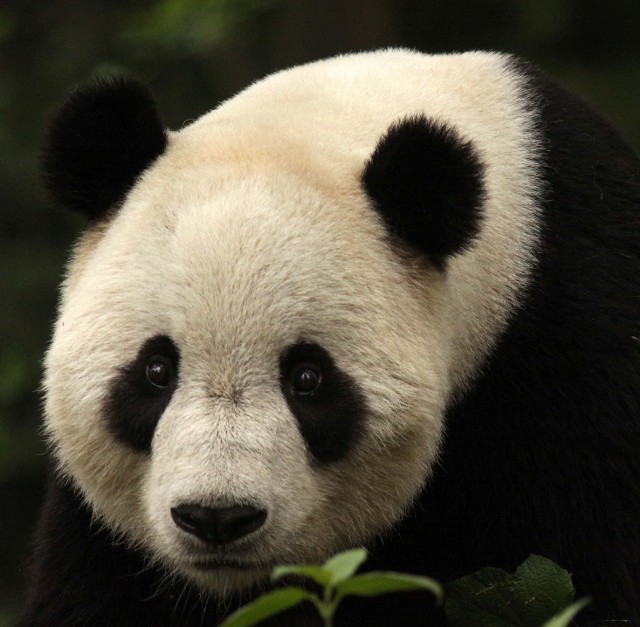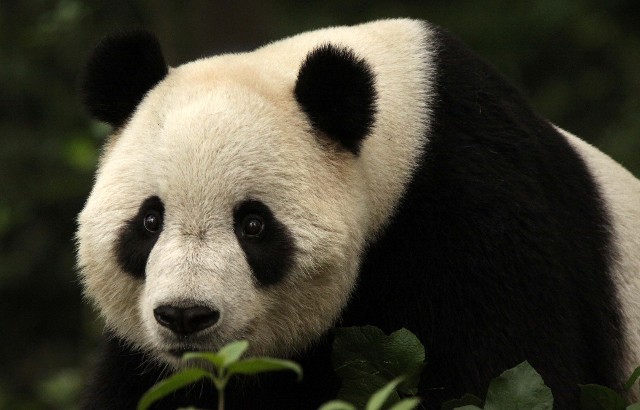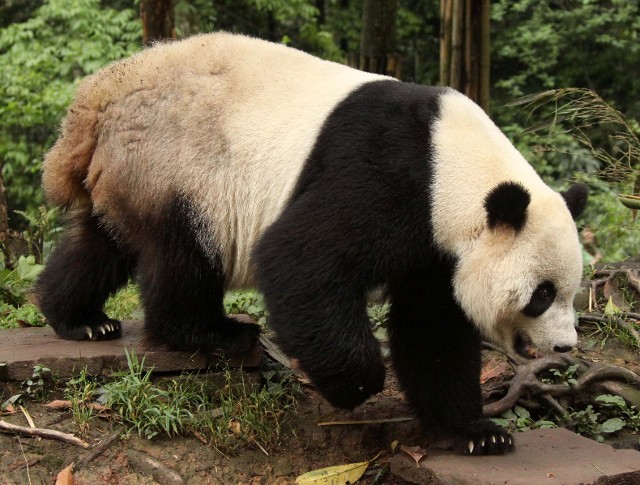 Perhaps the most amazing part of this trip was the volunteering program in Chengdu where we all got a chance to clean up after and feed the pandas. This allowed all of us to get very close to the animals and experience part of their daily lives in captivity. Truly spectacular!
Sichuan Opera!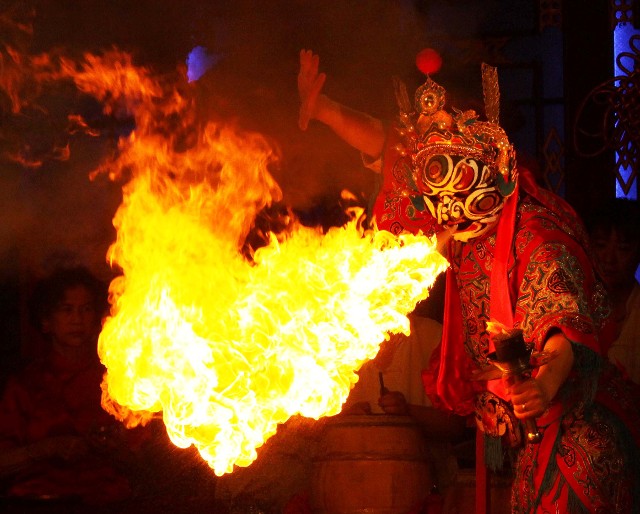 I am not usually one to get excited over cultural shows. In fact, I generally loath them.... But we all very much enjoyed the surprisingly entertaining Sichuan Opera of Chengdu!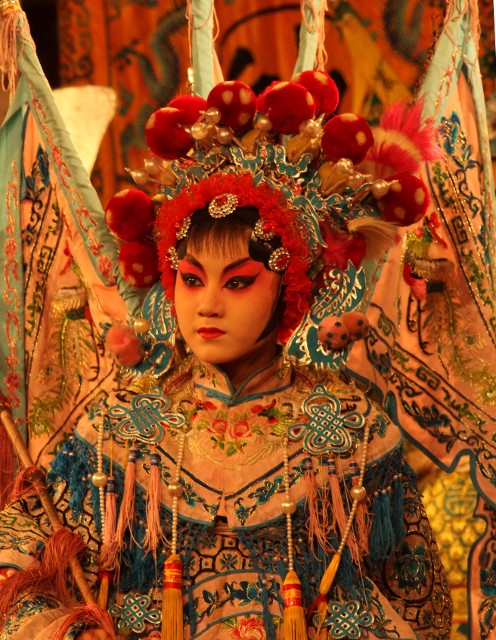 The costumes were outrageous!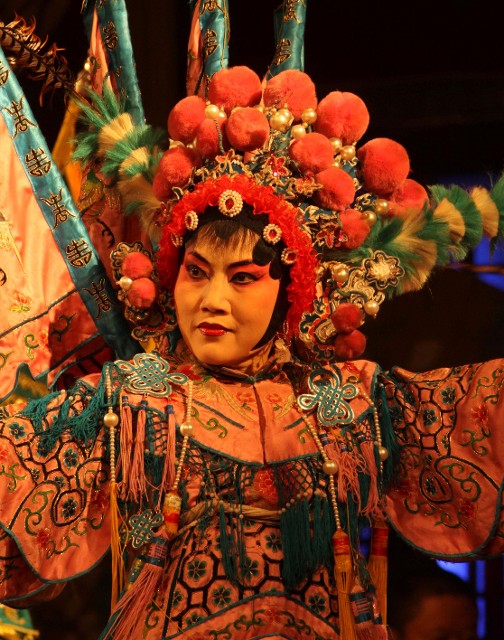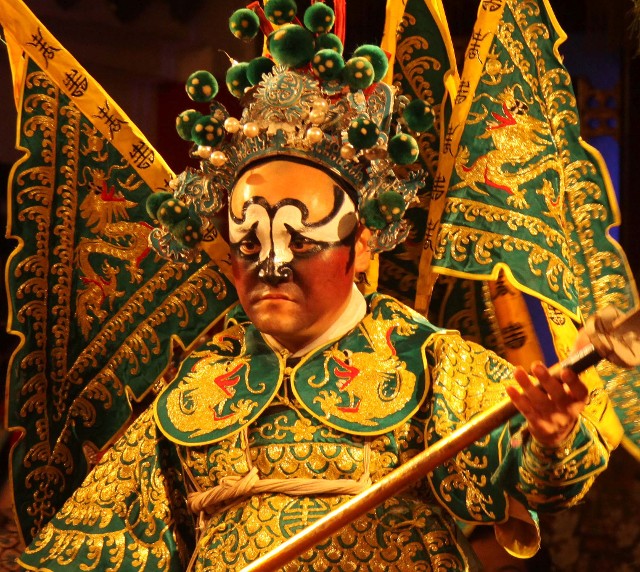 Although I understood next to nothing, the comedy was great!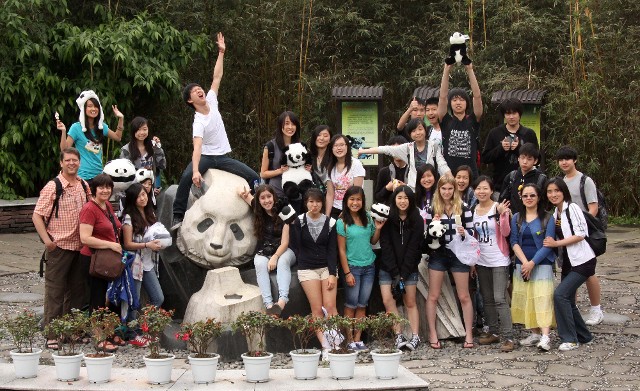 Our SAS China Alive Panda-Monium Group! What a great group of kids!!!
Here are our Pbase galleries for Sichuan!
Giant Pandas of Bifengxia & Chengdu!
Landscapes and Fauna of Wawu Mountain & Sichuan
Chinese Mammals (Shanghai Zoo Images)
Wawu-Shan Bird List
Great Spotted Woodpecker
Fork-tailed Swift (Apus pacificus)
Eurasian Eagle Owl
Tawny Fish Owl (Ketupa flavipes)
Oriental Turtle Dove
Wedge-tailed Green Pigeon (Treron sphenura)
Black-eared Kite (Milvus lineatus)
Intermediate Egret
Black-crowned Night Heron
Long-tailed Shrike
Red-billed Blue Magpie
White Wagtail
Crested Myna
Coal Tit
Great Tit
Light-vented Bulbul
Dusky Warbler (Phylloscopus fuscatus)
Sulphur-breasted Warbler (Phylloscopus ricketti)
Elliott's Laughingthrush
White-browed Laughingthrush (Garrulax sannio)
Hwamei (Garrulax canorus)
White-collared Yuhina
Fulvous Parrotbill (Paradoxornis fulvifrons cyanophrys)
Eurasian Tree Sparrow