Tibetan Wolf. This spectacular animal graced us with his presence for a brief moment in China's amazing Ke Ke Xi Li National Reserve.
***
***
Wildlife of the Tibetan Plateau
***
Please check out our other images of the People, Places, Birds and Other Critters of the Tibetan Plateau!
***
Mammals of the Tibetan Plateau
People & Places of Qinghai and the Tibetan Plateau
My Coverpage From This Expedition!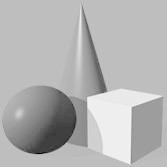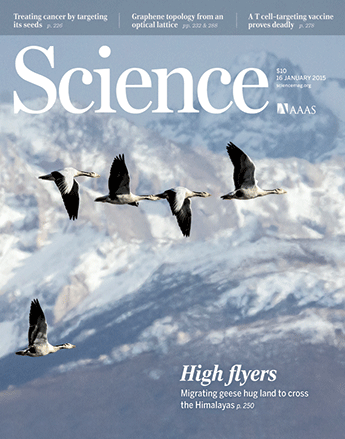 Evidently I cought these Bar-headed Geese doing exactly what they wanted for the cover of "Science"!!!! (Link to Article)

***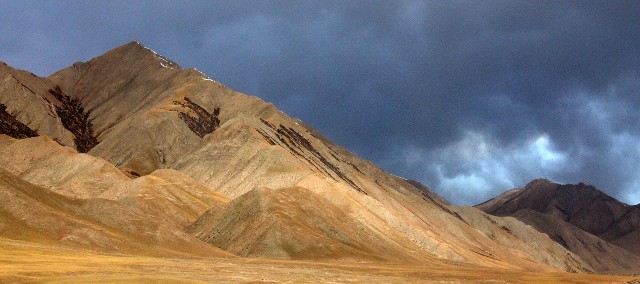 There are few places as spectacular as Qinghai, anywhere on Earth. The high desert topography is absolutely stunning.
***
Of all the places on earth I've explored in search of amazing wildlife and culture, China still ranks up with the most impressive. One may have to work a bit harder and perhaps endure a bit more than some locations, but the rewards are tremendous. And of all the locations I've had the privilege of exploring in China, Qinghai has now become one of my favorite places anywhere. Home to much of China's most impressive megafauna, Qinghai is also a special place with outstanding scenery, landscapes and geology. Simply stated, Qinghai is amazing!
My plans to visit Qinghai and the greater Tibetan Plateau started over a decade ago after I started seeing some unbelievable trip reports and species lists from other mammal and bird watchers who blazed trails through this remote and rugged part of China. On more than one occasion, I had made tentative plans to conduct and expedition to the region that were thwarted for one reason or another (usually money – the trips have were obscenely expensive!) over the years.
Initially I was under the impression that traveling to Qinghai was logistically nearly impossible. I was informed by tour operators (or warned in no uncertain terms) of the need for high-expedition-like travel requirements, satellite phones, redundant vehicles, onsite cooks, medical personnel and the insurmountable permitting requirements that could lead to serious consequences if not obeyed. The range of advice and warnings from many of the travel operators made it sound that travel to Qinghai was perhaps some of the most logistically difficult of anyplace on earth, perhaps outside of Antarctica or the high Arctic.
But now that I have completed the "expedition" myself, can give an unqualified reponse to all this – bunk! Travel in Qinghai is both very easy and practical and is not all that different than travel in some of the more remote regions of my own homeland in North America. Roads are excellent throughout and lodging, food and fuel options are very available, albeit basic in some locations. And there are absolutely NO permits required for travel within the Qinghai provincial borders (more on this later).
***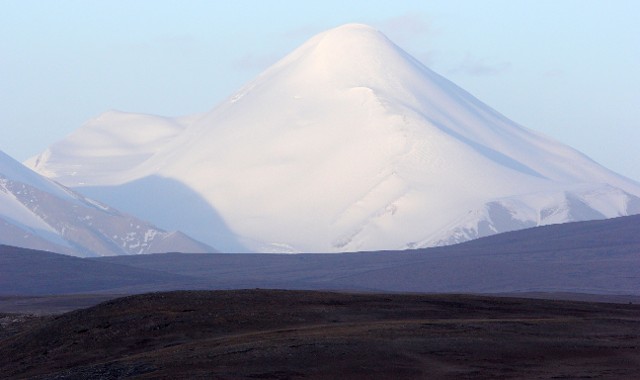 Our average elevation for the expedition was somewhere around 4000 meters, but many of the surrounding mountains were in the 5-6000 meter range. Staggering altitudes were the norm.

***
My own expedition to the Tibetan Plateau and to Qinghai Province saw its early planning stages being discouraged many times by would-be ground operators many times. The prices being asked were astronomical, in some cases being nearly $1000 per day per person, and I simply could not afford such expenses. So I decided to contact my good friend, Steven Shi (email here)(Phone: 1-860-906-9106), who works with me and SAS for many of our travel needs. Over the years I have come to trust Steven as a person who knows travel in China better than anyone and whose judgment about logistical matters, drivers, safety, etc., is simply beyond reproach. And perhaps one of my better strokes of good fortune for this trip is, after Steven began helping me with the planning of this trip, he decided to join me! And with his help, native language abilities and Tibet-expertise (Steven was a professional guide in Tibet for over two years and knew the region perhaps as good as anyone in China!). Now all we need to complete the "A-team" was a good driver.
It took Steven less than a couple days to locate and experienced driver in Xining (the normal starting point for expeditions to Qinghai) who owned a solid 4X4 Toyota Landcruiser and who knew the roads and wildlife locations well. After a little back-and-forth with Steven about the veracity of the driver's claims, we were both convinced that he was for real and we booked him! And, Mr. Wang, our driver, was simply the best. (Here is Mr. Wang's contact number: 1-351-977-5919) He had well over ten years of experience driving various birding groups throughout the region, and all good mammal-watchers know that the birding groups generally hit all the good mammal sites, so if he knew these places, we had a good chance. And after the trip, and 18 mammal species later, Mr. Wang proved his expertise on many levels. I would highly recommend him for any mammal trip. He knew most of our target species and knew the general locations of where he had seen them in the past. While spotting was not his forte, he knew the roads and the terrain and habitat like the local he was. All he had to do is drive us, off road in many cases, to an area where he thought a species could be, and we would get out, search a bit, perhaps trek a bit, and odds were we were able to find the critter in question! Of course sharp spotting abilities and some dang good luck always helped.
***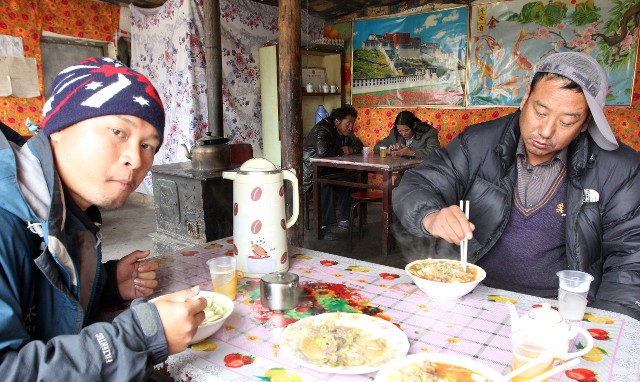 My expedition teammates: Steven Shi, my friend and colleague from SAS & Mr. Wang, our amazing driver.

***
Xining City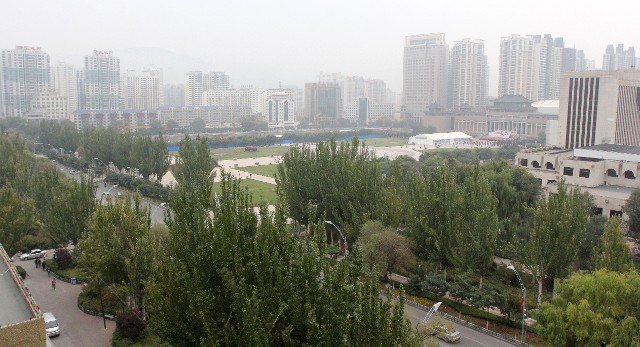 Xining is a massive albeit remote city that is the heart of Qinghai. Here is the view from my hotel on a slightly smogy morning.
***
Our expedition started in the logical entry point to Qinghai Province, Xining. As with most Chinese provincial capitals, Xining was a sprawling and massive "town" that far surpassed any concept of size that I had imagined. This is not unusual as in my experience, the "towns" in much of China are larger than many of the megalopolises in the USA. Xining was no different – it was huge.
After a nice night in a decent hotel in Xining, our team met in official capacity for the first time in the dining room of our hotel. Our first task was to figure out where the hell we were going! I had assembled many trip reports from previous travelers over the previous weeks but most were intentionally very vague, being simply dream-lists of very rare species but very weak in the areas of specific locations. The travel operators evidently want to keep the area to themselves for business reasons. While I can understand the rationale here, I am hoping this trip report allows for a bit more openness about the realities of travel in Qinghai and allows would-be travelers a bit more specific information that may allow more mammal watchers a chance to travel to the region.
***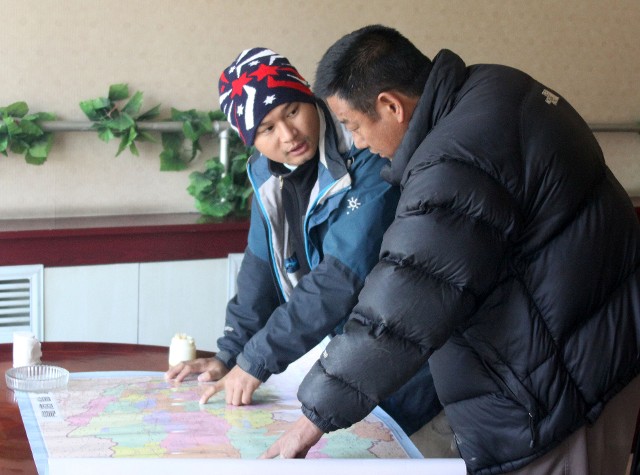 We really had no idea where we were headed for this "exploratory" trip. But after a bit of back-and-forth, we all agreed that Mr. Wang, the one with all the local knowledge and experience, would set the route!

After a few minutes staring at the Qinghai map, we began the back-and-forth of where to go, what roads to take, where the critters were, etc. Based on the trip reports I had collected there seemed to be a dominant course that required a bit of zigzagging around the province: Xining – Chaka – Er La Pass – Wenquan Town – Madoi – Dulan – Golmud – Wild Yak Valley – Xining. Mr. Wang, was quick to point out the issues that made this routing potentially less than ideal, such as the Tibetan checkpoint 30km south of Golmud that could possibly be a trip-stopper, and suggested a much more circular route that would ultimately take us through the heart of one of China's most famous and romantic natural areas, Ke Ke Xi Li!
I was immediately very intrigued by Mr. Wang's suggestion. I was never married to any the routings in the trip reports. I mean, what the hell did I know? I was basically stabbing in to the dark anyway. And when he suggested that we spend a good chunk of our time exploring Ke Ke Xi Li, a place I had learned about, read about, seen popular movies and documentaries (i.e. Planet Earth AND BBC's Wild China) about, I really did not need much convincing. I was very concerned about the need for special permits to visit the famous reserve, but both Steven and Mr. Wang had already researched this with both professional and governmental agencies and found no need for permits at all, so long as we stayed out of province of Tibet. We had no plans at all to enter the province so we were good!
Once we agreed on a general plan, which basically headed us in the direction of Ke Ke Xi Li to the far south, we were on the way. We agreed that planning any day's adventure would take place daily at breakfast or the night before so as to allow for maximum flexibility and the potential to stay longer in places rich in wildlife and less time in areas where the critters were hiding, if we felt we were spinning our wheels. This plan worked very well throughout.
***
Qinghai Lake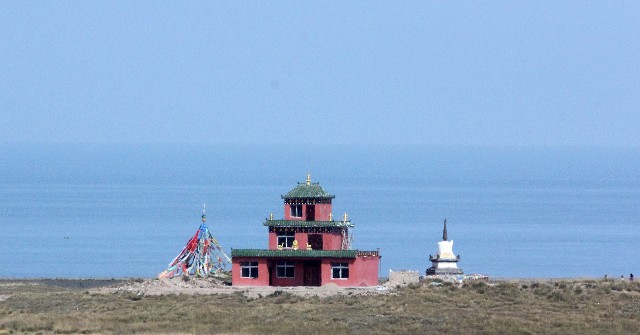 Qinghai Lake is simply enormous. One cannot see the opposite side at all, even on a clear day. Tibetan culture dominates the landscape.
***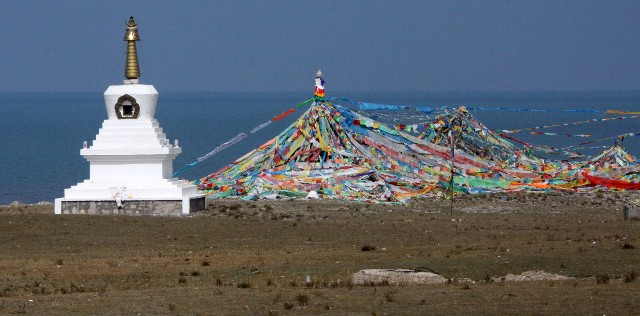 The Tibetan Culture of Lake Qinghai.
***
So after picking up some supplies we got on the road and headed toward Qinghai Lake, China's largest saltwater lake (second largest on Earth!). Along the way to Qinghai, I happened to see a little mammal posing on a ridge along the main highway. I called on Mr. Wang to stop so we could take a better look, and sure enough we came across our first field of Pica. In this case, we saw our first and only Daurian Pika (confirmation needed), numbering in the high hundreds. (I quickly learned how difficult it was to ID the pika in Qinghai. There are EIGHT species in the province and some are very similar to each other. And of course I didn't have skulls or dentition to look at, so all of my ID's are coming from external morphology…tough one.)
***
Daurian Pika (Ochonota dauurica)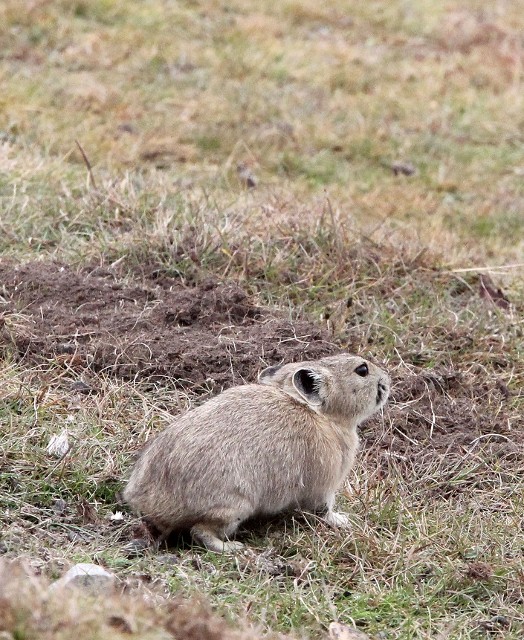 What I believe to be a Daurian Pika found enroute to Qinghai Lake on one of the passes. The cranium is missing the large bulge that the Plateau Pika have and they have a very distinct muzzle and white colar around the ear and a few other characteristics that seem to separate them. (More images at end of the page for confirmation. Please feel free to give feedback on this one...)
***
Qinghai Lake is usually a birding stop as it is home to "Bird Island", where hundreds of Brown and Black-headed Gulls summer. While driving the southern shores of the lake it became clear that I was in a region of China dominated by Tibetan culture. Gompas, Tibetan temples, prayer flags and prostrating Buddhist pilgrims dominated the landscape throughout our trip past Qinghai Lake. I wasn't expecting anything in the way of fauna, with the exception of the various birds, so I was very happy and a bit surprised to see our first two species! A spectacular Tibetan Red Fox was our very first predator of the trip. He stuck around for a few moments for some quick shots, but our stop to get a better look at the fox gave us our first look at the Plateau (Back-lipped) Pika, numbering in the hundreds. Good start! On our first morning we already nailed three mammal species!
***
Tibetan Red Fox (Vulpes vulpes montana)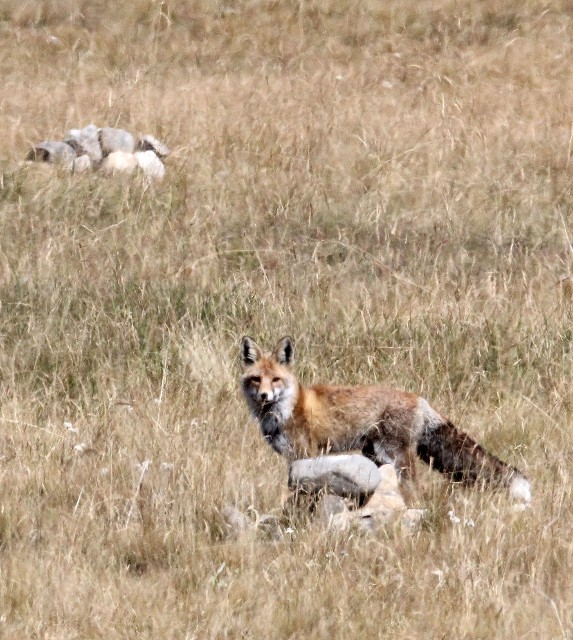 Tibetan Red Fox! Our first canid for the trip was seen on the shores of Qinghai Lake. All of the foxes spotted during the trip were seen with the transitional coat - heading toward winter!
***
Plateau Pika (Ochotona curzoniae)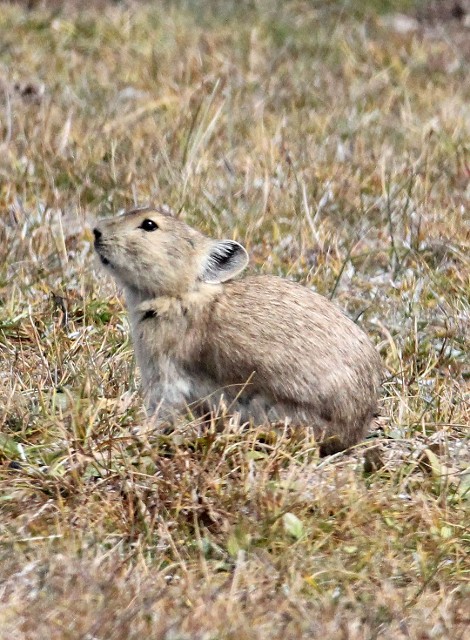 Plateau Pika, otherwise known as Black-lipped Pika, were a dominant theme throughout the entire trip.
***
***
Chaka Salt Lake Reserve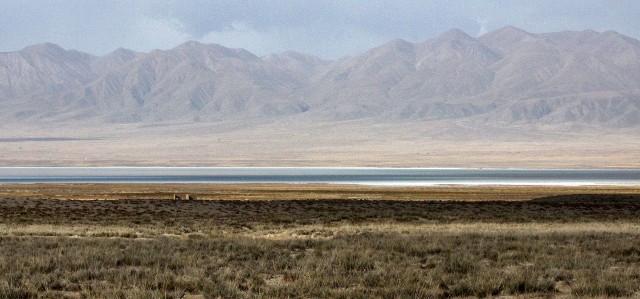 Chaka Salt Lake is a large saltwater lake situated in the vast Chaka Basin. We were there mainly to search for Goitered Gazelles.

***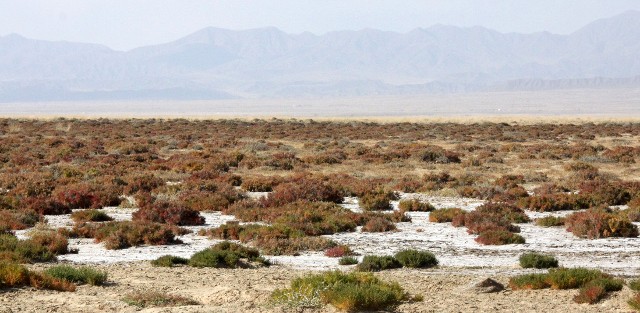 The vegetation surrounding the lake in the basin was your typical halophytic flora with plants that were very similar to regions of southern California. In fact these shrubs were all very similar to the genus, Allenrolfea occidentalis, which I have studied in salt flats in California. They even had salty flesh.

***
Our destination for the day was Chaka and the Chaka Salt Lake Reserve. It became clear early on during this day's drive that I was entering a truly spectacular part of the world. The mountainous terrain of the region was stunning. And when we finally approached Chaka Lake, the scenery was something right out of a coffee table book on the scenery of the western US. The vegetation, the geology and even the topography were reminiscent of North America on many levels. This was a reoccurring theme throughout the entire trip. I kept telling Steven that, although the elevation in Qinghai was considerably higher, the landscape was very similar to my home.
***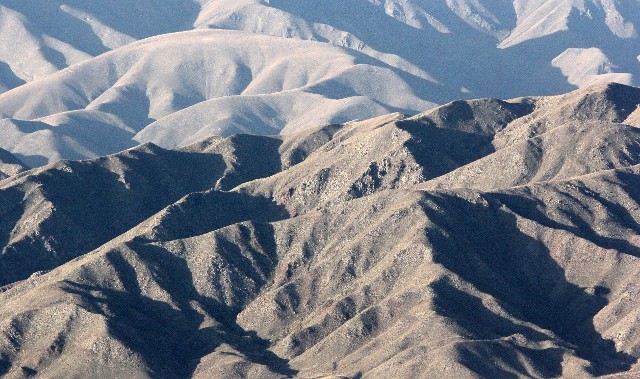 The surrounding hills and countryside reminded my much of my childhood home in Southern California.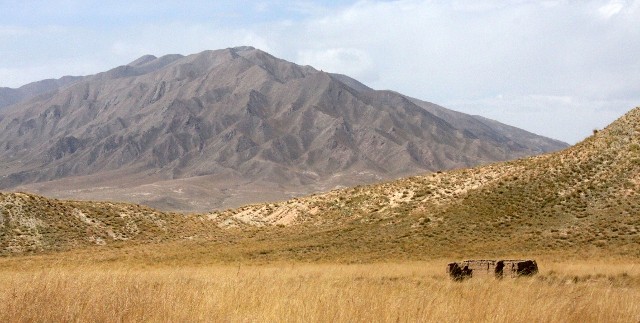 While I would not classify much of the area seen on the trip as "wilderness", per se, I would absolutely agree that it was vast and wild.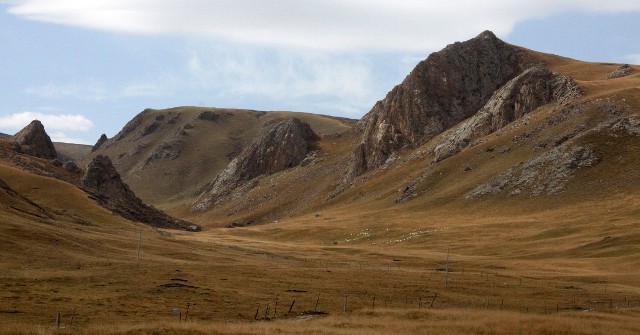 Valleys went off in all directions and seemed endless.
***
Along the approach to Chaka Lake, Mr. Wang found a spot that he knew some of the birding groups stopped for some pheasant species and suggested we pull off for a bit for a look. While I am always game for a look at a nice pheasant, I was mainly interested in the Goitered and Przewalski's Gazelles that been spotted o the plains surrounding the lake on previous trips. We pulled out the scope and binocs and scanned in vein for the gazelles. The entire area around the salt lake was great habitat for gazelles for sure, but the region was also home to numerous flocks of sheep and was very heavily populated by pastoralists. We did flush out several Woolly Hare while trekking the cultivated plots in the area, but no sign of the gazelles. But we were up to four mammals on day one!
***
Woolly Rabbit (Lepus oiostolus)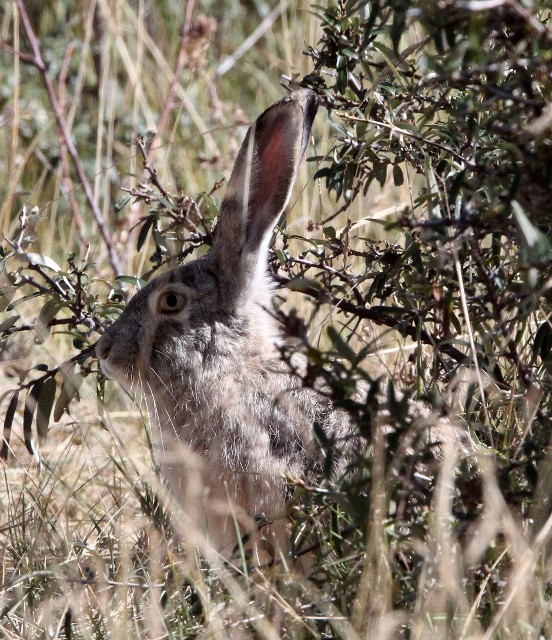 Woolly Rabbits were seen in most locations but the fields near Salt Lake Chaka they were very common and we flushed out several during a short trek.
***
Mr. Wang asked if we wanted to circumnavigate the lake on a gravel track to give a more thorough look for the critters and of course I agreed, as it seemed that this would be nearly 75km of gravel track with good potential of seeing the gazelles we were searching for.
The track was basically very good with some nice birding to be had. No mammals to speak of however. It wasn't too long before I noticed a distinct burning plastic smell. I was thinking initially that it was a plastic back caught on the exhaust pipe but when the smell persisted for over 40km and only seemed to get worse, I was thinking something was wrong. Our driver did not seem concerned so I didn't bring it up. But after stopping and starting the car a few times, searching for photo-ops, and noticing the car was more and more difficult to start, Stephen finally told the driver to take a look at the issue. Sure enough, we blew the radiator! In fact we had been driving for nearly an hour with no water whatsoever! This was not a good moment for us….
Luckily we were able to get the car started again (barely) and were able to limp back in to town. We made a couple stops along the 50 or so kilometers back to Chaka Town to check out the domestic Bactrian Camels and some Pied Avocets, but the car was basically dead. Upon arrival in to Chaka Town, we were able to locate a local radiator specialist (yes that's right – there was an actual radiator specialist in that tiny little dusty town!) who said he thought he could fix it right up. I was a bit more pessimistic, as I thought we had cracked the block by driving dry for so long. Stephen and I went to our hotel and to dinner thinking the car was dead, and we made contingency plans to have another 4X4 come out of Xining that next morning…. But when I woke in the morning and saw the car in the hotel parking lot, I knew we were back on the road! I couldn't believe it! Mr. Wang stayed up most the night with the radiator mechanic and they got her back in shape!
***
Pied Avocet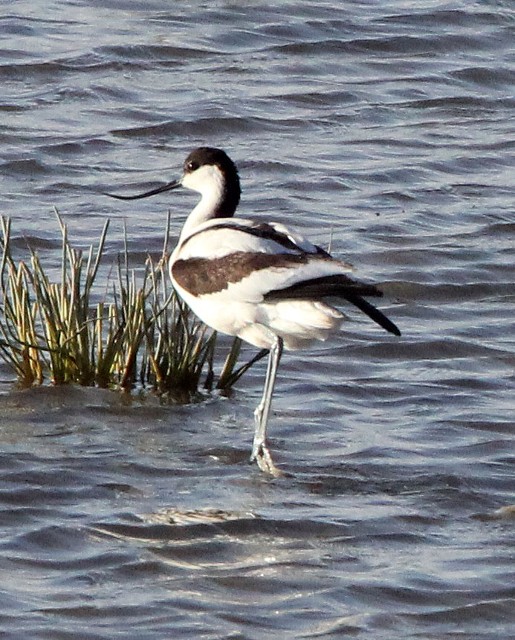 Just before our car died for the day, we came across our only small flock of Pied Avocets in one of the saline ponds around Chaka Salt Lake.
Bactrian Camels (Camelus bactrianus)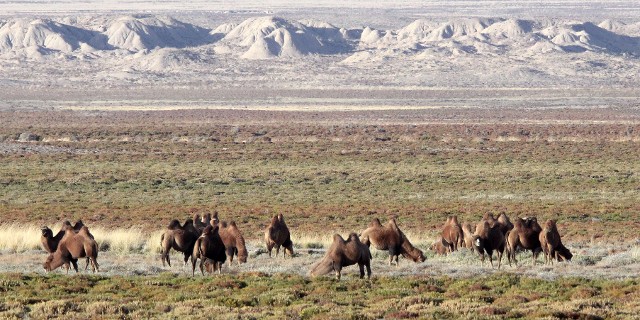 Bactrian Camels were seen commonly around Lake Chaka. One day I hope to see this species in the wild in Xinjiang, the next province to the west.
***
By 8am we were on the road to Madoi, the city that most of the trip reports seemed to gravitate toward on the south eastern edge of Qinghai Province. The drive was uneventful with still no gazelles to be seen. The countryside was outstanding as were the villages we passed through. I knew there were loads of rodent tunnels in every direction, but there were none showing themselves this morning. Our destination for the day was Xinghai and the Sai Zong Gompa area to search for Blue Sheep, as one of my trip reports from Andy Holman (Check out the RFI here) mentioned they had seen them there in the past.
***
Sai Zong (Darakar Tredzong) Gompa
(White Monkey Fortress)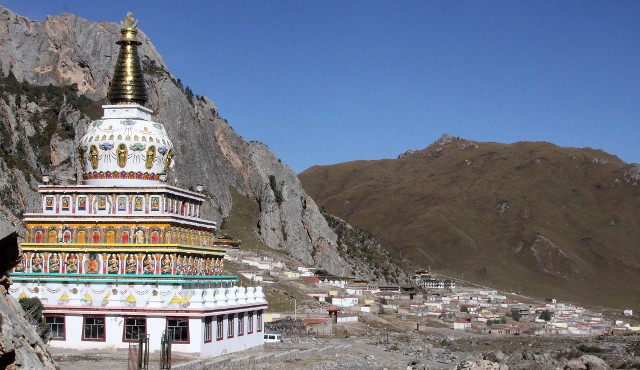 Sai Zong Gompa is a spectacular and very sacred Tibetan temple situated about 30 km to the west of Xinghai.
***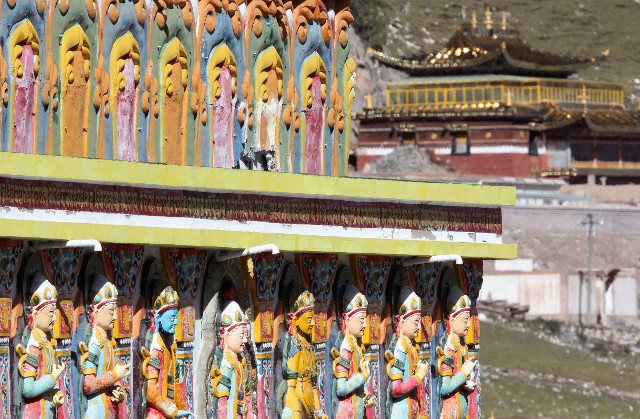 The entire complex seemed freshly restored and the colors were very vibrant. Although our target was the Blue Sheep found nearby, I was nevertheless very happy to see such a spectacular temple.
***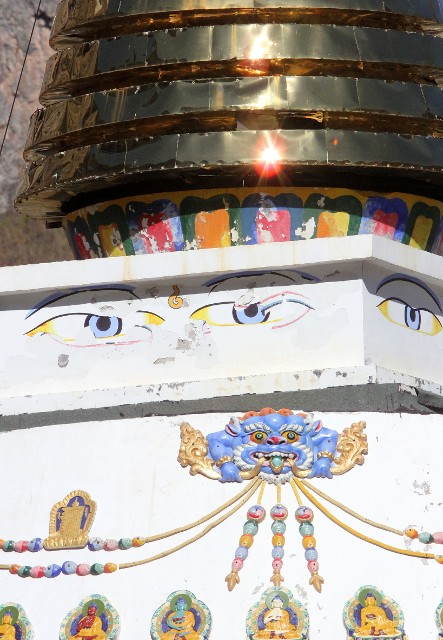 Sai Zong Gompa
***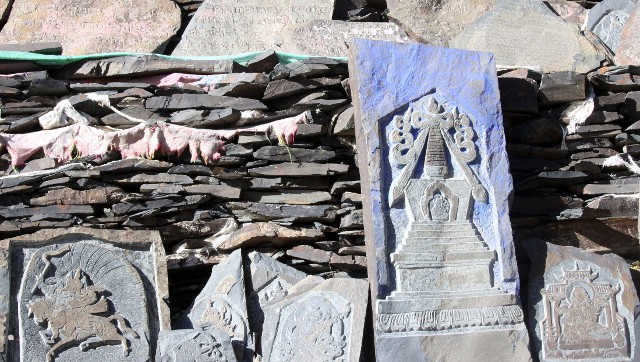 Piles of Mani Stones at Sai Zong Gompa. We saw the Mani prayer rock piles throughout the entire region.
***
The drive to Xinghai was spectacular. We were getting in to some pretty nice mountainous terrain and the landscapes were very impressive. We caught another Tibetan Red Fox prowling around the steppe and of course a few million Plateau Pika, but not much else. The prominence of Tibetan culture here was very evident as well. After a quick bite in Xinghai for some local comfort food, we were off to Xinghai Canyon, which was surprisingly spectacular, and eventually we found ourselves near the famous Tibetan style Sai Zong Gompa.
***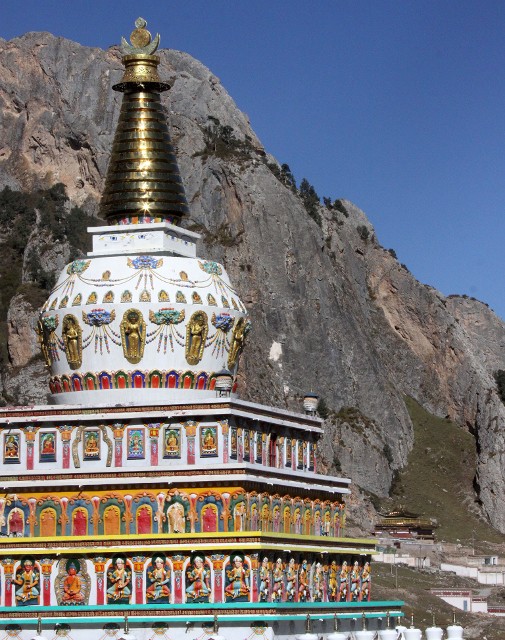 Sai Zong Gompa
***
Xinghai Canyon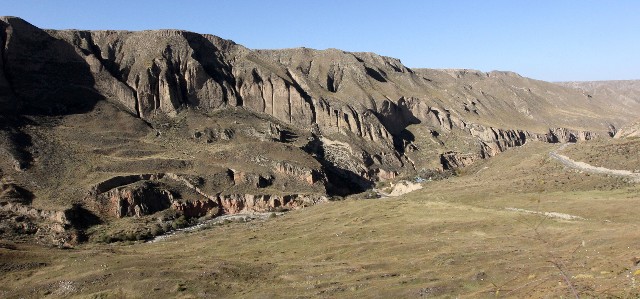 Xinghai Canyon was an unexpected surprise. Heck, we're not even sure it's called "Xinghai Canyon", as there was no name on the map...Perhaps we discovered it!
***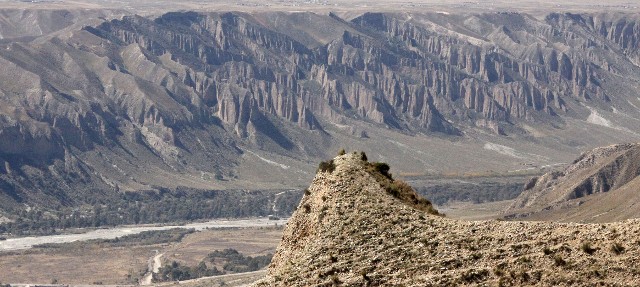 The "Badlands"-like appearance was quite impressive.
***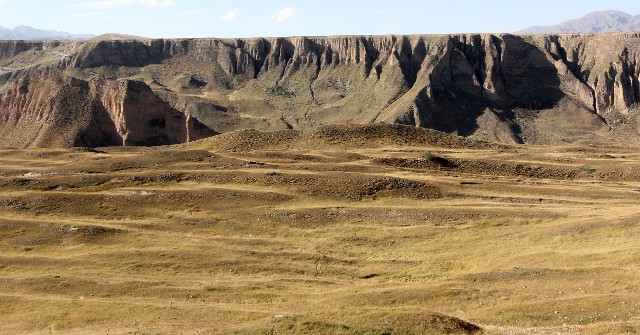 These undulations on the plateau leading to Xinghai Canyon were very reminiscent of the Channeled Scablands of Washington state. Was there a "megaflood" here once too?
***
Black (Cinereous) Vulture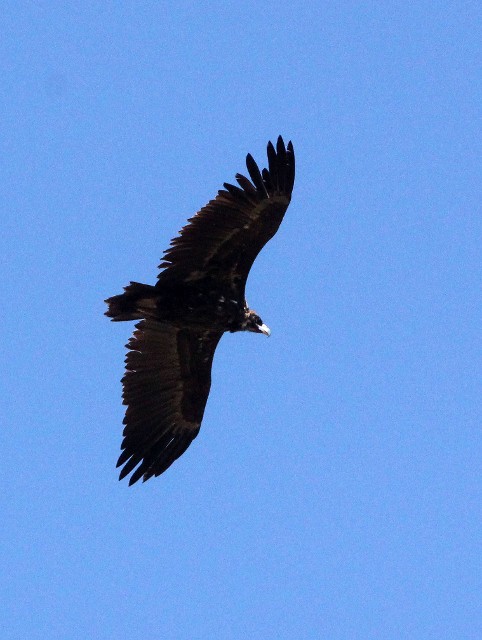 While photographing common Himalayan Vultures in Xinghai Canyon, a lone Black or Cinereous Vulture flew overhead to see what all the excitement was...
***
Mr. Wang mentioned that he had often seen the Blue Sheep on a nearby massif, and no sooner did he complete his announcement did I see about 40 or so very distantly running toward the cliff edge on the opposite side of the canyon from where we were approaching. Stephen and I immediately jumped from the car and made our way to a better vantage point to get better views. After nearly an hour or so of watching and photographing the first bovid species of the expedition, we decided to head deeper in to the canyon to see the famous temple and more of the canyon.
***
Blue Sheep (Psuedois nayaur)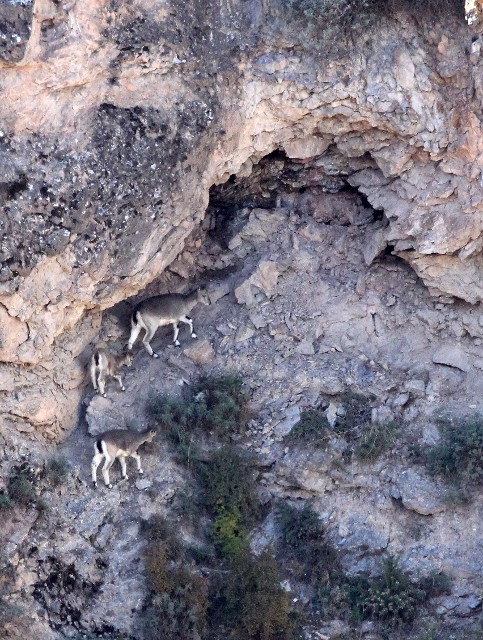 We were very excited to see our first Blue Sheep at Zai Zong Gompa. They seemed very much at home on the cliff edges.
***
The Sai Zong Gompa is a very spectacular Tibetan-style temple, which is clearly being restored but is fairly ancient but the age remains mysterious to me still. It is considered to be one of the most sacred temples in the Amdo-Tibetan region. Situated in an amazing valley surrounded by granitic batholiths, the temple is a feast for the eyes and should be seen if in the area for sure. We spent a bit of time exploring the area, photographing the glorious Juniperus forests surrounding the village and temple. There were several new birds and even some more Blue Sheep! Mr. Wang mentioned that there was a family of Blue Sheep that venture down from the hills daily to the temple for the fresh grass, but he failed to mention that the family was over 150 members large! We had some great views of Blue Sheep this afternoon.
***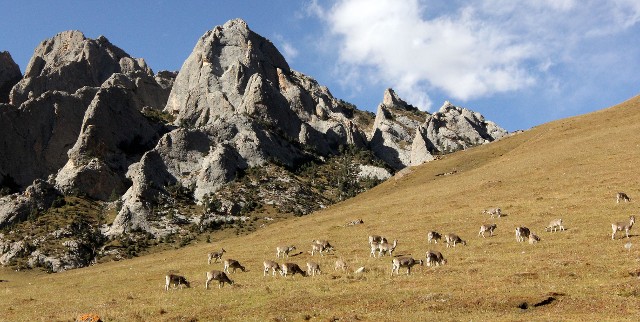 Watching the Blue Sheep graze in the grasslands of Sai Zong and beneath the batholiths was fantastic.
***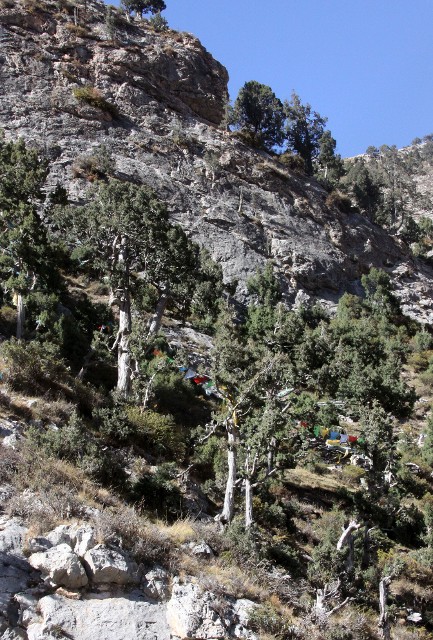 Surrounding Sai Zong Gompa was an outstanding remnant forest dominated by Qilian Juniper (Juniperus przewalskii) and Qinghai Spruce (Picea crassifolia).
***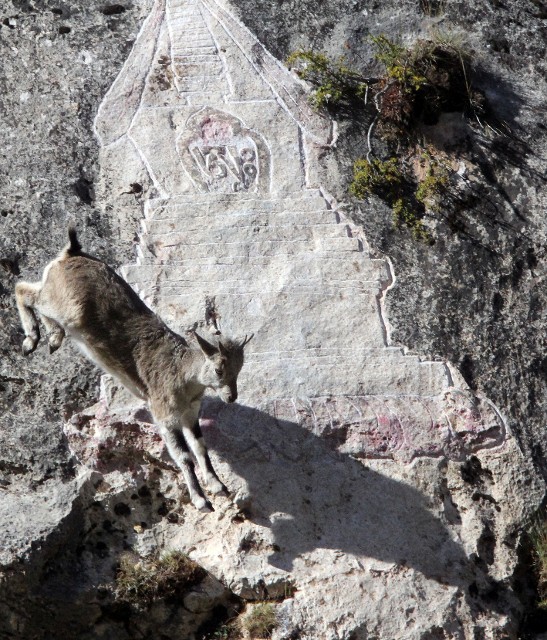 We enjoyed watching the Blue Sheep work their way down the cliff, past the Buddhist carvings to the grasses below.
***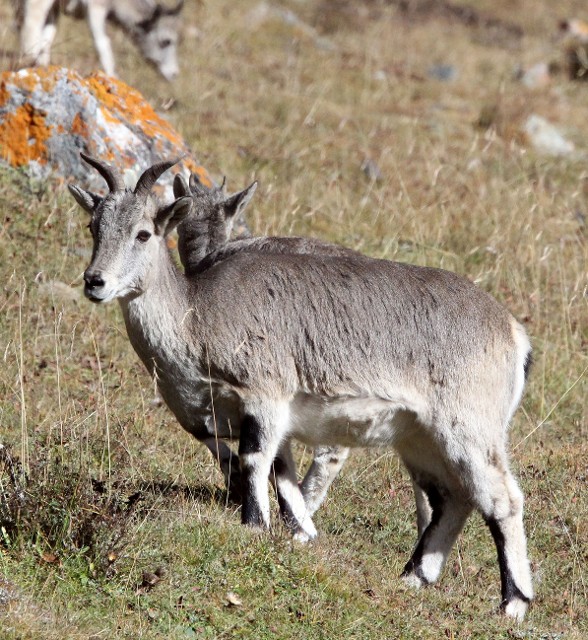 Blue Sheep of Sai Zong Gompa
***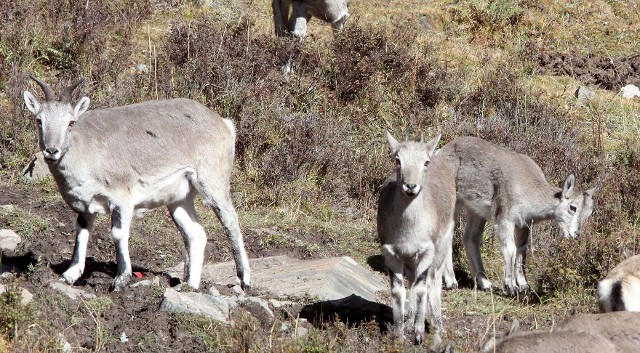 Next time I am going to shoot for a male herd, as all we saw on this trip were females and sub-adult males.

***
Mountain Weasel (Mustela altaica)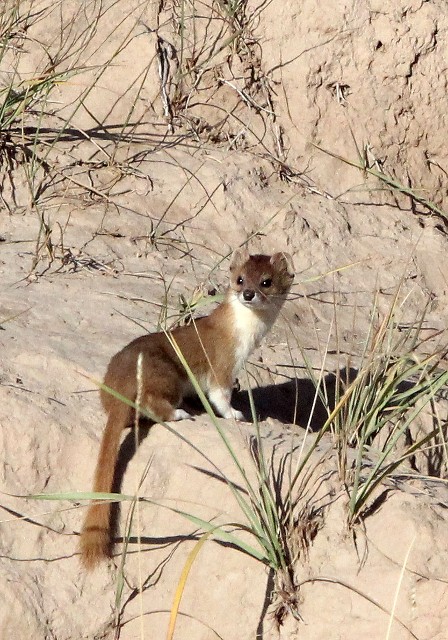 On the way out of Sai Zong Temple, we came across this spectacular little Mountain Weasel (Mustela altaica). He gave us quite a show!
***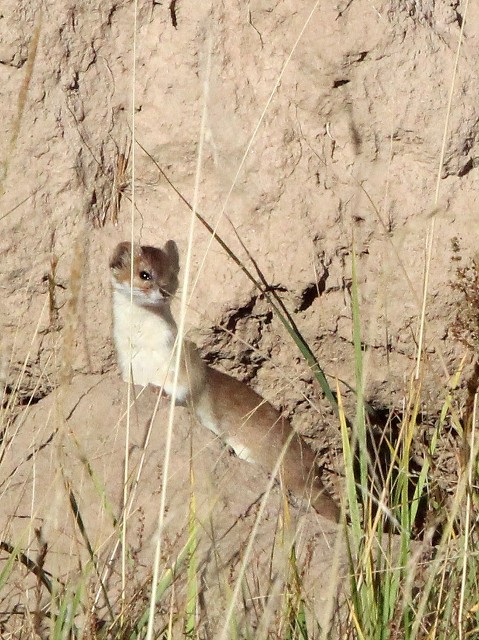 What a cute little weasel!
***
Er La Pass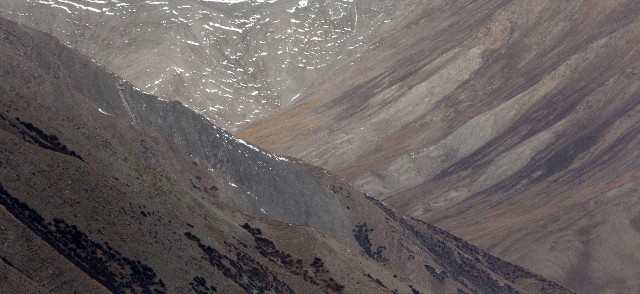 After leaving the Sai Zong Gompa area, we ascended Er La Pass on the way south. Here we searched for Pallas's Cats, Himalayan Marmots and anything basically that moved. No luck this afternoon...

***
We all decided to make it this evening to Wenquan Town, which was about 13 km after Er La Pass. I was hoping to see some Himalayan Marmots and perhaps a Pallas's Cat along the way but no such luck. We did catch some amazing landscapes however. Wenquan Town is a serious roadside dust-stop with nothing more than a very simple guesthouse, but there was heat, food and even a beer, so we were in heaven!
Jiang Lu Ling Pass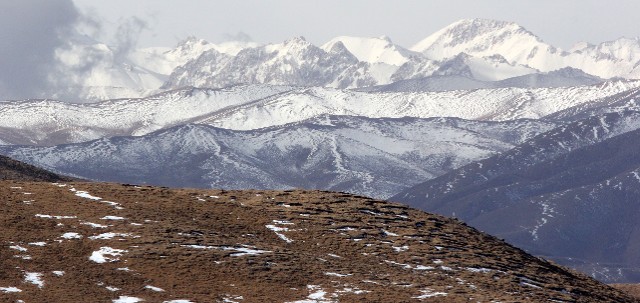 We ascended so many passes on this trip that I eventually stopped recording their names. But we all agreed that Jiang Lu Ling Pass was particularly beautiful.
Ku Hai Lake (Bitter Lake)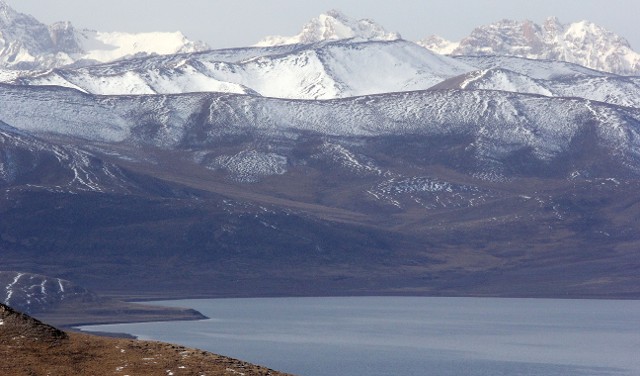 We were all very hopeful that the main megafauna-portion of the expedition would start at Ku Hai Lake, as Mr. Wang had spotted many animals here in the past.
***
At dinner in Wenquan, Mr. Wang mentioned that he knew a lake further south that he had seen wildlife on previous trips, so we decided that the next day's morning would be spent exploring there. We also spotted another lake that looked promising so we pretty much had the whole day planned out. After a pretty good night's sleep (something that was a prized possession by the end of the trip!), we made our way to Ku Hai (Bitter) Lake, where initially we saw absolutely nothing…
One of the issues facing the entire route from Xining to Madoi, in fact all the way to Yushu, the town previous completely destroyed by the 2010 earthquake, is that there is a super highway of epic proportions being constructed the entire length of the journey to connect Yushu and Xining. I have no doubt that this project is seriously interfering with the wildlife viewing opportunities currently, but I would hazard a guess that in the long run, after the highway's completion, the route might actually see a resurgence of wildlife near the road's edge, as we noticed elsewhere further in to the heart of Qinghai. But for now, wildlife was sparse indeed, no doubt scared off by the blasting and loud machinery noise being generated daily.
***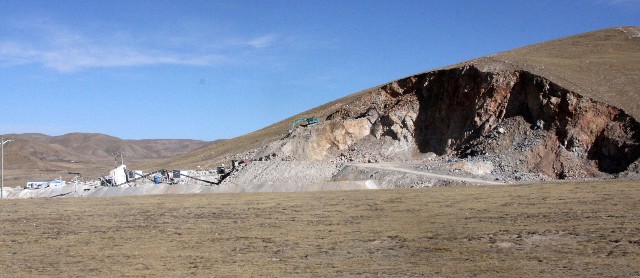 Basically from Xining all the way to Yushu was one massive road construction project. This was clearly impacting the wildlife-viewing opportunities during our visit, although the long-term impacts may not be so bad....We hope...
***
We did, however, catch several Himalayan Marmots on and around Jiang Lu Ling Pass (which other reports seem to mistakenly call Wenquan Pass?). We did several searches for Pallas's Cat and other species with no luck. Mr. Wang mentioned that he knew a few spots where previous groups he had driven started long treks, coming out down the road, mainly looking for pheasant species, but we were banking on seeing more down the road, and since we were not looking for birds, we decided to continue further south, where we all felt we stood better chances in locating critters, so we opted not to trek this time at these very cold and windy passes (maybe these were the real reasons we opted not to trek…).
Himalayan Marmot (Marmota himalayana)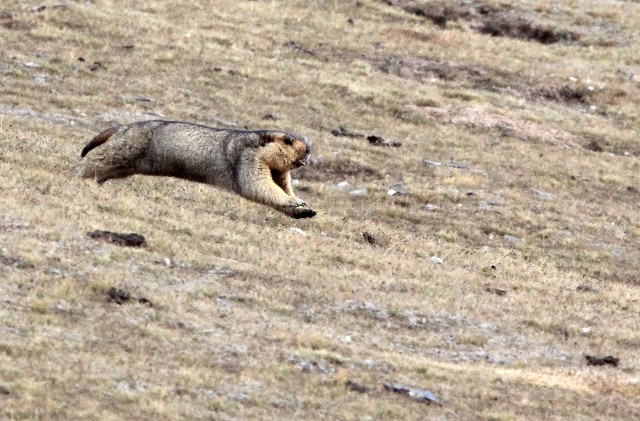 Our first Himalayan Marmot sprinting for his den on Jiang Lu Ling Pass!
***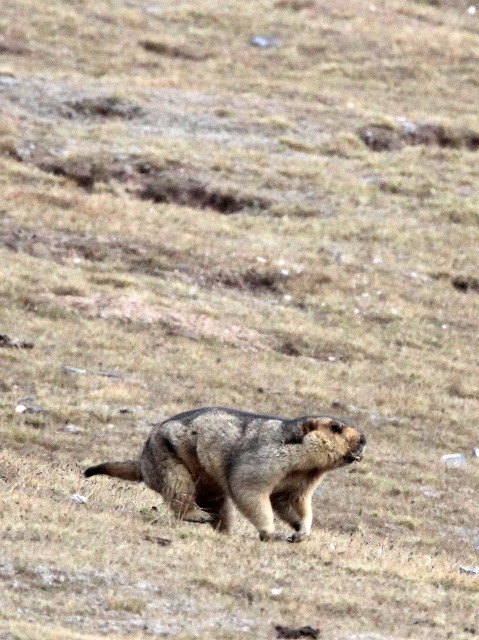 Himalayan Marmot
***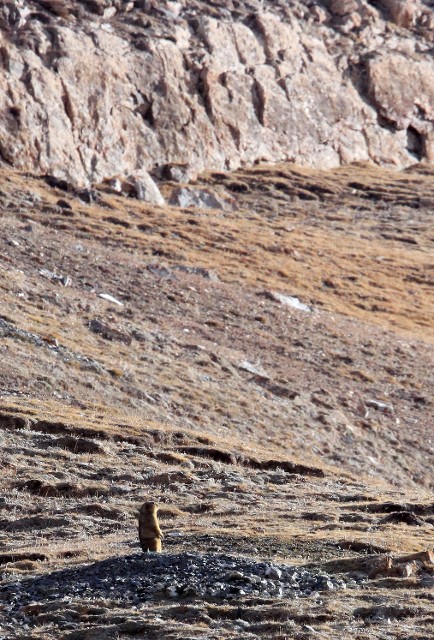 A lone Himalayan Marmot guarding Jiang Lu Ling Pass.
***
Mr. Wang did suggest we head down a dirt track and drive off road for a bit to see what we could see. At first I had no idea why as we were seeing zilch! But after driving a few kilometers off road closer Ku Hai Lake, I got out the scope and within a few seconds, I spotted our first Tibetan Gazelles! Initially I saw about 5-10 but after a bit of time and a couple kilometers trek, we confirmed nearly 100 at a distance. Nothing worthy of good images but we had another species under our belts. Little did I know at this point that Tibetan Gazelles would be with us at very close quarters for the next several days! If I had, I most likely would not have trekked so far to get such crappy images. But at least I was able to spot and observe one of the most curious reptiles I had ever seen – the Tibetan Frog-headed Lizard. We spotted dozens of these tiny (3cm) reptiles at literally 4500 meters in elevation! I honestly had no idea that any reptile could exist at this altitude.
***
Tibetan Frog-headed Lizard (Phrynocephalus vlangalii)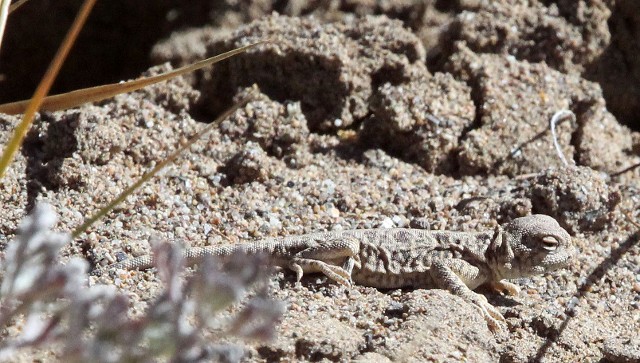 The desert floor was filled with these little Toad-headed Lizard (Phrynocephalus vlangalii), which were no more than about 3cm in length.
***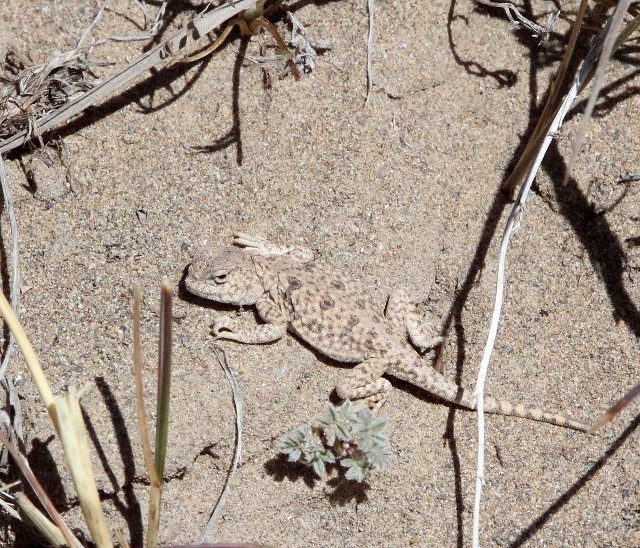 Toad-headed lizard (Phrynocephalus vlangalii) seen at Ku Hai Lake.
***
After a nice home-cooked instant noodle lunch at Ku Hai Lake, we continued our journey southward toward Madoi. We didn't make it too far down the main road until I noticed a nice pond filled with waterfowl. I decided to take a good look at it with the scope and we were very glad we did. Mr. Wang mentioned that he had seen Kiang there in the past, so I decided to spend some time with the scope to see if we could nail them here. Sure enough there were over a dozen Kiang very distant against the mountains in on the far end of the huge valley, but what struck me immediately was how a domestic herd of Yak closer by was very nervous and even stampeding a bit. I focused my scope on them and noticed immediately that a Tibetan Wolf was spooking the herd!
***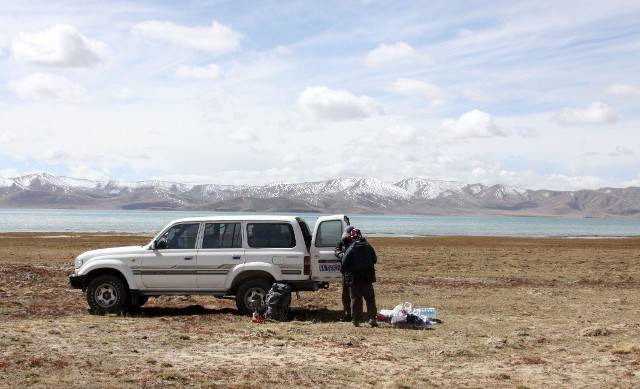 Lunch stop at Ku Hai Lake.

***
Tibetan Wolf (Canis lupus chanco)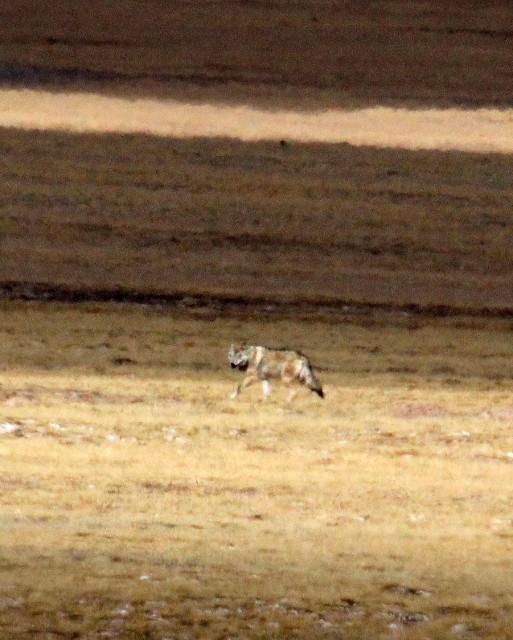 Our first Tibetan Wolf. This very grainy image was taken with the mega-600 lens and was still not very good, but the experience was so rich that I wanted to remember the visual!
***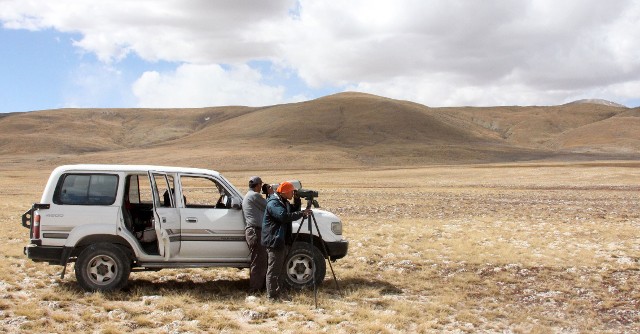 Our team several kilometers inland trying to get a good view of the fauna in the region. Here we spotted our first Tibetan Wolf, dozens of Kiang and Tibetan Gazelles and even what we believe to be our first Przewalski's Gazelles.
***
I was so excited to add, not only Kiang to our list, but Tibetan Wolf! Most trip reports mentioned Wolf sightings but I never thought we would be so fortunate. Mr. Wang suggested that we get a closer look and after we found an entry route to the interior of the valley, which was basically a construction road that ended fairly quickly, we headed several kilometers off-road and got some outstanding images of Tibetan AND what I believe to be Przewalski's (still needs to be confirmed) Gazelles, as well as Kiang and even some crappy images of our first Tibetan Wolf (which succeeded in outpacing us all the way…). But at least we had the thrill of the chase…. We added four new mammals by lunchtime!
***
Tibetan Gazelle (Procapra picticaudata)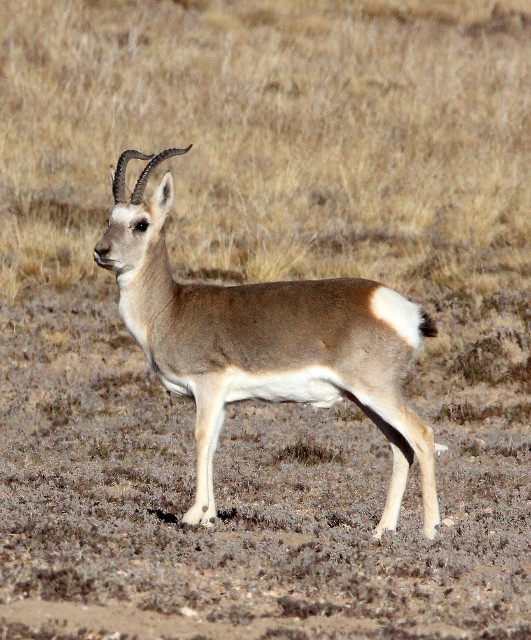 Tibetan Gazelles were our constant companions during the entire trip from this point forward.
***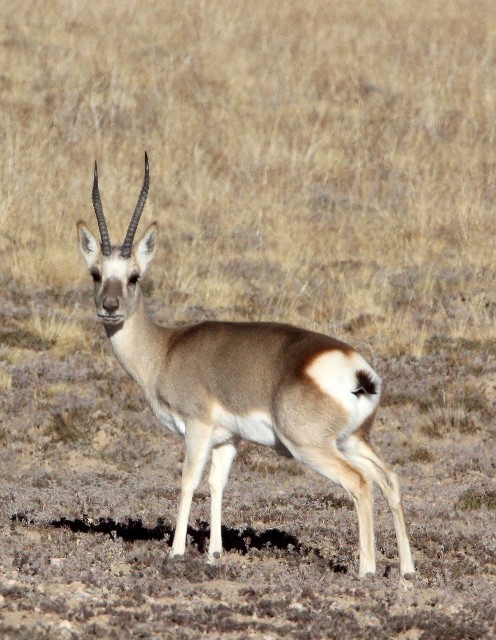 Tibetan Gazelle, Ku Hai Lake
***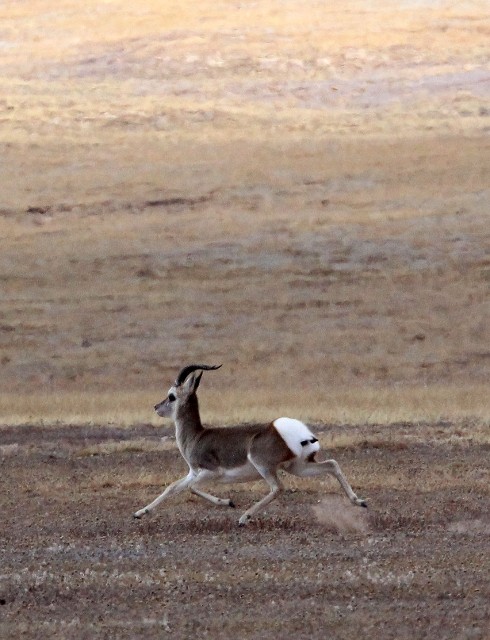 This Tibetan Gazelle appears to have a face on his ass...
***
Przewalski's Gazelle (Procapra przewalskii)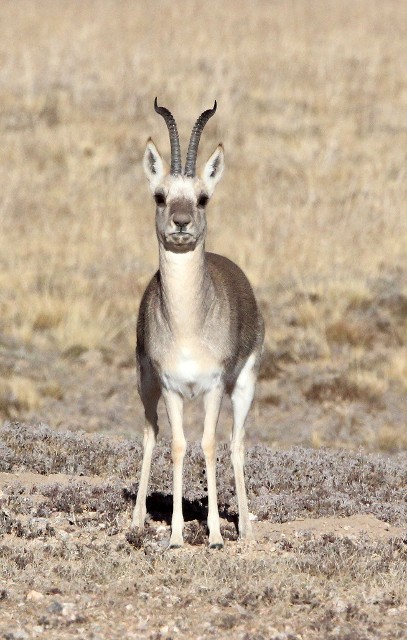 We saw loads of Tibetan Gazelle everywhere basically, but there were a couple small herds that had this very interesting horn orientation, that is strikingly similar to the Przewalski's Gazelle, one of the rarest mammals on Earth. Initially I thought this was one but later in 2013, I actually had some great fortune to see the real version of the Przewalski's Gazelle and they were quite different. (See the report here)
***
Upland Buzzard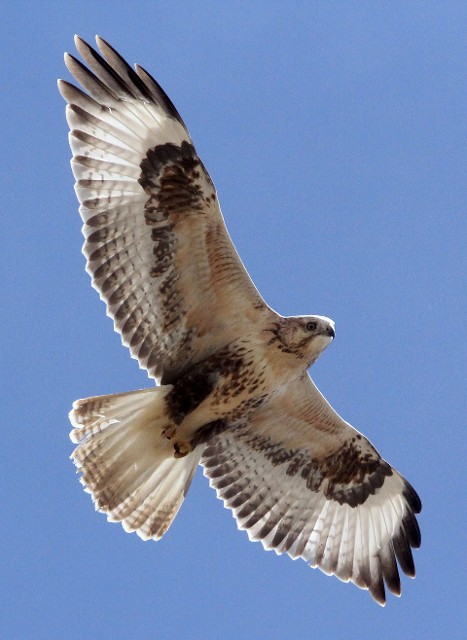 Not knowing my Tibetan raptors very well, I was thinking I was seeing at least six different buzzard or harrier species while we were cruising through the high desert. But after inspecting the images more closely, it became clear that we were seeing Upland Buzzards pretty much everywhere and in all sorts of colorations.

Dong Gei Cuo Na Lake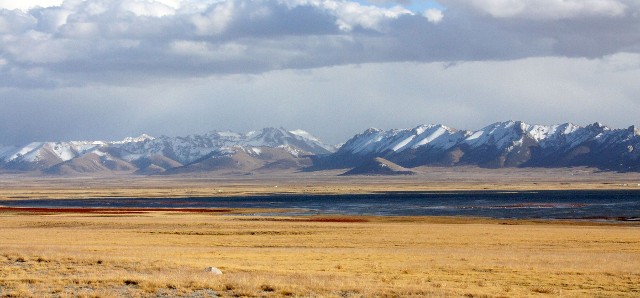 Another unexpected surprise. Mr. Wang had never visited Dong Gei Cuo Na Lake, so none of us had any idea as to what to expect. We were thrilled to add four new species of mammals here, some amazing bird sightings and some of the most spectacular scenery of the entire trip. What a place!

***
After reveling in the glory of such an outstanding wildlife afternoon, we continued a bit further to Dong Gei Cuo Na Lake, which Mr. Wang had never visited it before so we were truly exploring at this point. After actually reaching the lake and seeing how outstanding it was for both mammals and birds, I had the feeling that other groups must have visited it on previous trips. There was no way we discovered the spot… We caught very large flocks of waterfowl and large herds of Kiang and Tibetan Gazelles (and maybe even a couple more Przewalski's Gazelles – very difficult to tell, as the horns were very much like the literature, but….) in the grasslands surrounding the lake. We even caught our first glimpse of our very first Tibetan Fox! (After 21 more over the next several days, we were never tired of seeing them) And on our second full field day in Qinghai, we had three of the four canid species in the entire province, and now we were up to 9 mammals!
Kiang (Tibetan Wild Ass) (Equus kiang)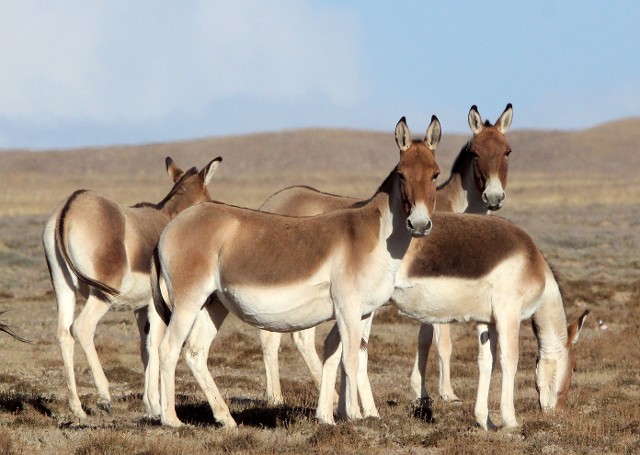 Near Dong Gei Cuo Na Lake, we came across significant numbers of Kiang. The setting and the light made the experience spectacular.
***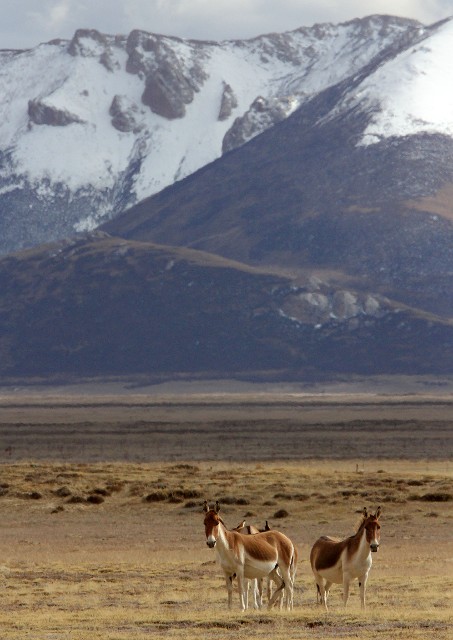 The spectacular mountains heading toward Bayankala Pass in the background with wild Kiang in the foreground....Who can ask for more.
***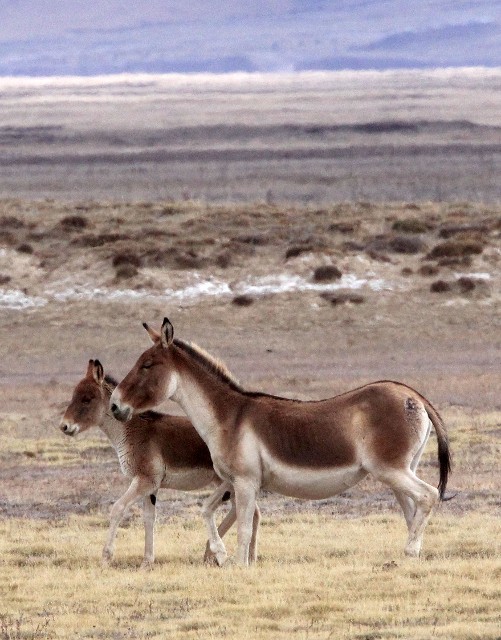 A female and her young one near Dong Gei Cuo Na Lake.
***
Tibetan Fox (Vulpes ferrilata)!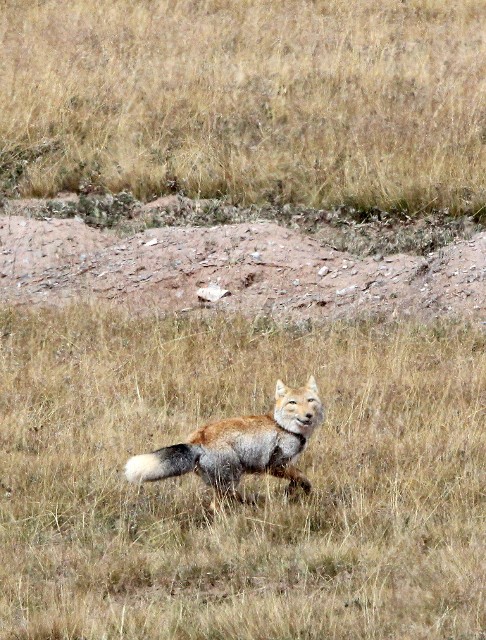 Visiting the lake gave us our first glimpse of a Tibetan Fox. Outstanding! And after at least 20 more sightings, we were still thrilled several days later.
***
Tibetan Gazelles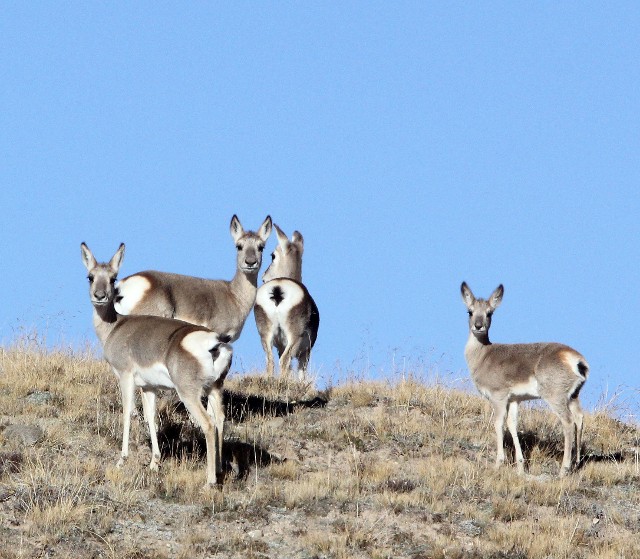 Tibetan Gazelle were very common here.
***
Chinese Zokor (Eospalax fontonierii)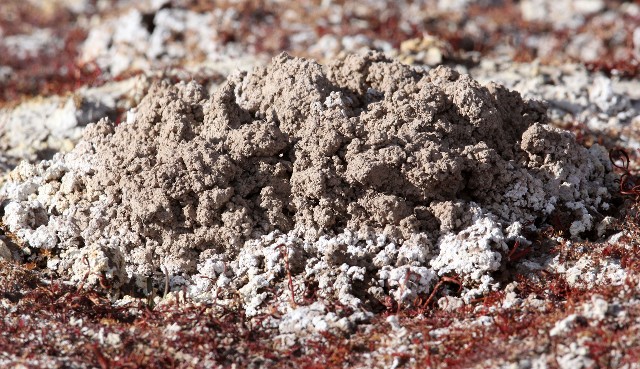 While we never saw the actual critter that made these very large mounds, I knew what it was - the Chinese Zokor, basically a mole. There were thousands of their mounds at the lake shore.

***
Black-necked Cranes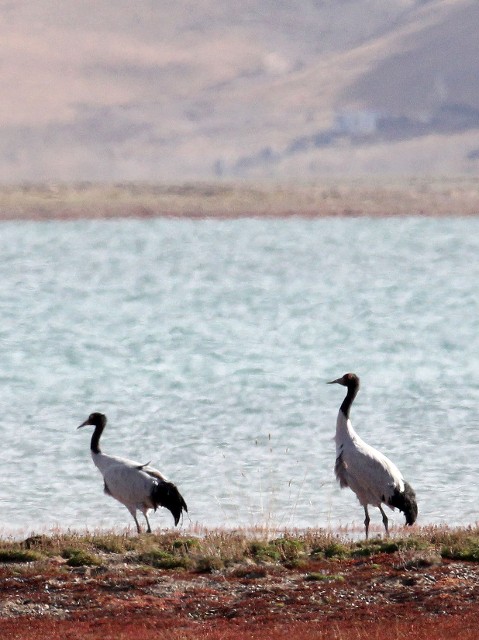 Initially I had mistakened these for common cranes due to the glaring light. But after Steven corrected me, I saw that these were in fact Black-necked Cranes, the first of many seen in Qinghai this trip.

***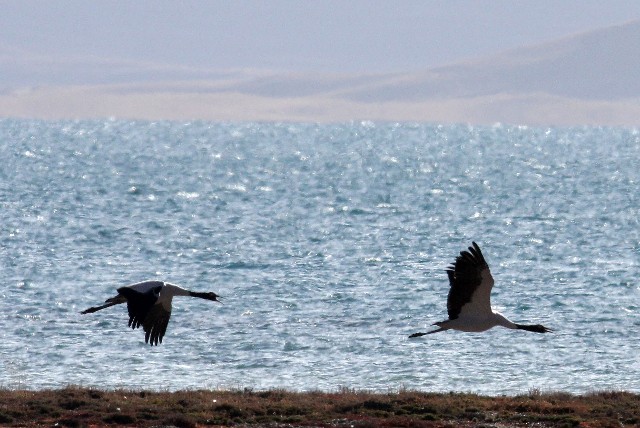 I was very happy to see so many cranes in Qinghai. The last time I had seen Black-necked Cranes was in Yunnan almost two years ago.

***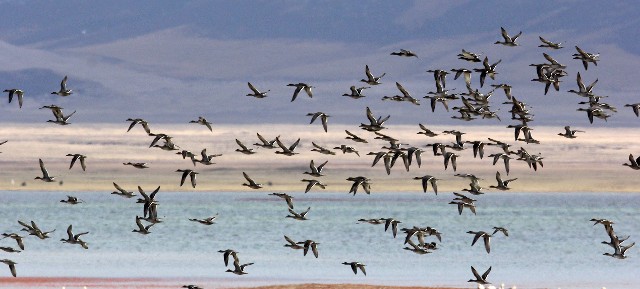 There were many species of waterfowl in the lake. Large flocks of Northern Shovelers, Northern Pintails, Eurasian Wigeons, Mallards, Pochards and other species were nervously flying here and there all afternoon.

***
Bar-headed Geese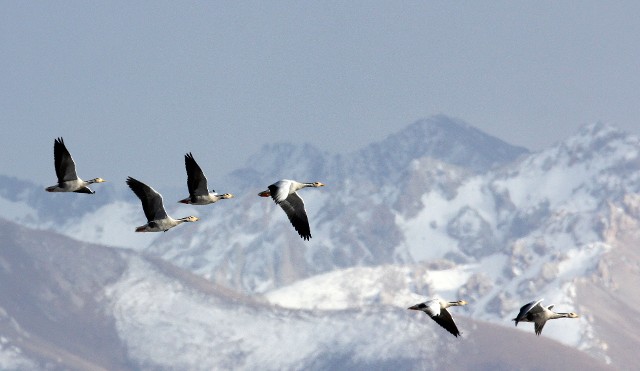 Bar-headed Geese were another species I had not seen in the wild since Yunnan and India. They were spectacular as they flew by the mountains surrounding Dong Gei Cuo Na Lake.
***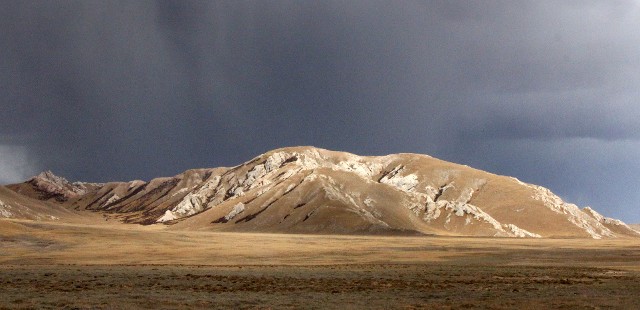 The scenery around Dong Gei Cuo Na Lake was stunning.

***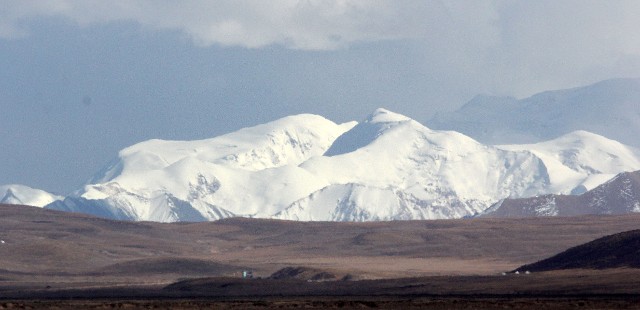 I'll be darned if I can remember the name but evidently this was one of the largest mountains in Qinghai in the top several of China. I can only imagine that this is over 7000 meters or so. Amazing.

***
The scenery at Dong Gei Cuo Na Lake was simply outstanding. This was where the trip was starting to become outright unbelievably or even ridiculously spectacular. I often found myself drifting from wildlife scanning to admiring the seemingly endless and massive mountain ranges that sprouted out in all directions. If any one of these mountain ranges existed in the States, they would be prominently famous, yet each and every one of them, even though most Chinese citizens would have never even heard of them, were much larger and more spectacular than any mountain range in North America! I was truly humbled by the sheer size of these mountains.
Now we were off to Madoi, but Madoi was full! I mean it was completely full! None of us thought that this area would be crammed with tourists but it was. At least Madoi was. Evidently this sleepy little burg (that only five years ago actually got electricity!), has caught on with the Chinese tourist circuit, and will actually fill up on the weekends, so be sure to book ahead, or you might be sleeping at the place we were (un)lucky enough to find…. Well, let's just say…Nah, I choose to say nothing….(have fun…)
***
Bayankala Pass (4894m)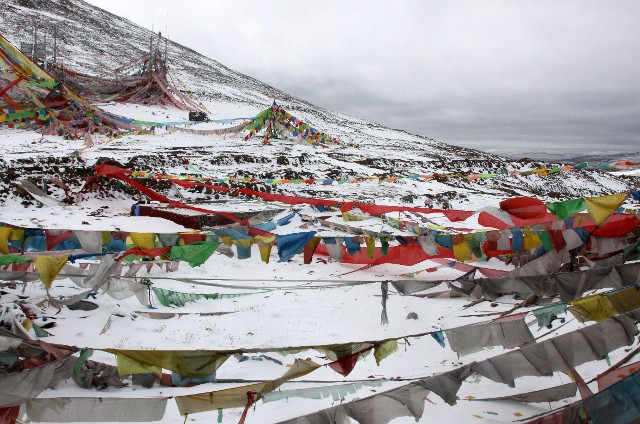 Bayankala Pass was our highest point of the trip at nearly 4900 meters. Breathing was a chore at this elevation.
***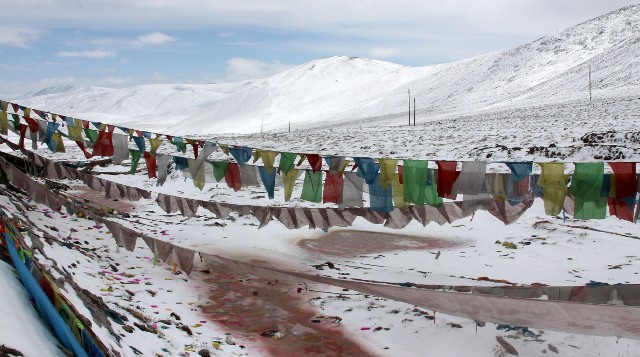 As with all the passes, Tibetan prayer flags draped the summit.
***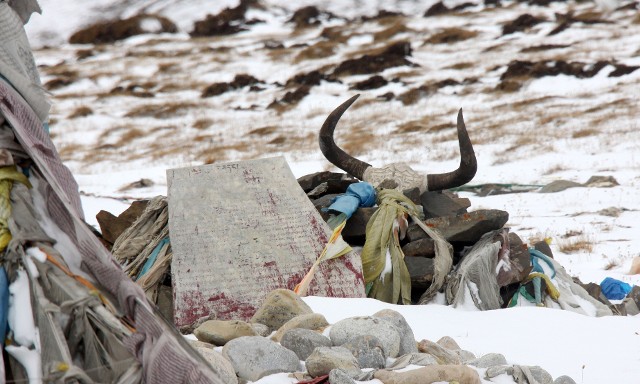 Mani prayer stones and a sacrificial Yak at Bayankala Pass.

***
Ke Ke Xi Li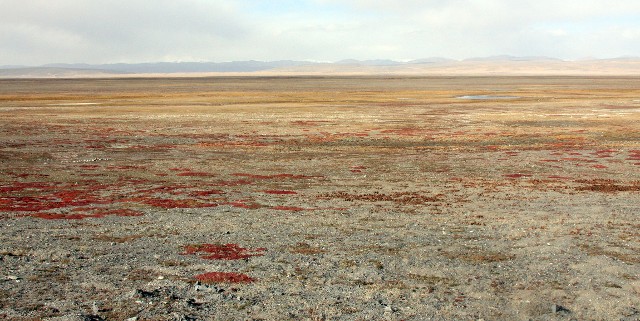 Nothing could prepare me for the vast expanses we encountered in Ke Ke Xi Li National Reserve. The plateaus and grasslands were humbling. ***
***
Today was the day I had been very excited about since the beginning of the trip. Today was the day that we were actually going to enter Ke Ke Xi Li, the place I had heard so much about over the last three years living in China. To many here, Ke Ke Xi Li represents the essence of wilderness and wildlife and has come to be a center point of the Chinese conservation movement. Owing to the popular movie with the same name, and several national and international documentaries, the reserve has come to be revered by Chinese citizens of all persuasions.
Our entry in to the reserve was pretty uneventful. After a quick lunch at Qing Shui He (Clear Water River Town), we were actually immediately in to the reserve. There were no signs or permitting stops (which I had actually expected) or fanfare at all. In fact it all seemed pretty rural and not so much along the lines of wilderness. We had some great birding opportunities initially but no new mammals to speak of. I did manage a better image of a Woolly Hare during a long solo trek I took while Mr. Wang took a brief rest.
***
Woolly Rabbit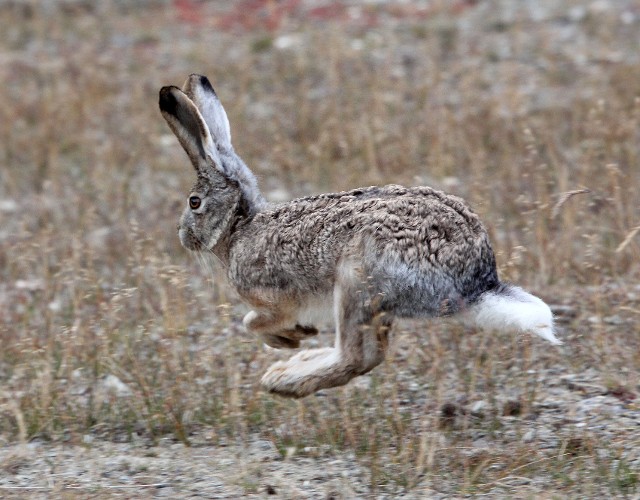 Finally I was able to flush out another Woolly Hare and snap a better image.
***
It wasn't long however before we started to see a lot more in the way of mammal life. Before we made it to Qumalai, this day's destination, we spotted at least NINE more Tibetan Foxes and countless Upland Buzzards, Saker Falcons and Golden Eagles. In fact we dubbed this stretch of road, "Raptor Highway" as the density of large raptors was more than I think I have ever seen, perhaps excluding the Bale Mountains of Ethiopia (Trip Report Here). Of course, the billions of Plateau Pika present were the main reason for the numbers of avian and terrestrial predators.
***
Tibetan Fox (Vulpes ferrilata)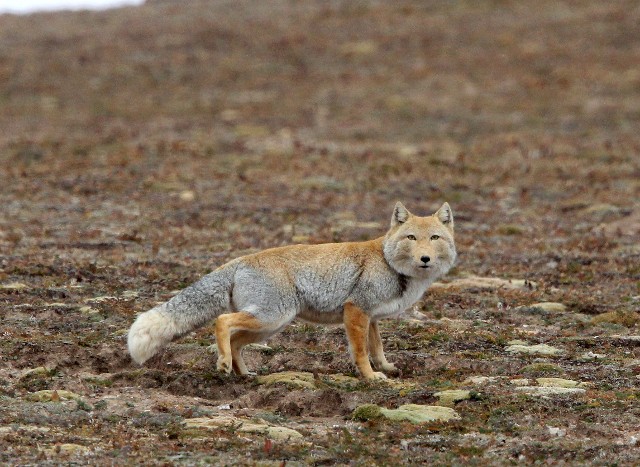 I cannot remember what number this one was but it was pretty cool!
***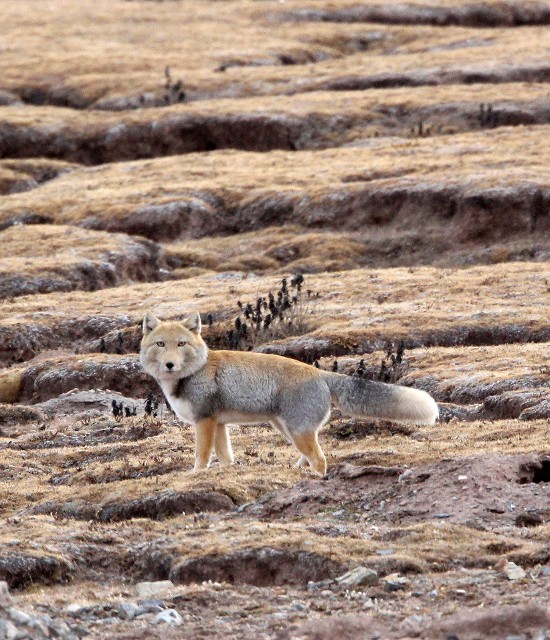 Tibetan Fox in Ke Ke Xi Li
***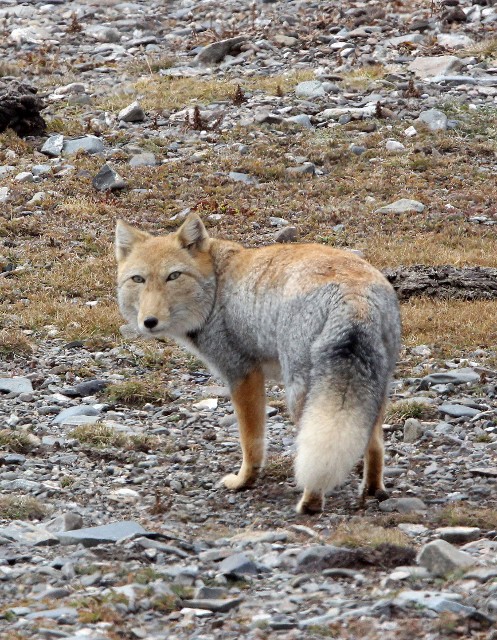 Tibetan Fox seen just outside Ke Ke Xi Li near Bayankala Pass.
***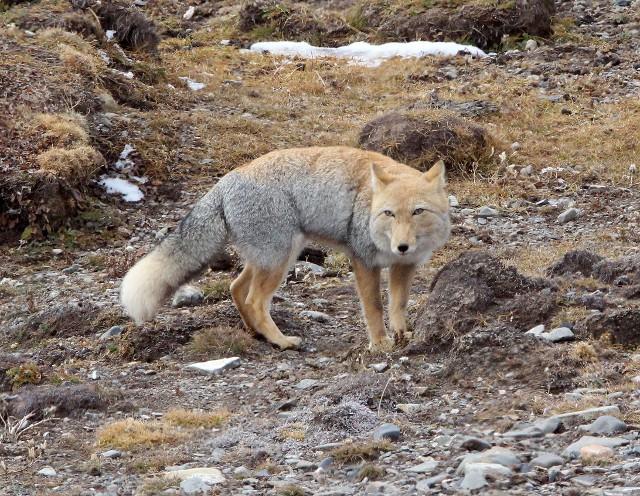 Tibetan Fox
***
Moutain Weasel (Mustela altaica)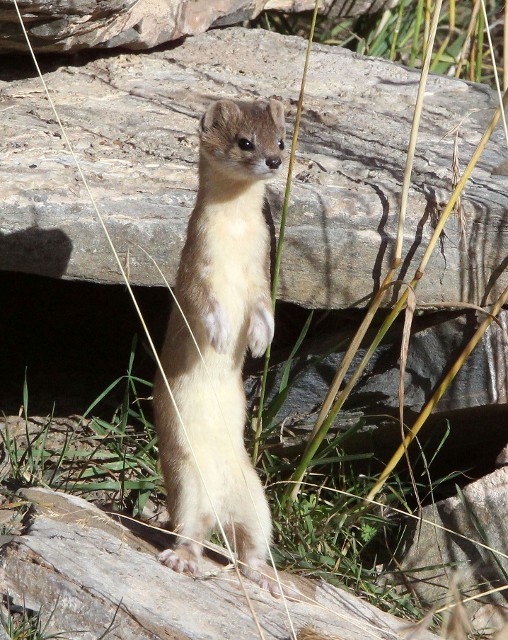 Foxes were not the only predators seen this afternoon. This little Mountain Weasel was very curious about us as we took a pee-break in Ke Ke Xi Li...
***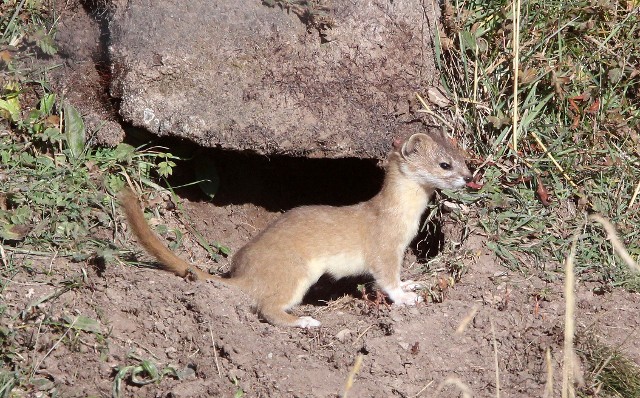 This one was quite a bit lighter in color than the one we saw in Sai Zong Gompa.
***
Upland Buzzard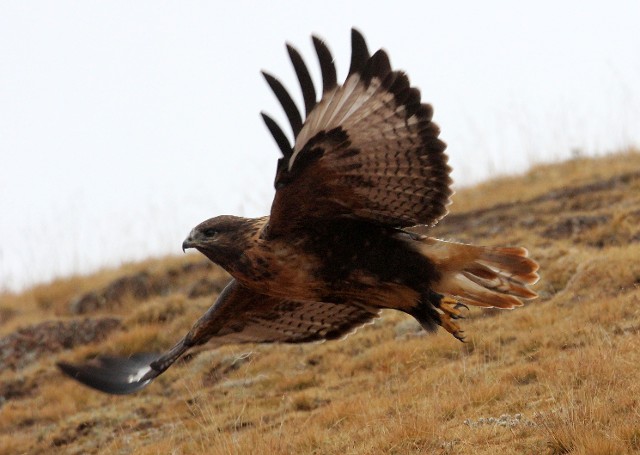 Dubbed, "Raptor Highway", the road through the first 300km or so of Ke Ke Xi Li was so filled with raptors of numerous species, that they were encountered virtually every few dozen meters or so. Of course the Pika population was large enough to support them all.
***
Golden Eagle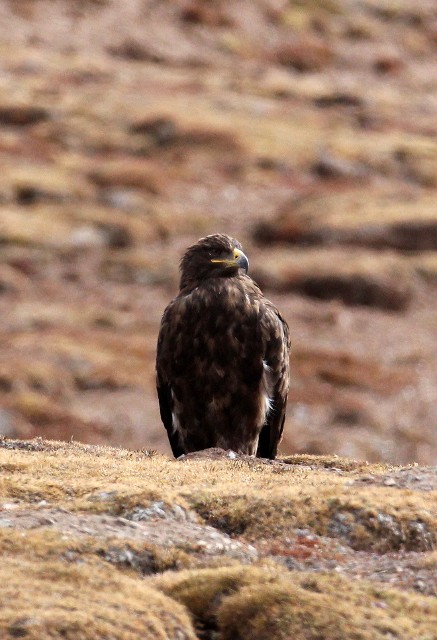 It was great to see Golden Eagles so numerous.
***
Saker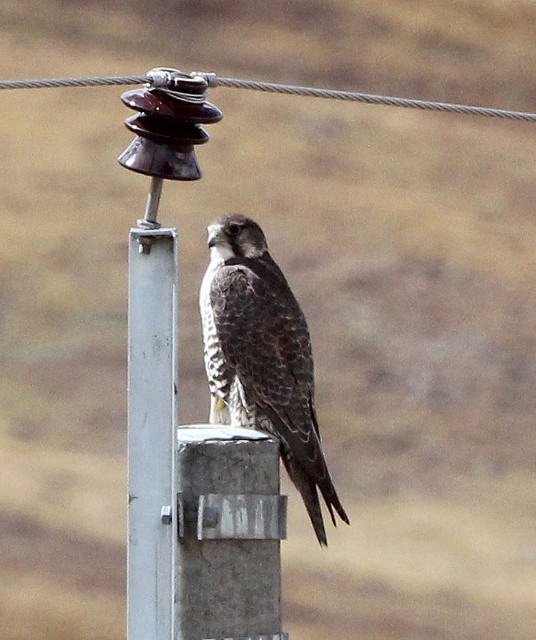 Initially I thought I was seeing faded Peregrines all over the place....but these were all Saker Falcons.
***
Our drive through the entrance of Ke Ke Xi Li was quite dramatic and unexpectedly filled with good sightings. Mr. Wang initially told us that this stretch of road was generally devoid of wildlife, but after we finished the drive to Qumalai, he mentioned that he had no idea there was so much wildlife on this road. I told him that he had never driven it with MY eyeballs on the job!
***
Qumalai Town
Qumalai is one of the many towns in the region that were virtually completely destroyed in the 2010 earthquake and is currently basically brand new. And after the previous night's very basic accommodations, we were glad to get a nice place with heat, electricity and a functioning toilet, something that many of the inns on the Qinghai expedition route failed to include…. But the town and the surrounding villages were lovely and I very much enjoyed watching the local folks go about their daily lives even for a short time.
***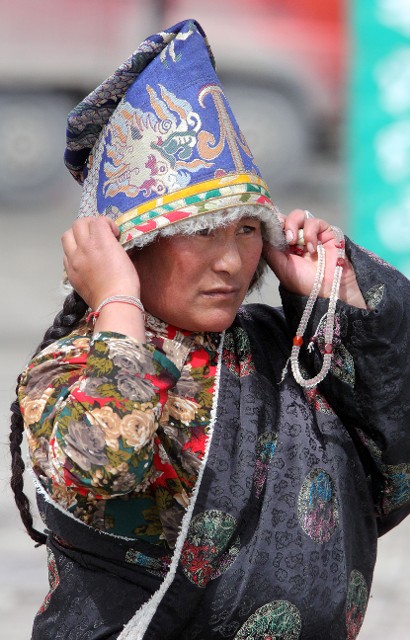 Tibetan culture was the dominant culture of Qumalai and the villages throughout this sector of Qinghai.
***
Qumalai Town
***
Market time in Qumalai.
***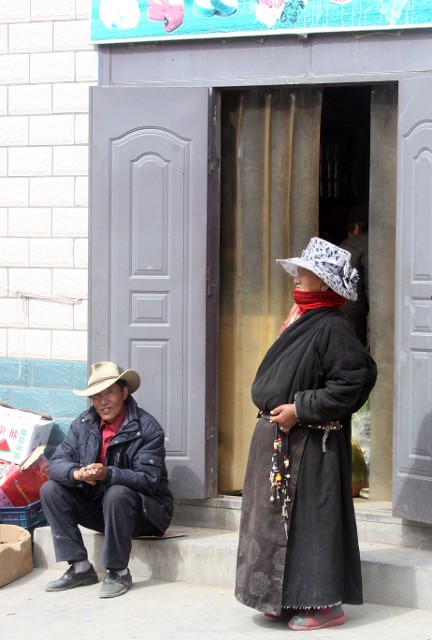 Qumalai Town
***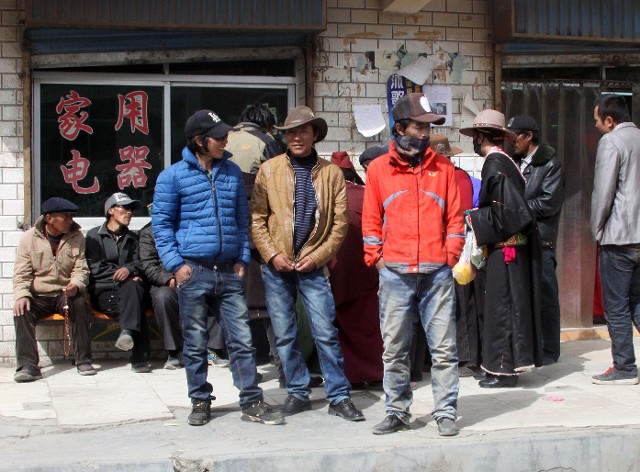 Some local Qumalai cowboys!
***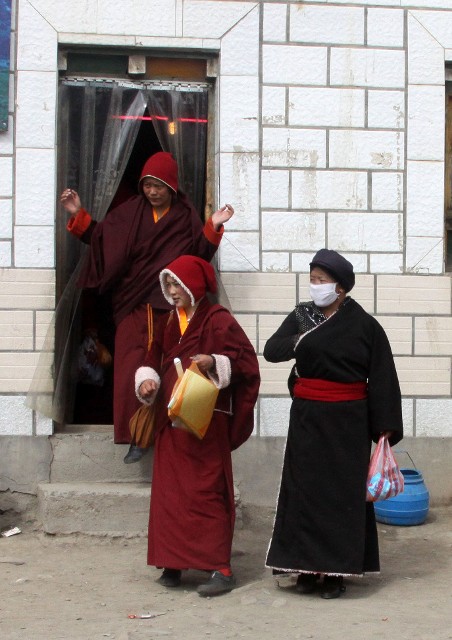 Picking up supplies in Qumalai.
***
Dong Chong Xia Cao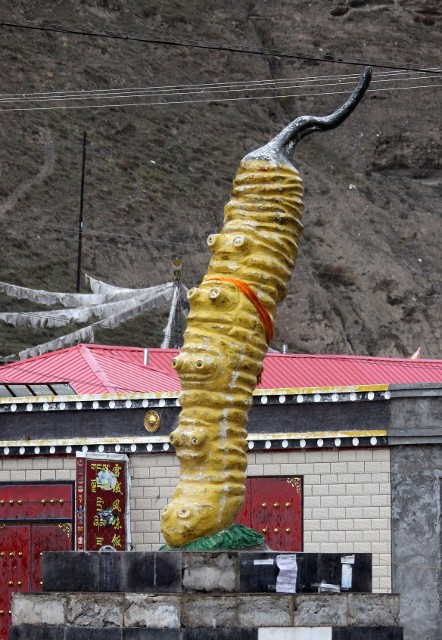 In Qumalai and the surrounding villages, we were entering Dong Chong Xia Cao country! Caterpillars with a parasitic fungus were commonly collected in the area and had a price per gram higher than gold! Mr. Wang was a heavy invester in this traditional medicine but it had not yet been profitable for him.
Today it was time to enter the heart of Ke Ke Xi Li and I was very excited with the possibilities of new species and sightings. After a few kilometers outside of town, we nailed yet another Tibetan Fox, and while I was getting a better look at it, I glanced a distant hillside and saw what I initially thought were Red Deer. Upon closer inspection, I noticed we had an entire hillside of White-lipped Deer! Another rare and endemic species spotted, and there were at least 50 of them. Mostly females and young males, but they were very spectacular.
***
White-lipped Deer (Przewalskium albirostris)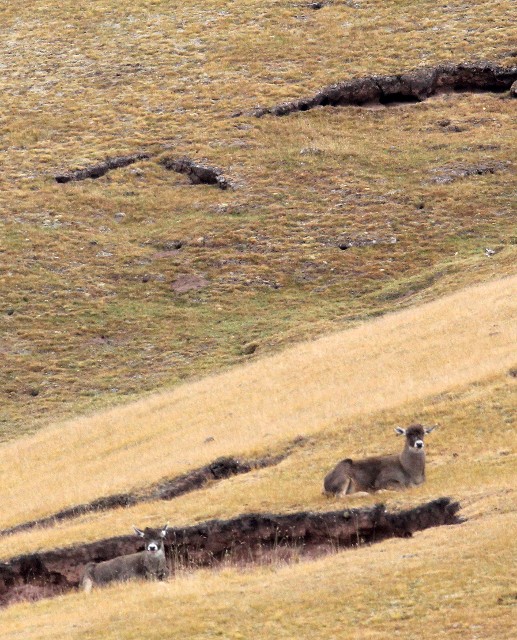 White-lipped Deer about thirty minutes west of Qumalai. Initially I thought they were Red Deer until I saw their nice white muzzles.
***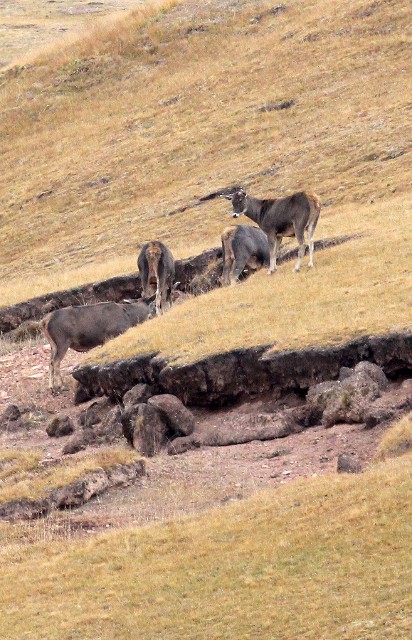 White-lipped Deer
***
Himalayan Marmot (Marmota himalayana)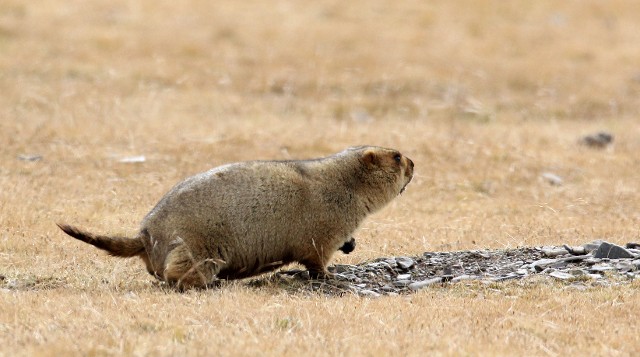 Himalayan Marmots were very common along this stretch of road.
***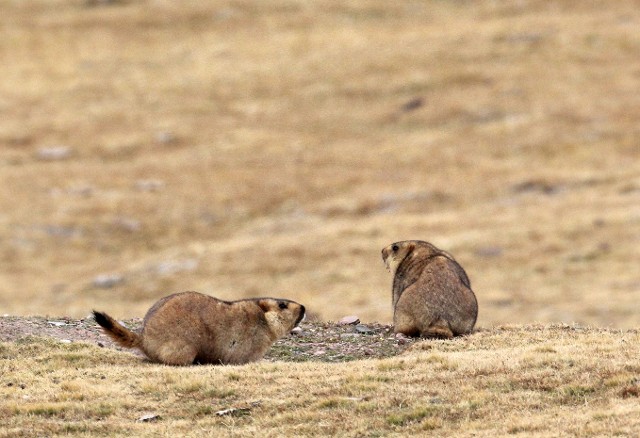 Himalayan Marmots of Ke Ke Xi Li.
***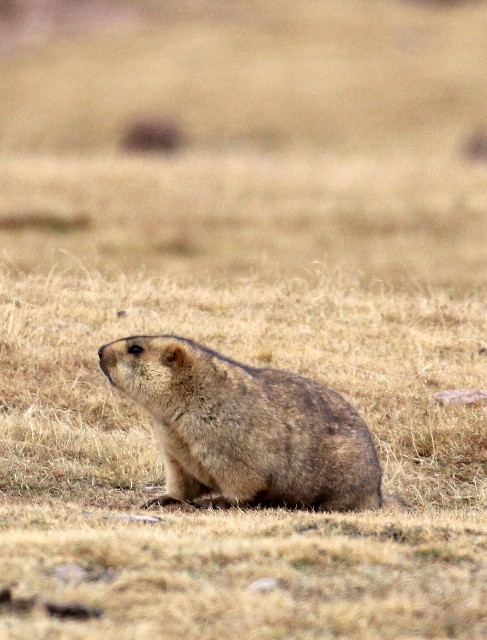 Himalayan Marmot
***
We were feeling pretty good while heading through Ke Ke Xi Li at this stage. We were now regularly spotting Himalayan Marmots, Tibetan Gazelles, more Tibetan Foxes and of course billions of Plateau Pika and even a Woolly Hare or two…But perhaps the best sighting of all was just around the corner. As we came around a bend and was heading up a steep grade, out of the blue came our second Tibetan Wolf! This time, instead of being a zillion miles off in to the distance, he was directly in front of us! He darted directly in front of the car and allowed us some great views as he stopped and gave us about as good a looking-at as we gave him. What an amazing animal. We watched for several minutes as he made his way deeper in to the hill-country of Ke Ke Xi Li. What an amazing privilege to see such an impressive predator in the wild. None of us will ever forget the experience.
***
Tibetan Wolf #2!
Our second Tibetan Wolf taking a look back at the gawkers trying to get a clear look at him!
***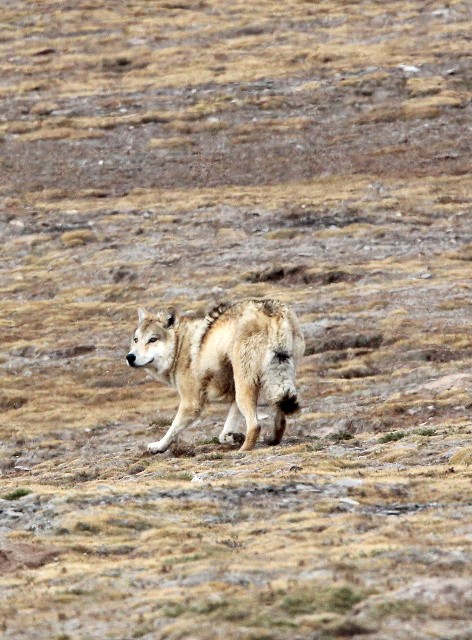 Tibetan Wolf (Canis lupus chanco)
***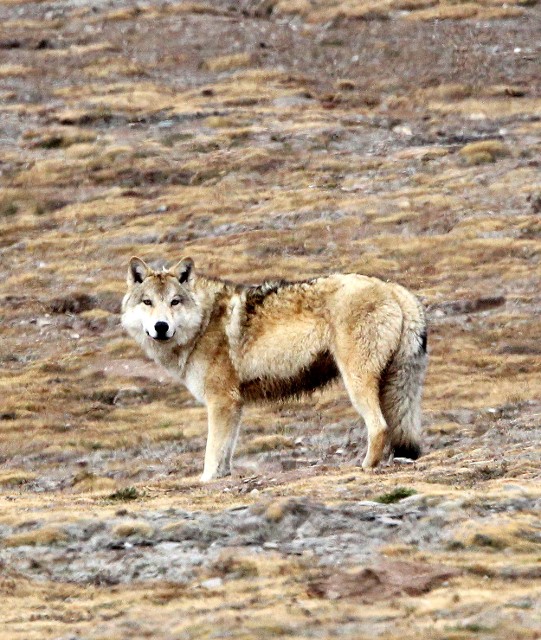 Our very own Tibetan Wolf!
***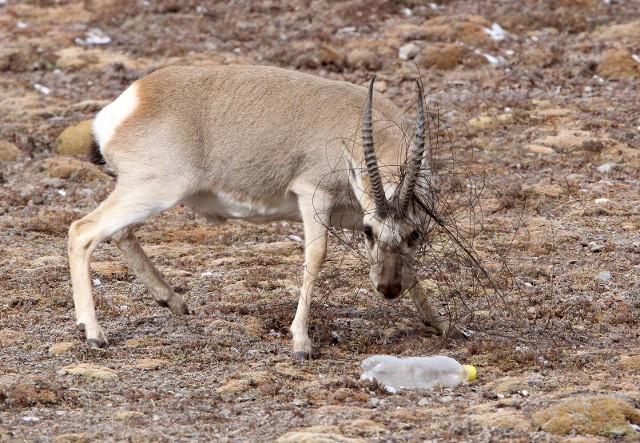 Shortly before spotting the Tibetan Wolf, we saw perhaps the saddest part of the trip - this poor tangled, and most likely doomed, Tibetan Gazelle. The footprint of humankind was dominant throughout the entire area.
***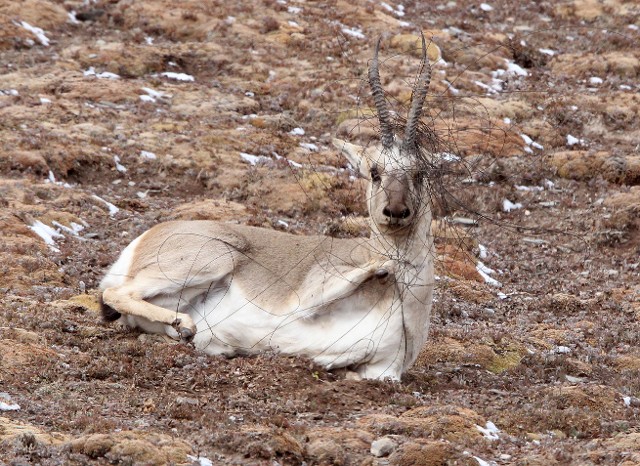 For a brief moment, when he got his front leg caught too, I thought we could reach him and free him, but he would not have it. I think about this little dude a lot still...
***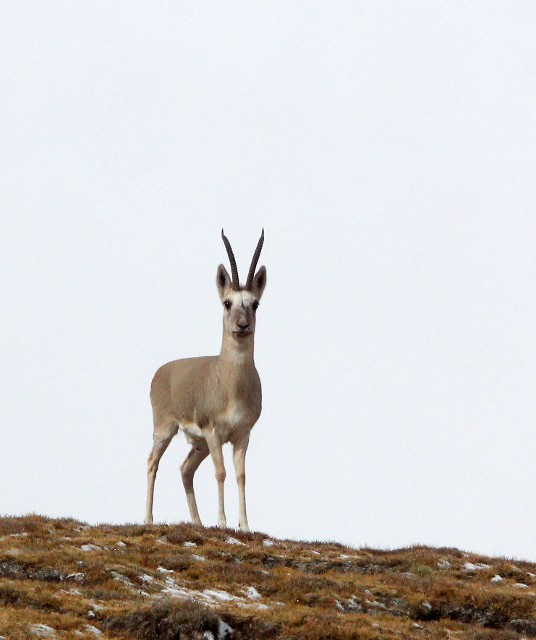 His companion was watching nervously from a nearby hill...
***
After lunch at a lovely family's small restaurant in a dusty outpost town along the gravel track, it was time to leave civilization for a while. We were about to enter our most remote section of the trip. I don't want to overstate this, as the entire expedition route was nowhere near as remote and desolate as I expected. There really was no place on our route where I felt we were completely isolated or completely alone at all; or if anything went bad, we couldn't get help. If it had been the dead of winter, perhaps I would have felt differently, but I generally felt fairly close to civilization on this trip, which is not something I can say for many of our trips in the past. China is pretty developed, even in the middle of Qinghai
***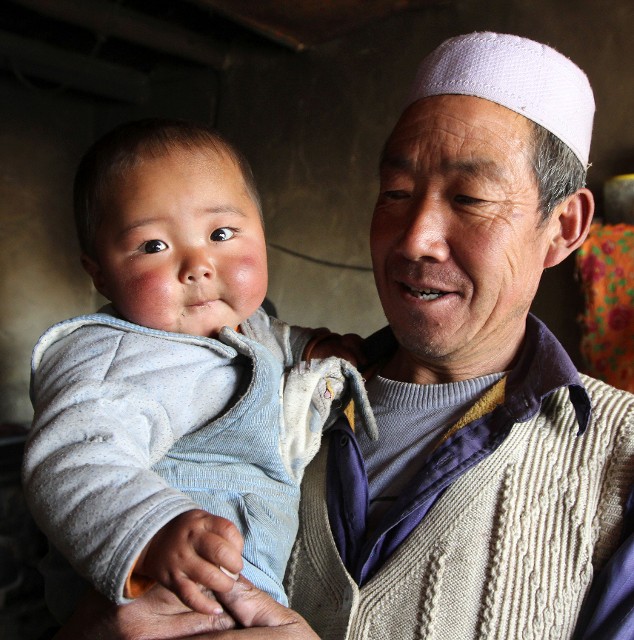 In an unnamed town, we had lunch, laughs and a nice warm stove with this lovely family making a living in the heart of Ke Ke Xi Li.
***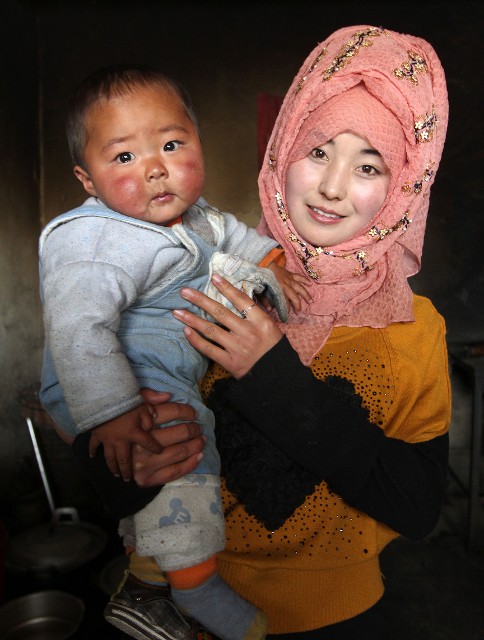 Mr. Wang and Steven basically invited ourselves in to their living area to play with their young son, who was about as cute as could be. Here he is with his mom, who could not have been out of her teens herself...
***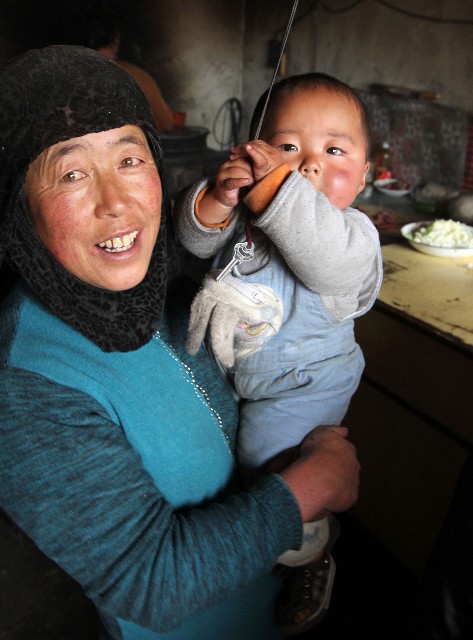 Grandma. Islam was by far the dominant religion for the restauranteurs in Qinghai. Good grub but beer-free... The religion was one of the gifts of the Silk Road era.
***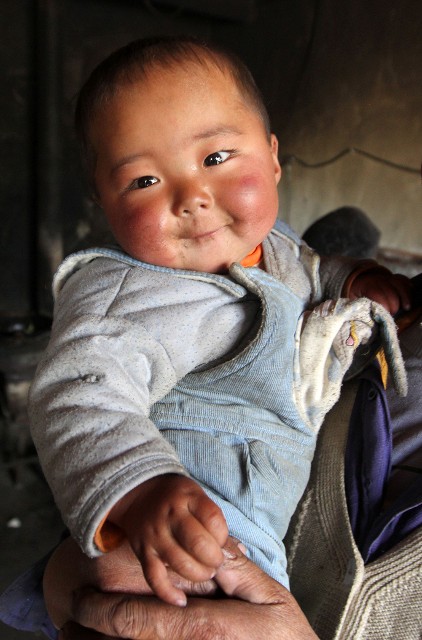 Truly a little sweetheart!
***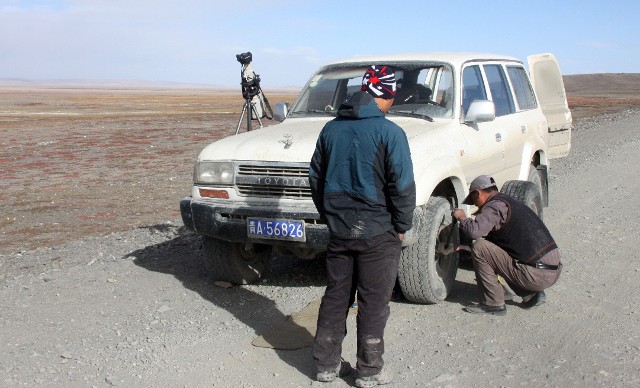 Ke Ke Xi Li is not someplace one wants to experience serious car trouble. This flat was no problem at all but be sure to have ample warm gear if traveling through the area....food, sleeping bags, etc. But it's not like you won't see other travelers as there is a fair amount of traffic on all of the roads we drove.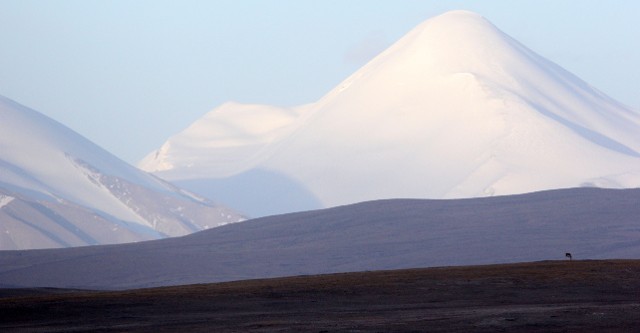 A lone Kiang on the vast Ke Ke Xi Li Plateau.
***
The word, "vast", really does not do justice to Ke Ke Xi Li. We traveled roughly 300km through some of the most spectacular landscape anywhere on Earth. Averaging well above 4,000 meters in all locations, we spotted hundreds of Kiang and Tibetan Gazelles grazing in the high elevation grasslands of the reserve. People were far and few between, but did come by a few from time to time. Looking out on the wide open plains of Ke Ke Xi Li, I could not help but daydream of a time when there were millions of migrating megafauna populating the valleys and plateaus. While those days are clearly long gone, I was heartened by the numbers we actually did see and how conservation laws in China seemingly being enforced, at least well enough that the animals weren't completely terrified by our presence. I get the sense that the area is very protected and perhaps we may eventually see a resurgence in animal populations in years to come. Keep up the good work, China!
***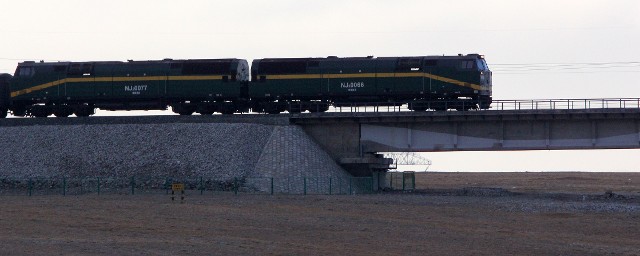 The famous Xining to Lhasa railroad, the world's highest and quite simply an engineering marvel. The Tibetan Plateau presented engineers all sorts of issues to overcome, not least of which were the migratory animals that make the Plateau their home...
***
Our main target for the plains of Ke Ke Xi Li had yet to be seen. Mr. Wang was getting a bit worried that we had yet to spot any Tibetan Antelope, as he was accustomed to seeing many on this stretch of the gravel track. Almost immediately after he expressed his concerns, I noticed a slightly different color herd of something off in the distance. As soon as we got closer, I confirmed that it was a female herd of Tibetan Antelope! Finally! We spent some time photographing and observing the herd before continuing our journey and eventually getting at least two additional herds with well over 150 of these amazing antelopes.
***
Tibetan Antelope (Pantholops hodgsonii)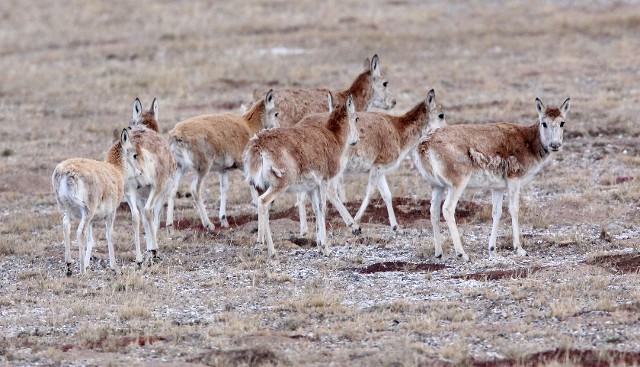 Our first herd of wild Tibetan Antelope. This was primarily a female herd and was seen in the core area Ke Ke Xi Li.
***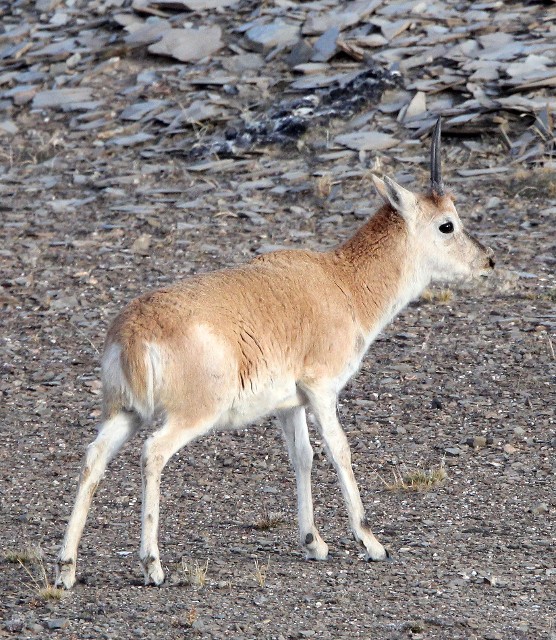 There were a couple young males in the group as well.
***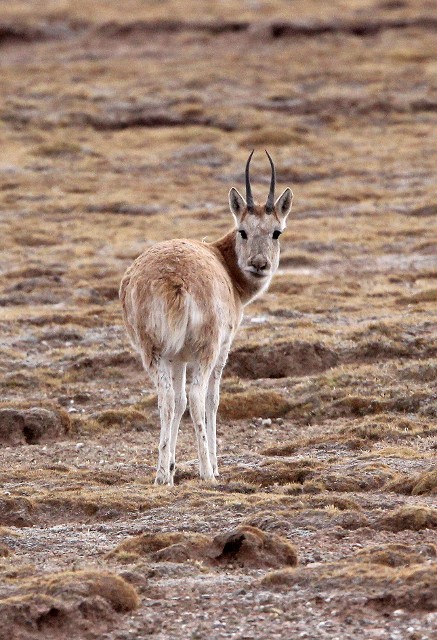 Tibetan Antelope (Pantholops hodgsonii)
***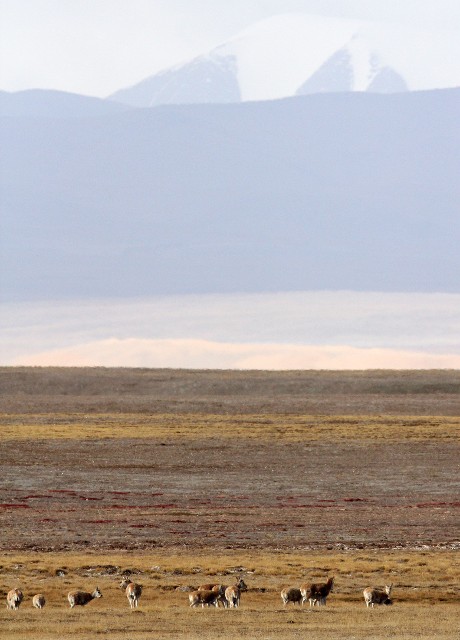 The sight of the Tibetan Antelope on the vast Tibetan Plateau known as Ke Ke Xi Li was good for the soul.
***
This was a wildlife milestone for me. I remembered early in the 1990's when I read cutting-edge conservation news about George Schaller's famous expedition to Tibet to document the plight of the Tibetan Antelope. I recalled how badly I wanted to get there then to see these amazing animals myself, and now, nearly 20 years later, here I was. I was beside myself with joy at being here and watching them basically do nothing but graze in the late afternoon sun of Ke Ke Xi Li. Now all I had to do was find some horned males!
But before we headed out and called it a day, I just happened to look up to see some eagles or buzzards that Stephen was pointing out and I caught a very quick glimpse of a small greyish cat. We were way out off the beaten path and there were absolultely no pastoralists around, so I knew it was not a domestic cat. Nor was it a Pallas's Cat, so I have tentatively narrowed it down to the endemic Chinese Mountain Cat (Felis bieti). I immediately sprinted up the hill to get a better look (and by sprinted, I mean walked very slowly, breathing pathetically hard....and eventually making it up the 10-meter tall hill sometime later that afternoon....). Well, sadly what ever species it was, it was gone by the time I made it to the top...I guess I will never know for sure!
The afternoon was getting late so we had to find some shelter. Camping really wasn't on our wish list this evening as it was getting very cold and we were now at nearly 4700 meters! So we headed to a place Mr. Wang knew called Budong Quan (Never Frozen Spring), or as I came to call it, "Hell on Earth". Basically this was a serious backwater with a gas station, a couple restaurants and a guest house, that had more Tibetan mastiffs than guests. My room, which had a coal burning stove inside the room (of course with little to no ventilation….cough, cough….), was located about 0.5 meters away from a barking hell hound that made it clear that he was going to bark at the mastiff next to him all frickin' night! And this mastiff, in turn, would return the favor by barking at the mastiff next to him, and so on….It was a symphony of mastiff barking all night long, and it was if my head was literally about 24 inches away from the most powerful sound I could imagine, excluding perhaps a Megadeath concert…. Well, I finally found hell and this was it!
***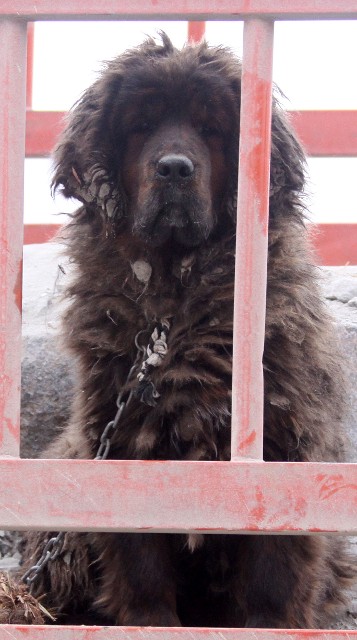 Tibetan Mastiffs are spectacular dogs for sure.....But not when whey are barking 50cm from your head!
***
There was no way I was going to get one second of sleep here, so I decided to grab my tent and sleeping bag and head deep in to the high desert and get some sleep. Well, when I stumbled outside, Stephen was already awake, suffering from pretty intense altitude sickness himself. When Mr. Wang overheard me telling Stephen what I was going to do, he insisted in driving me out to the desert to find a safe place to bed down – it was nearly 1AM after all… We found a nice, flat spot to pop up my tent and try to catch some zzzz's. It worked. As soon as I had a quite place to get horizontal, I was out like a light. Next thing I remember was Mr. Wang driving up at around 7:30 the next morning and honking his horn to get me up. Stephen, on the other hand, poor dude, was up pretty much all night due to the altitude sickness. But today, we were heading DOWN!
Before heading north, we detoured south to the Ke Ke Xi Li headquarters to view the visitor's center. Good thing we did, as we were very lucky to see our male Tibetan Antelopes! A nice herd of about 25 adults and sub-adults were grazing near the main highway and stuck around for some outstanding golden light images. Now I know why George Schaller was so driven to conserve this species – they are spectacular. Definitely a highpoint for the trip.
***
Tibetan Antelope (Pantholops hodgsonii)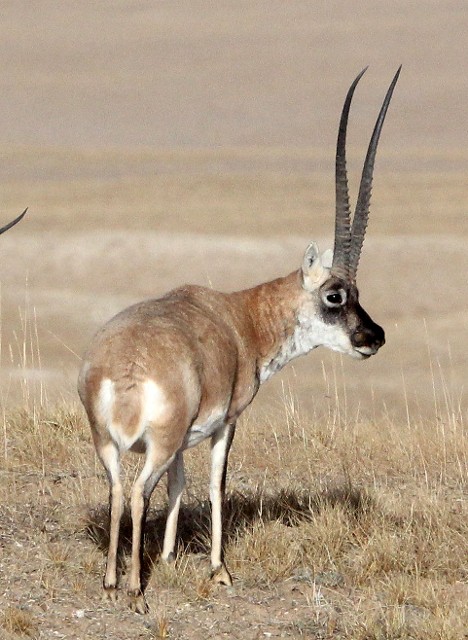 Seeing our first and only all-male herd of Tibetan Antelope was an experience I will never forget.
***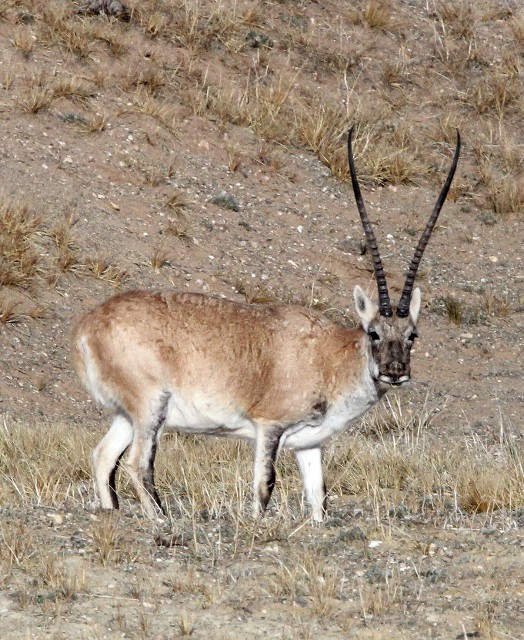 Many of these males were just starting to show their black mating-season face. January is the peak of the mating season.
***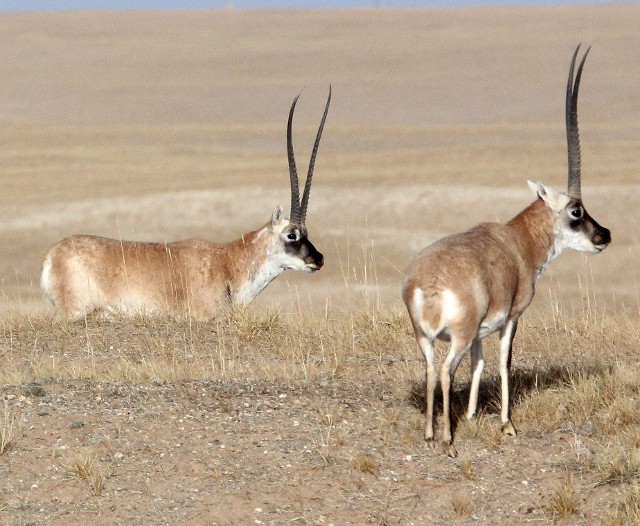 There were about 25-30 males in this herd. But seeing them at all really made our expedition complete. Such a rare and enigmatic species...
***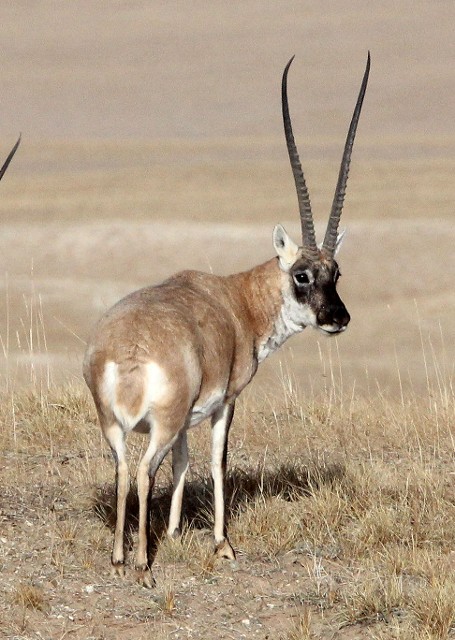 Tibetan Antelope (Pantholops hodgsonii)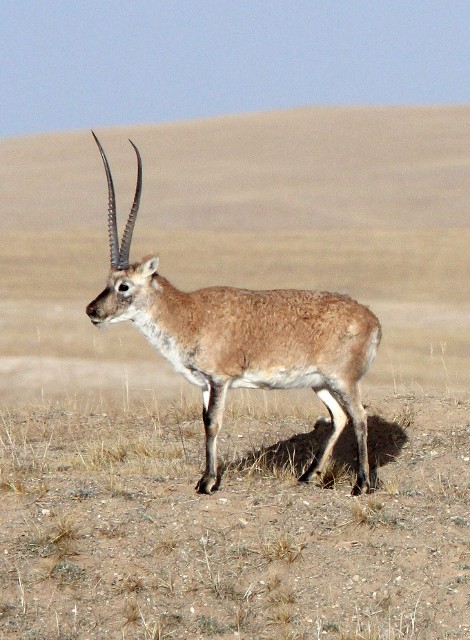 Tibetan Antelope (Pantholops hodgsonii)
******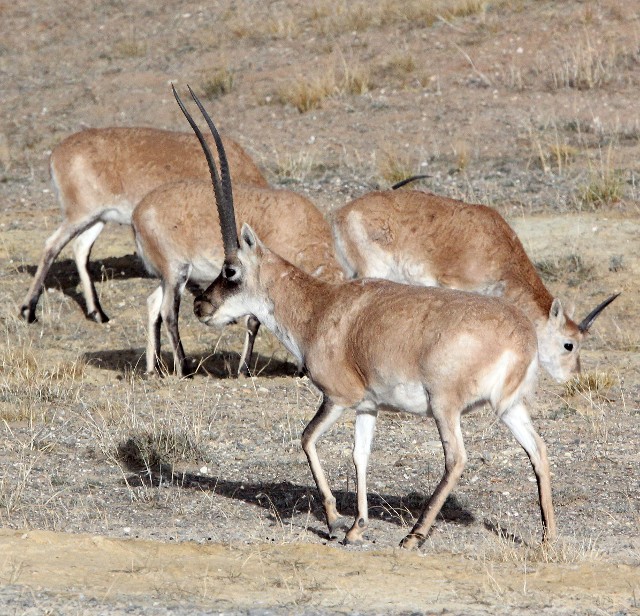 Tibetan Antelope (Pantholops hodgsonii)
***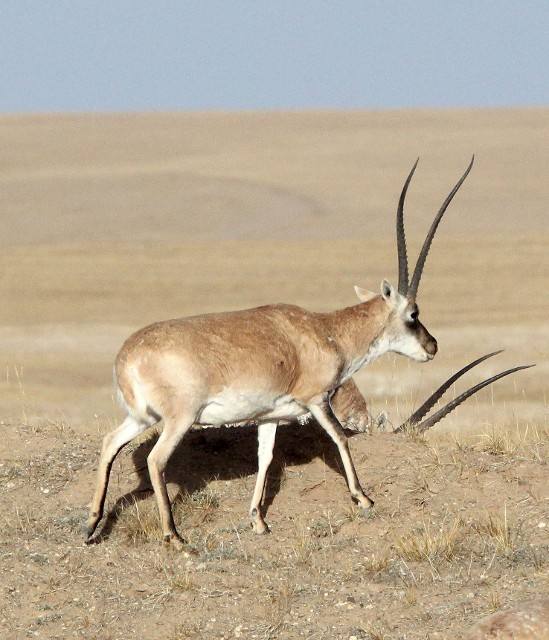 Heading deeper in to Ke Ke Xi Li...
***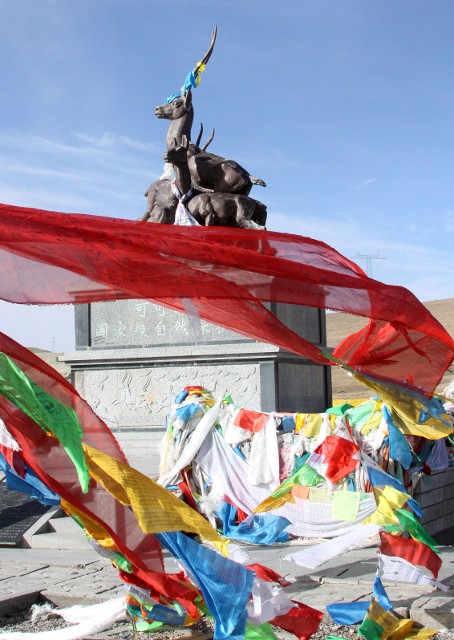 Statues saluting the most famous animal of Tibet were everywhere. All towns and villages seemed to have some sort of symbol bringing attention to the Tibetan Antelope. This was at the pass leading southward to the great Ke Ke Xi Li Plateau along the Lhasa highway.
Here is a great information website for Tibetan Antelope natural history and conservation efforts.
***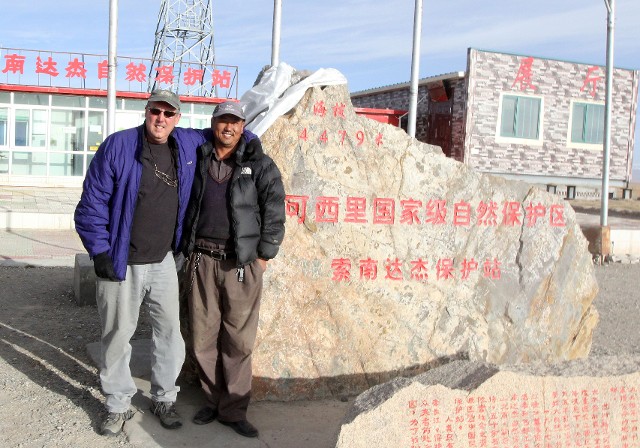 Mr. Wang and me at Ke Ke Xi Li National Reserve headquarters and museum.
***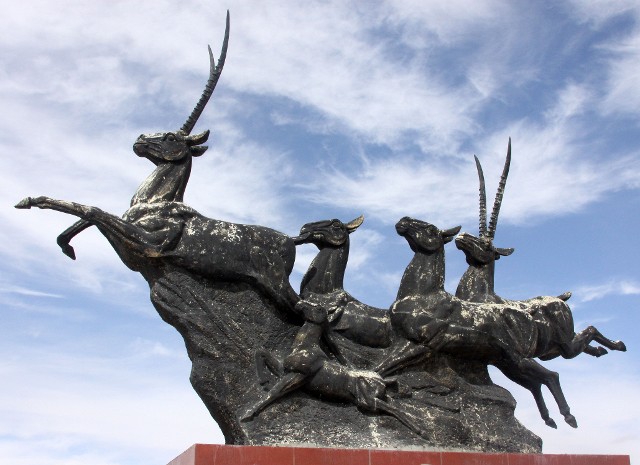 Tibetan Antelope be here...
***
Yeniugou (Wild Yak) Valley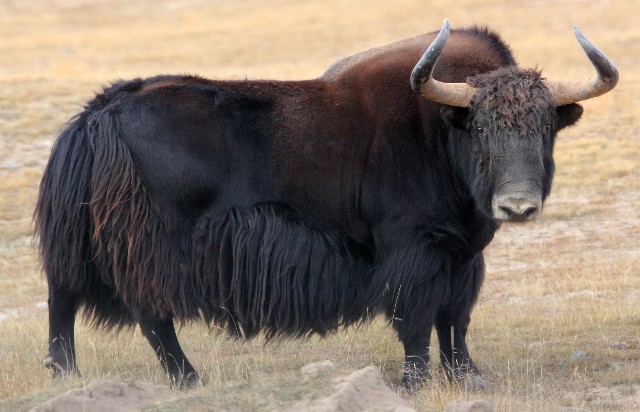 A massive Wild Yak bull (Bos grunniens) in Yeniugou (Wild Yak) Valley.
This paper is a must read for anyone planning on visiting Yeniugou Valley in search for mammals!
***

After politely rejecting the Ke Ke Xi Li guard's, 100-RMB per person "required" donation to see the inside of the museum, we started back north again, with the goal being Yeniugou, or Wild Yak Valley. We made it fairly quickly and by 10AM we were at the entrance of what we thought was Yeniugou. None of us were 100% sure, but after asking several people and basically getting the same answer, we decided to start down the little dirt/gravel tract that headed seemingly in the wrong direction.
After about 20 kilometers or so, the direction of the road and the terrain changed from an high elevation arid scrubland to a more grassland-dominant biome that I thought would support the herds of Wild Yak, Argali and Kiang that I had read so much about in various trip reports and the very informative paper by Harris & Loggers (Check out the paper here). Following Harris and Logger's information, which basically pinpointed exact locations for the various Argali and Wild Yak herds they encountered during their survey of the area, I was able to locate all target species. I was secretly hoping for a Tibetan Brown Bear, which occasionally shows itself in the area from time to time. No such luck this trip though.
I was amazed with how many Wild Yak we encountered. We easily spotted over 500 and came very close to several gigantic bulls. The domestic yak aren't even in the same stratum of size with their wild cousins. Wow! Once we photographed the Wild Yak well enough for my liking, we started coursing the valley looking for Argali and Bears. We came across hundreds of Tibetan Gazelles and Kiang and even a few more Tibetan Foxes, but no Argali. We traveled about 80 kilometers deep in to the wilderness of Yeniugou but no luck with the new targets.
***
Wild Tibetan Yak (Bos grunniens)
We came across well over 500 wild Yaks in Yeniugou. But the giant bulls near the main road were the most impressive sight by far.
***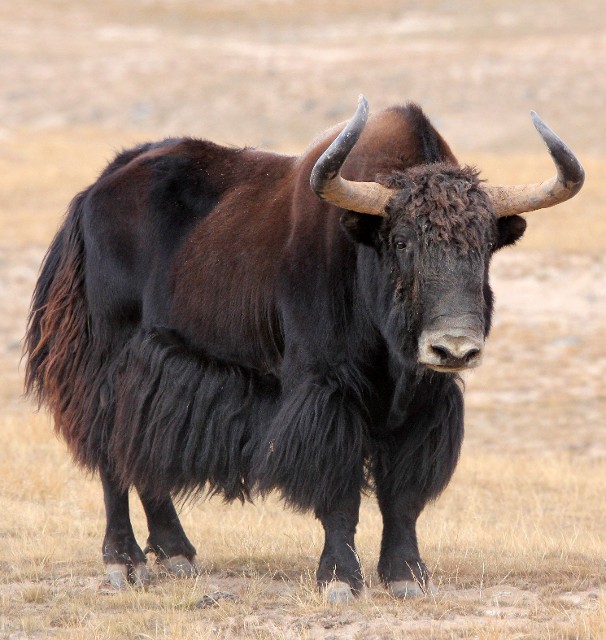 Wild Yak of Yeniugou
***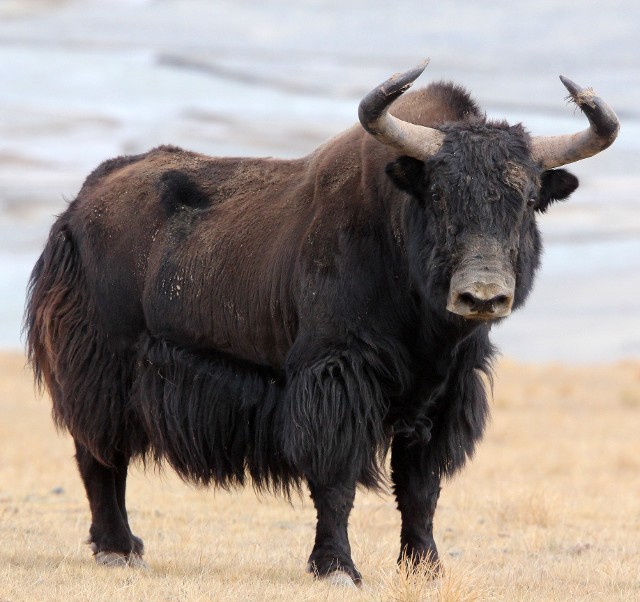 So much more massive than their domestic cousins...
***
Tibetan Gazelle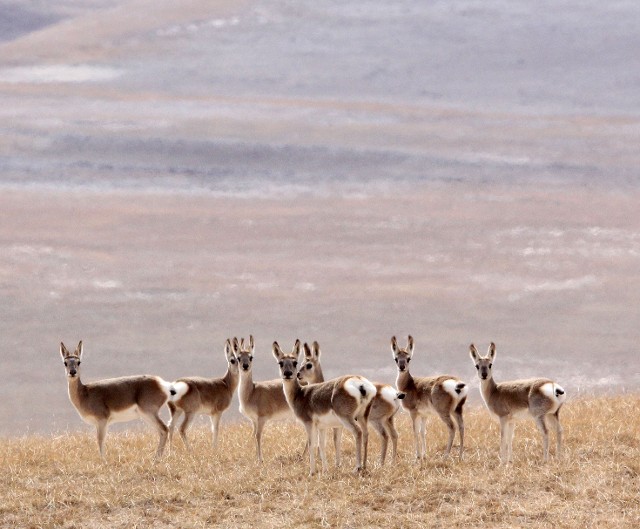 The light was amazing this afternoon. These Tibetan Gazelles decided to show themselves in the best of it....
***
***
I was so impressed with the beauty of the landscape and flora of Yeniugou. The Mongols that now reside in the valleys lead a pastoral existence with sheep as their main economy. The Wild Yak didn't seem to mind the presence of the sheep, and the Gazelles would keep their normal respectful distance. But I could not help but recall what I read in Harris & Loggers about the impact the pastoralists had on the Argali. According to their observations, the Argali were never encountered in the regions used intensively by the pastoralists, which seemed to be basically the entire valley from what I could see.
***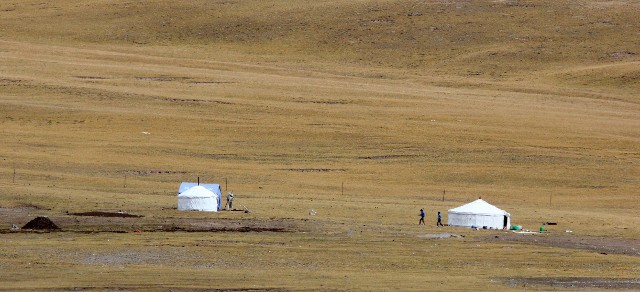 Yeniugou Valley is now occupied by Mongolian pastorlists. Originally the Tibetans were the main people of the region and they were replaced by Kazak tribes who later gave way to the current residents, the Mongols.
***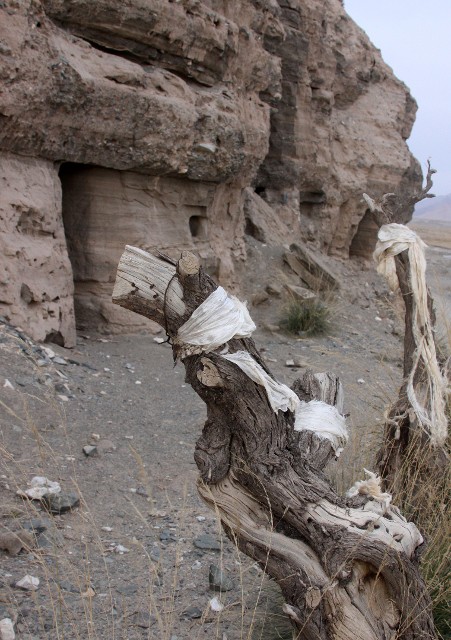 Yeniugou was filled witht these curious Buddhist caves that still remain mysterious to us. We explored a couple and found niches and evidence of many years of use. I would love to know more about these places.
***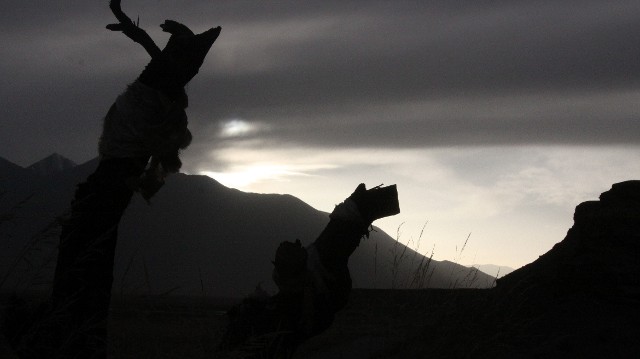 Spectacular Yeniugou sunset.
***
We never made it all the way to Black Lake (He Hu) which I do believe is the end of the road about 126 km, as the wildlife started to taper off around km 75 or so. After turning around at about km 80, I started an increasingly desperate search for Argali. I did not want to miss this species! I have been wanting to see the Asian Big-horn Sheep, also known as the Marco Polo Sheep, for many years now. And I knew that Yeniugou was the best place to see them, perhaps anywhere in Asia. I scanned and scanned and nothing…. We were getting close to the spot we had decided to camp (next to one of the Mongol Yurts at around km 50 or so), when I decided to give the area one more very thorough scan. I pulled out the trusty binocs and focused pretty much immediately on a certain part of the adjacent mountain….and ….."Wait a minute! What hell is that? Those aren't gazelles…" "I think I have….wait a minute….(focus, focus, focus…)…Got 'em! Argali!"
Argali (Marco Polo Sheep) (Ovis ammon)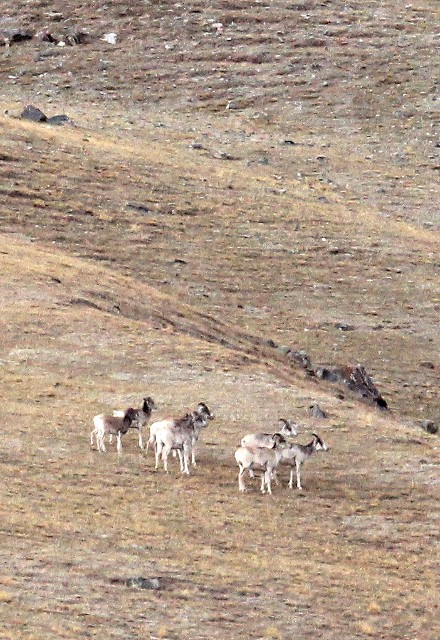 Not much of an image, but we were all so thrilled to finally see our last target species for the trip. This small sub-adult male herd was seen with about 20 females far up the slope on one of the mountains in Yeniugou.
***
We spent the next several minutes congratulating ourselves for finding them at the 11th hour, snapping some really crappy pictures, and just enjoying the moment. It took Mr. Wang a few minutes to convince himself that we were actually looking at Argali, but once I snapped a couple images and zoomed in on the image for him, he was sold. They were quite a ways off. I briefly toyed with the idea of trying to get closer, but the slow pace that I was able to walk due to the altitude, combined with the brisk pace there were actually heading back in to the hills, I was quite sure it would be a fruitless pursuit.
I was still worried about Stephen's altitude sickness and the prospect of camping out in freezing weather again at 4500 meters, so I suggested that we were done and we could head on all the way back to Golmud. Both Stephen and Mr. Wang were a bit shocked that I would suggest boogying early, but they were happy, I could tell. We'd had such an amazingly successful trip that I really felt no desire to push our luck. And we all needed a good night's sleep, so off to Golmud we went.
***
Kiang (Equus kiang)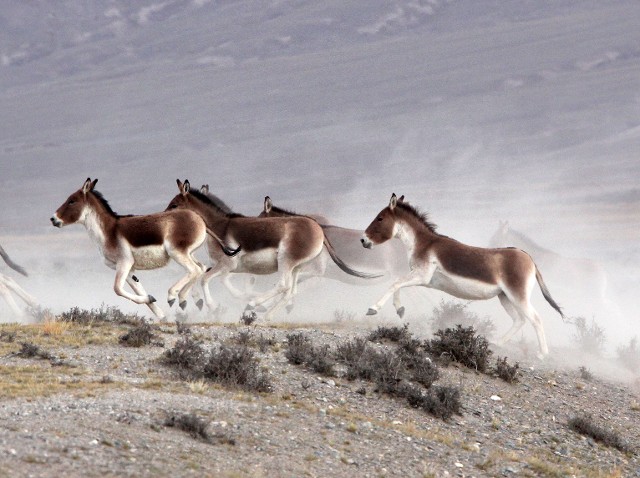 On our exit from Yeniugou, we came across a very large herd of Kiang, who, upon spotting us, began a spectacular stampede! We didn't do anything to start the ruckus but we sure did enjoy watching it!
***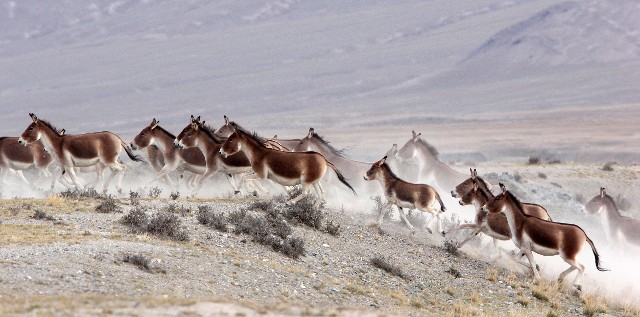 Kiang stampede at Yeniugou!
***
Lammergeier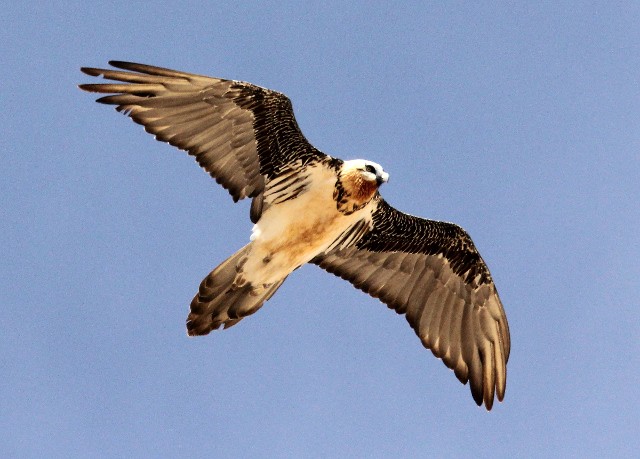 I was thrilled to see a Lammergeier flying overhead. I had not seen this amazing vulture since I was in the Simien Mountains of Ethiopia.
***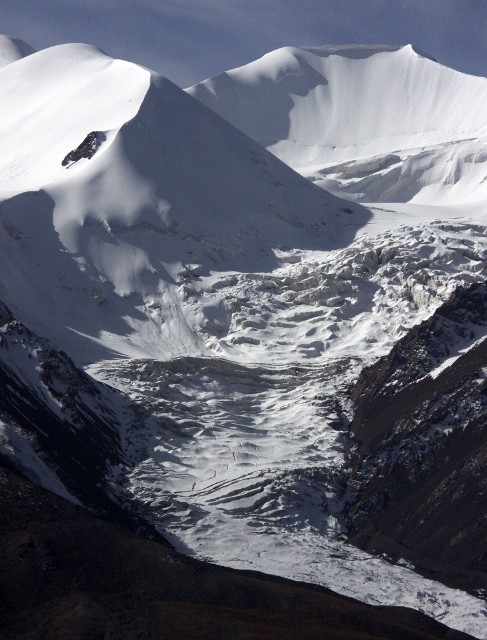 The mountains surrounding the Yeniugou region had some of the more impressive glaciers spotted on the trip. Quite a few showed evidence of receeding sadly.
***
This paper is a must read for anyone planning on visiting Yeniugou Valley in search for mammals!
***
Well, now was the moment of "permit" truth. Like I mentioned earlier, I was repeatedly warned of the need for permits and so far there wasn't even a hint of anyone looking for permits, or anything for that matter. But I knew this was the moment of truth, because Mr. Wang told us that there was a major checkpoint about 30 km south of Golmud to check for foreigners potentially heading to Tibet, and they would definitely want to see our permits there. But Mr. Wang and Stephen were both very sure that they would not care about us as we were heading north, not south toward Lhasa. I trusted their advice, but of course I always know how things can go. Things can change in an instant….
As we approached the check point, things started to look pretty dang official. There was a cue heading north and it was clear they were checking all vehicles. I knew we were going to be checked. I really wasn't all that worried, as I knew that we were only in Qinghai and there are simply no permit requirements for Qinghai and we were therefore doing nothing wrong. Sure enough, as the inspector asked to see all of our permits, he asked basically one set of questions: "Who's the foreigner? Where does he live? Did you come from Lhasa?" Answers: "He's an American who works in Shanghai and NO!" He quickly handed back my unopened passport and off we went. Message: There are NO permits required for this trip whatsoever. I really appreciate how orderly and honest the checkpoints are here in China, especially compared to many of the other countries I've visited, where checkpoints tend to be….expensive…
***
***
Golmud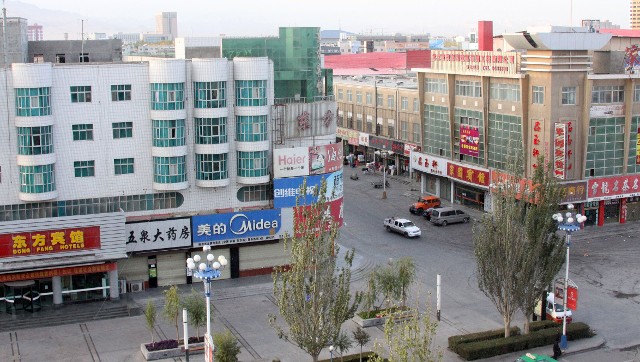 Golmud as seen from our hotel window. Once again, a larger town than I expected...
***
Golmud was much larger than I thought it would be. We found a nice place to stay and had a great night! Now our next task for the next 1.5 days was to try to locate a few of the species we had dipped on up to this point: Goitered Gazelles, Przewalski's Gazelles and a couple pika species. I wasn't complaining though, as we now had anywhere from 15 to 18 mammals under out belts. We drove and drove and even ventured off road a couple times, but no sign of the critters in question. The habitat took a very interesting turn toward a serious high desert scrub, mixed Tamarisk woodland and various thorny scrublands – very little in the way of grasslands. Stephen and Mr. Wang called it "Gobi Desert".
***
The habitat from Golmud eastward returned to the saltpan scrub and desert grassland variety once again.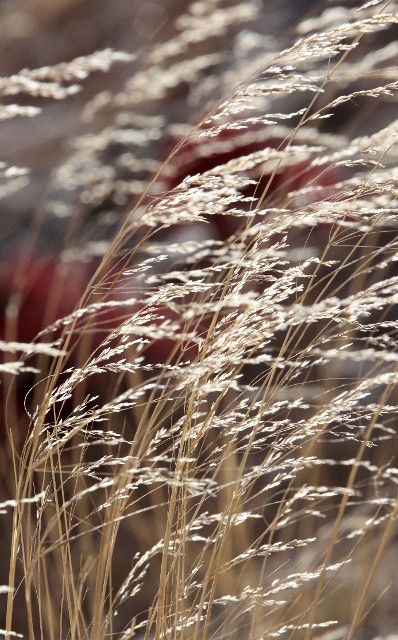 Grasses from the genera Stipa, Kobresia & Carex were the common species populating the various grasslands passed during this trip. These were seen near Dulan as we attempted visiting Couli Hunting Area.
***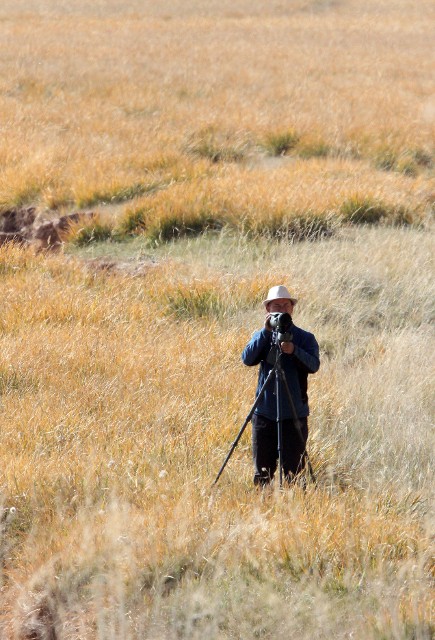 Steven trying to spot Goitered Gazelles about 40 km east of Dulon, near the Couli Hunting Area. No luck....This will be a place we work harder at next trip.
***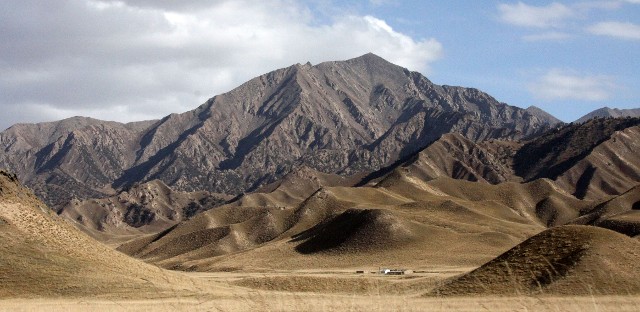 The high desert landscapes near Dulan, Qinghai.
***
Mongolian Ground Jay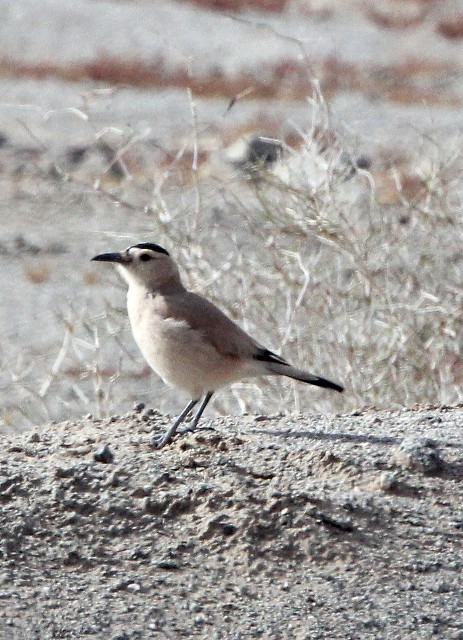 I was pleased to see another endemic species, the Mongolian Ground Jay, along the way to Dulan. We saw several flying near the main highway this morning.
***
Himalayan Griffon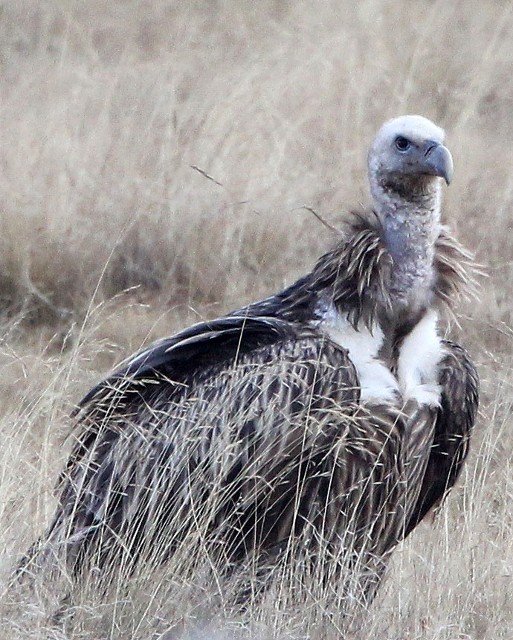 Himalayan Griffons were very common throughout the entire trip. We had many close-up views but the best was this group of about a dozen feeding on a dead domestic yak on the side of the road.
***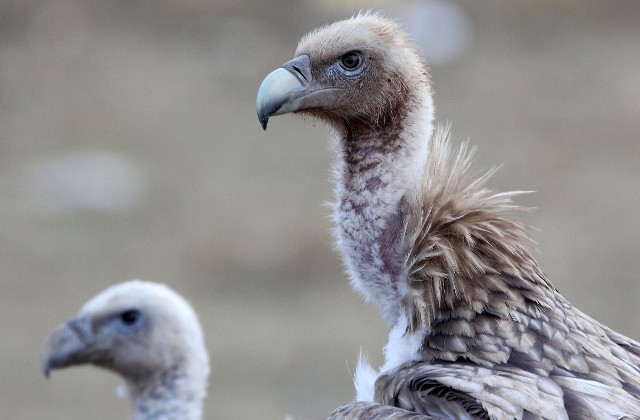 Himalayan Griffon
***
I did see loads of rodent sign when we got out and trekked a bit. We even spotted what I assume to be Goitered Gazelle sign at one of the stops but no live critters. We drove east from Dulan toward the Couli Hunting Area, but turned around before reaching the area as there was simply too much traffic on this dusty little road. I have a feeling this was a mistake as I have this strange sensation that the two gazelle species we were looking for can be found there. Next time we will zero in on the Couli Hunting Area for sure!
***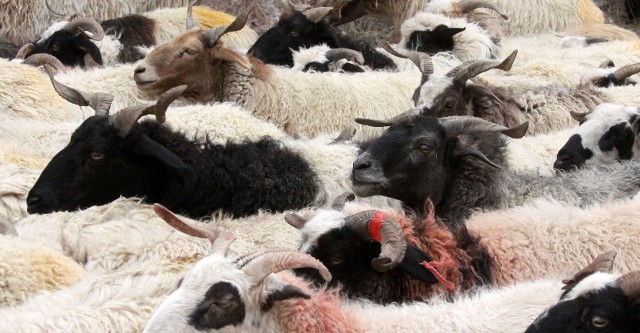 Pretty much the only "wildlife" seen on the way back to Xining were these (and about a million other) domestic sheep. But we're not complaining! It was an amazing expedition.
***
But we made it back to Xining and completed the most amazing 6.5-field-day expedition I had ever attempted. Most like as many as 18 species of mammals in China! I came in to the trip expecting very little, but upon completing the journey, it had exceeded my wildest predictions. We had encountered some of China's….oh heck, the world's, most amazing species; experienced some of the most amazing landscapes and scenery anywhere; had marvelous cultural exchanges with the local people, and I got to hang out with Stephen and Mr. Wang, two of my new teammates for exploring China! What a trip!
***
***
Some more images of the critters of the Tibetan Plateau!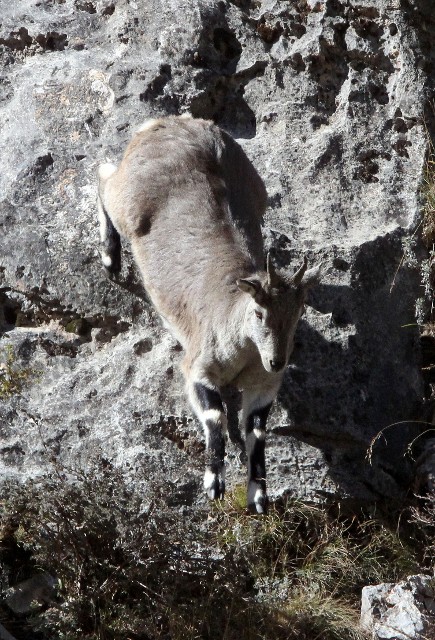 Blue Sheep of White Monkey Fortress (Sai Zong Gompa)
***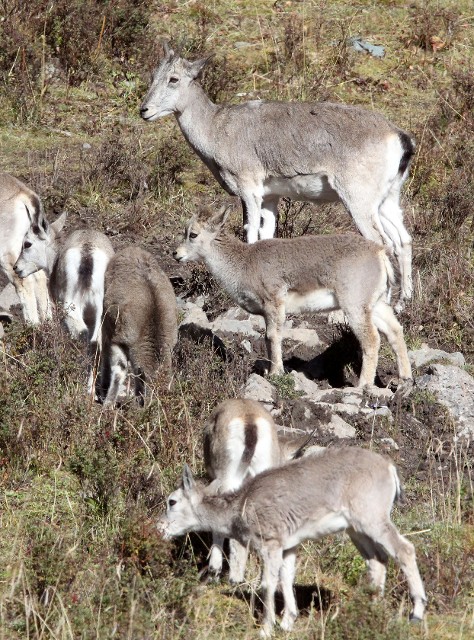 We saw nearly 200 Blue Sheep at Sai Zong Gompa this afternoon.
***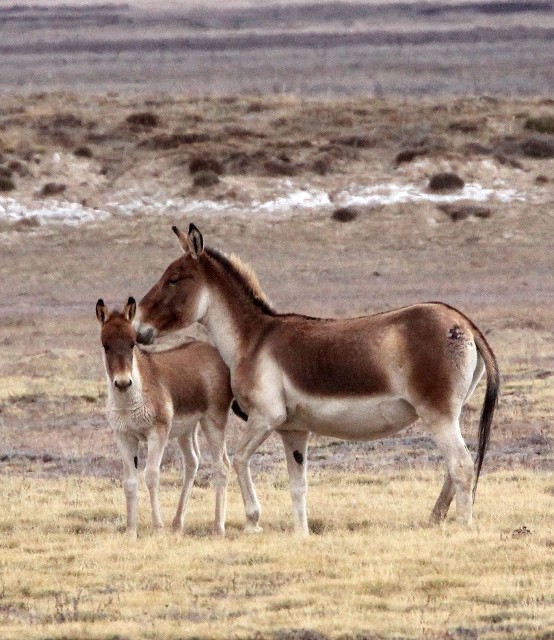 Wild Kiang at Dong Gei Cuo Na Lake.
***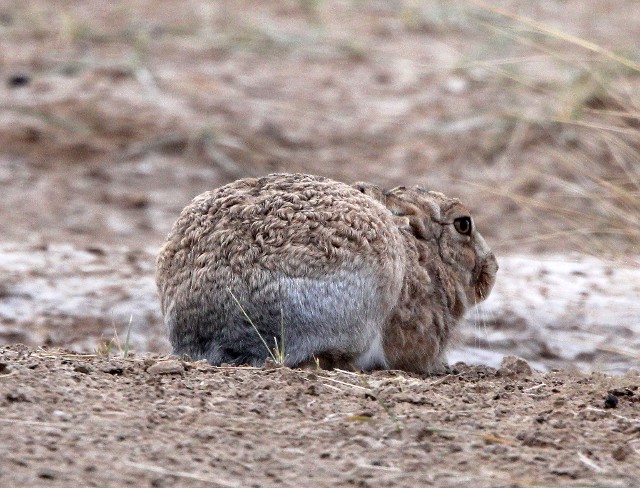 Woolly Hare hiding at Yeniugou Valley.
***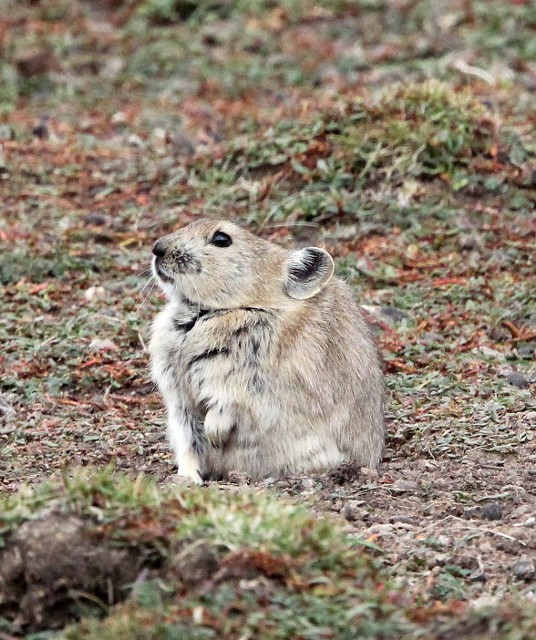 Black-lipped (Plateau) Pika (?) near Lake Qinghai.
***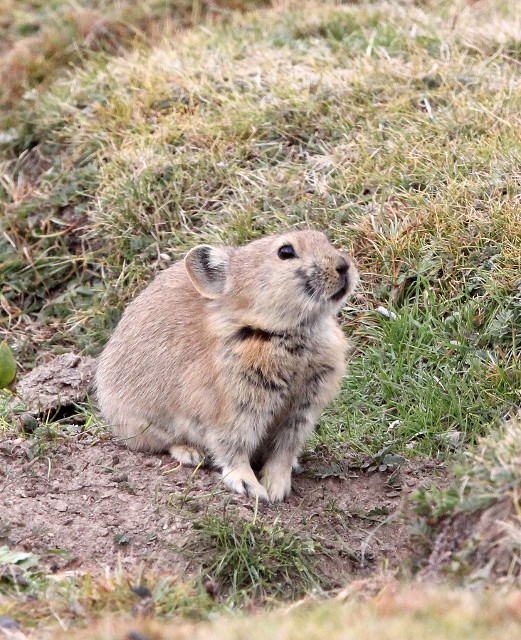 This one may be a Daurian Pika....maybe... The white borders around the ears are possible indication.
***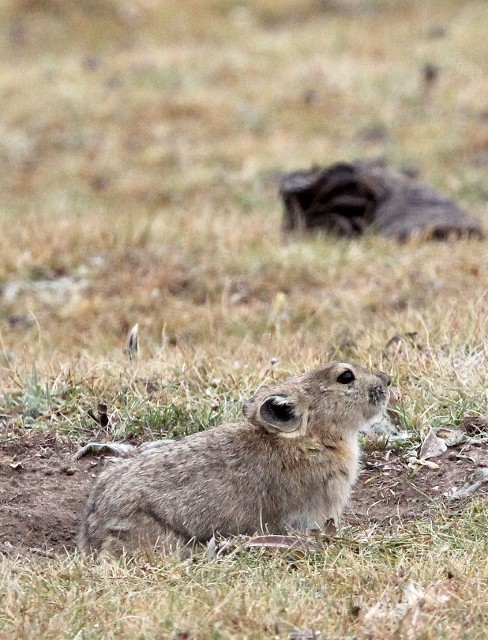 Daurian Pika. Note the white borders around the ears...
***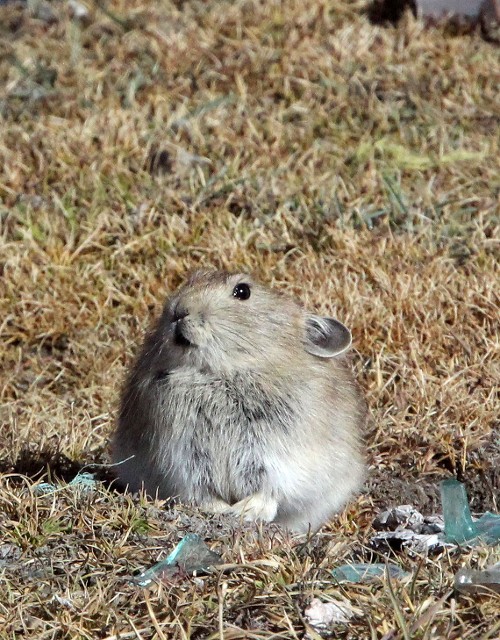 Black Lipped (Plateau) Pika on Jiang Lu Ling Pass.
***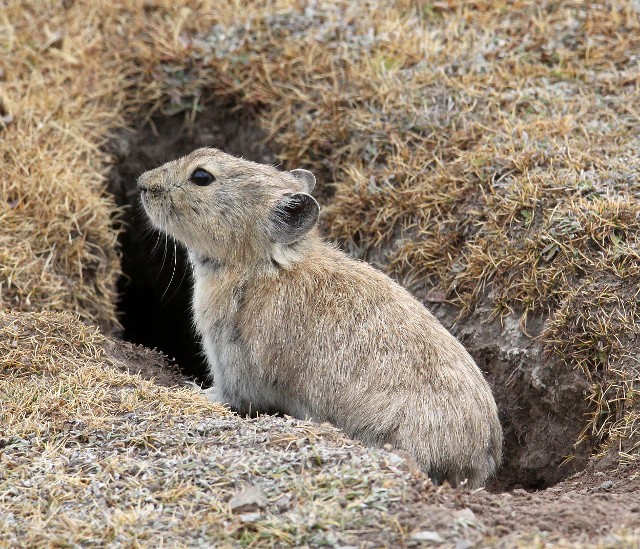 Plateau Pika at Ke Ke Xi Li.
***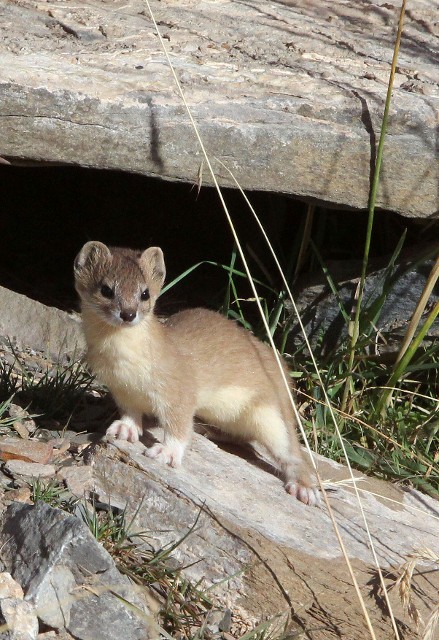 Mountain Weasel in Ke Ke Xi Li!
***
***
***
Mammal List Qinghai 2012!
Himalayan Marmot (Marmota himalayana) 25+
Northern Three-toed Jerboa (Dipus sagitta) 1 (seen along the road out of Yeniugou)
Mid-Day Gerbil (Meriones meridianus) Sighted by Steven on exit from Wild Yak Valley 1
Plateau Pika (Ochotona curzoniae) 9,756,987,567 (+/- 1)
Daurian Pika (?) (Ochotona dauurica) 200-300
Woolly Hare (Lepus oiostolus) 8
Tibetan Wolf (Canis lupus chanco) 2
Tibetan Fox (Vulpes ferrilata) 21
Tibetan Red Fox (Vulpes vulpes montana) 5-6
Mountain Weasel (Mustela altaica) 1-2
Kiang (Equus kiang) 1000++
White-Lipped Deer (Przewalskium albirostris) 50+
Tibetan Antelope (Pantholops hodgsonii) 150+
Tibetan Gazelle (Procapra picticaudata) 1200++
Przewalski's Gazelle (?) (Procapra przewalskii) 5-10
Yak (Bos grunniens) 500++
Argali (Ovis ammon) 25+
Blue Sheep (Psuedois nayaur) 200+
Sign, Maybes, Probabilities, Near Misses
Long-tailed Dwarf Hamsters (Holes and movement in eastern Kekexili) (Cricetulus longicuadatus)
Chinese Mountan Cat (Felis bieti) (spotted definite "cat" starring at me from a ledge in central Kekexili. Disappeared with pursued. I am thinking this one belongs on the upper list...)
Least Weasel (Mustela nivalis) (One seen clearly darker in color and different in size than the mountain weasel. Could be a summer-winter variation within the Mountain Weasel species)
Bactrian Camel (Camelus bactrianus) (Seen many domestic individuals with locals saying there were wild ones as well but difficult to tell the difference…Most definitely domestic)
Eurasian Badger (Meles leucurus) (Near White Monkey Gompa, we came across two Eurasian Badger dens filled with rocks by sheperds.)
Chinese Zokor (Eospalax fontonierii) (Hundreds of Zokor mounds seen along the shores of Dong Gei Cuo Na Lake)
***
***
Birds of the Tibetan Plateau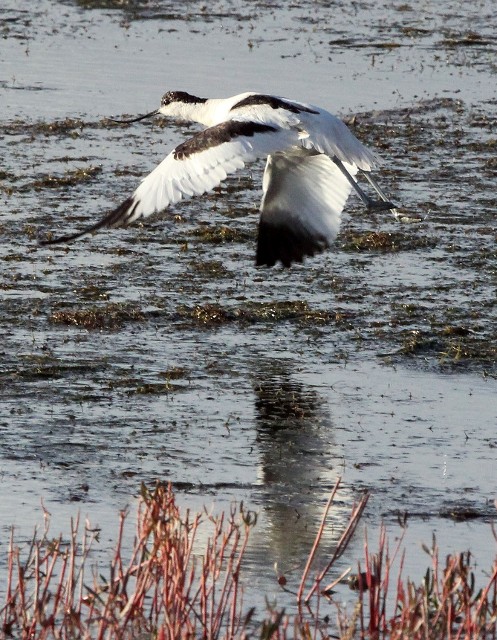 Pied Avocet at Chaka Salt Lake.
***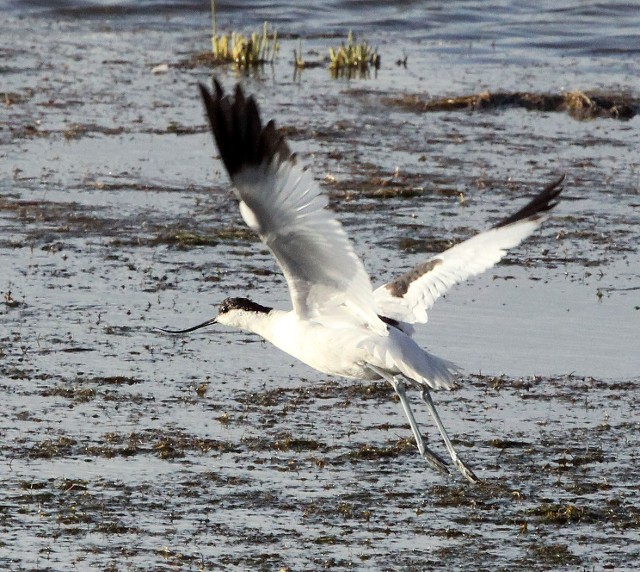 Pied Avocet
***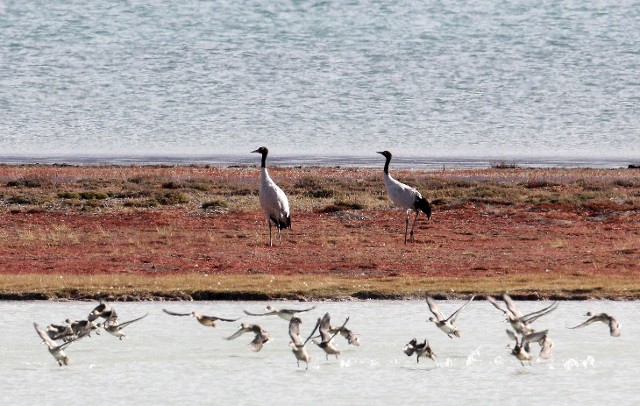 Black-necked Cranes and mixed flock of ducks at Dong Gei Cuo Na Lake.
***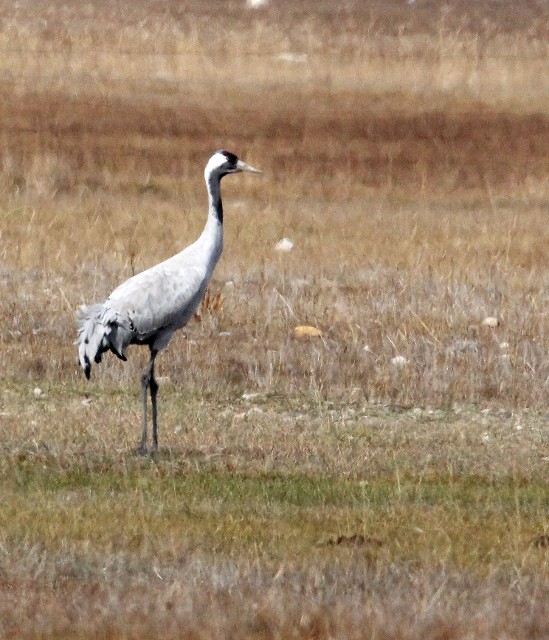 Common Crane on the shores of Qinghai Lake.
***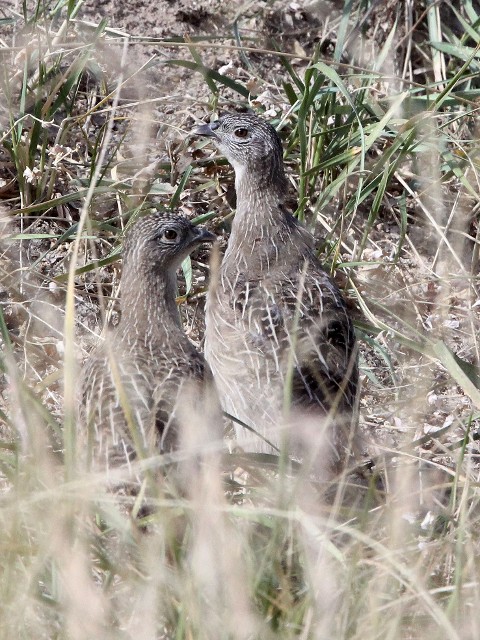 Daurian Partidge (Perdix dauurica) seen in the ag-lands around Chaka Salt Lake.
***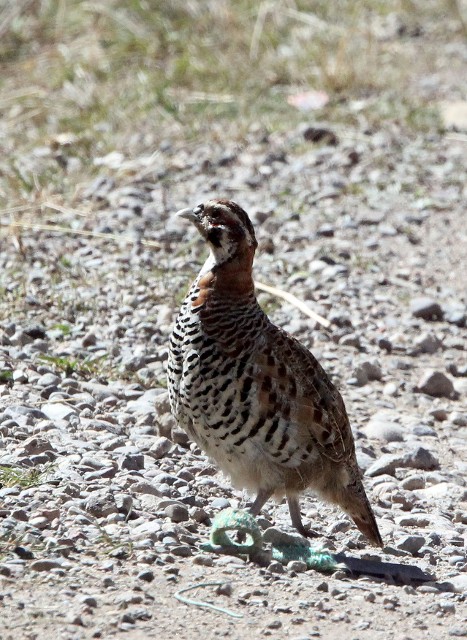 Tibetan Partridge (Perdix hodgsoniae) seen in Xinghai Canyon on the road to Song Zai Gompa.
******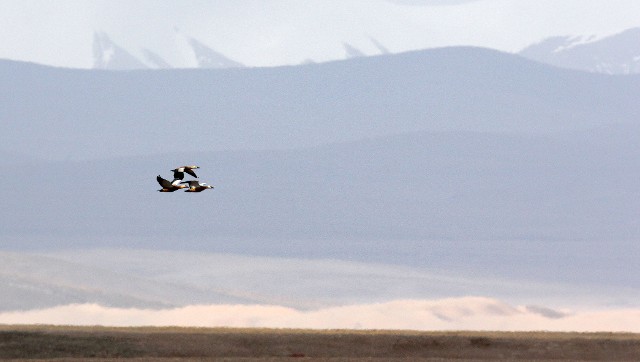 Ruddy Shelducks in Ke Ke Xi Li.
***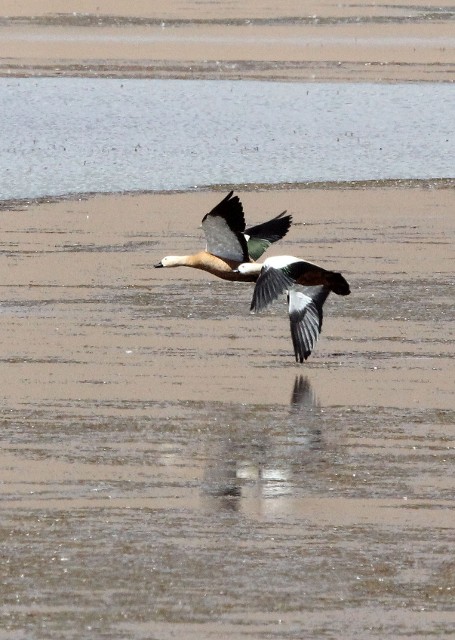 Ruddy Shelducks flying near Ku Hai Lake.
***
Large-billed Crows in Ke Ke Xi Li.
***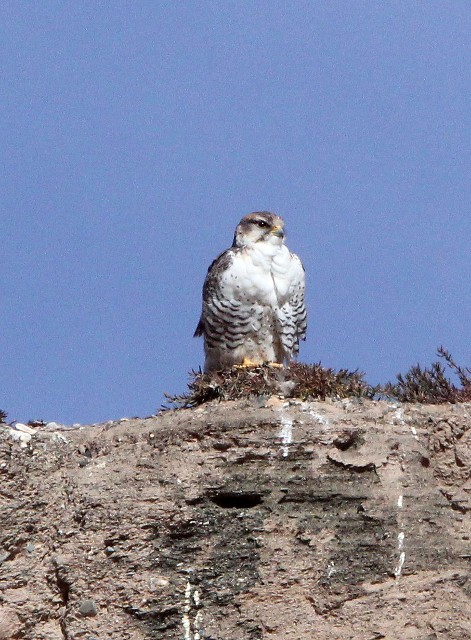 Saker Falcon in Ke Ke Xi Li.
***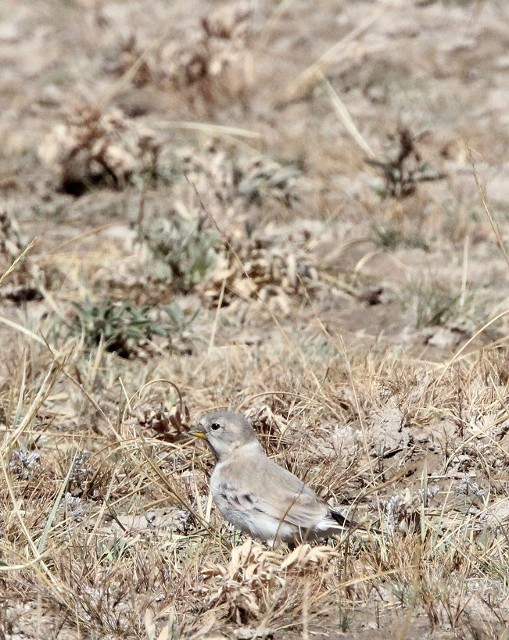 Mongolian Finch seen at Ku Hai Lake. (At least I think it is....so many of these damn little whitish finch-like birds fluttering around all over the place... Feel free to correct!)
***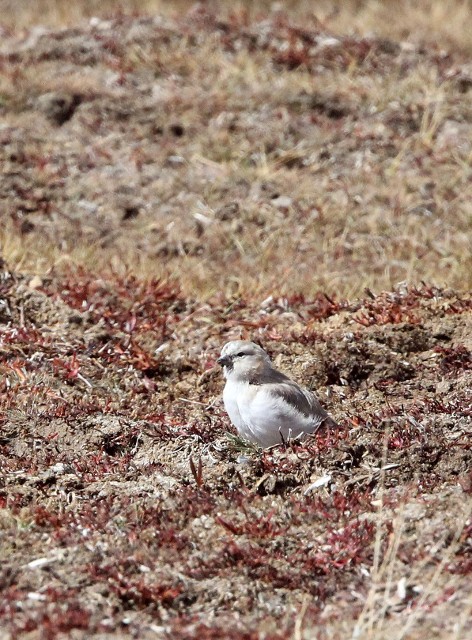 Mongolian Finch?
***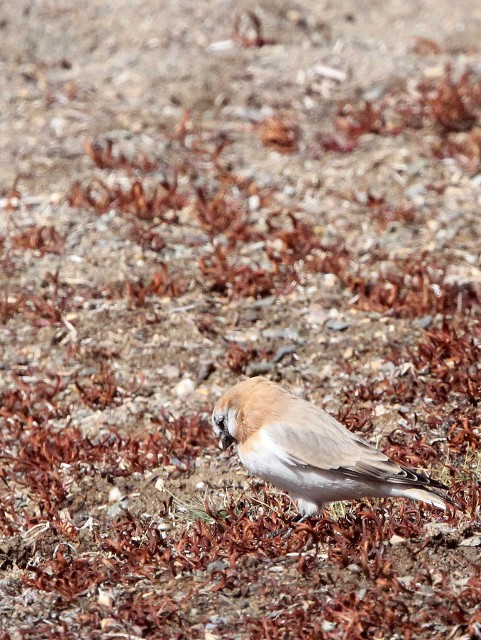 Mongolian Finch?
***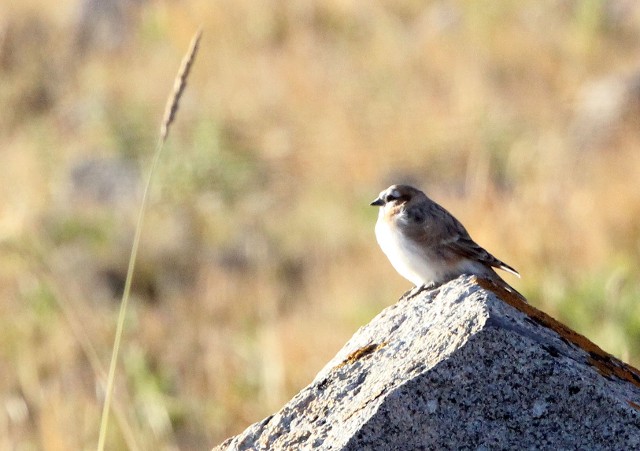 Rufous-necked Snowfinch (Maybe?) spotted in Xinghai Canyon area.
***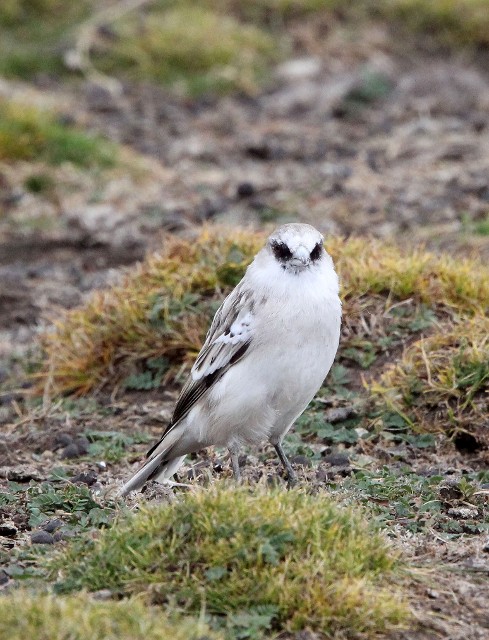 White-rumped Snowfinches (Pyrgilauda taczanowskii) were another very common species seen in most locations. These were seen near Qinghai Lake.
***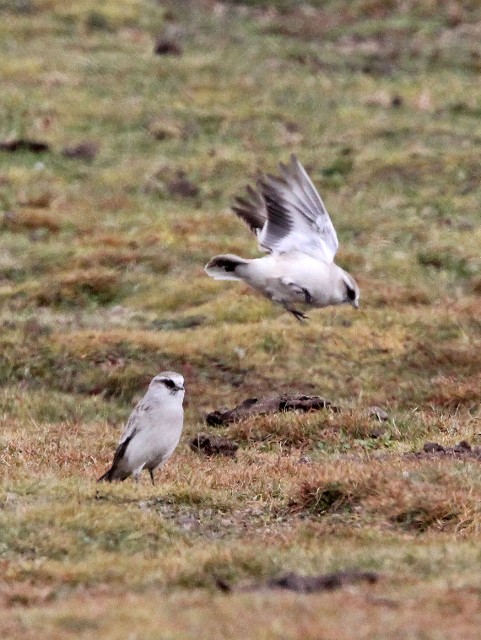 White-rumped Snowfinch doing their courtship dance near Qinghai Lake.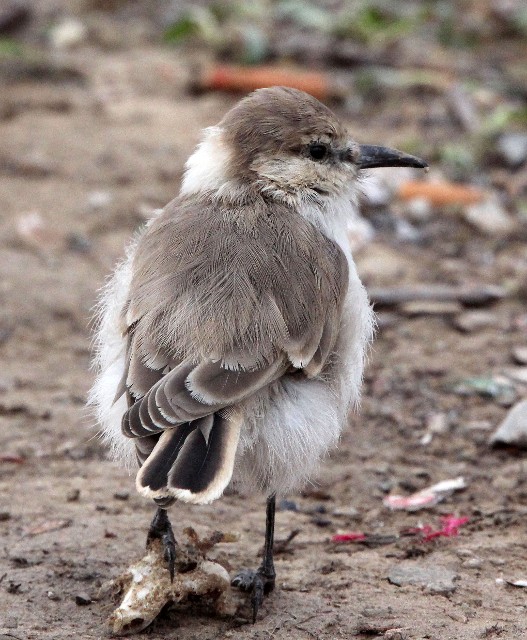 Hume's Groundpecker were another commonly spotted species. This one was seen eating debris in Wenquan Town near Jiang Lu Ling Pass.
***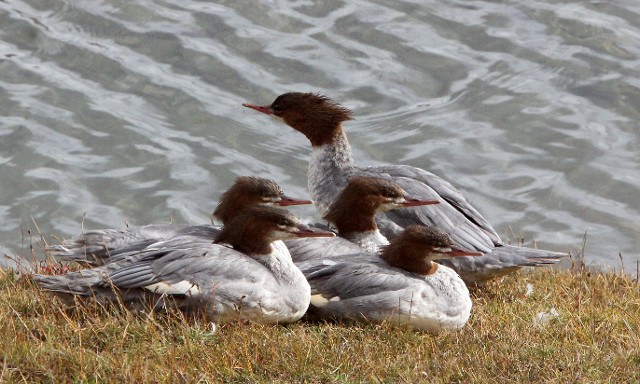 Goosander in Ke Ke Xi Li
***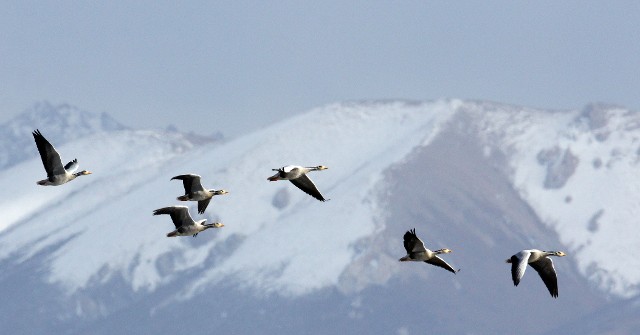 Bar-headed Geese in Dong Gei Cuo Na Lake.
***
Himalayan Griffon near Xinghai Canyon.
***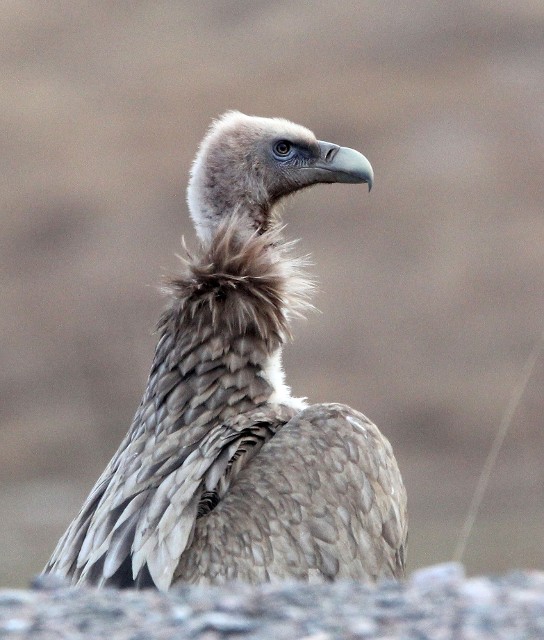 Himalayan Griffon near Qinghai Lake.
***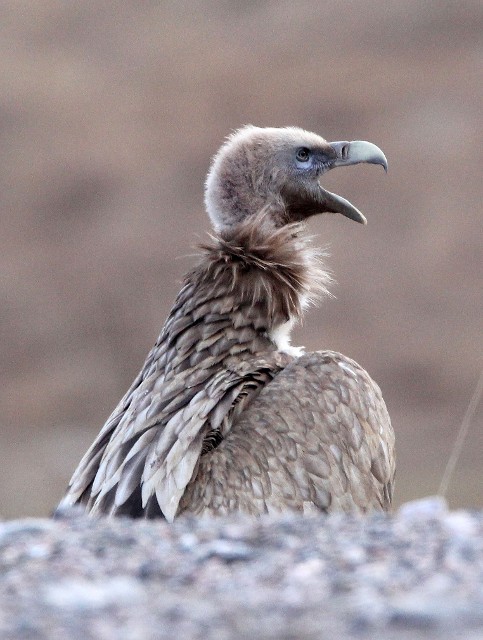 Himalayan Griffon
***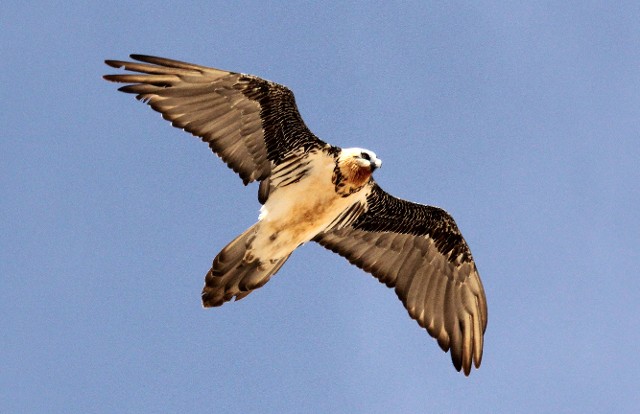 Lammergeier in Yeniugou Valley.
***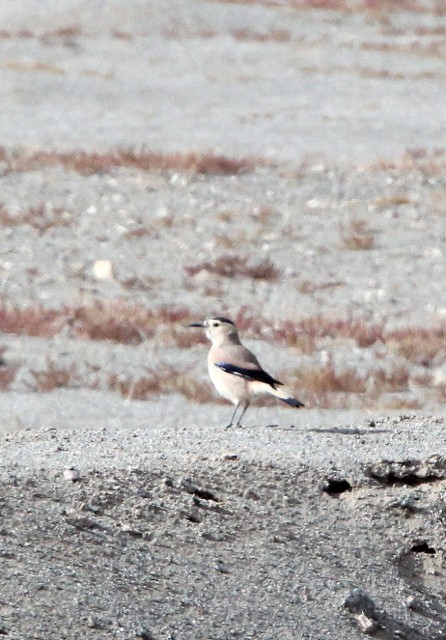 Mongolian Ground Jay near Dulan.
***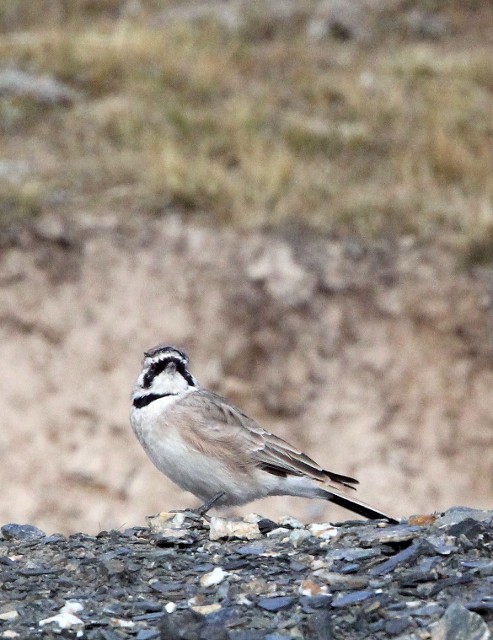 Horned Lark were very common on the trip. This one was spotted on Jiang Lu Ling Pass.
***
Bird List Qinghai & the Tibetan Plateau
Little Grebe
Great Crested Grebe
Great Cormorant
Great Egret
Grey Heron
Whooper Swan
Greylag Goose
Bar-headed Goose
Ruddy Shelduck
Eurasian Wigeon
Gadwall
Common Teal
Mallard
Northern Pintal
Garganey
Northern Shoveler
Common Pochard
Common Goldeneye
Goosander
Lammergeier
Himalayan Griffon
Black Vulture (Aegypius monachus)
Northern Goshawk
Eurasian Sparrowhawk
Common Buzzard
Upland Buzzard
Golden Eagle
Eurasian Kestrel
Eurasian Hobby
Saker
Daurian Partridge (Perdix dauurica)
Tibetan Partridge (Perdix hodgsoniae)
Moorhen
Coot
Black-necked Crane
Black-winged Stilt
Pied Avocet
Kentish Plover
Northern Lapwing
Dunlin
Marsh Sandpiper (Tringa stagnatilis)
Common Sandpiper
Great Black-headed Gull (Pallas's Gull)
Black-headed Gull
Brown-headed Gull
Common Tern
Blue Hill Pigeon (Columba rupestris)
Collared Dove
Oriental Turtle Dove
Common Swift
Hoopoe
Tibetan Lark (Melanocorypha maxima)
Mongolian Lark (Melancorypha mongolica)
Pale Sand Martin
Crag Martin
Barn Swallow
Red-rumped Swallow
Asian House Martin
Richard's Pipit
Grey Wagtail
White Wagtail
Alpine Accentor (Prunella collaris)
Common Stonechat
Hume's Leaf Warbler (Phylloscopus humei)
Tickell's Leaf Warbler (Phylloscopus affinis)
Grey-backed Shrike
Azure-winged Magpie
Common Magpie
Hume's Groundpecker (Pseudopodoces humilis)
Red-billed Chough
Carrion Crow
Large-billed Crow
Common Raven
Tree Sparrow
Rufous-necked Snowfinch (Pyrgilauda ruficollis)
White-rumped Snowfinch (Pyrgilauda taczanowskii)
Tibetan Snowfinch (Montifringilla adamsi)
White-winged Snowfinch (Montifringilla nivalis?)
Eurasian Siskin
Twite (Carduelis flavirostris)
Plain Mountain Finch (Leucosticte nemoricola)
Mongolian Finch (Bucanetes mongolicus)
Eastern Great Rosefinch (Carpodacus rubicilloides)
Godlweski's Bunting (Emberiza godlewskii)
*
(19 lifers!)
**
More Stuff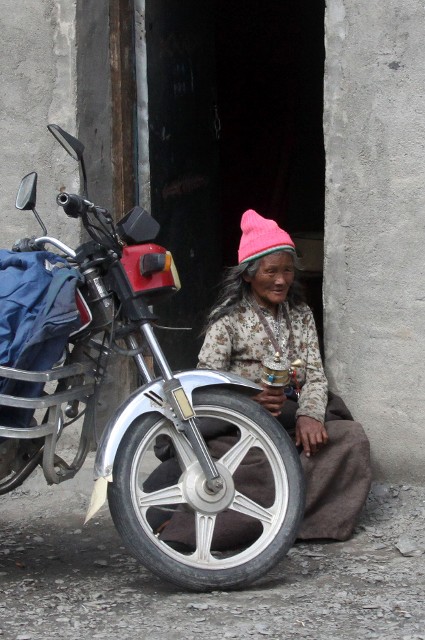 Tibetan woman near Qumalai Town.
***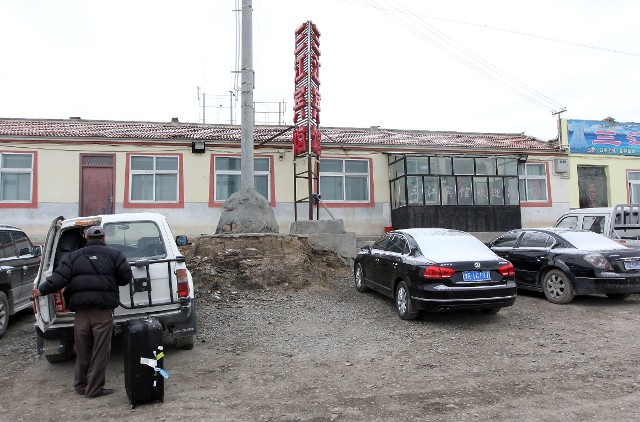 Our lodging options were very basic in some locations but at least they were there! Here is our roadside stop just outside Madoi. Basic but warm...perhaps too warm...
***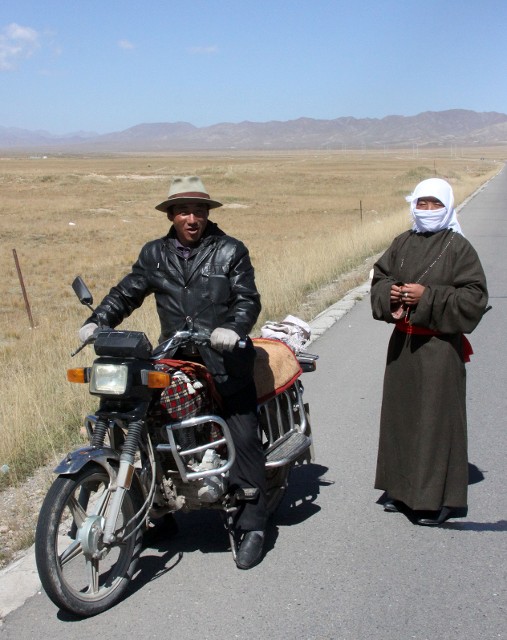 When spotting Tibetan Red Foxes outside of Xinghai, this Tibetan couple could not resist asking to use our binocs and scope to get a look-see too.
***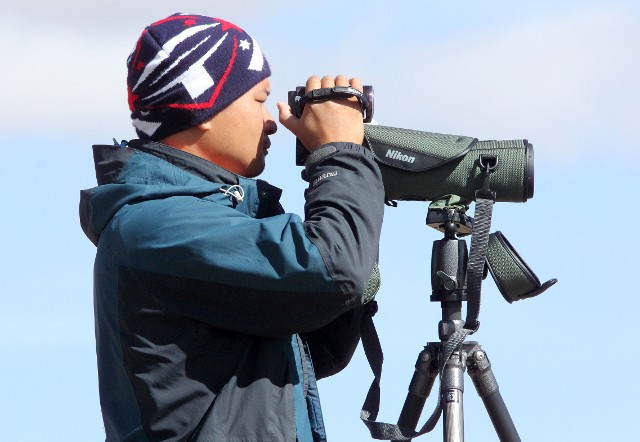 Steven getting a closer look...
***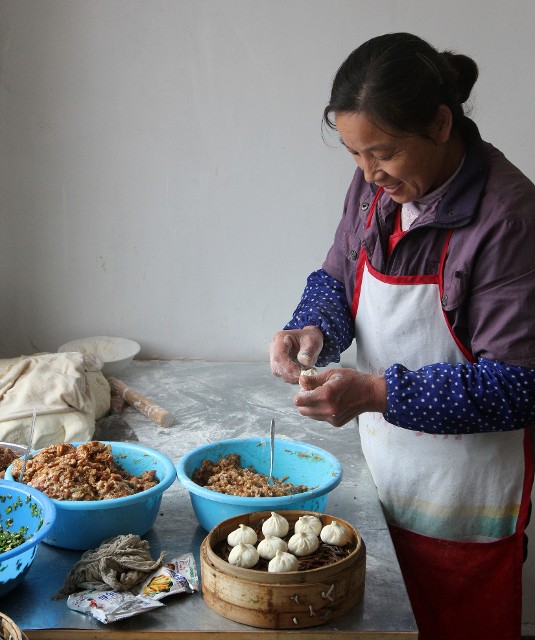 Pork dumplings for breakfast! Yum.
***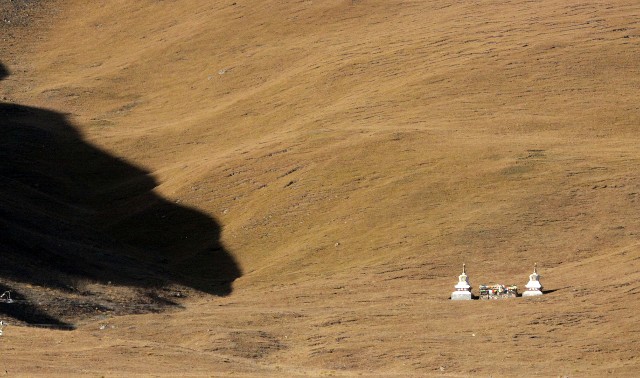 A remote Tibetan Gompa on Er La Pass.***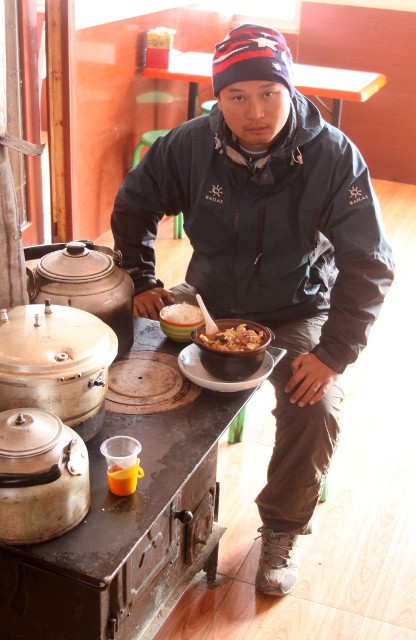 Well, when it's too cold in the dining room, why not eat on the stove?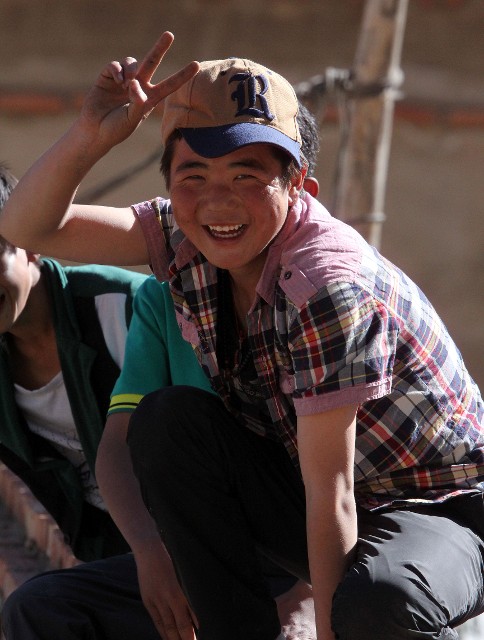 Some curious young boys at Sai Zong Gompa.
***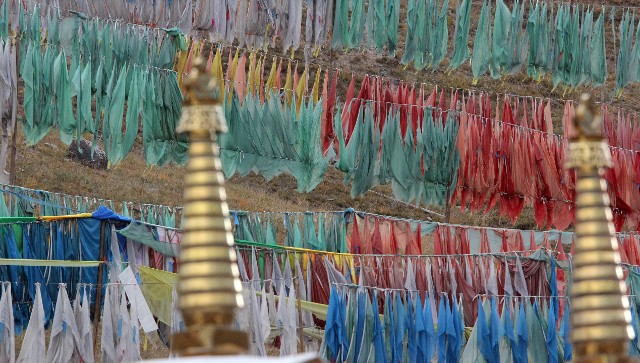 Wenquan Gompa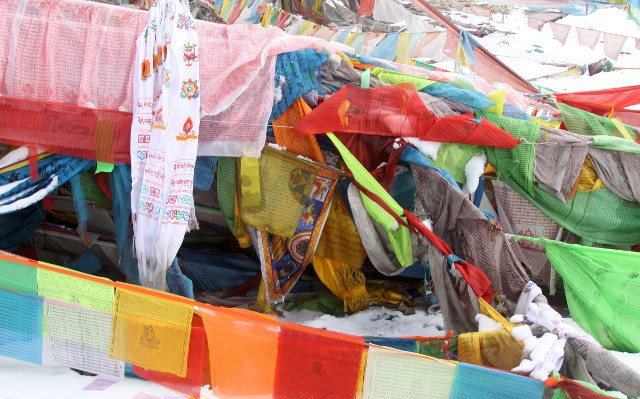 Bayankala Pass
***
***
***
Please check out our other images of the People, Places, Birds and Other Critters of the Tibetan Plateau!
***
Mammals of the Tibetan Plateau
People & Places of Qinghai and the Tibetan Plateau
More on the Coverpage of Science