It was confirmed by the science staff in Wuliangshan Nature Reserve, what WE were the very first American family to see and photograph the Black-crested Gibbon in the wilds of Yunnan! What an honor!
Wildlife Expedition to Yunnan, China
28 January – 06 February 2011
Places Visited
Wuliangshan National Nature Reserve
Baima Snow Mountain National Park
Na Pa Hai National Wetlands
Da Li
Li Jiang
Cao Hai Wetlands
Erhai Lake Wetland
Shangri La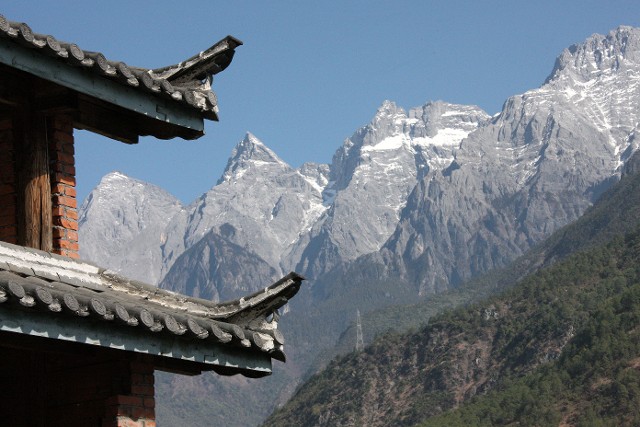 Jade Dragon Snow Mountain was an ever-present landmark no matter where we were traveling in Yunnan.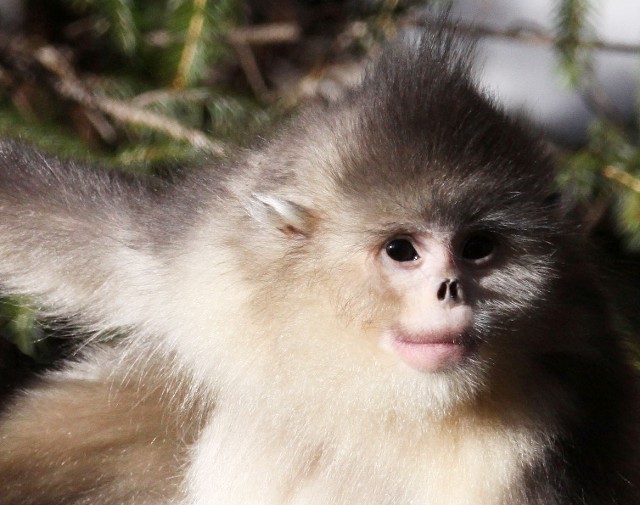 Our main objective for this expedition was to see and photograph the amazing Yunnan or Black Snub-nosed Monkeys (Rhinopithecus bieti) in the wild! As you can see, we succeeded!
For More Images of Our Wildlife Expedition to Yunnan:
Early in the fall of 2010, the Smith clan was planning on doing some travel during the Chinese New Year holidays, but was having a pretty difficult time finding something suitable to do involving wildlife and affordability. I spent weeks going back and forth trying to find a place to visit and see some nature, but I was constantly met with the "sorry-we-don't-do-that-during-the-New-Years-holidays" line from everyone I contacted. No one in China would even entertain putting a trip together during the holidays. Then I lucked out and was handed a contact in Kunming who was basically a friend of a friend of a friend.
So it was by pure luck what we contacted Han Lianxian and his son, Ben, who are now our new best buds here in China! Han is a very renowned ornithology, forest conservation and nature photography teacher at Southwest Forestry University in Kunming. He is clearly a well known and well respected academic as was shown by the deference shown him by the people we met along our journey. His son, Ben, is a published and well respected herpetologist as well, whose main claim to fame is his well-recognized research and publications on the Mustached Toad of Guizhou. So together, they make a formidable team, and I would highly recommend them as guides for any future mammal or bird watching trips. You can contact Han and Ben directly at this email. Or this email...
After some back and forth with Han, we were able to finally settle on a program that allowed us some quality time in a couple of Yunnan's wildest regions looking for some of the world's rarest primates and bird species. Earlier in the fall of 2010, I picked up a wonderful coffee-table book titled, Wild China, which basically pictured and highlighted several of Chinas last remaining wild areas and species. From that resource, I have mapped out the next five years-worth of trips here in China! And now that we have met Han and his son, we now have reputable guides and friends who can aid in our pursuit of capturing many of China's amazing species on film. And our Yunnan expedition was an outstanding start to this pursuit!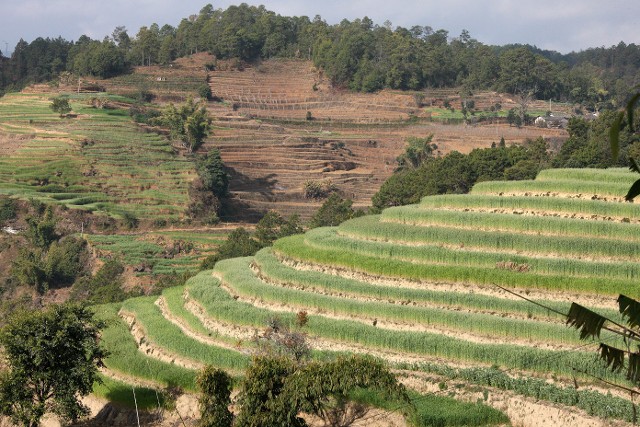 Central Yunnan (heading toward Wuliangshan) is beautiful with its rolling hills, terraced hillsides and dramatic crag mountains.
Our journey started in Kunming, a city which I had not visited since the mid nineties. After noting how radically changed that once small hill city was, we ventured deep in to the Yunnan countryside heading toward our first destination, Wuliangshan National Nature Reserve, about 400 km to the southwest of Kunming. One of the first things one notices while driving through Yunnan is how strikingly beautiful the landscape and villages are. Yunnan is truly one of the most spectacular places on earth. With massive mountain ranges, forests, wetlands as well as villages that are home to numerous ethnic minorities, Yunnan is one of the most diverse places around. Yunnan is home to more plant, bird and mammal species than any other place in China and rivals some of the greatest hotspots on earth! After our nine short days in the province we realized that we had only sampled a small part of what this amazing place has to offer and we promised to return to explore many more of the various hotspots Yunnan is home to.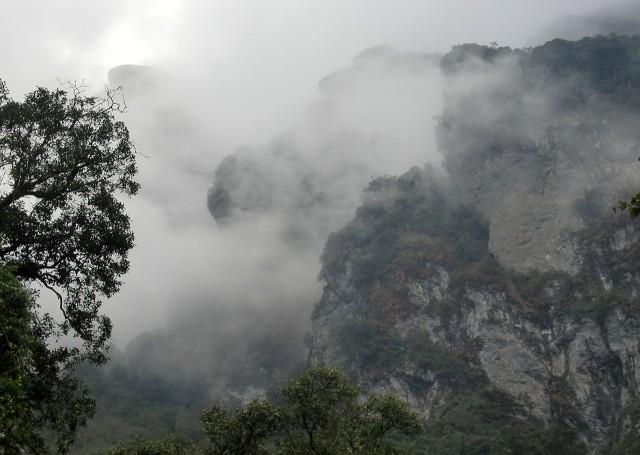 Wuliang Mountain in the early morning fog. There are gibbons in them hills!
Wuliangshan Nature Reserve
Wuliangshan is a very remote reserve situated in the central, southern part of Yunnan. Our primary objective for this locale was a hope to spot and photograph the Black-crested Gibbon, an endemic species found only in these and adjacent mountains of the region. The reserve as absolutely no tourist infrastructure aside from a nice visitors center in Jingdong town where visitors can see images of the gibbons (as there is virtually no way for people to see the actual critters themselves). But with the help and contacts of Han, who knew the reserve director personally, we were able to procure lodging, transport and guides for the core area of the reserve which allowed us the best chances to spot the hard-to-see primates. As we arrived late in the afternoon, and the roads to the core area are down-right scary, the director insisted we stay the evening in Jingdong town. This allowed for a very enjoyable evening of wining and dining with the reserve's director and lead scientists – a great time for all! We are very appreciative of the sincere hospitality shown us this evening.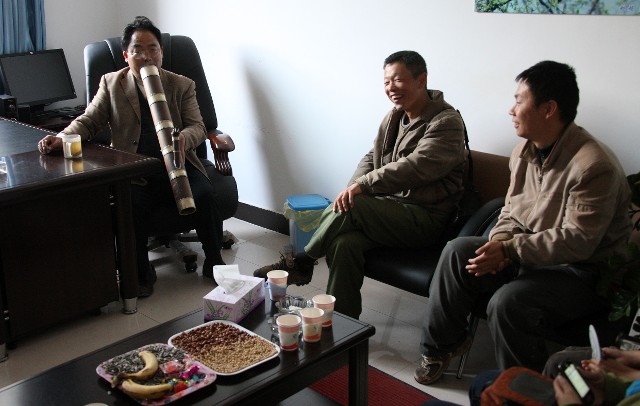 Wuliangshan Reserve's superintendent (with the bong - the official TOBACCO smoking implement in Yunnan) along with Han (center) and Ben (right) making arrangements for our expedition in to the park's core area to search for wildlife.
The four hour drive in to the core area of the reserve was sublime. After passing miles upon miles of beautifully terraced hillscapes, we eventually reached a truly treacherous road leading up Wuliang Mountain to the core area monitoring station, where we were to spend the next three nights. Luckily we arrived during the peak of the holidays and the few beds there were available to us. The director arranged there to be a cook and guide for us and, all in all, it was a very comfortable, albeit very basic, place to stay. The food, cooked by our local Yi (ethnic minority) ranger was excellent and his guiding skills were great as well.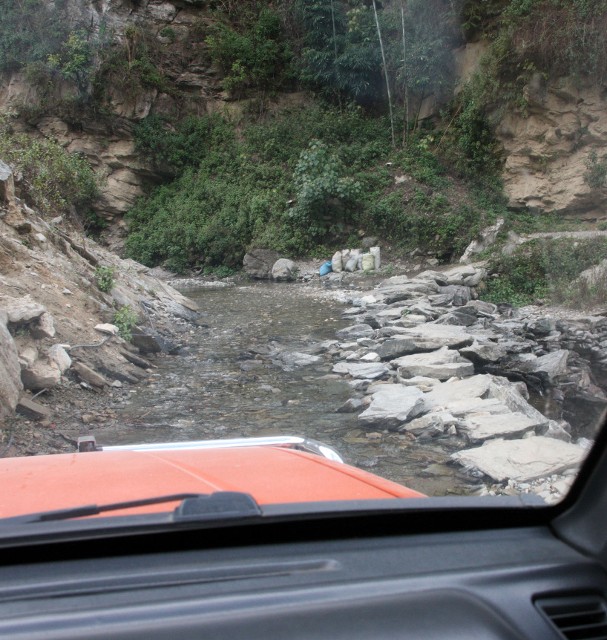 Here we needed to cross a stream cutting its way through the "goat trail" they called a road up to the core area. The road was slick and dangerous. The superintendent was wise to request we spent the night in Qingdao our first night and head up the hill in morning light.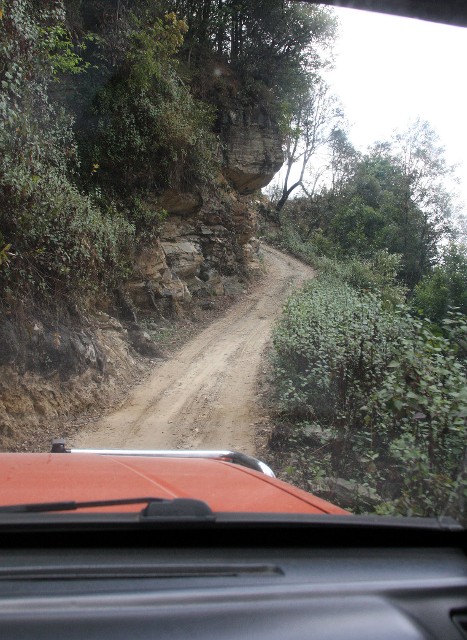 The road continued to become more and more narrow, and the drop-off in to the canyon continued to become more and more terrifying....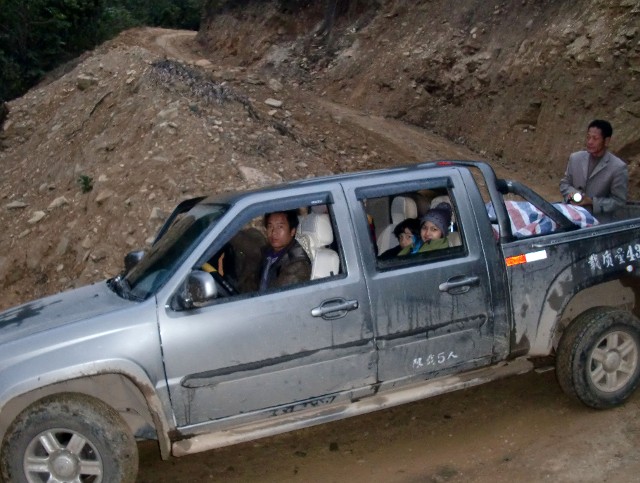 A local farmer's truck was our only mode out for our "emergency" exit from the monitoring station. It had rained the night before and the road was eroding away...so they sent up help! We made it out just fine and the ride in the back of the truck was great for me.
As we arrived to the gate of the monitoring station that afternoon, I heard the gibbons calling off in the distance! In all honesty, I really had very low expectations for this trip as viewing mammals in China can be challenging. I could sense that even Han and Ben were making efforts to moderate our expectations as they, being seasoned field biologists in China, knew better than anyone that seeing mammals in China can be a very iffy enterprise for sure. But when I heard these amazing primates calling nearby in the valley just a few hundred meters away, I had a sense that we would have good luck. We listened to this rare species' unique call for several minutes before they finally went silent. Since the time was approaching nearly 12:30 pm, far later than gibbons usually call, one could surmise that they were welcoming the Smith family to their home! Or perhaps there was another reason….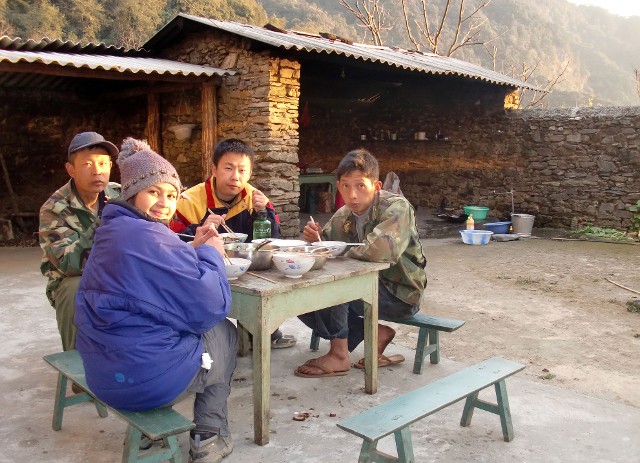 Our gang enjoying our home cooked (kitchen in the background) Yi-style grub at the core area monitoring station with Han, Ben and our outstanding Yi guide on the right. His preferred shoes in the forest terrain were bare feet!
Obviously we wanted to get out in to the field as soon as possible to see if we could spot the gibbons, and after scarfing down our Yi meal of salted pork, mustard greens, red rice, chicken guts and some sort of mystery meat (all of which was surprisingly delicious – even Cokie scarfed it down! And Ben and Han were very relieved that we gringos could eat the simple foods of the reserve…), we started our trek in the splendid forests of Wuliangshan.
Wuliangshan and its associated peaks and valleys are home to a complex plant community that is both very exotic and familiar to me. With species like Alder (Alnus sp.), Rhodendrons and Oak (Quercus sp.), there was a homey feeling to the place. But there were tons of species that were very truly foreign to and the complexity of the forest system was very intriguing.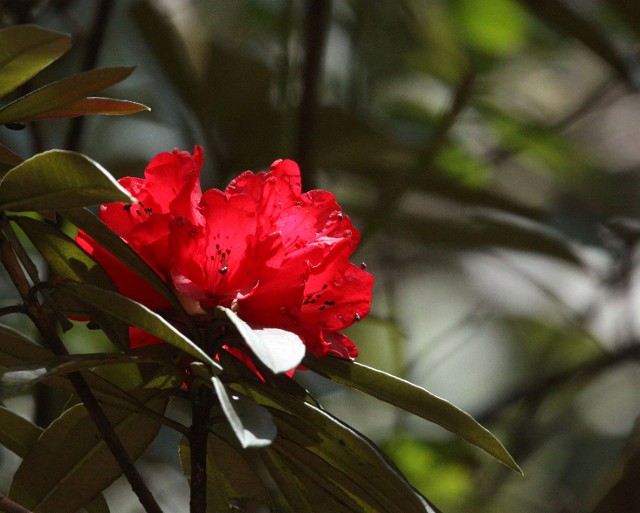 I was told that this Rhododendron species was famous for being the first bloomer in spring. Early February in this part of Yunnan is the the time to spring to take hold.
After our first kilometer of so, our guide called me over, with a grin on his face, to an opening in the forest with a view of the adjacent slope. I was thinking, "could it all be this easy – seriously – only after a short trek, I was going to nail my first primate species in China!?" Well, I was going to get my first species alright, but it was not to be the gibbons! To my utter surprise, we were treated to a long and quality view of a sizable group of Western Phayre's Leaf Monkeys or Phayre's Langurs (Trachypithecus phayrei)! I was not expecting to see this species here, and even Han and our guide assured us that this was a very lucky sighting indeed. They were as curious of us as we were of them, and we enjoyed each other's company for about 30 minutes or so before we both headed our own directions. What a thrill it was to see this lovely little primate, many of whom were with curious young. And compared to the same species found in Thailand, this western subspecies was much lighter in color and had much longer fur, most likely due to the northern latitudes of their range.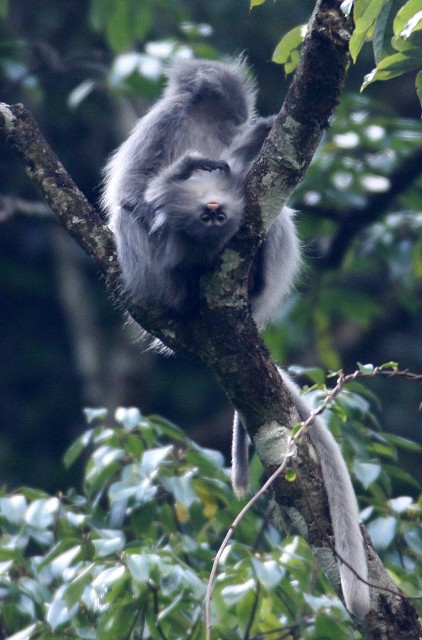 On our first trek, we came across a large group of Western Phayre's Leaf Monkeys or Phayre's Langurs (Trachypithecus phayrei) frolicking in the forest. This young one was extremely curious of our presence was too lazy to turn around for a proper look! He reminded my of my son - our little langur, Cokie...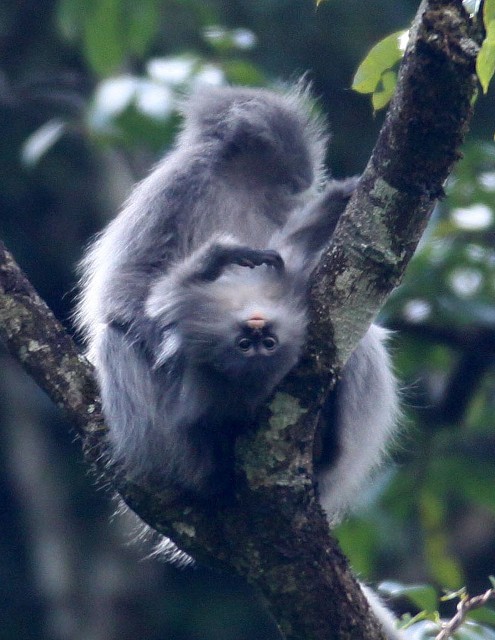 A little closer look at the little one!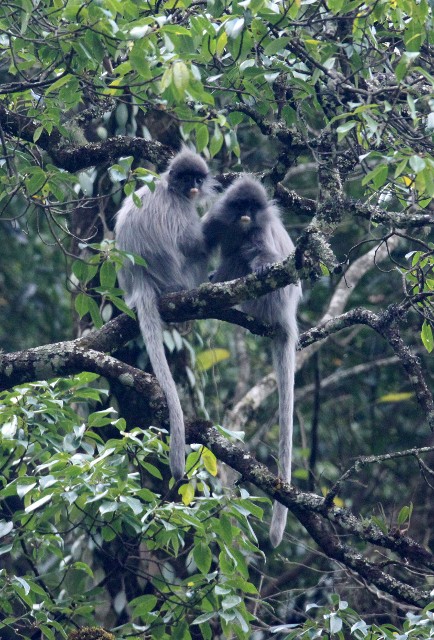 This pair was grooming each other while keeping note of our movements beneath.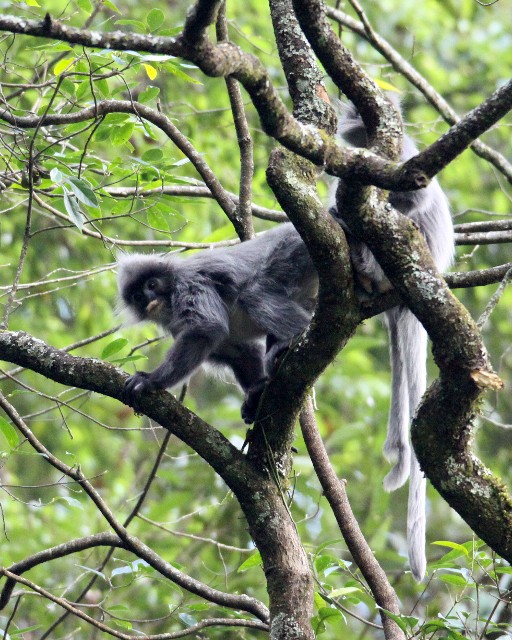 Curious little guy!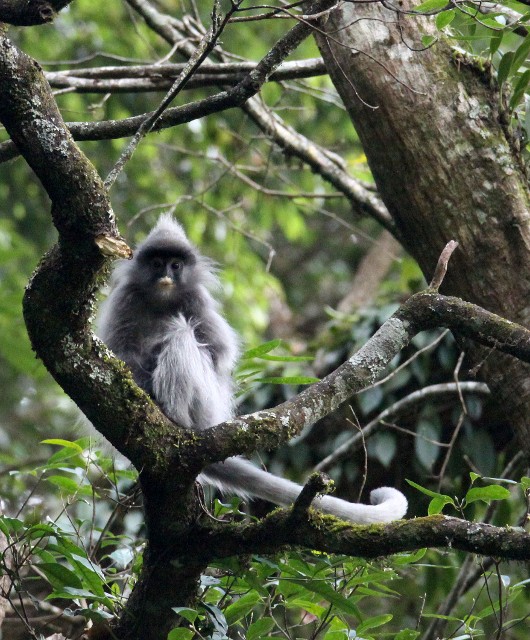 Western Phayre's Leaf Monkeys or Phayre's Langurs (Trachypithecus phayrei)
The rest of the afternoon was spent searching for the now silent and distant gibbons. We could only hope for better luck with them tomorrow. That evening we continued our treks in to the forest for some spotlighting and had a very productive night hike. After a kilometer of so of pretty quiet forest, we came across a section that was rife with flying squirrels! Our first sighting was somewhat surreal. Our powerful spotlights caught the tapetum lucidum reflections of a giant flying squirrel gliding through the forest heading in our direction. At first it seemed like a car coming in our direction out of the valley but once its massive square body came directly overhead, it became clear we were seeing a Chinese Giant Squirrel (Petaurista xanthotis) come in for a landing on a nearby forest giant. For the next 100 meters or so, we got good looks at at least four or five other Giant Squirrels. One that was across the ravine appeared to be blacker than the others which may mean it was in fact an Indian Flying Squirrel (Petaurista philippensis). Evidently both species are fairly common in the Wuliangshan mountain range. We also got a good albeit quick look at the endemicChinese Pygmy Dormouse ( that evening as well.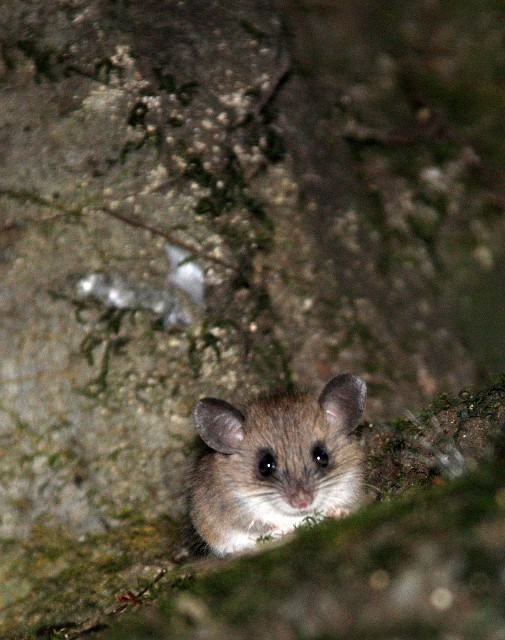 Chinese Pygmy Dormouse (Typhlomys cinereus) seen nightly on our night treks in to Wuliangshan.
Perhaps one of the more fascinating sightings of the evening involved a very rare frog species that Ben is researching for a future publication. We heard dozens of the little amphibians but after nearly an hour of intense searching with four sets of trained eyes, we only managed a quick sighting of one of the little boogers, which Ben eventually identified as Leptolalax alpinus, an IUCN-registered endangered species about which virtually nothing is known. The mere fact that we saw the adult form that evening was an addition to the body of knowledge which did not contain information of February breeding periods. So it was a really nice treat to not only see and photograph such an endangered species, but to be able to be part of a new knowledge-collection endeavor. Researchers are far away as Australia are now privy to this information and are excited about the new data. The images seen here are some of the only wild images of this species so far.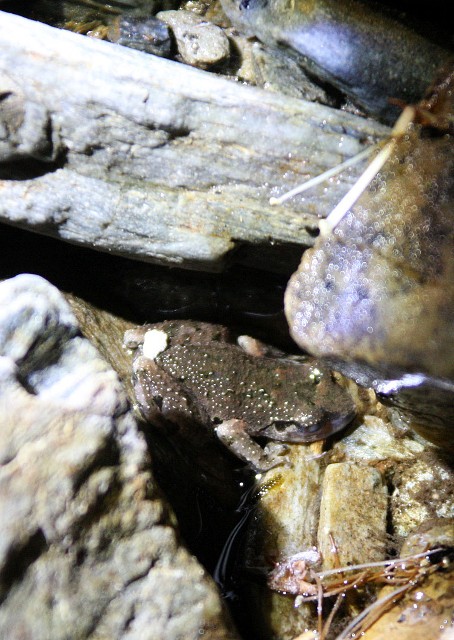 This little cryptic frog (Leptolalax alpinus) was found after much searching in the alpine stream near the core area of Wuliangshan. Not much is known about its natural history and our time with it provided previously unknown information.
Our next morning was spent listening to the wild calls of our gibbons. The sounds from the forest were more like a massive gibbon freight train than simply four or five individual primates calling out their territory to anyone who would listen. Perhaps it was the valley that amplified their calls or perhaps it was the rest of the forest critters chiming in with the gibbons that added to the absolutely grandeur of the calls. Hundreds of birds and other animals would add to the wild calls of the gibbons every time they started up. These calls came at the usual time of first light (which is why we were so surprised to hear them the previous day after noon!), and after an hour or so, they ended. I had a general sense of where the calls were coming from but I was very concerned when the calls stopped and we were several very difficult kilometers from where I thought they were emanating. Luckily we had another Yi minority guide who was much more familiar with how the valleys bent the sound waves, and he had a very good sense from where the gibbons were calling. The only problem was the spot he thought the gibbons were last heard calling was pretty much STRAIGHT UP the sides of the steep and treacherous mountains!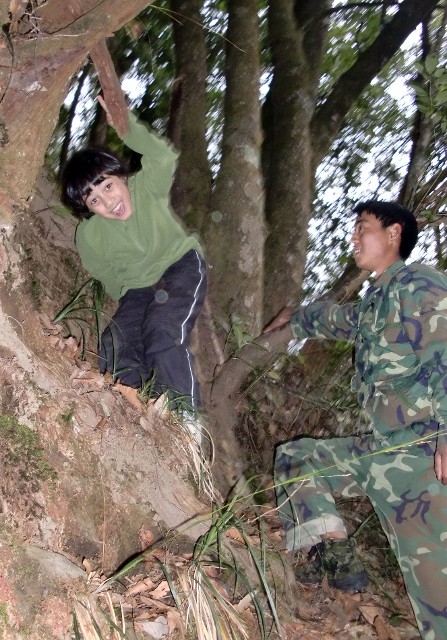 Where ever we travel, people are always worried about an 8-year old child being able to handle the treks. We've even had guides refuse to take us as they did not think our boy could "handle" the rigor of the field experience. They have NO idea how tough this kid is. The only ones who were doing better than him were the gibbons themselves! This kid was made for the wild!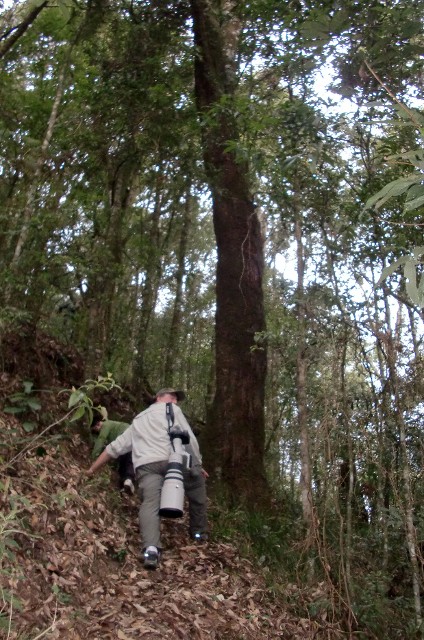 With absolutely no trails and only thicket to cling to, the trip up the side of the mountain was a bit dangerous for sure. And with the 30-40 pounds of Canon 600mm lens acting as a third limb, I was a very awkward primate for sure. Cokie and Som were much more agile climbers than I – in fact, Cokie was traversing the forest like a gibbon! At first, I thought we were on a bit of a wild-gibbon chase, as I thought the sounds were coming from lower down in the valley, but our guide knew better. He knew they were at nearly the highest point of the valley that morning, and that is exactly where he took us. He saw I was having a somewhat difficult time keeping up with my load and all, so he told me to wait where I was and he would peek ahead to see if he could see the gibbons. Only one or two minutes later, he came back with a grin as wide as the Yangtze, and I knew he had them! No sooner did I see his delight, I saw some trees up slope shaking with the movement of a substantial critter swinging within them.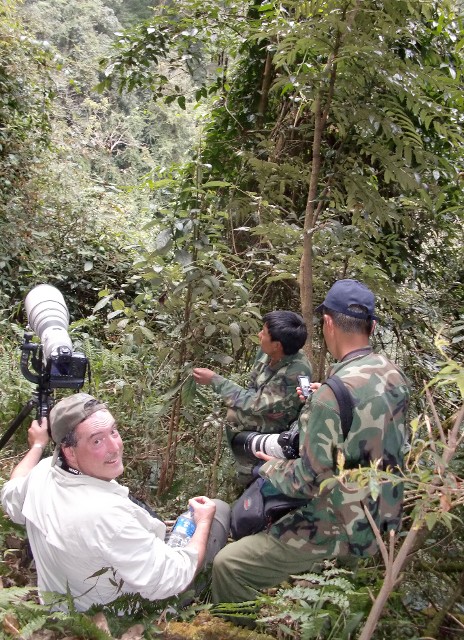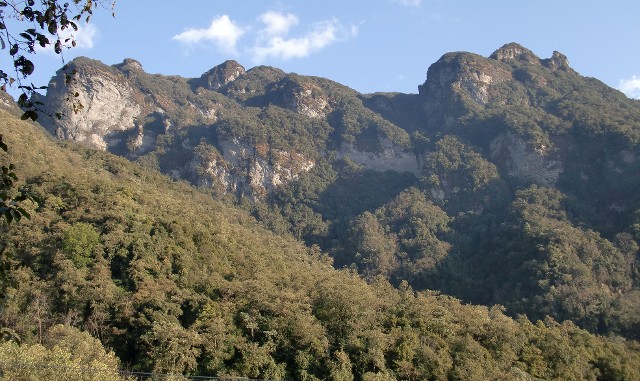 During our days at Wuliangshan, we trekked all over these mountains! But it was worth it!
After a couple minutes of basically watching vibrating trees, I finally got my first glimpse of a wild Black-crested Gibbon (Nomascus concolor). Now this was really not much of a sighting – I mean, I think I saw an arm or perhaps a leg (with gibbons, it really is tough to tell…). After a few more eye-straining moments, we all got a whole-body sighting of a male! Even Cokie saw this one leap between trees. It was clear though that they were on the move and were soon to be out of our sight, so our guide encouraged us to hurry up and get higher up the slope in order to attempt a photo or two. Of course we were thrilled with the thought of climbing even higher up the ever-increasingly steep-sided, slippery mountain. But we obeyed his commands and proceed up the mountainside. Cokie thought it was all a fun climbing game….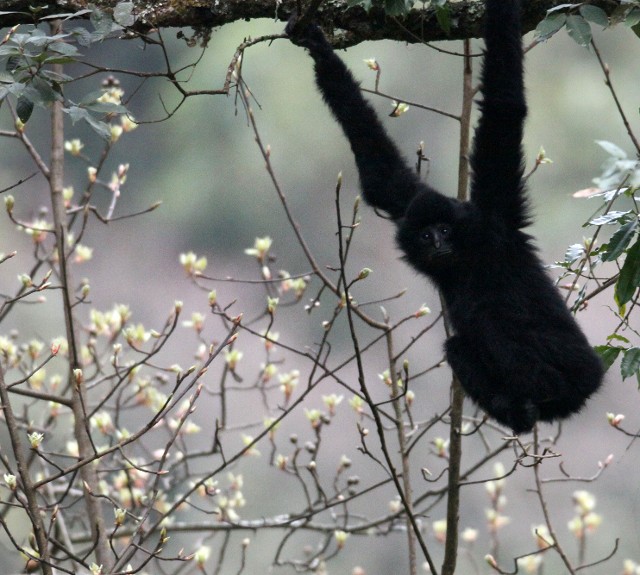 The fruit of our labor! Our first quality sighting of Black-crested Gibbon (Nomascus concolor) hanging around for a few seconds - just long enough for me to get these images, but not a second more!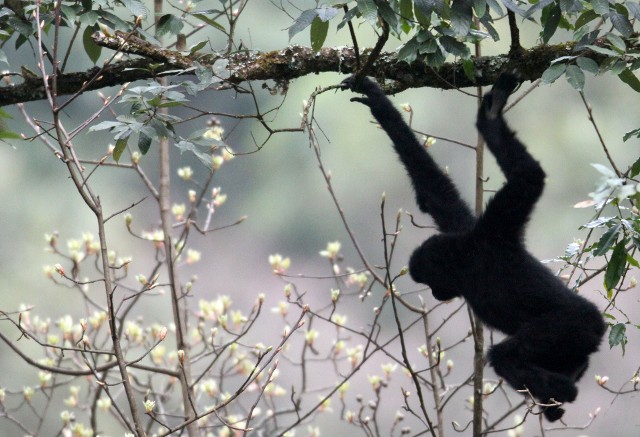 Our gibbon making his exit!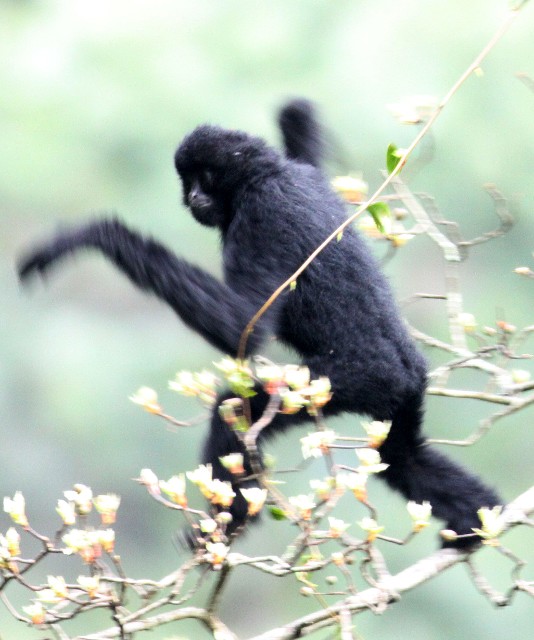 A moment of "arborial bipedalism"!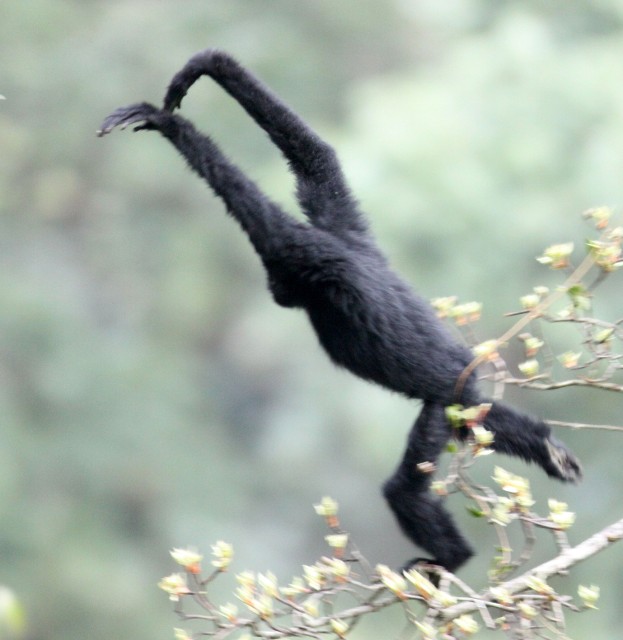 The Great Leap Forward!
As soon as we ascended another 50 meters or so, the guide called me to hurry up! He was pointing up to a tree that was beyond my view. I knew he had one. But at that same time, a glorious female came out of no where and leapt directly above me with her young one. She stopped for several moments and was staring directly down at me and I had a wonderful "alone moment" with this lovely individual and her baby. I was too weak or perhaps too spell-bound to raise my 40lb cannon to get a shot of them, but the memory is engrained solidly. My guide woke me out of my stupor and called to me to hurry. As I approached, I saw what he had in his sights – an adult male just hanging around in great light! My guide was wrestling with my tripod, but I knew that my time was very limited, so I hand-held my 600mm and fired off a salvo of shots that ended up being the only images I was to catch of this incredibly rare species. Sure enough, he was gone after only five or ten seconds. But we had great eye contact and the sighting was indeed a good one. For the next few minutes we did see the rest of the small group glide effortlessly down the slope but our time with the Black-crested Gibbons was over. But what an exciting time it was!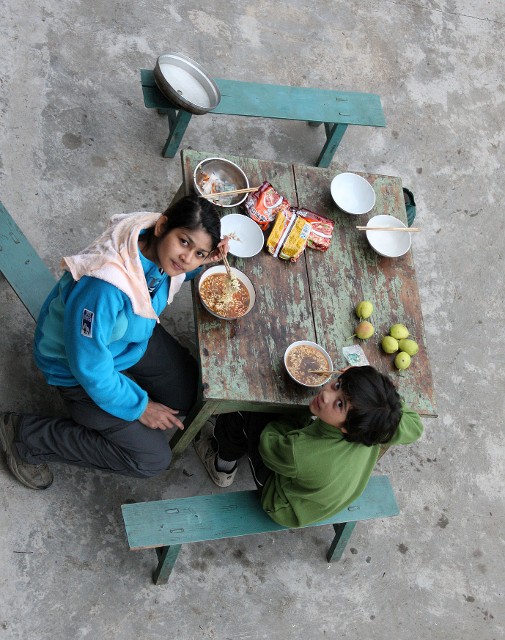 Our lovely breakfast, lunch and dinner table at Wuliangshan Monitoring Station.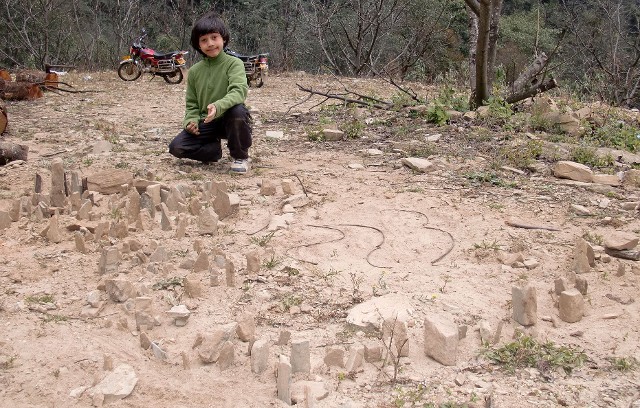 Cokie is great! He will trek for hours and hours for miles and miles, but he always has time to build and entire city when he returns to base camp!
We all fell in love with Wuliangshan, with its striking scenery and landscapes, wonderfully kind people and impressive wildlife. We had two great primate species under our belts, a few rodents and our bird list was growing exponentially. Even though this was still only early February, spring was alive and well in the valleys and ravines of the mountains. In fact, one would be hard pressed to find anywhere a more impressive migration spectacle than we saw in Wuliangshan. The early fruiting trees and shrubs of the reserve provided the food base for tens of thousands of song birds, tits, leafbirds, and dozens of other species. The valleys along the sides of the mountains were filled with bird life and photography was not only easy, it was fun! And I was told that it is even more impressive later in the season. Wow!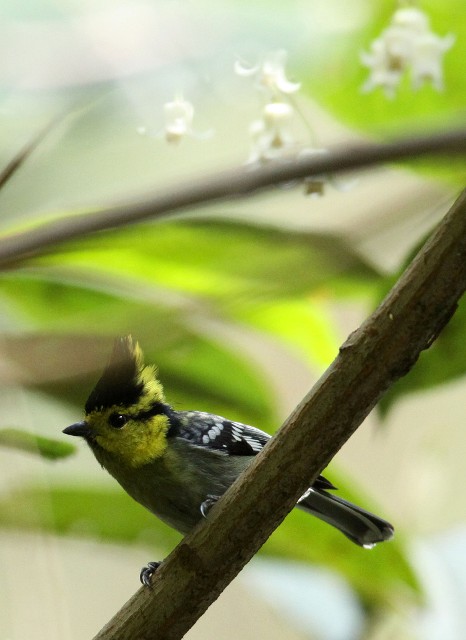 This beautiful Yellow-cheeked Tit was just one of the thousands of small birds seen coursing their ways though the valleys and ravines of Wuliangshan.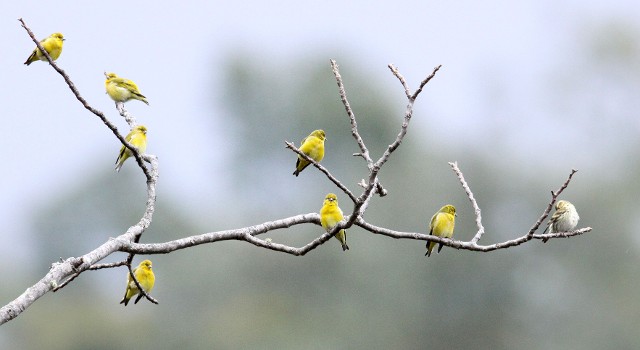 Tibetan Siskins are a rare winter visitor to the Wuliangshan region.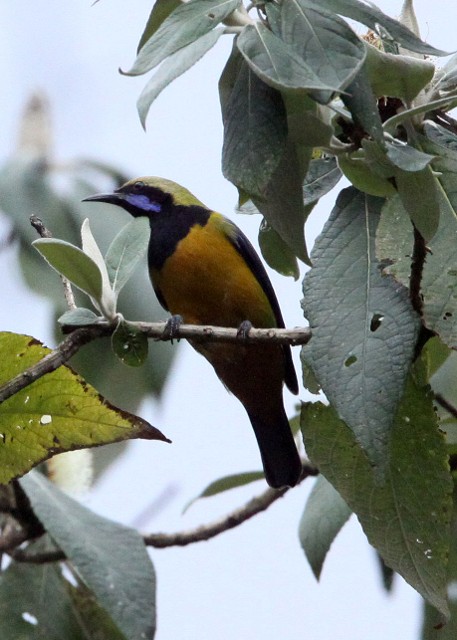 The Orange-bellied Leafbirds were some of the more spectacular birds in the core area of Wuliangshan.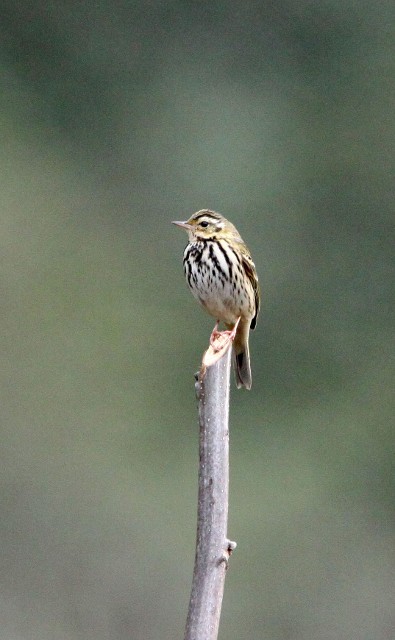 This Tree Pipit (?) was a surprise as they are normally not found in this part of Yunnan.
After three wonderful nights of being the first American tourists to EVER experience Wuliangshan's core area, it was time to venture to a completely different region of Yunnan – the Na Pa Hai Lake and highlands, home to the famed Black-necked Cranes. Although we got a fairly early start that morning, we found out quickly that driving in China's rural regions this time of year can be a very time consuming ordeal to say the least. Virtually every little village has a "market day" this time of year and there is little to no traffic control at all. And with literally thousands of people out and about, even in the hinterlands, with their motorbikes, wagons, carts and trucks, traffic would come to a complete standstill in every single village along the route to the main highway (some 200kms to the north!). Some of the traffic jams only lasted a mere 15-20 minutes but some of them lasted for as many as two-plus hours! Just to drive past the market center was completely impossible. And with the absolutely incompetent local police at the helm, there was no hope at all of making good time that day. After a couple disgruntled moments for all of our troop, we all pretty much accepted the day for what it was becoming and tried to make the best of it. Making fun of the local cops and drivers, stopping to shop at the markets, and other activities filled our long day's drive to Da Li.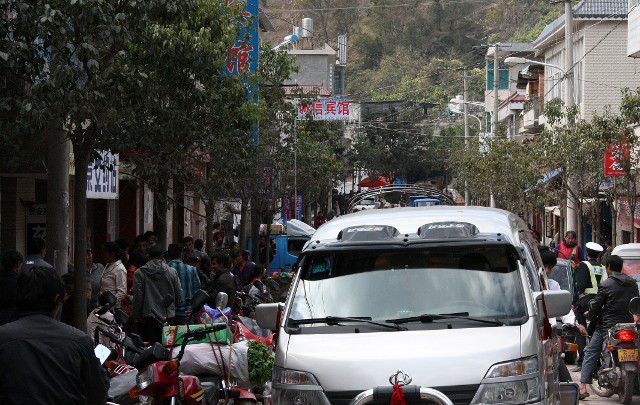 Although we experienced many traffic jams during our New Years journey through the villages and hamlets of Yunnan, none were worse than this one in Nanjian, which allowed us over TWO hours to explore this small town's central market!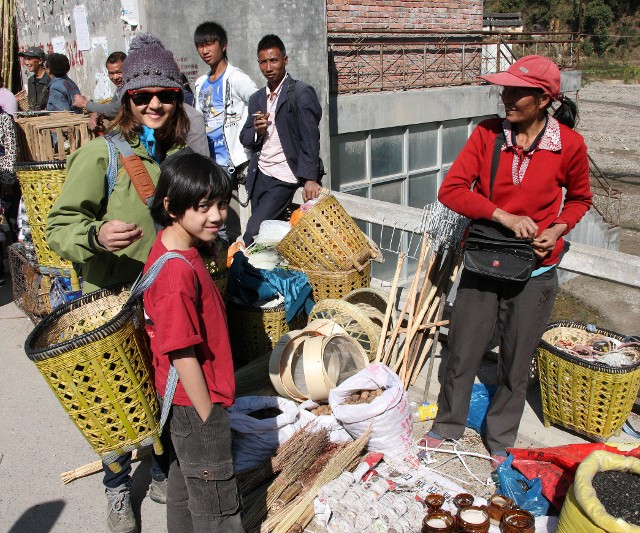 These tribal baskets will be great to use at....CarreFour!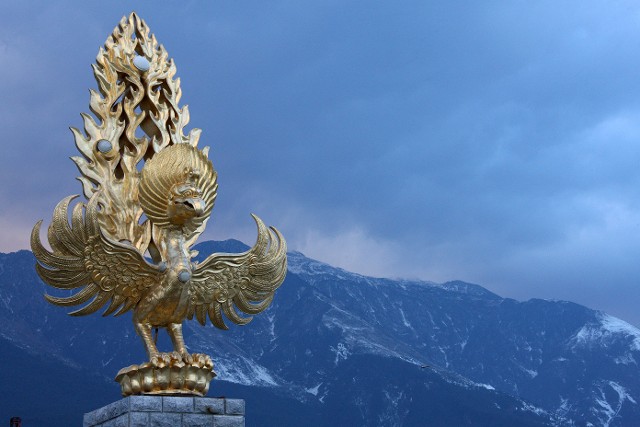 Da Li was our first major historical site during our wildlife expedition to Yunnan.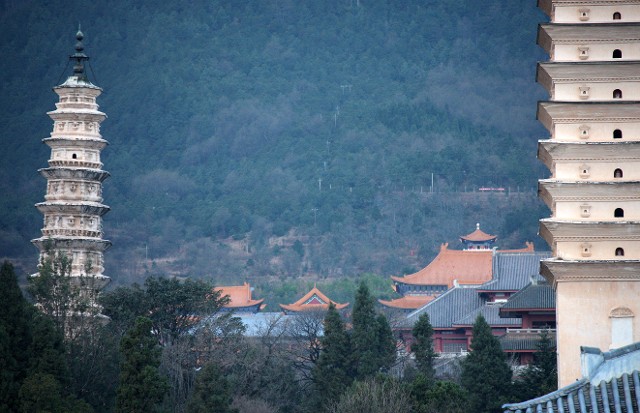 The ancient temples and three pagodas of Da Li were spectacular with their setting against the massive mountains of the region.
Initially we wanted to get beyond Da Li, we were lucky to find a nice hotel in the heart of Da Li's ancient town where we were able to relax, sight-see and enjoy one of the biggest tourist draws of the region. Although we enjoyed Da Li, I would say that one night is plenty there for sure. Som did enjoy the shopping though! The ancient town was and pagodas were quite spectacular.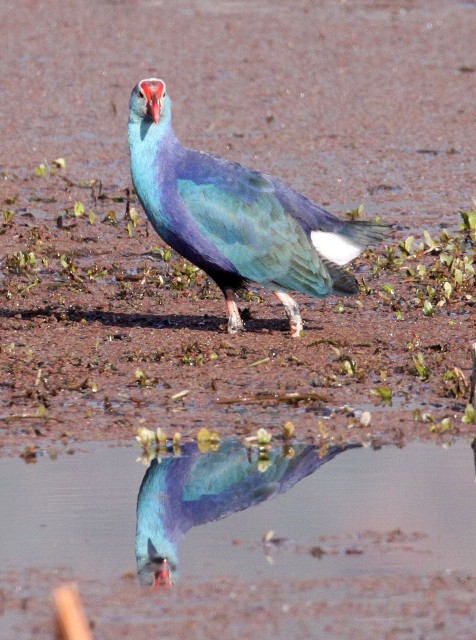 This Purple Swamphen was just one of the dozens of species of waterfowl we came across (in good light!) in the wetlands near Er Hai Lake.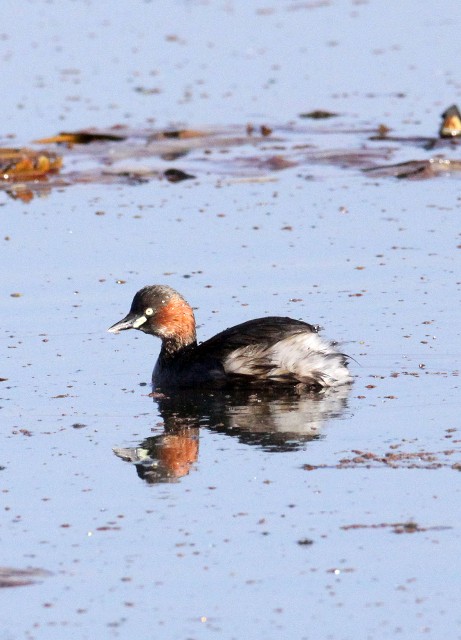 This Little Grebe was another "old friend" seen at Er Hai Wetlands.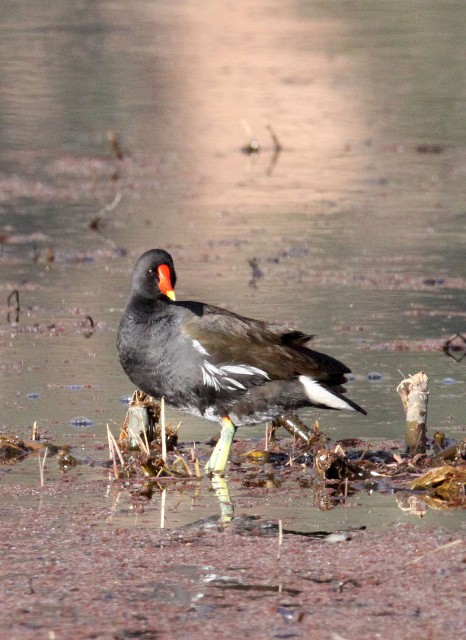 The Common Moorhen
A highpoint in Da Li for me were the wetlands we visited the morning we left the Erhai Lake region. This small wetland was filled with great birds and the morning's light made for some spectacular lighting for photography. Nothing too rare or exciting was seen that morning but it was good to see some old avian friends like Ruddy Shelducks, Purple Swamp Hens and Ferruginous Pochards among the 30+ species of waterfowl seen this morning.
The drive north to Na Pa Hai was fascinating. Heading out of Da Li, with the mainly Han and Yi people dominating, we entered a region that was populated primarily with people of Tibetan descent. The architecture of the homes became much more Tibetan in nature as did the livestock – stocky horses and Yaks and even Tibetan dogs! The physical features of the people we encountered were very different from those seen further south in Yunnan. We even came across a flock of Himalayan Griffons, a very rare species of vulture famed for eating the corpses of dead Tibetans who voluntarily offer their remains to the birds after death.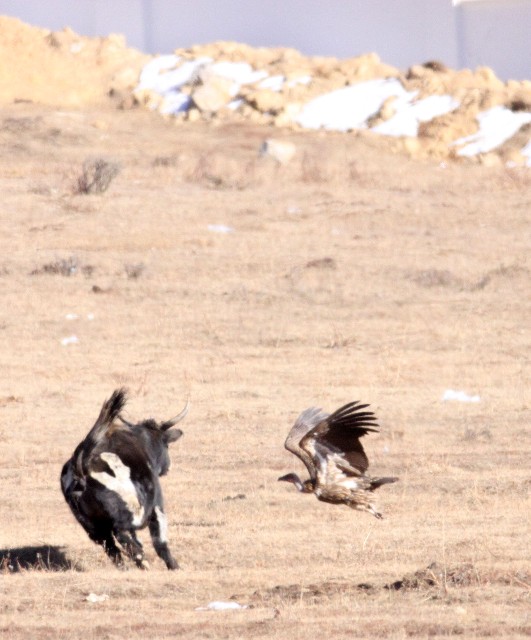 This Himalayan Griffon did something to anger this domesticated Yak near one of the Tibetan villages near Na Pa Hai.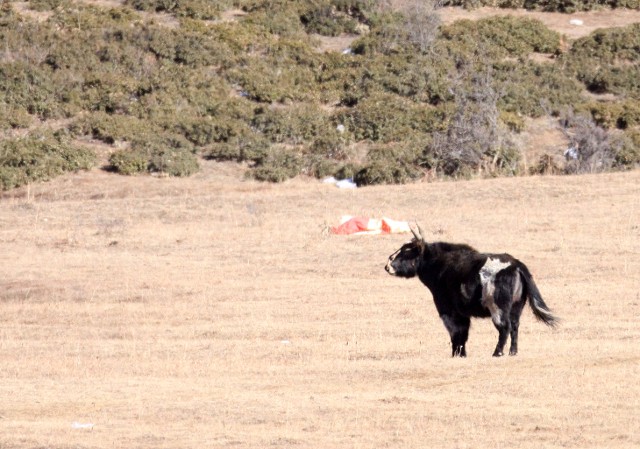 A very smug and self-satisfied Yak making sure that dang vulture don't come back!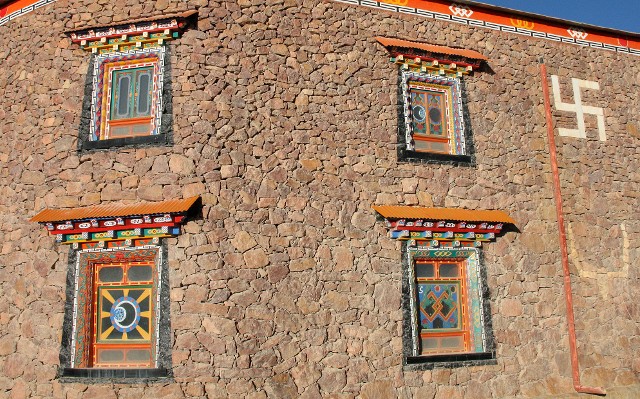 The villages along the route to Na Pa Hai took on a much more Tibetan feel and appearance.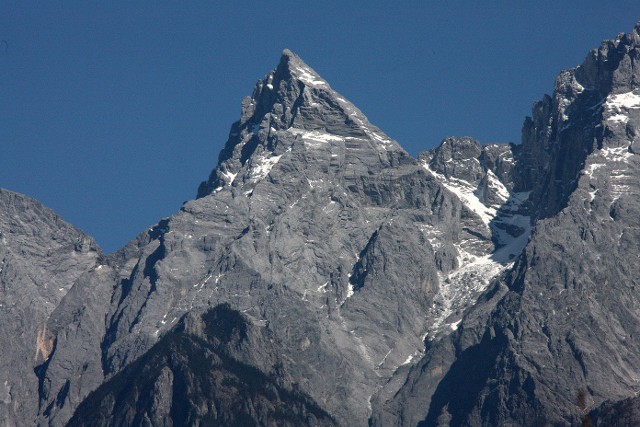 Jade Dragon Snow Mountain as seen from the road to Na Pa Hai.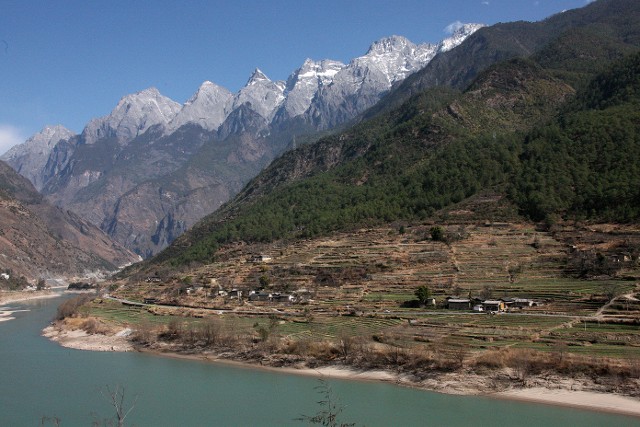 The Yangtze River seen winding its way through the amazing landscape of Yunnan's northern sector.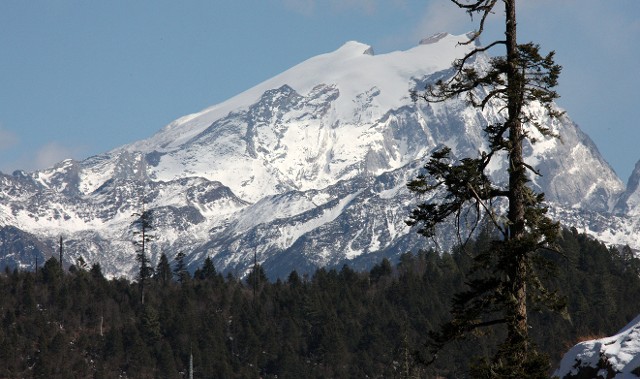 The mountainous, alpine and subalpine terrain was a very familiar sight to this American family who had only recently moved to China from the American Northwest. It was a welcome sight indeed!
Na Pa Hai Wetlands Reserve
The drive to Na Pa Hai was a spectacular adventure through some of most amazing mountain landscapes one can see anywhere on earth. The Jade Dragon Snow Mountain and its surrounding ranges are arguably a beautiful as mountains get. We planned on making good time to our next destination but failed as we were constantly asking to stop for photos and snow play. At our highest point we were driving well over 3500 (+/- 11,500 ft) meters in elevation! The air was thin and crisp! And we nailed a good sighting of a Red-bellied (Pallas's) Squirrel (Callosciurus erythraeus) along the road!
By late afternoon we arrived at Na Pa Hai to search for the Black-necked Cranes, which were pretty much our only target for the area. It took a whopping 2 minutes for us to spot our first pair along the side of the road! After driving a bit deeper in to the wetlands preserve, we came across a grazing flock of at least 100 individuals off in a field. I wanted to get some close-up images of these spectacular birds, so I decided to walk off in to the field to get closer with Som. It did not take long for the field to become a sub-freezing swamp, and of course I left my Wellingtons back in the van, where they remained dry and unused for the entire trip! For some stupid reason I decided to walk the final 100 or so meters to the birds barefoot in the freezing water. After about 25 minutes of snapping images of the cranes, I was nearing frostbite! My feet were in so much pain that I had to literally limp back to my shoes. Each blade of grass felt like a razor blade slicing in to my feet. But the images were worth it!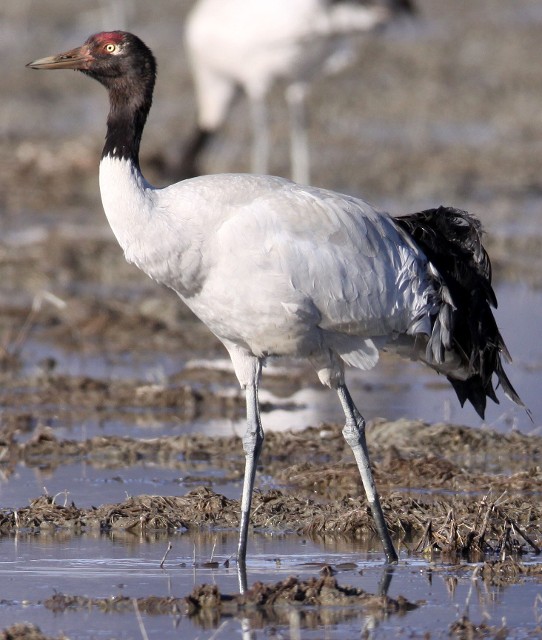 The spectacular Black-necked Cranes found in Yunnan's highlands in and around Na Pa Hai!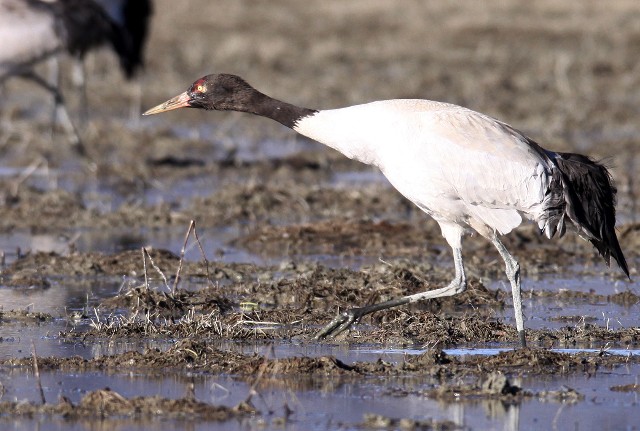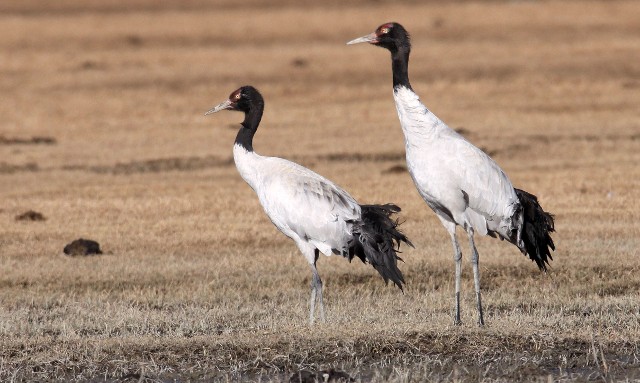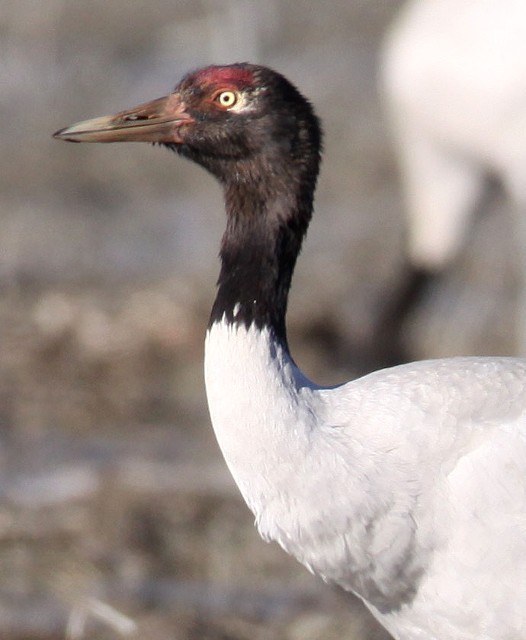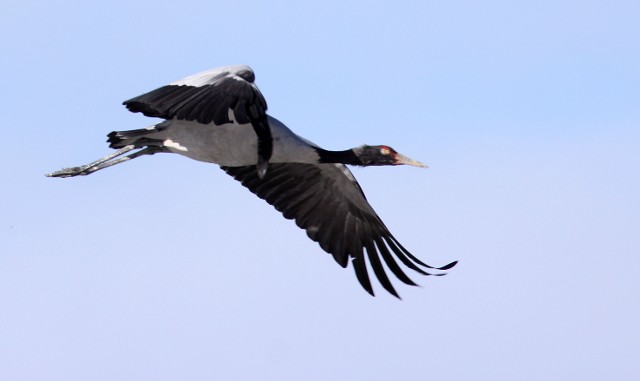 Foolishly, I was photographing all of these cranes in bare feet while standing in freezing marsh waters! About five more minutes in this extreme, I would have suffered frost bite....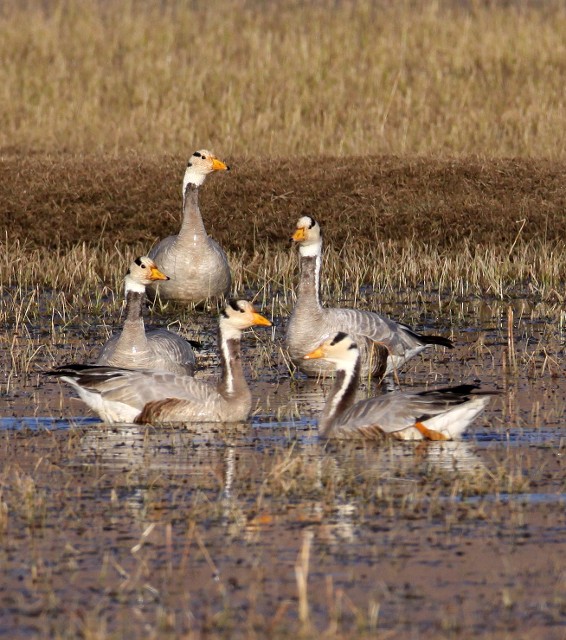 These Bar-headed Geese were another spectacular bird species encountered in Na Pa Hai.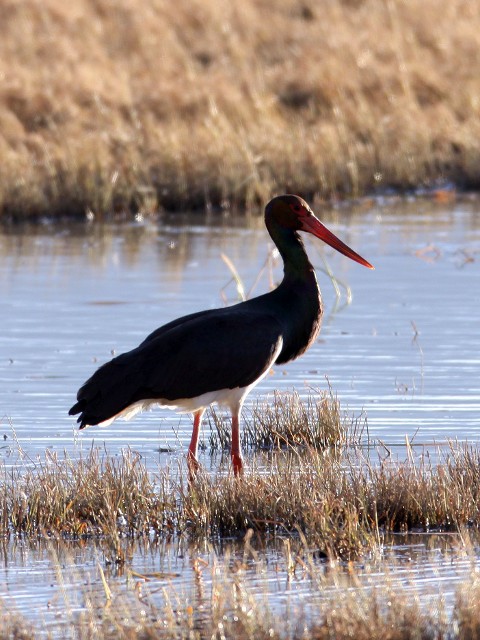 We came across dozens of Black Storks in and around Na Pa Hai.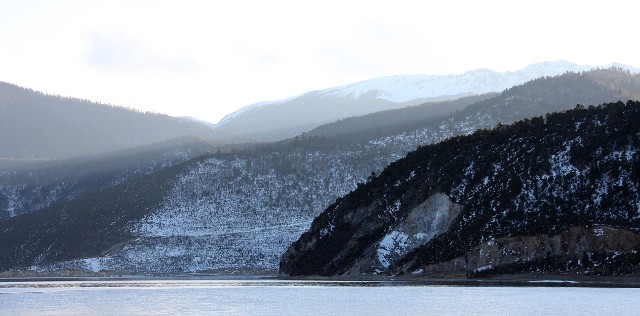 Na Pa Hai Lake is over 11,000 feet in elevation yet is home to thousands of migrating birds.
The Na Pa Hai Lake and wetlands area is a spectacular high elevation spot that should be high on every birder's list of places to visit in China. Aside from it being the place in Yunnan to see Black-necked Cranes, it is a great place for Bar-headed Geese, Black Storks and dozens of duck and wader species. And Na Pa Hai is close to the historical Chinese city that is now named "Shangri La". While the town of Shangri La itself is nothing particularly impressive, the Song Zan Lin Temple, just north of town is absolutely one of the most spectacular temples anywhere in China. Constructed in Tibetan style, the temple and its surrounding landscape and village is a sight not to be missed! We concluded our first perfect day in the region with an afternoon sighting of the temple from a distant hillside with perfect light that illuminated the golden spires just so perfectly.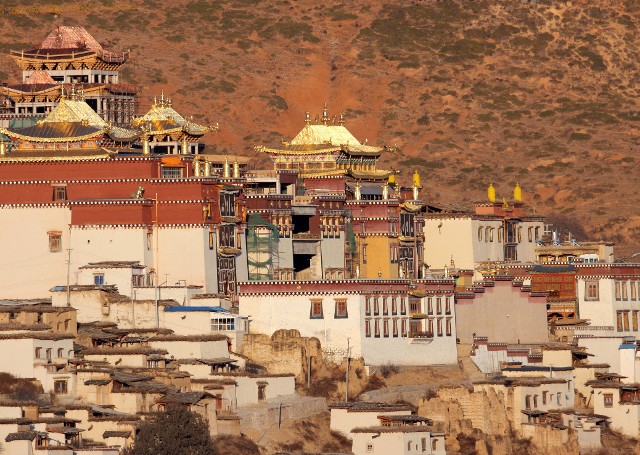 Our first late afternoon view of Song Zan Lin Temple located near Na Pa Hi and Shangri La.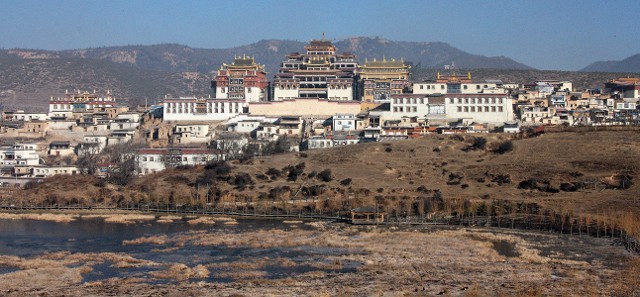 Song Zan Lin Temple the following morning.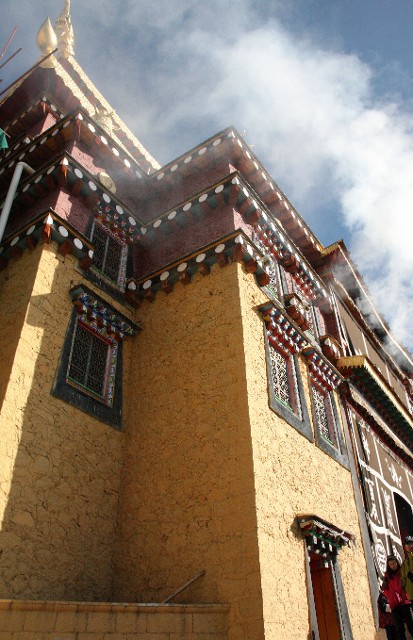 Strolling the hilly alleyways of Song Zan Lin Temple provided us a fascinating glimpse of Tibetan Buddhism and temples.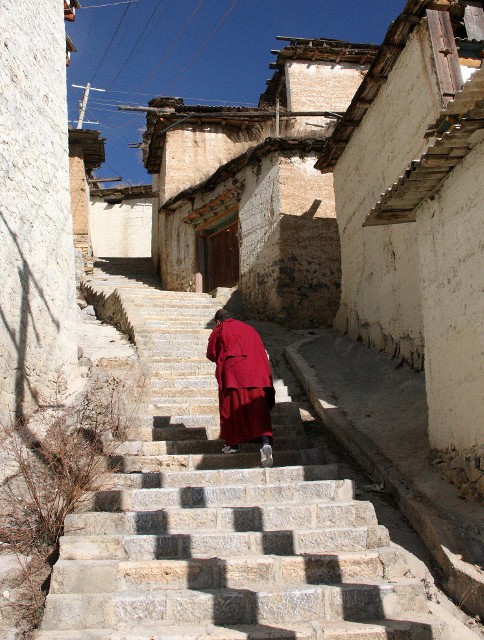 A Tibetan monk working his way up the hill to the main temple.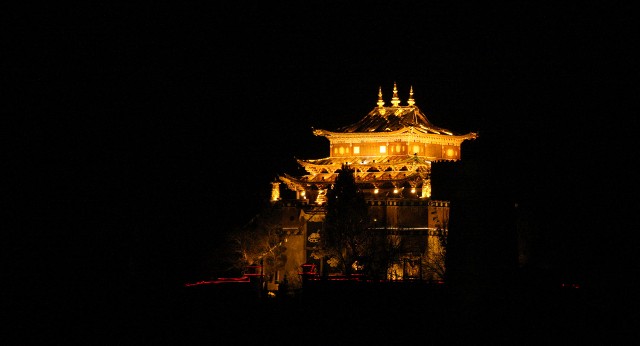 Shangri La's ancient town as seen from our hotel room.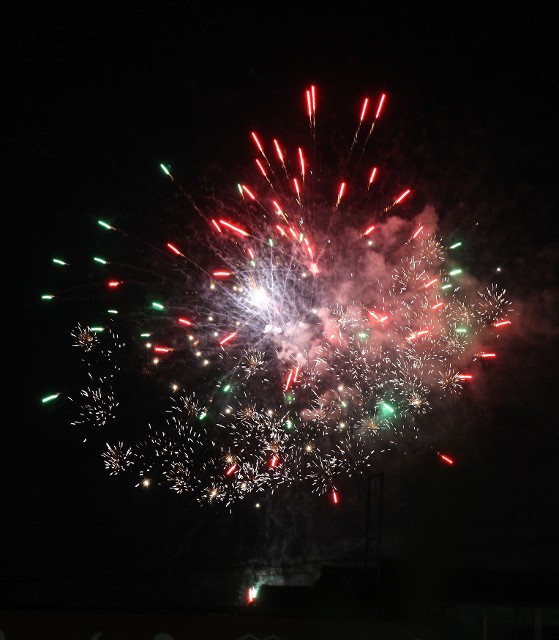 Shangri La was our first introduction to REAL Chinese New Year celebrations. The entire town was like Bagdad during the peak of "Shock & Awe"....But this was nothing compared to Shanghai the night we came back home after this trip! Som made me promise that we would NEVER be in China during the New Year ever again....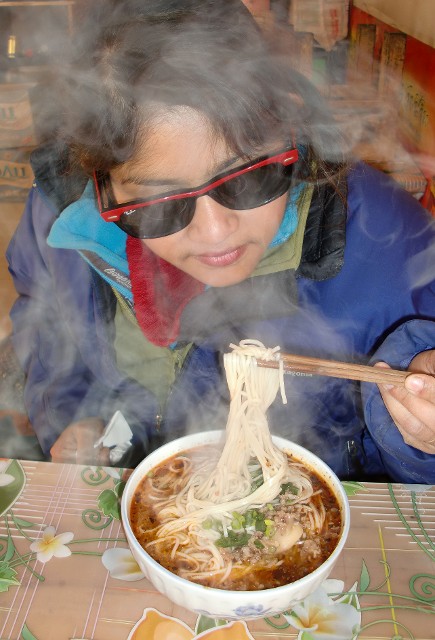 There were NO restaurants open in Shangri La after the New Year's celebrations. We saw a restaurant with the door half open and begged our way in for some Yunnan noodles!
Baima Snow Mountain National Park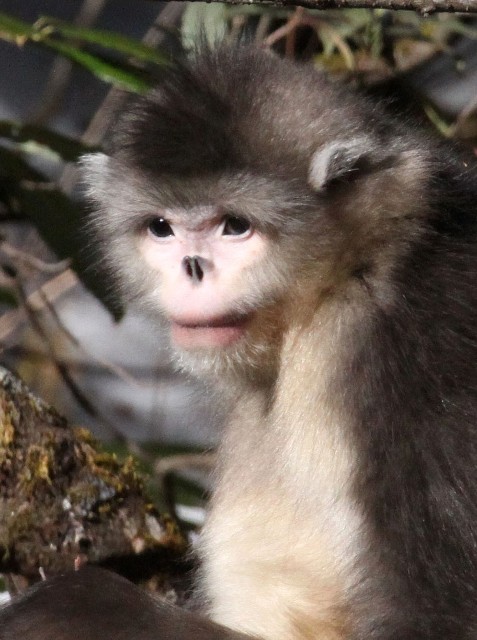 Yunnan or Black Snub-nosed Monkeys (Rhinopithecus bieti) of Baima Snow Mountain National Park! We saw over 80 of these little critters this morning!
Our next objective for this expedition was the Yunnan or Black Snub-nosed Monkeys (Rhinopithecus bieti) of Baima Snow Mountain National Park. By late mid-day, we reached the town of Tacheng, which is situated at the base of Baima Snow Mountain National Park. Not too surprising, owing to the Chinese New Year holidays, the town was pretty much completely closed down. Aside from a few of the local Naxi ethnic minority folks who welcomed us in to their homes for food and drink, there was nothing open at all – no restaurants, no hotels, no nothing! But here again, the vast connections and contacts of Han came in to play. Within an hour or less, Han called a friend of a friend who scrounged up a local hotelier who opened their place just for us! They even agreed to cook for us and make sure all of our needs were taken care of. We were very fortunate indeed. This, and pretty much all towns in China, was basically shut up tight for the holidays! Not the best time for travel really, but then again, the lack of any crowds at all, made any inconveniences we experienced well worth the effort.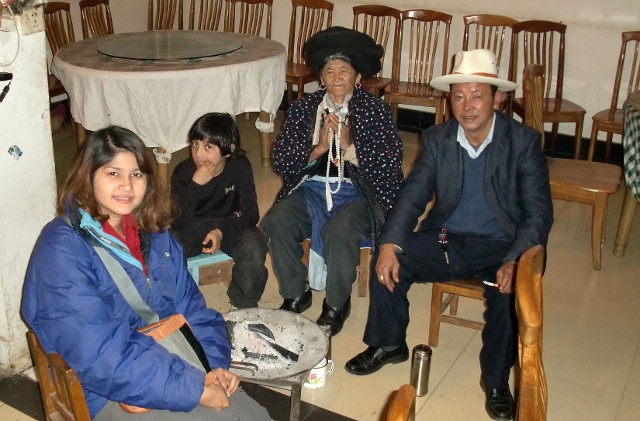 Our hosts, a lovely Na Xi ethnic minority family. The gentleman to the right makes a mean moonshine!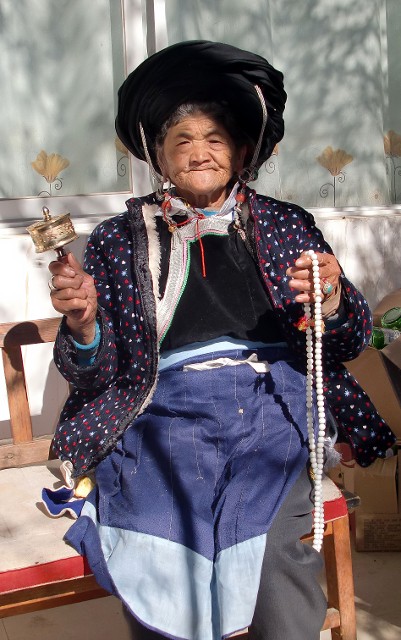 What a lovely lady! She was the perfect mix of the Na Xi and Tibetan cultures.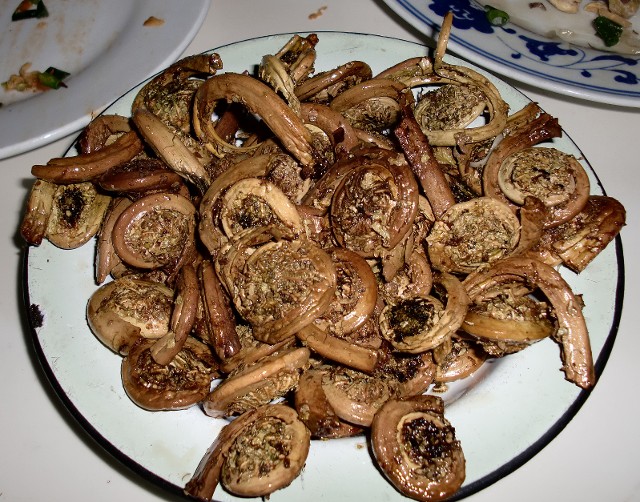 Our meals in Tacheng were an ethnobotanical delight! These are bracken fern fiddleheads. Many "mystery" foods were eaten there!
After procuring a much needed meal and some basic lodging, we walked some of the forest ravines for bird life. Basically we were killing time before we could start our journey in to Baima Snow Mountain with hopes of seeing the Yunnan Snub-nosed Monkey. I was a bit nervous about the potential of not seeing this primate as all I had read was pretty clear in saying that these were very difficult species to see, but Han and Ben were very confident that we would see them, so I was able to relax and enjoy getting plowed on local moonshine that night with a local Naxi gentleman, his mother and our driver! In fact, I really cannot even remember what happened after my third small glass of the toxin!
The next morning we got an early start toward the highlands of Baima Snow Mountain. We picked up our guide, a lovely Lisu tribal woman, who ensured me that we would see the monkeys. Sure enough, not more than a couple kilometers after picking her up, I noticed two Yunnan Snub-nosed Monkeys perched in a tree high up on the mountain! I was so excited! Not only had we been able to achieve ALL of our targets for this trip (a task rarely completed on any of our trips!), I was soon to be treated with one of the most impressive primate displays of my eco-adventuring career!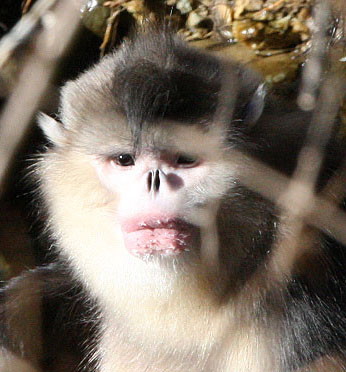 Yunnan or Black Snub-nosed Monkeys (Rhinopithecus bieti)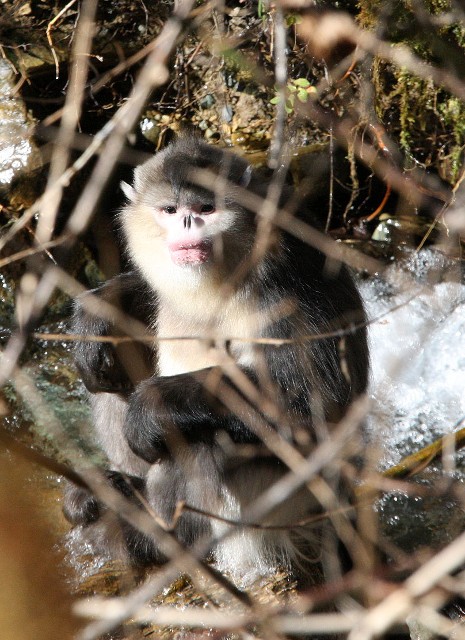 Yunnan or Black Snub-nosed Monkeys (Rhinopithecus bieti)
After I snapped some soon-to-be-deleted shots of these very distant monkeys, Som and Cokie noticed that the entire mountainside was basically packed with the critters! With over 80 individuals in all, the mountain is without a doubt the best place to see the species anywhere in their range. The numbers we saw that day represented about 8% of the world population of the Yunnan Snub-nosed Monkey. Although I was very excited to see these critters in the wild, I soon realized that these monkeys were somewhat habituated. Every morning, the rangers make sure this group gets a big back of foliose lichens (their preferred diet) to aid in keeping them on this side of the mountain. Normally the monkeys would range much further, but the park service, in an effort to make the primates for visible to tourists, have engaged in this feeding program for a couple years. While these sorts of relationships are always a bit ecologically iffy, I was no less thrilled to see these monkeys wild and in their natural habitat! There was no human contact and one could easily discern that the food given by the rangers was by no means nothing more than a snack – these primates were wild.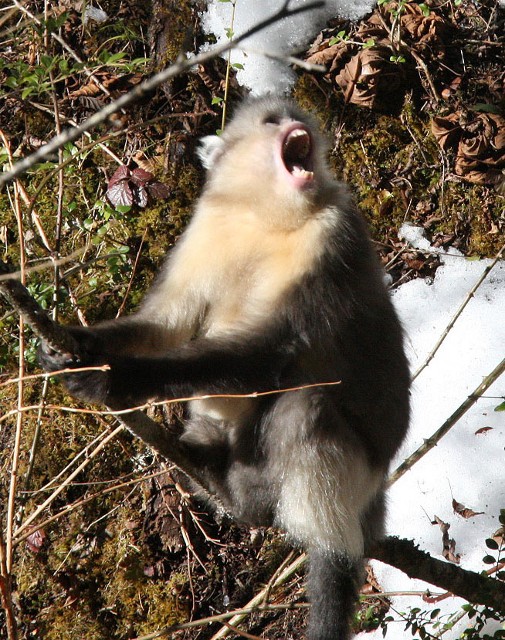 The Snub-nosed Monkeys were both playful and agressive toward eachother.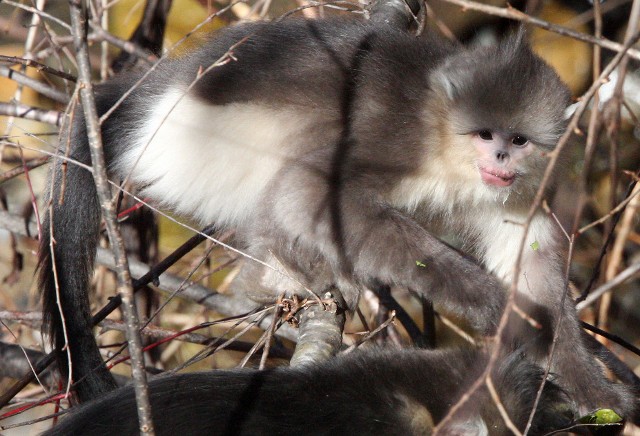 The little ones were a kick to watch!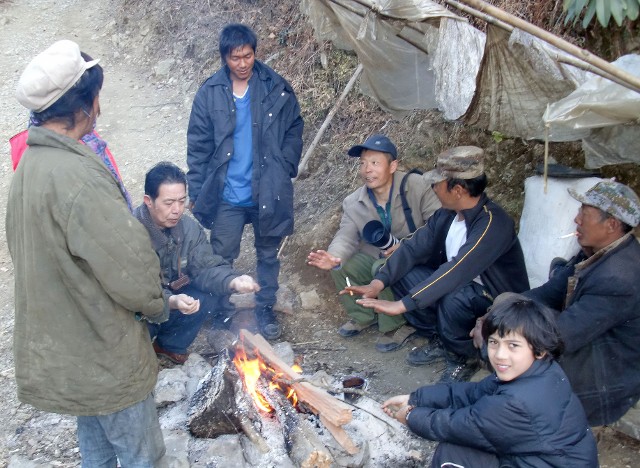 The Baima Snow Mountain patrol keeping warm in the early morning after spotting a few dozen Yunnan Snub-nosed Monkeys!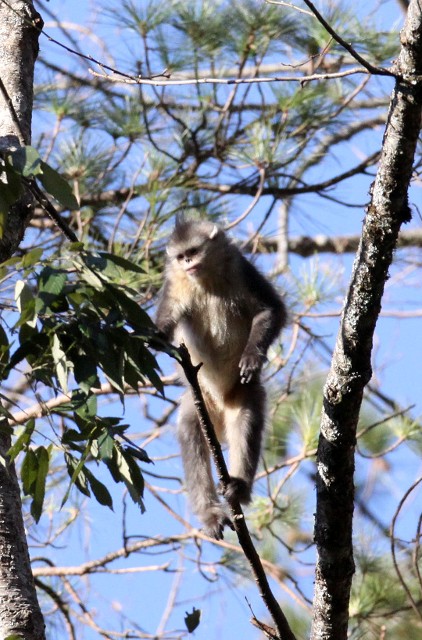 Yunnan or Black Snub-nosed Monkeys (Rhinopithecus bieti)
What surprised me the most perhaps was their massive size. The mature males were simply huge! Perhaps it was their winter fur, but they were much larger than I predicted. They were extremely agile and fearless when flinging their bodies careless through the coniferous forest. There were times when the entire mountainside seemed to be vibrating or undulating with movement with all of the monkeys swinging around. When the entire group decided to venture down the mountain to the stream for a drink in the valley below, there were moments when the mountain appeared to be experiencing a landslide! The activity was very impressive indeed.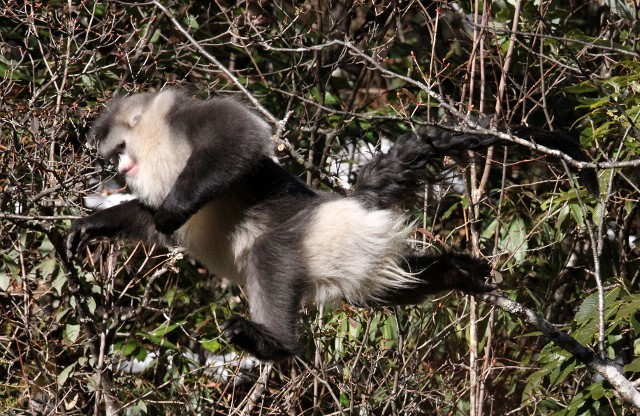 This massive male was caught running through the canopy! I was very impressed with how large these primates were and how easily they moved through the brittle vegetation.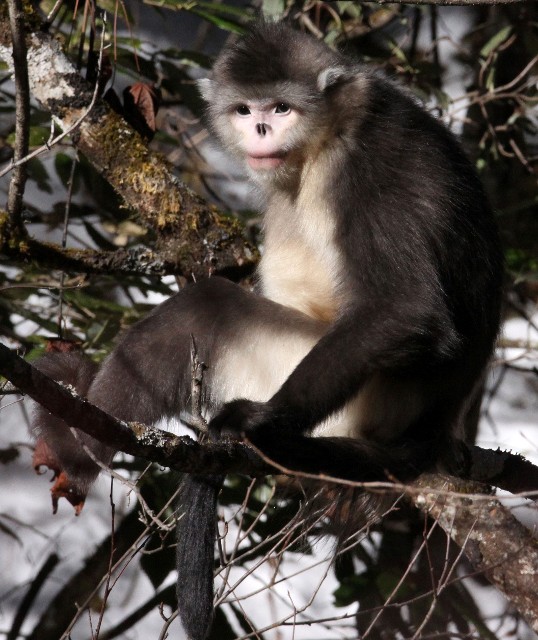 Our morning with these amazing primates was one I will not soon forget.
After an hour or so with these beautiful primates, it was unanimous that we would not stay the additional night in Tacheng as planned originally. We would head instead for a couple relaxing days in Li Jiang, Yunnan's most famous and historical city located further to the east. After nailing all of our target species and experiencing some truly "basic" living arrangements, Cokie and Som, and even I, were ready for some 4-star comfort! After arriving in Li Jiang, we were able to lock in some great digs at a local 4-star hotel that would serve as base camp for the next couple nights. The next day Som and Cokie explored Li Jiang and I ventured out in to the countryside to trek some of the local highlands for some woodland bird species, which we saw in small numbers. Although Wuliangshan was heading in to spring, Li Jiang was still deep in to winter mode.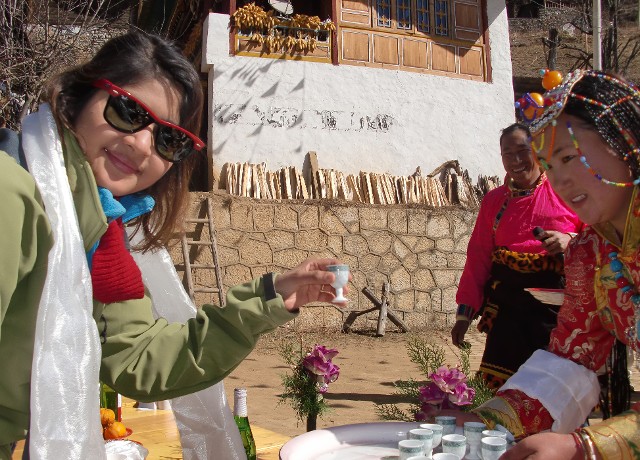 We were not allowed to leave Baima Snow Mountain until we attended the Lisu Village's New Year's party! We were seated in the seats of honor and treated like very special guests! What a treat! Even if it did go on for TWO hours in the blazing high altittude sun!
A surprise animal seen at Baima Snow Mountain was this Northern Tree Shrew, which was about two to three times larger than their Thai cousins. Perhaps a northern/southern latitude phenomenon...
After some nice birding in the highlands surrounding Li Jiang, I joined Cokie and Som for some trekking in Li Jiang's World Heritage ancient town. This was a very impressive assemblage of period buildings and architecture that the government as obviously taken great care in restoring and keeping up. We spent the rest of the day and a good deal of the evening exploring and getting very lost in the alleyways and nooks and crannies of this spectacular city.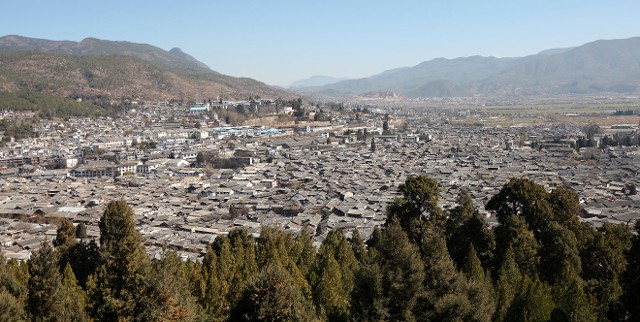 A sweeping view of Li Jiang's ancient town to the south.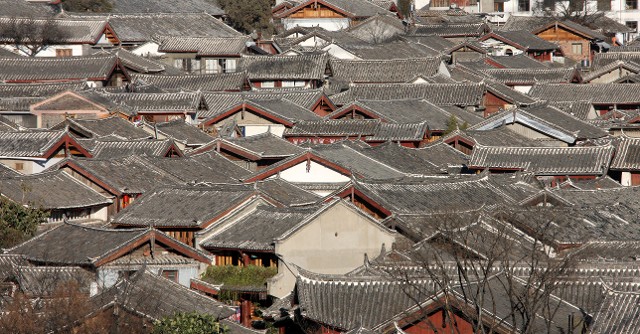 View of the rooftops of Li Jiang's ancient town.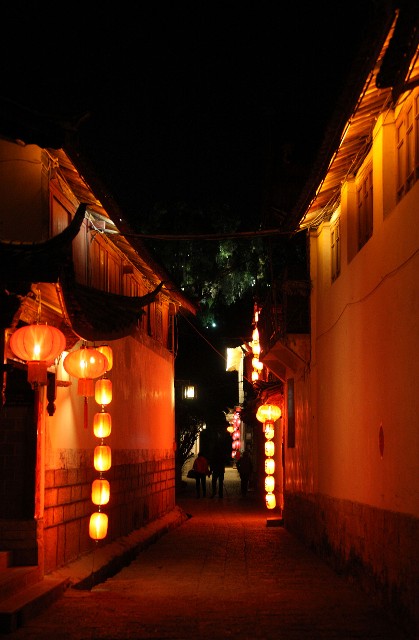 Strolling and getting lost in the narrow alleyways of Li Jiang's old town was a very relaxing way to conclude one the best wildlife expeditions ever!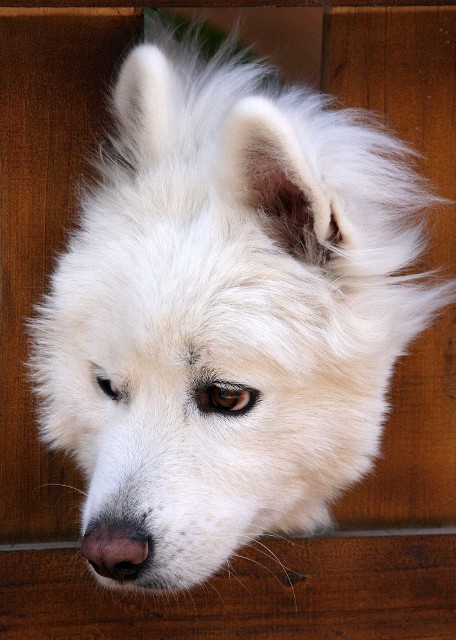 Li Jiang Tibetan Dog!
Our expedition to Yunnan far exceeded any of my most optimistic expectations. We shared space and time with some of the rarest primates on the planet and learned so much about a place about which I had not a molecule of knowledge. We made some great friends in Han, Ben and our driver (Guo). After spending our final morning exploring the Cao Hai Wetlands, located south of Li Jiang, we all promised Han and Ben to start planning our next expedition with them as soon as humanly possible! Guizhou, Ke Ke Xi Li, Qing Hai….the list is long!
Here are some more images of some of the other critters and sights seen on our Wildlife Expedition to Yunnan!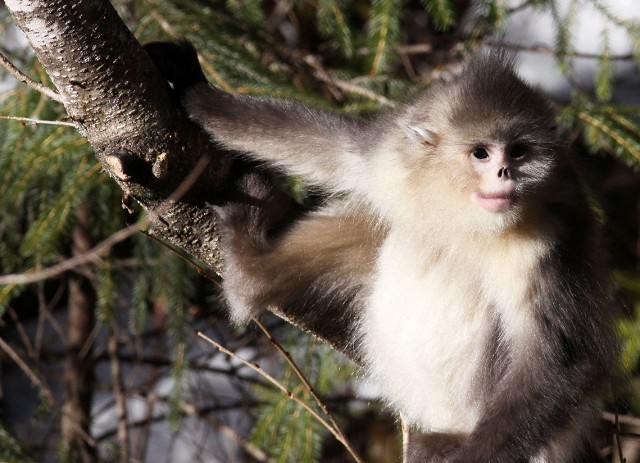 "Hi there! I am a snub-nosed monkey!"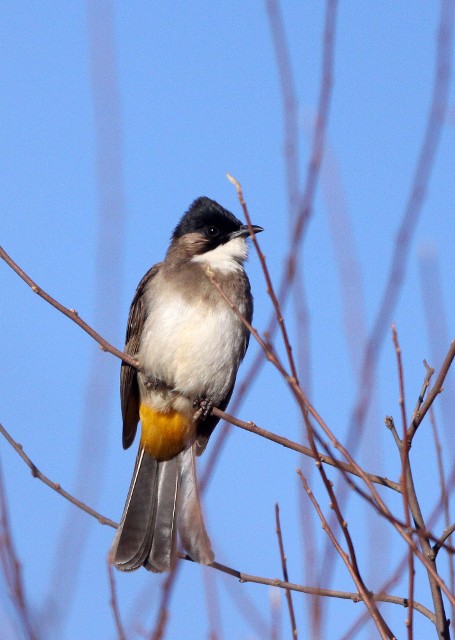 Brown-brested Bulbuls were a common sight in the highland foot hills around Li Jiang.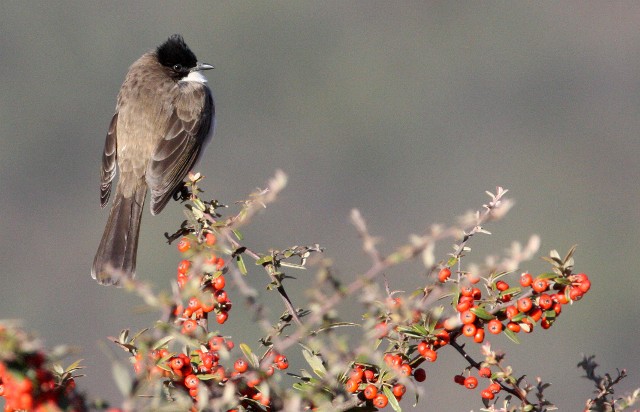 Brown-brested Bulbul!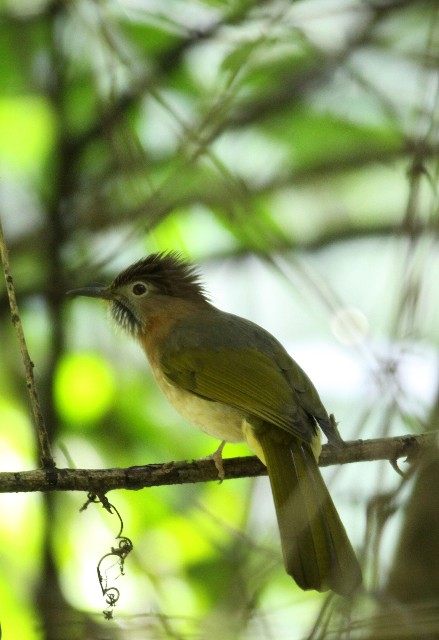 Mountain Bulbuls were common in the ravine forest galleries of Wuliangshan.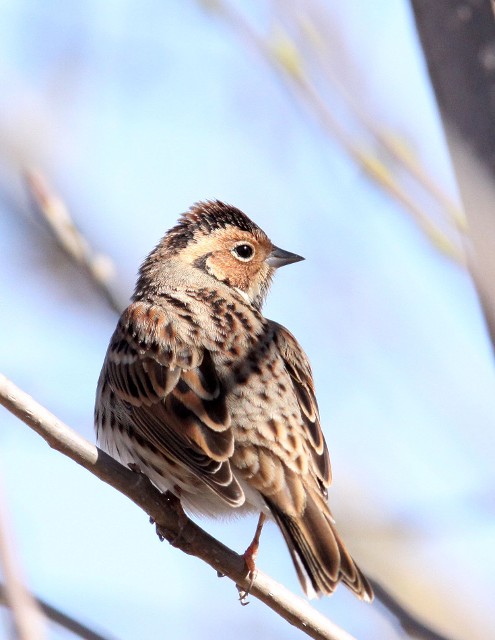 Our last morning of the trip we visited Cao Hai wetlands just south of the Li Jiang airport. Here we saw these Little Buntings as well as at least three dozen other species of waterfowl and woodland birds.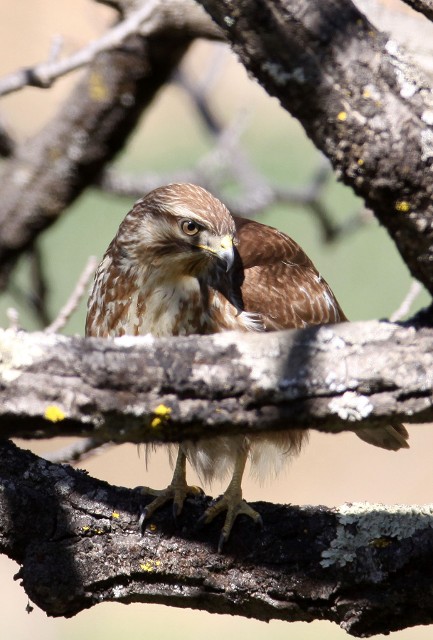 Common Buzzard seen close at Tacheng, Baima Snow Mountain National Park.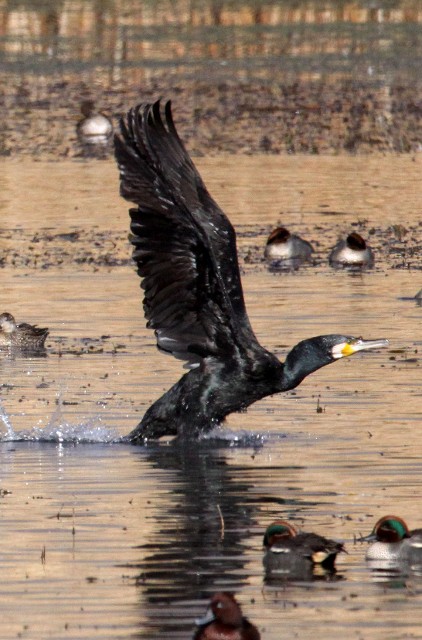 Great Cormorant taking off at Cao Hai Wetlands reserve.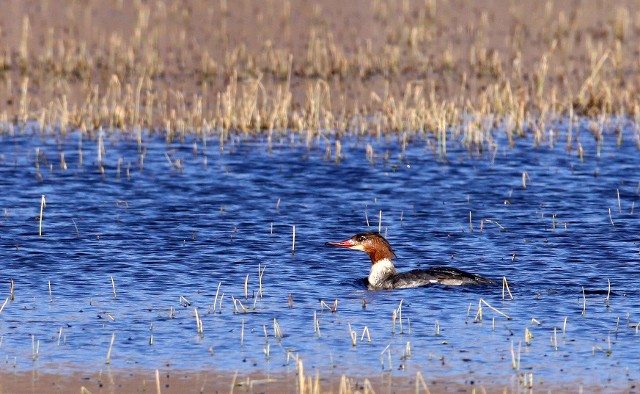 Although we did not see any Scaly Mergansers, Common Mergansers were common throughout Yunnan. This one was seen in the Na Pa Hai wetlands.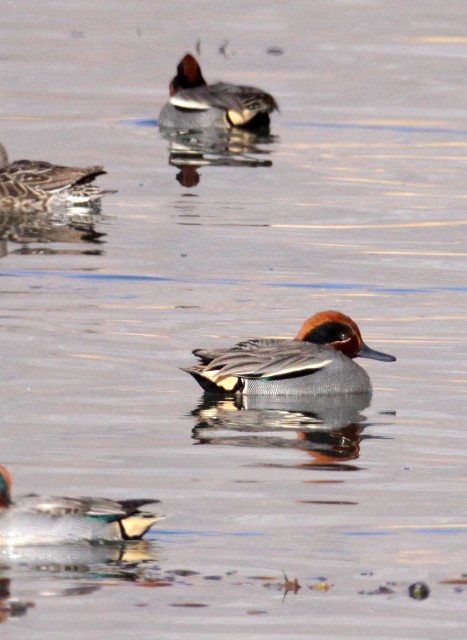 Common Teals were another very common duck species seen on the trip.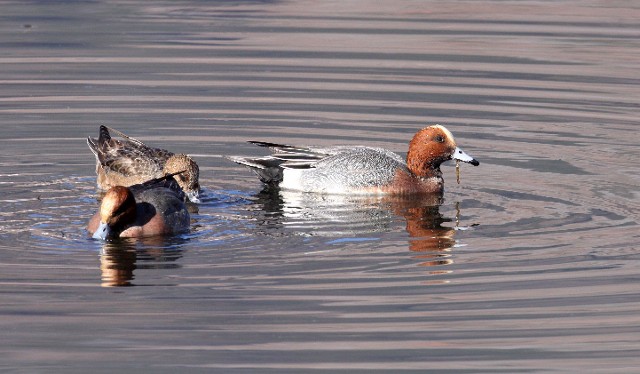 Eurasian Wigeons at Cao Hai Wetlands.
This Falcated Duck (left) was a NEW RECORD for these wetlands - Na Pa Hai and Cao Hai! First time ever seen and photographed in these locations!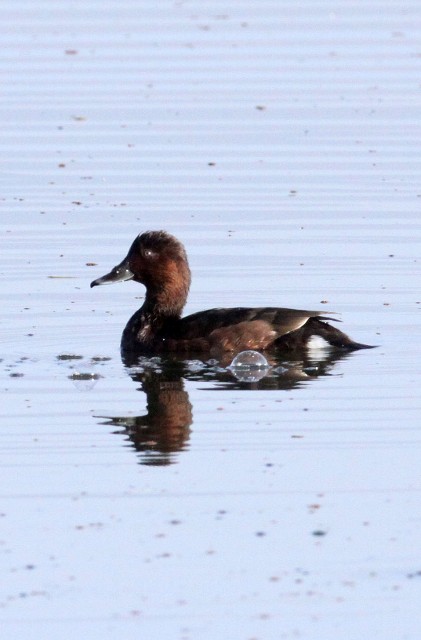 Ferruginous Pochards were seen in virtually all of the wetlands we visited in Yunnan.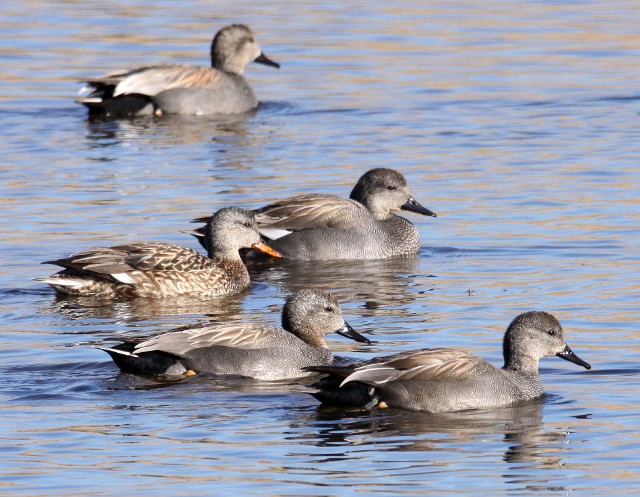 Gadwalls at Cao Hai Wetlands.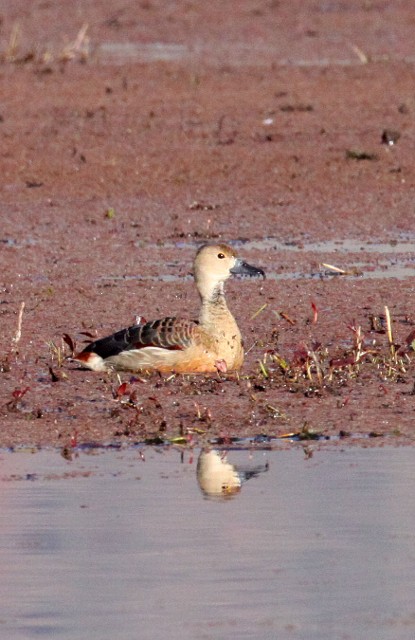 This Lesser Whistling Duck was also a NEW RECORD for the wetlands near Er Hai Lake!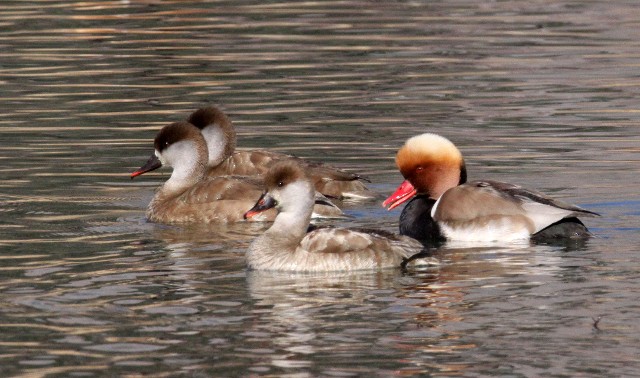 I still think that male Red-crested Pochards are some of the more beautiful ducks around!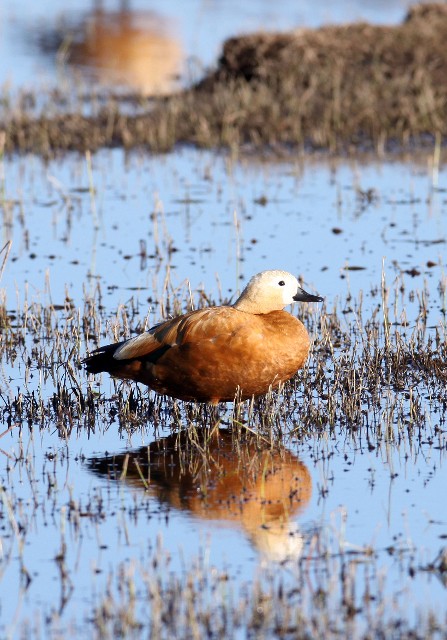 Ruddy Shelducks were seen by the thousands at Na Pa Hai and all other wetlands in Yunnan!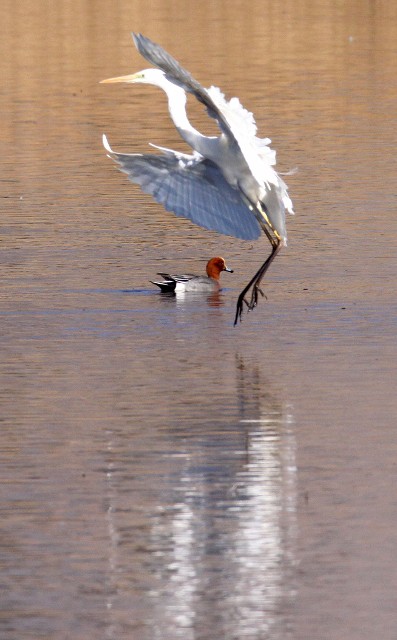 A Great Egret coming in for a landing at Cao Hai Wetlands.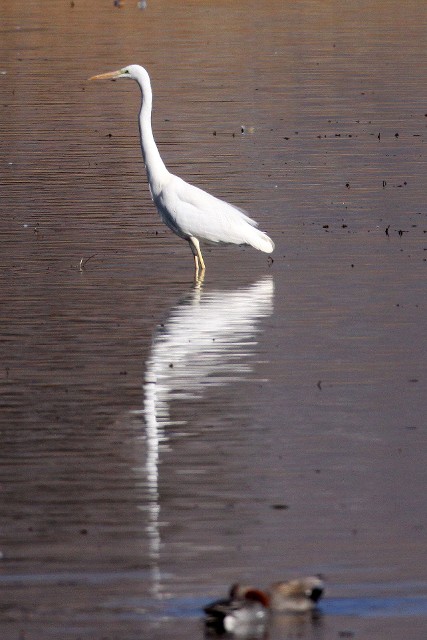 Great Egret at Cao Hai.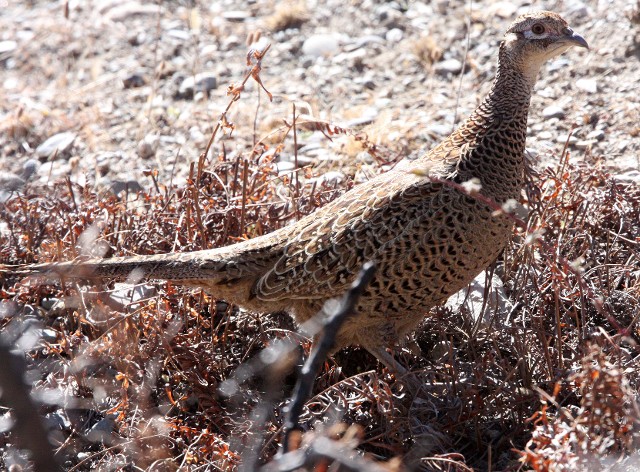 We had a couple minutes with this Common Pheasant near Baima Snow Mountain.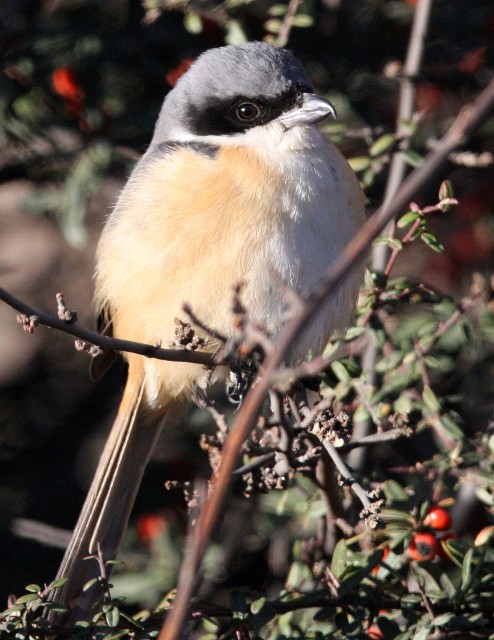 We were very fortunate to see a couple Tibetan Grey Shrikes (Lanius giganteus), a new species at Li Jiang highlands.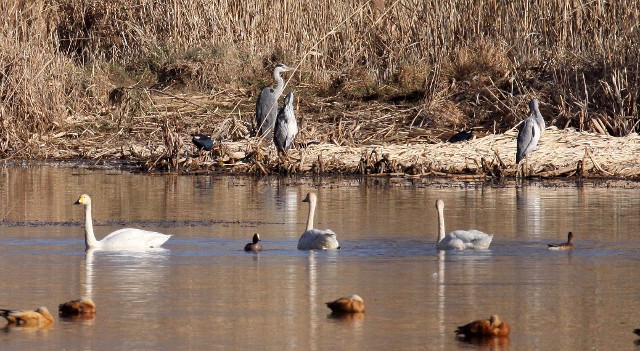 Bewick's Tundra Swans are also a relative new-comer at Cao Hai Wetland being a new record just a couple weeks earlier.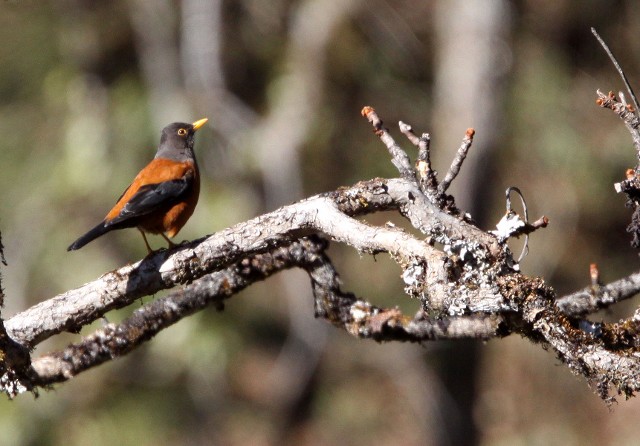 This rare Chestnut Thrush was spotted in the coniferous forests of Baima Snow Mountain National Park.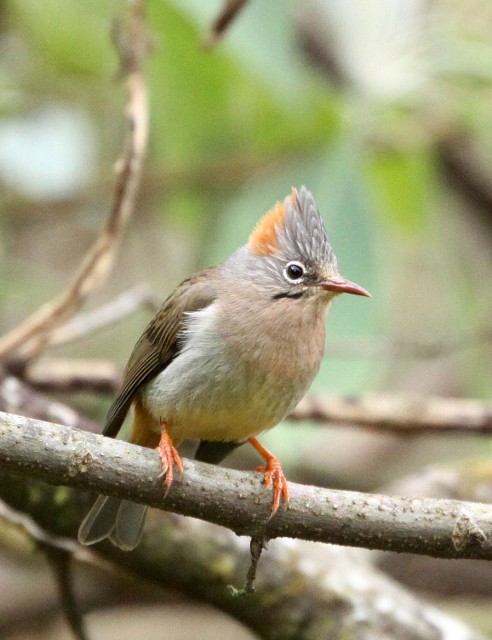 Yuhinas were some of the more common birds coursing through the ravine woodlands of Wuliangshan. This Rufous-vented Yuhina paused long enough to say "hello"!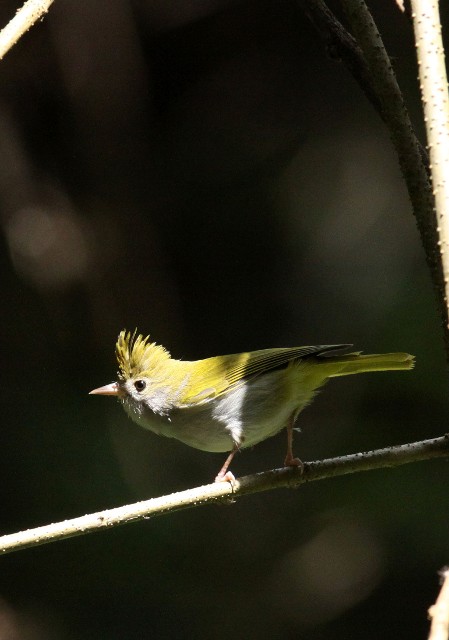 White-bellied Yuhina were much more rare...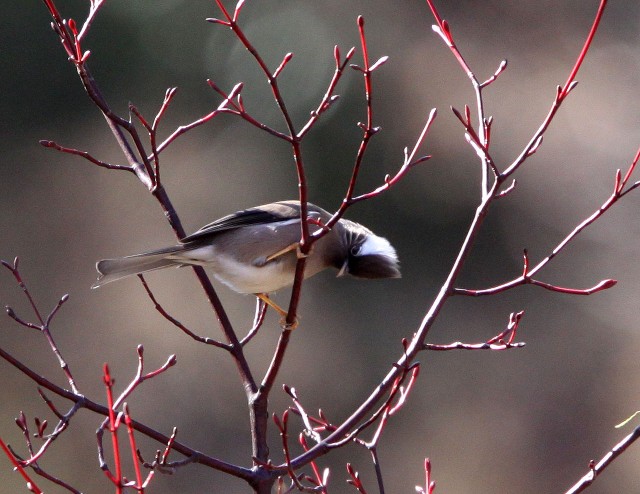 White-collared Yuhina taking a closer peek!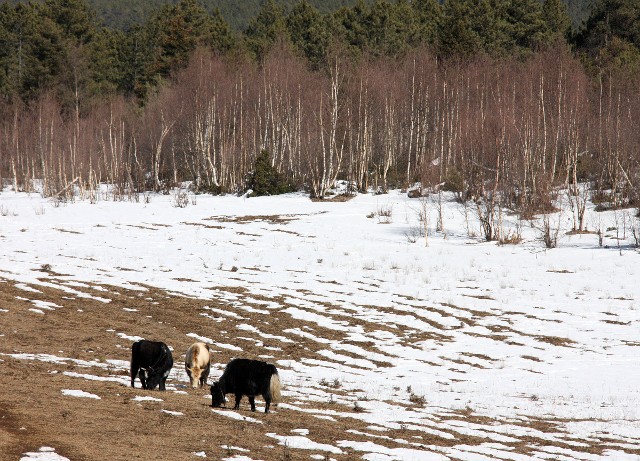 Yak Butter or Yak Milk Tea anyone?
Our Yunnan Expedition crew enjoying a dinner in Da Li!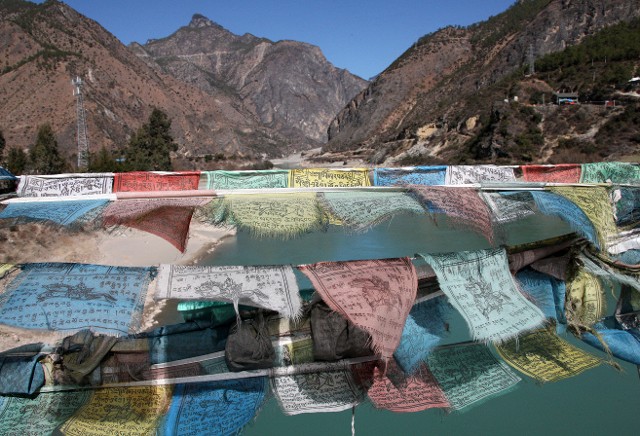 The Tibetan prayer flags fluttering over the Yangtze no doubt help give us the tremendous luck we had on this perfect expedition.
My best buddy ever!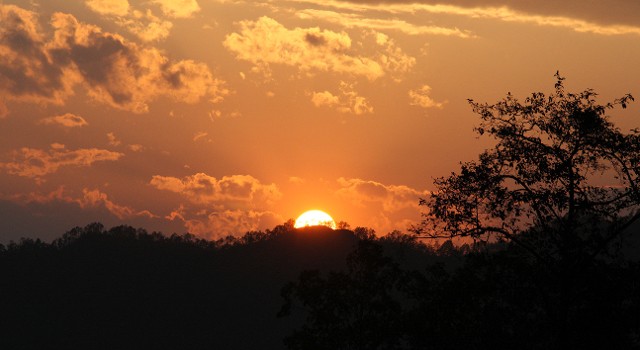 Beautiful Yunnan sunset at Wuliangshan
Yunnan Mammal List
1. Northern Tree Shrew (Tupaia belangeri) Baima Snow Mountain NP = 1
2. Yunnan Black Snub-nosed Monkey (Rhinopithecus bieti) Baima Snow Mtn NP=80+
3. Phayre's Leaf Monkey (Trachypithecus phayrei) Wuliangshan NR = 35+
4. Black-crested Gibbon (Nomascus concolor) Wuliangshan NR = 5
5. Chinese Giant Flying Squirrel (Petaurista xanthotis) Wuliangshan NR=3-5
6. Pallas's Squirrel (Callosciurus erythraeus) Jade Dragon Snow Mtn Rd.=1
7. Forrest's Rock Squirrel (Sciurotamias forresti) Li Jiang Highlands=1
8. Chinese Pygmy Dormouse (Typhlomys cinereus) Wuliangshan NR=2
9. Large Myotis (Myotis chinensis) Wuliangshan NR=1*
10. Great Evening Bat (Ia io) Baima Snow Mtn/Tacheng =3-4*
11. Japanese Pipistrelle (Pipistrellus abramus) Wuliangshan=1*
*All chiropterans were identified based on distribution maps, basic sightings and best guesses…
Sign, Possibles or Near Misses:
Indian Muntjac
Indian Flying Squirrel
Various bat species
Yunnan Bird List
Bar-backed Partridge (Arborophila brunneopectus) (V)**
Common Pheasant (Phasianus colchicus)
Bewick's Tundra Swan (Cygnus columbianus bewickii)
Greylag Goose (Anser anser)
Bar-headed Goose (Anser indicus)
Ruddy Shelduck (Tadorna ferruginea)
Mallard (Anas platyrhynchos)
Spot-billed Duck (Anas poecilorhyncha)
Northern Shoveler (Anas clypeata)
10. Northern Pintail (Anas acuta)
11. Lesser Whistling-duck (Dendrocygna javanica)
12. Gadwall (Anas strepera)
13. Falcated Duck (Anas falcate)**
14. Eurasian Wigeon (Anas penelope)
15. Garganey (Anas querquedula)**
16. Common Teal (Anas crecca)
17. Red-crested Pochard (Rhodonessa rufina)
18. Common Pochard (Aythya ferina)**
19. Ferruginous Pochard (Aythya nyroca)**
20. Tufted Duck (Aythya fuligula)
21. Common Merganser (Mergus merganser)
22. Stripe-breasted Woodpecker (Dendrocopos atratus)**
23. Great Barbet (Megalaima virens) (V)**
24. Golden-throated Barbet (Megalaima franklinii) (V)**
25. Common Kingfisher (Alcedo atthis)
26. White-throated Kingfisher (Halcyon smyrnensis)
27. Common Hoopoe (Upupa epops)
28. House Swift (Apus affinis)
29. Collared Owlet (Glaucidium brodiei)
30. Hill Pigeon (Columba rupestris)
31. Speckled Wood Pigeon (Columba hodgonii)**
32. Oriental Turtle Dove (Streptopelia orientalis)
33. Wedge-tailed Green Pigeon (Treron sphenura)**
34. Black-necked Crane (Grus nigricollis)**
35. Common Moorhen (Gallinula chloropus)
36. Common Coot (Fulica atra)
37. Purple Swamphen (Porphyrio porphyrio)
38. Northern Lapwing (Vanellus vanellus)
39. Sharp-tailed Sandpiper (Calidris acuminata)**
40. Oriental Honey Buzzard (Pernis ptilorhynchos)
41. Black-shouldered Kite (Elanus caeruleus)
42. White-tailed Eagle (Haliaeetus albicilla)
43. Himalayan Griffon (Gyps himalayensis)**
44. Hen Harrier (Circus cyaneus)**
45. Common Buzzard (Buteo buteo)
46. Golden Eagle (Aquila chrysaetos)
47. Common Kestrel (Falco tinnunculus)
48. Peregrine Falcon (Falco peregrinus)
49. Little Grebe (Tachybaptus ruficollis)
50. Great Crestd Grebe (Podiceps cristatus)
51. Great Cormorant (Phalacrocorax carbo)
52. Little Egret (Egretta garzetta)
53. Great Egret (Casmerodius albus)
54. Cattle Egret (Bubulcus ibis)
55. Grey Heron (Ardea cinerea)
56. Chinese Pond Heron (Ardeola bacchus)
57. Black Stork (Ciconia nigra)
58. Orange-bellied Leafbird (Chloropsis hardwickii)**
59. Wallcreeper (Tichodroma muraria) (seen by Han only)
60. Long-tailed Shrike (Lanius schach)
61. Tibetan Grey Shrike (Lanius giganteus)
62. Red-billed Blue Magpie (Urocissa erythrorhyncha)**
63. Black-billed Magpie (Pica pica)
64. Red-billed Chough (Pyrrhocorax pyrrhocorax)**
65. Large-billed Crow (Corvus macrorhynchos)
66. Jungle Crow (Corvus levaillantii)
67. Yellow-bellied Fantail (Rhipidura hypoxantha)
68. White-throated Fantail (Rhipidura albicollis)
69. Chestnut-bellied Rock Thrush (Monticola rufiventris)**
70. Blue Rock Thrush (Monticola solitarius)
71. Blue Whistling Thrush (Myophonus caeruleus)**
72. Plain-backed Thrush (Zoothera mollissima)**
73. Chestnut Thrush (Turdus rubrocanus)**
74. Dusky Thrush (Turdus naumanni)**
75. Orange-flanked Bush Robin (Tarsiger cyanurus)**
76. Blue-fronted Redstart (Phoenicurus frontalis)**
77. Plumbeous Water Redstart (Rhyacornis fuliginosus)**
78. White-crowned Forktail (Enicurus leschenaulti)**
79. Oriental Magpie Robin (Copsychus saularis)
80. Common Stonechat (Saxicola torquata)
81. Grey Bushchat (Saxicola ferrea)**
82. Green-backed Tit (Parus monticolus)**
83. Yellow-cheeked Tit (Parus spilonotus)**
84. Black-throated Tit (Aegithalos concinnus)**
85. Black-browed Tit (Aegithalos bonvaloti)**
86. Barn Swallow (Hirundo rustica)
87. Eurasian Crag Martin (Hirundo rupestris)**
88. Striated Bulbul (Pycnonotus striatus)**
89. Black-crested Bulbul (Pycnonotus melanicterus)
90. Brown-breasted Bulbul (Pycnonotus xanthorrhous)**
91. Sooty-headed Bulbul (Pycnonotus aurigaster)**
92. Crested Finchbill (Spizixos canifrons)**
93. Mountain Bulbul (Hypsipetes mcclellandii)**
94. Black Bulbul (Hypsipetes leucocephalus)** (White headed form too)
95. Grey-breasted Prinia (Prinia hodgsonii)**
96. Brown Bush Warbler (Bradypterus luteoventris)**
97. Dusky Warbler (Phylloscopus fuscatus)**
98. Oriental Reed Warbler (Acrocephalus orientalis)
99. Ashy-throated Warbler (Phylloscopus maculipennis)**
100. Pallas's Leaf Warbler (Phylloscopus proregulus)**
101. Yellow-browed Warbler (Phylloscopus inornatus)**
102. Arctic Warbler (Phylloscopus borealis)
103. White-browed Laughingthrush (Garrulax sannio)**
104. Elliot's Laughingthrush (Garrulax elliotii)**
105. Spot-breasted Scimitar Babbler (Pomatorhinus erythrocnemis)**(V)
106. Chestnut-tailed Minla (Minla strigula)**
107. Rufous-winged Fulvetta (Alcippe castaneceps)**
107. Streak-throated Fulvetta (Alcippe cinereiceps)**
108. Grey-cheeked Fulvetta (Alcippe morrisonia)**
109. Black-headed Sibia (Heterophasia melanoleua)**
110. Striated Yuhina (Yuhina castaniceps)**
111. Whiskered Yuhina (Yuhina flavicollis)**
112. White-collared Yuhina (Yuhina diademata)**
113. Rufous-vented Yuhina (Yuhina occipitalis)**
114. White-bellied Yuhina (Yuhina zantholeuca)**
115. Fire-tailed Sunbird (Aethopyga ignicauda)**
116. Russet Sparrow (Passer rutilans)**
117. Eurasian Tree Sparrow (Passer montanus)
118. White Wagtail (Motacilla alba)
119. Yellow Wagtail (Motacilla flava)
120. Tree Pipit (Anthus trivialis)** Needs confirmation
121. Olive-backed Pipit (Anthus hodgoni)
122. Upland Pipit (Anthis sylvanus)**
123. Rufous-breasted Accentor (Prunella strophiata)**
124. Eurasian Siskin (Carduelis spinus)
125. Tibetan Siskin (Carduelis thibetana)**
126. Common Rosefinch (Carpodacus erthrinus)**
127. Little Bunting (Emberiza pusilla)**
128. Beavan's Bullfinch (Pyrrhula erythaca)**
** One of the 65 lifer species seen on this expedition!
For More Images of Our Wildlife Expedition to Yunnan: