A beautiful Gemsbok strolling the dunes at Sossusvlei, Namibia
There is little doubt that Namibia is one of my favorite countries in all of Africa! With its endless and stunning desert, Namibia offers scenery that rivals that of the desert Southwest in North Amrerica. During my first trip there in 1995, I was able to assemble the below itinerary. The only portion that I was not able to participate in was that involving Fish River Canyon. For some strange reason, I had to miss this destination yet again during my trip to Namibia in 2009! Maybe some day I will see that giant hole in the ground!
To see more amazing images of Eastern and Southern Africa, click the below links:
Eastern and Southern African Mammals
Eastern and SouthernAfrican Birds
Eastern and Southern African People & Landscapes
WILDLIFE ADVENTURE IN NAMIBIA
Day 1: Upon arrival at Windhoek International Airport guests will be met by their "La Selva Expeditions" guide/s for the commencement of their 19 day tour through Namibia. Transfer to the City and a Hotel for overnight welcome dinner. Hotel Heinitzburg: en-suite facilities
Day 2: After breakfast guests will be collected , visit the city on a short City tour, guests may wish to go the banks etc. - depart Windhoek travelling south through the town of Rehoboth to a private Lodge situated in Namibia's northern Kalahari region. An afternoon excursion will be undertaken in the area; this in the form or a walk / nature / game drive. Upon arrival at the Camp one will find that the back-up crew has already pitched the tents and set up the luxury camp. Intu Afrika Kalahari Game Reserve: camping
Day 3: Participate in an early morning walk with local Bushman tracker - before continuing one's journey further south through Mariental and Keetmanshoop: we pass the Quivertree Forest and Giant's Playground before arriving at out campsite on the northern edge of the Fish River Canyon: camp will have been set up by the back-up crew. Hobas Campsite: camping
Day 4: Proceed through the gravel plains of the Namib and Auas where a waterhole has been specifically been built for the "wild horses of the Namib" and on to the fishing / harbor town of Luderitz where the following two nights will be spent. Explore the towns architecture - a guided excursion will be undertaken to the Ghost Town of Kolmanskop. Many an activity can be undertaken here including boat excursions to Shark Island / Elizabeth Bay and many more (optional extra). Kapps / Bayview Hotel: en-suite facilities
Days 6&7: After breakfast depart Luderitz and proceed northwards following the Namib Naukluft Park boundary fenceline to Sesriem Campsite where the following two nights will be spent. Time permitting visit Duwiseb Castle. The back-up crew will have set up camp prior to your arrival. Activities within the area will include visits to: Sossusvlei, Dead Vlei, Hidden Vlei, Elim Dune, Dune 45 and Sesriem gorge. An early morning rise is essential when visiting these areas as this is not only the coolest time yet the best for photography: time will be spent observing the fauna and flora that inhabit this inhospitable area. Sesriem-campsite: camping
Day 8: Depart Sesriem, travelling via the town of Solitaire and Kuiseb Canyon to Namibia's premier holiday resort of Swakopmund: this town owes its charm to the architecture dating back to the turn of the Century and that it nestles between the Atlantic Ocean and Namib Desert. En-route to Swakopmund visit the Welwitschia Plains and Moon Landscape.The following day a visit will be made to Walvis Bay with its lagoon and flocks of flamingos. Pension Garni Adler / similar: en-suite facilities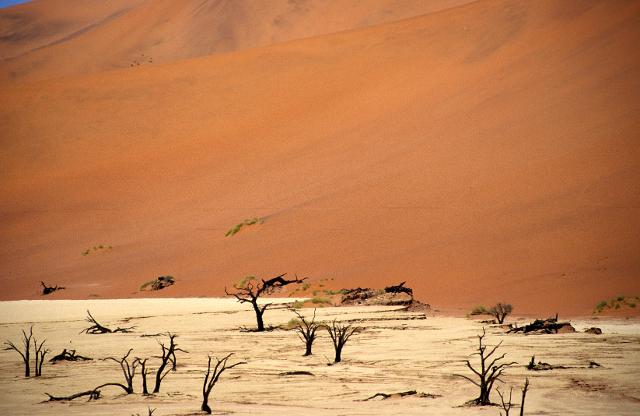 "Dead Vlei" in Sossusvlei
Day 10: Travelling along the coastal road past Henties Bay we arrive at Cape Cross and the Seal Reserve - it is here that thousands of Cape Fur seals live and breed. Continue inland through southern Damaraland on to Aba-Huab: within this region the possibility exists to see the elusive desert elephant. An excursion will be undertaken to Twyfelfontein (meaning "doubtful spring") with its wealth of rock engravings and paintings.
Upon arrival at the campsite the back-up crew will have set up camp. Aba-Huab campsite
Day 11: After breakfast depart further north through Damaraland passing through the veterinary cordon fence past the oasis of Palmwag and the flat topped mountains of the Etendeka Range to Sesfontein (meaning "six fountains"). Time permitting an excursion may be undertaken down the dry watercourse of the Hoanib River in search of desert elephant. Fort Sesfontein Lodge: en-suite facilities
Days12-13: Today we enter the Kaokoland region: our journey takes us through some rugged landscape: en-route stops will be made to visit the local Himba Peoples - nomadic pastoralists. Arrival at Epupa Falls on the Kunene River which borders with Angola - time will be spent in the area on nature drives / walks and visits to the Himba villages within the area: for those brave enough - take a swim in the rock pools. The back-up crew will have set up camp prior to your arrival. Epupa Campsite
Day 14: Departing the Kunene River we travel south through the "Capital" of this area - Opuwo and southwards following the western border of the Etosha National Park to a private concession situated outside the Park Boundary for overnight. Activities here will include a game/nature drive in open 4x4 vehicle - Guests may also wish to participate in a night drive by spotlight. Hobatere Lodge: en-suite facilities
Days15-17: Today we enter Etosha National Park via the Western sector - an area restricted to bona fide Namibia Tour Operators only - proceed on to Okaukuejo Rest Camp for overnight. All Rest Camps within the National Park have floodlit waterholes to allow guests the opportunity of viewing nocturnal animals.
The days will be spent on extensive game drives through the Park - stopping at well visited waterholes en-route. Okaukuejo & Namutoni Rest Camps: en-suite facilities
Day 18: Exit Etosha National Park travelling back to Windhoek via Lake Otjikoto and the mining town of Tsumeb - visit the craft markets in Okahandja before arrival in Windhoek - guests will be transferred to the Country Club for overnight. Farewell dinner at the Hotel. Windhoek Hotel & Country Club: en-suite facilities
Day 19: Morning at leisure - guests will be transferred to the airport.
Here are some images of my time in Namibia!