Mount Margherita of the Rwenzori Mountains
***
Uganda!
***
Check out our Pbase Galleries for Uganda
***
Check out our Master Species List for the Summer of 2012 Africa Expedition
***
When planning for the travels of the summer of 2012, we were all set on spending our time in Tibet and the Qinghai Plateau searching for Chinese wildlife. And then I came across a conference in Kampala titled, "Sustainable Futures", and when I started reading more about it, I was convinced that it would be a great PD opportunity for me and Som and we switched plans and prepared for an African summer!
The focus of the summer was the conference in Uganda, which was outstanding and very informative. While it was geared to private and public sector professionals, it provided me countless case studies and up-to-date information on designing environmentally friendly cities, buildings and urban centers – stuff I can take directly to my students. The conference allowed all of us (including my 9-year-old son, Cokie!) to give input on some of the pressing environmental issues actually facing the city of Kampala. We all got a lot out of the conference and were very glad we attended. Our operator for this trip was Green Breaks, owned and operated by Ignatius, who runs a very professional tour company and I can absolutely highly recommend him. Here is his contact.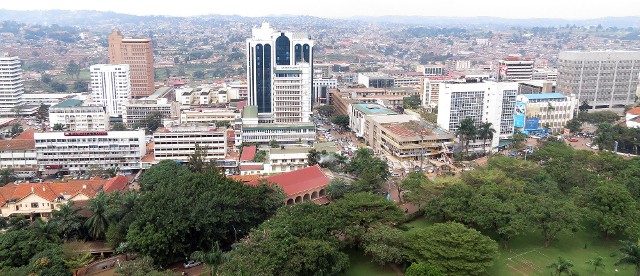 Kampala downtown as seen from the Sheraton Hotel.
***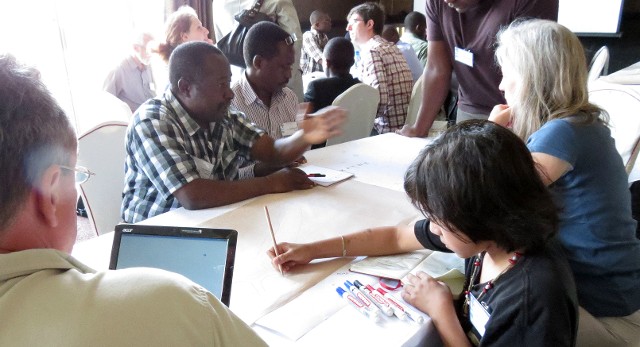 The "Sustainable Futures" conference was our main reason for heading to Kampala.
***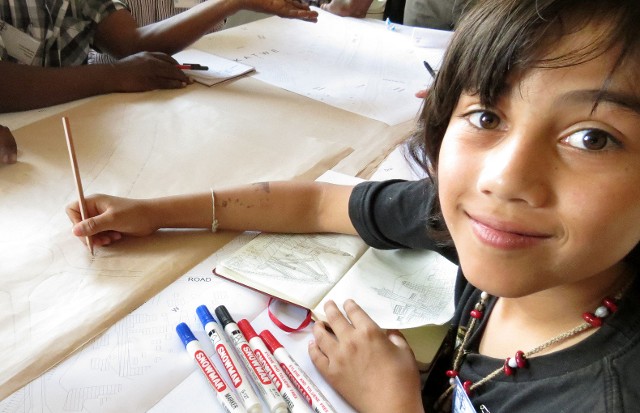 One of the best parts of our time at the conference was how they allowed and even encouraged Cokie's participation. Here he is adding his two-cents to the plan for improvements to Kampala's problematic Queens Way district.
***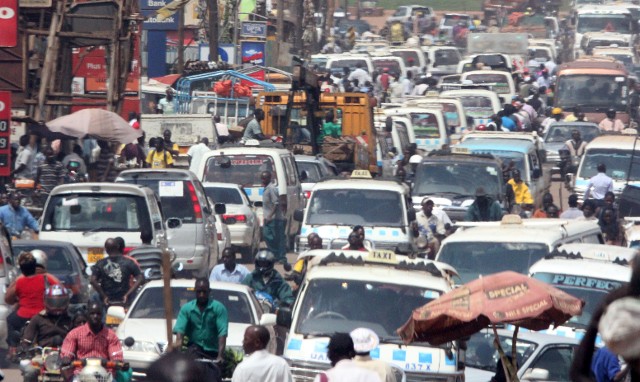 Kampala is one of Africa's most crowded and active mega-cities. This picture was taken during a NON-rush hour time...
***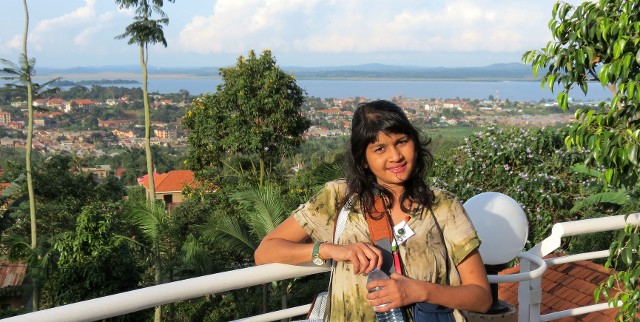 Som at the balcony of our guest house, the New Madagascar. A great place to stay with a nice view of Lake Victoria and a very relaxed atmosphere away from the Chaos of Kampala.

***
So while we were in the neighborhood, we decided to make use of our "In-Africa-time," and we spent some weeks exploring several countries (see trip reports for Central African Republic, Rwanda, Kenya & Ethiopia) and Uganda. While I had been to Uganda many times before, I wanted to add a couple destinations I had yet to experience while at the same time showing Cokie and Som some of the Uganda I had grown to love over the years. Our trip included time in Queen Elizabeth National Park, a brief drive-by in Mburo National Park (which had shrunk dramatically since the last time I was there to allow for my grazing land for cattle!!!), Rwenzori National Park, Kibale National Park and Murchison Falls National Park. In all we spent over two weeks getting some great wildlife-viewing and trekking under out belts.
***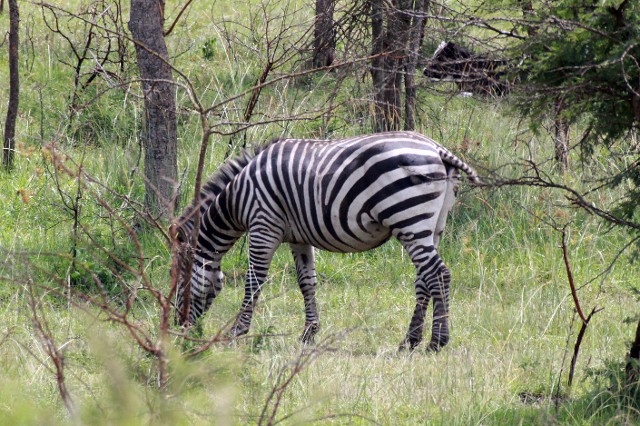 Grant's or Boehm's Zebra are spotted only in Mburo National Park. All other parks and reserves in Uganda are zebra-less! I didn't know this at the time or I would have tried for a better image...
***
Queen Elizabeth National Park & The Kazinga Channel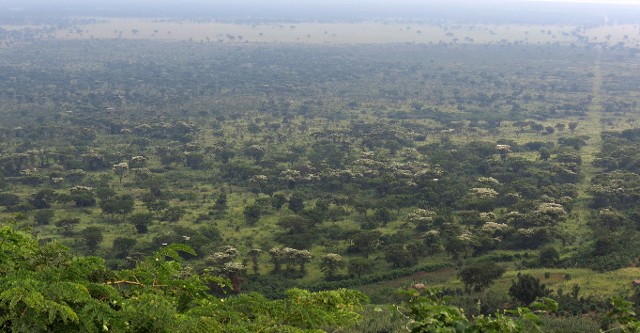 The view of the vast forests of Queen Elizabeth National Park as seen from the southern hills. I was glad to see that this view had not significantly changed in over twenty years.
***
After our stay in Kampala, and an intervening trip to Rwanda, we re-entered Uganda and headed up to Queen Elizabeth (QE) National Park. Our main goal there was to see the Uganda Kob and cruise the Kazinga Channel. We nailed the Kobs right away and even saw a few other species such as Warthog, African Elephants, Hippos, DeFassa's Waterbucks, Common Impalas, and Cape Buffalo. While the Kazinga Channel was exactly how I remembered it, filled with African Skimmers, Pelicans (Pink-backed and Great White), Goliath Herons, Cape Buffalos, Elephants, Hippos, etc., etc., the game viewing parts of the parks were notably devoid of wildlife! Granted, it is a very large area so the game could have simply migrated to other parts of the reserve, but we had several stretches of many kilometers with little to no action whatsoever. This was very different than my experiences so many years back, when I spent countless hours in the middle of great herds of Kob, Buffalo, Impala and other species. Not sure what's up here…
***
Some Critters of QE National Park
***
Hippopotamus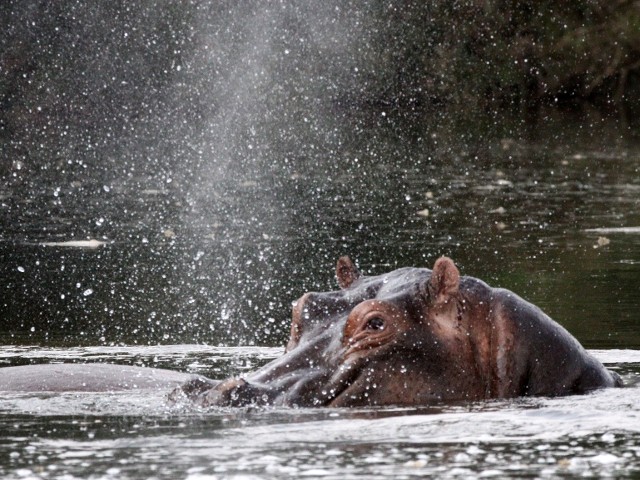 Hippos are common along the Kazinga Channel.
***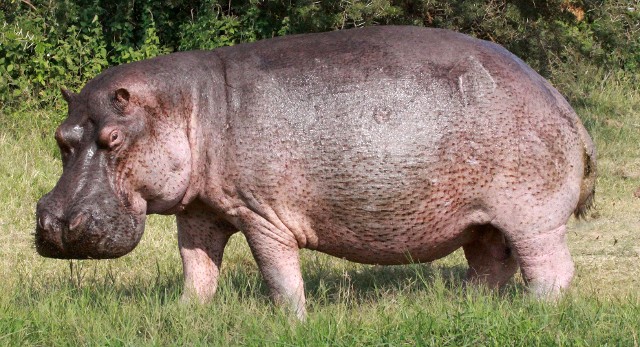 I am always surprised how huge these animals are.
***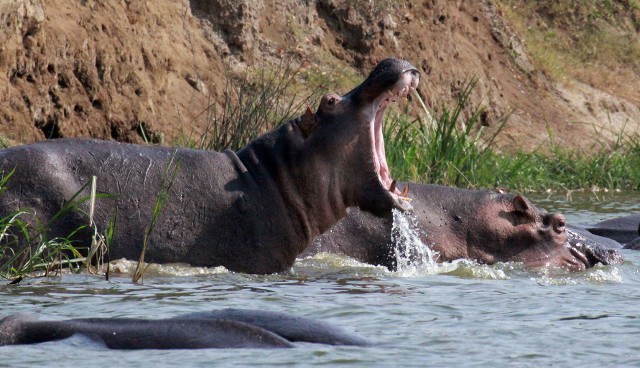 Hippo yawn!
***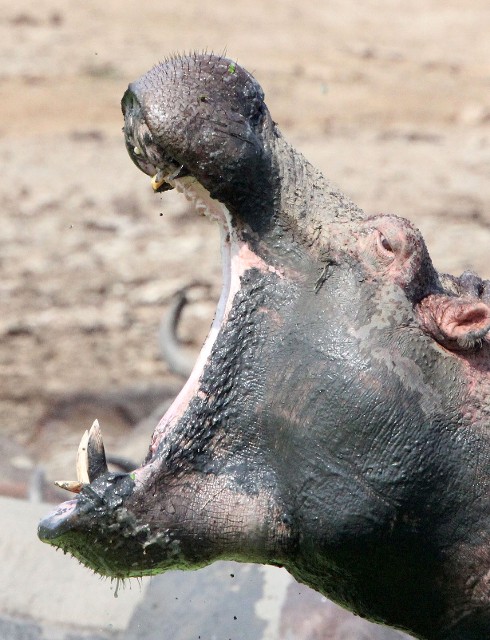 The Hippos must have been very tired this afternoon - they all yawned several times...
***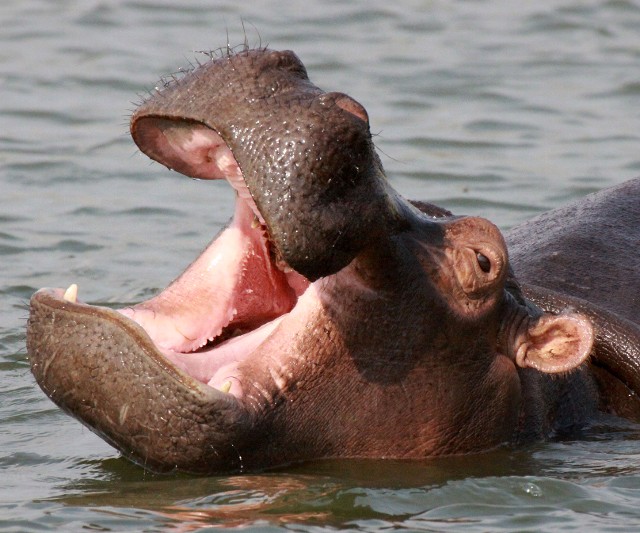 Even the babies got in on the yawning!
***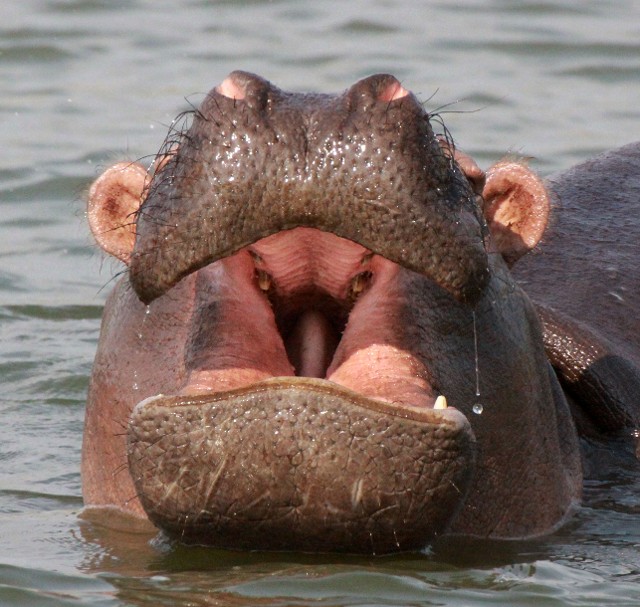 Hippo baby!
***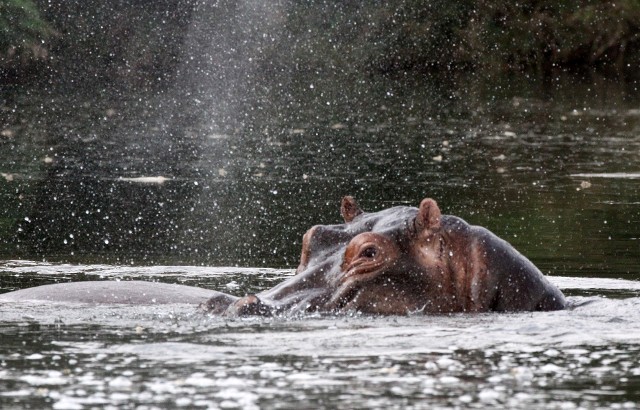 Snort!
***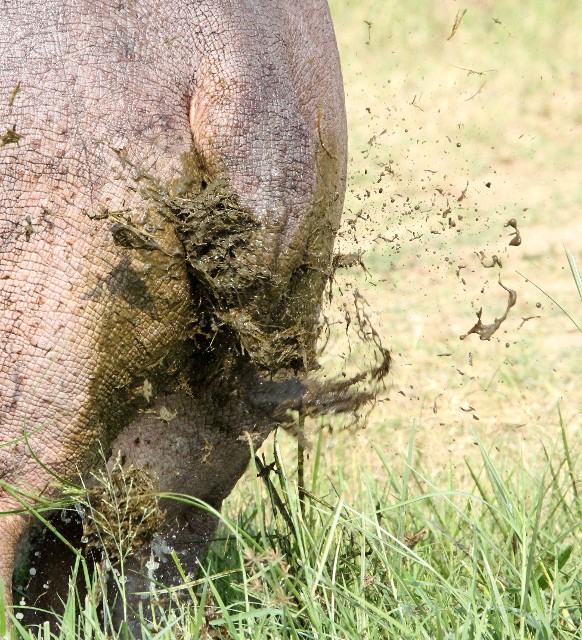 Nothing quite like watching a Hippo take a dump...Watch out!
***
Cape & Forest Buffalo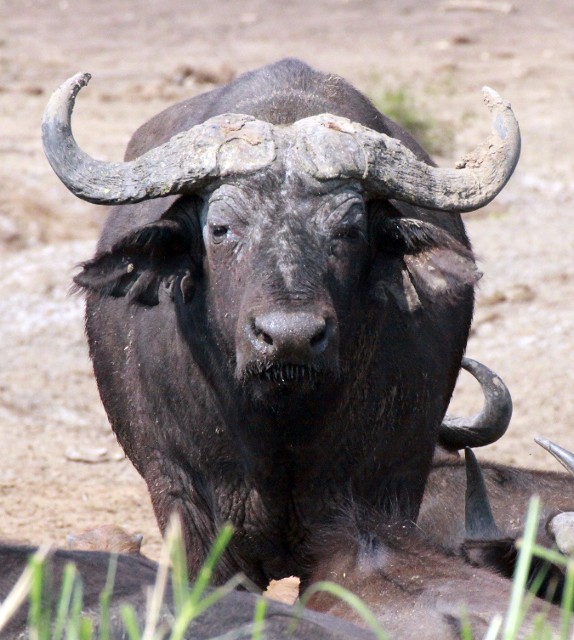 An old bull Cape Buffalo at QE Park's Kazinga Channel.
***

Note the cinnamon color of these buffalo. Local guides kept referring to them as Forest Buffalo but these were very different than the Forest Buffalo we had just seen in Central African Republic. After doing so research I learned that many of the buffalo in QE were in fact hybrids between the two, very distinct subspecies.
Take a Look at the Forest Buffalo from CAR Here
******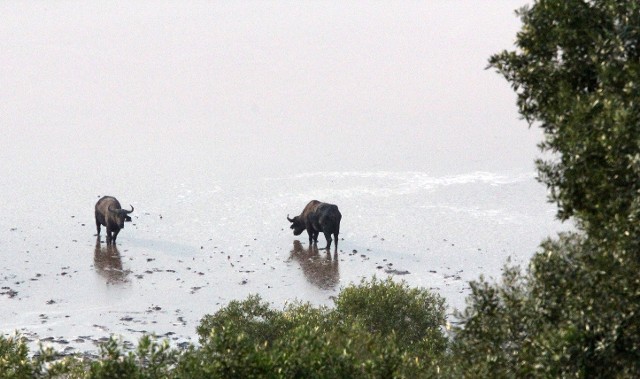 Cape (or Forest Hybrid) Buffalo in the same salt lake I had photographed them in some twenty years ago! It's almost as if they had never moved! (Click Here to see the image I took back then...)
***
Uganda Kob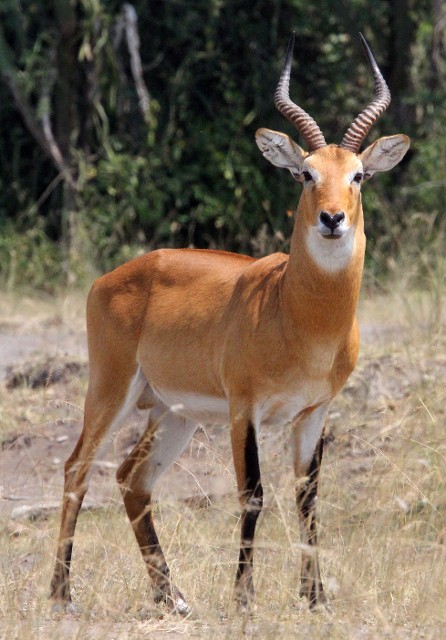 Uganda Kob
***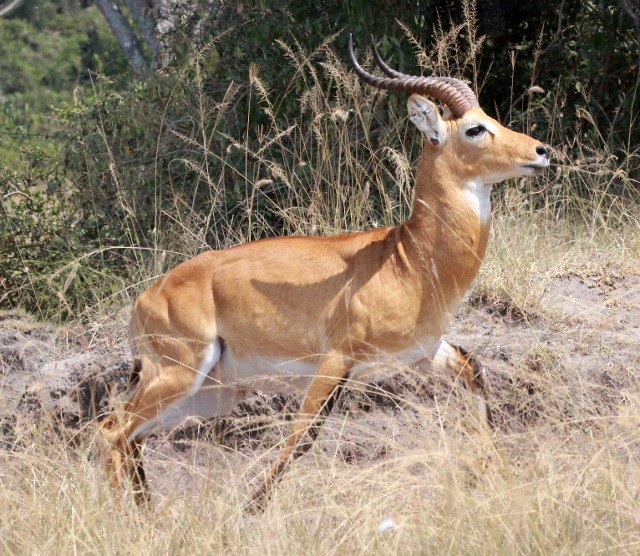 Uganda Kob at QE Park.
***
DeFassa's Waterbuck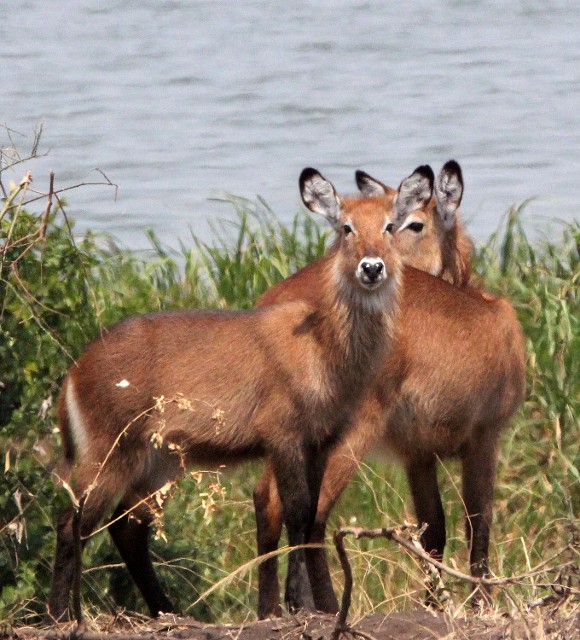 DeFassa's Waterbuck females along the Kazinga Channel.
***
Elephants of QE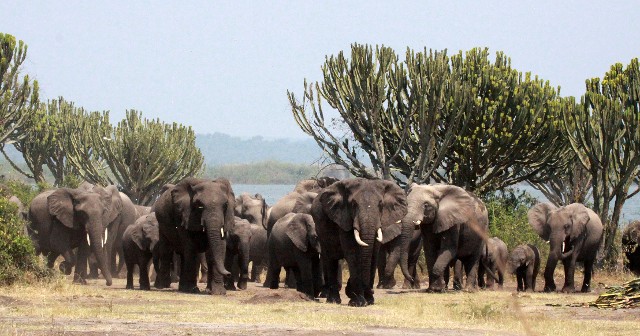 A large herd of Elephants finishing their morning drink in Lake Edward.
***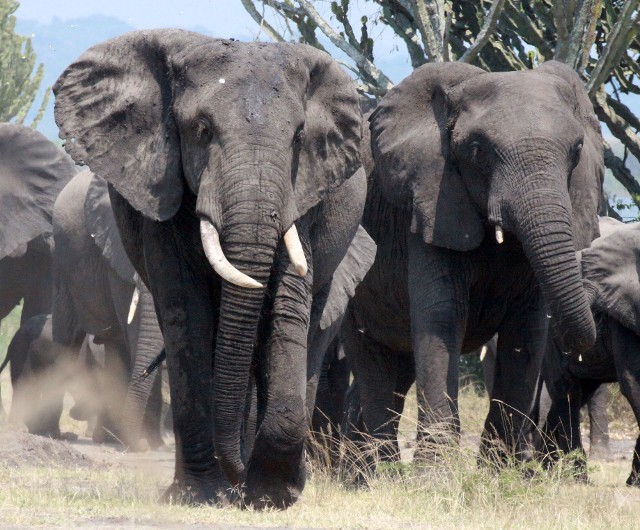 Elephants at QE are very common and we came across at least 200 of them during our one afternoon in the park.
***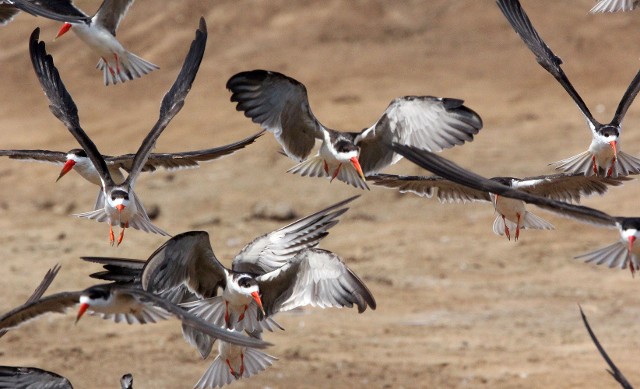 In the Kazinga Channel we saw literally thousands of birds, but my favorite sighting was the large flocks of African Skimmers that would erupt in flight as we passed by.
***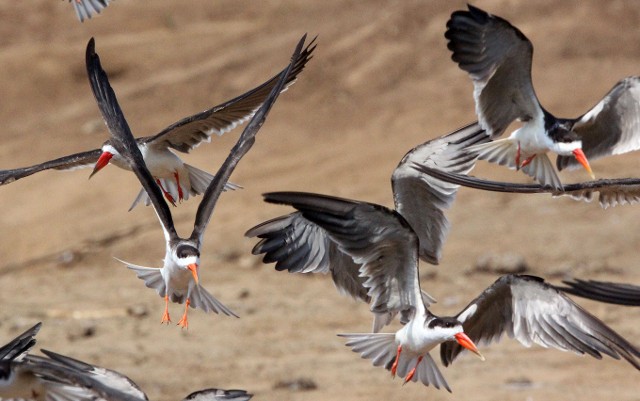 African Skimmers along the Kazinga Channel.
***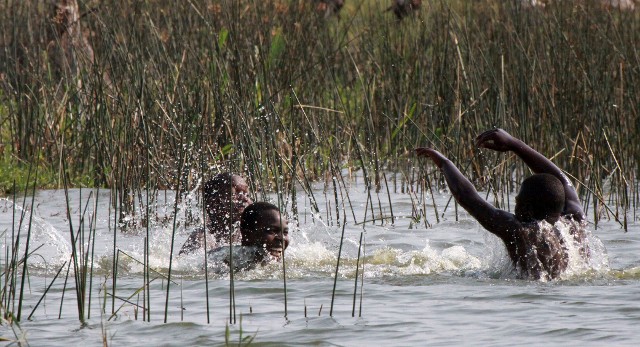 People were also members of the Kazinga Channel community. There were hippos in the water just a few meters away from these playing boys, and this village routinely experiences deaths as a result of human-hippo interactions...
***
We only had one day to explore QE, but that was enough to get a good idea of many of the mega-fauna species populating the park, even though the numbers were somewhat low. Our main destination was Kasese town and the Margherita Inn, which was to serve and our before and after-lodge for our trek up the Rwenzori Mountains. During my first trip to Uganda, I traveled with a young German tourist who was to be let out at a certain part of the journey, just outside the Rwenzori Mountains. At that time, I had no real knowledge of the mountains, but I was very intrigued by his stories of what he expected to see there. When we dropped him off, I could see this vast and massive mountain range in the distance and had a urge to join him! But time and circumstance did not allow then.
***
***
***
So nearly 20 years later, in Shanghai, China, I began planning our Africa adventure, and I started researching the Rwenzoris once again. The images I started to uncover and the travelogues I began to read all started to sway me in to a trek with my family in the famous, and sometimes infamous, "Mountains of the Moon"! And a couple months before our departure, and before the plans had been completely locked in, we were watching the Nat Geo channel at our apartment in Shanghai, and a special on the Rwenzori Mountains started. We watched in amazement as they showed the forests of giant Scenecio and Lobelia. We were sold!
So there we were at the funky, no doubt very historical, and currently pretty rundown, Margherita Inn anticipating out start the next day for our trek up the Rwenzoris. This was NOT an easy trek to organize. As it works out, along with Gorilla and Chimpanzee treks, Cokie is too young to participate. Damn! There goes another activity down the drains! But I really wanted to get there! Well, how about we talk to the officials in charge, which so happened to be UWA (the Uganda Wildlife Authority)? My travel organizer, Ignatius of Green Breaks (website here), put me in touch with Mr. Moses, at the UWA headquarters in Kampala, and he graciously allowed me to make my case as to why my 9-year-old boy should be allowed to trek these teacherous mountains.
I put together a nice letter highlighting Cokie's some of te strenuous and sometimes slightly dangerous wildlife and trekking activities he has participated in during his short life. I highlighted things like the Foping, China Panda treks, the Gibbon tracking in Yunnan, the Polar Bear tracking in Svalbard, the Siberian Tiger and Amur Leopard tracking in the Russian Far East, among many other expeditions, and Mr. Moses agreed to meet my little guy for a personal interview to see if he could make it! So, during one of the lunch breaks at the conference in Kampala, we made our way to UWA office and got Cokie and Mr. Moses together for a sit-down! Moses was duly impressed and Cokie was given very special permission to trek these amazing mountains. I tried to finagle a pass for the gorillas and chimps, but those were no-go areas, and I actually do agree with these policies. And besides, Cokie got the gorillas and chimps for FREE in Central Africa and Rwanda respectively! (See these trip reports here)
***
Rwenzori National Park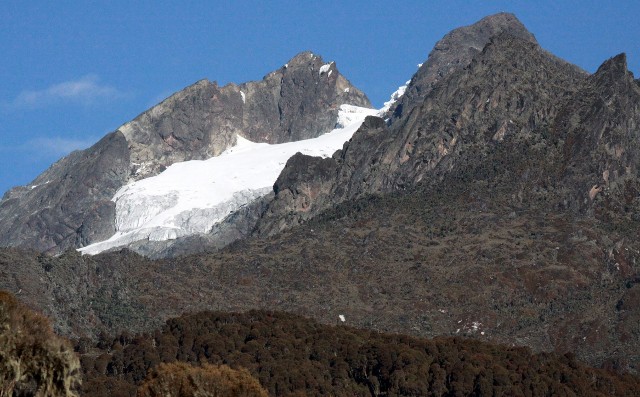 The amazing Mount Margherita and Rwenzori Mountains as ween from John Matte Camp.
***
We were told we had to get to the Ibanda trekking Headquarters very early in order to make sure we had enough time to get to the first camp before dark. So we left the Margherita very early and arrived right on time at the HQ. Well, it became clear very quickly that they had absolutely no idea that we were coming and they were not prepared for our arrival at all. No worries, that is not unusual in Africa, and they were able to pull together a team very quickly. For the three of us, our team included TWO lead guides, one cook and SEVEN porters! I mean, it looked like we were heading off on a three month expedition to the depths of the Congo! Our preparations caused quite a stir in the surrounding village with literally dozens of people peering in through the fence of the HQ to watch us get ready for the expedition. Not sure if it is like this for every trip or not...

***
The Trek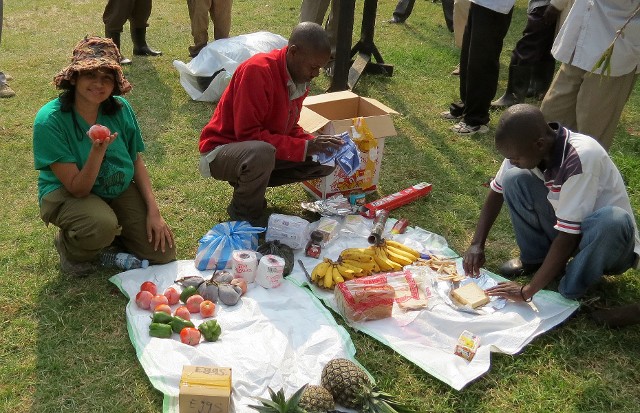 Once the park director finally realized that we were actually supposed to be there for a trek, he quickly arranged a crack crew and they started to get to work for us. Here is our chef organizing food four us to be cooked during our multi-day trek. The food was basic but generally sufficient, with the exception of Cokie, who simply could not eat much at all...

***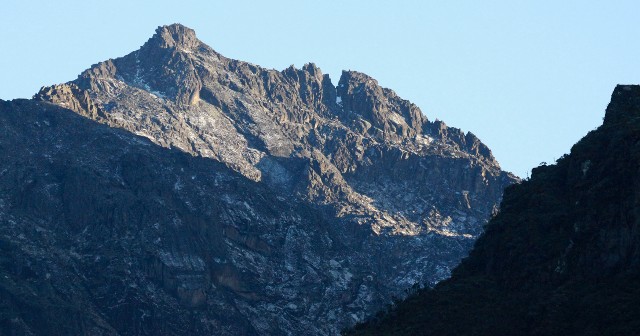 I believe this to be Mount Speke as seen from Bogi Bogs.
***
Our trek started at about 1900m and our destination camp, Nyamitaba Camp, was about 2500m. The trek was to be about 5.4km kilometers and was moderately strenuous. As I found out very quickly during the trek, the distance is irrelevant as the trail itself varies so much in difficulty that 200 meters can take an hour! The initial section of the trek was fairly easy at frist, with some gentle and prolonged steady climbs, followed by about two hours of fairly steep and rocky trail heading eventually to Nyamitaba Camp. We made it comfortably by around two or three in the afternoon.
***
The entrance to Rwenzori Mountains National Park.
***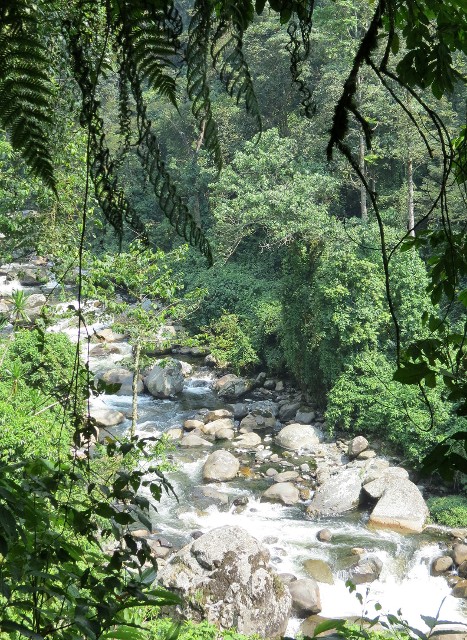 Initially the trek begins in the lower elevations passing through an outstanding lowland rainforest eventually heading up in elevation to over 4000 meters for our trek.
***

We were thrilled that our first leg of the trip actually netted us several mammal species. I knew there were mammals to be seen in the Rwenzoris, but I had never read any trip reports that discussed what could be seen there. But on our first leg, we caught a great sighting of a large troop of Rwenzori Blue Monkeys and one lone L'Hoest's Monkey, who was tagging along with them. Shortly after we came across several Rwenzori Sun Squirrels scurrying around the lianas in the dense forest. They were pretty quick but I was able to snap a couple crappy images for ID verification. The forests were loaded with birds and bugs and even some cool chameleons, so the trip was already NOT just about the trek!
***
Some Critters of the Rwenzoris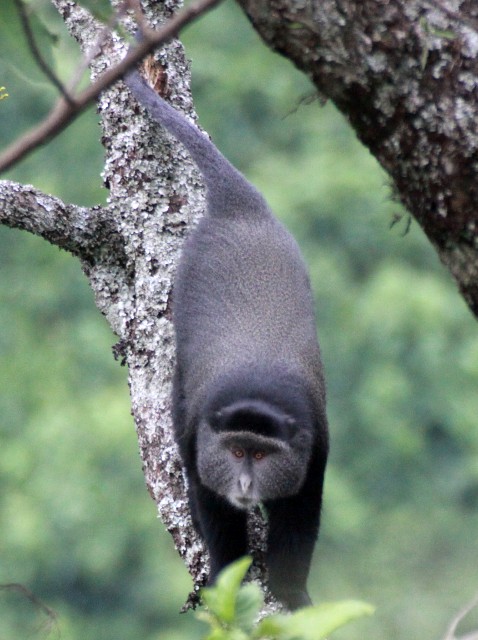 During our trek of the Rwenzoris, we came across many Rwenzori Blue Monkeys. This one startled us when he started screaming right next to us on the trail. He came down to show us personally who was making the noise!
***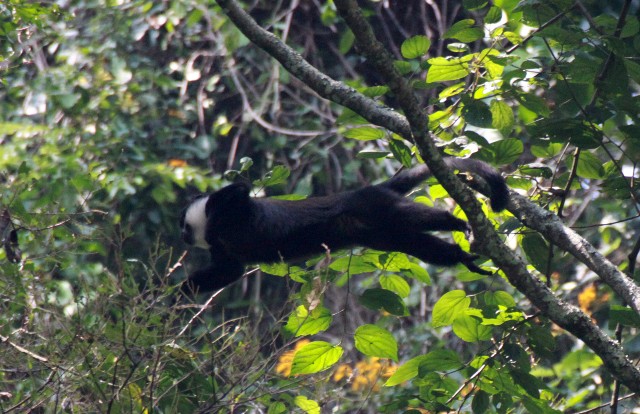 L'Hoest's Monkeys were far less common in the Rwenzoris. Locally they are called "Black Monkeys".
***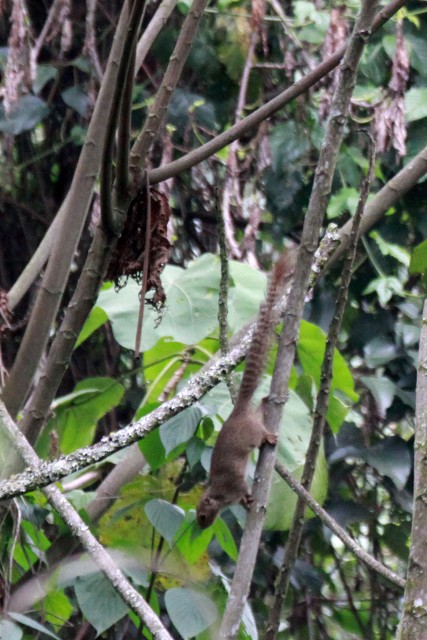 At one point on the trail, we saw a flurry of movement in the forest and several Rwenzori Squirrels bolted from their spots in the forest canopy at once. For a split second was a Rwenzori extravaganza! I just pointed my camera toward the forest and hoped for the best...Two shots actually had a squirrel in them...
***
We drank out of the streams and rivers along the trail in the Rwenzoris. Here is Cokie going down for an ice-cold drink in the river.
***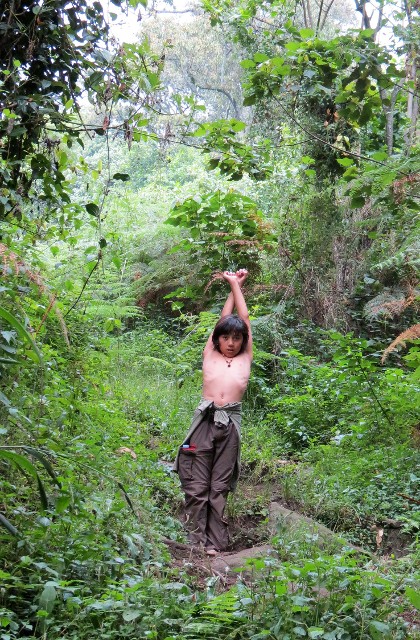 Initially our trek was in lowland rainforest and was even a bit hot. That soon changed as we headed up the hill...
***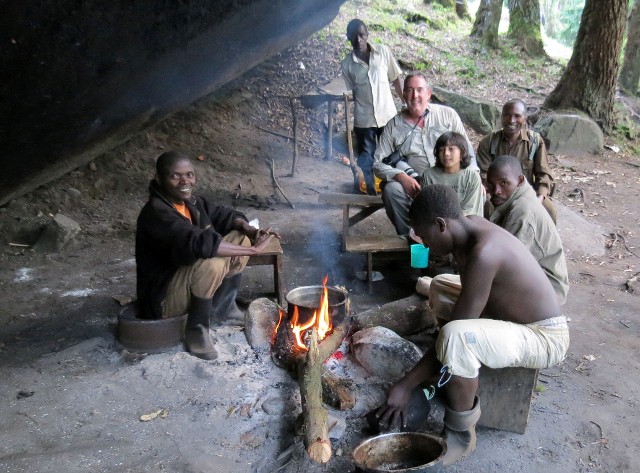 Finally we arrived at Nyamitaba Camp. Underneath this massive boulder, the porters would gather to eat their stew and porridge. We joined them and had a good time chatting about stuff...
***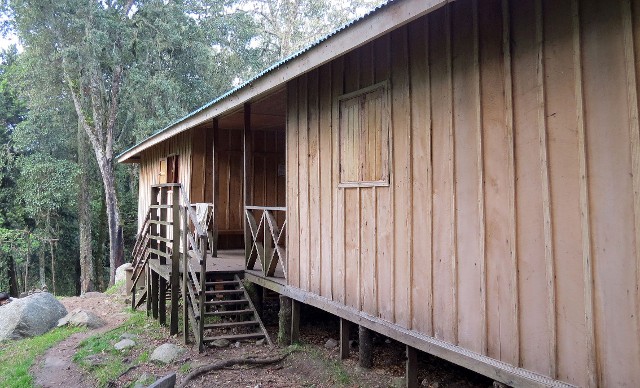 Nyamitaba Camp was our first hut on the trek. The huts were much more comfortable than I expected actually.
***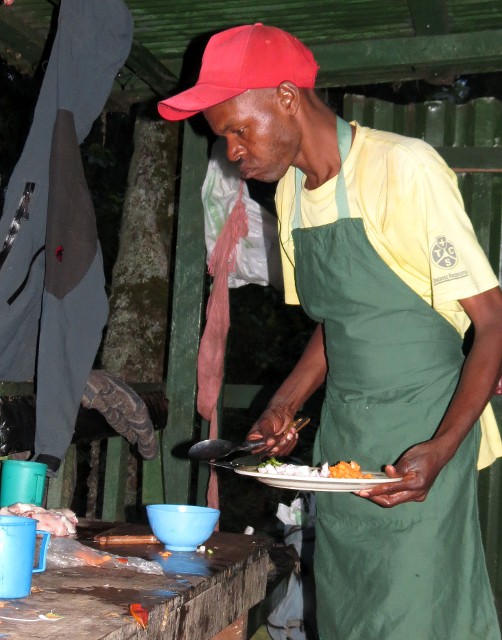 Our chef cooking our dinner! Mostly goat, chicken, rice and veggies in nice sauces were the normal menu in the Rwenzoris.
***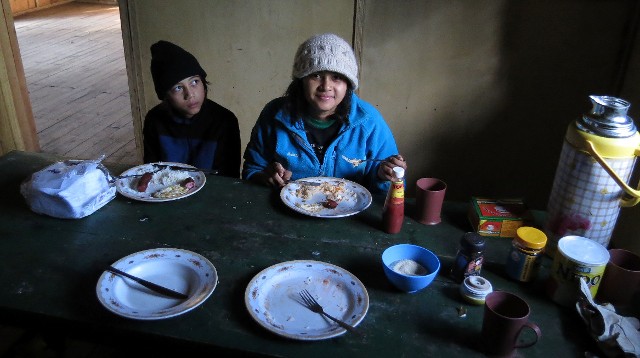 Yum!
***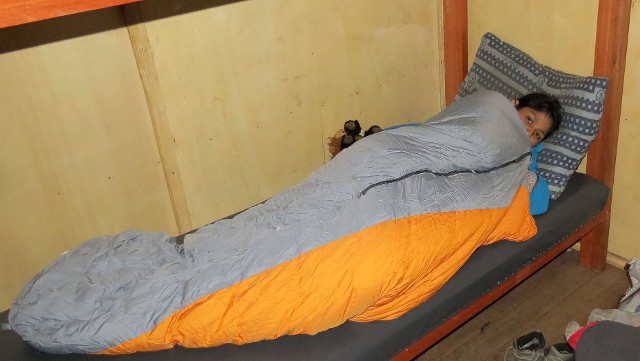 Yes it did get cold but we slept like babies.
***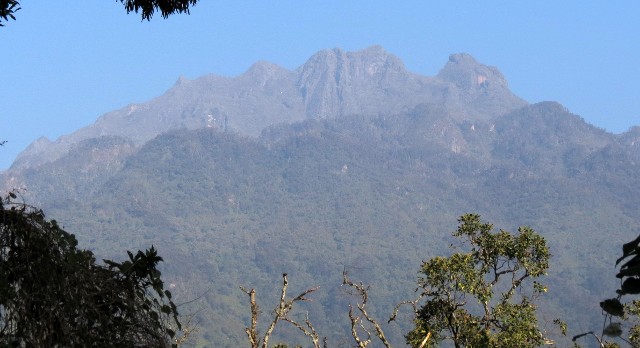 The mornings were always crisp and clear. From the Nyamitaba Camp, we were afforded excellent south-facing views of Mount Speke.
***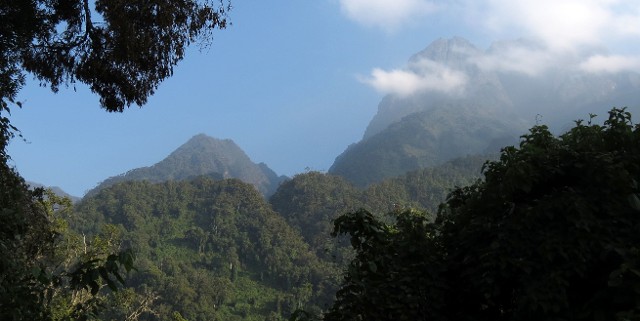 Nyamitaba Camp view of Speke Peak
***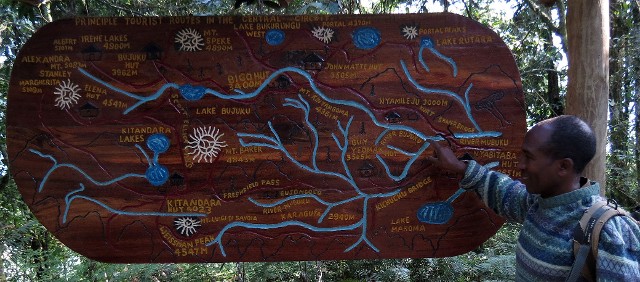 The vast and spectacular trail network of the Rwenzoris.
***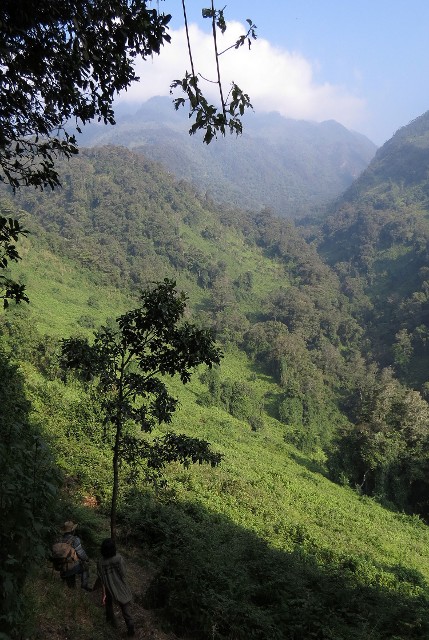 Day two, we head down! Yes, that's right - down! But then up, up, up.....
***
But the second day was when the trek really started. Day two involved 7.9 km of sheer hell. There were a few millimeters of the 7.9km that may casually be called a "trail". The rest would be more aptly called bog stomping, rock climbing, slipper slope sliding or horizontal ladder balancing than anything I knew of called trekking… The Rwenzoris are known worldwide for some of the best and most challenging trekking, and this stretch to the famous John Matte camp sure showed us why! We made it after about eight long and tiring hours. The views were amazing and the heather forests we traversed were surreal. We continued our sightings of Blue Monkeys and Rwenzori endemics like the Rwenzori Turaco and other bird species along the way.
***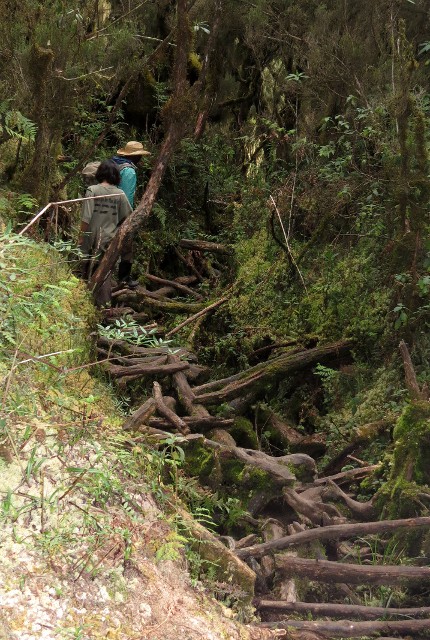 All those roots in the image....Well those ARE the trail. For several hundred meters we were balancing on these slippery, fragile roots which were basically a horizontal ladder-trail. This was both challenging and time consuming to traverse.
***
The Podocarpus-dominant Afro-Montane forests of the mid-elevations were spectacular. As we increased our altittude we encountered more moss and lichen densities as well as many unique and fascinating plants.
***
One of my main targets for this expedition was interestingly not mammalian. It was botanical! For years I had been learning about, reading about and teaching about the endemic giant Lobelia and giant Scenecio plants that are found in the African alpine environments, especially those of the Rwenzoris. And a few months before our trip, we were all watching that Nat Geo channel in Shanghai, and they did a special on the Rwenzoris and the trekkers in the show walked through this amazing Scenecio forest high up in the Rwenzoris! And during our planning stages for the trip, these plants and that forest was what I told our tour operator, Ignatius, we wanted to experience.
***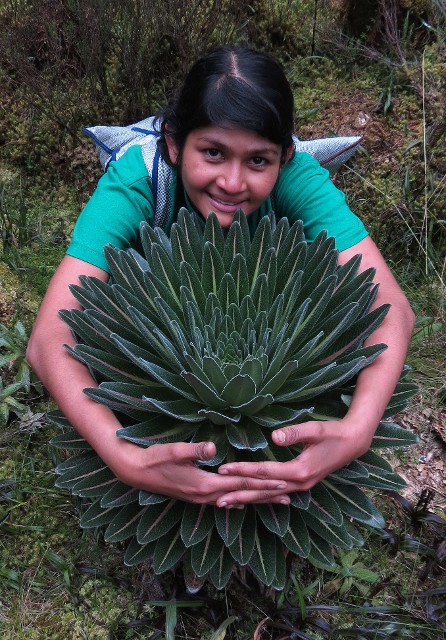 Giant Lobelia (Lobelia bequaertii)! Finally we saw this species in its natural habitat.
***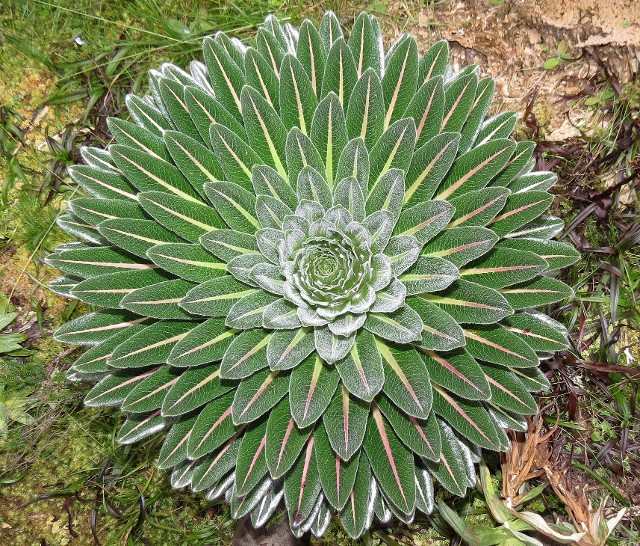 Giant Lobelia (Lobelia bequaertii)!
***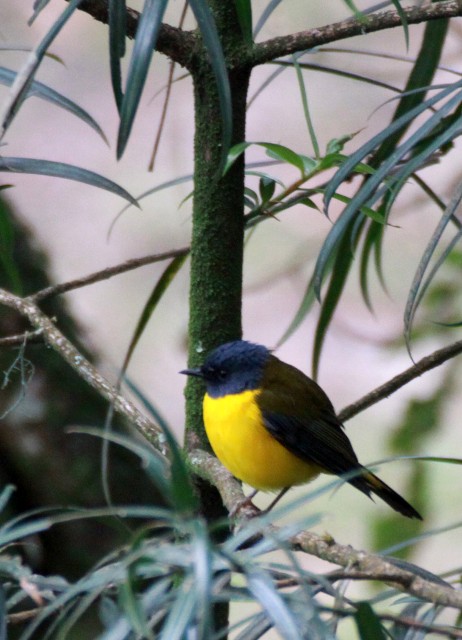 Our trek in the Rwenzoris was filled with dozens of bird species, the vast majority of which I could not identify. But this one I know to be a White-starred Robin!
***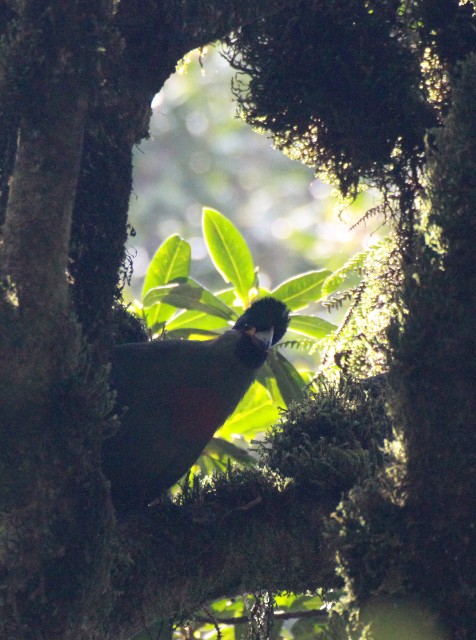 Another great Rwenzori endemic was the Rwenzori Turaco, which we spotted often along the trail, especially at the higher elevations....just not well enough for a good image!
***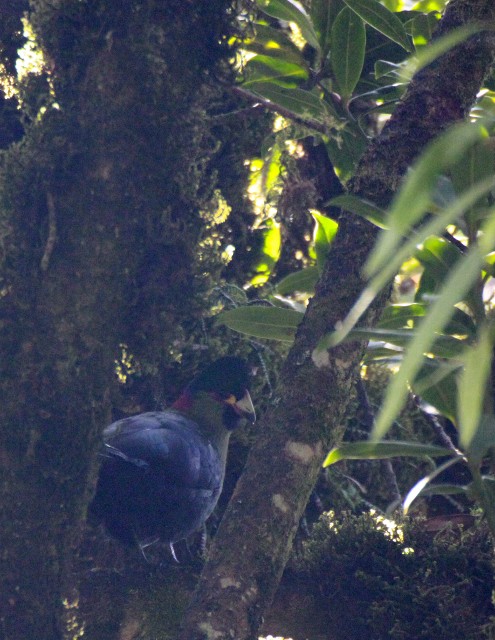 Rwenzori Turaco
***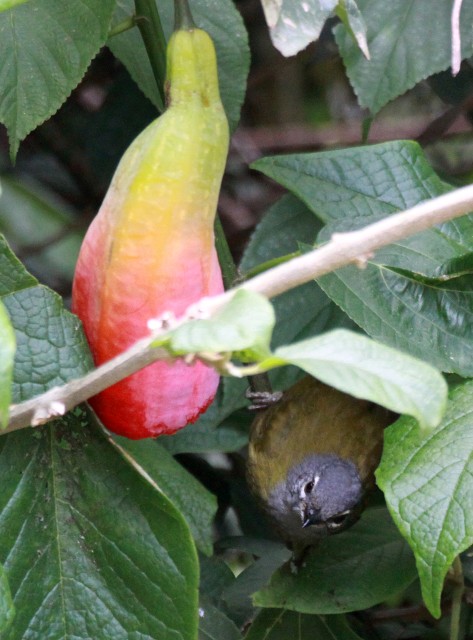 I would love to know what this little thrush is!
***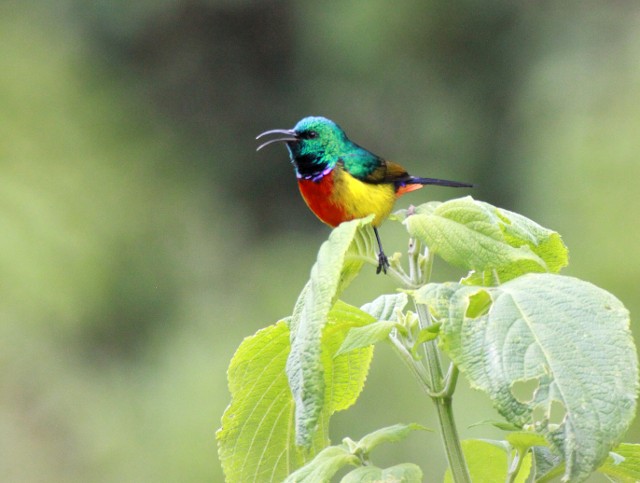 The Rwenzori Double-collared Sunbird in the Rwenzori Mountains.
***
When I told our expedition leaders at the base HQ, I could tell in their eyes that they were not sure that our truncated trek (we only trekked three of what is normally an 8-day trek) would actually reach our target plants. They informed me that they were actually several hundred meters higher than our destination. That was not welome news. But on day two, about 500 meters below the John Matte camp, which is about 3500 meters in elevation, Som (of course it was Som who spotted them), said, "Coke, aren't those the plants we are looking for?" I could not believe it! I mean, it was not the forests of the Scenecio and Lobelia we were looking for necessarily, but the two species were standing smack dab in the middle of the heath forest, in a place there were simply not supposed to be! I told our guides that we had just spotted plants and he didn't believe us until I showed him the pics I had snapped! They were very surprised.
One of the complicating factors that reared its ugly head one day two of the trek was that Cokie simply could not stomach the breakfasts he was being fed. Too much white bread, jam and eggs for his Thai belly to handle. Som was like this for years and has only recently begun to adapt. I tend to agree with their opinions of "white" breakfasts and definitely prefer Thai or Asian style fare, but when in Rome…. However Cokie simply could not stomach another "white" breakfast and he refused to eat, meaning he was going to attempt a 7km++ trek up some of the roughest country in Africa on an empty stomach. I got him to eat a bit but it was clear we were going to need a funnel to force more down his throat…Not going to happen.
***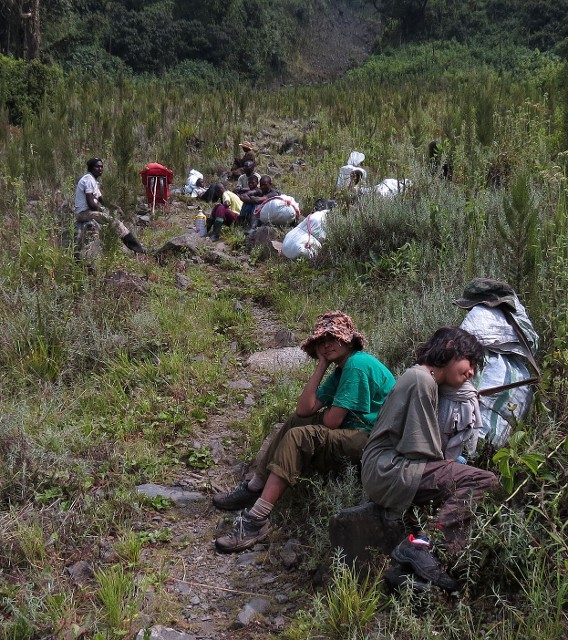 Poor Cokie. He could not stomach any of the food served for breakfast during the trek so consequently he was simply out of energy for this portion of the trek. Luckily Som had a chocolaate bar in her pocket! And all of the men in this image are our porters...
***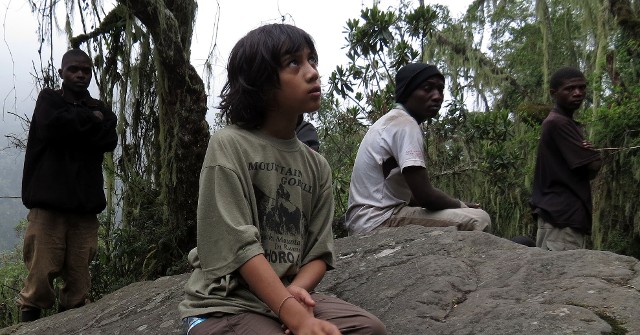 Cokie contemplating his next move..."Do I go up the hill or do I head back?" I helped him make the correct decision....
******
I decided then to let him trek hungry. Well that backfired pretty good when about 1.5km down the trail, he simply gave up. He hit the ground and said he could not walk another step. We tried in vain to get him to try again and see if he could finish the trek for the day, but there was no way. The lead guides wanted us to call off the trek and head back. Som and I knew it was Cokie's doing by leaving the camp on an empty stomach so we were not so inclined to give in. We tried to get him to eat something but there was not one thing the cook had that Cokie would eat. Bad news. The trek was now officially over.
I could not help but recall all of the back and forth with Mr. Moses from UWA about what a strong trekker and young man Cokie was. I recalled how Mr. Moses gave Cokie such special consideration and clearance to even start the trek. And here we were on day two, and Cokie was giving up. We were bummed! And then Som gave Cokie a chocolate bar. One damn chocolate bar! And after about five minutes, Cokie was so hyper he could have sprinted the way up the hill! I mean, we gave him a choice of whether he wanted to go up or down the hill, and he chose down, but I said, "Override! We're going up the hill!", and he jumped up and next thing I knew he was trekking for over three hours up that treacherous trail like the mountain goat I knew! The guides and porters, who, a few hours prior, were convinced we where idiot parents who had no idea of the limitations of their child, were blown away with how easily he made the most arduously portion (with the exception of summiting Margherita) of the Rwenzori trek! Cokie was once again proving his strength as a trekker and all he needed was a candy bar!
***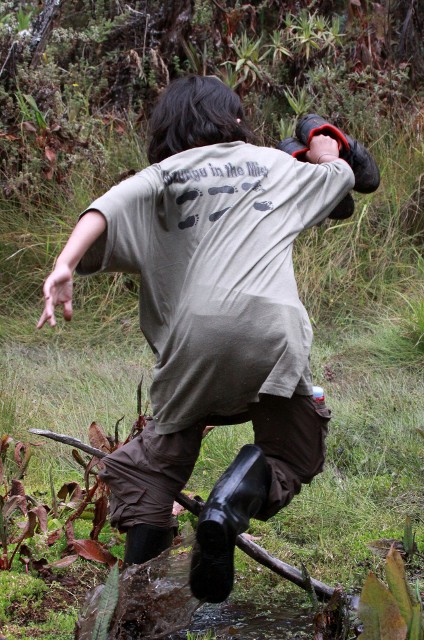 Post-chocolate, Cokie had energy to spare and the trek was saved. In fact, he practically sprinted up the hill! Here he is running over the same bog that nearly swallowed me whole!
***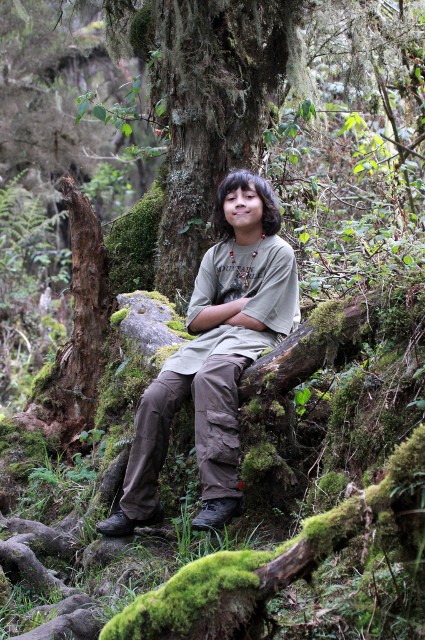 Cokie waiting for his slow-poke parents....
***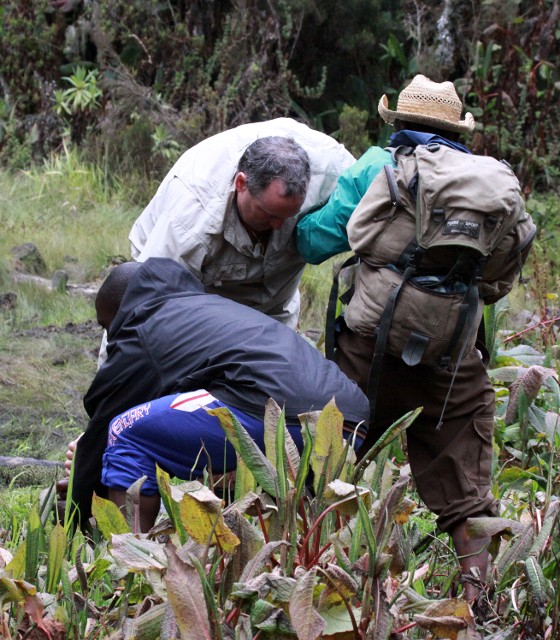 I got seriously stuck in a bog near John Matte Camp. My right leg was nealy a meter deep in this bog and if it weren't for my two strong guides, I would have been stuck there for some time in the freezing mud. This was actually pretty scary...
***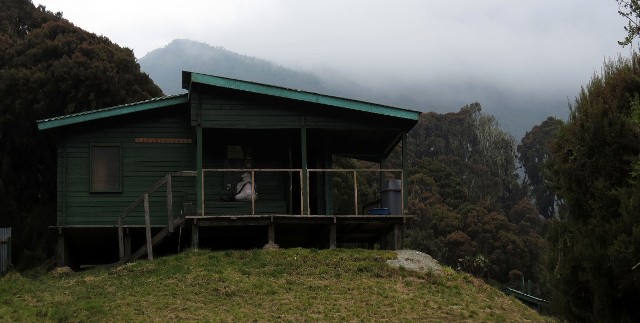 John Matte Hut, 3414 meters in elevation.
***
The view from the John Matte Hut. The mornings were always crisp and clear while the evenings were generally foggy and rainy. The change in the "moods" of the day made the trek all the more interesting.
***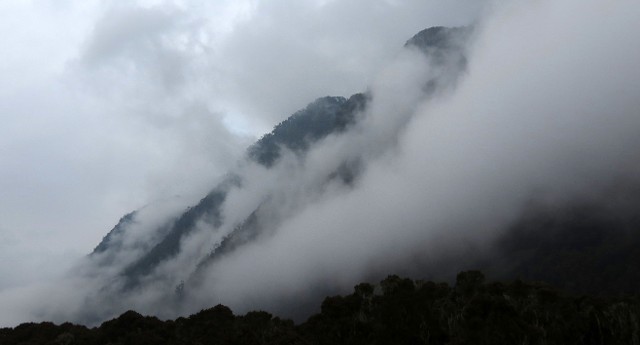 View from John Matte Hut.
***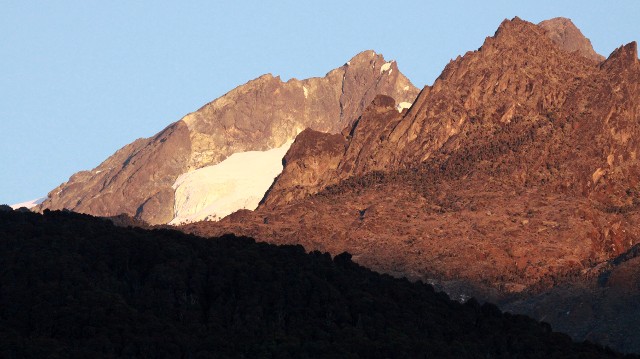 Margherita Peak as seen from John Matte Hut...
***
After the pain and fatigue I was feeling after day two of the trek, I was about to call it a day and decline any further upward trekking to see more of the plants. The ones below were fine with me! But Som, said, "What? We came all the way to Uganda and trekked 2 kilometers straight up some of the hardest trails on earth, and we're not going to go all the way!?" She had a point. So very early the next morning, we woke (and let Cokie sleep in) and continued our trek to Lower Bigo Bogs, a couple kilometers further up the trail to make an attempt at our targets.
As it worked out, it was a really good move. Not only did we get amazingly stunning views of Mt. Margherita in perfect morning light, we had a completely spectucular view of nearly all of the main peaks of the range. We were greeted by a boardwalk that allows for trekking across the treacherous bogs (the day before I was hopelessly mired in one of the bogs before John Matte Camp, and if it weren't for two strong trip leaders, I would have had to die there…so the boardwalk was a welcome sight). But the boardwalk this frosty morning was completely covered in ice so the trekking was painfully slow and dangerously slippery. In any event, we made it across Lower Bigo Bogs and we got our plants in very good numbers! We basically made it to the beginning of the forests we had seen in the Nat Geo special. Som and I reveled in the moment and congratulated ourselves for accomplishing our goals (and the most difficult trek of our lives!), and we started back.
***
Lower Bigo Bogs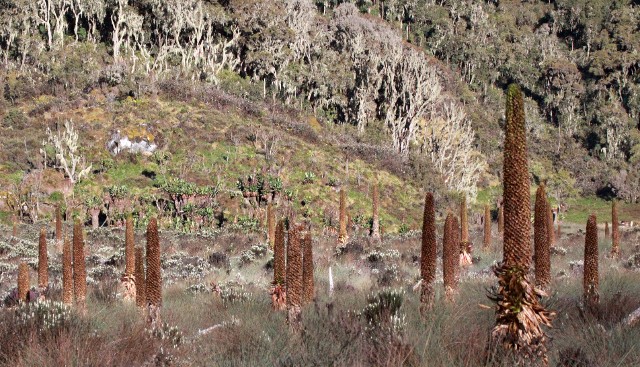 Last year's Giant Lobelia (Lobelia bequaertii) flowers standing like pillars.
***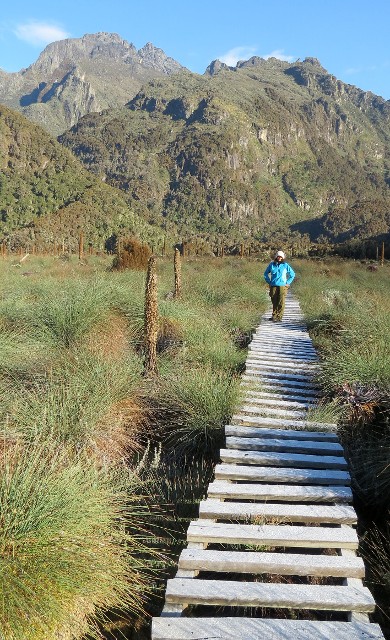 The boardwalk of Lower Bigo Bogs...nice and icy in the early morning chill...
***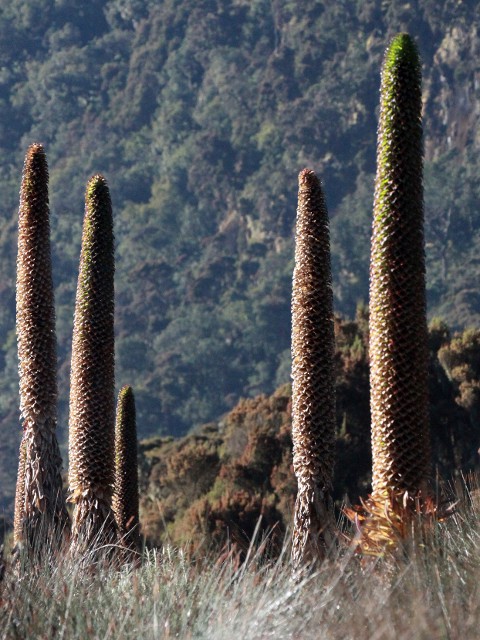 Lobelia bequaertii
***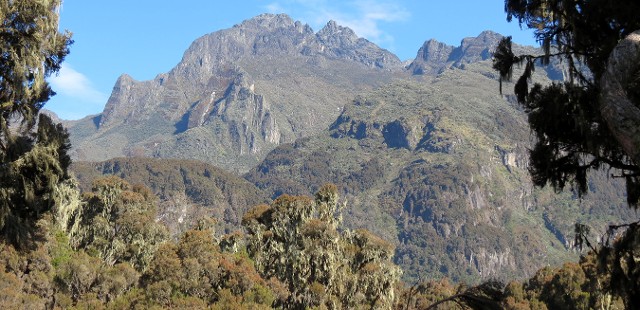 The amazing views we saw this morning will never be forgotten.
***
Lobelia bequaertii
***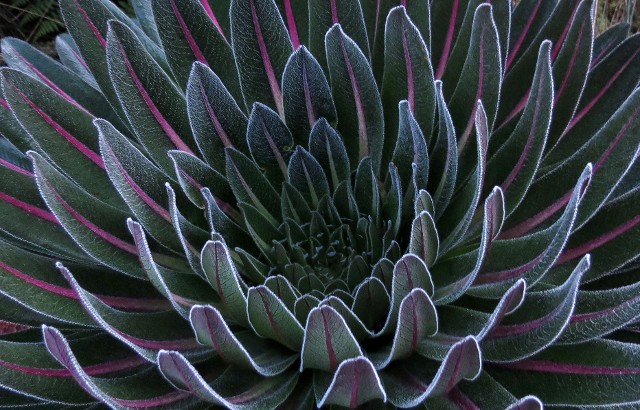 Lobelia bequaertii
***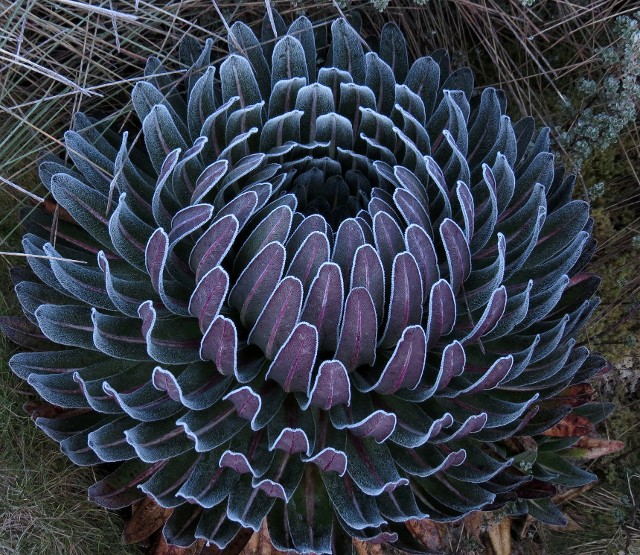 Lobelia bequaertii
***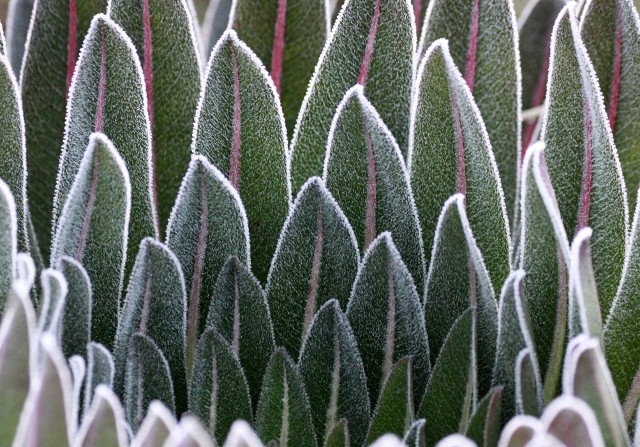 Lobelia bequaertii. I am so glad we trekked the distance and saw these amazing plants up close. Thanks for pushing me, Som!
***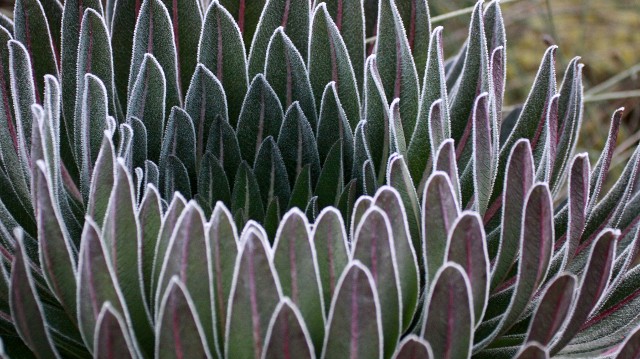 Lobelia bequaertii
***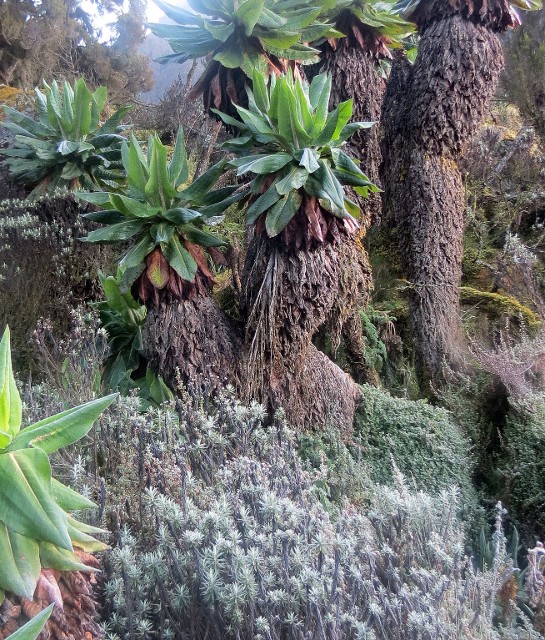 The botanical highpoint for the entire trek and summer was the large stands of Giant Groundsel (Dendrosenecio adnivalis) we encountered at Lower Bigo Bogs.
***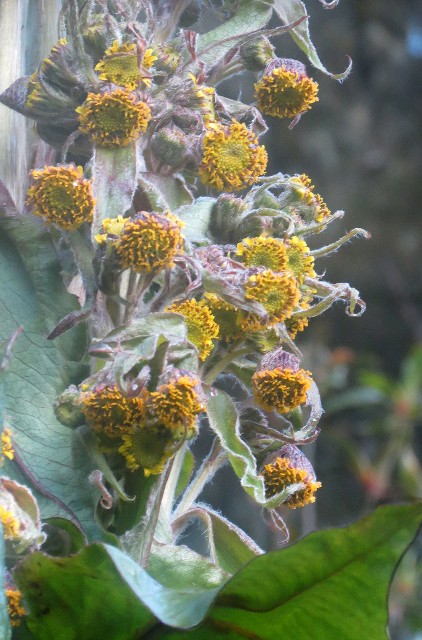 Giant Groundsel (Dendrosenecio adnivalis)
***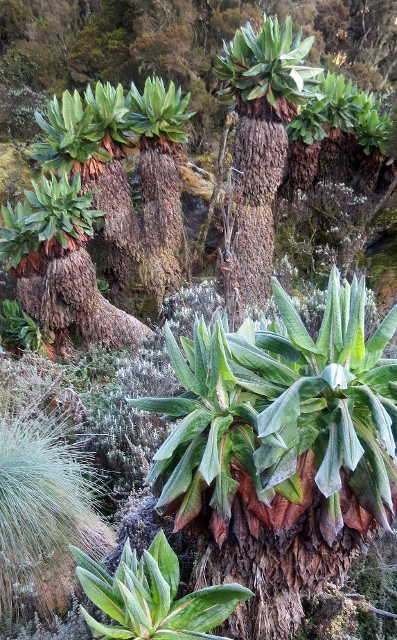 Seeing the Giant Groundsel (Dendrosenecio adnivalis) in its natural habitat in the "Mountains of the Moon" was simply outstanding.
***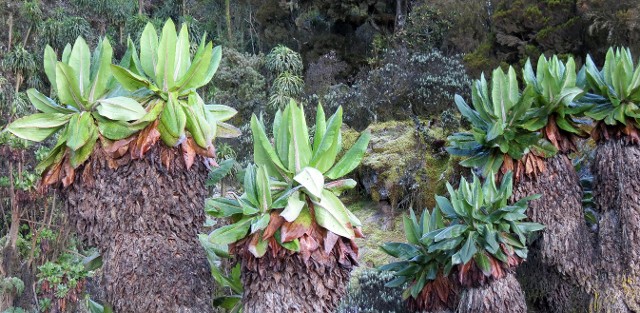 Giant Groundsel (Dendrosenecio adnivalis)
***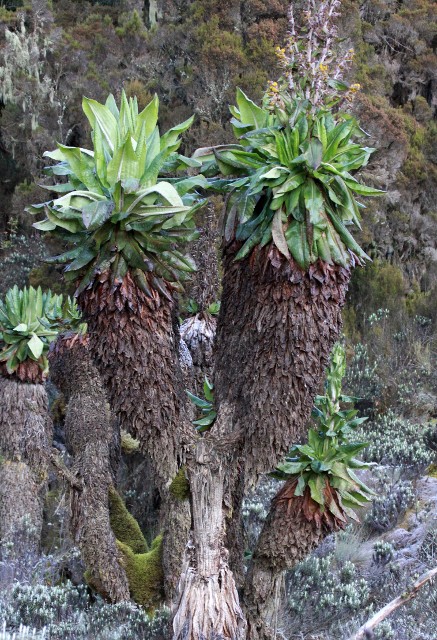 Giant Groundsel (Dendrosenecio adnivalis)
***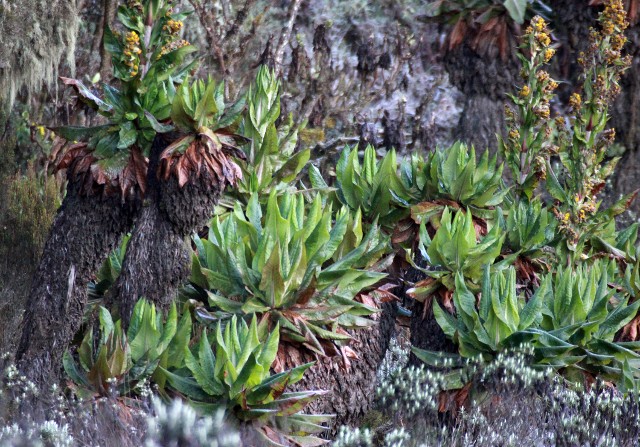 Giant Groundsel (Dendrosenecio adnivalis)
***
After reclaiming our little man back at John Matte Hut, we started back down the slope of the Rwenzoris to the HQ to end our three-day trek. But once again, Cokie could not stomach the breakfast being served, and after being forced to down it, he lost it all over John Matte Camp floor that morning. This meant he was going to start a 14km trek through some of the roughest terrain ever, once again with nothing in his stomach! Interestingly though, he made it no problem all the way to lunch. He was OK with the honey sandwiches in the afternoon, just not in the morning…hmmm…go figure. So he had enough energy to finish easily. But it was I who had the hard time going down. Going up was exhausting and all that, but going down was simply utterly painful. All of my body-mass coming down on my poor knees for NINE long hours was nearly too much to handle. But we all made it around dusk and we were rewarded with our efforts by a three-horned cameleon that the ranger at the gate had so graciously saved for us all afternoon anticipating our arrival. Very cool critter!
***
Herps of the Rwenzoris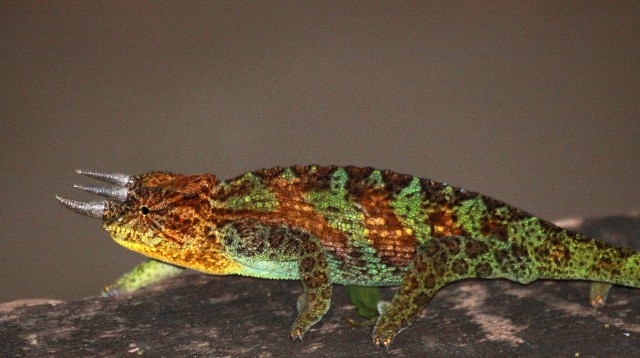 The Rwenzori Three-horned Chameleon (Trioceros johnstoni) is one of the coolest reptiles anywhere!
***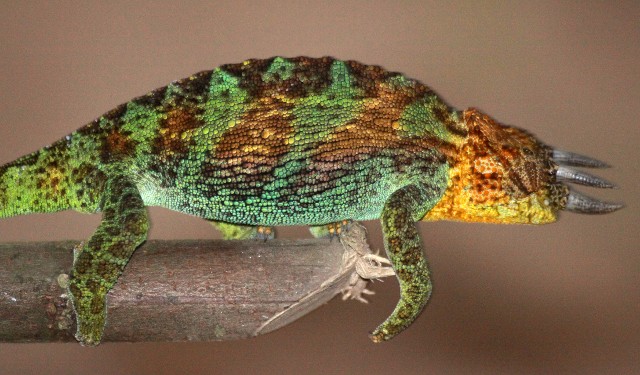 Rwenzori Three-horned Chameleon (Trioceros johnstoni)
***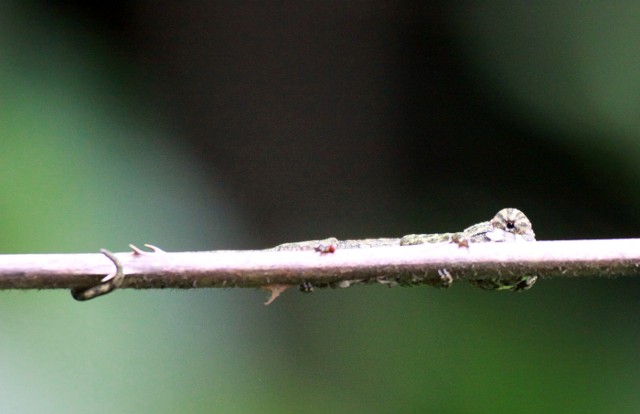 This tiny Rwenzori Side-striped Chameleon was nearly invisible on this Rubus dogetti sprig. His one eye looking directly at me gave him away.
***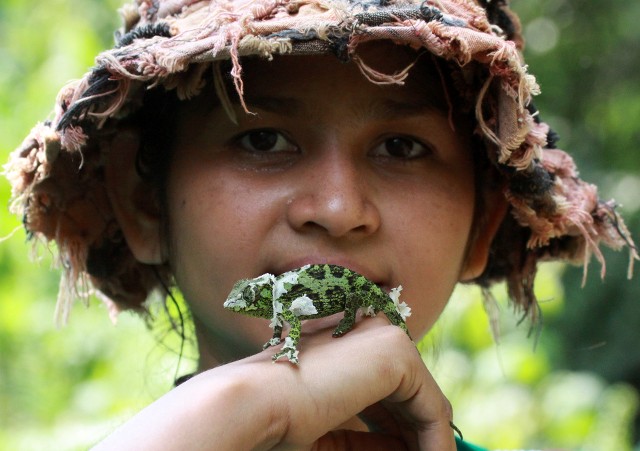 Female Rwenzori Three-horned Chameleon near the end of its molt.
***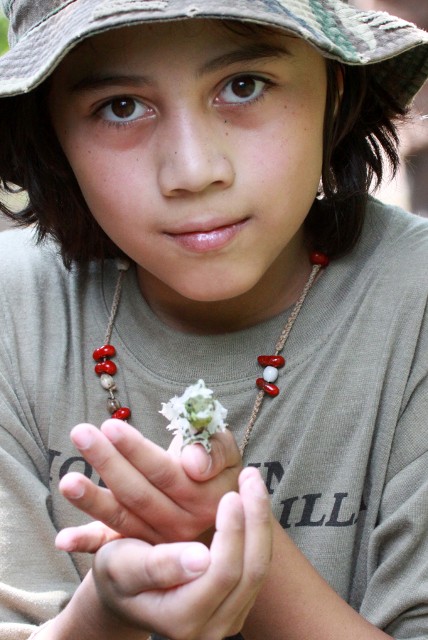 Female Rwenzori Three-horned Chameleon near the end of its molt.
***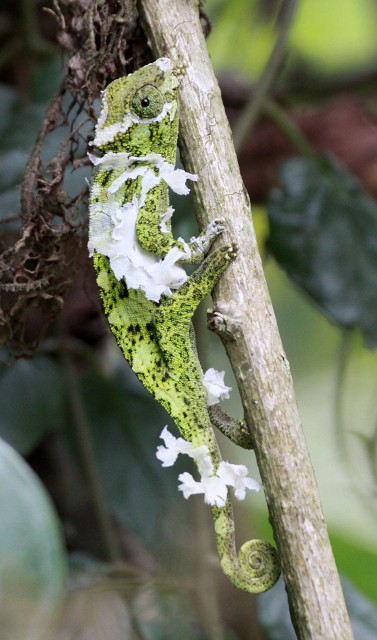 Female Rwenzori Three-horned Chameleon near the end of its molt with its skin looking like lichen, which I suspect to be an adaptation during the molt as they are more vulnerable to predation.
***
***
More images of the Rwenzoris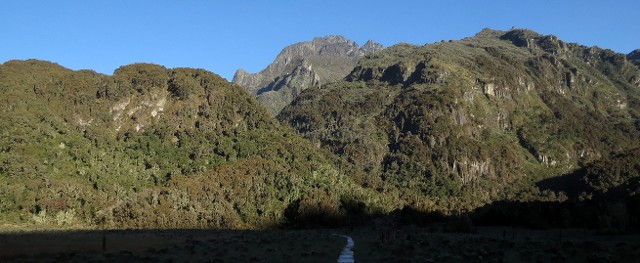 Lower Bigo Bogs, Rwenzori Mountains National Park
***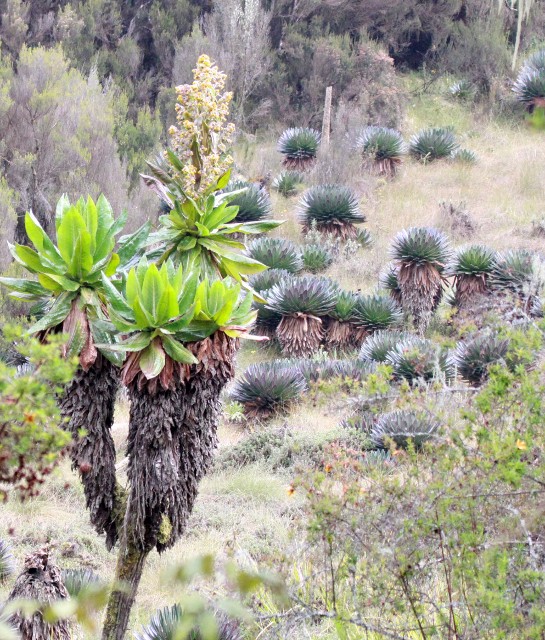 This was our first Giant Groundsel (Dendrosenecio adnivalis), about 500 meters lower than anyone expected to see them!
***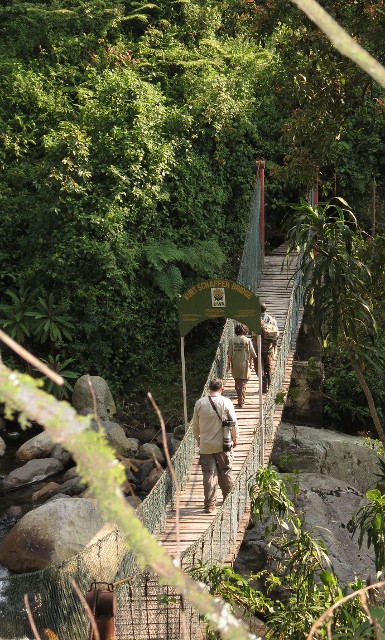 The lowest point of the trek, the Kurt Schaffer Bridge.
***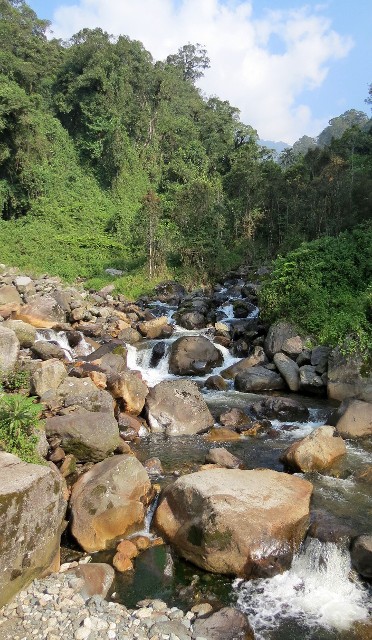 Rwenzori Mountains National Park
***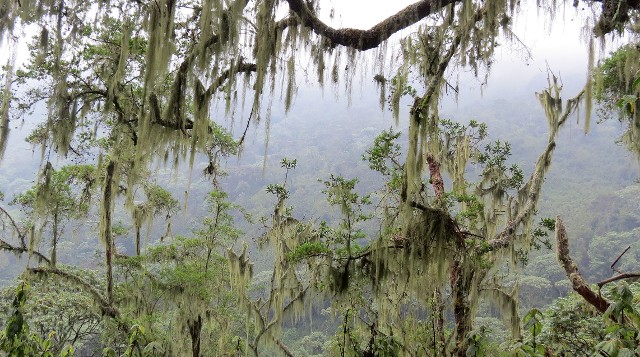 The Hypericum bequaertii forest covered with lichen makes for a spectacular forest scene.
***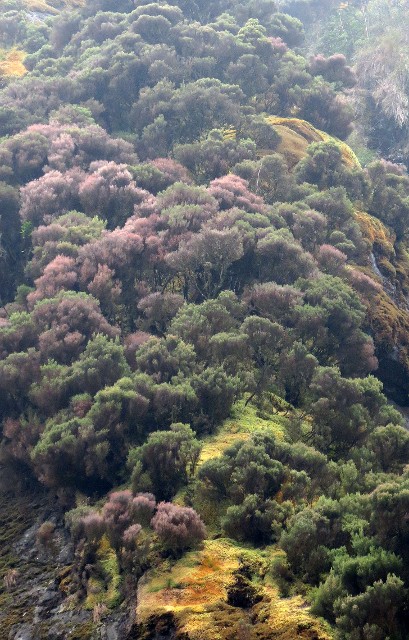 At around 3000 meters or so, we entered the "Heath Zone", filled with plants of the family Ericaceae as well as countless species of mosses.
***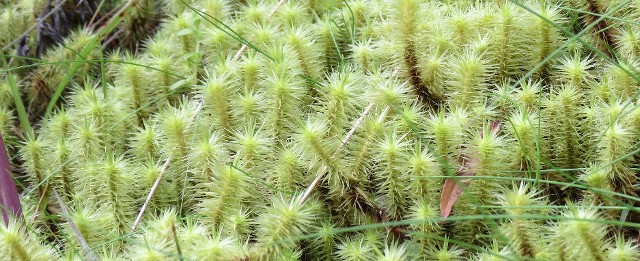 I can only imagine how many Bryophyte (moss) species can be found in the Rwenzoris.
***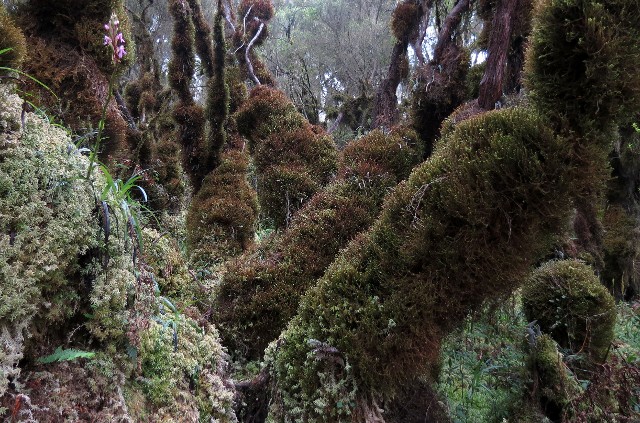 I am thinking that only Washington's Hoh Rainforest can rival this density of moss species. (See my galleries here of the Hoh)
***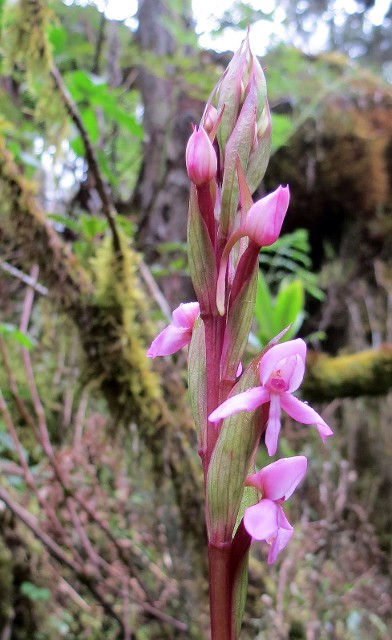 Just about every plant and animal spotted in the Rwenzori was either a complete endemic or a near-endemic. I can only guess what these orchids were (that is assuming they are actually orchids...).
***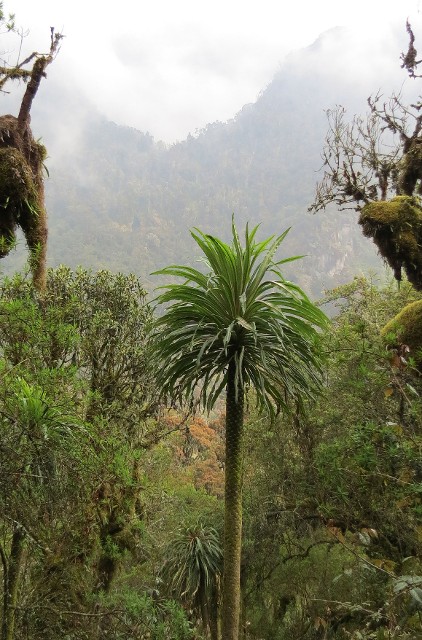 Another species of Giant Lobelia.
***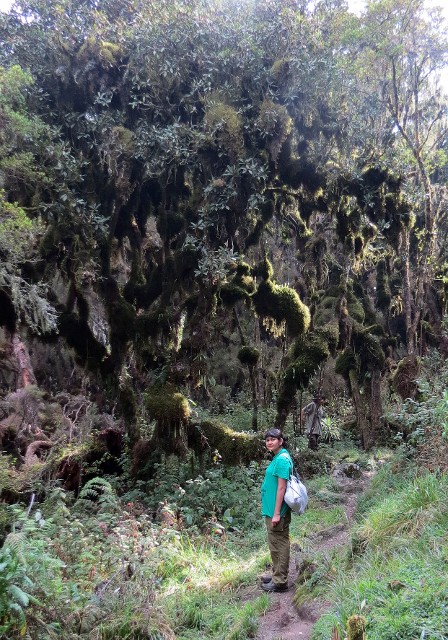 The moss-covered forests of the Rwenzori. These forests were surreal...
***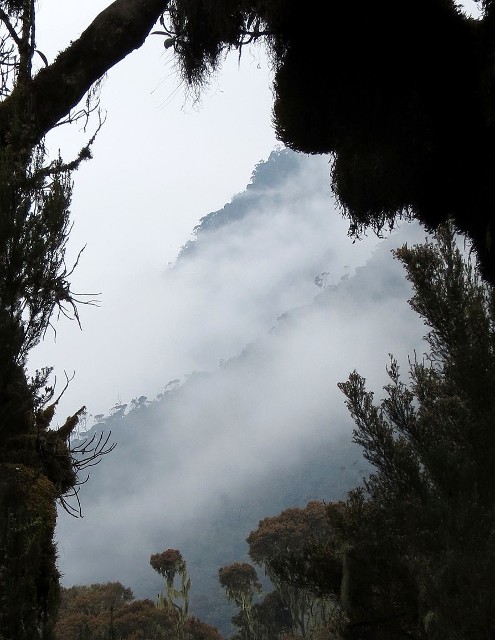 The views were ever-changing and spectacular.
***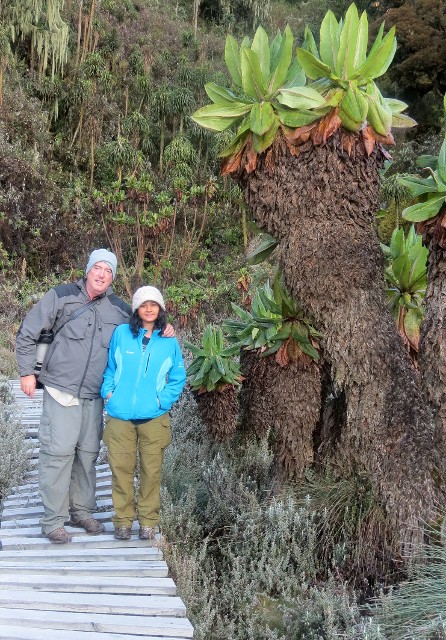 Giant Groundsel (Dendrosenecio adnivalis)
***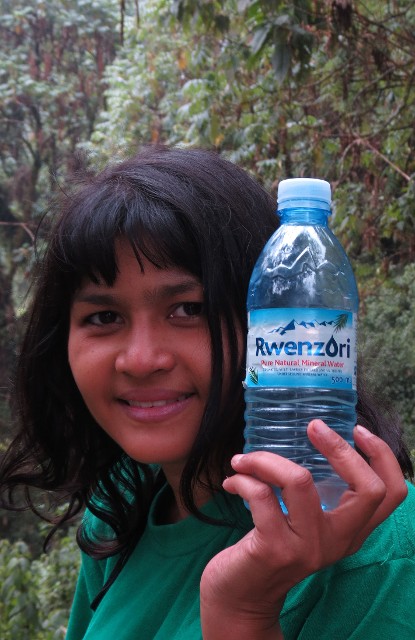 We finally had some REAL Rwenzori water from the rivers of the Rwenzori Mountains!
***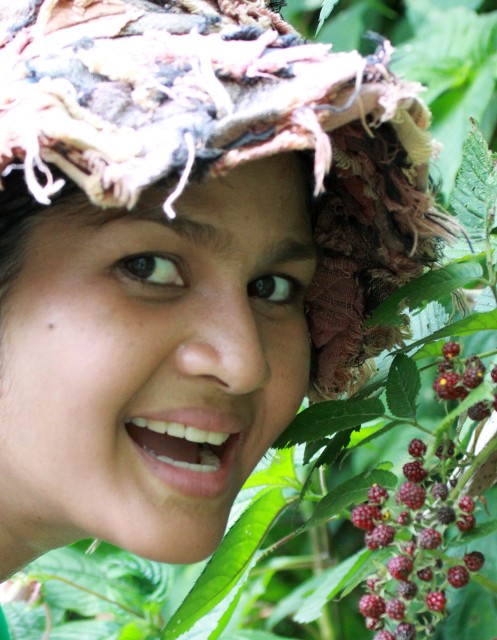 Rwenzori Blackberries (Rubus dogetti) were an endemic treat!
***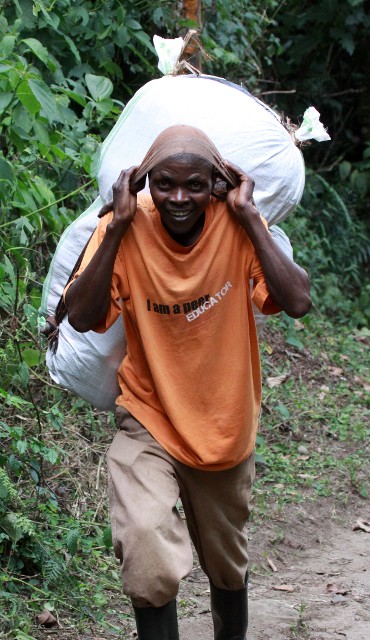 We actually had backpacks prepared for our porters but they decided to carry all of the gear and supplies like this! These men were amazing.
***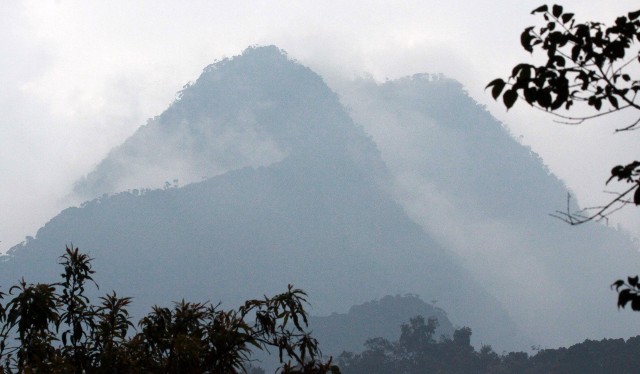 Another foggy view of the Rwenzori Mountains...
***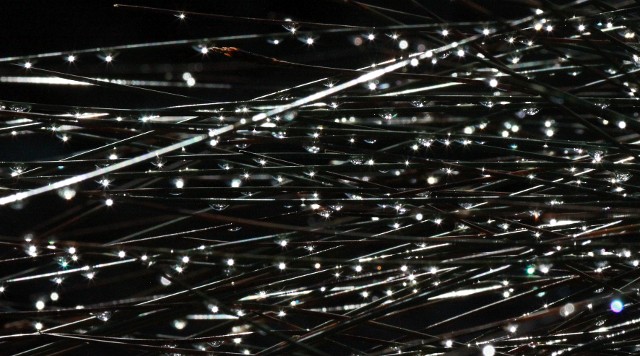 Morning light in Bigo Bogs.
***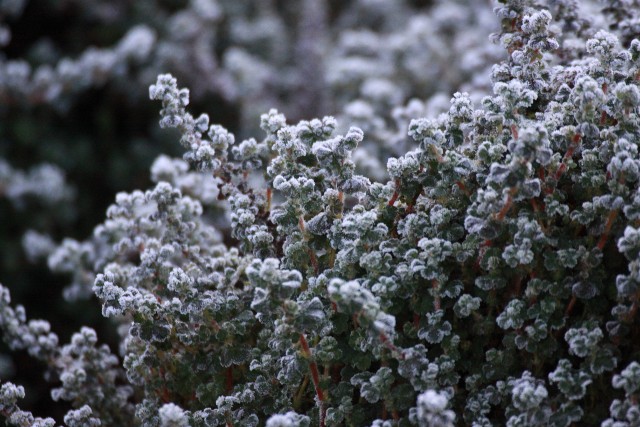 I believe this is an Artemisia species frozen in the morning cold of Lower Bigo Bogs.
***
This plant looks very much like a carnivorous "pitcher plant", although I can find no reference to such a plant in the literature I've come across...
***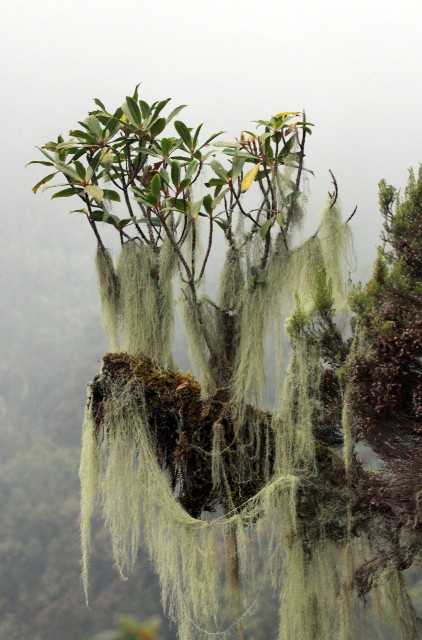 The other endemic tree in the Rwenzori, Scefflera polysciadia, covered in lichens.
***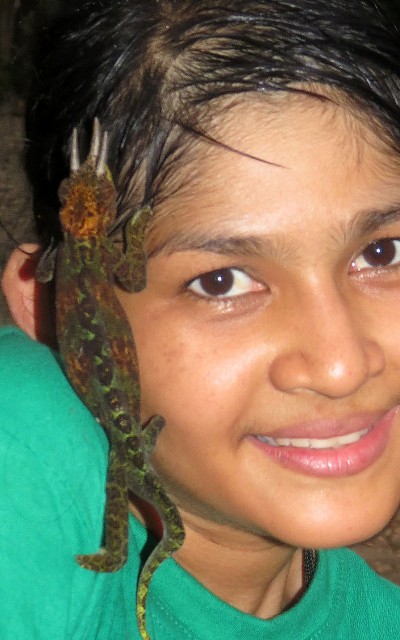 The Rwenzori Three-horned Chameleon climbing "Mount Som".
***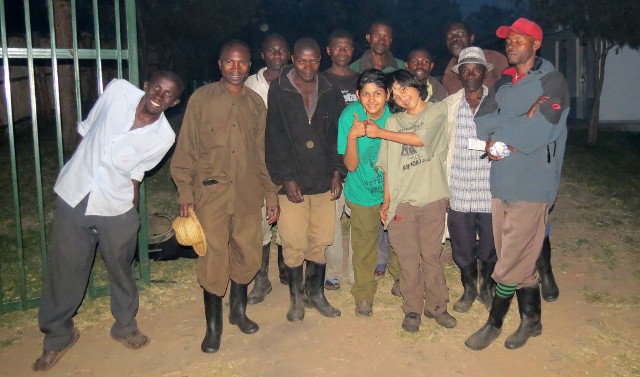 Our crew at the end of our trek! A great team! The man on the left was not part of the trip but his hand was out when we were giving out the tips...Opportunism at its best!
***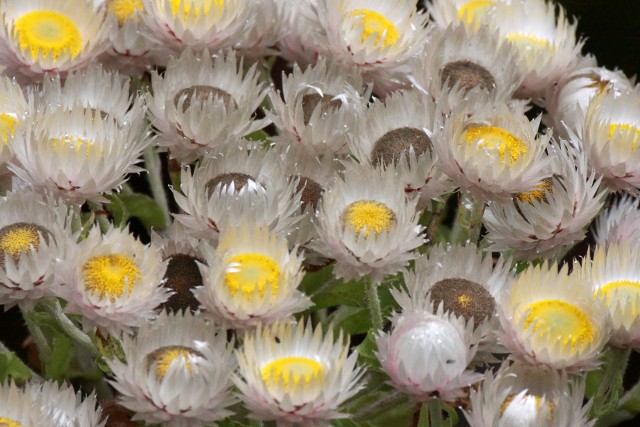 The Rwenzori Strawflower
***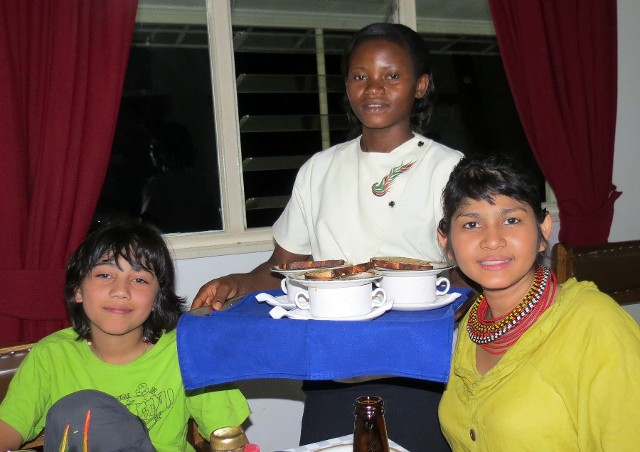 That night was one of great rest and beer consumption, not necessarily in that order….Yes we were very, very sore!
***
***

***
Kibale Forest National Park
Our next destination was Kibale Forest National Park, where primates were our goal once again. We stayed at the famous Primate Lodge (website here), which has fantastic bungalows nicely situated in the spectacular Kibale Forest. It's a pretty upscale lodge but the food really leaves something to be desired. To put it politely, the food sucked…But that is another story for Tripadvisor, I suppose…
One of the main targets we had for Kibale was the Uganda Red Colobus Monkey, which was pretty easy to pick up at Bigodi Swamp. I had visited this swamp many years ago and was only able to see Black & White Colobus Monkeys then, but today we were treated to several dozen Red Colobus individuals representing at least three different groups. Great views and excellent behavior was viewable this afternoon. Of course we also saw the Black & White Colobus as well as many Grey-cheeked Mangabeys (on the way in to the swamp area) L'Hoest's Monkeys, Olive Baboons and several dozen Red-tailed Monkeys.
***
Uganda Red Colobus Monkey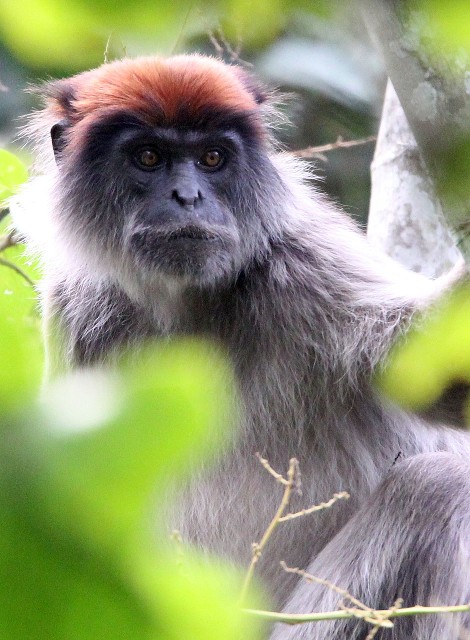 Our target in Kibale and the Bigodi Wetlands was the Uganda Red Colobus Monkey. We came across several dozen in at least three troops.
***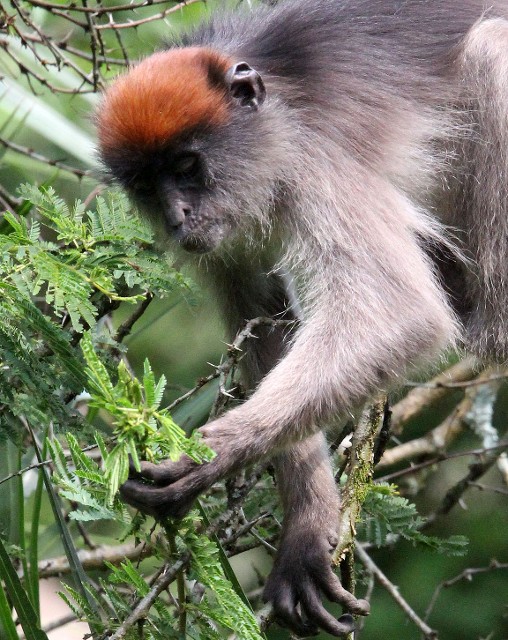 They are a very handsome primate for sure.
***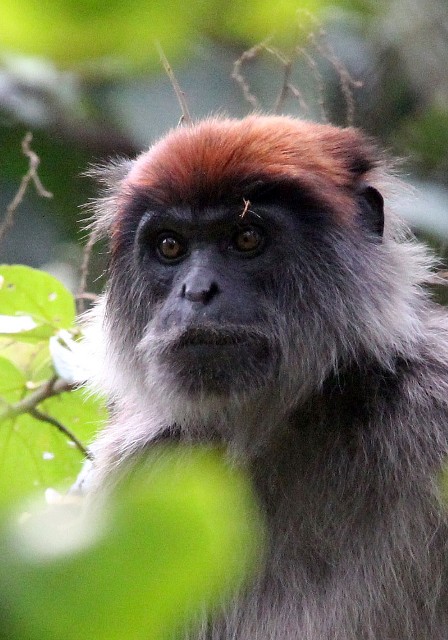 Uganda Red Colobus Monkey. This one really resembles Som's dad...
***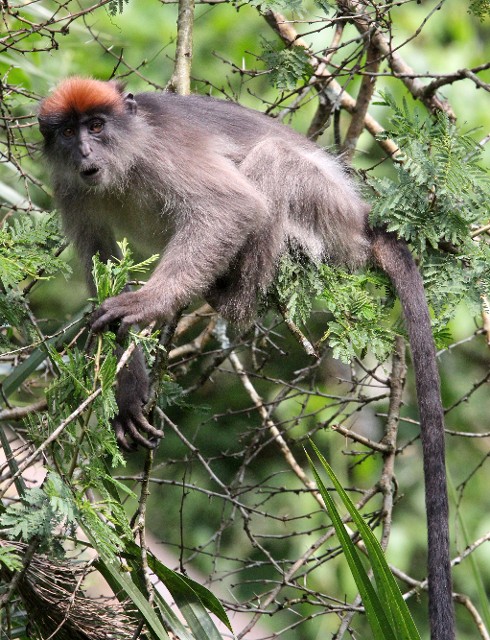 I think they look very familiar...
***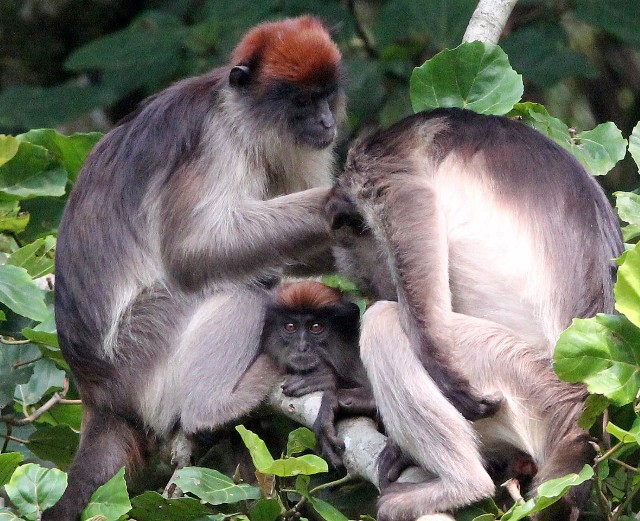 Cokie said, after seeing this family of three, "Hey Dad! Look, they ARE us!"
***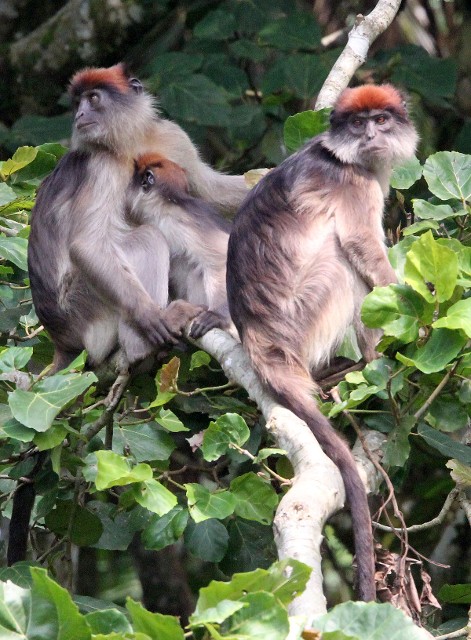 Uganda Red Colobus Monkey
***
Grey-cheeked Mangabey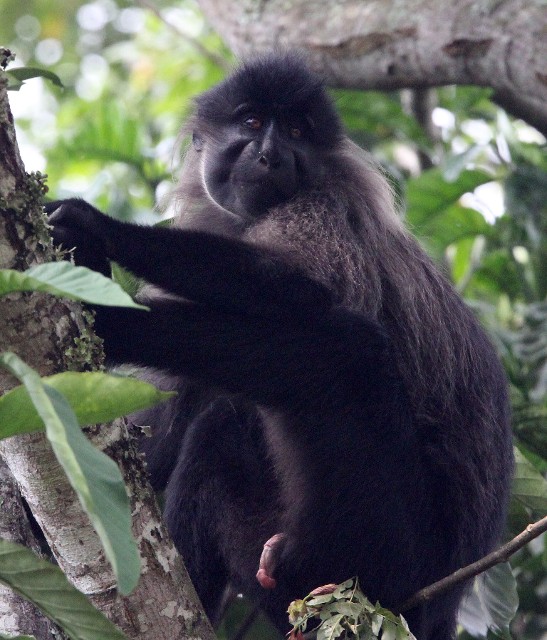 Immediately upon entering the Kibale Forest, we came across our only troop of Grey-cheeked Mangabey.
***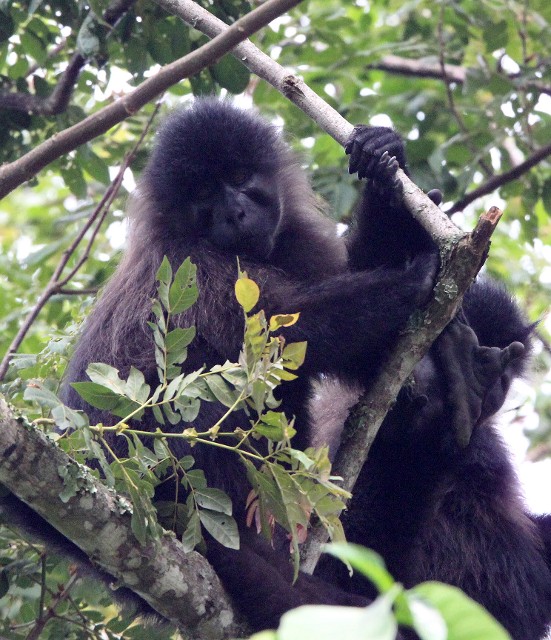 A very cool primate!
***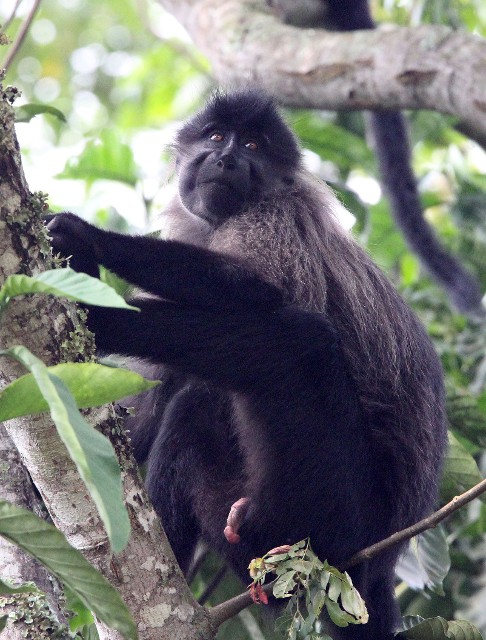 I love the mane on these primates.
***
Red-tailed Monkeys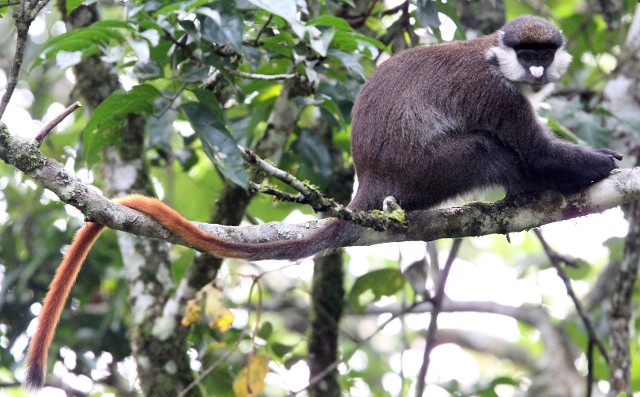 Red-tailed Monkeys were very common, both in Kibale Forest and Bigodi Swamp.
***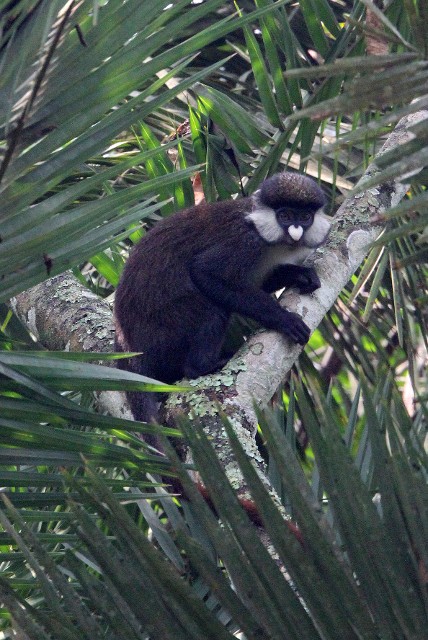 Red-tailed Monkey in the Bigodi Swamp.
***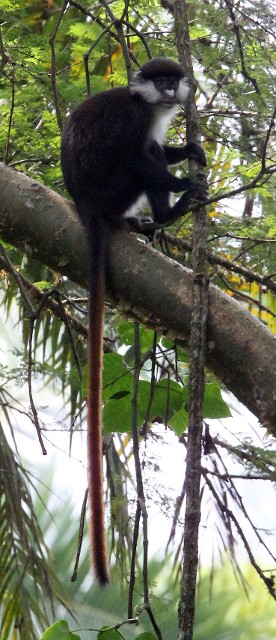 Quite a tail on this little guy!
***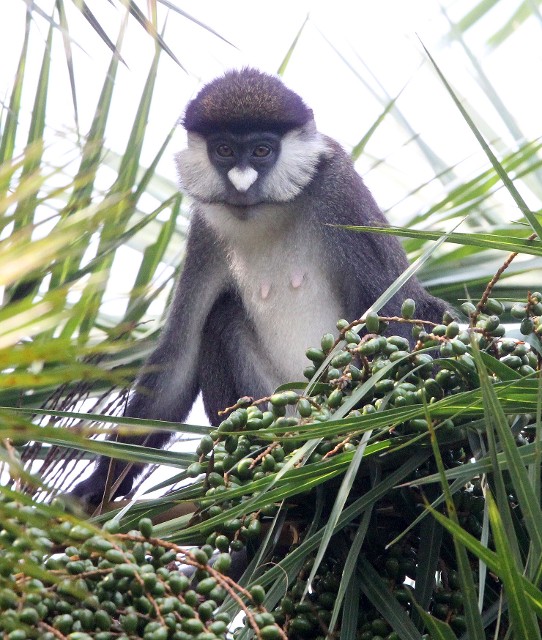 Red-tailed Monkey
***
Eastern Potto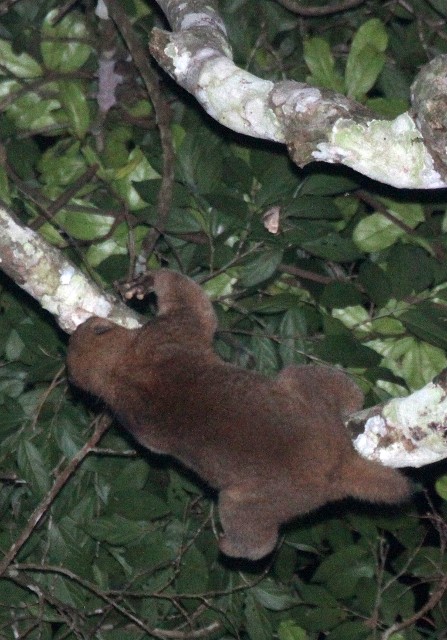 Our only sighting on our Kibale night trek was this very cool Eastern Potto.
***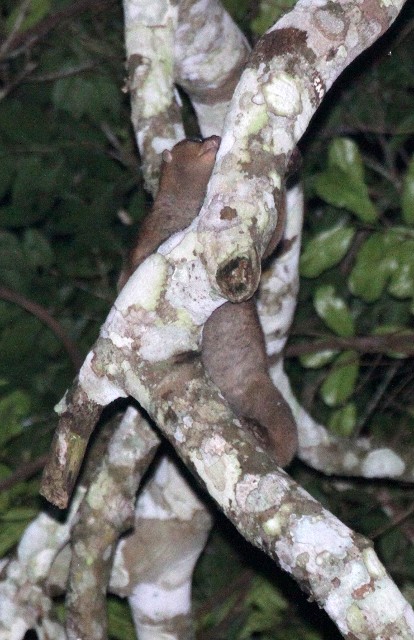 This little booger simply refused to show us his face for more than a millisecond!
***
Olive Baboon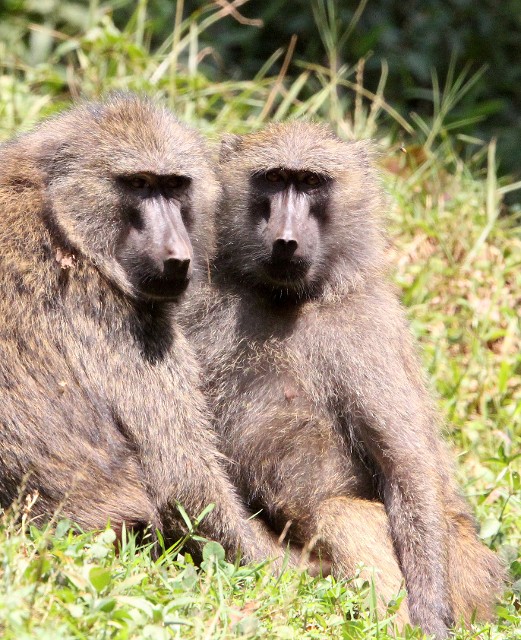 Olive Baboons were very common in Kibale Forest.
***
Guereza (Black & White) Colobus Monkeys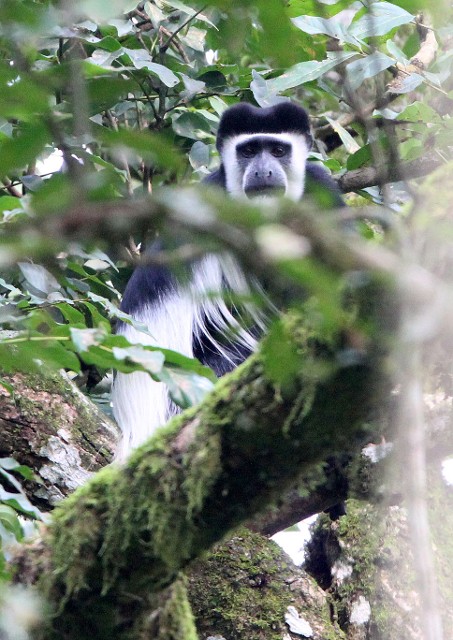 Twenty years ago, the only primate I spotted in the Bigodi Swamp was the Guereza (Black & White) Colobus Monkey. Today they were the rarest in a forest filled with primates!
***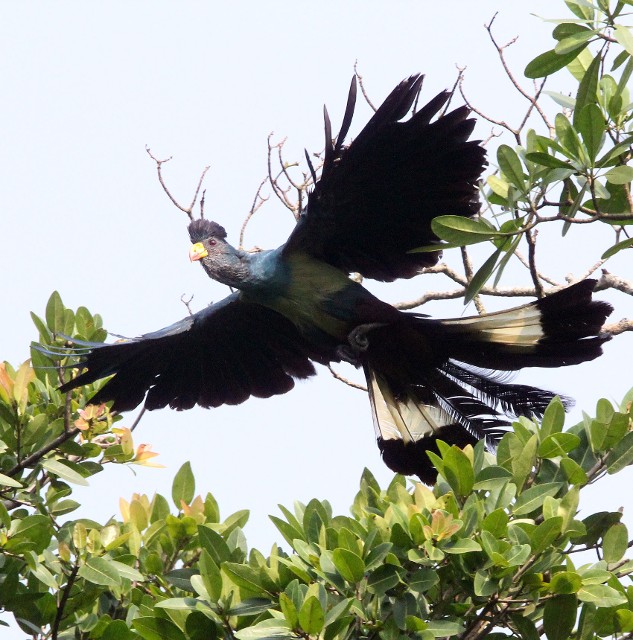 We saw several Great Blue Turaco in the Bigodi Wetlands.
***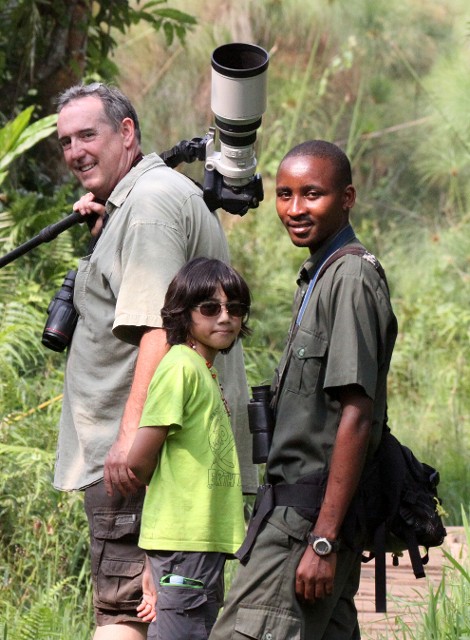 Our tracker and guide in the Bigodi Wetlands.
***
The Bigodi Wetlands are a serious place to see primates! The birding action there is quite good too. I think the Bigodi Swamp is exhibiting what I call the "Kinabatangan Syndrome". The environmental destruction surrounding the core habitat is so thorough and complete, that the remaining wildlife is abnormally dense in this small area, so seeing large numbers of each species is possible. One could see this as great for wildlife viewing but generally bad for the species in question.
***
***
***
Chimpanzee Habituation Experience
At Kibale National Park, we reserved the Chimpanzee Habituation Experience which was purported to give 100% guaranteed-views of the Chimps, and trekkers basically stay with the chimps all day to experience their daily lives, from waking in the trees, coming down to the ground, etc, etc, etc. What a load of crap that is. The UWA really is dropping the ball on this activity. Charging the amount they do and claiming that they have NEVER not seen the chimps and had a successful day in all the years of doing the experience, is tantamount to false advertisement, in my opinion.
This is how it starts. You wake at a very early hour and find a trail in the middle of the Kibale Forest. Then you start walking around aimlessly for hours and not find a damn thing. There were no trackers in the forests helping – just groups of pretty irritated tourists wondering why they weren't seeing chimps. The guides we were with had absolutely no idea where the chimps were OR where they were the day before. We just walked around for hours, back and forth over the same territory, in vain. There was absolutely no one who had even seen the chimps lately on the trek…
After about four hours of this futile exercise, Som and I decided we'd had enough and we cut the day short and got on the road to Murchison Falls. I asked them about a refund and were given blank stares…We knew they wouldn't refund anything, unlike Rwanda and Central African Republic, which actually DO have money-back guarantees on their tracking activities. Oh well, I have tried to see Chimps at Kibale on three separate occasions with success only once, so I think I can very accurately state that one has a 33.33% chance of seeing chimpanzees at Kibale. So take that for what it is worth and decide accordingly if you want to take the very expensive financial risk there to see them. I would recommend Nyungwe in Rwanda as much better bet for sure. And they have a money-back guarantee!
***
***
Murchison Falls National Park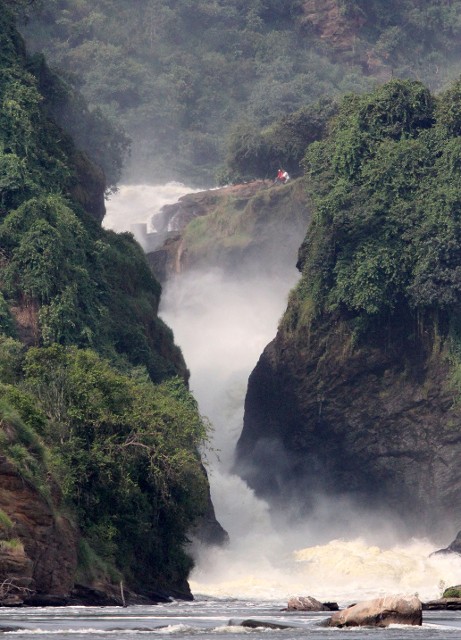 Murchison Falls
***
We needed to make sure we arrived Murchison Falls before they locked the gates at around seven or so, so we got on the road quickly. The road from Kibale to Murchison is crap so the fairly short ride actually does take about 6-8 hours depending of if it had rained recently or not. We finally got to the gate about 16 seconds before they closed it but that did allow for a pretty decent night drive through Murchison for the remaining 60 km or so before the Sambiya Lodge. En route, we saw what I believe was a Blue Monkey cross the road, and had a great view of a Uganda Grass Hare and some roosting Abyssinian Ground Hornbills and several pairs of eyes we could not identify.
We spent our time at Murchison at the Sambiya Lodge, located about 40 kilometers away from the ferry that take you across the Nile to the main game viewing areas of the park. Our main targets there were the Patas Monkey, Rothschild's Giraffe, Oribi and the Shoebill Stork. All of these were attainable plus several others.
I was told by rangers that the Patas Monkeys were to be found only in the rainforest section of the park, south of the Nile. But I found this a bit hard to believe as they were savanna species as far as I knew. And sure enough, the very first mammal we saw after we crossed the river was a Patas Monkey posing spectacularly in an Acacia tree not too far off the main track. This ended up being the only one seen during the entire trip, so I feel pretty luck about seeing such a grand male in good light! And it was in the savanna woodlands of course.
***
Patas Monkey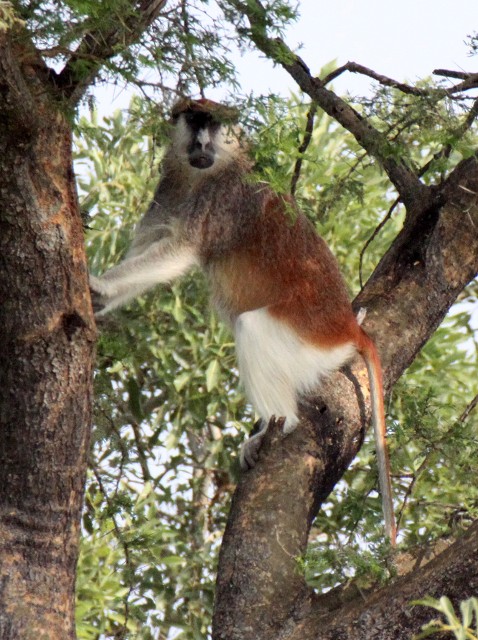 The very first mammal spotted after entering the core area of Murchison Falls was this Patas Monkey. We never spotted another the whole time we were in the reserve.
***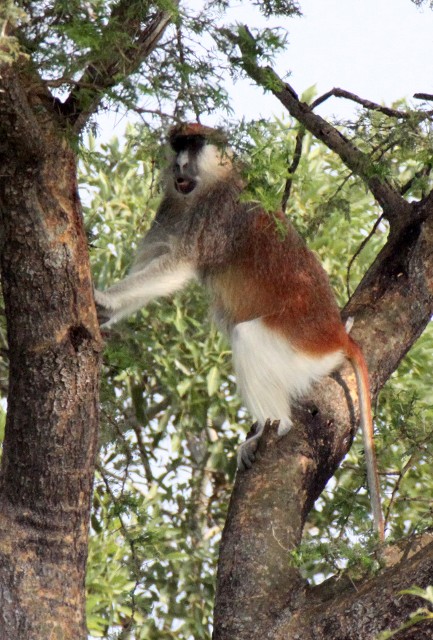 Patas Monkey
***
We nailed the Rothschild's Giraffes almost immediately after venturing a few more kilometers in to the core of the park. There were dozens of these highly endangered and gorgeous critters roaming the spectacular savannah of the reserve. We had many close-up encounters with them and many other species such as Uganda Kob, Oribi, Impala, Cape Buffalo, Bushbuck and others. Grassland savannah habitat of the northern sector of Murchison is great for the classic African game drive with lots of megafauna to observe and photograph.
***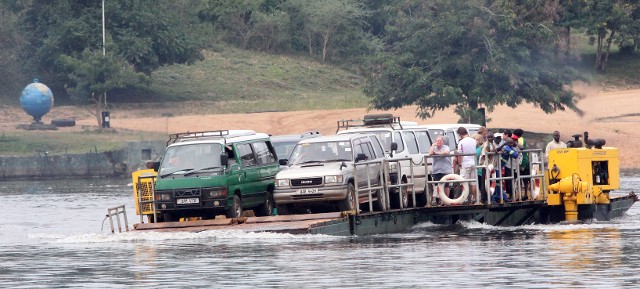 In order to get to the wildlife, or at least the main area with wildlife, we had to cross the Nile River on this flimsy ferry that had a serious listing issue...And the ferry would cancel all runs if there was literally a single drop of rain!
***
Rothchild's Giraffe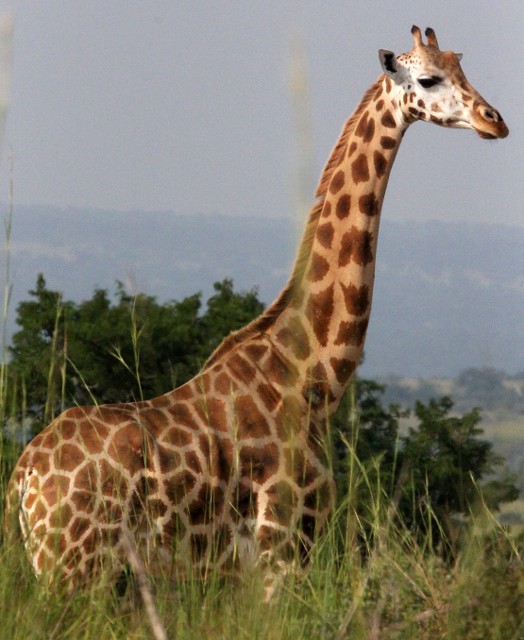 Rothchild's Giraffe were another one of our main targets in Murchison. This extremely endangered giraffe subspecies (or species as many consider it to be) is most easily seen here.
***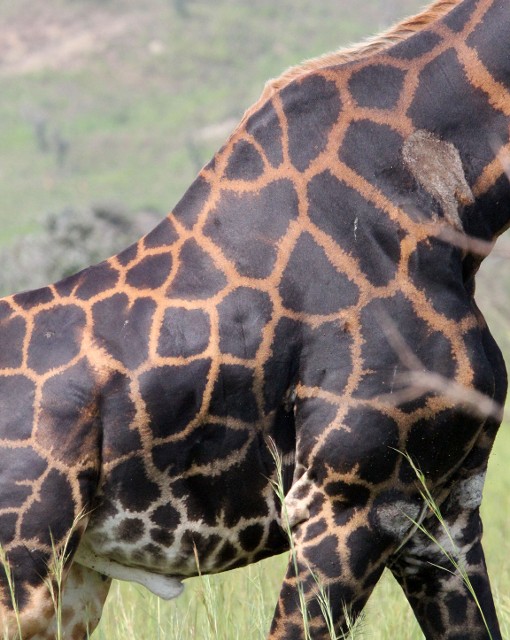 The scale pattern of the Rothchild's Giraffe is very distinct.
***
(Click Here to see our giraffe comparison page!)
***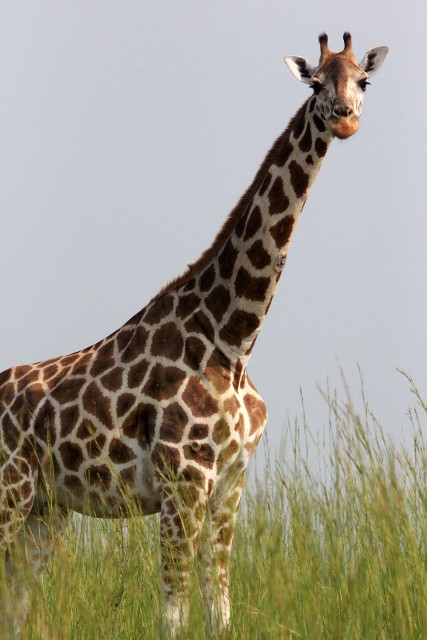 Rothchild's Giraffe
***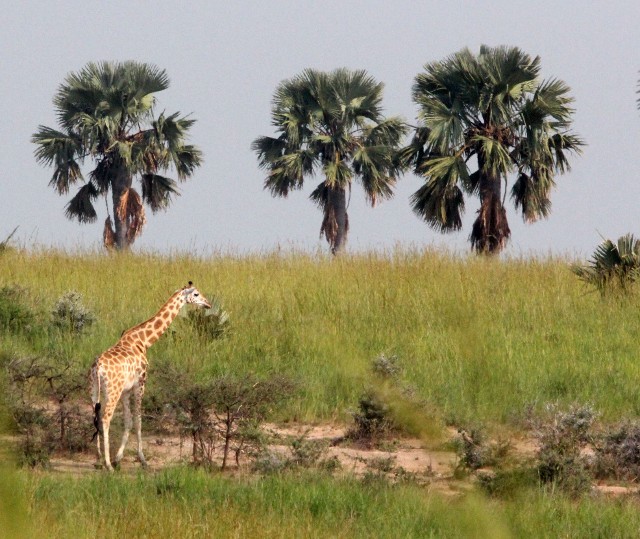 Rothchild's Giraffe walking in the Borassus palm savanna of Murchison Falls NP.
***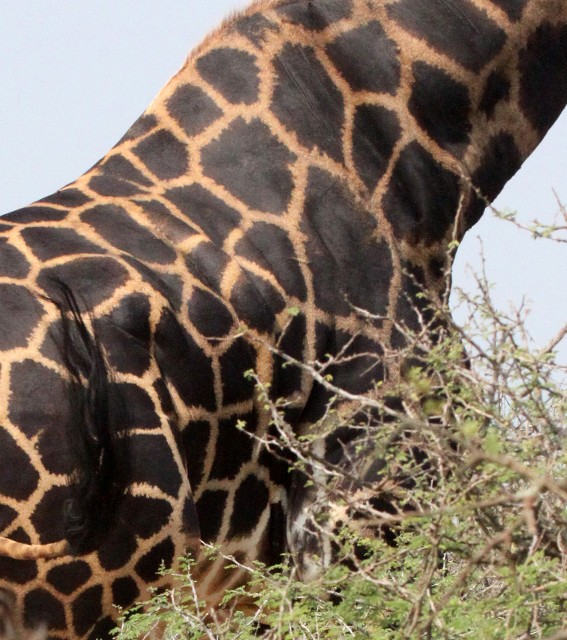 Lovely pattern on these critters...
***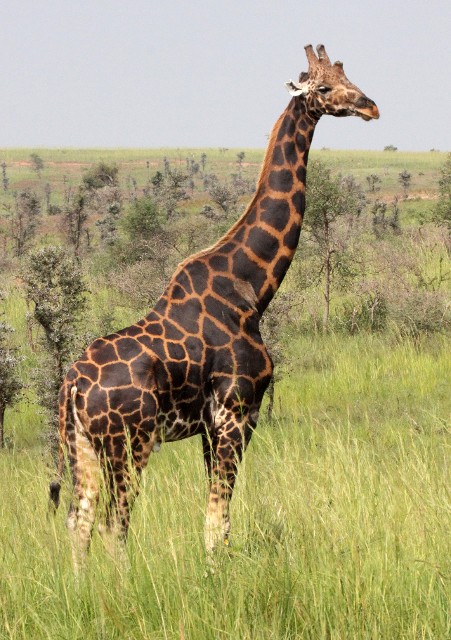 Rothchild's Giraffe bull...
***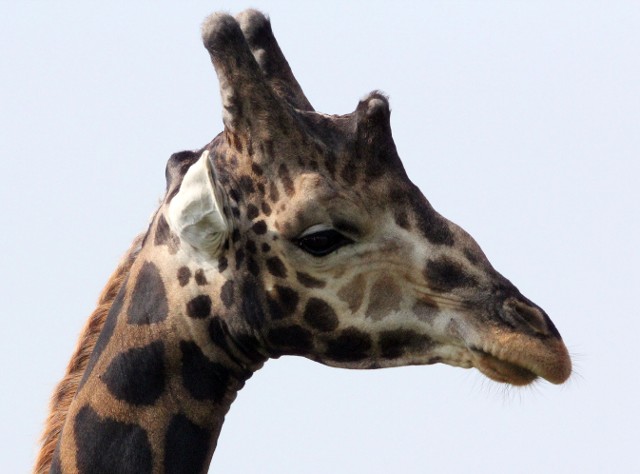 Nice bull Rothchild's Giraffe...
***
Jackson's Hartebeest (Lelwel)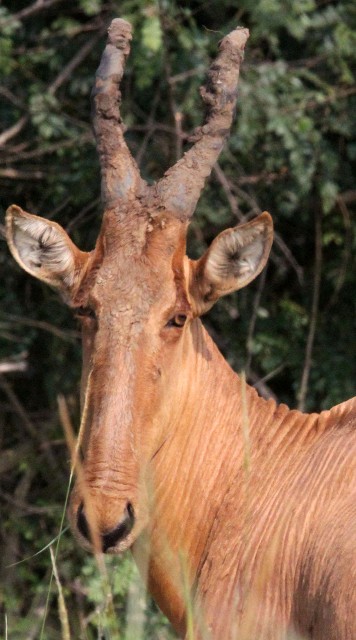 There is little doubt that Murchison's Lelwel or Jackson's Hartebeest are some of the strangest looking critters anywhere.
***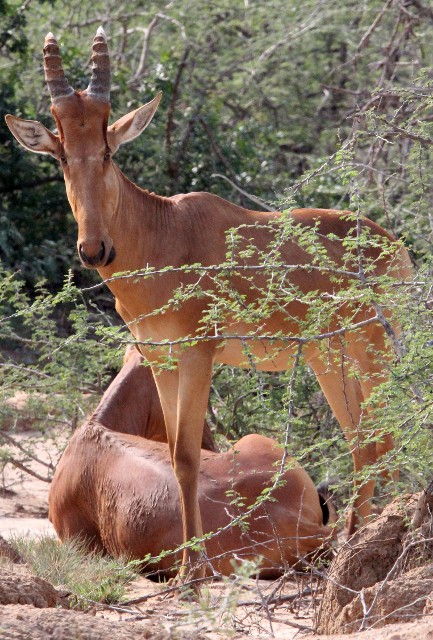 The Lelwel were common throughout the Acacia woodlands of Murchison Falls.
***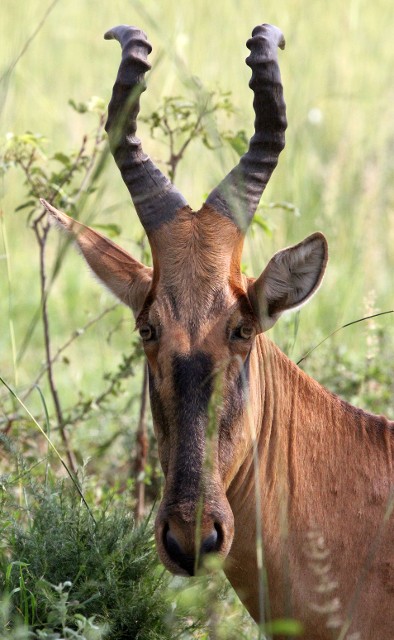 They look as if someone stretched their heads longways...
***
Tantalus Monkey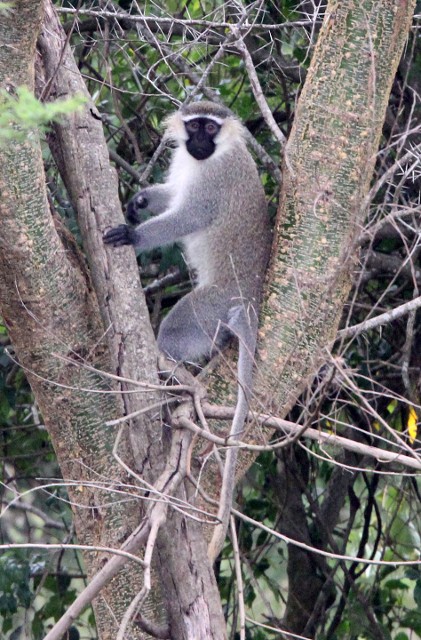 Initially I thought I was looking at a Vervet Monkey, but then I remembered that the group had been revised and this species was now known as the Tantalus Monkey. Great addition to the life list!
***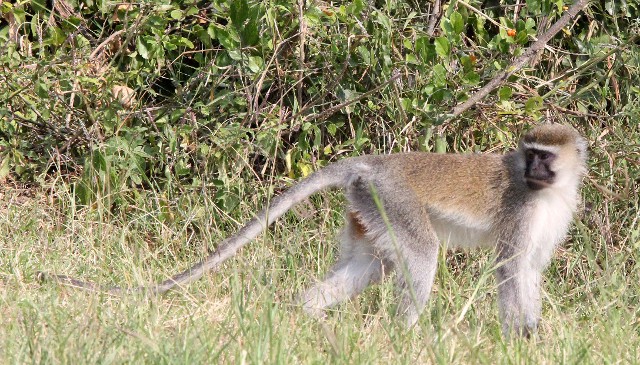 Tantalus Monkey
***
Warthog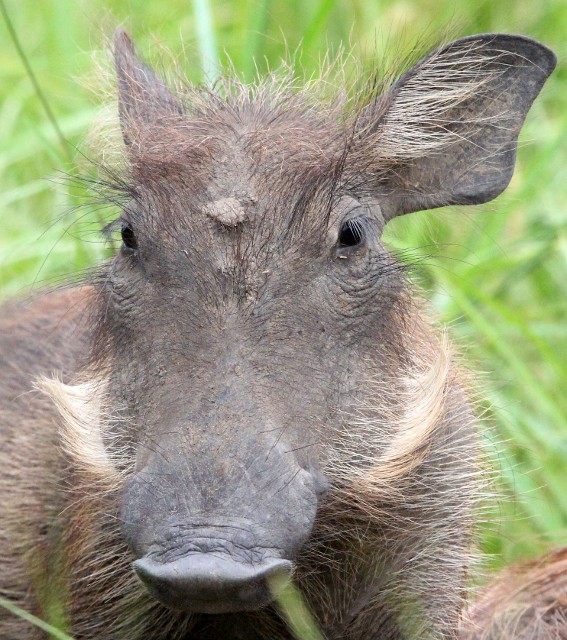 I love the white beard on this Warthog spotted in Murchison...
***
Bushbuck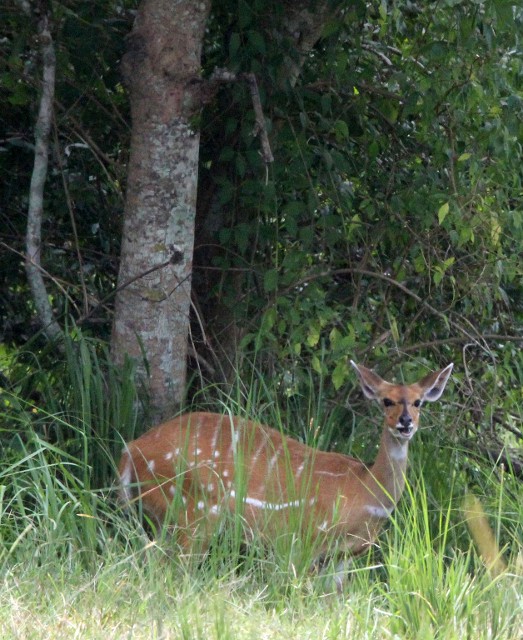 We did spot only a couple Bushbuck at Murchison.
***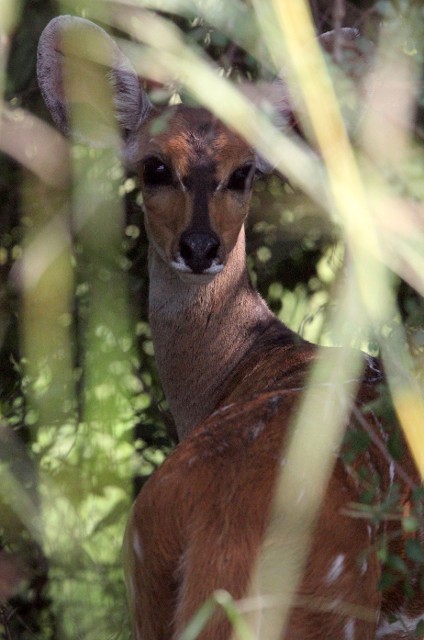 Cokie's eagle eyes spotted this little Bushbuck hiding in the thicket of Murchison.
***
Uganda Kob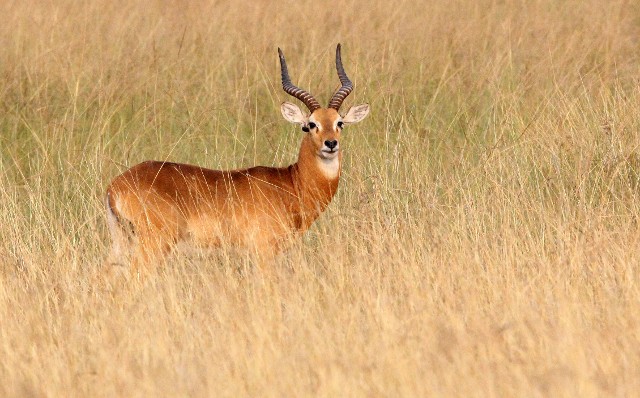 Uganda Kob were even more common at Murchison Falls than at QE.
**
Cape Buffalo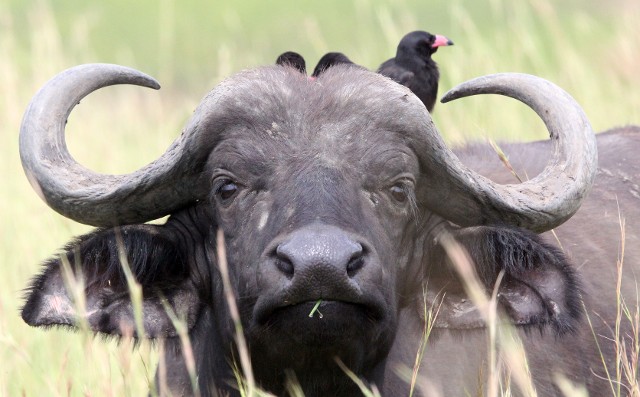 Cape Buffalo in the grasslands of Murchison Falls with Piapiac on his back.
**
Oribi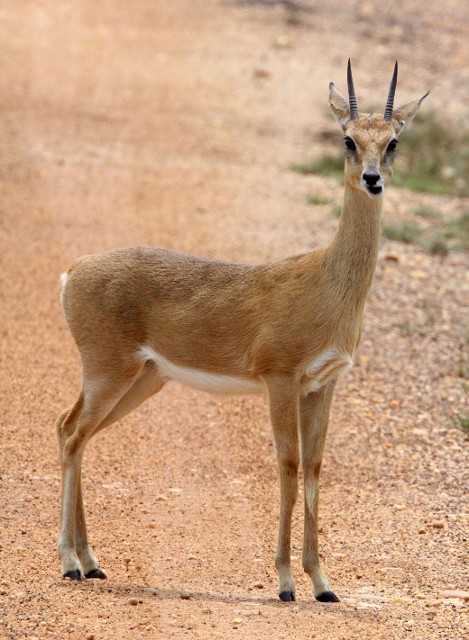 Oribi were very common at Murchison Falls. Here is a nice male blocking our way to the lake...
***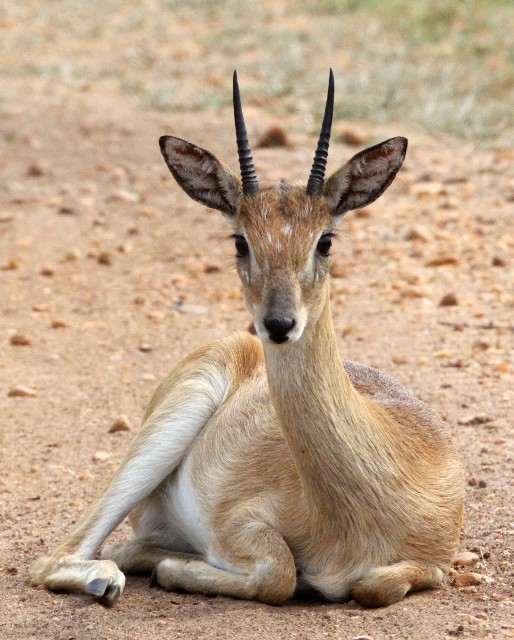 They simply refused to move!
***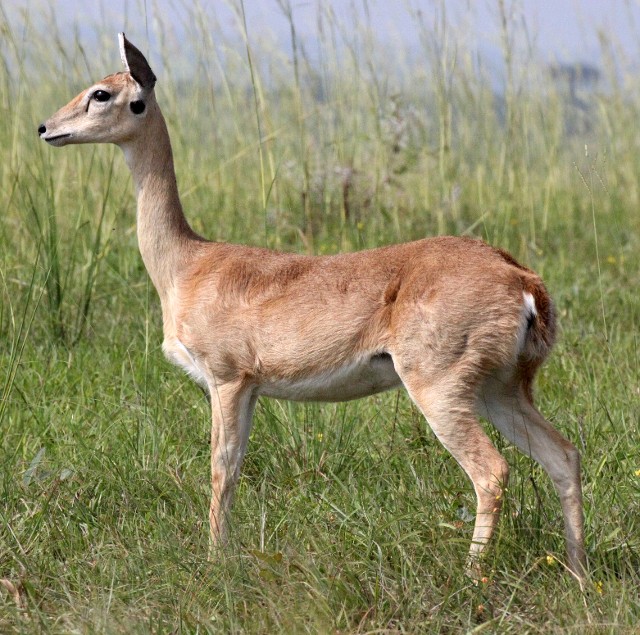 Female Oribi in the grassland of Murchison.
***
DeFassa's Waterbuck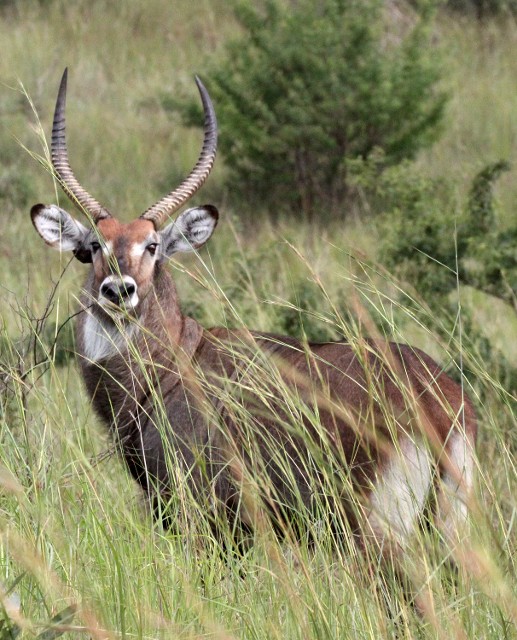 Nice male DeFassa's Waterbuck in Murchison Falls.
**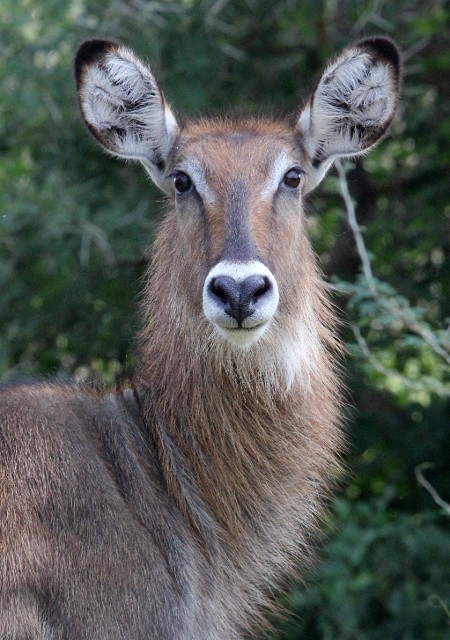 Female DeFassa's Waterbuck.
***
Murchison's Elephants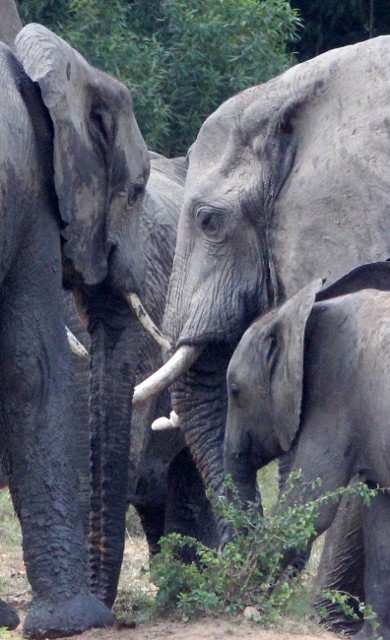 Elephants were common at Murchison as well.
***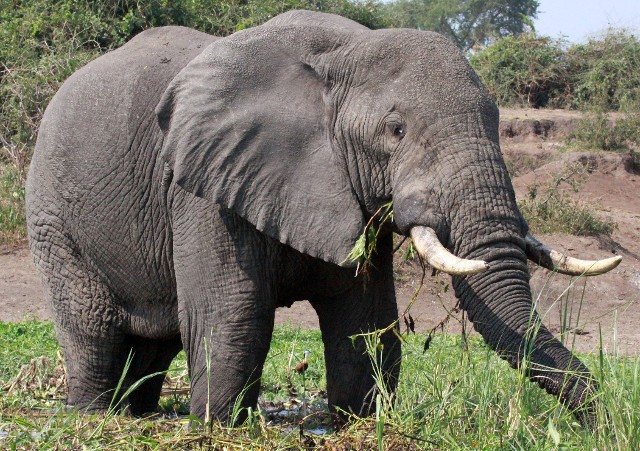 African Elephant grazing along the Nile River.
***
Striped Ground Squirrel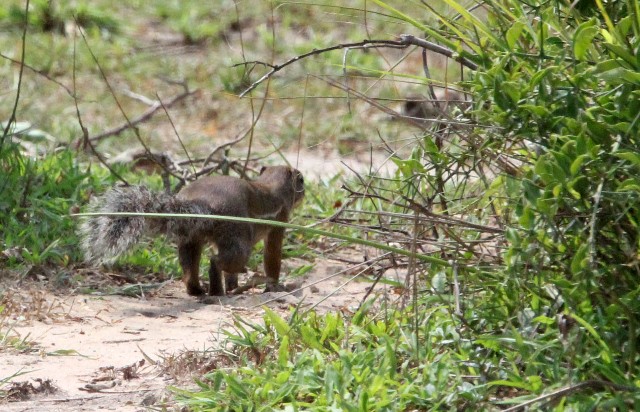 Of course a blade of grass is hiding the "stripe" of the Striped Ground Squirrel...
***
Some Birds of Murchison Falls NP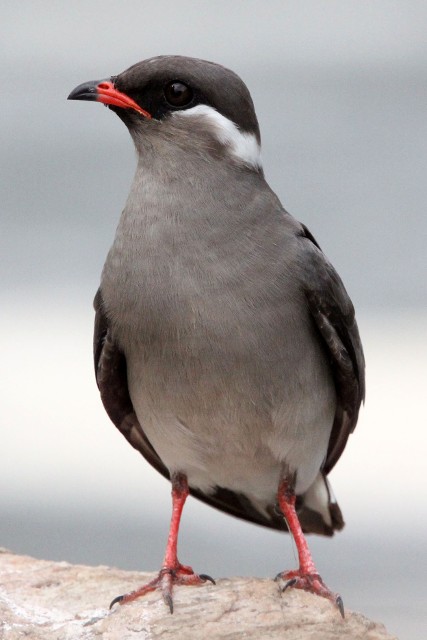 It was very nice to see our first Rock Pratincole in the rapids of Murchison Falls.
***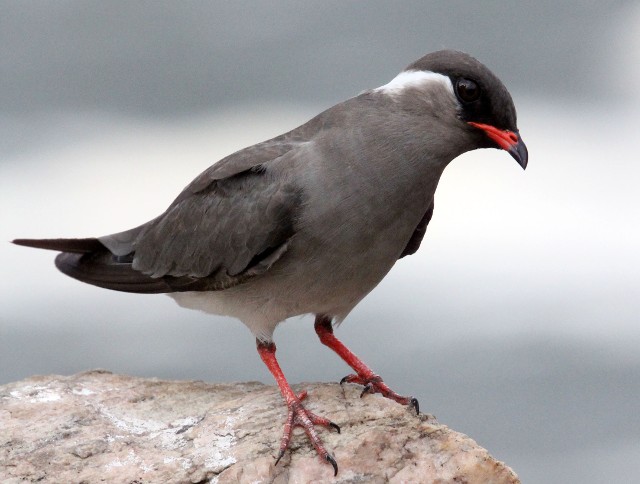 Rock Pratincole
***
One of my few non-mammalian targets was the extremely rare (I didn't know this really until I tried to find one…) Shoebill Stork. We spent a couple hours cruising the Lagoon Shores region of the park thinking we could spot one ourselves, but with no luck. So finally we broke down and hired a park ranger who took us to the special place where they tend to hang out. Sure enough he nailed it! We had great views of two of these very rare storks in their native habitats. What a strange and dinosauric-looking bird.
***
Shoebill Stork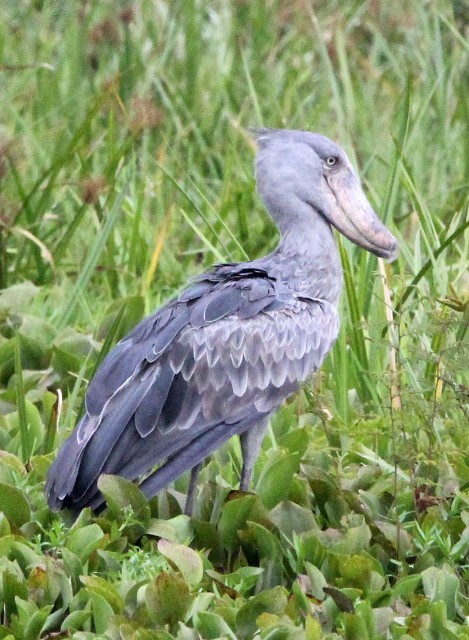 With some help from a knowledgeable ranger, we were able to locate two Shoebill Storks in the swamps of Lake Albert.
***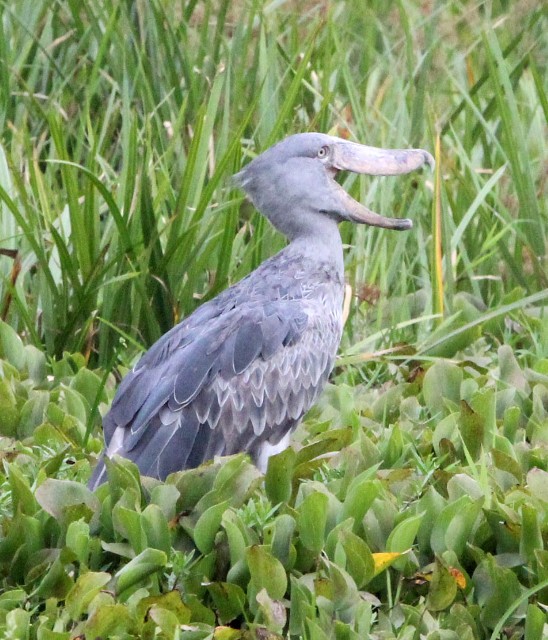 I cannot imagine a more strange and primitive looking bird than the Shoebill Stork.
***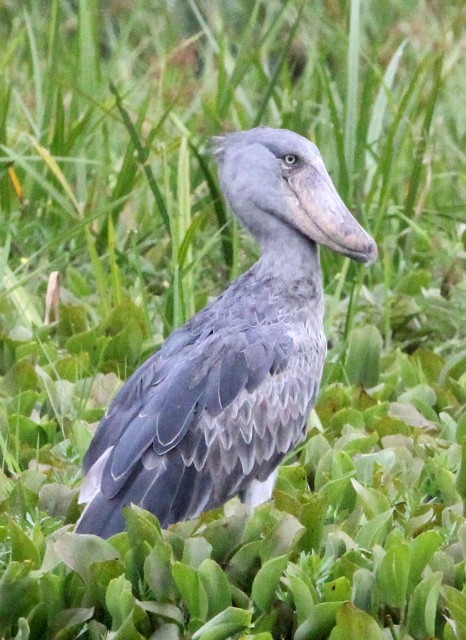 And they are quite large...
***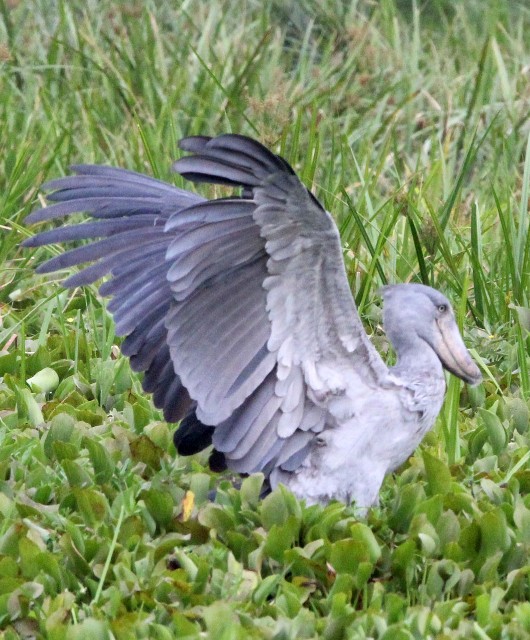 We had the rare opportunity to hang out with these two storks for over an hour at fairly close quarters...
***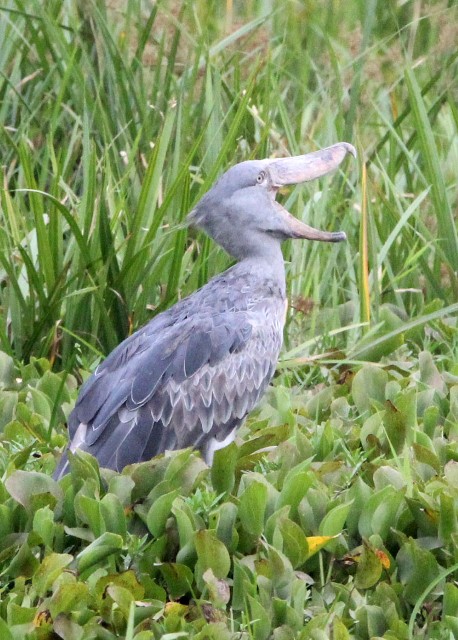 An amazing beak...
***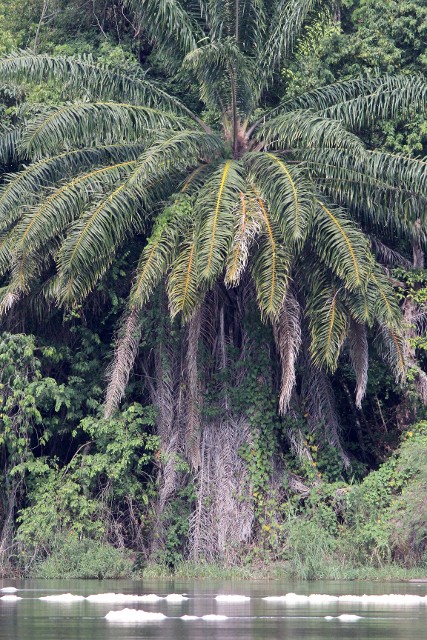 Another species of palm in Murchison located along the Nile River.
***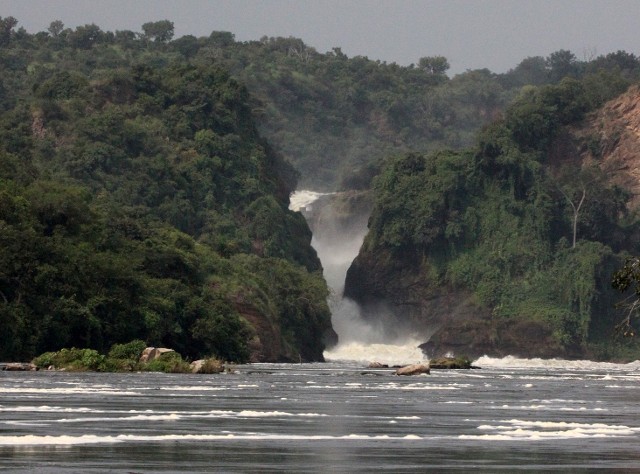 Murchison Falls
***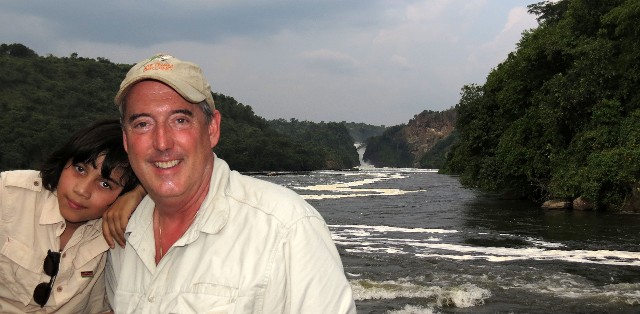 I cannot imagine anyone else I would rather share all this with...
***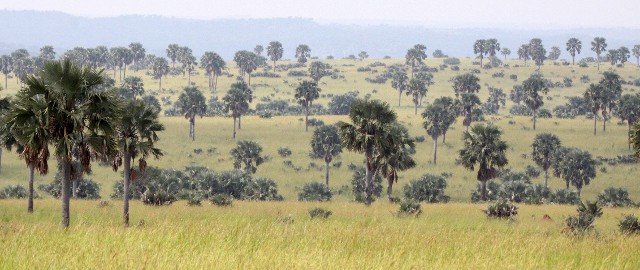 The Borassus Palm savanna at Murchison Falls National Park.
***
After three quite successful days at Murchison, we had to B-line it straight to the Kenya border at Busia, which was a fairly easy 7-8 hour drive, including a nice Thai lunch in Kampala with Ignatius, the owner of Green Breaks. Som and Cokie (and of course me too!) were dying for some Asian grub. During the conference, we noticed a billboard with an ad for a Thai Restaurant and Som made a special request to have lunch there today. Ignatius had never been there but made sure he knew where it was. So, we found our way to the Metropole Hotel and found ourselves in a Thai restaurant in Africa! Of course that is easy, but do they have real Thai food. So the first thing I asked the waitress was, "Is there a Thai person in the kitchen". She replied affirmatively and Som said, "Get him out here!" And sure enough a young Thai chef came out and Som ordered an amazing Thai meal, which was to be our last meal in Uganda! He made it authentically Thai! We were thrilled. Thanks Ignatius!
***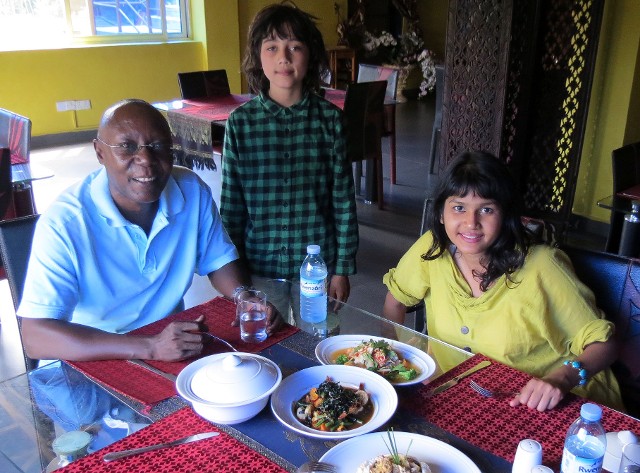 Our excellent Thai meal with our host, Ignatius, the owner and operator of Green Breaks. We can highly recommend his company - very professional in every way!
***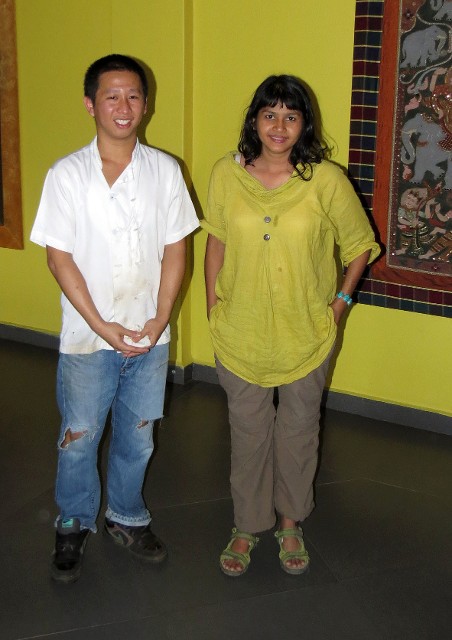 Our actual Thai Chef! When I asked if there was "someone Thai" in the kitchen, our waitress answered, "yes". Some then said, "Well, get him out here!"
***
Our last night in Uganda was at the border town hotel called the Busia Rock Hotel….Well, it was an experience for sure. The word, "Rock", was due to the disco that belted out Ted Nugent-volume-tunes ALL NIGHT LONG! The surreal part of this was that the hotel had literally dozens of very pissed-off foreign tourists complaining about the noise, who were paying pretty high prices for a hotel, yet the disco was playing for two very drunk locals who, as far as I could tell, had not bought one drink all night! Only in Africa….
Our trip to Uganda was an unmitigated success. At least thirty species of mammals and over 200 species of birds places Uganda in the ranks of one of Africa's serious wildlife-viewing hotspots. We could have nailed many more species than this but our targets were fairly specific. And sincere thanks to Ignatius and Green Breaks for putting together one of the most memorable and professional expeditions would could have hoped for. And of course, very special thanks to Andrew, our outstanding driver, for giving us such a safe and outstanding trip around the country! I highly recommend Green Breaks and Andrew, our vegan driver.
***
***
***
More Mammal Images From Uganda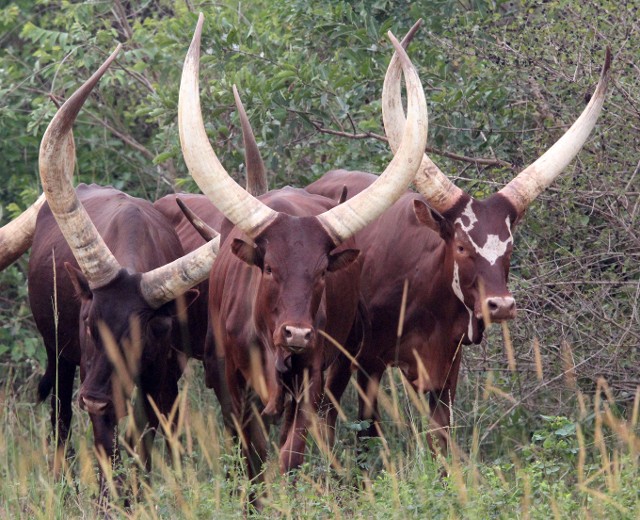 Ankole Cattle are not wild animals obviously but they are definitely an impressive bovid.
***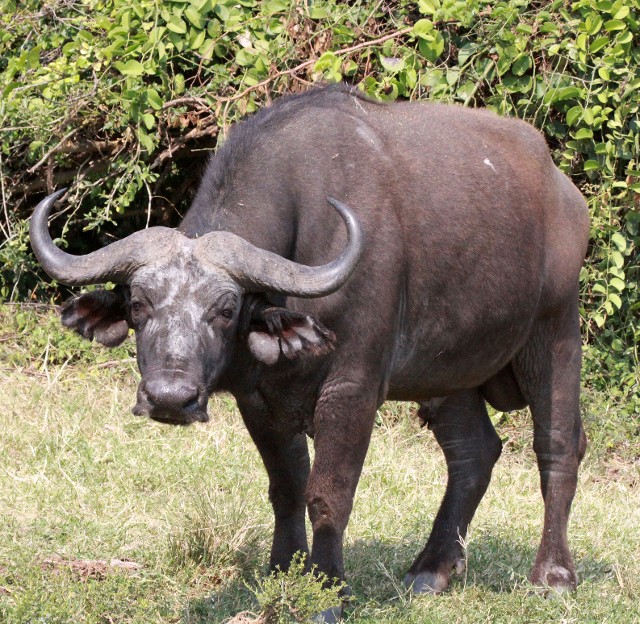 Cape Buffalo in QE Park
***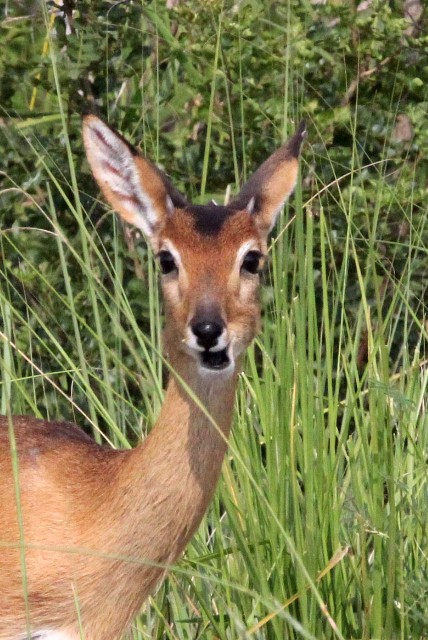 Female Oribi in Murchison Falls.
***
Uganda Mammal List
Busia (B), Queen Elizabeth (QE), Murchison Falls (MF), Kibale (K), Rwenzori (R)
Slender Mongoose B
African Elephant QE,MF
Uganda Kob QE, MF
Warthog QE, MF
Cape Buffalo QE, MF
Forest Buffalo (Hybrids) QE
Tantalus Monkey K, MF
Red Colobus K
Black & White Colobus K, MF
Eastern Potto K
Common Impala QE
Hippopatomus QE, MF
Burchell's Zebra M
Defassa Waterbuck QE, MF
Marsh Cane Rat (Thryonomys swinderianus) MF
Red-tailed Monkey MF, K
Blue Monkey R, MF
L'Hoest's Monkey K, R
Grey-cheeked Mangabey K
Patas Monkey MF
Rwenzori Sun Squirrel R
Striped Ground Squirrel MF
Jackson's Hartebeest MF
Rothschild's Giraffe MF
Oribi MF
Bushbuck MF
Small Sheath-tailed Bat K
Olive Baboon K, QE, MF
Uganda Grass Hare (Poelagus marjorita) MF
Dwarf Mongoose MF
Brush-furred Mouse (Lophuromys flavopunctatus) MF
***
Sign or near misses
Chimps - fuckers
Rwenzori Red Duiker – voice and rustling due to bolt 5 m away…
Black-fronted Duiker – sign at Rwenzori NP
Forest Elephant – sign all over Kibale and Rwenzori NP
***
Birds of Uganda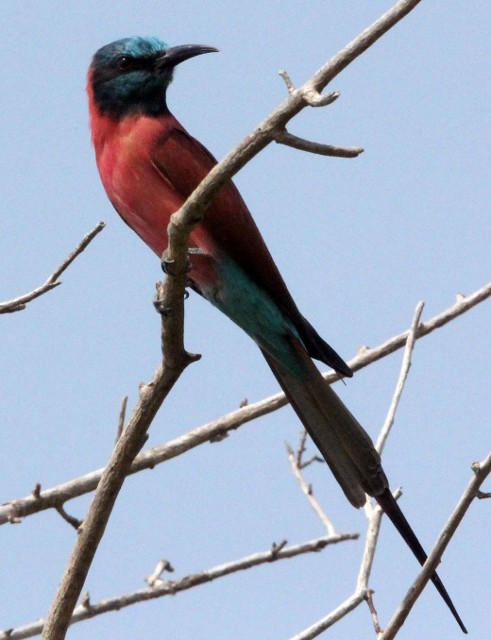 Northern Carmine Bee-eater at QE.
***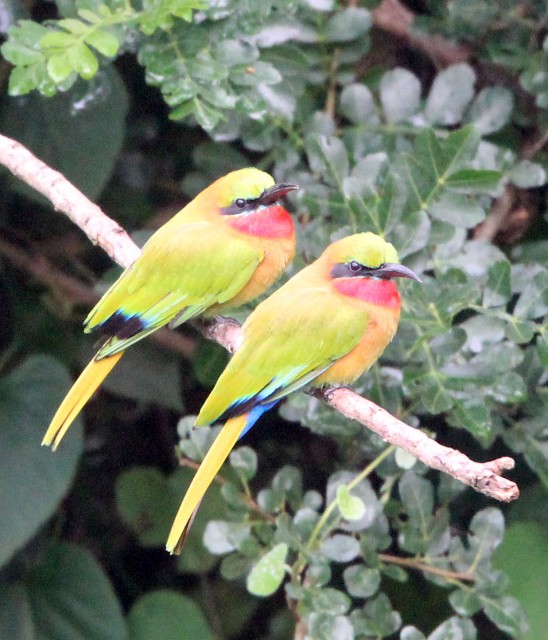 Red-throated Bee-eater at Murchison Falls NP.
***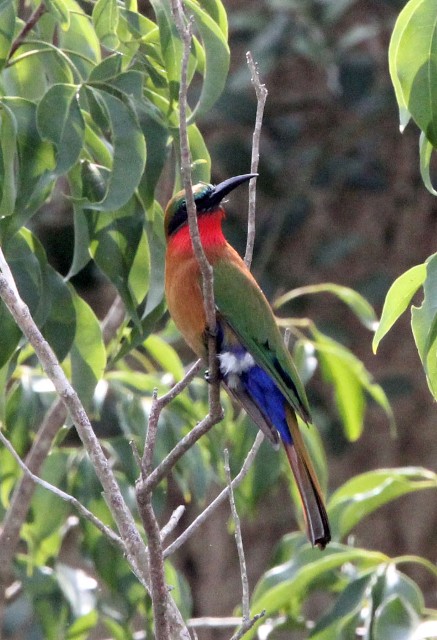 Red-throated Bee-eater at Muchison Falls.
***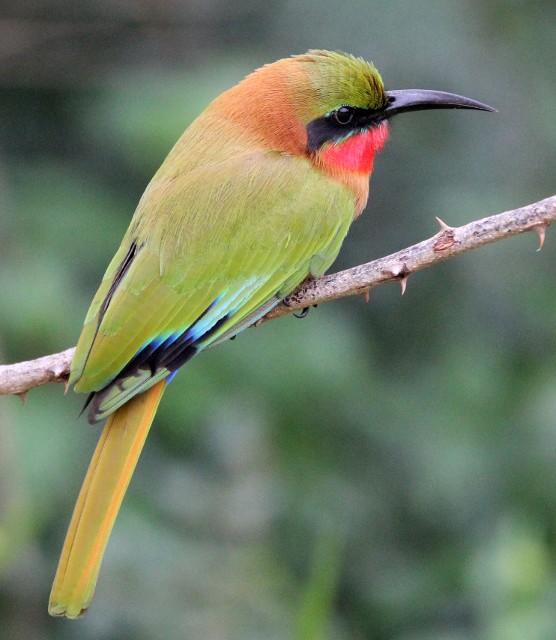 Red-throated Bee-eater at Murchison Falls.
***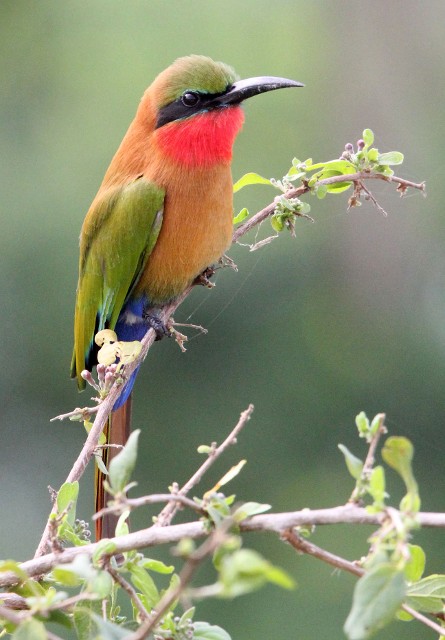 Red-throated Bee-eater is such a pretty bird!
***
Blue-headed Sunbird in Kibale Forest.
***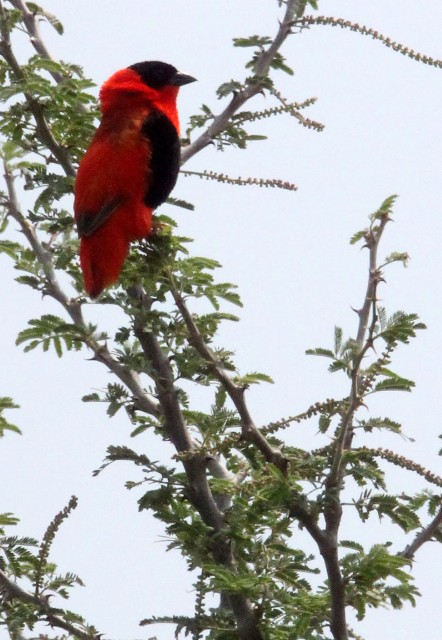 Northern Red Bishop in Murchison Falls.
***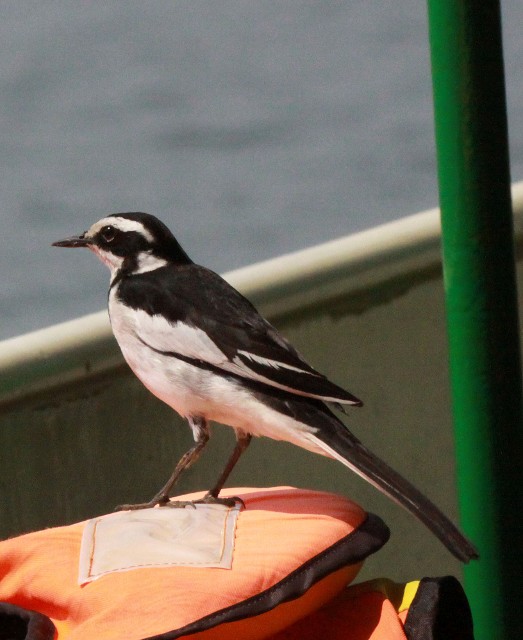 African Pied Wagtail at QE NP
***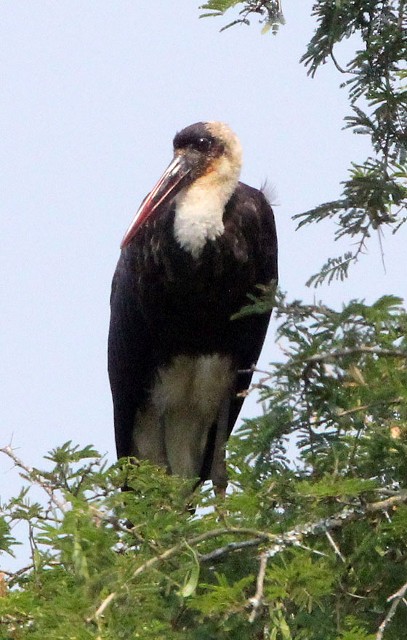 Woolly-necked Stork at Lake Albert.
***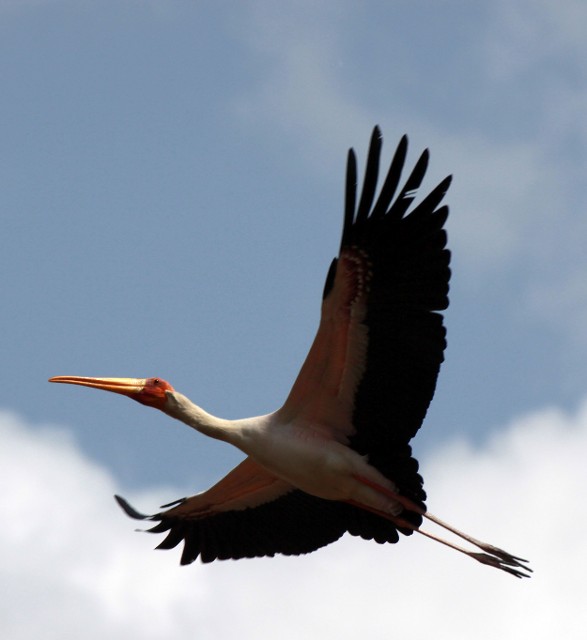 Yellow-billed Storks along the Kazinga Channel.
***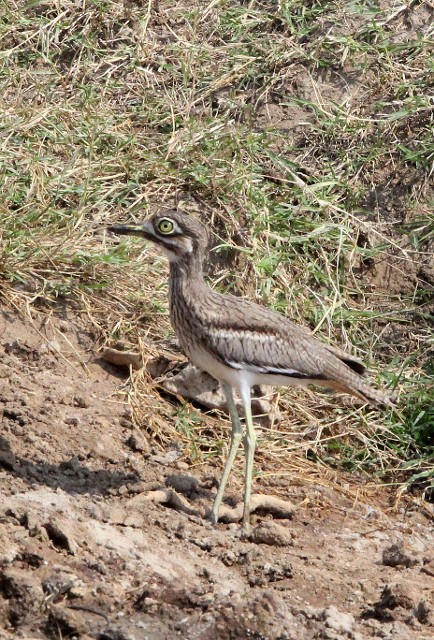 The Eurasian Thick-knee in the Kazinga Channel.
***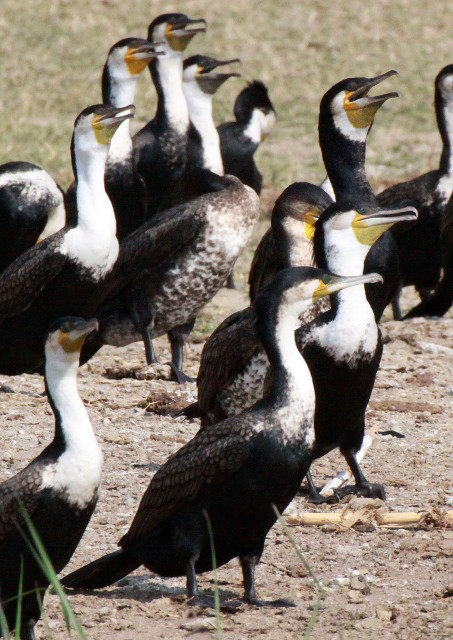 Great Cormorant in the Kazinga Channel.
***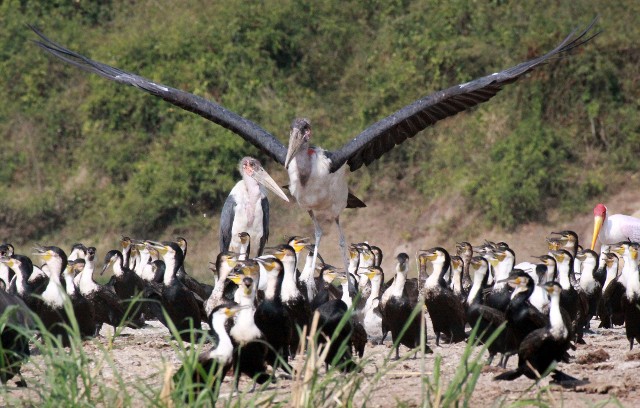 Great Cormorants and Marabou Storks in the Kazinga Channel.
***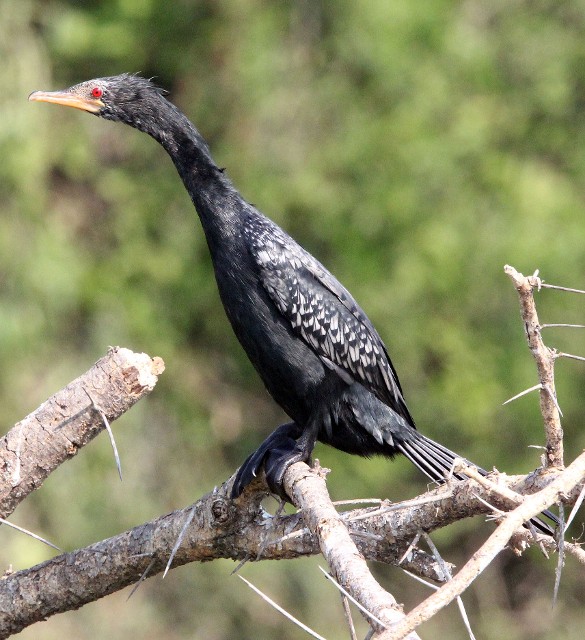 Long-tailed Cormorant in the Kazinga Channel.
***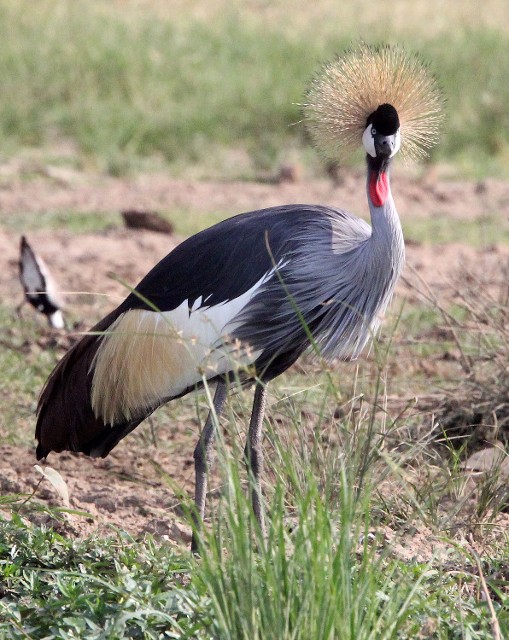 Grey Crowned Crane in the Kazinga Channel, QE Park.
***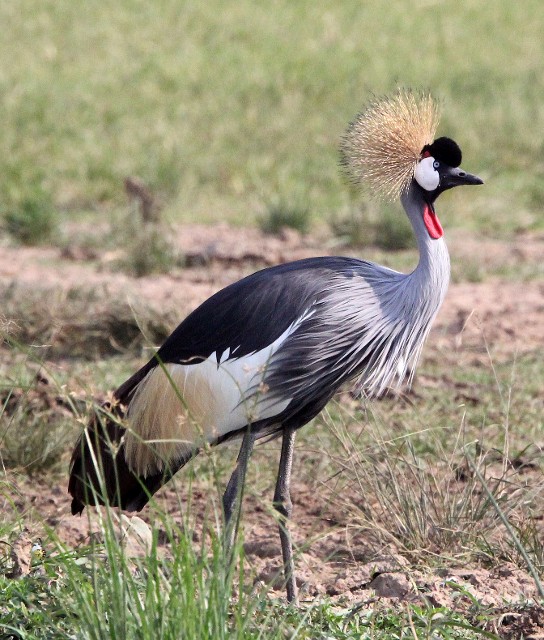 Grey Crowned Crane
***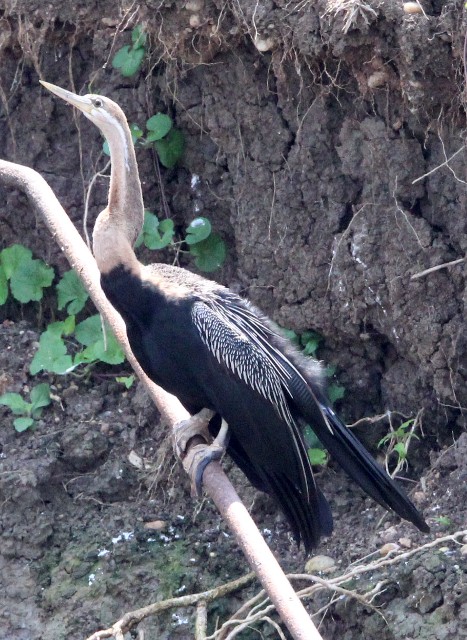 African Darter in the Kazinga Channel.
***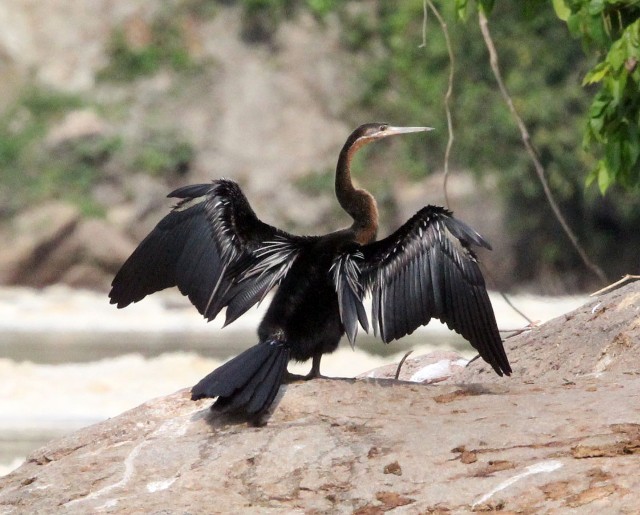 African Darter
***
White-faced Whistling Duck along the banks of the Nile River, Murchison Falls.
***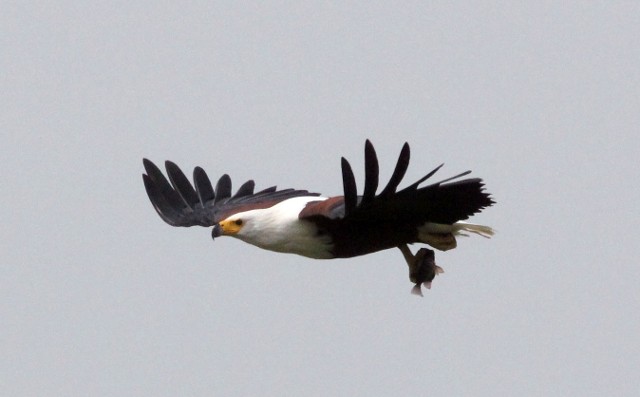 African Fish Eagle with lunch at Lake Albert!
***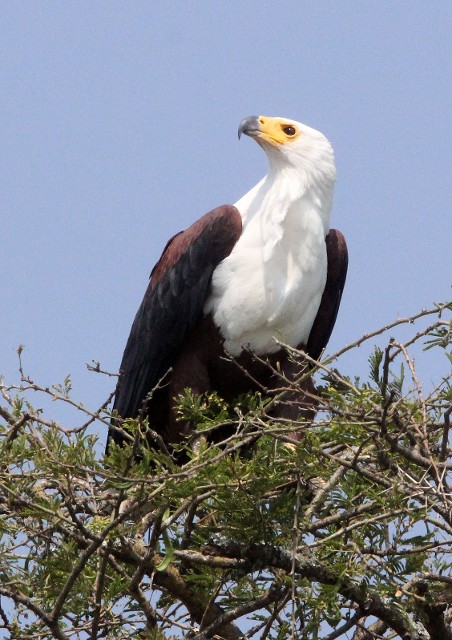 African Fish Eagle in QE.
***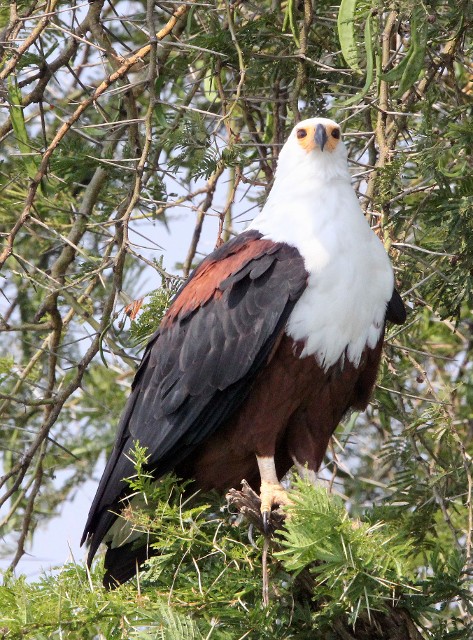 African Fish Eagle in QE's Kazinga Channel.
***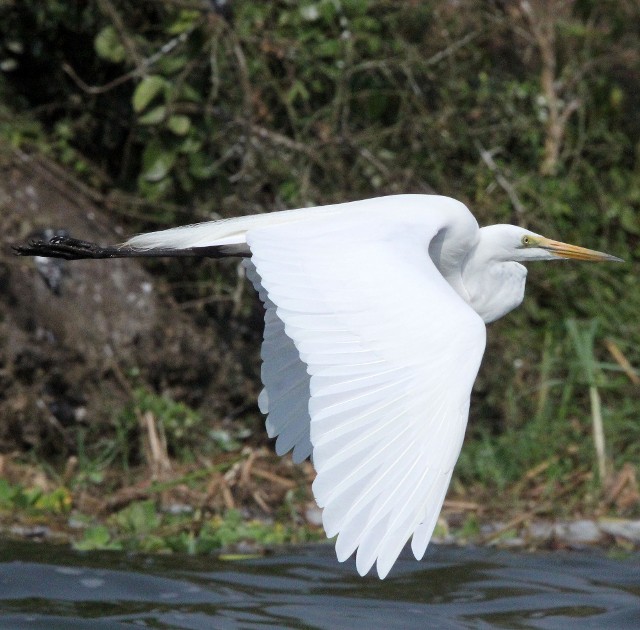 Great Eagle along the Kazinga Channel.
***
Swamp Flycatcher at QE.
***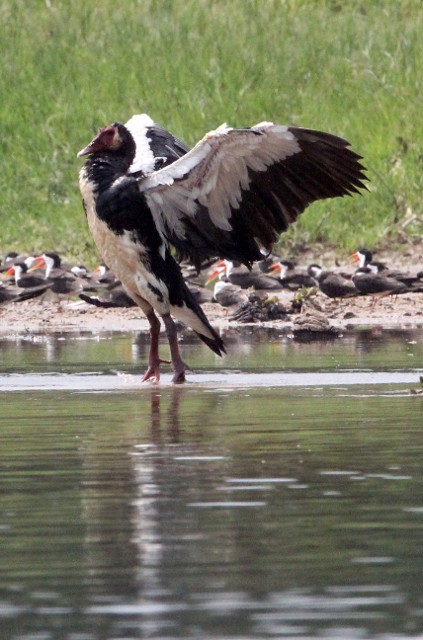 Spur-winged Goose at Murchison Falls.
***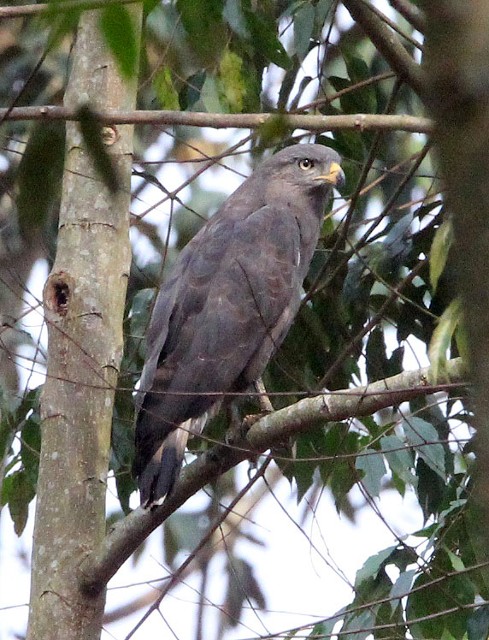 African Goshawk at Bigodi Wetlands.
***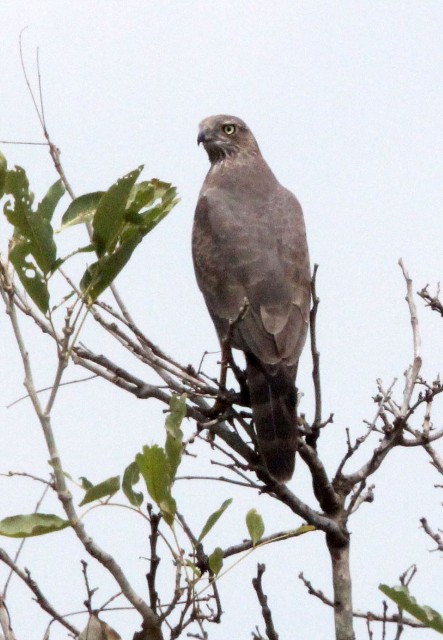 Dark Chanting-goshawk at Murchison Falls.
***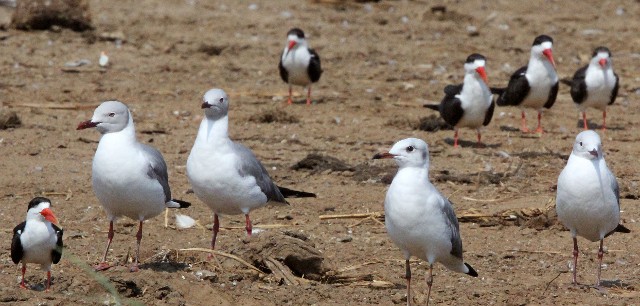 Grey-headed Gulls at Kazinga Channel.
***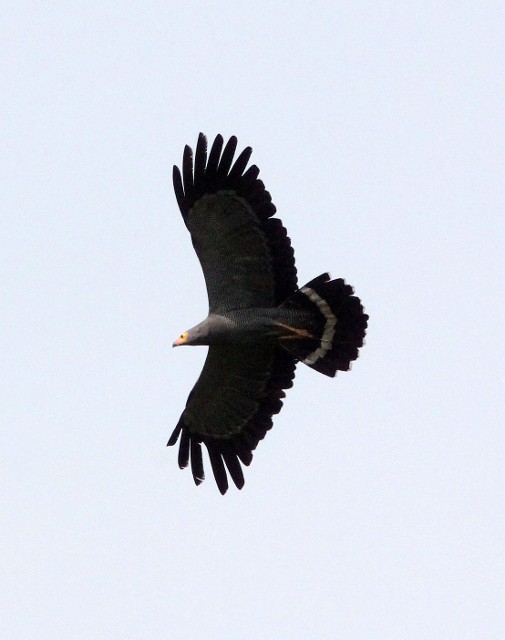 African Harrier Hawk at Bigodi Wetlands...
***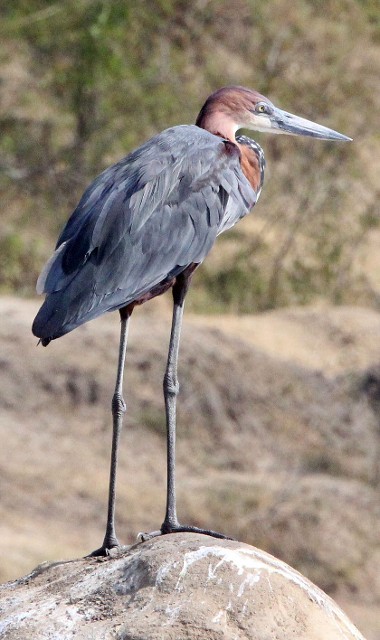 Goliath Heron at Kazinga Channel.
***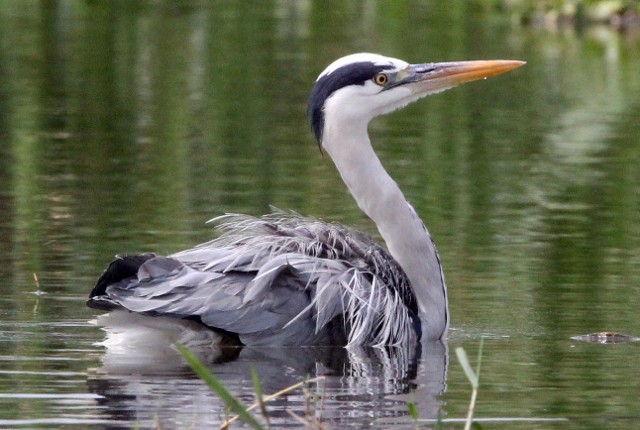 Grey Heron in the Nile River, Murchison Falls NP.
***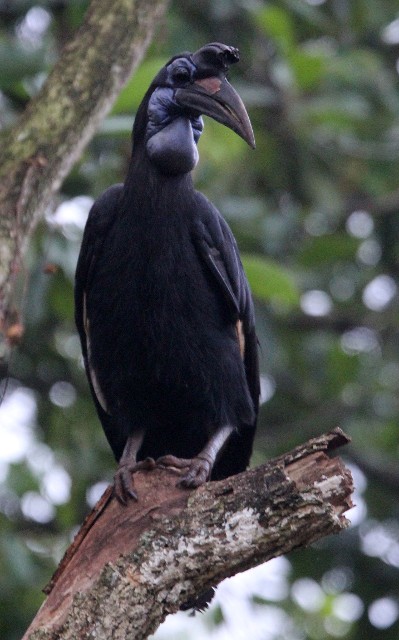 Abyssinian Ground Hornbill female roosting in the rainforest of Murchison Falls.
***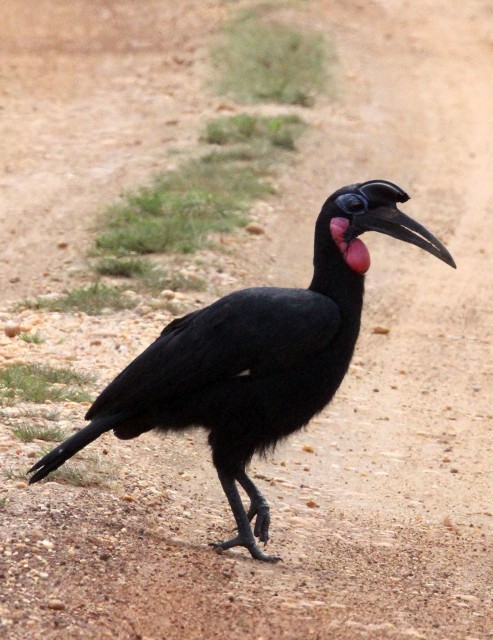 Male Abyssinian Ground Hornbill at Murchison Falls.
***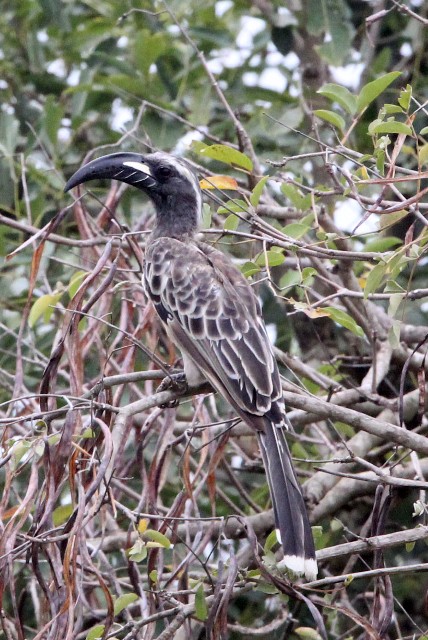 African Grey Hornbill at Murchison Falls.
***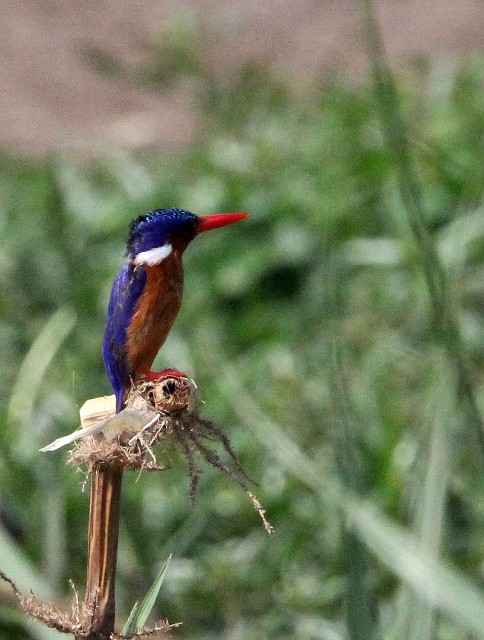 Malachite Kingfisher at Kazinga Channel.
***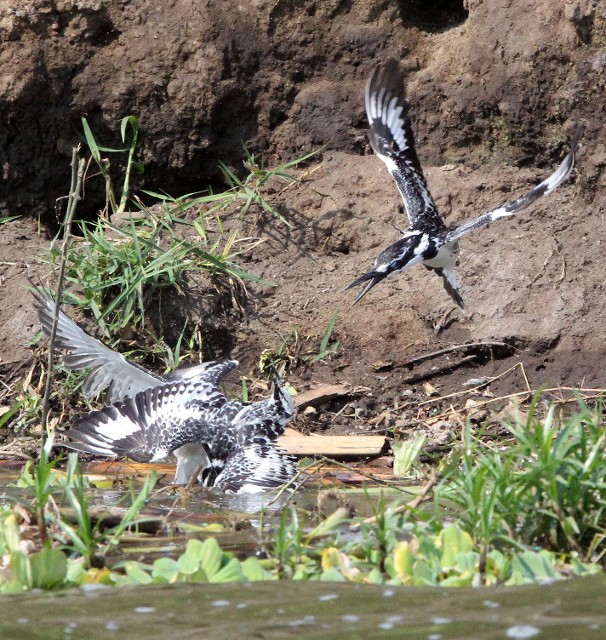 Pied Kingfisher squabbling along the Nile River.
***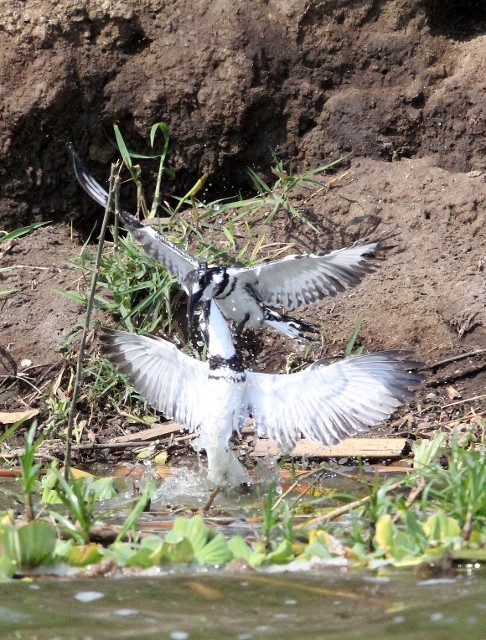 Pied Kingfisher fight on the Nile!
***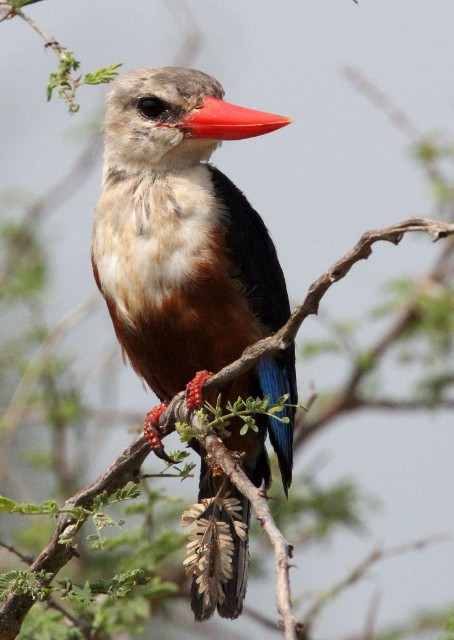 Grey-headed Kingfisher at QE's Kazinga Channel.
***
Woodland Kingfisher at Kazinga Channel.
***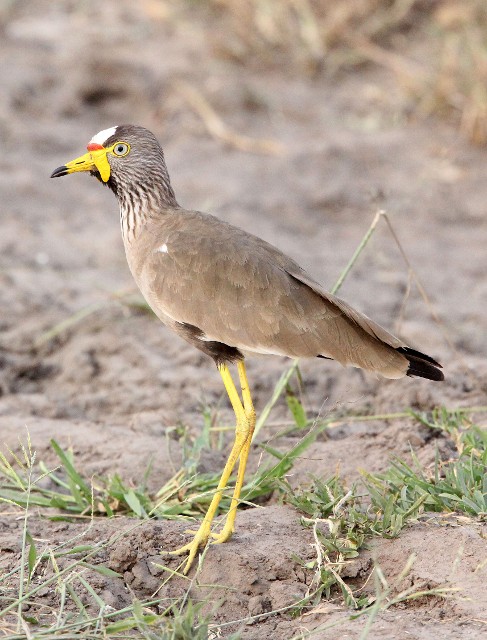 African Wattled Lapwing in the Kazinga Channel.
***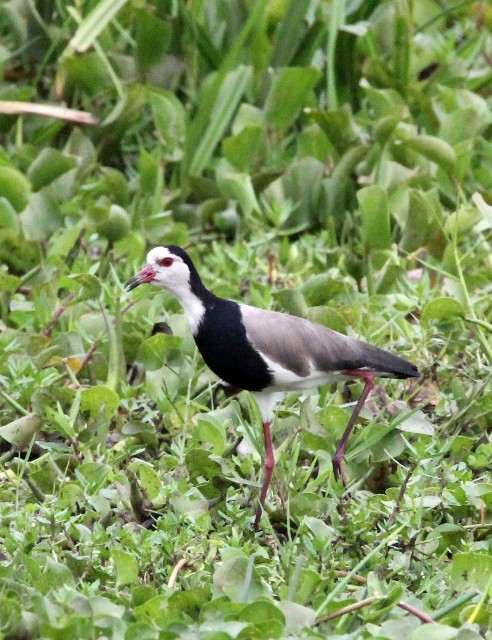 Long-toed Lapwing in Murchison Falls.
***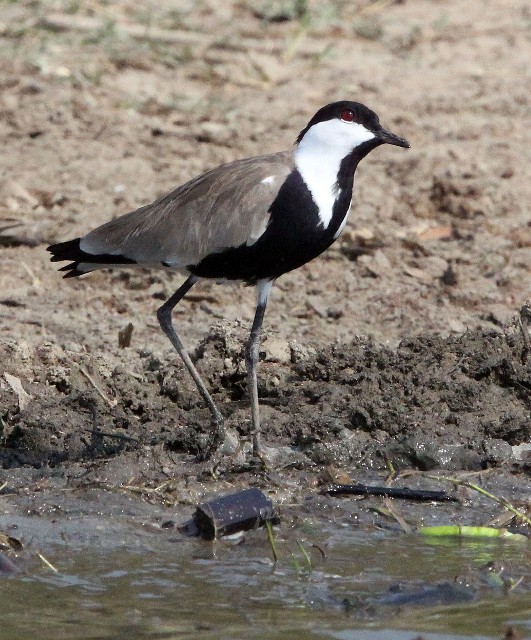 Spur-winged Lapwing in Murchison.
***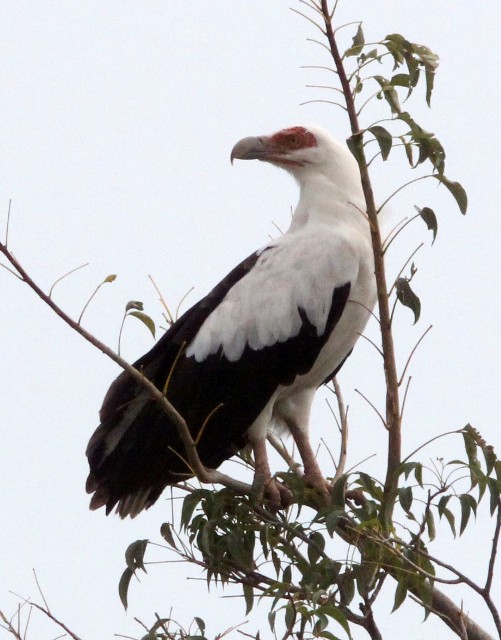 Palm Nut Vulture at Murchison Falls NP
***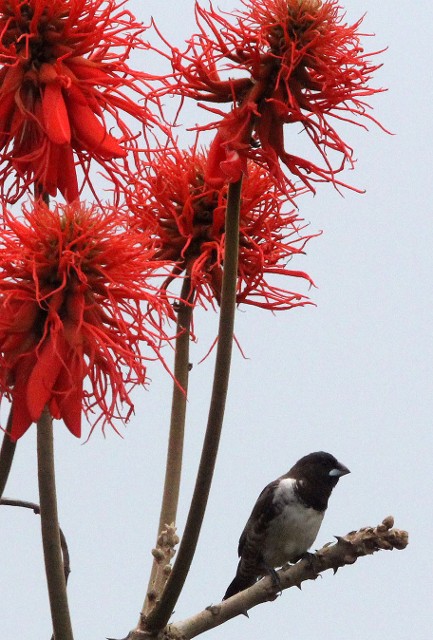 Bronze Mannikin in the Bigodi Wetlands.
***
Yellow-billed OxPecker at Murchison Falls.
***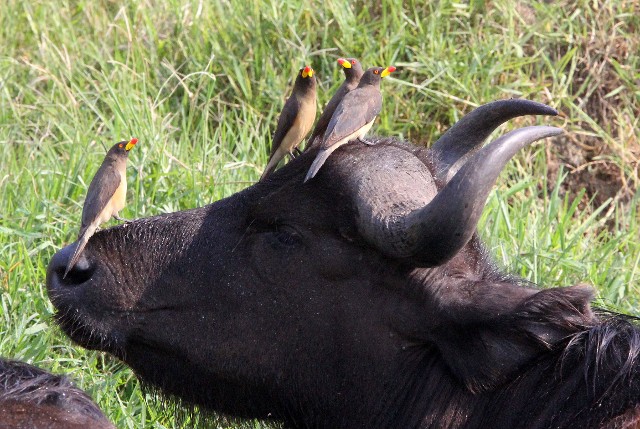 Yellow-billed Oxpecker in QE along the Kazinga Channel.
***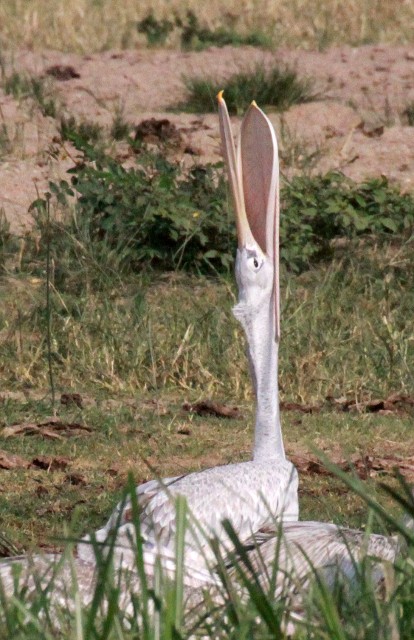 Pink-backed Pelicans on the Kazinga Channel.
***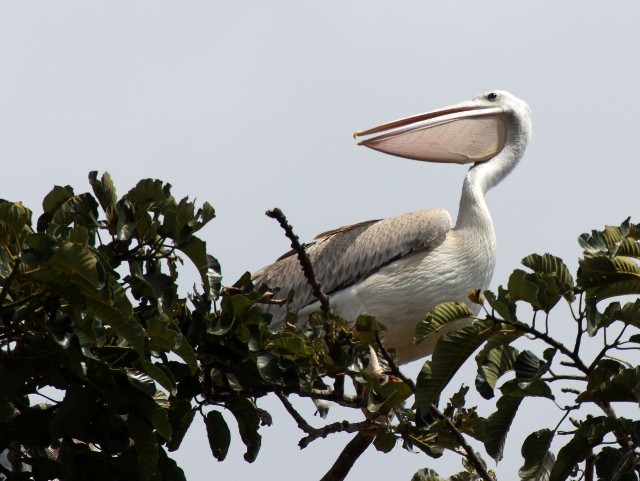 Pink-backed Pelican in the Kazinga Channel.
***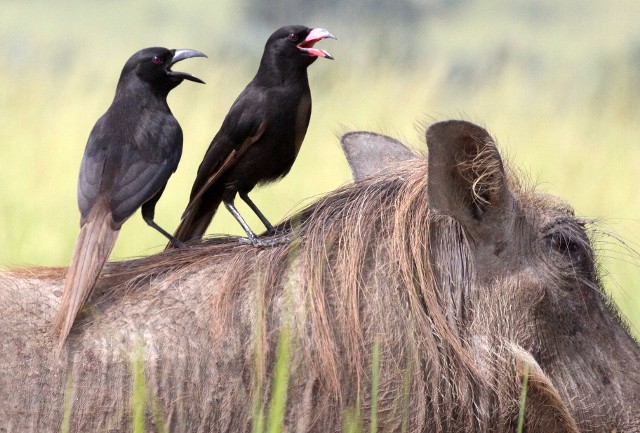 Piapiac in Murchison Falls hitching a ride...
***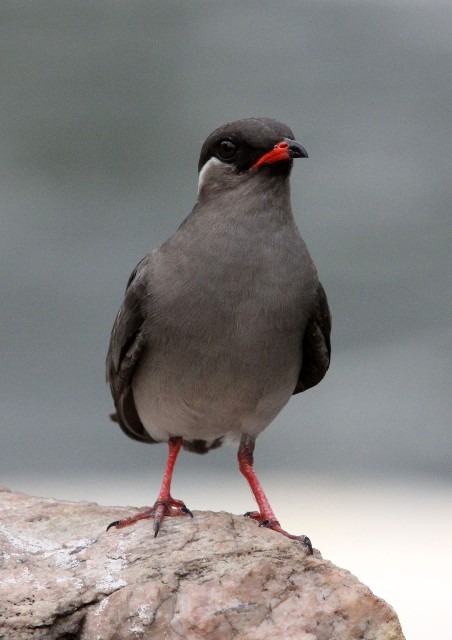 Rock Pratincole at Murchison Falls.
***
White-naped Raven at Murchison Falls.
***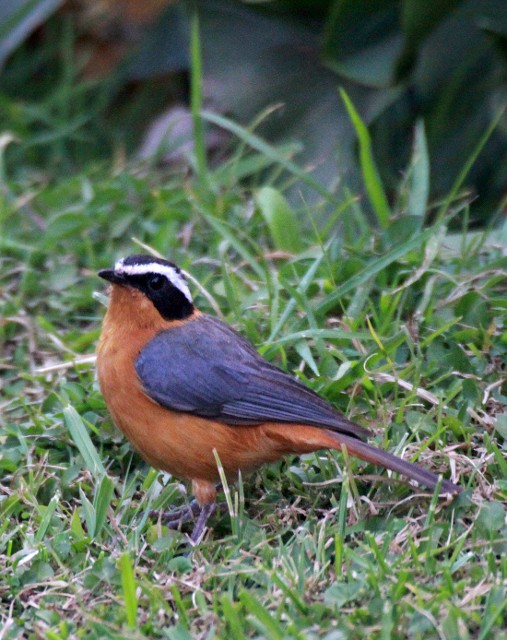 White-crowned Thrush at Kibale Forest.
***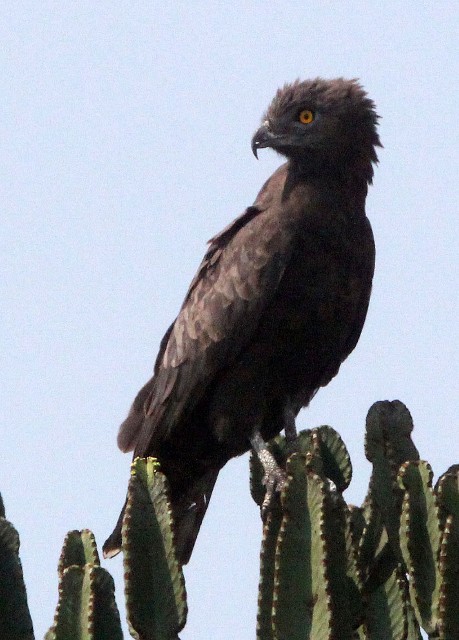 Brown Snake Eagle at QE's Euphorbia forest.
***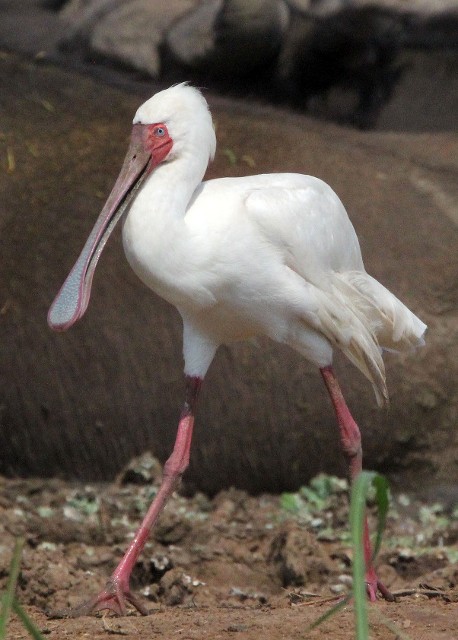 African Spoonbill in Kazinga Channel.
***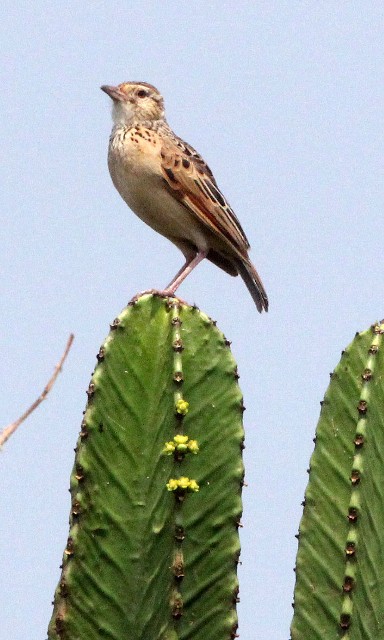 An Unidentified Lark species in QE.
***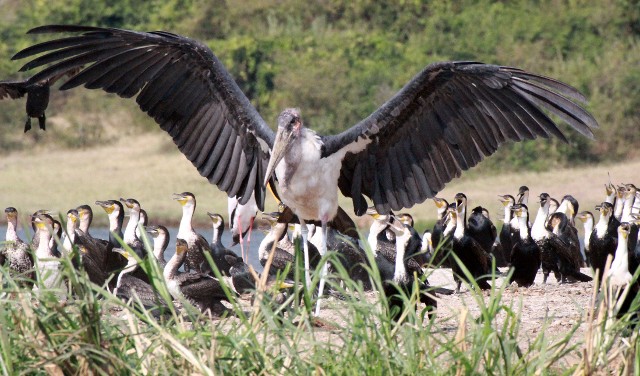 Marabou Stork in the Kazinga Channel.
***
Saddle-billed Stork in Murchison Falls, Lake Albert.
***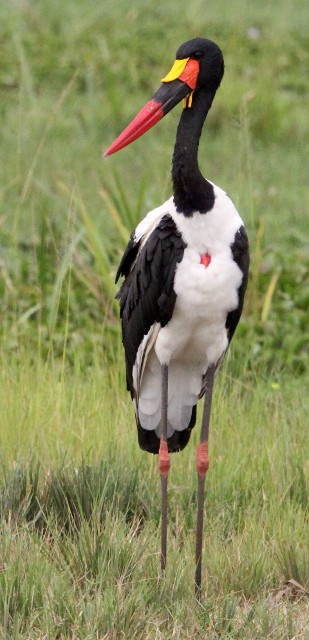 Saddle-billed Stork at Lake Albert.
***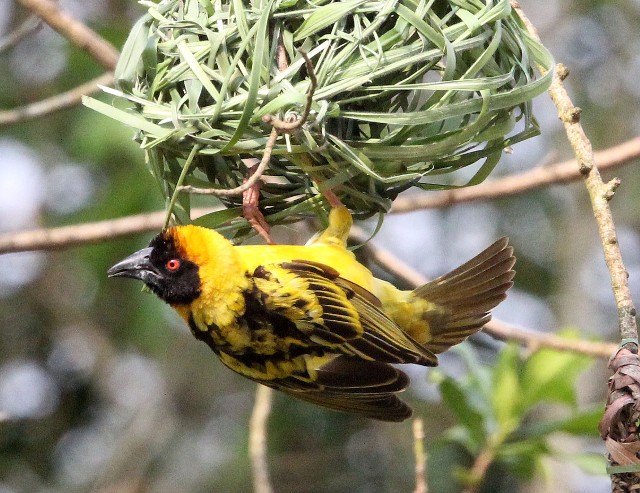 Heuglin's Masked Weaver at Bigodi Wetlands.
***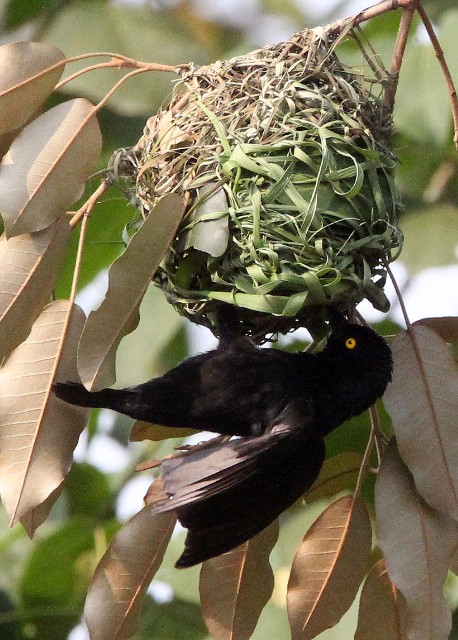 Viellot's Black Weaver at Bigodi Wetlands.
***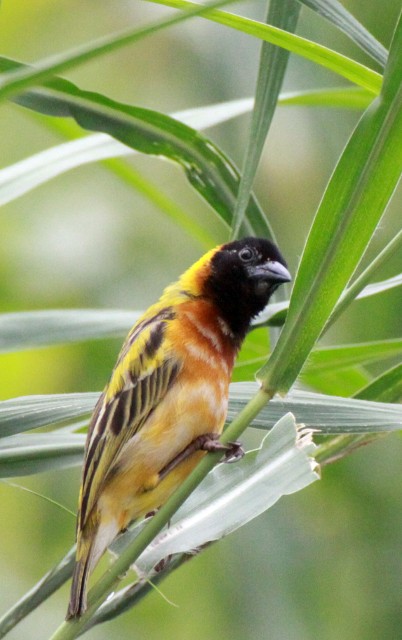 Yellow-backed Weaver at Fort Portal.
***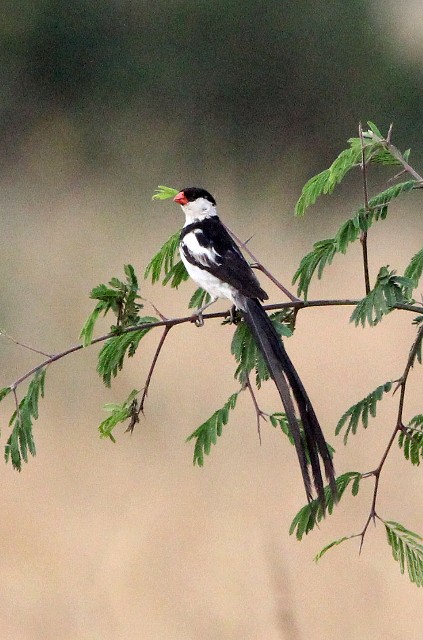 Pin-tailed Whydah at QE National Park.
***
***
***
Herps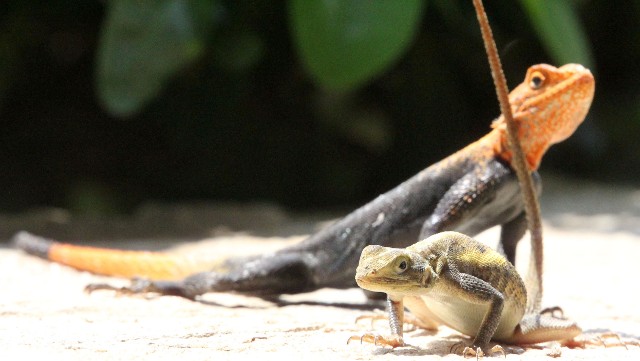 A couple of Red-headed Agamas mating...At least I think the small one was a female, the way it acted...
***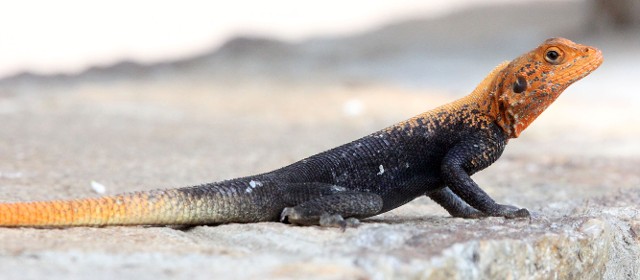 Red-headed Agama in Murchison Falls.
***
A spectacular Agamid at Murchison, reptile central!
***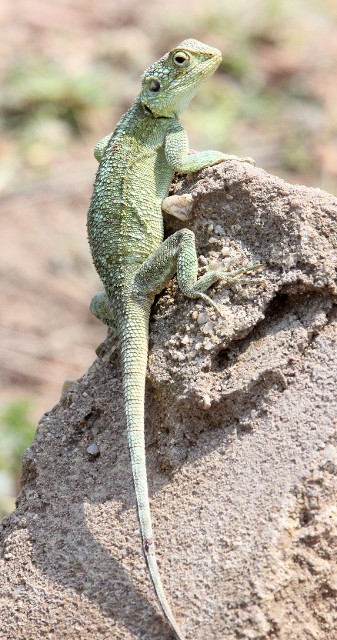 Another spectacular Agamid at Murchison Falls.
***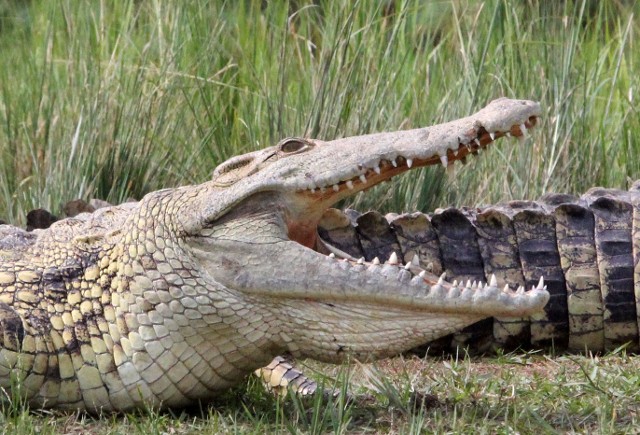 Finally! I have finally seen a Nile Crocodile on the Nile River!
***
An unidentified species of Leopard Tortoise in Murchison Falls.
***
***
***
Bird List Kenya, Rwanda and Uganda
Somali Ostrich
Common Ostrich
Great White Pelican
Pink-backed Pelican
Little Grebe
Great Cormorant
Long-tailed Cormorant
African Darter
Black-crowned Night Heron
Cattle Egret
Little Egret
Intermediate Egret
Goliath Heron
Great Egret
Grey Heron
Squacco Heron
Striated Heron
Black-headed Heron
Hamerkop
Yellow-billed Stork
African Open-billed Stork
Marabou Stork
Shoebill Stork
Sacred Ibis
Hadada Ibis
Glossy Ibis
Lesser Flamingo
African Spoonbill
Egyptian Goose
Spur-winged Goose
Knob-billed Duck
White-faced Whistling Duck
Fulvous Whistling Duck
Black Kite
Ruppell's Griffon Vulture
African White-backed Vulture
Hooded Vulture
African Fish Eagle
Palm Nut Vulture
Egyptian Vulture
Lappet-faced Vulture
Black-chested Snake Eagle (Circaetus pectoralis)
Brown Snake Eagle (Circaetus cinereus)
Gabar Goshawk (Micronisus gabar)
African Goshawk (Accipiter tachiro)
Little Sparrowhawk (Accipiter minullus)
African Harrier-Hawk (Polyboroides typus)
African Hawk-eagle (Hieraaetus spilogaster)
Common Buzzard
Shikra
Augur Buzzard (Buteo augur)
Bateleur
Long Crested Eagle (Lophaetes occipitalis)
Greater Spotted Eagle
Martial Eagle
Tawny Eagle
Imperial Eagle (Aquila heliaca)
Common Kestrel
Pygmy Falcon (Polihierax semitorquatus)
Helmeted Guineafowl
Crested Guineafowl
Vulturine Guineafowl (Acryllium vulturinum)
Secretary Bird
Osprey
White-headed Vulture
Dark Chanting Goshawk*
Hildebrandt's Francolin (Francolinus hildebrandti)
Scaly Francolin (Francolinus squamatus)
Crested Francolin (Francolinus sephaena)
Yellow-necked Spurfowl (Francolinus leucoscepus)
Red-necked Spurfowl (Francolinus afer)
Harlequin Quail (Coturnix delegorguei)
Common Button-quail (Turnix sylvatica)
Black Crake
African Jacana
Common Moorhen
Red-knobbed Coot
Grey Crowned Crane
Denham's Bustard (Neotis denhami)*
Kori Bustard
White-bellied Bustard (Eupodotis senegalensis)
Black-bellied Bustard*
Black-winged Stilt
Spur-winged Lapwing
African Wattled Lapwing (Vanellus senegallus)
Crowned Lapwing
Long-toed Lapwing (Vanellus crassirostris)
Water Thick-knee (Burhinus vermiculatus)
Eurasian Thick-knee (Burhinus oedicnemus)
Rock Pratincole (Glareola nuchalis)
Black-winged Pratincole (Glareola nordmanni)
Three-banded Plover (Charadrius tricollaris)
Common Sandpiper
Common Black-headed Gull
Black-faced Sandgrouse (Pterocles decoratus)
Emerald Spotted Wood-Dove
African Green-Pigeon
Ferral Pigeon
Laughing Dove
Namaqua Dove
Ring-necked Dove
African Mourning Dove
Brown Parrot (Poicephalus meyeri)
African Orange-bellied Parrot (Poicephalus rufiventris)
Great Blue Turaco
Ross's Turaco (Musophaga rossae)
White-crested Turaco (Tauraco leucolophus)
Bare-faced Go-away-bird (Corythaixoides personata)
Rwenzori Turaco (Tauraco johnstoni)
Black-billed Turaco (Tauraco schuetti)
Eastern Grey Plaintain Eater (Crinifer zonurus)
White-bellied Go-away-bird
Common Cuckoo (Cuculus canorus)
White-browed Coucal (Centropus superciliosus)
Senegal Coucal (Centropus senegalensis)
Verreaux's Eagle Owl (Bubo lacteus)
African Wood Owl
Square-tailed Nightjar (Caprimulgus fossii)
Penant-winged Nightjar* (Macrodipteryx vexillarius)
Little Swift
Eurasian Swift
African Palm Swift (Cypsiurus parvus)
Speckled Mousebird (Colius striatus)
Blue-naped Mousebird (Urocolius macrourus)
Pied Kingfisher
Grey-headed Kingfisher (Halcyon leucocephala)
Woodland Kingfisher (Halcyon senegalensis)
Malachite Kingfisher
African Pygmy Kingfisher
Little Bee-eater
Blue-breasted Bee-eater (Merops variegates)
White-throated Bee-eater
European Bee-eater
Madagascar Bee-eater
Blue-cheeked Bee-eater (Merops persicus)
Northern Carmine Bee-eater (Merops nubicus)
Red-throated Bee-eater (Merops bulocki)
Lilac-breasted Roller
Green Wood-hoopoe (Phoeniculus purpureus)
African Hoopoe
Red-billed Hornbill
Eastern Yellow-billed Hornbill
Von der Decken's Hornbill (Tockus deckeni)
African Grey Hornbill
Crowned Hornbill (Tockus alboterminatus)
Black-and-white-casqued Hornbill
White-thighed Hornbill (Bycanistes cylindricus)
Abyssinian Ground-hornbill (Bucorvus abyssinicus)
Grey-throated Barbet (Gymnobucco bonapartei)
Red-and-yellow Barbet (Trachyphonus erythrocephalus)
Usambiro Barbet (Trachyphonus usambiro)
d'Arnaud's Barbet (Trachyphonus darnaudii)
White-headed Barbet (Lybius leucocephalus)
Lesser Honeyguide (Indicator minor)
Greater Honeyguide (Indicator indicator)
Cardinal Woodpecker (Dendropicos fuscescens)
Rufous-naped (Mirafra africana)
Flappet Lark (Mirafra rufocinnamomea)
Chestnut-backed Sparrow Lark (Eremopterix leucotis)
Rock Martin (Hirundo fuligula)
Plain Martin (Riparia paludicola)
Sand Martin
Common House Martin
Barn Swallow
Red-rumped Swallow (Hirundo daurica)
Lesser Striped Swallow (Hirundo abyssinica)
Wire-tailed Swallow (Hirundo smithii)
African Pied Wagtail (Motacilla aguimp)
White Wagtail
Yellow-throated Longclaw (Macronyx croceus)
Grassland Pipit (Anthus cinnamomeus)
Common Bulbul
Slender-billed Greenbul (Andropadus gracilirostris)
White-browed Robin-Chat (Cossypha heuglini)
White-starred Robin (Pogonocichla stellata)
Common Rock-thrush (Monticola saxatilis)
Abyssinian Ground-thrush (Zoothera piaggiae)
Northern Anteater Chat (Myrmecocichla aethiops)
Common Stonechat
Northern Wheatear (Oenanthe oenanthe)
Isabelline Wheatear (Oenanthe isabellina)
Familiar Chat
Desert Cisticola (Cisticola aridulus)
Northern Black Flycatcher (Melaenornis edolioides)
Black-throated Wattle-eye (Platysteira peltata)
African Paradise Flycatcher
Ashy Flycatcher (Muscicapa caerulescens)
Swamp Flycatcher (Muscicapa aquatica)
White-eyed Slaty Flycatcher (Melaenornis fischeri)
Black-lored Babbler (Turdoides sharpie)
Arrow-marked Babbler (Turdoides jardineii)
Yellow White-eye (Zosterops senegalensis)
Bronze Sunbird (Nectarinia kilimensis)
Green-headed Sunbird (Cyanomitra verticalis)
Blue-headed Sunbird (Cyanomitra alinae)
Olive-bellied Sunbird (Cinnyris chloropygia)
Rwenzori Double-collared Sunbird (Cinnyris stuhlmanni)
Green-throated Sunbird (Chalcomitra rubescens)
Regal Sunbird (Cinnyris regia)
Olive Sunbird (Cyanomitra olivacea)
Superb Sunbird (Cinnyris superba)
Marico Sunbird (Cinnyris mariquensis)
Beautiful Sunbird (Cinnyris pulchella)
Collared Sunbird (Hedydipna collaris)
Variable Sunbird (Cinnyris venusta)
Common Fiscal (Lanius collaris)
Grey-backed Fiscal (Lanius excubitoroides)
Lesser Grey Shrike (Lanius minor)
Northern Puffback (Dryoscopus gambensis)
Fork-tailed Drongo
House Crow
Pied Crow
White-naped Raven (Corvus albicollis)
Piapiac (Ptilostomus afer)
Red-billed Oxpecker
Yellow-billed Oxpecker
Golden-breasted Starling (Cosmopsaurus regius)
Ashy Starling (Cosmopsaurus unicolor)
Kenrick's Starling (Poeoptera kenricki)
Red-winged Starling (Onchoghnathus morio)
Greater Blue-eared Starling
Ruppell's Long-tailed Starling (Lamprotornis purpuropterus)
Splended Starling
Violet-backed Starling (Cinnyricinclus leucogaster)
Superb Starling
Chestnut Sparrow (Passer eminibey)
Grey-headed Sparrow (Passer griseus)
House Sparrow
African Black-headed Oriole (Oriolus larvatus)
Speckled-fronted Weaver (Sporopipes frontalis)
White-browed Sparrow-Weaver (Plocepasser mahali)
White-headed Buffalo-Weaver (Dinemellia dinemelli)
Black-headed Weaver
Lesser-masked Weaver
Heuglin's Masked Weaver (Ploceus heugleni)
Speke's Weaver (Ploceus spekei)
Vieillot's Black Weaver (Ploceus nigerrimus)
Holub's Golden Weaver (Ploceus xanthops)
Yellow-backed Weaver (Ploceus melanocephalus)
Black-billed Weaver (Ploceus melanogaster)
Red-billed Quelea
Red-headed Weaver (Anaplectes rubriceps)
Red-collared Widowbird (Euplectes ardens)
Black Bishop (Euplectes gierowii)
Southern Red Bishop (Euplectes orix)
Northern Red Bishop (Euplectes franciscanus)
Red-cheeked Cordon-bleu (Uraeginthus bengalus)
Red-billed Firefinch (Lagonosticta senegala)
African Firefinch (Lagonosticta rubricata)
Common Waxbill (Estrilda astrild)
Black-faced Waxbill (Estrilda charmosyna)
Bronze Mannikin (Lonchura cucullata)
Pin-tailed Whydah (Vidua macroura)
Yellow-fronted Canary (Serinus mozambicus)
Yellow-crowned Canary (Serinus canicollis)
Streaky Seedeater (Serinus striolatus)
African Golden-breasted Bunting (Emberiza flaviventris)
***
More Stuff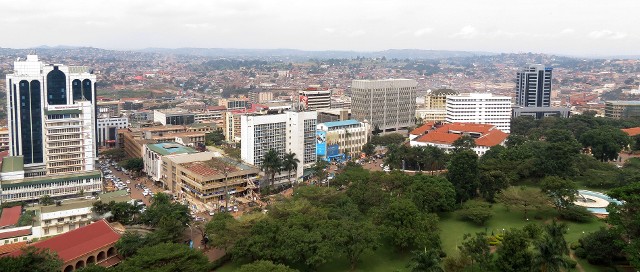 Downtown Kampala
***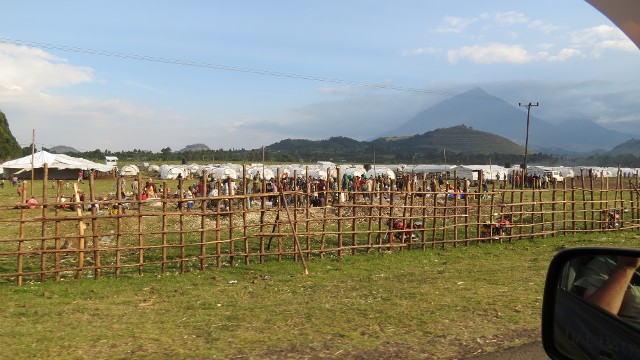 A Congolese refugee camp, in the exact same location the Rwandan refugee camps were some 18 years ago!
***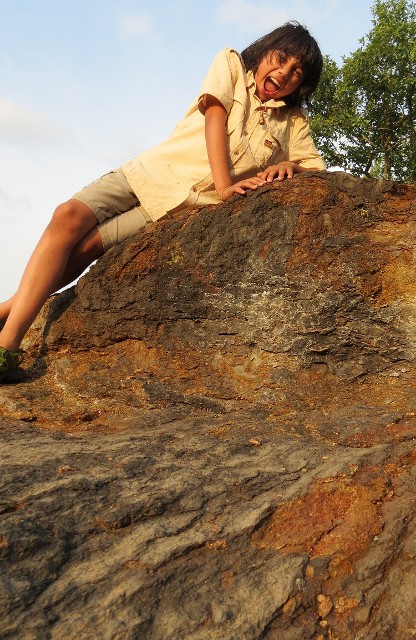 Cokie playing on the rock I had just given him a geology lesson about...
***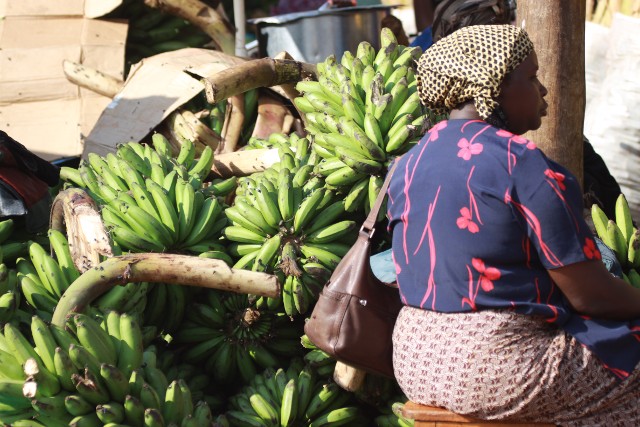 Matoke bananas are the staple food of Uganda. They are tasty when cooked over an open flame.
***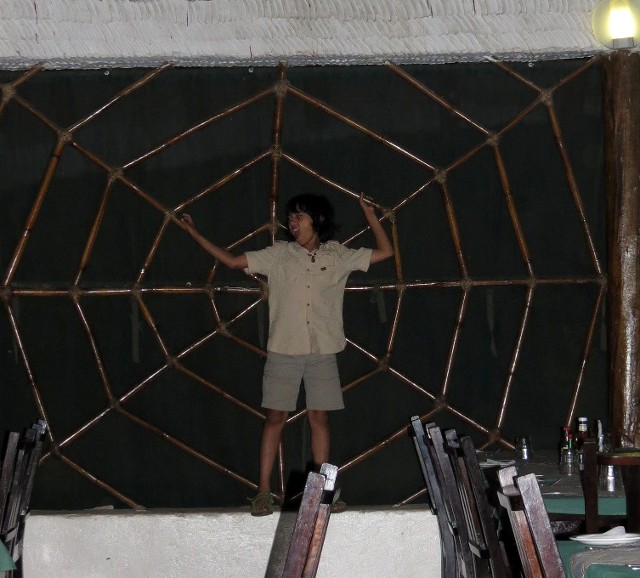 Cokie (and us) TRAPPED at the Sambiya Lodge! Help!
***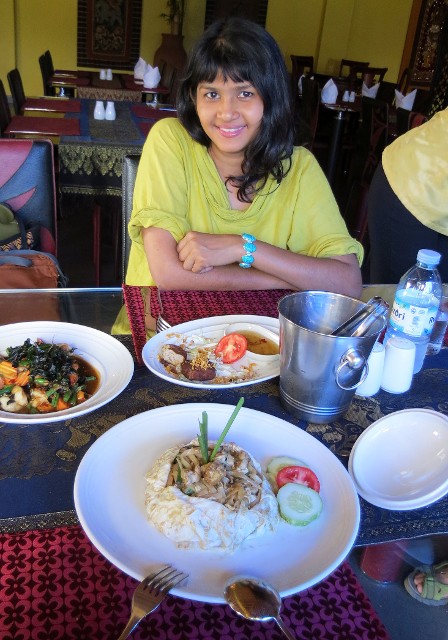 Som loving her Thai meal!
***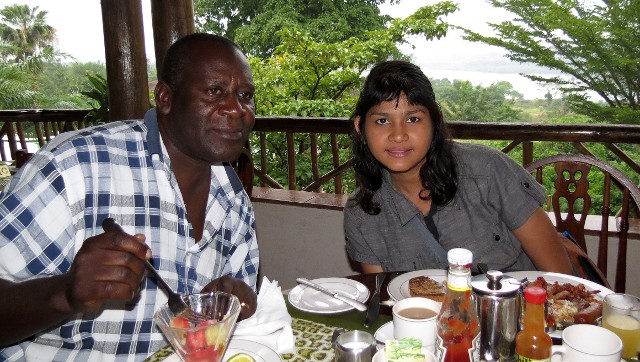 Our good friend and VEGAN driver, Andrew! He was an outstanding companion during our stay in Uganda!
***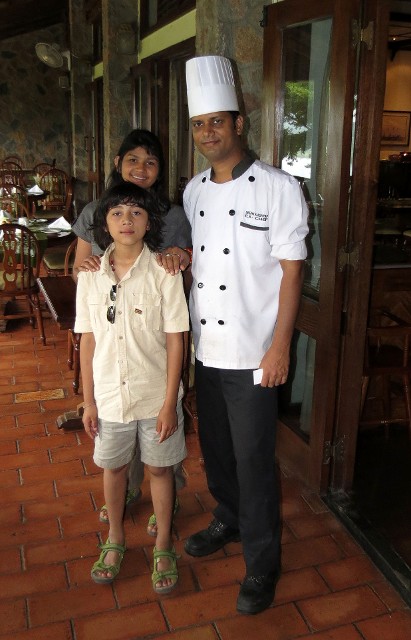 The food was SO bad at the Sambiya Lodge, we opted for taking our meals at the Paraa Lodge. We had many conversations with their excellent chef and we enjoyed the food MUCH more at the Paraa!
***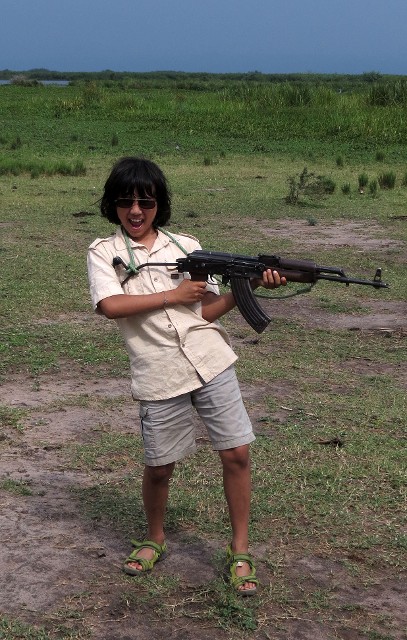 "OK! Would everyone please stop letting Cokie hold your AK47's!!!"
***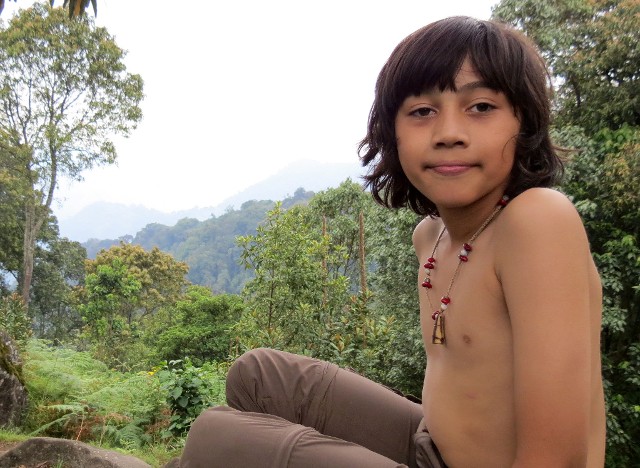 Cokie taking a breather in the Rwenzoris.
***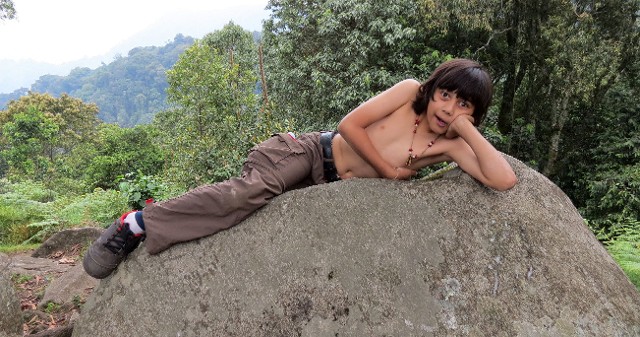 "Hello there..."
***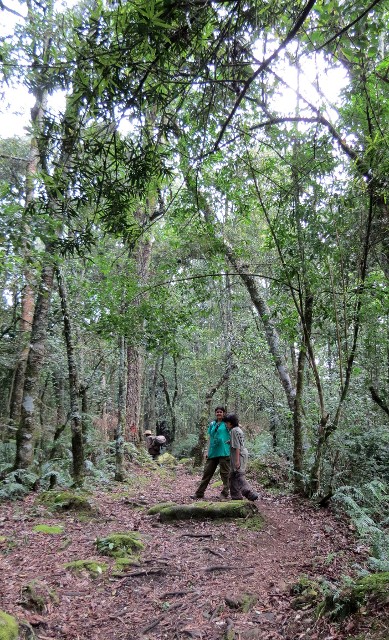 Starting our trek UP the Rwenzoris.
***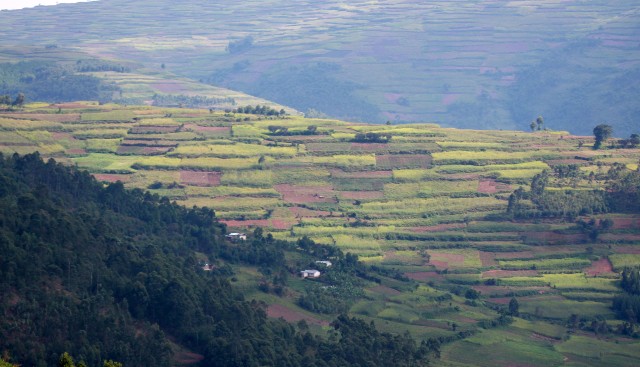 The "Ugandan Alps" in the southwestern part of the country. Spectacular.
***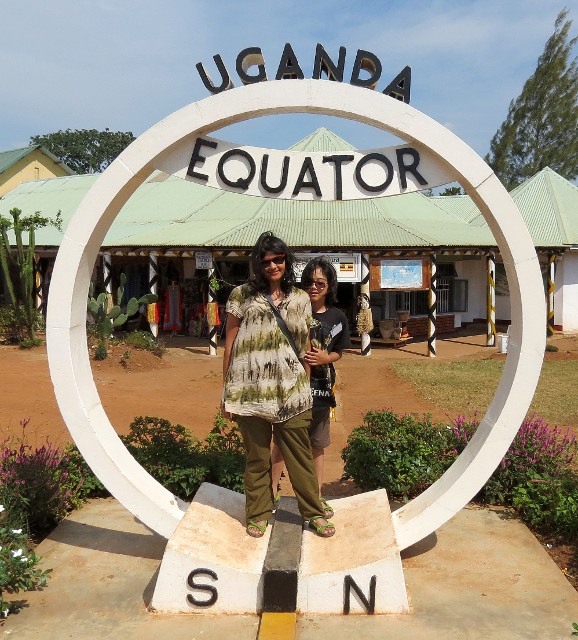 Somewhere in the middle...
***

Murchison Falls
***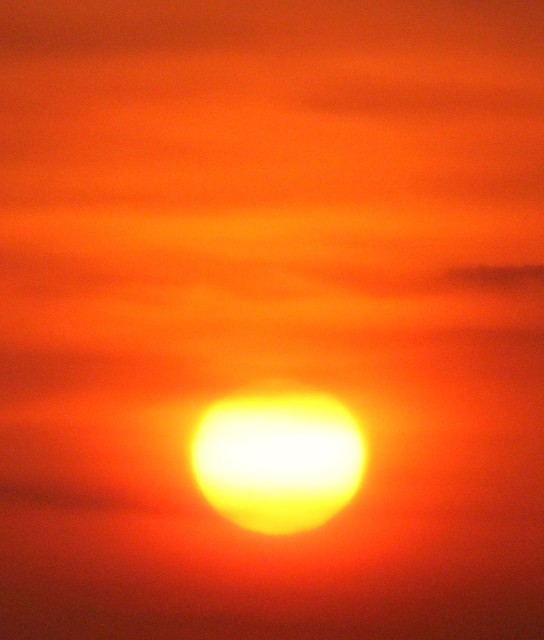 Murchison Falls sunset....Outstanding.
***
Check out our Pbase Galleries for Uganda
Check out our Master Species List for the Summer of 2012 Africa Expedition
***