Som's magnificent image of our first Snow Leopard on day three of our expedition.
Be Sure to Check Out Ladakh Pbase Galleries:
Snow Leopard Expedition to Ladakh, India
Snow Leopard Expedition to Ladakh
October 18 - 28, 2014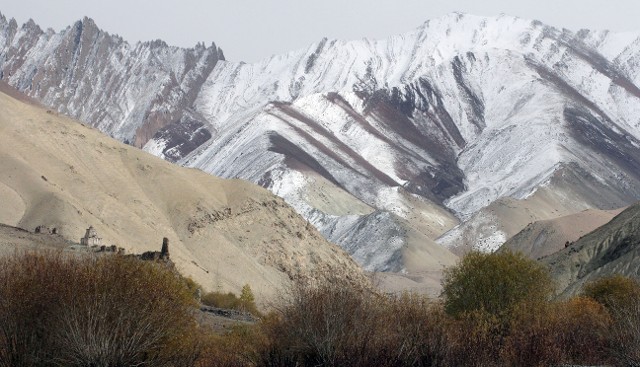 One of the typical views inside Hemis National Park, Ladakh.

I remember not so long ago when sightings of the elusive Ghost of the Mountain or Snow Leopard were limited to George Schaller and other intrepid zoologists and lucky Himalaya trekkers and perhaps a handful of observant and lucky (or maybe not so lucky) Himalayan villagers trekking the high altitudes. But sometime around 2009 or so, trip reports indicating Snow Leopard sightings started to trickle across the internet and some of these made my screen.
So for about five years now, I have dreamed of attempting such an ambitious expedition to try to see the mythical Ghost of the Mountain with my own eyes. Reading the ever-increasing amounts of successful trip reports posted on Mammalwatching.com and other sites, and receiving the constant barrage of Facebook updates from Vikram Singh of Wild World India with images of Snow Leopards and other amazing Himalayan fauna, I became rather obsessed with doing my own journey to the region to try for myself. But one reason after another kept me from realizing my dream to try for the Snow Leopard, mostly related to time and cash. However that all changed sometime in mid 2013, when I decided to join an expedition to Hemis National Park, located in the heart of the Ladakh's Himalayan wilderness.
To make this expedition a reality, I contacted Vikram Singh of Wild World India, who did an amazing job putting all of the travel arrangements together for our group. I absolutely recommend Vikram and WWI for any travel needs in India (we've used them before - See our India Expedition blog here) but Vikram was on of the pioneers in the Snow Leopard expedition market and he knows how to do it right!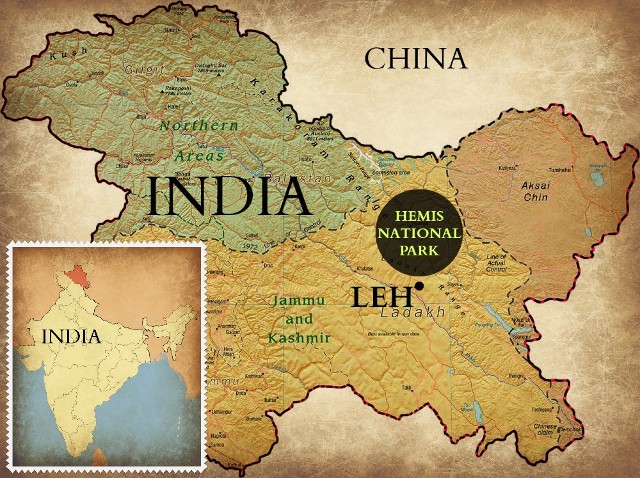 (Linked from http://himalayanoutback.com)
The Flight From Delhi to Leh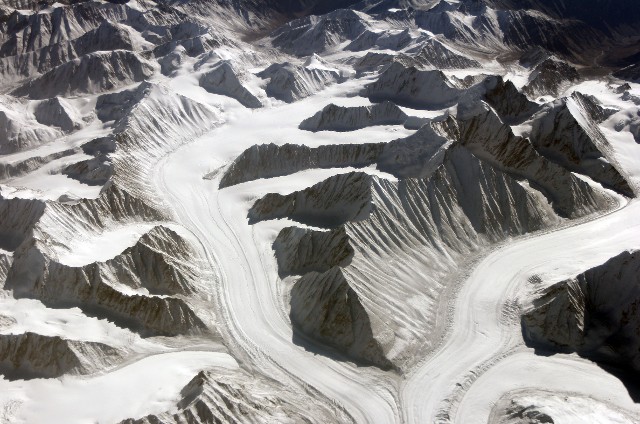 The flight from Delhi to Leh is one of the world's most epic flights. On a good day, incredible views of the glaciers of the Himalaya (what's left of them....) and the amazing range itself.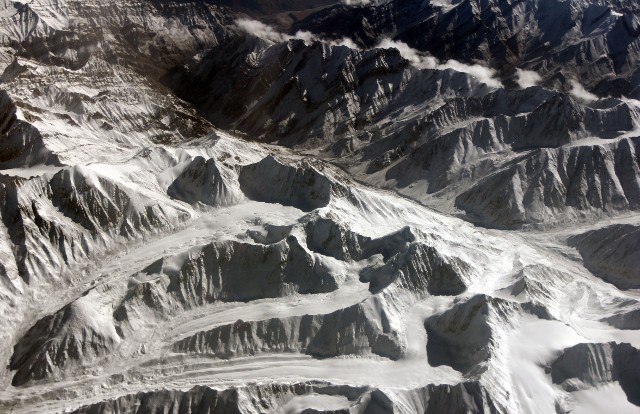 So beautiful. We were fortunate to have this kind of day with a half empty flight so we could jump from seat to seat to get better angles.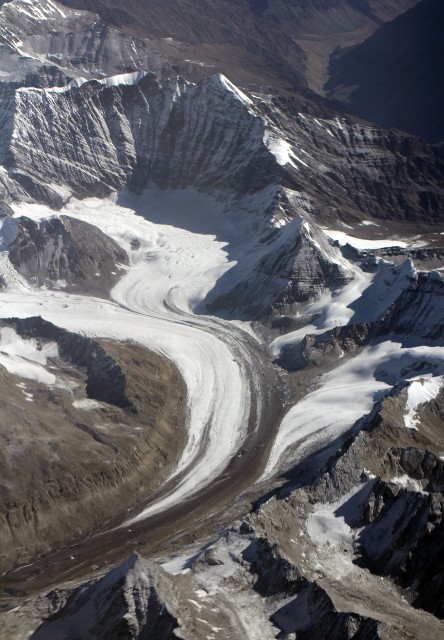 Receeding glaciers were definitely common in this section of the Himalaya. I cringe at the thought that over 25% of the world's population gets at least some of their water from these and other glaciers in the Himalaya.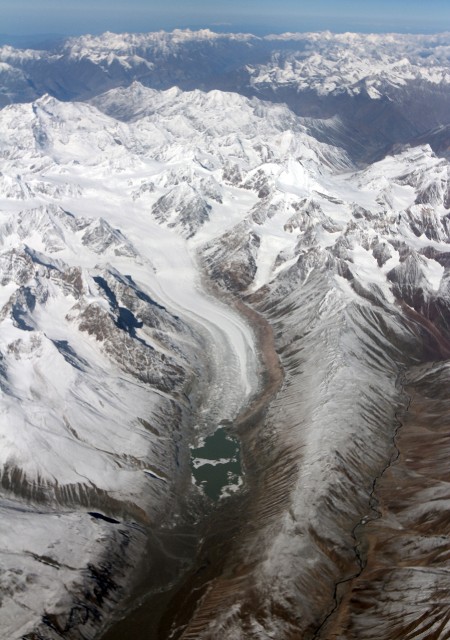 Wow....

Hemis National Park is a relatively newly established national park located about 1.5 hours west of Leh. Some years back, conservation groups (The Snow Leopard Conservancy and others) and local tour operators gained confidence in the ability to market Snow Leopard tracking expeditions with relatively high potential of success. It wasn't too long before many intrepid wildlife enthusiasts were to visit Ladakh and spread the word. In fact before too long, the word spread so well that the park was slammed with nearly five hundred visitors over the years – so many that perhaps too much pressure was being placed on the resources of the park.
Our own expedition started with a short trip from Bangkok (our home!) to Delhi, where Cokie and Som had a day to kill wandering the streets of Old Delhi, experiencing the sights and smells of this ancient part of the city. I followed a half day later and met up with them in Delhi for a quick nap before we headed further to the Himalayan hamlet of Leh, a spectacular town in its own right. We met up with our team, Jirayu "Tour" Ekkul, a local Bangkok and ecotour operator with Wild Encounter Thailand (WET provides epic whale watching excursion that are well worth participating in - see our Whales of Thailand Trip Report), and Pradeep Singh, an Ecotour and tiger safari operator out of Baratpur, India. Also there were representatives/spotters working with the Snow Leopard Conservancy. Together we made a formidable team!
An Afternoon in Old Delhi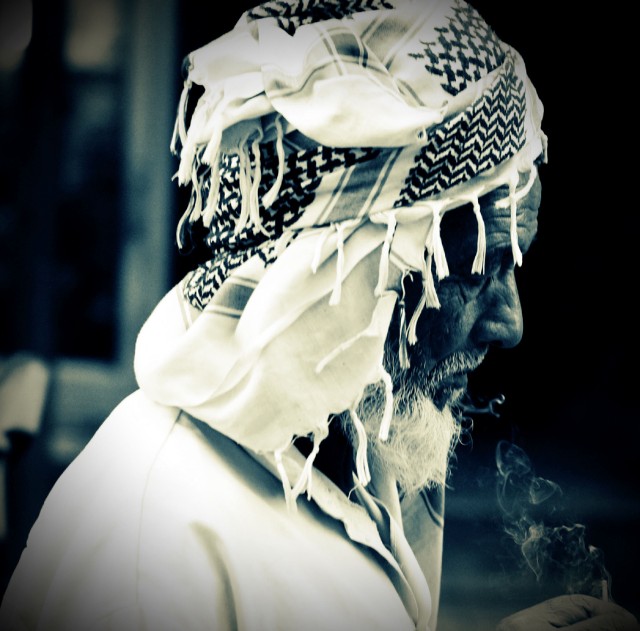 Som had a great time in Old Delhi taking people pics to her heart's content!
(Check out our Pbase for more of Old Delhi People & Places)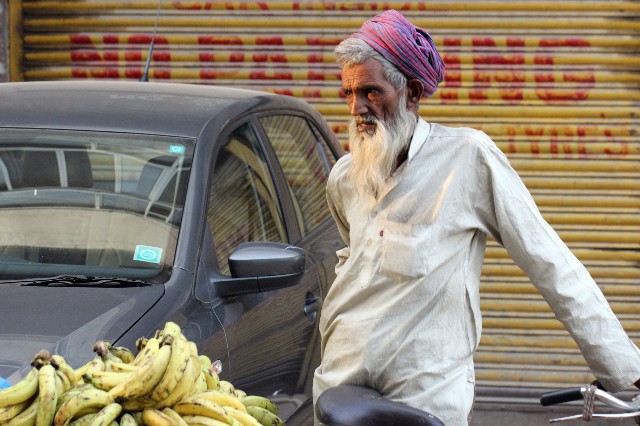 Old Delhi
Five Striped Palm Squirrel (Funambulus pennantii)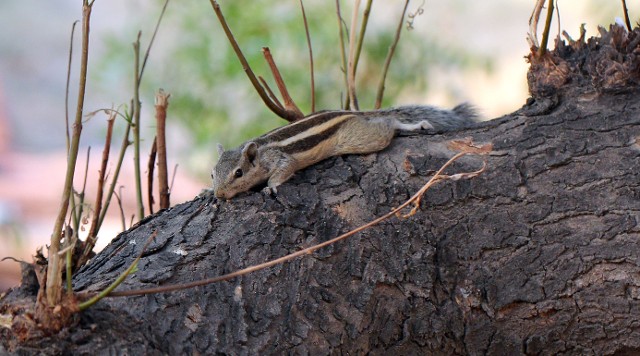 Som got our first mammal of the trip in Old Delhi - Five-striped Palm Squirrel.

Our Team!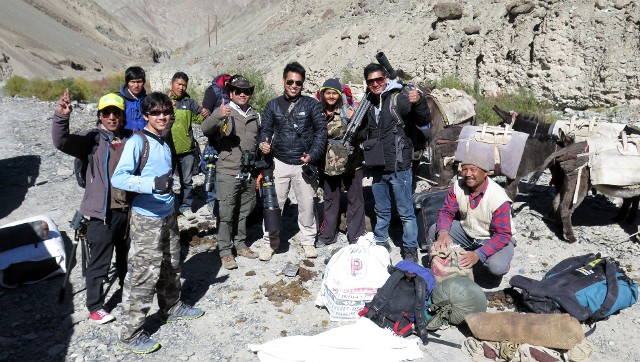 Most of our Snow Leopard Expedition crew. A really great group of people made this trip not only possible but a true pleasure. I am glad we had the chance to spend over one week with these folks.

After departing near sea level of Delhi, and arriving in Leh, we spent time resting and gently trekking mainly getting used to the extreme altitude (+/- 3800 meters in Leh). We strolled the streets of the ancient town and trekked the river zones looking for Ibisbills (of which we found seven individuals) and Solitary Snipes (nada!). We did get a good glimpse of several other avian species such as Common Magpies, various Accentors (Robin and Brown). We briefly visited the Thiksey (Thikse) Monastery, which easily ranks high as one of the more spectacular monasteries in the Tibetan Buddhist regions of central Asia that I have ever seen. Wow! Leh and its surrounding areas are absolutely spectacular and are well worth a visit just for the culture and scenery themselves. Interestingly, the Thai have completely discovered the region. Although this was officially the low season, we encountered dozens of Thai tourists in Leh. None of them were after Snow Leopards however....
Ibisbill (Ibidorhyncha struthersii)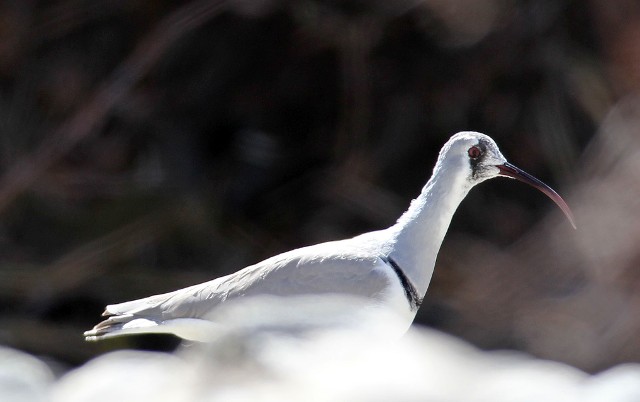 One of our seven Ibisbills for the trip.
The last time we saw Ibisbills was on our Giant Panda expedition. What is it about Ibisbills and our main target species for life!?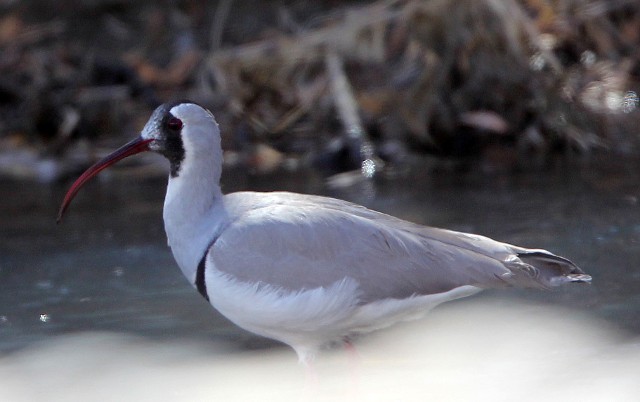 I am not much of a birder at all but I definitely consider the Ibisbill a bird worth targeting.
Thiksey Monastery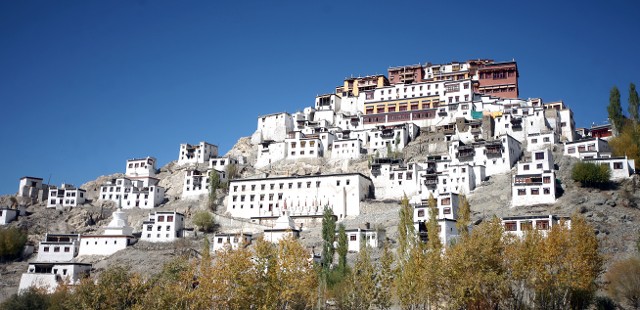 Awesome sight. I was very impressed with this and all of the other cliff-side or mountain-top monasteries.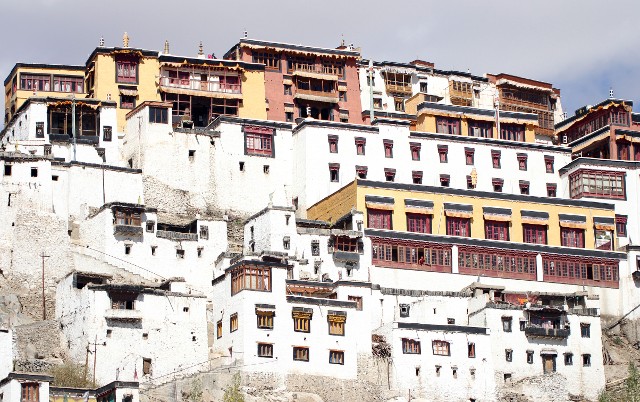 We didn't stroll through but seeing the entirety of it was very nice.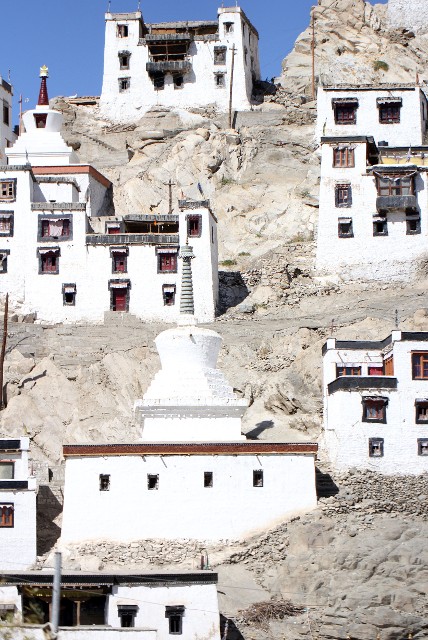 Thiksey Monastery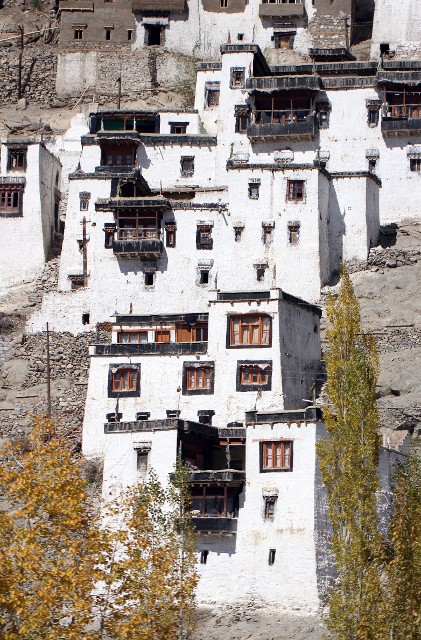 Thiksey Monastery is about 20 kilometers southeast of town and well worth the trip to see it. And there are some decent birding places along the way.
Thiksey Monastery
Scenes From Leh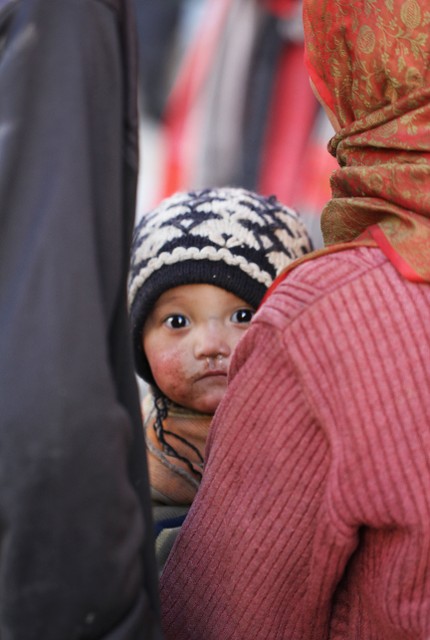 Strolling the street markets of Leh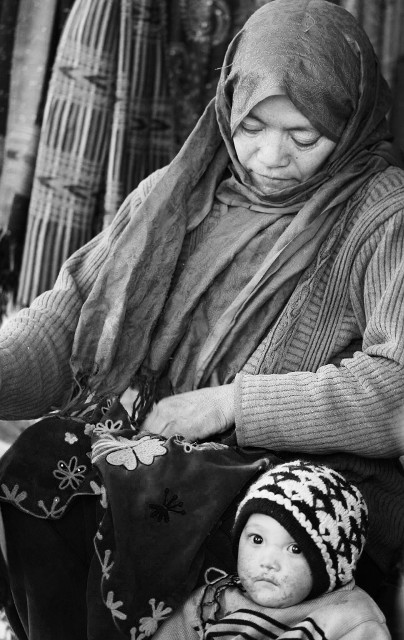 People of Leh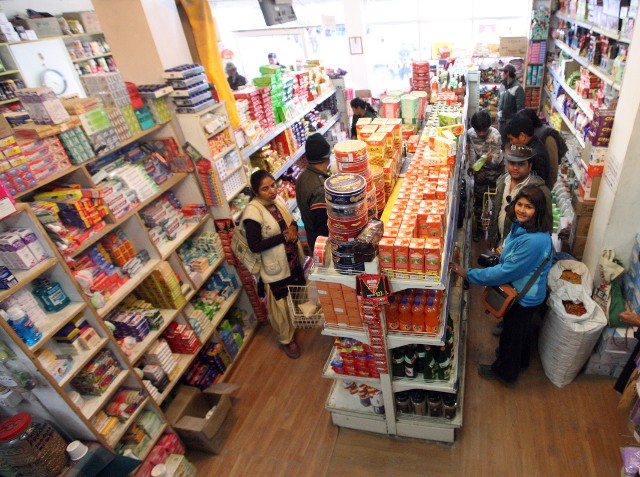 Picking up some last minute supplies in Leh.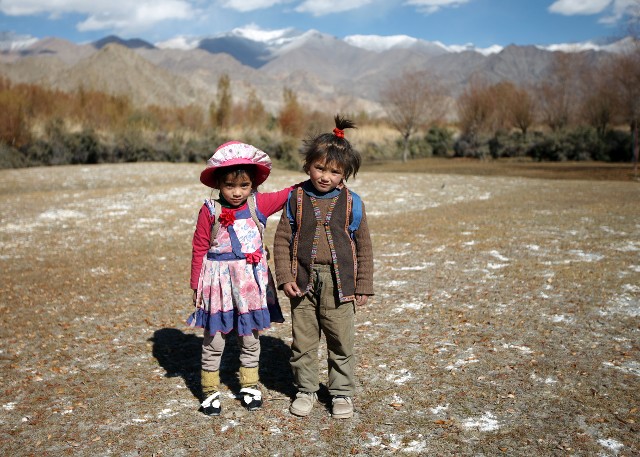 Som met these two students coming from their elementary school which consisted of a whopping two students.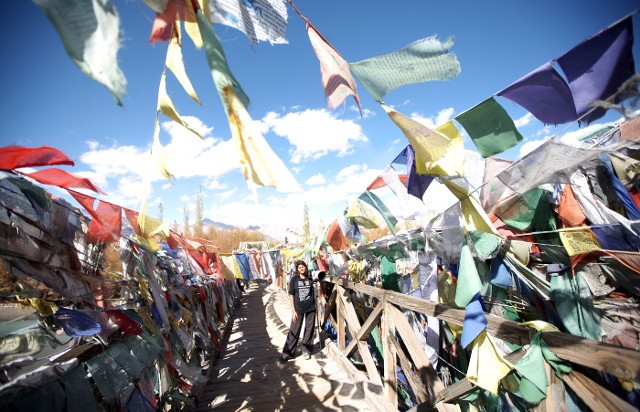 The Leh countryside is awesome.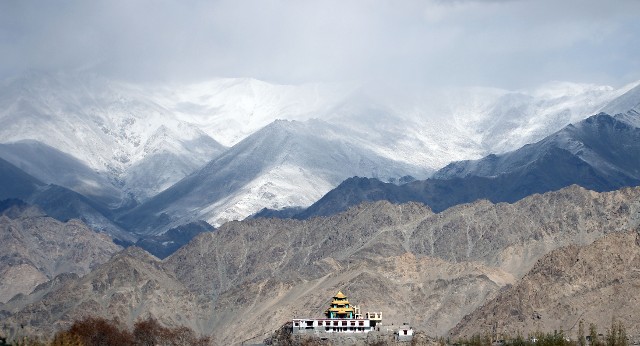 A temple in the Ladakh countryside.
Stok Kambi Mountain is the tallest peak visible from Leh. Spectacular.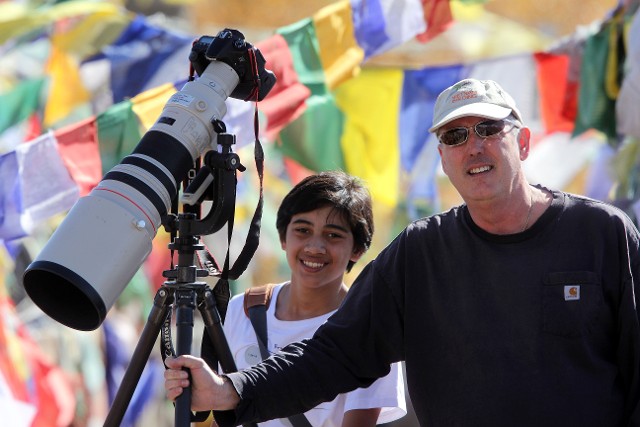 Getting back in to the swing of things...

On our official first day of the expedition, we had a relatively early start out of Leh eventually reaching the cliffs aside the spectacular Indus River canyon where we attempted to spot our first species, the rare and semi-endemic (evidently there is a bit of debate about whether this species has now been displaced in to Pakistan due to military development in Ladakh) Ladakh Urial. We failed to spot any…. I was hoping this was not a bad omen. Moreover, I was pretty disappointed with this as the Urial was actually my number one target – I actually really never thought we'd see a Snow Leopard….
Searching for Ladakh Urial

So after dipping on the Ladakh Urial, we continued deeper in to Hemis NP, a spectacular area, worthy of visiting just for the scenic beauty! After arriving at the car park at the beginning of the Rumbak Village trailhead in Hemis, I immediately began to feel the extreme altitude and vastness of the region. The shear rock faces and massive mountains were as impressive as they were depressing. How on earth were we ever going to spot a Snow Leopard, or anything else for that matter, on these batholithic mountains…? Well we had seven days to give it a go! I was struck with how barren it was - virtually no vegetation to speak of covering 95% of the terrain. Where was the base of the trophic pyramid that could support the purportedly 10-12 adult Snow Leopards that lived in this area?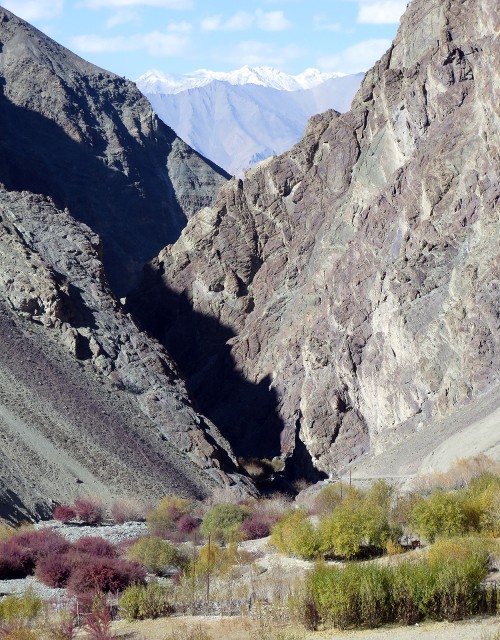 The scenic beauty of the entire region was stunning. Here is a typical view from our base in Hemis National Park

After loading our mules with tons of gear, we trekked for about a couple kilometers with gradual incline when we spotted our first Himalayan Blue Sheep (Pseudois nayaur nayaur) , also known as "leopard food!"), which is a different subspecies than the ones I spotted on the Tibetan Plateau a couple years earlier (Qinghai Trip Report). A small group of about 10 or so grazed the hillside directly above the trail. These individuals looked very different than those I had seen in China. They seemed relatively unafraid of our team, which was encouraging. We did focus on capturing them on film for some time, and it was entertaining to see them express their annoyance with us by purposefully causing rockslides in our general direction! Our guide, "KC", encouraged us to get as far away from them as possible at this point.
Himalayan Blue Sheep (Psuedois nayaur nayaur)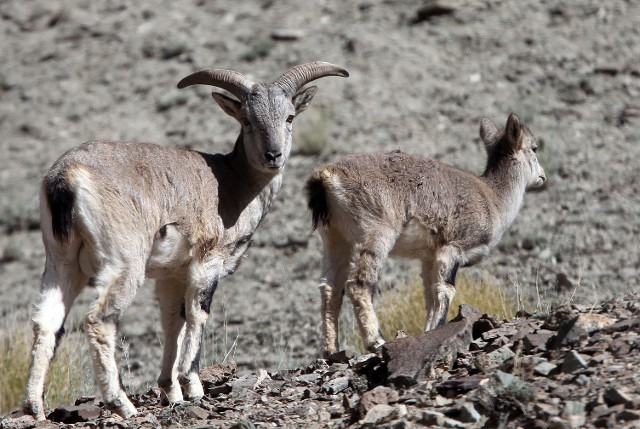 Our first herd of of Himalayan Blue Sheep included on young male.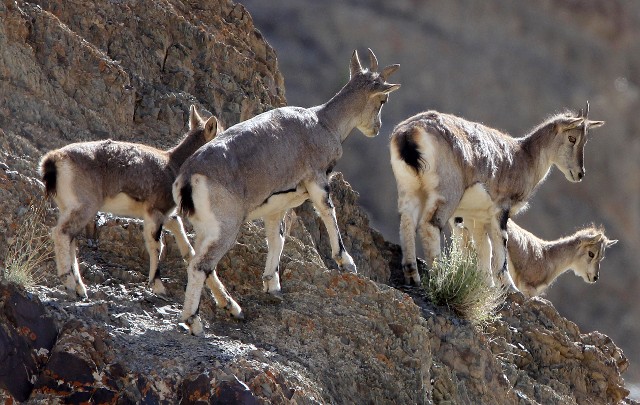 This herd was unafraid and even a bit naughty.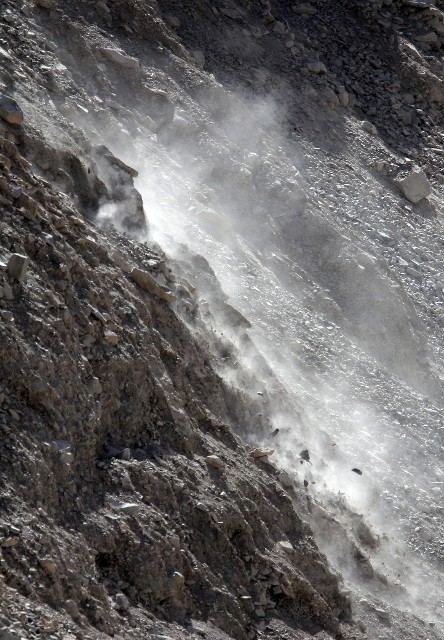 After a bit too much of us, the sheep decided to purposely cause rock slides in our general direction....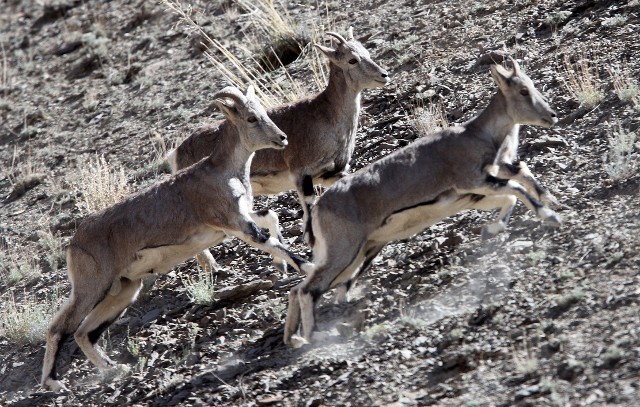 Watching them play in the sun in the slopes was great fun.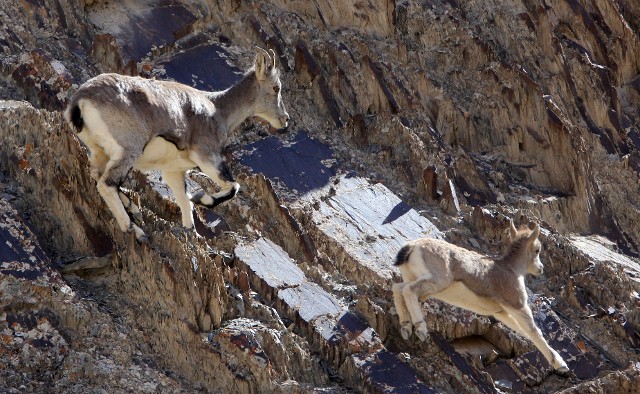 Even the young were very agile and sure of themselves on the sheer rock faces.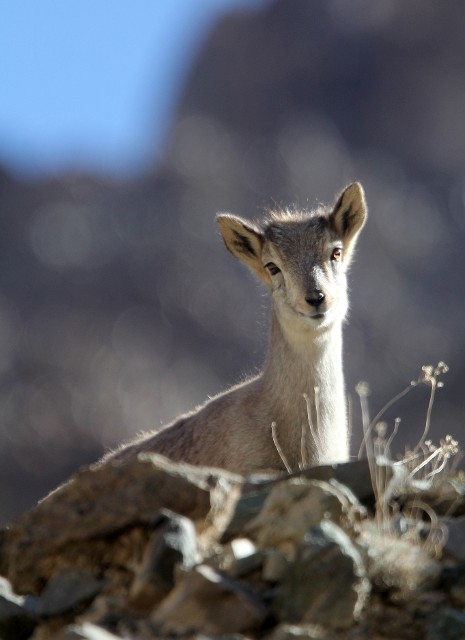 Cute kid!

Shortly after our moment with the Blue Sheep, our amazing guide KC spotted a Large-eared Pika in the scree riverbed zone of the canyon. He gave us a brief viewing before scurrying away to the safety of his den. There seems to be some disagreement in the taxonomy of the two or three species of the area. Reports routinely list Large-eared and Royle's Pika, but both species resemble each other quite a bit. An Jon Hall during his expedition one week prior to ours, listed Nubra Pika.
Large-eared Pika (Ochotona macrotis)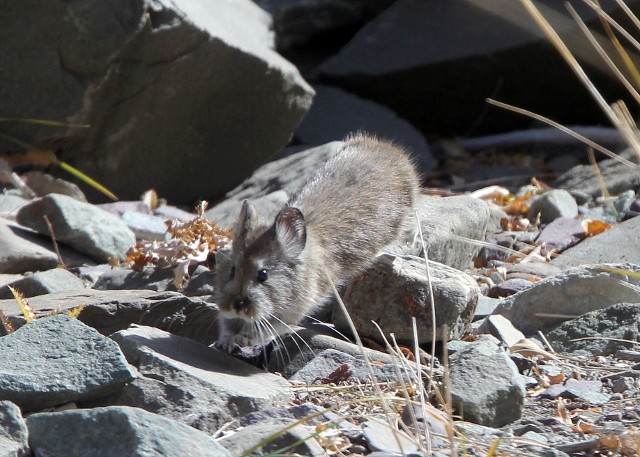 We had our one and only sighting of the Large-eared Pika on our first day's trek to camp near the Winter Camp in Hemis.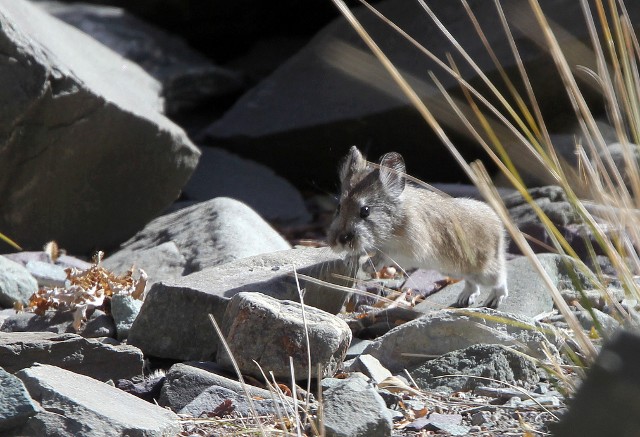 Large-eared Pika at Hemis

The trail heading up to the "summer camp" (a name given to the further of the two public camping spots – the Summer Camp is located very close to Rumbak Village which is deeper inside the core area of the national park) was a long gradual climb through the spectacular canyons and ravines of the park. Our condition was very poor evidently as we had to stop and rest every few dozen meters or so. It was at this point I realized I was in for a physical challenge for sure on this trip!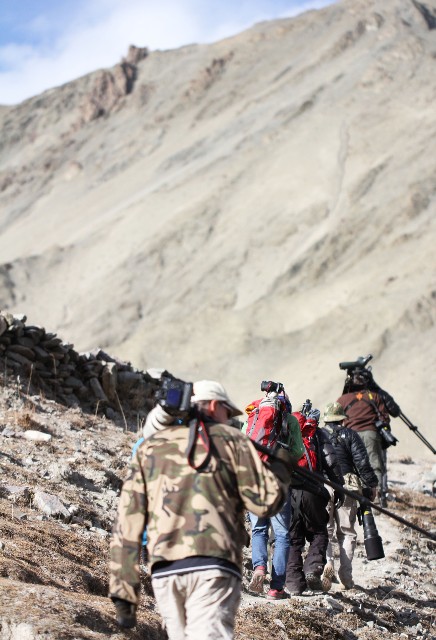 The trek to Base Camp in Hemis National Park.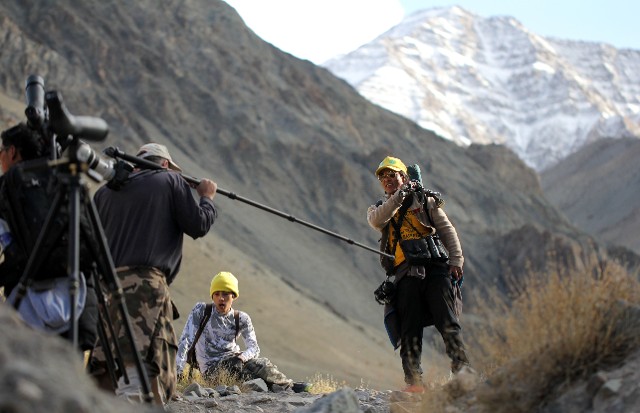 "OK, we've walked about 45 meters. Time for another break!"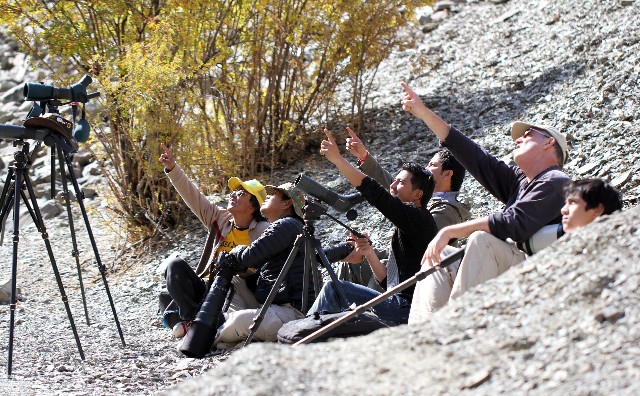 Showing a bit of optimism. We were pointing at the place we "planned" on seeing a Snow Leopard in the very near future.

We were directed to use the Summer Camp as the Winter Camp was still closed for "unknown" reasons. It became very clear the reason was that the park was building a road directly in to the core area and they were blasting the hell out of the Winter Camp area with dynamite! With all that disturbance to the region, I was ever more pessimistic about our chances to see an actual leopard. Eventually we made it up to our camp after a five or more kilometer trek gradually increase in elevation to about 4200 meters (= 13,780 feet).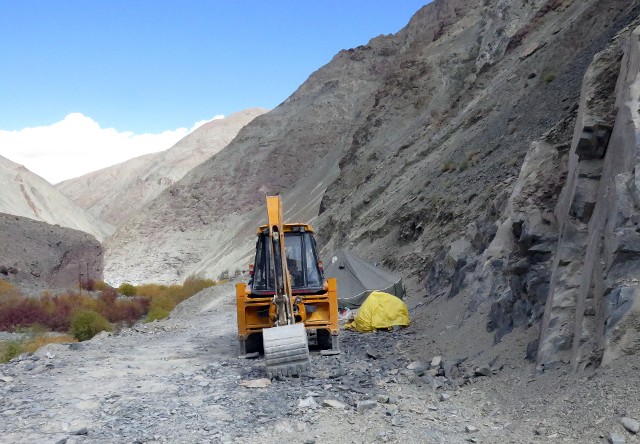 Unbelievably they are currently building a road deep in to the core area of the park to Rumbac Village. The river bed will be altered permanently and the increased traffic may have seriously negative consequences on the wildlife in the vicinity. Time will tell but these sorts of projects generally do not result in any positives for the natural ecosystem.

We were all noticeably exhausted. Even though we rested every few dozen meters up trail, the altitude and our relative poor condition made every step a bit of a chore. We arrived at our camp in the mid afternoon with plenty of time to stake our claim to our respective tents. Camp was actually quite nice – we all had our own two-man modern tents as well as a nice gear-storage tent. There was a kitchen and crew tent assemblage and a very nice dining tent in which we would spend many memorable mornings and evenings over the next seven days. Very comfortable. Food at base-camp "Snow Leopard" was both plentiful and outstanding. Generally Indian fare, there was enough variety to keep all of our tastes satisfied and our bellies full.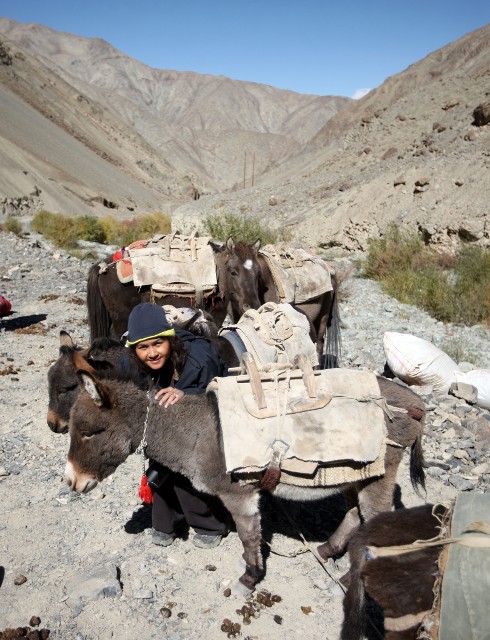 Our little pack mules. They got the job done though!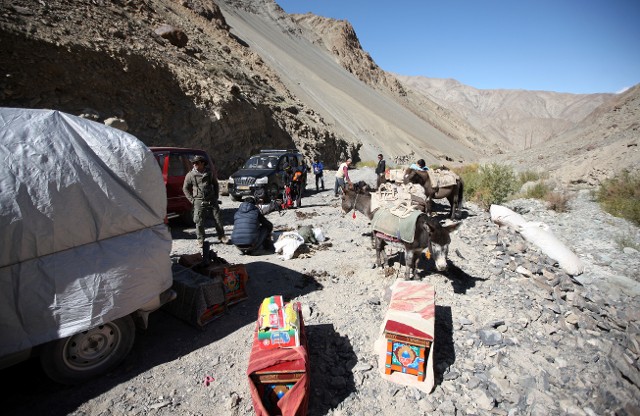 For now, the only way to get stuff to the core area is by mule.
Basecamp Snow Leopard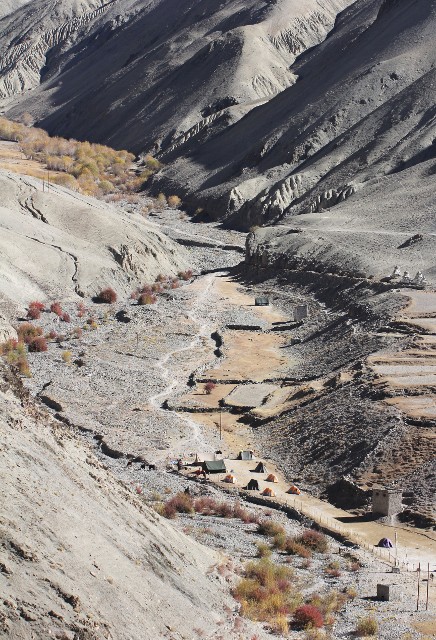 Base Camp Snow Leopard! Situated at the mouth of Rumbac Valley. It ended up being an outstanding vantage point for spotting the cats!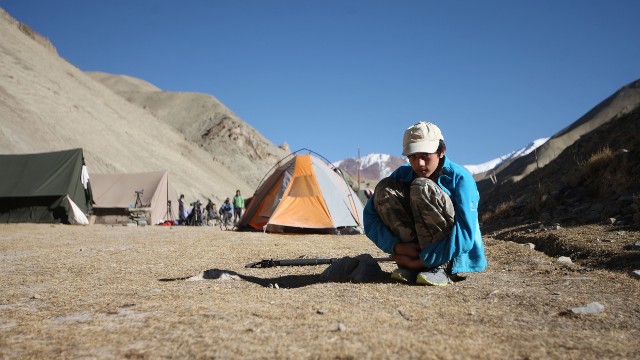 Cokie contemplating how to build his next city....(Archaeologists in the future will no doubt dig up the ruins of the countless miniature cities Cokie has constructed over the years...)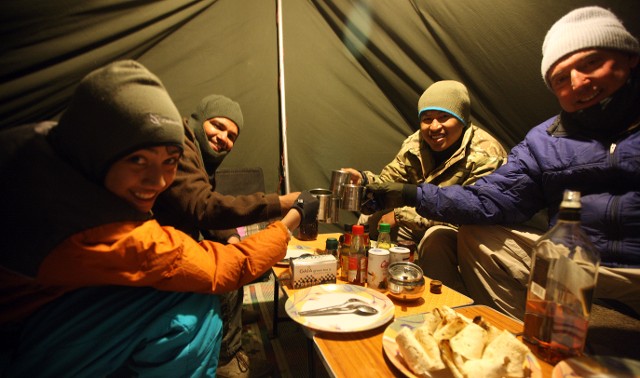 The dining tent was a great place to hang out. In the evenings and early mornings, the heat is on and life is good!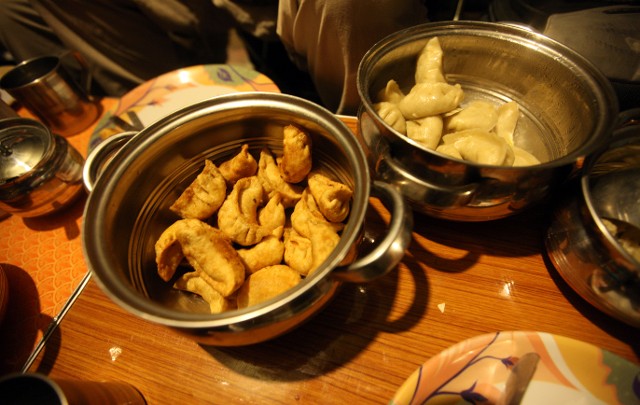 Food was tasty and plentiful with a varied menu.
As our trek was in late October, days were oppressively sunny and even warm at times, but nights were very cold reaching in to the high teens to low twenties below zero. We were all well equipped for the climatic extremes but it had been so long since any of the Smith's had experienced such low temperatures, we were all a bit caught by surprise. It was dang cold!!!! We spent the afternoon acclimatizing to our new environs while our spotters, KC and Gurmet spent the remainder of the day scanning the endless slopes in a fruitless attempt to see our target. We had two species under our belts by the end of day on and that was a great start!
Day two started relatively easily with a morning scan in the general vicinity of our camp. Again, with the exception of some very distant Blue Sheep, nothing was spotted. We then trekked as a group toward the valley leading to Kandala Pass, stopping periodically to scan the slopes and immense rock faces of the area...again with no luck. I whispered to Som, "I will be surprised if we make one sighting of a leopard in this endlessly mountainous area…" She agreed, but we tried not to let pessimism envelope us – Hemis was such a strikingly beautiful place, and it was great to simply be there. And we had already seen numerous fresh examples of leopard sign along our walks.
Snow Leopard Sign!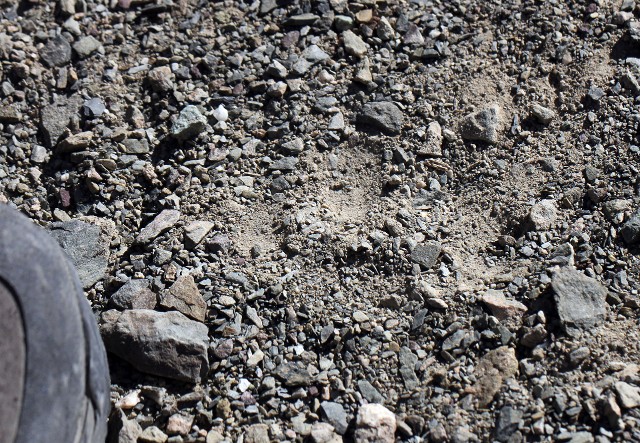 We were encouraged with some relatively fresh Snow Leopard sign on our first day's trek to our base camp.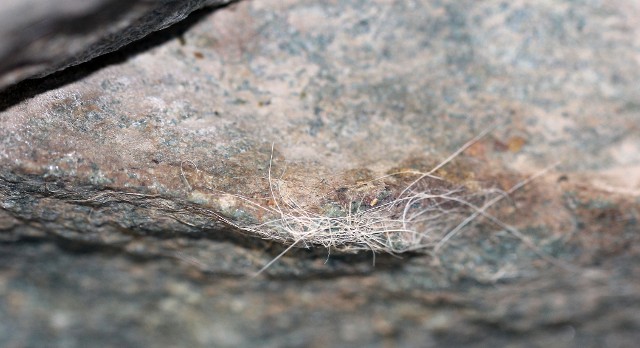 Obviously a favorite for the leopards of the area, this rock had loads of Snow Leopard hair still attached on the area they would scratch themselves while passing by.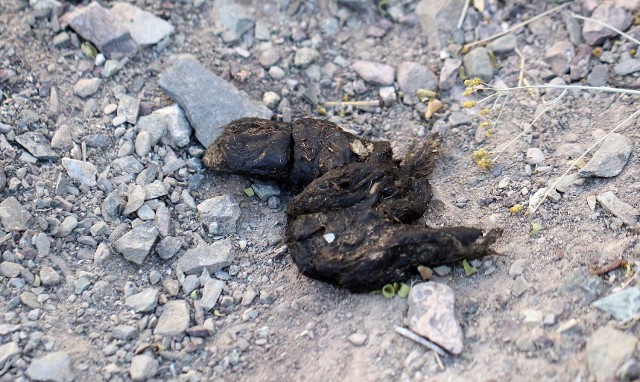 One day old Leopard poo! They were definitely around.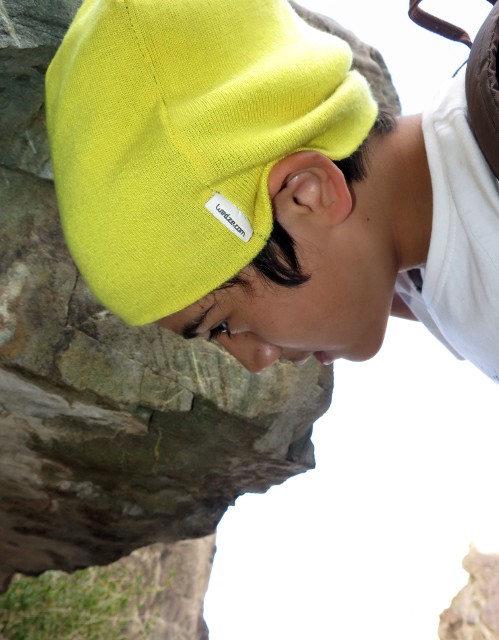 Cokie getting a nose full of the pungent Snow Leopard spray recently released on this rock.

Although day two was a bit slow with only some bird species added, but we still had lots of time. Sleeping was quite a challenge for most of us. The altitude and the cold made for some rough nights. But morning always seemed to come and familiar sound of KC and Gurmet marching up the hill near camp to start the search for cats. I was pretty exhausted this particular morning, having accomplished little in the way of sleep, I wasn't quite ready for the unexpected screams coming from the hill by our camp on our third morning in Hemis! "Come! Come! Leopard!" Initially I thought someone was joking. But the frenzy in the camp made it clear that it was for real! Someone spotted a cat!
I really wish I could have some sort of slow motion video of all of us stumbling out of our sleeping bags, scampering up the hill, partially clothed, no shoes, totally ill-prepared for the chill in the hill. The comedy was most obvious for anyone watching us sea-level-types struggling to climb the 30 meter long trail to the top of the hill. Not one of us tourists were able to make it all the way without stopping to pass out....It was truly pathetic! But after some embarrassing struggles, the Smith clan made up in time to have about 2 minutes with a splendid Snow Leopard pacing, rubbing and spraying its way along a distant ridge! Our goal was achieved and he had it! Unfortunately our camera gear was still down on the bottom of the hill so we were not able to capture any images of this amazing cat.
Spirits were very high at this point. Although there was no images to prove our victory, we were all so jazzed to have at least seen a Snow Leopard. A lifetime goal realized. There are few feelings as sweet as those one feels when a lifetime goal is achieved. Fantastic. Check!
The rest of the third morning was spent scanning the same mountain again in an effort to spot the cat again. No luck. The team decided to walk down the canyon a bit to see if we could spot it from another vantage point. We were packing up and getting ready to walk when a Swiss trekker, who just happened to be passing by on his way to a local wedding, spotted what he thought was a cat on top of the closer ridge nearer to camp. Initially our guides were a bit skeptical but I was pretty convinced that he knew what he was talking about. So we stopped and focused on the ridgeline for awhile....quite awhile...and just as we were about to give up, Som (of course) spotted him! Right on the ridgeline as we hoped!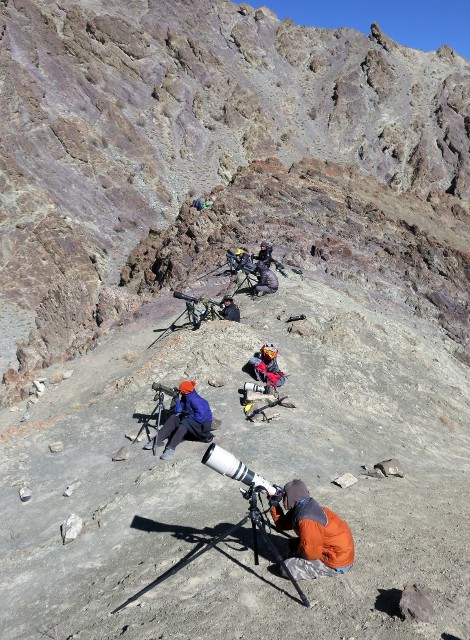 Scanning the endless hillside terrain.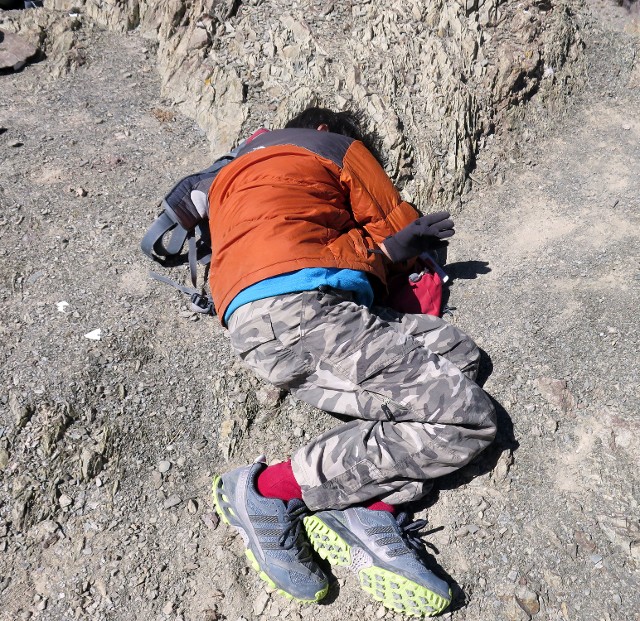 Cokie getting some well-deserved sack time. This kid can still and has been able to crash anywhere, any time!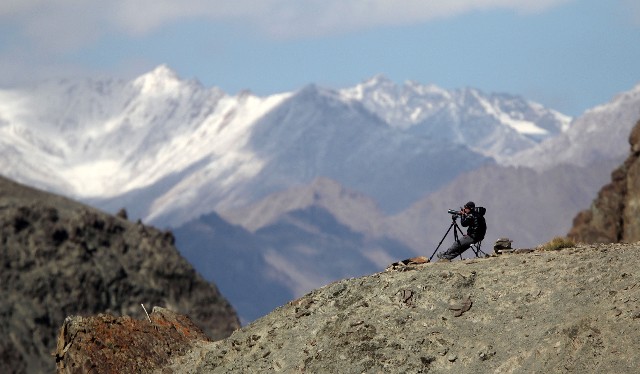 Gurmet watching our napping Snow Leopard very carefully. All was quiet for over two hours, but the second the cat woke up, we knew about it. (On the walkie talkie): "He's awake and moving! Get the cameras ready!"

So for the next several hours, we spent some quality time with our very own Snow Leopard! Aside from a nap behind a rock for a couple hours (during which we waited and waited while KC and Gurmet were up on opposite hills carefully watching him nap), we were incredibly lucky to have a virtually FULL day sighting of the cat. Although he was a bit distant, our scopes and lenses gave us amazing views of this cat carrying about on his daily activities. He was spectacular. Watching this majestic felid pace, crawl, sand-bathe, spray and stalk prey, was no doubt the wildlife watching high point of my career. Words simply cannot do this experience justice.
During our day with the leopard, I continually thought of the movie we'd just seen in Bangkok, "The Secret Life of Walter Mitty". But I was committed to actually taking the picture of the cat, unlike Sean Pen! I was in heaven! A very cold, oxygen poor heaven..... The show lasted all the way to sunset. Our leopard was quite a showman. I only wish he could have been a bit closer, but I am NOT complaining! Moods were very good in the dining tent this evening!
Snow Leopard (Panthera uncia)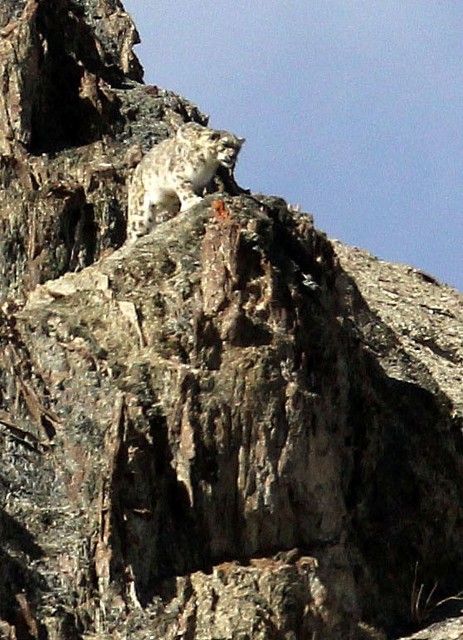 Our first prolonged views of a Snow Leopard. We spent the rest of our day with this individual.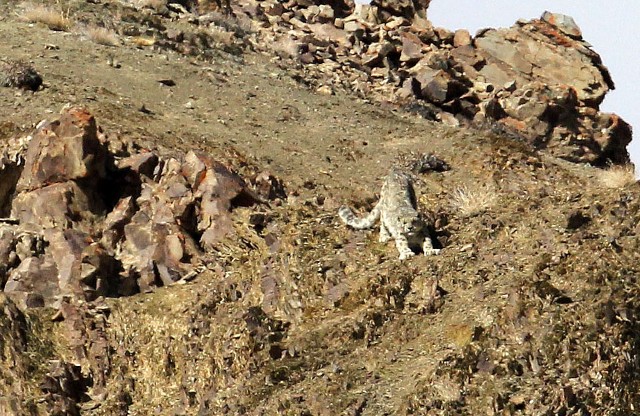 Fresh from his nap, our leopard decides to stretch a bit on the steep slope across from us.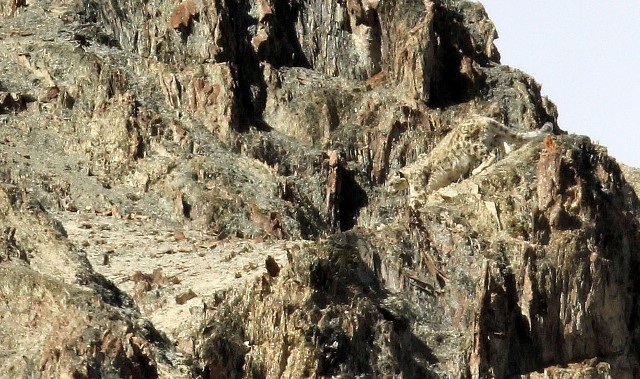 Our leopard working his way down the slope.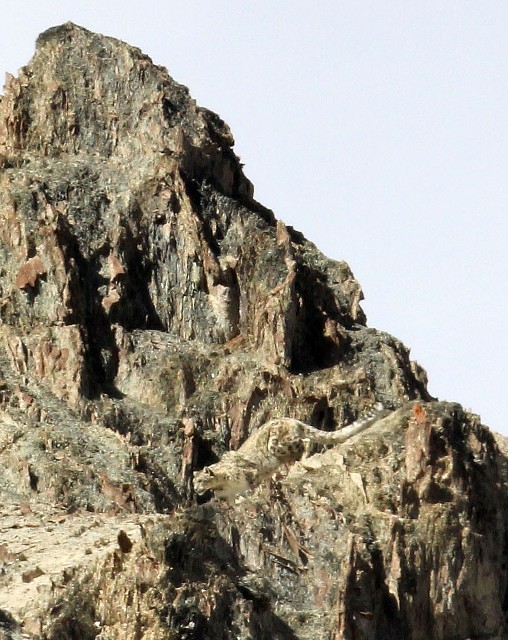 The cats are very well camouflaged.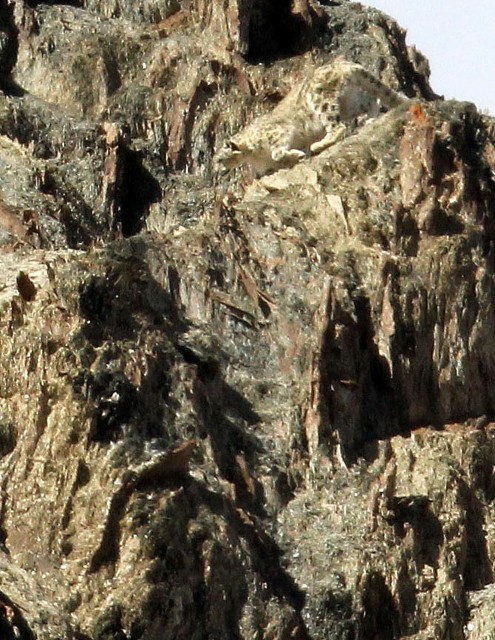 Stunning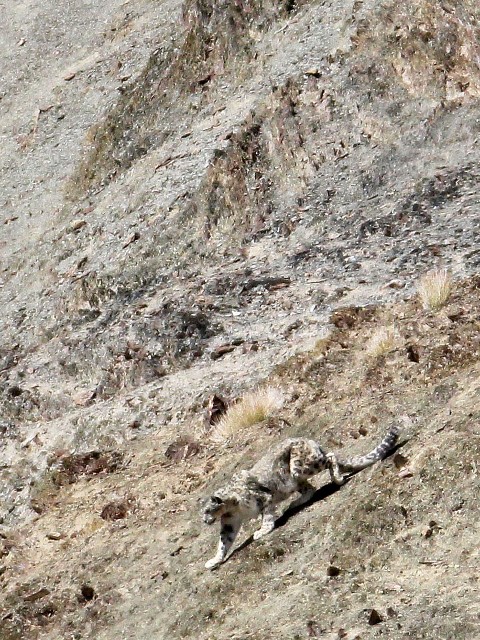 Our leopard in different light.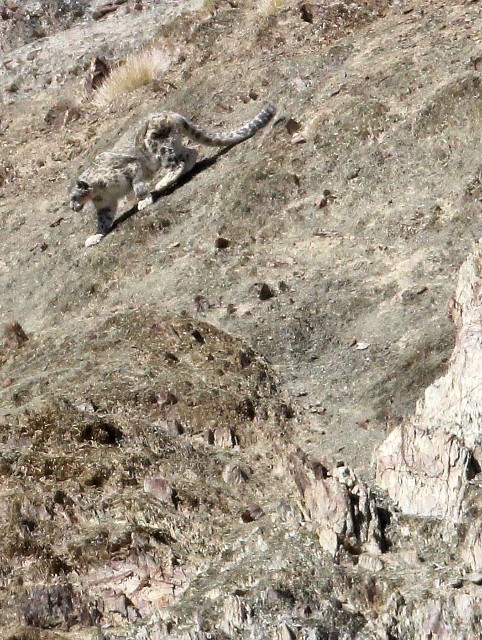 At this point we had no idea what he was up to. He was pacing back and forth across the mountain face for some time.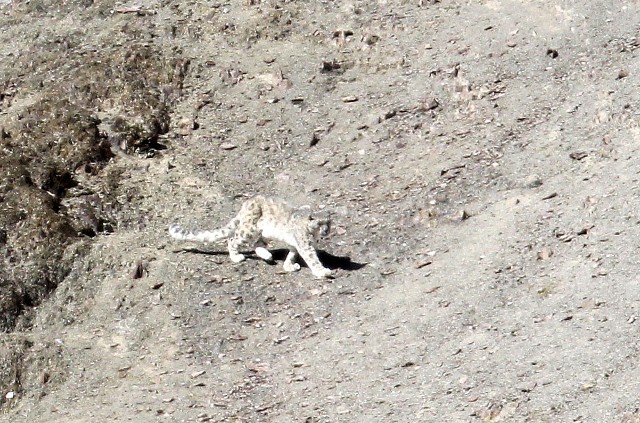 A cat on a mission.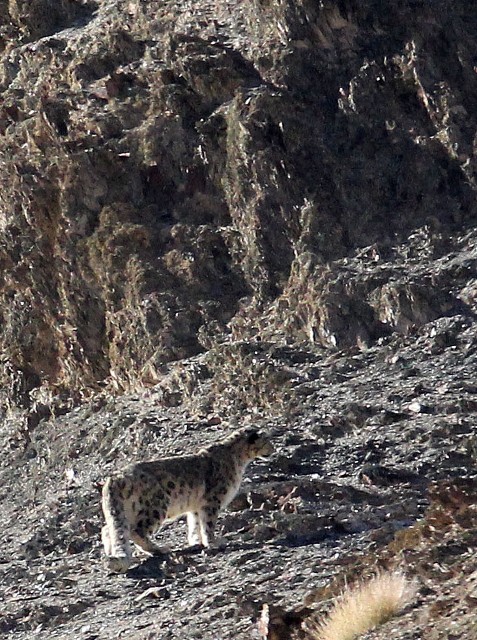 Hmm...what's over there?
The Hunt that Almost Happened

So our cat (the yellow disk like thing in the lower left) caught a glimpse of the Himalayan Snowcocks in the upper right!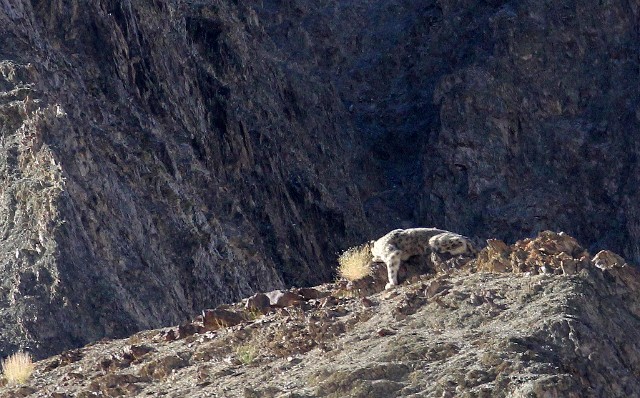 First his legs find solid ground...
He starts the low profile approach...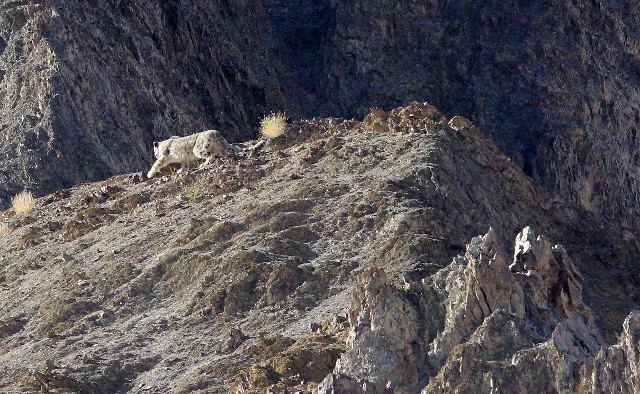 Stealthy and deliberate...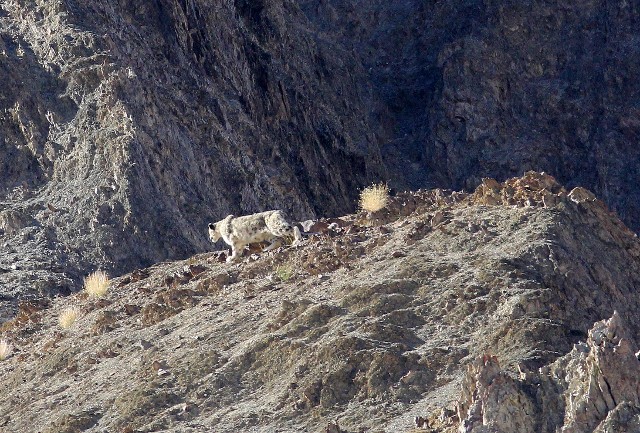 Continued approach...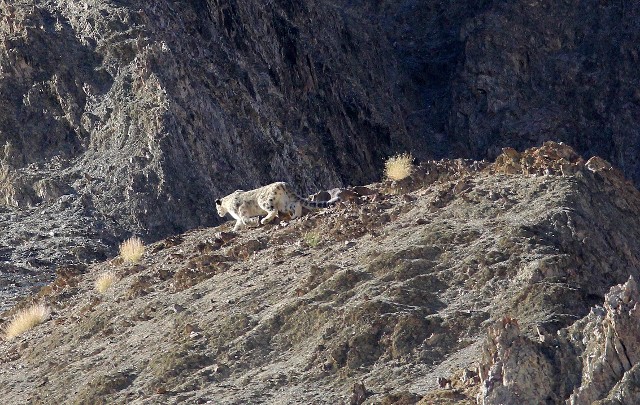 Hunting cat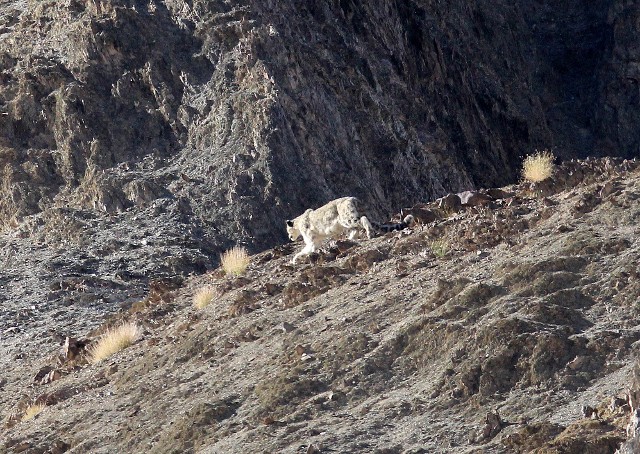 So close....but...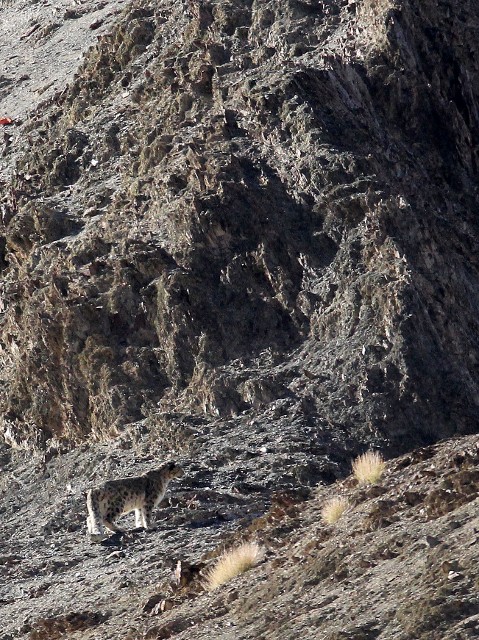 Evidently the Himalayan Snowcocks that were in his view spotted his approach, and he gave up the hunt.
Snow Leopard Sunset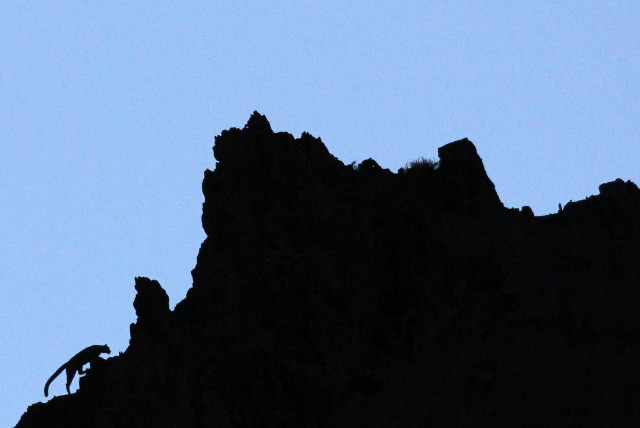 I cannot remember a sunset that was more spectacular than this one.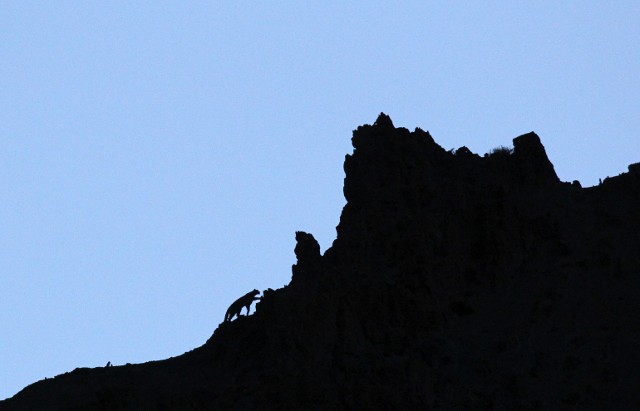 His agile climbing was hypnotic to watch.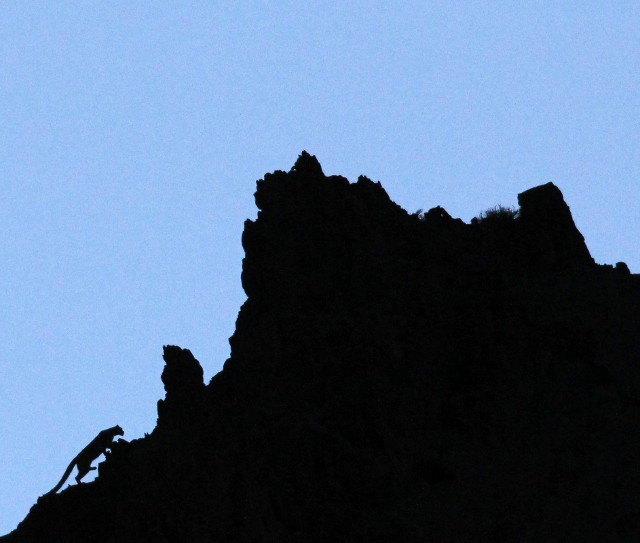 Searching for a place to sleep through the cold night?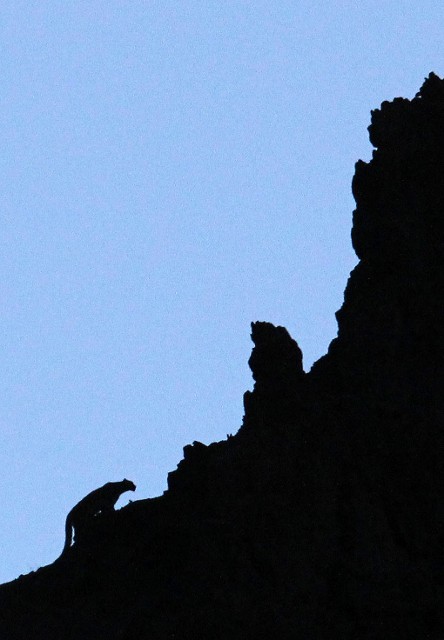 Good night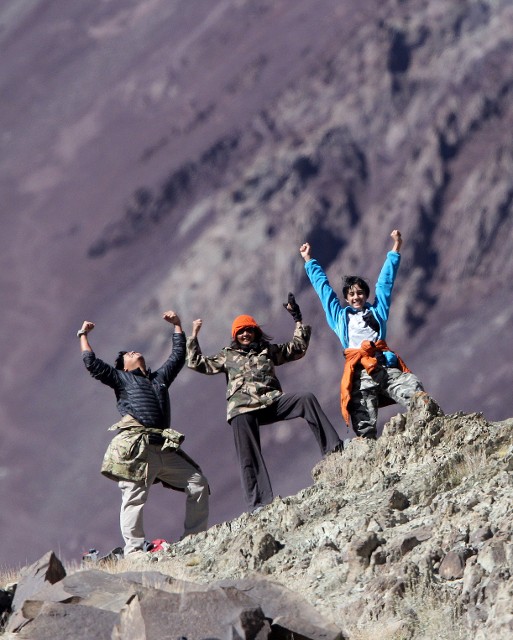 Some happy campers!

Our fourth day started at camp as usual. No cats this morning. We worked our way back up to a high ridge near the valley leading to Kandala Pass, and spent the majority of the morning and early afternoon scanning the slopes. Aside from a very large and entertaining herd of Blue Sheep, our day was leopard-less. But it was a great day for sheep for sure!
Himalayan Blue Sheep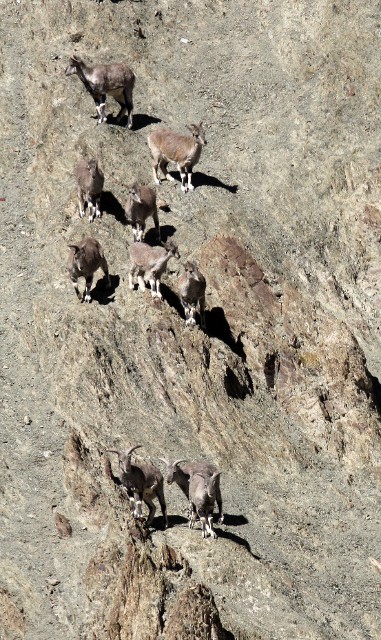 Today was known as "Blue Sheep Day" as we spent the majority of our field time with over forty of them entertaining us.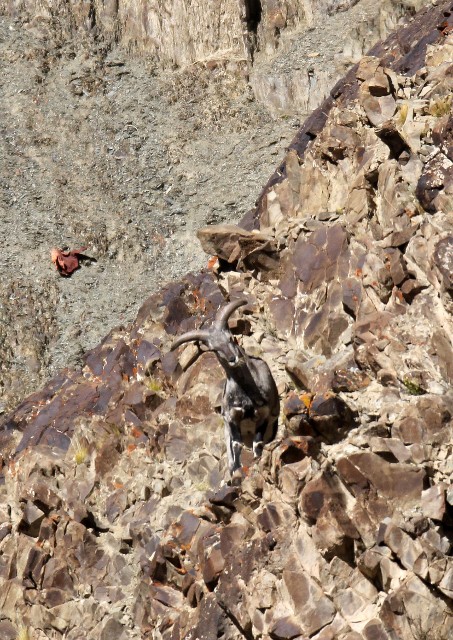 Many of them were well camouflaged in the rocky slopes.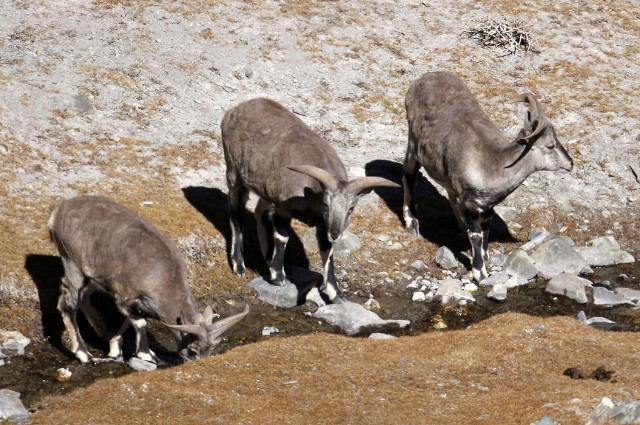 Three males coming to drink in the freshly thawed stream.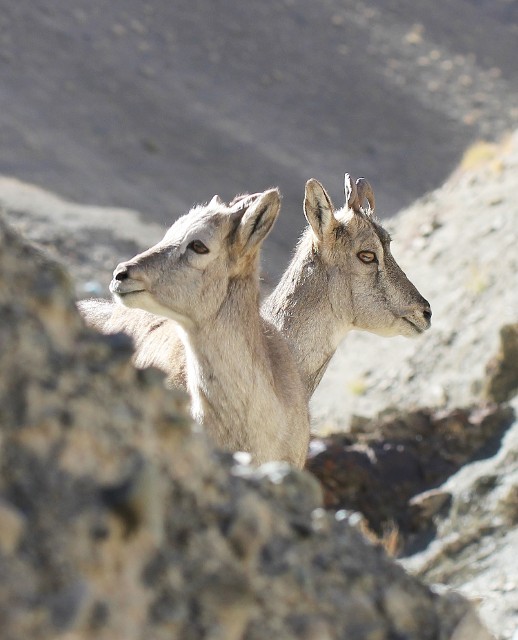 Beautiful!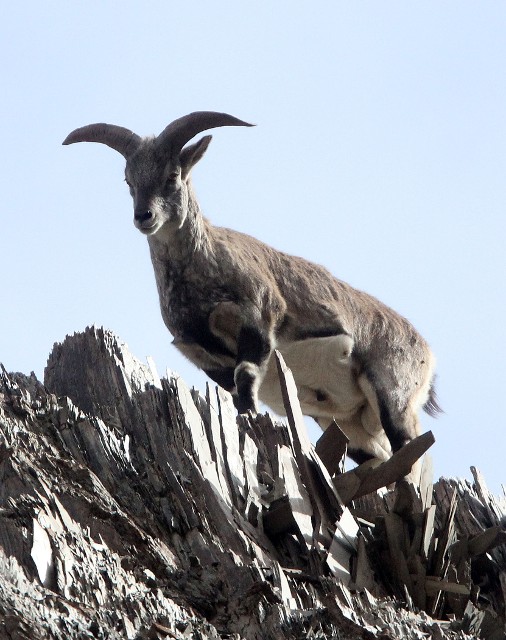 Amazing topography....not a challenge for these sheep!
We were invited to a local Ladakhi wedding that evening and most of the team enjoyed an awesome time in Rumbak Village, partying with the bride and groom and their entourage. The bride was from France so the wedding was bicultural and absolutely spectacular. I am not much of a wedding person (even though I've had four of my own!!!!), but I found this one to be one of the best I'd ever seen. What a great night.
The Wedding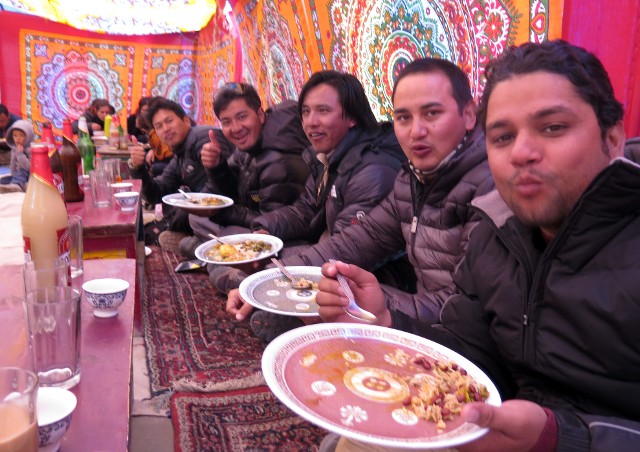 Our team enjoying some local Ladakh grub and a fun wedding in Rumbac Village. From the left: "Tour", Gurmet, KC, Stanzin (Owner and Operator of the local ground expedition) & Pradeep Singh. What an awesome group of guys. Honored to have spend a week in the field with them all!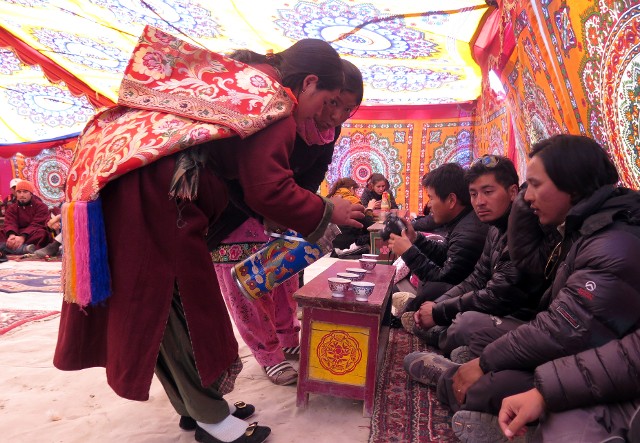 The evening started nice and formal but things did relax as time went by...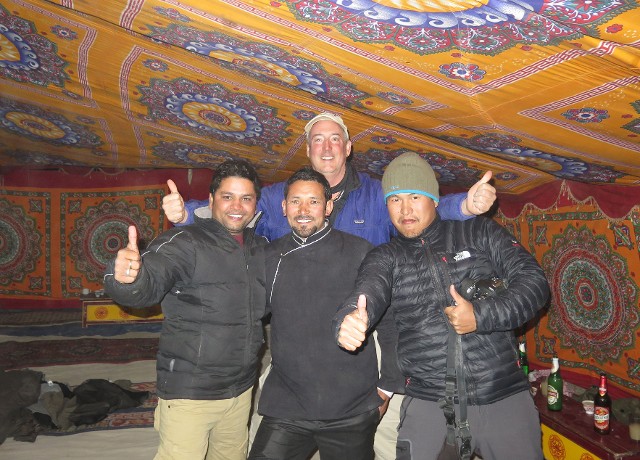 Congratulations!
Our fifth day we decided to travel a bit further down the canyon, with the assumption being that the leopard would surely not make another appearance in the same location. Evidently this is generally the rule of thumb - once the cat has been spotted in one location, it's more fruitful to move on the next day....because that is most likely what the cat is doing. So we spent the day down by the winter camp inside the Husing Canyon. The area was outstanding with views of at least five major mountainsides. Leopard spottings are evidently common in the winter there and in this valley that the famous BBC footage was made a few years earlier.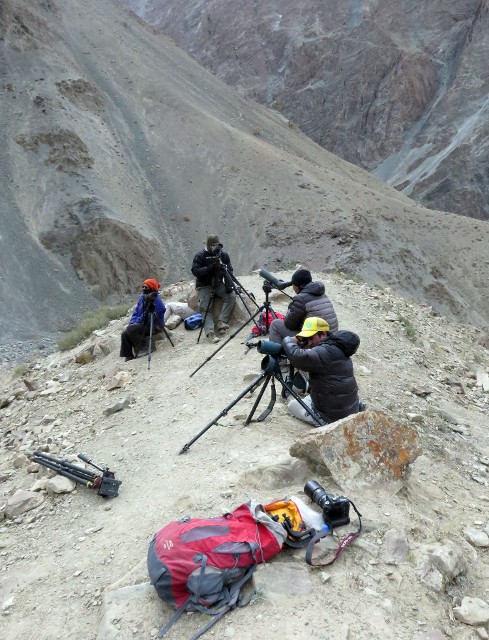 Our excellent vantage point in Husing Valley. Excellent views this day, just not of the Ghost of the Mountain...

Our day there was a bit uneventful however. Aside from some very fresh sign, all we spotted was a very cute Royle's (?) Pika and some fresh leopard and fox sign. It was a nice day on the ridge though - scenery everywhere! Some playful blue sheep here and there but nothing in the way of a leopard.
Royle's Pica (Ochotona roylei)
We caught sight of what is most likely a Royle's Pika along the trail down to the Winter Camp.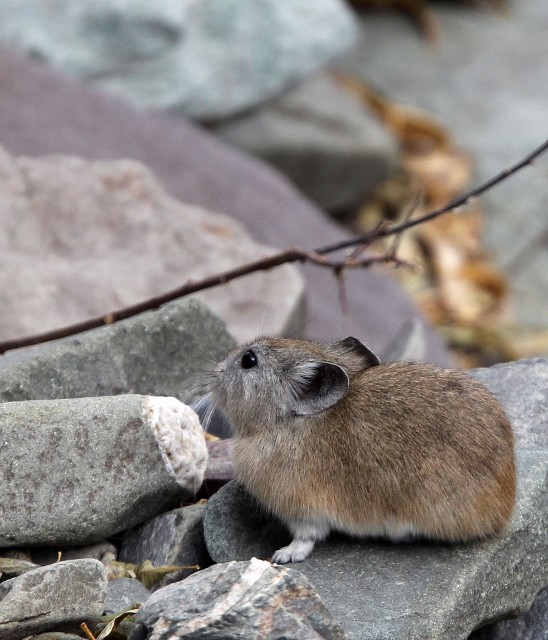 He didn't seem to mind our presence at all.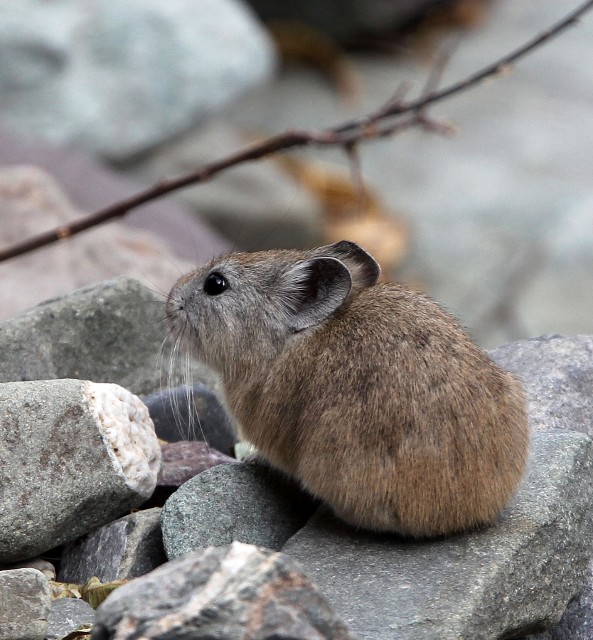 Royle's Pika (please feel free to correct if you know better!)

Our walk back to camp was exhausting. For some reason the same walk we did a few days earlier with relative ease was an intense challenge for me and the other members of the team, excluding of course the Ladakhi folks who walk something like this in their sleep....
Gurmet reached camp well before us and by the time Cokie and I made it to the camp, he had another leopard in his scope's field of view! I was so exhausted but somehow I made it up the hill! Eventually Pradeep joined and we had outstanding views of not only one leopard but THREE! We watched (but did not photograph due to light) a male-female pair and their sub adult cub play on the far ridge for nearly 45 minutes! Although we could see them with our naked eyes, the scope afforded us amazing views of all three of these amazing cats. Although we were all so exhausted, no one left until it was nearly dark. What a treat. So we were now up to four leopards! In five days!
In spite of being immensely excited and satisfied, I was horribly exhausted. I was barely able to make it to dinner. Little did I know it, but I was about to "hit the wall". It was impossible for me to sleep that night. I was unable to capture enough oxygen to make it in to sleep. I'd always heard about people suffering from O2 debt at high elevations, and although I had spent a fair amount of time at high altitudes, even much higher than Rumbak Camp, I never experienced what I went through this evening before. It was awful. Eventually my labored breathing woke Cokie and Som and we tried to get an oxygen tank to help out but somehow one never made it on the mules. But by early PM the next day, one had been special-ordered from Leh and after only 20 minutes inhaling the pure gas, I was restored to near perfect condition! I was amazed in my physical transition. I had a bit of an oxygen headache but I felt so much better. But I hope to never go through that again.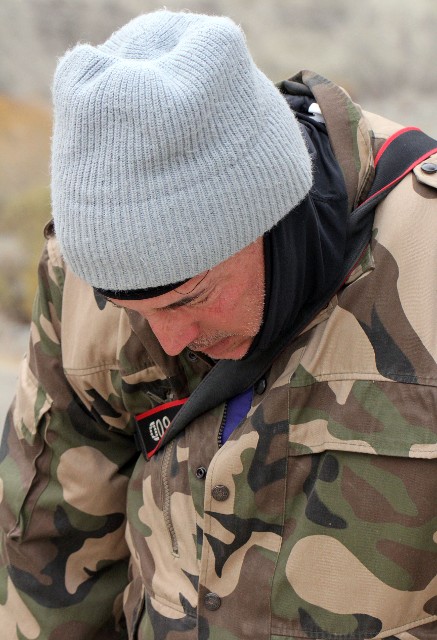 I still am amazed how quickly and thoroughly 20 minutes of oxygen turned me around!

Our time in Hemis was truly outstanding. In my wildest dreams, I never would have predicted FOUR leopards with at least five sightings over a six day period. I was truly blown away, as was everyone else. Our guides and spotters were very relieved as well - we had far better luck then they anticipated as well as October is not known for high levels of success. In fact, of the four or so groups that were there when we were there, only two had sightings. At least two went home empty handed. I can imagine (because I have been there before!) how that must feel....
The trek back down to the vehicles was uneventful. We were all so happy that our time in Hemis had been so fruitful. Tour opted to stay in Rumbak for four more days to increase his odds at getting a closure image of the Ghost of the Mountain. The Smith's were happy with our crappy images on film but our priceless images in our own minds. On the way out of Hemis, we tried fruitlessly once again to spot some Urial. No luck...again.... Once back in Leh, it was so nice to have a real bed and a warm room to stretch out in. So nice to have a hot shower after nearly seven days of no bathing. Thankfully sweating was minimal....so no one really reeked...(not counting our feet)...
After some morning activities in Leh, we decided to try for some more wildlife and another chance at the Urial up in Ulley Valley. Located about 25-70km from Leh, the Ulley area is outstanding habitat for many different species. Initially we were becoming discouraged with our attempts to find the Ladakh Urial....one stop after another with no luck on any slope, but later in the afternoon it became non-stop sightings. First three distant male Urial followed by about 10 female and young male Asiatic Ibexes, followed by a dozen or more very close Ladakh Urial. It was awesome.
Ladakh Urial (Ovis vignei)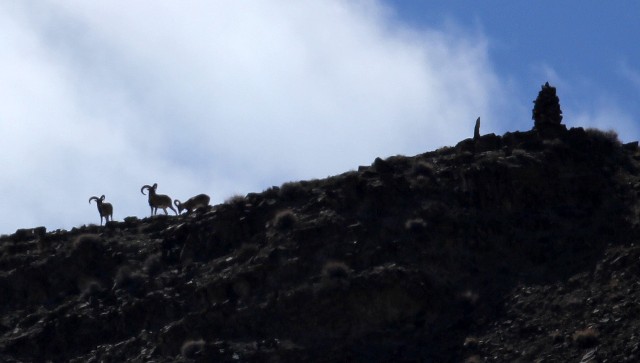 Our first Ladakh Urial were quite distant. But after so many hours trying we were happy to get anything at all!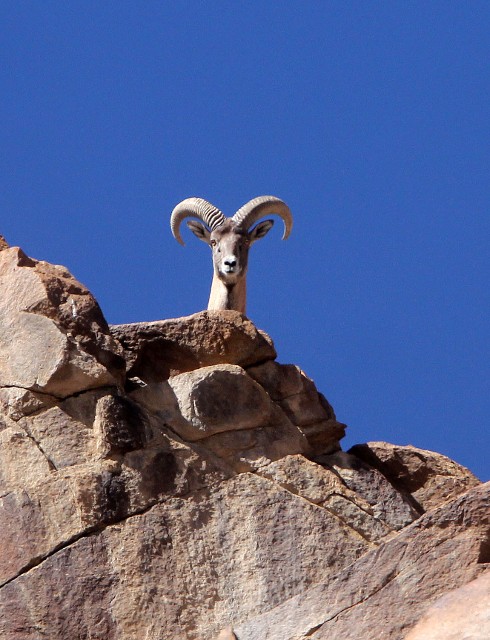 Our second herd gave us a much better view.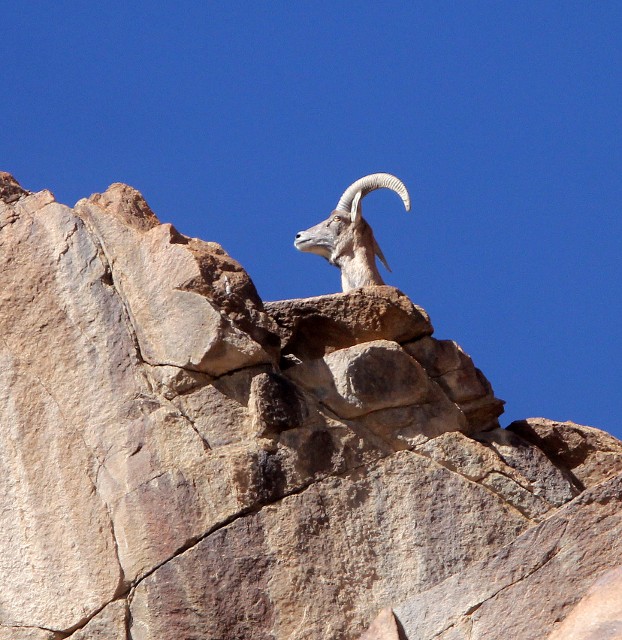 A spectacular male came to the edge to see what we were up to.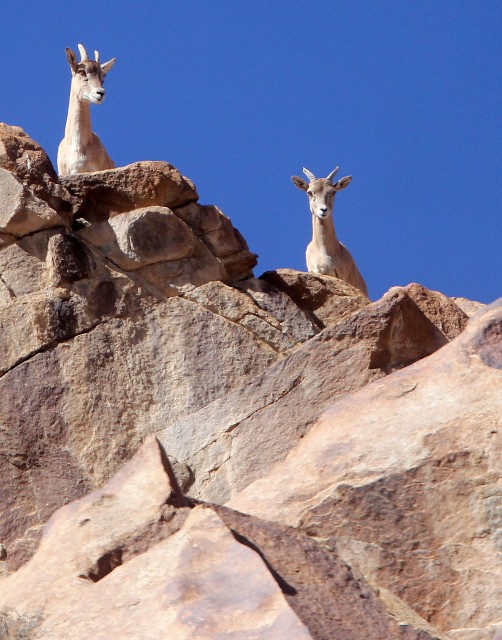 Some young ones came to see as well...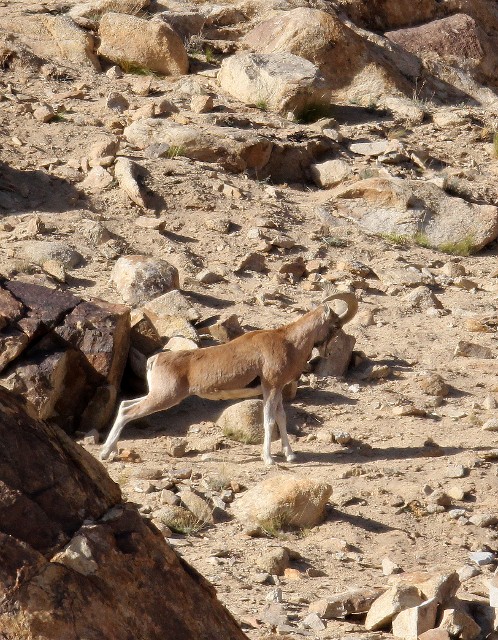 An adult male stretching away after a nap...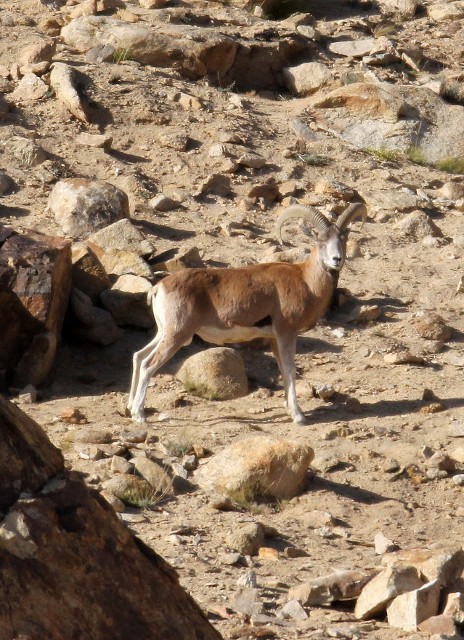 Ladakh Urial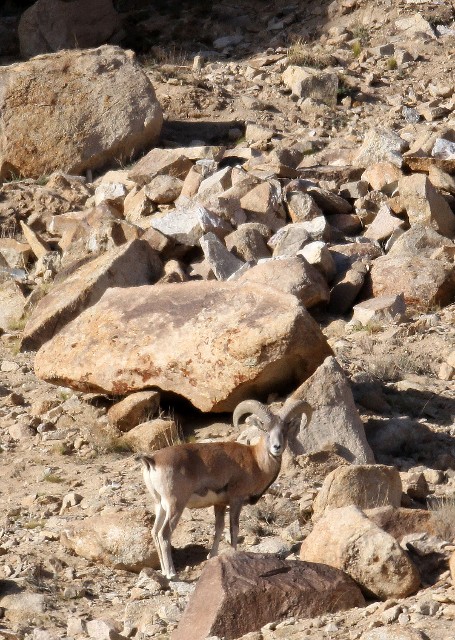 A spectacular male Urial.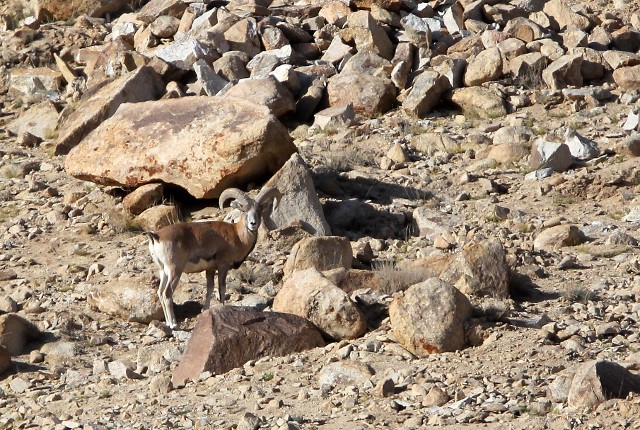 Ladakh Urial
Asiatic Ibex (Capra sibirica)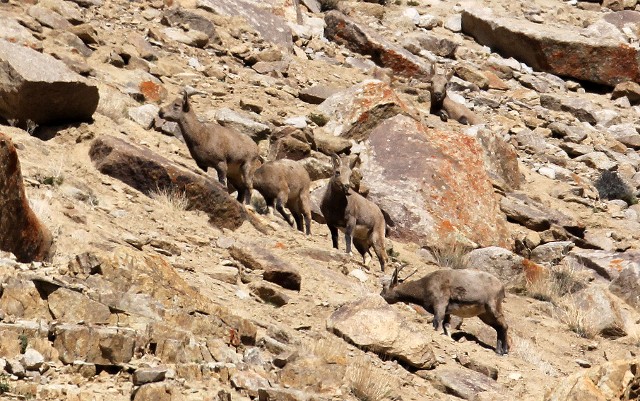 We were pleasantly surprised to find a small female herd of Asiatic Ibex while searching for our Urial.
Asiatic Ibex seen in the Ulley Valley area.
But perhaps the most surprising sighting of the day was made by me. The only problem was I was a bit shy about announcing it. I spotted what I thought was a sleeping Snow Leopard on the hill opposite us, but I was unsure if it was a leopard or simply a shiny yellow bush. But after KC confirmed it, we had leopard number FIVE! Truly remarkable. We had our fifth leopard. He did stir a bit for a brief show but mostly this leopard slept his day away. Over the next several hours, we would search for other species while periodically looking in his direction to see what he was up to. Spectacular.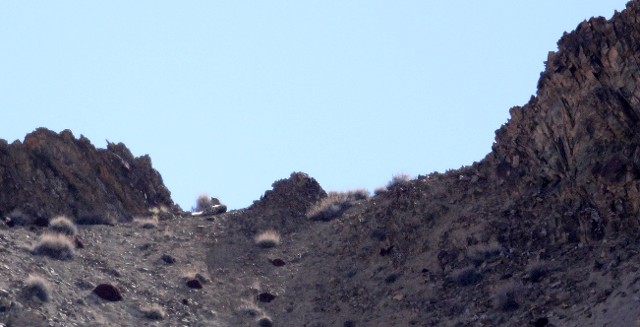 My Snow Leopard spot! Proud of it...

In the late afternoon, on the way out of Ulley, approaching Leh, we spotted more Ladakh Urial and amazingly, a pack of SEVEN Tibetan Wolves! They gave us prolonged and outstanding views. The thermals in the air there made sharp photography a bit of a challenge but we were able to capture images of every member of the pack, which consisted of two blackish, more typical, wolves and five "blonde" wolves that more than likely have a bit of DNA from domestic dogs. There is currently a bit of a debate on this last observation but they were definitely unusual wolves from my perspective. Wow! What a day. What an expedition!
Tibetan (Himalayan) Wolf (Canis lupus chanco)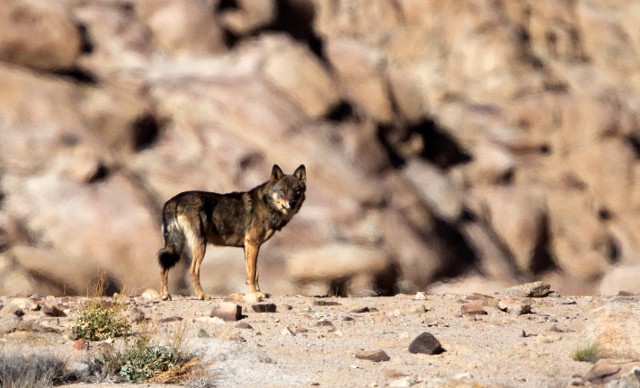 A spectacular Tibetan Wolf spotted in Ulley Valley, Ladakh.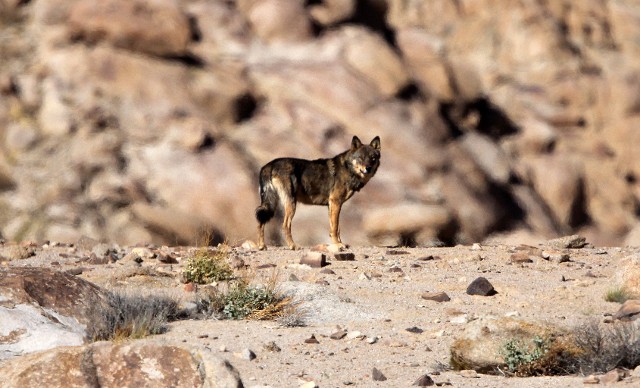 Tibetan Wolf
Five of our wolves were blonde in form, no doubt indicating a mix with domestic dogs perhaps.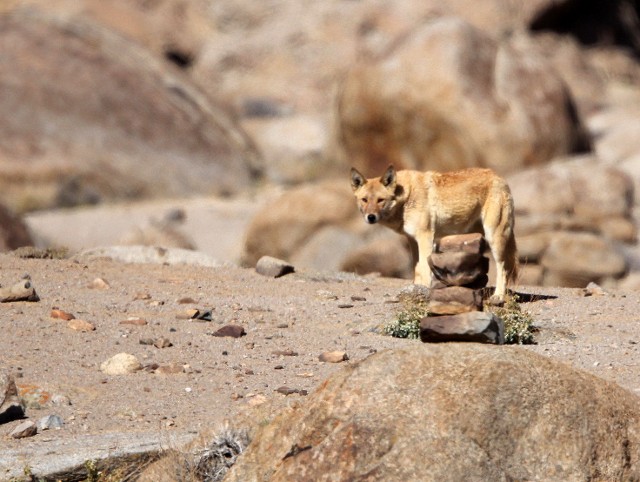 Blonde form of Tibetan Wolf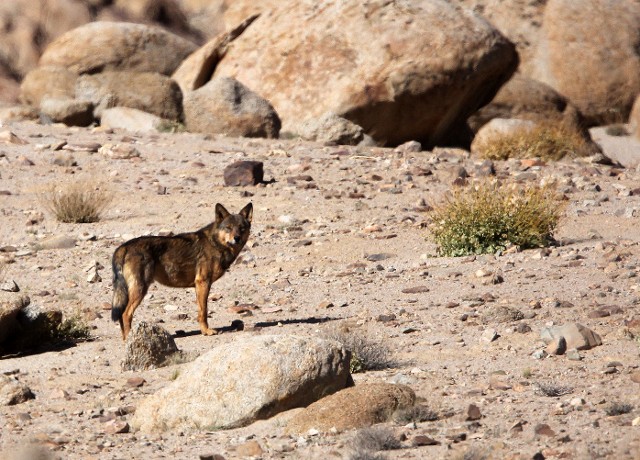 Tibetan Wolf - dark morph.

There are a few select species that a wildlife-watcher such as myself keeps high on the crown of our wish list. These are species that we only dream of seeing and deep inside actually, more than likely, realize we may never see. Such species for me over the years included, of course, Snow Leopards, Giant Panda, Lowland Gorilla, Babirusa, Clouded Leopards, Tibetan Wolves and many more. All of these species are ones we've spent time with by now, so my bucket list is smaller I suppose (although actually it is simply being filled with other species...) but our Snow Leopard rank as my all time climax species so far in my career. If my mammal-watching days were to stop now (please no!), I would leave them satisfied. Very satisfied.
Some More Leopard Pics!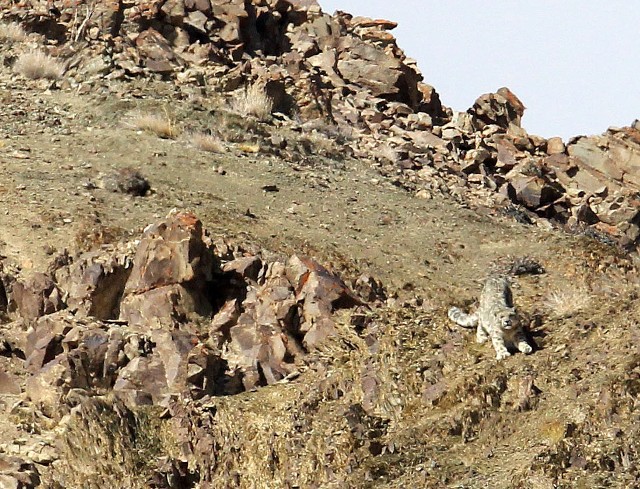 Snow Leopard #1 giving a good stretch in the morning light!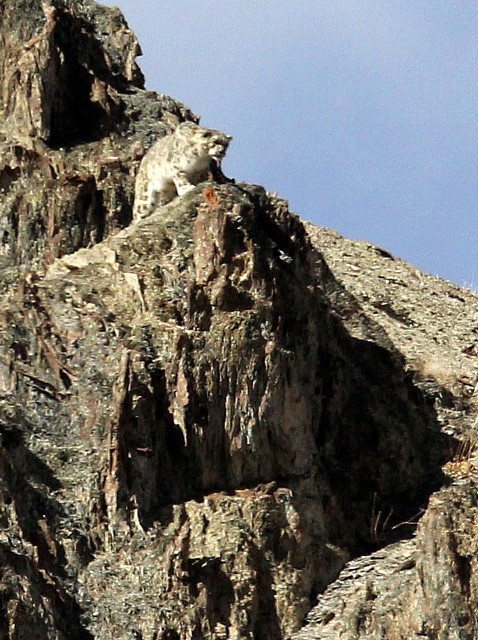 Our Snow Leopard scanning his domain.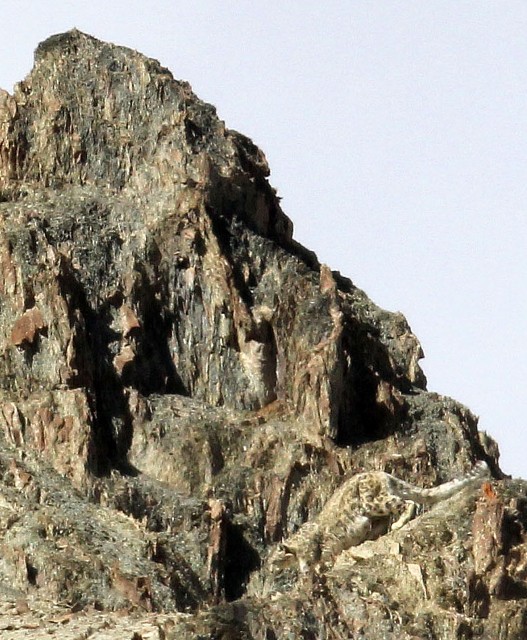 Cryptic Snow Leopard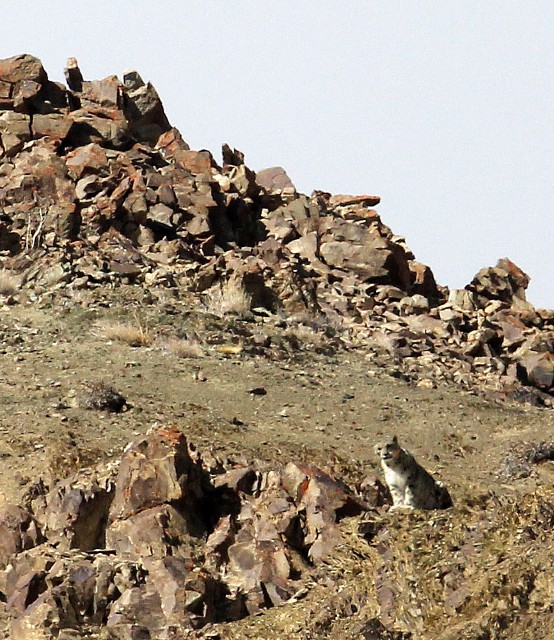 Our First Snow Leopard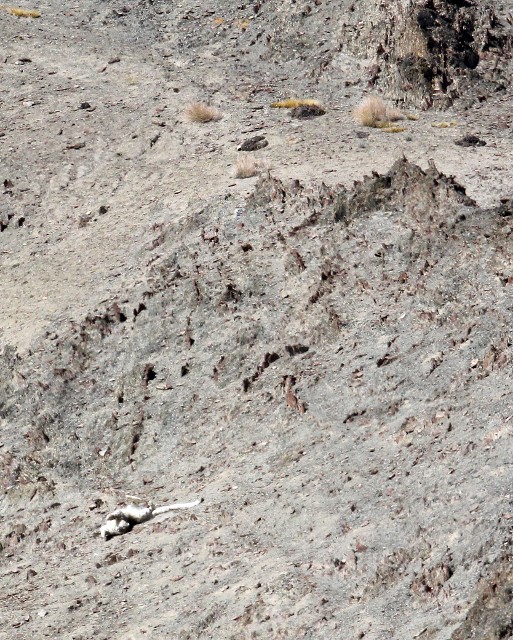 Horrible picture but this is one I got of our Snow Leopard taking a sand bath...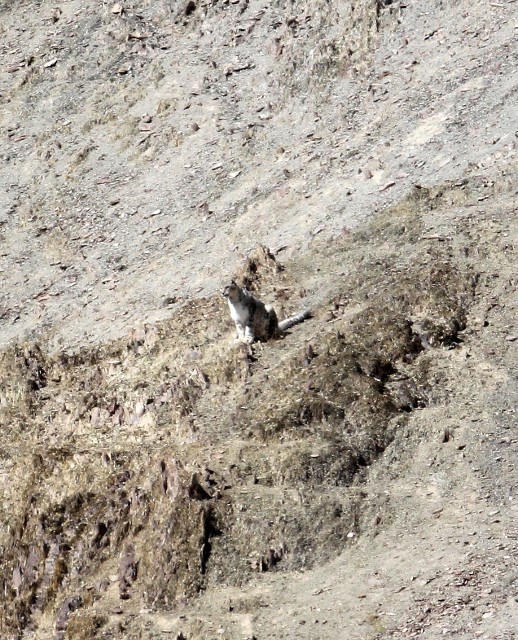 Panthera uncia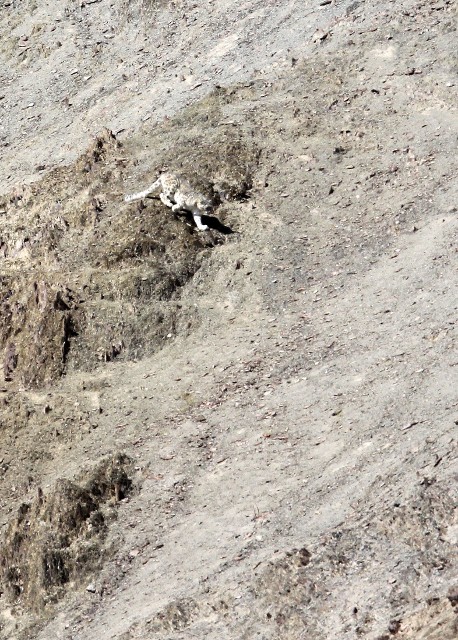 Moving on...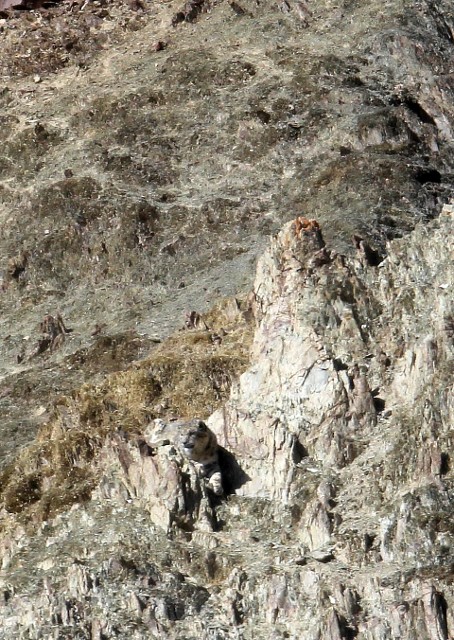 Relaxing in the sun...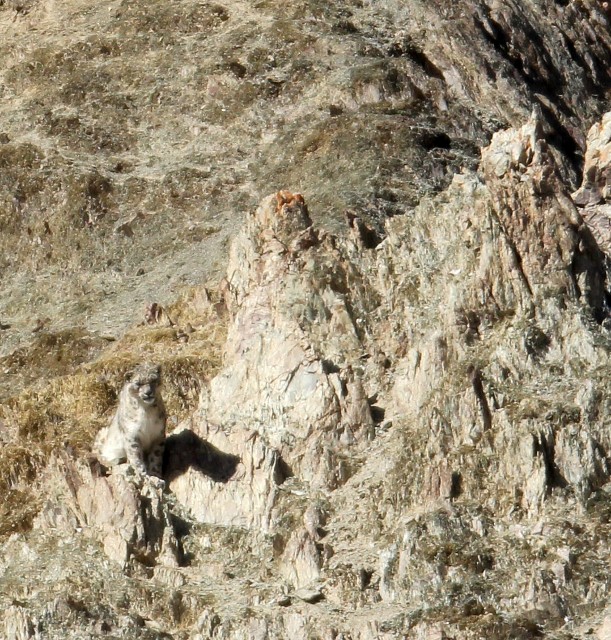 Snow Leopard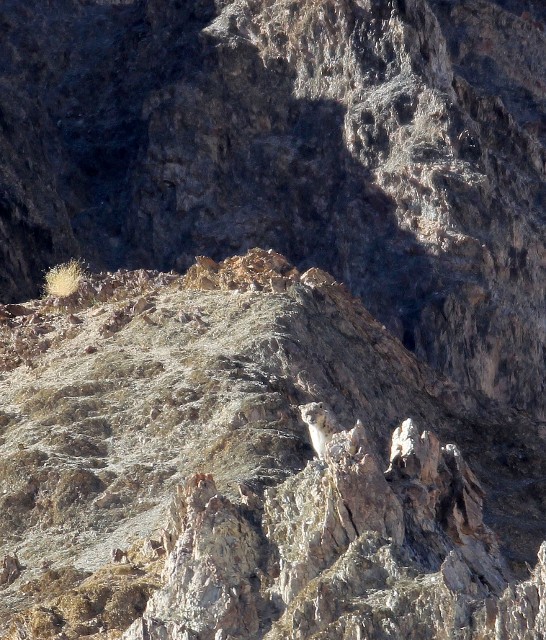 Snow Leopard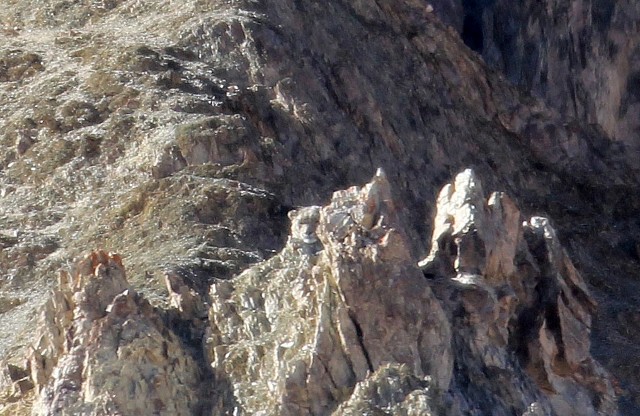 If you look hard enough, you can see a Snow Leopard face in this pic.
Something in his territory...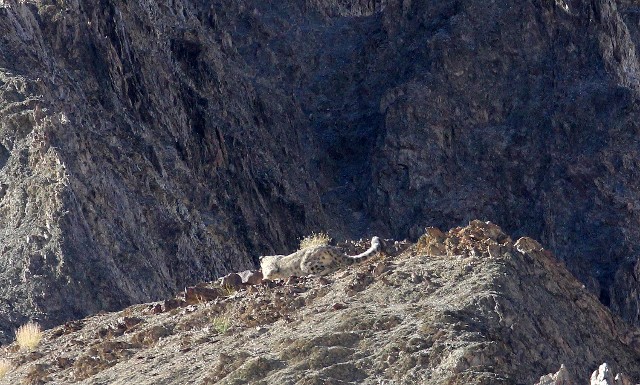 Stalking leopard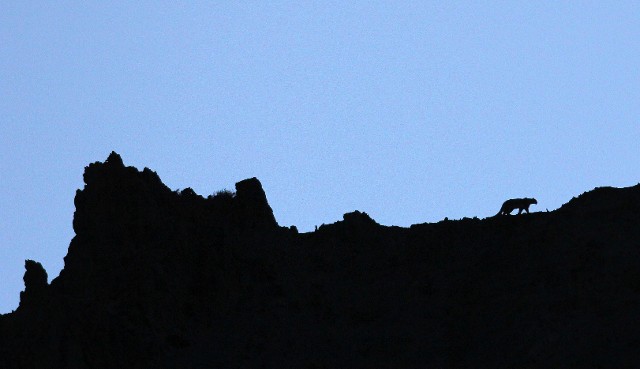 Snow Leopard Sunset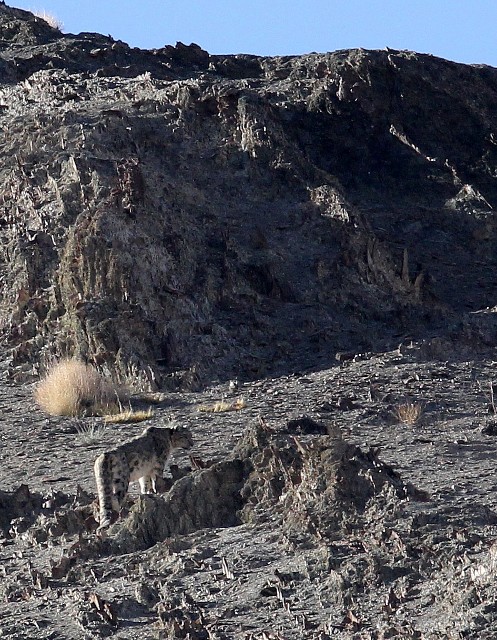 Searching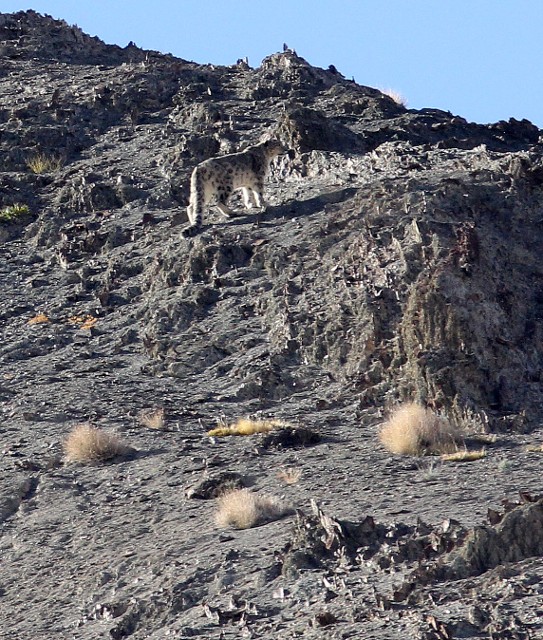 Snow Leopard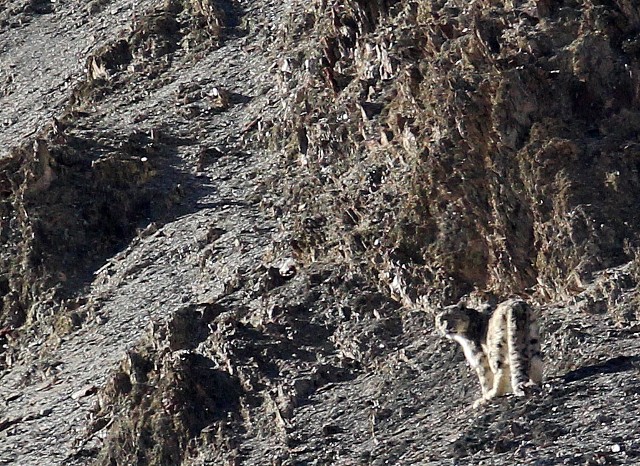 I think he is looking at us....
Some Other Critter Pics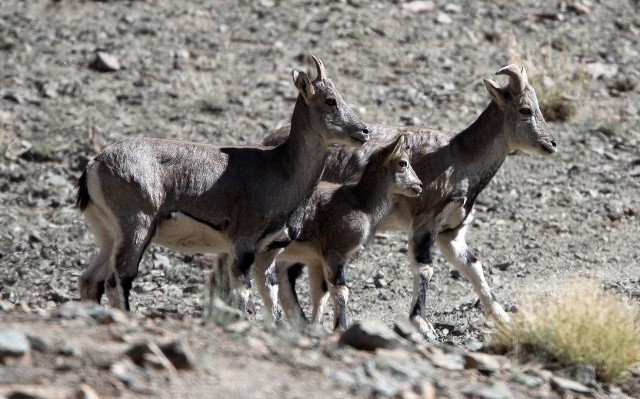 Himalayan Blue Sheep on day one.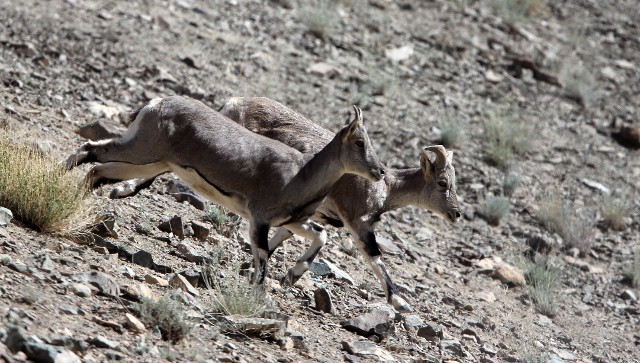 Playful Himalayan Blue Sheep near Winter Camp.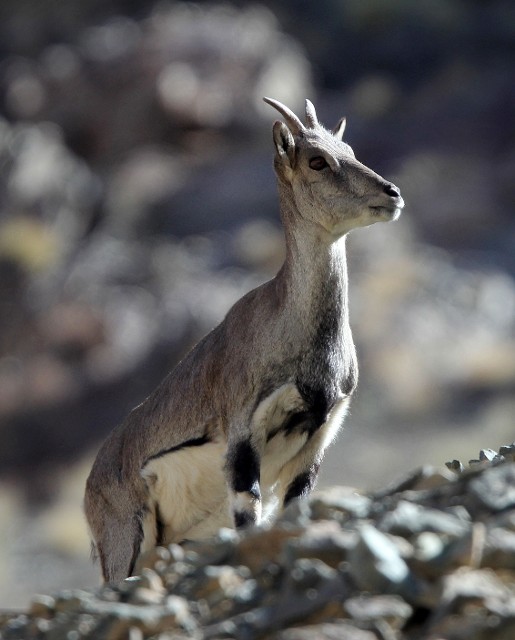 Young male Blue Sheep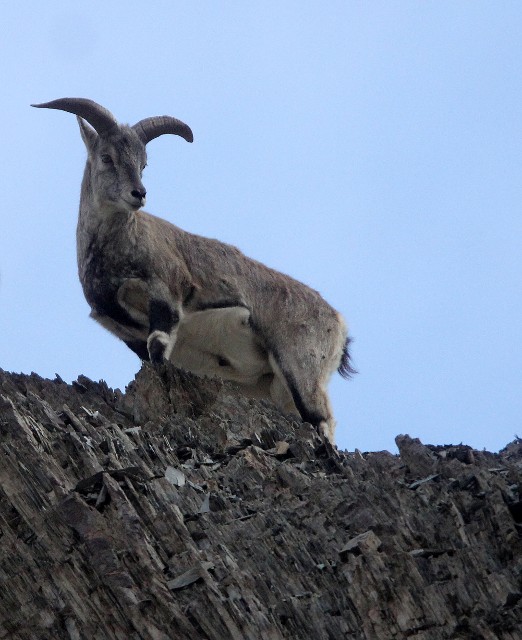 Male Blue Sheep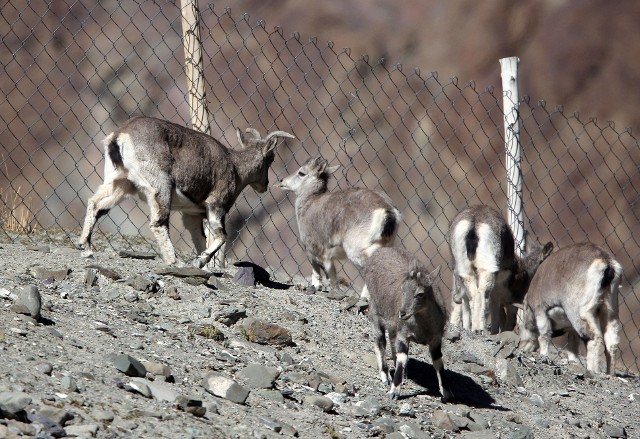 Hemis is actually quite lived-in. Rumbac as well as other villages punctuate the park's interior. There seems to be a peace between the wildlife and the villagers however.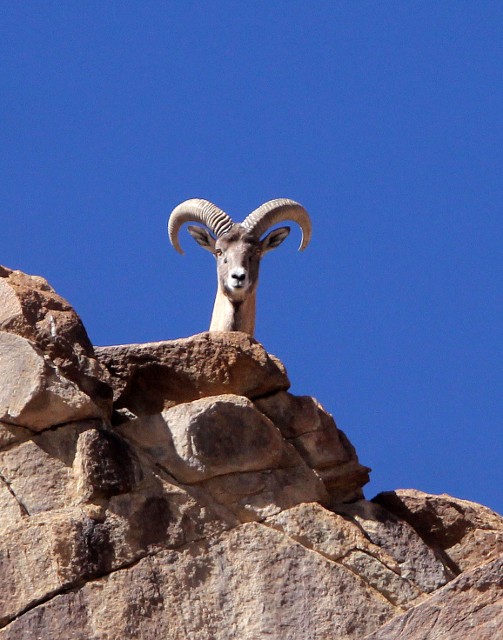 My true #1 target - Ladakh Urial. Great to see it!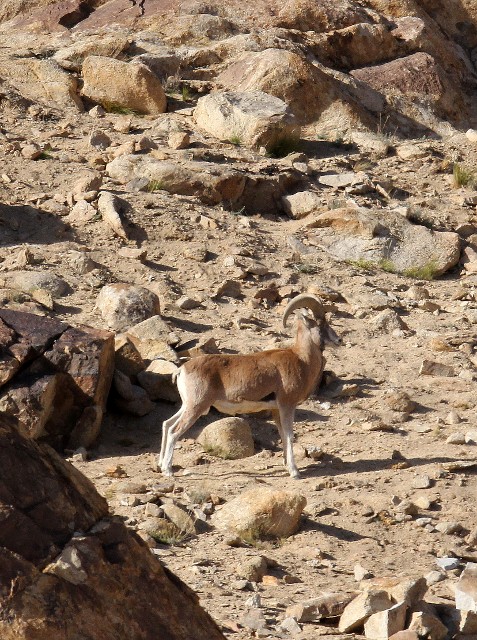 Beautiful mature male Urial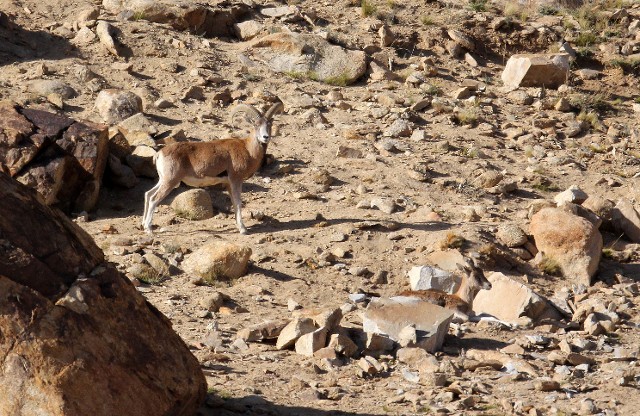 Ladakh Urial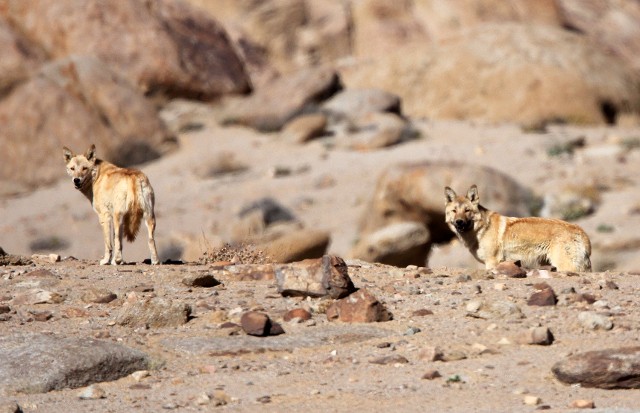 Our blonde Tibetan Wolf hybrids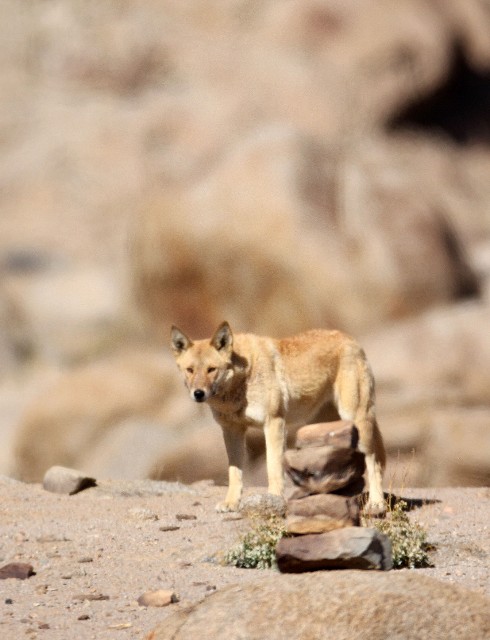 Wolf!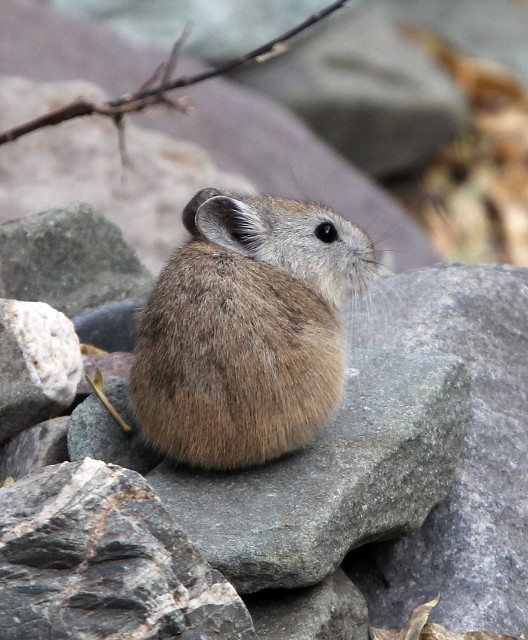 Royle's Pika (I think)

Mammal List Ladakh
Ward's (Wroughton's) Wood Mouse (Apodemus wardi)
Snow Leopard (Panthera uncia)
Ladakh Urial (Ovis vignei)
Himalayan Blue Sheep (Pseudois nayaur nayaur)
Asiatic Ibex (Capra sibirica)
Royle's Pika (Ochotona roylei)
Large-eared Pika (Ochotona macrotis)
Tibetan or Himalayan Wolf (Canis lupus chanco)
Five Striped Palm Squirrel (Funambulus pennantii)
Birds of Ladakh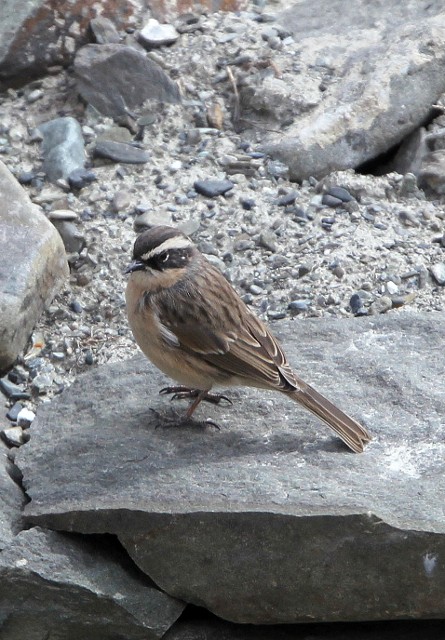 Brown Accentors were very common near Rumbak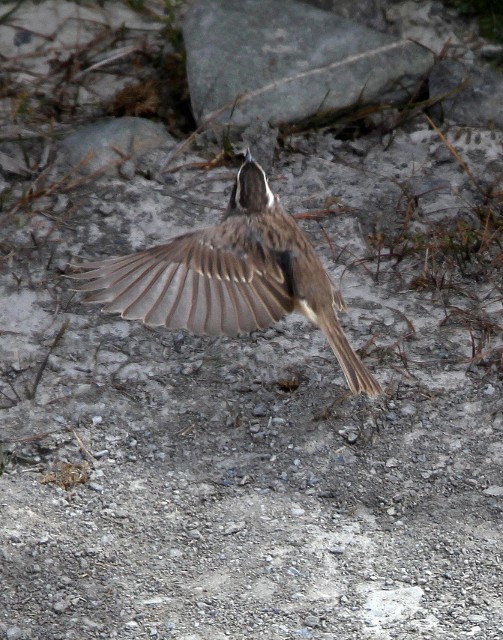 Brown Accentor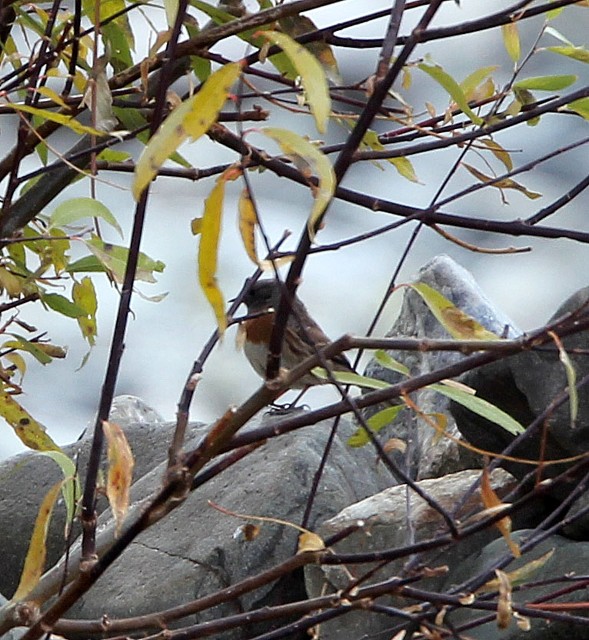 Robin Accentors were also common but for some reason I failed to get a decent picture of one!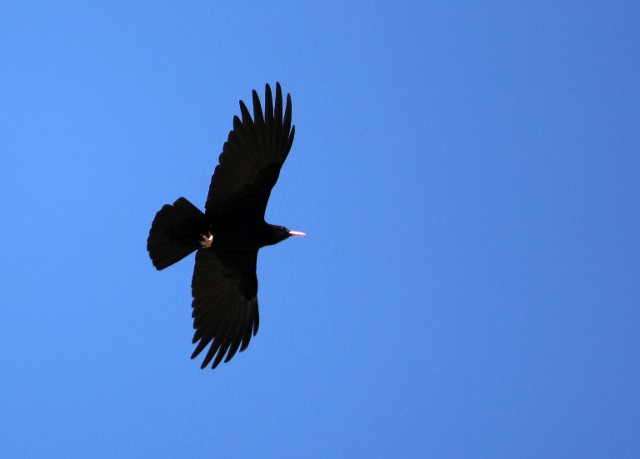 Red-billed Choughs were common in the mid-elevations in Ladakh.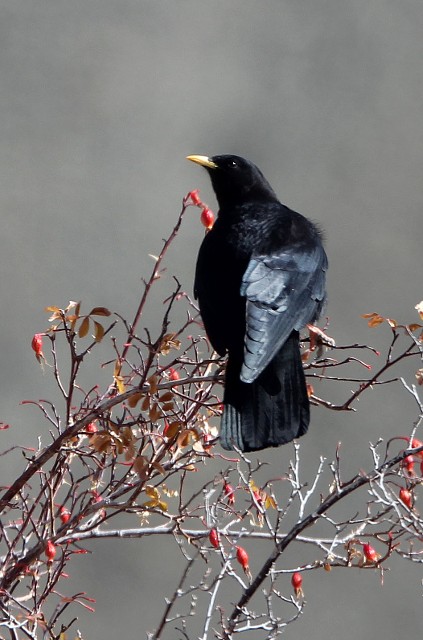 Yellow-billed or Alpine Choughs were common at the higher elevations of Hemis.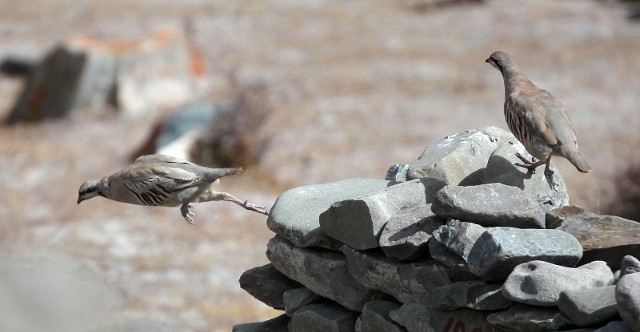 Chukar were extremely common in Hemis. Years of no hunting not only made them plentiful - they were practically fearless.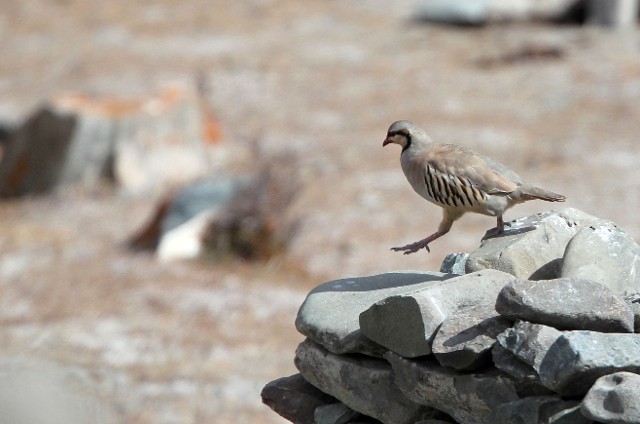 Chukar!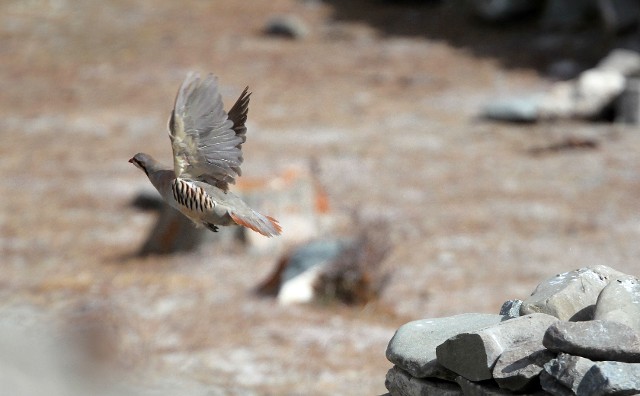 Chukar in short flight.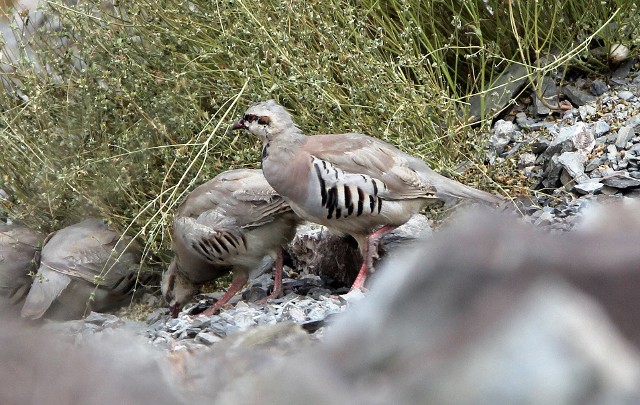 Striking birds, Chukar were very well camouflaged.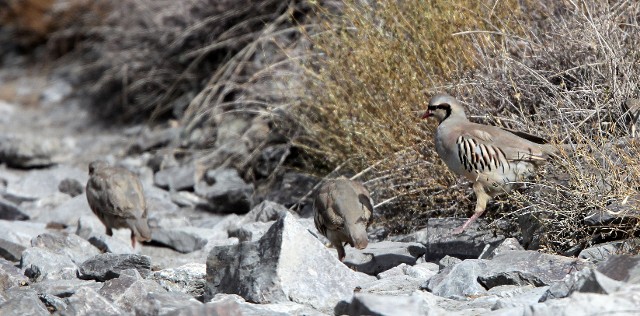 Another Chukar...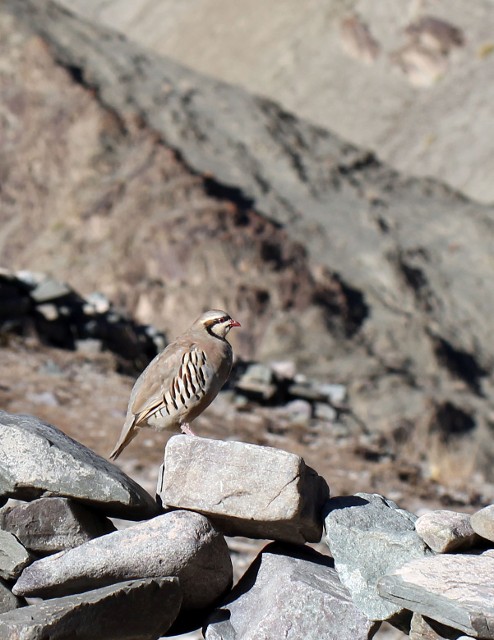 Chukar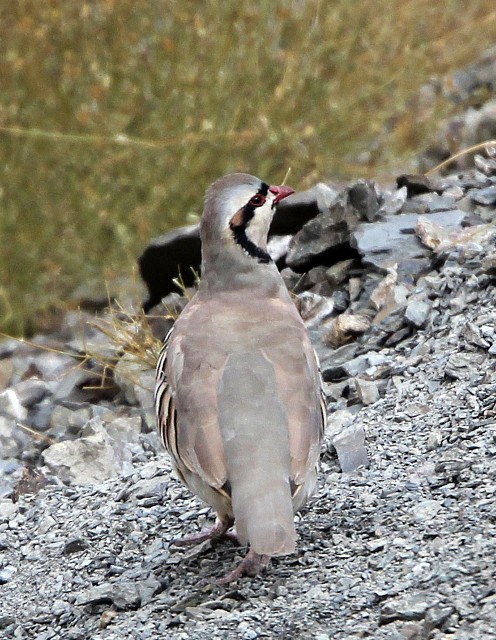 OK - last pic of a Chukar!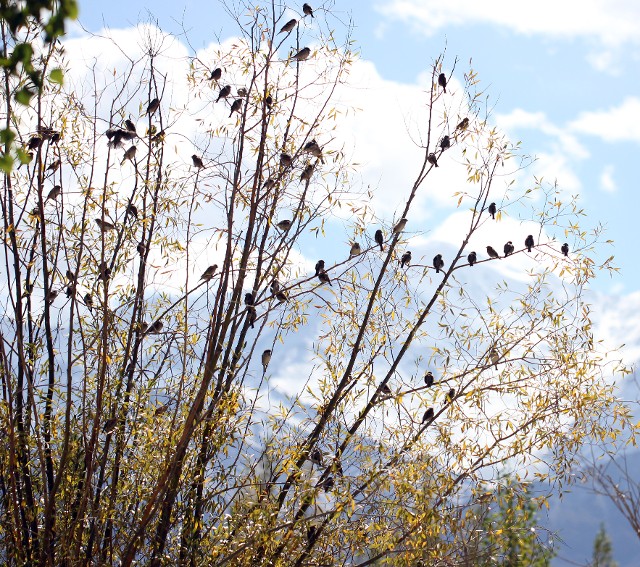 I have never seen Common Stonechats flock like this....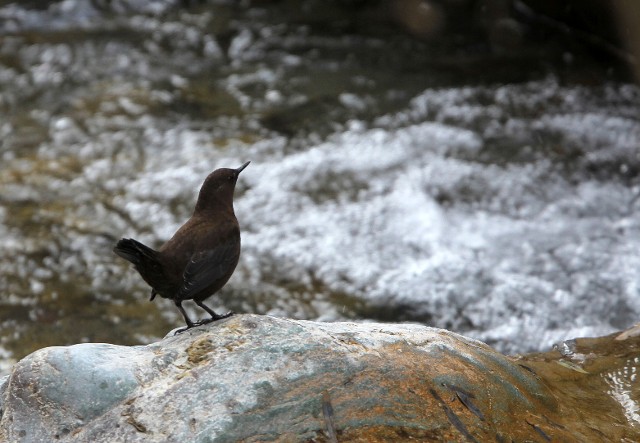 On one of our treks down the river canyon near Rumbak, we came across several Brown Dippers.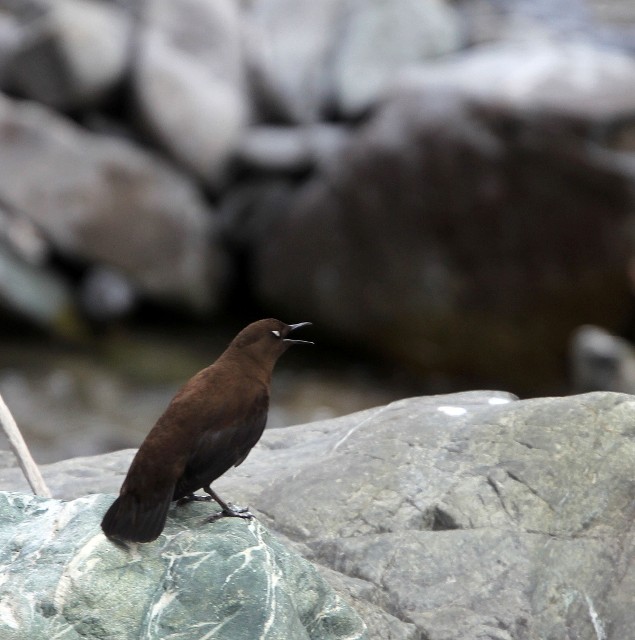 Brown Dipper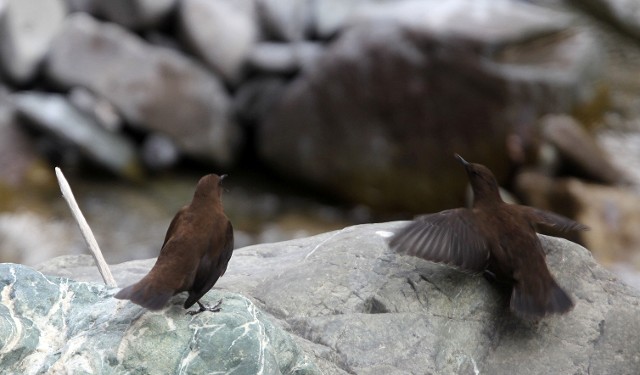 We caught a couple in their mating dance...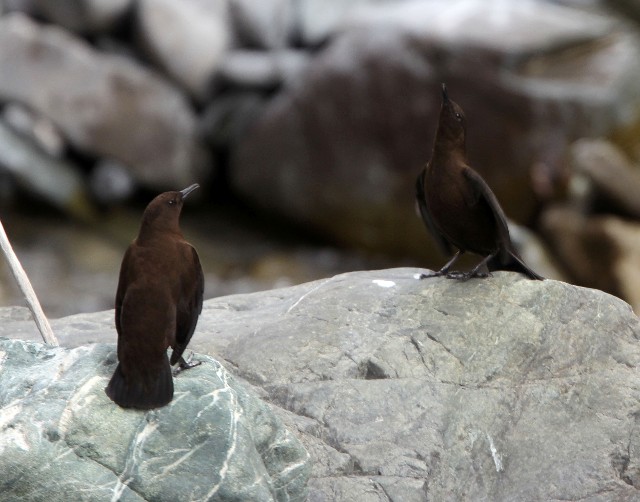 Flirting Brown Dipper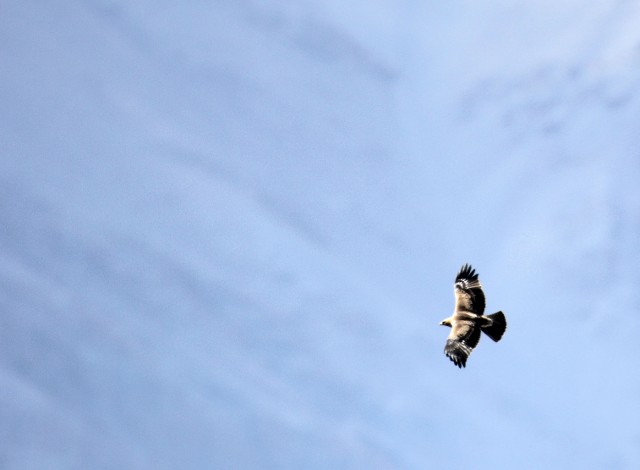 Golden Eagles were commonly spotted throughout Ladakh.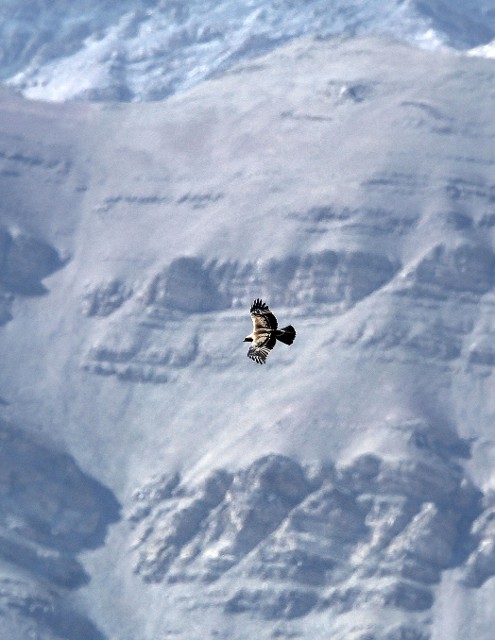 Golden Eagle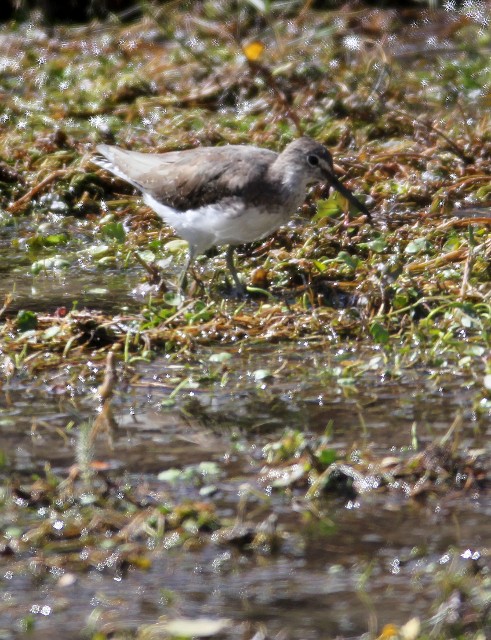 Common Greenshank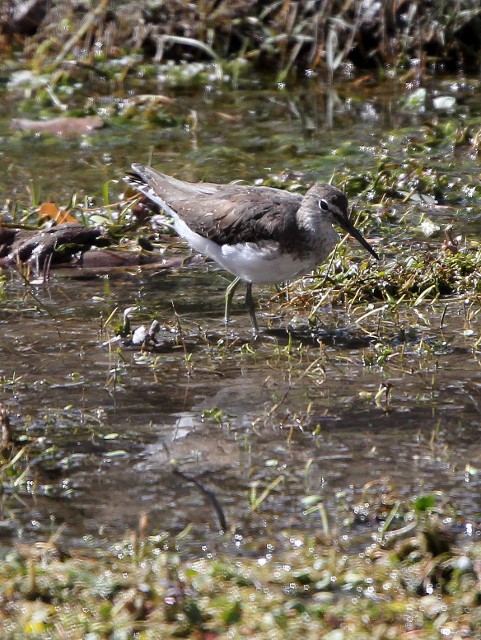 Common Greenshank....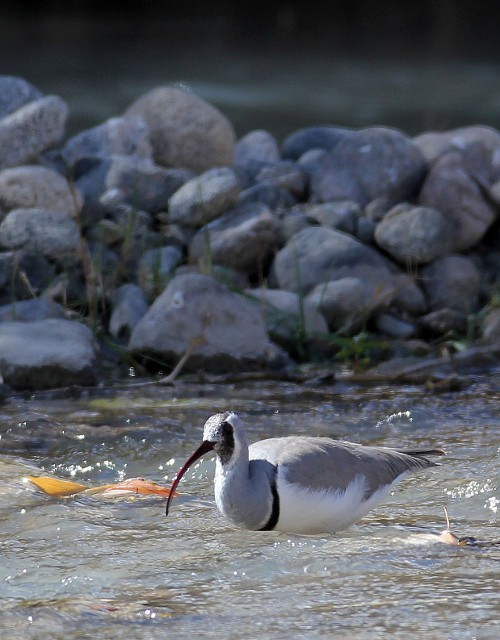 Ibisbill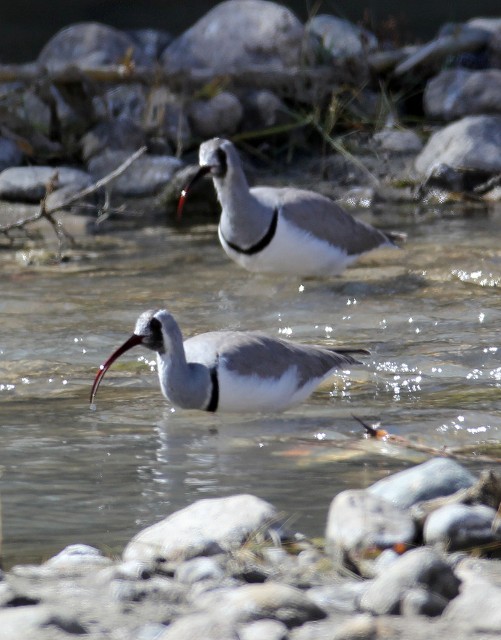 Beautiful pair of Ibisbill near the Dalai Lama's house!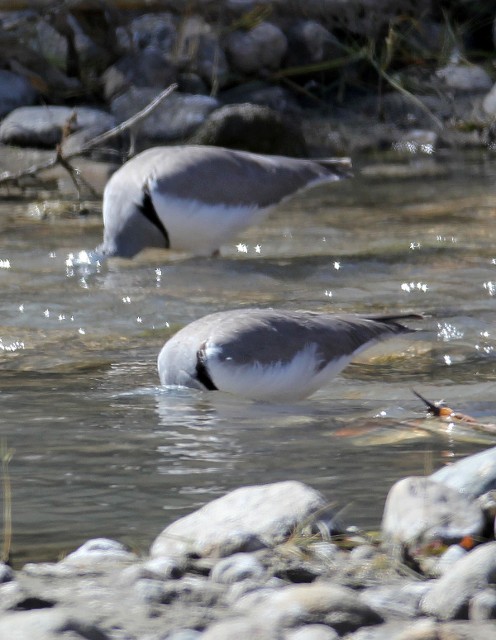 Lunch time!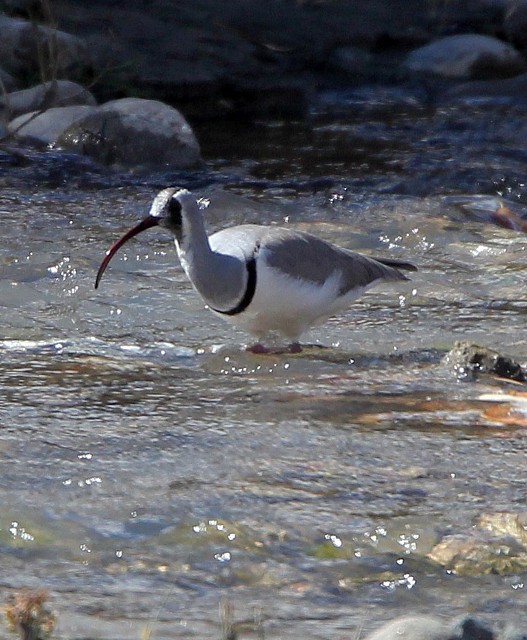 Ibisbill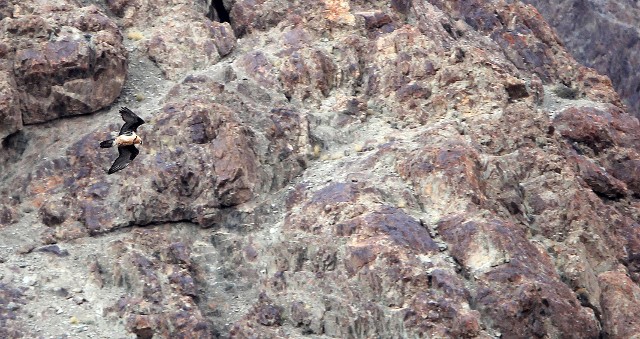 Our only "close" Lammergeier spotted by Som!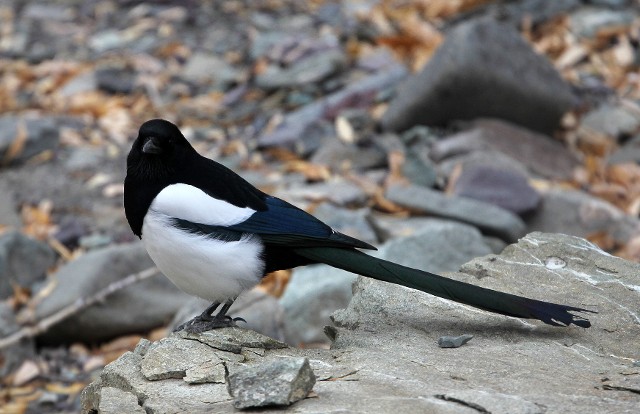 Black-billed Magpies were the most common corvid seen on our trip.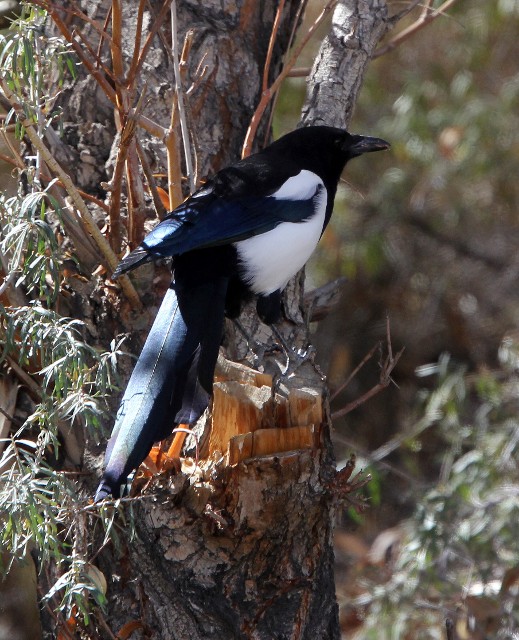 Black-billed Magpie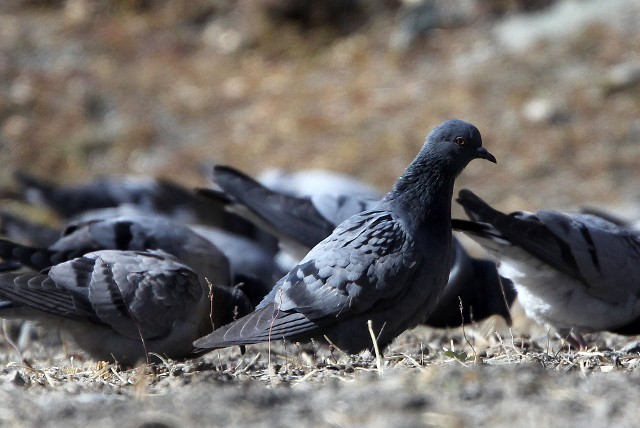 Hill Pigeons were common in Hemis.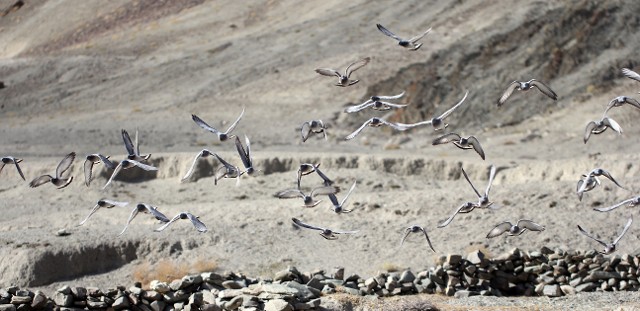 Startled flock of Hill Pigeons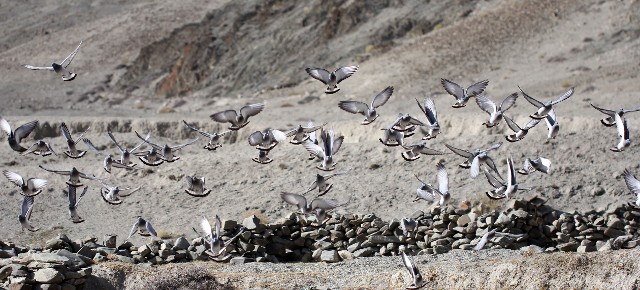 Hill Pigeons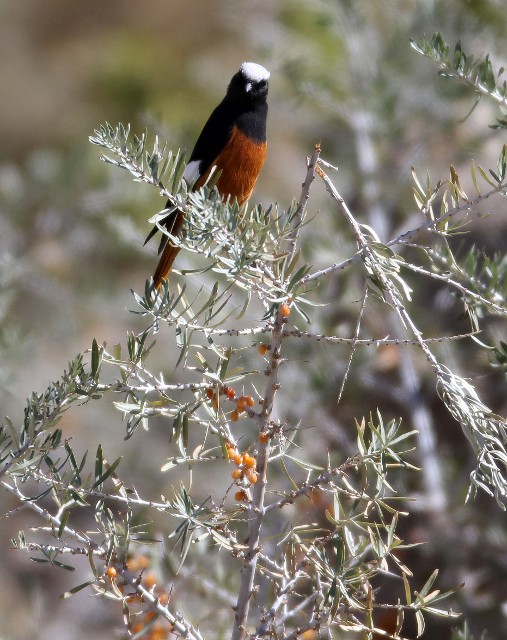 White-winged Redstarts were spotted commonly in Hemis.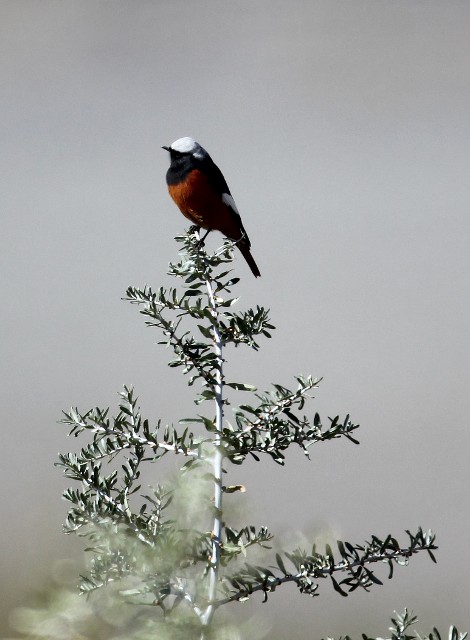 White-winged Redstart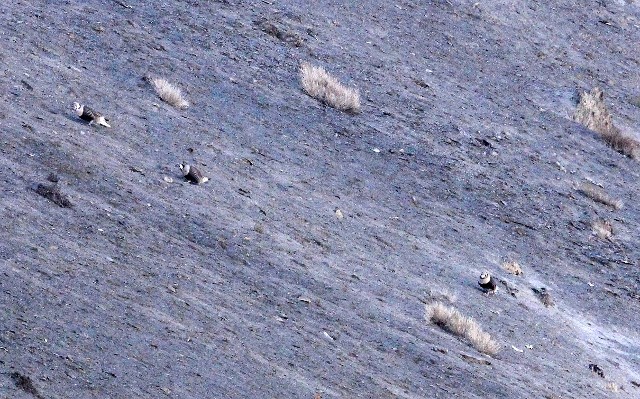 Himalayan Snowcocks were spotted daily but always at the highest elevations. I would loved to have seen them closer.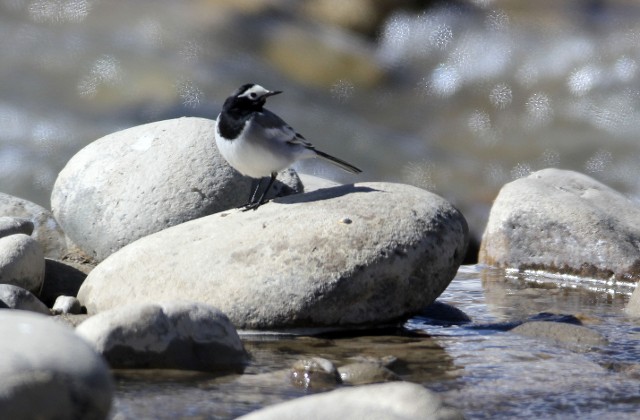 White Wagtail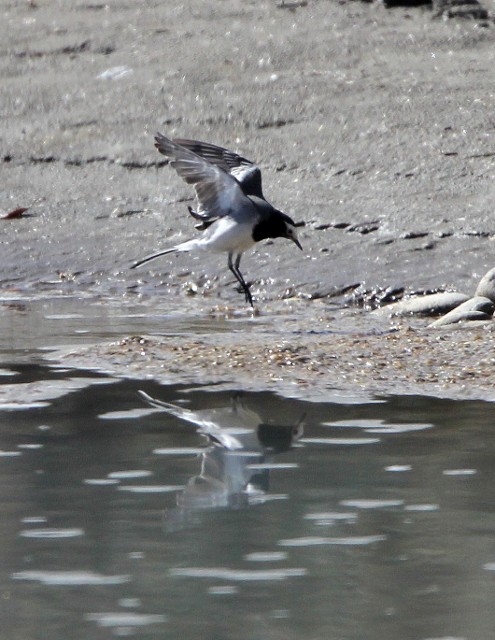 White Wagtail
Smaller Critters of Hemis National Park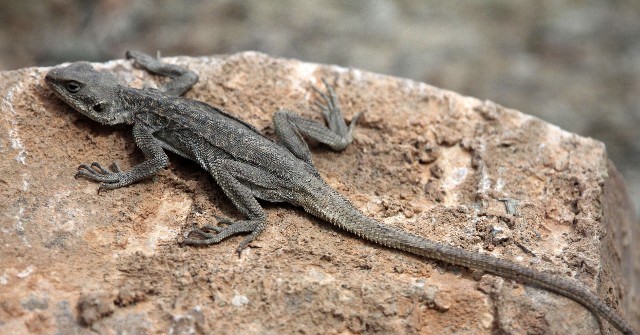 Toad Agama (Phrynocephalus reticulates). I was very surprised to see this sizable lizard at about 4500 meters. He was cold and slow but somehow they survive at these high altitudes.
Toad Agama (Phrynocephalus reticulates)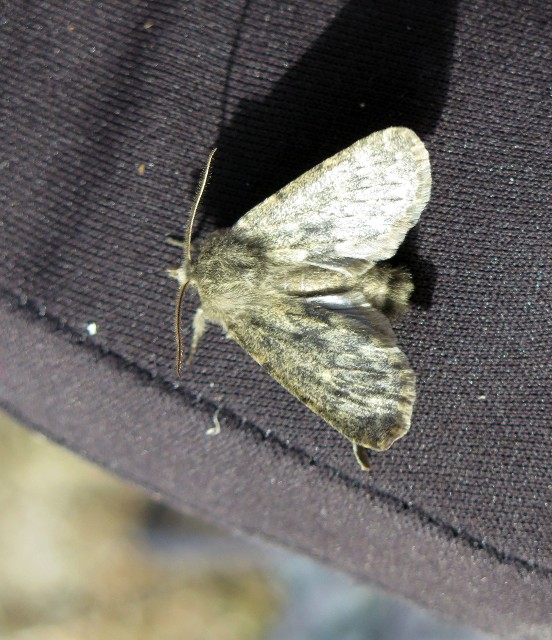 High altitude Arctiid moth (at least I think it's an Arctiid). I wonder if it is even known to science...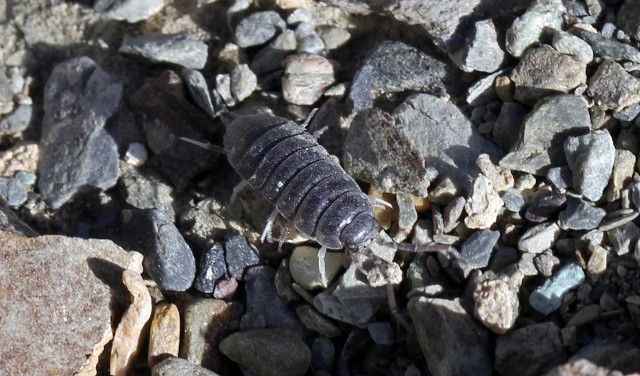 A hardy isopod seems to be at home at 4500 meters...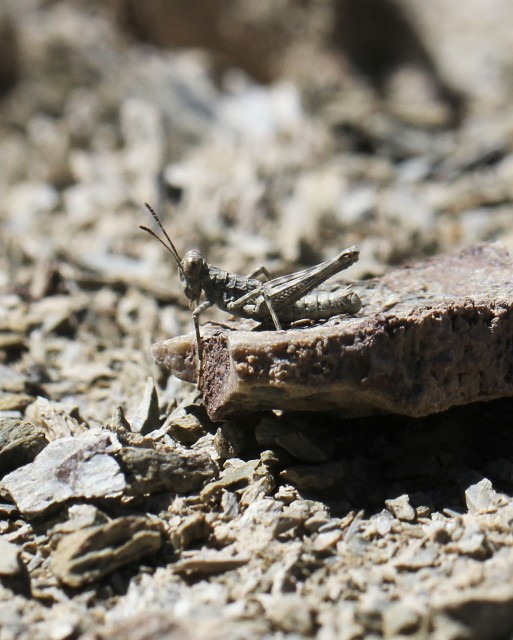 High elevation Orthopteran!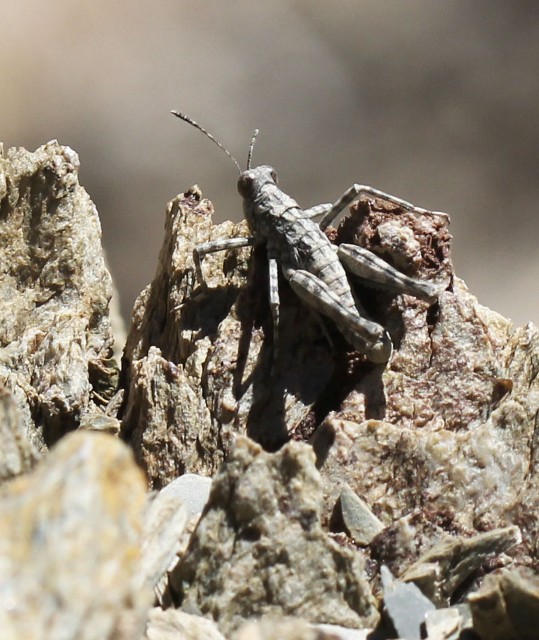 Wingless Orthopteran!
Very cryptic!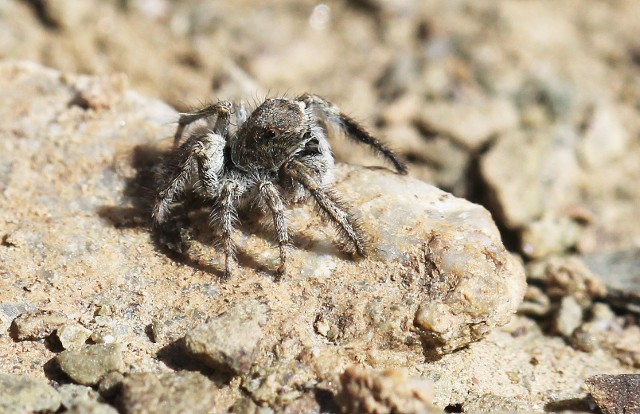 Even Arachnids were fairly common at 4500 meters.
Bird List Ladakh
Tibetan Snowcock (Tetraogallus tibetanus)
Himalayan Snowcock (Tetraogallus himalayensis)

Chukar

Mallard

Common Merganser


Red-headed Pochard

Rock Pigeon

Hill Pigeon

Common Coot

Common Moorhen

Common Greenshank

Ibisbill

Golden Eagle

Lammergeier

Black Kite

Common Kestrel

Saker Falcon

Common Raven

Red-billed Chough

Yellow-billed Chough

White-throated Dipper (Cinclus cinclus)

Brown Dipper

Common Stonechat

White Wagtail

Common Myna

Great Tit

House Sparrow

Robin Accentor (Prunella ruberculoides)
Brown Accentor (Prunella fulvescens)

White-winged Redstart

Black-billed Magpie

Other Stuff!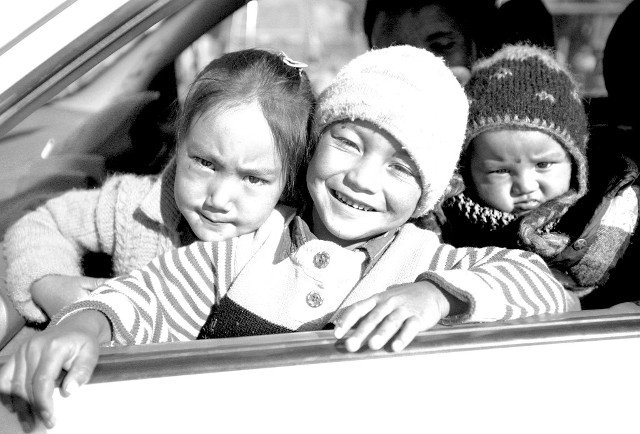 One of Som's better "people" pictures. Wow!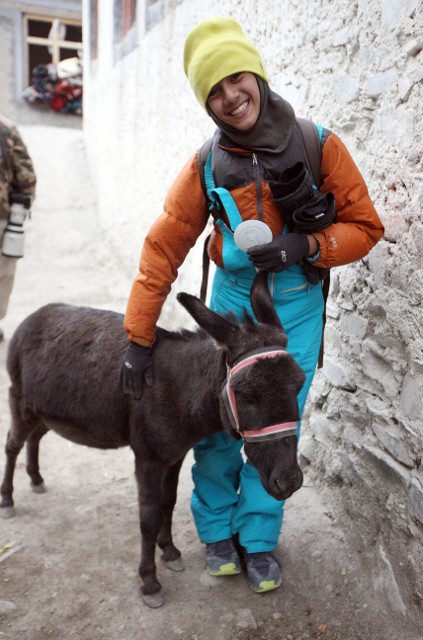 Cokie and his little mule!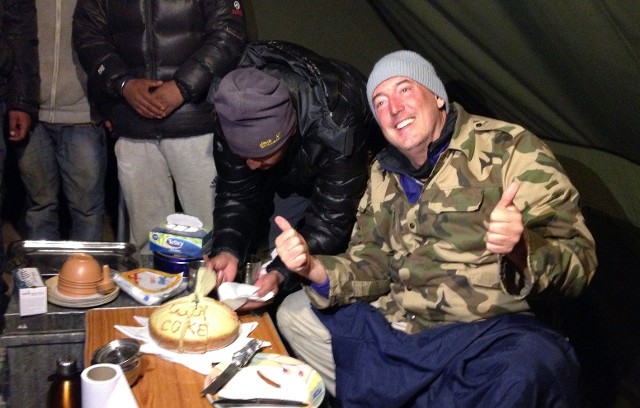 I had a surprise birthday party at 4500 meters! Thanks Som - I love you very much.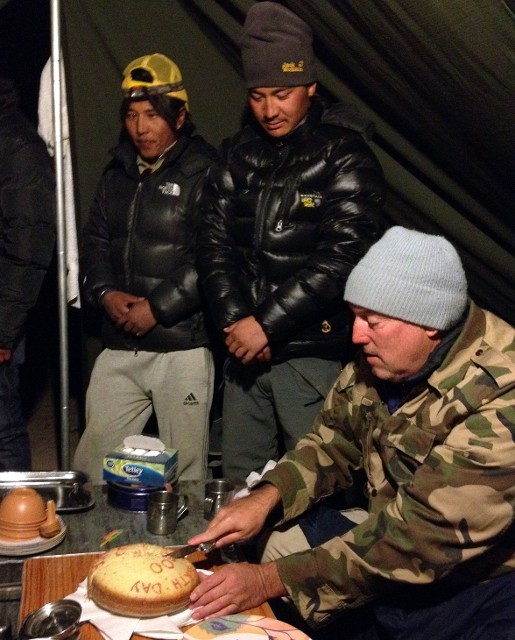 52 years old! And I had FOUR Snow Leopards as my gifts!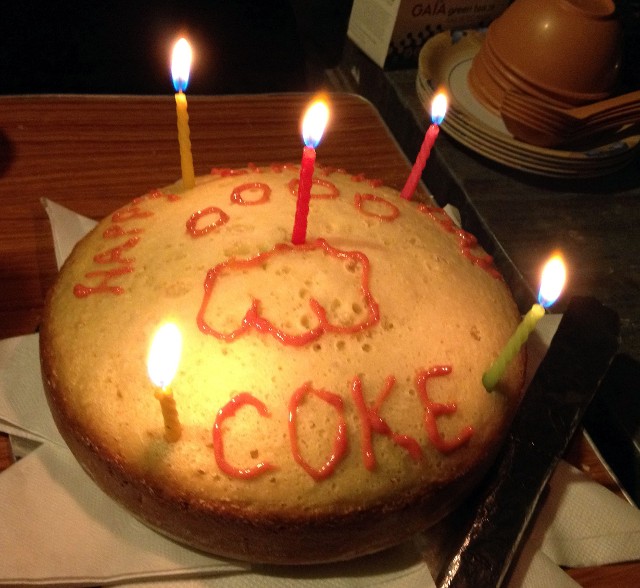 Cute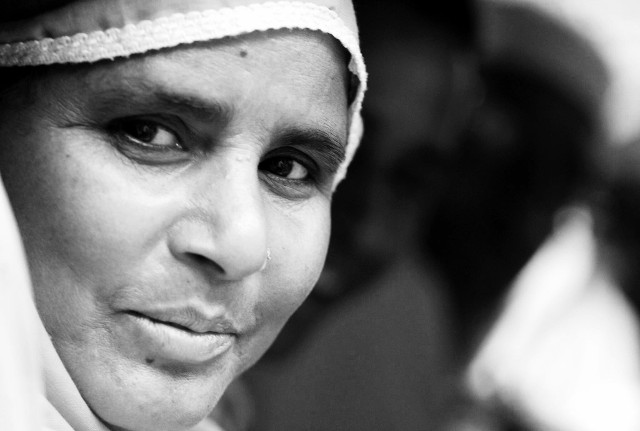 Another Old Delhi image...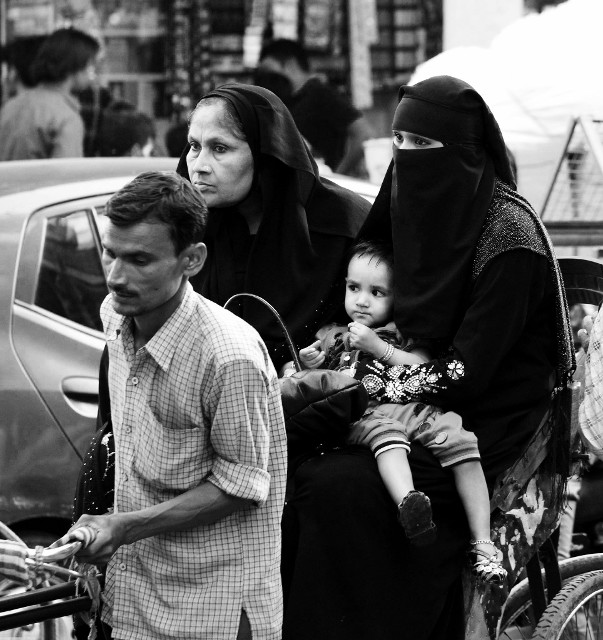 Old Delhi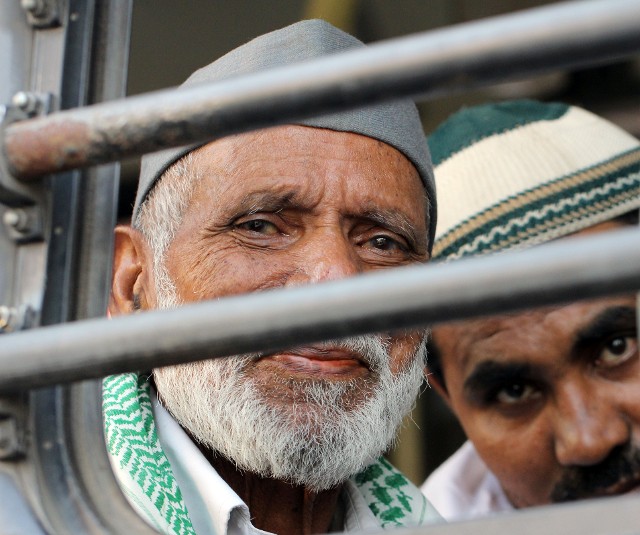 Som was being watched in Old Delhi...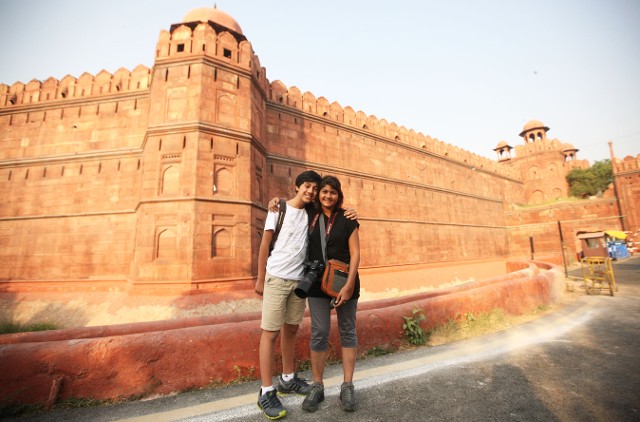 Cokie and Som and Old Delhi's Red Fortress...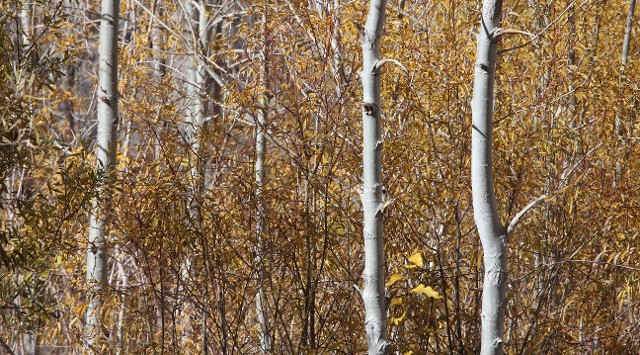 The beautiful Poplar woodlands of Hemis National Park.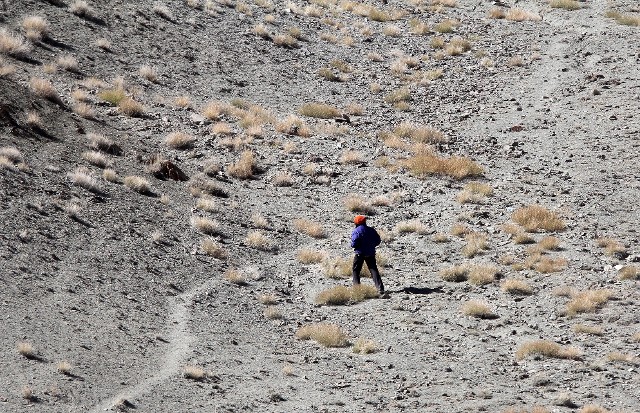 Som documenting plant species for my curriculum project in Hemis.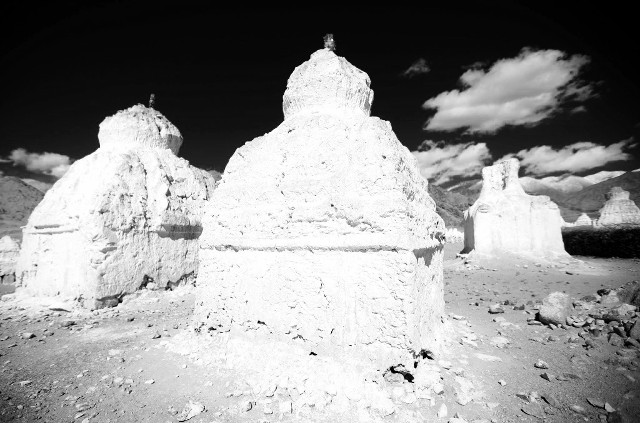 The stupas near the Thiksey (Thikse) Monastery.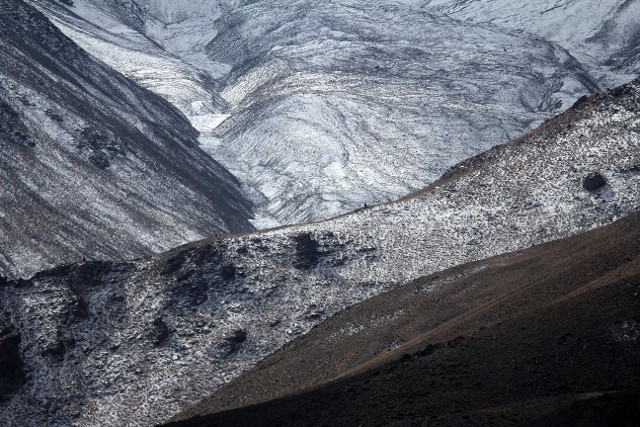 Hemis after a brief dusting of snow...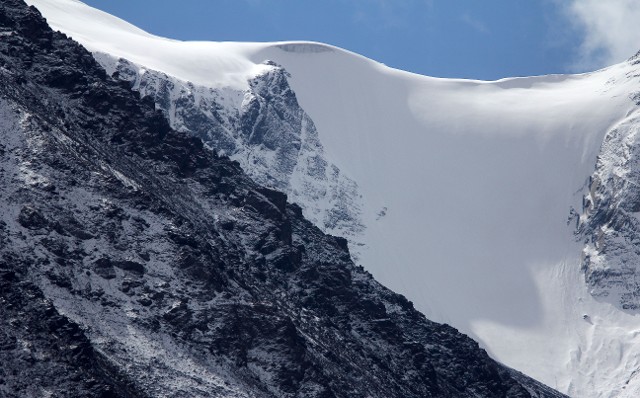 I was interested in knowing how often avalanches happened in Hemis.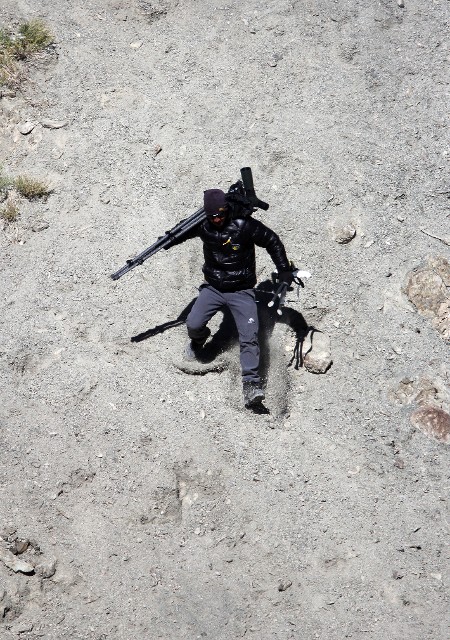 Watching our spotters (in this case Gurmet) scurry up and down the massive hills in Hemis was truly impressive. We routinely referred to them as "supermen!"
The weathering and erosion patterns throughout Hemis were outstanding.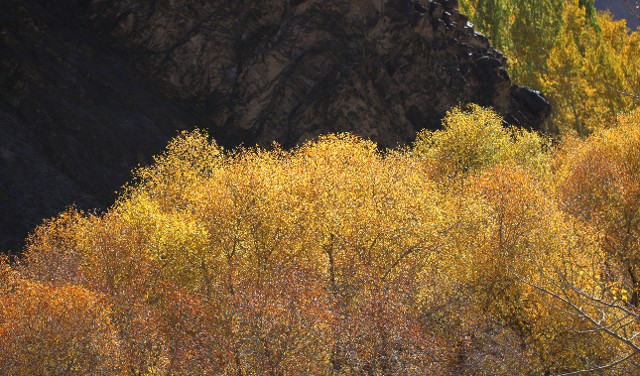 The fall colors in the Willow, Poplar riparian woodlands were perfect!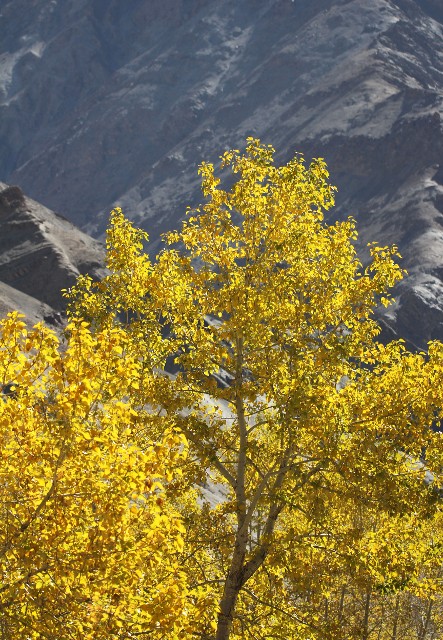 Himalayan Poplar (Populus ciliata) was the dominant tree species in the area.
Fall foliage in the poplar forests of Hemis.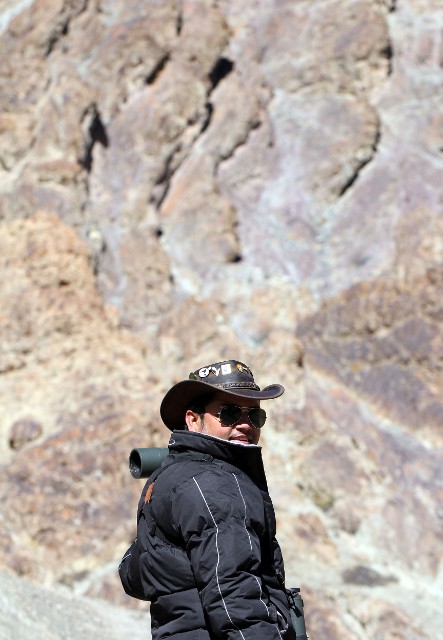 Pradeep Singh was one of our awesome colleagues on the expedition. Pradeep is a naturalist and owner of a Tiger Safari company.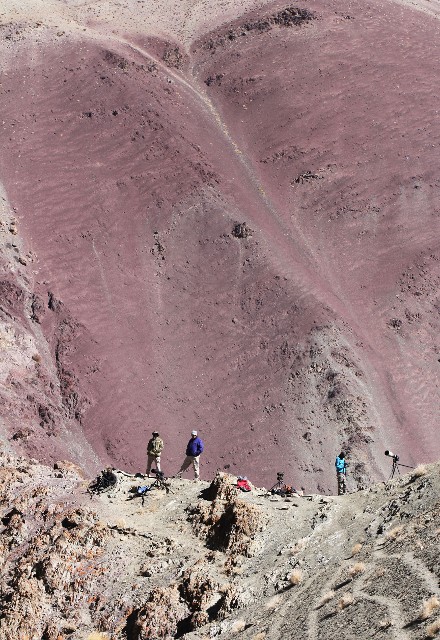 Just one of the many ridges and vantage points visited during our stay in Hemis.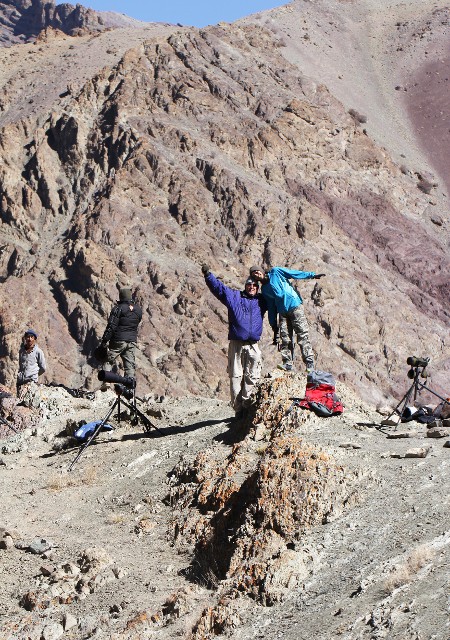 Father and son are pretty jazzed!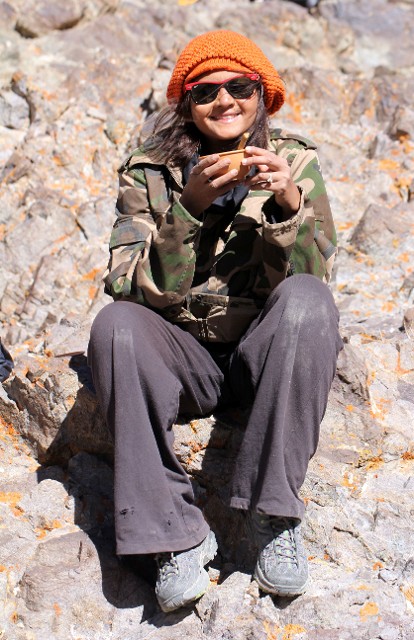 Som enjoying some soup on the trail!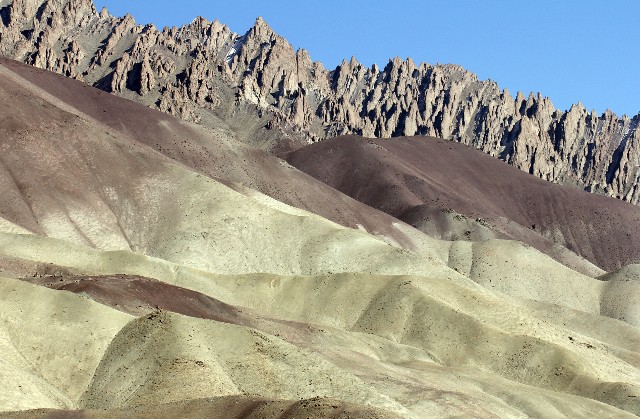 The colors and landforms in Hemis were outstanding.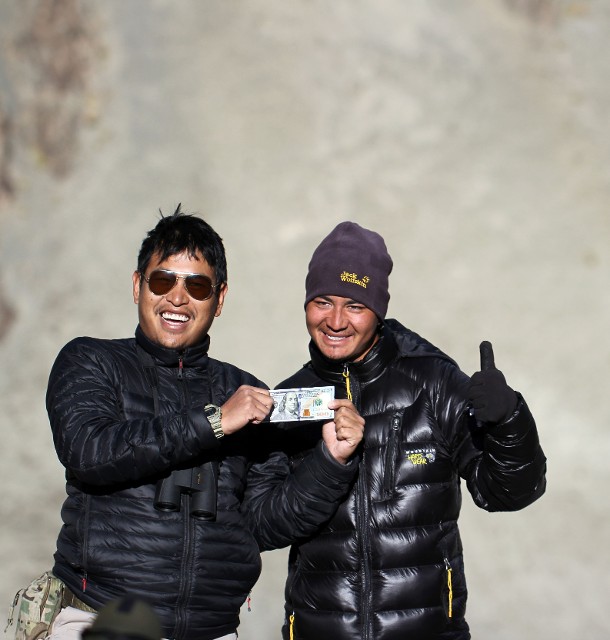 Our deal was $100 to the first one to spot a leopard. KC got some cash from me the day before, but here Gurmet got some of Tour's cash on day four! (Tour missed the first leopard so this was his first)

The streams would usually thaw by 10AM or so....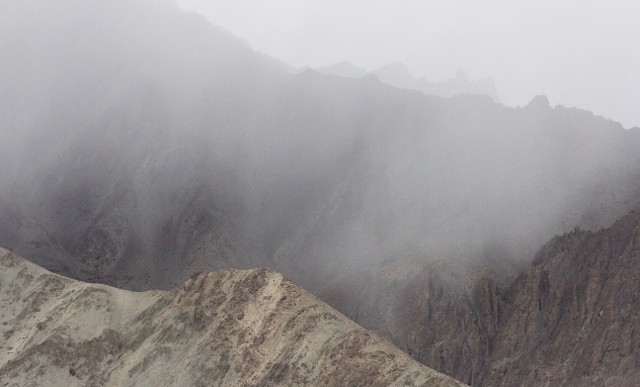 Our only snow during the entire trip. Just a dusting...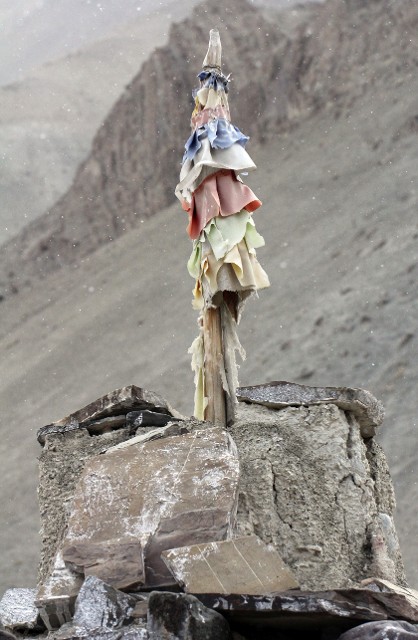 So beautiful...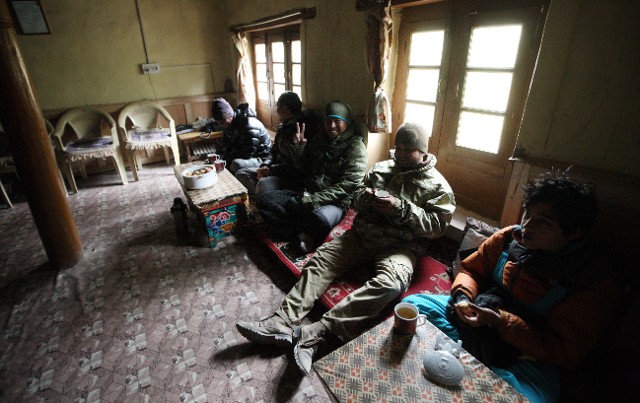 On our final day in Hemis, we enjoyed a home-cooked meal at one of the homestays in Rumbac Village.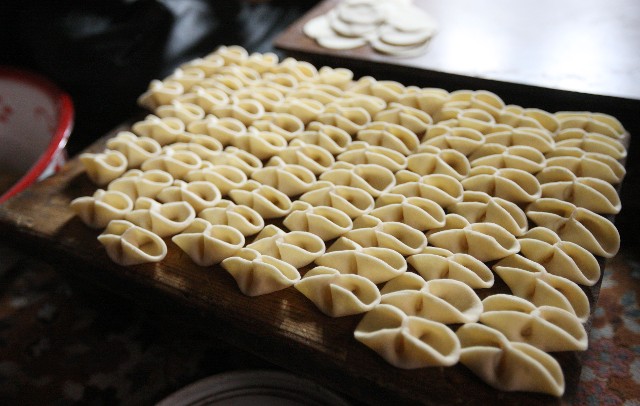 Awesome Ladakhi dumplings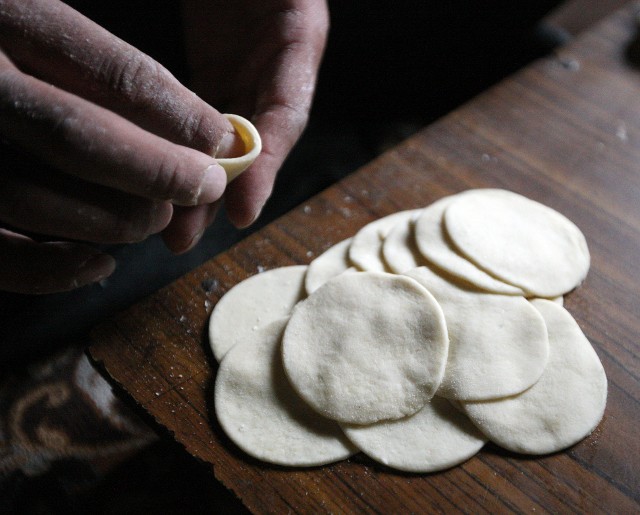 So good...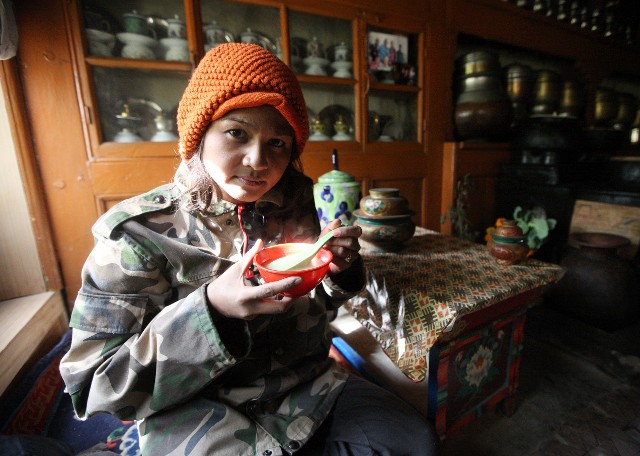 Som enjoying her soup again.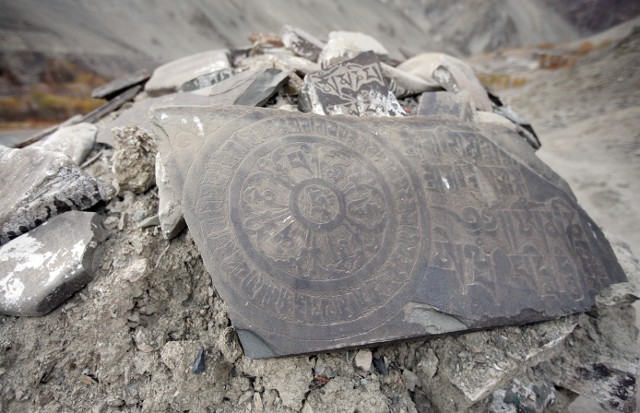 Mani Stones in Hemis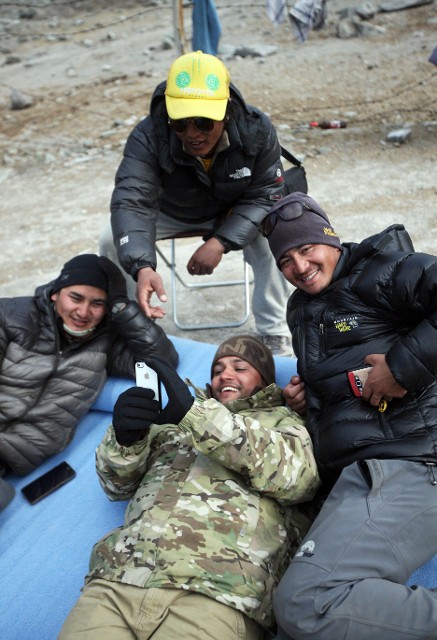 Kicking back at Base Camp looking at some the pretty impressive iPhone images and videos of the day's amazing Snow Leopard.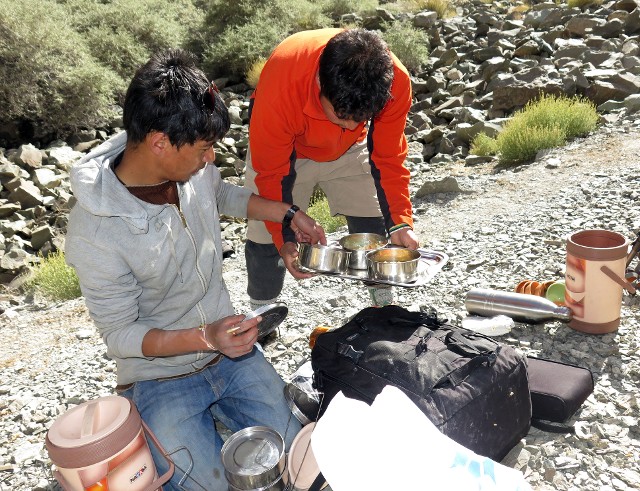 Lunch and tea was always portered to our vantage point, even if it was several kilometers away. These guys worked their tails off for us.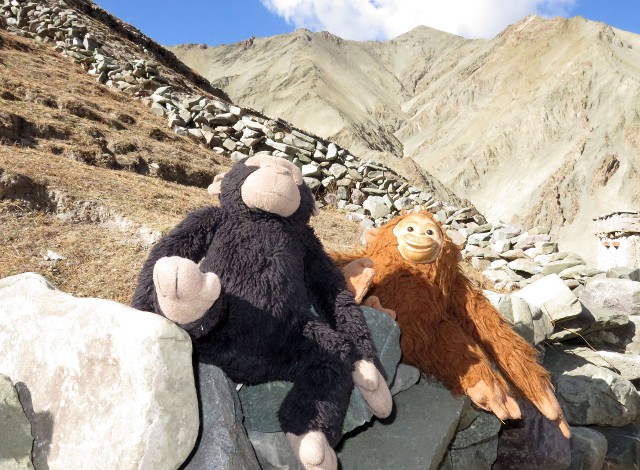 Of course Toby and Nyungwe were with us on this expedition!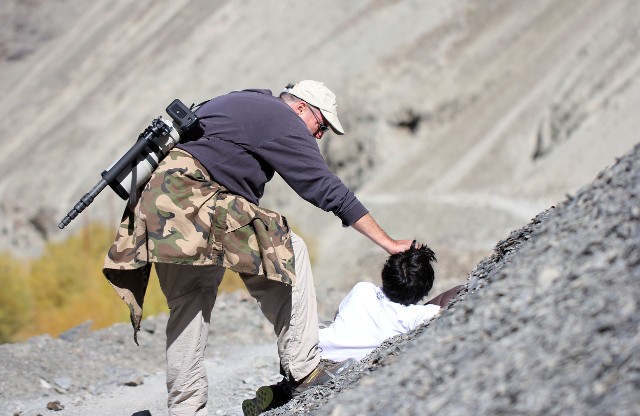 Waking up Cokie - time to go back to Base Camp!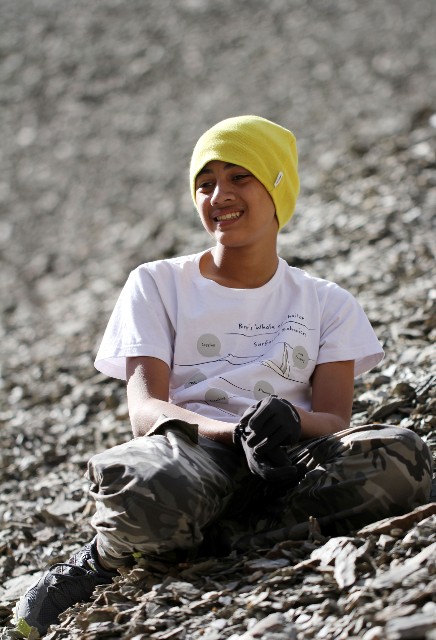 Cokie taking a breather during one of our treks.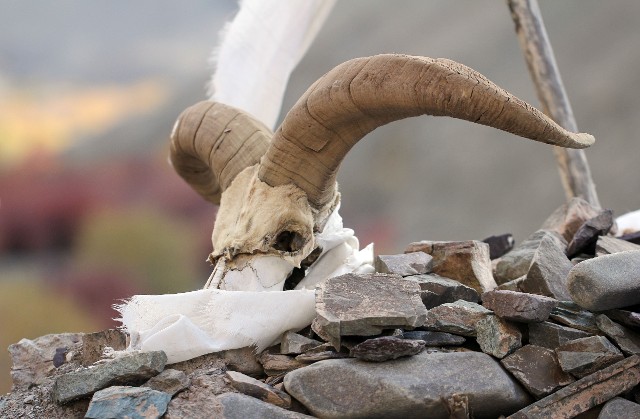 Blue Sheep skull on Mani (Prayer) Stone mound...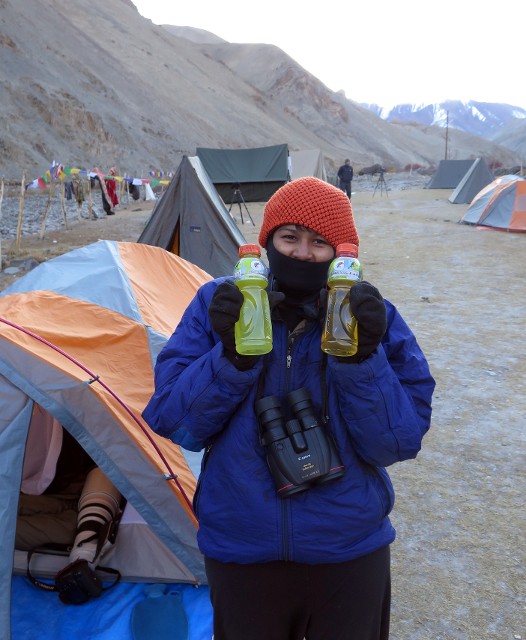 OK, which one is the Gatorade....and which one is something you would probably not want to drink??? We have a new rule - NEVER use Gatorade bottles for this purpose!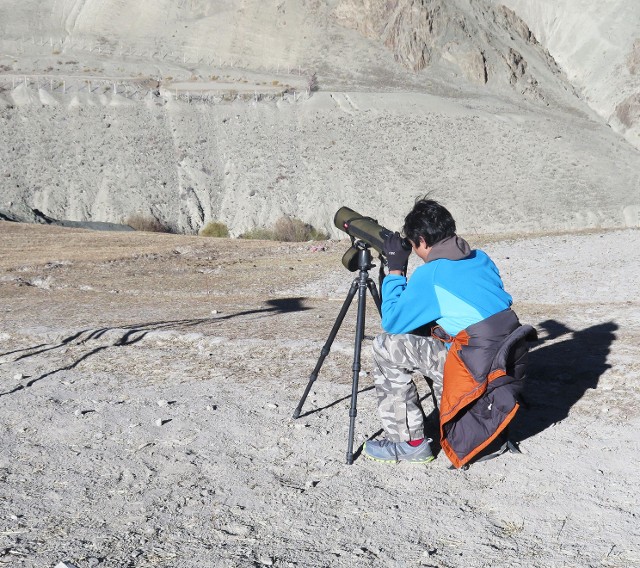 Cokie's turn to spot a leopard....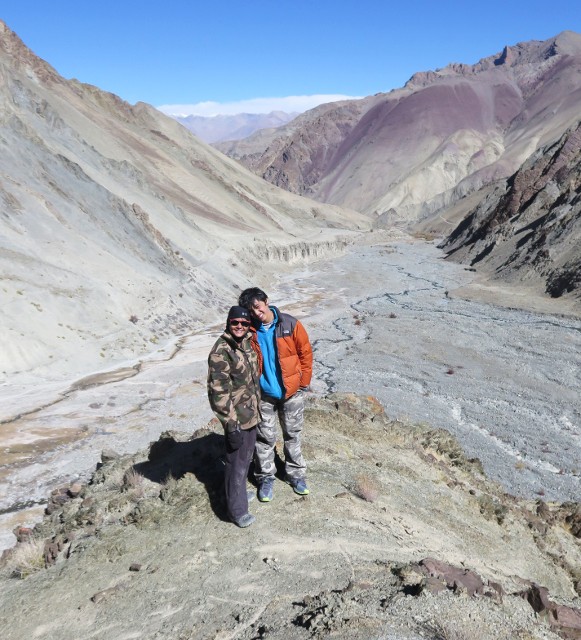 My two favorite people!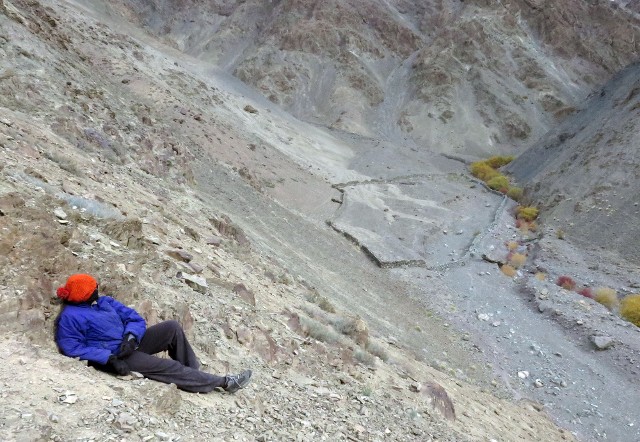 Som catching some zzzz's and searching for leopards in Husing Valley.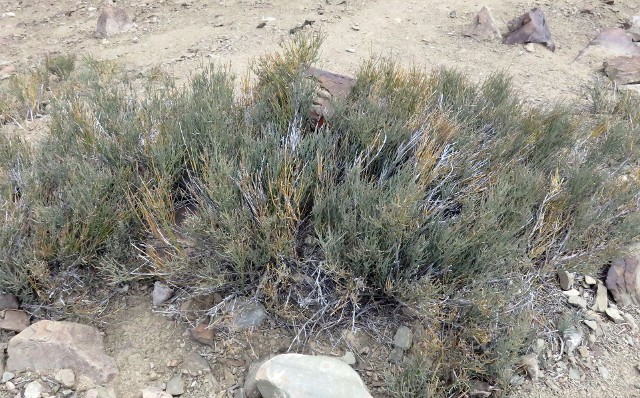 Ephedra kardangensis was common in the Husing Valley but I only noticed it there.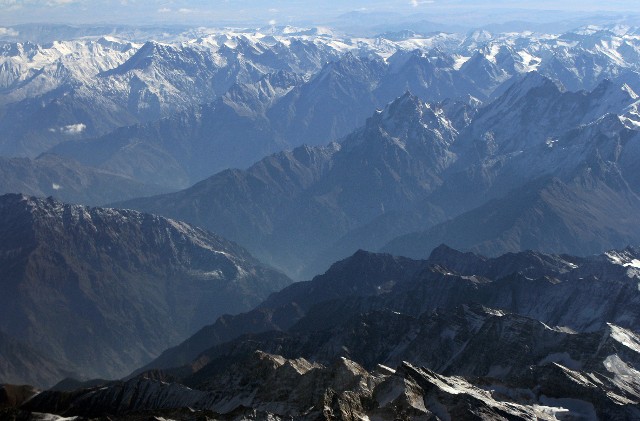 Our view on the flight from Delhi to Leh was outstanding.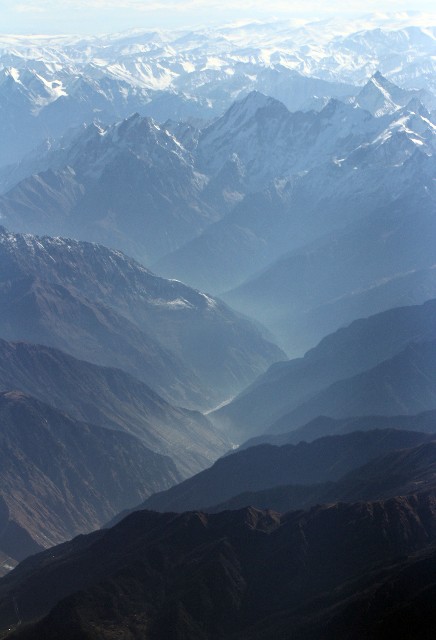 So beautiful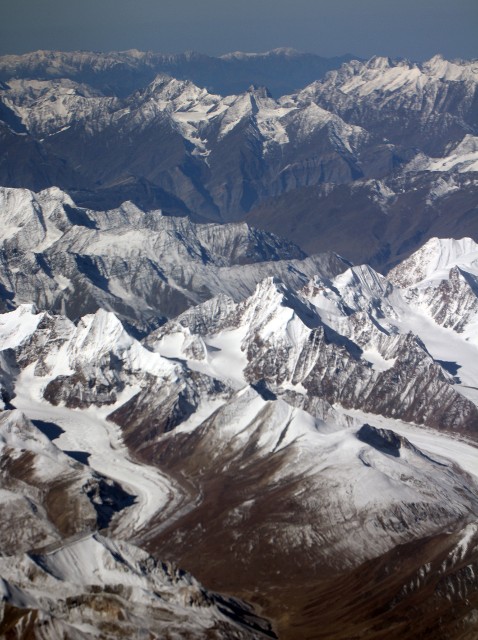 We couldn't take our eyes off the scenery.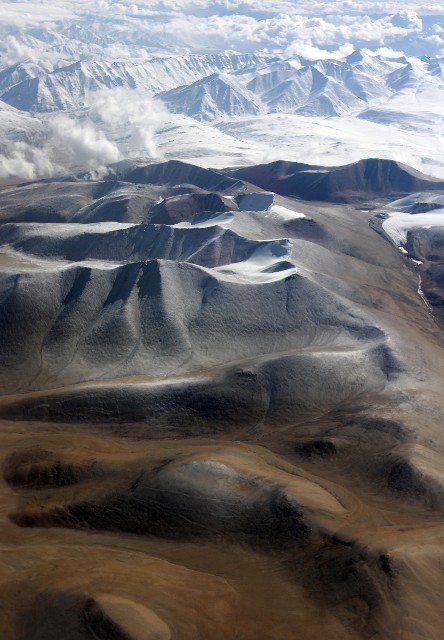 Stunning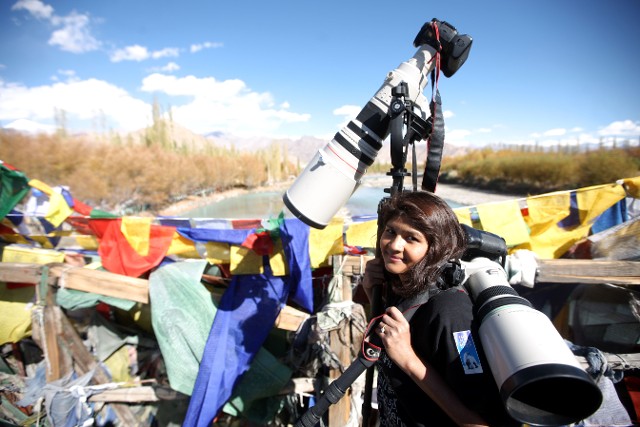 Som earning her keep!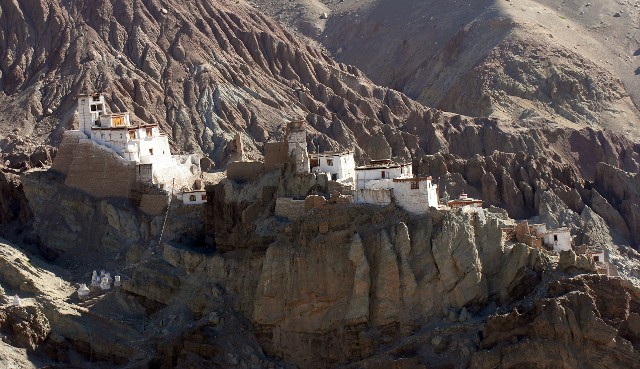 Another beautiful monastery in Ulley.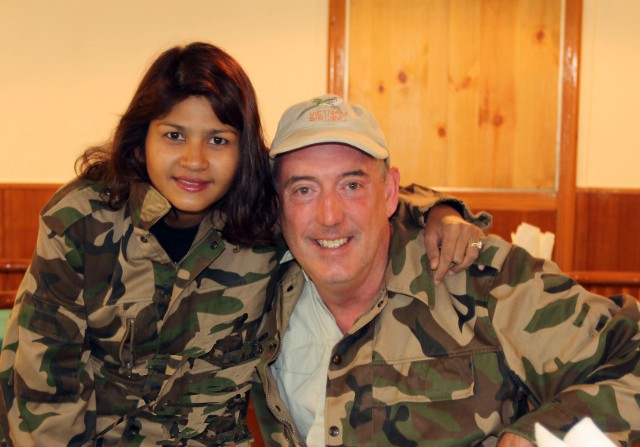 Unbeatable team!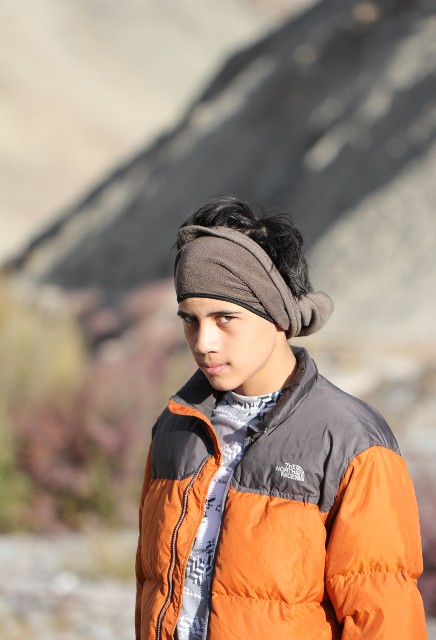 My little MAN! Oh my goodness!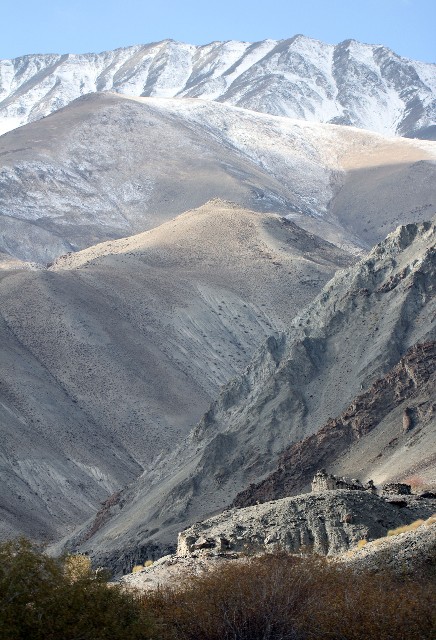 Hemis is incredibly beautiful.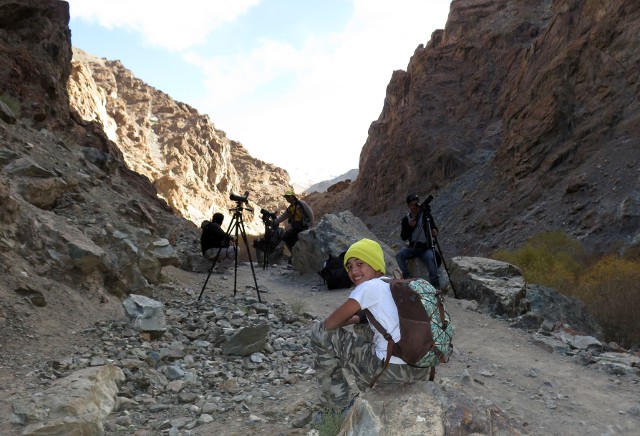 Have you seen any Snow Leopards?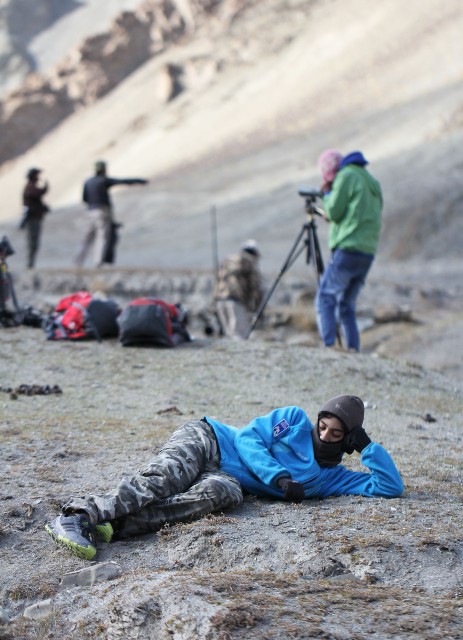 Killing time while dad is talking business...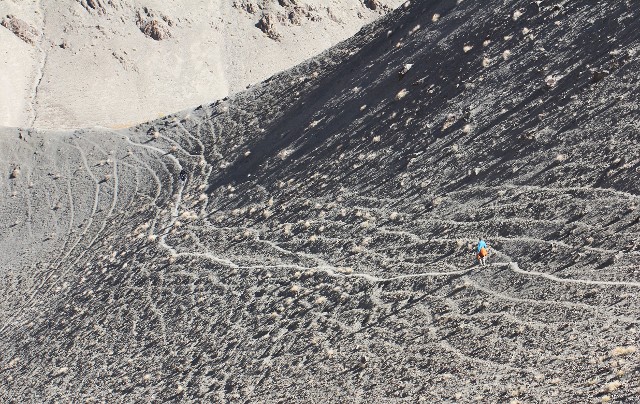 See if you can spot Cokie in this image. He was generally in the lead during our treks in Hemis.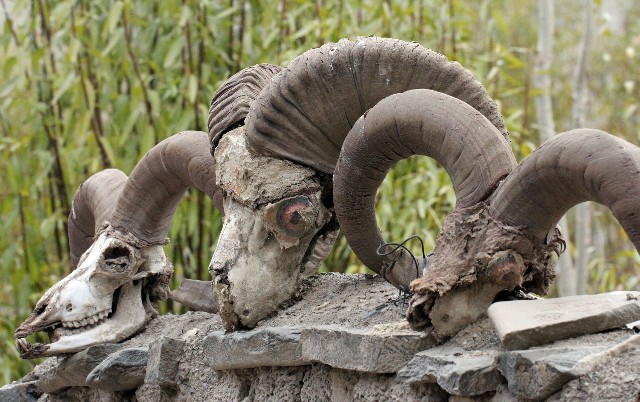 One of the gates in Rumbac Village.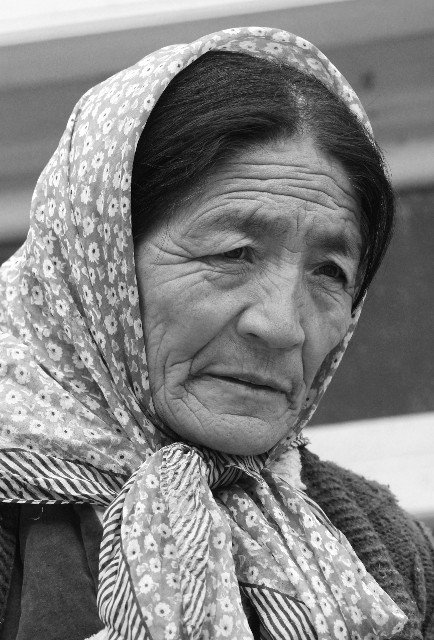 Another beautiful shot in Rumbac by Som.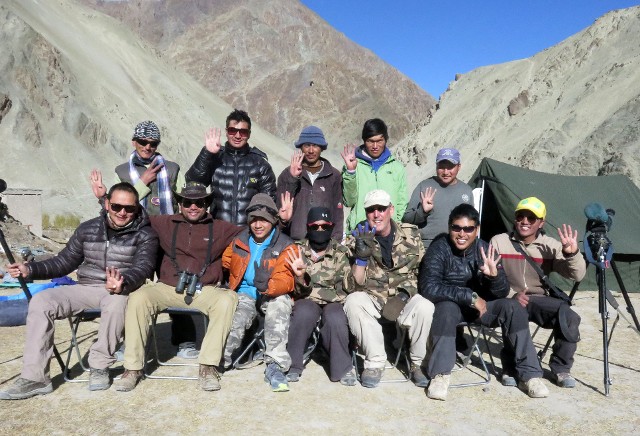 Our awesome team! At the time of this group photo, we had only four leopards under our belts...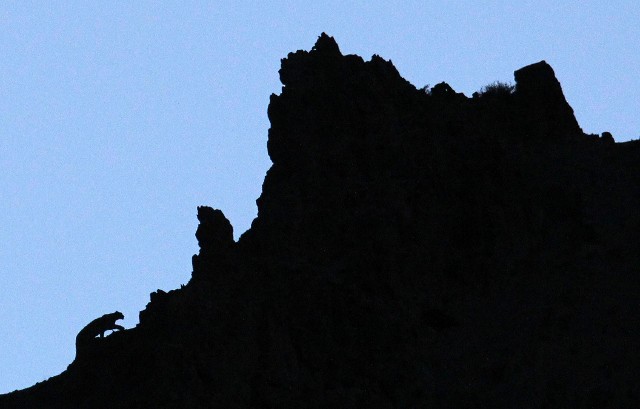 We will never forget our expedition in to the country of the Snow Leopard.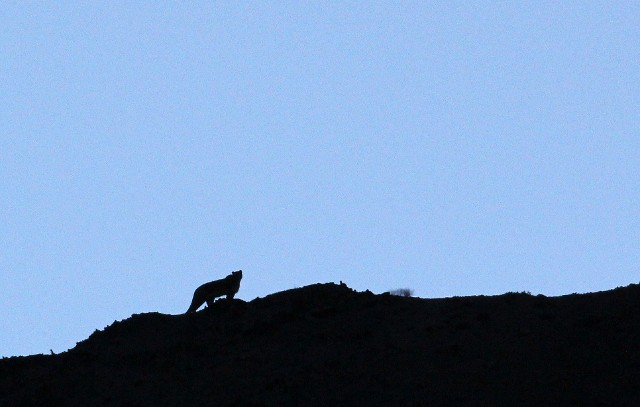 The Ghost of the Mountains
Be Sure to Check Out Ladakh Pbase Galleries:
Snow Leopard Expedition to Ladakh, India
Here are some useful links for studies conducted in Hemis:

http://dlc.dlib.indiana.edu/dlc/bitstream/handle/10535/3567/MPhil_Thesis.pdf?sequence=1

http://snowleopardconservancy.org/wp-content/uploads/2013/07/Jackson_Camera_trap_WSB-1.pdf

http://www.snowleopardnetwork.org/GrantFinalReports/DevkotaFinal09.pdf

http://web.stanford.edu/class/msande75si/sl1.pdf