A spectacular male Gredos Ibex in Sierra de Gredos
Iberian Wildlife Safari
***
Be sure to check out our Pbase Spain Gallery for more images!
***
I visited Spain with Lien, my late wife, some 20 years ago, and even at that time I saw loads of wonderful habitat and flora. I wondered then if Spain had any fauna to match the vast stretches of land that seemed too perfect. After thoroughly reading the reports on Mammalwatching.com (See here) and daydreaming for years about these amazing wildlife reports coming out of Spain, I decided to frame a European wildlife expedition around the Mediterranean region and using Spain as a crashendo. Our Mediterranean wildlife expedition took us to Tunisia (trip report), Greece (trip report here), Italy (trip report here), France (trip report here) and finally Spain. The trip netted us 60 of some of the Palearctic's most impressive species and subspecies. We did dip on some of our targets but we will always consider the Mediterranean Expedition of 2013 a smashing success!
Visiting Spain in the peak of the summer heat can always be a challenge. I'll never forget my first trip here back in '94, we had a rental car with no AC and virtually none of the hotels had any either! We were pretty dessicated after our tour of the country. We definitely enjoyed the trip but it was hotter than hell! And we found the food tough to swallow... The summer of 2013 was no different on the temperature scale but at least we had AC! And my Spanish had improved considerably over the years and communication was much, much simpler. And the hotels had advanced as well. The food....well, it's not bad but it's bland....That hasn't changed.
Our planning was pretty much centered on Andalucia, Spain's most famously wildlife-rich region, as far as I could glean from the literature and trip reports. Our efforts were primarily focused in Sierra de Andujar National Park, located about 14 kilometers north of Andujar town in Andalucia province. The region is rich both culturally and biologically. Dominated by a mixed coniferous-chapperal oak woodland, Andujar is an arid region and is home to some of Europe's most famous mammals, including the very rare Iberian Lynx. Of course we hoped to catch a glimpse of this amazing animal.
We started our journey in to Spain via the Pyrenees Mountains where we had just finished a few days wildlife watching in France. As we entered Spain, we were greeted with our first mammal, a jet black European Red Squirrel. Evidently from Italy, through France and clearly in Spain, the European Red Squirrels are in fact black. Our ride through the Pyrenees was outstanding. Not much in the way of wildlife after France's section of the Pyrenees, but the scenery is simply unbelievable. The high mountain meadows, forest and hamlets were all so beautiful.
Cuenca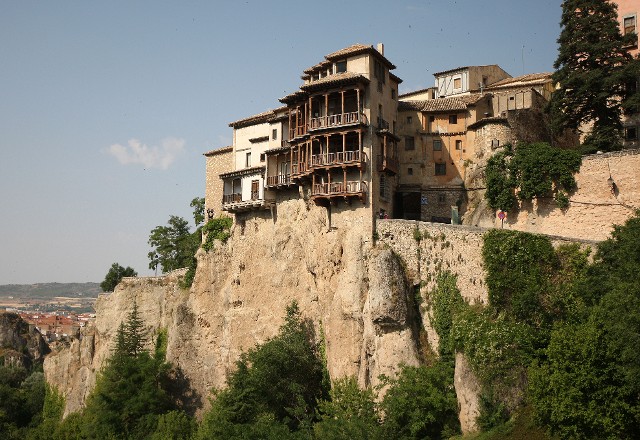 What an unexpected gem. Cuenca was an unplanned stop but after our TWO days there, we all felt it was nicest town we visited in Spain.
After the Pyrenees gave way to the high grasslands of Spain's eastern sector, things started to warm up and dry out quite a bit. We were a bit pressed for time and were not surewe wanted to go all the way to Andujar in one day, so we opted for a stay in Cuenca, about half way from the mountains to the east to Andalucia. Cuenca is a great town with loads of character and amazing views. The people are very friendly and we enjoyed strolling the narrow alleys and walks during our evening and morning in the town. But what was even more cool than the city was the drive to it. Once we left the high grasslands of eastern Spain, we found ourselves on CM-2105 & CM-2106 through Serrania de Cuenca National Park winding our way through some of the most spectacular canyons and rock formations surely anywhere in Europe. Studded with ruined castles and spectacular villages like, Albarracin, the region was outstanding. And we spent a couple hours passing through and gently exploring Serrania de Cuenca National Park. Although we saw nothing in the way of wildlife, it is surely bio-rich and worthy of some exploration on a future trip.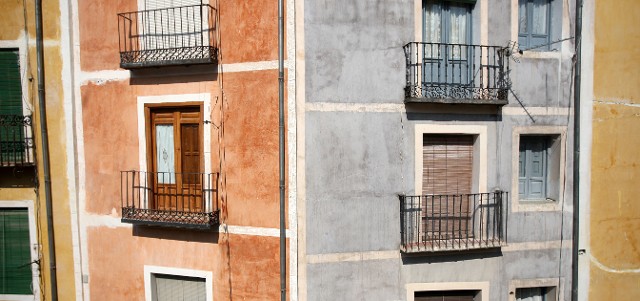 Cuenca has a lot of character. We loved hanging out and simply relaxing here, enjoying the flavor of the place...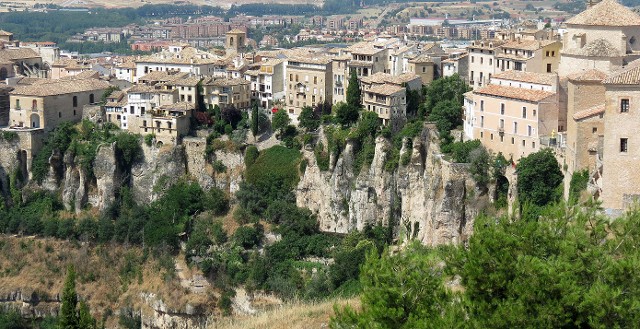 Very scenic, Cuenca...
Sierra de Andujar Natural Park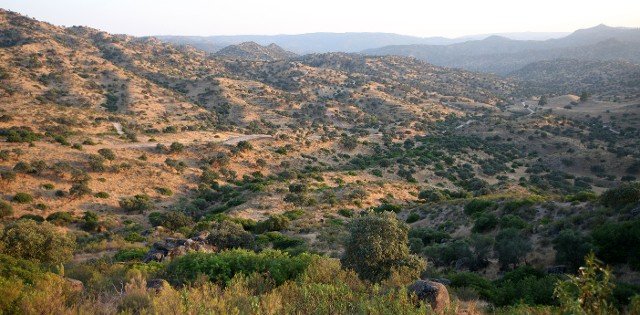 The view of Sierra de Andujar National Park during our first day in the region. Somewhere in this view there is an Iberian Lynx!
After a nice morning in Cuenca, we made our way to Andujar. And after stocking up on cold beer and FINALLY an ice-cooler (an extremely rare tool in Europe evidently - it took us over five weeks to find one!!!), we wound our way through the strangely suburban landscape north of town toward our lodging at Los Pinos Lodge (see their website here). I can highly recommend Los Pinos as perhaps the best lodging option for a trip to Andujar. I believe it is the closest option to the wildlife action and the staff is very friendly, wildlife savey and they make an awesome Paella (with 24 hours notice).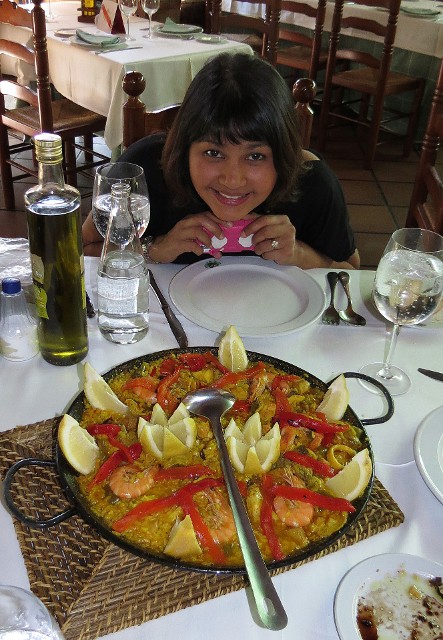 Our best meal in Spain - Paella! Actually for the price, this was the best deal as well - only about nine euros per person.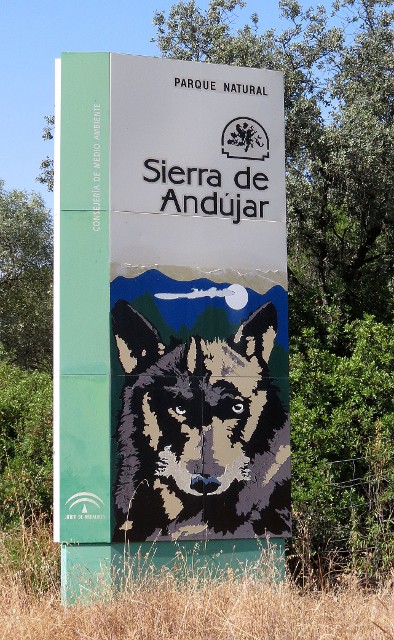 An amazing place!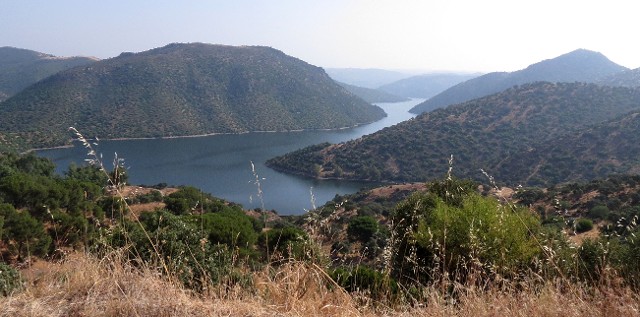 La Lancha Lake in Sierra de Andujar
After getting briefly settled, we made it further north to the core area for wildlife viewing in Sierra de Andujar Natural Area, which involves taking one of two routes directly from Los Pinos - either JH-5002 or A-6167 & JH-5004 . JH-5002 takes you to La Lancha Dam and is excellent for spotting such species as Iberian Deer, Fallow Deer and allegedly Mouflon, although this species eluded us yet again! Damn! But our goal was to get to some of the recommended vista points on the route to scan for Iberian Lynx in the valleys and ravines below.
Now there are SO many reports on the region already out there so I won't rehash what is already publish. So I will refer you to Mammalwatching.com and its impressive list of Spain trip reports. (Link Here) My blog posting will be basically an account of what we saw and experienced and not too much in the way of new information with the one possible exception of Sierra de las Nieves NP, which is highlighted below.
Our wildlife watching began in earnest our next morning. With a 5 AM wake-up and a mad dash to the Encinajero Trail, where we were told both by reports and by our hosts at Los Pinos, was the best place for many different species. And no sooner than we turned the corner on to the gravel track, we spotted our very first, and so far only, Iberian Lynx! I mean it was literally less than 25 meters on the track and we caught a solid, albeit very frustratingly short, glimpse of one of the rarest cats on Earth. Wow! What a start! But something inside told me that this was my only shot at this animal and I was not going to get an image of it....
As we proceeded down the track we came across Iberian Foxes, European Rabbits, loads of Iberian Red Deer, Wild Boar and eventually a Stone Marten spotted by Cokie and Som. The spot was great for sure, although our initial luck there was evidently a one-shot deal as the next 5-6 times we visited the site we were skunked for the most part. But who cares! We nailed some great species there very early on. And the rest of the day was spent exploring the rest of the map's hotspots, and by the end of day one, we had 12 new species under our belts, including Spanish Ibex (spotted at La Lancha Dam) and three to four species of chiropterans (spotted in the tunnel to the west of the dam - don't be fooled, there are loads of bats in that tunnel, even though there is no guano or smell of any sort...) What a phenomenal day, especially for Europe.
Iberian Fox (Vulpes vulpes silacea)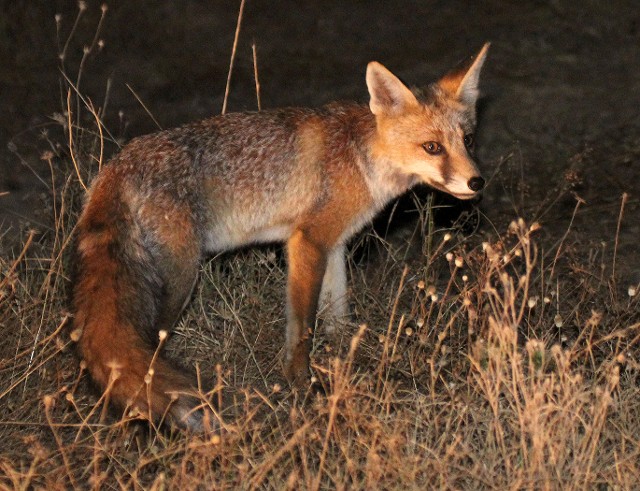 One of the bravest foxes I have ever seen. This Iberian Red Fox approached us to within one meter or less in search of a handout most likely.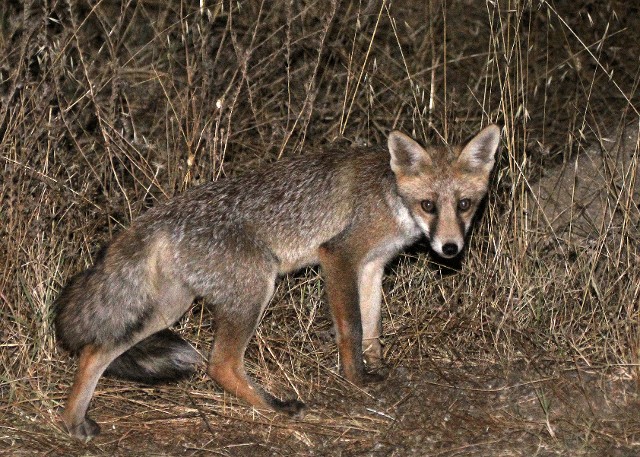 During our stay in Sierra de Andujar, we came across at leat six or seven foxes.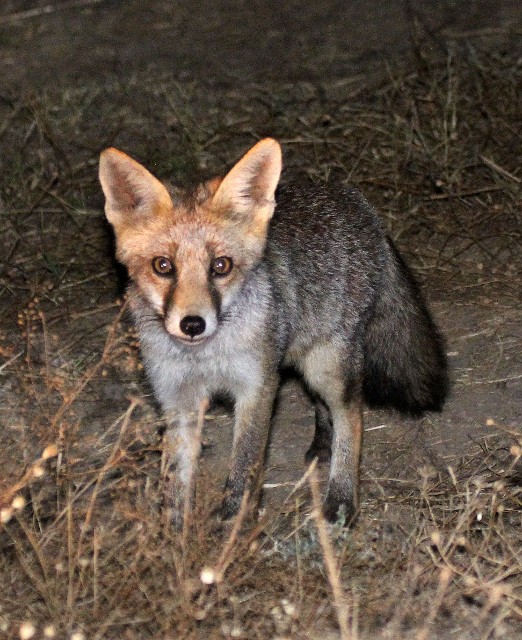 Iberian Fox (Vulpes vulpes silacea)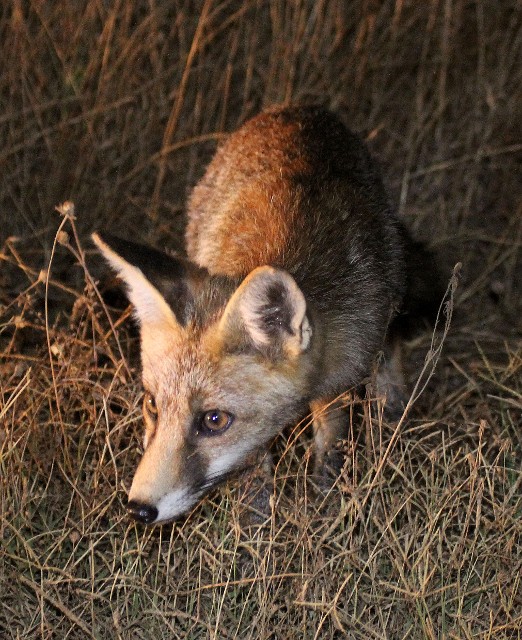 What do you have for me!?
Iberian Red Deer (Cervus elephas hispanicus)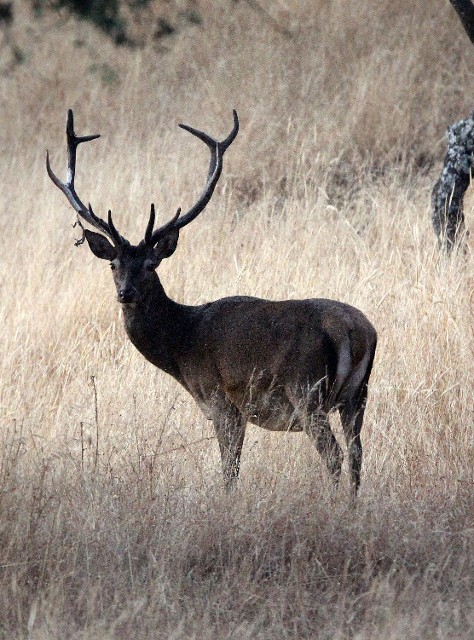 Sierra de Andujar has perhaps the largest deer population I have seen virtually anywhere on Earth. There were literally hundreds of deer everywhere. And some of the stags were very impressive.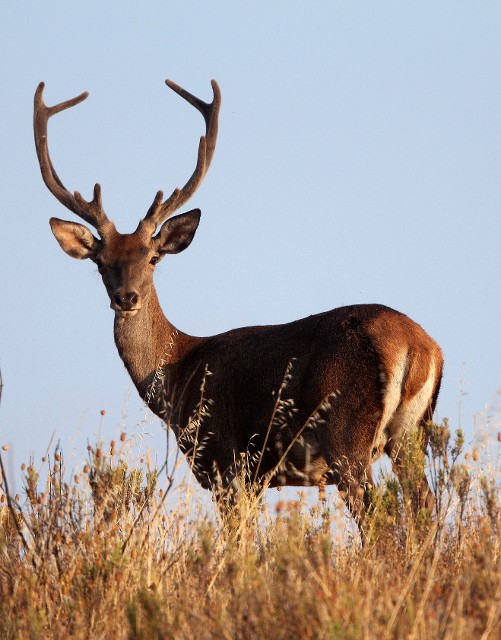 Just one of many of the impressive stags in Andujar...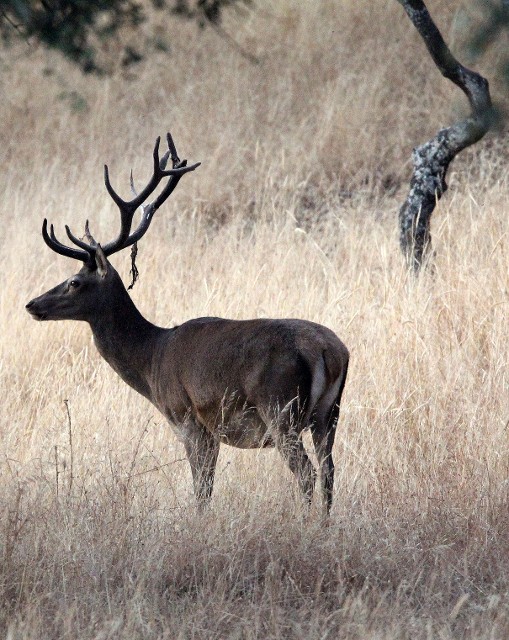 Seriously beautiful deer....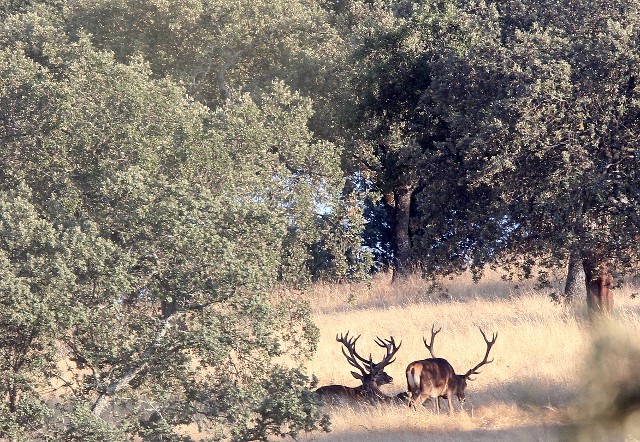 Although all of the mounted racks in the restaurant at Los Pinos Lodge would indicate hunting is normal here, the deer showed virtually no fear whatsoever. Look at the amazing racks on these stags!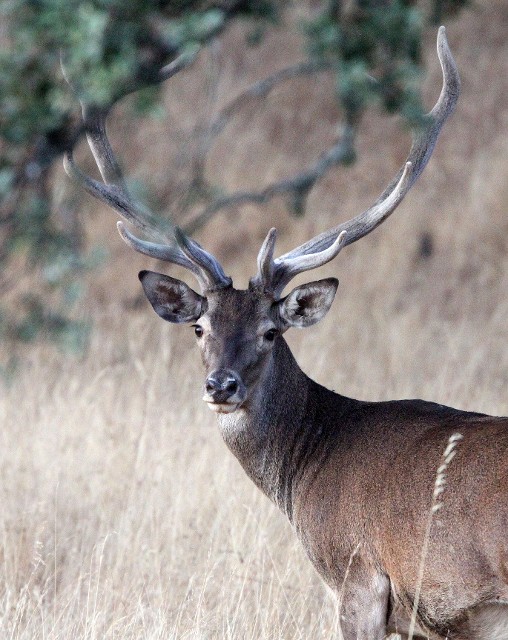 Iberian Red Deer
Fallow Deer (Dama dama)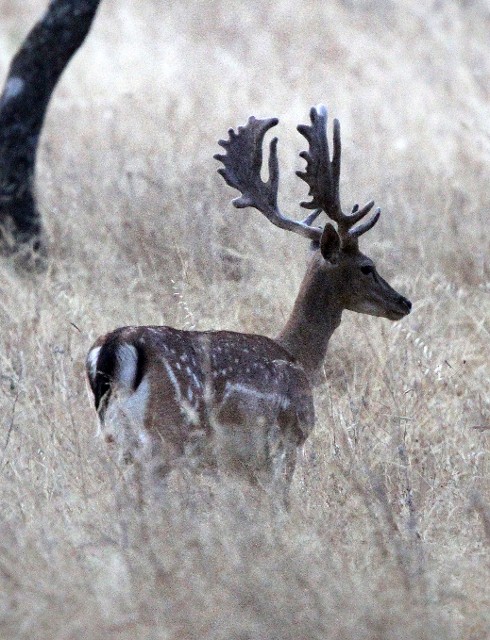 Fallow Deer were definitely less common although we did see several dozen by the end of our stay in Andujar.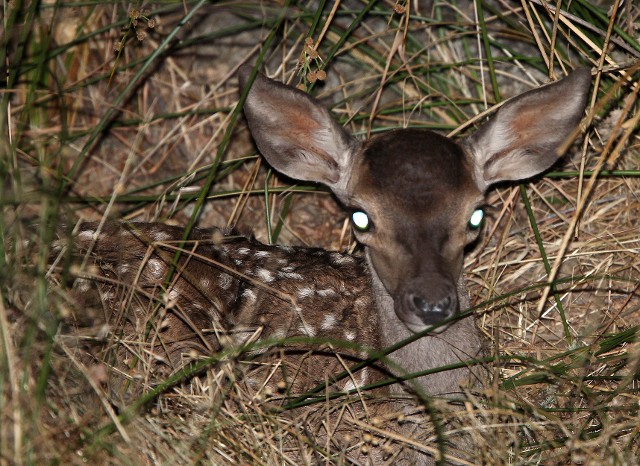 Lynx!!! We were sure of it when we spotted its shiny eyes during our first night drive in the region....Nope
European Rabbit (Oryctalagus cuniculus)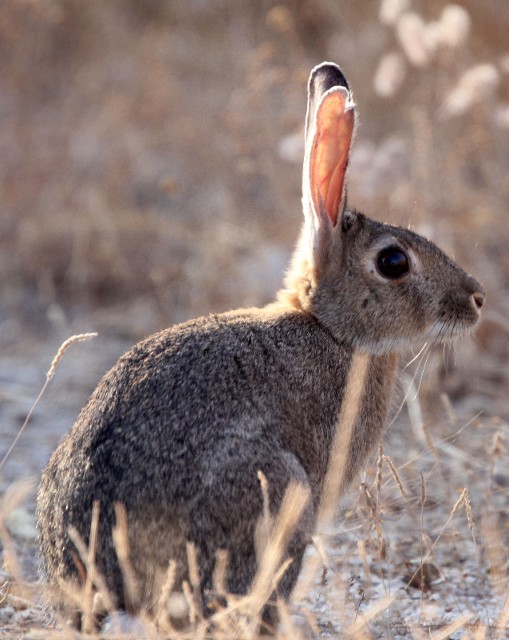 Saying we saw hundreds of European Rabbits during our stay in Andujar and some of the other reserves in Spain would only be a very slight exaggeration.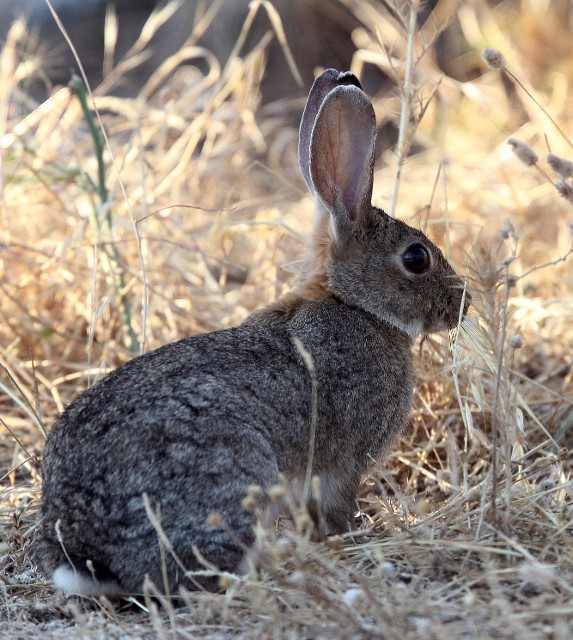 Although some of the literature may state otherwise, it sure appeared to us that there was ample prey available for Andalucia's top carnivore...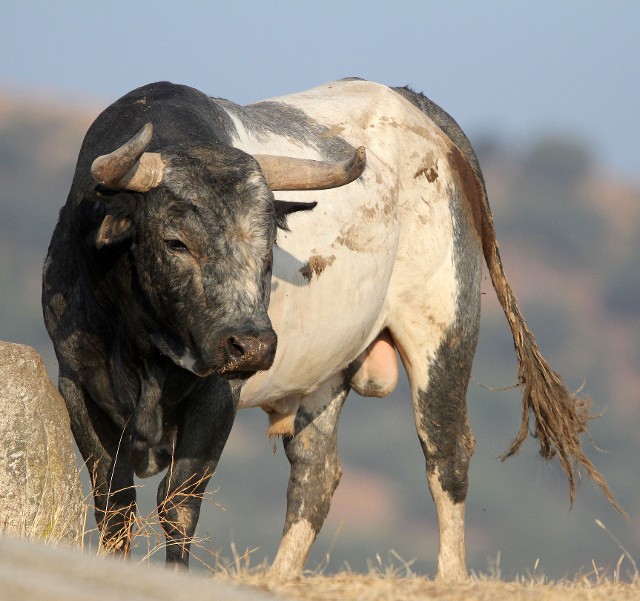 El Toro! Domestic fighting bulls were the main cash crop of the Sierra de Andujar region. They were absolutely massive!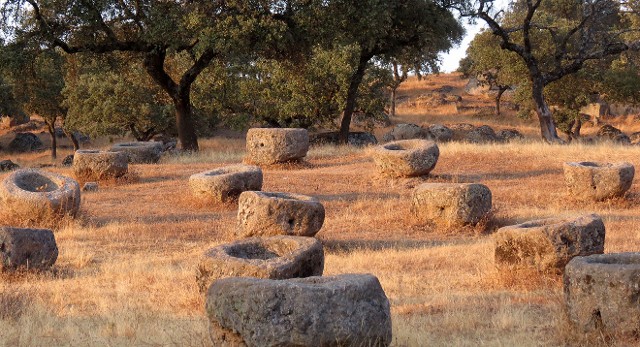 The massive granite feeding bowls for the fighting bulls in Andujar.

This was the routine for the next four days in Andujar - up by five - visit the Encinajero Trail go back to the bull fields to search for Mouflon, and then on to La Lancha Dam to see what we could spot there. Our first day's success has yet to be matched but we still have one more day left, and I am as always hopeful. I have traps set for Garden Dormouse and we still hope for Mouflon to show themselves....Assholes! And of course I would kill for an image of an Iberian Lynx as good as many of the ones seen on the countless trip reports.... I was a bit bummed actually that we were so far denied a quality sighting of the cat - virtually every report I'd come across had amazing pictures of them - up close and very personal!
Our last day in Andujar. Still skunked with sightings of Mouflon and Garden Dormouse, and still with no image of an Iberian Lynx. Frustrated a bit, we woke up yet again at the ungodly hour of 5AM again and started our daily routine: cruising the Encinajero Trail in search of the Lynx and then back to route D5002 and onward to La Lancha to search for Mouflon and whatever. This morning there were many more people down at the Encinajero Trail also searching for Lynx. I was encouraged with this as more eyes are better than fewer and there is always the hopes of someone else spotting one and we sharing the experience. After a couple hours there we decided to continue along our normal route. On to D5002....
We left the rest of our new team back at the trail and started our search for Mouflon in the bull-fields in and around Escoriales. No luck...Now on to La Lancha before heading back for our daily nap.....And then a small car with one of the Lynx-watchers from back at the trail passed us... I remembered thinking, "Well, he was sure here quick. I guess that means there were no Lynx down on the trail...." I was relieved actually that there was no lynx spotted after we left.
No more than one kilometer down the road, we noticed this same gentleman, who remains an anonymous good samaritan forever, out of his car with his telephoto lens pointed toward the oak forest....A Lynx! Amazing luck! He had (and now we had) a beautiful collared Iberian Lynx no more than a few meters from our location stalking something in the distance. This Lynx allowed us to stay watching him for about 15 minutes before he scampered off in to the woodland. What amazing luck.
Iberian Lynx (Lynx pardinus)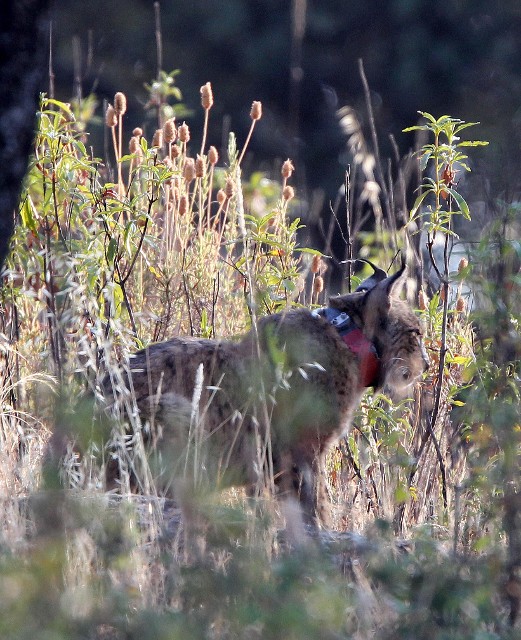 Our second Iberian Lynx! We were all so thrilled to see this amazing and extremely rare cat. He was completely oblivious to our presence and allowed a long views, albeit slightly filtered through the grass. Amazing!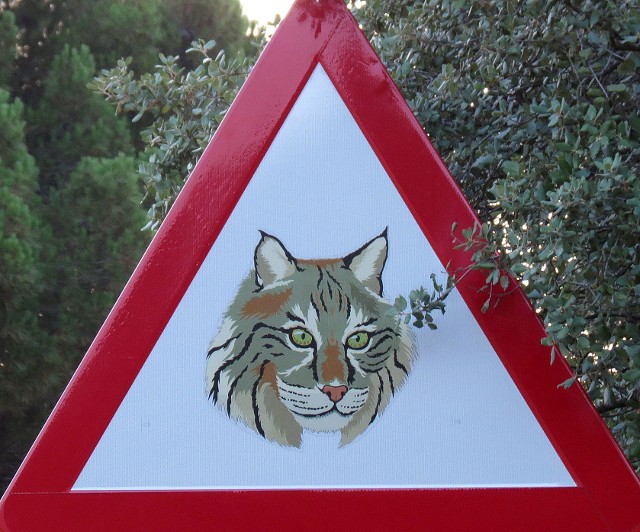 Our first Iberian Lynx! Actually we did see one briefly during our first morning's spotlighting drive....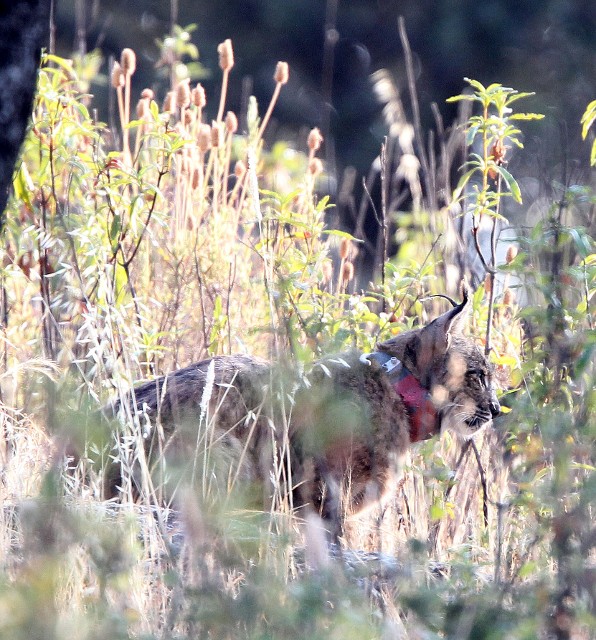 Not sure what he had his eye on but he was fixed on something for sure. There are supposedly a few other collared individuals roaming the hills of Andujar. With as few as 100-200 left on Earth, this is one of the most endangered felids around.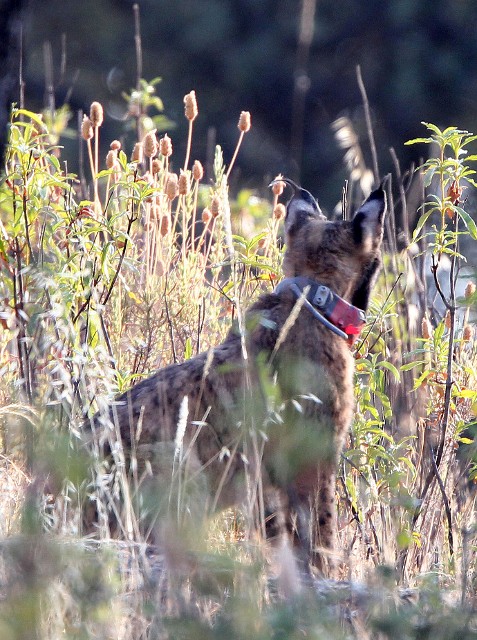 All of the sudden, something caught his attention and off he went... What a great experience

Our good samaratan seemed like he was in a hurry and encouraged us to get out of there quickly. When asked why, he explained to us there was a cop on the road and he'd fine us if he saw us parked, even to photograph one of the rarest animals around. Sure enough, about five minutes later, the cop showed up and gave us a dirty look....Luckily we were driving slowly at the time... Not sure why but the police in this area have a reputation for being very strict. After getting on our way, we spent the rest of our morning with the Spanish Ibex who were climbing on the La Lancha Dam. Very spectacular!
Southeastern Spanish Ibex (Capra pyrenaica hispanicus)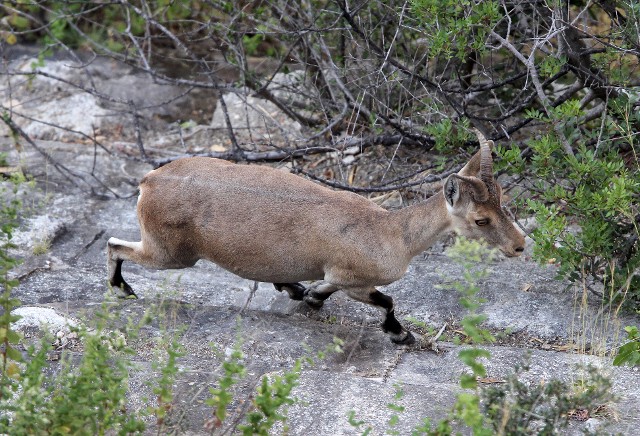 We had daily sightings of some nice female and young Southern (or Southeastern) Spanish Ibex near the La Lancha Dam. They seemed to basically live in the scrub at the base of the dam, and were pretty much guaranteed to be seen there in the mid mornings...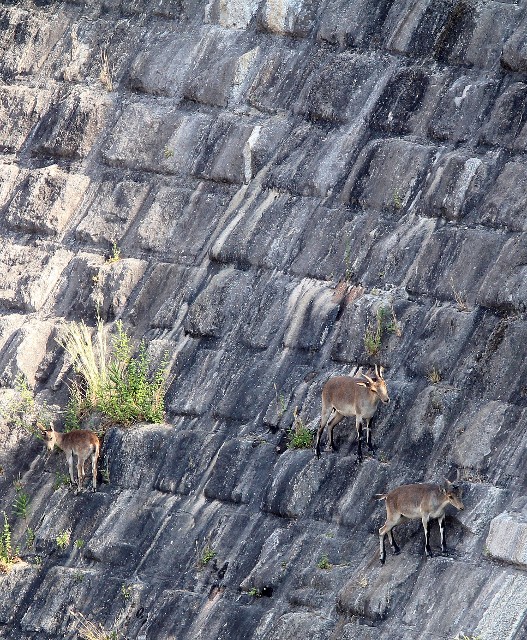 Like the famous Alpine Ibex of Lake Cingino Dam in northern Italy, these Southern Spanish Ibex loved climbing the dam and browsing the herbs that grew in the cracks...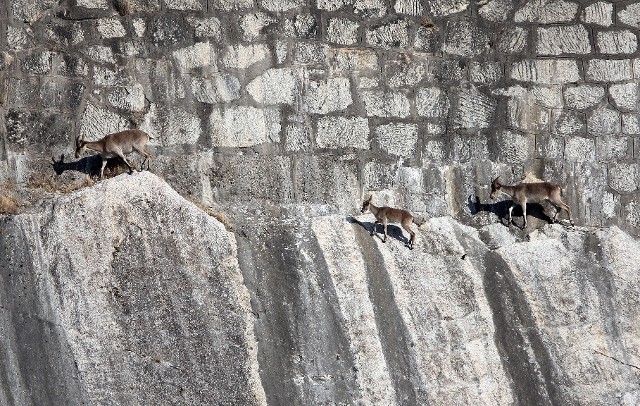 They were really quite spectacular to watch.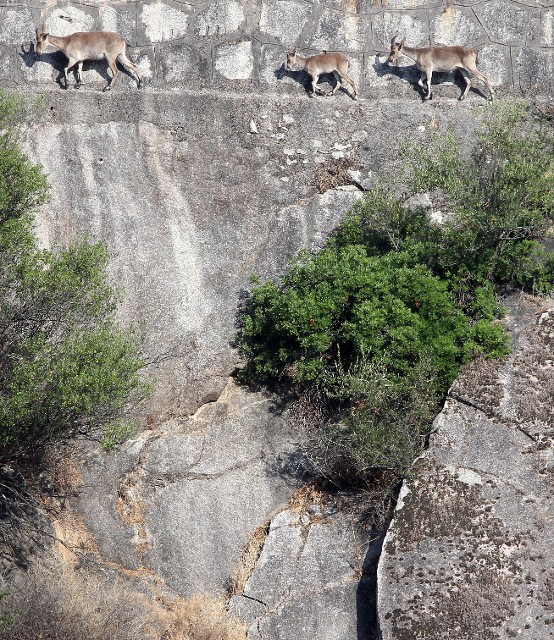 Very impressive...
Greater Mouse-eared Bat (Myotis myotis)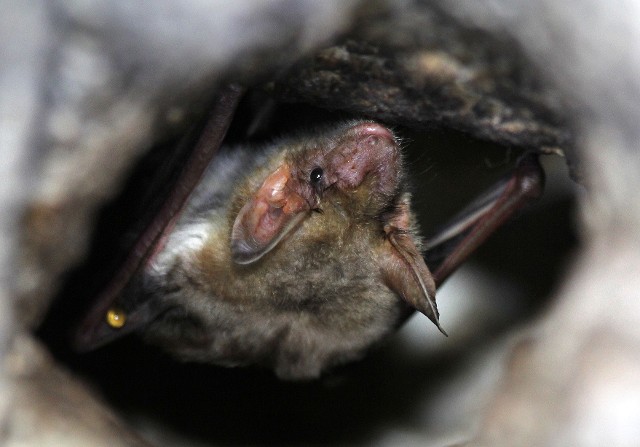 Greater Mouse-eared Bats were common in the tunnel across the La Lancha Dam.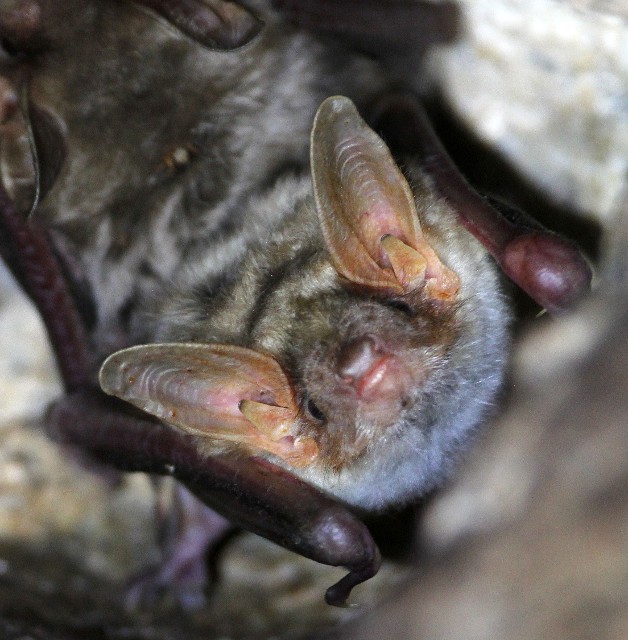 Greater Mouse-eared Bat
Daubenton's Bat (Myotis daubentonii)
Daubenton's Bats were also very common in the tunnel. Interestingly we came across other mammalwatchers who were convinced there were no bats in the cave due to the completel lack of guano or smell....But upon close inspection, we found hundreds of bats in the cave, all just nicely tucked in to small holes and crevaces - actually easy to miss...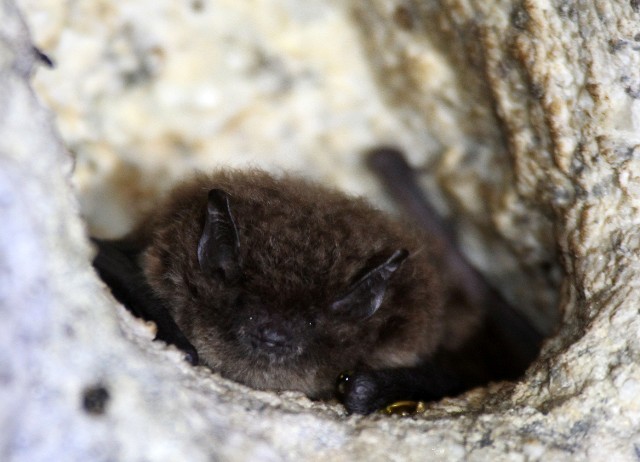 Daubenton's Bats were the most common but there were most likely Geoffrey's and or Schreiber's Bats in the tunnel as well.
Iberian Wild Boar (Sus scrofa baeticus)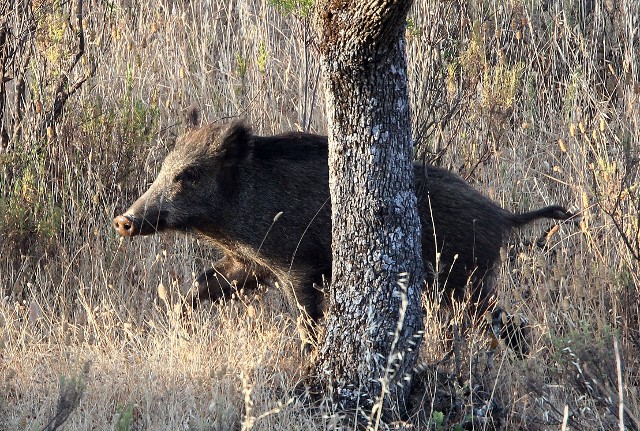 Iberian Wild Boar were common in Sierra de Andujar. Usually we spotted them in the early morning but here was a nice one that came out in the late afternoon.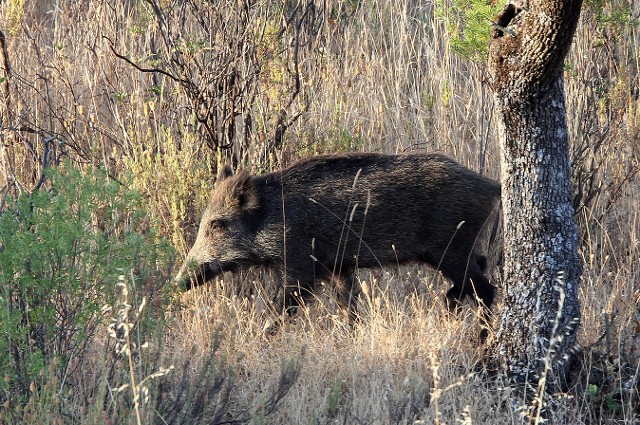 Iberian Wild Boar

Our time at Andujar was concluded searching fruitlessly for the Mouflon. We spent time bettering our images of the other critters of the reserve and left feeling pretty damn good about our stay there. Sierra de Andujar is truly an amazing place. The wildlife there is rich and very easy to experience compared to so much of Europe, and I felt at home in the oak woodlands of the region. The smell of the dried grasses reminded me of my years camping in the oak woodlands of California. I miss those days and being in Andujar brought back fond memories.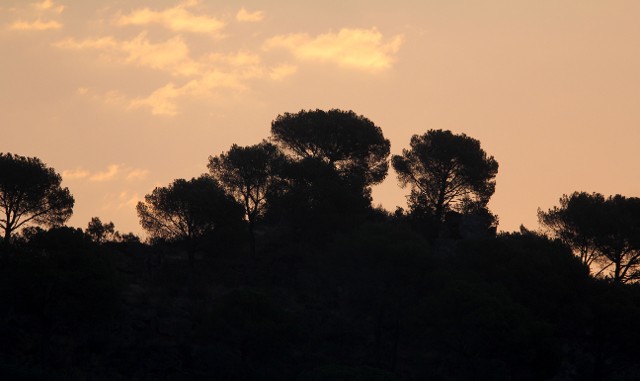 Andujar sunset

Sierra Nevada Natural Park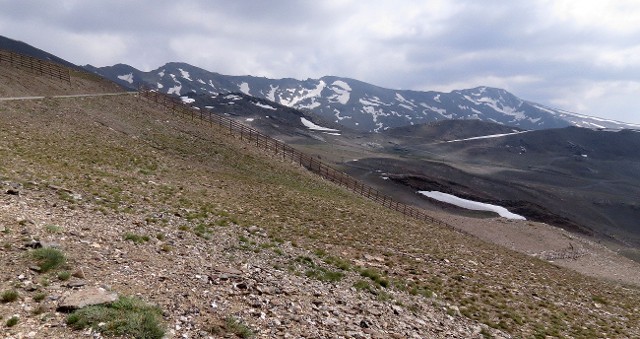 Sierra Nevada National Park, located only 2 hours or so from Granada is a spectacular high alpine destination and a great place for Southern Spanish Ibex!
And now on to Granada! Only a couple hours to the southwest of Andujar, Granada was a town I visited nearly 20 years back and really liked. I wanted to use it this trip as a base while we explored Sierra Nevada NP, which is about 30 minutes south of the city. We got an early start from Andujar and decided to head up in to Sierra Nevada before trying the narrow, confusing roads I remembered all too well in Granada. I knew this was risky as this meant arriving at the peak Ibex area in the heat of the day. Of course early morning and late afternoon are always the best times to see the Ibex, but I remembered reading Jon Hall's report (See it here) and that he saw them pretty easily in the middle of the afternoon, and we decided to give it a go.
Sierra Nevada NP is a spectacular place. With peaks surpassing 3000 meters, it is a massive mountain range in a part of Europe I had no idea had such features. The mountains are mainly graised to death by the endless flocks of sheep and herds of cattle, horses and who knows what else....I was impressed by the beauty of the area but not so impressed with the condition of the habitat, so much so that I was a bit worried that there were no Ibex there any longer. But sure enough, it didn't take us long to spot our very first Southeastern Spanish Ibex (Capra pyrenaica hispanica) - a female peering over a rocky ridge of a tall mountain directly behind the university cafeteria located in the ski-town, Pradollano at the end of A-395.
We immediately started trekking up to get a closer look and see if there were any macho males there as well. We had to trek about a kilometer or so up the peak, scampering up the dangerous skree, before we got some very close looks at two female Spanish Ibex. They were clearly unafraid as they let us approach within a few meters and even came closer to us before climbing up higher and eventually out of reach. Great fun!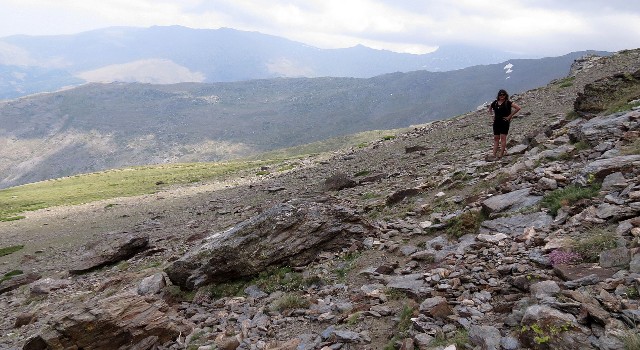 Trekking the Sierra Nevada range looking for Ibex...And of course finding them...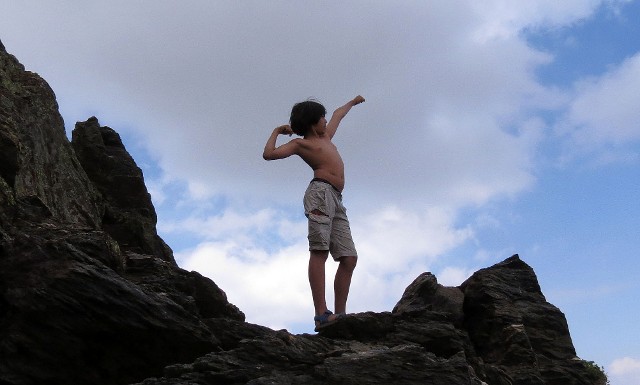 Our first Ibex!

Southern Spanish Ibex (Capra pyrenaica hispanicus)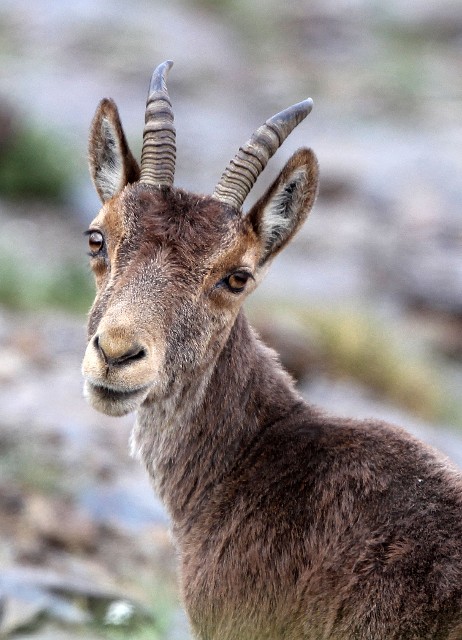 This female Southern Iberian Ibex allowed us to approach within a couple meters. She could care less...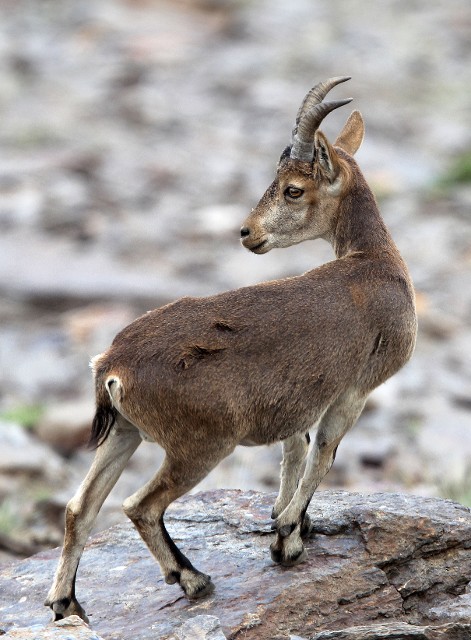 Nice pose...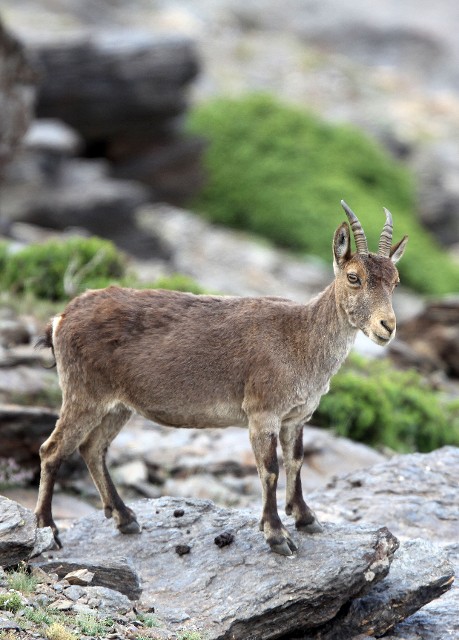 So where are the major males, mam?
We were able to get some information from the local NP information center, and learned that if we wanted a shot at the major males, we had to make it back to the area before 8AM or hike up to the top of the mountains, about a three hour trek, half of which was straight up! Ugh... None of us were in the mood for such an endeavor so we sat in our rental Hyundai with our full bellies telling ourselves that we weren't going to do it....that the female Ibex were enough....Then I got out of the car and told Som and Cokie that I was going to trek up to the next ridge to see the view and perhaps spot some closer.....That ridge became the next ridge....which eventually became the next ridge....and the next....And then about two hours later, I was at the very top of the mountain with no water and nothing but a cheap pair of flip-flops for shoes! No ibex!
I stopped one of the park vehicles passing by and asked if they'd seen any, and they said they had - just another 1.5 km up the road.... So off I went...After what I thought was about 1.5 km, I was about to give up. Still no ibex.... I asked another vehicle passing by with a ranger in it, and she told me that she'd seen nada....She wished me luck and we went our ways. Ten seconds didn't pass before she stopped the car and yelled over to me and pointed down. Sure enough, there were four male ibex sitting in the grass no more than FIVE meters from where she and I were just talking! Couldn't believe that we both missed them. At least she caught them and I was allowed to have the spectacular experience of watching some young Spanish Ibex males spar in the golden light of our first day in the Sierra Nevada!
Southern Spanish Ibex (Capra pyrenaica hispanicus)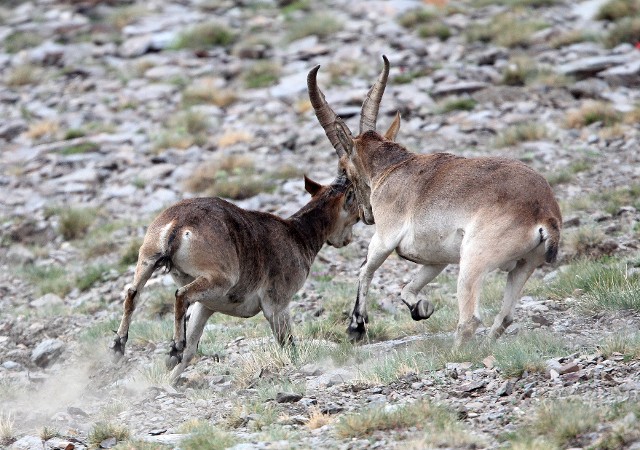 I was rewarded for my steep trek up the mountain with a sparing match between these young male Southern Spanish Ibex. I think they were showing off for me actually...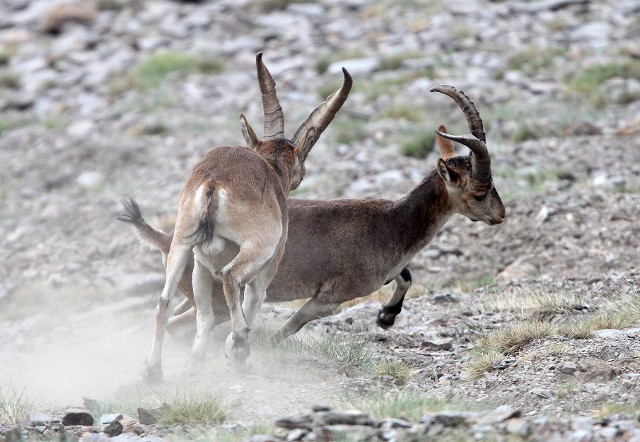 This went on for some time. I had a great time watching them.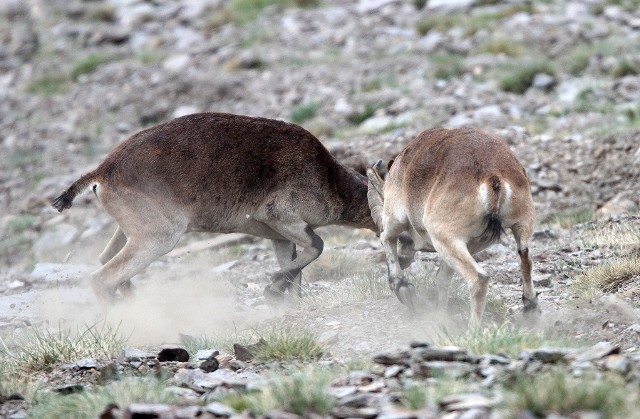 They were really going for it!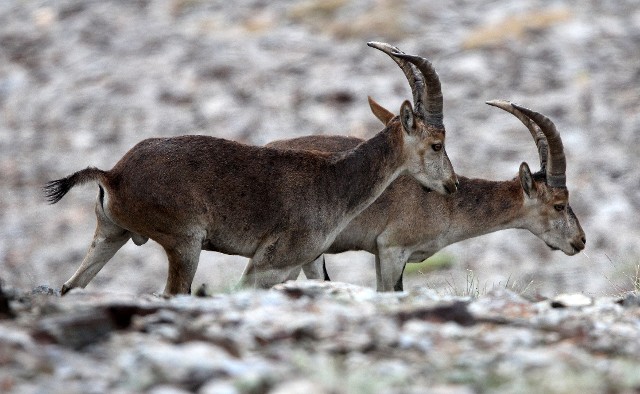 Time for a bit of a rest...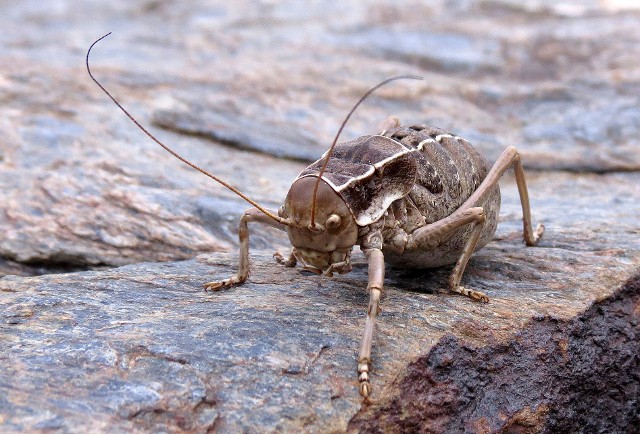 One of the Sierra Nevada's rarest endemics - Pycnogaster inermis or Grillo de Matorral! This massive ground cricket was spotted by Som during our trek searching for Ibex.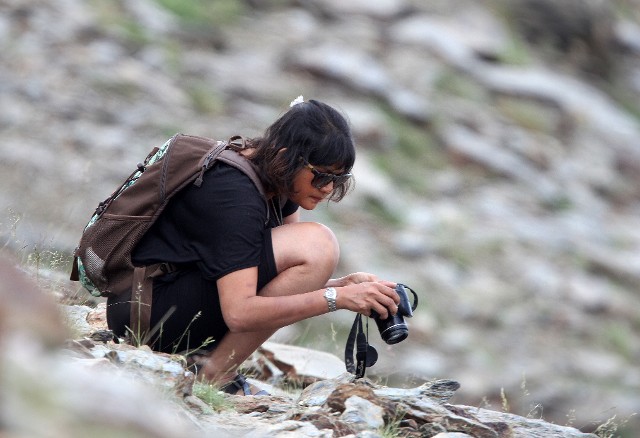 Som finding more rarities!

Granada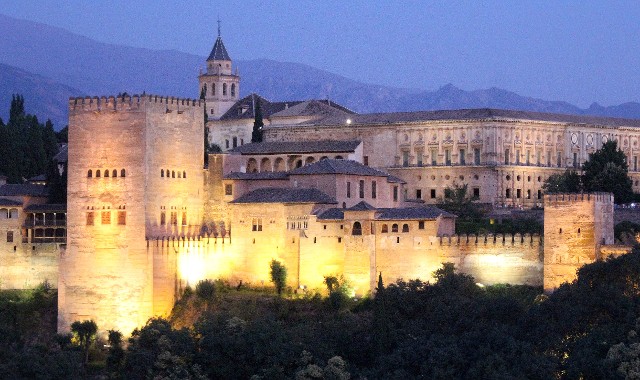 With our main target achieved in the Sierra Nevada, we decided to relax in Granada for a couple days while we were in the region. We had a great time exploring the city and relaxing with some cold brews, watching the spectacular sunset and change in light over the Alhambra. What a night!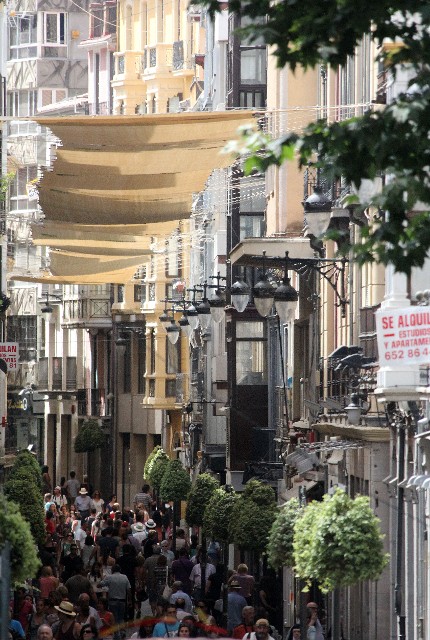 It has been at least 20 years since I was last in Granada. Actually I don't think it had changed all that much - still pretty much as I remembered it...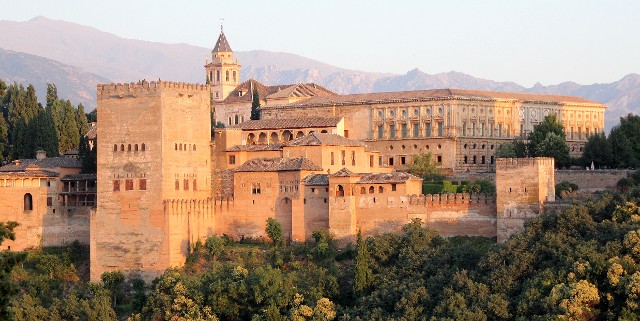 Of course, Granada's main claim to fame is the spectacular Alhambra...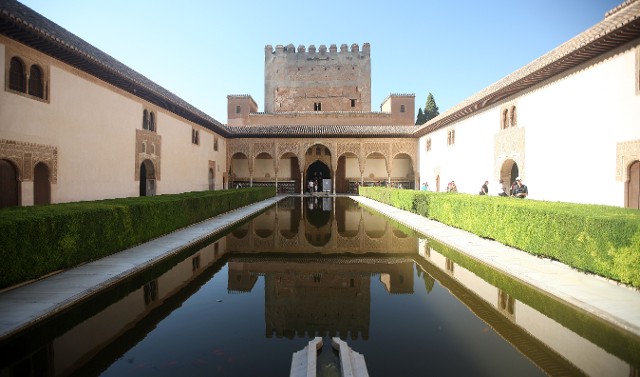 The mirror pool at the Alhambra...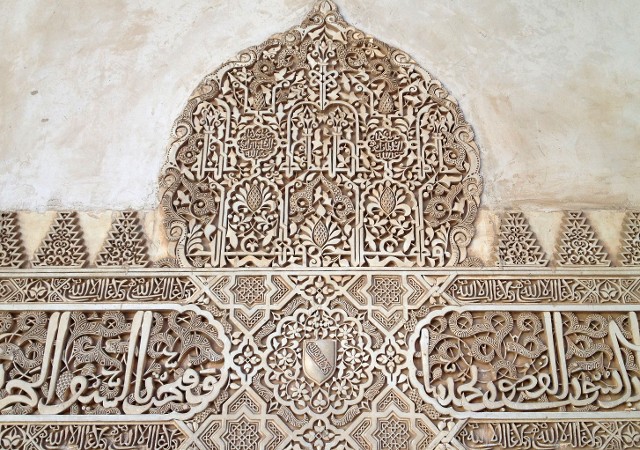 The Moorish influence is very unique...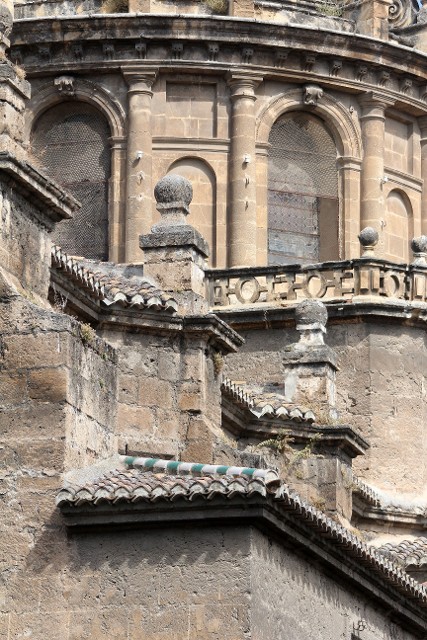 One of the many cathedrals in Granada...

What a lovely evening...
El Torcal Natural Park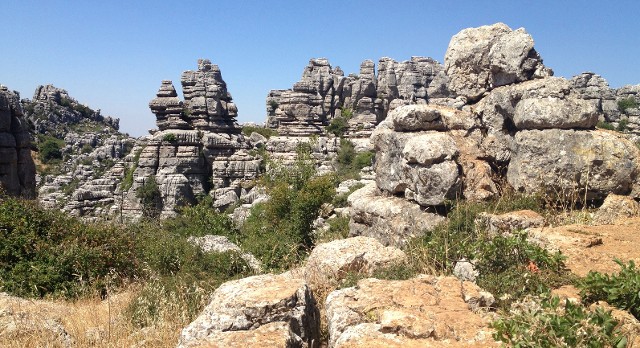 El Torcal is a geological spectacle!
Our next destination was in the direction of Ronda, Spain. We had no solid plans for this section of the trip and basically planned to stop in El Torcal de Antequera en route to Ronda as a back-up for the Ibex in case we missed them in Sierra Nevada. Even though we nailed the Ibex in Sierra Nevada, we still had to go to check out El Torcal, arguably one of the most spectacular regions in all of Spain. I mean, wow! The limestone formations of El Torcal are simply stunning. The formations and vegetation are perfect Ibex country. And it took us only about TWO minutes before spotting our first herd of Spanish Ibex! A group of females and young were perched high up on the mountain near the entrance of the reserve. We trekked the Green and Yellow Trail (a bit) in hopes of some Macho Males but had to settle for very distant views only. But we were very happy that we visited the park - absolutely stunning.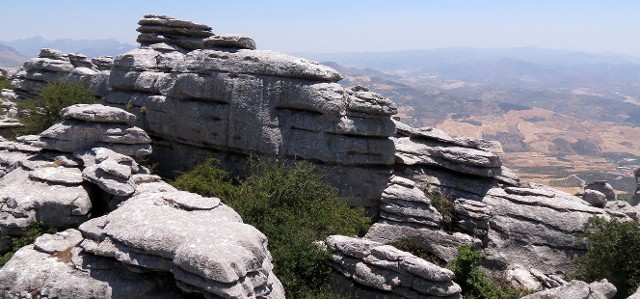 The view of the surrounding plains from El Torcal is outstanding.
Green Road Maple (Acer monspesullanum) was the dominant native tree in this region of Spain.
Southern Spanish Ibex (Capra pyrenaica hispanicus)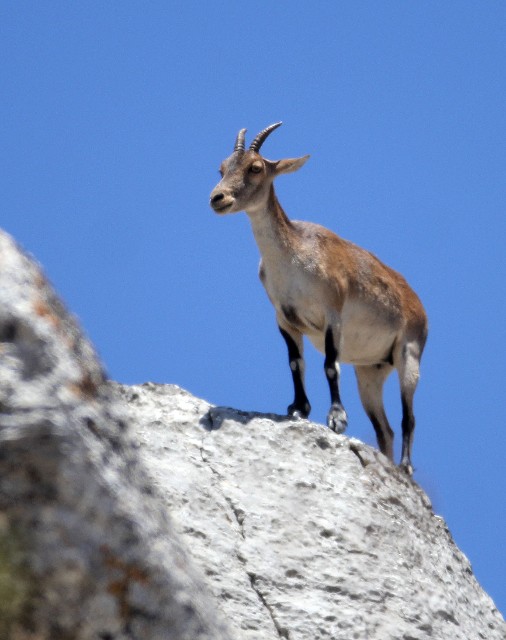 Ronda Ibex. I am still not quite sure about the exact subspecies designations in Spain, but the locals insisted in calling these the Ronda Ibex, instead of the Southern Spanish Ibex. But the literature I could locate basically stated that all of the Ibex populations from Andujar south and west were Southern Spanish Ibex.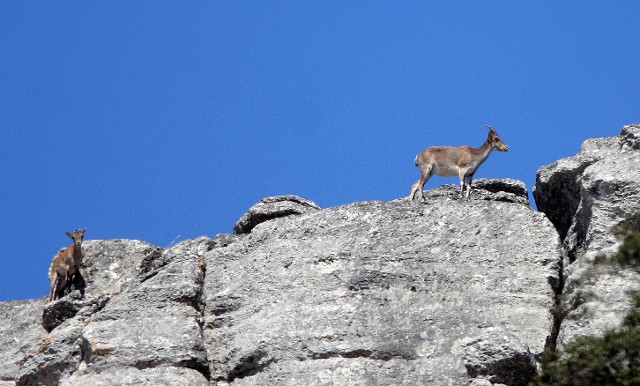 Ronda Ibex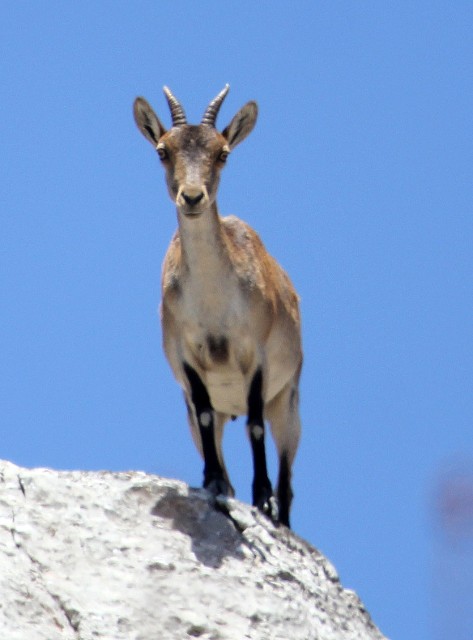 We did see some larger males way off in the distance but we were still very happy to see this female herd so close to the road near the entrance to El Torcal National Park.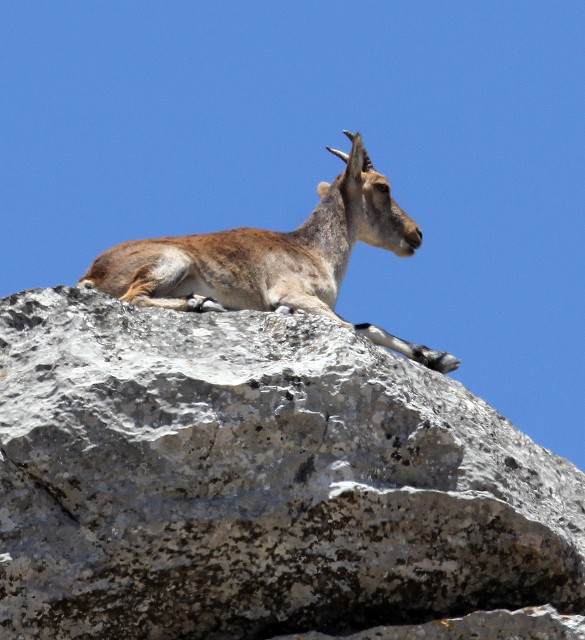 It was definitely getting hot in the afternoon at El Torcal.
Sierra de las Nieves Natural Park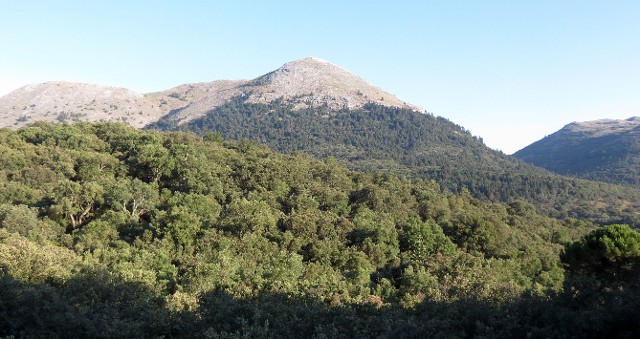 Sierra de las Nieves is great place for wildlife watching - definitely worth a return trip.

In my frustration with not seeing Mouflon in Andujar, I spent a lot of time searching the net for information on where to see them in other locations that were along our planned route toward Gibraltar. I even contacted one of the hunting websites for information. Spain is major hunting-country. There are dozens of operations that will take you to kill anything from Barbary Sheep to Mouflon to Ibex....Yow! One was nice enough to contact me and offered to take us to see Mouflon near Ronda for a mere 350 Euros....We passed... Eventually I discovered that in Spanish, the animal is spelled "muflon" and I started to research them on the Spanish language sites. Good move - loads more information. I soon discovered that they were regularly seen in and around Sierra de las Nieves Natural Park, just a few kilometers east/southeast of Ronda.
We wasted no time in finding our lodging in Ronda (Sierra de Hildaga - a great spot! Highly recommend) and boogying out to to Sierra de las Nieves. This park is a gem. Not only is it spectacular, it is a great wildlife destination. With amazing luck, we were able to talk to the right people in the area and soon learned a precise location for Muflon, but the only problem was that it was all private property. The Ranger were speaking to told us however that the owner of the property was a great guy named "Tom" and all we had to do was call out his name as we approached his home and chat with him a bit and he'd more than likely allow us to check out the Muflon that lived wild on his property.
We took the ranger's advice and entered Tom's property, called "Finca Las Navas", and eventually made contact with Tom and his lovely wife. What great fortune, not only were they absolutely gracious people, they owned a few thousand hectares of some of the best habitat in Sierra de las Nieves! They operate a small tourist house and if we'd known about it ahead of time we definitely would have stayed there instead of in Ronda. But the best part of the experience was their very own wildlife viewing tower, located directly behind their house! At about 2.5 stories, the tower offered sweeping views of about 50 hectares of grasslands and forest. With Tom's kind permission, we spent time both in the evening and the early morning observing many species - mostly about a dozen Muflon (!!!) and Fallow Deer as well as Iberian Foxes, European Rabbits, Common Genett and a couple unidentifiables off in the distance. What a very special place. I would highly recommend Tom's place and Sierra de las Nieves as a good spot for wildlife for those heading there in the future.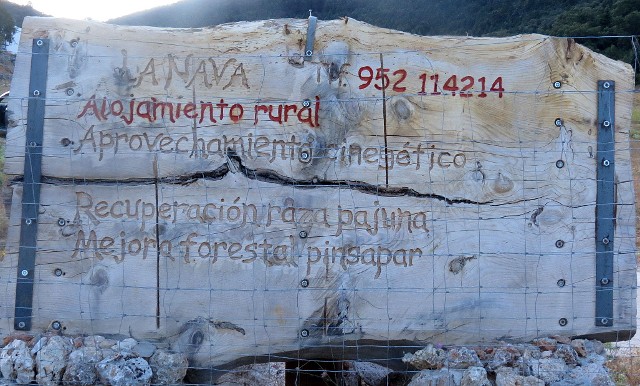 Finca la Nava homestead - a great place to watch wildlife!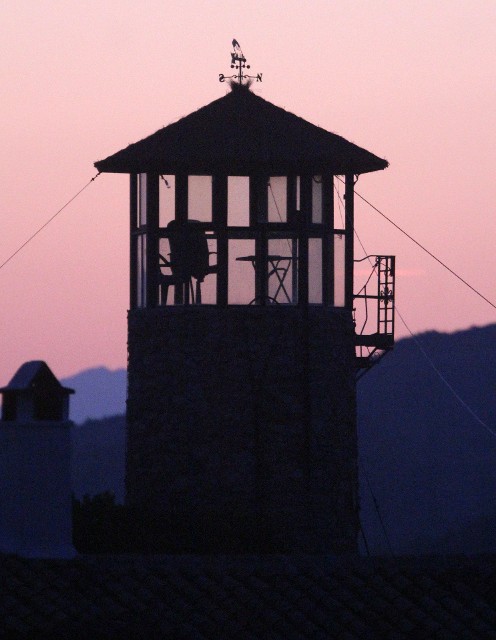 They even have their own wildlife-watching tower! We spent some hours inside viewing Fallow Deer, Mouflon, Iberian Foxes, and other critters during out time there.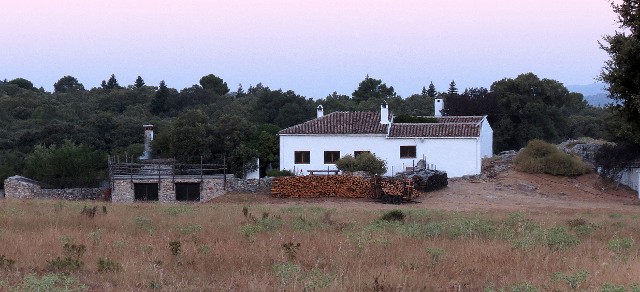 Finca la Nava homestead. I never did get their email contact but I really would like to help send travelers to their place. If anyone has their contact information, I would love to hear from you!
Mouflon (Ovis orientalis)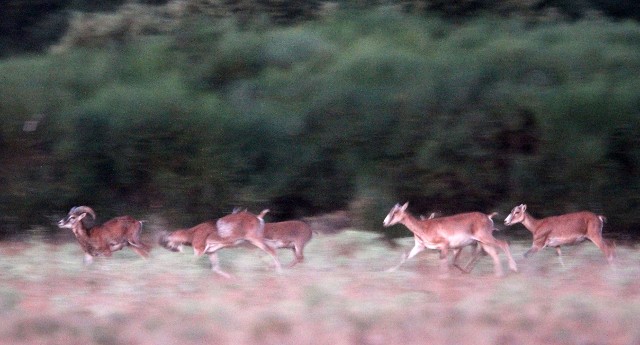 Mouflon! Finally we got one of our main targets for Spain. Although it is a transplant from central Asia, I have always wanted to see the Spanish Muflon in their new natural habitat.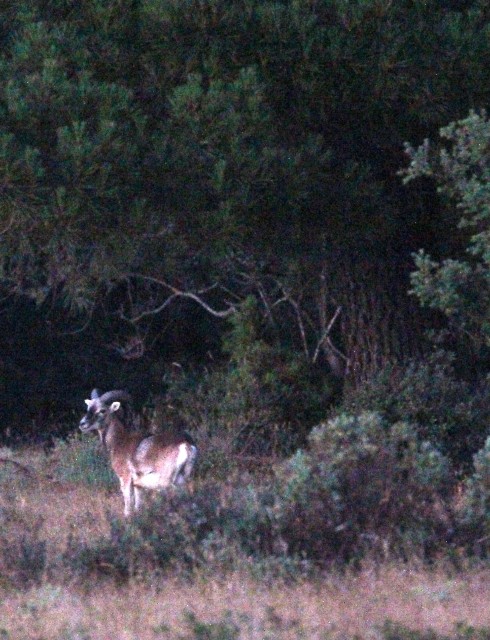 We were nearing complete darkness when the Mouflon decided to make an appearance so taking non-grainy images was next to impossible.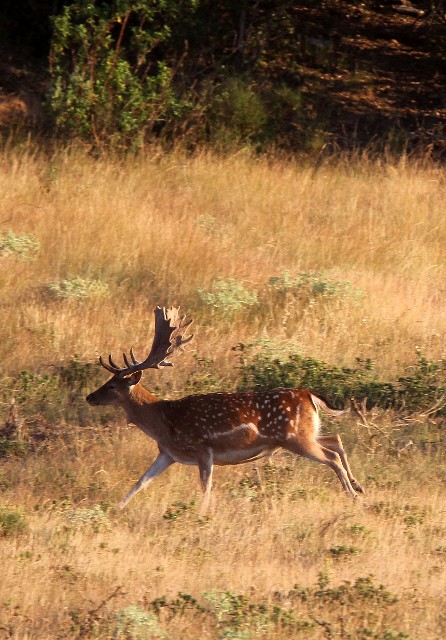 There were dozens of Fallow Deer in the meadows surrounding Finca las Navas. The were definitely very shy.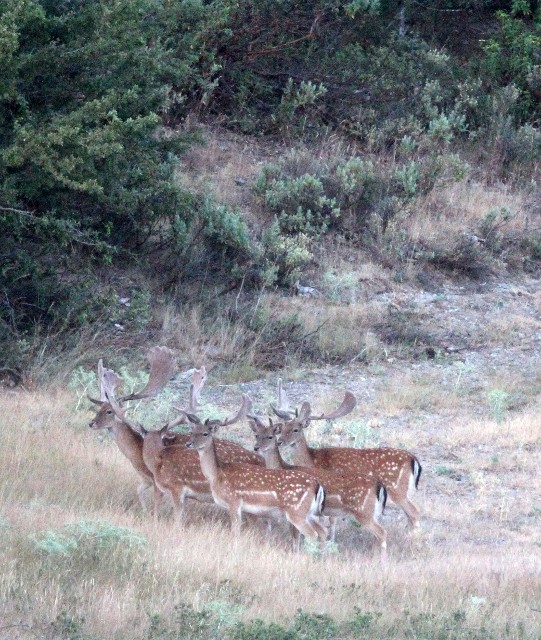 There were several male herds of Fallow Deer in the area. I enjoyed watching them run as if a single unit...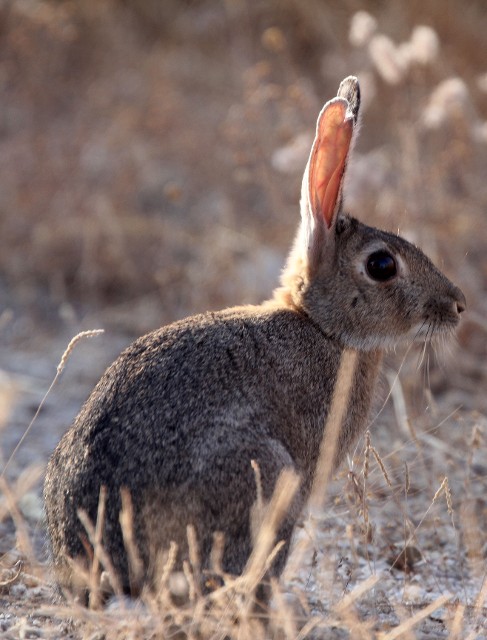 European Rabbits, Iberian Foxes and Common Genets were all spotted in good numbers in the area around Finca las Navas.... Definitely a good wildlife spot in Southern Spain.
Ronda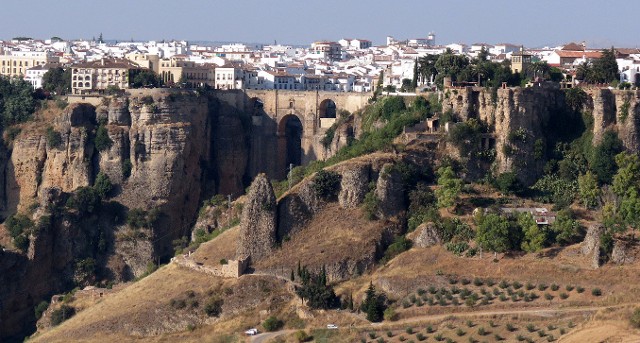 Ronda was yet another spectacular Spanish puebla. Absolutely wonderful place to spend a couple days.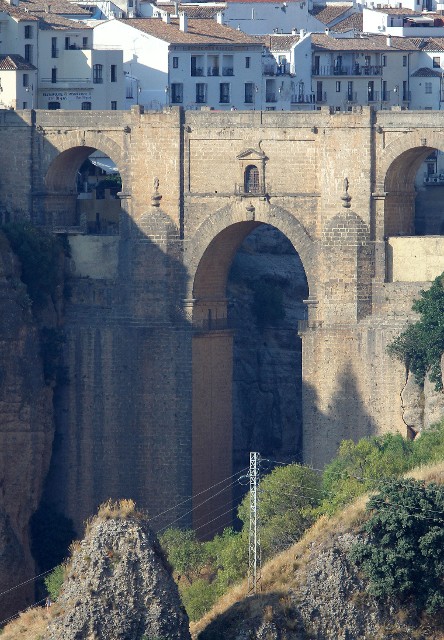 Ronda canyon!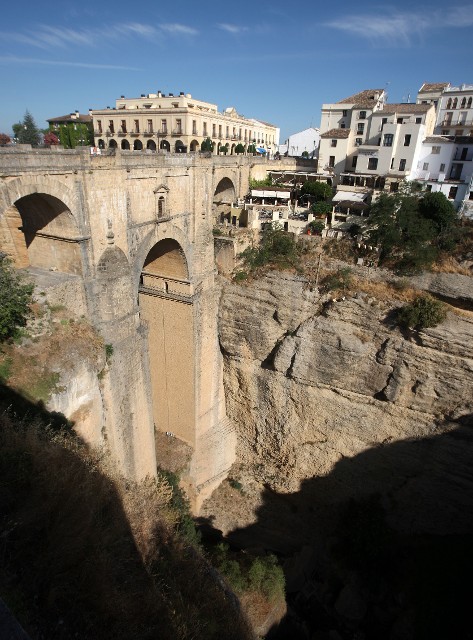 Ronda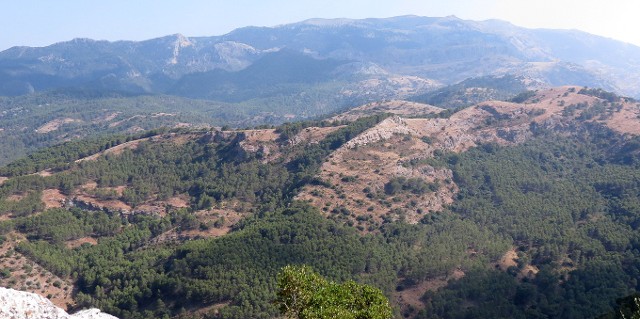 Sierra de las Nieves National Park in southern Spain. This spectacular park was only about a 30-minute drive from Ronda.
Gibraltar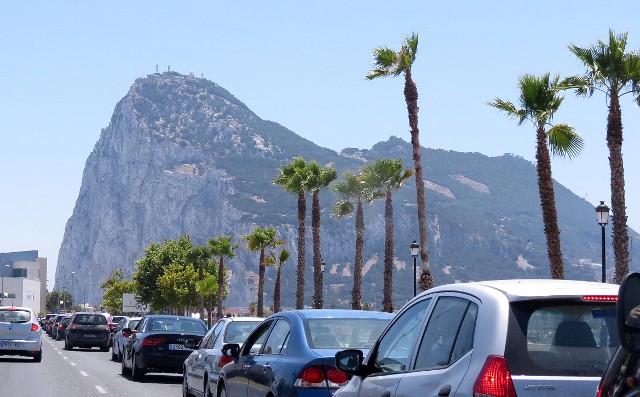 The traffic heading to the Gibralter-Spain frontier....Ugh!
What a great two weeks in Spain! We were almost finished at this stage....What was left now? The Barbary Apes of course! Well, the one problem with these critters is that they are situated in the center of one of the worst tourist zones in all of Europe - Gibraltar.... The cue for entry in to the parking lot alone (for those who want to simply walk across the border) was a couple kilometers long! We came in the area pretty much with no information on the logistics and we were caught up pretty quick in the chaos of the Spain/Gibraltar frontier. And of course, in true Spanish style, there is no information AT ALL for tourists....It took us nearly 30 minutes to find out that the tourist information signs all pointed to a non-existent spot that no one could help us find. It was a mess! Ungodly amounts of traffic and humanity and several people who looked like they would rob you in a second....Not a good place at all. After wasting about an hour with no progress in parking at all, we decided to boogie to our lodging in Los Barrios, about 15 kilometers down the road and regroup a bit.
This was a good move - we had a chance to off load all of our camera gear and valuables as one of the people we spoke to in Los Barrios told us that parking in La Linea de la Concepcion (the border town on the Spanish side) was risky and break-ins were common. Later in the afternoon we decided to return to the frontier and try again. Good move - no lines at all! Something to know if planning a trip there yourself. We hired a private taxi tour and made it up to the top of the rock in good time and caught sight (like it's challenging at all...) of the only non-human wild primate in Europe! We enjoyed our time with these macaques and were glad we did it, but we all thought that Gibraltar was an awful tourist trap. Next time we try for these primates, it will be in Africa, that is for damn sure!
Barbary Macaque (Macaca sylvanus)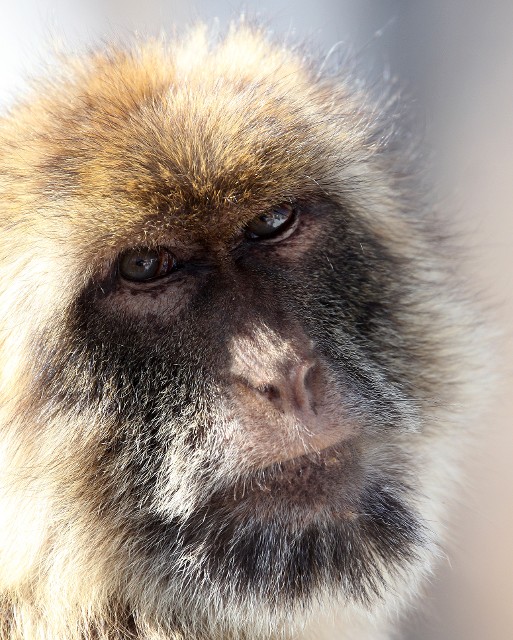 The Barbary Apes. I was very happy to see these critters finally but I was less than thrilled with the mass of humanity we had to deal with to get to them....Granada is definitely not for the faint of heart...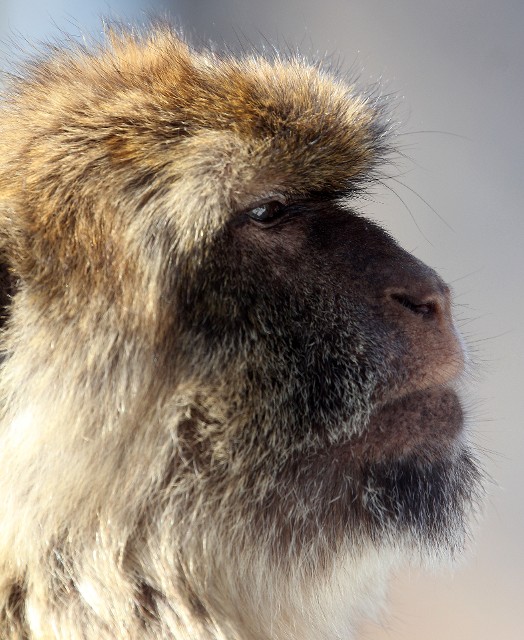 Very human in profile...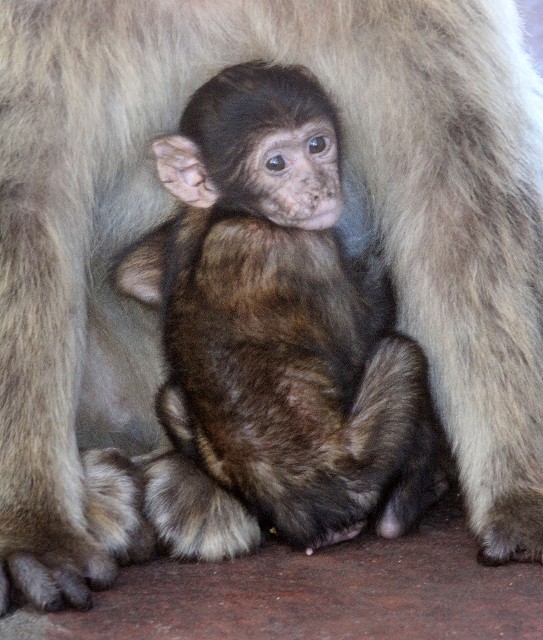 Evidently their population is fairly stable with new recruits joining the ranks every year.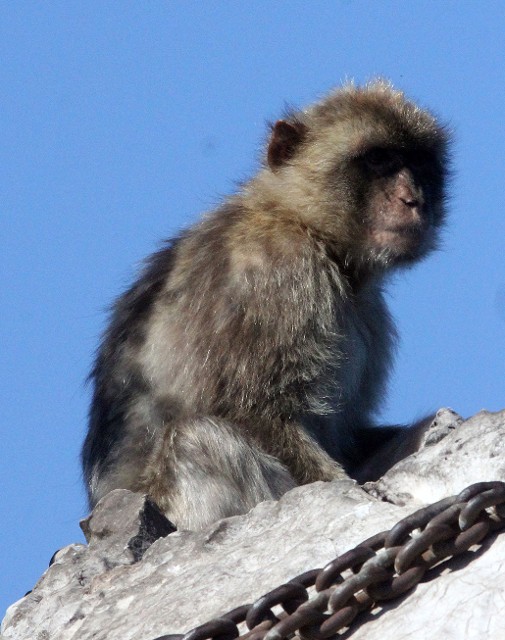 Barbary Macaque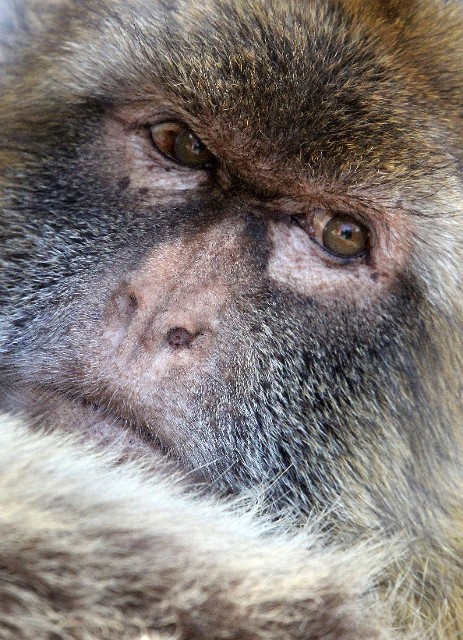 Barbary Ape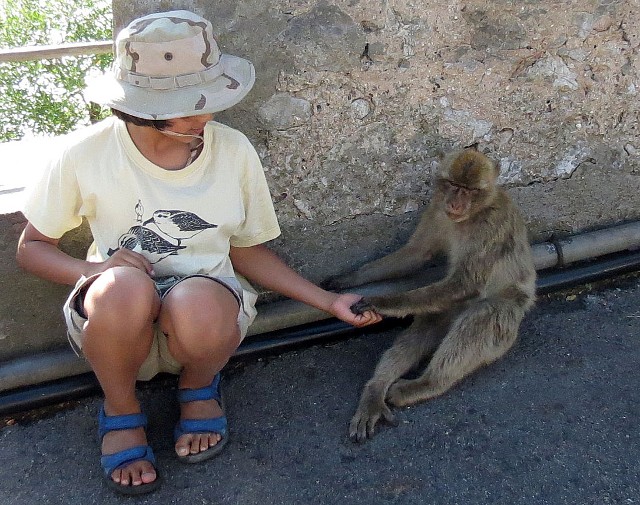 Although I hear then can be pretty agressive, they were very well-behaved during our visit. This one fell in love with Cokie...Of course who wouldn't!
Sierra de Gredos Natural Park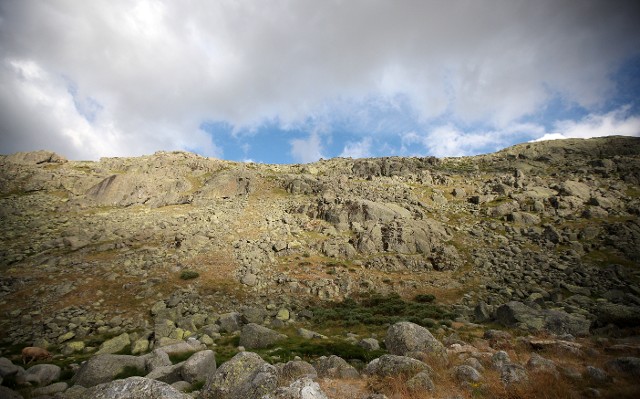 Sierra de Gredos National Park
Our last day was a long haul to Sierra de Gredos NP, about two hours to the west of Madrid. Having read very the detailed and useful reports on Mammalwatching.com, I decided to give the Sierra de Gredos subspecies a go while were in the neighborhood. So we headed to the small village of Hoyos del Espino, located on AV 941, only to find it completely inundated with humanity. I expected this little hamlet to be basically deserted, like the rest of our destinations for the most part, but instead there were tens of thousands of people streaming all over the joint. We soon found that the main road to the national park was completely closed due a rock concert. It took us awhile to find an alternative route up AV 931 to the main trailhead of the park, but we did manage to get there. So the next time you are heading to this tiny little Puebla, make sure Deep Purple isn't playing there! I thought it was a bit strange when we heard "Smoke on the Water" bellowing through the oak woodlands....
Initially my plan was to do a quick look in the afternoon and then again the next morning if needed, but due to the concert there was no lodging options at all, all the way to Avila (over 100 kilometers away!), where we ultimately had to crash after searching for lodging for many, many hours! Nice city but brutal in which to drive and find a hotel! But the good news was that we actually got the Gredo Ibex pretty easily after a 1.5 km trek up the main trail at the end of A231. We were able to spend time with about 30 macho males up on the slopes of the southern-most mountain from the trail. A couple females and a lone male later, we had our time with the Gredo subspecies of this awesome ungulate! There were also a couple Iberian Wild Boar on the hill and we spotted a couple Woodmice scurrying down the road on the drive to Avila. And on the way to Sierra de Gredo earlier in the day, we detoured to the Malpartida & Mirabel Grasslands in search of Great Bustards and found several very distantly flying low through a grassy ravine. And we passed through Monfrague NP as well and had awesome views of literally dozens of European Griffons, Black Vultures and Kites.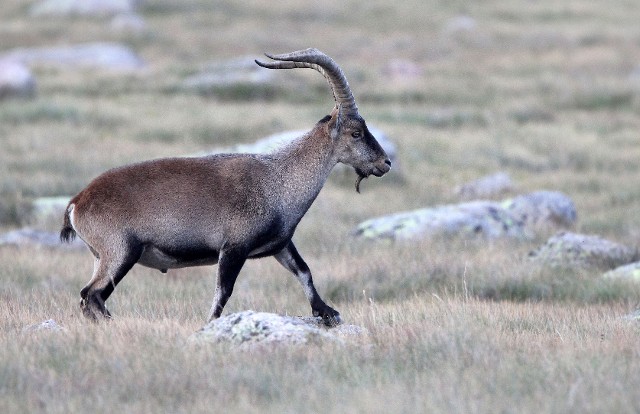 Gredos Ibex were very easy to spot once we got to the correct location. Basically all we had to do was trek a couple kilometers up the hill from the parking lot and we saw dozens of them.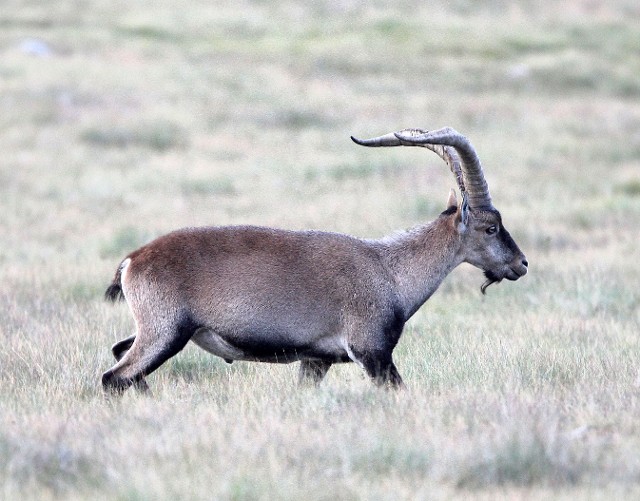 This one met us on the way down the hill and followed us for a few hundred meters.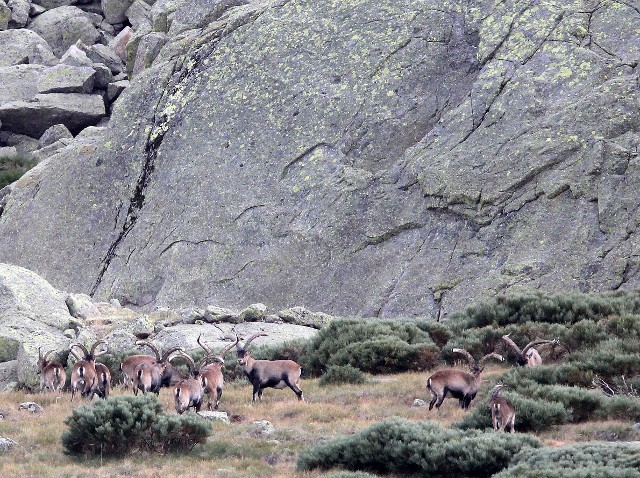 There were a couple dozen major males up the hill. They did not let me approach closer than this.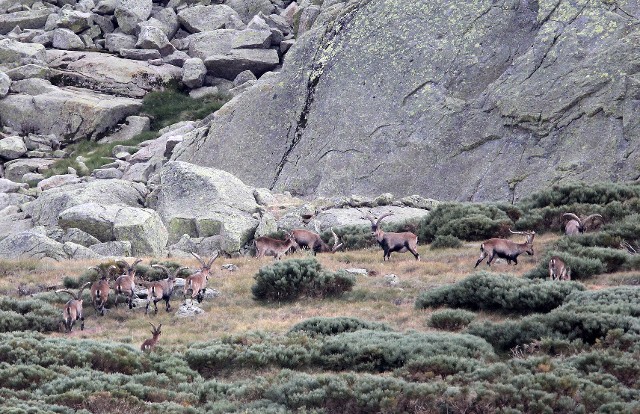 This was seriously an Ibex summer!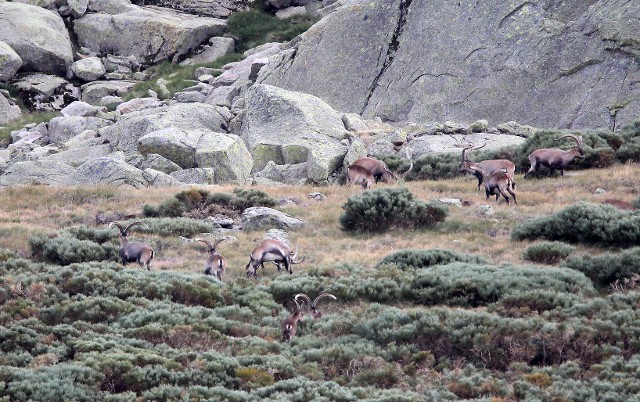 Watching them spar in the late afternoon light was an amazing experience.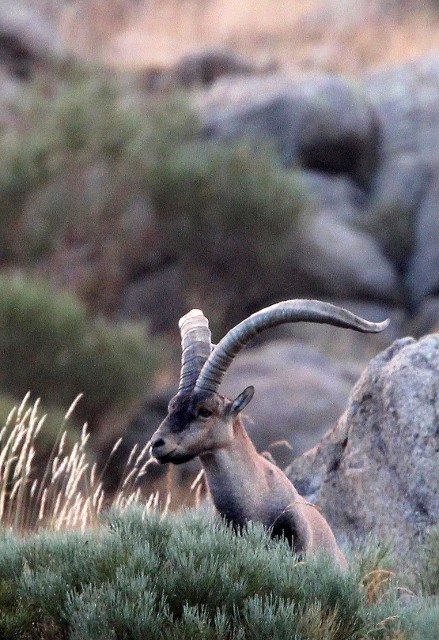 Simply an amazing animal, the Gredos Ibex.
National Grasslands at Malpartida and Mirabela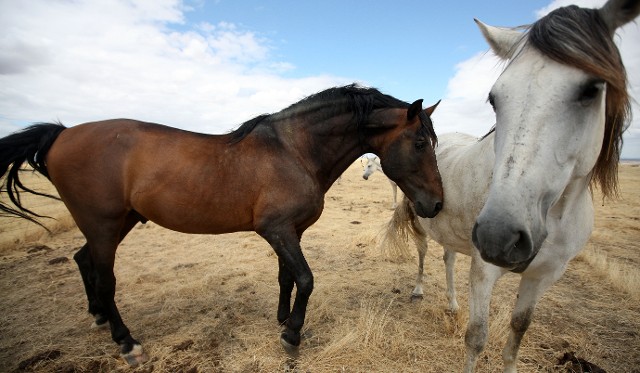 We came across a small herd of horses while exploring the National Grasslands at Malpartida and Mirabela en route to Sierra de Gredos.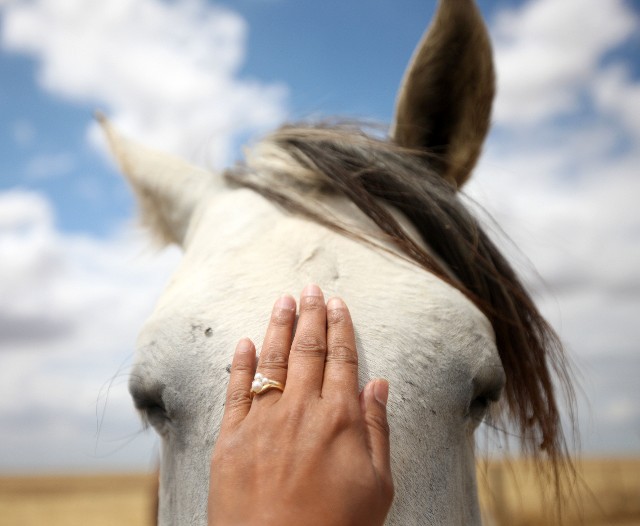 At least one of them was very friendly indeed...
Malpartida Grasslands. This is a very special place.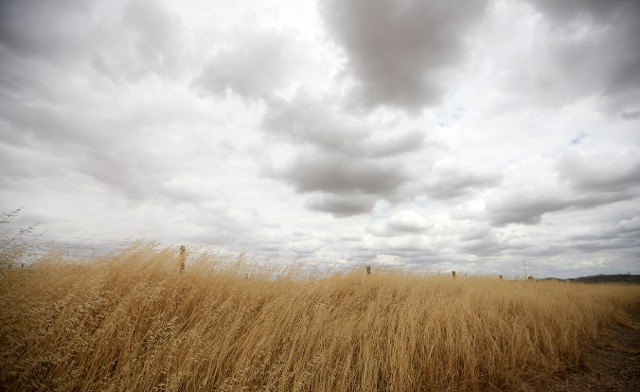 The grasslands in central Spain were amazing.
Monfrague Natural Park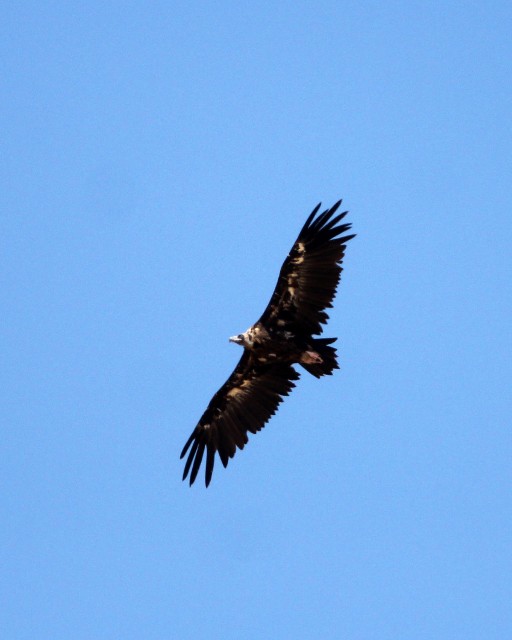 Just down from Maltartida Grasslands is Monfrague National Park, which is home to Europes healthiest population of vultures. Here is a Black Vulture scanning the grasslands for carion.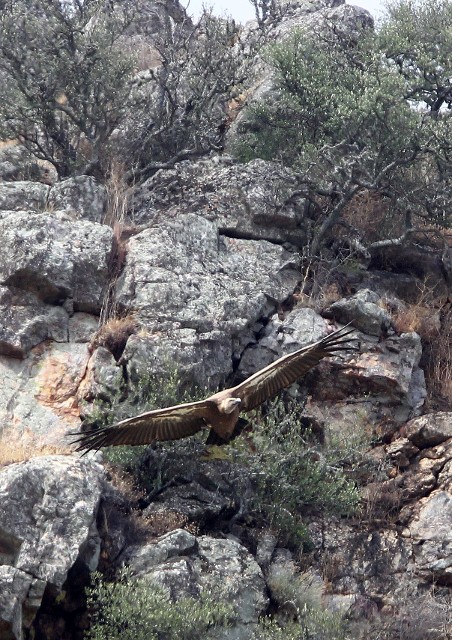 We spotted well over 100 European Griffon Vultures in Monfrague National Park.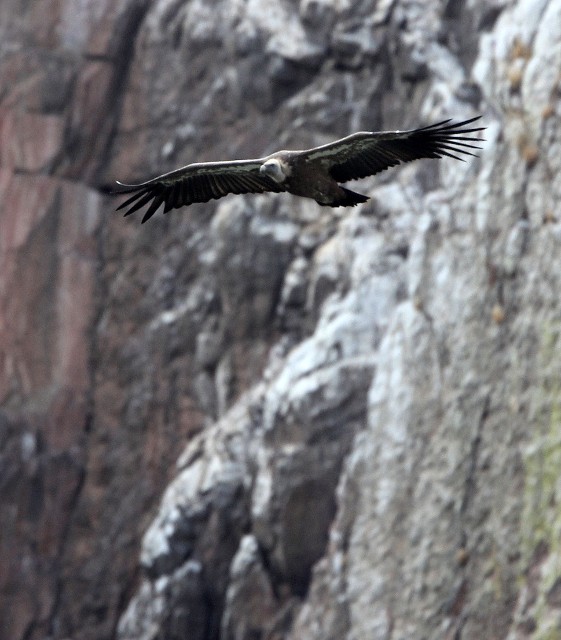 Griffon Vulture in Monfrague
Avila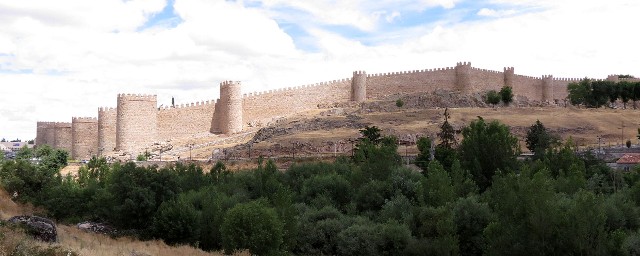 Avila was another unexpected stop while in Spain. Due to the Deep Purple concert in Sierra de Gredos, we were unable to find any lodging at all! So we had to come all the way to Avila. Actually it was a nice place to spend a day and a half at the end of our summer expedition.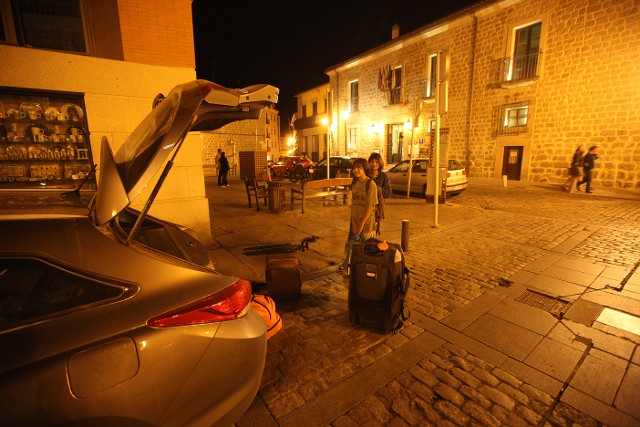 Finally after 1AM, we found a place to stay! What a chore! Actually it was a very nice place directly in the heart of Avila...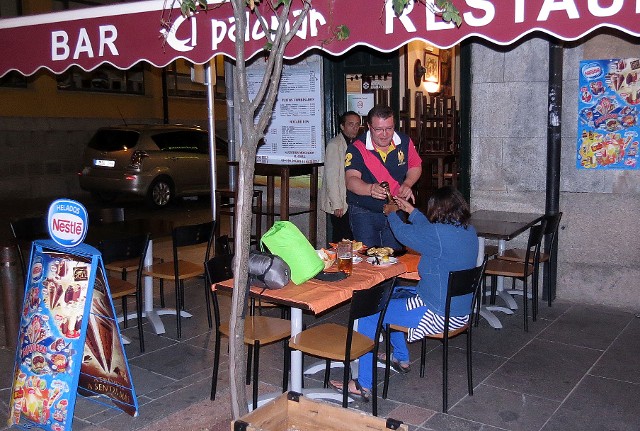 Luckily the kind owner of Palomar Bar was open late and was able to help us find a place to stay. He even told us to come back to eat some dinner and kept his place open to will after 2AM to make we had something to eat! What a great dude!' We found this sort of overt friendliness and helpfulness to be the norm in Spain - great people!
We are now looking at the fact that Bangkok is less than two days away! Our European wildlife expedition is quickly coming to a close and reality is staring us in the face! While we are all very excited about our new lives in Thailand, we are still talking about the exciting summer we had in Europe. I could have never predicted the level of success we had in spotting our targets, even though we dipped on a few species. We had so many rich experiences with at least 61 mammal species over the past six weeks during our Palearctic expedition. From Tunisia to Greece to Italy, France and now Spain, we were treated to some of the Palearctic's most charismatic species. We spent time with Iberian Lynxes, Alpine, Apennine, and Pyrenean Chamois, two species of Ibexes and so much more. We trekked some of the Mediterranean's most spectacular natural and cultural areas and spent time in some of her most beautiful creatures. What a great summer.
Spain Mammal List
SdA - Sierra de Andujar, SN - Sierra Nevada, ET - El Torcal, P - Pyrenees, SdN - Sierra de las Nieves, G - Gibralter
Iberian Lynx (Lynx pardinus) 2 SdA
Iberian Fox (Vulpes vulpes silacea) 10+ SdA, SdN
Southeastern Spanish Ibex (Capra pyrenaica hispanicus) 15 SdA, ET, SN
Gredos Ibex (Capra pyrenaica victoriae) 30+ SdG
Iberian Red Deer (Cervus elephas hispanicus) 100+ SdA
Fallow Deer (Dama dama) 30+ SdA, SdN
Muflon (Ovis orientalis) 12 SdN
Iberian Wild Boar (Sus scrofa baeticus) 6 SdA, SdN, SdG
Greater Mouse-eared Bat (Myotis myotis) 13 SdA
Daubenton's Bat (Myotis daubentonii) 50+ SdA
Geoffroy's Bat (Myotis emarginatus) 5 SdA
European Horseshoe Bat 1 SdN
European Rabbit (Oryctalagus cuniculus) 50+ SdA, SdN
Iberian Hare (Lepus granatensis) 2 SdA
European Red Squirrel 1 P
Stone Marten (Martes foina) 1 SdA
Common Genett (Genetta genetta) 1 SdN
Barbary Macaque (Macaca sylvanus) 25+ G
Wood Mouse (Apodemus sylvaticus) 2 SdG
Near Misses, Road Kill, and Maybes...
Egyptian Mongoose (Herpestres ichneumon) - dead along the road to Sierra de las Nieve
Birds of Spain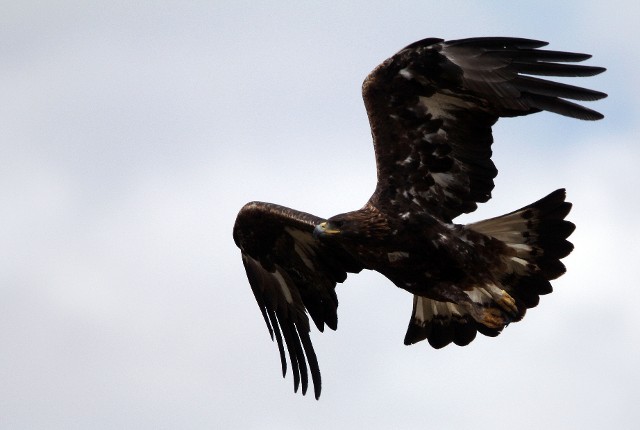 Spectacular Golden Eagle taking flight in Malpartida Grasslands in central Spain.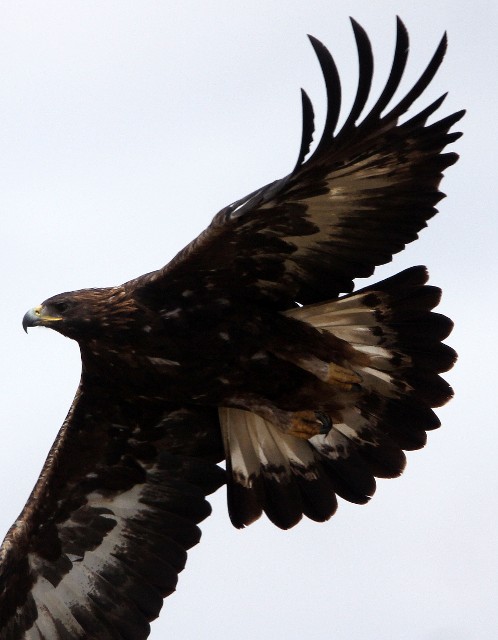 I just wish I could have kept this bird in frame!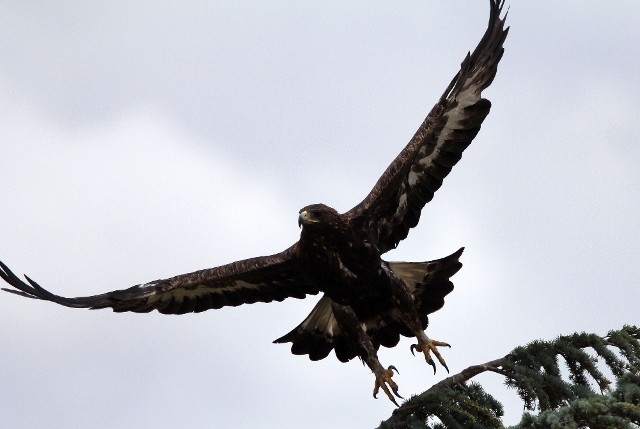 It was great to see such a stunning bird so close. All in all they were pretty common in Spain this summer.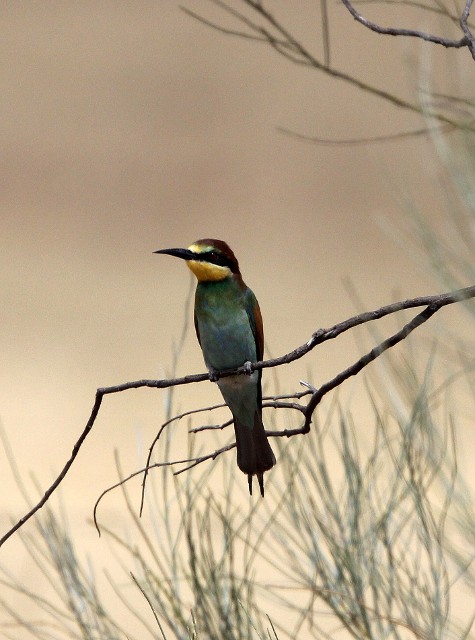 European Bee-eaters were very common in the Malpartida grasslands.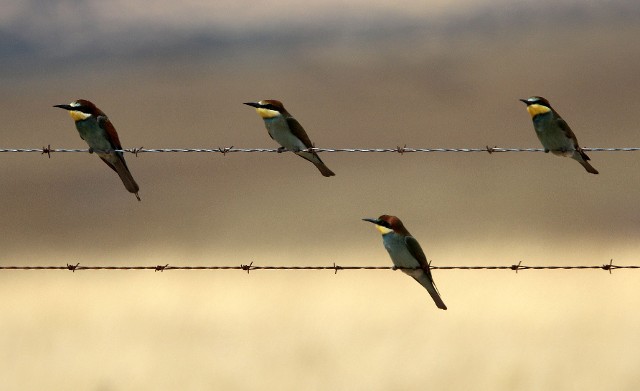 As is often the case with Bee-eaters, we came across large flocks of them...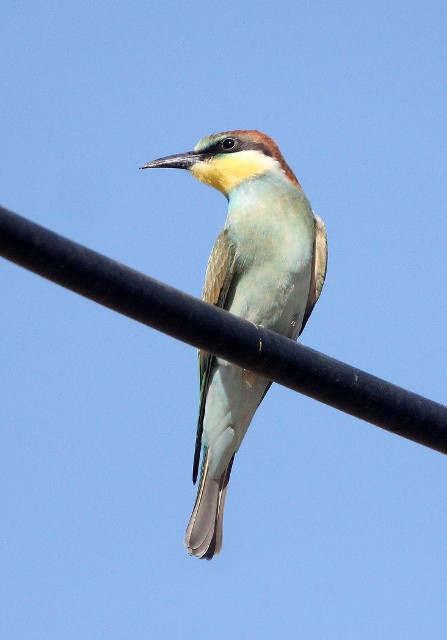 European Bee-eater in Andujar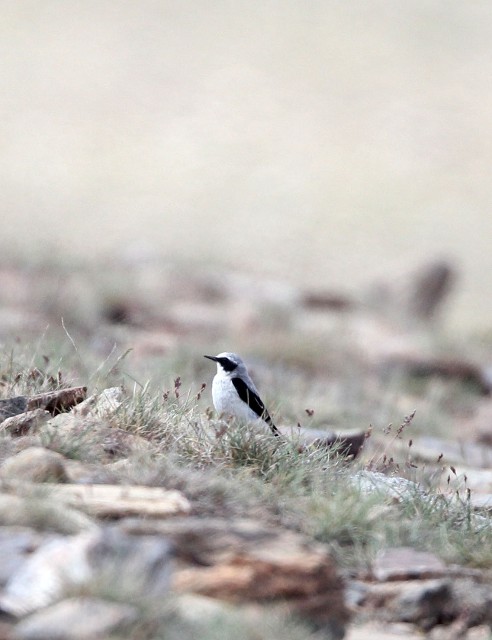 Black-eared Wheatear in Sierra Nevada NP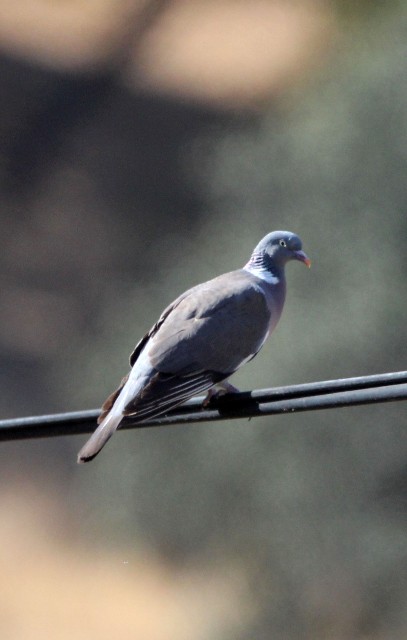 Woodpigeons were fairly common in Sierra de Andujar.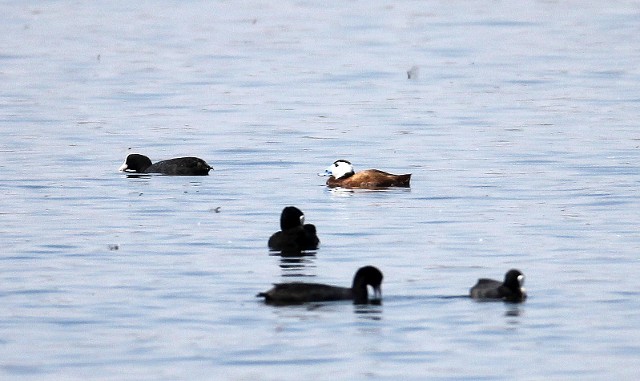 The rare White-headed Duck seen in good numbers in Laguna Dulce, near Ronda.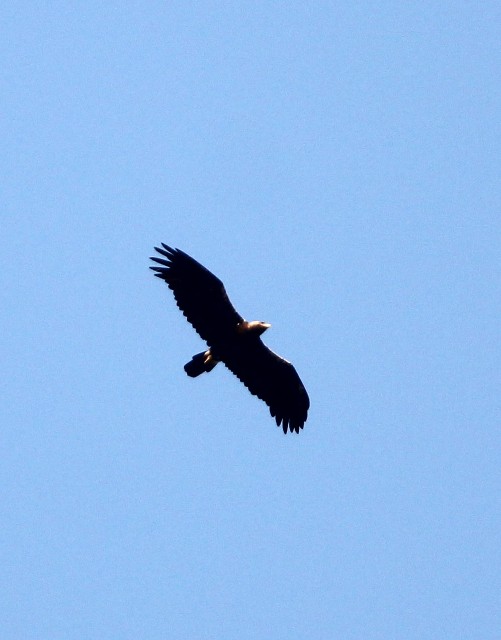 We were lucky to spot several Iberian Imperial Eagles in Sierra de Andujar.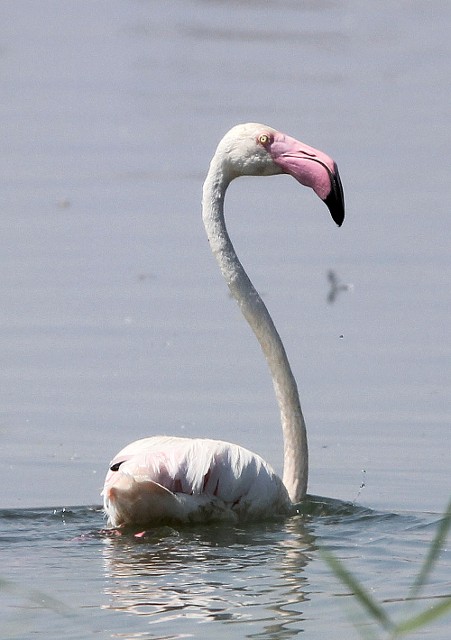 Greater Flamingo in Laguna Dulce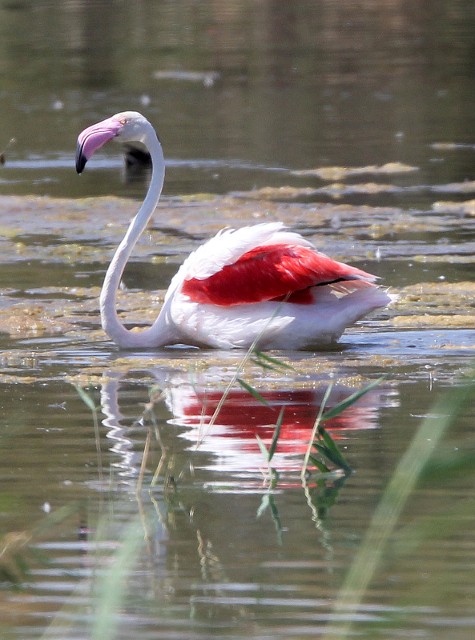 Laguna Dulce was a great birdwatching spot, but it was hot as hell!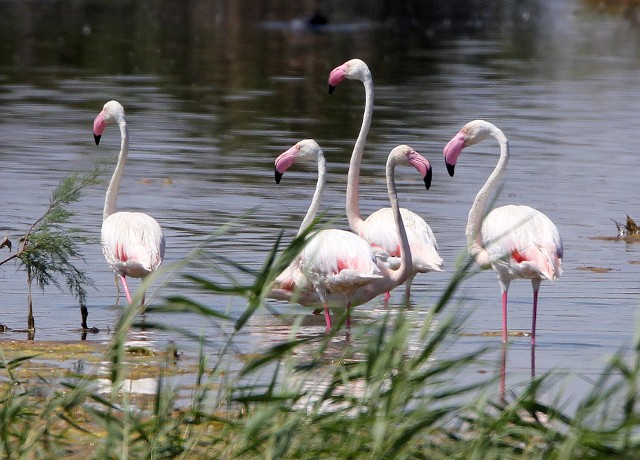 Greater Flamingos at Laguna Dulce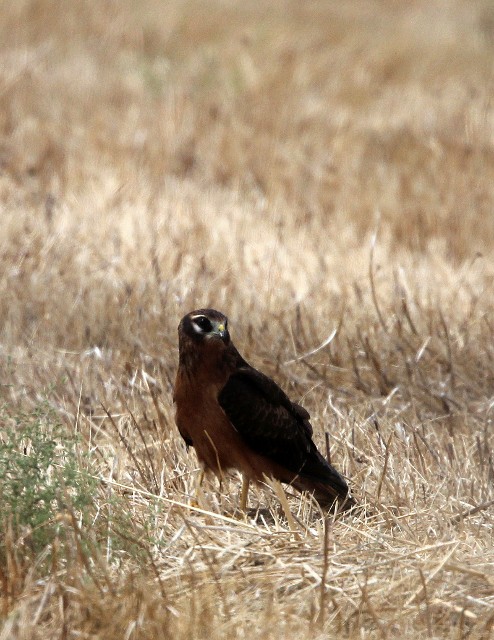 There were dozens of Montague's Harriers at Malpartida National Grasslands!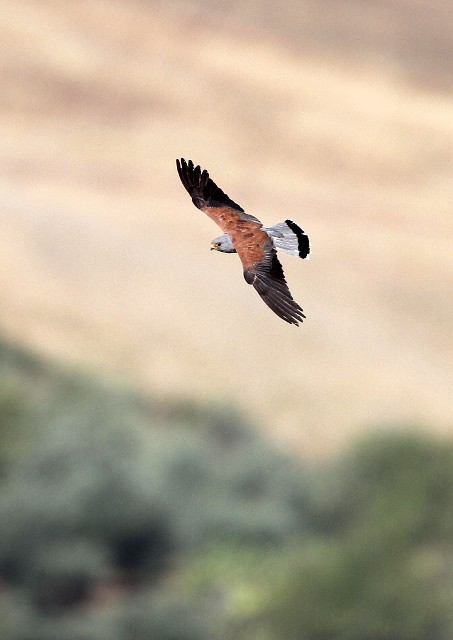 I enjoyed watching the three Eurasian Kestrels hunting the rock doves in Ronda Canyon! Nat Geo time!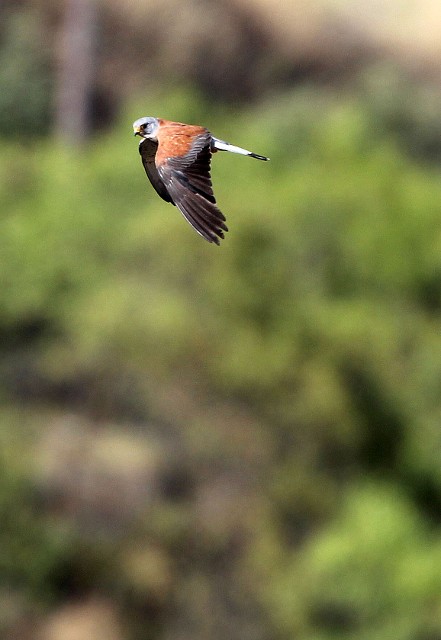 Eurasian Kestrel in Ronda, Spain
European Nightjar in Sierra de Andujar
Little Owl keeping guard near its home in Sierra de Andujar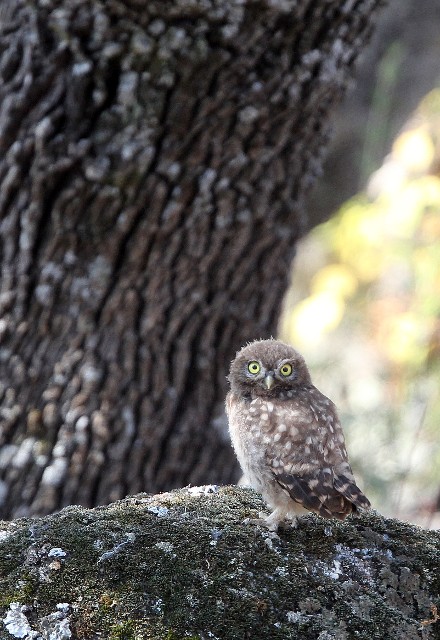 We spent nearly a week in Sierra de Andujar. We spotted this Little Owl fledgling daily during our safaris. On day one he dove to the ground and ran in to the brush (he could not yet fly) when we stopped to check him out. On day two, he waited a bit and did the same thing. But by day five, he knew us and was completely at peace while we would stop, take a break and sit in the shade for a bit of a rest....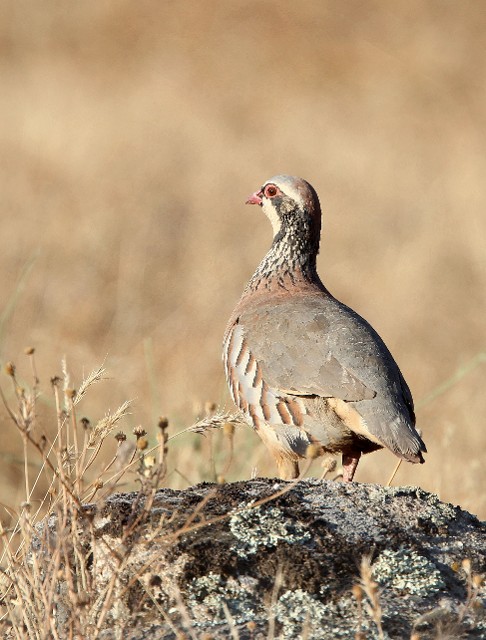 Red-legged Partridges were very common in Sierra de Andujar.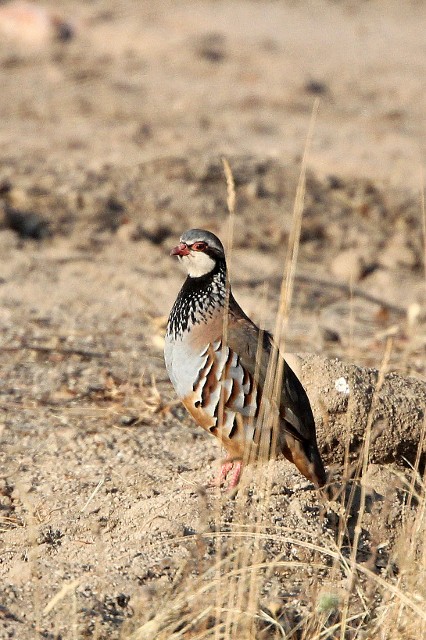 Red-legged Partridge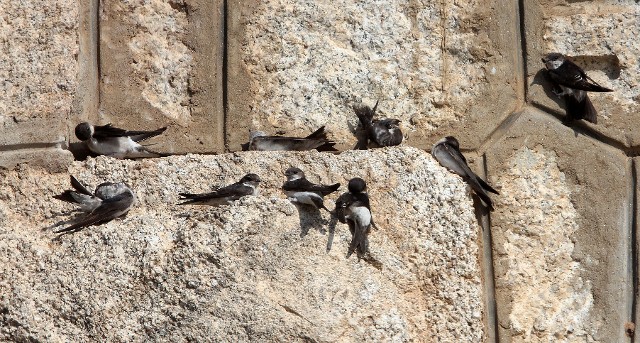 Sand Martins on the La Lancha Dam in Sierra de Andujar
White Storks in Andujar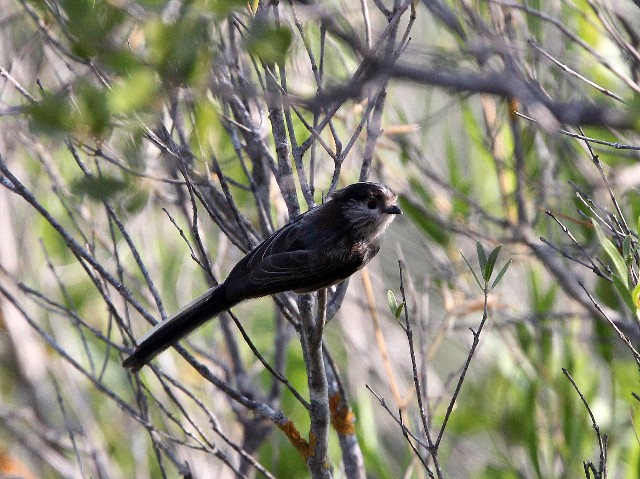 Long-tailed Tit in Andujar
Spain Bird List
Little Grebe
Night Heron
Cattle Egret
Little Egret
White Stork
Greater Flamingo
Eurasian Wigeon
Mallard
Shoveler
White-headed Duck (Oxyura leucocephala)
Marbled Duck
Pochard
Black Kite
Red Kite (Milvus milvus)
Black Vulture
Griffon Vulture (Gyps fulvus)
Montague's Harrier
Marsh Harrier
Sparrowhawk
Goshawk (Accipiter gentilis)
Buzzard
Golden Eagle
Imperial Eagle (Aquila heliaca)
Bonelli's Eagle (Hieraaetus fasciatus)
Booted Eagle (Hieraaetus pennatus)
Kestrel (Falco tunninculus)
Eurasian Hobby
Red-legged Partridge (Alectoris rufa)
Quail
Great Bustard (Otis tarda)
Coot
Mediterranean Gull
Yellow-legged Gull
Common Gull
Little Tern
Black-bellied Grouse
Woodpigeon (Columba palumbus)
Rock Dove
Turtle Dove
Cuckoo
Little Owl
Nightjar
Red-necked Nightjar
Swift
Alpine Swift
Kingfisher (Alcedo atthis)
Bee-eater
Hoopoe
Great Spotted Woodpecker
Skylark
Crested Lark
Short-toed Lark
Calandra Lark (Melanocorypha calandra)
Crag Martin
Sand Martin
Red-rumped Swallow
Swallow
House Martin
Water Pipit
Meadow Pipit (Anthus pratensis)
Tawny Pipit (Anthus campestris)
Pied Wagtail
Grey Wagtail
Yellow Wagtail
Dipper
Nightengale (Luscinia megarhynchos)
Redstart
Black Redstart (Phoenicurus ochrurus)
Stonechat
Northern Wheatear
Black-eared Wheatear (Oenanthe hispanica)
Black Wheatear (Oenanthe leucura)
Rock Thrush
Blackbird
Mistle Thrush (Turdus viscivorus)
Orphean Warbler (Sylvia hortensis)
Great Tit
Coal Tit
Long-tailed Tit (Aegithalos caudatus)
Great Grey Shrike
Woodchat Shrike (Lanius senator)
Starling
Golden Oriole (Oriolus oriolus)
Jay
Magpie
Azure-winged Magpie
Alpine Chough
Chough
Raven
Carrion Crow
Pied Flycatcher
Tree Sparrow
House Sparrow
Rock Sparrow
Chaffinch
Serin
Greenfinch
Goldfinch (Carduelis carduelis)
More Stuff!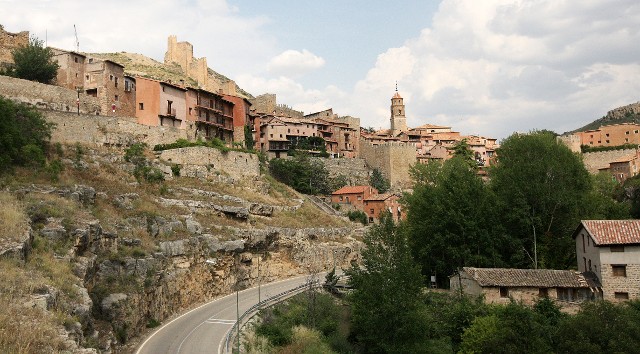 Albarracin, another spectacular village in Spain...Just passing through...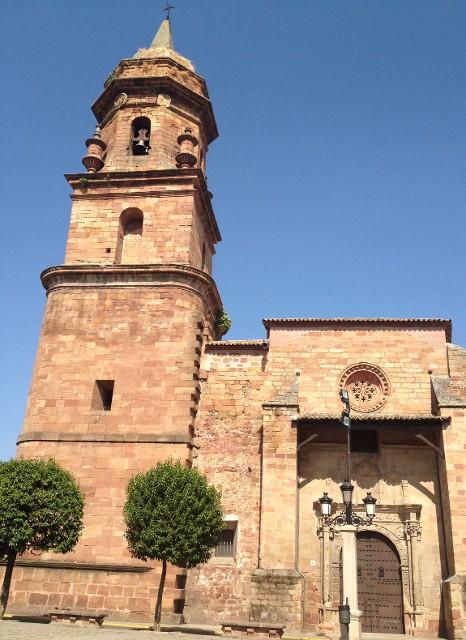 Andujar Cathedral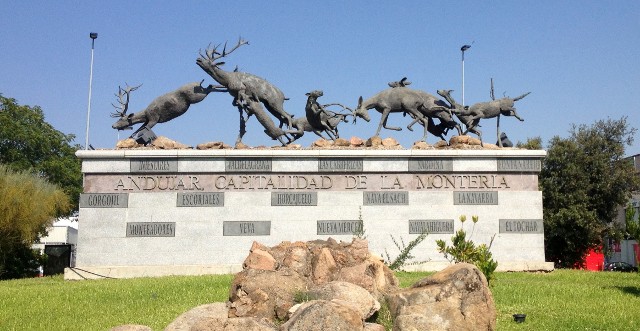 The statue in the main square in Andujar seems to indicate a wilder time when wolves and deer were predator and prey and in larger numbers...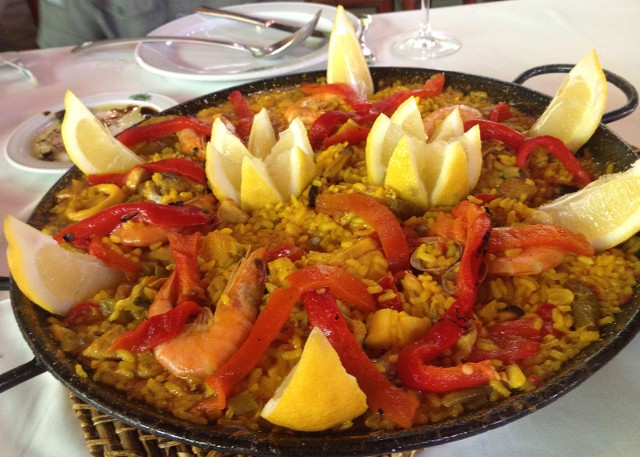 Love that Paella!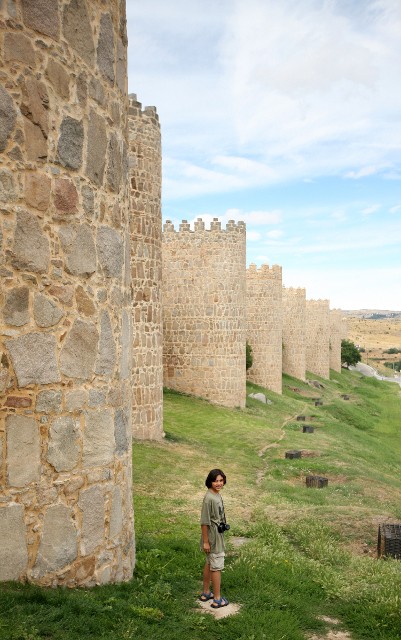 The fortress walls of Avila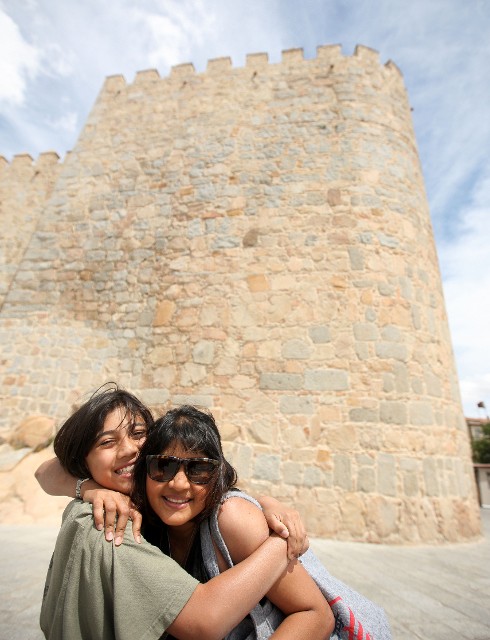 Cokie and Som having a good time in Avila...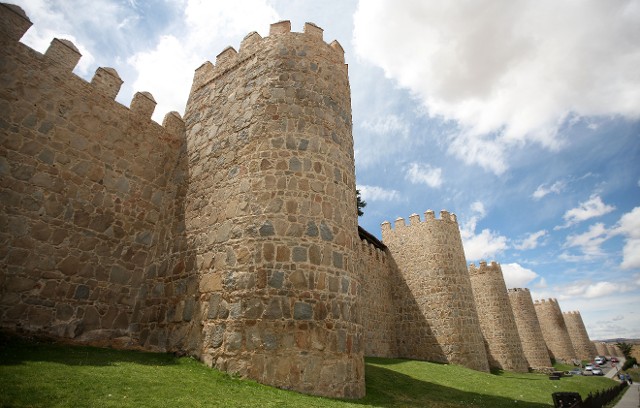 Impressive town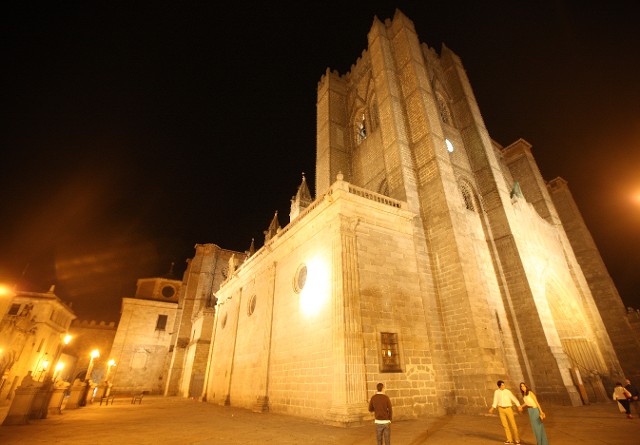 Our hotel in Avila was directly across from the Grande Cathedral!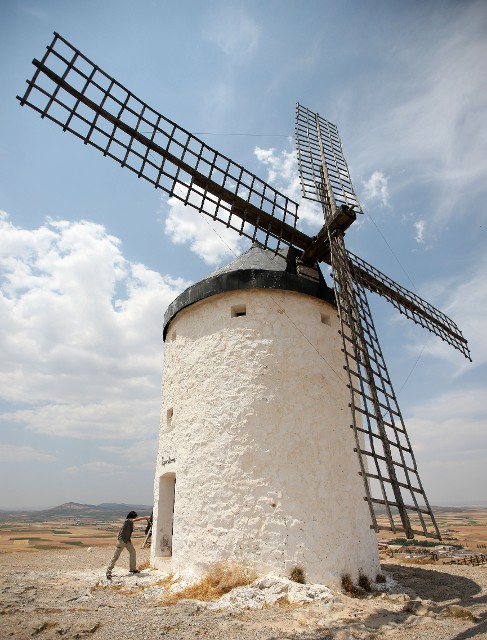 Another surprise stop - Consuegra in La Mancha. I immediately recognized these as the types of windmills in the famous book about Don Quixote...Here is Cokie tilting at his own windmills! I was very excited to be here.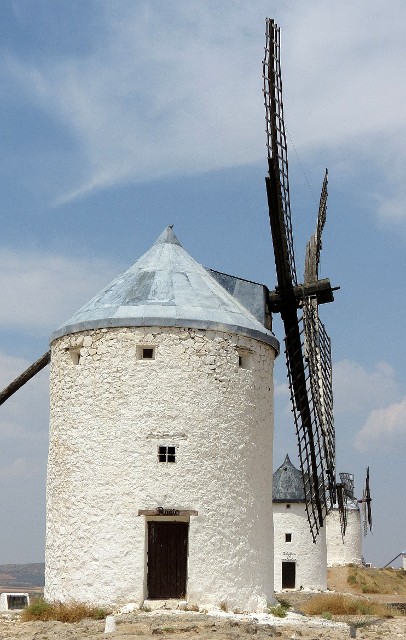 Consuegra, Spain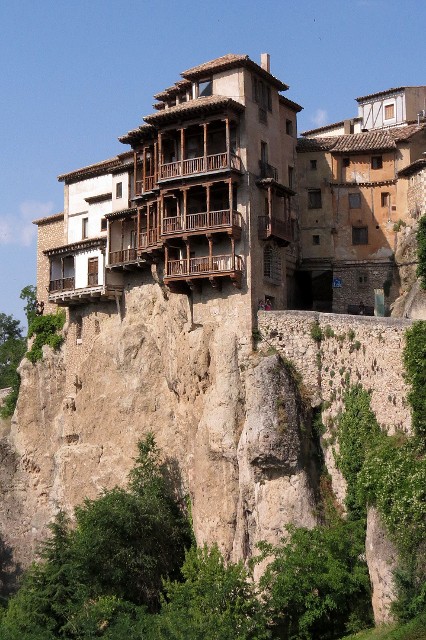 Cuenca was one of the more picturesque places visted this summer.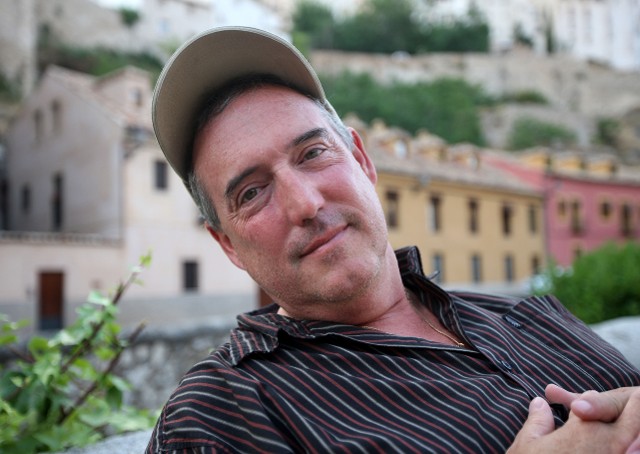 Me relaxing on a cool summer evening with the locals in Cuenca Spain. Loved this place!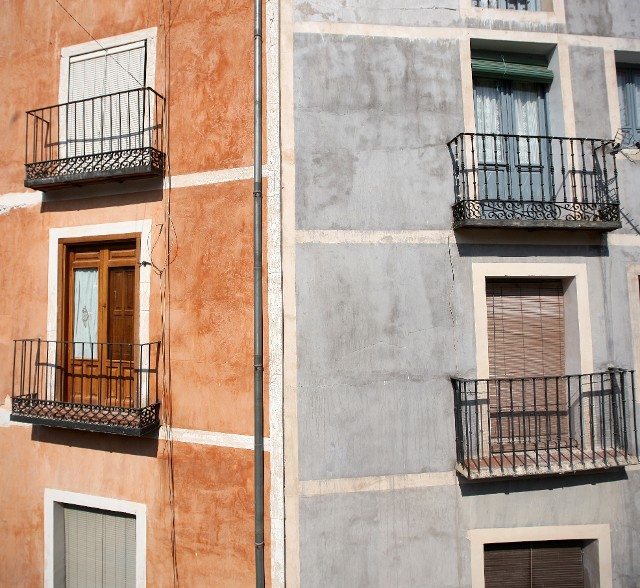 Cuenca, a very funky town...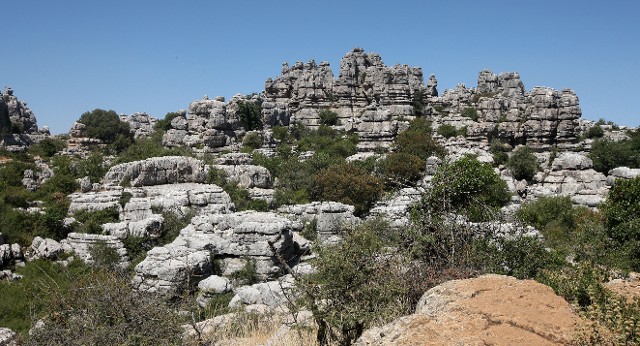 El Torcal National Park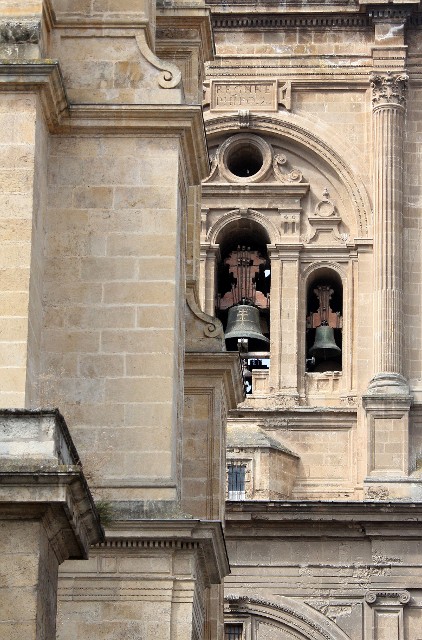 Granada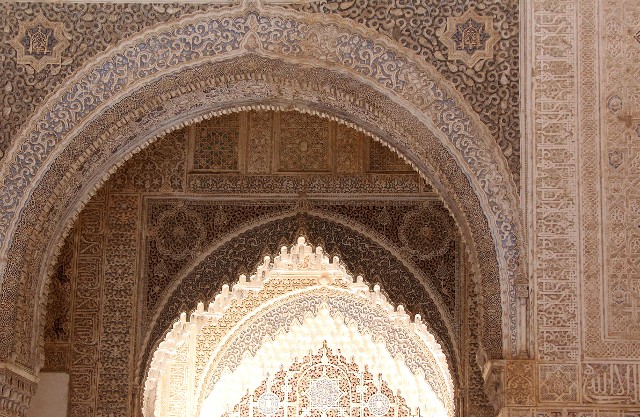 The Alhambra, Granada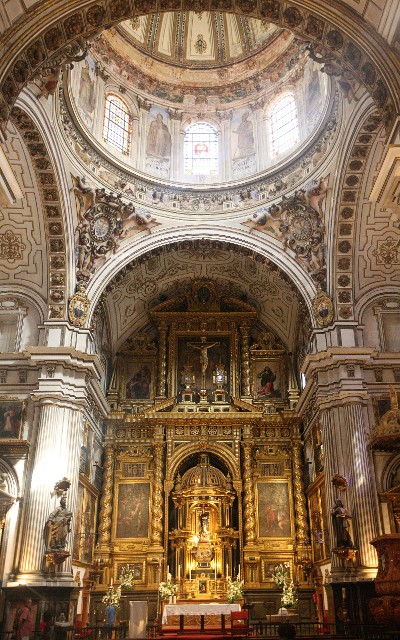 Another spectacular cathedral in Granada!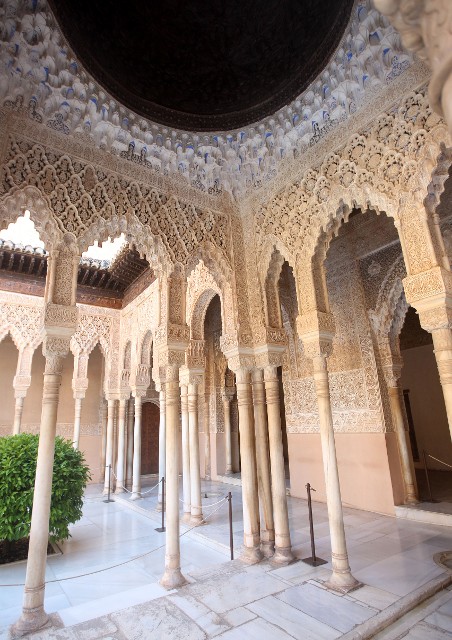 Another interesting angle in the Alhambra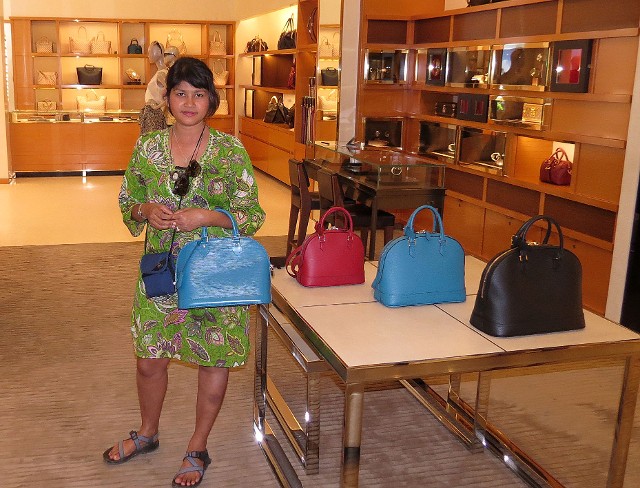 Som's treat at the end of an amazing summer....Yes it was expensive...Marbella Spain was our location here - NOT my kind of town...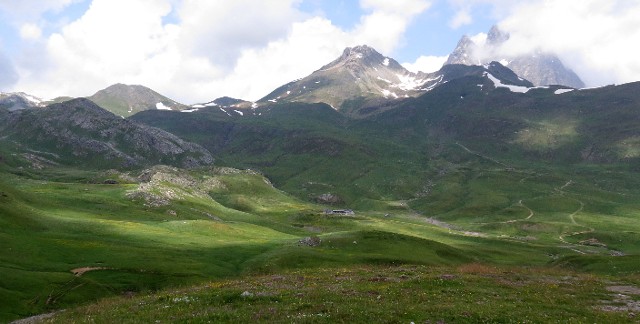 The Spanish Pyrenees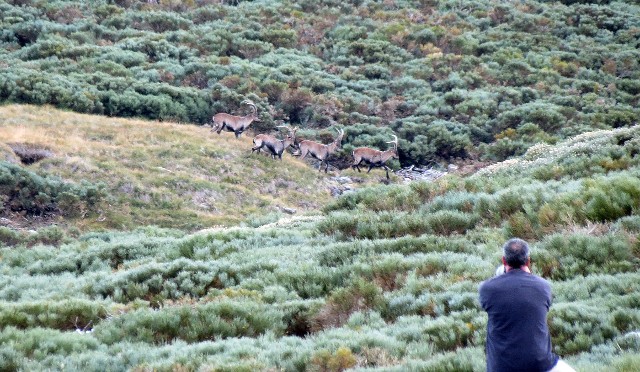 Som captured me capturing a magical moment...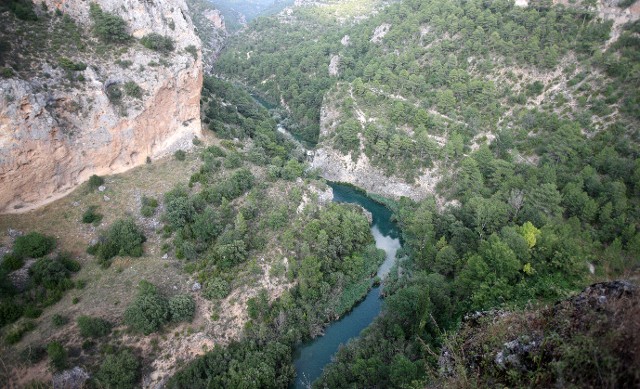 Serrania de Cuenca - a great place!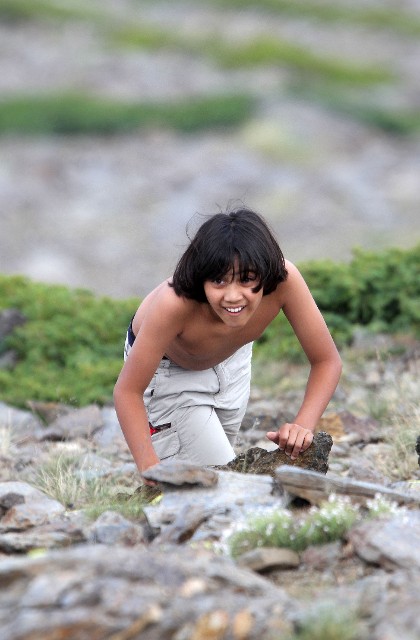 My little Spanish Ibex catching up during our trek in the Sierra Nevada....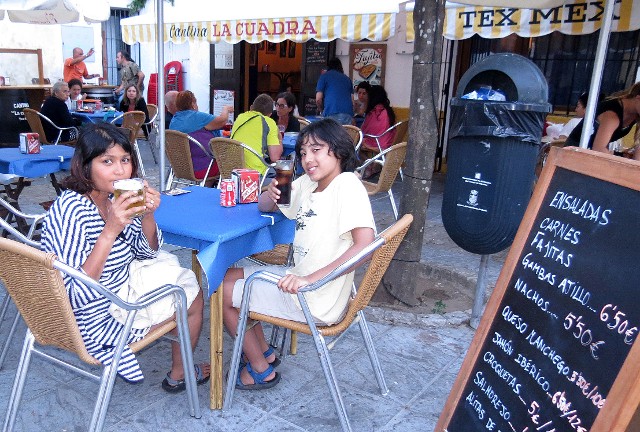 Finally some good food! Yes it was Mexican.... Here we are enjoying a great meal in Tarifa, on the Mediterranean Sea, looking at Morroco across the Strait of Gibraltar...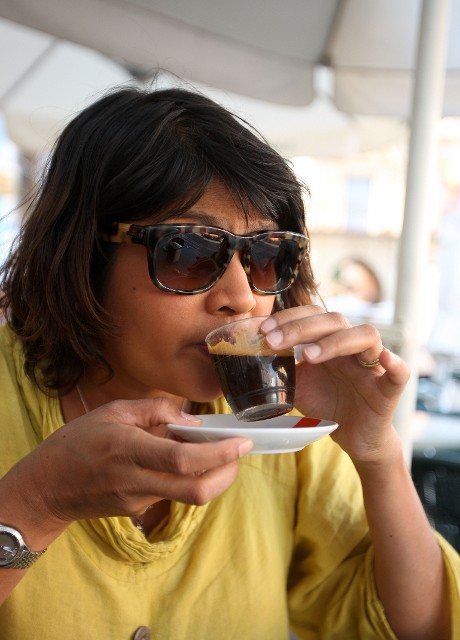 Our daily espresso....yum!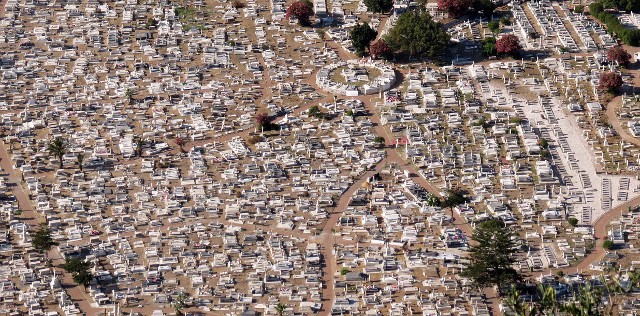 The massive cemetery in Gibraltar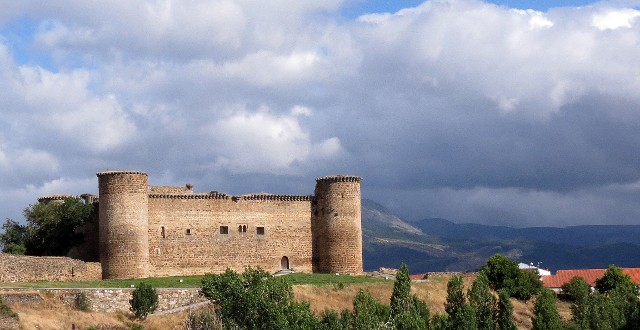 A nameless castle in Sierra de Gredos Mountains. This was one of our last days in Spain, but we all promised eachother that there would be more days here in the near future. We truly loved Spain and both Som and I agree that we could actually live here.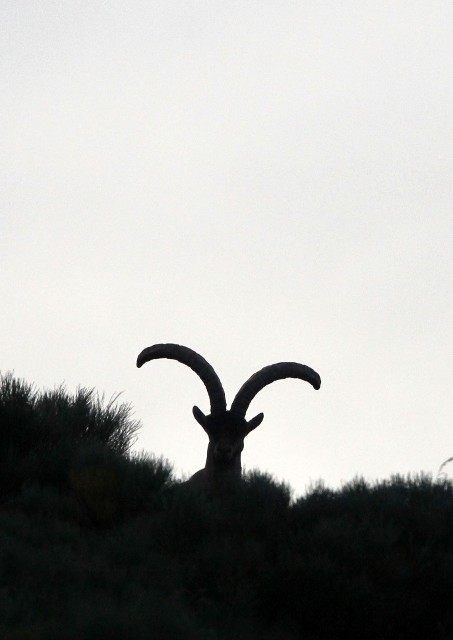 This Gredos Ibex was the last wild animal spotted during our summer 2013 expedtion to the Mediterranean countries of Europe and Africa. What an amazing summer!
***
Be sure to check out our Pbase Spain Gallery for more images!